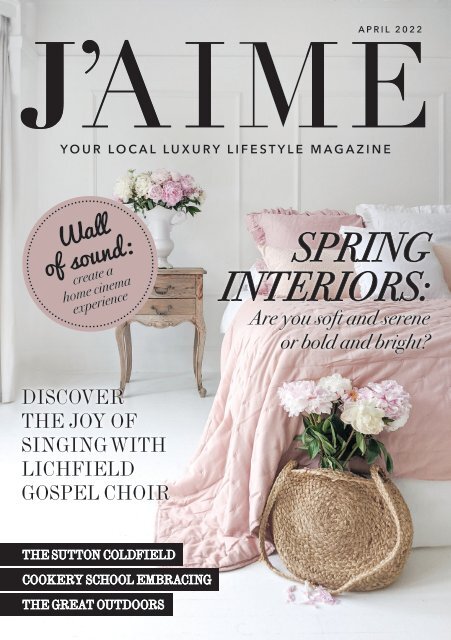 J'AIME APRIL 2022
You local luxury lifestyle magazine
You local luxury lifestyle magazine
SHOW MORE
SHOW LESS
You also want an ePaper? Increase the reach of your titles
YUMPU automatically turns print PDFs into web optimized ePapers that Google loves.
J'AIME

Y O U R L O C A L L U X U R Y L I F E S T Y L E M A G A Z I N E

A P R I L 2 0 2 2

Wall

of sound:

create a

home cinema

experience

SPRING

INTERIORS:

Are you soft and serene

or bold and bright?

DISCOVER

THE JOY OF

SINGING WITH

LICHFIELD

GOSPEL CHOIR

THE SUTTON COLDFIELD

COOKERY SCHOOL EMBRACING

THE GREAT OUTDOORS
---
アパート

夀 䔀 䄀 刀 匀 伀 䘀

䈀 䔀 匀 倀 伀 䬀 䔀 䘀 䤀 一 䔀 䨀 䔀 圀 䔀 䰀 䰀 䔀 刀 夀 ꀀ

伀 渀 攀 漀 昀 琀 栀 攀 氀 愀 爀 最 攀 猀 琀 挀 漀 氀 氀 攀 挀 琀 椀 漀 渀 猀 漀 昀

挀 漀 渀 琀 攀 洀 瀀 漀 爀 愀 爀 礀 ǻ 渀 攀 樀 攀 眀 攀 氀 氀 攀 爀 礀 椀 渀 琀 栀 攀 唀 䬀

匀 瀀 攀 挀 椀 愀 氀 椀 猀 琀 猀 椀 渀 搀 攀 猀 椀 最 渀 椀 渀 最 愀 渀 搀 洀 愀 欀 椀 渀 最 Ⰰ

爀 攀 洀 漀 搀 攀 氀 氀 椀 渀 最 愀 渀 搀 爀 攀 昀 甀 爀 戀 椀 猀 栀 椀 渀 最 昀 漀 爀 アパート 礀 攀 愀 爀 猀

䄀 䰀 䰀 䔀 一 䈀 刀 伀 圀 一 䨀 䔀 圀 䔀 䰀 䰀 䔀 刀 夀

䠀 攀 愀 爀 琀 漀 昀 吀 栀 攀 䌀 漀 甀 渀 琀 爀 礀 匀 栀 漀 瀀 瀀 椀 渀 最 嘀 椀 氀 氀 愀 最 攀

匀 眀 椀 渀 昀 攀 渀 Ⰰ 䰀 椀 挀 栀 ǻ 攀 氀 搀 Ⰰ

匀 琀 愀 昀 昀 漀 爀 搀 猀 栀 椀 爀 攀 圀 匀 㐀 㤀 儀 刀

㔀 㐀 アパート 㐀 㠀 㤀 㐀 㠀

眀 眀 眀 ⸀ 愀 氀 氀 攀 渀 戀 爀 漀 眀 渀 樀 攀 眀 攀 氀 氀 攀 爀 礀 ⸀ 挀 漀 ⸀ 甀 欀

アパート 夀 䔀 䄀 刀 匀 伀 䘀

昀 椀 琀

䈀 䔀 匀 倀 伀 䬀 䔀 䘀 䤀 一 䔀 䨀 䔀 圀 䔀 䰀 䰀 䔀 刀 夀 ꀀ

伀 渀 攀 漀 昀 琀 栀 攀 氀 愀 爀 最 攀 猀 琀 挀 漀 氀 氀 攀 挀 琀 椀 漀 渀 猀 漀 昀

挀 漀 渀 琀 攀 洀 瀀 漀 爀 愀 爀 礀 ǻ 渀 攀 樀 攀 眀 攀 氀 氀 攀 爀 礀 椀 渀 琀 栀 攀 唀 䬀

匀 瀀 攀 挀 椀 愀 氀 椀 猀 琀 猀 椀 渀 搀 攀 猀 椀 最 渀 椀 渀 最 愀 渀 搀 洀 愀 欀 椀 渀 最 Ⰰ

爀 攀 洀 漀 搀 攀 氀 氀 椀 渀 最 愀 渀 搀 爀 攀 昀 甀 爀 戀 椀 猀 栀 椀 渀 最 昀 漀 爀 アパート 礀 攀 愀 爀 猀

Specialists in designing and making, remodelling and refurbishing

ALLEN 䄀 䰀 䰀 䔀 一 BROWN 䈀 刀 伀 圀 一 䨀 JEWELLERY

䔀 圀 䔀 䰀 䰀 䔀 刀 夀

䠀 Heart 攀 愀 爀 琀 漀 of 昀 吀 The 栀 攀 䌀 Country 漀 甀 渀 琀 爀 礀 Shopping 匀 栀 漀 瀀 瀀 椀 渀 最 Village 嘀 椀 氀 氀 愀 最 攀

匀 Swinfen, 眀 椀 渀 昀 攀 渀 Ⰰ Lichfield,

䰀 椀 挀 栀 ǻ 攀 氀 搀 Ⰰ

匀 Staffordshire 琀 愀 昀 昀 漀 爀 搀 猀 栀 椀 爀 攀 WS14 圀 匀 㐀 9QR 㤀 儀 刀

01543 㔀 㐀 アパート 481948 㐀 㠀 㤀 㐀 㠀

眀 www.allenbrownjewellery.co.uk

眀 眀 ⸀ 愀 氀 氀 攀 渀 戀 爀 漀 眀 渀 樀 攀 眀 攀 氀 氀 攀 爀 礀 ⸀ 挀 漀 ⸀ 甀 欀

昀 椀 琀
---
Welcome to J'AIME

Spring is most definitely in the air; the lighter nights are

on their way and freezing temperatures are, hopefully, a

thing of the past. It won't be too long before the heady

scent of barbecues fills the air, and if you fancy brushing

up your skill in preparation, we have the perfect place.

Worship Worth Experiences cookery school near Sutton

Coldfield, specialises in outdoor cooking for all the

family, and we chat to founder Alison Worship about

sharing her love of food with students of all ages.

Elsewhere on the foodie front, MasterChef finalist Liam

Rogers shares a recipe for one of his favourite dinner

party dishes - a beautiful halibut dish which is sure to

impress - plus we get into the Easter spirit with our

round-up of some of the tastiest chocolate treats.

If your garden needs some TLC, Lichfield Garden

Centre's Byron Lewis shares his tips for spring, and we

take a look at some of the hottest trends in interiors for

2022.

Now that entertainment and events are firmly back

on the agenda, we round up some of the best goingson

around the Midlands this month, plus we chat to

musician Themba Mvula, music director of Lichfield

Gospel Choir, about the joys of singing and how to get

involved.

With all of your usual favourites from fashion, beauty,

homes and more, we hope there's plenty here to put a

spring in your step this month!

If you enjoy what you read in this issue, then why not

help us to spread the word? As well as being delivered

directly to homes in selected postcodes across the

area, you can pick J'AIME up free of charge in major

supermarkets around the Midlands, as well as read the

whole thing - and plenty more! - online at

www.jaimemagazine.com

EDITOR: AMY NORBURY

EDITOR@JAIMEMAGAZINE.COM

ADVERTISING: JAN ASHLEY

ADVERTISING@JAIMEMAGAZINE.COM

07388 335 931

DESIGN: DESIGN@JAIMEMAGAZINE.COM

CONTRIBUTORS: KATY EDGINGTON,

BYRON LEWIS, LIAM ROGERS, JEAN

LAMB, DR DAVID ECCLESTON, DEBORAH

MITCHELL, RETO PETER

J'AIME IS PUBLISHED BY ASHBURY

PUBLICATIONS LIMITED.

Check us out online at:

WWW.JAIMEMAGAZINE.COM

Find us on

/JAIMEMAGAZINE

@JAIMEMAGAZINE

@JAIMEMAGAZINE

SPONSORED BY

3
---
CO N T E N T S

InsideJ'aime this month...

6 Lichfield Gospel Choir - Discovering the joys of

singing

12 Richard Winterton - Incredible historical

memorabilia up for auction

14 Property - Property of the month

16 Property - Chosen Home reflects on a strong

start to 2022

18 Interiors - Soft and serene marshmallow hues

22 Interiors - Walk the line

26 Interiors - Creating a home cinema experience

28 Gardening - Spring into action with Lichfield

Garden Centre

30 Food and drink - Easter chocolate treats

32 Food and drink - Embrace the great outdoors

with a Sutton Coldfield cookery school

36 Food and drink - A dinner party delight from

MasterChef finalist Liam Rogers

38 St George's Day - Family fun at Tamworth

Castle

42 Fawn Press - The new Staffordshire publisher

representing diversity in poetry

46 What's On - Events around the Midlands this

month

50 Wealth Matters - The world of finance with

Jean Lamb

52 Health Matters - Dr David Eccleston examines

health topics each month

54 Fashion - All white

56 Beauty - The basic beauty mantra

58 In the news - A Spanish Pilates retreat

SPONSORED BY

4
---
F E AT U R E

The gospel truth

KATY EDGINGTON FINDS OUT WHAT IT'S LIKE TO BE PART OF LICHFIELD GOSPEL CHOIR FROM

ITS MUSIC DIRECTOR THEMBA MVULA AND THREE ENTHUSIASTIC CHOIR MEMBERS

PERFORMING AT LICHFIELD FESTIVAL

WITH BLACK VOICES IN 2017

At more than 100 members strong and with a

repertoire which embraces African, gospel and

soulful music, Lichfield Gospel Choir has an

infectious joy and a sense of community at its heart.

That's at least partly down to the choir's ethos of

creating a space where each member can participate

equally, regardless of ability.

The choir began as a series of workshops led by

Birmingham-based acapella quintet, Black Voices,

for the Lichfield Festival in 2009, when a festival

chorus was created. The project was such a success

that a core group from that original chorus decided

to set up their own permanent gospel choir.

Not all members have been a part of the choir for so

long, though. Andy Patterson and his wife joined six

years ago, when they were looking for a challenge in

their retirement.

"Initially we had a 'taster' session with a local,

commercially franchised choir," Andy explains. "This

proved quite daunting with both a large number

of singers involved and the pace of learning. Some

friends suggested we sign up for Lichfield Gospel

Choir, since we wouldn't need to audition; it seemed

more locally focussed and community-based - and we

didn't need to know how to read music, which was a

huge bonus!"

Others with more musical experience, like Bob

Harrison who had been a member of Lichfield

Operatic Society for almost 30 years, joined when

other choirs turned out not to be quite what they

were looking for.

"A friend recommended Lichfield Gospel Choir, and,

as soon as I joined, everything seemed just right,"

Bob says. "I had a warm welcome, felt part of the

6 www.jaimemagazine.com
---
choir from the start and loved the music.

I must admit I struggled with the words

initially but after a few weeks everything

fell into place, and I have never looked

back."

The choir has been led from the start by

music director Themba Mvula, who was

joined by Gabriella Liandu as assistant

music director in 2020. Born and raised

in Zambia, Themba started singing and

playing keyboard at an early age. Aged

11, he moved to the UK and took every

musical opportunity available to him,

singing with the National Youth Choir

of Wales and studying at Birmingham

Conservatoire.

After graduation Themba devoted time

to teaching singing in schools, conducting

choirs and leading vocal workshops,

while continuing to develop his solo career. His

educational and community work has included

projects with Birmingham Opera Company,

Birmingham Hippodrome, English National Opera,

Ex Cathedra Education, and the National Children's

Choir of Great Britain.

Passionate about helping people find confidence

with singing, Themba specialises in teaching music

by ear. The choir learns all of their music this way, a

completely different skill to reading it off a page and

one which Themba believes allows for a much more

engaged experience.

"I find if people have the notes and words in front of

THE GROUP TOOK TO REHEARSING IN

A LOCAL BARN DURING COVID

LICHFIELD GOSPEL CHOIR

them it can become an almost intellectual exercise,"

he says. "If you don't have that then you're forced to

rely on your senses… listening not just to the musical

notes, but also to the way something is sung, to the

expressions of someone's face, to the moment in

their body.

"Teaching this way allows me to get so much more

life and energy out of the choir and the resulting

sound can be really exhilarating! It also means they'll

have these melodies and harmonies embedded in

them for years to come. I reckon the average choir

member has over 30 songs in various languages and

styles memorised, which I think is pretty impressive."

The group is constantly evolving and taking on new

challenges, singing everything from Nigerian lullabies

to Primal Scream. So what does Themba

look for when choosing what they'll sing?

"The most important thing is that it has to

be fun to sing for each voice part, including

the basses! And this means I'll often end up

doing my own arrangements to make things

work for them. I'm not interested in doing

impressive stuff: the joy is in the richness of

the harmonies, the energy of the rhythms,

and the movements! So much music from the

South African choral tradition is perfect for

this, and that's why it's such a key part of our

repertoire."

For Andy, the singing itself is undoubtedly

the aspect of the choir he enjoys most.

"No musical scores, no prior musical

knowledge, learning everything by rote -

and the totally absorbing enchantment of

African (and many other) gospel melodies

and rhythms, as well as initially impenetrable

www.jaimemagazine.com

7
---
lyrics! It's a transformational

experience which is hugely

rewarding on all sorts of levels."

Fellow choir member Kate Slater

joined in 2014 after attending

a gospel singing workshop with

Themba. She says rehearsals

on Tuesdays soon became the

highlight of her week.

"It's kind of impossible to

describe the utter joy of singing

in our choir. I've made wonderful

friends and we're very lucky to

have such a brilliant, talented

music director in Themba, he

has so much faith in us, is just

endlessly encouraging and brings

this enormous amount of energy to everything he

does."

"This is a very friendly choir who have learned to

sing with no inhibitions," adds Bob. "The music we

sing is very uplifting and I always used to say that I

walk to rehearsals and float back home on a wave

of euphoria! I love learning by rote and some of the

African harmonies that Themba puts together are

simply sumptuous."

Like all community groups, the choir were forced

LICHFIELD GOSPEL CHOIR'S TENTH

ANNIVERSARY CONCERT AT LICFIELD

GUILDHALL IN 2020

THEMBA MVULA HAS BEEN

MUSIC DIRECTOR OF LICHFIELD

GOSPEL CHOIR SINCE ITS

INCEPTION

to adapt or die in March 2020 when Covid-19 hit.

They were straight out the gate in the very early

days, instigating online rehearsals that carried on

throughout 2020.

"It seemed like it would be a real challenge at first,

but thanks to the enthusiasm and determination of

our incredible committee we very quickly found a

model that started with me live streaming from my

bedroom(!), imagining the choir were there in front

of me and just leading as I normally would," says

Themba. "Then we invested in some equipment and

software, and we started using Zoom and

YouTube simultaneously - not everyone

was a fan of Zoom!

"I pre-recorded all the vocal parts so it

would feel like people were singing as part

of a group and in harmony. That seemed

to work really well. Very quickly it felt like

we had adjusted, and it became a model

in its own right, and it actually had some

positives in that I was getting to know the

individuals in the choir and what they

sounded like so much better - I would

encourage solos and other interaction

as a way of making less of a one-way

exchange."

It was hugely important to Themba as

well as the choir members that they kept

going and kept in touch online during the

pandemic.

"At one point, it was the only thing in my

week I knew would actually happen; being

a freelancer almost all of my other work

disappeared. The choir rehearsals gave me

something to prepare for and something

to look forward to. And more than that

8

www.jaimemagazine.com
---
WELCOME TO BAYLISS BATHROOMS,

THE LARGEST INDEPENDENT LUXURY

BATHROOM SPECIALIST IN THE REGION.

OUR UNRIVALLED ONE STOP PROJECT

MANAGED SERVICE, FROM DESIGN

THROUGH TO INSTALLATION, IS FOCUSED

ON TURNING YOUR DREAM BATHROOM

INTO REALITY.

WHATEVER YOUR REQUIREMENTS,

WE CAN PROVIDE YOUR BATHROOM

SOLUTION. WE WELCOME YOU TO VISIT

OUR NEW WEBSITE OR SHOWROOM TO

EXPLORE THE BAYLISS EXPERIENCE AND

ALL THE OPTIONS AVAILABLE TO YOU

We offer a complete 'One Stop' process to turn your bathroom dreams into reality, which includes:

• A bespoke 2,500 sq ft showroom with over 20 bathroom displays located in Sutton Coldfield

• A specialist design team to create designs to match your every need

• Expert knowledge of our partner brands giving you access to superb products and tiles.

• In-house installation teams working to the highest possible standards

• Management of all aspects of the Project, providing you with a single point of contact, every step of the way

• For those customers who require a Supply Only service, access to all leading brands at competitive cost.

BAYLISS BATHROOMS, 23 GATE LANE, BOLDMERE, SUTTON COLDFIELD B73 5TR

0121 362 1800 - www.baylissbathrooms.co.uk
---
it was just great to connect with people, singing and

laughing together. I think lots of our members really

valued that too."

In recognition of his inspirational and dedicated

leadership, which ensured the choir continued to

thrive despite the setbacks and hurdles of multiple

lockdowns, Themba was shortlisted for both a

Making Music award and, together with the choir,

a Royal Philharmonic Society Inspiration award in

2021.

Whenever there was a safe opportunity to do so,

the choir found ways to sing together in person,

including adopting a temporary rehearsal home in

a local barn. They also took part in several virtual

performances, but everyone is looking forward to

performing in front of an audience again. Luckily,

there are already lots of

events in the diary for 2022.

Dates include a concert with

the City of Lichfield Concert

Band at Lichfield Cathedral

on Saturday, May 14, and

a performance at Lichfield

FUSE Festival on Saturday,

July 9. On Sunday, July 10,

Lichfield Gospel Choir will

join a rousing large-scale

concert at Birmingham

Symphony Hall to mark

the 10-year anniversary of

Community Spirit.

"We are all performers, and

this is what we live for,"

says Bob. "It's great singing

together in

rehearsals but the buzz of

live performances is on

another level. Particularly

as we have an

extensive portfolio of

songs and Themba never

lets on to us what we

are going to sing at any

concert. He plays the first

few bars of a song and

nods to us as if to say,

'you know this one' and,

somehow, we do, and we

have never let him down

– yet! No words, no music,

no clue what is coming

next: I can't wait!"

"It feels like we've grown

so much as a choir over the last couple of years,"

agrees Kate. "We've become even closer as a group

(all that staring into each other's living rooms over

18 months on Zoom!) which I think has made us

braver and stronger together - it's

going to be so exciting to see what lies ahead."

If you're interested in learning more about Lichfield

Gospel Choir or even getting involved, the best way

is to go and see them perform! There is currently

a waiting list for sopranos and altos, and a healthy

number of tenors and basses, but they are accepting

new members so do get in touch.

For more details visit

www.lichfieldgospelchoir.co.uk or find

Lichfield Gospel Choir on Facebook.

THEMBA MVULA CUTTING THE

CAKE AT THE CHOIR'S TENTH

ANNIVERSARY CELEBRATION

MUSIC DIRECTOR THEMBA

MVULA AND ASSISTANT MUSIC

DIRECTOR GABRIELLA LIANDU

10 www.jaimemagazine.com
---
THE WORLD'S FINEST VISUAL AND AUDIO SYSTEMS

Helping you create outstanding music & home cinema systems to surpass your expectations.

From bespoke home cinema installations to audio systems from Steinway

Lyngdorf and M&K Sound, Zebra offer the utmost in quality and design

We would love you to visit and enjoy a private demonstration,

or ask any questions you like about our service and products.

Zebra Home Cinema Hardwick Lodge, Hardwick Rd, Little Aston B74 3BU

Tel: 0121 405 1007 - Mob: 07890 587940

Email: atif@zebrahomecinema.com - Web: www.zebrahomecinema.com
---
F E AT U R E

An historical find

A LICHFIELD FAMILY'S 'FAVOURITE UNCLE' HAD AN INCREDIBLE PAST INCLUDING

WW2 SERVICE AS PART OF THE TEAM WHO ARRESTED HEINRICH HIMMLER. A SPECIAL

MILITARIA AUCTION AT RICHARD WITERTON AUCTIONEERS HAS SHONE A SPOTLIGHT

ON THE EXTRAORDINARY STORY OF GRENVILLE GRAYER

The role played by a Midlands soldier in capturing

one of the 20th century's most notorious figures has

come to light ahead of a special auction.

Evil SS leader Heinrich Himmler planned to flee the

ruins of Nazi Germany in disguise following Adolf

Hitler's suicide at the end of the Second World War

in Europe but he was arrested by suspicious British

Intelligence Corps soldiers.

And it was a punishment meted out to naughty

schoolboys that proved a bizarre key to identifying

the evil architect of the Holocaust.

For Himmler was given a page of lines to complete

for a handwriting sample – and that chilling piece of

paper is still in existence.

Nearly eight decades on, the remarkable story of

Grenville Grayer, from Great Barr, Birmingham,

came under the spotlight as his militaria collection

and British Empire Medal went up for auction with

Richard Winterton Auctioneers at The Tamworth

Auction Rooms, Church Street.

Born in 1917, Mr Grayer joined the Army in 1939

and initially served with the Royal Army Service

Corps before joining the newly formed Army

Intelligence Corps, completing training in Scotland

attached to 45 Field Security Section with the rank

of sergeant.

It was while serving with 45 FSS in Germany

following the Nazi surrender that he encountered

one of the 20th century's most notorious mass

murderers.

Referred to as 'treuer Heinrich' – 'the loyal Heinrich'

– since the early 1930s by Hitler, Himmler's devotion

disintegrated in the final weeks of the war as he

attempted in vain to broker a truce with the Allies

which would see him installed as a post-war German

leader.

The inevitable rejection sent Himmler to ground,

attempting to escape disguised as an ordinary soldier.

During the morning of May 22 1945, a group was

stopped at the Bremervorde bridge and handed over

GRENVILLE GRAYER, OF THE

45 FSS INTEL CORPS

to 45 FSS for identity checking.

One, purporting to be a Sergeant Heinrich Hizinger,

proved especially suspicious as his papers bore a

stamp known to be one used by fleeing SS members.

"Mr Grayer would often chat with his family how

one of the soldiers looked uneasy and out of place,"

said Nick Thompson, militaria specialist at Richard

Winterton Auctioneers, who researched Mr Grayer's

archive at The Lichfield Auction Centre, Wood End

Lane, Fradley Park.

12 www.jaimemagazine.com
---
"When the prisoners were checked, some were in

possession of documents which the Intel Corps knew

were being faked to cover up real identities.

"One of these was a Sgt Heinrich Hizinger. Mr

Grayer and another sergeant by the name of Britton

became even more suspicious and the suspect was

ordered to write lines to confirm and ascertain his

handwriting.

"Soon the game was up, and the man identified

himself as Heinrich Himmler."

Himmler inked lines repeating: "Ich soll das

Reinigungsgerät mitnehmen." The Reinigungsgerät

34 was a cleaning kit for a rifle, so the writing

roughly translates as: "I must bring my rifle cleaning

kit."

The macabre page from Himmler's brief

incarceration contains possibly the last words ever

committed to paper by one of history's most evil

men. Within hours, he would bite down on a cyanide

capsule – an 'SS Cough Drop' – secreted in a tooth.

The date was May 23 1945, two weeks after the

German surrender and three weeks after Hitler's

own suicide.

In the hours that followed Himmler's demise, Mr

Grayer liberated the handwriting samples and a

silk toiletry bag which belonged to the SS chief

as 'tropaion' – trophies of war – and the items

remained in his family ever since.

As J'AIME went to press, they were due to go under

the hammer as part of Mr Grayer's medals archive,

including his British Empire Medal in original box of

issue, named to 135702 AWO CL 2 Grenville Grayer

of the Intelligence Corps, plus Africa, Italy, France

and Germany Stars, Defence and War medals, all

unnamed as issued.

The group was accompanied by an original cloth

insignia shoulder patch for 30 Corps and a souvenir

medallion celebrating the unit.

A wealth of other paperwork included a photocopy

of Himmler's arrest report signed by those present

including Mr Grayer; an original photo of him

with colleagues from 45 FSS Intel Corps; original

paperwork from 30 Corps Intelligence Summary

including intercepts showing life at the front from

the German perspective; plus many other items of

papers, photos and forms and a large double sided

silk escape-style map.

The archive was expected to fetch in the region of

£2,000 to £3,000,

Other trophies of war from the collection of Mr

Grayer, who died in 1995 aged 78, were to be sold

separately.

These included a rare M41 tropical SS cap –

expected to fetch up to £2,000 – plus a swastika

armband complete with original manufacturer's slip

and a Luftwaffe pilot's parachute harness.

"All things considered, it is simply an amazing

archive," added Mr Thompson.

Mr Grayer's nephew Martyn Grayer, of Walsall

Road, Lichfield, runs an advertising and marketing

agency in the city.

"It has been a fascinating experience to revisit

the extraordinary story that relates his wartime

experiences and the event of Himmler's capture that

with recent events seem to resonate even more," he

said.

The family moved to Cromwell's Meadow in the late

1960s and Grenville was a frequent visitor to the city,

dining regularly at The Shoulder of Mutton.

"Our 'Uncle Gren' fulfilled the entire definition of

a 'favourite uncle', a unique character, generous,

supportive with an anarchic humour but most of all

liked by everyone he met," added Martyn.

"On behalf of my sister Melanie and brother Chris,

we are pleased that his story has been shared."

To book an appointment for a valuation of medals or

militaria with Nick Thompson, call 01543 251081

or email office@richardwinterton.co.uk.

GRENVILLE GRAYER'S MEDALS

WERE UP FOR AUCTION IN

TAMWORTH

www.jaimemagazine.com

13
---
P R O P E RTY

Property of the Month

EACH MONTH WE SHOWCASE ONE OF THE MOST LUXURIOUS PROPERTIES ON THE MARKET IN THE

MIDLANDS. THIS MONTH'S SELECTION IS A SPLENDID, DETACHED RESIDENCE IN AN IDYLLIC SEMI-

RURAL LOCATION REQUIRING FULL MODERNISATION OR HAVING POTENTIAL FOR REDEVELOPMENT

4 Hillwood Common Road, Sutton Coldfield: OIEO £1,100,000

On the market with Aston Knowles: 0121 362 7878

THE AGENT SAYS: The detached bungalow sits in a

delightful plot in approximately 0.9 of an acre including

a paddock at the rear. Planning has previously been

consented for two detached dwellings, however, this has

now lapsed and a new application would be required to be

submitted.

The property is set back from the road boasting an

attractive first impression with its wide frontage behind

an extensive driveway providing ample off-road parking

for numerous vehicles. The reception hall is a bright and

welcoming space providing access to the rest of the single

storey accommodation.

The drawing room has a front aspect, is to the right of

the reception hall and features a stone fireplace and

characterful beams. The dining room has a rear aspect

over the mature garden and is accessed through double

doors out to the garden, perfect for entertaining in the

summer months.

The kitchen has a range of wall and base units and

provides access to a pantry, boiler room and the garage

where you will also find the utility room. Beyond the

kitchen is a timber-built extension with doors to the garden

and a garden room previously used as a dance studio.

To the right of the reception hall, you'll find with the

bedroom accommodation. The principal bedroom has a

front aspect and an en-suite bathroom that could also be

used as a family bathroom with an additional door into the

inner hall. Bedroom two overlooks the mature gardens and

benefits from an en-suite shower room. At the end of the

hallway are bedrooms three and four.

Both the front and rear gardens are beautifully presented

and well maintained with established front and rear

gardens.

The rear garden has a patio area beyond which are the

extensive lawns, bordered with extensive shrubs and trees.

At the rear boundary of the garden is a gate giving access

into the large paddock sitting in just over 0.5 of an acre.

W E L O V E : T H E DE V E L O P M E N T P O T E N T IA L

14 www.jaimemagazine.com
---
EXCLUSIVE OFF

MARKET SALES

Roman Road, Little Aston Park

Ladywood Road, Four Oaks Park

EXCLUSIVELY SOLD BY

ASTON KNOWLES

Two outstanding properties, situated in Sutton Coldfi eld's most

EXCLUSIVE locations and sold discreetly, off market for record breaking prices.

CONTACT ASTON KNOWLES TODAY FOR YOUR NO OBLIGATION MARKET APPRAISAL.

SALES / LETTINGS / PROPERTY MANAGEMENT / INTERNATIONAL

0121 362 7878

enquiries@astonknowles.com

www.astonknowles.com

@astonknowles
---
P R O P E RTY

Springing into action to

find dream homes

MIDLANDS-BASED ESTATE AGENT CHOSEN HOME HAS ENJOYED A SUCCESSFUL

FIRST QUARTER TO 2022 AS IT REPORTS THAT THE APPETITE FOR PROPERTY

ACROSS THE REGION IS STRONGER THAN EVER.

The business is preparing for a busy spring as sellers

prepare to showcase their homes and gardens at their

best, and buyers make the most of the improving

weather to step up their viewings in the search for the

perfect new home.

Nicki Ash, Chosen Home director, said: "We're just

three months into the year, and already the signs

are there that the demand for buying and selling is

set to surpass even last year, with high numbers of

instructions and viewings despite multiple storms and

adverse weather conditions.

"The appetite for property, be it taking the first

step onto the ladder, downsizing, thinking bigger or

buying as an investment to serve the growing private

rental market, is stronger than ever, and with spring

approaching - the most popular time for people to

place their home on the market and look to move - we

anticipate it becoming even more so," she said.

Chosen Home has now been established for 18

months, and continues to place emphasis on its

customer service, something that with a 5* 'excellent'

Trustpilot rating, it has a proven track record in

delivering.

The team anticipates a great deal of interest from

first-time buyers and investors alike in the latest

addition to Chosen Home's books: a fabulous luxury

apartment development located in the heart of Sutton

Coldfield. The Old Art School, comprising 12 one,

two and three-bedroom apartments finished to the

highest specification, has been designed with young

professionals in mind, located just a five-minute walk

from the town centre and its railway station with

direct links to Birmingham, Lichfield and surrounding

towns.

Combining premium designed kitchens with

integrated BOSCH appliances, luxury ceramictiled

bathrooms with Hudson Reed products and

underfloor heating, and state-of-the-art WiFicontrolled

electric panel radiator systems, the stunning

apartments are set over four floors in a beautifully

restored listed building, each featuring open-plan

living areas ideal for entertaining, and spacious

bedrooms. Four of the 12 offer two- or three-bedroom

living spaces set over two storeys, while there are

six one-bedroom apartments and two single-storey

apartments with two bedrooms.

Since being appointed as sole agent earlier this

month, the business has experienced high enquiry

levels around the former art school, from both young

professionals and savvy investors seeking buy-to-let

opportunities in the town.

Prices for the apartments start at £165,000. A copy

of the brochure and further details are available from

Chosen Home on 0121 222 1880 or at

team@chosenhome.com.

16 www.jaimemagazine.com
---
Excellent

" If you are planning on

moving home in the future,

You will not be disappointed."

chosenhome.com

Call 0121 222 1180
---
INTERIORS

Sweet

and serene

AWAY from the chaos of the world all around us, our

homes are our sanctuaries; our place to escape, relax

and be at our most comfortable. And this season we're

taking interiors inspiration from the sweetest of treats;

marshmallows. In hues of mellow white and the softest of

blush pinks, these sweetshop favourites create the perfect

palette for a serene scheme.

As decor trends continue to move away from cool greys as

the neutral of choice, the marshmallow vibes of creamy

off-white and soft, subtle pink are easy, warm neutrals

to build a tranquil look around. Stick to all whites for a

seriously zen-like environment, or bring in a touch of pink

for a more romantic, feminine scheme.

Take inspiration, too, from that marshmallow texture;

squishy cloud-like seating, plump cushions and oodles of

tactile fabrics lend themselves nicely to a cosy, enveloping

feel.

PEACHSKIN QUILTED BEDSPREAD IN PETAL

PINK, £98, THE FRENCH BEDROOM CO.

WWW.FRENCHBEDROOMCOMPANY.CO.UK

£750

LAURA ASHLEY ARTICHOKE LIGHT CERAMIC TABLE

LAMP WITH SHADE, LAURA ASHLEY LIGHTING.

WWW.DARLIGHTING.COM/LAURA-ASHLEY

£99

£245

BERTIE FEATHER PENDANT

LIGHT IN BLUSH PINK,

COLDHARBOURLIGHTS.COM

ALICE UPHOLSTERED DINING CHAIR IN ALMOND,

PEPPERMILL INTERIORS, BURNTWOOD BUSINESS PARK.

WWW.PEPPERMILLINTERIORS.COM

£POA

£99

GAIA DINING TABLE, DESIGNED BY MONICA

ARMANI, KESSELER BIRMINGHAM.

WWW.KESSELERBIRMINGHAM.COM

MARIE FOOTSTOOL IN LIGHT PINK

CORDUROY, CULT FURNITURE.

WWW.CULTFURNITURE.COM

18 www.jaimemagazine.com
---
Walsall Wood

✓ Friendly in-home service ✓ Options for every budget ✓ Price includes measuring & fitting

YOUR LOCAL BLINDS,

CURTAINS & SHUTTERS

SPECIALIST

• I provide expert advice on the

best window solutions

• Flexible appointment times

• Blinds & curtains tailor-made

here in the UK

"My local advisor helped me

find a blind to fit my budget.

The service was second to none".

Laura Jackson, customer

• Ask me about multi-blind

discounts

• I won't be beaten on price*

• Electric blinds available

ROLLERS | ROMANS | VERTICALS | VENETIANS | CURTAINS | SHUTTERS | WOODEN BLINDS

Call me for a free in-home appointment:

Michael Holdway 07949383322

*Based on the same spec, size & levels of service.

DUPLOCEM IN WHITE

CALIBRATED TO 20MM

605MM X 605MM

EUROPA WAY, LICHFIELD, WS14 9TZ

01543 440000 TIPPERS.COM

MON-FRI

7:30AM - 5:00PM

SATURDAY

8:00AM - 2:00PM
---
LUCY MARSH BESPOKE POWDER

PINK MERINO THROW,

WWW.LUCYMARSHINTERIORS.COM

£175 £POA

ALDBURY SHAKER STYLE KITCHEN, KESSELER

BIRMINGHAM. WWW.KESSELERBIRMINGHAM.CO.UK

£595

MARSEILLE FABRIC DINING TWO SEATER

BENCH IN WHEAT, PEPPERMILL INTERIORS,

BURNTWOOD BUSINESS PARK.

WWW.PEPPERMILLINTERIORS.COM

£195

£1,299

PAIR OF BRONTE VELVET DINING CHAIRS IN BRUSH STROKE BEIGE,

PEPPERMILL INTERIORS, BURNTWOOD BUSINESS PARK.

WWW.PEPPERMILLINTERIORS.COM

EICHHOLTZ INGER OTTOMAN IN

BOUCLE CREAM, SWEETPEA & WILLOW.

WWW.SWEETPEAANDWILLOW.COM

£49

FERM LIVING OFF WHITE DESERT

OUTDOOR CUSHION, ROSE & GREY.

WWW.ROSEANDGREY.CO.UK

RAKU SQUARE WHITE TILES, £42.95/SQM,

WALLS AND FLOORS.

WWW.WALLSANDFLOORS.CO.UK

20 www.jaimemagazine.com
---
MARILYN BLUSH PINK VELVET ARMCHAIR,

£645, AUDENZA. WWW.AUDENZA.COM

BLUSH PINK ROUND PINTUCK CUSHION,

£17.50, THE WISTERIA TREE.

WWW.THEWISTERIATREE.CO.UK

SAN JOSE BRILLIANT WHITE SHUTTER

BLINDS, FROM £82, BLINDS2GO.

WWW.BLINDS-2GO.CO.UK

CHERISH SOFT PINK FAUX FUR THROW, £95,

THE FRENCH BEDROOM CO.

WWW.FRENCHBEDROOMCOMPANY.CO.UK
---
I N T E R I O R S

Walk

the line

A firm favourite come springtime, crisp blue and white

stripes have been used in interiors for time immemorial to

evoke a touch of coastal charm. But for 2022, stripes are

a-changing,

This season's stripes are supercharged, taking on a bolder

aesthetic with brighter colourways and textural contrasts.

Fun stripes in a litany of rainbow-inspired hues add a

playful touch to your decor scheme, while at the other end

of the colour spectrum, monochrome patterns create a

striking style statement.

If you're feeling brave, choose a wall and go stripe happy

for a full-on injection of fun, then tie your scheme together

with matching fabrics and accessories. Stripe overload? No

such thing, we say!

Stripes can be really effective in smaller spaces, so why

not unleash your stripy side in the bathroom? Create a

complete black-and-white colour scheme to enhance your

lines and make a real impact in the smallest room of the

house.

And remember, stripes don't just mean horizontal and

vertical; go diagonal with chevron patterns, or throw away

the rule book with wavy stripes.

LAS SALINAS THROW, £55, WEAVER GREEN.

WWW.WEAVERGREEN.COM

£45

LARGE BLACK AND WHITE STRIPE AGAVE

PLANTER, CIELSHOP. WWW.CIELSHOP.COM

£95

£450

£69.50

ORANGE NUDE PRINT COTTON CUSHION,

LIME LACE. WWW.LIMELACE.CO.UK

MARBLE STRIPED CHOPPING BOARD, CIELSHOP.

WWW.CIELSHOPINTERIORS.COM

PHAROS TEA SET, MICUCCI INTERIORS.

WWW.MICUCCI.CO.UK

22

www.jaimemagazine.com
---
0121 308 6404

info@pawpounders.com

www.pawpounders.com

NEW

Puppy Play Centre Opening

Opening Times

Mon-Fri: 7:30am-6:30pm

Sat: 8am-1:30pm

First dedicated Puppy Play Centre to open

in the Midlands

Confidence and socialisation life skills

Toilet training, indoor heated rest areas and

outdoor play

Early learning experiences with other puppies

Fully qualified staff, all trained by qualified Animal

Behaviourist and Channel 4's puppy training expert

Hannah Molloy (BSc) Hons

Lowest ratio in the country of puppies to staff 4:1

Customers able to partake in puppy development

"We want to ensure that puppies get the very best start in life and our exceptional new Play Centre offers

rich learning opportunities in warm and nurturing environment.'

- Nick Parkinson, Founder of Pawpounders

FREE no obligation design service with our kitchen specialists

16 -18 Britannia Way Britannia Enterprise Park, Lichfield WS14 9UY • 01543 263340

info@lichfieldkitchensandbedrooms.com • www.lichfieldkitchensandbedrooms.com

Opening Hours: Mon - Fri 9:00 am - 5:00 pm Sat 9.30am - 12.30pm 12.30pm – 4.00pm by appointment only.
---
£59.95

BLOOM PENDANT LAMP,

PEPPER SQ LTD. WWW.PEPPERSQ.COM

£395

FAB HAB CANCUN OUTDOOR

RUG IN CANDY, CUCKOOLAND.

WWW.CUCKOOLAND.COM

£349

BLACK AND WHITE STRIPED CABINET,

WEBB & GRAY. WWW.WEBBANDGRAY.COM

£75

£255

£18

CAROUSEL CONFETTI SUNBRELLA QUILTED

HAMMOCK, SLEEPY HAMMOCK.

WWW.SLEEPYHAMMOCK.CO.UK

FLUORO ABSTRACT, A2 PRINT, BLACK FRAME,

CULT FURNITURE. WWW.CULTFURNITURE.COM

GREEN SCANDI STRIPE CUSHION, MINT & MAY.

WWW.MINTANDMAY.CO.UK

SEVILLE RAINBOW OAK LAMINATE,

£9.45/SQM, FLOORING MOUNTAIN.

WWW.FLOORINGMOUNTAIN.CO.UK

CECIL PRINT, £400, LEIGH BAGLEY.

WWW.LEIGHBAGLEY.COM
---
RAFFIA STRIPE CUSHION COVER, £32,

FABLY. WWW.FABLY.CO.UK

MONOCHROME STRIPE WALLPAPER, £35 PER ROLL,

LUXEOLOGY. WWW.LUXEOLOGY.CO.UK

SWAY WALLPAPER IN TOMATO, £79, FIONA

HOWARD. WWW.FIONAHOWARD.COM

AZTEC CHINDI RUG IN RED, £94.99, WALTON & CO.

WWW.WALTONSHOP.CO.UK

MONOCHROME STRIPE WALLPAPER, £189.99,

THE WOOD VENEER HUB.

WWW.THEWOODVENEERHUB.CO.UK
---
I N T E R I O R S

Wall of sound

SUTTON COLDFIELD GP DR ATIF GHAFFAR HAS TURNED HIS PASSION FOR AUDIO-VISUAL

TECHNOLOGY INTO AN EXCITING BUSINESS VENTURE, AS AMY NORBURY DISCOVERS

PHOTOS BY FRASER MITCHELL @FMITCHELLPHOTOGRAPHY

ATIF GHAFFAR RUNS ZEBRA HOME CIINEMA

Movies and music have long been passions for Atif

Ghaffar. A GP by day, the Sutton Coldfield dad loves

nothing more than settling down to watch the latest

film releases or TV dramas with his family. Music

is also a huge part of his life, and Atif counts DJing

among his hobbies.

And after spending 20 years researching, auditioning

and buying the best HI-FI and home cinema systems,

Atif has now turned his hobby into a business venture.

"I've been an audio-visual enthusiast for 20-odd

years; I've always loved movies and music, and right

from the early days of Dolby Pro Logic and surround

sound systems, I've always wanted to replicate the

cinema experience at home," says Atif.

"As time has gone on and technology has developed

and improved, what you find now is that you can have

a new experience at home which far surpasses what

you can experience in the commercial cinema.

"The cinema has definitely got a really important role,

particularly in bringing communities together, where

everyone has the same experience of watching the

latest movies; it's a collective emotive moment and

you can't replace that. But when you want to replicate

those moments in the privacy of your own home with

your family and friends, watching your favourite films

and shows, with the right equipment you can have a

fantastic experience instead of something average or

mediocre."

Atif says that he is, first and foremost, a consumer and

enthusiast. With Zebra Home Cinema, his main aims

are to combine audio-visual excellence with value for

money.

"I've spent years demoing other systems up and down

the country as an enthusiast," he says. "As a hobbyist

you get to play with all these different systems, and

it's really a celebration of the engineering in this

26

www.jaimemagazine.com
---
THE STUNNING STEINWAY

LYNGDORF SPEAKERS

particular field. As you discover the different systems

available at different price points, there becomes a

yearning to pursue excellence."

While Atif is happy to wax lyrical about the prowess

of each system he installs, the only way to get a true

feel, he says, is to have a listen for yourself. So he has

dedicated several rooms in his Little Aston home to

creating demos of the various systems he offers.

"What I've found over the years is that there are lots

of installers who will install home cinemas and media

rooms but they don't have a demonstration facility,

or they haven't experienced the products that they're

putting into a client's home."

And he enjoys nothing more than inviting potential

customers and fellow audio-visual enthusiasts over

to take a listen. Here at J'AIME, we were happy to

oblige.

"The nice thing about bringing people here for demos

is that they don't need to be tech-savvy or know the

ins and outs of the engineering side; you'll just be able

to hear and feel the difference."

From the rousing rock sensibilities of Bohemian

Rhapsody to a hauntingly beautiful cover rendition of

The Weeknd's hit Blinded By the Lights, every note is

pitched to perfection, creating an impressive wall

of sound which can truly make you feel like you're

at a live performance, not listening to a stream in

your living room.

The system in question is Atif 's flagship sound

system, the stunning Steinway Lyngdorf.

Designed, developed, and manufactured in

Denmark, Steinway Lyngdorf sound systems are

the only systems on the planet that are qualified

to be manufactured in partnership with Steinway

and Sons, makers of the world's finest pianos

for more than 165 years. Their collaboration

with Peter Lyngdorf, one of the most forwardthinking

audio innovators of our time, has created

a gold standard for audio systems. As well

as offering sublime audio, the beautifully

designed speakers are artistically designed to

create a stunning addition to any room.

The second demonstration is a small yet

stylish and perfectly formed system packing

a sonic punch which belies its size. Also by

the Lyngdorf brand, this represents the

more affordable end of Atif 's premium

offerings, with a complete system starting

from around the £3,000 mark.

For a complete audio-visual experience,

the piece de resistance of Atif 's setups is

the dedicated cinema room. This stunning

conversion showcases exactly how a home

setup can replicate - and even surpass - the cinema

experience.

Combining in-wall and on-wall speakers from

Miller and Kreisel, based on their top-of-the-line

S300 series coupled with their incredibly powerful,

X12 subwoofers, and a Lyngdorf MP-60 processor

alongside seven Lyngdorf SDA2400 digital power

amps, the audio quality achieved is simply superb.

Add in the choice of 77-inch OLED TV or the

impressive three-metre motorised projector, and it's

heaven for cinema fans.

"It's a multi-billion dollar industry where fantastic

directors of photography and brilliant people working

in audio, who are all working really hard to bring us

the very best content," says Atif. "When you watch on

a laptop or listen with a sound bar, you're not getting

all of the stuff they've recorded in its original quality.

The sound that is there is amazing, but you need the

right equipment to make the most of it."

For more details or to book a demonstration,

get in touch with Zebra Home Cinema at

www.zebrahomecinema.com or call 0121 405

1007.

THE IMPRESSIVE HOME CINEMA ROOM

www.jaimemagazine.com

27
---
G A R D E N I N G

Say hello to spring

BYRON LEWIS FROM LICHFIELD GARDEN CENTRE, TAKES A LOOK AT WHAT

WE NEED TO BE DOING IN THE GARDEN NOW SPRING HAS SPRUNG

'Spring has sprung, the grass is riz, I wonder

where the Birdies is…!'

Yes spring is pretty much here, and with it

the start of the gardening season. There's

lots to do in the garden, from giving the

lawn the first cut of the year to planting

seeds, bulbs and almost everything else!

Easy seeds include hardy annuals - these can

be sown now directly outside into borders

that have been dug over and levelled. Try

classics such as cornflower, nigella and

godetia for a riot of colour later in the

summer. These are good choices to get the

kids involved in gardening, as they don't

require too much work - just watch out for

the birds which can peck the seedlings.

Solid spring favourite shrubs include

camellias, magnolias and rhododendrons, all with

fantastic coloured blooms ranging from pink and red

to white and purple. If you've not got much space in

the garden, consider using them in large pots on the

patio; but be sure to use the correct compost. These

are all acid lovers, so plant into ericaceous compost

for glossy leaves and better blooms.

With the predicted rise in food prices there's never

been a better time to start growing your own.

Potatoes, garlic, onions and a whole host of vegetable

SHRUBS SUCH AS MAGNOLIAS

ARE SOLID SPRING FAVOURITES

IF YOU'RE PLANNING ON

GROWINNG YOUR OWN VEG,

NOW IS THE TIME TO START

seedlings are now available in the garden centre, so if

you caught the gardening bug during the pandemic

and dabbled with growing your own food, you can

carry on in 2022; your food will be fresher and taste

better too! More tender veg such as runner beans are

best left until the worst of the frost and wind is over,

and hold fire on putting tomato plants outside until

May; they are fine in greenhouses and conservatories

though.

If your spring bulbs are almost over, remember not

to chop off the leaves - you can cut the flower stalks

down, but allow leaves to die back naturally, putting

food back into the bulb for next spring.

We recommend adding a few handfuls

of bonemeal around your bulb clumps

too, to enhance flowering in the future.

Bedding plants will shortly be ready to

take their place but don't be tempted

to plant too early - it only takes a night

with a sharp frost to kill them off!

Byron Lewis runs Lichfield Garden

Centre at Curborough Countryside

Centre, Lichfield.

Call 01543 254306, visit

www.lichfieldgardencentre.co.uk

or find Lichfield Garden Centre on

Facebook, Instagram and Twitter.

28 www.jaimemagazine.com
---
tatlowcarpets

& flooring

Quality flooring at affordable prices

Abingdon, Adam's, Associated Weavers, Axminster, Brintons, Brockways,

Cormar, Crucial Trading, Penthouse, Ulsters, Karndean & Project Floors

Free advice ✔ Free quotations ✔

Furniture moved ✔ Our own regular fitters ✔

Lichfield Garden Centre

Inspired Gardening

Easter is on the way...

Get your garden ready for spring

Grow your own Vegetable Plants,

Herbs, Fruit Bushes & Trees - all

now in stock & ready for planting.

Enjoy fresh, tasty crops this

summer!

Hanging Basket Refill Service

now available - let us create

perfect baskets & pots for you

...we won't tell the neighbours!

Coach Trips 2022 - They are back!

Highgrove Wednesday 11th May £60

RHS Bridgewater Gardens Saturday 3rd Sept £49

Raymond Blanc's 'Manoir' Thursday 15th Sept £329

Malvern Autumn Show Saturday 24th Sept £55

Brand: Karndean

Range: Art Select – Parquet

Colour: Blond Oak AP01

Looking for inspiration for your

home, get the best advice from

the team at Tatlow's.

@Tatlowcarpets

@Tatlowcarpets

@Tatlowcarpets

Please see our website for further details

www.tatlowcarpets.co.uk

Tel: 01543 264766

Open to the public. Mon-Fri: 9.00am - 5.00pm. Sat: 10.00am - 4.00pm

Unit 4, Europa Way, Britannia Enterprise Park, Lichfield, Staffs, WS14 9TZ

Don't miss out - seats selling fast!!

Garden Club Members get 10% Off all prices shown -

join up for a one-off £10 fee.

Coaches depart direct from Lichfield.

More details on all our trips are on the website.

Find us at Curborough Countryside Centre (off

Eastern Avenue), Lichfield.

Postcode for your Sat Nav : WS13 8ES.

Solar Lighting now available

Get your garden ready for

those long summer nights

& garden parties...

See our new ranges for 2022!

Open 7 days a week - see our website for

updated times.

Telephone : 01543 254306
---
F O O D & D R I N K

Chocs away

IT'S THE ONE TIME OF YEAR WHEN CHOCOLATE FOR BREAKFAST IS PERFECTLY ACCEPTABLE

FAYRE, AND SENDING THE KIDS ON A JAUNT AROUND THE GARDEN IN SEARCH OF HIDDEN

SWEET DELIGHTS IS A MUST. HERE WE TAKE A LOOK AT SOME OF THE TASTIEST CHOCOLATEY

EASTER TREATS AROUND, FROM FIRM FAMILY FAVOURITES TO THE GROWN-UPS ONLY

INDULGENCES WE'RE HOPING TO HUNT DOWN COME APRIL 17

£25.95

£29.99

BOOJA BOOJA LARGE DECORATED

EGG WITH HAZELNUT CRUNCH

CHOCOLATE TRUFFLES.

FINE PINK CHOCOLATE EASTER EGG WITH PINK MARC

DE CHAMPAGNE TRUFFLES, CHARBONNEL ET WALKER

EASTER CHICK LETTERBOX BISCUIT,

BISCUITEERS BAKING

£4.99

£69.95

CHOCOVIAR PISTACHIO WHITE

CHOCOLATE EASTER EGG, VENCHI

£10.95

CHOCEUR CHOCO CHANGER

SALTED CARAMEL EGG, ALDI

EXTRA THICK YOU CRACK

ME UP EGG, HOTEL CHOCOLAT

£30

£14.95

EGG AND CHICKS ARTISAN EASTER

CHOCOLATES, HARVEY NICHOLS

30 www.jaimemagazine.com
---
£8.95

£29

OVAL CHOCOLATE MINI

EGG TIN, BUTLERS

HAPPY CHEE-ASTER HAMPER,

CARTWRIGHT AND BUTLER

LIMITED EDITION EGGS WITH LEGS

DUO INDIVIDUALLY DESIGNED BY

CERAMIC ARTIST MARY ROSE YOUNG,

HARVEY NICHOLS

£160

£5.99

PATISSERIE OSTRICH EGG,

HOTEL CHOCOLAT

£85

MOSER ROTH BELGIAN MILK AND DARK

CHOCOLATE ALMOND EGG, ALDI

JOE & SEPH'S CHOCOLATE

POPCORN EASTER EGG.

£18.95

ROCOCO SEA SALT MILK

CHOCOLATE EASTER EGG

£34.95

£35

£11.95

£9.95

MILK CHOCOLATE HONEYCOMB

EASTER EGG, COCOBA

MEDIUM EASTER CHOCOLATES,

BISCUITEERS BAKING

CHOCOLATE TRUFFLE CANDLE

(CALORIE FREE), CURBOROUGH

GIFT SHOP AT CURBOROUGH

COUNTRYSIDE CENTRE

www.jaimemagazine.com

31
---
F O O D & D R I N K

Worship in the woods

FOOD, FIRE AND THE GREAT OUTDOORS ARE THE ORDER OF THE DAY AT

WORSHIP WORTH EXPERIENCES, AS KATY EDGINGTON FINDS OUT FROM

CO-FOUNDER ALISON WORSHIP

Originally from Yorkshire,

Alison Worship moved to

Staffordshire in 2014 to take

up a teaching position in

Rugeley. After several years in

a secondary school, she now

runs cooking classes and creates

bespoke outdoor cooking

experiences and events for

guests of all ages and from all

walks of life.

A qualified food technology

teacher, Alison runs Worship

Worth Experiences alongside

her husband Tim from their

family home in Canwell. The

business combines her passion

ALISON WORSHIP RUNS

WORSHIP WORTH

EXPERIENCES

for teaching and vast experience within the catering

industry with his job as a tree surgeon and their

shared love of food and the outdoors.

"I've worked in food from the word go," says Alison.

"I've worked in fast food restaurants and coffee shops

- Costa, Starbucks, Caffè Nero - and in contract

catering for Sodexo. I worked in catering for the

department stores Allders and House of Fraser, and

also ran catering on motorway services."

Having always enjoyed training staff in her corporate

MAKING YOUR OWN PIZZA

IS A FIRM FAVOURITE

roles, in her mid-30s Alison headed back to

university to retrain as a teacher. A food technology

PGCE was the obvious choice, but after having

her son, full-time teaching was no longer right for

her. Tim suggested going self-employed and they

landed on the idea of opening a cookery school. Tim

built the outdoor kitchen and almost every wooden

building on their grounds using locally sourced wood.

The wood burned on-site is from trees he's felled.

For Alison, it's important to get children cooking

from an early age and to teach them where their food

comes from. She offers cooking lessons for

ages three to 16, with regular Saturday

morning classes in term time and seasonal

one-off sessions during school holidays.

Children can cook along in the outdoor

kitchen and learn everything from social

skills and independence to time planning,

as well as gaining kitchen confidence.

"So many times when I was teaching I

would show children vegetables or ask

them where this meat came from and

they genuinely wouldn't have a clue,"

says Alison. "That's a real worry. It's a

cycle; if you come from a home where

32 www.jaimemagazine.com
---
your parents don't cook, you are

potentially less likely to cook.

"People make unhealthy choices

thinking it's easier, but cooking

from scratch doesn't have to be

complicated. I find that children

are much more likely to try

something if they've made it

themselves. They might not eat all

of it, but they will try it. It inspires

them to want to go and do more.

The cooking school helps the

parents, too. They come with

their child and they learn as well."

There's a healthy mix of sweet

and savoury recipes in Alison's

store cupboard. One week the

children will be making chicken fajitas, the next

lemon and honey flapjacks, and the week after piripiri

burgers and roast vegetables.

"I always try to keep it fresh and varied, and look at

skill sets, so the kids are building their knowledge but

also their confidence," says Alison. "Confidence can

be a barrier for parents, too - if you're not confident

in the kitchen why would you entertain doing it with

your child? Then also there's the mess and the fact

that your child doesn't listen to you - mine doesn't

anyway!

"People might think they can't go to cooking school

because it's fancy, but it's not. What we make is good,

nutritious food that you can do at home. I'm not a

chef and I don't pretend to be - it's about teaching

people how to cook, do it their way, and develop

their skills. We keep it as simple as possible."

As an educator trained to teach inside, Alison

says the difference in the children working outside

GUESTS CAN COMBINE THE COOKERY SCHOOL WITH A

STAY IN THE ONSITE WOODCUTTERS REST CABIN

is amazing to see. In her eyes, the sterility and

discipline of the classroom affects how children learn

and what they do.

"I think learning outdoors will be a huge part in the

next chapter of education," she adds. "University

of Birmingham sent some PGCE students here to

experience outdoor learning, and there is definitely

already a big move towards using outdoor settings.

Everyone loves being in the fresh air. The kids turn

up in their wellies, do some cooking, go and play

in the woodland, then their food is ready. It's much

more relaxed and social, and the parents seem less

stressed as well."

As well as getting children cooking outside school,

Alison is working alongside Steethay Primary School

to deliver lessons on diet, nutrition and healthy

eating along with practical cooking from pre-school

up to KS4. And for those who've chosen to educate

their children themselves, she runs a home education

group on Wednesday mornings. There are even

plans in the pipeline to tutor

GCSE Food Technology for older

group members in September.

"It is a different kind of teaching,

which is what I love," Alison says.

"Now, I'm teaching on so many

different levels, from the little

ones to more mature people to

different areas of the community.

It's a different knowledge set for

each of those groups, which you

don't use as a teacher in a school.

I love the freshness of meeting

lots of people and hopefully

making a difference."

Another important part of this is

www.jaimemagazine.com

33
---
getting out and about in the

community at events hosted

by Nurture Community

CIC, where Alison shares

what she knows about food

- including budgeting, meal

planning and cooking skills

- with people who might

not necessarily come to the

cookery school.

But all ages and abilities are

welcome at Worship Worth

Experiences, where there are

plenty of opportunities for

families and friends to make,

eat, and share food around

the pizza oven, the barbecue,

and the campfire.

"The shared experience and the social aspect is

important - and I think we've lost some of that,

sitting in front of the TV eating our food," Alison

remarks. "Our family campfire cooking session is

a good example. We do it out in the woodland and

we'll make a meal over the fire - usually a casserole,

bread and potatoes. We show you how to manage

the fire, so if you go camping or even just like being

around a fire you've got those skills."

Their outdoor wood-fired pizza classes have been

popular, even throughout the winter months. Family

sessions run every other month on Saturdays, but the

THE COOKERY SCHOOL FOCUSES

ON COOKING OUTDOORS

couple also host evening sessions for adults and days

out for corporate groups. You'll have the chance to

make your own dough, choose your own toppings,

create your pizza and bake it in the oven before

tucking in.

At regular 'School of BBQ' days, you can learn the

basics about wood, fuel, types of barbecue and cook

times. Alison shares different techniques plus insider

knowledge on rubs and marinades and how to apply

them to meats, vegetables and fish. Then you make

your own lunch on the barbecue.

"People tend to either overcook or undercook

food on the barbecue, so they're scared and just

stick to burgers and sausages," she says. "This is

an opportunity to up your game, and it's a real

experience in the outdoor kitchen."

And if all that's whetted your appetite, you might be

interested to know that Alison and Tim also cater

for bespoke events like birthday and engagement

parties. They even have their own Airbnb on-site -

the Woodcutter's Rest - a log cabin built by Tim with

a private patio and hot tub where you can combine

your stay with a wood-fired pizza experience or the

family campfire cooking, for example.

"People want experiences," Alison says. "Because

of Covid, they're looking for the alternative, and we

very much are that. We're out there in all weathers.

You're having such a good time that you don't really

feel it.

"What we do is not just about the cooking - it's

about the experience, the vibe, where we are and the

woodland, and our passion for what we do. We just

want to share that and teach!"

Find out more and find links to book at

www.worshipworthexperiences.co.uk

34

www.jaimemagazine.com
---
RETREAT

Ronda, Spain

LUXURY PILATES RETREAT

RONDA, SPAIN

FIVE NIGHTS

RANGE OF PILATES CLASSES

A STUNNING LOCATION

WINE TASTING

QUALITY DINING

WALKING

SWIMMING

& SO MUCH MORE

BOOK NOW FOR 2022

CONTACT STEPH ON

07527 870 111

STEPH@THECOREPILATESSTUDIO.CO.UK

PACKAGES AVAILABLE FROM

£1,650.00 PER PERSON

W W W . T H E C O R E P I L A T E S S T U D I O . C O . U K / R E T R E A T

JOIN MY STUDIO

CLASSES

LOCATED IN FOUR OAKS

FULLY EQUIPPED STUDIO

MAT, EQUIPMENT &

REFORMER

SMALL GROUP CLASSES

PRIVATE LESSONS

INJURY REHABILITATION

Scan to

see more
---
F O O D & D R I N K

A fancy feast

MASTERCHEF: THE PROFESSIONALS FINALIST LIAM ROGERS SHARES

A DINNER PARTY FAVOURITE AHEAD OF HIS POP-UP AT THYME

KITCHEN THIS MONTH

Liam says: "Throwing a dinner party or fancy something different for a Sunday lunch? I love to cook this

dish for my friends and family - it's a belter and really easy to do. Please tag me in your pictures

@chef_liam_rogersss and happy cooking!"

Roasted Halibut, Piquillo Pepper,

Fennel, Black Olive and Courgette

INGREDIENTS - SERVES FOUR

4 x 150g piece of halibut

1 tin of Piquillo peppers

10g sherry vinegar

salt

vegetable oil

4 fennel bulbs

4 courgettes

4 baby courgettes

100g black olives

2 lemons, zested

75g capers

200g shallots

300ml Pernod

250g butter, unsalted

Roast the halibut fillets in a pan until golden, turn

over and after 15 seconds remove from the pan

and rest.

For the piquillo pepper purée, take a 415g tin

of piquillo peppers and roast in a pan until the

moisture is cooked off. Blend with 10g sherry

vinegar and a pinch of salt.

Prep one fennel bulbinto quarters and slowly

simmer in a pan of salted water until soft for

approx 12 minutes. Remove and roast in the oven

on one side of the fennel for 15 minutes.

Slice the courgette into small pieces and roast

in a pan with a pinch of salt until the moisture

has been cooked off, which will take around 20

minutes, then blend until smooth.

Half the baby courgettes and roast on one side

until golden. Dress with extra virgin oil and

Maldon sea salt.

For the tapenade, chop the black olives and

capers. Dress with extra vinegar and lemon zest.

For the fennel butter sauce, slice the shallots and

remaining fennel and cook until soft. Add Pernod

and reduce by half. Strain out the fennel and

shallot, add the liquid back to the pan and slowly

whisk in cold butter until thick and glossy. Finish

with lemon.

36 www.jaimemagazine.com
---
Wednesday 13th April Monday 18th April Wednesday 20th April Thursday 21st April Sunday 15th May

Monday 16th May Friday 20th May Saturday 11th June Thursday 16th June Monday 20th June

www.moorhallhotel.co.uk

COMING SOON

TO THE LICHFIELD GARRICK THEATRE

THU 7 APR FRI 8 & SAT 9

APR

FRI 8 APR

THE ULTIMATE BOYBAND

PARTY SHOW

MARY ROSE

By J.M. Barrie

SAVING BRITNEY

THU 14 APR FRI 15 APR SUN 1 MAY

A CELEBRATION OF ANNIE

LENNOX & THE EURYTHMICS

LIONEL:

THE MUSIC OF LIONEL RITCHIE

NEARLY ELTON

BOOK

NOW

LICHFIELDGARRICK.COM

01543 412121
---
F E AT U R E

Old-fashioned

St George's Day fun

ARE YOU AND YOUR FAMILY READY TO GET STUCK INTO SOME FUN ST GEORGE'S DAY

CELEBRATIONS, MEDIEVAL-STYLE? THE COUNTDOWN IS ON AT TAMWORTH CASTLE!

Owing to the coronavirus pandemic,

Tamworth Borough Council's Arts

and Events team have only been

able to offer a virtual programme of

events and activities for the past two

years. But in 2022 the team are keen

to return to the grounds of the Castle

in-person. They have pulled together

a jam-packed programme of free live

entertainment for St George's Day on

Saturday, April 23 - and they're even

hoping to exceed previous recordbreaking

crowds.

Tamworth's popular St George's Day

extravaganza will this year feature

an exciting new line-up of medievalthemed

activities and amusements taking over the

castle grounds from 10am to 5pm.

Plus, all the family festival favourites that have led

to the event becoming well-known up and down the

country will be there too: from jousting and archery

to a living history camp, a walk-about comedy with

JOUSTING IS ALL PART OF

THE ST GEORGE'S DAY FUN

SEE ST GEORGE AND THE INFAMOUS

DRAGON AT TAMWORTH CASTLE

medieval grave diggers, to food and other stalls,

fairground rides and children's activities.

Although St George never visited England, his

reputation for virtue and holiness spread across

Europe and since the 9th century his feast day has

been celebrated here on April 23, which was possibly

the date of his martyrdom. After

the Battle of Agincourt in 1415,

St George's Day became one of

the most important feast days in

the English calendar, although

the St George cross wasn't used

to represent the country until the

reign of Henry VIII.

The story of England's patron

saint and how he battled the

legendary dragon is as iconic

today as that red and white cross.

It's told that St George rode into

Silene in North Africa to free the

city from a dragon who had a taste

for humans, but that story actually

38 www.jaimemagazine.com
---
MR ASH GULATI

CONSULTANT

HIP AND KNEE

SURGEON, AND

ROBOTIC SURGERY

SPECIALIST.

MBBS, MS ORTH, DNB

(ORTH), AO FELLOW

(TORONTO), PHD (OXFORD),

FRCS (TR & ORTH)

LEAVE JOINT PAIN BEHIND

Based in Sutton Coldfield, Mr Ash Gulati specialises in hip & knee

replacements, sports injuries management, and cutting edge,

high-precision minimally invasive robotic-assisted surgery, reducing

post-operative pain and facilitating a quicker recovery.

I AM TOTALLY FREE FROM PAIN AND

WALK BETTER THAN I HAVE DONE IN

YEARS, I HAVE MY LIFE BACK

Knee replacement patient of Mr Gulati

APPOINTMENTS

ARE AVAILABLE

EVERY WEEK

AT SPIRE LITTLE

ASTON HOSPITAL.

If you think you would benefit from an outpatient consultation to

discuss your joint pain, or to plan ways to solve your orthopaedic

problems, why not book an appointment today:

Private Secretary: Nikki Thomas - Telephone: 07985414676

Email: nikki.thomas24@btinternet.com - Visit: www.agulati.co.uk

Proud to be a family run business for over 35 years

Introducing

the Sudbury

woodburning

stove from

Clock

HOME IS WHERE THE WARMTH IS

Suppliers of: Contura, Clock, Jotul, Gazco, Scan, Town & Country Fires, ACR Heat Products and many more

Installers and suppliers of gas fires, bespoke limestone surrounds, and gas and woodburning stoves, since 1981.

1/7 High Street, Erdington B23 6RG Next to Highclare School

Telephone: 0121 384 5251 - www.abbeyfirecentre.co.uk

Open: Mon - Fri: 9am - 5pm (closed Wednesdays), Sat: 10am - 2pm

abbeyfirecentre @abbeyfirecentre abbeyfirecentreltd
---
post-dates the real George by several hundred years.

However, you shouldn't let that put you off coming

along to meet St George and his new animatronic

rival! Soaring at 3.5m long and 2.3m high, the

roaring and tail swinging dragon will enthral children

and adults alike, bringing the story to life as he roams

around the castle grounds.

The Grand Medieval Joust is also back for 2022

by popular demand. Festival-goers will be able to

watch the action unfold as competing knights on

horseback take to the main arena to show off their

jousting skills. Fun displays are guaranteed, full of

laughs and action, trick riding and stunts, with skilled

performances from stunning horses and knights in

shining armour. Throughout the day knights will

also demonstrate the variety of weapons and combat

methods used during medieval skirmishes.

Other entertainment and activities to keep the

whole family busy include workshops, displays and

a medieval encampment

featuring replica equipment

and living history

demonstrations of how

everyday people would have

lived during the period.

First held in 2008, the

free annual St George's

Day festival is one of the

highlights of the town's

calendar of outdoor events

organised by Tamworth

Borough Council's Arts and

Events team. It's set to draw

thousands of visitors from

across the country.

"The St George's Day

THERE WILL BE ALL KINDS OF

MEDIEVAL ENTERTAINMENT

festival is one of the most

popular events on our calendar

and we are delighted to be

able to bring this day back to

the Castle Grounds after a

very challenging two years of

restrictions," says Councillor

Robert Pritchard, Deputy

Leader of Tamworth Borough

Council.

"The Arts and Events team is

always working hard to ensure

it continues to grow and offer

new attractions each year. With

so much going on throughout

the event, it's easy to keep the

whole family entertained for

several hours with a variety of medieval-themed fun

and games."

The day also offers a great opportunity to explore

Tamworth Castle and its history, including their

impressive display of real and replica items from the

Staffordshire Hoard.

There's plenty of other Easter fun taking place inside

Tamworth Castle from April 12 to 24, including a

Dragon Egg Hunt and Dragon Charming activities.

Everyone is invited to learn how to track and identify

a dragon from its footprints and find out more about

dragon healthcare, plus spot dragon eggs as you

explore the castle to take home a little prize. Visitors

are advised to check Tamworth Castle's website for

opening times and admission prices at

www.tamworthcastle.co.uk

Check out the full programme for the St George's

Day festival by visiting

www.tamworthartsandevents.co.uk

40 www.jaimemagazine.com
---
Explore 1,000 years of history

Tamworth Castle is a stunning example of an intact

Norman motte and bailey castle, surrounded by beautiful

grounds which now hosts a brand new playground too.

Come inside and explore our history. We have lots of

interactive displays for young and old alike.

We even have a smartphone app - Tamworth AR

Explorer - which really brings our history to life!

New state-of-the-art interactive exhibition

The top floor of Tamworth Castle has been transformed

into a new exhibition which brings our fascinating Anglo-

Saxon history to life, including the role of our famous

warrior queen, Aethelflaed, and themes of battle,

kingship and warrior culture in Anglo-Saxon Mercia.

See the Staffordshire Hoard

Our new exhibition also includes a mead hall where you

can see items from the famous Staffordshire Hoard - the

largest hoard of Anglo-Saxon gold ever found.

Dragon Egg Hunt & Dragon Charming

Tuesday 12 - Sunday 24 April 2022

Battle and Tribute is supported by The National Lottery Heritage

Fund, as well as Tamworth Borough Council,the Friends of Tamworth

Castle and the Arts Council. Staffordshire Hoard photo credit:

Birmingham Museums Trust on behalf of Birmingham City Council

and The Potteries Museum & Art Gallery, Stoke-on-Trent.

St George's Day Extravaganza!

See St. George, the dragon, medieval joust, encampment, games, workshops and more...

FREE

EVENT

Saturday 23 April - Tamworth Castle Grounds

www.tamworthartsandevents.co.uk

Tamworth Castle Grounds, Holloway, Tamworth, Staffordshire, B79 7NA
---
F E AT U R E

Poetry in motion

WRITER AND FOUNDER OF NEW LOCAL INDEPENDENT PUBLISHER FAWN PRESS, SCARLETT

WARD-BENNETT SHARES HER INSPIRATIONS AND MOTIVATIONS WITH KATY EDGINGTON

September 2021 saw the launch of a new

independent press in Staffordshire, founded with

the aim of publishing beautiful books of exceptional

poetry. Fawn Press was born from founder Scarlett

Ward-Bennett's passionate love of books and

literature, her belief that poetry has the power to

change lives through the connection between writer

and reader, and her goal of publishing new and

under-represented poets.

Scarlett is a poet first and foremost, with her first

collection 'Ache' released with Verve Poetry Press in

2019. However, as someone who has always been

fascinated with the publishing industry, she wanted

to look beyond bringing poetry into the world by

writing her own books. Her ultimate goal in setting

up the press, she tells me, was to be a portal through

which poets would materialise their poetry, and to

facilitate a platform for their voices.

"I love poetry, and I wanted to be in a position where

FAWN PRESS FOUNDER

SCARLETT WARD-BENNETT

I could help bring that into the world, almost like

a poetry midwife. The big UK publishing houses

have historically had issues with diversity: the

report Rethinking Diversity in Publishing is just one

resource that supports this. I wanted to have this in

the forefront of my mind when going forward."

Some of Scarlett's favourite poets are Fiona Benson,

Isabelle Galleymore, Ella Duffy, Seán Hewitt,

Paige Lewis and Kei Miller. The work of other

contemporary publishers is also encouraging her as

she builds Fawn Press' catalogue and reputation.

"They all seem to explore issues of society and

human emotion through the lens of nature, which I

adore. In terms of publishers, I adore Nine Arches

Press. If it has their stamp on it, you don't need to be

familiar with the poet. That's the beauty of building

a really strong brand, and is a place I'm aiming to get

42 www.jaimemagazine.com
---
FAST TRACK CONSULTATION AND

TREATMENT FOR HEALTHY HANDS

PUT YOUR HANDS IN OUR HANDS

Treating hand conditions effectively requires making a diagnosis by

addressing your symptoms and signs. Here are some common hand

conditions and the associated symptoms:-

Carpal Tunnel – Common indicators include pins and needles, numbness and

tingling in the fingers waking you from sleep.

Trigger Finger – Signs of finger locking and clicking in the fingers and thumb.

Dupuytren's Contracture - A thickening of skin in the palm and fingers along

with a fixed bending of the fingers meaning hands cannot be placed comfortably

flat on a table.

Arthritis of the Thumb – Signs include a general dull ache around the thumb

base, which may mean sufferers struggle to open tight jars. The thumb position

may change.

Occasionally additional investigations are required but we always do what we can

to help diagnose on the day. We may also suggest injections and physiotherapy

as alternative treatment options to surgery.

Online consultations are available as well as face to face appointments, if you

would like to be seen but would prefer not to attend a hospital setting. For more

information visit www.midlandhandclinic.com

So, if you detect any signs or symptoms of a hand condition, don't delay, let

the Midland Hand Clinic help you to reach the correct diagnosis and receive

the right treatment!

Midland Hand Clinic lead by Mr G Shyamalan FRCS

NHS consultant hand surgeon.

All patients welcome whether you have private medical

insurance or you are self-paying.

Hand Clinic PA: Pam Dziubany

Email: pdziubany@hotmail.com

Call: 07815 460786 - 01827 892952

www.midlandhandclinic.com
---
to. I also think Penned In The Margins are printing

really exciting stuff right now!"

The Midlands is home to a rich and vibrant

publishing community, with Scarlett citing The

Emma Press, Verve, Offa's Press, Nine Arches

Press and Ignite Books as just a few of the presses

that have inspired her. She's also keen to note that

they've shown her that there will always be room for

more indie publishers: they are peers, rather than

competitors.

"I think it's a mistake to wait for a 'gap' to qualify

establishing a press, because there are so many doing

great things already, but to add to that tapestry

just makes it more varied," she says. "Actually, as

'gatekeepers' of what gets published, it's great for the

health of the poetry scene in general to have as many

different publishers from different backgrounds as

possible!"

As well as being a poet in her own right and

running Fawn Press, Scarlett facilitates workshops,

both online and on visits to schools, colleges and

universities. As a queer, disabled writer, she explores

a sense of identity in her poetry through the lens of

her lived experience as a woman in a society that

often sees that as an inferiority. She has recently had

poems published in Nine Arches' Under The Radar

magazine and fourteen poems anthology, and has

work featured in Broken Sleep Books' forthcoming

Ecopoetry anthology. It hasn't been all smooth seas

and plain sailing for Scarlett and her new venture,

however - far from it, in fact.

"Apart from the admin of submissions windows and

the technicalities of learning to design for print, the

biggest challenge so far that dwarfs anything else

I've had to face was that in February, just months

before our pamphlet releases, and in the middle of

WILL PITTAM READ SOME OF HIS

WORK AT THE FAWN PRESS LAUNCH

scheduled workshops and visits, I was hospitalised

with multiple sclerosis," she explains." I lost my

ability to walk, talk, swallow, read and write.

"That challenge was not just physical, but it made

me realise how important it is to have events over

Zoom. I had to cancel numerous events when I got

out of hospital, but thank god for events such as the

Saboteur Awards who have maintained accessibility,

so I've been able to feature on a publishing panel.

As events transition back to in-person, we must

remember to ensure accessibility."

Despite the intricacies of setting up

a new business and Scarlett's healthrelated

setbacks, Fawn Press launched

their first anthology, Elements: The

Natural & Supernatural, in January

this year with an event at Hanley

Waterstones. The anthology, featuring

the work of notable local poets, is

already in its second print run, but that's

not all Scarlett's achieved so far.

"I could name-drop and say we were

proud to print Birmingham Poet

Laureate Casey Bailey and Coventry

Poet Laureate Emilie Lauren Jones in

our anthology who are powerhouses

and incredible both of them, but I want

to talk about the writers I found in our

44 www.jaimemagazine.com
---
submissions window and though our mentorship

scheme who are truly talented," she says.

"Mikey May is a poet who creates his own zines of

poetry that are stunning, and we were lucky enough

to have had him on our mentorship scheme where

we offered feedback and support, as well as doing an

IG Live with him (@fawnpress).

"I was also incredibly excited to be editing Devjani

Bodepudi's manuscript with her this year, which I

think is one to look out for. Sally and Nabeela, our

pamphlet poets, have poured their hearts and souls

into their work and I am incredibly proud!"

So, what are Fawn Press looking for in the poetry

they choose to publish? Well, the brand ethos has at

its heart 'poetry that takes you by the hand and leads

you into the woods'.

"I love poems that transport me into a different

world, show me things I haven't seen before, and

force me into perspectives which leave me changed

when I finish the poem," Scarlett explains. "I don't

like poems that tell me 'this is what happened and it

made me feel this way'. I want poems to possess me,

and show me rather than tell me."

Another key tenet of the Press' ethos is to be a

platform that welcomes all writers, 'rejecting elitist

and pompous attitudes to publishing in favour of an

inclusive approach, whilst maintaining a high quality

ELEMENTS IS FAWN PRESS' FIRST

ANTHOLOGY RELEASE

of exceptional writing that excites and inspires'.

Scarlett is clearly passionate about supporting underrepresented

poets.

"I think that we should all as human beings be

trying to actively dismantle oppressive powers that

marginalise anyone," she says. "It's not enough to be

anti-racism, -homophobia and -ableism, you must

reach into the communities."

There's no doubt this commitment is being put into

action at Fawn Press. Scarlett offered a mentorship

scheme to a select few poets who showed potential

in the anthology submissions window, extending that

invitation to the poetry community. There were no

forms or any hoops to jump through: if you were

from a marginalised background, all you had to do

was email and they would select as many as possible.

The mentorship scheme included editing and

feedback, 1:1 Zoom sessions, advice on submissions,

guidance on writing a cover letter, and also an IG

Live video using the Press' social media as a platform

to share the mentees' poems. All mentees are also

invited to live performances arranged by Fawn Press,

and it's free for them to submit to future submission

windows.

As they are unfunded, the Press charges submission

fees to cover the labour of reading, but for minority

poets there are a number of free submission places,

no questions asked. You can also find multiple

resources linked from their Instagram profile.

"I'm really passionate about finding the next new

voice in poetry," Scarlett adds. "If I can offer a

platform to emerging poets, I'm not just helping that

single individual, I'm adding to the richness of the

literature pool, and I think that's very important."

2022 looks to be an exciting year for Scarlett, Fawn

Press, and the writers they're working with so closely.

Following on from readings from the Elements

anthology at Lichfield Literature Festival at the end

of March, the first wave of pamphlet poets will

appear in April, with hopes for a launch event at

Birmingham Waterstones.

"Then this summer we will have an open submission

window to find our next pamphlet poets, and later

in the year we'll be adding a second book to our

anthology series, so there will also be a submission

window open for that too!" adds Scarlett. "I want the

Fawn Press brand to be recognisable for its elegant

covers, exceptional poetry, strong company ethos,

and to be home to stories that truly take you by the

hand and lead you into the woods."

For more details visit www.fawnpress.co.uk and

find @fawnpress on social media.

www.jaimemagazine.com

45
---
W H AT ' S O N

What's on in April?

FROM COMEDY TO CLASSICAL MUSIC, A HAUNTING PLAY TO AVANT-POP IN A PUMPING STATION, HERE'S

OUR ROUND-UP OF WHAT'S ON THIS APRIL IN LICHFIELD, SUTTON COLDFIELD, TAMWORTH AND BEYOND

WHAT: JOSEPH AND THE AMAZING TECHNICOLOR DREAMCOAT

WHERE: BIRMINGHAM HIPPODROME

WHEN: APRIL 5 TO 16

The sensational brand-new production of Tim Rice and Andrew Lloyd Webber's

Joseph and The Amazing Technicolor Dreamcoat comes to Birmingham Hippodrome

for two weeks only!

The multi award-winning show has been performed in more than 80 countries

worldwide and has become one of the world's most beloved family musicals.

With stars from The London Palladium Alexandra Burke, Jason Donovan and Jac

Yarrow, the show features songs that have gone on to become pop and musical theatre

classics, including Any Dream Will Do, Close Every Door To Me, There's One More

Angel In Heaven and Go, Go, Go Joseph.Tickets are priced from £30, for more details

visit www.birminghamhippodrome.com

WHAT: MADE IN DAGENHAM: THE MUSICAL

WHERE: TAMWORTH ASSEMBLY ROOMS

WHEN: APRIL 6

Inspired by a true story and based on the hit film, Made in Dagenham is an uplifting

musical comedy set in 1968 Essex about friendship, love and the importance of

fighting for what is right.Like millions of other working women, Rita O'Grady is just

trying to get her husband out of bed and the kids off to school while aiming to clock

in at the factory on time. But life changes forever when Rita leads her fellow sewing

machinists into battle against the mighty Ford Motor Company in a fight for equal pay.

When Rita and the women of Ford Dagenham go on strike, followed by the female

workforce at Ford Liverpool, the company flies in its American bosses who attempt

to break worker solidarity. The case goes right to the top of the British government,

culminating in a history-making speech at the TUC conference. Funny, touching and

timeless, Made in Dagenham shows how ordinary people can achieve extraordinary

things when they stand together.

Tickets for the Gala Opening Night on April 6 cost £25 and include a drink and

canapés on arrival. For April 7 to 9 shows, the doors open at 6.30pm for a 7.30pm

start, with tickets priced at £15 or £13. The show does contain adult language. For

details visit www.tamworthartsandevents.co.uk

WHAT: MARY ROSE BY JM BARRIE

WHERE: LICHFIELD GARRICK

WHEN: APRIL 8 AND 9

Mary Rose is a spellbindingly beautiful ghost story about time, love, loss and hope from

JM Barrie, creator of Peter Pan. The setting - an old Sussex manor house, standing

empty and for sale - is haunted by the ghost of a young woman who once lived there.

37 years earlier, 12 year old Mary Rose went missing on a small island in the Outer

Hebrides whilst on holiday with her parents. After a month, she mysteriously returned

unaware that she had been away for any length of time. Years later, Mary Rose, her

new baby son and young husband return to the same island, where she disappears for

a second time. After 23 years, when her family have come to terms with her loss, she

reappears yet again. But her parents, husband and child have all aged whilst Mary

Rose is just the same as the day she vanished.

With an ensemble cast of five actors, and featuring original music and traditional

folk songs, Mary Rose will leave you spellbound by its mystical nature and moved by

its deepest yearnings to be reunited with the ones we love, and offering a message of

hope. For more details and tickets visit www.lichfieldgarrick.com

46 www.jaimemagazine.com
---
Refreshingly Different

Visit our Stylish Showroom

11 Belwell Lane, Sutton Coldfield, B74 4AA - Tel: 0800 996 1241

Visit our fantastic website www.jmiwindows.co.uk - enquiries@jmiwindows.co.uk

Windows | Doors | Bi-Fold Doors | Garage Doors | Conservatories | Orangeries | Secondary Glazing | Window Repairs
---
WHAT: THE GREATEST SHOWCASE

WHERE: THE ALEXANDRA, BIRMINGHAM

WHEN: APRIL 9

The Greatest Showcase is a three-hour celebration of comedy,

music and dance from a selection of the UK's most loved acts.

Hosted by talented entertainer Kat B, expect a night of non-stop

action, breathtaking performances and good vibes.

With comedy from entertainment royalty Richard Blackwood,

Instagram comedy sensation Spuddz and one of the hardest

hitting comedians on the stand-up scene right now Shabz

Kariem (formerly known as Shabba the Comedian), The

Greatest Showcase also features performances from celebrated

MOBO and BRIT Award winning R&B and Garage artists

Shola Ama and Kele Le Roc.

Plus, you'll be awed by exhilarating performances from BDO

World Street Dance champions and multi-award winning dance

troupe IMD Legion. This is your chance to laugh, feel good and

be entertained in a venue that will take your breath away.

For more information visit

www.atgtickets.com/birmingham

WHAT: HANDEL'S MESSIAH

WHERE: LICHFIELD CATHEDRAL

WHEN: APRIL 9

Two years after the first performance of Handel's Messiah

in Dublin in 1742, Horace Walpole, 4th Earl of Orford and

son of Sir Robert Walpole wrote: "Handel's oratorios thrive

abundantly — for my part, they give me an idea of heaven,

where everybody is to sing whether they have voices or not."

Lichfield Cathedral Chorus certainly has no shortage of voices!

Head along and join them as they mark their return to largescale

performances after the pandemic and prepare for the

Easter season with one of the best known and most loved choral

works of them all.

Ben Lamb directs the newly formed Lichfield Camerata, the

massed voices of Lichfield Cathedral Chorus and soloists in

an unforgettable evening of reflective and uplifting music. The

performance will start at 7.30pm. Tickets are priced at £24, £17

and £10. Visit www.lichfieldcathedralchorus.co.uk

WHAT: CLUEDO FAMILY MURDER MYSTERY

EVENING

WHERE: MOOR HALL HOTEL AND SPA

WHEN: APRIL 18

Enjoy a family night out solving the ultimate crime of

'whodunnit' with the Cluedo characters at Moor Hall Hotel and

Spa on Easter Bank Holiday Monday.

It's up to you to work out the clues and question the suspects.

Was it Miss Scarlet in the Library with the candlestick? Or

maybe it was Professor Plum in the Kitchen with the dagger?

The case will unravel over a three course dinner prepared by

Moor Hall's expert team of chefs - will you be the ones to crack

the case?

Arrival is 5pm and the evening is priced at £33 per adult and

£25 per child, and there is also the option to stay overnight from

£99 per family (up to two adults and two children) including full

use of the leisure facilities and a full English breakfast. For more

details and to book visit www.moorhallhotel.co.uk

48 www.jaimemagazine.com
---
WHAT: PRIVATE PEACEFUL

WHERE: BIRMINGHAM REP

WHEN: APRIL 19 TO 23

The Peaceful brothers, Tommo and Charlie, have a tough rural childhood facing the

loss of their father, financial hardship and a cruel landlord.

Their fierce loyalty to each other pulls them through, until one day they both fall for

the same girl. And then the Great War comes.

Set against the epic backdrop of WW1, we join 18-year-old Private Tommo Peaceful

in the trenches as he takes us on a journey through his most cherished memories and

tells his story of courage, devotion, family and friendship.

The award-winning Private Peaceful was shortlisted for the Carnegie Medal, won the

Red House Children's Book Award and the Blue Peter Book Award. Acknowledged by

Michael Morpurgo (War Horse, The Butterfly Lion) as his favourite work, this thrilling

new ensemble retelling by Simon Reade, directed by Elle While, explores the lengths a

young soldier will go to to fight for what is right.

For more details and ticket information visit www.birmingham-rep.co.uk

WHAT: AFTERNOON TEA WITH DISNEY CLASSICS

WHERE: MOOR HALL HOTEL AND SPA

WHEN: APRIL 20

Enjoy a delicious afternoon tea at Moor Hall Hotel and Spa, while listening to their

live choir perform the most iconic songs from some Disney classics on Wednesday,

April 20. This popular themed afternoon tea is sure to delight guests both young and

young-at-heart.

The four-star country house hotel's skilled chefs will prepare the afternoon tea of

dreams, served while you sit back as live performers, The Wings Family, entertain you

with songs and dances from a collection of your Disney favourites. Listen out for tunes

from a whole host of Disney classics, with some new songs added especially for this

performance. Arrive at 12.30pm for a 1pm start.

Tickets for the afternoon tea are priced at £32 per adult and £22 per child. For more

details and to book, visit www.moorhallhotel.co.uk

WHAT: ROMESH RANGANATHAN - THE CYNIC'S MIXTAPE

WHERE: BIRMINGHAM HIPPODROME

WHEN: APRIL 24 TO 27

Stand-up and TV comedian Romesh is back on tour in 2022 with his new show, The

Cynic's Mixtape, his most brutally honest yet.

Fresh from a fourth series of the Misadventures of Romesh Ranganathan, A League

of Their Own, Judge Romesh and The Weakest Link, he's putting showbiz aside for

now to deliver a carefully curated selection of all the things he has found unacceptable

since the last tour. The list includes why trying to save the environment is a scam, why

none of us are truly free, and his suspicion that his wife is using gluten intolerance to

avoid sleeping with him.

Suitable for ages 14+, catch Romesh on one of four dates this April at Birmingham

Hippodrome. Tickets are £25.50. For more details visit

www.birminghamhippodrome.com

WHAT: ROSIE TEE

WHERE: SANDFIELDS PUMPING STATION, LICHFIELD

WHEN: APRIL 30

Composer and performer Rosie Tee brings a unique and atmospheric blend of

electronica, psych and avant-pop to the unique industrial backdrop of Sandfields

Pumping Station at the end of the month.

Rosie's crystalline vocals meander between dark, forceful beats and fragile melodic

contours, with the sporadic movements of her synth-heavy sound anchored only

by the use of striking, minimal structures. Together with Rosie on vocals and

glockenspiel, Piera Onacko's off kilter synths, Dan Cippico's swarming bass and Kai

Chareunsy's textural drums ebb and flow between digital and analogue worlds.

This will be Lichfield Arts' first concert in the Victorian pumping station, which is one

of the Black Country's most important pieces of industrial heritage. Built in the mid

nineteenth century in the wake of several cholera epidemics, the waterworks pumped

four million gallons of fresh water to the industrial Midlands every day.

Tickets are £10 per person. For more information visit www.lichfieldarts.org.uk

Photo credit: Jess-Ingram

www.jaimemagazine.com

49
---
F I N A N C E

ADVERTISING FEATURE

Wealth Matters

A MONTHLY REVIEW OF THE WORLD OF FINANCE FROM

LICHFIELD FINANCIAL ADVISER JEAN LAMB DipPFS

FOUR THINGS YOU NEED TO KNOW

ABOUT INHERITANCE TAX

Inheritance Tax is complex, but many of you knew

that already didn't you?

IHT receipts received by HMRC during the tax year

2020-2021 came to £5.4 billion and have remained

around that level for the past four years (Source:

Commentary, HMRC National Statistics, updated 29

July 2021). It's a nice little earner – and definitely not

so little!

Yet with careful planning to ensure full use of

exemptions, gifting and other options, it is possible to

minimise much of the IHT you would otherwise pay.

Failure to do so could significantly reduce what you

are able to pass on to loved ones.

1 - Taking advice could change your future

Take it from me, you will not know every rule,

exemption, allowance or planning tool and how

to use them – and you're not expected to. As I am

often saying to clients, HMRC don't put complex

tax legislation in place just to have it wiped out with

the wave of a magic wand. However, taking advice

could help mitigate IHT as part of broader planning

for later life that also includes retirement income,

planning for social care, giving money away when

you're alive and passing it on successfully when you

die.

There is no set age for when you should start

planning, but it is safe to say the earlier the better.

2 - IHT thresholds and rates vary

Understanding how thresholds work could instantly

minimise a big chunk of your potential IHT bill.

For instance:

• There is no IHT to be paid, even above £325,000,

if you leave everything to a specified range of

beneficiaries.

• Your tax-free threshold increases to a maximum

£500,000 if you leave your home to your children,

step-children or grandchildren, subject to your

estate being less than £2m.

3 - Gifting is a straightforward way to help

mitigate IHT

Gifting helps you support your family at the same

time as reducing your IHT liability. Suffice to say,

there are a raft of allowances and exemptions in

relation to gifting. I won't detail them here, but

doing so in a structured manner is vital if you are to

maximise the IHT benefits.

4 - Trusts help you stay in control of money

whilst mitigating IHT

Trusts remain a traditionally important part of IHT

planning. There are several different types of Trusts

and in some cases you can access the funds; with

others you can't. Some are set up whilst you are alive

and some following your death.

Thus, like IHT itself, Trusts are generally complex

arrangements, but my goodness, they are valuable

tools for those of us who advise clients on their IHT

liabilities.

The levels and bases of taxation, and reliefs from

taxation, can change at any time and are generally

dependent on individual circumstances.

Trusts are not regulated by the Financial Conduct

Authority.

Jean Lamb is Principal of Jean Lamb Wealth Consultancy

6A Market Street, Lichfield, WS13 6LH - Tel: 01543 417342

Email: jean.lamb@sjpp.co.uk - Website: www.jeanlamb.co.uk

Jean Lamb Wealth Consultancy is an Appointed Representative of and represents only St. James's Place Wealth Management Plc (which is

authorised and regulated by the Financial Conduct Authority) for the purpose of advising solely on the Group's wealth management products

and services, more details of which are set out on the Group's website www.sjp.co.uk/products.

50 www.jaimemagazine.com
---
NOW

OPEN!

Curborough

Gift Shop

GIFTS & CARDS FOR ALL OCCASIONS

CURBOROUGH COUNTRYSIDE CENTRE

WATERY LANE, LICHFIELD WS13 8ES

TEL: 0843 289 4525 OR 07885 387640

OPENING HOURS: 10AM – 4PM TUESDAY TO SUNDAY

WWW.CURBOROUGHGIFTSHOP.CO.UK

FOLLOW US

The largest 'Stair Runner' showroom in the Country

WE

REMAIN

Established

Established 1990

OPEN

1990

FOR NEW

COVID

RESIDENTS Rosemary Lodge Residential Lichfield Care Home

Lichfield FREE

191 Walsall Road, Lichfield, Staffordshire, WS13 8AQ

Please contact The perfect the Registered 'home Care from Manager home' Jane Evans

The perfect 'home from home'

Tel: 01543

at

415223

Rosemary

E-mail:

Lodge

contact@rosemarylodge.co.uk

Care Home

at Website: Rosemary www.rosemarylodge.co.uk

Lodge Care Home

Rosemary Lodge Care Home for elderly ladies and

Rosemary Lodge Care Home for elderly ladies and

gentlemen offers level of care, community and

gentlemen offers a level of care, community and

comfort that is second to none. Situated short way

Rosemary comfort Lodge that is Care second Home to fRosemary none. Lodge Situated Care Home a short for elderly way

from ladies and the gentlemen city centre offers of a level Lichfield of care, community and set in and landscaped

comfort that is

from second the

gardens, to none. city Situated centre

Rosemary a short of Lichfield

Lodge way from is the and

light, city set

spacious centre in landscaped

of Lichfield and and

set in gardens, landscaped Rosemary gardens, Rosemary Lodge Lodge is light, is spacious and and beautifully

decorated, beautifully offering decorated; residents just offering the right combination residents of just interest, the activity right and

relaxation. beautifully It is a decorated; place that encourages offering residents residents to retain just their the independence right

and

combination

individuality whilst

of

being

interest,

fully supported

activity

to

and

live a

relaxation.

fulfilled and enjoyable

It is combination of interest, activity and relaxation. It is alife.

place that encourages residents to retain their

place that encourages residents to retain their

independence and individuality whilst being fully

independence and individuality whilst being fully

supported to live fulfilled and enjoyable life.

supported to live a fulfilled and enjoyable life.

Rosemary Lodge Care Home is family run home and has

Rosemary Lodge Care Home is a family run home and has

been highly regarded part of the community for over 30

been a highly regarded part of the community for over 30

years. Offering 24 hour care, our fully trained staff work

years. Offering 24 hour care, our fully trained staff work

together to communicate with residents and ensure

together to communicate with residents and ensure

personal care needs are met in person centered

personal care needs are met in a person centered

approach, thus building an important relationship of trust

approach, thus building an important relationship of trust

and friendship.

and friendship.

All rooms are on-suite, and are designed to comfortably

All Rosemary rooms are Lodge on-suite, Care Hoe is and a family are run designed home and to has comfortably

been a highly

regarded part accommodate of the community individuals for over 30 years. and Offering couples. 24 hour care, our

fully trained accommodate staff work together individuals to communicate and with couples. residents and ensure

persoal There care is needs full Wi-Fi are met connectivity in a person centred throughout approach, thus to building allow an

There is

important

full Wi-Fi

relationship

connectivity

of trust

throughout

and friendship.

to allow

residents the opportunity of keeping in touch with family

residents the opportunity of keeping in touch with family

All rooms are en-suite, and friends and are designed with video to comfortably calls. accommodate

individuals and couples. and There friends is full with Wi-Fi video connectivity calls. throughout to allow

residents the opportunity of keeping in touch with family and friends with

Regular activities and entertainment video calls. are always available,

Regular activities and entertainment are always available,

with Regular activity activities timetables and entertainment distributed are always weekly, available but with activity privacy

timetables with activity

and peace distributed timetables

and weekly, quiet but distributed

is privacy also ensured and peace weekly, and in this quiet but

beautiful is also privacy ensured

and peace and quiet is also ensured in this beautiful

'home from home'.

'home from home'.

Our commitment to offering just the right amount of care

Our commitment to offering just the right amount of care

and support has led to an excellent reputation in the

and support has led to an excellent reputation in the

community and with the care professionals who work

community and with the care professionals who work

with us. We value our staff highly and recognise that their

with us. We value our staff highly and recognise that their

care and commitment are great part of our success.

care and commitment are a great part of our success.

We also offer respite care, holiday stay and limited day

We also offer respite care, holiday stay and limited day

care. To arrange visit or to learn more about us please

care. To arrange a visit or to learn more about us please

get in touch using the contact details below.

get in touch using the contact details below.

in this beautiful 'home from home'

Our commitment to offering just the right amount of care and support has led

to an excellent reputation in the community and with the care professionals

who work with us. We value our staff highly and recognise that their care and

commitment are a great part of our success.

Over 15 'Stair Runner' displays on show with leading

carpet brands, Crucial Trading, Brockways, Fibre

Flooring, Hugh Mackay, Victoria Carpets and many more.

SHOWROOM VISITS BY APPOINTMENT

0121 485 8585 or greatbarrcarpets@gmail.com

Unit 7 Papermill End Industrial Estate, Great Barr, Birmingham B44 8NH.

@GBstairrunners

@gbstairrunners

We also offer respite care, holiday stay and limited day care. To arrange a visit

or to learn more about us please get in touch using the contact details below.

Rosemary Lodge Residential Care Home

Rosemary Lodge Residential Home

Rosemary 191 Walsall Lodge Road, Residential Lichfield. Staffs. WS13 Care 8AQ. Home

191 Walsall Road, Lichfield, Staffordshire, WS13 8AQ

In the 191 first Walsall instance Road, please Lichfield, contact Jane Staffordshire, Evans - Registered WS13 Care Manager 8AQ

Please contact or Shirley the Registered Kent - Administration Care Manager. Jane Evans

Please contact the Registered Care Manager Jane Evans

Tel: 01543 01543 415223 415223 E-mail: - Email: contact@rosemarylodge.co.uk

roselodgehome@aol.com

Tel: 01543 415223

Website: www.rosemarylodgecarehome.co.uk

E-mail: contact@rosemarylodge.co.uk

www.rosemarylodge.co.uk

Website: www.rosemarylodge.co.uk

CQC RATING GOOD
---
H E A LT H

ADVERTISING FEATURE

Health Matters

DR DAVID ECCLESTON, FROM THE OAKLEY PARTNERSHIP

PRIVATE GP PRACTICE IN FOUR OAKS, DISCUSSES ALL THINGS

HEALTH EACH MONTH. THIS MONTH, HE TAKES A LOOK AT

MANAGING THE MENOPAUSE

A generation ago, the menopause was commonly

known as 'The Change', and most women were

expected to accept it as the beginning of an inevitable

decline into old age, crumbling bones and wrinkled

skin. The disproven findings of some clinical studies

in the 1990s also led to many women being denied

HRT, or it being stopped unnecessarily. The fear of

an increase in certain types of cancer, thrombosis and

stroke also led many women to abandon treatment. It is

now well known that an increased risk of breast cancer

is more closely associated with obesity, excess alcohol

intake and lack of exercise than with prescribed HRT.

In the UK, the average age a woman will reach

menopause is 51, though anywhere between 45 and

55 is still considered to be within the normal range.

For some women, hot flushes and night sweats, painful

joints, episodes of depression, mood swings, low libido,

insomnia, anxiety and vaginal and bladder issues can

be hugely debilitating. Hormone replacement therapy

is one option to help manage these symptoms, though

alternatives to conventional HRT are also available.

Hormone levels will fluctuate significantly in

perimenopause, and at the menopause the drop in

hormone levels can be rapid and profound. The onset

of symptoms can be gradual, or relatively sudden.

As with all areas of medicine, blood tests can provide

helpful information, but should not be used in isolation

to make clinical decisions. Blood tests provide doctors

and patients with a 'normal range', but this can

vary hugely in some cases, so should only be used in

conjunction with an overall picture of symptoms and

a full medical history. It is important for the treating

doctor to remember that every woman has different

symptoms, and that the 'one-size-fits-all' HRT often

prescribed does not suit every woman, just as the same

dress size will not fit every woman's unique shape.

Many menopausal ladies have been misdiagnosed as

suffering from depression, and been commenced on

prescription antidepressants, instead of addressing their

hormonal deficiency.

Over the last couple of decades, compounded

HRT, sometimes known as 'bioidentical HRT', has

become increasingly popular in the UK. It consists

of an infinitely adjustable mixture of oestrogens,

progesterone, and often testosterone, which can be

compounded in a topical cream or a lozenge dissolved

in the mouth. Such hormones are derived from yam

and soya bean extracts, and are modified chemically to

become identical to the hormones naturally produced

by the ovaries of a premenopausal woman. As a

result, they are often better tolerated than the nonidentical

hormones often used in conventional HRT,

and the variations possible with bespoke compounding

allow the dose to be adjusted to the patient's unique

requirements. In some cases, women who are unable to

use conventional HRT for medical reasons are still able

to safely use BHRT preparations.

You may be surprised to learn that women's ovaries

produce testosterone as well as oestrogen. We tend

to think of testosterone as 'the male hormone', but

it is important in maintaining energy, well-being and

libido, and levels decline from the twenties onwards.

Testosterone is not yet licensed for use on the NHS

as a menopause treatment, but may be issued on

private prescription by doctors experienced in BHRT

treatment.

Further information on compounded HRT can be

found on the practice website.

The Oakley Partnership is a private GP practice

located in Four Oaks, and was founded in 2014.

The practice provides a full range of private

GP services for adults and children. We pride

ourselves on our friendly and experienced GPs,

nurses and reception staff, our flexible availability,

and the additional services that we provide that

are not available on the NHS. Visit our website

for more details on the services we provide.

The Oakley Partnership Private Medical Practice

52 Bishops Way, Sutton Coldfield, West Midlands, B74 4XS

Tel: 0121 308 8876 - Fax: 0121 308 9551 - www.topmedicalpractice.co.uk

CQC Registration 1-1346947216

Please like our Facebook page, follow us on Twitter and leave a review on Doctify or Google.

52 www.jaimemagazine.com
---
WE ARE A TRUSTED, LOCAL FAMILY, DEDICATED TO PROVIDING

A TRULY PERSONAL SERVICE FOR THOSE WHO NEED US

BURIALS, HORSE-DRAWN FUNERALS, BESPOKE FUNERAL

AND PRE-PAYMENT FUNERAL PLANS AVAILABLE

ALL-INCLUSIVE FUNERAL PACKAGES

FEES FOR CREMATORIUM, DOCTOR AND CELEBRANT INCLUDED

*DIRECT - £1,495 *SIMPLE - £2,300 *TRADITIONAL - £2,950

ALL NEEDS AND WISHES CATERED FOR.

PRE-PAYMENT FUNERAL PLANS AVAILABLE

OUR SECOND FUNERAL HOME IS NOW OPEN AT

152, CANNOCK ROAD, BURNTWOOD WS7 0BG

ALSO AT

16 - 20 NORTH STREET, CANNOCK, WS11 0BA

01543 529813 (ANYTIME)

VISIT OUR WEB AND FACEBOOK SITES TO SEE OUR REVIEWS

WWW.OMALLEYFUNERALS.CO.UK • FACEBOOK.COM/OMALLEYFUNERALS

Holistic Centre for Body, Mind & Spirit

Confused?

Hurting?

Stuck?

Need Help?

Ask Sonia, a highly

skilled and experienced

counsellor and

psychotherapist, and

founder of the Anam

Cara Holistic Centre

For more information

Call: (Confidential line) 0121 353 1508

Visit: www.anamcaraholisticcentre.co.uk

J'AIME

IS ONLINE

www.jaimemagazine.com
---
FA S H I O N

All white

IT'S TIME FOR A FRESH NEW LOOK AS CRISP WHITE EVERYTHING

BROUGHT A BRIGHT AND BREEZY FEEL TO THE SS22 CATWALKS.

WHILE last season's offerings thrived on the 'more is more'

aesthetic, encouraged by the collective post-lockdown desire to

get as glammed up as possible for every trip out of the house,

spring's hot trends balance that touch of fabulousness we all

want with the need for everyday style and outfits you can fling

on at a moment's notice to suit any occasion.

And when it comes to sophisticated, sharp dressing in the spring

and summer months, there's no hue that does it better than

white.

Effortlessly chic and endlessly wearable, white is the perfect style

palate-cleanser, and a great antidote to the juicy fruit hues which

dominated the catwalks at the other end of the colour spectrum.

There was more than a touch of the bridal vibes on the SS22

catwalks as pure white dresses in every fabric imaginable

sashayed along - from mini to maxi, beachy to fancy, it was a

veritable feast of wall-to-wall white.

Whimsical ruffles and layers of tulle definitely channelled the

bridal look, but find the right white dress and it promises to be a

wardrobe staple for years to come; opt for a floaty maxi for chic

holiday style, or reach for a crisp white shirt dress as the ultimate

'throw on and go' outfit for myriad occasions.

There's something particularly striking about an all-white

ensemble, but if you want to steer clear of those bride vibes, try

your luck with chic co-ords. A white tailored trouser-and-blazer

combo brings an on-trend touch to sophisticated suiting, while a

knitted midi skirt and jumper combo offers springtime dressing

which will still keep any chills at bay.

If your love affair with denim is in need of rekindling, ditch

the indigo and black numbers for some bright white. Bleached

jeans will lend a glam feel to your casual wardrobe, while a white

denim jacket is a perfect summer cover-up.

When it comes to accessorising, every wardrobe needs it's fair

share of white footwear; fresher and bolder than black, they

are perfect for brightening up your look. A good pair of crisp,

white trainers are a perennial style go-to, offering a nonchalantly

smart-casual vibe, while white sandals deserve a place in every

suitcase when holiday season hits.

FLORES HOODED DRESS, £89.95,

BARBOUR INTERNATIONAL.

WWW.BARBOURINTERNATIONAL.COM

54 www.jaimemagazine.com
---
£450 £37.50

£90

KYTIE WHITE DOUBLE BREASTED BLAZER

DRESS, ALICE + OLIVIA AT HARVEY

NICHOLS. WWW.HARVEYNICHOLS.COM

JUNIOR SANDALS, DUNE LONDON.

WWW.DUNELONDON.COM

LILAH BROIDERIE COLLAR CARDIGAN,

FATFACE. WWW.FATFACE.COM

£40

DELICATE LACE COLLAR CARDIGAN,

JOE BROWNS. WWW.JOEBROWNS.CO.UK

£150

HAWAII WHITE LEATHER SNEAKERS,

JIMMY CHOO AT HARVEY NICHOLS.

WWW.HARVEYNICHOLS.COM

£375

DUCHESSR WHITE LEATHER BAG,

DUNE LONDON.

WWW.DUNELONDON.COM

WHITE AND BLUE PRINTED KNITTED BODYCON MINI

DRESS, £45, RIVER ISLAND. WWW.RIVERISLAND.COM

GLAMOUR BY SONDER STUDIO JUMPSUIT, £79.

WWW.SONDERSTUDIO.CO.UK
---
B E AU T Y

How to cleanse, tone

and moisturise

IT'S THE BEAUTY 101 MANTRA THAT'S BEEN TROTTED OUT BY THE EXPERTS FOR YEARS, BUT WHAT

IS THE MOST EFFECTIVE WAY TO CLEANSE, TONE AND MOISTURISE? FOUNDER OF HEAVEN

SKINCARE DEBORAH MITCHELL REVEALS THE EXPERTS GUIDE TO THE THREE-STEP ROUTINE AND

THE MUST-HAVE PRODUCTS TO DO IT RIGHT

How to cleanse:

Soak your face with warm water (making sure it's not too hot as this can

actually dehydrate your skin and damage sensitive areas) before applying

a small amount of cleanser. Gently massage in a circular motion,

avoiding the eye area, for between 30-60 seconds. Rinse thoroughly and

pat, not rub, your face dry with a clean, soft towel.

NEW EDITION CLEANSING CREAM: The first cleanser of its kind

to contain my patented ABEETOXIN® formula, this not only deeply

cleanses the skin but it also controls facial muscles for an immediate

tightening and firming effect. The addition of vitamin A helps resurface

and repair cells.

HYDRO CLEANSING MILK: A real multi-purpose must-have,

Heaven's cleansing milk hydrates skin and removes daily pollutants while

it cleanses. Created with delicate organic jojoba – the closest match to

our own natural oil – it helps to balance and condition your complexion

while being gentle enough for all skin types.

How to tone:

I often get asked 'why do we need to tone our skin?' and

the answer is simple... It helps maintain a healthy and clear

complexion. Toners are designed to restore your natural pH

balance while removing leftover makeup and impurities,

unclogging your pores and reducing breakouts. Opt for a toner

that is suitable for your skin type for maximum hydration and use

after your cleanser and before moisturising.

PEPPERMINT HYDROGEL: To rebalance skin, my hydrogel

minimises oil secretion, balances the PH levels, refines pores and

diminishes blemishes, leaving your skin feeling fully hydrated.

Added to that, it can help remove the shine on the T-Zone, works

as a cooling eye gel to alleviate bags and puffiness, and makes the

perfect base for your foundation.

BEE POLISH: This non-abrasive, anti-ageing exfoliator contains

bee venom and glycolic acid to help alleviate fine lines and

wrinkles and lighten pigmentation whilst extracting toxins without

harming the outer layer of the skin. It also boasts echinacea,

which helps boost immunity, making it ideal for those with

irritated skin.

56 www.jaimemagazine.com
---
How to moisturise

Apply a small amount of moisturiser onto your face and gently massage with your fingertips, not forgetting

to cover the all-important neck area – you don't want the skin on your face looking healthier than the skin on

your neck! Choose a product that is designed for your skin type; for example, a gentle formula for sensitive

skin or anti-ageing formula to tackle fine lines.

DIVINE CREAM: As divine as its name suggested, this luxurious cream is suitable for all skin types but

it works particularly well on more mature complexions thanks to its innovative anti-ageing properties. It

contains organic mandarin and orange, both natural sources of vitamin C, to help increase collagen and

elastin levels.

AGE DEFIANCE CREAM: Heaven's world-renowned anti-ageing moisturiser plumps out fine lines,

reduces scar formation, lightens pigmentation and prevents spot breakouts thanks to the addition of

hyaluronic acid. It's the 'all rounder' designed for all skin types and is particularly good for soothing irritated,

acne-prone, blemished or sensitive and oily skins.

Heaven Skincare by Deborah Mitchell is available at Heaven Health and Beauty,

13a Market Place, Shifnal, Shropshire. You can also shop online at heavenskincare.com.

www.jaimemagazine.com

57
---
B U S I N E S S

Gear up for a luxury

Pilates retreat

THIS SEPTEMBER, STEPHANIE LLOYD - OWNER OF THE CORE PILATES STUDIO IN FOUR OAKS -

WILL ONCE AGAIN LEAVE THE MIDLANDS BEHIND TO GUIDE 12 CLIENTS THROUGH FIVE NIGHTS

OF RELAXATION AND REJUVENATION AT A STUNNING SPANISH HIDEAWAY. HERE'S WHY YOU

SHOULDN'T MISS THE CHANCE TO JUMP ON BOARD

In the heart of Andalucia, between the Serrania de

Ronda mountains and Spain's famous White Villages,

lies The Lodge. Just once or twice each year this

exclusive boutique guesthouse becomes the home of

The Core Pilates Studio's luxury retreat. If you're lucky

enough to secure a place on the retreat - some dates

are almost sold out - you can look forward to tranquil

bedrooms, locally sourced sumptuous meals prepared by

the private chef, and a breathtaking pool area where the

delicately ionised water is as kind to your skin and hair as

the setting is to your soul.

After arriving, it won't be long before you realise that this

isn't your average Pilates retreat, and that this is because

Steph isn't your average teacher. A trained ballerina,

Steph first fell in love with Pilates when she discovered

the strength and control it brought to her dancing. After

being trained by some of the best instructors in the

industry and as a member of The Pilates Foundation,

Steph went on to open The Core Pilates Studio in 2007

and has been teaching bespoke Pilates classes to happy

clients ever since.

Her personal approach, rehabilitation expertise and

deep understanding of the body's movement and

ENJOY STEPH'S EXPERT

PILATES TUITION

THE STUNNING SPANISH RETREAT

physiology, are just some of the attributes that have

established her as an industry leader.

Steph and her teachers bring this same passion to the

retreat, where clients - whether beginner or expert - will

take part in small group classes that are carefully tailored

to their needs and abilities, as well as a private one-toone

session.

A previous guest said: "One of the best experiences

ever. Core Pilates Retreat exceeded my expectations. An

awesome venue, food incredible, great schedule and the

teachers are two of the best. I feel so blessed to

have joined this retreat."

Between the Pilates tuition, meditation, wine

tasting, walking, swimming, sunbathing and

more, it's safe to say that you won't want to

come home. Fortunately you can still perfect

your Pilates practise at Steph's beautiful Four

Oaks studio, where she offers both Mat and

Equipment Pilates sessions, or in the comfort

of your own home via her timetable of Zoom

classes.

Places on the retreat are offered on a first come

first served basis. To find out more visit

www.thecorepilatesstudio.co.uk, chat

with Steph on 07527 870 111 or email

steph@thecorepilatesstudio.co.uk

58 www.jaimemagazine.com
---
Established – Professional – Transparent

The Winterton family name has been synonymous

with auctioneering in Staffordshire since 1864

Probate and formal valuations for

inheritance tax purposes

Our reliable and sympathetic

team can assist all executors in the

administration of deceased estates

From jewellery and large collections

to cars, furniture and household items,

we handle everything

Comprehensive, bespoke

clearance service and

downsizing solutions

We handle clearance of an entire

estate from houses, bungalows and

flats to offices and all other buildings

Pictures, Antiques & Collectables

The Lichfield Auction Centre

Fradley Park (close to the A38)

Wood End Lane, WS13 8NF

Discover that hidden gem with your local auctioneer

We specialise in:

Antique and modern jewellery

Watches, pens and designer gear

Gemstones

Silverware

Coins, medals and militaria

Works of art, ceramics and glass

Whisky, wine, port and cigars

Vintage toys and trains

Stamps and ephemera

Cameras and record collections

Audio and scientific equipment

Antique and modern furniture

Video gaming and Pokémon

Musical instruments

FREE LOCAL VALUATIONS - NEAR YOU

Watches, Jewellery, Silver & Antiques

Lichfield

The Hub at St Mary's

Market Square, WS13 6LG

Qualified

All members of our jewellery

department are certified

gemmologists and diamond graders

Record-breaking

international sales

More than 3,800 bidders from

all over the world joined our

online auctions last month

Online services available

Virtual estimates, online auctions

and contactless collections.

Valuations, viewing and consignments

by appointment only

Jewellery, Watches & Silver

The Lichfield Auction Centre

Fradley Park (close to the A38)

Wood End Lane, WS13 8NF

BY APPOINTMENT

Thursdays

9.30am - 4pm

With David and the

team for general

valuations and advice

Tuesdays

9.30am - 11am

Meet Ben for general

advice and auction

consignments

BY APPOINTMENT

Thursdays

9.30am - 4pm

With Heather,

gemmologist

& diamond grader

FREE General Valuations of your pictures, antiques and collectables

By appointment only - with our team on Thursdays from 9.30am - 4pm Call 01543 251081

The Lichfield Auction Centre

Wood End Lane, Fradley Park WS13 8NF

01543 251081

office@richardwinterton.co.uk

The Tamworth Auction Rooms

34-35 Church Street, Tamworth B79 7BX

01827 217746

tamworth@richardwinterton.co.uk

J'Aime Ad 190x280_June 2021.indd 5 11/02/2022 16:27