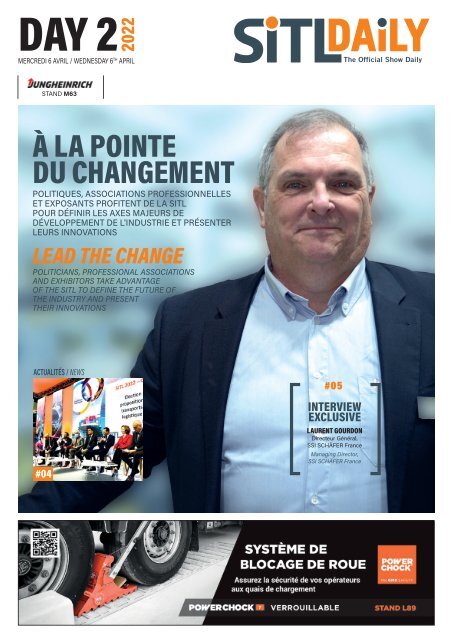 SITL Daily 2022 - DAY 2 Edition
You also want an ePaper? Increase the reach of your titles
YUMPU automatically turns print PDFs into web optimized ePapers that Google loves.
DAY 2

MERCREDI 6 AVRIL / WEDNESDAY 6 TH APRIL

2022

STAND M63

À LA POINTE

DU CHANGEMENT

POLITIQUES, ASSOCIATIONS PROFESSIONNELLES

ET EXPOSANTS PROFITENT DE LA SITL

POUR DÉFINIR LES AXES MAJEURS DE

DÉVELOPPEMENT DE L'INDUSTRIE ET PRÉSENTER

LEURS INNOVATIONS

LEAD THE CHANGE

POLITICIANS, PROFESSIONAL ASSOCIATIONS

AND EXHIBITORS TAKE ADVANTAGE

OF THE SITL TO DEFINE THE FUTURE OF

THE INDUSTRY AND PRESENT

THEIR INNOVATIONS

ACTUALITÉS / NEWS

#04

#05

INTERVIEW

EXCLUSIVE

LAURENT GOURDON

Directeur Général,

SSI SCHÄFER France

Managing Director,

SSI SCHÄFER France
---
HALL PLAN
---
By Laurence Gaborieau

Directrice de la Division Transport & Logistique, Tourisme et Sport

RX France, organisatrice de la SITL

Division Director Transport & Logistics Tourism & Fitness Healthcare

of RX France, the company organising SITL

"La SITL sur

de bons rails"

"SITL on the right

track"

L'édition 2022 de la SITL est partie

de qualité traiteront d'ailleurs

SITL 2022 is off to a good start.

room), the round table "A new deck

sur de bons rails. Une fois encore,

des transformations clé du rail.

Once again, you are welcomed to

of cards for transport players" will

elle constitue le centre névralgique

Programmée à 11h15 (salle Neptune),

the centre of the transport, logistics

be one of the highlights of the day,

du secteur des transports, de la

la table ronde sur « Les Nouvelles

and supply chain sector, where the

focusing on one of the main themes

logistique et de la supply chain,

cartes des acteurs » sera l'un des

future of the industry is debated

of this 2022 event: the essential

l'endroit où l'on débat de l'avenir de

temps forts de ce cycle et mettra

and discussed. The inaugural

transformation of our sector to

la filière. La conférence inaugurale

notamment en lumière l'un des

conference is a key event for these

become more sustainable, playing

d'hier en est le meilleur exemple, tout

principaux thèmes de cette édition

topics, as well as the many events

our full part in the fight against

comme les nombreuses conférences

2022 : l'indispensable mutation de

that will discuss emerging changes

climate change.

qui traitent des questions de

notre secteur pour devenir plus

in our sector. SITL is also a place for

transition énergétique de notre

durable et prendre toute notre part

meetings and exchanges between

I also invite you to walk the aisles

secteur. Mais la SITL est aussi un

dans la lutte contre le réchauffement

the many exhibitors, unveiling

of the show and visit the stands

lieu de rencontres et d'échanges

climatique.

innovations and solutions that

of exhibitors, and check out their

entre les nombreux exposants

address the issues facing buyers

innovative solutions, particularly on

venus présenter des innovations qui

Je vous invite aussi à aller arpenter

and visitors, who are flocking to

this prevalent theme.

répondent aux problématiques des

les allées du salon et visiter les

SITL 2022. I take this opportunity to

acheteurs et des visiteurs, présents

stands des exposants qui ne vont

thank you all.

I wish you a productive and exciting

cette année. J'en profite d'ailleurs

pas manquer de vous surprendre

day!

pour vous remercier toutes et tous.

avec leurs solutions innovantes,

A new day begins and the

notamment sur ce thème.

programme for Day 2 proves to be

Une nouvelle journée s'ouvre et son

just as stacked and exciting. As you

programme se révèle tout aussi

Je vous souhaite une journée aussi

know, this day is centred around

alléchant et chargé. Comme vous

productive que passionnante !

the theme of rail freight. Many high-

le savez, cette journée est placée

quality conferences will address

sous le thème du fret ferroviaire.

the key transformations of rail.

De nombreuses conférences

Scheduled at 11:15 a.m. (Neptune

SITL Daily is a CLEVERDIS Publication 439 Route de la Seds, 13127 Vitrolles, France

• Tel: + 33 442 77 46 00

• SAS capitalised at €155,750 • VAT FR 95413604471

• RCS Salon de Provence 413 604 471 • info@cleverdis.com • www.cleverdis.com

• www.sitldaily.com

• Publisher: Jean-François Pieri • Project Manager: Bettina Badon

• Senior Account Manager: Benjamin Klene • Head of Editorial Team : Emiliana Van Der Eng

• Editorial team: Thomas Campbell, Hervé Chervy, Luc Citrinot, Fabrice Lamperti,

Frédéric Roba, Reuben Tasker

• Art Director: Hélène Beunat • Web Designer: Guillaume Vinrich

• With the participation of: Zineb Elhabiri, Sara Hirache, Veronika Verzhak

>>> To contact them: first name.last name@sitldaily.com

Cover: Crédit Photo : © Cleverdis /

Printer: Imprimerie Frazier - Paris

© CLEVERDIS 2022 - Registration of Copyright March 2022. Information presented in this publication is purely indicative in order to illustrate subjects contained therein. No

guarantee can be given as to the accuracy of data or content at time of printing and thus the latter should not be used for professional or commercial ends. While all efforts

have been made as to accuracy and pertinence of content and data contained in this publication, CLEVERDIS may in no case be held responsible for the consequences,

whatever their nature may be, that may result from the interpretation of this data or content, or any eventual errors therein. Any reproduction of the content of this publication,

even partial, by any means whatsoever, is strictly prohibited without the prior autorisation of the publisher. Any copy, whether by photography, photography film, magnetic

tape, disc or other means constitutes a forgery, liable to punishment under French law according to the legislation of 11 th March 1957 covering copyright. All brands cited in this

publication are registered trade marks and/or belong to companies which are their respective proprietors. The publishers and editorial staff decline all responsibility as to

opinions formulated in this publication by those interviewed or cited therein. Their opinions are entirely their own, and are included with the understanding that they contain,

to our knowledge, no malicious intent. The inclusion of all texts, photographs and other documents supplied by those included in this publication imply the acceptance

by their authors of their free publication therein. Documents and photographs will not be returned. It should be understood that this publication contains forward-looking

statements that involve risks, uncertainties and assumptions. All statements other than statements of historical fact are statements that could be deemed forward-looking

statements. Risks, uncertainties and assumptions include assumptions relating to the timing of the recorded date. If any of these risks or uncertainties materialises or any of

these assumptions proves incorrect, actual results could differ materially from the expectations outlined in these statements. Cleverdis assumes no obligation and does not

intend to update these forward-looking statements during the period of publication. Photo Credits and Copyright: All Rights Reserved.

SITL DAILY • MERCREDI 6 AVRIL 2022 / WEDNESDAY 6 TH APRIL 2022 3
---
I ACTUALITÉS I NEWS

I

Les transports et la

logistique au cœur

des préoccupations

des candidats à la

présidentielle

La conférence inaugurale a permis aux représentants de cinq

candidats d'émettre leurs propositions pour des transports

de marchandises et logistique au service d'une France plus

performante.

Nos efforts porteront sur les

infrastructures avec la

remise à niveau des réseaux

routiers et ferroviaires existants.

Certains secteurs devront faire

l'objet de concentration pour une

massification des flux. On veut

augmenter le nombre

d'échangeurs autoroutiers. Pour le

rail, nous accélérerons la

régénération des voies. Pour le

fluvial, nous éviterons les

polarisations excessives.

Franck Briffaut

Représentant du Rassemblement

National

Chaque salarié aura droit à

36h de formation annuelle,

les métiers de la logistique seront

reconnus comme pénibles pour la

retraite, le Smic sera porté à 1400€.

On veut relancer le fret ferroviaire,

mettre fin à l'ouverture à la

concurrence et nationaliser la

SNCF. La mutualisation du flux est

la clé écologique et économique,

des plateformes multimodales

doivent être créées.

Bérenger Cernon

Représentant de La France Insoumis

Anne Hidalgo remettra au

moins 1 mds d'€ annuels

pour améliorer le réseau ferroviaire.

Vu l'urgence, nous sommes pour le

pollueur-payeur. Une écotaxe

moins lourde permettrait

d'accompagner la filière pour sa

transition. En réexploitant

autrement la manne des

concessions autoroutières et en

l'orientant sur le routier, nous

pouvons financer le report modal

et la transition énergétique.

Olivier Jacquin

Représentant Parti socialiste

Le redressement de notre

économie passera par notre

industrie, par des entreprises

logistiques très solides. Une de

nos priorités est le portuaire, avec

un plan d'investissement massif. Il

faut une politique de réformes

domaniales et sociales, et de

gouvernance. Il faut plus connecter

le ferroviaire et le fluvial. Eric

Zemmour souhaite baisser les

impôts de production de 30 mds

d'€.

Sébastien Pilard

Représentant Reconquête

Nous avons la volonté

d'avancer sur les sujets de

décarbonation et l'attractivité des

métiers, l'accompagnement de

l'ensemble des acteurs, et d'avoir

un portage politique sur l'ensemble

des niveaux nationaux, régionaux

et locaux. On veut accompagner

l'implantation de zones logistiques

dans des friches industrielles,

installer des panneaux

photovoltaïques. L'avenir est au

mix énergétique. Il faut travailler

sur la multimodalité.

Jean-Marc Zulesi

Représentant de La République En

Marche

Transport and logistics at

the heart of the concerns of

presidential candidates

The inaugural conference allowed the representatives of five

candidates to put forward their proposals for the transport of

goods and logistics in the service of a more efficient France.

Our efforts will focus on

infrastructure, with the

upgrading of existing road and rail

networks. Some sectors will have to

be concentrated to maximise flows.

We want to increase the number of

interchanges on motorways. For rail,

we will speed up the regeneration of

tracks. For rivers, we will avoid

excessive duplicates.

Franck Briffaut

Representative of the Rassemblement National

Each employee will be entitled

to 36 hours of annual training,

logistics jobs will be recognised

better for retirement, the minimum

wage will be increased to €1,400. We

want to relaunch rail freight, put an

end to opening up the competition,

and nationalising the SNCF.

Mutulization of the flow is key,

ecologically and economically,

multimodal platforms must be

created.

Bérenger Cernon

Representative of La France Insoumise

Anne Hidalgo will donate at

least €1 billion annually to

improve the rail network. Given the

urgency, we are in favour of the

potential pollution taxes. By reusing

the wealth of motorway concessions

in a different way and directing it to

the road, we can finance the modal

shift and the energy transition.

Olivier Jacquin

Parti socialiste representative

The recovery of our economy

will go through our industry,

through very solid logistics

companies. One of our priorities is

the port, with a massive investment

plan. We need a policy of state and

social reforms, and governance. We

need to connect rail and river more.

Eric Zemmour wants to lower

production taxes by €30 billion.

Sébastien Pilard

Reconquête representative

We have the will to move

forward on the subjects of

decarbonisation and to have political

support on all national, regional and

local levels. We want to support the

establishment of logistics zones in

industrial wastelands, with the

installation of photovoltaic panels.

The future lies in energy. We must

work on multimodality.

Jean-Marc Zulesi

Representative of La République En Marche

Conex, sur tous les fronts

des réglementations

douanières

Conex participe depuis près de 40 ans aux

évolutions du commerce international et

de la supply chain, collaborant avec les

administrations douanières européennes

et internationales. A la SITL 2022, l'équipe

engagée présente sa gamme de solutions

et son expertise...

Conex is on all fronts of

customs regulations

Conex has been involved in the

development of global trade

and supply chains for almost 40

years, working with European

and international customs

administrations. At SITL 2022, a

dedicated team is presenting its

range of solutions and expertise...

Lisez la suite sur sitldaily.com.

Scannez ce QR code

To read the full article on sitldaily.com,

scan this QR code

4 SITL DAILY • MERCREDI 6 AVRIL 2022 / WEDNESDAY 6 TH APRIL 2022

www.sitldaily.com
---
I INTERVIEW EXCLUSIVE I

Laurent Gourdon

Directeur Général,

SSI SCHÄFER France

Managing Director of SSI

SCHÄFER France

AGV WEASEL® et Navette

SSI Cuby en vedette à la

SITL

SSI SCHÄFER est un des grands acteurs du secteur intralogistique

présents à la SITL depuis des années. 2022 ne dérogera pas à la

tradition avec la présentation par le groupe de l'AGV WEASEL®

et la Navette SSI Cuby. Laurent Gourdon, Directeur Général, SSI

SCHÄFER France, en parle au micro du SITL Daily.

Pouvons-nous commencer par une

rapide présentation de la société et

de son histoire ?

Laurent Gourdon : Nous sommes

un fournisseur global de solutions

intralogistiques et de solutions

logicielles WMS & WCS. Nous

proposons des solutions pour

toutes les couches logistiques :

stockage automatisé palettes ou

petites charges, postes Goodsto-Man,

robots de palettisation et

aussi une gamme complète d'AGV

et AMR. En 2022, la filiale française

a fusionné avec l'éditeur du WMS &

WCS MORPHEUS® pour proposer

aux clients français des solutions

intralogistiques clé en main et une

gamme de services de maintenance

de proximité complète. Nous avons

une histoire vieille de plus de 80 ans

et sommes présents sur six continents

à travers 70 filiales qui emploient

10 500 personnes. En France, nous

avons fusionné avec l'éditeur logiciel

Morpheus.

Parlons solutions et produits. Que

présentez-vous lors de cette édition

de la SITL ?

Nous présentons essentiellement

deux produits parmi les plus

avancés de leur génération : l'AGV

WEASEL® et la Navette SSI Cuby.

Ces équipements dédiés aux petites

charges (jusqu'à 35kg) permettent de

créer des systèmes de préparation de

commandes Goods-to-Man avec une

forte disponibilité des produits. L'AGV

WEASEL® offre les caractéristiques

suivantes :

• Automatise le transport entre les

différentes zones de l'entrepôt

pour garantir un flux constant de

marchandises

• Permet de créer un environnement

cobotique sûr et sans barrière

• Soulage les opérateurs pour

les tâches de transports non

ergonomiques

• Simple d'implantation et idéal

pour une première étape

d'automatisation

Lire la suite

de l'interview sur

sitldaily.com

AGV Weasel® and SSI

Cuby Shuttle under the

spotlight at SITL

SSI SCHÄFER, one of the major players in the intralogistics

sector, has been present at SITL for many years. Keeping with

tradition, in 2022 the group is presenting their AGV Weasel

and SSI Cuby Shuttle. Laurent Gourdon, Managing Director of

SSI SCHÄFER France, spoke to SITL Daily.

Can we start with a brief

introduction to the company and

its history?

Laurent Gourdon: We are a global

supplier of intralogistic, WMS &

WCS software solutions. We offer

solutions for all logistics layers:

automated storage of pallets

or small loads, Goods-to-man

stations, palletizing robots and

also a complete range of AGVs

and AMRs. In 2022, the French

subsidiary merged with the WMS

& WCS publisher MORPHEUS®

to offer French customers turnkey

intralogistics solutions and a

full range of local maintenance

services. We have a history of over

80 years and are present on six

continents through 70 subsidiaries

employing 10,500 people. In

France, we merged with the

software publisher Morpheus.

Let's talk about products and

services, what are you presenting

at SITL?

We are essentially showcasing two

of the most advanced products

of their generation: the WEASEL®

AGV and the SSI Cuby Shuttle.

This equipment dedicated to

small loads (up to 35kg) makes it

possible to create Goods-to-Man

order picking systems with high

product availability.

The AGV WEASEL® offers the

following features:

• Automates transport between

different warehouse areas to

ensure a constant flow of goods

• Creates a safe, barrier-free

cobotic environment

•Relieves operators for nonergonomic

transport tasks

• An easy installation, which can

be seen as an affordable first step

towards automation

Read the full

interview on

sitldaily.com

SITL DAILY • MERCREDI 6 AVRIL 2022 / WEDNESDAY 6 TH APRIL 2022 5
---
I PAROLES DE PROFESSIONNELS I TRADE TALK I

L'innovation, au cœur du

modèle de C-Logistics

Éric Faveron, Responsable de la maintenance des sites

chez C-Logistics, filiale logistique de Cdiscount

Site Maintenance Manager at C-Logistics, the logistics

subsidiary of Cdiscount

Le Kardex Compact

Buffer Module fait

la différence dans la

gestion du stockage

Le Kardex Compact Buffer Module

double désormais sa capacité de

stockage dans sa version 20m. Sa

conception modulaire et évolutive

permet une intégration facile aux

processus existants et aux dimensions

des bâtiments. Il garantit également un

traitement des commandes rapide et

efficace.

...

Kardex's compact

buffer module makes

the difference when it

comes to warehouse

management

Kardex's Compact Buffer Module has

doubled its storage capacity with its

20m version. Its modular and scalable

design makes it easy to integrate

into exiting processes and building

dimensions. It also guarantees an

efficient and rational process, which is

the real secret to saving time.

...

Lisez la suite sur

sitldaily.com.

Scannez ce QR code

To read the full article

on sitldaily.com,

scan this QR code

C-Logistics porte une attention particulière

à la SITL, où la filiale de Cdiscount est de

nouveau présente, avec notamment pour

objectif d'échanger directement avec ses

fournisseurs et de rencontrer de nouveaux

partenaires potentiels. Le point avec Eric

Faveron, Responsable de la maintenance

des sites.

Quelle est l'importance de la SITL dans votre

processus d'achats ?

Les équipes logistiques de Cdiscount se rendent sur

la SITL depuis une dizaine d'années et notamment

depuis que Cdiscount a filialisé son activité logistique

en 2019 en créant sa propre filiale, C-Logistics. Se

rendre sur ce salon permet d'avoir une vision globale

des solutions existantes. En outre, il nous permet

d'échanger directement avec nos fournisseurs et de

rencontrer de nouveaux partenaires potentiels.

Quels types de produits ou de services venez-vous

chercher ?

Les solutions ou les services concernant l'emballage,

la transitique, la manutention et plus globalement

la maintenance tertiaire nous intéressent. Nous

portons une attention particulière sur les solutions

innovantes concernant la sécurité, la performance

et la RSE.

La sécurité est-elle l'un de vos axes prioritaires ?

Oui. Nous multiplions les solutions pour garantir

la sécurité de nos collaborateurs, partenaires ou

fournisseurs. Le déploiement des cales de roues

Powerchock de GMR Safety a permis d'adapter le

produit à nos besoins spécifiques. Notre démarche

de sécurisation de nos opérations de chargement

et déchargement des remorques a été accueillie

par nos collaborateurs et nos partenaires transport

avec enthousiasme et reconnaissance. Avec GMR

Safety, nous testons une solution innovante et

complémentaire à la cale de roue, afin de continuer

à augmenter la sécurité des biens et des personnes.

Quelle place accordez-vous à l'innovation ?

Elle est au cœur de notre modèle. L'objectif ?

Faire évoluer nos outils de production, dans une

triple logique vertueuse : améliorer les conditions

de travail de nos collaborateurs, optimiser la

performance et la productivité, et réduire l'impact

environnemental. Ces investissements se retrouvent

dans l'industrialisation de technologies innovantes.

C-Logistics agit quotidiennement sur la réduction

de l'impact environnemental de son activité et sur la

globalité de la chaîne logistique. Le travail collaboratif

avec nos partenaires est clé dans la construction de

la supply chain du futur.

Innovation: the heart of

the C-Logistics model

C-Logistics pays particular attention to

SITL, where Cdiscount is again present,

with the particular aim of communicating

directly with its suppliers and meeting

new potential partners. Update with Eric

Faveron, Site Maintenance Manager.

How important is SITL to your procurement

process?

Cdiscount's logistics teams have been going to

SITL for about ten years, and in particular since

Cdiscount assigned its logistics activity to a

new subsidiary, C-Logistics, in 2019. Going to

this show allows you to see the global vision of

existing solutions to issues our industry is facing. In

addition, it allows us to exchange directly with our

suppliers and to meet new potential partners.

What types of products or services are you

looking for?

We are interested in solutions or services

concerning packaging, handling and more

generally, tertiary maintenance. We pay particular

attention to innovative solutions concerning safety,

performance and CSR.

Is security one of your priorities?

Yes. We safeguard our solutions to guarantee the

safety of our employees, partners or suppliers. The

deployment of Powerchock wheel locking systems

from GMR Safety made it possible to adapt the

product to our specific needs. Our approach

to securing our trailer loading and unloading

operations has been welcomed by our employees

and transport partners with enthusiasm and

recognition. With GMR Safety, we are testing

an innovative and complementary solution to

the wheel locking systems, in order to continue

increasing the safety of goods and people.

What place do you give to innovation?

It is at the heart of our model. The goal? Develop

our production tools, in a triple virtuous logic:

improve the working conditions of our employees,

optimise performance and productivity, and reduce

the environmental impact. These investments

are reflected in the industrialisation of innovative

technologies. C-Logistics acts daily to reduce the

environmental impact of its activity and on the

entire supply chain. Collaborative work with our

partners is key in building the supply chain of the

future.

6 SITL DAILY • MERCREDI 6 AVRIL 2022 / WEDNESDAY 6 TH APRIL 2022

www.sitldaily.com