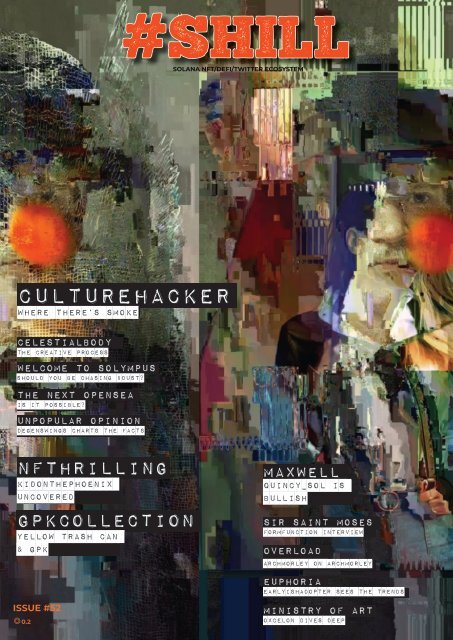 SHILL Issue 52
Solana ecosystem zine.
Solana ecosystem zine.
SHOW MORE
SHOW LESS
You also want an ePaper? Increase the reach of your titles
YUMPU automatically turns print PDFs into web optimized ePapers that Google loves.
#SHILL

SOLANA NFT/DEFI/TWITTER ECOSYSTEM

culturehacker

Where there's smoke

celestialbody

the creative process

welcome to solympus

Should you be chasing $dust?

the next opensea

is it possible?

unpopular opinion

degenswings charts the facts

nfthrilling

kidonthephoenix

uncovered

GPKCollection

yellow trash can

& GPK

ISSUE #52

◎0.2

maxwell

quincy_sol is

bullish

sir saint moses

formfunction interview

overload

archmorley on archmorley

euphoria

earlyishadopter sees the trends

ministry of art

oxcelon dives deep
---
In

THIS

ISSUE

52

Pixeltoy
---
4

FROM

6

14

22

24

30

38

FROM THE EDITOR

So much to write. So little

space.

Where There's Smoke

Culturehacker gives an insight into

his upcoming project. #alpha

Probably Nothing

CredibleCrypto sounds the

alarm. Are you listening? #alpha

Barndog & Whalesfriend

At it again with the latest news

and insights #alpha

CeslestialBody

What exactly is the creative

process?

Welcome to Solympus

Mr Cuddlez88 talks all things

$Dust economy #alpha

the next Opensea

Could a Solana marketplace

become as big? #alpha

44

56

58

76

84

92

UnPopular Opinion

Degenswings looks at charting

Thugbirdz and MoneyBoys #alpha

MAXWELL

Quincy_sol helps us discover is

bullish and why #alpha

GeishaLabs is cool

YakuuCrypto tells us why

#alpha

Sir Saint Moses

Formfunction interview with nft

artist #alpha

CYBERVILLAINZ reborn

It's time to look- then look

again! #alpha

OVERLOAD

ArchMorley writes about his

latest piece #alpha

96

100

106

124

EUPHORIA

earlyishadopter gives his

technique into noticing trends

#alpha

Ministry of ART

OxCelon dives deep into this

new DAO and what it means

for you #alpha

NFThrilling

Insightful interview with

KidonthePhoenix - king! #alpha

GPK COLLECTION

ArtWillNFT uncovers Yellow

Trash Can and things GPK

#alpha

Pixeltoy
---
the

from

EDITOR

Welcome to issue 52 of #Shill zine - the most read Solana ecosystem zine on the planet. Since

Oct 10, 2021.

Sounds like trivial shit right now but in another 6 months #Shill zine will notch up 1 year in the

ecosystem. Far longer than many NFT projects!

This issue is JAM PACKED. Over 100 pages is a new ATH for the zine, an indication that the

space has NOT slowed down. In fact, there's so much content out there I just have to stop at a

point.

A HUGE thanks 'mille grazie' to @NFThrilling who keeps creating fantastic interviews. This time

with @KidonthePhoenix !!!

A plethora of articles full of true #alpha that you probably overlooked during the week. Time to

open your eyes #anon and take a closer look. Chilling out in front of Netflix? Load up the zine

on your iPad and really take a closer look.

Barndog is joined by Whalesfriend to give you Solana gaming insight. Barndog is scathing in his

latest Youtube video- a must watch!

#Shill was lucky enough to win a few NFT auctions during the week. I have been eyeing

LowbrowNative for months now and finally nabbed a piece that I could print. Lowbrownative

even sent me the original high resolution file! I ordered an A3 sized print online, on acrylic for

posterity. This brings me to a burning point.

If I am paying 1, 2, 3 or 7 Sol for a piece of art I expect to either be given the original OR at the

bare minimum, the highest resolution file of the artwork. Monsterdefiner does it, Keezerfeld does

it. If I buy an art piece from a gallery they don't say, "Take a photo of the piece and leave the

original here."

A few months back I included an NFT in #Shill that I had bought through mint. I used the

arweave linked file. The OG artist contacted me asking me why I used a low resolution image

of their art and requested I withdraw it. Really? I used the fcuking file I bought and now you are

telling me it looks shit?

Thanks for including us - however next time we can provide you with a better

quality and correctly trimmed video. Thanks.

There have been too many times that I have found an NFT to place in #Shill and the image just

doesn't render well. Delete. Not used. For a 3 minute primer on which format to use read here: https://

bit.ly/3JKNfmH

I have also stopped using images that DO NOT link back to a social media account. Peeps go

fix up your profiles on exchange.art and holaplex ffs! And why the fcuk do you block on Twitter?

#ngmi!

Issue 52 has been a labour of love. Fantastic NFTs from newcomers and mainstayers. Come on

#frens show the love. Hit the artists up on Twitter. Tell the writer's you read their articles. Give

back a little!

As always, show your love on the Twittersphere with a simple retweet.

Enough said. You know the drill. Let's f go!

Pixeltoy

4

SHILL Issue #52
---
Keep your eye on...

chonkee_monkee

DeepThoughtDj_
---
a 1/1 limited edition photography NFT collection + installation that explores a mystery

culturehacker

WTS #1 (pictured above) is part of the Season 1 collection DROPPING weekly starting Monday, April 18th

At its core Where There's Smoke is an ambitious immersive documentary/archival project that is told

across NFTs, physical installations, live performances, and a series of art books. Over time the goal is

to archive my father's photographs on chain by minting them as 1/1 pieces. At the same time, I'm in

conversations to have the 35mm slides added to a museum's permanent collection.

6

SHILL Issue #52
---
The Story

**All families have secrets. Skeletons hidden in closets. Things left unsaid.**

Robert Weiler 1939 - 2018 (photo shot by me when I was 11 years old)

An Outsider Artist

For over 20 years my father was a volunteer firefighter and amateur fire scene photographer. Where

There's Smoke makes use of thousands of fire slides shot between 1968 and 1988.

The boxes stacked from floor to ceiling. Over 3,000 35mm slides - all of fires. Important to note the burned boxes

survived our house fire.

SHILL Issue #52

7
---
Was My Father an Arsonist?

In 1983 our van burst into flames on a family vacation. Eleven months later our house would burn to the

ground. As I explore my past, I find mysterious connections to these blazes and come face to face with a

closet full of skeletons.

In 2019 a 1,400' sq ft installation of Where There's Smoke was staged at the Tribeca Film Festival. It was slated to

travel but the pandemic put those plans on hold until NOW!

An innovative use of emerging technology and storytelling

Where There's Smoke is an immersive documentary told across a mixture of formats - NFTs, physical

installation, live performances, and a series of art books.

Proceeds from the sale of the NFT collection will go towards funding a new immersive installation of

Where There's Smoke. The installation will connect IRL and virtual audiences.

NFTs that are collected will interact with the physical/virtual installation by unlocking a series of

stories, fragmented memories, and generative soundscape.

Meanwhile, interactions from those participating in the physical installation and virtual shows will

create a series of generative NFTs.

8

SHILL Issue #52
---
Images from the 2019 installation that had participants interacting with a series of enchanted objects that controlled

lighting and sound in the room and unlocked a series of narrative fragments (video/audio).

What people said about the NYC installation

"Over 100 movies screened at the 2019 Tribeca Film Festival, but one of its best offerings lets

you walk inside the frame and experience a story from the inside out." – IndieWire

One of "Top 35 XR Installations Of 2019" - Forbes

"Absolute can't-miss…" – Backstage

"Deeply affecting and incredibly well-crafted, this powerful documentary-meets-installation interactive

experience leaves a lasting mark.…" – No Proscenium

WTS installation 2.0

We've start developing a new version of the installation that will open in April 2023.

The 2,000 sq ft installation will have a three-month run at Artyard in Frenchtown, NJ which is a few

miles from where my father was a firefighter.

SHILL Issue #52

9
---
10

SHILL Issue #52
---
The WTS NFT collection will be released in 4 Seasons each

containing 10 to 100 pieces

A sampling of the works from Seasons 1 - 4

Each photograph in the series was a fire shot by my father between 1968 and 1988. He was an outsider

artist who was self-taught, and his work has never been shown until Where There's Smoke.

Glitching my past

In addition to the fire slides, I'll be producing some new works that remix original family and fire

photographs through a handmade process that is augmented by code.

Left Behind (2021) culturehacker

Collectors Receive

1/1 NFT + hi-res scan *note all photos are in the original condition of how they were found -this is an

aesthetic choice.

Access to the WTS community archive - Behind the Scenes look at the project from its origin to the

current design/build of the installation opening in 2023.

Ticket to a virtual show of WTS

For those in the NYC area access to the physical installation (but don't worry we'll be connecting the

physical installation to a series of virtual shows)

Opportunity to purchase a copy of the limited edition WTS art book prior to release (first run limited to

250 copies)

SHILL Issue #52

11
---
Collecting does not signify a transfer of copyright. The copyright to all the photos/artwork is held by the artist. "Where

There's Smoke" Lance Weiler (aka culturehacker)

About the artists

Robert Weiler (1939-2018) was a volunteer firefighter and amateur fire scene photographer. Selftaught,

Robert constructed his own darkroom in a laundry room closet. He shot more than 60,000 35mm

slides over the course of his life. Where There's Smoke represents the first time that his work is being

exhibited.

Lance Weiler (aka culturehacker) is an award-winning artist/storyteller known for his innovative use of

emerging technologies. He has presented work at the Sundance, Cannes, Tribeca, and New York Film

Festivals as well as MoMA, MoMI, the New Museum, and more.

He was nominated for an International Emmy in digital fiction for his work on Collapsus: The Energy

Risk Conspiracy. His collaboration with David Cronenberg entitled, Body/Mind/Change premiered at

the TIFF Lightbox and went on to win the American Alliance of Museums' Jim Blackaby Ingenuity

Award.

On March 11th, 2021, culturehacker minted his first piece on Hic Et Nunc. Since then, he has minted

over 500 works on PoS chains Tezos and Solana, selling thousands of pieces to collectors in the process.

Inspired by Beeple's everyday project, Lance started his own in 2019 but failed after a few days. He

tried again in 2020 but got derailed by the pandemic. However, in 2021 he completed 365 pieces and

is still going strong. The project came full circle earlier this year when Beeple reached out to Lance to

express his love of the art and encouraged him to continue making work every day.

Lance is a Professor of Professional Practice at Columbia University School of the Arts where he is

jointly appointed in Film and Theatre. He co-founded the School of the Arts' Digital Storytelling Lab

and since 2013 has served as its director leading and shaping the lab's vision and programming.

For more on my work visit - http://lanceweiler.com

+ MY OTHER NFT COLLECTIONS

Tezos

http://teia.art/culturehacker

https://objkt.com/profile/culturehacker/created

https://versum.xyz/user/tz1hA8fvrFV9XbA1Z4BekjLZKthDdobv3AKF/created

Solana

https://exchange.art/collections/glitched

http://culturehacker.holaplex.com

https://formfunction.xyz/@culturehacker

12

SHILL Issue #52
---
culturehacker
---
PROBABLY

NOTHING

@CredibleCrypto - 323k followers

I don't focus on indicators much because I

have found that most are not consistent.

There are a few exceptions- the pi-cycle

top indicator has nailed tops consistently

and the indicator below seems to have

nailed bottoms consistently. Nice

confluence with my bullish thesis.

14 SHILL Issue #51
---
OVER 5Sol & TOP NFT

SolsWatch

SHILL Issue #51

15
---
visit Grape Discord

Solana Alpha with Metaverse
---
the ASTRONAUT

thexastronaut
---
PURPLEanalysis

Purpleanalysis
---
1nsanity88
---
ekafl_
---
grapeprotocol

BARNDOG

SOLANA Gaming Update

https://www.youtube.com/watch?v=10hn2czgDrw

WhaleShorts

Vitalik is a rat?

https://www.youtube.com/watch?v=CvKS2mv3C5Y

22 SHILL Issue #51
---
loladupre
---
@celstialbody

Murmur is one of the pieces I'm currently working on, like much of my art it starts with a core concept

and often a central visual metaphor. In this case it was the murmur of starlings tied with the

idea of free movement.

I then start sketching/working on proof of concepts to see how these visuals can be replicated in

braille and how effective they are. Sometimes I don't find a workable idea in this stage but may discover

a new technique for manipulating braille that i can use another time.

Next, I begin pushing the piece out on a full-size document, seeing how it develops over time. Once

the main forms taken shape, I'll go over adding details like the braille scattered off the side and

poetry hidden within the flock.

24

SHILL Issue #52
---
Periodically I'll bring partially complete pieces in to Photoshop to see how they'll look with differing

colour and texture effects and how I should be adjusting for those (I also use it basic text like the

background if the Illustrator files are usually getting too large/slow).

Then I'll take what I like from the quick adjustments in Photoshop and go back to build them in to

the piece in Illustrator, in this case it meant expanding the canvas to around 18000px and using

that space to build a more organic bloom to the flock of braille birds. Eventually I get too final colour

and contrast adjustments in Photoshop. And this is where the piece currently sits, merging visuals

of nebulas, ocean currents, and the flight of the starling. I'll keep working on it after a few days

break to refresh my eyes and mind.

SHILL Issue #52

25
---
AddySpacer
---
AddySpacer
---
art_by_micro
---
art_by_micro
---
Welcome to

Solympus

@Mr_Cuddlez88

In summary, @DeGodsNFT is currently the top market-cap project on Solana with a slightly-under 10k

collection. The project launched in October 2021 with the idea of taxing sales under floor/last purchased

price at a 33.3% royalty.

The intent was to create floor pressure to keep the project continually growing, but it led to a lot of negativity

and ultimately failed. Coupled with a lot of failures with the launch, FUD became the flavor of the

day and by January the project was at 4 SOL in January.

From that, most teams would call it a rug and take their money elsewhere. Meanwhile,

@frankdegods had continued whiteboard wargaming the project with the rest of the team and came up

with the $DUST protocol. https://docs.dustprotocol.com

TLDR, $DUST is a 33.3M supply utility token that doesn't play the LP pump-n-dump game, with multiple

halving periods. 1 $DUST = 1 $DUST This token was used for auctions and raffles for other NFTs, and

could only be claimed by staking your DeGods at a rate of 10 $DUST/day.

The first auction was a massive success. Some lucky holder

won an NFT valued at 87 Solana at the time for a pure utility

token. Free, effectively. But this obviously meant that only the

whales had an advantage, right?

Wrong. The raffles really shook the entire ecosystem up. Take

for example the raffle won for 180 $DUST total for a @DegenApeAcademy

which shortly after touched a 100 Solana floor

again. Many projects started doing the same, building a new

meta in the space.

30

SHILL Issue #52
---
Alongside all of this, the team developed a holders-only mobile app @dyorapp to chat and track project

floors with updates on price volume, new ATH, and various other metrics, creating passive market

awareness on both current projects, as well as those upcoming.

Around this time the project saw itself explode from 5 to 50 SOL floor, with the biggest boost being a

phenomenal podcast with @marccolcer and @frankdegods outlining far more of the project than I can

fit into a single thread.

youtube.com Talking DeGods NFT w/ Frank - (Episode 29)

- In our twenty-ninth episode, co-founder the DeGods NFT, Frank, comes onto the podcast to discuss how the DeGods came to be,

thoughts on the NFT market over...

SHILL Issue #52

31
---
The real icing on the cake, and what had the community

abuzz with screams of "WAGMI!" and "WEN 1000

FP?" was the DeadGods. A free, non-dilutive upgrade

to the current collection.

DeGods (33.3%)

@DeGodsNFT· Mar 22

DeadGods is a first-of-its-kind NFT collection launching

on March 31st. This is not your typical mint. It's

a lot cooler than that. Here is everything you need to

know

DeadGods went live April 1 but leading up to it there

were a number of innovations by the team and community.

@DeGodCast was launched on Spotify and has been a roaring success.

@BlocksmithLabs was started by some core team mebers, revolutionizing WL protocols.

This lead to a veritable explosion in both the DeGods floor price as people were scrambling for entry, as

well as the value people were willing to trade for $DUST on Raydium in P2P transactions. NFA, $DUST is

not a passive-income tool. Sorry for potato quality screenshots.

32

SHILL Issue #52
---
The DeadGods finally dropped April 1. And in true DeGods launch day style, Solana tried rugging us and

we all stayed up until 3AM trying to transcend our original NFT into the new, FREE, artwork, for the price

of 1,000 $DUST. Even the "ugly" DeGods were now beautiful.

Since April 1st, the floor has gone from 91, to 191 Solana. The thing is, it was never really about the

SHILL Issue #52

33
---
floor, as these sales should indicate. People were buying into the art as much as they were the utility

behind DeGods/DeadGods.

Since April 1st, the floor has gone from 91, to 191 Solana. The thing is, it was never really about the

floor, as these sales should indicate. People were buying into the art as much as they were the utility

behind DeGods/DeadGods.

Not listed in those of course was the big sales this morning of 777 (26.4 ETH) and 999 (33.9 ETH).

Those were truly auction worthy pieces, and not just in NFTs, but in real-world art galleries. But isn't this

the top?

No. This is not the top, by any stretch. Innovations by BAYC with the launch of $APE led to mass liquidity

moving its way into the Solana ecosystem. People now had liquidity to play with, just ask:

@ShooterMcAlpha @calvinbecerra @brandonbmeta @ElectionDayMad1

We also onboarded the little-known celeb/goat @SHAQ as a holder, to obvious applause from the com-

34

SHILL Issue #52
---
munity. This was a big win for DeGods holders, but more importantly, for the Solana ecosystem.

DeGods (33.3%)

@DeGodsNFT· Apr 10

Welcome to the family @SHAQ twitter.com/degodssalesbot…

But where do we go from there? Big sales have happened,

we've amassed 178,500 Solana volume in 30

days (6,066 ETH), and clearly this is the end of the pump,

right? What other ideas are there? Well, Frank has made

it clear his goals are to make all of Solana a better place.

The next step is to create a non-typical alpha discord for

ALL of Solana. Not centered around making calls for the

sake of profits, but teaching people how to be smarter

traders. Would not be surprised to see coordination with

@The_Sol_Army on this, aka "Project D".

There are other amazing collections to buy into as well.

In no order:

@SolanaMBS

@DegenApeAcademy

@TaiyoRobotics

@_portals_

@Astrals_NFT

@DeGodsNFT has been the breath of life that Solana needed in its NFTs. Onboarding clients crosschain

and revolutionizing game theory into its core thesis have set them apart. I don't even need to

mention the community, they're probably all over your last post anyways.

Whether you invest in us, or you invest elsewhere, just know the Solana ecosystem is coming to the

forefront quickly, and I'd be more than honored to scream "FREE!" and "Welcome to Solympus" when I

see you post about that big purchase. 33.3%

SHILL Issue #52

35
---
singpentinkhepi
---
Gossip_Goblin
---
@Delphi_Digital

is MagicEden the next

OpenSea?

Is @magiceden the next @opensea? In today's Delphi Daily, we analyzed @Solana NFT marketplaces,

the new yield from @Bastionprotocol, and a report from Delphi Labs on oracle-based attacks.

@MagicEden has become the dominant NFT marketplace on @Solana, generating 95% of the transaction

share across all Solana-based NFT Marketplaces. Throughout the NFT bull season, Magic Eden

has consistently gained against its rivals.

For more on Solana NFTs, Delphi members can see our latest NFT Insights here.

38

SHILL Issue #52
---
members.delphidigital.io

Solana NFTs & Magic Eden - Delphi Digital

State of the Market OpenSea weekly transaction volumes continue their contraction, falling 30% weekon-week

and dipping below the $1B mark for the first

@Bastionprotocol was highlighted on this week's Yield Insights Bastion Protocol just launched its

pre-mining program. Emission rates are 10x during pre-mining which will last for an undefined period.

Users will be retroactively airdropped the amount they pre-mined.

To keep up to date on the latest yield farms, Delphi members can read our latest Yield Insights here.

members.delphidigital.io

Airdrops, Lending Pre-Mining & Polygon Pools - Delphi Digital

Disclosure: Members of our team are participating in the following farms. This statement is intended to

disclose any conflict of interest and should not be misconstrued as a recommendation to...

In this Delphi Labs paper, we explore some common oracle-related attacks, as well as the cost and

profit potential associated with them. We focus specifically on CPMM based TWAP oracles, which are a

specific oracle implementation that relies on on-chain DEX prices.

Check out the full report from the Delphi Labs team below.

members.delphidigital.io

Magic Eden Multiplies, Airdrop Rumors, & Exploring Oracle Attacks - Delphi Digital

Chart of The Day: Magic Eden Takes Decisive Lead on Solana Magic Eden has become the dominant

NFT Marketplace on Solana, generating 95% of the transaction

SHILL Issue #52

39
---
24Kenva
---
adipranata_98
---
Agora
---
@DegenSwings

Analyzing @thugbirdz, it shows its testing a trend line that was respected before multiple times, I think

the sentiment around the project has been changing so if it manages to recover areas above 45 sol with

some volume, it will be looking bullish.

With that being said, I think if you break lower, right below previous lows around 15-20 sol it would be

looking bearish. Is @thugbirdz going to caw caw through that trend line or what?

44

SHILL Issue #52
---
@SolanaMoneyBoys topped at 32 sol and lost an important level previously respected multiple times at

17 sol, potential areas of demand below to find a bottom: 12 sol and 10 sol.

I would like to see the boys recover a 17 sol FP and maintain it to get bullish.

@SolanaMoneyBoys recovered and got past that 17 sol area of interest, now it's testing that area as

support for the price, if it manages to find demand here it can easily get sent to test 32 sol again.

SHILL Issue #52

45
---
SCUMSOL x xkonwi
---
culturehacker
---
itsMcNatt
---
dato_art
---
IvoryMagicNFT
---
waleedshahphoto
---
cutnotslices
---
DCodedNFT
---
MAXWELL

@quincy_sol

"Grove Keeper" acquired for @uraniumSOL -Quincy Art JV. If you ask me which Sol

native artists, I'm bullish on long term, Maxwell name will always come up. His work is

among those that I consider high conviction long term buy. A bit more on this piece

and Maxwell below.

Maxwell is a true Solana

native OG artist. His rise is not

parabolic but rather instead

steady and very strong. He

has earned deep respect

from collectors and artists

alike along the way through

his, ethos and leadership/

support to artist community

and amazing illustration.

Early on, his character driven

animation style might not

be flashy so to immediately

capture Sol collectors

attention. But it sure has

unique appeal that has

grown on the audience as

time passes. Looking closer,

we will know his work is of

true pro quality with strong

identity.

You can look at each of his drop from early on; they are ever improving. His character

design and style are never boring. Technique he applied on each one keep evolving.

56

SHILL Issue #52
---
Look below at the detail of Moonblade that

he went with full psychedelic color.

Then, look here at Blue, another fav from

Maxwell that is owned by @BigBrainGallery,

where he went full contemporary mode.

And it looks so classy here. We can say that

he's very throughout about making each

piece memorable.

About the Grove Keeper that, it is sure a

tribute to the wolf god character in Studio

Ghibli's Princess Mononoke which is my fav

next to Spirited Away. It's a buy at first sight

to me.

Main character in white with lush greenery

background is not usual for Maxwell so

I expect it to be unique piece from him

going forward. And Max's signature analog

feel, while totally created digitally, shines as

ever.

Even after I look around to ETH and Tezos, I don't see others that deliver anything

of this quality that similar in style to Max yet. This couples with how well he has

positioned himself among artists can collectors in Sol make me a believer.

To be a great art NFT, the piece get to have great artistic value (debatable), is easily

identifiable, and comes from artist that understands how to be successful in NFTs.

Maxwell is all that and a bit more. I am a fan and like remain so. Cheers.

SHILL Issue #52

57
---
why @geishalabs

@YakuuCrypto

is really cool

To start their art is cool the most important I think, it tries to bring a lot of value to the holders the

geisha holders received their 2nd collection The creatures for free 1 geisha hold = 1 airdrop creature

first things

you also have the possibility of stacking your geishas and creatures which will bring you clan token,

currently with 10 geishas/creatures around 250 clan days at the current price it brings me around

$5 per day

you should know that a next collection will be released soon Outbreak and you had the possibility of

58

SHILL Issue #52
---
exchanging 5000 clan against a free mint from this collection in other words for free if you did not

sell your tokens a lottery will soon be available, and you can buy a ticket

and have a chance to get a free mint, also geisha holders also have 1 airdrop for a free mint for the

outbreak collection.

The other collection will be available but to have access to this one you will need all the other collections

and clan token which means that if you are there from the beginning you would have had

access to all the collections for free.

After that it is planned that a platform will be available (e-commerce, art, music) it is really worth

your attention I think, the team provides continuous work and is motivated with talented artists is a

good base of community.

SHILL Issue #52

59
---
ClockNLife
---
c_monstersNFT
---
destroyxstairs
---
emperor404_
---
harrykoi_
---
ibayarifin
---
Loladupre
---
m00nchildstudio
---
lowbrownative
---
GPKCollection
---
RuNFT_
---
M0ATZE
---
SaintMary_
---
Marventyo1
---
muimooi
---
Sir Saint Moses

Formfunction - @formfunction

We're very happy to spotlight one of our talented creators today, @sirsaintmoses! He works across multiple

mediums to create abstract forms that interplay between the physical and digital.

formfunction.xyz SirSaintMoses (@SirSaintMoses) | Formfunction

Formfunction is the 1/1 NFT marketplace for Solana. Create and collect amazing digital art, without harming

the environment.

76

SHILL Issue #52
---
Q: What is your art process like?

A: My process is a large collaboration of mediums. I utilize heavy-body acrylic paint on canvases to design

vibrant, abstract expressionism.

I then incorporate these physical works into intangible forms; scanning the artworks to animate and curate

digital three-dimensional fragmentations.

SHILL Issue #52

77
---
Q: What inspires you?

A: "I am inspired by my own conceptualizations of life itself. My personal experiences, both good and bad, are

the things that make me who I am, and are what drive my creativity.

78

SHILL Issue #52
---
Everyone perceives life through their own lens of experience, but my ability to create artworks that express

the spectrum of human emotion that we all have in common is what empowers me to create and inspire my

community to spread love, unity, and compassion.

Translating my artistry into the digital realm is something that has been an increasing interest of mine as

artistic mediums evolve paralleling society's increasing demands of technology and cyberspace."

Q: What are your long term goals as creator?

A: "I have chosen to devote my life to spreading love through my work and the philanthropic pursuits that

accompany artistry.

SHILL Issue #52

79
---
SaintMary_
---
RickyJanitras
---
TheCygirls
---
tsunami031
---
eborn

ABout

The year is 10,036 and we're on Savage Soland. Chaos has

erupted. 1,000 Genesis CyberVillainz, previously mutated

heroes—now imposing pixel beasts—are agonizing

the world.

reborn

Table of Contents

About

SolBlitz

Timeline

Alpha

Reward Economy

Metaverse Partners

Legendary Auctions

Gen 1 Tokenomics

Gen 2 CyberHeroes

Gen 1 --> Gen2

Lore and Gamified Staking

Team

reborn

84

SHILL Issue #52
---
CyberVillainz Founder

The CyberVillainz founder runs a marketing business

for NFTs called SOLBLITZ. SOLBLITZ offers

comprehensive services to other founders looking

to professionally brand and market their project.

Revenue from SOLBLITZ will be used to supplement

staff salaries, Gen 2 funding, and marketing that

royalties don't cover in the initial stages.

Recent SOLBLITZ clients include Akari and Solana

Puppy Pound.

CyberVillainz is not-for-profit and all revenues will

continue to be put back into the project. The

community must approve any return of initial

investment funds to the owner.

reborn

$ + WL + Staff

Revenue will pay salaries and high quality

clients will also provide lucrative WL spots

for CV Holders.

Timeline

Inject 300 SOL

into Project

Establish Rewards

Economy on discord

Mint Gen 2, launch

new Token, and fund

liquidity pool

Hire 15 Alpha Hunters,

Project Leads, and

Merge with SolBlitz

Hire Lore Master to

build stories and

establish "factions"

reborn

Alpha

CyberVillainz Alpha DAO will be the differentiator

between the our community and the average NFT

project's alpha channel.

CyberVillainz will professionalize alpha with a wide

array of analysis and points of view:

Rapid Fire Analysis

Long Form Analysis

Mint Plays

Secondary Signals

We will relentlessly pursue opportunities to win as

a group.

We have more paid callers than

other projects.

40

30

20

10

reborn

0

Jan Feb March

We only hire callers with proven success in

the space.

SHILL Issue #52

85
---
Reward Economy

We will pay members virtual currency who

contribute through an intuitive Discord economy

that will reward holders for their time and effort.

Your ideas, your creativity, and your time have worth.

We will provide members with points that can be

redeemed for $BROCCOLI, NFTs, and custom social

media content.

The activities to receive rewards and the amount of

points given will be changed regularly and

communicated in the Discord.

The initial focus will be on those who contribute solid

ideas for the Gen 2 collection, respond to lore

prompts, and participate in social media marketing.

reborn

Metaverse partners

CyberVillainz will be integrated into top-tier

metaverses via strategic partnerships.

Sovana

One of the first partners is Sovana. Holding a

CyberVillain will allow you to take part in the

Sovanaverse for exclusive events, games, and more.

Rumbleworld

CyberVillainz will also be available as a playable 3D

avatar in the upcoming metaverse game

Rumbleworld. This 3D avatar is already rigged and

ready to go.

reborn

Legendary Auctions

There are 10 Legendary CyberVillainz. The remaining

eight will be auctioned on a custom auction house

built through our partnership with Solaland.

The auctions will be used to continue funding the

DAO wallet, paying staff, and offering lucrative

community incentivees like NFT giveaways.

reborn

This is the example auction page for DeGods.

86

SHILL Issue #52
---
Gen 1 TOkenomics

reborn

Staking

LP

Reserve

Team

Marketing

65%

Initial Supply Set

Aside For Staking

15,453,666

4,754,667

2,377,333

713,200

475,467

=

10 $BROCCOLI

per day

CyberVillainz Staking Site

Gen 2

CyberHeroez

reborn

CyberHeroez are the next generation in the

Cyber Brand. Gen 1 holders will help choose

the new art, new traits, and the direction of

the new collection leading up to the mint.

The funds will be used to continue building

the CyberVillainz team, fund a liquidity pool,

and replace the $BROCCOLI token.

2,000 Supply

1 SOL mint for non-CV Holders

.7 SOL mint for CV Holders.

2 CV + 500 $BROCCOLI for Gen 1 Holders

50% to Liquidity Pool

Must have Gen 1 to access Alpha DAO

May be able to buy in using $BROCCOLI

Gen 1 --> Gen 2

reborn

Stake your Gen 1 CyberVillainz to earn

$BROCCOLI to mint Gen 2.

14 $BROCCOLI / Day

for first 7 days &

20 $BROCCOLI / Day

after that

2 CV + $500

Broccoli

25 Days of

Staking to mint

Gen 2

Gen 2

SHILL Issue #52

87
---
Lore

We have hired a well known Lore Master to help

build a community-driven story that can keep us

engaged and reward members for contributions.

Deliverables

Background Lore

40-Panel Episode / Story

Lore Prompts

Rewards System and Bot

Gamified Staking

Gen 1 Holders will help create 3 factions that will

be integral to the community build-out with Gen

2. Gen 2 staking will have competitions between

factions that will result in rewards for holders.

In addition, funds from the Gen 2 mint will be

used to help fund a liquidity pool to allow easier

trading of the token.

47% 79% 39%

Staked in Faction A Staked in Faction B Staked in Faction C

Winners will get weekly airdrops with 1st place receiving 50% of

the pot, 2nd place receiving 30%, and 3rd place receiving 20%

(subject to change).

reborn

The Team

The team is massive. We have 15 Alpha Callers in addition to nine core team members serving as admins,

community managers, and marketers. Our goal is to find the top talent in the space and bring them on

board to constantly innovate and provide value to holders.

JRDN

Community Manager

Thancell

Admin

MadBoi

Admin

Float9696

Admin

Sp00n1cus

Founder & CMO

Wat

Admin

NaSA

Admin

TRXKlick

Admin

DozyLemon

Admin

reborn

88

SHILL Issue #52
---
tvzsu
---
90

SHILL Issue #52
---
SHILL Issue #52

91
---
@archmorley

https://exchange.art/single/GXGpFfHhnBb2qtLr6tE3DH3PU8H4qsypqsNigwjK1onB

Recently pushed past the silly

fear of speaking in spaces and it

was super uplifting. Spoke a lot

about my art and its connection

to my mental health.

I mentioned the 'workout'

type of process when painting

(physically or digitally), how this

helps me hack into the desired

'flow state' and release emotions

in a different, unrestricted way.

Not a huge fan of expanding

on my pieces, but Overload

is a great personal reflection

on the struggle of managing a

bombardment of thoughts and

anxieties, as well as just growing

up in a digital era full of non-stop

information.

The chaos of thoughts is a

natural, universal part of life and

is something I feel I'm releasing

on a personal level in most of

my work so far. Shout out to

@rianmichellle whose recent

threads and work explores this

topic too, in quite a different

way.

Not entirely sure what I'm

trying to say here, but I guess

it's a love thread for abstract,

expressionism, and the

meditative aspects of art in general.

Regardless of the medium and recent sales, it's had a big impact and am so happy to have CT to share

the journey so far.

Much love again to those who listened in on those recent spaces and thanks to @UnitedWeArtSOL

+ @MinistryArt for having me. Looking forward to joining more conversations and connecting with y'all

92

SHILL Issue #52
---
yg4h_
---
V5ION
---
V5ION
---
euphoria

Noticing

in the NFT market.

@earlyishadopter

Firstly, it's important to note that it is impossible to time the exact top or bottom of any speculative

market. Many of these 'top signals' have strong overlap with mass adoption so they should add to your

existing tool kit, and not be deciding factors. Not financial advice.

Another thing to mention is that you need to be prepared mentally to miss out on (sometimes) significant

upside, and whether you can handle selling something then watch it skyrocket. You may sell the

next BAYC, and you need to be okay with doing so.

NFTs are an incredibly social and emotional asset, which makes them extremely reflexive when it

comes to price action, but also allows savvy users to gain an edge using data that can be taken from

social media. Here are a few things I look for:

#1 is obvious, price. Is it starting to feel quite expensive for what it is? Comparing this project to others

of a similar price point, would you buy this asset right now if you were not currently a holder? The issue

with answering this is greed, which we can jump into next.

Okay so you've bought an asset that's up many multiples, you're now beginning to think 'wow these

really are going to a million, I'm a genius.' Once you start wanting to tell friends this, posting publicly and

calculating how much your net worth is and will be if X, be careful.

96

SHILL Issue #52
---
Especially around projects with a token, if you start calculating how much you are currently making on a

daily, weekly, and yearly basis - it's very likely that the token itself is overvalued. It's unlikely that you are

truly onto a paradigm shift in digital assets.

Arrogance tends to go hand in hand with euphoria, you will see holders begin to be VERY confident that

their project is truly the next BAYC, and the louder holders will let you know about it. These people don't

represent the brand, but they are great for timing macro tops.

Things I look out for: on every sales bot post Holders treating the founder(s) like a prophet ETH price

SHILL Issue #52

97
---
comparisons "I am never selling because I know this is special" "I can't believe I've made this much

(unrealised) money in such a short time"

Another thing to understand is, who are the remaining buyers? Obviously, there are a large pool of

buyers, but the market prices in everything that is public knowledge. If you are buying into a price surge

ahead of an announcement, you may be one of the last buyers at that price

A general rule of thumb I use is the more screenshots I see of the floor price, the more I want to sell. It's

comparable to holding a leveraged position as soon as you want to share the PnL screenshot is when

you should sell. With NFTs, we see 100's do this at once, publicly.

Understand that missing out is okay and being able to survive in this market while compounding gains

makes you much more likely to make it in the long run than the screenshots you see from peers that are

'never selling' their unrealised profits.

We are dealing with an industry where a 200% gain is considered small, if you can consistently compound

gains and manage risk - you are really able to achieve life changing wealth. In an inefficient market

you can have a genuine edge and being able to sense euphoria is key.

In summary:

- Don't give in to FOMO

- Manage your risk and prioritise surviving for the long term

- Understand that those who are euphoric are not necessarily being themselves, so be kind and use their posts for research

and not for arguing.

- Continue to vibe

98

SHILL Issue #52
---
777Junkies
---
@0xCelon

@MinistryArt

What it is, why I'm bullish and what you need to know before minting this weekend.

Before getting into this, I am part of the team and this project is packed full of friends I've made in this space. I

am bias and implore you to do your own research and read the white paper etc.

What is Ministry of Art? At the core, @MinistryArt is an artist agency founded by @S0Ltoshi and @BU___UB,

who happen to be two of the biggest advocates, supporters and thought leaders in the 1/1 art space. But here's

the twist...

Ministry of Art merges art and defi in a way that has previously (to my knowledge) never been offered. This is a

first of its kind company with no ceiling. And it all happens via the M Key and M Vault.

What is the M Key?

The M Key is and NFT that represents your share in one of the biggest 1/1 art collections on Solana. The M Vault.

100

SHILL Issue #52
---
Okay, so what's the M Vault?

The M Vault is the Ministry's art collection, which currently houses over 200 artworks from the most sought-after

artists to the newest emerging talents. Holders of the M Key NFT will have, amongst other things, 90% ownership

of The M Vault.

In addition to the existing vault pieces, Ministry represented artists will regularly donate work to the vault. Furthermore,

the Ministry of Art team will continue to actively purchase 1/1 art for the vault.

Question: How do you benefit from this?

Answer: The Guild — A self-governed DAO that can vote to sell artworks from the M Vault on a regular basis. The

Guild will receive 80% of each artwork sold from the M Vault...

SHILL Issue #52

101
---
As a member of The Guild, you could also vote to do other cool things... Like distribute all profits from M Vault

sales directly to Guild members wallets(!!), acquire more art or load up the DAO wallet with the Ministry native

$MUSE token...

I'm no tokenomics guy, so I'm going to skip the inner workings of $MUSE and Synchronised Staking, that's for you

to read up on. https://moa-whitepaper.com

What else do Ministry have planned?

- Launching a 1/1 marketplace (@HeliosArt_) powered by existing leaders @exchgART

- Hosting IRL events around the world (@CultureHouseX) to highlight 1/1 art

- Developing a high quality clothing line (@ExuviaeClothing)

So, M Key buyers will essentially be placing a bet on 1/1 art increasing in value over time... While also investing

in @MinistryArt. Wait a minute... What's one of Ministry's primary goals? You guessed it, Increasing the value of

1/1 art.

This team is hungry, ambitious, dedicated and best of all... they truly care about art and the artist. They have

proven that many times over. Hopefully that all goes some way to providing an insight on why I'm excited about

what @MinistryArt has to offer.

The mint will take place Saturday 16th April @ 10PM UTC for a price of 10 SOL per M Key. Head to the Ministry

discord to get on the whitelist.

ministry.art https://moa-whitepaper.com https://moa-litepaper.com https://moa-roadmap.com

102

SHILL Issue #52
---
uildabot_nfts
---
armagedonstd
---
armagedonstd
---
Ciao Kidonthe
---
interview by NFThrilling

Il mio nome d'artista è kidonthephoenix. Sono ossessionato dalla mitologia

dell'uccello Fenice e sento che è una rappresentazione accurata di dove mi

trovavo nella mia vita quando ho iniziato a fare arte. Una sorta di rinascita, dalle

ceneri della mia vecchia vita distruttiva e piena di oscurità. La parte da ragazzino

del nome è perché tornare all'innocenza che avevo da bambino prima di essere

stanco e distrutto da un mondo di droga e criminalità è stato essenziale per me

per vedere il mondo e le persone al suo interno come di nuovo belli. Ogni volta che

qualcuno mi chiama bambino mi ricorda di essere umile e di mantenere

l'innocenza. Quando il popolo al tempo di Gesù andò da lui e gli chiese: "Come

arriviamo in paradiso?" Si voltò e indicò i bambini che erano intorno e disse:

"Diventa come uno di questi piccoli".

Nell'arte NFT, quali sono le tecniche che ami, quelle che ti caratterizzano

e quelle in cui vorresti cimentarti?

Dipingo ancora su tela e faccio solo una foto. Ho sperimentato alcune app per

modificare digitalmente questi dipinti, ma per me tutto inizia su tela.

SHILL Issue #52

107
---
Quanto tempo dedichi all'arte. Quando hai iniziato a percepirti come

Artista?

Meno di un anno fa, stavo

camminando in una lobby

dell'hobby e non avevo idea di

chi fossi come persona o di

cosa avrei fatto della mia vita.

Le tele mi hanno chiamato. Mi

sono innamorato dell'arte. Ora

tutta la mia vita è costruita

attorno al fare arte e, cosa

ancora più importante,

aiutare gli altri a realizzare il

loro potenziale con l'arte.

Vorresti raccontare

brevemente da dove viene

il tuo lavoro artistico.

Com'è il tuo ambiente di

lavoro. Se lo cambieresti e

come?

Ho uno studio nella mia

piccola città di Marshalltown,

IA. Ha diverse stanze con tele

ovunque. Ho impostato per

l'arte fluida e fa un pasticcio

ovunque. Questo è il mio

paradiso dell'arte. Sono stato

in giro molto negli ultimi

tempi, ma mi godo il tempo che

passo in studio a fare arte.

Come crei le tue opere. Qual

è l'ispirazione per te. Cosa

provi mentre crei. Qual è

108

SHILL Issue #52
---
(se presente) il messaggio implicito nelle tue opere/collezioni. Vorresti

descrivere, in poche parole, una delle tue opere a tua scelta?

Mi piace usare colori vividi per esprimere semplicemente dove si trova la mia

anima. Sembra luminoso e vivo. Uso metodi astratti perché è ciò che mi sembra

naturale. Spero un giorno di fare più dichiarazioni con la mia arte, ma il mio

viaggio finora è stato semplicemente divertendomi con i colori e sperimentando

modi diversi per far esplodere quei colori sulla tela.

Come vedi gli NFT in 3/5/10 anni. E tu?

Vedo che gli NFT sono parte integrante della vita quotidiana di tutti. L'atto a casa

tua, i registri degli studenti, la musica, i giochi e, naturalmente, l'arte. Siamo solo

all'inizio. Mi vedo alla guida di un tour mondiale di United We Art di case d'arte,

aiutando artisti di tutto il mondo a salire a bordo e collaborare con altri artisti.

C'è qualcosa che desideri davvero e che speri di poter realizzare nei

prossimi anni anche grazie alla tua arte? Qual è il tuo sogno o aspirazione

più grande. E nel

presente, cosa ti

eccita. C'è qualcosa

che vorresti e che

ancora non hai (a

parte una lambo

ovviamente)?

Il mio sogno più

grande è vedere

United We Art

(@UnitedWeArtSOL)

diventare globale.

Aiutare gli artisti di

tutto il mondo a

realizzare il loro potenziale con l'arte e a rimodellare la traiettoria delle loro vite.

Vorrei anche usare l'arte per aiutare a ristrutturare i modelli di incarcerazione e

dipendenza che abbiamo attualmente. Significato invece di mandare le persone

in una prigione o in una riabilitazione in cui odiano stare. Inviare persone a una

casa di recupero United We Art dove possono creare bellissime opere d'arte e

SHILL Issue #52

109
---
conoscere crytpo e NFT. Credo che se diamo alle persone una vita a cui sono

ispirate, sarà molto meno probabile che buttino via tutto.

Cosa ne pensi delle varie blockchain e dei relativi NFT. Cosa determina la

tua preferenza tra una chain o l'altra? Cosa consiglieresti a un artista che

desidera coniare il suo primo NFT?

Ho trovato casa a Solana. Salgo a Solana. Penso che altre catene stiano facendo

grandi cose e non ci siano solo 1 o 2 scelte. Molti prospereranno, ma penso che

abbia senso per qualcuno che si butta a capofitto in una catena economica e

veloce come Solana. Uno in cui sento che siamo ancora tutti determinanti nella

costruzione dell'infrastruttura del futuro. Vai dove ti portano le vibrazioni.

Trascorri del tempo negli spazi di Twitter di ciascuna catena e vai dove ti senti

guidato. Ancora una volta, personalmente ho trovato una casa con Solana e ho

scelto di continuare a operare all'interno di questo ecosistema.

Quali artisti NFT (se ci sono) hanno influenzato il tuo stile. Chi è il più

talentuoso. Il più intelligente. Il più creativo... Mi consiglieresti il

prossimo artista 1:1 da intervistare?

Le mie maggiori influenze sono state @sleeprNFT, @degenpoet,

@notjohnlestudio, @CryptoVulture, @wolcottphoto e @peanug420. Potrei

andare avanti all'infinito con quella lista. Vorrei anche citare artisti come

@tat2fingers, @STEREO_nft, @pinkskullqueen, @glitchstroke. Questi artisti mi

hanno aiutato moltissimo non solo con la loro straordinaria arte, ma anche

rispondendo ai milioni di domande che avevo quando sono entrato per la prima

volta nello spazio.

Che consiglio daresti a qualcuno che vuole andare per la tua strada. E ai

collezionisti che vogliono avvicinarsi al mondo NFT?

Il mio consiglio sarebbe quello di portare l'innocenza di un bambino, nel senso

incoraggiare sempre gli altri, ritwittare il loro lavoro, mettere mi piace,

complimentarsi e persino raccogliere quando possibile. L'energia che versi

nell'ecosistema Solana verrà riversata in te. Inoltre, guarda cosa hanno fatto

artisti di successo in termini di strategia e marketing. Sii paziente e disposto a

macinare.

110

SHILL Issue #52
---
Ai collezionisti direi che non devi solo comprare arte e sperare che salga. Puoi

davvero entrare in contatto con gli artisti. Ispirali e investi in loro in molti modi

diversi dal solo finanziario. Diventa loro amici. Ciò garantirà che l'arte aumenti

di valore molto di più.

Ok, un ultimo giro! Il tuo miglior valore. Il tuo peggior difetto Il miglior libro

o quello che ti ha cambiato la vita. Il miglior film di tutti i tempi. La "pittura"

IRL che ti piace di più. L'ultima volta che ti sei ubriacato. Se potessi

trascorrere una giornata con un artista (anche del passato), chi

sceglieresti. E dove lo porteresti?

Miglior valore=Dal cuore, Peggiore difetto= nessun filtro, Miglior libro=La Bibbia,

Miglior film=Playbook con fodere d'argento. Il mio dipinto IRL preferito =

"Aconit" di John Beckley. L'ultima volta che mi sono ubriacato è stato sul palco

durante il dj set al Solana Miami, quindi la scorsa settimana. Se potessi passare

una giornata con Yayoi Kusama e vorrei che si trasformasse in una lezione su

come essere impenitente ed emancipato.

L'intervista è finita mi hai emozionato Kidonthe
---
Hi KidonthePhoenix.sol (@kidonthephoenix) .. when I saw this piece of work of yours I got an emotion

.. what I call @NFThrilling vibe .. could you describe this beautiful work to me, before starting please…

I used acrylic paint and a method of

paint pouring called the swipe technique.

You add rows of colors mixed with

mediums and swipe them. This brings

out all of the beautiful cells. I wanted to

try and recreate a seaweed of the ocean

look..

Let's begin .. in the crypto and NFT

universe (as in traditional art, Banksy

docet) anonymity is widespread, what

do you think abt it and how do you

approach the public (your stage name is

very cool indeed)?

I think it is wonderful for an artist to have

the ability to take on whatever persona

they choose. I find that it frees them to be

who they really are. Who they have always

wanted to be. I personally am doxed, but I

think it is up to the artist to make that choice.

These days I identify more as Kid, than

I do Nikolaus, my real name. I also think

you can form extremely strong bonds with

people who you don't know their real name, and don't even know what they look like. You get a glimpse

of the real them… the essence of them.

My artist name is kidonthephoenix. I am obsessed with the mythology of the Phoenix bird, and feel it is

an accurate depiction of where I was at in my life when I started making art. A rebirth of sorts, out of

the ashes of my old destructive and darkness filled life. The kid part of the name is because returning

to the innocence I had as a child before I was jaded and broken down by a world of drugs and crime has

been essential for me to view the world and the people in it as beautiful again. Every time someone calls

me kid it reminds me to be humble and retain innocence. When the people of Jesus' day went to him and

asked, "How do we get to Heaven?" He looked over and pointed to children that were around and said,

"Become like one of these little ones."

Let's truly begin .. If you had to describe yourself, in a few but essential words, what would you

say?

Chaotic Inspired Creative Driven

In NFT art, what are the techniques you love, the ones that characterize you, and the ones you

would like to try your hand at?

I still paint on canvas and just take a picture of it. I have experimented with some apps to alter these paintings

digitally, but everything starts on canvas for me.

How much time do you dedicate to art. When did you begin to perceive yourself as an Artist?

Less than a year ago, I was walking by a Hobby Lobby and had no idea who I was as a person or what I

was going to do with my life. The canvasses called to me. I fell in love with art. Now my whole life is built

around making art and even more importantly helping others realize their potential with art.

112

SHILL Issue #52
---
interview by NFThrilling

Would you like to briefly tell where your artistic work

comes from. What is your work environment like.

Would u change it and how?

I have a studio in my small town of Marshalltown, IA. It

has several rooms with canvasses everywhere. I set up for

fluid art and it makes a mess everywhere. This is my art

haven. I have been on the road a lot as of late, but enjoy

the time I get in the studio making art.

How do you create your works. What is inspiration for

you. What do you feel while you create. What is (if

any) the implicit message in your works/collections.

Would you like to describe, in a few words, one of

your works of your choice?

I love to use vivid colors to just express where my soul is

at. It feels bright and alive. I use abstract methods

because it is what feels natural to me. I hope to one day

make more statements with my art, but my journey thus

far has simply been having fun with colors and experimenting

with different ways to have those colors explode

onto canvas.

How do you see the NFTs in 3/5/10 years. And yourself ?

I see NFTs being an integral part of everyone's day to day life. The deed to your house, student records,

music, gaming, and of course art. We are only getting started. I see myself leading a United We Art

world tour of art houses, helping artists all over the world to onboard and collaborate with other artists.

Is there something that you really want and that you hope to be able to achieve in the next years also

thanks to your art? What is your biggest dream or aspiration. And in the present, what excites you.

Is there something you would like and still don't have (apart from lambo of course)?

My biggest dream is to see @UnitedWeArtSOL go global.

Helping artists all around the world realize their potential with art, and reshape the trajectory of their lives. I

would also like to use art to help restructure the incarceration and addiction models we have currently. Meaning

instead of sending people to a prison or rehab they hate being at. Sending people to a United We Art

recovery home where they can create beautiful art and learn about crytpo and NFTs. I believe that if we give

people a life they are inspired to live, they will be a lot less likely to throw it all away.

What do you think of the various blockchains and related NFTs. What determines your preference

between one chain or the other? What would you recommend to an artist wishing to mint

their first NFT?

I have found a home on Solana. I onboard to Solana. I think other chains are doing great things and

there isn't only 1 or 2 choices. Many will thrive, but I think it just makes sense for someone just jumping

in to mint to an affordable and fast chain like Solana. One in which I feel we are still all instrumental

in building out the infrastructure of the future. Go where the vibes take you. Spend time in Twitter spaces

from each chain, and go where you feel led. Again, I personally have found a home with Solana and choose

to continue operating within this ecosystem.

SHILL Issue #52

113
---
Which NFT artists (if any) have influenced your

style. Who is the most talented. The most intelligent.

The most creative. Would you recommend the next 1: 1

artist to interview.

My biggest influences have been @sleeprNFT, @degenpoet,

@notjohnlestudio, @CryptoVulture, @wolcottphoto, and

@peanug420. I could go on and on with that list. I would

also like to mention artists like @tat2fingers, @STEREO_

nft, @pinkskullqueen, @glitchstroke. These artists helped

me tremendously not only with their amazing art, but answering

the millions of questions that I had when I first got

into the space.

What advice would you give to someone who wants to go

their own way. And to collectors who want to approach

the NFT world?

My advice would be to bring in the innocence of a childmeaning

always encourage others, retweet their work, like,

compliment, and even collect when possible. The energy

that you pour into the Solana ecosystem will be poured back

into you. Also, watch what really successful artists have done

in terms of strategy and marketing. Be patient and willing

to grind.

To collectors I would say, you don't just have to buy art and hope it goes up. You can really connect with

the artists. Inspire them and invest in them in many ways other than just financially. Become their friends.

This will ensure the art goes up in value much more.

Ok, one last lap! Your best value. Your worst flaw. The best book or the one that changed your

life. The best movie of all time. The IRL "painting" you like best. The last time you got drunk.

If you could spend a day with an artist (even from the past), who would you choose. And where

would you take it?

Best value=From the heart, Worst flaw= no filter, Best book=The Bible, Best movie=Silver linings playbook.

My fav IRL painting="Aconit" by John Beckley. The last time i got drunk was on stage during the

dj set at Solana Miami, so last week. If I could spend a day with Yayoi Kusama and I would like it to turn

into a lesson in how to be unapologetic and

empowered.

The interview is over. U thrilled me so

much KidonthePhoenix.sol (@kidonthephoenix)

thank you! One last thing. Would

you make it an NFT inspired by this interview?

If yes, it will be part of the first

collection entitled "#openheARTist - self

portrait" or whatelse .. because art is in the

heart of the artist, and we love it open.

To Be Continued #openheartist

114

SHILL Issue #52
---
muratkalkaman
---
thewahyudan
---
nftmovievirva
---
pouyabashirii
---
SolVisitors
---
ghostofanxiety
---
theoryofvision
---
@ArtWillNFT

https://garbagepatchkids.xyz Garbage Patch Kids are a collection of 400 hand drawn 1:1's,

powered by the alternative band @YELLOWTRASHCAN_. Each piece hand drawn by @Jitta-

OnTheTrack or collaborated with a multitude of creatives.

A total of 100 made by @JittaOnTheTrack, & 300 with other collaborating artists, totaling to

collection of 400. Jitta is an animator/cartoonist, who's worked with a multitude of talent. GPK

ownership grants eligibility to for NFT's that'll be paired with music royalties.

Jitt's created animations for artists like Lil Wayne, Lil Yachty, 2 Chainz, Pete Davidson, SchoolboyQ,

ILoveMakonnen & many more. Jitt is a true creative, working w/ mediums digitally, to

making recreations of Ye out of bags exclusively from the Calabasas McDonalds.

JITTNEY SPEARS

124

SHILL Issue #52
---
@YellowTrashCan_aims to revolutionize the music industry. By recreating the typical road to

success & offering a template for artists to follow, YTC wants to introduce a safe route that's

not so predatory towards artists.

McNatt

YTC's collections, being 1:1 art focused, still offer utility! GPK's, as mentioned earlier, will grant

eligibility for future NFT's that'll be paired with streaming royalties! How cool!

M de' Medici and rex

@GPKCollection mentioned the importance of giving back to their community. Since launching

the beginning of 2022, YTC has introduced a collection of 1:1's, "Trash", specifically to give

back to their community members and builders.

SHILL Issue #52

125
---
RedRabbitCult(HAVEN PARK) and 2 others

Another collection, which we're very fond of, is their "Filth" collection. Currently they've released

1 pair of pants as an NFT, the purchaser received the NFT as well as the physical

pants. It's wonderful to see projects merge IRL physicals with web3 tokens. Sneak peek.

rex and 2 others

@Wrekitrex, YTC's lead designer, has been busting out quite a few high quality 1:1's with

@YellowTrashCan_. Diving into cut+sew projects, repurposing denim & other materials to create

some beautiful pieces. YTC plans to release furniture, including rugs & coffee tables.

126

SHILL Issue #52
---
Since 2022 started, YTC has been featured in @Complex twice, released an album w/@ILove-

Makonnen4D, started their Web3 / NFT careers and secured some incredible placements along

the way, including FIFA 2023 for a song they produced. Clearly YTC is on the right path!

YTC consists of Jason & @Jittonthetrack. Jason came from an artist MGMT background, managing

multiple musicians and visual artists, as well as being a musician himself. Jitt, being the

monster creative he is, it was only natural they fell into the web3 space.

JITTNEY SPEARS and YTC

SHILL Issue #52

127
---
What do we have to look forward to with GPK / YTC?

chaosviewarchive.sol NFT ARTIST 1/1 (Solana) and SQVTCH

"We're adamantly working on a few initiatives to help generate more funds outside of GPK

sales for our community wallet. We also really want to provide unique utility to our holders,

which is why we partnered with @Burnmoneymusic on discounted studio time for holders!"

Burn Money Music and PDX Pipeline

128

SHILL Issue #52
---
Is there anything you feel is lacking in the Solana NFT Ecosystem? "Mainly education. Especially with

audio / music NFTs. Like what even is a music NFT? It's too broad and such an individualized perspective-based

question. We need solutions."

We absolutely look forward to seeing this project grow, and we're happy to be able to chat with

these two!

Thanks for reading @ArtWillNFT

Checkout @GPKcollection here - https://garbagepatchkids.xyz

Checkout @YellowTrashCan_ here - https://yellowtrashcan.com

https://www.youtube.com/watch?v=VShOdSA0I5I

SHILL Issue #52

129
---
CultureHacker