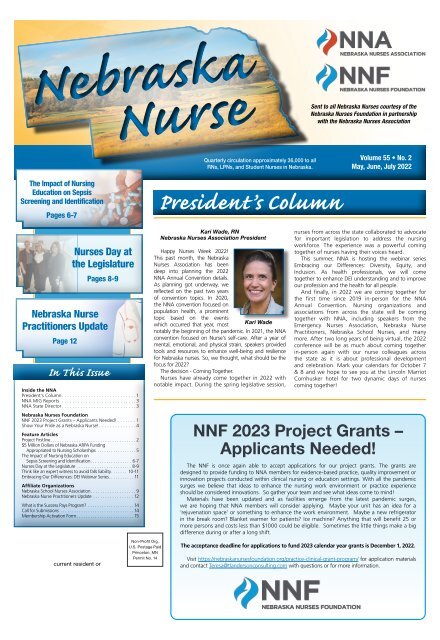 Nebraska Nurse - May 2022
Create successful ePaper yourself
Turn your PDF publications into a flip-book with our unique Google optimized e-Paper software.
Nebraska

Nurse

Sent to all Nebraska Nurses courtesy of the

Nebraska Nurses Foundation in partnership

with the Nebraska Nurses Association

Quarterly circulation approximately 36,000 to all

RNs, LPNs, and Student Nurses in Nebraska.

Volume 55 • No. 2

May, June, July 2022

The Impact of Nursing

Education on Sepsis

Screening and Identification

Pages 6-7

Nebraska Nurse

Practitioners Update

Page 12

Nurses Day at

the Legislature

Pages 8-9

In This Issue

Inside the NNA

President's Column ............................1

NNA MIG Reports ............................3

NNA State Director ............................3

Nebraska Nurses Foundation

NNF 2023 Project Grants – Applicants Needed! .......1

Show Your Pride as a Nebraska Nurse! ..............4

Feature Articles

Project Firstline ....................................2

$5 Million Dollars of Nebraska ARPA Funding

Appropriated to Nursing Scholarships .................5

The Impact of Nursing Education on

Sepsis Screening and Identification .................. 6-7

Nurses Day at the Legislature ........................8-9

Think like an expert witness to avoid falls liability ....... 10-11

Embracing Our Differences: DEI Webinar Series ...........11

Affiliate Organizations

Nebraska School Nurses Association ...................9

Nebraska Nurse Practitioners Update .................12

What is the Success Pays Program? ....................14

Call for Submissions ................................14

Membership Activation Form .........................15

President's Column

Kari Wade, RN

Nebraska Nurses Association President

Happy Nurses Week 2022!

This past month, the Nebraska

Nurses Association has been

deep into planning the 2022

NNA Annual Convention details.

As planning got underway, we

reflected on the past two years

of convention topics. In 2020,

the NNA convention focused on

population health, a prominent

topic based on the events

which occurred that year, most

Kari Wade

notably the beginning of the pandemic. In 2021, the NNA

convention focused on Nurse's self-care. After a year of

mental, emotional, and physical strain, speakers provided

tools and resources to enhance well-being and resilience

for Nebraska nurses. So, we thought, what should be the

focus for 2022?

The decision - Coming Together.

Nurses have already come together in 2022 with

notable impact. During the spring legislative session,

nurses from across the state collaborated to advocate

for important legislation to address the nursing

workforce. The experience was a powerful coming

together of nurses having their voices heard.

This summer, NNA is hosting the webinar series

Embracing our Differences: Diversity, Equity, and

Inclusion. As health professionals, we will come

together to enhance DEI understanding and to improve

our profession and the health for all people.

And finally, in 2022 we are coming together for

the first time since 2019 in-person for the NNA

Annual Convention. Nursing organizations and

associations from across the state will be coming

together with NNA, including speakers from the

Emergency Nurses Association, Nebraska Nurse

Practitioners, Nebraska School Nurses, and many

more. After two long years of being virtual, the 2022

conference will be as much about coming together

in-person again with our nurse colleagues across

the state as it is about professional development

and celebration. Mark your calendars for October 7

& 8 and we hope to see you at the Lincoln Marriot

Cornhusker hotel for two dynamic days of nurses

coming together!

NNF 2023 Project Grants –

Applicants Needed!

The NNF is once again able to accept applications for our project grants. The grants are

designed to provide funding to NNA members for evidence-based practice, quality improvement or

innovation projects conducted within clinical nursing or education settings. With all the pandemic

surges we believe that ideas to enhance the nursing work environment or practice experience

should be considered innovations. So gather your team and see what ideas come to mind!

Materials have been updated and as facilities emerge from the latest pandemic surges,

we are hoping that NNA members will consider applying. Maybe your unit has an idea for a

'rejuvenation space' or something to enhance the work environment. Maybe a new refrigerator

in the break room? Blanket warmer for patients? Ice machine? Anything that will benefit 25 or

more persons and costs less than $1000 could be eligible. Sometimes the little things make a big

difference during or after a long shift.

current resident or

Non-Profit Org.

U.S. Postage Paid

Princeton, MN

Permit No. 14

The acceptance deadline for applications to fund 2023 calendar year grants is December 1, 2022.

Visit https://nebraskanursesfoundation.org/practice-clinical-grant-program/ for application materials

and contact Teresa@tlandersonconsulting.com with questions or for more information.
---
Page 2 • Nebraska Nurse May, June, July 2022

FEATURE ARTICLE

PROJECT FIRSTLINE

Nurses are the nation's first line of defense against infectious diseases such as COVID-19. That's why ANA has

partnered with the CDC to present Project Firstline, an interactive series of free online tools that give you the training

and information you need about infection prevention and control (IPC). Comprehensive education includes best practices

addressing COVID-19 and other pathogens, as well as evidence-based strategies to improve outcomes.

Project Firstline resources are designed to help you understand and confidently apply IPC principles regardless of

previous training or background. New courses will be added as information advances so you can stay prepared with the

latest knowledge. Together, we can stop the spread.

Featured topics this month include:

How COVID-19 Spreads

• Episode 4: What's a Respiratory Droplet? Why Does It Matter?

• Episode 6: How Do Viruses Spread from Surfaces to People?

• Episode 24: How Can COVID-19 Spread When You Don't Feel Sick?

• Episode 19: What Do New COVID Strains Mean for Infection Control?

• Episode 7: How does COVID-19 spread? A Review

Visit NNA's Project Firstline Website for more! https://nebraskanurses.org/firstline

NNA's Mission:

The mission of the Nebraska Nurses Association is advancing

our profession to improve health for all. The vision of the

Nebraska Nurses Association is to be a proactive voice for

nurses and an advocate for improved health for all.

NNA's Core Priorities

C – Collaboration

A – Advocacy

R – Recognition

E – Education

NNA's Official Publication:

The Nebraska Nurse is the official publication of the

Nebraska Nurses Association (NNA) (a constituent member

of the American Nurses Association), published quarterly

every February, May, August, and November. The NNA

provides education, networking opportunities, publications

and other products and services to its members and

extends its mission to all nurses in Nebraska.

Phone: (888) 885–7025

You can leave a message at any time!

Email: Director@NebraskaNurses.org

Web site: www.NebraskaNurses.org

Mail: c/o Midwest Multistate Division

3340 American Avenue, Suite F

Jefferson City, MO 65109

Nebraska HIV Update & PrEP Institute Part 3

Thursday, June 9, 2022 | 7:45 am – 5:00 pm CST

INTENDED

AUDIENCE

LEARNING

OBJECTIVES

CEUs

Healthcare providers, HIV care and prevention staff, and managers who

work with PrEP and ART from health departments, clinics, and CBOs

• Identify what is new in HIV care 2022

• Discuss common and evolving co-morbidity management in HIV care

• Define optimal strategies for the engagement of multidisciplinary team

members in the care of patients with HIV

• Describe patient perspectives on desiring and receiving long-acting

antiretroviral therapy

• Discuss best practices in the implementation of PrEP usage for ages 14-18

• Extend awareness of PrEP usage within the Native American Community

• Identify best practices to rebrand PrEP in social media

Continuing education will be provided for: Physicians, Nurses, and Pharmacists

Certificates of attendance will be available for any attendee

Completion of evaluation required to receive Continuing Education Certificate

Registration for the IN PERSON format is limited, and will close on May 30, 2022:

https://matec.caspio.com/dp/BA50700090280c9da9194a3daf9c?ER_ID=38121

Registration for the VIRTUAL format will remain open until June 8, 2022 at:

https://matec.caspio.com/dp/BA50700090280c9da9194a3daf9c?ER_ID=38605

Please send any questions to Daemon Donigan:

Daemon.Donigan@nebraska.gov

Questions about your nursing license?

Contact the Nebraska Board of Nursing at:

(402) 471–4376. The NBON is part of the Nebraska Health

and Human Services System Regulation and Licensure.

Questions about stories in the Nebraska Nurse?

Contact: NNA.

This newsletter is a service of the Nebraska Nurses

Association and your receipt of it does not mean

you are automatically a member. Your membership

in support of this work is encouraged; please visit

www.nebraskanurses.org.

Writer's Guidelines:

• Any topic related to nursing will be considered for

publication in the Nebraska Nurse.

• Authors are not required to be members of the NNA;

however, when space is limited, preference will be given

to NNA members.

• Photos are welcome, digital is preferred. NNA does not

assumes responsibility for lost or damaged photos.

• Use current APA formatting for any article requiring

citation.

• Provide a brief author biography indicating the author's

nursing experience and/or expertise with the paper's

content.

o Limit the author's biography to 4-sentences.

• Submitted material is due by the 2nd of the month in

January, April, July, and October of each year.

• The peer-review is blinded; submit the title page

separately from the article

• Submit the title page and article as Word documents to

npdc@nebraskanurses.org

For advertising rates and information, please contact Arthur

L. Davis Publishing Agency, Inc., PO Box 216, Cedar Falls, Iowa

50613, (800) 626–4081, sales@aldpub.com. NNA and the

Arthur L. Davis Publishing Agency, Inc. reserve the right to

reject any advertisement. Responsibility for errors in advertising

is limited to corrections in the next issue or refund of price of

advertisement.

Acceptance of advertising does not imply endorsement

or approval by the Nebraska Nurses Association of products

advertised, the advertisers, or the claims made. Rejection of an

advertisement does not imply a product offered for advertising

is without merit, or that the manufacturer lacks integrity, or that

this association disapproves of the product or its use. NNA and

the Arthur L. Davis Publishing Agency, Inc. shall not be held

liable for any consequences resulting from purchase or use of

an advertiser's product. Articles appearing in this publication

express the opinions of the authors; they do not necessarily

reflect views of the staff, board, or membership of NNA or

those of the national or local associations.
---
May, June, July 2022 Nebraska Nurse • Page 3

NNA MIG Reports

Omaha Metro Area MIG Update

Anna Mackevicius, BSN RN PMP

Chair, Omaha Metro Area Mutual Interest Group

Here's an update regarding events planned by the Omaha Metro Area Mutual Interest

Group this year. Remember, all area nurses are welcome at any of our events; you do not

need to be a NNA member but, of course, we hope you consider becoming one.

Student Leaders Recognition

This virtual event, organized by Omaha MIG member Beth Flott, was held on March

26; the event was attended by local colleges and universities of nursing in Region 4.

The purpose of the event is to recognize local student nurses who are leaders of their

campus' Student Nurses Association. Congratulations to all 15 future nursing leaders

who were recognized! See the article in this edition with more details of this event.

The Positive Image of Nursing Awards

Recognition of the Positive Image of Nursing continues. No in-person event again this

year. We are accepting nominations until April 19. The portal can be found at https://

nebraskanurses.org/2022-nna-pin-award-nominations/?eType=EmailBlastContent&eId=e

b232f1f-a0dd-4b49-85ed-2a4c90085a6e. We'd love to have a photo of your nominee,

too! The presentation will be posted to the NNA website by April 30. As you catch your

breath at work, nominate a peer! Certificates for each honoree will be sent to their

facility or to the honoree and nominator (if nominated individually). Look for the list of

honorees in the next Nebraska Nurse issue. Feel free to contact me with any questions.

Email address is at the end of this article.

Nurses Political Reception

A legislative reception is planned for August 23, 2022 at the Thompson Alumni

Center on UNO's campus. The planning group will reach out to elected officials

and candidates to attend after the primary elections are held. The Omaha MIG will

be seeking corporate and individual sponsors for this year's event. Please consider

contributing this to worthwhile event. More information will be available soon. Check

your inbox and/or the NNA website for more details in June.

Omaha Metro Area Mutual

Interest Group Recognizes Local

Student Nurse Leaders

Members of the NNA Omaha Metro Area Mutual Interest Group (MIG) and

current faculty recognized 15 student nurse leaders on Saturday, March 26.

The event was held at Nebraska Methodist College. Participating colleges and

universities included College of Saint Mary, Nebraska Methodist College, and the

University of Nebraska - College of Nursing.

Kari Wade Ed.D., MSN, RN, CNE, President of Nebraska Nurses Association,

discussed the many opportunities NNA provides and how they advocate for

nurses. The group was also addressed by Jodi Hayes, MSN, RN, SANE-A discussed

her role as a sexual assault nurse examiner (SANE) and the programs offered in

Nebraska.

Small group discussions were utilized to facilitate networking and idea-sharing

by students from the different schools including discussing ideas for future group

events. Each student was provided a certificate recognizing their leadership

contributions. The MIG plans to hold this event in 2023 and encourages all local

colleges and universities to participate. Congratulations to the following Student

Nurse Leaders of today and our future Nursing Leaders!

College of Saint Mary

Allyson Smith

Nicole Knight

Atalia Kemp

Anna Hough

Ashlyn Echrich

Serena Moore

UNMC

Carey Kyes

Isabelle Vanderneck

Nebraska Methodist College

Emma Kuker

Jaclyn Schnakenberg

Jessica Dang

Allie Enderle

Katie Kruger

Hannah Guild

Kaylyn Biery

Annual Dinner and Charitable Drive

The MIG is considering options for a dinner or luncheon for 2022. Looking into a

possible outdoor venue early summer that we could combine with chartable drive. We

would love to hear your ideas for a fun and safe gathering. More to come on this event.

Finally, Happy Nurses Week to everyone! I am honored to be a member of our

respected and trusted profession. Feel free to contact me at annamackevicius@gmail.com

if you have any questions about the Omaha Metro MIG events or membership to NNA.

NNA State Director

Kim Houtwed, MBA, BSN, RN

NNA State Director

As I look back on previous articles and my indoctrination to

the Nebraska Nurses Association almost three years ago as the

State Director, I am continually amazed at the knowledge and

dedication this association is fortunate to have with your NNA

elected leaders. They spend countless hours reviewing bills,

discussing our position on the bill, writing, and giving testimony.

During this short Legislative session, over five hundred

bills were read, eleven letters of support or opposition sent,

and eleven times nurses provided testimony to the Legislative

Committees. This all would not be possible without the expert

guidance from our Lobbyist, Don Wesely from O'Hara-Lindsay in

Lincoln. I encourage you to review our Bill Tracker that is located Kim Houtwed

on our web page at www.nebraskanurses.org, Testimony and

letters are found under the Members Only section of the website.

Nurses are the backbone of our health care system as we protect, promote, and

optimize health and abilities, prevent illness and injury, alleviate suffering through

diagnosis and treatment of human response and advocate in the care of individuals,

families, communities, and populations. All too often our nurse voices are not heard in the

legislative process. Nurses Day at the Legislature introduces legislative advocacy as a way

for nurses and nursing students to advocate for their patients and positively impact health

care policy. Legislators do want to hear from us! Advocacy, on the part of all registered

nurses is essential if we are to have the resources, voice, and practice authority to provide

safe, effective care to patients.

Membership and participation in the Nebraska Nurses Association and American

Nurses Association is a fantastic way to learn about how to be a voice for nursing.

Advocacy is not necessarily political. Advocacy can take place at the bedside, unit

leadership councils, the boardroom, or at the levels of local, state, and national

governments.

From all of us at NNA, we thank you for your continued support of the important

advocacy work that represents every nurse in Nebraska.
---
Page 4 • Nebraska Nurse May, June, July 2022

Show Your Pride

In extraordinary times, Nebraskans

can rely on exceptional professionals

NEBRASKA CENTER FOR NURSING honors nurses for their

compassion, courage, dedication and expertise in caring for their

patients and communities.

Nebraska Nurse!

Now is a perfect time to wear or display

your pride as a nurse in Nebraska. The

Nebraska Nurses Foundation seeks to build

camaraderie and pride among nurses in our

state, by continuing to offer "Proud to Be a

Nebraska Nurse" pins to all interested nurses

for a donation of $15 (includes shipping and

handling to send the pin directly to your

door). The gold-toned metal pin, shaped

in the image of the State of Nebraska will

stand out on your lapel, jacket, lanyard,

purse, or hat.

Visit the link below to access the order

form today.

Purchase your Nurses Care specialty plate

center4nursing.nebraska.gov

Promoting the value of nurses

and nursing careers

Building, maintaining and expanding

the state's nursing work force

Improving access to care.

https://nna.salsalabs.org/

nnfpridepinorderform/index.html

The Nebraska Masonic Home is a continuing care

retirement community that provides independent

living, assisted living, long-term nursing care, and

Alzheimer's/dementia care located in Plattsmouth,

NE, just 20 minutes south of Omaha.

We are hiring for full-time and part-time

RNs, LPNs, and CNAs.

We offer an excellent benefits package and a

superior working environment.

To apply please visit: thenebraskamasonichome.org

or call: 402-296-7300
---
May, June, July 2022 Nebraska Nurse • Page 5

FEATURE ARTICLE

$5 Million Dollars of Nebraska ARPA Funding

Appropriated to Nursing Scholarships

Kari Wade, NNA President

The Nebraska Nurses Association (NNA) was

fully engaged with the 2022 Nebraska legislature

as NNA provided testimony for 16 legislative bills

(LB) during the short session. One bill, LB 1091

introduced by Senator Dorn, was significantly

impacted by the work of NNA and the Nebraska

Center for Nursing. The bill recommended using $5

million dollars of American Rescue Plan Act (ARPA)

funds to invest in the future Nebraska nursing

workforce through nursing school scholarships. The

bill required a two-year time limit for distribution

as per ARPA distribution guidelines. While the

original bill did not include registered nurses or

accelerated bachelor's degree in nursing programs,

amendments were eventually made to include both

on the bill through work by NNA and the Center

for Nursing. LB 1091 advanced from the Health and

Human Services Committee to the Appropriations

Committee for ARPA funds consideration (LB

1014), but the bill did not make the Appropriation

Committee's list for ARPA funding.

Prior to the floor debate for LB 1014 however,

NNA was made aware an amendment would

be introduced by Senator Murman to request

LB 1091 funding once again be included into LB

1014. NNA and Center for Nursing quickly got to

work and provided needed support information

to the Senators. During the floor debate, Senators

Murman, Dorn, Arch, and Day all spoke strongly

in support of the importance of investing in the

nursing workforce of Nebraska and quoted data

provided by the Center for Nursing as justification.

Ultimately, the amendment was adopted with

a vote of 37-1, and $5 million dollars was

appropriated for nursing scholarships in Nebraska.

A tremendous amount of time and work

went on behind the scenes for this initiative by

nurse volunteers to be introduced, supported,

introduced again, and passed. A special thank

you to NNA/Center for Nursing members Ann

Oertwich and Christi Glesmann; NNA lobbyist

Don Wesely; NNA Legislative Advocacy and

Representation Committee; and the Nebraska

Hospital Association; for their collaborative work

with this initiative. Also, thank you to the nurses of

Nebraska who contacted their Senators in support

of the bill. The success of this legislation was an

incredible team effort!

Nebraska Nursing

Students and NNA

Members:

The Nebraska Nurses Association has several awards

and scholarship opportunities available this year and

are now open for application submission. The following

scholarships are open for application submissions:

• NNA Member Scholarship – one $1000

scholarship per NNA membership liaison region

to an NNA member seeking higher education

• Arthur L. Davis –two $500 scholarships for prelicensure

nursing students

• Gail Graham Memorial – one $500 scholarship

for nurses furthering their education.

More information on the awards and scholarship

applications can be found at http://www.

nebraskanurses.org/awards-scholarships/. The deadline

for all applications is AUGUST 26, 2022. Submit your

applications today!

STATE OF IOWA NOW HIRING

Glenwood Resource Center (GRC) is seeking

applicants for RNs and LPNs caring for those with

Intellectual Disabilities and Physical Disabilities.

RN hourly rates starting at: $26.53 - $41.17*

LPN hourly rates starting at: $22.48 - $34.14*

1

2

RNs & LPNs

Apply online: https://das.iowa.gov

Click on Human Resources

Click on State employment

*based on

experience
---
Page 6 • Nebraska Nurse May, June, July 2022

FEATURE ARTICLE

The Impact of Nursing Education on Sepsis

Screening and Identification

Linda Moody, Robert Elledge, & Carol Bett

Sepsis involves a multifaceted development of infectioninduced

pathophysiologic derangements which can

advance to life-threatening organ dysfunction (Singer et al.,

2016). The rates of diagnoses of sepsis are rising in tandem

with increasing lifespan, concomitant chronic disease

states, increased screening efforts and knowledge of sepsis

pathophysiology, and accentuation on outcomes which may

govern reimbursement. This condition occurs worldwide

and affects men and women in all racial, geographic, and

socio-economic strata. Sepsis remains a leading cause

of significant morbidity and mortality and accounts for

considerable health care costs (Maclay & Rephann, 2017).

Pathophysiology of Sepsis and Septic Shock

Sepsis accounts for approximately 10% of all Intensive

Care Unit (ICU) admissions and can arise from either

community acquired infection or developed within a

health care setting. Sepsis frequently occurs secondary

to pneumonia, urinary tract infections, intra-abdominal

infections, cellulitis, complex wounds or osteomyelitis, and

catheter associated infections related to central venous

catheters or arterial catheters placed during hospitalization

(Brashers, 2017; McCulloh & Opal, 2016). The virulence of

the causative organism, source of infection and baseline

health status of the patient are all factors which significantly

affect an individual's prognosis.

Sepsis begins with an initial infection which progresses to

bacteremia. Bacteria and their production of toxic substances

induce an overproduction of proinflammatory cytokines

such as tumor necrosis factor alpha (TNF-α), interleukin-1

(IL-1), and interleukin-6 (IL-6) which produce an exaggerated

inflammatory host response, otherwise known as an

inflammatory cascade (Brashers, 2017). Endotoxins secondary

to gram-negative sepsis are strong activators of both the

clotting and complement systems which can increase

capillary permeability leading to high-volume plasma loss into

interstitial space. This excessive plasma depletion often results

in hypotension and can progress to cardiovascular shock, in

this case termed septic shock (Schwartz et al., 2017). Septic

shock secondary to gram-negative sepsis has been associated

with up to 50% mortality. Stimulation of the coagulation

cascade can also result in the syndrome of disseminated

intravascular coagulation (DIC).

Clinical Manifestations of Sepsis

Signs and symptoms of sepsis include tachycardia

defined as heart rate greater than 90 beats per minute,

tachypnea with more than 20 breathes per minute,

temperature less than 36 degrees or more than 38 degrees

Celsius denoting hypothermia or fever, and less than 4,000

or more than 12,000 white blood cells or greater than or

equal to 10% of banded neutrophils otherwise known as

leukocytosis, leukopenia, and bandemia respectively (Marik

& Taeb, 2017). Hematologic results may include either

leukocytosis, leukopenia, or increased number of immature

leukocytes, elevated procalcitonin level, elevated C- reactive

protein level, and increased lactic acid level. Compromise of

vital organs secondary to sepsis can be identified by altered

mental status, hypotension, hypoxemia, acute decrease

in urine output and increase in serum creatinine related

to renal dysfunction, and hepatic alterations including

thrombocytopenia, hyperbilirubinemia, and coagulation

abnormalities (McCulloh & Opal, 2016).

Current Screening and Diagnostic Methods

Various methods exist for attempting to rapidly and

accurately identify individuals with sepsis. Tools utilized

for sepsis screening include the signs and symptoms

previous listed, Sequential Organ Failure Assessment
---
May, June, July 2022 Nebraska Nurse • Page 7

FEATURE ARTICLE

(SOFA) scoring, and Quick Sequential Organ Failure

Assessment (qSOFA) scoring (Marik & Taeb, 2017). These

instruments include measurement of vital signs, lab

values such as serum lactate and creatinine, suspicion of

infection, and alterations in mental status from perceived

patient baseline. Septic shock was further delineated by

the presence of marked hypotension requiring vasoactive

medications despite adequate fluid resuscitation in

patients meeting sepsis criteria.

Method

A retrospective chart review at a Midwestern acute care

medical center was used to collect and analyze data on

sepsis screening measures and provider alerts pertaining to

adult patients diagnosed with sepsis. Data were examined

prior to, and following, implementation of targeted nursing

education on sepsis screening using Pearson's chi-squared

test with a significance threshold of p-value < .05 using

two-tailed probability.

Results

Consistent nursing screening is determined to be present

if a patient is screened for sepsis at least every twelve hours

by the nursing staff. In reviewing nurses' documentation

before and after the nursing education, the findings

showed that consistent nursing screenings were performed

for 26% of patients prior to nursing sepsis education and

42% of patients were consistently screened following

the nursing sepsis education. The targeted nursing sepsis

education did have an impact on consistent nursing

screening practices for sepsis.

Conclusion

Sepsis remains an ambiguous and life-threatening

clinical syndrome which is variable in presentation and

difficult to diagnose. Early identification and treatment of

this disease process has been associated with improved

patient outcomes while delays to diagnosis demonstrates

exponential risk in patient morbidity and mortality. Nursing

education on sepsis pathophysiology and the importance

of consistent screening practices has been associated

with enhanced sepsis surveillance and decreased time

to diagnosis. Nurses play a vital role in the identification,

diagnosis, and treatment for this life-threatening condition.

References

Brashers, V. L. (2017). Alterations of cardiovascular function. In S.

E. Huether, K. L. McCance, V. L. Brashers, & N. S. Rote (Eds.),

Understanding pathophysiology (6th ed.), pp. 1915-1922.

Elsevier Health Sciences.

Maclay, T., & Rephann, A. (2017). The impact of early

identification and a critical care–based sepsis response

team on sepsis outcomes. Critical Care Nurse, 37(6), 88-

91. doi:10.4037/ccn2017183

Marik, P. E., & Taeb, A. M. (2017). SIRS, qSOFA and new

sepsis definition. Journal of Thoracic Disease, 9(4), 943-

945. doi:10.21037/jtd.2017.03.125

McCulloh, R. J., & Opal, S. M. (2016). Bacteremia and

sepsis. In I. J. Benjamin, R. C. Griggs, E. J. Wing, & J. G.

Fitz (Eds.), Andreoli and Carpenter's cecil essentials of

medicine (9th ed., pp. 846-851). Elsevier Saunders.

Schwartz, A., McCance, K. L., & Rote, N. S. (2017).

Alterations of hematologic function. In S. E. Huether,

K. L. McCance, V. L. Brashers, & N. S. Rote (Eds.),

Understanding pathophysiology (6th ed., pp. 1623).

Elsevier Health Sciences.

Singer, M., Deutschman, C. S., Seymour, C. W., Shankar-

Hari, M, Annane, D, M., Bauer, M., Bellomo, R., Bernard,

G. R., Chiche, J-D., Coopersmith, C. M., Hotchkiss, R.

S., Levy, M. M., Marshall, J. C., Martin, G. S., Opal,

S. M., Rubenfeld, G. D., van der Poll, T. Vincent, J-L., &

Angus, D.C. (2016). The third international consensus

definitions for sepsis and septic shock (sepsis-3). Journal

of the American Medical Association, 315(8), 801-810.

doi:10.1001/jama.2016.0287
---
Page 8 • Nebraska Nurse May, June, July 2022

FEATURE ARTICLE

Nurses Day at the Legislature

- Suzanne L. Nuss, MBA, PhD, RN, CENP

Chief Nursing Officer, Nebraska Medicine

- Tina Pate, MSN, RN, CEN

Chief Nursing Officer, Great Plains Health

- Tim Plante, RN MSN MHA

Division Vice President of Nursing, CHI Health

- Nicole Thorell, RN, MSN

Chief Nursing Officer, Lexington Regional Health

Center

- Lisa Vail, RN, DNP, NEA-BC

Vice President Patient Care Services and Chief

Nursing Officer, Bryan Health

Anna Mackevicius, Chair, Planning Committee

More than 450 nurses and nursing students

participated in the 2022 Nurses Day at the Legislature.

The On-Demand presentations opened on February

24 and were available for viewing until March 31.

Participants included 105 Registered Nurses, 21

Advanced Practice Registered Nurses, and 326 nursing

students. Students represented nearly each school/

college of nursing in Nebraska with robust registration

from Bryan College, Central Community College,

Northeast Community College, Nebraska Methodist

College, and the University of Nebraska Medical Center.

The presentations this year addressed highly relevant

topics to the practice of nursing in Nebraska, as well as an

update on legislative bills in the Nebraska Unicameral that

are important to Nursing. The presentations included:

• Genius is Taking Something Complex and

Making It Simple: Team-Based Nursing Care

- Kathy Hoebelheinrich, MSN, APRN-NP, ANP-BC

DHHS Nurse Consultant, Nebraska Department

of Health and Human Services

• Models of Patient Care – Panel Presentation

- Teri Bruening, MSN, RN-C, CNE

Vice President for Patient Care Services and

Chief Nursing Officer, Methodist Hospital and

Women's Hospital

• Nebraska Legislative Update: At the Table

Where It Happens

- Don Wesley, BA

Lobbyist/NNA Legislative Liaison, O'Hara Lindsay

Government Relations

- Rita Weber, MSN, RN

Co-Chair, Nebraska Nurses Association Legislation,

Advocacy, and Representation Committee (LARC)

• Call to Action

- Kari Wade, Ed.D., MSN, RN, CNE

President, Nebraska Nurses Association

The event also included several "rooms" for video

calls with State Senators. The Senators were provided

a list of questions so they may prepare responses for

the 20 minute session. The Q&A session was attended

by 193 participants and 10 State Senators.
---
May, June, July 2022 Nebraska Nurse • Page 9

FEATURE ARTICLE

AFFILIATE ORGANIZATIONS

The NNA thanks all of the Sponsors for this event,

whose generous contribution makes this event possible.

Video Sponsor

Nebraska Methodist Health System

Banner Sponsors

Bellevue University

Bryan Health

Clarkson College

Creighton University College of Nursing

Nebraska Wesleyan University

Purdue University Global

University of Nebraska Medical Center College of

Nursing

Virtual Listing Sponsors

Nebraska Nurse Practitioners

Southeast Nebraska Oncology Nursing Society

Individual Sponsors

Brenda Bergman-Evans

Melissa Florell

Heidi Gubanyi

Douglass Haas

Linda Hardy

Kathy Hoebelheinrich

Michelle L. Johnson

Alice Kindschuh

Carole Lainof

Linda Lazure

Anna Mackevicius

Rachel Mann

Jodi Nelson

Marilyn Valerio

Kari Wade

Carol Wahl

Rita Weber

Nebraska

School Nurses

Association

The Nebraska School Nurses Association, the official

affiliate of the National Association of School Nurses, in

collaboration with the Central Nebraska School Nurses

Association, is hosting the 38th Annual School Nurse

Conference in person on June 6 and June 7, 2022 in

Kearney, Nebraska.

The Keynote speaker is Dr. Maria Cantu Hines, a

Health Educator for DHHS Office of Health Disparities

and Health Equity. She will be presenting on Culturally

and Linguistically Appropriate Services Standards. Other

presenters will cover topics such as Type 1 Diabetes,

Common pediatric GI disorders, and seizure safe schools.

If you are interested in attending the conference, please

contact catherine.heck@ops.org for more information.

Additionally, the Nebraska School Nurses Association

will hold the annual all members meeting and install newly

elected NSNA board of director positions.

Register Today!

MATEC-KS/NE Regional Program:

HIV Prevention & Treatment Challenges in

Rural America

Speaker: Donna Sweet, MD, MACP, AAHIVS

Tuesday, June 21, 2022 • 8:30 - 9:45am CST

Learning Objectives:

1. Discuss who should be offered HIV PrEP

2. Identify current options in HIV Treatment

3. Recognize HIV care issues for people with HIV in rural areas

Zoom link will be sent upon registration

Click here to register

No fee for participants but registration is required

Disclaimer: "This program is supported by the Health Resources and Services Administration (HRSA) of the U.S. Department of Health and Human Services (HHS) as part

of an award totaling $3,994,961 with 0% financed with nongovernmental sources. The contents are those of the author(s) and do not necessarily represent the official

views of, nor an endorsement, by HRSA, HHS or the U.S. Government."

Join our Team!

RNs and LPNs

We thank our nurses for

their dedicated service!

575 Fallbrook Blvd., Suite 100

Lincoln, Nebraska 68521

(402) 438-2500

Nancy R. Wynner Attorney at Law

Straight talk and sound advice in

administrative license matters including:

• Defense Against Disciplinary Action

• License Reinstatement

nwynner@ozwlaw.com

ozwlaw.com

NursingALD.com

can point you right to that perfect

NURSING JOB!

Come Grow With Us, We are the

Future in Long Term Care!

Hiring RNs, LPNs,

Med Aides, CNAs and Dietary

Aids and Experienced Line Cook

Contact our HR Director

for more information:

hrdirector@northfieldvilla.com

Join a caring team

at Arbor Care in

Fullerton, NE.

Looking for day and night RN/LPN with

wages based on experience.

Generous benefit package offered.

Call 308-536-2488 today!

NursingALD.com

Free to Nurses

Privacy Assured

Easy to Use

E-mailed Job Leads

Please apply at

www.northfieldretirement.net/careers
---
Page 10 • Nebraska Nurse May, June, July 2022

FEATURE ARTICLE

Think like an expert witness to avoid falls liability

Georgia Reiner, MS, CPHRM

An 88-year-old patient slips on the floor, falling and

breaking his hip. Your immediate concern is getting

him the help he needs, but you also wonder if you

could be legally liable for what happened. By thinking

like an expert witness, you can help determine if

this concern is valid and whether you could have

taken steps to avoid the situation in the first place.

But first, you need to understand some background

information.

Falls facts

From 2007 to 2016, the fall death rate for older

adults in the United States increased by 30%,

according to data from the CDC. Each year, three

million older adults are treated in emergency

departments (EDs) for fall injuries, and more than

800,000 people are hospitalized each year because

of injuries related to a fall. These falls extract a high

price—more than $50 billion for medical costs in a

single year.

Nurse professional liability claims involving falls are

identified in the Nurse Professional Liability Exposure

Claim Report: 4th Edition. The report notes that

many of the closed claims analyzed in the report

dataset which involved falls occurred because the

nurse failed to follow fall-prevention policies and

procedures. Further, the report states that falls most

frequently occurred in inpatient hospital, surgical

services, and aging services settings, as well as in

patients' homes.

Given the statistics and the many places falls can

occur, a fall is not an uncommon occurrence in a

nurse's career. A fall does not automatically mean the

nurse is liable; for that to happen, key elements of

malpractice need to be present.

Elements of malpractice

To be successful in a malpractice lawsuit, plaintiffs

must prove four elements:

1. Duty. A duty existed between the patient and

the nurse: The nurse had a responsibility to care

for the patient.

2. Breach. The duty to care was breached; in other

words, the nurse may have been negligent. To

determine if negligence occurred, the expert

witness would consider whether the nurse met

the standard of care, which refers to what a

reasonable clinician with similar training and

experience would do in a particular situation.

3. Injury. The patient suffered an injury. Even if

a duty existed and it was breached, if no injury

occurred, it's unlikely the lawsuit would be

successful. Keep in mind, however, that injury

can be defined as not only physical injury, but

also psychological injury or economic loss.

4. Causation. The breach of duty caused the

injury—the injury must be linked to what the

nurse did or failed to do. This can be summed

up in one question: Did the act or omission

cause the negative outcome?

Expert witnesses will consider these four elements

as they review the case, and they'll ask multiple

questions (see Was there liability?). The questions

primarily address prevention and what was done after

the fall occurred.

Prevention

The following steps can help prevent falls and,

if documented correctly, prove that the nurse took

reasonable steps to protect the patient from injury:

Take a team approach. Registered nurses, licensed

practical/vocational nurses, and certified nursing

assistants are ideal members for a team dedicated to

creating a falls reduction plan for each patient.

Assess the risk. Whether in the hospital,

rehabilitation facility, clinic, or home, a comprehensive

assessment is essential to identify—and then

mitigate—falls hazards. This starts with assessing

the patient for risk factors such as history of a

previous fall; gait instability and lower-limb weakness;

incontinence/urinary frequency; agitation, confusion,

or impaired judgment; medications; and comorbid

conditions such as postural hypotension and visual

impairment. It's also important to consider the

environment, particularly in the home setting. For

example, throw rugs are a known falls hazard.

An excellent resource for assessing communitydwelling

adults age 65 and older is the CDC's STEADI

(Stopping Elderly Accidents, Deaths & Injuries)

initiative, which is an approach to implementing the

American and British Geriatrics Societies' clinical

practice guideline for fall prevention. The initiative

provides multiple resources for clinicians, such as

a fall risk factors checklist with the categories of

falls history; medical conditions; medications; gait,

strength, and balance (including quick tests for

assessing); vision; and postural hypotension. Keep in

mind that assessment should be ongoing during the

patient's care because conditions may change.

Was there liability?

If a patient falls, an expert witness will likely want

to know the answers to the following questions

(developed by Patricia Iyers) when deciding if liability

may exist:

Before the fall:

▪ Was the patient identified as being at risk for falls?

How was that risk communicated to others?

– What medications did the patient receive? Do

they have side effects that may increase the

risk of a fall?

– Were there specific conditions present that

could increase the risk of a fall?

▪ Were measures implemented to prevent falls?

– Was the patient capable of using the call light

and was it used to call for assistance?

– Was the bed in the lowest position?

– Were the lights on in the room or under the

bed to help light the area at night?

– Was the patient given antiskid slippers?

Immediately after the fall:

▪ How soon was the individual found after he had

sustained a fall (it's not always possible to establish

an exact time)?

▪ What was done at the time of the fall?

▪ Was the patient appropriately monitored after the

fall to detect injuries?

▪ What did the assessment (including vital signs)

reveal?

▪ Did the nurse communicate the findings to the

patient's provider?

▪ Were X-rays ordered and performed?

▪ Was there an injury? If so, how soon was it

treated?

▪ If the patient hit their head, was the chart

reviewed to determine if mediations included

an anticoagulant? If on anticoagulant, was this

information communicated to the provider so

head scans could be performed to check for

cranial bleeding?

Following up after a fall:

▪ Was there a change in mental status after the fall?

▪ Were additional assessments and monitoring

done as follow up?

▪ Was the patient's risk for falls reassessed after the

fall and the plan of care revised to minimize the

risk of future falls?

Pain Management Guidance

The Nebraska Department of Health and Human Services (DHHS) continues to take action to help

prevent drug overdoses in Nebraska. This document was developed by DHHS in collaboration with an

expert advisory task force, actively practicing providers, and senior state officials. Written for clinicians

who are helping people live better lives.

Although opioids can be a useful option for pain management, inappropriate use can result in significant harms. This guidance

document will assist in making clinical decisions easier and provide effective options to treat pain while ensuring patient safety.

This document was created with the assistance of the Pain Management Guidance Task Force and in partnership with the Nebraska

Medical Association.

"...read the Art of the Difficult

Conversation. It is worth its

weight in gold."

"These are a quick reference

that could benefit providers."

Art of Difficult

Conversations

Guidance on having those

challenging discussions

with patients

Treating

Acute Pain

Guidance on opioid and

non-opioid options

Tools

Overview of tools for

evaluating and managing

your chronic pain patients

Learn more: DHHS.NE.GOV/PDMP
---
May, June, July 2022 Nebraska Nurse • Page 11

FEATURE ARTICLE

Develop a plan. Once the assessment is complete, the patient care team,

including the patient and their family, can develop a falls-reduction plan based on

the patient's individual risk factors. The plan should address locations that are at

greatest risk, such as bedside, bathrooms, and hallways, and detail action steps.

Sample action steps include giving patients nonslip footwear, making sure call lights

are within reach, removing throw rugs from the home, and providing exercises to

improve balance.

Communicate. It's not enough to create a plan; communication is essential for

optimal execution. All care team members, including patients and their families,

need to be aware of the patient's fall risk and the falls reduction plan.

Communication also includes education. The STEADI initiative has falls

prevention brochures for patients and family caregivers at www.cdc.gov/steadi/

patient.html. Families often are underutilized as a resource for helping to prevent

falls. They may know the best way to approach patients who are reluctant to

follow falls-reduction recommendations and can take the lead to reduce homerelated

risks. The falls risk reduction plan, communication with others, and

education provided should all be documented in the patient's health record.

If a fall occurs

Despite nurses' best efforts, a patient may fall. An expert witness will scrutinize

how the nurse responded to the event. The following steps will help to reduce the

risk of a lawsuit or the chances that a lawsuit is successful:

Assess the patient. Examine the patient for any obvious physical or mental

injuries. For example, check vital signs; look for bleeding, scrapes, or signs of

broken bones; ask the patient about pain; and check mental status. Do not move

the patient if a spinal injury is suspected until a full evaluation can be made. Be

particularly alert for possible bleeding if the patient is taking anticoagulants. When

appropriate, ask patients why they think they fell and continue monitoring at

regular intervals.

Communicate assessment results. Notify the patient's provider of the

fall and results of the assessment. The provider may order X-rays for further

evaluation. Remember to mention if the patient is taking anticoagulants,

particularly in the case of a potential head injury, so the appropriate scans can be

ordered.

Revise the plan. As soon as possible after the fall, work with the team

to reassess risk factors, revisit the falls reduction plan, and revise the plan

as needed. For example, footwear may need to be changed, the amount of

sedatives the patient is receiving may need to be reduced, or more lighting may

need to be added to a hallway. It's important that actions are taken to prevent

future falls.

Document. Each step should be documented in the patient's health record,

especially all assessment results and provider notifications. The expert witness can

then see that the nurse followed a logical progression, with thorough evaluation

and follow-up. Never alter a patient's health record entry for any reason, or add

anything to a record that could be seen as self-serving, after a fall or other patient

incident. If the entry is necessary for the patient's care, be sure to accurately label

the late entry according to your employer's policies and procedures.

Reducing risk

Unfortunately, patient falls are not completely avoidable. However, developing

a well-conceived prevention plan can help reduce the risk, and taking appropriate

actions after a fall can help mitigate further injury. Both prevention and post-fall

follow up not only benefits patients, but also reduces the risk that the nurse will

be on the losing side of a lawsuit.

Three-part webinar series for Health

Professionals to enhance DEI understanding

and improve the health for all people

Sessions are NO COST to NNA members

$45.00 all others (One fee includes all three sessions)

3.0 non-peer-reviewed continuing education credits provided by NNA

(1.0 non-peer-reviewed CE credit per session attended - LIVE SESSIONS ONLY)

PRESENTATIONS:

• June 15, 2022, 7:00-8:00 p.m. CST

DEI and Cultural Competence: A Look into Implementation,

Sustainability, and Best Practices

Dr. Archana Vatwani, PT, DPT, MBA, CLWT, CDP, CLSSBB, PMP

• June 22, 2022, 7:00-8:00 p.m. CST

Understanding African Americans in Healthcare Settings

Minister Crystall Williams, M. MIN.

• June 29, 2022, 7:00-8:00 p.m. CST

Social Determinants and Diminishing Disparities in Healthcare

Dr. Hilary Applequist, DNP, APRN-NP, ACHPN

REGISTER ONLINE:

https://nna.salsalabs.org/dei-series

Pre-registration is required for access to the Live, Virtual sessions.

REGISTRATION CLOSES JUNE 10, 2022

Sessions will also be recorded and available on-demand in the members-only page

of the NNA website. On-demand viewing is available to NNA members only and will be

available on July 1, 2022.

Article by: Georgia Reiner, MS, CPHRM, Senior Risk Specialist, Nurses Service

Organization (NSO)

RESOURCES

Bono MJ, Wermuth HR, Hipskind JE. Medical malpractice. StatPearls. 2020. www.ncbi.nlm.

nih.gov/books/NBK470573.

Centers for Disease Control and Prevention. Important facts about falls. www.cdc.gov/

homeandrecreationalsafety/falls/adultfalls.html.

Centers for Disease Control and Prevention. STEADI: Materials for healthcare providers.

2020. www.cdc.gov/steadi/materials.html.

CNA, NSO. Nurse Professional Liability Exposure Claim Report: 4th Edition. 2020. www.nso.

com/nurseclaimreport.

Dykes PC, Adelman J, Adkison L, et al. Preventing falls in hospitalized patients. Am Nurs

Today. 2018;13(9):8-13. https://www.myamericannurse.com/preventing-falls-hospitalizedpatients.

Iyer P. Legal aspects of documentation. In: KG Ferrell, ed. Nurse's Legal Handbook. 6th ed.

Wolters Kluwer; 2015.

Van Voast Moncada L, Mire GL. Preventing falls in older persons. Am Fam Physician.

2017;96(4):240-247. https://www.aafp.org/afp/2017/0815/p240.html.

Disclaimer: The information offered within this article reflects general principles only

and does not constitute legal advice by Nurses Service Organization (NSO) or establish

appropriate or acceptable standards of professional conduct. Readers should consult with

an attorney if they have specific concerns. Neither Affinity Insurance Services, Inc. nor NSO

assumes any liability for how this information is applied in practice or for the accuracy of

this information.

This risk management information was provided by Nurses Service Organization (NSO),

the nation's largest provider of nurses' professional liability insurance coverage for

over 550,000 nurses since 1976. The individual professional liability insurance policy

administered through NSO is underwritten by American Casualty Company of Reading,

Pennsylvania, a CNA company. Reproduction without permission of the publisher is

prohibited. For questions, send an e-mail to service@nso.com or call 1-800-247-1500.

www.nso.com.
---
Page 12 • Nebraska Nurse May, June, July 2022

AFFILIATE ORGANIZATIONS

Nebraska Nurse

Practitioners

Update

2022-2024

STRATEGIC PLAN

NEBRASKA

L

Leadership

E

Education

Active leader in statewide

communities to collaborate

and engage within, and

outside, the NP profession.

Promote high standards of

clinical practice through

excellent continuing

education offerings and

empowering evidencebased

practice.

Nebraska Nurse Practitioners have updated the

mission and goals of the organization with strategic

planning. Please see our graphic for further information.

More specific information regarding events and listening

sessions will be forthcoming over the next year.

NURSE

PRACTITIONER

Empowering all Nebraska Nurse Practitioners to

advance the profession through exceptional patient

care, innovation and engagement.

A

Advocacy

D

Diversity

Decrease barriers to

clinical practice and

improve the access to

healthcare for

Nebraskans through

legislative advocacy.

Represent the ideas

and needs of ALL NPs

and NP students in

Nebraska by

encouraging an open

and inviting forum and

ensuring statewide

representation.

N E B R A S K A N U R S E P R A C T I T I O N E R

2022-2024 GOALS

L

Increase membership.

Increase NNP Brand recognition.

E

Increase participation in educational activities.

Explore alternative tracks/offerings.

Increase student awareness/engagement.

A

Decrease barriers to practice.

Improve access to healthcare.

Leverage NP reputation.

D

Representation of ALL communities within NNP.

Relevant to all NP specialties.

Increase diversity on NNP board.
---
Page 14 • Nebraska Nurse May, June, July 2022

What is the Success Pays Program?

NNA partners with the American Nurses Credentialing Center (ANCC) using the Success Pays Program

to support professional development of nurses, increase the number of certified nurses in the workforce,

decrease test-taking anxiety and reduce financial burden for our members.

NNA members can apply to take the exam up to two times and pay the reduced rate of $260 only if they

pass the exam. This saves time, money and anxiety. Certifications with ANCC can also be renewed through

NNA at a reduced price of $250.

How it works:

• If the nurse passes the exam, the nurse is charged for the exam fees

• If the nurse is unsuccessful, they can take the exam an additional time before the contract expiration date

• If the nurse passes the second time around, then the nurse is charged the exam fee

• If the nurse does not pass, no one pays if within the contract date

Benefits of the program:

• Reduced test stress for nurses: Fear of failure is eased (FailSafe) and confidence increases

• Better care: Certified nurses provide the best nursing care to patients and families

Information concerning registering for the exam:

Applying for the ANCC Success Pays Program does not register you for the exam. To be eligible to take a

certification exam, you must meet all eligibility criteria at the time of the application.

• For more information concerning the exam and criteria, please visit the NNA Success Pays webpage.

https://nebraskanurses.org/success-pays/

Full-Time Day and Night RN positions available

Competitive Salary • Sign-on Bonus

Tuition Reimbursement

300 East 12th Street Cozad, NE

308-784-2261

Apply online at cozadhealthcare.com or send

resume to hbrennan@cozadhealthcare.com

WE NEED YOU!

Are you an experienced APRN

looking for a new challenge?

Do you want to help shape

the future of APRN practice in

Nebraska?

The State of Nebraska,

Department of Health and

Human Services is a seeking

a full-time DHHS Nurse

Consultant to the Board of

Nursing for the Division of

Public Health.

For more information and to apply, please visit

dhhs.ne.gov/careers or contact Nichole Newland at 531-207-5418.

EEO/VET
---
May, June, July 2022 Nebraska Nurse • Page 15

To access electronic copies of the

Nebraska Nurse, please visit

http://www.NursingALD.com/publications

Warm & Welcoming!

That's who we are!

We care like family… Join us!

Megan Becklun,

402-887-4151, hr@amhne.org,

102 W 9th St, Neligh NE 68756

402-887-6397 (Fax)

•

Visit our website at amhne.org

for career opportunities

•

Making a difference in people's lives

through excellent patient care

RNs l LPNs l Paramedics

CSL Plasma is seeking FT RNs,

LPNs and Paramedics to join our

medical staff associate team in our

Omaha, NE facility.

We offer competitive

salary, great benefit

package which includes

medical, dental, 401K, career

advancement opportunities,

tuition reimbursement, and 3

weeks vacation the first year.

APPLY ONLINE AT CSLPLASMA.COM