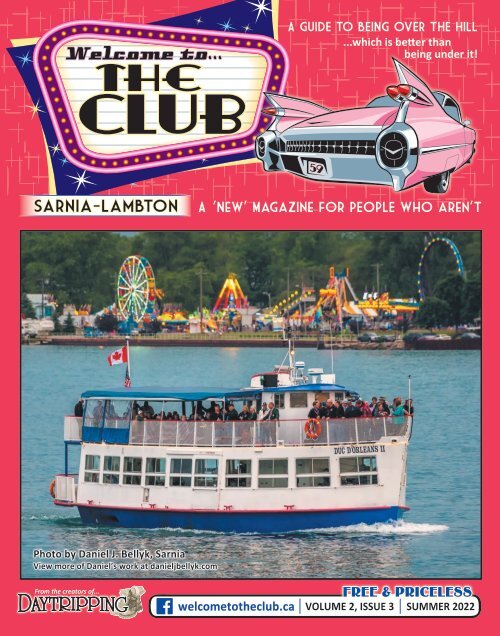 Welcome to the Club July 2022
A Magazine for 55+ Like No Other! Welcome to The Club features timeless articles and anecdotes including many from the archives of Daytripping Magazine. It's online at www.welcometotheclub.ca and is also distributed free in Sarnia-Lambton, Ontario.
A Magazine for 55+ Like No Other!
Welcome to The Club features timeless articles and anecdotes including many from the archives of Daytripping Magazine. It's online at www.welcometotheclub.ca and is also distributed free in Sarnia-Lambton, Ontario.
SHOW MORE
SHOW LESS
Create successful ePaper yourself
Turn your PDF publications into a flip-book with our unique Google optimized e-Paper software.
Welcome to ...

THE

A GUIDE TO BEING OVER THE HILL

...which is better than

being under it!

CLUB

Sarnia-Lambton

A ''New' Magazine for PEOPLE who aren't

Photo by Daniel J. Bellyk, Sarnia

View more of Daniel's work at danieljbellyk.com

From the creators of...

welcometotheclub.ca

FREE & PRICELESS

VOLUME 2, ISSUE 3 SUMMER 2022
---
Welcome to ...

THE Club

Welcome to the Summer issue!

Welcome to ...

Summer 2022

P A G E

2

Read along the bottom borders for some quotes about time.
---
This FREE magazine is distributed in most of Sarnia-Lambton.

A big sigh of relief

By Mark Moran, Publisher

New to this issue, and so long overdue,

is an events list on page 17. Like most

of you we're delighted to bask in the

freedom to congregate, listen to live

music, see plays at local theatres, have

lunch with friends, even go to yard

sales. We'll be continuing with this list

so please let us know well in advance

about upcoming events big or small...

community dinners, craft sales, whatever

it may be. Watch our Facebook page too,

for more up to date information.

As always, we have a selection

of interesting articles in this issue—

some from the archives of Daytripping

Magazine and other that are new.

Remember that you're welcome to send

articles to us, ideas, more of the silly and/

or poignant fillers you see within our

pages, and just suggestions in general.

Your feedback is appreciated and we

owe a big thank you to the many people

who replied to a questionnaire in our last

issue. This is your magazine to build and

we are eager to hear your advice.

Our cover this time features a photo

of the Duc D'Orleans II by Dan Bellyk...

we had a few great shots to choose from

in this case. The Duc is a local institution,

an icon for people of all ages. I play in

a band on it several times a year and

there's not a more enjoyable gig.

We've also added a section with

opportunities to volunteer on page 22

and the list of local discounts, which was

very popular in our questionnaire, is on

page 15.

Have a wonderful summer and please

take time to notice the advertisers that

make this free magazine possible. We

couldn't do it without them.

Thanks for reading!

Thanks to everyone who responded to the

Questionnaire in our Spring issue!

Two random people were selected to win the prize of

$100 Sarnia-Lambton Gift Certificates

And the Winners Are...

Janice Clubb & Barb Neely

We may publish a Questionnaire i

annually, but you're always

welcome to call l or email us with any questions or comments.

519-491-1676 1-

1676

• info@welcometotheclub.ca

om et

othe

cl

OPENING REMARKS

Hospital regulations require a wheelchair

for patients being discharged. However, while working

as a student nurse, I found one elderly gentleman already

dressed and sitting on the bed with a suitcase at his feet

who insisted he didn't need my help to leave hospital.

After a chat about rules being rules, he reluctantly

let me wheel him to the elevator, still insisting he

didn't need to be taken down in a wheelchair.

On the way down, I asked him if his wife

was meeting him downstairs, and he replied

"I don't know. She's still upstairs in the bathroom

changing out of her hospital gown!"

Welcome to The Club is published four times annually by Moran Advertising, Brights Grove, Ontario. The publisher reserves

the right to reject, discontinue or omit any advertisment without notice or penalty to either party. No portion of this

publication can be reproduced in whole or in part without the permission of Moran Advertising. The content of this

publication does not necessarily represent the opinions of the publisher. The content of this publication has not been deemed

by the publisher to be correct and accurate. The advertiser agrees that the publisher shall not be liable for damages arising

directly or indirectly from errors occuring in this publication beyond the amount paid for the space actually occupied by that

portion of the advertisment in which the error occurred, whether such error is due to the negligence of its servants or

otherwise, and there shall be no liablity for non insertion of any advertisment beyond the amount paid for such advertisment.

Use of Material: submitted articles, letters, and other works or materials may be used, published, distributed and stored by

Moran Advertising, Welcome To The Club, and Daytripping Magazine, in whole or in part, in print or by any other means.

Welcome to ...

Welcome to ...

THE

THE Club

CLUB

VOLUME 2, ISSUE 3 • SUMMER 2022

Events 17

Discount List 15

Community Resources 25

Giving List (Volunteering) 22

Word Search 38

Postcards from the Past 6

Trivia 23

Recipes 9

Crossword 28

Daniel J. Bellyk, Nadine Wark, Lambton Heritage t

Museum, um

, Glen

e

C. Phillips, ip

s Shauna Ward, r Lambton b

Shores Nature Trails, l , Sipkens

Nurseries, s,

Chris h Treftlin, n Kelly-Lynn l

ly

L

yn

n Musico, i

c , Anna na Moscardelli,

d

l

li

,

Jean a

Leedale Hobson, b

s n Susan a

Iedema, ema,

Kelly-Jo l

ly

Moxam, m Dorothy

othy

J. Johnson, n on, Kenneth et

h Lapointe, p i Jacoba b

Bos, A. C. Stone, e Judy

Lenting, g Maryleah e h Otto, to, Allice lice

Gibb, i b,

Anna Marriott t Evans, Jodi

d

Edwards d

Wright and d

all l the Recipe e contributors.

tors

rs.

Mark a k Moran o a - Publisher, b i e Ad Salesa Carrie Ann Timm - Associate Publisher

Carla MacGregor - Advertising Sales

Rhonda Long - Advertising Sales

Angela Lyon - Graphics & Editing

Carla Mejia - Graphic Design

From

the publishers

of Daytripping Magazine

The Club Features

You'll find

current and

nostalgic

articles

throughout

The Club.

YOUR CONTRIBUTORS

CLUB STAFF

P.O. Box 430 • Brights Grove, ON • N0N 1C0

519-491-1676 • info@welcometotheclub.ca

www.welcometotheclub.ca

SUBSCRIBE!

To receive eive

The Club in the

mail for $20/year (4 issues),

s)

give us a call to discuss payment.

t

You can also view each issue online -

just ask to be added to our email notification tion

list.

t

Stories & Local Photos Welcome!

Summer 2022 "Life is what happens to you while you're busy making other plans." - John Lennon P A G E 3
---
Welcome to ...

563 Front St. N., Sarnia

519-337-9998

GlassAndPillarSpa.com

AMAZING AZ

North t

American e a

& IndianI d

BREAKFAST DAILY 8am a

to 1pm

at a t

Sitara a a Point i t Edward

THE Club

It Is Sandal Season!

Trendy mani-pedi

colour combos to

try this Summer!

We have the highest

safety protocols in place!

No appointment needed to shop the boutique

• BUTTER CHICKEN • NAAN BREAD

• CHICKEN TIKKA MASALA • KORMA

•

BIRYANI • SAMOSA • SEEKH KABAB

B

• PANEER TIKKA • VINDALOO

• CHICKEN TIKKA SIZZLER

• TANDOORI CHICKEN • LAMB CURRIES

DINE IN • TAKE OUT • DELIVERY

Party Room, On-site Cooking & Catering with Sitara Food Truck

#1 RATED

RESTAURANT

on TRIPADVISOR IS R

for

the last 9 YEARS!

Rated among the

TOP 10% WORLD WIDE

YEAR 2020 & 2021

21

on TRIPADVISOR!

ISOR

721 LITE ST., POINT EDWARD • 519-491-5606 WWW.SITARASARNIA.COM

Mon-Fri 9am-5pm

You must be 55 or over to read this magazine.

20% OFF CEILING FANS

(with this ad)

www.twinbridgelighng.com

116 Michigan Ave, POINT EDWARD • 519-344-3535

Cover of the CLUB

Our local cover photographer is Daniel J. Bellyk

Daniel loves photography and creating art with his work. For

more than a decade he has created fine art, commercial and

aerial photography for clients all around the world. Nothing

makes him happier than a client's smile and knowing that

they are satisfied with their dollars spent.

Back in the Old Days ...

Responses to a newspaper's request that older people

write in to tell kids how hard things were in the old days.

• In my day, we couldn't afford shoes, so we went barefoot.

In the winter we had to wrap our feet with barbed wire for traction.

• In my day, we didn't have no rocks. We had to go down to the

creek and wash our clothes by beating them with our heads.

Welcome to ... Summer 2022

Driving

TRIVIA

Answers Below

1. What colour does a chameleon turn when it is angry?

2. STAR is to RATS as 6382 is to what?

3. In which year was Nelson Mandella released from prison:

A) 1990 B) 1994 C) 1998?

4. Which Great Lake is closest to sea level?

5. What is force 12 on the Beaufort scale?

6. What gemstone is associated with the 45th Wedding Anniversary:

A) ruby B) emerald C) sapphire?

7. What is the first ingredient listed on a jar of Kraft peanut butter?

8. A magnifying glass contains which type of lense, convex or concave?

9. Which animals name derives from the Greek for "river horse"?

10. A "clove-hitch" and a "sheepshank" are types of what?

11. Where in the human body is the pineal gland?

12. What is the name of Han Solo's spaceship in the movie "Star Wars"?

13. What sport did British and German troops play on Christmas Day,

1916?

14. Caviar is the salted roe of which fish?

15. Which is the smallest country in the world?

16. Cashmere comes from which animal?

17. If a right angle triangle has one side 6 meters long and another

8 meters long, how long is the third side?

Affordable Rates • All Work Guaranteed • 25 Years Experience

GENERATION PAINT COMPANY

Interior & Exterior Painting and Makeovers

All types of

painting,

feature walls,

wallpaper

15% Seniors

DISCOUNT

PLUS HANDYMAN SERVICES:

• Repairs • Waterproofing (caulking)

• Maintenance • Renovations

Call Mark 519-330-4424 or email 1863989ontarioinc@gmail.com

Seniors

Save

Young @

Heart

Earn Free

Rewards

on almost

everything you

buy at Pharmasave.

20%

OFF

Regular Priced

Items In-Store

Every Thursday of every month!

ANSWERS:

1. black 2. 2836 3. a] 1990 4. Lake Ontario 5. a hurricane 6. c] sapphire

7. peanuts (roasted) 8. convex 9. hippopotamus 10. knots 11. in the forehead

12. The Millennium Falcon 13. Soccer 14. Sturgeon 15. Vatican City

16. a goat 17. 10 meters

LONDON ROAD PHARMACY

Locally Owned and Operated

www.londonroadpharmacy.com

* Every surface & product is disinfected daily for your safety!

Tammy Maure

1249 London Rd

519-491-6778

P A G E

4

"Time is the fire in which we burn." - Delmore Shwartz
---
We're all getting older, we may as well laugh about it!

"Your Feet Will Be In Good Hands"

Contact Julie Today!

Are your feet f sore r

and a n

d

keeping i

you o

from

r m

doing i the things that t you u love?

Cerfied Cerfied Master t

Pedicurist ist - Julie Coulombe

ombe

will give you the best experience and the

professional aenon your feet need!

ADVANCED FOOTCARE

Diabecs, Ingrowns, Corns, Fungus

and other common foot problems

519-344-1071 • Julie@athomespa.ca

At Home Spa @ Mara Surgical Clinic

704 Mara St. Point Edward, Unit 106

Serving

Sarnia

Since 2006

A Collection of Delicious Memories

by Jacoba Bos, Strathroy • from Daytripping July-August 2009 issue

Of all the things I've collected over the

years, my recipe collection stands out as

being the most prolific. It all began with a

well used cookbook my husband bought at

a farm auction sale shortly after we were

married and living on a farm.

The book had lost its cover and on

the yellowed and dog eared pages the

recipes were somewhat hard to decipher,

but the ingredients were "Take milk

while still warm from the

cow". Measuring the

ingredients depended

also on the cook's

imagination with

some recipes calling

for "a handful of salt

to make pickles" and

"butter the size of

a walnut" to make

white sauce.

This untitled

cookbook helped

me (and my longsuffering

husband) through the first stages

of becoming a "cook from scratch" and

frugal farm wife.

As our family grew, so did my

recipe collection. Recipes clipped from

newspapers and magazines, some in

barely decipherable handwriting from

neighbors and friends, and recipes cut

from packaged food, along with helpful

hints; all made their way into the shoebox.

Our three daughters eventually found

their way into the kitchen and into the

shoebox, surprising with delicacies and

even a complete meal from homemade

soup to apple pie for dessert.

In the mid seventies Canada went

metric. Along with information from

the government came more recipes in

dual ways of measuring ingredients.

We became more health conscious and

recipes for granola, homemade yogurt

and instructions for making juice from red

beets and carrots (preferably from one's

own garden) were added to the collection.

During that time our family business of

slaughtering and processing beef and pork

for farmers and retail sales became well

established so we gathered more recipes,

ranging from sweet and sour meat balls

to filet mignon. We introduced Dutch

meat specialties such as a spicy rolled

roast called Rollade as well as Dutch style

farmer sausages. The carefully preserved

recipes for these different meat products

were handed down from family in our old

country. The Dutch style

foods soon found their

way into Canadian

kitchens and dining

rooms as we realized

again how blessed

we are to be living

in a country where

different cultures and

tastes are welcomed.

In these days

recipes are all around us,

except for Colonel Sanders'

recipe for Kentucky Fried

Chicken which is under lock and

key, as if it is a rare piece of art. A

far cry from my overflowing shoebox and

my stack of charity cookbooks which were

mostly put together by cooks familiar to

our family and community.

As I flip through the spotted

pages, memories of good times shared

around the kitchen table flood my mind.

I smile at the memory of our first attempt

at making pies and memories of our nine

year old daughter making a cake that

required only flour, sugar oil and vinegar.

It turned out so well that she carefully

wrote out the recipe for her grandmother.

I cherish that faded piece of paper with the

childish printing and will someday pass it

on to my granddaughter as a keepsake

from her mother.

I realize that my recipe collection is

more than information on ways to cook

and bake. Foods unite us and make us

aware of the blessings we have to be

living in a country where food is plentiful.

As a friend of mine said when she

brought us a homemade pie brimming

with strawberries and topped with real

whipped cream: "There's nothing but

God's goodness in this."

Welcome to ...

FOLLOW US!

To find (and post) current events

& community information, please

follow our Facebook page.

Welcome to ...

THE Club

BUTTONS

&

Bows

Casual

Elegance at its finest!

www.buttons-and-bows.ca

wwwbuttons bows.ca

bowsca

131 Michigan Avenue, Point Edward • 519-491-1412

THE Club

LADIES

CLOTHING

& Accessories

From size 6 to 18!

MON-FRI 10-5

SATURDAY 10-3

Life

is Better with

Friends!

Move-in incenves!*

Do more of what you love.

Let us take care of the rest!

Be welcomed by a warm community of

like-minded peers. Enjoy the peace of mind that

comes with knowing help is available at the push

of a buon if you need it. Connue to enjoy your

independence in a supporve environment that

gives you the freedom to pursue your passions

and spend more me with those you love most.

Included in your stay:

• Chef-prepared meals • Fitness classes

• Great recreaonal • Weekly

programs

housekeeping

• 24/7 emergency • Pet Friendly

support

And more!

1218 Michigan Ave. Sarnia, ON

siennaliving.ca

TAKE HOME!

Fresh Made Comfort Food

A tradition since 1992!

105 MICHIGAN AVENUE

PT. EDWARD • 519-344-2855

So if the bank & government DO NOT

want your pennies, do check ths out...

1949 Cadillac, completely

covered with 38,295 pennies!

They were affixed one by one

using Silicone. They added

over 200 pounds to the

vehicle's weight. The entire

project took 6 weeks. The

pennies are American, and

include an 1817 "Big Cent",

two Error Pennies, and four

1943 Steel pennies; (but

who's counting?).

Sent in by Joan Richardson

The $383 .00 Paint Job

Find out why people in

Sarnia love living with us.

Please call to learn more.

Suites are limited.

519-542-8814

* Terms and condions apply.

Summer 2022 "Time heals what reason cannot." - Seneca

P A G E 5
---
Welcome to ...

THE Club

Feel free to send in photos showcasing Sarnia-Lambton.

Welcome to ...

Summer 2022

POSTCARDS of

SARNIA-LAMBTON

PETROLIA POSTCARDS from the Bradshaw Postcard Collecon

F. Filia & Associates Ltd.

2-565 Murphy Road, Sarnia

519-332-5400 I franco_filia@cooperators.ca

Franco Filia

Advisor/Owner

Sponsored o o By:

B y

Grand Trunk Staon

Burning Agitator

Petrolia High School

Methodist Church

Victoria Hall, Petrolea

Torpedoing a Well

Tell me something, and be honest.

Do you have any "free time?" If you

do, that's great, but I suspect that like

most of us, there never seems to be

enough hours to do it all. To me, time is

like money. We think someone else has

more of it than we do, although given

the glut of women's magazines aimed

at making our lives, and ourselves,

so much better, someone out there

thinks we have the time to be more

successful at work, to eat healthier, to

obtain a buff bod, to contribute to the

community and have time for solitude.

What? I feel exhausted just thinking

about the massive amount of time

and effort it would take to attain those

lofty goals.

I really shouldn't complain, I suppose.

If we all weren't having perfection

shoved down our throats, writers like

me would get fewer jobs. But today I

Pumping Rig

Masonic Temple

Life, Liberty, and the Pursuit

By Kelly-Jo Moxam, Sarnia

of ... Laziness?

from Daytripping Nov-Dec 2002

propose a radical idea: why don't we

try to be just a little bit lazy?

The last time I can truly remember

being lazy was back in the late

1980s, which would have made me

about 14 years old. That was my last

summer of being a kid, and I made the

most of it. I spent my days lounging

about in a backyard hammock, reading

book after book, and getting up once

in a while for a bike ride to get the

circulation flowing again. How idyllic

it seems now.

Don't misunderstand me. I'm not one

of those adults perpetually pining for

the nostalgic days of youth. I believe

in the importance of setting goals and

striving for personal success. I just

think it would be great to have fewer

obligations and less pressure to have

it all. Imagine, just for a moment,

living a life where there is more time

to do what you really love, or do what

is important to you. I don't want to

someday regret I didn't play with

my dog more, or go shopping with

my sister, or go on more daytrips to

Christ Church

interesting places.

I suppose in today's world, where

you can feel like a failure if you haven't

achieved astounding professional

success by the age of 25, it's hardly

possible to be like Thoreau and drop

out of life to live at Walden Pond.

(What did he eat, anyway?) But it

may be possible to reject excessive

consumerism and the relentless pursuit

of success, the kind that comes with a

hefty price tag. Treating ourselves well,

even if the world labels it selfish or lazy,

is not only good for ourselves, but also

for the people in our lives.

Did I mention I wrote this in the

laundromat? Next stop, the library, and

then the supermarket, and then the

bank... and yes, this is supposed to

be a "day off" from work. I guess my

attempt at being lazy will have to wait

until tomorrow.

P A G E

6

"The future starts today, not tomorrow." - Pope John Paul II
---
Most articles in here have been written by people like you.

Kern

water

1804 London Line, Sarnia

519-542-4211

kernwater.com

Mon–Fri 9 am–6 pm • Sat 8 am–2 pm

IN SARNIA-LAMBTON

U-Fill

Water

Delivery

Service

Reverse

Osmosis

and Alkaline

From our

Spring 2022 issue:

The Hint was ...

My name is Alvin. I was built

in 2014 by Murray Watson

and I'm 10' tall. There are a

lot of bees in my town.

Welcome to ...

Seniors

SAVE 20%

Every Thursday!*

*Discount applies to

regular priced merchandise

THE Club

Available with a PC Optimum card at

the following Shoppers Drug Mart stores:

510 Exmouth Street, Sarnia

123 Mitton Street South, Sarnia

420 Lyndoch Street, Corunna

A Path to Wellness—

Defeating Seniors Social Isolation

By Chris Treftlin, Shine at Home, Sarnia

The Answer is...

Alvin can be found alongside

Highway 79 in Alvinston.

The bees we're referring to are at

Munro Apiaries, a long time

customer and great destination.

In my work I see it almost daily. The

phone rings and a family member asks

how we can help Mom or Dad. "They

are not themselves. Mom used to be

into everything…" The pandemic has

made this issue much worse. The adult

child is calling from a distance—from

across the province, the country, the

continent— we get the picture. Let's be

direct. Our seniors are lonely, and they

are lonely because they are isolated.

This isolation happened gradually

over time. Perhaps physical limitations

stopped them from attending groups,

clubs, getting together with friends.

Losing driving privileges is another

big reason seniors become isolated.

A more poignant reality for this group

is the fact many of Mom and Dad's

friends and family of the same age

are going into long term care, moving

away to be closer to family and,

indeed, passing away.

Loneliness is the problem; social

isolation is the cause. Here is why we

need to defeat it.

The Centre for Disease Control

(CDC) in the U.S. reports that

isolated and lonely seniors:

• Have a 50% increased risk of

developing dementia

• Have a 29% increased risk

of developing cardiac health

issues

• Are 32% more likely to have

a stroke

• Are at risk for premature

death

An isolated senior is at a much,

much higher risk of suffering abuse

in all of its forms: emotional, physical,

and through fraud and scams, among

others. Here is the link to the report

for a deeper understanding of this

serious issue afflicting our seniors.

https://www.cdc.gov/aging/

publications/features/lonely-olderadults.html

While sobering, look at it as a call

to action.

Reconnect and Overcome

Mom and Dad can be engaged, with

your help. Here is a plan to help you

get your loved one back to life. Mentally

review their interests. Was it golf, cards,

quilting, volunteering, travel, faithbased?

Was it gardening, pets, boating?

Whatever the interest, re-engage. Ask

them for ideas and move forward, but

only if it involves people.

Some resources exist locally. Most

established churches have a senior's

ministry. Here in Sarnia, we have a

great YMCA–recently rebranded "The

Y." Check out their website. Another

really wonderful organization in Sarnia

is the Strangway Centre on East Street,

beside Germain Park. There are far too

many programs to list: cards, music,

hobby room, lunch groups, all set up

to respond to an individual senior's

social health. One program that was

very well received was a speaking

series. The Centre organized a weekly

speaker on various topics from current

events, travel logs, and other topics

that the members could attend.

You may hit some head winds. That

is, your loved one could, and probably

will, resist your efforts. Something out

of their comfort zone is happening.

Don't give up! Have a few options

open to you and persist. After all, they

are worth it.

Summer 2022 "Time's fun when you're having flies." - Kermit the Frog

P A G E 7
---
Welcome to ...

THE Club

senior

personal ads

MINT CONDITION:

Male, 1932, high mileage,

good condition, some hair,

many new parts including hip, knee,

cornea, valves. Isn't in running

condition, but walks well.

Mainframe

Thank you for continuing to shop locally!

• Canvas Stretching

• Jersey Frames

• Needlework Stretching

• Frame Repairs

• Glass Replacement

QUALITY PICTURE FRAMING

Sarnia's

choice

for

over

40 years

• Object Framing such

as War Medals and

Sports Memorabilia

(the list is endless)

• Plak-it also available

1249 London Rd, Sarnia • 519-383-7114 In Teppermans's Plaza

Welcome to ...

Summer 2022

223 North Christina Street • Sarnia

519-336-2100 • www.stonesnbones.ca

Hall of Fame AWARD

RECIPIENT

DINOSAURS

GALORE

So Much More!

& So Much More!

TWO FLOORS to EXPLORE!

Fluorescent ent Mineral Display, Fossils, si

s

Minerals,

Gemstones, e

s,

Artifacts, ts, Shells, ls, Butterflies,

e

Insects, s,

Canadian adia

Animals, Safari ari Room,

om

Huge Shark Jaws and "Dinosaurs Galore!"

Adults $7 • 12 & under $3 • Family Pass $30/Year

OPEN YEAR ROUND

10-5 Thurs. thru Sun.

Closed Jan. 1, July 1 & Dec. 25

There's not much that surprises

Captain Ken Bracewell or his wife Sherry

Smart-Bracewell after more than 40 years

cruising the St. Clair River on their tour

boat.

They've welcomed thousands of

tourists aboard the Duc d'Orleans,

hosted innumerable wedding receptions

including their own, listened to countless

live bands play to a packed dance

floor, and even dealt with the odd rebel

jumping ship.

Above all, they've had a great time

operating a boat that holds a special place

in the hearts of so many.

"I'd say 99.9% of what happens on the

Duc is just a barrel of fun," said Ken.

"The Duc gives me a wonderful life,"

agreed Sherry. "I've had so much fun

behind that bar. And I've met a lot of

really good friends on the Duc."

Ken was 26 years old in 1978 when

he decided to give up his job at Sarnia's

Sears store and head to Quebec to take

a look at a tour boat that he thought he

might buy. The boat he was eyeing was

offering day cruises on the St. Lawrence

River in the 70s, but had once been a

Nazi submarine chaser in the Second

World War.

"This all happened after my friend

Jacques Beauchamp and I had spent time

watching a big ferry cruise up and down

the St. Clair," Ken said. The ferry, owned

by Captain Albert Avery, was Sarnia's first

cruise boat but it broke down a lot and

the business struggled.

"Once, while Jacques and I watched

the ferry going by, they were having

trouble and I brought a can of gas out

to them on the water," said Ken. "It was

never a good boat but we could see that

everyone was having a good time on it."

It didn't take long to find the Duc in

Duc d'Orleans

Celebrating 40 Years Cruising

on the St. Clair

Quebec and buy it. Coincidentally, in

bringing the Duc to Sarnia's waterfront,

it was actually coming home. The Duc

was a converted subchaser, one of seven

Fairmile vessels built in Sarnia during

the war by a local company called Mac-

Craft. The Duc had been christened HMC

Q105 in 1943 but years later, when she

was converted into a tour boat on the St.

Lawrence River, she was renamed for Ile

d'Orleans, one of the islands she cruised

around.

"We thought about changing the name

when we brought it to Sarnia but there

was so much paperwork, we just let it

go," said Ken.

By Cathy Dobson | Photo: Ontario's Southwest

He quickly got his certification to

captain the Duc and began offering

cruises that summer.

Almost immediately, Ken was

approached by the late Peter Henderson

about holding a free cruise day for

seniors. It became a much-anticipated,

annual tradition stopped only by the

pandemic.

"Peter had a popular radio show back

then and he was a go-getter," explained

Ken. The Bracewells provided their boat

and crew, while many others chipped

in with donations of food, transit,

entertainment and volunteer help.

For 41 years, the seniors' cruise on the

Duc has been a staple that's provided a

tour of the St. Clair to about 1,000 people

each year. It's one of the many events

Ken and his crew have missed since the

pandemic started.

"I'm sure we'll get back to it because

it's something we can do for the

community," he said. Unfortunately,

this will be the third year the seniors'

cruise has been cancelled. Even if Covid

restrictions remain lifted, there's not

enough time to organize one this season.

In fact, the Duc has been in dry dock

for two years waiting out Covid-19.

While she's got two decks and a

similar profile, the current Duc is not the

same boat that launched the Bracewell's

business. By 2005, the original Duc was

getting too expensive to maintain.

The Bracewells scouted out a 70-foot

replacement on the Eastern Seaboard

called The Spirit of Newport. She was built

for passengers and her shorter, wider

construction makes her more stable in

the water, said Ken. Like her predecessor,

the Duc d'Orleans II accommodates 194

passengers and eight crew members.

She is ready for the 2022 cruising

season and the Bracewells are taking

reservations. Thirty bands are booked to

play the Duc's legendary party cruises

that typically sell out.

The only issue is Covid-19 and the

limitations it has created the past two

years. The Duc can only cruise at full

capacity, said Ken. Anything less just

doesn't make economic sense.

But he and Sherry have high hopes that

public health restrictions will continue to

be lifted and it'll be smooth sailing for the

Duc's 44th year operating from Sarnia's

Centennial Park.

To get an update on the season, visit

ducdorleans.com.

P A G E

8

"It takes less time to do things right than to explain why you did it wrong." - Henry Wadsworth Longfellow
---
Life is short. Smile while you still have teeth.

Recipes

Send Us

Your u

Recipes!

e c es

We'll be bringing you recipes from Club contributors & from local fundraising

cookbooks we've collected over the last quarter of a century. You're welcome

to send your own recipes, or on behalf of an organizaon that has a new

cookbook, & we can help promote those cookbooks for free.

Chicken Cacciatore

2 Tbsp buer

Chicken breasts

1 medium onion, chopped

1 garlic clove, minced

Sauté chicken, 3 minutes per side. Remove chicken, keep 2 tablespoons

drippings. Add vegetables and sauté. Add tomatoes, broth and seasoning.

Return chicken to skillet and simmer, covered, for 20 minutes, unl tender,

Serve over pasta or rice.

Make ahead, chop chicken; mix with sauce. Can freeze up to 1 month.

Thaw and bake at 350 degrees F for 30 minutes.

Taco Dip

4 oz cream cheese

1/4 cup sour cream

1/4 bole taco sauce (or less)

shredded leuce

Strawberry Banana

Smoothie

1 cup sliced strawberries, chilled

1 ripe banana peeled & broken

into pieces, chilled

8 oz low-fat vanilla yogurt

1 green pepper, chopped

1 can chopped tomatoes

1/4 cup chicken broth

1 1/2 tsp Italian seasoning

Blueberry Crumb Muffins

Crumb Topping:

1 cup flour

3 Tbsp light brown sugar

2 Tbsp granulated sugar

Muffins:

1 3/4 cups flour

2 1/4 tsp baking powder

1/2 tsp salt

1 cup granulated sugar

(from Point Edward Ex-Servicemen's

Associaon Cookbook)

By: Jolyssa Williams (Holy Rosary School,

Wyoming 50th Anniversary Cookbook)

chopped tomatoes

grated cheddar cheese

chopped green onion

sliced olives

Combine cream cheese with sour cream. Layer above ingredients on a

serving tray and serve with nacho chips.

1 tsp baking powder

pinch of salt

6 Tbsp unsalted buer, melted

2 large eggs

1/2 cup canola oil

3/4 cup whole milk

1 tsp vanilla

1 1/2 cups blueberries

By: Shelley Jones

(from "Millennium Menus"

by Bridgeview Public School

1 Tbsp honey

1/4 tsp vanilla extract

3 ice cubes

whole strawberries & banana

slices, for garnish

Place strawberries, banana, yogurt, honey and vanilla in blender. Process

on medium unl mixture is smooth. Increase speed to high and drop ice

cubes, one at a me through opening in blender cover. Process unl ice is

crushed. Garnish if desired and serve immediately.

Nutrion per serving: 137 cals; 4g protein; 1g fat; 29g carbohydrates; 51 mg sodium; 4 mg cholesterol.

By: Pat Maruscak

(Wyoming Lioness Club

30th Anniversary book)

Topping: Combine flour, brown sugar, granulated sugar, baking powder and

salt. Sr in melted buer, then pinch mixture unl it forms pea-size clumps.

Set aside.

Muffins: In a medium bowl whisk flour, baking powder and salt. In a large

bowl, combine sugar, eggs and canola oil. Beat with mixer at low speed unl

combined. Beat in milk and vanilla. Add flour mixture all at once and beat at

low speed unl baer is smooth. Sr in blueberries. Spoon baer into 18

muffin cup with paper liners or spray 2 muffin ns. Sprinkle with crumb

topping. Bake at 375 degrees F for 30 minutes or unl lightly browned.

Send Your Recipes to info@welcometotheclub.ca

ca

Welcome to ...

"Mental Age"

Eye Test

The following was developed

as a mental age assessment

by the School of Psychiatry at

Harvard University. Take your

time and see if you can read each

line aloud without a mistake.

The average person over 60 years

of age cannot do it!

1. This is this cat.

2. This is is cat.

3. This is how cat.

4. This is to cat.

5. This is keep cat.

6. This is an cat.

7. This is old cat.

8. This is fart cat.

9. This is busy cat.

10. This is for cat.

11. This is forty cat.

12. This is seconds cat.

Now go back & read the third word

in each line from the top down.

THE Club

Duc D'Orleans II

Cruise Ship

Cruise the beautiful St. Clair River

aboard

our ship!

... and

Thank

You

for 43

awesome

years!

Sunday Afternoon Cruises

2:30-4:30 until Labour Day

Call for Lunch Cruise dates!

A favourite for

seniors groups,

company picnics,

weddings,

reunions or

corporate affairs.

RESERVATIONS

REQUIRED

CALL 519-337-5152 TO PLAN YOUR GROUP'S OUTING!

WWW.DUCDORLEANS.COM

Photo: Ontario's Southwest

Summer 2022 "Time is a game played beautifully by children." - Heraclitus

P A G E 9
---
Welcome to ...

THE Club

Don't let old age get you down - it's too hard to get back up!

Welcome to ...

Summer 2022

BIG BOX PRICES. SMALL STORE SERVICE.

110 S. Mitton • 519-344-7557 • alsvacandsew.ca

It was only a little more than a hundred

years ago that there was no such thing as

recorded sound or radio or television or

telephone. These things didn't exist. And

didn't exist ever before that either.

Do you know what that means?

It meant that the only human voices

you ever heard were from real people

within range of your actual hearing. 'In

real time' as the phrase goes now.

And the only time you heard any

music was from the very actual

instrument that was being played in

your presence.

There was no putting in a CD, DVD,

tape or record into your car (there were

none) or any other device to get instant

sound. There was no television, radio,

or cellphone either.

Right away can you hear the

world go quiet?

Your own voice or someone

else's that you heard with your

own ears at that moment were

the only voices you ever heard.

Only the piano, or guitar, or

violin, or symphony orchestra,

or any instrument in live

performance, being played at

that moment would be heard by

you during your life. This was the only

time you ever heard any music.

And how often was that? How quiet

was that?

Is it any wonder that people loved to

get together to socialize - talk, play some

music, dance? It was such a delightful,

rare experience. New and plentiful

voices and music in a coming together

in one small area for a moment in time

- this must have been greatly anticipated

and relished.

The house you lived in would be quiet,

quiet, quiet, except for the voices of the

very people living there. Of course babies

would cry, kids can be rambunctious,

and adults can freely talk away in a

household. Plus there would be sounds

519-627-0719

70 Duke Street

info@wallaceburgretirementresidence.com

www.wallaceburgretirementresidence.com

A Quieter Time

by

Kenneth Lapointe

from Daytripping

Sept-Oct 2009 issue

from any animals around. But one can

see the decibel level would be way down

immediately, except in extraordinary

circumstances such as a terrible storm,

or a noisy steam engine, or waterfalls, or

falling trees or rocks, or the pounding of

hammers, etc.

Everyday sounds were caused in the

moment by the actual thing making the

sound. A door squeaks. A floor creaks.

Dinner plates clatter a bit. The sound

of pouring water, the wind in the trees.

These sounds were made when you

heard them. Not before, not sounds from

some other place, not something not

there with you at the moment, such as

recorded sound gives you.

How about books? Almost dead quiet

except for the sound of the page turning.

I think therefore every sound would

be quite noticeable in this world of quiet.

And any unfamiliar sound would stick

out like a sore thumb and probably be

investigated.

The only time I've ever experienced

such quiet was when I was in the middle

of a wilderness setting in Ontario years

ago. Myself and four friends were on a

canoe trip, a hundred kilometres from

It's OK to be

happy with a calm,

unbusy life.

any human habitation. There was no

one else. There was no sound from any

machine, any car, any road, any human

whatsoever, except from our own selves.

We had no recorded music, radio, or

phones.

I remember at one spot thinking we

must be near a highway because of a

loud whooshing sound. I couldn't figure

it out. What highway? There were none

around. Then I realized it was only the

wind blowing through the pines!

One could get used to it. It would take

a while though because of all the years of

being accustomed to the modern barrage

of sound we live with night and day,

including 'white noise,' which is simply

low-level, indistinguishable, continuous

background sound.

Perhaps we might wonder how

anyone in these older times could have

ever stood it. WAS IT ALL TOO QUIET?

Perhaps we could ask however - what

a different world, maybe a softer, quieter,

more relaxed world, are we missing?

Publisher's note: I'm in the office by

myself as I read this Kenneth, and if I

eliminate the central air, the truck traffic

outside, the refrigerator compressor, faint

music from another computer and the

sound of my own typing, I'll be left with

only the hum of 5 computers and a printer

to keep me sane.

P A G E

10

"Being rich is having money; being wealthy is having time." - Margaret Bonnano
---
Maybe we should stop it with the elderly jokes. They're getting old.

"Big or Small, JohnnyRemax

Sells T hem All"

John A. McCharles, Broker

Re/Max Sarnia Realty Inc. Brokerage

519-383-4812

johnnyremax@bellnet.ca

Welcome to ...

THE Club

HOME HANDYMAN!

Reasonable Prices

FREE ESTIMATES

Decks, Sheds, Repairs...

(Excludes plumbing/electrical)

YOU NAME IT,

I'll get it done for you.

10% OFF with mention of this ad

30 YEARS

EXPERIENCE

Call Don at

226-343-2265

(Q through Z)

Quadruplets: Four crying out load.

Quiet: What librarians live their lives seeking to find.

Rude: When someone borrows your handkerchief to blow their nose.

Redundancy: An air bag in a politicians car.

Retirement: When you quit working just before your heart does.

Sailing: A form of mast transit.

Spinster: A bachelor's wife.

Spirobits: The frayed bits left behind paper in a spiral notebook.

Sunbather: A fry in the ointment.

Suspense: Why did the chicken cross the road?

I will tell you tomorrow.

Used Car: An automobile that is not what

it's jacked up to be.

Volcano: A mountain with hiccups.

Zebra: A sports model donkey.

Sunburn:

Getting more

than you

basked for.

PRIME RIB

WEEKENDS

2713 Old Lakeshore Road, Brights Grove

519-869-2794 • skeeterbarlows.com

Join us by the Lake!

• Authentic Hickory Smoked Ribs

• Genuine Broasted Chicken

• Seafood, Sandwiches, Wraps

Reserve for panoramic views

of Lake Huron from our patio!

• Take Out • Lakeside parks & benches nearby

TUESDAY

WING NIGHT

NIGHTLY

SPECIALS

As reported by

George Stathis tapped out of his

family's Sarnia-based restaurant

business and took a different path,

moving out west to become a driller on

a drilling rig. Ten years later, he couldn't

resist the temptation to get back into

the kitchen. "A cousin of mine called me

and said he had a small restaurant in a

place near Windsor called Harrow and

asked if I'd be interested in buying into

it," George recalls. "I said, 'Why not?

What the heck; it's in my blood.' So I

moved to Harrow and we ran the place

for about six years."

The next chapter in George's

restaurant adventure occurred when

his brother, who was living in Sarnia,

said a place had come up for lease

and wondered if he'd be interested in

www.hashtaglocal.com

Skeeter Barlow's Grill & Bar

joining him and another partner in

taking over the operation? That led to

the birth of Skeeter Barlow's Grill &

Bar in Bright's Grove. "The place was

already established; it just needed some

TLC," George recalls.

George says he wanted Skeeter

Barlow's to be a chicken and ribs

joint because he had enjoyed success

with that formula in Harrow. "It was

a popular seller," George says. "It was

fresh chicken that was marinated for

8-12 hours and then you're good to go.

There are special machines that you use

to cook it in. It has been very popular."

So, who exactly is Skeeter Barlow?

Well, nobody if you must know. "Prior

to coming to work here I would drive

to Sarnia to visit my parents thinking

one of these days

I'd like to open my

own place," George

says. "I always

liked the name

Barlow's because

it just seemed to

go with everything.

So half of the

name was already

concocted. I was

listening to some

radio station one

day and two guys

were talking. One

guy referred to the

Photo Submitted other as 'Skeeter'

and I said to myself, 'Skeeter Barlow's.

Geez, that's catchy.' We tossed around

other names, but we kept coming back

to Skeeter Barlow's. Now everybody just

refers to it as Skeeter's."

While George concurred the

restaurant world, he also grew a family

with his wife of 24 years, Denise Stathis,

who has stood by George from the

beginning. The two have passed their

love of the restaurant industry down to

their daughters, Tia (24) and Lisa (19),

who have put in many years as servers.

"Skeeter's is our second home, and we

wouldn't have it any other way," shares

Tia and Lisa.

George says he is fortunate to have

the same managers and head chef

for 25 years. "It is a combination of

myself having grown up and worked in

kitchens and those guys having worked

in kitchens at other places and we all get

along pretty good," George says. "I have

been very fortunate I have to admit."

George, who is 65 years old, thought

about retiring, but when the COVID-19

pandemic hit, he decided to stay on.

"I think I'll retire in the next few years

because I don't want to be seating

people while using a walker," George

jokes. "But for now, we're having fun.

Our restaurant is comfortably casual

and we have a great view. We're right

on the water overlooking Lake Huron.

We have great sunsets and a really nice

patio. The best part about owning this is

you have the freedom to make decisions

on your own. If it doesn't work you have

nobody to blame but yourself."

Read more stories like this at www.

hashtaglocal.com

Summer 2022 "The best thing about the future is that it comes one day at a time." - Abraham Lincoln P A G E 11
---
Welcome to ...

THE Club

Thank you, to all the advertisers you see throughout the magazine.

Going Above & Beyond for Our Clients!

STEPHANIE MURRAY

Sales Representave

Cell: 519-383-5185

Office: 519-542-9999

movewithsteph@gmail.com

sarnia realty Inc., Brokerage*

*Indepentently owned and operated

1319 Exmouth Street, Sarnia

LAURIE LAURIN

Sales Representave

Cell: 519-328-7251

Office: 519-542-9999

laurie.l@bell.net

#laurieloveslambton

Welcome to ... Summer 2022

DROP BY & SEE US!

• FLAGSTONE

Visit Our

• BEDDING MATERIAL -

CLEARANCE

APB, Chips & Dust, Sand

SECTION

• GROUND COVER -

Pea Gravel, Black Granite, Beach Pebble, Beach Stone

1189 Confederation Street, Sarnia • 519-337-2334 • www.patene.com

Canatara Cabin Restoration Project

at Lambton Heritage Museum

local residents. Several years ago,

it was decided that a replica cabin

be constructed to replace the aging

Canatara Cabin. This presented an

opportunity for Lambton Heritage

Museum to acquire, rebuild, and

restore the Canatara Cabin. In late

2020, the cabin took one last move

where it was disassembled once again

and moved by truck to its final resting

place – Lambton Heritage Museum.

The anticipated cost of the

Canatara Cabin Restoration Project

By Lambton Heritage Museum

www.lambtonmuseums.ca

is $100,000. So far, the County of

Lambton along with the Save The

Canatara Cabin Grassroots Group

have collectively raised $34,826.

Fundraising efforts continue and we

need your support. Help Lambton

Heritage Museum reach their goal to

ensure this piece of history is restored

and enjoyed by future generations.

Visit www.lambtonmuseums.ca

to learn more about the Canatara

Cabin Restoration Project and donate

online.

The Canatara Cabin in about 1960 in its former location on Lakeshore Road.

From the archives of Neil Spaulding.

Lambton Heritage Museum tells the

stories of Lambton County through

the preservation and presentation of

artifacts, culture, and local history. The

Canatara Cabin is the latest addition

to the Museum's collection of historic

buildings. It brings to life an era not

currently represented at the Museum

and will be the oldest historic building

on site at over 190 years of age.

The Canatara Cabin was first

constructed in 1830 near Goderich,

Ontario. Its first move took place in the

1930s when it was disassembled and

floated down Lake Huron to Sarnia

where it was enjoyed as the lakefront

summer home of Maud Hanna. A

generation later, the cabin was sold

to Sarnia City Councillor, Lorne Hay.

Due to the threat of erosion along

the lakeshore, Hay made the decision

to donate the Cabin to the City of

Sarnia in the 1970's. Funding for this

move was supported by the Seaway

Kiwanis Club and it was relocated to

Canatara Park.

Over the course of its life at the

park, the cabin was used as a unique

space for hosting community events,

creating lasting memories with

The Canatara Cabin in its new location at Lambton Heritage Museum, waiting to be rebuilt.

P A G E

12

"Tough times never last, but tough people do!" - Robert Schuller
---
As you may have guessed by now, it's for people 55+

Growing a Lasting Community

Having grown up in the city, in an

apartment and having parents who

themselves didn't garden, growing

my own food was just a glisten in my

eyes. The reality I believed was food

essentially came from the grocery store.

I certainly knew, loosely, the how but the

whole concept of it was still so foreign.

I really began to grasp a sense of

true agriculture when I started staying

with my grandparents in the summer.

I remember cramming into the back

of their truck, sitting knees to chest in

a fold down seat. We finally settled to

their quaint little trailer where I was

free to indulge in the sheer complexity

of their many gardens and fruit trees

that consumed their backyard. I can still

smell the sweet fragrance of the peach

blossoms and hear the little chats my

grandmother would have with the berry

bushes, while I taste-tested every couple

we'd pick. Or visiting the many rabbits

my grandfather raised in his shed.

It was pure magic. Surrounded by

so much life. I longed to create such a

life for myself. Yet, as I grew, I sheltered

away from it all. Secretly I wanted to

relive the fairy-tale. To absorb the pure

bliss from so long ago.

Here I am, many years later. As I sit

and write this from my kitchen table, I

watch as my pigs roam in the woods. I

am enchanted with the simple intracity

of the homestead, evolving a plot of

land into our own oasis. I have began

a garden of my own. A place to grow

new life to feed myself and my family.

My chickens soak up the sun and enjoy

the breeze through their feathers. I

love watching the looks on my kids'

faces, their mouths stained from the

wild raspberries they must taste test.

The farming community I had no idea

existed has welcomed us and helps us

to thrive. It is exactly where I am meant

to be. We give everything we have

to provide the very best for our loyal

patrons. We are grateful for the many

Stop In & See The Difference An Independent,

Locally Owned Business Can Offer!

• Fashionable designer frames

at compeve prices

• Durable, high quality brands

• Personal aenon to your vision needs

• Honest opinion on your frame fit & style

• Value brands available to fit your budget

• Offer direct billing to most vision plans

Fresh

Summer

Selection of

Eyewear!

Beth Kolthoff

Welcome to ...

outlets and markets in our area, where

we can create our own hub of local

goodness, a central place to gather to

provide the very best we have to offer

to all who are looking for local, topquality

food and products. Places out of

the norm to enjoy local products, from

artisans and farmers alike. To run into

old friends and chit chat or make new

friends, right in our own back yard.

Everything grown with love, and a little

bit of magic.

Just to name a few of the markets we

are so fortunate to have so close to home,

like the Petrolia Farmers' Market which

takes place Saturday mornings 7-12 and

Tuesday evenings 4-8 (Tuesday evening

starts June 21) right in historical downtown

Petrolia. Or enjoy a scenic drive along Lake

Huron and visit the Bright's Grove Market,

Wednesday evenings starting June 15th.

The Point Edward Market is also back this

year, situated along the walkway right

under the iconic Bluewater Bridge starting

June 9 on Thursday evenings from 4-8.

Check out the Buy Local, Buy Fresh section

of Daytripping for a larger selection of

markets and farms to visit throughout

Southwestern Ontario.

THE Club

Photos from

Petrolia Farmers' Market Facebook page

HEADLINE, HEADLINE...

READ ALL ABOUT IT!

THE FOLLOWING LINES ACTUALLY MADE IT INTO PRINT (BEFORE THIS):

KILLER SENTENCED TO DIE FOR SECOND TIME IN 10 YEARS.

SOMETHING WENT WRONG IN JET CRASH, EXPERT SAYS.

TYPHOON RIPS THROUGH CEMETERY; HUNDREDS DEAD.

TEACHER STRIKES IDLE KIDS.

By Shauna Ward, Petrolia

From Daytripping

Summer 2022 issue

LOCAL HIGH SCHOOL DROP-OUTS CUT IN HALF.

RED TAPE HOLDS UP NEW BRIDGES.

SKI AREAS CLOSED DUE TO SNOW.

IF STRIKE ISN'T SETTLED QUICKLY, IT COULD LAST AWHILE.

IF YOU USE LEMON JUICE, SQUEEZE IT FROM FRESH ORANGES.

FLUBBED HEADLINES

HE RETURNED TO HIS DUTIES MONDAY AFTER SEVERAL WEEKS' ABSENCE DUE TO DEATH.

... A Frankly Optical Experience!

With Beth's 30 years of

experience she is dedicated

to helping you find

just the right pair

from her great selecon

of eyewear including

sunglasses & contact lenses!

Walk in or book a one on one appointment time!

147 N. Mion St., Sarnia • 519-337-4060 • TheEyeGuySarnia.com

Summer 2022 "I've been on a calendar but I have never been on time." - Marilyn Monroe P A G E 13
---
Welcome to ...

THE Club

Do you remember being 19? Neither do we!

Welcome to ...

Summer 2022

Get It Done Right The First Time

JOBS BIG OR SMALL:

• Faucet Installation • Leak Repairs

• Clogged Drains • Camera Inspection

• Toilet Replacement & Installation

• Sump Pump • Frozen Pipes

• Sewer & Waterline Replacement

Ask For Your Seniors Discount

Professional sion

onal

a 24/7 4 7 Emergency Service

345 Ontario Street, et Unit B

SARNIA I • 519-337-1545

37-1

-154

545

CustomPlumbingSarnia.com

t

P umbi

ia Family Owned & Operated and Proudly

Serving Lambton County Since 1991

The Annual Seniors Cruise on the original Duc D'Orleans circa 1987-1988

with (l to r) Paul Godfrey, Ken Bracewell & Peter Henderson in foreground.

See page 8 in this issue for an article about the Duc D'Orleans.

Bring this i coupon n in to receive e your Exclusive Welcome to the Club Offer

Send us your Sarnia-Lambton photos!

Welcome to ...

THE

CLUB

Memories

Save an extra 10% off any sale item!

Expires Oct 31

Phrase Origins

565 Murphy Road

SARNIA

shoeboxsarnia.ca

Turn a Blind Eye

Refers to the refusal to acknowledge something which you

know to be true. In an 1801 battle, Admiral Horatio Nelson

said this when he used his blind eye to look through his

telescope. This way he could avoid signals from his superior,

whom he didn't always agree with. Apparently he wasn't

the first to use the phrase, but he did popularize it.

Plus

Get Your

Very Own

Deals

by Email

Weekly!

P A G E

14

"The secret of life is enjoying the passage of time." - James Taylor
---
Plenty of Discounts offered on this list - let us know what's missing.

Welcome to ...

The DISCOUNT LIST

A list i of o local discountsi

s or offers that a t

benefit n

efi t

people ple e over e acertain a a i

age.

TOWN

PLEASE LET US KNOW OF ANY THAT ARE MISSING!

BUSINESS

SPECIAL OFFER

AGE+

Welcome to ...

CONTACT

BRIGHTS GROVE Shoppers Drug Mart 20% OFF Thursdays 65+ 519-869-4224

CORUNNA Corunna Pharmasave 10% OFF Tuesdays & Fridays 65+ 519-862-2020

Shoppers Drug Mart 20% OFF Thursdays 65+ 519-862-1451

Corunna Foodland 2% OFF Wednesdays 60+ 519-862-5213

FOREST CDS Pharmacy 15% OFF Wednesdays 60+ 519-786-2104

Forest Naturals & Home Health 15% OFF Wednesdays 65+ 226-520-0054

Forest Pharmasave 15% OFF Wednesdays 65+ 519-786-5161

Williamson Farms Country Store Various Wednesdays 55+ 226-520-0144

PETROLIA Bargain Shop 20-30% 1st Wednesday of month 60+ 519-882-0057

Country Yarns 15% OFF See ad in The Club all ages 519-882-8740

Gramma's Candy Store 5% OFF Tuesdays 60+ 519-882-1212

Gray's Floral Market 50% OFF All fresh flowers and all ages 519- 882-1330

premade arrangements

Saturdays 2-4pm only

Heidi's Your Independent Grocer 10% OFF Tuesdays 60+ 519-882-2211

Hogan Pharmacy 20% OFF Wednesdays 60+ 519-882-1840

M&M Meats 10% OFF Tuesdays 60+ 519-882-4316

McDonald's 20% OFF* Coffee/Tea daily 55+ 519-882-3678

THE Club

Frances'

Helpful

Hints

1) Did you know that when

a broom is hung up it keeps

its shape better and sweeps

more evenly than those left

standing? Dip your broom in

warm water periodically to

prolong its life.

2) Did you know that

baskets should be misted

with lukewarm water at least

once a month to retain their

supple nature?

3) Feather pillows

sometimes acquire a musty

odour. Remove the pillow

cover and place the pillow

before a fire or near a heat

source. Fluff it after about an

hour and turn it over. This

intense drying will eliminate

the odour. It does not work

when you place the pillow in

the clothes dryer.

PT EDWARD Twin Bridge Lighting 15% OFF Mondays 55+ 519-344-3535

SARNIA Bulk Barn 10% OFF Wednesdays 65+ 519-542-6668

Custom Plumbing 10% OFF Every day 65+ 519-337-1545

Generation Paint Company 15% OFF Every day 65+ 519-330-4424

Giant Tiger 10% OFF Ist Monday of month 65+ 519-336-0831

Goodwill 25% OFF 2nd Monday of month 55+ 519-541-9273

London Road Pharmacy 20% OFF Thursdays 60+ 519-491-6778

M&M Meats 10% OFF Tuesdays 60+ 519-542-8398

McDonald's 20% OFF* Coffee/Tea daily 55+ 519-336-7096

Michaels 10% OFF Every day 60+ 519-542-3200

Mission Thrift Store 20% OFF Last Thursday of month 65+ 519-337-1614

Don's Home Renovations 10% OFF See ad in The Club all ages 226-343-2265

OMG Poutine 15% OFF Tuesdays 60+ 519-491-5563

Petsmart 10% OFF Grooming on Tuesdays 65+ 519-542-2822

Peavey Mart 20% OFF Last Tuesday of month 55+ 519-542-4091

Pet Valu 10% OFF Last Thursday of month 60+ 519-541-0468

Rexall Pharmacy 20% OFF Tuesdays 55+ 519-332-5575

Russell Street Home Hardware 20% OFF See ad in The Club 60+ 519-383-0688

Salvation Army Thrift Store 25% OFF 1st Wednesday of month 60+ 519-344-3781

Sarnia Pharmacy 10% OFF Tuesdays and Fridays 65+ 519-337-3215

Shoppers Drug Mart 20% OFF Thursdays 65+ 519-337-3727

Value Village 30% OFF Tuesdays 60+ 519-541-0153

STRATHROY M&M Meats 10% OFF Tuesdays 60+ 519-245-6355

McDonald's 20% OFF* Coffee/Tea daily 55+ 519-245-3821

WYOMING Wyoming Tree Service 10% OFF Every day 65+ 519-845-0847

Call 519-491-1676 or email info@welcometotheclub.ca to add one!

Please remember: e

r: These discounts are for reference. eren

en

They may change & may not

apply ply to specific c items. Stores are not obligated to adhere to what we've printed.

You may also need to ask in order to get the discount. t Thanks for understanding.

ndin

4) A spice mill or pepper

mill should be cleaned

occasionally by grinding a

handful of raw rice.

5) Many people are now

using kerosene lamps

instead of candles

particularly during the

Christmas season. Lamp oil

in seasonal colours and

scents can now be readily

acquired. There is some

basic lamp care that should

be followed. Wicks should

be soaked in oil before being

lit. When the lamp is lit the

wick should be turned down

and slowly raised. Wicks

should be only long enough

to reach the bottom of the oil

reservoir. Wicks should be

so wide that they quite fill

the wick holder without

having to be squeezed into

it. The wick should be cut in

the shape of an inverted "V".

When it's time to extinguish

the flame put your hand

behind the chimney and

blow straight across the top

of the chimney. Do not turn

the wick down into the lamp

oil reservoir to extinguish the

flame.

Summer 2022 "Time is a good storyteller." - Irish saying

P A G E 15
---
Welcome to ...

THE Club

Laughter is the best medicine - here's to your health.

Welcome to ...

Summer 2022

Music Lessons & Books for All Ages

Store & Studio 115 Mitton St. S. 519-344-2319

Do you want to reach

our age 55+ readers?

advertise

in the club

Call 519-491-1676

info@welcometotheclub.ca

EACH OFFICE INDEPENDENTLYOWNED AND OPERATED

Delivery Monday Thru Saturday

1018 Murphy Rd Sarnia 519-542-7273

Oh my goodness. The girl that sits

and stresses about the number of

scams going around just got scammed

herself and it was just like that. Let me

elaborate.

For two years I've been wanting to get

another puppy. I have always gotten my

dogs from a shelter. Getting an animal

from a breeder was just something that

never turned my crank. Well after two

years of applying for a dog from shelters

or rescues with no luck, I decided to get

one from what I thought was a reputable

breeder.

Long story short, I paid just over

$1,000 for a Cavapoo. Upon paying the

price, I had to sign some documents.

The dog was set for departure from

the United States only to receive a call

and email saying that I needed to pay

another $1250 for a transportable crate

for the pup. By this time I'm thinking

"what the heck?" I pay the fee as I am

told that I would be reimbursed $1200

once the pup arrives and the crate is

given back.

Moving on, I am really not feeling

good, but I am reassured that this is all

normal and it is the breeder's fault for

just dropping off the pups and leaving.

The pups are set to depart the US

and arrive in London, Ontario where

they will be delivered to my home.

Tongue

Twisters

You've no need

To light a night-light

On a light night like tonight,

For a night-light's light

Is a slight light

And tonight's a night that's light.

When a night's light,

Like tonight's light,

It is really not quite right

To light night-lights

With their slight lights

On a light night like tonight.

quiet, I felt that

people need to

know that this crap

can happen without

warning. And I

consider myself to

be someone who

is cautious. Looks

like this is another

experience to

put in my books.

By Anna Moscardelli, From here, I will

Sarnia

be looking into this

triangle of people

Unfortunately, I receive a call at about and will hope to shut them down,

2am stating that the pups are in the however I imagine once they are shut

Niagara Falls Customs and we need to down another one will pop up. For

pay another $1750. By this time, I have anyone who wants to know who the

lost it. From here I contact Customs, Cavapoo puppy breeder was or who

the RCMP, the transporter and the socalled

the global transportation company was,

breeder. Crazy, but this so-called feel free to reach out to me. I will gladly

breeder now starts to tell me how cruel I share their names.

am and that God will get me or whatever Sometimes we get calls and we react

his crazy text messages said. I tell him negatively, partly because of past things

"Refund my money. The police will be we've endured. With that, I feel for those

investigating."

who are legitimate and are questioned

I am the girl that so many times by the receiving party. Some people

talked about being careful. Well, this is unfortunately will take advantage of

something so innocent that I didn't even others and they don't care. Sadly, these

see it coming. A legitimate site all around people attempted to threaten me with a

only to find out that this was a scam. law suit and a few other things.

I can't believe this happened. It is now in the hands of the legal

Embarrassed and wanting to keep authorities. I know that they will do

their best but I also know that their

hands will be tied when it comes to any

criminal proceedings. If nothing more,

hopefully someone will read this and

may be saved from enduring the same

hardship. Sadly, as I was reporting this

to the officer in charge, he mentioned

how one of his fellow police officers

had been scammed close to $30,000. If

a police officer can get scammed then

it goes to show you how clever these

individuals are with their websites or

their 'for sale' posts. Unbelievable.

Publisher's note: None of us are

immune to scams and I still have a sore

spot after being ripped off trying to

buy concert tickets from a stranger. My

best advice is to use your VISA card for

anything and everything. The company

relies on being trusted so they will

reimburse you for anything you purchase

but do not receive, warranty items for

longer in most applicable cases, and even

refund your money for items that are

lost or broken within a certain time from

the date of purchase. They also have an

uncanny ability to inform you when they

have concerns about fraudulent activity,

long before you would have noticed it. I

imagine that Mastercard and AmEx may

work just as well, but I've personally

come to have great faith in VISA as a form

of insurance.

P A G E

16

"The surest way to be late is to have plenty of time." - Leo Kennedy
---
Finally... Events are back! Enjoy yourself this summer.

Welcome to ...

THE Club

Upcoming

EVENTS

Welcome to ... THE JULY 2022

Welcome to ...

CLUB

Events ntsare

listedFREEfor

non-profit groups (space perming).

DATES SUBJECT TO CHANGE.

Please check

ahead if possible.

JULY 2022

S M T W T F S

1 2

3 4 5 6 7 8 9

10 11 12 13 14 15 16

17 18 19 20 21 22 23

24 25 26 27 28 29 30

31

AUGUST 2022

S M T W T F S

1 2 3 4 5 6

7 8 9 10 11 12 13

14 15 16 17 18 19 20

21 22 23 24 25 26 27

28 29 30 31

SEPT 2022

S M T W T F S

1 2 3

4 5 6 7 8 9 10

11 12 13 14 15 16 17

18 19 20 21 22 23 24

25 26 27 28 29 30

WEEKLY EVENTS

Daily Sarnia Weekly adult activities at Strangway Centre www.sarnia.ca/play or 519-332-0656

Mon ongoing Zoom Genealogy meetings, last Mon/month 2-3:30 www.lambton.ogs.on.ca

Mon til Aug 22 Outdoor Concerts at Canatara Park https://calendar.sarnia.ca

Tues til Aug 23 Outdoor Concerts at Centennial Park https://calendar.sarnia.ca

Tues til Aug 30 Petrolia - Evening Farmers' Market 4:30-8:30 pm www.town.petrolia.on.ca

Wed til Aug 24 Outdoor Concerts at Kenwick Park, Brights Grove https://calendar.sarnia.ca

Wed til Sept 21 Brights Grove Farmers Market 4-8pm Facebook @ brightsgrovemarket

Wed til Oct 5 Grand Bend Farmers Market 8am-1pm www.lambtonshoresmarkets.com

Thurs ongoing Optimists Meat Raffle at Skeeters, Brights Grove Find us on Facebook

Thurs summer Sarnia Street Cruisers, Cruise Nights at Canatara Park Find us on Facebook

Thurs til Aug 25 Outdoor Concerts at Paul Blundy Park & Germain Park https://calendar.sarnia.ca

Thurs til Oct 6 Point Edward Moonlight Farmers' Market 4-8 pm Find us on Facebook

Thurs til Oct 6 Forest Farmers Market 4-8pm www.lambtonshoresmarkets.com

Sat til Oct 8 Petrolia Farmers' Market 7:30am-12pm www.town.petrolia.on.ca

Sat thru Dec Gwetaandaawe Indigenous Market (2nd Sat monthly) burlacher@aamjiwnaang.ca

EXHIBITS

July 1-31 Sarnia Square Foot Show by Sarnia Artists Workshop www.lawrencehouse.ca

July 1-31 Sarnia Irvin Hawkes art show "Scatterings" www.lawrencehouse.ca

Aug 5-31 Sarnia Pierre Houle and Jale Fancey, "Beautiful Ontario" www.lawrencehouse.ca

Aug 5-31 Sarnia Members' exhibit, "Seen in Lambton County" www.lawrencehouse.ca

Sep 2-24 Grand Bend Paint Ontario sale and exhibit www.heritagemuseum.ca

JULY 2022

5 Suncor Agora Sounds of Summer - WIP (Wes in Progress) www.calendar.sarnia.ca

5-24 Petrolia On Golden Pond at VPP www.thevpp.ca

6 Kenwick Park Sounds of Summer - Bruce Dean and Deano Brainelli www.calendar.sarnia.ca

7 Paul Blundy Pk Sounds of Summer - Karen Emeny www.calendar.sarnia.ca

7 Germain Park Sounds of Summer - The Casuals www.calendar.sarnia.ca

8 Sarnia Lawrence House First Friday 6 pm, Live Music www.lawrencehouse.ca

9 Oil Springs Black Gold Fest 11-4 www.oilmuseum.ca

9 Sombra Annual Blueberry Social 1-4 pm sombramuseum.webs.com/events

9 Sarnia Habitat for Humanity Charity BBW at the Restore Find us on Facebook

10 Sarnia Bluewater Anglers Family Fishing Derby www.bluewateranglers.com

11 Canatara Sounds of Summer - Jeff Baldock www.calendar.sarnia.ca

12 Suncor Agora Sounds of Summer - Joan Spalding/Foggy Mountain Band www.calendar.sarnia.ca

13 Kenwick Park Sounds of Summer - Signature www.calendar.sarnia.ca

14 Paul Blundy Pk Sounds of Summer - Traffic Jam www.calendar.sarnia.ca

14 Germain Pk Sounds of Summer - Five4Tyme www.calendar.sarnia.ca

15-16 Bright's Grove Bright's Grove Music Fest @ Kenwick Park brightsgrovemusicfest@gmail.com

15 Alvinston Tractor Pull www.alvinstonfair.com

16 Canatara Park Free Kids Day at the Children's Animal Farm https://www.seawaykiwanis.ca/

16 Point Edward Mackinac Boat Race www.villageofpointedward.com

16 Wyoming Agricultural Society Broasted Chicken Dinner www.plympton-wyomingfair.com

18 Canatara Park Sounds of Summer - The Harbour Jazz Group www.calendar.sarnia.ca

19 Suncor Agora Sounds of Summer - 24th and 9 www.calendar.sarnia.ca

20 Kenwick Park Sounds of Summer - The Old Souls www.calendar.sarnia.ca

21 Germain Park Sounds of Summer - The Honky Tonk Outlaws www.calendar.sarnia.ca

21 Paul Blundy Pk Sounds of Summer - The Sun Harmonic www.calendar.sarnia.ca

21 Forest Car Show 3-8 www.shopforest.ca

22-23 Canatara Park Revelree Music Festival www.revelreemusicfestival.com

23-24 Brights Grove Bluewater Triathlon and Ironkid http://www.bluewatertriathlon.ca/

23 Corunna Wellings of Corunna Car Show 226-776-8924

25 Canatara Park Sounds of Summer - Cassie Noble www.calendar.sarnia.ca

26 Suncor Agora Sounds of Summer - Borderline www.calendar.sarnia.ca

27 Kenwick Park Sounds of Summer - Jammin Quartet www.calendar.sarnia.ca

28 Germain Park Sounds of Summer - Cordcalling www.calendar.sarnia.ca

28 Paul Blundy Pk Sounds of Summer - Beer Store Money www.calendar.sarnia.ca

29-31 Corunna Captain Kidd Days find us on Facebook

31 Mike Weir Park Bluewater International Granfondo https://bigf.ca/

AUGUST 2022

2 Suncor Agora Sounds of Summer - Wayne Hayward www.calendar.sarnia.ca

2-14 Petrolia Divine Women at VPP www.thevpp.ca

3 Kenwick Park Sounds of Summer - Blast from the Past www.calendar.sarnia.ca

4 Paul Blundy Pk Sounds of Summer - Bill and Joe Hines www.calendar.sarnia.ca

4 Germain Park Sounds of Summer - Celtic Hillbillies www.calendar.sarnia.ca

4 Sombra "Lights Out" Book Launch Party 10-11 am sombramuseum.webs.com/events

5 Sarnia Lawrence House First Friday 6 pm www.lawrencehouse.ca

5-7 Watford Watford Cornfest Find us on Facebook

8 Canatara Park Sounds of Summer - TooNice www.calendar.sarnia.ca

9 Suncor Agora Sounds of Summer - Mike Blackmore www.calendar.sarnia.ca

10 Kenwick Park Sounds of Summer - Failte www.calendar.sarnia.ca

11 Germain Park Sounds of Summer - Roads Travelled www.calendar.sarnia.ca

11 Paul Blundy Pk Sounds of Summer - BobCatz www.calendar.sarnia.ca

12 Forest Sidewalk Sale 10-2 www.shopforest.ca

12-14 Forest Western Ontario Steam Threshers show www.steamthresher.com

13 Sarnia Shop the Shoreline 10am-4pm Centennial Park cindy.scholten007@gmail.com

13-14 Sarnia Backyard Market at Valley Axe www.thegirlgang.ca

14-17 Wyoming Virtual Pie Auction - PW Ag. Society www.plympton-wyomingfair.com

15 Canatara Park Sounds of Summer - Bluewater Chordsmen www.calendar.sarnia.ca

16 Suncor Agora Sounds of Summer - Paula and the Cornhuskers www.calendar.sarnia.ca

17 Kenwick Park Sounds of Summer - Seaway Sounds Chorus and Friends www.calendar.sarnia.ca

17-27 Petrolia VPP: Wingfield Lost and Found www.thevpp.ca

18 Germain Park Sounds of Summer - The Overtones www.calendar.sarnia.ca

18 Paul Blundy Pk Sounds of Summer - Borderlite Trio www.calendar.sarnia.ca

19 Forest Kids Day 10-2 www.shopforest.ca

20 Petrolia Petrolia Lions Lobster Fest, Lions Hall 519-381-4776

20 Sarnia Alzheimer Society - It's Five O'Clock Dockside! alzheimer.ca/sarnialambton

22 Canatara Park Sounds of Summer - R.E.D. Line www.calendar.sarnia.ca

23 Suncor Agora Sounds of Summer - Sarnia Outtaliners www.calendar.sarnia.ca

23 Kenwick Park Sounds of Summer - Relic www.calendar.sarnia.ca

25 Germain Park Sounds of Summer - macsmusic www.calendar.sarnia.ca

25 Paul Blundy Pk Sounds of Summer - The Wade Sisters www.calendar.sarnia.ca

27 Wyoming 8th Annual Truck & Tractor Pull www.plympton-wyomingfair.com

SEPTEMBER 2022

2-24 Grand Bend Paint Ontario sale and exhibit www.heritagemuseum.ca

8 Sarnia Gerry Dee at Imperial Theatre www.imperialtheatre.net

9-11 Petrolia Fall Fair www.petroliafair.ca

10 Sarnia Art in the Park Sarnia www.artintheparksarnia.com

10 Petrolia Super Saturday - Shop Dine Win www.town.petrolia.on.ca

13-Oct 9 Petrolia When Irish Eyes are Smiling at VPP www.thevpp.ca

16-17 Wyoming Fall Fair www.plympton-wyomingfair.com

17 Petrolia Harvestfest at Farmers Market www.town.petrolia.on.ca

23-25 Forest Fall Fair www.theforestfair.ca

24 Petrolia Artist Day at Petrolia Discovery 10am-3pm discoveryartevent@hotmail.com

28-Oct1 Sarnia "War of the Worlds" at Imperial Theatre www.imperialtheatre.net

Send us your Events now

for FREE TEXT LISTING in the

October -December issue

Include locaon, date,

name of the event,

website or contact number.

Send to:

info@welcometotheclub.ca

Welcome to ...

THE

CLUB

Summer 2022 "If you want work well done, select a busy man - the other kind has no time." - Elbert Hubbard P A G E 17
---
Welcome to ...

THE Club

The Battle

of the Green

By Jodi Edwards Wright, Chatham

from Daytripping May-June 2011 issue

My lawn and I, we disagree,

I think it should grow grass, you see.

But instead there's weeds galore,

So I went to the garden store.

Spray this, spread that,

Don't mow too short,

The soil's acidic, they report.

You need to aerate, sow more seed,

Get down on your knees,

Remove that weed.

Now that weed there, got just the thing,

But to apply it, wait 'til spring.

Don't forget to rake the thatch,

Put sod down on that brown patch.

My wallet lighter, home I go,

With bags of topsoil, grass to grow.

Tons of pamphlets to set me straight,

But as I opened my tailgate,

A light bulb lit above my head,

Why not just get a pro instead?

Now I'm sunning on my deck,

I didn't write a humungous cheque.

No, I'm done with the lawn care scene,

Mother Nature can make things green.

And what if there's a weed or ten,

I've got cash in the bank again!

This magazine comes with a free, built-in, old fashioned fly swatter!

NORTH END APPLIANCE

Serving Sarnia-Lambton for 33 Years

519-336-7676

635 Cathcart Blvd., Sarnia

northendappliance.ca

1952

TOP 10

1952

Country Songs

1 Jambalaya (On the Bayou) Hank Williams

2 Wondering Webb Pierce

3 It Wasn't God Who Made Honky Tonk Angels

Kitty Wells

4 Indian Love Call Slim Whitman

5 That Heart Belongs To Me Webb Pierce

6 Give Me More, More, More (Of Your Kisses) Lefty Frizzell

7 Don't Just Stand There Carl Smith

8 Back Street Affair Webb Pierce

Source:

playback.fm

9 I'll Never Get Out of This World Alive Hank Williams

10 A Full Time Job Eddy Arnold

Billboard Hits

1 Blue Tango Leroy Anderson

2 Wheel of Fortune Kay Starr

3 Cry Johnnie Ray & The Four Lads

4 You Belong to Me Jo Stafford

5 Auf Wiederseh'n Sweetheart Vera Lynn

6 Half as Much Rosemary Clooney

7 Wish You Were Here Eddie Fisher

8 I Went to Your Wedding Patti Page

9 Here in My Heart Al Martino

10 Delicado Percy Faith

Source:

billboard.com

Movies

The Greatest Show on Earth

(Oscar for Best Picture)

The Snows of Kilimanjaro

High Noon

The Quiet Man

Singin' in the Rain

The World in His Arms

Million Dollar Mermaid

Invasion, U.S.A.

Snow White and

the Seven Dwarfs

Source: the-numbers.com

Welcome to ...

Summer 2022

Think Gourmet... Feel like you're in Paris at Sarnia's Hidden Gem!

Amazing Flavour!

We're Not Fast Food

Breakfast

Lunch

Dinner

Any Time!

Alll Made In-House with Fresh Ingredients!

• Slow Roasted Meats

• Locally Sourced Fruits & Vegetables

• Homemade Sauces, Aiolis, Jams & Seasonings

SENIORS

60+

15% OFF

Tuesdays

P A G E

18

260 Indian Road South, Sarnia • 519-491-5563

Follow Us On Facebook For Specials, Trials, Taste Tests, Contests & More!

"Regret for wasted time is more wasted time." - Mason Cooley
---
Many of the articles are from the archives of Daytripping Magazine.

School Daze

By Dorothy J. Johnson, Petrolia

I got to reminiscing after reading in the

Spring Issue of the DayTripping "What's

in a Name" by Dot Sale.

My name being Dorothy too, I

remembered one year at school five

girlfriends decided we didn't like our

names. We thought flowers had nicer

names than ours so we all changed to a

flower name. We would have been 9 or

10 years old at the time. We had Pansy,

Rose, Lily, Daisy and I was Iris.

We were in a one room country school

and at noon hour and recess, we wouldn't

answer to our real names. It caused quite

a turmoil sometimes, but we had a lot

of fun with not answering to our proper

names. Some would really get mad and

some would just leave us alone. This

lasted pretty much all year, however, by

the next school year, was all forgotten.

I now like my name. Dorothy means

"A gift from God" so I feel it's a lot to live

up to. Ninety plus years later, I just love

it when grandchildren and great grandies

come to visit with a "Hi Grama Dottie!"

I wonder where in the world I came up

with the name Iris?!?

The first year I went to school, one of

the big (older) boys was our Hero and

Good Samaritan of the school yard. He

made sure no one was bullied, and if

anyone got hurt, he was always the first

one there to help you. If there was a fight,

he would have it quieted down, often

without the teacher knowing about it. He

had a way of making everyone feel as if

they mattered, whether big or little and

he was certainly missed the next year

when he went to Watford High School.

I was an only child for 12 years, so I

really enjoyed having someone to play

with at recess time. I particularly liked

playing "Fox and Goose" in the winter

after a snowfall came to make tracks in.

There was a pond not far from school

that if there was ice, we would go skating

at noon hour. The teacher had a big bell

that he would step outside and

ring for us to come back to

school. I am sure we took our

time.

In Spring and Summer, there

were ball games, with the big

boys always arguing about the

rules.

There was always

a Fall fair we could

participate in. The first

time I had a poem to

recite about a girl and

Welcome to ...

her dolly. I was so nervous. I remember

Mom telling me to forget the people just

get up there and talk to my dolly. There

was one line that had a big word in it

that I had to learn. "Don't be such an

ignoramous." It took a long time for me

to learn that word, but I finally did and I

have never forgotten it.

The next year I recited one about Jenny

Wren and her husband house hunting.

One year I won a prize for a school lunch

I packed. I made a sandwich of brown

bread with cream cheese and chopped

parsley; carrot sticks and a big red Spy

apple. I was very pleased about that

prize. This was the start of my enjoying,

in future years, exhibiting baking and

crafts at the local Fall fairs.

We had a good teacher and

he made sure we all

knew our grammar,

history, geography

and mostly our

three "Rs". For the

youngsters, that's

"Readin,' Riten and

Rithmatic, taught to the

tune of "A Hickory Stick".

Our school years flew

by and we were off to

work or High School

with Public School just

a pleasant memory.

THE Club

Need Bookkeeping Done?

Rely on Certified Professional

Bookkeeper

Jacqueline Waybrant

to help you out.

CALL

519-312-8560

GIFTWARE & UNIQUE HOME DÉCOR

SHOWCASING MANY LOCAL ARTISANS

Home of Just-A-Nuff Antiques

TUESDAY-FRIDAY 10-5 • SATURDAY 10-2

850 Colborne Street @ Exmouth Street

Northgate Plaza, Sarnia • 519-336-3838

SARNIA

Auto Centre

FOR COMPLETE

MAINTENANCE

& REPAIRS THIS

SUMMER!

Be prepared with

Summer Tires

and a Complete

Oil Change.

Call Mark or Carla

to promote your

business in ...

Welcome to ...

THE

CLUB

and more reputable brands.

24 HOUR EMERGENCY TIRE SERVICE

519-383-1000

1341 4 Plank a k

Road, a ,

Sarnia

a a

Wallaceburg ac Location: on:

JACK'S TIRE

7966 7

6

McCleary c

a

y Line • 519-627-3335

9

-333

335

35

SARNIA

Auto Centre

www.tirecraft.comw.ti i

c f

THANK YOU to all the wonderful, local businesses

that have made this free magazine possible!

Mark Moran 519-491-1676

Carla MacGregor 519-464-3230

info@welcometotheclub.ca

carla@welcometotheclub.ca

For Lambton Shores area advertising, contact Rhonda Long

519-657-1869 • rhonda@welcometotheclub.ca

Summer 2022 "What may be done at any time will be done at no time." - Scottish Proverb P A G E 19
---
Welcome to ...

THE Club

Greenhill Gardens

Story and photos by Mark Moran • From Daytripping Summer 2022 issue

If you happen to be find yourself near

Wilkesport Ontario, about 30 minutes

south of Sarnia, you might notice that

there's not much to do. There are a few

find a partner they slowly transformed

the swamp into a magnificent park,

complete with three ponds, walkways,

bridges, waterfalls and benches for

homes, a post office

and the library, a

people

enjoy

to

and

picnic,

seek

community centre,

serenity. My last

a baseball field and

trip there was at

that's about it. But

8 o'clock in the

venture one side

morning. There was

road to the west on

Wilkesport Line and

as you approach the

a chill in the air

along with the sound

of countless birds,

intersection of Indian

and frogs leaping

Creek Road you'll

into the ponds.

notice Canadian

Céad mile fáilte

There's also a

and American flags (One Hundred Thousand Welcomes) small welcome cabin

rising out of the wheat field. Welcome

to Greenhill Gardens, an oasis in the

middle of nowhere.

I first stumbled upon this years ago

while taking a shortcut on these back

roads and came to an

and it's nice to relax in there for a few

moments, to leaf through the guestbook,

look at family photos of the Robsons and

see all the notices of weddings that will

be taking place here. I gather there is no

cost, but don't know

intersection where

how people make

there was a neatly

placed wall of armor

reservations for the

many wedding and

stone in a field for

graduation photos

no apparent reason.

I thought to myself

that it didn't get

there by itself, but

that are taken there.

Among a number of

beautiful vistas at

Green Hill Gardens

why would anyone

the most popular

want it there? That

would be a long

would have been

covered bridge,

around 2008, when Joy and Bill Robson

decided to build a six acre garden to

"give back" to the community. The

original plan was to donate the land to

a conservation group, but after failing to

perfect for a processional, and a great

photo from any angle. Portions of it

are covered in wisteria and must be

absolutely stunning when in bloom.

There are even numerous toys to

We're living life to the fullest (until about 9 pm).

keep kids and grandkids amused while

parents stroll the grounds. Rumour has

it that Dolly Parton made a special stop

here and signed the guestbook.

Greenhill Gardens is a hidden gem

that is yours to discover. There is no

admission, not even a donation box

that I could find. It's a wonderful place

to walk around and, if accessibility is

an issue, the paths and bridges are

wide enough for wheelchairs or you

can drive through with your window

down to take in the sounds in the fresh,

country air.

Joy and Bill Robson were married for

56 years and both have passed away

in recent years, but this labour of love

that they worked at tirelessly will live

on and awaits your visit. It truly is an

"Oasis in the middle of nowhere."

Greenhill Gardens just west of Wilkesport

Bill and Joy Robson

Mooretown

Sombra

Greenhill

Gardens

Welcome to ...

Summer 2022

Established in 2010, Shine at Home serves seniors who wish

to live in full independence. Since our earliest beginnings we

have learned that with just a little help, people can remain

in their homes for many years safe and free in the

knowledge that a dedicated team is there for them.

Seniors' Home Independence Network

Life is Better When

You're Home

Seniors live at home -

independently,

comfortably & happily.

It doesn't matter how old you are, life is always better

when you're home. There's a deep comfort that comes

from being in familiar surroundings, sleeping in your own

bed, and living under a roof that belongs to you.

Housekeeping

Companionship

and Care

Call today and find out

how Shine at Home

can help you:

519-336-9898

"All the staff go out of their

way to make life easier for our

Mom when we aren't able to

be there everyday! We

definitely recommend Shine at

Home to others looking for

excellent care for their elderly

parents"

Heather – Daughter of Client

"The lady who does my

housekeeping is so nice and

efficient and always fits in

special requests"

Ruth Ann - Client

shineathome.com

P A G E

20

"Time is what we want most, but what we use worst." - William Penn
---
You're welcome to send in articles to help build this magazine.

Welcome to ...

THE Club

JAPANESE

A fog cannot be

dispelled by a fan.

A good husband is

healthy and absent.

If money be not thy servant,

it will be thy master.

A good Jack makes

a good Jill.

A good sword is the one left in its scabbard.

A man in love mistakes a pimple for a dimple.

If you want a thing done well, do it yourself.

A merchants happiness hangs upon

chance, winds, and waves.

A merry companion on the road is as good as a nag.

A pig used to dirt turns its nose up at rice.

Darkness reigns at the foot of the lighthouse.

A single arrow is easily broken, but not ten in a bundle.

Adversity is the foundation of virtue.

After victory, tighten your helmet chord.

An accomplishment sticks to a person.

An excess of courtesy is discourtesy.

Bad and good are intertwined like rope.

Do you live in the

BOONIES?

The CLUB is

available at all

Lambton County

libraries

(while they last)!

FOOT ORTHOTICS

SLIPPERS, SHOES, BOOTS, SANDALS

Julie Munday, Certified Pedorthist

www.soledecisions.com

30+ YEARS

EXPERIENCE!

For help with comfort,

support, circulation,

fatigue and balance.

ASK ABOUT IN-HOME SERVICE

303 Davis St, Sarnia • 888-971-6345 Essential Business - Onsite Lab

Great Summer

Selection!

• Perennials

• Nursery Stock

• Garden Decor

& More!

1508 Blackwell Rd.

- SARNIA -

519-542-3371

Visit our online store... Praillsgreenhouse.com

Summer 2022 "A year from now you will wish you had started today." - Karen Lamb P A G E 21
---
Welcome to ...

THE Club

See below for many local volunteer opportunities.

Welcome to ...

Summer 2022

Styku 3D Body Scan

3D BODY SCAN

REVOLUTIONIZED

Makes Visual Progress Easy

All Inclusive Suites & Apartments with kitchenettes.

CUSTOM MENU OPTIONS • ACTIVITIES • 24HR CARE

Call for a personal tour.

WALLACEBURG • 519-627-9292

Welcome to ...

The Giving List

o

These listings in

are for reference eren

en

only. Please contact the organization i

on

for details.

Many a

of us have a e time e to

give, consider n being i

a

volunteer! Here's a list of

opportunities po

ies to give back

to our community.

muni

Call 519-491-1676 or email info@welcometotheclub.ca to add an organization to our list.

ORGANIZATION

O

R

A

I

Z

AT

IO

ON

VOLUNTEER V

O

U

N

T

E

ER

OPPORTUNITY

P

PO

OR

T

U

N

I

TY

CONTACT

Sarnia Lambton Rebound Program Volunteers 519-344-2841 ext. 101

Victorian Order of Nurses Caregiver Respite Visitor, Footcare Clinic Assistant, Bingo Volunteer, Adult Day Program 519-542-2310 ext. 4267

LC Long-Term Care Living Various opportunities from Coffee Program to organist/pianist to dining companions lambtoncares.ca/volunteer

Lambton Elderly Outreach Reception, Transportation, Friendly Visiting, Meals on Wheels, Diner's Club, Forever Fitness 519-845-1353

Alzheimer Society of SL Program, Event and Bingo Volunteers 519-332-4444

Habitat for Humanity Handyman Assistant, ReStore: Sales Floor Support, Cashier 519-339-7957

St. Joseph's Hospice Sarnia

Lambton

Residence Reception, Volunteers for Kitchen, Grocery Shopping, Direct Support, Housekeeping,

Maintenance, Gardening Volunteer and more

519-337-0537

www.stjosephshospice.ca

ORGANIZATION

DONATIONS

CONTACT

Sarnia & District Humane

Society

Several volunteer opportunities. Needed items: non-clumping cat litter, towels and small fleece

blankets, small cat beds (new, unused only) and more. Visit website for full list.

www.sarniahumanesociety.com

River City Vineyard Donation of food, extra clothing, valuables, and small household items to foodbank and shelter 519-383-8463(VINE)

Petrolia Food Bank Monetary and food donations to food bank (please check expiry dates) 519-882-3950

Christmas for Everyone

Inn of the Good Shepherd

Women's Interval Home

Monetary donations; toy shopping is underway now.

www.christmasforeveryonepetrolia.weebly.com

Needed items: Clothing, linens & bedding, small kitchen appliances, dishes & cutlery, cereal,

school snacks, juice boxes, sugar, coffee

New unused items only will be accepted to shelter.

Please email kyla@womensintervalhome.com to schedule a time for item drop off.

226-349-8660

519-344-1746

www.womensintervalhome.com

P A G E

22

"The key is in not spending time, but in investing it." - Stephen R. Covey
---
It's the advertising that makes this magazine possible, and free!

The Library

By Susan Iedema, London

from Daytripping Spring 2022 issue

When the weather is such that

spending more time inside is desirable, I

am always on the lookout for new ideas

for indoor activities. And, as I have done

in the past for other situations, I am sure

I will utilize the resources available to me

at my local library.

I recall my mom and me walking to

the library in the small town where I grew

up and that is where I was introduced to

the mystery novels of Phyllis A. Whitney.

Romance was always woven into her

stories and vivid descriptions were given

of the locales around the world where

they took place. My love of her books led

me to purchase some of her novels and a

few have survived numerous downsizing

episodes to grace a place in my bookcase.

Over time, the memory of the story fades

and I am able to reread and experience

the mystery anew. Books can take me to

faraway places, away from my troubles

and cares.

Years ago, a decision to apply for a

different job had me visiting my local

library branch in search of the latest book

on how to write a resume and covering

letter. As a result, I got the job! When

the internet and online job postings

took hold, I once again headed to the

library. This time, I took advantage of the

computers and other resources available

for job hunting.

As I became interested in leading a

simpler life, I would peruse the library

shelves and catalogues looking for

books on the subject. A course about

slowing down and getting away from

consumerism was also offered at the

downtown central branch and I signed

up. This course introduced me to

likeminded people who provided me

with more direction and guidance as

well as a list of additional books that

would assist me in my quest. I would try

to find these books at the library first. If

I felt one was something I should have

at home for a reference, I could always

purchase it later.

Libraries and all they have to offer

are a perfect fit with a simpler life. It's

a place where communities can share

resources and information. Being that

they are located in the community, many

times I have been able to walk, cycle or

take public transit to my nearest branch

or visit one on my lunch hour when at

work. Or, if travelling by car, I could time

my visit with other errands.

Some other items and services I have

made use of over the years at the library

are, a writing workshop, a photocopier,

the community events bulletin board,

walking and cycling maps as well as

magazines and newspapers. I even found

that wonderful paper there, Daytripping

in Southwestern Ontario!

These days, before heading to the

library, I can search online from home

for books or resources I am interested

in. My choice to do without cable TV has

led me to find numerous DVD's available

there, especially the murder mysteries I

like.

I am glad I have a library card and

am grateful for my local public library

and all it has to offer. I foresee a season

of indoor activities filled with mystery!

Publisher's note: Your library card will give

you access to Ontario Provincial Parks and

many other perks as well.

Welcome to ...

THE Club

Owen R. Wyrzykowski

Owen R.Wyrzykowsk

Wyrzykowski

y

ki

519-336-6118

6118

WYRZYKOWSKI & ROBB

Barristers and Solicitors

Whether you are buying or selling real estate, or need to

update your estate planning, we provide personal service

to help you through the legal process.

orw@wrlawoffice.ca

722 Lite Street, Point Edward

Happy 95th Birthday!

Betty Willock

recently celebrated her 95th birthday

at Wellings of Corunna.

Congratulations!

• Real Estate Purchases & Sales

• Mortgages & Credit Lines

• Wills & Powers of Aorney

• Estate Planning & Administraon

30 Years Experience

Summer 2022 "Time is a great teacher, but unfortunately it kills all its pupils." - Louis Hector Berlioz P A G E 23
---
Welcome to ... THE Club We'd like to hear your honest opinions on how you like this magazine.

SARNIA

OIL SPRINGS

519-337-3713

519-834-2833

A Year Round Garden Centre, Gi Shop & Bouque!

Worth

NEWLY EXPANDED 28,000 sq

Repeating...

GIFT & GARDEN STORE and

63,000 sq of GREENHOUSE

A man was telling

• AUTO • HOME • FARM

his neighbour,

Extraordinary selecon

• TENANTS • COMMERCIAL

"I just bought a new

of Plants & Unique

1-800-265-7506 • www.cam-ron.ca

hearing aid. It cost me

Decoraons & Poery

Ideas...

for enhancing your indoor

Welcome to ...

four thousand dollars,

& outdoor living spaces.

but Women's it is state Interval of the Home art.

THE Club

Neighbourlink

It's perfect."

OPEN Monday to Saturday

River City Vineyard

Just East of Sarnia on Cty Rd 22

We donate $25 for each reprinted "Really," Victim answered Services the

Take Exit 15 off Hwy 402

Daytripping Magazine article.

N

CCMF neighbour.

Lake Huron

Bright's

3261 London Line (Rd. R . 22)

Grove

From

Proud Member of...

$2000 donated since Jan. 2021

26

"What Habitatkind is it?"

London

401 East of SARNIA

22

USA

THIS ISSUE'S RECIPIENT is...

Hospice

Sarnia

"Twelve thirty."

519-542-8353

From

SIPKENS

Lambton Shores Nature Trails

Humane Society

Wallaceburg

NURSERIES

Inn of the Good Shepherd

Lawrence House

"Big or Small, JohnnyRemax

Sweet Shades of Summer

Kiwanis Animal Farm

Pathways

Sells T hem All"

Story and Photo Courtesy

SODA

of Sipkens Nurseries

Noelle's Gift

John A. McCharles, Broker

Mike Weir Foundation

Re/Max Sarnia Realty Inc. Brokerage

519-383-4812

Gallery in the Grove

johnnyremax@bellnet.ca VPP

Theatre Sarnia

LEO

Lambton Young Theatre Players

Forest Kineto Theatre

Bluewater Trails

Heritage St. Clair

Strangway Centre

Sarnia Blessings

various city options

Canatara Log Cabin Restoration

various trails

Sarnia-Lambton Rebound

Halkovich Outdoor Learning Centre

Lambton Shores Nature Trails

Parents for Parks

Petrolia Discovery

Sweet shades of summer are surrounding us, gardens are showing their full

potential, and that effort you put into brightening your gardens and outdoor spaces

are yielding great returns.

Lambton Shores Nature Trails Mornings start early and the gardener loves to putter in the cool of the day, water

donation by e-transfer to plants to make it through the heat of the afternoon and see what produce will be

lsntlindaa@gmail.com harvested for dinner. Fresh cut some flowers to enjoy in the house or bless a friend,

(separate note for security answer) and prepare for a fresh ultra-local dinner on the patio. Tomatoes and Zucchini in

abundance and the first fresh potatoes are ready for grilling.

Large dangling planters and tall blooming flowers entice you to enjoy those warm

evenings and the scent and sounds of the garden. To enjoy that patio even more,

many gardeners employ natures remedies to keep the pesky mosquitoes at bay with

citronella plants and other herbs.

Many things compete for your time in the summer but make sure to slow down

and enjoy the beauty of the summer. Those tall blooming perennials and annuals are

For over 20 years,

sure to lure pollinators, hummingbirds and butterflies to grace you with their presence.

we have had the

To Do:

August

pleasure of serving you,

July

❏ Start thinking about adding new

our family & friends.

❏ Water deeply all the new plantings seasonal colour where there are no

Here at Big Fish,

from this year and the veggie

showy flowers

you are a part of

garden

❏ If plants are out of place make note

❏ Trim spent blossoms to encourage to relocate these in late September

our family & we can't

more blooms (or just let the seeds ❏ Keep the hummingbird feeder clean

wait to share a drink,

develop to feed the birds)

and stocked

our love of food

od

❏ Keep weeds at bay so plants have

& laughs with you.

space to develop

September

See you soon,

on,

❏ Monitor insect and bird populations ❏ Move the plants that need a new

and marvel at their beauty and

home and divide perennial plants

Alex, Stacey & Gus

design

❏ Add Fall blooming mums,

❏ Harvest to enjoy and share the

ornamental kale, and tall grasses to

For Lunch, Dinner or a Special Occasion

produce from your garden

container gardens to welcome the

Make Reservaons at Sarnia's Finest

next season

❏ Plant trees for shade and other

larger plants you should have many

1717 LONDON LINE, SARNIA I 519-542-5553

…enjoy the beauty of

years ago. (You remember how hot

BIGFISHLOUNGE.COM

the summer

July and August were don't you?)

Summer 2022

Come In

& Eat

With Us!

P A G E

24

"How we spend our days is, of course, how we spend our lives." - Annie Dillard
---
Contact us any time by email - info@welcometotheclub.ca

Welcome to ...

THE Club

Welcoming

New Patients

SARNIA PHARMACY

Corunna Pharmasave

• Pharmacist available 24/7 for our paents

• FREE Delivery • FREE Compliance Packs

• $2.00 Co-Pay waived on elegible ODB Prescripons

• 10% discount on otc items every Tuesday & Friday

Open Monday-Friday 9-6, Saturday 9-2, Sunday Closed SARNIA: 206 Maxwell Street • 519-337-3215

MEDICATION MANAGEMENT • AWARENESS • COMPLIANCE CORUNNA: 409 Lyndoch Street • 519-862-2020

Sign, Sign, Everywhere a Sign

Russell Street

Family Owned

and Operated

Since 1989.

At a

Proctologist's

Office...

"To expedite

your visit,

please back in."

SAVE 20%

O ff 1 regular priced

item with this coupon.

(some exclusions apply)

(For Seniors 60+)

120 Russell Street North, Sarnia • 519-383-0688

When I was a kid, my mom liked to

make breakfast food for dinner every

now and then. And I remember one

night in particular when she had made

breakfast after a long, hard day at

work. On that evening so long ago, my

mom placed a plate of eggs, sausage,

and extremely burned biscuits in front

of my dad. I remember waiting to see

if anyone noticed! Yet all my dad did

was reach for his biscuit, smile at my

mom and ask me how my day was at

school.

I don't remember what I told him

that night; but I do remember hearing

my mom apologize to my dad for

burning the biscuits. And I'll never

forget what he said: "Honey, I love

burned biscuits."

Later that night, I went to kiss

Daddy good night and I asked him

if he really liked his biscuits burned.

E-Mail

The E-Mail

IN-BOX

Send the good stuff to info@welcometotheclub.ca

The Biscuits

He wrapped me in his arms and said,

"Your momma put in a long hard day

at work today and she's real tired.

And besides, a burnt biscuit never hurt

anyone!"

You know, life is full of imperfect

things... and imperfect people. I'm

not the best at anything much, I

forget birthdays just like everyone

else. What I've learned over the years

is that learning to accept each other's

faults and choosing to celebrate each

others' differences is one of the most

important keys to creating a healthy,

growing, and lasting relationship.

So, please pass me a biscuit. And yes,

the burned one will do just fine!

Life is too short to wake up with

regrets. Love the people who treat you

right and forget the ones who don't.

Enjoy Life Now -

It Has An Expiration Date!

COMMUNITY RESOURCES FOR AGES 55+

(From the booklet "A Seniors' GuideTo Sarnia-Lambton")

a Resource booklet available through Age-Friendly Sarnia-Lambton

by calling 519-332-0527 or visiting www.agefriendlysarnialambton.ca

RESOURCE NAME SERVICES OFFERED PHONE WEB/EMAIL

211 Mental Health Support, Food Services, Financial Assistance 211 211oncovid19.ca

Age-Friendly Sarnia Lambton List of Supports & Services 519-332-0527 agefriendlysarnialambton.ca

Bayshore Home Care Solutions Assistance with Housekeeping, Errands & Meal Prep 519-383-6979 bayshore.ca

Canadian Red Cross Grocery Pickup & Transportation Services 519-332-6380 redcross.ca

Care-A-Van Door-to-Door Public Transportation - lift equipped vehicles 519-336-3789

Habitat for Humanity Low-Cost Home Reno Services 519-339-7957 habitatsarnia.org

Heart to Home Meals Pre-Made Frozen Meal Delivery to 60+ 877-404-4246 hearttohomemeals.ca

Instacart Delivery from several local stores 888-246-7822 instacart.ca

Lambton Elderly Outreach Home & Yard Maintenance, Meals, Various Resources 800-265-0203 lambtonelderlyoutreach.org

Lambton Public Health Individual, Agency and Cargiver help 226-254-8222 lambtonpublichealth.ca

Neighbourlink Household Chores, Transportation, Shopping, Companionship 519-336-5465 neighbourlinksarnia.org

Sarnia Blessings Free Meals for Seniors & Vulnerable People 519-402-9093 sarniablessings@outlook.com

Shine at Home Transportation, 24 hr Housekeeping, Shopping, Meal Prep 519-336-9898 shineathome.com

Strangway Community Centre Recreational, Social & Educational Programs & Activities 519-332-0656 strangway@sarnia.ca

Victorian Order of Nurses (VON) Dementia Programs, Home Nursing, Respite, Much More 519-542-2310 von.ca/en/site/sarnia

Summer 2022 "The years teach much which the days never know." - Ralph Waldo Emerson P A G E 25
---
Welcome to ...

Heaven is

Handmade

"A Yarn Boutique"

Everything you

need for

Knitting & Crochet!

Yarn • Needles • Notions

Classes • Workshops

250 North Christina Street

Sarnia • 519-491-9276

www.HeavenIsHandmade.ca

THE Club

Sailing in My Bedroom

on the Blue St. Clair

Looking back on my childhood, one

of my fondest memories is sailing in my

bedroom on the blue St. Clair. Alas, I

didn't live on a boat – in fact, our centuryold,

red brick farmhouse was definitely

rooted on dry land. But my bedroom

window overlooked the St. Clair River.

Drifting off to sleep on a summer's night,

with the river's perfume in the air, was

like sailing off on a new adventure.

River rats, those people fortunate

enough to grow up along the St. Clair,

develop a special rapport with its currents.

On foggy nights, for example, I would

be lulled to sleep by the eerie call of fog

horns. The sounds would echo and reecho

through our old house. While danger

lurked just beyond my window – at least

for the crew members on the passing

ships - I was safely snug in my bed.

Since we lived just blocks away from

the huge Canadian Oil (later Shell Oil)

refueling dock, the freshwater freighters

and overseas vessels became old friends.

We learned to match the flags that flew

at the back of the visiting salties with

their countries of origin. Our family also

acquired a chart, matching smokestack

A new magazine for people who aren't (new that is!)

By Alice Gibb, London

from Daytripping

Sept.-Oct.2010 issue

designs with the companies that owned

the freighters. In the dark, waiting for

sleep, the lights of a laker pulling away

from the dock, would flash into my room.

We could often hear the groans of anchors

being raised, or the heavy lines being

loosened from the dock. One memorable

day, the steering mechanism on one of

the freighters failed as it pulled out of the

dock. The ship swerved, running directly

onto the channel bank in front of our

neighbour's property. As the freighter

was freed, the strong undertow that was

created claimed our little dock and those

of our neighbours.

Growing up on the river was like

owning an ever-changing storybook. We

learned which lakers carried cargoes

of iron ore, coal and grains right past

our doorstep. If a new flag passed our

big picture window, then we rushed to

the atlas to find out where places like

Liberia or Panama were located. When

our neighbourhood lake captain guided

his ship into the Canadian Oil dock,

he gave a special series of toots that

we all recognized. And in the summer

months the river proved a mesmerizing

playground. Polluted or not, we spent

hours in its waters. Almost every kid

in the neighburhood built at least one

ill-fated raft or came home with some

treasure they had discovered washed up

on the banks.

Eventually we had to bid farewell to

our old house. For years now, I have slept

in a downtown apartment in the heart

of a city. At night time, I crawl into a big,

ornate antique wooden bed, given to me

by an elderly relative. I'm ready, just like

Wynken, Blynken and Nod, to sail into

sleep. Even after decades away from

the brilliant blue St. Clair, I still miss the

sounds and smells of the river, with its

fascinating passing parade. Ah, if I could

only return to that bedroom sailboat of

my younger days.

Publisher's Note: I grew up a few miles

south of you, in Port Lambton. The entire

St. Clair Parkway is one of Ontario's most

beautiful treasures.

Welcome to ... Summer 2022

WE MAKE

Beautiful Smiles

50

CELEBRATING YEARS

OF MAKING DENTURES!

As a way of giving back to our community this year,

we are donating a portion of every denture we make

to the United Way of Sarnia Lambton.

~ Are you unhappy with the way

your Dentures make you look or feel?

~ Are your Dentures loose? ~ Sore spots?

~ Not eating the foods you love?

~ Are they over five years old?

WE ARE HERE TO HELP YOU!

Digital

(photographic)

impressions now

available

Since 1972, our family has made thousands of dentures for our patients.

Ask your dentist to refer you to us or call yourself for your free consultation.

We are adhering to strict Covid guidelines to keep you safe.

Call to book your free consultation.

519-336-6580

1200 Lambton Mall Road, Sarnia

www.feigedentureclinics.com

P A G E

26

"You will never 'find' time for anything. If you want time, you must make it." - Charles Bruxton
---
Our next issue will come out around the beginning of October 2022.

Welcome to ...

THE Club

• Fresh & Silk Arrangements

• Gis & Home Decor

• Jewellery • Greeng Cards

1362 Lambton Mall Rd. Sarnia • 519-542-3301

mysecretgarden.ca

CLOSED

SUNDAYS

Memories and Music

at Canatara Beach

Born and raised in

Sarnia-Lambton, I have

been fortunate to have

access to a number of

sandy beaches to enjoy. My

favourites have always been

Canatara, Bright's Grove and

Ipperwash. Growing up in

Corunna, there were three

small beaches downriver in

the Courtright and Sombra

areas which became known

as "The Willows" and those destinations

also conjure up fond memories.

Back in the 70's, a couple of good

friends of mine and myself would gather

up our beach paraphernalia (beach totes,

towels, sunhats, sunscreen and lunches)

and head for Canatara, usually on a

Saturday. We all worked at busy jobs at a

downtown Sarnia mortgage company and

this time of relaxation and hanging out

was welcomed and anticipated.

We had made our swimsuit purchases

earlier at Pacesetters, Sarnia's best shop

for swimwear. Knowing a good friend

would be honest, we would ask, "Do I look

ok in this suit?" or later at the beach, "Do I

look as if I am getting tanned?" (Now, that

was long before the warnings of getting

too much sun was dangerous and made

everyone sit up and take serious notice.)

As we later learned, vanity means little in

the big picture called life.

Some Sarnians say the lake is never

warm enough till about August, which

is true, however, we would take a dip in

Lake Huron as early as June, no matter the

temperature. Canatara Beach was always

such a pretty spot and we were within

walking distance of the washrooms and

snack bar. Memories take me back to my

friends and I relaxing on our beach towels,

the smell of suntan lotion wafting through

the air as we listened to the music of the

70's from one of our transistor radios…

"Summer breeze makes me feel fine, blowin'

through the jasmine in my mind." (from the

song "Summer Breeze" by the duo Seals

& Crofts). Of course, a Beach Boy tune

would only make sense and add a happy

element to our afternoon at the beach…

"Round round, get around I Get Around" or

"Do you love me, do you Surfer Girl"…

Looking out over the lake, there was

a mixture of water craft and sailboats,

also steamships off in the distance.

Seagulls hovered above us, waiting for

an opportunity to swoop down and grab

a tasty morsel or two. The lifeguards on

duty gave us a sense of security, especially

By Nadine Wark, Sarnia • Photo Credit: Ontario's Southwest

from Daytripping July-Aug 2020 issue

with the ever-present undertow. Everyone

growing up in the area knew about the

dreaded undertow and how important it

was to respect the waters of Lake Huron.

People-watching both on the sand

and in the water added to our summer's

afternoon at Canatara Beach. Observing

my friend's three year old daughter

playing in the sand at water's edge with

pail and shovel, reminded us of the

simple joys of a child, her blond pigtails

blowing in the breeze. Parents would

join their children, making sand castles

or wading in the shallow end for some

splash time. Sometimes children running

by would result in sand making its way

into our territory but that was just kids

being kids. Our main concern was sand

getting into our "loaded" egg salad and

tuna sandwiches! A teenage girl and boy

would stroll by hand-in-hand, oblivious to

everything and everyone around them.

They would stop and write their initials in

the sand, smile and walk on. Of course,

this scene was depicted well in Pat Boone's

"Love Letters in the Sand." Funny, with

the passing of time, some things never

change.

As the sun got closer to the horizon

and the beach-goers were few and far

between, we knew it was time for us to

pack up and end our afternoon, with a

promise to return again soon.

The beautiful waters at Canatara Beach

are still lapping the shores as generations

have come and gone, providing memories

that will be with them throughout their

lives. It might be a summer breeze, the

haunting melody of a summer song, a

fleeting moment from the past that will

stir a long-forgotten memory. "And when

the rain beats against my windowpane, I'll

think of summer days again and dream of

you..." Chad & Jeremy's "A Summer Song."

One of my friends is no longer with

me; after 45 years of friendship, I cherish

those long-ago afternoons of our carefree

youth when time was on our side at

Canatara Beach.

940 MURPHY ROAD

Sarnia • 519-542-1491

This FREE Magazine is made possible by the

companies you see adversing in these pages.

Please consider them when making your

purchasing decisions, and please let them

know that you saw their ad in...

Welcome to...

THE

THECLUB

Looking for

PRIVATE IN-HOME

PHYSIOTHERAPY?

Mobility Works Physio Yoga

will come to you!

Balance Training,

Funconal Strength.

Falls Prevenon, and more!

MOBILITY WORKS

phy s i o

y oga

MOVE. FEEL. LIVE.

Book IN-HOME

Physiotherapy or Private Yoga

at: www.mwphysioyoga.com

Covered under most

Extended Health Benefits.

Kelly-Lynn

Musico

REGISTERED

PHYSIOTHERAPIST

REGISTERED

YOGA TEACHER

Contact Kelly-Lynn at 519.312.6122

or mwphysioyoga@outlook.com

Here at Napoli Pizza

we're not just a food

business, we're a

family business. Our

specialty is homemade

pizza, pasta and so

much more.

We are dedicated to

providing you with

only the highest

quality ingredients. We make our food the old

fashioned way. With classic Italian dishes, we

offer our customers a warm atmosphere filled

with the same friendly faces and aromas of

freshly made dough, sizzling pizza and delicious

fresh pasta. Whether you're dining in or

ordering out, we've made your food with the

same quality & care we would make for our own

family, so that you can enjoy it with yours!

You've wanted

one of these for

40 YEARS!

YES,

you

can!

Ask about

used Taylor

acoustics

as well.

430 Exmouth Street, Sarnia

519-344-7740

pickersalley.com

TAYLOR

814ce

Summer 2022 "Time is the longest distance between two places." - Tennessee Williams P A G E 27
---
Welcome to ...

THE Club

7143 Forest Road,

Plympton-Wyoming

(4 km S. of Forest)

Come

to our

on farm

Brewery!

stonepickerbrewing.com

Follow us for live band announcements.

foresttravelservice.com 519-786-2319

We're here to help you

make travelling easier.

18 King Street West, Forest

ESTABLISHED

IN 1977

Growing old is inevitable, but growing up is optional!

THE CLUB Summer 2022

CROSSWORD

Welcome to ...

Summer 2022

WHERE THERE IS SOMETHING FOR EVERYONE OF ALL AGES!

595 MURPHY ROAD, SARNIA • 519-337-1614

missionthriftstore.com/store/sarnia

A Visit to Grandma's "Day"

By Anna Marriott Evans, Forest • from Daytripping May-June 2017 issue

I went to visit Grandma, on a day that was dreary and cold,

She was lying on her sofa, "I'm tired" she said, "perhaps old."

So, I lay close beside her, that we might laugh a bit and talk,

She'd tell me stories, and we'd pretend to be having a walk.

"Oh what pretty flowers" I'd say "yes violets" she'd explain,

As we, wandered in that woodland, without concern of rain.

A blue sky and sunshine, tiny scattered clouds snow white,

There was no need to worry, should we not be home by night.

I closed my eyes in pretension, as we wandered on our way,

Into that land of enchantment, on a visit to Grandma's "Day."

But I knew not I had dozed, while content in grandma's care,

Or that she placed her blanket o'er me, as I lay dreaming there.

Until I felt a kiss on my cheek, then heard her speak so mild,

"I'm glad you came, you brightened a dreary day grandchild,

It's time, for milk and cookies then you best be on your way."

I treasure the memories still, of my visits to grandma's "Day."

ACROSS

DOWN

DOWN PUZZLE SOLUTION ON PAGE 35

P A G E

28

"Lost time is never found again." - Benjamin Franklin
---
If your business offers anything to people 55+, you can advertise too!

Welcome to ...

THE Club

Forest Pharmacy

Unique Gifts & Greeting Cards

Herbal Products & Supplements

Compression Stockings • Mobility Aids

Purses, Scarves & Jewellery

*Free Delivery in Lambton Shores

* Some restrictions apply

Seniors Save *15% Wednesdays

View our flyer and services at

forestpharmacy.ca

Mon-Fri 9-6, Sat 9-5, Sun & Holidays 10-2

19 King Street West, Forest, ON

519-786-5161

info@forestpharmasave.ca

Baldness

"Compensation" is an

immutable law of nature. The

rhinoceros, for example, has terrible

eyesight but can hear a twig snap at a

hundred paces. The turtle may not be

able to outrun its enemies, but with all

that built-in armour it doesn't have to.

The law applies equally to humans, of

course. As a case in point, I've noticed

that the fatter I get, the thinner my

hair becomes.

Fortunately, losing my hair isn't

something I worry about, for a

couple of reasons. First, whatever its

disadvantages, baldness is neat. And

when I finally do go bald, the money

I'll save on haircuts will pay for the wig.

However, for those of you with the

same problem, who may not share

my laissez-faire attitude, I discovered

a medical journal, published in 1912,

which offered a few cures. I pass

them along here purely for their

entertainment value.

"Baldness is caused by excessive

action of the brain, such as intense

study, great mental anxiety, etc.,

producing unnatural heat on the brain

surfaces, thus causing the hair to drop

off."

Presuming the reader is not going to

buy baldness as a status symbol, the

book goes on to list several "cures."

"Wash your hair regularly," it advises.

"A muddy and confused mind is often

the effect of external dirt and neglect."

I don't know what kind of shampoos

they used in those days, but anything

that would penetrate the bone to clean

up the brain would make today's

detergents look like cream rinses.

"Mix one ounce of Spanish fly, one

ounce of aromatic spirits of ammonia,

one dram of oil of rosemary with two

tablespoons of alcohol and water.

Apply twice a week to the affected

area."

This may not grow hair, but I'll

guarantee that it will give you the

sexiest dandruff in town!

Kerosene was recommended, in the

CAROLYN R L N MOSIER

BscP.T. MCPA

Registered

ered

ed

Physiotherapist

ist

Forest Physiotherapy

and Rehabilitation

10 Watt Street, et

Forest • 519-786-3336

36

You can't buy

Happiness

but you can

BUY

LOCAL!

by A. C. Stone, Windsor

from Daytripping

March-April 2004 issue

same book, as a cure

for everything from

the common cold to ingrown toenails

so it wasn't surprising that it was also

suggested as a cure for baldness. Be

aware of the hazards, though. If you're

going to rub kerosene on your dome,

quit smoking and stay away from

barbeques!

Cures were available to suit every

personality. If you were a drinker, you

could rub brandy into your scalp. If,

on the other hand, you were "teatotal,"

the prescription was for daily washing

with strong sage tea. I presume it was

left up to the individual's taste as to

how much cream and sugar to use.

An earlier medical journal, published

in 1858, offered still more remedies.

"Take the expressed juice of burdock

root, honey and proof spirits, of each

one ounce. Mix them together and

anoint the barren part of the head

several times a day, at the same time

taking care to cover with soft flannel in

order to promote perspiration."

Keeping it covered would also be

necessary to keep the flies away from

all that honey.

"Take palma Christi oil, 1 1/2 ounces

and oil of lavender, 1 drachma. Mix

them and apply every night and

morning to those parts of the head

from which the hair has fallen."

Take a few karate lessons too. Any

guy that walks around smelling like

lavender is going to need them.

We've come a long way since then,

however. Today the most successful

method is the "hair transplant" in

which little plugs of hair are removed

from where they are still growing and

replanted where they are needed. But

there are always problems when you

mess with Mother Nature. A friend

of mine had the hair from under his

arms transplanted to his bald spot.

The operation was a success and the

new hair grew in beautifully. The only

problem he has now is that instead of

hair spray he has to use deodorant.

Your Local

& Lake

Inspired

Arsan

Shop!

Apparel that Gives Back

Glass Fusing Workshop

30+ Canadian Makers

3811 Lakeshore Road • Camlachie • 519-328-2217

2217

Visit website for current hours & info! www.lakelifestudio.com

Summer 2022 "And in the end, it's not the years in your life that count. It's the life in your years." - Abraham Lincoln P A G E 29
---
Welcome to ...

THE Club

Don't put this down! You'll have to bend over to pick it back up!

Welcome to ...

Summer 2022

Purified Water • Propane Exchange

Key Cutting • Window & Screen Repair

Knife/Scissor Sharpening • Beauti-Tone Paint

MONDAY-FRIDAY 8-6 • SATURDAY 8-5

8483 Townsend Line

ARKONA • 519-828-3383

By appt please

Available frozen

as whole, quartered

or by individual cuts.

7078 Wisbeach Rd,

ARKONA

• Farm Raised • Free Range • Non-Medicated

519-494-1139 • wisbeachchickens@gmail.com

also at Williamson Farms Country Store

In Matthew chapter 13, verse 57, we

are told 'A prophet is not without honour,

save in his own country, and in his own

house.' I can vouch for the 'house' part. I

learned early in my motherhood career

that if a compliment came my way,

the flattery flopped when a qualifier

followed the nice remark. My emotional

elevator raced to the roof, then the

cables snapped and sent it barrelling to

the basement.

My older son gained me a reputation

among his young friends with his

assertion that his mom could fix

anything with a bobby-pin and a rubber

band. An exaggeration, but a feather in

my cap that he thought so highly of my

talents. But the feather flew away on

the next breeze when he added, "But

then they usually don't work for long."

In that instant, I understand an adage

my grandma used frequently: that the

most uncomplimentary remark one

could make about a person was that she

'meant well.'

Food is a touchy topic in families

with finicky kids. Their friends' moms

are always 'cool' cooks compared to

their own mothers. I remember the

Saturday lunchtime when I was battling

the clock and my older son's panic that

he'd be late for baseball practise, and

my daughter's vociferous dismay that

We want your

photos, stories

& anecdotes

showcasing

Sarnia-Lambton!

Welcome to ...

THE

CLUB

Send them to

info@welcometotheclub.ca

We also welcome your ideas,

comments or questions.

A Matter of Honour

she was already late to meet her friends

in the mall. I ask you — what would a

frenzied mother do but open a can of

pork and beans? The older two kids took

one look and vanished to keep their

dates. The youngest stayed on, but after

a few bites he also let me down. "These

beans aren't as good as I get at Johnny's

house. His mom's a good cooker."

You guessed it—checking with my

neighbour, I learned that she used

the identical brand as mine. It didn't

surprise me. My gravy was never as

smooth as Granma's (made from her

recipe). My chocolate cake couldn't

hold a birthday candle to Aunt Patty's

to whom I once gave my recipe.

Naturally, it went without saying that

my hamburgers never measured up to

you-know-who's in the mall.

Redemption was mine when my

teenage daughter brought a girlfriend

over for Sunday dinner — good old

English roast beef and Yorkshire

pudding, with creamy rice pudding for

dessert. As the girls cleared the dishes

away, I heard our guest say, "Your mom's

a super cook!" But, at my daughter's

reply, "Yeah, she is. She just has no

imagination," my golden halo tarnished

Open the door to your

financial well-being.

Pat Smits

Financial Advisor

12 Mac Donald Street

Forest, ON N0N 1J0

519-786-4924

and my Yorkshire

ancestors turned

over in their

graves.

Homemade

clothes had an

emotional yoyo

effect on this

mother-prophet

who had no

honour in ... you

know. Before kindergarten, my children

had uncomplainingly worn handknit

sweaters, shirts and blouses from my

sewing machine, in blissful ignorance of

their non-commercial origin. Then the

school stage hit and their stock phrase

became, "Aw, Mom, do I have to wear

that homemade thing?" But belated

appreciation came in a turn-around

with my daughter's Saturday job in

the sweater department of a boutique.

Suddenly her eyes were opened to all the

exclusive handknit creations she'd worn

to school over the years, thanks to her

mom's knitting basket.

During my little darlings' early years

I didn't expect raves on Christmas

morning when they opened gifts from

my fingers instead of the mall. But a

www.edwardjones.ca

by Jean Leedale Hobson, West Vancouver, BC

from Daytripping Sept-Oct 2004 issue

sympathetic Santa bailed me out

many a Christmas Eve. Bleary-eyed,

long past bedtime, I'd be hunched

over last-minute finishing touches —

buttons needed on hand-made shirts,

sweater seams to be sewn up. But I'd

look up and see Santa, glancing over

at me from his own job of piling

gifts under the tree. He never failed

to give me a morale-boosting wink

and a thumbs-up sign. Someone, at

least, gave credit where credit was due.

John Dryden wrote in the 17th

century: 'Honor is but an empty bubble.'

Maybe so. But until my bubbles would

burst, as they usually did, I learned to

enjoy their rainbow iridescence as they

floated around my head in their brief

but beautiful flight. Need a mother ask

for more?

Life goes full circle, what goes around

comes around, and so on ... Let me fastforward

from that generation to another.

Today I'm hardly able to keep up with

requests from my grandchildren. "Nana,

is it my turn next for a sweater?" "Can

you make me one with an elephant

(bunny) (sailboat) on the front?"

Need a grandma ask for a greater

honour than that?

An Old Fashioned Country Store with a Modern Twist!

• Collecbles & Giware • Kids Secon

• Fudge • Maple Buer Tarts & Baking

• Williamson Farms Beef & Local Pork, Cider,

Cheese & Maple Syrup • Gi Baskets

Wednesday is

SENIORS DAY!

Numerous Savings for 55 & over

Shop Online www.williamsonfarmsmarket.com

Delivery Available

14 King St. W., FOREST • 226-520-0144

Open Monday to Friday 10am-6pm • Saturday 10-5 • Sunday 11-3 July-August

P A G E

30

"Time is the most valuable thing a man can spend." - Theophrastus
---
Please tell our advertisers that you saw their ad in this magazine!

By Mary Lou Tasko, Lambton Shores Nature Trails • www.lsntblazers.com

Lambton Shores Nature Trails (LSNT)

is a local volunteer organization that

works to build a network of user-friendly

nature trails that inspire people to

experience the biodiversity of Lambton

Shores and vicinity. While our primary

goal is to blaze, trim and clear trails so

that the public can use them, we are also

committed to enhancing accessibility,

protecting environmentally sensitive

areas and beautifying our public spaces.

If you would like to learn more about

our initiatives or local trails, please visit

lsntblazers.com.

In the last issue of Welcome to the Club

we introduced the Ausable River Cut

Conservation Area Trail. In this issue:

Ipperwash Dunes and Swales, located

at the end of Richardson Drive (off

East Parkway Drive).

The Ipperwash Dunes and

Swales Trail property is part of

a 64-hectare reserve owned by

Nature Conservancy Canada.

NCC is a not for profit, charitable

organization that, since 1962, has

strived to protect and conserve

natural landscapes and promote

native biodiversity. Like other trails

in Lambton Shores and vicinity, the

Ipperwash trails exist in Carolinian

Canada, the region in Ontario found

south of an imaginary line drawn from

Grand Bend to Toronto. The landscape

in Ipperwash includes rolling forested

dunes and wet, thicketed swales.

Ipperwash Dunes and Swales is

highly naturalized but does offer two

publicly accessible linked trail loops

that are blazed and maintained by

Lambton Shores Nature Trails. At the

end of Richardson Drive in Ipperwash,

a small gravel parking lot abuts the start

Ipperwash Rd

➢

N

Walk Off Your Worries

Ipperwash Dunes & Swales Trail

Richardson Dr

P

E. Parkway Dr

Dunes and Swails Trail 4km

Cedar Trail 1.5km

43°12'22.8"N 81°58'15.5"W

Ipperwash Dunes

& Swales Trail

of the trail system. The trail map is

posted a short distance down this

path.

Both trails—the Dunes and

Swales Trail and the Cedar Trail—

share the same path for the first

300 m before they diverge into

two separate loops. The Dunes and

Swales Trail (white trail) is 4 km

long in total, and winds through a

Carolinian Forest of sand ridges and

wet swales passable via numerous

boardwalks. The Cedar Trail (green

trail) is 1.5 km long in total and features

several cedar coves and gentle ridges

and valleys. Both trails are considered

easy to moderate in difficulty so are a

relaxing way for even a novice hiker to

spend a couple of hours in the forest.

Along the route, you are bound

to encounter a variety of plant and,

if you're observant, animal life. The

Carolinian Zone in Canada comprises

only 1% of Canada's total land mass;

however, it is home to a greater

number of flora and fauna species than

any other ecosystem in the country.

More than 500 of these species are

considered rare or threatened.

In early summer, you may be lucky

enough to spot Yellow or Pink Lady

Slippers—rare, showy orchids that grow

in Canada. Of course, Ipperwash is also

home to a variety of more common

wildflowers and a host of mushroom

species. You will certainly see tulip,

tamarack and cedar trees! Watch the

water for turtles and beavers. Watch

the trees for Purple Martins, Canada

Warblers and Pileated Woodpeckers—

if you cannot see the woodpecker,

you will certainly hear him!

Ipperwash has been officially

designated as an Important Bird

and Biodiversity Area (IBA) by

IBA Canada.

Hikers familiar with Ipperwash

Dunes and Swales are enamored

with the tranquility and beauty

of these trails. There's no doubt

that if you hike them once, you

will want to return in every

season—just make sure you

pack your bug spray in July and

August! For more information

and a map of the Ipperwash

Dunes and Swales Trails, please

visit lsntblazers.com.

Send your

EVENTS

Welcome to ...

Include town, date, name of the event,

website/phone e/ph

number.

info@welcometotheclub.ca

Display Space Is Also Available

Stop & Shop in

DOWNTOWN

FOREST

Farmers' Market

Thursday Evenings

4 pm to 7pm

JULY 21st

Car Show 3-8

AUG 12th

Sidewalk Sale 10-2

AUG 19th

Kids Day 10-2

Text Only

Listings

s

are FREE

The reason a dog has so

many friends is that he

wags his tail instead of his

tongue.

- unknown

Dogs!

TWO LOCATIONS!

THE Club

GRAND BEND - Wednesdays 8am-1pm,

Lambton Heritage Museum, until October 5.

FOREST - Thursdays 4-7 pm, at the corner

of Jefferson & Main, until October 6.

CHECK OUT

OUR DOWNTOWN -

browse our shops,

enjoy a meal at one of

our fantastic restaurants

or take in a movie at the

historic Kineto Theatre!

Make a day of it in Forest!

Keep up to date with event & shopping information

on our website, Facebook & Instagram!

Summer 2022 "An ounce of gold will not buy an inch of time." - Chinese proverb

P A G E 31
---
Welcome to ...

THE Club

You can view this magazine online at www.welcometotheclub.ca

Welcome to ...

Summer 2022

Discussing the importance of

primary public health care in our

community with members of the

Central Lambton Family Health

Team in Petrolia.

Recognizing the great

contributions by our local

service organizations,

including the Petrolia Lions

Club, who are celebrating their

90th anniversary in 2022.

Proud to welcome two local

families to their new Habitat

for Humanity homes on College

Street in Sarnia.

Checking out the spectacular

new scoreboard at Hiawatha

Horse Park's opening of their

live horse racing season.

BOB BAILEY

MPP – Sarnia-Lambton

Building A Better Sarnia-Lambton

Welcome to summer, Club readers! This is the time of year

when life really kicks into high gear across Sarnia-Lambton.

Discover a huge variety of concerts, outdoor activities, live

theatre, sports, and plenty of events for all ages, including

those of us in the 55+ group. There's truly something for

everyone to enjoy!

I'd like to begin this message by thanking everyone in

Sarnia-Lambton for your continued support. I'm humbled by

your vote of confidence for the work we've been able to

accomplish at Queen's Park over the past 15 years – and I'm

looking forward to the next four years as we continue to make

great things happen in our community.

Among the projects I'd like to see completed during my next

term are the widening of Hwy 40, the establishment of the

permanent withdrawal management facility at Bluewater

Health, the investment of $1 billion over the next three years to

expand homecare, the addition of more long-term care beds,

and the hiring of more nurses and PSWs to improve the

publicly-funded health care of all Ontarians.

Just a reminder that if you have concerns related to any

provincial matters, my Constituency Office staff is always

available to help. Please check out my contact information at

the bottom of this page and feel free to stop by my office, call

or email any time.

In closing, I'd like to extend my best wishes to all The Club's

readers for a wonderful, fun-filled summer of 2022. Enjoy life to

the fullest!

Joining with local mayors to

announce $12 million in joint

federal/provincial funding for

the Petrolia Water Treatment

Intake Project.

Touring the $2.5 billion

expansion at NOVA Chemicals in

St. Clair Township.

Making a $12 million funding

announcement with the

Minister of Labour at UA Local

663 for apprentice training and

upskilling.

Checking out a directional

drill in Plympton-Wyoming

being used for one of the

many local SWIFT broadband

internet projects.

CONSTITUENCY OFFICE

805 Christina St. North, Suite 102

Point Edward, ON N7V 1X6

Contact Bob Bailey

Tel.: 519-337-0051

Fax: 519-337-3246

E-mail: bob.baileyco@pc.ola.org

Website: bobbaileympp.com

P A G E

32

"The bad news is time flies. The good news is you're the pilot." - Michael Altshuler
---
Sometimes, no news really is good news.

Welcome to ...

THE Club

4622 London Line, Reeces Corners • 519-845-3482

Happy 100th Birthday!

Clara Durocher

Born in 1922, Clara celebrated her

100th birthday on June 30th, 2022.

Congratulations!

PICK YOUR OWN • Strawberries • Raspberries

• Apples • Pears • Pumpkins (in season)

PRODUCE FRESH FROM OUR FIELDS

FARM STORE with fresh produce,

bakery items, preserves, maple syrup,

honey & more. Stop by soon!

www.zekveldgardenmarket.ca

OPEN MON-SAT

Children Welcome

Choosing to See the Light from the Darkness

As I write this article, Covid restrictions

are easing in Ontario: vaccine passports

are now a thing of the past, and mask

mandates are being lifted.

My hope as you read this is that

lockdowns are in the rear-view mirror,

as we are now provided with the

opportunity to figure out how to manage

and live with Covid. These past few

years have significantly impacted many

of our seniors. It has been heartbreaking

to witness firsthand some of the

detrimental effects of social isolation,

loneliness, deconditioning, hastened

cognitive decline, and decreased

nutritional status.

Yet, many people have also

demonstrated profound resilience and

the ability to adapt to change and there

have been some positive outcomes

worth highlighting.

1. A SLOWER PACE OF LIFE.

Maybe picking up a new hobby, (hello

puzzles!) or embracing old passions

(hello sourdough!), many of us were able

to slow down and enjoy life's simple

pleasures. Now that life is getting back

By Kelly-Lynn Musico, Brights Grove • Registered Physiotherapist, Registered Yoga Teacher

to our 'new normal,' let's not forget the

benefits of a slower pace of life. Personally,

this is a great reminder for me as I love

new activities and love to say yes to new

opportunities, however, I most assuredly

enjoyed slowing down and working on

my new relaxation activity with puzzles

and colouring. Note to self!

2. GREATER APPRECIATION FOR

THE OUTDOORS.

Since we have not been able to spend

gathering time indoors, there has been

more awareness of the benefits of

spending time outdoors. From simple

outdoor gatherings in our backyards or

local parks, to increasing our physical

activities with walking on local trails. We

are embracing renewed opportunities

to take up a new activity: walking,

snow shoeing, running, fishing, paddle

boarding, kayaking, or boating, to name

a few. There had been an uptake in the

purchase of outdoor equipment over

Covid, so let's continue on our outdoor

journeys.

3. NEW WAYS TO CONNECT AND

LEARN.

623 Broadway St., Wyoming • 519-845-9915 • VillageFireplaceShop.com

Since most in-person activities were

cancelled, we were provided with NEW

online opportunities. I am amazed at

the adaptability for many to learn the

art of navigating Zoom. I personally had

to adapt and become a Zoom expert to

provide virtual tele-health Physiotherapy

and teach online yoga classes. Zoom

brought together the most diverse

yoga class I have had to date. I had the

opportunity to guide age 7 all the way up

to 87 in what was to be a "Power Yoga

Class." What a privilege and challenge,

with all the modifications, to guide this

great group. This would

never have happened had it

not been for Zoom bringing

us all together. Grateful for

this experience.

4. RESILIENT

RELATIONSHIPS.

Although we could not

always see each other

in person, many of our

connections were enhanced

as we had more time to

connect with our loved ones

at home, or via telephone or even the

new Zoom family gatherings, connecting

families from all over the globe. Even

though I was gifted Covid on this past

Christmas Day, I was also blessed to

virtually connect with family near and

far. Covid, and our slower pace of life

may have also allowed for rekindled

friendships via social media. Social

connections are so important, so let's

keep them up as we shift to this new

normal.

So, although the pandemic has been

difficult in so many ways, we can choose

to see the positives that have come

from this most challenging time. Hoping

others can see some light from this dark

time. What light(s) do you see?

Let's keep MOVING, FEELING, and

LIVING.

Green County Ebikes

and

Mobility Scooters

New • Used

Parts • Sales • Service

Financing Available

Ebike &

Mobility Scooter

Batteries

Also Sundays in Grand Bend

at Pinery Antique Flea Market

638 Broadway Street, Wyoming • 519.333.8313 • www.greencountyebikes.com

TUES. TO FRI.

9AM - 5PM

Summer 2022 "Nothing is as far away as one minute ago." - Jim Bishop

P A G E 33
---
Welcome to ...

Wyoming's First and Only

Health Food Store & Refillery

647 Broadway Street, Wyoming

226-307-0694 • suncoastnaturalhealth.ca

THE Club

Marcanda Gifts

Tea Room & Boutique

Bed & Breakfast

Gift Shop

& Ladies

Fashions!

4562 London Line

Reeces Corners

519-845-3133

LICENSED

60 might be the new 40, but 9 pm is the new midnight.

Kids' Letters to God

Dear God,

Please send me a

pony. I never asked

for anything before,

you can look it up.

- Bruce

FARM FRESH ARTISAN GOAT CHEESE

GLUTEN FREE • LOW LACTOSE

SPECIALTY FOODS AS WELL

569 BROADWAY ST, WYOMING • 519-845-1613

Welcome to ...

Summer 2022

OPEN HOUSE

90th Birthday Dance for

Hazel Higgins

Sunday, July 17th from 2-5 pm at Wyoming Legion

Music by Joan Spalding & Doug Springstead

Bring your dancing shoes!

Let your presence be your gift.

Do you

want

copies

of...

They're T

FREE

for people 55+!

Welcome to ...

THE

CLUB

For a group,

apartment

building,

or meeting?

Call 519-491-1676 or email

info@welcometotheclub.ca

Drop us a line…

we'd love to know what you think!

Feedback

Comments from Our Readers

You've got a lot riding on those tires!

You can trust

Wyoming Tirecraft

for personal

small town service.

Ijust read through h your Winter issue and really enjoyed the whole thing.

I especially loved the article on live music in our area. Live music has fed

my soul for the past few years (being the mother of

Fischer of Fischer and Lovatt) and I have had many

hours of entertainment by so many groups, including

Jeff Black who is wonderful. I have made so many new

friends through live music also. Great picture of The

Celtic Hillbillies on the front. They always give me joy.

The whole publication was very well done and all the

stories interesting. Keep up the good work.

Cheers, Lynn Fischer

This is the best magazine around - great articles, stories, trivia, jokes

etc. I love it. I wish you published monthly. I really look forward to this

magazine. It has great variety, and I read every word. I'm old enough

to relate to all of its articles/features. Add more, more, more so I can

read it longer. Ha ha!

Gail Lester

I really enjoyed that article Mark! Great feature on local live music and

I was pleasantly surprised to see my name in it along with many good

friends and local musicians including my partner in crime James Miller

in the The Quarantine Sessions - Connecting Through Music. Travelling

Lambton County with Jeff Black to check out the live music scene? I

can't think of a better way to spend a day!

Kevin Churchill

Wyoming

Auto Centre

ALL MAJOR BRANDS

Cars, Trucks, Performance

Specializing in Farm

AUTO SERVICE

We can also do repairs,

oil changes,

brakes, batteries,

seasonal maintenance

and much more.

It's worth

the trip

to Wyoming!

Send your o r thoughts ts to info@welcometotheclub.ca

@

m t

thec

lub.

ca

or comment me

on our Facebook b

ok page

547 Ontario Street, Wyoming • 519-845-0813 • tirecraft.com

P A G E

34

"Time and tide wait for no one." - Irish proverb
---
You're not getting older, you're just becoming a classic!

MARLEY PHARMACY

59 9Y Years of fS Service i to oWyo

Wyoming o &Th The Surrounding S o un

i Community!

C i

!

"Where Good Friends Meet!"

Physician Consults

available through our

VIRTUAL

WALK-IN CLINIC

Call us for details

• Compounding Service

• Rapid COVID Tesng

Welcome to ...

IT'S GOOD TO BE

HERE, BUT AT 98,

IT'S GOOD TO BE

ANYWHERE.

~George Burns

Puzzle

Solution

THE Club

• Manicures • Pedicures • Waxing

• Cosmetic Injections (Botox & Fillers)

• Electrolysis • Independent Hair Stylists

a getaway from the everyday

635 Broadway Street

WYOMING

226-307-0772

Growing

A Greener

Community,

One Tree

At A Time

607 Broadway Street, Wyoming 519-845-3341

What's This, Grandy?

By Maryleah Otto, Brampton

from Daytripping May-June 2010 issue

The other day, my nine-year-old

granddaughter Liza was spending a few

hours with me while her mother was at

the dentist. From the time she could talk,

Liza has called me "Grandy," a moniker

that always makes me smile. Thinking to

keep the child busy, and away from the TV,

I suggested that we bake some chocolate

chip cookies. She didn't need coaxing!

I told her to put on a 'pinny' so she

wouldn't get flour all over her clothes.

"What's a 'pinny,' Grandy?" she

asked.

"It's an apron," I replied. "Look in

the middle drawer beside the sink and

you'll find one." She looked perplexed

as she started rummaging through

the drawer. Minutes passed. I

was gathering the ingredients

for our cookies. Finally she

said, "Grandy, I don't

know what an apron

looks like. We don't

have any at our

house."

I was dumbfounded.

I really shouldn't have

been surprised, for this was the same

child who just last summer had seen me

typing on my ancient manual Underwood

portable and she hadn't known what a

typewriter was! But how could a nine-yearold

girl not know what an apron is? Hadn't

I worn one when I was half her age? Wasn't

an apron my mother's daily uniform? So I

went to the drawer and pulled out a pretty

flowered apron, complete with bib, frills,

pockets and long grosgrain ribbons to tie

around your waist. "Here," I said, trying not

to sound as if I thought the child's parents

had failed to teach her an important fact of

life. "This is an apron! Put it on and I'll get

you the flour."

So we made our cookies, ate half of

them before they were cool, and I sent the

rest home with Liza, along with the apron.

Later that evening while checking my

email, I came across a piece that someone

had sent from the internet. It was all about

those good old-fashioned aprons just like

the one I'd given to my granddaughter.

Whoever the writer was, he or most likely

she, certainly knew the value of a good

apron. I think you'll enjoy this too.

I don't think our kids know what an

apron is!

The principal use of Grandma's apron

was to protect the dress underneath, but

along with that, it served as a potholder

for removing hot pans from the oven. It

was wonderful for drying children's tears,

and on occasion was even used for

cleaning out dirty ears. From the

chicken coop, the apron was

used for carrying eggs, fussy

chicks, and sometimes halfhatched

eggs to be finished

in the warming oven. When

company came, those

aprons were ideal hiding

places for shy kids. And

when the weather was

cold, grandma wrapped it

around her arms.

Those big old aprons

wiped many a perspiring

brow, bent over the hot wood

stove. Chips and kindling wood were

brought into the kitchen in that apron.

From the garden, it carried all sorts of

vegetables. After the peas had been shelled,

it carried out the hulls. In the fall, the apron

was used to bring in apples that had fallen

from the trees. When unexpected company

drove up the road, it was surprising how

much furniture that old apron could dust

in a matter of seconds. When dinner was

ready, Grandma walked out onto the porch,

waved her apron, and the men knew it was

time to come in from the fields to dinner. It

will be a long time before someone invents

something that will replace the 'old-time

apron' that served so many purposes.

Grandma used to set her hot baked

apple pies on the windowsill to cool.

Her granddaughters set theirs on the

windowsill to thaw! They would go crazy

now trying to figure out how many germs

were on that apron. I don't think I ever

caught anything from an apron!

For The Club Summer 2022

CROSSWORD on page 28

The

"The Challenge"

SENIORS 10% OFF (65+)

Contact Us: 519-845-0847

info@wyomingtreeservice.ca

The strong man at the construction site was bragging that

he could out do anyone in a feat of strength. He made a

special case of making fun of one of the older workmen.

After several minutes, the older worker had enough. "Why

don't you put your money where your mouth is?" he said.

"I'll bet a week's wages that I can haul something in a

wheelbarrow over to that outbuilding that you won't be able

to wheel back." "You're on, old man," the braggart replied.

"Let's see what you've got." The old man reached out and

grabbed the wheelbarrow by the handles. Then, nodding to

the young man, he said... "Alright. Get in!"

663 Broadway Street

Wyoming, ON N0N 1T0

519-845-3212

beth@bethhackettins.ca

Great Local Service

AUTO • HOME • FARM • INSURANCE

Summer 2022 "There is never enough time, unless you're serving it." - Malcolm Forbes P A G E 35
---
Welcome to ...

THE Club

If this brings back good memories, send us some of your own.

Welcome to ...

Summer 2022

P A G E

36

"If we take care of the moments, the years will take care of themselves." - Maria Edgeworth
---
Let's grow old together. You go first.

Welcome to ...

THE Club

Tucked away on Kelly Road, in the

quaint village of Oil Springs, Ontario, a

historic entity exists. For over 60 years

The Oil Museum of Canada has captured

our hearts and intrigued our minds by

taking us on an expedition back in time,

to learn the story of Canada's oil pioneers.

The idea to create a museum from the

first commercial oil well in North America

came about at the 1958 Centennial

Ceremony. The residents wanted to create

a place that recognised the innovation,

hard work and contributions themselves

and their ancestors devoted to the global

development of the oil industry. With

great support from many big-name

commercial sponsors, the municipalities

of Sarnia, the Village of Oil Springs and

Lambton County, the vision became a

reality. With the continued support of the

residents, schools, businesses and all the

surrounding communities the museum

continues to thrive.

Continuing an Era

By Shauna Ward, Petrolia • Photos from Oil Museum of Canada Facebook page

from Daytripping Summer 2022 Issue

In the last 60 years, the museum

has welcomed hundreds of thousands

of people from all over the globe, all of

whom have come to perceive a great era

of the past.

I still remember taking a trip as a child

to the museum with my school, before I

called this area home. I will never forget

the strange but sweet smell of crude oil

and getting to experience the history

that was the heart of our community.

It was incredible. Now, some years

later, my son was able to explore and

appreciate the same trip with his school,

one that he will never forget. And when

I took my younger boys on one of the

various PA Day events, their reaction

was pure gold. The wonder and

awe on their little faces when

they heard what everything was,

or had been, how the pumps

worked and seeing all the "cool

stuff" as they put it, that had

been well taken care of and

exhibited to make you feel like

you'd taken a step back in time.

Truly a remarkable memory, for

kids and adults alike.

The museum is showcased on a vast

10 acres, on which you will encounter

many historic buildings including the

original train station that was used

during the black gold era. All these

buildings, some of which endured

significant improvements recently, are

filled with information and artifacts that

take you right back to the dawn of the

petroleum industry, including the wellpreserved

national historic drilling site

of James Miller Williams from 1858.

Inside, you can enjoy a guided tour or

watch a video in the museum's theatre,

browse the many exhibits featuring

drilling tools, and countless artifacts

from the era. Hear stories of drillers from

far and wide that came for a chance at

a new life in the place that we now call

home.

So, if it's been a while since your last

visit to the museum, or if you've never

had the pleasure to go and experience

what the Oil Museum of Canada has

taken so much pride in, make this

the year to venture to Oil Springs and

discover it for yourself.

Publisher's note: I took that school trip

as well, before I called this area home,

and will never forget the strange smell of

crude oil. There is also much more history

to expose yourself to just by driving at

a snail's pace on the backroads of Oil

Springs on the self-guided tour or one

of the horse-drawn wagon tours. Come

out and explore the new renovations

and enjoy the numerous events that are

planned for this summer.

Summer 2022 "All my possessions for a moment of time." - Elizabeth I

P A G E 37
---
Welcome to ...

THE Club

Putting the Grey in Great!

Country Yarns

Everything for

your Kning,

Crocheng,

Cross Stch &

Needlepoint

Needs!

- Menon this ad for a 15% discount -

2776 LaSalle Line, PETROLIA • 519-882-8740

(BETWEEN MANDAUMIN & WATERWORKS)

Established in 1978,

Lambton Pharmacy continues to

provide caring, professional pharmacy

services to residents of the beautiful

town of Petrolia and Lambton County.

Welcome to ... Summer 2022

THE WALK

OF DOWNTOWN PETROLIA

Petrolia's

Luxury

Downtown

Development

Wed.10-5 • Thurs.10-6 • Fri.10-5 • Sat. 10-3

www.country-yarns.com

VAST SELECTION OF

TEAS & COFFEE

Exquisite Giftware

Home & Garden Decor

Jewellery • Gourmet Foods

4192 Petrolia Line • Petrolia • 519-882-0238

4130 Glenview Rd, Unit 2, Petrolia

519-882-0650

Danielle Edgar, B.Sc., PharmD

Pharmacist

Monday–Friday 9–6

Saturday 9–12

The Walk is Petrolia's only luxury

apartment project in the downtown

core. Within walking distance to the

grocery store, hospital, pharmacies and

more, the location is ideal for adopting

Petrolia's trendy downtown lifestyle. 519-882-3157

HOGAN

P•H•A•R•M•A•C•Y

Beautiful Gift Shop

Full Service Pharmacy

Full Service Cosmetic Department

Full Service Home Health Care Dept.

Wednesday is Senior's Day ~ 20% OFF* for Customers 60+

www.albanyretirementvillage.com/the-walk

Have you ever lived in a house that...

By Judy Lenting, Strathroy

• Wedding • Birthday

• Baby • Home Decor

4177 Petrolia Line, Petrolia • (519) 882-1840 Mon-Fri 9-6, Sat 9-6, Sun10-5

P A G E

*SOME EXCLUSIONS MAY APPLY, PLEASE SEE STORE FOR DETAILS

County Fair WORD SEARCH

Find these words hidden vertically, horizontally, diagonally and backwards.

Have you ever lived in a house that

was so cold in the winter and so hot

in the summer? I'm talking about the

1950's when few homes had insulation.

At least the ones I lived in.

In the summer our house was so hot,

and fans were not common. As you

went up the stairs you were engulfed in

the heat. Our beds were right in front of

the window where we would try to get a

whisper of night air.

On the other hand, winter was the

opposite. It was so cold up there you

could see your breath. Often the part

of the blanket around your mouth had

frost on it. We all had a big rock which

we got down by the creek. Our mother

would put them on the oil burner in

the living room. By bedtime the rocks

were very hot. She would wrap them in

newspapers and wrap a big towel around

them. We took these to bed with us and

they stayed hot all night. sometimes

as we stretched in our sleep, we would

kick them out of bed—that woke up

the whole house! Every morning our

water pipes were frozen and Dad

struggled to thaw them out. He

also started the wood stove every

morning before we came down.

Life was not

easy back

then but they

did the best

they could.

We were

fairly new

immigrants

at that time

and had lots

38

"Never let yesterday use up today." - Richard H. Nelson

to learn about Canada and the customs.

Our first house is now long gone but it

had no indoor plumbing and no hydro.

We had all that in Holland, but we did

not dwell on that and took it all in stride.

Sliced bread we were not used to

either and it looked so strange all cut

with perfect slices in the bag. We had

freshly baked bread every day. We soon

got used to it.

Not being able to speak the language

at all was a big issue and attending a

one room school house was, too. We

had gone to a big school in our town.

However I have many good memories

of those days as well and I'm glad I have

them. Eventually we learned English

and life became easier.

One sad thing was that I never saw

my grandparents again or my many

cousins. We didn't know that in a few

years planes would come and go daily,

not that there was money for that. I'm

glad we came to Canada. I think about

my early years in Holland but have no

urge to go back.
---
Thanks again - keep this copy of pass it on to a friend please.

SIGNS FROM GOD

These were found on signs outside of churches.

WHOEVER STOLE OUR A/C UNIT, KEEP IT.

IT'S HOT WHERE YOU'RE GOING.

Retirement

Village

Welcome to ...

THE Club

395 FLETCHER ST. • PETROLIA

FULL SERVICE FLORIST • LOCAL ART

226-738-0665 • WWW.BLACKGOLD.BEER 4194 Petrolia Line, Petrolia • 519- 882-1330

Downtown Retirement Living

in a Quaint Victorian Town

www.albanyretirementvillage.com

Call to Book a Tour:

423 Albany Street

Petrolia, ON

519-882-3157

Enjoy Friends | Enjoy Independence | Enjoy Life

• Fresh Produce

• Fresh Meat

• Party Trays

• Bakery

• Deli

• Bulk Food

• Seasonal

Merchandise

• Flower

Market

The Old Van Tuyl & Fairbank Hardware Store

Northeast Corner of Petrolia Line & Station Street

Petrolia, circa 1930

Every Tuesday is SENIORS DISCOUNT DAY

10% OFF for age 60 and over (must tell cashier)

Doesn't apply to tobacco, lottery or gift cards

Use our easy

ONLINE

SHOPPING

SERVICE

www.yourindependentgrocer.ca

We'll bring your groceries to your car!

4136 Petrolia Line,

Petrolia • 519-882-2211

www.yourindependentgrocer.ca

Undoubtedly, the county's most famous nineteenth-century retailer was VanTuyl

and Fairbank. Established in 1865 by John Henry Fairbank and re-organized in 1873

with the naming of Benjamin VanTuyl as a partner, the store did a brisk business

in outfitting the area's oil industry with drilling tools, specialized light machinery,

piping, well pumps, valves, casings, and a variety of more conventional hardware,

including nails, screws, nuts, bolts, hinges, flanges, hooks, locks, and sheet metal.

Of course, the firm also courted the lucrative farm and building supply trades.

During the peak of Petrolia's oil boom in the late 1880s and early 1890s, the Van

Tuyl and Fairbank business, as Lambton's premier merchandiser, was estimated to

be worth approximately $200,000 (around at least the $3,000,000 mark in today's

terms). However, local success was only partly

responsible for the establishment's renown.

Indeed, since Petrolia's foreign drillers carried

the firm's products to oil fields throughout

the world, Van Tuyl and Fairbank enjoyed

worldwide sales recognition. LCL

Courtesy of Glen C. Phillips -

Lambton: An Illustrated History of the County

© 1999

Summer 2022 "Yesterday is gone. Tomorrow has not yet come. We have only today. Let us begin." - Mother Theresa P A G E 39
---
Diner's Club!

Social Time. Hot Meal. Informative Presentation.

One Wednesday per Month • 11:30am - 1:30pm

Wellings of Corunna, 180 Bunker Ave., Corunna

Contact LEO for details:

519-845-1353 ext. 301

dcroxford@lambtonelderlyoutreach.org

$

15

Volunteers

Needed!

Looking for a meaningful way

to connect to our community?

Volunteer for:

• Board of Directors

• Friendly Visiting

• Bingo Helpers

• Meals on Wheels Delivery

• Transportation Drivers

• Diner's Club Support

• Forever Fitness Instructors

Presented by

Age-Friendly Best Practices for

Business and Service Providers

e-Certificate Course

Is your business positioned to serve the

fastest growing market group in Sarnia-Lambton?

Integrate Age-Friendly training tools into your workplace

A free, easy, and informative way for organizations to embed a

healthy aging lens into the delivery of programs and services.

https://bit.ly/age-friendly-course

WE ARE HIRING!

Working at LEO Means:

• Directly supporting your community and the people who live in it

• Connected work environment

• Opportunities for growth

Our Garden of Giving

has been planted!

Annually, LEO works to plant, grow, and harvest

fresh veggies to provide to our clients free of charge.

Looking for donations of salad toppings

to provide along with the veggie boxes!

Contact LEO for details: 519-845-1353

ldomingos@lambtonelderlyoutreach.org

Apply

Now!

View all opportunities at: indeed.ca/lambtonelderlyoutreach

To get involved: 519-845-1353

volunteer@leohelps.ca

lambtonelderlyoutreach.org

How We Can

Help You Live

at Home

Transportation

Non-Urgent Stretcher Van

Meals on Wheels

Home Maintenance

Personal Care

Home Help

Care Giver Respite Support

Crisis Intervention

Housing Support

The Peer Program

Friendly Visiting

Diners Club

LEO Scored 98% Exemplary Standing

for providing Quality Services

Funded in part by the United Way of Sarnia-Lambton

and Jackpot City, Sarnia

Lambton Elderly Outreach • 1-800-265-0203 • www.lambtonelderlyoutreach.orgb ld l h