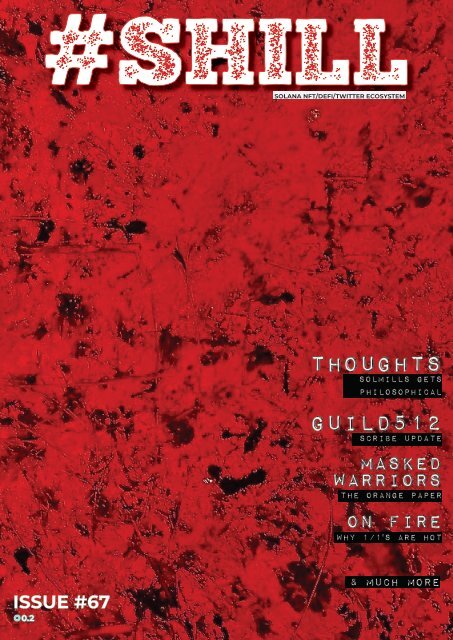 SHILL Issue 68
Solana ecosystem magazine.
Solana ecosystem magazine.
SHOW MORE
SHOW LESS
Create successful ePaper yourself
Turn your PDF publications into a flip-book with our unique Google optimized e-Paper software.
SOLANA NFT/DEFI/TWITTER ECOSYSTEM

thoughts

Solmills gets

philosophical

guild512

scribe update

masked

warriors

the orange paper

on fire on fire

why 1/1's are hot

ISSUE #67

◎0.2

& MUCH more
---
ISSUE

68
---
4

6

8

14

18

19

34

FROM THE EDITOR

EYES ON

Often overlooked, Possible gems. #alpha

GUILD512 SCRIBE

GUILD512 Twitter newsletter- time to

subscribe! #alpha

Probably Nothing

JoeMcCann speaks. Are you

listening? #alpha

on fire

Dosedone looks at what is making 1 of

1's attractive at the moment #alpha

thoughts

SolMills goes philosophical and lays

down the gloves

MASKED WARRIORS

The orange paper #alpha

2DSURREAL
---
from

the

Issue 68 of #Shill zine.

During the past week we hade an insightful interview with @Keezerfeld as he launched his first ever

'editions' piece on exchange.art. 49 Tweeps tuned in for a discussion about his process, connection,

and his role in being an NFT artist in the Solana space. @AlanJ hosted the space that had Keez revealing

techniques and approaches to his pieces. Currently working on transcribing the 1hr interview to include

in #Shill zine.

Since the drain I have not really engaged with the space as much as I used to. Lurking on the side more

than interacting. No purchases.

#Shill has been looking for NFT content since Wednesday. Looking for art that progresses forward. What

you see in this issue is a result of 3 days of curating to try and bring you something you may not have

considered, you may not have seen that hopefully causes you to look deeper.

As always, show your love on the Twittersphere with a simple retweet.

Enough said. You know the drill.

@Pixeltoy

4

SHILL Issue #68
---
Keep your eyes on...

HAPPYMUERTOSNFT

Sol Potato

Secret Sphinx Society
---
Hersoid
---
Eko33
---
@guild512

Scribe

In collaboration

with ExchangeArt,

DAA will be

launching a series

of auctions for

special "eggs".

The eggs reserves

are extremely

limited, and each

auctioned off egg

will contain a

special 1/1 version of the new launch. What it is is

still unknown.

Certain eggs may also give you the ability to

customize the NFT that hatches from it, giving you

the opportunity to work directly with Monoliff to

create the NFT in your image.

The community seemed excited about the

upcoming egg hatch, but many felt that the auction

mechanism made it unfair and extremely difficult

for most of the community to get their hands on

one of these special 1/1 or custom. One community

member expressed his annoyance by highlighting

how the auctions are just another round of fundraising,

calling it a "r__ in disguise".

Jeremy Fall, creator of the NFT project Probably

Nothing, announced yesterday a partnership with

Vault by CNN. Vault by CNN is the entry point for

media conglomerate CNN into web3.

The project on Fall's side will focus on NFT's inspired

by the release of Nelson Mandela from prison after

thirty-two years.

Fall and Probably Nothing have already had a

successful launch with a transitioning web2 brand

after the recent success of 'Stickmen Toys' backed

by Bose.

The project is expected to launch at 10AM PST on

Thursday August 4th. The project will be free to

mint. Holding both the Vault by CNN NFT and the

Fall NFT will unlock utilities further down the line

according to a tweet from Vault by CNN's official

account.

Rakkudos Oversubscribes their WLs

It was revealed today that Rakkudos had

oversubscribed their WL. This comes after the

project had opened an early access mint which

was open to early customers and investors, giving

them an opportunity to secure a mint by paying a

refundable deposit. According to the statement

released today, only 44.87 percent of the supply

is left available for

minting.

This came as a

shock to many in

the community as

the information

was never clearly

stated anywhere in

their litepaper or

their whitelist, and

was more a passing

comment they

made in spaces. Botting of the mint will likely occur

as a result of minters using bots to try to mint their

NFTs with better odds.

Rakkudos is an NFT project by the team at Shakudo

and is minting today on Magic Eden's launchpad.

The hyped mint is brought to Solana by a team

of qualified professionals in the web 2.0 space.

Shakudo has already raised 4M USD in VC money

and is looking to raise an additional 1.3M USD

through their mint on Magic Eden as a catalyst to

further spur their growth.

Okay Bears dropping Founders Coins

today

Okay Bears announce that their bear-drop, the

Founders Coins, will be dropped to hibernating

bears today. The coins have designs on them

inspired by the original NFT collection.

These coins have a couple other cool features. For

one, they'll be backed by real, solid gold. $195 K in

total, and the amount of gold each coin is backed

by will be varied based on the value of the "weight"

attribute, from 0.25g all the way to 10g.

The coins will also have a 5% royalty fee slapped

on them, and any fees generated from the first 8

weeks of trading will be donated to their charity,

8

SHILL Issue #68
---
Okay Cares.

Rugged Revenants announce that they

will be minting on Magic Eden

Rugged Revenants will be launching their NFT

collection via the Magic Eden launchpad. They will

be minting on the 14th of August with a total supply

of 5555 NFTs and a 1 Sol mint price.

Rugged Revenants is a free-to-play, win-to-earn

game built by the creators of another NFT project,

SovanaDAO. Owning the NFT will let you access

better rewards from their game.

What really happened with Rakkudos

mint?

Rakkudos is an NFT project launched by a SAAS

company, Shakkudo, and the intention of the

collection was to act as a catalyst for their company,

building out a community around their project at

the same time. Initially, many were excited by the

prospect of a fast-growing, revenue-generating

business running an NFT project, but the excitement

quickly turned to disappointment, then disgust.

Rakkudos had mentioned on various spaces

that they would be doing a pre-sale for some of

their early customers, but when the amount was

revealed, people were shocked. Over 50% of the

collection was already minted before whitelist mint

even began. Whitelist spots were overallocated and

the community was not pleased.

But that was still

acceptable since

it was believed at

the time that each

customer had access

to 10 mints each, and

they would be vested

over a 3 year period.

This turned out to be

a lie as it was revealed

that some influencers

were allocated up to

100 mints, and were

allowed to sell their NFTs whenever they pleased.

Soon after minting out, influencers like Knoxtrades

were found to be selling of large chunks of their

positions, drawing confusion from the community.

The floor price went above 20 and people rushed to

get in, only to realize that they were being "dumped"

on by those who weren't supposed to be able to

even sell their NFTs.

The sour taste that this left in the Solana NFT

communities mouths was only intensified when

influencers revealed that there was no such

obligation to not sell the NFTs, with Code Monkey

sharing the terms and conditions that the project

gave him.

It turned out that the vesting was an option, and

most who got in to the pre-sale did not take up that

option, but Rakkudos made no mention of this at

any point in time. Rakkudos, as a matter of fact, are

yet to properly address these issues.

It's hard to tell if the project can ever clear its

name, as the Solana NFT community has turned on

Rakkudos, given the shady practices they took part

in. The floor price has since come down to 7 Sol.

SHILL Issue #68

9
---
2DSURREAL
---
2DSURREAL
---
miladsafa
---
miladsafa
---
PROBABLY

joemccann - 52.4k followers

Today is the day normies learn what

the meaning of a "software supply

chain attack" is.

This is a major issue for ALL

developers, not just @solana.

14 SHILL Issue #68
---
SHILL Issue #68

15
---
@Dosedone

Lately, the 1/1 art scene on Solana has been on fire. We've

seen record auction sales from icons like @degenpoet and

editions by legend @notjohnlestudio crippling the entire

network.

Under the hood, a number of collectives are driving this

movement that you need to be aware of

@MinistryArt is spearheaded

by the visionaries @BU___UB

and @S0Ltoshi aims to be the

nucleus for fine art on Solana.

Representation for emerging

and established artists &

creating the opportunity to own

the most iconic art in the scene, the MoA is vital to 1/1

art space.

@The_URS_ is the sister organisation to @MinistryArt

and has provided the chance for collectors of URS crowns

to obtain monthly airdrops from upcoming artists like @

husaensadam and premier creators like @septadenata.

one of the most decorated art galleries in the space.

Shillzine by @Pixeltoy has been pushing 1/1 artwork since

Oct 21 over 67 issues.

This iconic publication combines alpha, art, and analytics

in the most eclectic fashion appealing to the many

participants across the Solana NFT ecosystem.

@maskedwarriors1 is a mystery, as whatever is going on

behind the scenes, it's all a bit 'hmmm'. Led by

@laurence_antony we simply know the launch is in

September but with chads like @A2KDeFi and @quincy_

sol diving in, it's likely to be a future force exchange.art

The Ministry of Art is becoming the main hub for artists

and collectors worldwide. The imminent consolidation

with @The_URS_ marks an exciting point in the collective

effort to merge quality art and the digital frontier

@_ledao is headed by the great @notjohnlestudio and is

the first on-chain art DAO on Solana.

By acquiring one of the characters in the founder's series,

collectors gain access, treasury equity, and governance to

18

SHILL Issue #68
---
1 2

@SOLMills_

Influencers have been a bit of a hot topic over the

last 48 hours. Seems to be a contentious issue

and I'm seeing a lot of strong feelings on my timeline.

I think some of the anger is misplaced. My

thoughts.

There's nothing wrong with being paid to market.

It's a valid job. In an ideal world, all products

would have value & no one would buy (or market)

rubbish but we do not live in that world. Buyer

beware! People well understand this in our little

corner of the blockchain.

I said I would never sell my God - and I haven't.

Want to know where it went? Read on.

For more than nine months now, I've been talking

(though not nearly often enough) about the lack of

diversity and inclusion in Web 3 and NFT projects.

The problem, as I see it, is two-fold.

1. Every week, without fail, my Discord and Twitter

is filled with embarrassing language towards

gender, race and sexuality minorities. Web 3, right

now, is NOT a safe space for minorities. How can

we talk about onboarding the next million users

when the space looks like this?

However, many influencers act in an unethical

manner because they actively try to deceive. Marketing

is more effective when it is not perceived as

marketing. Influencers wish to portray themselves

not as marketers but as our friends, or clever advisers

and smart traders.

Influencers want you to think they are here to help

you, that they're offering good advice, that they

know more than others and that you will profit

if you follow them. An obvious example is one

influencer who whitewashes himself by labelling

himself a "caller".

Should marketing be more obviously labelled?

Should future regulation of the Crypto space (inevitable)

extend to the area of influencing? I am less

familiar with European and American regulations

but, in Australia...

it's illegal to be a financial influencer without a

financial services licence (i.e. up to five years jail

and fines over $1M) and all other online influencing

requires the equivalent of #ad to be included

with the message.

What do you think Anon?

2. The success of an enterprise is often directly

linked to diversity and inclusion. If we all think and

act the same way, we don't grow together. Diversity

of experience and thought will enrich us all as

individuals and as a community. The space will

grow.

Thinking about it for 9 months (and talking about

it sometimes) I still see no change for the better.

Some days, it seems worse. I'm challenging myself

to make a difference. I've given my DeGod to my

partner and I'm going to set her up a Twitter and

encourage her to get involved.

I chose my DeGod specifically because it's a

meaningful sacrifice to onboard someone new.

There's no point giving her a worthless project. I

want her to engage and hit the ground running with

contacts in an established project. I want her to

challenge and inspire.

I'm going to go one step further & attempt to make

this much like the ALS Ice Bucket challenge. I'd

like others to do the same with a meaningful NFT

(it doesn't have to be their DeGods or SMBs) and

to onboard one new person who they think will

help improve diversity in our space.

I nominate

@PrimitiveMoney @credlessk @TopoGigio_sol.

No obligations, but if they want to jump on board,

awesome, and hope to see them nominate three

more people each. But Anon, if you're reading, and

you want to get involved yourself please just get

started.

SHILL Issue #68

19
---
Keezerfeld
---
Keezerfeld
---
Keezerfeld
---
Keezerfeld
---
Keezerfeld
---
Keezerfeld
---
kleverworks
---
kleverworks
---
husaensadam
---
husaensadam
---
hnacogn01
---
hnacogn01
---
34

SHILL Issue #68
---
SHILL Issue #68

35
---
36

SHILL Issue #68
---
SHILL Issue #68

37
---
HEkosistem
---
juntdoe
---
IndraGondi
---
IndraGondi
---
jaymesrogers
---
jaymesrogers
---
lowbrownative
---
lowbrownative
---
m0nk3333
---
m0nk3333
---
m0nk3333
---
m0nk3333
---
Zatnn
---
thesmokyhead
---
thirtysixman1
---
TankussArt
---
TankussArt
---
StudioVoodoo
---
StudioVoodoo
---
SOL_js1
---
SOL_js1
---
pixelnoizz
---
pixelnoizz
---
OzannAtalay
---
OzannAtalay
---
omer_korkmazzzz
---
MarcACollier
---
ES_Artwork
---
NalandaJay
---
OHNAPIE
---
OHNAPIE
---
NiloofarMobarak
---
NiloofarMobarak
---
kalmahul
---
kalmahul
---
archmorley
---
Arttle123
---
manggran
---
manggran
---
DAM ZINE
---
2DSURREAL
---
HaskanEce
---
HaskanEce
---
yns_gh
---
yns_gh
---
everlykillsnft
---
everlykillsnft
---
monsterdefiner2
---
monsterdefiner2
---
nashotobiNFT
---
yg4h_
---
VVG__1853
---
VVG__1853
---
EdenAINFT
---
zlatxx
---
Galdius86
---
Galdius86
---
EdenAINFT
---
EdenAINFT
---
ecansuse
---
ecansuse
---
destroyxstairs
---
destroyxstairs
---
DeadlyKittys
---
DeadlyKittys
---
ctlnmsnd
---
ctlnmsnd
---
ctlnmsnd
---
ctlnmsnd
---
82dazai
---
82dazai
---
alurwaktu_files
---
alurwaktu_files
---
yanframear
---
AhyasBudi
---
ALEKUSTN
---
ALEKUSTN
---
schecktastic
---
schecktastic
---
CultureHacker - Odyssey suit - xZD1
---
CultureHacker - Odyssey armor - exoskeleton #1
---
CultureHacker - Odyssey suit - xBD1
---
CultureHacker - Odyssey weapon - Sonic #1
---
CultureHacker - Odyssey pet #1
---
UweOmmer
---
UweOmmer
---
SolPotatoNFT
---
SolPotatoNFT
---
Keezerfeld