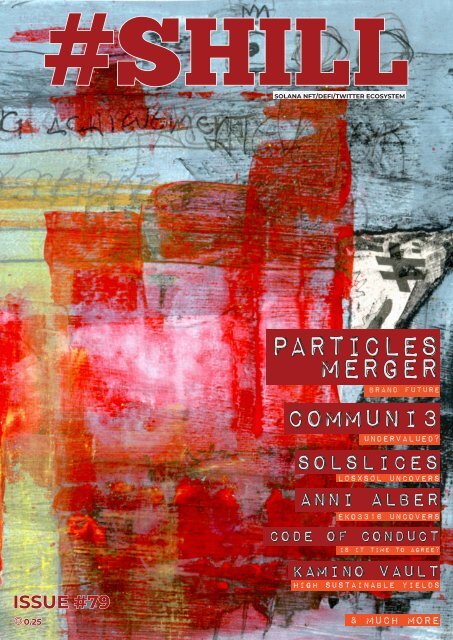 SHILL Issue 79
Solana ecosystem magazine.
Solana ecosystem magazine.
SHOW MORE
SHOW LESS
You also want an ePaper? Increase the reach of your titles
YUMPU automatically turns print PDFs into web optimized ePapers that Google loves.
SOLANA NFT/DEFI/TWITTER ECOSYSTEM

particles

merger

brand future

communi3

undervalued?

ISSUE #79

◎0.25

solslices

l0sxs0l uncovers

anni alber

Eko3316 uncovers

code of conduct

is it time to agree?

kamino vault

high sustainable yields

& MUCH more
---
ISSUE

79
---
4 10

16

18

25 86

148

FROM THE EDITOR

UPTOBER insights

Linkkzyy looks at what is coming up #alpha

SolSlices

l0sxs0l explores the artist

Kamino

SolanaInsiders explains what Kaamino is

about to offer. #alpha

Code of Conduct

BigsbyWest looks at whether it is time for something new.

Anni Alber

Eko33 uncovers a little known legend

Particles Merger

Quetzal__Q - projects that keep on BUIDL

152 Communi3

Nhungtrantran12 reasons to be bullish.

#alpha

chrisfollowsart
---
Issue 79

#SHILL has its own NFTs up for auction on Exchange.art and now Formfunction! Proceeds go to helping this

magazine grow and become better. All the World's a Stage is live now https://exchange.art/pixeltoy/ and Do

You See Me? https://formfunction.xyz/@Pixeltoy.sol/

The 'meta' over the last week has continued to be about ROYALTIES. It seems to be subsiding a little but,

knowing human nature, and with the current crypto prices steadily falling as a result of the global recession,

the wider public is looking for a scapegoat- someone or thing to blame. The royalty issue is 'it' at the moment.

Pretty soon the focus will shift- possibly onto influencers. Accountable for many projects 'making it' or

'breaking it'. And some of the shit that they are shilling is just deplorable! I remember BubblegooseXYZ. They

must have invested quite a bit in marketing. Where did those nft peak at? 15+Sol? To me they still look shit.

And I have no idea as to the utility of the project. But I do recall how influencers were puching the meta.

That's where #SHILL zine shines. We include articles and information that is un-biased. You get to read and

make your own decision based on the evidence. Articles that you probably missed during the week with the

thousands upon thousands of Twitter feeds. If we mark an article with #alpha it's for your benefit to read the

info and make a better choice rather than listening to the loudest voiced out there.

CultureHacker's ODYSSEY ESCAPE ROOM goes live (in an hour from when I'm writing this). For many of

you out there you're probably thinking, "What the f is that?" What you should be thinking is, "Hey, what's

CultureHacker up to? What tech is he using? How is it that the project I'm involved in, with $2milion in sales

can only deliver a cockring when this guy has created something so cutting edge for a 1Sol entry?"

Think about it anon. That pfp project you invested 100Sol in has given you nothing but grief with the current

market- prices down. Meanwhile, these 1of1 artists are continuing to deliver for their buyers.

Some of the best value I have ever received was from @husaensadam who mailed out (at his cost) a digital

operated coffee thermos and a shirt with the nft printed on it. 6Sol. Not 100 Sol. Not 50Sol.

I guess you could just focus on the 'meta' and follow the major influencers hoping to flip before they dump on

you in order to make a quick 0.25Sol ($8!). Or, play your own game. Support those creating original content

and breaking boundaries. In the end, they are the ones sticking around and engaging meaningfully with their

collectors.

A whole lot of content in this issue. NFTs to tickle your senses. Alpha to contemplate. Stories you may have

missed. It's good to know that at the end of the week you can rely on #SHILL zine to package it all up in one

convenient magazine that you can access when you are ready.

Ready to dive in?

Enough said. You know the drill.

@Pixeltoy

PS: Just finished CultureHacker's Escape Room. A 2hr experience. 4 participants in this round. Other than

saying that CH is a machine! This experience is/was well worth the collection NFT. INCREDIBLE! I can only

imaging what he could achieve if he had a $2 million budget! It sure as hell wouldn't be merch!
---
Pixeltoy
---
PROBABLY

@sp00n1cus

40.8k followers

People who come into this space expecting

to be owed something are ngmi. There's

a strip outlet near me with a location

that's had 5 different restaurants go in

and out of business in the past 8 years

and you're mad because your NFT is under

mint?
---
Keep your eyes on...

ALPHA LIONS

PixelPenguinDAO

Secret Sphinx Society
---
Linkkzyy

Chilly Rolls

Introductory Information:

There was a bunch of public info on this when I initially found it. However, they seem to have hit the reset

button which I think may be very bullish. What I can say with certainty is these looked super bullish and I

made a big note of that in my research notes.

If they come out with their revised plans before the launch of this document then this section will be edited;

if not then you're going to have to run off this.

This is definitely not a project I'd consider missing from what I remember seeing.

They already had a legendary NFT auction @ 60 SOL, so someone knows whats up.

What I can remember:

• Really dope website.

• Really dope artstyle.

• Engaging and unique marketing challenges/strategies.

Here are some examples of the art and marketing materials I managed to find.
---
Breadheads

Introductory Information:

There's a fair bit to cover here so I'll keep it concise. Point 1, the art is very geared for all consumers and

it's just genuinely good art. They also seem to have a really solid marketing campaign behind this, vocal

team and community which ticks a lot of the boxes for mega success imo. There isn't a roadmap specifically,

however there is a utility/product that comes with this NFT. Enter the Fourth Place Hackathon

winner, DreamOS.

What is DreamOS

DreamOS is supposed to be a solution to the lack of a central platform / home for Web 3.0 to run around

and on. DreamOS is trying to construct a unique interactive GUI based product to fill this demand. More

info here.

With the consideration of DreamOS and Breadheads being umbrella products of the notadream studio

I would expect us to see much more coming from these guys to benefit their holders and the ecosystem

tremendously.

Pros:

• Team already has a proven record with a fourth place finish in a hackathon.

• Good marketing. Good art.

• Vocal team.

• Really ambitious product that could end up being huge for space.

• Being produced under an existing studio's ecosystem; expansions could be expected and will likely

benefit breadheads.

• Overall I truly don't see many cons for this project if you're a real believer of this ecosystem.

Cons:(for sake of not being biased)

• No website, after all this crazy shit, where is their website LMAO.

• I find the discord to be too disorganized and cluttered.

• Lack of community integration with the direction of the project.

• With a total of 20k SOL raise if this mint sells out successfully, I'd like to see them hire a team to

manage smaller bits n bobs for the NFT itself. Whether that is merch, community events blah blah.

Conclusion:

Overall I think this is one of my biggest must-mint's of the month. I think they're building something with

big potential on the tech side and the marketing potential of this art and vibe is very massive. If I could

speak to the team directly I'd really encourage them to hire a team to tap into the NFT ecosystem and

culture directly.

I notice this alot, incredible devs are devving to maximums but they're just not getting that content consumed

or spread widely enough. So overall, if they can get the right people behind integrating a direction

which will cater to NFT projects I think this will be much bigger than access to DreamOS.
---
_justinmanuel
---
vlphv_
---
yjohnnyjordan
---
@L0SxS0L

A self-taught artist that has been honing his skills for less than a year, @SolSlices has shown incredible talent and storytelling

abilities through his unique approach to digital art. Here's a rundown of how he got started and why I'm excited to

see where he's headed.

@SolSlices 1st piece 'Tropical Camp' went to auction with no reserve and sold for 5 sol on Christmas Day '21. Having

taught himself to use Photoshop and Blender this series combines photography with digital art, with more recent pieces

being brought to life through animation.
---
@SolSlices 1st ever edition release 'Mission: Humanity'

was live for just over 10 mins in August '22 before it sold

out. It clearly shows how his understanding of lighting

dynamics has evolved rapidly, and tells a story of worth a

few hundred thousand words with ease.

Playing with Pokémon's key theme, the characters in this

series will evolve into new species as collectors unlock

higher levels. These new species will only be obtainable

through evolution, making some of these @SolSlices pieces

extremely limited. Gotta catch 'em all!

'PokeSlice' is the latest project from @SolSlices and continues

to show just how talented the Frenchman is. His

use of texture, movement and dynamic play with light is

incredible - but it's his move to characters and their facial

expressions which is the real standout here.

Much like the characters in this series, @SolSlices continues

to evolve as he unlocks new skills and effortlessly stacks

them on top of raw talent. Only 10 months in and he has

quietly been blowing the space away with each successive

drop. And this is just the beginning!
---
https://twitter.com/SolanaInsiders

Kamino is the first concentrated liquidity automated vault protocol on Solana. In this deep dive we'll break down what

Kamino is and how we're using their platform to generate high and sustainable yields.

@Kamino_Finance is a Concentrated liquidity vault management tool, let's start by explaining what concentrated liquidity

is: In traditional AMMs the LP assets (liquidity) are distributed evenly along an X*Y=k price curve from 0 to Infinity

which you can see below.
---
Distributing LP assets evenly across the whole price curve has two main disadvantages: 1- Most of the liquidity in the

price curve is unused and won't earn fees for liquidity providers. 2- Spreading the liquidity out causes less depth so

trades have higher slippage.

CLMMs (Concentrated liquidity market makers) allow liquidity providers to select where to place liquidity within the

price curve instead of distributing it evenly. This means LPs can provide liquidity in tighter price ranges where more of

the price action / volume is happening:

CLMMs allow the liquidity to become more efficient, this means that LPs can earn more fees and the liquidity creates

more depth for trades (less slippage) However, CLMMs do have some drawbacks as manually managing and setting price

ranges can be complex and time-consuming.

This is where Kamino comes in. Kamino's vaults are built on top of existing concentrated liquidity pools to vastly improve

both their performance and ease of use:
---
Kamino's automated CLMM vaults allow you to simply deposit your assets and Kamino will do all the work. No more

managing positions manually, plus your yield from trading fees & rewards are automatically compounded to maximize

your returns.

Below are some of the vaults currently available on Kamino. At a glance, you can see what the projected APY is, who the

pool provider is and more:
---
Some users attribute high APY to high risk, however when you view each vault you can see what the source of the yield

is.

The majority of the APY on this SOL-USDH pool is being generated purely by trading fees rather than emissions, which

means the APY is far more sustainable. This is due to the power of concentrated liquidity.
---
To deposit we can simply enter the amount of SOL to be deposited. Kamino allows single-sided deposits, so it will auto

swap the tokens via Jupiter to even amounts and then deposit them into the vault.

After depositing we can monitor our positions from the "My portfolio tab" The liquidity can be withdrawn at any time

(this can incur a withdrawal fee, which may vary between vaults) Simple, Sustainable Hassle-free yield.
---
For those with any security concerns, you're in safe hands as Kamino has had two security audits, with a third continuous

audit via @sec3dev:

Kamino was incubated by @HubbleProtocol which contains some of the greatest DeFi minds + builders on Solana. Hubble

+ Kamino are backed by some of the most prominent VCs in crypto (@multicoincap, @SolanaVentures, @alliancedao,

@DeFianceCapital, @MechanismCap, @cmsholdings)
---
@Kamino_Finance are providing a "Learn to earn" bounty for this thread. We'll be awarding $50 in $USDH to two people

who successfully complete the questionnaire about Kamino (All answers are contained within this thread) Click here to

enter: https://solanainsiders.io/kamino-learn-to-earn/…

More info about Kamino can be found here: Website: https://kamino.finance

Discord: https://discord.gg/kaminofinance
---
@BigsbyWest

First, hats off to @WayneNooten for hosting and moderating this important Twitter Spaces with such grace and respect.

I had a lot I wanted to say but there were a lot of people who wanted to speak, from all sides, so I thought I'd write a

short to summarize my thoughts.

Quote Tweet

https://twitter.com/i/spaces/1LyxBqVVeZnJN…

Sir Wayne Nooten

It is clear to me that what is needed from everyone in the 1/1 art scene on #Solana is a code of conduct. A code that everyone

involved abides to (buyers, sellers, marketplaces). If we don't, we are going to see this space devolve into something

incredibly selfish and ugly.

The moment it turns ugly, like it has for the last month, artists will move to another platform where they can focus on

their art undistracted. The moment artists move to other platforms, you can say goodbye to "helping every artist sell as

much of their art as possible."

I'm proposing three core values: respect, transparency, and accountability. In order for us to move forward, scale, and

be the art scene we all want it to be, where the art world is knocking on our door and wants to do business, we need to

uphold these core values together.

What would this look like? Respect. Showing respect to the artists, to fellow buyers and sellers, and to the marketplaces

that enable the exchange of art. Respect in the way we talk to each other, especially if you are a member of an art DAO

or employee of an art marketplace.

Transparency. This was mentioned dozens of times during the Twitter Spaces. Trust was lost. As art buyers/sellers/marketplaces,

let's be transparent in the way we do business with each other.

Accountability. Speak up. We all need to keep each other accountable and keep the major players in this art space accountable,

full stop. If we have been in the wrong, admit fault. No more posturing or saving face. Just apologize. It's the

right thing to do.

As an ecosystem, we all must understand the enormous responsibility that we all wield right now. The art scene on Solana

can be something tremendously beautiful if we choose to work on building it together. But forsake it and it'll be just a

memory.

These are of course my opinions. I am just an independent art collector but I'm zealous for what we have here on Solana.

Zealous for artists. Zealous for the beauty they bring to this world. Zealous for everyone in this ecosystem to succeed.

Perhaps this is my idealism shining through. I'm aware of the pain that comes with scaling, building businesses, and answering

to so many stakeholders. The work is not easy. But we can get there if we do it together.

I don't carry the influence of others to move mountains around here, but I hope that today's Spaces and what I've written

can inspire all of us to be more intentional, more responsible, more respectful, and more supportive.

Artists, you are what makes this space truly special.

Make it your space.

Dictate the terms.

Make it what you want it to be.

Honor your art.

Respect the business.
---
oKi_Tew
---
oKi_Tew
---
adhd143
---
Ariel_is_back
---
Ariel_is_back
---
yjohnnyjordan
---
chrisfollowsart
---
chrisfollowsart
---
Odyssey
---
Odyssey
---
chrisfollowsart
---
chrisfollowsart
---
davidt
---
de_lux3
---
Dimensi_delta
---
Dimensi_delta
---
laki_ikal
---
laki_ikal
---
micha_artist
---
Rez_inProgress
---
MomoBones_NFT
---
MomoBones_NFT
---
navidnooshmehr
---
navidnooshmehr
---
SolSlices
---
SolSlices
---
SUZUKIERIC_
---
SUZUKIERIC_
---
TillerDcreator
---
xkemss
---
oKi_Tew
---
logdecomics
---
cestjuliexyz
---
cestjuliexyz
---
cybersamurai.xyz
---
de_lux3
---
deerendy
---
destroyxstairs
---
diqalurima
---
DonRoccie
---
EvwibeaL
---
eyeeyemouthdes
---
eyeeyemouthdes
---
forgebots
---
forgebots
---
24Kenva
---
mazinsol
---
helenbers_art
---
helenbers_art
---
Eko33

A quick summary of Anni Albers' story, a resilient artist and woman who elevated weaving as an art form and played an

immense role in modern computer generative art.

Anni Albers was a formidable woman and an example of resilience. When she presented to the Hungarian artist Oskar

Kokoschka a portrait she made of her mother, he abruptly responded, "why do you paint?"
---
This feedback could have destroyed many, but she had the strength to keep going and sent her application to the Bauhaus

school.
---
The school declined her first application, but she did it a second time, and the Bauhaus school accepted her. But still, she

would have to face new hardships.

Despite its idealistic nature, the Bauhaus school was not allowing female students in all its departments. Female artists

were only allowed into bookbinding, pottery, and textiles. This is how she started with Gunta Stölzl's weaving workshop.
---
With Gunta Stölzl as her teacher, Anni Albers quickly picked up on the difficulties of tactile construction and started creating

geometric shapes and designs.

In 1922 Anni met Josef Albers; they married in 1925 and spent their life together.
---
Drapery material and Design for Smyrna Rug, two of

Albers's earliest works, show some of the traits that

remained consistent throughout her career, particularly

her experimenting with color, shape, scale, and rhythm

with geometric patterns that are abstract and interlocking.

Anni Albers was the first textile designer to have a solo exhibition

at MoMA in 1949. From 1951 to 1953, she toured

the US and was considered one of the top designers of her

time.

After the departure of Walter Gropius, Anni and Josef

moved next to the Klees and Kandinskys. Anni started to

teach at the Bauhaus in 1928.

After 1963, when her attention switched to printmaking,

Anni Albers continued to study the relationships between

colors, lines, shapes, and patterns.

In 1931, Anni became the head of the weaving workshop,

part of the very few women with such a senior

position at the school.
---
She received many honorary doctorates and prestigious awards, including the second American Craft Council Gold Medal

for "uncompromising excellence" in 1981

Anni Albers was the first western artist to sublimate modernism with weaving techniques. She also strongly influenced

early computer generative art pioneers, and her influence today is ubiquitous.
---
DAM ZINE
---
DAM ZINE
---
AhyasBudi
---
RubenSalvo_Art
---
Chris_Randall
---
ibayarifin
---
s0lphotos
---
mirandaparkeer
---
mirandaparkeer
---
HRBRWYLD
---
HRBRWYLD
---
HIPOCREATEID
---
HIPOCREATEID
---
Irfnmkhls
---
StudioCaptain1
---
ParticlesNFT
---
KertzRodia
---
KertzRodia
---
MindToCanvas
---
Ryko
---
kiramotosan
---
kiramotosan
---
LOTUSJOSEPHINE
---
CultureHacker - Odyssey suit - xZD1
---
CultureHacker - Odyssey armor - exoskeleton #1
---
CultureHacker - Odyssey suit - xBD1
---
CultureHacker - Odyssey weapon - Sonic #1
---
CultureHacker - Odyssey pet #1
---
LOTUSJOSEPHINE
---
MyartNz
---
TajrinFaruqi
---
TajrinFaruqi
---
yobaninja
---
yobaninja
---
yjohnnyjordan
---
KAPphoto
---
wizzmax1
---
iam_taqin
---
fierzafajri
---
GhostKidDAO
---
Pixeltoy
---
Pixeltoy
---
Diamond Hand Crew
---
Diamond Hand Crew
---
Diamond Hand Crew Gen2.0
---
Diamond Hand Crew Gen2.0
---
@Quetzal__Q

Most of you who have been following me already know

that Particles and NFTabs will be merging collections.

But most of you don't know what that means for the

future of our brand and mission as a community. Allow

me to elevate your consciousness.

At this point, we had just entered the bear market. We

sprinted to complete the collection in order to mint

out our collection and start elevating the 1/1 ecosystem.

We didn't stop to think about what it meant to be

a particle or the world in which particles lived...

It all started with a simple, yet beautiful illustration by

@sircandyapple. One night, our artist, Candy came to

us with an idea inspired by sacred geometry. The team

decided to scrap our previous collection "Sleezy Bees",

along with 100+ traits. We never looked back.

We simply focused on collecting art and sharing it with

our community. Our first piece was a @notjohnlestudio

and since then, we've invested 1000+ SOL into

independent art on Solana. Without knowing it, we

148

SHILL Issue #79
---
absorbed the artistic knowledge needed to create the

particle universe.

What is a particle?

A particle is the universe experiencing life through you.

It is the natural world and all the beings inside of it.

It reminds us that we are all connected by the same

stardust that created everything in existence.

When we acquired @nonfungibletabs, we knew we

didn't want to manage two collections at once. Instead,

we went on a mission to create something that

both communities would be proud to own. Transcendent

particles. A brand that would evolve beyond

everyone's expectations.

What does it mean to be a particle? We challenge our

community to imagine a new world. A world in which

things are not as they are but what they can be. We

are a community built around creatives and freethinkers.

We don't just live in the world; we create them

too.

Why should I care about particles?

In a world filled with selfishness and greed beyond

understanding, we fight for what is right. We are not

blind to the challenges of this life, we confront them.

We are the resistance.

SHILL Issue #79

149
---
Why should I join particles?

A single particle may not seem like much but when many of them come together, impossible things become

accomplishable. Artists, developers, and founders all find what they're searching for. A community of infinite possibilities.

What is the mission of particles?

Transcend. Welcome to the age of transcendent particles. Coming sooon.

150

SHILL Issue #79
---
SHILL Issue #79

151
---
Nhungtrantran12

Even though I don't hold @communi3_io NFT, one day I will own them and become a whale. I am very bullish on

C3 that project with great potential is undervalued. Following thread to explain why C3 is the most undervalued

on Blue chip NFTs.

First, start with C3 Team, Company IRL fully doxed. Communi3's team is experienced, with more than 40 full-time

employees. Their LinkedIn are attached on the website.

152

SHILL Issue #79
---
Mad Scientist NFT (3/25) Total supply: 5001 PFP, Mint Price: 2 $SOL, ATH: 38 $SOL, Pumping during this bear

market. Total list 1.82%. Listing numbers stays almost still. People believe in project Holders NFT receive many

utilities.

SHILL Issue #79

153
---
About the rarity, the mad scientist doesn't differ from

each other. They are valued with the amount of SCI remaining

to be staked from the NFT. You can check how

much SCI remains when buying https://madsci-status.

app.

There are three classes of mad scientists: 1/1 PFPs,

faction leader (supply 10, earns 10x SCI), the Overlord

(earns 100x SCI) owned by @Nakhle16Nakhle. Recently

they allowed users to upgrade their NFTs to PFP, and

they will receive one more staking month.

Research Centers

Supply is 30 NFTs for 500k USD/ RC, owning one of

these is owning 0.4% stock of the company. First 5-6

discount at 400k. These investors will get a 25% discount

on SCI pre-sale. Holders of RC will receive Death

list for @riftersio and Street fighter 6.

Major clients include @TheSandboxGame, @Yield-

Guild, @atari, @CapcomUSA_, @MagicEden, @playbigtime....

SCI token (9/25) SCI is the native token in C3's ecosystem.

Users can Staking NFT as well as relying on

E2E (Engage to Earn) mechanism to earn more $SCI.

According token allocation, 25% of the SCI allocation is

in the E2E feature and 10% is in the staking.

Communi3 The Laboratories (6/25) There are 50 labs:

10 gen 0, 40 gen 1 for $100,000. With rental and staking

features, these labs will generate $5K monthly USD.

Owners staking for 12 months generates a new lab.

154

SHILL Issue #79
---
There are rumors that IDO can possibly happen on Binance

Launchpad. $SCI to the moon??? Based on some

analysts from @We3DAO, it's give a good estimate of

$0.25-$1.

They have recently released the E2E (engage-to-earn)

bot in @riftersio and have many other bots that are

used across 150 DAOs.

Tools C3 (13/25) Assassin Bot used to protect discords

from spams and hacks. Discover is a tool still in testing,

and it looks like NFT LinkedIn: connecting different

DAOs in the NFT space to collab, and create partnerships.

Seamless is a WL tool making allocating WL.

C1 (sister company of C3) building a MOCERPG game

called @riftersio, This will be a 7777 NFT collection

minting for 10 SOL.

@communi3_io @TaiyoRobotics @CetsOnCreck

@DegenApeAcademy @RudeGolems @SolanaMBS

@TheStonedFrogs @TrippinApeNFT@Astrals_NFT

@HoneylandGameFi

Fort Knox :

This tool helps restrict Scam, rug pull projects. It will be

like an intermediary fund that holds the project's money

and does not return it until team devs do sth. With

only 2/4 of tools being widely used, it will be magical

with Communi3.

Sol Decorder (15/25) C3 has acquired @SOL_Decoder

that best known made the Seamless tools. Holders of

Sol Decoders earning 5K SCI unlocked over the span of

24 months. Use it for PFP upgrade = earn double token

& future marketplace.

Rifters game, where there will be 10 DAOs competing

against each other for a $1M prize. By holding NFTs for

3 weeks before the airdrop, you can get up to 30 sol

back. Rifters ETH, a month later for Rifters Polygon, and

a month later for another chain. You can play game or

sell.

SHILL Issue #79

155
---
Funding

Self-funded with the development total of $550k + $110k still in the community vault. https://community-first.

gitbook.io/rifters/financials…

Communi3 has ranked in the top 2 of users on Solana after Magic Eden

With the use of the C3 tools, rental mechanism, staking for SCI, engaging to earn use /rent your NFT in P2E game

Rifters, ... that is all utilities for holders of C3. The most undervalued project on Solana and can be considered for

a long-term hold.

156

SHILL Issue #79
---
omid_kzemi
---
UDntKnwWhoWeAre
---
UDntKnwWhoWeAre
---
Chris_Randall