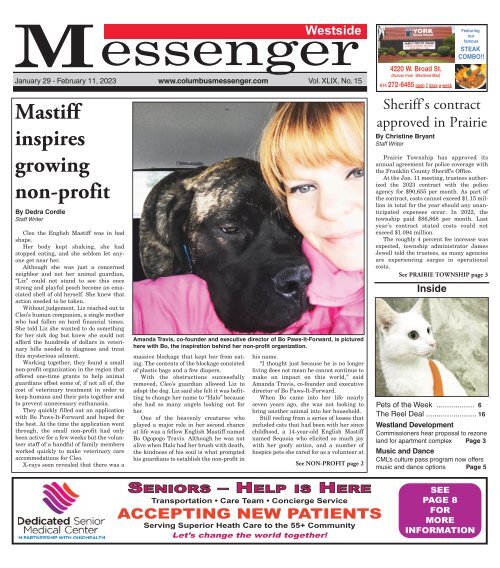 Westside Messenger - January 29th, 2023
Create successful ePaper yourself
Turn your PDF publications into a flip-book with our unique Google optimized e-Paper software.
Messenger

Westside

January 29 - February 11, 2023 www.columbusmessenger.com Vol. XLIX, No. 15

4220 W. Broad St.

(Across from Westland Mall)

614 272-6485 open 7 days a week

Featuring

our

famous

STEAK

COMBO!!

Mastiff

inspires

growing

non-profit

By Dedra Cordle

Staff Writer

Cleo the English Mastiff was in bad

shape.

Her body kept shaking, she had

stopped eating, and she seldom let anyone

get near her.

Although she was just a concerned

neighbor and not her animal guardian,

"Liz" could not stand to see this once

strong and playful pooch become an emaciated

shell of old herself. She knew that

action needed to be taken.

Without judgement, Liz reached out to

Cleo's human companion, a single mother

who had fallen on hard financial times.

She told Liz she wanted to do something

for her sick dog but knew she could not

afford the hundreds of dollars in veterinary

bills needed to diagnose and treat

this mysterious ailment.

Working together, they found a small

non-profit organization in the region that

offered one-time grants to help animal

guardians offset some of, if not all of, the

cost of veterinary treatment in order to

keep humans and their pets together and

to prevent unnecessary euthanasia.

They quickly filled out an application

with Bo Paws-It-Forward and hoped for

the best. At the time the application went

through, the small non-profit had only

been active for a few weeks but the volunteer

staff of a handful of family members

worked quickly to make veterinary care

accommodations for Cleo.

X-rays soon revealed that there was a

Amanda Travis, co-founder and executive director of Bo Paws-It-Forward, is pictured

here with Bo, the inspiration behind her non-profit organization.

massive blockage that kept her from eating.

The contents of the blockage consisted

of plastic bags and a few diapers.

With the obstructions successfully

removed, Cleo's guardian allowed Liz to

adopt the dog. Liz said she felt it was befitting

to change her name to "Halo" because

she had so many angels looking out for

her.

One of the heavenly creatures who

played a major role in her second chance

at life was a fellow English Mastiff named

Bo Ogopogo Travis. Although he was not

alive when Halo had her brush with death,

the kindness of his soul is what prompted

his guardians to establish the non-profit in

his name.

"I thought just because he is no longer

living does not mean he cannot continue to

make an impact on this world," said

Amanda Travis, co-founder and executive

director of Bo Paws-It-Forward.

When Bo came into her life nearly

seven years ago, she was not looking to

bring another animal into her household.

Still reeling from a series of losses that

included cats that had been with her since

childhood, a 14-year-old English Mastiff

named Sequoia who elicited so much joy

with her goofy antics, and a number of

hospice pets she cared for as a volunteer at

See NON-PROFIT page 2

Sheriff's contract

approved in Prairie

By Christine Bryant

Staff Writer

Prairie Township has approved its

annual agreement for police coverage with

the Franklin County Sheriff's Office.

At the Jan. 11 meeting, trustees authorized

the 2023 contract with the police

agency for $90,655 per month. As part of

the contract, costs cannot exceed $1.15 million

in total for the year should any unanticipated

expenses occur. In 2022, the

township paid $86,868 per month. Last

year's contract stated costs could not

exceed $1.094 million.

The roughly 4 percent fee increase was

expected, township administrator James

Jewell told the trustees, as many agencies

are experiencing surges in operational

costs.

See PRAIRIE TOWNSHIP page 3

Inside

Pets of the Week .................. 6

The Reel Deal ........................ 16

Westland Development

Commissioners hear proposal to rezone

land for apartment complex Page 3

Music and Dance

CML's culture pass program now offers

music and dance options Page 5

SENIORS – HELP IS HERE

Transportation • Care Team • Concierge Service

ACCEPTING NEW PATIENTS

Serving Superior Heath Care to the 55+ Community

Let's change the world together!

SEE

PAGE 8

FOR

MORE

INFORMATION
---
PAGE 2 - WESTSIDE MESSENGER - January 29, 2023

America's Fa Fa

av av

vorite Treasure ure e Hunts!

2023

Jan. 28 & 29

Feb. 25 & 26

Mar. 25 & 26

Antiques, Collectibles,

Jewelry, Vintage,

Home Decor, Militaria

and more!

Nov. 25 & 26

Dec. 16 & 17

NON-PROFIT

Continued from page 1

a local rescue organization, she did not feel ready to

open herself back up to the prospect of having to say

goodbye to another beloved member of her family.

"I just didn't think I had it in me to do it again," she

said.

When her husband, Buddy, started to toss around

the idea of adding a new dog into their small pack, she

tried her best to rid him of the thought. In hindsight,

she said his refusal to listen allowed her to open her

heart in ways she never could have imagined.

"Sometimes your spouse knows what is best for

you," said Amanda.

In October of 2016, Amanda met Bo for the first

time and immediately fell in love.

At 6-weeks old, Bo was already a "gangly" boy with

unique features. He had a long ski-slope nose, a protruding

lip, and an underbite so big you could stick

your fingers in-between his top and bottom teeth.

Amanda noted that it just allowed him to show off a

few more of his superpowers, such as the ability to

slobber all over the place.

When she held him in her arms, however, she was

overcome with the strangest sensation.

"Something told me that we wouldn't be together

long," she said.

Throughout her life, she has held hundreds of animals

in her arms. Growing up on an acreage of land

just outside of London, the Russell family had cats,

dogs, guinea pigs, a pot-bellied pig, mice, and a minihorse

courtesy of her sister's involvement in 4-H.

When Amanda and Buddy Travis moved to Columbus,

they raised even more animals in their apartment and

eventually their current home in Pickerington. She

said not once had a thought similar to the one she had

when she held Bo crossed her mind.

"It was surreal and I thought I was going crazy, but

I trusted it," she said. "I swore that we would love him

as hard as we could for as long as we could."

And that is what she and Buddy did.

For nearly three-and-a-half years, they provided Bo

with as much love as they could give. In turn, he gave

them as much love as he could give by reminding them

of the simple joys in life and the need to reach out and

make connections. His friendly and caring spirit even

extended to every other human and animal he met —

including the fellow canines in his day care classes who

may have been intimidated by his size.

Amanda said they were lucky to have this "gentle

giant" in their lives — and extremely fortunate that she

and Buddy could afford to pay for his care.

Like many large dog breeds, Bo was diagnosed with

Wobbler Syndrome, a neurological disease that affects

their spine in the neck region. Because his activity levels

at the day care were so high, the muscles he developed

through play masked his condition until it was

too advanced to be treated surgically. Amanda estimates

they spent over $15,000 paying for hydrotherapy,

laser therapy, acupuncture, and anti-inflammatory

drugs to help his disease from progressing further.

"And that was with pet insurance," she said.

Despite his disease, Bo never gave any indication

that he was in pain or that anything else was amiss.

But when she and Buddy found Bo hiding in the hallway

in July of 2020 unable to move freely, they knew

something was seriously wrong.

An $8,000 exploratory procedure at the emergency

animal hospital discovered that not only did Bo have a

rupture in the lining of his stomach but he also had

small nodules that they believed to be cancerous. The

doctors said even if they could repair the stomach lining

and even with a course of cancer treatments, they

put the chances of a successful recovery at less than 10

www.columbusmessenger.com

percent.

"We didn't want that

for him, for him to go

through that and to be

in pain all of the time,"

said Amanda. "So we

had to make the hardest

decision of our lives."

Even though pandemic

restrictions were

in place, they were able

to come inside the hospital

to tell Bo how much

he touched their lives

and to kiss his sweet,

slobbery face one last

Bo

time.

In the midst of her grief, Amanda latched on to an

idea to start a non-profit organization to honor his

memory. She said his gentle spirit had always been so

inspiring to her and Buddy and they wanted to do

something to ensure that his kindness lives on even

after his death.

By the end of the year, Bo Paws-It-Forward was

granted tax exempt non-profit status. Initially, the

organization was to help lower income families who

had large breeds in the Pickerington area offset the

cost of basic needs and surgeries if necessary. Then the

idea expanded to most dogs in the Columbus area, and

then cats throughout the state. Then came an application

from a pet parent in Florida who needed assistance

after the pandemic threw a wrench in her financial

situation.

"Bo Paws-It-Forward has evolved and gone far

beyond what I ever imagined," said Amanda. "I

couldn't be happier with this turn of events and I hope

we are able to continue evolving and serving."

Due to the generosity of local animal groups, care

clinics, and animal lovers throughout the country, as

well as fundraising drives from businesses such as

Germain Toyota of Columbus, Bo Paws-It-Forward has

been able to help dozens of dogs and cats with medicine

or surgeries and saved hundreds of dollars in medical

care cost for their partners. They have even prevented

unnecessary euthanasia and pet-guardian separation,

a primary goal of the organization.

There are currently three one-time grants offered at

the non-profit for guardians facing hardship: the

Giselle Grant, which has a maximum award of $200

that covers the cost of vaccines, heartworm testing,

spay/neuter, microchip and dental procedures; the Bo

Grant, which has a maximum award of $500 (or on a

case-by-case basis) and covers non-basic medical costs

such as surgeries, physical therapies, and procedures;

and the Elwood Grant, which has an average award of

$200 and covers the cost of approved, professional veterinary

behaviorist evaluation.

In addition to the grants, Bo Paws-It-Forward also

offers pet loss support services and is in the process of

creating a service for veterinarians who are struggling

with mental health issues.

"Our mission here is to offer support and resources

to those who need it and we will do so with empathy

and without judgment," said Amanda. "That is the way

Bo loved, that is the way all dogs love, and that is what

we will always strive to be. All we want to do is continue

to be worthy of his kindness and to make him

proud. I like to think that he would be."

For more information on Bo Paws-It-Forward,

including applications, eligibility requirements, or how

to donate, visit bopawsitforward.org. They are also on

Facebook and Instagram at Bo Paws-It-Forward.
---
www.columbusmessenger.com

January 29, 2023 - WESTSIDE MESSENGER - PAGE 3

Government Focus

Commissioners discuss rezoning proposal to build apartments

By Hannah Poling

Staff Writer

Commissioners discussed a rezoning

proposal that would add apartments and

possibly result in a land donation to the

city of Columbus.

The issues was debated at the Jan. 18

Westland Area Commission meeting.

The owners of the property at 795

Galloway Road, located at the northwest

corner of Galloway and Hall roads, are

looking to rezone the current farmland to

make way for multi-family housing and

commercial use. According to Mike McKay,

this month's zoning committee meeting

was packed with about 50 individuals who

wanted to discuss the proposal.

According to McKay, the owners want to

place 552 apartments on the property plus

a commercial aspect which may be either a

gas station or a carry-out.

"It was a good discussion. A lot of neighbors

showed up and expressed their concerns

and gave their feedback," McKay

said.

The proposal calls for more than 500

apartment units on 35 acres, which has

caused concerns about density and traffic.

According to McKay, if the rezoning

request is approved, the property owner

would donate 123 acres of current farmland

to the city parks and recreation

department. Under the park plan, most of

it is buildable land but there are a lot of

restrictions to building as the land is located

within the Big Darby Accord.

The Big Darby Accord was developed to

provide a proactive approach to managing

development and ensuring the protection

and improvement of water quality and

aquatic habitat in the Big Darby Creek

watershed.

O'Grady to serve as president

The Franklin County Board of

Commissioners selected John O'Grady to

serve as president of the board for 2023.

O'Grady was first elected to the board in

2008 and previously served as president in

2010, 2013, 2016, 2017, and 2020, so this is

his fourth term of office and his sixth stint

as board president.

Each year, the commissioners select one

of their own to serve as president of the

board, overseeing the body's weekly general

session and briefing meetings. The board

president also serves as spokesperson for

the board of commissioners at community

events, meetings, and during media interviews.

The board of commissioners is the

administrative arm of Franklin County,

directly overseeing 14 county agencies and

PRAIRIE TOWNSHIP

Continued from page 1

setting the more-than $2 billion budget for

the entire Franklin County government.

"I am humbled to have been chosen by

my colleagues to lead our board again this

year and am looking forward to an exciting

and productive 2023," said O'Grady. "I'm

looking forward to advancing our efforts on

affordable housing, workforce development,

child care, education, and transportation

and broadband infrastructure."

The Franklin County Board of

Commissioners meets in general session

each Tuesday at 9 a.m., and for weekly

briefing meetings at 9 a.m. on Thursdays.

All meetings are open to the public.

Meeting and login information can be

found at commissioners.franklincountyohio.gov/public-meetings.

"We did anticipate the rates going up,"

he said. "There was a new contract with

the sheriff's department and fuel costs

going up, so we did budget enough to cover

this increase."

In other news, the trustees also

approved the purchase of four radar feedback

signs that the township will use to

encourage speed reduction along two township

roads.

The township will place two signs along

Fernhill Avenue and two signs along South

Grener Avenue, Jewell said.

"Speeding has been a recurring issue in

these areas and we hope the addition of

these signs will reduce drivers' speeds," he

said.

The solar-power signs will cost $5,750

each, for a total cost of $23,000. The price

includes the costs associated with installation,

Jewell said.

The meeting also included several annual

organizational measures, including

trustees' roles on the board. Doug

Stormont will once again serve as the

board chair in 2023, with Cathy Schmelzer

returning as board vice chair.

The board also approved Matt Powers to

serve as fire marshal this year, as well as

the continued employment of Floyd

Cochran at the Galloway and Alton cemeteries

and the Galloway Road Sports

Complex. Cochran opens and closes the

facilities every day.

The law firm, Brosius, Johnson &

Griggs, will continue representing the

township for various matter this year.

Trustees approved two annual membership

renewals at the board meeting as well

- the Coalition of Large Ohio Urban

Townships (CLOUT) in the amount of $200

and the Mid-Ohio Regional Planning

Commission (MORPC) in the amount of

just over $10,645.

"What the city does with it is up in the

air. It is unclear what will go on," McKay

said.

Parks and recreation committee chair

Janet Cahill questioned if the donated

property could be utilized to build a longdesired

recreation center on the westside.

"We have this carrot that they are dangling

here in 123 acres. But would they

give us a guarantee that if we approve this,

for the

they will promise that they will use it for

something to better the community?" asked

Cahill.

McKay said the temptation of the donated

property is not worth approving the proposal

due to the density and traffic issues

the building could cause.

The property owners declined to ask for

a vote at this time and it will be acted on at

a future meeting.

Valentine Festivities

LOVE IS IN THE AIR FEBRUARY 14th

5 pm - 9 pm (COVID PROPER)

JPs BBQ BOLTONFIELD

$129.00 per couple

With Beverages * Appetizers * Dinner * Dessert

Music & Fun

$259.00

per couple

Add on Discovery Flight - Includes instruction of flight and the above package

Call Cupid 614.878.7422 www.jpsbbq.com

Advance non-refundable ticket purchase required

SAVINGS RATES

Wintр

tр Season

412 Mon

th CD Special

4 .3 A

e

4.30

0%

*

APY

with minimum balanc

0e of $5,000

%

A

Contact me today for details!

Maggie Colombini

Branch Manager, Wilson Road Office

(614) 351-2100

Maggie.Colombini@Heartland.Bank

.Bank

*Annual Percentage Yield (APY). Minimum balance to open and maintain the advertised 12 month APY of 4.30% is $5,000. APY is accurate as of 12/19/2022.

Maximum deposit is $250,000. Please see your local branch office for disclosure information regarding terms and conditions. Penalty may be imposed for early

withdrawal. Rates are subject to change at any time. No brokers please. Limited time offer. Limited to one per household. Not valid with money currently

on deposit at Heartland Bank. Personal accounts only.

Westside Messenger Ad

Heartland Bank

1/6 Vertic

x 5.75"

gin

Contact

Jonathan Heberline
---
In Education

PAGE 4 - WESTSIDE MESSENGER - January 29, 2023

www.columbusmessenger.com

Upgrades planned at two elementary schools

By Dedra Cordle

Staff Writer

The South-Western City Schools District will utilize

federal dollars to make modest upgrades to the interior

design at two of its elementary school buildings.

In early January, the board of education granted

authorization at its regular meeting for the district to

Call today and receive a

FREE SHOWER PACKAGE

PLUS $1600 OFF

1-855-417-1306

With purchase of a new Safe Step Walk-In Tub. Not applicable with any previous

walk-in tub purchase. Offer available while supplies last. No cash value. Must present

offer at time of purchase. CSLB 1082165 NSCB 0082999 0083445

CALL CONSUMER CELLULAR

855-642-3605

Off First Month

of New Service!

USE PROMO CODE: GZ59O

© 2023 Consumer Cellular Inc. For promo details please call 855-642-3605

OBITUARY NOTICES

Your Affordable Alternative

Messenger Newspapers

On-line & In Print

Your notice will be published on-line Monday through Friday

the day after we receive them. We will provide you with your

low on-line and print costs:

SAMPLE

On-Line $ 45.00

1-Paper Print 2x5=10 @12.90/in $129.00

$174.00

Tell your funeral director to send your notices to

pdmessenger5422@gmail.com

or Call

Columbus Messenger at 614-272-5422

SPECIAL OFFER

advertise for bids for a contract to replace the partition

walls at Buckeye Woods and Darby Woods Elementary

School. The scope of the project will include the replacement

of the partition walls and doors in the buildings with

masonry walls and solid doors to improve air quality in the

classrooms.

According to district officials, the project to reconfigure

space at the two elementary school buildings is budgeted

at $3 million. Should the district receive and award

a bid for the project soon, the upgrades will likely

take place during the summer months when students

and staff are not in the building.

The reconfiguring of space at these two elementary

school buildings was a part of the district's initial

infrastructure plan to determine how the third

allocation of federal dollars would be spent.

Treasurer Hugh Garside said the district received

an allocation of $61.5 million through the third

phase of the American Rescue Plan and The

Elementary and Secondary School Elementary

Relief Fund (ARP-ESSER).

Under the federal guidelines to access these dollars,

20 percent of those funds had to be put aside

to implement learning loss objectives caused by the

COVID-19 pandemic. To date, the district has

spent nearly $12.3 million to combat learning loss

by hiring additional counselors, intervention specialists,

social workers and student support

liaisons; offering online tutoring services; building

a more robust summer school program; providing

Ohio Governor Mike DeWine announced that the

Ohio Department of Job and Family Services (ODJFS)

will receive $48 million in federal grant dollars over

the next three years to support and increase access to

quality early childhood care and education. The

Preschool Development Grant - Birth to Five comes

from the U.S. Department of Health and Human

Services, Administration for Children and Families.

"The largest group of Ohioans living in poverty are

children aged 5 and under," said DeWine. "This grant

allows Ohio to better serve these children by creating

stronger cross program coordination and higher quality

programming in publicly funded childcare, public

preschools, early intervention and home visiting that

form a strong foundation for successful learning."

ODJFS is partnering with the Ohio Departments of

Chromebooks to all students; and partnering with organizations

such as the YMCA of Central Ohio to provide social

and emotional needs for students.

The ESSER III dollars have also been utilized to make

infrastructure upgrades within the district. In addition to

the planned reconfiguring of space at Buckeye Woods and

Darby Woods, other projects include HVAC renovations at

the intermediate schools, Central Crossing High School,

and the South-Western Career Academy; an addition to

classrooms at Hayes Intermediate; sound and lighting

upgrades at the high school auditoriums, additional classroom

space at SWCA, and various chiller replacements.

Evan Debo, the district's executive director of communications,

said most of these projects are currently underway.

"The Career Academy's new event center expansion is

on pace to be completed in 2024," he wrote in an email. "As

for the HVAC work, parts of Hayes Intermediate's HVAC

renovation is also underway. The remaining phases of

these projects will take place once students are out of

school over the summer months. While we are optimistic

that the HVAC work might be completed over the summer,

continued supply chain issues may affect that anticipatory

completion date."

Debo said the district currently has $8.51 million

remaining to be encumbered. He added that approximately

half of this is to be used for the remaining construction

projects not yet contracted while the remaining funds will

be used to address additional learning loss objectives.

Grant provides access to early education

Education; Health; Mental Health and Addiction

Services; Medicaid; and Developmental Disabilities to

administer the grant programs which will focus on:

•Increasing access and family engagement in early

childhood care and education.

•Expanding of child care for those with special

needs, English language learners, and those experiencing

homelessness.

•Creating long-term and sustainable local, state,

and federal funding for early childhood education programs.

•Expanding marketing and outreach to increase

family awareness of their potential eligibility and

access to child care options.

•Preparing early childhood care and education professionals

with culturally appropriate trauma training,

credentialing, and parent supports.

•Making sure family members and

other caretakers are key partners in grant

activities, policy development, and new initiatives.

"The plans for this grant are expansive,"

said ODJFS Director Matt Damschroder.

"It will fund a needs assessment to determine

the best way to provide safe and

enriching early child care and education for

young children with physical disabilities

and emotional needs. It will also address

workforce needs, family engagement, and

the impact of trauma on the mental health

of children, all to help them achieve their

potential."

The grant application details are available

at https://jfs.ohio.gov/cdc/Preschool-

Development-Grant-B-5-2019.stm.
---
www.columbusmessenger.com January 29, 2023 - WESTSIDE MESSENGER - PAGE 5

Community Focus

Culture pass program now

includes music and dance

Columbus Metropolitan Library (CML)

has partnered with BalletMet and the

Columbus Symphony to make a select

number of passes available for library customers

to check out for free.

One BalletMet Culture Pass will be

available at each of CML's 23 locations

beginning two weeks before each performance

during the 2023 season. Each pass is

valid for up to two people (children or

adults). Ten Columbus Symphony Culture

Passes will be available at each library

location beginning two weeks before each

performance during the 2023 season. Each

pass is valid for one adult (children under

16 are free). Passes are valid for

Masterworks performances only.

CML offers its cardholders free admission

to select central Ohio cultural institutions.

The Culture Pass program enables

library customers to borrow passes just as

they would a book: using their library card.

This one-time pass, which must be checked

out in person, grants customers limited

free access to institutions that would otherwise

charge admission fees.

For more information, visit columbuslibrary.org/culture-pass.

CML piloted the program in 2018, offering

culture passes to Franklin Park

Conservatory and the Wexner Center for

the Arts. Since then, CML has worked to

expand the number of participating organizations.

"With the help of our community partners,

we're working to expose all central

Ohioans to the many renowned cultural

gems we are fortunate to have at our

doorstep," said CML Chief Community

Engagement Officer Donna Zuiderweg. "As

a public library, our role is to ensure equal

access to all, and that goes well beyond

books."

"I think our art deserves to be shared

with as wide an audience as possible," said

Columbus Symphony clarinetist Mark

Kleine. "The arts have the ability to

strengthen and speak to all corners of society,

regardless of the repertoire or the

venue."

Current participating cultural organizations:

•BalletMet: Passes available at all CML

Hilltop Legal Clinic

The Legal Aid Society of Columbus will

host a Hilltop Legal Clinic every Monday

from 4 to 6 p.m. at the Columbus

Metropolitan Library Hilltop Branch, 511

S. Hague Ave. in Columbus. A legal aid

attorney will be available to answer questions

regarding landlord and tenant issues,

public benefits, consumer debt, and family

law. To receive free advice, you must have

around the westside

locations

•Columbus Clippers: Passes available

at all locations

•Columbus Museum of Art: Passes

available at all locations

•Columbus Symphony: Passes available

at all locations

•Columbus Zoo and Aquarium: Passes

available at CML's Main Library and

Barnett, Driving Park, Franklinton,

Hilltop, Karl Road, Linden, Marion-

Franklin, Martin Luther King, Northern

Lights, Northside, Parsons, Shepard and

Whitehall branches

•Franklin Park Conservatory: Passes

available at CML's Driving Park, Martin

Luther King and Shepard branches

•National Veterans Memorial and

Museum: Passes available at CML's Main

Library and Barnett, Franklinton, Martin

Luther King and Parsons branches

•Ohio History Center: Passes available

at CML's Driving Park, Franklinton,

Hilltop, Karl Road, Linden, Martin Luther

King, Northern Lights and Northside

branches

•Pizzuti Collection of the Columbus

Museum of Art: Passes available at all

locations

The Culture Pass program offers each

participating institution the opportunity to

select which specific CML locations will

offer their passes based on the neighborhoods

and communities associated with

their outreach, diversity and inclusion

goals. Therefore, Culture Passes are only

available for in-person customer checkout

at the specific CML locations listed above.

Culture passes cannot be reserved like traditional

library items. However, customers

can check their availability at columbuslibrary.org

by typing "Culture Pass" into the

catalog search bar.

Each participating organization offers

their passes to CML and its customers for

free. CML does not purchase passes as it

does with traditional library materials.

Each organization sets its own rules for

how many individuals are covered under

its passes and on which days the passes

will be honored. Partner organizations also

set the number of passes allotted to each

designated CML location.

a gross household income below 200 percent

of the Federal Poverty Level. For more

information, call Legal Aid at 614-241-

2001.

Produce giveaway at YMCA

The Hilltop YMCA hosts a fresh produce

giveaway the third Wednesday of each

month from 4 to 6 p.m. at 2879 Valleyite

Drive in Columbus. For more information,

call the YMCA at 614-276-8224.

Thomas Rouse DDS, Jason T. Culley DDS FAGD

• General Family Dentistry • Cosmetic Dentistry

• Dental Implants and Crowns

No insurance, no problem:

In Office Membership Program available to adults and children.

1225 Dublin Rd. STE 40

Columbus, Oh 43215

614-488-9050

JANUARY'S

Winter Driving Specials!

• Change Engine Oil

(up tp 5 quarts of conventional oil)

• Change Oil Filter (special filters extra)

• Rotate Tires & Inspect Brakes

• Check & Set Tire Pressure

• Check Condition of Belts & Hoses

Accepting most insurance

FREE Whitening

with a New Patient exam

9745 Fairway Dr.

Powell, Oh 43065

614-766-5722

Savings Special

3374 Sullivant Ave.

Columbus, Ohio 43204

614-488-9591

shiffletautocare.com

Oil Change, Tire Rotation & Inspection Special

• Inspect Wiper Blades & Lights

• Check Anti-Freeze Protection

• Top off Under Hood Fluids

• 31 Point Inspection

• Consultation on Needed Repairs

$68.04

Standard & Blended Oil

5040 Palmetto St. STE A

Columbus, Oh 43228

614-878-7733

$101.10 VALUE

All offers not valid with other Discounts. Expires February 12, 2023

SAVE

$30

$92.10

Full Synthetic

$20 off if you invest $250 - $399 $35 off if you invest $400 - $599

All offers not valid with other Discounts. Expires February 12, 2023
---
PAGE 6 - WESTSIDE MESSENGER - January 29, 2023

WESTGATE UNITED

METHODIST CHURCH

61 S. Powell Ave., Columbus,OH 43204

Come - Let's Worship Together!

Nancy Day-Achauer

Worship Service 9:00 a.m.

Sunday School 10:00 a.m.

westgateumc@sbcglobal.net

614-274-4271

GLENWOOD UM CHURCH

2833 Valleyview Dr.

(Corner of Valleyview & Hague Ave.)

(614) 274-8469

Pastor Dawn Trapp

Join us for In-Person

Sunday Worship at 10:45 a.m. or

Join us for Online Worship at

Glenwood UMC YouTube

http://tinyurl.com/GlenwoodUMC

HOGE MEMORIAL

PRESBYTERIAN CHURCH

2930 W. Broad St., Columbus, Ohio 43204

Sundays at 10:30 a.m.

In Person Worship

Live Streaming Sunday Worship Service

at 10:30 a.m. on Hoge Facebook Page

Worship & Free Meal

Saturdays at 5:00 p.m.

www.hogemempresby.org

Please visit the

Westside Church

of your choice.

List your Worship

Services here.

For info. call 614-272-5422

Be a Part of Our Local Worship Guide

Our upcoming Worship Guide is geared toward celebrating faith and helping readers connect with

religious resources in our community. Make sure these readers know how you can help with a presence in

this very special section distributed to more than 25,000 households in the Westside area.

Contact us today to secure your spot in our Worship Guide.

614.272.5422 • kathy@columbusmessenger.com

Messenger

Westside

FOR SALE

Columbus Messenger is cleaning out back room of items

we no longer need:

28 ft. Extension Ladder, new $475, like new condition,

rarely used - $350, 350 lb. capacity

10 ft. Aluminum Step Ladder, 280 lb. capacity, new $310,

like new condition rarely used - $190

Hose Caddy and 100 ft. of Hose like new, $65

Floor Machine, includes: all pads plus unopened Betco wax,

very lightly used machine - $395

Coca Cola Machine - $799 or Best Offer

Charcoal Grill, used less than 5 times - $25

Call 614-272-5422

to view and/or purchase

Pet Corner

Pets of the week

Whitney is an older

diva (12 years old)

who is looking for a

quiet home where

she is the main

attraction. She is shy

with new people but

once she gets comfy,

she will make a great

movie watching companion.

Whitney

enjoys bird watching

and lots of scratches. She would do best as

an only cat because she prefers to be the star

of the house. She would also prefer a home

without children. Adopt Whitney from Friends

for Life Animal Haven.

FYI: fflah.org

Annie Tanny is

about 3 months old.

She came to the rescue

group as part of

a litter of eight from a

high kill shelter in

West Virginia. Annie

is a sweet girl that

loves attention and

cuddles. She is a

very good listener.

Annie loves to play

with other puppies and is learning to be

respectful of cats. She is crate trained,

spayed and current on vaccines. Annie is up

for adoption through Colony Cats and Dogs.

FYI: colonycats.org

Dog license renewal runs

through March 31

Dog license renewal season is under

way, and licenses are now available for

purchase without penalty at the auditor's

office.

The dog license renewal period will run

through March 31, an extension of two

months to increase the rate of licensing. As

in past years, licenses may be purchased at

doglicense.franklincountyohio.gov, or at

the auditor's office license counter, 373 S.

High St., 21st Floor in downtown

Columbus. The counter is open Monday

through Friday, from 8 a.m. to 4 p.m.

One-year, three-year, and permanent

dog licenses can be purchased through

March 31. After the deadline, the cost to

purchase a license doubles.

The office will also offer licensing at

expanded locations across the county,

including at pet vaccination clinics, the

Franklin County Dog Shelter, and at other

community events.

In addition to being required by state

law, dog licensing ensures that a dog has

been vaccinated against rabies, which is

required in Franklin County. It also

Bluebell is a sweet

cat who is eager to

find a forever home.

This 1-year-old is

good with other cats

and good with dogs.

Bluebell would be a

great addition to any

family. Stop by the

Pet Supplies Plus

location on Lane

Avenue to meet this

curious kitty.

FYI: colonycats.org

Hilda is 6 years old

and would be excited

to go to a home with

a family who can continue

fostering her

slightly adventurous

personality, while

also fully understanding

that on some

days, Hilda may prefer

to stay home

news and notes

www.columbusmessenger.com

These furry friends are available

for adoption at local

rescues and shelters

watching reruns

while snuggled up on

the couch. Hilda has done well with the children

she has interacted with. She is great on

a leash and is house trained. Adopt her from

the Franklin County shelter.

FYI: franklincountydogs.com

ensures any lost dog is returned quickly to

their owners. License fees help support the

Franklin County Dog Shelter and Adoption

Center.

Visit doglicense.franklincountyohio.gov

for more information.

After school snacks

at local libraries

Columbus Metropolitan Library has

once again partnered with Children's

Hunger Alliance to provide after-school

snacks for children ages 1-18 at several of

its locations including:

• Franklinton Branch: Monday -

Saturday: 3:30 to 4:30 p.m.

• Hilltop Branch: Monday - Friday:

3:15-3:45 p.m. and Saturday: 2:15 - 2:45

p.m.

These locations were selected for the

meal program based on student need. A

typical super-snack provided by Children's

Hunger Alliance consists of a fruit, vegetable,

protein, grain and milk.

For more information, visit cholecystenterorrhaphy.org.
---
www.columbusmessenger.com

January 29, 2023 - WESTSIDE MESSENGER - PAGE 7

Active Lifestyles

A bi-monthly feature celebrating the

wisdom, experience and contributions of our community's senior citizens

Benefits of getting older

Seniors are a rapidly growing segment

of the population. With so many people living

longer, it's time to celebrate the perks

of getting older rather than the drawbacks.

Here are some benefits to growing old.

•Higher self-esteem: The insecurities of

youth give way as one ages, and older people

have less negativity and higher selfesteem.

Qualities like self-control and

altruism can contribute to happiness.

•Financial perks: Seniors are entitled to

discounts on meals, museum entry fees,

movies, and other entertainment if they're

willing to disclose their ages. Discounts are

available through an array of venues if one

speaks up. Seniors also can enjoy travel

perks, with slashed prices on resorts, plane

tickets and more.

•Reasoning and problem-solving skills:

Brain scans reveal that older adults are

more likely to use both hemispheres of

their brans simultaneously something

called bilateralization. This can sharpen

reasoning skills.

•Less stress: As people grow older, they

are able to differentiate their needs from

wants and focus on more important goals.

This can alleviate worry over things that

are beyond one's control. Seniors may realize

how little the opinions of others truly

mean in the larger picture, thereby feeling

less stress about what others think of

them.

Growing older may involve gray hair or

wrinkling skin, but there are many positive

things associated with aging.

Call today

Start today

no minimums!

PAID ADVERTISING

HEAP Assistance

The Ohio Department of Development and

Central Ohio Area Agency on Aging want to

remind senior citizens in Ohio that assistance is

available to help with their home energy bills.

The Home Energy Assistance Program (HEAP)

helps Ohioans at or below 175 percent of the federal

poverty guidelines pay their heating bills.

Applied directly to the customer's utility or

bulk fuel bill, the benefit can help manage heating

costs. Senior citizens may go to their local

Area Agency on Aging office for help with

assembling the required documents and completing

their HEAP application. Senior citizens may

also visit www.energyhelp.ohio.gov to apply

online or to download a copy of the application.

When applying, individuals need to have

copies of the following documents: most recent

utility bills, a list of all household members

(including birth dates and Social Security numbers),

proof of income for the past 30 days for all

household members (12 months for certain

income types), proof of U.S. citizenship or legal

residency for all household members, and proof

of disability (if applicable). HEAP benefits are

applied to an individual's energy bill after

January 1st. Applications for the HEAP program

must be received by May 31, 2023.

For more information or assistance with

applying for a HEAP benefit, contact Andy

Haggard, 614-645-7186.

To be connected to your local Energy

Assistance provider, call (800) 282-0880 (hearing

impaired clients may dial 711 for assistance) or

visit www.energyhelp.ohio.gov.

1 Hr. up to 24 Hr. Care

We send you the Best Home Caregivers

Rates as low as $16.46 an hour!

"We Do Things Your Way"

614-80-ANGEL (614-802-6435)

Call or text for info. www.v-angels.com

Financial help for home energy bills is available to income-eligible

Ohioans through the Home Energy Assistance Program (HEAP).

Applied directly to the customer's utility or bulk fuel bill,

For more information or assistance with applying for a

614-645-7186.

Your

Connection

to Care

coaaa.org

Applications for the HEAP program

must be received by May 31, 2023.

energyhelp.ohio.gov
---
PAGE 8 - WESTSIDE MESSENGER - January 29, 2023

Active Lifestyles

www.columbusmessenger.com

SENIORS — HELP IS HERE!

Your Doorstep to Your Doctor!

We provide:

• Transportation • Personal Coordinated Team Care

• Concierge Service • Convenience of all services under one roof

• Superior Healthcare • We serve to 55+ Medicare-eligible Community

Call for more information:

Cyndi Romo, MGC - Membership Growth Consultant

380-245-6011

cyndi.romo@dedicated.care

Let's change the world together!

NORTH

2260 Morse Rd

Partnership with

3 LOCATIONS:

WESTSIDE

50 N. Wilson Rd.

WHITEHALL

5156 E. Main St.

Hilltop History & Heritage

This photo dated Feb. 14, 1970 shows (from left to right) Roger Germany of the

Hilltop Civic Council, Mayor Jack Sensenbrenner, Cliff Tyree, and two unidentified

women with a large donation raised for the Burton family. A fire on Jan. 30, 1970

tragically killed four of the five Burton children. The council collected donations for

the family. Jack Sensenbrenner, a longtime Hilltop resident, served as mayor of

Columbus from 1954-59 and 1964-1971. If you have a photo to share, contact Stacy

Berndsen-Campbell at stacyberndsen12@gmail.com.

PAID ADVERTISING

Programs allow seniors to thrive, age in place

For the last 30 years, the Franklin County

Office on Aging has been widely known for its

exemplary work on behalf of older adults.

Adhering to its mission in providing centralized

access to diverse programs, the Office on Aging

provides services and programs to approximately

60,000 seniors every year.

Through compassion and empowerment, the

agency provides Franklin County seniors ages 60

and older individualized services and connectivity

to community resources to help them age in

place. The agency's most popular program,

Franklin County Senior Options, offers services

such as Home-Delivered Meals, Personal Care,

Respite Care, Homemaker Services, Medical

Transportation, Emergency Response Systems

and Minor Home Repair. These services help ease

the minds of family members by connecting them

to support services in order to provide the best

care for their older parent, family member or

friend with limited abilities.

The agency also provides Caregiver and

Kinship Support programs. These programs are in

place to assist caregivers and kinship families

with free, short-term services that are available

once a calendar year. Services include, but are not

limited to, assistance with appliances, mattress

and box spring sets, as well as utility and rental

assistance.

The Office on Aging also administers Adult

Protective Services (APS) to protect older adults

susceptible to abuse, neglect and exploitation.

APS provides case planning, monitoring, and

evaluation to the older adult, as well as link them

to the appropriate agencies for services.

To learn more about the Franklin County

Office on Aging and the services available, call

(614) 525-6200 or visit Officeonaging.org.

PAID ADVERTISING

Funeral etiquette:

What to wear, what to say, and how to help?

By Modlich Monument Company

You want to honor a friend and support the

bereft family, but you don't want to bring attention

to yourself with a misstep. Here are some tips

to put you at ease.

What to wear:

While black is the traditional color of mourning,

it is no longer mandatory. Any dark or muted

color that is understated and tasteful is acceptable.

No attention-grabbing wardrobe choices or overly

casual wear like shorts and flip flops to a traditional

service.

What to say:

Your heart is full, but your mind draws a blank

on how to express yourself to the grieving family.

Sharing a fond memory is always appreciated and

shows how their loved one impacted your life.

Etiquette expert, Elaine Swann, suggests "My

condolences to you and the entire family" or "My

thoughts are with you" are always safe bets. Keep

it short and simple. Well intentioned statements

like "He's in a better place" or "the pain will

lessen in time" can feel insensitive. And if the

right words don't flow naturally, a hug by itself is

often all you need.

How to help:

Sympathy cards and food are always appreciated.

Flowers, when religiously appropriate, or

donations to a special cause, are extra ways to

express your sympathy. Later, when the gatherings

are over, is often when your friends will need

support, so check in on them then.

Be yourself:

Remember, the grieving family appreciates

any act of kindness. Be present and sincere, and

your compassion will be a comfort.
---
www.columbusmessenger.com

Active Lifestyles

WESTSIDE MESSENGER - January 29, 2023 PAGE 9

Franklin County Board of Commissioners: Commissioner John O'Grady, President, Commissioner Kevin L. Boyce, Commissioner Erica C. Crawley

The Franklin County Board of Commissioners and The Franklin County Office on Aging join with the Messenger Newspaper in providing this update on aging issues in Franklin County.

Franklin County Office on Aging

Extends Free Home-Delivered Meals Program

Through End of 2023

The Franklin County Office on Aging has extended its free

Home-Delivered Meals program through the end of 2023. With

this extension, Franklin County residents aged 60 and older are

eligible to receive free home-delivered meals without income

verification through Dec. 31, 2023. In April 2020, at the start of

the COVID-19 pandemic, the Franklin County Office on Aging

paused any income verification requirements for home-delivered

meals – a service available through the agency's Franklin

County Senior Options program.

"While the pandemic is now more manageable, many older

adults simply cannot afford the increased price of groceries or

meals due to their fixed incomes, as well as the impact of inflation,"

said Interim Director Chanda Wingo. "Extending this

service through 2023 gives our seniors continued access to

affordable and nutritious food that is crucial in maintaining

their health and well-being."

through Franklin County Senior Options, which has been providing

community-based services to residents since 1993.

Senior Options empowers Franklin County residents aged 60

and older with the necessary tools needed to maintain their

independence. Additional services available through Senior

Options include adult day care, personal care, respite care,

minor home repair and emergency response systems. The program

also helps ease the minds of family members by connecting

them to support services so they can provide the best care

for their older parent, family member or friend with limited

abilities.

To sign up for free home-delivered meals or to learn more about

the services available through the Franklin County Office on

Aging, call (614) 525-6200 or visit officeonaging.org.

The agency delivered over 1.1 million meals to FranklinCounty

seniors in 2022, serving over 7,000 residents – a 25% increase

from residents served in 2021.

The Agency's home-delivered meals program is offered
---
PAGE 10 - WESTSIDE MESSENGER - January 29, 2023

Active Lifestyles

www.columbusmessenger.com

PAID ADVERTISING

Galaxy Health is a full-service family practice

Galaxy Health Family Practice opened Dec. 1,

2021, at 421 Georgesville Road, between

Sullivant Avenue and Hollywood Casino.

Founded by nurse practitioner and CEO Miki

Watts, a proud 1996 graduate of West High

School, Galaxy Health exists to serve the Hilltop

and surrounding communities.

At Galaxy Health, we pride ourselves on being

a full-service family practice ready to serve your

healthcare needs. We have two on-site labs for

toxicology and blood work. Lab work is done the

same day with little to no wait – no need to schedule

an additional appointment. With Miki's 10+

year background in addiction and pain management,

we also offer outpatient addiction treatment.

Medicare's Annual Enrollment Period (AEP)

2023 is officially over. But you still can enroll

into a Medicare Advantage Plan that has a 5-star

plan rating!

My name is Ralph Curcio, I live in Franklin

County – available to review your plans options

in person. You are welcome to contact me directly

at 614-603-0852 or email me at

RWCURCIO@GMAIL.COM. We could have a

virtual meeting, a face-to-face meeting or I'll mail

plan information to your attention for review. I am

not an operator in a call center – you are welcome

to call anytime during the year with questions.

We use a powerful full-body test called ANS,

which measures how well the brain communicates

to other parts of the body such as heart,

lungs, kidneys, stomach, and liver and can help in

the diagnosis of chronic diseases related to the

heart; blood pressure, blood flow, chronic pain,

and other physical and mental stresses.

Galaxy Health is accepting new patients today.

Find out more and schedule your appointment

today by visiting GalaxyHealthFP.com, find us on

Facebook or Twitter @GalaxyHealthFP,

Instagram @GalaxyHealthFamilyPractice or by

calling 614-272-7700. We currently accept most

insurance plans, including CareSource, Molina

and Medicaid.

PAID ADVERTISING

Be confident in your plan

Also, we can complete the online application

for Low Income Subsidy (LIS), which would provide

a savings toward your Rx co-pays and more,

if you qualify. I work with major insurance carriers

available in Ohio and nationally, not just one

or two plans. Select the plan that benefits you for

the coming year, lowest possible co-pays for services

and medications while including your current

physicians. Some of the plan options may include

dental, vision, a monthly food allowance along

with a fitness program. $0 cost for my consultation

and enrollment services. You need to be confident

in the plan you select!

Medicare Annual Open Enrollment Period (AEP) is over for

- will I have to pay a penalty if I keep working after I turn 65, and decide to keep my

group plan?

- are there any 5 Star Medicare rated plans in my county, that I can enroll into

throughout the year?

-

review more than 2 or 3 plan options.

- I need help in paying my Rx copays, any assistance available?

Ralph Curcio Call today 614-603-0852

Medicare Agent Ohio Lic. # 1466836

-$0 fee or $0 Consultation cost

-Be confident in your plan selection, keep your doctors, and find the lowest

copays for your medications.

limited to those plans we do offer in your area. Please contact Medicare.gov or

1-800-MEDICARE to get information on all of
---
www.columbusmessenger.com

Congressman recognizes local students

On Jan. 19, Congressman Mike Carey recognized military academy nominees at a ceremony held at City Hall, in Grove City. The

nominees are from Carey's 15th district. Pictured here (from left to right) are Brian Fitzsimmons (Bishop Ready), Colby Forcum

(Zane Trace), Steventon Wagner (Upper Arlington High School), Zachary Swierz (Bishop Ready), Congressman Carey, Major

General John Harris, Aidan Eberhardt (Pickerington North), Justin Viau (Fisher Catholic, Ray Soldini (Dublin Scioto), Daniel Reese

(Teays Valley). In total, 12 military academy nominees were honored. Those not pictured include Isaac Carter and Samantha

Paduchik of Grove City High School and Luke McCoy from Grove City Christian School. Members of Congress may nominate candidates

for appointment to the U.S. Military Academy, West Point; the U.S. Naval Academy; the U.S. Air Force Academy; and the

U.S. Merchant Marine Academy. In pursuit of a nomination, students submit an application and are interviewed by Carey's Military

Academy Review Board. The board evaluates the students on the basis of academic performance, leadership ability, and community

involvement.

WESTSIDE MESSENGER - January 29, 2023 PAGE 11

Dave Dobos

STATE REPRESENTATIVE

What a

whirlwind of a

January it has

been!

With a mere 21 days under my belt as a state

legislator, I am working hard to "learn the

ropes" at the State House and meet as many

people as possible to so I can become effective

quickly and advocate tirelessly for our

District.

On January 3, I was officially sworn in as the

State Representative for Ohio's 10th House

District. Representing the passions and interests

of the citizens of West, Southwest, and

South Columbus, Urbancrest, and Grove City,

I will continue to work for the economic opportunity

and prosperity and quality education

our District deserves. Although my

journey as State Representative has just

begun, I am eager to fulfill these promises as

I endeavor to ensure that all the citizens from

our District's communities have access to a

comfortable life through good-paying jobs

and careers, safe school environments, and

first-class educational opportunities.

Pictured below is a snapshot of me officially

swearing into office. In this photo, I am accompanied

by my two sons, Alex (left) and

Joseph (right), both of whom are an extremely

important part of my life. Additionally,

I am accompanied by Ohio Supreme

Court Associate Justice Pat Fischer and outgoing

Ohio House Speaker Bob Cupp.

I also am proud to announce that on Monday,

January 23, I was named Vice Chair of the

Higher Education Committee. After serving

eight years on the Columbus Board of Education

and over 40 years interviewing prospective

undergraduate students for my alma

mater, the Massachusetts Institute of Technology

(MIT), I am confident that I can help

shape the brightest future for young people

as they pursue their advanced education.

Furthermore, I am happy to announce that I

also was appointed as one of two legislators

to the Ohio Rare Disease Advisory Council.

(Dave Dobos represents the 10th District in

the Ohio House of Representatives. He reports

regularly on his activities in this position

and his campaign has paid for this communication

with you.)

Guys in Ties

The Finland Elementary School Guys in Ties student leadership group, led by Mr. Edwards, held a bow tie summit to discuss leadership

strategies and studied the impact of Dr. Martin Luther King Jr. and how he inspired millions through his words.

Paid Advertisement
---
PAGE 12 -- WESTSIDE MESSENGER - January - 29, 29, 2023

www.columbusmessenger.com

www.columbusmessebger.com

CLASSIFIED ADS

Deadlines: Grove City, Groveport & All editions - Mondays at Noon.

West, Canal Winchester, South & Madison editions -Tuesdays at 5 p.m.

xCraft Shows

xAdult Care

ONLY $65.00

ADVERTISE

Your Spring Craft Show

Bazaar or Bake Sale!

Call Kathy

272-5422

For More Info

Craft Shows

LEGAL NOTICE

ASSOCIATION ADS

Class Action against The MobileHelp, America's

City of Grove City (2.5 premier mobile medical

miliion) & Grove City alert system. Whether

Police (2.5 million) for you're home or away. For

bodily harm & abuse of

power. Free to join. 614-

778-3864

safety & peace of mind.

No long term contracts!

Free brochure! 1-888-489-

Class Action against 3936

Grant Hospital for Vivint Smart Security. ASSOCIATION ADS

malpractice & negligence. Professionally installed.

Free to join. 614-778-3864 One connected system for Safe Step. North

total peace of mind. Free America's #1 Walk-in Tub.

Compreshensive lifetime

INFORMATION

GOT THE

WINTER BLAHS?

Come See Me At

My New Location!

For a New Haircut/Color

Call Marilyn Weaver

For An Appt.

614-348-6670

Relax Wellness

3663 Broadway,

Grove City

Have Something To Sell?

Need To Rent That Property?

Try The Messenger!

For Info On

Placing An Ad Call

614-272-5422

ASSOCIATION ADS

Are you receiving

SSDI/SSI Benefits? You

may be eligible for

additional benefits. CALL

US TODAY Citizen

Disability 1-888-490-6616

Donate Your Car To

Veterans Today! Help and

Support our Veterans.

Fast - FREE pick up.

100% tax deductible. Call

1-800-245-0398

professional

installation!

Four free months of

monitoring! Call to

customize your system. 1-

833-841-0737

Internet &WIFI Starts at

$49 Call us Today to Get

Started. Find High-Speed

Internet with Fiber Optic

Technology No Credit

Check, No SSN Required.

Call us Today 866-396-

0515

Safe Step. North

America's #1 Walk-in Tub.

Compreshensive lifetime

warranty. Top-of-the-line

installation and service.

Now featuring our free

shower package & $1600

off - limited time!

Financing available. 1-

855-417-1306

HughesNet - Finally, superfast

internet no matter

where you live. 25 Mbps

just $59.99/mo! Unlimited

Data is Here. Stream

Video. Bundle TV &

Internet. Free Installation.

Call 866-499-0141

DIAGNOSED WITH

LUNG CANCER? You

may quliafy for a

substantial cash award -

even with smoking history.

NO obligation! We've

recovered millions. Let us

help!! Call 24/7, 1-888-

650-9135

warranty. Top-of-the-line

installation and service.

Now featuring our FREE

shower package & $1600

off for a limited time! Call

today! Financing

available. Call Safe Step

1-833-356-1954

FREE $20 Cash App

Everyone! Yes It's Real.

Very Limited supply until

we run out! Go to

Free20Now.com

Replace your roof with the

best lookng and longest

lasting material -- Steel

from Erie Metal Roofs!

Three styles and multiple

colors available.

Guaranteed to last a

lifetime! Limited Time

Offer - $500 Discount +

Additional 10% off install

(for military, health

workers & 1st responders)

Call Erie Metal Roofs: 1-

855-338-4807

Stroke & Cardiovascular

disease are leading

causes of death according

the American Heart

Association. Screenings

can provide peace of mind

or early detection! Call

Life Line Screening to

schedule your screening.

Special offer - 5

screenings for $149. 1-

866-518-8391

Call today

Start today

no minimums!

1 Hr. up to 24 Hr. Care

We send you the Best Home Caregivers

Rates as low as $16.46 an hour!

"We Do Things Your Way"

614-80-ANGEL (614-802-6435)

Call or text for info. www.v-angels.com

Adult Care

xPreschool/Daycare

advertise

YOUR DAY CARE

OR PRESCHOOL

Call Kathy

at The Messenger

For More Info

272-5422

Preschool/Daycare

ASSOCIATION ADS

Attention Homeowners! If

you have water damage

and need cleanup

services, call us! We'll get

in & work with your

insurance agency to get

your home repaired and

your life back to normal

ASAP! 855-767-7031

Don't let the stairs limit

your mobility! Discover

the ideal solution for

anyone who struggles on

the stairs, is concerned

about a fall or wants to

regain access to their

entire home. Call

AmeriGlide today! 1-844-

317-5246

ASSOCIATION ADS

DIRECTV Stream -

Carries the Most Local

MLB Games! CHOICE

Package, $89.99/mo for

12 months. Stream on 20

devices in your home at

once. HBOMax included

for 3 mos (w/CHOICE

Package or higher.) No

annual contract, no hidden

fees! Some restrictions

apply. Call IVS 1-866-629-

6086

!!OLD GUITARS WANT-

ED!! GIBSON, FENDER,

MARTIN, Etc. 1930's to

1980's. TOP DOLLAR

PAID. CALL TOLL FREE

1-866-433-8277
---
www.columbusmessenger.com

January 29, 2023 - WESTSIDE MESSENGER - PAGE 13

xEmployment

WANTED

Host/Hostess • Back-Up Cooks

Grill • Servers • Dishwashers

You Can Work 29+ Hrs. Based on

Your Availability & Performance

Immediate Full/Part-time Openings

We Offer:

• Weekly Pay

• Paid Training

• No Tip Sharing

• Paid Vacation

• Employee Meal Discount

• Position/Salary Advancement Plan

• Discount Purchase Plan

Apply online at crackerbarrel.com/careers for

Hilliard Location 614-878-2027

ASSOCIATION ADS

Caring for an aging loved

one? Wondering about

options like senior-living

communities and in-home

care? Caring.com's

Family Advisors help take

the guesswork for your

family. Free, no-obligation

consult: 1-855-759-1407

Switch and save up to

$250/yr on talk, text &

data. No contract or

hidden fees. Unlimited talk

& text with flexible data

plans.

Premium

nationwide coverage.

100% U.S. based

customer service. Limited

time get $50 off any new

account. Use code

GIFT50. 1-855-903-3048

DENTAL INSURANCE

from Physicians Mutual

Insurance Company.

Coverage for 350 plus

procedures. Real dental

insurance - NOT just a

discount plan. Do not wait!

Call now! Get your FREE

Dental Information Kit with

all the details! 1-877-553-

1891

www.dental50plus.com/

macnet#6258

Free high speed internet if

qualified. Govt. pgm for

recipients of select pgms

incl. Medicaid, SNAP

Housing Assistance, WIC,

Veterans Pension,

Survivor Benefits, Lifeline,

Tribal. 15 GB Internet.

Android tablet free w/onetime

$20 copay. Free

shipping. Call Maxsip

Telecom! 1-833-758-3892

Become a Published

Author. We want to Read

Your Book! Dorrance

Publishing - Trusted by

Authors Since 1920

Book manuscript submissions

currently being reviewed.

Comprehensive Services:

Consultation, Production,

Promotion and Distribution. Call

for Your Free Author's Guide 1-

866-482-1576 or visit

dorranceinfo.com/macnet

ASSOCIATION ADS

Metal Roofing &Siding For

Houses, Barns, Sheds etc.

36" Coverage, Painted $2.35

LF, Bare $1.45 to $1.70 LF,

Rainbow $1.35 LF. Sold as

Seconds. Made in Ephrata,

Pa. 717-445-5222

READER

ADVISORY

The National Trade Association

we belong to has

purchased the following

classifieds. Determining

the value of their service

or product is advised by

this publication. In order

to avoid misunderstandings,

some advertisers do

not offer "employment"

but rather supply the

readers with manuals, directories

and other materials

designed to help

their clients establish mail

order selling and other

businesses at home. Under

NO circumstance

should you send any

money in advance or give

the client your checking,

license ID or credit card

numbers. Also beware of

ads that claim to guarantee

loans regardless of

credit and note that if a

credit repair company

does business only over

the phone it's illegal to request

any money before

Switch and save up to

$250/yr on talk, text & data.

No contract or hidden fees.

Unlimited talk & text with

flexible data plans.

Premium nationwide

coverage. 100% U.S.

based customer service.

Limited time offer - get $50

off any new account. Use

code GIFT50. For more

information1-888-684-1169

ASSOCIATION ADS

Wesley Financial Group,

LLC Timeshare Cancellation

Experts Over

$50,000,000 in timeshare

debt & fees cancelled in

2019. Get free

informational package &

learn how to get rid of

your timeshare! Free

consultations. Over 450

positive reviews. 888-965-

0363

ASSOCIATION ADS

Vivint Smart Security.

Professionally installed.

One connected system for

total peace of mind. FREE

professional installation!

Four FREE months of

monitoring! Call now to

customize your system. 1-

855-870-2073

ASSOCIATION ADS

The bathroom of your

dreams for as little as

$149/month! BCI Bath &

Shower. Many options

available. Quality

materials & professional

installation. Senior &

Military Discounts

Available. Limited Time

Offer - FREE virtual inhome

consultation now

and SAVE 15%! Call

Today! 1-877-540-2780

Employment

ASSOCIATION ADS

BUYING CLASSIC CARS,

TRUCKS, SUVs

**American and Foreign**

Any Condition. Buying

entire car collections.

$$PAYING CA$H$$

Please call 717-577-8206

KRMiller1965@yahoo.com

ASSOCIATION ADS

delivering its service. All

funds are based in US

dollars. Toll Free numbers

may or may not

reach Canada. Please

check with the Better

Business Bureau 614-

486-6336 or the Ohio Attorney

General's Consumer

Protection Section

614-466-4986 for more

information on the company

you are seeking to

do business with.

ASSOCIATION ADS

WANTED!

MOTORCYCLES!

ANTIQUE AND CLASSIC.

Honda, Kawasaki, Suzuki,

Yamaha, Triumph, BSA

and other foreign models.

$$PAYING CA$H$$

717-577-8206

KRMiller1965@yahoo.com
---
PAGE 14 - WESTSIDE MESSENGER - January 29, 2023

www.colulmbusmessenger.com

xEmployment

"HELP WANTED"

SIGN

NOT WORKING?

TO ADVER

VERTISE

Call Kathy at

The Columbus Messenger

272-5422

For More Info

ASSOCIATION ADS

Become a Published

Author. We want to Read

Your Book! Dorrance

Publishing Trusted Since

1920 Consultation,

Production, Promotion &

Distribution. Call for Free

Author's Guide 1-877-729-

4998 or visit

dorranceinfo.com/ads

Looking for auto insurance?

Find great deals

on the right auto insurance

to suit your needs.

Call today for a free

quote! 866-924-2397

NEED IRS RELIEF

$10K-$125K+ Get Fresh

Start or Forgiveness.

Call 1-877-705-1472

Monday through Friday

7am-5pm PST

Attention oxygen therapy

users! Inogen One G4 is

capable of full 24/7 oxygen

delivery. Only 2.8

pounds. Free info kit.

Call 877-929-9587

ASSOCIATION ADS

Donate your car, truck,

boat, RV and more to

support our veterans!

Schedule a FAST, FREE

vehicle pickup and receive

a top tax deduction! Call

Veteran Car Donations at

1-877-327-0686 today!

Thinking about installing

a new shower? American

Standard makes it

easy. FREE design consulation.

Enjoy your

shower again! Call 1-

833-769-0995 today to

see how you can save

$1,000 on installation, or

visit www.newshowerdeal.com/mac

IMPORTANT

NOTICE

The following states: CA,

CT, FL, IA, IL, IN, KY,

LA, MD, ME, MI, MN,

NE, NC, NH, OH, OK,

SC, SD, TX, VT and WA

requires seller of certain

business opportunities to

register with each state

before selling. Call to

verify lawful registration

before you buy.

ASSOCIATION ADS

Eliminate gutter cleaning

forever! LeafFilter, the

most advanced debrisblocking

gutter protection.

Schedule a FREE

LeafFilter estimate today.

20% off Entire Purchase.

Plus 10% Senior & Military

Discounts. Call 1-855-

791-1626

VIAGRA and CIALIS

USERS! 50 Generic pills

SPECIAL $99.00. 100%

guaranteed. 24/7 CALL

NOW! 888-445-5928

Hablamos Espanol

DISH TV $64.99 FOR 190

Channels + $14.95 High

Speed Internet. Free Installation,

Smart HD DVR

Included, Free Voice Remote.

Some restrictions

apply. Promo expires

1/21/23. 1-866-479-1516

Employment

ASSOCIATION ADS

The Generac PWRcell, a

solar plus battery storage

system. SAVE money,

reduce your reliance on

the grid, prepare for power

outages and power

your home. Full installation

services available. $0

Down Financing Option.

Request a FREE, no obligation,

quote today. Call

1-866-783-0292

Attention Viagra users:

Generic 100 mg blue pills

or generic 20 mg yellow

pills. Get 45 plus 5 free

$99 + S/H. Call Today 1-

877-707-5518

SELL YOUR ANTIQUE

OR CLASSIC CAR.

Advertise with us. You

choose where you want

to advertise. 800-450-

6631 visit macnetonline.

com for details.

Want Faster & Affordable

Internet? Get internet

service today with

Earthlink. Best internet &

WiFi Plans. Call us Today

to Get Started. Ask

about our specials! 866-

396-0515

ASSOCIATION ADS

Protect your home w/home

security monitored by

ADT. Starting at $27.99/

mo. Get free equipment

bundle including keypad,

motion sensor, wireless

door & windows sensors.

833-719-1073

Elminate gutter cleaning

forever! LeafFilter, the most

advanced debris-blocking

gutter protection. Schedule

Free LeafFilter Estimate

today. 20% off Entire

Purchase. 10% Senior &

Military Discounts. Call 1-

833-610-1936

The Generac PWRcell

solar plus battery storage

system. Save money,

reduce reliance on

grid, prepare for outages

& power your home. Full

installation services. $0

down financing option.

Request free no obligation

quote. Call 1-877-

539-0299

ASSOCIATION ADS

Dental Insurance -

Physicians Mutual Insurance

Comopany. Covers 350

procedures/ Real insurance -

not a discount plan. Get your

free dental info kit! 1-855-

.526-1060 www/dental50

plus.com/ads #6258

DISH TV $64.99 for 190

Channels + $14.95 high

speed internet. FREE installation,

Smart HD DVR

included. Free Voice Remote.

Some Restrictions

apply. Promo Expires

1/21/23. 1-866-590-5561

BATH & SHOWER UP-

DATES in as little as

ONE DAY! Affordable

prices - No payments for

18 months! Lifetime warranty

& professional installs.

Senior & Military

Discounts available. Call

855-761-1725

Prepare for power

outages today with a

GENERAC home standby

generator. $0 Down + Low

Monthly Pmt. Request a

free Quote. Call before the

next power outage: 1-855-

948-6176
---
www.columbusmessenger.com

xCome & Get It!

COME AND GET IT!

Need to Get Rid of Something Fast - Advertise It Here For FREE!

Deadlines are Mondays by Noon

Call For Publication Schedule 614-272-5422

FREE Garden Straw for gardens or bedding. Call for appointment for pickup.

Circle S Farms, 9015 London-Groveport Road, Grove City, 43123

Grove City - 614-878-7980

FREE - Metal from old camper frame, Need a truck to pickup..

CC - Obetz - 614-632-1013

FREE - Children's Wooden Play Set - Good Condition w/Sand Box under it, Step Ladder up

Slide to go down & a rope swing. Also separate Swing Set w/4 swings.

190 Inah Ave., Cols, 43228 near the Fire Dept.

West Columbus - 614-878-1930, ask for Linda

FREE - Firewood - All you want! U cut U Haul. Text me if you want it.

Obetz - 614-519-7986

Come and Get It! is a bi-weekly column that offers readers an opportunity to pass

along surplus building materials, furniture, electronic equipment, crafts, supplies,

appliances, plants or household goods to anybody who will come and get them - as

long as they're FREE. NO PETS! Just send us a brief note describing what you want to

get rid of, along with your name, address and phone number. Nonprofit organizations

are welcome to submit requests for donations of items.

Send information to The Columbus Messenger, Attention: Come and Get It, 3500

Sullivant Ave., Columbus, OH43204. Deadline is Mondays at NOON for following

Sunday's publication. Messenger Newspapers is not responsible for any complications

that may occur. Please contact us when items are gone. 272-5422

Come & Get It!

xFocus on Rentals

WEDGEWOOD

VILLAGE

1, 2 and 3 BR Apts.

Rent Based on Income.

Call 614-272-2800 or visit us

at 777 Wedgewood Dr.

TTY/TDD 711

EQUAL HOUSING OPPORTUNITIES

APARTMENT MANAGERS

HAVE VACANCIES?

FILL THEM BEFORE

THE FLOWERS BLOOM!

ADVERTISE

IT!

Call The Messenger

For More Info and Rates

614-272-5422

Rentals

ASSOCIATION ADS

AT&T Internet. Starting at

$40/month w/12-mo agmt.

1 TB of data/mo. Ask how

to bundle & SAVE! Geo &

svc restrictions apply. 1-

855-364-3948

READY TO BUY, SELL

OR RENT YOUR

VACATION HOME OR

HUNTING CAMP?

Advertise it here and in

neighboring publications.

We can help you. Contact

MACnet MEDIA @

800-450-6631 or visit our

site at MACnetOnline.

com

Prepare for power outages

today with a GENERAC

home standby generator.

$0 Money Down + Low

Monthly Payment Options.

Request a FREEQuote--

Call now before the next

power outage. 1-855-465-

7624

HELP WANTED

HOME INSTEAD

is hiring Caregivers

to provide in home

care for Seniors.

We offer

competitive pay and a

week of paid vacaton.

Shift and hours

can be flexible.

614-849-0200

Kings Kids Daycare

in Grove City is hiring Fun,

Loving Teachers for PT &

FT shifts. Please email

sarragc@outlook.com or

call 614-539-0349

2/19A&M

IINFORATION

See...

You Looked!

Newspaper

Ads Catch

The Eye!

Call

272-5422

For Info. &

Pricing

CHILD CARE

OFFERED

Depend. Quality Child care

in loving hm. Exp. Mom, n-

smkr, hot meals, sncks,

playroom, fncd yd. Reas.

rates. Laurie at 853-2472

PETS

CKC German Shepherd

Pups, up-to-date on shots,

worming, microchip. Call

or text for info

614-519-5596

AKC St. Bernard puppies.

Born 7/29/22. Current Vet

checks. Please leave

message on phone

number 740-852-4167.

WANT TO BUY

We Buy Cars & Trucks

$300-$3000.614-308-2626

ANTIQUES

WANTED

Victrolas, Watches,

Clocks, Bookcases

Antiques, Furn.

Jeff 614-262-0676

or 614-783-2629

WE BUY JUNK CARS

Call anytime 614-774-6797

We Buy Junk Cars &

Trucks. Highest Prices

Paid. 614-395-8775

MISCELLANEOUS

FOR SALE

Tractor Tires on rims.

13.6-38 off Oliver 88.

Good WT Ion Tread. $400

cash. 614-332-5782, ask

for Dave

HP PRINTER

CARTRIDGES FOR SALE

HP 901 Color Cartridges (3);

HP 901XL and 901 Color

Multi Pack (1);

HP 901XL Black(1).

$15.00 each.

Columbus Messenger,

3500 Sullivant Ave.

Call Office 614-272-5422

RENTALS

Eakin-1 Br Apt, crpt, appls.

No Pets 614-560-3050

4 BR 2 STORY

Fenced Yard - West

614-530-8097

January 29, 2023 - WESTSIDE MESSENGER - PAGE 15

xClassified Services

CLEANING

DEEP CLEAING &

WALL WASHING

Call Judy 614-746-0273

Let us help you with Clean

Outs, Move Ins, Basic

Cleans,. Monthly, Daily

and Weekly rates, both

commercial & residental.

H&H Cleaning Services

of Ohio

614-420-9354

CONCRETE

AJ's Concrete,

Masonry

Good Work - Fair Prices

Block Foundations

Driveways • Sidewalks

Epoxy/Overlay Floors

Bonded-Ins. • Free Ests.

614-419-9932

www.hastingsnsons.com

Driveways & Extensions

Patio & Walkways,

Porches & Steps,

Garage/Basement Floors

Hot Tub/Shed Pads,

Stamped/colored concrete

Sealing of new &

existing concrete.

FREE ESTIMATES

Contact Adam

614-756-1754

hastingsandsons.

columbus@gmail.com

FENCING

EAZY FENCE

Chain Link - Wood

No Job Too Big or Small

All Repairs ~ Free Est.

Insured. 614-670-2292

INFORMATION

NEED

SOMETHING

DONE

THIS WINTER?

CHECK OUT OUR

CLASSIFIED SERVICES!

FOR

ADVERTISING

INFORMATION

CALL

614-272-5422

THE COLUMBUS

MESSENGER

2/19 A

HAULING

DEAN'S HAULING

614-276-1958

ZANE'S DUMPSTERS

Call 614-254-1131

JUNK REMOVAL

AND MORE LLC

• Junk Removal

• Demolition

• Hoarding

614-352-0442

10% OFF FOR

SENIORS & VETERANS

HEATING & COOLING

HVAC

HEATING & A/C

Fast Service - Licensed

614-633-9694

HOME

IMPROVEMENTS

C&JHandyman

Services LLC

Minor Plumbing & Electric

Install Hot Water Tanks,

Dishwashers & Disposals

All Interior Remodels

Also Fencing &

Interior/Exterior Painting

Free Est. ~ 18 Yrs. Exp.

CDC/EPA Approved Guidelines

614-284-2100

KLAUSMAN HOME

IMPROVEMENT

Siding-Windows-

Doors-Roofing-Soffit-

Fascia-Gutters-Trim

Earn FREE Seamless

Gutters with Siding Over

1000 Sq. Ft.

FREE Shutters with

Soffit & Trim

EPA Certified

Member of BBB

Financing Available

Over 20 yrs exp. • Free Est.

Licensed-Bonded-Insured

Owner & Operator

James 614-419-7500

CandC

Handyman Services LLC

"See The Difference"

l

614-378-7469

Int./Ext. Remodels,

Water Heaters,

Plumbing, Fence,

Sidewalks, Decks,

Int./Ext. Paintng

& Electrical Work

1/8 W

12/4 A

1/8 A

2/19A

HOME

IMPROVEMENTS

Handyman - outdoor &

indoor. Reasonable Rates

614-634-2244

SINCE 1973

Phil Bolon Contr.

Windows & Siding

Decks, Kitchens, Baths

Room Additions,

Flooring, Roofing

Bsmt Waterproofing

Deal With Small Non-Pressure Co.

47 Yrs. Exp. - Refs. Avail.

Lic.-Bond-Ins.

Free Est. - Financing Avail.

Member BBB Of Cent. OH

O.C.I.E.B. ID #24273

614-419-3977

or 614-863-9912

SLAGLE

HOME REMODELING

Baths, Kitchen,

Plumbing and Electrical.

All your Handyman needs

No Job too Big or Small

Over 30 Yrs. Exp. Lic.-Bond-Ins.

Jerry

614-332-3320

HOME

MAINTENANCE

LAWN CARE

LET US MAINTAIN

YOUR LAWN & GARDEN

FOR YOU

Summer, Spring,

Winter or Fall

WE DO IT ALL!!!!

Lawn Cuts, Edging,

Trees & Shrubs, Garden,

Mulching, Hauling,

Garden Pond &

Home Maint.

Free Ests. Low Rates

$20 & Up

Kevin - 614-905-3117

Classified Services

2/19

A/M

2/5

SW/W

HANDYMAN SERVICES

614-235-1819

HOME

REMODELING

Charlies Handyman

Service

Over 40 yrs. exp.

Hot Water Tanks

Door Locks

Kitchen/Bath Remodels

Roofmg * Siding

Porches & Decks

614-319-6010

blantoncharles894@gmail.com

MultiCraft Const.

& Handyman Services

All Types Handyman Services:

Decks, Fences

Kitchen/Baths

Window/doors installed

Interior Painting

Drywall Repairs

All Types of Flooring

Call/Text 614-774-2923

multicraftconstruction@gmail.com

2/19 A

LANDSCAPING

ONYX

LANDSCAPING

614-407-5214

PAINTING

Moyer Construction LLC

Specializing in Painting

Insured - Free Estimate

614-378-3568

PLASTERING

Plaster & Stucco

NEW AND

REPAIR

Established 1917

Geo. F. Neff & Co.

614-274-5629

DRYW

YWALL ALL &

PLASTER REPAIR

Textured Ceilings

Popcorn Ceiling Removal

Call Randy

614-551-6963

Residential/Commercial - BIA

PLUMBING

All About Drains & Plumb.

Will snake any small drain

$145. 614-778-2584

MYERS

PLUMBING

Exp Expert Plumbing

New Const. & Fast Repairs

Lic. - Permit AVailable

Water * Sewer * Gas

614-633-9694

CHRIS'

PLUMBING

"Plumbing & Drain Professional

That You Can Count On"

24 Hrs., 7 Days/Week

No Overtime Charges

24 Yrs. Exp. in Plumbing &

Drain Cleaning Field

Call For A Free Phone Estimate

$100.00 For Any Small Drain

614-622-4482

30% OFF with AD

POOL/SPA

MAINTENANCE

K&L Spa Cleaning

Hot Tub Cleaning and

Weekly Maintenance

Keith 614-316-9809

SEWING MACHINE

REPAIR

REPAIR all makes 24 hr.

service. Clean, oil, adjust

in your home. $49.95 all

work gtd. 614-890-5296

TREE SERVICES

Warren Brewer Tree Service

• Tree Removal

• Tree Trimming

• Stump Grinding

1/8

A&M

• Bucket Truck Services

Best Prices • Same Day Service

614-878-2568

2/5 A&M

1/8 A
---
PAGE 16 -WESTSIDE MESSENGER - January 29, 2023

Valentine's Show

Mike Albert

&

The Big E Band

Tickets - $ 58.00

(Includes dinner)

Sat., February 11th

Villa Milano - 1630 Schrock Rd.

Doors Open - 5:30pm | Dinner - 6:30pm

Show -7:30pm

CALL FOR TICKETS

(614) 792-3135

LIVE PUBLIC

AUTO AUCTION

50+ VEHICLES WILL SELL 02/11/23

30+ WILL SELL WITH NO RESERVE!

Preview the inventory online

BIDONCARSLANCASTER.COM

1250 COLLINS ROAD NW

LANCASTER, OHIO 43130

740-935-1180

with ELVIS

In Entertainment

www.columbusmessenger.com

"e Drop" is a biting and clever dramedy

Has a person you have dated ever said

or done something that makes you completely

re-examine your feelings toward

them? It didn't have to be an act of betrayal

or something beyond the pale either — it

was just an innocuous comment or a careless

accident but it made such an impact

that it made you want to step back from

the relationship in order to reflect on what

their role would be in your life moving forward.

Whether you have or have not found

yourself in that situation before, the awkwardness

of that moment and the soulsearching

that takes place immediately

thereafter is explored to a hilarious degree

in "The Drop," a Hulu original that is as

side-splitting funny as it is cringe-inducing.

If you have a limited tolerance for secondhand

embarrassment be forewarned —

this movie will probably make you want to

curl into a ball of discomfort from time to

time.

At the center of this dramedy are Lex

and Mani (Anna Konkle and Jermaine

Fowler), a happily married couple who are

enthusiastically trying to expand their

family of two into a family of three. To

Mani, Lex would make the perfect mother

as she is creative, warm, and caring. To

Lex, Mani would make the perfect father

as he is level-headed, steadfast, and dedicated.

They are so sweet together and have

such an easy rapport that one can't help

but root for all of their dreams to come

true. But then comes a destination wedding

where an accident rocks their faith in

one another and has them contemplating

ending their partnership once this short

trip ends.

Although the trip itself does not appear

to have anything nefarious afoot — longtime

friends are celebrating the wedding of

Mia and Peggy (Aparna Nancherla and

Jennifer Lafleur) and getting to meet their

infant daughter Ani (Alma Partridge) for

the first time — awkwardness abounds

from the jump when the couples sit together

in first class and catch up on their lives.

Shauna (Robin Thede), a D-list actress who

is funding the excursion, wants everyone to

watch her truly terrible television show;

her husband Robbie (Utkarsh Ambudkar),

is a television producer who thinks everyone

needs to hear his terrible pitches for

upcoming shows and restaurants; their

teenage son Levi (Elisha Henig) loudly listens

to porn without earbuds; and the

soon-to-be-married couple are bickering

about Mia's newfound obsession with

weapons to protect her family.

It is a tense flight to Mexico and it is

made all the more stressful when they go

to the "natural hotel" operated by fellow

pals Lindsey and Josh (Jillian Bell and

Joshua Leonard) who immediately try to

get them to timeshare their expansive

property that seems to be bleeding money.

With everyone on edge and not having the

time to properly breathe, Lex accidentally

drops their friend's baby girl she was holding

in her arms. The lead-up to that

moment — where Mani is looking at his

wife adoringly and imagining the near

The Reel Deal

Dedra Cordle

future where this could be happening with

their child — is brilliantly shot as is the

immediate frenzy that takes place when

awareness of the incident rolls over everyone.

Even if you have seen the trailer that

spoils the moment, the act is gasp-inducing

and it sets the stage for everyone to question

everything and judge, judge, judge.

Fortunately, Ani is unharmed during

the accidental drop (she does have to wear

a helmet for the next four months), but no

one knows how to assure Lex that these

things happen, even Mani. Although he

seems supportive at first, he calls his

mother during a moment alone to ask

whether it is common for an adult to drop

an infant by accident.

The morning after has them trying to

move past the incident — Shauna and

Robbie wonder quietly whether it would be

insensitive to include it in an upcoming

episode of their terrible television show —

but some things tend to have an avalanche

effect where it all goes downhill from there.

That is what happens to Lex and Mani as

little comments and little decisions (some

made in the past) start to bubble under

their skin, like little doubts they have had

simmering below start coming to the surface.

Had the film decided to feature more

of their point of view as their marriage

begins to unravel, it would have worked

much better than the finished product.

The unfortunate problem with "The

Drop" is that there's a really great movie in

here that could have bloomed in the wake

of the accident if executed with dark wit

and more of a focus on Lex and Mani, but

that gets obscured by the side stories that

are far less interesting and eat up way too

much time of the script. Although the

ensemble cast is terrifically funny, the

scenes tend to play as a collection of

vignettes rather than a cohesive story

within a film. All of which is too bad

because Konkle and Fowler are great

together and if their implosion was treated

with a bit more care alongside the wickedly

unruly ensemble of characters, the outcome

of the whole film would have been so

much better.

That is not to say that "The Drop" is not

a great watch regardless — it totally is. The

script, co-written by Joshua Leonard and

director Sarah Adina Smith, is biting and

cleverly and deftly handled by a great cast.

But it can grate a bit when the focus is off

the main characters and onto the idiosyncrasies

of the supporting cast, no matter

how entertaining they are to witness during

the bizarre events that lead up to Lex

and Mani questioning the very foundation

of their love for each other.

Grade: B

Dedra Cordle is a Messenger staff

writer and columnist.