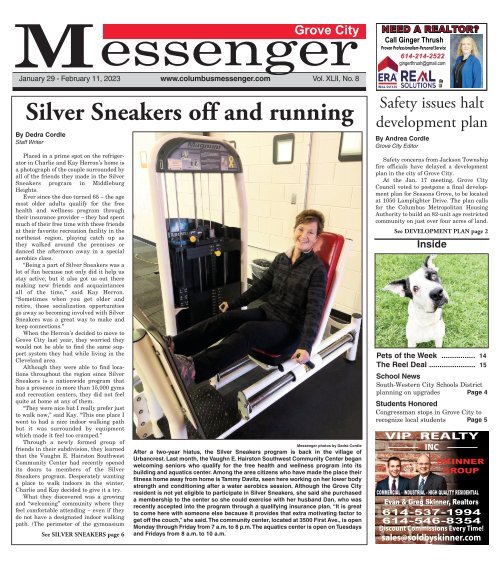 Grove City Messenger - January 29th, 2023
Create successful ePaper yourself
Turn your PDF publications into a flip-book with our unique Google optimized e-Paper software.
Messenger

Grove City

January 29 - February 11, 2023 www.columbusmessenger.com Vol. XLII, No. 8

NEED A REALTOR?

Call REALTOR? Ginger Thrush

Proven Professionalism-Personal Service

Call Ginger Thrush

614-214-2522

614-214-2522

gingerthrush@gmail.com

Silver Sneakers off and running

By Dedra Cordle

Staff Writer

Placed in a prime spot on the refrigerator

in Charlie and Kay Herron's home is

a photograph of the couple surrounded by

all of the friends they made in the Silver

Sneakers program in Middleburg

Heights.

Ever since the duo turned 65 — the age

most older adults qualify for the free

health and wellness program through

their insurance provider — they had spent

much of their free time with these friends

at their favorite recreation facility in the

northeast region, playing catch up as

they walked around the premises or

danced the afternoon away in a special

aerobics class.

"Being a part of Silver Sneakers was a

lot of fun because not only did it help us

stay active, but it also got us out there

making new friends and acquaintances

all of the time," said Kay Herron.

"Sometimes when you get older and

retire, those socialization opportunities

go away so becoming involved with Silver

Sneakers was a great way to make and

keep connections."

When the Herron's decided to move to

Grove City last year, they worried they

would not be able to find the same support

system they had while living in the

Cleveland area.

Although they were able to find locations

throughout the region since Silver

Sneakers is a nationwide program that

has a presence in more than 15,000 gyms

and recreation centers, they did not feel

quite at home at any of them.

"They were nice but I really prefer just

to walk now," said Kay. "This one place I

went to had a nice indoor walking path

but it was surrounded by equipment

which made it feel too cramped."

Through a newly formed group of

friends in their subdivision, they learned

that the Vaughn E. Hairston Southwest

Community Center had recently opened

its doors to members of the Silver

Sneakers program. Desperately wanting

a place to walk indoors in the winter,

Charlie and Kay decided to give it a try.

What they discovered was a growing

and "welcoming" community where they

feel comfortable attending — even if they

do not have a designated indoor walking

path. (The perimeter of the gymnasium

See SILVER SNEAKERS page 6

Messenger photos by Dedra Cordle

After a two-year hiatus, the Silver Sneakers program is back in the village of

Urbancrest. Last month, the Vaughn E. Hairston Southwest Community Center began

welcoming seniors who qualify for the free health and wellness program into its

building and aquatics center. Among the area citizens who have made the place their

fitness home away from home is Tammy Davitz, seen here working on her lower body

strength and conditioning after a water aerobics session. Although the Grove City

resident is not yet eligible to participate in Silver Sneakers, she said she purchased

a membership to the center so she could exercise with her husband Dan, who was

recently accepted into the program through a qualifying insurance plan. "It is great

to come here with someone else because it provides that extra motivating factor to

get off the couch," she said. The community center, located at 3500 First Ave., is open

Monday through Friday from 7 a.m. to 8 p.m. The aquatics center is open on Tuesdays

and Fridays from 8 a.m. to 10 a.m.

Safety issues halt

development plan

By Andrea Cordle

Grove City Editor

Safety concerns from Jackson Township

fire officials have delayed a development

plan in the city of Grove City.

At the Jan. 17 meeting, Grove City

Council voted to postpone a final development

plan for Seasons Grove, to be located

at 1050 Lamplighter Drive. The plan calls

for the Columbus Metropolitan Housing

Authority to build an 82-unit age restricted

community on just over four acres of land.

See DEVELOPMENT PLAN page 2

Inside

Pets of the Week ................ 14

The Reel Deal ...................... 15

School News

South-Western City Schools District

planning on upgrades Page 4

Students Honored

Congressman stops in Grove City to

recognize local students Page 5

VIP REALTY

INC

SKINNER

GROUP

COMMERCIAL - INDUSTRIAL - HIGH QUALITY RESIDENTIAL

Evan & Greg Skinner, Realtors

614-537-1994

614-546-8354

Discount Commissions Every Time!

sales@soldbyskinner.com
---
PAGE 2 - GROVE CITY MESSENGER - January 29, 2023

America'

ica's s Fa Fa

av av

vorite Treasure ure e Hunts!

2023

Jan. 28

& 29

Feb. 25

& 26

Mar. 25

& 26

Antiques, Collectibles,

Jewelry, Vintage,

Home Decor, Militaria

and more!

Nov. 25 & 26

Dec. 16 & 17

Project ChildSafe

The Grove City Division of Police is participating in

a nationwide free gun lock giveaway program to help

protect families from unnecessary tragedy.

Over the past decade, Project ChildSafe developed a

comprehensive program for firearm owners to be safe

and responsible – preventing accidents and keeping

firearms out of the wrong hands.

Free, cable-style gun locks and firearm safety information

are available at the Grove City Safety

Complex, 3360 Park St. The free gun lock giveaway is

DEVELOPMENT PLAN

Continued from page 1

The living units will be inside of a three-story building.

A preliminary development plan was approved back

in June of 2021. Shortly before the final plan was

scheduled to be heard before council, the city's planning

commission put forth a stipulation that the developer

work with the city and Jackson Township Fire

Department to resolve concerns regarding emergency

vehicle access. The commission added the stipulation

after fire officials notified them of the problem.

According to Jackson Township Fire Chief Randy

Little, the current development plan does not allow

access to the back of the building. He said the city and

developer cannot expect the emergency workers to

operate on a narrow path.

"Our sole mission is the safety of the community,"

CALL CONSUMER CELLULAR

855-642-3605

© 2023 Consumer Cellular Inc. For promo details please call 855-642-3605

news and notes

C.M.T

MOWER REPAIRS

614-875-5830

6446 HARRISBURG PIKE, ORIENT, OHIO 43146

Pick-up and Delivery

"We have the lowest price in town!"

Off First Month

of New Service!

USE PROMO CODE: GZ59O

www.columbusmessenger.com

part of the national Project ChildSafe Initiative,

ensuring safe and responsible firearm ownership and

storage. Funding for the locks is provided by a grant

from the U.S. Department of Justice.

For more information, contact the division of police

at 614-277-1710.

Diversity Task Force meeting

The Grove City Diversity Task Force will meet at 6

p.m. Feb. 13 in City Hall, 4035 Broadway. For more

information, visit grovecityohio.gov.

said Little.

The chief said he believes the plan would jeopardize

the safety of the residents living in the facility, as well

as the safety of the firefighters.

As the plan stands, township officials say fire apparatus,

including the ladder truck, would not be able to

maneuver around the property.

Little said the fire department is part of the planning

process in the city and he pays a lot of attention

to senior housing developments, something the city is

seeing more of.

"Grove City has a need for senior housing, and we

welcome that," said Little. "But we have to make sure

it's safe."

Township fire officials would like the developer to

make changes to the plan that would

include an emergency access road or a way

for the emergency vehicles to be able to

maneuver around the entirety of the building.

The project architect, Rick Krall, with

Moody Nolan, said they are working

through options, but the site is already

"pretty tight."

"This certainly threw a curveball at us,"

said Krall. "Putting a lane all the way

around the building is nearly impossible."

Access to the back of the building is the

problem, but Krall said near the rear of the

property, the grading drops, making it very

difficult to fit a fire lane in that area.

Little said the fire department is following

the requirements set forth by the state.

He said his concern is with safety, not with

the developer having to invest more money

or time in the project.

"You can't put a price on safety," said the

fire chief.

Council president Ted Berry said the city

needs to provide housing options for senior

citizens but said it must be right.

"We don't want to make a mistake with a

building full of seniors," said Berry.

Councilman Roby Schottke said this has

created a dilemma as it has put the developer

in a tough spot, but said the issues need

to be resolved before the plan is approved.

Schottke suggested postponing the vote

on the development plan until the Feb. 6

council meeting. The council agreed and

voted to postpone the measure.

Little said the township was waiting to

review a revised plan.

According to Kyle Rauch, development

director with the city, per city code, Grove

City's fire official is the safety director.

"The safety director makes the final say

on these issues," said Rauch.
---
www.columbusmessenger.com

January 29, 2023 - GROVE CITY MESSENGER - PAGE 3

WELCOME TO 3709 Homecomer Dr.

This gem has a professionally remodeled addition which makes it much larger than the others in the neighborhood. First floor

offers a huge owners suite. Large full bath with a soaking tub. Separate Living Room as well as a Family Room. Dining area.

Oversized custom kitchen with a full appliance package. Also on the first floor is another bedroom to the front of the home

which could easily be a den/office area. Not to mention a RARE four car garage! Easily the new home owners on this one

could live on just the first floor... This house lives large. Upstairs is two additional bedrooms and another full bath. This home

is close to medical, schools, parks, shopping as well as the Grove City Town Center. WOW! Do not wait, you may never see

another like it! $235,900 MLS 223001374

VIP REALTY

INC

SKINNER GROUP

Evan & Greg Skinner, Realtors

614-537-1994 614-546-8354

Discount Commissions Every Time!

COMMERCIAL - INDUSTRIAL - HIGH QUALITY RESIDENTIAL sales@soldbyskinner.com
---
PAGE 4 - GROVE CITY MESSENGER - January 29, 2023

SAV

VINGS RA

р fo or t he

Season

Win

tр

41 12 Month CD Sp

ecial

4 A

e

4.30

0%

*

APY

with minimum balanc

0$5,000 of

AT

TES

%

A

Contact me today for details!

Josh McKee

Br anch Manager, Grov e City Office

(614) 875-1884

Josh.McKee@Heartland.Bank

*Annual Percentage Yield (APY). Minimum m balance to open and maintain the advertised 12 month APY of 4.30% is $5,000. APY is accurate as of 12/19/2022.

Maximum deposit is $250,000. Please see e your local branch office for disclosure information regarding terms and conditions. Penalty may be imposed for early

withdrawal. Rates are subject to change at any time. No brokers please. Limited time offer. Limited to one per household. Not valid with money currently

on deposit at Heartland Bank. Personal accounts only.

In Education

www.columbusmessenger.com

Upgrades planned at

two elementary schools

By Dedra Cordle

Staff Writer

The South-Western City Schools

District will utilize federal dollars to make

modest upgrades to the interior design at

two of its elementary school buildings.

In early January, the board of education

granted authorization at its regular meeting

for the district to advertise for bids for

a contract to replace the partition walls at

Buckeye Woods and Darby Woods

Elementary School. The scope of the project

will include the replacement of the partition

walls and doors in the buildings with

masonry walls and solid doors to improve

air quality in the classrooms.

According to district officials, the project

to reconfigure space at the two elementary

school buildings is budgeted at $3 million.

Should the district receive and award a bid

for the project soon, the upgrades will likely

take place during the summer months

when students and staff are not in the

building.

The reconfiguring of space at these two

elementary school buildings was a part of

the district's initial infrastructure plan to

determine how the third allocation of federal

dollars would be spent. Treasurer Hugh

Garside said the district received an allocation

of $61.5 million through the third

phase of the American Rescue Plan and

The Elementary and Secondary School

Elementary Relief Fund (ARP-ESSER).

Under the federal guidelines to access

these dollars, 20 percent of those funds had

to be put aside to implement learning loss

objectives caused by the COVID-19 pandemic.

To date, the district has spent nearly

$12.3 million to combat learning loss by

hiring additional counselors, intervention

specialists, social workers and student support

liaisons; offering online tutoring services;

building a more robust summer

school program; providing

Chromebooks

to all students; and

partnering with

organizations such

as the YMCA of

Central Ohio to provide

social and emotional

needs for students.

The ESSER III

dollars have also

been utilized to make infrastructure

upgrades within the district. In addition to

the planned reconfiguring of space at

Buckeye Woods and Darby Woods, other

projects include HVAC renovations at the

intermediate schools, Central Crossing

High School, and the South-Western

Career Academy; an addition to classrooms

at Hayes Intermediate; sound and lighting

upgrades at the high school auditoriums,

additional classroom space at SWCA, and

various chiller replacements.

Evan Debo, the district's executive

director of communications, said most of

these projects are currently underway.

"The Career Academy's new event center

expansion is on pace to be completed in

2024," he wrote in an email. "As for the

HVAC work, parts of Hayes Intermediate's

HVAC renovation is also underway. The

remaining phases of these projects will

take place once students are out of school

over the summer months. While we are

optimistic that the HVAC work might be

completed over the summer, continued

supply chain issues may affect that anticipatory

completion date."

Debo said the district currently has

$8.51 million remaining to be encumbered.

He added that approximately half of this is

to be used for the remaining construction

projects not yet contracted while the

remaining funds will be used to address

additional learning loss objectives.

DestinationOutlets.com

800-213-9083

8000 Factory Shops Blvd.

Jeffersonville, OH 43128

DOWNLOAD OUR

MEMBERSHIP APP

Website:Expert-hvac.com

Phone:614-946-8461

Experthvacllc@gmail.com

FREE ESTIMATES

on system installs

$100 Preventative Maintenance (tune up)

Expert service - affordable prices - Locally owned from Groveport

Mention this ad and get $20 off a $110 service call.
---
www.columbusmessenger.com

Congressman recognizes local students

On Jan. 19, Congressman Mike Carey recognized military academy nominees at a ceremony held at City Hall, in Grove City. The

nominees are from Carey's 15th district. Pictured here (from left to right) are Brian Fitzsimmons (Bishop Ready), Colby Forcum

(Zane Trace), Steventon Wagner (Upper Arlington High School), Zachary Swierz (Bishop Ready), Congressman Carey, Major

General John Harris, Aidan Eberhardt (Pickerington North), Justin Viau (Fisher Catholic, Ray Soldini (Dublin Scioto), Daniel Reese

(Teays Valley). In total, 12 military academy nominees were honored. Those not pictured include Isaac Carter and Samantha

Paduchik of Grove City High School and Luke McCoy from Grove City Christian School. Members of Congress may nominate candidates

for appointment to the U.S. Military Academy, West Point; the U.S. Naval Academy; the U.S. Air Force Academy; and the

U.S. Merchant Marine Academy. In pursuit of a nomination, students submit an application and are interviewed by Carey's Military

Academy Review Board. The board evaluates the students on the basis of academic performance, leadership ability, and community

involvement.

Guys in Ties

The Finland Elementary School Guys in Ties student leadership group, led by Mr. Edwards, held a bow tie summit to discuss leadership

strategies and studied the impact of Dr. Martin Luther King Jr. and how he inspired millions through his words.

January 29, 2023 - GROVE CITY MESSENGER - PAGE 5

Dave Dobos

STATE REPRESENTATIVE

The Work

Has

Started…

By the time this issue of the Messenger is published,

I will have been sworn in as a member

of the Ohio House of Representatives. Our

first session of the 135th Ohio General Assembly

took place on January 3rd in the

House Chambers. The main orders of business

were to swear in members, vote for the

respective House leadership positions, and

approve various procedural resolutions so

the House can operate. The House reconvened

later in the afternoon in a joint session

with the State Senate to witness the formal

announcement of the popular vote results for

the state executive branch offices of Governor,

Lieutenant Governor, Attorney General,

Secretary of State, Auditor, and Treasurer.

Although the House meets in its chambers in

the State House, House Members are provided

offices in the Riffe Tower (NW corner of

High & State Streets—across from the State

House) to work individually and meet with

constituents. My office is on the 11th floor,

my office phone is 614-466-9690, and my

email address is rep10@ohiohouse.gov (I represent

the new 10th District). By the end of

the week, we should have learned our committee

assignments and begun to meet to

consider our respective agendas for the next

two years.

Each representative is allotted a legislative

aide. My aide is Bria Meisse (pronounced my'

see). She is a recent honors graduate of Ashland

University, did an internship research

project with the Federal Reserve Bank of

Cleveland, and played varsity soccer at the

university. Her areas of interest are economic

growth and education. So, our priorities

match up well. She also can be reached at the

number and email above and, in most cases,

probably will be the first of us to respond to

your questions and concerns.

In past years, the House of Representatives

has not convened much in January after the

first week. That would appear to be different

for this General Assembly. We have been

scheduled to meet throughout January, with

the exception of the week of January 16th.

The intent is to get a jumpstart on the work

and to complete some of the unfinished business

of the last General Assembly. In future

weeks, I will provide more details about portions

of that work.

(Dave Dobos represents the new Ohio House

of Representatives 10th District, which consists

of most of the west and southwest sides

of Columbus, parts of the south side of

Columbus, Grove City, Urbancrest, and

Franklin Township. He reports to us regularly

via this column, which is paid for by Dobos

for Ohio.)

Paid Advertisement
---
PAGE 6 - GROVE CITY MESSENGER - January 29, 2023

Township awarded two grants

By Hannah Poling

Staff Writer

Grove City Police News

January 16, 2023, Grove City Police

were dispatched to the 2300 block of

Stringtown Rd. on a report of theft

from a locker. The victim reported

he/she placed car keys in a locker and

when he/she returned, the keys had

been stolen. A check of the vehicle revealed

the car was unlocked and the

wallet stolen. There were already

charges on the victim's credit card.

January 16,2023, Grove City Police

were dispatched to the 3300 block of

Reaver Ave. on a report of theft from

a vehicle. The victim stated there was

a handgun and cash stolen from the

vehicle several days prior to the reporting.

January 16, 2023, Grove City Police

made a traffic stop on Stringtown Rd

near I-71. The driver was identified

with an active Domestic Violence and

Assault warrant. Upon arresting the

driver officers found a firearm and an

open bottle of wine in the car. The

driver received additional charges of

Improperly Handling a Firearm in a

Motor Vehicle (F4) and an Open Container

in a Motor Vehicle.

Near the end of 2022, Pleasant

Township Fire Chief Dave Whiting applied

for two grants through the Ohio Township

Association Risk Management Authority.

At a recent board meeting, Whiting

announced that the township was awarded

two grants - one in the amount of $1,000

and the other for $500. The funds were

used for miscellaneous needs throughout

the station.

In other news, the Pleasant Township

Fire Department has an opportunity to

send one firefighter to Austin, Texas for

training in the extensive computer software

used in the department. According to

Whiting, although they have had the software,

the department never received full

training on all of the software's many uses,

and that it would be beneficial to have a

full understanding of its capabilities.

"If you pay that kind of money for a program,

you should really know how it all

works," Whiting said.

The fire chief said that the trip would be

under $2,000. The Jackson Township Fire

Department is also sending a representative

from their department and offered to

share a room with the member from

Pleasant Township to cut down on costs.

Trustee Randi Good said this is an

invaluable opportunity.

"We don't know what all this program

can do so I think it's a really good idea,"

she said.

community events

S.A.L.T. at Evans Center

The Grove City Division of Police host

Seniors and Law Enforcement Together

(S.A.L.T.) meetings at 1 p.m. the second

Tuesday of each month at the Evans

Center, 4330 Dudley Ave. Adults of all ages

are welcome to attend. If you would like

additional information on other crime prevention

programs visit police.grovecityohio.gov

or call 614-277-1765.

Blood drive in Grove City

The American Red Cross will host a

blood drive from 12 to 6 p.m. Feb. 3 at the

Kingston Center, 3226 Kingston Ave. in

Grove City. To schedule an appointment,

call 1-800-448-3543 or visit www.redcrossblood.org.

January 15, 2023, Grove City Police

made a traffic stop near Dorothy Ln.

and Shirlene Dr. Officers found the

driver to be intoxicated and when they

placed the driver under arrest, they

were told there was a firearm in the

console. The driver was charged with

an OVI and Improperly Handling a

Firearm in a Motor Vehicle (F5).

January 14,2023, Grove City Police

were dispatched to the 4600 block of

Hunting Creek Dr. on a report of Identity

Theft. The victim stated they

made a purchase on Etsy but were unable

to download the purchased documents.

The victim called what they

believed to be Etsy customer support

and worked with an unknown male to

solve the issue. The male suspect had

the victim download an app to their

phone and then make purchases of

Bitcoin and an Apple gift card. The

victim was scammed for a total loss of

$14,700.

SILVER SNEAKERS

Continued from page 1

makes for a good step count, they found.)

They said they hope to be able to place

new pictures of new friends on their refrigerator

in the near future.

"This is a good place to be," said Charlie.

Although the community center in the

village of Urbancrest has been open to the

public since September, the facility only

started to accept members of the Silver

Sneakers program last month. Due to low,

but steadily growing, enrollment numbers,

the facility cannot offer instructor-led

classes at this time. Instead, what they do

offer is access to a weight room, a game

room, the gymnasium where members can

play basketball or pickleball, and their

aquatics center.

Mayor Joseph Barnes Sr. noted that

there are plenty of chairs and comfortable

seats around for those who just want to sit

and chat and play cards.

"We want this place to be a place where

social needs are met, not just physical

ones," he said. "And if that means seniors

just want to come here to sit around and

chat while eating doughnuts and playing

cards, then they can do that, too."

Among those who have found a fitness

and social home away from home are Grove

City residents Tammy and Dan Davitz.

The couple, who have been together for

more than 40 years, came to the center

when it opened last fall but started to

access the facility more when Dan qualified

for the Silver Sneakers program last

month.

He said that although he has always

tried to eat healthy and be active, he has

made it a priority to continue down that

path as he ages.

"I think it is important to maintain your

fitness levels because when you get older

you become less and less flexible and start

to become unable to do the things you want

to do," said Davitz.

For instance, his father had limited

range of motion in his neck, making it

nearly impossible to drive because he could

not safely turn in order to look for oncoming

traffic while changing lanes.

"It became dangerous and I would like

to be able to continue to do all the things I

want to do for as long as possible," he said.

For her part, Tammy is not yet at the

age where she can qualify for Silver

Sneakers but she became a member of the

community center to exercise with her husband,

play pickleball, and access the aquatics

center.

She noted her love for the therapeutic

pool and the small water aerobics group

that has formed since it opened.

"With water aerobics, we can get in and

do exercises and movements that we really

can't do outside of the water because of its

buoyancy," said Tammy. "I just did 200

jumping jacks in the pool but there is no

way I could do that on the ground. I also

just did 100 lunges in the pool and there is

no way I could do that on the ground."

She said she has been trying to get her

husband to join in on the informal aquatics

www.columbusmessenger.com

Dan Davitz works on his upper body

strength in the weight room at the community

center. Davitz, who just qualified

to participate in Silver Sneakers last

month, said he enjoys being a part of the

program because it helps him stay active

and get into a regular routine of fitness.

He said he likes the facility in Urbancrest

because it is well-maintained and he

does not have to wait in order to use the

machinery.

workouts but has thus far been unsuccessful.

"I don't want to go in the pool and exercise

with the ladies," he said.

"Well, maybe start your own group with

all men," she quipped. "Whatever you do,

you have to get in there."

Teasing aside, Tammy said being a

member of the Silver Sneakers program or

a member of the community center has provided

plenty of motivation to get out, get

active, and make new friends along the

way.

"I have an autoimmune disease and

there are some days where I just want to

sit and stay at home because of my joint

pain and other issues I am dealing with

because of it," she said. "I have decided not

to do that because I know that I would

deteriorate and I want to be around for my

family, my friends, my grandkids, and all

of our adventures to come."

Although most Silver Sneakers members

participate when the doors open, the

hours of operation for all members and

those who purchase a day pass are from 7

a.m. to 8 p.m., Monday through Friday.

The aquatics center is open only on

Tuesdays and Fridays from 8 a.m. to 10

a.m. when there is a lifeguard on duty.

Monthly membership fees for Urbancrest

residents are $15 for youth (ages 10-16);

$30 for adults (ages 17-61); and $25 for

seniors (ages 62 and older). Monthly membership

fees for non-residents are $20 for

youth (ages 10-16); $35 for adults (ages 17-

61); and $25 for seniors (62 and older).

Insurance providers cover the cost of membership

fees for senior citizens if available

on their individual plan.
---
www.columbusmessenger.com

January 29, 2023 - GROVE CITY MESSENGER - PAGE 7

Valentine's Day Gift Ideas

Valentine's Show

with ELVIS

Mike Albert

&

The Big E Band

Tickets - $ 58.00

(Includes dinner)

Sat., February 11th

Villa Milano - 1630 Schrock Rd.

Doors Open - 5:30pm | Dinner - 6:30pm

Show -7:30pm

CALL FOR TICKETS

(614) 792-3135

Valentine Festivities

LOVE IS IN THE AIR FEBRUARY 14th

5 pm - 9 pm (COVID PROPER)

JPs BBQ BOLTONFIELD

$129.00 per couple

With Beverages * Appetizers * Dinner * Dessert

Music & Fun

$259.00

per couple

Add on Discovery Flight - Includes instruction of flight and the above package

Call Cupid 614.878.7422 www.jpsbbq.com

Advance non-refundable ticket purchase required

$50 OFF

a $250 repair

or purchase*

*Offers only valid with coupon

*Offers only valid with coupon

or ad. Not valid with any

or ad. Not valid with any

other other offer. offer. Expires 2/25/23 2/25/22

$75 OFF

a $500 repair

or purchase*

$25 OFF

a $150 repair

or purchase*
---
PAGE 8 - GROVE CITY MESSENGER - January 29, 2023

JANUARY'S

Winter Driving Specials!

• Change Engine Oil

(up tp 5 quarts of conventional oil)

• Change Oil Filter (special filters extra)

• Rotate Tires & Inspect Brakes

• Check & Set Tire Pressure

• Check Condition of Belts & Hoses

3374 Sullivant Ave.

Columbus, Ohio 43204

614-488-9591

shiffletautocare.com

Oil Change, Tire Rotation & Inspection Special

• Inspect Wiper Blades & Lights

• Check Anti-Freeze Protection

• Top off Under Hood Fluids

• 31 Point Inspection

• Consultation on Needed Repairs

$68.04

Standard & Blended Oil

$101.10 VALUE

All offers not valid with other Discounts. Expires February 12, 2023

Savings Special

SAVE

$30

$92.10

Full Synthetic

$20 off if you invest $250 - $399 $35 off if you invest $400 - $599

All offers not valid with other Discounts. Expires February 12, 2023

www.columbusmessenger.com

Active Lifestyles

Historical Society

Help preserve the history of Grove City,

Urbancrest and Jackson, Pleasant. Prairie

and Franklin townships. The Southwest

Franklin County Historical Society meets

The Ohio Department of Development and

Central Ohio Area Agency on Aging want to

remind senior citizens in Ohio that assistance is

available to help with their home energy bills.

The Home Energy Assistance Program (HEAP)

helps Ohioans at or below 175 percent of the federal

poverty guidelines pay their heating bills.

Applied directly to the customer's utility or

bulk fuel bill, the benefit can help manage heating

costs. Senior citizens may go to their local

Area Agency on Aging office for help with

assembling the required documents and completing

their HEAP application. Senior citizens may

also visit www.energyhelp.ohio.gov to apply

online or to download a copy of the application.

When applying, individuals need to have

copies of the following documents: most recent

club meetings

the first Tuesday each month at 7 p.m. at

St. John's Lutheran Church, 3220

Columbus St. For information, pick-up a

society brochure at the Grove City

Welcome Center, 3378 Park St.

PAID ADVERTISING

HEAP Assistance

utility bills, a list of all household members

(including birth dates and Social Security numbers),

proof of income for the past 30 days for all

household members (12 months for certain

income types), proof of U.S. citizenship or legal

residency for all household members, and proof

of disability (if applicable). HEAP benefits are

applied to an individual's energy bill after

January 1st. Applications for the HEAP program

must be received by May 31, 2023.

For more information or assistance with

applying for a HEAP benefit, contact Andy

Haggard, 614-645-7186.

To be connected to your local Energy

Assistance provider, call (800) 282-0880 (hearing

impaired clients may dial 711 for assistance) or

visit www.energyhelp.ohio.gov.

Financial help for home energy bills is available to income-eligible

Ohioans through the Home Energy Assistance Program (HEAP).

Applied directly to the customer's utility or bulk fuel bill,

3383 McDowell Rd. Grove City, Oh 43123

614-277-0440

For more information or assistance with applying for a

614-645-7186.

Applications for the HEAP program

must be received by May 31, 2023.

Your

Connection

to Care

coaaa.org

energyhelp.ohio.gov
---
www.columbusmessenger.com

January 29, 2023 - GROVE CITY MESSENGER - PAGE 9

Active Lifestyles

A bi-monthly feature celebrating the

wisdom, experience and contributions of our community's senior citizens

club meetings

Alzheimer's support group

The Alzheimer's and Related Disorders Support Group meets

the fourth Tuesday of each month at the E.L. Evans Senior Center

beginning at 7 p.m. For more information, call Paula Taliaferro at

871-4238 or call the Alzheimer's Association of Central Ohio at

457-6003.

Parkinson's support group

The Grove City Parkinson's support group meets the third

Wednesday of each month at StoryPoint Grove City, located at

3717 Orders Road at 1 p.m. The meetings take place in the assisted

living area of the community, which is located around the back

of the building. The meetings are open to all who want to learn

more about Parkinson's disease. For more information, call Kathy

Hakes at 614-507-8458.

Call today

Start today

no minimums!

1 Hr. up to 24 Hr. Care

We send you the Best Home Caregivers

Rates as low as $16.46 an hour!

"We Do Things Your Way"

614-80-ANGEL (614-802-6435)

Call or text for info. www.v-angels.com

PAID ADVERTISING

Funeral etiquette:

What to wear, what to say, and how to help?

By Modlich Monument Company

You want to honor a friend and support the bereft family,

but you don't want to bring attention to yourself with a misstep.

Here are some tips to put you at ease.

What to wear:

While black is the traditional color of mourning, it is no

longer mandatory. Any dark or muted color that is understated

and tasteful is acceptable. No attention-grabbing wardrobe

choices or overly casual wear like shorts and flip flops to a traditional

service.

What to say:

Your heart is full, but your mind draws a blank on how to

express yourself to the grieving family. Sharing a fond memory

is always appreciated and shows how their loved one impacted

your life. Etiquette expert, Elaine Swann, suggests "My condolences

to you and the entire family" or "My thoughts are with

you" are always safe bets. Keep it short and simple. Well intentioned

statements like "He's in a better place" or "the pain will

lessen in time" can feel insensitive. And if the right words don't

flow naturally, a hug by itself is often all you need.

How to help:

Sympathy cards and food are always appreciated. Flowers,

when religiously appropriate, or donations to a special cause,

are extra ways to express your sympathy. Later, when the gatherings

are over, is often when your friends will need support, so

check in on them then.

Be yourself:

Remember, the grieving family appreciates any act of kindness.

Be present and sincere, and your compassion will be a

comfort.
---
PAGE 10 - GROVE CITY MESSENGER - January 29, 2023

As individuals get older, they may not be able to

participate in all of the activities they enjoyed as

youths, but that doesn't mean older adults must resign

themselves to sedentary lifestyles. There are plenty of

entertaining ways to remain physically active that can

accommodate any limitations a person may have.

Explore these methods for staying active.

Explore senior center offerings

Community senior centers often fill calendars with

a vast array of activities, some of which can include

physical activities. Hikes, walking tours, dances, and

other activities all serve as entertaining

ways to get out and about while meeting

some fitness goals.

Garden or do yard work

The Office of Disease Prevention and

Health Promotions says adults should get

150 minutes of moderate exercise per week.

Raking leaves, mowing the lawn, digging in

flower beds, trimming bushes, and other

outdoor tasks could help a person meet this

quota in a way that doesn't seem like exercise

at all.

Play games with grandchildren

Little kids may inspire older adults to be

more active, as it can be difficult to keep up

with those youngsters. Take infants or toddlers

for walks or push them in strollers.

Attach a child seat or towing carriage to a

bicycle and ride around the neighborhood.

Play games that require movement, such as

hide-and-seek or Marco Polo in the pool. If

it's snowing, have a snowball fight or make

Active Lifestyles

Fun activities for seniors to stay active

a snowman in the yard.

Take up a new hobby

Find hobbies that incorporate physical activity.

Perhaps learning to salsa dance or taking Zumba will

be fun? Pickleball has caught on across the nation. The

sport is a mix of tennis, racquetball and badminton

that caters to all ages. Joining a bowling team is

another way to get active and meet new people.

Physical activity is important at any age. Seniors

can explore fun ways to stay in shape and be active to

reap all the benefits of exercise.

PAID ADVERTISING

Be confident in your plan

Medicare's Annual Enrollment Period (AEP) 2023 is officially over. But

you still can enroll into a Medicare Advantage Plan that has a 5-star plan rating.

My name is Terri Curcio, I live in Franklin County, and have over 16

years' experience in working with Medicare. You are welcome to contact me

directly at 614-460-0601 or email me at TERRILCURCIO@GMAIL.COM.

We could have a virtual meeting, a face-to-face meeting or I'll mail plan

information to your attention for review. I am not an operator in a call center

– you are welcome to call anytime during the year with questions. Also, we

can complete the online application for Low Income Subsidy, which would

provide a savings toward your Rx copays and more, if you qualify. I work

with major insurance carriers available in Ohio and nationally, not just one

or two plans.

Select the plan that benefits you for the coming year, lowest possible

copays for services and medications while including your current physicians.

Some of the plan options may include dental, vision, a monthly food

allowance along with a fitness program. $0 cost for my consultation and

enrollment services. You need to be confident in the plan you select!

www.columbusmessenger.com

We are the BEST community newspaper!

Need advertising? Call 614-272-5422 today.

PAID ADVERTISING

Programs offer help

seniors thrive, age in place

For the last 30 years, the Franklin County Office on Aging has been

widely known for its exemplary work on behalf of older adults. Adhering to

its mission in providing centralized access to diverse programs, the Office

on Aging provides services and programs to approximately 60,000 seniors

every year.

Through compassion and empowerment, the agency provides Franklin

County seniors ages 60 and older individualized services and connectivity to

community resources to help them age in place. The agency's most popular

program, Franklin County Senior Options, offers services such as Home-

Delivered Meals, Personal Care, Respite Care, Homemaker Services,

Medical Transportation, Emergency Response Systems and Minor Home

Repair. These services help ease the minds of family members by connecting

them to support services in order to provide the best care for their older

parent, family member or friend with limited abilities.

The agency also provides Caregiver and Kinship Support programs.

These programs are in place to assist caregivers and kinship families with

free, short-term services that are available once a calendar year. Services

include, but are not limited to, assistance with appliances, mattress and box

spring sets, as well as utility and rental assistance.

The Office on Aging also administers Adult Protective Services (APS) to

protect older adults susceptible to abuse, neglect and exploitation. APS provides

case planning, monitoring, and evaluation to the older adult, as well as

link them to the appropriate agencies for services.

To learn more about the Franklin County Office on Aging and the services

available, call (614) 525-6200 or visit Officeonaging.org.

Medicare Annual Open Enrollment Period (AEP) is over

- will I have to pay a penalty if I keep working after I turn 65, and decide to keep my

group plan?

- are there any 5 Star Medicare rated plans in my county, that I can enroll into

throughout the year?

-

review more than 2 or 3 plan options.

- I need help in paying my Rx copays, any assistance available?

Terri Curcio Call today 614-460-0601

-$0 fee or $0 Consultation cost

Medicare Agent Ohio Lic. #43449

-Be confident in your plan selection, keep your doctors, and find the lowest

copays for your medications.

limited to those plans we do offer in your area. Please contact Medicare.gov or

1-800-MEDICARE to get information on all of
---
www.columbusmessenger.com

Active Lifestyles

January 29, 2023 - GROVE CITY MESSENGER - PAGE 11

Franklin County Board of Commissioners: Commissioner John O'Grady, President, Commissioner Kevin L. Boyce, Commissioner Erica C. Crawley

The Franklin County Board of Commissioners and The Franklin County Office on Aging join with the Messenger Newspaper in providing this update on aging issues in Franklin County.

Franklin County Office on Aging

Extends Free Home-Delivered Meals Program

Through End of 2023

The Franklin County Office on Aging has extended its free

Home-Delivered Meals program through the end of 2023. With

this extension, Franklin County residents aged 60 and older are

eligible to receive free home-delivered meals without income

verification through Dec. 31, 2023. In April 2020, at the start of

the COVID-19 pandemic, the Franklin County Office on Aging

paused any income verification requirements for home-delivered

meals – a service available through the agency's Franklin

County Senior Options program.

"While the pandemic is now more manageable, many older

adults simply cannot afford the increased price of groceries or

meals due to their fixed incomes, as well as the impact of inflation,"

said Interim Director Chanda Wingo. "Extending this

service through 2023 gives our seniors continued access to

affordable and nutritious food that is crucial in maintaining

their health and well-being."

through Franklin County Senior Options, which has been providing

community-based services to residents since 1993.

Senior Options empowers Franklin County residents aged 60

and older with the necessary tools needed to maintain their

independence. Additional services available through Senior

Options include adult day care, personal care, respite care,

minor home repair and emergency response systems. The program

also helps ease the minds of family members by connecting

them to support services so they can provide the best care

for their older parent, family member or friend with limited

abilities.

To sign up for free home-delivered meals or to learn more about

the services available through the Franklin County Office on

Aging, call (614) 525-6200 or visit officeonaging.org.

The agency delivered over 1.1 million meals to FranklinCounty

seniors in 2022, serving over 7,000 residents – a 25% increase

from residents served in 2021.

The Agency's home-delivered meals program is offered
---
PAGE 12 - GROVE CITY MESSENGER - January 29, 2023

www.columbusmessenger.com

Health and Wellness

PAID ADVERTISING

From the heart – keeping the

tradition of the private practice alive

The healthcare landscape has changed significantly

in recent years, and further complicated by

a world-wide pandemic. In the Columbus area,

most of the area cardiologists are now employed

or had their practices acquired by one of the large

healthcare corporations.

In contrast, Ohio Heart Group, led by Dr.

Manmohan Katapadi, is a private practice that has

not only survived these market forces, but has

thrived. This is only possible due to their patients'

allegiance, trust, and preference for the personalized,

efficient, and effective care they receive

from this practice.

Dr. Katapadi exudes a passion for excellence

in care for his patients, and has an impressive

team of specialized providers and staff with the

Wellness services for seniors

LifeCare Alliance provides a nurse at

Grove City Church of the Nazarene in

Grove City weekly to provide free foot care

community events

same philosophy. This passion has not only

brought a great personal fulfillment, but has certainly

well served to the benefit of scores of cardiology

patients from the central Ohio area over

the years. Patients are noticeably happy with the

accessible, affordable, and quality diagnostic cardiology

care they receive.

Dr. Katapadi and his staff also opened an

office in the ever growing Grove City office, and

the patients enjoy the relaxing, open, and friendly

atmosphere. Ohio Heart Group is accepting new

and transfer patients as well as several cardiology

groups near Grove City are now closed.

Come see why Dr. Katapadi has been voted

Top Doc in Cardiology for two years running!

and other wellness services for seniors. To

schedule an appointment or for more information,

call the wellness office at 614-437-

2878.

PAID ADVERTISING

Zangmeister Cancer Center

provides care in Grove City

Specialists in the diagnosis and treatment of

cancer and blood disorders, the Zangmeister

Cancer Center serves patients from offices in

Columbus and Grove City, Ohio. The Grove City

clinic is located at 5500 North Meadows Drive,

Suite 230.

Zangmeister medical oncologists providing

care to patients in Grove City are Drs. Sam

Mikhail, Jorge Rios, Timothy Moore and Emily

Whitman. Dr. Mikhail is Board certified in medical

oncology and hematology and evaluates and

treats all cancers and blood disorders with a special

interest in gastrointestinal cancers. Dr. Rios is

Board certified in internal medicine and medical

oncology and evaluates and treats all cancer types

and blood disorders with a special interest in lung

cancer and other thoracic malignancies. Dr.

Moore is Board certified in internal medicine,

medical oncology, hematology and hospice and

palliative care. He treats all cancers and blood

disorders and has a special interest in melanoma

and clinical trial research. Dr. Whitman is Board

certified in internal medicine, medical oncology

and hematology, and treats all cancer types and

blood disorders with a specific interest in breast

and gynecologic malignancies.

Zangmeister offers state-of-the-art infusion

therapy including immunotherapy for treating

cancer and other diseases and conditions, and

access to clinical trials. The clinic provides an inhouse

laboratory that performs all routine blood

work on site and an in-house specialty pharmacy

providing convenient dispensing and delivery of

oral cancer drugs. Grove City patients will have

access to a diverse range of support services

including 24/7 pharmacy assistance, behavioral

therapy, nutrition and financial counseling – giving

them unparalleled access to comprehensive,

integrated cancer care, close to home.

For more information, visit ZangCenter.com.

For Grove City appointments, call 614-347-4939.

Now in Grove

City

At Zangmeiste er Cancer Center we coll laborate with our

colleagues in radiation therapy, surgery, genetics, pathology and

clinical researc ch to ensure each patien nt has a comprehensive

,

multidisciplinar ry plan of care. Support from our pharmacists,

social workers , nurse navigators, dietiti ians and financial

counselors min nimize the impact of cancer cer on daily life.

A DIVISION OF AMERICAN ONCOLOGY PAR TNERS, P.A.

We del liver the most adv vanced and innova ative treatments fo ocused on each patient for

the best possible expe erience — becaus e each patient' 's cancer journey is unique.

5500 North Meado ows Dr., Suite 230, Grove City, OH 43123 | ZangCenter.

com
---
www.columbusmessenger.com January 29, 2023 - GROVE CITY MESSENGER - PAGE 13

Health and Wellness

PAID ADVERTISING

Galaxy Health is a

full-service family practice

Galaxy Health Family Practice opened Dec. 1,

2021, at 421 Georgesville Road, between

Sullivant Avenue and Hollywood Casino.

Founded by nurse practitioner and CEO Miki

Watts, a proud 1996 graduate of West High

School, Galaxy Health exists to serve the Hilltop

and surrounding communities.

At Galaxy Health, we pride ourselves on

being a full-service family practice ready to serve

your healthcare needs. We have two on-site labs

for toxicology and blood work. Lab work is done

the same day with little to no wait – no need to

schedule an additional appointment. With Miki's

10+ year background in addiction and pain management,

we also offer outpatient addiction treatment.

We use a powerful full-body test called ANS,

which measures how well the brain communicates

to other parts of the body such as heart,

lungs, kidneys, stomach, and liver and can help in

the diagnosis of chronic diseases related to the

heart; blood pressure, blood flow, chronic pain,

and other physical and mental stresses.

Galaxy Health is accepting new patients

today. Find out more and schedule your appointment

today by visiting GalaxyHealthFP.com, find

us on Facebook or Twitter @GalaxyHealthFP,

Instagram @GalaxyHealthFamilyPractice or by

calling 614-272-7700. We currently accept most

insurance plans, including CareSource, Molina

and Medicaid.

Ask about our patient referral program where

you can earn unlimited Amazon gift cards and

every referral allows Galaxy Health to make a

donation to Rescuing Leftover Cuisine to help

feed those in need. In 2022, Galaxy Health rescued

over 10,000 meals for the central Ohio community.

Club meetings - Lions Club

The Grove City Lions Club meets at

6:45 p.m. the second and fourth

Wednesday of each month at Beautiful

Savior Lutheran Church, 2213 White

Road.

Ohio Heart Group

Serving Grove City one heart at a time.

• Convenient, Affordable, Accessible!

• Same testing services for a fraction of the price

• Same Day Availability

• Cardiac Clearances and Occupational Testing

• Personalized Care and Prompt Results!

Accepting new patients now!! Will also accept patients needing to transfer their care

Quality Care for the Heart... From the Heart

Call and Schedule your appointment at one of our locations today!

Grove City

2983 Jackpot Road

Grove City, OH 43123

614-594-2920

Downtown

800 East Broad St.

Columbus, OH 43205

614-252-8300

Westerville

68 Westerview Dr.

Westerville, OH 43081

614-899-1200

Newark

1311 W. Main St.

Newark, OH 43085

740-348-0012
---
PAGE 14 - GROVE CITY MESSENGER - January 29, 2023

Produce giveaway at YMCA

The Hilltop YMCA hosts a fresh produce

giveaway the third Wednesday of each

FOR SALE

Columbus Messenger is cleaning out back room of items

we no longer need:

28 ft. Extension Ladder, new $475, like new condition,

rarely used - $350, 350 lb. capacity

10 ft. Aluminum Step Ladder, 280 lb. capacity, new $310,

like new condition rarely used - $190

Hose Caddy and 100 ft. of Hose like new, $65

Floor Machine, includes: all pads plus unopened Betco wax,

very lightly used machine - $395

Coca Cola Machine - $799 or Best Offer

Charcoal Grill, used less than 5 times - $25

Call 614-272-5422

to view and/or purchase

LIVE PUBLIC

AUTO AUCTION

50+ VEHICLES WILL SELL 02/11/23

30+ WILL SELL WITH NO RESERVE!

Preview the inventory online

BIDONCARSLANCASTER.COM

1250 COLLINS ROAD NW

LANCASTER, OHIO 43130

740-935-1180

news and notes

month from 4 to 6 p.m. at 2879 Valleyite

Drive in Columbus. For more information,

call the YMCA at 614-276-8224.

Pet Corner

Pets of the week

Whitney is an older

diva (12 years old)

who is looking for a

quiet home where

she is the main

attraction. She is shy

with new people but

once she gets comfy,

she will make a great

movie watching companion.

Whitney

enjoys bird watching

and lots of scratches. She would do best as

an only cat because she prefers to be the star

of the house. She would also prefer a home

without children. Adopt Whitney from Friends

for Life Animal Haven.

FYI: fflah.org

Annie Tanny is

about 3 months old.

She came to the rescue

group as part of

a litter of eight from a

high kill shelter in

West Virginia. Annie

is a sweet girl that

loves attention and

cuddles. She is a

very good listener.

Annie loves to play

with other puppies and is learning to be

respectful of cats. She is crate trained,

spayed and current on vaccines. Annie is up

for adoption through Colony Cats and Dogs.

FYI: colonycats.org

Dog license renewal runs

through March 31

Dog license renewal season is under

way, and licenses are now available for

purchase without penalty at the auditor's

office.

The dog license renewal period will run

through March 31, an extension of two

months to increase the rate of licensing. As

in past years, licenses may be purchased at

doglicense.franklincountyohio.gov, or at

the auditor's office license counter, 373 S.

High St., 21st Floor in downtown

Columbus. The counter is open Monday

through Friday, from 8 a.m. to 4 p.m.

One-year, three-year, and permanent

dog licenses can be purchased through

March 31. After the deadline, the cost to

purchase a license doubles.

The office will also offer licensing at

expanded locations across the county,

including at pet vaccination clinics, the

Franklin County Dog Shelter, and at other

community events.

In addition to being required by state

law, dog licensing ensures that a dog has

been vaccinated against rabies, which is

required in Franklin County. It also

Bluebell is a sweet

cat who is eager to

find a forever home.

This 1-year-old is

good with other cats

and good with dogs.

Bluebell would be a

great addition to any

family. Stop by the

Pet Supplies Plus

location on Lane

Avenue to meet this

curious kitty.

FYI: colonycats.org

Hilda is 6 years old

and would be excited

to go to a home with

a family who can continue

fostering her

slightly adventurous

personality, while

also fully understanding

that on some

days, Hilda may prefer

to stay home

news and notes

www.columbusmessenger.com

These furry friends are available

for adoption at local

rescues and shelters

watching reruns

while snuggled up on

the couch. Hilda has done well with the children

she has interacted with. She is great on

a leash and is house trained. Adopt her from

the Franklin County shelter.

FYI: franklincountydogs.com

ensures any lost dog is returned quickly to

their owners. License fees help support the

Franklin County Dog Shelter and Adoption

Center.

Visit doglicense.franklincountyohio.gov

for more information.

Tax-Aide volunteers needed

AARP Foundation Tax-Aide, which had

to scale back operations at the Grove City

Church of the Nazarene because of the

pandemic, hopes to return to full strength

next tax season and is looking for volunteers.

The all-volunteer program provides free

income tax preparation to all comers, but

places a special emphasis on serving senior

citizens. Before the pandemic, tax-aide volunteers

prepared tax returns for more than

800 Grove City area residents each year.

Volunteers come from all walks of life,

from accountants to warehouse workers.

No experience is required. Tax-Aide provides

training, a computer to work on and

mentorship throughout the tax season.

For more information, go to aarpfoundation.org/taxaidevolunteer

or call 1-888-227-

7669.
---
www.columbusmessenger.com January 29, 2023 - GROVE CITY MESSENGER - PAGE 15

In Entertainment

"e Drop" is a biting and clever dramedy

Has a person you have dated ever said or done

something that makes you completely re-examine your

feelings toward them? It didn't have to be an act of

betrayal or something beyond the pale either — it was

just an innocuous comment or a careless accident but

it made such an impact that it made you want to step

back from the relationship in order to reflect on what

their role would be in your life moving forward.

Whether you have or have not found yourself in

that situation before, the awkwardness of that

moment and the soul-searching that takes place immediately

thereafter is explored to a hilarious degree in

"The Drop," a Hulu original that is as side-splitting

funny as it is cringe-inducing. If you have a limited tolerance

for secondhand embarrassment be forewarned

— this movie will probably make you want to curl into

a ball of discomfort from time to time.

At the center of this dramedy are Lex and Mani

(Anna Konkle and Jermaine Fowler), a happily married

couple who are enthusiastically trying to expand

their family of two into a family of three. To Mani, Lex

would make the perfect mother as she is creative,

warm, and caring. To Lex, Mani would make the perfect

father as he is level-headed, steadfast, and dedicated.

They are so sweet together and have such an

easy rapport that one can't help but root for all of their

dreams to come true. But then comes a destination

wedding where an accident rocks their faith in one

another and has them contemplating ending their

partnership once this short trip ends.

Although the trip itself does not appear to have anything

nefarious afoot — longtime friends are celebrating

the wedding of Mia and Peggy (Aparna Nancherla

and Jennifer Lafleur) and getting to meet their infant

daughter Ani (Alma Partridge) for the first time —

awkwardness abounds from the jump when the couples

sit together in first class and catch up on their

lives. Shauna (Robin Thede), a D-list actress who is

funding the excursion, wants everyone to watch her

truly terrible television show; her husband Robbie

(Utkarsh Ambudkar), is a television producer who

thinks everyone needs to hear his terrible pitches for

upcoming shows and restaurants; their teenage son

Levi (Elisha Henig) loudly listens to porn without earbuds;

and the soon-to-be-married couple are bickering

about Mia's newfound obsession with weapons to protect

her family.

It is a tense flight to Mexico and it is made all the

more stressful when they go to the "natural hotel"

operated by fellow pals Lindsey and Josh (Jillian Bell

and Joshua Leonard) who immediately try to get them

to timeshare their expansive property that seems to be

bleeding money. With everyone on edge and not having

the time to properly breathe, Lex accidentally drops

their friend's baby girl she was holding in her arms.

The lead-up to that moment — where Mani is looking at

his wife adoringly and imagining the near future

where this could be happening with their

child — is brilliantly shot as is the immediate

frenzy that takes place when awareness

of the incident rolls over everyone. Even if

you have seen the trailer that spoils the

moment, the act is gasp-inducing and it

sets the stage for everyone to question

everything and judge, judge, judge.

Fortunately, Ani is unharmed during

the accidental drop (she does have to wear

a helmet for the next four months), but no

one knows how to assure Lex that these

things happen, even Mani. Although he

seems supportive at first, he calls his mother

during a moment alone to ask whether it is common

for an adult to drop an infant by accident.

For her part, Lex is horrified by the incident, largely

blaming the slippage on a large bee that stung her

so hard it felt like "knives going into my skin." It is not

clear whether anyone is buying her reasoning as she

has no visible mark from a sting, but she begins to pull

away from the group as a way to self-exile from the

embarrassment. And they allow her to do so.

The morning after has them trying to move past the

incident — Shauna and Robbie wonder quietly whether

it would be insensitive to include it in an upcoming

episode of their terrible television show — but some

things tend to have an avalanche effect where it all

goes downhill from there. That is what happens to Lex

and Mani as little comments and little decisions (some

made in the past) start to bubble under their skin, like

little doubts they have had simmering below start

coming to the surface. Had the film decided to feature

more of their point of view as their marriage begins to

unravel, it would have worked much better than the

finished product.

The unfortunate problem with "The Drop" is that

there's a really great movie in here that could have

bloomed in the wake of the accident if executed with

dark wit and more of a focus on Lex and Mani, but that

gets obscured by the side stories that are far less interesting

and eat up way too much time of the script.

Although the ensemble cast is terrifically funny, the

scenes tend to play as a collection of vignettes rather

than a cohesive story within a film. All of which is too

bad because Konkle and Fowler are great together and

if their implosion was treated with a bit more care

alongside the wickedly unruly ensemble of characters,

the outcome of the whole film would have been so

much better.

That is not to say that "The Drop" is not a great

watch regardless — it totally is. The script, co-written

by Joshua Leonard and director Sarah Adina Smith, is

biting and cleverly and deftly handled by a great cast.

But it can grate a bit when the focus is off the main

characters and onto the idiosyncrasies of the supporting

cast, no matter how entertaining they are to witness

during the bizarre events that lead up to Lex and

Mani questioning the very foundation of their love for

each other.

Grade: B

The Reel Deal

Dedra Cordle

Dedra Cordle is a Messenger staff writer and

columnist.

OBITUARY NOTICES

Your Affordable Alternative

Messenger Newspapers

On-line & In Print

Your notice will be published on-line Monday through Friday

the day after we receive them. We will provide you with your

low on-line and print costs:

SAMPLE

On-Line $ 45.00

1-Paper Print 2x5=10 @12.90/in $129.00

$174.00

Tell your funeral director to send your notices to

pdmessenger5422@gmail.com

or Call

Columbus Messenger at 614-272-5422

Be a Part of Our

Local Worship Guide

Our upcoming Worship Guide is geared toward

celebrating faith and helping readers connect with

religious resources in our community. Make sure these

readers know how you can help with a presence in this

very special section distributed to more than 22,000

households in the Southwest area.

The cost is $20 per issue. (must run twice)

Contact us today to secure your spot in Worship Guide.

614.272.5422 • kathy@columbusmessenger.com

A Special Section From

Call today and receive a

FREE SHOWER PACKAGE

PLUS $1600 OFF

1-855-417-1306

With purchase of a new Safe Step Walk-In Tub. Not applicable with any previous

walk-in tub purchase. Offer available while supplies last. No cash value. Must present

offer at time of purchase. CSLB 1082165 NSCB 0082999 0083445

columbus

SPECIAL OFFER
---
PAGE 16 - GROVE CITY MESSENGER - January 29, 2023

www.columbusmessenger.com

CLASSIFIED ADS

Deadlines: Grove City, Groveport & All editions - Mondays at Noon.

West, Canal Winchester, South & Madison editions -Tuesdays at 5 p.m.

Messenger photos by Dedra Cordle

Falcons celebrate athletic hub

The Franklin Heights High School community is celebrating

the end result of a year-long fundraising effort to update its

indoor training facility for student-athletes. On Jan. 10,

dozens of alumni, current students, district officials, and

local business leaders attended the public dedication of a

new athletic performance center located within the Falcon's

Nest. According to Kevin Mulvany, the head football coach

who spearheaded the fundraising effort, more than one hundred

donors raised $120,000 to build a new athletic hub at

the school's recreation center. "I am so thankful to this community

who put in so much time and money to help us create

a new era of health and wellness for our student-athletes

for decades to come," he said. Mulvany, shown here at the

left celebrating with members of the football team, said the

new athletic performance center has 10 benches, five double-sided

racks, more than 7,000 pounds of weights and

dumbbells for lifting, durable turf for speed training, and

stations for plyometric training and injury prevention and

recovery. "This is seriously nicer than the stuff I had when I

was at Kent State," he quipped.

Seth Byas, a senior at the school, showcases some of the

exercises that can be done at the interlocking bench station.

xPreschool/Daycare

advertise

YOUR DAY CARE

OR PRESCHOOL

Preschool/Daycare

LEGAL NOTICES

Class Action against The

City of Grove City (2.5

miliion) & Grove City

Police (2.5 million) for

bodily harm & abuse of

power. Free to join. 614-

778-3864

Class Action against

Grant Hospital for

malpractice & negligence.

Free to join. 614-778-3864

INFORMATION

Got The

Winter Blahs?

Come See Me At

My New Location!

For a New Haircut/Color

Call Marilyn Weaver

For An Appt.

614-348-6670

Relax Wellness

3663 Broadway,

Grove City

YOUR AD

COULD APPEAR

HERE!

Call Us For Prices

614-272-5422

ASSOCIATION ADS

DENTAL INSURANCE

from Physicians Mutual

Insurance Company.

Coverage for 350 plus

procedures. Real dental

insurance - NOT just a

discount plan. Do not wait!

Call now! Get your FREE

Dental Information Kit with

all the details! 1-877-553-

1891

www.dental50plus.com/

macnet#6258

Call Kathy

at The Messenger

For More Info

272-5422

ASSOCIATION ADS

WANTED!

MOTORCYCLES!

ANTIQUE AND CLASSIC.

Honda, Kawasaki, Suzuki,

Yamaha, Triumph, BSA

and other foreign models.

$$PAYING CA$H$$

717-577-8206

KRMiller1965@yahoo.com

READER

ADVISORY

The National Trade Association

we belong to has

purchased the following

classifieds. Determining

the value of their service

or product is advised by

this publication. In order

to avoid misunderstandings,

some advertisers do

not offer "employment"

but rather supply the

readers with manuals, directories

and other materials

designed to help

their clients establish mail

order selling and other

businesses at home. Under

NO circumstance

should you send any

money in advance or give

the client your checking,

license ID or credit card

numbers. Also beware of

ads that claim to guarantee

loans regardless of

credit and note that if a

credit repair company

does business only over

the phone it's illegal to request

any money before

delivering its service. All

funds are based in US

dollars. Toll Free numbers

may or may not

reach Canada. Please

check with the Better

Business Bureau 614-

486-6336 or the Ohio Attorney

General's Consumer

Protection Section

614-466-4986 for more

information on the company

you are seeking to

do business with.

xCraft Shows

ADVERTISE

Your Spring Craft Show

Bazaar, or Bake Sale!

ASSOCIATION ADS

Become a Published

Author. We want to Read

Your Book! Dorrance

Publishing - Trusted by

Authors Since 1920

Book manuscript submissions

currently being reviewed.

Comprehensive Services:

Consultation, Production,

Promotion and Distribution. Call

for Your Free Author's Guide 1-

866-482-1576 or visit

dorranceinfo.com/macnet

Wesley Financial Group,

LLC Timeshare Cancellation

Experts Over

$50,000,000 in timeshare

debt & fees cancelled in

2019. Get free

informational package &

learn how to get rid of

your timeshare! Free

consultations. Over 450

positive reviews. 888-965-

0363

!!OLD GUITARS WANT-

ED!! GIBSON, FENDER,

MARTIN, Etc. 1930's to

1980's. TOP DOLLAR

PAID. CALL TOLL FREE

1-866-433-8277

Donate your car, truck,

boat, RV and more to

support our veterans!

Schedule a FAST, FREE

vehicle pickup and receive

a top tax deduction! Call

Veteran Car Donations at

1-877-327-0686 today!

Internet &WIFI Starts at

$49 Call us Today to Get

Started. Find High-Speed

Internet with Fiber Optic

Technology No Credit

Check, No SSN Required.

Call us Today 866-396-

0515

Call Kathy

272-5422

For More Info

Craft Shows

ASSOCIATION ADS

FREE $20 Cash App

Everyone! Yes It's Real.

Very Limited supply until

we run out! Go to

Free20Now.com

Safe Step. North

America's #1 Walk-in Tub.

Compreshensive lifetime

warranty. Top-of-the-line

installation and service.

Now featuring our FREE

shower package & $1600

off for a limited time! Call

today! Financing

available. Call Safe Step

1-833-356-1954

Replace your roof with the

best lookng and longest

lasting material -- Steel

from Erie Metal Roofs!

Three styles and multiple

colors available.

Guaranteed to last a

lifetime! Limited Time

Offer - $500 Discount +

Additional 10% off install

(for military, health

workers & 1st responders)

Call Erie Metal Roofs: 1-

855-338-4807

Don't let the stairs limit

your mobility! Discover

the ideal solution for

anyone who struggles on

the stairs, is concerned

about a fall or wants to

regain access to their

entire home. Call

AmeriGlide today! 1-844-

317-5246

DIRECTV Stream -

Carries the Most Local

MLB Games! CHOICE

Package, $89.99/mo for

12 months. Stream on 20

devices in your home at

once. HBOMax included

for 3 mos (w/CHOICE

Package or higher.) No

annual contract, no hidden

fees! Some restrictions

apply. Call IVS 1-866-629-

6086

ASSOCIATION ADS

The bathroom of your

dreams for as little as

$149/month! BCI Bath &

Shower. Many options

available. Quality

materials & professional

installation. Senior &

Military Discounts

Available. Limited Time

Offer - FREE virtual inhome

consultation now

and SAVE 15%! Call

Today! 1-877-540-2780

Attention Homeowners! If

you have water damage

and need cleanup

services, call us! We'll get

in & work with your

insurance agency to get

your home repaired and

your life back to normal

ASAP! 855-767-7031

HughesNet - Finally, superfast

internet no matter

where you live. 25 Mbps

just $59.99/mo! Unlimited

Data is Here. Stream

Video. Bundle TV &

Internet. Free Installation.

Call 866-499-0141

Vivint Smart Security.

Professionally installed.

One connected system for

total peace of mind. Free

professional installation!

Four free months of

monitoring! Call to

customize your system. 1-

833-841-0737

Safe Step. North

America's #1 Walk-in Tub.

Compreshensive lifetime

warranty. Top-of-the-line

installation and service.

Now featuring our FREE

shower package & $1600

off for a limited time!

Financing available. 1-

855-417-1306
---
www.columbusmessenger.com

Januarty 29, 2023 - GROVE CITY MESSENGER - PAGE 17

CLASSIFIED ADS

Deadlines: Grove City, Groveport & All editions - Mondays at Noon.

West, Canal Winchester, South & Madison editions -Tuesdays at 5 p.m.

xAdult Care

xEmployment

Call today

Start today

no minimums!

1 Hr. up to 24 Hr. Care

We send you the Best Home Caregivers

Rates as low as $16.46 an hour!

"We Do Things Your Way"

614-80-ANGEL (614-802-6435)

Call or text for info. www.v-angels.com

Adult Care

ASSOCIATION ADS

Donate Your Car To

Veterans Today! Help and

Support our Veterans.

Fast - FREE pick up.

100% tax deductible. Call

1-800-245-0398

MobileHelp, America's

premier mobile medical

alert system. Whether

you're home or away. For

safety & peace of mind.

No long term contracts!

Free brochure! 1-888-489-

3936

BUYING CLASSIC CARS,

TRUCKS, SUVs

**American and Foreign**

Any Condition. Buying

entire car collections.

$$PAYING CA$H$$

Please call 717-577-8206

KRMiller1965@yahoo.com

Best satellite TV with 2

year price guarantee!

$59.99/mo with 190

channels and 3 months

free premium, movie

channels! Free next day

installation! Call 844-842-

4469

Vivint Smart Security.

Professionally installed.

One connected system for

total peace of mind. FREE

professional installation!

Four FREE months of

monitoring! Call now to

customize your system. 1-

855-870-2073

Are you receiving

SSDI/SSI Benefits? You

may be eligible for

additional benefits. CALL

US TODAY Citizen

Disability 1-888-490-6616

Attention oxygen therapy

users! Inogen One G4 is

capable of full 24/7 oxygen

delivery. Only 2.8

pounds. Free info kit.

Call 877-929-9587

ASSOCIATION ADS

Become a Published

Author. We want to Read

Your Book! Dorrance

Publishing Trusted Since

1920 Consultation,

Production, Promotion &

Distribution. Call for Free

Author's Guide 1-877-729-

4998 or visit

dorranceinfo.com/ads

Stroke & Cardiovascular

disease are leading

causes of death according

the American Heart

Association. Screenings

can provide peace of mind

or early detection! Call

Life Line Screening to

schedule your screening.

Special offer - 5

screenings for $149. 1-

866-518-8391

DIAGNOSED WITH

LUNG CANCER? You

may quliafy for a

substantial cash award -

even with smoking history.

NO obligation! We've

recovered millions. Let us

help!! Call 24/7, 1-888-

650-9135

Switch and save up to

$250/yr on talk, text &

data. No contract or

hidden fees. Unlimited talk

& text with flexible data

plans.

Premium

nationwide coverage.

100% U.S. based

customer service. Limited

time get $50 off any new

account. Use code

GIFT50. 1-855-903-3048

Employment
---
PAGE 18 - GROVE CITY MESSENGER - January 29, 2023

www.colulmbusmessenger.com

xEmployment

TSA IS NOW HIRING

Transportation Security Officers

Positions starting at $20.20 per hour*

TSA Columbus

Recruiting Event

for John Glenn Columbus and

Rickenbacker International Airports

Tuesday, February 7 and

Wednesday, February 8

8 a.m. – 3 p.m.

U.S. citizenship required. Equal opportunity employer. *Pay rate varies by location. **Some conditions apply.

Columbus Airport Marriott

1375 N. Cassady Avenue

Columbus, OH 43219

Earn a $5,000 ** sign-on bonus

at JOHN GLENN COLUMBUS INTERNATIONAL AIRPORT

Learn more at jobs.tsa.gov/events

"HELP WANTED"

SIGN

NOT WORKING?

TO ADVER

VERTISE

Call Kathy at

The Columbus Messenger

272-5422

For More Info

ASSOCIATION ADS

AT&T Internet. Starting at

$40/month w/12-mo agmt.

1 TB of data/mo. Ask how

to bundle & SAVE! Geo &

svc restrictions apply. 1-

855-364-3948

Free high speed internet if

qualified. Govt. pgm for

recipients of select pgms

incl. Medicaid, SNAP

Housing Assistance, WIC,

Veterans Pension,

Survivor Benefits, Lifeline,

Tribal. 15 GB Internet.

Android tablet free w/onetime

$20 copay. Free

shipping. Call Maxsip

Telecom! 1-833-758-3892

Caring for an aging loved

one? Wondering about

options like senior-living

communities and in-home

care? Caring.com's

Family Advisors help take

the guesswork for your

family. Free, no-obligation

consult: 1-855-759-1407

Metal Roofing &Siding For

Houses, Barns, Sheds etc.

36" Coverage, Painted $2.35

LF, Bare $1.45 to $1.70 LF,

Rainbow $1.35 LF. Sold as

Seconds. Made in Ephrata,

Pa. 717-445-5222

ASSOCIATION ADS

Switch and save up to

$250/yr on talk, text & data.

No contract or hidden fees.

Unlimited talk & text with

flexible data plans.

Premium nationwide

coverage. 100% U.S.

based customer service.

Limited time offer - get $50

off any new account. Use

code GIFT50. For more

information1-888-684-1169

Attention Viagra users:

Generic 100 mg blue pills

or generic 20 mg yellow

pills. Get 45 plus 5 free

$99 + S/H. Call Today 1-

877-707-5518

NEED IRS RELIEF

$10K-$125K+ Get Fresh

Start or Forgiveness.

Call 1-877-705-1472

Monday through Friday

7am-5pm PST

VIAGRA and CIALIS

USERS! 50 Generic pills

SPECIAL $99.00. 100%

guaranteed. 24/7 CALL

NOW! 888-445-5928

Hablamos Espanol

ASSOCIATION ADS

SELL YOUR ANTIQUE

OR CLASSIC CAR.

Advertise with us. You

choose where you want

to advertise. 800-450-

6631 visit macnetonline.

com for details.

Elminate gutter cleaning

forever! LeafFilter, the most

advanced debris-blocking

gutter protection. Schedule

Free LeafFilter Estimate

today. 20% off Entire

Purchase. 10% Senior &

Military Discounts. Call 1-

833-610-1936

Want Faster & Affordable

Internet? Get internet

service today with

Earthlink. Best internet &

WiFi Plans. Call us Today

to Get Started. Ask

about our specials! 866-

396-0515

Prepare for power

outages today with a

GENERAC home standby

generator. $0 Down + Low

Monthly Pmt. Request a

free Quote. Call before the

next power outage: 1-855-

948-6176

Employment

ASSOCIATION ADS

Looking for auto insurance?

Find great deals

on the right auto insurance

to suit your needs.

Call today for a free

quote! 866-924-2397

Eliminate gutter cleaning

forever! LeafFilter, the

most advanced debrisblocking

gutter protection.

Schedule a FREE

LeafFilter estimate today.

20% off Entire Purchase.

Plus 10% Senior & Military

Discounts. Call 1-855-

791-1626

Dental Insurance -

Physicians Mutual Insurance

Comopany. Covers 350

procedures/ Real insurance -

not a discount plan. Get your

free dental info kit! 1-855-

.526-1060 www/dental50

plus.com/ads #6258

BATH & SHOWER UP-

DATES in as little as

ONE DAY! Affordable

prices - No payments for

18 months! Lifetime warranty

& professional installs.

Senior & Military

Discounts available. Call

855-761-1725

ASSOCIATION ADS

The Generac PWRcell

solar plus battery storage

system. Save money,

reduce reliance on

grid, prepare for outages

& power your home. Full

installation services. $0

down financing option.

Request free no obligation

quote. Call 1-877-

539-0299

READY TO BUY, SELL

OR RENT YOUR

VACATION HOME OR

HUNTING CAMP?

Advertise it here and in

neighboring publications.

We can help you. Contact

MACnet MEDIA @

800-450-6631 or visit our

site at MACnetOnline.

com

Thinking about installing

a new shower? American

Standard makes it

easy. FREE design consulation.

Enjoy your

shower again! Call 1-

833-769-0995 today to

see how you can save

$1,000 on installation, or

visit www.newshowerdeal.com/mac

ASSOCIATION ADS

DISH TV $64.99 FOR 190

Channels + $14.95 High

Speed Internet. Free Installation,

Smart HD DVR

Included, Free Voice Remote.

Some restrictions

apply. Promo expires

1/21/23. 1-866-479-1516

The Generac PWRcell, a

solar plus battery storage

system. SAVE money,

reduce your reliance on

the grid, prepare for power

outages and power

your home. Full installation

services available. $0

Down Financing Option.

Request a FREE, no obligation,

quote today. Call

1-866-783-0292

IMPORTANT

NOTICE

The following states: CA,

CT, FL, IA, IL, IN, KY,

LA, MD, ME, MI, MN,

NE, NC, NH, OH, OK,

SC, SD, TX, VT and WA

requires seller of certain

business opportunities to

register with each state

before selling. Call to

verify lawful registration

before you buy.
---
www.columbusmessenger.com

xCome & Get It!

COME AND GET IT!

Need to Get Rid of Something Fast - Advertise It Here For FREE!

Deadlines are Mondays by Noon

Call For Publication Schedule 614-272-5422

FREE Garden Straw for gardens or bedding. Call for appointment for pickup.

Circle S Farms, 9015 London-Groveport Road, Grove City, 43123

Grove City - 614-878-7980

FREE - Metal from old camper frame, Need a truck to pickup..

CC - Obetz - 614-632-1013

FREE - Children's Wooden Play Set - Good Condition w/Sand Box under it, Step Ladder up

Slide to go down & a rope swing. Also separate Swing Set w/4 swings.

190 Inah Ave., Cols, 43228 near the Fire Dept.

West Columbus - 614-878-1930, ask for Linda

FREE - Firewood - All you want! U cut U Haul. Text me if you want it.

Obetz - 614-519-7986

Come and Get It! is a bi-weekly column that offers readers an opportunity to pass

along surplus building materials, furniture, electronic equipment, crafts, supplies,

appliances, plants or household goods to anybody who will come and get them - as

long as they're FREE. NO PETS! Just send us a brief note describing what you want to

get rid of, along with your name, address and phone number. Nonprofit organizations

are welcome to submit requests for donations of items.

Send information to The Columbus Messenger, Attention: Come and Get It, 3500

Sullivant Ave., Columbus, OH43204. Deadline is Mondays at NOON for following

Sunday's publication. Messenger Newspapers is not responsible for any complications

that may occur. Please contact us when items are gone. 272-5422

Come & Get It!

xFocus on Rentals

WEDGEWOOD

VILLAGE

1, 2 and 3 BR Apts.

Rent Based on Income.

Call 614-272-2800 or visit us

at 777 Wedgewood Dr.

TTY/TDD 711

EQUAL HOUSING OPPORTUNITIES

APARTMENT MANAGERS

HAVE VACANCIES?

FILL THEM BEFORE

THE FLOWERS BLOOM!

ADVERTISE

IT!

Call The Messenger

For More Info and Rates

614-272-5422

Rentals

ASSOCIATION ADS

Protect your home w/home

security monitored by

ADT. Starting at $27.99/

mo. Get free equipment

bundle including keypad,

motion sensor, wireless

door & windows sensors.

833-719-1073

Prepare for power outages

today with a GENERAC

home standby generator.

$0 Money Down + Low

Monthly Payment Options.

Request a FREEQuote--

Call now before the next

power outage. 1-855-465-

7624

DISH TV $64.99 for 190

Channels + $14.95 high

speed internet. FREE installation,

Smart HD DVR

included. Free Voice Remote.

Some Restrictions

apply. Promo Expires

1/21/23. 1-866-590-5561

HELP WANTED

HOME INSTEAD

is hiring Caregivers

to provide in home

care for Seniors.

We offer

competitive pay and a

week of paid vacaton.

Shift and hours

can be flexible.

614-849-0200

Kings Kids Daycare

in Grove City is hiring Fun,

Loving Teachers for PT &

FT shifts. Please email

sarragc@outlook.com or

call 614-539-0349

2/19A&M

ASSOCIATION ADS

See...

You Looked!

Newspaper

Ads Catch

The Eye!

Call

272-5422

For Info. &

Pricing

CHILD CARE

OFFERED

Depend. Quality Child care

in loving hm. Exp. Mom, n-

smkr, hot meals, sncks,

playroom, fncd yd. Reas.

rates. Laurie at 853-2472

PETS

CKC German Shepherd

Pups, up-to-date on shots,

worming, microchip. Call

or text for info

614-519-5596

AKC St. Bernard puppies.

Born 7/29/22. Current Vet

checks. Please leave

message on phone

number 740-852-4167.

WANT TO BUY

WE BUY JUNK CARS

Call anytime 614-774-6797

ANTIQUES

WANTED

Victrolas, Watches,

Clocks, Bookcases

Antiques, Furn.

Jeff 614-262-0676

or 614-783-2629

We Buy Cars & Trucks

$300-$3000.614-308-2626

We Buy Junk Cars &

Trucks. Highest Prices

Paid. 614-395-8775

MISCELLANEOUS

FOR SALE

Tractor Tires on rims.

13.6-38 off Oliver 88.

Good WT Ion Tread. $400

cash. 614-332-5782, ask

for Dave

HP PRINTER

CARTRIDGES FOR SALE

HP 901 Color Cartridges (3);

HP 901XL and 901 Color

Multi Pack (1);

HP 901XL Black(1).

$15.00 each.

Columbus Messenger,

3500 Sullivant Ave.

Call Office 614-272-5422

RENTALS

SENIOR COMMUNITY

55 & ABOVE

Beautiful 2 bdrm

apartments with garages

& carports.

Rents range from

$617.00 to $935.00.

Must income qualify. Call

for more details on this

smoke free community.

Lamplighter

Senior Village

614-991-6121

January 29, 2023 - GROVE CITY MESSENGER - PAGE 19

xClassified Services

CLEANING

DEEP CLEANING &

WALL WASHING

Call Judy 614-746-0273

CONCRETE

www.hastingsnsons.com

Driveways & Extensions

Patio & Walkways,

Porches & Steps,

Garage/Basement Floors

Hot Tub/Shed Pads,

Stamped/colored concrete

Sealing of new &

existing concrete.

FREE ESTIMATES

Contact Adam

614-756-1754

hastingsandsons.

columbus@gmail.com

AJ's Concrete,

Masonry

Good Work - Fair Prices

Block Foundations

Driveways • Sidewalks

Epoxy/Overlay Floors

Bonded-Ins. • Free Ests.

614-419-9932

FENCING

EAZY FENCE

Chain Link - Wood

No Job Too Big or Small

All Repairs ~ Free Est.

Insured. 614-670-2292

FLOORING

CARPET

INSTALLATION

SPECIAL

Starting At

$1.50 per sq ft

Installation

Services

also available for

Ceramic,

Hardwood

&Vinyl

740-803-0705

Special Expires 1/31/23

INFORMATION

NEED SOMETHING

DONE THIS WINTER?

CHECK OUT OUR

CLASSIFIED SERVICES!

FOR

ADVERTISING

INFO. CALL

614-272-5422

THE COLUMBUS

MESSENGER

2/19 A

1/22 A&M

HAULING

DEAN'S HAULING

614-276-1958

JUNK REMOVAL

AL

AND MORE LLC

• Junk Removal

• Demolition

• Hoarding

614-352-0442

10% OFF FOR

SENIORS & VETERANS

ZANE'S DUMPSTERS

614-254-1131

HEATING & COOLING

HVAC

HEATING & A/C

Fast Service - Licensed

614-633-9694

INFORMATION

FOR ONLY

$74.00

You Can Reach

Over 42,000 Homes

In Our

West & Grove City

Areas

For Info Call

272-5422

HOME

IMPROVEMENTS

KLAUSMAN HOME

IMPROVEMENT

Siding-Windows-

Doors-Roofing-Soffit-

Fascia-Gutters-Trim

Earn FREE Seamless

Gutters with Siding Over

1000 Sq. Ft.

FREE Shutters with

Soffit & Trim

EPA Certified

Member of BBB

Financing Available

Over 20 yrs exp. • Free Est.

Licensed-Bonded-Insured

Owner & Operator

James 614-419-7500

CandC

Handyman Services LLC

"See The Difference"

l

614-378-7469

Int./Ext. Remodels,

Water Heaters,

Plumbing, Fence,

Sidewalks, Decks,

Int./Ext. Paintng

& Electrical Work

1/8 W

1/8 A

2/19A

HOME

IMPROVEMENTS

SLAGLE

HOME REMODELING

Baths, Kitchen,

Plumbing and Electrical.

All your Handyman needs

No Job too Big or Small

Over 30 Yrs. Exp. Lic.-Bond-Ins.

Jerry

614-332-3320

Classified Services

2/5

SW/W

C&JHandyman

Services LLC

Minor Plumbing & Electric

Install Hot Water Tanks,

Dishwashers & Disposals

All Interior Remodels

Also Fencing &

Interior/Exterior Painting

Free Est. ~ 18 Yrs. Exp.

CDC/EPA Approved Guidelines

614-284-2100

Handyman - outdoor &

indoor. Reasonable Rates

614-634-2244

SINCE 1973

Phil Bolon Contr.

Windows & Siding

Decks, Kitchens, Baths

Room Additions,

Flooring, Roofing

Bsmt Waterproofing

Deal With Small Non-Pressure Co.

47 Yrs. Exp. - Refs. Avail.

Lic.-Bond-Ins.

2/19

A/M

Free Est. - Financing Avail.

Member BBB Of Cent. OH

O.C.I.E.B. ID #24273

614-419-3977

or 614-863-9912

HOME

MAINTENANCE

HANDYMAN SERVICES

614-235-1819

HOME

REMODELING

MultiCraft Const.

& Handyman Services

All Types Handyman Services:

Decks, Fences

Kitchen/Baths

Window/doors installed

Interior Painting

Drywall Repairs

All Types of Flooring

Call/Text 614-774-2923

multicraftconstruction@gmail.com

Charlies Handyman

Service

Over 40 yrs. exp.

Hot Water Tanks

Door Locks

Kitchen/Bath Remodels

Roofmg * Siding

Porches & Decks

614-319-6010

blantoncharles894@gmail.com

12/4 A

2/19 A

LAWN CARE

LET US MAINTAIN

YOUR LAWN & GARDEN

FOR YOU

Summer, Spring,

Winter or Fall

WE DO IT ALL!!!!

Lawn Cuts, Edging,

Trees & Shrubs, Garden,

Mulching, Hauling,

Garden Pond &

Home Maint.

Free Ests. Low Rates

$20 & Up

Kevin - 614-905-3117

PAINTING

Moyer Construction LLC

Specializing in Painting

Insured - Free Estimate

614-378-3568

PLASTERING

DRYW

YWALL &

PLASTER REPAIR

Textured Ceilings

Popcorn Ceiling Removal

Call Randy

614-551-6963

Residential/Commercial - BIA

PLUMBING

All About Drains & Plumb.

Will snake any small drain

$145. 614-778-2584

MYERS

PLUMBING

Exp Expert Plumbing

New Const. & Fast Repairs

Lic. - Permit AVailable

Water * Sewer * Gas

614-633-9694

CHRIS'

PLUMBING

"Plumbing & Drain Professional

That You Can Count On"

24 Hrs., 7 Days/Week

No Overtime Charges

24 Yrs. Exp. in Plumbing &

Drain Cleaning Field

Call For A Free Phone Estimate

$100.00 For Any Small Drain

614-622-4482

30% OFF with AD

POOL/SPA

MAINTENANCE

K&L Spa Cleaning

Hot Tub Cleaning and

Weekly Maintenance

Keith 614-316-9809

SEWING MACHINE

REPAIR

REPAIR all makes 24 hr.

service. Clean, oil, adjust

in your home. $49.95 all

work gtd. 614-890-5296

TREE SERVICES

Warren Brewer Tree Service

• Tree Removal

• Tree Trimming

• Stump Grinding

1/8

A&M

• Bucket Truck Services

Best Prices • Same Day Service

614-878-2568

2/5 A&M

1/8 A
---
PAGE 20 - GROVE CITY MESSENGER - January 29, 2023

Government Focus

www.columbusmessenger.com

Jackson Township waits for state decision on road funding

By Dedra Cordle

Staff Writer

Jackson Township officials will have to

wait a bit longer to learn whether a grant

application to repair two of its most welltraveled

and well-worn roads has been

approved by the state.

At its meeting on Jan. 17, Township

Administrator Shane Farnsworth told the

board of trustees that the Ohio Public

Works Commission is still processing applications

to determine which municipalities

would receive full to partial funding to

make infrastructure upgrades through its

capital improvement program and the local

transportation improvement program.

"It is still in the oven and it is going to

be another couple of months before we hear

word from the state," said Farnsworth.

The board of trustees unanimously

authorized the approval of the grant application

to repair Brown Road and Dyer

Road in the fall. At the time, the township

officials believed the state would announce

their decision before the end of the year.

"It is a little disappointing because we

want to get this done, but it is not entirely

unexpected," said Farnsworth. "These are

really popular programs with a lot of cities

and local municipalities vying for grants

and sometimes things just get tied up."

He said he is still confident that the

township will receive full or partial funding

to make "much needed" repairs to Brown

Road and Dyer Road but added that the

township could look into covering the cost

of the resurfacing project should they fail to

receive financial assistance through the

state.

"It is something that we will certainly

think about, but we would love to have a

grant to help us too," he said.

According to Farnsworth, the township

is seeking a full resurfacing of Brown Road

and Dyer Road, along with improvements

at the intersection. Farnsworth said

stormwater repairs were also requested in

the initial application as the area tends to

flood during heavy rain events — much of it

caused by heavy-load vehicle damage.

"Much of the stormwater infrastructure

on Brown and Dyer has been crushed from

all the dump trucks and other heavy-load

vehicles that travel through," said

Farnsworth. "So what we have now are

areas where the water just lays there without

draining and it really affects the neighborhood

homes."

He said infrastructure improvements

would allow that run-off to drain in a more

timely manner.

Farnsworth said he does expect to learn

whether the state has approved their grant

application request in April or May.

"Of course, that might change again but

it is what we are looking at right now," he

said.

The township's road department has

also finalized its list of roads to repair and

resurface for 2023. According to

Farnsworth, that list includes:

•The entire section of Anglebrook Drive

•Borror Road from the Patzer Ditch to

State Route 104

•The entire section of Deer Path Drive

•The entire section of Edwards Drive

•W. Hyde Road from the dead end to

U.S. 62

•The entire section of Marlane Court

•The entire section of S. Hoover Spur

•McComb Road and Home Road to the

north dead end near Hyde Road.

There are also plans to chip and seal

Cabin Road and Thrailkill Road.

Farnsworth said with the exclusion of

Cabin Road and Thrailkill Road, all of the

aforementioned repairs were woven into

the county engineer's county-wide road

resurfacing contract for 2022 but were

delayed. That resurfacing project was budgeted

at $150,000. The chip and sealing of

Cabin Road and Thrailkill Road are estimated

at $28,000.

In other news, the trustees approved a

motion to advertise for a comprehensive

land use plan request for proposal. The

motion will allow the administrator to contact

the county's economic development

and planning department to seek consultants

to review the township's comprehensive

land use plan that was last updated in

2010.

"What we are wanting to do is update

our plan, especially taking into account

plans that the Mid-Ohio Regional Planning

Commission has in place and Grove City's

2050 plan," said Farnsworth. "So we want

to make sure our plan compliments these

vision plans for only for our community,

the Grove City community, and the

Urbancrest community, but also for the

entire region as well."

southwest

Messenger

(Distribution: 9,000)

Andrea Cordle...................................Grove City Editor

southwest@ columbusmessenger.com

Published every other Sunday by the

The Columbus Messenger Co.

3500 Sullivant Ave., Columbus, Ohio 43204

(614) 272-5422

JIMMY RAY GUITARS

614-202-5638

3558 Broadway Blvd.

Grove City, OH 43123

MON - THURS: 10AM - 5 PM FRI: 10AM - 6PM SAT: 10AM-4PM

BUY SELL

REPAIR

10% OFF Guitars Only! Military & First Responders

JIMMYRAYGUITARS.COM

Have Question? Go See JIMMY!