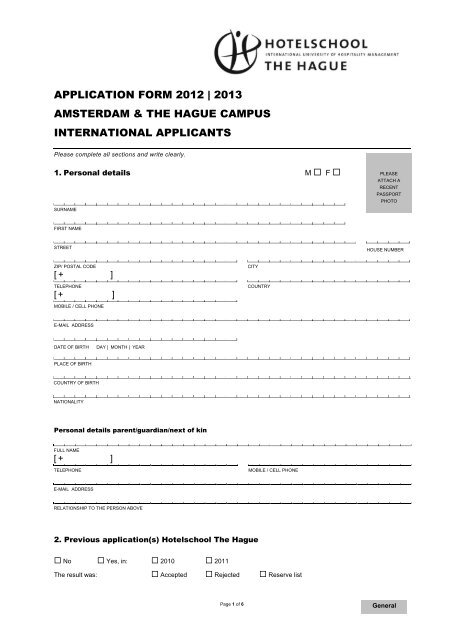 Application Form - Hotelschool The Hague
Application Form - Hotelschool The Hague
Application Form - Hotelschool The Hague
SHOW MORE
SHOW LESS
You also want an ePaper? Increase the reach of your titles
YUMPU automatically turns print PDFs into web optimized ePapers that Google loves.
APPLICATION FORM 2012 | 2013

AMSTERDAM & THE HAGUE CAMPUS

INTERNATIONAL APPLICANTS

Please complete all sections and write clearly.

1. Personal details M F

SURNAME

FIRST NAME

STREET

ZIP/ POSTAL CODE

[ + ]

TELEPHONE

[ + ]

MOBILE / CELL PHONE

E-MAIL ADDRESS

DATE OF BIRTH DAY | MONTH | YEAR

PLACE OF BIRTH

COUNTRY OF BIRTH

NATIONALITY

Personal details parent/guardian/next of kin

FULL NAME

[ + ]

TELEPHONE

E-MAIL ADDRESS

RELATIONSHIP TO THE PERSON ABOVE

Page 1 of 6

CITY

2. Previous application(s) Hotelschool The Hague

No Yes, in: 2010 2011

COUNTRY

MOBILE / CELL PHONE

The result was: Accepted Rejected Reserve list

PLEASE

ATTACH A

RECENT

PASSPORT

PHOTO

HOUSE NUMBER

General
---
3 A. Intake preference*

Please take note of the following application deadlines (for enrolment in August 2012 or February 2013):

International applicants Bachelor programme (EEA): 1 May 2012

International applicants Bachelor programme (non-EEA): 1 May 2012

International Fast Track programme (EEA): 1 May 2012

International Fast Track programme (non-EEA): 1 May 2012

PROGRAMME STARTING DATE

4-year Bachelor Degree programme

(Amsterdam / The Hague campus)

2-year International Fast Track programme (IFT)*

August 2012

February 2013

July 2012 (The Hague only)

July 2013 (Amsterdam only)

Page 2 of 6

APPLICATION FORM | HOTELSCHOOL THE HAGUE

* NB: Applies only to students who have successfully completed a recognised 2-year qualification in hotel or hospitality studies

at secondary level.

3 B. Campus preference (state your reasons)*

Amsterdam The Hague No preference

|

|

* IMPORTANT: Hotelschool The Hague will determine at which campus you will be placed and when you can start.

No rights may be derived from a stated preference.

4. Selection day preferences, please indicate more options if possible.*

(All selection days in The Netherlands are on Saturday from approx. 10.00 - 17.00, a selection day abroad might have a

different programme)

The Hague Amsterdam (only regular Abroad

regular programme, no IFT)

25 February 2012 18 February 2012 Hungary, Budapest – Saturday 17 March 2012

17 March 2012 31 March 2012

Netherlands Antilles, Curaçao – Saturday 24 March

2012

2 June 2012 12 May 2012 Norway, Oslo – Saturday 31 March 2012

Germany, Cologne – Saturday 21 April 2012

Romania, Bucharest – Saturday 12 May 2012

* Hotelschool The Hague reserves the right to change the dates of the selection days. The candidates concerned will be notified.

Please note that all dates and locations are subject to change.
---
5.A Educational background

Please enclose copies of your diplomas with subjects and grades.

NAME EDUCATIONAL

INSTITUTION

International Fast Track

FULL NAME DIPLOMA IN

YOUR OWN LANGUAGE

International International

Baccalaureate

European European

Baccalaureate

Germany Abitur

Abitur + Ausbildung

Norway

Artium

Denmark Gymnasie eksamen

Højere

Handelseksamen

Sweden Avgångsbetyg från

Gymnasieskola

U.K. Two A-levels,

subjects:

Page 3 of 6

1………..........

2 …………….

United States High school GPA

average at least 3.0

Other

.................................................................

………………………………………...

If you are applying for the International Fast Track (IFT) programme, please fill in the following:

NAME/ COUNTRY EDUCATIONAL

INSTITUTION

5.B Contact details educational institution

NAME PROGRAMME / COURSE FULLTIME/

PARTTIME

APPLICATION FORM | HOTELSCHOOL THE HAGUE

DIPLOMA

OBTAINED

Yes / No

Yes / No

Yes / No

Yes / No

Yes / No

Yes / No

Yes / No

Yes / No

Yes / No

DIPLOMA

YES/NO

Fill in the address and website of your educational institution (high school) and the name of your student counsellor.

| ____________________________ | ___________________________

NAME OF STUDENT COUNSELLOR E-MAIL ADDRESS STUDENT COUNSELLOR

|____________________________________ |______ |____________

STREET NUMBER ZIP / POSTAL CODE

|____________________________________ |___________________________________

CITY COUNTRY

|_________________________________

PHONE NUMBER

YEAR OF

GRADUATION

START –END

DATE
---
6. Languages

A. What was the language of instruction in your last two years at secondary school?

If you were educated partly in English and partly in another language, please indicate which subjects

were taught in English.

|

|

B. What is your mother tongue? |

Page 4 of 6

APPLICATION FORM | HOTELSCHOOL THE HAGUE

______________________________________________

C. Have you taken an English language test? No*, (name and date scheduled test)_____________________________

Yes, please enclose a copy of the result

Please note that we prefer that you already enclose a copy of your results for one of the following English tests with your

application form.

The following tests and scores are accepted:

- TOEFL (Required result 80 Internet based, 550 paper based), www.toefl.org

- IELTS (Required result 6.0), www.ielts.org

- Cambridge Certificate of Proficiency (Any pass grade) www.cambridgeesol.org

- Cambridge Certificate of Advanced English (A,B or C)

- Cambridge First Certificate (A)

Send us a copy of one of these test results only if you meet our required scores.

* Please make sure that you schedule the test in time regarding the start in February or August. Note that it takes

approximately 6 weeks to obtain the result.

7. Employment

Please state your work experience (also part-time jobs) in and outside the hotel and catering industry.

Enclose letter(s) of recommendation, if applicable.

COMPANY NAME POSITION FROM UNTIL
---
Page 5 of 6

APPLICATION FORM | HOTELSCHOOL THE HAGUE

8. How did you first hear about the course? Please tick one or more options.

Student counsellor | ______ _____ ______

NAME OF COUNSELLOR

Internet | ______________________________________

NAME OF WEBSITE

Career fair |

NAME OF FAIR

Open day Hotelschool | _______________ | ___________________________

DATE CAMPUS

Newspaper / magazine |

NAME OF NEWSPAPER / MAGAZINE

Presentation at my school |

Hotelschool student |

Hotelschool graduate |

Family / friends |

Other, namely |

NAME OF SCHOOL

NAME OF STUDENT

NAME OF GRADUATE

NAME

|

IF FAMILY: STATE RELATION
---
9. Checklist

Page 6 of 6

APPLICATION FORM | HOTELSCHOOL THE HAGUE

Proof of selection fee payment

The fee for a selection day in The Netherlands is € 115. For a selection day abroad the fee is € 145. Please transfer the

selection day fee to the Hotelschool's account, stating the name of the applicant and 'Selection Day'. Please enclose proof of

payment with this form. Please note: We do not accept cheques.

In The Netherlands: Account number 67.07.49.834

Abroad: ING Bank NV, The Netherlands

SWIFT / BIC code: INGBNL2A

IBAN number (account number): NL51INGB0670749834

Cancellation Policy

If you cannot attend the selection day, please let us know as soon as possible via e-mail (admissions@hdh.nl). You are kindly

requested to also state the reason why you are unable to attend. If your cancellation is received at least one week prior to the

selection day you were invited to attend, your participation fee will be refunded to you minus administration and processing

costs (€ 35). Cancellations received less than one week beforehand do not qualify for a refund.

Copies of degrees/diplomas with subjects and grades

If you have not yet received your diploma, then please send the most recent list of subjects and grades. Please note that we

cannot consider your application without a (preliminary) grade list.

Copy of your results for one of the specified English tests, if applicable

Motivation letter for a career in hotel management

Please add your motivation letter. Also provide any additional information you think might be important for the Selection

Committee to know, e.g. other experience in public affairs, school clubs, leisure activities, relevant trips abroad etc.

Reference letters from employers if applicable (with English translation)

Registration via Studielink

http://hotelschool.studielink.nl

Copy of your passport

Passport sized photograph

Have you enclosed all the necessary documents?

Note that your application will only be considered if all the aforementioned documents are enclosed.

Please send this application form together with all the necessary documents to:

Hotelschool The Hague | Admissions Office | Brusselselaan 2 | 2587 AH The Hague | The Netherlands

T +31(0)70 750 30 29 | F +31(0)70 750 30 97 | admissions@hdh.nl | www.hotelschool.nl

FURTHER PROCEDURE: The Admissions Office will check whether you meet the admission

requirements. If so, you will receive an invitation for a selection day.

10. Signature

I certify that the statements made by me in answer to the above questions are true, complete and accurate to the best of my

knowledge and that I have studied the financial overview carefully.

|

City

| |

Date Signature