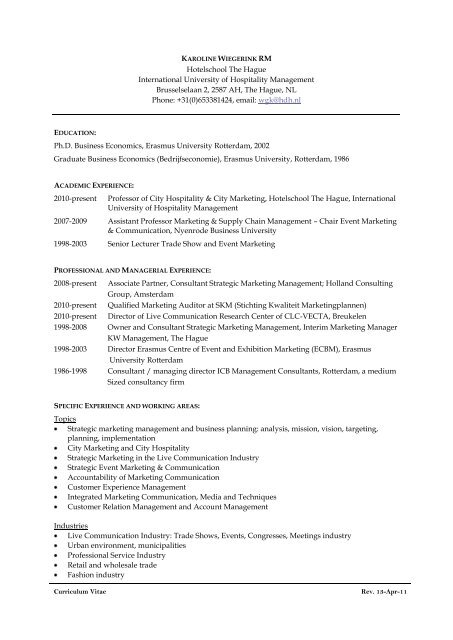 KAROLINE WIEGERINK - Hotelschool The Hague
KAROLINE WIEGERINK - Hotelschool The Hague
KAROLINE WIEGERINK - Hotelschool The Hague
SHOW MORE
SHOW LESS
You also want an ePaper? Increase the reach of your titles
YUMPU automatically turns print PDFs into web optimized ePapers that Google loves.
EDUCATION:

KAROLINE WIEGERINK RM

Hotelschool The Hague

International University of Hospitality Management

Brusselselaan 2, 2587 AH, The Hague, NL

Phone: +31(0)653381424, email: wgk@hdh.nl

Ph.D. Business Economics, Erasmus University Rotterdam, 2002

Graduate Business Economics (Bedrijfseconomie), Erasmus University, Rotterdam, 1986

ACADEMIC EXPERIENCE:

2010-present Professor of City Hospitality & City Marketing, Hotelschool The Hague, International

University of Hospitality Management

2007-2009 Assistant Professor Marketing & Supply Chain Management – Chair Event Marketing

& Communication, Nyenrode Business University

1998-2003 Senior Lecturer Trade Show and Event Marketing

PROFESSIONAL AND MANAGERIAL EXPERIENCE:

2008-present Associate Partner, Consultant Strategic Marketing Management; Holland Consulting

Group, Amsterdam

2010-present Qualified Marketing Auditor at SKM (Stichting Kwaliteit Marketingplannen)

2010-present Director of Live Communication Research Center of CLC-VECTA, Breukelen

1998-2008 Owner and Consultant Strategic Marketing Management, Interim Marketing Manager

KW Management, The Hague

1998-2003 Director Erasmus Centre of Event and Exhibition Marketing (ECBM), Erasmus

University Rotterdam

1986-1998 Consultant / managing director ICB Management Consultants, Rotterdam, a medium

Sized consultancy firm

SPECIFIC EXPERIENCE AND WORKING AREAS:

Topics

Strategic marketing management and business planning: analysis, mission, vision, targeting,

planning, implementation

City Marketing and City Hospitality

Strategic Marketing in the Live Communication Industry

Strategic Event Marketing & Communication

Accountability of Marketing Communication

Customer Experience Management

Integrated Marketing Communication, Media and Techniques

Customer Relation Management and Account Management

Industries

Live Communication Industry: Trade Shows, Events, Congresses, Meetings industry

Urban environment, municipalities

Professional Service Industry

Retail and wholesale trade

Fashion industry

Curriculum Vitae Rev. 13-Apr-11
---
HOTELSCHOOL THE HAGUE RESEARCH Karoline Wiegerink, Professor

Bio-chemical industry

Engineering industry

Packaging industry: FMCG products

Aquaculture

Professional Roles

Consultant

Entrepreneur

(Interim-)manager

Lecturer, trainer and workshop leader

Speaker

CONFERENCE SERVICE:

EuroCHRIE , Annual Conference, reviewer 2010

UNIVERSITY TEACHING ACTIVITIES:

Trade Show and Exhibition Marketing (Erasmus University)

Event Marketing & Communication – Elective MSc-program (Nyenrode Business University)

Destination Marketing (Hotelschool The Hague)

Guest Experience and Guest Journey (Hotelschool The Hague)

Visitors of trade shows, events and cultural heritage (Reinwardt Academie, Amsterdam)

PUBLICATIONS & PROCEEDINGS:

Wiegerink, Karoline and Gert-Jan Hospers, 2010, In Gesprek met de Stad, Aanbevelingen voor het

citymarketingbeleid van Den Haag, Gemeente Den Haag

Wiegerink, Karoline and Ed Peelen, 2010, Eventmarketing, Pearson Education Amsterdam

(nominated for the 'Marketing Literatuur Prijs 2010', Best Marketing Book by PIM – Platform

Innovatie in Management.)

Wiegerink, Karoline en Ed Peelen, 2009, Cross Case Analyse Eventmarketing – een ontmoeting

tussen theorie en praktijk, NRI Research Paper Series, NRI Research Paper no.09-20, Nyenrode

Business Universiteit, Breukelen.

Wiegerink, Karoline, 2002, Het vakbeursbezoek verklaard, een typologie van Nederlandse

vakbeursbezoekers, Proefschrift, Erasmus Universiteit Rotterdam.

Wiegerink, Karoline, 2002, Anatomie van de vakbeursbezoeker, het vakbeursbezoek verklaard, Kluwer.

Schellekens, Irma en Karoline Wiegerink, 2001, Effectieve Beursdeelname, Marketing Management

Modellen, 2.3.4., Samson.

Broek, A.F. van den, J.I. van der Rest, and K.W. Wiegerink, 2010, In search of Hospitality, toward

an eclectic and integrated framework, presented at the EuroCHRIE Conference, In: Proceedings of

the 28 th Annual EuroCHRIE Conference, October, Amsterdam.

MEMBERSHIPS AND ADDITIONAL ACTIVITIES

Board Member, Grote Kerk, The Hague

MPI, Meeting Planners International

HCK, Haagse Communicatie Kring

NIMA, Dutch Marketing Institute

Lions Den Haag Residentie, The Hague

Karoline Wiegerink, March 2011.

Curriculum Vitae 2