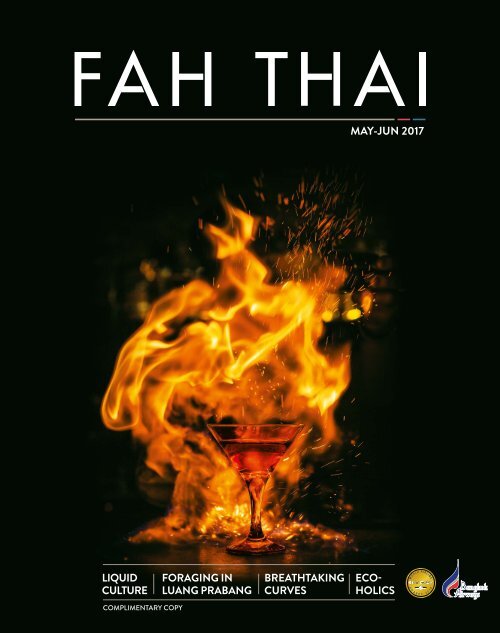 Fah Thai Magazine May-June 2017
You also want an ePaper? Increase the reach of your titles
YUMPU automatically turns print PDFs into web optimized ePapers that Google loves.
MAY-JUN 2017

LIQUID

CULTURE

FORAGING IN

LUANG PRABANG

BREATHTAKING

CURVES

ECO-

HOLICS

COMPLIMENTARY COPY
---
MESSAGE FROM THE PRESIDENT

Dear Passengers,

Bangkok Airways is delighted to announce our

major achievement in February, as we are the

first airline to receive the new Air Operation

Certificate (AOC) from the Civil Authority of

Thailand (CAAT) according to the standard

of International Civil Aviation Organisation

(ICAO). Receiving this certificate reflects our airline's

highest safety standards in aviation worldwide.

From operating results in the year 2016, we

earned a total revenue of 26,765.8 million baht,

increasing by 7.5 per cent compared to the previous

year – with the net profit of 1,837 million

baht and 9.5 per cent growth in the number of

passengers. For 2017, we've forecasted that the

number of passengers will grow by 12 to 13 per

cent, resulting in our plan to expand our network

to cover the most destinations throughout the

region and facilitate the growing demand.

While we're focusing on operating our business

to the best of our ability, corporate social responsibility

is also strongly valued as one of Bangkok

Airways' core missions. We are constantly determined

to provide support to help build a stronger

society – starting from communities around our

3 airports: Samui, Trat and Sukhothai. Recently,

Trat airport was awarded the EIA Monitoring Award

2016 from the Office of Natural Resources and

Environmental Policy and Planning in the excellent

class for being an excellent organisation (air transport

category) who has followed the environmental

policy for 4 years (2008, 2009, 2011 and 2014.)

Have a fantastic and a memorable experience

wherever you journey.

สวัสดีครับท่านผู้โดยสาร

เรามีความยินดีเป็นอย่างยิ่ง ที่เมื่อเดือนกุมภาพันธ์ที่

ผ่านมา สายการบินบางกอกแอร์เวย์สได้รับใบรับรอง

ผู้ดำเนินการเดินอากาศใหม่ (AOC) ตามมาตรฐาน

องค์กรการบินพลเรือนระหว่างประเทศ หรือ ICAO

จากสำนักงานการบินพลเรือนแห่งประเทศไทย

(กพท.) เป็นสายการบินแรกของประเทศไทย ซึ่งสะท้อน

ให้เห็นถึงมาตรฐานความปลอดภัยระดับสากลของ

สายการบินฯ

สำหรับผลการดำเนินธุรกิจในปี 2559 ที่ผ่านมา

บริษัทฯ มีรายได้รวมอยู่ที่ 26,765.8 ล้านบาท เพิ่ม

ขึ้นร้อยละ 7.5 เมื่อเทียบกับปี 2558 โดยมีกำไรสุทธิ

1,837 ล้านบาท มีอัตราการเติบโตของผู้โดยสารปี

2559 อยู่ที่ร้อยละ 9.5 และในปี 2560 นี้ได้วางเป้าหมาย

อัตราการเติบโตของผู้โดยสารไว้ที่ร้อยละ 12-13 และ

มีแผนที่จะขยายโครงข่ายเส้นทางบินให้ครอบคลุม

แหล่งท่องเที่ยวยอดนิยมในภูมิภาคฯ มากขึ้นเพื่อตอบ

สนองความต้องการของผู้โดยสารทุกท่าน

ในส่วนของการพัฒนาโครงการความรับผิดชอบ

ต่อสังคม (CSR) บริษัทฯ ยังคงมุ่งมั่นให้การสนับสนุน

และมีส่วนร่วมในโครงการที่มีประโยชน์ต่อสังคม

อย่างต่อเนื่อง ซึ่งถือเป็นพันธกิจหลักควบคู่ไปกับ

การดำเนินธุรกิจ โดยบริษัทฯ จะมุ่งเน้นการสร้าง

ความเข้มแข็งให้กับชุมชนรอบสนามบินทั้ง 3 แห่งที่

บริษัทฯ บริหาร คือ สนามบินสมุย สนามบินตราด

และสนามบินสุโขทัยเป็นหลัก ล่าสุด สนามบินตราด

ได้รับรางวัล EIA Monitoring Awards 2016

ประเภทยอดเยี่ยม จากสำนักงานนโยบายและแผน

ทรัพยากรธรรมชาติและสิ่งแวดล้อม ซึ่งที่ผ่านมาก็ได้

รับรางวัลประเภทดีเด่นมา 4 ปี คือในปี พ.ศ.2551

2552 2554 และ 2557 อีกด้วย

ผมและพนักงานทุกคนขอให้ทุกท่านมีความสุข

ในการเดินทาง และได้สัมผัสกับประสบการณ์ใหม่ๆ

ที่ประทับใจครับ

Captain Puttipong Prasarttong-Osoth

President, Bangkok Airways Public Company Limited

กัปตัน พุฒิพงศ์ ปราสาททองโอสถ

กรรมการผู้อำนวยการใหญ่ บริษัท การบินกรุงเทพ จำกัด (มหาชน)
---
OVERTURES

FEATURES

18 REMEMBRANCES

The Asian region calls on the

Gods and offers gratitude,

from the observance of

Visakha Bucha to the Dragon

Boat Festival. One event is a

miracle of birth, life and death;

the other of a poet's sacrifice.

22 SUNNY PREDICTION

The kiss of summer should leave

skin fresh and glowy with a little

help from essential products. Our

goodies list brightens the mood

further with uplifting and citrusy

fragrance selections. Breathe in.

24 TROPICAL LABELS

With a focus on freedom

of movement and strong

tropical prints, our season's

brand of comfortable

wear gets you going. Your

wardrobe will shine, be the

colours dark or bright.

26 EASY FRY

Pad Thai is as uncomplicated

a recipe to make as it is to

eat. With just a few simple

steps of cut and prep –

salty, sweet, citrusy, spicy

can happen.

30 PAVED

WITH SILK

The silk weaving industry

remains a strong force,

although the number of

producers have dwindled

through the years. We

feature those who still

stay true to the craft.

34 STRAIGHT UP

A mixologist's

repertoire nowadays

holds a liquid arsenal

of pre-prohibition

drinks and vintage

cocktails to satisfy

Bangkok's eversophisticated

drinking

scene. Drink to your

heart's content in the

soothing ambience of

well-designed spaces

to match the mood.

44 GREEN

CHOOSING

With one eye on

protecting the

environment and

the other on keeping

hotel guests happy,

Tongsai Bay hoteliers

make being green

stylish and appealing.

52 IN FRUITION

Thailand's main fruit

provinces produce

a smorgasbourg

that justifies their

name as the Orchard

of the East. Our

comprehensive

guide points out the

sweetness of the

varieties at the height

of summer.

60 ART

'NOUVEAU'

Malaysia's

streetscapes become

a surprise hit for

our writer who

finds contemporary

street culture as

an addendum

to historical

architecture.

68 IN PURSUIT

OF REAL

The town of glorious

temples and wild

nature yields

interesting eats for

the locals. A morning

walk through the

Luang Prabang

market shows what

real foraging means.

76 EASE ON

DOWN THE

ROAD

A turn around the

bend either meets

with a narrow

escape or a stunning

landscape. For those

who dare, do the

Zoji-La.

60 Penang's

Illuminating

History

10

11
---
HAPPENINGS

CORPORATE

From the thunderous drums of the Dragon

Boat Festival to the thump, thump of an

electro-music fest, check out our guide.

86 BANGKOK

90 CHIANG MAI /

LAMPANG

94 SAMUI

98 PHUKET /

KRABI

100 PATTAYA

102 HONG KONG

106 SINGAPORE

108 KUALA LUMPUR

109 YANGON /

MANDALAY

110 HO CHI

MINH /

LUANG

PRABANG /

PHNOM

PENH

112 MUMBAI

113 MALDIVES

106

Techno

Hypnotique

116 NEWS

Bangkok Airways' Operating Results 2016 and

Business Outlook for 2017

124 ROUTE MAP

128 AIRCRAFT INFO

129 AIRPORT MAP

CHECKING OUT

130 The breadth of Sukhothai's lasting

contribution to Thailand's classical architecture

and cultural scene garners another look.

This month's

cover:

Drink Tricks for

an Old Fashion

12
---
BANGKOK AIRWAYS PUBLIC

COMPANY LIMITED

99 Mu 14, Vibhavadi Rangsit Road,

Chom Phon, Chatuchak, Bangkok

10900, Thailand

www.bangkokair.com

ADVISORY BOARD

Mr. Prote Setsuwan

Vice President - Marketing

Ms. Sumalee Chaitientong

Vice President - Ancillary Revenues

Mr. Kridhakorn Sirabhabhoj

Director - Advertising and Creative

Mr. Benjamin Sirirat

Manager - Branding and Creative

Mrs.Rattanaporn Sa-Nguanjangwong

Business Services - Ancillary Revenues

PUBLISHER

MPMI Group Ltd.

1 Soi Lasalle 23/2,

Bangna, Bangkok 10260, Thailand

Tel. +66 2744 4975

Fax. +66 2744 5271

Managing Director

Chaovanee Ajanant

Email: chaovanee@mpmith.com

EDITORIAL

Email: editorial@fahthaimag.com

Editorial Director Somtawin Chanyawong

Editor-in-Chief Anutra Ungsuprasert

Senior Editor Nawa Acosta Wright

Deputy Editor Sarita Urupongsa

Contributors

Arinya

Bussara Boonboot

Chalotorn Payomyol

Chusri Ngamprasert

Manta Klangboonkrong

Marion Bravo-Bhasin

Nawarat Acosta

Passakorn Hongthong

Phol Wadoo

Sarita Urupongsa

Veena Thoopkrajae

Photo Editor Thewin Chanyawong

Contributing Photographers

Blaine Harrington III

Dolnapa Ram-Indra

Ekkarat Sukpetch

Gyuri Szabo

Jeeraw Bunpook

Pakawat Hongcharoen

Thewin Chanyawong

ART

Creative Director JyeShen Koo

Graphic Designer Pongtorn Khaoplag

Contributing Stylist Saranya Ariyakul

PRODUCTION

Colour Separation: Soontorn Film

Printer: WPS (Thailand) Co., Ltd.

ADVERTISING

advertising@fahthaimag.com

Media Director: Pradub Prasertsri

Media Manager: Daruni Klaprapchon

Marketing Manager: Reza Bizmark

ADVERTISING HOTLINES

Bangkok: Guitar +669 2270 9528

Bob +668 2446 9192

Samui: Penzy +668 7055 7048

OVERSEAS ADVERTISING REPRESENTATIVES

AUSTRALIA

THE MEDIA COMPANY

Leanne Richardson

Tel: +612 9909 5800

leanne@themediaco.com.au

CAMBODIA, LAOS,

MYANMAR

Kittikun Adunsirisaward

Tel: +668 9468 2440

kittikun@bangkokair.com

Hathaiwan Chieochankitjakan

Tel: +668 6900 5278

hathaiwan@bangkokair.com

CHINA, HONG KONG,

MACAU, TAIWAN

CHINA MEDIA OPTIONS

CO., LTD.

Rebecca Tsang-Pereira

Tel: +852 2321 9788

rebeccaCMOsupport@gmail.com

FRANCE, GERMANY,

SWITZERLAND

INFOPAC MEDIA HOUSE

Jean Charles Abeille.

Tel: +331 4643 0066

jcabeille@infopac.fr

INDIA, MALDIVES

RMA MEDIA

Faredoon Kuka

Tel: +9122 2925 3735

kuka@rmamedia.com

KOREA

MEDIREP CO.

Soohoon Oh

Tel: +822 734 0786

soohoonoh@medireponline.com

JAPAN

PUBLICITAS JAPAN K.K.

Hiroko Minato

Tel: +8150 8882 3456

hiroko.minato@publicitas.com

MALAYSIA

MPMI SDN BHD

Alvin Tan

Tel: +603 7880 2185

mpmimy@gmail.com

SINGAPORE, INDONESIA

MPMI PTE LTD

S. S. Hoo

Tel: +65 6464 6261

mpmisg@gmail.com

UNITED KINGDOM

MAJOR MEDIA LTD.

David Hammond

Tel: +44(0) 20 8467 8884

david@majormedia.co.uk

USA

THE MULTIMEDIA INC.

Fernando Mariano

Tel: +14 0790 3500

fmar@multimediausa.com

"FAH THAI" is the in-flight magazine of Bangkok Airways Public Company

Limited and is edited and published by MPMI Group Ltd. All articles and

photographs published herein are created by the authors and photographers

at their own discretion and do not necessarily represent the views of the

airline. Bangkok Airways holds no responsibility or liability arising out of the

publication of such articles and photographs.

All information correct at press time. All rights reserved. No part of this

magazine may be reproduced, stored in a retrieval system or transmitted in

any form or by any means without the prior written permission of Bangkok

Airways Public Company Limited and MPMI Group Ltd.

14
---
ESSENTIAL NOTES TO GUIDE YOUR TRAVELS

Spotted

Excitement in the

Singaporean art scene

goes up a few notches

as the National Gallery

presents a blockbuster

show with international

artist Yayoi Kusama and

her trademark dots.

NEWS AND EVENTS 18 / BEAUTY AND HEALTH 22 / STYLE 24 / ON THE MENU 26 / ARTS & CULTURAL MATTERS 30

©Yayoi Kusama, Courtesy of Ota Fine Arts,Tokyo/Singapore, Victoria Miro, London,

David Zwirner, New York

17
---
OVERTURES

NEWS AND EVENTS

17-18

JUNE 2017

SPOTLIGHT

THAILAND

TEE OFF TIME

Golf enthusiasts and fans will look on as Bangkok Airways and the Sports Authority

of Thailand (SAT) once again launch one of the country's biggest golf tournaments

– the 9th edition of the Queen's Cup Bangkok Airways-SAT Samui Golf Tournament

2017. The Asian Tour is held at the Santiburi Samui Country Club with the Queen's Cup

honouring Her Majesty Queen Sirikit. Regarded as an important fixture on the Asian

Tour and international golf circuits, the Queen's Cup Golf Tournament is a pinnacle

event that brings world-class golf stars to the spectacular sea view golf course on Koh

Samui. The invite is on for all to witness favourite golf pros showing their talent and

perfect swings. The winner gets the US$500,000 top prize.

10

MAY 2017

THROUGHOUT

THE REGION

VISAKHA BUCHA DAY

For devout Buddhists, this is the most

important day for visiting the temple,

bringing flowers and offerings to meditate

and listening to sermons. Visakha Bucha

Day in Thailand takes place on the full

moon of the sixth lunar month and marks a

miraculous day in which Buddha was born,

became enlightened, and died. A candlelit

procession takes place in the evenings.

Usually the devotees will walk three times

around the main shrine of the temple,

celebrating the triple jewels of Buddhism

– the Buddha, his teachings (Dharma), and

monkhood (Sangha). During this time, many

Buddhists observe the five precepts and

usually wear white clothing.

Visakha Bucha Day is not only

observed in Thailand, it also takes place

in neighbouring countries such as in Laos

(Vixakha Bouxa), Malaysia (Hari Wesak),

Singapore (Vesak ), Vietnam (Phat Dan)

and Cambodia (Visak Bochea).

If you are travelling to these spots, you

may find that pubs and bars close on this

day and restaurants may not serve alcohol.

13

10

-

MAY SEP 2017

VENICE

STATEMENT PIECES FOR THAI ARTISTS

Joy is great for Thailand as two talented

artists exhibit their art installations

alongside world renowned international

artists from 85 nations at the 57th

Venice Biennale in Italy. They are part of

the curated work by Yoichi Nakamuta &

Stefano Casciani, "Islands in the Stream,"

a sound, video and object installation

with 3 young emerging artists from Asia:

Kawita Vatanajyankur and Anon Pairot

from Thailand and Yuri Suzuki from Japan.

The works will be displayed at Alamak!

Pavilion, Arsenal Docks/Castello, Venice

(except on Monday). Among the three

works chosen to showcase contemporary

Asian art are: architectural designer Anon

Pairot's "Chiang Rai Ferrari" – a white

Ferrari entirely handwoven from rattan in

Thailand; Thai-Australian video artist Kawita

Vatanajyankur's works which touches on

women's roles and equality in society; and

Yuri Suzuki's sound art pieces.

alamakproject.com, labiennale.org

27-28

MAY 2017

2-4

JUNE 2017

18-29 22

MAY 2017 JUNE 2017

HONG KONG

TONIGHT, TONIGHT

Considered the no. 1 'greatest musical

of all time' by The Times in the UK,

"West Side Story" is as relevant today

as it has ever been. Now the vibrant

new production in Hong Kong runs

from May to June at the Hong Kong

Academy for Performing Arts, Lyric

Theatre with a ground-breaking

choreography and score. Inspired by

Shakespeare's 'Romeo and Juliet,' and

set amidst the conflict of teenage

gangs in 1950s New York, the

play's outstanding international cast

should electrify audiences with their

passionate and powerful performance.

The celebrated original production of

West Side Story has played to

sold-out houses all over the world —

from London to Paris and Sydney

to Berlin.

westsidestory.de, hkticketing.com

BANGKOK

SACRIFICE OF THE ELEPHANT KING

The play, "Sacrifice of Phya Chattan" first performed

12 years ago and has since toured Japan, Denmark and

Belgium. Now it returns to its origins at the New Chang

Theatre around end of May and early June. Created

and performed by Pichet Klunchun, the international

award-winning choreographer ('Routes' ECF Princess

Margriet Award for Cultural Diversity from the European

Cultural Foundation, 'Chevalier of the French Arts and

Literature Order' from the French Ministry of Culture, and

the 'John D. Rockefeller 3rd Award' by the Asian Cultural

Council). The play tells a complex story of the Elephant

King named Phya Chattan. The mythical king of the

elephants is one of the Buddha's incarnations before

he was born as a human being, as told by the Buddhist

jataka tales, and who decided to sacrifice his life to end

cycles of vengeance.

Pichet's spellbinding solo stage performance has

glimpses of Thai traditional dance gestures. As a Thai

traditional musical heritage performed with a contemporary

setting, the play reveals its dramatic intent and spiritualism,

and takes audiences into another imaginative realm.

facebook.com/Pichet Klunchun Dance Company

©Yayoi Kusama, Courtesy of Ota Fine Arts, Tokyo/Singapore,

Victoria Miro, London, David Zwirner, New York

10

-

JUNE

3SEP 2017

SINGAPORE

INFINITE POLKA DOTS

Iconic Japanese artist Yayoi Kusama

casts her polka-dot spell with every

step towards her trademark dots

and pumpkin concepts. In June,

Singaporeans and art lovers everywhere

will have a chance to see her works up

close as the National Gallery Singapore

holds a significant retrospective titled

"Yayoi Kusama: Life is the Heart of

a Rainbow." It will be the first major

museum to exhibit the international

artist's retrospective work in Southeast

Asia. The blockbuster show will feature

120 paintings, sculptures, videos and

installations from the 1950s

to the present. Among these

are artworks that have

not been seen for

years.

yayoi-kusama.jp,

nationalgallery.sg

18 19
---
OVERTURES

NEWS AND EVENTS

TODAY

ON-

WARDS

SPOTLIGHT

BANGKOK

A THAI TALE RETURNS

Get ready to be wowed by Thailand's novel cultural performance

through an exciting immersive experience in "Himmapan

Avatar," based on the story of the legendary forest. The forest

now comes alive for the first time, inspired by centuries of Thai

literature and folklore. Audiences will be surrounded by the

Himmapan Forest and true-to-life creatures, as though they

are really on the set with 4D techniques that engage the senses

through multimedia, lights, and sounds.

The 70-minute long Himmapan Avatar runs daily on the

4th floor of SHOW DC, RCA, starting today and onwards, at

7:30pm on weekdays (except Tuesday).

himmapanavatar.com, showdc.co.th, +66 (0) 2111 5005,

+66 (0) 96 919 5005

5-14

MAY 2017

SINGAPORE

SEA, SAND AND THE CINEMA

Ideal for those who want to escape

from the heat and huge pile of work,

the Sunset Cinema at Tanjong beach

could definitely be your cool choice.

Bring friends and enjoy a weekend

evening at a new open-air cinema on

Singapore's most beautiful beach. The

city's best strip of sand is the perfect

place to sit back on your deck chair

and soak in a tropical sunset along with

an award-winning film. Expect many

things to mingle into your treasured

tropical evenings – a parade of DJs,

bars, food, fun, friends to current films

like Arrival, Jackie, Lion, The Founder, A

United Kingdom, etc.

Sunset Cinema by Peroni will be

open over two consecutive weekends

in May. Every ticket includes deck

chair seating and use of wireless

headphones for you to immerse in

the film and allow control of your own

volume. The gates open at 5pm and

the feature film begins at 7:30pm.

Free shuttle buses are available at the

end of each film – from Tanjong Beach

to HarbourFront MRT at Vivo City.

sunsetcinema.com.sg

2-4

JUNE 2017

HONG KONG

FAST BOATS AND FURIOUS DRUMS

In Hong Kong, this ancient Chinese festival has become

one of the world's greatest get-togethers – the Hong Kong

Dragon Boat Festival or Hong Kong International Dragon

Boat Races. Every year, boats and cheers draw hundreds of

thousands of revellers and spectators to stunning Victoria

Harbour. And this year is more special and even bigger. It's

a celebration of the 20th anniversary of the establishment

of the Hong Kong Special Administrative Region (HKSAR).

Gathering at Central Harbourfront, thousands of rowing

athletes will race their hearts out in high energy and speed

while the pounding sounds of drummers urge them towards

the finish line. Be one with the crowd and experience this

spectacular event.

discoverhongkong.com

20
---
OVERTURES

BEAUTY AND HEALTH

SPOTLIGHT

Fantastically Fresh

Our skin's needs changes from

season to season. Once the rains

come, these are the very essentials.

Beauty Tips!

➊ Never wear any makeup to bed.

➋ Cleanse your face thoroughly –

morning and night – with a gentle cleanser.

➌ Rinse well every time you wash your

face. Splash, splash, splash!!!

➍ Use an alcohol-free toner to gently

clear away excess oil and smooth skin.

➎ Moisturise with an oil-free, noncomedogenic

moisturiser.

Glowing Glory

No rainy day can 'dampen' your looks! A lively makeup palette adds a

glamorous glow to dewy skin, making sure you're at your most beautiful.

REHYDRATING ROSE

FACIAL OIL 30ML FROM

NEAL'S YARD REMEDIES

(1,590 Baht )

Replenishing damask rose

and plant oils nourish skin

and help reduce fine lines.

REJUVENATING MOISTURIZER

50ML FROM ORIGINS (2,300 Baht)

Clinically proven to instantly boost

your skin's moisture reservoir to keep it

hydrated and rejuvenated all day.

SMOOTHING &

GLOW BOOSTING

LIQUID CARE FROM

LANCÔME (3,500 Baht)

This liquid moisturiser will

refresh, protect and hydrate

your skin for an instant

dewy glow.

SKIN-OPTIMIZING

MASKIMIZER MASK

PRIMER 95ML FROM

ORIGINS (1,000 Baht)

Great to use with every type

of mask except a peel-off,

it softens skin and boosts

hydration levels.

EAU DE NARCISSE BLEU HAIR

AND BODY SHOWER GEL 200ML

FROM HERMES (1,600 Baht)

A hair and body formula that

transforms into a fine and

delicately-scented foam that is

easy to rinse and makes your

skin and hair soft.

BROWN SUGAR EAU

DE PARFUM 100ML

FROM FRESH

(3,700 Baht)

An effervescent citrus

scent sprinkled with

light notes of caramel

housed in a clean

look to make you

super fresh.

EAU D'ORANGE VERTE SOAP 100G

FROM HERMES (900 Baht)

Refreshing with a harmony of citruses,

wood and mint. This luxury soap is a

classic fragrance for you!

UN JARDIN APRÈS LA

MOUSSON BODY SHOWER

GEL 200ML FROM HERMES

(2,000 Baht)

Capturing nature in a

shower! Invigorating

scents of ginger,

cardamom, coriander,

pepper and vetiver will

energise you throughout

the day.

WORDS PASSAKORN HONGTHONG STYLE SARANYA ARIYAKUL PHOTO JEERAW BUNPOOK

PURE COLOUR

BLUSH FROM

ESTEE LAUDER

(1,700 Baht)

A brush of fresh,

radiant colour for

your cheeks.

GINZING REFRESHING

SCRUB CLEANSER

150ML FROM ORIGINS

(1,000 Baht)

Uplifting 100% natural

essential oils will perk up

skin so you're ready to face

the day.

PURE COLOUR ENVY

SCULPTING LIPSTICK

FROM ESTEE LAUDER

(1,250 Baht)

The staying power of sixhour

wear, this lipstick will

give your lips the ultimate

transformation.

MÉTÉORITES

COMPACT POWDER

FROM GUERLAIN

(2,760 Baht)

Giving every woman's

skin tone just in the

right amount of light and

correction.

PERFECTIONIST

WRINKLE LIFTING

FIRMING SERUM

50ML FROM ESTEE

LAUDER (4,800 Baht)

Facial contours appear more

toned and firmly

defined, and your

skin will be left

smoother, fresher

and youthfullooking.

DRAMATICALLY

DIFFERENT

MOISTURIZING

LOTION FROM

CLINIQUE (1,650 Baht)

All-day hydration leaves

skin soft and absolutely

radiant.

STOCKISTS

Clinique

Main Fl Siam Paragon

Tel +66 (0) 2610 7739

Estee Lauder

Main Fl Siam Paragon

Tel +66 (0) 2610 7717

Guerlain

Main Fl Siam Paragon

Tel +66 (0) 2610 7701

Hermes

Main Fl Siam Paragon

Tel +66 (0) 2690 1000

Lancôme

Main Fl Siam Paragon

Tel +66 (0) 2610 7753

Neal's Yard Remedies

Main Fl Siam Paragon

Tel +66 (0) 95 543 6654

Origins

Main Fl Siam Paragon

Tel +66 (0) 2610 7763

22

23
---
OVERTURES

STYLE

➑

➓

WORDS PASSAKORN HONGTHONG STYLE SARANYA ARIYAKUL PHOTOS JEERAW BUNPOOK

➑

➓

MAGIC BLEND OF

DARK AND LIGHT

This season, the spirit of

freedom and an intense love for

natural surroundings inspire our

men's style. Just pack a bag and

grab a fresh get-up with a print

of your choice and blend an

ensemble with devotion

and care.

FOR HIM

BOTANICAL PRINT PANTS

FROM H&M (1,799 Baht)

➋ DIGITAL RADAR PRINT

DOUBLE HANDLE TOTE

BAG FROM PRADA

(38,000 Baht)

➌ SAFFIANO LEATHER

WALLET WITH INTARSIA

DETAILS FROM PRADA

(17,000 Baht)

➍ SOLID NYLON WALLET

FROM JACK SPADE

(850 Baht)

➎ TEJAT BLUE FRAME

RETRO SUNGLASSES

SUNNIES FROM KSUBI@

HOUSE OF GLASSES

(28,900 Baht)

➏ MOISTURISING BODY

LOTION 200ML FROM

HERMES (2,300 Baht)

➐ BLACK TEA FIRMING

OVERNIGHT MASK 100ML

FROM FRESH (3,700 Baht)

➑ VITAMIN NECTAR 100ML

FROM FRESH (2,700 Baht)

➒ UMBRIAN CLAY TONER

200ML FROM FRESH

(1,400 Baht)

➓ STRAW HAT FROM H&M

(799 Baht)

ORANGE PRINT TIE FROM

JACK SPADE (4,950 Baht)

CRANE PRINT RESORT

SHIRT FROM H&M

(999 Baht)

STOCKISTS

Fresh

MF Siam Paragon

Tel: +66 (0) 2160 7867

H&M

1F Central World F Zone

Tel: +66 (0) 2620 6888

Hermes

MF Siam Paragon

Tel: +66 (0) 2690 1000

Jack Spade

1F Central World Atrium Zone

Tel: +66 (0) 2658 6574

Ksubi@House of Glasses

3F Central World Eden Zone

Tel: +66 (0) 92 250 9654

Prada

MF Siam Paragon

Tel: +66 (0) 2610 9800

STOCKISTS

Emilio Pucci

MF Siam Paragon

Tel: +66 (0) 2129 4390

Fiji

Leading Department Stores

H&M

1F Central World F Zone

Tel: +66 (0) 2620 6888

Hermes

MF Siam Paragon

Tel: +66 (0) 2690 1000

Ksubi@House of Glasses

3F Central World Eden Zone

Tel: +66 (0) 92 250 9654

Kloset

3F Siam Centre

Tel: +66 (0) 2658 1729

Marimekko

1F Central World Atrium Zone

Tel: +66 (0) 2252 1625

FOR HER

MULTI-COLOUR SILK

LEAF PRINT SHIRT FROM

EMILIO PUCCI (58,200 Baht)

➋ PRINT COTTON

COIN PURSE FROM

MARIMEKKO (1,100 Baht)

➌ LEATHER-TRIMMED

PRINTED CANVAS

ESPADRILLES FROM

EMILIO PUCCI

(19,600 Baht)

➍ NATURAL ARTESIAN

WATER FROM FIJI (33 Baht)

➎ MULTI-COLOUR CALF

LEATHER LEAF PRINT

CARDHOLDER FROM

EMILIO PUCCI (5,900 Baht)

➏ OLVA MUG FROM

MARIMEKKO (990 Baht)

➐ HARVEST OVERSIZED

ROUND FRAMES FROM

KAREN WALKER@HOUSE

OF GLASSES

(14,000 Baht)

➑ MINI UNIKKO PRINT

COTTON TOTE BAG FROM

MARIMEKKO (4,900 Baht)

➒ RESIN EMBROIDERY

CRYSTAL EARRINGS FROM

KLOSET

(6,450 Baht)

➓ OVERSIZED BEADS WITH

PRINT SILK NECKLACE

FROM H&M

(699 Baht)

EAU DE NARCISSE BLEU

SOAP 100G FROM HERMES

(900 Baht)

FLOWER PRINT COTTON

PANTS FROM KLOSET

(6,250 Baht)

CLUB

TROPICANA

Extend the holiday feeling allyear

round with these favoured

floral prints. Look wonderfully

'vacationista' the entire season.

24

25
---
OVERTURES

ON THE MENU

A Street Food

Named Delight

– Thai Feast of the Senses

Words: Sarita Urupongsa

Pad Thai was a cheap and filling option

when Thailand faced difficult economic

times in the 1930s. Add vegetables,

beansprouts and pieces of protein and

voilà, one has a nutritious meal.

Pad Thai is a dish

that's probably the

best representation

of Thailand. Known

worldwide for its

distinctive rich flavours,

the stir-fry noodles

are served in a perfect

feast of colours and

bursts of tastes with

just one bite. Pad Thai

becomes a healthful

choice with the

accompaniment of

crushed peanuts, fresh

chives, bean sprouts

and a squeeze of lime.

Phukvarun Watchmon, a sous chef at Benjarong restaurant

at Dusit Thani Bangkok, shares with us her secret recipe and

inspires everyone to try authentic Thai flavours. When trade

show Food and Hotel Thailand 2008 held a competition, Chef

Phukvarun won the cooking contest for Fusion Free Style. She

always strives to learn the culinary art and gain experience in her

food adventure. She specialises in combining modern techniques

with traditional flavours to create contemporary dishes, yet the

results are distinctly Thai at heart.

Pad Thai is also a signature dish for the Dusit Thai

Cooking Class at the Dusit Thani hotel in Bangkok and

is a favourite recipe to learn. Guests can join a Thai chef

de cuisine for an informal hands-on cooking experience

where the mouth-watering secrets behind authentic

Thai ingredients and cooking tips are unveiled. This class

experience also deals with premium ingredients sourced

locally and internationally to create a superb taste and

enjoyment.

For more information, email: dtbkdining@dusit.com;

dusit.com/dusitthani/bangkok

How to cook a

delicious Pad Thai:

➊ A good start begins with a selection of

fresh ingredients. Make sure every ingredient is

thoroughly cleaned.

➋ For the rice-stick noodles, don't boil them in water

yet because the noodles will lose their elastic texture.

When it comes to frying noodles, saute other ingredients

until they are well-cooked as noticed by the fragrant smell

before adding the noodles.

➌ Don't use too much water, pour it in gradually in little

amounts while continuing to fry at full heat. Add the sauce

when the noodles are cooked to prevent them from

getting tough and expanding. Vegetables should

be the last thing to be added to preserve

their texture, tasty flavours and nice

colours.

Pad Thai's considered a quick fast-food

and equally easy to make at home.

Important steps are a hot frying pan

or wok and softening the rice noodles

beforehand.

Ingredients

• Tiger prawns 100g

• Dried rice stick noodles 120g

• Pressed bean curd, diced 15g

• Shallots, diced 15g

• Chopped Chinese radish 15g

• Dried shrimp 15g

• Bean sprouts 50g

• Chives (slice into 1 inch or 2cm pieces) 50g

• Crushed peanuts 30g

• Vegetable oil 60g

• 1 egg

For the sauce

• Palm sugar 20g

• White sugar 10g

• Tamarind pulp, soaked 20g

• Fish sauce 13g

• White vinegar 20g

• Chilli sauce (Sriracha Sauce) 20g

Cooking instructions for Pad Thai sauce

• Mix all the sauce ingredients in the pot

and bring to a boil.

• Reduce the heat and simmer for

3-5 minutes.

• Remove the pot from the stove and

set it aside.

Cooking instructions for Pad Thai

• Heat 3tbsp of oil in a large pan and

fry the tiger prawns until cooked. Set

aside in a bowl once cooked.

• Crack egg into frying pan and

scramble until cooked. Put it

separately in another bowl.

• Then add pressed bean curd, shallots,

chopped Chinese radish and dried

shrimp to pan and fry for another

1 minute.

• Mix rice stick noodles in and fry until

the noodles are cooked. Add some

stock and check to see if the noodles

are soft.

• Add scrambled eggs and tiger prawns.

Then, mix in the sauce and fry until

the smells turn aromatic.

• Add bean sprouts, sliced chives and

crushed roasted peanuts. Mix them

together thoroughly with the heat still on.

• Serve the dish with additional bean

sprouts, chives and crushed peanuts

on the side.

26

27
---
OVERTURES

ON THE MENU

Pad Thai

with Lobster

As a restaurant in a most

sought-after location, Mango

Tree on the River combines

delicious Thai cuisine with a

contemporary touch. Mango

Tree's distinctive flavours come

from a harmony of fresh herbs,

spices and local products. This

has contributed to its famous

signature dish of Pad Thai with

Lobster, with a giant lobster

cooked fresh and the best

ingredients, along with the

artful skills in traditional Thai

cuisine. It's Mango Tree on the

River, if you want to satisfy the

palate and enjoy the breezy vibe

of the Chao Phraya River.

mangotreerestaurants.com/

mangotree, +66 (0) 2110 0820

PAD THAI WITH RIVER KING PRAWN

OSHA Thai Restaurant & Bar Bangkok created a name for

itself as a luxurious dining venue with the concept of "the best

authentic Thai with a molecular twist." They put together the

best ingredients with a stylish flair and a flavourful taste for an

exciting experience to the palate. One of OSHA's most wellknown

dishes is Pad Thai with River King Prawn which boasts

the traditional methods of cooking and the use of local Thai

ingredient like Chaiya salted eggs for the rich, aromatic feature

of Pad Thai sauce and the fresh giant king prawn that satisfies

one's appetite. oshabangkok.com, +66 (0) 2256 6555

PAD THAI WITH

SHRIMP

This legendary Pad Thai

place made its name

known since its debut

in 1971. As an expert in

the art of street Pad Thai,

this shophouse eatery

manages to whip up a

wonderful Pad Thai with

flavourful varieties such

as Pad Thai flavoured

with not only fresh

shrimp, but shrimp fat to

enhance the taste. Their

signature dish features

noodles coated with

savoury shrimp fat and

2 hearty shrimps. Taste

the magic of this simple

dish while enjoying the

unlimited side vegetables

and herbs. facebook.com/

LungpaPadthai,

+66 (0) 2621 0082

28
---
OVERTURES

ARTS & CULTURAL MATTERS

Words: Sarita Urupongsa

THE ILLUSTRIOUS STORY OF

THAI SILK

Thai silk's uniqueness lies in its

strength from solid, yet delicate silk

threads and vibrant colours with

glossy surfaces. Those who have

witnessed the fabric's exquisite

allure are inevitably mesmerised by

its unforgettable charm.

Thai silk is the portrayal of luxury

reserved exclusively in ceremonies such

as religious rites and weddings. This

splendour requires artisanal skills and

expertise while its beauty is conveyed

through a sophisticated process and

exceptional delicacy beginning from the

stage of colouring, spinning to weaving

the threads into marvelous silk.

Looking back, the art of silk weaving

belongs to an ancient culture of the

Khmer people who migrated to Thailand

in the early Rattanakosin era. The

significant change of Thai silk, however,

took place in 1955 when James Harrison

Wilson Thompson or Jim Thompson who

was on his journey throughout Thailand

for the ideal Thai silk. He visited Baan

Krua, a small weaving community of

8 families in Bangkok to buy a piece of

sarong. He was immediately impressed

by the marvelous silk from the stunning

skills of Baan Krua residents.

Time passed, and 8 houses shrank

down to only one which still operates

as the silk-dyeing and weaving factory.

This house belongs to Uncle Ood who

has maintained his profession a silkdyeing

artisan during these 62 years.

Veteran silk-dyeing artisan, Uncle Ood,

of Baan Krua community

"I started when I was

13 years old by copying the

adults. I learnt the technique

of silk-dyeing for 2 years

before beginning my career and

setting up my own factory. We

imported silk from China and

the Northeast of Thailand.

Before, the water did not reach our

village yet. I then used water from the

canal for silk-dyeing. Other houses

would weave their own silk and we

gathered them together to sell the

products in other provinces."

"As the Cham community that

migrated from Khmer-Vietnam to

Thailand during the Thon Buri period,

what we had brought along with us was

the traditional weaving culture. When

Jim Thompson got into the picture, he

not only provided the whole community

with weaving tasks for sarongs, shoulder

cloths and silk to boost our income, but

also helped improve the Thai silk

weaving process from production

planning to the use of fresh, new colours

to expand the Thai silk market."

Baan Krua community, the pioneer

of Thai silk, is recognised as one of

the best Thailand destinations for best

Thai silk. It is also the true force behind

Thai silk's global reputation. In the

late 1950s, producers of the legendary

Hollywood masterpiece film Ben-Hur

had commissioned Jim Thompson

to produce costumes for the movie's

main characters with Thai silk. All the

costumes featured in the film were

then woven from the villagers'

artisanal skills despite owning

only two silk-dyeing factories.

Uncle Ood has opened his

workshop to visitors for more

than 15 years. This house means

the last lineage preserves and

continues the silk weaving

and dyeing tradition of Baan

Krua, the legendary Thai silk

community with the global

reputation. As the family's

pillar, Uncle Ood has vowed to

introduce outstanding patterns

and original exquisite colour

shades consistently.

Baan Krua Thai Silk

847/1 Kasemsan 3, Phayathai Road,

+66 (0) 2215 9864

30

31
---
OVERTURES

ARTS & CULTURAL MATTERS

BANGKOK

The Community that

Jim Built

Jim Thompson is best known for its hand-woven

Thai silk and other types of natural fabrics

including linen, cotton, wool and nature-rich

blends. Jim Thompson's fabric designs are

inspired by the beauty of nature and oriental

charm, which has become its worldwide

signature. Jim Thompson fabrics often feature

attractive, subtle colour combination, a tradition

begun by the founder himself in the 1950s and

a rare impression to encounter elsewhere. From

the determination to cultivate traditional silkweaving

methods, Jim Thompson has become

the largest maker of hand-woven fabrics today,

with a wide range of silk lifestyle products.

jimthompson.com

SIEM REAP

FINE ARTISANS FOR ANGKOR

This fine arts and crafts centre boasts the concept

"Caring for the Past, Crafting for the Future" with the

aim to assist more than 1,300 impoverished young

adults in learning and practising various artisanal and

handicraft skills to reach their individual expertise.

Artworks from this new generation of artists are

featured under the brand "Artisans Angkor" in 7

boutiques throughout Siem Reap. Also, customers

can experience the alluring ancient Khmer art as

demonstrated by Cambodian artisans, with guides who

are more than willing to provide knowledge at free of

charge. For those with limited time, Artisans Angkor

boutique is also open at Siem Reap International Airport.

artisansdangkor.com

MUMBAI

HOUSE OF NALLI

Nalli has introduced the genuine beauty of silk with

87 years of rich and cultivated heritage. Boasting

its premium silk design in exquisite 6 threads, Nalli's

masterpiece products come with vibrant extensive

range from traditional silk to lightweight fabrics such

as crepe, chiffon and designer saree. Established in

1928 as a small retail shop for silk saree in Chennai

operated by Nalli Chinnasami Chetti, Nalli has been

a leader in textile and retail business for over 80

years and is passed down to a grandson to operate.

Nalli's exceptional skills and creativity have evolved to

become a leading name in the saree design industry

with a wide range of alternatives to fulfill a wearer's

outfit needs in various occasions and styles. nalli.com

32
---
SPEAKEASIES

Inventive and world-class cocktails in

Bangkok can now be enjoyed in creatively

well-designed and surprising spaces. To

imbibe in masterfully-done classics to local

drinks, one just has to find the door.

34

35
---
SPEAKEASIES

In a metropolis that thrives generously

and organically like Bangkok, one

can easily hope to be delighted and

enthralled with endless choices of

virtually everything the capital has to offer.

World-class cocktails and award-winning

mixologists come to mind.

HRS

Opens daily

from 6pm.

TEL

+66 (0) 2235 2777

URL

vesperbar.co

ADDRESS

10/15 Convent

Road, Silom,

Bangkok 10500

SILOM ROAD

CONVENT ROAD

SIBUNRUANG

BUILDING

SALA DAENG 2 ALLEY

While Bangkok offers a wide

range of dining, shopping and

relaxing options, the fast-growing

cocktail culture lights up the city's

drinking scene with an abundance

of charming and unique standalone

cocktail bars, many of which are

hidden in plain sight and waiting

to be discovered.

Gone are the days when cocktail

lovers seek refuge in mundane hotel

bars to get a decent drink. Thanks

to Bangkok's multi-cultural vibe

and more extensive access to spirits

and liquor from all over the world,

the cocktail culture finally found

firm footing in the city's food and

beverage industry, offering not

only high-quality classics but also

innovative and creative signature

concoctions, catering to local and

international palates.

Another factor that plays

a major part in Bangkok's

cocktail boom are more savvy,

knowledgeable and skilled

mixologists. Cocktails have

become an art form that takes

practice and specific knowhow.

Cocktail and bartending

competitions during the past

decade help hone and provide

talented bartenders and

mixologists to the scene, thus

boosting the cocktail culture

in Bangkok with unique bars

overseen by the independent and

creative spirits of men and women.

Frequent visitors to Bangkok

may be familiar with streets for

clubbing and nightlife areas such

as Soi Thonglor, Silom Road or

even Khao San Road, but these

are not where you find Bangkok's

great cocktails. Stray a bit off

the beaten track, wander into an

unfamiliar neighbourhood and

make your own discovery. Your

next favourite cocktail might as

well come from a small bar behind

your hotel!

VESPER

The establishment that started

it all is arguably Vesper, whose

meticulously curated cocktails

established itself in the semired

light district on Silom

Road. Opened three years ago

on Soi Convent and previously

occupied by Irish pubs, run-down

restaurants and rowdy street food

stalls, sophisticated palates now

enjoy Vesper's cocktails from a

drinks repertoire drawn from a

bygone era in Europe. Elements of

'spirit-forward drinks', top-notch

liqueurs and precise bartending

techniques refer back to the

cocktail nostalgia. It's probably

the cocktail bar graced by the

most award-winning mixologists

from around the world, including

Vesper's group bar manager

Supawit Muttarattana, winner

of World Class Thailand and the

no.13 best bartender in the world

2012. His award-winning team

constantly churns out a series of

mind-blowing cocktails promising

an all-encompassing journey and

gustatory experience. The bar

occasionally hosts special nights

with guest bartenders from other

cocktail-forward countries around

the world.

Left

Supawit, Vesper's

group bar manager,

offers drinkers modern

cocktails with a twist.

Above

Winning formula:

a well-stocked bar,

intimate seating and

skilled mixologists.

Below Left

Enticing names like The

White Trumpet Flower

can be savoured.

Below Right

"Making The Kiss"

Far and Bottom Left

Vesper's inviting design

KNOW YOUR

COCKTAILS

Many cocktails were

created centuries

ago and are timeless

favourites. Here are

the classics you can

enjoy at most bars.

MARTINI

The elegant Martini

is a popular request

with gin and dry

vermouth defining a

True Martini. A dash

of bitters and either

an olive or lemon

twist garnish is a

finishing touch.

OLD-

FASHIONED

A great way to know

your whiskeys.

Bartending

techniques involve

muddling sugar,

bitters and a slice

of orange with a

whiskey of choice.

MOJITO

Originating from

Cuba, the true

Mojito is a balanced

combination

of sweetness,

refreshing citrus like

lime, and mint or

peppermint leaves

to complement the

strong rum presence.

MARGARITA

Everyone knows a

Margarita. You can

now order it in every

flavour and colour,

the list is endless.

All you need are

base ingredients like

tequila, lime and

triple sec.

DAIQUIRI

A Daiquiri is one of

the simplest, most

satisfying cocktails

around. With a base

of white rum, simple

syrup and fresh lime

juice, one can order

them in any flavour

— strawberry being

a popular one.

BRANDY

A true classic,

the Brandy

Cocktail is

considered one

the original drinks

and a good one

to know.

36 37
---
SPEAKEASIES

Q&A BAR

Asoke-Montri Road is known as

one of Bangkok's central business

districts. The bustling street

becomes quiet at night except at

Q&A Bar, nestled in a sub-alley at

the end of the street, that lures

in cocktail aficionados with their

creative "classics with twists".

Amid the calming, dimly-lit

and classy decor, the drinks on

offer are winners – not so much

because of the fancy ingredients,

but because they are all wellmade

and perfectly executed.

Expect something familiar, but

not quite the same when it comes

to cocktails here. At the bar is

another competition-winner,

Wipop Jinapan, Thailand's World

Class 2011 champion, who delights

his patrons with house-made

infusions, seasonal ingredients,

creative twists and an homage

to all-time favourite recipes. Try

the classics: Horse's Neck or a

Kangaroo, amongst the many.

HRS

Opens daily

from 7pm.

TEL

+66 (0) 2664 1445

URL

qnabar.com

ADDRESS

235/13

Soi Sukhumvit 21,

North Kloy Toey,

Wattana, Bangkok

10110

SUKHUMVIT

LIVING TOWN

ASOKE

BUILDING

ROTCHANA ALLEY

ASOKE MONTRI ROAD

SOI SUKHUMVIT 21

HRS

Opens daily

from 5:30pm.

TEL

+66 (0) 2234 7749

URL

bunkerbkk.com

ADDRESS

118/2 Soi Suksa

(Sathorn 12)

Bangkok 10500

TROK TAMBISA

THE ADDRESS

SATHORN

SOI SUEKSA WITTHAYA

The bar features a

cocktail list created

by Diageo World

Class 2015 finalist

Natakorn Changrew,

notably the Bourbon

Maple Sour.

BUNKER

Over on nearby Sathorn Road,

home to the financial institutions

and international conglomerate

offices and embassies, there

is a small strip on Soi 12 that

offers a variety of street-side

cafés, restaurants and bars.

Recommended for cocktails is

Bunker, a grim-looking concrete

three-story shop house-turned

bar and restaurant at the end of

the alley. Along with wines and

craft beers is a broad selection of

"modern classic" cocktails created

with local ingredients and premium

spirits. Here's where you can sip

and mingle with Bangkok's creative

crowd at the bar underneath bare

concrete beams or for more privacy

and indulging in fine American

cuisine, head upstairs. The private

upper floors are reserved for fine

dining. In pleasant weather, the

third floor and its outdoor area is an

ideal place to enjoy a drink. Even if

it's named after a military shelter,

the design speaks more of a warm

place to hang.

Opposite Page

Clockwise from Left

Bunker's Hokkaido

Martini

The refreshingsounding

Watermelon Smash

Barrel-Aged

Boulevardier, rooted

in Campari

Amaro Martini can

be both bitter and

powerful.

This Page

Q&A's dark pallete

offers a cosy mood to

enjoy a drink.

38

39
---
SPEAKEASIES

TEENS OF THAILAND

The concept of the bar is gin-focused.

The pared-down entrance is almost

easy to miss until one sees the name

on this transformed shophouse.

Owner Niks Anuman-Rajadhon saw a

neighbourhood full of spice shops and

bustling activities and an important

commercial centre, of both the good and

bad kind. He felt that gin reflected the

heady spice smells and the character

of the area. A decent gin and tonic was

difficult to find around there, so Niks got

inspired to create his bar.

And why the name? Niks explains

that "the name came from the group of

youngsters he encountered in the area

that was glue-addicted." The cocktail

bar engages in outside projects that offer

options to the 'teens' than just being

high on glue and selling themselves.

"These guys are the Teens of Thailand

that need attention," he states.

HRS

Opens daily

from 7pm till 1am.

TEL

+66 (0) 96 846 0506.

URL

facebook.com/

teensofthailand

ADDRESS

76 Soi Nana (Ram

Maitri), Maitri Chit,

Pon Prap, Bangkok

10100

RAMA 4 ROAD

SOI NA NANA

OTHER OPTIONS

PRUM PLUM UMESHU

BAR & BISTRO

Soi Sri Bumphen off Rama 4 Road.

Opens daily from 6pm.

Call +66 (0) 2249 3146.

Bangkok's only bar that is

dedicated to plum wines known

as umeshu. The simple and

cosy place offers umeshu from

Japan and Vietnam and their

own blend, available per shot,

together with bottles and tasting

flights.

DIM DIM

Sukhumvit Soi 31. Opens Monday

till Saturday from 6.30pm.

Call +66 (0) 2085 2788

Hang with the chic crowd in this

tiny Chinese-themed bar. Have a

go at Asian-inspired drinks with

oolong tea, chrysanthemum and

many other creative house-made

infusions.

SMALLS

Suan Phlu Soi 1. Opens daily from

7pm except Tuesday.

Call +66 (0) 95 585 1398.

The moody neighbourhood bar

with a retro feel, featuring trendy

music, modern art, late night

dining and no-nonsense pours of

serious alcohol.

BRONX LIQUID PARLOUR

Thonglor Soi 25. Opens from

Tuesday till Sunday from 7pm.

Call +66 (0) 2036 6071.

Japanese mixologist Hideyuki

Saito's extensive cocktail menu

includes signature drinks, classics

with twists, and house gin and

tonic, accompanied by New

Orleans jazz and blues.

Thainess is evident at Teens of Thailand and Tep Bar despite

their Western cocktail concoctions. While one bar mixes

excellent gin-forward drinks and social concerns, another

stages local talent and ya dong (herbal Thai liquor) drinks.

TEP BAR

Yaowarat, Bangkok's Chinatown, is

renowned for the night food stalls.

Linger on after dinner and walk over to

the nearby Soi Nana off Maitri Chit Road

to indulge in traditional Thai music and

cocktails crafted from local spirits and

ingredients at Tep Bar. So far the first

and only "cultural bar" in the city, this

small Chinese shophouse offers allround

sensorial delights, starting from

soothing and rare music played by Thai

traditional instruments, gourmet Thai

dishes and Thai-inspired drinks. Oftenoverlooked

locally made rums, spirits,

seasonal fruits, culinary herbs and even

flowers are key ingredients in their

signature cocktails, while herb-infused

whiskies or ya dong can be had in shots,

along with pickles to be washed down

with fragrant pandanus water.

HRS

Opens daily from

5pm to midnight

TEL

+66 (0) 98 467 2944

URL

facebook.com/

TEPBARTH

ADDRESS

69-71 Soi Nana (Ram

Maitri), Maitri Chit Road

Pom Prap, Bangkok

10100

SOI NANA

SOI PHANTHACHIT

MAITRI CHIT ROAD

40
---
SPEAKEASIES

Keeping itself a

secret, Havana

Social hides behind

a telephone booth

and a code is needed

to enter.

HRS

Opens daily

from 6pm

TEL

+66 (0) 61 450 3750

URL

facebook.com/

havanasocialbkk/

ADDRESS

Sukhumvit Soi 11

Bangkok 10110

SUKHUMVIT ROAD

SOI SUKHUMVIT 11

HAVANA SOCIAL

If you look hard enough, you might

find a slice of Cuba frozen in time

right in the heart of Bangkok.

Havana Social on Sukhumvit Soi

11 takes you back in time to Cuba

in 1940 with pre-revolutionary

vintage decor, tasty mojitos, cold

beers and upbeat Latin sounds.

Party with rebellious souls

downstairs, or head to the second

floor to the newly opened whisky

and cigar lounge. The bar does not

have a signage, though, but look

in the tiny alley slightly opposite

Fraser Suites at the end of Soi 11

where you will spot a vintage public

phone booth with the illuminated

"telefono" sign. Ring the bar and

ask for the password, then punch

in the 5-digit code on the phone

dialpad to open the door.

กรุงเทพฯ ถือเป็นมหานครที่ไลฟ์สไตล์ของ

คนเมืองเต็มไปด้วยชีวิตชีวา ทั้งร้านอาหาร

ชั้นดี ย่านช้อปปิ้งทุกระดับ และแหล่งสังสรรค์

ผ่อนคลายในเวลาค่ำคืน

หมดยุคที่บาร์ในโรงแรมจะเสิร์ฟแค่

สแตนดาร์ดค็อกเทลที่เกิดจากการผสม

เครื่องดื่มแบบที่คุณคุ้นเคยแล้ว ทุกวันนี้

กรุงเทพฯ ปลุกวัฒนธรรมค็อกเทลให้เป็น

มากกว่าเครื่องดื่ม ค็อกเทลกลายเป็น

เครื่องดื่มไฮไลต์ของค่ำคืนที่เกิดขึ้นจาก

ความคิดสร้างสรรค์ผสมด้วยนวัตกรรม

ใหม่ๆ อีกเหตุผลที่ทำให้ค็อกเทลเป็น

เทรนด์เครื่องดื่มที่มาแรงสุดๆ ในกรุงเทพฯ

คือบรรดามิกโซโลจิสต์ หรือผู้เชี่ยวชาญ

ด้านเครื่องดื่มที่โด่งดังทั้งในระดับชาติและ

ระดับโลก ผู้เป็นดั่งศิลปินสร้างสรรค์มิติใหม่

ของเครื่องดื่มซึ่งเกิดจากการผสมผสาน

องค์ความรู้ เทคนิคการผสมเครื่องดื่มใน

แบบเฉพาะตัว และไอเดียสุดสร้างสรรค์

จากวัตถุดิบแปลกใหม่ ทำให้มิกโซโลจิสต์

กลายเป็นขวัญใจชาวเมืองผู้หลงใหลการ

ดื่ม ส่งผลให้เกิดบาร์เก๋ๆ เพื่อนักดื่มเฉพาะ

กลุ่มขึ้นในหลายย่านทั่วเมือง

หากคุณอยากลิ้มรสค็อกเทลสุด

สร้างสรรค์พร้อมสัมผัสบรรยากาศไม่ซ้ำที่

ไหนๆ ลองตามล่าหาบาร์ที่ซ่อนตัวรอคอย

การค้นพบเหล่านี้ดูไหม

Vesper

ลิ้มรสกลิ่นอายของวัฒนธรรมค็อกเทล

ในอดีตจากฝั่งยุโรป กับเมนูสุดคลาสสิก

ผ่านรสมือของมิกโซโลจิสต์มือรางวัล

ระดับประเทศ ทั้งยังมีสเปเชียลไนท์ที่

คุณจะได้ลิ้มลองค็อกเทลจากบาร์เทนเดอร์

รับเชิญจากทั่วโลก

Bunker

ณ ร้านอาหารอเมริกันสุดเท่ ต้อนรับคุณ

ด้วยบาร์สุดสร้างสรรค์ ให้คุณจิบค็อกเทล

ในแบบโมเดิร์นคลาสสิกที่ปรุงจากวัตถุดิบ

ท้องถิ่นและสุรากลั่นสุดพรีเมียม พร้อมกับ

คราฟต์เบียร์และไวน์

Q & A

นำเมนูค็อกเทลคลาสสิกที่คุณคุ้นเคยมาตี

ความใหม่ ให้กลายเป็นค็อกเทลในแบบเฉพาะ

ของทางร้าน ปรุงขึ้นจากวัตถุดิบชั้นดีตาม

ฤดูกาลและสุราหมักที่ทางร้านท ำขึ้นเอง

Tep Bar

เทพบาร์พาคุณย้อนไปยังอดีตของไทยที่

รุ่มรวยวัฒนธรรม ผ่านทั้งอาหาร เครื่อง

ดื่ม และดนตรีพื้นบ้าน พบค็อกเทล

มากมายที่จัดจ้านด้วยรสชาติแบบไทยที่ใช้

ยาดองสมุนไพรเป็นส่วนผสมหลัก และเมนู

ค็อกเทลที่เกิดจากการนำผักและผลไม้

ตามฤดูกาลไปดองกับรัมไทย

Teens of Thailand

บาร์จินในบรรยากาศแสงไฟสลัวราวกับ

คุณเดินเข้าไปในซีนหนังของหว่องกาไว พบ

เมนูพิเศษที่เปลี่ยนไปทุกคืน โดยจะเป็นเมนู

จินและโทนิคที่ผสมผสานด้วยรสชาติท้อง

ถิ่นที่รังสรรค์ให้มีรสชาติอันมีเอกลักษณ์

ชัดเจนในแต่ละแก้ว

Havana Social

ย้อนเวลากลับไปยังคิวบาในยุค 40s ยาม

ค่ำคืน ที่นี่คุณจะเพลินไปกับโมฮิโต้อันมีต้น

กำเนิดมาจากเมืองฮาวานา เบียร์เย็นๆ และ

ดนตรีละตินที่มีบีทสนุกสนานร้อนแรง

MODERN

MIXOLOGY AND

TECHNIQUES

MINIMAL GARNISH

Forget smoke and tiny

umbrellas. Garnish nowadays

is kept to the utmost

essential, with only one

or two key ingredients on

display, or even none, to

showcase magnificent hues.

INFUSION

Herbs, flowers, spices and even

meat, are soaked in hard spirits

for a certain period of time to

extract aromas and mouth feel,

giving the cocktails extra depth,

a unique kick and a pleasant je

ne sais quoi.

LOCAL INGREDIENTS

Reinterpretation in the cocktail

world allows mixologists to

play around with ingredients,

especially when it comes to

fresh produce. Savvy, travelling

bartenders get creative and

incorporate more local fruits and

flavours.

AGEING

Cocktails, too, can be improved

with age. Sticking spirits in

an oak barrel allows them

to mellow and mature, while

imparting some of the flavour of

the wood.

42
---
THANAKORN AND SAISIRI HOONTRAKUL

A Large

Helping of

GREEN

Words like fair trade, carbon footprint and social

responsibility circulates in their keen minds. At their

eco-luxe spot, our couple show how sustainability is

not a deprivation, but an appealing addition.

Photos: Thewin Chanyawong

Words: Nawarat Acosta

44

45
---
THANAKORN AND SAISIRI HOONTRAKUL

T

hanakorn and Saisiri Hoontrakul

make it their business to be

green in running their hotel and

in their lives. How ecocentric

do they go? Fah Thai gets a lesson on

distilling citronella and more while

checking out the lemongrass plants in

their hotel organic garden.

Top

The waters around

Tongsai Bay are

calm and secure, no

large boats or jetskis

ruffle the waters for

kayakers.

Top Bottom Right

Many

accommodations

provide a shower of

sorts for people to

clean the sand off

their feet. Here, an

urn does the job

just fine and

saves water.

Bottom

Thoughtful

gardening goes to

plants at the organic

farm in case it might

be the final touch to

a dish or a cocktail

or a sunburn

remedy.

They look like the nice couple

next door, but to know hoteliers

Thanakorn and Saisiri, (Gob

and Goya) means respecting

their policies on protecting the

environment. Friends and family

who visit their home in Bangkok

know that non-recyclable items

like plastic bags cannot make it

past their front door. So if you're

gifting food wrapped in plastic,

rejection is guaranteed.

Sure, plenty of people profess

to the same eco-philosophy to

protect the environment. But

the dynamic couple immersed

into the practice over a decade

ago at their eco-luxury property

Tongsai Bay in Koh Samui and

by natural extension live a life

that they believe pays respect to

the earth. They go beyond using

cotton tote bags and meals in Thai

tiffin containers in a cry against

unnecessary packaging. Solar

panels line their rooftop at home

and home-grown herbs have a

spot in their living space.

While talking about their

green philosophy on a hot day

in the family-owned hotel, the

couple is however the epitome of

cool – in appearance, demeanor

and thinking. Despite their

youthful appearance, they're

veterans in the hospitality

business. Gob was 12 years old

when his father, the late Akorn

Hoontrakul took him to Tongsai

Bay for the hotel while Goya had

worked on the lush property in

Guest Relations.

All this is part and parcel of

the deeply-entrenched green

philosophy that began at the

hotel in Koh Samui. Goya relates

that concern for the environment

began rather unhappily when a

neighbour pointed out that one

of their hotel caretakers burnt

garbage that created constant

air pollution. Dismayed by the

information, the couple did

detective work and discovered

that a staff member, through

good intentions, eliminated

rubbish via burning.

This incident lit an altogether

different fire in Goya, 'because

burning still left toxins,' she

explains and such concerns

sparked ideas of environmental

protection and revolutionised

their approach to the hotel. Staff

education began with classes in

sorting recyclables. 'Then, global

warming was not a fully formed

concept that was understood. We

just knew we had to sustain the

environment," Goya said.

Now there's composting

of kitchen scraps for fertiliser

and responsible disposal of

kitchen grease followed. The

site horticulturist and gardener

creates a cleaning solution by

C

M

Y

CM

MY

CY

CMY

K

46
---
THANAKORN AND SAISIRI HOONTRAKUL

"It's a way of life,

to not destroy the

environment. It's

a constant thought

to make sure habits

don't contribute to

waste. So when we

buy beverages for

friends, we buy them

in cans."

Right

The profusion of

trees ensures a

haven for birds of

all feathers. A firm

policy is in place

to not harm

any animals.

Bottom

Flowers from the

garden serve as

decorative touches

everywhere - all

from the trees on

the property.

fermenting lime and oranges in

the theory that growing microorganisms

that eat other microorganisms

(EM or effective microorganisms)

results in an efficient

cleaning process.

As part of growing their own,

floral arrangements derive from

the hotel organic garden. At the

spa, sunburnt guests benefit from

aloe vera plants grown in upcycled

bathtubs. Samui over the years

has seen an overdevelopment in

the hospitality arena and it takes

a niche market to appreciate the

natural charms of Tongsai Bay

set amidst luxurious comfort.

Rooms are scattered around a

property of 28 and a half acres

of verdant overgrowth in plants

and constant sounds of birdcall.

A large water monitor lizard may

slowly stroll by yet most guests

are unfazed but fascinated. Guests

and staffers mingle like family.

In tag team fashion, the

husband and wife team tell the

story of wanting to protecting

animals, not just waste

management or energy reduction

as key concerns. Gob, polite yet

determined stresses that they

harm no animal. As we talk, a

stray bird enters the coolness

in the lobby and crying out as

testament.

Another Tongsai Bay executive

and long-time friend proudly points

out to a bird bible informs guests

on some 60 bird species that fly

about the area. Gob relates that one

time, someone had shot at birds.

"We sent a bird to the vet to assess

how long it had been dead. Once we

knew, we determined the distance

and location of where it could have

possibly been shot and who lived

around the area." By then, they had

a suspect, called a meeting and said

they couldn't work with someone

who's cruel to animals. "Our staff

have been asked to be the eyes and

ears. It's been an effective process

and we've set up policies to protect

animals," he says.

Some guests complain of

mosquitoes. "Yet if we fog the

property with insecticide, then

we're killing more than just the

mosquitoes. There's a food chain, if

we kill mosquitoes then we may kill

other creatures so we don't want to

intervene. Our guests have to put

up with them," Goya says with a

laugh. She reassures that there are

citronella sprays. "We have a new

repellent that's made by community

women using local herbs," she

charmingly reassures.

Gob firmly inserts too that "we

do not support photo taking with

animals like slow lorises or tigers,

nor do we encourage people to visit

zoos. He's serious enough to include

in their hotel newspaper a firm

reminder in an article against taking

photos with a gibbon – stating that

they are not a souvenir. "This is

how animals get poached. We do

not support using wild animals as

a way to make money. If you are

48
---
THANAKORN AND SAISIRI HOONTRAKUL

interested, and want to see them,

we can't help you there. Better

go to an elephant sanctuary. At

Elephant Nature Park, they let the

elephants stay in their natural

environment."

And what do people who know

them say about their attitude

on sustainability? "They say

we're crazy. Go be an NGO. Or

Greenpeace," they both laugh.

"It's a way of life, to not destroy

the environment. It's a constant

thought to make sure habits don't

contribute to waste. So when we

buy beverages for friends, we

buy them in cans. If we forget

our water bottle, we won't drink.

We won't touch water in plastic

bottles."

They both admit there's more

to be done. "There's a lot of new

sustainable technology but the

quandary is choosing viability and

cost. At a practical level, the size

of the property is a challenge. But

we always keep in mind reduction

of energy use. Not to mention

carbon footprint and fair trade,"

Gob asserts.

Tongsai Bay celebrates 30

years as a hotel soon and the

story goes that Gob's father,

Khun Akorn, after buying the

land, slept in the outdoors for 3

months, envisioning its concept.

"There was nothing but a coconut

plantation where backpackers

hang and my father felt the

freedom to just dream and design

the hotel. And for a day during

our 30th anniversary, that bed

will be set outdoors and people

can lie on it, out in the open and

dream as he did."

หากมองผิวเผิน กบ ธนกร และ กอหญ้า

สายสิริ ฮุนตระกูล ก็คล้ายกับคู่สามี

ภรรยาทั่วไป ทว่าแนวคิดในการรักษา

สิ่งแวดล้อมเป็นเรื่องใหญ่ของคนทั้งคู่

คุณจะได้เห็นเซลล์พลังงานแสงอาทิตย์

ติดตั้งบนหลังคาบ้านของพวกเขาที่

กรุงเทพฯ ในขณะที่ต้นสมุนไพรต่างๆ

ปลูกแทรกอยู่ทุกมุมของโรงแรมท้อง

ทรายเบย์บนเกาะสมุยที่ทั้งสองเป็น

เจ้าของ และหากมีโอกาสมาพักที่นี่

คุณต้องเคารพกฎเหล็กในการรักษา

สิ่งแวดล้อมของทั้งสองอย่างเคร่งครัด

แม้ว่าคุณกบและคุณกอหญ้าจะ

อายุไม่มาก แต่ทั้งสองคร่ำหวอดอยู่ใน

แวดวงโรงแรมมาอย่างยาวนาน คุณ

กบเริ่มเรียนรู้งานโรงแรมจากคุณพ่อ

อากร ฮุนตระกูล ตั้งแต่อายุ 12 ปี

ส่วนคุณกอหญ้าเคยทำงานในธุรกิจ

อสังหาริมทรัพย์มาก่อน

ย้อนกลับไปเมื่อบ้านใกล้เรือน

เคียงมาเล่าว่า พนักงานของโรงแรม

เผาขยะจนเกิดมลภาวะทางอากาศ

ความเอาใจใส่สิ่งแวดล้อมอย่าง

จริงจังของคุณกบและคุณกอหญ้าจึง

เริ่มก่อตัวขึ้น จากการอบรมให้

พนักงานเรียนรู้เรื่องการคัดแยกขยะ

นำอาหารที่เหลือจากห้องครัวมาทำ

ปุ๋ย ใช้วิธีการกำจัดน้ำมันที่เหมาะสม

และใช้น้ำหมักจุลินทรีย์กับมะนาวและ

ส้มในการชำระล้างสิ่งสกปรก พืช

พรรณหลากหลายที่ปลูกภายใน

โรงแรมต่างถูกนำมาใช้ประโยชน์

ตั้งแต่ประดับสถานที่ไปจน ถึงบรรเทา

อาการผิวที่ไหม้เกรียมแดด อีกทั้ง

คุณกบยังมุ่งมั่นในการปกป้องสัตว์

และสิ่งมีชีวิตโดยรอบ ทำให้ผู้มาเยือน

สามารถชื่นชมนกที่มีมากกว่า 60

สายพันธุ์ได้ในบริเวณโรงแรม

แขกที่มาพักที่ท้องทรายเบย์จึงได้

สัมผัสกับธรรมชาติที่รายล้อมห้องพัก

บนเนื้อที่ 72 ไร่ ฟังเสียงนกร้อง

พร้อมกับพนักงานที่เอาใจใส่ประดุจ

สมาชิกในครอบครัว

ยุงเป็นอีกหนึ่งปัญหาที่ได้รับการ

ร้องเรียนจากผู้เข้าพักอยู่บ่อยครั้ง แต่

การใช้สารเคมีฉีดพ่นเพื่อฆ่ายุงคง

ไม่ใช่ทางออกเพราะจะเกิดผลกระทบ

อื่นๆ ตามมา โรงแรมจึงได้จัดหายา

พ่นกันยุงสมุนไพรที่ผลิตโดยกลุ่มแม่

บ้านมาให้แขกทุกคนใช้อย่างปลอดภัย

แนวคิดเรื่องการรักษาสิ่งแวดล้อม

ของคุณกบและคุณกอหญ้าดูเหมือนจะ

สุดโต่ง แต่ทั้งสองคนยืนยันว่าเป็นแค่

แนวคิดในการใช้ชีวิตที่ทั้งสองตั้งใจจะ

ดูแลรักษาสิ่งแวดล้อมเท่าที่จะทำได้

โรงแรมท้องทรายเบย์กำลังจะครบ

รอบ 30 ปีเร็วๆ นี้ มีเรื่องเล่าว่าหลัง

จากที่คุณอากร พ่อของคุณกบซื้อ

ที่ดินผืนนี้ คุณอากรนอนในที่กลาง

แจ้งเป็นเวลากว่าสามเดือนเพื่อคิด

แผนการสร้างโรงแรมแห่งนี้ จากที่ไม่มี

อะไรเลยนอกจากต้นมะพร้าวและนัก

ท่องเที่ยวสะพายเป้

ในวันครบรอบการก่อตั้งโรงแรม

คุณกบตั้งใจจะตั้งเตียงไว้กลางแจ้ง

เพื่อให้ผู้ที่มาเยี่ยมเยือนลองนอนลง

บนเตียงนี้แล้วคิดสานฝันของตัวเอง...

เหมือนอย่างที่พ่อของคุณกบเคยทำ

In 2001, Tongsai

Bay began the

mission to preserve

the natural beauty

that wraps around

their private bay.

C

M

Y

CM

MY

CY

CMY

K

50
---
FRUIT SEASON

Summer 's Sweet

Succulence

Fruit lovers rejoice when

temperatures intensify and

Thailand's markets and stands

burst with gorgeous harvests.

With our comprehensive guide,

your feasting on fruits awaits.

Words: Marion Bravo-Bhasin

Photos: Gyuri Szabo

Look up and you may see a branch of rambutan hanging

in invitation to be eaten. Look again and encounter a

fruit stand with the sweetest mangoes of the season.

Look ahead and a fruit truck is piled high with durians

and mangosteens. Everywhere are the jewels from the fruit

orchard. People in Thailand who love their fruits express

their joy during this significant fruit season.

A dizzying succession of summer produce means that one

can enjoy fruits like the Thai langsat and its twin, the longkong

(lanzones). Car caravans come from neighbouring countries so that

large families can come to enjoy the fruits. Also, the art and technique

of peeling and presentation of a fruit are equally important, not just

the taste at peak ripeness.

52

53
---
FRUIT SEASON

Above

The rambutan's

brilliant red colours

change quickly — it's

best to enjoy them in

a day or two!

Below

Longans are also

known as 'dragon

eyes' because of their

round shape and dark

pit. They're easy to

peel and pop in

one's mouth.

Now in May and June, the

pickings are especially abundant.

Easing into the peak of the beloved

mango or 'mamuang' season,

other ambrosial 'stone fruits' come

into the market. Of the tropical

'stone fruits' there are many;

from the famously fragrant and

plump lychee to the mangosteen

and rambutan – both with a

magnificent exterior contrasting

dramatically with the smooth,

creamy white flesh (mangosteen)

and slightly translucent, sweet and

sour oval (rambutan) fruit in the

interior. Smaller fruits in the same

soapberry family (sapindaceae)

include longan, longkong and

langsat. Additionally, although

not in the same family but with

large unedible seeds are the salak

or snake fruit, sapodilla and the

local plum mango also known

as a marian plum, egg plum or

'maprang' and its twin 'mayongchid'

which is slightly bigger and

The durian's "prehistoric,

impressive size and exterior shields

the creamy, complex interior that is

either worshipped or abhorred…"

Left Pomelos come in

two colours: pale yellow

or a more rare pink,

reddish flesh. Expect the

pink ones to be more

expensive.

sweeter. Resembling a golden egg

with a thin skin, it's best removed

to reveal the firm, sweet fruit

similar in taste to the mango but

with more juice. Just grab a kilo, sit

yourself down and start peeling.

Meanwhile, Thai pomelos are

easily found in street stalls, grocery

stores and worth seeking out on

restaurant menus in the extremely

tasty pomelo salad (yum som-o).

Not anything like a slightly sour

grapefruit or juicy, sweet orange,

the pomelo is somewhere in

between and memorable for its

deliciously pleasant citric balance

and texture.

No list on tropical fruits is

complete without the 'King of

Fruits'– the durian. The peak

season is April to August but can

be found year round in Bangkok.

Its prehistoric, impressive size

and exterior shields the creamy,

complex interior that is either

worshipped or abhorred. Native

to Southeast Asia, the durian is

extremely popular in the region

and festivals are held in its

honour, pastries are created to

enjoy it and households anxiously

await the peak season. It's no

secret that the fruit's pungent

smell prohibits it from being

carried on public transport and

is the first deterrant for many

people. For the adventurous, you

will be rewarded with a melody

of flavours, creamy texture and

complexity not easily found in

a single fruit. The flavours

linger. Eat too much

fresh durian and you

will experience its

'heaty' properties as

known in traditional

Chinese medicine.

A noticeable

warmness can be

felt throughout the

body and that

is why it

54

55
---
FRUIT SEASON

ALL YOU CAN

TOUCH AND EAT

is often sold next to mangosteens

appropriately named, "the Queen of

Fruits" for their cooling properties.

For the less adventurous, durian ice

cream, pastries made with the fruit

paste and even the extremely mild

durian chips provide various levels of

introduction to the 'King of Fruits'.

The jackfruit, with an equally

dramatic prehistoric looking exterior

like the durian (green, bumpy

yet unprickly shell and varying

in size from a large watermelon

to a small boulder), is another

tropical fruit enjoyed in many

forms. Once opened, the interior

reveals a treasure chest of golden

individual fruits. Jackfruit has a

distinctive heady sweat and fruity

aroma, usually the first indication

that you are near the source. The

flesh, fibrous and sweet flesh can

be enjoyed raw when perfectly ripe,

resembling a delectable macedonia

of apples, pineapples, mangoes and

bananas. The unripe fruit provides

a vegetarian meat substitute and

is used to make savoury curries.

Even the large seeds are edible and

nutritious once roasted, boiled

or baked.

Delving even further into the

fruits of Thailand, there are a few

surprises. The Thai tree berries

(makham thet) popular in the

Isaan provinces (North Eastern)

look beautiful and tempting and

resemble a circular blushing

tamarind pod. They have

Above

The form and colour

of this Thai tree berry

stands out. Its fibrous

texture is fluffy and

gives a sweet taste

when ripe.

Below

A consolation to

the heat of summer

is the presence of

juicy mangoes and

in Thailand, it is

usually partnered

with coconut sticky

rice.

a spongy looking interior and the

older the berries, the deeper red they

become and consequently, sweeter.

Peel off the husk, eat the pulp while

removing the seed. Similar to the

tree berries is the acidic 'mayom.'

Locally known as star gooseberries,

these small green sour berries are

eaten dipped in chilli, salt and

sugar. You may find them added to

som tum (papaya salad) or even as

flavouring to sorbets and local ice

cream.

From the more familiar but

surprisingly sweet pineapples

and mangoes, to the tropical and

beautiful rambutan, custard apple

(noy-na) and mangosteen and

even the controversial durian,

Thailand is a fruit garden.

All hail the eastern provinces of Trat,

Rayong and Chanthaburi, places actively

growing fruits enjoyed by people who

come from near and far. Referred to as

Thailand's Orchard of the East, these

provinces produce a profusion of fruits

year-round, which are at their best and

plentiful around the end of April to the

middle of July.

A popular activity to consider

are orchard visits where you can gain

knowledge on how the fruits are grown

and harvested. Many offer Fruit Buffets

with visitors eating as much as possible

of the best fruits of the season, sliced,

served with refills! Many buffets start at

a little more over 100 baht and can cost

more depending on the fruit choices.

Places to eat as much fruits as you want:

CHANTHABURI

SAW SUDJAI

sawsudjai.com

SUAN BAN RAO

suanbanrao.com/th

RAYONG

Several orchard tours are available in

Rayong. Among the most famous are:

SUPHATTRA LAND

Tel: +66 (0) 38 892 048-9,

+66 (0) 89 936 5933

suphattraland.com

SUAN YAI DA

Tel: +66 (0) 89 099 1297,

+66 (0) 89 043 1330,

+66 (0) 38 664 369

facebook.com/suanyaida

SUAN PA-NUN

Tel: +66 (0) 81 300 9518,

+66 (0) 81 861 6927,

+66 (0) 38 664 477

on.fb.me/1BDTLb3

SUAN PU YAI SOMKUAN

BANN LANG

Tel: +66 (0) 81 761 9497,

+66 (0) 81 991 3233

facebook.com/

suanpuyaisomkuan

TRAT

The province celebrates a Fruit

Festival in the Khao Saming

district, which has the highest

concentration of fruit orchards.

Here's a chance to try fruits grown

in one of Trat's many fruit orchards,

and also see many competitions

– from fruit-eating, fruit-carving,

and parade float competition. Try

culinary creations from fruits that

are savoury and sweet.

For more information, please contact:

TAT Trat Office

Tel: +66 (0) 39 597 259-60

Email: tattrat@tat.or.th
---
FRUIT SEASON

The most common

rose apples have a

green exterior that's

flushed with pink

called Chomphu Phet

Samphran while the

ruby-red coloured

Chomphu Thabthim

Chan (above) gives

more of a sweet

taste with a hint of

tartness.

Top Right

Peel the lychee's

dinosaur-like skin

and inside is a grapelike

texture with a

mild floral taste many

find heavenly.

Bottom Right

A jackfruit's

versatility means

that it can be dried,

roasted, added to

soups and used in

chips, jams, juices

and ice cream!

Below

The custard apple

reminds some of a

hand grenade and

has a juicy, rich

flavour. The presence

of thiamin is

meant to be

an energy booster.

เมืองไทยมีของดีอยู่มากมาย และผลไม้

ก็เป็นอีกหนึ่งสิ่งที่ชาวไทยภาคภูมิใจ

นำเสนอออกสู่สายตาโลก

เป็นความโชคดีที่บ้านเรามีดินมีน้ำ

อุดมสมบูรณ์ ทำให้เรามีผลไม้สดอร่อยๆ

ให้เลือกรับประทานอย่างหลากหลาย

ตลอดทั้งปี ไม่ว่ามองไปทางไหน

ผลไม้นานาชนิดก็วางเรียงรายอย่าง

สวยงามอยู่บนแผง รอให้คนรักผลไม้

หยิบจับกลับไปรับประทาน

โดยเฉพาะเดือนพฤษภาคมและ

มิถุนายน ซึ่งเป็นเดือนที่ผลไม้ไทยผลิ

ดอกออกผลมากที่สุดของปี หากจะรับ

ประทานมะม่วงรสชาติดีและจัดจ้านที่สุด

ก็ต้องฤดูนี้ ส่วนผลไม้อื่นๆ เช่น ลิ้นจี่

เงาะ มังคุด ลองกอง ลางสาด ก็ออกผล

ให้เราได้ชิมตลอดฤดู ส่วนสละ มะปราง

และมะยงชิดที่ไม่ค่อยออกผลในหน้าอื่น

ของปีก็ทยอยออกมาให้ได้ลิ้มชิมรส

หวานอมเปรี้ยวที่ซ่อนอยู่ภายในเปลือก

สีสวย โดยเฉพาะมะปรางและมะยงชิดที่

ต้องริ้วเปลือกก่อนจัดวางบนจานสวย

ส้มโอ เป็นผลไม้อีกหนึ่งชนิดที่มีให้

รับประทานตลอดปี นอกจากจะรับประ

ทานสดๆ แล้ว ยังอยู่ในรูปแบบของยำ

ส้มโอ อาหารรองท้องยอดฮิตที่ปรากฏ

ในเมนูร้านอาหารไทยเกือบทุกแห่ง

สุดยอดผลไม้ไทยที่ไม่พูดถึงไม่ได้

คือ ทุเรียน ที่ใครๆ ต่างขนานนามว่า

เป็น 'ราชาแห่งผลไม้' ทุเรียนออกผลชุก

ระหว่างเดือนเมษายนถึงสิงหาคม แต่

ปัจจุบันก็หาซื้อได้ตลอดทั้งปีในกรุงเทพฯ

รูปทรงภายนอกของทุเรียนเต็มไปด้วย

หนาม แต่ห่อหุ้มผลสีเหลืองอร่ามเนียน

นุ่มอยู่ภายใน หากใครไม่หลงใหลใน

รสชาติและกลิ่นอันเป็นเอกลักษณ์ของ

ทุเรียนก็อาจเบือนหน้าหนีได้ง่ายๆ ตาม

ความเชื่อของแพทย์แผนจีน การรับ

ประทานทุเรียนมากเกินไปอาจทำให้

อุณหภูมิในร่างกายสูงกว่าปกติ ทุเรียน

จึงมักถูกจัดวางบนแผงผลไม้ใกล้ๆ กับ

มังคุด หรือ 'ราชินีแห่งผลไม้' เนื่องจาก

มังคุดมีฤทธิ์เย็นซึ่งรับประทานแก้กัน

ได้อย่างดี ทุเรียนยังสามารถนำมาทำ

เป็นไอศกรีม ของหวาน หรือแม้กระทั่งทุเรียน

ทอดที่ใครๆ ติดใจในความกรอบมัน

ผลไม้อีกชนิดที่มีผลละม้ายทุเรียน

แต่หนามไม่คมและมีขนาดเล็กกว่าได้แก่

ขนุน ผลไม้ที่ซ่อนสมบัติสีเหลืองอร่าม

หอมหวานอยู่ข้างใน ขนุนส่งกลิ่น

หอมเฉพาะตัวแม้จะยังไม่ได้แกะ

เปลือก เมื่อสุกพอดีขนุนจะให้

รสหวานฉ่ำเช่นเดียวกับ

แอปเปิ้ล สับปะรด มะม่วง

และกล้วย ส่วนขนุนดิบ

สามารถนำไปใช้เป็นส่วนประกอบใน

แกงต่างๆ แทนเนื้อสัตว์ได้ และเมล็ด

ของมันยังรับประทานได้อย่าง

เอร็ดอร่อยหากนำไปย่าง ต้ม หรืออบ

ผลไม้ท้องถิ่นดั้งเดิมของอีสาน

ได้แก่ มะขามเทศ ภายนอกมี

ลักษณะเหมือนมะขามแต่มี

เปลือกสีเขียวอมชมพูอ่อนนุ่ม

ห่อหุ้มผลสีขาวอมชมพู ที่

นิ่มราวกับฟองน้ำและมี

เมล็ดซ่อนอยู่ภายใน

นอกจากนี้บ้านเรายัง

มีมะยม ผลไม้ลูก

เล็กๆ รสเปรี้ยวจี๊ดที่

นิยมนำมาจิ้มพริก

กับเกลือ บางครั้งนำ

มาทำเป็นไอศกรีม

ซอร์เบท์ หรือแม้แต่

เป็นส่วนผสมชูรส

เปรี้ยวให้กับเมนู

อย่างส้มตำที่เรา

คุ้นเคยได้อีกด้วย
---
KL MALACCA PENANG

Words & Photos: Chalotorn Payomyol

In taking strolls through

Malaysia's main cities,

what's discovered are places

rich in Mughal or colonial

architecture, traditional

Peranakan culture and a

whimsical tableau of wall

and street art.

60

61
---
KL MALACCA PENANG

FIRST THE STREET ART,

THEN COMES THE FOOD

Top

A larger-thanlife

mural depicts

familiar scenes

dramatically.

Bottom

People queue up

for one of the most

popular wall art,

"Children on a

Bicycle."

Bottom Right

A cat street art

and a boy takes a

photo are among

the playful themes

in wall art.

Malaysia as a country shows vast cultural

diversity, reflected through a variety of

aspects like lifestyle, art, languages, or even

architecture. To explore and understand them

all, Fah Thai sets out on a fascinating journey on three

historical destinations – Penang, Malacca and Kuala

Lumpur where a richness in culture and history could be

found and learned.

PENANG

Chosen as one of CNN's 17 best

places to visit in 2017, Penang

is absolutely a thriving tourist

destination that can be reached

from Kuala Lumpur by a one-hour

flight. George Town, the capital

city of the Penang state, is a socalled

hipster city where most

tourists come for a photo with

its street art. It was awarded the

title of a UNESCO World Heritage

Site in 2008 under the category of

cultural heritage.

George Town is obviously

gaining popularity given that

groups of tourists crowd into a

street where art murals can be

found. The famous art murals were

originally part of the George Town

Festival held in 2012. Created by

a Lithuanian artist called Ernest

Zacharevic – it's become one of the

prominent landmarks of George

Town ever since. Now street art in

Penang blossoms with works from

various artists and marks Penang as

an art city.

With quite a lot of people

waiting for a photo with the

popular "Children on a Bicycle"

mural, I decided to find a less

crowded street and explore the

unique and beautiful architecture

instead. To get to know Penang's

historic sites, the best way to do

so is by walking since you will

find a variety of architectural

styles, from 17th century eclecticstyled

buildings to 19th century

modern styles.

One of the magnificent

eclectic style architecture is the

Cheong Fatt Tze Mansion or the

Blue Mansion, world-famous and

constructed by Cheong Fatt Tze, a

penniless Chinese immigrant who

made a big fortune in Southeast

Asia. According to Ben, a

well-trained guide, this 19th

century building showcases the

glory and achievement of Cheong

Fatt Tze with its beautifully

decorated interiors. But after his

death, the mansion fell into a

damaged state.

"It had gone through a 6-year

intense renovation and everything

is kept as original as possible,

with the intention to preserve

this priceless cultural heritage,"

explained Ben. And I have to admit

that the renovation really brings

back the vibrant life of the mansion

once again.

I continued to another

important abode, the Penang

Peranakan Mansion, where the

remarkable green building stands

gracefully, attracting visitors to

its beauty inside. About a century

old, this was once the residence

of a Chinese businessman and

community leader. Now converted

into a museum, it features an

impressive array of antiques and

collections and offers visitors

a peek into the world of the

Peranakans, a group of Chinese

settlers. They emigrated from

China, adopted local customs and

created a unique culture of their

own including fashion, cuisine

and tradition.

Some of the Eclectic Straits

Chinese Peranakan houses are

still lining the streets in George

Town. Simply walking to witness

the unique beauty of the antique

houses, it felt like I was travelling

back in time. Old and unique

shophouses can still be seen across

the streets. Their ongoing trade

have existed for just as long as the

century-old buildings.

Being one of the top street

food cities, a visit to Penang will

never be completed without such

eats! The bustling evening food

stalls include a variety of delicious

food you would die for, with cheap

prices. I suggest not to eat fully at

one food hawker stand and spare

your stomach for other tasty dishes

too. Must-eat local dishes you

probably can't miss include Penang

Laksa, Wan Tan Mee, Fried Koay

Teow, Cendol, to name but a few.

It goes without saying that exploring and

sightseeing whets your appetite. Penang is known

as a great eating destination and it's best to check

out local favourites, from seared noodle dishes,

like char koay teow to

hokkien har mee.

SISTERS CHAR

KOAY TEOW

The CKT, as the dish

is affectionately

known, is made at

one of the oldest

shops started

by two sisters. A

second generation

now runs the place,

and the signature

dish still offers the right

balance that makes the

seared rice noodles sing with

its plump shrimp, Chinese sausages,

and crabmeat topping.

Lam Heng Café, 183 MacAlister Road

RED HAT LADY

Every place has its famous or infamous

personalities. In this case, it's the Red Hat Lady

@ Heng Huat Café on Lorong Selamat, whose

owner's personality rivals her food in popularity.

She's not hard to miss in her red French painter's

hat and usual grumpiness. The drill is to get

your table number and leave her to cook her

masterpieces.

Heng Huat Café, 108 Lorong Selamat, George Town

MAN IN BLACK GOGGLES

If the lines are too long at the Red Hat Lady,

consider our man in the goggles. He's just as

popular but offers a shorter wait on most days.

Low Eng Hoo Coffeeshop, 84 Lorong Selamat,

George Town

ANDREW'S KAMPUNG

Penang's touristy areas have less and less

traditional food but this eatery offers tasty Malay

dishes from local recipes. A buffet consists of

sizzling chicken and spicy beef noodles that are

typical of the area.

Andrew's Kampung, Batu Ferringhi, 2nd floor Eden

Parade, Penang +60124084091

62

63
---
KL MALACCA PENANG

Clockwise

from Top Right

Homes sit with a view

of Malacca River.

Villa Sentosa is a

living museum with

household members

who welcome guests

and point out family

mementos.

Decorated rickshaws

carry visitors

around town.

Bottom, clockwise

Cheng Hook Teng,

a Taoist temple, was

founded in 1645 with

a design rooted in

the principles of

feng shui.

Christ Church, an

Anglican Church from

the 18th century, is

the oldest functioning

Protestant church in

the country.

People enjoy

the shopping

extravaganza that

defines Jonker Street.

MALACCA CITY

From the bustling city of George

Town, I headed to Malacca city, the

historical place which earned the

title of World Heritage Site in the

same year as George Town. Even

though my morning started in

Malacca quite early and I wandered

around the historic sites, I saw

a group of tourists already. This

fact alone can confirm the city's

popularity.

Besides, the city shares quite

a similar diverse culture with

Penang. You can easily spot a

Chinese temple located near an

Islam mosque while seeing Indian

ladies in colourful saris walking

around the streets with local

Chinese people.

One of the impressive

landmarks of the city is Malacca

River. Cruising along the river at

night is quite a celebrated activity

among visitors. However, I opted

to explore the dynamic lives of

Malacca by foot instead. There is a

pathway along the river where you

can see the art murals sprawled

across the facades or even on

the hotel buildings. The murals

generally depict the stories of

Malay cultures such as traditional

dances, food and art.

Searching for Malacca's art murals requires

a meandering walk amidst diversity. The

scenery ranges from a Malay village on the

riverside, or a Chinese temple near an Islam

mosque.

C

M

Y

CM

MY

CY

CMY

K

The river path stretches all the

way to Morten Village, my next

destination. Morten Village is a

traditional Malay village situated

on the riverside with modern high

buildings in its background. It is

such a contrasting scene to see

where the past meets the modern

and how they can live harmoniously

together.

This place is preserved as

a heritage village of Malay. It

is possible to walk around and

explore the village where you can

find a unique traditional Malay

architecture, and local people are

still living in it. I stopped at the

place called Villa Sentosa. A local

told me that it is a kind of living

museum where you can enter and

see inside a home.

Entering someone's house

without knowing them felt like it

might be an awkward experience.

Patima, an older lady living in a

1920s house and whose family

lived there for generations just

simply called me to come inside

and shared her warm hospitality.

It seemed like she was alone. She

kindly showed me around the

house and explained the stories

behind treasures such as family

photographs and wedding clothes.

The picturesque place welcomes

visitors free of charge but a

donation is encouraged. I spent

time inside the house for almost an

hour before saying goodbye to the

kind lady.

It seems like the traditional

Malay village is not that popular

among tourists, unlike any other

places since I noticed only a

handful of visitors here. But I

definitely rate this place as one of

the highlights of Malacca City apart

from other historic attractions such

as Jonker Street, Melaka Church,

Porta de Santiago, etc.

64
---
KL MALACCA PENANG

ปีนัง

เพียงหนึ่งชั่วโมงจากกรุงกัวลาลัมเปอร์ คุณ

ก็จะได้ยลโฉมรัฐมรดกโลกอย่างปีนัง ที่มีเมือง

หลวงจอร์จทาวน์ซึ่งได้รับการขนานนาม

ว่าเป็นเมืองสุดโปรดของฮิปสเตอร์

งานศิลปะบนสองฝั่งถนนทำให้บรรดา

นักท่องเที่ยวแห่แหนกันมาตามถ่ายภาพ

ศิลปะบนฝาผนังที่เมืองแห่งนี้ โดยเฉพาะภาพ

"เด็กบนจักรยาน"

สถาปัตยกรรมในปีนังมีตั้งแต่แนวอิเล็ก

โทรไปจนถึงแนวสมัยใหม่ อย่างเช่น คฤหาสน์

เฉิงฟัตเจ๋อ หรือคฤหาสน์สีน้ ำเงินอันโด่งดัง

คฤหาสน์เปอนารากันสีเขียวสง่าอายุ

กว่า 100 ปีซึ่งปัจจุบันเป็นพิพิธภัณฑ์เป็นอีก

แห่งที่ไม่ควรพลาด ก่อนกลับ อย่าลืมแวะชิม

อาหารเลิศรสสองฝั่งถนน อย่างลักซา วันทัน

หมี่ ก๋วยเดี๋ยวผัด เซนดอล และอื่นๆ อีกมาก

มะละกา

จะเลือกล่องเรือชมเมืองยามค่ำคืนในแม่น้ำ

มะละกาอันเลื่องชื่อ หรือจะเดินเลียบฝั่งแม่น้ ำ

เพื่อชื่นชมหมู่บ้านดั้งเดิมของชาวมาเลย์และ

ศิลปะฝาผนัง ทุกภาพที่ปรากฏในสายตาล้วน

แสดงให้เห็นถึงศิลปะมาเลย์อยู่เต็มไปหมด

เดินไปสุดทาง จะพบหมู่บ้านมอร์เทนที่ตั้ง

อยู่ริมฝั่งแม่น้ ำ พร้อมกับบ้านเรือนแบบดั้งเดิม

โดยมีฉากหลังเป็นตึกระฟ้าสมัยใหม่ ต่อด้วย

พิพิธภัณฑ์วิลลาเซนโตซา เยี่ยมชมสมบัติอัน

ล้ำค่าโดยไม่ต้องเสียค่าเข้าชมส่วนถนนยอง

เกอร์ โบสถ์มะละกา หรือป้อมประตูซานติเอโก

ก็ถือเป็นไฮไลต์ของมะละกาที่ไม่ควรพลาด

กัวลาลัมเปอร์

การดื่มด่ำวัฒนธรรมของมาเลเซียไม่อาจ

สมบูรณ์หากคุณไม่ได้สัมผัสเมืองใหญ่ที่สุด

ของมาเลเซีย — กัวลาลัมเปอร์

ถ้าเทียบกับปีนังและมะละกา อาคารใน

กัวลาลัมเปอร์มีขนาดใหญ่โตและโอ่อ่ากว่า

มาก ด้วยการผสมผสานของสถาปัตยกรรม

โมกุล มาเลย์ และบริติช ไว้ด้วยกัน ดังเช่น

สถานีรถไฟกัวลาลัมเปอร์ที่ตั้งตระหง่านตรง

ข้ามตึกบริหารการรถไฟ และยังมีอาคารสุลต่าน

อับดุล ซามัด ซึ่งอยู่ตรงข้ามจัตุรัสอิสรภาพ

แน่นอน ห้ามพลาดถนนเปตาลิง เพราะ

นอกจากจะเป็นแหล่งช้อปปิ้งแล้ว ยังเป็นที่ตั้ง

ศาสนสถานจีนและฮินดูที่สำคัญอย่างวัด

กวนอูและวัดพระศรีมหาอุมาเทวี

จากนั้นทอดน่องไปยังย่านเปตาลิงจายา

SS2 ซึ่งประดับประดาด้วยศิลปะฝาผนัง 20

ภาพที่ชนะการประกวด นับเป็นความต่าง

ที่หลอมรวมไว้ด้วยกันในเมืองหลวงของ

มาเลเซียได้อย่างน่าสนใจ

KUALA LUMPUR

To complete the cultural routes of

Malaysia, I chose to end my trip in

Kuala Lumpur, the capital city and

the largest city in Malaysia. Let's

skip the Petronas Twin Towers

since almost anyone knows is an

important Kuala Lumpur landmark.

I head out to find the artistic and

historic parts of the city instead.

I must say it was quite

surprising to see a lot of splendid

buildings in Kuala Lumpur. While

the old buildings in Penang and

Malacca city may look vintage and

classic in its modest size, the ones

in Kuala Lumpur look grander and

more elegant and were influenced

by Mughal, Malaysian and British

architecture. Most of them are over

100 years old. The Kuala Lumpur

Railway Station, for example,

shows its exquisite exterior design

Clockwise

Petaling Street,

Kuala Lumpur's

Chinatown, entices

visitors with the

attraction of not

just bargain goods,

but great Chinese

food too.

The Supreme Court

Building's design

is that of Moorish

revival architecture,

also referred to as

Neo-Mughal.

Sri

Mahamariamman

Temple is the oldest

Hindu temple in

Kuala Lumpur, near

Chinatown.

and architecture along with the

Railway Administrative Building.

It's located just across the street

and the Sultan Abdul Samad

Building situates right across the

Independence Square.

One of the places where you

can find a diversity of culture

in Kuala Lumpur is definitely

Chinatown at Jalan Petaling or

Petaling Street. Besides being

a lively shopping paradise, the

area also houses the important

religious landmarks of Chinese

and Hindu temples. These two

temples are located surprisingly

near each other. I walked into the

Sri Mahamariamman Temple,

the oldest Hindu temple in Kuala

Lumpur, and the next minute, I was

at the Guan Di Temple, a morethan-a-century-old

Taoist temple.

Such a totally different setting, but

also a very interesting scene to see.

I continued to explore the

recent hip part of the city, Petaling

Jaya SS2, where you can hunt down

art murals hidden in the small

alleys. People hardly know that

Kuala Lumpur also has street art

just like George Town and Malacca

– even my local friends just found

out about this place.

The street art in Petaling Jaya

is originally a part of a wall art

competition, in hopes to uplift

this commercial centre. Twenty

two finalists were selected and

completed their artworks on the

walls. Each creative piece provides

the viewer an explanation on its art

concept. I was impressed at how art

and the daily life of a place blends

in perfectly. No doubt this place

will become the next spot for your

next Instagram photo!

66
---
LUANG PRABANG

Words & Photos: Phol Wadoo

There is no better way to get into the

skin of Luang Prabang

food culture than to visit a market

supplied with nearby foraging.

68

69
---
LUANG PRABANG

BETWEEN THE MEALS

Hidden away in a narrow

passageway, the marketplace

buzzes with life…and death, for

fresh kill every morning when

vegetables, the daily catch and fresh meats

are rolled out to sell. For visitors, watching

locals bargain over piles of vegetables and

animals is an eye-opening experience.

The vendors live

along the forest, hills

and rivers. Though

it's a smaller yield

for produce and

meats at times, it's

guaranteed to be the

freshest around. Get

the local currency,

the Lao kip, ready

for any unusual

things you want to

get. The market's

energy buzzes early,

even before sunrise.

Vendors offers exotic fruits not

typically seen elsewhere in Laos,

not to mention the local edible

fungi such as the egg mushroom.

Other local delicacies include jerky

sticks of buffalo skin, wild birds

and hornet larvae squirming in

containers of hexagonal sockets.

Tucked away in the

mountainous valley of northern

Laos and sitting at the confluence

of the Mekong and Khan rivers,

Luang Prabang has kitchens that

stock items you won't find in

gourmet supermarkets, but from

a fresher source. Food here comes

from the river and the wild, whose

communities still rely on these

resources just as much as hunting,

to gather foodstuff to put a meal on

the table.

From early morning to midday,

vendors offer a plethora of local

delicacies. Modest in one way,

yet shocking in its authenticity

– the market is well stocked.

Piles of banana flowers, cowpeas,

– The visual display

of colourful spices

and vegetables will

stop you in your

tracks. Green balls

of river weed or rock

algae are ubiquitous

and common in the

Luang Prabang food

market.

bamboo shoots, wild mushrooms,

watercress and balls of river weed

dominate the stalls. Squirrels are

displayed with their bodies cut

open to show the freshness of their

entrails. And there's plenty of fish

from the Mekong River, some of

them as big as a pig.

A short walk through Luang

Prabang food market takes you back

to a time when food didn't come

from packs in the supermarket.

Along the small alleys, buckets

overflow with rice, fresh

vegetables, fruits, sheets of river

weed, wild mushrooms, Mekong

fish and beehives. Here, there is no

fancy display.

The vendors ply their trade

using flimsy plastic bags. However,

the visual display of colourful

spices and vegetables will stop you

in your tracks. Green balls of river

weed or rock algae, are ubiquitous

and common in the Luang Prabang

food market. The locals make very

thin sheets of sun-dried river weed

and sprinkle it with tamarind and

ginger juices plus sesame and garlic

before deep frying them. Nutty and

salty, the deep-fried river weed is

perfectly paired with diced buffaloskin

and hot sauces.

The Luang Prabang food market

also offers high doses of discovery.

If you look hard enough you will

find wasp nests, squirrels, owls,

ducks and many other creatures.

Some animals are butchered, others

are still hopping about.

"How much?" asks an elderly

Lao woman, as she checks small

green frogs bound by rings. "Ten

thousand kip (45 baht), granny,"

the vendor says. Of course, the

frogs will end up in a pot of curry.

Cooking here is simple and

rustic, according to the "Traditional

Recipes of Laos," a cookbook with

a collection of Luang Prabang royal

Luang Prabang is also beautiful, even without its food offerings. While

you're waiting for the next meal, feast your eyes and immerse yourself into

the former royal capital of Laos. Protected by UNESCO'S World Heritage

Fund, Luang Prabang is unique in its traditional architecture and Lao urban

structures built by the European colonial authorities in the 19th and 20th

centuries. Temples and landmarks here are within a walking distance.

Image by Anna Lee

VISITING THE ROYAL PALACE

Showing traditional Lao and French

neoclassical architecture, the former Royal

Palace was built in 1904 and was home

to King Sisavang Vong. The palace is now

a museum with some rooms preserved

much like they were when the king was

captured in 1975. Ho Prabang, a separate

outbuilding, houses Pra Bang – the most

revered Buddha image.

WAT XIENG THONG

Luang Prabang's most popular temple

is noted for its "sim" or ordination hall.

Built in 1560, the hall has roofs sweeping

low to the ground. The mosaic, the "Tree

of Life" on its exterior wall is stunning.

A MUSEUM AND ETHNIC DIVERSITY

Visiting the Museum of Traditional Arts

& Ethnology Centre is a must, to learn

about Lao ethnic diversity through art and

costume exhibitions. There's a café and a

shop selling handicrafts and postcards.

THAT MAKMO

Unique by its hemispherical stupa, the

temple of That Makmo is one of the

oldest temples in Luang Prabang. The

temple was used for hiding treasures

during the Black Flag raids during the

latter half of 19th Century. The temple is

worth visiting and seeing the collection

of wooden Buddha images.

OCK POP TOK LIVING CRAFTS

CENTRE

Perched over Mekong, this arts and

handicraft centre offers top-quality

fabrics and riverside café serving drinks

and excellent Lao food. As supporters of

women's empowerment programmes,

fair trade products are available. Among

them are high-quality artisan textiles.

70

71
---
LUANG PRABANG

The morning

market creates a

gentle line along

quiet streets near the

Royal Palace.

If one goes before

7am, there's a

chance that monks

from nearby

temples will be

walking around

collecting alms.

recipes. Once home, for example,

'granny' will make a curry paste

from lemongrass, green chillies,

diced galangal, shrimp paste, garlic

and shallots and when the green

frog curry is cooked, she'll add a

spoonful of padek, the fermented

fish concoction inherent to Lao

cuisine, before spicing up the sauce

with a handful of aromatic dill.

From market to table and back, you

could follow your nose to the food

stands on the river in search of

green frog curry.

For folks with less adventurous

taste buds, Luang Prabang also

offers a wide range of French

cuisine, courtesy of its years as a

French protectorate. Along with

gunships and rifles, the French

also brought baguettes, pâté,

coffee and culinary savoir-faire to

the old capital.

Within a short walk from the

food market is Pracha Niyom coffee

stand on the corner of Khem Khong

and Kisalat roads. The dark roasted

beans spell Paris but the sharp sweet

taste of condensed milk is undeniably

Luang Prabang. Next to Pracha

Niyom, a local woman offers huge

offerings of a pâté-filled baguette.

For the foodies looking for

the ultimate link between French

cuisine and Lao ingredients,

L'Elephant restaurant serves Gallic

cuisine in a renovated French

colonial building with wooden

floors and a tree stencil on the wall

inspired by Wat Xieng Thong. Here,

pan-fried frog legs are a must.

Cooked in the Provençal style, the

legs are brimming with garlicky

and peppery olive oil – a happy

marriage of Lao ingredients and

French flair.

72
---
LUANG PRABANG

เมืองหลวงพระบางตั้งอยู่ในหุบเขาทาง

ตอนเหนือของประเทศลาวซึ่งมีแม่น้ำโขง

และแม่น้ำคานไหลมาบรรจบกัน เป็น

แหล่งวัตถุดิบอาหารสดใหม่ที่ไม่อาจหาได้

ตามซูเปอร์มาร์เก็ต สรรพสิ่งต่างๆ ล้วน

มาจากแม่น้ำและป่าอันอุดมสมบูรณ์ตาม

วิถีทางของธรรมชาติ

ชาวบ้านหลวงพระบางยังคงใช้ชีวิต

แบบพื้นบ้านด้วยการล่าสัตว์และเก็บ

ของป่าเพื่อยังชีพ หรือหากมีเหลือก็นำ

มาค้าขายในตลาดสด

ตั้งแต่เช้าจนสาย ตลาดเช้าหลวง

พระบางจะอุดมด้วยอาหารที่ดูเหมือนจะ

ธรรมดา แต่ไม่อาจหาได้จากที่อื่น เช่น

หัวปลี หน่อไม้ เห็ดป่า แพงพวย และ

สาหร่ายแม่น้ำปั้นเป็นลูกกลมใหญ่กว่า

กำปั้น แม้แต่อาหารพื้นบ้านอย่าง

กระรอก ตัวอ่อนต่อ รวมไปถึงปลาจาก

แม่น้ำโขงที่มีขนาดใหญ่เท่ากับหมูตัวเขื่อง

ภาพเหล่านี้ทำให้เราย้อนอดีตกลับสู่วัน

วาน ในยุคที่อาหารไม่ได้บรรจุอยู่ใน

หีบห่อพร้อมให้เราจับจ่าย

สีสันของตลาดสดหลวงพระบาง

สวยงามเกินกว่าจะละสายตา โดยเฉพาะ

สาหร่ายตากแห้งแผ่นบาง ปรุงรสด้วย

ซ้าย รังผึ้งย่างหาซื้อ

ง่ายๆ ได้ตามข้าง

ทางในตลาดสดหลวง

พระบาง

ล่างซ้าย ปลาแม่น้ำ

โขงตัวโตหารับ

ประทานได้ง่ายเพราะ

หลวงพระบางตั้งอยู่

ณ บริเวณที ่แม่น้ำโขง

และคานไหลมา

บรรจบกัน

ตามเข็มนาฬิกา

จากขวา หนังควาย

อาหารพื้นเมืองที่

หลายคนบอกว่าต้อง

ลองสักครั้ง

บาแก็ตชิ้นโตที่ผสาน

รสชาติของทั้ง

ฝรั่งเศสและลาวได้

อย่างกลมกลืน

สาหร่ายแม่น้ำปั้นเป็น

ก้อนกลมสีเขียวสด

มะขาม ขิง งา และกระเทียม ก่อนนำไป

ทอดกรอบ ทำให้มีรสชาติเค็มมัน ทาน

คู่กับหนังควายจี่และซอสรสเผ็ดได้

อย่างออกรสออกชาติ

กบสีเขียวที่ร้อยเป็นวงราคาเพียง

45 บาท นำไปปรุงตามสูตรอาหารใน

หนังสือ Traditional Recipes of Laos

เริ่มโดยเตรียมเครื่องแกงจากตะไคร้

พริกเขียว ข่าหั่นเต๋า กะปิ กระเทียม และ

หัวหอมแดง คั่วกับกบที่เตรียมไว้ เติม

ปลาร้าตามแบบฉบับของอาหารลาว

ปรุงรสและโรยหน้าด้วยผักชีลาว

วัตถุดิบจากตลาดสู่เมนูอาหารแล้วจึง

นำกลับไปขายที่ตลาดอีกทอดหนึ่ง

จากนั้นลองเดินตามกลิ่นหอมไป แล้ว

คุณจะพบแกงกบขายอยู่ที่ตลาดแห่ง

เดียวกันนั้นเอง

ห่างจากตลาดสดเพียงเล็กน้อย คือ

ที่ตั้งของร้านกาแฟประชานิยมที่หัวมุม

ถนนแคมโขงและถนนกิตสะลาด เมล็ด

กาแฟคั่วสีเข้มให้กลิ่นอายของกรุงปารีส

ผนวกกับนมรสหวานเกิดเป็นกาแฟตาม

แบบฉบับของหลวงพระบาง พร้อมกับ

ร้านขายบาแก็ตสอดไส้ปาเตอยู่ข้างๆ

กัน อาหารเหล่านี ้ได้รับอิทธิพลมาจาก

ประเทศฝรั่งเศสตั้งแต่ครั้งลาวยังเป็น

ประเทศอาณานิคม

สำหรับผู้ที่แสวงหาความลงตัว

ระหว่างอาหารฝรั่งเศสและวัตถุดิบจาก

ลาว ต้องมาที่ร้าน L'Elephant ที่เสิร์ฟ

อาหารฝรั่งเศสในอาคารพื้นไม้สไตล์โค

โลเนียล ตกแต่งด้วยไม้ฉลุลายบนผนัง

ซึ ่งได้รับแรงบันดาลใจจากวัดเชียงทอง

เมนูขึ้นชื่อของที่นี่คือ ขากบคั่วสไตล์โพร

วองซ์ อบอวลด้วยกลิ่นกระเทียมและ

พริกไทย คั่วกับน้ำมันมะกอก ที่ผสม

ผสานสูตรอาหารฝรั่งเศสแท้กับวัตถุดิบ

พื ้นเมืองลาวได้อย่างลงตัว

74
---
GALLERY

Words & Photos Blaine Harrington III

Is the Zojila mountain pass the

world's most terrifying road?

Certainly not for the faint-hearted,

this narrow rock passage along the

Indian National Highway is nine

kilometres of perilous curves and

spectacular views.

This road from Ladakh to

Kashmir lies in the western

Himalayas, about 3,500 metres

above sea level.

Sheep and goats mingle with

travellers as a traffic jam

caused by a landslide idles

trucks along the Zojila.

76

77
---
GALLERY

TOP AND OPPOSITE PAGE

A nomadic shepherd guides his sheep

and goats over the Zojila in Kashmir

— in the Jammu and Kashmir state

of India. Referred to as the Zoji Pass

or simply Zojila, 'la' means pass in

several Himalayan languages.

78

79
---
GALLERY

The absence of road barriers

not only makes this one of

the most dangerous passes in

the world, but heavy snowfall

and extreme winds in the area

contribute to the risks too.

80

81
---
GALLERY

THIS & OPPOSITE PAGE

Despite Zojila's treacherous

nature, the route links the people

of Ladakh with the rest of the

world. Heavy snow and strong

winds closes the road during

winter. Snow-cutting machines

are required to clear a path that

may be covered in snow anywhere

between 15 and 24 metres deep.

ABOUT THE PHOTOGRAPHER

Blaine Harrington III is an award-winning travel and location

photographer based in Littleton, Colorado, USA and works worldwide.

During an 40-year plus career, his work in photography has been

published by most major travel, news, business and inflight magazines;

as well as in books, and countless media in the United States and

internationally. Clients have included the National Geographic Society,

Smithsonian, Time Inc. and the New York Times. Harrington has

travelled to over seventy countries and is currently on a three-month

photo trip around the world. He was named the 2005 and 2006 Travel

Photographer of the Year by the Society of American Travel Writers.

His stated goal in life: go everywhere, meet everyone, try everything!

82

83
---
KNOW BEFORE YOU GO

Well Served

Let us help you eat out. They can be at humble

eateries where queues begin early in the day or highend

restaurants where reservations are required.

We tell you who's top chef, what's in a tea house or

what's on a fine dining menu and whether to be at

ground level or on a rooftop.

BANGKOK 86 / CHIANG MAI & LAMPANG 90 /

SAMUI 94 / PHUKET & KRABI 98 / PATTAYA 100 /

HONG KONG 102 / SINGAPORE 106 / KUALA

LUMPUR 108 / YANGON & MANDALAY 109 /

HO CHI MINH, LUANG PRABANG & PHNOM PENH 110 /

MUMBAI 112 / MALDIVES 113

85
---
HAPPENINGS

THAILAND

BANGKOK

SPOTLIGHT

Opening to Creativity

Open House is Central Embassy's iconic

creative space in collaboration with

celebrated Tokyo design studio Klein

Dytham Architecture. As the name

suggests, Open House boasts a sense of

openness with a vast floor space, high

ceilings and an unobstructed view of

the city. Its vantage point is its location

on the 6th floor of Central Embassy, as

well as the stunning interior of organic

and man-made elements to symbolise

harmony. The community-oriented

space divides into 8 zones: Eating Deck,

Eat by the Park, Open House Bookshop

by Hardcover, Co-Thinking Space, Art

Tower, Design Shop, Open Playground

and Diplomat Screens Embassy by AIS,

to cover every aspect of life and fulfil

the search for inspiration. It is a new

co-living space for creators, designers,

food lovers and families looking

to embrace the aesthetics in life.

centralembassy.com/anchor/open-house,

+66 (0) 2119 7777

BEST IN CHOW

For the 3rd year in a row, Gaggan was named the No.1 restaurant in Asia, as

announced at the Asia's 50 Best Restaurants Awards 2017. The progressive

Indian restaurant's impressive win was announced at the annual event

sponsored by San Pellegrino and Acqua Panna. A total of 9 restaurants from

Thailand make the culinary rankings and among the list are familiar names

like Nahm (No.15), Issaya Siamese Club (No.21), Eat Me (No.31) and Bo.Lan

(No.19) and new favourites Sühring (No.13), The Dining Room at The House

on Sathorn (No.36), Le Du (No.37) and l'Atelier de Joël Robuchon Bangkok

(No.40). This year's list of restaurants came mostly from Thailand, China,

Japan and Singapore, and were selected by the region's most renowned

chefs, food critics, and gastronomes. Consultancy firm Deloitte ensured the

authenticity of the voting process and results.

86
---
HAPPENINGS

THAILAND

BANGKOK

GAGGAN

Gaggan once again claims the top spot for the 3rd consecutive year with

signature dishes like "I Want My Curry" served in a traditional Indian tiffin

box. Known as a splendid culinary destination in the heart of Bangkok,

Gaggan crafts Indian cuisine in a revamped style which turns the image of

traditional Indian street food into unconventional, delicious progressive

dishes. Named after the Indian owner and chef who has been living in

Thailand for many years, Gaggan aims to put Indian cuisine into one of the

world's top fine dining choices. eatatgaggan.com; +66 (0) 2652 1700

LE DU

Making its debut in Asia's 50 Best

Restaurants Awards this year,

Le Du offers Thai cuisine with an

innovative twist. Based on the

richness of local Thai ingredients,

the restaurant interprets the

marvels of authentic Thai food in

a contemporary dining experience.

Le Du combines the cooking methods

inspired by the Thai, Chinese and

European culinary arts, and woven together

transforms local Thai vegetables into

stunning presentations.

facebook.ledubkk.com, +66 (0) 92 919 9969

SPOTLIGHT

To Fly with Ideas

Poised to be the new creative hub on

the Thonburi side, Chang Chui sprawls

on 11 rai of land and offers space for

art exhibitions, movie screenings,

plays, music and idea exchanges

for art enthusiasts with a museum

landmark housed in an airplane.

Each of the 18 buildings located

within the Chang Chui compound is

constructed with discarded materials

and represents diverse functions

and stories. What makes Chang

Chui stand out from other artistic

co-working hubs is that it is a true

melting pot of people who play a big

part in driving Bangkok's art scene

forward. Teams from the Documentary

Club, Seven Spoons and owner of

Fly Now Somchai Songwattana

inspired the establishment of

Chang Chui, making this creative

powerhouse a truly magnificent

sanctuary for art-inspiration seekers.

changchuibangkok.com,

+66 (0) 81 817 2888

88
---
HAPPENINGS

THAILAND

CHIANG MAI

SPOTLIGHT

Artistic Lodgings

One of the most successful hospitality

trends in recent years has been the

creation of design and art hotels.

This has been successfully realised

at the Art Mai Gallery Hotel nestled

in downtown Chiang Mai. Exuding a

vibrant and sophisticated style, each

of the hotel's floors was designed

by a different contemporary Thai

artist working within a particular

art genre such as impressionism,

surrealism, abstract art, pop art and

even a nude art theme. The ground

floor has a gallery displaying original

artworks by renowned Thai artists.

artmaigalleryhotel.com

ROCKING UP NORTH

The latest Hard Rock Café franchise recently

launched in style in Chiang Mai in the middle

of the famous tourist spot of the Night Bazaar.

Whether clients want to cool down after

sightseeing or relax after some marathon

shopping, the pub and restaurant offers an

ambience that gets visitors away from hustle

and bustle of the city. Located on Loi Kroh

Road just behind Burger King and opposite

the Le Meridien hotel, the Hard Rock Café is

a perfect spot to wind down with a signature

menu and live music.

With up to 200 seats over the three floors,

the Hard Rock Café Chiang Mai is decorated

with a signature contemporary design with

natural wood elements inspired by the northern

city's heritage. It opens from 11am to midnight.

90
---
HAPPENINGS

THAILAND

CHIANG MAI / LAMPANG

LAMPANG STROLL

A must do in Lampang is walk along the centuryold

market road known as Kad Kong Ta. Located

just near the Ratchapisek Bridge parallel to the

Wang River, the path is easily accessible for those

staying downtown. The old market street closes to

traffic on a weekend and turns into a night

market from 5 to 10pm. However, "Kad Kong Ta"

is nothing like the famous Chiang Mai's night

bazaar or Khao San Road in Bangkok as the area

combines architecture, culture, art, tradition, street

food and shopping.

The well-preserved buildings and houses

along the road were constructed in a variety of

Chinese, European and Shan architectural styles.

This area was a trading zone over 100 years ago.

Some old buildings have been tastefully renovated

into gift shops, café and guest houses.

Not to be missed on the excursion is a visit

to "Moung Ngwe Zin" building which was built

by a Burmese teak merchant of the same name

in 1908. The building is regarded as one of the

most beautiful gingerbread houses in Thailand and

won the Outstanding Architectural Conservation

Award from the Association of Siamese Architects

in 2007. The building now houses an art gallery

run by a group called Melann and the café on the

ground floor is a pleasant hangout.

On weekdays, when the vibrant market isn't

open, tourists could choose to stroll leisurely along

the two-kilometre stretch or bike along the street.

If you are a first-time visitor to Lampang, you may

try to visit the market on a horse-drawn carriage.

Enjoy the local scenery along the way!

SPOTLIGHT

Mecca of Contemporary Art

MAIIAM is fast becoming a household name whether one is an art lover or not.

The name plays with the word "mai" as in Chiang Mai province and also means

'new' in Thai. The museum opened last July with a big bang, showcasing the

first ever retrospective work of Cannes-award winning film director and multitalented

artist Apichatpong "Joe" Weerasetthakul. The exhibition entitled "The

Serenity of Madness" has travelled to many parts of the world.

Located in the San Kamphaeng district where it is known for handicraft

communities and hot springs, the 3,000-sqm converted warehouse museum

is worth a visit for every art enthusiast. The building itself is state-of-the-art,

and visually striking with its eye-catching glass mosaics. It is the first art piece

before your eyes, with a glass reflection that seems to blend in harmony with

the green surroundings. maiiam.com

92
---
HAPPENINGS

THAILAND

SAMUI

SPOTLIGHT

High on a Win

The signature view, the signature

dishes – it's hard to know what

to focus on. But then the tranquil

blue waters of Crystal Bay or Silver

Beach's waters calm you and eating

becomes a meditative process at

The Cliff restaurant. Winner of

the Top Choice Restaurant Award

for 2017, their signature dishes

include their grilled seafood platter

presented plateau style. Freshly

done on a charcoal grill, the Atlantic

lobster, King Crab legs, New Zealand

mussels, prawns and other seafood

du jour are accompanied by Spanish

rice. Another crowd favourite is

the seafood or Frutti di Mare pasta

dish, with a light creamy herb sauce

that's perfect for the tropics. From

items from the surf to turf items,

other house specialties include

grilled steaks like an Australian

T-bone or the temptingly moist

Portuguese Piri Piri Chicken.

Portugal, Spain and Italy have

served as inspiration for Chef

Sergio Martelli's extensive menu.

All dishes are done thoughtfully,

with all ingredients cooked right

and accordingly. thecliffsamui.com

MAKE IT YOUR OWN

What's the joy in life without delicious food?

Since you're holidaying in Samui, it will be the

perfect time to learn how to whip up a series

of authentic Thai cookery with local chefs – so

you can replicate these delights back home.

These following cooking classes have garnered

favourable reviews including Pai Cooking Class,

Ying's Thai Cooking Home and Lamai Thai

Cooking School. You will have a chance to know

insightful secrets – from selecting good and fresh

ingredients at markets, how to use pestle and

mortar, to preparing it like a Thai cook. All of the

chefs speak English quite well and they won't

keep Thai culinary methods a secret anymore.

paicookerysamui.com, thai-cooking-samui.com,

lamaithaicookingschool.com

SAILING INTO THE BLUE YONDER

From its birth in 2002, the Samui Regatta has

been attracting professional and amateur sailors

as well as yacht fanatics from all over the world

to this paradise island in the Gulf of Thailand.

This year, Samui Regatta 2017 takes place during

20-27 May while the 1st weekend of the race

means a comeback of youth sailing classes.

Headquartered at the Centara Grand Beach

Resort Samui, the regatta is a splendid community

event where Samui businesses ranging from

resorts, restaurants to bars are ready to deliver

their world-class hospitality to the participants and

support to Samui Regatta 2017. samuiregatta.com

94
---
HAPPENINGS

THAILAND

SPOTLIGHT

More Secrets

The Library, a concept hotel on Koh Samui has its legacy of island luxury for almost

a decade. This year, it is introducing "Secret Chapters" – the latest hotel addition

that serves as a unique alternative to The Library yet still possesses the spirit of the

perfectly fabulous hideaway. As the name indicates, the new pool villas are inspired

by an intriguing interplay of privacy and mystery, while maintaining effortless beauty

in its minimalist design. With its signature luxury and chic simplicity, Secret Chapters

promises a relaxing stay that's mysterious yet opulent – where guests can unwind.

Choices of pool villas are designed as 1 bedroom, 2 bedroom layouts, and lastly, The

Writer – a room that comes with a private library, a salt water pool and remarkably – an

outdoor cinema. thelibrary.co.th

SAMUI

TAKE ME HOME.

Fah Thai is the inflight magazine of Bangkok Airways.

It is YOUR MAGAZINE. It is distributed with our compliments

on all Bangkok Airways flights. We hope you enjoy it .

TOO MUCH BAGGAGE?

READ

We also come in a digital format.

You can read us at:

FAHTHAIMAG.COM

And feel free to send us your feedback.

Your voice is our inspiration!

ONLINE!

A FLAVOURFUL THAI HERITAGE

"Kiree" or mountain in Thai best describes the superb

location of this Thai dining gem hidden in Vana Belle, a

Luxury Collection resort on a serene cove of Chaweng Noi

beach. Boasting the picturesque scenery overlooking the

pristine beach of the Gulf of Thailand, the restaurant led

by Chef de Cuisine Nattanan Deeruang strives to mix the

original flavours of Thai cuisine together with the hot, spicy

Southern culinary heritage and a parade of fresh seafood

known to be the highlight of Koh Samui. Apart from the

word-of-mouth of diners who marvel over Kiree's unique

cuisine, the place has also reached its sumptuous landmark

when it was announced as one of Thailand Tatler's coveted

Best Restaurants of 2017, a rare recognition for restaurants

on Koh Samui's dining scene. vanabellekohsamui.com

96
---
HAPPENINGS

THAILAND

PHUKET / KRABI

SPOTLIGHT

We Gather

Here Today...

Phuket will again play international

matchmaker and bring together

business operators in the wedding

industry from around the world.

The Destination Wedding Planners

Congress (DWP) meets at the

Banyan Tree Laguna Phuket from

May 2 to 4. More than 400 delegates

from 60 countries will be in Phuket

for the major event organised by

QNA International and hosted by the

Tourism Authority of Thailand.

Benefiting are couples from all over

the world who are looking for exclusive

and high-end wedding arrangements

since Thailand is where luxury

wedding planning is in great demand

globally. The industry event is relevant

in bringing together experts in related

fields and finding potential clients.

Against a perfect background

of Phuket's sun, sand and sea, the

three-day congress offers the most

unique destinations, extravagant

accommodations, wedding suppliers

and creative partners. Expect the

presence of wedding couture designers,

photography representatives, furniture

rentals, jewellery partners, cake

designers and hoteliers to share their

experience and knowledge with one

another and lay the groundwork for

many nuptials in the future.

destinationweddingcongress.com

FLOAT ON

If you want to learn more about sea gypsies,

don't miss this rare opportunity during the Loi

Ruea Chao Le Festival (literally Floating Boats

of the Sea Gypsies). It happens on Lanta

Island only twice a year.

Usually held on the full moon night of the

sixth and eleventh months of the lunar calendar,

the festival this year will fall on May 10 and

October 5. A ritual is performed by the sea

gypsies on Lanta Island in Krabi province, as well

as those living on the seas in Phuket and Satun.

On the night of the festival, the sea gypsies

will gather, dance, and sing Rong-ngeng songs

(a southern traditional performance) around

their beautifully decorated boats, and then

float them out into the sea. It is believed that

the sea sweeps away bad luck while those

participating will receive good luck in return.

If you want to see the behind-thescenes

of the ritual, be on the island two

days before the festival. By that time,

men begin repairing their shelters in the

morning while women start making sweets

as offerings to their ancestors. On the

morning before the festival, men will go

into the forest to cut wood to make their

boats and women start to sing and dance

around the decorative boats and prepare

them to float. The afternoon before the

ceremony takes place, there will be a ritual

to make sure the boats make it to the sea,

instead of returning to the beach.

tourismthailand.com

C

M

Y

CM

MY

A RUN IN PARADISE

Runners who love the beach, get your gear and 'outfit' ready and mark your calendar for "Run Paradise"

at the Laguna Phuket Marathon. Unique for its landscape, the race loop will start at Laguna Phuket

and take participants through local villages, pineapple and rubber plantations before taking

everyone back to the starting point.

Designed as one of the most family-friendly marathons, the 12th edition of the Laguna Phuket

Marathon will be held all weekend. The 2km Kids Run (for children up to 12 years old), the 5km

community walk and 10.5km race for novices (for participants aged 13 and up) will be held on Saturday

afternoon, while the half marathon (for runners aged 16 and higher) and full marathon (for participants

aged 18 onwards) will be on Sunday morning. The 5km community walk welcomes everyone.

the naka_HPH.pdf 1 12/2/16 4:52 PM

The marathon has its own theme song

'Run Paradise,' to encourage the harmony of

runners and local communities and welcome

guests who are part of the 'good deeds'

marathon. Since 2009, part of the proceeds go

to the Laguna Phuket Foundation to support

the educational and social development of local

communities, marine and the natural environment

conservation and an emergency relief fund.

It's been over a decade since the marathon

began, gaining in popularity and drawing in

runners from around the world. Last year, about

6,000 participants from more than 60 countries

joined in the race.

June 3 and 4, phuketmarathon.com

CY

NATURAL HEALING

You haven't truly arrived in Phuket if you haven't gone to a spa. And the "sand spa" at Haad

Mai Khao is one of a kind. Unlike the original practice that involves immersion in mineral-rich

water or seawater, this one instead requires being pampered in a pool of beach sand.

The beach locally known as Haad Mai Khao is home to a mix of delicate, rough and

coarse varieties whose unique qualities have turned into quite an advantage. The locals

believe the coarser sand in the area has made it possible for healing and drawing out

toxins. By being buried in a sand pit at Haad Mai Khao, locals believe the practice could

heal joint pain and improve on any form of paralysis, gout, diabetes, or high blood

pressure. Make an appointment with Manote Saithong, Mai Khao village head,

at +66 (0) 81 895 4833.

CMY

K

98
---
HAPPENINGS

THAILAND

PATTAYA

COME SAIL AWAY

Imagine the spectacular scene of boats dotting the waters as they cruise through the ocean. The wonder of

witnessing such an event is possible at the 'Top of the Gulf Regatta,' an annual international sailing event.

This year, the event takes place from 4 to 8 May at the Ocean Marina Yacht Club on the shores of Na

Jomtien beach in Pattaya. Not only has the event received a strong interest from potentially more than 250

participating boats, a large number of spectators is also expected. Another special aspect for the event is its

presence at the largest marina in Southeast Asia, showcasing the attractive design and facilities. It's now a

perfect time to experience this vibrant beach town during one of the most celebrated international sailing

events. topofthegulfregatta.com

BEAR HUGS

Good news for teddy

bear lovers because the

Teddy Bear Museum is

already in Pattaya

and welcomes

all doll lovers to

see its irresistible

cuteness. Founded

by a young Korean

who intends to give

happiness to those

who visit his museum, the place provides

visitors with a variety of themed teddy

bear zones. In the Europe zone, you can

find a picturesque scene of Europe set

up with cute teddy bears. The Dream

zone is decorated in a fairy tale world,

and for the Inca zone, it features teddy

bears showcasing the ancient culture.

Each zone is just creatively unique and

the enticing part is that dolls are not in

a glass showcases. You can touch and

even hug the dolls as much as you want.

Definitely a perfect spot for photo-taking!

teddybearmuseumpattaya.com

SPOTLIGHT

Eat and Drive

Located inside the lobby of Siam@Pattaya at Pattaya,

the Car Bar offers a unique bar experience you won't

forget. Beautifully decorated 'cars' are converted into

dining seats and tables according to its car concept.

A variety of tasteful cocktails are served and it is

possible to sit at the bar to see how the mixologists

skillfully create the drinks. There are signature cocktails

and delicious small dishes not to be missed, such as

vegetable crudités with four types of dips, chicken satay

with peanut sauce and grilled toast, among others. The

lightness of the interior design also calls out for a fun

and energetic ambience. If you're looking for some

enjoyment and a stylish place to hang out in Pattaya,

this place would definitely be one of the best choices.

siamatpattaya.com/dining/car-bar

100
---
HAPPENINGS

HONG KONG

Siem Reap, Cambodia

SPOTLIGHT

A Station Stop

In the vast concrete buildings of Hong

Kong, dwellers seek out comfort zones.

One of these places is La Station, a

neighbourhood café smack dab in

the middle of a busy market, high-rise

businesses, and hotels in the Wan Chai

district.

What makes it stand out? Unlike

other trendy interpretations of cafés,

the design at La Station mimics a

Parisian metro stop, complete with

subway tiles and ceiling fixtures.

One of the 3 founders, Merwann

Younes explains that the design

indeed is a train station with a

Parisian-style curved wall and flip

board-like menu. They just opened

a pop-up space at the ever-popular

Duddell street to ensure a caffeine fix

for the Hong Kong crowd.

Their croissants taste like they

just came out of the oven, along

with their quiche of the day – not to

mention well-crafted coffee drinks

with a couple of secret signature ones.

Always noticeable is the camaraderie

of regular customers enjoying their

coffee in a busy neighbourhood.

Sunlight Tower, 248 Queen's Road East,

Wan Chai, facebook.com/LaStationCoffee

OH, TO OWN A WARHOL

If you're in the market to buy works

by Andy Warhol or are just a casual

art browser, the Phillips auction house

holds a public viewing of his black

and white photographs from a trip to

Asia in 1982. The "Warhol in China"

previews take place on May 25 to 28,

concluding with an auction on the

latter date. The exhibit is presented

in collaboration with the Mandarin

Oriental Hotel at 5 Connaught Road

in the Central district, where Warhol

stayed during his visit. The auction is

said to feature 'a rare opportunity to

collect works by the master of Pop

starting at HK$50,000.'

Photos taken by the American

artist at the Great Wall show a more

relaxed Warhol. Already we see how

the photographs reflect his iconic

interpretations, such as that of a

banana on a dining table or his series

of photos in a frame. Around 45 lots

are up for bids.

The auction house describes the

photographs as Warhol's intimate

interpretation and experience of

Hong Kong and Mainland China. The

auction house states that 'after 35

years, it is an honour to bring this

collection back to the region from

where it originated.' For additional

information about the exhibition and

related events in Hong Kong, visit

Mandarin Oriental, Hong Kong to learn

more. Auction 28 May 2017 6pm

HKTMandarin Oriental

Courtyard Suite (1-BR)

Minutes away from Airport, City Centre, Angkor Wat

All Units with a Private Pool, an Outdoor Deck,

Lush Greenery

Ideal for Retreat, Relaxation, Resort, Retirement

Freehold Foreign Ownership available (Terms & Conditions Apply)

Garden Loft Duplex (3-BR)

Another Prestigious Project By:

For more information, visit

www.lesbijouxdangkor.com

or call (+65) 6570 0002 / (+65) 9116 3551

102

DISCLAIMER

While every reasonable care has been taken in preparing this advertisement, the developer and its agent(s) cannot be held responsible for any inaccuracies or omissions. All statements are believed to be correct but shall not be regarded as statements or representations of fact. All information and specifications

are current at the time of printing and subject to changes as may be required. The information, specifications and statements herein shall not be treated to form part of an offer or contract. Floor plans are subject to amendments as may be required by the relevant government authorities. Models, drawings,

photographs, renderings and illustrations, not limited to landscape and furniture, are artist's impressions only and cannot be regarded as representations of fact. Floor areas and measurements are approximate only and are subject to final survey. The Sale and Purchase Agreement shall form the entire

agreement between the developer and the purchaser, and shall supersede all statements, representations or promise made prior to the signing of the Sale and Purchase Agreement and shall in no way be modified by any statements, representations or promises made by the developer or the developer's agents.
---
HAPPENINGS

HONG KONG

SPOTLIGHT

Loveramics

Styles

CLIMB EVERY BUN

Trade in the posh skyline of Hong Kong for the

more idyllic setting of nearby island Cheung Chau.

The annual Cheung Chau Bun Festival is a

colourful celebration held normally in May and

provides an unusual and fun backdrop for many

things bun-related. Hong Kong residents and

visitors flock to the small fishing island of Cheung

Chau to eat buns and witness man versus bun

in a climbing contest. The main highlight here

features the island's iconic event, but beaches

and short hikes to catch some splendid views

would all be in store.

If you'd like to take a

piece of Hong Kong

away with you, there's

Loveramics, a local

lifestyle concept store.

The quality ceramics are

made with traditional

methods but with a

modern touch to their

designs. The name

originated from owner

William Lee's passion

for ceramics. For mug

collectors, the "We Love

Mugs" series feature

local artists creating

designs depicting a

wistful Hong Kong

skyline along with other

major cities. The iconic

blue and white Willow

collection immortalise

the love story in familiar

designs but with more

contemporary lines.

In the dinnerware set,

the salad plates tell

the love story with

different scenes of

the Chinese ill-fated

romance. Loveramics

also makes kitchen

prep tools and home

items, and offers

workshops to make

personal ceramics

design a more

accessible activity for

the public.

Lee wanted

beautiful and

modern tableware

as an option to

consumer choices

that he thought

too mainstream or

formal for everyday

use. He said, "We felt

there were very few

modern, affordable

ceramics out there

and because we

couldn't find anything

we liked, we decided

to make it ourselves!"

G/F, 97 Leighton Road,

Causeway Bay,

loveramics.com,

+852 2915 8018

SCRAMBLED BEST

It may give itself an Australian reference, but

this place is as local as you can get for a cha

chaan teng, or 'tea house.' For a true Hong Kong

tradition – the place has been opened for decades

– savour morning comfort food or a snack.

People queue mid-morning for the local bowl of

macaroni soup or what many consider to be the

best scrambled eggs around served with thick

slices of buttered toast. They're also known for

their steamed milk pudding, and proudly display

the milk used in making it. While the eggs gleam

with richness, you'll also receive brusque service

in this very busy place. Grumpy, swift, and abrupt

service gives it an added character to this very

local experience. And add an order of milk tea.

Australia Dairy Company, 47 Parkes Street, opens

daily (except Thu) 7:30am – 11pm

Nearest Station: Jordan

It's a stop less than a 10 minute walk from

the Ferry Pier to Pak Tai Temple, the centre

of the celebrations during the annual festival.

Many signs point the way so you can find it

quite easily. It's a beautiful temple, with lavishly

decorated exteriors along with stone carvings

and colourful sculptures. Just outside the Pak

Tai Temple, steamed or sweet or "blessed" buns

cover 18 metre tall bamboo and metal structures.

At midnight, on the final night of the festival, in

an event known as the Bun Scramble, athletes try

their best to climb up the bun towers and gather

more buns than their opponents. The Cheung

Chau Bun Festival began as a fun and exciting

ritual for fishing communities to pray for safety

from pirates. May 3

104
---
HAPPENINGS

SINGAPORE

SPOTLIGHT

Ultra Singapore

The wave of ULTRA Music Festival

(UMF) hit the shores of Singapore

in 2015, when the folks behind UMF

decided to find out how hot electronic

dance music (EDM) was on the island.

A single-stage indoor mini-event,

'Road to ULTRA Singapore', was born

and the event burnt out of its 11,000

tickets just 21 minutes into early bird

sales. The quick ticket sale instantly

paved the road for Singapore to go

full-scale ULTRA.

This year's ULTRA Singapore

will touch down on the weekend of

June 10 and 11. The music festival

dedicated to the best of electronic

dance music, featuring top-notch

electronic, house and techno acts

will take place at ULTRA Park,

adjacent to the Marina Bay Sands

Tower 1.

The festival starts at noon and

will run until 10:30pm each day.

ULTRA Singapore will feature 3

stages – the Main Stage, the Live

Stage, and the Resistance Stage.

Singapore was the third country

to host an ULTRA Live stage,

following ULTRA Music Festival

in Miami and ULTRA Korea.

Headliners include EDM

behemoths Steve Aoki, Hardwell,

Tiesto, Nicky Romeo and Dash Berlin.

The line-up includes DJ Don Diablo,

techno act Dubfire and Steve Angello.

The Resistance and Live stages include

sets by KSHMR and Pendulum.

Inside the venue DSLR cameras,

other professional recording

equipment, selfie sticks and monopods

are strictly prohibited. Camera phones,

GoPros and compact cameras are

allowed on the festival grounds.

ultrasingapore.com

THE GREAT SINGAPORE SALE

There's no better time to shop than during the

Great Singapore Sale – Singapore's biggest sale

of the year. Known to Singaporeans as the GSS,

this annual sale season is a true highlight for any

shopaholic worth their salt. Even shops in the

suburban areas join in and the entire island is

transformed into a shopping paradise.

The ten-week event has grown into an eagerly

awaited event for both tourists and locals alike.

From heartland areas to cultural enclaves and

Orchard Road, it is not for the weak-hearted and

will not disappoint shopping fiends.

Experience fabulous shopping and enjoy

great deals on just about everything, everywhere –

from fashion to watches, jewellery, electronics,

toys and more. Even spa treatments, hotel

stays and local attractions have their prices

dropped all over Singapore. Besides shopping,

this is also the perfect time to indulge in other

delectable offers and promotions, from dining

to beauty and wellness.

Shopping destinations to keep an eye

out for include the glitzy Orchard Road belt,

with its stellar line-up of designer brands, fast

fashion labels and massive malls. Also enjoy

Kampong Glam, Chinatown and Little India.

June to August, yoursingapore.com

SUPER FLAVOUR

Food lovers will be overjoyed with a

variety of food at the annual Savour

Food Festival in Singapore. Bring

your friends and family to explore

the delicious event and make sure

to bring a big appetite on a culinary

journey best loved by foodies.

Renowned international chefs

and Singapore's favourite local

restaurateurs are more than ready

to give all food enthusiasts an

unmatched gastronomic experience.

Big names that have made

appearances at Savour include

Australia's Mark

Best, Hong Kong Michelin maestro

Alvin Leung and French chef Alain

Passard. Local culinary artists include

Bjorn Shen of artichoke, a funky

Middle Eastern restaurant in the

heart of Singapore's arts district,

Malcolm Lee of Candlenut, the

world's first Michelinstarred

Peranakan

restaurant, and banker and

self-taught chef Han Liguang.

12-15 May, savour.online

DRAGON BOAT FEST

Pounding drumbeats and scrumptious dumplings are the secret formulas that

make the Dragon Boat Festival one of the most loved festival in Singapore.

The Dragon Boat Festival or Duanwu Festival is a traditional holiday

originating in China. The festival is also known as Zhongxiao Festival which

literally means Loyalty and Filial Piety festival.

To complete the festive day, people eat zongzi or zhang, the triangular

glutinous rice dumplings with a variety of fillings wrapped in bamboo or other

flat leaves. 30 May

106
---
HAPPENINGS

MALAYSIA

KUALA LUMPUR

MYANMAR

YANGON / MANDALAY

SPOTLIGHT

Reach for the Sky

Sky Bar & Restaurant at the top of

the Ayarwaddy River View Hotel in

Mandalay was once named one of

the world's best rooftop bars in Asia

by readers of the UK newspaper, The

Guardian. Its location close to the bank

of Ayarwaddy River is determined

as one of the best spots in Mandalay

to watch the breathtaking sunset

reflected in the river. As you feast your

eyes and soul, choose a favourite cocktail

from a selection from more than 50

different types offered. Happy hour

starts from 5:30pm to 6:30pm with

free-flowing cocktails. After the sunset,

you can continue enjoy the fine dining

on the rooftop and watch the Myanmar

traditional puppet show to perfectly

finish off your day in Mandalay.

Opens daily, +95 2 64945-7

SPOTLIGHT

Towerthon Race, Anyone?

Prepare for one of the most challenging run in the world because KL Tower International Towerthon Challenge is about

to challenge all hard-core runners again this year. The event will be held on 14 May 2017 at Menara Tower, one of the

iconic landmarks in Kuala Lumpur. This is one of the celebrated running events held annually where approximately 5,000

participants race up the tower stairs to the top with a total of 2,058 steps. If you are physically fit and mentally strong,

please feel free to challenge yourself at the 7th tallest building in the world. Prizes will be given to those who are the

strongest! But if you're not ready for it yet, it would be more fun just to watch this physically demanding running race

instead. menarakl.com.ky

ARTISTS' ALLEYS

Meet the new hip and art place of Kuala Lumpur city at Petaling Jaya SS2. There, you will find

a lot of creative art murals hidden in the alleyways, waiting to be found. Originally, they were

a part of the "Best Nya Malaysia" wall art competition which was organised in the hope to revive

commercial retail lanes and attract local artists to participate in the art initiative. Participants

were required to submit their artwork concepts. Then the finalists were selected and had to

put their works in the chosen lanes within the given time. The best part is that there's even

a description accompanying each art mural so that people can understand their concepts.

These amazingly wonderful art works are increasingly attracting more visitors, and this

commercial area has turned into a new photography spot art lovers should not miss.

facebook.com/StreetArtMalaysia/

FOR THE LOVE OF COFFEE

The first Malaysia Coffee Fest is about to take place in Kuala

Lumpur from 5-7 May 2017 at the iconic Kuala Lumpur

Convention Centre (KLCC). Since the coffee industry has seen a

significant growth in recent years, the event is held in the hope to

bring together all top class baristas, artisan roasters, independent

coffee shops, coffee lovers and more, creating the most vibrant

coffee scene in Malaysia. It is going to be the event all coffee

lovers could ever ask for, with a comforting ambience, surrounded

by everyone's passion and love for coffee and establishing a

welcoming like-minded community where everyone can enjoy.

mycoffeefest.com.my

EASE YOUR DAY AND GET COSY

After its grand opening in March, the Atlas Rooftop Bar & Lounge has

swiftly become Yangon's favourite rooftop bar. Located on the 12th floor

of the Uniteam Marine Tower on Pan Hlaing Street, this place offers

all you need to spend a nice and relaxing evening. You can enjoy the

stunning sunset panoramic cityscape of Yangon and a spectacular view of

the Shwedagon Pagoda while in a perfect lounging atmosphere. Soft jazz

music and cool breezes from the riverside make it a perfect place to hang

out and carry on the conversations while sipping cocktails and enjoying

the newly created Signature Hot Dog with Truffle Mayonnaise and Celery

Leaves and some other small bites. Opens from 5:30pm – 12:30am (Wed-

Sun), +95 9 767 419413

A GEM OF AN ENVOY

Set amidst old colonial-style buildings on Bo Aung Kyaw Street, one finds

The Envoy Restaurant & Bar. It might not look outstanding from the outside

but this is a hidden gem in the old town area of Yangon. The small entrance

connects you into the roomy two-level space which is well-decorated in a

vintage modern style. Gentle evening breezes fan the exquisite outdoors

balcony and tasty European and Asian cuisine with a menu of signature

cocktails are served by the well-trained staff. The Envoy Restaurant & Bar

never fails to fascinate outdoor dining lovers. For those who enjoy music,

apart from the house music performed by the city's well-known DJ, live jazz

music is also available on Saturdays. Since March, lunch is also available daily

from 11am to 3pm. Advance booking is recommended, especially for the

outdoor area. Opens daily from 11:00am – 12:00am, +95 1 380 362

108

109
---
HAPPENINGS

VIETNAM / LAOS / CAMBODIA

HO CHI MINH / LUANG PRABANG / PHNOM PENH

SPOTLIGHT

Night Sky Revels

A BANG FOR RAIN

The folks in Luang Prabang, the former royal capital of Laos, as well as

those in northeastern Thailand, look skyward in May. The riverside

town will be celebrating the rocket festival, or Boun Bang Fai, marking

the growing season. Held around the May full moon, the annual

festival sees locals fire home-made rockets made of bamboo and

plastic tubes into the clear blue skies in an homage to the heavens.

The furiously flying rocket, says a Laotian legend, is a reminder

to the Rain God that the time has come to deliver downpours to

aid the growing season.

A few days before the launch day, the locals leave their

routine work behind, and head to the temples for rocket making.

Apparently, the folks of Luang Prabang don't need quantum physics

to make their rockets fly into the blue sky. Led by local monks, who

seem to have the formula, these rural engineers put gunpowder

inside a long pipe. The secret lies in how to make the rocket fly

high – instead of going backwards. Out there, on the empty rice

fields of Luang Prabang, the crowds will gather for the best show

in a rocket launch. The smaller rockets shoot upwards in a fancier

manner while the large ones look too threateningly big to fly. But looks

and a paint job are not the main deal with the "bang fai". The secret

lies in how to make the rockets fly high and in the right direction.

The higher the rockets go, say the locals, the more rain will come.

Ho Chi Minh rooftops will forever be remembered for the iconic images at the

end of the Vietnam War. American helicopters frantically evacuated people in

the chaotic final days. Before the war's end, journalists, secret agents and their

facilitators hung out at the Rex Hotel rooftop. Four decades later, at a different

rooftop, one of the city's busiest rooftops buzz not with helicopters but with

revellers. The Chill Skybar on the top of AB Tower provides hipsters, artists, young

entrepreneurs and beautiful people a panoramic view of Ho Chi Minh's skyline.

Check out the outdoor bar for the view and Ho Chi Minh skyline. The city glows

in the dark, as you nurse a drink in hand. As the view is breath-taking with the

city lights twinkling below, party-goers are advised to book ahead and dress to

impress. 26th Floor AB Tower, District 1, Ho Chi Minh City, chillsaigon.com,

+84 93 882 28 38

OXEN PREDICTION

Bowls of rice, corn, sesame seeds,

beans, grass, water and wine will be

offered to sacred oxen at Veal Preahmein

Square in Phnom Penh on May 14, as

Cambodians break ground on the Royal

Ploughing Ceremony. Preah Reach Pithi

Chrort Preah Neang Korl, as The Royal

Ploughing Ceremony is known in the

Khmer language, is traditionally held every

year in May to mark the beginning of the

agricultural production and rainy season.

The Royal Ploughing Ceremony has

been observed for many centuries at the

initiative of an earlier Khmer king who had

paid great attention to farming conditions

of the people. A practice at the end of a

symbolic ploughing procession before His

Majesty the late King Norodom Sihanouk,

the royal oxen were relieved of their

harnesses and led to seven golden trays

containing rice, corn, sesame seeds, beans,

grass, water and wine to feed. Depending

on what the oxen eat, soothsayers will

make a prediction on whether the coming

growing season will be bountiful or not.

Visitors can enjoy the ceremony by going

to Veal Preahmein Square. The ceremony

is also celebrated in Thailand and Laos.

110
---
HAPPENINGS

INDIA

MUMBAI

HAPPENINGS

MALDIVES

SPOTLIGHT

To Dine in Indigo

Nestled in a quiet lane of southern Mumbai, Indigo has been long the choice of

celebrities, politicians and Mumbai's bigwigs for almost 20 years. Indigo is a

handsome mix of good, old charming colonial bungalow and European cuisine.

Back then in 1999 two famous architects, Bijoy and Priya Jain, transformed

the old colonial bungalow into a beautiful restaurant. Indigo features gorgeous

interiors with big pillar candles lit across the old-fashioned windows. The interiors

feature five different dining spaces, each identified by the colour they host. The

colours in the three rooms below are yellow, crimson and blue, while the section

above features a terrace dining setting adjacent to the private dining room tinted in

burgundy with velvet furniture and a private bar for intimate gatherings.

4 Mandlik Road, Colaba, Mumbai, email: info@foodindigo.com, +91 22 6636 8981

COUTURE ENSEMBLE

Fashion editors, stylists and celebrities

(such as Jemima Khan and Naomi

Campbell) flock to Ensemble – an

extravagant multi-designer showroom

– in Mumbai for India's home-grown

fashion and stylish garments. Run and

curated by Tarun Tahiliani and Tina

Tahiliani Parikh, who are big deals in

the fashion circle, Ensemble creates

and translates India's extraordinary and

ancient legacy in colour, print, embroidery

and weaves them into a modern context.

The couture pieces, with glorious details

and feel-me fabrics, are a hit with

Indian brides and sit alongside clothes

by India high-profile fashion designers

Manish Malhotra and Monisha Jaising.

ensembleindia.com

A LIFESTYLE CARAVAN

By popular demand, Designers Caravan

– Lifestyle & Wedding Exhibition will

be returning for its second edition at

JW Marriott Hotel Mumbai on June

9. Designers Caravan is a super setup

for all fashionistas and showstoppers.

Splurge on the finest ethnic, indowestern

wear, jewellery, wedding

exclusives, décor and lifestyle products

and accessories. Explore and reap

some great deals from the city's most

talented exhibitors. You can't get

a better shopping deal for the day.

futuristicexpo.com

SPOTLIGHT

Castaway Paradise

The name Soneva has always been associated with a commitment to sustainability, excellent hospitality

and a simply elegant atmosphere in the world of luxury hotels. This time, the Island Reserve Villa from

Soneva Jani levels its luxurious signature one step further by offering a unique castaway experience – think

Robinson Crusoe going jetsetter in the middle of the splendid Indian Ocean. Embracing a much needed

escape to the land of clear blue waters and a beach paradise, guests can enjoy a customised stay in the bliss

of pure luxury with Mister or Miss Friday as their private butler.

soneva.com/soneva-jani

LA DOLCE VITA ON THE INDIAN OCEAN

As an ideal destination for world class holidays in paradise, the Maldives is never short on

luxurious resorts and hotels. Located on the pristine Ookolhufinolhu island, Cocoon Maldives

stands out with its blend of sleek and confident Italian design coupled with the feel of holiday

bliss. Curated by Daniele Lago of the LAGO design firm, Cocoon Maldives boasts 150 suites

and villas surrounded by clear blue waters and unspoiled nature. As a plus, Lago re-interprets

the relaxing, carefree vibe of an island paradise as seen in the light colours of the furniture

crafted from glass and oak.

At Baglioni Resort Maldives, the resort showcases a paradise

with Italian grace. Ninety-six villas complete with facilities and

a 24-hour on call staff delivers the best holiday experience ever on

idyllic Maagau Island. Surrounded by unspoiled nature and pristine

white sand, guests can indulge in cherished solitude while enjoying

their stay in this shoes-off, no-rush resort with excellent Italian-style

hospitality and superb comfort. cocoonmaldives.com,

baglionihotels.com/category/baglioni-resort-maldives

112

113
---
BANGKOK AIRWAYS NEWS 116 / FLYERBONUS 121 / ROUTE MAP 124 / AIRCRAFT INFO 128 / AIRPORT MAP 129

115
---
BANGKOK AIRWAYS NEWS

BANGKOK AIRWAYS ANNOUNCES OPERATING RESULTS 2016

AND BUSINESS OUTLOOK FOR 2017

Mr. Varong Israsena Na Ayudhya, Vice President-Sales (2nd from left), Mr. Puttipong Prasarttong-Osoth, President

(3rd from left) and Mr. Prote Setsuwan, Vice President-Marketing (4th from left) proudly announced Bangkok

Airways' last year's operating results and this year's business outlook

Bangkok Airways PCL headed by

the airline's executives, Mr. Puttipong

Prasarttong-Osoth, President, Mr. Prote

Setsuwan, Vice President-Marketing,

and Mr. Varong Israsena Na Ayudhya,

Vice President-Sales, jointly announced

the company's operating results of 2016

and business outlook for 2017 at the

Grand Ballroom 2, InterContinental

Hotel, Bangkok.

Mr. Puttipong Prasarttong-Osoth

commented that, "In 2016, total revenue

of the company was 26,765.8 million

baht, increased by 7.5 per cent from the

previous year. Net profit before income

tax expenses was reported amounting to

2,776.4 million baht. The total number of

passengers in 2016 was 5.6 million

passengers, increasing by 9.5 per cent

from the previous year. In 2017, the

number of passengers is expected to

grow 12 to 13 per cent. The passenger

load factor in 2017 is expected to be

at 72 per cent in which passenger load

factor in 2016 was at 69 per cent.

As for our 2017 business outlook

and direction, we will still focus on

expanding our network throughout Asia.

We will further utilise our strategic flying

hubs which are Bangkok (Suvarnabhumi),

Samui and Chiang Mai by offering new

non-stop services from these airports to

some high potential destinations in Asia

such as Chiang Mai-Vientiane (Lao PDR),

Chiang Mai-Bagan (Myanmar), Bangkok-

Nakhon Ratchasima, Bangkok-Phu Quoc

(Vietnam), however, these routes are still

being approved by the local authorities."

Mr. Prote Setsuwan, Vice President-

Marketing, revealed in his marketing

directions for 2017 that the airline will

continue exercising the Sports Marketing

strategy in order to strengthen brand

awareness with connections to sports

fans. The activities include running

races, - Bangkok Airways Boutique

Series 2017, the golf tournament, – the

Queen's Cup Bangkok Airways – SAT

Golf Tournament 2017, the cycling race,

– the Bangkok Airways Boutique Cycling

Tour powered by OCTO to name a few.

Mr. Varong Israsena Na Ayudhya –

Vice President-Sales, revealed his 2017

sales plan that Bangkok Airways will

concentrate on destinations of Cambodia,

Myanmar, Laos and Vietnam and launch

special-fare promotions for domestic

routes year-round, for examples, the

Magical New Year Journey and the

Lovely Journey to name a couple.

บริษัท การบินกรุงเทพ จำกัด (มหาชน) หรือ สายการ

บินบางกอกแอร์เวย์ส นำโดย นายพุฒิพงศ์ ปราสาท

ทองโอสถ กรรมการผู้อำนวยการใหญ่ นายพรต เสต

สุวรรณ รองกรรมการผู้อำนวยการใหญ่ ส่วนการ

ตลาด และ นายวรงค์ อิศรเสนา ณ อยุธยา รอง

กรรมการผู้อำนวยการใหญ่ ส่วนขาย จัดงานแถลง

ข่าว "ผลประกอบการปี 2559 และทิศทางการดำเนิน

ธุรกิจปี 2560 ของสายการบินบางกอกแอร์เวย์ส" ณ

ห้องแกรนด์บอลรูม 2 โรงแรมอินเตอร์คอนติเนนตัล

กรุงเทพฯ

นายพุฒิพงศ์ ปราสาททองโอสถ เปิดเผยว่า

"ผลการดำเนินธุรกิจของบริษัทฯ ในปี 2559 ที่ผ่าน

มา บริษัทฯ มีรายได้รวมอยู่ที่ 26,765.8 ล้านบาท

เพิ่มขึ้นร้อยละ 7.5 เมื่อเทียบกับปี 2558 โดยปี 2559

บริษัทฯ มีกำไรก่อนค่าใช้จ่ายทางภาษีเท่ากับ

2,776.4 ล้านบาท อัตราการเติบโตของผู้โดยสารปี

2559 อยู่ที่ร้อยละ 9.5 โดยมีจำนวนผู้โดยสารในปี

2559 ทั้งสิ้น 5.6 ล้านคน คาดว่าในปี 2560 อัตรา

ผู้โดยสารจะเพิ่มขึ้นร้อยละ 12-13

"สำหรับแผนการดำเนินธุรกิจปี 2560 นี้ บริษัทฯ

จะยังคงเน้นการขยายโครงข่ายเส้นทางการบิน โดยใช้

กรุงเทพฯ (สุวรรณภูมิ) สมุย และเชียงใหม่ เป็น

ศูนย์กลางทางการบิน เพื่อให้ครอบคลุมเส้นทางการ

เดินทางไปยังเมืองสำคัญหรือแหล่งท่องเที่ยวยอด

นิยมของภูมิภาคเอเชีย โดยมีแผนจะเปิดในเส้นทาง

ต่างๆ เช่น เชียงใหม่-เวียงจันทน์ (สปป.ลาว)

เชียงใหม่-พุกาม (เมียนมาร์) กรุงเทพฯ-นครราชสีมา

กรุงเทพฯ-ฟู้ก๊วก (เวียดนาม) (เส้นทางเหล่านี้อยู่

ระหว่างการขออนุมัติจากหน่วยงานราชการของแต่ละ

ประเทศ)"

ด้านนายพรต เสตสุวรรณ รองกรรมการผู้

อำนวยการใหญ่ ส่วนการตลาด เผยถึงแผนการ

ตลาดปี 2560 ว่า "จะใช้กลยุทธ์สร้างแบรนด์ให้เข้มแข็ง

และเป็นที่รับรู้มากขึ้นผ่านการจัดกิจกรรมในเชิงกีฬา

อาทิ รายการวิ่ง "Bangkok Airways Boutique

Series 2017" การแข่งขันกอล์ฟเอเชี่ยนทัวร์รายการ

ควีนส์คัพ บางกอกแอร์เวย์ส – เอสเอที สมุย กอล์ฟ

ทัวร์นาเมนต์ 2560 และรายการ "Bangkok Airways

Boutique Cycling Tour Powered by OCTO เป็นต้น"

ส่วนแผนการขายปี 2560 นั้น นายวรงค์

อิศรเสนา ณ อยธุยา รองกรรมการผู้อำนวยการ

ใหญ่ส่วนขาย เปิดเผยว่า "บางกอกแอร์เวย์ส จะยัง

คงมุ่งเน้นการกระตุ้นการขายในกลุ่มประเทศ

กัมพูชา เมียนมาร์ สปป.ลาว และเวียดนาม รวมทั้ง

ออกโปรโมชั่นบัตรโดยสารราคาพิเศษภายในประเทศ

ตลอดปีนี้ อาทิ โปรโมชั่นเที่ยวปีไก่ไปไหนก็ชิค

โปรโมชั่นอัศจรรย์ปีใหม่ไปไหนก็แฮปปี้ โปรโมชั่น

รักล้นใจไปกับ PG เป็นต้น"

BANGKOK AIRWAYS, THE FIRST

AIRLINE IN THAILAND TO

RECEIVE THE NEW AIR OPERATION

CERTIFICATE (AOC) FROM

THE CIVIL AVIATION AUTHORITY

OF THAILAND

Bangkok Airways Public Company Limited led by Mr. Puttipong Prasarttong-Osoth,

President (2nd from right) receives the new Air Operation

Certificate (AOC) from Dr. Chula Sukmanop, Director General of the

Civil Aviation Authority of Thailand (2nd from left) at the Vibhavadi Room,

Laksi Plaza, Bangkok. The event was attended by many distinguished guests

including Mr. Arkhom Termpittayapaisith, Minister of Transport (Centre)

and Dr. Prasert Prasarttong-Osoth, Chief Executive Officer of Bangkok

Airways (3rd from right) and Mr. Ben Alcott, International Director of the

UK Civil Aviation Authority (3rd from left).

Mr. Puttipong Prasarttong-Osoth, President of Bangkok Airways

PCL stated, "At Bangkok Airways, safety is the very core of our

value offer to our customers, our partners in the industry and our

employees. After reviewing and examining our safety standards by

the Civil Aviation Authority of Thailand since September 12, 2016, we

managed to pass all five steps of inspections and measurements and

become the first airline in Thailand to receive this new air operation

certificate. Receiving this certificate demonstrates that Bangkok

Airways' operational management and control systems are rising up to

the highest standards and is internationally recognised – which also

aligns with our safety mission – that is to continually maintain worldwide

industry international safety standards.

We would also like to express our sincere thanks to all participating

parties, especially the Ministry of Transport and the Civil Authority of

Thailand who are working very hard in improving the level of Thai aviation

safety standards," added Mr. Puttipong.

บริษัท การบินกรุงเทพ จ ำกัด (มหาชน) หรือ สายการบินบางกอก

แอร์เวย์ส ได้ผ่านขั ้นตอนสุดท้ายของการตรวจสอบและได้

รับใบรับรองผู้ดำเนินการเดินอากาศใหม่ตามมาตรฐาน

องค์กรการบินพลเรือนระหว่างประเทศ หรือ ICAO จาก

สำนักงานการบินพลเรือนแห่งประเทศไทย (กพท.) โดยมี

นายพุฒิพงศ์ ปราสาททองโอสถ กรรมการผู้อำนวยการ

ใหญ่ (ที่ 2 จากขวา) เข้ารับมอบใบรับรองผู้ดำเนินการเดิน

อากาศจาก นายจุฬา สุขมานพ ผู้อำนวยการสำนักงาน

การบินพลเรือนแห่งประเทศไทย (ที่ 2 จากซ้าย) และมีนาย

อาคม เติมพิทยาไพสิฐ รัฐมนตรีว่าการกระทรวงคมนาคม

(กลาง) เข้าร่วมเป็นประธาน และ นายแพทย์ปราเสริฐ

ปราสาททองโอสถ ประธานคณะผู้บริหาร สายการบิน

บางกอกแอร์เวย์ส (ที่ 3 จากขวา) และ มร. เบ็น อัลค็อท

ผู้อำนวยการสำนักงานการบินพลเรือนแห่งประเทศอังกฤษ

(ที่ 3 จากซ้าย) ให้เกียรติมาร่วมงาน ณ ห้องวิภาวดี อาคาร

หลักสี่พลาซ่า กรุงเทพฯ

นายพุฒิพงศ์ ปราสาททองโอสถ กรรมการผู้อำนวย

การใหญ่สายการบินบางกอกแอร์เวย์ส กล่าวว่า "ตลอด

ระยะเวลาในการดำเนินธุรกิจการบิน บางกอกแอร์เวย์ส

มุ่งมั่นที่จะให้บริการโดยคำนึงถึงความปลอดภัยสูงสุดของ

ผู้โดยสาร รวมถึงพนักงานผู้ปฏิบัติหน้าที่และผู้ที่

เกี่ยวข้องในการปฏิบัติการบิน โดยหลังจากที่ กพท. ได้

ดำเนินการตรวจประเมินสายการบินฯ ในด้านมาตรฐาน

ความปลอดภัยทางการบินมาตั้งแต่ 12 กันยายน 2559

ทางสายการบินบางกอกแอร์เวย์สและพนักงานผู้ปฏิบัติ

งานก็ให้ความร่วมมือในการตรวจสอบและแก้ไขในราย

ละเอียดของการดำเนินงานทุกอย่างเพื่อให้เป็นไปตาม

มาตรฐานความปลอดภัยทุกประการ จนมาในวันนี้ สาย

การบินบางกอกแอร์เวย์ส ได้ผ่านการตรวจประเมินครบ

ทุก 5 ขั้นตอนและได้รับใบรับรองผู้ดำเนินการเดินอากาศ

ใหม่ตามมาตรฐานขององค์การการบินพลเรือนระหว่าง

ประเทศ หรือ ICAO เป็นสายการบินแรกในประเทศไทย"

"ทางบริษัทฯ จึงใคร่ขอขอบคุณทุกภาคส่วนที่เกี่ยวข้อง

โดยเฉพาะอย่างยิ่ง กระทรวงคมนาคมและสำนักงานการ

บินพลเรือนแห่งประเทศไทย ที่มีความตั้งใจในสร้าง

มาตรฐานทางการบินของประเทศไทยเพื่อให้เป็นไปตาม

มาตรฐานของ ICAO ซึ่งเป็นมาตรฐานระดับสากล และ

ขอบคุณผู้บริหารและพนักงานทุกคนของบริษัทฯ ที่ให้

ความร่วมมือในการบริหารงานและปฏิบัติงานตาม

มาตรฐานความปลอดภัยจนทำให้เราได้รับใบรับรองผู้

ดำเนินการเดินอากาศใหม่ตามมาตรฐาน ICAO เป็นสาย

การบินแรกของประเทศไทย" นายพุฒิพงศ์ กล่าวเสริม

116

117
---
BANGKOK AIRWAYS NEWS

สายการบินบางกอกแอร์เวย์ส โดยนายกฤตธกร สิรภาพจน์ ผู้อำนวยการอาวุโสส่วนสื่อสาร

การตลาด และบริษัท ทีละก้าว จำกัด โดยนายพีรดนย์ สุขสวัสดิ์ ผู้อำนวยการการแข่งขันร่วมกัน

จัดงานแถลงข่าวเปิดตัวรายการวิ่ง "Bangkok Airways Boutique Series 2017" ซึ่งเป็นการ

จัดแข่งขันวิ่งครั้งแรกของสายการบินฯ โดยมีทั้งหมด 6 รายการตลอดปี 2560 พร้อมเปิดตัว

แบรนด์แอมบาสเดอร์ของรายการฯ โดยมีนายณัฐ ศักดาทร นักร้อง นักแสดงร่วมงาน ณ ลาน

คริสตัล คอร์ท ศูนย์การค้าสยามพารากอน

นายกฤตธกร สิรภาพจน์ ผู้อำนวยการอาวุโส ส่วนสื่อสารการตลาด สายการบินบางกอกแอร์เวย์ส

กล่าวถึงที่มาของการจัดรายการวิ่ง "Bangkok Airways Boutique Series 2017" ว่า "การท่องเที่ยว

เพื่อการกีฬาเป็นกระแสที่กำลังได้รับความนิยม และ

บางกอกแอร์เวย์สก็ส่งเสริมการท่องเที่ยวเชิงกีฬา (Sport

Tourism) มาโดยตลอด เรามองว่าการวิ่งเป็นกีฬา

ที่ได้รับความนิยมสูง เดินทางไปเที่ยวไหนก็สามารถทำได้

และเมืองไทยก็มีแหล่งท่องเที่ยวที่สวยงามและมีเสน่ห์เหมาะ

แก่การวิ่ง รายการวิ่ง "Bangkok Airways Boutique

Series 2017" จึงเกิดขึ้นใน 6 เส้นทางบินของสายการบินฯ

คือ ตราด (เกาะช้าง) เกาะสมุย ภูเก็ต เชียงราย เชียงใหม่

และแม่ฮ่องสอน โดยเราได้ร่วมมือกับบริษัท ทีละก้าว จำกัด

ซึ่งเป็นมืออาชีพในการจัดการแข่งขันวิ่ง มาช่วยออกแบบ

รายการ เพื่อให้ไม่เหมือนใครและเป็นบูธีคในแบบฉบับ

ของบางกอกแอร์เวย์ส"

สำหรับโปรแกรมรายการวิ่งทั้ง 6 รายการนั้น ได้เริ่มจาก

รายการวิ่ง "อัลตร้า เทรล อันซีน เกาะช้าง" ที่เกาะช้าง จังหวัด

ตราด ระหว่างวันที่ 17-18 กุมภาพันธ์ 2560 รายการวิ่ง

"สมุยมาราธอน" ที่เกาะสมุย จังหวัดสุราษฎร์ธานีในวันที่ 25

มิถุนายน 2560 รายการวิ่ง "ภูเก็ตมาราธอน" ที่จังหวัดภูเก็ต

ในวันที่ 6 สิงหาคม 2560 รายการวิ่ง "เชียงรายมาราธอน"

ที่จังหวัดเชียงราย ในวันที่ 24 กันยายน 2560 รายการวิ่ง

"ล้านนามาราธอน" ที่จังหวัดเชียงใหม่ในวันที่ 19 พฤศจิกายน

2560 และรายการวิ่ง "อัลตร้า เทรล พาโนรามิก" ที่จังหวัด

แม่ฮ่องสอน ระหว่างวันที่ 8-10 ธันวาคม 2560

สำหรับผู้ที่สนใจสามารถสอบถามรายละเอียดเพิ่มเติม

หรือสมัครเข้าร่วมรายการที่สนใจได้ที่ Call Centre

095 736 3066 หรืออีเมล info@teelakow.com

"BANGKOK AIRWAYS BOUTIQUE SERIES 2017 "

6 RUNNING RACES IN 6 BEAUTIFUL DESTINATIONS

ACROSS THAILAND

Bangkok Airways Public Company Ltd., in

collaboration with Teelakow Company

Limited held a press conference for

"Bangkok Airways Boutique Series 2017," the

first running event series ever organised by

the boutique carrier. The press conference

was held at the Crystal Court, Siam Paragon

and attended by many distinguished guests

including Mr. Kridhakorn Sirabhabhoj, Senior

Director – Marketing Communication of

Bangkok Airways, Mr. Peeradon Suksawat,

Business Development of Teelakow Company

Ltd. and Mr. Nat Sakdatorn, well-known

singer and actor, to name a few.

Mr. Kridhakorn Sirabhabhoj stated that,

"Bangkok Airways has been very active in

promoting sports tourism. We see that the

tourism category is acknowledged as one

of the fastest growing sectors in global

travel and the tourism industry, especially

running, which is becoming very popular

nowadays. Moreover, Thailand itself is becoming

more and more runner-friendly and

there are many beautiful spots for races.

With that in mind, we have come up

with the idea of organising our first-ever

running series. We showcase our 6 beautiful

destinations that our airline services to,

which are Trat (Koh Chang), Samui, Phuket,

Chiang Rai, Chiang Mai and Mae Hong Son."

Bangkok Airways Boutique Series 2017

will consist of 6 running races in 6 different

destinations throughout Thailand. The "Ultra

Trail Unseen Koh Chang" in Trat province

began the series last February 17 to 18. The

"Samui Marathon" on Koh Samui, Surat Thani

will be on June 25 while the "Phuket Marathon"

in Phuket will take place on August 6. The

"Chiang Rai Marathon" in Chiang Rai follows

on September 24 with the "Lanna Marathon" in

Chiang Mai scheduled for November 19, concluding

with the "Ultra Trail Panoramic" in Mae

Hong Son during December 8 to 10, 2017.

For more information or for an application,

please contact the Call Centre at 095 736 3066

or send an email to info@teelakow.com

118

119
---
BANGKOK AIRWAYS NEWS

FLYERBONUS

SONGS FOR

OUR FATHER

Mr. Jirapon Hirunrat, Vice President

– Network and Fleet Management,

Bangkok Airways recently congratulated

Mr. Ratchapan Ratchajinda, the

lucky FlyerBonus member attending

the 6th Chiang Mai Jazz Festival.

The event theme was 'Songs For

Our Father' in remembrance of His

Majesty the late King Bhumibol

Adulyadej, and was held on January

26, 2017 at the Promenada Resort

Mall in Chiang Mai.

คุณจิระพล หิรัญรัตน์ รองกรรมการ

ผู้อำนวยการใหญ่ ส่วนบริหารเครือข่าย

การบิน เป็นตัวแทนสายการบินบางกอก

แอร์เวย์ส ร่วมสนับสนุนกิจกรรมมอบรางวัล

แด่สมาชิกผู้โชคดี ได้แก่ คุณราชพันธ์

ราชจินดา ในงาน Chiang Mai Jazz

Festival #6 "Songs For Our Father" ณ

ศูนย์การค้าพรอมเมนาดา รีสอร์ท มอลล์

เชียงใหม่ งานนี้จัดขึ้นสำหรับผู้ที่รักในเสียง

ดนตรีแจ๊ส ได้ร่วมกันร ำลึกถึงพระอัจฉริยภาพ

ทางดนตรีของพ่อผู้ยิ่งใหญ่ของปวงชน

ชาวไทย พร้อมเก็บความทรงจำอันน่า

ประทับใจผ่านบทเพลงในพระราชนิพนธ์

และบทเพลงที่ถูกเขียนขึ้นเพื่อเป็นการ

เทิดพระเกียรติแด่องค์มหาคีตราชันย์

From left: Mr. Jirapon Hirunrat, Mr. Ratchapan Ratchajinda and

Mr. Akarapong Thanakulkit, Festmaster founder & project manager.

MOUTH-WATERING CULINARY BONUS IN KRABI

OPEN HOUSE ROAD

SHOW FOR THE

EXCELLENT MODEL

SCHOOL IN THE CENTRAL

REGION

From left: Aircraft Maintenance Student, Sattahip College, Mrs. Pattama Weerawanit, Director – Bureau of Policy and

Planning, Office of the Vocational Education Commission, Mr. Pawat Lerdmookda, Deputy Governor of Chon Buri, Mr. Rungroj

Rangsiyopas, President of the Thailand Professional Qualification Institute, Mr. Wanit Uamsri, Deputy Secretary-General,

Office of the Vocational Education Commission, Mr. Tongsook Chompoonuch, Vice President Maintenance of Bangkok

Airways, Mr. Sakchai Teeraprateep, Director of Thai-Austrian Technical College, Aircraft Mechanic of Bangkok Airways

Bangkok Airways Vice President Maintenance, Mr. Tongsook Chompoonuch,

organised the "Open House Road Show – Central Region" activity as part of

the "Excellent Model School" project in support of government policy at

the Thai-Austrian Technical College, Sattahip. Honorary guests include

Mr. Pawat Lerdmookda, Deputy Governor of Chon Buri province, Mr. Wanit

Uamsri, Deputy Secretary-General, Office of the Vocational Education

Commission and Mrs. Pattama Weerawanit, Director – Bureau of Policy and

Planning, Office of the Vocational Education Commission.

The activity is the result of an agreement signing between Bangkok Airways

and the government on the partnership in the Excellent Model School project

last December, which aims to raise the quality of vocational education to

compete in the global market. Bangkok Airways has taken part in developing

Aircraft Mechanical and Maintenance study programmes together with 3

vocational schools. These include the Thai-Austrian Technical College,

Sattahip, Thalang Technical College and Don Muang Technical College.

The Excellent Model School project is a successful collaboration between

the government and private sector with the goal to improve and excel in

vocational curriculum to meet the industry standards and quality. While the

vocational institutes take part in building the vocational knowledge structure,

private companies who join the campaign are coordinating with the colleges

to strengthen the curriculum guidelines and provide opportunity as trainees

and hands-on practice, in order to be ready in the world of work.

บริษัท การบินกรุงเทพ จำกัด (มหาชน) หรือ สายการบิน

บางกอก แอร์เวย์ส โดย นายทองสุข ชมภูนุช รองกรรมการ

ผู้อำนวยการใหญ่ ส่วนซ่อมบำรุง จัดกิจกรรม "Open

House Road Show ภาคตะวันออก" ตามโครงการ

"Excellent Model School สถานศึกษาต้นแบบทวิภาคี

สานพลังประชารัฐ" ณ วิทยาลัยเทคนิคสัตหีบ จังหวัดชลบุรี

โดยมี นายภวัต เลิศมุกดา รองผู้ว่าราชการจังหวัดชลบุรี

นายวณิชย์ อ่วมศรี รองเลขาธิการคณะกรรมการอาชีวศึกษา

และนางปัทมา วีระวานิช ผู้อำนวยการสำนักนโยบายและ

แผนการอาชีวศึกษา ร่วมงาน

การจัดกิจกรรมดังกล่าวสืบเนื่องมาจากการที่บริษัทฯ ได้

ทำการลงนามความร่วมมือโครงการ Excellent Model School

สถานศึกษาต้นแบบทวิภาคีสานพลังประชารัฐ เมื่อเดือน

ธันวาคม 2559 ที่ผ่านมา โดยมีวัตถุประสงค์เพื่อยกระดับ

คุณภาพวิชาชีพสายอาชีวศึกษาให้สามารถแข่งขันใน

ตลาดโลก โดยทางบริษัทฯ ได้ตกลงที่จะให้ความร่วมมือในการ

พัฒนาหลักสูตรช่างอากาศยานร่วมกับวิทยาลัยอาชีวศึกษา

3 แห่ง คือ วิทยาลัยเทคนิคสัตหีบ วิทยาลัยเทคนิคถลาง และ

วิทยาลัยเทคนิคดอนเมือง

ทั้งนี้โครงการ Excellent Model School สถานศึกษา

ต้นแบบทวิภาคีสานพลังประชารัฐ ถือเป็นการร่วมมือของภาคี

ภาครัฐและภาคเอกชนในการร่วมพัฒนาสถานศึกษาอาชีวศึกษา

ที่มีความโดดเด่น เชี่ยวชาญเป็นเลิศเฉพาะทางที่ได้คุณภาพและ

มาตรฐาน ภายใต้การจัดการศึกษาที่พัฒนามาจากความร่วมมือ

ในรูปแบบทวิภาคีโดยเน้นให้สถานศึกษาสร้างพื้นฐานด้าน

วิชาชีพ ส่วนสถานประกอบการให้การสนับสนุน และทำงาน

ร่วมกับสถานศึกษาในการออกแบบหลักสูตรการเรียนการสอน

ให้ตรงกับความต้องการของตลาดแรงงาน รวมทั้งสนับสนุน

การฝึกประสบการณ์และการปฏิบัติจริง

FlyerBonus recently brought a programme member and a companion to

join in the "Ink Eat All Around", a one-day, mouth-watering culinary

experience in Krabi. The lucky member was chosen from Bangkok Airways'

fan page in February to explore and delight in delicious dishes at 4

renowned eateries in Krabi with food guru, M.L. Pasan Svasti or "Khun Ink".

Bangkok Airways flies from Bangkok to Krabi 3 times a day and FlyerBonus

members can earn points from their flights. Sign up for free and immediately

enjoy many more benefits at flyerbonus.com

To ensure that you don't miss out on our special offers and activities,

follow us on: facebook.com/flybangkokair

รายการสะสมคะแนนฟลายเออร์โบนัสนำสมาชิกฯ ผู้โชคดี 1 ท่านพร้อมผู้

ติดตามจากกิจกรรมร่วมสนุกในแฟนเพจของสายการบินบางกอก

แอร์เวย์ส บินฟรี อิ่มฟรี ตะลุยชิมเมนูเด็ดจุใจ 1 วันเต็มที่ 4 ร้านดังของ

กระบี่ กับ "พี่อิ๊งค์" ม.ล. ภาสันต์ สวัสดิวัตน์ ในทริป "Ink Eat All Around"

สายการบินบางกอกแอร์เวย์สบินตรงสู่กระบี่วันละ 3 เที่ยวบิน

โดยท่านสามารถสะสมคะแนนจากเที่ยวบินเพื่อแลกรางวัลมากมาย

เพียงสมัครสมาชิกฟลายเออร์โบนัสฟรี ที่ flyerbonus.com

สมาชิกฟลายเออร์โบนัสห้ามพลาดกิจกรรมร่วมสนุกเพื่อร่วม

ทริปแบบนี้อีกในครั้งหน้า เพียงติดตามแฟนเพจ facebook.com/

flybangkokair ของสายการบินบางกอกแอร์เวย์ส

120

121
---
124 125
---
AIRCRAFT INFO

BANGKOK AIRWAYS OPERATES FOUR TYPES OF AIRCRAFT

AIRPORT MAP

BANGKOK AIRWAYS AT SUVARNABHUMI AIRPORT, BANGKOK

AIRBUS 319

AIRBUS A319

NUMBER OF FLEET : 12

NUMBER OF DUAL CLASS :

4 (Business & Economy)

PASSENGER CAPACITY :

12 seats & 108 seats

NUMBER OF SINGLE CLASS :

4/4 (Economy)

ENGINE : IAE V2500

PASSENGER CAPACITY :

138/144 seats

LENGTH : 33.84 m

WINGSPAN : 34.1 m

HEIGHT : 12.17 m

CRUISING SPEED : 920 km/h

MAX OPERATIONAL ALTITUDE :

39,800 ft

•••••

LEVEL 4

DEPARTURE

ชั้น 4 ผู้โดยสารขาออก

AIRBUS A320

NUMBER OF FLEET : 9

LENGTH : 37.57 m

WINGSPAN : 34.1 m

HEIGHT : 12.17 m

ENGINE : IAE V2500

CRUISING SPEED :

870 km/h

MAX OPERATIONAL ALTITUDE :

39,800 ft

PASSENGER CAPACITY :

162 seats

LEVEL 3

INTERNATIONAL BOARDING

ATR 72-500

NUMBER OF FLEET : 6

LENGTH : 27.17 m

WINGSPAN : 27.06 m

HEIGHT : 7.65 m

ENGINE : 2 x 2,750 hp

Pratt & Whitney

Canada PW127F

CRUISING SPEED :

509 km/h

MAX OPERATIONAL ALTITUDE :

25,000 ft

PASSENGER CAPACITY :

70 seats

ATR 72-600

NEW

NUMBER OF FLEET : 9

LENGTH : 27.166 m

WINGSPAN : 27.050 m

HEIGHT : 7.72 m

ENGINE : 2 x 2,750 hp

Pratt & Whitney

Canada PW127M

CRUISING SPEED :

509 km/h

MAX OPERATIONAL ALTITUDE :

25,000 ft

PASSENGER CAPACITY :

70 seats

LEVEL 2

DOMESTIC AND ALL ARRIVALS

ชั้น 2 ภายในประเทศ

OUR SCHEDULE FLIGHTS AND FREQUENCY

DOMESTIC FLIGHTS

Bangkok, Koh Samui, Phuket and Chiang Mai :

Numerous flights every day from a variety of destinations

Chiang Mai : 1 flight per day from Phuket ;

1 flight per day from Samui

Chiang Rai : 3 flights per day from Bangkok

Hat Yai :

2 flights per day from Phuket

Koh Chang/Trat : 3 flights per day from Bangkok

Krabi : 3 flights per day from Bangkok ;

1 flight per day from Koh Samui

Lampang : 3 flights per day from Bangkok

Mae Hong Son : 2 flights per day from Chiang Mai

Pattaya : 1 flight per day from Phuket ;

1 flight per day from Koh Samui

Sukhothai : 3 flights per day from Bangkok

INTERNATIONAL FLIGHTS

Chengdu : 4 flights per week from Samui

Danang : 1 flight per day from Bangkok

Dhaka :

1 flight per day from Bangkok

Guangzhou : 1 flight per day from Samui

Hong Kong : 2 flights per day from Koh Samui

Kuala Lumpur : 1 flight per day from Koh Samui

Luang Prabang : 2 flights per day from Bangkok

Malé :

1 flight per day from Bangkok

Mandalay : 1 flight per day from Bangkok ;

1 flight per day from Chiang Mai

Mumbai : 1 flight per day from Bangkok

Nay Pyi Taw : 6 flights per week from Bangkok

Phnom Penh : 6 flights per day from Bangkok

Siem Reap : 5 flights per day from Bangkok

Singapore : 2 flights per day from Koh Samui

Vientiane : 2 flights per day from Bangkok

Yangon : 4 flights per day from Bangkok ;

1 flight per day from Chiang Mai

Domestic Baggage Claim

International Baggage Claim

Airport Information

Customs

Meeting Point

Toilet

Oversize Baggage Claim

Left Baggage

Immigration

Security Screening

Waiting Area

Airline Lounge

Departures

128 129
---
CHECKING OUT

Sukhothai

Magnificent ruins and

classical architecture

from the 13th and 14th

century continue to

make Sukhothai (Rising

of Happiness) one of

the most visited ancient

ruin sites in Thailand.

The relaxed atmosphere,

friendliness, and

plentiful accommodations

and transport guarantee

that the former capital is

worth repeated visits.

130