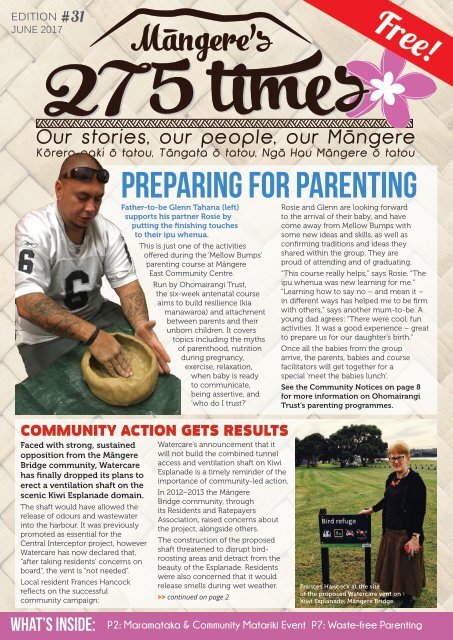 275 Times June 2017
Mangere community news - 275 Times
Mangere community news - 275 Times
SHOW MORE
SHOW LESS
Create successful ePaper yourself
Turn your PDF publications into a flip-book with our unique Google optimized e-Paper software.
EDITION #31

JUNE 2017

275

Māngere's

times

275 times

Free!

Our stories, our people, our Māngere

Kōrero paki ō tatou, Tāngata ō tatou, Ngā Hau Māngere ō tatou

PREPARING FOR PARENTING

Father-to-be Glenn Tahana (left)

supports his partner Rosie by

putting the finishing touches

to their ipu whenua.

This is just one of the activities

offered during the 'Mellow Bumps'

parenting course at Māngere

East Community Centre.

Run by Ohomairangi Trust,

the six-week antenatal course

aims to build resilience (kia

manawaroa) and attachment

between parents and their

unborn children. It covers

topics including the myths

of parenthood, nutrition

during pregnancy,

exercise, relaxation,

when baby is ready

to communicate,

being assertive, and

'who do I trust?'

Rosie and Glenn are looking forward

to the arrival of their baby, and have

come away from Mellow Bumps with

some new ideas and skills, as well as

confirming traditions and ideas they

shared within the group. They are

proud of attending and of graduating.

"This course really helps," says Rosie. "The

ipu whenua was new learning for me."

"Learning how to say no – and mean it –

in different ways has helped me to be firm

with others," says another mum-to-be. A

young dad agrees: "There were cool, fun

activities. It was a good experience – great

to prepare us for our daughter's birth."

Once all the babies from the group

arrive, the parents, babies and course

facilitators will get together for a

special 'meet the babies lunch'.

See the Community Notices on page 8

for more information on Ohomairangi

Trust's parenting programmes.

COMMUNITY ACTION GETS RESULTS

Faced with strong, sustained

opposition from the Māngere

Bridge community, Watercare

has finally dropped its plans to

erect a ventilation shaft on the

scenic Kiwi Esplanade domain.

The shaft would have allowed the

release of odours and wastewater

into the harbour. It was previously

promoted as essential for the

Central Interceptor project, however

Watercare has now declared that,

"after taking residents' concerns on

board", the vent is "not needed".

Local resident Frances Hancock

reflects on the successful

community campaign:

WHAT'S INSIDE:

Watercare's announcement that it

will not build the combined tunnel

access and ventilation shaft on Kiwi

Esplanade is a timely reminder of the

importance of community-led action.

In 2012−2013 the Māngere

Bridge community, through

its Residents and Ratepayers

Association, raised concerns about

the project, alongside others.

The construction of the proposed

shaft threatened to disrupt birdroosting

areas and detract from the

beauty of the Esplanade. Residents

were also concerned that it would

release smells during wet weather.

>> continued on page 2

Frances Hancock at the site

of the proposed Watercare vent on

Kiwi Esplanade, Māngere Bridge.

P2: Maramataka & Community Matariki Event P7: Waste-free Parenting
---
MARAMATAKA

Te Tahi o Pipiri (June) 2017

By Ayla Hoeta

This month we celebrate the

start of the Māori New Year.

Matariki is a time to get your

plans for the new year sorted

so you're ready to roll when

the Kohurangi (Brachyglottis

Kirkii) flowers. That's a sign to

kick into gear and start all your

new and wonderful projects.

High Energy days

ÍÍ8 June – Te Rakaunui

(Highest energy day)

ÍÍ9 June – Rakau matohi

Fishing days

ÍÍ15 June – Tangaroa a Mua

ÍÍ16 June – Tangaroa a Roto

ÍÍ17 June – Tangaroa Kiokio

Planting days

ÍÍ4 June – Mawharu

ÍÍ18 June – Otane (planting

day and give back to the forest)

ÍÍ29 June – Tamatea a Io

ÍÍ30 June – Tamatea Kai Ariki

Reciprocity/give back

& reflecting days

ÍÍ5 June – Atua

ÍÍ11 June – Oike

ÍÍ12 June – Korekore te Whiahia

ÍÍ13 June – Korekore te Rawea

As you become familiar with

the maramataka you will feel

more in tune with your natural

surrounding and enjoy the

rhythm of the maramataka and

nature. Have a great month!

If you would like a

maramataka dial visit 275

Times on Facebook, or

email me at ayla.hoeta@

aucklandcouncil.govt.nz

COMMUNITY

Matariki

Event

By Olivia Chapman

Lead Hub Teacher, Te Kura

Māori o Ngā Tapuwae

Students from Te Kura Māori o

Ngā Tapuwae have teamed up

with Māngere East Community

Centre to host this year's

Community Matariki Event.

The students from Ururangi

learning hub are excited to share

their knowledge of Matariki.

Many people have a lot of

misconceptions about Matariki.

For instance, some people don't

know that it is more than just

a cluster of stars in the sky,

so the students are working

on projects based on Matariki

to display at the event.

The displays will be interactive

and fun, with games and samples

of traditional Māori kai on

offer. The students will also be

involved in preparing a hāngi,

and will kick of the event with a

traditional

pōwhiri.

Year 10 student Hamiora Tito from

Māngere East is looking forward

to meeting lots of new people. "I

know our community is culturally

diverse and I want to share my

knowledge with them so they can

go home and tell their families

about how important Matariki is,"

he says.

"WE HOPE THAT PEOPLE

WILL EMBRACE THIS

SPECIAL EVENT. WE

WANT EVERYONE TO

FEEL INCLUDED."

"It's an event for all, regardless

of race and culture, and we

hope that people will embrace

this special event. We want

everyone to feel included."

The Community Matariki Event

will be held on

24 June in the

Māngere East

Hall (Metro

Theatre) 362

Massey Rd,

4pm – 8pm.

Planning for Matariki: Māngere East Community Centre Manager Hone Fowler (left) with

students from Te Kura Māori o Ngā Tapuwae. (Photo of Matariki constellation: NASA)

2

COMMUNITY ACTION GETS RESULTS >> cont. from page 1

Our main worry was the ecological

effects of transferring stormwater

from one catchment area (Western

Springs) to another (Māngere).

In particular, massive amounts

of stormwater flowing into the

treatment plant and increased

volumes of treated water pouring

into the Manukau Harbour. Experts

argue against combined sewage and

stormwater systems, we said. The

13-kilometre underground Central

Interceptor tunnel may offer a "quick

fix" but these concerns remain.

Five years on, I remember residents

collecting hundreds of signatures for

our carefully worded submissions,

community meetings, consultations

with Watercare and Auckland

Council, discussions with professional

advisers, collaborations with Manukau

Harbour Restoration Society and The

Onehunga Enhancement Society,

presentations at consent hearings

and interviews with reporters.

I especially remember longtime

Māngere Bridge residents, Roger

Baldwin, who died last year, and

Ken Duff and Brian Pilkington.

"Are we wasting our time?," I asked

Roger once when our efforts

seemed hopeless. "No!" he said.

"We're speaking out because we love

the harbour and the community,

and we care about what future

generations will inherit."

Those were the commitments

we all shared. Our different

contributions were our strength.

Watercare's announcement

reminds me that residents were

right to ask critical questions.

Doing everything we could to

influence decisions affecting our

environment made hope possible.

Looking back, we were constantly

creating hope through collective

community action. Our

efforts made a difference.
---
RAISING

AWARENESS

OF 22Q

By Ellen Fu'u fa'o uonuku

My family has a rare

genetic condition

called DiGeorge Syndrome.

I would like

to raise awareness of

the condition because

it is not well known

here in New Zealand.

DiGeorge is also

known as '22q', which

is short for 22q11.2

Deletion Syndrome.

You might know that

people usually have 23

pairs of chromosomes

in their cells. In people

with DiGeorge, a tiny

piece of chromosome

22 is missing. This

affects us in different

ways. For example,

I need more time to

process information

than some people,

and I've had open

heart surgery from

six months old.

I am 21 this year. My

mum and I are now

the only people in

my family with the

syndrome. My aunty,

nana and cousin also

had the condition.

Sadly, they passed

away from poor health

and from DiGeorge.

Living with DiGeorge

syndrome has its

challenges and

moments – I do

daydream 24/7 – but

I love how it has

shaped us into the

people we are today.

I would like to thank

everyone who has

stood by my side

through thick and thin.

Volunteers re-vamp Village

Seventy-four hardy volunteers

gave up their Saturday morning

on May 6 to clean up and beautify

Māngere Bridge Village.

They washed windows, swept

leaves, painted walls, replanted

gardens, and picked up rubbish

– collectively donating over 240

hours to the clean-up effort.

The volunteers included Māngere

Bridge Village Manager Kate

Adams, members of the Fijian

community and Latter-Day

Saints, Project K participants

and local residents.

The event was organised by

the Manukau Beautification

Charitable Trust, which aims

to inspire civic pride.

Community Manager Barbara

Carney says "We are extremely

thankful for the volunteers who

gave up their Saturday morning.

Many hands make light work."

The Māngere Bridge Village

clean-up was supported by

Auckland Council, Auckland

Transport, the Māngere-Ōtāhuhu

Local Board and the Māngere

Bridge Business Association.

Help shape

Māngere-Ōtāhuhu's

future

PRO2005_275T

We're developing our Local Board Plan 2017 and want

to know what you think of the projects and outcomes

we propose to focus on over the next three years.

These include finalising upgrades of local parks, protecting

our natural environment and heritage, partnering with

others to boost the local economy as well as pushing for

coordinated planning and investment for a business and

community hub in Māngere East.

It's easy to get involved and have your say. Just go online

to shapeauckland.co.nz to read our draft local board plan

and provide your feedback by 30 June 2017.

Come along to our pop up event below to find out more,

talk to Māngere-Ōtāhuhu Local Board members

and give us feedback:

• Sunday 18 June, 8.30am-11.30am, Mangere Boutique

Market, Coronation Rd, Mangere Bridge Village.

Have your say by 4pm on Friday 30 June

For more information and to provide feedback visit shapeauckland.co.nz or your

local public library, service centre or phone Māngere-Ōtāhuhu Local Board on 09 256 5133.

3
---
Come on,

Slow Down

for us

Community group members and Auckland Transport are working together to raise

awareness about the dangers to our community created by speeding on local roads

in the wider Māngere area. Local community members are fronting the campaign,

encouraging drivers to slow down and to look out for pedestrians and cyclists.

Everyone is encouraged to have a household conversation

about what speed is safe in different parts of our town.

"Come on, slow down bro", says Georgina Tahana of the

Māngere Town Centre Maori Wardens, "think about others."

We all know how to slow down, and it is about being aware

of everyone using the road space.

It's great for adults as well as children to be out and about

on bikes or walking; getting exercise, seeing new things and

enjoying our community at a slower pace. So when we're

driving, we need to think about who is around, needing to

cross the road or moving about on it. It is really important

that a car can stop quickly and not injure walkers or cyclists

if something goes wrong.

In the last five years in the Māngere area, 34 people had

to have emergency medical care because of crashes where

people were driving too fast for the conditions. It is not

only traumatising for them, but upsets their contribution to

family, work and community – sometimes for a long time.

Making the road safe is not just about the legal speed limit,

it is about slowing down to a speed where we can look out

for other people and stop in time. When a space is shared

between cars and pedestrians, then 60 km/hr is not safe.

The difference between 40 km/hr and 60 km/hr is huge if a

car hits a pedestrian or cyclist. At 60 km/hr the person hit

will probably die (for nine of 10 crashes), but at 40 km/hr it

is much less likely.

Slowing down is a great way for a driver to show they care

about the people around them in the community, such as

the Nga Iwi and Māngere Bridge school pupils that are

shown with their bikes in the campaign. It's their community

too, and they need to get to school and friend's place safely

every time. They love being on their bikes or scooters and

its good for them too!

Help make our roads safer. Being part of a community is

looking after each other. All crashes need to be reported

to the NZ Police, and road problems can be reported to

Auckland Transport AT.govt.nz/contactus

* New Zealand Transport Agency

4
---
ADVERTISEMENT

TOAST OF THE TOWN

After winning the NZ Toastmasters International

Speech Contest last month, Māngere resident

Joseph Fa'afiu will be heading to the world

champs in Vancouver, Canada in August.

Make your

practice count

Did you know that one

hour of driving practice

with a qualified driving

instructor can be as

valuable as 10 hours of

practice with a supervisor?

Behind the Wheel Māngere's

qualified driving instructors

have seen first-hand

how practising with an

instructor can be key to

people passing their driving

tests and getting on the

roads as safer drivers.

Koia Teinakore, one of the

community instructors,

says "It's the best thing they

can do. Their confidence

skyrockets when you

take them out to practise

driving. I think it's about

teaching young people

the right habits from go.

I enjoy seeing people

achieve their goals, and it

means more than just the

driving part – it can be lifechanging

to get licensed."

The Behind the Wheel's

community instructors

can help you feel

more confident by:

ÊÊDrawing up a plan

to get you test-ready

ÊÊPractising driving with

you if you don't have

anyone to practise with

ÊÊMeeting with you and

your supervisor to help

guide you with what

you need to practise

ÊÊHelping you master

the hard stuff (like

parallel parking and

talking about hazards)

ÊÊGetting rid of any

bad driving habits you

may have picked up

You can check the

instructors out on the

Behind the Wheel website

(behindthewheel.nz).

They offer low-cost

lessons, and payment

options are available.

Give them a call for a chat

about how they might be

able to help you get on

your way to being licensed!

Find out more at

www.behindthewheel.nz

or follow us on Facebook

@behindthewheelmangere

Joseph is a Pastor and

Director of HopeWalk

Suicide Prevention Trust.

He has been living in

Māngere with his wife and

five sons for five years.

Joseph told 275 Times

about his journey so far:

How did you get involved

in public speaking? A

friend invited me along

to Pacific Toastmasters in

2015 at the Māngere East

Community Centre. I found

it to be a great environment

to develop and to upskill in

the areas of public speaking

and leadership. I'm still a

member of the club, which

has since moved to Ōtara.

What's the main thing

you've learned? We all

have stories, but what I

have learnt is that we must

make a point and leave

our listeners motivated to

change after hearing our

message. Speak not just to

inform, but to transform.

What was it like to win the

club, area, division and

district contests? What

was your motivation?

Overwhelming! I can't

believe I'm flying to Canada

to represent New

Zealand. Each contest

had its little challenges,

but my motivation, as far

back as I can remember,

was to represent New

Zealand at something.

I was okay at rugby,

but knew I wasn't good

enough to be an All Black.

But what I didn't know is

that one day I would be

in a position to represent

New Zealand through

public speaking. It's pretty

crazy, but I'm so humbled

and blessed to do so.

Was there a particular

challenge you overcame?

When I got to the contest

in Wellington – my nerves

didn't control me, I had

control of them. Just a

few days earlier I was so

nervous heading into the

division competition, but

my wife Lydia said "You've

done this before; you

got this far." I'm slowly

getting there in terms

of taming my nerves.

What do you hope to

achieve in Canada?

I'm looking forward

to being among over

140 countries and 116

competitors in the semifinal

round. If successful

in my semi, I'll face

off against nine of the

best public speakers in

the world for 2017.

My hope is to make the

top 10, and if possible to

win and become the first

Polynesian to be crowned

World Champion of public

speaking. But if I don't, I

will know I gave it my all.

How can people

support your world

championship quest?

We have a fundraising

page: www.indiegogo.

com/projects/worldchampionship-of-publicspeaking-2017#/

Let's get licensed together!

Check out Behind the Wheel for awesome licensing

workshops and community instructors, to help you and

your whānau learn every stage of the licensing process!

@behindthewheelmangere

Find out more at

behindthewheel.nz

Māngere's Joseph Fa'afiu is heading

to the World Championship of

Public Speaking in Vancouver,

Canada. (Photo: Frank Talo)

5
---
Above: Māngere East librarian

Melissa Manapori (left) receives

a copy of Maui the Sun Catcher

donated by legendary performer

Tigilau Ness.

For more information:

visit aucklandcouncil.govt.nz/dogs

FREE* desexing for

registered menacing dogs

Text "YES" to 3169

or phone 0800 462 685

to apply

By Shirl'e Fruean

Txt 2 Desex is made possible through a grant from central

government as part of the national strategy to reduce the risk and

harm of dog attacks.

*Conditions apply

When I heard that Matua Tigilau Ness' precious

Ovation guitar had been stolen, I was gutted.

A month later, when it still hadn't been handed in, I

thought: "Now what? We can't let this behaviour slide.

Is this how we want people to remember Māngere?"

We couldn't keep waiting for the thief to do the right

thing, so I decided to organise a community jam at

Māngere East Library to raise money for a new guitar.

Despite having only two and a half weeks to prepare,

the fundraiser on 20 May was a great success. We salute

everyone who performed, volunteered and donated on

the day or on the Givealittle page.

*

Tigi says: "I was very happy at the

fundraiser for my replacement

guitar. Despite the wet weather,

the turnout was amazing.

"Many thanks to all the artists,

and to the host of friends and

family that came and supported

the cause. I was chuffed to

have my son Che Fu uber it

out from central to join his

sister and my three moko –

now that's family support!

"And for my extended Māngere

East family, now I have nothing

but more love and respect.

You have banded together

to turn something negative

into something positive.

"How bizarre a stolen guitar

has shown this humble

grandfather who the real people

of the Māngere East southside

community are. I would like to

build on this wondrous act of

one love from the community."

Tigilau and his band Unity

Pacific are currently working

on a new album. "You can

guarantee that our Māngere East

experience will be an inspiration

for a song or two," says Tigi.

6
---
Waste-free Parenting

Babies bring lots of

joy and love into our

families, but these days

they also seem to create

a mountain of rubbish!

By Justine Skilling, Talking

Rubbish, ME Family Services

A week's worth of stinky nappies

can fill up a black rubbish sack in no

time, and many families might be

wondering how they're going to fit all

this into the red-lidded wheelie bins

that are coming to South Auckland

in June and July. Although our

rubbish magically disappears from the

kerbside every week, many people are

also disturbed to hear that the nappies

themselves stay in our landfills forever.

But it hasn't always been that way.

Disposable nappies have actually

only been around for the past 30

years or so. Some of us might be old

enough to remember the old cloth

nappy squares, and all the soaking,

scrubbing and safety-pin injuries

that went with them. These days,

the cloth nappy is making a comeback,

but it's better in every way.

Ranjani Prasad and Amy Taunga,

teachers at ME Family Services'

Early Childhood Education centre

have lots of experience with cloth

nappies. They've used them with their

own children at home and with the

many children they work with at the

centre. Both have taken advantage

of the nappy library available to

parents of children at the centre,

where a supply of cloth nappies

can be borrowed, to be returned

once they're no longer needed.

Ranjani's 2-year-old daughter

Jaanashi has been in cloth nappies

for over a year now. Ranjani opted

to use cloth nappies for the health

and wellbeing of her children. "They

feel more comfortable and have

no rashes using the cloth nappies.

This is because air can get in and

circulate," she says. Ranjani finds the

modern cloth nappies "so convenient

and neatly presented", compared

with the old white nappy squares

she used for her older child in Fiji.

Above: Modern cloth nappies drying in

the sun at Māngere East Family Services'

Early Childhood Education Centre.

She has 20 nappies in circulation, and

washes twice a week to make sure she

always has a fresh supply. Between

washes, the nappies are soaked in a

bucket with nappy sanitiser. While

this all takes a little extra time, she

says it's part of the household routine

now, and she and her husband share

the load. "We think about our child's

health, not the time it's consuming".

Cloth nappy converts: Ranjani Prasad

(left) with her daughter Jaanashi, and

Amy Taunga with son Simote (above)

use modern cloth nappies to save

money, do their bit for the planet and

help their children avoid nappy rash.

Amy started her cloth nappy journey

several years ago, when her first child

was born. Back then, finances were

tight, so cloth nappies, in the form

of the old white squares, were an

affordable option. More recently, Amy

attended a cloth nappy workshop

as part of her job and received a

pack of modern cloth nappies as

a gift when her son Simote was

born, to supplement the ones she

borrowed from the nappy library.

She reckons she's saved roughly $20

a month using cloth nappies rather

than disposables and also found

her baby didn't have trouble with

rashes, which she's often seen with

disposables. "It's better for bubba,"

says Amy. "Seeing the benefits of

using cloth nappies, in terms of saving

money, and also for the environment

made it really worthwhile for us".

If you're wanting to see whether

cloth nappies would work for you,

help is at hand. The Nappy Lady

(sponsored by Auckland Council) is

holding a workshop on Tuesday 13

June, 7–9.30pm at the Māngere East

Hall (Metro Theatre), 362 Massey

Rd, Māngere East to show people

how cloth nappies work and to give

families lots of tips on cutting down

waste (and saving money) at home.

There is a $10 registration fee, but

participants will receive $90 worth

of products to get them started on

their waste-free parenting journey.

To register, go to www.

thenappylady.co.nz, or contact

Kate on 027 221 1242.

7
---
Community Notices

OHOMAIRANGI TRUST – PARENTING SUPPORT

Whānau4whānau: 8–10 week parent-designed skillsdevelopment

programme. Starts in June.

Whakatōkia te Rongomau: 8-week non-violent parentingprogramme

building peaceful communities. Starts in June.

Hoki ki te Rito – Oranga Whānau/Mellow Parenting: 14-week

course on Mondays 9:30am to 2:30pm. Starts in August.

Incredible Years: 14-week parenting course start in August.

Morning and evening sessions.

Mellow Bumps: Next course starts in August.

Ohomairangi Trust offers these parenting courses at the

Māngere East Community Centre. For more information, email:

admin@ohomairangi.co.nz or ph. 09 263 0798.

FREE DE-SEXING FOR CATS: 12–23 JUNE

SPCA Auckland is working with local vets to offer FREE de-sexing

for cats. Spaces are limited and booking is essential. Cats and

kittens weighing 1kg or more can be de-sexed. Please call the

SPCA today on 09 256 7310 to book.

MUMA BBM BOOTCAMPS

Every Mon & Wed, 6.30am & 11am. Nga Whare Waatea Marae,

31 Calthorp Close. Open to all ages & fitness levels. For more

info contact: Donna Jean Tairi, Pou Hakinakina / Healthy

Lifestyles Coordinator, Manukau Urban Maori Authority, ph. 021

583 555 or 09 277 7866 or email: donna-jean@muma.co.nz

MATARIKI AT MANGERE BRIDGE LIBRARY

Rongoā Māori Medicine: Amber O'Neill presents a FREE Māori

medicine lore workshop, including native plant species and how

they're used by Māori Rongoā practitioners today. Wednesday,

14 June, 10:30 – 12 noon. Refreshments will be served.

Matariki Storytime: FREE Matariki-themed pre-school Singa-long

Storytime with special performances from local preschools.

Friday, 16 June, 10:30 – 11:30am.

WASTE-FREE PARENTING WORKSHOP

A fun, inspirational workshop about reducing waste. Learn

about modern cloth nappies and other waste-free parenting

ideas and tips. Tuesday, 13 June, 7pm – 9:30pm at the Māngere

East Hall (Metro Theatre), 362 Massey Rd, Māngere East. Cost:

$10 (+ booking fee) individual or couple. Attendees get a wastefree

parenting pack that includes cloth nappies valued at $90.

Bookings essential. Ph or text Kate on 027 2211 242 or visit

thenappylady.co.nz

CONTRIBUTORS WANTED

We'd love to hear from local writers, photographers and anyone

else interested in volunteering for the 275 Times. Get in touch at

www.facebook.com/275times or email 275Times@gmail.com

Community Notices are FREE for community groups. Send us a

50-word summary of your group or event for the next issue!

275 times

275

Māngere's

times

Design: Belinda Fowler Editor: Roger Fowler

Publisher: Māngere East Community Centre

275times@gmail.com

www.facebook.com/275times

www

www.275times.com 09 275 6161

Hospitality

Barista

Welding

BUILDING &

CARPENTRY

Forces

Pre-Entry

Recreation

& Sport

NCEA

Level 2

Warehousing &

Forklift Operations

Automotive

Don't

just dream it.

BECOME IT!

FREE

Learners or

Restricted Licence

(conditions apply)

ZERO FEES &

TRAVEL SUBSIDY

FOR 16-19YRS

FREE SELECTED

PROGRAMMES FOR

20+ YEAR OLDS

Fitness &

Exercise

Foundation

Skills

HANDS ON

TRAINING

Conditions apply.

59 TIDAL RD, MANGERE

(09) 257-5732

Text 021 740 807

Registered and Accredited with NZQA

NZQA provider rating: Category 1, 'Highly Confident' in both

Educational Performance and Capability in Self Assessment

Contact: Tuhin Choudhury

TWR000874

Unit 7/17 Airpark Drive