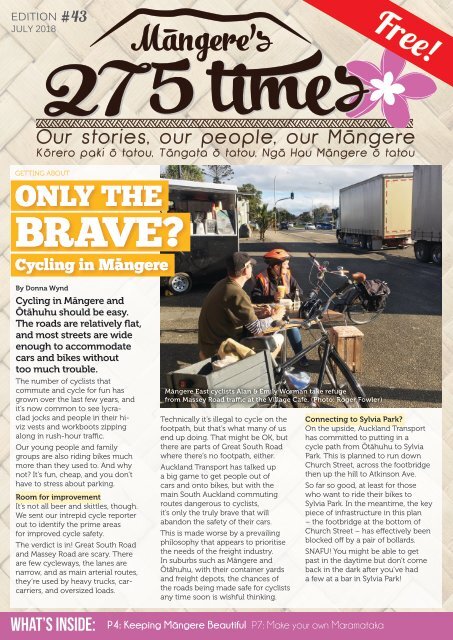 275 Times July 2018
Mangere community news. This month: Cycling in Mangere, Waikato war service, make your own maramataka (lunar calendar) - and more!
Mangere community news. This month: Cycling in Mangere, Waikato war service, make your own maramataka (lunar calendar) - and more!
SHOW MORE
SHOW LESS
Create successful ePaper yourself
Turn your PDF publications into a flip-book with our unique Google optimized e-Paper software.
EDITION #43

JULY 2018

275 times

275

Māngere's

times

Our stories, our people, our Māngere

Kōrero paki ō tatou, Tāngata ō tatou, Ngā Hau Māngere ō tatou

GETTING ABOUT

ONLY THE

BRAVE?

Cycling in Māngere

Free!

By Donna Wynd

Cycling in Māngere and

Ōtāhuhu should be easy.

The roads are relatively flat,

and most streets are wide

enough to accommodate

cars and bikes without

too much trouble.

The number of cyclists that

commute and cycle for fun has

grown over the last few years, and

it's now common to see lycraclad

jocks and people in their hiviz

vests and workboots zipping

along in rush-hour traffic.

Our young people and family

groups are also riding bikes much

more than they used to. And why

not? It's fun, cheap, and you don't

have to stress about parking.

Room for improvement

It's not all beer and skittles, though.

We sent our intrepid cycle reporter

out to identify the prime areas

for improved cycle safety.

The verdict is in! Great South Road

and Massey Road are scary. There

are few cycleways, the lanes are

narrow, and as main arterial routes,

they're used by heavy trucks, carcarriers,

and oversized loads.

Māngere East cyclists Alan & Emily Worman take refuge

from Massey Road traffic at the Village Cafe. (Photo: Roger Fowler)

Technically it's illegal to cycle on the

footpath, but that's what many of us

end up doing. That might be OK, but

there are parts of Great South Road

where there's no footpath, either.

Auckland Transport has talked up

a big game to get people out of

cars and onto bikes, but with the

main South Auckland commuting

routes dangerous to cyclists,

it's only the truly brave that will

abandon the safety of their cars.

This is made worse by a prevailing

philosophy that appears to prioritise

the needs of the freight industry.

In suburbs such as Māngere and

Ōtāhuhu, with their container yards

and freight depots, the chances of

the roads being made safe for cyclists

any time soon is wishful thinking.

Connecting to Sylvia Park?

On the upside, Auckland Transport

has committed to putting in a

cycle path from Ōtāhuhu to Sylvia

Park. This is planned to run down

Church Street, across the footbridge

then up the hill to Atkinson Ave.

So far so good, at least for those

who want to ride their bikes to

Sylvia Park. In the meantime, the key

piece of infrastructure in this plan

– the footbridge at the bottom of

Church Street – has effectively been

blocked off by a pair of bollards.

SNAFU! You might be able to get

past in the daytime but don't come

back in the dark after you've had

a few at a bar in Sylvia Park!

WHAT'S INSIDE:

P4: Keeping Māngere Beautiful P7: Make your own Maramataka
---
Parenting Facilitator Elaine Spark

will use Ohomairangi Trust's new

7-seater electric van to transport

families to parenting courses.

Going electric

By Bob van Ruyssevelt

Ever more extreme

weather conditions, rising

sea levels and the new

fuel tax are all reasons

to consider a change to

Electric Vehicles (EVs).

Right now there are also extra

incentives such as exemption

from Road User Charges and the

ability to use some bus and truck

motorway on-ramps. There may

never be a better time to buy.

Ohomairangi Trust, which

runs parenting courses at the

Māngere East Community

Centre, has obtained a

generous 50% grant from the

Government's Low Emission

Vehicles Contestable Fund

(LEVCF) to buy six EVs.

The new vehicles will be

based in Māngere East, and

will be used for making home

visits and transporting parents

to and from courses.

Appropriately-named parenting

facilitator Elaine Spark

(pictured with the Trust's new

eNV200 seven-seater van)

was surprised to find how

easy an EV was to drive.

With duties all over Auckland,

Elaine is now busy locating

the city's public EV charging

stations. The network of stations

is expanding rapidly, and while

some cost a small amount to

use, others are currently free.

The change to EVs will save the

Trust thousands of dollars in

vehicle operating costs such as

fuel, licensing, and servicing.

The new vehicles only need

a quick $100 maintenance

visit annually, and the

main consumables are

tyres and brakes.

The money saved can be

used to provide more valuable

services to the community.

Although EVs are not exactly

cheap at the moment, prices

will come down as they

become more common. Used

imports are available at more

affordable prices, and as the

big operators like Auckland

Council, Air NZ and Meridian

Energy turn over their fleets,

more NZ-new EVs will come

on to the secondhand market.

Companies such as Meridian

are offering their own incentives

with some free power and

the ability to take advantage

of cheaper off-peak power.

If you're planning to replace

your car or van soon, perhaps

an EV might be for you!

"Not one more acre!"

At sunrise on 14 July 1863 the British

invasion of the Waikato began.

The war that had the most devastating

effect on New Zealand society

continues to the present day.

We remember and will not forget.

Join SOUL for a dawn service on Saturday,

14 July this year at Monument Corner, Great

South Rd, Ōtāhuhu, followed by a short hikoi

to Fletcher Building's HQ to challenge the

new invaders of Māori land at Ihumātao.

All welcome from 6:30am. Speeches

at 7am. Hikoi begins at 8am.

("Not one more acre" was the slogan

of the Māori Land March of 1975.)

Right:Marchers prepare to join the hikoi

at the Nixon monument in Ōtāhuhu in 2017.

2
---
Library

knitting club

celebrates

3rd birthday

By Lyndsey Smith

Every Thursday for the past

three years the Māngere East

Library Knitting & Craft Club

have been meeting up for a

cup of tea and a chat over their

knitting and craft projects.

This friendly group of knitting and

craft enthusiasts have been busy

creating beautiful knitted and

crocheted baby beanies, booties,

jackets and blankets to donate to

the babies at Middlemore Hospital.

On 7 June the club celebrated their

third anniversary of meeting every

Thursday with a special morning tea.

Over a cuppa, the members shared

stories of how they first learned to

knit. Mary explained that her father

Above:Members of the Māngere East Library Knitting & Craft Club with clothes they've

made for babies born at Middlemore Hospital. Clockwise from left: Sylvia, Naomi, Aria, Mary,

Jean and Selwyn. (Photo: Lyndsey Smith)

had originally taught her to knit on

6-inch nails! She progressed from

there to meat skewers. Others often

had to learn through necessity or

by being around older people.

Mostly taught by older family

members, the enthusiastic

knitters have produced countless

garments for the new little

babies in the maternity ward

at Middlemore Hospital.

The knitting club provides a warm,

friendly space at Māngere East

Library for anyone who would like

to come along and learn a new

craft, share their knowledge and

skills with others, or simply have a

chat over a cup of tea and biscuits.

Positive outcomes from the local board's advocacy

Tēnā koutou, tafola lava and greetings from our Local Board.

Local Board

chair Lemauga

Lydia Sosene.

As many of you will know,

we take our responsibilities

seriously to consider what's

good for the community.

The proliferation of offlicences

is one such issue

which has a detrimental

impact on our people,

particularly on our youth.

We have been at the forefront

of this issue over many years

and so it's heartening to see

the owners of the Curlew Bar

withdraw their application

for a liquor licence after

local community groups

such as the Māori Wardens

voiced their concerns.

This follows Grace's Place

in Māngere having its onlicence

application declined

by the District Licensing

Committee in 2017.

These decisions can give us

hope that we can curb the

spread of these venues.

You may have also seen two

other recent consent issues

in the news. The first being a

refusal of a resource consent

application to use an Ōtāhuhu

building as a boarding house

following community and local

board opposition. And secondly,

we lodged our concerns

over the potential health and

environmental impacts from

the operation of a factory

to be built on Tidal Road.

I raise these matters to highlight

the great advocacy work

being done by all our local

board members in ensuring

our community is safe.

It's also important you let us

know about issues that you

see so we can raise these

issues through the channels

we have available to us.

Lastly, can I let you know

about an exciting project

that will greatly impact our

area, particularly those in

Māngere East. Thanks to our

local board's advocacy, the

Auckland Council Governing

Body has agreed to allocate

funding for the development

of the Māngere East precinct

and Walter Massey Park.

The plan is to improve access

and connectivity in and around

Māngere East and Walter

Massey Park, so keep an eye

out for further updates as more

detailed plans come to light.

Manuia,

Lemauga Lydia Sosene

Chair of the Māngere-

Ōtāhuhu Local Board

3
---
TALKING RUBBISH

Plastic

pollution

revolution

By Justine Skilling

Talking Rubbish, ME Family Services

"What's the biggest environmental

problem facing us at the moment?",

I asked a group of young leaders from

Southern Cross Campus last year.

"Litter", was the overwhelming

response.

While climate change might be the biggest threat

to our continued existence on the planet, the

rubbish in our streets, parks and waterways is the

issue that we all see and deal with every day.

Puna Arere from the Tararata Stream Team is

concerned about the littering and dumping going

whanau

oha

love

4

ECE Centres of the highest

quality (20hrs free ECE*)

Experienced, qualified staff

from many backgrounds

Reliable, affordable After-

School Care

Over 10 Years in

community

We care about

FAMILY

one organisation, many services.

we'd love to help out!

pariv

aiga

kaing

Creative, structured

Holiday Programmes

Regular Fathers & Kids

events

SuperGrans programme

for local mums

Community Playgroup

FREE Van pick-ups

201 Buckland Road, Mangere & 18A Mervan St, Mangere

goodseedtrust www.goodseedtrust.co.nz (09) 275-1065

Staff from Moana-Nui-a-Kiwa Pool & Leisure Centre take a break

during their recent clean up of the Tararata Stream in Māngere.

on in her part of Māngere. During a recent

presentation, Puna explained that rubbish

dropped on our streets ends up in our streams,

and flows into the Manukau Harbour.

"Once it's in the ocean, our rubbish will eventually

join one of the enormous rubbish gyres [islands]

floating around in the sea, some of which are bigger

than six times the size of New Zealand!", she said.

Building community pride

Toni Helleur (Crime and Safety Prevention Liaison

for Māngere Town Centre) notices lots of litter

dropped around the Town Centre – mostly cigarette

butts and food packaging. "There's a feeling of a

'lack of pride' in our community", she says. "We're

discussing this as a Town Centre, and looking

at introducing new bins to encourage people

to take more 'community pride' in this area."

Mucking in to clean up our rubbish

Groups from around our community are

responding to the problem and giving their

time and effort to cleaning our place up.

º º Friends of the Farm in Māngere Bridge

organises regular community clean ups along

the Manukau Harbour foreshore, filling dozens

of bags with discarded packaging from takeaway

meals and late-night drinking sessions.

º º A group of young leaders from Do Good Feel

Good are currently cleaning up and monitoring

an alleyway between Deborah Place and Imrie

Ave. "It's not healthy and safe to be surrounded

by all this rubbish", says TOP SKWAD leader Laila.

º º Recently, the staff from Moana-Nui-a-Kiwa

Pool & Leisure Centre dedicated their staff

team-building day to cleaning up the Tararata

Stream in Māngere. "This year we wanted to do

something to help our local community", says

centre manager Waitangi Mika. The group pulled

four shopping trolleys and lots of household waste

out of the stream during their morning's clean up.
---
E hara i te para

he rauemi ke

It is not waste, but a resource

Looking at the bigger problem

Where does all this rubbish come from and what can

be done to stop it ending up in the wrong places?

It's clear that this is a complex problem, which needs

to be addressed on different levels. While clean ups are

great for raising awareness of the issues and removing

rubbish from our environment, they don't stop people

from continuing to litter and dump their waste.

Frustrated whānau in Ihumātao have recently started

their own group to tackle the issue in this area. Their

group 'Para Patrol' is monitoring and reporting illegal

dumping. "This is a fight for our entire whenua, to get

people stop filling our lands with rubbish", say Para

Patrol rangatahi Ceejay Maitai and Honey Olsen.

Businesses doing their bit

Businesses in the area also need to start taking

responsibility for the rubbish they're bringing into

Māngere. Hammer Hardware in Māngere Bridge is

showing leadership in this, going plastic-bag free

from 1 July, and Countdown has pledged to get

rid of plastic packaging from its own products.

Other shops in our community need to start thinking

about the packaging they're using and what impact

it's having on our environment. Imagine a plastic

bag, plastic straw and polystyrene-free Māngere!

Other options

Having somewhere local to take our waste and

unwanted stuff would give people options other

than dumping in local parks and streams. And

when it comes down to it, we all need to think

about whether we need to be buying all this

stuff that creates rubbish in the first place.

For help with reducing rubbish at your place and

getting rid of unwanted stuff, check out the Talking

Rubbish website, or get in touch with us directly:

http://www.mefsc.org.nz/whatwe-do/talking-rubbish/

By Ceejay Maitai

& Honey Olsen

Kia ora, we are two Te

Ahiwaru rangatahi from

Makaurau Marae who have

sadly witnessed illegal

dumping here in Māngere.

In the '80s, sustainability was

pushed aside, and because

of that we've had to re-learn

and re-teach the younger

generations about it.

Our tupuna were taught

to use our land as their

supermarket, the sea as

their deli and the native

bush as their pharmacy.

They never had a choice

to travel in a car or shop

at a supermarket, where

food is distributed in plastic

packaging. They used

kete made from flax to

hold almost everything,

hue or gourds for water

bottles, and waka carved

from quality wood as their

main mode of transport.

Para Patrol is an initiative

driven by us as frustrated

whānau in Ihumātao. We

were brought together

by our Aunt to 'red-light',

name and shame illegal

dumping around our

papakainga and whenua.

Our whakapapa (identity) is

Ihumātao, where currently

we are fighting for our

whenua. This is a fight

for our entire whenua, to

get people to stop filling

our lands with rubbish.

Here in Māngere not

enough people are

managing their waste

correctly. But is everything

we purchase necessary in

our lives? We are digging

through our mountains,

mining our sands and

drilling for our oils to

produce unnecessary items.

As Para Patrol rangatahi,

we're also trying to stop

the production of plastic.

We think manufacturers

should at least think about

what they're distributing.

We've heard that milk used

to be delivered in glass

bottles, and the 'empties'

were collected and recycled.

Our shopping used to be

bagged in paper made

from a renewable resource

(trees). We think these

practices should return.

Soon we'll be asking

local small retailers to

support Para Patrol's

"Kirihou Coup" where

plastic bagging becomes

a choice rather than the

norm. We hope retailers

and our communities will

support this initiative.

We'd really appreciate

endorsement of our

mahi from Māngere-

Ōtāhuhu Local Board

and Auckland Council

and we're only too happy

to share our initiatives

with our community.

"E hara i te para he

rauemi ke". (It is not

waste, but a resource).

If you would like to know

more or to help our

efforts please contact

justine@mefsc.org.nz

5
---
Left:Some of the first

children to attend the

Māngere East After School

Centre. Kahu and Maia (third

and fourth from left) went

on to work at the Centre.

Below:"Kermit" the

Māngere East After School

Centre's first bus.

Serving the

community

for 21 years

Twenty-one years ago,

a group of Māngere East

parents got together

around their pressing

need for after-school

care for their children.

Recognising that many other

families in the area shared the

same problem, the group set up a

Trust, and in April 1997 the Māngere

East After School Centre opened

its doors for the first time – inside

what was then the Māngere

People's Centre in Massey Rd.

Initially, parents Roger Fowler and

Piu Autagavai'a drove their families'

minibuses to pick up the children

from the neighbouring schools,

but as more families enrolled in

the programme, the After School

Centre purchased a 22-seater bus –

and built an outdoor playground.

Education for all

When the People's Centre moved

its medical services to Manurewa

in 2003, the After School team

stepped in to keep the Centre's

adult education classes going.

To reflect this broader mission, they

also changed names, becoming the

Māngere East Learning Centre.

Since then, the community classes

have expanded to include a range

of parenting courses in partnership

with Ohomairangi Trust – and the

Centre's name has changed again.

Now known as the Māngere East

Community Centre, the vibrant

community hub offers weekly

Zumba, Tai Chi, salsa and siva

Samoa classes, as well as driverlicence

tuition, and literacy and

numeracy, te reo Māori, Samoan,

and English language courses.

Korowai, Taniko and ethnic craft

classes are also enjoyed by many,

and yoga and computer literacy

are recent additions to the raft of

learning opportunities at the Centre.

Other activities include community

workshops, two big community

festivals each year, night markets,

and the 'Village Café' at the front

of the Māngere East Hall, which

provides valuable work experience

and healthy food options.

The Māngere East After School

Centre is still going strong too. It

now runs a before-school service

and popular holiday programmes,

catering to over 50 local children.

Plans for a new centre

The local community has been

strongly advocating for the old

Centre buildings to be replaced

with a big, purpose-built modern

community centre, with multiple

classrooms, early child care facilities,

a gymnasium and community café.

The Māngere-Ōtāhuhu Local

Board have got in behind this

endeavour that will transform life

in the Māngere East community.

Celebrate the 21st

anniversary of the Māngere

East Community Centre

this Matariki: 6pm – 9pm,

Saturday 11 July at the

Māngere East Hall (Metro

Theatre), 362 Massey Road.

All welcome.

ENROL

NOW

FREE PARENTING PROGRAMMES

Hoki ki te Rito

O – ranga wha _ nau

Mellow Mums & Dads

Mellow Bumps

Antenatal sessions

Incredible

Years

For Parents

Wh – anau

4Wh – anau

Whakat – okia

te Rongomau

6

Day & evening programmes begin in July/August 2018

Ma _ ngere East Community Centre, 372 Massey Rd, Ma _ ngere East

ph. 09 263 0798 | e. admin@ohomairangi.co.nz | www.ohomairangi.co.nz
---
MARAMATAKA: TE RUA HONGONGOI – JULY

By Ayla Hoeta

The moon is shining

bright this Matariki!

Known as the Māori New Year,

Matariki is also the name of

a star that rises around

June each year. It's

one of seven sister

stars that can all

be seen around

the same time:

• Matariki

– eyes of

Tāwhirimātea

• Tupuā-rangi

– sky

tohunga

• Waipuna-ārangi

–

sky spring

• Waitī

– sweet

water

• Tupuā-nuku

– Earth

tohunga

• Ururangi

– entry to

the heavens

• Waitā – sprinkle

of water

Make sure you head

down to one of the events

around town this month to

find out more about Matariki!

KEY DATES FOR

TE RUA HONGONGOI:

26, 27 & 28 June – Oturu,

Rakaunui & Rakau Ma Tohi:

Highest-energy days. Great for

planting, sports and other things

that require a lot of energy.

30 June, 1 & 2 July – Korekore Te

Whiawhia, Korekore Te Rawea

& Korekore Piri nga Tangaroa:

Low energy days. Good for quieter

activities like reflecting, planning

and relaxing with whānau.

3, 4 & 5 July – Tangaroa A Mua,

Tangaroa A Roto & Tangaroa

kiokio: Fruitful days. There's lots of

ika to catch, and kai flourishes when

planted on these days. There's also a

greater chance of positive outcomes,

so now might be a good time to

ask your boss for that day off!

7, 8 & 9 July – Orongonui,

Omauri & Mutuwhenua: Good

for planting all types of kai.

10 July – Whiro: Lowest

energy day and darkest

night. A great time to

reflect, rest and plan.

15, 16 & 17 July –

Tamatea a Ngana,

Tamatea a Hotu

& Tamatea a Io:

Moderate energy

days. Great for fishing.

Good 'all round' days.

Make your own

MARAMATAKA

1. Cut out the two circles on this page.

2. Place the small circle inside the big

one. Put a pin through the middle of

both circles, then push the pin into the

wall to hang up your maramataka.

3. Set the month. (Each month starts

on Rakaunui, which falls a day

before the full moon (West Coast)

OR on the full moon (East Coast).

4. In July this year, the full moon is on

the 27th, so turn the small dial

until the number '27' lines up with

'Rakaunui' on the big dial.

Thanks whānau! If you

need more copies of the

maramataka dial or help

setting it, email me: ayla.

hoeta@aucklandcouncil.govt.nz

7
---
Community Notices

MANUKAU SOCCER HOLIDAY PROGRAMME

July 16–18 (Monday, Tuesday, Wednesday). For juniors /

youth aged 9 to 19. Walter Massey Park, corner Massey &

Buckland Rds, Māngere East. $20 per day (includes free t-shirt

and bootbag). To register, call Hone: 021 299 0210 or email

manukauunitedfootballclub@gmail.com

MA – NGERE EAST HOLIDAY PROGRAMME

Make the most of the school holidays at Māngere East

Community Centre. Get into our great local facilities, as well as

trips to activities such as Bounce'n'Beyond, Ōtara Fresh Gallery,

Skateland, rock climbing, Mumuland, beaches and more! For

school children aged 5–14. WINZ subsidies are available. Ellina

and Mat can assist you with your application. Don't miss out –

register today: oscarcoordinator@mangereeast.org.

ACCESS TO EMPLOYMENT (A2E)

Get assistance with your CV and connect with people who

can help you in your search for a job. The A2E programme is

a relaxed, informal, FREE session held in the Māngere Town

Centre Library at 10:30am on Fridays. Meet other locals and

hear from employers and training agencies. All ages and

backgrounds welcome.

CITIZENS ADVICE BUREAU NEEDS VOLUNTEERS

Time to spare, or skills to share? Volunteer for Citizens Advice

Bureau (CAB) in Māngere, Ōtāhuhu or Papatoetoe. The CAB

is all about the client – making sure individuals do not suffer

through ignorance of their rights and responsibilities. CAB

especially needs volunteers who are available 12.30pm–4pm.

To apply, ph. 09 275 6885 (Māngere), 09 278 5191 (Papatoetoe)

or 09 216 9813 (Ōtāhuhu) for an appointment. You can also

email mangere@cab.org.nz or apply online at www.cab.org.nz

FREE CLASSES IN MA – NGERE EAST

Māngere East Community Centre runs FREE & low-cost classes

in parenting, te reo Māori, Samoan, korowai, drivers licence

theory, tai chi, zumba – and more! Visit www.mangereeast.org,

email: fiona@mangereeast.org, ph. 09 275 6161 or drop in to

372 Massey Rd (behind the library) Māngere East to learn more.

VOLUNTEER CONTRIBUTORS WANTED

Have you got a story to share? Would you like to write, take

photos, edit, proofread, deliver or design for the 275 Times?

Do you want to contribute to your community magazine in

some other way? We'd love to hear from you. Get in touch at

www.facebook.com/275times or email 275Times@gmail.com

Community Notices are FREE for community groups.

To list your group or event in the next issue, email

us a 50-word summary by 15 July 2018.

275 times

275

Māngere's

times

Editor: Roger Fowler Design: Belinda Fowler

Publisher: Māngere East Community Centre

275times@gmail.com

www.facebook.com/275times

www

www.275times.com 09 275 6161

THE EVENT CENTRE

Affordable Venue hire for all your special events, Feel free to contact us now.

book

now

TO BOOK OR VIEW PLEASE CALL

027 200 7368 or 0800 DJ DAVE

792 GREAT SOUTH ROAD,WIRI

www.djdave.co.nz - fb/DJDavesEntertainment

Great stories

COURSES FOR AGES 16+

Barista & Hospitality

Building, Construction &

Carpentry

Electronics Technology

Electrical Engineering

Warehousing & Distribution

begin here

COURSES FOR AGES 16-19

+Travel Allowance and

Learner Licence

Automotive

Foundation Skills

Retail

Security

CALL NOW 0800 000 055

OR FREE TXT INFO TO 590

59 TIDAL ROAD, MANGERE

SKILLS

UPD TE

TRAINING INSTITUTE

www.skillsupdate.co.nz

ZERO

FEES

Conditions

apply