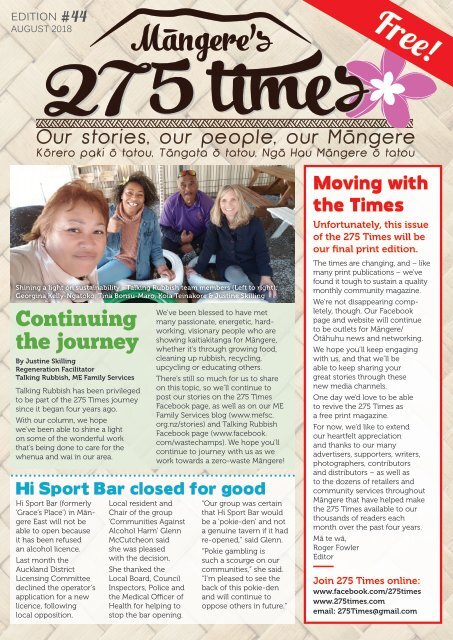 275 Times August 2018
Mangere community news. This month: new arts scholarship recipients, Hi Sport Bar closes, maramataka, and more. This is our final print issue. Thanks for your support over the years, Mangere! :)
Mangere community news. This month: new arts scholarship recipients, Hi Sport Bar closes, maramataka, and more. This is our final print issue. Thanks for your support over the years, Mangere! :)
SHOW MORE
SHOW LESS
Create successful ePaper yourself
Turn your PDF publications into a flip-book with our unique Google optimized e-Paper software.
EDITION #44

AUGUST 2018

275

Māngere's

times

275 times

Our stories, our people, our Māngere

Kōrero paki ō tatou, Tāngata ō tatou, Ngā Hau Māngere ō tatou

Shining a light on sustainability - Talking Rubbish team members (Left to right):

Georgina Kelly-Ngatoko, Tina Bonsu-Maro, Koia Teinakore & Justine Skilling

Continuing

the journey

By Justine Skilling

Regeneration Facilitator

Talking Rubbish, ME Family Services

Talking Rubbish has been privileged

to be part of the 275 Times journey

since it began four years ago.

With our column, we hope

we've been able to shine a light

on some of the wonderful work

that's being done to care for the

whenua and wai in our area.

Hi Sport Bar closed for good

Hi Sport Bar (formerly

'Grace's Place') in Māngere

East will not be

able to open because

it has been refused

an alcohol licence.

Last month the

Auckland District

Licensing Committee

declined the operator's

application for a new

licence, following

local opposition.

Local resident and

Chair of the group

'Communities Against

Alcohol Harm' Glenn

McCutcheon said

she was pleased

with the decision.

She thanked the

Local Board, Council

Inspectors, Police and

the Medical Officer of

Health for helping to

stop the bar opening.

We've been blessed to have met

many passionate, energetic, hardworking,

visionary people who are

showing kaitiakitanga for Māngere,

whether it's through growing food,

cleaning up rubbish, recycling,

upcycling or educating others.

There's still so much for us to share

on this topic, so we'll continue to

post our stories on the 275 Times

Facebook page, as well as on our ME

Family Services blog (www.mefsc.

org.nz/stories) and Talking Rubbish

Facebook page (www.facebook.

com/wastechamps). We hope you'll

continue to journey with us as we

work towards a zero-waste Māngere!

"Our group was certain

that Hi Sport Bar would

be a 'pokie-den' and not

a genuine tavern if it had

re-opened," said Glenn.

"Pokie gambling is

such a scourge on our

communities," she said.

"I'm pleased to see the

back of this pokie-den

and will continue to

oppose others in future."

Moving with

the Times

Unfortunately, this issue

of the 275 Times will be

our final print edition.

The times are changing, and – like

many print publications – we've

found it tough to sustain a quality

monthly community magazine.

We're not disappearing completely,

though. Our Facebook

page and website will continue

to be outlets for Māngere/

Ōtāhuhu news and networking.

We hope you'll keep engaging

with us, and that we'll be

able to keep sharing your

great stories through these

new media channels.

One day we'd love to be able

to revive the 275 Times as

a free print magazine.

For now, we'd like to extend

our heartfelt appreciation

and thanks to our many

advertisers, supporters, writers,

photographers, contributors

and distributors – as well as

to the dozens of retailers and

community services throughout

Māngere that have helped make

the 275 Times available to our

thousands of readers each

month over the past four years.

Mā te wā,

Roger Fowler

Editor

Free!

Join 275 Times online:

www.facebook.com/275times

www.275times.com

email: 275Times@gmail.com
---
Awards boost young artists

Eight talented young locals

are a few steps closer to

achieving their dreams thanks

to a new art scholarship

from the Local Board.

The aspiring musicians, dancers and

visual artists are the first recipients

of the Māngere-Ōtāhuhu Youth

Arts Scholarship Awards. They have

each won up to $2,000 towards

resources, equipment, mentoring

or training in their chosen field.

At the awards ceremony in July,

Local Board Chair Lemauga Lydia

Sosene said the new awards are

about recognising the diverse abilities

of young people in the Māngere

Ōtāhuhu area, where 45% of the

population is under 25 years old.

"Sometimes, for young people, it's

not just about academics, and it's

not just about going to work," said

Lydia. Many young people "really

thrive in things like the arts".

The scholarships are a way for the

Local Board to both celebrate these

creative rangitahi and help them

access the resources and training

they need to develop their skills.

While not every artist who applied

this year could win a scholarship,

Board member Christine O'Brien

commended all of the applicants

Supporting local talent (Left to right): Local

Board members Christine O'Brien and Tafafuna'i

Tasi Lauese with scholarship-winners Anzac

Riki, Timothy Sanvictores, Dean Purcell,

Henley Kesha, Mele Tapueluelu, and Board

Chair Lemauga Lydia Sosene at Māngere Arts

Centre – Ngā Tohu o Uenuku in July. (Photo:

Melissa Lelo). (Winners Kalem Thompson,

Mafi Tausala, and Natalia Ngamihi Avei Ioane

were unable to attend the ceremony.)

for putting themselves forward,

and joined Lydia in thanking

the young peoples' families for

supporting their creative goals.

The Board hopes many more upand-coming

local artists will apply

for the scholarships in 2019.

Check your kids play safe

and stay away from drains

and manholes.

Molly! Remember to play safe

and stay away from drains &

manholes. If you drop things down

there, ask an adult to call council.

If things drop down there,

then call the council on

09 301 0101.

Find out more: visit

aucklandcouncil.govt.nz

2
---
MARAMATAKA:

APONGA (AUGUST)

By Ayla Hoeta

Ngā mihi e te whānau,

welcome to Aponga,

the month of mara

kai and planting.

This is a great time to plant vege

seedlings like kale, lettuce, silverbeet,

broccoli and spinach.

Last year, we tested the maramataka

by planting kale, lettuce and spinach

on the high-energy days around te

rakaunui. Our garden was incredibly

successful and provided an unlimited

supply of kale for six whole months!

Kale is highly nutritious, but

expensive to buy, so if you want to

test your garden, try planting kale

seedlings on the dates below.

Nga tohu o te rangi

(Signs in the sky): Facing east this

month, you can still see Matariki

and the seven sister stars.

The rising stars are Whakaahu

Kerekere (Castor), and

Whakaahu Rangi (Pollux).

In the west, Rehua (Antares) has

set, but you can see Puanga (Rigel

in Orion). Rehua and Puanga

are the stars that Tainui and iwi

on the west coast commonly

use to mark the New Year.

Nga tohu o te whenua

(Signs on land): We now await

the arrival of the pipiwharauroa

(shining cuckoo). When you hear

it sing, you know spring is here

and the kohurangi will blossom.

Nga tohu o te moana

(Signs in the water): It's whitebait

season! The whitebait will start

to run up the river mouths and

waterways: how exciting!

KEY DATES IN APONGA

26, 27 & 28 July– Oturu, Rakaunui

and Rakau ma tohi: Great for

planting watery crops. Try some kale!

31 July 1 & 2 August – Korekore

te whiawhia, Korekore te rawea

& Korekore piri nga tangaroa:

Low-energy days, great to Netflix

and chill :) Also a really good

time to organise your calendar.

You may notice you're less hungry,

or don't need as much kai. Our

tupuna use to fast on these days.

3, 4 & 5 August – Tangaroa a

mua, Tangaroa a roto & Tangaroa

kiokio: Fishing and planting days. If

you didn't get a chance to plant on

Kale from

this year's

bumper crop!

Rakaunui,

do it now!

7, 8 & 9 August

Orongonui, Omauri & Mutuwhenua:

Plant all types of kai.

10 August – Whiro: Lowest-energy

day and darkest night. This day is

definitely one for quieter activities.

Take some time out and relax!

15, 16 & 17 August – Tamatea a

ngana, Tamatea a hotu & Tamatea

a io: These are fishing days, but

kaumātua say the tides/winds change

quickly, so take extra care. Not low

or high, but moderate energy, these

are quite good all-round days.

Big development to bring changes for Māngere

Tēnā koutou, tafola lava and greetings from our Local Board.

Local Board

chair Lemauga

Lydia Sosene.

As you are now aware, this

is to be the last 275 Times

print edition, so I'll start by

just paying a short tribute

to the team who have been

producing this fantastic

magazine for our community.

Roger, Hone, Belinda and

Hermann all make amazing

contributions to our community

and their work on 275 Times has

been particularly appreciated.

They have created an awesome

resource which has enabled

us to connect to each other,

to learn more about the issues

and activities going on in our

area and also inspired us with

great pieces of journalism.

The mainstream media so often

focuses on just the negative

things going on in our area, but

275 Times has been a breath of

fresh air, telling the good news

and bringing light to injustices

that so often get overlooked.

On behalf of everyone at

the Māngere-Ōtāhuhu Local

Board, we want to convey our

sincerest thanks and wish that

whatever the future holds for

275 Times, that it's not gone

forever from our suburb.

Before I finish, can I just

highlight a one very important

piece of news. The Government

has announced that over 10,000

houses will be built in Māngere

over the next 10 – 15 years.

The local board has strongly

advocated for more affordable

housing as well as more warm,

dry and healthy homes for those

renting, so this is fantastic news.

But it also isn't time to rest on

our laurels. We will continue

to advocate that these

houses are truly affordable,

that people aren't forced out

of the area as a result of the

development and that there

is appropriate infrastructure

with public amenities built

to complement the large

increase in population.

This development can be really

good for Māngere, but for that

to happen, we must all play

our part in speaking up for

what our community needs.

I'd encourage you to visit

this website and sign up for

regular updates on the project:

mangeredevelopment.co.nz

Manuia,

Lemauga Lydia Sosene

Chair of the Māngere-

Ōtāhuhu Local Board

3
---
whanau

oha

We care about

FAMILY

one organisation, many services.

we'd love to help out!

pariv

aiga

Great stories

begin here

ZERO

FEES

Conditions

apply

love

ECE Centres of the highest

quality (20hrs free ECE*)

Experienced, qualified staff

from many backgrounds

Reliable, affordable After-

School Care

Over 10 Years in

community

kaing

Creative, structured

Holiday Programmes

Regular Fathers & Kids

events

SuperGrans programme

for local mums

Community Playgroup

FREE Van pick-ups

201 Buckland Road, Mangere & 18A Mervan St, Mangere

goodseedtrust www.goodseedtrust.co.nz (09) 275-1065

Community Notices

FREE CLASSES IN MA – NGERE EAST

Māngere East Community Centre runs FREE & low-cost classes

in parenting, te reo Māori, Samoan, korowai, drivers licence

theory, tai chi, zumba – and more! The Centre also has rooms

and buses available for hire. Visit www.mangereeast.org, email:

fiona@mangereeast.org, ph. 09 275 6161 or drop in to 372

Massey Rd (behind the library) Māngere East to learn more.

Community Notices are FREE for community groups.

To list your group or event on our Facebook page, email us

a 50-word summary – and a photo or video if you have one!

275 times

275

Māngere's

times

Editor: Roger Fowler Design: Belinda Fowler

Publisher: Māngere East Community Centre

275times@gmail.com

www.facebook.com/275times

www

www.275times.com 09 275 6161

THE EVENT CENTRE

Affordable Venue hire for all your special events, Feel free to contact us now.

book

now

TO BOOK OR VIEW PLEASE CALL

027 200 7368 or 0800 DJ DAVE

792 GREAT SOUTH ROAD,WIRI

www.djdave.co.nz - fb/DJDavesEntertainment

COURSES FOR AGES 16+

Barista & Hospitality

Building, Construction &

Carpentry

Electronics Technology

Electrical Engineering

Warehousing & Distribution

COURSES FOR AGES 16-19

+Travel Allowance and

Learner Licence

Automotive

Foundation Skills

Retail

Security

CALL NOW 0800 000 055

OR FREE TXT INFO TO 590

59 TIDAL ROAD, MANGERE

SKILLS

UPD TE

TRAINING INSTITUTE

www.skillsupdate.co.nz