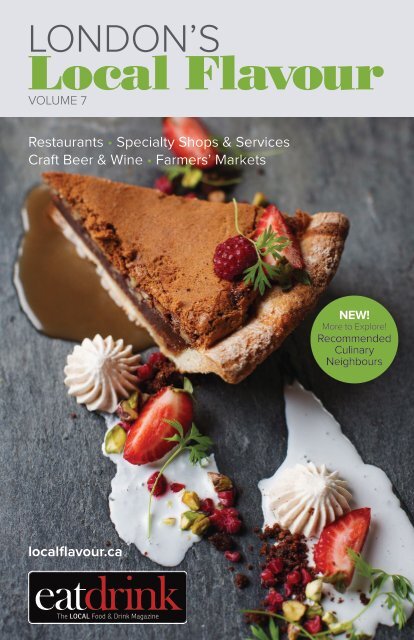 London's Local Flavour: Volume 7
Local Culinary guide featuring: Restaurants, Specialty Shops & Services, Craft Beer & Wine, and Farmers' Markets in London, Ontario Canada and surrounding area.
Local Culinary guide featuring: Restaurants, Specialty Shops & Services, Craft Beer & Wine, and Farmers' Markets in London, Ontario Canada and surrounding area.
SHOW MORE
SHOW LESS
You also want an ePaper? Increase the reach of your titles
YUMPU automatically turns print PDFs into web optimized ePapers that Google loves.
LONDON'S

Local Flavour

VOLUME 7

Restaurants • Specialty Shops & Services

Craft Beer & Wine • Farmers' Markets

NEW!

More to Explore!

Recommended

Culinary

Neighbours

localflavour.ca
---
LONDON'S

Local Flavour

VOLUME 7

Restaurants • Specialty Shops & Services

Craft Beer & Wine • Farmers' Markets

localflavour.ca

Another quality guide from the publishers of

Think Global. Read Local.

Eatdrink Inc.

525 Huron Street, London ON N5Y 4J6

519-434-8349

eatdrink.ca

Get Connected!

@eatdrinkmag
---
Contents

4 Map A: City of London

6 Map B: Downtown London

8 Map C: Southwestern Ontario

10 INTRODUCTION

London Is Cooking with Local Flavour

SECTION 1

11 Restaurants

12 David's Bistro 1

14 Abruzzi Ristorante 2

16 gNosh Dining + Cocktails 3

18 The River Room / Rhino Lounge 4

20 Craft Farmacy 5

22 The Church Key Bistro-Pub 6

24 Black Trumpet 7

26 La Casa Ristorante 8

28 Idlewyld Inn & Spa 9

30 Garlic's of London 10

32 Blackfriars Bistro & Catering 11

34 The In Home Chef 12

36 Reverie 13

38 Waldo's On King Bistro & Wine Bar 14

40 Grace 15

42 Pizzeria Madre 16

46 Tiger Jack's Bar & Grill 17

47 Katana Kafé & Grill 18

48 Fellini Koolini's / The Runt Club 19

49 Joe Kool's 20

50 Edgar and Joe's Café 21 22

51 La Noisette Bakery & Deli 23

52 Pasto's Grill 24

53 T.G.'s Addis Ababa Restaurant 25

54 The Early Bird 26

55 Los Lobos 27

56 Marienbad / Chaucer's Pub 28

57 Veta Pasta and Wine Bar 29

#

= map location

From Reverie:

Northern Harvest Salmon cured in coffee

and kombucha wrapped in Swiss chard

with edible flowers and fresh horseradish.

Photo by Phong Tran.
---
RECOMMENDED NEIGHBOURS

58 The Clock Tower Inn | Bistro | Pub | Caterer 30

60 The Windjammer Inn 31

62 The Village Teapot 32

63 Elm Hurst Inn & Spa 33

64 Kettle Creek Inn 34

65 The King Edward Restaurant & Pub 35

SECTION 2

Specialty Shops & Services

68 The Pristine Olive Tasting Bar 36

70 The Boombox Bakeshop 37

72 Hey, Cupcake! 38

73 Jill's Table 39

75 North Moore Catering Co. 40

SECTION 3

Local Craft Beer & Wine

76 Alton Farms Estate Winery 41

78 Toboggan Brewing Company 42

80 Anderson Craft Ales 43

81 Railway City Brewing Company 44

82 Cowbell Brewing Company 45

SECTION 3

Farmers' Markets

85 Covent Garden Market 46

Covent Garden Farmers' Market

88 ACKNOWLEDGMENTS

Amenities Legend

— Licenced

WIN a

Local Flavour

Weekend!

See page 66 or

eatdrink.ca/contests

— Wheelchair Accessible

— Patio

— Take-Out Available

— Bring Your Own Bottle

Service Available

— Accommodations

Available
---
MAP A

29

FANSHAWE PARK RD. W.

HWY. 4

LONDON

SKI

CLUB

BOLER RD.

SANITORIUM RD.

BYRON BASELINE

COUNTY RD. 2

THAMES RIVER

HWY. 4

COLONEL TALBOT RD.

HYDE PARK RD.

GAINSBOROUGH RD.

OXFORD ST.

RIVERSIDE DRIVE

WONDERLAND RD.

COUNTY RD. 2 & HWY.4 WEST

C.N.R.

SPRINGBANK DR.

SARNIA RD.

C.P.R.

5

40

17

MEDWAY CREEK

Blackfriars Bridge is

closed to vehicles.

Access Blackfriars Bistro

off Wharncliffe Rd.

WHARNCLIFFE RD. S.

ELMWOOD AVE.

EMERY ST.

BASELINE RD.

EXETER ROAD

WESTERN RD.

STANLEY

WORTLEY

H

University of

Western Ontario

BLACKFRIARS ST.

RIDOUT ST.

VICTORIA ST.

TALBOT ST.

BELGRAVE

RICHMOND ST.

RICHMOND ST.

SOUTHDALE RD.

H

COMMISSIONERS RD.

WELLINGTON ST.

38

13 12

20

11 19 42 11

27 7 6

28 10

4

CARLING

15

46

1

14

39

3 22

26

2

8 W

21 16

9

HIGH ST.

W

SOUTH

GRAND AVE. WE

WELLINGTON RD.

?

HWY. 402

EXIT 177

24

? Information Centres

H Hospitals

EXIT 183

EXIT 186

W VIA Rail – Train Station

Greyhound – Bus Terminal

4 London's Local Flavour

localflavour.ca

MAP A
---
FANSHAWE PARK RD. E.

INDERMERE RD.

THAMES RIVER

FANSHAWE LAKE

HURON ST.

HURON ST.

WATERLOO ST.

COLBORNE ST.

MAITLAND ST.

WILLIAM ST.

ADELAIDE ST.

36

23

OXFORD ST.

HIGHBURY AVE.

FANSHAWE

COLLEGE

CLARKE RD.

OXFORD ST. E.

18

DUFFERIN AVE.

PICCADILLY ST.

CENTRAL AVE.

37

QUEENS AVE.

QUEBEC ST.

43

FIRST ST.

SECOND ST.

THIRD ST.

HORTON ST.

SIMCOE ST.

ST.

H

25

KING ST.

YORK ST.

ADELAIDE ST.

RECTORY ST.

Western

Fairgrounds

FLORENCE ST.

EGERTON ST.

DUNDAS ST.

POTTERSBURG CREEK

TRAFALGAR ST.

VETERANS MEMORIAL PARKWAY

CRUMLIN SIDE RD.

STON ST.

H

H

THOMPSON RD.

POND MILLS RD.

HIGHBURY AVE.

HAMILTON RD.

THAMES RIVER

GORE RD.

RIVER RD.

MACDONALD-CARTIER FREEWAY

HWY. 401

WILTON GROVE RD.

EXIT 189

EXIT 194

WESTMINSTER DRIVE

SCOTLAND DRIVE

MAP A

localflavour.ca

London's Local Flavour 5
---
MAP B

4

26

BUDWEISER

GARDENS

39

8 14

2 46

COVENT GARDEN

MARKET

HOTEL

METRO

3

43

28

L.I.A.

LONDON

MUSIC

HALL

1

GRAND

THEATRE

10

6 7

19

22

15

CENTENNIAL

HALL

LONDON

CONVENTION

CENTRE

DELTA

ARMOURIES

WATERLOO STREET

6 London's Local Flavour

localflavour.ca

MAP B
---
N

Free Outdoor Wi-Fi Zone

(LondonLAWN.ca)

Free Indoor Wi-Fi Hotspot

27

P

Parking

Downtown London Office

4220

13

STATIONPARK

ALL SUITE HOTEL

12

For More Information:

123 King Street, London

519-663-2002

info@downtownlondon.ca

www.downtownlondon.ca

DowntownLondon

@Downtown_London

@DowntownLondon

MAP B

localflavour.ca

London's Local Flavour 7
---
MAP C

21

Goderich

8

45

Blyth

LAKE HURON

Grand Bend

4

MICHIGAN

7

69

64

40

Sarnia

41

21

402

30

Ilderton

16

35 32

22

Strathroy

London

St. Thomas

Port Stanley

44

4

31 34

Detroit

Windsor

LAKE ST CLAIR

Chatham-Kent

401

LAKE ERIE

3

8 MAP C
---
401

6

Toronto

Guelph

Stratford

Waterloo

Kitchener

Cambridge

401

403

LAKE ONTARIO

Hamilton

Ingersoll

33

403

Niagara Falls

401

3

Buffalo

3

NEW YORK

PENNSYLVANIA

OHIO

MAP C

localflavour.ca

London's Local Flavour 9
---
INTRODUCTION

London is Cooking

with Local Flavour!

If you care about what you eat and where it

originates, you are going to love discovering the

food and drink in and around London, Ontario. The

range and choices in culinary styles reflects our

cultural diversity and the increased desire for quality

food experiences. Our restaurants and indie cafés

distinguish themselves with ethnic authenticity and

tradition, with an emphasis on using our region's

characteristic flavours and ingredients. We are

proponents of Experiential

Tourism, the burgeoning

global movement in

which people enjoy

meaningful experiences

by appreciating

cultural nuance

through interactive and

authentic encounters.

With the farmto-table

ethos

having evolved to

a mainstream food

movement, the trend

for buying and eating

local continues. Indie food

entrepreneurs and culinary

artisans with their madeby-hand,

small-batched and

seasonal offerings, using locallyprocured

ingredients, continue

to be a vital part of the broader food movement.

London is a hotbed of indie food start-ups. There

has been an unprecedented increase in upmarket

coffeehouses with unique roasts and single-origin

specialty tea merchants with cafés, some of which

are licensed. The exciting rise of independent

restaurants, many serving up innovative plantbased

cuisine, shows no sign of waning.

London can boast about two outstanding

community markets, the daily Covent Garden Market

and The Market at Western Fair on Saturdays and

Sundays. The best seasonal producer-only farmers'

market in Ontario is at the Covent Garden Market,

on Thursdays and Saturdays.

Our craft beer movement continues to flourish,

bringing new flavours and innovation and creating

customer loyalty not only to the products they

are offering but to the brewers themselves. Our

forward-thinking craft breweries are creating

meaningful and lasting on-site experiences, with

popular taprooms offering beer tastings, flights,

games and community interaction.

London is well-known for its iconic

summer festivals in Victoria Park and

the annual London Wine & Food Show

in January. Our food trucks serve a

diverse variety of tastes, mobile eateries

as incubators for culinary

innovation. We're

speaking about

the chef-driven,

entrepreneurial,

indie food truck

owners who post

their daily location

and menus on

social media.

Whether you're

interested in attending

one of our iconic food

festivals, shopping at one

of our specialty food shops or at

our farmers' markets, or want to explore the

unique food and drink scene, we trust you'll enjoy

exploring the vast choice of options on the following

pages, offering a taste of "London's Local Flavour."

Bryan Lavery

Bryan Lavery is Food Editor & Writer-at-Large for

Eatdrink magazine. He has years of expertise and

professional familiarity in the restaurant and hospitality

industry, as a chef, restaurateur, food writer, event

planner, mentor and consultant.

10 London's Local Flavour

localflavour.ca

INTRODUCTION
---
SECTION 1

Restaurants

Amenities Legend

— Licenced — Wheelchair Accessible — Patio — Take-Out Available

— Bring Your Own Bottle Service Available — Accommodations Available

From The Early Bird:

A Loaded Caesar and

Pancake Stacker — 4

pancakes layered with housemade

peameal bacon, house-smoked

bacon, breakfast sausage and a sunny side

RESTAURANTS fried egg, served with home fries and salad. localflavour.ca 11
---
London's Oasis

for Food Lovers!

DAVID'S BISTRO

One of Downtown London's culinary landmarks for over

20 years, David's Bistro is truly "an oasis for food lovers."

Professional, friendly service is provided by Owner David

Chapman (centre), his wife Cindy Kinsella (second fro the

left), and his daughter, Manager Natalie Chapman (second

from the right). Chef Elvis Drennan (far right) leads an

exceptional kitchen staff, including Sous Chef Rick Hunt

(far left) and line cook Andrew Woolcox-Howe (far back).

12 London's Local Flavour

localflavour.ca

RESTAURANTS
---
Daily Prix Fixe Specials

The Scene

David's Bistro, a classic French bistro,

was opened in 1998 by David Chapman.

After being chef and then chef/owner of

Anthony's Seafood Bistro (a local landmark

at the time) for 18 years, Chapman decided

to reinvent himself. His traditional bistro,

with its small bar and vibrant red walls, is

a venerated downtown London culinary

anchor. The classic bistro motif perfectly

matches the traditional approach to

service and attention to detail.

Menu Highlights

Owner David Chapman and Chef Elvis

Drennan, who has helmed the kitchen

and a talented kitchen staff for a number

of years, present perfectly executed classic regional French-inspired specialties.

The emphasis is on authentic country cuisine with primarily seasonal and high

quality local ingredients. Chapman and Drennan are long-time proponents of the

philosophy that simplicity, seasonality and purity are the hallmarks of good cooking.

Chalkboard prix-fixe menus change daily, in tune with the seasons and the

availability of special items. So too does the interesting wine list vary, always

with a range of carefully selected consignment wines listed on a separate

blackboard, augmenting regular favourites. Classic Bistro Fare at David's

includes the highly recommended:

• Pan roasted Halibut with zucchini, sweetydrop pepper and pea ragoût and

saffron cream sauce;

• Braised Spring Lamb Shank with hominy grits and mint gremolata;

• Grilled Rack of

Venison with

ricotta gnocchi,

boar bacon and

red wine jus;

• Duck Leg Confit

with lingonberry

jus, rösti potato

and asparagus;

• An innovative

dessert

Exceptional Wine List

selection, all

made in house.

Classic Bistro

432 Richmond Street (at Carling)

MAPS A & B: 1 519-667-0535

LUNCH: WED–FRI 11:30 am–2:30 pm

DINNER: MON–SUN 5 pm–10 pm

LUNCH: $14– $18

DINNER: $28 – $36

prix fixe menu changes daily

2 Courses: $28

3 Courses: $32

www.davidsbistro.ca

Classic French Bistro Fare

Daily Prix Fixe Choices

Excellent Wine List, Available

by Glass or Bottle

Dark Chocolate Torchon

Asparagus & Edamame Salad

Grilled Tuna with Risotto Noir

RESTAURANTS

localflavour.ca

London's Local Flavour 13
---
Italian Inspired ...

Locally Focused

ABRUZZI

Co-owners Rob D'Amico and Chef Dave Lamers

have lifted Abruzzi into the top echelon of London

restaurants, serving Italian-inspired modern and

traditional regional specialties. As host and chef,

respectively, each brings a polished professionalism

to their Downtown epicurean hotspot.

14 London's Local Flavour

localflavour.ca

RESTAURANTS
---
The Bar

The Scene

Abruzzi is well-groomed but casual, with

an elegant white marble bar just inside

the front entrance. There is an elevated

communal table in the centre of the dining

room that seats eight. The chairs and

banquettes are comfortable enough for

a three-hour sitting. The simple, striking

decor with bare brick walls and lots of

mirrors, the innovative lighting, and

the friendly ambience are all central to

the Abruzzi experience. The service is

attentive, polished and knowledgeable.

Menu Highlights

Chef Dave Lamers takes the earthy Italian culinary vocabulary and imbues

it with both his idiosyncratic style and a culinary dialect that is responsive

to the seasons. Lamers stresses simplicity and freshness as foundations of

the Abruzzi kitchen philosophy. The menu offerings capture the essence of

Italian cooking. They are intuitive, often iconic, prepared with locally-sourced

and quality ethnic ingredients, executed with skill and an eye to detail. The

kitchen has a long-standing commitment to procuring local and sustainable

ingredients. Signature dishes include:

• Grilled Loco Fields Peach Salad with toasted hazelnuts, arugula, ricotta

salata and Niagara Chardonnay & honey vinaigrette;

• Crispy Pork Belly & Bay Scallops with

charred Loco Fields carrots, carrot purée,

kale and spiced jus;

• Ricotta Gnudi with Brussels sprouts, leeks,

shallots, house lamb pancetta, honey

mushrooms and sage brown butter;

• Grilled Beef Tenderloin with crispy

gnocchi, mushrooms, spinach, green

beans,red wine and veal stock reduction;

• Sous Vide Cauliflower "Steak," beluga

lentils, roasted fennel, charred red onion

Brussels sprouts, fennel hot sauce, onion,

thyme and white bean purée;

Loco Fields

Fried Squash Blossoms

• S'Mores, dark chocolate brownie, torched

marshmallow crème, fudge sauce, vanilla

gelato and graham crumble.

Italian-inspired

Farm-to-Table

119 King Street (at Talbot)

MAPS A & B: 2 519-675-9995

HOURS: MON–SAT 11:30 am – LATE

closed sunday

LUNCH: $8– $16

DINNER: $15 – $33

abruzzi.ca

A superior wine list includes

interesting consignments

A long-standing commitment to

local sustainable ingredients

House-cured Pancetta & Assorted

Charcuterie

Menus change seasonally

Authentic Italian regional specialties

Attentive, knowledgeable service

Steps to Budweiser Gardens

Angus Strip Loin

Seared Sea Scallops & Pork Belly

Rhubarb Cake & Housemade Gelato

11

Lo

51

ww

RESTAURANTS

localflavour.ca

London's Local Flavour 15
---
The Evolution of

Downtown Dining

GNOSH DINING + COCKTAILS

gNosh is dedicated to making your experience perfect. Joe Duby

and Cynthia Beaudoin have created an unpretentious restaurant

that celebrates honest food and wine, with a sophisticated

atmosphere and friendly hospitality. Enjoy a glass of wine or a

signature cocktail at the bar, a couple of small plates or a full

dining experience. The casual yet stylish setting is perfect for a

romantic evening, a night out with good friends, a corporate

function, or for one of the most important events of your life.

They're ready to help, with a service team of accomplished

pros to ensure your every need is taken care of.

16 London's Local Flavour

localflavour.ca

RESTAURANTS
---
Chef Cynthia Beaudoin and Joe Duby

The Scene

gNosh features modern

sophistication with

its stylish decor, and

offers an innovative

approach to familyfriendly

comfort food

and artful cuisine.

Private dining areas can

accommodate parties

Beautiful, Sophisticated Ambience

and special occasions

with award-winning

service, customizable menus and — best of all — the ability to leave the

planning to talented professionals.

Menu Highlights

Using locally sourced ingredients to create delectable fare is Chef Cynthia

Beaudoin and her culinary team's passion. With a menu focused on the

seasons and plated to perfection, they'll wow you with every bite. Chef

Beaudoin's fresh and innovative casual fare and tantalizing plant-based

choices are on offer, as well as classic favourites with a contemporary flair.

The menu is an eclectic collection of Asian, Continental and Mediterranean

influences. Featured items include:

• Herbed Brick Chicken, a half chicken with rosemary, sage, garlic and

lemon zest with roasted mini potatoes;

• Cellar Board, a selection of charcuterie and fine cheese with pickled

veggies, warm house-cured olives and baguette;

• Broad Noodle Pad Thai with coconut milk, ginger, tamarind & brown sugar

sauce, sprouts, cilantro, green onions and cashews;

• Gnocchi Mac & Cheese with smoked Gouda Mac sauce, melted Bocconcini

and fresh tarragon;

• Artichoke, Leek and

Spinach Tart in a

buttery, house-made

rustic tart shell;

• Duck à l'Orange

Wontons with

pulled roasted duck

& Jicama, daikon

radish, green onion

& carrot slaw and

Grand Marnier & rice

vinegar toss.

RESTAURANTS

localflavour.ca

International

Comfort Food

32 Covent Market Place

(also open at 125 Dundas Street)

MAPS A & B: 3 519-601-8050

MON–THURS: 11:30 am–10 pm

FRI & SAT: 11:30 am–12 midnight

SUNDAY: 4 pm–9 pm

LUNCH: $8 – $15

DINNER: $15 – $30

gnoshdining.com

Three Private Rooms Available for

Dining or for Your Next Celebration

Atrium for meetings in Hotel Metro

Steps to Budweiser Gardens &

Underground Parking at Covent

Garden Market

Quick Lunch Options

Fresh, Local, Seasonal Ingredients

Exceptional Wine Selection

Creative Cocktails

London's Local Flavour 17
---
Sublime Food In a

Stunning Location

THE RIVER ROOM Café & Private Dining

RHINO LOUNGE Bakery & Coffee Shoppe

Owners Jess Jazey-Spoelstra and Harmen Spoelstra opened The

River Room and put Museum London on the local dining map. This

exceptional lunch and brunch spot reflects Jess' culinary philosophy

"to create exceptional food at reasonable prices," with lots of New

York-style bravado. Since 2014, the stylish Rhino Lounge Bakery

& Coffee Shoppe has been know for its sleek ambience, creative

menu, specialty coffees and outstanding baked goods.

18 London's Local Flavour

localflavour.ca

RESTAURANTS
---
Weekday Lunch & Sunday Brunch

Available Evenings

for Private Dining

The Scene

The River Room offers outstanding food

and service in a stunning space with

fabulous views of the The Forks of the

Thames and the old courthouse. Jess

Jazey-Spoelstra's sophisticated design

sensibility is reflected in the cuisine as

well as the stylish and relaxed interior.

The ambience is warm and friendly,

with glass, leather and linen textural

elements. The dining room features an

attractive curved bar at the entrance.

Beautiful photos pay homage to the

owners' days in New York City.

Menu Highlights

At lunch, Chef's features include a Pastrami Reuben sandwich — essential New

York deli — with Swiss cheese, sauerkraut, Russian dressing and crispy dills. East

Coast Lobster Roll with celery, scallion, mayo and topsider bun quickly became

a signature dish. House Cured Smoked Salmon with two potato latkes, crème

fraîche and fried capers is a classic, or try the Warm Goat Cheese & Caramelized

Onion Tart with seasonal greens. The Vegan Buddah Bowl includes rice noodles,

Thai peanut sauce, pickled vegetables, sesame, cucumbers,and avocado.

Both locations take dessert offerings to a whole new level. Decadent

Chocolate Cake with fudge frosting and Carrot Cake with cream cheese

icing are beautifully executed. Try the River Room's signature Vanilla Bean

Crème Brûlée and the Rhino's Brookies

(brownie meets cookie). Cronut Thursdays

draws devotees to the Rhino for the latest

interpretation of this croissant-donut

delicacy. Also recommended are the Rhino's

vegan offerings, including Mac 'n Cheese,

Sausage Rolls, Cheesecake and Dutchies.

The River Room has over a dozen

dishes on the Brunch prix fixe menu ($27),

including a classic Cobb Salad with grilled

chicken, bacon, blue cheese, hard-boiled

egg and chopped tomato & cucumbers.

Their bestselling Eggs River Room with mini

Maryland crab cakes and poached eggs on

East Coast Lobster Roll

toasted brioche is served with Hollandaise

sauce, roasted potatoes and greens.

Contemporary

Casual Fine

Dining & Café

421 Ridout Street North

(within Museum London)

MAPS A & B: 4 519-850-2287

HOURS: TUES–FRI 11:30 am–3 pm

SUNDAY 11:30 am–3 pm

Open for Dinner during Londonlicious

LUNCH: $9– $22

BRUNCH: $27 Prix Fixe

theriverroom.ca

Daily Lunch Specials

Feature Vegan Quiche at Brunch

Meeting Room Amenities Available

Open Evenings for Private Dining

THE RHINO LOUNGE 519-850-5111

HOURS: TUES–WED 11:30 am–4:30 pm

THURS 11:30 am–8:30 pm

FRI–SUN 11:30 am–4:30 pm

Open Evenings for Private Events

Meeting Room Amenities Available

Cronut Thursdays

Smoked Salmon & Potato Latkes

Lemon Tart with Raspberry Purée

Cronut Thursdays at Rhino Lounge

RESTAURANTS

localflavour.ca

London's Local Flavour 19
---
Dispensing

Deliciousness

CRAFT FARMACY

Jess Jazey-Spoelstra (of North Moore Catering

and The River Room) partnered with über chef

Andrew Wolwowicz to create Craft Farmacy,

London's local craft beer and oyster bar. The

name refers to Craft, as in an activity involving

skill in making things by hand, and Farmacy

relates to the "farm" and the "sea."

20 London's Local Flavour

localflavour.ca

RESTAURANTS
---
Co-owners Executive Chef

Andrew Wolwowicz & Jess

Jazey-Spoelstra

RESTAURANTS

The Scene

Jess Jazey-Spoelstra and Chef Andrew

Wolwowicz deliver style and comfort with

attention to the smallest details at Craft

Farmacy. Setting the tone in the dining

room is an ample repurposed bar, stunning

fireplace, custom-made leather banquettes

and repurposed tables with comfortable

strapped-back bentwood-style chairs. The

servers' custom-designed leather aprons by

Coakley's are another example of the pair's

keen eye for detail. There is a private event

space with room for 40 on the second floor.

Menu Highlights

Chef/co-owner Andrew Wolwowicz is a

local pioneer of the ethical farm-to-table

movement, promoting the four pillars of sustainability: cultural vibrancy,

economic prosperity, environmental responsibility and social justice. Craft

Farmacy is a Feast ON-certified "Taste of

Ontario" restaurant. Working with Jazey-Spoelstra

to create the menus, Chef cooks with skill and

dedication, aided by his talented sous chef Kyle

Trafford and a team of apprentices.

Dishes are progressive, rustic in style, featuring

high-quality ingredients crafted from local, regionspecific

and specialty products, and executed

with aptitude, innovation and attention to detail.

Recommendations include: Roasted Bone Marrow

with ox tail marmalade; Octopus (a little grilled,

Steam Clams with white wine,

butter, chili flakes and garlic

Roasted Bone Marrow

with Ox tail marmalade

a little fried)

with Romesco

& curry

vinaigrette;

Brown Butter Chicken Schnitzel with

warm potato salad and Forked River abbey

jus; and a dynamite Hot Smoked Oyster

Crostini with shallot cream cheese.

A raw bar features a fresh Shellfish

Tower, Shrimp Cocktail and a changing

selection of six to nine East Coast

oyster varieties with fresh horseradish,

mignonette sauce and hot sauce.

localflavour.ca

Craft Beer &

Oyster Bar

449 Wharncliffe Rd S (N of Baseline)

MAP A: 5 519-914-2699

HOURS: TUES–THURS 11:30 am–11 pm

FRIDAY 11:30 am–12 am

SATURDAY 12 noon–12 am

SUNDAY 11 am–11 pm

closed mondays

LUNCH: $12– $20

APPS: $12– $20

DINNER: $20– $38

@craftfarmacy

London's Premier Oyster Bar

Extensive Craft Beer Selection

Fireplace & Welcoming Ambience

Ample Free Parking

Private Rooms Available

Stylish Interior with Fireplace

Brown Butter Chicken Schnitzel

Blackboard Menu Updated Daily

London's Local Flavour 21
---
Craft Beer & Modern

Pub Fare with Flair

THE CHURCH KEY BISTRO-PUB

The Church Key is your destination pub, whether you're

looking for an impressive selection of craft beers or a pub

meal with flair. Owners Pete and Vanessa Willis have nearly

50 years combined experience in the restaurant industry.

The opening of The Church Key in May of 2009 was the

culmination of a longtime dream. "We are definitely pub

people," says Vanessa. "We like an uncomplicated place

where you can talk and have good food and beer and wine."

22 London's Local Flavour

localflavour.ca

RESTAURANTS
---
The Bar

The Scene

Warm and comfortable, with a

pleasing combination of brick,

stone and wood, The Church Key is

an extensively renovated pub in a

prominent Richmond Row heritage

building across from The Grand Theatre.

An intimate outdoor courtyard

flanks the south side of the building.

Menu Highlights

The Church Key follows in the

British tradition of the gastro pub by

specializing in traditional food done

with gourmet flair. Chef Michael

Anglestad, with over 20 years in

fine dining, uses seasonal, locally

sourced ingredients extensively.

Try the Ploughman's Plate, great

as a meal or a shared appetizer,

with English cheeses, crusty bread,

paté, smoked salmon, duck breast

bacon, branston pickle, pickled quail eggs and vegetables. Or start with

Salmon Wrapped Scallops, sea scallops wrapped in house-smoked salmon,

drizzled with grapefruit and rice wine syrup and togarashi aioli.

Entrée favourites include the famous Church Key Burger, a traditional Fish

& Chips, Lamb Curry — lamb braised in mild ginger curry sauce on seasoned

rice with cucumber raita and fresh cilantro.

• The Game of the Week: This popular feature changes every week, as Chef

creates a unique dish that showcases a different variety of game meat.

• Sunday Brunch begins with a large basket of baked pastries, such as

fresh croissants,

almond cheesecake

Danish, or sweet

potato & pumpkin

seed bread, all baked

fresh by Pastry Chef

Cliff Briden. Then

enjoy a choice of five

different brunch entrée

items. The menu is

different every week!

Farm-to-Table

Bistro-Pub

476 Richmond Street (N of Queens)

MAPS A & B: 6 519-936-0960

HOURS: MON & TUES 11:30 am–10 pm

WED & THURS 11:30 am–11 pm

FRI & SAT 11:30 am–12 am

SUN 11 am–10 pm

LUNCH: $11 – $17

DINNER: $18 – $30

thechurchkey.ca

Across from The Grand Theatre

Vegetarian Options

Sunday Brunch 11 am–2 pm

Game Meat of the Week Specials

Food Served Late!

Heritage Building Charm

Across from the Grand Theatre

Inviting Courtyard Patio

RESTAURANTS

localflavour.ca

London's Local Flavour 23
---
An Experience

to Savour

BLACK TRUMPET

For over 17 years Black Trumpet has been a culinary

destination in the heart of Downtown London on

Richmond Row. The warmth and charm transcend from

the architecture to the impeccable world-inspired cuisine,

wine list and the polished and attentive service. There are

eight unique and flexible dining areas for entertaining an

intimate group or hosting a sit-down reception. The rooms

are richly detailed and exquisitely constructed.

24 London's Local Flavour

localflavour.ca

RESTAURANTS
---
Chef Scott Wesseling

RESTAURANTS

The Scene

Black Trumpet has a stunning and

lush ambience with a culinary team

devoted to a global point of view. In the

warm weather months, the beautifully

appointed and private gardens create

a peaceful setting and prestige spot

for alfresco dining and cocktails. This

secluded haven is a hidden jewel,

seating 60, and remains one of the city's

best-kept secrets.

Menu Highlights

Chef Scott Wesseling and his Sous Chefs

Kristen Delaurier and Oliver Thomas have

a contemporary take on updated comfort

foods, plant-based options and traditional recipes. Chef and the culinary team

continue to support and seek out local providers, creating exceptional tastes and

preparations that can be unforgettable. The menu offers well-balanced choices

with contrasting flavours, with something to appeal to everyone's tastes or dietary

needs. A new Vegan Menu offers delicious options, such as the BT Buddha

Bowl, Smoked Jackfruit Tacos or Avocado Tempura with a chili lime aioli.

The lunch menu offers artful cuisine and is the perfect combination of

globally-inspired signature dishes with influences and inspiration from various

cultures. Treat yourself to Roasted Duck Breast, Cornish Hen, or feed your soul

with one of the many offerings from the Big Green Egg, such as Gochujang Beef

Short Ribs, Brisket, or Cochinita Pibil.

At dinner, innovative takes on timehonoured

entrées with influences and

inspiration from various cultures include:

• Chili Lime Crusted Salmon with sweet

corn puree, rice and bean fritters,

charred greens with lemon and leek

and orange marmalade;

• Seared Tuna with coconut jasmine

rice, seaweed salad, tempura

avocados, sake and soy glaze;

• Wild Mushroom and Black Truffle

Sacchetti with roasted garlic, wild

BT Buddha Bowl

mushrooms, baby spinach, ricotta

cheese and gorgonzola cream sauce.

localflavour.ca

Contemporary

World Cuisine

523 Richmond Street (S of Kent)

MAPS A & B: 7 519-850-1500

OPEN MONDAY–SATURDAY

Lunch & Dinner 11:30 am–close

closed sundays & holidays

LUNCH: $11–$21

DINNER: $11–$36

blacktrumpet.ca

World Cuisine Inspired by Local

and Seasonal Ingredients

In the Heart of Richmond Row,

Just North of The Grand Theatre

Perfect for Groups, Birthdays,Rehearsal

Lunches & Dinners, Small Weddings,

Receptions and Private Dining

Multi-media Capabilities

Exotic Courtyard Patio

Bacon-wrapped Chorizo

Roasted Marrow Gratin

Private Dining Rooms Available

London's Local Flavour 25
---
Come Home to

La Casa — Since 1994

LA CASA RISTORANTE

A Downtown London landmark for fine dining for more than

two decades, the 75-seat "ristorante" remains a quintessential

experience for casual but refined dining. Consistency and

familiarity are the hallmarks of the La Casa culinary experience.

Count on fresh, local ingredients and a warm, neighbourly

ambience with intimate dining rooms accented by a crackling

wood-burning fireplace and a well-stocked bar.

26 London's Local Flavour

localflavour.ca

RESTAURANTS
---
The Scene

In the middle of King Street's

restaurant row, across the

street from the Covent

Garden Market and kitty

corner to Budweiser Gardens

stands La Casa, with a

stylish black brick façade.

One enters the dining room

through a short hallway, as

one might enter a gracious

home. Intimately candle-lit by night, large windows provide lots of natural

light by day.

Menu Highlights

La Casa encapsulates its Italian roots by

offering traditional home-style fare such as

risotto, ravioli, lasagna, gnocchi Bolognese

and angel hair pasta. The menus emphasize

the classics of the Italian culinary canon

and the authenticity that comes from

family recipes handed down through the

generations. The pastas are all made inhouse.

The restaurant does its own smoking,

baking and desserts. The sourdough starter

is 20 years old now! Recommendations

include:

Traditional Desserts

Beef Tenderloin

• Rack of

Lamb —

herb-crusted Ontario lamb, with roasted

red potatoes, vegetable ratatouille and a

shiraz-lamb sauce;

• Seafood Risotto — lobster, seared scallops,

shrimp, diced pancetta, mascarpone cheese

and fresh pea shoots;

• Beef Tenderloin — 8-ounce hand-cut

fillet, with asparagus tips, garlic mashed

potatoes, roasted portobello mushroom and

a beef jus demi-glace;

• Veal Marsala, a tower of veal tenderloin,

on a spinach and wild mushroom risotto

gateau, in a marsala reduction.

Traditional

Italian &

Mediterranean

117 King Street (at Talbot)

MAPS A & B: 8 519-434-2272

OPEN MONDAY–SATURDAY

Lunch & Dinner 11:30 am–close

closed sundays & holidays

LUNCH: $8–$24

DINNER: $9–$39

lacasaristorante.com

Steps to Budweiser Gardens

Across from Covent Garden Market

Perfect for Groups, Birthdays,

Rehearsal Lunches & Dinners,

Small Weddings, Receptions and

Private Dining

Outstanding Scotch Selection

Fresh Daily Food Specials

Salmone Della Casa

Veal Marsala

Marinated Pan-fried Calamari

RESTAURANTS

localflavour.ca

London's Local Flavour 27
---
London's Premier

Historic Inn

IDLEWYLD INN & SPA

In addition to boasting one of the city's most

distinguished dining experiences, the Idlewyld also

offers 21 guest rooms, each uniquely decorated

to enhance the Inn's distinctive allure. A day spa

has been added to the Inn's amenities, with two

massage beds, and manicure and pedicure stations.

28 London's Local Flavour

localflavour.ca

RESTAURANTS
---
Seared Filet of Beef with potato fondant

The Scene

Two well-appointed dining

rooms are a reflection of

the casual elegance that

the Idlewyld has built

its reputation around.

The rooms are smart and

impeccable, combined

with well-spaced tables,

comfortable armchairs and

banquettes. With unique

furnishings and gleaming

exotic woods and other

amenities, the Idlewyld is a

step across the threshold of a grander era. Savour the comfort of the sun-filled

dining room, enjoy al fresco dining on the gracious front porch, or escape to

Idlewyld's hidden Garden Courtyard.

Menu Highlights

Chef de cuisine Trevor Stephens offers a locally-inspired menu of contemporary

and traditional choices, complemented by an international and local selection of

wines, and draught ales are on tap. There is a prix fixe Sunday Brunch. Idlewyld

service is knowledgeable, polished and deferential.

Menus are loaded with ingredients that, along with the stylish dining room,

evoke the phrase "fine dining." Try the Asian 5-Spice Roast Rack of Lamb with

roasted fennel, arancini, sorrel pesto, cucumber kimchi and mint raita. Creamy

White Chocolate Blueberry Cheesecake is served with White Chocolate

Ganache. Other delicious recommendations include:

• Pan Seared Chicken Supreme with roasted garlic & tarragon brioche pudding,

braised daikon, pea shoot & red daikon sprout garnish; spring pea tendrils;

• House-Made Tagliatelle Pasta with wild mushrooms, asparagus, shaved

White Chocolate

Cheesecake

Parmigiano-Reggiano,

thyme & parsley, onion &

garlic Soubise;

• Seared Filet of Beef

Tenderloin with Duchess

potato, orange-caraway

glazed carrots, tomato

à la Provençale, baked

bone marrow canoe;

horseradish gremolata

butter and glace de veau.

Contemporary

Farm-to-Table

36 Grand Avenue (W of High)

MAPS A : 9 519-432-5554

Breakfast: MON–FRI 7 am–10 am

SAT, SUN & Holidays

8 am– 11 am

Lunch: MON–FRI 11 am–3 pm

SAT 11:30 am–2 pm

Dinner: DAILY 5 pm– 9 pm

Brunch: SUNDAY 11 am–2 pm

Afternoon Tea: 2 pm–4 pm

(3rd sat of the month)

LUNCH: $8 – $24

DINNER: $8 – $43

idlewyldinn.com

Saturday Afternoon Tea

Prix Fixe Sunday Brunch

Conference and Wedding Venue

A Short Walk to Wortley Village

Multi-media Capabilities

Al Fresco Dining on the porch or

on the Garden Courtyard Patio

Private Dining Rooms Available

21 Unique Guest Rooms

On-site Day Spa

RESTAURANTS

localflavour.ca

London's Local Flavour 29
---
Ethical, Seasonal,

Regional Cuisine

GARLIC'S OF LONDON

Celebrating a passion for food, wine and service, Garlic's

of London offers traditionally prepared high-quality food

with a modern edge. The Duck Confit Fettucinne in this

photo typifies Garlic's approach to top-of-the-line rustic

cooking, using quality seasonal and local ingredients.

30 London's Local Flavour

localflavour.ca

RESTAURANTS
---
The Scene

Garlic's of London has been a venerated dining destination on Richmond Row for

over 20 years. A proponent of stellar farm-to-table cuisine, Garlic's of London owner

Edin Pehilj (known to regulars and friends

as Edo) ensures his carefully chosen team

offers only intelligent and ethically-informed

menu choices. The management team leads

a passionate service group and are involved

with all aspects of service, from menu

development to group bookings and special

event co-ordination.

Menu Highlights

The Garlic's culinary team shares a

dedication to the menu sensibilities adopted

by Pehilj. Important and long-standing

relationships with local producers have been

developed, in some cases leading to the

production of specialized items for use in

Garlic's kitchen. With contemporary plating,

the often rustic cooking is made from scratch with inspiration from local and

signature ingredients and seasonal

products. The bar includes Niagaraarea

wines and a draught list sourced

from London and Ontario breweries,

now including Twin Pines' awardwinning

local cider.

Naturally raised foods, local farms

and slow cooking make the Garlic's

dining experience memorable,

from handmade pastas and slowly

simmered stock reductions to freshly

baked breads and desserts. The menu changes monthly, combining seasonal

harvests of the London area with

sustainable, organic Ontario and

Canadian products.

Recommendations include

signature items such as: Sunday

Brunch Maple Bacon Eggs

Benedict, Garlic Bisque, Panseared

Salmon Salad, Hot Smoked

Garlic Fettuccine, Clear Creek

Whiskey Chai Latte

Owner Edin Pehilj

Beef

Carpaccio

Farms' Organic Duck and longtime

favourite Crème Brûlée.

Farm-to-Table

Dining

481 Richmond Street (S of Dufferin)

MAPS A & B: 10 519-432-4092

MON–FRI 11:30 am–10 pm

SATURDAY 11 am–11 pm

SUNDAY 11 am–10 pm

subject to change seasonally

LUNCH: $10 – $28

DINNER: $10 – $38

garlicsoflondon.com

Beside The Grand Theatre

Upscale Rustic Cuisine

Seasonal Ingredients

Naturally-raised Meats

Menu Changes Monthly

Pan-Seared Trout

Garlic's Artisan Board

Seafood Pasta

RESTAURANTS

localflavour.ca

London's Local Flavour 31
---
A Gastronomical

London Landmark

BLACKFRIARS BISTRO & CATERING

Farm fresh food prepared on site allows the talented Blackfriars

team to provide guests with seasonal meals geared to their

individual needs. The casually elegant bistro provides cutting

edge flavours with a respect for culinary traditions. This

same attention to detail and personalized menu planning are

hallmarks of Blackfriars' full service catering.

32 London's Local Flavour

localflavour.ca

RESTAURANTS
---
Owner Betty Heydon

The Scene

Blackfriars offers a deliciously artistic

setting minutes from downtown London.

The central location and ample parking

make this the perfect meeting place for a

culinary adventure. Upbeat, knowledgeable

staff are your first introduction to

Blackfriars. The bistro's intimate size

and style allow for perfect closed room

parties. Don't let size fool you! Blackfriars

has a strong reputation as London's

premier caterer. A powerhouse culinary

team showcases prodigious individual

talents with farm fresh menus augmented

by creative daily specials.

Menu Highlights

Innovative seasonal menus are elegantly

handwritten by restaurateur Betty Heydon, who has presided over Blackfriars for

more than 22 years. A large blackboard covers one wall, featuring daily seasonal

creations by Blackfriars' talented chefs. There you'll also find an ever-changing

beverage list; Blackfriars has been a leader in providing well-chosen craft beer

and consignment wines to enhance a full bar selection, including daily signature

cocktails. Blackfriars features small plates at dinner for lighter dining, and honours

special dietary needs and plant-based diets. Recommendations might include:

• LUNCH — Nona Bridget's pan-seared Beef Tenderloin with forest mushrooms

and caramelized onion on parmigiana smashed potatoes; Blackfriars signature

Stilton & Port Cheesecake with grilled chicken, heritage greens, warm pomegranate

molasses vinaigrette & grilled garlic baguette; Seasonal soup and

Gourmet Grilled Three-Cheese Sandwich with spiced apple on house made

multi grain. Three chalkboard specials

are featured daily.

• DINNER — Parmigiana Gnocchi with

toasted walnuts, slow-roasted small

tomatoes, roasted garlic and basil agliolio;

a small plate Crêpe stuffed with wild

mushrooms, smoky Gunn's Hill cheese,

sundried tomato and Marsala cream

sauce; or Metzger's Pork Tenderloin,

Aged Beef Tenderloin or fresh fish

Creative Seasonal

Desserts

and seafood. The Chefs Showcase

blackboard appetizer and entrée specials

change daily.

Contemporary

Bistro & Caterer

46 Blackfriars Street (Off Wharncliffe)

MAP A: 11 519-667-4930

LUNCH: MON–FRI 11:30 am–2:30 pm

DINNER: MON–SAT 5 pm–10 pm

Open Saturday afternoons and

Sundays for Private Parties only

Changing Daily Specials

Reservations by phone only

blackfriarsbistro.com

Enter off Wharncliffe Road

Ample Free Parking

TripAdvisor Certificate of Excellence

Closed Room Parties Available

Dietary Needs Accommodated

Bistro & Catering

Artistic Intimate Atmosphere

Daily Lunch Combo Features

Beef Tenderloin

RESTAURANTS

localflavour.ca

London's Local Flavour 33
---
Classical Preparations

with a Modern Twist

THE IN HOME CHEF

Chef Thomas Waite started the In Home Chef in

2010 to express modern takes on cuisine. It is now

one of London's most innovative and successful

boutique caterers. Wanting to both teach and offer

other ways for people to experience innovations

in dining, he updated a quaint city cottage that

provides a charming locale for pop-up events,

private dining, and cooking classes.

34 London's Local Flavour

localflavour.ca

RESTAURANTS
---
Seared Rib Eye, Heirloom

Carrots, Spinach, Jus

The Scene

Chef Thomas Waite offers

cooking classes, special event

dinners and private dining in a

stylish downtown bungalow. A

stylish dining room and nicely

appointed seasonal patio provide

comfort and intimacy for groups

and private events, as well as for

Chef's unique and inspired popup

restaurant dining experiences.

Catering &

Events

Consistently delivering a

professional culinary experience,

Chef is known for classic, seasonal food preparation, with a twist. Original

menus allow him to express his gastronomic point of view, and this freedom

is the driving force to which he attributes his success as a caterer. Offering

service to "2 to 250" for private parties and weddings of all scales and styles,

In Home Chef ensures your event is unique and as memorable as possible.

In close consultation with each client, the ideal customized menu is created.

Waite is a chef for whom work is everything — his consuming passion is for

cooking he can really sink his teeth into. His cuisine is beautifully handcrafted,

classic in its influences, and innovative in sensibility and plating.

Cooking Classes

Private or corporate cooking classes and team building events provide a

unique hands-on opportunity to work

closely with others, learn new techniques

in the kitchen and have fun! Each class

runs approximately three hours and

includes learning how to prep and cook

multiples courses and a special themed

gift. Wine is also provided. Waite offers

a wide variety of classes from "How to

Make Pasta" to "Inspired Italian" to "All

about Beef." He is also expert in cooking

Pork Belly & Brisket, Charred

Baby Zucchini, Charred Corn

& Red Wine Jus

RESTAURANTS

Seared Salmon, Baby Carrots,

Parsnips & Spinach Puree

gluten-free. "If there's a specialty cuisine

you and your colleagues would like to

learn," says Waite, "let us know and we'll

design a class just for you!"

localflavour.ca

Catering,

Contemporary

Cuisine &

Cooking Classes

731 Wellington St. (S. of Oxford)

MAPS A & B: 12 519-434-9797

In Home Chef Headquarters Open

by Reservation or Appointment Only

theinhomechef.ca

Pop-Up Dinners

Private Dining Room

Private Event Venue

Cooking Classes

Team Building Events

Corporate Cooking Classes

Seasonal Outdoor Patio

Citrus Poached Shrimp, Soya Glaze

Apple Cake with toasted meringue

Beet Tartare, Fennel Flower

London's Local Flavour 35
---
Contemporary

Canadian Cuisine

REVERIE

Reverie is a destination restaurant whose

draw is a seasonally-inspired Canadianfocused

five-course tasting menu with

optional expertly curated wine pairings.

Operated by Chef Brian Sua-an and wife

Jerrah Revilles, the menu features items

such as this Lemon with White Chocolate

Mousse with yuzu, lemon gelee, lemon

confit, fresh lemon and Cuban mint.

36 London's Local Flavour

localflavour.ca

RESTAURANTS
---
Chef Brian Sua-an

Sous vide Lamb Shoulder

seasonal and local produce is important but quality

is paramount. The concept and development of

Reverie's structure continues to evolve organically.

This allows Chef to plan menus months in advance

and purchase everything fresh, which of course,

is part of the mantra. Chef gravitates to perfect

ingredients and goes to great lengths to source the

very best of what is available. Forests, meadows,

and waters provide a diverse range of edible wild

plants and funghi to forage for the menu. Chef

encourages diners to eat specific courses with

their hands.

Tasting menus

include items

such as:

The Scene

This is an intimate 500-square-foot space

with four tables of two (or a communal table

of eight) and four seats at the bar with an

open kitchen. By keeping everything simple,

from the pared-down equipment (dishes are

hand-washed) to the minimalist interior, the

environmental footprint is kept to bare bones.

The focus is on innovation in a casual, relaxed

and sustainable setting.

Menu Highlights

Chef uses modern techniques that work and

applies them to his cuisine to make a dish better,

not lesser. Using

• Northern Harvest Salmon cured in coffee

kombucha wrapped in Swiss chard with

edible flowers and fresh horseradish;

• Sous vide McIntosh Farm Lamb Shoulder

with Napa cabbage and pearl onions with

buttermilk and dill;

• Fresh and Candied Tomatoes with chewy

beets and kelp oil.

Brian Sua-an, Jerrah Revilles

& daughter Saisha Sua-an

Brown Butter Ice Cream

with hazelnut & barley koji

Contemporary

Canadian

1–208 Piccadilly Street

(West of Richmond St.)

MAPS A & B: 13 519-914-6595

OPEN: THURSDAY–SATURDAY

by reservation only

Open for private events by special

arrangements

5+ Course Tasting Menu $75.00+

Wine Pairing $50.00+

reverierestaurant.ca

Chef Driven Menus

Modern Canadian Cuisine Inspired

by Local & Seasonal Ingredients

Family Owned & Operated

Northern Harvest Salmon

Fresh and Candied Tomatoes

An Innovative Sustainable Approach

RESTAURANTS

localflavour.ca

London's Local Flavour 37
---
High Quality Food

Done Right Daily

WALDO'S ON KING

BISTRO & WINE BAR

Chef Mark Kitching has a simple philosophy that pertains

to life as well as his kitchen: Work hard every day and pay

attention to the details. At Waldo's, this means starting with

high quality ingredients, treating them with respect with

straightforward cooking, and providing customers with

consistently great service. Loyal customers and long term

staff are evidence that this is a solid recipe for success.

38 London's Local Flavour

localflavour.ca

RESTAURANTS
---
The Scene

Waldo's is conveniently

located within the

Covent Garden Market,

offering underground

parking and easy

access to Budweiser

Gardens. A stylish

interior and seasonal

patio offer comfortable

seating, Long term

staff provide excellent

service while keeping

the atmosphere fun,

casual and relaxed.

Menu Highlights

Mark will be cooking for you himself with his hand-picked team and dedicating

most of his time to the kitchen. Expect casual bistro-style selections and tantalizing

vegetarian choices, as well as the "old" Waldo's favourites — menu fixtures due to

customer demand — such as the Lobster, Shrimp & Scallop Bisque with fresh herbs

and sour cream, the Wild Mushroom Crêpe with white wine sauce and Asiago

cheese, or the Braised Beef Short Ribs on a bed of mashed potatoes with fresh

vegetables. Savour wines by the bottle, the ½ litre or by the glass; or try a "with

skins" or "without skins" wine sampler. Discover your personal favourites!

Mark's Fine Meats

Mark takes the reins at Field Gate Organics, the Market's long standing purveyor

of certified organic beef, pork, chicken, turkey and lamb, on November 1, 2018.

Much will remain the same, including genial Manager Dan Murphy, but the range

of products grows with the addition of fresh seafoods,

Halal meats, grass-fed Texas longhorn beef, wild

game such as quail and pheasant, and sauces and

demi-glaces.

Prepared foods

to reheat at home,

such as marinated

baby back ribs

and gourmet

meatballs, will

Beef Tenderloin

Owner/Cook Mark Kitching flanked by colleagues

Chef Douglas Harle and Manager Greg Simpson

be available for

takeout.

Casual Bistro

& Wine Bar

130 King Street

(South side of Covent Garden Market)

MAPS A & B: 14 519-433-6161

OPEN: MON–FRI 11:30 am–close

SAT 12 noon–close

closed sunday

LUNCH: $12 – 20$

DINNER: $20 – 40$

waldos.on.ca

mark.kitching@start.ca

Chef Owned & Operated

Catering Available

Entrances inside the Market and

outside on King St.

Underground Parking

Steps to Budweiser Gardens

Pan-seared Foie Gras

Seasonal Salads

Sit at the bar with Greg

RESTAURANTS

localflavour.ca

London's Local Flavour 39
---
Amazing Grace

GRACE

"Grace is named in tribute to my Grandmother, and

will be clean and elegant and strong like her. It will

have lots of light, the kind she brought into a room

with her laughter, sharp like her wit and smooth like

her humour. It will be full of love and inspire people

to be and do their best. It will be vibrant and full of

purpose and passion, resourceful and clever and

scrappy but with dignity and class. It will be proud

without being stiff and as at ease in the company

of sophisticates or the rabble of locals. It must be

hospitable. It must be adventurous. It must bring

people together."

— Angie Murphy

40 London's Local Flavour

localflavour.ca

RESTAURANTS
---
Contemporary

Canadian

215 Dundas Street (at Clarence)

MAPS A & B: 15

reserve@gracelondon.ca

OPENING DECEMBER 1, 2018

facebook.com/graceLDNONT

Chef Driven Menus

Modern Canadian Cuisine Inspired

by Local & Seasonal Ingredients

Private Room Available

In-house Sommelier

Artisanal Cheese Board

Craft Cocktails

The Scene

Located on the ground floor of a yellowbricked

heritage building at the corner

of Dundas and Clarence Streets, Grace

brings strong elements of modernity and

sophistication to the old core of Downtown

London. Two walls of full-height windows

provide generous natural light by day and

reflect the comforting interior at night.

Menu Highlights

Fundamentally, Grace is a restaurant about

proper food that is absolutely delicious. Food

made from fine ingredients with artistry and

an uncompromising dedication to excellence.

The cuisine style: Modern Canadian, drawing

on classic French tradition and technique,

delicately infused with global influences and local flavours. Everything must

be properly made by skilled tradespeople that demonstrate passion for their

craft. The principles of design inspire the composition of flavours as well as the

presentation. A minimalist backdrop allows for the drama of the dish to be the

focus. Grace is providing an outlet

for London's talent to shine.

Honesty, integrity, community

and connection are the values

behind each plate. A traceable

supply chain with farmers, fully

knowledgeable servers, skilled

chefs, and a safe and supportive

work environment provide a space

where food can be appreciated on

an ethical and intellectual level —

but doesn't have to be. Guests can

enjoy their meal with confidence

that the right choices have been

made on their behalf. Dishes are

the result of collaboration between

humans and nature. Our mission

Certified Sommelier Peter Annson

& Executive Chef Angie Murphy

is to do justice to the food in order

to honour everyone that has

collaborated to bring it to your plate.

Our Inspiration: Grace Murphy

Grapefruit & Cinnamon Cocktail

Heritage Building Location

RESTAURANTS

localflavour.ca

London's Local Flavour 41
---
Authentic Wood-fired

Artisanal Pizzeria

PIZZERIA MADRE

Chef Matt Reijnen and Jessica Washburn

offer an exceptional experience at Pizzeria

Madre, bringing a contemporary local twist

to Italian-inspired cuisine. The Malagutti

fired pizza oven turns out pizzas with

perfect crust and a variety of authentic,

seasonally-inspired dishes.

42 London's Local Flavour

localflavour.ca

RESTAURANTS
---
Farm-to-Table

Italian Pizzeria

111 Wellington Street

(between Hill & South Streets)

MAP A: 16 519-432-4333

OPEN: TUES–THURS 5 pm–10 pm

SAT & SAT 5 pm–late

closed sun–mon

pizzeriamadre.wixsite.com/book

Naturally-Leavened Sourdough

Pizza Crust

Rotating Local Craft Beer Selection

16-Seat Seasonal Patio

The Scene

Situated in a 130-year-old building

in London's recently revitalized

SoHo neighbourhood, this licensed,

contemporary resto is casual yet

sophisticated and nicely appointed

with high ceilings, tile floors, picture

windows, whitewashed walls and a

partially-open kitchen. The custommade

bar and tables are made of local

pine. Service is genuinely warm and

intelligent.

Menu Highlights

Menus are spiked with seasonal

ingredients. The Green Bean Salad with

roasted corn, arugula, pecorino and the

lemon-chile dressing was a harvest season dish. Also highly recommended from

the Sharing/Small Plates Menu are Warm Castelveltrano Olives and Roasted

Peppers with almond oil and the Romaine Salad with pecorino, cavalo nero,

cured egg yolk, breadcrumb and a smoked balsamic dressing. The ever-changing

"Pizze" Menu offers amazing flavour combinations that change with the seasons,

each with a perfect crust made from naturally-leavened sourdough pizza

dough. Recent pizzas have included:

• Marinara with tomato, garlic,

oregano, pepper and olive oil;

• Nduja with tomato, fior di latte, roasted

corn, Parmigiano and breadcrumbs;

• Carbonara with cream, black

pepper, shaved onion, guanciale and

pecorino.

• "Patata" with shaved potato, Fontina,

cream, rosemary, chile and Parmigiano.

Carnivores, vegans and vegetarians will

find appealing options, and any pizza

can be modified upon request.

Don't forget to leave room for

dessert! Warm Zeppoli with lemon curd

Patata Pizza

cream and a deconstructed Tiramisu

show off the kitchen's diverse strengths.

PIZZERIA

Zeppoli with Lemon Curd

Sharing/Small Plates Menu

Malagutti Fired Pizza Oven

RESTAURANTS

localflavour.ca

London's Local Flavour 43
---
Escape the Ordinary

STAY

Nestled between the entertainment

and business districts in Downtown

London, Hotel Metro offers a boutique

hotel experience. An architectural

blend of modern and historic design

complements this private 20-room

hotel that delivers a personal service

during your stay.

RELAX

Hotel Metro's rooms are designed to

enhance your visit. Awaiting you are

luxurious AVEDA bath amenities, flat

screen TVs, Keurig coffee makers,

soothing soaker tubs, exposed brick

walls in our signature lofts and fine

dining delivered to your door —

ensuring an exceptional and unique

experience.

ENJOY

Many of London's finest entertainment

attractions are within steps of Hotel

Metro's doors: Budweiser Gardens, the

historic Covent Garden Market and the

Grand Theatre and many of London's

best restaurants and bars — including

famed Richmond Row — are within

walking distance. Located within Hotel

Metro, Blu Duby Restaurant and Bar

offers an eclectic seasonal menu. Feel

like staying in? Blu Duby offers its menu

in-room for your convenience.

44 London's Local Flavour

localflavour.ca

RESTAURANTS
---
London's Premiere Boutique Hotel

There is no limit to what we can arrange.

Please contact us to customize your stay.

We are available 24/7 to answer your questions.

T: 519.518.9000 or 1.866.626.3876

E: info@mhotels.ca W: hotelmetro.ca

32 Covent Market Lane, Downtown London

RESTAURANTS

localflavour.ca

London's Local Flavour 45
---
Casual Dining

Bar & Grill

842 Wharncliffe Rd S (at Southdale)

MAP A : 17 519-690-0292

HOURS: MON–WED 11 am–12 midnight

THURS 11 am–1 am

FRI & SAT 11 am–2 am

SUN 12 noon–11 pm

LUNCH: from $7

DINNER: from $8

tigerjacks.com

Lunch & Dinner Daily Specials

• Mexican Mondays – Fajitas & Coronas

• Tuesday Pasta Special

• Wednesday NY Steak Special

• Thursday Rib Festival

• Friday Catch of the Day

• Kids Eat Free All Day Sundays

FRI & SAT night DJ & Dancing

Plenty of Free Parking

Thursdays Rib Night Special

Signature Sauces for sale

Seasonal Patio

Let the Good

Times Roar!

TIGER JACKS BAR & GRILL

Deep in the heart of South London, local restaurateur Rick DeJager

has created a welcoming hot spot that has been pleasing crowds

since 1998. Tiger Jacks is a community-minded business with a focus

on delicious food

and great service.

Let the good times

ROAR!

The Scene

A large dining room, a

full and lively sportsthemed

bar, and quick

and attentive service

make for a friendly

Sports rule in the bar area

and comfortable

atmosphere. Pool tables are available, and on Friday and Saturday nights, a

DJ and dancing warms up the crowd. Looking for a spot to celebrate a special

occasion or host a group event? Reserve the Tiger's Den for your private party,

and check out the Party Platter Menu for some great party food suggestions.

Menu Highlights

The extensive Tiger Jack's menu is full of affordable casual dining options. The

Soup of the Day is always fresh made, and the fryers all use trans fat-free oil.

Expect all the regular pub food specialties such as a large selection of Chicken

Wings, thin crust Pizzas, awesome Nachos and new Burgers, made in-house

with fresh Ontario corn-fed beef, hormone- and antibiotic-free. Other features

include the signature "Jumpin' Jack Wrap," Chicken Parmesan, salt & vinegar

Fish & Chips, a selection of Steaks, Sandwiches, Salads and a section for all of

"Tigers Favourites"!

• Tiger Jack's Famous Back

Ribs (try the Blueberry BBQ

sauce!)

• Value-packed Daily Lunch

& Dinner Specials feature

some of Tiger Jack's alltime

favourites.

• Bring Tiger's home with you!

Full menus are online; phone

to place your take-out order.

Enjoy the pool tables

46 London's Local Flavour

localflavour.ca

RESTAURANTS
---
Modern Bistro

2530 Blair Blvd. (off Crumlin Road)

in the Diamond Flight Centre

Unique Views

& Fabulous Food

KATANA KAFÉ & GRILL

Katana Kafé's tagline — "Far out ... but we like it that way!" — is more true

today than ever. Located within the Diamond Flight Centre, the Katana

patio runs beside the London International Airport tarmac. This is the ONLY

place to eat fabulous food

and drink lovely libations

while watching 90,000

pounds of aluminum, steel

and titanium come and go.

London International

Airport Plane Spotting

The Scene

The decor, recently refreshed

and upgraded, is sleek with

a contemporary vibe and

aeronautical theme. Bright

and airy, the tarmac-side patio

and large windows allow for

viewing flights. The restaurant

is a lunch-time favourite for the East London business crowd, who appreciate the

professional and attentive staff. Reservations are recommended.

Menu Highlights

Katana Kafé offers a modern take on the bistro theme. Chef Chris Morrisson

guides a stellar new culinary team working in view behind a glass partition. Enjoy

a seasonal menu with interesting interpretations of seafood, game and steaks.

All desserts and ice cream are made in house. Suggestions include:

• Starters such as the Artisan Duck Sausage Pogos, deep fried in cornmeal and

tempura batter and served with roasted apple aioli, or The Olive Branch,

house-marinated olives and olive tapenade and a selection of cheeses

served with grilled naan

bread and fruit chutney;

• Entrées such as the Top Sirloin

'Baseball' Steak or a Ribeye

with sauce (Creamy Three

Peppercorn; Garlic, onion and

mushroom ragout; or Café de

Paris compound butter) and

either triple cooked chips,

butter whipped mash, harvest

succotash, or rice pilaf,

Chef Chris Morrisson

accompanied by a medley of

chef's daily vegetables.

MAP A : 18 519-455-9005

Breakfast: SAT & SUN 9 am–12 noon

Lunch: MON–F RI 11 am–3 pm

SAT & SUN noon–3 pm

Dinner: WED–SAT 5 pm–9 pm

SUN 5 pm–8 pm

Hours subject to change

Phone for Reservations

LUNCH: $8–$18

DINNER: $18–$38

katanakafe.com

Weekend Breakfasts

Catering Available

Tapas Menu 3–6 pm THURS & FRI

Plenty of Free Parking

1 Block North of the Airport,

off Crumlin Side Road

Mini Crab Cakes

Filet Mignon, Café de Paris butter

Runway View 45-Seat Patio

RESTAURANTS

localflavour.ca

London's Local Flavour 47
---
Casual Italian/

Mediterranean &

Traditional Pub

153-155 Albert St. (W of Richmond)

MAPS A & B: 19 519-642-2300

HOURS: MON–THURS 11:30 am–2 pm

4:30 pm–10 pm

FRIDAY 11:30 am–11 pm

SATURDAY 11 am–11 pm

SUNDAY 4 pm–10 pm

RUNT CLUB HOURS:

MON–THURS 12 noon–1 am

FRIDAY noon–2 am

SATURDAY 11 am–2 am

SUNDAY 6 pm–1 am

Summer Hours: 12 noon–1 am

LUNCH: $8 – $12

DINNER: $18 – $24

fellinikoolini.com

runtclub.ca

Build your own thin-crust pizza

or pasta creation

Children's Menu

A Passion for Pasta

Tomato Pancetta Tower

Gourmet Pizzas

Flavours of Italy &

The Mediterranean

FELLINI KOOLINI'S

& THE RUNT CLUB

Fellini Koolini's is a playfully tongue-incheek

homage to the surrealist Italian

director Federico Fellini. With its

sibling restaurant The Runt Club next

door, the twin patios have made Albert

Street off Richmond Row a festive destination

for over a quarter of a century.

The Scene

Fellini Koolini's decor entertains guests

and sets a light-hearted mood for an

enjoyable meal with purposely overdone

sentimental Italian kitsch. The terrace

offers an inviting spot for al fresco dining.

The Runt Club is a popular watering hole,

with a larger patio and a traditional pub

atmosphere inspired by a "post-war

Italian home." Mature trees, festooned with twinkle lights at night, provide

welcome daytime shade.

Menu Highlights

The Runt Club Patio

Sharing plates can bring out the most in your dining experience, so explore

the extensive selection of Tapas and Pintxos (bite-size small plates) that

are perfect for passing around the table. Other affordable Mediterraneaninspired

menu favourites include an endless selection of made-to-order

pastas and gourmet thin crust pizzas (or become the Pizza Architect and

choose your favourite ingredients). The menu also offers daily fresh fish,

steamed mussels, calamari,

steak, poultry, pork and

veal. There are plenty of

choices for vegetarians

and gluten-free options

and a large selection of

wines available by the

bottle or the glass. The Runt

Club offers the full Fellini

Koolini's menu.

Extensive Tapas Menu

48 London's Local Flavour

localflavour.ca

RESTAURANTS
---
A London Institution

JOE KOOL'S

Sports Bar. Family Restaurant. Party Central. This is truly a place for everyone,

of any age. Restaurateur

Mike Smith launched

Joe Kool's over a third of a

century ago, and it's been a

fun and popular Richmond

Row landmark ever since.

The Scene

The eccentric surroundings

provide a never-ending supply

of eye-catching kitsch and

memorabilia, from Elvis in his

coffin to the 1000+ beer can collection. Kool's is also a sports lover's paradise,

evidenced in umpteen big screens and TVs covering all of the angles and all

The Kitchen Sink Pizza

of the games. If you want to

watch it, they can probably get

it! A seasonal rooftop patio

has capacity for 130 people.

Large groups can also arrange

for semi-private rooms: the

ever-popular "Back Room"

with mezzanine, and "The

Penthouse" in the basement.

Menu Highlights

There are 25 draft beers on tap, but Joe Kool's is also about the food. While

there is something for everyone, Kool's is known for its Local Lake Perch fillets,

pan-fried and served with lemon caper mayo, and ever-popular Jose Nachos,

the Kitchen Sink Pizza, Deluxe Hot Dogs and Burgers and Chicken Wings.

Also recommended are the Thai

Jose Nachos

Lettuce Wraps — marinated

chicken, julienned vegetables,

peanuts and cilantro — or the

pan-seared chicken and pork Pot

Stickers, served with toasted

sesame and sweet soya dipping

sauce. Joe Kool's also offers a

convenient take-out and delivery

service.

Casual Bar and

Grill

595 Richmond Street (at Central)

MAPS A & B: 20 519-663-5665

HOURS: MON & TUES 11:30 am–1 am

WED–SAT 11:30 am–2 am

SUNDAY 12 noon–1 am

LUNCH: $9 – $16

DINNER: $11 – $23

joekoolsrestaurant.ca

Bar & Grill by day, House Party by Night

Semi-private Rooms Available

Entire Menu Available for

Take-Out and Delivery

Vegetarian & Gluten-free Options

Kid's Menu

London's Nightly House Party

Large & Popular Rooftop Patio

Deluxe Burgers & Hot Dogs Menu

RESTAURANTS

localflavour.ca

London's Local Flavour 49
---
Farm-to-Table

Social Enterprise

1. 255 Horton Street (Goodwill Centre)

MAP A: 21 519-645-0900

HOURS: MON–FRI 7:30 am–4:30 pm

SAT & SUN 9 am–3 pm

2. 201 King Street (Innovation Works)

MAPS A & B: 22 519-675-1733

HOURS: MON–FRI 8 am–4 pm

saturday & sunday closed

Breakfast: $5 – $8

Lunch: $4.75 – $10

edgarandjoes.ca

Fresh and Local Ingredients

Catering Available

Free Parking at Horton St.

Available for Private Functions

Fresh Baked Goods

Innovative Lunch Combinations

Community Gathering Spaces

50 London's Local Flavour

A Café with a Purpose

EDGAR + JOE'S CAFÉ

Edgar and Joe's, at two locations, is a gathering space and food operation

with a social purpose. Each

café makes fresh and local food

available, affordable and approachable

with healthy choices.

The Scene

A stylish and minimalist 70-seat café

is located in the Goodwill Centre,

opened in 2013. Rave reviews led to

the opening of another location within

the Innovation Works London building

on King Street. Both cafés serve a

diverse clientele from all over the city.

Menu Highlights

Nutritious baked goods with high quality ingredients are freshly baked

throughout the day. Sandwiches are definitely the stars of the show, from the

classic BLT to innovative combinations inspired by global cuisines. Delicious

soups, salads and a daily chalkboard special are on offer. The Classic

Breakfast Special is a hearty standout. Other recommendations include:

• Eggs Benny with two soft poached eggs on a warm buttermilk biscuit

topped with house peameal and the café's signature hollandaise, served

with home fries;

• California Veggie Sandwich with grilled zucchini, avocado, cucumber,

tomato, mixed greens, sprouts & housemade vegan mayo on fresh ciabatta;

• Edgar Burger with house-ground AAA Angus chuck, charbroiled and

topped with Asiago cheese, sautéed mushrooms, double- smoked bacon

and shallots, on a toasted ciabatta with lettuce, tomato and house mayo.

Catering & Events

Edgar and Joe's Café caters onsite events in their facilities, offsite corporate

breakfasts and luncheons, casual

gatherings, and more formal cocktail

receptions. Planned menus suit a

variety of events, or a custom chefdesigned

menu to fit your specific

vision can be created.

The Goodwill Centre offers

adapt able and flexible event space

for groups of up to 250 guests. A

Town Hall for up to 70 showcases

a gorgeous 3rd floor city view. A

Community Hall is ideal for weddings

and larger corporate events/functions.

goodwillindustries.ca/events.

localflavour.ca

RESTAURANTS
---
Lovingly Crafted

with Skill & Heart

LA NOISETTE

BAKERY & DELI

Like the small but delicious hazelnut

from which it takes its name, La Noisette

is a bakery café that surpasses expectations.

Owned and operated by the young

but seasoned team of Tabitha Bartlett

and Dave Coulter, this is a perfect spot

for a coffee and a tasty bite — or a hearty

meal.

Take home some fresh bread and

baked goods, including sensational

desserts, or a gourmet grab-n-go

soup and sandwich.

The Scene

Conveniently located in a spacious building

on Oxford Street, the wonderful scents of

the bakery and a relaxing atmosphere offer

a peaceful refuge. Light pours in oversized

"port hole" windows, with a brick and

bookcase wall treatment creating a comfy

vibe. Relax on leather couches and chairs or

sit at stylish tables on contemporary wood

and steel bistro chairs.

Owners Tabitha Bartlett (Baking

Specialist) and Dave Coulter

(Cook & Savoury Expert)

Artisanal Bakery

& Neighbourhood

Café

900 Oxford Street East (at Gammage)

MAP A: 23 519-601-1651

HOURS: TUES 10 am–6 pm

WED–FRI 8 am–6 pm

SAT 8 am–4 pm

closed sunday & monday

lanoisettebakery.com

A Variety of Breads, Muffins, Cookies,

Pies, Squares etc. baked fresh daily

Real ingredients with everything made

from scratch by hand

Homemade Soups & Sandwiches

Outstanding Coffee and Grab-n-Go

Snacks and Meals

Comfortable Lounge Area

Custom Orders and Catering

Comfortable Seating

Artisanal Baking At Its Best

RESTAURANTS

Menu Highlights

Tabitha's passion for baking become

obvious with a glance at the

beautifully crafted loaves of breads

and bagels, and exquisite array of

cookies, muffins, cupcakes, pies,

squares and tarts. Dave takes

the same artisanal approach to his

soups, sandwiches, quiches and

other entrées. As with the baked

goods, everything is inspired by home

cooking and made from scratch with

local ingredients, real butter, and a

commitment to quality in every bite.

localflavour.ca

Hand Made New York Style Bagels

Freshly Baked Goodies!

London's Local Flavour 51
---
Italian-inspired

Casual Dining

6675 Burtwistle Lane

(off Colonel Talbot Road near 401)

MAP A : 24 519-652-7659

HOURS: MON–TUES 11 am–10 pm

WED–SAT 11 am–11 pm

SUNDAY 5 pm–10 pm

pastosgrill.com

TripAdvisor Certificate of Excellence

Happy Hour 3–6 pm MON–FRI with

½-Price Appetizers at the Bar

All Desserts Made In-House

Interesting & Affordable Wine List

Extensive Gluten-Friendly Options

Take-Out & Catering Available

Chic Bistro Character

Well-Stocked Comfortable Bar

A Taste of Italy Awaits!

Italian Seduction,

Bite By Bite

PASTO'S GRILL

Inspired by travel and a passion for the traditions of Italian culture,

Pasto's Grill follows the Italian principle of proper execution of

simple recipes featuring the freshest

seasonal ingredients available.

The Scene

Pasto's Grill is a chic bistro in a casually

elegant environment. The dining room is

built in a half-circle, decorated in warm and

calming shades, with white linen tables

surrounded by wine racks and period

posters. Service is friendly and professional.

Menu Highlights

The kitchen is literally the hub of the

restaurant. All meals are passionately

made to order by the dedicated culinary

brigade. Traditional recipes are the heart

of both the lunch and dinner menus, with

occasional nods to global and modern

Siblings, Manager Natalie Zima

and Chef Peter Johnson

sensitivities. For example, all pasta dishes can be prepared with gluten-free

noodles. Menu items are all made to order.

The antipasti menu offers plenty of choice, including Antipasto Platters

for two or more, with Chef's selection of cured meats and local cheeses

with roasted peppers, olives and garlic crostini, or the Marco Polo, with

wonton shrimp, calamari fritti, grilled shrimp and crab-filled mushrooms.

Hand-made, thin crust pizzas include classics such as the San Michelle, with

pesto, garlic, sliced tomatoes, grilled chicken, spinach, goat cheese and

mozzarella. Other recommendations include:

• Veal Romano, tender

provimi veal scallopini

with wild mushrooms in

a cognac-peppercorn

sauce;

• Grilled Vegetable

Napoleon, stacked

vegetables, portobello

mushroom & melted

provolone served with

orzo-farro pilaf.

52 London's Local Flavour

localflavour.ca

RESTAURANTS
---
Authentic

Ethiopian Cuisine

465 Dundas St. (at Maitland)

Family Friendly,

Veg/ Vegan Choices

TG'S ADDIS ABABA

RESTAURANT

For more than a decade, T.G.'s Addis

Ababa Restaurant has offered a tour de

force from the Ethiopian culinary repertoire

by chef/restaurateur T.G. Haile.

The Scene

The modest restaurant is tucked away

slightly off the beaten track in an

unassuming brick building on Dundas

Street. The decor reflects the ancient

Ethiopian culture, which makes an exotic

yet comfortable, homey atmosphere.

Menu Highlights

Dining at T.G.'S Addis Ababa Restaurant

T.G. Haile

is characterized by the ritual of breaking

injera (traditional yeast-risen flatbread,

spongy in texture, crèpe-like in

appearance, with sourdough tanginess) and sharing food from a communal

platter, strengthening bonds of loyalty and friendship.

Truly authentic Ethiopian cuisine features a harmonious blend of flavours.

T.G.'s signature dishes comprise variations of sweet, bitter, sour, salty, hot and

fragrant, including a large variety of vegetarian and vegan dishes. Meat dishes

fall mostly into two distinct categories: red stews (wat), which include berbere, and

green stews (alicha wat), which do not. Ethiopian cuisine does not include pork.

Be sure to put TG's Ethiopian breakfast on your list for a great culinary

adventure on Sundays. Order tapas-style for an amazing tasting experience

with dishes like Inkulal Ferfer (scrambled eggs, onion, tomatoes and jalapeno),

Chechebsa (Kita Ferfer with Ethiopian spices and sour cream); Genfo ( ground

cooked wheat served with sour cream, berbere and seasoned butter) and

Yetsom Ferfer (strips of injera

with vegetarian sauce).

Other recommendations:

• Dulet Kitfo — minced lean

beef, cooked with butter,

onion, jalapeno pepper, and a

special addis spice;

• Defen Misr — green lentils

cooked with traditional

seasoning, onion and curry.

MAP A : 25 519-433-4222

TUES–SUN 11 am–10 pm

by reservation

closed monday

MENU: $12 – $17

tgsaddisababarestaurant.ca

Platters for sharing for 2, 3 or a

crowd, or individual plates

Traditional Cuisine & Spices

Fully Vegetarian Menu Available

Ethiopian Coffee Ceremonies

Ethiopian Beers, African Wines and

Local Beverages

Sunday Breakfast

Reservations Recommended

Take-Out & Catering Available

TG's

ADDIS ABABA

Restaurant

An Injera Platter Combination

Delicious Vegan Options

New! African Breakfast Sundays

RESTAURANTS

localflavour.ca

London's Local Flavour 53
---
Retro-Chic Diner

355 Talbot Street (at King)

MAPS A & B: 26 519-439-6483

HOURS: SUN–WED 8 am–3 pm

THURS–SAT 8 am–8 pm

ALL-DAY MENU: $7–$16

theearlybird.ca

All-Day Breakfast

Seasonal Roadside Patio

Craft Beer, Wine, Full Bar & Tiki Drinks!

Uniquely Inspired Menu & Decor

Variety of Sandwiches & Perogies

Eggs Jenny

The Turducken Club

Street-side Patio

A Fine Diner

THE EARLY BIRD

Brothers Justin and Gregg Wolfe's The Early Bird, downtown London's

red-hot retro diner since 2012, expanded last year due to popular

demand. The London siblings have continued to travel the globe to

bring big-city food

and drink ideas to

their hometown.

The Scene

The Early Bird has an

idiosyncratic charm

and by two steps

inside you know this

is not your typical

resto. Delightfully fun

and funky decor —

see the "Elvis Meets

All-Day Breakfast and More!

KISS" busts for example— stretches back throughout the long narrow space,

creating an atmosphere perfectly suited to the creative and lively menu. In

season, a street-side patio brings the Early Bird vibe outdoors.

Menu Highlights

The food is fresh and fun — comfort food with always surprising twists. The

cooking is from scratch, using local products and ingredients. Ontario meats

are smoked and cured in-house for a variety of sandwiches. Perhaps the

awe-inspiringly huge Turducken Club — a two-hander with smoked turkey,

fried chicken, duck bacon, maple mayo, tomato and greens — is the most

iconic Early Bird dish. Other contenders include Perogie Poutine, homemade

perogies burrowed in fries, cheese curds and rich dark gravy, the Smoked Meat

Sandwich, with a Montreal-style brisket,

sauerkraut, Thousand Island, Swiss

cheese and thyme, or the delicious Eggs

Jenny, a turn on the classic with grilled

tofu, herb fried tomato, avocado and

chèvre. The extensive breakfast menu

is served all day, but there are also a

variety of salads and homemade soups.

And save room for the Bacon-Fried

Pickles and other interesting sides.

Be sure to check out the Tiki Bar and

try the Early Bird take on a Hurricane,

Mai Tai or Zombie. A solid craft beer and

selective wine list augment the full bar.

54 London's Local Flavour

localflavour.ca

RESTAURANTS
---
Modern Mexican

LOS LOBOS

The latest creation from London brothers Justin and Gregg Wolfe,

proprietors of The Early Bird, Wolfe of Wortley (and former Rock au

Taco), Los Lobos is literally "the wolves" in Spanish. This hot take on

Modern Mexican cuisine is a feast

for all the senses.

The Scene

Los Lobos has a vibrant and eclectic

atmosphere, appealing to all ages. The

style and decor is wild, with floor-toceiling

murals and one-of-a-kind art

installations by Stu Andrenelli. The

patio is perfect for al fresco dining

or beverages. Nite Owl, a hidden

speakeasy — a secret cocktail bar —

opens Friday and Saturday nights. You'll

find the entrance off the alley behind the

restaurant. Look for the iron owl and knock on the black door. Shh!

Menu Highlights

Platos pequeno (small plates) predominate on a menu of gourmet Mexicaninspired

fare with a modern twist. Totopos (tortilla chips) come with a variety

of salsas, traditionally-made guacamole or pico de gallo, or variations such

as Queso Fundido, with black bean, chorizo or cauliflower. Try the Jalapeno

Relleno, stuffed with Monterey jack and cornmeal battered, served with red

salsa or lobos mole, or the Bay Scallop Ceviche with red onion, radish, cilantro,

lime and habanero.

The La Carne menu includes Beef Cheeks, chili braised with fried yuka and

Nite Owl: A Back Alley Speakeasy

pickled cabbage, and Pork Belly

with jalapeno, radish and cilantro.

An extensive Tacos menu includes

exciting Fish, Cauliflower, Scallop, or

Black Beans options.

The inspiring Los Lobos bar

serves up ice cold cervezas,

smooth tequilas, mezcal, bourbon

and margarita-focused signature

cocktails. Expect innovation! The

Wolfe Brothers love to take blended

drink classics and island-style

beverages up to an entirely new level.

Modern Mexican

Cuisine & Weekend

Speakeasy

580 Talbot Street (at Albert)

MAPS A & B: 27 519-601-8226

HOURS: TUES–SAT 11 am–11 pm

SUNDAY 5 pm–11 pm

closed monday

@LosLobosLondon

Al Fresco Dining

Private Room Available

Largely Small Plates Menu

Options for All Dietary Choices

Signature Cocktails

"NITE OWL" Speakeasy

Entrance off alley behind Los Lobos;

Look for iron owl, knock on black door.

HOURS: FRI & SAT 7 pm–2 am

Taco Menu & More!

Inspiring Craft Cocktails

Family Owned & Operated

RESTAURANTS

localflavour.ca

London's Local Flavour 55
---
European Cuisine

& English Beer

Pub

122 Carling Street (at Talbot)

MAPS A & B: 28 519-679-9940

MARIENBAD HOURS:

MON–THURS 11:30 am–10 pm

FRI & SAT 11:30 am–10:30 pm

SUNDAY 4:30 pm–9 pm

marienbad.ca

Private Rooms Available

Fine Banquet Facilities

Murder Mystery Dinners

CHAUCER'S HOURS:

MON 11:30 am–10:30 pm

TUES & WED 11:30 am–11 pm

THURS 11:30 am–11:30 pm

FRI 11:30 am–1 am

SAT 4:30 pm–1 am

closed sunday

Large Craft & Import Beer Selection

Single Malt Specialists

Live Folk Music

Traditional Fare

Elegant Private Rooms

Heritage Building, c. 1854

A Taste of Europe

MARIENBAD &

CHAUCER'S PUB

Located in one of London's oldest heritage buildings, Marienbad

Restaurant has brought a sophisticated

European flair to the city since

1974. This is fine dining, in a casual

atmosphere. Next door, Chaucer's Pub

features one of London's strongest

craft beer and import selections. In

season, the sidewalk patio is a popular

spot for dining or a cold beverage.

The Scene

Recently renovated Marienbad Restaurant

still exudes Old World style and elegance.

A number of finely furnished private rooms

make this is a popular spot for parties, banquets

and corporate gatherings. Chaucer's

Pub provides a more casual atmosphere.

While Marienbad takes its cues from eastern and central Europe, Chaucer's

features true Olde English style. Comfortable and cozy, it's a throwback to a

different era, with a large bar, beautiful woodwork and a stone fireplace.

Menu Highlights

Casual fine dining features traditional favourites from eastern and central Europe,

and newly introduced vegan, vegetarian and gluten-free dishes. Expect gourmet

Schnitzels, Goulash, Chicken Paprikash, Steak Tartare, Rouladen, Prime

Rib, Seafood, Pastas and Salads. Suggestions include the savoury Hungarian

Goulash, served with Bohemian dumplings, and the crispy Jäger Schnitzel, a

pan-fried natural schnitzel, topped with wild mushroom sauce. Popular Murder

Mystery Dinners offer an interactive — and tasty! — dining experience.

Chaucer's has 14 beers on

tap and stocks approximately

85 different brews from

six continents, rotating in

selections seasonally, with

heartier ales for winter and

clean crisp lagers for warmer

months. Chaucer's also has a

fine selection of single malt

scotches on offer.

European-style

Sidewalk Patio

Chaucer's Pub

56 London's Local Flavour

localflavour.ca

RESTAURANTS
---
Savour the Seasons!

VETA WINE & PASTA BAR

London's newest dedicated to the best of seasonal cuisine, Veta Wine

and Pasta Bar is the brainchild of successful restaurateur Chef Gino

Parco, offering a fresh and original

concept in an area better known

for large generic chain operations.

Elegant Furnishings

The Scene

Contemporary and stylish, the

restaurant's elegant design offers cozy

booth seating in addition to comfortable

chairs and a bright seasonal patio.

There is a sense of intimacy in a

spacious room with high ceilings, filled

with natural light by day and cozily lit

by night. A large bar area showcases

the variety of premium and accessible

wines available by the glass or bottle.

Menu Highlights

Chef Gino Parco is known for preparing simple, straightforward cuisine with

robust, tasty flavours. A master of the classics, he ensures his team embraces

the passion and love he pours into the making of these dishes, with pasta

made in-house and fresh ingredients. The focussed and straightforward menu

changes seasonally, divided into four self-explanatory sections:

• SNACKS features items such as Panko-fried Shrimp with a sweet chili Thai

sauce and Grilled Flatbread with tapenade (olive purée) and hummus;

• SMALL features are perfect for lunch, such as Grilled Calamari with

a chickpea salad, virgin olive oil and fried parsley; and Risotto with

portobello mushroom, truffle oil and parmesan shavings;

• PASTA includes Capellini with crushed tomatoes, olive oil, chilies, arugula

and shaved goat cheese; and Fettuccine with fresh salmon, leeks, red

pepper and saffron cream;

• LARGE features Roast Breast

Chicken stuffed with goat

cheese and herbs, with smashed

potatoes and summer ratatouille;

and Beef Tenderloin,seared

and pepper-crusted with

arugula salad, grilled red onion,

Classic Favourites

poached cherry tomatoes and

horseradish cream.

Casual Bistro

& Wine Bar

745 Fanshawe Park Road

(West of Wonderland)

MAP A: 29 519-474-1111

LUNCH: MON–SAT 11:30 am–2 pm

DINNER: MON–SAT 5 pm–9 pm

SUN 5 pm–8 pm

vetawineandpastabar.ca

Lunch Menu 20% Off Regular Prices

Extensive Wine Selections

Gluten-free Pasta Available

Spacious Seasonal Patio

Ample Free Parking

A Welcoming Wine Bar

A Variety of Seating Options

Spacious Seasonal Patio

RESTAURANTS

localflavour.ca

London's Local Flavour 57
---
The Heart of

Downtown Strathroy

THE CLOCK TOWER

Inn | Bistro | Pub | Caterer

Step back in time, when life moved at

a slower pace and dining was truly an

experience to be savoured. Steeped

in history yet providing every modern

convenience, The Clock Tower offers

a gorgeous, intimate setting for your

next culinary adventure.

58 London's Local Flavour

localflavour.ca

RESTAURANTS
---
AN INSPIRED ESCAPE

Chef de Cuisine & Owner Mark Graham and his wife Cathy

The Scene

Nestled in the heart of Strathroy, The Clock Tower was built in 1889. The historic

building has been fully restored to its former glory, and boasts a world class

dining experience coupled with luxurious sleeping quarters. Eight guest suites

are richly decorated

with Victorian themes

but include private

baths, fireplaces, flat

screen televisions,

complimentary wifi

and individual climate

controls. Diners can

choose a sleek bistro

space, a traditional pub

RESTAURANTS

or one of two seasonal

patios.

Menu Highlights

Owner & Executive Chef Mark Graham leads a team of highly skilled, creative

chefs and some of the best servers in the industry. Each menu item is carefully

crafted by the team, using only the finest quality, locally-sourced products,

many in season from the Strathroy Farmers' Market. An interesting wine list

includes offerings from local Dark Horse Winery, and the craft beer list features

Strathroy's Rusty Wrench Brewery and Clock Tower's own Tic Toc beer,

brewed exclusively for the Inn by Railway City Brewing of St. Thomas.

The menu offers a mix of updated classics to innovative daily specials,

ranging from elevated pub fare to 5-star desserts. Recommendations include:

• 30 Mile Salad, with locally-sourced Whole Pig pork loin, Hayters roast

turkey breast, Pine River old white cheddar, Slegers organic greens and

Frisa Farms hard-boiled eggs, garnished with julienne-style peppers,

carrots, red onions and grape tomatoes;

• Wild Game Charcuterie, bison salami, elk sausage, rabbit pâté, smoked duck

breast & pâté foie gras

served with artisanal

cheese, garlic crostini

and fresh preserves;

• Mile High Lemon

Meringue Pie, Chef

Mark's light and

refreshing lemon chiffon

pie topped with golden

The Pub

The Bistro

meringue, garnished

with raspberry coulis

and fresh berries.

localflavour.ca

Strathroy

Inn | Bistro |

Pub | Caterer

71 Frank Street, Strathroy

30 kilometres west of London

MAP C: 30 519-245-5656 or

519-205-1500

HOURS: MON–FRI 11 am–close

SAT & SUN 10 am–close

LUNCH: $6 – $18

Lunch: $9.50 – $34.50

clocktower-inn.com

Daily Lunch & Dinner Specials

• Mondays Senior Discounts

• Amore Tuesday, for the love of Italian

• Wednesday Pizza & Wine Special

• Thursday 2 Can Dine for $55

• Fish Friday Set Menu

• Big Steaks Saturday

• Sunday Brunch & All-you-can-eat

Pasta & Kids Eat Free!

Fresh Locally-Sourced Ingredients

Innovative House-made Desserts

The King Edward Suite

Clock

Tower

Inn | Bistro | Pub | Catering

London's Local Flavour 59
---
Modern Farmhouse Cuisine,

Old Fashioned Hospitality

THE WINDJAMMER INN

Exuding a warmth and ambiance only

found in genuine heritage buildings, the

Inn provides the perfect setting for dining

on fresh produce from the lake and garden,

expertly prepared and beautifully presented.

60 London's Local Flavour

localflavour.ca

RESTAURANTS
---
Chef de Cuisine & Owner Mark

Graham and his wife Cathy

Owner/Chef Kim Saunders

The Scene

A block from Port Stanley's charming

harbour, the Inn was built in 1854 and

has been lovingly restored. Cozy seating

arrangements include a vintage harvest

table for large groups or Chef's Tastings. In

season, there are additional tables on the

wraparound veranda. For overnight stays,

the Inn has three tastefully appointed

rooms with modern amenities and two

separate rooms next door.

Menu Highlights

Owner and accomplished chef Kim

Saunders sources her ingredients from

the large farm network in Elgin County,

seeking local and organic, ethicallyraised

products as much as possible.

Saunders also grows many of her own herbs, edible flowers and heirloom

vegetables in the gardens surrounding the Inn.

Chef notes the menu is subject to change "at the whim of the Kitchen Spirits

and Mother Nature!" At Brunch, expect to find a Farmer's Breakfast of perfect

scrambled eggs with chives, herbed home fries, bacon, farmer's sausage & ancient

grain toast. The Fisher's Breakfast substitutes cornmeal-crusted perch for the

Farmer's meats. Try the Huevos Mildred, refried beans & cheddar in spelt tortillas

topped with two poached eggs, avocado lime hollandaise, herby home fries and

house-made spicy chorizo sausage. Also

recommended are the Lake Erie Pickerel

Cakes, panko-crusted and pan-roasted

with baby arugula salad & lemon dill aioli

and the Perch 'n Fries, cornmeal-dusted

Lake Erie perch with herby home fries,

house slaw and fabulous tartar sauce.

Dinner starters include a CSA Salad

with organic heritage greens or the marketinspired

Soup of the Moment. Entrées

could be Buttermilk-Brined & Roasted

Breast of Duck with hunter style potato

& yam hash, harvest vegetables, smoked

onion & plum conserve; or Sterling Silver

The Harvest Table and Bar

Beef Tenderloin with "loaded" mash

potato, market vegetables & smoked shallot

"steak sauce."

Port Stanley

Farm-to-Table

Cuisine & Inn

324 Smith Street, Port Stanley

30 kilometres south of London

MAP C: 31 519-782-4173

DINNER: WED–SUN from 5:30

BRUNCH: SAT & SUN 9:30 am–2 pm

BRUNCH: $7.95 – $17

DINNER: $14 – $34

thewindjammerinn.com

Over the Bridge, Before the Beach!

Menu Changes Seasonally

Recommended in Where to Eat in

Canada for 10 Consecutive Years

Gourmet Breakfast Included with

Overnight Stays

The "BLT" Benny

Lake Erie Line-Caught Pickerel

House-made Desserts from Scratch

RESTAURANTS

localflavour.ca

London's Local Flavour 61
---
Ilderton

Tearoom &

Casual Bistro

13257 Ilderton Road

8 kilometres north of London

MAP C : 32 519-298-TEAS (8327)

HOURS: WED & THURS 10 am–3 pm

FRI 10 am–7:30 pm

SAT & SUN: 10 am–2 pm

Check website for seasonal changes

thevillageteapot.ca

Afternoon Tea & Lunches

Weekend Brunch & Dinner

Ample Street Parking

Gluten-free & Vegetarian Options

Kids Meals

Catering and Bookings for Private

Functions Available

The

Village

Teapot

Homemade Soups & Sandwiches

Creative Seasonal Salads

Buttery Scones with Cream & Jam

Ilderton's Oldest

New Tearoom/Bistro

THE VILLAGE TEAPOT

Located in one of the oldest properties in Ilderton, circa 1873 and

retaining many of its period features, The Village Teapot is a charming

tearoom by day and a casual bistro

in the evening. Launched in 2017

by friends Jana Yassine and Gaynor

Deeks (originally from the UK), their

warm and welcoming service and

good food prepared in-house has

been well-received by townspeople

and visitors alike.

The Scene

Quaint touches include vintage cups,

saucers and tea services that complement

the historic building and the wooden

floors, tables and chairs. "We are both tea

drinkers, sandwich makers and we know a

good scone when we see one," says Jana.

She and Gaynor took their years of experience and created a place that they

would enjoy themselves. A soothing ambiance and friendly service provides a

welcome respite for a bite and a cuppa, a step back to a simpler time.

Menu Highlights

Owners Jana Yassine and

Gaynor Deeks (standing)

Pure leaf teas come in silk pyramids, and cream tea is offered daily. Enjoy handroasted,

French press coffee from O-Joe,

or a cold craft beer from Cowbell or Forked

River. Wines are available from Alton Farms

or Dark Horse Winery.

Popular menu items include homemade

soups, croissants filled with in-house

baked ham and mature cheddar,

homemade quiches, buttery scones,

ploughman's lunch plates and creative

seasonal salads. An afternoon tea platter

is offered daily and weekend brunch

includes a variety of Breakfast Bites.

Vegetarian options and gluten-free and

dietary needs can be accommodated.

Monthly Sunday roasts at lunch,

routinely booked out,have been extended

to include evening service.

62 London's Local Flavour

localflavour.ca

RESTAURANTS
---
An Inspired Escape

ELM HURST INN & SPA

A southwestern Ontario landmark since 1872, the Elm Hurst Inn & Spa

combines historic charm and scenic beauty with the modern amenities

today's travellers have come to expect from a premier boutique hotel.

A half-hour drive east of

London, Elm Hurst is ideally

located between Toronto

and Windsor on 30 acres of

rolling countryside just off

Highway 401.

The Scene

The Inn offers 46 spacious

guest rooms and three

luxury suites, a fine dining

restaurant, the Spa at Elm Hurst Inn, and a choice of unique reception

spaces for weddings, conferences and special celebrations and events. A

large patio is open for al fresco dining in season.

Menu Highlights

Dining at the Elm Hurst restaurant is always an occasion to remember, whether

you are celebrating with family and friends, catching up over a famous Sunday

Brunch, or simply looking for a relaxing spot to enjoy a glass of wine and some

top-notch cuisine. Savour locally-inspired menus prepared by Executive Chef

Michael Davies and soak up the atmosphere in one of nine private dining

rooms. Try the Charcuterie Board with prosciutto, sopresseta salami, Lonza

cured pork loin, artisan paté, honey pickled vegetables, taleggio cheese, olive

tapenade, apricot-cherry compote, stone ground mustard and sliced baguette.

Other recommendations include:

• Seared Diver Scallops, Cauliflower Vanilla Purée & Crisp Pancetta with

toasted pine nuts & maple butter sauce;

• Oven Baked Salmon "Rosette" filled with crab & Brie, ginger, sun-dried peach &

braised savory cabbage & citrus beurre blanc;

• House-made Spinach,

Walnut & Goat's Cheese

Ravioli with soleggiati

tomato, baby bok choy &

shiitake-ginger vinaigrette;

• Pecan Crusted Pork

Tenderloin "Scaloppini"

with wilted Swiss chard,

black barley risotto, corn

fritters & roasted sweet red

pepper sauce.

Ingersoll

Contemporary

Farm-to-Table

415 Harris Street, Ingersoll

(at Highways 19 & 401)

MAP C: 33 519-485-5321 or

1-800-561-5321

Breakfast Daily 7 am–10 am

A la carte Lunch MON–SAT 11 am–4 pm

Buffet TUES–SAT 11:30 am–1:30 pm

A la carte Dinner MON–SAT 5 pm–9 pm

3-course Dinner Tasting Menu MON–FRI

Sunday Brunch Buffet 10:30 am–2 pm

Sunday Prime Rib Buffet 4:30 pm–8 pm

LUNCH: $11 – $22

DINNER: $11 – $47.50

elmhurstinn.com

Breakfast, Lunch & Dinner

Sunday Brunch & Dinner Buffets

Senior's Lunch Buffet every Tuesday

Conference and Wedding Venue

Private & Corporate Events

Ample Free Parking

Affordable Luxury

Seasonally-inspired Menus

Artisanal Charcuterie Boards

RESTAURANTS

localflavour.ca

London's Local Flavour 63
---
Port Stanley

Farm-to-Table

Cuisine &

Country Inn

216 Joseph Street, Port Stanley

30 kilometres South of London

MAP C : 34 519-782-3388

OPEN:

7 days a week

11:30 am–8:30 pm

LUNCH: $7 – $20

DINNER: $14 – $30

kettlecreekinn.com

Fine Dining & Pub Fare

Gazebo & Patio Dining

Guest Rooms & Luxury Suites with

Whirlpools & Gas Fireplaces

Business Meetings & Conferences

Fresh Seasonal Cuisine

The Sorrenti Designer Suite

Garden Terrace and Gazebo

64 London's Local Flavour

Simple Elegance

KETTLE CREEK INN

This charming 1849 inn is conveniently located in the heart of

picturesque Port Stanley. The Vedova family has been hands-on in

running Kettle Creek Inn since 1983,

providing delightful accommodation

and incredible food. A founding

member of "Ontario's Finest Hotels,

Inns & Spas," their commitment to a

quality experience is obvious in every

area of the operation.

The Scene

The Vedovas tastefully brought the

heritage building up to modern standards

while retaining its traditional country inn

ambiance, and offer ten guest rooms and

five luxury suites. Diners can choose to

sit in the parlour with its cozy fireplace,

an intimate English-inspired pub, or two comfortable dining rooms, and in

warmer weather dine amidst the fragrance and beauty of lush gardens under

the gazebo, on the stunning garden terrace, or the inn's front porch.

Menu Highlights

Preparing lunch and dinner daily, the kitchen stays fresh and relevant, offering

fine dining and more casual pub fare. Chef Rob Lampman's menus showcase

a commitment to ingredients that are farmed, fished or foraged locally such

as Lake Erie perch and pickerel. The wine list features local Lake Erie North

Shore wineries. Fine dining temptations include Coffee Crusted Goose Breast

with carrot puree, seared torchon and kumquat preserves. For our vegetarian

friends, we compose a Wild Mushroom and Leek Bread Pudding with white

bean purée, smoked beet

root, toasted chick peas

and greens. For beef

lovers there is our Beef

Duo — milk poached

striploin, mushroom

Ballantine, braised beef

rib, carrot top pesto and

butter bean. Signature

dishes include a classic

Chicken Pot Pie as well

as Pickerel and Chips.

localflavour.ca

RESTAURANTS
---
AN INSPIRED ESCAPE

It's a British Thing!

THE KING EDWARD

RESTAURANT & PUB

Set in the rural town of Ilderton just a few kilometres north of London,

this British-owned pub has been drawing crowds from far and wide since

2005, when owners Rich

(the Brit) and Deb (his

Canadian wife) rescued

it from closure. 13 years

later, it's now a family

affair with Deb's son

Tyler managing day-today

operations.

RESTAURANTS

Right to left, owners Rich

and Deb, and manager Tyler

The Scene

The 140-year-old building

has unique natural charm

and atmosphere, essential

to an authentic British pub. Original floor boards, wall boards and tin ceiling

augment the bar, booths and fireplace to make what this a worthy destination.

There's a cosy patio out back for summer months and lots of free street parking

for cars, bikes and snowmobiles in the winter. Known as The Eddy to numerous

fans, many regulars now refer to this little haven simply as The Pub.

Menu Highlights

Pub food, yes, but on a higher scale than most. Traditional British dishes such

as Bangers & Mash, Liver & Onions, Steak Pie and Fish, Chips & Mushy Peas

sit alongside world cuisine such as Italian, Asian and Mexican, with vegetarian

and vegan options. Burgers are made from

locally-sourced meats and most items are

created in-house from scratch. There's a

separate Chicken Wing Menu — with 51

flavours! The Kid's Menu (under 12) includes

dessert. Daily lunch and evening specials

plus The Eddy's famous daily soups ensures

there is something for everyone.

The Eddy pours Ontario craft beers and the

best beers from the UK. Ten taps rotate great

draughts, plus The Eddy has the longeststanding

genuine cask-conditioned real

Cask-conditioned

Real Ale Hand Pump

ale hand-pump in the area. Rich is a trained

cellarman and cleans his own lines — frequently

— to ensure you always get fresh, clean beer.

localflavour.ca

Ilderton

Casual Dining

& English Pub

13239 Ilderton Road, Ilderton

8 kilometres north of London

MAP C: 35 519-666-1991

HOURS: SUN–TUES noon–9 pm

WED–SAT noon–11 pm

LUNCH: $8.95 – $11.95

DINNER: $14.95 – $18.95

thekingedward.com

Traditional Pub Fare and More

Local Micro-Brewery Ales

10 Draught Lines

Hand-Pulled, Cask-Conditioned Ale

Take-Out Menu

Free Wi-Fi

Plenty of Free Parking

Daily Lunch & Dinner Specials

Fish, Chips & Mushy Peas

Always a Variety of Great Beers

London's Local Flavour 65
---
SOMETIMES THE BEST

ROAD TRIPS ARE LOCAL.

PRIZE PACKAGE INCLUDES:

Two Nights for 2 at Hotel Metro

$100 at Craft Farmacy

$100 at gNosh Dining + Cocktails

$100 at Katana Kafé & Grill

$100 at Toboggan Brewing Co.

2019 UX 200 F SPORT

WIN a Chauffeured Lexus Ride to

Your London's Local Flavour Weekend!

Chauffeured rides to each venue

by Eatdrink in a luxurious

Lexus of London vehicle!

London's Premiere Boutique Hotel

Go to eatdrink.ca/contests to enter and for complete details.

66 London's Contest Local runs Flavour until June 1, 2019. Dates localflavour.ca

are subject to availability. Prize has no cash RESTAURANTS

value.
---
SECTION 2

Specialty Shops

& Services

london's

LocaL

flavour

RESTAURANTS localflavour.ca London's Local Flavour 67
---
Taste The Difference

Real Quality Makes!

THE PRISTINE OLIVE TASTING BAR

In 2012, Jamie Griffiths and his wife Clara (with son

Reid, and daughter Ally) introduced The Pristine

Olive to the Forest City, and for the past six years,

fresh extra virgin olive oil has been the essence

of their family business and the cornerstone of

success. After five years in their original location,

they moved on June 1, 2017 to their new, "forever"

location on Adelaide Street North.

68 London's Local Flavour

localflavour.ca

RESTAURANTS
---
Bright and Spacious New Store!

The Pristine Olive's top

priorities today remain the same as the day they

swung open the doors; to bring Londoners the

freshest and highest quality extra virgin olive

oils and balsamic vinegars available, and educate

consumers on what makes the difference when it

comes to true taste and health benefits.

Why Does "Fresh"

Matter?

The health benefits of an extra virgin olive oil

are unmatched, with research revealing more

benefits almost daily. However, not all olive oils

are created equal. "Think of your olive oil as a

freshly squeezed fruit juice," explains Jamie. "A

fresh juice contains the most flavour, nutrients and health benefits. And just as

you wouldn't want your freshly squeezed orange juice sitting around for years,

an old, poorly made, improperly stored or fraudulent olive oil yields fewer, if any,

health benefits and has undesirable flavour."

The Pristine Olive's standards for extra virgin olive oil were developed to define

and distinguish the freshest, highest quality olive oils in the world. "The Pristine

Olive is the only place in London to offer these high standards," says Jamie, "The

ultimate in flavour, authenticity, tree-to-bottle transparency and third-party

sensory and chemistry lab testing." This focus on freshness is guaranteed through

the rotation of all their olive oil with every harvest. For half the year, The Pristine

Olive only carries oils produced in the Northern Hemisphere, and the other half of

the year, only oils produced from the Southern Hemisphere. "We never have oils

available past the 12-month mark following their harvest date," says Jamie.

Over 60 All-Natural Olive Oils &

Balsamic Vinegars

Including a minimum of 12 single cultivar extra virgin oils — all available to try before

you buy — there is a myriad of choices to ignite your taste buds. And the value placed

on purity certainly doesn't end with olive oil. As one of the few companies in the world

to offer a truly colour-free product, all of the aged dark balsamic vinegars available at

The Pristine Olive are caramel-colour free, with no added thickeners or sweeteners.

The store also carries many

complementary items: cookbooks,

natural olive oil soap, pasta, tapenades,

sea salts, and spreads, all made with

the finest ingredients. Watch their

website, Facebook and Instagram

pages for exciting updates in 2019, as

there are many new ideas and projects

on the go. #wherefreshmatters

Olive Oil &

Balsamic Vinegar

Tasting Bar

884 Adelaide St. North (at Grosvenor)

MAP A: 36 519-433-4444

MON–FRI: 10 am–5:30 pm

SATURDAY: 10 am–5 pm

closed sunday

thepristineolive.ca

Extra virgin olive oils and balsamic

vinegars: $13.95–$34.95

Gourmet oils: $11.95–$97.95

Fused (Agrumato) & Infused Olive Oils

Traditional-style Balsamic Vinegar

Condimento

Natural-Flavoured, Whole Fruit, and

Whole Ingredient White and Dark

Balsamic Vinegars

After Hours, Private Tastings Available

Ample Free Parking

Over 60 Oil and Vinegar Flavours

Sample Pack Options

Convenient New Location!

SPECIALTY PRODUCTS & SERVICES

localflavour.ca

London's Local Flavour 69
---
The Deliciously Healthy

Veg-Friendly Bakery

THE BOOMBOX BAKESHOP

Taking the cupcake and its kin to the next

level, The Boombox Bakeshop is one of

the gems of London's Old East Village.

Creativity is expressed in every corner

and in every deliciously decadent bite.

70 London's Local Flavour

localflavour.ca

RESTAURANTS
---
Veg-Friendly

Bakery & Cafe

520 Adelaide St. North (at Princess)

MAP A: 37 519-488-0384

TUES–FRI: 9:30 am–5:30 pm

SATURDAY: 10 am–4 pm

closed sunday & monday

theboomboxbakeshop.com

Vegan & Gluten-free Vegan

cupcakes, cookies and treats

Fresh baking every day, with

seasonal surprises every week

Eat-in or Take-Away

Special Orders Available

The Scene

The charming shop features a comfy seating area to enjoy a treat and a cup of

excellent coffee. Unique music-themed decor extends to a record "swap and

drop" for fellow music enthusiasts.

An enticing array of the day's

baking is displayed for takeaway

orders, in cutely designed

"boombox" boxes.

Highlights

The veg-friendly bakery and

cafe specializes in vegan goods

and gluten-free vegan goods,

ranging from their signature

Tarts, Turnovers, Bars,

Cookies & More

cupcakes to popovers, cookies,

cakes, mini pies and other

delightful seasonal surprises.

"We are also all about supporting local," notes Owner Alexandra Connon,

who has combined her love of baking and

music in the shop. "Whether this means

supporting local bands or sourcing our

fresh organic produce from local farmers

and distributors. Even our coffee is roasted

locally and specially blended for the shop.

Owner Alexandra Connon

Locally Roasted Coffee

Order Your Special Occasion

Cakes and Cupcakes

SPECIALTY PRODUCTS & SERVICES

This is a small batch bakery

where every thing is baked daily.

Not all flavours on the extensive

online menu are available every

day, but can be ordered. Similarly

by order, amazing Special Occasion

Cakes & Cupcakes — "classical"

or "funky" — are available.

localflavour.ca

New Creations Every Week

London's Local Flavour 71
---
Custom Bakery

275 Wharncliffe Road N. (at Oxford)

MAP A : 38 519-433-CAKE (2253)

HOURS: MON–FRI 11 am–7 pm

SATURDAY 10 am–5 pm

SUNDAY: 11 am–4 pm

heycupcake.ca

Walk-In Orders Available

Plenty of Free Parking

Custom Orders for Unique Cupcakes,

Cakes & Cookies

Delivery Service Available

The ORIGINAL London Cakery

Custom Cake & Matching Cupcake

Unique Cookies

Delicious Bites

of Creativity

HEY, CUPCAKE!

Each cookie, cupcake and custom cake is an original work of art at

Hey, Cupcake! The family-run bakery, owned by Krista and Heath

Trollope, caters to clientele who

have a whimsical and clever sense of

taste and style, and an appreciation

of quality. Using only the freshest

and finest ingredients, every order

is baked from scratch ... and created

with a whole lotta lovin'. Ask about

their ongoing campaign "Random

Acts of Sweetness!"

The Scene

This small boutique bakery creates custom

orders but also serves walk-in customers.

Scan the large variety of enticing selections

from the revolving Daily Menu of freshly

baked cookies and cupcakes (Regular size

only; Mini and Junior sizes are available with 24-hour notice).

Cakes are custom made to suit your occasion — think birthdays,

anniversaries, seasonal or theme parties. If you can imagine it, they can create

it! Cakes can be made to serve any size of gathering. A minimum two weeks'

notice is required for any custom cake order, and two months for wedding

orders. Book your free consultation by phone or online today!

Menu Highlights

The Daily Menu features favourites such as the Black & White — chocolate

fudge cupcake topped with Madagascar vanilla buttercream or the Raspberry

Ripple — vanilla cupcake with a raspberry

ribbon throughout topped with raspberry

buttercream. Special Flavours, such

as the Chunky Monkey — banana &

chocolate chunk cupcake topped with

milk chocolate buttercream and candied

banana chips— or Custom Cupcakes are

available with 48 hours notice.

Gluten-free options are available, and food

restrictions or allergies, including peanut, may

be accommodated, but please call to inquire.

Krista Trollope

Walk-In Orders Available

Custom Cakes,

Cupcakes & Cookies

72 London's Local Flavour localflavour.ca SPECIALTY PRODUCTS & SERVICES
---
London's Destination

For Food Lovers

Kitchen Shop

115 King Street (at Talbot)

MAPS A & B: 39 519-645-1335

MON–FRI: 9:30 am–6 pm

SATURDAY: 8 am–6 pm

jillstable.ca

Superior Kitchenware

Unique Specialty Foods

Outstanding Selection of Oils & Vinegars

Cooking Classes for All Levels

Proprietor Jill Wilcox

JILL'S TABLE

With over 19 years of experience

in being London's destination for

food lovers, owner Jill Wilcox and

her friendly team at Jill's Table

continue to offer excellent product

knowledge and superior customer

service to make shopping an exciting

experience.

A Feast of Kitchen

Essentials

You'll find a wide array of unique specialty

foods, including one of the best selections

of oils and vinegars; superior kitchenware,

including All-Clad, Wusthof, Staub and Emile Henry; as well as many Canadian

made items, including The Garlic Box products, and Kozlik's mustards.

Looking for a fun activity to do with friends and family? Enjoy a unique

evening out at a Jill's Table Cooking Class taught by some of Southwestern

Ontario's best chefs. Or on the weekend, let your senses get the better of

you with Sample Saturdays, when great new food products and recipes are

yours to try. Plus, check out the cookbooks by the Jill's Table team. The latest

features wonderful soups, stews and bread recipes!

Need The Perfect Gift?

Jill's staff will help

you choose a gift that

wows! A custom- or

pre-designed gift

basket is always a

great choice. Whether

it is for a wedding,

housewarming or

birthday, they are

always happy to gift

wrap.

Cooking Classes

Unique Specialty Foods

Superior Kitchenware & Utensils

Across from Covent Garden Market

SPECIALTY PRODUCTS & SERVICES

localflavour.ca

London's Local Flavour 73
---
Think Global.

Read Local.

Pick up your free copy

wherever discerning

readers and food

lovers are found.

In August 2007, we began

serving London, Stratford & Southwestern Ontario

with a new magazine. While even the first issue was posted online,

in keeping up with today's readership, we continually invest in our website and

our social media channels to stay connected and share our content with as many people as possible.

For EVERY device, EVERY story.

LONDON'S

Easy to read.

LOCAL Easy FLAVOUR to share.

CULINARY GUIDE Volume 5

LONDON'S

eatdrink.ca

Easy to search.

Fully adaptive.

More features.

And Get Social!

@eatdrinkmag
---
London Based,

New York Inspired

NORTH MOORE

CATERING Co.

Jess Jazey-Spoelstra's North Moore Catering

has established a sterling reputation among

London's premier caterers, recognized for

world-class cuisine and flawless delivery.

A collaborative approach to food planning

ensures custom menus to appeal to diverse

food preferences, tastes and dietary restrictions.

Dedicated to quality and freshness,

all food is prepared on-site at your venue,

meticulously prepared and exquisitely plated

Jess Jazey-Spoelstra

by talented chefs. Trusted suppliers and venue partners' work together

to ensure that your guests receive the best culinary experience possible.

Event Planning

Whether planning a corporate

retreat, entertaining clients at

an intimate dinner meeting, or

holding an AGM for hundreds,

North Moore Catering has the

experienced, attentive and

professional staff to carry out

your event with ease and finesse.

Make the occasion one that your

guests will thoroughly enjoy and remember fondly.

Wedding Specialists

North Moore's signature specialty is delivering exceptional and innovative

wedding celebrations. They love working with couples to design the day of their

dreams with a personalized

plan, from seated four-course

meals to creative Marche

food stations or passed hors

d'oeuvres. Beyond the food,

they provide event services

from floral, floor planning,

logistics, rentals, and decor

to make your event both

memorable and stress-free.

Caterer &

Event Planner

449 Wharncliffe Rd S (N of Baseline)

MAP B: 40 519-850-5111

northmoore.ca

Corporate & Private Catering

Elegant, Inspired Weddings

Professional & Approachable

Dedicated to Food Quality

Executive Chef Jeff Fortner

Corporate & Private Catering

Dedicated to Food Quality

SPECIALTY PRODUCTS & SERVICES

localflavour.ca

London's Local Flavour 75
---
Plympton-Wyoming

Winery

5547 Aberarder Line,

Plympton-Wyoming

65 kilometres West of London

MAP C: 41 519-899-2479)

May–October, WED–SUN noon–6 pm

Nov–April, FRI–SUN noon–6 pm

Or by appointment.

Pizza oven hours vary. See website.

altonfarmsestatewinery.com

Most Wines are Ontario VQA

Tasting Room & Tours Available

Seasonal Patio & Wood-fired Pizza Oven

Exclusive Wine Club

Wednesday Evening Dinners

Follow on FB for Special Events

Available for Private Events

Trails for Hiking & Cross Country Skiing

Sustainable Farm Practices

Wide Variety of Local VQA Wines

Welcoming Tasting Room

Pioneers of

Huron Shores

ALTON FARMS

ESTATE WINERY

Family-owned and operated by husband and wife team

Marc Alton and Anne Kurtz-Alton, Alton Farms Estate

Winery recently celebrated its fifth anniversary. Literally

pioneers in Ontario's newest emerging wine region of

Huron Shores, Marc and Anne have handcrafted excellent

wines with taste and quality their primary focus. Most

have received the coveted VQA Ontario status.

The Scene

There is a strong commitment to using sustainable farm practices

on the 90-acre property, with six acres of producing vines. This

includes extensive composting and a herd of Shetland sheep and

lambs who eat the ground cover between the rows of vines, and

fertilize the soil. The winery utilizes a century-old wooden drive shed,

and the welcoming and warm tasting room and a retail store are

located downstairs in the family home.

A summer patio features a wood-fired

pizza oven, and the grounds are

home to a number of special events,

including a harvest time Grape Stomp!

Highlights

A former engineer, Marc is a self-taught

winemaker and grape grower who is

New Look, Same

Great Wines

learning, adapting, and challenging

traditional winemaking practices. He

Anne Kurtz-Alton & Marc Alton

is willing to experiment and every year he handcrafts 13–17 exceptional wines,

ranging from traditional Chardonnay and Bordeaux blends, to unique blends

including new hybrids such as Frontenac. An exclusive Wine Club is available

for the curious and devotees. Follow

on social media to keep up with events

held throughout the year to sample

the wines, including Wine Tastings &

Pairings, Grape Stomp, Weinfest, and

Wine Wednesday Dinners featuring

top local chefs. Their wines are available

at many restaurants, select LCBOs

and at farmers' markets in London,

Bayfield, Sarnia and Point Edward.

76 London's Local Flavour localflavour.ca CRAFT BEER & WINE
---
SECTION 3

Local Craft Beer & Wine

London's Local Flavour 77
---
Craft Beer Brewery &

Local Food Focus

TOBOGGAN BREWING CO.

With a state-of-the-art craft brewery in the

basement, a chic farm-to-table brew pub on the

main level, and an inviting seasonal patio upstairs,

Toboggan Brewing Company immediately made

an indelible mark on London's craft beer and

culinary scene. Ten Toboggan beers are regularly

available, in addition to seasonal small-batch

specials. Two Gold Medal-winning Toboggan

ciders are also on tap. Enjoy a pint or a tasting

flight in-house or take some home with you.

78 London's Local Flavour

localflavour.ca

RESTAURANTS
---
London

Craft Brewery,

Farm-to-Table

Pub & Retail

Beer Store

585 Richmond Street (at Central)

MAPS A & B: 42 519-433-BEER (2337)

OPEN: SUN–WED 12 noon–10 pm

THURS 12 noon–11 pm

FRI & SAT 12 noon–1 am

RETAIL BEER STORE HOURS:

MON–SUN, 12 noon–11 pm

LUNCH: $8– $15

DINNER: $15 – $30

tobogganbrewingcompany.com

The Scene

The basement houses

the brewing equipment,

with sparkling stainless

steel brewing tanks

decoratively lit on the

north side wall of the

main level. A long bar

— featuring a total of 36

different beers on tap

— flanks the opposite

wall, with flat screen

TVs behind it, and a

Gourmet sandwiches with house-smoked meats

large moose head anchoring one end. The 519 Kitchen runs across the back of the

room, capped by the curled end of the large woodwork evoking a toboggan on the

ceiling. The Beer & Gear Store near the exit offers a regular and rotating selection

of Toboggan beers to take home, and all the accessories you might need.

Menu Highlights

"We're focused on as many foods as we can from the 519 area code," says owner

Mike Smith, describing the 519 Kitchen. The emphasis on local ingredients is in

sync with the craft beer options. The open kitchen allows visitors to see the staff

in action with the blazing stone pizza oven and a large BBQ smoker. Chef Mike

Smith (same name, different person) cooks up Neapolitan Pizzas, from traditional

favourites like the Margherita, to modern choices like the Cajun Chicken &

Brie, or the Beef Brisket. There are also plenty of vegetarian options, more than

usually found on a typical pub menu. Other recommendations include:

• House Smoked Meats, in a variety of gourmet sandwiches or in the popular

Street Tacos, served with flour or gluten-free soft corn tortillas;

• Small Plates Pub

Fare, perfect for

sharing, such as Pot

Stickers or freshcut

shoestring

Frites served with

roasted garlic

mayo, ketchup and

sriracha aioli;

• Cheese &

Charcuterie

Boards, featuring

local producers.

10 Different Toboggan Craft Beers

& Seasonal Small-Batch Specials

Two Toboggan Craft Ciders on Tap

Vegetarian & Gluten-free Options

Beer Store Open Daily, incl. Holidays,

for take-home beer & supplies

Assorted Tasting Flights

Thin-crust Neapolitan Pizzas

A Variety of Fresh Salads

RESTAURANTS

localflavour.ca

London's Local Flavour 79
---
Ask for Anderson

ANDERSON CRAFT ALES

Fully independent and family-run,

Anderson Craft Ales takes pride in

crafting small batch, handcrafted,

premium beers without compromise.

Under Brewmaster Gavin Anderson

(centre) and his crew's rigourous

watch, and reliance on Canadiangrown

barley, North American hops,

crisp clean water and yeast, comes

top-quality award-winning beer.

80 London's Local Flavour

localflavour.ca

RESTAURANTS
---
Tasting Flights

The Scene

Located in London's Old East Village, Anderson has warmed an industrial

building with a friendly bar and retail space, a social space and game area

The Anderson Family

on the second floor that

overlooks the gleaming

tanks and brewing process,

and an inviting seasonal

patio. Food trucks visit on

Friday nights, or they host a

restaurant pop-up, so that

you can get your munch on!

The brewery is already a

strong community force and

recently celebrated its second year of business. "We love the social aspect of

drinking and appreciating craft beer," says Aynsley

Anderson. "It is important to us to maintain a

family-friendly environment, and encourage

people to come and meet friends, family or work

colleagues in a setting where they can have a beer,

but also just relax and socialize."

Highlights

Anderson IPA (pleasantly hoppy, stronger) and

Anderson Amber (ruby red, maltier, lighter)

were the first two beers launched, and quickly

established a following. Cream Ale (strawcoloured,

unfiltered), Brown (toasty, chocolate

and espresso notes), Stout (coffee and chocolate

notes, stronger) and a quarterly seasonal (Winter

was a spiced ale, Spring was a dark lager,

Summer a session IPA and Autumn a märzen) round out a core of six flagship

beers. A 2017 expansion to

the Anderson draft system

allowed them to have

seven beers on tap plus a

dedicated nitro line.

You can find Anderson

Craft Ales at the Beer Store

and LCBO in cans, and on

tap at an ever-growing

Award-Winning Beers

Growlers & Howlers

number of bars and

restaurants.

London

Craft Brewery

1030 Elias Street (East of Dorinda)

MAP A: 43 548-888-ALES (2537)

HOURS: WED–SAT 11 am–9 pm

SUNDAY 12 noon–5 pm

andersoncraftales.ca

Family Owned & Operated

Retail Store with Fun Swag and

Growlers & Cans To Go

Beer Flights and Tours Available

Friendly Bar & Indoor Seating

Seasonal Patio

Group-Friendly Social Space overlooking

the brewery

Friendly Bar/Retail

Second Floor Brewery View

A Quality Canadian-Built Brewery

CRAFT BEER & WINE

eatdrink.ca/localflavour

London's Local Flavour 81
---
St. Thomas

Craft Brewery,

Tap Room &

Retail Store

130 Edward Street, St. Thomas

25 kilometres South of London

MAP C: 44 519-631-1881

HOURS: MON–WED 11 am–8 pm

THURS & FRI 11 am–9 pm

SATURDAY 11 am–8 pm

SUNDAY 11 am–6 pm

railwaycitybrewing.com

Small-batch Craft Brewing Since 2008

Retail Store with Growlers, Bottles

& Cans to Go

Beer Flights and Tours Available

Welcoming Taproom & Indoor Seating

Established in 2008

Seasonals & Limited Edition Beers

Brewery Tours & Tastings

Fresh AN INSPIRED All ESCAPE

Natural

Beers

RAILWAY CITY

BREWING Co.

Established in 2008, the brewery takes its

name from St. Thomas' extensive railway

history. Heritage is important to the town, and

Railway City Brewing is proud to celebrate that

through their beer names and by supporting

cultural initiatives within the community.

The Scene

Railway City's brewing operation features a

20-hectoliter system comprised of a kettle, mash

tun, hot liquor tank, and a number of 10, 20 & 40HL

fermentators and conditioning tanks. A welcoming

taproom provides the perfect spot to grab a bite

and try new releases and your favourites with

other beer fans. A retail store offers the best selection of cold beer, including

limited releases, as well as fun brewery swag such as T-shirts and glassware.

Highlights

Railway City Brewing Co. has won numerous awards and medals turning Ontariogrown

grains and hops into small-batch craft beers. After ten years in business,

each offering is still crafted the same way, using only the finest ingredients, with

no artificial adjuncts or preservatives, and never dulled through pasteurization.

These uncompromising standards complement environmentally sustainable

practices, such as dispensing refillable glass growlers and donating spent grains

to local farmers for livestock feed.

Besides popular brews such as the Dead

Elephant IPA (inspired by Jumbo the elephant,

in turn inspiring the release of Double

Dead Elephant every autumn, brewed with

twice the hops), Crew Premium Lager, The

Witty Traveller and Black Coal Stout, the

company also concocts seasonal beers, such

as Orange Creamsic Ale and Cranberry

Festive Lager. Watch for interesting one-offs,

including the Barrel Reserve Series, barrelaged,

limited release brews. Ultimately, taste

for yourself. Staff would love to show you

around and demonstrate the brewing process.

Samples are encouraged with every tour!

A tribute to Jumbo, a

historic St. Thomas icon

Cask-conditioned

Real Ale Hand Pump

82 London's Local Flavour localflavour.ca CRAFT BEER & WINE
---
AN INSPIRED ESCAPE

Craft Beer

that Rings True

COWBELL BREWING Co.

This destination craft brewery is a true showstopper. Opened in 2017,

it has garnered rave reviews for its family-friendly and ecologicallysustainable

farm

setting, stunning

architecture, local

farm-to-table menu

choices, and impressive

range of great

craft beers.

The Scene

Cowbell Kitchen Restaurant

Take a guided or

self-guided tour and

enjoy unobstructed

views of almost everything, including the state-of-the-art brewhouse. The

26,000-square-foot venue also features a restaurant and taproom, with indoor

and outdoor seating and unique event and private dining rooms. The restaurant

sits in the centre of the expansive stone and wood barn-style facility. Other

elements include an open kitchen, a stone fireplace, a wood-fired pizza oven

and an enormous screen for special events. A retail space sells beer in cans,

growlers and kegs, as well as T-shirts, maple syrup and coffee.

Highlights

Guests in Doc's Bar sit directly in front of the elevated Cowbell brewhouse —

an outstanding vantage point served by 30 taps. Cowbell creates exceptional

beer recipes using highest quality, globally-sourced ingredients. Beers on offer

include six stalwart Founders' Series beers: a

Country Kolsch, a West Coast Red Ale, a New

World Hefeweizen, an IPA, a Nitro Oatmeal

Stout, and a Honey Brown Ale. Brewmaster

Stephen Rich and his team further express

courage and creativity with a Renegade Series

of seasonal limited release offerings such as

an Amber Belgian Rye Peppercorn IPA.

The restaurant at Cowbell Brewing is about

fresh, local, and fun. The Cowbell team works

with like-minded local producers to create

delicious appetizers, shared plates, burgers,

wood-fired pizza and house-made desserts.

Recommendations include the Hillside Lamb

Inspired Architecture

Burger, served with olive tapenade, goat

cheese, arugula, and Cowbell dressing.

Blyth

Craft Brewery

& Local Farmto-Table

Dining

40035 Blyth Rd, Blyth

90 kilometres North of London

MAP C: 45 844-523-4724

HOURS: SUN–THURS 11 am–9 pm

FRI & SAT 11 am–11 pm

cowbellbrewing.com

World's First Closed-Loop Brewery

First Carbon Neutral Brewery in

North America

Beer Flights and Tours Available

Retail Store with Brewery Swag, Local

Products, Growlers & Cans To Go

Private Rooms Available

Seasonal Patio

Enjoy Delicious Food & Beer

Meet the Founders!

Brewing Great Beer

CRAFT BEER & WINE

eatdrink.ca/localflavour

London's Local Flavour 83
---
SECTION 4

Farmers' Markets

84
---
The Heart of London

COVENT GARDEN

MARKET

Eat local in the heart of London! Covent Garden Market is located

downtown at the junction of King and Talbot Streets. A strong

attraction for locals and out-of-town guests alike, this is one of the

city's most venerated

cultural landmarks and

the heart and soul of the

downtown area.

Traditions

Old and New

Gourmet, artisanal and

wholesome, farm-fresh

quality can be found

daily. Ask Bob Usher, the

market's personable CEO

and a past President and still long-standing board member of the London

Downtown Business Association, about some of the city's best selection of

organic foods, award-winning meats (Chris' Country Cuts and Mark's Fine

Meats), ethnic foods (a long list!), the largest assortment of cheese (thanks to

Glenda Smith) in Southwestern Ontario, confectionery, chocolatiers, marketroasted

coffees, and a wide selection of seasonal fresh cut flowers. You'll

be amazed with the variety of ethnic, gourmet and specialty foods you can

purchase, which showcase the multicultural diversity of our community.

Outdoor Farmers' Market

On Thursdays (May–October) and Saturdays (May–December), an outdoor

Farmers' Market offers

fresh, local food on

the Market Square.

Share the passion

for locally-grown

food direct from local

farmers, growers and

producers. The vendors

selling here "grow it,

raise it, bake it, or make

it!" For current news,

recipes and seasonal

Farmers' Market

130 King Street (at Talbot)

MAPS A & B: 46 519-439-3921

OPEN: MON–FRI 8 am–7 pm

SATURDAY: 8 am–6 pm

SUNDAY: 11 am–4 pm

coventmarket.com

Underground Parking

Outdoor Farmers' Market

In the Market Square

HOURS: THURSDAY 4 pm–7 pm

May to October

SATURDAY 8 am–1 pm

May to December

Winter Indoor Farmers' Market

Upstairs on the Mezzanine

HOURS: SATURDAY 9 am–1 pm

January 12 – March 30

The original market building and

square, by Paul Peel, 1883

Covent Garden Market and

Square was rebuilt in 1999

FARMERS' MARKETS

localflavour.ca

London's Local Flavour 85
---
Covent Garden Market also houses several

excellent restaurants, such as Olive R. Twist's,

Waldo's on King Bistro and Wine Bar, and

Tanakaya. Amy Shackleton, Covent Garden

Market Executive Assistant / Events Coordinator,

will tell you that arts and culture

are the focus of the market's mezzanine,

where a number of local artists and cultural

organizations are located, and there's even a

community kitchen, an art school and a theatre.

As in the days of old, market days are full

of enticing surprises, adding an element of

discovery to the consistent appeal and bounty

of Covent Garden Market.

information, visit www.coventmarket.com and sign up

for the weekly newsletter.

The Farmers' Market hosts free cooking classes

every Saturday in the Market Kitchen on the Mezzanine,

from 11am–noon, January–March and May–September.

This is a unique opportunity to learn a new dish

featuring products fresh from the farmers' market.

Rain or shine, enjoy live music every Saturday,

10am–noon. In the case of inclement weather, music

will move indoors, upstairs in the mezzanine.

From May through October, Thursdays feature an

Outdoor Night Market, from 4:00pm–7:00pm.

From January 12–March 30, the Farmers' Market

moves indoors, upstairs on the Mezzanine,

Saturdays 9am – 1pm.

MARKET LANE

UPSTAIRS: The Tea Haus

KING STREET

86 London's Local Flavour localflavour.ca FARMERS' MARKETS
---
MONDAY — FRIDAY

MARKET HOURS

8–7

SATURDAY

SUNDAY

8–6 11–4

MAP B

Outdoor Farmers' Market

Thursdays 4pm–7pm

May through October

Saturdays 8am–1pm

May through December

localflavour.ca

London's Local Flavour 87
---
ACKNOWLEDGMENTS

Project Team

Bryan Lavery, Stacey McDonald, Terry-Lynn "TL" Sim,

Chris McDonell & Steve Grimes

Writer at Large

Bryan Lavery wrote most of the editorial contributions

and business profiles, helping shape this guide in

countless hands-on and consultative ways.

Photography

Steve Grimes took all of the original photography created

specifically for this project, going above and beyond

expectations. www.grimesphoto.com

Alieska Robles took the photos for Toboggan Brewing

Co., Fellini Koolini's and Joe Kools, and people shots for

The River Room and Craft Farmacy. www.alieskarobles.com

Phong Tran took the photos for Reverie for the Lavery

Culinary Group. www.laveryculinarygroup.com

Thanks to many of the businesses involved for providing

additional images for this guide.

Our Cover: This inspiring dessert image is from Black

Trumpet, photographed by David Higbee.

Appreciation

Thanks for the assistance and support from the following

people and organizations: Bob Usher and Amy Shackleton

from Covent Garden Market; Janette MacDonald and

Andrew Sercombe from Downtown London; Chris Pinelli

from Lexus of London; Zul Karmali from Hotel Metro;

Cecilia Buy from Eatdrink and Sue Gordon.

Copyright © 2018 Eatdrink Inc. and the businesses listed.

All rights reserved.

Reproduction or duplication of any material published in

London's Local Flavour is strictly prohibited without the

written permission of the Publisher. The views or opinions

expressed in the information, content and/or advertisements

published in London's Local Flavour are solely those of

the author(s) and do not necessarily represent those of the

Publisher. All information contained in this publication is

believed to be accurate at the time of printing, but is subject

to change. The publisher assumes no liability whatsoever for

damages or loss arising from errors or omissions.

Printed in Canada.

Reach your target market!

Focus ... Quality ... Integrity ... Results!

eatdrink In Print & Online

Still the most popular pickup, Eatdrink adds effective and targeted

Online Advertising at eatdrink.ca

Online Reader Advantages

Responsive Design that scales to any device;

Fast Loading; Easy Navigation; Rich Content.

Online Advertiser Advantages

Online Print Ad Integration: Your print ad

(1) appears in rotation, integrated throughout

the reader's online experience;

(2) links to your website or social media page;

(3) is also a live link in the popular "flip book"

online magazine.

Readers are driven to us online — and then

to our advertisers — through our active social

media support, contests and story posts.

Contact us to discuss the ways we can help

your business: 519-434-8349

Issue

eatdrink

#74 | The Holiday Issue | November/December 2018

The LOCAL Food & Drink Magazine

Gift

OUR ANNUAL

Guide

page 22

Two Local Magazines!

Reverie

A Modernist Canadian

Tasting Menu

Restaurant

FEATURING

The Church Key Bistro-Pub

An Upscale Pub with Great Food

The Farm to Table Cookbook

Celebrating Stratford Chefs School

St. Marys Road Trip

The Pleasures of a Small Town

Serving London, Stratford & Southwestern Ontario since 2007

www.eatdrink.ca

London, Stratford &

Southwestern Ontario

eatdrink

Issue #W3 | October/November 2018

The LOCAL Food & Drink Magazine

The

Rich Uncle

Tavern

Ignite Restaurant

Group

FEATURING

La Reina

Stepping Up to the Plate in Guelph

Conestoga College

Transforming Together

Ciders & Sours

Seasonal Sensations

Serving Waterloo Region & Wellington County

www.eatdrink.ca

Hammer Time!

Hamilton: A Heaven for Food Lovers

Waterloo Region &

Wellington County

88 London's Local Flavour localflavour.ca ACKNOWLEDGMENTS
---
VOTED

LONDON'S

RESTAURANT

OF

THE YEAR!

JOIN US ON THE

SECOND FLOOR!

Come in and enjoy our delicious,

seasonally created menu.

519-430-6414

Call for reservations

MAP B

/Blakes2ndFloor

localflavour.ca

¦

London's Local Flavour 3
---
• Chris' Country Cuts

• Cucina Italiana

• Doris Family Produce

• Glenda's

• Hasbeans

• Havaris Produce

• Hot Oven

• International Bakery

• Kleiber's Delicatessen

• Mark's Fine Meats

• Nate's Shawarma

• New Delhi Deli

• Olive R Twists

• Petit Paris

• Rice Box

• Sacred Earth Whole Food

• Sebastian's

• Seoul Seafood Shoppe

• Smith Cheese Inc

MONDAY — FRIDAY

8–7

MARKET HOURS

SATURDAY

• Snack 'n Bake

• Tanakaya

• Taylor Sue's

• Thai Delight

• The Chocolate Factory

• The Coop Rotisserie

SUNDAY

8–6 11–4

• The Ice Cream Bowl

• The Little Red Roaster

• The Piping Kettle Soup Co.

• The Salad Bowl

• The Tea Haus

• Waldo's Bistro on King

4 London's Local Flavour

localflavour.ca

MAP B