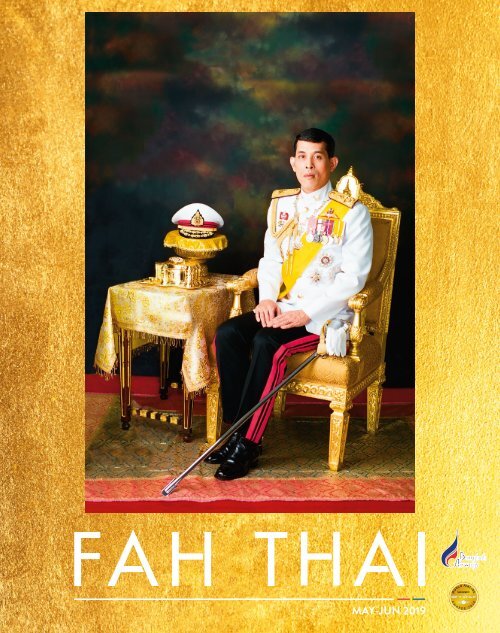 Fah Thai Magazine May June 2019
Fah Thai Magazine is an In-Flight Magazine of Bangkok Airways. You can read us at fahthaimag.com
Fah Thai Magazine is an In-Flight Magazine of Bangkok Airways. You can read us at fahthaimag.com
SHOW MORE
SHOW LESS
Create successful ePaper yourself
Turn your PDF publications into a flip-book with our unique Google optimized e-Paper software.
MAY-JUN 2019
---
LONG LIVE THE KING

Bangkok Airways Public Company Limited

and Fah Thai Magazine

Join in Our Nation's Joy on the Auspicious Occasion

of the Coronation of King Rama X

B.E. 2562 (2019)
---
MESSAGE FROM THE PRESIDENT

Greetings and welcome to Bangkok Airways'

boutique flying experience.

This month, we launched many interesting

projects and activities, including two new

routes. At the end of March, we introduced

the addition of two significant new routes

using Chiang Mai as a key hub, providing flights

from Chiang Mai to Krabi, and Chiang Mai

to Luang Prabang. We believe that opening

these new routes will allow you to plan with

fewer limitations and gain more in preferred

choices for your travelling experience. At

present, Bangkok Airways has many flights

connecting Chiang Mai and other cities both

domestically and regionally – from Bangkok,

Samui, Phuket, Mae Hong Son, to Yangon

and Mandalay in Myanmar and Hanoi, Vietnam.

We're also proud to host again the

Bangkok Airways Boutique Series 2019, our

airline's premiere running event. This year's

six marathon routes include Krabi, Samui,

Lampang, Phuket, Chiang Rai and Chiang

Mai. The Series aim to promote sports

tourism, already popular and growing

steadily worldwide. We offer all of our

passengers free registration to be part of

the marathon series whenever you book a

ticket with us. I'd like to take this opportunity

to invite you to join our sporting events –

let's get healthy together!

Last but not least, on behalf of Bangkok

Airways and staff, I'd like to thank you for

flying with us. Our airline will continue

creating new and special services to make

your travel extraordinary and meet your

highest marks in satisfaction.

Wishing you safe travels.

สวัสดีท่านผู้โดยสารทุกท่าน ยินดีต้อนรับ

ทุกท่านสู่การบริการเต็มรูปแบบของสายการบิน

บางกอกแอร์เวย์สครับ

ฉบับนี้ ก็เข้าสู่เดือนพฤษภาคมแล้ว

สำหรับสายการบินบางกอกแอร์เวย์ส เรามี

ความเคลื่อนไหวและกิจกรรมที่น่าสนใจอย่าง

ต่อเนื่อง ไม่ว่าจะเป็นการเปิดเส้นทางบินใหม่

2 เส้นทางเมื่อปลายเดือนมีนาคมที่ผ่านมา

ตามนโยบายที่จะใช้จังหวัดเชียงใหม่เป็นจุด

ศูนย์กลางการบิน ได้แก่ เส้นทางเชียงใหม่-

กระบี่ และเชียงใหม่-หลวงพระบาง ซึ่งเราเชื ่อ

ว่าทั้ง 2 เส้นทางจะสามารถอำนวยความ

สะดวกให้กับนักท่องเที่ยว รวมไปถึงทำให้

นักท่องเที่ยวมีทางเลือกในการเดินทางมาก

ยิ่งขึ้น ปัจจุบันสายการบินฯ มีเส้นทางบินจาก

จังหวัดเชียงใหม่ไปยังเมืองต่างๆ ทั้งในและต่าง

ประเทศ ได้แก่ กรุงเทพฯ สมุย ภูเก็ต แม่ฮ่องสอน

ย่างกุ้ง (เมียนมา) มัณฑะเลย์ (เมียนมา)

และฮานอย (เวียดนาม)

นอกจากนี้ ยังมีกิจกรรมการแข่งขันวิ่ง

รายการ บางกอกแอร์เวย์ส บูทีค ซีรีส์ 2019 ซึ่ง

ปีนี้ มีทั้งหมด 6 รายการ ใน 6 เส้นทางบิน ได้แก่

กระบี่ สมุย ลำปาง ภูเก็ต เชียงราย และเชียงใหม่

ซึ่งการจัดกิจกรรมดังกล่าวถือเป็นการส่งเสริม

การท่องเที่ยวเชิงกีฬา ที่ปัจจุบันกำลังเป็นที่นิยม

สำหรับผู้โดยสารที่สนใจ สายการบินฯ ได้จัด

โปรโมชั่นพิเศษมอบสิทธิในการสมัครวิ่งฟรีได้

ทุกระยะ เมื่อจองบัตรโดยสารของสายการบินฯ

ผมจึงขอถือโอกาสนี้ เชิญชวนทุกท่าน หันมา

รักษาสุขภาพ และมาออกกำลังกายด้วยกันนะครับ

สุดท้ายนี้ ผมขอขอบคุณผู้โดยสารทุกท่าน

ที่ไว้วางใจและเลือกเดินทางกับสายการบิน

บางกอกแอร์เวย์ส เราจะยังคงพัฒนาและ

สรรหาการบริการใหม่ๆ เพื่อประสบการณ์

การเดินทางที่แสนพิเศษ และเพื่อความพึงพอใจ

สูงสุดของท่านผู้โดยสาร

ขอบคุณครับ

กัปตัน พุฒิพงศ์ ปราสาททองโอสถ

Captain Puttipong Prasarttong-Osoth

กรรมการผู้อำนวยการใหญ่ | President, Bangkok Airways Public Company Limited

12
---
OVERTURES

FEATURES

22 GOOD TIMES

Find the festive – from the

sublime multimedia show on

the art masters in Bangkok, to

Singapore's month-long fête, and

festivals that end with their own

bang in places like Laos.

26 HAVE SOME SCENTS

Hit the right notes of summer for

scents that give you the It factor or

make you a Now Girl. Our perfume

houses have spoken with such

creative descriptions it's sure to

spark your curiosity.

28 DON'T FORGET THE

SHADES

Screen yourself in the latest

protective and stylish eyewear

as the summer sun loves

looking straight into your eyes.

32 NORTHERN

FASCINATION

It's not just Chiang Saen's

classic architecture and history

that stand out – but also the

spectacular vistas and northern

charm that surrounds you.

36 DRINK OF AGES

What's old is new or never went

away as the guava drink remains

a favourite beverage in Thailand.

From our parents' time to the

present, it's still the drink to deal

with the heat.

38 CUSTARD APPLE'S

NECTAR

Peel away its soft jade-coloured

skin and bite into its sweet pulp.

The fruit comes with incredible

nutrients. One juicy taste, and it'll

be the custard apple of your eye.

40 A NATION CELEBRATES

Thailand celebrates the

ascension of King Rama X to

the throne with Coronationrelated

ceremonies and detailed

rituals that trace back centuries.

Read the history and significance

of the royal process that begins

this May.

46 SAMUI SUPERLATIVES

From luxury lodging and the

comfort of classic hotel brands to

superior bites, the island getaway

of Samui is the place to be.

52 LIVING WITH THE PAST

With a well-preserved history,

one of Bangkok's oldest

neighbourhoods buzzes

with European architectural

influences and eateries full of

Thai traditional favourites.

58 MODERN CRAFT

In merging contemporary design

with trusted handicraft traditions,

an award-winning Thai designer

produces attention-worthy work

at home and abroad.

64 ANIMAL MAGIC

Visit an elephant sanctuary

considered one of Southeast Asia's

most ethical camps, and join in a

routine that spends time walking,

not riding, with the gentle creatures.

76 MYANMAR'S

LAKE PLACID

Indawgyi Lake nurtures a wildlife

sanctuary, sustains its villages

with natural resources, and in

the middle of it all, provides a

temple on water.

84 STITCH THROUGH

TIME

In the elaborate costume

designs belonging to Thailand's

traditional Khon theatre, each

delicate stitch strongly narrates

its own colourful story.

110

The Shadows

of Siem Reap

14

15
---
HAPPENINGS

CORPORATE

A selection of relevant events around Asia.

94 BANGKOK 110 PHNOM

96 SAMUI

PENH /

100 PHUKET

SIEM REAP /

103 CHIANG MAI HOI AN

104 PATTAYA / TRAT 111 YANGON

105 CHENGDU / 112 LUANG

CHONGQING PRABANG/

106 HONG KONG VIENTIANE

108 SINGAPORE 113 MUMBAI /

109 KUALA LUMPUR MALDIVES

116 NEWS

Bangkok Airways announces this year's

business outlook and collaborations.

126 ROUTE MAP

128 AIRCRAFT INFO

CHECKING OUT

130 CHIANG MAI'S LANNA LOOK

This month's cover:

His Majesty

King Rama X

84

Dazzling

Threads

of Khon

Theatre

16
---
MOST

EFFECTIVE IN

TRAVEL AND

LEISURE

BEST USE OF

PHOTOGRAPHY

BEST

PHOTOGRAPHY

BANGKOK AIRWAYS PUBLIC

COMPANY LIMITED

99 Mu 14, Vibhavadi Rangsit Road,

Chom Phon, Chatuchak, Bangkok

10900, Thailand

www.bangkokair.com

ADVISORY BOARD

Mr. Prote Setsuwan

Vice President - Marketing

Mr. Varong Israsena

Vice President - Sales

Mr. Kridhakorn Sirabhabhoj

Senior Director - Marketing

Communications

Mr. Komkrit Ngamwongwirot

Regional Sales Director - South & South

East Asia and Middle East

Mr. Benjamin Sirirat

Manager - Branding and Creative

PUBLISHER

MPMI Group Co., Ltd.

1 Soi Lasalle 23/2,

Bangna, Bangkok 10260, Thailand

Tel. +66 (0) 2744 4975

Fax. +66 (0) 2744 5271

Managing Director

Steven Fong Chookiat Pangviphas

Email: steven@mpmith.com

EDITORIAL

Email: editorial@fahthaimag.com

Editorial Director Somtawin Chanyawong

Editor-in-Chief Anutra Ungsuprasert

Senior Editor Nawa Acosta Wright

Deputy Editor Sarita Urupongsa

Contributors

Chalotorn Payomyol

Chusri Ngamprasert

Jeremie Schatz

Marissa Marchitelli

Matthew Camilleri

Passakorn Hongthong

Phoowadon Duangmee

Prachi Joshi

Richard Augustin

Ronan O'Connell

Sophia Natasia Powell-Schaffer

Yvan Cohen

Contributing Photographers

Chatta Phoyen

Jeremie Schatz

Kay Choomongkol

Marissa Marchitelli

Sang-arun Champawan

Sudarat Hawhan

Thalay Thammapakkul

Wichit Kongsiangsung

Yvan Cohen

ART

Creative Director JyeShen Koo

Graphic Designer Pongtorn Khaoplag

Contributing Stylist Saranya Ariyakul

Font (Sriracha) Cadson® Demak

PRODUCTION

Colour Separation Soontorn Film

Printer WPS (Thailand) Co., Ltd.

ADVERTISING

advertising@fahthaimag.com

Media Manager Daruni Klaprapchon

Marketing Manager Reza Bizmark

Digital Marketing Manager Nichapat Noraphaiphipaksa

ADVERTISING HOTLINES

Guitar +66 (0) 92 270 9528

Bob +66 (0) 82 446 9192

OVERSEAS ADVERTISING REPRESENTATIVES

AUSTRALIA

THE MEDIA COMPANY

Leanne Richardson

Tel: +612 9909 5800

leanne@themediaco.com.au

CAMBODIA, LAOS,

MYANMAR

Kittikun Adunsirisaward

Tel: +668 9468 2440

kittikun@bangkokair.com

CHINA, HONG KONG,

MACAU, TAIWAN

CHINA MEDIA OPTIONS

CO., LTD.

Rebecca Tsang-Pereira

Tel: +852 2321 9788

rebeccaCMOsupport@gmail.com

FRANCE, GERMANY,

SWITZERLAND

INFOPAC MEDIA HOUSE

Jean Charles Abeille.

Tel: +331 4643 0066

jcabeille@infopac.fr

INDIA, MALDIVES

RMA MEDIA

Faredoon Kuka

Tel: +9122 2925 3735

kuka@rmamedia.com

KOREA

MEDIREP CO.

Soohoon Oh

Tel: +822 734 0786

soohoonoh@medireponline.com

JAPAN

PUBLICITAS JAPAN K.K.

Hiroko Minato

Tel: +8150 8882 3456

hiroko.minato@publicitas.com

MALAYSIA

MPMI SDN BHD

Alvin Tan

Tel: +603 7880 2185

mpmimy@gmail.com

SINGAPORE, INDONESIA

MPMI PTE LTD

S. S. Hoo

Tel: +65 6464 6261

mpmisg@gmail.com

UNITED KINGDOM

MAJOR MEDIA LTD.

David Hammond

Tel: +44(0) 20 8467 8884

david@majormedia.co.uk

USA

THE MULTIMEDIA INC.

Fernando Mariano

Tel: +14 0790 3500

fmar@multimediausa.com

"FAH THAI" is the in-flight magazine of Bangkok Airways Public Company

Limited and is edited and published by MPMI Group Co., Ltd. All articles and

photographs published herein are created by the authors and photographers

at their own discretion and do not necessarily represent the views of the

airline. Bangkok Airways holds no responsibility or liability arising out of the

publication of such articles and photographs.

All information correct at press time. All rights reserved. No part of this

magazine may be reproduced, stored in a retrieval system or transmitted in

any form or by any means without the prior written permission of Bangkok

Airways Public Company Limited and MPMI Group Co., Ltd.

18
---
ESSENTIAL NOTES TO GUIDE YOUR TRAVELS

Play Time in

Chiang Rai

A woman from the

Akha tribe grabs a

moment of fun in

Doi Sa Ngo facing the

Golden Triangle.

NEWS AND EVENTS 22 / BEAUTY AND HEALTH 26 / STYLE 28 / THAILAND TREASURES 32 / A TASTE OF THAILAND 36 /

FRUITFUL FINDS 38 / ARTS & CULTURAL MATTERS 40 / CHECKED IN 46

21
---
OVERTURES

NEWS AND EVENTS

May 2019

LAOS & THAILAND

ROCKET FESTIVAL

If you happen to be in Laos and the northeastern

provinces of Thailand like Yasothon and Roi Et in

May, chances are you'll bump into a procession

of people out celebrating the rocket festival. It's

one of Laos' and Thailand's much-loved and most

thrilling way to communicate with the gods.

"Bun Bang Fai" or Rocket Festival has become

an important part of the fertility rites observed

for strong and healthy rice crops. When farmers

prepare for the growing season along the

Mekong River in May, villages from near and

far create rockets and launch them into the

sky. Fast and furious rockets go heavenward

in a message to Hang, the god of rain, to send

downpours to help their rice grow.

It does not take a rocket scientist or

aerospace engineer to make these rockets

fly. The masters are typically monks with a

knowledge of gunpowder and a good sense of

air motion experts enough to send the rocket

to where the gods dwell. But be cautious,

some rockets have a poor sense of direction!

tourismlaos.org, tourismthailand.org

Now

-12 2019

MAY

SINGAPORE

GOOD EATS

Discover the best in the culinary world at the

World Gourmet Summit (WGS), as it returns

for its 23rd edition. The 2019 event, which

will be held until 12 May across various

restaurants and venues in Singapore will offer

a diverse curation of epicurean experiences for

discerning gastronomes.

WGS is Asia's premier haute cuisine

festival that celebrates fine cuisines, excellent

wines, and wonderful dining experiences.

The festival presents a unique opportunity to

relish gourmet dishes sporting a multitude of

culinary influences.

This year's event will not just feature a

diversified line up of culinary stars but also

a showcase of products, cuisines and master

classes. Ever-evolving, WGS 2019 will also

focus on sustainability practices and movement

towards food-waste management and a plasticfree

environment in the world of gastronomy.

worldgourmetsummit.com

N o w - 2019

JUN

HONG KONG

ART IN HOSPITALS

After being held in New York, London

and Geneva, international culture project,

Contagious Cities arrives in Hong Kong.

This unique art showcase explores the city's

experience of pandemics and the cultural and

social impacts of disease on its community.

Contagious Cities features a diverse

range of programmes and exhibitions that

illuminates the role of urban areas in causing

– and controlling – infectious diseases in our

densely connected world. The exhibition is

being held at the Queen Elizabeth Hospital

and Pamela Youde Nethersole Eastern

Hospital galleries until June 2019.

The city-wide project has

collaborated with Art in Hospital,

Asia Art Archive, Hong Kong

Museum of Medical Sciences,

Oi! Street Art Space, Tai Kwun

and The Common Core (HKU),

to help tell illuminating

stories of the city's history of

epidemics. wellcome.ac.uk/

what-we-do/our-work/

contagious-cities

Photos ARTPLAY Media

Now

-31 JUL

2019

BANGKOK

ART ALIVE

Following its tremendous success in Berlin,

From Monet to Kandinsky: Visions Alive,

the multimedia show finally makes Bangkok

its next destination and first stop in Asia.

More than 1,500 magnificent works from

the world's most famous master painters in

the realm of expressionism, abstract art and

surrealism will be presented with stateof-the-art

projection and an impressive

surround sound at RCB Galleria, River City

Bangkok. The exhibition will feature not only

the aesthetics of the art masters, but also

present talks from experts in European art

in collaboration with the European Union.

Tickets are available at zipeventapp.com

Now

-31 AUG

2019

SIEM REAP

PRESERVING APSARA DANCE

No trip to Siem Reap is complete without

attending a traditional Cambodian dance

performance. The ancient traditional Khmer

dancing and Apsara dance performances

are performed on a regular basis in various

locations around the city.

Thanks to the influx of tourists to the

country, the ancient art form and traditional

dance has enjoyed a revival over the last

decade. For visitors, Apsara dance provides

a chance to enjoy the beautiful

performances and understand

stories, which have formed an

integral part of the Khmer culture

for over a thousand years.

Most importantly,

the popularity of

the performances

has also ensured

that the art form

is preserved for

generations to come.

tourismcambodia.com

3-5

MAY

2019

KUALA LUMPUR

GET JAZZED

Ever since its inception in 2012, the World

Youth Jazz Festival (WYJF) has stood as a key

event for jazz lovers, serving as a platform

to promote the talents that are establishing

themselves in the genre. The 8th edition of

the event, happening this May, promises the

same with an eclectic line-up of international

as well as local musicians.

Like previous years, WYJF provides an

enticing opportunity to see up and coming

jazz acts sharing the stage with veterans of

the jazz community. This year's event will see

an impressive array of musical talent who will

perform at the Panggung Anniversary and No

Black Tie in the heart of Kuala Lumpur. Slated

to perform at the annual free jazz festival are

Thailand's Asia 7, Korean band Goochu as well as

Indonesia's Daya Quintet and Michał Martyniuk

Quartet from New Zealand.

worldyouthjazzfest.com

22 23
---
OVERTURES

NEWS AND EVENTS

Photo SKMTDOC LLC

16

MAY

-2

JUN

2019 2019

Photo Yoshikazu Inoue

SINGAPORE

ARTISTIC EXPERIENCES

For an entire month, Singapore will be

celebrating the arts with a smorgasbord of

performances and showcases from the world

of theatre, dance and music. Organised and

managed independently by the Arts House

Limited, the Singapore International Festival

of Arts (SIFA) is bringing together a diverse

line-up of performers to deliver great artistic

experiences that will inspire audiences.

In its 42nd year, the festival will feature

luminaries of the performing arts world

who have journeyed to the Garden City to

enthral fans. Slated to perform are music

powerhouses Ryuichi Sakamoto and Bill Frisell,

who are making their Singapore debut, as well as

renowned choreographer Sasha Waltz. As part

of this year's programme, SIFA will also present

four of the best

Singaporean artists.

various venues,

sifa.sg

18

MAY

2019

8-9JUN

2019

MYANMAR, THAILAND & OTHER COUNTRIES

VISAKHA BUCHA DAY

Throughout Myanmar, Thailand and many

countries including Cambodia, Laos, Vietnam,

Malaysia, Singapore, Indonesia, Sri Lanka, India,

Nepal, Japan, Korea, and etc, Buddhists observe

the belief that Buddha attained enlightenment

under the holy Banyan tree on a full moon

day. Held annually, the festival, called Visakha

Bucha Day in Thai or Visak Bochea in Khmer,

is observed for one day – from offering alms in

the early morning to releasing birds and animals

for merit making. In Myanmar, people go to

the nearest temple and pagoda where Banyan

or Maha Bodhi trees are found and water gets

poured on them as respect to Buddha in the

Kason Bodhi Tree Watering Festival.

At Shwedagon Pagoda, witness thousands

of people carrying clay pots filled with water

and lining up for the pour. Colourful flowers

are prepared, while people give out drinks and

water to guests and entertaining music plays in

the background. The festival goes into full gear

when people gather around the trees, pouring

water together then praying.

To truly experience the spiritual culture

and temples, this is the best time to go around

Yangon to discover the traditions for Kason, most

especially at Shwedagon Pagoda. tourism.gov.mm

PHUKET

LAGUNA PHUKET MARATHON

That's right, cinch down the laces on those running

shoes because we're quickly sprinting towards

the 14th annual Laguna Phuket Marathon.

On June 8-9, we're bound to find out

if this year's participants can manage to

outnumber the 9,000+ who showed up last

year. The event consists of a 2km kids run,

5km, 10.5km on Saturday the 8th, and a half

marathon, marathon relay, and the full 42km+

marathon the following day.

If you're feeling ambitious, the Laguna

Phuket Marathon is certified by AIMS

(Association of International Marathons and

Distance Races) and as such is a qualifying

event for the Boston Marathon.

It's a very well-coordinated event and

an encouraging atmosphere for all ages and

abilities. The event was awarded the gold medal

for "Best Amateur Sports Event of the Year

in Thailand" at the 2017 Asia Sports Industry

Awards. info1@phuketmarathon.com,

+66 (0) 2236 2931-2

24
---
OVERTURES

BEAUTY AND HEALTH

WORDS PASSAKORN HONGTHONG STYLIST SARANYA ARIYAKUL PHOTO SANG-ARUN CHAMPAWAN

Scents of Magic

Think of your perfume as a magic potion

conjured up by a perfumier who thoughtfully

gathered the perfect medley of ingredients

to enhance your sensory experience. Some

perfumes involve similar blending, but it

ensures that no two are alike. To feel the

effects of a summer fragrance, let our list wave

their magical scents for you to try.

STOCKISTS

Hermès

MF Siam Paragon

Tel: +66 (0) 2690 1000

TWILLY D'HERMÈS

EAU DE PERFUM

50ML FROM HERMÈS

(4,200 Baht)

Ginger, tuberose, and

sandalwood are given a new

twist. Combined differently,

Hermès describes the notes

as becoming a searing spice,

a disconcerting attraction,

and revelation of the carnal,

Oh là là.

MASCULIN PLURIEL

EAU DE TOILETTE

70ML FROM MAISON

FRANCIS KURKDJIAN

PARIS (5,999 Baht)

A trademark scent in major

men's fragrance classics,

the blend of rich aromas

found in a fougère accord is

reinterpreted into a timeless

version. With this scent, it

ends the quest for eternal

masculinity, a challenge

to time and a search for

timelessness!

Juicy Couture at Sephora

2F Central Embassy

Tel +66 (0) 2160 5817

Maison Francis Kurkdjian

MF Siam Paragon

Tel +66 (0) 2690 1000

OUI EAU DE PERFUM

50ML BY JUICY

COUTURE (3,170 Baht)

The sophistication of key

notes like jasmine absolute

paired with provocative

wild tuberose creates an

iconic duo, creating an

addiction in the modern

sense of the word, and

enhanced by the sleek

notes of techno woods.

FÉMININ PLURIEL

EAU DE PERFUM

70ML FROM MAISON

FRANCIS KURKDJIAN

PARIS (6,399 Baht)

The search for the essence

of what is feminine inspired

this creation – composed of a

multitude of facets in a grand

floral bouquet, designed to

evolve with freedom and

sensuality, unbound from

fleeting fashions.

Tickle Your Senses

Summer's in the air, as dictated by the

fragrance bounty from our favourite

brands. From Jo Malone's refreshing

Floral Flourish to the latest instalment

of Marc Jacob's classic Flower scent

and Gucci's intoxicating Guilty, these

are the summer perfumes that tease

our senses.

BELLA EAU DE TOILETTE 50ML

FROM NINA RICCI (3,250 Baht)

In true perfume fashion, this is a

magical fragrance that's illuminated by

mystery. The iconic apple has turned

an emerald shade of green and its

juice sparkles with palpable seduction,

creating an object of desire that dares

you to embrace your inner rebel.

LOVE RELENTLESSLY

FOU DE TOI EAU

DE PERFUM 100ML

FROM TORY BURCH

(4,300 Baht)

A sparkling mix with

black currant blends,

with feminine peony

accord, rounded out

with a glowing balsam,

and a floral oriental

scent that leaves you

wanting more.

STOCKISTS

Central Chidlom

Tel + 66 (0) 2793

7001-3

Emporium

Tel +66 (0) 2269 1000

Siam Paragon

Tel + 66 (0) 2690 1000

MIU MIU TWIST EAU DE

PERFUM 50ML FROM

MIU MIU (4,000 Baht)

Miu Miu Twist expresses the

true essence of Miu Miu.

Always playful, sometimes

provocative, this is proof of an

irresistible new fragrance.

HEMLOCK &

BERGAMOT COLOGNE

30ML FROM JO

MALONE (2,800 Baht)

This fragrance captures the

thrill of a dangerous, yet

unexpectedly delicate flower.

The cologne gets illuminated

with golden mimosa and a

floral flourish of heliotrope,

crisp and modern with a bite

of cucumber and hemlock's

powdery petals, brightened

with bergamot.

BRONZE WOOD & LEATHER

COLONGE EAU DE PERFUM

50ML FROM JO MALONE

(4,800 Baht) Rich with precious

ingredients, inspired by

ritual; these are crafted

to ignite the senses

with their opulent,

sensual scents. With

a whiff, Jo Malone

takes wearers on a

journey into new

and unexpected

territory, deep into

the woods as a

misty day draws

to a close!

DAISY SUNSHINE EAU DE TOILETTE

50ML FROM MARC JACOBS (3,250 Baht)

Inspired by sunny days and the sparkling spirit

of Daisy girls everywhere, this lighter scent

brings a bright, sunshine twist on the classic

Daisy fragrances. Sunny marigold is wrapped

in the radiant warmth of white woods while

white strawberry notes add a juicy touch.

GIRL OF NOW EAU DE PARFUM 90ML

FROM ELIE SAAB (4,700 Baht)

A new perfume capturing the spirit of the

Now generation. Always with her girl gang,

all eyes are always drawn to her. She's

spontaneous, playful and carefree and her

youth captures the scent of fresh-roasted

pistachio that leads to a unique floral scent

created exclusively for the Girl of Now.

Tips

PURE XS EAU DE PARFUM 50ML

FROM PACO RABANNE (3,700 Baht)

From a classic fragrance powerhouse,

this perfume is described as sweet,

sexy, warm and long lasting, a really

good perfume and a prime contender

for longevity.

GUILTY POUR FEMME EAU DE

PARFUM 50ML FROM GUCCI (4,500 Baht)

The fashion powerhouse creates their scent for

a woman described as a contemporary libertine

– defined by a fragrance signature in geranium

usually found in men's scents. Intimate and

magical lilac flower is laced with amber to radiate

warmth and grace at the fragrance's heart.

FINDING THE RIGHT NOTE

A well-loved scent can truly become a part

of you, an extension of yourself. But how

to find one? Here are a couple of easy tips

from fragrance experts to help land a scent

that you'll love for years and so personal

it feels like you're the one who dreamed it

into existence.

Do your research – Sometimes, the

answer is right under you! Think about your

daily life. What scents do you already love?

If you are new to fragrances, think about the

other distinctive smell you enjoy.

Sample scents the right way – The most

crucial part of finding your new favourite

fragrance is, of course, trying it on. Spray it

on a pulse point where your skin is naturally

warm, like your wrist or elbow, so the

fragrance will really heat up and reveal itself

over time.

Discover something you love – The

chemical makeup of your chosen scent

has an effect on the staying power of the

fragrance. For example, natural citrus

ingredients tend to be more effervescent

and last shorter than notes like vanilla,

patchouli, and different woods.

26

27
---
OVERTURES

STYLE

WORDS PASSAKORN HONGTHONG STYLIST SARANYA ARIYAKUL PHOTO SANG-ARUN CHAMPAWAN

Here Comes the Sun

During peak sunshine, prepare for

eyeshades with darker lenses. When

you're out on a boat or sitting near

the water, a pair of polarised lenses

will cut the reflective glare off the

waves and your summer wardrobe

should be nothing more than a

bathing suit and the all-important

and right pair of sunglasses!

FOR HIM

MINT GREEN

ACETATE

SUNGLASSES WITH

BURGUNDY LENSES

FROM BURBERRY

(10,350 Baht)

STOCKISTS

Central Chidlom

Tel + 66 (0) 2793 7001-3

VINTAGE CHECK

ACETATE SUNGLASSES

CONTOURED WITH A

RICH ROUNDED EDGE

FROM BURBERRY

(10,350 Baht)

ULTRA

LIGHT RIMLESS

WRAPAROUND

SUNGLASSES FROM

PRADA LINEA ROSSA

(14,750 Baht)

Emporium

Tel +66 (0) 2269 1000

GREEN ACETATE

SUNGLASSES

WITH GREEN

LENSES FROM

BURBERRY

(9,400 Baht)

Siam Paragon

Tel + 66 (0) 2690 1000

CLEAR ACETATE

SUNGLASSES AND

POLARISED GLASS

LENSES FROM

OLIVER PEOPLES

(17,050 Baht)

28
---
OVERTURES

STYLE

WORDS PASSAKORN HONGTHONG STYLIST SARANYA ARIYAKUL PHOTO SANG-ARUN CHAMPAWAN

FOR HER

MULTI-

COLOUR

WEDGE

SANDALS WITH

STUDS FROM

VALENTINO

(31,000 Baht)

STOCKISTS

Christian Louboutin

GF Central Embassy

Tel: +66 (0) 2160 5814

CANDY COLOURED

GLITTER STRIPES

FLATS WITH FLUTED

CONE STUDS FROM

CHRISTIAN

LOUBOUTIN

(31,500 Baht)

MULTI-COLOUR

ANKLE STRAP

CALFSKIN LEATHER

PUMPS WITH

ROCKSTUDS

FROM VALENTINO

(37,000 Baht)

Jimmy Choo

MF Helix Bldg Emquartier

Tel: +66 (0) 2003 6095

ANNIE SEQUIN

& FEATHER-

EMBELLISHED

SUEDE HEELS

FROM JIMMY

CHOO

(62,100 Baht)

Valentino

MF Siam Paragon

Tel: +66 (0) 2129 4868

BLACK AND LOUBI-

RED DEGRALOUBI-

PRINTED GLOSSY

PATENT LEATHER

PUMPS FROM

CHRISTIAN LOUBOUTIN

(28,200 Baht)

Her Secret Weapon

Besides diamonds, we're pretty sure

that shoes are a woman's best friend

and of course, it can be your weapon

to bring men down. With seemingly

endless options each season, it's hard

not to amass a collection of pumps in

a rainbow of colours, or more than 10

pairs of black boots. If you're looking

to make an investment, these are the

shoes to have!

30
---
OVERTURES

THAILAND TREASURES

To Long for Chiang Saen

It's not just the ancient temples, historic ruins and the

infamous Golden Triangle that make this northern town

memorable – it's also the stunning scenery and magical

atmosphere of Chiang Saen.

Story & Images Courtesy of the Tourism Authority of Thailand

Compilation Sarita Urupongsa

DEE PLEE, LUXURY THAI RESTAURANT

AT

Anantara Layan Phuket Resort

Relish layers of spice, zest and sweetness from across the kingdom.

Lean back onto triangular pillows and take in sweeping views of the Andaman from

Dee Plee. Indulge in a seven-course menu for two or peruse the a la carte options

lovingly prepared. Sharing dishes the traditionally Thai way, enjoy crispy appetisers,

fresh seafood, creamy curries and zesty salads. Cleanse the palate with homemade

sorbets of coconut or ginger and honey. Popular items on Dee Plee's menu include

Massaman Nua, a beef massaman curry from southern Thailand, Khao Soi Gai, a

northern favourite comprising curried chicken with noodles in a spicy broth.

Reserve your table today, please call +66 (0) 7631 7200 Email: fb.alay@anantara.com

The more you explore the northern part

of Thailand, the more you fall harder for

its countless charms. Beyond the familiar

path of Chiang Mai and Chiang Rai lies

another former kingdom and its own

charm – Chiang Saen. Nowadays an active

modern town, remains of stupas and

Buddha images scatter throughout the

area in a visual of its magnificence during

the glory days. Make the trip and witness

a cultural melting pot since this river

town served as a trading route between

China and Siam and despite some name

changes, the same commercial relationship

continues today. Chiang Saen is not yet a

well-travelled tourist path, which means

it's a more quiet and relaxing pace for

those who come.

Clockwise from Top

A path that leads to

a breathtaking view.

An exhibition

on opium's ills.

Chiang Saen

offers exciting and

beautiful vistas that

many journey to see.

Breathe in the fresh, pure air around

the wetlands of Chiang Saen Lake, also

referred to as the Nong Bong Khai Non-

Hunting Area. The place is well recognised

as a water and migratory bird sanctuary

in Thailand. The area features various

activities, namely nature trails, cycling

routes and canoeing activities to enjoy

the cool breezes off the lake. Hike up to

Doi Sa Ngo and savour the breath-taking

scenery when a sea of mist envelops the

terrain of Thailand, Laos and Myanmar.

As perks, visitors can enjoy the stunning

views of the mist during the rainy season,

and visit experimental farms which grow

chrysanthemum, chamomile flowers and

other seasonal crops during wintertime.

Of course you'll have to include

the infamous Golden Triangle. Three

countries mark this area: Thailand, Laos

and Myanmar as they connect with

the Mekong River separated by natural

boundaries. Must-do activities and must-see

sights include paying your respects to the

Chiang Saen Si Phaendin Giant Buddha,

including going on a long-tail boat trip to

witness the beauty and notoriety of the

Golden Triangle. Enjoy a shopping spree

for souvenirs in retail spots that feature

products from Thailand, Laos, Myanmar

and China. Meanwhile, the Chiang Saen

Si Phaendin Giant Buddha or Nawa Lan

Tue Giant Buddha with gold alloy and

seated in the maravijaya pose on an

enormous foundation. Nearby is the royal

Tung (northern Thai flag) in commemoration

of His Majesty the Late King's Bhumibol

Adulyadej's 72nd birthday and of Her

Majesty Queen Sirikit.

At the Golden Triangle Park Hall of

Opium, this is the best source for those

who want to learn about everything

relating to opium. Through means of

interesting video presentations and

exhibitions, the history of the controversial

plant grown in the Golden Triangle area, its

origins along with its arrival to Asia and its

damaging effects on history and countries

32
---
OVERTURES

THAILAND TREASURES

are recounted. The Golden Triangle Park

Hall of Opium opens from Tuesday to

Sunday, 8.30am-4pm.

It's always good to enforce the

narrative of your visit at Chiang Saen

National Museum.

In the old days, Chiang Saen was the

hub of commerce and a key port town

given its location next to the Mekong

River. Visitors can learn about the town's

inhabitants, historic footprint and its

prosperity. Inside, relics, artifacts and art

pieces from Chiang Saen and nearby areas

are exhibited, with a focus on Lanna style

and patterns, Buddha statues and stone

carvings from Chiang Saen and Phayao.

Highlighted artwork of lacquerware,

musical instruments and accessories of

Tai Yai, Tai Lue and other hill tribes abound.

Furthermore, the museum presents stories

of Lanna community settlements and

the birth of Chiang Saen town. It is also

recognised as the North's oldest national

museum. Chiang Saen National Museum

opens from Wednesday to Sunday, 8.30am-

4.30pm. Entry fee is 20 Baht for Thais and

100 Baht for foreigners.

Phra That Chedi Luang Temple has sat

with the town of Chiang Saen for more

than 670 years. Some of the significant

sites inside the temple are the Lannastyle

stupa Phra That Chedi Luang, the

biggest in Chiang Saen, and an old vihara

(monastery) restored by a covering roof

to protect its original structure. Pa Sak

Temple is another famous temple located

not so far from Phra That Chedi Luang

Temple. It was said that King Saeng Phu

had ordered the temple's construction

in BE 1838 (BC 1295) and had the site

surrounded by 300 pieces of teak, thus

the name "Pa Sak Temple" (Temple of the

Teak Forest). A famous ancient structure

inside the temple serves as the main stupa

with exquisite plasterwork decoration. It

contains Buddha relics, and believed to be

the bone of his right malleolus (part of the

ankle) from Pataliputra City.

Temples remain a popular draw and

pilgrimage for visitors at Phra Chao Lan

Thong Temple. The name "Phra Chai Lan

Thong" refers to the 500-year-old main

Buddha statue located in the vihara. Made

of gold alloy, it's the weight of "Lan Thong"

(a million in gold) or about 1,200kg, which

earned the Buddha image its name. The

temple also houses a brick stupa in the

Lanna style and restored to its ultimate

original form. At Phra That Chom Kitti

Temple, legend has it that King Brahma

the Great built the temple in celebration of

independence from the Khmer. Phra That

Chom Kitti as a result symbolises victory

and freedom, signified up to these days

with a sacrificial-style ceremony for Phra

That is still held every year.

Clockwise from Top

An ancient sculpture

from the museum

collection.

Elaborate sculptures

greet visitors at the

Golden Triangle

Park.

Phra That Chom

Kitti, a symbol of

independence.

The temple's scenic

view of Chiang

Saen town and the

Mekong River.

A relic tells the story

of a local settlement.

Meandering with

a bike through the

calm atmosphere of

the temple.

The old brick stupa

inside Phra Chao

Lan Thong Temple.

For those with a passion for Lanna

art and architecture, Phra That Pha Ngao

Temple is one of the must-visit sites in

Chiang Saen. Located outside the town's

wall, Phra That Pha Ngao Temple houses an

ubosot or ordination hall, with carvings that

depict the story of Buddha in the Lanna

style, and 3 ancient pagodas that went

through a restoration process by having

the Buddha Nimit Stupa constructed over

them. Another highlight is a view from the

temple, boasting of wondrous scenery that

spans Chiang Saen town.

For more information, contact the Tourism

Authority of Thailand (Chiang Rai office) at

+66 (0) 53 717 433 or call TAT Contact

Centre at 1672.

34
---
OVERTURES

A TASTE OF THAILAND

Guava's Cool Quench

The guava fruit made its

way to Thailand courtesy of

Portuguese traders some

300 years the story goes,

and remains a popular fruit.

Nowadays "farang" in Thai can

refer to the crisp fruit with a

white pulp and small, yellow

seeds or a Caucasian foreigner

as the fruit earned the name

from the belief that it had

been brought to Thailand by

them. This summer, a glass of

refreshing guava juice is also a

good way to boost one's energy

and alleviate the heat. Many

types of guava are available in

the market, ranging from Gim

Ju, Khi Nok (or pink guavas),

the rounder Sali and Paen Si

Thong. Rich in useful nutrients

like vitamin C and minerals

as well as fibre, the guava is

affordable and easy to find.

Some Thai people prefer a

guava drink for its convenient

consumption, and it's really a

easy drink to make.

Ingredients:

• 1 ripe guava

• A dash of salt

• 1 tablespoon of honey

• Ice cubes

Instructions:

Select a ripe guava. This is noticeable by

its softness when pressed; the softer it is,

the sweeter the taste will be.

Clean the fruit and its skin well, cut it

open and remove the seeds.

Cut the fruit into smaller dice-like pieces

and put them in a blender.

Once blended, filter out any chunks and

seeds, and season the juice with honey and

a bit of salt.

Complete it with some ice for a cool,

refreshing guava drink!

WORDS SARITA URUPONGSA PHOTOS SHUTTERSTOCK

36
---
OVERTURES

FRUITFUL FINDS

Hidden

Sweetness

The custard apple's skin may look alien

with its bumpy segments. Even at fruit

stalls, vendors field questions of "Is it

really edible?"

WORDS CHUSRI NGAMPRASERT PHOTO KAY CHOOMONGKOL

INVESTING IN SOPHISTICATED LIVING

Tucked in a desirable spot in Phuket's Bangtao/Laguna area and just minutes away from everything

you need – Botanica Luxury Villas property boasts 21 custom-built elite residences of large open plans,

bespoke design and sophistication in a tropical climate setting. Completed by January 2020, enjoy

nearby beaches, restaurants, boutique shops and numerous activities for the family.

In 2018, the Thailand Property Awards selected Botanica Luxury Villas as the winner for Best Villa

Development (Phuket), also coming in highly recommended in the category of Best Housing Architectural

Design (Resort). Botanica Luxury Villas is now ready to create your dream home. Three standard designs

offer spaces from 265 to 700 sq. metres with a signature feature of a covered terrace that seamlessly

interconnects all spaces. Other amenities include smart home technology along with 24-hour security.

The Botanica Luxury Villas are also an ideal investment for short term rental accommodations

vacations. Enjoy the remaining duration for your family. For a visual tour and discussion of your

aspirations and dreams in a home, please contact us at info@botanicavillasphuket.com.

Believed to be a native of tropical

America and the West Indies, the fruit

is the most widely grown species of

Annona. The "ugly duckling" species

among the prominent members of the

Magnolia order, the custard apple is

known as "Anona" by Spanish speakers

and in Thailand, it's called "Noi Naa."

Under the thick scaly skin, this

heart-shaped fruit has a fragrant,

sweet, creamy white flesh with a

pleasant flavour, one that will remind

you of summertime.

Custard apples are rich in

antioxidants like vitamin C, which

help get rid of free radicals from

the body. It boasts an abundance

of iron, magnesium, calcium, niacin,

potassium, and dietary fibre.

Inside the pulp are shiny black

seeds that are inedible. The kernels

of the seeds are quite toxic and have

been used in traditional medicine to

get rid of head lice.

Seeding is the usual means of

propagation, so the trees are not

always true to their parents. It is

believed that custard apple arrived in

Thailand since the Ayutthaya period.

In Thailand, custard apples fall into

two main groups: 'Fai' (Cotton) and

'Nang' (Skin). "Noi Naa Fai" has a lot

of seeds with an aromatic, creamy

and very sweet flesh. Popular Fai

varieties are Phra Thee Nang Yen

or Narai the Great (very sweet,

fragrant) and one of the oldest

varieties in Thailand, and Fai Khiao

Kaset Song (a lot of seeds, with a

fluffy pulp and fresh tasting, sweet

and fragrant). Spreading to Thailand

from neighbouring Vietnam, "Noi

Naa Nang" has a pulp that takes on

a custard-like consistency during

ripening. A popular variety is Nang

Khiao Kaset Song with a meaty and

succulent pulp that's sweet.

For the best way to enjoy the

fruit, chill a custard apple before

serving. Cut it in half and scoop

it with a spoon. Custard apple

ice cream and custard apple in

coconut milk are seasonal treats

greatly enjoyed in Thailand. The

fruit makes a thirst-quenching

milkshake and also a perfect match

with yoghurt.

Despite an unattractive

appearance, the custard apple once

tasted proves to be ambrosia.

38

www.botanicavillasphuket.com | Tel: +66 (0) 98 394 7097, +66 (0) 81 893 2113

botanicavillasphuket botanicavillas
---
OVERTURES

ARTS & CULTURAL MATTERS

Elaborate ceremonies marking the Coronation for His Majesty King Rama X will occur over a period of three days,

beginning on May 4 to 6 in the capital city of Bangkok. Already, sacred Buddhist and Brahmin rituals have been

performed in the month leading up to the formal crowning in May.

A Momentous Royal Coronation

Words Chusri Ngamprasert Sources & Photos Fine Arts Department, Ministry of Culture

Flowing tirelessly for centuries, the Chao

Phraya River bore witness to the rise and fall of

countless ancient kingdoms of Thailand. Together

with her people, joyous times have been celebrated

and times of sorrow have been mourned. Now,

this much-loved river will take on the honourable

task as a grand passage way later this year for the

final part of the Royal Coronation Ceremony or

"Phra Ratcha Phithi Boromma Racha Bhisek"

in this Rattanakosin period.

Influenced by Indian precepts by way

of neighbouring Cambodia, the Royal

Coronation Ceremony is vastly different

from the ones in western countries where

the placing of a crown upon the head of

a monarch and the presentation of items

of regalia are symbolic actions of a formal

investiture of regal power. In the Thai

language, Phra Ratcha Phithi Boromma

Racha Bhisek translates as, "royal bathing

to bestow kingship", therefore the highlight

of the Royal Coronation Ceremony is the

Royal Purification or Ablution Ceremony or

"Song Phra Muratha Bhisek". King Rama IV

was the first monarch in the Chakri dynasty

to emphasise the rite of being crowned.

The starting preparation for the royal

ceremony requires collecting water from

several and important water sources in the

Kingdom. The waters will be combined and

blessed for the Royal Purification Ceremony

and Anointment Ceremony.

According to the ancient Brahmanism

textbook, water for the Royal Purification

Ceremony must come from Pancha Maha

Natee, the five sacred streams in India:

the Ganges, Mahi, Yamuna, Sarayu and

Aciravati, which is believed to flow down

from Mount Kailasa, the abode of Isvara.

Historical records indicate that in the

Ayutthaya period, water for the Royal

Purification Ceremony was collected from

four sacred ponds in Suphan Buri province:

Sa Ket, Sa Kaeo, Sa Khongkha and Sa Yamuna.

In the Rattanakosin period, the water

resources, the sequence and certain details

of the ceremony change in accordance to

what is appropriate in each reign.

From the reigns of King Rama I to

Rama III, water from the Five Virtuous

Rivers known as Bencha Suttha Khongkha

(namely Bang Prakong, Pa Sak, Chao

Phraya, Ratchaburi and Phetchaburi) was

Opposite

The "Suphannahong"

Royal Barge for

His Majesty King

Vajiravudh (Rama

VI) during the

Royal Procession by

Waterway around

the city, for the

occasion of the

Royal Coronation

Ceremony in 1911.

Top Left & Right

King Rama IV's

Royal Coronation

Ceremony in 1851.

King Rama V's Second

Royal Coronation

Ceremony in 1873.

added to that collected from the four

sacred ponds in Suphan Buri. King Rama IV

added holy water blessed by the monks

chanting the Phra Paritra Mantra to the

original mixture. Additionally, King Rama V

got sacred water from Pancha Maha Natee

during his trip to India, so it was added

to the holy water in his second Royal

Coronation Ceremony. King Rama VI

instructed that water gets collected from

various sources in the kingdom for his

second Royal Coronation Ceremony. The

water consecration ritual would be done

at the province's principal temple and then

again at the royal temple.

The Royal Golden Plaque with the

inscription of the King's official title or

"Phra Suphannabat," the Royal Golden

Plaque of the Royal Horoscope, the Royal

Seal of State, including pedestals and

venues for the royal ceremony have to be

prepared months ahead. The procession

of the Royal Golden Plaque, the Royal

Horoscope and the Royal Seal of State

starts from the ubosot or main hall of Wat

Phra Sri Rattana Satsadaram, also known as

the Temple of the Emerald Buddha, to the

ceremonial stage at Baisal Daksin Throne

Hall a day before the ceremony.

In the reign of King Rama I, the Royal

Coronation Ceremony took place at the

Indra Bhisek Maha Prasad Throne Hall.

The venue for King Rama II and following

Kings was the Phra Maha Monthira Group,

consisting of the Chakrapat Biman Royal

Residence, the Baisal Daksin Throne Hall

and the Amarindra Vinijaya Mahaisuraya

Biman Throne Hall. King Rama VI was the

only one using the Dusit Maha Prasad Throne

Hall, a replacement of the former Indra Bhisek

Maha Prasad Throne Hall, as a venue for his

second Royal Coronation Ceremony.

Preliminary ceremonies to the Primary

Royal Coronation Ceremony started three

days before the auspicious day. The new

sovereign would give alms to the monks

40

41
---
OVERTURES

ARTS & CULTURAL MATTERS

in the morning, then light a candle and

pray while monks chant in the evening.

Brahmanism rituals were performed as a

part of the ceremony. According to records

from the reign of King Rama V, the

Brahmins would raise the Royal Seven-

Tiered Umbrella, Saptapadol Saweta Chatra,

over the Atha Disa and the Bhadrapitha

Royal Thrones inside Baisal Daksin

Throne Hall with oblations or offerings

to deities at various Brahman shrines in

Bangkok. The Brahmin would offer sacred

ceremonial objects like the conch shell,

a bael leaf to wear behind the ear, and

Bai Samit (bundles of three auspicious

leaves of mamuang (mango), bai thong

(gold leaves) and takhob (Indian plum) to

the new sovereign. The king symbolically

brushes himself with the Bai Samit, and

the leaves are later burned by the chief

Brahmin as part of the purifying ritual. King

Rama IX shortened the religious practice

from three days to one evening before the

day of the Royal Coronation Ceremony.

The actual Royal Coronation

Ceremony starts with the Purification.

The monarch, now changed into a white

garment with gold trim, lights candles to

pay homage to all deities before sitting on

a bench of fig wood called Udumbara Raja

Asana in the pavilion constructed for the

Purification Ceremony. The fig is believed

to be a symbol of Vishnu in Hinduism. The

presiding official releases a water shower

called "Sahasathara" allowing the sacred

water to sprinkle over the monarch for

the Ablution. Then the supreme monk

sprinkles holy water from the "Krop

Phra Gring" vessel on the king's back

and pours holy water from "Krop Yantra

Nophakhun" vessel onto the king's hands.

A high-ranking royal family member pours

consecrated water from the "Phra Tao

Benchakhap" vessel on the king's hands.

The king in turn accepts the "Phra Tao

Nophakrau" vessel from Phra Hora

Thibodi, the royal augur, and pours the

holy water on his shoulders.

Top Left & Right

King Rama VI

during the

celebration for the

Royal Coronation

Ceremony in 1911.

The Royal

Coronation

Ceremony

of His Majesty King

Rama VII in 1925.

Opposite

King Rama IX in the

Royal Coronation

Ceremony, inside

the Amarindra

Vinijaya Throne

Hall on May 5, 1950.

The chief Brahmin presents the king

with holy water from Phra Maha Sang, the

great conch shell, with holy water from

the Phra Tao Benchakhap, and Phra Krop

Samrit water containers. He then presents

the bael leaf for the king to wear behind

his ear and a river tamarind leaf to hold.

A high-ranking officer then presented

"Phra Maha Sang Thaksina Wat", The Great

Conch for Circumambulation, to the king.

Now wearing the official Regal

Costume, the king moves to the Baisal

Daksin Throne Hall. Seated on the fig

wood octagonal bench called Atha

Disa Throne under the Royal Seven-

Tiered Umbrella, the monarch, facing

the East, accepts the Anointment

Water from a representative of the

Parliament. The chief Brahmin presents

the holy water while the king moves

in eight cardinal directions of the

compass until he faces East again. The

Chief Brahmin gives his address of

benediction and presents the king with

42 43
---
OVERTURES

ARTS & CULTURAL MATTERS

the Royal Nine-Tiered Umbrella of State,

"Nophapadol Maha Saweta Chatra."

From the Atha Disa Throne, the king

proceeds to the Bhadrapitha Throne under

the Royal Nine-Tiered Umbrella. The chief

Brahmin chants as homage to the Kailasa

then presents the Royal Golden Plaque, the

Royal Regalia, the Ancient and Auspicious

Orders, the Royal Utensils, and the Weapons

of Sovereignty. The king then crowns himself

with the Great Crown of Victory.

The Brahmin offers blessings, and

the newly-crowned king presents the

First Royal Command then pours water as

an offering to the Goddess of the Earth

to ratify his responsibility to rule the

kingdom righteously.

The final session of the ceremony can

be adjusted as deemed appropriate. It

includes the Granting of an Audience, the

Installation of the Queen, the Formal

Declaration of Faith, demonstrating the

willingness to become the Royal Patron of

Buddhism, Paying Homage to the Royal

Relics of previous Kings and Queens, the

Assumption of the Royal Residence

Ceremony, and the Procession around the city.

According to Prince Damrong

Rajanubhab, the father of Thai History,

the Assumption of the Royal Residence is

another essential part of the Royal

Coronation Ceremony for the King to

reside in the palace. However, the two

ceremonies could be separate occasions.

In the Assumption of the Royal

Residence ceremony, women of the royal

families would carry the Royal Auspicious

Items and the Royal Utensils to Chakrapat

Biman Royal Residence. The Royal

Auspicious Items are the "cat" or Wila,

the mortar grinder, auspicious seeds, a

green gourd, a golden key, a gold betel nut

blossom, a whisk made from the tail of a

male white elephant and a white rooster.

The finale of the Royal Coronation

Ceremony takes place inside the Grand

Palace with a sermon. Seated on a special

pedestal with the Royal Nine-Tiered

Umbrella, the Supreme Patriarch and a

group of "Phra Racha Khana" monks would

preach the sermon to the new king.

The final ceremony outside the Grand

Palace is the Royal Procession around the

city, both by land and by water so that

the public would have the opportunity to

welcome and bless the new king.

Epic and traditional, the royal barge

procession along the serene majesty of the

Chao Phraya River will never cease to amaze.

The final and befitting end to the Coronation

Ceremony is undeniably significant, with

a newly-crowned sovereign and a shared

event for the witnesses to history.

Left & Right

The Royal Regalia,

with the Great

Crown of Victory

(Phra Maha Phichai

Mongkut), the

Sword of Victory

(Phra Saeng Khan

Chai Sri), the Royal

Scepter (Than Phra

Kon), the Royal

Fan and Fly Whisk

(Walawichani) and

the Royal Slippers

(Chalong Phrabat

Choeng Ngon).

The canopied

pedestal for

enshrining

important Buddha

images, the

Royal Weapons of

Sovereignty, the

Sword of Victory and

the case of the Royal

Seal of State inside

the Baisal Daksin

Throne Hall.

44
---
OVERTURES

CHECKED IN: SAMUI

To Sleep and Dine

in Samui

When service is done right, return visits and a loyal

clientele are the best rewards. From a good night's rest

to a chance to devour the best burger, these ideal spots

on Koh Samui definitely have staying power.

Words Jeremie Schatz

STAYED: CONRAD KOH SAMUI

When it comes to the diverse hotel

industry, few have a reputation matching

the Hilton group. The name is synonymous

with a high standard of quality and

service. Amongst the extensive list of

Hilton properties around the world, a

select few of the most prestigious or

exclusive have earned the Conrad label.

After navigating a lengthy jungle road,

which snakes its way up and over a rugged

mountain, you suddenly emerge from the

foliage directly into the lobby. At this point

it's clear why this location was included in

the Conrad group of properties – and this

is before you've even seen any of the villas.

Spoiler alert: it's the view. "Breath-taking

view" is often thrown around haphazardly,

but you'll soon discover a new appreciation

for this phrase.

The elite collection of one, two, and

three bedroom villas cling to the side of a

steep mountain which flattens into azure

tropical waters fringed with reef. In the

distance across the shimmering waters lie

strong promontories on the horizon which

give depth to the surreal sunsets.

Each private villa is adorned with at

least a 10-metre infinity pool or bigger.

As the pools extend out over the hillside,

their edges blend into the ocean's horizon

– giving the term infinity in "infinity pool" a

whole new meaning. Once you're able to

Photos Conrad Koh Samui

pry your gaze away from the view, you

notice the unique style of the villas.

The architecture, furnishings, and art

are modern yet stylish with a hint of

traditional flare. Stylish is the operative

word here, everything just feels cool

and by association – you feel cool too.

A mysterious nagging instinct in the back

of your mind urges you to order a vodka

martini – shaken, not stirred.

The huge open-plan marble bathrooms

have luxurious oversized bathtubs, rain

showerheads, and are stocked with lavish

amenities. You're kept connected with the

latest tech including an in-room iPad, Bose

surround sound system, Apple TV, and

more. If you want to keep it more analogue,

the walk-in closet is stocked with board

games and the mini bar is fully stocked to

keep the games interesting. And we've only

been talking about the entry-level villas;

they just keep piling on the opulence as you

get into the larger accommodations.

Down by the sea, you'll find the stuff

tropical dreams are made of: super cushy

daybeds and hammocks that dip slightly

into the sea. A well-outfitted fitness

room helps you burn some calories and

a divine spa offers up a spectrum of

treatments and equipped with private

relaxation verandas overlooking the sea.

Many activity options on offer include

snorkelling trips to a nearby island.

When it comes to dining, Conrad Koh

Samui happens to be somewhat of a local

Clockwise from

Top Left

Be mesmerised by

infinite shades of

blue that stretch off

into the horizon.

Conrad Koh Samui's

mountain-side

location ensures

all guests have

5-star views with

accommodation

to match.

Tastefully appointed

rooms highlight

simplicity without

being sparse.

An exquisite

bathroom design

offers luxurious

convenience and a

view of paradise.

legend with arguably the island's premier

fine-dining restaurant, Jahn. You'll likely

have to make a booking to reserve one of

the 28 seats but experiencing a meal at

this exclusive eatery should be mandatory.

The mesmerising Thai-fusion menu is

mind-blowing and with more than 3,000

wines hidden away in the private wine

cellar, you're likely to find a label that fits

your taste.

Conrad Koh Samui clearly has a long

list of very desirable attributes for the

discerning vacationer. If it's your first

stay at a Conrad property, you'll soon

understand why they've earned such a

sparkling reputation.

49/8-9 Moo 4, Hillcrest Road,

Taling Ngam, Koh Samui

+66 (0) 77 915 888

Conrad_Koh_Samui@conradhotels.com

46
---
OVERTURES

CHECKED IN: SAMUI

Photos Jeremie Schatz

TASTED: STACKED

Benjamin Franklin once wrote, "…in

this world nothing can be said to be

certain except death and taxes." Clearly

he hadn't had the distinct pleasure of

enjoying a meal at Stacked, for if he

had, he would have added, "and a killer

burger at Stacked".

For many, there's something comforting

about a good burger. Simply even knowing

that a fine purveyor of quality beef is

nearby can set the mind at ease. For if all

else fails, culinarily speaking, the burger

is a steadfast beacon of reassurance that

familiar sustenance can be had.

Moving beyond praise for the

exalted patty of minced beef, expectedly

not all are created equal. After all, art is

more than paint on a canvas – just so

is a burger more than merely a cooked

pile of minced meat. At Stacked, they are

Clockwise, from

Top Left

Stacked has quickly

become one of the

restaurants to visit

on a trip to Samui.

The funky décor

matches the equally

funky music that's

always playing.

Prefer your burgers

bite-sized?

The sliders have

big flavour in a

small package.

Stacked is more

than burgers.

Go international

with perfectly fried

fish tacos.

Who doesn't love an

epic onion ring?

keenly aware of this fact and have made

significant headway into perfecting this

simple art.

When it comes to bun-brandishing

options, Stacked offers up 12 versions;

half of which are US grass-fed beef which

is ground daily. You can't go wrong with

the best selling "Cowboy" decked out

with onion rings, homemade BBQ sauce,

smoked bacon, and cheddar. On the

other hand, there is the chef's favourite

"Hot Mama" (going to have to side with

the chef on this one) layered with crispy

jalapenos, spicy bacon jam, Sriracha aioli,

on a chilli-lime bun.

What are the other six burgers

that aren't beef? Good question. If

you're baking all sorts of fresh buns

daily, you need to offer up some

options for non-beef eaters. These

options cover all the bases from the

"Chip Shop" with battered Alaskan

cod, the "Samui Bad Boy" overflowing

with pulled pork, the "Save-A-Cow"

with grilled eggplant and zucchini, and

even the "Bao Burger" with five-spices

duck confit.

If you thought it was going to be

an easy decision ordering, think again.

To further confuse your hungry mind,

the menu keeps going with big, juicy

Australian ribeye steaks, grilled Caesar

salad (with candied bacon!), Stacked

sliders if you like your burgers bite-sized,

Baja fish tacos, and a range of other

tantalising veggie, meat, and fish dishes.

A typical human response to a

menu like this is for your mouth to

start watering or your stomach to start

growling. If this hasn't occurred, you

might have a medical condition and

should visit a doctor at once. Or at least

book a table at Stacked and confirm your

taste buds are functioning properly.

South Chaweng Beach Road,

Koh Samui

+66 (0) 77 915 222

stackedhost.samui@ozohotels.com

48
---
OVERTURES

CHECKED IN: SAMUI

Photos The Tongsai Bay

STAYED: THE TONGSAI BAY SAMUI

The Tongsai Bay resort has a unique Now, 32 years later, it is owned and

story and as such, is a unique property. managed by Akorn's son and daughter-

The characteristics of the location, in-law who passionately preserve

the architecture, and the philosophy the environmental ethics infused into

maintained by the owners all intertwine to the business.

create a space that is as much a sanctuary It's nearly impossible to not fall in love

as it is a luxury getaway.

with this place. Every room has a sea view

It began back in the days in Koh Samui and all, except eight ground floor beachfront

before frantic land grabs and the booming suites, which have outdoor bathtubs. Eleven

tourist industry. In 1985 Akorn Hoontrakul styles of suites, cottages, and villas can

glimpsed the small bay from a distance accommodate couples and groups easily.

aboard a sail boat. Something about the To keep things quiet and private, cars can

beauty of this particular spot spoke to access only the lobby and guests can ride

him and a week later he purchased the throughout the winding paths on an electric

land encompassing the bay. During the buggy but many choose to walk.

following three months, he slept on the Rooms offer the best modern

beach dreaming and planning the layout amenities while preserving the natural

for what became the Tongsai Bay. As feel with lots of wood and earthy colours.

a result of Akorn's appreciation for the Some villas are floored with gargantuan

natural environment, he carefully planned thick planks of recycled timber not found

and constructed the resort without cutting in newer buildings. Views from almost

down any trees and with minimal impact everywhere in the resort are phenomenal.

to the land.

A recently completed project has

The result is an 83-room property resulted in 15 additional seafront and

spanning more than 28 acres sprawled private pool villas. In keeping with the

across the hillside above the bay. It was nature-loving theme, these villas boast

the first 5-star luxury resort in Koh Samui. terraces as big as the villas themselves.

Clockwise, from

Top Left

Your private pool

glistens just steps

from your door.

The newest pool

villas have ample

outdoor space for

kicking back by the

pool and soaking up

the view.

Beautifully finished

villas offer the

perfect balance of

classic style with

modern touches.

Very few resorts

can offer up a more

idyllic location than

The Tongsai Bay.

Once again, these projects were

carried out with careful thought and

planning to minimise impact to the

surrounding environment.

Strolling around the resort you will

find flora with identifying labels, as well

as abundant birds and wildlife. In fact,

the resort is so committed to protecting

nature that staff will be promptly fired

if they are caught killing or harming any

animals. Apparently this isn't a problem

as there is a long list of employees who

have been at Tongsai Bay for more than

20 years and several more since the

very beginning.

The resort also operates a substantial

organic garden offsite where all leftover

food is composted and used as fertilizer.

Thai cooking classes are offered and

participants are brought to the gardens

where herbs and vegetables are harvested

for use. No chemical insecticides are

used in the garden and even all of the

cleaning products used around the

resort are biodegradable.

The Tongsai Bay has a long-lasting

reputation as one of the most beautiful and

well-intentioned resorts on Koh Samui. Many

guests end up returning year after year. Come

experience it for yourself and you might too.

84 Moo 5, Bophut, Koh Samui

+ 66 (0) 77 913 750 – 99

info@tongsaibay.co.th

50
---
EURO-THAI NEIGHBOURHOOD

BANGKOK'S

EUROPEAN

Words Ronan O'Connell

Photos Ronan O'Connell & Shutterstock

Surprise

It may look more European than Siamese,

yet the Bangkok neighbourhood of

Sam Phraeng is home to an authentic

Thai community.

52 53
---
EURO-THAI NEIGHBOURHOOD

Scattered around the

edge of a small park,

several Austin cars

sit in various states

of decay. I notice some are

missing windows. Others

are missing panels. Each of

them has been ravaged by the

passage of time. Yet, thanks

to their classical curved

shapes, these British vehicles

from the 1940s and 1950s

still boast a faded splendour.

The same can be said for the

neighbourhood in which they

are kept. Sam Phraeng to me

is one of the most unique

corners of Bangkok, an ageing

but beautiful place that hides

many intriguing stories.

Located in Bangkok's oldest area,

the royal enclave of Rattanakosin,

Sam Phraeng once was the site

of three Thai royal palaces. Built

in the late 1800s in elegant

Sino-Portuguese architecture,

the cream-and-green coloured

townhouses of Sam Phraeng are

now home to a cluster of oldfashioned

businesses. Protected

from development by the Thai

Government, this neighbourhood

offers a trip back in time for

visitors thanks to its historic

architecture and the traditional

Thai food on sale here.

Despite being very close to the

Grand Palace and Bangkok's biggest

attraction, Sam Phraeng is not on

the tourist trail. Travellers could

walk past it without even noticing.

The neighbourhood is barely

mentioned, if at all, in travel guides

to Bangkok. It is also tucked away

from the area's busy roads, hidden

down narrow side streets. Yet Sam

Phraeng was once one of the most

important areas in all of Bangkok.

It was here, just 300m east of the

Grand Palace, that palaces were

built for three sons of King Rama IV,

with a grand neighbourhood

springing up around them.

Lined with dozens of pretty

shophouses, embellished by

Clockwise from Top

The green

and relaxed

neighbourhood

is an oasis in the busy

Rattanakosin area.

Although Sam

Phraeng boasts

European

architecture, it has

an unmistakably

Thai atmosphere.

Sam Phraeng is

easy to miss, tucked

away from the busy

main roads.

intricately-carved eaves and

folding wooden windows, Sam

Phraeng became what is widely

considered to be Bangkok's first

European-style neighbourhood.

What set it apart from other

Bangkok suburbs at the time

was its Sino-Portuguese style,

a striking form of architecture

which fuses European and Chinese

designs. It quickly became a

wealthy area home to upmarket

gold and jewellery shops, as well as

the workshops of the goldsmiths

who worked for the Royal Family.

Sam Phraeng is the collective

name for the three main roads

that run through this area, each

named after one of the three

princes who had palaces here.

Prince Sapphasat Suphakit was

the inspiration for Phraeng

Sapphasat Road. Prince Narathip

Praphanphong lent his name to

Phraeng Nara Road, and Prince

Bhudhares Dhamrongsakdi was the

inspiration for Phraeng Phutorn

Road, which runs through the

middle of the neighbourhood. It was

on the latter of these roads that

I came across the old Austin cars.

One of the historical quirks of

Sam Phraeng is that it was here,

on Phraeng Phutorn Road, that

Bangkok's first Driver's Licensing

Office was located, with motorists

having to do laps of this road to

prove their skill and earn their

permit. That office is long gone,

as are two of the three palaces

built for the princes. Surprisingly,

I found the one remaining palace

to be in a state of decay. Paint was

peeling off its walls and its large

balcony sagged under the weight

of time. Located on the corner of

Phraeng Nara Road and Buranasat

Road, Prince Nara Palace is now

largely disused and ignored, with

its sole tenant being a law office.

Fortunately, most of the Sam

Phraeng area is attractive and well

maintained, thanks to the efforts

of passionate locals like Surasak

Hazunkul. As the 55-year-old man

sat in the small restaurant his family

have run for decades on Phraeng

Phuthorn, he told me how the area

got a new lease on life. In the late

1980s, local residents with the

aid of Government departments

launched a major renovation of the

neighbourhood. Local tradesmen helped

with woodwork and stonemasonry.

Residents, meanwhile, took on the

less complicated task of painting each

of the more than 100 shophouses

in uniform colours of cream, dark

green and light blue.

Mr. Surasak said residents

of Sam Phraeng now took great

pride in the attractive appearance

of the neighbourhood. They were

determined it would not lose

its unique heritage. While they

had seen the modern apartment

buildings sprouting up all over

Top to Bottom

In the rapidlymodernising

city of Bangkok,

Sam Phraeng

neighbourhood

feels like a

throwback to

a bygone era.

Residents love

its traditional

appearance

and laid-back

atmosphere.

More than 100

shophouses line

the streets of Sam

Phraeng, with most

dating from the

late 1800s.

Bangkok, residents here loved

the traditional nature of their

surroundings and lifestyle. "We

have something special here,"

Mr. Surasak told me through an

interpreter, gesturing towards the

small neighbourhood park, where a

group of elderly ladies were playing

cards in the shade of a Frangipani

tree. "We feel lucky. We don't

want this style of life to change

only because the rest of the city is

changing. And the food here is the

best too!"

Ah, music to my ears. I had

heard that Sam Phraeng's food

scene was extraordinary. Now, with

a swelling hunger after a few hours

of exploring the neighbourhood,

I was ready to see if the reality

matched its reputation. On the

advice of Mr. Surasak, I ventured

to a nearby restaurant which for

the past 62 years has been selling

a delicacy not easy to find in

Bangkok. I must admit I did not

like the sound of pig's brain soup.

But I will try anything once. To my

delight, this ancient Chinese recipe

was in fact quite nice – a rich broth

filled with pork balls, tofu and pig

brains. I finished only half of my

bowl, not because I didn't want any

more but because I needed to leave

space to try other food.

I was spoiled for choice.

Among the offerings from Sam

Phraeng's cheap and basic

restaurants was aromatic Radna,

fried Cantonese noodles, Thaistyle

Sukiyaki and freshly-made

Som Tam salad. I paired this

last dish with some Isaan-style

grilled chicken, which made for

an exquisite combination. But a

good meal, for me, is never over

until I have satisfied my sweet

tooth. Fortunately Sam Phraeng

is renowned for its sugary treats.

First up was Khanom Buang coconut

crêpes from a business that has

been serving up this same recipe

for about 80 years. Then I moved

to a shophouse which specialises

in the Thai snack Khanom Pang

Sangkhaya – fresh bread dipped in

a pandan coconut custard.

Finally, I saved the best for last.

Ice cream has been my favourite

food since I was a kid. So how could

I not try several delicious flavours –

durian, coconut and mango – at a

shop which has been selling its own

homemade ice cream for more than

70 years? The interior of Nattaporn

Ice Cream store looked like it barely

had changed since the days of the

three princes. That is just how the

owners like it. That is just how the

residents of Sam Phraeng like it. That

is just how I like it. Sam Phraeng,

please never change.

54 55
---
้

้

EURO-THAI NEIGHBOURHOOD

รถออสตินสัญชาติอังกฤษถูกกัดกร่อน

จากกาลเวลา แต่ยังคงไว้ซึ่งความงดงาม

อันเลือนราง เหมือนกับย่านสามแพร่ง

ที่เก่าแก่ไปตามเวลาที่ผันผ่าน แต่กลับมี

กลิ่นอายอันเป็นเอกลักษณ์น่าหลงใหล

เป็นมุมลับของกรุงเทพฯ ที่รอให้ทุกคน

มาค้นหา

ครั้งหนึ่ง ชุมชนสามแพร่งแห่ง

รัตนโกสินทร์เคยเป็นที่ตั้งของวังถึง

สามแห่ง อาคารสถาปัตยกรรมชิโน

โปรตุกีสที่สร้างในศตวรรษที่ 18 บัดนี

ได้เปลี่ยนโฉมเป็นย่านธุรกิจแบบเก่า

รอให้นักท่องเที่ยวเดินทางย้อนเวลาไป

สัมผัสกับอาหารไทยดั้งเดิมที่วางขาย

ทั่วไปในชุมชนนี

แม้จะอยู่ห่างจากพระบรมหาราชวัง

เพียง 300 เมตร แต่สามแพร่งไม่ได้เป็น

จุดหมายของนักท่องเที่ยวส่วนใหญ่

เท่าใดนัก แทบจะไม่มีใครสังเกตเห็น

ขณะที่เดินผ่าน ใครจะเชื่อว่าสามแพร่ง

เคยเป็นที่ตั้งของวังสามแห่งที่รัชกาล

ที่ 4 ทรงสร้างให้แก่พระราชโอรสทั้ง

สามพระองค์ พร้อมกับชุมชนที่เติบโต

รายล้อม

ร้านรวงเรียงรายประดับด้วยชายคา

แกะสลักและหน้าต่างบานพับไม้ ถือได้

ว่าเป็นชุมชมสไตล์ยุโรปชุมชนแรกใน

กรุงเทพฯ เลยก็ว่าได้ ผสมผสานความ

เป็นยุโรปและจีนเข้าไว้ด้วยกัน เป็นย่านที่

เติบโตอย่างรวดเร็ว เต็มไปด้วยธุรกิจ

ทอง อัญมณี รวมไปถึงงานช่างทองที่

ถวายงานแก่ราชวงศ์อีกด้วย

ถนนสามสายตัดผ่านชุมชนแห่งนี้จน

เป็นที่มาของชื่อ สามแพร่ง ถนนทั้งสาม

สายได้แก่ ถนนแพร่งสรรพสาตร ถนน

แพร่งนรา ถนนแพร่งภูธร เรียกขาน

ตามพระนามของพระราชโอรสทั้งสาม

พระองค์ ได้แก่ กรมหลวงสรรพศาตร

ศุภกิจ กรมพระนราธิปประพันธ์พงษ์ และ

กรมหมื่นภูธเรศธำรงศักดิ์ ตามลำดับ

ความเก๋อีกอย่างหนึ่งของสามแพร่ง

อยู่ที่ถนนแพร่งภูธรนี้เอง ซึ่งเป็นที่ตั้ง

สำนักงานสอบใบขับขี่แห่งแรกของ

ประเทศไทย รถออสตินที่กล่าวถึงตอน

ต้นก็พบได้ที่ถนนสายนี้ ปัจจุบันไม่หลง

เหลือสำนักงานนี้รวมถึงวังอีกสองแห่ง

ที่ยังพบเห็นได้เป็นแห่งสุดท้ายคือวังพระนรา

ที่ทรุดโทรมเต็มที สีกำแพงลอกออกมา

เป็นแผ่น ระเบียงทรุดลงมาตามกาลเวลา

ไม่มีใครใช้งาน ไม่มีใครเหลียวแล

โชคดีที่พื้นที่ส่วนใหญ่ในชุมชน

สามแพร่งยังน่าหลงใหล และได้รับการ

ดูแลจากคนในชุมชนอย่างดี เช่น คุณลุง

สุรศักดิ์ ชายวัย 55 ปีที่ดำเนินกิจการ

ของครอบครัวบนแพร่งภูธรมาหลายสิบปี

คุณลุงเล่าให้ฟังว่าช่วงปี 2520 คนใน

ชุมชนและรัฐบาลร่วมกันบูรณะชุมชนครั้ง

ใหญ่ ทั้งงานไม้และงานปูน ชาวบ้านช่วย

กันทาสีครีม เขียวเข้ม และฟ้าอ่อนแก่ร้านค้า

กว่า 100 ร้าน

คุณสุรศักดิ์กล่าวว่า คนในชุมชม

ภาคภูมิใจและตั้งใจที่จะรักษามรดกทรง

บน

คุณลุงสุรศักดิ์ เจ้าของ

ร้านอาหารย่านสามแพร่ง

ที่เก่าแก่หลายสิบปี

ล่าง จากซ้าย

ร้านรวงในย่านนี้

ต่างได้รับอิทธิพลจาก

สถาปัตยกรรมสไตล์

ชิโน-โปรตุกีส ที่ผสมผสาน

ศิลปะจีนและยุโรป

เข้าด้วยกัน

อาหารแนวสตรีทฟู้ด

คุณภาพ ต้องยกให้

สามแพร่ง

ไอศกรีมโรยหน้าถั่วแดง

ที่ร้านณัฐพร อร่อยอย่า

บอกใคร

เอกลักษณ์ของชุมชนไว้ แม้ว่าจะมีตึกสมัย

ใหม่สร้างล้อมรอบ "ของดีอยู่กับเราแล้ว"

คุณสุรศักดิ์กล่าวพร้อมกับชี้ไปที่กลุ่ม

คุณยายเล่นไพ่อยู่ใต้ร่วมไม้ในสวน

"เราโชคดี เราไม่ต้องการเปลี่ยนวิถีชีวิต

ของเราเพียงเพราะว่าที่อื่นเปลี่ยน

อาหารที่นี่ก็อร่อยที่หนึ่งเลย"

แล้วก็ถึงเวลาที่เราจะตามไปชิม

อาหารตามที่คุณลุงบอกไว้ พอได้ยินชื่อ

เกาเหลามันสมองหมู หลายคนคงเดิน

ถอยหนี แต่ที่ร้านเปิดมาถึง 62 ปี คง

ต้องมีอะไรดีจนอดลองชิมไม่ได้ และแล้ว

ก็เป็นอะไรที่คาดไม่ถึง เมนูจีนดั้งเดิม

อร่อยทีเดียว น้ำต้มเข้มข้น ลูกชิ้นหมู

เต้าหู้ และมันสมองหมูเข้ากันจริงๆ

อาหารที่สามแพร่งมีให้เลือกสรร

มากมายจนเลือกไม่ถูก ทั้งถูกและอร่อย

มีราดหน้าหมี่กรอบ สุกี้ ส้มตำคู่กับ

ไก่ย่าง ล้างปากด้วยขนมเบื้องอันเลื่องชื่อ

ที่ขายมากว่า 80 ปี ยัง ยังไม่หมด ไปต่อที่

ขนมปังสังขยาหอมกรุ่น แล้วตบท้ายด้วย

ไอศกรีมทุเรียน มะพร้าว และมะม่วงของ

ร้านณัฐพรไอศกรีม ที่แทบไม่เปลี่ยนไป

เลยตั้งแต่สมัยพระโอรสในรัชกาลที่ 4 ทั้ง

สามพระองค์ ซึ่งเป็นรสชาติแบบที่

เจ้าของร้านชอบ ชาวชุมชนสามแพร่งชอบ

และผู้มาเยือนอย่างเราก็ชอบจนขอให้อยู่

อย่างนี้ไปอีกนานเท่านาน

56
---
ANCHANA THONGPAITOON

Tweaking Tradition:

A Modern Touch To

Thai Craft

Words Phoowadon Duangmee

Photos Wichit Kongsiangsung,

Salt & Pepper Studio

For one Thai designer, inspiration springs from the

provenance of artisan traditions. In the hope that

people will continue an appreciation in the heritage

of craftsmanship, she injects new concepts in already

established techniques.

58 59
---
ANCHANA THONGPAITOON

Talented Thai designer Anchana Thongpaitoon considers herself a

best friend to animals and a guardian of the environment, both of

which influence her design world. She worked for renowned Thai

architect Duangrit Bunnag before setting out on her own venture

with a partner who happens to be an interior designer. Like the furniture duo

of Margaret Macdonald and Charles Rennie Mackintosh (or fashion maven

Vivienne Westwood and Malcolm McLaren – in case you're a big fan of punk),

Anchana and her interior designer partner, Pipidh Khowsuwan, have a

common vision on art and design. The passion burns bright; both of them

share the label of "Talent Thai" a designation by Thailand's Ministry of

Commerce. Their dog sleeper or bed design won Thailand's Design Excellence

Award (DEmark 2016). Their Sputnik Collection of chairs and tables give new

look and new life to traditional weaving patterns added to modern, sleek steel

tubes and frames. With all that versatility, Anchana Thongpaitoon is a big

proponent of artisan craft, and believes it is fundamental to product design.

Top Right

Duo designers -

Anchana and Pipidh.

Counterclockwise

from Below

The Arrangement

Collection - DEmark

2016 winning

product design.

Sputnik Collection

SS2018.

Hand-woven

fabric vases

Why the name "Salt & Pepper" for

your design studio? Did hunger play

a role in thinking of a winning name?

With Salt & Pepper [studio],

everyone thinks of food. Actually, I

got the name from a Schnauzer, our

family dog. Max has fur the colour

of salt and pepper. With our comical

thinking and playfulness, we named

the studio after the colours in our

dog. My partner, Pipidh, cannot

agree more with the name Salt &

Pepper because he [also] has a strong

passion for cooking.

Salt & Pepper Studio is committed

to the "Design Meets Craftsmanship"

concept. Can you tell us how

the philosophy works for your

product design?

In Thailand, craftsmanship plays

a major part in home décor and

design. This is true all over the

world. Many global brands start from

the most exquisite craftsmanship.

We at Salt & Pepper are Thailand's

home-grown brand. We want to

keep working on local materials and

with Thai craftsmanship – not what's

inauthentic or conservative. With the

skill of Thai craftsmen we add the

sense of style, artistry and beauty to

the products, making them fit into

the modern lifestyle. It's challenging

working with the local craftsmen

who have followed the rules of

traditional crafts way too long.

They leave little room for new

techniques and creativity. Anyway,

it's worth trying. We once tweaked

and played with the traditional

ceramic ware of "Benjarong".

Inspired by Ambrosius Bosschaert's

paintings of bright and vivid flowers

in a low-key background, we asked

the artisan to paint colourful

flowers on a black background for

our Midnight Garden Collection.

It took me a long time to convince

the artisans to give it a try

because it breaks a traditional

custom. Thai artisans would never

paint a Benjarong piece with a

black background.

What direction do you want Thai

design to take to make it stand

out? How do you incorporate

"Thai-ness" yet make it approachable

and of international standards

so that it does not come across a

subpar or exotic?

Branding is important because it

deals with design and marketing.

Many global brands in fashion and

furniture industry come from a small

unit with excellent craftsmanship.

They simply keep moving and

developing their brands and products.

The problem of Thai craftsmanship

is that the artisans have been doing

the same old thing repeatedly without

trying new ways of creativity. Let's

say, if you are in charge of painting

flowers on ceramic ware, you keep

painting the same flower and the

same patterns. To add the value to Thai

crafts, a Thai entrepreneur has to

create a healthy brand and redesign

products to make them fit into the

modern lifestyle.

Who inspires you in their work and

their approach to design?

I enjoy the works of Patricia Urquiola,

a Spanish designer and architect. With

unique techniques and skills, she

always creates a distinctive piece of

work from ordinary materials. So many

times I have discovered that we have

a similar style and design language.

Patricia is excellent at working on

traditional craft and a modern lifestyle.

Top Left to Right

Sputnik collection

- an indoor and

outdoor sofa bench

design for Corner43

collection, winning

the DEmark 2017

Award in customised,

and mix and match

colour combinations.

The Silent Roar

- inspired by a

black panther, the

furniture blends art

and function.

Sputnik Dining Chair.

Below

The colourful

rattan stools can be

converted to storage

baskets.

What are people looking for in

product design?

In the global market, the clients

are concerned about price,

fresh ideas on creativity and

environmental impact. The

product designers and distributors

have to work under these

circumstances if they want to catch

up with the global market.

Do you create what people want

or what you feel they should have?

What do you consider good design

to be?

When I was younger I did what I

really wanted to do. Now I balance

my desire with a customer's wants.

Personalisation is a key to success

because it connects customers to

the brand. We have learnt from our

successful Sputnik Collection – a

set of chairs and tables with a woven

pattern – that the customer wants a

design that can be personalised.

The personalisation makes the

design unique to each customer,

and it gets the customer involved

in the end product. With an option

for different colours and weaving

patterns, the customers have fun

with their choices and design that

fit their lifestyle.

Is your life or lifestyle similar to

your design projects?

Yes, it is. I don't design or create

products that will hurt animals.

Do you travel much? Has any

place or experience influence your

design, please name a favourite

place and why it inspires you.

We have big trips two times a year,

which combines business and

leisure. France and Italy become

our popular destinations in the

past few years. Milan Design Week

is a must. This mecca for all things

design is a paradise for a designer

who wants to get updated with

trends and innovation on product

designs and interior design. I

also enjoy visiting museums and

galleries. I like Renaissance art.

I can revisit Florence again

and again.

What is your proudest design or

product you've ever made?

And why?

A dog bed or sleeper for "Mha

Dog and Living" – our brand for

canine living and lifestyle products.

I love dogs, and I am happy to

create something for them. This

cuddle dog bed is functional but

straightforward. It is made of highquality

materials to fit into modern

home décor and urban living.

Please tell us more about your

passion project on arts and crafts,

and elaborate more on Fine Craft.

I am working on "The Silent

Roar" – a special art project

with different portraits of a

black panther and leopard. I like

Renaissance art, the art that

increases awareness of nature.

The collection of black panther

drawings represents the beauty

and spirit of nature with a strong

sense of wilderness. I will use a

black panther on my next product

design collection.

60 61
---
ANCHANA THONGPAITOON

ด้วยรางวัลการออกแบบที่นอนสำหรับ

สุนัขชนะเลิศ DEmark 2016 จัดโดย

กระทรวงพาณิชย์แห่งประเทศไทย และ

คอลเลกชันโต๊ะเก้าอี้ Sputnik ที่ใช้ลาย

ทอผ้าแบบดังเดิมผสมผสานกับกรอบ

ลวดลายสมัยใหม่ อัญชนา ทองไพฑูรย์

และพิพิธ โค้วสุวรรณ คู่หูของเธอ ถือเป็น

นักออกแบบผู้มีพรสวรรค์อันน่าจับตา

มองอีกคู่หนึ่งของไทยเลยทีเดียว

อัญชนาและพิพิธ ตั้งชื่อสตูอิโอออกแบบ

ของตัวเองว่า Salt & Pepper ซึ่งไม่ได้มีที่

มาจากอาหาร หากแต่มาจากสีของขนสุนัข

ของเธอ ที่มีสีเทาๆ คล้ายเกลือและพริกไทย

เธอเป็นนักออกแบบที่ผนวกงาน

ฝีมือเข้ากับการออกแบบ ในฐานะที่

Salt & Pepper มีต้นกำเนิดและเติบโต

ในประเทศไทย เธอจึงอยากใช้ฝีมือคน

ไทยสร้างกลิ่นอายความงามให้แก่

ผลิตภัณฑ์ที่เธอออกแบบ ซึ่งไม่จำเป็น

ต้องเป็นแบบไทยแท้ตามขนบ อัญชนา

เคยลอง "เล่น" กับเครื่องเบญจรงค์

โดยนำภาพวาดดอกไม้สีสดของ

Ambrosius Bosschaert วางไว้บน

พื้นหลังสีมืดในคอลเลกชัน Midnight

Garden ซึ่งใช้เวลานานพอควรเพราะ

ช่างฝีมือไทยไม่ต้องการแหวกขนบการ

ลงลายเบญจรงค์ที่สืบทอดต่อกันมา

อัญชนาเชื่อว่า วงการการออกแบบ

ไทยจะเติบโตได้ ช่างฝีมือของไทยต้อง

กล้าเปิดใจรับความคิดสร้างสรรค์ใหม่

แทนที่จะสร้างงานแบบเดิมไปเรื่อยๆ

นักออกแบบไทยต้องเพิ่มมูลค่าด้วย

การสร้างแบรนด์ที่มีผลิตภัณฑ์เข้ากับ

วิถีชีวิตสมัยใหม่

ในตลาดปัจจุบัน ลูกค้าสนใจเรื่อง

ราคา ความคิดสร้างสรรค์ และผลกระทบ

ต่อสิ่งแวดล้อม นักออกแบบและผู้จัด

จำหน่ายจำเป็นต้องคำนึงถึงประเด็น

เหล่านี้เพื่อตามตลาดโลกให้ทัน นัก

ออกแบบยังต้องสร้างสมดุลระหว่าง

ความต้องการของลูกค้าและบุคลิกของ

แบรนด์ งานออกแบบที่ออกแบบอย่าง

แตกต่างมาให้เหมาะกับลูกค้าแต่ละราย

เป็นหัวใจสำคัญที่จะทำให้ลูกค้าสนุก

กับการเลือกผลิตภัณฑ์ให้เข้ากับไลฟ์

สไตล์ของตัวเอง

อัญชนากล่าวว่าแรงบันดาลใจหา

ได้ไม่ยาก เธอจะออกไปท่องเที่ยวสอง

ครั้งต่อปี ทั้งเพื่อพักผ่อนและทำงาน โดย

เฉพาะในฝรั่งเศสและอิตาลี เธอหลงใหล

ศิลปะเรอเนซองส์ การเยี่ยมชมพิพิธภัณฑ์

และแกลเลอรี

ความรักที่เธอมีให้แก่สุนัขทำให้เธอ

สร้างแบรนด์ "Mha Dog and Living"

เธอภูมิใจกับที่นอนสำหรับสุนัขที่ใช้งาน

ได้ดีและตรงไปตรงมา แต่ใช้วัสดุคุณภาพ

สูงเพื่อให้เข้ากับการตกแต่งบ้านสมัยใหม่

และชีวิตในเมือง

ปัจจุบันอัญชนากำลังสร้างโปรเจกต์

"The Silent Roar" วาดภาพเสือดำและ

เสือดาวด้วยศิลปะสมัยเรอเนซองส์เพื่อ

เป็นภาพแทนของความงามและจิต

วิญญาณแห่งธรรมชาติ แน่นอนว่า

เสือดำจะต้องปรากฏบนคอลเลกชันงาน

ออกแบบของเธอแน่นอน ไม่นานเกินรอ

ตามเข็มนาฬิกาจากบน

นิทรรศการ Taste Test

x Lamitak Experience

ในเทศกาล Bangkok

Design Week 2019

Camp Edible ในงาน

Wonderfruit เมื่อปี

2018

สตูลขาเก๋ไก๋ในสตูดิโอ

Salt & Pepper

เก้าอี้ สตูล และโซฟา

คอลเลคชัน Sputnik ที่

ได้รับความนิยมอย่าง

มากในต่างประเทศ

62
---
DESTINATION: LUANG PRABANG

A

Quiet

Walk

To

Remember

Words Anutra Ungsuprasert

Photos Thalay Thammapakkul, Anutra Ungsuprasert,

Shutterstock

T

hey say life is slow in Luang Prabang. You

can't imagine how slow until you get there.

This lovely UNESCO World Heritage city, and

a former Lao capital, still stands regal in its

peacefulness – the way it's been for many years.

My visit to Luang Prabang last September – rainy and not

quite satisfactory – meant a return trip to this sunny land was

required. But another reason that pulled me back was missing the

elephant sanctuary on my last trip. I was told the slow, meditative

communion with these large giants somehow fits well with Luang

Prabang's mood. So several months later, I head back, determined to

walk shoulder to shoulder with the elephants.

Staying at Rosewood Luang Prabang property, a 10-minute drive

from town, is very relaxing. It feels like being in one of Rudyard

Kipling's adventures. The resort is nestled in a lush forested valley

split down the middle by a waterfall and the river it feeds. All rooms

are named after a famous person with a historical connection to

Southeast Asia, and a view of the Nam Dong river. You hear its

dancing flow while crickets chirp and birds sing.

64 65
---
DESTINATION: LUANG PRABANG

Clockwise from Top

Luang Prabang –

with the Mekong

and Nam Khan

rivers serving as

the hearts and

art of living.

Adventure comes

closer with a stay in

one of Rosewood's

tented lodging.

You can hire a boat

to any place from

Luang Pier.

Later, I walked to the higher

point of the property where hilltop

tented rooms sit. The luxurious

white glamping tent-design rooms

afford an impressive view of the

property, evoking a sense of camping

in the woods. What it's like being a

real explorer? To sleep in the woods,

or simply stay radically basic like our

ancestors? I dream on and wonder

what it was like when this land was

once called Lanxang, the land of a

million elephants. I envision kings

riding on the majestic animals as

their 'workhorse' during the war.

Nowadays, only about 400 exist

in the wild, and another 400 to

500 in captivity. But a non-profit

organisation aims to increase the

I dream on and wonder what it was

like when this land was once called

Lanxang, the land of a million elephants.

elephant population in this country.

The "Lao Elephant Initiative" is

a collaboration between Michael

Vogler, an Environmental Sciences

graduate from Portland State

University in the USA along with

his friend, and a veteran elephant

expert from Thailand, Mr. Prasop

Tipprasert. All share a passion for

wildlife preservation, with Mr.

Prasop having worked in Thailand's

elephant population for 27 years

with his pioneering project at

Chiang Mai University.

Nicknamed "Jane & Tarzan" in

Thailand, the programme reintroduces

elephants to each other in a natural

environment. They send "Jane"

into the jungle where she finds

"Tarzan", they honeymoon for

2 months and hopefully have a

baby. After 2 and a half years in a

sanctuary, the elephants are sent

back to the jungle – a national park

or "university". The mission in Laos

is the same, to increase the number

of elephants.

But before I visit the elephant

sanctuary, I touch base with historic

Luang Prabang. Staying near the

Nam Khan river, I grab a hotel bike

and go into the historic district,

passing the 100-metre-high Mount

Phousi on my way, the most popular

hiking summit for sunrise and

sunset views with the golden temple

of Wat Chom Si at its top. At the

foot of the hill sits the Traditional

Arts and Ethnology Centre which

exhibits the distinct cultures of

various ethnic groups. Next to it is

the famous gilded Wat Xieng Thong,

dating back to the 16th century.

I paddle along the riverside

where Nam Khan meets the Mekong.

From there I make a stop at the

Luang boat pier, rather than cross

the Mekong river to Pak Ou Caves

packed with more than 4,000

Buddha images, I take a boat to

see Xangkhong village and their

handicraft products. Apart from

disappointing touristy craft shops,

the boat ride isn't that bad. I have

66
---
DESTINATION: LUANG PRABANG

Clockwise from Top

Many Lao

handicrafts are

found in the village

of Xangkhong.

Find local restaurant

Bouang at the end of

Sisavangvong Road,

serving up fusion

and Lao food.

A group of elephant

lovers take a

long tail boat

to meet the

pachyderms.

Our guide takes the

front of the boat to

point where we're

heading.

Bottom, Left & Right

Making 'khanom

khee noo,' a popular

and well-known

Lao snack found

everywhere in

Luang Prabang.

Grilled Mekong fish

and a street stall

near "Talad Mued"

or night market,

with a papaya

salad or Tam Luang

Prabang.

a chance to gaze at life along the

river, watching the fishermen's

catch of the day and water buffaloes

working the rice fields.

When my stomach grumbles,

I give Bouang restaurant a try,

with its fusion Laotian food. The

restaurant is located almost at

the end of the Sisavangvong Road

where rows of restaurants lie. The

food at Bouang is pretty lovely

and delicious. They have their

own version of Mango Sticky Rice

– different from Thailand and

elsewhere – they use purple sticky

rice cooked in coconut milk, rolled

in black & white sesame and fresh

grated coconut.

I ride back down the restaurant

lane where I enter into a small

entrance of an old temple sitting

behind bar and restaurant shop

houses next to Wat Siphoutthabath

temple. Inside, a group of young

After the flour batter is deep fried, they will

be golden, sweet, a bit salty and crispy;

the snack vendor guarantees.

novices work and restore the

walkway. Other people dry hundreds

of pieces of white flour on bamboo

covered with newspapers. "It's

called Khanom Khee Noo (fried

flour snack) that you see selling on

streets. After the flour batter is deep

fried, they will be golden, sweet,

and a bit salty, crispy," the snack

vendor guarantees.

I go back to my favourite night

market. Last time, I bought some

interesting cloth wristwatches

made from handmade strips and

beautiful graphically textiles. Even

though it looks pretty much the

same, but there is some thing that

draws people to come back – the

atmospheric lighting, the smell of

street food and people's laughter.

This time, I'm drawn into a small

alley, the first one on the left when

68
---
DESTINATION: LUANG PRABANG

you cross the road from the post

office. It is jam-packed with local

food stalls – grilled Mekong fish,

pork ribs, chicken and papaya salad.

I ordered them all, together with

sticky rice and a Luang Prabang style

papaya salad. It was surprisingly

unattractive with a black papaya

that was longer and wider than what

I know. Its appearance may have

looked good, but there's no telling

with the taste! Everything, especially

the pork ribs are made fresh, juicy

and grilled medium well. Mouthwatering

indeed.

Anyway, I keep the best for last –

my big day with the elephants. I wake

up early in the morning and our local

guide takes me and nine other people

in a van. Only 30 minutes away is

MandaLao, the non-riding elephant

sanctuary. As the name suggests,

guests aren't given any chance to ride

on the calm creatures.

MandaLao just turned two

years old, founded by an American,

Michael Vogler. He and his friend

moved to Laos and started ecotourism

activities under "MandaLao

Tours" and at the same time

save the elephants with the "Lao

Elephant Initiative".

Recently, there are 9 elephants

at the sanctuary – 8 females

and a 2 and a half years old male,

named Mr. Kit or Mr. Tarzan

Junior, who was born through the

reintroduction programme.

Mr. Prasop, the Thai elephant

conservationist, told us at the

orientation, "No babies, no future.

I helped the elephant population in

Thailand increase by 7% each year.

I want to do the same in Laos." For

Mr. Prasop, saving these animals is

not just for the animals themselves.

"I cannot just say, please save

the elephants because they are cute.

They bring us rain, oxygen, reduce

global warming, etc. Each of them

eat 200-250kg every day and return

more than half of the nutrients back

Bottom Left to Right

Walking with the

elephants - not

riding, just taking

a quiet walk in

the jungle.

Mr. Prasop

Tipprasert, a Thai

veteran elephant

conservationist who

wants to join in the

mission of saving

elephants in Laos.

Michael Vogler,

founder of

MandaLao and

the "Lao Elephant

Initiative"

programme.

"They (the elephants)

eat for us – they make

the ground more

fertile, and the fertile

soil gives us food..."

to the ground. They eat for us –

they make the ground more fertile,

and the fertile soil gives us food," he

said, before sending all of us to join

the elephants in the sanctuary.

Ten of us are taken on a boat

crossing to the other side from

the reception point. A few minutes

later, we found ourselves standing,

feeling so tiny, close to 3 elephants

70
---
DESTINATION: LUANG PRABANG

– 43-year-old Kham, 50-year-old

Marn, and 43-year-old Pheng –

with loads of bananas. We begin

to assess each other, but they just

love us because we have tons of

bananas for them.

Over the next 3 hours, we

walk with the elephants and their

mahouts in the jungle. We need to

lead and the elephants follow – this

is to avoid them stomping on our

feet. We go side by side quietly at

the same speed – about 3 to 4km

per hour – feeling very much in

touch with nature and with these

awe-inspiring beasts. The elephants

walking through the forest naturally

with nothing on their backs makes

you really feel they are truly wild,

and independent creatures.

"They love touching, hugging

and kissing, but avoid the bum and

tail. They don't like it. Touching

their head, ears, trunk, it's okay,"

instructs the guide.

Top & Bottom

Local produce from

neighbour villagers

aim to feed the

elephants in the

sanctuary.

Long-tailed boats

for hire anchoring

at the foot of the

Mekong.

Along the way, the 3 elephants

make many stops to eat their favourite

food which is wild creepers. We can tell

that these elephants are happy as they

flap their ears and swing their tails.

Joining this activity in the middle

of the jungle gives me such peace

of mind, and respect for nature and

fellow beings. And yes, Mr. Prasop

is right. "Not riding [the elephants]

is not everything," he says. "It is

nothing if you don't care about

the welfare of these elephants.

And to make this work, you cannot

just do it only in one country. Now

I'm working with many friends to

build a network within Cambodia,

Thailand, Myanmar, and Laos

called the 'Trans-boundary Wildlife

Conservations.' These elephants

don't care if they are Thai or Lao

as long as they have bananas."

GETTING THERE

Bangkok Airways has a direct

flight from Bangkok to Luang Prabang

– one flight per day; and 3 flights per

week (Tuesday, Thursday and Saturday)

from Chiang Mai, Thailand to Luang

Prabang, Laos PDR.

72
---
DESTINATION: LUANG PRABANG

หลังจากพลาดไปเยือนศูนย์อนุรักษ์ช้าง

MandaLao เมื่อคราวก่อนเพราะฝนตก

ทริปหลวงพระบางสามวันสองคืนครั้งนี้

เราต้องไม่พลาดอย่างคราวที่แล้ว วันแรก

เราพักที่ Rosewood ขับรถออกมาจาก

ตัวเมืองเพียง 10 นาทีเท่านั้นก็จะพบกับ

รีสอร์ตที่ห้อมล้อมด้วยป่าไม้ ขุนเขา

มีน้ำตกและแม่น้ำดงตัดผ่าน เสียงกระแส

ธารเริงระบำ จิ้งหรีดร้องเซ็งแซ่ มีนกส่ง

เสียงคลอเป็นแบคกราวด์

เดินขึ้นไปตามเนินของรีสอร์ต มีห้อง

เต้นท์หรูอยู่บนยอดเนิน ทิวทัศน์ที่สวย

สะกดทุกลมหายใจ ทำให้นึกถึงตอนที่

ดินแดนแห่งนี้มีชื่อว่าล้านช้าง ซึ่งแปล

ง่ายๆ ว่า ดินแดนแห่งช้างล้านตัว

วันต่อมาเรากลับเข้ามาพักที่โรงแรม

ใกล้แม่น้ำคาน เพื่อซึมซับประวัติศาสตร์

ของหลวงพระบาง เราขี่จักรยานของ

โรงแรมเพื่อเข้าเขตเมือง ผ่านยอดเขาภูสี

ที่ตั้งวัดทองคำชมสี แล้วมาชื่นชมความ

งามของวัฒนธรรมกลุ่มชาติพันธุ์ที่ศูนย์

ศิลปะพื้นถิ่นและชาติพันธุ์วิทยา และ

เยี่ยมชมวัดเชียงทองที่สร้างตั้งแต่

ศตวรรษที่ 16

จากนั้น นั่งเรือจากท่าเรือหลวงไปยัง

หมู่บ้านช้างโขงเพื่อไปชมงานฝีมือชาวบ้าน

เลยช่วงโค้งน้ำที่แม่น้ำคานบรรจบกับแม่น้ำ

โขง แต่ก็ผิดหวังกับงานพื้นๆ และร้านรวงที่

รองรับแต่ทัวริสต์ อย่างไรก็ตาม ได้นั่งเรือ

ชมวิวก็ดีเหมือนกัน ได้เห็นชาวบ้านจับปลา

ควายไถนา ท่ามกลางภูเขาเขียวขจี

ขึ้นฝั่งก็ได้เวลาอาหาร ร้านบวง

(Bouang) ร้านอาหารฟิวชั่นลาว ตั้งอยู่

เกือบสุดถนนศรีสว่างวงศ์ ติดใจรสอร่อย

ของแหนมข้าว และข้าวเหนียวอัญชันมูน

มะม่วงหวานราดกะทิ โรยด้วยงาคั่วและเนื้อ

มะพร้าวฝอยแล้วเดินต่อไปยังพระบรม

มหาราชวังและพิพิธภัณฑ์ประวัติศาสตร์

ก่อนอาทิตย์ลับขอบฟ้า ขี่ย้อนกลับ

มาทางเดิมแล้วแวะที่วัดสีพุดทะบาด เห็น

เณรน้อยกวาดทางเดินในวัด และชาวบ้าน

ตากขนมขี้หนู ที่นำมาทอดเป็นสีเหลือง

ทอง หวานนิดเค็มหน่อย กรุบกรอบเป็น

ขนมทานเพลินๆ

การเดินทาง:

บางกอกแอร์เวย์ส

มีเที่ยวบินตรง

กรุงเทพฯ-หลวง

พระบาง หนึ่งเที่ยว

บินต่อวัน และเที่ยว

บินจาก เชียงใหม่-

หลวงพระบาง 3

เที่ยวบินต่อสัปดาห์

(อังคาร พฤหัสบดี

และเสาร์)

ตามเข็มนาฬิกาจาก

ซ้ายบน

พื้นที่ความสุขของบรรดา

ช้างที่ MandaLao

Elephant Sanctuary

หอพระบาง ปากทางเข้า

พิพิธภัณฑ์แห่งชาติหลวง

พระบาง สร้างขึ้นเมื่อปี

พ.ศ. 2447 เพื่อเป็นที่

ประทับของพระเจ้ามหา

ชีวิตศรีสว่างวงค์ เป็น

ศิลปะแบบลาวผสม

ฝรั่งเศส

สตูว์หมูในรูปแบบฟิวชั่น

ของร้าน "บวง" ท้ายถนน

ศรีสว่างวงศ์

ซอยข้างตลาดมืด หรือ

ไนท์มาร์เก็ต ที่คลาคล่ำ

ไปด้วยบรรดาสตรีทฟู้ด

น่ารับประทาน

งานฝีมือพื้นถิ่นลาว อาทิ

พัดกระดาษสา และภาพ

วาดแม่หญิงลาว มีให้เห็น

ตามท้องถนนของ

หมู่บ้านช้างโขง

ตกค่ำ ขอแวะตลาดกลางคืน เพราะ

มาเมื่อไรก็ไม่รู้เบื่อ กลิ่นอาหารหอมฉุย

พร้อมกับเสียงหัวเราะของผู้คน พร้อม

งานหัตถกรรมของลาว ภาพเดิมๆ นี้แหละ

ที่ดึงดูดให้นักท่องเที่ยวกลับมาสัมผัส

หลวงพระบางครั้งแล้วครั้งเล่า

ครั้งนี้ เราเลี้ยวซ้ายเข้าตรอกตรงข้าม

ไปรษณีย์ที่เป็นแหล่งสตรีทฟู้ดลาวโดยแท้

ทั้งปลาน้ำโขงปิ้ง ไก่ย่าง ส้มตำ ซี่โครงหมู

ย่างฉ่ำๆ เราลองทั้งหมดนั่นด้วยความ

เอร็ดอร่อยเหลือเชื่อ

ไฮไลต์ท้ายสุดของทริปอยู่ที่ MandaLao

Elephan Sanctuary นั่งรถตู้ไปพร้อมกับ

อีก 9 ชีวิต เพียง 30 นาทีจากที่พัก อดใจ

รอทักทายเจ้าช้างเพื่อนแก้วไม่ไหวแล้ว

MandaLao ดำเนินงานมากว่าสองปี

แล้ว Michael Vogler หนึ่งในผู้ก่อตั้ง

หลงใหลในการอนุรักษ์สัตว์ป่า ตัดสิน

ใจมาอยู่ที่ลาวเพื่อริเริ่มการท่องเที่ยว

แบบอนุรักษ์ธรรมชาติภายใต้ชื่อ

MandaLao Tours พร้อมกับก่อตั้งองค์กร

ที่ไม่แสวงหาผลกำไร Lao Elephant

Initiative เพื่อเพิ่มประชากรช้างซึ่งเหลือ

เพียง 400 ตัวในป่า และช้างเลี้ยง ที่ขณะนี้

เหลือเพียง 400-500 เชือกเท่านั้น

Michael Vogler ได้พบกับคุณประสพ

ทิพย์ประเสริฐ นักอนุรักษ์ช้างไทยที่ทำงาน

มากว่า 27 ปี เขาตั้งใจว่าจะพยายามเพิ่ม

ประชากรช้างในลาวให้ได้ เหมือนกับที่ทำ

สำเร็จในไทยมาแล้ว

คุณประสพกล่าวว่า เราคงพูดไม่ได้

หรอกว่ามาช่วยช้างกันเพราะความน่ารัก

ของมันเพียงอย่างเดียว แต่อาหารที่ช้าง

กินกว่า 200-250 กิโลกรัมต่อวันเปลี่ยน

เป็นมูลที่เพิ่มความอุดมสมบูรณ์ให้กับ

ผืนดินในป่าอีกด้วย

ไกด์ของเราแจกเป้กันน้ำ ขวดน้ำ และ

รองเท้านินจาบูทยาวเพื่อกันยุงและโคลน

เราทั้ง 10 คนนั่งเรือไปอีกฟาก เพื่อทักทาย

ช้างใหญ่ 3 ตัวที่ทำให้รู้สึกได้ทันทีว่าเราตัว

เล็กนิดเดียว เราเริ่มทำความคุ้นเคยกับ

ช้างด้วยการป้อนกล้วยจำนวนมากที่

เตรียมไว้เชื่อมสัมพันธ์

เราเดินป่าไปพร้อมกับช้างเป็นเวลา 3

ชั่วโมง เดินไปด้วยกันในจังหวะเดียวกัน

และสัมผัสธรรมชาติร่วมกัน นี่สินะคือช้าง

ป่าที่ใช้ชีวิตอย่างอิสระอย่างที่ควรจะเป็น

ไกด์บอกเราว่า ช้างชอบให้กอดให้จูบ

จับหัว หู และงวงได้เลย แต่อย่าไปโดนก้น

และหาง เพราะพวกมันไม่ชอบ ระหว่าง

ทางช้างทั้งสามตัวหยุดพักกินของว่างใน

ป่าบ่อยๆ พวกมันกระพือหูและแกว่งหาง

ซึ่งบอกได้ว่ากำลังมีความสุข

การที่ได้ทำกิจกรรมกลางป่าแบบนี้

ทำให้จิตใจสงบ ทำให้เราเคารพธรรมชาติ

คุณประสพพูดถูกแล้วที่ว่า การไม่ขี่ช้าง

เป็นแค่ส่วนหนึ่ง ถ้าเราไม่ดูแลช้างอย่างดี

ก็ไม่มีค่าอะไร และเราจะทำแค่ประเทศ

เดียวไม่ได้ เราต้องสร้างเครือข่ายอนุรักษ์

ช้างในกัมพูชา ไทย เมียนมา และลาว ช้าง

ไม่สนหรอกว่าตัวเองชาติไหน ตราบเท่าที่

มีกล้วยให้พวกมันกิน

74
---
TALES FROM A LAKE

INDULGENT

Indawgyi Lake

Words Matthew Camilleri Photos Matthew Camilleri, Shutterstock

Fascinating legends swirl around Myanmar's biggest lake,

Indawgyi, including a fable that it was once home to a massive

dragon. This mother of all lakes generously nurtures a wildlife

and bird sanctuary, while tranquil villages and surrounding

verdant hills and mountains reveal an enchanting milieu of calm

and spirituality as captivating as the tales around it.

76 77
---
TALES FROM A LAKE

We make it to Indawgyi Lake itself,

whose waters offer a calming welcome

ringed by the green mountains on its

edges. It measures 3 kilometres east

to west, and 24 kilometres north to

south, large enough for the 21 small

villages to sit calmly on its banks. The

map indicates an area rich in local

fish and turtle species, and a paradise

for birds. During the winter, 20,000

migratory birds from the north do

their seasonal layover, making it

ideal for birdwatching at the Wildlife

Sanctuary, as waterbirds share the

vast space with their visitors.

At a separate point at the lake,

we run into a shrimp catcher in a

boat with her wooden traps. With

her colourful conical hat, we noted

her use of ground beans for bait

and soda bottles as floats. The traps

get dropped before dawn and the

amount caught gets sold at the local

market the next morning. "I've

been doing this for years and it's

how I feed my family," she says.

Once these traps are submerged, the

floating tops bob gently in unison

– capturing the early rays of the

sunrise across the lake.

Clockwise from Top

Villagers believe

that a great flood

formed Indawgyi

Lake; and migratory

birds and wildlife

have greatly

benefited from

its sheer size.

A colourful longyi

pattern.

A woman prepares

bait to catch

freshwater shrimp.

Below, Top and

Bottom

Homestays are few

and comfortable

enough around the

Indawgyi lake area.

Boats get built

around the lake,

but it is getting

harder to find skilled

builders.

It may be the monsoon, but we

journeyed undeterred to Indawgyi

Lake, one of the largest freshwater

lakes in Southeast Asia. Located

in Kachin state in the northern area of

Myanmar, my gang and I expect a visual

feast in this 'green' season. A bounty of

fresh and green vegetables will flavour our

Kachin and Shan dishes; and fun in the

rain means swimming and playing football

with the local kids. Best of all is the

awe-inspiring vision of Shwe Myintzu

temple looking like it floats on water as

the lower water level at this time of year

creates the mirage.

Shwe Myintzu

Pagoda, the spiritual

beacon on Indawgyi

Lake in Myanmar,

and its gold

pagodas.

Colourful threads

in making a longyi.

It's a little over a one and a half

hour flight from Yangon to Myitkyina,

the Kachin state capital. From the

airport, the trip to Indawgyi Lake

requires an additional ride and taxi

drivers await with fare prices that could

give you a shock – 150,000 kyats (about

US$100), as the asking price. But you

can negotiate it down to about 80,000-

90,000 kyats (around US$60).

Kachin state, in the northernmost

part of Myanmar, bade welcome

with landscape and mountain views

spread out in blankets of green.

After three and a half hours in the

taxi passing through lush villages,

we turned off toward Lon Ton, our

destination. Lon, in the Kachin ethnic

language means "coming down

from the hills" and Ton, "finding

food", you'll also hear it referred

to as Indawgyi City. Lakeside teak

houses on stilts remain, making a

good base for the night but Lon Ton

also lives up to its ethnic Shan Ni

name with teashops, noodle shops

and restaurants. For lunch, we ate

a local pickled tea leaf salad, a chicken

salad, and Kachin fried rice with an

egg on the top. Like their sweet tea,

everything was delicious.

To learn about the local crafts,

we visit the village of Nunmun,

stopping at a weaving place called

Shwe Inn Lat Khat Tan. With many

signature designs, the owner learned

the craft in the ancient city of

Amarapura, winning 'best design

of the year 2017' in a countryside

competition. Her colourful Burmese

sarong, the longyi, fetches an

affordable price of 13,000 kyats

(around US$8.6) Nearby is a local

primary school where children

are taught to read and write in the

indigenous language of Shan Ni

(Tai Lan), thereby preserving local

traditions and culture.

The lake's beauty, its blue waters and romanticism are further enhanced by

the mystical tales that have been circulated for decades.

Having pre-booked an early

morning boat, we finally make our

way to Shwe Myintzu pagoda. Within

20 minutes, a cluster of small pagodas

appear from the middle of the lake.

We arrive at the temple dock where

two bells hang, supported by a pole

that's underwater. Disembarking

the boat, wading through water and

exploring the pagoda compound

feels amazing. The ceramic tiles

surrounding the temple stay dry

in the summer, functioning like

a regular platform. However, the

monsoon offers a different experience

as you walk over the rippling colours.

Awestruck by the view, we see an

infinity point where the lake meets

the horizon.

You can take a tour around the

smaller pagodas in the area. Nearby

is the boat-building community of

Hepa requires traversing through

quiet waterways on the east side of

the lake. Natural foliage and trees

spread across tranquil waters like

an enchanted forest as boats gently

dance on the surface.

The lake's beauty, its blue

waters and romanticism are further

enhanced by the mystical tales that

have been circulated for decades.

Today's waters look deceptively

calm, but the stories tell of dragons

or nagas that inhabit the lake before,

together with the Shan Ni (Red Shan)

people, also known as the Tai Leng,

who lived with their emperor who

reigned during the 16th century.

To view the lake from another

angle, we visit a monastery, close to

the village of Lwemum and an ideal

stop for our group to enjoy fresh

coconuts beside the mountain road

to the village of Nammilaung. In

this 'no-plastic' zone, no disposable

cups are seen and bamboo straws

rest inside our coconuts.

Once above, heavenly mountains

spread across the lake, seen from

78 79
---
TALES FROM A LAKE

Hotels & Resorts

Clockwise, from Right

Bells ring as visitors

arrive at the temple

on water.

Shwe Myintzu's

golden pagodas

against a mistcovered

sky.

Myanmar's

Indawgyi Lake

from above.

Map of Indawgyi.

the vantage point of Shwe Taung

pagoda as it sits on a hilltop by the

lake, and surrounded by a forest.

A smaller pagoda with a wooden

spirit statue and a small dock where

people washed and swam called

to us. My colleagues and I jumped

into the water and had a fun time.

The dreamy landscape was right for

mythical creatures but we didn't see

a single dragon or naga!

A monk and his novice shared

the history of the lake and magical

Shwe Myintzu pagoda. It was once

a village inhabited by the ethnic

Shan people who transformed into

tigers with just a roll down the hill.

A widow had dreamt of a major

flood and warned everyone. No

one believed in the premonition,

so she left for higher ground with

her son. Once safe on the hills, she

looked back to see a whole village

"The Charm of "The Charm of Thailand" Thailand"

Address: 216/9 Koktanod Road, T. Karon,

A. Muang Phuket, Phuket 83100 Thailand

www.nook-dee.com

Tel: 66 (0) 76-688-888 @nookdeephuket

Nook Dee Boutique Resort

flooded and everyone gone. As the

story goes, people turned into fishes.

"You could see these fishes with

human teeth and their golden scales

around the pagoda where they used

to come and pray."

On the way back to the homestay,

we passed scenery akin to the shire

in 'The Hobbit' movie; with green

mountains and fields and clouds

surrounding Indawgyi. Farms appear

on the sides of slopes, top of mountain

ridges and even in some valleys where

no vehicle can reach. Overgrown jungles

hide fruit plantations, abundant with

citrus fruits like the pomelo.

It's time to return to Myitkyina

in a small truck. But just before

leaving, the owner conveys an

invitation to a birthday party for

a one-year-old child, just two

houses down. The buffet breakfast

includes some Kachin and Burmese

dishes, vegetables and desserts, all

delicious treats and hospitality. With

stomachs full, we bid farewell,

waving back to the good people of

Indawgyi and its bountiful lake.

Isaan Isan Boutique Resort

: Sense of Tradition

80

GETTING THERE

A domestic flight from Mandalay to Myitkyina

take 1.10 hours and from Yangon to Myitkyina

take 1.35 hours, and the 'fastest' way from the

airport; taxis go to the lake for around 90,000

kyats one way, do negotiate.

A bus from Yangon to Myitkyina takes 22 hours,

with another five hours to Indawgyi Lake.

A ticket costs around 43,000 kyats or US$23.

Tickets are available at

mandalarminn.com.mm and rome2rio.com

From Mandalay, trains are available for the 20-

hour trip to Myitkyina, with a ticket price

of US$16, myanmartrainticket.com

ACCOMMODATIONS

Homestays (10,000 kyats or around US$6.6

per night for each guest)

"เบิ่งอิสานม่วนซื่น

อีหลีวิถีไทยเด้อ"

www.andacura.com/isaan-isan.html

Note: A stop at the military checkpoint on the way to the lake is required to show your passport and ID if you're a foreigner. Strictly no photos should be taken around the gate.

Tel: 66 (0) 44 005 778 @isaanandacura

Address: 54 Moo17 Moosi Pakchong Nakornratchasima 30130
---
TALES FROM A LAKE

ทะเลสาบอินดอจี เมืองโมญีน ในรัฐคะฉิ่น

เป็นทะเลสาบอันเงียบสงบที่ใหญ่ที่สุดใน

ประเทศเมียนมา นอกจากจะเป็นแหล่งน้ำ

หล่อเลี้ยงสัตว์ป่าน้อยใหญ่และผู้คนจาก

หมู่บ้านต่างๆ โดยรอบแล้ว ทะเลสาบแห่ง

นี้ยังเป็นจุดเริ่มต้นแห่งตำนานพญานาค

อันน่าเกรงขามอีกด้วย

ถึงจะเป็นฤดูมรสุม แต่เราก็ตัดสินใจ

ไปเยี่ยมเยือนทะเลสาบอินดอจี เพื่อชื่นชม

ความงดงามในช่วงฤดูกาล "สีเขียว"

ฤดูกาลที่พืชพรรณนานาชนิดผลิดอก

ออกใบรับฝนฉ่ำ เรายังหวังจะได้โอกาส

ลิ้มรสอาหารคะฉิ่นและฉานอันโอชะ ได้วิ่งเล่น

เตะฟุตบอลกับเด็กๆ ท่ามกลางสายฝน

เหนืออื่นใด ได้ไปชมเจดีย์ชเวมิตซุ สีทอง

ตัดแดง ที่เหมือน "ลอย" อยู่ในน้ำ

เราขึ้นเครื่องไปลงที่สนามบินในมยิจีนา

เมืองหลวงของรัฐคะฉิ่น ด้านนอกสนามบิน

มีรถแท็กซี่จอดรอมากมาย อย่าตกใจถ้า

ถูกเรียกค่าโดยสารแพงหูฉี่ถึง 3,000

บาท เพราะคุณสามารถต่อราคาได้ถึง

80,000 จัต หรือประมาณ 1,600 บาท

ถูกลงเกือบครึ ่ง รัฐคะฉิ่น ณ ตอนเหนือสุดของเมียนมา

ต้อนรับนักท่องเที่ยวทุกคนด้วยผืนป่า

เขียวขจี เมฆปกคลุมท้องฟ้า หลังจากนั่ง

รถแท็กซี่มาสามชั่วโมงครึ่ง เราก็มาถึง

หมู่บ้านโลนตอนที่เราจะพักในคืนนี้ มื้อ

เที่ยงเราแวะทานยำใบชาดอง ยำไก่ และ

ข้าวผัดคะฉิ่นโปะหน้าด้วยไข่ดาว ซึ่ง

อร่อยทุกจาน และชาก็รสหวานอร่อย

อย่าบอกใคร

เราไปต่อที่หมู่บ้านนันมัน เพื่อชม

ความประณีตของลายทอผ้าโบราณที่

สืบทอดมาจากอมรปุระ โสร่งหนึ่งผืน

ราคาเพียง 13,000 จัต หรือประมาณ

การเดินทาง:

นั่งเครื่องบินภายในประเทศจากมัณฑะเลย์-

มยิจีนา ใช้เวลา 1 ชั่วโมง 10 นาที และ

ย่างกุ้ง-มยิจีนาใช้เวลา 1 ชั่วโมง 35 นาที

แล้วต่อแท็กซี่ไปยังทะเลสาบอินดอจี

สามารถเช่ารถมอเตอร์ไซค์เพื่อเดินทางใน

หมู่บ้านหรือไปยังทะเลสาบก็สะดวกดี

รถบัสจากย่างกุ้ง-มยิจีนา

ใช้เวลา 22 ชั่วโมง และอีก 5 ชั่วโมง

มายังทะเลสาบอินดอจี

รถไฟจากมัณฑะเลย์-มยิจีนา

ใช้เวลา 20 ชั่วโมง

ที่พัก:

โฮมเสตย์ (10,000 จัต หรือราว

200 บาท / คน / คืน)

ข้อควรรู้: อย่าลืมต่อราคาแท็กซี่ แล้วก็ต้องหยุด

ที่จุดตรวจของทหารเพื่อตรวจพาสปอร์ตและเอกสาร

แสดงตัวตน ห้ามถ่ายภาพบริเวณด่านเด็ดขาด

275 บาทเท่านั้น

จากนั้นก็ไปเยี่ยมชมโรงเรียนประถม

ศึกษาแห่งหนึ่ง ก่อนหน้านี ้รัฐบาลห้าม

ไม่ให้มีการเรียนการสอนภาษาถิ่นชานนี

แต่ปัจจุบันครูผู้สอนจะต้องผ่านหลักสูตร

การสอนภาษาชานนีก่อนจึงจะสามารถ

สอนในโรงเรียนได้

เช้าตรู่วันรุ่งขึ้น เรานั่งเรือ 20 นาที

ไปยังเจดีย์ชเวมิตซุกลางน้ำ ที่มีเจดีย์น้อย

ใหญ่ประดับกระเบื้องตั้งอยู่รายรอบ

ท่ามกลางทะเลสาบที่กว้างสุดลูกหูลูกตา

ตื่นตากับบ้านใต้ถุนสูงในหมู่บ้านเฮปา

พร้อมกับวิวภูเขาเป็นฉากหลัง ภาพวิถี

ชีวิตของชาวบ้านกำลังต่อเรือเพื่อนำไป

ขายยังหมู่บ้านอื่น และช่างต่อเรือรุ่นใหม่

ที่เรียนรู้จากครู สืบสานภูมิปัญญาที่

สืบทอดกันมาช้านาน

เราไปต่อที่ลเวมัม ผ่านวิวภูเขาที่

ทอดยาวผ่านทะเลสาบ แล้วแวะสำนักสงฆ์

ที่ชาวบ้านเชื่อว่ามีอุโมงค์ใต้น้ำทะลุไปยัง

ทะเลสาบอินดอจี เป็นทางที่พญานาคใช้

เพื่อมาหาลูกชาย มองขึ้นไปบนเขาจะเห็น

เจดีย์ชเว ตอง ตรงไหล่เขามีรูปเคารพไม้

และท่าน้ำที่ชาวบ้านใช้อาบน้ำและซักล้าง

ตามเข็มนาฬิกา

จากบนซ้าย

เรือกนาไร่สวนในดินแดน

คะฉิ่นชุ่มฉ่ำเมื่อถึงหน้าฝน

มะพร้าวสดๆ อ่อนๆ จากไร่

เชาว์ปัญญาพื้นถิ่นในการ

รักษ์โลกที่ทันสมัยกว่าคน

เมือง หลอดไม้ไผ่ของชาว

คะฉิ่นเป็นสิ่งประดิษฐ์ที่ใช้

มาแล้วช้านาน

กรุ่นกลิ่นกาแฟ พร้อม

สำรวจแผนที่ทะเลสาบ

อินดอจีและหมู่บ้านรอบๆ

วิถีชีวิตชาวประมงที่

ทะเลสาบอินดอจี

ผ้าทอสีสันสวยฝีมือดี

ราคาผืนละราว

275 บาทเท่านั้น

Photo Face of Indawgyi

Photo Face of Indawgyi

พระท่านได้เล่าถึงตำนานของเจดีย์

ชเวมิตซุว่า เมื่อก่อนเคยมีชาวฉานอาศัย

อยู่บริเวณนั้น วันหนึ่งแม่หม้ายฝันว่าน้ำ

จะท่วมหมู่บ้าน พูดเตือนชาวบ้านแต่ไม่มี

ใครเชื่อ เธอจึงพาลูกชายหนีขึ้นไปบนเขา

แล้วมองดูหมู่บ้านจมอยู่ใต้บาดาล ชาวบ้าน

ที่จมน้ำได้กลายเป็นปลาแหวกว่ายอยู่

รอบๆ เจดีย์แห่งนี้

หลังจากที่ได้ฟังตำนาน เราขี่รถกลับ

มาท่ามกลางวิวทิวทัศน์ที่เหมือนกับในหนัง

ฮอบบิตอย่างไรอย่างนั้น ในวันรุ่งขึ้น เราได้

รับเชิญให้ไปร่วมงานเลี้ยงวันเกิดของเด็ก

หนึ่งขวบไม่ห่างจากที่พักมากนัก ได้ลิ้มรส

อาหารพม่าและคะฉิ่น ทั้งผักและของหวาน

อร่อยดีแท้ แล้วเราก็โบกมือลาชาวอินดอจี

โดยหวังว่าจะได้พบกันใหม่เร็วๆ นี้

Photo Face of Indawgyi

82
---
GALLERY

Words and Photos Yvan Cohen

BEHIND

the Seams of

Khon Theatre

In Khon theatre, dance artistry, live music, and stage costumes

all come together to keep a Thai tradition alive.

Though you might not recognise the

term Khon, you have probably seen

images of the traditional dance. Its

ornate costumes, its highly stylised gestures

and colourful pageantry have become wellknown

emblems of Thai culture.

Khon performances can be bewitching

in its dramatic staging. The rich storyline

is derived from a Thai version of the Hindu

Ramayana, known as the Ramakien or 'The

Glory of Rama'. It recounts the exploits

of the Hindu gods Vishnu, Rama and his

consort Sita; with pitched battles between

armies of Hanuman monkey warriors and

fierce ogres.

Indeed, perhaps the most famous version

of the Ramakien was partly written by

King Rama I in 1797, and later revised by

his son Rama II.

Today, Khon has become a popular art

and a much-loved tradition that is fostered

and developed by the government's

Fine Arts department which trains and

maintains its own company of Khon

performers at the National Theatre, not far

from the Royal Palace. Its overall effect

relies on veteran artisans who still have

to take needle to thread to make the

elaborate costumes.

This specialised group of artisans

deftly sew the intricate patterns that

define the look of Khon costumes, donned

by thespians graceful in the dance arts

movements who interpret the story as

precise as the embroidery itself.

To witness a Khon performance is a

once-in-a-lifetime experience that will

connect you to one of Thailand's most

iconic and beautiful traditions and the

radiance of its costumes. The poise, drama

and beauty in Khon are the perfect antidote

to the frenetic pace of modern Bangkok.

Traditional motifs define

Khon costumes.

84

85
---
GALLERY

ABOVE LEFT AND RIGHT

Traditional motifs distinctive in Khon

costumes are expertly drawn by hand in a

precise pattern.

While each design may not have a

significant meaning, the characters who

wear them vary - from princes to monkey

gods or ogres.

BOTTOM

Mae Piak and other groups of artisans

prove that as the world hurtles towards

modernity, there is still a determination

to bring the traditions along with it.

ABOVE LEFT AND RIGHT

The craft masters quietly carry out an art

that is a direct continuation of a cultural

heritage that stretches back to 18th

century, or probably even further back.

Graceful threading conveys the attention

to detail and planning that goes into one

of several patterns in an outfit.

BOTTOM

Each step and each accessory share the

same trait of being exact in design,

intricately carried out to become works

of art.

86

87
---
GALLERY

OPPOSITE, TOP & BOTTOM

Creased and leathery with

age, an elderly woman's

fingers move nimbly as she

threads a row of tiny beads

onto a needle.

Such embroidery skills

have been honed in a

career that has already

spanned for 60 years.

THIS PAGE, TOP & BOTTOM

80-year-old master

embroiderer Mae Piak

completes a delicate move

with ease on a stretch

of material that will

be transformed into a

glittering costume.

There is no technology

here, only skill, artistry

and immense patience.

88

89
---
GALLERY

ABOVE

Sometimes running

for many hours, and

even days, the drama

takes on a dreamlike

quality. The narration

is sung in a melodic

almost wailing

falsetto tone.

TOP RIGHT

Recounting the

exploits of the

Hindu gods.

Traditional xylophones

and gongs beat out

a staccato rhythm in

accompaniment with

the dancers.

BOTTOM

Though today both

men and women

perform Khon, it

was traditionally

the reserve of male

actors and shown

exclusively in

royal circles.

OPPOSITE TOP

Graceful to robust

movements are a

trademark of Khon

dance and the patterns

and embroiderary have

to hold up as well.

OPPOSITE BOTTOM

Khon is mesmerising on its

own but with the sparkle of

the costumes, it becames a

real spectacle. In essence,

both embroiderers and

performers are integral to

maintaining the integrity and

authenticity of Khon theatre.

ABOUT THE

PHOTOGRAPHER

Yvan Cohen's career as a

photojournalist spans more

than three decades working

across Asia from his base in

Bangkok. Yvan's work has

been published in a wide array

of international publications,

including covers for Time

Magazine and the New York

Times for whom he worked

regularly for many years. His

work includes fashion, features

and commissioned portraits.

Yvan is also a co-founder

of the LightRocket media

management platform.

lightrocket.com,

lightrocketmedia.com

90

91
---
DOUBLE AWARDS

for

KNOW BEFORE YOU GO

MAGAZINE!

FAH THAI is honoured to receive the prestigious PEARL AWARDS

for the second year in a row that was given out in New York City.

This time, it's a double win!

Organised by the CONTENT COUNCIL, the influential PEARL

AWARDS celebrates and honours the best in content marketing

from around the world.

FAH THAI was awarded:

> THE SILVER AWARD FOR BEST USE OF PHOTOGRAPHY

> THE BRONZE AWARD FOR MOST EFFECTIVE IN TRAVEL

AND LEISURE

We thank all our readers and sponsors for the unwavering support

of FAH THAI.

We commit ourselves to continuing improvement of our content to

inform and entertain our readers.

For more information, please visit: thecontentcouncil.org/pearl-awards

The Night

Aquatic

Children can spend

the night with 10,000

marine animals

in sleepovers

at Singapore's

S.E.A. Aquarium.

FAH THAI is published by MPMI GROUP CO., LTD.

for Bangkok Airways Public Company Limited.

นิตยสารฟ้าไทยคว้าสองรางวัลซ้อน!

นิตยสารฟ้าไทย มีความภูมิใจที่ได้รับรางวัลอันทรงเกียรติจาก

เพิร์ลอวอร์ด (Pearl Awards) ในนครนิวยอร์ก

ติดต่อกันเป็นปีที่สอง และครั้งนี้เป็นการคว้ารางวัลถึงสองรางวัลซ้อน

รางวัล เพิร์ลอวอร์ด จัดโดย คอนเทนท์เคาน์ซิล (Content Council) เพื่อประกาศ

ยกย่องความเป็นเลิศแก่วงการสื่อสารเพื่อการตลาดจากทั่วโลก

นิตยสารฟ้าไทย ได้รับรางวัล

> เหรียญเงิน ประเภท BEST USE OF PHOTOGRAPHY

> เหรียญทองแดง ประเภท MOST EFFECTIVE IN TRAVEL AND LEISURE

ขอขอบพระคุณผู้อ่านและสปอนเซอร์ทุกท่านที่ให้การสนับสนุน นิตยสารฟ้าไทย เสมอมา

นิตยสารฟ้าไทย และทีมงานมุ่งมั่นที่จะพัฒนาผลงานให้มีคุณภาพในระดับสากล

สาหรับผู้อ่านของเราต่อไป

อ่านข้อมูลเพิ่มเติมได้ที่ thecontentcouncil.org/pearl-awards

นิตยสารฟ้าไทย จัดพิมพ์โดย MPMI GROUP CO., LTD.

เพื่อสายการบินบางกอกแอร์เวย์ส

BANGKOK 94 / SAMUI 96 / PHUKET 100 / CHIANG MAI 103 / PATTAYA & TRAT 104 /

CHENGDU & CHONGQING 105 / HONG KONG 106 / SINGAPORE & KUALA LUMPUR 108 / PHNOM PENH, SIEM REAP & HOI AN 110 /

YANGON 111 / LUANG PRABANG & VIENTIANE 112 / MUMBAI & MALDIVES 113

93
---
HAPPENINGS

THAILAND

BANGKOK

SPOTLIGHT

Fresh from

Japan

Much-loved by Thai people

and travellers alike, Japan's

popular Donki Mall has

finally arrived in Bangkok

with the goal to bring Japanese

quality products and direct

experience with food,

entertainment and culture.

Donki Mall Thonglor will be

an entertainment complex

comprising 30 authentic

Japanese businesses including

the first Thai Don Don Donki

outlet, food and beverage

establishments, specialty

stores as well as indoor sports

and event facilities. With

a focus as a "Japan Brand

Speciality Store" in Asia,

Don Don Donki will offer

fresh products as well as

daily necessities to

guarantee the authentic

Japanese experience.

107 Sukhumvit 63,

donkimallthonglor.com

CONTINUING A LEGACY

Since its establishment in 1968, the

Lido Multiplex had been a favourite

hangout for Thai moviegoers across

the generations. While its final curtain

call happened last year, members of

the Thai music industry decided not to

let Lido go quietly given its

importance in the vibrant Siam Square

area. Now musicians and songwriters

have come together under the name

LOVEis Entertainment to take over Lido

operations. With a vision to encourage

creative careers, this legendary cinema

is now transformed into the co-cultural

space "Lido Connect". Here, designers, performers, creative and

innovative thinkers can meet, work and give free reign to their

creative forces. The collaborative cultural venue is set to open this

May, with the Lido name still attached in sentiment and continuing

inspiration. 184 Rama 1 Road, facebook.com/lidoconnect

GREEN IN THE CITY

With the support of the Thai Health Promotion

Foundation, the "Greenery Market" serves as

a venue dedicated to sustainable products

for consumers in their continued demand for

organic goods. With locally-grown produce,

rice, and one-of-a-kind organic products,

everyone can enjoy food like tofu made from

organic soybeans, and fresh vegetables like

Chinese broccoli while indulging in a variety of

ice cream flavours. The event features Green D

activities, exhibitions and music events to bring

nature closer to city folks. Those

with their own cloth bags,

bottles or glasses can also

receive mementos at the

Greenery Booth as reward

for their dedication towards environmental

awareness that reflect the event's slogan of

"Eat Good. Live Green".

Greenery Market at Park@Siam (the

space next to CU Book Center) takes place

on the 2nd weekend of every month from

8am to 5pm. facebook.com/greeneryorg

ROAM WITHOUT HASSLE

After any journey, one craves

the convenience of a taxi to

get straight to a destination.

Hassle-free commuting is

now a possibility with the

"HaHa Taxi" app. HOWA

International who operates the

Suvarnabhumi Taxi Cooperative

joined together with credit

card company MasterCard in

launching the app – a new

mobile taxi booking application

with its user-friendly experience.

Through the HaHa Taxi app,

commuters in Bangkok can

conveniently book and pay

for registered taxis with

MasterCard's Masterpass

e-payments platform where

users can load a credit or debit

card and digitally pay for their

ride. Available on the Apple App

Store and Google Play Store.

94
---
HAPPENINGS

THAILAND

SAMUI

SPOTLIGHT

Peaceful

Farmers Market

Combining nature, local farmers, the beach and

charity is the conscious holiday goers dream

and Peace Resort helps make guests' dreams

come true with their Farmers market. Peace

Resort, a well-known and long-established

resort situated on popular Bophut Beach,

periodically runs a lively and locally focused

farmers market for all to enjoy. The next

edition of the market is happening May 18th,

2019 from 1pm-5pm. In addition to local

artisans selling their products,

the market also offers activities

such as indigo dying, painting,

yoga, live music, soap carving,

fruit and vegetable carving, leather

working and a mini sheep farm.

The day also includes fundraising

activities with all proceeds going

to the Soi Dog and Dog & Cat

Rescue foundations of Samui

which both strive to make a better

life and environment for Samui's

large population of animals. May

18th from 1pm-5pm, 178 Moo 1,

Bophut Beach, peaceresort.com,

+66 (0) 77 425 357

PUT YOUR LANGUAGE SKILLS TO THE TEST

For those holiday goers that wish to extend their time in paradise,

the Thailand TEFL academy provides participants with the tools to

become certified English teachers. Certification courses for qualified

participants are four weeks long and following completion, students

are ready to become teachers. Thailand TEFL academy prides itself

on being one of the most transparent and fun TEFL academies

available around the world. With its coveted location on Koh Samui,

participants are able to live the dreamy island lifestyle while gaining

skills that will allow them to live and work as English teachers in Asia

and beyond. With 10 four-week sessions per year, the academy

remains busy and bustling and accepts incoming students yearround.

For those interested in applying, the academy's website

is the first place to start for an informational overview of options

available. Opens Monday-Friday 9am-3pm, 141/21 Moo 6, Bophut,

thailandteflacademy.com, +66 (0) 98 828 9332

96
---
HAPPENINGS

THAILAND

SAMUI

SPOTLIGHT

Vegan

Luxury

Dining

The offerings of Samui's popular Maenam Beach

are ever evolving and the latest in that evolution

is the newly added vegan menu at Lai Thai

– Belmond Napasai's beachfront restaurant.

Catering to the growing population of conscious

vegan eaters, Belmond Napasai has created

a truly healthy and flavour dense menu. With

vegan twists on classic Thai dishes such as

phad thai, laab and delightful Thai curries, the

health forward menu caters to visitors and locals

alike. With an idyllic location set on the beach

and with the lush Samui jungle just behind it,

Belmond Napasai sits perfectly amongst the

best nature that Thailand has to offer. Relaxing

on the palm tree-lined Maenam Beach with a

healthy, organic and environmentally friendly

meal is quickly becoming a favourite activity of

Koh Samui's visitors. Though Belmond Napasai

is a well-known luxury accommodation choice

on the beach, reservations are not required for

outside guests to dine in. 65/10 Baan Tai, Maenam,

belmond.com, +66 (0) 77 429 200

COCKTAILS AND CAMARADERIE

Heralded as one of the best local cocktail bars in Koh Samui, the TiKi Box's warm and

inviting feel instantly makes all visitors feel like family. If the camaraderie doesn't draw you

in, the delicious cocktails will, as TiKi Bar employs award-winning mixologists with passion

and personality to match. With fun cocktails such as the 'Deep Sea Challenger' – a gin

based fresh twist, or the 'Baby Shark' – a tequila based drink, the mixologists of TiKi Bar

are always at the edge of creativity and artistry with each new drink they present.

The staff of TiKi Box prides themselves in making a point to treating all patrons as close

friends and family and that sets the tone for the cocktail bar which can feel like a big

reunion every night. With a convenient location in the heart of Chaweng beach, the TiKi

Box is not to be missed on your next Samui holiday. Opens daily 3pm- 2am, 25/112 Moo 6,

Chaweng, facebook.com/tikiboxsamui, +66 (0) 88 857 5563

RACING ON THE GULF

The beautiful blue waters surrounding

Samui will soon be rushed with a swarm

of magnificent sail boats coming for the

annual Koh Samui Regatta. Hosted by

Regattas Asia in affiliation with the Samui

Yacht Club, the highly anticipated annual

regatta is being held this year from May

25th through June 1st. With Synergy

Samui and La Vida Resort as the host

venues, the event promises to bring

beautiful beachy luxury to a fun filled

week. Competitors from around the world

come together to race and claim their

awards at the conclusion of competition.

In addition, the Hydrofoil Kiteboard

Championships will also be held on

Maenam beach from Thursday through

Saturday. The week will conclude with

the final closing event held at Chaweng

Lake where all can join. samuiregatta.com,

+ 66 (0) 81 538 8848

GET IN ON THE CIRCUS ACT

Fire dancing, juggling, hula hooping, and more are not just for

circus performers anymore. With the help of Samui Circus Studio's

talented team, anyone can learn these performance arts while

on holiday. Since 2015, Samui Circus Studio has been providing

sensational entertainment and fun to Koh Samui visitors and residents.

What started as a popular fire dancing business on the island has

now blossomed into a full studio and school that teaches patrons

different forms of performance art. With options such as poi

spinning, plate spinning, tight rope walking, dancing and various

others, there is something for anyone willing to move their body.

Workshops are open to people of all ages and physical abilities and

can be booked in advance online or by phone. With a newly opened

geometric dome, the Circus Studio is a magical setting for a unique

holiday experience. samuicircus.com, +66 (0) 87 881 0866

ISLAND HOPPING DELIGHT

Cruising on a luxury yacht on the crystal clear blue waters

of the Gulf of Thailand is made possible by Oceana Samui

Charters – Samui's largest fleet of speed boats and luxury

yachts. With locations in the North and South of the island,

tours are available to a wide array of guests. Though Oceana

partners with several luxury resorts, tours can be booked by

those staying outside of partnership resorts as well. A popular

option from the southern point of the island is the half day

island hopping tour, which visits the five islands plus Koh Tan.

Guests receive the privilege of seeing beautiful, small islands

dotted around the gulf in close proximity to Koh Samui. From

the north of the island the full day tours with excursions to

Koh Phangan, Koh Tao and Angthong National Marine Park

are available. With each tour, luxury and adventure are the

themes. Oceana Samui Charters has established itself as the

premier source for high-end boating in the Gulf.

oceanasamui.com, +66 (0) 83 503 5088

98
---
HAPPENINGS

THAILAND

PHUKET

SPOTLIGHT

A Zen Meal

Fancy some French food? Of

course you do. Find your way

to Zen Eat in Rawai for French

fusion concocted with the

freshest ingredients and eyecatching

presentations to match.

This quaint eatery is the

brainchild of Chef Sylvain

who combines his years of

experience at upscale resorts

and restaurants with the

freedom of developing his

own creative cuisine. You'll

find traditional French dishes

like pâté and homemade foie

gras with red onion chutney

alongside juicy Australian beef

tenderloins and tantalising

tapas like the mini burger trilogy.

The descriptions themselves

get your mouth watering –

like the sea bream ceviche with

lime, coriander, red onion,

olive oil, and mango-curcuma

sauce. Each dish is an edible

work of art.

The menu is an ever-evolving

list of eclectic options and

Chef Sylvain dreams up unique

specials such as grilled tuna

steak with organic quinoa

salad and seasonal specialties

like rigatoni in truffle sauce.

Although Zen has created a

high-calibre dining experience

and a reputation for quality,

it still continues to be a

phenomenal value.

A well-rounded selection

of wines is available and

reservations are suggested.

50/7 Soi Saiyuan, Rawai,

+66 (0) 64 357 2979

VISITING WAT KOH SIRE

Even people who have been in Phuket for years haven't heard

of Koh Sire, let alone been there. Though technically an island, it

is connected to the west side of Phuket Town by a short bridge

through a large patch of tidal mangroves.

From far and wide a Buddhist temple is visible atop a

mountain and it turns out that this is Wat Koh Sire. The temple

gate is easy to spot along the main road and you can drive up

the mountain and to the base of a flight of steps leading to the

uppermost temple.

Inside is a surprisingly large reclining Buddha statue surrounded

by smaller statues all glittering with gold flakes. A patio wraps around

the outside of the temple with a gold chedi and views stretching out

across Phuket Town, Cape Panwa, and beyond.

TRICK OF THE EYE

The first of its kind in southern Thailand, the Phuket Trick

Eye Museum will have you questioning reality.

More of a funhouse than a museum, you'll find

dozens of entertaining three-dimensional paintings

in a variety of styles. The paintings employ a hyper

realistic style called trompe l'oeil (deceive the eye) that

can sometimes be mistaken for tangible objects. The

style originated back with the ancient Greeks where it's

claimed one artist could paint grapes so accurately that

birds would try to eat them.

What makes these paintings fun is when they are huge

and you can interact with them like you can at the Phuket

Trick Eye Museum. Act out your part in the scene: fall into

the mouth of a giant crocodile or hang glide high in the

sky. 130/1 Phang Nga Road, Taladyai , +66 (0) 76 212 806

PHUKET AQUARIUM

Being a popular tourist destination, a

tropical island, and known for having

exceptional diving off its shores – it only

makes sense that Phuket is equipped with

an aquarium.

Located at the tip of Cape Panwa,

the Phuket Aquarium's main building has

11 sections dedicated to different marine

environments or learning experiences. Kids

and adults alike love the touch pool where

they can get their hands wet checking

out starfish and sea cucumbers. View

and learn about creatures that populate

the mangroves, nightmarish species that

lurk in the deep oceans, and everyone's

favourite, the underwater tunnel.

It's a must-do for kids as not only

visual entertainment but importantly

educational, with many displays

highlighting the necessity of preserving

coral reefs and protecting the marine

ecosystems that are crucial for future

survival. 51 Moo 8 Sakdidet Road, Wichit,

+66 (0) 76 391 126

100
---
HAPPENINGS

THAILAND

PHUKET

THAILAND

CHIANG MAI

SMALL AND LOVELY BEACH

Although Kata Beach is one of the most well known on the island, there's

a lesser known, but even lovelier smaller version just over the hill.

Heading south from Kata Beach, the road closest to the coast

goes over a headland and a small, arced bay nestled amongst the

mountains that lie on the other side. The 700-metre-long-stretch

of golden sand is no secret by any stretch of the imagination;

however, many visitors don't venture there. It's on a dead end

road so it's a destination in itself.

A few resorts have set up shop at Kata Noi, with a small village

present, but it's a quaint little beach to spend an afternoon. When

it's not monsoon season, the water is often crystal clear and there's

fun snorkelling at both ends of the beach amongst the rocks.

High on the mountain above Kata Noi are several small

restaurants that are prime spots for a sunset drink and on the

north end; Mom Tri's Kitchen is well known for classy fine dining.

SPOTLIGHT

Super Cub Hub

Freshly opened in the heart of all the

action in Phuket Town is the Cub House

Café. What was before a spacious Honda

motorcycle showroom has been partially

converted into a snazzy new hangout

serving up tasty Greyhound coffees and

a variety of other beverages and snacks.

The name says it all as it pays homage to

the Honda Super Cub, the eponymous star

of the show. In fact, this diminutive little

motorcycle is the centre of the universe

when it comes to vehicles as Honda has sold

more of them than any other motorised

form of transportation on earth.

Nothing subtle about the décor here,

the seats at the coffee bar are from

motorcycles, an entire wall sports shiny

upgrade parts for your Super Cub, and

motorcycles are everywhere. Have a

coffee, enjoy a piece of cake, buy a new

motorbike and pimp it out all in the same

shop. Even if you couldn't care less about

bikes, it's the perfect spot to kick back

with a drink whilst exploring Old Town.

1/13 Thalang Road, Talad Yai,

+66 (0) 66 152 5889

UPSIDE DOWN HOUSE

Usually having your world turned upside

down is a bad thing, but at Baan Teelanka

turning the world upside down is the point.

A family-friendly activity when a beach

rest day is needed, Baan Teelanka is a

decent-sized suburban home built from

the roof up…upside down. Be sure to

have your camera or smartphone batteries

fully charged and ready for confusing photos

of people walking on the ceilings.

Enter through the front door, which

is in the roof, and inside it's not just

an empty shell. It's like you've walked

into a family's lived-in house with kids'

toys strewn about, home improvement

projects in progress, and even a tuk tuk –

all there and all on the ceiling…or is it

the floor?

Super-friendly staff are on hand and

will take photos for you or a video service

can be hired. 51/11 Moo 5 Bypass Road,

Ratsada, +66 (0) 84 456 5279

RETREAT TO ALL THINGS NATURAL

Expect all things natural at Mala Dhara,

this boho-chic eco resort set on an

organic farm in the Doi Saket valley.

Simply stay as a hotel guest, or join one

of their varied wellness retreats offered

throughout the year. Set on a working

farm complete with rice paddies and

water buffalos, Chef Narathip Wattana

offers an inspired and vibrant array of

health-conscious vegan food in both

Western and Thai cuisines, drawing on

organic daily produce from the farm.

And the accommodations aren't shabby

either! Choose from a range of quirky

and spacious hobbit-inspired adobe

villas with decadent bathrooms with

the occasional giant wooden bath tub.

SPOTLIGHT

Creative

Goods

at Tita

Gallery

Titaya Phiuon was

inspired to open the

first incarnation of

Tita Gallery back in

1998, a mere stone's

throw from the opulent

Four Seasons, north of

Chiang Mai city. Part

café, part craft shop

and part art gallery, the

charming and carefully

curated compound

became a landmark

for locals and visitors

alike, offering a glimpse

of works by notable

northern Thai artists.

She recently relocated

to a new space that

continues with the

same vibrant and

luscious theme, just a

little further North in

Mae Rim. Fresh baked

sweet treats, salads

and light fare are on

offer and the store will

Owner, manager and inspiring yogi,

Ghingploy "Ploy" Issarajan embraces

our connection to Mother Earth

throughout, connecting us with

traditional healing therapies, preparing

homemade body scrubs and traditional

Thai herbal steams for her guests. Did

we mention the salt water swimming

pool? 152 Huay Bon Rd, Moo 3, Mae Pong,

Doi Saket, +66 (0) 52 001 939,

maladhara.com

have you lusting after

local and handmade

treasures. A great stop

for lunch or teatime on

a trip North of town.

8am-5pm daily, 352 Moo 1,

Chiang Mai-Mae Taeng Rd,

Sanpong, Maerim,

+66 (0) 89 648 6454,

facebook.com/

titacafeofficial

A NORTHERN SOMTUM DER

This charming and cosy 46-seat eatery boasts Michelinstarred

glory with the flagship branch opening in Bangkok

back in 2012. The restaurant then made the jump to New

York in 2014, followed by Tokyo, Ho Chi Minh City and now

Chiang Mai at the swanky One Nimman complex. The openkitchen

offers a fun element of interacting with the "somtum

chefs" as they pound away on their giant mortars. With an

expansive menu focusing on Isaan (North Eastern Thai)

delicacies, expect an assortment of fresh and herbal salads

such as papaya salad with salted egg and tamarind sauce. It

would also be criminal to miss out on the deep fried chicken

thighs accompanied by naam jim jaeow (a smokey and spicy

dipping sauce that's a staple in Isaan). 10am-10pm daily,

+66 (0) 90 325 1181, facebook.com/SomtumDerChiangmai

102 103
---
HAPPENINGS

THAILAND

PATTAYA / TRAT

CHINA

CHENGDU / CHONGQING

SPOTLIGHT

Minimalism & Peace

Koh Chang undoubtedly remains the

most popular island in Trat with their

extensive choice of accommodations

and entertainment, but Koh Wai

is giving it a run for its money as

another island gem. Travellers who

head there seek a simpler setup that's

close to the nature and away from

the hectic life. Situated between Koh

Chang and Koh Mak, Koh Wai is a

smaller secluded island with scenic

beaches and crystal clear waters.

With fewer accommodations, you'll

find simple bungalows built in a more

organic approach using natural

materials with fewer amenities and

limited electricity at night.

PATTAYA FIREWORKS FEST

The Pattaya International

Fireworks Festival comes back this

2019, bringing more spectacular

starburst shows to spectators.

With lots of excitement planned,

the festival will be held on 24-25

May 2019 at Central Pattaya

Beach, to encourage more Thai

and foreign visitors to Pattaya and

help generate revenue for local

communities. The two-day event

will feature breath-taking firework

shows from five countries

In return, pampering comes with

the soothing sounds of waves and

cooling, gentle breezes. There'll be

no bars for hanging out at night,

but you might not miss it, as you'll

be busy gazing at the starry skies.

Treat yourself to time away from

your devices and connect to nature

and immerse yourself in sea and

sand activities. Go snorkelling to see

including USA, China, Russia,

England and Thailand with

special fireworks celebrating the

coronation of the King Rama X.

Other than the fireworks,

more fun comes in the form of

live music, performances and

concerts from Thai popular

artists. Be ready to join the event

from 6pm onwards and make

sure you reserve the best spot

in Pattaya to view this year's

commemorative extravaganza.

TASTE OF TRAT

What can be better than a

scrumptious seafood feast while

gazing at spectacular views of

the Gulf of Thailand? Sea View

1989 gives you that with their

memorable dining experience.

Located at Sea View Resort

and Spa Koh Chang, the

restaurant offers a diverse

menu of Thai food including

original and local Koh Chang

dishes. The must-try dishes and

chef recommendations include

fried sand whiting fish with Koh

abundant coral reefs or exploring

the island on foot as you stop at the

viewpoint for a spectacular sunset.

To get to the island, take a speed boat

from Koh Chang or Trat. The boat ride

takes about 30-40 minutes. A oneday

trip to Koh Wai is also available

from Koh Chang, but staying over for

a few nights is definitely worthwhile.

tourismthailand.org/Trat

Chang fermented shrimp paste

and Trat-style glass noodle salad

with seafood. And don't get too

full until you try the traditional

Trat dessert Ban-Duk, a coconut

pudding with rose syrup, black

sesame power and coconut ice

cream. Add a special touch to

your dinner by arriving at the

restaurant before 6pm for that

romantic sunset view. Order a

"Sunset Shake", their original

drink served with a Thai snack

to completely make it a night

to remember. 63 Moo 4, Koh

Chang, Trat, +66 (0) 39 552 888,

seaviewkohchang.com/dining

SPOTLIGHT

Art in Art

The entire structure of Chongqing Art Museum itself is also

a piece of art. Its modern and dramatically unique design

captures the style of red and black Chinese stacked boxes,

jutting out in multiple layers. In its interior, visitors will find

exhibitions showcasing artworks from local artists and notably

famous Chinese painters like Xu Beihong and Qi Baishi.

Give yourself some time as it's the sort of place to

explore and deepen your appreciation of art and culture.

Located in the middle of the Guotai Arts Center, the

Chongqing Art Museum independently covers an area of

about 10,000 sqm. Exhibits range from traditional Chinese

paintings, oil paintings, prints and small sculptures.

As a landmark building, Chongqing's Guotai Arts Center

sets the tone for other blocks, unifying them to the existing

building in the Jiefangbei district. While modern in its

approach and look, it retains traditional elements taken with

the spiritual connotation of Chinese architecture. At the same

time, the red and black components ventilate and serve as a

water-cooling system. facebook.com/Chongqing-Art-Museum

KUNG FU TEA

As the Chengdu saying goes, "Sunny

days are rare, but teahouses are

abundant."

As drinking tea is crucial in life,

it's a common sight to see people

carry flasks pre-filled with tea leaves,

ready for hot water wherever they go.

This city is always a great start

to understanding tea-drinking with

its nearby plantations and teahouses

that are always willing to offer tastings

and gong fu tea ceremonies.

For a basic start to enjoying

Chinese tea, head to the iconic He

Ming Tea House. It should be on your

itinerary and an enlightening way to

spend your day, bottomless cup of

tea included. Try to go on a weekend

as tea-pouring performances take

place, in a feat using tea kettles and

their dramatically long spouts. And if

you dare, gesture for an ear cleaning

¥20, (around US18 cents). It's the guy

walking around with an instrument

that looks like a tuning fork! Renmin

Rark, 12 Shaocheng Rd, 9am-9pm,

facebook.com/Heming-Teahouse

BIGGEST IN THE WORLD

For an over-the-top shopping experience head to the New Century Global

Center, the largest building in the world in terms of floor area. It's not

just the plethora of department stores. The architecture of the complex

gives equal drama for a day at the mall. In this marble-clad behemoth of

a building, you'll find the world's largest artificial beach, complete with

sunrises and sunsets on giant LED screens, a water park and an ice rink.

Take the Chengdu metro line 1, get off at Jincheng Plaza (square), exit

outlets A, B or C. whitewaterwest.com/paradiseisland

104

105
---
HAPPENINGS

HONG KONG

NEW DIGS

Five years after opening their first overseas venue in the prime

location of Central Hong Kong's Entertainment Building, Axel

Vervoordt Gallery is relocating to an expanded two-level space in

Wong Chuk Hang, the dynamic artistic hub on the south part of

Hong Kong Island.

The new 8,000 square foot gallery offers a larger-scale space

that will provide the opportunity for curated shows with few

limitations, allowing for the presentation of larger works and giving

artists a strong platform for their work.

The Wong Chuk Hang space will enable Axel Vervoordt Gallery

to grow their roster of artists, while fostering relationships with

contemporary Asian artists. To demonstrate that point, the new

space will open with a group show entitled, Infinitive Mutability,

featuring works by Peter Buggenhout, Kimsooja and Bosco Sodi,

which will be held until 1 June 2019. 21/F, Coda Designer Centre 62,

Wong Chuk Hang Road, Hong Kong, axel-vervoordt.com/gallery

THE HARNN APPROACH

If Hong Kong's pace gets too much,

perhaps a break at Harnn Heritage Spa

is just what your body needs.

Situated at the southern coast of

Hong Kong Island, next to fun-filled Ocean

Park, you'll find luxurious and personalised

holistic treatments at the spa located at

the Hong Kong Ocean Park Marriott Hotel

with Harnn's professional consultation and

services to ensure a relaxing treatment.

Pampering is done with thoughtfully

selected choices from a range of Harnn

spa products designed according to

each individual's 'dominant element'

to unwind the body, mind and spirit.

The 'Rhythm of the Ocean', their

signature treatment, was designed to

restore and harmonise both body and

mind according to the Asian holistic

philosophy of Yin Yang therapy.

You can also choose the Tropical Sea

Salt Body Scrub to exfoliate and cleanse

the skin thoroughly, followed by a therapeutic oil massage

based on the philosophies in traditional Chinese medicine,

ayurveda and Thai massage principles, combining the sedative

properties of "yin" and the invigorating "yang." As the ultimate

luxury, clients receive the ayurvedic kizhi treatment or hot

sand compress, doing away with stiffness and tension for you

to feel like a new person again. Opens daily from 11.30am

to 9pm, Hong Kong Ocean Park Marriott Hotel, Ground Fl, 180

Wong Chuk Hang Road, Aberdeen, Hong Kong, +852 3555 1800,

harnnspa.hkgop@marriotthotels.com

SPOTLIGHT

Taste of Valencia

The arrival of Antoni Bero has switched the menu at The Optimist

quite a fair bit. The new head chef of the asador-inspired restaurant

located on Hennessy Road has introduced a number of Valencian-style

dishes to its menu.

The innovative and comforting dishes are inspired by the chef's

upbringing in Valencia. As with all options on The Optimist menu, the

dishes are best enjoyed most when shared with groups of friends and

family. Along with the new additions to the menu, The Optimist has

also introduced a number of new cocktails to the Barcelona chic bar.

Open all day without service charge, The Optimist is the ideal place

for casual group dining in Wan Chai. The three-level bar and restaurant

is completed with beautiful décor, vintage detailing and artwork

that will leave guests feeling cosy and comfortable in the spacious

environment. 239 Hennessy Road, Wan Chai, Hong Kong, theoptimist.hk

SPICING UP CENTRAL

After a day out watching

the best dragon boaters in

action at the Hong Kong

Dragon Boat Festival, head

over to Hugger Mugger

and Chaiwala in Central

to savour some innovative

cocktails and light bites.

With their laid back

atmosphere, the popular

watering holes are helping

transform the area's night

scene with a number of

new initiatives.

Nestled on Wyndham

Street, the two venues will

now open their connecting

door to transform into one

sensational late night setting

every Friday and Saturday

from 9.30pm to 3am. With a lively

atmosphere and a kaleidoscope of

food and drinks on offer, evenings

at Hugger Mugger and Chaiwala

will no doubt raise the bar for

patrons looking for a fun night out.

Both outlets have not only

revised their menus to feature

specially crafted in-house

cocktails and bites but have also

incorporated music to create a

lively atmosphere. Every Friday

and Saturday beginning 9.30pm,

a DJ will be dropping beats with

a Bollywood twist, to get the

party started at Chaiwala.

Basement, No. 43-55,

Wyndham Street,

Central, chaiwala.hk;

huggermugger.hk

106
---
HAPPENINGS

SINGAPORE / MALAYSIA

SINGAPORE / KUALA LUMPUR

SPOTLIGHT

Designer

Showcase

Design Orchard, a newly-opened

home-grown retail space nestled

in the heart of Singapore's iconic

shopping district is serving as a

showcase for over 60 local brands.

A creative hub for Singaporean

creative talents, the outlet

allows shoppers to browse the

best locally-designed women's

and men's fashion, accessories,

beauty and an eclectic range of

lifestyle products in a dedicated

retail space.

The idea behind Design

Orchard is to create a supportive

and collaborative community

in order to encourage the

sustainable growth of Singapore's

burgeoning creative scene. Events

and workshops also serve as

a key aspect of this creative

retail space with fashions shows,

performances and concerts being organised

regularly. There is also a dedicated incubator on

the first floor, which will allow local brands to

develop ideas and products in the company of

likeminded creatives. Opens daily from 10.30am to

9.30pm, the junction of Orchard Road and Cairnhill

Road, designorchard.sg

SHERATON KL'S NEW LOOK

A multimillion-dollar facelift has breathed

new life into the Sheraton Imperial Kuala

Lumpur. The well-established city hotel,

strategically located on the main artery of

Kuala Lumpur City, now boasts a number

of enhancements, including an increased

room inventory of 398, now all fitted with

contemporary features and finishing.

Guests now not only have a wide

range of accommodations to choose from

but also gain access to refreshed dining

concepts. F&B options include Villa Danieli,

a standalone Italian restaurant that recreates

flavours from Tuscany and the fan-favourite

Celestial Court, famous for its Chinese

cuisine, which benefits from a new interior.

The Pavilions Lounge & Bar, renowned for

its afternoon tea, has been redesigned with

a new library-styled bar area with built-in

wine cellar and cigar humidor as well.

Jalan Sultan Ismail, Kuala Lumpur,

marriott.com/Sheraton/Kuala_Lumpur

TOUR SRI PERDANA

Visitors to Kuala Lumpur can now tour the Prime Minister's

official residence. The Seri Perdana Complex is now open to

the public allowing guests unprecedented access to the facility,

namely the Protocol Block and Banquet Block, which also hosts

heads of state and government as well as dignitaries.

The residence was built in 1997 on a 42.5-acre site

and features a unique combination of Malay and European

architecture. Visitors can sign up for the guided tour on the

official website up to seven days in advance. The tours lasting

one hour are conducted Monday to Thursday and on Saturday

and Sunday from 9am to 12.30pm and 2pm to 4pm. Persiaran

Seri Perdana, Precint 10, Putrajaya, seriperdana.gov.my

SLEEP WITH THE FISHES

Resorts World Sentosa's S.E.A.

Aquarium is helping to make

childhood fantasies come true

with its new signature sleepover

plan, 'Ocean Dreams'. The oneof-a-kind

programme provides kids

the rare opportunity to explore the

aquarium after hours and embark

on an intimate adventure to discover

the night life of the marine world.

S.E.A. Aquarium is home

to more than 100,000 marine

creatures representing over 1,000

species, making the experience

all the more unique as well as

educational. Parents can also

take their children for a VIP tour

with exclusive access to backof-house

areas, offering deeper

insights into the behaviours and

characteristics of marine life. In

addition, children are able to draw

on an underwater acrylic dome

with a diametre of 6.2m, where

manta rays can be seen soaring

above. rwsentosa.com/seaa

108
---
HAPPENINGS

CAMBODIA / VIETNAM PHNOM PENH / SIEM REAP / HOI AN

MYANMAR YANGON

SPOTLIGHT

Shadow Play

Bambu Stage is helping to

preserve and showcase the

traditional art of shadow

puppeteering in Cambodia. A

gathering space for artists and

art lovers, the centre acts as

a platform for the performing

arts in Siem Reap with daily

shows as well as regularlyheld

workshops. Operating as a

social enterprise, Bambu Stage

is helping to ensure that the

traditional art form of shadow

RUM & RISING

Samai, the country's first and only premium rum distillery in

Phnom Penh offers visitors an opportunity to discover the home

grown spirit and also to savour some unique cocktails made by the

experts. Nestled in the heart of the city, Samai – the Khmer word

for modern – creates hand-crafted, premium rums using highquality,

locally grown ingredients and a process that pays tribute

to age-old rum making traditions.

Samai carries a number of unique and aromatic rum flavours,

most of which are distilled from local Cambodian

ingredients. Some of the perennial favourites

include the Kampot Pepper Rum and

SAMAI Gold Rum. In addition to

offering guests a hands-on experience

distilling rum, the distillery also offers

a degustation menu and master

class on site. 9B St 830, Phnom Penh,

samaidistillery.com

puppetry is retained in the

country via its performances.

The 2019 season sees the

troupe introducing a new

shadow theatre set titled

Angkor Dreams, which retells

the story of the dramatic events

of 18th March 1970 when a new

Republic was declared. Bambu

Stage's workshops are also a

great way for visitors to get

an introduction to this unique

form of puppetry. Bamboo

Street, Wat Damnak Village, Siem

Reap, bambustage.com

LUXURY ALONG THE MEKONG BANKS

The Balé Phnom Penh hotel has opened its doors on the banks

of the Mekong, setting a new luxury benchmark for hospitality

in the country. The resort boasts 18 large, private, sumptuous

suites, showcasing the best of modern Asian architecture and

design, top-class facilities and gourmet cuisine.

Delivering a modernist approach to hospitality and luxury,

the resort comes with breath-taking views of the majestic

Mekong River. Guests of The Balé Phnom Penh can indulge in

pure relaxation at the resort by swimming in the cool riverside

pool or by indulging in a sublime treatment in the intimate spa.

Evenings are best spent by dining by candlelight savouring fine

cuisine under the tropical stars. National Road 6A, Bridge No. 8,

Sangkat Bak Khaeng, Phnom Penh,

thebalephnompenh.com

CAPTURING HOI AN

See another side of Hoi An and get to its real heart by joining

in a photography workshop and improving your skills with your

camera or phone with Hoi An Photo Tours.

Go beyond the basics when taking shots of the shining lights

of the old quarter in Hoi An during a night photography workshop.

After 10 years of being in the business, Hoi An Photo Tours have

integrated themselves into the daily lives with the local people,

which result in capturing authentic and unobtrusive photos.

With their team of photographers, the workshops or tours

can go from traditional villages along the river to unknown spots off

the beaten track. Participants begin the tour by going through

camera settings and composition, and the best and right way to

approach people to take their picture.

Launched in 2009 by travel photographer Etienne Bossot,

Hoi An Photo Tours and workshop aims at providing the tools

for travellers to learn how to capture amazing photographs

during their travels in Vietnam and Southeast Asia.

info@hoianphototour.com, +84 905 6718 98

SPOTLIGHT

Tranquil Stop

Owners of the restaurant

Green Gallery, Bo and Ben,

have embarked on a new

project by turning a house into

a café in a tiny street down the

Shwedagon pagoda pathway.

Sandwiched together as a

hostel and café, Bodhi Nava

combines the urban style of

Yangon mixed with aspects of

a quiet country lifestyle.

The name Bodhi Nava

comes from the Bodhi (Banyan)

tree where Buddha attained

enlightenment and Nava refers

to the number nine in Pali (the

ancient Buddhist language) to

represent the nine attributes of

the Buddha. Bodhi Nava offers

a space to relax and enjoy the

distinctive home menu with

influences of Burmese, Thai

and Western dishes. Fresh,

homemade and organic define

the varied menu with musttry

items like pita bread with

hummus, falafel and laphet

pesto and Green chicken curry.

facebook.com/bodhinava

SPEAKING IN TONGUES

50th Street Bar and Restaurant on most days plays host as an

expat hideout outside the beating heart of downtown Yangon.

Should you visit for a Yangon for a few days and are in need of

local interaction, consider Mundo Lingo.

This weekly language exchange brings together people from

a variety of countries that meet to chat with new people, and

practise another language.

Mundo Lingo is held every Tuesday of the week until July

while pub quizzes, sport screenings, billiard games, comedy nights

and live music go on other nights. Opens 10.30am-1am, 9/13

50th Street, Botataung Township, Yangon, +95 1 397 060

110
---
HAPPENINGS

LAOS

LUANG PRABANG / VIENTIANE

INDIA / MALDIVES

MUMBAI / MALDIVES

SPOTLIGHT

Have a Cattitude

Stroke a furry feline friend while

having a drink at a cat-theme

café in Vientiane. Find peace

and friendly paws in the capital

of Laos at Le Cattitude Café in

their location at Rue Samsenthai

for cakes and kitty cuddles set

up by sister Analin Phoutsavath

and Ninnapha Phoutsavath.

This first cat café is dedicated

to petting (or speed-dating

among ailurophiles or catlovers,)

and spreading a love

for cats. A minimum order of

food and drink per person is

required at affordable prices.

The owners are also dedicated

friends to dogs so canine lovers

are also welcomed to enjoy

a cappuccino with a

cat-themed latte art. In residence are a Bengal

cat, Captain, an American Curl Shorthair named

Elijah, the Persian Mckinsey, among the different

breeds to pet. Unlike some cat cafés, there's no

cover charge to enter. Le Cattitude Café sits next

to Center Point Boutique Hotel. Opens from

Tuesday to Sunday, 9am to 9pm, +856 30 59 69 155,

facebook.com/Le-Cattitude-Café

SPOTLIGHT

Taste of

Arabia

After you're done trawling

the art galleries, boutiques,

and street-side souvenir shops

in Colaba, rest your feet at Maffy's. With a prime

location overlooking the Arabian Sea, this new

bistro serves up a pan-Arabian feast ranging from

Mediterranean to Levantine cuisine amidst a

vibrant décor that brings to mind the souks of the

Middle East. Try the signature Smoked Hummus

with spicy shrimp served with soft, house-made

pita bread, followed by Levantine pizzas, the

Moroccan tagine, Bahraini Machboos, and so much

more (the menu is massive). There's a live handchurned

ice cream counter offering flavours such

as black sesame, lemon & jasmine sorbet etc., or

try the fabulous Rose Crème Brûlée. Ground Floor,

Sea Palace Hotel, 26 P J Ramchandani Marg, Opposite

Radio Club, Colaba, +91 22 61054370

BREAKFAST OF CHAMPIONS

As the mercury soars and Mumbai's

notorious humidity saps your energy,

the only way to cope is to settle

into the air-conditioned comfort

of a restaurant and treat yourself.

Fortunately, the city's ever-evolving

cuisine landscape offers many

alternatives, from regional Indian food

to international fare.

Mumbai's favourite restaurant,

The Bombay Canteen was crowned

as India's best at the Condé Nast

Traveller's Top Restaurant Awards. The

restaurant known for its innovative

take on regional Indian cuisine recently

launched the Big Canteen Brunch

every Sunday where typical Indian

breakfasts get a modern update. So the

Egg Benedict comes with Ghee Roast

Soft-shell Crab, and sandwiches turn

into paoninis – soft pao rolls stuffed

with egg bhurji, pao bhaji etc. Unit 1,

Process House, Kamala Mills, Lower Parel,

thebombaycanteen.com, +91 22 49666666

OUT OF THE BOX

Amongst BKC's (Bandra Kurla Complex) fine-dining restaurants, the newly opened

Cardboard stands out for its focus on coffee and soulful meals made using local

ingredients. Also unique are its interiors – everything from its curved walls to the

light fixtures to the seating is made entirely of cardboard. The café offers a variety

of coffee made with freshly roasted beans sourced from plantations in Southern

India. G Block, Bandra Kurla Complex, +91 9833144459

Photos Mrigank Sharma

LAO TAPAS

If Icon Klub, a legendary cocktail bar in the heart of

Luang Prabang's old town with their top-notch cocktails

and literary air is good enough for the likes of Ernest

Hemingway, then 525 (five to five) a cocktail and tapas

bar on Luang Prabang's western district best serves James

Bond. 525, the latest bar on the scene is founded by British

Andrew Sykes. Set in a heritage house, 525 bar has gained

famed from its unique combinations of East and West

drinks. "Sabaidee Laos" cocktail, for example, brightens

an English gin with lemongrass, kaffir lime leaves and wild

honey. You can have the "525 Old Fashioned" with Bulleit

95 Rye Whiskey, tamarind infusion bitters and orange peel.

Opens daily from 5pm to 11.30pm, 525cocktailsandtapas.com

LEARN TO COPE

With some 288 million of cluster munition

explosives and about 75 million unexploded

bombs left across Laos after the war ended,

the country still bears the after effects of

the war since the 1960s. Understand Lao

history and learn more about recovery

and rehabilitation efforts with a visit to

COPE Visitor Centre in Vientiane.

COPE Vientiane is a non-profit

organisation in Laos which provides

prosthetic limbs, wheelchairs and

rehabilitation for Lao people who can't

afford them. Tourists wanting to connect

deeper to Laos can visit a well-run

Visitor Centre with their interesting and

informative multimedia exhibitions on

prosthetics and related materials to the

country's war history. The exhibition

and powerful documentary will open

your mind to this on-going situation.

To educate everyone, the centre has a

display of 'baby bombs' dangling from

the ceiling. The size of an apple, each

bomb looks as harmless as a toy – but it

continues to maim and kill people who

search for crabs in muddy rivers or who

unknowingly set off an explosive

when they build a fire on their farm

or garden.

With a gift shop of local

goods and café on hand, all of

the proceeds support COPE's

projects in Laos. Opens daily

from 9am to 6pm (close on

public holidays), +856 21

241972, copelaos.org

S HOTELS & RESORTS MAKES INROADS IN THE MALDIVES

S Hotels & Resorts, a subsidiary of With the grand development just

Thailand's Singha Estate PCL, makes 15 minutes by speedboat from Malé

its hospitality and service foray into International Airport, the CROSSROADS

the Maldives with the integrated upon completion debuts two hotels,

leisure and resort destination known SAii Lagoon Maldives and Hard Rock

as CROSSROADS Maldives.

Hotel Maldives. S Hotels & Resorts

Summer 2019 marks the opening will play a key role in developing local

of the first phase of the CROSSROADS talent in the hospitality sector, through

Maldives, spread across 3 independent both hotels.

islands part of the Emboodhoo Lagoon Scheduled to open in June 2019,

in the enchanting atoll of South Malé. CROSSROADS Maldives will feature an

array of world-class attractions with Hard Rock Hotel Maldives

featuring 178 rooms, suites and villas, plus family-friendly

experiences and Hard Rock's branded concepts, including

a Hard Rock Café®, Rock Spa® and a Rock Shop® selling

merchandise and showcasing music memorabilia. The property

of SAii Lagoon Maldives embodies an original and inspiring new

resort concept with a range of distinctive rooms, beach villas

and overwater villas, as well as extensive water sports, cultural

activities, wellness and world-class dining. The resort will be

part of the eclectic Curio Collection by Hilton®.

crossroadsmaldives.com

112

113
---
BANGKOK AIRWAYS NEWS 116 / ROUTE MAP 126 / AIRCRAFT INFO 128

115
---
BANGKOK AIRWAYS NEWS

HRH PRINCESS UBOLRATANA

RAJAKANYA VISITS BANGKOK

AIRWAYS BOOTH AT ITB 2019

Recently, HRH Princess Ubolratana Rajakanya Siri Vadhana Phannavadi

visited the Bangkok Airways booth at the fairgrounds for the

Internationale Tourismus Borse 2019 (ITB) in Berlin, Germany. On

hand to greet the Princess was Mr. Puttipong Prasarttong-Osoth,

Bangkok Airways President and his spouse, Mrs. Dennapa Prasarttong-

Osoth (front row, right and left, respectively) and Mr. Varong Israsena

Na Ayudhya, Vice President – Sales (back row, right).

ITB Berlin is widely respected as the world's leading travel

show and held annually in March in Berlin. Bangkok Airways first

attended the fair in 1998.

เมื่อเร็วๆ นี้ ทูลกระหม่อมหญิงอุบลรัตนราชกัญญา สิริวัฒนาพรรณวดี

เสด็จฯ เยี่ยมชมบูธของสายการบินบางกอกแอร์เวย์ส ณ งานไอทีบี กรุงเบอร์ลิน

สหพันธ์สาธารณรัฐเยอรมนี โดยมีนายพุฒิพงศ์ ปราสาททองโอสถ

กรรมการผู้อำนวยการใหญ่ (แถวหน้าขวา) นางเด่นนภา ปราสาททองโอสถ

(แถวหน้าซ้าย) และนายวรงค์ อิศรเสนา ณ อยุธยา รองกรรมการผู้อำนวยการใหญ่

ฝ่ายขาย (แถวหลังขวา) เฝ้ารับเสด็จฯ

งานไอทีบี เบอร์ลิน ได้รับการยกย่องว่าเป็นงานมหกรรมด้านการท่อง

เที่ยวเพื่อส่งเสริมการขายที ่ใหญ่ที่สุดในโลก ซึ่งจัดเป็นประจำทุกปีในเดือน

มีนาคม ณ กรุงเบอร์ลิน ทั้งนี้ สายการบินบางกอกแอร์เวย์สได้เข้าร่วมงาน

จัดแสดงครั้งแรกในปี พ.ศ. 2541

BANGKOK AIRWAYS

BUSINESS OUTLOOK 2019

Bangkok Airways' airline executives, led by Mr. Puttipong

Prasarttong-Osoth, President, with Mr. Prote Setsuwan, Vice

President – Marketing, and Mr. Varong Israsena Na Ayudhya, Vice

President – Sales, together presented the company's business

outlook for 2019 at the InterContinental Hotel in Bangkok.

Mr. Puttipong commented that, "In 2018, the total revenue

of the company was at 27,943.6 million baht. Net profit

amounted to 356.8 M baht, in which the profit attributable

to the equity holders of the company was 249 M baht.

Earnings per share was 0.12 baht."

He added that the total number of passengers in 2018

reached 5.95 million passengers, an increase by 0.1 per cent

from the previous year due to the growth of point-of-sale in

overseas markets, which was up by 15.0 per cent compared

to same period last year.

"In 2019, the number of passengers is expected to grow

3 per cent while the passenger revenue is expected to grow

at 3.5 per cent. The passenger load factor in 2019 is expected

to be at 72 per cent in which passenger load factor in 2018

was at 68.6 per cent. In 2018, we offered new non-stop

services linking Thailand and some of the main cities in CLMV

to serve the growing travel demand, such as Chiang Mai-Hanoi

(Vietnam). In addition to that, we also increased flight frequency

between Bangkok-Vientiane (Laos) from 7 flights a week to

14 flights a week, Bangkok-Mandalay (Myanmar) from 7 flights

a week to 11 flights a week and Bangkok-Phu Quoc (Vietnam)

from 4 flights a week to 7 flights a week."

For company subsidiaries and associated companies in

airport-related performances, Mr. Puttipong announced an

improvement for 2018. Currently, Bangkok Air Catering (BAC)

has a 25 per cent market share, with a total of 20 airline clients

at Suvarnabhumi airport, 12 clients at Phuket airport and

Gourmet Primo Co., Ltd. has 12 in number. Worldwide Flight

Services Bangkok Air Ground Handling Company Limited

(BFS Ground) has a 56 per cent market share and is currently

serving 79 airline clients. Bangkok Airways Ground Service

Company Limited (PGGS) has a 49 per cent market share

and has a total of 69 airline clients.

"Regarding our route expansion plans for 2019, we will still

focus on expanding our network to cover the most important

destinations throughout CLMV in order to facilitate our

passengers and our codeshare partners. We will further utilise

our strategic flying hubs which are Bangkok (Suvarnabhumi),

Samui and Chiang Mai by offering new non-stop services

from these airports to selected high potential destinations

in Thailand and CLMV countries such as Bangkok-Cam Ranh

(Vietnam) which was launched in January 2019. We also plan

to launch two new routes from Chiang Mai, namely Chiang

Mai-Krabi (one way) and Chiang Mai-Luang Prabang (Laos) at

the end of March and the beginning of April, respectively. In

addition to that, we plan to increase flight frequency between

Bangkok and popular destinations such as

Bangkok-Danang (Vietnam) from 7 flights per

week to 14 flights per week, starting March

1, 2019 and Krabi-Bangkok from 21 flights

per week to 28 flights per week, starting from

March 31, 2019," Mr. Puttipong informed.

"Moreover, we will increase the number of our

codeshare partners. To date, Bangkok Airways

is in partnership with 27 airlines around the

world, including our latest partner – Philippines

Airlines. In 2019, we expect to sign more

agreements with 2 to 3 carriers."

For this year, the company plans to invest

in many projects such as aircraft-related projects

which have a total budget of 1,815 M baht for

the purchase of 2 ATR72-600 aircrafts (scheduled

delivery, 2nd quarter of 2019), the purchase

of aircraft spare parts, cabin refurbishment for

our Airbus aircraft (2019-2021), airport-related

projects such as the Sukhothai Airport runway

extension and facility renovation (958 million

baht), Trat Airport's runway extension and

development (334 million baht). Additionally,

IT systems-related projects such as Passenger

Services Systems which will transfer from Sabre

to Amadeus, and the Organization Development

System (SAP-ERP) which has a total budget of

193 million baht. The airline plans to to invest

in other aviation-related businesses such as

the aviation training centre. For their catering

business, plans are in place to expand the

Bangkok Air Catering business by opening a new

air catering house at Chiang Mai International

Airport (expected to be in operation by the

2nd quarter of 2019). "Moreover, we plan to

expand our culinary ventures beyond airline

catering by opening a new Thai restaurant

called – Ruen Noppakao," it was announced.

"Bangkok Airways continually strives to

support and be involved in Corporate Social

Responsibility activities which remain one of

our core missions whilst operating our business.

This year, we aim to create sustainable Corporate

Social Responsibility work in two main areas

that are more environmental and community

focused. Our CSR projects this year will be

under the concept, "Blue Heart – A Love to

Share" that represents the caring that we, the

Bangkok Airways management and staff, would

like to pass on to the environment and community

through our various CSR projects. This includes

our Love Samui – Save the Coconut Trees

project, the mangrove trees planning project

at Trat province, the Weir building projects in

Koh Samui and Lampang province, United for

Wildlife project, PG Edugether project, the

English Club with Bangkok Airways project

and much more," added Mr. Puttipong.

Mr. Prote Setsuwan, Vice President –

Marketing, also announced the Bangkok

Airways marketing direction for 2019 stating

that, "Our marketing goal this year is to support

sales activities and increase sales volume

through various marketing activities and

campaigns that we plan to roll out throughout

the year. We plan to be more proactive in

terms of marketing this year by working more

closely with numerous online travel agencies

(OTAs) and Key Opinion Leaders (KOLs) from

around the world to build Bangkok Airways

brand awareness in the overseas markets.

Nevertheless, we will still support our Global

Sales Agents with attractive sales promotions

and marketing promotions."

"We will use integrated strategies to help

elevate Bangkok Airways brand positioning in

both Thailand and the overseas markets. We will

continue exercising our Sports & Tourism

Marketing strategy in order to create and

strengthen our brand awareness with connections

to our sport fans. Some of our activity highlights

include a partnership with one of Europe's most

anticipated football teams – Borussia Dortmund.

This partnership not only elevates the Bangkok

Airways brand at the international level, but it

also helps widen our customer base, especially

European travellers who are considered as one

of Bangkok Airways key markets. The Bangkok

Airways Boutique Series consisting of running

events will be held in 6 destinations throughout

Thailand which are; Krabi, Samui, Lampang,

Phuket, Chiang Rai and Chiang Mai. This year

we are honoured to work with Mr. Atsanai

Anankiri (aka Stupidnoobmac), a famous

cartoonist, to design running shirts and medals

for the whole series. In addition to that, we

will also offer special benefits to those who

purchase air tickets and travel on Bangkok

Airways flights to the races such as special

fares, complimentary entry fee for the race, a

special lane for running bib pick-ups and many

more. This year, we expect to have a total of

35,000 runners participating in our Bangkok

Airways Boutique Series 2019, which is about

40 per cent more than in 2018."

"This year additionally, Bangkok Airways

will be sponsoring various sports and tourismrelated

events such as Le Tour De France in

Phang Nga province, the THAI FIGHT which

is seen as one of the most celebrated combat

events in the world, the Phuket Old Town

Festival, Chiang Rai International Balloon

Fiesta, Chiang Mai Songkran Festival and

Colour Moon Festival in Koh Phangan."

"Bangkok Airways is currently an official

sponsor for 7 professional football teams in

Thailand, which are Chiang Rai United, Chiang

Mai FC, Sukhothai FC, Trat FC, Lampang FC,

Chiang Rai City FC, and Samui City FC in which

the first four teams are in the Thai Premier

League Division. These partnerships help

Bangkok Airways create new customer bases

as well as strengthen relationships between the

airline and local communities."

"Apart from that, we will enhance our

partnership marketing strategy in order to

increase the company's revenue. Some of our

plans include expanding partnerships with

credit card companies in Singapore, Hong Kong,

Malaysia, Myanmar and Cambodia. We will

also work closely with government and private

sectors in CLMV countries to help promote

Thailand and South East Asian tourism."

"This year, we will continue to focus on

building customer loyalty through various

tailored-made campaigns such as our Beyond

Flying campaign in which passengers can

present their boarding pass or FlyerBonus card

at more than 200 participating restaurants,

department stores, and beauty clinics nationwide

to receive special discounts. In addition to that,

we also plan to enhance our FlyerBonus

member experience by developing our systems

to be more accessible and easier for points

redemptions. Recently, we have joined hands

with one of Thailand's largest credit card

companies – KTC and launched KTC-Bangkok

Airways credit cards with the hope to increase

members and to promote the Bangkok Airways

brand through KTC existing clients."

"We are currently in the process of changing

our Passenger Services Systems (PSS) from

Sabre to Amadeus which is expected to be

116 117
---
BANGKOK AIRWAYS NEWS

completed by the end of July. This change will

help Bangkok Airways enhance our passengers'

digital journey as the new system will allow

passengers to book or modify their reservations

more conveniently."

"For Thailand markets, we have the U Fare

campaign that offers great fares and amazing

benefits to college students plus our Resident

Card campaign that allows passengers living

in Samui, Trat and Sukhothai to fly at more

reasonably-priced fares. We have also created

some special promotional fares for our elderly

passengers, disabled passengers, and government

officers. As you can see, this year we are trying

to cater to a very wide audience so that our

brand can be grown in the broader Thai market."

Mr. Prote added.

Mr. Varong Israsena Na Ayudhya – Vice

President – Sales, presented the Bangkok Airways

2019 sales plan said that, "This year, Bangkok

Airways will transform itself to a fully digitalintegrated

airline. We aim to increase the total

sales target by 3.5 per cent this year. To achieve

the set target, we will focus more on selling our

tickets online. Last year, we developed our systems

to be able to connect to those online travel

agencies (OTAs) such as eDreams, Ctrip, Mystifly,

Make My Trip (MMT) as well as be more visible

in our potential markets around the world."

He points out that, "This year, we will still

concentrate on increasing sales volume from

the CLMV countries, which are Cambodia, Laos,

Myanmar and Vietnam, as we foresee that

these countries still project notable economic

growth and high travel demand. Additionally,

we also plan to tap into the corporate market

in these countries. Together with the Thailand

Convention and Exhibition Bureau (TCEB), we

recently launched the "Fly & Meet Double

Bonus – Redefined" campaign to attract more

corporate travellers from the Indochina region

to fly and have meetings in Thailand. For

domestic sales, we will be more focused on

corporate travellers as we see the growing trend

of this particular market. We are confident

that our products and services are suitable for

these travellers. Moreover, we will be offering

numerous special-fare promotions year-round

to boost advance sales domestically."

"We plan as well to increase our revenue

through more chartered flights. Currently, we

have chartered flights between Samui-Chengdu

and Samui-Chongqing. We also plan to increase

our ancillary revenue from selling premier

products such as lounge upgrades, seat

upgrades as well as advertisement space in our

in-flight magazine," added Mr. Varong.

สายการบินบางกอกแอร์เวย์ส นำโดย นายพุฒิพงศ์

ปราสาททองโอสถ กรรมการผู้อำนวยการใหญ่ นายพรต

เสตสุวรรณ รองกรรมการผู้อำนวยการใหญ่ส่วน

การตลาด และ นายวรงค์ อิศรเสนา ณ อยุธยา รอง

กรรมการผู้อำนวยการใหญ่ฝ่ายการขาย จัดงาน

แถลงข่าว "ผลประกอบการปี 2561 และทิศทางการ

ดำเนินธุรกิจปี 2562 ของสายการบินบางกอกแอร์

เวย์ส" ณ ห้องแกรนด์บอลรูม 2 โรงแรมอินเตอร์

คอนติเนนตัล กรุงเทพฯ

นายพุฒิพงศ์ ปราสาททองโอสถ กรรมการ

ผู้อำนวยการใหญ่ เปิดเผยว่า "ผลการดำเนินงานของ

บริษัทฯ ในปี 2561 บริษัทฯ มีรายได้รวม 27,943.6

ล้านบาท และมีกำไรก่อนค่าใช้จ่ายทางภาษีเท่ากับ

356.8 ล้านบาท โดยเป็นกำไรสุทธิที่เป็นส่วนของผู้ถือ

หุ้นของบริษัทฯ เท่ากับ 249.3 ล้านบาท กำไรต่อหุ้น

เท่ากับ 0.12 บาทต่อหุ้น มีจำนวนผู้โดยสารทั้งสิ้น 5.95

ล้านคน เติบโตเพิ่มขึ้นร้อยละ 0.1 เป็นผลมาจากการ

เติบโตของสัดส่วนจุดขายบัตรโดยสารในต่างประเทศ

ซึ่งมีการเติบโตร้อยละ 15.0 เมื่อเทียบกับปีที่ผ่านมา

มีอัตราบรรทุกผู้โดยสารเฉลี่ยอยู่ที่ร้อยละ 68.6"

"ในปี 2561 ที่ผ่านมา บริษัทฯ มีการขยายเส้น

ทางบินไปในกลุ่มประเทศ CLMV ตามปริมาณความ

ต้องการในการเดินทางของผู้โดยสาร โดยเฉพาะใน

สาธารณรัฐสังคมนิยมเวียดนาม สาธาณรัฐ

ประชาธิปไตยประชาชนลาว และสาธารณรัฐแห่ง

สหภาพเมียนมาร์ โดยบริษัทฯ ได้เพิ่มจำนวนเที่ยวบิน

ในเส้นทางกรุงเทพฯ-เวียงจันทน์ (ลาว) เป็น 14 เที่ยว

บินต่อสัปดาห์ กรุงเทพฯ-มัณฑะเลย์ (เมียนมา) เป็น

11 เที่ยวบินต่อสัปดาห์ กรุงเทพฯ-เกาะฟู้โกว๊ก

(เวียดนาม) เป็น 7 เที่ยวบินต่อสัปดาห์ นอกจากนี้

บริษัทฯ ได้เปิดเส้นทางบินใหม่ เชียงใหม่-ฮานอย

(เวียดนาม) โดยให้บริการ 7 เที่ยวบินต่อสัปดาห์"

"สำหรับธุรกิจที่เกี่ยวข้องกับธุรกิจการบิน อาทิ

ธุรกิจครัวการบินในปี 2561 บริษัท ครัวการบิน

กรุงเทพ จำกัด มีส่วนแบ่งทางการตลาดร้อยละ 25 มี

ลูกค้า 20 สายการบินที่สนามบินสุวรรณภูมิ และ

บริษัทครัวการบินกรุงเทพภูเก็ต จำกัด มีลูกค้าจำนวน

12 ราย และบริษัทกูร์เมท์ พรีโม่ จำกัด มีจำนวนลูกค้า

จำนวน 12 ราย ในส่วนของธุรกิจบริการภาคพื้น

บริษัท การบินกรุงเทพเวิลด์ไวด์ไฟล์ทเซอร์วิส จำกัด

มีส่วนแบ่งทางการตลาด ร้อยละ 56 มีลูกค้าเพิ่มขึ้น

จำนวน 5 ราย รวมเป็น 79 สายการบิน และ บริษัท

ดับบลิวเอฟเอสพีจี คาร์โก้ จำกัด มีส่วนแบ่งทางการ

ตลาดร้อยละ 49 มีลูกค้าเพิ่มขึ้น 1 ราย รวมเป็น 69

สายการบิน"

"โดยปี 2562 นี้ บริษัทฯ ตั้งเป้ารายได้ผู้โดยสาร

เติบโตร้อยละ 3.5 อัตราบรรทุกผู้โดยสารเฉลี ่ยอยู่ที่

70 เปอร์เซ็นต์ และการเติบโตของจำนวนผู้โดยสารเพิ่ม

ขึ้นร้อยละ 3 ประมาณ 6.16 ล้านคน"

"แผนการเปิดเส้นทางบินใหม่ในปี 2562 นี้ บริษัทฯ

ยังคงเน้นกลยุทธ์การขยายโครงข่ายเส้นทางการบินเพื่อ

ตอบสนองความต้องการของผู้โดยสารและสายการบิน

พันธมิตร ตลอดจนบุกเบิกการเปิดเส้นทางบินใหม่

ที่ยังไม่มีสายการบินอื่นให้บริการ โดยใช้กรุงเทพฯ

(สุวรรณภูมิ) สมุย และ เชียงใหม่ เป็นศูนย์กลางทางการ

บินให้ครอบคลุมไปยังเมืองสำคัญหรือแหล่งท่องเที่ยว

ยอดนิยมของภูมิภาคเอเชีย โดยเส้นทางบินแรกที่ได้

ทำการเปิดบินไปแล้วเมื่อปลายเดือนมกราคมที่ผ่านมา

คือ กรุงเทพฯ-คัมรัน (เวียดนาม) ให้บริการสัปดาห์ละ 4

เที่ยวบิน ด้วยเครื่องบินแบบแอร์บัส เอ319 และเตรียม

เปิดอีก 2 เส้นทางบินเชื่อมจากจังหวัดเชียงใหม่ ออกไป

ยังเมืองท่องเที่ยวที่สำคัญทั้งในประเทศและต่างประเทศ

ได้แก่ เชียงใหม่-กระบี่ (เที่ยวเดียว) ให้บริการสัปดาห์ละ 3

เที่ยวบิน เริ่มวันที่ 31 มีนาคม 2562 และจะปรับเป็นให้

บริการวันละ 1 เที่ยวบิน ตั้งแต่วันที่ 1 พฤษภาคม 2562

เป็นต้นไป และเส้นทาง เชียงใหม่-หลวงพระบาง (สปป.

ลาว) ให้บริการสัปดาห์ละ 3 เที่ยวบิน เริ่มให้บริการ 2

เมษายน 2562 นอกจากนี้ บริษัทฯ ยังมีแผนที่จะเพิ่ม

ความถี่เที่ยวบินในเส้นทางบินยอดนิยม อาทิ กรุงเทพฯ-

ดานัง (เวียดนาม) จาก 7 เที่ยวบิน ต่อสัปดาห์ เป็น 14

เที่ยวบินต่อสัปดาห์ เริ่ม 1 มีนาคม 2562 และ กระบี่-

กรุงเทพฯ จาก 21 เที่ยวบินต่อสัปดาห์ เป็น 28 เที่ยวบิน

ต่อสัปดาห์ เริ่ม 31 มีนาคม 2562 เป็นต้นไป"

"การเพิ่มเครือข่ายพันธมิตรทางการบินผ่านการ

ทำข้อตกลงเที่ยวบินร่วมกับสายการบินชั้นนำ ในปี

2562 บริษัทฯ มีแผนที่จะลงนามข้อตกลงเที่ยวบินร่วม

กับสายการบินเพิ่มเติมอีก 2-3 สายการบิน ซึ่งส่วน

ใหญ่จะเป็นสายการบินแห่งชาติของประเทศใน

ภูมิภาคเอเชีย โดยในปัจจุบัน บริษัทฯ มีข้อตกลงเที่ยว

บินร่วมกับสายการบินชั้นนำจากทั่วโลกอยู่ 27 สาย

การบิน โดยสายการบินล่าสุดคือฟิลิปปินส์แอร์ไลน์"

"ในปี 2562 บริษัทฯ มีแผนลงทุนในโครงการด้าน

อากาศยาน วงเงินรวม 1,815 ล้านบาท อาทิ การจัดซื้อ

เครื่องบินแบบเอทีอาร์ 72-600 จำนวน 2 ลำ โดยมีแผน

รับเครื่องบินในไตรมาสที่ 2 การจัดซื้ออะไหล่เครื่องบิน

สำรองเพื่อรองรับการซ่อมบำรุง การปรับปรุงสภาพ

ภายในของเครื่องบินแบบแอร์บัส ซึ่งมีระยะเวลาการ

ดำเนินการ 2 ปี (2562-2564) แผนลงทุนในโครงการ

ด้านท่าอากาศยาน อาทิ โครงการขยายและพัฒนา

สนามบินสุโขทัย ซึ่งมีวงเงินรวม 958 ล้านบาท ในการ

สร้างโรงซ่อมบำรุงอากาศยานและพัฒนาพื้นที่ภายใน

สนามบิน โครงการขยายและพัฒนาสนามบินตราด

วงเงินรวม 334 ล้านบาท เพื่อนำไปพัฒนาพื้นที่สนาม

บินและขยายทางวิ่งของเครื่องบิน นอกจากนี้ ยังมีการ

ลงทุนในโครงการพัฒนาระบบงานด้านไอที วงเงินรวม

193 ล้านบาท อาทิ การเปลี่ยนระบบให้บริการผู้โดยสาร

เพื่อใช้ในการสำรองที่นั่ง เป็นระบบอะมาดิอุส การเปลี่ยน

ระบบสนับสนุนการปฏิบัติการบิน เช่น ระบบควบคุม

การบิน ระบบวางแผนการบิน ระบบบริหารจัดการลูกเรือ

รวมไปถึงการพัฒนาระบบงานองค์กร นอกจากนี้

บริษัทฯ ยังได้มีการลงทุนในธุรกิจอื่นๆ ที่เกี่ยวข้องอีกด้วย

อาทิ การจัดตั้งบริษัทย่อยแห่งใหม่ บริษัท บางกอกแอร์

เอวิเอชั่น เทรนนิ่ง เซ็นเตอร์ จำกัด โดยมีวัตถุประสงค์

เพื่อดำเนินธุรกิจสถาบันฝึกอบรมด้านการบิน ซึ่งบริษัทฯ

ถือหุ้น 100 เปอร์เซนต์"

"แผนการขยายธุรกิจอื่นๆ ที่เกี่ยวข้องกับธุรกิจ

การบิน อาทิ บริษัท ครัวการบินกรุงเทพ จำกัด ที่จะเปิด

ครัวการบินเพิ่มเติมอีก 1 แห่ง คือ ครัวการบินกรุงเทพ

สาขาสนามบินเชียงใหม่ กำหนดเปิดให้บริการภายใน

ไตรมาสที่ 2 ของปี 2562 ตลอดจนธุรกิจร้านอาหาร ซึ่ง

ปัจจุบันบริษัทฯ มีให้บริการร้านอาหาร Brasserie 9

ซึ่งเป็นร้านอาหารฝรั่งเศสแบบดั้งเดิม ร้านอาหาร Al

Saray ซึ่งเป็นร้านอาหารเลบานีสและอาหารอินเดีย และ

ภายในปีนี้มีแผนจะเปิดให้บริการร้านเรือนนพเก้า ซึ่งเป็น

อาหารไทยตำรับชาววังเพิ่มเติมอีก 1 แห่ง"

"โครงการความรับผิดชอบต่อสังคม (CSR) ในปี

2562 บริษัทฯ ยังคงมุ่งมั่นให้การสนับสนุนและมีส่วน

ร่วมในการให้บริการและบำเพ็ญประโยชน์ต่อสังคม

อย่างต่อเนื่อง ซึ่งถือเป็นพันธกิจหลักควบคู่ไปกับการ

ดำเนินธุรกิจ โดยมุ่งเน้นการอนุรักษ์สิ่งแวดล้อมและ

การพัฒนาชุมชนอย่างยั่งยืน ภายใต้แนวคิด Blue

Heart – A Love to Share หมายถึง การส่งต่อความ

รักผ่านโครงการความรับผิดชอบต่อสังคม โดยแบ่ง

เป็นโครงการเพื่อสิ่งแวดล้อมภายใต้ชื่อ Love Earth

Save Earth – รักษ์โลกดูแลโลก อาทิ โครงการปลูก

มะพร้าวเพื่อเกาะสมุย โครงการรักษ์โลก ร่วมปลูกป่า

ชายเลน กับบางกอกแอร์เวย์ส (จ.ตราด) โครงการ

สร้างฝาย (เกาะสมุยและจ.ลำปาง) โครงการบริหาร

จัดการขยะ โครงการต่อต้านการลักลอบค้าสัตว์ป่า

(United for Wildlife) และโครงการเพื่อสร้างคุณภาพ

ชีวิตที่ดีให้กับชุมชน 5 ด้าน ได้แก่ เศรษฐกิจ การศึกษา

สังคม สุขภาพ และสิ่งแวดล้อม ภายใต้ชื่อ Community

of Love – สานพลังรัก สู่ชุมชนที่ยั่งยืน อาทิ โครงการ

ส่งเสริมอาชีพ สร้างรายได้ โครงการปรับปรุงและ

ซ่อมแซมชุมชน วัด และโรงเรียน เพื่อสาธารณประโยชน์

โครงการพัฒนาคุณภาพผู้เรียน (PG Edugether)

โครงการ English Club with Bangkok Airways

โครงการติดปีกเติมฝัน ปันความรู้ สู่อาชีพการบิน"

นายพรต เสตสุวรรณ รองกรรมการผู้อำนวย

การใหญ่ฝ่ายการตลาด เผยถึงแผนการตลาดปี 2562

ว่า "ในปีนี้บริษัทฯ จะเน้นการทำตลาดแบบเชิงรุกในตลาด

ต่างประเทศมากขึ้น เพื่อสนับสนุนให้เกิดการขายและ

สร้างการรับรู้ในสินค้าและบริการของบริษัทฯ โดยจะ

มุ่งเน้นไปที่การทำกิจกรรมทางการขายและการตลาด

ผ่านช่องทางตัวแทนจำหน่ายออนไลน์ รวมถึงการ

โฆษณาและกิจกรรมทางการตลาดร่วมกับผู้มีอิทธิพล

ทางความคิดบนโลกออนไลน์ทั่วโลก ทั้งนี้ บริษัทยัง

ให้การสนับสนุนด้านการส่งเสริมการขายและการตลาด

แก่ตัวแทนจำหน่ายในประเทศต่างๆ ทั่วโลกเช่นเดิม"

"ในปีนี้ สายการบินฯ ยังคงเน้นการทำการตลาด

ผ่านกิจกรรมเชิงกีฬาเพื่อการท่องเที่ยว เพื่อสนับสนุน

การสร้างแบรนด์ให้เป็นที่จดจำ รวมไปถึงเพื่อส่งเสริม

การท่องเที่ยวในเส้นทางบินของสายการบินฯ ทั้งใน

ประเทศและต่างประเทศ โดยไฮไลท์ส่วนหนึ่งของ

กิจกรรมเชิงกีฬาเพื่อการท่องเที่ยวในปีนี้ ได้แก่ การลง

นามความร่วมมือทางการตลาดกับ โบรุสเซีย ดอร์ทมุนด์

ทีมสโมสรฟุตบอลชั้นนำของประเทศเยอรมันี ที่มีแฟน

คลับมากเป็นอันดับต้นๆ ของทวีปยุโรป โดยความร่วม

มือในครั้งนี้ นอกจากจะช่วยยกระดับภาพลักษณ์ของ

บางกอกแอร์เวย์สในระดับสากลแล้ว ยังช่วยให้สายการบินฯ

สร้างฐานกลุ่มลูกค้าใหม่ๆ เพิ่มขึ้นอีกด้วย โดยเฉพาะ

ตลาดนักท่องเที่ยวชาวยุโรป ซึ่งถือเป็นหนึ่งในตลาด

หลักของสายการบินฯ กิจกรรมบางกอกแอร์เวย์ส

บูทีคซีรีย์ 2019 รายการแข่งขันวิ่งมาราธอนใน 6 เส้น

ทางบินของสายการบินฯ ได้แก่ กระบี่ เกาะสมุย ลำปาง

ภูเก็ต เชียงราย และเชียงใหม่ ซึ่งจัดต่อเนื่องเป็นปีที่ 3

โดยในปีนี้ได้รับเกียรติจากคุณอัศนัย อนัญคีรี หรือ

Stupidnoobmac ศิลปินวาดรูปชื่อดังผู้วาดการ์ตูน

เบบี้บอย มาร่วมออกแบบเสื้อวิ่ง เหรียญรางวัล เพื่อ

สร้างสีสันและความน่าสนใจให้กับรายการวิ่ง นอกจาก

นี้ยังมอบสิทธิประโยชน์พิเศษสำหรับผู้สมัครเข้าร่วม

แข่งขันและเลือกเดินทางกับสายการบินฯ อาทิ ฟรีค่า

สมัครวิ่ง ช่องพิเศษในการรับ BIB ในวันแข่งขัน เป็นต้น

ในปีนี้ สายการบินฯ คาดว่าจะมีผู้เข้าร่วมแข่งขันกว่า

35,000 คน เพิ่มขึ้นจากปีที่ผ่านมา 40 เปอร์เซ็นต์

สายการบินฯ ได้ให้การสนับสนุนทีมฟุตบอลอาชีพ

รวมทั้งสิ้น 7 ทีม คือ เชียงรายยูไนเต็ด เชียงใหม่เอฟซี

สุโขทัยเอฟซี ตราดเอฟซี ลำปางเอฟซี เชียงรายซิตี้

เอฟซี และสมุยซิตี้เอฟซี ซึ่ง 4 ทีมแรกเล่นในไทย

พรีเมียร์ลีก โดยการเข้าสนับสนุนทีมฟุตบอลดังกล่าว

ถือเป็นการสร้างแบรนด์ในกลุ่มตลาดเฉพาะและสร้าง

ความสัมพันธ์ระหว่างชุมชนกับแบรนด์ นอกจากนี้

สายการบินฯ ยังให้การสนับสนุนกิจกรรมเชิงกีฬา

รายการใหญ่ๆ ตลอดทั้งปีอีกด้วย อาทิ การแข่งขัน

จักรยานรายการ Le Tour De France ที่จังหวัดพังงา

การสนับสนุนแข่งขันชกมวยรายการไทยไฟต์ เป็นต้น

ซึ่งการเข้าไปร่วมสนับสนุนรายการดังกล่าวถือเป็นการ

สร้างการรับรู้ของแบรนด์บางกอกแอร์เวย์สในระดับ

สากล นอกจากนี้ สายการบินฯ ยังให้ความร่วมมือกับ

ภาครัฐและเอกชนในการจัดกิจกรรมส่งเสริมการตลาด

ต่างๆ ในแหล่งท่องเที่ยวที ่เป็นเมืองหลักและเมืองรอง

ของประเทศไทย เพื่อกระตุ้นให้เกิดการเดินทางท่องเที่ยว

ในช่วงนอกฤดูกาลท่องเที่ยว อาทิ งานตรุษจีนย้อน

อดีตที่จังหวัดภูเก็ต งานอินเตอร์เนชั่นแนล บอลลูน

เฟียสต้า ที่จังหวัดเชียงราย งานพระจันทร์หลากสีที่

เกาะพงัน จังหวัดสุราษฎร์ธานี งานเทศกาลปี๋ใหม่เมือง

ที่จังหวัดเชียงใหม่ เป็นต้น"

"สำหรับกิจกรรมทางการตลาดด้านลูกค้าสัมพันธ์

บริษัทฯ มีแผนที่จะพัฒนาโปรแกรมต่างๆ เพื่อเพิ่มสิทธิ

ประโยชน์ให้แก่ลูกค้าของสายการบินฯ อาทิ บียอนด์

ฟลายอิ ้ง ที่ผู้โดยสารสามารถแสดงบัตรขึ้นเครื่อง

(Boarding Pass) หรือบัตรสมาชิก FlyerBonus

เพื่อรับสิทธิประโยชน์พิเศษจากร้านค้า ร้านอาหาร

ศูนย์การค้า หรือพันธมิตรที่ร่วมรายการ นอกจากนี้

บริษัทฯ ยังมีรายการสะสมคะแนนฟลายเออร์โบนัส

ซึ ่งนอกจากจะมีแผนในการเพิ่มจำนวนสมาชิกแล้ว

ในปลายปีที่ผ่านมาได้ร่วมมือกับ KTC ในการออกบัตร

เครดิต KTC-Bangkok Airways ปีนี้จึงมีแผนร่วมกันใน

การทำตลาดเพื่อเพิ ่มจำนวนผู้สมัครบัตรดังกล่าว

นอกจากนี้ ก็มีแผนในการพัฒนาระบบแลกคะแนนและ

สิทธิประโยชน์ทางออนไลน์ที่ง่ายและสะดวกสบายมากขึ้น

รวมถึงเสนอโปรแกรมการแลกรางวัลต่างๆ ให้มีความ

น่าสนใจมากยิ่งขึ้น"

"แผนการขยายกลุ่มลูกค้าในประเทศไทย สายการบินฯ

มีแคมเปญ U Fare By Bangkok Airways บัตรโดยสาร

ราคาพิเศษสำหรับกลุ่มนิสิตนักศึกษาและอาจารย์ ซึ่ง

เป็นแคมเปญที่ต่อเนื่องมา 2 ปีและได้รับการตอบรับเป็น

อย่างดี ปีนี้ก็จะทำการตลาดต่อไปโดยจะเน้นการทำ

โฆษณาประชาสัมพันธ์แคมเปญผ่านสื่อออนไลน์ซึ่งตรง

กับกลุ่มเป้าหมายของเรามากขึ้น รวมถึงการออกบูธ

ประชาสัมพันธ์แคมเปญในมหาวิทยาลัยชั้นนำทั่วประเทศ"

"ขณะนี้เราอยู่ในระหว่างขั้นตอนการเปลี ่ยนผ่าน

ระบบสำรองที่นั่งจาก Sabre ไปสู่ Amadeus ซึ่งคาด

ว่าจะแล้วเสร็จในช่วงกลางปีนี้ ในการเปลี่ยนแปลงครั้ง

นี้จะช่วยยกระดับขีดความสามารถในการให้บริการ

ออนไลน์ของเรามากขึ้น ซึ่งช่วยให้ผู้โดยสารได้รับ

ความสะดวกสบายและได้รับบริการต่างๆ หลากหลาย

มากยิ่งขึ้น" นายพรต กล่าวเสริม

นายวรงค์ อิศรเสนา ณ อยธุยา รองกรรมการ

ผู้อำนวยการใหญ่ฝ่ายการขาย เปิดเผยถึงแผนการ

ขายปี 2562 ว่า "บางกอกแอร์เวย์สตั้งเป้ายอดขาย

ในปี 2562 เติบโตร้อยละ 3.5 โดยในปีนี้จะมุ่งเน้นการ

เพิ่มประสิทธิภาพการขายบัตรโดยสารผ่านระบบ

ออนไลน์มากขึ้น เนื่องจากพฤติกรรมการซื้อบัตร

โดยสารของลูกค้าได้เปลี่ยนไป โดยในปีที่ผ่านมา

สายการบินฯ ได้พัฒนาระบบเพื่อให้สามารถรองรับ

การเชื่อมต่อกับแพลตฟอร์มการขายแบบดิจิทัล เพื่อ

สร้างโอกาสทางการขายผ่านตัวแทนจำหน่ายออนไลน์

จากทั่วโลก อาทิ eDreams, Ctrip, Mystifly, Make

My Trip (MMT) เป็นต้น"

"นอกจากนี้ บริษัทฯ จะยังคงเน้นการขายในตลาด

กลุ่มประเทศ CLMV (กัมพูชา ลาว เมียนมา เวียดนาม)

โดยเน้นการขายผ่านตัวแทนจำหน่ายท้องถิ่น โดยมี

การออกโปรโมชั่นที่น่าสนใจ อาทิ โปรโมชั่น Go Samui

และมีแผนที่จะเจาะกลุ่มตลาดนักเดินทางเพื่อธุรกิจใน

กลุ่มประเทศ CLMV มากขึ้น อาทิ แคมเปญ Fly &

Meet Double Bonus ที่ร่วมกับสำนักงานส่งเสริม

การจัดประชุมและนิทรรศการ (TCEB) ที่มอบสิทธิ

ประโยชน์พิเศษให้แก่นักเดินทางในกลุ่มองค์กรธุรกิจ"

"สำหรับแผนการขายภายในประเทศ บริษัทฯ เน้น

เจาะกลุ่มตลาดนักเดินทางเพื่อธุรกิจมากขึ้น เนื่องจาก

มีอัตราการเดินทางที่เพิ่มขึ้น นอกจากนี้ ยังจะมีการ

ออกโปรโมชั่นต่างๆ รวมทั้งการร่วมออกบูธจำหน่าย

บัตรโดยสาร เพื่อกระตุ้นให้เกิดการขายล่วงหน้ามากขึ้น

อาทิ ไทยเที่ยวไทย เป็นต้น"

"และบริษัทฯ มีแผนขยายธุรกิจแบบเช่าเหมาลำ

โดยปัจจุบัน สายการบินฯ มีเที่ยวบินแบบเช่าเหมาลำ

ในเส้นทางระหว่าง สมุย-เฉินตู และ สมุย-ฉงชิ่ง

นอกจากนี้ บริษัทฯ ยังมีการเพิ่มรายได้จากบริการ

เสริมต่างๆ อาทิ บริการอัพเกรดห้องรับรอง บริการ

อัพเกรดที่นั่ง รวมไปถึงการขายพื้นที่สื่อของสายการ

บินฯ อาทิ นิตยสารบนเครื่อง เป็นต้น"

118 119
---
BANGKOK AIRWAYS NEWS

BANGKOK AIRWAYS LAUNCHES

CHIANG MAI-KRABI AND CHIANG MAI-

LUANG PRABANG (LAOS) ROUTES

To introduce Bangkok Airways' two new nonstop

flights of Chiang Mai-Krabi and Chiang

Mai-Luang Prabang (Laos); the airline's Mr.

Varong Israsena Na Ayudhya, Vice President

– Sales, Mrs. Chanthip Thongkanya, Bangkok

Airways' Vice President – Office of the President,

together with Ms. Pakkanan Winijchai, Director

– Tourism Authority of Thailand (TAT), Chiang

Mai office; recently organised a press conference

to make the announcement. The event was held

at the Time Riverfront Cuisine & Bar, Na Nirand

Romantic Boutique Resort in Chiang Mai.

"Our upcoming Chiang Mai-Krabi and

Chiang Mai-Luang Prabang (Laos) services

reflect our strategy for network expansion to

cover the CLMV countries, namely Cambodia,

Laos, Myanmar and Vietnam by using Chiang

Mai as our hub. Chiang Mai is the largest and most

culturally significant city in northern Thailand, and

is becoming one of the must-visit destinations

for travellers from around the world," Mr. Varong

confirmed. "As the number of travellers has

increased continuously every year, I believe

that the extra benefit of having these non-stop

flights from Chiang Mai to Krabi and Chiang Mai

to Luang Prabang in Laos facilitates and shortens

our passengers' journey without making a stop

or transit in Bangkok."

He added that Bangkok Airways has been

using Chiang Mai as one of the strategic

hubs to connect with other destinations in

both Thailand and overseas. These include

Chiang Mai-Bangkok, Chiang Mai-Samui,

Chiang Mai-Phuket, Chiang Mai-Mae Hong

Son, Chiang Mai-Yangon (Myanmar), Chiang

Mai-Mandalay (Myanmar) and Chiang Mai-

Hanoi (Vietnam).

The two new routes Chiang Mai to Krabi

and Chiang Mai to Luang Prabang were added

end of March 2019.

Ms. Pakkanan Winijchai, TAT's Director

of the Chiang Mai Office indicated that

in 2018, the number of tourist arrivals to

Chiang Mai reached nearly 11 million. China

is the top tourism market followed by the

USA, Japan, England and France respectively.

TAT expects to see a 5 per cent growth in

tourist arrivals to Chiang Mai this year.

"By introducing the new routes of Chiang

Mai-Krabi and Chiang Mai-Luang Prabang

in Laos, I believe it will boost existing travel

demand and enhance the ease of travel.

Moreover, Bangkok Airways' use of Chiang

Mai as an aviation hub connecting top-tier

and second-tier cities in Thailand will generate

a tremendous flow of tourism spending in

the country," Ms. Pakkanan added.

For more information and reservations, please

contact the Bangkok Airways Call Centre at 1771

(24 hrs) or simply visit www.bangkokair.com.

สายการบินบางกอกแอร์เวย์ส จัดงานแถลงข่าวเปิดเส้น

ทางบินใหม่ เชียงใหม่-กระบี่ และ เชียงใหม่-หลวงพระบาง

(สปป.ลาว) โดยมีนายวรงค์ อิศรเสนา ณ อยุธยา รอง

กรรมการผู้อำนวยการใหญ่ ฝ่ายการขายของสาย

การบินฯ และนางสาวภัคนันท์ วินิจชัย ผู้อำนวยการ

การท่องเที่ยวแห่งประเทศไทย สำนักงานเชียงใหม่ เป็นผู้

แถลงข่าวและนางจันทร์ทิพย์ ทองกันยา รองกรรมการ

ผู้อำนวยการใหญ่ สำนักกรรมการผู้อำนวยการใหญ่

สายการบินบางกอกแอร์เวย์ส ให้เกียรติร่วมในงาน ณ

ห้องอาหาร Time Riverfront Cuisine & Bar โรงแรม

ณ นิรันดร์ จังหวัดเชียงใหม่

นายวรงค์ อิศรเสนา ณ อยุธยา กล่าวว่า "การ

เปิดเส้นทางบินเชียงใหม่-กระบี่ และ เชียงใหม่-หลวงพระบาง

(สปป.ลาว) ถือเป็นหนึ่งในกลยุทธ์การขยายเครือข่ายเส้น

ทางบินของบางกอกแอร์เวย์สให้ครอบคลุมประเทศใน

กลุ่ม CLMV (กัมพูชา ลาว เมียนมา เวียดนาม) โดยใช้

เชียงใหม่เป็นศูนย์กลางการบินทางภาคเหนือ เนื่องจาก

เชียงใหม่เป็นเมืองท่องเที่ยวที่สำคัญอันดับต้นของ

ประเทศไทยและมีชื่อเสียงไปทั่วโลก มีนักท่องเที่ยวเดิน

ทางมาจากเส้นทางบินภายในประเทศและเส้นทางบิน

จากต่างประเทศ ซึ่งมีปริมาณเพิ่มขึ้นทุกปี การเปิดเส้น

ทางบินตรงจากเชียงใหม่ไปยังเมืองต่างๆ จะช่วยอำนวย

ความสะดวกให้กับผู้โดยสารโดยไม่ต้องเดินทางกลับไป

ต่อเครื่องที่กรุงเทพฯ ปัจจุบันบางกอกแอร์เวย์ส มีเส้น

ทางบินจากจังหวัดเชียงใหม่ ไปยังเมืองต่างๆ ทั้งใน

ประเทศและต่างประเทศ ได้แก่ กรุงเทพฯ สมุย ภูเก็ต

แม่ฮ่องสอน ย่างกุ้ง (เมียนมา) มัณฑะเลย์ (เมียนมา) และ

ฮานอย (เวียดนาม) และจะเปิดบินอีก 2 เมือง ในปลาย

เดือนมีนาคม 2562 นี้ คือกระบี่และหลวงพระบาง (สปป.

ลาว) ซึ่งทั้ง 2 เมืองเป็นที่รู้จักและได้รับความนิยมจาก

นักท่องเที่ยวทั ่วโลก"

นางสาวภัคนันท์ วินิจชัย ผู้อ ำนวยการ การท่องเที่ยว

แห่งประเทศไทย สำนักงานเชียงใหม่ กล่าวว่า "ในปี

2561 ที่ผ่านมามีนักท่องเที่ยวเดินทางมายังจังหวัด

เชียงใหม่จำนวน 10,844,753 คน นักท่องเที่ยวจาก

ประเทศจีนมีจำนวนมากเป็นอันดับหนึ่ง รองลงมาคือ

สหรัฐอเมริกา ญี่ปุ่น อังกฤษ และฝรั่งเศส ตามลำดับ

โดยในปี 2562 ทาง ททท. คาดการณ์ว่าจำนวนนัก

ท่องเที่ยวจะเพิ่มขึ้น คิดเป็นร้อยละ 5

"นับเป็นโอกาสดีที่สายการบินบางกอกแอร์เวย์ส

เปิดเส้นทางบิน เชียงใหม่-กระบี่ และเชียงใหม่-หลวงพระบาง

(สปป.ลาว) เพราะนอกจากจะอำนวยความสะดวกให้

นักท่องเที่ยวในตลาดซึ่งมีอยู่เดิมแล้ว การผลักดัน

เชียงใหม่ให้เป็นศูนย์กลางการคมนาคมทางอากาศยัง

เอื้อให้นักท่องเที่ยวเดินทางต่อไปยังเมืองหลักและเมือง

รองอื่นๆ ในประเทศไทยได้ ซึ่งจะก่อให้เกิดรายได้จากการ

ท่องเที่ยวหมุนเวียนภายในประเทศมหาศาล" นางสาว

ภัคนันท์ กล่าว

สำหรับผู้ที่สนใจ สามารถสอบถามข้อมูลเพิ่มเติม

ได้ที่ Call Center 1771 ตลอด 24 ชั่วโมง หรือสำรองที่

นั่งได้ที่ www.bangkokair.com

CERTIFICATION PRESENTATION

CEREMONY ORGANISED BY

BANGKOK AIRWAYS FOR

SAN PHALANG PRACHARAT

INTERNSHIP PROGRAMME

Bangkok Airways, represented by

Mrs. Chanthip Thongkanya, Vice

President – Office of the President

(centre), recently held a certification

presentation ceremony for students

who completed their internship

programme with Bangkok Airways ,

Technical Department for the

San Phalang Pracharat project.

Certificates were handed out

at the conference room at the

Bangkok Airways Headquarters

on Vibhavadi Rangsit Road.

The ceremony congratulated

students who completed the

internship programme (Technical

Department) following the MOU

signed on January 21, 2016

between Bangkok Airways Public

Company Limited and the Prasan

Phalang Pracharat Committee.

The MOU is a collaboration between

public and private sectors that

aim to support, develop and

elevate the quality of vocational

education. Bangkok Airways, as

part of the project, provided 20

scholarships for students at the

Thai-Austrian Technical College

in Chon Buri. The airline also

provided internship opportunities

for all scholarship students upon

their graduation at the Bangkok

Airways Hangar at Don Mueang

Airport, allowing them to practise

their knowledge and skills in real

life situations by learning how

to work in teams as well as develop

problem-solving skills. The students

who attended the 6-month

internship programme from 17

September 2018 - 15 March

2019 will also be given the

opportunity to enter the staff

recruitment process for full-time

positions with the airline.

เมื่อเร็วๆ นี้ สายการบินบางกอกแอร์เวย์ส โดย นางจันทร์ทิพย์

ทองกันยา รองกรรมการผู้อำนวยการใหญ่ สำนักผู้อำนวยการใหญ่

เป็นประธานพิธี (กลาง) จัดพิธีมอบประกาศนียบัตรให้แก่นักศึกษา

ที่สำเร็จหลักสูตรการฝึกงาน (แผนกช่างอากาศยาน) จากโครงการ

สานพลังประชารัฐ ณ ห้องประชุม ชั้น 18 สำนักงานใหญ่สายการบิน

บางกอกแอร์เวย์ส ถนนวิภาวดีรังสิต

พิธีมอบประกาศนียบัตรในครั้งนี้จัดขึ้นเพื่อเป็นการแสดงความ

ยินดีและสร้างความภาคภูมิใจให้แก่นักศึกษาที่สำเร็จหลักสูตรการ

ฝึกงาน (แผนกช่างอากาศยาน) โดยบริษัท การบินกรุงเทพ จำกัด

(มหาชน) โดยได้ลงนามบันทึกข้อตกลงคณะกรรมการประสานพลัง

ประชารัฐ เมื่อวันที่ 21 มกราคม 2559 ซึ่งเป็นความร่วมมือระหว่าง

ภาครัฐและภาคเอกชนในการส่งเสริมการพัฒนาศักยภาพและ

ยกระดับคุณภาพวิชาชีพอาชีวศึกษา โดยบริษัทฯ ได้มอบทุนการ

ศึกษาให้กับนักเรียนแผนกวิชาช่างอากาศยาน วิทยาลัยเทคนิคสัตหีบ

จังหวัดชลบุรี จำนวน 20 คน และเมื่อเรียนจบหลักสูตร บริษัทฯ ได้

มอบโอกาสให้นักเรียนทุนกลุ่มนี้เข้าฝึกงาน ณ โรงซ่อมอากาศยาน

ของสายการบินบางกอกแอร์เวย์ส สนามบินดอนเมือง เพื่อเป็นการ

ฝึกทักษะที่ได้เรียนรู้ และมีโอกาสได้นำความรู้มาใช้ในการปฏิบัติงาน

จริง รวมถึงเรียนรู้ในการทำงานร่วมกับผู้อื่น ตลอดจนฝึกความ

อดทนและการใช้ความคิดแก้ไขปัญหาต่างๆ ระยะเวลาในการฝึกงาน

ตั้งแต่วันที่ 17 กันยายน 2561 - วันที่ 15 มีนาคม 2562

นอกจากนี้ บริษัทฯ ยังได้มอบโอกาสให้แก่นักศึกษาทุนกลุ่ม

ดังกล่าวเข้าเป็นส่วนหนึ่งของกระบวนการคัดเลือกเพื่อเป็นพนักงาน

ของบริษัทฯ อีกด้วย

120 121
---
BANGKOK AIRWAYS NEWS

Recently, the BATC or Bangkok Air Aviation Training

Center Co., Ltd., led by Air Marshal Captain Dechit

Charoenwong, Managing Director (left) and IATA

(International Air Transport Association), represented

by Ms. Stephanie Siouffi, IATA Training Director

(right) signed a partnership agreement for the

establishment of an IATA regional aviation training

partnership in Bangkok. The event was also attended

by guest of honour, Mr. Puttipong Prasarttong-Osoth,

President of Bangkok Airways (centre) at the Bangkok

Airways Headquarters, Vibhavadi Rangsit Road.

Bangkok Air Aviation Training Center (BATC), a

subsidiary of Bangkok Airways, is the first and only

company in Thailand to be appointed by IATA as an

IATA regional aviation training partner, raising aviation

training standards to an international level. The

training centre will provide two learning methods

of in-classroom learning and e-learning, using a

combination of the latest instructional media, allowing

participants to gain both theoretical and practical

knowledge to further enhance and develop the

aviation industry in the region.

BANGKOK AIR AVIATION TRAINING

CENTER AND IATA SIGN A REGIONAL

AVIATION TRAINING PARTNERSHIP

เมื่อเร็วๆ นี้ บริษัท บางกอกแอร์ เอวิเอชั่น

เทรนนิ่ง เซ็นเตอร์ นำโดย กัปตัน พล.อ.ท.

เดชิศร์ เจริญวงศ์ ประธานบริษัท บางกอก

แอร์ เอวิเอชั่น เทรนนิ่ง เซ็นเตอร์ (ซ้าย) และ

สมาคมขนส่งทางอากาศระหว่างประเทศ

(IATA) โดยนางสาว สเตฟานี ซิโอฟี่ ผู้

อำนวยการสมาคมขนส่งทางอากาศ

ระหว่างประเทศ (ขวา) ลงนามสัญญาเป็น

พันธมิตรว่าด้วยการจัดตั้งศูนย์ฝึกอบรม

ด้านการบินของ IATA ระดับภูมิภาค โดยได้

รับเกียรติจากนายพุฒิพงศ์ ปราสาททอง

โอสถ กรรมการผู้อำนวยการใหญ่ บริษัท

การบินกรุงเทพ จำกัด (มหาชน) เป็นประธาน

(กลาง) ณ สำนักงานใหญ่ บริษัท การบิน

กรุงเทพ จำกัด (มหาชน) ถนนวิภาวดีรังสิต

บริษัท บางกอกแอร์ เอวิเอชั่น เทรนนิ่ง

เซ็นเตอร์ เป็นบริษัทในเครือของบริษัท

การบินกรุงเทพ จำกัด (มหาชน) ซึ่งเป็น

บริษัทแรกและบริษัทเดียวในประเทศไทยที่ได้

รับการแต่งตั้งจากสมาคมขนส่งทางอากาศ

ระหว่างประเทศให้เป็นศูนย์ฝึกอบรมด้าน

การบินระดับภูมิภาค ในการจัดอบรม

หลักสูตรที่ได้รับการรับรองโดย IATA ซึ่งถือ

เป็นการยกระดับมาตรฐานการฝึกอบรม

ทางด้านการบินของประเทศไทยไปสู่ระดับ

สากล โดยศูนย์ฝึกอบรมดังกล่าวจะมี

การสอน 2 รูปแบบ คือ การฝึกอบรมแบบ

ในห้องเรียน และการเรียนทางอิเล็กทรอนิกส์

ที่ใช้สื่อการสอนในรูปแบบผสมผสาน ให้

ผู้เรียนได้รับความรู้ความเข้าใจทั้งภาค

ทฤษฎีและภาคปฏิบัติควบคู่กัน ซึ่งจะช่วยให้

ผู้ที่เข้ารับการอบรมสามารถนำความรู้ที่ได้

ไปปฏิบัติงานและพัฒนาต่อยอดในภาค

อุตสาหกรรมการบินของภูมิภาคต่อไป

"BANGKOK AIRWAYS BOUTIQUE SERIES 2019"

MARATHON LAUNCH

Bangkok Airways, led by Mr. Prote

Setsuwan, Vice President – Marketing

(centre) recently announced the latest

running event, the "Bangkok Airways

Boutique Series 2019," now in its third

year with 6 races in 6 different destinations

in Thailand throughout 2019.

Mr. Prote said, "Bangkok Airways

Boutique Series 2019" is organised

to promote tourism across Bangkok

Airways' network of destinations, as

well as to support the growth of sports

tourism. Taking place for a third year

now, the series was very well received

during its two iterations with over

39,900 people having participated.

This year's 6 runs will take place in

Krabi, Koh Samui, Lampang, Phuket,

Chiang Rai and Chiang Mai."

"Bangkok Airways also joined hands

with stupidnoobmacc, the popular Thai

illustrator behind "BabyBoy", who will

be designing a special collection for

the "Bangkok Airways Boutique Series

2019" by using highlights from each

province as themes. The designs will be

featured on the Series shirts, medals

and trophies and available as souvenirs to

participants in all 6 marathons throughout

2019," added Mr. Prote Setsuwan.

For those interested in taking part in

the "Bangkok Airways Boutique Series

2019", the airline offers free registration

to run in any event when booking a

Bangkok Airways flight and registering

through the prescribed channel. The

first 1,000 people to book and register

to run also stand a chance at receiving

a specially-designed running buff as

a souvenir. Those interested can find

information on the various marathons,

book tickets and look for deals on

accommodations from top Accor hotels

at www.bangkokairwaysrun.com.

Bangkok Airways Boutique Series

2019 will consist of 6 running races

in 6 different destinations throughout

Thailand. First to kick off is the Krabi

Half Marathon on May 12, followed

by the Samui Half Marathon on June

2, Lampang Half Marathon on July 7,

Phuket Half Marathon on August 4,

Chiang Rai Marathon on September 15

and the Lanna Half Marathon in Chiang

Mai will be on November 3.

For more information, please visit

www.facebook.com/BangkokAirways.Run

or register to participate at

www.bangkokairwaysrun.com

เมื่อเร็วๆ นี้ สายการบินบางกอกแอร์เวย์ส โดย

นายพรต เสตสุวรรณ รองกรรมการผู้อำนวย

การใหญ่ฝ่ายการตลาด สายการบินบางกอก

แอร์เวย์ส (กลาง) เตรียมจัดการแข่งขันวิ่ง

รายการ "บางกอกแอร์เวย์ส บูทีค ซีรีส์ 2019"

โดยจะมีทั ้งหมด 6 รายการใน 6 เส้นทางบินของ

สายการบินฯ ตลอดปี 2562

นายพรต เสตสุวรรณ รองกรรมการผู้

อำนวยการใหญ่ฝ่ายการตลาด สายการบิน

บางกอกแอร์เวย์ส กล่าวว่า "บางกอกแอร์เวย์ส

บูทีค ซีรีส์ 2019" จัดขึ้นโดยมีวัตถุประสงค์เพื่อ

ส่งเสริมการท่องเที่ยวในเส้นทางบินของสาย

การบินบางกอกแอร์เวย์ส และเพื่อประชาสัมพันธ์

การท่องเที่ยวเชิงกีฬาที่กำลังได้รับความนิยม

เป็นอย่างมากในปัจจุบัน โดยทางสายการบินฯ

ได้ดำเนินการจัดการเเข่งขันวิ่งรายการนี้ต่อ

เนื่องเป็นปีที่ 3 ติดต่อกัน ซึ่งตลอดสองปีที่ผ่านมา

ทางสายการบินฯ ได้รับผลตอบรับเป็นอย่างดี

รวมทั้งสิ้นมีผู้สมัครเข้ามาร่วมเเข่งขันวิ่งรวม

แล้วกว่า 39,900 คน โดยในปีนี้ทางสายการบินฯ

ได้จัดการแข่งขันรายการวิ่งฮาล์ฟมาราธอนขึ้น

ทั้งหมด 6 รายการที่ กระบี่ เกาะสมุย ลำปาง

ภูเก็ต เชียงราย และเชียงใหม่"

"นอกจากนี้ ทางสายการบินฯ ยังได้ร่วมมือกับ

stupidnoobmacc ศิลปินอิลลัสเตรเตอร์ชื่อดัง

ชาวไทยเจ้าของผลงาน "เบบี้บอย (BabyBoy)" มา

ร่วมออกแบบคอลเลคชั่นพิเศษสำหรับรายการวิ่ง

"บางกอกแอร์เวย์ส บูทีค ซีรีส์ 2019" โดยเฉพาะ

โดยนำจุดเด่นของแต่ละจังหวัดมาเป็นแนวคิดใน

การออกแบบคาแรคเตอร์ให้กับเบบี้บอยให้มี

เอกลักษณ์ไม่ซ้ำกัน เพื ่อใช้ในการจัดทำเสื้อวิ่ง

เหรียญรางวัล และถ้วยรางวัล ให้เหล่านักวิ่งได้เก็บ

สะสมเป็นที่ระลึกจากทั้ง 6 รายการวิ่งตลอดปี

2562" นายพรต เสตสุวรรณ กล่าวเสริม

สำหรับผู้ที่สนใจสมัครวิ่งในรายการ "บางกอก

แอร์เวย์ส บูทีค ซีรีส์ 2019" ทางสายการบินฯ ได้จัด

โปรโมชั่นพิเศษมอบสิทธิในการสมัครวิ่งฟรีได้ทุก

ระยะ เมื่อจองบัตรโดยสารของสายการบินบางกอก

แอร์เวย์ส และทำการลงทะเบียนผ่านทางช่องทางที่

กำหนด โดยผู้สมัคร 1,000 ท่านแรกที่ทำการจอง

บัตรโดยสารและลงทะเบียนสมัครวิ่ง จะได้รับของที่

ระลึกเป็นผ้าบัฟลวดลายพิเศษ ผู้สนใจสามารถ

ตรวจสอบรายละเอียดการสมัครวิ่ง สำรองที่นั่ง

บัตรโดยสาร และตรวจสอบโปรโมชั่นห้องพักราคา

พิเศษจากโรงแรมชั้นนำในเครือแอคคอร์ได้ที่ www.

bangkokairwaysrun.com ตั้งเเต่วันนี้เป็นต้นไป

รายการวิ่ง "บางกอกแอร์เวย์ส บูธีค ซีรีส์

2019" 6 รายการ จะจัดขึ้นใน 6 จังหวัดทั่วไทย โดย

เริ่มต้นจากรายการวิ่ง "กระบี่ฮาล์ฟมาราธอน" ที่

จังหวัดกระบี่ ในวันที่ 12 พฤษภาคม 2562 รายการ

วิ่ง "สมุยฮาล์ฟมาราธอน" ที่อำเภอเกาะสมุย

จังหวัดสุราษฎร์ธานี ในวันที่ 2 มิถุนายน 2562

รายการวิ่ง "ลำปางฮาล์ฟมาราธอน" ที่จังหวัด

ลำปาง ในวันที่ 7 กรกฎาคม 2562 รายการวิ่ง

"ภูเก็ตฮาล์ฟมาราธอน" ที่จังหวัดภูเก็ต ในวันที่ 4

สิงหาคม 2562 รายการวิ่ง "เชียงรายฮาล์ฟ

มาราธอน" ที่จังหวัดเชียงราย ในวันที่ 15 กันยายน

2562 และรายการวิ่ง "ล้านนาฮาล์ฟมาราธอน"

ที่จังหวัดเชียงใหม่ วันที่ 3 พฤศจิกายน 2562

ผู้สนใจสามารถดูรายละเอียดเพิ่มเติมได้ที่

www.facebook.com/BangkokAirways.Run

และสมัครเข้าร่วมแข่งได้ที่

www.bangkokairwaysrun.com

122 123
---
126 127
---
AIRCRAFT INFO

AIRBUS A319

NUMBER OF FLEET : 16

LENGTH : 33.84 m

WINGSPAN : 34.1 m

HEIGHT : 12.17 m

ENGINE : IAE V2500

CRUISING SPEED :

920 km/h

MAX OPERATIONAL ALTITUDE :

39,800 ft

PASSENGER CAPACITY :

12 seats & 108 seats / 144 seats / 138 seats

BANGKOK AIRWAYS OPERATES FOUR TYPES OF AIRCRAFT

TAKE ME

HOME

READ

Fah Thai is the inflight magazine

of Bangkok Airways. It is YOUR

MAGAZINE. It is distributed with our

compliments on all Bangkok Airways

flights. We hope you enjoy it.

TOO MUCH BAGGAGE?

ONLINE!

AIRBUS A320

NUMBER OF FLEET : 9

LENGTH : 37.57 m

WINGSPAN : 34.1 m

HEIGHT : 12.17 m

ENGINE : IAE V2500

CRUISING SPEED :

870 km/h

MAX OPERATIONAL ALTITUDE :

39,800 ft

PASSENGER CAPACITY :

162 seats

•••••

We also come in a digital format. You can read us at:

FAHTHAIMAG.COM

And feel free to send us your feedback.

Your voice is our inspiration!

ATR 72-500

NUMBER OF FLEET : 2

LENGTH : 27.17 m

WINGSPAN : 27.06 m

HEIGHT : 7.65 m

ENGINE : 2 x 2,750 hp

Pratt & Whitney

Canada PW127F

CRUISING SPEED :

509 km/h

MAX OPERATIONAL ALTITUDE :

25,000 ft

PASSENGER CAPACITY :

70 seats

Read more

ATR 72-600

NUMBER OF FLEET : 13

LENGTH : 27.166 m

WINGSPAN : 27.050 m

HEIGHT : 7.72 m

ENGINE : 2 x 2,750 hp

Pratt & Whitney

Canada PW127M

CRUISING SPEED :

509 km/h

MAX OPERATIONAL ALTITUDE :

25,000 ft

PASSENGER CAPACITY :

70 seats

OUR SCHEDULE FLIGHTS AND FREQUENCY

DOMESTIC FLIGHTS

Bangkok, Koh Samui, Phuket and Chiang Mai :

Numerous flights every day from a variety of destinations

Chiang Mai : 1 flight per day from Phuket ;

1 flight per day from Koh Samui

Chiang Rai : 2 flights per day from Bangkok

Hat Yai :

1 flight per day from Phuket

Koh Chang/Trat : 3 flights per day from Bangkok

Krabi : 3 flights per day from Bangkok ;

1 flight per day from Koh Samui ;

1 flight per day from Chiang Mai

Lampang : 3 flights per day from Bangkok

Mae Hong Son : 1 flight per day from Chiang Mai

Pattaya : 1 flight per day from Phuket ;

1 flight per day from Koh Samui

Sukhothai : 2 flights per day from Bangkok

INTERNATIONAL FLIGHTS

Chengdu : 4 flights per week from Koh Samui

Chongqing : 1 flight per week from Koh Samui

Da Nang : 2 flights per day from Bangkok

Hanoi :

1 flight per day from Chiang Mai

Hong Kong : 2 flights per day from Koh Samui

Kuala Lumpur : 1 flight per day from Koh Samui

Luang Prabang : 2 flights per day from Bangkok ;

3 flights per week from Chiang Mai

Malé :

1 flight per day from Bangkok

Mandalay : 11 f ights per week from Bangkok ;

4 flights per week from Chiang Mai

Mumbai : 1 flight per day from Bangkok

Nay Pyi Taw : 6 flights per week from Bangkok

Nha Trang : 4 flights per week from Bangkok

Phnom Penh : 6 flights per day from Bangkok

Phu Quoc : 1 flight per day from Bangkok

Siem Reap : 5 flights per day from Bangkok

Singapore : 2 flights per day from Koh Samui

Vientiane : 2 flights per day from Bangkok

Yangon : 4 flights per day from Bangkok ;

1 flight per day from Chiang Mai

MOST

EFFECTIVE IN

TRAVEL AND

LEISURE

BEST USE OF

PHOTOGRAPHY

BEST

PHOTOGRAPHY

128
---
CHECKING OUT

A Haven

Up North

A skyward look at

Wat Ton Khwen in

Chiang Mai is a worthy

reminder of elegant

Lanna architecture

in one of the few

remaining wooden

temples.

Photo Marisa Marchitelli

130