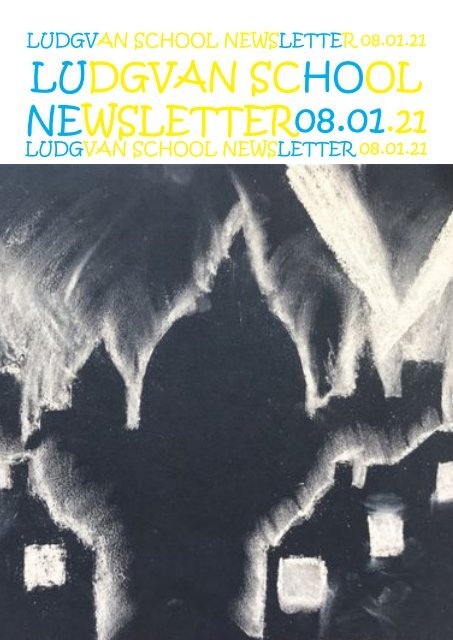 You also want an ePaper? Increase the reach of your titles
YUMPU automatically turns print PDFs into web optimized ePapers that Google loves.
LUDGVAN SCHOOL NEWSLETTER 08.01.21

LUDGVAN SCHOOL

NEWSLETTER08.01.21

LUDGVAN SCHOOL NEWSLETTER 08.01.21
---
A word from the Principal...

Welcome to the first newsletter of Lockdown 3.0,

This week has not developed the way any of us would have chosen; we were looking forward to

the start of our new term with new exciting topics and exciting events were planned. However, as

always, we will make the most of the situation we find ourselves in and I would like to thank all of

our staff on working so hard following the 8pm announcement of school closures on Monday so that

we were able to begin in-school provision the following day and switch to remote learning shortly

after.

Remote Learning

You may be aware that the Government's stance on remote learning has strengthened since the

last lockdown and engagement is now mandatory. We appreciate that this puts a large expectation

on you as parents and so to help support remote learning, our teaching staff will be running two

'live' opportunities each day:

1. A 9am morning check in for all children. During this short session, teachers will give an overview

of the days learning; explain their expectations for each learning activity and answer questions.

They may also address any misconceptions from the previous day.

2. Later in the day, their will be a 60 minute window, where the teacher is available for any

child or parents to pop in and chat and ask any questions they may have about the days learning or

anything else they would appreciate support with.

If you have any issues with accessing the learning activities or live session, please let your class

teacher know and we will be able to help. We recently listened to a fantastic speaker, Stephen Heppell,

who is renowned around the world and supports many schools in different countries. He is a

huge advocate of ensuring that the learning space we work in is appropriate and part of his website

is around things you can do to make your learning space at home more effective: http://heppell.

net/home/
---
A word from the Principal...

In-School Provision

Thank you to everyone who has used our booking system to book their child in to our in-school

provision. Whilst we still have capacity, we will continue to accept all vulnerable children and those

of critical workers, but completing the booking form is essential so that we can ensure we are

staffed sufficiently. The booking for next week is available here: https://forms.gle/4SXXsuDbc-

GeVCMXKA

From next week our end of day procedure will change. Rather than all children coming to the front

gate at 3:20 where there is a risk of crossing bubbles, we will be running a one-way system for

collection. Please enter through the reception class gate and then make your way around the back

of the school to your child's class door for collection. Then continue the same way and leave via the

Y6 gate after a quick chat with the chickens and ducks! You can collect your children at any point

between 1500-1520 and this should limit the chance of transmission between adults and children.

A reminder that after school club is available at Oasis until 6pm every day.

Other exciting News

I'd like to finish with two bits of exciting news. Firstly, I am delighted to let you know that Mrs Martin-Laity

is due to have her third baby in the summer. We are so pleased and would like to extend

our congratulations to Jo and her husband Bruno. Secondly, it is also wonderful to announce that

Miss Wright has got engaged to her partner Luke. It has been quite a few months for Miss Wright;

moving house, having a baby and now becoming engaged. We are delighted for Grace and Luke

and wish them our very best.

Finally, thank you all for your support so far during this difficult time and if there is anything else we

can do to support you or your child, please let us know.

Kind regards,

Mr Adam Anderson

Principal
---
Broad and Balanced...

EYFS

The children in Rainbow Class have been working really hard with their learning

on their new topic titled, 'Can we tell you a story?'

Our first story is 'The Three Little Pigs' and the children have been working really

hard at home and in school to cover lots of learning tasks. They have made

their own houses that would be safe from the wolf, role-played the story with

themselves acting as pigs and wolves, re-told the story, found rhyming words

and written some speech bubbles for what the pigs would say. They have also

been learning about the number 6 and practising their sounds. In addition to

this, we have had a zoom show and tell and 2 zoom scavenger hunts which the

children have enjoyed participating in and seeing their friends virtually. Well

done Rainbow Class for adapting so well to the changes in your learning and

we can't wait to see all of your home learning next week which will once again

be posted on to Tapestry.
---
Broad and Balanced...

Y1

Well done Year 1! I have been impressed by all of your hard work this week.

You have produced some great work from home. The children in school have

settled really well and are adjusting to all the new changes. Keep up the good

work everyone.

Y2

It has been a positive start to the New Year regarding online learning. I have

seen some lovely pieces of work that year 2 children have completed. As the

weeks progress I will be setting some creative tasks for children to enjoy and I

am looking forward to seeing what the children produce. Thank you for all your

support.
---
Broad and Balanced...

Y3

Year 3 have started remote learning with great success. The children have all taken

the Prime Ministers announcement in their stride and they are already working hard

to achieve well with their remote learning. With many completing not only the core

subjects at home but also some gymnastics, computing and music this week. Last

term the children were really enjoying sketching in art, but were always frustrated

with how the eyes of their sketches turned out. So, with that in mind, they have all

been practising this skill and the results have been amazing! Well done Year 3, I am

very proud of you.
---
Broad and Balanced...

Y4

Class 4 have begun their project 'What are the benefits and hindrances of technology'

and have started to explore some famous inventors, in particular, the Wright Brothers.

And in true 'Brothers of flight' fashion, we designed, made and tested our own

aeroplanes to see which design flew the furthest. We varied each design from changing

wings, rudders and cockpit shape to see which would create a more aerodynamic

design. We have also begun to explore websites and started 'tinkering' with Google

sites in order to understand their features and uses. This will prepare us nicely for

next week, when we begin to develop our own websites about other famous inventors.
---
Broad and Balanced...

Y5

Class 5 have shown such a positive attitude to their work in the first week of

home learning. The children's work has been brilliant, it has been really rewarding

spending time writing personal comments to the children about their

work and then hearing from the children about how they're getting on at home.

During the Christmas break, the children built their eco-homes that they wrote

about and designed in their English lessons in school. The outcomes of their

ideas and buildings were amazing, they really came up with so many different

ways to help save the planet. Next week, I am looking forward to speaking to

the children over zoom at 9am each morning. Keep up the great work.
---
Broad and Balanced...

Year 6

Class 6 have, once again, adapted so well to lockdown life. So far, I have been

very impressed to see so many children taking part in the home learning and

challenging themselves. They have started to learn about our new topic, World

War Two, and have already created some beautiful artwork representing a famous

photo of St Paul's Cathedral. I have also been impressed to see some

taking on a 're-using challenge', using old things in their house and creating

something new. Well done to everyone who has been working so hard this

week, I look forward to seeing even more of your brilliant work

Ernest Cleeve was used to piloting planes and dropping bombs over enemy lines. This mission was

different. This time he was being asked to rescue a captured Brigadier - Brigadier Paul Johnson, from

a German P.O.W. camp located in a hard to reach area of the Black Forest, Germany. Getting the

plane to this area, without being sighted by enemy fire was going to be tricky. He flew under the

cover of darkness and hoped and prayed that he would not be seen. As he got near to the Black

Forest, his engine suddenly cut out and he scrambled to eject himself from the plane as it went

down into the woods.

The plane crashed into enemy territory, just as he managed to parachute out to safety. His compass

showed him that he was 25 miles away from his target. It was going to be a long day walking to

reach the P.O.W. camp, and who knows who he might come across on the way?

Luck was on his side though, and he managed to walk the 25 miles unharmed and reach the outskirts

of the P.O.W. camp. He observed the camp and saw the hut where Brigadier Johnson was being held

captive. Guarding the hut were three large soldiers who he really did not want to have arm to arm

combat with. What was he to do? He then noticed that there was a large tree branch hanging over

the hut and decided to scale up the tree and climb along the branch. He was very quiet, the guards

were talking amongst themselves and did not hear him above them. Fighter Pilot Cleeve jumps down

on two of them and knocks them both out! The remaining soldier goes to shout to his fellow

soldiers; before he can make a noise, Cleeve shoots him in the head, killing him instantly.

Cleeve opens the hut and says "Come with me if you want to live – the Germans will be here any

second!"

Brigadier Johnson looks up from his cell and says, "Who are you?"

Cleeve says, "It doesn't matter - we just have to get out of here!"

Brigadier Johnson knows he is saved and trusts Cleeve, as they join together, and run through the

woods to hopeful safety.

After a while they stop running and know they are safe.

Brigadier Johnson turns to Fighter Pilot Cleeve and says, "You're my hero – thank you!"

Cleeve replies, "You're right and you're welcome."

Back in Britain, Fighter Pilot Cleeve is awarded a medal for outstanding achievement in the field of

bravery. Brigadier Johnson goes on to lead 60 men into a battle that will ultimately save Britain. Both

men are heroes!