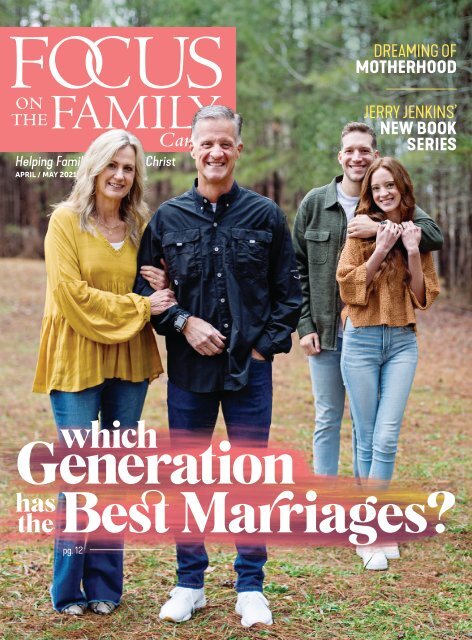 Focus on the Family Magazine - April/May 2021
It can be a struggle to raise a family while balancing your work life, social life and relationships. Focus on the Family magazine is here to help! Each complimentary issue delivers fresh, practical Biblical guidance on family and life topics. Every issue comes packed with relevant advice to build up your kids, strengthen your marriage, navigate entertainment and culture, and handle common challenges you may face in your marriage and parenting journeys. Plus you'll find seasonal advice ranging from back-to-school activities to date night tips for you and your spouse.
It can be a struggle to raise a family while balancing your work life, social life and relationships. Focus on the Family magazine is here to help! Each complimentary issue delivers fresh, practical Biblical guidance on family and life topics.

Every issue comes packed with relevant advice to build up your kids, strengthen your marriage, navigate entertainment and culture, and handle common challenges you may face in your marriage and parenting journeys. Plus you'll find seasonal advice ranging from back-to-school activities to date night tips for you and your spouse.
SHOW MORE
SHOW LESS
Create successful ePaper yourself
Turn your PDF publications into a flip-book with our unique Google optimized e-Paper software.
DREAMING OF

MOTHERHOOD

Helping Families Thrive in Christ

APRIL / MAY 2021

Canada

JERRY JENKINS'

NEW BOOK

SERIES

which

Generation

has

the Best Marriages?

pg. 12
---
April / May

Contents

Couples

Faith & Inspiration

Kids & Teens

11 SKIPPING SCREEN TIME

A marriage insight from

Arlene Pellicane

21 GOD'S LOVE AND FORGIVENESS

A reflection from Phil Stacey

as told to Ann Byle

31 OUR CHOICE TO LOVE

A parenting tip from

Rob and Amy Ames

Finding Hope for Your

Hurting Marriage

video series

Dr. Gary Chapman is best known for his book The Five Love Languages,

but his decades of work as a marriage counsellor have also enabled him to

provide hope to even the most hurting marriages. In this six-part video series,

he speaks to those couples who feel hopeless.

Dr. Chapman addresses the necessity of living in reality, our emotional

needs, depression, control, abuse and infidelity. In each video, he provides

practical, godly advice for couples who feel all is lost.

12 WHICH GENERATION HAS

THE BEST MARRIAGES?

And what couples can learn

from each other to win in their

own relationships

by Haydn Shaw

17 WHEN YOUR LOVED ONE HURTS

Taking back your marriage

from chronic pain

by Ginger Kolbaba

22 SCARLETT'S ARRIVAL

A healing gift of hope amid

the gravity of grief

by W. Lee Warren

27 BRINGING THE GOSPEL TO LIFE

Revisit Dallas Jenkins' "The Chosen"

TV series through a new novel by

bestselling author Jerry B. Jenkins

by Brittany Raymer

In Every

Issue

4 A LETTER FROM THE PRESIDENT

5 HACKS & FACTS

10 MEDIA

46 MY THRIVING FAMILY

32 SAYING YES TO GOD'S NUDGE

We thought adopting children with

Down syndrome would be a burden,

but it was one of our greatest

blessings

by Heather Avis

34 THE FIVE SENSES OF CONNECTION

Creating sensory experiences to

strengthen your relationship with

your kids

by Ted Stackpole

38 DREAMING OF MOTHERHOOD

Lorie had given up on her desire to

be a parent, but that was before she

met Natalie

by Thomas Jeffries

41 REDRAWING BOUNDARIES

Know when it's time to affirm your

kids as adults

by Dr. Henry Cloud

44 BE A GIFT TO YOUR GRANDKIDS

And enjoy the unique role

you play in their lives

by Bruce Gordon

Sign up for this free video series today.

ong>Focusong>OnTheFamily.ca / HopeForYourMarriage

FLAFFY / STOCK.ADOBE.COM

April / May 2021 FOCUS ON THE FAMILY 3
---
A LETTER FROM THE PRESIDENT

sharing the

good news

president Jim Daly

chief operating officer Ken Windebank

publisher Steve Johnson

focus canada interim president Bob Cheatley

editorial director Sheila Seifert

managing editor Andrea Gutierrez

Hacks & Facts

CLEVER IDEAS FOR SMARTER PARENTING

copy chief Scott DeNicola

Bob Cheatley is interim

president of ong>Focusong> on the

Family Canada

HE IS RISEN! These are the wonderful

words of Easter—the high point of the

Christian year when Jesus defeated the

grave and made a way for all who believe in

him to have eternal life. But Easter is more

than just an annual day of remembrance

for those who follow Jesus. We are an Easter

people and we live our lives in the wonder

and power of the resurrection.

We are in the 50-day season of Easter.

Just as Good Friday and Easter were events

that divinely coincided with the Feast

of Passover, the coming of the promised

Holy Spirit occurred at the Feast of Pentecost, those 50

days later. During the first 40 days after his resurrection,

Jesus appeared to his disciples on various occasions that

are recorded in Scripture and even appeared once to 500

people. Jesus wanted everyone in Jerusalem to know that

he was alive. Before he was taken up to heaven, as recorded

in Acts 1, he commissioned his disciples to be his witnesses

and take the Good News everywhere, even to the ends of

the earth. We who are Christ-followers have been given that

same commission as well.

We are an Easter people. We have Good News to share.

God did not leave us powerless. After ten days of prayer

in the upper room, the Holy Spirit fell upon the newborn

church so that believers were enabled to witness, not by the

strength of human persuasion, but in the power of the Spirit.

As followers of Christ our lives are our most important

witness to the resurrection of Jesus and our faith in him.

When we have an opportunity to share our faith with

others, God the Holy Spirit will supply the words we need

and will prepare the hearts of our hearers. So, let us always

be ready to give an account for the hope that we have

in Jesus (1 Peter 3:15). I hope this issue of the magazine

provides you with further encouragement and insights into

how to live out your faith in your marriage, as a parent, and

as a brother or sister of Christ.

May you live in the joy of Easter this season and all

through the year. Our lives proclaim the Gospel. The Lord is

risen indeed!

Bob Cheatley

SHANNON-MAY PHOTOGRAPHY

contributing editors Ginger Kolbaba, Vance

Fry, Jennifer Lonas, Thomas Jeffries,

Marianne Hering and Jeff Masching

art director Brian Mellema

designer Anneka Jack

cover The Beautiful Mess Photography

media publishing director Kevin Shirin

editorial assistant Kat Bittner

print production Gail Wise

circulation Sandy Grivy

Thank you!

ong>Focusong> on the Family provides this magazine and

other resources through the generosity of friends

like you. ong>Focusong>OnTheFamily.ca/Donate

For a subscription, go to ong>Focusong>OnTheFamily.ca/

Magazine.

ong>Focusong> on the Family magazine April /May 2021, Vol. 6,

No. 2 ISSN 2471-5921, © 2021 ong>Focusong> on the Family. All

rights reserved. Published by ong>Focusong> on the Family, a

nonprofit organization recognized for taxdeductible

giving by the federal government. ong>Focusong>

on the Family is a federally registered trademark of

ong>Focusong> on the Family.

To notify us of an address change or to contact ong>Focusong>

on the Family: 800-232-6459; 8605 Explorer Dr.,

Colorado Springs, CO 80920-1051;

HELP@focusonthefamily.com.

Scripture quotations, unless otherwise indicated, are

from the Holy Bible, English Standard Version ® (ESV ® ).

Copyright © 2001 by Crossway, a publishing ministry

of Good News Publishers. All rights reserved. ESV Text

Edition: 2016.

IMPORTANT NOTICE! By submitting letters and other

materials, you agree 1) they become the property of

ong>Focusong> on the Family and will not be returned; 2) ong>Focusong>

on the Family, its assigns and licensees, have been

granted the nonexclusive right to use and/or

reproduce the materials in any manner for any

purpose. Our agreement is made in Colorado and

controlled by Colorado law.

Send author submissions to

ong>Focusong>MagSubmissions@family.org.

REPRINT PERMISSION:

ong>Focusong>OnTheFamily.com/Permissions

Website references do not constitute blanket

endorsement or complete agreement by ong>Focusong> on

the Family with information or resources offered at

or through those sites.

Return undeliverable Canadian addresses to:

ong>Focusong> on the Family, 19946 80A Avenue, Langley, BC

V2Y 0J8; 800-661-9800; info@fotf.ca;

GST# 10684 5969 RT0001

Printed in the U.S.A. Paper manufactured by a mill that

practices sustainable forestry.

ANNEKA JACK / FOTF

His Sheep

Easter is a good time to remind children what it means that Christ is

the Lamb of God, but these lessons are valuable to remember all year

long. Last year I cut out two paper lambs for each of my children and

made the wooly coats using white curled strips of paper. I cut a white

piece of paper into half-inch-wide strips, making sure they were long

enough to write a word or two on each one.

For the first lamb, I wrote one attribute of the Lamb of God on each

strip using the names of Christ: King of kings, Redeemer, Savior. On

the strips for the second lamb, I wrote one attribute we should show

as God's children—His sheep—using the qualities of love mentioned

in 1 Corinthians 13:4-8. Then I wrapped the strips around a pencil to

form a curl.

My children and I talked about what those names of God mean and

about how we're to act as children of God, His sheep. I also marked the

good deeds my kids accomplished by adding fluffy cotton balls to their

lambs when they showed a little-lamb attribute.

—Joan Leotta

4 FOCUS ON THE FAMILY April / May 2021

April / May 2021 FOCUS ON THE FAMILY 5
---
WALKING THROUGH HOLY WEEK / 2017 / 1

Anything in this .25inch zone is not guaranteed safe from being trimmed off.

HACKS & FACTS / GOOD FRIDAY

ANXIETY / HACKS & FACTS

SAFETY VIOLATION ZONE copy in this zone not safe per trim variance (.25 inch).

A Good Friday Plate

Our family enjoys a symbolic lunch on Good

Friday. As we start the meal, my husband and I

explain that each part of the lunch stands for an

aspect of the final day when Christ suffered and

died. Each type of food is on a different plate.

When it's time for a certain food, we pass around

the plate and everyone takes an item. As the

plate goes around, we read the corresponding

Scripture.

We have a moment of silence and reflection

after announcing the death of Jesus.

Salt-andvinegar

chips

Jesus was

offered

vinegar.

John

19:28-30

Foil-covered candy

Judas' pieces of silver

Matthew 26:14-15

Water

Pilate washing his hands

of responsibility for

Jesus' death

Matthew 27:24-25

Bring the Easter story

to life for your kids

—Beth Runkle

Hershey's Kiss

Judas'

betrayal kiss

Luke 22:47-48

AD FPO

Chicken

Peter's denial

Luke 22:55-62

Full Page

TRIM: 7.75 x 10.5 inch

Pretzel stick cross

The Crucifixion

John 19:17-19

Olives

Jesus' agony on the

Mount of Olives

Luke 22:39-46

Round cracker with peanut

butter and pretzels

Jesus' crown of thorns

John 19:1-3

Free download

Getting kids to do their chores can be a

tiresome, ongoing battle. Yet kids do need

to learn the important life skills that chores

can teach – life skills like responsibility and

self-discipline.

We have some creative

solutions to help get your

kids on board with helping

out around your home!

Toothpick with cheese

The sword at Jesus' arrest

Luke 22:49-53

Access your free,

Looking 21-page for download more at

Easter-related activities?

ong>Focusong>OnTheFamily.ca/ChoreWars

Download "Walking Through Holy Week." This free download is filled with

activities and games to help your children better understand Christ's death

and resurrection, and what these events mean for them and a lost world.

ANNEKA JACK / FOTF

ANNEKA JACK / FOTF

Heavy Questions

When one of our kids asks a particularly heavy

question or comes to us with a worry that isn't age

appropriate, we avoid answering it for a bit and

instead ask for their help moving a big object such

as a packed suitcase or the sofa. Of course, our kids

aren't able to move the object. Then we come back

to their question or worry and assure them that we,

and God, will carry it for them until they get a bit

bigger and stronger. This has worked well to comfort

our kids and reassure them that they don't need to be

responsible for these burdens.

7%

of children ages

3 to 17 have anxiety.

estimate by Journal of Pediatrics, 2019

—Julia Springman

Putting Worries

Into Words

When the COVID-19 pandemic began, my daughter

worried about the safety of her friends, her teacher

and herself. If there was something to worry about,

she worried. So we began a journal. Each night

before bed, I encouraged her to record any worries in

the journal. This gave us the opportunity to talk about

any concerns she had and helped her put her worries

into words. As she wrote (or drew) in her journal, it

helped me understand what was making her nervous

so we could create a plan to alleviate it or cope with

it. Since then we've continued to use the journal to

alleviate other worries.

—Autumn Shaffer

Conquering Their Fears

When helping my kids face their fears, I first

acknowledge their fear, and then we try to get to

the root of it together. I validate my child's feelings,

recognizing aloud the power these emotions can

hold in his or her mind. Then we ask Jesus to remove

the fear. This way my children learn the importance

and power of prayer.

Next, I assign a "faith truth" to each feeling they

express. For each fear, we find related Bible verses

and write them down. For example, when fear says

my family is in danger, my faith truth says that God

is our protector (Psalm 91). When fear says we won't

have enough, my faith truth says that God is our provider

(Philippians 4:19). We've memorized Psalm 56:3,

"When I am afraid, I put my trust in you."

—Rachel Price

Find the download at ong>Focusong>OnTheFamily.com/Easter.

© 2015 ong>Focusong> on the Family

Daily activities • Recipes • Scavenger Hunt

Seder Meal • Games • puzzles

April / May 2021 FOCUS ON THE FAMILY 7
---
HACKS & FACTS / FLEXIBILITY

FLEXIBILITY / HACKS & FACTS

Curb the Meltdown

When we're faced with unexpected changes to our schedule,

I offer my toddlers something positive to look forward to.

I say, "We can't do that right now, but we can do it later." I offer

to play a fun game or do their favorite activity at a later time.

Talking about the fun thing they get to do satisfies them. Then

I follow through when it's physically possible.

We also practice saying, "Not a big deal." I use a calm, quiet

voice and shrug my shoulders for emphasis. Now when we say,

"Not a big deal," my 3-year-old says it, too. It helps set a positive

tone, curbing meltdowns before they happen.

FOMO

I often suffered from FOMO—Fear of Missing

Out—and didn't want my kids to be the same.

I began preparing them for potential disappointment

with quick comments, such as "The ice

cream shop could be closed, so if it is, we can

pick out our favorite flavor at the grocery store!"

Or if we're in a hurry and the traffic lights are red,

we imagine how green lights could be a blessing

to those on the other side of the intersection. We

use our imaginations to come up with Plan B or C

when opportunities fall through.

—Jenny Nanninga

—Briana Burchett

To Be or Not to Be

. . . Flexible!

During our home-schooling years, our

daughters started their own drama

troupe, which lasted eight years.

Rehearsals took over our living room,

and sets, props and costumes took over

the rest of the house. Since the shows

were mostly original, midnight editing

sessions with our playwright-daughter

the night before auditions became

routine. Switching roles when someone

dropped out went with the territory.

Someone calling me to fix costumes

between scenes on opening night was

almost expected.

Encouraging my daughters to be

involved in theater productions allowed

them to learn that flexibility is an everyday

word. I helped our daughters

embrace flexibility as problems arose for

them and other troupe members. For

example, I might say:

"You didn't get the role you wanted?

Doing this smaller role also allows you

to be the stage manager."

"You don't have the shoes required for

the show? Use shoe polish to change

your white ones to black."

And my favorite: "If your microphone

cuts out, remember to project! That

loud voice of yours can be used as an

asset."

—Cathy Mayfield

FOTF / ANNEKA JACK

"We know that for those who

love God all things work

together for good, for those

who are called according to

his purpose." —Romans 8:28

Dealing With Disappointment

When something doesn't go the way we plan, I ask my three boys,

"Who can remember a time when God rearranged our plans and

worked it for our good?" Then I remind them of the principle in

Romans 8:28, and because they're competitive, we typically end

up with not one, but three examples of times when things worked

out better than we planned. This activity helps to settle all of us,

and it also gives me practical insight as a mom about how my kids

understand God working in their lives.

—Joanna Sanders

Offer Some

Control

Don't even think about rearranging my

10-year-old son's LEGOs. His middle

name is routine, and responsibility is his

game.

These traits occasionally caused conflict

when other families came over to

visit and the children were let loose to

play. My husband and I knew our son

needed to learn how to be more flexible.

Now before company arrives, we

challenge him to love others like Jesus

loves us. We ask him to give, share and

care, even when it's hard. Then we ask,

"What are two prized possessions that

you want to store away when other kids

come around?" Last time he chose his

favorite stuffed animal and his 1,200-

piece Star Wars-themed LEGO set.

Having a small amount of control

over an otherwise uncontrollable

situation helps him maintain some

flexibility—even if it doesn't come

naturally.

—Jessie Mattis

Easing the Anger

Our 4-year-old son once bashed a hole

in a wooden door with a broom after I

locked his toys away. To help him learn

how to respond better when things

didn't go his way, we taught him to "sniff

the roses, and blow out the candles"

when his frustrations overwhelmed his

judgment. Now, if he gets frustrated, he

takes a deep breath through his nose

and blows it out through his mouth.

The imagery of roses and candles

makes him laugh a little, relax a little and

adjust enough to move on.

—Melinda Schaefer

8

FOCUS ON THE FAMILY

April / May 2021

April / May 2021 FOCUS ON THE FAMILY 9
---
MEDIA / PLUGGED IN

UPCOMING

REVIEWS

For reviews of these and other

titles, visit PluggedIn.ca, ong>Focusong>

on the Family's media review and

discernment website.

Couples

My child is really interested in

esports, but I'm not even sure what

they are. Can you help me understand

this trend?

Great question! In a nutshell,

esports involve either playing video

games competitively or, more likely,

watching video streams of others playing.

You may wonder, How many people watch

other people play video games? The answer:

More than you might think. The most-viewed

tournament of 2020, a competition involving

the popular online video game League of

Legends, drew 1.1 million viewers. The prize

money won at these events stretches into the

millions. And there's the staggering amount

of esports wagering, which has become a

multibillion-dollar industry.

Esports are streamed on various online

platforms, with Twitch being the most popular.

Fans may focus on one competitor or on

an organized tournament.

Speaking of which, high schools and colleges

increasingly offer esports teams, too.

Just like traditional sports such as football

and basketball, these teams serve as potential

springboards to professional teams or collegiate

scholarships.

That may sound appealing to a young

gamer dreaming of becoming an esports star.

But for every player who makes it big, there

are myriad others who never get anywhere

close to achieving that dream. Then there are

considerations about the time drain and the

inherent content problems (violence, graphic

imagery, language) of some games.

And, as with all online interests, parents

would do well to set boundaries, ask questions

to understand a child's interest, and

help establish realistic expectations regarding

the allure of this growing arena.

GODZILLA VS.

KONG

How much CGI violence can

we expect when monsters

collide?

Scheduled release: March 26

CRUELLA

Are kids curious about the backstory of

Disney's fur-loving villain?

Scheduled release: May 28

"LOKI"

Does Marvel's

notorious trickster

have any redeeming

qualities?

Scheduled release:

May 2021

(TOP TO BOTTOM) LEGENDARY PICTURES AND WARNER BROS PICTURES; MARVEL STUDIOS; DISNEY

PHOTO COURTESY OF DANIEL HOFFMA

skipping

screen time

A marriage insight

from Arlene Pellicane

Arlene and James Pellicane

WHEN WE WERE MARRIED more than 22 years ago, my

husband, James, had a strange request. "For our first month as husband

and wife, could we skip watching television?"

This was a big deal to me because not only did I love watching TV,

but I also worked in the industry. However, I agreed, and the experiment

worked. We felt closer to each other without the constant hum

of technology.

Since we didn't want to get sucked back into watching TV every

night, we decided not to subscribe to cable at first and only had a

huge TV set with rabbit ears that got three channels. We used a VCR

and then moved up to a DVD player.

Using older technology that isn't bottomless like the apps we can

subscribe to today was actually helpful. There was a start and end to

the entertainment.

Today we have upgraded to a flat screen TV, but it remains off

for most of the day. And when we watch something, we watch it

together. •

Arlene Pellicane is an author of many books and hosts the "Happy Home" podcast.

She co-authored two recent books with Dr. Gary Chapman, Screen Kids and

Grandparenting Screen Kids.

10

FOCUS ON THE FAMILY

April / May 2021

April / MAy 2021 FOCUS ON THE FAMILY 11
---
COUPLES / STRENGTHENING MARRIAGES

STRENGTHENING MARRIAGES / COUPLES

WHICH

GENERATION

HAS THE BEST

MARRIAGES?

And what couples can learn

from each other to win in

their own relationships

BY HAYDN SHAW

I THOUGHT THE PHONE

CALL WAS A PRACTICAL

JOKE. A production company

wanted a generational "expert" to

host a television show where four

couples of different generations,

each struggling in their marriages,

would live in a house for a

week. They would cook or go places

together each day and then discuss

the problems they saw in the other

marriages. As the expert, I would

comment on how the different generations

see things. Then at the end,

they would share what they had

learned about their marriage from

the others.

A couple of screen tests proved

it wasn't a joke, but my high school

and college-aged kids told me the

concept was boring, and I, too, did

not expect it to get picked up. But

it did stir their curiosity to know

what each generation expected in

marriage, which ones stayed married

longer and which had the best

relationships.

Learning what the four generations

want from marriage can help

us understand and strengthen our

own and can guide us in the help

we can provide one another. Within

each generation, couples share general

characteristics that may not

apply to every couple within that

generation, so it's important that

we do not stereotype. That said, let's

look at each generation.

SONYACHNY / STOCK.ADOBE.COM

KUCO / STOCK.ADOBE.COM

Traditionalists

born before 1946

TRADITIONALISTS wanted to find a

good match and have a strong family.

If we asked a traditionalist husband

if he was happy when his kids were

small, he might shrug and not consider

the question. Traditionalists

didn't think about being happy in

marriage because happiness would

not have made any difference. A

husband loved his wife and family,

and they needed him.

Couples in this generation were

expected to have children, with the

wife doing most of the child-rearing

and domestic tasks. They married

younger and in greater numbers.

"Pairs and Spares," the name some

churches of that era had for their

young adult Sunday school classes,

illustrates that singleness was rare

and usually embarrassing. By 1960,

65% of traditionalists ages 18 to 32

were married. (Compared to 26% of

millennials in 2013 who were married

by those same ages.)

Divorce was not socially acceptable,

even though the later

traditionalists divorced more and

had fewer children.

What traditionalists

can learn and teach

Traditionalist marriages teach the other generations that "Am I

happy?" is not the main point of marriage; fidelity is. My traditionalist

grandmother would say, "Kids these days give up too

easily. We had a hard decade." Though some traditionalists were

not happy or fulfilled in their marriages, many grew into love

that brought happiness and fulfillment.

Traditionalists are now in the life stage with the highest marital

satisfaction. But they can still learn from younger couples about

the new rules of negotiation if they run into challenges. >>>

12

FOCUS ON THE FAMILY

April / MAy 2021

April / MAy 2021 FOCUS ON THE FAMILY 13
---
WHAT DOES IT

MEAN TO

YOUR SPOUSE?

What baby boomers can learn and teach

Baby boomers show the other generations

that high expectations can

motivate us to seek help, but they

can also be a burden. Boomers

divorce more and have been less

happy than other generations.

While younger couples seek older

couples to guide them, high expectations

make baby boomers, who

have struggled in marriage, reluctant

to mentor. That's unfortunate,

because Gen X, millennials and now

Gen Z respond to authenticity, not

perfection. Boomers need to tell stories

about couples who waited to

have sex until marriage and never

wavered in their commitment so

millennials can see it is possible.

And divorced people can lay out the

pitfalls with authenticity: "If I could

STRENGTHENING MARRIAGES / COUPLES

do it all over again . . ." can be powerful

as well.

The changing times can be an

encouragement for those boomers

contemplating a "gray wave" divorce:

Marriage isn't the norm or expectation

it was 30 years ago. Seeing the

example of younger couples choosing

marriage could encourage older

couples who are in a rough patch.

Generation X

born between 1965 and 1980

find out in this free

cherish your spouse

video series with

gary thomas!

focusonthefamily.ca

/cherish

Baby Boomers

born between 1946 and 1964

BABY BOOMERS shifted their

expectations of marriage. They

looked for a soul mate who would

provide satisfying sex and accept

them for who they were. Much of

'70s music and movies are about

understanding and accepting each

other. The movie Love Story raised

the expectations impossibly high

with the famous line, "Love means

never having to say you're sorry."

Baby boomers talked openly

about what traditionalists kept private.

The biggest-selling fiction

writer of the time, Agatha Christie,

described the new emphasis on

sex during the boomer era that was

so different from that of her traditionalist

generation: "Sex as a word

had not been mentioned in Miss

Marple's young days, but there had

been plenty of it—not talked about

so much—but enjoyed far more than

nowadays, or so it seemed to her."

One byproduct of their focus on

self-fulfillment is that baby boomers

were nine times more likely than

traditionalists to seek counseling.

The arguments traditionalists would

have behind closed doors, baby

boomers did in front of the children,

as well as their therapist.

The expectations of baby boomers

led to a jump in divorces. During

the '70s, the divorce rate doubled

and then began to decline in 1980.

Currently baby boomers divorce at

twice the rate of traditionalists.

KUCO / STOCK.ADOBE.COM

BILLIONPHOTOS.COM / STOCK.ADOBE.COM

WHEN GENERATION Xers saw the divorce rate

double, it made them more skeptical about marriage,

but it also motivated them not to put their

children through divorce. Their desire to avoid a

breakup, as well as weather the economic ups and

downs, caused them to marry and have children

later, often cohabitating first.

Gen X was the first generation that saw more

women than men graduate from college. Dual

careers rather than dual jobs made them the first

generation to juggle family and work in the information

economy. It also meant a much greater

demand for work-life balance. Men still did less

childcare and housework than women, but they

did far more than boomer men.

Gen Xers brought realism back to the marriage

vows. While boomers wanted it all, Gen

Xers demonstrated that protecting their marriage

required tradeoffs. They redefined success as more

than money and houses. They saw firsthand that

the second marriage was not the magic answer

when they were disappointed with the first one.

They knew marriage was work, and they decided

it was better not to marry than to be unhappy. No

one called their young adult Sunday school class

Pairs and Spares anymore.

What Gen Xers can learn and teach

Because Gen Xers expect marriage to have hard spots, they have

made it easier for all generations to ask for help. My wife is typical.

If she and I have been arguing off and on about something

for a couple of months, she will say, "Let's call Tim. I know we'll

figure it out, but why take six months for you to realize when he

can tell you right now that you are wrong?" (Yes, she really does

say that, usually with a smile.)

They tend to be independent and can learn from the other

generations to find community, to seek a wider circle of support

than their immediate family and friends. >>>

April / MAy 2021 FOCUS ON THE FAMILY 15
---
COUPLES / STRENGTHENING MARRIAGES

RESILIENCE / COUPLES

Millennials

born between 1981 and 1998

MILLENNIALS have a lower divorce

rate than baby boomers or Gen Xers.

They are romantics; they believe in

love and marriage (in that order).

They marry later, which is one of the

reasons millennials have the lowest

divorce rate.

Constant reports that marriage

may not survive the millennials and

Gen Z are inaccurate. While more

than a quarter cohabitate, just over

half of these millennials want to

marry eventually, even among those

cohabitating. Though they postpone

marriage, they do not postpone sex.

Today, the majority in the United

States believe marriage is important

but not essential for a happy life and

for well-balanced children.

That makes the religious young

people who wait for sex incomprehensible

to their friends—not only

because they are virgins, but also

because they understandably marry

four-and-a-half years earlier than

the norm. A young millennial married

at 22 explained: "My peers and I

are very aware that marriage isn't an

easy fairy tale—we know we have to

put the work in every day. We're also

very aware that our marriages ought

to display the Gospel, especially now

that we're viewed as an oddity by

secular culture for getting married in

our early or mid-20s."

Millennials tend to expect to share

parenting duties and trade off on

"leaning in." They are the first generation

where almost equal percentages

of husbands and wives desire

demanding jobs. Significantly more

female millennials graduate from

universities than males.

What millennials can learn and teach

This was a typical response when I asked millennial couples what they could

teach other generations: "Hmm . . . that's tough. I don't see millennials giving

verbal advice to older couples in the way that an older couple would to a

younger couple. I've only been married two years, so my ideas might not be

worth much, but I'll throw in a few thoughts."

This reinforces again that millennials will welcome encouragement and

advice, if older couples will help them figure out the challenges of marriage—

for a millennial's generation instead of their own.

My 30-year-old pastor son said that many older members learned from

their children's example. They told him that watching their kids during the

COVID-19 pandemic taught them to appreciate the everyday things. Their

millennial children are always trying new recipes and most cook meals at

home. They roast their own coffee and know about the best cheap restaurants.

And they want to spend time together, as a couple and as a family.

Which generation has the best marriages?

If we measure by fewest divorces, traditionalists and millennials

have the best marriages. If we measure by the most children, Gen

X beats the baby boomers. But that question is as unlikely to succeed

as the television show that prompted it. It is more important

that people win at their own marriage—that a relationship has the

grace to make up for imperfections and the love to overcome the

challenges.

Usually that means we win at marriage with the strengths and

challenges of our generation. Because most marry someone within

or near their own generation, many people tend to think that someone

with similar expectations about marriage and family will build a

stronger marriage.

Of the questions the show prompted my children to ask, "Which

generation has the best marriages?" is the most fun—but so what?

"What can each generation learn from the others?" is the question

they talked about the most. Smart kids. That question can make better

marriages. •

Haydn Shaw is a speaker and generational expert. He is the author of Generational IQ.

STANISLAV / STOCK.ADOBE.COM

CREDIT PIKSELSTOCK TK

/ STOCK.ADOBE.COM

when your

loved one hurts

Taking back your marriage

from chronic pain

BY GINGER KOLBABA

16

FOCUS ON THE FAMILY

April / MAy 2021

April / MAy 2021 FOCUS ON THE FAMILY 17
---
COUPLES / RESILIENCE

JULIA* WATCHED HER

HUSBAND, Robert, retreat into

the house for the umpteenth time

and felt her frustration rise. She

couldn't understand why he was

unwilling to help with the yardwork.

She followed him into the house.

"Can you please help me finish

moving the rock pile?" She

stopped. Once again she'd forgotten.

Her strong, healthy, able-bodied

husband of 36 years was now experiencing

intense back pain. Robert

was simply unable to function like

his normally active, strong and outdoorsy

self.

According to the Centers for

Disease Control and Prevention, an

estimated one out of five of adults

suffers from chronic pain, with age

increasing the likelihood. Usually

pain occurs when the body has been

injured, but it should go away once

the body heals. Yet for some, the pain

doesn't leave, even after healing, and

it may persist for months or even

years, leading to what physicians

diagnose as chronic pain.

If your spouse is struggling with

chronic pain, try these tips for navigating

this new way of life together.

Recognize pain is more

than just physical

When Ardith began experiencing

daily, often debilitating, headaches

nearly seven years into her marriage,

she hoped prayer and medicine

would alleviate them. But when the

headaches continued for months

and then years, making her unable

to do even the simplest of household

chores or, at times, to care for

her young son, she fell into a devastating

cycle. Her chronic pain caused

depression, and the depression

caused more chronic pain.

She recalls, "I felt terrible watching

my husband, Andy, take up the slack

for me or have to constantly cancel

plans he and I had made because I

just couldn't handle the pain."

Caregivers need to remember that

a spouse who suffers with chronic

pain is dealing not only with the

physical aspects but also with the

emotional, psychological and even

spiritual components of this journey.

Know that your spouse's inability

to do what he or she once took for

granted affects his or her sense of

self-worth, too.

"Chronic pain can change a person's

outlook and ability to see

positive outcomes—especially

because nobody knows how this

elusive pain got started or how it's

going to eventually turn out," says

Dr. Lydia Floren, who practices

family medicine with the Mayo

Clinic Health System in Eau Claire,

Wisconsin.

"Many [chronic pain sufferers]

struggle with the 'why me?' questions

or blaming God when relief

doesn't come or giving in to the negative

side of the pain and becoming

hard and critical," Dr. Floren says.

She strongly recommends that couples

seek help from a professional

Christian counselor who specializes

in dealing with chronic illness and

pain to work through the associated

emotional issues.

Talk honestly and openly

Oftentimes, hurting spouses are

reluctant to admit they're in pain.

So it's important to encourage the

hurting spouse to talk honestly and

openly about what he or she is going

through. Living with chronic pain

gives couples the opportunity to

face the challenge together, improving

their communication and even

strengthening their bond.

In many cases, because the cause

of the pain isn't known, the treatment

is focused not on curing the

root issue but on managing the

pain—finding ways to allow the

hurting spouse to function better

in his or her daily routine. But the

many side effects of pain—being

unable to handle ordinary tasks

or experiencing depression, anxiety

and loss of energy—take their

toll, too.

For Ardith and Andy, who've now

been married 41 years, communicating

includes asking multiple times

each day, "How are you feeling?"

That became an especially important

question when, a little more than

a year ago, Andy began suffering

with his own chronic pain, making

it extremely unpleasant to walk.

He had been the main housekeeper

and grocery shopper, and he had to

admit he couldn't do it any longer.

"We had to be honest with each other

about what we both needed," Andy

says. So they talked about how they

could continue to serve and care for

each other.

It's important not to suffer in

silence. If you aren't used to being

completely candid with each other,

now is the time to work on it. This

is also a great opportunity to begin

praying with each other if you haven't

before. Andy and Ardith both say

prayer is what helps them communicate

better.

HOW DO WE

HANDLE THE

MEDICAL PART?

Along with chronic pain comes an intimate

relationship with the medical field—

multiple doctors' appointments, tests,

prescriptions, more tests and setbacks. It

can feel paralyzing and mind-boggling.

Here's how a caregiver can help:

1

2

CREDIT TK3

Offer grace

"Robert used to be a hobby waiting

to happen. Now he watches television,"

Julia says. "I never imagined

us sitting on the couch in the evenings."

This once athletic, constantly

active couple now live a more sedentary

lifestyle.

At first, her husband's debilitating

pain was a shock, and she thought

it would end quickly. Now she realizes

that chronic pain is a long-term

struggle, and the limits it puts on a

marriage take a lot of adjustment.

She says, "It's about offering grace

and knowing I need to be more

sensitive."

Julia recognizes this isn't what her

husband would choose for himself

or their marriage, so she's learned

to be kinder. She says, "If anything,

this whole experience has exposed

my character flaws and how God still

has a lot of work to do in me!"

For a time, when Andy's pain was

at its worst, Ardith offered grace by

fixing his meals and serving them to

him in their bedroom. "It's a give and

take," she admits.

The couple also understands that

chronic pain controls their abilities.

Ardith's headaches limit their social

life, so Andy often attends events or

church by himself. >>>

Attend appointments together.

As much as you can, accompany your spouse to medical

appointments so you can both ask questions and make

observations. If going together isn't possible, write down your

questions or observations to send with your spouse.

Help your spouse monitor prescriptions.

If your spouse is prescribed opioids, consult his or her

physician to see what other drug options are available. With all

medications, monitor how your spouse reacts and keep his or

her physician informed about your concerns.

Research ways to supplement

your medical care.

Other options for pain management include physical and

massage therapy, acupuncture, chiropractic care, relaxation

techniques and nutrition.

—GK

18

FOCUS ON THE FAMILY

April / MAy 2021

April / MAy 2021 FOCUS ON THE FAMILY 19
---
COUPLES / RESILIENCE

Faith & Inspiration

God's

love and

forgiveness

A reflection from

Phil Stacey

AS TOLD TO ANN BYLE

But he refuses to blame Ardith or

feel sorry for himself. Andy says,

"She's sacrificing, too, by staying

home and being alone instead of

being involved."

If you're a caregiver, remember

that you're on the same side as your

hurting spouse, so determine to

battle chronic pain together. That

means practicing grace, kindness

and patience.

Be careful about

complaining, even in jest

Julia still feels guilty about complaining

that her husband wasn't

doing his "fair share" that day in

their yard. "I've learned a lot since

then," she says. "How can I complain

when I don't know what it's like to

hurt all the time?"

Let's be honest: It's difficult to

hold your tongue when faced with

an overwhelming and unwanted life

change. Though complaining may

make you feel better in the moment,

it won't change your circumstance

and may actually do more harm

than good.

However, that doesn't mean you

shouldn't communicate. Rather,

communicate in life-affirming and

marriage-honoring ways instead

of just spouting off frustrations.

Complaining does nothing but cause

anger and add guilt to a spouse who

is already overloaded with physical

and emotional struggles.

ong>Focusong> on places you can compromise

and enjoy the sweet moments

you can have together. For instance,

Robert and Julia now look for television

shows they can watch together.

She admits, "I'm learning to appreciate

shows that make my husband

laugh."

It's OK to concede this isn't what

you signed up for, says Dr. Floren.

It's a grieving process, so it's good "to

acknowledge this is the 'for worse'

part of your marriage vows. Your

feelings are legitimate, but don't let

them stay there."

Instead, she recommends finding

things you can be thankful for.

"There's great power in thanksgiving,"

she says. Remember that God is still

in control, and even in this, He has

a plan for you and for your marriage

(Romans 8:28). Then celebrate small

moments and commit to expressing

love for each other. After all, no

one wants chronic pain to enter a

marriage, but if it does, you and your

spouse can remain a healthy and

loving couple. •

Ginger Kolbaba is a speaker and bestselling

author.

*Some names have been changed.

PIKSELSTOCK / STOCK.ADOBE.COM

PHOTO COURTESY OF PHIL STACEY

I REMEMBER some 20 years ago when

one of my best friends told my wife and me

that she'd had an abortion earlier in her life.

The depth of her emotions revealed how she'd

come to feel about her decision. She knew,

though, that she'd one day meet her child in

heaven. Talking with her helped cement for

me that every life has value.

The potential of the life snuffed out when an

abortion takes place is huge. Yet I want women

who have chosen abortion to know that Jesus

doesn't stop loving them, that mercy doesn't

stop reaching them and that Jesus' grace isn't

gone because they made that decision. God

loves and forgives and values them. •

Phil Stacey is creative arts pastor of City Center Church

in Lenexa, Kansas, and was a finalist on the sixth season

of "American Idol." His first album, Phil Stacey, debuted

at No. 8 on Billboard's Top Country Albums.

Phil Stacey

20

FOCUS ON THE FAMILY

April / MAy 2021

April / MAy 2021 FOCUS ON THE FAMILY 21
---
FAITH & INSPIRATION / WOUNDED HEARTS

WOUNDED HEARTS / FAITH & INSPIRATION

A healing gift of

hope amid the

gravity of grief

BY W. LEE WARREN

ON THE DAY WE BURIED

OUR YOUNGEST SON, our

first grandchild was born.

I'd been in the middle of writing

a book of observations I had

made as a surgeon, while caring

for patients who were in the darkest

hours of dealing with brain

tumors, traumas and other maladies.

I thought I had learned some

things that might help people handle

the strife and pain life brings,

and to find or hold on to their faith

in those stormy seasons.

With my son's death, suddenly

I was one of those people looking

for answers, raging at God, groping

around in the darkness searching for

something—anything—to hold on to.

We held a service and said goodbye

to Mitch. Friends and family

gathered together holding one

another up against the heavier

gravity of grief.

But we were missing our oldest

daughter, Caity, and our son-in-law,

Nate, as they were a thousand miles

away in Texas.

While we labored to survive the

pain of grief, Caity was laboring

to deliver, her joy and excitement

mixed with the pain of losing her

brother and being unable to gather

with us, or for us to be with her as

we'd planned.

© ROBERT KOHLHUBER / STOCKSY UNITED

Baby Scarlett

A week later my wife, Lisa, and I flew

to San Antonio, almost silent during

the journey because every time we

tried to talk, tears still choked our

voices.

Holding my new, perfect, miraculous

granddaughter was a wholly

different experience from any other

baby I'd ever held, even my own.

Before, it was always me pouring

love and energy into them, amazed

at their flawlessness and giving them

my heart immediately. But in holding

baby Scarlett for the first time, it

felt as if she was donating life to me.

She was giving me something that

had been seeping from my open

wounds since her uncle, whom she'll

never meet in this lifetime, left us so

unexpectedly 10 days before.

Our week in Texas, and the

months that followed, were a

cacophony of "buts":

• We had a new grandbaby, but

we'd lost a son.

• We were in love, but we were desperately

grief stricken.

• We loved Scarlett, but we missed

Mitch.

Every smile had a corresponding

tear; every sorrow had a connected

joy.

A pervasive guilt enveloped me

every time I caught myself thinking

only about being a grandfather, and

not about being a father whose son

was gone. It seemed as if it were

somehow an offense to Mitch for me

to have a moment of laughter at the

latest picture or video Caity sent.

Scarlett and Mitch were connected

by all those "buts."

Life keeps moving

The thing about grief is, most of us

don't know how to handle it, especially

the first time we experience it.

But life keeps moving on, and soon

we have to get back to work.

As I reinserted myself into my

world of neurosurgery, moving in

and out of the lives of hurting people,

I began to notice something I'd

never seen before: People grieve

when they lose things they thought

they knew.

If I were to sit down with you in

my doctor's office, look into your

eyes and say, "It's brain cancer," the

entire narrative you've created for

your life would change by the time

my words trailed off.

You might have been thinking you

knew the gist of your life, but your

dreams and plans didn't include

chemotherapy, radiation and painful

surgeries. You might have been

thinking about a 30-year mortgage,

but now I've told you about a

15-month average survival.

It also happens with trauma

patients, with stroke victims, with

families of people who take their

own lives or succumb to their illness.

They run full force into "but."

• "Our life was this, but then the

accident happened."

• "We were supposed to do that

thing, but the biopsy results were

bad."

• "We had all these plans, but you

died instead."

Grief also happens in those spaces

between what we thought we knew

and what's proving to be true. When

instead of paying for your child's tuition,

you're swiping your Mastercard

to pay for his burial.

Before I became the father of a

lost son, I thought I was an expert

observer of other people's troubles.

But as a grieving father, I was forced

to turn my eyes inward and strive

to understand what was happening

to me. I had to focus on finding

my own way ahead and leading my

family forward in the darkness into

which grief had plunged us.

A miracle

As time passed, Scarlett grew, and

the acuity of losing Mitch faded just

enough that we could breathe again.

And a miracle happened: A tiny,

22

FOCUS ON THE FAMILY

April / MAy 2021

April / MAy 2021 FOCUS ON THE FAMILY 23
---
FAITH & INSPIRATION / WOUNDED HEARTS

new from

Adventures in Odyssey

almost imperceptible space formed

between Mitch and Scarlett.

It became possible, in fleeting

moments, to see her apart from him.

To feel the pure joy of her smile and

her laugh. To absorb her love and

give her ours.

When Scarlett was about 2 years

old, she was having anxiety every

night around bedtime. This wasn't

surprising, since she came into this

world at a time when all the people

around her were enveloped in

tragedy, pain and loss. So, she had

perhaps a more realistic welcome

into life than most infants do: We're

so glad you're here, but life's really

hard.

Caity and Nate said prayers with

her every night, lying in the darkness

with her, comforting her. Caity

had taken to recording the precious

things Scarlett said during those

prayer times. But one voice memo

she sent changed everything for me.

Nate found that Scarlett liked

to be reminded of how loved she

was. So on the recording, we heard

his list: "Mommy loves you. Daddy

loves you. God loves you. Jesus loves

you." And then, in a quiet, almost

angelic toddler voice, Scarlett said,

"And Mitch loves you." There was a

long pause. Then Nate replied, "Yes.

Mitch loves you, Scarlett." Scarlett

never met her uncle Mitch, but in

the darkness, with all the uncertainty

and doubt her little 2-year-old heart

was grappling with, somehow she

found some light in knowing that

Mitch loved her.

No more "buts"

Looking back on those days, it's

interesting to see the metaphor. As a

family of deep religious faith, we had

a death and a burial, and three days

later we had a resurrection of sorts.

Scarlett burst forth out of our grief,

and although it took time for us to

see it, she would deliver the ability to

turn the "buts" into "ands" again:

• We had lost a son, and we had a

granddaughter.

• We were hopelessly grieved, and

we had inexpressible joy.

• We had doubt that God loved

us, and we had faith in His grace

every time we held Scarlett.

When we lose the things we

think we know, faith can crumble

under the weight of doubt, loss

and pain. When all we can see are

the "buts" tying any possible good

to all we've lost, the darkness seems

impenetrable.

But what I've learned in the six

years since we lost Mitch is this: It

is possible to find your feet again. It

is possible to see light again in the

laughter of a baby or the glory of a

sunrise or the touch of a loved one's

hand. It is possible . . . because of

"and."

"And Mitch loves you." Scarlett gave

us the "and" we needed.

Whatever life brings you, I can

promise that I've seen enough

trauma and tumors and war and all

the other hard things people face in

their lives, that those who survive and

manage to hold on to or find the faith

to keep going have this one thing in

common: They find the "and."

• You lost your spouse, and you

had a wonderful life together.

• Your doctor gave you bad news,

and there's a very promising clinical

trial at the cancer treatment

hospital.

• You're going through this hard

thing, and you've got incredible

support from lots of people who

love you.

Scarlett is 6 now. She's perfect and

precocious, and she calls me Pop.

Not long ago, she asked me to tell

her about Uncle Mitch. And I did.

She smiled when I told her how

funny he was, how smart and kind

and loving.

She asked me if he was in heaven,

and I said yes.

Then she hugged me and gave

me a kiss and fell asleep in my lap

right after I said, "Pop loves you, and

Mitch loves you." •

W. Lee Warren is a neurosurgeon and combat

veteran. His most recent book is I've Seen

the End of You: A neurosurgeon's look at faith,

doubt, and the things we think we know.

© ROBERT KOHLHUBER / STOCKSY UNITED

Adventures in Odyssey #70:

Finding a Way

Everyone's a suspect in Odyssey! Connie's

car is stolen, but who could be the culprit?

Emily's busy solving her own mystery:

she's been falsely accused of a crime too!

Meanwhile, Wyatt pulled a crazy stunt that

sent him to hospital – but why? Uncover

the truth amid lessons about fear, true

heroism and new beginnings in six all-new

stories from Odyssey. Ages 8+

Order today at Shop.ong>Focusong>OnTheFamily.ca

or call 1.800.661.9800

Looking for more faith-building fun?

Sign your kids up for the Adventures in Odyssey Club!

For just $9.99 US per month kids get online access to:

• over 900 Adventures in Odyssey episodes

• daily devotions

• exclusive, members-only stories

• monthly documentaries and more!

24

FOCUS ON THE FAMILY

April / MAy 2021

Sign kids up today at AIOClub.org
---
explore

the bible

like never

before

familiar bible passages have richer

meaning than you ever imagined!

Join historian Ray Vander Laan on a tour of

biblical sites in the Middle East and be astounded

by what you learn at each location.

Through the DVD-based study series That the

World May Know, you'll visit the landscapes

Jesus and the apostles walked, and hear

fascinating details from history, archaeology and

ancient cultures that bring new depth to your

understanding of Scripture.

From an ancient land, you'll learn startling new

lessons for your life today!

Discover

the whole

16-DVD

series!

Order online at Shop.ong>Focusong>OnTheFamily.ca/ThatTheWorld

or call 1.800.661.9800

FOCUS ON THE FAMILY

BRINGING THE

GOSPEL TO LIFE

Revisit Dallas Jenkins' "The Chosen" TV

series through a new novel by bestselling

author Jerry B. Jenkins

BY BRITTANY RAYMER

WHAT WOULD IT BE LIKE

to live in Jesus' time? To actually

meet Him and interact with the

apostles? How would that experience

shape your feelings about

Scripture and the power of the

Gospel? ong>Focusong> on the Family wants

to help readers answer some of these

questions with the release of the

first book in a new series titled "The

Chosen."

If this title sounds familiar, it's

because the book project expands

on a successful television show by

the same name, created by Dallas

Jenkins, the son of bestselling author

Jerry B. Jenkins, who is authoring

the book series. Similar to the TV

series, Jerry takes readers back to the

first century, to the land of ancient

Israel, to experience the life of Jesus

through the eyes of the men and

women who knew Him best. Some

of the main characters include Mary

NEW BOOK SERIES / FAITH & INSPIRATION

Magdalene, initially introduced

as Lilith; Nicodemus, a leading

Pharisee of the Jerusalem Sanhedrin;

Matthew, a tax collector and eventual

disciple; and Simon, one of the

apostles.

Called by name

The first book, I Have Called You

by Name, is a novelization of season

one of "The Chosen" television

series. Jesus meets several different

people along His earthly journey. In

addition to familiar Bible characters,

the series introduced a few fictional

characters, including Shimon, who

tended sheep on the night of Jesus'

birth, and Abigail, a young girl who

befriended the Savior before He

begins His ministry. Abigail and

her friends pepper Jesus with various

questions, which He dutifully

and gently answers, making each

response an opportunity to teach

them more about His Father. >>>

April / MAy 2021 FOCUS ON THE FAMILY 27
---
FAITH & INSPIRATION / NEW BOOK SERIES

NEW BOOK SERIES / FAITH & INSPIRATION

"Our goal is to see people dig into

the Scriptures for themselves," Jerry

says. "But neither the TV series nor

the novels should substitute for the

Word of God."

Both the TV series and Jerry's book

project draw from existing passages

of the Gospels, bringing stories in

the Bible to life in new and unique

ways. This required some imagination,

Jerry says, "But each decision

was based on a story directly from

the Bible."

A family project

To do this effectively, Jerry had to

understand the culture of the Holy

Land, the way people interacted

during ancient times, their customs,

and, of course, the geography surrounding

each story. Fortunately, he

didn't have to start from ground zero.

"I have studied the manners and

customs and geographical logistics

of the Holy Land for many years for

some of my other novels," he says.

"The Chosen" is in many ways a

NEW FROM FOCUS ON THE FAMILY

I HAVE CALLED YOU BY NAME

BY JERRY B. JENKINS

This exciting book helps bring

the Bible to life!

ong>Focusong>OnTheFamily.ca/Store

family project. The popular television

series was created by his son

Dallas and a team of co-writers. His

team had already selected the framing

of the scenes to best tell each

story.

"I had the easy part," says Jerry,

"because Dallas and his co-writers

had already made those choices

[regarding which characters to

focus on]." As Jerry wrote, he says

his respect grew for his son and the

show's creative team.

"It's a privilege to work with their

creation and make it work as novels."

Still, Jerry had to dig into each and

every scene as he researched his part

of the project. "In writing the novel,

I probably watched each episode 22

times." Fortunately, he never grew

tired of watching, and he continued

to learn more each time he viewed

an episode.

Picturing the people

One of Jerry's goals was to imagine

how Jesus might have interacted

with children and others in His day

so that he could help readers picture

not only the settings but also

the emotions, tensions and smiles

that passed between people. The

book engages and encourages readers

to consider the Scriptures in a

new light, while at the same time, he

doesn't compromise biblical truths.

Jerry says his hope is that this

series will prompt people to do

something simple: open a Bible.

VIDANGEL STUDIOS

In the 21st century, the Bible has

never been more readily available,

from our phones and tablets to the

printed page. Yet the vast majority of

the North American public remains

biblically illiterate.

According to a 2019 study completed

by LifeWay Research, only

about 32% of all Protestant churchgoers

open the Bible every day.

That figure is slightly higher among

evangelical Protestants, at 36%.

"Having served for many years on

the boards of Moody Bible Institute

The TV series

Debuting in 2019, "The Chosen" was the first

multi-episode television program to focus on the

life of Jesus Christ as experienced by the men and

women who knew Him. It was the largest crowdfunded

production at the time, with more than

19,000 people donating. Since its release, the series

has been translated into more than 50 languages.

"Thousands of people have shared with us that their

lives have dramatically changed as a result of watching

'The Chosen,' " says series creator Dallas Jenkins.

His hope is that audiences will not only be able to

relate to the characters who encounter the Son of

God but also be drawn deeper into each Bible story.

Through the series, Dallas discovered that even he

has become more focused on his relationship with

Jesus. He says, "I love theology, debate and spiritual

philosophy, but ultimately, by focusing on Jesus and

His message, I've seen a change in my heart and in

my approach to life." He finds his priorities are different

now. His career is focused on telling authentic

stories about Jesus.

The second season of "The Chosen" is scheduled to

debut this spring.

and Colorado Christian University,

I have been alarmed to see that

decline," Jerry says. A previous study

had more churchgoers and evangelicals

opening their Bibles. "So, yes,

our hope is to see an enthusiastic

return to biblical scholarship on the

part of laypeople."

Jerry has written nearly 200 books

that have sold more than 71 million

copies combined, a total that

includes the "Left Behind" series

he co-wrote with Tim LaHaye. Jerry

has spent his whole life writing to a

—BR

Christian audience.

This new series, though, has

helped him. He says, "No longer do

I try to imagine what these people

from the New Testament looked like.

"For too many decades, my imagination

was clouded with images

of ancient paintings of such heroes

and heroines and saints. It was hard

to view them as real people. The TV

series offers that, and I've tried to

capture it in the novel." •

Brittany Raymer is an issues analyst for ong>Focusong>

on the Family.

28

FOCUS ON THE FAMILY

April / MAy 2021
---
Immerse yourself

Kids & Teens

in THE STORY of stories…

The Chosen: I Have Called You by

Name imagines the backstories

of the early followers of Christ

and how their lives were

transformed when they met

the long-awaited Messiah.

Written by bestselling author

Jerry B. Jenkins, The Chosen

plunges you into first century

Galilee and gives you more

colour and detail from the hit

video series beloved by millions.

Follow in the footsteps of Jesus

PHOTO COURTESY OF THE AMES FAMILY

Rob, Hope, Amy and Lily Ames

our choice

to love

A parenting tip

from Rob and

Amy Ames

Kids who enter our home through

foster care are full citizens in our

household and are considered members

of our family. Our two children

through adoption have come to

understand how the forever of their

adoption can coexist with the very

different experiences of their siblings

through foster care. These

children, brought to our home for

only a time, are engraved into the

forever of our memories and prayers.

We choose to share, and we choose

to love despite knowing that those

placed in our home can be taken

away at any time. Our placements,

fortunately, have been few in number

and long in duration. Otherwise, we

wouldn't expect or ask the emotional

investment of our kids. •

Amy Ames leads a comprehensive churchbased,

foster and adoption ministry that serves

families in the greater Kansas City, Kansas, area.

order online at shop.focusonthefamily.ca or call 1.800.661.9800

April / MAy 2021 FOCUS ON THE FAMILY 31
---
KIDS & TEENS / ADOPTION

saying yes

to Gods nudge

'

We thought adopting children with Down

syndrome would be a burden, but it was

one of our greatest blessings

BY HEATHER AVIS

LISTEN NOW!

Find out more about Heather Avis'

journey in adopting and parenting

children with Down syndrome.

ong>Focusong>OnTheFamily.ca/Radio

For raising

children

ages 9-12

32

THE FIRST QUESTION

MOST PEOPLE ASK when

they hear that my husband, Josh,

and I adopted two children with

Down syndrome is "Why would

you adopt kids with such difficult

challenges?"

We don't have a saintly answer to

give. The truth is when we learned

we couldn't have children biologically,

we decided to pursue adoption.

When a girl with Down syndrome

became available, we said no.

The opportunity continued to

present itself, but the thought of

adopting her terrified us. And we

wondered why anyone would take

on all those developmental delays

and health challenges.

Then one day I felt as though God

was giving me a vision. In it He was

presenting me with a beautifully

wrapped package. I unwrapped it

and said, "This isn't what I wanted."

After sharing the vision with Josh,

we decided to adopt this girl. It

was one of the scariest and best yes

FOCUS ON THE FAMILY

April / MAy 2021

decisions we've made.

Today our family includes three

beautiful children who have been

adopted. Two have Down syndrome.

And we wouldn't have it any other

way. Here are some lessons we've

learned, which I hope will help as

you consider adopting a child with

Down syndrome.

Not a cultural "normal"

As Josh and I prepared for parenthood,

I read and studied everything

I could get my hands on. And I had

to adjust my parenting mentality,

especially in the comparison

department.

Most babies will begin walking

sometime between 9 and 15 months.

Macyn didn't walk until she was 3.

I had to put the books away and stop

comparing her to her peers. I even

had to do the same in the Down syndrome

community.

I would see another child with

Down syndrome who was doing

something Macyn wasn't doing, and

I'd think, How do I fix my kid? How

do I make my kid more like this kid?

When I gave in to comparisons, I

lost my joy over who Macyn is as a

gift from God. I had forgotten that

every person is uniquely made in His

image and for His purposes.

When I'm tempted to compare,

I now look at Macyn and say, "She's

amazing exactly as she is—not if she

walks earlier, not if she's able to read

at a higher level, not if she's able to

run as fast as another kid. Who she is

as she is right now is incredible."

Who she is

Macyn loves to dance. She was dancing

before she started walking. When

music came on, she would start

swaying from side to side. When she

was 8, Josh and I put her in a hiphop

class—the only child enrolled

with a disability. She loved it.

In class, Macyn had her own

style. And because she was able to

be herself and was not forced to fit

in with other people's expectations,

PHOTO COURTESY OF HEATHER AVIS

she blossomed. We prayed that the other dancers

would be able to experience God and see His

image through her.

They embraced her. Her life changed, and their

lives changed. All because Macyn was fully who

she is.

Our growth as parents

I had my hands full with two children when the

opportunity came for us to adopt another baby

with Down syndrome. We immediately said

yes. We got to go to the hospital the day our son,

August, was born, and he came home the next day.

Having two children with Down syndrome was

a scary step. Some days it felt as though I were lifting

my foot up, not knowing where it would fall.

But it's been a good decision.

Is it messy? Of course. Is it hard? Yes. But in

our willingness to take steps into those hard

and messy spaces, we get to know God in all His

goodness. For Josh and me, our understanding

of humanity, our understanding of God and our

understanding of His love for humanity have

changed drastically because we get to live with

our kids. •

Heather Avis is a speaker and the author of The Lucky Few and

Scoot Over and Make Some Room.

Is puberty on the horizon? Relax! The

Launch Into the Teen Years Kit helps you

confidently talk to your child about:

• what to expect at puberty

• God's design for sex

• boy-girl relationships

• peer pressure and more.

Download six videos to watch with

your child, then launch discussions

using the parent's guide and a journal

for your preteen.

Order online at

Shop.ong>Focusong>OnTheFamily.ca

or call 1.800.661.9800

April / MAy 2021 FOCUS ON THE FAMILY 33
---
KIDS & TEENS / LOVE

LOVE / KIDS & TEENS

the

senses of

connection

connect through

sight

RECENTLY, Angie and I surprised the kids with a

trip to the beach and dinner, followed by way too

much ice cream. As most parents do, we captured

many special memories using our smartphone

cameras. But then we ordered copies of our favorite

pictures, bought inexpensive albums, added

each child's name to an album and presented it to

that child. As time went by, the kids returned again

and again to those albums.

Pictures have a wonderful way of connecting

us to family and reminding us of our significance.

Many of us take photos on our phones, but then

those shots stay in our digital galleries, never to

be enjoyed in a tangible way. Children need those

simple visual reminders that Mom and Dad love

them and that they belong and are special.

Don't wait for big events. Capture the everyday,

mundane occurrences, print the photos and drop

them into an album. On those days when your

kids are having rough emotional moments, pull

out the album and remember the good experiences

they've had with you.

Creating sensory experiences to strengthen

your relationship with your kids

BY TED STACKPOLE / ILLUSTRATIONS BY BRIAN MELLEMA

I WILL NEVER FORGET the night my wife,

Angie, and I welcomed siblings from the foster care

system into our home. We'd been fostering for six

years, and though we already had eight children—

both fosters and ours—we gladly welcomed the

11-year-old girl and her 6-year-old brother.

Angie was busy getting the 11-year-old settled in

and helping our children get ready for bed. I sat in

the living room with the 6-year-old. At one point,

he laid his head on my lap, looked up at me with

deep-brown eyes and said, "I love you, Daddy."

I was surprised but somehow understood where

this impromptu declaration of love was coming

from. He knew I wasn't his daddy, and I wouldn't

want him to continue addressing me that way

because that wasn't my role in his life. But in that

moment, he needed someone to represent security,

stability, provision and protection. He desperately

needed the things that, as parents, we often take for

granted. He was expressing his desire to connect

with me on a deeper, more personal level.

As a foster parent, I would have this child only a

brief time—between six and 18 months—before

he returned to his family or was adopted. Angie

and I understood that although we couldn't control

the amount of time we had with these children,

the most important factor was what we did with

the time we had. That is true in the relationships

we have with all the children in our home, because

time with them is not a guarantee.

As parents of now 11 children—six adopted

through foster care—and having been the foster

parents of more than 18 kids, we've learned

that one of the best ways we can intentionally create

closer bonds with these children is through the

power of our five senses.

IN OUR WORK training churches in the foster

care ministry, Angie and I talk about how children

in foster care who experience an absence of affectionate

touch might have higher levels of stress or

detach from caregivers. But that's true of all children.

They need positive, gentle touches from

us—such as brushing a child's hair, offering a hug

or a back rub, or even just squeezing a shoulder in

passing. These casual touches not only help kids

grow into more balanced, healthy individuals, but

they also help them attach more securely to us.

My wife and I use positive touch in our nighttime

routines so no one is forgotten—hugs, kisses,

back rubs. Our 4-year-old always requests Mom

to tuck her in. So every night Angie touches each

facial feature and tells it good night. "Good night,

ear. Good night, other ear. . . ." She ends with,

"Good night, nose," a good-night kiss and a goodnight

prayer. If Angie goes out of order or forgets a

feature, our daughter insists they start over.

It's important to show our children they're

loved through healthy touch. Feeling the comfort

of our touch also reminds them that our almighty,

loving and grace-giving Father loves them and

notices them. >>>

connect through

touch

34

FOCUS ON THE FAMILY

April / MAy 2021
---
KIDS & TEENS / LOVE

LOVE / KIDS & TEENS

ONE DAY I was plucking away at our piano and

wrote a song while thinking about a toddler we

had adopted: "With a name like Penelope, who

could ever be mad at me? I don't know! Sometimes

she laughs and sometimes she cries, sometimes

she jumps up really high. But with a name like

Penelope, who could ever be mad at me? I don't

know." She loved it—and all our children wanted

me to write a song about them. Just hearing the

tune and the words filled them with delight.

We all know the importance of telling our children

we love and value them. We also know how

important it is to read aloud to them, ask about

their lives and listen to what they say. In addition,

music can build powerful bonds with people or

even evoke memories of a particular time or place

in our lives. God uses music to show us how much

He loves us: "He will exult over you with loud singing"

(Zephaniah 3:17).

You may not be musically inclined, but songs

you sing in church, in the car and in your home all

make strong connections in the family. And those

connections go even deeper as we sing about

Jesus and His love for us. Even putting Scripture to

music can infuse our children with the message of

how valued they are. They will carry these childhood

songs into adulthood and connect them to a

time, place, people and the love of God.

connect through

taste

connect through

sound

THREE OF our children wanted to cook a meal

from start to finish by themselves. Angie and I

thought they would pick something easy and

familiar. Instead, they picked something our family

had never cooked—curried chicken and rice.

That was the favorite meal our daughter enjoyed

with her family before she joined our foster home.

Most of us can think back to our childhoods and

remember that special meal or dish someone made

for us. For our daughter, that curried chicken and

rice dish not only tasted delicious, but it also connected

her to a memory and a relationship with her

biological family. We wanted that same experience

for our kids.

Dinner that night made Angie and me think differently

about the way we cook. When we provide

good, nutritious meals to our children, we give

them joy through taste, but we also give them a

memory, a connection to us. After that experience,

we became more intentional about building food

traditions and enjoying the times we eat together.

God also uses taste in our relationship with Him.

His Word tells us, "Taste and see that the Lord is

good!" (Psalm 34:8). That's the relational experience

we want our children to take with them as

they leave our family and start their own lives.

"DADDY, you smell good," one of my kids told me.

As children have come through our home, they are

attracted to the perfumes and colognes we have

in our bathroom. Angie and I pray that whenever

our foster children smell a perfume or cologne—or

other aromas—it will remind them of their connection

to our family.

The children we care for have all had our "scent"

rubbed off on them both physically and spiritually

(2 Corinthians 2:15). In addition to the physical

aromas, our children receive spiritual scents.

Learning to give thanks for their food at the table

and quoting Scripture they have committed to

memory are spiritual scents that also will be part

of them as they grow.

Smell has the power to connect us to a memory.

It's often in the everyday activities that we do with

children—such as playing together on a fresh-cut

lawn—that memories are built and sensory experiences

are created in our relationships.

Welcoming foster children into our home has

caused Angie and me to work harder at building

connection with our kids and showing them

they have value in God's eyes. We want all our children—those

still in the foster care system, those

we've foster-adopted and our biological kids—to

know how much we love and treasure them and

how much their heavenly Father does as well.

That's why we intentionally use sensory experiences

to let them know we care. •

Ted Stackpole and his wife, Angie, work with churches to train

people in foster care ministry.

STOP. THINK.

BE SENSITIVE.

connect through

smell

Any of the five senses can generate powerful responses—positive

or negative—in children within foster care, causing them to

have difficulty managing their emotions. Be especially careful with

smells, physical touch of any kind and anything that goes into their

mouths (including food), as these can be emotional triggers.

Connect with children on their terms; not yours. Always give them

the option to refuse connection and never force it. When they

refuse, don't take it personally.

A sensory-processing assessment by a trained occupational therapist

may help you understand how your child from foster care

processes sensory stimuli.

36

FOCUS ON THE FAMILY

April / MAy 2021

April / MAy 2021 FOCUS ON THE FAMILY 37
---
KIDS & TEENS / FOSTER CARE ADOPTION

FOSTER CARE ADOPTION / KIDS & TEENS

Lorie and Natalie celebrating her adoption

ong>Focusong> on the Family Canada

helps foster and adoptive

families through our Waiting to

Belong program. Learn more by

visiting WaitingToBelong.ca.

dreaming of motherhood

Lorie had given up on her desire to be a

parent, but that was before she met Natalie

BY THOMAS JEFFRIES

SHE'S THE KIND OF

WOMAN WHO LOVES

INTENSELY. The kind of person

who doesn't need a lot of friends,

yet bonds deeply with every single

one. She cries when saying goodbye

to visiting relatives, even those

who live nearby. As for children, you

don't spend three decades as an

elementary-school teacher if you

don't have at least a soft spot for little

ones.

Yes, Lorie loves children, but

she never had any of her own. She

always dreamed of being a mother,

of getting married and raising

kids, but the married part never

happened.

"Since I couldn't have a biological

child, I thought I would adopt,"

Lorie says. "When I wasn't matched

with a child to adopt, I became

depressed. I questioned why God

wouldn't let my dreams come true."

As for foster care, she had heard

the stories. She knew about the

Natalie and Lorie

heartache that lingers when a child

leaves.

"If I wept when I left family I would

see again in a few months," she says,

"how could I handle loving and nurturing

a child, only to let him or her

go forever?"

So Lorie gave up her dream of

motherhood.

A willing heart

Then Lorie heard about an event on

the radio—an opportunity to assist

PHOTOS COURTESY OF LORIE

vulnerable kids in the foster care

system, to help them find safe and

loving homes. The event, called Wait

No More, was sponsored by ong>Focusong>

on the Family, and it was coming to

her city.

Once there, she listened to adults

who fostered and had been fostered

as children. She heard about God's

great love for children in need of

willing families. She learned about

the challenges of fostering, and the

blessings.

The more she heard, the more

interested Lorie became. That's

when all her excuses—that she

was too old, too alone, too afraid of

getting attached and getting hurt—

evaporated. It was no longer about

her.

"I loved hearing how God put families

together through fostering and

adoption," she says, "and I decided

to investigate more."

That very day at Wait No More,

Lorie signed up to take the next step.

In need of a home

By 2015 Lorie had taken in several

children. Each new placement

was an adventure, and she treasured

every child before they even

met. Some stayed for several weeks,

others for several months, but they

all eventually moved on, leaving

Lorie bereft.

"It was agony to see them go," she

says. "[But] God healed my heart

after each child left."

In August Lorie received a call

about a little girl named Natalie.

Lorie, as usual, was smitten. Twoyear-old

Natalie, though, was scared,

having just been removed from her

relatives' home the day before.

Initially, Lorie's heart was guarded.

"[She knew] that Natalie could go

back to her biological family at any

time," says her friend Angela.

But Natalie didn't go back. She

stayed. A month passed, then a year.

After nearly two years with Natalie,

the caseworkers asked Lorie something

they had never mentioned

before: Would you be willing to consider

adoption?

No more fears

Lorie wasn't sure what to say, so she

prayed. She allowed herself to dream

again. It was difficult and delightful

and frightening all at once. Natalie,

meanwhile, had questions—about

where she would live, where she

would end up. Lorie could only reply

that God loved her and the court

system would decide what was best.

"The next three years were a roller

coaster that Natalie didn't know she

was on," Lorie says.

Caseworkers and supervisors

came and went, and it seemed like

everyone had a different opinion

about Natalie's situation. Finally, at

an August 2019 hearing, a counselor

who'd seen the pair interact testified

on Lorie's behalf. If it pleases the

court, it would be in the best interests

of the child to remain in her current

residence. The judge agreed, and

suddenly Lorie wasn't sure what to

believe. Could it really be true?

It was. Nearly a year's worth of

paperwork later, Lorie signed the

documents to adopt Natalie.

"In my heart, Natalie has been my

child for over five years," she says,

"but in September 2020, the court

made it official. She finally has a forever

home."

Lorie plans to continue opening

her home to children in need, and

her daughter agrees. Natalie says it's

difficult when kids aren't sure where

they'll be living next.

"Now that I'm adopted, I know I'm

not going to a different home," she

says. "It's not stressful, because I

know I'm going to stay with Mom." •

38

FOCUS ON THE FAMILY

April / MAy 2021

April / MAy 2021 FOCUS ON THE FAMILY 39
---
iverbend friends

BOUNDARIES / KIDS & TEENS

A new series for teen girls

In the town of Riverbend, the

pressures a girl faces are real.

Fitting in. Dealing with family

relationships. Appreciating your

self-image. Managing social

media stress. It's a lot to deal

with! To figure it all out, it helps

to have friends.

Coming soon from

Tessa, Izzy, Shay and Amelia

laugh together, lean on each

other, and most importantly,

discover that God is a friend who

always has their back. Invite your

teen daughter into this circle of

friendship in the first two books

in the Riverbend Friends series:

Real, Not Perfect and Searching

for Normal.

Recommended for ages 12-16.

Know when it's time to

affirm your kids as adults

BY DR. HENRY CLOUD

BRIAN MELLEMA / FOTF

"MY SON AND DAUGHTER-IN-LAW

have betrayed my wife and me, and we're having

a hard time dealing with it." This bitter confession

came from Jonathan, a good friend of mine, as we

talked about our families.

"What happened?" I asked.

"They've decided to move to Florida." (My friend

and his wife, Bridgette, live in California.) "He's

taken a job there, and they are moving in a month.

It's not right, and I'm really angry about it."

This is not going to be an easy conversation, I

thought. "Why do you take that as a betrayal?" I

asked.

"We are his parents," he said. "They should get

our input into that kind of a decision."

"It sounds like you see your anger as justified,"

I said, "like they actually did something wrong."

"Of course!"

"I can understand that you are disappointed, but

not getting what you want is not the same as their

doing anything 'wrong,' or 'betraying' you," I said.

"They have every right to make that decision on

their own."

Somewhere in this story you might identify with

Jonathan and Bridgette, thinking that your adult

children somehow owe you certain privileges or

preferences since you are their parents. And you

find yourself dealing with the same issue: How

much control does a parent have over an adult

child? >>>

Pre-order today at Shop.ong>Focusong>OnTheFamily.ca or call 1.800.661.9800

April / MAy 2021 FOCUS ON THE FAMILY 41
---
KIDS & TEENS / BOUNDARIES

BOUNDARIES / KIDS & TEENS

Getting to the real issue

The real issue is this: God has a

design, and that design is that children

are accountable to their parents

. . . as long as they are children. The

Bible says, "Children, obey your parents

in the Lord, for this is right"

(Ephesians 6:1, emphasis mine). But

it is clear that the command is to

children.

Clearly there is a time when a person

is no longer a child; he becomes

an adult under his own guardianship

and management. Paul writes

in Galatians, "As long as an heir is

underage, he is no different from a

slave, although he owns the whole

estate. The heir is subject to guardians

and trustees until the time set

by his father" (Galatians 4:1-2, NIV).

This points to the reality that a person

reaches an age in which he or

she is free to be responsible and

accountable to God.

So the question here is about how

parents and adult children reorder

their relationship after someone

is an adult. And added to the mix

is God's design that once someone

is married, he or she must clearly

"leave and cleave," which means the

adult child has left parental guardianship

and management and now

has established his or her own new

household (Genesis 2:24). And

at these points of adulthood, the

relationship changes from one of

accountability to one of being equal

adults under God, while continuing

to "honor" parents (Exodus 20:12)

for all they have done, but not under

their management.

Treating kids as adults

Today, this issue is more complicated

than ever because many adult

children are returning home and

being supported in some way by

parents. If you find yourself confused

by the ongoing changes in

your relationship with your adult

child, here are some strategies that

can help your interactions go better:

Reach mutual understandings. As

a child is becoming an adult, commit

to ongoing conversation. Try to

discover each other's expectations

so you can reach a mutual understanding

of how these years will look.

Recognize that your adult children's

lives are now under their own governance

and that they are no longer

accountable to you. The goal is to

have the best relationship possible

with each other, so talk about what

that will look like.

This also means you'll need to clarify

expectations about some other

issues. How much time will you

spend together? What about financial

help? Living situations? Advice

on parenting? Faith decisions? These

areas of possible conflict often need

to be discussed to avoid confusion

and disappointment.

When I first headed off to college,

my dad told me, "Son, you are going

to college, and I am paying for it. I

never got to go, and I am thrilled to

provide that for you. Your job was to

make the grades to get in and now to

stay in, and mine will be to pay for

it." Then he added the real punch

line, "And after college, you are on

your own. My job is over. If you want

to drop by for a sandwich, great, but

you're on your own."

I remember both the excitement

of that freedom as well as the absolute

fear it instilled in me to get my

act together so I could earn my way.

And both of those are good and Godordained:

excitement of a vision and

a healthy fear of reality.

As you discuss expectations,

remember that no one has a "right"

to the other's life. Parents do not have

a right to dictate the course of an

adult child's career or marriage, and

adult children do not have a right to

expect their parents to take care of

them forever.

Hopefully you can work out satisfying

arrangements, done in an

CREDIT TK

CREDIT TK

accepting atmosphere of freedom

for both sides to decide what they

will agree to do and not do.

If your desires are not met, be sad

instead of angry. Jonathan's angry

response came when he saw his

son and daughter-in-law's decision

as a transgression against him

and Bridgette. In his mind the couple

had done something wrong, and

he was righteously angry. The truth

is that the son and his wife had exercised

their God-designed adult

rights, but it was not what Jonathan

wanted to happen. So, understandably,

Jonathan was disappointed.

That is natural when we don't get

what we desire. But it is not a justifiable

cause for us to be angry or use

guilt or control.

Hold your wishes lightly, but discuss

why they are important to you.

Listen to each other, respect your

adult children's wishes and respond

with empathy. And when your wants

are not met, just say, "Well, I would

prefer if you had done x or y, but it's

your life." That will go a long way

toward creating the kind of respectful

relationships we all desire with

the people we love.

Be available to help, but don't

impose. Tell adult children that you

are available to help, but you will not

force it on them.

There is a great practice many

pastors do at wedding ceremonies

to memorialize this kind of adulthood.

Before they do the vows, the

pastor says to both sets of parents,

"We first want to honor you for all

you have done to bring these two

to this day. You have nurtured and

trained them; you have provided for

them. And we thank you. And now,

as of today, your role as provider has

ended. From this day on, they are on

their own. And may God bless the

future relationship that you will have

with them, and with their children."

And then the ceremony goes on to

memorialize that reality.

But that does not mean you will

have no relationship. Far from it. Nor

does it mean you are not available to

them for advice, wisdom, help, support

or the like. And this applies to

single adults as well as newlyweds.

Send them to adulthood as autonomous,

but let them know you are

always there to help with their adulthood.

Establish that relationship. It

is good and biblical.

Moving forward

Again, your help or advice cannot

be imposed or enforced like it was

during their childhood. And adult

children shouldn't expect that ongoing

advice, either. You are no longer

their "parent" in those ways. Career

decisions, childrearing decisions

and other adult decisions will be

theirs, and you will be glad to have

input if they desire, and you will also

not intrude in areas where your help

isn't wanted. Do just as any other

good friend would do, and in this

case, a special kind of "friend"—an

adult peer who happened to raise

them. It is a special relationship.

My parents are both deceased, but

my wife's parents are living, and we

have gotten so much great advice

and wisdom from them in our 25

years of marriage and 19 years of

parenting. But it has never been

forced, controlling or demanded. I

am so grateful for them and the relationship

we have.

In the end, Jonathan and Bridgette

went to their son and daughterin-law

and apologized. Then they

began the healthy discussions that

helped them order their relationship

differently. They are working well

together and being supportive of

each other. But they had to have the

talk about boundaries first, and then

live it out. •

Dr. Henry Cloud is a psychologist, speaker and

bestselling author of numerous books.

42

FOCUS ON THE FAMILY

April / MAy 2021

April / MAy 2021 FOCUS ON THE FAMILY 43
---
KIDS & TEENS / LOVE

LOVE / KIDS & TEENS

NEW

be a gift

to your

grandkids

FROM FOCUS ON THE FAMILY

AS LONG AS I HAVE BREATH

In this 52-week devotional, Bruce Gordon will

help you transition to a life rich with purpose.

Discover that the most impactful years of your

life may still be to come.

ong>Focusong>OnTheFamily.ca/Store

And enjoy the unique role

you play in their lives

BY BRUCE GORDON

KIDS LIVE IN A DIFFERENT WORLD from the one that those of us

over age 50 grew up in. Life for them is so serious. There is pressure to perform,

social cultures to navigate and an all-consuming media environment to balance.

These demands can take a toll on a child's health and well-being.

I was thinking about all of this recently after a visit with my granddaughter.

"Papa, I love it when you laugh at yourself," she told me after I had made a

silly comment about something I had done. It reminded me how much of a

gift it is to be a grandparent—and how we can be a gift to our grandkids. All

children need a little laughter in their lives, and as grandparents we can meet

this need. We can model joy and humility, demonstrating a more lighthearted

approach to life.

Grandparents can play a unique and significant role in the lives of their

grandchildren. Here are a few gifts that engaged grandparents can give their

grandkids:

Stability

If there is one word to define life

during the last couple of years it's

change. Grandchildren need stability

amid societal turbulence—someone

to stand with them and beside them.

Family traditions and history foster

stability, and grandparents can

impart this information to help kids

feel they belong.

Perspective

Recently both a youth pastor and a pastor for young adults told me

they desperately needed older people to walk alongside our youth.

Whether in elementary school, high school or college, they need

mentors who can help them see their world from a different perspective.

Grandparents can provide valuable insights.

We can jump-start conversations by sharing a little about our

pasts—what our childhoods and teen years were like, how we met

our spouses and what we've dreamed about doing. We can also

model our values.

Of course, we may need to seek counsel from those who are

younger to help us better understand the issues our grandchildren

are facing. So seek out those who work with young people. Ask them

how you can be involved.

FOTF / ANNEKA JACK

Unconditional love

Grandkids experience unconditional

love when we love them for who

they are, not who we are trying to get

them to be. We can coach and teach

them, loaning them our wisdom so

they have the opportunity to make

good choices.

Adventure

When I was growing up, my favorite reads were adventure books. I loved the

possibility of real adventure and often dreamed that I might have my own. My

grandfather took me on several trips because he understood this need.

Grandparents can open worlds of exploration to their grandchildren

when we listen to their interests. We can use our lifetime of experiences and

knowledge to explore our city, a new trail, a new restaurant, a museum, an

observatory or a nearby fishing hole. We also make good volunteers, especially

when serving with our grandchildren to help a ministry we're both passionate

about.

Connection

Grandchildren may need help sorting

out big issues in their lives. I love

when my grandkids ask me what I've

learned about an issue. Issues may

change, but God's love and truth do

not. Our lives can become an example

for our grandkids about how He

helps people. Our past can show

how our Lord works in our hearts

and in our interactions with others

to refine us into wise and resilient

Christ followers.

We don't want to be people who

go through life in completely separate

worlds from our grandkids. Our

grandchildren need real connections,

people who are interested in

them while they process life and face

its challenges. God's plan has always

been that as we age, we become

"sages" for those who are younger. If

we're not engaged in the lives of our

grandchildren, I wonder if we're truly

fulfilling what God asks of us during

this stage of our lives. Loving our

neighbor has to do with serving

those God puts in our lives. Our

grandchildren are near the top of

our list. •

Bruce Gordon, the former president of ong>Focusong>

on the Family Canada, is a leader, coach,

consultant, educator and pastor. This article

was adapted from As Long As I Have Breath,

a ong>Focusong> on the Family resource published by

Tyndale House Publishers.

44

FOCUS ON THE FAMILY

April / MAy 2021

April / MAy 2021 FOCUS ON THE FAMILY 45
---
KIDS & TEENS / MY THRIVING FAMILY

blowing bubbles

ong>Focusong> on the Family Canada

Broadcast App

Valentina, 10, and Victoria, 7

Enjoying a sunny day

—Aline from Alberta

Kenzi, 5, and Sadie, 3

Chasing bubbles with Nana

—Brian and Nicki from Minnesota

Looking for ways to build your faith, strengthen your marriage and

become a better parent? The ong>Focusong> on the Family Canada app is here

to provide you with answers! Join hosts Jim Daly and John Fuller

as they interview a variety of leading marriage and family experts,

offering encouragement and practical advice for whatever stage your

family is at.

Melody, 3

Bubbles on the balcony

—Paul from California

Your kids could be in ong>Focusong> on the Family magazine!

Email photos* of your child gardening or their Easter celebration. (Put

"gardening" or "Easter" in the subject line.)

Send to: info@fotf.ca

* Largest photo possible—professional photos not accepted

If you are looking for inspiration and ways to have a thriving family,

download the app today!

To download the Apple or Google app, visit

focusonthefamily.ca/mobile

46

FOCUS ON THE FAMILY

April / MAy 2021
---
Shop with confidence

at ong>Focusong> on the Family Canada

Today there are many ways to shop for

faith‐building resources for your family. And

yet, when you consider purchasing an item,

the same questions resurface:

Is the author offering a biblically based perspective?

Would a counsellor consider it sound advice?

Will the content engage your kids?

When you shop at ong>Focusong> on the Family

Canada, you can be sure about the resources

we're offering.

We stand behind every item we sell, because

each one has been reviewed and approved

by our staff for excellent content that's in

line with God's Word.

Shop online at Shop.ong>Focusong>OnTheFamily.ca or shop by phone at 1.800.661.9800