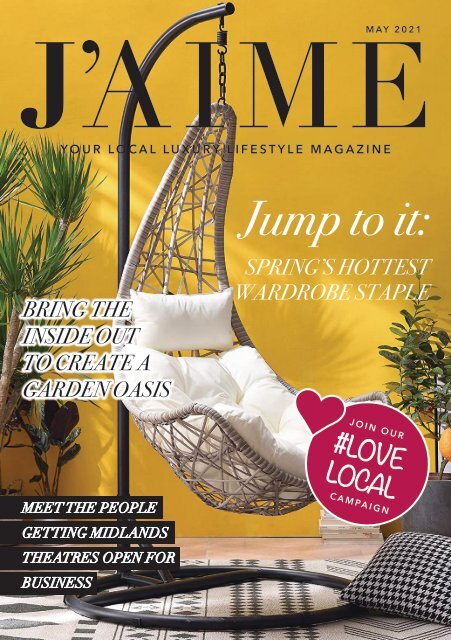 J'AIME May 2021
Your local luxury lifestyle magazine
Your local luxury lifestyle magazine
SHOW MORE
SHOW LESS
You also want an ePaper? Increase the reach of your titles
YUMPU automatically turns print PDFs into web optimized ePapers that Google loves.
M AY 2 0 2 1

J'AIME

Y O U R L O C A L L U X U R Y L I F E S T Y L E M A G A Z I N E

Jump to it:

BRING THE

INSIDE OUT

TO CREATE A

GARDEN OASIS

SPRING'S HOTTEST

WARDROBE STAPLE

J O I N O U R

#LOVE

LOCAL

MEET THE PEOPLE

GETTING MIDLANDS

THEATRES OPEN FOR

BUSINESS

C A M PA I G N
---
EQUILIBRIUM PILATES ROOM

INSPIRE - LEARN - GROW

"The mind, when housed within a healthful body,

possesses a glorious sense of power" JOSEPH PILATES

Over the past 20 Years we have seen and felt the life

changing impact of Pilates and Yoga and we aim to

share that with everyone who walks into our Studio.

Our goal is to inspire you to reach higher, help you

learn about your body, how it works, how it moves

and ultimately empower you to grow in both mind

and body.

Our Client base is extremely diverse and there is no

"typical" client here at Equilibrium. We welcome

people of all ages, abilities and fitness levels. So why

not get in touch and start planning your journey

today!

OUR CLASSES:

• Mat Pilates

• Reformer

• Cadillac

• Yoga

• Barre

• HIPP (High Intensity Power Pilates)

• Private sessions (Solo, Duet, Trio)

CLASS PRICES FROM £12

www.eqpilatesroom.co.uk

hello@eqpilatesroom.co.uk

0121 323 4663

Equilibrium Pilates Room,

Coppice Garden Centre, Coppice Lane,

Middleton B78 2BU
---
Welcome to J'AIME

We have sunshine, a renewed sense of optimism and

hopefully, this month, we will finally be able to step foot

inside restaurants, pubs and theatres once again.

Here at J'AIME we couldn't be more excited about getting

more of our freedoms back and seeing some of our

favourite local businesses opening their doors once again.

That's why we are delighted to continue our #LoveLocal

campaign, which highlights some of the amazing

independents based right across our patch.

Throughout 2021 we will be celebrating local businesses

as they reopen and life starts to return to something a little

more like normal. In this month's #LoveLocal coverage

you can read about independent businesses in Lichfield and

Sutton Coldfield. Keep an eye out for more #LoveLocal

content next month.

You'll see the address of our website across the bottom

of each page in the magazine and that's because we've

given www.jaimemagazine.com a wonderful revamp.

You can visit the website to read everything you see in the

magazine plus much, much more. The website is updated

each day and includes positive, uplifting lifestyle articles

from right across the Midlands.

As well as being delivered to homes in selected postcodes

J'AIME is now available to pick up free of charge in major

supermarkets around the Midlands. You can also read a

digital, flick-through version of the magazine free of charge

at www.jaimemagazine.com

Within the May magazine you can read interviews with

some of the people helping to get the Midlands arts scene

back on track and meet a Tamworth violist who has written

a book for young culture vultures.

Add to that our usual mix of interiors, property, fashion,

beauty, travel, fitness and food and we hope we have

something for everyone.

We hope our upbeat, positive content will bring a little

added cheer to your life.

Please don't forget to support your local independent

businesses. When you buy from a small business you're

supporting your community and helping to keep people in

jobs.

From everyone at J'AIME, may we wish you a happy, sunny,

cheerful May.

EDITOR: AMY NORBURY

EDITOR@JAIMEMAGAZINE.COM

ADVERTISING: JAN ASHLEY

ADVERTISING@JAIMEMAGAZINE.COM

07388 335 931

DESIGN: DESIGN@JAIMEMAGAZINE.COM

CONTRIBUTORS: JENNY AMPHLETT,

NATHAN COLLINS, DEBORAH MITCHELL,

SUSIE MANDLEBERG

J'AIME IS PUBLISHED BY ASHBURY

PUBLICATIONS LIMITED AND PRINTED BY KEP

LIMITED, TAMWORTH.

Check us out online at:

WWW.JAIMEMAGAZINE.COM

Find us on

/JAIMEMAGAZINE

@JAIMEMAGAZINE

@JAIMEMAGAZINE

SPONSORED BY

3
---
CO N T E N T S

InsideJ'aime this month...

6 Feature - Meet the people helping Midlands

theatres to reopen

10 Feature - A new book for young culture

vultures

12 Property - Could this be the home of your

dreams?

14 Interiors - Take the inside out to transform

your garden

20 Interiors - Kitchen inspiration

24 Food and drink - A recipe to try at home

26 What's On - Ideas for things to do this

month

28 Local area - The Deer Park at Hoar Cross

30 Travel - Could a cruise around the UK be the

answer for your summer holiday

34 #LoveLocal - Lichfield independent businesses

38 Fashion - Our pick of the best jumpsuits

40 Beauty - Exfoliators v peels

42 #LoveLocal - Sutton Coldfield independent

businesses

43 Health - One of the region's longest

established pilates businesses moves home

44 Health - Cycling

46 Health - The benefits of robot-assisted

surgery

SPONSORED BY

4
---
F E AT U R E

Arts for art's sake

AS MANY OF THE REGION'S THEATRES AND VENUES PREPARE TO

REOPEN THIS MONTH, JENNY AMPHLETT MET SOME OF THE PEOPLE

HELPING TO BRING THE ARTS BACK TO LIFE

CATHERINE O'REILLY, ACTRESS AND

WRITER

When the new play written and produced by

Catherine O'Reilly and Tim Churchill opens in

Staffordshire on May 25 it is likely to be one of the

first theatre productions in the UK post-lockdown.

The Turnip Field will also be directed by Tim, whose

usual day job is resident director of the national

touring production of Blood Brothers.

The couple, who live in Stone in Staffordshire, have

attracted two West End veterans to star in the show

at Stoke-on-Trent Repertory Theatre.

They've also commissioned an original score from a

musician with experience of West End productions.

"As far as we're aware it could be the first play

to open after restrictions lift on May 17," says

Catherine. "It's a very quick turnaround."

The couple were able to stage another of their

plays, Closure, at the same venue last September, in

between national lockdowns. It was a sell out.

"We had social distancing in place last time and

we will again," says Catherine. "We were really

pleased with how smoothly it went last time. We had

a fantastic team who worked with us on health and

safety."

The cast of two will include Sean Jones, who played

Mickey in Blood Brothers for 21 years, and Josh

Capper, who was part of the international touring

cast of Mamma Mia.

"We've got fabulous actors on board," says

Catherine. "Everybody has had such a bad year. This

is really a story about life, a celebration of life.

"It's a joy to create something and to put it into the

hands of two actors that are so strong. We're very

lucky to have this team."

The cast have been having readings and rehearsals

over Zoom and won't actually get together in person

until theatre restrictions are lifted this month.

The play will run straight through, without an

interval, to help social distancing during the five

performances.

Audience members will sit in bubbles, wth seats left

CATHERINE O'REILLY AND TIM CHURCHILL

empty between each group and empty rows in front

and behind.

Making a profit is not the motivation for Catherine

and Tim.

"You can't make money out of theatre at the

moment, and of course we're paying the actors,"

says Catherine.

"We're doing this show for a number of reasons. It's

a story that we really wanted to write - it's been in

our minds for years. It's really important for both of

us to encourage the theatre industry and get people

back into the theatre.

"Prior to the first lockdown Tim was touring with

Blood Brothers and was the resident director of that.

Then overnight, that was it. His work completely

dried up.

"Now there's a glimmer of hope we want to do what

we can to encourage people back through theatre

doors.

"This certainly isn't going to make us any money,

probably the opposite, but we feel passionately about

getting venues back open."

Tickets, priced £14, are available from

www.ticketsource.co.uk

6 www.jaimemagazine.com
---
ERICA LOVE, DIRECTOR OF CULTURE

CENTRAL

As the director of an organisation that speaks on

behalf of the entire cultural sector of the West

Midlands, Erica Love is well placed to understand

the impact COVID-19 has had on the arts.

In her role as director of Culture Central she speaks

out for organisations, individuals and freelancers

across all forms of arts, culture and heritage.

Erica's job was always going to be a big task, but

became even more so when the pandemic hit and

Culture Central, which was originally just for the

Birmingham area, widened its remit to cover the

whole of the region.

"We're a cultural sector support organisation, a

collective voice for the sector," says Erica, a former

project director of the Appetite programme in North

Staffordshire. "We lobby for support for the sector

and bring people together to collaborate, for example

on ideas around reopening strategies.

"We were one of the first sectors to have to close our

doors and one of the last to be able to reopen again

on any scale."

Erica, who is from Stoke-on-Trent, is keen to stress

that there have been some very definite positives to

emerge for her industry over the past 12 months.

"Good things have come out of it, such as digital

opportunities. There have been more than 2,000

digital arts events in the West Midlands, and

that's just from the organisations that we've got

information from.

"There's been a shift in the way people work, a

change in the speed at which they have to get things

happening. People have also come together to try to

support one another through this time.

"There have been real challenges, particularly for

ERICA LOVE

www.jaimemagazine.com

7
---
freelance parts of the workforce who have been

significantly affected."

Indoor performances are due to resume from

May 17, but Erica is not convinced that date

will work for all of the groups she represents

and believes that social distancing rules will run

through to the summer.

"The great thing is that a huge amount of

work was put into reopening plans last autumn,

so organisations and venues are really well

prepared for thinking about masks and social

distancing.

"They've already thought about how to

rehearse safely and how to keep audiences and

participants safe. We know that arts venues are

going to be extremely safe places.

"One of the real strengths of our region is that it

can work together so well."

Rather than dire predictions of financial

doom and gloom, Erica is focussing on the

opportunities the Midlands has over the next few

years including Coventry's City of Culture status

and the Commonwealth Games.

"We know just how important the arts and

JOSH CAPPER

SEAN JONES

cultural activities are not just for mental health

and wellbeing but also in bringing people back

into cities and town centres," she says. "It's a

way for people to spend time with family and

friends and to support their community.

"Hopefully we'll see a huge takeup for what will

be on offer culturally and people will also come

to realise what's available in our wider region as

well.

"We have some amazing venues and

organisations, festivals, performances and

artists."

Erica doesn't expect the new digital aspect of

the arts to disappear completely, with some

organisations choosing to embrace both old and

new ways of working.

"DanceXchange and a few other organisations

have said that although they will reopen studios

they will be looking to stick to some of their

online activities.

"The past year has allowed them to reach people

who would not necessarily have been able to

come to their studio. I definitely think a lot of

that will happen.

"We might see shows happening in front of

audiences but also being live streamed as well.

It'll be about retaining the positives from the

past year."

8

www.jaimemagazine.com
---
F E AT U R E

New book for young

culture vultures

A PROFESSIONAL VIOLIST TURNED AWARD-WINNING AUTHOR HAS RELEASED

A CHILDREN'S ADVENTURE BOOK WITH A CONSERVATION THEME

She may be more used to musical keys than

typewriter keys, but that hasn't stopped musician

Judy Brulo from excelling in her new career as an

author.

The Buried City - A Tale of Two Time Zones, which

has the official support of the Vulture Conservation

Foundation, is out now priced £9.99.

Judy Brulo, from Tamworth in Staffordshire, has

written the book as a prequel to her prize-winning

Vulture Island Trilogy.

The 69-year-old, who trained at the Guildhall School

of Music in London before performing with London

Mozart Players and the City of London Sinfonia,

was the 2019 winner of the Eyelands International

Book Award in the children's published fiction

category. She was shortlisted for the same prize in

2020 for Swords in the Sky, the third book of the

Vulture Island trilogy.

The Buried City - A Tale of Two Time Zones is the

eighth book Judy has published in the space of just

seven years, after being inspired to take up writing by

her two young grandchildren, Kaia and Taio, now

aged 13.

"When they were learning to read I wrote short

stories for them, almost weekly. I chose topics that I

knew they were interested in," she says.

Judy's first few books were aimed at five to sevenyear-olds

and included A Year in the Life of Brack, a

collection of stories about a Brachiosaurus Dinosaur

who turns up on the twins doorstep early one

Saturday morning, feline adventure anthology Cat-

Lateral Damage and Boris and Doris Cat Detective

Agency.

The Vulture Island Trilogy, aimed at children aged

eight to 12 years, swiftly followed.

The stories were inspired by Griffon Vultures Judy

spotted during her years living and working in

Cyprus. The books aim to gently educate children

about conservation while entertaining them with an

adventure story.

Judy contacted the Vulture Conservation Foundation

to fact check the first book in the series and has gone

on to be a speaker at the organisation's European

conference. The Vulture Conservation Foundation

continues to staunchly support her work highlighting

an often misunderstood species.

"I'll always remember the first time I saw a Griffon

Vulture," she says. "I was driving along a coastal

road in Cyprus and saw a huge bird launch itself off

the cliff and over the sea. I'd never seen such a large

bird in my life before.

"I thought it could be a really good starting point for

an adventure story combined with the magical island

10 www.jaimemagazine.com
---
of Cyprus, a boy and some archaeology."

The main characters in the Vulture Island

series are Griff, a Griffon Vulture who

challenges Luke, a 10-year-old boy, to

investigate the mysteries of Vulture Island.

The nail-biting prequel to the Vulture Island

Trilogy, The Buried City - A Tale of Two

Time Zones, is hot off the press.

In this story Griff presents Luke with yet

another challenge – to find Vulture Island's

Buried City, the whereabouts of which has

baffled archaeologists for hundreds of years.

The book sees Luke and his friends

transported back in time to the Mycenaean

Civilization (1,200 BC) where he meets

unpredictable Greek gods and a brave young

girl. What is her connection with Luke and

Griff? Do they find the Buried City? What

dangers will Luke and his friends have to

overcome on their quest?

Judy Brulo's books are available from the

Etsy bookshop BruloBooks, WHSmiths in

Tamworth, Waterstones, Amazon or through

her Facebook page www.facebook.com/

JudyBruloChildrensAuthor

Schools and other organisations can contact

Judy at htpps://contactanauthor.co.uk/

author/315/judy-brulo

www.jaimemagazine.com

11
---
P R O P E RTY

Property of the Month

EACH MONTH WE SHOWCASE ONE OF THE MOST LUXURIOUS PROPERTIES

CURRENTLY ON THE MARKET IN THE MIDLANDS. THIS HOUSE WAS SELF-BUILT BY

THE CURRENT OWNERS AND DESIGNED BY A LOCAL ARCHITECT.

Slade Road, Sutton Coldfield. £825,000. On the market with Aston Knowles: 0121 362 7878.

THE CURRENT OWNERS SAY: We wanted to provide

a large family home, not only efficient to run but flexible to

accommodate modern day working and living arrangements.

THE AGENT SAYS: This lovely modern family home is

accessed via a gated block paved driveway. The reception

hallway with its high ceilings makes an incredible first

impression. A guest cloakroom is located directly on the

left-hand side after entering and the hallway leads on to the

reception rooms.

The drawing room is located towards the front of the

home and offers views over the front of the property. The

bright and open kitchen/breakfast room is located on the

opposite end of the ground floor and looks out over the rear

garden. This is the perfect space for modern family living,

featuring ample space for an informal dining and family

area. Double doors lead out to the rear patio and are ideal

for opening up the space in the summer. A study or playroom

completes the ground-floor accommodation. The space

could alternatively be used as a bedroom if required due

to concealed plumbing which would allow for an adjacent

en-suite shower room. The principal bedroom with front

aspect is on the first floor and features an en-suite shower

room with a beautiful modern suite and double shower. Two

further bedrooms benefit from a Jack-and-Jill shower room.

The first floor further features a fourth bedroom with rear

aspect and a family bathroom with stunning mosaic floor

tiling. The second floor offers flexible accommodation which

could be used as three further bedrooms, a parental suite with

bathroom and dressing room or for additional living space

such as a cinema room, spacious study, or playroom. There is

an additional WC which is large enough to additionally house

a shower. Bedroom five is cabled for a cinema room/home

theatre.

W E L O V E :

THE FLEXIBILITY OF THE LAYOUT, WHICH

MEANS THIS HOUSE COULD HAVE MORE

THAN SIX BEDROOMS IF NEEDED.

12 www.jaimemagazine.com
---
ELEGANT

TOWN

LIVING

ONE OF A KIND

ASTON KNOWLES

GUIDE PRICE FROM £475,000

TUDOR PLACE - PARK VIEW, OFF TUDOR HILL

An extraordinary opportunity to secure a luxuriously appointed apartment in an ideal location

close to the centre of Sutton Coldfield. This new-build apartment building features private gated

access, a lift to all floors, and underfloor heating throughout, as well as wonderful views. Each

apartment boasts parking for 2 cars and comes with a Global Home Warranty for 10 years.

Premium features of the exclusive development include remote controlled security gate to the front

entrance with intercom facility and security alarms in every apartment.

EXCLUSIVE

& PRIVATE

ESTATE

HARTOPP ROAD - FOUR OAKS ESTATE

GUIDE PRICE £2,250,000

This family home is finished to an exceptional specification on a spacious plot of 0.66 acres.

The property features a drawing room, dining room, and open plan kitchen/breakfast/family room

to the ground floor, as well as a utility, boot room, cinema, and playroom.

To the first and second floor the home offers a principal bedroom with dressing room and en-suite

bathroom, guest bedroom with dressing room and en-suite bathroom, bedroom three and four with

en-suite shower room, bedroom five, and a family bathroom.

Outside the home features a double garage, gated private driveway, and mature gardens.

0121 362 7878

enquiries@astonknowles.com

www.astonknowles.com

@astonknowles
---
I N T E R I O R S

Bring the

inside out

WITH the warmer weather just around the corner, it's

only natural that thoughts turn to bringing that indoor

vibe to our outdoors. Rather than being a separate space

at the mercy of the elements, the garden is increasingly

becoming a natural extension to your living, dining and

entertaining area which comes into its own the moment

the sun starts to shine.

Whether it's casual lounging on the patio, or creating an

Insta-worthy outdoor kitchen and dining solution, one

thing lockdown has reminded us is of the importance of

every last bit of space, both in and outside of our homes.

Patios, gardens and garden buildings have dutifully served

greater purposes than ever before as happy hour haunts,

offices, gyms, parks and refuges to enjoy the beauty of

nature, and our outdoor spaces are sure to remain hot

spots for social gatherings for quite some time.

So if your space needs a shake-up, it's time to get

transforming; invest in stylish furniture, accessories and

cooking solutions to create your own at-home oasis.

DUNE SMOOTH 15.3M2 20MM SANDSTONE PATIO

PACK, £582, PER PACK. AVAILABLE FROM TIPPERS.

WWW.TIPPERS.COM

£119

£50

COBALT WALL LANTERN, GARDEN TRADING.

WWW.GARDENTRADING.CO.UK

INDIIR OUTDOOR DIAMOND CUSHION,

COX & COX. WWW.COXANDCOX.CO.UK

£39.95

£35

ARMANDO WOVEN GARDEN LOUNGE

CHAIR, CULT FURNITURE.

WWW.CULTFURNITURE.COM

BLACK RATTAN CONVEX LANTERN,

AVAILABLE FROM LOCAL ONLINE RETAILER

VB LUXURY INTERIORS.

WWW.VBLUXURYINTERIORS.COM

14 www.jaimemagazine.com
---
Curtains | Blinds | Wallpaper

Refresh your home with

soft furnishings from our family

owned and run business

3 year guarantee

Expert fitting service

Best of Lichfield «««««

Top brands across all price ranges

Lichfield Showroom

NOW Lichfield OPEN

Showroom

Interior Choice

Interior 1st Floor Choice,

Sure First Store Floor

Sure WS13 Storage 6UY

Eastern Avenue

Lichfield

Sale starts Jan 4th

WS13 6UY

25% off Selected ranges

By appointment only. FREE parking. Please book in

online: www.interiorchoice.net or call 01543 406162

PHOTO ME

Refreshingly Different

Visit our Stylish Showroom

11 Belwell Lane, Sutton Coldfield, B74 4AA - Tel: 0800 996 1241

Visit our fantastic website www.jmiwindows.co.uk - enquiries@jmiwindows.co.uk

Windows | Doors | Bi-Fold Doors | Garage Doors | Conservatories | Orangeries | Secondary Glazing | Window Repairs
---
£725

£399

FELIX LOUNGER BEANBAG, LIME LACE.

WWW.LIMELACE.CO.UK

OUTDOOR TALL METAL DAKOTA FIREBOWL

IN RUST, IVYLINE. WWW.IVYLINEGB.CO.UK

DOUBLE INDOOR OUTDOOR

HANGING CHAIR, COX & COX.

WWW.COXANDCOX.CO.UK

£189.99

£450

£118

£99.99

OSLO CHARCOAL OUTDOOR

DINING TABLE, ROSE & GREY.

WWW.ROSEANDGREY.CO.UK

HEXA GOLD WITH BLACK HANDLE

LANTERN, VB LUXURY INTERIORS.

WWW.VBLUXURYINTERIORS.COM

£890

WAKEHURST HELSTON OUTDOOR FIRE PIT

WITH LEGS IN RUST, GARDENESQUE.

WWW.GARDENESQUE.COM

FLAT RING OF LOGS FIREPIT, FIREPITSUK.

WWW.FIREPITSUK.CO.UK

PAIR OF HAMPSTEAD ARMCHAIRS, £500,

FIKA LIVING. WWW.FIKALIVING.CO.UK

16 www.jaimemagazine.com
---
BAYLISS LIMITED, 23 GATE LANE, BOLDMERE, SUTTON COLDFIELD B73 5TR

0121 362 1800 - WWW.BAYLISSLIMITED.CO.UK

ANGLIA RANGE IN BLANCO

CALIBRATED TO 20MM

605MM X 605MM £25.93

PER M 2 PLUS VAT(£9.49 PER TILE)

EUROPA WAY, LICHFIELD, WS14 9TZ

01543 440000 TIPPERS.COM

MON-FRI

7:30AM - 5:00PM

SATURDAY

8:00AM - 2:00PM
---
MANUTTI MOOD OUTDOOR COFFEE TABLE,

£1,170, GO MODERN FURNITURE.

WWW.GOMODERN.CO.UK

SCANDI DESIGNED AND INSTALLED GARDEN

PODS FROM PODHOUSE. MADE LOCALLY IN

LICHFIELD. WWW.PODHOUSE.CO.UK

BELGIO 605MM X 605MM X 20MM PERLA

PORCELAIN PAVING SLAB, £42.59 PER M2.

AVAILABLE FROM TIPPERS. WWW.TIPPERS.COM

DUPLOCEM 1200 X 600 X 20MM GRIS

PORCELAIN PAVING SLAB, £58.28 PER M2.

AVAILABLE FROM WWW.TIPPERS.COM

16
---
FREE no obligation design service with our kitchen specialists

16 -18 Britannia Way Britannia Enterprise Park, Lichfield WS14 9UY • 01543 263340

info@lichfieldkitchensandbedrooms.com • www.lichfieldkitchensandbedrooms.com

Opening Hours: Monday - Friday 9:00 a.m. - 5:00 p.m. Saturday 10:00am - 4:00pm

Proud to be a family run business for over 35 years

HOME IS WHERE THE WARMTH IS

For your safety and

to observe social

distancing we are

asking that you

telephone or email

to arrange a personal

viewing of our

showroom.

"Fantastic

service and

great products.

Thanks Kieran"

Sam McD,

Whitaker

Heath

Suppliers of: Contura, Jotul, Gazco, Paragon, Scan, Town

& Country Fires, ACR Heat Products and many more

Installers and suppliers of gas fires, bespoke limestone

surrounds, and gas and woodburning stoves, since 1981.

1/7 High Street, Erdington B23 6RG Next to Highclare School

Telephone: 0121 384 5251 - www.abbeyfirecentre.co.uk

Open: Mon - Fri: 9am - 5pm (closed Wednesdays), Sat: 10am - 2pm

abbeyfirecentre @abbeyfirecentre abbeyfirecentreltd
---
I N T E R I O R S

Kitchen

dramas

IT'S the heart of the home, and often the room which

requires the largest investment - and can create the biggest

impact. With a sizable spend on the cards, it's often

tempting to play it safe when it comes to kitchen design.

But opting for a few brave choices can transform your

room into a truly stunning statement space.

One of the biggest trends in kitchen design in recent years

has been the bold use of colour, and that shows no sign

of slowing down in 2021. Dramatic hues of navy, black,

and the current favourite deep green work brilliantly to

add a real impact to the space, either when used for a

full kitchen makeover or in contrast to light and bright

cabinetry or work surfaces.

Luxurious touches on cabinet handles, taps and

accessories can really elevate your design - or provide an

ideal way to makeover your existing space. Just add some

statement lighting for that extra flawless finish.

ORIGAMI DECAGON PAPER EASY FIT PENDANT, £10, LARA

BLACK BAR STOOL, £129, AND STORAGE JARS, FROM £4,

DUNELM. WWW.DUNELM.COM

£74

£33

£59.99

MASTERCLASS 5-PIECE BRASS-

COLOURED STAINLESS STEEL KNIFE SET

AND KNIFE BLOCK, KITCHEN CRAFT.

WWW.KITCHENCRAFT.CO.UK

GREY AND GOLD BOTTLE OPENER

AND BOTTLE STOPPER SET,

VB LUXURY INTERIORS.

WWW.VBLUXURYINTERIORS.COM

£37

MATTE GOLD AND MATTE BLACK

CUTLERY SET, VB LUXURY INTERIORS.

WWW.VBLUXURYINTERIORS.COM

HOUSE DOCTOR MENDONG PLACEMATS,

FOR A SET OF FOUR, AMARA.

WWW.AMARA.COM

20

www.jaimemagazine.com
---
EDGEWORTH STORAGE BOX, LARGE,

£22, GARDEN TRADING.

WWW.GARDENTRADING.CO.UK

£22

GREY AND GOLD COASTERS,

VB LUXURY INTERIORS.

WWW.VBLUXURYINTERIORS.COM

£55

£124

£399

BRONX MARBLE EFFECT TRAY,

NEXT. WWW.NEXT.CO.UK

£14

MENU BOTTLE SALT AND PEPPER GRINDER

BRONZED BRASS, AMARA. WWW.AMARA.COM

COOKE & LEWIS FLINTER POLISHED

CHROME EFFECT AND BLACK TAP, B&Q.

WWW.DIY.COM

£49.99

ZUIVER CANTOR WINE SHELF, CUCKOOLAND.

WWW.CUCKOOLAND.COM

£110 MARBLE AND ACACIA CHOPPING

BOARD, FIVE AND DIME.

WWW.FIVEANDDIME-INTERIORS.COM

THE 'HANDLELESS' COLLECTION FROM BA KITCHENS.

AVAILABLE FROM LICHFIELD KITCHENS AND BEDROOMS,

BRITANNIA ENTERPRISE PARK, LICHFIELD.

WWW.LICHFIELDKITCHENSANDBEDROOMS.COM
---
UFORM HARBORNE LIGHT GREY KITCHEN, AVAILABLE FROM

STONEYWELL KITCHENS, SIDBURY ROAD, YOXALL.

WWW.STONEYWELLKITCHENS.COM

DESIGNER KITCHEN SPLASHBACK WALLPAPER

IN LEAFY GREEN WATERCOLOUR, £190, LIME LACE.

WWW.LIMELACE.CO.UK

CASHMERE SLAB AND LABRADOR GREEN SLAB,

STARTING AT £5,000, FROM THE PROFILE COLLECTION

AT TREND INTERIORS. WWW.TRENDINTERIORS.CO.UK

EBONY STONE TRAY WITH GOLD HANDLES, £224, VB

LUXURY INTERIORS. WWW.VBLUXURYINTERIORS.COM

SOMERTON RANGE BY BURBIDGE & SON

KITCHEN MAKERS. AVAILABLE FROM TIPPERS.

WWW.TIPPERS.COM
---
Walk away

from hip and

knee pain

At Spire Little Aston, we understand how frustrating

it is when joint pain holds you back. That's why we

provide fast access to expert care, when you need it.

We use the latest technology and techniques

wherever possible to get the best outcome for you.

From replacement surgery to joint injections, you can

be sure that you'll be treated by an expert – every

step of the way.

Our private treatments are often more affordable

than you think. There's even interest free finance –

0% representative APR available on treatment.

Meet the experts

If you suffer from hip or knee pain, we are offering a

free mini consultation* with one of our Orthopaedic

Consultants. During your Zoom appointment, you

will have the opportunity to discuss your symptoms

and get free expert advice on hip or knee pain/

injuries, how to manage them and the treatment

options available.

25

May

Hip or knee problems, from 4pm with

Mr Shiv Jain or Mr Amit Kotecha

You will be offered a free 10-minute mini virtual

consultation between 4pm and 6pm on Tuesday

25 May.

Book to see an expert today

Search 'Spire Little Aston Hospital Events'

Call 0121 514 7034

*Mini consultations are an opportunity to ask any questions you have about surgery and are not a formal

outpatient consultation. If you wish to proceed to surgery or your consultant suggests that further treatment

may be necessary, a full outpatient appointment will be required to assess your suitability for surgery/treatment.
---
F O O D & D R I N K

Herby corn fritters

SUSIE MANDLEBERG, HEAD CHEF AT THYME KITCHEN IN LICHFIELD,

SHARES THE RECIPE FOR ONE OF THE NEW DISHES SET TO BE AVAILABLE

WHEN THE RESTAURANT REOPENS THIS MONTH

Ingredients

1 egg

50ml milk

1 tbsp smoked paprika

Salt

Pepper

100g sweetcorn

2 spring onions, sliced

1 chilli, chopped

1 small bunch coriander, chopped

75g gluten free flour

Vegetable oil, for frying

Begin by whisking the egg, milk, paprika, salt and

pepper until smooth in a large mixing bowl. Then tip

in the corn, onion, chilli and coriander. Stir well, then

tip in the flour and stir again until smooth. It should

feel a little like a lumpy pancake batter.

Add some oil to a large frying pan; make sure the base

is well covered as we'll be shallow frying these. Heat

the oil and add a small spoon of batter to check the

temperature of the oil and also your seasoning. When

the oil is hot enough it should bubble right away.

Add a ladleful (around 2 tbsp) of batter into the pan.

You can add four or five depending on the size of the

pan, but make sure the pan isn't overcrowded. Cook

for a couple of minutes on each side until light brown,

then turn over and cook for a further minute. Lift out

of the pan with a spatula onto kitchen paper to drain

and remove any excess oil, then transfer to a warm

oven on a low heat until the rest of the fritters are

ready.

Serve with chilli jam, crispy bacon, fresh British

tomatoes and poached eggs, and garnish with charred

corn and coriander.

This is a fabulous dish that celebrates the very best of

British produce in the upcoming summer months. I've

made our recipe gluten free, but you can substitute for

plain flour if you like.

You can cook your fritters in advance if cooking for

a weekend family brunch, and store in the fridge for

several days or even freeze them for up to a month. Just

warm them up in the oven for around 10 minutes, or

until piping hot.

24 www.jaimemagazine.com
---
L U X U R Y & S P E C I A L I S T T R A V E L

Friday 28th May

Sunday 6th June

R E A D Y W H E N Y O U A R E

Saturday 12th June

Sunday 13th June

Saturday 19th June

Friday 18th June

Sunday 20th June

Sunday 27th June

Visit our website to view all events and to book online

Moor Hall Drive, Four Oaks, Sutton Coldfield B75 6LN

0121 308 3751 www.moorhallhotel.co.uk

HAVE YOU

EXPERIENCED

DINE AT HOME

YET?

Restaurant quality food prepped,

ready to reheat, plate and enjoy

delivered to your door!

WEEKLY

CHANGING MENU

cotswold crunch loaf and

marmite butter

braised beef in black bean gyozas, beef dashi broth,

shiitake ketchup, asian pickles, chive oil

poached rump of herdwick lamb, chargrilled gem lettuce,

lamb fat croutons, lamb fat jersey royals,

pea purée, black garlic ketchup, lamb sauce

dah sticky toffee pudding, rum and date compote,

fig and vanilla ice cream, salted caramel sauce

dine at home fudge

£39.50 per person

VEGETARIAN MENU AVAILABLE

T 01543 264050

E hello@saucesupperclub.co.uk

www.saucesupperclub.co.uk
---
W H AT ' S O N

What's on Local

AS LIFE STARTS TO REOPEN POST-LOCKDOWN, HERE ARE JUST A FEW OF THE

ENTERTAINMENT TREATS YOU'RE DUE TO BE ABLE TO ENJOY THIS MONTH

WHAT: SCIENCE MUSEUM

WHERE: THINKTANK BIRMINGHAM, MILLENNIUM POINT

WHEN: MAY 29 ONWARDS

Thinktank is finally set to reopen to the public this month after

being closed since March last year.

Families will once again be able to explore a world of wonder

through impressive exhibits and historical collections, with

reopening timed to coincide with the school half term holidays.

To ensure people can keep a safe distance from each other,

capacity will be limited and all visitors including members will

need to pre-book a timed ticket in advance. Tickets will be

available from May 6.

WHAT: ART EXHIBITION

WHERE: IKON GALLERY, BRINDLEYPLACE, BIRMINGHAM

WHEN: MAY 17 ONWARDS

Ikon Gallery reopens after lockdown with an exhibition of work

for sale by more than 250 Birmingham artists.

It's unusual for Ikon, a charity, to exhibit works that are for sale

but it has chosen to do so to try to help artists. 100% of the

proceeds will go directly to the artists themselves.

Tickets must be booked in advance, with a full list of the works

available online from May 4. It will include paintings, drawings,

photography, textiles, sculpture and video.

WHAT: VARIETY SHOW

WHERE: LICHFIELD GARRICK THEATRE

WHEN: THURSDAY, MAY 20

Variety show A Black Country Night Out, is currently

set to be the first show at Lichfield's Garrick Theatre

following its reopening.

It will include comedy, music and more - aiming to

be a good old fashioned variety show featuring acts

drawn from the region.

The next show at the theatre is due to be musicals

tribute Beyond the Barricades on Sunday, May 23.

26 www.jaimemagazine.com
---
WHAT: DRIVE IN CINEMA

WHERE: NEC

WHEN: MAY 1,2, 3

Drive in cinema has experienced a comeback since the start

of the pandemic with venues popping up around the region,

including The Luna Drive in at the NEC.

There is absolutely no need to even leave your vehicle during

the experience, making this the ultimate in Covid-safe

entertainment.

Guests are given a speaker box on arrival which sits on their

dashboard and is sanitised between screenings.

WHAT: WALKING TOURS

WHERE: BIRMINGHAM CITY WEEKENDS

WHEN: WEEKENDS THROUGHOUT MAY AND INTO THE

SUMMER

Positively Birmingham have resumed their walking tours of

the city centre, with four different themes and routes to choose

from.

You can visit the city centre canals and discover more about

Georgian and Victorian Birmingham, discover more about

Chamberlain Square and the Bull Ring, take an hourlong

tour of Centenary Square or opt for a Discovering

Birmingham route.

Tickets should be booked in advance at

www.positivelybirmingham.co.uk

WHAT: FILM FESTIVAL

WHERE: ONLINE AND ON SCREENS AROUND

BIRMINGHAM

WHEN: MAY 21 ONWARDS AND THROUGHOUT THE

SUMMER

Using a mix of online screenings, outdoor venues and

hopefully indoor cinemas as they reopen, Flatpack Festival

2021 will share filmmaking from around the globe.A series

of screenings and discussions will delve into the archives for

buried treasure, from the secret history of Birmingham's

adventure playgrounds to Indonesian folk horror.

To find out more about events and venues visit

flatpackfestival.org.uk

www.jaimemagazine.com

27
---
LO CA L A R E A

A great i-deer

EXCELLENT FOOD, EXCLUSIVE SHOPPING AND A GLORIOUS WOODLAND

TRAIL ARE JUST SOME OF THE REASONS WE RECOMMEND VISITING

THE DEER PARK AT HOAR CROSS

Situated in stunning Staffordshire

countryside, The Deer Park Farm

Shop and Restaurant offers a

relaxing place to eat, drink, shop

and work. There is also a beautiful

ancient woodland area with a

marked trail that can be enjoyed

on foot, including by four-legged

members of the family.

The Farm Shop offers the finest

produce, all of which is sourced

as locally as possible. There is a

wide selection of fresh fruit and

vegetables, freshly baked breads and

pastries, locally laid eggs, homemade

jams and preserves, English wines,

beers and ciders and much more.

The in-house master butcher, Russell's at The

Deer Park, is an award winning butcher who

supplies locally sourced high-grade meat and

wonderful pies which are used in the restaurant.

A gift shop on the first floor showcases small UK

based suppliers and retailers that have been hand

picked to provide customers with an inspiring

selection of unique quality gifts and cards to suit all

occasions.

There are also four independent retailers on site:

Portfolio Photographic captures images in a

relaxed style either in their studio or on location,

creating memories for you, your family or business.

Red Velvet Bakery provides the perfect cake

for any occasion including weddings, birthdays,

engagements or anniversaries. They are all

beautifully decorated, delicious and wickedly

indulgent.

SOS Lingerie offers luxurious ladies lingerie and

loungewear with a bespoke fitting service and a range

of jewellery and gifts.

Birchover and Bromley is an inspiring florist

with a range of fresh and artificial flowers as well as

jewellery and gifts.

The Linhay Restaurant offers breakfast, lunch,

afternoon tea, coffees and teas, milkshakes, smoothies

and fabulous cakes. Everything is handmade using

locally sourced seasonal produce wherever possible,

including many items from the Farm Shop.

A function room is available for hire by businesses

or individuals. With spectacular views over the

surrounding countryside and its own catering

facilities this large space provides the perfect venue

for any occasion.

The Deer Park Farm Shop And Restaurant,

Maker Lane, Hoar Cross, Staffordshire, DE13 8QR,

01283 384477, info@deerpark.farm,

www.deerpark.farm, www.facebook.com/

thedeerpark, www.instagram.com/deer.park.farm

28
---
THE DEER PARK FARM SHOP

AND RESTAURANT

Indulge in our contemporary cafe while taking in the

fantastic views and landscapes of the rolling Staffordshire

hills. Boasting a wonderful combination of everyday classics

and specials, reflecting our passion for fresh, delicious food

from our very own farm and shop, including meat from our

wonderful in house butcher, Russell's of Shenstone.

On the first floor we offer a unique retail experience

combining an eclectic mix of locally sourced products,

sought-after brands, and talented craftsmanship from

passionate UK artisans. Our range includes greetings

cards and wrap, homeware essentials, stationery, books,

cosmetics, childrens gifts, fashion and even pet accessories.

We also have 4 independent retailers on site – Portfolio

Photographic, Red Velvet Bakery, SOS Lingerie and

Birchover & Bromley.

We look forward to welcoming you

FULLY OPEN FROM 18 TH MAY

WITH INDOOR DINING AVAILABLE

MAKER LN, HOAR CROSS, BURTON-ON-TRENT DE13 8QR. TEL: 01283 384477

MONDAY - CLOSED. TUESDAY - SUNDAY 8.30AM - 5.00PM. LAST ORDERS FOR FOOD 4.00PM

DEER.PARK.FARM THE DEER PARK

Nothing can beat personal

advice when you're looking

to put the last few months

behind you and make plans to

look forward, whether that's a

last-minute getaway or you're

planning ahead to next year.

beyond the horizon

Let's create something to look forward to

You will always have the

support of a real person, be it

face-to-face, by video, phone

or email - whenever you need

me.

Charlotte Mitchell - Travel Counsellor

0121 314 6650 or 07860 944207

charlotte.mitchell@travelcounsellors.com
---
T R AV E L

Have a ship-shape summer

COULD A CRUISE AROUND THE UK BE THE ANSWER FOR YOUR 2021

SUMMER HOLIDAY? LOCAL TRAVEL SPECIALIST NATHAN COLLINS,

FROM RB COLLECTION, FINDS OUT MORE

Who would ever have thought the world's leading

cruise lines would be descending on the UK for

a special summer programme of sailings. This is

certainly going to be a unique occasion indeed.

With the vaccine rollout speeding along in the UK,

cruise lines have decided to reposition their ships

and offer a variety of departures in UK waters

this summer. From short taster cruises to longer

sightseeing and wildlife itineraries there's a long list

to choose from.

The variety of cruise brands involved is wide, with

smaller expedition ships, tall sailing ships and larger

all-round entertainment ships all involved. We will

even see a number of brand-new cruise liners use

this as an opportunity to finally launch their vessels

here in the UK.

Here is your guide to this summer's UK cruises with

our top selections to choose from:

Tradewinds Voyages (tall ship cruises)

Experience the British Isles from a new perspective

with these seven tall ship voyages exclusively visiting

UK ports from June 22, 2021.

These sailings give guests the opportunity to

experience Golden Horizon and the best of British

coastal towns, whilst not leaving the country – perfect

for a staycation at sea. The ship takes around 200

guests and is a near-replica of the 1913 ocean vessel

France-II which helps it retain its historic charm and

elegance. Guests will experience all the workings of a

tall ship as they interact with the crew and learn the

ins and outs of operations if they wish.

There are four-night options which allow you to

sample this unique style of sailing as well as five,

six, nine, 10 and 14 night departures depending on

which part of the UK you are joining from.

After the UK cruises this magnificent ship will sail

30 www.jaimemagazine.com
---
to Europe, through the Suez Canal to Oman, Dubai

and then down to Asia and on to Australia. The

Golden Horizon is unlikely to return to UK waters

for at least a couple of years which makes these UK

summer cruises even more special.

Fares start from £899 per person including full

board, drinks with meals, WiFi and gratuities. As

this is a much smaller and unique ship, we do advise

booking early. The inaugural sailings for example

have already sold out.

Viking Cruises

Well known for their river cruises, Viking moved into

the ocean cruises market a few years ago launching

two new ships in 2018. Our founder, Alan, was

lucky enough to experience one of their ships and

appreciated their smaller size at around 900 guests

compared to some of the other well-known brands.

This offers a more intimate

experience onboard and this

summer their brand-new ship,

Viking Venus, will sail UK waters.

These cruises have proved very

popular already and at the time

of writing there are only two dates

in June available, I expect due to

their smaller size and wide appeal.

The itineraries are interesting: the

Scilly Isles, Falmouth, Portland.

All meals, drinks with meals,

gratuities, spa, WiFi and shore

excursions are included. We hope

more departures will be added

later in the summer as they are

beautiful, smaller ships and well

worth a look at.

Celebrity Cruises

Last year Celebrity Cruises enhanced their

cruise to become all-inclusive with drinks, Wi-Fi

and gratuities now included in all sailings. This

is great news for their one-off summer 2021 UK

cruises onboard Celebrity Silhouette. The allinclusive

packages can be upgraded to include

even more benefits such as premium drinks,

shore excursions and onboard credit.

Celebrity's larger ship carries nearly 3,000

passengers. Families of all ages are welcome

onboard and catered for well (adults will need to

be vaccinated and under-18s will have to present

a negative Covid test). They have a VIP deck

called The Retreat which is like a hotel within a

hotel, offering more space and added bonuses.

If you like the idea of being away from the other

guests this is a perfect choice.

Sailings start on July 3 in one-week blocks from

Southampton calling at ports such as Inverness

(for Lochness), Kirkwall, the Orkney Island, Belfast

and Liverpool.

Balcony cabins start from £1,283 per person (family

of 4 from £5,099) on an all-inclusive basis.

Virgin Voyages

The new kid on the block hoping to disrupt the

cruise industry, Virgin Voyages planned their launch

in March 2020. They managed to sail around part

of the UK for the travel industry and press to sample

the new ship before positioning over to Miami where

it would be based. Sadly, the public cruises never

started last year due to the pandemic. Lucky for us

though, the inaugural public sailing will be in the

UK on August 6.

Two, three and four night cruises offer the perfect

opportunity to experience this brand-new ship

31
---
can relax knowing the cruise is based on all-inclusive.

Cruises continue into September, so the season is

longer than some of the other lines and already

proving popular. Prices start from £1,125 per person.

Transfers are included for those living within a 125-

mile radius of the departure port.

Disney Cruise Line

Like Virgin's sailings, Disney's will not be making

ports of calls. They will instead offer the chance to

experience the ship, entertainment and all-round

Disney Magic (which is also the name of the ship)

with two, three or four night taster cruises. They

have the additional attraction of setting sail from

Liverpool, Southampton, Newcastle or London

(Tilbury) between July and October. This is really

handy to help reduce driving time for families across

the UK. (Prices are yet to be confirmed).

(Scarlet Lady) and see the fresh, original design and

services Virgin Voyages will offer in the Caribbean

this winter. It's a clever opportunity for the brand to

gain some attention and promote itself to a younger

audience.

Sailings start at £499 per person with meals, basic

drinks, gratuities and WiFi included. Whilst these

sailings won't be calling into any ports, they are

offering great value for money for those who want to

sample the new ship or try out a cruise for the first

time.

For those who want to splash out, their RockStar

Quarters are huge suites and include extras such as

bottomless in-room bar, daily spa access and special

rooftop access.

Saga

Aimed at the over-50s market, Saga have four

departures on Spirit of Discovery (launched in

2019) and one on their new Spirit of

Adventure, their latest ship launching

this summer. These are proving very

popular as they are new ships and

only around 1,000 passengers.

Sailings begin on June 27 from

London Tilbury, Dover or

Southampton depending on which

cruise you choose and are offered

in five, seven, nine, 10 and 14-night

durations. As with other Saga

holidays, they emphasise interesting

ports of call around the UK and you

Fred Olsen Cruise Line

For fans of Fred Olsen, this is another unique

opportunity as they will be showcasing their two new

ships, Borealis and Bolette (around 1,400 guests).

The first is a three-night sailing onboard Borealis

from Liverpool to Scotland, a great way to sample

the new ship. Prices start from £549 per person.

There are longer itineraries too and each has

been designed to take in interesting ports of calls,

wildlife spots and special areas of interest such as

the uninhabited islets of Gáshólmur, Isles of Scilly

and Shetlands. Summer sailings continue up to

September11 and include meals (you can upgrade

to all-inclusive). If you are interested in wildlife,

culture, history and sightseeing these cruises are great

options.

Hurtigruten

Well known for their Norwegian coastal cruises,

Hurtigruten's MS Maud (around only 530

passengers) is one of their more comfortable, stylish

ships and one of the first to run on biofuel.

The ship will sail from Dover on August 15 and

32 www.jaimemagazine.com
---
Scotland and Ireland

depending on the date. Prices

start at £539 per person with a

balcony. Along with the other

Carnival group lines (P&O &

Cunard), all passengers will

need to be vaccinated and have

mandatory travel insurance.

September 10 offering 10 and 12-night cruises with

an emphasis on remote islands, natural wonders

and our diverse coastline. They will visit Rathlin

Island, Northern Ireland's largest seabird colony, the

UNESCO double World Heritage Site at St Kilda

amongst other interesting ports of call. The onboard

expedition team includes experienced ornithologists

making this an opportunity to learn more about our

homeland.

Prices start from £2,995 including meals, drinks with

meals, Wifi and some excursions.

P&O Cruises

Their brand-new ship Iona will set sail to Scotland

on August 7 from Southampton for seven nights

(from £1,199pp), and Britannia, their flagship liner,

offers three (from £249pp), four and six night sailings

between June 27 and September 19. The shorter

cruises will not make any ports of call and are

promoted as opportunities to experience the ship and

enjoy the coastal scenery. These adult-only cruises

will require passengers to be vaccinated. Iona has

a passenger capacity

of 5,206 passengers

making it the largest

UK summer sailings

this year.

Cunard Cruises

Just like Princess & P&O,

Cunard are offering short

taster cruises to experience the

ship and have a well-deserved

break onboard, as well as

longer sailings with ports

of call such as Lands End,

Liverpool, Scotland, Northern

Ireland and Newcastle. Prices range from £599pp to

£1,299pp including meals onboard Queen Victoria

(around 2,000 passengers).

Other cruises

Cruises are also being offered from Royal Caribbean,

MSC and Riviera.

It has been great to see interest in these cruises is

already very high. The liners may well add more

dates depending on how travel opens up in Europe

and beyond and where the ships will need to be

positioned.

Flexible Booking Policy

For your reassurance, our book with confidence

policy will offer some kind of flexible booking option

with all of these cruises. Mention J'AIME when you

book your UK Summer Cruise with us before the

end of May 2021 for half-price cruise port parking.

Applicable to new bookings only when mentioning

J'AIME.

Princess Cruises

These Summer

Seacations onboard

either Regal or Sky

Princess (around 3,300

passengers) come in

either four nights at

sea, or seven-night

touring cruises calling

in at Liverpool,

33
---
#LOVELOCAL

J'AIME

#LoveLocal Lichfield

OVER THE COMING MONTHS WE WILL BE CELEBRATING SOME OF THE BRILLIANT INDEPENDENT

BUSINESSES ACROSS OUR PATCH. HERE ARE SIX FROM THE LICHFIELD AREA

RICHARD WINTERTON AUCTIONEERS

As lockdown eases, Lichfield's auctioneer is relaunching safe, in-person

valuations of jewellery, watches and silver with one of the country's

leading jewellery valuers.

The specialist valuations with Richard Winterton Auctioneers will take

place at The Lichfield Auction Centre by appointment only from 10am

to 4pm on Thursdays.

Heather Callaway FIRV FGA DGA AMAE, vice-chair of the National

Association of Jewellers, will be offering free advice and auction

estimates on jewellery, watches and silver.

People are asked to book in advance by calling Richard

Winterton Auctioneers on 01543 251081 or emailing office@

richardwinterton.co.uk. Visit www.richardwinterton.co.uk.

HEART OF THE COUNTRY VILLAGE

Heart of the Country Village is a collection of individual shops,

boutiques and restaurants housed in converted 19th century farm

buildings at Swinfen.

It's home to many independent businesses and small British chains,

some of which have been at Heart of the Country Village for more

than three decades.

There is lots of outdoor space to explore, including a free woodland

fairy trail designed for families.

Canine members of the family are very welcome too - there is a dog

shop, grooming parlour and dogs are welcome at the eating places.

To find out more visit www.heartofthecountryvillage.com

LICHFIELD KITCHENS AND BEDROOMS

Lichfield Kitchens and Bedrooms is very proud of its heritage as the

city's longest established independent kitchen specialist.

The business began in 1985 in a small unit in Greenhough Road

and quickly progressed into its current and much larger premises on

Britannia Way.

Whether you are interested in a bright new kitchen or a relaxing

peaceful bedroom, they offer the same dedicated, professional service

using high quality products that will last for many years.

They can incorporate innovative family areas into your kitchen, to

ensure your family is able to eat together and talk together which is

priceless in today's busy world.

To find out more visit www.lichfieldkitchensandbedrooms.com

34 www.jaimemagazine.com
---
アパート

夀 䔀 䄀 刀 匀 伀 䘀

O N L I N E S H O P

N O W O P E N

䈀 䔀 匀 倀 伀 䬀 䔀 䘀 䤀 一 䔀 䨀 䔀 圀 䔀 䰀 䰀 䔀 刀 夀 ꀀ

伀 渀 攀 漀 昀 琀 栀 攀 氀 愀 爀 最 攀 猀 琀 挀 漀 氀 氀 攀 挀 琀 椀 漀 渀 猀 漀 昀

挀 漀 渀 琀 攀 洀 瀀 漀 爀 愀 爀 礀 ǻ 渀 攀 樀 攀 眀 攀 氀 氀 攀 爀 礀 椀 渀 琀 栀 攀 唀 䬀

Specialists in designing

and making, remodelling

and refurbishing

匀 瀀 攀 挀 椀 愀 氀 椀 猀 琀 猀 椀 渀 搀 攀 猀 椀 最 渀 椀 渀 最 愀 渀 搀 洀 愀 欀 椀 渀 最 Ⰰ

爀 攀 洀 漀 搀 攀 氀 氀 椀 渀 最 愀 渀 搀 爀 攀 昀 甀 爀 戀 椀 猀 栀 椀 渀 最 昀 漀 爀 アパート 礀 攀 愀 爀 猀

ALLEN 䄀 䰀 䰀 䔀 一 䈀 BROWN 刀 伀 圀 一 䨀 JEWELLERY

䔀 圀 䔀 䰀 䰀 䔀 刀 夀

䠀 Heart 攀 愀 爀 琀 漀 of 昀 吀 The 栀 攀 䌀 Country 漀 甀 渀 琀 爀 礀 匀 Shopping 栀 漀 瀀 瀀 椀 渀 最 Village 嘀 椀 氀 氀 愀 最 攀

匀 Swinfen, 眀 椀 渀 昀 攀 渀 Ⰰ Lichfield, 䰀 椀 挀 栀 ǻ 攀 氀 搀 Ⰰ

匀 Staffordshire 琀 愀 昀 昀 漀 爀 搀 猀 栀 椀 爀 攀 WS14 圀 匀 㐀 9QR 㤀 儀 刀

01543 㔀 㐀 アパート 㐀 481948 㠀 㤀 㐀 㠀

眀 www.allenbrownjewellery.co.uk

眀 眀 ⸀ 愀 氀 氀 攀 渀 戀 爀 漀 眀 渀 樀 攀 眀 攀 氀 氀 攀 爀 礀 ⸀ 挀 漀 ⸀ 甀 欀

昀 椀 琀

BACK

OPEN

Visit us and enjoy an open-air shopping

experience in a peaceful countryside location

heartofthecountryvillage.com

Swinfen, Lichfield. WS14 9QR
---
#LOVELOCAL

J'AIME

TATLOW CARPETS

Ken Tatlow started in the flooring business nearly 50 years ago, back in

1972. His daughter, Jayne, now carries on the family tradition.

With their extensive knowledge and experience in flooring, they are

people you can trust in helping to make your house a home.

From contemporary patterns to luxury wool twists, they can provide

carpets to suit any style and finish.

The Tatlow Carpets product range also includes luxury vinyl tiles,

laminate, binding and runners.

To find out more visit www.tatlowcarpets.co.uk

INTERIOR CHOICE

With more than 35 years of soft furnishings experience and two-and-ahalf

years of running a family business, opening a Lichfield showroom

was a natural next step for Interior Choice.

The first floor showroom above Sure Storage in Eastern Avenue,

Lichfield, stocks all the leading fabric and blind brands as well as

offering a design and fit service if required.

Customers can choose from more than 6,000 options across curtains,

blinds and wallpapers with tracks, poles, awning and automated blinds

also available.

Key brands include Romo, Voyage and Prestigious Textiles plus ILiv,

Bill Beaumont, Curtain Express, Villa Nova, Luxaflex, Silent Gliss

and ILiv Contract collections.

Visits to the 512sq ft showroom are currently by appointment only,

which means that you can browse the collections with peace of mind.

To find out more visit www.interiorchoice.net

LICHFIELD FESTIVAL

Yes, you heard it right, Lichfield Festival is back and has a stellar lineup

to help make up for some of the performances we've all missed out

on over the past 12 months.

There will be 11 days of ballet, cabaret, symphony orchestras, steel

pans, family fun, chamber music, live cooking, storytelling, drama and

laugh-out-loud comedy.

Taking place from July 8 to 18, the annual event will bring thousands

of visitors to the beautiful cathedral city and will once again be a

cornerstone in the region's cultural calendar.

To find out more about the lineup visit www.lichfieldfestival.org

36 www.jaimemagazine.com
---
The perfect lockdown treat! Book your exclusive

Private Spa Day for you and your household and enjoy

a relaxing day of pampering at The Spa at Moor Hall.

Discover awe-inspiring luxury home décor that makes

the ultimate statement with style and elegance

• A welcome drink of coffee with pastry on arrival

• A 25 minute Thalgo Discovery Facial

• A 25 minute Back, Neck & Shoulder Massage

• Exclusive private use of the Spa Relaxation Room

• Time slots in the gym and indoor pool with spa bath

• A delicious Afternoon Tea

£150 per person

Available until 16th May 2021 only

www.vbluxuryinteriors.com

info@vbluxuryinteriors.com

vb_luxuryinteriors

Moor Hall Drive, Four Oaks, Sutton Coldfield B75 6LN

0121 334 2323 www.moorhallhotel.co.uk

Contact The Spa at Moor Hall now to secure your preferred date

We make it happen

Moving House

Family Matters

Wills

Cannock

01543 466 660

Lichfield

01543 263 456

Halesowen

0121 550 0010

Sutton Coldfield

0121 716 3716
---
FA S H I O N

Jump to it!

SIMPLIFY SPRING DRESSING WITH THE ALL-IN-ONE OPTION, AS AMY NORBURY

CHECKS OUT SOME OF THE MOST STYLISH JUMPSUITS AROUND

WE'VE got a spring in our step because - hallelujah! -

there's a return to some semblance of normality on the

agenda. As lockdown restrictions get set to ease further

this month, garden parties are in, and popping out to

the pub or going out for a meal is back on the cards.

It's great news - but it does sadly mean that it's time for

our beloved loungewear to take a back seat in favour of

some stylish new looks.

If you're out of practice when it comes to pulling

together an outfit to go out-out, then never fear;

spring's hero wardrobe piece is here to leave you

looking suitably stylish and perfectly polished in no time

at all. All hail the jumpsuit.

A firm favourite across the SS21 catwalks, where the

pandemic's penchant for comfort dressing was still very

much in evidence, we saw everything from utilitarian

boilersuits at Max Mara and Stella McCartney, to

Studio 54-style Seventies-inspired numbers over at Tom

Ford and Balmain.

Night or day, work (from home) or weekend, the

jumpsuit is the ultimate all-occasions wardrobe fix. Just

choose your style, throw on and go - there really is no

quicker way to feel dressed up and ready to rock.

For those of us who've got used to dressing for comfort

over the past year, jumpsuits are a great transition back

to the world of sartorial style, with relaxed fits and

flattering cuts offering easy elegance - and perfect for

hiding a multitude of lockdown sins.

Versatility is key too. Jumpsuits pair just as well with

trainers for casual chic and flat sandals for summer

vibes as they do with heels for evening - just add a bag

and some statement jewellery and you're night outready

with minimal effort.

POPPY CROPPED JUMPSUIT IN BLUE

PURE LINEN, £70, MONSOON.

WWW.MONSOON.CO.UK

38 www.jaimemagazine.com
---
£192

£49.50

£108

LAUREN MIMOSA JUMPSUIT IN

TRUE BLACK, FATFACE.

WWW.FATFACE.CO.UK

£79.50

£65

EMBROIDERED FLORAL DANDY

JUMPSUIT, TRAFFIC PEOPLE AT

HARVEY NICHOLS.

WWW.HARVEYNICHOLS.COM

FLORAL WIDE LEGGED HETTY

JUMPSUIT, TRAFFIC PEOPLE AT

HARVEY NICHOLS.

WWW.HARVEYNICHOLS.COM

BLACK VINTAGE DAISY FLORAL JUMPSUIT,

OLIVER BONAS. WWW.OLIVERBONAS.COM

FLOSS PRINTED JUMPSUIT IN BLUE ORGANIC

COTTON, MONSOON. WWW.MONSOON.CO.UK

THE SUMMER JUMPSUIT IN SUNSET

ORANGE, £135, HOPE FASHION.

WWW.HOPEFASHION.CO.UK

LIGHTNING BOLT JUMPSUIT, £59, SONDER

STUDIO. WWW.SONDERSTUDIO.CO.UK
---
B E AU T Y

Skin deep: exfoliators v peels

WHEN IT COMES TO MORE INTENSIVE BEAUTY TREATMENTS DO YOU KNOW WHAT'S

BEST FOR BOOSTING YOUR COMPLEXION? ROYAL FACIALIST AND FOUNDER OF HEAVEN

SKINCARE DEBORAH MITCHELL EXPLAINS THE KEY PRODUCTS WE NEED IN OUR ARSENAL.

Your skin is constantly shedding dead cells to make

way for new ones to come to the surface; however as

we get older this process begins to slow down so it's

important to give mother nature a helping hand.

An exfoliator works on the upper layer of your skin

and can be used as part of your daily routine to

improve texture. It will scuff away the dead cells and

clear your pores to leave your complexion looking

more radiant and feeling healthier.

By exfoliating regularly you also speed up the

skin's natural healing process, restoring clarity and

lightening pigmentation; skip this vital step and you'll

risk breakouts, blackheads and dryness.

If you have oily skin you may find you need to

exfoliate more than someone who has dry skin – the

oilier your skin the harder it is to shed

dead cells naturally. You should also do it

in the evening rather than in the morning

because your complexion is more effective

at rebalancing its natural pH level at night.

A peel, on the other hand, gets deeper

into your skin to reveal the healthy layer

beneath – they are great if you are looking

for that next level of skincare at home.

You can use these once a week but please

remember to read the instructions as there

will be a time limit you can leave it on

your face. If you're unsure of using one

yourself, then book a peel treatment at

your favourite salon instead.

immunity of the skin, making it ideal for those who

suffer with acne.

SKIN PEELS

I developed my innovative Bee Peel as a professional

level at-home treatment. It tightens and firms skin,

working its way through dead skin cells to improve

pigmentation, lines, scars, dark spots and blemishes.

It contains my ABEETOXIN® formula, organic

coconut and raw cane sugar to help resurface and

even out tone.

You can shop Deborah's complete range exclusively

online at heavenskincare.com. You'll also find

her luxury salons in Shifnal and Harvey Nichols

Birmingham.

GENTLE EXFOLIATORS

My Cleanse & Foam is a non-abrasive

exfoliator, toner and cleanser in one that

I created to improve elasticity levels while

balancing oil levels to reduce shine on

your T-Zone. The presence of organic

carrot oil – which contains healing vitamin

A – also rejuvenates and repairs the skin.

The light, refreshing Bee Polish contains

fruit acid, Echinacea and Aloe Vera to

gently extract toxins without harming the

outer layer of the skin. It also boosts the

40 www.jaimemagazine.com
---
OPEN

FOR NEW

RESIDENTS

WE

REMAIN

COVID

FREE

tatlowcarpets

& flooring

Quality flooring at affordable prices

Abingdon, Adam's, Associated Weavers, Axminster, Brintons, Brockways,

Cormar, Crucial Trading, Penthouse, Ulsters, Karndean & Project Floors

Free advice ✔ Free quotations ✔

Furniture moved ✔ Our own regular fitters ✔

Rosemary Lodge Care Home for elderly ladies and gentlemen offers a level

of care, community and comfort that is second to none. Situated a short way

from the bustling City Centre of Lichfield and set in landscaped gardens,

Rosemary Lodge is light, spacious and beautifully decorated, offering residents

just the right combination of activity and relaxation. Residents are encouraged

to retain their independence and individuality whilst being fully supported to

live a fulfilled and enjoyable life.

A family run concern that has been a highly regarded part of the community

for almost 30 years. Offering 24- hour care, fully trained staff work together

to communicate with residents to ensure that personal care needs are met in

a fully person-centred approach, thus building an important relationship of

trust and friendship.

Two qualified chefs offer a nutritionally balanced and varied menu, catering

for any dietary requirement, using fresh, locally sourced produce, served in

a spacious dining room that offers views out towards the Orangery and the

gardens and fountain.

The Orangery offers the perfect space for residents, family and friends to

meet up, chat enjoy coffee and snacks at any time of the year.

Hugh Mackay Carpets Deco Loop

range in Notting Hill colour.

Turtle mats – Mr fox mat shown (multi-grip backing) 65cm x 85cm -

£49.95. Turtle mats are washable anti-slip door mats that come in a

variety of colours and sizes to suit the home or work space.

All rooms are en-suite, and are designed to comfortably accommodate

individuals and couples. Full wi-fi throughout to allow residents to keep in

touch with family and friends through video link or FaceTime.

Regular activities and entertainment include movement to music, musical

theatre groups, pet therapy, pub lunches, and visits to local events are regularly

organised. However, privacy and peace and quiet is also ensured. There is also

an on-site hairdressing and beauty salon.

Rosemary Lodge also offers respite care, holiday stay and limited day care.

Rosemary Lodge Residential Home

191 Walsall Road, Lichfield. Staffs. WS13 8AQ.

In the first instance please contact Jane Evans - Registered Care Manager

or Shirley Kent - Administration Manager.

01543 415223 - Email: roselodgehome@aol.com

www.rosemarylodgecarehome.co.uk

CQC RATING GOOD

Finance facilities now available

@Tatlowcarpetsltd

@Tatlow_Carpets

Please see our website for further details

www.tatlowcarpets.co.uk

Tel: 01543 264766

Open to the public. Mon-Fri: 9.00am - 5.00pm. Sat: 10.00am - 4.00pm

Unit 4, Europa Way, Britannia Enterprise Park, Lichfield, Staffs, WS14 9TZ
---
#LOVELOCAL

J'AIME

#LoveLocal Sutton Coldfield

OVER THE COMING MONTHS WE WILL BE CELEBRATING SOME OF THE BRILLIANT INDEPENDENT

BUSINESSES ACROSS OUR PATCH. HERE ARE THREE FROM THE SUTTON COLDFIELD AREA

ABBEY FIRE CENTRE

Family business Abbey Fire Centre has been specialising in designing

and installing beautiful, unique fireplaces, gas fires and wood burning

stoves into Sutton Coldfield, Birmingham and West Midlands homes

for well over 35 years.

The staff are experts in all areas of solid fuel and gas fires and are

renowned for their expertise when dealing with wood burning stoves,

having more than 28 years of experience of fitting wood burning stoves

in the Birmingham area - even before they became so popular.

Visits to the showroom are by appointment and virtual appointments

are also available.

To find out more visit www.abbeyfirecentre.co.uk

TRAVEL COUNSELLORS

Charlotte Mitchell is a personal travel counsellor based in Sutton

Coldfield.

She has been in the travel industry for more than 18 years and is

experienced in booking all types of travel; weddings to honeymoons,

from cross country tours to beach breaks in Europe.

Charlotte has extensive knowledge of the fastest growing business in

travel, cruise.

Travel is her passion and she promises to provide top quality,

customer focused care.

To find out more contact Charlotte at

charlotte.mitchell@travelcounsellors.com

VB LUXURY INTERIORS

VB Luxury Interiors is the home of distinctive trendsetting interior

décor. Whether you are looking for timeless pieces or modern

contemporary, their range of hand selected interiors with a unique vibe

are the perfect centrepiece that add a finishing touch to your home.

They have a variety of bespoke products that will bring elegance and

glamour into your home and lifestyle. What unites the collection is an

unrivalled commitment to quality and style.

To browse the collection visit www.vbluxuryinteriors.com

42 www.jaimemagazine.com
---
H E A LT H

Reaching an equilibrium

MOTHER AND DAUGHTER TEAM LINDA RHODES AND SARAH LISTON RUN ONE OF THE REGION'S

LONGEST ESTABLISHED PILATES STUDIOS. THE J'AIME TEAM MET THEM TO FIND OUT MORE

Equilibrium Pilates Room has just moved to the

beautiful surroundings of Coppice Garden Centre,

where their clients can shop, relax over coffee or grab

a bite to eat between classes.

"We've always admired Coppice Garden Centre as a

fantastic lifestyle destination and it feels like the right

fit for a business like ours," says Sarah, who joined

her mum in the business 11 years ago.

"Our boutique approach means that we can offer a

very bespoke service with small specialist classes in a

really beautiful setting."

Linda, Sarah and five other specialist instructors

boast a timetable to suit everyone from the beginner

to advanced. But what sets them apart is their work

with people as individuals regardless of their age,

fitness and experience.

"There is no typical client at Equilibrium and we

have always had an open door policy here. From the

super-fit to those with long term health conditions or

injuries, we believe everyone can gain huge benefits

from doing pilates and yoga," says Linda.

It is also a business that never stands still, with

teachers committed to their continuing education,

to the constant investment in new equipment and

the sharing of new information and knowledge with

their clients. Equilibrium is proud to be creating an

army of pilates geeks!

Reformer classes are Equilibrum's most popular

class, with the likes of tennis star Andy Murray

and premier league footballers claiming Reformer

Pilates has transformed their game. Surprisingly the

average man on the street is yet to be convinced,

despite pilates being invented by a man who was a

boxer, bodybuilder and martial arts expert. This is

something Equilibrium hopes to change.

Linda and Sarah are rightly very proud of their

20-year heritage and remain the most experienced

pilates teaching team in Sutton Coldfield.

All but one of the EQ team is homegrown, having

come to the studio as a client and then deciding to

become a teacher. They have all completed training

and accreditation by the Body Control Pilates

Association, Europe's largest professional Pilates

organisation and widely regarded as the benchmark

for safe and effective teaching.

"The training is intense and takes time, typically 12

to 18 months to gain the initial qualification to teach

mat pilates, so there are no shortcuts. Then there's

further training to gain accreditations in the pilates

equipment such as the reformer and trapeze table or

cadillac," says Sarah.

Equilibrium is striving to make the studio as safe

as possible in the current climate, including the

introduction of a hospital grade air filtration system

and re-covering the studio equipment with antiviral

fabric.

"The effect of doing regular pilates practice can

be life changing and seeing the positive changes

in people both physically and mentally inspires us

every day to keep doing what we do. We are excited

to see how the studio will grow in our new home at

Coppice," adds Linda.

Private sessions for one, two or three people are

already available and group classes will resume on

May 17 in line with Government guidelines.

To find out more visit eqpilatesroom.co.uk,

email hello@eqpilatesroom.co.uk or call

0121 323 4663.

www.jaimemagazine.com

43
---
H E A LT H

Life cycle

A WOMAN WHO CYCLED BACK TO HEALTH AFTER MAJOR ILLNESS HAS BEEN RECOGNISED BY A

LEADING SPORTING ORGANISATION FOR HER EFFORTS TO GET MORE PEOPLE ON THEIR BIKES

Staffordshire-based Michelle

Vorel Adams has been named

European Cycling Directeur by

ACES Europe – the Brusselsbased

European Capitals and

Cities of Sport Federation which

promotes physical activity and

healthy living across more than

500 destinations.

Michelle from Uttoxeter, who

is the organisation's UK and

Ireland president, has made it her

mission to encourage people of

all abilities to cycle for fitness and

mental health since she was struck

down with deep vein thrombosis a

year ago. It was her high level of

fitness, and determination to stay

in the saddle, that supported her

speedy recovery.

She went on to stage a 2020km

cycling marathon during

lockdown, raising £5000 for the

Royal University Hospital in Stoke-on-Trent that

treated her and is now planning RIDE2021UK

– a countrywide fundraiser for the NHS – while

launching a new ACES awards programme

recognising top cycling destinations.

ACES Europe President and founder, Gian

Francesco Lupattelli, said: "In one year Michelle has

done more to promote cycling than anyone we know.

"She has shared her own very personal battle to

inspire others to adopt our mission of sport and

health for all. Not only that, hospitals across Great

Britain are set to benefit from RIDE2021UK.

"Michelle is the perfect fit for the role of our

new Cycling Directeur and we look forward to

progressing the cycling awards programme."

The concept of creating ACES' top cycling cities,

towns and communities will develop over the next

few months.

Michelle, who runs Uttoxeter-based international

sports and commerce firm Sphere Connect, said: "I

am delighted to take on the official role of 'Cycling

Directeur' to progress the five ACES manifesto

goals specifically through cycling destinations and

organisations across Europe and beyond, including

Africa and India.

"We're still in the planning stages but the aim

is create cycling awards for destinations and

organisations that stand out from the rest when

it comes to promoting cycling for fitness and

sustainability, getting commuters out of cars and

onto bikes.

"Cycling is a hot topic in the UK as we tackle obesity

and COVID-19. I will be doing everything I can to

encourage cyclists and complete beginners to ride for

physical and mental health."

Michelle, who rides more than 100 miles a week

through the leafy lanes of Staffordshire, is posting

tips on social media covering topics such as buying

the right bike and road safety.

44 www.jaimemagazine.com
---
We are a trusted, local family, dedicated to providing

a truly personal service for those who need us

Spring is in the air...

is there a spring in your step?

Or are you concerned about your

profit because your people are not

performing well or just don't 'get it'?

Ripple HR can help with HR ISO9001 processes

which support your business through tough

times and good times.

Call us to talk about how Positive HR

can ripple through your business.

07771 780 146

jane.galvez@ripple-hr.co.uk

ripple-hr.co.uk

Burials, Horse-drawn Funerals, Bespoke

Funeral and pre-payment Funeral Plans available

All-inclusive Funeral Packages for

Cremation with no hidden costs

Including Crematorium, Doctor and

Religious/Non-religious Celebrant

Simple - £2,300

Traditional - £2,650

(includes family car, service sheets and floral tribute)

16 - 20 North Street, Cannock, WS11 0BA

01543 529813 (Anytime)

Visit our web and Facebook sites to see our reviews

www.omalleyfunerals.co.uk • www.facebook.com/omalleyfunerals

Jean Lamb Wealth Consultancy

My offices are situated in the historic city of Lichfield and I have been providing personal

wealth management advice to my clients for more

than 25 years.

I specialise in the following key areas

and welcome your enquiry:

• Investment Planning

• InheritanceTax and Estate Planning

• Pre and Post-Retirement Planning

• Care Fees Planning and Funding for Care

Telephone: 01543 417342

Website: www.jeanlamb.co.uk

Email: jean.lamb@sjpp.co.uk

Office: 6A Market Street, Lichfield, WS13 6LH

Jean Lamb Wealth Consultancy is an Appointed Representative of and represents only St. James's Place Wealth Management Plc (which is authorised and regulated by the Financial Conduct Authority)

for the purpose of advising solely on the Group's wealth management products and services, more details of which are set out on the Group's website www.sjp.co.uk/products.
---
H E A LT H

Robot knee op rang my bell

LICHFIELD KNEE OPERATION PATIENT DEREK GIDDINS HAS GIVEN

A RINGING ENDORSEMENT TO HIS ROBOT-ASSISTED TREATMENT.

Bell ringer Derek Giddins is ringing out the praises

of his surgeon following a knee replacement

operation that saw him walking without crutches in

less than three weeks.

Derek, aged 74, who lives near Lichfield with his

wife Gilly, had the operation at Spire Little Aston

Hospital where he was offered the option of Mako

robot-assisted surgery.

"My surgeon explained the benefits of the new

system and how it could speed up my recovery time.

I am a very active person and I wanted to get back

in action as soon as possible so it seemed perfect for

me," he said.

The procedure was carried out by orthopaedic

surgeon Jamie Arbuthnot, a specialist consultant

trained in using the robot. He said: "It allows me to

consistently optimise implant placement which gives

the patient a more natural-feeling knee and usually

means a quicker recovery time and reduced postoperative

pain.

"The best type of joint replacement is one that lets

you forget you actually have one and I really think

Mako enables surgeons to meet that goal."

Derek, who has been bell-ringing since the 1960s,

was once a regular ring at Guilford Cathedral. Since

his move to the Midlands he has been ringing at the

Church of St Nicholas at Mavesyn Ridware and

Holy Angels at Hoar Cross.

He can now climb the 58 steps at Holy Angels

Church to toll the 28cwt tenor bell again.

"Bell ringing hasn't taken place during the lockdown

but it was great to have the chance of a short

practice to get the feel of it again after such a long

lay-off," he said.

Derek is also back on track with his other hobby –

cycling.

Having enjoyed cycling holidays around the world

with his wife Gilly he is now doing 45-minute

sessions on his static cycle as well as completing a

five-mile trip on the road.

"I have two friends who have had knee replacements

at the same time as me and, even though I am the

oldest among us, I seem to be making much quicker

progress on my road to recovery.

"I really do think it was the skill of Mr Arbuthnot

combined with the technology of the Mako system

that has allowed me to get back on my feet so quickly.

"I would say it's the only way to go and would have

no hesitation in recommending it to others. If I need

my other knee replaced then choosing the Mako

surgery would be a no-brainer."

If you are interested in understanding more about

hip or knee replacements or are struggling with

hip or knee pain and want to discuss it further,

Spire Little Aston Hospital is offering free mini

virtual appointments on May 25 with consultant

orthopaedic surgeons Shiv Jain and Amit Kotecha.

Call 0121 514 7034 to book.

46 www.jaimemagazine.com
---
HOUSE CLEARANCE EXPERTS

We don't cherry-pick! Our team

handles the entire clearance

Discover that hidden gem with your local auctioneer

Probate and formal valuations

for inheritance tax purposes

Our reliable and sympathetic

team can assist all executors in the

administration of deceased estates

From jewellery and large

collections to cars, furniture and

household items, we handle

everything

Comprehensive, bespoke

clearance service and

downsizing solutions

We handle clearance of an entire

estate from houses, bungalows and

flats to offices and all

other buildings

We specialise in:

Antique and modern jewellery

Watches

Gemstones

Silverware

Coins, medals and militaria

Works of art

Whisky and wine

Vintage toys

Stamps and ephemera

Cameras and record collections

Scientific equipment

Antique and modern furniture

Modern toys and Pokémon

Musical instruments

Qualified

All members of our jewellery

department are certified

gemmologists and

diamond graders

Record-breaking

international sales

More than 3,800 bidders from

all over the world joined our

online auctions last month

Online services available

Virtual estimates, online auctions

and contactless collections.

'Click and collect' service

for consignments strictly by

appointment only

NEW - STRICTLY BY APPOINTMENT ONLY

FREE Thursday Valuations

For Jewellery, Watches & Silver with gemmologist

& diamond grader Heather Callaway. 10am - 4pm

FREE General Valuations

With our team on Thursdays from 10am - 4pm

Call 01543 251081

Established – Professional – Transparent

The Winterton family name has been synonymous

with auctioneering in Staffordshire since 1864

01543 251081

www.richardwinterton.co.uk

richardwinterton@richardwinterton.co.uk

The Lichfield Auction Centre

Wood End Lane

Fradley Park

WS13 8NF

J'Aime Ad 190x280 - Feb and ideas 2021.indd 1 20/04/2021 16:34
---
44 www.jaimemagazine.com