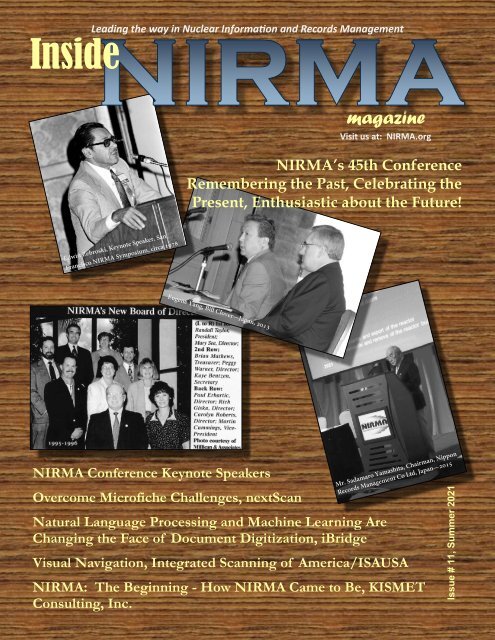 Create successful ePaper yourself
Turn your PDF publications into a flip-book with our unique Google optimized e-Paper software.
Issue # 11, Summer 2021

Inside

Leading the way in Nuclear Information and Records Management

magazine

Visit us at: NIRMA.org

NIRMA's 45th Conference

Remembering the Past, Celebrating the

Present, Enthusiastic about the Future!

NIRMA Conference Keynote Speakers

Overcome Microfiche Challenges, nextScan

Natural Language Processing and Machine Learning Are

Changing the Face of Document Digitization, iBridge

Visual Navigation, Integrated Scanning of America/ISAUSA

NIRMA: The Beginning - How NIRMA Came to Be, KISMET

Consulting, Inc.
---
Contents

Summer 2021

5

7

9

12

Overcome Microfiche Challenges

By Matt Anderson, Vice President of Marketing, nextScan

NIRMA Conference Keynote Speakers

Natural Language Processing and Machine Learning Are Changing the Face

of Document Digitization

By Desh Urs, CEO and President, iBridge LLC

Visual Navigation

By Manual Bulwa, Integrated Scanning of America/ISAUSA

14

NIRMA: The Beginning: A How NIRMA Came to Be

By Eugene Yang, KISMET Consulting, Inc.

16

18

20

21

22

26

27

Lifetime Member Profile: Meet Cheri Susner, CRM/NS

From the CRM: It's Time to Take Your Career to the Next Level

By Rick Surber, CRM, IGP

Working in New Ways with Robotic Process Automation

By Bob Larrivee, NIRMA's Director of Technical Programs

ICRM Exam Prep Workshop Series Registration Summary

Chronicles of NIM: A Retrospective on Information Management in Nuclear Power

By Eugene Yang, KISMET Consulting, Inc.

NRC's Implementation Plan to Comply with M-19-21

By Margie Janney, CRM/NS/FED

On Becoming a Leader

By Lou Rofrano, PDBU Co-Director

2 Summer 2021 NIRMA.org Inside NIRMA
---
CONTENTS

Summer 2021

in every issue

PRESIDENT'S MESSAGE—28

FROM THE VICE-PRESIDENT—29

TREASURER REPORT—29

PDBU NEWS—30

RIMBU NEWS—31

M&MBU NEWS—32

INDUSTRY NEWS—34

Letter from the Editors

We at Inside NIRMA, value your opinion and are

always looking to improve our magazine. Let us

know what you like and dislike and what you'd

like to see more of. Share your thoughts with our

Communication Team at

DevereauxInc@outlook.com.

If you haven't already done so, please take a

moment to follow us on Twitter and Instagram,

like us on Facebook and connect with us on

LinkedIn.

Thanks for reading. Please keep in touch!

Neal and Sandra Miller

Editors

Editors

Neal and Sandra Miller

DevereauxInc@outlook.com

Advertising

Neal.F.Miller@gmail.com

NIRMA Headquarters

Sarah Perkins

NIRMA Administrator

245 Sunnyridge Ave., #41

Fairfield, CT 06824

nirma@nirma.org

In addition to our own

articles, Inside NIRMA

publishes guest articles from

agencies and vendors. Please

be advised that the views and

opinions expressed in these

articles are those of the

authors and do not

necessarily reflect the

opinions of NIRMA or its

Board of Directors.

Back to Content | Inside NIRMA NIRMA.org Summer 2021 3
---
Overcome Microfiche

W

Challenges

By Matt Anderson,

Vice President of Marketing, nextScan

hile fiche is an excellent

medium for long term

storage of documents and

files, retrieving the

contained information can be

challenging. Beyond the difficult

nature of the medium, the three

unique challenges microfiche

presents include the condition of

the microfiche, how the documents

were filmed onto the microfiche,

and how the files should be sorted.

In addition, conversion should

provide assurance that all the

information was

captured. nextScan approaches

these challenges head-on delivering

the fastest and smoothest

microfiche conversion solution.

Is All Microfiche Flat?

Since microfiche is a flat sheet,

it is very stackable and made for

simple storage. In perfect

condition, a stack of microfiche

should be able to be loaded and

scanned automatically. We have

experienced instances that a group

of microfiche will be combined,

with a paperclip or with a rubber

band, to keep them together. Over

months, years, and possibly

decades, the tightness of being held

together will warp the microfiche.

Now, instead of neat, flat pieces of

microfiche, you have microfiche

that may curve from the middle to

the edges or be wrinkled in some

areas. This may require individual

attention and is not ideal for a

quick conversion project.

Imperfections with fiche must

be addressed before being able to

properly convert the microfiche to

a digital format. To keep

microfiche in place, it is placed

between two pieces of glass. One

effective solution that nextScan

employs is to use a heavy piece of

Continued on next page.

Back to Content | Inside NIRMA NIRMA.org Summer 2021 5
---
Continued from previous page.

glass to hold the microfiche in

place. This will ensure the media is

as flat as possible as it is being

scanned. When converting, make

sure your scanner can handle the

condition of your microfiche.

Microfiche Irregularities

Microfiche created today uses a

machine called an archive writer.

This machine essentially takes a

picture of an open digital file and

records it onto the piece of

exposed film. The microfiche is

then processed using chemicals to

create the visible image on the film.

With so many variables, if one is

not performed properly there is a

chance the produced images could

be in poor quality. Special highdefinition

scanners will be required

to bring the lost information back

to life.

Another issue a microfiche user

may experience is if the files were

not filmed straight, or the images

are skewed on the microfiche. This

happens when the microfilmer

does not line up the documents

correctly. nextScan's software

automatically recognizes the image

as being crooked and automatically

straightens the image.

Microfilm Archive

Orderliness

One aspect often overlooked in the

microfilm conversion process is

refiling the documents to their

original position in the archive.

Many times, these files are in

sequential order or filed by date.

nextScan's autoloader on the

FlexScan has been designed to hold

hundreds of microfiche,

automatically move the microfiche

to the scanning area, scan the entire

document, and move the

microfiche to a holding tray. Not

only does this recreate the same

stack of microfiche from where it

started, but it also frees up the

operator for other tasks.

Line Scanning Technology

Finally, the only suitable way to

guarantee a 100% capture rate is

with a line scanner used in all

nextScan equipment. Cameras and

imaging systems utilize different

techniques and components for

capturing images. Two common

methods for capture are line scan

and area scan. Line scanning

technology is best applied to large,

high-resolution and/or high-speed

capture, such as high-speed

microfiche conversion. This

technology allows for movement

of the media during the continuous

capture process, guaranteeing a full

digital copy. Comparatively, the

area scan method relies on the

software to determine each frame,

move to position, stop to capture,

and find the next frame. Not only

is that a longer process, but it does

not guarantee full capture of the

microfiche.

Your archives hold some of the

most important documents. Many

may have been there for decades.

Make sure to use a system designed

to meet the challenges of scanning

microfiche. Whether the media is

flat, curved, skewed, straight,

ordered or not, your scanner

should create an exact digital

replica of your documents. Don't

leave your conversion project to

chance.

nextScan manufactures a wide

range of scanners designed for the

high-speed conversion of

microfilm, microfiche, and aperture

cards. For more information on

our microfilm conversion scanners,

call us at 208-514-4000 or email us

at sales@nextScan.com.

Register for the

45th Annual NIRMA

Conference Today.

6 Summer 2021 NIRMA.org Inside NIRMA
---
NIRMA 2021 CONFERENCE

KEYNOTE SPEAKERS

David Nelson

currently serves as

the Chief

Information Officer

(CIO) and Chief

Data Officer

(CDO) of the

Nuclear Regulatory

Commission

(NRC). Mr. Nelson

was selected for this

role in 2016 to

oversee the NRC's

information

technology/

information

management (IT/IM) portfolio, including those IT

systems supporting nuclear reactor safety and nuclear

materials and waste safety. In addition to the IT/IM

portfolio, Mr. Nelson is responsible for the NRC's

information resource management, enterprise

architecture program, cybersecurity program,

information and records management program,

information collection program, and the agency's

implementation of the Freedom of Information Act and

the Federal Privacy Act of 1974.

Mr. Nelson previously held several executive roles at

the Centers for Medicare and Medicaid Services (CMS),

including CIO and Director, Office of Enterprise

Information; Director, Office of Information Services;

Director, Office of Enterprise Management; and

Director, Data Analytics and Control Group for the

Center for Program Integrity. Mr. Nelson's office

managed the CMS's $2.6 billion IT portfolio, including

the complex ecosystem of applications and trusted data

exchanges supporting Healthcare.gov, the Medicare

claims processing system, and the Medicaid support and

quality reporting systems. Mr. Nelson joined CMS in

2004 as the Director, Division of Call Center Systems,

Office of External Affairs and Beneficiary Services, and

was charged with improving access to information for

40 million Medicare beneficiaries.

Before joining CMS, Mr. Nelson served in a variety

of challenging private sector leadership roles, including

co-founder of two broadband development companies

that provided access to underserved markets in the

United States. Mr. Nelson also served in executive

operations roles both in the United States and abroad

for several leading IT development and

telecommunications companies, and as Vice President

of Operations for a telecommunications firm where he

managed the commissioning of several hundred satellite

earth stations in 50 countries across Europe, Latin

America, and the United States.

Whitney McCollum

is the Vice President,

Assistant General

Counsel for Data

Protection &

Technology at

AECOM, a Fortune

500 company that

designs, builds,

finances and operates

infrastructure assets

for governments,

businesses and

organizations. With

offices in over 100

countries, Whitney is

responsible for AECOM's global privacy compliance

program, and works with AECOM's Information

Security and Technology, legal, HR, compliance, and

business teams worldwide on mitigating privacy risk. As

AECOM's technology counsel, Whitney partners with

business teams globally to protect AECOM's intellectual

property. Whitney is based in Washington state and is

an alum of the IP litigation teams at Morrison Foerster

and O'Melveny & Myers, is CIPP/US certified and a

member of the U.S. Patent Bar.

Back to Content | Inside NIRMA NIRMA.org Summer 2021 7
---
Are You Still Just

Scanning Media?

Artificial Intelligence not only enhances digital

conversion…

It is the POWER TO TRANSFORM!

Sentiment

Analysis

Thematic

Modeling

Syntactic or

Structural

Matching

Intelligent

Document

Processing

Text

Segmentation

Relationship

Analysis

Topic Discovery

For more details go to

www.ibridgellc.com/IDP

Information

Extraction

www.ibridgellc.com
---
By Desh Urs, CEO &

President, iBridge LLC

Natural Language Processing and Machine

Learning Are Changing the Face of

Document Digitization

T

he operational flexibility

that business process

outsourcing (BPO) offers

has long been a key growth

driver for enterprises. Document

Digitalization has helped accelerate

this growth, and emerging

technologies are pushing it even

further.

At its core, BPO has been a

mechanism for improving cost

efficiency. Enterprises face a

complex landscape of client

requirements, changing

methodologies, and regulatory

mandates. External partners provide

the necessary expertise and

experience to cost efficiently close

operational gaps.

How Do Enterprises

Utilize BPO?

BPO vendors add value by

supplying external resources to

complete mission critical tasks for

the organization. When enterprises

outsource business processes that

are outside their core value, they

earn the ability to dedicate valuable

time and resources towards highimpact

strategic initiatives.

Some of the most commonly

outsourced business processes

include:

• Document Digitalization – 68%

of enterprises outsource their

document, film and fiche

digitalization, indexing and image

enhancements.

• Accounting – 37% of enterprises

outsource accounting processes to

specialty firms.

• IT services – 37% of enterprises

outsource IT services to managed

service providers.

• Digital marketing – 34% of

organizations outsource their

digital marketing processes to

agencies.

• Lead generation – 28% of

companies outsource lead

generation to cut costs.

• Customer service – 24% of

organizations believe outsourcing

customer service gives them

enough time to focus on higherimpact

processes.

Outsourcing to Optimization

Emerging technologies like natural

language processing, artificial

intelligence, robot process

automation (RPA) and cloud

integration are rapidly changing the

traditional cost-arbitrage thinking

that has historically defined BPO.

Vendors that invest in these

technologies are not only able to be

Continued on next page.

Back to Content | Inside NIRMA NIRMA.org Summer 2021 9
---
Continued from previous page.

more cost effective than internal resources, but these

elements also transform BPO to return optimization

benefits. Thus, making their role even more important

to operational success.

Emerging Technologies and Their Impact on

Document Digitalization

That is why enterprises of all sizes are turning towards

vendors that deploy emerging technologies that

automate the time-consuming manual tasks. Natural

language processing, artificial intelligence, and machine

learning have demonstrated powerful efficiencies in

completing a variety of document conversion functions.

Natural Language Processing

Natural language processing (NLP) is a type of

artificial intelligence that allows computers to read and

identify key words, phases, document context, and

topographic map symbols and fashion thematic

understanding.

NLP delivers a cost-efficient way to automatically

filter and categorize large volumes of content.

NLP algorithms are also behind many other useful and

innovative technologies. These include voice-activated

personal assistants, real-time translation tools, and email

spam filters.

Artificial Intelligence

Artificial intelligence (AI) in digital conversion is a

broad collection of emerging technologies designed to

handle large quantities of unstructured data quickly and

accurately. It achieves this using computational

techniques designed to mimic the way the human brain

processes data through structures called neural

networks.

One of the transformative technologies artificial

intelligence enables is optical character recognition.

Allowing computers to recognize document text and

formatting makes a significant amount of costly and

time-consuming data entry work redundant. Data can be

indexed and accessible the moment an employee

introduces it into the system.

The ability to interpret large quantities of unstructured

data is key to enabling next-generation document

control processes. Instead of painstakingly entering data

into a database manually, artificially intelligent data

repositories can index scanned document images directly

– with no need for file format conversion.

The practical benefit of this approach is minimaltouch,

straight-through processing. Any process that

relies heavily on manual, high-touch processes is a

potential candidate for AI-powered restructuring.

Higher impact operational benefits are achievable

through AI as well. Artificially intelligent support

systems can cost-effectively read through years of

complex documents, land records, and contracts and

store them digitally for ready access.

Machine Learning

Machine learning (ML) is a subset of AI that focuses

on teaching computers to process data without giving

them explicit instructions on how to do so. Machine

learning systems can interpret data without relying on

human intervention influencing the results.

Basic optical character recognition (OCR) systems are

unable to decipher the location of text in icons or

symbols. Digitizing intricate paper documents,

especially land maps and blueprints, which often contain

numerous geometrical figures, complicates the

recognition of the text.

An ML-based system first identifies the objects, icons

or symbols and inherently searches for the text within

these objects. A ML-based workflow prevents the OCR

system from overlooking potentially important

information.

Machine learning enables AI equipped vendors to

automate analytics processes that traditionally come with

steep learning curves and operating costs.

10 Summer 2021 NIRMA.org Inside NIRMA
---
Optimize Business Processes with Tech-Enabled

Outsourcing

It's important for executives and leaders to

understand that these new outsourced technologies do

more than digitize documents. They enable your

employees to maximize their productivity by focusing

on the tasks that only humans can do.

This puts greater value on the human element of the

process itself – whether it's helping a customer solve a

technical problem, processing an insurance claim, or

identifying a malware attack. In each case, tech-enabled

business process outsourcing vendors make it possible

for enterprises to emphasize the value their employees

generate.

Deploying automated solutions to high-volume, lowimpact

processes is key to achieving best-in-class

workflow efficiency throughout the enterprise.

Records managers and administrators who look for

vendors that incorporate these technologies into their

organizations will enable smarter decision-making and

more flexible leadership.

Business process outsourcing vendors that

implement emerging technologies can facilitate this by

making process efficiency their core value.

For an enterprise, whose core value may not include

emerging technologies, it's a strategy that prioritizes

efficiency, flexibility, and agility.

About iBridge:

iBridge Is a Digital Transformation Company. We help

NIRMA members, manage, and analyze their data to create

meaningful operational control and improved profitability. For

more than a decade, iBridge has successfully distilled complex

information into actionable results.

www.ibridgellc.com

"It is my pleasure to introduce to you our new digitalization

Solutions Account Executive, Suzanne King. Suzanne is based in

Atlanta and brings a decade of digitalization experience to iBridge."

Desh Urs, CEO and President, iBridge LLC.

Suzanne's contact information:

Direct: 503.906.2596

Email: Suzanne.king@ibridgellc.com

Back to Content | Inside NIRMA NIRMA.org Summer 2021 11
---
By Manuel Bulwa, Integrated Scanning of America

www.isausa.com

m

ost DMS products provide search capabilities

based on a combination of structured index

fields and full text search (FTS). Structured

indexing and full text search are two legs

supporting the proverbial search stool, so we need to

add a third leg: Visual Navigation (VN). Visual

Navigation allows users to refine their search looking at

folder tree structures, bookmarks and thumbnails.

These visual entities convey valuable information and

are captured from covers, folders, staples, clips, divider

tabs, barcoded target sheets, envelopes, microfilm blips,

email attachments, title blocks, headers, footers, logos,

etc.

Visual Navigation markers are small raster images

that can be captured automatically or with the mouse,

drawing rectangles around divider tabs, title blocks,

headings, dividers, etc.

In the example below, visual markers were captured

through mouse rectangles, barcoded sheets on stapled

or clipped pages and automated capture of text

headings. As you navigate through the multiple pages of

a document, the corresponding visual marker will be

highlighted in blue (left pane). Conversely, if you click

on a visual marker, the first page pointed at by that

marker will become visible (top right, blurred to protect

confidentiality), showing any highlighted keywords used

in the full text search (green box, bottom right):

Visual marker images are also snippets that can be

distributed to remote (even off-shore) data entry

operators, volunteers and interns, making human

capture more efficient and less costly.

Besides paper documents and books, visual

navigation proves very helpful in other areas. Examples:

Smart video inventorying: used to reduce costs and

liabilities creating a manifest/inventory of a collection:

An operator wearing smart glasses (shown above)

captures (hands-free) a video of the contents of a box

or drawer. Using his/her hands, the operator simply

makes sure that every label is exposed for a fraction of a

second before exposing the next label or tab. A typical

box or drawer can be captured in two to four minutes,

depending on how packed the folders are, their

orientation and their location.

A legible still frame is extracted via software off the

video for each label. Using Binary Search (a

combination of automation and visual navigation that

relies on responding to Yes/No or Lower/Higher

questions) a user can locate any of 2 n records with zero

indexing cost in less than n clicks. For example, a

collection of over 30,000 documents would require less

than 15 clicks to locate any document or to determine

that it does not exist.

See also: https://youtu.be/9TltKt5HGi0

COM Fiche: Every

fiche sheet has a title

block that is visible as

pdf file names that can

be navigated visually

and/or through windows

search. Double

clicking on a named

PDF file will show all

12 Summer 2021 NIRMA.org Inside NIRMA
---
An improved variation of this method is based on

defining "hot spots" in the fiche index frame, so clicking

on a coordinate will link straight to the image without

having to use the bookmarks.

frames in that fiche sheet. The last frame of a sheet

("fiche index frame") contains the coordinates of the

row and column that will show the starting frame of the

document sought. All you need to do now is to click on

the bookmark matching that coordinate and visually

navigate the document frames:

This makes possible the finding of records:

• without the cost of keying in certain title

block data fields ...

• without the risk of keying or recognition

errors and the cost of subject matter

expertise to decide which ones to

capture.

• adding the convenience of improvising

selection criteria on-the-fly …..

Large Format Drawings and Maps: A drawing set

typically includes one or more sheets. After a quick

search, the few sheets of the selected set can be visually

navigated through a small number of images of the title

blocks (bottom right). This makes possible the finding

of records:

• without the cost of keying in certain title block data

fields such as sheet number, revision number,

section, task, etc.

• without the risk of keying or recognition errors and

the cost of subject matter expertise to decide which

ones to capture.

• adding the convenience of improvising selection

criteria on-the-fly by seeing stamps, signatures,

handwritten annotations, logos, etc.

Microfilm Rolls: If the filming is blipped and that a

catalog or manifest exists naming each blip, then the

entire roll could be contained in a bookmarked PDF

file. The bookmarks can be navigated visually and/or via

text search. Producing separate smaller PDF files per

bookmark is not recommended, as blips are known to

be less than perfect, so document frames may extend

beyond a blip.

In summary, visual navigation provides the third leg

needed to stabilize the search stool. It can also save

money, defer costs, reduce errors and facilitate

progressive indexing as dictated by use and practical

experience.

Back to Content | Inside NIRMA NIRMA.org Summer 2021 13
---
NIRMA: The Beginning

I

t's a bird! It's a plane! No, it's SUPERMAN!

Those stirring words announced the arrival of a

superhero who fought for truth, justice, and the

American Way. But, in the beginning…

On the far-off world of Krypton, its destruction

imminent, a scientist and his wife place their infant son,

Kal-El, in a small spacecraft and send him to Earth.

The spacecraft plows into a farm field upon arrival and

is discovered by an older couple named Kent. They

adopt Kal-El and name him Clark. They (and

eventually the people on Earth) discover that Clark has

superhuman abilities, such as the ability to fly,

incredible strength, and x-ray vision. Clark, aka

Superman, then strives to fight crime and protect Planet

Earth.

I just love origin stories. They set a historical

context for a person, place, or thing. They provide

insight into the whys and fundamental motivations for

what we see today. Typically, from humble beginnings

(Apple started in a garage, HP started in a garage,

grunge rock started in a garage…wait, what's with

garages?), brands and companies emerged that grew

into multi-billion-dollar behemoths.

Here's an origin story you probably haven't heard

much about, and it's "how NIRMA came to be…"

REGULATORY ENVIRONMENT

BACKDROP

Back in the 1960's and early 1970's, nuclear energy

was being embraced wholeheartedly by electric utilities

as cost-effective for putting electric power on the grid;

this surge is known as the Great Nuclear Bandwagon

Era. In June 1970, the Atomic Energy Commission

(AEC) issued 10 CFR 50, Appendix B, "Quality

Assurance Criteria for Nuclear Power Plants and Fuel

Reprocessing Plants". The Commission then issued

Regulatory Guide 1.28, that endorsed the implementing

By Eugene Y. Yang,

Principal Consultant

KISMET Consulting, Inc.

ANSI nuclear standard, N45.2-1971. However, the

guidance was deemed not sufficient to answer the

"how" to implement a QA program, let alone

implement a records management program to address

Criterion XVII. In 1974, ANSI published ANSI

N45.2.9-1974, establishing a standard on the collection

and storage of quality assurance records; the AEC

endorses this standard through Regulatory Guide 1.88.

Finally, in 1975, the creation of the Nuclear Regulatory

Commission is finalized. It is from this regulatory

environment that the Association emerges.

RECORDS MANAGERS, UNITE!

In 1976, a call was put out to the industry (utilities,

A/E's, NSSS vendors, services consultants, etc.) to 1)

gain further understanding of the ANSI Standard's

requirements, and 2) provide a forum to share

implementation lessons learned and methods. The

common need was to find solutions for maximizing the

value of the flood of information, while bringing a

sense of order and cost effectiveness. This initial adhoc

meeting was held in Miami, FL, attended by 135

charter members.

The general consensus from this meeting was that

a) the information presented was of high value to the

industry, b) another meeting (and subsequent meetings)

need to occur, and c) the industry needs standards and

guidance in the methods for managing documents and

records. To that end, in 1977, a Steering Committee

was formed; from this committee, the Nuclear Records

Management Association (NRMA) was incorporated in

1978.

NRMA Logo, circa 1978

14 Summer 2021 NIRMA.org Inside NIRMA
---
THE EARLY YEARS

NRMA was challenged from the beginning on

several fronts. First, the Association needed to get

organized, with mission and purpose, and codified into

bylaws. Second, the Association needed to be on the

forefront on anticipating and reviewing proposed rule

changes from the NRC – and providing feedback.

Third, the Association wanted to continue to meet

annually, providing a venue where lessons learned, new

methods, and the use of emergent computer

technologies could be presented and discussed. Finally,

to be in a position to provide guidance for standardizing

methods, committees needed to be formed to carve out

specific areas of work.

Then, the Three Mile Island event occurred.

Though the Association's overall mission and purpose

didn't change, many members saw dramatic changes

occur at their plants in accountability and traceability

rigor, and the accessibility and availability of records

when needed. As the political aftermath wended its way

through the general population and Congress, rule

changes were coming fast and furious, many of which

were deemed burdensome to the utilities. NRMA

established a liaison with the Office of Management and

Budget to provide input and feedback on these issues;

interestingly enough, many of the proposed rule changes

never saw the light of day.

The big issues back then were a) how to overcome

the huge volume of paper flooding the workplace and

vaults; b) configuration management issues like drawing

updates and accuracy; c) records retention schedules; d)

the processing and use of microfilm, and e) anticipating

issues concerning plant life extension and plant

decommissioning.

industry. Others felt that the Association needed to

expand its vision; the rapid increase and use of

computer technologies was beginning to blur lines on

"what's data", "what's a record", as well as the promise

of establishing integrated suites of plant management

applications. In 1985, the vote was taken, and the

Association changed its name to the Nuclear

Information and Records Management Association

(NIRMA).

NIRMA Logo, circa 1985

YET, ANOTHER BEGINNING…

And, in 1986, a certain young engineer resigned his

job with a southern utility, where he was part of the IT

staff that supported plant applications for that utility's

nuclear plants. He went to work at a consulting

engineering firm out of Boston, MA, and thus attended

his first NIRMA Symposium in 1987…

Current NIRMA Logo

THE "BEGINNING" OF NIRMA

Ten years after that first ad-hoc meeting, the

Association met with a piece of controversy of its own:

putting the "I" (Information) in the name. Looking

back, it seems obvious that the Association should have

"information management" as part of its mission, but in

this timeframe, it was met with stiff resistance. Many

felt that there was a compelling argument for the

Association to be dedicated to "records", as there was

the Appendix B basis, and it carved a niche out in the

Eugene has been a member of NIRMA for over 34

years. At the time he joined,

NIRMA had only been in existence

for 11 years. He would love to hear

about stories and anecdotes from

others, so please email him at

eugene.yang@kismetconsulting.com.

Back to Content | Inside NIRMA NIRMA.org Summer 2021 15
---
Lifetime

Member

Profile

Meet Cheri Susner, CRM/NS

"Cheri was on the Board when I was newly elected. I recall her giving each new Board "the talk" about what it meant to be involved

in NIRMA and being on the Board, its history, etc. The Lifetimes seemed to have "skin in the game" in all they do for NIRMA,

meaning they weren't going to let NIRMA decline on their watch, as they say. That is what makes them special and comes out in their

stories and memories."

Janice Hoerber, NIRMA President

Tell us about the locations have you worked at and

positions held during your nuclear career?

In 1983, I started to work for Exelon Generation,

Nuclear Division. I spent 24 years at Braidwood Station

and the remaining time I worked at the Centralized

Training Center and the Nuclear Corporate Office.

After 30 years, I decided to retire and relax; that didn't

last long because within 6 months I came back as a parttime

Contract Instructor for Inprocessing for

Braidwood, Dresden, and LaSalle Stations. I retired

from the Training Department at Braidwood Station

where I was an INPO Certified Instructor and I

coordinated the General Employee Training for Exelon

Employees and Contractors. Also, I was the First Line

Supervisor Training Coordinator. However, the majority

of my tenure was spent in Records Management/

Document Control at the Station and at Corporate. I

worked up through the ranks from a member of the

Clerical staff to management, and then as the

Department Head for RM/DC. That was called learning

the RM/DC business by fire.

What are your Professional Affiliations and

Education?

• Nuclear Information and Records Management

Association (NIRMA)

• Institute of Certified Records Managers (ICRM),

earning my CRM designation in January 1999 and

my NS designation in July 1999

• Bachelors Degree in Business Management in 2005

• Masters Degree in Adult Education in 2007

When did you join NIRMA?

I attended my very first NIRMA Symposium (as it was

called in the 'old' days) back in 1994 in Milwaukee, WI. I

remember that first time as being overwhelming and an

awesome experience. After that, I didn't miss a single

conference until 2017 when I fully retired.

What NIRMA Leadership positions have you held?

In 1996 I jumped in the deep end and I joined the

Regulations Committee and became the secretary. I was

on the subcommittee that created the original Technical

Guidelines (TGs) for Electronic Records, which was

recommended to the industry by the NRC. In 2001 I

"I have to say that Cheri was my first introduction to Nuclear

Generation in 1984! Cheri and I progressed through the IBEW

bargaining ranks until we were asked to become supervisors and

managers over the Records & Information Management

environment during the many years of working together. During

the early years not only was I her good friend, but I was Cheri's

Supervisor/Manager in Records Management and it was

incredibly apparent to me that this chick had a lot to offer the

world. She is a people person and never attempts to elevate herself

above anyone no matter what position she holds, and boy can she

carry her own when it comes to debating the ins and outs of

records and information management!!! As Cheri's Manager/

Mentor when she became a Supervisor it was time to let this kid

fly and show her stuff. Given the right opportunities (work and

NIRMA), introducing her to the appropriate audience, getting

the needed guidance on the education needs, she flew to the highest

levels in her job and in NIRMA!"

Jo Ann Chovan, Chovan Associates

16 Summer 2021 NIRMA.org Inside NIRMA
---
was elected to

the Board of

Directors

beginning my

term in 2002. I

was proud to

be the first

Female to

serve two

consecutive

years as

President for

the

Association. I

was Vice

President for

four years and

in 2009, my

last year as a

Board Member, I served as the Secretary. 2009 was the

year I received my Lifetime Achievement Recognition,

and that, my friends, is a humbling experience.

As President, we changed the title of the NIRMA

Symposium to the Nuclear Information Management

Conference. This move was to stress Information

Management but not lose the importance of Records

and Documents. Also, to have NIRMA recognized as

the leading authority as a training organization in IM,

RM, and DC.

During that era, NIRMA was faced with financial

issues and my goal was to have the Association be

solvent and to create a strong foundation for the future.

Another change that was important to me, as President,

was to have the Board available and approachable to the

Membership. With the Board taking on the planning

and coordination of the Annual Conference, I felt that

Board Meetings should not be held during the

conference and the expectation was that the Board

Members be out interfacing with the membership

during the entire conference.

How did you get started with NIRMA?

My boss at the time, Jo Ann Chovan, brought me to

my first conference and set me loose. My second

conference was in 1995, Washington DC, where I was

taken under the wing of Hans Ebner and he directed me

where to go and what to do. He also told me that I need

to get involved so I can grow in my profession; he also

pushed to do a presentation. The third year, 1996 in

Orlando, FL, I gave my first presentation and from

there I got much more involved with NIRMA. I was

lucky to have Bruce Evans and Eugene Yang as mentors

and between Jo Ann, Bruce, and Eugene I got pushed

and prodded to expand my comfort zone.

How did being a member of NIRMA assist you

with your career?

Being a member of NIRMA increased my knowledge

in IM, RM, and DC through the training and mentoring

opportunities that the Conference provided. Also, giving

presentations provided me with experience in public

speaking, which, in turn, provided a level of comfort to

train the Station personnel in RM/DC processes. The

time spent on the Board also improved my Project

Management techniques, due to serving as VP and

responsible for coordinating the annual conference.

Finally, by serving eight (8) years on the Board provided

leadership skills. All of these pieces to my professional

puzzle was priceless.

"When Cheri first joined NIRMA, she was pretty shy, to the

point of being very unassertive. It was clear to me, from her

questions and her personal "OE" at Braidwood that she was

smart, experienced, and could hold her own. It drove me crazy

how she was being so "mamby-pamby" on one hand, and then

being so blazingly insightful on the other hand. During the

opening night festivities one year, I pulled her aside and quoted her

the riot act. She needed to cut out the "mamby-pamby" and step

up; she had too much to offer. So, she started to move up the

NIRMA ranks - secretary of a committee, chair of a

subcommittee, chair of a committee, Board Director, and then

President. And look where she is today...retired and doing a

wonderful job making delightful home-made cards while riding in

a Slingshot!"

Eugene Yang, KISMET Consulting

Cheri in her slingshot with her beloved dog, Chewie.

Continued on page 32.

Back to Content | Inside NIRMA NIRMA.org Summer 2021 17
---
From the CRM

It's Time to Take Your

Career to the Next Level

I

t's a great time to be in the

Records and Information

Management (RIM) industry.

Advances in technology and an

increase in knowledge workers

worldwide have enabled a more

efficient and prolific environment

for creating records and information.

This progression has increased the

volume of data and information

created annually from 2 zettabytes in

2010 to 59 zettabytes in 2020. And

people are working from everywhere,

from traditional offices to home

offices, to tropical beaches, which is

contributing to this abundance of

information. An organization's

information is its most powerful

asset, and like tangible assets,

information needs management to

function efficiently. Developing the

capacity to properly manage a

growing volume of records and

information being created and used

in diverse locations has never been

more vital.

The premier certification in the

RIM field is the Certified Records

Manager (CRM). It's the top

certification because it accurately

measures competency to perform as

a records manager. But more than

that, it provides a path to becoming a

well-rounded and knowledgeable

records manager capable of solving

the most complex RIM problems. If

that's not enough, it also offers

opportunities to continue RIM

education throughout your career

while providing opportunities to

network and grow professionally.

My Journey

In high school, a practical law

class taught by one of the best

teachers I ever had, Mr. Carlton,

sparked an interest in regulatory

compliance. He caught on to my

enthusiasm and encouraged setting

law school as a long-term goal. After

a pre-law track in undergraduate

school, law school helped me realize

that I prefer collaboration to the

adversarial nature of litigation. I

gravitated towards classes that waded

into complex areas of statutory

interpretation, like environmental

law and tax. I also found that I

loved performing legal research. I

realized that researching and

analyzing difficult areas of law could

be a way to help people avoid fines,

penalties, and litigation through

regulatory compliance.

What I didn't expect is that my

path would lead me to the RIM

industry. After passing the bar and

dabbling in a few contract research

jobs, I found an opportunity to apply

my research and analysis skills. It

called for extensive research of

statutory recordkeeping law and how

it impacts records retention

schedules. I didn't know what a

records retention schedule was at the

time but recognized that this fit well

with my regulatory compliance

background. Joining Zasio allowed

By Rick Surber, CRM, IGP

me to research the laws in nearly

every industry worldwide. It also

opened the door to the RIM field. I

was privileged to learn the ropes

from great mentors like David

Stephens and Kevin Zasio. They

both encouraged and incentivized

hard work, dedication to clients, and

continuing education through

certifications. The first certification

they recommended was the CRM.

Study Tips

The CRM certification is a set of

six exams designed to ensure that

successful candidates are strong, well

-rounded records managers with the

tools and knowledge to tackle the

most complex RIM hurdles. So, the

biggest tip I can give for studying is

to take the time to learn and

understand the material. If you are

interested in a career in RIM,

shortcuts gained by memorizing and

mastering test-taking strategies at the

expense of truly understanding the

material will hurt you in the long run.

I recommend starting with the

exam outline. My study strategy was

to make the outline my own by going

through and adding what I knew

about each concept. That gave me a

good baseline for what I already

knew and helped me understand the

overall scope of the outline. Then as

I read through the recommended

books and acronyms list, I added

what I was learning to my outline.

18 Summer 2021 NIRMA.org Inside NIRMA
---
When I finished reading, there were

still some areas where I felt like my

outline was weak. So, I researched

those areas online. Where I was still

unsure whether I had an adequate

understanding, I asked my mentor.

The result was a lengthy outline filled

with details that I continued to study

in the weeks leading up to the exams.

My final step was to understand my

weak points and distill my outline

down to a double-sided page of items

per test that were the least intuitive.

For some parts, especially part five,

which covers technology, this was no

small feat.

Another study tip is to answer as

many practice questions as you can

find. The questions aren't designed to

trick you into picking an incorrect

answer. But many have multiple

answers that aren't blatantly

incorrect. Understanding the

concepts helps you realize why there

is a best answer for each question

and how seemingly correct answers

are flawed. Another thing I noticed

is that the test takers use RIM

concepts as the incorrect answers

instead of making things up. So, in

addition to understanding why each

correct answer in a practice test was

correct, I made sure to understand

why the incorrect answers were

incorrect.

One last resource to mention, if

you are looking for an extra boost to

incentivize studying, consider an

exam preparation workshop. With

virtual options now available, they

are more affordable than ever. I was

lucky to sit through an excellent inperson

workshop and made some

professional connections that I still

keep in touch with and consider

friends. The workshop provided an

instructor-led review of the outline

and also gave me access to additional

practice questions. I found it to be

worthwhile. NIRMA is again hosting

a Pre-conference ICRM Online

Workshop this year, as they have in

recent years.

Becoming a CRM is

challenging, demanding,

and requires persistence

and determination. But it's

one of those

accomplishments that you

can be proud of ....

Test Time

There are different approaches to

how close together to take each test

and which ones to take first or last. I

decided I wanted to take the one I

felt most comfortable with first,

which ended up being part four.

Parts two and three are also closely

related, and all have the same

recommended reading. I found that

the concepts in parts two through

four overlapped considerably.

Prioritizing these three tests also

provides you with an initial

certification, the Certified Records

Analyst (CRA), which eliminates the

five-year window to complete all

exams. Unless you have a

background in either IT or project

management, I recommend starting

with parts two through four.

Part one on project management

and part five on IT were the most

difficult because they required me to

explore unfamiliar concepts. I

followed the same outline approach

described above, and I feel like the

studying process gave me a solid

foundation in both areas. The great

thing about part six is that there is no

new material to learn. It's all content

from the first five tests, so as long as

that material is still fresh, you just

have to be prepared to explain and

apply the concepts in writing. I

practiced taking part six, timed, and

trying to mimic testing conditions,

which allowed me to stay focused

with a plan of action when it came to

the actual test.

Continuing RIM Education =

Continuing Professional

Development Opportunities

Once you pass the tests, the

CRM requires completing 100

continuing education credits every

five years to maintain good standing.

While I initially worried completing

all these credits would be difficult, I

found this requirement presents

fantastic professional development

opportunities. Basically one credit

equals one hour of traditional

educational opportunities like

attending webinars. But many other

activities also qualify for credits,

including RIM projects at work.

Initiatives like records retention

schedule creation, RIM procedures

drafting, training, and numerous

other tasks spearheaded by records

managers are all included. There are

also options to write articles, present,

and grade tests to earn credits. The

best part is that a lot of these options

are free.

More traditional methods of

gaining credits like attending local

ARMA chapter speakers provide

valuable opportunities to learn while

networking. These also provide

leadership and public speaking

opportunities. Further, attending

conferences like NIRMA or ARMA

allow you to knock out big chunks of

credits at a high value.

Becoming a CRM is challenging,

demanding, and requires persistence

and determination. But it's one of

those accomplishments that you can

be proud of and continues to pay

dividends throughout your career. If

you love RIM and you are ready to

take your career to the next level, this

certification should be high on your

list.

Back to Content | Inside NIRMA NIRMA.org Summer 2021 19
---
I

Working in new ways

with robotic process

automation

have had a great

opportunity to teach and

talk about process

automation within the

Nuclear Records Management

community over the years. I enjoy

engaging in conversations about how

far we have come in streamlining

operations and business processes

through the use of automation

technologies.

Businesses are gaining their

process independence now more

than ever before, due to increased

emphasis on intelligent information

management (IIM) practices and the

drive to digitalize business processes

across the enterprise. The main areas

of focus are typically on the back

office with finance and human

resources taking the lead.

In the Nuclear industry, there is

great opportunity for process

automation with the use of Robotic

Process Automation (RPA) and

Artificial Intelligence (AI). Within

the Nuclear Information and

Records Management sector for

example, RPA and AI allow these

business units to gain their process

independence away from manual

processes to digitally automated

processes.

Robotic Process Automation and

AI are most suitable for teams and

individuals:

• performing structured,

repeatable, tasks.

• undertaking simple, or in some

cases, complex decisions based

on predetermined rules.

• accessing multiple systems to

accomplish a task.

• with a need to search for,

aggregate, or update information.

• performing tasks that are part of

a workflow sequence.

Some RPA candidate examples

include:

• Inbound digital capture

• Data Entry and Validation

• Data Consolidation

• Data and File Manipulation

• Automated Formatting

• Web Scraping

• User Interface Manipulation

(clicks, input fields et al)

• Uploading / Exporting Data

• Downloading / Importing Data

• Message Creation, Data

• Quality Checks

• More….

By Bob Larrivee

NIRMA's Director of Technical Programs

Nuclear Age Examples

In my conversations with Records

and Information Professionals in the

Nuclear industry, one topic in

particular seems to surface every

time – decommissioning a power

plant. The amount of information

related to the decommissioning

process is significant to say the least,

and critical to maintain properly.

According to TRS 411 from the

International Atomic Energy Agency

(IAEA), the types of documentation

and records collected as part of

decommissioning include design,

construction, and modification data,

and operating, shutdown, and post

shutdown data. What this means is

that all forms of documentation

must be collected, managed and

archived including drawings, X-Rays,

procurement records, process maps,

test reports and much, much more.

This is where RPA and AI can play

a significant role as part of the

capture process. Inbound

information whether via email,

uploading to a specific directory of

storage locations, or manually

converted from physical to digital

form, can be fully or partially

automated to help identify the

information, classify it, and move it

through a process for further action.

The advantage being one of

consistency, repeatability, and

improved defensibility while freeing

up human resources to focus on

more complex activities or exception

processing.

In my view

Process independence in the

nuclear industry is a reality. RPA is

rapidly being sought after and

embraced by many organizations and

business unit. Immediate

opportunity exists to improve and

automate those processes that are

still likely manual, seen as chaotic, or

where activities are repetitive with

little to no deviation.

The key in all of this is to align

RPA with your operational goals,

20 Summer 2021 NIRMA.org Inside NIRMA
---
focusing on targeted objectives that support the

corporate vision, operational requirements, and

regulatory compliance. If you are considering RPA

because it is the latest technology and you want to be

the leader in your space to use, think again because that

is the wrong way to approach this.

If you are looking at RPA as a way to enhance your

operations, transform your manual processes and even

some existing "automated" processes to a new level that

will help enhance organizational processes and support

your corporate goals, you are on the right path to

gaining process independence.

About the Author

Bob Larrivee is an Independent Analyst and NIRMA Board

member. An internationally recognized subject matter expert and

thought leader, Bob has over thirty-five years of experience in the

fields of information and process management. Bob is an avid

techie focusing on the application of advanced technologies to

enhance and automate business operations.

PRE-CONFERENCE WORKSHOPS

ICRM Exam Prep Workshop Series

Registration Summary Marketing Partner:

Nuclear Information & Records Management Association

Exam Prep Workshop – 4-hour half day –

CRA - Introduction and Parts 2, 3 & 4

Monday, Aug 2, 2021 - 11:00 a.m. – 3:00 p.m. eastern

ICRM Exam Preparation: Certified Records Analyst (CRA) –

Overview & Parts 2-4. This 4-hour half day workshop will

cover the introduction to the ICRM Exams, including

qualification overview & detailed overview of the material

covered in Parts 2-4, with 20 sample questions for Parts 2-4

$129 per person

Exam Prep Workshop – 4-hour half day –

CRM - Parts 1, 5 & 6

Tuesday, Aug 3, 2021 – 11:00 a.m. – 3:00 p.m. eastern

ICRM Exam Preparation: Certified Records Manager (CRM)

– Overview & Parts 1, 5, & 6. This 4-hour half day

workshop will cover introduction to the ICRM Exams,

including a qualification overview, and detailed overview of

the material covered in Parts 1, 5, & 6 with 20 sample

questions for each part.

$129 per person

Exam Prep Workshop – 4-hour half day –

Part 6 Written Case Study

Wednesday, Aug 4, 2021 – 11:00 a.m. – 3:00 p.m. eastern

ICRM Exam Preparation: Certified Records Manager (CRM)

– Part 6 Written Case Study. This 4-hour half day workshop

involves attendees writing one sample case study w/feedback.

$129 per person

Register for all three 4-hour exam prep workshops:

Exam Prep Workshop – 4-hour half day–

CRA - Introduction & Parts 2, 3 & 4

Monday, August 2, 2021 - 11:00 a.m. – 3:00 p.m. eastern

Exam Workshop – 4-hour half day – CRM - Parts 1, 5 & 6

Tuesday, August 3, 2021 - 11:00 a.m. – 3:00 p.m. eastern

Exam Prep Workshop – 4-hour half day –

Part 6 Written Case Study

Wednesday, August 4, 2021 – 11:00 a.m. – 3:00 p.m. eastern

$387 per person

ICRM Post Certification Specialty

Designation Registrations

Tuesday, Aug 3, 2021

Anyone can attend the post certification specialty

presentations without requiring registering for any of the

workshops. The post certification specialty designation exam

prep sessions will be held after the CRM Exam Prep

Workshop.

1-hour Exam Prep Session for Nuclear Specialist

Tuesday, Aug 3, 2021 – 3:30 p.m. – 4:30 p.m. eastern

Description: The Nuclear Specialist (NS) designation is an

advanced certification & established around high rigor

requirements of the nuclear industry (governmental &

commercial). Applicable to both CRAs & CRMs working in

the nuclear profession.

$50 per person

1-hour CRM/Fed Specialist Exam Prep Session

Tuesday, Aug 3, 2021 – 4:30 p.m. – 5:30 p.m. eastern

Description: The CRM/Federal Specialist is an advanced

certification & applicable to CRMs whose field of

professional practice involves RIM programs of the U.S.

Federal government, whether as a Federal government

employee, uniformed military, vendor, consultant, or

contractor.

$50 per person

Back to Content | Inside NIRMA NIRMA.org Summer 2021 21
---
A Retrospective on Information Management

in Nuclear Power

i

am continuing with my multi-part series on the

fundamentals of electronic records in the nuclear

industry. In the last issue, I discussed "what's a

record", that electronic records need a man-machine

interface, and ultimately, how an electronic record is structured. In

this issue, I'll discuss the evolution of electronic records guidance in

the nuclear industry.

IN THE BEGINNING…

On December 6, 1953, President Dwight D.

Eisenhower presented a speech to the United Nations

General Assembly entitled, "Atoms for Peace." The

speech was part of "Operation Candor", a campaign to

enlighten the American public on the risks and hopes of

a nuclear future. The speech inspired a focus on

peaceful uses of atomic energy. It catalyzed the United

States' commitment to design, construct, and operate

electric power plants using nuclear reactors. The

"Atoms for Peace" program also created regulations for

the use of nuclear power and through these regulations

stopped other countries from developing weapons while

allowing the technology to be used for positive means.

THE REGULATORY ENVIRONMENT

When it comes to regulations, the nuclear industry is

subject to Title 10 of the Code of Federal Regulations

(10 CFR). Title 10 created the U.S. Nuclear Regulatory

By Eugene Y. Yang,

Principal Consultant

KISMET Consulting, Inc.

Commission (NRC), and is the basis for the NRC's

regulatory actions. A plant must receive a license to

operate, and as part of that license, it must have a

quality assurance program based on 10 CFR Part 50,

Appendix B, "Quality Assurance Criteria for Nuclear

Power Plants and Fuel Reprocessing Plants". This

appendix cites 17 criteria for such a program; two of the

criteria of interest to NIRMA members are Criterion

VI, "Document Control" and Criterion XVII, "Quality

Assurance Records".

THE NEED FOR STANDARDS

The industry wanted to have a say on how to

implement Appendix B requirements, so standards

organizations, such as the American National Standards

Institute (ANSI) and the American Society of

Mechanical Engineers (ASME) stepped to the fore.

Standards, such as ANSI N45.2.9, "Requirements for

Collection, Storage, and Maintenance of Quality

Assurance Records for Nuclear Power Plants," and

ASME NQA-1, "Quality Assurance Requirements for

Nuclear Facility Applications, " were developed.

Through these standards, more specificity was provided

in term of the "what's" and high-level "how's", such as

additional definition of record types and their related

retentions.

ISSUE: THE MANAGEMENT OF

INFORMATION

To meet the requirements defined by Appendix B

and the industry standards, management systems were

established to properly manage the documents and

records when operating a plant. Up to this point, plants

were processing a lot of paper: design changes, drawing

changes, procedure changes, work order packages, ad

infinitum…and records, with distribution copy locations

throughout a plant. Sure, microfilm reduced the

amount of paper, but the amount of information

continued to grow.

22 Summer 2021 NIRMA.org Inside NIRMA
---
ELECTRONIC RECORDS GUIDANCE

Computers entered into the workplace; applications

were being developed that not only reduced the paper

volume further, but also provided a huge benefit when

searching for and retrieving current and historical

information. Electronically storing and retrieving

record content looks good, but does it comply with

Appendix B, the industry standards, and other

commitments? What follows is a treatise on how the

guidance in electronic records evolved:

Generic Letter 88-18 (GL 88-18):

Plant Record Storage on Optical Disks

that had to be met: for example, that the image is

written to two optical disks; the disks are stored

separately from each other (dual storage); and periodic

random inspection is needed of the images on the disk

to verify no degradation.

Bottomline: If you wanted to have electronic records management

for your site, the NRC approved the use as long as you used

optical disks and you demonstrated compliance to the eight criteria.

EPRI/NCIG-10: Guidelines for Quality Records

in Electronic Media for Nuclear Facilities

During the time that GL 88-18 came out, the

Electric Power Research Institute (EPRI) convened a

Nuclear Construction Issues Group (NCIG-10) to

better understand the growing trend toward storing,

maintaining, and retrieving electronic quality assurance

records. A document was produced (May 1989) that

presented guidelines and supporting information for the

creation, storage, retrieval, control and approval of

quality records in electronic media for nuclear facilities.

Regulatory Information Summary 00-18:

Guidance on Managing Quality Assurance Records

in Electronic Media

Two utilities and an NSSS supplier requested that

the NRC approve the use of optical disk document

imaging systems for storing and retrieving electronic

quality assurance records. GL 88-18 (issued October

1988) informed addressees that the NRC approved the

use of this method when appropriate quality assurance

controls are applied. GL 88-18 cited eight major criteria

Back to Content | Inside NIRMA NIRMA.org Summer 2021 23
---
As computer technologies continued to

improve and more nuclear plants looked for

efficiencies opportunities, in the mid-1990's,

NIRMA's Regulations Committee made a concerted

effort to provide guidance to the industry. In 1998, four

Technical Guidelines (TGs) were published pertaining

to the management of, authentication, software

application control, and disaster recovery when storing

quality assurance records in electronic format:

• NIRMA TG11, Authentication of Records and

Media

• NIRMA TG15, Management of Electronic Records

• NIRMA TG16, Software Configuration

Management and Quality Assurance

• NIRMA TG21, Electronic Records Protection and

Restoration

Key distinctions of these TGs versus GL 88-18

were: addressing authentication; having a management

program; and the option of storing electronic objects

on magnetic disk. The NRC was engaged to review

these TGs as guidance to the industry. In October

2000, the NRC endorsed the use of the TGs to provide,

for those licensees with QA programs, a way to satisfy

the Appendix B requirements for the maintenance of

electronic QA records.

Bottomline: If you wanted to have electronic records management

for your site, the NRC approved the use as long as electronic

records system complied with the RIS and the 4 NIRMA TGs.

• NIRMA TG16, Software Quality Assurance

Documentation and Records

• NIRMA TG21, Required Records Protection,

Disaster Recovery and Business Continuation

NIRMA, in July 2011, requested the NRC to

re-evaluate the RIS in light of these new revisions;

however, the staff at the time declined to take on the

evaluation, citing that there was little or no interest in

the industry for a guidance update.

Position Paper (PP-06) on Alternative Approaches

in the Implementation of the Nuclear Regulatory

Commission Regulatory Issue Summary

(RIS) 00-018

In 2014, the RIMBU committee grappled with the

confusion that arose in the industry on how to

implement RIS 00-18. NIRMA hadn't stood still; the

TGs underwent numerous changes since publication of

the RIS, the most recent revisions of all four in 2011. A

position paper was developed to provide alternative

approaches to address the use of these latest revisions

since the NRC declined to update the RIS. Besides

continuing to use the RIS-based TGs, this paper

discussed two other alternatives: 1) a utility/nuclear

plant can submit a request to the NRC, an evaluation

through the safety evaluation process; if approved, this

(On the NIRMA website, to access the RIS and the

related TGs, you will find a folder called "RIS 2000-18

and Endorsed NIRMA TGs (1998)" under the

Technical Guidelines section of the Reference

Documents area.)

NIRMA TG Updates and NRC Petitioned

In 2011, NIRMA's Regulations and Information

Management Business Unit (RIMBU) committee

simultaneously updated and harmonized the four RISbased

NIRMA TGs. These updates were extensive and

reflected more current technology trends, such as e-

authentication, e-transmittal, and sustainable file

formats, as well as the elements of an electronic records

program These became:

• NIRMA TG11, Authentication of Records and

Media

• NIRMA TG15, Management of Electronic Records

24 Summer 2021 NIRMA.org Inside NIRMA
---
would set a precedent that other utilities/plants could

take advantage of, or 2) insert electronic records

guidance into a subsequent version of NQA-1 (more on

that later).

Duke Energy Safety Evaluation Report Request

In March 2015, Duke Energy Carolinas submitted a

request to the NRC to approve a change to the Quality

Assurance Topical Report (QATR) for its three nuclear

stations. The request was to revise the QATR to

reference the 2011 versions of the TGs. The NRC

found it acceptable that the requirements of 10 CFR 50

Appendix B would still be satisfied through compliance

with the TGs. Therefore, the Duke SER satisfied one

of the alternatives cited in the PP06 position paper.

Bottomline: If you want to have electronic records management for

your site, the NRC approves the use as long as your electronic

records comply with these 2011 versions of the TGs.

[On the NIRMA website, for these TGs, you will

find a folder called "NRC-SER Endorsed NIRMA TGs

(2011)" under the Technical Guidelines section of the

Reference Documents area.]

Regulatory Guide 1.28, Revision 5

Quality Assurance Program Criteria

(Design and Construction)

In October 2017, the NRC issued Revision 5 of

Regulatory Guide 1.28. Prior to that, in Revision 4, the

NRC stated that, if electronic QA records were being

stored and managed, its position on electronic records

was based on Generic Letter 88-18 and RIS 2000-18

that references the 1998 NIRMA guidelines (TG-11, TG

-15, TG-16, TG-21). In Revision 5, the NRC stated:

"For the management of electronic records,

appropriate controls on quality assurance include the

following:

(a) No deletion or modification of records unless

authorized pursuant to the record retention rule

(b) Redundancy (system backup, dual storage, etc.) is

provided

(c) Legibility is required of each record

(d) Records media are properly maintained

(e) Inspections to ensure no degradation of records

(f) Records are acceptably converted into any new

system before the old system is taken out of

service

The Nuclear Information and Records Management

Association (NIRMA) technical guides (TGs), as

listed…, provide guidance to establish the

appropriate quality controls that incorporates the

implementation of enterprise content management

systems, web-based technologies, and higher capacity

LAN/WAN networks. The NRC approves for use

the 2011 versions of the NIRMA TGs."

Bottomline: The NRC, in Revision 5, essentially leveraged its

position stated in the Duke SER and approves the use of the

2011 NIRMA TGs.

American Society of Mechanical Engineers:

Quality Assurance Requirements for

Nuclear Facility Applications

NIRMA members, in 2015, began to participate in

the Programs Management Process (PMP)

Subcommittee of NQA-1. It was surmised that the

NIRMA TG content is very extensive, but wordy, so

NIRMA TG (2011) requirements were reduced or

summarized to fit the ASME NQA-1 format and scope.

The advantages for the industry are that the

manufacturers can use these changes very quickly; NSSS

vendors and new build facilities can adjust, as needed.

ASME NQA-1 is the "go-forward" strategy for industry

and NRC review. It will not be tied to any specific TG

version, so the standard can adjust as technology

changes. From a NIRMA perspective, there will be

many ASME interpretations, of which answers can then

be sought in the full NIRMA TGs.

Bottomline: The electronic records requirements are published as

part of ASME NQA-1-2017. (Caution: You have to be

committed to/and use this standard/year to take advantage of

this.)

Whew! Thanks for hanging in there with me. It's

been quite a ride in guidance space for over 30+ years,

and NIRMA has been in the thick of it! In future

columns, I intend to continue with addressing the other

aspects of nuclear electronic records, such as

authentication, sustainability, disaster planning and

recovery, and more! Stay tuned!

Eugene has been a member of NIRMA for over

34 years. At the time he joined, NIRMA had

only been in existence for 11 years. He would love

to hear about stories and anecdotes from others, so

please email him at eugene.yang@kismetconsulting.com.

Back to Content | Inside NIRMA NIRMA.org Summer 2021 25
---
NRC's ImplemeNtatIoN

Plan to Comply with

M-19-21

By Margie Janney, CRM/NS/FED

t

he Office of Management

and Budget (OMB) and

the National Archives and

Records Administration

(NARA) jointly issued M‐19‐21,

"Transition to Electronic Records,"

on June 28, 2019. The purpose of

the directive is to guide and support

Federal agencies' transition to

electronic records for increased

efficiency, accuracy, and improved

records storage. M‐19‐21 establishes

four targets with nine requirements.

Thus far, the Nuclear Regulatory

Commission (NRC) has met seven

of the nine NARA requirements:

• Managing permanent electronic

records (by December 2019);

• Designating a NARA-certified

Agency Records Officer (ARO);

• Designating a Senior Agency

Official for Records

Management (SAORM);

• Informing agency personnel of

records responsibilities;

• Ensuring agency records are

covered by NARA-approved

records schedules;

• Ensuring that agency records

schedules are updated as

business processes transition to

electronic records management

(ERM); and

• Closing agency-operated or

commercial records storage

facilities and transferring

inactive, temporary records to

NARA-operated Federal

Records Centers (FRCs);

The staff is actively addressing

the two remaining M‐19‐21

requirements:

• Managing permanent electronic

records with appropriate

metadata (to/from and date/

time) (by December 2022); and

• Managing temporary electronic

records with appropriate

metadata (by December 2022).

The staff developed a strategy,

based on five actions, to address the

requirements of M‐19‐21:

• Assess analog records for

possible future digitization;

• Transfer permanent and

temporary analog records to

FRCs;

• Digitize prioritized analog

permanent and temporary

records, as appropriate;

• Ensure that Federal records are

created, retained, and managed

in electronic formats, with

appropriate metadata; and

• Develop a Communication Plan

and guidance.

The staff is implementing the

five remaining approaches to comply

with these requirements. We believe

we will meet the goal laid out in

M-19-21 to transition the NRC's

recordkeeping to a fully electronic

environment that complies with all

records management laws and

regulations.

26 Summer 2021 NIRMA.org Inside NIRMA
---
ON BECOMING A LEADER

By Lou Rofrano

Professional Development Business Unit Co-Director

R

ecently, some members of

the NIRMA team were

discussing growing the

organization and

encouraging participation at multiple

levels. I have been fortunate that as

a supplier/vendor, the NIRMA team

has been able to find my skills and

experience helpful. It has allowed

me to contribute in a manner I did

not expect when I first started

attending the conferences. Since I

am not a Records Manager, I have

relied on many NIRMA members to

help me understand priorities and

developmental needs. It has been

amazing from my perspective.

This year has extra meaning as it

represents the 45 th Anniversary of

the NIRMA Conference. We know

we are hoping for a great turnout of

current and past members, some of

which most would consider legends

in the organization. So the question

to be asked is how did some of these

individuals become legends? How

will the organization develop and

create individuals to step into

leadership roles going forward? We

have an amazing group of leaders on

the current board and will have great

candidates going forward. That

being said, the first job of a leader is

to inspire excellence and the second

is to guarantee that a team is

ensuring continued excellence

through leadership development.

Now is the time to ask the question,

how many members would be

interested in a leadership role down

the road?

People often ask how do I

become a leader? Honestly, there are

truly no magic answers, just solid

principles and action to create a

leadership opportunity for yourself.

Here are some things to consider.

• Be Motivated: If you look at

events and elements of the

NIRMA organization and say to

yourself that something could be

improved or augmented as

yourself, what would you do

given the chance?

• Be Willing: Many people see

the need for change and

evolution but are not willing to

get involved or do not have the

time/bandwidth to participate.

Being willing is a key element of

becoming a leader.

• Be Curious: In the case of

NIRMA (and other

organizations as well) there are

usually multiple areas that need

participation and leadership.

Within NIRMA there are several

Business Units. If you want to

grow as a leader, you should

know what each Business Unit

does and ask yourself if you

could make a contribution. You

must be curious.

• Broaden Your Range: Be

willing to stretch your current

areas of expertise and gain

experience in things that depart

from your current role. Just

because you are not a marketing

person does not mean you can't

have ownership in that area.

• Raise Your Hand: If you want

to lead or contribute, you must

raise your hand and let current

leaders know you want to

participate or lead at a greater

level. Current leaders may see

your talent and wonder why you

aren't doing more. If you don't

pursue leadership, it will not

happen on its own.

• Be Great: To elevate to

leadership, excel at your current

level and then reach for even

more responsibility. Being great

does not mean being error-free,

it means achieving your goals

with vision and hard work.

• Throw Your Hat in the Ring:

When we try for a leadership

role, sometimes we win and

sometimes we lose. When you

run for office, apply for a job, or

seek a promotion, we must be

prepared to either win or lose.

Don't let fear get in the way.

Even if you lose, people notice

that you want to grow and make

things better.

Finally, the greatest leaders I

have known personally are dedicated

to making others and teams better

than their current state. They

understand that both recognition

and legacies are best created through

contribution and elevation of others.

Back to Content | Inside NIRMA NIRMA.org Summer 2021 27
---
T

A MESSAGE From the

his is such a special year as

NIRMA celebrates 45 years

of providing leading

industry guidance and peer

networking relationships that span

decades! My first NIRMA

conference in 1997 introduced me to

all of it. I saw the value and wealth

of knowledge that NIRMA

delivered. I was not your typical

attendee, instead coming from the

IT side of my nuclear facility, but I

was welcomed and encouraged to

participate. I listened and I learned.

Looking back, I heard many of the

great legacy names of NIRMA

presenting and leading the way to the

future for all of us in a nuclearrelated

career. In turn, my company

implemented technology and

solutions over the years that were

grounded in the NIRMA Technical

Guidelines (TGs) and the ANSI/

NIRMA Standard CM 1.0 for

Configuration Management.

I found my trip report from my

first NIRMA conference. Some

topics are still relevant today and

unresolved. Here is a snippet about

one of the 1997 presentations:

Organizational Memory Effects

on Productivity

"This session was quite

interesting as it was presented that

we should not try to justify our

investment in information

management systems by savings in

manpower, but rather by gains in

President

Janice Hoerber

NIRMA Celebrates its Past, Present, and Future!

preserving organizational memory.

Organizational memory was defined

as the means by which knowledge from the

past is brought to bear on present activities,

thus resulting in higher or lower levels of

organizational effectiveness. The idea

here is to make the information

available, centrally accessible and

friendly enough that it will be used

on a daily basis to make decisions

that affect the plant. Examples were

given that would allow us to make

better decisions on when to do

work, when not to do work, and

when we may prevent work from

being needed by providing cause and

effect information from other

failures.

This company had offered a

good retirement package and had

many reductions in a short period of

time. They found that they were

sadly lacking in organizational

memory without the people that had

done the work for a long time. He

also challenged the long time

practices of only keeping records

that are required by regulators. He

felt that we should all be evaluating

data for retention based on its value

to the organization in addition to the

required information. He encouraged

the Records Managers to evaluate

the need of keeping E-mail as

records to support plant decisions, as

this is currently not a common

practice. He also encouraged us to

build in to our databases the ability

to maintain multi-media information

to link reports, pictures, audio and e-

mails to capture histories. We have for

some time been concerned about how we will

pass on our plant knowledge to our

successors with such a large group of us in

the same age range, this may be an

opportunity for us to address some of those

concerns."

Today, NIRMA continues to

engage its membership to bring the

relevant topics to the table. We

invite you to present a session at the

NIRMA conference or join the

working groups (Business Units) to

share your experiences to help

develop industry guidance or even

standards. As an ANSI Accredited

developer, NIRMA is in a unique

position with the platform to lead

information and records

management initiatives to benefit

both the domestic and international

nuclear community!

Looking to the future, the

economic challenges for U.S Nuclear

require us to think differently about

the way we have always done things.

We must ask more questions,

particularly "why" we still do some

things and can it be eliminated or

done through automation or

technology. Earlier this year, the

NIRMA Board of Directors

incorporated Process Management into

the NIRMA Strategic Plan, which

expands NIRMA into the tools,

Continued on next page.

28 Summer 2021 NIRMA.org Inside NIRMA
---
FROM THE VICE-PRESIDENT

Bruce Walters, CRM/NS

T

he 2021 Nuclear

Information Management

Conference (August 9-11)

at the JW Marriott Resort

and Spa in Las Vegas, Nevada is

quickly approaching. We have many

wonderful topics and speakers lined

up and are awaiting word from a few

more. Let's preview some of the

Keynotes and other Sessions.

David Nelson with the NRC is

our intended kickoff Keynote

speaker addressing "Transformation

Initiatives around the NRC."

Another Keynote is by Laura

Williams with the American

Nuclear Insurers who will address

"Records – The Nuclear Liability

Perspective." Another is by my own

AECOM company attorney, and

now boss, Whitney McCollum

addressing "Data and COVID –

Now & Future." We will:

• hear a progress report on our

successful Mentorship Program;

• learn about Robotic Process

Automation and the World of

Robotics;

• Deposition Do's and Don'ts;

• Decommissioning RM – Lessons

Learned to Date;

• Configuration Management –

NIRMA's ANSI Standard

overview;

• a panel discussion about the

three 'balls' of CM; IG & Privacy

Management;

• Cyber Security;

• Best Practices of Document

Control;

• Capture is No Longer About

Just Paper;

• the ever-popular Government

Updates & Benchmarking

session;

• some Fundamentals sessions;

• and more.

Registration for the Conference is

open on our website (click here). We

encourage you to come and

participate in our 45 th Anniversary

celebration. This year's Conference

will be well worth your while in

attending. With Las Vegas opening

back up, I look forward to seeing

you there!

NIRMA's Financial Holdings

As of: June 2, 2021

Michelle Smith

NIRMA Treasurer

Investment Account $ 124,300.45

Checking Account $ 16,012.36

Continued from previous page.

techniques, and strategies you need to improve your

business agility and operational performance. These

include:

• RPA, Robotic Process Automation

• AI, Artificial Intelligence

• IG, Information Governance Technologies

We invite all of you to participate with us at the

August NIRMA conference, and especially potential

solution providers/exhibitors. These innovative

solutions, among others will be necessary to carry us

into the next generation of Nuclear so we want to hear

from you!

Check the NIRMA website at www.nirma.org for conference

details and to register. Attendance may be in-person or virtual.

We look forward to a great anniversary conference!

Back to Content | Inside NIRMA NIRMA.org Summer 2021 29
---
Professional Development

Business Unit (PDBU) News

Tammy Cutts, PDBU Director

R

emember: ICRM Exam Prep

workshops are preconference

activities this

year. Read the article here and

be sure to enroll on the registration

page. Also, keep an eye out for the

pre-conference workshop coming

soon!

The Memorial Day Holiday has

come to a close and although

summer does not begin unofficially

until June 20 th most of us see June

1 st as the start of that season. So

many of us, especially after last year,

are busy planning picnics, family

reunions and summer vacations.

This is also an important time to get

ready to invest in your development.

Literally, in about 60 days the 2021

NIRMA Conference will begin in

Las Vegas. We are hoping that many

of you will be able to attend in

person. Of course, if you cannot

then you are reserving time on your

calendar to attend virtually. I will

lobby here for a few lines that if at

all possible participate in person

within the limits of your comfort

and organizational requirements.

Why? When you attend in person

not only do you grow and learn

during our sessions but also keep in

mind all of the learning and

development that goes on between

colleagues over meals and in the

discussions outside of the formal

sessions. That being said, remote

attendance may be your only option

for various reasons. To maximize

your learning and development in

either attendance method here are

several ideas to help you get the

most of the conference:

1. Focus: I find this is the most

critical aspect of learning

success. Try as much as possible

to stay focused on the session

either in person or remotely.

Limit email, side bar

conversations and cell phone

distractions where possible.

2. Selectivity: Really take the time

to review the agenda in advance

and select the sessions you really

want to attend based on content

and speaker. Choose the

sessions that will help you

advance your knowledge and

skills.

3. Participation: You will only get

from the conference what you

put into it. Ask questions so that

your peers and

you can both benefit from your

curiosity and developmental

needs. Enter your comments

and questions if you are working

remotely and wait for your

answers. This improves your

attention level.

4. Sit Down Front: If you are

attending the meeting live then

move to the front of the room

to the first several rows. We sit

in the back to lessen the chance

of being put on the spot. Sitting

in the first few rows you will

hear better and also likely make

eye contact with the presenter

and that drives enhanced

participation.

5. Take Notes: Nothing drives

retention like active note taking.

It keeps you focused and helps

commit key learning to memory.

It also helps to keep your

listening skills active.

There you have five tricks to keep

your learning and development at

maximum levels during our

upcoming conference.

Not a Member of NIRMA?

join today!

30 Summer 2021 NIRMA.org Inside NIRMA
---
News from the Records &

Information Management

Business Unit (RIMBU)

By Stephanie Price, RIMBU Business Unit Director

ANSI/NIRMA CM 1.0 5 Year Revision

T

he 5 year revision to ANSI/NIRMA CM 1.0 is

nearing completion thanks to Rich Giska,

long time NIRMA and RIMBU member. Rich

has been involved since the inception of this

process, approximately 20 years. The standard is

recognized throughout the industry as the guidance

document on Configuration Management (CM). The

focus of the standard is how to ensure the information

managed and associated with the plant is in sync and

properly accounted for.

The standard was originally published in 2000 with

an initial revision published in 2007 and reaffirmed in

2015. ANSI requires periodic maintenance actions be

taken every 5 years. This revision had no major issues

to address; however, updates were made to reflect best

evolving practices, clarify US-specific terms for the

international nuclear community, and add appendices

with examples of how the CM principles have been

implemented in the industry. The process involves

multiple groups including a working group, NIRMA

project team, and the consensus body (industry

members responsible for reviewing and approving, by

a vote, the document).

The Consensus Body membership was INPO and

(Configuration Management Benchmarking Group)

CMBG, Nuclear Utilities, Architect Engineer and

NSSS Suppliers. The revision was approved by the

consensus body and is now ready to be submitted to

ANSI for final approval. Once finalized, the standard

will be available for sale by NIRMA and ANSI.

of COVID as many companies are continuing remote

working practices and converting to a new normal.

The RIMBU organization strives to provide our peers

with meaningful guidance and best practices for

records management, and that includes recognizing

and addressing the changing landscape of the industry.

Doing less with less has been a topic of discussion for

RIMBU during several of our annual meetings in the

past. Good benchmarking data on best practices has

been shared, including:

• Automation of quality checks on scanned images

• Elimination of convenience copies on distribution

• Automation of records submittal process

• Evaluation of core business processes vs. collateral

duties

In order to best serve our peers in the industry,

RIMBU is attempting to put together a "Less with

Less" document containing further information about

how you have successfully streamlined, simplified,

and/or eliminated things in your organization. If you

have any feedback in this area, please reach out to me

at sjprice@southernco.com.

Get involved with RIMBU

New members are always welcome! RIMBU is a

great opportunity to benchmark with others in the

industry, share valuable operating experience, and

have the opportunity to influence industry standard

guidance in records management.

Doing Less with Less

The concept of doing less with less goes by many

names in the nuclear industry. Streamline/Simplify/

Eliminate, Stop/Start/Continue, digitization,

automation, working smarter, etc. This was an ever

present expectation that has been magnified in the era

Not receiving NIRMA Email

communication? Click here &

scroll to the bottom of NIRMA's

website to sign up to ensure

you receive the most current

information.

Back to Content | Inside NIRMA NIRMA.org Summer 2021 31
---
MEMBERSHIP & MARKETING

(M&M) Business Unit News

e are less than 2 months away from

W

the 2021 NIRMA Conference, the

45 th Anniversary. Time to start really

thinking about attending the

conference. There will be a lot of exciting

things to participate in, learn and enjoy. If you

attend in person, you can take a walk down

memory lane with all the NIRMA memorabilia

that has been collected from long time

members and will be on display.

Two of the Keynote Speakers are showcased in this

addition of Inside NIRMA. Check them out here. I think

you will be quite pleased with what they will bring to our

conference.

Do you have a vendor(s) that you do business with

that could benefit from participating in the NIRMA

conference and that other members of NIRMA could

benefit. Please share the NIRMA conference

information with your vendors and ask them if they are

interested in being a part of the conference.

We will again be promoting the "BRING-a-

BUDDY" campaign in 2021. When you register

yourself and a "buddy" (a new attendee) to come to the

2021 NIRMA conference, your names will be placed in

a special drawing. Prizes are always fun! The new

attendee can be anyone from your organization (i.e., IT,

Kathi Cole, CRM

M&MBU Director

your boss, procedure writers, auditors,

engineers, etc.).

Remember to register by July 1st

and receive the Early Bird Discount.

NIRMA is offering a group discount when

you register for the Conference early.

Purchase three (3) registrations from the same

company, and all subsequent registrations are

$625. These subsequent employees need not

be part of the Records Management organization. They

can be employees from any of the organizations within

the same company.

Also, because this year is the 45 th Anniversary of

NIRMA, we are offering you a free NIRMA 45 th

Anniversary shirt with your Early Bird registration.

Membership & Marketing Business Unit is looking for

members to help come up with new ideas to bring new

members to NIRMA, as well as new ideas of how to

share expertise with the membership. M&MBU meets

the first Wednesday every month for one hour at 1:00

PM ET, 12:00 PM CT, 11:00 AM MT, and 10:00 AM

PT. Please join us. We are a fun group to work with.

For additional information or questions on anything

mentioned above, please contact nirma@nirma.org.

Continued from page 17.

What did you find most

rewarding about your

membership?

The Education opportunities and

mentoring, both receiving and

giving, lead to lifelong friendships.

In what ways were you able to

help (mentor) other members?

I think with my personal goal of

approachability, I was available to

the membership at all times; I always

tried to make everyone feel welcome.

I constantly talked with all first-time

attendees and I made sure that if

anyone had questions or concerns

they would feel comfortable talking

to me.

What would you tell others

looking to get involved in

NIRMA or NIRMA leadership

roles?

Take the leap, the water is fine. It

is a great opportunity to increase

your skills in the field of IM. Yet,

don't overlook the soft skills of

leadership. What NIRMA can

provide is there for the taking, but

you have to reach for it.

Why is it important for you to stay

involved?

I am looking forward to returning

for NIRMA's 45 th Anniversary. You

may retire, but once NIRMA gets in

your bloodstream, it is there forever.

Thank you to all of the past, current,

and future leaders of NIRMA – you

make the Association what it is today

and what it will be tomorrow!

32 Summer 2021 NIRMA.org Inside NIRMA
---
NIRMA's 45 th Anniversary Conference

Will Be Truly Spectacular!

The Conference will be held at the beautiful JW Marriott Las Vegas

Resort and Spa, 221 N. Rampart Blvd., Las Vegas, NV

The NIRMA Board is hard at work to make this conference one of our

best ever! In addition to our tradition of engaging speakers and

enlightening presentations, we will also be commemorating NIRMA's

45 th Anniversary with a Celebration Night Extravaganza including

dinner, music, and all-around fun! In addition, there will be lots to see

and remember in our Memorabilia Room, highlighting NIRMA's rich

history!

Learn the latest from

the experts in current

trends.

Be inspired by the

message of industry

leaders.

Retool & re-energize

your passion to make

a difference.

The JW Marriott Resort and Spa is a luxury getaway,

providing spacious rooms and suites, premium amenities

and superb customer service. Visit JW Marriott here.
---
Even As Support for Carbon-Free Energy Grows, Some

Reactors Still Face Shutdown, New Study Warns

Among climate advocates,

energy experts and now the Biden

administration, there is a growing

consensus that the nuclear energy is

critical to address the challenges of

climate change.

Earlier this month, President

Biden released his American Jobs

Plan, an infrastructure investment

package that includes a major focus

on addressing climate change. A key

provision of this plan is a clean

energy standard that relies on the

nation's largest source of carbon free

energy, nuclear power, to help

decarbonize electricity by 2035.

But at the moment when climate

change is recognized as an urgent

problem and nuclear is viewed as an

important part of the solution, a new

study shows that we also face the

prospect of well-running nuclear

plants shutting down, right when

they're needed the most.

The report, from Potomac

Economics, assesses the economic

realities facing nuclear plant owners

today in PJM, the largest electricity

market in the U.S. serving 65 million

customers in 13 states across

portions of the Mid-Atlantic and

Great Lakes regions, as well as

Washington, D.C. PJM is home to

31 of the nation's 94 nuclear plants,

including many that are currently or

have been financially threatened.

Potomac Economics has a unique

standing to help understand

electricity market forces, serving as

the independent market monitor

(IMM) for four other U.S. electricity

markets, a role that requires deep

knowledge of the economic

incentives facing companies in these

markets. Their analysis concludes

that most of the nuclear plants in

PJM will not produce enough

revenue to remain economically

viable in the coming years. This

finding is consistent with numerous

other analyses and nuclear operators

who have been warning that flaws in

the wholesale markets are driving

always-on, carbon-free nuclear

plants to close prematurely.

Often, there are two key aspects

of nuclear economic analyses that

get overlooked. First, critics of

policies to support nuclear power

often do not account for the

financial costs and risks associated

with operating large plants that

owners must bear. These costs, as

well as their ability to be avoided

through a shutdown, are often

neglected by critics when assessing

the financial outlook for the plants.

It seems clear to me, however, that

they are well-accepted

considerations in any boardroom or

stock analyst report. Often, shutting

a plant down will be more

economically appealing because all

future costs and risks will be avoided

and any remaining post-shutdown

costs will be covered through a trust

fund the U.S. Nuclear Regulatory

Commission requires all nuclear

owners to establish.

Second, critics often utilize

unrealistic or optimistic revenue

forecasts. However, the Potomac

Economics report sets the record

straight by basing their analysis on

realistic market-based prices. By

utilizing true avoidable costs and a

reasonable revenue estimate, the

report demonstrates that nuclear

plants are not viable.

Through Potomac Economics'

analysis, it's clear that the economic

hurdles facing nuclear plants in PJM

are significant. Energy policies can

be enacted to overcome these

hurdles, but reforms to federal and

state policies are needed quickly.

Over the past decade, state

policymakers and energy customers

have very clearly demanded more

carbon-free electricity.

In that time, 10 states in the PJM

region and the District of Columbia

have instituted policies like

renewable portfolio standards or

zero-emissions credits to cut

emissions. Customers in these states

represent over 90 percent of the

electric demand served by PJM.

Article reprinted with permission

of NEI. Read full article here.

34 Summer 2021 NIRMA.org Inside NIRMA
---
Here's 3 Ways to Make Promises From the

Climate Summit Come True

President Biden met with 40

world leaders last week and

promised to get the United States

back on the climate control track.

He and the other leaders pledged to

shift to clean energy and

dramatically reduce emissions—with

the U.S. promising a 50 to 52

percent reduction below 2005 levels

by 2030. Expectations and

aspirations are high.

But promises won't stop climate

change. Cutting emissions will

require action in the form of

appropriate policy, research,

investment and deployment. What,

specifically, can we do?

Here's three ways we can meet

the aggressive goals we've pledged

ourselves to:

1. Invest in Energy

Innovation: Climate advocates,

policymakers and leaders like

Bill Gates agree that the only

way we can eliminate carbon

emissions is through innovation.

Many of the technologies that

will help us reach a carbon-free

future are already being

developed. There are major

advances happening in advanced

nuclear technology, for example.

Last year, the U.S. Department

of Energy announced nearly

$3.9 billion in funding through

the Advanced Reactor

Demonstration Program for

research and development to

bring two pathbreaking

advanced reactors into

operation in five to seven years,

and a pipeline of new projects

after that. And the department

has promised $1.4 billion

towards a small modular reactor

project planned in Idaho.

Congress has paid for the

beginnings of each of these

programs. But the investment

curve gets steeper in the next

few years. We must continue to

fund innovative advanced

nuclear projects through private

and public investment. The

market is strong, with 40

utilities, including the nation's

largest, already pledging to

reduce emissions by about three

quarters by 2050. But the

innovation already underway

will need a helping hand to

bring the zero-carbon products

to market—which will also

include innovation in fuels,

some of which may be provided

by the government.

2. Preserve All the Carbon-Free

Electricity We Have: The

nation's largest source of clean

energy is nuclear reactors that

are already running, which have

slowed the buildup of climatechanging

gases in the

atmosphere and can continue to

do this vital work for decades to

come. The Biden administration

has acknowledged the role of

our current reactors, listing

existing nuclear as a resource for

reaching their ambitious climate

goals—and other policymakers

like Sen. Joe Manchin (D-

W.Va.) have applauded the

administration's leadership in

this area. But because of flawed

markets and changing economic

conditions, nuclear plants need

to be recognized in policy and

compensated appropriately.

States with aspirations to do

their part for clean air and

climate stability have systems in

place, and some are developing

or revising such policies.

Connecticut, New York, New

Jersey and Illinois are in this

category and others may step

forward. The White House has

also proposed a national clean

energy standard that would

compensate nuclear plants for

their carbon-free energy, as part

of its major infrastructure

package, the American Jobs

Plan. The most effective path to

a carbon-free future is to

preserve and properly value

America's 94 nuclear plants.

3. Recapture U.S. Leadership in the

Global Nuclear

Market: Stabilizing the climate

will require global action.

Continued on next page.

Back to Content | Inside NIRMA NIRMA.org Summer 2021 35
---
Stakeholder Coordination

Essential for Nuclear to Innovate

The nuclear power sector in

North America and Europe is at a

turning point.

A whole generation of power

plants – built in the sixties and early

seventies and running on mostly

analogue technology – are facing

decommissioning or refurbishment

while a new generation of state-ofthe-art

alternatives are being tested

today for deployment by the end of

the decade.

Recent studies have shown

that refurbishing the industry's old

workhorse reactors, which have

reliably pumped out power 24/7 at

high capacity for decades, is the

most cost-effective, dispatchable,

low-carbon power producing

technology on the market. The new

generation offers an array of

advanced features that promise

increased safety and productivity.

In both cases, scientists are

using significantly different

technology than was even imagined

during the first wave of reactors

which, before refurbishment,

continue to operate today much as

they did when they were built.

"In some instances it was said

that you could leave the sector in

the 70s and 80s and come back 20

years later and sit at your old desk

and get back to work because the

The control room at Pickering

Nuclear Power Generating Station

near Toronto, Canada. (Source:

Reuters/Carlos Osario)

technology at its heart had not

moved on," says Director for

International Engagement, Security

& Non-Proliferation at the UK

National Nuclear Laboratory Rob

Whittleston.

This, in fact, has been the

strength of the technology. Nuclear

power has been a disruptive

technology in its own right ever

since its introduction, Whittleston

says, comparable only to

hydroelectric systems in generating

huge amounts of carbon-free

energy.

However, the generation

landscape today is changing and

nuclear must change with it.

Continued on next page.

Here's 3 Ways to Make

Promises From the Climate

Summit Come True,

Continued

Outside the industrialized

world, demand for electricity is

galloping ahead and is mostly

met with new plants burning

coal. As in the United States,

nuclear will be an essential

component of a zero-carbon

electric system worldwide, and

more than 30 countries are

working to develop nuclear

energy programs. The potential

market is more than $8

trillion between now and

2050.Current reactor

technology and the advanced

and small reactors in

development all have a role to

play. And returning the United

States to a leading export role

will create jobs here, cement

commercial relationships with

developing countries for

decades to come, and boost

global health and prosperity, in

addition to solving the climate

problem.

Ambitious goals are an

important first step and provide

important signals about the effort

needed to reduce emissions. But

real progress on climate change

will require action, investment and

policy, and nuclear energy will be

key to making any climate solution

work.

Article reprinted with permission

of NEI. Read full article here.

36 Summer 2021 NIRMA.org Inside NIRMA
---
Stakeholder Coordination Essential for Nuclear to

Innovate, Continued

"The issue now is that in order

to play its role in a different looking

energy mix, it has an opportunity to

change its game. That is why the

industry is working hard to ensure

nuclear is cost competitive and

more flexible," he says.

"Advanced nuclear

technologies, such as small and

advanced modular reactors, as well

as hydrogen production in nuclear,

are all examples of where disruptive

tech is being considered and

deployed to meet the world's future

energy needs, and to power net zero

here in the UK."

High stakes

Introducing different

technology and systems – whether

for new machines or to refurbish

the old – is deeply challenging for a

heavily regulated industry that

cannot afford the slightest mistake

for both safety and financial

reasons.

Part of the problem of bringing

new technology to the nuclear

industry is that each stakeholder has

a different view on what that

means.

From the utilities, innovation

must mean improved safety and

lower cost while the regulator

considers new technology as

something that must be categorized

and quantified before it's given the

green light amid concerns

surrounding the risks of changing a

legacy safety system.

Investors, meanwhile, want it as

fast as possible and cheap.

"For innovation to be

successful, we must find a way to

bring together all stakeholders early

on in the innovation process; the

end user, the regulator, laboratories,

governments, all brought together

early on in terms of understanding

how a particular technology might

be able to be used within the

nuclear sector and to really

understand the barriers and

challenges to take that

forward," Chief Science and

Technology Officer at the UKNNL

Fiona Rayment said during an

OECD NEA webinar on disruptive

technologies.

The series of webinars, 'From

NI2050 to Disruptive Technologies

for Nuclear Safety Applications',

aimed to explore the use of new

technologies in nuclear applications

and the specific challenges that they

pose for all the stakeholders.

The NEA Nuclear Innovation

2050 (NI2050) initiative was started

in 2015 and is a push to bring

together the disparate elements of

the nuclear industry from all over

the world to examine how,

collectively, it could develop and

deploy new and innovative

technologies.

By Paul Day

(Source: OECD NEA; "From NI2050 to Disruptive Technologies for Nuclear Safety

Applications")

Article reprinted with permission of

Reuters Events Nuclear.

Read full article here.

Back to Content | Inside NIRMA NIRMA.org Summer 2021 37
---
Register Today for the

45th Annual NIRMA Conference

August 9-11, 2021

Held at the

JW Marriott Resort & Spa

Click here to register.