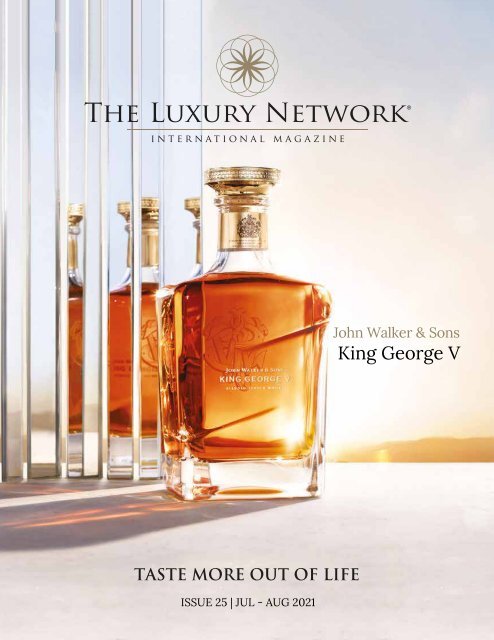 The Luxury Network International Magazine Issue 25
Features John Walker & Sons King George V by Johnnie Walker on the cover, and inside are more exciting events from our global offices and members.
Features John Walker & Sons King George V by Johnnie Walker on the cover, and inside are more exciting events from our global offices and members.
SHOW MORE
SHOW LESS
You also want an ePaper? Increase the reach of your titles
YUMPU automatically turns print PDFs into web optimized ePapers that Google loves.
John Walker & Sons

King George V

TASTE MORE OUT OF LIFE

ISSUE 25 | JUL - AUG 2021
---
Described as "The next generation of marketing for luxury brands" by the British media,

The Luxury Network is the world's leading luxury affinity marketing group. The Luxury

Network is a private membership club, established in luxury capitals or countries

around the world, within which premium companies work closely together

at senior director level for mutual business and client development.

The Luxury Network's objective is simple: To facilitate co-operation and exciting new

business development activities between top-end companies. New business partnerships

are created via strategic alignment, joint collaborations, product placements,

endorsements, media sharing, B2B and B2C networking, sales and luxury

showcase events and numerous other affinity marketing activities.
---
A Message

From The Editor

Dear Valued Readers,

Our 25 th edition marks the 4th anniversary of The Luxury Network International Magazine, your gateway to the

latest news in the world of luxury.

Our front cover features the opulent and regal blend, John Walker & Sons King George V by Johnnie Walker.

The spotlight story we have inside is a feature about the impeccable welcome event hosted by TLN Qatar this

month in the Maserati showroom in Doha honouring its latest member, the Cars and Cigars Club. The event was

graciously attended by several VIPs and ambassadors in Qatar.

Some of this issue's highlights include the collaboration of Rolls-Royce Motors and Bovet 1822, Somnio Private

Residence Superyacht -the world's largest superyacht, The St. Regis Toronto's new sky-high luxury spa, the TLN

Miami launch, and more exciting events from our global offices and members.

YEARS

ANNIVERSARY

celebration

For the past 4 years, our team has been working immensely to improve the quality of our publication and the

latest news we deliver to you. On our anniversary, we are proud to showcase our magazine with more fresh

content, featuring only the best of the bests brands in the world of luxury.

Watch out for our upcoming editions as we will be featuring some of the exciting projects that our global members

and The Luxury Network international offices are working on.

On behalf of the editorial team, we thank you for your continuous support.

Sincerely,

Fares Ghattas

Global CEO,

The Luxury Network International

Editor-in-chief,

The Luxury Network International Magazine

@faresghattas

@theluxurynetwork
---
signed, and developed in parallel with the production of

a coachbuilt Rolls-Royce. Using the revolutionary and

patented Amadeo system, these timepieces can transform

from a wristwatch to a pocket/pendant watch to a

desk clock and… that's right, a dashboard clock.

and artisans at BOVET 1822 went above and beyond to

highlights

ISSUE 25 | Jul - Aug 2021

22 Bovet 1822 and Rolls-Royce: A True Collaboration

Born in the mind and heart of a Rolls-Royce and BOVET

1822 collector, the concept was to design and produce

a bespoke Rolls-Royce and two unique BOVET 1822

timepieces, one for himself and one for his wife, that go

hand in glove. Three years in development, BOVET 1822

and Rolls-Royce accomplished something never realized

before in either industry.

As the mechanical tourbillon timepieces are meant to be

mounted in the car as dashboard clocks, this changed

the development completely as now they had to be

considered part of the car. As a result, the holder and

timepiece — all 51 components engineered and manufactured

by Bovet — had to be tested like any other part

of the car for vibration, security, safety, and more. No

other timepiece has ever undergone such scrutiny and

testing – up to and including crash tests.

32

The World's Largest Superyacht Unveiled:

Somnio Private Residence Superyacht

38

54

58

66

70

Iridium Spa: Inside The St. Regis Toronto's New Sky-High Luxury Spa

Welcome Aboard Loubiairways

The result is an accomplishment never before realized

in either industry. Two fine reversable timepieces, one

for the lady and one for the gentleman, have been designed

to be worn on the wrist, used as a table clock,

pendant or pocket timepiece, or placed front and center

within the Boat Tail's fascia as the motor car's clock.

What Makes Luxury Brands Expensive in 2021

A Revolution in Sound and Design:

The Berluti x Bang & Olufsen Limited Edition

Watch this space for the full details of this astounding

collaboration and the development of the timepieces

and mounting system, June 8, 2021 at 1 pm GMT.

Ruinart Second Skin Case: Innovation for Sustainability

At A Glance

• Rolls-Royce Coachbuilder and the BOVET custom

timepieces represent contemporary patronage in its

truest form

DESTINATIONS

Take the classic route

from London to Venice,

the gateway to the Orient.

This breathtaking

journey through rural

French farmlands and

Swiss Alpine valleys

can be travelled in either

direction or both.

Go further afield with

Paris to Istanbul, an authentic

adventure over

six days to the edge of

Europe. Delve into the

culture with stops in

Budapest and Bucharest

before arriving in

soulful Istanbul.

2021 brings new Grand

Tour routes crisscrossing

through Europe.

Embark on a thrilling

voyage c

of the c

vibrant

Explore

canals

taking

class m

day an

Dutch c

before

train fo

adventu

The Ori

added

routes t

ID sche

current

restrict

Express

their jo

uled in

Visit be

more in

84

86

110

• Rolls-Royce introduces an utterly unique coach-built

"Boat Tail" commission that integrates 100% bespoke

BOVET timepieces into the dashboard

TLN Miami Launch: A Celebration of Art, Music, and Wine Experience

TLN Nigeria Hosts B2B Networking Breakfast

Cars and Cigars Club Joins TLN Qatar

• Based on a true commission model, Boat Tail represents

a collaborative exploration of luxury, design and

culture between BOVET 1822, Rolls-Royce, and the

commissioning clients

• The mounting system for the timepieces in the dashboard

has never been done before and required years

of research, as well as extensive testing (vibration, temperature,

humidity, and even automotive crash tests)

VENICE SIMPLON-

ORIENT-EXPRESS:

ALL ABOARD TO A

LUXURY TRAIN

JOURNEY

S

tep aboard the

historic carriages

of the Venice

Simplon-Orient-Express

and uncover a

hidden jewel, glittering

and timeless.

An uncontested icon

of the rails, this train

has long captured

the hearts and imaginations

of glamorous

guests. Three elegant

dining carriages exude

culinary sophistication,

from Lalique

glass inlays in

Cote d'Azur to black

lacquer panels in

L'Oriental.

A steward in blue and

gold livery waves with

a white-gloved hand,

welcoming you on

board with a knowing

smile. Settle into

your cabin, adorned

with art-deco details

and French-polished

cherry wood, and sit

back as a grand voyage

begins.

• Equipped with an incredible five days of power reserve,

the mechanical tourbillon timepieces from BOVET are

the perfect choice for the dashboard installation as they

are designed to remain precise even when kept in the

vertical position

The romantic train made fa
---
"I have decoded the

secrets of success of

luxury brands and

will share with you

the core values."

- Tom Meggle

The Luxury Network Academy is an educational

initiative to individuals who are interested

in joining the growing community of the luxury

industry. In times of downsizing, global unemployment,

and never-ending quality pressures,

the need for protecting high standards in marketing

sectors is being compromised.
---
Without Comparison

The International, 1306/9 Princes Street, Auckland City

One of the finest examples of apartment living, beautifully positioned on the most

coveted corner of The International.

The westerly aspect of this stunning residence provides you with an abundance of natural

light with warm afternoon sunshine along with stunning sunsets. The forever views across

Albert Park and beyond are enhanced by three metre ceilings and full height opening

glass exterior doors that create a sense of space and deliver natural airflow. Stone and

timber kitchen benches, imported oak floors and woollen carpets project the absolute

best in quality finishes and design, with ample wall space to hang your prized collection.

In addition to this superb offering, unrivalled onsite amenities include an excellent

concierge service, resident's cinema, library, gym, wine cellar and heated pool and spa.

This truly enviable lifestyle, centrally located within the reaches of the best that Auckland

has to offer can now be yours if you act now.

JASON GADDES

+ 64 21 994 921

jason.gaddes@nzsir.com

SCARLETT WOOD

+64 21 686 856

scarlett.wood@nzsir.com

NZSOTHEBYSREALTY.COM/NZE11404

Each Office is Independently Owned and Operated. Browns Real Estate Limited (licensed under the REAA 2008) MREINZ.
---
Bits of

Glitz

Bits of

Glitz

With a three-generation family heritage

of creative talents, Repossi continually

amazes, reinventing iconic jewelry

classics under Gaia Repossi, who became Artistic

Director in 2007. She reappropriates the codes of

traditional jewelry to propose a bold vision with architectural

pieces executed with masterful craftsmanship.

These new creations showcase Repossi's

signature floating diamonds and stacking.

This year Repossi is celebrating the 10th anniversary

of its Berbere collection, inspired by the multiline

patterns of Tuareg Berber tattoos. Timeless

and graphic, these are pieces for everyday wear,

welcoming three new intense lacquer colors –

Navy, Nude and Red – that elevate the designs.

As with all Repossi creations, this line is a perfect

fusion of modernity and heritage. These exquisite

designs are hand-crafted in Italy and reflect the

jewelry-making excellence of Place Vendôme, embodying

the creative universe of Artistic Director

Gaia Repossi.

Repossi is also marking this 10 th anniversary around

the world with the Berbère Chromatic Cities collection,

celebrating cities with which the Maison

has had deep ties throughout its history with exclusive

colors for each one: a match green for Tokyo,

a coral pink for Miami, an aqua blue for Monaco,

a malachite green for Dubai, a deep Bordeaux

for Paris, a red with black gold for London and an

electric blue for New York. The Berbère Chromatic

Cities collection has been available at Repossi boutiques

since May 20.

REPOSSI CELEBRATES 10 TH

ANNIVERSARY OF ICONIC

BERBERE COLLECTION

The Repossi jewelry house has reinvented

its classic Berbere pieces to mark the 10 th

anniversary of the iconic collection.

Exclusive creations will be unveiled

throughout the year, all featuring

the Maison's signature elegance

and avant-garde spirit.

14

15
---
Bits of

Glitz

IRONMAN AND BREITLING PARTNER

TOGETHER AND LAUNCH THE ENDURANCE

PRO IRONMAN WATCHES

As the new Official Luxury Watch of

IRONMAN, Breitling celebrates the

power and stamina fueling these

phenomenal sporting events

with a new series of timepieces

Breitling and IRONMAN have

signed a long-term partnership

and teamed up

to co-design the Endurance

Pro IRONMAN

watches, a special

series of Breitling's

ultimate athleisure

watch. The result

is a set of perfectly

lightweight and

lighthearted luxury

sports watches combining

high precision,

innovative technology,

and vibrant, colorful design.

The launch features

two exciting new watches: a

red version available globally

at all Breitling boutiques and

retailers and at www.breitling.

com for sports and timekeeping enthusiasts,

and a black and gold piece

exclusively available for IRON-

MAN® race finishers. Additional

models reserved for the IRONMAN

community are planned for the

coming months.

In 2019, Breitling and IRONMAN

had already launched the highly

successful Breitling Superocean

IRONMAN Limited Edition. This

new partnership kicks off a longterm

collaboration with Breitling

becoming the new Official Luxury

Watch of IRONMAN.

To celebrate the partnership and offer

a first look at the watches, a special

event was held at the Breitling

Boutique in Beverly Hills last night,

co-hosted by Breitling USA President

Thierry Prissert and President

and CEO of The IRONMAN Group

Andrew Messick. In attendance as

special guests were IRONMAN Hall

of Famer and 1997 IRONMAN World

Champion, Heather Fuhr; IRON-

MAN Ambassador and the first person

with Down syndrome to finish

an IRONMAN, Chris Nikic; IRON-

MAN Hall of Famer and the Voice

of IRONMAN, Mike Reilly; and professional

IRONMAN triathlete Ben

Hoffman, who was also on hand to

celebrate the new watches as well

as his recent partnership with Breitling

as a local ambassador in the

US. Since turning professional in

2007, Hoffman has won numerous

IRONMAN, IRONMAN 70.3 and National

Championship victories.

"IRONMAN truly reflects our core

values of performance and endurance.

We've designed this to be an

ideal watch for elite athletes as

well as a casual, everyday sports

chronograph for active people who

want that winning combination of

performance and luxury," said Breitling

CEO Georges Kern.

This eye-catching watch perfectly

captures the energetic and versatile

spirit of the iconic IRONMAN

Triathlon Series, finds Kern along

with Andrew Messick, President

and CEO of The IRONMAN Group.

"We're thrilled to continue our

partnership with such an exceptional

and well-respected watchmaker.

After the success of our collaboration

in 2019, we are pleased

to partner with Breitling in creating

this new watch which embodies

the strength and tenacity of IRON-

MAN triathletes," says Messick.

#SQUADONAMISSION

All three members of Breitling's

Triathlon Squad have distinguished

themselves in IRONMAN triathlon

events around the world. German

triathlete Jan Frodeno is not only

a 2008 Olympic gold medalist, but

also a three-time IRONMAN World

Champion and a two-time IRON-

MAN 70.3® World Champion. In

2019, Frodeno recorded a best

overall course time at the IRON-

MAN World Championship®, winning

in 7:51:13.

Daniela Ryf, a native of Breitling's

home country of Switzerland,

is a five-time IRONMAN

70.3 World Champion and

four-time IRONMAN World

Champion.

The third squad member

is Chris "Macca"

McCormack from

Australia, who has

claimed two IRON-

MAN World

Championship

titles – in 2007

and again in

2010. He also

won the 2012

ITU Long Distance

World Championships.

All three represent the

best in IRONMAN triathlon

racing, which brings

together three disciplines

into the world's most challenging

single-day races, consisting

of 2.4 miles (3.8 km) of swimming,

112 miles (180 km) of cycling,

and 26.2 miles (42.2 km) of running.

16

17
---
Bits of

Glitz

ULTIMATE ATHLEISURE

The new Endurance Pro IRONMAN

collection serves athletes as well as

luxury clients looking for the ultimate

athleisure timepiece.

Its 44 mm watch case is made

out of Breitlight®, which is 3.3

times lighter than titanium and

5.8 times lighter than steel, but

significantly harder. This exclusive

high-tech material

boasts exceptional resistance

to scratches, traction,

and corrosion. It also stands

out for its anti-magnetic and

anti-allergic properties, as

well as its thermal stability,

which gives it a warmer feel

than metal.

It's powered by the Breitling Caliber

82, a COSC-certified thermocompensatedSuperQuartz

movement that is ten times more

precise than regular quartz and offers

a battery life of approximately

three to four years.

The bidirectional rotating bezel

has engraved compass points, and

the tactile molded crown provides

excellent grip and maneuverability.

The hour and minute hands are

coated with Super-LumiNova®,

making them legible even in limited

lighting conditions. Along with a

small-second subdial, there are

1/10th second and 30-minute

chronograph counters that have

also been designed for easy reading.

The watch is water-resistant to

10 bar/100 meters/330 feet.

At present there are two versions

available: Endurance Pro IRON-

MAN and Endurance Pro IRON-

MAN Finisher. The former

comes with a red dial featuring

a black inner bezel

with a pulsometer scale.

The watch is presented

on a red rubber strap

with a Breitlight® double

tang-type buckle. It

features a unique IRON-

MAN inscription instead

of the Breitling inscription.

The latter – black accented

with gold – is targeted at

athletes who've completed an

IRONMAN event. This version will

be available exclusively through

IRONMAN channels, and its caseback

features a special IRONMAN

Finisher Series engraving.

The original Endurance Pro was

inspired by the Breitling Sprint,

a colorful and impressively lightweight

watch from the 1970s. Its

pulsometer made it ideal for athletes

who wanted to monitor their

heart rates.

18
---
Bits of

Glitz

Bits of

Glitz

BUCCELLATI – HAUTE COUTURE COLLECTION 2021

Buccellati gets ready for the virtual catwalks of 2021 by presenting

new amazing creations that highlight the brand's savoir-faire and

its century-old goldsmithing traditions.

and openwork patterns, still hand-crafted today

as in 1919, when the Maison was founded

in Milan.

Andrea Buccellati, Creative Director at Buccellati,

is imposing his elegant taste and vision

to jewels, culminating in the "Polvere

di Luna" (Moon powder) set, composed of a

super-light necklace with matching cocktail

pendant earrings. While the flexible bracelet

with the same design stands out as a jewel

apart, a unique and precious work of art, the

result of hours and hours of manual drilling

and hand-engraving.

Surely one of the most iconic piece of jewellery

from the brand, theBuccellati cuff bracelets

enchant with their innovative designs.

BBuccellati is a renowned high-end

jewellery brand, admired for its craftsmanship

and the uniqueness of its

creations. Distinctive in the use of rare

stones with extraordinary colours,

mixed with white and yellow gold, all

nicely carved like laces. Today, the

Buccellati jewels stand out for their

design and for the techniques used to

create them, such as the hand-engraving

technique, dating back to the ancient

goldsmith traditions of the Italian

"bottega" during the Renaissance times.

The shapes of the collections are all inspired

by the historical archive drawings

as well as the very first creations

of the founder, Mario Buccellati.

Like a pioneer in preserving the most

refined techniques, Buccellati's offering

for this year is based on honeycomb

The "Ortensia" bracelet recalls the colour and

gentleness of the hydrangea, it being so imperfectly

spherical and so delicately coloured,

while the "Honey-heart" bracelet proposes a

sun-like motif centring a delicate and light

honeycomb motif.

Cocktail rings are among the most sought-after

Buccellati jewels. The ones conceived for

the Haute Couture 2021 are innovative and impressive.

The "Passione" cocktail ring is dominated

by a large faceted tourmaline, sparkling

with all its beauty contoured by small white

gold leaves set with diamonds. The "Monte Bianco"

ring pushes its round pearl up like a mountaintop

featuring a geometric and modern decoration

all around the bezel and along the stem.

TLN Qatar editor's picks are the "Aubade"

cocktail earrings which evokes the sweetness

of a morning love song: an openwork, refined

and elegant background enlightened by rubies,

while the "Foglie Imperiali" earrings remind

us of those important laurel crowns the

kings and queens wore in their institutional

paintings. Alas, royalty in the 21st century.

by Narges Raiss

20 21
---
Bits of

Glitz

BOVET 1822 AND ROLLS-ROYCE

A TRUE COLLABORATION

Since the beginning of motorized vehicles, time

and the automobile have been inextricably linked.

Timepieces have always had a place in the world of

the automobile, either to measure speed over distance

or to ensure that the owner always had the correct time.

But watches and cars have never been as linked as they

are now. Today, for the first time ever, two tourbillon

timepieces from BOVET 1822 have been engineered, designed,

and developed in parallel with the production of

a coachbuilt Rolls-Royce. Using the revolutionary and

patented Amadeo system, these timepieces can transform

from a wristwatch to a pocket/pendant watch to a

desk clock and… that's right, a dashboard clock.

Born in the mind and heart of a Rolls-Royce and BOVET

1822 collector, the concept was to design and produce

a bespoke Rolls-Royce and two unique BOVET 1822

timepieces, one for himself and one for his wife, that go

hand in glove. Three years in development, BOVET 1822

and Rolls-Royce accomplished something never realized

before in either industry.

As the mechanical tourbillon timepieces are meant to be

mounted in the car as dashboard clocks, this changed

the development completely as now they had to be

considered part of the car. As a result, the holder and

timepiece — all 51 components engineered and manufactured

by Bovet — had to be tested like any other part

of the car for vibration, security, safety, and more. No

other timepiece has ever undergone such scrutiny and

testing – up to and including crash tests.

BOVET 1822 was challenged to develop timepieces that

could be worn on the wrist and instantly converted

into dashboard clocks, mounted into a special holder

that slots into the car itself.

"As a long-time Rolls-Royce owner and lover, I am particularly

pleased to have an opportunity to work on such

a special bespoke project," explains Pascal Raffy, owner,

BOVET 1822. "The engineers, designers, watchmakers,

and artisans at BOVET 1822 went above and beyond to

personalize these exceptional timepieces for the clients,

integrating their wishes and key elements of the coachbuilt

car itself, and even realizing one-off movements. On

top of this, both of the timepieces are able to be placed

into a display mount designed specifically for this purpose,

effectively making them part of the car and subject

to the norms of automobile production standards.

"I am so proud of the BOVET 1822 team, who worked

in tandem with the elite design team of Rolls-Royce, to

produce something spectacular," Mr. Raffy continues.

"The owners of the coach-built car and these bespoke

timepieces are dear friends of mine and valued collectors

of BOVET 1822, so it was important to do the very

best for them — two completely unique pieces that are

unlike anything we have ever done before."

For Rolls-Royce, this introduction is a return to the

marque's illustrious past. "This marks a seminal moment

for the House of Rolls-Royce," says Torsten Müller-Ötvös,

Chief Executive, Rolls-Royce. "We are proud to

unveil to the world the Rolls-Royce Boat Tail and with

it the confirmation of coachbuilding as a permanent

fixture within our future portfolio. Historically, coachbuilding

had been an integral part of the Rolls-Royce

story. In the contemporary Rolls-Royce narrative, it has

been informed by our guiding philosophy of Bespoke.

But it is more, much more. Rolls-Royce Coachbuild is a

return to the very roots of our brand. It represents an

opportunity for the select few to participate in the creation

of utterly unique, personal commissions of future

historical significance."

TIMELESS PASSION

A TRUE COLLABORATION WITH BOVET 1822

In a move that further demonstrates the clients' visionary

approach to contemporary patronage, two great luxury

Houses with a common pursuit of perfection have been

abrought together at the clients' behest. World-class

craftspeople from the House of Bovet 1822, which was

founded on the philosophy of ingenuity and engineering,

were called upon to work hand-in-hand with Rolls-

Royce's own masters in their field.

The mechanically-minded clients sought to break new

ground in horology. As esteemed collectors of both the

Switzerland-based House of Bovet and Rolls-Royce,

their vision was to create exquisite, ground-breaking

timepieces for their Boat Tail. In an act of tireless

endeavor and genuine collaboration, the Houses have

come together to re-imagine Rolls-Royce's iconic centerpiece,

the dashboard clock.

22

23
---
Bits of

Glitz

The result is an accomplishment never before realized

in either industry. Two fine reversable timepieces, one

for the lady and one for the gentleman, have been designed

to be worn on the wrist, used as a table clock,

pendant or pocket timepiece, or placed front and center

within the Boat Tail's fascia as the motor car's clock.

• Rolls-Royce Coachbuilder and the BOVET custom

timepieces represent contemporary patronage in its

truest form

Watch this space for the full details of this astounding

collaboration and the development of the timepieces

and mounting system, June 8, 2021 at 1 pm GMT.

At A Glance

• Rolls-Royce introduces an utterly unique coach-built

"Boat Tail" commission that integrates 100% bespoke

BOVET timepieces into the dashboard

NEW ZEALAND, AUSTRALIA, USA, CHINA

• Based on a true commission model, Boat Tail represents

a collaborative exploration of luxury, design and

culture between BOVET 1822, Rolls-Royce, and the

commissioning clients

• The mounting system for the timepieces in the dashboard

has never been done before and required years

of research, as well as extensive testing (vibration, temperature,

humidity, and even automotive crash tests)

• Equipped with an incredible five days of power reserve,

the mechanical tourbillon timepieces from BOVET are

the perfect choice for the dashboard installation as they

are designed to remain precise even when kept in the

vertical position

NEW ZEALAND AUSTRALIA USA CHINA

BONHAM.NZ

ENQUIRIES@BONHAM.NZ

24
---
Need for

Speed

Need for

Speed

unparalleled sensibility of contemporary

street culture and the audacious

spirit of an Italian car icon that has just

heralded a new era.

Hiroshi Fujiwara and the Maserati design

team, together, deconstruct the

essence of Maserati, and in the process,

reconstruct a new reality.

The first chapter of our joint

vision: Operanera and Operabianca

Special Edition cars

FRAGMENT DESIGN SPECIAL EDITION

A BOLD OPERANERA & OPERABIANCA

Fragment Design's unique design philosophy

is now revealed in the Operanera

and Operabianca Special Edition

cars. Embodying the innovative and

creative souls of both Hiroshi Fujiwara

and Maserati, they are more than just

cars. They are symbols of the deconstruction

of convention, a re-birth of

hope, and are unmistakable statements

of intent.

Maserati meets Hiroshi Fujiwara,

the soul of Fragment Design

Fragment is a streetwear subculture

project founded by the arbiter of cool:

Hiroshi Fujiwara. Since the early '90s,

Fujiwara has been sharing his designs

with the world, collaborating with the

most renowned global maisons.

In his continuous research as a cultural

disrupter, the global godfather

of streetwear and multi-faceted creator

has joined us for a collaboration

that brings together Hiroshi Fujiwara's

26

27
---
Need for

Speed

THE NEW 640PS TURBO GT IS

THE FASTEST CAYENNE EVER

Meet the ultimate Porsche SUV. This is the new

Porsche Cayenne Turbo GT, the fastest, hardest

accelerating, most powerful Cayenne ever made.

When Cayenne launched back in 2003 it was clear to

see Porsche wanted to strike a balance with the car's

image between performance machine and off-roader.

Now it is more apparent than ever that the Cayenne

is a road car first and foremost, as the Cayenne Turbo

GT eclipses the legendary V10-powered Carrera GT for

power, torque and performance.

Under the bonnet lies a 4.0-litre twin-turbo V8 with

a whopping 640PS (471kW) and 850Nm (629lb ft) of

torque, increases of 90PS and 80Nm respectively over

the standard Cayenne Turbo. The 0-62mph sprint is

over in a silly 3.3 seconds, a drop of 0.6 seconds, and

the top speed is 186mph, 8mph more. One hundred and

eighty six miles per hour in a Cayenne. The Turbo GT

will also manage 20mpg, but few will ever do an economy

run in one of these…

28

Available in the coupe bodystyle only, the Turbo GT

isn't just about outright power, which brings us to its

Nürburgring lap time – because how could you launch

the fastest Cayenne ever without taking it to the 'Ring?

Porsche test driver Lars Kern, the same man who's piloted

the GT3, GT3 RS and GT2 RS to numerous records,

took the Turbo GT around the Green Hell in a

scarcely believable 7 minutes 38.9 seconds.

The ride height has been dropped by 17mm, while the

car's various control systems, the power steering and

rear-wheel-steer have been overhauled to match the

increased performance. Porsche gives the example of

the three-chamber air suspension which is now 15 per

cent more rigid. The Porsche Dynamic Chassis Control

roll stabilisation system has been tweaked to go

with additional tyre grip and sharper turn in, while the

torque vectoring system now allows for higher locking

ratios.

Additional grip comes from specially developed Pirelli P

Zero Corsa tyres, and paired to those are front wheels

that are an inch wider while the negative camber has

been increased by 0.45 degrees. The brakes have been

tweaked to reduce fade and unsprung weight and improve

performance, says Porsche, but exactly how they

differ from the Cayenne Turbo's brakes remains unclear

for now.

As for the engine, that monstrous twin-turbocharged

4.0-litre V8, the extra power has been matched to higher-strength

crankshaft, connecting rods, pistons, timing

chain and torsional vibration dampers. The eightspeed

automatic gearbox and all-wheel-drive system

have all been modified, while there's an additional water

cooler for the gearbox transfer case.

Those central exhaust pipes you see, the visible elements

of the titanium system, are unique to the Turbo

GT, and there's no central silencer… Delightful.

The body has been given a number of modifications, from

a new bumper with larger intakes and chunky rear wing

(25mm larger than standard), and there's a carbon roof,

black wheel-arch extensions and 'Neodyme' wheels.

by Rory Smith

29
---
Destination

Unlocked

THE WORLD'S LARGEST

SUPERYACHT UNVEILED:

SOMNIO PRIVATE

RESIDENCE SUPERYACHT

Winch Design has teamed up with Tillberg

Design of Sweden to design a 222m "private

residence superyacht" named Somnio. The

vessel, which carries a price tag of £500m, is set to

begin construction at Norwegian yard Vard for a projected

mid-2024 launch date. The design phase has

been underway for 18 months.

Inside the world's biggest private residence

yachts

Somnio will marry "the benefits of superyacht ownership"

with the service and amenities of the "world's

finest hotels", with on board features including a

10,000-bottle wine cellar, various restaurants and

bars, a huge beach club and lounge in the ship's bow.

Somnio will also boast "world-class medical care"

to protect owners against pandemics and the "latest

clean engine technology" and "advanced onboard

equipment" to facilitate the scientific research of the

oceans.

A total of 39 on board apartments spread across six

"apartment decks" are now for sale, with prospective

owners either invited or referred to join. The customisable

apartments, which have a starting price of

€9.5m, can include features, such as a kitchen, gym,

library, dining spaces and dressing areas.

The World: Largest private residential

yacht resumes sailing

The project is being overseen by Erik Bredhe, former

captain of the 196m private residence vessel The World.

Speaking about the project, Bredhe said: "Somnio

will be the only residential superyacht in the world

and has been designed to exacting standards that are

commensurate with a life of opportunity.

"Owners will share a truly unique lifestyle at sea, with

a hand-picked crew and a never-ending global itinerary

of carefully selected destinations and experiences

befitting a yacht of this nature."

32

boatinternational.com

33
---
Destination

Unlocked

J HOTEL SHANGHAI TOWER:

WORLD'S HIGHEST HOTEL OPENS IN CHINA

J

Hotel has debuted its inaugural

property today atop the Shanghai

Tower, the tallest skyscraper

in China and second-tallest in the

world. J Hotel Shanghai Tower has

reached a new milestone of success

among China's homegrown hotels

as it occupies the highest point in

Shanghai. Jin Jiang International Hotels,

China's largest and the world's

second-largest hotel group, debuts

the premiere luxury hospitality

brand after dedicating ten years into

its detailed curation, masterful craft,

and opulent design. J Hotel weaves

together broad influences from different

realms of art and culture to

bring a unique luxury perspective to

Shanghai. It merges artistic touches

throughout its design for palatial

staterooms and the best in lifestyle,

wellbeing, food & beverage, technology,

and hospitality services, presenting

an exclusive travel experience

crafted with authentic Chinese

flair.

34

35
---
Destination

Unlocked

NEW SEASON

OF SERENITY

AND EXCLUSIVE

EXPERIENCES

WITH

Cheval Blanc St-Tropez is a

true haven of seaside tranquility,

just steps away from

the sunny energy of Saint-Tropez.

Doors reopen on May 20 for a new

season, deliciously devoted to wellness

and culinary creativity.

In a setting conducive to sensual

pleasures and peace of mind,

Cheval Blanc Spa and Guerlain

have developed a fabulous range

of signature treatments. It include

facials that use cutting‐edge technology

to create a holistic sensory

experience, as well as body

treatments like the aptly named

"Muscle Serenity" for a toned and

strengthened silhouette. And new

this season is a special selection of

barber treatments for men, blending

Guerlain rituals with the styling

expertise of award-winning Belgian

barber Kevin Boon.

At the dining table, Chef Arnaud

Donckele invites guests on a culinary

journey between land and sea

that pays tribute to local producers.

From fishermen to farmers,

these passionate people all play a

part in creating the divine dishes

served at La Vague d'Or. Thanks

to the generosity and creativity of

Arnaud Donckele and his teams in

the kitchen, each season is a new

and innovative culinary experience

to be shared and savored. Awarded

three stars by the Michelin Guide

and five toques and a score of

19/20 by Gault & Millau, La Vague

d'Or invites guests on a magical

Mediterranean journey. Its reopening

is scheduled for June 10.

In the meantime, La Terrasse provides

the perfect setting for a relaxing

lunch or dinner by the sea and

offers modern cuisine with a Mediterranean

flavor. Every Wednesday

starting June 16, La Terrasse will

take on a festive feel, with sizzling

barbecues and live musicians for

the resort's seaside "Riviera Nights"

under a starlit sky.

Around sixty sun loungers await

guests on the beach for a lazy afternoon,

and the heated infinity

pool offers the perfect excuse to

take a dip. For those seeking a little

more adventure, the pontoon

at the end of the beach is the departure

point for numerous water

sports. Lulled by the whisper of the

breeze through ancient pines and

the lapping of waves on the sand,

this summer is set to be a heavenly

experience at Cheval Blanc St-Tropez.

CHEVAL BLANC

ST-TROPEZ

Cheval Blanc St-Tropez offers direct

access to the beach, making

it the ideal location for alternating

between seaside pleasures and excursions

into the village center. In

true Tropezian style, the terraces

and balconies of the resort's 30

rooms and suites offer a splendid

and soothing view of the sea, the

pine forest and one of the most famous

towns on the French Riviera.

36

37
---
Destination

Unlocked

Spa and Fitness

Unwind at Iridium Spa, a 31 st

floor sanctuary in the sky where

every moment is crafted to dazzle

the senses and celebrate the

mind, body and soul. Away from

the hectic life below, the 15,000

square-foot urban oasis invites

guests to renew and recharge

with ultra-luxurious amenities,

24-hour fitness centre and infinity-edge

salt water lap pool

overlooking the glittering city

skyline.

Iridium Spa

IRIDIUM SPA

INSIDE THE

ST. REGIS

TORONTO'S

NEW

SKY-HIGH

LUXURY SPA

Soaring 31 stories atop Toronto's

glittering skyline, Iridium

Spa promises a transformative

journey created to dazzle

the senses and celebrate the

mind, body and soul. The 15,000

square-foot sanctuary in the

sky invites guests to renew and

recharge with ultra-luxurious

amenities featuring the Iridium

Lounge, 11 treatment rooms,

including two couples rooms,

expansive women's and men's

change rooms with separate

steam rooms and a full-service

nail salon.

Pool and Fitness

Located on the hotel's 32 nd floor,

guests have access to premium

wellness facilities including an

infinity-edge lap pool, whirlpool,

infrared cedar saunas as

well as a 24-hour fitness center

with state-of-the-art equipment

including Peloton bikes

and Technogym equipment.

38

39
---
Destination

Unlocked

Destination

Unlocked

SOAR IN EXCLUSIVE COMFORT AND STYLE

ON A&K'S NEW LUXURY AIR SAFARIS

A&K's portfolio of luxury air safaris lets you see remarkable

destinations from a new perspective and in exclusive

comfort, style, and with great ease. A&K's expert Journey

Designers have crafted two new journeys exploring the picturesque

landscapes and epicurean delights of South Australia and

Tasmania, and an exhilarating adventure across the Tasman

in New Zealand. Limited to 18 guests aboard a privately chartered

jet, these exclusive departures will see you soaring over

breathtaking natural wonders, taking in remote locations from

the ground, and meeting artists, artisans, and local characters

who epitomise the regions you visit. You'll savour the bounty of

the sea, the fruits of the vine, fresh farm produce, and culinary

creations, and it will leave you speechless. Choreographed experiences

along the way give you a rare personal insight into the

cities you pass through, the countryside you explore, and the

cultural fabric that binds it all together.

New Zealand North to South

Discover the epic beauty of New Zealand on an exhilarating

11-day luxury air safari that reveals cultural

and natural splendours from the North Island to the

South, visiting world-class vineyards, enjoying the

country's bountiful fresh produce, admiring Art Déco

architecture at its finest, and encountering majestic

wildlife in far-flung locales.

Priced at AU$33,599 pp($25.475) twin share

Departure dates: 17 February & 3 March 2022

Shores of the Southern Ocean

Delve into a cornucopia of epicurean delights, rare

wildlife, sophisticated artworks, and coastlines battered

by the great Southern Ocean on this exclusive

12-day air safari from Adelaide to Hobart. Taste your

way through the Barossa and some of Tasmania's finest

distilleries, admire curated gallery collections and dine

ocean to table and paddock to plate on the region's finest

produce.

Priced from AU$29,999 pp($22.746) twin share

Departure date: 20 October 2021

40

South Australia

If you have been searching for the ultimate adventure to extraordinary

locations, with a small group of like-minded travellers, and

the added convenience of being flown from place to place aboard

your own private jet avoiding airports, queues, and crowds, then

explore their new journeys below.

41
---
Destination

Unlocked

AIRELLES SAINT-TROPEZ, CHÂTEAU

DE LA MESSARDIÈRE

Overlooking the legendary bay of Pampelonne

and close to the Place des Lices – which is in

the heart of Saint-Tropez – sits the Château de

la Messardière. This calming hotel boasts some of the

most beautiful views in the Mediterranean. Perched

on a hill above 10 hectares of pine forest, the enchanting

gardens of the hotel are filled with gentle light and

competing scents that pay tribute to the golden age of

the Riviera. In 2020, this iconic address joined the LOV

Hotel Collection and began its first extensive renovation,

planned over three winters.

From 2021, it will be part of the prestigious collection of

Airelles hotels and exceptional houses. Once it is completed,

it will be home to 75 beautiful rooms and suites

designed to recreate the luxury and sense of relaxation

inherent to the Mediterranean lifestyle. Between the

long, cool pool, the brand-new Valmont Spa, the boutiques

and the wonderful Children's Kingdom, guests

will be tempted to spend their days inside this haven of

happiness. And yet ... a few minutes away is the Jardin

Tropézina beach, a private strip of sand for guests of the

Chateau de la Messardière, set on the mythical beach of

Pampelonne. This is what a summer paradise is made of,

with long lazy days spent together with family or friends

in the chic and legendary spirit of the Côte d'Azur.

42

43
---
SINGAPORE

LONDON

TOKYO

HONG KONG

MACAO

BANGKOK

ISTANBUL

DOHA

The Shoppes at Marina Bay Sands

The Burlington Arcade

GINZA SIX

Pacific Place

Shoppes at Four Seasons | The Promenade Shops at Galaxy Macau

Gaysorn | Siam Paragon | ICONSIAM

Zorlu Center

The Pearl

www.KWANPEN.com
---
Beauty

Diaries

Beauty

Diaries

Obtained through carbon-neutral

biotechnology, the 100% natural

ingredient is used in place of Mysore

sandalwood, which is now a

protected species in India, as a sustainable

alternative with the same

olfactory richness.

"Dreamwood adds an unexpected

presence to the fragrance's composition,

bringing a richly luminous

aura with the same codes found in

Mysore sandalwood essential oil",

says Fabrice Pellegrin.

THE SCENT OF THE TRAILBLAZER:

NEW BENTLEY MOMENTUM UNBREAKABLE

Made for those with unbreakable

spirit, the latest

offering from Bentley

Fragrances is a bold and spicy, yet

creamy and floral scent for men.

Bentley Momentum Unbreakable

blends new, high-tech ingredients

with age-old perfumery traditions,

to create an unbeatable new fragrance.

Variations in colour, pattern

and texture on the stone plated

bottle, ensure that no two are

ever the same – just like the stone

veneers available as a custom option

within Bentley's cars.

A spritz of Bentley Momentum

Unbreakable is like a step into the

extraordinary – a scent for today's

cool-hunters. The urban fragrance

is built around the cutting-edge

Dreamwood, a sustainable natural

ingredient that reproduces

the smoky, creamy scent of sandalwood.

Crafted from high-tech

modern materials, age-old perfumery

techniques draw out the best

from high quality natural ingredients,

meeting the same uncompromising

standards as Bentley cars.

Unbreakable is a warmer, woodier

interpretation of the Momentum

line, expressing all the thrilling facets

of a contemporary urban adventurer.

As the fragrance opens,

violet leaf adds an aquatic touch

to sparkling mandarin sfuma. The

world's finest mandarin oil adds a

green, floral and aromatic aura. A

clean flash of lavender, matched

with mint-fresh, rosy geranium, is

softened by powdery orris.

Spicy with facets of liquorice, dried

fruit and amber, immortelle warms

the heart of Momentum Unbreakable,

introducing the notes that

make the scent's signature: a rich,

warm palette of woods.

Truly innovative in its structure,

the fragrance composed by Master

Perfumers Fabrice Pellegrin and

Ane Ayo, Momentum Unbreakable

introduces Dreamwood for the

first time in a Bentley Fragrance.

Dark velvety patchouli – one of the

Master Perfumer's favourite materials

- bolsters the woody facets

of the creamy, sensual sandalwood

note. Its smokiness is underlined by

Haitian vetiver and papyrus, wrapping

the long-lasting trail of the

scent in an aura of mystery…

The one-of-a-kind bottle design

is inspired by the soaring, vertical

skyline of a modern metropolis.

Tall, rectangular and faceted like

an emerald-cut diamond, it is made

of luxuriously heavy, customised

glass, with a unique, textural stone

plated front. It draws inspiration

from a finish crafted by Bentley

Motors to customise its interior offerings:

the stone veneer is a fusion

of century-old craftsmanship and

cutting-edge technologies. The result

is variations in colour, pattern

and texture which are almost impossible

to imitate.

In a striking expression of the name

of the fragrance, the stone plate of

the Momentum Unbreakable bottle

is made of mica schist, a crystalline

rock containing reflective slivers

of mica. Each plate is 100% natural,

making every bottle a one-ofa-kind

piece. The slate-grey stone

plate is etched with Bentley's iconic

logo and the name of the fragrance.

The back of the bottle is clad with

an interpretation of the marque's

signature knurling. Introduced in

1919 in the second car built by W.O.

Bentley, this trademark brand motif

was conceived to both tactile

and graphically elegant. The knurling

pattern is embossed in a matte

black plate covering the back of the

bottle from base to neck, which is

crowned with a matte black cap.

Decorated with the iconic Bentley

logo and the name of the fragrance

hot-stamped in silver, the slategrey

box is embossed to replicate

the same textural effect as the bottle's

stone plate.

Fragrance family: Woody floral

spicy

Top notes: Violet leaves, mandarin

sfuma, lavender

Heart notes: Immortelle, geranium,

orris

Base notes: Dreamwood, vetiver

from Haiti, papyrus, patchouli

Bentley Momentum Unbreakable

Eau de Parfum is offered in a 100ml

bottle.

46

47
---
Beauty

Diaries

VALENTINO

BEAUTY

COLOR COOL COUTURE

Founded in Roma in 1960 by Valentino

Garavani, Maison VALEN-

TINO is a Roman couture house

steeped in romanticism, color and

craftsmanship, that became renowned

for its international fashion influence.

Under the creative direction of Pierpaolo

Piccioli since 2016, Maison VAL-

ENTINO creates an aesthetic of extraordinary

modernity and beauty.

Mixing innovation with tradition, haute

couture with street culture, different

universes with different times, intuition

with legacy, VALENTINO BEAUTY

is a harmony apart.

Fashion is about the moment.

Beauty is about eternity.

Pierpaolo Piccioli

Creative director of Maison Valentino

Perfume Valentino Beauty,

Color Cool Couture.

Under the new global licensing partnership

with L'Oréal, into this world

without conformism, Valentino Beauty

is born. Maison Valentino creates

beauty that is an open playground to

dream anew. It's a vision defined by the

inseparability of "belleza" " colore" and

"inclusività" through which Pierpaolo

Piccioli has propelled Valentino into

modern cultural relevance.

Bianco

Statuarietto

Bianco Statuarietto.

Visit Signorino to find your natural stone.

48

Pamper yourself in luxury. Bianco

Statuarietto is a classic looking

natural stone, perfect for those who

like the finer things in life.

Whether it's in a palatial bathroom,

or a gourmet kitchen, Signorino

stone adds a touch of elegance

to any space.
---
Education

in a Digital Age

BHAVINI

DOSHII

Bhavini Doshi is CEO of the multi-award-winning

company PORSE, a leading Home-Based Childcare,

Education and Training provider in New Zealand.

"My role as a successful businesswoman, educationist

and motivational leader is to promote education in the

digital age and the wellbeing of Gen-Z Kids. Our vision is

a world where children and young people feel safe and

realise their aspirations to succeed".

The methods of education and delivery are now a blend

between face-to-face and other combinations of virtual

interfaces, content is moving from traditional text-based

learning to text-plus-multimedia.

While the world of education is still in transition; Bhavini

says the cost of creating high-end multimedia content,

although coming down, is still prohibitive for all but the

very edge of the marketplace. Bhavini states that her

work is driven by a belief that all children should have the

chance to achieve their full potential and contribute to a

healthy, robust society and environment.

More than 20,000+ children and families have been

supported by PORSE educators, nannies, babysitters

and teachers in New Zealand providing strong

partnership opportunities and global expansion.

Bhavini has been in the education sector for more than

two decades in India, the USA, the UK and New Zealand,

and looks forward to forming new partnerships with

those who want to make a difference and share her

philanthropist view of 'Giving back to the community'.

As a part of her Corporate Social Responsibility More For

Kidz Foundation Trust, a New Zealand Registered Charity

was started by Bhavini to support ECE professionals,

caregivers and parents with parenting skills and

knowledge. She is also a member of Global Women, Co

of Women, Early Childhood Council New Zealand and

Home Early Learning Organisation and Early Childhood

Association, India.

C

M

Y

CM

MY

CY

CMY

K

EXPRESSING

CULINARY

GREATNESS

" La Maison De Dietrich

Express the essence of our talent, audacy, and

mastering of cooking to reinvent a collection

of nobility, emotion, and exceptional culinary

results.

www.asia.de-dietrich.com
---
Passion for

Fashion

Passion for

Fashion

DISCOVER THE PERFECT GIFT

IN BVLGARI'S GIFT GUIDE

B.zero1 necklace with

small round pendant,

both in 18kt white gold.

$3,600.00

B.zero1 three-band ring

in 18 kt white gold.

$2,330.00

"BVLGARI BVLGARI" bracelet in black

calf leather and black rubber with a

silver plated closure with Bvlgari logo.

$630.00

Keyholder in denim

sapphire grain calf

leather with brass palladium

plated metal parts.

Two keyrings and iconic

BVLGARI BVLGARI

motif.

$245.00

Octo Roma watch with mechanical

manufacture movement, automatic

winding, stainless steel case and

bracelet, blue dial.

$6,650.00

THE GIFT OF STYLE

Celebrate your man's fearless spirit with bold gifts

made to be worn his way.

Bvlgari Bvlgari Man metal double

bridge rectangular sunglasses.

$416.00

BVLGARI BVLGARI watch with

mechanical manufacture movement,

automatic winding and date,

stainless steel case treated with

Diamond Like Carbon and logo

engraving on the bezel, blue dial

and a blue rubber bracelet.

$4,250.00

52

53
---
Passion for

Fashion

WELCOME ABOARD LOUBIAIRWAYS

To unveil his Fall-Winter 2021 collections, Christian

Louboutin imagined a one-of-a-kind digital

presentation inspired by his infinite love of travel,

whether physical or imaginary. Following state-of-theart

immersive experiences on Drest and Zepeto's platforms,

the House explores 3D technology this season.

A fully interactive airplane was conceived to enjoy an

exclusive moment discovering Christian Louboutin's

collections via a dreamy air journey.

Rendez-vous at the iconic TWA Terminal in JFK Airport

in New York, a boldly futuristic space designed by famous

architect Eero Saarinen, perfectly embodying the

glamorous Golden Age of air travel. The Loubicrew, a

cast of dynamic figures, cross the space scanned from

head to toe by the passengers waiting to board. A stop is

still required at the security check. Red alert! The Xray

scanner is on overload! The pilot's giant Loubi Airways

Kypipouch hides the new Caracaba bag and Christian

Louboutin's new fragrance, the Loubishark & Louis

Spikes sneakers trigger the alarm and the security officer

is enamored by the Blaster bag.

Bags cleared? Let's board the Loubiplane, a space entirely

redesigned with the House's iconic details, from the red

flooring to the seats customised with a bespoke print and

seatbelts featuring the LoubiAirways logo. Imagined as a

complete immersion into Christian Louboutin's universe,

the airplane journey is a succession of nine interactive

animations featuring the key themes of the collection.

But safety first, the aircrew reinvents the traditional

security video in an entertaining and stylish way. The

tone is set! For more instructions, look at the card in

front of your seat for in-flight styling tips highlighting

this season's lug sole range including sandals, boots and

loafers, blending Christian Louboutin's elegance with a

contemporary vibe.

Need to flex your legs? Have a walk and discover the two

customised airflight trolleys presenting the house's latest

fragrances and lipstick collections and a selection

of cozy shoes and accessories that can be worn indoors

and outdoors. The designer chose materials such as faux

shearling for pool slides and iridescent velvet to maximize

the comfort while keeping it luxurious and stylish.

Before going back to your seat, take a moment to check

out the luggage in the lounge area which showcases

Christian Louboutin's newest creations featuring an

exclusive, playful and fun Oh Xtian! print made from a

collage of many inspirations such as fashion magazines,

retro posters, advertisements, vintage floral photographs

and movie scenes.

In case you'd like to add sparkle to your journey, have a

look in the overhead compartments: an Xray animation

showcases this season's new crystal-incrusted heels,

introduced on retro styles in bright colors and a typical

French Vichy pattern.

The airplane encounters fashion turbulence? Relax and

enjoy some entertainment with the Loubi Inflight Magazine

introducing Christian Louboutin's rock & swing

inspired group featuring signature hardware and spike

details, applied on loafers, slippers and boots. More food

for thought? The Loubi Times newspaper is at your disposal.

And don't forget to read some of the latest gossip

of the House in OMG Magazine!

One last drink before landing? Head to the bar area at

the back of the plane where a fortune telling tarot station

will introduce you to an exclusive print decorating

iconic shoes while also serving as the inspiration for this

season's Caracaba bag.

54

55
---
Change property managers today to

experience the Kay & Burton way.

Kay & Burton Property Management is different. We manage smaller

portfolios so that our time is freed up to respond to rental providers,

renters, and the market in real time. Our 10-point tenancy checklist helps

ensure that we place the right renter in the right property, with a maximum

bond policy. Changing property managers can happen at any time, even

during a lease. We will arrange a seamless transition for you.

Change to Kay & Burton today:

+61 3 9820 1111 or propertymanagement@kayburton.com.au
---
Knowledge

Power

WHAT MAKES LUXURY BRANDS

EXPENSIVE IN 2021

Luxury has most often remained

synonymous with quality. The

Art of Storytelling for most

of the brands remains built on

their country of origin, their classic

know-how, the exclusive and

fine materials they use, exceptional

craftsmanship, and other remaining

characteristics we study in our

books. This defines the reason why

luxury brands are expensive and

demand the premium price they

charge for.

However, in today's time,

that no longer suffices as a

set of strong reasons to justify

the brand's high price,

given to the fact that few

brands produce in their

home countries and the

supply chain of such brands

remains a mystery to many.

Things have changed in the

last 15 years. We have seen

the globalization of family-owned

brands, diversification

of product portfolios,

new market penetrations,

and yes the boom of the internet.

What we eagerly wait for now is

Blockchain to show us what it's got in

store for luxury.

Through the eyes of a millennial and

keeping up with the GenZ, here are

a few factors that would define a

luxury brand's price—worth a king's

ransom in today's digital times.

Luxury Hype driven by cultural

values

Yes, this might be against the standard

rules of "Luxury Marketing" but

in today's digital age—if something's

hyped, it doesn't matter what material

it's made out of if you want it.

Let us drive our attention to Supreme's

box logo tees. Despite retailing

for less insane prices, today

they resell for up to $900.

What defines the price here—"It's

not the intrinsic value but it's the

cultural value created around it.

However, that only exists for a few

products at a time."

To create hype, you need to limit

accessibility. This is one of the fundamentals

of luxury—Scarcity.

Supreme does it by creating far less

product than its customers want.

One has to hustle to get their hands

on the handful of logo drops each

season.

Luxury that remains indifferent

to fashion

The season may come and go but

luxury needs remain relevant forever.

The multiple fashion cycles which

give rise to trends that later disappear

in a matter of months do not

encourage and value craftsmanship.

In today's consumption-driven market

along with the rising awareness

of its implications on both human

and environmental level, consumers

now question why spend their time

and money on something that's going

to be out of the ark after a couple

of seasons?

When wanting a piece of an

absolute favourite designer

at one of the higher-end

houses, it might truly be

worth it to buy a one-off

piece from a coveted collection,

since "drops are in new

black"!

However if one wishes to buy

a beautiful leather bag, the

consumers would be willing

to go for something distinctive

and more personalised

which will remain timeless.

The luxury here demands a higher

price for its individuality, uniqueness,

and relevance that it will hold even

many years later. It's so much more

than the concept of a mere logo.

Let's talk about the legendary—Jun

Takahashi's Undercover as a brand

that brings a luxury sensibility to

streetwear, rather than the other

way around.

The brand makes T-shirts, but great

T-shirts which are like artworks

that bring out the wit and rebellion

of the Japanese deconstructionist

Takahashi.

Luxury which understands

Emotions Intelligently

The emotional value of a brand or

product-brand combination serves

a particularly strong impact on the

willingness to pay in the luxury

goods industry. A case that is strongly

witnessed in Asian markets.

Luxury consumers today are leaning

towards "emotional luxury" which

is derived from feeling recognized,

special, and known. However, studies

reveal that very few customers

say they feel special and recognized

by a brand.

The brands that will prioritize

building a seamless relationship by

integrating brand experiences with

emotional intelligence especially for

consumers who are new entrants to

luxury are sure to win its consumers'

hearts.

Luxury brands also continue to capitalize

on the perceived value that

their consumers hold for brands,

which is very high. This perceived

value is linked to the emotional value

drivers that come in addition to

the functional ones. From increasing

self-esteem to providing a sense

of belonging to a certain section of

society, today's Genz and millennials

are more emotionally sensitive.

Luxury with The Resonance

Factor

Innovation and creativity are the

driving factors for luxury brands,

which allows them to command the

prices they wish for. Adding to that,

in today's scenario the brand's price

in the saturated luxury market places

will also be defined for "what they

truly stand for". These underlying

brand messages are the ones that

help customers create and reinforce

their identity.

Brands will need to creatively interact

with their consumer to contribute

to an experience which will help

them reinforce their brand narrative

to their audience.

This will create a positive resonance

in the minds of the customers helping

them associate with the brand

strongly and making it a part of

their story.

Luxury brands' expensive pricing

most often reflects their core

propositions of quality, heritage,

and exclusivity. However,

with changing times, the brands

will also need to consider their

pricing strategy and respond to

millennial consumers in a more

transparent manner so that trust

and authenticity are ensured

amongst its consumers.

by Shrehya Agarwal

58

59
---
obertocoin.com

ROCK & DIAMONDS COLLECTION

| |
---
A modern masterpiece

4K Laser Projector

Turn your TV into elegantly framed art that flawlessly blends in with your

room's décor. With customisable bezels and access to the Samsung Art Store,

The Frame is quite possibly the only TV you'll watch even when it's off.

Customisable bezels and Studio Stand sold separately. Bezel colours and accessories may vary by model and region. Art Store subscription required to access full selection.

Bring home your own personal movie theatre. Meet The Premiere, the ultra short

throw projector with cutting-edge laser light technology that gives you rich colours,

4K image quality up to 130inch*, and a home theatre experience second to none.

*4K image quality up to 130inch is only for the P9 Premiere model.
---
Tech

Trends

Tech

Trends

A REVOLUTION IN SOUND AND DESIGN:

THE BERLUTI X BANG & OLUFSEN LIMITED EDITION

Berluti has joined forces with Danish brand Bang

& Olufsen, the specialist in high-end audio technologies

since 1925, to create a series of limited-edition

designs which revolutionize sound expertise

and leather know-how. These luxurious pieces

highlight the avant-garde signature associated with

Berluti in leather goods and Bang & Olufsen in sound

innovation.

The collaboration between Berluti and Bang & Olufsen

celebrates the heritage and savoir-faire of both luxury

Maisons. For Berluti, the partnership was self-evident,

given that the two brands share the same passion for

excellence, with the avant-garde vision, technological

innovation and state-of-the-art design of Bang &

Olufsen complementing the unique craftsmanship of

Berluti and enriching its lifestyle collection. Berluti's

emblematic Venezia leather, patinated by hand, enhances

the renowned technology of Bang & Olufsen.

Six unique pieces epitomize excellence in sound and

design. Lovers of beautiful objects and go-anywhere

technology will delight in the Beosound A1 2nd Gen

Berluti Edition portable speaker, which boasts up to 18

hours of battery play time and true 360-degree omnidirectional

sound, as well as a minimalist design in

Grey Mist with a mirror-polished finish inspired by

Berluti ready-to-wear accessories. The calf-leather

cord in shiny dark brown tones is perfect for portability.

Those who prefer an intimate music experience will

choose the Beoplay H95 Berluti Edition wireless headphones,

which feature 36-hour play time in one charge

and exceptional sound quality with effective noise

cancellation. Complementing this high-level performance,

the headband, crafted in Berluti's Italian workshop,

features the Maison's trademark Venezia leather

with a TDM Intenso patina and an embossed logo.

To protect the speaker and the headphones between

acoustic sessions, a custom-designed pouch comes in

Berluti's Signature canvas with a Venezia leather label.

home speaker, whose soft cylindrical silhouette features

a hidden touch interface that lights up when approached.

Its seven speaker drivers with beam-forming

technology offer a choice between powerful,

room-filling sound and precise acoustic directivity

for an immersive music experience. Berluti's Venezia

leather is wrapped around the wooden base for a refined

touch, coordinating with the dark brown fabric

of the speaker. Finally, two exceptional, made-to-order

pieces for the home complete the lifestyle offer:

the Beovision Harmony Berluti Edition television and

the Beolab 90 Berluti Edition speaker. The intelligent,

8,200-watt speaker represents the most powerful

sound experience Bang & Olufsen has ever created. Its

aluminum base, covered with Venezia leather with a

TDM Intenso patina, is a perfect match for the television,

a remarkable combination of art and technology

featuring an LG 4k-resolution OLED screen. When

not in use, the television folds down into a sculptural

shape with its panels partially covering the screen.

When it is turned on, the panels fan out and elevate

the screen to perfect viewing height. Exceptionally

fine, perforated and patinated Venezia leather covers

the speaker panels.

Berluti declares "Berluti and Bang & Olufsen are a perfect

match, bringing together a common passion for

excellence. Bang & Olufsen's cutting-edge philosophy,

technological innovation and state-of-the-art design

run parallel to the Maison's focus on craftsmanship

and to its continually evolving lifestyle collection."

"For nearly a century, Bang & Olufsen has been pushing

the boundaries of audio technology and the company

continues to sit at the forefront of acoustic innovation.

Together with Berluti, we are bringing the best

of artisanship to the fore with our expertise in sound

and design, and Berluti's knowledge in leather craftsmanship

to create a truly remarkable collection," says

Christoffer Poulsen, Senior Vice-President of Product

Management & Brand Partnering at Bang & Olufsen.

This exceptional collaboration is available in select

Berluti and Bang & Olufsen stores and e-shops from 28

May 2021. The Beovision Harmony television and Beolab

90 speaker are available to order from 28 May and

will be showcased in select Berluti and Bang & Olufsen

stores.

66

Berluti and Bang & Olufsen are redefining interior audio

design with the Beosound Balance Berluti Edition

67
---
Gastro

Gusto

RUINART SECOND SKIN CASE:

INNOVATION FOR SUSTAINABILITY

Maison Ruinart teams spent over three years

developing a disruptive packaging that envelops

the champagne bottle like a second skin.

The 100% recyclable eco-designed casing perfectly

marries the emblematic silhouette of

Ruinart's signature bottles while preserving

the integrity of the taste until the moment

the elixir is enjoyed. This pioneering achievement

is the fruit of a long-term collective

commitment by teams at the Champagne house

and its partners.

The case is instantly fascinating, with a shape

unlike any box currently used by the wines and

spirits market. Ruinart's new packaging is almost

other-worldly. As its name – Second Skin – signifies, it

perfectly replicates the signature shape of Ruinart bottles,

heightening the elegance of the curves as it hugs

them. The ethereal lightness of the case, thanks to a

construction in 100% cellulose fibers, contrasts with

the current imposing norm in the world of champagne.

The surface of the second skin evokes the walls of the

Crayères de Reims, the ancient chalk quarries and natural

wine cellars where Maison Ruinart champagnes age,

giving the case a silky, organic feel. The novel coffret

opens and closes thanks to a snap fastener to reveal the

bottle nestled in its second skin.

In addition to its elegant look, the new packaging is extraordinarily

eco-friendly. Eco-designed from start to finish,

it is nine times lighter than the previous generation

of Ruinart gift boxes (just 40 grams, compared with 360

grams previously). The carbon footprint has been reduced

by 60%, and 100% of the paper comes from sustainably

managed European forests. What's more, 91%

of the water used is clean enough to be released back

into nature after filtering. None of these innovations of

course have any effect whatsoever on the unique taste

of Ruinart champagnes. Even though it is ultra-thin, the

second skin is totally resistant to humidity and service

uses. It protects the wines from light as well, which is

essential to optimal storage, especially for the clear

glass Ruinart Blanc de Blancs bottle.

Maison Ruinart President Frédéric Dufour says the new

packaging marks a decisive stage in the Champagne

house's holistic environmental approach:

PRIORITY ON PRESERVING

THE ENVIRONMENT

This bold project is a natural outgrowth of the decision

by Ruinart's teams over ten years ago to take sustainability

initiatives to another level. An Environmental Performance

Index (IPE) was created to measure the impact

of all projects within Moët Hennessy, the LVMH Wines &

Spirits division. Starting in 2015, Ruinart innovated with

the launch of a box that was 50 grams lighter, saving over

200 tons of paper at the time. The same year it eliminated

all plastic wrapping from boxes, saving an additional

26 tons of material. Recycling was also improved by making

the different packaging materials easy to sort.

The second skin springs from this dynamic, aiming to push

even further from the outset. "With the 2015 box we had

reached the limits of eco-design for a conventional single

bottle case. We wanted to define and invent a new generation

of sustainable cases, motivated by a desire to focus

on the essential, meaning generating as little waste as possible

in order to contribute at our level to protecting the

environment, while at the same time protecting our champagnes,"

says Marie Lipnitzky, International Brand Manager

at Ruinart and Project Manager for the Second Skin Case.

Waste and recyclability were the top priorities during

the thinking that led to the core concept of the project:

the second skin had to have the least possible environmental

impact while revealing the curves of the Ruinart

bottle. The team quickly decided that only a single material

should be employed to ensure easy and total recycling

of the packaging. This was joined by a requirement

that the case be opaque and have a memorably elegant

design that reflects a brand with a reputation for excellence

such as Ruinart, all while elevating desirability.

"INNOVATIVE, AUTHENTIC AND ENVIRONMENTAL-

LY-CONSCIOUS, THE SECOND SKIN CASE CRYSTAL-

LIZES OUR COMMITMENT TO SUSTAINABILITY."

70

71
---
One of the most successful innovations to come out of the Black Forest.

And a cuckoo clock.

The difference is Gaggenau.

In the Black Forest, some things never change – others

have been evolving since 1683. Innovation has become

a tradition for us ever since our company was founded

as a hammer and nail works, along with unique design

that is highly regarded the world over. Take the ovens

400 series, shown here with oven, combi-steam oven and

warming drawer – a combination that unites cutting-edge

technology and premium materials with superior design.

Our appliances have been constantly evolving since 1683.

The only thing that stays the same is that they just keep

looking better and better.

For more information, please visit gaggenau1683.com.au
---
NEW

Member

NEW

Member

TLN NEW ZEALAND

WELCOMES NEW MEMBER

THE HOTEL BRITOMART

The Hotel Britomart welcomes guests to the centre of

downtown waterfront Auckland – or more particularly

to Britomart, a historic nine-block precinct bustling with

energy and contrasts. With 99 rooms and five exquisite Landing

Suites, The Hotel Britomart is New Zealand's first 5 Green

Star hotel, certified by the NZ Green Building Council. Guests

get the best of both worlds: cocoon-like, timber-lined rooms

that feel like peaceful retreats, right in the centre of the best

neighbourhood in Auckland in which to eat, drink, shop, or do

business.

Located on the ground floor of the heritage Masonic Building

steps away from the hotel lobby is kingi, The Hotel Britomart's

all-day dining restaurant that celebrates sustainably caught

seafood and wonderful wines.

The Libraries are the hotel's newly launched and elegant

meeting spaces featuring The Lounge, The Wine

Library, The Chefs Table, and The Papuke Room, perfectly

suited for intimate gatherings, private dinners,

and more.

74

75
---
NEW

Member

NEW

Member

TLN NEW ZEALAND

WELCOMES NEW

MEMBER: THE

LANDING

The Luxury Network New Zealand

welcomes The Landing luxury accommodation

located in the picturesque

Bay of Islands, New Zealand.

The Landing Residences are four spectacular,

luxury private retreats that cater to small

or large groups, providing privacy, total flexibility,

and the finest personal service. The

architecturally designed Residences hold

a modern, mid-Pacific aesthetic and each

boasts a stunning collection of New Zealand

art and artifacts.

The properties are set amongst a 1,000-

acre property, standing on some of New

Zealand's most historically significant land

which has been developed with the blessing

and contribution of the local iwi (Māori

tribes). Steeped in history, the property has

been developed to enhance and protect the

archaeological registered sites, with six private

beaches, Kiwi habitat, native plants,

and an award-winning vineyard, the largest

in Northland.

The beauty of the land is celebrated

through the experiences on offer: from paddle-boarding

to skippered big-game fishing,

guided kiwi-spotting walks, vineyard, and

winery tours, wine tastings of The Landing

wines, garden-to-plate dining, and more.

While at The Landing, you may also consider

experiencing Ata Rangi. Ata Rangi

is a luxury New Zealand-based charter

fishing yacht, available for sport fishing

trips and sightseeing cruises. Whether

you want to enjoy a scenic day trip or a

seven-day expedition, Ata Rangi offers

an unforgettable cruising experience.

This striking yacht is a high-speed Viking

82, with top-quality sport fishing

tackle and a luxuriously designed interior.

Standing at 89 feet plus, Ata Rangi

is powered by two c 1925 horsepower

Cats, with a cruising speed of 24 knots,

an array of state-of-the-art electronics,

and only the best fishing gear. There are

three double staterooms (two of which

split into singles) each with its own ensuite

bathroom. The highly experienced

crew of four includes captain, engineer,

chef/stew, and deckhand to take care of

all your onboard activities for day charters

or overnight trips.

76

77
---
NEW

Member

NEW

Member

PIERMARQ* JOINS THE LUXURY

NETWORK AUSTRALIA

The exhibition of artists from a number of continents

including Europe, North America, and Asia ensures that

PIERMARQ* is aligned with the current thematic and

stylistic developments occurring at the forefront of

global contemporary art movements.

PIERMARQ* also represents a stable of Australian talent

and is focused on supporting local artists in fostering an

international network and generating creative opportunities

outside of Australia.

Founded in 2012, PIERMARQ* is a Sydney-based contemporary

gallery located in the central art hub of Paddington.

Its aim is to present a diverse survey of international art to

Australia, reflecting the expansive cross-border collecting

activity of the current art market.

78

Dynamic, bold, color-focused art is the foundation of

the identity of PIERMARQ* as they believe these works

reflect the vibrant rhythm of the city and its inhabitants

here in Sydney

79
---
TLN

News

TLN

News

A SCENIC DRIVING EXPERIENCE AND

MUMM CHAMPAGNE LUNCH

22 Jun 2021 - The Luxury Network New Zealand

members and guests experienced a scenic driving experience

in the new Jaguar, Land Rover, and Range Rover

vehicles. Drivers changed cars at selected locations

starting their journey from central Auckland driving

through the picturesque Waitakere ranges, stopping for

coffees and to take in the views, having the opportunity

to try all the luxury vehicles.

Guests arrived at a stunning private residence

showcased by New Zealand Sotheby's International

Realty. At the exclusive Kauri Point Road

Laingholm property, guests were treated to a

personalised tour of the unique resort-like private

waterfront estate.

A delicious Mumm Champagne lunch prepared

by Des Harris Private Chef was enjoyed at the

residence using locally sourced products cooked

to perfection whilst enjoying the views from the

property.

The day concluded with private chauffeurs arriving

to escort the guests safely home with Jo

Malone London goodie bags.

82

83
---
TLN

News

TLN MIAMI LAUNCH: A CELEBRATION

OF ART, MUSIC, AND WINE EXPERIENCE

22 Jun - 2021 The Luxury Network Miami launched

with a resonating boom at the Miami SupercarRooms

Art Gallery in the Wynwood Arts District in Miami, Florida.

With over $20 million in cars alone, this world-renowned

car and art gallery has to be experienced to be

fully appreciated.

Event attendees were treated to amazing art, music,

and wine experience that many in attendance called

"revolutionary." Moonshyne Brown – former guitarist

for Lenny Kravitz – wailed on his guitar, while his partner-in-art

Santiago Betancour did a live painting session

to kick off the event.

We are becoming the world's foremost educator and provider

of fine wines and education in enjoying them with

food and fun. The Luxe Di Vita wine club is truly a luxury

wine experience. Our 'Grand Cru' custom wood crate

of six high-end wines are some of the best in the world.

Experienced wine snobs and sommeliers agree with us."

The Luxe Di Vita wine club and their team created an

ambiance everyone loved. As was one of the event sponsors,

the Luxe Di Vita luxury wine club served many exclusive

fine wines and wine pairings.

To prove how amazing and versatile these high-end

wines are, Elo – the owner of Miami SupercarRooms –

started the engine of a $4.2 million Ferrari using one

of the Luxe Di Vita chardonnays as fuel! Thanks to The

Luxury Network Miami, Miami SupercarRooms, and

Luxe Di Vita, the TLN event was a huge success.

The event was an exciting debut for TLN in Miami and

all attendees remarked about the experience. Welcome

to the world of luxury with The Luxury Network Miami.

Lori Dobrin, The Luxe Di Vita wine curator explained to

attendees how luxury level wines can now be delivered

right to your penthouse, yacht, or home.

"Wine lovers no longer need to travel to Napa Valley,

these fine wines are delivered from the tasting rooms

of Napa and Sonoma directly to Luxe di Vita wine club

members. Experience truly fine wines anywhere you are

with some of the best winemakers in Napa and Sonoma

Valleys. Each monthly shipment will match our "Tasting

Notes" giving an incredible experience with each bottle

in each shipment curated by the Luxe Di Vita wine club.

We are the wine education leaders looking to share our

passion and love of fine wines along with the discovery of

new exclusive wine and food pairings around the world.

84

85
---
TLN

News

This was followed by another impactful presentation

by Oyetola Okusanya, CEO, C&C Luxury.

The Head of Strategy at Avante Fly, Bisola Otigba, one

of the new members, took the stage next, to introduce

their brand and offering to the Nigerian luxury sector.

And to round up the event was a Q&A session led

by Julius Afolalu; The Luxury Strategist, a recently appointed

member of the core team at TLN Nigeria.

TLN NIGERIA

HOSTS B2B

NETWORKING

BREAKFAST

17 Jun 2021 - The Luxury Network Nigeria

hosted an exclusive B2B networking breakfast

meeting at The Seattle Residences and

Spa, Victoria Island, Lagos. In partnership

with Business Day, the event commenced

with a warm welcome by the Director of

Operations, Samuel Abiola-Jacobs, to an

engaged high-profile audience.

Managing Director, Cas Ojo, gave a brief

introduction to the network and accomplishments

to-date. The corporate video

set the tone and helped to further familiarise

and highlight the core objectives to

be achieved. Next was Bukky George-Taylor,

Director of Strategic Partnerships – a

founding member of the network, followed

by an insightful presentation by the CEO of

Seattle Residences and Spa, Wumi Jubril,

presented with much poise and detail.

In attendance were members and friends of the Network

whose sectors range from banking to hospitality,

retail shopping to international trade, and many more.

Top executives engaged in conversations to discuss

the challenges, protocols, methods, and opportunities

to scale upward and improve the quality and standard

of their businesses to the international luxury standard.

With most already fully engaged in the luxury

space, there were lots to discuss and share.

Giving the closing remarks, Cas Ojo expressed heartfelt

appreciation at the great turnout of the event. She

added, "We would like to specially thank all our members

and all our friends who joined us today. The Luxury

Network is at the forefront of changing the luxury

narrative in Nigeria and we are excited to kickstart a

number of projects with our members and partners in

the coming months. The pandemic slowed us down for

a while, but we are ready to support the bounce back

of the luxury industry both locally and internationally.

Join us!"

The Luxury Network Nigeria is interested to hear from

companies who wish to explore bold and innovative

partnership strategies in the Nigeria and UK market.

Please get in touch.

The Country Director of the UK Department

for International Trade (DIT), Chim

Chalamera, gave a speech about the

long-standing relationship with The Luxury

Network offices around the world, and

plans for more strategic alignment with

the Nigerian office in the coming months.

86

87
---
TLN

News

TLN

News

TLN NIGERIA LAUNCHES AN

INTERNATIONAL TRAINING PROGRAMME

TLN NEW ZEALAND B2B HELD AT THE

LIBRARIES AT THE HOTEL BRITOMART

10 Jun 2021 - The Libraries, a newly

completed beautiful function, and private

dining space was the perfect venue

to introduce new members The Landing

and The Hotel Britomart to The Luxury

Network New Zealand during the B2B.

Our technology partner Samsung showcased

the Samsung Triple Laser projector

with scenes from The Landings boutique

private accommodation in the Bay

of Islands and their exclusive charter

boat MV Ata Rangi.

The evening offered members an opportunity

to network and meet other

members whilst sampling wine from

The Landings private vineyard along

with delicious canapés from their head

chef. Members were also treated to a

tour of one of the penthouse suites at

The Hotel Britomart.

22 Apr 2021 - The Luxury Network Nigeria is

delighted to launch an International Learning

and Development Programme, in collaboration

with The Luxury Network International HQ. The

high-level programme; a series of immersive training

sessions and workshops will be led by industry

experts from the world's most prestigious brands,

and has been curated for businesses who provide

or aspire to an international standard of luxury.

This world-class programme aims to raise the bar

to new standards of excellence across the Nigerian

Industry industry, by providing a unique insight

into brands, places, and people that embody heritage,

legacy, and innovation, around the world.

Our extensive reach across the luxury spectrum

will enable a broad selection of specialised topics

so that programme participants can benefit from

an international luxury ecosystem.

Programme sessions will explore best practice,

traditions, and know-how that have always been

key success factors of the world's leading companies.

We will also examine the language, gestures,

and etiquette that are emblematic of the luxury

industry, underpinned by in-depth knowledge and

expertise adopted from a global marketplace.

As the world emerges from the coronavirus crisis,

the global luxury industry will seek out new

markets to engage, and Nigeria must now prepare

to take centre stage. The primary goal of the programme

is, therefore, to help companies educate

and equip staff with a solid foundation of the fundamentals

of the luxury industry, thereby nurturing

in participants, inner confidence that comes

with understanding the nuances of luxury, improving

employee performance and productivity,

and over the process of time, the profile and perception

of the Nigerian luxury Industry.

Members of The Luxury Network receive complimentary

or discounted access to all our Learning

and Development classes and workshops. Kindly

get in touch to find out about our new Membership

Structure and Ratecard.

88

89
---
TLN

News

TLN

News

THE LUXURY

NETWORK

CHINA DIVISION

17 May 2021 - The Luxury Network's China

Division has had a busy couple of months

of events and hospitality to support Network

member Diageo Prestige, with their Chinese

community engagement strategy. Diageo

alongside the China Division are rolling out a

series of high-end whisky tasting experiences

for members of the Chinese community

in Australia to profile the Rare & Exceptional

Collection of fine spirits, including John Walker

& Sons, King George V, Talisker, Mortlach,

and Dalwhinne. Some of the very rare collectors'

editions are valued at $40,000 plus.

Two of the special events co-hosted were a

6-course degustation lunch and whisky tasting

for 20 very lucky guests held in the Upper

Tower at Quay on a sunny Autumn afternoon,

and a cocktail night and whisky tasting for 50

members of the prestigious Zoomspeed Car

Club & Supercar Concierge Sydney. Four bottles

from the range were given away on the

evening via a Wechat lucky draw.

Should you require further information on

how our China Division can develop your Chinese

community engagement in Australia,

please contact our CEO, James Rowden via

email at james@theluxurynetwork.com.au

TLN NIGERIA LAUNCHES A NEW

MEMBERSHIP PROGRAMME

Tier 1 is designed to provide a tailored Brand Boost

package to companies who want to enjoy affiliation

with The Luxury Network brand, together

with branding opportunities with other leading companies

in the Nigerian luxury industry, and across the

world. Tier II provides Strategic Business Support &

Planning for companies who wish to have more robust

business support and our global expertise with business

development, marketing, and other business areas,

throughout the term of their membership.

The Luxury Network Nigeria has launched a new Membership

Programme, as the office plans a rebound from

the COVID-19 slowdown. We have listened to feedback

from our previous members and created a two-tier Membership

programme to meet the demands of a changing

consumer landscape and an industry ready to spring back

from the effects of a global pandemic.

Our International Learning and Development programme

is available as an add-on to either Tier I or Tier II.

For more information, send an email to

info@theluxurynetwork.ng

90

91
---
MEMBERS

Affairs

AN EVENING WITH LA MER, JO MALONE LONDON,

AND NEW ZEALAND SOTHEBY'S INTERNATIONAL

REALTY LUXURY RENTAL HOMES IN QUEENSTOWN

Sofia Ambler, CEO of The Luxury Network New Zealand,

gave a welcome introduction to guests whilst Sam

Skipper, from New Zealand Sotheby's International Realty

Luxury Rental Homes, spoke of the wide portfolio

of luxury homes available in the Queenstown Lakes

region. Tracey Pederson and Suzanne Purser from La

Mer and Jo Malone London, spoke about the history

and story of these well-known and loved brands while

guests sampled the products.

This sensory evening which delighted guests' sight,

smell, and taste finished off with each guest leaving

with a generous 'gift' bag with deluxe samples of Jo

Malone London and La Mer signature items.

The Luxury Network New Zealand, together with Jo

Malone London, La Mer, and New Zealand Sotheby's

International Realty Luxury Rental Homes, successfully

hosted their first Queenstown event.

Members and guests were greeted upon arrival

with MUMM champagne at 'Waikapu Height's'- a

stunning example of the luxury rental properties

available from New Zealand Sotheby's International Realty

Luxury Rental Homes. The beautiful home has commanding

panoramic views of Lake Wakatipu, Queenstown,

and the Remarkables from its elevated position. Inside

this spacious 5 bedroom home with multiple indoor and

outdoor living spaces, Jo Malone London scents wafted

throughout where guests mingled and nibbled on 'La Mer'

themed canapes whilst perusing edited collections from

Jo Malone London and La Mer.

94

95
---
Members

Affairs

RECORDS TUMBLE AS THE LEONARD JOEL

DIAMOND SELLS FOR 873,000 USD

Leonard Joel is thrilled to announce that the biggest and

most expensive diamond ever to come to auction in Australia

sold at last night's Important Jewels auction in

Sydney for AU$1,125,000 IBP ($87,077,813).

Lot 46, the spectacular platinum and diamond ring

featuring a square emerald-cut diamond weighing

25.02 carats, delighted clients at the viewings in

Melbourne and Sydney before selling at auction to an

absentee bidder in a historic moment for Leonard Joel.

When the hammer went down, the previous record for

the most expensive diamond sold at auction in Australia

– set at Leonard Joel's Important Jewels auction last August

when a 17.34-carat diamond ring sold for $575,000

IBP – was broken. The seller of the "Leonard Joel Diamond"

is over the moon, and Hamish Sharma, Leonard

Joel's Head of Important Jewels, is delighted to have

broken his own record.

Leonard Joel's Important Jewels auction on 20 April 2021

in Sydney delivered AU$4,275,000 IBP ($330,895,688)

IBP, making it the highest-grossing jewellery auction in

Australian history. The auction saw competitive bidding

from all over the world in the 50K+ range, but the majority

of lots were sold to Australian buyers.

Other highlights from the night included lot 24, a rare

pair of platinum and diamond earrings, the square emerald-cut

diamonds, weighing 10.03 and 10.00 carats

respectively, that sold for AU$650,000 IBP ($50,311,625),

lot 49, a block of impressive platinum, 18ct gold, fancy

intense yellow diamond and diamond ring that sold for

$287,500 IBP, and lot 73, an exceptional platinum and

diamond ring, the brilliant-cut diamond weighing 10.07

carats that sold for AU$275,000 IBP ($21,285,688).

2021 marks 40 years since Leonard Joel sold Hollywood

actress Claire Adams Mackinnon's jewellery collection

and founded their jewels department. Last night's results

further cement Leonard Joel as the leader of the

auction jewellery marketplace in Australia.

96

97
---
Members

Affairs

CELLARING FINE WINES WITH

WEBB'S AND GAGGENAU

Members and guests of The Luxury

Network were invited to the

beautiful UnserHaus Showroom

in Parnell where wine expert, Marcus

Atkinson, from Webb's explained the

benefits of storing fine wines in optimal

conditions to ensure they retained

their taste and value, while Holly Page

highlighted the deluxe range of wine

storage options available from Gaggenau.

Guests were then treated to

Perrier Jouet and a selection of white

and red wines of different vintages accompanied

by a selection of canapes

curated by Des Harris in the stunning

Gaggenau Kitchen.

98

99
---
Members

Affairs

ASPEN APRES EVENT ONBOARD

SUPERYACHT ONEWORLD

Taking place on board the luxury superyacht One-

World, guests enjoyed Pommery Champagne flowing

throughout the evening and some delicious

canapés by Elite Chefs Sydney. On the main deck,

guests were presented with an amazing display of

Hublot watches where they were able to touch and

play with the timepieces and discover more about

their immaculate design. For the whisky enthusiasts,

guests were treated to a whisky tasting on the

top deck hosted by Diageo Rare and Exceptional

which was a real treat and enjoyed by all.

Looking forward to re-connecting with everyone

again, on the Aspen slopes!

2 Jun 2021 - Whilst we are waiting for the international

borders to open again, we decided to re-connect

with Aspen friends and celebrate the next time

we would all be back together in Aspen.

100

101
---
Members

Affairs

AS HAIR CARE EXPERTS, A GLOBAL MEMBER

OF TLN, LAUNCHED IN DUBAI SUCCESSFULLY

The International Hair Care Expert Ahmad Slieman

hosted a gala dinner at which the opening

of AS Hair Care Center in Dubai. The event happened

on 20 th of June 2021, from 8:30 PM to 12:00 AM,

at the rooftop of Bella Restaurant & Lounge, Grand

Millenium Hotel, Marasi Drive Street, Business Bay,

Dubai.

The event was attended by VIps and well-known personalities

from beauty industry.

ashaircare.com

102

103
---
Members

Affairs

Members

Affairs

DIAGEO SPECIAL RELEASES DINNER

Members and friends of the network were invited

to an exclusive launch of the Diageo Rare and

Exceptional limited collection of rare and distinctive

scotch whiskies at one of Australia's most celebrated

restaurants, Quay.

Paired with an incredible 8-course degustation, guests

enjoyed 8 natural cask strength whiskies which made for

a very special and indulgent evening.

The unveiling of these special releases was eagerly awaited

and it certainly delivered!

104

105
---
Members

Affairs

MASTERING YOUR WINTER WARDROBE ESSENTIALS

Guests had an intimate evening at

the Muse Newmarket boutique,

where Olivia Vincent-Healy and

her stylish team showcased the new season

winter cashmere, jeans, and coats, to

help transition your wardrobe into the

cooler months. Whilst explaining the story

behind brands, highlighting how existing

pieces in one's wardrobe can be worn

as temperatures drop outside, guests

sipped Perrier Jouet and nibbled on canapes.

A lovely experience was had by all.

New Zealand

106
---
Master the trade

with Pepperstone

Seize opportunities and take on the world's financial

markets with Pepperstone, a global FX and CFD broker

with an award-winning premium client offering like no

other.

Elevate your trading portfolio with our tight spreads and fast

execution. Explore our suite of high-quality financial instruments,

including CFDs on Forex, Indices, Cryptocurrencies, Commodities

and more.

Regulated by multiple jurisdictions with client funds segregated

in tier 1 banks, we're one of the largest MetaTrader brokers, trusted

by traders all around the world.

Begin your quest for trading mastery and explore our premium

client offering today.

Pepperstone Premium

premium@pepperstone.com

Forex CFD Index CFDs Commodity CFDs Share CFDs Crypto CFDs

Trading CFDs and FX carries significant risk and is not suitable for everyone.

Refer to our PDS. AFSL 414530.
---
UNDER The

Spotlight

Under The

Spotlight

CARS AND CIGARS

CLUB JOINS

TLN QATAR

Under the patronage of H.E.

Mr. Oscar León González,

Cuban Ambassador in Qatar,

TLN Qatar invited their members

and VIP guests to join them in welcoming

Cars and Cigars Club to the

network. The event took place on

the evening of June 30th, inside the

Maserati Showroom, Medina Centrale,

The Pearl Qatar.

The guests were served the finest

selection of cigars and they were

also invited to a unique driving experience

with the latest Maserati

model line up which includes the

Levante, Quattroporte, and Ghibli.

The evening was graciously attended

by ambassadors H.E. Mr. Oscar

León González (Cuba), H.E. Ms. Belen

Alfarohe (Spain), H.E Mr. Georges

Bahsa Hazim (Dominican Republic),

H.E Mr. Janusz Janke (Poland), and

the former Ambassador of Panama

to Qatar, H.E Mr. Oreste Del Rio.

110

111
---
Under The

Spotlight

Under The

Spotlight

The attendees indulged in food and

drinks throughout the evening while

a selection of giveaways was handed

to them which carries Amal Ameen's

latest fragrance, SOUL, and Cigarelo

by Saja Perfumes.

The Luxury Network Qatar team

and its guests have applauded the

Cars and Cigars Club for joining

them as an official member.

112

113
---
*Isla Chair and Ottoman in Blend Lagoon.

Why Join The Luxury Network?

The Luxury Network has been recognized by the British media as 'the world's leading luxury affinity marketing group' and one

of the most innovative formulas for the development of new businesses between luxury brands which share the same values,

customers and target audience. We build meaningful business relationships and connections in the HNW and UNHW space

with over 28 global offices and 500 exclusive member brands worldwide.

With over a decade of experience in the international luxury industry facilitating access to new high-net-worth individuals, our

team has developed thousands of strategies for countless companies. The importance of top-end strategic alliances for

financial success is indisputable and yet most companies don't have the time or the resources to create such ongoing business

relationships.

We are armed with the right connections to help you form new business alliances with many other luxury brands, to reach each

other's HNW pre-qualified private clients, and showcase your brand's services and products at our luxury B2C sales or private

client events. You will get the opportunity to entertain your clients and invite your prospects to our of B2C luxury events.

The Original outdoor beanbag TM . Made in New Zealand and designed to last.

The Luxury Network's team will perform as your extended marketing arm to orchestrate successful collaborations by working

closely with your own personal The Luxury Network account manager to develop your business and identify your targets.

For more reasons to join The Luxury Network, please visit our website testimonials and success stories section. You may join

The Luxury Network by filling in the form at www.tlnint.com/contact-us or email us at info@tlnint.com and we will take care of

the rest for you.

www.tlnint.com
---
Brands Directory

Abercrombie and Kent

abercrombiekent.com

De Dietrich

asia.de-dietrich.com

Pepperstone

pepperstone.com

Airelles

airelles.com

Des Harris Chef

desharrischef.co.nz

Piermarq*

piermarq.com.au

Amal Ameen

amalameen.com

Diageo

diageo.com

Porsche

porsche.com

AS Hair Care

ashaircare.com

Elite Chefs Sydney

elitechefssydney.com.au

Porse

porse.co.nz

ISSUE 25 JUL - AUG 2021

Aston Martin

astonmartin.com

Etihad Airways

etihad.com

Repossi

repossi.com

Ata Rangi

mvatarangi.com

AV One

av1group.com.sg

Bang & Olufsen

bang-olufsen.com

Gaggenau

gaggenau.com

Heletranz

heletranz.co.nz

Hublot

hublot.com

Roberto Coin

robertocoin.com

Rolls-Royce Motor Cars

rolls-roycemotorcars.com

Ruinart Champagne

ruinart.com

Editor-in-Chief

Managing Editor

Creative Director

Fares Ghattas

Garz Bumanlag

Reine Nehme

Bentley Motors

bentleymotors.com

J Hotel-Shanghai

jhotel-shanghai.com

Saja Perfumes

sajaperfumesqatar.com

Creative Assistant

Omnya Moaad Naji

Berluti

berluti.com

Jaguar

jaguar.co.nz

Samsung

samsung.com

Production Manager

Nour Assi

Boat International

boatinternational.com

Jo Malone London

jomalone.com

Saxo Bank

home.saxo

Bonham

bonham.nz

Bovet

bovet.com

Kay & Burton

kayburton.com.au

Kingi

kingibritomart.com

Signorino

signorino.com.au

Sotheby's International Realty

nzsothebysrealty.com

Print and Production

Printing Group

Breitling

breitling.com

Kwanpen

kwanpen.com

The St. Regis Toronto

marriott.com

Jnah, Embassies Street, Amira Building, Beirut - Lebanon

Tel: +961 1 823 720 I info@printingroup.com

Buccellati

buccellati.com

Bvlgari

bulgari.com

Cars 'N Cigars

carsandcigs.com

La Mer

lamer.co.nz

Land Rover

landrover.co.nz

Leonard Joel

leonardjoel.com.au

The St. Regis Singapore

stregissingapore.com

Studio Italia

studioitalia.co.nz

Sutcliffe Jewelry

sutcliffejewellery.com

The Luxury Network International

12 Hay Hill, Mayfair, London, W1J 8NR

info@tlnint.com

+44 (0) 330 133 1661

Champagne Pommery

champagnepommery.com

Cheval Blanc St-Tropez

chevalblanc.com

Maserati

maserati.com

Miami SupercarRooms Art Gallery

supercarrooms.miami

The Hotel Britomart

thehotelbritomart.com

The Landing

thelandingnz.com

www.tlnint.com

Christian Louboutin

us.christianlouboutin.com

Coast

coastnewzealand.com

Creative Zone

creative zone.ae

Mumm Champagne

mumm.com

Muse

museboutique.co.nz

Park Hyatt

hyatt.com

Valentino Beauty

welcome.valentino-beauty.com

Vision Advisory

visionadvisory.sg

Webb's

webbs.co.nz

In July 2017, The Luxury Network Magazine was published as a bimonthly supplement for The Luxury Network International. All materials are strictly

copyrighted, and all rights are reserved. Reproduction in whole or in part without the prior written permission of The Luxury Network International is

prohibited. All content is believed to be factual at the time of going to print and contributors' views are their own derived opinions and not excessive

that of The Luxury Network International. No responsibility or liability are accepted by the publishers or editorial staff for any loss occasioned to any

individual or company, legally, financially or physically, as a result of any statement, fact, figure or expression of opinion or belief appearing in The

Luxury Network Magazine. The publisher does not officially endorse any advertising or advertorial content for third party products. Photography and

image credits, where not otherwise stated, are those of Getty Images and/or Shutterstock; each of which restrains their individual copyrights.
---
BEAUTIFUL IS A NUMBER

astonmartin.com

Alfardan Luxury Motors Co. (L.L.C.), Alfardan Towers, West Bay, Tel. +974 4042 6363, qatar.astonmartindealers.com