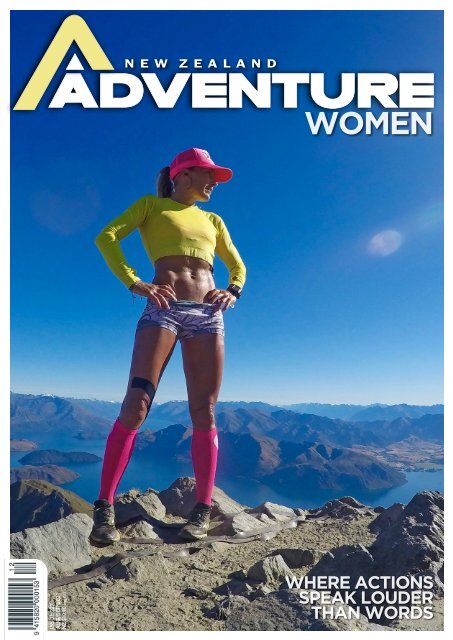 Adventure Magazine Issue 227
Women's issue
Women's issue
SHOW MORE
SHOW LESS
Create successful ePaper yourself
Turn your PDF publications into a flip-book with our unique Google optimized e-Paper software.
N E W Z E A L A N D

ADVENTURE

WOMEN

ISSUE 227

AUG/SEP 2021

NZ $10.90 incl. GST

WHERE ACTIONS

SPEAK LOUDER

THAN WORDS
---
DO EPIC SH*T!

#227

Editor, Steve Dickinson with the "Reluctant Adventurer" on a recent trip to the South Island.

Read the full story on page 80

THE FUTURE

IS HERE

I don't really know many hardcore female trampers, a few, but

not many. We know loads of other sportswomen, but not many

trampers. On Facebook, the seeming hub of all things, there is

a tramping group, and it is excellent, really helpful. People post

images and ask questions, and it's engaging and interesting. So

I put on there, quite casually, a post asking, if there were any

women who would like to write about their tramping adventures,

either on their own, with friends or family.

Well, that opened up my eyes to a range of things;

• How many female trampers there are out there!

• How serious are some of those adventures are!

• How keen they were to write and share their adventures!

We were overwhelmed with interest, stories ranging from

climbing Everest to learning how to overcome simply going

outside and everything in between. There was, however, one

woman who did write to me in a very 'woke' fashioned email

and ripped a strip off me for using the word mother, daughter,

girlfriend; she felt it was defining and demeaning by sexuality

rather than achievement, which was never the intent. But the

upside of feeling like maybe I had phrased something incorrectly

was that nearly every submission, and there were a lot, typically

started with 'I am a mother of 3' 'I am so and so's girlfriend.' 'I am

the daughter of a well know tramping icon in Nelson'.

The main flavour that these editorials left you with was one of

accomplishment and self-ownership. The age range was huge,

from 6 to 90, and the submissions came from every corner of

New Zealand. We could not fit in every submission, and if yours

is not here, please keep your eye on the website and tramping

issue in October.

There is some editorial here about high-end high achieving,

amazing female athletes. but the central core of this issue,

high achieving or not, is New Zealand women out there are

embracing the message on Annabel Anderson's cap, 'Do EPIC

Shit'.

Steve Dickinson - Editor

The women who contributed with their personal

tramping stories are identified by this logo:

TW

yoUr AdventUre staRts Here

The future is here. It's asking us to be ready, to think bigger. To embrace the

trail ahead and bring everyone with us along the way. Today, we celebrate our

first 40 years by looking forward to the next. #MerrellFuture40

merrell.co.nz

23 Locations Nationwide - www.radcarhire.co.nz | 0800 73 68 23 ADVENTUREMAGAZINE.CO.NZ | adventure@radcarhire.co.nz 01
---
Image supplied Image by a random stranger Image by Lauren Murray

Image compliments Annabel Anderson

page 08

page 14

page 80

page 86

contents

#227

08//The benefits of being a multi-trick pony

by Annabel Anderson

14//What defines you?

By Lauren Murray

18//Emilie's adventure to Angelus Hut

By Victoria Bruce

22//Keala Kennelly owns Red Bull Magnitude

By Jon Coen

26//Caitlin Fielder

Ultra-marathon runner and artist

30//Adversity at Altitude

By Tselane Mead

38//The Meaning of Tramping

By Charlie Ellis

40//Nancy Jiang

Smashing stereotypes

44//Solo Strength

By Erin Lockhart

48//Jenna Hastings

Mountain biker

52//From Michigan to Mountains

By Katarina Renaldi

56//North West Circuit

By Cristina Barraclough

60//Mt Oxford Odyssey Mum

By Vicky Havill

64//Belinda Stuart

Making colourful merino in NZ

80//The Reluctant Adventurer

By Teva Dickinson

86//Travel

Papua New Guinea

Vanuatu

plus

69. gear guides

96. active adventure

FOLLOW US ON

www.facebook.com/adventuremagnz

adventuremagazine

www.adventuremagazine.co.nz

Nzadventuremag

JOIN THE CONVERSATION

#ADVENTUREMAGAZINE

ENJOYABLE TO THE LAST DROP.

#FORTHEADVENTURE

WWW.DCBREWING.CO.NZ

02//WHERE ACTIONS SPEAK LOUDER THAN WORDS/#227
---
BEHIND THE COVER

Where?

Mt Roy, Wanaka, New Zealand.

Annabel Anderson selfie on Roys Peak makes the cover in celebration of our women's issue.

Why Am I Here?

While I was racing professionally as a stand

up paddle athlete, each October I would make

the trek back across the Pacific to the Southern

Lakes of home. I would long to stand upon the

tops of hills and recalibrate the inner compass

after a year spent traversing the globe. It would

heal my mind and recenter my soul. There was

the added bonus that it would form the base of

my offseason preparation and give my mind and

body a break from the relentless grind of the

repetition of paddling. While nurturing my soul,

I was also conditioning my mind and body. I

would throw myself into this time of year knowing

that I was preparing myself to raise the bar of

possibility higher in the future. Sure enough, the

season following this photo saw me lay down

performances of pride across the water and the

mountain bike. In typical DIY fashion, I shot this

image on a GoPro Hero 5 mounted on a handheld

tripod.

EDITOR & ADVERTISING MANAGER

Steve Dickinson

Mob: 027 577 5014

steve@pacificmedia.co.nz

ART DIRECTOR

Lynne Dickinson

design@pacificmedia.co.nz

SUBSCRIPTION ENQUIRIES

subs@pacificmedia.co.nz

DISTRIBUTION

Ovato, Ph (09) 979 3000

OTHER PUBLICATIONS (HARDCOPY AND ONLINE)

www.adventuremagazine.co.nz

www.adventuretraveller.co.nz

www.adventurejobs.co.nz

www.skiandsnow.co.nz

@adventurevanlifenz

PUBLISHERS

NZ Adventure Magazine is published six times a year by:

Pacific Media Ltd, P.O.Box 562

Whangaparaoa, New Zealand

Ph: 0275775014

Email: steve@pacificmedia.co.nz

adventuremagazine.co.nz | NZadventurebike

adventurejobs.co.nz | adventuretraveller.co.nz

Contributions of articles and photos are welcome and must be accompanied by a stamped selfaddressed

envelope. Photographic material should be on slide, although good quality prints may

be considered. All care is taken but no responsibility accepted for submitted material. All work

published may be used on our website. Material in this publication may not be reproduced without

permission. While the publishers have taken all reasonable precautions and made all reasonable

effort to ensure the accuracy of material in this publication, it is a condition of purchase of

this magazine that the publisher does not assume any responsibility or liability for loss or

damage which may result from any inaccuracy or omission in this publication, or from the use of

information contained herein and the publishers make no warranties, expressed or implied, with

respect to any of the material contained herein.

Adventure Magazine

Whereever we go,

our preferred car

hire is...

HAPPY 40TH BIRTHDAY

In 1981 Prince Charles and Lady Diana

Spencer got married, 'Raiders of the lost

Ark' made its debut, and Ronald Reagan

became president. Here at home we

were reeling from the 'underarm bowling

incident', where Greg Chappell told

his brother Trevor to bowl the last bowl

underarm so Brian McKechnie could

not attempt to hit a six. In the

same year, the Springbok

rugby tour ripped the

country in two. But on a

positive note Adventure

Magazine was born.

Though carrying adverts

for cigarettes and

orange coloured zinc

the first few issues were

widely focused on a range

of sport from swimming to

sailing. As the years progressed

and the cigarette ads became less,

Adventure went through a series of

different vibes, it became very 'multisport'

focused for a while, then a lot of biking,

before it went back to a more generic feel.

Pacific Media has produced Adventure

for the last twenty years (we actually took

the reins with issue 100) and we have

loved every moment. The adventure

industry is great to work with everyone

from those doing different activities to

those who import the products, everyone

is passionate and enthusiastic and

of late incredibly supportive.

Covid has put a lot of

strain on the adventure

community but the

majority of those

involved do it for the

love, not the money

and it makes you

proud to be able

to showcase New

Zealand, the places,

and the people. We

have no idea what the

next 40 years looks like, you

can only guarantee it will change

but Adventure Magazine and the people

within its pages will still be there doing

fun stuff.

#WeAreRab

World Class Indoor Climbing

First visit $25* then free for a week!

Fantastic community, beginners

welcome, boulder classes for all ages

and abilities, inquire now.

* Discounts for youths and own gear

Student Mondays, entry $15

www.northernrocks.co.nz

@northernrocks.climbing

Unit 17, 101-111 Diana Drive,

Wairau Valley, Auckland | 09 278 2363

"Northern Rocks is an indoor bouldering facility, we

foster community, growth and positive experiences for

people of all backgrounds, ages and abilities."

Available now from Rab specialist stores throughout NZ.

Hunting And Fishing New Zealand stores nationwide. Auckland: Living Simply, Waikato: Trek N Travel, Equip Outdoors,

BOP: Whakatane Great Outdoors, Taupo: Outdoor Attitude, Wellington: Dwights Outdoors, Motueka: Coppins Outdoors,

Nelson: PackGearGo, Kaikoura: Coastal Sports, Christchurch: Complete Outdoors, Greymouth: Colls Sports,

Hokitika: Wild Outdoorsman, Wanaka: MT Outdoors, Queenstown: Small Planet.

Online: huntingandfishing.co.nz, outdooraction.co.nz, equipoutdoors.co.nz, gearshop.co.nz, outfittersstore.nz

Distributed by Outfitters 0800021732 www.outfitters.net.nz
---
Our inspirational women:

ANNABEL ANDERSON: Our

cover girl is a former multiple

world champion, marketing and

communications professional, event

manager, coach, athlete mentor,

advocate for females in sport, and

all around outdoor enthusiast from

Wanaka. (Page 8)

LAUREN MURRAY: Since

moving to Queenstown last year,

Lauren she really dived into the

world of tramping and pairing

that with her photography skills

to start more adventure travel

based stills that she is proud of

today. (Page 14)

VICTORIA BRUCE:

Victoria Bruce lives in Christchurch

with her daughter Emilie. She's

worked in journalism and

communications and loves tramping

because it's "good for the soul".

(Page 18)

KEALA KENNELLY: Affectionally

known as KK, Keala Kennelly is

an actress and DJ, but is most well

known for her big wave surfing. A

staunch women's and gay activist,

she has led the way to get women

recognized in the sport of surfing.

(Page 22))

CAITLIN FIELDER: After trying a

variety of sports Caitlin decided that

ultra-marathons were her passion.

Coupled with a deep love of running

she is also passionate about art and

has developed a unique talent creating

mini masterpieces on all types of sports

shoes. (Page 26)

TSELANE MEAD: is an emergency

nurse and mountaineer. She is a ski

instructor and school nurse in the Swiss

alps during the winter. She works with

hiking, mountaineering and ski clubs

to help empower women from diverse

backgrounds to reach their potential in

mountain spaces. (Page 30)

CHARLIE (CHARLOTTE) ELLIS:

Charlie is a 35 year old theatre

enthusiast who gets out tramping as

often as possible to balance things out,

keep herself sane, and basically stop

her completing Netflix. Originally from

the UK she started tramping as a child,

though thankfully she now finds it a less

traumatic experience. (Page 38)

NANCY JIANG: Nancy Jiang recently

moved to Nelson, where she divides

her time between working as a

structural engineer and exploring the

trails around her new home on foot or

on bike, refilling the stoke cup.

(Page 40)

ERIN LOCKHART: The 22 year old

grew up in Tawa and is currently

working as a stargazing tour guide in

Lake Tekapo. She got into tramping

whilst working in Canada in 2018. She

spent the months of March and June

this year tramping her way all over the

South Island. (Page 44)

JENNA HASTINGS: This 17-year-old

is taking the mountain biking scene

by storm. Based in her hometown of

Rotorua she has a deep passion for

mountain biking she dreams to be

on the European World series and

Downhill World Cup one day.

(Page 48)

KATARINA RENALDI: Is a 24 year

old female solo traveler originally

from Kalamazoo, MI, United States.

She holds a degree in Laboratory

Medicine and Environmental and

Sustainability Studies and began to

get closer with her love for nature

through tramping in New Zealand.

(Page 52)

CRISTINA BARRACLOUGH: The

outdoors is her passion, you'll most

likely find her out climbing at the crag,

in the bush or on the sea! She did

a degree in Business Management

with English Literature in the UK and

is now studying a post-grad at NMIT,

Nelson. Follow her on Instagram:

@cristinalbarra (Page 56)

VICKY HAVILL: Is a 36 year old mum

of 2 home-schooled kids in Oxford,

Canterbury. She started trying to

improve her fitness at 30 and found she

enjoyed exploring the outdoors around

her which gives herself mental and

physical space from the stressors of

everyday life. Follow her on Instagram

@wild_vs-mumma (Page 60)

BELINDA STUART: From Indiana

to Nelson, NZ, Belinda's love of the

outdoors has helped her create a

new line of merino clothing for the

adventurer in us all. (Page 64)

southernapproachnz

06//WHERE ACTIONS SPEAK LOUDER THAN WORDS/#227
---
The

benefits

of being a

Multi-Trick

Pony

By Annabel Anderson

If I told you that my teenage years spent ski racing would be

one of the biggest contributing factors to my success as a

stand-up paddle athlete, I'm sure I would get many a blank

look.

If I told you that athletics was the foundation of my

preparation for skiing, I'd likely get an equally sideways

glance. You see, we live in a time that loves to get stuck in

the age-old conundrum of labels and pigeon holes.

"You're the paddler"

"You're the mountain biker"

"You're the skier"

"You're the climber" etc.

Ladies (and gentlemen) listen up. I'm here to tell you that

you are here to be all of these (possibly more) if we begin

to drop the labels and embrace the possibility of diversifying

the scope of the activities we do. The only caveat is that this

contemplation of possibility requires "embracing the suck of

learning new things" as well as "doing hard things".

You're right, all new things are hard at first. But so were

most of the things we have begun to master over time. With

the commitment to learning new skills, movements and

environments mastery comes as a convenient by product of

time spent learning the patterns that are the foundations of

these.

But people are a funny species and they will always label

you with the thing they associate most closely with you.

To many, I'm simply known at the 'paddler' or the 'girl who

paddles'. Once upon a time I was the 'triathlete' and before

that I was the 'skier'.

When I first started paddling in the UK back in 2010 I was

doing it all wrong (according to the early self-considered

experts at the time).

In the eyes of those 'supposed experts', I was doing it all

wrong, yet I continued to win, by increasingly large margins

and began to frequently beat all of the majority of the men's

field in the process.

I was doing it so wrong that people started analysing what I

was doing to figure out why I was winning and by such large

margins. Frame by frame video footage was being analysed

as people tried to figure out what I was doing to propel

myself forward.

"A broad skill base and

how you can draw from

one platform to the next

– women often pigeon

hole themselves"

What the armchair experts and sideline pundits didn't give

credence to the depth of my sporting background across

multiple codes. Athletics, triathlon, cycling, ski racing and

sailing to reel off a few.

Little did I know that it would be this multi-disciplinary

approach as a developing athlete that would be the

foundations of sustained sporting achievement in a sport

that hadn't been thought of 20 years ago.

In sports like gymnastics, swimming, golf, tennis and

martial arts if you don't start soon after you can walk, you're

always going to be playing catch up. But this is not true

of a multitude of other sporting codes and is now being

supported by numerous volumes of research emerging

that support a multi-disciplinary approach to sporting

development, participation and achievement at elite levels

of competition.

For the vast majority of athletes and sports, earlier is

sometimes not better in the long term. One of the side

effects of early specialisation is that when athletes narrow

their focus onto one sport or activity too early they risk

burnout, over-use injuries and lessened motivation over

time meaning they fall short of realising their performance

potential at the highest levels of a particular sporting code.

It's when you drill deeper into it what my formative

athletic development entailed, there were skills, aerobic

development and movement patterns that would play a

major role in my future successes, not to mention the skills

that these activities taught me around how to prepare, train

and compete.

Skiing taught me the laws of physics in relation to

biomechanics and power generation to propel myself

forward. It required an incredibly strong lower body to

generate power and absorb force, which is also what is also

critical paddling. It also required huge amounts dry land

based physical preparation and fine-tuning of equipment.

Athletics taught me how to hurt and how to rub elbows in

close quarters and to do drills every day.

Racing bikes taught me that race strategy and tactics are

king and that the fittest and fastest person doesn't always

win.

RIGHT: In 2017, in lieu of a key sponsor, I wore 'Do Epic Shit' at every opportunity. It spoke to my 'why', my reason and my purpose.

08//WHERE ACTIONS SPEAK LOUDER THAN WORDS/#227
---
"As a person who has always embraced

variety over monotony, the more I have

been forced to specialise in one thing, the

more I have craved the chance to do other

things and learn new things."

Triathlon was the school of hard knocks that input is directly

related to output and unless you do the work, you can rest

assured that your competition will be.

Sailing taught me to read and 'feel' the movement of

water and that the person who is most in tune with their

environment and makes the least mistakes most often comes

out on top if all other things are equal.

Paddling taught me how to make a slow craft go and fast as

possible while foiling has given me a whole new appreciation

for physics.

This past Southern Hemisphere winter thanks to Covid I went

back to my roots and made my way back up a mountain.

If there is one thing that a few years of ski racing in your

teens teaches you, it's how to break down and analyse

highly technical movements. Skiing is a far from natural

movement, is highly reliant on biomechanics and a sequence

of movement patterns to be able to ski with fluidity and flow.

It starts with your legs and how you are able to stand in a

semi-squat position while executing dynamic movements for

periods at a time.

As I stood in my ski boots, I made the correlation that my

ability to flex my ankle was what allowed me to drive so much

power from my legs when stand up paddling versus other

people.

You see, my legs are in exactly the same position in ski boots

as they are standing on a board paddling forwards and played

a major role in why I have always been able to generate so

much power from my legs.

The slightest weighting of one foot makes my ski start to

turn just like a board starts to turn when you steer it with the

weighting and unweighting of one of your feet.

As a person who has always embraced variety over

monotony, the more I have been forced to specialise in one

thing, the more I have craved the chance to do other things

and learn new things.

In the past few months this has transitioned and diversified

once again, this time learning how to defy the laws of physics

and master this new fang-dangled 'wingfoil' malarkey as well

as upping my game on technical mountain bike front.

One thing that a deep and diverse background of movement

and technical skills across a range of environments have

given me is an ability to 'hack the process' by seeing

similarities across different pursuits and transfer these skills,

knowledge and learned movements to new things.

Top to bottom: The first female to repel 550ft off the biggest sea cliff in Europe in the Faroe Islands as part of a feature World Of

Adventure Sports. / Session 3 of the 'Learn to Fly Baptism of Fire' camp with Mat Fouliard in Tahiti / GoPro Mountain Games, Vail,

Co Enduro MTB race. Event 1 of 11 across bikes, white water and trail running in 2.5 days at 8,000'. / White on white. First turns of

Winter '21, The Remarkables NZ

Dredging through a sunset left on the Pass, Tahiti

10//WHERE ACTIONS SPEAK LOUDER THAN WORDS/#227 ADVENTUREMAGAZINE.CO.NZ 11
---
"The more skills we have, the more we use

those skills, the more we learn new skills,

the more confidence we build."

The benefit? The learning curve becomes steeper the more

things you learn.

When I reflect on my journey with the foil, not only did I have

to figure it out and teach myself, but I was in a place of fickle

wind and cold waters doing something that was new and

unknown and simply had to do the time and figure it out on

the fly (literally).

There were moments of overwhelm, changes of wind

direction, the wind dying and having to paddle in and multiple

walks of shame. But each time there would be at least one

or two things that I'd take from the time spent doing that fed

into the bank of overall progress. Quite simply, I committed

to doing the time and progression naturally came with it and

now you'll find me out in 40 knots finding the big rolling swells

in the middle of Lake Wanaka knowing I'm the only one out

there.

Likewise with getting my head around the more technical side

of mountain biking. If only I'd known years ago that dropper

posts were game changers in the confidence department and

that a combination of the addition of a bouncy bike, access to

progressive flow trails and riding (when possible) with a group

of others not only layered foundational skills but also layered

much needed confidence when it came to drops, jumps, rocky

terrain and more. The reminder of what I took from winter of

'raising my gaze' and 'eyes up' also made the transition from

snow to dirt.

Both of these recent examples have demonstrated how far

I have come not only in the skill department but also the

confidence and comfort in much more technical and critical

situations (weather, terrain and the likes).

The stimulation of learning and mastering new movements

keeps our mind in the game and our motivation levels higher.

It keeps us humble and heightens our awareness of the little

things that collectively make big differences.

The crux of it is this.

The more skills we have, the more we use those skills, the

more we learn new skills, the more confidence we build

allowing us to create more opportunities to enjoy more things.

In a way, it is self-perpetuating as well as keeping our minds

fresh and our hearts young.

And when we see embracing diversity of outdoor activity

as an opportunity and a gift, we might just have another

Covid-induced opportunity staring us in the face that we may

have overlooked otherwise if we choose to embrace a multidiscipline

approach to what we do.

Top to bottom: Taking the gym beneath the surface of Lake Wanaka / If in doubt, rock retro fluoro + lycra + lycra. Eagle, CO

The lure of back country turns is always worth the effort / Chasing my morning shadow along the shallows of Lake Wanaka

Did that just happen? Delayed flights, a broken board, lost luggage and borrowed gear resulted in total disbelief after

stomping the field to win the ISA World Championship race around the waters of Copenhagen Opera House, Denmark.

12//WHERE ACTIONS SPEAK LOUDER THAN WORDS/#227 ADVENTUREMAGAZINE.CO.NZ 13
---
What defines you?

Words and Image by Lauren Murray

Being the only person in a place so powerful, so beautiful,

and so vast, is a humbling experience that reminds you

just how insignificant you are, and just how rewarding (and

sometimes necessary) it can be to be alone.

Then, to be a photographer in a place so powerful, beautiful

and vast, is an opportunity for magic.

That's what solo overnight hiking trips are for me. They are

a way to recoup and restore my mental energy, as a vessel

in the continual spiritual awakening I found I had begun in

my late 20s, as well as being a space, my chosen space,

for which I can create more than I consume.

14//WHERE ACTIONS SPEAK LOUDER THAN WORDS/#227 ADVENTUREMAGAZINE.CO.NZ 15
---
"A friend recently asked me "what defines you"

and my answer was "my experiences and beliefs

define me, but they are always happening and

evolving. So, my definition is never complete".

The hike to Earnslaw Burn Glacier, what I

would pitch my tent under for the night, is

a 30km return, intermediate to advanced

level hike, starting within a short drive

from the Glenorchy township. Despite it

being easily accessible, it doesn't have

as much attention or awareness around

it as some other well-known tracks, such

as the Routeburn, which starts/finishes

close to the Earnslaw Burn trail. However,

that suited me just fine, and I knew the

added (or subtracted) factor of having

to camp as opposed to having a hut up

there waiting for me, made it that little bit

more unique.

I had my mind set on this location several

months before, ever since first seeing

an image of it in a fellow photographers

portfolio. It was to be the first solo

overnight hike (although it can be done

as a long day in and out mission) I had

embarked on and after several weeks

of carefully researching and buying the

lightest (to compensate for my heavy

camera equipment) hiking gear I could

source, I was well prepared and excited

to go.

It was a day, placed somewhere between

Christmas and New Years Eve, of

absolutely optimal conditions for an alpine

hike, however, that's not to say I didn't

have several slips or mis-footings along

the way which left my legs pretty scraped

and bruised up for a while after. Battle

scars I am always at peace with, but also

notes for consideration that it would be a

different scene in winter or wet conditions.

The lightly trafficked, and marked track

consists of two sections. The first section,

which makes up the majority of the track,

is a steady climb through bush, with

washed out, overgrown, and fallen tree

segments that will see you go off route

if you're not extra careful. I am a fairly

attentive hiker but on this section I still

went off track 2 or 3 times. Luckily, I was

quick to realise I had come off the trail,

and quick to find my bearings from there.

Any further engrossed in the podcast I

was listening to, and it could possibly

have turned into something a bit more

than a slight inconvenience!

This section took me 4 hours, and I felt

(and do, to be fair, think) I was flying

the whole way through. I was excited,

and I had started the ascent a little later

than you'd expect, so I was trying to

make sure I got there in time to set up

well before the sun went down. I also

struggled to enjoy this section of the

trail. 4 hours of native NZ bush which, is

beautiful no doubt, but something I am

very familiar with having grown up in New

Zealand, meant my appreciation for it was

a little light, and I wanted to get through

it as quickly as I could. That, or maybe I

am just conditioned for the extreme sights

that nature can give us, case of "the grass

is greener on the other side" perhaps,

and I knew my end location was going to

be breathtaking. However, as I write this,

the saying "it's about the journey, not the

destination" also comes to mind, and I

make a mental note to be more conscious

of that on the next adventure.

The second section of this trail starts

once you finally exit the bush. Coming

out into quite a large valley opening was

a relief, and straight away you see camp

spots designated for those who do not

want to trek their gear a further 1-2 hours

up the valley, seeing as the track is a no

exit anyway. I, however, had other ideas,

and although I was starting to feel the

exhaustion setting in, I was determined to

set up camp right next to the giant glacier

and waterfall that make Earnslaw Burn so

special.

The final stretch isn't marked so you have

to more or less guess what path to take.

You can't get lost, it is all open and there

is only one way in and out, however, I

ended up taking 2 freezing cold river

crossings that I realised on the way back

were unnecessary, but that, plus a little

extra time that it should be, were the only

inconveniences. Nevertheless, after a

small time in the valley you start to see

the glacier up ahead and it fuels you even

more. Trudging on until finally, up above

one last hill that blocked the waterfall

from view, I had reached my destination.

A wide scale opening with waterfalls

falling all around the enclosure, off the

glacier and into the valley. I picked my

spot - as close to the feature waterfall as

I could get without getting wet and set up

for the night.

After I had prepared my accommodation

for the evening it was getting close to

sunset. I got my photography gear, which

consisted of a tripod, DSLR camera, two

lenses, and a drone in order, and started

wandering and shooting, and ultimately

capturing what you see here.

Unfathomable to me, looking at these

photos, that it wasn't a dream. And

despite being there myself, waking up

at 5:30am the morning after to get more

golden light content, after a very cold

night that definitely reached freezing

temperatures even in the summer, in

that very tent next to the monster of

Earnslaw Burn, someone needs to pinch

me because, well, this place just can't be

real! I remember staring at the landscape

and feeling overwhelmed by its scale and

its beauty and knowing that the images I

had captured showcased that, with a hint

of magic.

A friend recently asked me "what

defines you" and my answer was "my

experiences and beliefs define me, but

they are always happening and evolving.

So, my definition is never complete". And

I think I'm okay with that. Okay with the

idea that I will never be defined or still or

complete because, it means I will always

have drive. And that drive will keep taking

me to place like this, capturing images

like these.

I go into the mountains and the bush

to escape. I battle the fatigue of the

hike to allow my energy and mind to

recuperate. Thoughts becomes decluttered

and clear, dreams vast, and

life is appreciated. In the mountains

I disconnect and disengage from

expectations, worries, and get to just be

insignificant, unimportant. I am reminded

that any struggle I might be facing at

any time is minuscule compared to the

expanse of my surroundings and that

allows me to just, be.

Follow Lauren's adventures:

@laurenkyliemurray

16//WHERE ACTIONS SPEAK LOUDER THAN WORDS/#227

Previous page: Lauren at the Earnslaw Burn Glacier

Right: If you look hard you can see Lauren's tiny little tent
---
Emilie's

adventure to

Angelus Hut

Words and images by Victoria Bruce

"My stomach was a mixture

of nerves and excitement

as I surveyed the vast open

space around us. I had

watched the Mountain Safety

Council's route video several

times, checked the latest

weather reports, spoken

to the DOC staff at the

Nelson Lakes Visitor Centre

and secured my personal

locator beacon, however I

knew nothing was certain

in this unpredictable alpine

environment."

"I want to be the leader!" Miss Six announced, pushing

TW past me in her determination to be in front. Momentarily

off balance with my heavy pack, I narrowly avoided

twisting an ankle on the sharp rocks and silently swore

while cracking a bright smile. "Good for you, sweetheart!" Better

to let her set the pace while the enthusiasm is still flowing

strong, I thought as I tightened the waist strap on my tramping

pack, pulled my neck warmer over my nose and followed her

along the ridgeline.

It was Boxing Day and we had just gained around 600 metres

elevation while slogging up the side of Pourangahau/Mount

Robert, on our way to Angelus Hut. Situated on the shores of a

small alpine tarn, the hut is perched some 1650 metres high on

the Travers Range between Lakes Rotoiti and Rotoroa in Nelson

Lakes National Park. Tramping blogs accurately describe the 3

km climb up the Pinchgut Track from the Mount Robert Carpark

as "unrelenting," and I would wholeheartedly agree, however my

company was cheerful and the views were spectacular.

We stopped for a quick snack and to catch our breath at the

Relax Shelter, adding windproof layers and sun protection to

shield us against the harsh sun and wind that we knew we'd

encounter on the nine kilometres of exposed ridgeline before we

dropped down to Lake Rotomaninitua/Lake Angelus.

My stomach was a mixture of nerves and excitement as a

surveyed the vast open space around us. I had watched

the Mountain Safety Council's video on the Robert Ridge

route several times, checked the latest weather reports, and

spoken to the DOC staff at the Nelson Lakes Visitor Centre,

however I knew nothing was certain in this unpredictable alpine

environment. The spring weather was restless and volatile and

I didn't want to get caught out on the tops with a six year old,

on day one of a multi-day tramp in Nelson Lakes National Park.

I tried to swallow my nerves and remain calm and confident,

assessing the risks and telling myself, you got this.

I lengthened my stride to catch up to Miss Six, who was enjoying

rock-hopping along the track, the sunlight glinting off her caramel

and golden curls. The western side of Mount Robert sloped

away steeply on one side of us, while tiny alpine tarns sparkled

on the eastern side a few hundred metres below. "It looks like a

mermaid's pool!" my daughter exclaimed, waving her tramping

pole. A tiny clump of bright green moss was a fairy's carpet. I love

seeing the magic of the world through her eyes.

Ahead of us shone the sun-bleached white rocks of the

ridgeline, a stark contrast to the darkness of the valleys on

either side. We watched as a patch of rain swept up one side

and disappeared over the mountain ranges. While only the

occasional wisp of cirrus cloud obscured the mostly blue sky

overhead, I had my eye on an ominous clump of low cloud that

was slowly emerging over the horizon.

"We're on top of the world now Mummy," my daughter told

me, squeezing my hand. "We can float on the clouds!" When

I'd first showed her photos of the hut on the DOC website,

nestled on the shores of Lake Angelus and surrounded by

rugged mountains, she had agreed that she also wanted to

visit "Angela's Hut". And here we were, on our summer school

holidays, 1400 metres in the clouds, the only two little humans

as far as our eyes could see.

I've been taking my daughter on tramps since she was born,

graduating from forest rambles with her snoozing in the front

pack, to longer tramps with her chattering away in the baby

carrier. When she was four and a half, we did our first overnight

tramp to the big and beautiful Woolshed Creek hut in the

Canterbury foothills, bathing in the creek, snuggling in bulky

borrowed sleeping bags, and waking in the night at the noise of

the wind blowing through the tussock grass to stare, wide-eyed,

at the vast night sky peppered with stars.

The Mother/daughter duo pose for a photo on the snow-covered Mount Cedric ridgeline on their descent from Angelus Hut

18//WHERE ACTIONS SPEAK LOUDER THAN WORDS/#227 ADVENTUREMAGAZINE.CO.NZ 19
---
I spent my own early years in Australia, a child of the raucous

Australian bush with its bright colours, intense heat and noisy

inhabitants. I was used to being accompanied by the hum of

cicadas, the crackle of a dead leave popping in the heat, the

low chuckle of a kookaburra or screech of a galah. It took me a

while to understand and feel at home amongst the muted pastel

palette of the New Zealand backcountry, but I was hooked. I've

noticed, as I grow older and busier, juggling a fast-paced job

with full-time single parenting and the upkeep of an old house

in the suburbs, that I crave the peace and solitude of the bush

and want to go further and deeper every time. I plan and look

forward to our tramps with a refreshingly energising childlike

excitement, often finding it hard to sleep the night before an

adventure. I longed for the moment when my mind grew calm,

my thoughts floating away like the clouds, my focus only on the

here and now.

Miss Six wanted to chat. "Mummy, tell me a story," she

demanded as we picked our way up a particularly rocky section

of ridgeline. I began a story about a family of rock goblins who

spent their days moving rocks around the mountaintops and

tidying up after storms. One day, Rosanna the rock goblin was

out with her brother and sister when a particularly nasty storm

swept over and blew them down the mountain. They sheltered

from the wind and snow in a kākāpō's burrow, making friends

with the mother bird and her chick. In the morning, when all was

calm, they dug their way out of the burrow and skipped across

the snow, checking that all the birds and animals were safe,

and gathering berries for the mummy kākāpō to eat. I'm sure

anyone with a science background will pick me up on numerous

factual inaccuracies, but we liked these stories of adventure

and caring for the environment and I have a repertoire of

characters up my sleeve for long walks like these.

However, it appeared that a nasty storm was heading our way

as well, as the large clump of low cloud was closer and darker,

and an icy wind had picked up, sapping any heat from the

shafts of sunlight that still shone in places.

We were dallying and I needed us to pick up the pace. Our

visibility was still good, but we had another couple of kilometres

to go. "Sweetheart, we need to walk faster if we are to beat the

storm," I told my daughter. "We can't be like Rosanna and hide

in a kākāpō's hole."

"I AM walking fast," she grumbled, a little purple and navy blue

poppet, 115 centimetres high, all rugged up in her cold weather

clothes. "You are doing a fabulous job, so keep it up," I said,

"and when we get to the hut, we'll put the fire on, have a hot

chocolate and play with your cards. Come on, let's go."

A speck of frozen water dusted my cheek and within minutes, a

tiny piece of snow fluttered onto the rocks around us. Sucking

on barley sugars, we looked behind to see the sun still shining

a few hundred metres down the track. The bulk of the cloud

seemed to be blowing to the west of us, deeper into the national

park and we were on its periphery, sprinkled with fluttering

hailstones as gentle as snow. At this stage, we just had to pull

the rain hoods over our beanies and hustle on, taking care to

navigate the rough terrain with our tired legs.

The Robert Ridge gradually climbs to the 1690m high Flagtop,

then dips, then climbs again to the Julius Summit at 1794m,

making you think that the end might be just over the next

peak. We'd experienced a few of these anti-climaxes before

the familiar dark green and yellow DOC sign appeared up

ahead, marking the junction of the Speargrass Creek Track and

informing us that it was only another 30 minutes to Angelus Hut.

Visibility was dropping and the snowflakes blew in with the

wind as we climbed down towards Lake Rotomaninitua/Lake

Angelus, our eyes fixed on the sturdy wooden hut with its twin

outhouses. Remarkably, we hadn't seen another soul on our

entire trip, and it was very nice to unlace our boots, stagger

inside and meet the friendly hut warden.

By the time we'd brewed a pot of hot chocolate and set

ourselves up at a table by the window, the snow was swirling

thick and fast, hitting the glass and settling on the decks and

grounds around the hut.

Snow was still on the ground the next morning when we set off

along the Mount Cedric track, leaving crunchy white footprints

through the tussock grass, stopping frequently to make

snowmen and marvel at the expansive views all around us.

Many hours later, we finished sliding down the side of Mount

Cedric, staggering out of the beech forest and onto the shores

of Lake Rotoroa, arriving at the cosy Sabine Hut. Our time on

the tops was over, but we'd left a little bit of our souls up there,

and gained some wonderful memories.

E N G I N E E R E D I N

/

D O L O M I T E S

T H E

Emilie Bruce, six years old, about to tackle the mighty Robert Ridge on the way to Angelus Hut

20//WHERE ACTIONS SPEAK LOUDER THAN WORDS/#227

BOBO.CO.NZ/SALEWA
---
Keala

Kennelly

owns

Red Bull

Magnitude

By Jon Coen

The North Shore season of 1957 is recognized

in the surfing world as the start of an era.

When Greg Noll, a young Mickey Munoz

and company went out and rode Waimea for

the first time, it was a glimpse of what could

be in the world of big-wave surfing. More

than 60 years later, the winter of 2020-2021

will likely be looked at in the same manner

as that fateful season of '57. Thanks to an

unlikely juxtaposition of health regulations that

made live events impossible, a raging North

Pacific and two dozen women who took part

in Red Bull Magnitude, barriers were kicked

down, and this winter changed the outlook of

women's big-wave forever.

Keala Kennelly surfs during Red Bull Magnitude

on Outer Reef, Oahu, HI, USA

Image by Christa Funk / Red Bull Content Pool

ADVENTUREMAGAZINE.CO.NZ 23
---
"Magnitude was

a great concept

that gave women

a platform and

the much lacking

resources we

needed."

"This year was definitely a milestone," stated Kennelly,

the 42-year-old pro-surfing veteran and winner of 2021

Red Bull Magnitude. The Kauai native surfed the World

Championship Tour for a decade, dominating the heavy

waves like Tahiti's Teahupo'o, before leaving the tour to

chase giant swells.

Kennelly took home the Overall Winner and Biggest

Wave Awards (the latter for a bomb she caught on an

Oahu outer reef), while Makani Adric was awarded

Runner-Up and Emi Erickson was given the Best Ride

Award for one of her many daring drops at Waimea Bay.

"It wasn't solely because you had one of the biggest

XXL swells of the decade [that made this year special],

but also because Red Bull put on a specialty female

big-wave event. Magnitude was a great concept that

gave women a platform and the much lacking resources

we needed," Kennelly continued. "Having filmers and

a jet ski safety team dedicated to us every time the

contest would activate, gave women big-wave surfers

the opportunity to push their limits with more confidence

and then have video footage, not only to use to boost

our profiles but also to review and learn from."

"Red Bull Queen of the Bay put together the first allwomen's

big-wave surf contest at Waimea Bay. That's

where women supporting other women came into play,"

said the North Shore's 24-year-old Makani Adric, who

took home the event Runner-Up Award for the first-ever

Red Bull Magnitude.

And, with the women charging in truly XXL conditions,

the event judges had to understand the consequences

of these waves. "Banzai" Betty Depolito, celebrated bigwave

surfer/spearfisherman Mark Healey, former tour

surfer/three-time Surfer Poll-winner Rochelle Ballard,

and superstar waterman/two-time Red Bull Big Wave

Awards Overall Performance Award winner, Kai Lenny

answered the call. The star-studded judges panel

studied each wave submitted and voted on the winners

of four event awards: the Overall Winner Award, the

Runner-Up Award, the Best Ride Award, and the

Biggest Wave Award.

"Women's big-wave surfing has seen this slow growth,

but this year it was a huge jump," observes Healey. "I

think this year was a catalyst—having safety crews and

filmers able to mobilize when those swells hit. It was

a breakthrough year, specifically with the amount of

different women at so many of these breaks."

Adric, who is among the leaders of the new generation

of big-wave surfers, sees this as just the start of the

momentum swing.

"When it comes to surfing and women supporting each

other, it makes me happy seeing other girls rooting

for one another. When I see other girls out surfing or

trying their best doing what they love to do, it definitely

inspires me to keep pushing forward and paving the

way for the younger generations," says Adric. "This year

has absolutely been a milestone."

24//WHERE ACTIONS SPEAK LOUDER THAN WORDS/#227

Makani Adric surfs during Red Bull Magnitude at Waimea

Bay, Oahu, HI, USA.

Image by Christa Funk / Red Bull Content Pool
---
Caitlin Fielder

Ultra-marathon runner & artist

Caitlin Fielder has spent most of her life doing some form of activity.

She grew up in the mountain biking capital of New Zealand, Rotorua,

before moving to Mount Maunganui to completer her Bachelor of

Science, majoring in Biological sciences, drawn by the hands-on

approach and the chance to scuba dive as part of her degree.

Growing up she enjoyed playing soccer, netball, waterpolo and boxing.

By her own admission "I wouldn't say I was particularly good at it,

in no way was I bad, I was fit, but probably never showed the 110%

commitment necessary to go the extra mile." That was until she found

ultra-marathon running. After reading Lisa Tamati's ultra-running book,

something seemed to resonate with Caitlin and in 2016 she entered

her first 50km ultra event, the Old Ghost Ultra. To say this was a

learning experience would be an understatement, but it's also what got

her hooked into the sport.

The same year she met her partner, George, a cyclist, and they moved

to Spain for the season. Caitlin also always had a passion for art, so

she came up with the idea of painting George a shoe for his birthday,

which he wore during the Tour de France, and from there her shoe art

began. We caught up with Caitlin for a chat about her life…

I can't say I enjoy even a 5km

run, so can't imagine what

it's like to run over 50km. Can

you tell us a little about ultrarunning;

what is it about it that

you enjoy? Is it the challenge?

The environment? The sense

of achievement? Or do you

get some super endorphin

rush? I mean I probably wouldn't

recommend going straight from

a 5km run then heading into an

ultra! It's definitely something you

work into and spend a lot of time

getting your body prepared and

ready for. But also just because

I spend a lot of time running it

doesn't mean I don't also get

those feelings during my trainings

where I want to stop and just

don't feel great! I love that every

run is so different, both in terms

of the environment and also how

I'm feeling. Trail running means

it's so hard to compare different

trails as well, it's not like you

can become obsessed with your

average pace and splits because

it's just not relevant between

different runs. Shorter races don't

really suit me as much so I guess

that's why I tend towards the

longer ones where you can warm

into them a bit. I think nowadays

we're almost used to taking short

cuts with everything and I guess

a lot of things being easy, but it's

the challenge of pushing yourself

further and harder that appeals to

me. It's being uncomfortable and

being able to sit with that I guess.

How do you train/prepare for a

50km plus run and how does

your body react post run?

Yeah, a lot of work goes into it! It

depends a lot on what the race

is that youre preparing for. For

example the Tarawera ultra is a

relatively fast course that you can

hold quite a fast constant speed

for, so it's more about being

comfortable at holding a speed

for a long amount of time. Other

european 50ks for example OCC

(which is a race at UTMB) has a

lot of climbing in it which means

it's more important to train hills

and get that different strength

there. Post run depends as well,

I've had 50k races where I've

felt pretty good afterwards, and

I've also had 20km races where

I've been completely stuffed

afterwards. Depends on the effort

and what the course is like!

Caitlin running the Golden Trail World Series in Chamonix

Image by Martina Valmassoi

26//WHERE ACTIONS SPEAK LOUDER THAN WORDS/#227
---
" I think people really like the idea of having

something that no one else has in the world,

which I can understand. I guess its something

people are incredibly passionate about anyway,

and then they get artwork which they can wear

while they're doing something they love."

You obviously over-prepared for your

first ultra-run and have obviously cut

back on supplies since then. Can you

tell us about what you take with you

now and what you consider when

choosing what to take? I brought a lot of

stuff with me on that first ultra at the Old

Ghost road, I had packed a lot of food. I

think it helps a lot to go off what time you

expect to be finishing in, then the amount

of calories and carbs that you want to be

consuming for that time. So, in general I

like to have something every 30mins when

I'm racing, not including drinking mix. So

would calculate it from there! In general

on races around 4:30 or less I'd just have

gels and drink mix.

After the China ultra-marathon event

that saw 21 runners killed, China has

banned ultramarathon events. Is there

anything you think that could have

been done differently to have saved

the lives of the people running? Is

there anything they could have carried

that would have saved their lives or

is extreme weather something that

you just cannot prepare for? That

was a huge tragedy and it's incredibly

sad to see how they have now cancelled

ultramarathons in China. I guess it

surprised me that some people were

racing the ultra in cotton t shirts and there

wasn't a compulsory gear list that was

mandatory to take on the course. Every

ultra I have done has had mandatory gear

to take on the course, no gear means

no race which is something I completely

agree with. I live in Andorra so spend a

lot of time in the mountains at altitude

when training, and the weather can

change very quickly without warning. I

always take extra gear with me running

in the mountains and run with a PLB

28//WHERE ACTIONS SPEAK LOUDER THAN WORDS/#227

(personal locator beacon) to be prepared

for the weather changing and worst case

scenarios. Organisers always need to be

prepared for the worst case scenarios

and plan accordingly. I think it would be

easy entering a race and seeing that there

wasn't any compulsory gear it could make

people complacent, with more trust in the

organisers and event management. You're

basically putting your life in someone

elses hands for an event like that. It's

not the first tragedy to occur during an

ultra marathon event and I hope its not

the last. There have been situations like

this but with bush fires etc. Just horrible

circumstances that need to be learnt from

and mitigated by preparing and planning

for worst case.

What have been your most interesting/

scenic/challenging/beautiful/rewarding/

memorable runs you have taken part in

and what is it that has made it so? I've

been lucky enough to have run and raced

all over the world. I think the Old Ghost

Road ultra on the west coast of NZ is still

one of the most spectacular races I've

done. Racing in Europe is very different as

well though, the mountains you encounter

over here are insane and along with them

comes the spectacular views. There are

also massive crowds and supporters over

here, it's a wicked environment to be in.

As well running ultramarathons, you

are also a talented artist. Art covers a

large array of mediums, can you tell us

a bit about your art passion? Thanks

haha! I always feel a bit awkward when

I say I'm an artist actually, feel a bit of

imposter syndrome! But it's a perfect job

for me and helps me balance work with

my running. It's interesting when I say I'm

an artist a lot of people say they can't do

art, but I think art covers so much more

than the detailed fine art paintings people

think of. For me I really love hyper-realistic

art work, for me it just shows so much skill

and attention to detail. I can't really create

stuff just from memory, or make stuff up.

Not at the moment anyway, I think I would

need to work on that. At the moment I'm

more of a paint off a picture type artist. I

initially started thinking I would be doing

animal portraits and then somehow

after painting some shoes for George it

morphed into a custom shoe business.

You have created quite a niche for

yourself with your shoe artwork. Why

do you think there is such a demand

for unique one-off shoe designs? I

honestly dont really know. I think people

really like the idea of having something

that no one else has in the world, which

I can understand. I guess its something

people are incredibly passionate about

anyway, and then they get artwork

which they can wear while they're doing

something they love.

Most of the shoes I have seen have

been bike shoes of some sort. Have

you thought of branching into other

areas of sports shoe or even street

shoe design? What's the limitations?

Challenges? Yeah I've done over 400

pairs of road cycling shoes now which is

insane. I have also done a few running

shoes and street shoes. I think street

shoes are probably the best shoes

to paint, because you're not worried

someones going to go hurtling down a hill

and biff it wearing them haha. Most of the

challenge would be finding the time to do

all the work! At the moment I have a 4-5

month waiting list which is slowly getting

longer, I need more hands.

C

M

Y

CM

MY

CY

CMY

K

MEET THE

www.hokaoneone.co.nz

ZINAL

FLY ON THE TRAILS
---
Adversity

at Altitude

By Tselane Mead

The wind and snow is whipping at my face. I've

readjusted the stiff frozen fleece buff around my

neck and mouth, desperately trying to protect

myself from the -20 degree bitter wind. Adrenaline

is still pumping through my body but I know I'll

start to get cold soon. As I strain my eyes a little,

I can barely make out the outline of the cable car

station about 200 meters away through the thick

snow storm.

I am at 3,900 metres on the mountain. The

weather set in quickly and it is the end of the ski

day at Saas Fee in Switzerland. Precisely the time

when most accidents in the mountains happen.

The last cable car to the bottom of the mountain is

in 10 minutes.

I trudge back up through the snow to the

casualty. Through the thick grey, I see a small,

crumpled figure being covered every second by

the relentless heavy downfall. The child's leg is

broken. He is slipping into shock, growing pale,

cold, and unconscious.

My mind is fogged for a moment as I think back on

the unsettling comment from a skier that morning

as I was getting out of the cable car. "I love this

colour," he said, while touching my cheek. "You're

the only one of you out here".

I probably was. The whole year I'd been living and

working in the French and Swiss Alps I'd seen one

other black person out ski mountaineering. It was

a hilarious moment in itself: me trudging uphill and

him whizzing downhill, both of us waving frantically

at each other, clearly ecstatic to see one another.

This moment in the cable car, when I was petted

like an exotic beast, felt patronising and threw me

off kilter, stealing my confidence.

30//WHERE ACTIONS SPEAK LOUDER THAN WORDS/#227 ADVENTUREMAGAZINE.CO.NZ 31
---
" In the last few years, I rediscovered the majesty of the

outdoors. Ironically, it was when I was living in a big city

when I began climbing. In the inner city bouldering gyms, I

developed a taste for bigger adventures and, spending every

penny I earnt from my wage as an emergency nurse, began

travelling to the Alps and finding new opportunities."

My teammate, Ed, has marked the

incident area with upright skis. The

injured boy is just 13-years-old. He'd

failed to spot a small hump of snow in

the whiteout and fallen awkwardly whilst

skiing, twisting his leg.

Having called SOS for a helicopter or

a sled to rescue the child, we are now

waiting for them to arrive. That was 25

minutes ago.

The terrifying thought of this child

freezing to death crosses my mind as I

plan what to do next. I wonder if I'm cut

out for this. Maybe there's a reason why

there aren't more black and minority

ethnic women working in environments

like this. I tighten my hood around my

ski goggles and try to quieten my mind.

I think about all the reasons that qualify

me to be more than capable in this

environment, and give myself a mental

slap around my face.

I am a nurse, trained in emergency and

mountain medicine. In my seasonal job,

I help run ski programmes in the Alps

for international schoolchildren. I take

groups out in the mountains, instructing

them along the way. I'm responsible for

their wellbeing back at the communal

chalet, and I run a clinic in the mornings

and evenings ensuring the children are

healthy and well. I also manage any

minor injuries and liaise with the local

doctor or worried parents back home.

And so when anyone is injured on the

mountain, I am often first on scene.

And whilst the Alps are my favourite

place in the world, the mountains can

also be terrifying when bad weather sets

in. Get complacent out here, and it can

kill you. But it's rare that I experience

complacency out here.

That's because, as a woman who is

mixed race, I have found many barriers

to overcome to truly feel a sense of

belonging to a particular country or

place. This is sometimes heightened

when I'm in the outdoor industry and

environments. The mountaineering

scene is very white male dominated.

Even more so within the mountain

medicine scene. These spaces can

be tough and competitive, and even

sometimes misogynistic.

Not everyone can be welcoming or

accepting. I've had unkind looks and

comments about my skin tone. I've

had people marvel at seeing a person

with 'Afro' hair on the ski slopes, or at

the climbing crag. Some even think it's

alright to try and touch my face or hair

without asking.

Thanks to my upbringing, I am a

resilient person. Born of a black South

African father and a white British

mother, all my family that I know of,

except me, are white. Growing up in

close proximity to the Peak District, my

mum would always take me walking

on the moors, or bivvying in secret

valleys as a child. We would forage for

bilberries on warm summer evenings

and wild swim in quiet plunge pools.

So I grew up happy and confident in the

outdoors. My gender or race wasn't ever

an issue when I was out in nature with

my mum. Mum's resourcefulness and

passion in wild spaces is something I

would eventually inherit.

But it took a long time. As I grew older I

stopped enjoying being outdoors, I felt

disconnected with the environment. Hill

walking became boring, it lacked people

my age and culture. I got into a trap of

working long hours and partying long

nights. I was not living a life that made

me feel alive.

In the last few years, I rediscovered

the majesty of the outdoors. Ironically,

it was when I was living in a big city

when I began climbing. In the inner city

bouldering gyms, I developed a taste

for bigger adventures and, spending

every penny I earnt from my wage as an

emergency nurse, began travelling to

the Alps and finding new opportunities.

I learnt how to be playful in nature once

again. Within a year I'd learnt to climb

huge rock faces, and to ski. I even

gained an instructor qualification. It was

time to develop myself in the mountain

medicine field.

There are many challenges of

working autonomously in a mountain

environment when first on scene, such

as having to make a call on the best

course of action and being confident in

my own decision-making process. In

these instances I have to throw aside

any issues with confidence concerning

gender and race.

As vital minutes pass on the mountain, I

call SOS again. Due to the bad weather

they are struggling to get to us. The time

is ticking away. The child is becoming

drowsier by the second.

The most important thing right now is

to keep him warm and alert. Ed ends

up cuddling next to the child to protect

him from the elements, and we wrap

him in spare layers and an emergency

blanket. I use the hard backing from my

backpack to try my best to immobilise

the leg to create some comfort for the

boy.

We are so close to some shelter. But

the child is too heavy, the snow too

deep, and he's in too much pain for us

to lift him. We devise a plan to use the

emergency blankets and ski poles to

build a makeshift sled to slide him to

safety.

I begin to open our bags and rifle

through items, trying to plan our escape.

At altitude, and stomping through thick

snow, I'm gasping for breath. But I'm

determined to get the three of us to

safety.

Being a rarity in these environments

is hard at times, but also a privilege.

I have been blessed having a mother

who instilled confidence in me, but

many women don't have this.

Therefore I feel a responsibility to be

prepared and welcoming, a role model

to those who can't imagine themselves

in these spaces. I'm happy to open

up conversations with people who

Previous Page: Aiguille du Midi decent.

Right: Sport climbing in Vlychada, Greece. Photo: Nick Arthur

32//WHERE ACTIONS SPEAK LOUDER THAN WORDS/#227
---
we ARE climbing

" Whilst the outdoor industry has a great role to play in

reaching minorities and being more inviting to a wider

audience, the mountaineering community also has a

responsibility to pick up the mantle, for the important work

of building women up."

are intrigued by me. But I can't help

thinking about those in my community

who might find this behaviour off

putting, who perhaps have never

had hard weathering of the outdoors

or confidence passed down from

generation to generation. Who may

decide they feel too uncomfortable in

these environments to persevere.

Whilst the outdoor industry has

a great role to play in reaching

minorities and being more inviting to

a wider audience, the mountaineering

community also has a responsibility to

pick up the mantle, for the important

work of building women up.

My current projects are now with

women's clubs that do exactly

that. Such as the Black Girls Hike

organisation, which provides a safe

space for women exploring their first

entry point into the outdoors. This

in turn may springboard into bigger

adventures like with the Women's

Alpine Adventure Club, where women

can share skills and gain confidence

in activities like climbing, skiing and

mountaineering, no matter what their

starting point.

Although I have been unable to get

to the Alps this winter due to travel

restrictions, I have had the privilege

of opening up conversations about

diversity and inclusion in mountain

environments. I have run talks and

provided resources for ski and

mountaineering club members and

guides.

When I'm asked about the topic of

race and equality, I am faced with a

deep questioning. It's a delicate topic.

Greater disparity can occur when

everyone is treated 'equally' so I have

opted to take the stance that we can

instead be equitable. As an outdoor

community we can foster an inclusive

environment by normalising equitable

practices.

Times are changing and I have hope

that with certain grassroots projects

women are given an opportunity to

share skills, lead each other, and thrive

in wild spaces. I wonder how long it will

take for the outdoor industry to catch

up. How long it will be until I encounter

another black woman in a critical role

like mine.

Gran Paradiso

I hear a muffled whirr of something

in the distance and my heart rises

with relief as we see a skidoo with a

sled arriving through the dense grey.

Thankful for backup and emergency

supplies, I shuffle through the kneedeep

snow to wave at the SOS team,

desperate that they don't miss us.

They arrive, and I hurriedly help to

unpack the sled and shout through the

intense weather to tell the crew what's

happened.

Within what feels like a few moments,

the child is assessed, wrapped up,

given pain relief and taken down the

mountain to hospital. We watch as he

is sped away into the thickening grey

of the mountain.

The biting cold has now numbed my

fingers as I prepare my skis for the

long cold journey back to the village.

As I make my descent, I consider the

next challenges that these mountains

will bring.

To read more about Tselane's

experiences as a mountain nurse,

head to DiscoverInteresting.com

Karl Merry Schimanski

"Under Pressure" (M8)

Remarkables, Queenstown

Photo: Tom Hoyle

For over thirty years Bivouac Outdoor has been proudly 100% New Zealand owned and committed to providing

you with the best outdoor clothing and equipment available in the world. It is the same gear we literally stake our

lives on, because we are committed to adventure and we ARE climbing.

Supporting Aotearoa's Backcountry Heritage

STORES NATIONWIDE

www.bivouac.co.nz

34//WHERE ACTIONS SPEAK LOUDER THAN WORDS/#227
---
Cloud Ladder

A few years ago, before Covid-19 put a hold to everyone's

travel plans, we visited Estes Park in Colorado. It was here that

we experienced Via Ferrata for the first time. It allowed us to

experience the thirll and excitement that only a dedicated rock

climber, with years of experience, would feel.

So when legendary climber Harry Kent, announced the

completion of Cloud Ladder, the steepest and most vertical Via

Ferrata route in the US, we were pretty excited about the news.

Located less than hour and a half drive from Denver, at the

footstep of Rocky Mountain National Park, the new route is part

of The Alpine Jewel, a private adventure destination. The new

route compliments the highly-acclaimed, original Estes Park

Via Ferrata route called, Peregrine Ridge (est. 2017), which

appeals to beginner and intermediate climbers.

Cloud Ladder provides 625 ft. of vertical climbing, breathtaking

exposure, and two headwall sections that culminate in a summit

at 9,250 ft that boasts some of the most stunning panoramic

views of Rocky Mountain National Park in the region. The new

route also includes two new, 40-foot, custom-made, suspension

bridges, which span a 300 ft. deep ravine, opening on July 21st.

"This new Via Ferrata is the result of 40 years of climbing

passion and philosophy," said Kent. "While there are many

incredible Via Ferratas in the US, I wanted to create an

experience that rivaled the thrill of actual rock climbing, but

without the need for extensive training and gear. With this route,

we've set a new bar for what's possible on a Via Ferrata."

Italian for "iron way," Via Ferratas provide an accessible way

for people to ascend rock walls using fixed iron cables, steel

steps, bridges, and ladders. Via Ferratas were first utilized in

World War I and World War II as a tool to help troops traverse

the treacherous peaks of the Alps and Dolomites. In the 1970's

and 80's, local climbing clubs across Europe and America

began restoring original routes and constructing new routes as

an exciting new form of climbing recreation.

Fashioned on a ski resort rating scale, routes at The Alpine

Jewel range from green to double black diamond, offering

a variety of guided experiences that are ideal for beginners,

families, and corporate groups as well as seasoned climbers

and adventure seekers. The Cloud Ladder route is designed to

appeal to more advanced climbers, while beginners and firsttime

climbers can continue to enjoy the original Peregrine Ridge

route.

Harry Kent and his climbing partner of 50-years, Keith Lober,

lead the design and construction of the Via Ferratas. Together,

they were the first Americans to make a winter ascent of the

North Face of the Eiger, one of the most challenging climbs in

Europe. Their accomplishments also include some of the most

difficult routes in Yosemite, the Andes, the Alps, and Himalayas.

Kent has owned and operated Kent Mountain Adventure Center

in Estes Park for over three decades. Lober's background

includes 25 years as Chief of Emergency Services in Yosemite

National Park, where he managed the famous Yosemite Search

and Rescue Technical Rescue team (YOSAR).

"The Via Ferrata design is as much an artform as it is a

technical achievement," said Kent. "Each step, handhold,

ladder, and bridge has been placed with millimeter precision, to

create a unique choreographed dance across the rock face. We

can't wait to share it with the world."

The Alpine Jewel is a guided-only experience, exclusively

operated by Kent Mountain Adventure Center. Customers can

choose from a half day or full day price starting at $219 per

person for groups of two or more. Individuals can learn more

about Via Ferratas and sign-up for their adventure at

www.thealpinejewel.com.

36//WHERE ACTIONS SPEAK LOUDER THAN WORDS/#227
---
generally craving a feeling of space and peace when it felt

the world was going mad. I think it also helped that I was

staying high on a hill with Taranaki Maunga at the end of

my road. It felt like I could literally walk up my road and

onto the mountain, and just keep going if I wanted to. As

my parents' flight had been cancelled and they were stuck

here for a prolonged stay as I tried to work from home,

there may have been more behind that yearning than I

want to fully examine, but I digress.

I obviously didn't go taking up a new hobby during

lockdown, because I wouldn't want to disappoint Auntie

Cindy, but we did regular bushwalks on the property

we were at, and walked up the road spotting kingfisher,

fantails and yellow eyes, as well as Tui and Kereru. When

we were able to I went and invested in some hiking boots.

It's amazing the spare money I had when I stopped having

takeaways and coffees on the regular.

The Meaning of Tramping

Words and images by Charlie Ellis (Charlotte)

TW

An early start and hard work made worth it for this beautiful frosty sunrise over the Pouakai tarns

What does tramping mean to you?

To me, tramping, walking,

hiking, rambling, 'mum walks',

whichever words you choose for a life

outdoors, they have not always been

comfortably in my lexicon. Probably

due in no small part to that last one –

'mum walks'. Understandably that won't

translate to many people, actually I'd be

very surprised if anyone outside of my

immediate family gets it and if they do, I'd

love to hear from them. 'Mum walks' are

the name given by me and my two siblings

to the seemingly endless and directionless

rambles (tramps) my Mum would take us

on as a family when we were younger. We

would be on a caravanning holiday on the

coast or somewhere in the countryside

near a campsite that offered electricity

and nightly bingo, and Mum would declare

we were going "On A Walk". Just as a

side note, it is a regular form of hilarity

that my Mum has a Geography degree,

as she would sometimes struggle to find

the right side of a map. Consequently,

these walks often felt long, and not quite

circular enough, with a forced air of 'we

are enjoying the outdoors'. Also, it was

England, in summer, so drizzle, mist, rain,

thunderstorms and a biting wind were a

regular feature.

So, although I have enjoyed exploring

various parts of the world, and would seek

out various walks, botanical gardens and

generally getting into nature whenever I

could, I never saw myself as a tramper or

hiker because I tended to associate that

with dreariness and aching legs.

This changed a lot on moving to

New Zealand and exploring what this

amazing country has to offer. I went to

Abel Tasman, spent a lot of time in the

Marlborough Sounds and got myself

invited to the HOT ladies group there

(Hiking on Tuesdays with a lovely group of

retired ladies, what were you thinking??). I

had explored some of the trails in my new

hometown and when my parents came to

visit last year I dragged them all over the

place. We did suspension bridges, goblin

forests, river (stream) crossings and some

rock hopping (gingerly stepping). It was a

sneaky exercise but my dad left here the

fittest he's been in about a decade, if not

more.

The relief and joy of accomplishing a

mother/daughter tramp of the Pouakai

Crossing. Making cherished memories.

One of the best walks I have done,

however, was with my Mum. It was before

they were due to go home, and we had

decided to do the Pouakai Crossing

in Taranaki. It's a day walk from North

Egmont Visitor Centre to Mangorei Road.

When I say we, I don't include my dad.

Although he was now more fit than he had

been in a long time, he was definitely more

on the support crew side of this one and

would be dropping us off at North Egmont

and picking us up at Mangorei Road. He

was devastated to be left behind with

only a log fire, coffee and a good book

to entertain himself…It was quite simply

a brilliant experience. It took us 9 hours,

and my Mum never wanted to see another

step again, but it was an experience we

will both remember and cherish from that

trip. It was a challenge we were taking on

together, and we looked after each other

the whole way. I remember feeling so

proud of my Mum, scrambling up rocks,

facing the steps, realising it was tougher

than expected but we were 4 hours in

and 4 hours to go so we may as well

push on as go back. There was definitely

a mental strength needed that day that

neither of us expected. But the payoff was

worth it. Doing the top route across to the

Holly Hut, then across the Ahukawakawa

Swamp and up the Pouakais, meant we

could then track where we'd been as this

thin line all the way across the mountain

from the Tarns. To get that visual feedback

of what we'd achieved made it all the more

special and gave us the boost we needed

to face the long steps down to our lift

home and coffee. Ok, you got me, glass

of wine.

But it wasn't until lockdown last year that

something lit the pilot light under the idea

of 'getting outdoors'. It must have been

a combination of things – feeling a bit

trapped in the house initially, but which

incidentally I ended up loving; feeling there

should be this global awakening and we

needed to get back to basics (but you

know, still with smartphones), and just

Shortly after going back into work, I went with one of my

friends up to the Pouakai Tarns. The aim was to walk up

in the dark and get there for sunrise. I had a newly bought

headtorch, a heavy fleece and coat, and a distorted view

of my fitness. I didn't want to be the reason we missed

the sunrise, as my friend was so much fitter than me, so

I pushed the pace way too hard in the first place, and

ended up feeling like I might actually throw up on the

track. Embarrassment is a strong motivator however, and

I managed to keep it under control. My friend encouraged

me all the way and I believe it made our friendship even

stronger. The pay off at the top was certainly incredible.

We made porridge, and had coffee, and watched the

sunlight hit the mountain and turn it purple, and gray and

green. It felt like an absolute privilege to be there.

After that trip I realised I needed to make sure I went at

a comfortable pace, and get rid of the heavy fleece. I

invested in a down jacket and it's just the best thing in

my whole kit. From sitting with a G &T gazing at where

a mountain should be (damn your moods Taranaki), to

sleeping outdoors watching shooting stars, to being stood

at the bitingly cold and windy midpoint of the Tongoriro

Crossing waiting for the group to get back together, to

shedding a couple of relieved and happy tears at the

Summit of Taranaki, that jacket has kept this perpetually

cold urchin nice and toasty.

I'm part of a female tramping group where I think I've

managed only two walks with them, but the sense of

community and inclusion doesn't waver. Where the 'sorry,

count me in next time's don't get counted, and we share

photos and advice, and encouragement as everyone is at

different levels of experience.

I think perhaps that's part of the feeling I am chasing

when I go tramping now. The sense of achievement, the

space and love of being in nature. I feel like you could

often imagine yourself in a whole other world. Somewhere

before time, or out of time, a mini escape route, or a

recharging station. There are tramps when I wander,

looking at almost every tree and mushroom. And tramps

where I push myself, feel my lungs burning and my legs

aching, rock hopping and taking an icy cold dip on a hot

sunny day.

For me, tramping is freedom, those sore legs and a full

soul. It's the space to breathe, to rely on myself. To let

my mind slow down and do some processing, or to get

creative with only the distraction of stunning scenery and

finding the tui or kereru I can hear. It's brought new friends

and people into my life I didn't imagine I needed, and

experiences I will never forget.

38//WHERE ACTIONS SPEAK LOUDER THAN WORDS/#227
---
Nancy Jiang

Breaking stereotypes

I recently watched a youtube movie entitled, "Her Way"

(check it out on the Adventure Website) which introduced

a woman who had an overwhelming passion for running.

The preface at the bottom of the clip, read as follows:

"Chinese-born Nancy Jiang moved with her family from

Ma'an Shan to Auckland, New Zealand when she was

five. She studied structural engineering and today is the

only female engineer in her firm. Small in stature and

needing to prove herself in the workplace, she found her

release through a love of trail running in the mountains

above Queenstown, despite having been told as a kid that

"Chinese people do not run."

Inspired by not only her passion for running but also her

determination to smash down stereotypes, we reached out

to Nancy and this was her reply…

Crown peak saddle - summer on one side, winter on the other. Autumn makes for spectacular views on the mountain hills. I used the climb

from bracken saddle up to crown peak for a lot of my hill workouts, almost 1000m of vertical gain over 5km, it's a tough grind to the summit.

40//WHERE ACTIONS SPEAK LOUDER THAN WORDS/#227 ADVENTUREMAGAZINE.CO.NZ 41
---
I immediately think back to my run into work this morning

when I read your email. It was pissing down with rain,

pitch black at 6am in the morning and probably around 3-4

degrees in Nelson (I have recently moved to Nelson) and I

had planned this new route the night before which will take

me to work via over the hills. And heck I was not going to let

a bit of rain stop me.

So I set off in the dark, excited to run this route for the first

time and also try out my new head torch. 5 mins in, my head

torch starts flashing - damit new electronic gear always

comes with almost empty batteries. Anyway I continue, I

figured I will deal with my torch on dim mode and if it dies,

I can use my phone and eventually the sun will come up. I

begin the climb up the 4wd forestry road and suddenly I hear

this great cracking crashing noise below me. A giant pine

tree had just fallen over, probably due to the crazy amount of

rain we have had. What are the chances of a tree falling on

me...? Anyway, 2 and a half hours later I make it into work

looking like a drowned rat but so stoked and satisfied that I

did the run I had planned.

I love taking a scenic route into work, I mean if I have to

sit at a desk and stare at a computer screen for 8 hours I

might as well get my nature outdoor fix in prior. I believe

that people are not born to stay

sedentary and I get fidgety if I

do not manage to fit in a run or

bike or strength conditioning

session in beforehand. Being

outside in nature calms my

mind and recharges me for the

hectic noisey lifestyle we live

in. I actually think I am more

efficient at work too afterwards

(not confirmed yet with the boss).

When I lived in Arthurs Point, I

would run the moonlight track

and over Ben Lomond Saddle

into work in town. Those sunrises

made my day and make me feel

alive.

"Being outside in

nature calms my

mind and recharges

me for the hectic

noisey lifestyle we

live in. I actually

think I am more

efficient at work

too afterwards (not

confirmed yet with

the boss).

Going back to my starting story, I have always been very

stubborn. Not on everything, just when I decide that I am

going to do something then I become super head strong

about following it through. I remember as a kid I really

struggled with being told no I am not allowed to do something

that I wanted to do. I did well at school, always completed

my homework, learnt long division and fractions by the time

I was 7 but could not understand why all my friends could

stay out late, go to the movies but I was not allowed. When I

was 14 I was selected to represent Auckland in the NZ road

champs, My parents would not let me go. OMG the fight that

I put up for the whole week. Eventually they let me and we

podiumed. But I remember the girls on the team looking at

me judgeling. Maybe it was because I was the only non-white

person out of the entire Auckland team, or because I was the

only Asian at Nationals, or because the clothing I wore was a

little poor. Which it was.

My parents did not migrate to NZ because they were sitting

on a pot of money in China. They sold everything to be able

to come to NZ. We lived in a state house in Glen Innes for

the first year with another family. I remember playing with the

neighbours kids, they followed me home at dinner time. Stood

waiting for us to finish our meal then picked at the leftovers off

the table. In hindsight I understand my parents actions were to

protect me. I get they were scared because we were in a new

country and everything was foreign. And I always had food,

warmth and shelter.

My head strong-ness has led me on some pretty epic

adventures. I was told by my university lecturer that I would

not be able to get into engineering because I did not take

physics or calculus in High School. I taught myself the entire

NCEA syllabus over a summer and proved him wrong. Fast

forward a uni degree and 5+ years later, during my first time

to the French Alps I jumped into my first ever mountain race,

it went over 6 passes, 3000+ metres of elevation gain and

running over glaciers. Was pretty full on for someone whom

spent the last 4 years living in Hamilton. The race broke me

but opened my world up to trail and mountain running.

Later that year I was in Chamonix for UTMB week and

decided that I was going to do one of the races next year.

One year later I toed the line for OCC. On one occasion

while running in the alps, I met a swiss farmer who used to

race with my coach Jonathan Wyatt. He invited me over for

a lunch pit stop and two years later still sends me videos

of his farm. On another occasion, on a whim I sent out an

invitation on facebook to anyone who wanted to join me on a

fast packing adventure of the Richmonds Ranges. One lady

joined me and that turned out to be an adventure and a half!

In summary I am proud to say I have a passion for mountain/

trail running, mountain bikes in my spare time, tried skiing for

the first time last winter and loved it and showed my old uni

lecturer with his outdated opinions that he was wrong.

Top left: grinning from ear to ear in Advance Peak saddle, because I know a veeery long downhill is next.

Top right: Taken just after the mountain running world champs in Andorra 2018. My first time representing NZ and what a proud

moment it was. Finished 15th / Bottom: Heading up Big Hill - straight up. Because when training for Highland Events famous Mt

Difficulty Ascent, you got to take the steep way up the mountain.

After a solid hike a bike from Arrow River up to Mt Saint, we were rewarded with views of ridgelines as far as the eyes could

see and an epic ride off the beaten track down into deep skippers canyon country. Sometimes I imagine what life was like for

the hardy miners who came here in the in the early 1900's lured by the prospect of gold and fortune.

42//WHERE ACTIONS SPEAK LOUDER THAN WORDS/#227 ADVENTUREMAGAZINE.CO.NZ 43
---
Solo

Strength

by Erin Lockhart

The word 'alone' often comes with negative

TW connotations; for many, to be alone is to be lonely. But

alone is not a feeling or a consequence, it is simply a

reality. You can tramp with Tami and Jerry and Lee, or you can

tramp alone. For me, tramping alone didn't come as a natural

evolution in my outdoor experience; it was born of necessity.

On a post high-school OE in 2018, I wound up working at a

café in the Canadian Rockies. Quite the backyard for outdoor

adventure, where learning to snowboard kept me entertained

(and in pain) while I settled into mountain life. As the snow

melted though, I learned that tramping wasn't a common

priority for the hundreds of young people I had the pleasure of

living with. I was eager to get out and explore the diverse trails

in the National Parks around me so I tried to rally friends to

hike with. Week after week though, my schemes fell flat.

Granted, that is not entirely due to disinterest. Being a bunch

of backpackers working in a busy tourist town meant we all

had different schedules, few people had tramping gear, and car

owners for transport to trailheads were few and far between.

My mates just weren't as keen as I was, so organizing

adventures was always left to me. Tramping logistics, as

anyone who has organized a group tramp will know, seem a

complex hassle, when you just want to get out there.

I ended up feeling like a mother trying to entice her kids off

the PlayStation and into the backyard - though my 'kids' were

mostly older than me, and the 'PlayStation' was the infamous

party scene of the Rockies. Getting a group out on any trail

for the day, let alone a whole weekend, became an impossible

chore. You'd think to just head off solo would have been a

simple solution, but the concept hadn't even entered my mind.

I grew up doing the odd bit of tramping with my family, and

through school, as kiwi kids are privileged to do. To me,

tramping was a group activity, a team sport. I was taught to

respect the outdoors, and to never underestimate the dangers

of mother nature. 2018 was my first time in another country, I

felt young, inexperienced, and absolutely terrified of a grizzly

bear encounter. Besides, would I even still enjoy tramping sans

company?

Well, I found out mid-summer when the five mates I had

planned to climb Mt Whistlers with, successively bailed the

morning of said hike. It wasn't the first time they had done

so and I was, quite simply, fed up. Fueled by disappointment

at my flakey friends, and determined to have a good time

(if only to prove a point), I caught the last town-bus of the

day, persuading the driver to make a special drop off at the

trailhead. I climbed the damn mountain alone: it was awesome.

Tramping to Camp Stream Hut in 30 degree heat. Feb 2020

" Fueled by disappointment

at my flakey friends, and

determined to have a good

time (if only to prove a point),

I caught the last town-bus of

the day, persuading the driver

to make a special drop off at

the trailhead. I climbed the

damn mountain alone: it was

awesome."

Actually, the first hour I questioned my decision (and my fitness

level, because wow, it was steep), though once I broke treeline

and could somewhat leave my fear of a vicious bear attack

behind, I was in my element. In awe not only of the surrounding

snow-capped peaks and chubby marmots scuttering around at

my feet, but also of my 19 year old self, for her confidence (and

stubbornness) to go it alone.

Whistlers was my first lesson in what I could achieve solo. A

couple of weeks later, on a Tuesday afternoon in my dorm,

I booked a campground on the famous Skyline Trail for that

Thursday night, then caught the shuttle into town to buy a cheap,

one-woman tent. My first overnight tramp alone: 55kms, a 1500m

vertical ascent over a snowy mountain pass, a campground 4km

off the marked trail (the only one available) and a few hitchhikes

to get back home: baptism by fire. Over the following months,

through trial, some questionable decision making, fearful tears,

and indescribable feelings of achievement and pride, I found my

confidence to be alone on the trail, and as they say, the rest is

history.

Solo tramping is now the central aspect of my life. It's the thing I

enjoy the most, the thing that challenges me and that makes me

feel utterly whole. Every completion of a slightly more difficult trail

broadens both my ability, and my confidence to take on the next

one. A year on from the Skyline trail saw me return to Aotearoa,

a pack full of solo tramping experience on my back, and ready to

take on all my home country had to offer.

I now work as an Astronomy Guide in Tekapō, where outdoor

inspiration is never too hard to come by. Weekend adventures

have taken me over Stag Saddle and into the Two Thumb Range,

up to peaks in Peel Forest and Mt Somers, and over Lindis Pass

to explore Fiordland and Mt Aspiring National Parks. Or when

Aoraki lives up to his cloud piercing name, I just head down the

road, where a couple of hours of climbing will see you sunbathing

on the deck of Mueller Hut, watching dozens of Kea soar by.

A significant benefit of being able to tramp solo is the lack of

forward planning required. With a good weather forecast and a

spontaneous day off work, all I need to do is grab my pack and

go (first, letting someone know of my plans, of course). Wherever

I choose to go I can walk, rest and eat at my own pace, no

compromise, no logistical hassles.

On occasion though I do love to head into the hills with mates,

and it is always a good time. To laugh at weka together, share a

pot of Mi Goreng delicacy, and discuss those real and important

topics, the ones that only come up in the mountains - like the

future implications of cyborg on the human race, and whether

cheese should go on first or last when making pizza.

44//WHERE ACTIONS SPEAK LOUDER THAN WORDS/#227 ADVENTUREMAGAZINE.CO.NZ 45
---
"Those moments, the

ones that make you

feel so small in size,

but so massive in life,

that have you smiling

wide without even

meaning to, those are

the moments I hike for,

the moments I live for."

It is a great reprieve to have other ears around to listen to my

complaints about mud and speargrass, to have moments of

shared wonder, and be able to take non-selfie photos for a

change. I must admit though to pondering rather too often what

those trail experiences would be like if I were hiking alone.

Maybe I feel challenges are more rewarding when taken on

solo? Or maybe I just like my own company a bit too much.

But it is when I reach a summit and stare upon boundless

layers of jagged mountain peaks, or crest a ridge to wander

across a plateau of alpine meadow, that I am truly grateful to

be alone. Those moments, the ones that make you feel so

small in size, but so massive in life, that have you smiling wide

without even meaning to, those are the moments I hike for, the

moments I live for. Sometimes I even laugh out loud, how can

I not? The beauty and wonder of nature is incomprehensible to

my little human brain.

I am infinitely grateful to have the confidence to be able to

tramp and explore in the way that I do. Solo hiking seems,

and is, misunderstood and inaccessible to many people,

particularly to women. I have had dozens of encounters where

the first topic of conversation when I come across fellow hikers

is my lack of tramping buddies. Perhaps these people are in

the same frame of mind I was just a few years ago - unable to

understand how anyone could feel comfortable alone in such

an environment.

Though nine times out of ten, if it were a solo man they came

across, they'd simply comment on the nice weather or trail

quality, and move right along. Yet there I am, with suitable

gear, a PLB strapped around my neck, a smile on my face,

in the middle of the trail (having evidently made it that far

just fine) and somehow I am always a cause for strangers'

concern.

Social media has been an incredible platform for me to

discover the truth about solo female hikers. We are not lonely

or lost, incapable or odd, and we are not exceptionally brave.

We are many, and we love what we do - we have just been

hidden for far too long. So let the next generations of girls

grow up seeing and understanding the trails are theirs too.

No need to wait for your mates to join you ladies: get a can

of bear spray and climb the damn mountain yourself. Or

more New Zealand specific, check the river level, hide your

belongings from the possums, and start slogging through the

mud yourself.

If you love hiking then just pack a bag and head off on a trail

alone, the more you do it, the more comfortable (and addicted)

you will get. The many hours or days, and physical exertion

spent to reach those hidden, beauty filled places is always

replenished, the mountains give more than they take. When

alone on the trail it is not lonely, it is entirely the opposite. It fills

you to the brim with joy, cunning and strength, with purpose,

accomplishment and exhaustion. You become capable and

powerful, and you can do it all solo. Easy as.

In the Two Thumb Range on a 30+ degree day, February, 2020
---
Jenna Hastings

17 year old Jenna Hastings fell in love with bikes when she was

just 6 years old when she first started BMX racing. One of her

earliest memories is sitting in the grandstands at the North Island

Championships, held in her hometown of Rotorua, and the awe she

felt as a 6 year old watching the championships. Since then Jenna

has gone on to make a name for herself in the sport of mountain

biking and we got to chat recently about her passion…

Can you tell us a little about yourself? I am 17, I'm year 12 at school,

and I live at home with both my parents and my younger brother and sister.

As you know, I started BMX racing when I was 6 years old, and instantly

fell in love with the sport, before I even started it I knew I would love it,

sitting in the grandstands at North Island Champs 2010, which was held in

Rotorua, little 6 year old me was in awe. I have always ridden a mountain

bike, I still remember my first proper mountain bike, the girl's version of the

GT Stomper - it was pink, and my brother got a blue one to match.

I see you grew up in Rotorua, the mountain bike capital of New

Zealand, so it's no surprise that you have found a love of biking.

What made you transition from BMX to Mountain Biking? BMX was

my passion for a good five/six years. My goal was always to make the

Mighty 11 test team twice, which is a team of eight, four boys and four

girls, which race against the Aussies for the title. I achieved my goal, being

captain of the team once, and rider number two the second time. After

Mighty 11's, my passion for continuing BMX started to dwindle, as I have

discovered my love for mountain biking. I think I just needed a change, and

mountain biking made me feel so much freer than BMX, as I can go into

the forest for hours and come in contact with nothing other than myself, my

bike, and the nature surrounding me, whereas BMX was a lot more full-on,

intense, environment.

For our readers who may not follow mountain biking as a sport, can

you tell us a little about the type of biking you enjoy and what it is

you compete in. I see you were the fastest woman on day one at the

Giant 2W Gravity Enduro. Can you tell us a little about the various

type of mountain biking you take part in and what you enjoy? I

compete in Downhill (DH) and Enduro mountain biking, both of which

I adore and enjoy so much. I have dabbled in Cross Country (XC) but

decided it wasn't for me, way too intense. Downhill is the technical stuff,

you get one run, one shot to win it or lose it, and you can lose it in a split

second, one wrong line and it can throw your whole race off. With downhill,

you get shuttled or uplifted to the top of the track, and you race down.

It can be anywhere between three and five minutes long. The bikes are

different, with more suspension, different geometry, all designed for hitting

the biggest jumps, steepest chutes, and gnarliest rock gardens. Enduro on

the other hand, is multiple stages, anywhere between five and eight, and

they all vary in length. You ride up to every stage (called a transition) and

then you race down. The down is the only part that is timed, and then the

times from all of your stages are combined to one final time. The bike you

race for enduro is also different from that in downhill, it's better equipped

to ride up the hills, more gears, smaller suspension, a steeper head angle,

although still being able to tackle the gnarliest riding.

48//WHERE ACTIONS SPEAK LOUDER THAN WORDS/#227 ADVENTUREMAGAZINE.CO.NZ 49
---
Unlike some sports, when things go wrong

mountain biking, it can be quite painful

and have serious consequences. Do you

feel the fear? And if so how do you deal

with it? Fear is a very real thing for me. I find

myself constantly battling the little voice in my

head saying "what if this happens?", "what if

you crash?", "what if you lose?", "what if what

you do isn't good enough?". Riding tracks I

have never ridden before is when the fear

really kicks in because I have no idea how

fast I have to go into this jump, or how slow

to go so I make it round the corner and don't

crash. Dealing with this kind of fear is hard

sometimes, it just depends on the size of the

jump, or how steep a track is, but usually, I

find a sort of, "just send it" attitude does the

trick. On the other hand, pressure and fearing

that I won't be good enough, or people will be

disappointed with my result is a completely

different thing. Pressure is always going to be

a thing, it's probably never going to go away,

and I'm learning ways to deal with that at the

moment, but for the most part, it's knowing

that the people who really matter will be

proud no matter what my result is, and that

the most important thing is to have fun, and

the result will take care of itself.

Have you had any major injuries? If so

how have these effected your confidence?

I have had a few big crashes, a few broken

bones and some head injuries, although

not all from mountain biking, they have still

affected my confidence. Having to take time

off the bike in order to heal really sets you

back and makes you feel slow and a terrible

rider when you get back on the bike. It takes

a while to build that strength and fitness back

up so for the time being my confidence has

taken a hit. One crash in particular, back

in 2019 when I rode the Pakahi track with

a bunch of ladies called the Mud Maidens,

I managed to ride off a cliff, which really

knocked my confidence, as being in the air

terrified me because I did not want to be in a

position where I could fall from a height again.

In a perfect world, where would you see

yourself in five years time? In a perfect

world, in five years, I would be 22, coming

home for the summer, racing the NZ season,

then going back overseas to race in Europe

through their summer, our winter, both Enduro

World Series and Downhill World Cups.

That's my dream. Travelling with friends

and teammates, making new friends and

memories along the way, all while doing what

I love, which is riding my bike.

Outside of mountain biking, what do you

do for fun? I love to do anything that involves

the outdoors really. I am part of an adventure

racing team for my school, I love to go

tramping, swim, wakeboard, waterski, snow

skiing are some things I also love to do.

Previous page: Jenna Hastings, showing the downhill determination she is renowned for.

Above: Jenna in action at 3 Peaks Enduro - Image by Jemma Wells

"Pressure is always going

to be a thing, it's probably

never going to go away,

and I'm learning ways

to deal with that at the

moment, but for the most

part, it's knowing that the

people who really matter

will be proud no matter

what my result is, and

that the most important

thing is to have fun, and

the result will take care of

itself."

ALL MOUNTAIN RIDING,

UNRIVALED VERSATILITY.

RIDER | KELSEY TIMPANY

BIKE | SWITCHBLADE

50//WHERE ACTIONS SPEAK LOUDER THAN WORDS/#227

WWW.PIVOTCYCLES.CO.NZ
---
From

Michigan to

Mountains

A womens journey

By Katarina Renaldi

I grew up in a part of the US where you could

TW drive for miles on a straight, wide road and

the most interesting thing to see were funny

billboards on the side of the highway. The Great

Lakes State of Michigan is in a unique place which

experiences extremely cold temperatures and plenty of

snow. With a max altitude of 600 metres, it's not exactly

the endless landscape filled with glacial rivers and

mountains that New Zealand is.

I had always been up for a challenge, and learning to

hike and find my "zen" in the mountains brought me to

a place of new opportunity and pure bliss. I spent a lot

of my travels in New Zealand building my skill set and

exposing myself to increasingly difficult and challenging

situations.

I started by figuring out which resources worked for me

in this new realm of discovery. I used the AllTrails app

and did some of the more challenging tracks that were

still cut but may include a good amount of altitude or

distance. This app was the start of the pushing of my

abilities since I was able to keep track of completed

tracks and make lists for future endeavors, especially

helpful considering I do many of

my tramps solo.

I also started taking advantage

of the hut system in New

Zealand and learned a love for

stewardship of resources and our

environment. I've been lucky to

visit over 50 of New Zealand's

huts since I've been here and

many of those were on solo

missions.

"I've been

lucky to visit

over 50 of

New Zealand's

huts since I've

been here and

many of those

were on solo

missions."

Growing up comfortably around

snow, I leapt at the chance to be

among the beautiful mountains of Aoraki/Mt. Cook. I

took a mountaineering course in November 2020 which

bumped my skills up to the next level and gave me

confidence to walk in the snow among the mountains,

especially as a frequent solo tramper.

After this course I started moving toward more challenging

terrain and learned that the NZ TopoMaps were extremely

useful for route planning. I was taking notice of the less

accessed places and started looking toward backcountry

huts and how I could volunteer to help maintain the access

we had to these stunning places. I would walk tracks and

move large branches/logs that blocked the track, I'd cut

away bush lawyer that would grab at faces and clothing,

I'd make cairns to indicate where the route went when old

52//WHERE ACTIONS SPEAK LOUDER THAN WORDS/#227

markers had long fell away, and I would remove excess

rubbish from hut facilities when I walked out. It was such

an enriching experience for me that I began to apply for

positions within the Department of Conservation even

though I knew these were hard to come by. I wanted to

make a difference and help support the access we had to

these locations.

I've recently made the move to the Wild West Coast and

found an opportunity to work with DOC through Kaimahi

for Nature, supporting local Kiwi businesses that were

struggling during the aftermath of the pandemic. I

started doing invasive species control and have had the

opportunity to work on the Alex Knob track, upgrading it

to allow for safer walking along the track.

Among other amazing locations, the West Coast has

access to a lot of remote huts (remotehuts.co.nz) and

I've started to visit some of them, including a recent solo

mission to Butler Junction Hut and Ice Lake which put

my night navigation skills to the test after accidentally

following a flagged trail that seemed like it would lead

me around treefall, but actually just wasted a lot of time

and precious daylight. I'm happy to carry a GPS/PLB

which allows me to check in with loved ones on my

solo missions. Since I've built my time in New Zealand

around hiking, I'm hoping that this brief article can give

you an idea of how to scale up your skills and learn

to confidently tramp solo as well as be a steward of

the environment. Below I will list the resources I use

frequently and ways I've found inspiration for trips,

essential gear I take, as well as some of my favorite

tramps to date.

Resources to use

• AllTrails: great beginner app when you don't have a

clear idea of what you'd like to do

• NZ Topo50/New Zealand Maps: good for contour

lines and getting an idea of terrain before you head

out. You can also plan routes and save them as

well as follow your location on a track

• Instagram hashtags: look up the hashing for

where you want to go to see if you can find some

additional inspiration!

• Remotehuts.co.nz: for when you're ready to get a

bit more rugged and into challenging terrain

• Climbnz.org.nz: great for grading routes, I usually

stick to 1+/2 grade routes for my current abilities

when solo

• Yr.no: great for rainfall

• Windy.com: gives an idea of wind in the area,

especially useful if you can read weather patterns

and want to hike/camp in alpine areas

• Southernalpsphotography.com: great photo

inspiration with detailed route maps included

Essential gear

• PLB/GPS

• NZ TopoMaps: download and pay for them, its worth it to be

able to save your own routes and to use the maps offline! The

location works without phone reception.

• Compass

• Emergency warmers

• Strong head torch for night walking with a red light function

• Emergency bivy

• Extra warmth: buffs, hat, 2-3 pair gloves, extra thick socks

• Power bank/battery pack: 10,000 or more maH (enough to

charge your most essential device(s) at least once)

Favorite tramps

• Rees-Dart track with a side trip to Cascade Saddle: 4-5 days

• Esquilant Biv/Mt. Earnslaw: 2-3 days

• Welcome Flat Hut via Copland track: overnight or 2 days

• Mt. Brown: day trip or overnight

• Mueller Hut and Mt. Olivier: day trip or overnight

• Barker Hut/White Col/Mt. Murchison: 2-4 days

• Tongariro crossing: day trip or do the Northern circuit in 2-4 days

• Mt. Burns tarns: ~2 hours or continue on to find a camp

overnight

• Gillespie Pass circuit and Lake Crucible: 2-3 days

• Dore Pass route: 8 hours or overnight camp

• Gertrude Saddle: 4-6 hours or overnight camp

Barker Hut in Arthur's Pass National Park. I took my new mountaineering gear out for a test ride and headed up toward White Col to attempt

Mt. Murchison. When I got there, I mistakenly took the winter route instead of the summer
---
Since 1992

Since 1992

Coast to Coast

Bike Hike and Raft with Adventure South NZ

DISCOVER NZ'S CYCLE TRAILS WITH ADVENTURE SOUTH NZ

Fully supported Cycle Trail tours: *West Coast Wilderness Trail *Alps 2 Ocean Cycle Trail *Otago Central Rail Trail

*Tasman Great Taste Trail...and more. E-bikes available

Book online: adventuresouth.co.nz | 0800 00 11 66 | info@adventuresouth.co.nz

Fully supported Cycle Trail tours: *West Coast Wilderness Trail *Alps 2 Ocean Cycle Trail *Otago Central Rail Trail

*Tasman Great Taste Trail...and more. E-bikes available

Book online: adventuresouth.co.nz | 0800 00 11 66 | info@adventuresouth.co.nz

Located 15 minutes just outside of

Queenstown in the scenic Bob's Cove lays

our purpose built house and property

designed to host the most romantic,

unique and truly memorable weddings

for you and your group of up to 60 with

competitively priced all-inclusive

packages, taking care of everything

for you.

Wikki Wikki offers a complete wedding

location from start to finish – enjoy the

ceremony, photographs, reception,

dancing and 18-bed accommodation

all within our beautiful property.

With unique features such as the vintage

Ford Fairlane GT, a funky caravan and

a massive spread-winged Eagle this

unique location is the perfect spot for

your special day. With a rustic design and

country feel, this property captures that

special Queenstown flavour in a way that

no other property does.

We also cater to a wide range of other

functions and hire options.

Tui Drive, Bobs Cove, Mount Creighton,

Queenstown, NZ

Tel: +64 3 442 8337 | Mob: +64 21 657 262

Weddings & Accommodation:

mark@wikkiwikki.co.nz

"But now, when times get tough, I will remind

myself of that moment near the end …, when

I cried fat tears of relief and overwhelming

pride. The challenge was unprecedented

but I made it to the other side". – Stephanie

Holmes, Adventure South NZ traveller.

The epic journey from the West to the East

coast of New Zealand's South Island is a

bucket-list adventure for many Kiwi's and

Adventure South NZ's guided, four day,

Coast to Coast Hike Bike and Raft trip has

made the challenge even more attainable.

The itinerary is broken into four stages; a

65km cycle from Camerons Beach on the

West Coast to Ōtira; a 30km hike through the

Deception and Mingha River Valleys over the

mammoth, yet stunning Goat Pass; 40km of

rafting down the mighty Waimakariri River,

and a final 70km cycle through Canterbury

countryside to reach the New Brighton

Pier where steaming hot pools at He Puna

Taimoana Brighton await.

The trip is guided by Adventure South's

experienced and qualified team, leading you

through the safest routes, with the support

vehicle always nearby on the cycling stages.

A good amount of training is recommended

for Goat Pass, as well as on the bike. Electric

bikes are available for hire if you would like

to save your legs for the walking leg. A full

gear list and training recommendations are

provided when booking.

Coast to Coast Hike Bike and Raft

4 days, Christchurch to Christchurch

Dates: November 2021 – March 2022

Price: $1945pp

For more information visit www.adventuresouth.co.nz/ccnz

ADVENTUREMAGAZINE.CO.NZ 55
---
North West Circuit

Stewart Island

Words by Cristina Barraclough

I found myself in limbo during the winter of 2020, inbetween

jobs in a strained covid economy. And so, I did

TW

what any outdoors person would do with a large amount

of free time on their hands. It was time to pack-up my

belongings and hit the road. It was time to leave behind home

comforts and go adventure-seeking. A long and ambling winter

road trip finally took us down to the bottom of the South Island.

And by us, I mean myself and my friend Emma, who luck would

have it was just as into the outdoors, and launching themselves

into any opportune adventure, as I was. Sometimes even more

so than me. We had spent the road trip encouraging each other

to go surfing in the brisk winter seas with no hot shower awaiting

us; hiking for several days even in the rain when no-one else

would and taking icy dips in glaciated lakes to the bemused

stares of onlookers.

By the time we had made it the bottom of the South Island,

we had perfected our routine of living out of a car, adding in

adventures and making hearty meals out the back of the boot in

the cold, dark early evenings. So far, we had learnt a lot, it was

time to test ourselves and our friendship with a big mission.

There were two obvious options to satisfy our desire for

adventure down at the tip of the South Island – head to Stewart

Island: 1. The Rakiura Track. 2. The North-West Circuit. Option

1 was too short to feel like we would have fully submerged

ourselves into the wilderness of Stewart Island. And it was ruled

out. That left us with ambitious Option 2. Part of an adventure

for me is challenging yourself, going beyond your comfort zone

without being rash.

The North-West Circuit is a 9-11 day tramp covering 125km in

the remote wilderness, with no opportunity to resupply nor much

likelihood of meeting many other people. There is only one town

on the whole of Stewart Island – Oban. In hiking terms, 125km is

not often that far to achieve over this period of time, but the time

and distance indicated how rough the terrain would be in relation

to other hikes.

Arriving in Invercargill we were still uncommitted to a decision.

We found ourselves semi-committed traipsing round on a grey

day buying additional gear: gaiters, pack-liners and the likes.

The array of gear needed for an infamously muddy and wet

tramp. Next, most importantly, we picked up a personal locator

beacon with a registered time we were due out. I guess we were

committed now.

The decision felt daunting as we both weighed up our tramping

experience (combined we had a lot). However, usually for 5 days

or longer we were with someone more experienced than us.

That night as we sat eating a carb-loaded meal in a bare hostel

kitchen, we rationalised our thoughts and logically addressed

any issues we may encounter and how to prevent and overcome

them. This gave us more certainty and eased any qualms we

had.

The boat bumped along over the yawning swell of the Forveaux

Strait. An albatross swooped. And coffee sloshed. No-one else

was clad in hiking gear except for two other females who sat

a few rows behind; but they were fast asleep oblivious to the

Forveaux.

Bag after bag unloaded at the dock. We were behind schedule

as the boat had arrived late, which was kind of amusing,

especially as we needed to purchase a map which had been

nowhere to be found in Invercargil. So, with a smile and a grunt

I ended up hauling our two backpacks onto my shoulders as

Emma ran ahead to source us a map. Under their hefty weight

I struggled to walk swiftly, we urgently needed to get over

to another bay for the next leg of our journey. The only boat

departure to our starting point was leaving in 15 minutes. With

the first hurdle already upon us, the buzz of an adventure set in.

The black smooth waters of Patterson Inlet swooshed under

the plaining boat. Deeper and deeper we went into the swampy

maze and closer and closer the bush crept in.

"So how long are you out for?" asked the remaining passengers:

an older American couple.

"8 days - if all goes to plan" I added carefully. The boat ride cut

one day off the itinerary; enabling us an extra day in case of

emergencies.

"Wow, good luck, that beer will be calling by the end!"

And with that the boat belted off leaving only silence. No going

back now.

Slap bang in the middle of the swampy plain, day one saw us travel

clockwise from the east side to the west as the board walk cut

directly through the island's heart. Either side of the valley the ferns

and beeches rose, and nothing else. That night we witnessed our

first kiwi. Seeing the rare native bird was a treasured moment and a

welcome start to our first night on the trail.

Dawn broke as we broke free from the sand dunes. The longest

beach on the island lay before us running for over 7km. Our

footprints lay crisp in the sand at Mason Bay and the pinks

peered out across the sea. The early start ensured the low tide

route was accessible as we were keen to avoid unnecessary

travel up and down sand dunes with laden packs.

These two first days were our biggest; an estimated 7 hour

tramp each of the days with over 8 days worth of gear on our

backs. The thick bush greeted us sharply at the end of the long

stretch of smooth sand. It was time to embrace the island mud

and bush.

Looking back after a short sharp incline, Emma's head bobbed

up every now and then between abundant ferns and grasses.

Not yet accustomed to such awkward terrain, she trudged along

- "Howa' you finding it?" I called out.

"This is full on" her voice travelled faintly through the thick

foliage. There was no arguing that. We had agreed to be honest

with how we were feeling being in such close, intense conditions

for over a week in the wilderness. Early on we had to agree

to go at our own pace occasionally, taking it in turns to stop

and watch as the other caught up offering up necessary food,

motivation or distracting conversation. Slowly over the next

few days our pace quickened and our minds eased as we let

ourselves follow the rhythm of our footsteps.

Atop a rocky pinnacle the South Pacific Sea winked below

as glorious sun caught its calm turquoise surface. The sharp,

weather-beaten Ruggedy Islands pierced out of the blueness;

a stark reminder of the harsh conditions this island bore. To the

east the swathes of greens swept across vast hills. It was well

over an hour before we drew our eyes away from this panoramic

view of raw wilderness and continued on our descent into the

forest. Muddy trails would give way to open beaches, which

was always a welcome relief. They made for scenic lunch spots

if you could stand the swarm of sand-flies. Our rhythm often

changed pace, beaches would give way to boulder fields and

dunes would drown our boots.

But you can't forget the mud for long. Three nights in and there

had still been no encounters with people in the huts. However,

in one of the logbooks a previous hiker had left a haiku poem in

solidarity. Eloquently, it read:

"muddy muddy mud

muddy muddy muddy mud

muddy muddy mud"

Bursting out laughing Emma and I almost spurted out our

mochaccinos, a luxury item we had afforded ourselves, as we

sat by the dim candle musing over these old trail notes. Each

night a large meal was prepped over a small stove. On the

menu was either $1 dehydrated pasta sachets, couscous or

backcountry cuisine meals bulked out with indulgent toppings

such as cheese and a fresh vegetable here and there. Either

made for a mouth-watering meal that satisfied our growling

stomachs. The evening routine was topped off with a game of

cards with our feet up by the fire, tucked away in the remote,

far-flung huts. And so, each new day setting out on the muddy

trail the poem's lines would reel around in my head, syncing with

each squelching footstep. Yet, the blessings must have been

with us because with our newly experienced steps the mud

barely ever came above our gaiters. It felt as though we had

been granted a relatively easy passage.

The good omens kept on coming. Day Four saw soft Manuka

forests which were a treat for our feet. The cool shade of the

forest offered an idyllic lunch spot sunbathing above a steep

cliff overlooking the still-turquoise sea. Although there had been

interludes of rain which seemed to bring the kiwis out roaming

and rooting; Stewart Island was uncharacteristically sunny.

Long-Harry's Hut sat proudly atop a grand sea cliff in the sun

Breaking out of the bush and mud and soaking up panoramic views

The North West Circuit rewards you with many stunning, remote beaches

56//WHERE ACTIONS SPEAK LOUDER THAN WORDS/#227 ADVENTUREMAGAZINE.CO.NZ 57
---
surrounded by the forgiving Manuka forest. As we drew closer

the clues we were not alone became apparent: the stiff drying

socks, the strewn hiking poles.

"Hi there! Where have you come from?" Out bound a hiker,

greeting us. It was the woman we had seen napping on the ferry.

Quickly, as often happens in remote huts, each of us exchanged

our short stories from the hike and from our lives. It just so

happened we had run into Tara Mulvany and her Canadian-Kiwi

friend Kim. I knew the day had a good feel to it and meeting one

of adventure heroes on our very own mission confirmed that.

The next few days flew by in green and brown blurs interjected

with the blues of brisk ocean dips. The shorter hiking days,

which were only a few hours between huts as our pace

quickened, saw us with ample time to soak up hut life. Hut

afternoons were idled away at the private beaches, for as long

as we could bear the sandflies, coming up with child-like games

and even indulging in darts at one hut. Laughter filled the musty

air as one of my darts ricocheted off the dart board, "maybe

it's a sign I should go to… Indonesia" I giggled as I read which

country the dart had pinned on the laid out world map.

Another evening we exchanged more short life stories with a

solo female hiker who was on her holidays from medic school

and had turned to aspirations of hiking the Te Araroa trail after

her plans to travel Europe had to be postponed. It is always

interesting to see what has spurred people on to take on remote

wilderness adventures.

Even when the days were long, the mud seemed endless

and legs began to tire, Emma and I knew how fortunate we

were to do this trip. When the hours seemed to drag on before

the hut appeared I would stop, reassess, and savour each

footstep, relishing the fresh air and luscious green nature I was

submerged in.

As civilisation drew closer, that familiar bitter sweet feeling

arose. The trail turned to the Great Walk gravel. No more mud –

each mud pool had been categorised by our 'new encyclopaedia

of mud': the kind you could confidently stride through, the gooey

kind, the kind that would suck you in one shoe at a time, the list

goes on. Many moments were spent documenting this diversity

in mud. It was hilarious entertainment at the time, however rewatching

the videos of two wild women delirious over mud we

determined the footage was only for our eyes.

Emma and I looked at each other knowingly. The wilderness

was at our backs. The friendship I formed with Emma bonding

over these adventures made for an empowering experience

and an enduring friendship like that of a close childhood friend.

Reflecting, it was also funny that is was solely women on the

tramp during that time and it really spoke to me.

"Should we stay one more night?"

Emma and I lingered in that last hut. But our rations were low,

our time was over and the cool beer was calling. Loudly. As we

strode on and hit the road the remaining 5km to town felt like 50.

A few cars slowed a kilometre or so from Oban as if to offer us

a lift, but we waved our weathered hands and lightly shook our

heads. Determined to hike each of those steps back to the start;

we had come too far not to complete the circuit.

Soon we were rejoicing and sipping away at a chilled lager in

the local pub surrounded by skippers, Stewart Island's main

inhabitants, relaxing back into civilisation. Several jugs down

and no pizza crumbs left, our bellies were as content as we

were. The hum of human chatter filled our ears after a long

absence. Showers and soap were reintroduced into our lives,

but not yet fresh clothes – we would have to wait until the

mainland for that.

The touting sound rose in the crisp morning air as the ship left

the small harbour of Oban. The deep blue swell was back and

ocean spray washed onto our faces and down onto the deck as

we stood at the rails smiling, satisfied; watching the deep greens

and purple of Stewart Island slip into the distance.

No sunshine? No problem..

MEET THE LATEST IN

WATERPROOF INSULATION

The new Equinox Waterproof Down

Jacket loves the cold — especially when

it's wet. Tested on the slopes of the

North Island's highest mountain, its

combination of 700 loft HyperDRY

down inside an extremely breathable,

waterproof Pertex ® Shield Air outer,

provides warmth you can count on in

tough conditions.

ADJUSTABLE DOWN-FILLED

HOOD WITH STIFFENED PEAK

SEAM-SEALED PERTEX® SHIELD

AIR SHELL WITH DWR FINISH

700 LOFT HYPERDRY DOWN

STRATEGICALLY-PLACED

PRIMALOFT® GOLD INSULATION

The non-muddy side of Stewart Island: the welcome breaks from the mud

58//WHERE ACTIONS SPEAK LOUDER THAN WORDS/#227
---
Vicky with her

family and her

completion

medal

A Mt Oxford Odyssey Mum

by Vicky Havill

When it comes to discussions

TW around adventure not many

people attach the word mum

in the description. To be fair

many mums wouldn't put their name

and adventure in the same sentence

either. In 2019 a survey conducted by

Sport England revealed that 61% of

women feel guilty about taking time to

exercise. Women are literally putting

the importance of their own health below

that of their families. It's no wonder

when we live with this kind of guilt that

somewhere along the road we can lose

ourselves. We lose our confidence, our

sense of self-worth and our resilience.

We spend time helping our children

create resilience and build confidence.

Encouraging them to become strong

and brave, ready to face the world. But

what about us? Personally I can't think

of a better way to help them become a

strong and brave adult than to be one

ourselves.

This was very much my story, parenting

had become my life. To love another

human as much as a mother loves their

child is a powerful force. But we have to

put on our own oxygen masks first. To

become our own best selves.

Seven years ago I was unfit and

unmotivated, my children were young at

five and three and I decided I wanted to

get fit. I had to make a conscious effort

to put aside my guilt which wasn't easy.

But it started me on a journey full of

challenge and adventure that made me

fitter and stronger than I had ever been

in my life.

Those first few years of getting fit saw

me running trails all over the South

Island and helped me rediscover myself.

I kept my training varied whilst I worked

out what really made me tick. As well

as trail running, I tried strength training,

open water swimming, rock climbing,

hiking and even took part in a triathlon

just to see what it was like. I had my

fair share of niggly injuries crop up as

my mind and body fought against each

other. My mind often wanted to push my

body further than it was ready to go. 'A'

for effort, not always execution. Despite

this I did make progress and finally,

this year, having already completed

numerous half mountain marathons

I felt confident and strong enough to

"My mind often wanted

to push my body further

than it was ready to go.

'A' for effort, not always

execution."

give my local mountain marathon a go.

The Mt Oxford Odyssey. Advertised as

New Zealand's toughest marathon it

would push my body further than it had

ever been, across 42kms of mountains

which included 3500m of brutal elevation

gain. Luckily I love a challenge. Each

one I conquer helps me grow a little

bit stronger mentally and physically. I

decided I would rather get to the start

line and not finish than not start at all.

The week preceding the event I found

myself swinging unpredictably and

erratically between excitement and

absolute abject fear. Two days before

the event I made the mistake of looking

at the athlete line up. To discover that

only 10 women were entered; this

sent my mind spinning into all kinds of

destructive self-talk.

"They must all know something I don't.

I'm just an average runner. I'm kidding

myself if I think I can do this. My body

will give up and I'm going to have to

be helicoptered out, it's going to be

mortifying. I am so out of my league."

These irrational thoughts seemed all too

real in those moments of doubt.

I worked hard to turn my own rhetoric

round and tell myself it would be an

adventure that I was strong and fit

enough to overcome. Easier said than

done, but somehow I found myself on

the morning of the event inside a tent

with all the other competitors sheltering

from the pouring rain. I felt like an

imposter.

The race organisers ran us through the

race brief and we left the comfort of the

tent and headed out into the rain, turning

on our head torches as we went. We left

the start line and the race was on. I very

quickly settled in as a back of the pack

runner. This was OK with me but to be

fair, I had no choice. There were some

incredible athletes in the event and I

had only decided to enter 6 weeks prior.

I hadn't trained long enough or hard

enough to deserve to be anywhere close

to the front. The point of me being there

was to overcome a fear and have an

adventure which would take me further

over my home mountains than I had

been before.

The dark start meant that the gradient

in front of me couldn't become

overwhelming. It broke down the course

into sections only as large as my head

torch would allow. I powered on upwards

for the first 5km until I popped out of the

bush line where my protection from the

weather rudely disappeared. The wind

was cold, the rain wet and as I made my

way higher and closer to the summit it

got worse and the rain turned to snow.

The ground went from wet to white.

My hands grew ridiculously cold and I

watched my legs turn purple. My gloves

which were already wet now started to

freeze and I lost feeling in my hands. I

pushed on and finally arrived at the top

to be greeted by the smiling race officials

and LandSAR team. They cheered me

on and we shared some banter as I

shuffled past them. By this time my legs

had gone numb and foot placement

became tricky.

I carried on along the ridge line and

started down the first 1000m descent,

enjoying the respite from the cold biting

wind. It was slow going and probably

the hardest section of the race for me.

What was already a very long, technical

section of track had been turned into

a mudslide from all the rain. I did a

mixture of slow sliding and controlled

ungraceful falling from tree to tree. My

shoes became heavy and caked in mud

negating all of the grip on the undersole.

I couldn't imagine how I was going to get

back up this track.

At the bottom I reached the Wharfedale

hut, the first of 3 hut visits for the day.

I was greeted by the most cheerful of

ladies wearing tutu's ready to tick my

#16 off the list. They offered all manner

of food, drink and encouragement. After

a quick selfie with them, because well,

priorities, I headed off. I still had a long

way to go. The gradient gave only brief

respite before the next climb began and

I cannot explain how relentless this felt.

I could see no competitors either in front

or behind me and I felt a strange sense

of isolation. I'm no stranger to being in

the bush alone and normally love it but

today wasn't like other days. Every now

and again panic would rise as I thought

about how much more of the course

there was to go and this time the daylight

allowed me to see the track in all its

disgustingly steep glory. One foot in front

of the other is all I could keep telling

myself.

A passing runner said it was only 20

minutes to Black hill hut where I would

do another check in. Thank goodness, I

was just about losing the will to live with

this ever continuing hill. I tried to listen to

an audio book, my normal go to when I

am in the hills, but unable to concentrate

I turned on some music instead. This

was good, this was getting me back into

the rhythm.

On the next descent my knees started

to hurt. They are a work in progress and

I hadn't had enough time to strengthen

them as much as I would have liked

in preparation. This slowed me down

considerably but I kept on plowing on

trying to ignore the pain and accept

it as a partner that would accompany

me on and off for the next few hours.

Fortunately it was only the steep

downhill sections that caused me pain,

unfortunately the steep sections in this

marathon are plentiful.

I reached the Wharfedale hut for the

second time and ran through as quickly

as I could saying a farewell to my tutu

adorned friend's and set off to tackle the

last climb of the day. It was that blasted

mudslide again. I dug my poles in time

after time and hauled myself up that

section, it was utterly exhausting.

Once at the top of Mt Oxford for the

second and final time I knew that short

of some catastrophe I was actually going

to cross the finish line and earn my

completion medal. Phew!

I began my final descent and hello knee

pain, you're back again! Thankfully by

the last gently descending 4kms it all

but disappeared and I was able to get

into a lovely pace on tracks that felt

comfortingly familiar. I smiled to myself

and suddenly felt disappointed that the

race was almost over.

Finally I could see the finish line. The

crowds had long gone home by this point

so there weren't many people around

it. Slow and steady clearly doesn't win

the race but it does complete it. As I

ran across the line to the cheers of

my children, husband and friends and

accepted my completion medal I knew I

would do it all again one day.

Out of 45 people who completed the

marathon course this year, only 7 of

those were women. I challenge you

mums out there to change this. We

deserve to be out there too, we deserve

to take the time to make our mind and

bodies fit, strong and healthy. We owe it

to ourselves to find and overcome new

challenges and we owe it to our children

too. Your best self will also make you the

best mother and role model you can be.

So shed that guilt and don't do it despite

your children, do it because of your

children.

Follow vicky on Instagram

@wild_vs-mumma

The Top of Mt Oxford gave harsh weather conditions on the day. Snow and ice on the ground, falling snow, freezing temperatures

and limited visibility.

60//WHERE ACTIONS SPEAK LOUDER THAN WORDS/#227 ADVENTUREMAGAZINE.CO.NZ 61
---
The pure joy

of Adventure racing

I was first introduced to Adventure racing back in 2008 when

a friend stumbled across an advertisement for the Autumn

Challenge. It was a women's only event, organised by 5x

Adventure Racing World Champion, Nathan Fa'avae. What

appealed to us back then, was the idea of challenging ourselves

across a range of activities, but unlike other multi sports,

adventure racing was all about teamwork, and that struck a

chord.

Our team of three were from different parts to the country and

we followed a training programme laid on by Nathan and his

team and caught up once a month to train together. Another

appeal of the race was the fact that it was held in remote parts of

the country and racing was done in the "real" outdoors; rafting,

navigating and mountain biking through some rugged terrain.

I remember one of my first surprises turning up on race day

being the variety of women that had chosen to take part. I had

wrongly assumed that this type of adventure would be for the

hard core mountain women, how wrong I was. Adventure racing

had attracted women of all ages, shapes and sizes, and from all

over the country.

And to answer any niggling questions, no, you

don't have to be a fitness freak to take part.

There are a range of length of races to choose

from, that cater from everything to the novice to

the pros, the only difference between them being

the length it takes to finish. That means that

no matter what your ability level, you all get to

experience the same challenges.

"Adventure

racing had

attracted

women of all

ages, shapes

and sizes, and

from all over

the country."

Roll on to 2021 and adventure racing is the new

trend… In the 70's it was running, in the 80's

it was triathlon and in the 90's mountain biking

ploughed on to the scene. But if popularity

is measured by the number of races and the

number of participants, adventuring racing it the 'big' new thing.

Bigger still is women specific adventure races.

Women specific races sell out within minutes of opening. So

what is it that keeps everyone coming back? As I was putting this

article together and collecting photos from past events, the thing

that really stood out to me was the pure joy on people's faces.

From having since competed in numerous races myself, I can tell

you that these images are truly a reflection of the feelings while

competing. Sure there are moments when you are wishing there

were no more hills to climb, but 90% of the time, it's a blast.

Since my first adventure race back in 2008, I've taken part in

quite a few and loved every one of them. We have rafted, paddle

boarded, kayaked, hiked, biked, clay bird shot, abseiled, swam,

solved riddles, the list goes on. Each event has a different flavour

but each focuses on teamwork and challenging yourself, rather

than where you are placed in the race. We have got to immerse

ourselves in some of the most beautiful parts of our country and

meet some incredible people along the way.

Since Nathan opened adventure racing up to the masses with his

Autumn Challenges, there are now a plethora of races to choose

from around the country. Each year Nathan and his wife, Jodie,

run the Spring Challenge, both in the North and the South Island,

each year at a different location. This year the Spring

Challenge North will be held in the Hawkes Bay and

the Spring Challenge South in Greymouth.

Another event we are looking forward to competing

in is the Wander Women race held in Russell later

this year. It will be the first time we've done this

event, but going on the other events run by Soaked in

Adventure, which we took part in earlier this year, I am

sure this will be just as awesome.

It would be impossible to list every adventure event

available, so let your fingers do the walking and

google search adventure races in your area and I am

sure you will find something to suit. So get out there,

get involved, and we'll see you there...

EVENTS NOT TO BE MISSED!

Spring Challenge South - Greymouth:

October 1st-3rd 2021

Spring Challenge North - Hawkes Bay:

October 15th-18th 2021

www.springchallenge.co.nz

Wander Women Adventure Race - Russell:

13th November 2021

www.soakedinadventure.co.nz

Spirited Women's North - Hawkes Bay:

25th - 27th February 2022

Spirited Women's South - Wanaka:

1st - 3rd April 2022

www.spiritedwomen.co.nz

Top to bottom: Spring Challenge / Spirited Women's / Soaked in Adventure / Wander Women Adventure Race

The rafting section of the Spring Challenge

62//WHERE ACTIONS SPEAK LOUDER THAN WORDS/#227 ADVENTUREMAGAZINE.CO.NZ 63
---
Belinda Stuart

Making colourful merino in NZ

Belinda Stuart grew up in a small

town in Indiana known for its flat

expansive horizon, sprawling

corn fields, and extreme seasons.

"Keeping fit was character building,"

she recalls, "Running at 5am to

avoid the summer heat, or having ice

covered eyelashes running through

the snowy winters.

Around the age of 19 Belinda started

traveling. University included a term

of study in Europe and later a brief

trip to a glass studio in New Zealand

pursuing a working apprenticeship.

After discovering the rich creative

culture and easy climate of Nelson,

on her return to Indiana Belinda wrote

letters every week until finally being

offered a job. In 1997 almost 8 weeks

after finishing her degree, Belinda

left her family and home in Indiana

to start an adventure unaware that it

would last for so long.

Belinda's apprenticeship at the

Höglund's glassblowing studio lasted

4 years. In that time she joined a local

running club to meet new faces and

learn the area. Nelson is a magical

place surrounded by trail covered

hills. "I felt spoiled being able to wear

shorts while running outside every

day of the year!" In 2001 Belinda left

glassblowing and picked up a less

physical part time job working in a

graphic design office which allowed

more time to focus on training. In

2003 she was selected to travel with

the New Zealand Mountain Running

Team to the world trophy event, then

again in 2004. By her last season

of racing Belinda was a consistent

podium finisher at a national level and

had set a few course records each

lasting for nearly 10 years.

When Belinda retired from chasing

races, it was really only the racing

that stopped. "A number of my friends

were active in the local multi-sport

adventure racing scene and I started

spending my weekends with them

running, mountain bike, and learning

how to keep a down river kayak

upright out in the sea. It was a lot of

fun."

"It wasn't until travelling

to visit New Zealand, she

realised that there was a

place in this world where

she finally made sense.

Nelson, New Zealand was

that first port of call. The

rich creative culture, and

very easy climate was a

huge draw card."

"I saw a huge need

for someone to make

garments that had

all of the practical

requirements for hitting

the trails but were much

more about having fun in

their appearances. Sturdy

enough to hit the ground

at speed, but nice enough

to head out to a cafe."

At that time there was little sportswear

available that was not heavily branded

polyester or drab solid coloured merino.

Having spent years being a billboard for

the shops and brands that supported my

racing, I saw a need for someone to make

a garment designed to go out and play.

Sturdy and comfortable, yet suitable for a

coffee date."

Yank was set up as a company in 2012

and research commenced, working

out how to turn an idea into a garment.

Everything had to be put aside for a few

years while navigating the challenges

of early motherhood. When family life

finally settled into a manageable rhythm,

Belinda's vision was rekindled and she

started drawing ideas through the wee

hours of the night after her family had gone

to bed. "Yank was literally started from a

tiny office under the staircase in my home."

By March 2019 the first collection of shirts

were made and the website went live. Yank

merino was born.

Yank merino clothing features Belinda's own

original designs which are printed directly

onto the fabric. Garments designed to be

comfortable and fun. "It sounds selfish when I

admit that my target market has always been

me. The first time a returning customer put

into words my reasoning to start Yank I was

blown away. That was only the beginning.

Since then I have received many messages

of appreciation and relish in stories about

friendships that have started because of

something as simple as a colourful merino

shirt that was made in New Zealand."

Still being fairly new to the market Yank is

technically a one woman band. "I have a

small network of amazing skilled hands who

I contract certain parts of the making process

to. All of them also small independent New

Zealand businesses."

"Yank merino clothing features

Belinda's own original designs which

are printed directly onto the fabric."

Last year Covid was the source of huge

uncertainty not knowing what the roll on

effects would be like for such a small startup

business. "In all honesty I believe Covid

helped solidify the relationships that I have

with my printing and sewing team. It was

really incredible to be able to keep a slow

but steady stream of work contracted out to

them, making it possible for their businesses

to also keep moving forward."

All images by Virginia Woolf

It was during the First Nation wide lock down

when Yank experienced the first big surge

in sales due to people looking specifically

for goods being made here in New Zealand.

Business has been relatively steady every

since.

64//WHERE ACTIONS SPEAK LOUDER THAN WORDS/#227 ADVENTUREMAGAZINE.CO.NZ 65
---
"Escape ordinary"

Caring luxury | Local flavour | One of a kind

1191 Pukaki Street, Rotorua

p: +64 7 348 4079 | w: regentrotorua.co.nz

Fix your bike

or fix yourself

We're for the weekend warriors.

Adventurers and adrenaline junkies who are out to push their limits.

And when you push it just a bit too far, our products will get you up and running again.

NeutronComponents

NEUTRON

components

neutroncomponents.com

15-17 OCTOBER 2021 SPRING CHALLENGE NORTH NAPIER, HAWKE'S BAY

FOR MORE INFO AND TO ENTER: WWW.SPRINGCHALLENGE.CO.NZ

Make time to have adventures

with your friends!
---
FOR YOUR FEET

Scarpa Vapor V Rock Climbing Shoe $279.99

Performance rock shoe built around the women'sspecific

low-volume FR last, with a slightly

asymmetrical, down-turned shape and a mediumto-low

angled toe box striking a balance between

confident smearing and precision toe power. New

microfibre upper and tongue with redesigned

VELCRO® straps for a comfortable fit and secure

heel hold. Men's version also available.

WWW.BIVOUAC.CO.NZ/GEAR/CLIMB

La Sportiva Skwama $299.95

A sensitive, snug fitting, flexible climbing shoe

ideal for top performance both on rock walls and

in the gym.

WWW.MOUNTAINADVENTURE.CO.NZ

HOKA Speedgoat 4 $299.95

Named for HOKA Athlete Karl "Speedgoat" Meltzer,

the Speedgoat 4 is part of an award-winning family

known for making quick work of technical terrain. The

fourth edition features a new breathable yet rugged

mesh. Grippy on the uphill and secure on the

downhill, the Speedgoat 4 is badass on every trail.

WWW.HOKAONEONE.CO.NZ

HOKA Rincon 3 $239.95

Delivering the best cushion-to-weight ratio on

the market, the Rincon returns this season in a

stupefyingly light silhouette. Designed to defy

expectations, and PRs, this aggressive redesign

features an asymmetrical tongue, thinner pull tab

and a vented-mesh upper for ultimate breathability.

WWW.HOKAONEONE.CO.NZ

HOKA Zinal $279.95

Attack technical terrain with confidence in the grippy,

'gecko-like' Zinal. A responsive trail runner geared

for shorter distances, this nimble trainer delivers

the perfect blend of speed and agility. Made from

recycled yarn, a stripped-back mesh upper has

been designed with a gusseted tongue to keep

debris out.

WWW.HOKAONEONE.CO.NZ

Merrell Alpine Sneaker $199.00

Let the retro vibe take over in sneakers so

comfortable you simply can't take them off. The

Alpine Sneaker is available in more colours so you

can choose what mixes with your style.

WWW.MERRELL.CO.NZ

SALEWA MOUNTAIN TRAINER 2 GORE-TEX® $399.90

Comfortable, flexible and supportive. This versatile

low-cut alpine hiking shoe has a high-quality suede

leather upper and a Vibram outsole. The waterproof

GORE-TEX® membrane lets your feet breathe; and

the women's specific fit with a contoured heel cup,

hold your feet comfortably in place for more stability

on descents.

WWW.BOBO.CO.NZ/SALEWA

SALEWA WILDFIRE EDGE GORE-TEX® $399.90

The Wildfire Edge GTX is an approach shoe that

can be adapted from hiking mode to climbing mode.

Simply tighten the switch-fit lacing system at the

rear eyelet and then do them up. This way, you pull

your foot forward into the toe box, compressing your

toes like a climbing shoe. The Pomoca Speed MTN

outsole offers enhanced grip and friction in both dry

and wet conditions.

WWW.BOBO.CO.NZ/SALEWA

Merrell Antora 2 Gore-Tex $299.00

Featuring sneaker-light comfort and confidenceboosting

support and traction, this Antora 2 is waterproof

lined and is uniquely tailored to women ready to find

themselves in places they've dared to look.

WWW.MERRELL.CO.NZ

Merrell Bravada $229.00

This female focused hiker features the fit and feel

of a sneaker with the traction and performance of a

hiker. With Quantum Grip, our stickiest outsole, to

provide confidence on all types of terrain.

WWW.MERRELL.CO.NZ

scarpa ribelle Hd $599.99

For fast and lightweight technical mountaineering or challenging tramping with heavy loads.

Features rugged suede leather uppers with an HDry® direct-attach waterproof/breathable

membrane and a Vibram® rubber outsole for grip and stability at cold temperatures over

difficult terrain. Full rand for added protection, compatible with semi-automatic crampons.

1160g (pair, size 38). Men's version also available.

WWW.BIVOUAC.CO.NZ/FOOTWEAR

SALEWA WOMENS ALPENROSE 2 MID GTX $389.90

Our Alpenrose 2 Mid GORE-TEX® is a dedicated

women's shoe with a specific, feminine design to

provide waterproof, breathable protection for speed

hiking and fast-moving mountain activities. It has a

lightweight, robust, fabric upper and a GORE-TEX®

Extended Comfort membrane.

WWW.BOBO.CO.NZ/SALEWA

68//WHERE ACTIONS SPEAK LOUDER THAN WORDS/#227

SALEWA MOUNTAIN TRAINER LITE MID GORE-TEX® $399.90

Made for alpine hiking and long backpacking routes,

our lightweight, comfortable and supportive mid-cut

boot performs well on rock and technical terrain. The

waterproof, breathable GORE-TEX® lining makes it

ideal for 3-season use, from higher activity levels in

summer, to rain, mud or lingering snow.

WWW.BOBO.CO.NZ/SALEWA

SALEWA MOUNTAIN TRAINER MID GORE-TEX® $499.90

Our MTN Trainer Mid GTX is a lightweight alpine

trekking boot with a suede leather upper and a

waterproof breathable GORE-TEX® Performance

Comfort lining. At the ankle, the Flex Collar allows

natural movement and the 3F System provides

flexibility, support and a blister-free fit. Underfoot we

feature a dual-density Bilight TPU midsole and a

Vibram® WTC outsole.

WWW.BOBO.CO.NZ/SALEWA

Merrell Tremblant Polar Waterproof $349.00

Designed for frozen winters. This mid-cut boot

takes on cold conditions with super-comfortable,

200 grams of low bulk insulation and a waterproof

lining. Stay warm and dry.

WWW.MERRELL.CO.NZ

La Sportiva TX5 GTX - Ladies $399.95

High-cut protective comfortable tramping shoe

designed for hikers and backpackers with

heavy loads. Gore-Tex allows waterproofness

& breathablility. 3D Flex system for freedom of

movement.

WWW.MOUNTAINADVENTURE.CO.NZ

Meindl Island Lady Rock $699.00

The Island Lady Rock is purpose built for hardcore

multi-terrain tramping. Shock absorbent PU

and Carbon Fibre sole unit, BC Category injury

prevention and ankle support, DiGA-Fix lacing,

Goretex, memory foam padding, and excellent

protective randing. Fit Slim. Weight 720gm.

WWW.MEINDL.CO.NZ
---
KEEPING OUT THE COLD

Rab Amy Hoodie $199.95

Casual and comfortable, our Amy Hoody is

perfect for crisp autumn walks and summer

evenings around the campsite. Easy to wear,

you'll instantly notice the Amy Hoody's soft

texture and reassuring warmth.

WWW.OUTFITTERS.NET.NZ

Outdoor Research Archangel GORE-TEX® Jacket $999.99

Built for and by alpine climbers for protection from the

elements with 3-layer GORE-TEX® Pro and full mobility

with a 3-layer GORE-TEX® Pro Stretch panel along the

upper back. Features a trim fit, a helmet-compatible hood

with a wire brim, Dynamic Reach underarm panels for

reach without riding up, pit zips for ventilation and packand

harness-compatible pockets. Men's version also

available.

WWW.BIVOUAC.CO.NZ/CLOTHING

Outdoor Research Vigor Full Zip Hoodie $199.99

Layer up on your cold-weather adventures. Grid

fleece fabric for warmth combines with thermoregulating

ActiveTemp technology to wick sweat

and manage your body temperature in quickly

changing conditions. Ideal as a midlayer for really

cold days or as an outer layer on cool days. Men's

version also available.

WWW.BIVOUAC.CO.NZ/CLOTHING

Rab Vapour-Rise Alpine Light Jacket $299.95

As part of our highly technical Ascent range,

the Women's VR Alpine Light Jacket comes

with a double-ended YKK VISLON® front

zip, plus a lightweight elasticated hood with

windproof peak. It also features large venting

chest pockets for extra airflow, as well as

elasticated cuffs and an adjustable hem for a

tailored fit.

WWW.OUTFITTERS.NET.NZ

macpac Women's Névé Three-In-One Reflex

Jacket $599.99

Warm and dry just about anywhere, the Névé's

inner down jacket and external shell can be

worn separately or simultaneously. Great for

wearing on the snow at resorts, it's a jacket you

can adjust to every winter adventure.

WWW.MACPAC.CO.NZ

Merrell Ridgevent Hybrid Jacket $399.00

Stay warm, dry, and responsible. With DownPlus+

insulation made up of 65% responsibly sourced

waterproof goose down and 35% ultra-fine

Primaloft synthetic fibres, it's your go-to layer of

warmth when you're on the move.

WWW.MERRELL.CO.NZ

Patagonia Bivy Jacket $459.99

This iconic jacket has some

improvements: The Westernstyle

yoke is still made with

100% recycled nylon fabric, but

the body is now 100% recycled

polyester ripstop insulated with

600-fill-power 100% Recycled

Down. It's also Fair Trade

Certified sewn.

WWW.PATAGONIA.CO.NZ

Macpac Women's Jupiter Hooded

Down Jacket $319.99

Cosy, light, and uncomplicated,

the Jupiter works by using 650

loft RDS duck down to trap your

body's heat and keep you toasty.

It's packable, warm and equally

ideal on crisp mornings, cold days

and chilly nights.

WWW.MACPAC.CO.NZ

Rab Nexus Pull-on $139.95

The Nexus Pull-On is a midlayer

made with stretch fleece for

mobility and comfort - it will

quickly become your go-to

lightweight technical fleece. The

Nexus Pull-On is made with

Thermicstretch fleece, a soft

comfortable fabric in a regular fit.

WWW.OUTFITTERS.NET.NZ

Rab Kaon Jacket $399.95

Conceived as the next step in

insulated layers, the Women's Kaon

Jacket employs a combination of

high-loft hydrophobic down, quickdrying

synthetic fill and insulationfree

underarm sections for the ideal

balance of warmth, protection and

movement. Its intelligent zoning

of materials uses 800 fill power

European goose down in the body,

quick-drying Stratus insulation in

the cuffs, shoulders and hips and

Pertex Quantum Air panels under

the arms.

WWW.OUTFITTERS.NET.NZ

Outdoor Research Archangel

GORE-TEX® Bibs $999.99

Extreme protection from the elements

with 3-layer GORE-TEX® Pro and

full mobility with 3-layer GORE-TEX®

Pro Stretch panels where you need

them - on the knees, lower back

and crotch gusset. Other features

include top to bottom zips, adjustable

venting and cuff size adjustments to

fit climbing or ski touring boots. Men's

version also available.

WWW.BIVOUAC.CO.NZ/CLOTHING

macpac Women's Chord Softshell

Hooded Coat $299.99

A combination of urban style and

outdoor functionality, the Chord's

breathable three-layer fabric is warm

and water-resistant. The coat has a

flattering fit, two-way front zip and a

warm fleece lining.

WWW.MACPAC.CO.NZ

Outdoor Research Blackpowder II

Pants $439.99

Slimmed-down and streamlined ski

pant: Pertex® Shield for waterproof,

windproof performance, a polyester

tricot upper leg lining is soft and

warm against your thighs, a taffeta

lower leg lining adds durability and

comfort to your calves and a heavyduty

scuff guard protects your ankles

for abrasion. Features avalanche

beacon pocket and internal gaiters.

Men's version also available.

WWW.BIVOUAC.CO.NZ/CLOTHING

macpac Women's Accelerate PrimaLoft®

Fleece Vest $199.99

Lightweight, warm, and water resistant,

Accelerates are ideal for exercise and

adventure. They're body mapped for free

movement, filled with PrimaLoft® Silver

Hi Loft Ultra synthetic insulation for core

warmth, and they remain toasty and

packable.

WWW.MACPAC.CO.NZ

Rab Kinetic Alpine Jacket $499.95

Constructed from recycled Stretch

Knit Proflex fabric with exceptional

breathability of 35,000g MVTR. That is

bolstered with woven reinforcements at

the lower arm for walking; at the cuff for

climbing; and at the shoulder and hip for

backpack straps and harnesses.

WWW.OUTFITTERS.NET.NZ

Rab Cirrus Flex Jacket $299.95

With its hybrid construction, comprising

micro-baffles, synthetic insulation and

stretch fleece side panels, it can be used

as a soft, breathable midlayer for cold

winter days or it can be thrown over a

t-shirt for a lightweight warmth boost on

chilly summer evenings at the crag.

WWW.OUTFITTERS.NET.NZ

moa Pania Jacket $199.95

Women's waterproof jacket – durable,

breathable & windproof. A hiking jacket

to keep you drier for longer! Zip off hood,

seam-sealed, extra high chin guard for

weather protection.

WWW.MOUNTAINADVENTURE.CO.NZ

OR WWW.KIWISTUFF.NET.NZ

70//WHERE ACTIONS SPEAK LOUDER THAN WORDS/#227
---
TECHNICAL GEAR

Edelrid Jayne Harness $139.95

An all-round harness specially tailored to the

female anatomy with adjustable leg loops and an

easy-to-center tie-in point.

WWW.MOUNTAINADVENTURE.CO.NZ

CamelBak Octane 9 Vest $179.99

The best-in-class Crux reservoir holds 2 litres of

water, but if you need to carry more, stash a Quick

Stow flask in one of the specifically sized harness

pockets. Designed just for women, the harness

allows your gear placement to be customized

with the use of upper and lower pockets so you

can carry your water and fuel where it's most

comfortable.

WWW.SOUTHERNAPPROACH.CO.NZ

CamelBak Zephyr Vest 1L $249.99

A dream for ultra-long distance runners

and fast-packers, Zephyr Vest is

engineered with body mapping for optimal

ventilation and designed to perform for

your specific pursuit.

WWW.SOUTHERNAPPROACH.CO.NZ

Pivot Switchblade Carbon From $10,495

Beyond All Mountain.

The sequel to the Switchblade story heralds a

new era of all mountain riding, with more travel,

unrivaled versatility and progressive geometry.

It unleashes dominance over enduro inspired

descents, generates speed, and delivers the

finesse needed for power moves on technical

climbs. With a masterfully designed new

dw-link shock layout, riders can optimize

suspension performance like never before. The

all-new Switchblade cleans the impossible,

threads the needle, and delivers the freedom

to explore. From bike park flow trails to raw

backcountry routes, the Switchblade amplifies

every rider's skills and excels on any trail.

WWW.PIVOTCYCLES.CO.NZ

Macpac Voyager 35L Backpack

$279.99

Sturdy and supportive, the

versatile Voyager is made with

an AirFlo harness inspired by

our larger hiking packs. Its main

compartment can be divided into

two and its straps are shorter to

fit petite frames. The hip belt can

removed if preferred.

WWW.MACPAC.CO.NZ

Osprey Tempest Pro 28 $349.99

Whether you're heading out for a

demanding day hike or light and fast

overnighter, reach for the women'sspecific

Tempest Pro 28. A lightweight

pack series designed with optimal stability

for dynamic movement even on the most

technical terrain.

WWW.SOUTHERNAPPROACH.CO.NZ

Pivot Shuttle e-MTB From $19,995

Potential, Realized.

The Shuttle redefined electric assist mountain

biking. Sleek, lightweight, capable, beautifully

crafted, with the motor and battery seamlessly

integrated into its design, the Shuttle ushered in

a whole new way of riding. Now, the redesigned

Shuttle has the juice to take your riding even

further. A sophisticated carbon fiber chassis

houses an equally sophisticated Shimano

EP8 drive unit and a massive 726 Wh battery.

Progressive geometry, highly evolved dw-link

suspension and a brawny Fox 38 fork offer

unmatched suspension performance and

handling. The Shuttle has the power to take you

where you dream of going, and give you the ride

of your life getting there and back.

WWW.PIVOTCYCLES.CO.NZ

Patagonia Pack Out Hike Tights $229.99

New versatile, lightweight-yet-durable tights for

all-around wear. Moisture-wicking with 4-way

stretch and a PFC-free DWR finish, they feature

side drop-in pockets, zippered security pocket,

flat-seamed chafe-free construction, and are Fair

Trade Certified sewn.

WWW.PATAGONIA.CO.NZ

zeena clothing Infinidade Capri $89.90

Designed for comfort and performance

our core range will take you from coffee

to nature, gym to the couch. Proudly

made in New Zealand.

WWW.ZEENYACLOTHING.COM

zeena clothing Ilimitada Running

Legging $134.90

Share your inner brightness on

the inside. Running leggings with

pockets for your phone, card +

keys. Insanely comfortable and

ready to go

WWW.ZEENYACLOTHING.COM

yank snazzy rock star short

sleeve tee $140.00

Merino like you haven't seen

before. 125gsm NuYarn©

Merino with full colour print.

Designed, printed, cut and sewn

in New Zealand

WWW.YANK.NZ

Pivot Trail 429 From $10,795

All-Mountain Attitude, Race Bike Reflexes

The Trail 429 might well be the perfect categorydefying

trail bike. Progressive geometry and

super capable suspension give hard-charging

riders the tools they need to thrive in jumpy and

steep terrain. 120mm of travel has never felt

this plush or this composed. This very same

super-refined dw-link suspension also delivers

whip-crack pedal response and acceleration,

aided and abetted by the strongest, lightest

carbon fibre chassis we've ever developed. The

sharp-end of the stick XC capability of this bike

is eye-opening, on par with dedicated flyweight

race bikes. This is a bike that you can shred

with confidence everywhere from 24-hour race

courses to untamed high alpine singletrack.

The Trail 429 is no slouch. But don't just take our

word for it. Geoff Wright from SPOKE magazine

put it to the test and has shared his thoughts in

this Oprah worthy "nothing is off-limits" exposé

into the ins and outs of this versatile All-Mountain

one bike wonder.

WWW.PIVOTCYCLES.CO.NZ

72//WHERE ACTIONS SPEAK LOUDER THAN WORDS/#227 ADVENTUREMAGAZINE.CO.NZ 73
---
Rab Alpine 600 Womens Sleeping Bag $699.95

The Alpine Pro range is for those looking to

balance warmth, weight and comfort. Designed

for year-round mountain use, the Women's

Alpine Pro 600 is versatile offering protection

and warmth in cold conditions. Its mummy taper

shape is roomy and comfortable with an angled

footbox that keeps your feet warm but still allows

for movement.

WWW.OUTFITTERS.NET.NZ

Rab Ascent 700 Womens Sleeping Bag $699.95

The Ascent 700 is a versatile mid-weight,

down-filled sleeping bag that provides reliable

protection over three seasons. Its a hard-wearing

high performing sleeping bag you can depend on

for comfort and protection over three seasons.

WWW.OUTFITTERS.NET.NZ

equip

yourself!

kiwi camping Tuatara SSC Rooftop Tent $1,999.99

Compact and lightweight, the Tuatara Softshell Compact pops

up and folds away in just 2 minutes. Includes telescopic ladder,

200kg weight rating and a blackout PU fly.

WWW.KIWICAMPING.CO.NZ

kiwi camping Tuatara HS Rooftop Tent $4,999.00

Hard-wearing and spacious, the Tuatara Hardshell is one of the

lowest profile rooftop tents on the market. Includes heavy-duty

frame, 7cm mat and 316 marine-grade stainless steel.

WWW.KIWICAMPING.CO.NZ

kiwi camping Tuatara 2.5 x 2.5 Awning $399.00

Offers 6.25m² of covered area for sun or rain protection. 200g polycotton canvas awning,

twist-lock design, adjustable height and mounts directly to existing roof rack.

WWW.KIWICAMPING.CO.NZ

kiwi camping Tuatara Side Wall for 2.5 x 2.5 Awning $119.00

The Tuatara Side wall attaches to our 2.5 x 2.5 awning with hook and loop

tabs for added privacy and protection. 200g polycotton canvas, 2000m aqua

rating and SPF50 UV coating.

WWW.KIWICAMPING.CO.NZ

NEUTRON COMPONENTS ULTRALIGHT FIRST AID KIT $35.00

Designed to get you home, this kit is all about

convenience – it includes all of the essentials, and

weighs less than a mars bar!

WWW.NEUTRONCOMPONENTS.COM

Sea to Summit Flame II Sleeping Bag $649.99

Engineered for women to provide extra warmth

where needed, our Flame is what you reach for

when you need a high performance sleeping bag

but don't want to be weighed down by one.

WWW.SOUTHERNAPPROACH.CO.NZ

Low Prices Everyday

Free NZ Shipping on

orders over $150 for

members

Members Earn Equip+

Loyalty Points

shop online or instore

Gasmate Ducted Camping Heater $549.00

Compact in design, the Gasmate Ducted Camping

Heater allows you to efficiently heat your tent through

the ducted heating system. Features a carry bag for

easy portability.

WWW.KIWICAMPING.CO.NZ

Kiwi camping Rover Lite 3cm Self-Inflating Mat $99.99

Compact to pack and carry, the Rover Lite self-inflates

in minutes. The tapered design can fit in a sleeping bag,

1830mm long and 550mm wide.

WWW.KIWICAMPING.CO.NZ

Sea to Summit Ether Light XT Insulated Mat $349.99

Featuring a women's specific shape that is wider

at the hip and narrower at the shoulder, Exkin

Platinum® and a thicker THERMOLITE® insulative

layer are combined with a loop baffle Air Sprung

Cell construction to create a 10cm thick mat with

an incredibly low weight.

WWW.SOUTHERNAPPROACH.CO.NZ

equipoutdoors.co.nz

62 Killarney Road,

Frankton, Hamilton,

New Zealand

P: 0800 22 67 68

E: sales@equipoutdoors.co.nz

74//WHERE ACTIONS SPEAK LOUDER THAN WORDS/#227
---
ack country cuisine $9.29 - $13.89

CHICKEN CARBONARA: A freeze dried chicken

and pasta dish, served in a creamy italian style

sauce. Available small serve (90g) or regular (175g)

MUSHROOM BOLOGNAISE (Vegan) Mushrooms

with tomato in a savoury sauce, served with noodles.

Available small serve (90g) or regular (175g)

WWW.BACKCOUNTRYCUISINE.CO.NZ

back country cuisine

CHOCOLATE BROWNIE PUDDING $12.89: Our take

on chocolate self-saucing pudding, with chocolate

brownie, boysenberries and chocolate sauce. Gluten

Free. Available in regular serve (150g)

ICED MOCHA $4.09: Our mocha is made with

chocolate and coffee combined with soft serve to give

you a tasty drink on the run. Gluten Free. 85g.

WWW.BACKCOUNTRYCUISINE.CO.NZ

POUCHES

SOFT - PLASTIC

RECYCLABLE

Deep Creek Brewing- Sentinel $8.99

STYLE: Hazy IPA AVB: 6.5%

This White Tiger Sentinel is inspired by one

of the four guardians of Chinese mythology,

which represents the autumn season. Enjoy the

beautiful passionfruit and a sprinkling of guava

taste!

WWW.DCBREWING.CO.NZ

Deep Creek Brewing- Sentinel $9.99

STYLE: Sour -Ginger and Peach AVB: 4.5%

Fresh New Zealand peaches combined with the

perfect amount of ginger bring to life this playful,

delicious and refreshing latest addition to our sour

family. Tune in with the Ukulele!

WWW.DCBREWING.CO.NZ

NZ'S NO.1 MEALS

FOR HIKING

ADVENTURES

Find out

more

backcountrycuisine.co.nz/pouches

sunsaver classic 16,000 mah solar power bank

$119.00

Built tough for the outdoors and with a massive

battery capacity you can keep all your devices

charged no matter where your adventure takes you.

WWW.SUNSAVER.CO.NZ

Adventure magazine yearly subscription $80.00

Get your favourite magazine delivered directly to

your door. Six issues per year.

WWW.PACIFICMEDIA-SHOP.CO.NZ
---
FEED YOUR ADDICTION

Like a 'perfect storm', we have seen a dramatic growth and

development in online stores over the past 5 years. Now as we are

made to keep our 'distance', online, ecommerce takes on a whole

new meaning and value. We are dedicating these pages to our client's

online stores; some you will be able to buy from, some you will be able

drool over. Buy, compare, research and prepare, these online stores are

a great way to feed your adventure addiction while you are still at home.

Ultra lightweight running shoes, made by runners. No

matter where the trail takes you, Hoka One One will

have you covered.

www.hokaoneone.co.nz

New Zealands largest independent Outdoor and

Paddle store.

www.furtherfaster.co.nz

Never have a dead phone

again! Because now you can

charge straight from the Sun

with SunSaver. Perfect for

that week-long hike, day at

the beach, or back-up for any

emergency. Check us out at:

www.sunsaver.co.nz

www.packraftingqueenstown.com

Specialising in

small group guided

packrafting trips and

courses from our base

in Queenstown New

Zealand.

Bivouac Outdoor stock the latest in quality outdoor

clothing, footwear and equipment from the best

brands across New Zealand & the globe.

www.bivouac.co.nz

Shop for the widest range of Merrell footwear, apparel

& accessories across hiking, trail running, sandals &

casual styles. Free shipping for a limited time.

www.merrell.co.nz

www.adventuresouth.co.nz

Whether you enjoy

cycle trails, road

cycling, mountain

biking or walking,

Adventure South NZ

can help you to explore

New Zealand at

your own pace.

Full-service outfitter selling hiking

and mountaineering gear and

apparel, plus equipment rentals.

Specialising in ski & snowboard

touring equipment new & used;

skis, boards, bindings, skins,

probs, shovels,transceivers &

avalanche packs.

www.smallplanetsports.com

Whether you're climbing mountains, hiking in the hills

or travelling the globe, Macpac gear is made to last

and engineered to perform — proudly designed and

tested in New Zealand since 1973.

www.macpac.co.nz

Living Simply is an outdoor clothing and equipment

specialty store in Newmarket, Auckland. Your go-to place

for quality footwear, packs, sleeping bags, tents, outdoor

clothing and more.

www.livingsimply.co.nz

Our motto is "Going the

distance" and we pride

ourselves on providing top

quality outdoor and travel

equipment and service

that will go the distance

with you, wherever that

may be.

www.trekntravel.co.nz

Gear up in a wide selection of durable, multifunctional

outdoor clothing & gear. Free Returns. Free Shipping.

www.patagonia.co.nz

Offering the widest variety,

best tasting, and most

nutrient rich hydration,

energy, and recovery

products on the market.

www.guenergy.co.nz

Fast nourishing freeze dried food for adventurers.

www.backcountrycuisine.co.nz

Stocking an extensive range

of global outdoor adventure

brands for your next big

adventure. See them for travel,

tramping, trekking, alpine and

lifestyle clothing and gear.

www.outfittersstore.nz

Specialists in the sale of Outdoor Camping Equipment, RV,

Tramping & Travel Gear. Camping Tents, Adventure Tents,

Packs, Sleeping Bags and more.

www.equipoutdoors.co.nz

Jetboil builds super-dependable

backpacking stoves and camping

systems that pack light,

set up quick, and achieve

rapid boils in minutes.

www.jetboilnz.co.nz

Supplying tents and

camping gear to Kiwis

for over 30 years, Kiwi

Camping are proud to

be recognised as one of

the most trusted outdoor

brands in New Zealand.

www.kiwicamping.co.nz

Reusable, BPA free water bottles containing a unique 3-in-

1 filtration technology providing clean safe drinking water

from any non-salt water source anywhere in the world.

www.watertogo.co.nz

Our very own online store where

you will find hard goods to keep you

equipped for any adventure.

www.pacificmedia-shop.co.nz

Radix provides freeze dried

meals and smoothies made

with all natural ingredients.

These are perfect for

athletes and adventures

who care about their health

and performance. Gluten

free, Plant-based and Keto

www.radixnutrition.com

options are available.

Get 10% off your first order online.

Excellent quality Outdoor

Gear at prices that can't

be beaten. End of lines.

Ex Demos. Samples. Last

season. Bearpaw. Garneau.

Ahnu. Superfeet.

www.adventureoutlet.co.nz

78//WHERE ACTIONS SPEAK LOUDER THAN WORDS/#227
---
The

RELUCTANT

adventurer

Words by Teva

Images compliments of the rest of the squad

'reluctant'

adjective

unwilling and hesitant; disinclined.

An eighteen-year-old princess, who paints his (yes, his) nails

and dyes his hair bleach blonde, embarking on an adventure trip

with his family, sounds like a plot for a bad 80s movie.

After being homebound by Covid-19 for the last year and a

half, most people would love the idea of an adventure in the

deep South, campervanning from Christchurch to Queenstown,

stopping along the way to soak in the incredible outdoors that

New Zealand has to offer; unfortunately, I am not most people.

My past record indicates I would rather be at home in my warm

bed doing next to nothing for days on end, rather than throwing

myself into -5 degree weather and 6am alarms. I have always

been a 'reluctant' adventurer, scared of most of what the world

has to offer and fairly snug in the comfort of my own home; so

when I found out that my family and I were making a trip down to

the South Island, I was not so keen. My reluctance was slightly

diminished by the fact that my best friend (and his family) would

be joining me for the ride.

The 4am wakeup time for the 5am flight was the first punch in

the gut, honestly, we were not off to a great start. After being

dragged out of the shower and into the car we made our way

to the airport. I am also not a massive fan of airports; the lines,

the people, the touchy-feely guys who make sure you do not

have a bomb, the list goes on. But finally, we boarded the

plane, this is where my reluctance began to ease. The flight

into Christchurch was like something out of a movie, with snowcapped

mountains ranging as far as the eye can see as the

stunning sunrise kissed the mountain tops. We often forget how

much beauty is in our backyard; people travel the world to see

places equally extraordinary as what can be found with a $39

flight to Christchurch. We landed and the door opened as an icy

gust of South Island wind slapped me across the face with some

serious attitude, while my fingers almost immediately forgot how

to move. Opening my phone to see the weather was at a bitter

-5 degrees, this was my wake-up call, we were not in Auckland

anymore.

The RV Supercentre, where you pick up the Maui, Britz and

Mighty campervans, is only a short distance from the airport,

thank goodness. The process of being assigned our campers

and getting on the road went smoothly and as the 6 camper

convoy pulled out onto the main road you could hear a collective

sigh from all the other road users at the thought of getting stuck

behind our group.

Kale, Jarrah, Teva and Cian in wonder at the frozen rivers running

alongside the Hooker Valley Track, Aoraki Mt Cook

80//WHERE ACTIONS SPEAK LOUDER THAN WORDS/#227 ADVENTUREMAGAZINE.CO.NZ 81
---
"The worst thing about tramping is

what you have to wear; thermals and

boots, layers on layers, gloves you

have to take off for every photo and

the ugliest woolly hats. I can tell you,

no matter how hard you try, you can't

make that shit look good."

Glentanner Campground in Aoraki, Mt Cook, was our first

destination and we broke up the 304km drive by taking

the scenic route past Rakaia Gorge where we stopped to

explore. The powdered hilltops rising into the clouds made

for a picturesque view that our cameras struggled to capture.

My reluctance was slowly fading as I was more distracted

by the beauty around us. Our day ended at Glentanner

Campground, a site surrounded by Aoraki's picturesque

mountains and lakes. It sounds cliched but it was as if we

bathed in the beauty of Aoraki, while sitting around the fire

playing board games. The day was long and tiring so the

warmth of the fire and being surrounded by my friends and

family was a great reward, at this point I should mention

Fireballs, which can put a warm glow on any 'reluctancy'. It is

a beverage we picked up in Canada on a previous trip, where

it is super cheap (not so much here). It is a mixture of whiskey

and cinnamon and the perfect finish to a perfect day.

Aoraki, as impressive as its views are alone, is most known

for its walking tracks through Mt Cook and the surrounding

areas. As I said before, I am not much of an adventurer,

I am a terrible swimmer and can hardly ride a bike, so to

wake up at 6am for a tramp was not my idea of a fun time.

In all honesty, from the comfort of my campervan, Aoraki, at

a glance, was looking fine to me. It looked majestic in the

morning sun, and I was toasty warm on my second cup of hot

chocolate. I am more of a looker than a doer, but my family

and friends are not. We (meaning they) decided we were

walking the Hooker Trail, 3+ hours of it.

The worst thing about tramping is what you have to wear;

thermals and boots, layers on layers, gloves you have to take

off for every photo and the ugliest woolly hats. I can tell you,

no matter how hard you try, you cannot make that shit look

good. I added some new nail polish and my favourite rings but

still looked like one of the kids from the Sound of Music.

Our walk began around 10am (getting that many people

ready takes a while) and luckily, we were blessed with some

of the bluest skies and calm days of 2021. As we ventured

out, we were greeted with waterfalls, glaciers, and the

haunting sounds of avalanches from the mountains around

us. The 3 hours turned into 5 as we stopped to take photos,

play in the rivers, climb little hills, and skim rocks across the

frozen lakes. Around every corner there was something new

and interesting to look at; day two and I am just a little less

reluctant, on a scale of one to ten I'm now about a six.

The day came to an end, and we drove back to Tekapo where

we soaked in the hot pools under clear black star filled skies

that Tekapo is renowned for, a great end to a genuinely great

day.

Day three; involved a slightly slower start (possibly the

Fireballs) as we made our way south towards Omarama

Clay Cliffs. As we drove, we passed Tasman Lake where we

stopped and tasted some of the freshly caught salmon and

looked back at the views over the lake towards Aoraki Mt

Cook, for the first time I felt a reluctance to leave.

We drove through wind and fog and freezing landscapes

which seemed like scenes from Narnia with snow covered

trees and thick blinding fog. Thankfully, my best friend was

driving so I got the chance to really take in and soak up the

views. Once we regained vision after getting through the fog,

we made our way towards the Clay Cliffs. The cliffs towered

over us as we walked through what looked like a part of

Bryce Canyon (minus the snakes) in America, which I had

reluctantly been to before. It catches you off guard, especially

for someone who has travelled a lot, how much New Zealand

has so many snippets of other places. If you were to see a

photo of the Clay Cliffs you would think it was somewhere

straight out of Colorado.

Top row: Skimming stones at Rakaia Gorge / The flight to Christchurch / It's always better with a mate, Cian Emery and Teva

showing a little man love, Rakaia Gorge

Middle: The whole squad (minus one) on the first of three swing bridges on the Hooker Valley Track, Aoraki, Mt Cook

Bottom: Rakaia Gorge / Jarrah and Julian / The whole squad at Aoraki, Mt Cook

Our campervan convoy, on the road with the whole crew

82//WHERE ACTIONS SPEAK LOUDER THAN WORDS/#227 ADVENTUREMAGAZINE.CO.NZ 83
---
"Keep in mind, as a reluctant

adventurer, and someone who failed

their restricted license test 4 times,

driving an ATV where your life is

in your hands was not on the top of

my to-do list."

The final part of the drive took us over Lindis Pass, the

highest point in the South Island's main road system, thus

subject to some heavy snow falls and a history of some

serious crashes. Fortunately the previous weeks snow had

cleared and we experienced a clean ride through into Central

Otago. From the carpark at the top of the pass there are two

short trails taking in great viewpoints of the surrounding area.

Our arrival in Wanaka saw the arrival of rain, the first we had

seen on our trip. Cold and wet, actually lots of wet, meant

outdoor activities were on hold so we decided to drive to the

iconic Cardrona pub. With tales of juicy steaks and mulled

wine around a roaring fire the half our trip passed quickly.

What was also passing quickly were the raging rivers on

either side of the road, which I am sure a day before had

been little more than creeks. We were a little concerned about

the rising rivers but and promised ourselves not to stay too

long. However it turned out our trip would be shorter than we

hoped as the Cardrona Hotel was closed due to flooding. So

back to Wanaka it was and found our new favourite hang out,

Amigos Mexican restaurant, where we replaced mulled wine

with the Mojitos and juicy steaks with equally delicious tacos

and crispy chicken.

Our final day was a whole different story; waking up at

5.30am to be in Queenstown by 8am was indeed a mission,

but a worthy one. The constant rainfall of the previous day

had eased and as the sun began to rise, the rain stopped,

and the skies cleared.

We arrived in Queenstown to begin our quad bike tour, with

"Nomad Safaris". After wrapping up warm and learning the

ropes we began our adventure up the mountains behind

Queenstown. Keep in mind, as a reluctant adventurer, and

someone who failed their restricted license test 4 times,

driving a quad bike on mountainous terrain in the slippery

snow and mud was not on the top of my to-do list.

After venturing up the mountain to the snowy hilltops of

Queenstown, we looked down upon remarkable views. Sitting

at one of the highest points in Queenstown I began to think

about how lucky we are as Kiwis that we have these amazing

places so close and so accessible.

Once back from our tour, we had time to check out the local

wineries before heading back to the airport, now reluctantly.

This time not because I hated the idea of the airport but more

because I did not want our adventure to finish. I do not know

whether that was because I was away with my best friend or if

the adventures and travels we had been on were begging me

to stay, but all I knew was I was not ready to go just yet. This

trip taught me that New Zealand has a lot more to offer if you

look in the right spots and that no matter how reluctant you

might be to go outside your comfort zone, give it a go, you

might be surprised.

thl is the perfect road trip partner, working to make sure you

have an unforgettable holiday by heading off the beaten

track to explore new and unique adventures. With a number

of centrally located branches in Australia and New Zealand,

thl provides you with the means to get off the grid. Their

campervans come fully equipped with everything you need

to travel in comfort and style and provide all the space

you need to bring along everything for an epic adventure.

With a focus on a continual quest for design enhancement

and innovation to ensure you have the best campervan

experience, thl is there to bring you closer to nature with

its range of motorhomes, suited to all kinds of styles and

budgets. For more info go to: www.maui-rentals.com

Top row: Sunrise at Lake Tekapo / The winter wonderland just north of Twizel

Second Row: The squad at Tekapo / Omarama Clay Cliffs / Quad biking with Nomad Safaris

Third Row: The sun came out and the rain stopped to show Wanaka in all her beauty / The squad at the Cardrona Hotel

Bottom: The scenery in the South Island is simply spectacular

84//WHERE ACTIONS SPEAK LOUDER THAN WORDS/#227 ADVENTUREMAGAZINE.CO.NZ 85
---
Papua New Guinea

Four reasons to add Papua New Guinea to your bucket list

As the world starts to slowly reopen, and as travellers

start deciding where that first trip back out in this big

beautiful world is, it's time to consider Papua New

Guinea. One of the most culturally rich countries in

the world, it is home to over 8 million people who

speak more than 800 different languages. It's hard

to believe that all of this rich culture is right on our

doorstep. Add to that an incredibly untouched natural

paradise, paired with adventures that could even

challenge your wildest dreams.

It's a place that is so raw and real, that it's the kind

of country that travellers spend their lifetime trying to

find and hold onto. To give you just a taste of what

you can find in PNG, here are four bucket list items

for the adventurous soul.

1. CATCH AN ILLUSIVE BLACK BASS OR DOGTOOTH TUNA

Papua New Guinea's untouched rivers and lakes, and isolated

coastal waters, offer some of the best lures in the world. From the

challenge of catching a 'lure shy' Papua New Guinea Black Bass

in remote rainforest-lined rivers, to showing off a prized Dogtooth

Tuna or Marlin catch out at sea, Papua New Guinea is a fishing

enthusiast's dream. With the past 18 months being a write-off, the

fishing stocks have had time to fully replenish - 2022 is set to be

the biggest and best year for fishing.

Papua New Guinea is one of the most culturally rich

countries in the world

2. DISCOVER PNG'S COLOURFUL COASTAL CULTURE

Divers and snorkellers have been coming to Milne Bay

and the Tufi Fjords (yes Papua New Guinea has its own

fjords!) for decades, but culture-seekers have only recently

cottoned on to this unique part of the world. Alotau is the

capital of the Milne Bay region, and plays host to the annual

Kenu and Kundu Festival each November - a lively and

colourful cultural display of war canoe racing and 'singsings'

(traditional dances).

Year-round you can discover harrowing skull caves,

and can also learn to cook (and enjoy) a Mumu feast (a

traditional meal of local produce cooked in the earth). Up

the coast in Oro Province are the Tufi Fjords, home to the

world's largest butterfly (the Queen Alexandra Bird Wing;

with wingspans of up to 28cm). Visitor participation in

traditional daily life is welcomed by the local villagers, who

will happily show travellers how to build traditional homes

and canoes from sago palms, and how to hunt and gather

for food.

Fishing on Lake Murray

86//WHERE ACTIONS SPEAK LOUDER THAN WORDS/#227

Diving off

Walindi

Plantation

Resort
---
REACH FOR

THE REMOTE

3. GO ON A SURFING PILGRIMAGE

Another perfect wave

Thanks to Papua New Guinea's world-renowned Surf

Management Plan, the number of surfers on any one

break is capped, so you'll never be stuck waiting to catch

the perfect wave - plus locals are still able to surf their

own breaks. Surfing is idolised in Papua New Guinea, as

are visiting pro surfers. You'll be just as likely to see locals

surfing on hand-carved planks of timber, as you will Taylor

Jensen (who won the 2017 Men's Kumul PNG World

Longboard Championships), or even have the waves all to

yourself!

Walindi, Kimbe Bay

There's plenty of islands, waterfalls, caves and volcanoes

to explore. The north coast of Papua New Guinea is our

pick for keen surfers, also a renowned fishing, diving /

snorkelling paradise too. Stretching for over 500km, the

northern coastline of Papua New Guinea's mainland is

as chilled-out as it comes. Here you'll find sleepy port

towns and seaside villages (like Vanimo, Wewak and

Madang), that offer the perfect respite for those who've just

adventured to the nearby highlands or Sepik River. Spend

the day paddling across aqua-clear waters to nearby

deserted islands, explore local caves and waterfalls, or

tuck into some fresh locally-caught seafood.

4. ADVENTURE ACROSS REMOTE ISLANDS

New Britain and New Ireland islands in the Bismarck

Sea are popular with divers, surfers, history buffs and

adventure seekers alike. These two easy-to-get-to islands

are perfect for first-time visitors to Papua New Guinea. In

West New Britain Province (accessible by flight to Kimbe),

you can hike to the top of the active Gabuna Volcano

crater, relax in a natural spa-like thermal hot river, or visit

the local firefly trees at night and see the rainforest light up.

At the other end of the island in East New Britain Province

(accessible by flight to Rabaul), a world of history awaits;

from hidden Japanese WWII war tunnels and Admiral

Yamamoto's famed buker, to the ash-covered remains

of old Rabaul town (destroyed by the nearby Mount

Tavurvur volcanic eruption of 1937). And over on New

Ireland (accessible for flight to Kavieng) you can go on a

5-day cycling adventure, travelling down the length of the

260km mostly-flat Bulominski Highway, stopping to rest at

traditional village homestays along the way.

West New Britain's hot thermal river

As the world starts to slowly reopen, and as travellers we

make more conscious decisions about where we want to

travel to next, we pose the following question – how

about travelling to Australia's closest neighbour?

Remote natural beauty and rich diverse culture abounds

right on your doorstep.

Find your remote at www.papuanewguinea.travel
---
Free Aitutaki Honeymoon

at Aitutaki Lagoon Private Island Resort

Kids Eat Free!

at The Rarotongan Beach Resort & Lagoonarium

COOK ISLANDS' ONLY PRIVATE ISLAND RESORT & OVERWATER BUNGALOWS

Book your Rarotongan wedding with us...and we will gift you a free Aitutaki Honeymoon at the Cook Islands only

private island resort, Aitutaki Lagoon Private Island Resort (Adults Only).

Been dreaming of your tropical island beach wedding and honeymoon? The border with the Cook Islands is now open

for two-way quarantine-free travel with New Zealand.

Confirm your booking for your stunning Seventh Heaven All-Inclusive Wedding Package at the Cook Islands' leading

beach wedding resorts, The Rarotongan Beach Resort & Lagoonarium and Sanctuary Rarotonga-on the beach, and we'll

gift you a FREE Aitutaki Heavenly Honeymoon!

• Your FREE Aitutaki Honeymoon includes 2 Nights FREE in a Premium Beachfront Bungalow at our luxury boutique sister

resort, Aitutaki Lagoon Private Island Resort and includes Daily Tropical Breakfast!

• Your Seventh Heaven All-Inclusive Wedding would be for any available date up to 31 March 2023 Aitutaki Heavenly

Honeymoon stay does not include airfares, and accommodation is subject to availability.

Email your Personal Wedding Planner now at weddings@TheRarotongan.com or visit us at www.TheRarotongan.com for

more details on your beautiful Seventh Heaven All-Inclusive Wedding Package. Made in Paradise.

For Best Rates & Free Benefits plus VIP Members Only, 2-Island Romance (Aitutaki + Sanctuary Rarotonga-on the beach

(Adults Only) www.sanctuaryrarotonga.com), Romantic Private Dinner, Celebration + Conference in Paradise Packages

visit www.aitutakilagoonresort.com/Offers

book online www.AitutakiLagoonResort.com

or www.SanctuaryRarotonga.com

email info@AitutakiLagoonResort.com

or info@SanctuaryRarotonga.com

freecall 0800 727 686 or +682-25800

KIDS STAY, PLAY & EAT FREE!

Rarotonga's most family-friendly beach resort, the much-loved Rarotongan Beach Resort & Lagoonarium, now offers

KIDS STAY, PLAY & EAT FREE! And the border with the Cook Islands is now open for two-way quarantine-free travel

with New Zealand!

Children aged 11 and under PLAY FREE in The Rarotongan's famous Moko Kids Club, STAY FREE when sharing room

with parents, and now also EAT FREE, adding up to incredible holiday savings.

The Rarotongan is set directly on Aroa Beach, Rarotonga's best white sandy beach, right beside the clear blue waters

of Aroa Lagoonarium with the best family snorkeling in the South Pacific. Delight in seeing your kids get up close and

personal with Aroa Lagoonarium's friendly tropical fishes in our sheltered, all-tide underwater playground.

Come discover for yourself why The Rarotongan Beach Resort & Lagoonarium has been voted Best Family Resort year

after year by readers of popular HOLIDAYS WITH KIDS.

Make wonderful new family holiday memories in our beautiful South Pacific island paradise – all while you save,

save, save!

For more info on KIDS EAT FREE + t&cs, plus other Special Offers for VIP Members, Family

Celebration, Conference Package, Spa Wellness + Romance visit www.TheRarotongan.com

To secure your family's stay at best rates & deals

book online at www.TheRarotongan.com

email us at info@rarotongan.co.ck

freecall 0800 727 686 or +682-25800

ADVENTUREMAGAZINE.CO.NZ 91
---
BE PART OF WHERE

THE WORLD IS GOING

In our ever-changing world, imagine how empowering it would

be to take control of your finances and explore the new frontier

of buying, selling and saving.

Qoin digital currency will open an exciting new world for you.

It is innovative, progressive and easily transactional.

oin

Be part of where the world is going and discover

a completely new way to shop.

Visit qoin.world to find out more.

Meet Mayumi Green

Avid Adventure Seeker, Lover of Nature and Community Leader

Founder of Vanuatu inbound adventure

tour operator, Wrecks to Rainforest,

Mayumi Green is a trailblazer in

adventure tourism in Vanuatu, and an

avid adventurer in her own right. She

founded Wrecks to Rainforest to create

tailor-made packages for adventurous

travellers seeking unique and exciting

adventure experiences in remote parts of

Vanuatu.

Mayumi's knowledge of Vanuatu and its

people stems from her travels all over

Vanuatu's islands, including Tanna, Efate,

Malekula, Pentecost, Ambrym, Mota Lava,

Rah, Vanua Lava, Gaua, Torres islands,

and in Espiritu Santo where she resides.

Aside from helping visitors to have

adventures in wild Vanuatu, Mayumi's

business has helped many small

businesses and communities in remote

parts of the country to earn income and

get valuable experience hosting adventure

tourists from all over the world.

Mayumi Green first arrived in Vanuatu

in 1988 from Tokyo for what was meant to be a two

day holiday. Her then boyfriend, Kevin, had just arrived

from Australia to set up his Bokissa Island resort dive

business. The pair had met in Brisbane and Mayumi

The editor of Adventure's first

encounter with Mayumi was when

she featured on the cover of

Ocean Action

Image by Andy Belcher

(the groper was called Boris)

had subsequently returned to Japan. In

Port Vila, Mayumi was introduced to the

owners of Bokissa Island Private Resort

and received an on-the-spot job offer. She

was asked to co-manage the resort with

Kevin, and they flew to Espiritu Santo the

next day to find the resort hosting just the

staff and two guests.

Coming from fast-paced Japan, Mayumi

didn't quite know how she would cope

living on a small island where the pace

of life is glacial by comparison. However,

as years went by, she quickly fell in love

with Vanuatu's way of life, its cultures,

its nature and the timelessness of the

landscape.

After managing Bokissa Island Private

Resort for just over two years, the pair

decided to run their diving business on

the island full-time as their business grew.

Mayumi and Kevin married and lived on

Bokissa for six years before moving to

mainland Santo in 1994.

In 2005, inspired by explorer Glen Russel's story about the

Lisepsep, tiny, mischievious and mythical spirit beings who

supposedly live in the jungles of northern Vanuatu, Mayumi

started trekking into the jungle, fascinated.

ADVENTUREMAGAZINE.CO.NZ 93
---
Rom dance in Ambrym

"Currently, Mayumi is focused on her Big Heart Island

Vanuatu charity project with an aim to rebuild 40

kindergartens that were destroyed last year by severe

tropical cyclone Harold which tore through southern

Espiritu Santo and nearby islands."

Having worked as an inbound tour operator for divers,

she saw a gap in Vanuatu's market for adventurous

travellers looking to get off the beaten track, and so she

started her tour business, Wrecks to Rainforest, in 2008,

based out of Luganville, Espiritu Santo Island.

Since then, Mayumi has helped countless guests to

experience the best adventures Vanuatu has on offer,

centred around nature, culture or people. She has

escorted visitors to places few local people have seen, let

alone any overseas visitors.

Places on Wrecks to Rainforest's adventure itineraries

include the rugged interior of Espiritu Santo, home

to Vanuatu's tallest mountain, the 1879m-high

Tabwemasana and its surrounding cloud montane

forest; the Dog's Head Trail and the Man Bush Trail on

Malekula Island, the last home of Vanuatu's cannibals;

the strenuous trek across the ash plain of Ambrym Island

to its twin active volcanoes, Benbow and Marum; Gaua

island and its active volcano, Mt Garet, surrounded by a

deep crater lake and Siri Waterfall, the highest waterfall

in the Pacific Islands; and the living, breathing customs

and traditions of the people of Tanna Island.

Wrecks to Rainforests specializes in customised

packages and can organize different tours to suit different

tastes, including soft adventure. Wrecks to Rainforests

offeres its South Santo Adventure, which is a full day

tour that starts with a pick up right from your Luganville

accommodation. You will then be taken on a sightseeing

adventure across the Navara River to the Sefnanarae

waterfall. At the Navaka river mouth, you will be treated

to a picnic lunch on Ipayato beach before a cool off at

the Taffuntari waterfall. The price for the full day including

transfers, entrance fees and lunch is Vt50,600 (NZD650)

for a whole 4WD with driver for up to eight people. Other

tours that can be organized around Espiritu Santo include

the Millenium Cave Tour, a half-day tour to the Tuffuntari

Waterfall, Narango view, Tangoa Blacksand Beach and

other sites, and a half-day tour to the Loru Protected Area

in East Santo.

Currently, Mayumi is focused on her Big Heart

Island Vanuatu charity project with an aim to rebuild

40 kindergartens that were destroyed last year by

severe tropical cyclone Harold which tore through

southern Espiritu Santo and nearby islands. Each new

kindergarten building is designed to be cyclone-proof and

will cost two million vatu each (NZ$26,000). Mayumi's

friends in various countries and here in Vanuatu have

helped to raise Vt700,000 (NZD9,000) so far. To donate,

please visit the Big Heart Island Vanuatu on Facebook

www.facebook.com/bigheartislandvanuatu

vanuatu.travel

ADVENTUREMAGAZINE.CO.NZ 95
---
The best handmade crocheted hacky sacks

you can buy!

TONGARIRO CROSSING SHUTTLES

-let's wonder where the wifi is weak-

SEAPA NZ

P.O. Box 104, Whangamata, 3643

p: 027 451 8255 e: dave@seapa.co.nz

www.seapa.co.nz

6am-7am-8am-9am-10am departures

$40pp round-trip - 100% refundable

www.tongarirocrossingshuttles.co.nz

Dual Heritage Tongariro National Park

Your mobile

power solution

www.sunsaver.co.nz

FOOTSTEPS

FOOTSTEPS

TASMANIA DAY-WALKS TOUR

17 March - 10 April 2022

We welcome your enquiry:

footstepsanz@gmail.com

or phone 021 172 3244

OFFERING THE

BEST DAY

WALKS IN 20

REGIONS OF

NEW ZEALAND!

Each region has a week-long package (for

6-10 people), including transport and

accommodation.

We welcome your enquiry:

footstepsanz@gmail.com

or phone 021 172 3244

Daily savings

at your fingertips...

Access 2,000 discounts

across NZ & Australia.

Join now:

yha.co.nz/

membership
---
Rediscover New Zealand with Jeep Gladiator. Book your test drive today.

There's never been anything quite like the new Jeep® Gladiator, engineered from the ground

up to be a true pickup truck, ready to carry you and your gear around the corner or to the

far corners of the earth. Learn how Gladiator can expand your boundaries at jeep.co.nz