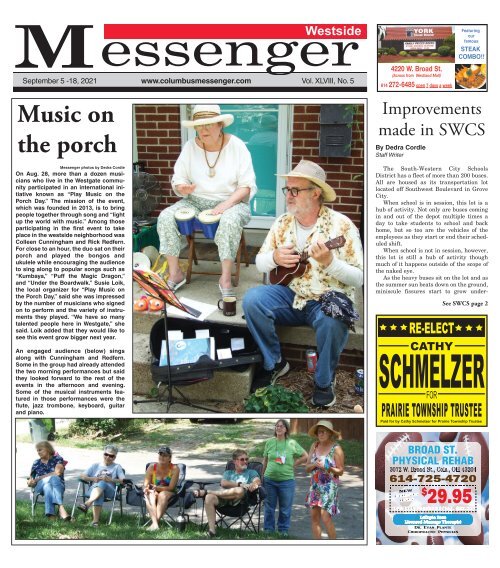 Westside Messenger - September 5th, 2021
Create successful ePaper yourself
Turn your PDF publications into a flip-book with our unique Google optimized e-Paper software.
Messenger

Westside

September 5 -18, 2021 www.columbusmessenger.com Vol. XLVIII, No. 5

Music on

the porch

Messenger photos by Dedra Cordle

On Aug. 28, more than a dozen musicians

who live in the Westgate community

participated in an international initiative

known as "Play Music on the

Porch Day." The mission of the event,

which was founded in 2013, is to bring

people together through song and "light

up the world with music." Among those

participating in the first event to take

place in the westside neighborhood was

Colleen Cunningham and Rick Redfern.

For close to an hour, the duo sat on their

porch and played the bongos and

ukulele while encouraging the audience

to sing along to popular songs such as

"Kumbaya," "Puff the Magic Dragon,"

and "Under the Boardwalk." Susie Loik,

the local organizer for "Play Music on

the Porch Day," said she was impressed

by the number of musicians who signed

on to perform and the variety of instruments

they played. "We have so many

talented people here in Westgate," she

said. Loik added that they would like to

see this event grow bigger next year.

An engaged audience (below) sings

along with Cunningham and Redfern.

Some in the group had already attended

the two morning performances but said

they looked forward to the rest of the

events in the afternoon and evening.

Some of the musical instruments featured

in those performances were the

flute, jazz trombone, keyboard, guitar

and piano.

4220 W. Broad St.

(Across from Westland Mall)

614 272-6485 open 7 days a week

Featuring

our

famous

STEAK

COMBO!!

Improvements

made in SWCS

By Dedra Cordle

Staff Writer

The South-Western City Schools

District has a fleet of more than 200 buses.

All are housed as its transportation lot

located off Southwest Boulevard in Grove

City.

When school is in session, this lot is a

hub of activity. Not only are buses coming

in and out of the depot multiple times a

day to take students to school and back

home, but so too are the vehicles of the

employees as they start or end their scheduled

shift.

When school is not in session, however,

this lot is still a hub of activity though

much of it happens outside of the scope of

the naked eye.

As the heavy buses sit on the lot and as

the summer sun beats down on the ground,

miniscule fissures start to grow under-

RE-ELECT

See SWCS page 2

CATHY

SCHMELZER

FOR

PRAIRIE TOWNSHIP TRUSTEE

Paid for by Cathy Schmelzer for Prairie Township Trustee

BROAD ST.

PHYSICAL REHAB

3072 W. Broad St., Cols., OH 43204

3072 W. Broad St., Cols., OH 43204

614-725-4720

614-725-4720

NEW

NEW

CLIENTS

ONLY

$

29.95

$

29.95

ONE HOUR MASSAGE (Reg. $60.00)

LaToyia Rose

Licensed Massage Therapist

Dr. Evan Plante

Chiropractic Physician
---
PAGE 2 - WESTSIDE MESSENGER - September 5, 2021

Serving Your Community

Malek &

ATTORNEYS AT LAW Malek

Proudly Announcing

Adding New Attorneys

To Serve You!

WORKERS'

COMPENSATION

PERSONAL INJURY

WRONGFUL DEATH

SLIP & FALL INJURY

DOG BITE INJURY

Since 1972

Douglas, Ed, Jim

and Kip Malek

"Hablamos Español"

FREE Initial Consultation

www.maleklawfirm.com

614-444-7440

1227 S. High St., Columbus, OH 43206

September 11 remembrance ceremony

The Prairie Township Firefighters Association will

host a Sept. 11 20th anniversary remembrance memorial.

The ceremony will take place from 8 to 10 a.m.

Sept. 11 at Prairie Township Fire Station 241, located

at 123 Inah Ave.

Blood drives

The American Red Cross will host a blood drive

from 2 to 8 p.m. Sept. 15 at St. Cecelia Church, 434

Norton Road in west Columbus and from 9 a.m. to 3

SWCS

Continued from page 1

neath the asphalt, slowly expanding until they make

their way to the surface. When they do, action has to

be taken to stop their destructive process before they

start to pose a problem for the fleet and employee vehicles.

Recently, these cracks have become a problem. In

May, the board of education approved a resolution that

paved the way for $400,000 worth of repairs to be

made at the transportation lot. These improvements

took place over the course of the summer but district

officials say there is more work to be done.

On Aug. 23, Mark Meadows, the district's supervisor

of property services, presented the board of education

with an overview of the construction project. He

said it was so expansive that it had to be broken down

into three phases which will take place throughout

2023.

Phase one was completed before the start of the

2021-22 school year, he said. The scope of this phase

included the removal of the current asphalt and the

Prepare for unexpected

power outages with a

Generac home standby

generator

REQUEST A FREE QUOTE!

844-334-8353

FREE

7-Year Extended Warranty*

A $695 Value!

Limited Time Offer - Call for Details

Special Financing Available

Subject to Credit Approval

A FREE ESTIMATE

15 10 5

YOUR ENTIRE

PURCHASE *

1-855-995-2490

% % %

OFF + OFF + OFF

community events

*To qualify, consumers must request a quote, purchase,

install and activate the generator with a participating dealer.

Call for a full list of terms and conditions.

SENIOR & MILITARY

DISCOUNTS

YEAR-ROUND

CLOG-FREE GUARANTEE

TO THE FIRST

50 CALLERS! **

| Promo Number: 285

www.columbusmessenger.com

p.m. Sept. 17 at the Prairie Township Community

Center, 5955 West Broad St. To schedule an appointment,

call 1-800-448-3543 or visit www.redcrossblood.org.

Prairie Township Farmer's Market

The Prairie Township Farmer's Market is held on

Monday afternoons from 4 to 7 p.m. through Sept. 27

at the Prairie Township Community Center, 5955

West Broad St. in Galloway. For more information,

visit prairietownship.org.

installation of a "roller-compacted concrete" to extend

its lifespan so it better holds the weight of the buses.

"This should service us for years to come," Meadows

said.

Additional phase one improvements include the

extension of car parking to allow for safer bus turning

radius and the inclusion of additional parking areas

for both cars and smaller buses.

According to Sandra Nekoloff, the district's executive

director of communications, phases two and three

will entail additional asphalt replacements and resurfacing

repairs. She said these additional phases still

need to go out for bid so she does not have an estimate

as to how much money the entire project will cost.

Meadows said additional, albeit smaller, projects

were undertaken this summer throughout the district

as well.

"Summers are always busy in the facilities and

property services department, and this summer has

proved to be no different," he said.

According to Meadows, asphalt repairs

were also done at Buckeye Woods and

Darby Woods Elementary, behind the

recreation center at Westland High School,

and at the district's service center.

He said asphalt improvements are also

slated to be done at the district's maintenance

yard.

"This is an effort to get the district on

track for a much more regular (sealing and

striping) routine."

Other summer improvements include

exterior painting of the Bostic Center and

Darby Woods; playground renovations at

Finland, Harmon and Stiles elementary;

dugout improvements at Westland; gate

partition repairs at Westland and Grove

City high school; and HVAC improvements

at the preschool.

Meadows also said a scoreboard was

ordered for the boys baseball and girls softball

teams at Westland. They are slated to

be delivered in the fall.

In other meeting news, Carl Metzger,

the assistant superintendent of personnel,

gave a staffing update to the board.

According to Metzger, the district has 2,773

certificated and classified employees. Of

that number, 1,748 are certificated employees

(1,644 teachers, 104 administrators)

and 1,025 are classified.

He also added that the district is looking

for bus drivers, substitute bus drivers, custodians,

teacher's aides, and substitute

teachers. He said to visit their website at

www.swcsd.us for more information on how

to apply.
---
County funds to help those facing eviction

www.columbusmessenger.com

The Franklin County Commissioners

approved two contracts to better support

families facing eviction due to the ongoing

pandemic.

The Franklin County Municipal Court

recently said that it would not enforce a

new CDC eviction moratorium, and many

families are in danger of losing their homes

due to the pandemic and economy. The new

supports include $624,000 in additional

funding to the Legal Aid Society of

Columbus and $550,000 for Community

Mediation Services of Central Ohio.

"The effects of this pandemic will be felt

for many years to come," said board of commissioners

president Kevin Boyce. "It

would be a grave mistake to allow families

who lost their livelihoods due to the pandemic

also lose their homes, and would

only prolong our community's recovery."

The commissioners have long supported

the Legal Aid Society of Columbus, and

this contract adds to the county's annual

funding amount. The additional money will

allow Legal Aid to hire three new full-time

attorneys to work with families that are

struggling to pay the rent. These new

lawyers can assure that our residents' legal

rights are protected, represent them in the

court system, and negotiate with lawyers

and landlords. As many as 1,500 lowincome

families are expected to be helped

with this new funding over the coming

year.

"Many of our neighbors are living on the

edge, hurt by the pandemic through no

fault of their own. We want to help every

struggling tenant to work out a way to pay

their rent so that they can stay in their

homes and so that their landlords are also

made whole," said commissioner John

O'Grady

Community Mediation Services of

Central Ohio (CMS) is also a long-time

partner which the commissioners annually

fund in order to provide tenant/landlord

mediation and other eviction prevention

services. The increased funding will allow

CMS to serve an additional 600 families.

Since beginning to work with Franklin

County eviction clients, CMS has seen that

90 percent are able to avoid eviction or successfully

relocate to alternate stable housing.

"There are many families who are barely

surviving this pandemic, some being

only one flat tire away from being

unhoused," said commissioner Erica

Crawley. "With that, we know that families

and especially children are unable to thrive

and do well in school without a safe and

stable place to live. We are pleased to be

able to answer the call to help our neighbors

find ways to stay in their homes with

Franklin County to offer mental

health support with new website

Franklin County has launched a new

online tool to connect residents and families

with national and local resources to

address their mental and emotional health

challenges.

FranklinCountyOhio.CredibleMind.com

, allows residents to take a self-paced

approach to learn about more than 200 different

emotional and mental health topics

and find mental health providers in

Franklin County.

"The pandemic and economic downturn

have had a major toll on people's mental

and emotional well-being," said Joy Bivens,

deputy franklin county administrator for

health and human services. "This platform

allows us to meet people where they are.

It's judgement-free, it's evidence-based and

it's easy to use — whether you're just looking

for some mindfulness exercises to cope

with stress or searching for a mental

health provider."

The website was funded by the board of

commissioners and supports the work of

the Rise Together Blueprint to Reduce

Poverty in Franklin County by increasing

access to mental health services. It was

developed in collaboration with county

health and human services agencies,

including the Department of Job and

Family Services (JFS), and the Alcohol,

Drug and Mental Health Board of Franklin

Government Focus

County (ADAMH).

"Additional support for well-being is

welcomed right now. Easily accessible,

quality support tools help to bury the stigma

around asking for help. It is up to all of

us to help change the perception that asking

for help is a sign of weakness. Taking

care of our mental health makes us

stronger," said Erika Clark Jones, CEO for

ADAMH.

The website offers more than a dozen

different self-assessments to help visitors

get a better idea of their mental health profile.

After completing the assessment, visitors

are referred to a variety of resources —

articles, videos, podcasts and more — all

tailored based off their results. All the

resources are vetted by experts and all the

assessment tools are confidential.

The site provides direct links to

ADAMH's network of more than 30 local

behavioral health providers. Residents can

also get information about obtaining

Medicaid, which covers mental health and

addiction treatment, through JFS as well

as resources from other health and human

services agencies like Office on Aging,

Child Support Enforcement and Justice

Policy and Programs.

For more information, visit

FranklinCountyOhio.CredibleMind.com.

legal representation and mediation services."

Each year, the commissioners allocate

about $23.5 million to affordable housing

and other housing supports. During the

pandemic, they've increased that investment

by more than $8 million to help vulnerable

families stay in their homes, and

resources are still available via the commissioners'

Emergency Rental Assistance

Program and the Impact Hope Fund.

Pursuant to O.R.C. 2981.11

The Ohio State Highway Patrol has in its

possession lost and abandoned property

for the Ohio Department of Public Safety

1970 W. Broad St., Columbus, Ohio

including the

OSHP West Jefferson Patrol Post

The Ohio State Highway Patrol wishes to

return the abandoned property to the rightful

owners. The property to be returned is a 9mm

pistol. A claim may be made on the property by

calling the Ohio State Highway Patrol at

614-879-7626. The caller must be able to

identify the property, provide proof of

ownership, provide the serial number, location

and date the property was lost.

The last date to claim item is

October 29, 2021 at 2:00 P.M.

September 5, 2021 - WESTSIDE MESSENGER - PAGE 3

JEFFREY P. COMPTON

ATTORNEY AT LAW

General Practice

Personal Injury • Domestic

Probate • Wills

Power of Attorney

Healthcare Documents

FREE CONSULT & PARKING

614-875-7233 Fax: 929-474-9475

1665 London-Groveport Rd., Grove City

www.jeffreypcompton.com

Email: jcompton@jeffreypcompton.com

ELECT

ROD PRITCHARD

FOR PRAIRIE TOWNSHIP TRUSTEE

Paid for by Rod Pritchard for Prairie Township Trustee
---
PAGE 4 - WESTSIDE MESSENGER - September 5, 2021

Come DANCE with us!

RDC Dance Center

3048 Southwest Blvd., Grove City

(614) 875-1044

We hope to see

you in classes!

TAP * JAZZ * BALLET * HIPHOP

LYRICAL * TUMBLING

Ages 3 and up

WE ARE EXCITED TO MEET

YOU AND YOUR CHILD!

(614) 875-1044

email > wendi@rdcdance.com

website > www.rdcdance.com

www.columbusmessenger.com

In Education

Relief funds will target learning

loss initiatives and infrastructure

By Dedra Cordle

Staff Writer

The South-Western City Schools

District is preparing for its third round of

federal COVID-19 relief funds.

At its meeting in August, the board of

education was presented with a projected

spending plan for its $61.1 million allocation

through The Elementary and

Secondary School Emergency Relief Fund

(ESSER). The plan includes infrastructure

improvements, learning loss initiatives,

and the construction of additional classroom

space at some of its buildings.

According to Treasurer Hugh Garside,

this recent allocation comes with the

requirement that 20 percent of the total

sum be set aside to focus on student learning

loss caused during the course of the

pandemic.

He said the district's objective to

address this issue will be to continue summer

school programming through 2023,

partner with the YMCA of Central Ohio for

social and emotional support for students

in grades K-6, hire five student support

liaisons for its four high schools, and allocate

funds to each school for individual

building initiatives for tutoring services.

The district also plans to use this portion

of funds to purchase additional

Chromebooks over the course of three

years. The district's first round of ESSER

funds (approximately $6.5 million) primarily

went toward the purchase of

Chromebooks to provide each student with

a laptop to take home.

The remaining $45.6 million is projected

to be spent on updating facilities and operations.

Under the plan, all five of the intermediate

schools will receive HVAC renovations

as would Central Crossing High

School and the South-Western Career

Academy. The recreational centers at

Grove City, Franklin Heights, and

Westland High Schools would also receive

HVAC renovations.

Other objectives include adding classrooms

to Hayes Intermediate and to reconfigure

space at Buckeye Woods and Darby

Woods Elementary. There are also plans to

demolish the greenhouse at the SWCA to

make room for additional classroom space.

As thousands of central Ohio children

and teens return to school, Columbus

Metropolitan Library's (CML) School Help

Centers reopen at 21 locations. Starting

Aug. 23, K-12 students will have a free

place to get help with their schoolwork

from staff and volunteers.

The School Help Center hours of operation

will be from 3 to 6 p.m. Monday

through Friday at the Hilltop and the

Board member David Donofrio asked

why the demolition of the greenhouse was

necessary. Superintendent Dr. Bill Wise

said it was because the horticulture program

has been discontinued at that location.

"It hasn't been offered as part of our

career tech pathway for several years now,

partially because of student interest and

partially because of the market and the

credentialing," Wise said.

He said they felt they can make "much

better use of the space" with the proposed

demolition of the greenhouse.

If there are reserves left over from their

ESSER III allocation, the district plans to

purchase a facility for a preschool near

West Broad Street, address the HVAC

issues at the District Service Center, and

construct four classroom additions at Holt

Crossing Intermediate School.

The board of education had no objection

to the proposed ESSER III spending plan.

With the approval, the plan will now be

sent to the Ohio Department of Education

for Review. Should the state board raise

objections with the plan, amendments will

be made during future meetings. All

ESSER III funds must be spent by

September 2024.

Garside said should they receive

approval from the state, they will quickly

move forward with the process to get the

planned construction started.

"Due to the economic state we're in right

now in the country with inflation and the

supply chain issues, we're going to try to

get moving on these projects as fast as possible

so we can get the most bang for our

buck," he said.

This will likely be the district's last allocation

of federal COVID-19 relief funds. In

addition to the $6.5 million they received

during the allocation of ESSER I funds,

they also received an allocation of $27.2

million in ESSER II funds during the 2020-

2021 school year. Those funds were primarily

spent on establishing the Virtual

Learning Academy, the purchase of

Chromebooks and the purchase of cleaning

supplies and materials. Garside said only

40 percent (or $10.8 million) of that allocation

remains but it should be spent by the

end of fiscal year 2021-22.

School Help Centers open at CML

Franklinton library branch.

In addition to providing in-person

School Help, CML also launched a new

School Help webpage, offering free access

to tools and resources, including HelpNow:

connecting students one-on-one with virtual

tutors Monday through Friday from 2 to

11 p.m.

Visit columbuslibrary.org/school-help to

learn more.
---
www.columbusmessenger.com September 5, 2021 - WESTSIDE MESSENGER - PAGE 5

Hilltop History & Heritage

This photo was submitted by Jack Kelly, West High School class of 1949. It depicts

12 US Marine Reserves enlistees, all of whom graduated from West between 1948

and 1950. They went through reserves summer training in 1948 and then many of

them led West to the City League football title that fall. They include front - (left to

right) Ron Burgoon, Fred Warden, Mike Burgoon, Robin Schmidt, and Paul

Theisen; back - Cliff Voss, Jim Palmer, Dick Husch, Dick Holycross, Jack Kelly,

Chuck Weeks, and Carl Kinman. The Marine Corps later placed their first recruiting

substation at Powell Avenue and West Broad Street. If you have a photo to share,

contact Stacy Berndsen-Campbell at stacyberndsen12@gmail.com. Submitted by

the Hilltop Historical Society.

GETTING

HIGH MARKS

FOR RECYCLING.

Congratulations to Columbus City Schools on receiving back-to-back

waste reduction grants. Thanks to your efforts, students are returning

to buildings that are greener than ever before.

Help your school become more sustainable at swaco.org/schoolrecycling.

RecycleRight.org
---
PAGE 6 - WESTSIDE MESSENGER - September 5, 2021

Get out in front of

the 2021 Election

START ADVERTISING NOW

Community Advertiser Get The VOTES You NEED!

Dates to Advertise before the Election:

9/19 • 10/3

10/17—Ad with Free Story • 10/31—Ad with Free Story

BEST BUY FOR YOUR

ADVERTISING DOLLARS

Our papers reach over 81,000 households!

200 Word Story

With Your Ad

Call or Email Doug Henry

Phone: (614) 272-5422

Email: doughenry@columbusmessenger.com

Township Focus

By Amanda Ensinger

Staff Writer

Residents in Prairie Township would

like to see more police patrols in the area.

Roger Spencer shared his concerns with

the board of trustees at a recent meeting.

"We want to see more police," said

Spencer. "The area is becoming more violent.

As residents, we deserve to have a law

enforcement presence."

The perceived lack of coverage in the

area also upset residents since the township

recently approved the 2021 Police

Service Agreement with the Franklin

County Sheriff's Office. The agreement

runs through Dec. 31, 2021 and costs the

township $82,973 per month, not to exceed

$1 million a year.

This is a continued increase over previous

years. In 2017 the contract was

$858,550, in 2018 the contract was

$890,938 (a 3.77 percent increase), in 2019

the contract was $910,363 (a 2.18 percent

increase), and in 2020 the contract was

$971,801 (a 6.75 percent increase).

"This agreement will include two dedicated

cars 24 hours a day, seven days a

week, and one dedicated car 16 hours a

day, seven days a week," said Major Carl

Hickey with the Franklin County Sheriff's

www.columbusmessenger.com

Residents want more patrols in Prairie

By Amanda Ensinger

Staff Writer

A local township is putting more security

measures in place to protect employees

and residents. At a recent Franklin

Township meeting, the board discussed the

new policies and procedures for visitors

checking into the township office.

"Visitors must check in at the front

desk," said Mark Potts, township administrator.

"Once the person they are there to

see is available, they will be allowed to

enter."

This new procedure will ensure they can

have more control over who comes and goes

in the building.

The board also approved raising the cost

of police reports from $4 to $5 per report

requested.

In other news, Janine Lovelace, executive

director of Ohio Valley Youth

Development, addressed the board related

to the Havenwood Garden.

"We started the garden in June of 2020,

however the garden has suffered from vandalism

and our team needs to build a fence

around the property," Lovelace said. "I

have reached out to Franklin County zoning

but have not heard back from them. A

fencing company is donating the materials

and will teach the youth how to build the

Office. "Other services include, but are not

limited to full service, swat team, bomb

team, bike unit, and other services of the

sheriff's office."

The biggest reasons for an increase in

the contract each year can be attributed to

staffing costs, rising fuel costs and inflation,

according to the sheriff's office.

Residents also asked township officials

for updates on the proposed Prairie

Pleasant Solar Project.

Residents were informed that there are

two additional interveners now - No

Prairie Solar and the Ohio Farmers

Bureau.

According to Prairie Township

Administrator Rob Peters, through the

township's legal team, they have been

working directly with Invenergy on the

issues that have been brought up by the

residents.

Recently, an in-person hearing took

place where residents could voice their

support or concerns about the project.

The project is for a 250-megawatt,

1,700-acre solar farm that would stretch

across Prairie and Pleasant townships.

Spearheaded by Invenergy, the project

would take place on farmland that has

been leased for a period of 40 years.

Franklin Township to

enact new security measures

fence. We also want to build a shed within

the fence."

The board also discussed the sale of

properties given to the township by the

Central Ohio Community Improvement

Corporation (COCIC). The board approved

the sale of 1765 Marsdale for $11,000, as

well as reducing the sale price of 777

Brown Road.

Realtor Laura Esterline from Heart of it

All Realty gave an update on these properties.

"The property on Marsdale we received

offers for $5,000, $7,000, $10,000 and

$11,000," Esterline said. "The gentleman

offering $11,000 has built houses within

Franklin Township and has plans to build

on this property within 90 days of receiving

his permits."

Esterline asked the board to consider

reducing the listing price of the property

located at 777 Brown Road to $9,500.

Trustee John Fleshman reaffirmed he

would like to see people who are purchasing

these properties build on them and that

the new development in the township will

help increase property values.

"I am a firm believer in using these

properties for new development," he said.

"I believe in planting new seeds in the

township."
---
September 5, 2021 - WESTSIDE MESSENGER - PAGE 7

www.columbusmessenger.com September 5, 2021 - WESTSIDE MESSENGER - PAGE 7

www.columbusmessenger.com

CLASSIFIED ADS

Deadlines: Groveport and West editions, Wednesdays at 5 p.m., • South/Canal Winchester, Grove City, Madison editions, Tuesdays at 5 p.m.

All editions by phone, Tuesdays at 5 p.m. • Service Directory, Tuesdays at 5 p.m.

xInformation

xDated Sales

WORRIED? STRESSED

OUT? DEPRESSED?

There are answers in this book.

BUY AND READ

Dianetics The Modern

Science of Mental Health

by L. Ron Hubbard,

May you never be the same again - $25

Call (614)221-5024 Or come to

1266 Dublin Road, Columbus,Ohio

Information

INFORMATION

The Ladies Auxiliary of Amvets Post 1928

WILL BE HOLDING A YARD SALE

Saturday, September 11 th & 12 th — 10am to 5pm

(Rain Date: September 18 th & 19 th )

Household items, clean linens, small furniture, toys, etc.

Amvets Post 1928

3780 W. Broad St., Columbus, OH 43228

Dated Sales

I'VE MOVED!!

Come See Me At

My New Location!

Call Marilyn Weaver

For An Appt.

For a New Haircut/Color

614-348-6670

Relax Wellness

3663 Broadway

Grove City

Have Something To Sell?

Need To Rent That Property?

Try The Messenger!

For Info On

Placing An Ad Call

614-272-5422

ASSOCIATION ADS

Attention Active Duty &

Military Veterans! Begin a

new career & earn a

Degree at CTI! Online

Computer & Medical

training available for

Veterans & Families! To

learn more, cal 888-449-

1713.

ATTENTION DIABETICS!

Save money on diabetic

supplies! Convenient

home shipping for

monitors, test strips,

insulin pumps, catheters &

more! To learn more, call

now! 877-810-0063

Never pay for covered

home repairs again!

Complete Care Home

Warranty covers all major

systems & appliances. 30-

day risk free. $200.00 off

+ 2 free months! 1-866-

395-2490

ASSOCIATION ADS

Don't let the stairs limit

your mobility! Discover

the ideal solution for

anyone who struggles on

the stairs, is concerned

about a fall or wants to

regain access to their

entire home. Call

AmeriGlide today! 1-844-

317-5246

ATTENTION SENIORS:

The average funeral cost

is $9000+ Don't leave

your family to pay your

debts. State Approved,

Final Expense Life

Insurance Plans are now

avaiilable as low as $25 a

month. Hurry and call

before enrollment ends. 1-

877-761-1796. M-F 9am-

6pm EST

Stroke & Cardiovascular

disease are leading

causes of death according

the AHA. Screenings can

provide peace of mind or

early detection! Call Life

Line Screening to

schedule a screening.

Special offer 5 screenings

for $149.. 1-833-549-4540

HughesNet - Finally, superfast

internet no matter

where you live. 25 Mbps

just $59.99/mo! Unlimited

Data is Here. Stream

Video. Bundle TV &

Internet. Free Installation.

Call 866-499-0141

Best satellite TV with 2

year price guarantee!

$59.99/mo with 190

channels and 3 months

free premium, movie

channels! Free next day

installation! Call 844-842-

4469

xCome & Get It!

COME AND GET IT

Deadlines are Tuesdays by 5 pm.

Call For Publication Schedule 614-272-5422

Need to Get Rid of Something Fast - Advertise It Here For FREE!

FREE Garden Straw for gardens or bedding. Call for appointment for pickup.

Circle S Farms, 9015 London-Groveport Road, Grove City, 43123

Grove City - 614-878-7980

Pick-up Load of Rocks, small to none larger than a bowling ball; 30-35 Birds and

Blooms Magazines from the last 3-4 yeers, like new condition; Kimball Baby

Grand Piano with bench, needs tuning, may need other work, mahoghany wood.

NA - Grove City - 614-875-8860

Sauder Computer Desk with hutch and chair. Lots of storage, light wood tone,

good condition. Partially assembled.

JG - Columbus - 614-279-9753

. Come and Get It! is a bi-weekly column that offers readers an opportunity to pass

along surplus building materials, furniture, electronic equipment, crafts, supplies,

appliances, plants or household goods to anybody who will come and get them - as

long as they're FREE. NO PETS! Just send us a brief note describing what you want to

get rid of, along with your name, address and phone number. Nonprofit organizations

are welcome to submit requests for donations of items.

Send information to The Columbus Messenger, Attention: Come and Get It, 3500

Sullivant Ave., Columbus, OH43204. Deadline is Tuesdays by 5 pm for following

Mondays publication. Messenger Newspapers is not responsible for any

complications that may occur. Please contact us when items are gone. 272-5422

Come & Get It!
---
PAGE 8 - WESTSIDE MESSENGER - September 5, 2021

www.columbusmessenger.com

CLASSIFIED ADS

Deadlines: Groveport and West editions, Wednesdays at 5 p.m., • South/Canal Winchester, Grove City, Madison editions, Tuesdays at 5 p.m.

All editions by phone, Tuesdays at 5 p.m. • Service Directory, Tuesdays at 5 p.m.

xEmployment

OPEN INTERVIEWS

ON WEDNESDAYS 10AM-1PM

UP TO $ 19.00/HR + NO MANDATORY OT

$

2000 SIGN ON BONUS + INCENTIVE OPPORTUNITIES

1568 Georgesville Rd. Columbus 43228

APPLY PRIOR @ JOBS.MSCDIRECT.COM

Applicants must sucessfully pass a background check and drug screen.

Equal Opportunity Employer: Minority, female, veteran, individuals with disabilities, sexual orientation/gender identity.

WANTED

• Retail Sales • Back-Up Cooks

• Dishwashers • Servers • Grill

• Host/Hostess

You Can Work 29+ Hrs. Based on

Your Availability & Performance

Immediate Full/Part-time Openings

We Offer:

• Weekly Pay

• Paid Training

• No Tip Sharing

• Paid Vacation

• Employee Meal Discount

• Position/Salary Advancement Plan

• Discount Purchase Plan

Apply online at crackerbarrel.com/careers for

Grove City Location 614-871-1444

ASSOCIATION ADS

DENTAL INSURANCE

from Physicians Mutual

Insurance Company.

Coverage for 350 plus

procedures. Real dental

insurance - NOT just a

discount plan. Do not wait!

Call now! Get your FREE

Dental Information Kit with

all the details! 1-877-553-

1891

www.dental50plus.com/

macnet#6258

READY TO BUY, SELL

OR RENT YOUR

VACATION HOME OR

HUNTING CAMP?

Advertise it here and in

neighboring publications.

We can help you. Contact

MACnet MEDIA @

800-450-6631 or visit our

site at MACnetOnline.

com

Looking for auto insurance?

Find great deals

on the right auto insurance

to suit your needs.

Call today for a free

quote! 866-924-2397

IMPORTANT

NOTICE

The following states: CA,

CT, FL, IA, IL, IN, KY,

LA, MD, ME, MI, MN,

NE, NC, NH, OH, OK,

SC, SD, TX, VT and WA

requires seller of certain

business opportunities to

register with each state

before selling. Call to

verify lawful registration

before you buy.

ASSOCIATION ADS

The bathroom of your

dreams for as little as

$149/month! BCI Bath &

Shower. Many options

available. Quality

materials & professional

installation. Senior &

Military Diiscounts

Available. Limited Time

Offer - FREE virtual inhome

consultation now

and SAVE 15%! Call

Today! 1-877-540-2780

Update your home with

beautiful new blinds &

shades. Free in-home

estimates make it

convenient to shop from

home. Professional

installation. Top quality -

Made in the USA. Free

consultation: 877-212-

7578. Ask about our

specials!

HOME BREAK-INS take

less than 60 SECONDS.

Don't wait! Protect your

family, your home, your

assets NOW for as little as

70¢ a day! Call 866-409-

0308

Replace your roof with the

best lookng and longest

lasting material! Steel

from Erie Metal Roofs!

Three styles and multiple

colors available.

Guaranteed to last a

lifetime! Limited Time

Offer - $500 Discount +

Additional 10% off install

(for military, health

workers & 1st responders)

Call Erie Metal Roofs: 1-

855-338-4807

Employment

SCHOOL/DISTRICT

OFFICE SECRETARY

The South-Western City School District announces a

competitive exam for SECRETARY. Nature of work and

qualifications include high school diploma or equivalent with one year of

experience or equivalent combination of training and experience; ability

to type on the computer at a minimum of 45 (net) words per minute; and

ability to keep clerical and financial records.

This is an advanced clerical and general office position in an

elementary, intermediate, middle, high school or district office. Works 9

to 12 months per year, 8 hours per day. Starting salary is $17.96 -

$19.18 per hour.

Applicants are required to request a SWCSD-Grove City

Civil Service application by emailing kim-snyder@swcsd.us

starting August 18, 2021. The fully completed application

must be returned via fax, email or postal mail by September

3, 2021. A competitive written exam will be given on

Saturday, September 18, 2021 at 9:15 a.m.

Full Benefits - Retirement - Good working conditions.

EOE

ASSOCIATION ADS

Wesley Financial Group,

LLC Timeshare Cancellation

Experts Over

$50,000,000 in timeshare

debt & fees cancelled in

2019. Get free

informational package &

learn how to get rid of

your timeshare! Free

consultations. Over 450

positive reviews. 888-965-

0363

!!OLD GUITARS WANT-

ED!! GIBSON, FENDER,

MARTIN, Etc. 1930's to

1980's. TOP DOLLAR

PAID. CALL TOLL FREE

1-866-433-8277

GENERAC Standby Generators

provide backup

power during utility power

outages, so your home

and family stay safe and

comfortable. Prepare

now. Free 7-year extended

warranty ($695 value!).

Request a free

quote today! Call for additional

terms and conditions.

1-855-465-7624

EARN EXTRA

$$$ $$$

MONEY

The Advertising Department at the

Columbus Messenger Newspapers

is seeking a Salesperson.

No Experience Necessary.

Base salary plus commissions, auto allowance.

Seniors welcome to apply.

Please send your resume or call:

Doug Henry, Advertising Manager

Columbus Messenger Newspapers

3500 Sullivant Ave.

Columbus, Ohio 43204

614-272-5422

or

e-mail to doughenry@columbusmessenger.com

DO YOU NEED

SEASONAL EMPLOYEES?

Call KATHY to ADVERTISE!

and reach over 40,000 homes in the

West & Grove City Messengers

614-272-5422

kathy@columbusmessenger.com
---
www.columbusmessenger.com

September 5, 2021 - WESTSIDE MESSENGER - PAGE 9

xEmployment

Apply at 3389 Sullivant Ave.

ASSOCIATION ADS

Donate your car to kids.

Your donation helps fund

the search for missing

children. Accepting trucks,

motorcycles & RV's too!

Fast free pickup - running

or not - 24 hr response -

maximum tax donation -

Call 888-515-3813

Donate Your Car To

Veterans Today! Help and

Support our Veterans.

Fast - FREE pick up.

100% tax deductible. Call

1-800-245-0398

Long Distance moving.

Call for a free quote from

America's Most Trusted

Interstate Movers. Let us

take the stress out of

moving! Speak to a

relocation specialist! Call:

888-721-2194

ASSOCIATION ADS

The Generac PWRcell, a

solar plus battery storage

system. SAVE money,

reduce your reliance on

the grid, prepare for power

outages and power

your home. Full installation

services available. $0

Down Financing Option.

Request a FREE, no obligation,

quote today. Call

1-855-900-2894

Internet &WIFI Starts at

$49 Call us Today to Get

Started. Find High-Speed

Internet with Fiber Optic

Technology No Credit

Check, No SSN Required.

Call us Today 866-396-

0515

AMERICAN & FOREIGN

CLASSIC CARS AND

MOTORCYCLES

WANTED. $$PAYING

CA$H$$ Corvettes,

Mustangs, Jaguars, Austin

Healeys, Broncos,

Blazers, Ram Chargers,

AMX, and Triumphs

KRMiller1965@yahoo.com

717-577-8206

ASSOCIATION ADS

Attention oxygen therapy

users! Inogen One G4 is

capable of full 24/7 oxygen

delivery. Only 2.8

pounds. Free info kit.

Call 877-929-9587

Thinking about installing

a new shower? American

Standard makes it

easy. FREE design consulation.

Enjoy your

shower again! Call 1-

833-769-0995 today to

see how you can save

$1,000 on installation, or

visit www.newshowerdeal.com/mac

Donate your car to kids!

Fast free pickup running

or not - 24 hour response.

Maximum tax

donation. Help find missing

kids! 877-831-1448

Wants to purchase minerals

and other oil and gas

interests. Send details to

P.O. Box 13557, Denver,

CO. 80201

Become a Published

Author. We want to Read

Your Book! Dorrance

Publishing Trusted by

Authors Since 1920 Book

manuscript submissions

currently being reviewed.

Comprehensive Services:

Consultation, Production,

Promotion and Distribution.

Call for Your Free Author's

Guide 1-866-482-1576 or

visit http://dorranceinfo.

com/macnet

SELL YOUR ANTIQUE

OR CLASSIC CAR.

Advertise with us. You

choose where you want

to advertise. 800-450-

6631 visit macnetonline.

com for details.

DON'T

FEEL LEFT

OUT!

Have Your Ad

Appear Here!

Call For Prices

272-5422

ASSOCIATION ADS

Eliminate gutter cleaning

forever! LeafFilter, the

most advanced debrisblocking

gutter protection.

Schedule a FREE LeafFilter

estimate today. 15% off

Entire Purchase. 10% Senior

& Military Discounts.

Call 1-855-791-1626

Pest Control

Find Pest Control Experts

Near You! Don't let

pests overtake your

home. Protect your loved

ones! Call to find great

deals on Pest Control

Services - 833-872-0012

The Generac PWRcell

solar plus battery storage

system. Save money,

reduce reliance on

grid, prepare for outages

& power your home. Full

installation services. $0

down financing option.

Request free no obligation

quote. Call 1-855-

270-3785

HEARING AIDS!!

Buyone/get one FREE!

Nearly invisible, fully rechargeable

IN-EAR

NANO hearing aids

priced thousands less

than competitors! 45-day

trial! Call1-877-436-0234

Employment

Southeast Healthcare is seeking the following positions:

MAT & SUD Program Manager to oversee multiple MAT and SUD programs and provide program development

and a unifying clinical vision. LISW/LPCC required.

Treatment Team Leader to lead a team of case managers providing support to adults with mental health and

substance use disorders in a community setting. LISW/LPCC required.

FQHC Therapist to provide behavioral health services to adults receiving primary care through our Federally

Qualified Health Center. LISW/LPCC & EMDR expertise preferred.

Primary Care Practice Manager to manage and coordinate functions of our FQHC healthcare clinic at

numerous sites, including participating in revenue cycle functions and quality and service initiatives. Must have

skill set that includes primary healthcare knowledge and experience, knowledge of infection control, practice

workflow, registration, scheduling, and quality improvement.

Project Director to head a transformational initiative, providing oversight and leadership to our new Certified

Community Behavioral Health Clinic. Responsibilities include start-up, implementation, and on-going

operational oversight, with direct supervision of the project. Prior supervisory experience required. Experience

and knowledge in behavioral health and primary care is strongly preferred. LPCC/LISW or MSN/RN required.

Assessment Specialist to provide clinical/assessment and referral services to individuals receiving services at

Southeast Healthcare. Master's degree and LSW/LPC required.

Registered Nurse Lead to utilize and share your experience in care management with BH population. OH RN

license required.

Psychologist to provide clinical services to primary care patients targeting chronic health conditions and

behavioral and lifestyle changes. Position requires experience with the SPMI and SUD populations. Active Ohio

Psychology license required.

RN/Nursing Supervisor to provide leadership, nursing direction, and support to the nursing staff. Will

supervise Central Pharmacy Nurses. Other Agency nurses remain under the direct supervision of their team or

program leader. Must be licensed as a Registered Nurse in the State of Ohio with at least 5 years, Psychiatric

nursing experience. Must have at least 2 years of previous supervisor Experience.

We only hire non-smokers.

We offer many great benefits, including health, dental, vision, 401(k), mileage reimbursement, education

Reimbursement, generous paid time off, and a SIGN-ON BONUS!

For a full list of opportunities, go to https://southeasthc.org/employment

To complete an application, go to http://southeastinc.appone.com
---
PAGE 10 - WESTSIDE MESSENGER - September 5, 2021

xAdult Care

xPublic Notices

www.columbusmessenger.com

xFocus on Rentals

CARE • COMFORT • COMPASSION

BETTY'S ELDERLY CARE

Has An Opening For

A New Patient

Private Room • Reasonable Rates

References • Hot Meals

& Much More To Make

Patient Feel Comfortable.

Call Betty for more info. 614-777-5850

Windsong is committed to providing

high quality, loving care, and affordable

home care services to our clients. With our

assistance, clients can lead

dignified and independent lives in the

comfort of their own home.

Individual needs are carefully assessed,

understood, and met through the selective

assignment of quality, trustworthy and

compassionate service-oriented personnel.

Give us a call today for a free in-home

assessment or visit our website at

www.windsongseniorcare.com

614-820-5000

614-991-0652 614-376-9761

Welcome

Carolyn's Cottage

Private Assisted Living

3036 Woodgrove Dr., Grove City, OH

2 Resident Openings

Available

Adult Care

ASSOCIATION ADS

VIAGRA & CIALIS! 60

pills for $99. 100 pills for

$150 FREE shipping.

Money back guaranteed!

1-844-596-4376

Want Faster & Affordable

Internet? Get internet

service today with

Earthlink. Best internet &

WiFi Plans. Call us Today

to Get Started. Ask

about our specials! 866-

396-0515

HughesNet Satellite Internet

- Finally, no hard

data limits! Call today for

speeds up to 25mbps as

low as $59.99/mo! $75

gift card, terms apply. 1-

844-863-4478

Directv Now. No Satellite.

$40/mo 65 Channels.

Stream news, live

events, sports & on demand

titles. No contract/

commitment. 1-866-825-

6523

DISH TV $64.99 190

Channels + $14.95 high

speed internet. FREE installation,

Smart HD DVR

included. Free Voice Remote.

Some Restrictions

apply. Promo Expires

1/21/22. 1-833-872-2545

New authors wanted!

Page Publishing will help

self-publish your book.

Free author submission

kit! Limited offer! 866-

951-7214

HEARING AIDS!! Bogo

free! High-quality rechargeable

Nano hearing

aids priced 90% less

than competitors. Nearly

invisible! 45-day money

back guarantee! 833-

669-5806

Train online to do medical

billing! Become a

Medical Office Professional

at CTI! Get trained

and certified to work in

months! 888-572-6790.

(M-F 8-6 ET)

PRAIRIE TOWNSHIP

BOARD OF ZONING APPEALS

PUBLIC HEARING NOTIFICATION

September 14, 2021 at 7:00 P.M., at the

Prairie Township Hall, 23 Maple Dr.

Variance Application No. 661-VA-21 – 8971 Stillwater

Drive, Galloway, Ohio 43119. To grant a Variance from the

provisions of Section 935 #2 (Architectural Projections into

Required Yards); to permit the owner to construct a front

porch with greater depth than the Resolution requires in

an R-6 (medium density residential) District.

Public Notices

ASSOCIATION ADS

DISH TV $64.99 FOR 190

Channels + $14.95 High

Speed Internet. Free Installation,

Smart HD DVR

Included, Free Voice Remote.

Some restrictions

apply. Promo expires

1/21/22. 1-855-270-5098

NEED IRS RELIEF

$10K-$125K+ Get Fresh

Start or Forgiveness.

Call 1-844-431-4716

Monday through Friday

7am-5pm PST

Elminate gutter cleaning

forever! LeafFilter, the most

advanced debris-blocking

protection. Schedule

Free LeafFilter Estimate

today. 15% off Entire

Purchase. 10% Senior &

Military Discounts. Call 1-

855-995-2490

DENTAL INSURANCE-

Physicians Mutual Insurance

Company. Covers

350 procedures. Real

insurance - not a discount

plan. Get your free

dental Info kit! 1-888-

623-3036 . www.dental50plus.com/58

#6258

BATH & SHOWER UP-

DATES in as little as

ONE DAY! Affordable

prices - No payments for

18 months! Lifetime warranty

& professional installs.

Senior & Military

Discounts available. Call

855-761-1725

Protect your home w/home

security monitored by

ADT. Starting at $27.99/

mo. Get free equipment

bundle including keypad,

motion sensor, wireless

door & windows sensors.

833-719-1073

Attention: If you or aloved

one worked around the

pesticide Roundup

(glyphosate) for at least 2

years and has been diagnosed

with non-Hodgkin's

lymphoma, you may be

entitled to compensation.

855-341-5793

ASSOCIATION ADS

AT&T Internet. Starting

at $40/month w/12-mo

agmt. 1 TB of data/mo.

Ask how to bundle &

SAVE! Geo & svc restrictions

apply. 1-888-796-

8850

Life Alert. One press of a

button sends help fast

24/7! At home and on

the go. Mobile Pendant

with GPS. Free first aid

kit (with subscription).

877-537-8817 Free brochure

VIAGRA and CIALIS

USERS! 50 Generic pills

SPECIAL $99.00 FREE

Shipping! 100% guaranteed.

24/7 CALL NOW!

888-445-5928 Hablamos

Espanol

READER

ADVISORY

The National Trade Association

we belong to has

purchased the following

classifieds. Determining

the value of their service

or product is advised by

this publication. In order

to avoid misunderstandings,

some advertisers do

not offer "employment"

but rather supply the

readers with manuals, directories

and other materials

designed to help

their clients establish mail

order selling and other

businesses at home. Under

NO circumstance

should you send any

money in advance or give

the client your checking,

license ID or credit card

numbers. Also beware of

ads that claim to guarantee

loans regardless of

credit and note that if a

credit repair company

does business only over

the phone it's illegal to request

any money before

delivering its service. All

funds are based in US

dollars. Toll Free numbers

may or may not

reach Canada. Please

check with the Better

Business Bureau 614-

486-6336 or the Ohio Attorney

General's Consumer

Protection Section

614-466-4986 for more

information on the company

you are seeking to

do business with.

SETON WEST APARTMENTS

3999 CLIME ROAD, COLUMBUS, OH 43228

We are a Senior Housing Community...you must be 62 or better.

Rent is based on your income. We offer spacious 1 bedroom apartments

which include: utilities, refrigerator, range, central air, carpet, EMS monitor

pull cords & a limited access building entry system. Seton West is professionally

managed and has 24 hour emergency maintenance services.

Our residents enjoy: a community room for playing cards, potlucks, bingo

or visiting with neighbors. We have two laundry rooms & game room,

library, outdoor patios and an elevator for your convenience.

APPLICATIONS AVAILABLE IN OUR FRONT LOBBY OR CALL

614-274-8550 OR TTY-800-750-0750 FOR AN APPOINTMENT.

DO YOU NEED

TO RENT

THOSE EMPTY

APARTMENTS?

Call Kathy at

The

Columbus

Messenger

To Advertise

Your

Apartment

Community

614-272-5422

ASSOCIATION ADS

GENERAC Standby

Generators provide

backup power during

power outages, so your

home & family stay safe &

comfortable. Prepare now.

FREE 7-yr extended

warranty $695 value!

Request a free quote

today. Call for terms &

conditions. 1-844-334-

8353

CHILD CARE

OFFERED

Depend. Quality Child care

in loving hm. Exp. Mom, n-

smkr, hot meals, sncks,

playroom, fncd yd. Reas.

rates. Laurie at 853-2472

MOTORCYCLE

HONDA 2002 VT 600 M/C

$2,000. 614-406-3021

2000 H. Springer Harley

Davidson 2,500 mi,Suede

green no rides $10,500.

614-330-3673

FREE CABLE/WIFI

WEST-LINCOLN VILLAGE S.

1 BD FLATS FROM $515 - $565

1 BD FLATS W/BALCONY FROM $625

2 BD FLATS W/BALCONY FROM $705

2 BD FLATS W/FULL BSMT FROM $835

CARPET, APPLIANCES, A/C, GAS, HEAT,

IN HOUSE LAUNDRY OR WASHER/DRYER HOOKUPS

SECURITY CAMERAS & LIGHTING

MOVE-IN SPECIAL IF QUALIFIED

TUES.-FRI. NOON-6PM, SAT. 10AM-4PM

(614) 870-7717

NO PETS

WEDGEWOOD

VILLAGE

1, 2 and 3 BR Apts.

Rent Based on Income.

Call 614-272-2800 or visit us

at 777 Wedgewood Dr.

TTY/TDD 711

EQUAL HOUSING OPPORTUNITIES

Rentals

HELP WANTED

OFFICE needs an organized

fulltime person who can

multitask in our shop office.

Assist customers, phone,

purchasing, billing, etc.

QuickBooks exp. a plus.

Send resume with pay history

to: cewa@att.net or fax to

614-294-3731 or mail to:

Columbus Electrical Works

1854 S. High St.,

Columbus, OH 43207

614-294-4651

NOW HIRING

Commercial

Janitorial

All Shifts

Full and Parttime

Call or Text Now

614-804-1256

PETS

HOMING PIGEONS

$5.00 ea. 614-662-8655

7.4 W/SW/M

DATED SALE

Garage Sale

Fri-Sat, Sept 10-11,9am-?

Rain date following weekend

1272 Hathersage Pl

Laurel Green of Norton Rd

Housewares, Fiestaware, lawn

mower & weedeater, Frig,

womens/mens clothes & misc.

MISC.

FOR SALE

Large 3-part Handicap

Ramp. 614-279-8325

WANT TO BUY

BUYING VINYL RECORDS.

LPs and 45s - 1950-80s

Rock, Pop, Jazz, Soul.

614-831-0383

CASH PAID for Ohio

State and old sports

items, records, postcards,

old photos, jewelry & more

614-477-5590
---
www.columbusmessenger.com

xInformation

September 5, 2021 -WESTSIDE MESSENGER - PAGE 11

xClassified Services

The Columbus Test Clinic

extends an invitation to you

to be tested

FREE of any charge.

Your intelligence and aptitude have everything

to do with your income, your future,

your personal relationships and your life.

Such tests would ordinarily cost you $50.

They are offered to you FREE OF CHARGE

if you call (614) 221-5024 to schedule or

come to the Scientology Testing Center at

1266 Dublin Road Columbus, OH 43215

Information

xPreschool/Dayare

advertise

YOUR DAY CARE

OR PRESCHOOL

Preschool/Daycare

WANT TO BUY

We Buy Junk Cars &

Trucks. Highest Prices

Paid. 614-395-8775

WANTS TO Purchase

minerals and other oil &

gas interests. Send details

to: P.O. Box 13557,

Denver, CO 80201

We Buy Cars & Trucks

$300-$3000.614-308-2626

WE BUY JUNK CARS

Call anytime 614-774-6797

ANTIQUES

WANTED

Victrolas, Watches,

Clocks, Bookcases

Antiques, Furn.

Jeff 614-262-0676

or 614-783-2629

HOME FOR SALE

WOW! Like finding $10,000

in your backyard!

3-4 BR, 2 ba, new roof

siding & windows,

gleaming hdwd flrs, form

din rm w/French doors, full

bsmt, priv. fence, concrete

slab ready for your

garage. $149,900.

Westside - Immac. cond.

Call Fran Lyons 496-0929

Call Kathy

at The Messenger

For More Info

272-5422

RENTALS

Condo for Rent - 3BR,

Carport. No Pets - $1050.

614-557-8883

Eakin-1 Br Apt, crpt, appls.

No Pets 614-560-3050

1/3/4 BR homes-fncd yd,

bsmt.$600-$1200

614-530-8097

VACATION RENTALS

Englewood, Florida

Palm Manor Resort

Within minutes of white

sand Gulf beaches,

world famous Tarpon

fishing, golf courses, restaurants/shopping,

Bush

Gardens. 2 BR 2 BA

condos with all ammenities,

weekly/monthly, visit

www.palmmanor.com

or call 1-800-848-8141

AIR CONDITIONING

AIR CONDITIONING

Complete System

Clean & Check

$49.95

BLACKTOP

CONCRETE

9/26 A

Free Electronic Leak Testing

All Makes • All Models

45 Yrs. Exp. • Senior Discount

614-351-9025

AGM OHIO

ROOFING &

SEALCOATING

Free Estimates

Cell 614-512-1699

BLACKTOP SEALING

Driveways & Parking Lots

614-875-6971

SANTIAGO'S

Sealcoating & Services LLC

Quality Materials Used

SUMMER IS HERE!

Driveway Seal & Repair!

Top Seal Cracks!

Residential & Commercial

Mulching, Edging & Clean-ups

"Ask for whatever you need."

BBB Accredited-Fully Insured

Call or text for Free Est.

614-649-1200

CARPET CLEANING

AJ's Concrete,

Masonry

Good Work - Fair Prices

Block Foundations

Driveways • Sidewalks

Epoxy/Overlay Floors

9/12

A/M

CARPET CLEANING

Any 5 areas ONLY $75

Home Powerwash-$99-$200

614-805-1084

Specializing in Pet Odors

Bonded-Ins. • Free Ests.

614-419-9932

INFORMATION

NEED SOMETHING

DONE THIS SUMMER?

CHECK OUT OUR

CLASSIFIED SERVICES!

FOR

ADVERTISING

INFO. CALL

614-272-5422

THE COLUMBUS

MESSENGER

9/26 A

CONCRETE

GALLION

CUSTOM CONCRETE LLC

Specializing in Custom Colors &

Custom Designs of Concrete.

Including Remove & Replace

43 yrs exp & Free Est.

Licensed & Insured

Reputation Built

On Quality

Ronnie

614-875-8364

See Us On Facebook

www.gallioncustom

concrete.com

EDDIE MOORE

CONSTRUCTION

Quality Concrete Work

Lt. Hauling & Room Add.,

Block Work & Excavation

Stamp Patios,

Bsmt. Wall Restoration

35 Yrs Exp - Lic & Ins.

Free Ests. 614-871-3834

Buckeye City

Concrete & Excavating

* Concrete * Foundations

* Waterlines * Drains

*Catch Basins

614-749-2167

buckeyecityconcreteand

excavating@yahoo.com

www.hastingsnsons.com

Driveways & Extensions

Patio & Walkways,

Porches & Steps,

Garage/Basement Floors

Hot Tub/Shed Pads,

Stamped/colored concrete

Sealing of new &

existing concrete.

FREE ESTIMATES

Contact Adam

614-756-1754

hastingsandsons.

columbus@gmail.com

FENCING

EAZY FENCE

Chain Link - Wood

No Job Too Big or Small

All Repairs ~ Free Est.

Insured. 614-670-2292

GUTTERS

Bates & Sons

GUTTER CLEANING

5 ★ Google Reviews

614-586-3417

HAULING

DEAN'S HAULING

614-276-1958

Zane's Dumpster Rentals

4 days - $300.00

to drop off & haul away

$25 extra/day over 4 days

Tires - $10.00 each

No Hazardous Materials

Contact Zane Tabor

on Facebook or

Call 614-254-1131

9/26 W/SW

9/26 A/M

LANDSCAPING

(614) 407-5214

www.OnyxLandscapingllc.com

Full Service Lawn Care -

SPRING CLEANUP SPECIAL

Free Estimates - We Match Quotes

Start with trust and you will always be satisfied

HOME

IMPROVEMENTS

SINCE 1973

Phil Bolon Contr.

Windows & Siding

Decks, Kitchens, Baths

Room Additions,

Flooring, Roofing

Bsmt Waterproofing

Deal With Small Non-Pressure Co.

47 Yrs. Exp. - Refs. Avail.

Lic.-Bond-Ins.

Free Est. - Financing Avail.

Member BBB Of Cent. OH

O.C.I.E.B. ID #24273

614-419-3977

or 614-863-9912

C&JHandyman

Services LLC

Minor Plumbing

& Electric

Install Hot Water Tanks,

Dishwashers & Disposals

Also Fencing &

Interior/Exterior Painting

Free Est. ~ 18 Yrs. Exp.

CDC/EPA Approved Guidelines

614-284-2100

SLAGLE

HOME REMODELING

Baths, Kitchen,

Plumbing and Electrical.

All your Handyman needs

No Job too Big or Small

Over 30 Yrs. Exp. Lic.-Bond-Ins.

Jerry

614-332-3320

KLAUSMAN HOME

IMPROVEMENT

Siding-Windows-

Doors-Roofing-Soffit-

Fascia-Gutters-Trim

Earn FREE Seamless

Gutters with Siding Over

1000 Sq. Ft.

FREE Shutters with

Soffit & Trim

EPA Certified

Member of BBB

Financing Available

9/26

A/M

Over 20 yrs exp. • Free Est.

Licensed-Bonded-Insured

Owner & Operator

James 614-419-7500

7/18 A

9/26

SW/W

9/12 A

LANDSCAPING

HOME

IMPROVEMENTS

Handyman - outdoor &

indoor. Reasonable Rates

614-634-2244

HOME

MAINTENANCE

NEED HOME REPAIRS?

We do it all! Fences, decks,

home repairs, more Just ask!

220-465-2602-local #

HOME

REMODELING

Handyman Remodeling

Over 35 yrs exp.

Larry 614-376-7006

LAWN CARE

Lawn Mowing-35 yrs exp.

Weeky cuts $25-up

Good ref. Free est. 10%

Sr. Disc. 614-738-9623

The Lawn Barber

Cut, Trim, Blow away

Hedge Trimming, Edging

Garden Tilling

614-935-1466

LET US MAINTAIN

YOUR LAWN & GARDEN

FOR YOU

Summer, Spring,

Winter or Fall

WE DO IT ALL!!!!

Lawn Cuts, Edging,

Trees & Shrubs, Garden,

Mulching, Hauling,

Garden Pond &

Home Maint.

Free Ests. Low Rates

$20 & Up

Kevin - 614-905-3117

MOVING

Aaron Allen

Moving

Local Moving since 1956

Bonded and Insured

614-299-6683

614-263-0649

Celebrating

over 60 yrs

in business

Classified Services

9/26 A&M

PEST

CONTROL

TERMITE &

PEST CONTROL

614-367-9000

TORCO®

TERMINATES

TERMITES

Locally Owned & Operated. Any Pest. Anytime.

$

50 00 OFF Service

Expires Expires September July 11, 2021 30, 2021

Free Termite Inspection

PAINTING

PAINTING

614-657-5017

A Job Well Done Again

A lic. General Contractor

Some Skilled Services

Incl: Painting • Stucco,

Repair•Carpentry•Exterior

Drainage & Home Maint.

Call Today! 614-235-1819

PLASTERING

Plaster & Stucco

NEW AND

REPAIR

Established 1917

Geo. F. Neff & Co.

614-274-5629

DRYW

YWALL &

PLASTER

REPAIR

Textured Ceilings

614-551-6963

Residential/Commercial

BIA

PLUMBING

9/12

A&M

All About Drains & Plumb.

Will snake any sm drain

$145. 614-778-2584

CHRIS'

PLUMBING

"Plumbing & Drain Professional

That You Can Count On"

24 Hrs., 7 Days/Week

No Overtime Charges

24 Yrs. Exp. in Plumbing &

Drain Cleaning Field

Call For A Free Phone Estimate

$100.00 For Any Small Drain

614-622-4482

30% OFF with AD

ALL IN ONE

PLUMBING LLC

"One Call Does It All"

$25 OFF LABOR

9/12

With This Ad

A

614-801-1508

All Major Credit Cards Accepted

9/12 A

PEST

CONTROL

INFORMATION

ONLY

$50.00

For This Ad In Our

West & Grove City

For Info Call

272-5422

POWERWASHING

Bates & Sons

Soft Wash & Powerwash

5 ★ Google Reviews

614-586-3417

MRS. POWERWASH

Any house wash $149+tax

Single deck $69+tax

2 Tier deck $99+tax

Best Wash in Town

Over 45,000 washes

Ashley 614-771-3892

MDB POWERWASH

We Specialize In Decks.

Clean, stain, reseal,

revitalize any deck.

Quality work at fair prices.

Guarantee All Work 3 Yrs.

25 Yrs Exp. Free Est.

614-327-9425

ROOFING

Robinson roofing & repairs

30 yrs. exp. Lifetime Cols.

resident. Lic./bonded/Ins.

Reas rates. Member of

BBB. Dennis Robinson

614-330-3087, 732-3100

SEWING MACHINE

REPAIR

REPAIR all makes 24 hr.

service. Clean, oil, adjust

in your home. $49.95 all

work gtd. 614-890-5296

TREE SERVICES

BURNS TREE SERVICE

Trimming, Removal &

Stump Grinding.

614-584-2164

Brewer & Sons Tree Service

• Tree Removal

• Tree Trimming 9/26

A&M

• Stump Grinding

• Bucket Truck Services

Best Prices • Same Day Service

614-878-2568

9/26 A&M

8/1 A
---
PAGE 12 - WESTSIDE MESSENGER - September 5, 2021

WESTGATE UNITED

METHODIST CHURCH

61 S. Powell Ave., Columbus,OH 43204

614-274-4271

Come - Let's Worship Together!

Worship Service 9:00 a.m.

Sunday School 10:00 a.m.

Visit Our Facebook Page for our

Livestream Worship

www.spreaker.com - Kevin Orr Show

or Kevinsreflections.blogspot.com

westgateumc@sbcglobal.net

GLENWOOD UM CHURCH

2833 Valleyview Dr.

(Corner of Valleyview & Hague Ave.)

(614) 274-8469

Pastor Leo A. Cunningham

Join us for In-Person Sunday Worship at

10:45 a.m. or Join us for

Online Worship at Glenwood UMC YouTube

http://tinyurl.com/GlenwoodUMC

And be inspired every Monday at 10:00 am

when "Chapel Guy" (Pastor Leo) shares

stories for the Children.

By Katelyn Sattler

Staff Writer

HOGE MEMORIAL

PRESBYTERIAN CHURCH

2930 W. Broad St., Columbus, Ohio 43204

Sundays at 10:30 a.m.

In Person Worship

Live Streaming Sunday Worship Service

at 10:30 a.m. on Hoge Facebook Page

Worship & Free Meal

Saturdays at 5:00 p.m.

www.hogemempresby.org

Please visit the

Westside Church

of your choice.

List your Worship

Services here.

For info. call 614-272-5422

Be a Part of Our Local Worship Guide

Our upcoming Worship Guide is geared toward celebrating faith and helping readers connect with

religious resources in our community. Make sure these readers know how you can help with a presence in

this very special section distributed to more than 25,000 households in the Westside area.

Contact us today to secure your spot in our Worship Guide.

614.272.5422 • kathy@columbusmessenger.com

Messenger

Westside

Safety issues were discussed at the August Greater

Hilltop Area Commission meeting.

Sgt. Frederick Brophy, with the Columbus Division

of Police, reported that there have been persistent

problems with all-terrain vehicles (ATVs) being driven

on streets on the westside, as well as county-wide.

According to Brophy, police are cracking down on

those who ride these vehicles in the street because it is

a safety hazard for the driver of the ATV and others on

the roadway.

Columbus City Council recently passed legislation

to increase penalties on those caught driving ATVs on

the streets. Columbus police have started an enhanced

enforcement of the new laws.

The city has joined with the

Franklin County Sheriff's

Office and some suburban agencies

recently to crack down on

the problem with a different

tactic using more manpower

and more money. A new task

force is working on stricter

enforcement of the new laws.

"The idea is to get officers

out here in peak times when

large groups are moving

throughout the city," said

Pets of the week

Blondie is currently

available for adoption.

This 7-year-old

lovely lady had some

dental issues that

may have been causing

her distress.

Those issues have

been addressed at

the shelter. She has

lived with cats and prefers women. If you have

a quiet home and are looking for a companion

that may take some time to trust you and her

new surroundings, meet with Blondie. She is

worth your love and is up for adoption at the

Franklin County Dog Shelter.

FYI: franklincountydogs.com

Blue Jay was wandering

the streets in

Ironton, Ohio before

someone rescued

him. He is a sweet

boy who loves people

and loves attention.

He doesn't

understand personal

space and likes to run fast. If you're looking for

a cuddle buddy, contact Colony Cats about

adopting Blue Jay.

FYI: colonycats.org

www.columbusmessenger.com

Focus on Safety

ATVs becoming a problem in the Hilltop

Pet Corner

Brophy.

Several arrests were earlier this month, along with

ATVs seized and drivers cited.

According to Brophy, police have a "no pursuit" policy

when it comes to ATVs in the streets, so police need

to put more effort into catching the people doing it.

Intelligence has been gathered and is being used to

identify the peak times for large groups of ATV riders

in the city that can be enforced.

The city, division of police, and the mayor's office

have heard concerns about the ATVs and will allocate

resources to the problem.

Brophy hopes to see the benefits from the agencywide

focus on ATVs being driven illegally in the

streets.

According to reports, automobile deaths and residential

burglaries have increased near the West Broad

Street corridor. Some potential juvenile suspects in the

area and city-wide have been identified and Columbus

police hope that with enforcement and better investigation,

the community will see a drop in illegal activity.

When asked how the Greater Hilltop Area

Commission could get more officers in the area,

Brophy said city council needs to pass an amendment

to the police charter and approve a budget for it.

"Moving manpower is required. It's a big undertaking,"

said Brophy. "Trust me, nobody wants that more

than I do. I know because I work out here that the

westside of Columbus needs more police officers."

These furry friends are available

for adoption at local

rescues and shelters

Han Solo is a funny

boy. When he was in

a foster home, he

took a liking to socks.

He would steal all his

foster mom's socks

and collect them. In

addition to his fondness

for socks, Han

Solo is a super affectionate guy. He is about 5

years old and eager to find a loving forever

family. Adopt him from Colony Cats.

FYI: colonycats.org

Willow is a very

sweet and loving girl.

This 5-month-old kitten

is very affectionate.

She loves belly

rubs and ear scratches.

Willow gets along

well with children and

other cats. She would

make a lovely addition

to any home. Adopt Willow from Friends

for Life Animal Haven.

FYI: fflah.org