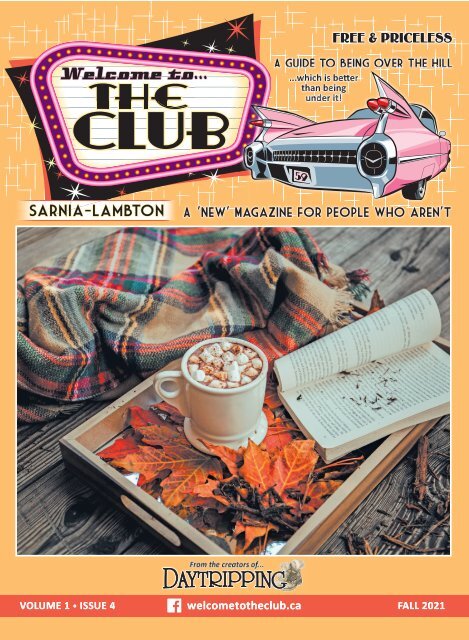 Welcome to the Club - Fall 2021
A Magazine for 55+ Like No Other! Welcome to The Club features timeless articles and anecdotes including many from the archives of Daytripping Magazine. It's online at www.welcometotheclub.ca and is also distributed free in Sarnia-Lambton, Ontario.
A Magazine for 55+ Like No Other!
Welcome to The Club features timeless articles and anecdotes including many from the archives of Daytripping Magazine. It's online at www.welcometotheclub.ca and is also distributed free in Sarnia-Lambton, Ontario.
SHOW MORE
SHOW LESS
Create successful ePaper yourself
Turn your PDF publications into a flip-book with our unique Google optimized e-Paper software.
FREE & PRICELESS

Welcome to ...

THE

AGUIDE TO BEING OVER THE HILL

L

...which whichisbeer

h

is beer

er

than hanbeing

n

under it!

CLUB

Sarnia-Lambton

A ''New' Magazine for PEOPLE P who aren't

welcometotheclub.ca

VOLUME 1 • ISSUE 4 FALL 2021
---
Welcome to ...

THE Club

Welcome to the Fall issue!

Welcome to ...

FALL 2021

COVID-19 Vaccination Clinic:

i

Transportation

Lambton Elderly Outreach and the Red

Cross are offering transportation to

vaccination clinics FREE of charge!

To register, please call:

LEO 519-845-1353

Red Cross 519-332-6380

Meals on Wheels is Expanding!

Our Meals on Wheels is expanding into these new

areas: Port Franks, Forest, Wallaceburg, Corunna, and

Petrolia! We are happy to assess your address if you

live in the surrounding areas not listed. Delivery days

for hot meals are Monday, Wednesday, and Friday for

all areas except Corunna which is Monday and Friday.

For registration, meal information, and to see if you

qualify for subsidy, please contact: 519-845-1353, or

transportation@lambtonelderlyoutreach.org.

Meals on Wheels Volunteers Needed!

Looking for volunteers to deliver hot meals to our newly

served areas of: Port Franks, Forest, Wallaceburg, Corunna, and Petrolia! Deliveries are made

on Monday, Wednesday, and Friday and take approximately 2 hours. Volunteers can choose

to use their personal vehicle and be reimbursed for mileage or can use an agency provided

vehicle. A volunteer orientation will be held as part of the onboarding process. Interested?

Please contact: volunteer@leohelps.ca for more information or to register!

The Peer Program: For You, By You!

The Peer Program at Lambton Elderly Outreach is a peer-to-peer social group from those

who want to participate in various social activities planned for and by participants! All

content is generated by the members who have an interest in a particular area then we

make it happen! Past events include coffee and chat, painting in the park, and bingo! To

be a part of this group, please call or email the Community Engagement Specialist at

519-845-1353 ext 310. aweiler@lambtonelderlyoutreach.org.

Follow our Facebook page to stay up-to-date on all

things LEO and for upcoming announcements for

Fall and Winter events!

https://www.facebook.com/LambtonElderlyOutreach

Transportation provided to adults over the age of

50 or persons with disabilities who have no other

transportation options. Program available from

April to December 2021.

Volunteer Opportunities

Transportation • Home Maintenance

Meals on Wheels • The Peer Program

Friendly Visiting • Fitness Classes

Diners Club • Bingo

Due to COVID-19, volunteer

opportunities are limited. For

Volunteer Inquiries – please email

volunteer@leohelps.ca

Become a Volunteer

How We Can

Help You Live

at Home

Transportation

Non-Urgent Stretcher Van

Meals on Wheels

Home Maintenance

Personal Care

Home Help

Care Giver Respite Support

Crisis Intervention

Housing Support

The Peer Program

Friendly Visiting

Diners Club

LEO Scored 98% Exemplary Standing

for providing Quality Services

Funded in part by the United Way of Sarnia-Lambton

and Jackpot City, Sarnia

Lambton Elderly Outreach • 1-800-265-0203 • www.lambtonelderlyoutreach.orgb ld l h

P A G E

2

Our bottom borders contain some of the most popular advertising slogans.
---
This FREE magazine is distributed in most of Sarnia-Lambton.

Welcome to ...

THE Club

101 Indian Rd. S., Sarnia • 519-464-4000 • www.lambtonford.com

It's not just a Ford it's a

Lambton Ford !!!

FALL 2021 Popular Slogans... Hallmark – When you care enough to send the very best. P A G E 3
---
Welcome to ...

THE Club

Phrase Origins

Dont Count

Your Chickens

Before they

Hatch

Refers to not being hasty in

evaluating your assets. The first

time this was used was in a 1570

sonnet. It's widely accepted as a

metaphor meant to warn people

not to plan things based on

assumption. It's not guaranteed all

the chickens will hatch of course,

so counting them while they're still

eggs would be presumptuous.

You must be 55 or over to read this magazine.

Open the door to your

financial well-being.

Pat Smits

Financial Advisor

12 Mac Donald Street

Forest, ON N0N 1J0

519-786-4924

www.edwardjones.ca

Welcome to ...

FALL 2021

It's My Party!

By Jeanette Paddon, St. Thomas

On Sunday mornings, I tune in to my

favourite radio station to listen to the

artists from the 50's and 60's. For a little

while, I am fifteen years old once again,

as I sing along with Paul Anka, Pat

Boone, Leslie Gore, Fats Domino, Elvis,

and The Beatles. It surprises me that so

many years later, I still remember all the

words to the songs. Growing up in a pretelevision

era, my friends and I turned

to the radio for entertainment.

Each time a new song was

played, we would rush out

to purchase the little

45 rpm record of this

song, then spend hours

learning to do the "Jive"

and the "Twist" as we

sang along with the music.

So very young, and just like

today's kids, we were slaves

to the latest trends. Those

were the days of "penny loafers,"

"bobby socks," and "pedal pushers." A

reversible plaid pleated skirt worn with

cardigan sweaters buttoned all the way

down, and then worn backward, was

our favourite school outfit. We rolled

our long hair on prickly rollers before

from Daytripping May-June 2012

going to bed, in order to look good the

next day, yet still managed to get a good

night's sleep! We thought ourselves to

be cool and invincible, and believed

we were the generation that was going

to change the world! Getting a job

would enable us to buy everything we

wished for and do anything we wanted.

However, as fate would have it, Cupid

got involved, which found us all getting

married, raising a family, and

working hard to make ends

meet. The years rushed by, and

one day I found my mother

looking back in my mirror…

Now, while my friends and I

discuss our aches and pains,

we shake our head in disbelief

at the realization that we

are now today's senior

citizens! Heading out

each day for my "fitness"

walk, I know, that as they smile and

wave to me, the young people I meet

think of me as that nice 'older' woman

from the neighbourhood. Perhaps it

is just as well they do not see me on

Sunday mornings, as I sing along to "It's

my party…"

Welcome to The Club is published four times annually by Moran Advertising, Brights Grove, Ontario. The publisher reserves

the right to reject, discontinue or omit any advertisment without notice or penalty to either party. No portion of this

publication can be reproduced in whole or in part without the permission of Moran Advertising. The content of this

publication does not necessarily represent the opinions of the publisher. The content of this publication has not been deemed

by the publisher to be correct and accurate. The advertiser agrees that the publisher shall not be liable for damages arising

directly or indirectly from errors occuring in this publication beyond the amount paid for the space actually occupied by that

portion of the advertisment in which the error occurred, whether such error is due to the negligence of its servants or

otherwise, and there shall be no liablity for non insertion of any advertisment beyond the amount paid for such advertisment.

Use of Material: submitted articles, letters, and other works or materials may be used, published, distributed and stored by

Moran Advertising, Welcome To The Club, and Daytripping Magazine, in whole or in part, in print or by any other means.

Unique Gifts & Greeting Cards • Home & Garden Decor

Sun & Skin Care Products • Purses, Scarves & Jewellery

View our flyer at pharmasave.com

Seniors Save *15% Every Wednesday

*Free Delivery in Lambton Shores

* Some restrictions apply

Mon-Fri 9-6, Saturday 9-5

Sunday & Holidays 10-2

19 King Street West, Forest • 519-786-5161

An Old Fashioned Country Store with a Modern Twist!

• Collecbles & Giware • Kids secon

• Fudge • Maple Buer Tarts & Baking

• Williamson Farms Beef & Local Pork, Cider,

Cheese & Maple Syrup • Gi Baskets

Wednesday is

SENIORS DAY!

Numerous Savings for 55 & over

Shop Online www.williamsonfarmsmarket.com

Curbside Pickup is always available • Ask us about delivery!

14 King St. W., FOREST • 226-520-0144

OPEN Monday to Friday 10am-6pm • Saturday 10-5

P A G E

4

Popular Slogans... Harley Davidson – American by Birth. Rebel by Choice.
---
We're all getting older, we may as well laugh about it!

The World at Your Fingertips

By Mark Moran, Publisher

I have a very good friend who will

not take my advice on something that I

think would be really good for him, and

isn't nearly as difficult as he thinks it is.

Joe (we'll call him) is one of the newer

residents in a nearby long-term home.

He's an avid reader and his mind is as

sharp as a tack, but getting around has

become a serious challenge. I've tried to

convince him, to no avail, to learn how to

use an iPad.

An iPad is one of several brands of

tablets, basically touchscreens that contain

a world of information, but are much

easier to handle and use than a computer.

I'm not writing this article to preach to the

masses of people who are already well

aware of what an iPad is and is capable of.

I am writing it for the person that is put off

by or afraid of any technology, believing

that they could never understand it. I'm

also writing this for their kids – the ones

who have been saying the same thing to

them for months on end with no better

luck.

What Joe doesn't realize is that an iPad

is hardly any more complicated than

using a bank card but it does a whole lot

more. This device, which can be cradled

in one hand and manipulated using the

touchscreen with the other, contains every

book he's ever read. Actually, it can give

him easy access to almost every book

ever written. It can also give him access

to almost every song he's ever heard,

thousands of movies and TV shows, and

most of the knowledge in the entire world

in multiple languages.

If Joe has the urge to learn more about

World War II he could type that into the

search bar and choose from, in this case,

over 2.03 billion pieces of information.

No one needs to know that much about

war, so let's choose Elvis Presley instead.

Google is a search engine where you

would type the King's name and, within

one second, it will offer you 134 million

articles, photos, recordings, trivia, stupid

facts, look-alikes, just about anything you

could imagine. If you search just Elvis, and

not Presley, you'll have 205 million entries

to choose from.

Joe is set in his ways. He will not listen

You can be anywhere in the world and sll read

Welcome to The Club Magazine

Subscribe for

FREE on our

homepage and

we'll simply email

you a link to each

new issue.

The online version

may not be as

"Priceless"...

but it's just as FREE!

to me, but would love it if only he could

get past the fact that it's technology that

he doesn't need to understand. I don't

understand it either. Every photo I've

ever taken in my life will now fit onto a

device the size of my pinky finger. I don't

know how it does it, and I don't need to.

It's amazing, and after a small learning

curve most people could master at least

some parts of it. Joe would find it to be

invaluable if he used it only for reading.

I'm sure that the staff or some residents at

his new home are perfectly capable of, and

very accustomed to, helping people get

acquainted with these remarkable devices

and overcoming the learning curve.

I didn't know how to play euchre until

someone taught me and euchre is vastly

more difficult than operating an iPad. But

with an iPad you don't have a partner

looking at you as if to say "What the Hell

have you done? I don't have any spades!"

It's also a remarkable communication

tool. Whatever age you are, you can find

and contact many friends and relatives

through Facebook, or email or other social

media platforms. You can speak to your

kids or your grandkids with it, and see

them!

You can write notes or an entire book

on it, record your voice, song lyrics or

random thoughts. You can play chess or

solitaire and even euchre against it, or

against people anywhere on the globe.

It's also a very good camera, a compass,

a star chart, a map of everywhere, a photo

album, a cookbook, a radio, a far better

sports page, a movie player, a calculator,

a dictionary, an alarm clock... the list goes

on and on and on.

I should note that these are the easy

things, the simple things it is capable of.

Every eight year old can do these things

with ease, and so can my friend if he

would only try it for an hour. Trust me,

Joe has an hour to spare at this stage of

his life. I can't convince him to just give

it a try, but maybe, just maybe, someone

reading this will take my advice.

What's that old saying… Don't knock it

till you've tried it?

Thanks for reading.

Mark Moran, Publisher

www.welcometotheclub.ca

Welcome to ...

Welcome to ...

THE

THE Club

CLUB

VOLUME 1, ISSUE 4 • FALL 2021

Discount List 27

Milestones & Memories 32

Postcards from the Past 29

Trivia 14

Word Search 11

Crossword 23

Recipes 24

Other Stuff 1-40

Cathy h

Dobson, on, Lee Michaels, M Tammy With, t , Gordon d

on

Lane,

Corrinna na Austin, n

Chris Treftlin, n

Anna Marriott M t

Evans, Jean

a

Leedale ed

l

Hobson, on, William W ia

m Bedford, d,

Stan t n Scizlowski, k , Glynn

y n

Leyshon, y n Jeanette Paddon, Dave Hodgson, H d

g on, Joanne ne vanDam,

m

#local, # o

a l, Betty t y Popelier, p er

, Billy Yurchuk, k Sipkens k Nurseries, s ri

es

, and a d all

the Recipe p

and d

Milestones & Memories es

submissions.

b

ssio

Mark Moran - Publisher, Ad Sales & Design

Carla MacGregor r - Advertising in

Sales

Carrie Ann Timm - Associate so

Publisher

Angela Lyon - Graphics & Article Formatting

Carla a Mejia - Graphic Design

From the publishers

of Daytripping Magazine

The Club Features

You'll find

current and

nostalgic

articles

throughout

The Club.

YOUR CONTRIBUTORS

CLUB STAFF

P.O. Box 430 • Brights Grove, ON • N0N 1C0

519-491-1676 • info@welcometotheclub.ca

Articles & Local Photo

Submissions Always Welcome!

www.welcometotheclub.ca

A Magazineg

for 55+

like no other!

FALL 2021 Popular Slogans... Volkswagen – Think Small.

P A G E 5
---
Welcome to ...

THE Club

Feel free to send in photos showcasing Sarnia-Lambton.

Welcome to ...

FALL 2021

P A G E

6

Popular Slogans... Tim Horton's - You've always got time for Tim Horton's.
---
Most articles in here have been written by people like you.

Welcome to ...

THE Club

PICK YOUR OWN

Apples & Pumpkins

(in season)

Retail Store on the Farm with lots of

fresh produce, baking & local preserves.

es.

Produce Fresh From Our Fields

4622 London Line, Reeces Corners • 519-845-3482

www.zekveldgardenmarket.ca

IT IS TO LAUGH

Laughter is said to be

the best medicine and

there is a lot of truth in that

statement. When we laugh a good belly

laugh, the brain and thyroid gland release

endorphins. This substance affects us

by giving us a "high." We feel good.

Endorphins are also triggered by heavy

exercise. Runners of marathons, for

example, experience a "runner's high."

Not only does one feel good in the "high"

state, stress and pain are alleviated and a

sense of well being takes over. Endorphins

are terrific things.

It is not merely a matter of imagining

either. The relief from pain, for example,

can be measured. A hospitalized patient

has a sedimentation rate taken from a

blood sample. The "sed" rate is clearly

reduced after a bout of laughter. The

endorphins act the same as morphine

by affecting the pain mechanism in the

body. But endorphins have an advantage

over opiates. There are no side effects and

no addictions because they are natural

body substances. They also inhibit the

emotional response to pain and this is not

an inconsiderable advantage. Those who

are emotionally possessed by pain are

easily depressed, a state which can cause a

Open

Monday-Saturday

(hours vary)

Closed on Sundays

Children Welcome

By Glynn A. Leyshon, London

from Daytripping Sept-Oct 2014

lack of desire to continue the fight. In such

instances it is easy to give up. Endorphins

help prevent this.

Decades ago, Norman Cousins wrote

of his hospitalization with a serious illness

and how he overcame it by a combination

of standard and unorthodox methods, the

principle input of the latter being laughter.

He watched comic videos and/or read

humorous books and achieved relief of

pain, enough to sleep for a couple of hours

until he ultimately recovered his health.

He felt 10 to 15 minutes of laughing on a

daily basis enabled him to recover from an

illness the doctors told him would kill him.

As unscientific as it sounds, specialists

have studied this phenomenon, and

hospitals provided comic videos and books

to stimulate laughter in the wards. It was

found that people with heart conditions

were less likely to laugh, and even when

they did the laughter was short lived.

Healthy people on the other hand laughed

readily and often. It was thought that the

endothelium lining of the blood vessels

was affected by laughter in a positive way.

The recommendation from the study was

"Don't take yourself too seriously and try

to see the humour in the world around

you. Laugh 15 minutes daily."

623 Broadway St., Wyoming • 519-845-9915 • VillageFireplaceShop.com

Actual

FAMILY

FEUD

Answers

• A Famous bridge - Bridge over troubled waters

• A way of cooking fish - Cod

• A domestic animal - Leopard

• Something you open - Your bowels

• A famous Scotsman - Jock

• Something with a hole in it - Window

• A non living object with legs - Plant

MARLEY PHARMACY

59 Years Y of f Service S i e to Wyoming & The Surrounding unding n

Community!

C mu

!

"Where Good Friends Meet!"

If you need to consult

with a physician,

we have a new

VIRTUAL

WALK-IN

CLINIC

Call us for details

607 Broadway St., Wyoming 519-845-3341

Green County Ebikes

and

Mobility Scooters

New • Used

Parts • Sales • Service

Ebike &

Mobility Scooter

Batteries

638 Broadway Street, Wyoming • 519.333.8313 • www.greencountyebikes.com

TUES. TO SAT.

9AM - 5PM

FALL 2021 Popular Slogans... Levis – Quality never goes out of style.

P A G E 7
---
Welcome to ...

FARM FRESH ARTISAN GOAT CHEESE

THE Club

JEN'S

• Manicures • Pedicures • Waxing

• Cosmetic Injections (Botox & Fillers)

• Electrolysis • Independent Hair Stylists

a getaway from the everyday

Thank you for continuing to shop locally!

WYOMING

ROOFING

• Residential

i

t

ial

• Re-Roofs

• New Work

Welcome to ...

FALL 2021

GLUTEN FREE • LOW LACTOSE

SPECIALTY FOODS AS WELL

569 BROADWAY ST, WYOMING • 519-845-1613

SALON

571 ERIE ST, WYOMING

519-845-3596

635 Broadway Street

WYOMING

226-307-0772

Mike Daamen

519-845-0182 5-

82

• 519-899-2422

99-2

-242

2

As reported by

In 2005, Marc Alton and Anne

Kurtz-Alton purchased a 90-acre farm

in Plympton-Wyoming to make their

dream of starting a winery a reality.

"When we came to look at the farm,

everything was blooming, the wind

was warm, the smell was amazing,

and we fell in love," shares Kurtz-Alton.

The Altons hand-planted a test acre in

2006 with more than fifteen different

varieties of grape, including Cabernet

Sauvignon, Chardonnay and some

hybrid cold-temperature varieties. In

2007, they planted a second test acre

with even more varieties, including

Shiraz and Baco Noir. The vineyard

was then thoughtfully planned out,

with an additional acre hand-planted

in each of the next five years.

The vines took three to five years to

mature before the Altons could harvest

the grapes. During that time, they

frequently visited the Niagara wine

region. "I would book us into bed and

breakfasts attached to wineries. We

www.hashtaglocal.com

Alton Farms Estate Winery

developed a number of friendships

and learned so much about vines

and the wine-making process." Even

though they couldn't harvest the

grapes, they still needed to look after

the vines, which includes pinching

off the buds, controlling disease and

insects, pruning and trellising the

vines, and deleafing, all of which is

done by hand.

In 2013, Alton Farms Estate

Winery, located at 5547 Aberarder

Line, opened their store with 2,000

litres of wine ready for purchase.

In 2019, their seven acres of vines,

supplemented with grapes from

Niagara Region, produced 20,000

litres of wine. "We typically have

between 13 and 18 different wines

each year." Alton Farms Estate Winery

is housed in a century-old drive shed.

In 2016, a barrel room was added, and

in 2018, their tasting room and wine

store was expanded. "A lot of people

are skeptical about Ontario wines

because they envision them

being sweet, but our wines are

dry, which is why we encourage

people to come for a tasting."

The Altons try to be sustainable

in all their practices. "We use

our herd of sheep instead of

chemicals to keep the vineyard

weeds under control, we don't

irrigate which keeps our wine

quality up and reduces our water

use, and we use repurposed items as

much as we can." The Altons are also

thankful for their many friends who

volunteer to help hand-pick grapes

each year during harvest season.

"They also help with bottling, labeling

and events that we host." Their wines

are processed, bottled, corked, and

labeled by hand. Alton Farm Estate

wines can be purchased at their onsite

store and at select LCBOs.

Alton Farms Estate Winery

supports a number of local non

profits by donating wine baskets and

gift certificates, but their favorite

fundraisers are hosted on their

property. This year marks their 5th

Annual Grape Stomp for Bluewater

Raptors Rehabilitation and their 4th

Annual Aberarder Weinfest (German

for wine festival) for Heaven's Wildlife

Rescue. "We appreciate the support

we've received, so it's wonderful to be

able to support other organizations.

We are really proud to be the pioneer

estate winery and vineyard in this

emerging wine region."

Read more stories like this at

www.hashtaglocal.com

Photos by Kaoss Studios

663 Broadway Street

Wyoming, ON N0N 1T0

519-845-3212

beth@bethhackettins.ca

P A G E

8

AUTO • HOME • FARM • INSURANCE

Popular Slogans... Energizer – Keeps going and going and going.

Great Local Service
---
By Old Farts - For Old Farts.

"Big or Small, JohnnyRemax

Sells T hem All"

RUSSIAN

John A. McCharles, Broker

Re/Max Sarnia Realty Inc. Brokerage

519-383-4812

johnnyremax@bellnet.ca

A fly cannot enter

a closed mouth.

A good citizen owes his

life to his country.

A kind word is like

a Spring day.

A net will catch more

than a pole.

A wife is not a pot, she will not break so easily.

A word of kindness is better than a fat pie.

Absentmindedness is searching for

the horse you are riding.

All are not cooks who walk with long knives.

All lay loads on a willing horse.

An enemy will agree, but a friend will argue.

Ask a silly question and you get a silly answer.

Confide a secret to a dumb man and he will speak.

Don't put new wine into old bottles.

Even a blind squirrel finds an acorn sometimes.

Every road has two directions.

Fear the goat from the front, the horse

from the rear, and man from all sides.

395 Fletcher St

Petrolia, Ontario

Petrolia's Alternative Fuel

now an authorized Dealer for:

Welcome to ...

226-738-0665

blackgold.beer

A shop for both the modern

& classic Quilter!

4247 oil heritage rOad,

petrolia • 519-918-2226

HOGAN

P•H•A•R•M•A•C•Y

Beautiful Gift Shop

• Wedding • Birthday

• Baby • Home Decor

4177 Petrolia Line, Petrolia • (519) 882-1840

This FREE Magazine is made possible by the

companies you see adversing in these pages.

Please consider them when making your

purchasing decisions, and please let them

know that you saw their ad in...

Welcome to...

THE

THECLUB

THE Club

Everything for

your Kning,

Crocheng,

Cross Stch &

Needlepoint

Country Yarns Needs!

- Menon this ad for a 15% discount -

2776 LaSalle Line, PETROLIA • 519-882-8740

(BETWEEN MANDAUMIN & WATERWORKS)

Wed.10-5 • Thurs.10-6 • Fri.10-5 • Sat. 10-3

www.country-yarns.com

• fabrics • patterns • classes

Open tuesday to Saturday 10 am - 5 pm

Shop on our website too... www.stitcharie.cA

Full Service Pharmacy

Full Service Cosmetic Department

Full Service Home Health Care Dept.

Mon-Fri 9-6, Sat 9-6, Sun10-5

Retirement

Village

Downtown Retirement Living

in a Quaint Victorian Town

www.albanyretirementvillage.com

Call to Book a Tour:

423 Albany Street

Petrolia, ON

519-882-3157

Enjoy Friends | Enjoy Independence | Enjoy Life

FALL 2021 Popular Slogans... Nike – Just do it.

P A G E 9
---
Welcome to ...

SARNIA

519-337-3713

THE Club

OIL SPRINGS

519-834-2833

If you know where you were on September 24, 1988, this is for you!

Over 500

people...

• AUTO • HOME • FARM

• TENANTS • COMMERCIAL

1-800-265-7506 • www.cam-ron.ca

3G CUSTOM APPAREL & MORE

T-shirt & Sweater Pressing

FUNDRAISERS WELCOME

4110 Petrolia Line

Petrolia

519-882-1212

~ OPEN 6 Days a Week ~

Tues. to Sat. 11am to 8pm

Sunday 11am to 6pm

should ...You

too!

Welcome to ...

FALL 2021

Headlines

Actual headlines from many different newspapers.

EXTRA!!!

You really have to laugh at how some headlines are worded!

Defendants Speech Ends in Long Sentence

EXTRA!!!

Quarter of a

Million Chinese

Live on Water

Established in 1978,

Lambton Pharmacy continues to

provide caring, professional pharmacy

services to residents of the beautiful

town of Petrolia and Lambton County.

British Left

Waffles on

Falkland Islands

Carter Plans

Swell Deficit

William Kelly, 87

was Fed Secretary

Police Begin Campaign to Run

Down Jaywalkers

Scientists to

Have Ford's Ear

House Passes

Gas Tax

Onto Senate

4130 Glenview Rd, Unit 2, Petrolia

519-882-0650

Danielle Edgar, B.Sc., PharmD

Pharmacist

Monday–Friday 9–6

Saturday 9–12

• Fresh Produce

• Fresh Meat

• Party Trays

• Bakery

• Deli

Every Tuesday is SENIORS DISCOUNT DAY

10% OFF for age 60 and over (must tell cashier)

Doesn't apply to tobacco, lottery or gift cards

Use our easy

ONLINE

SHOPPING

SERVICE

• Bulk Food

• Seasonal

Merchandise

• Flower

Market

www.yourindependentgrocer.ca

We'll bring your groceries to your car!

4136 Petrolia Line,

Petrolia • 519-882-2211

www.yourindependentgrocer.ca

In

Tribute

by Stan Scizlowski, Lasalle

from Daytripping Nov.-Dec. 2008 & 2020

Here, at Cassino War Cemetery,

where the early morning shadows of

the Montecassino Heights steal slowly,

almost imperceptibly across the gateway

to the Liri Valley, lie buried the earthly

remains of our Canadian comrades.

They gave their lives in a just war to

preserve the freedoms we so dearly

cherish, and now they lie side by side

with their British and Commonwealth

comrades. The rich soil of Italy was

made richer by the flesh and blood they

had so freely given to it.

Their last resting place is one

of incomparable beauty, so nobly

designed, crafted and maintained.

Under the blue skies of spring and

summer the wayward breezes sigh

and murmur through the tall pines and

acacias. Within shade and out in the

warming sun stand rows upon rows of

white headstones that mark

the places where they sleep.

Bright flowering shrubs and

plants grow above them,

and the green, green grass

on which we walk is of the

land they called home. They

are heroes. They gave their

'all' as they stood at the

threshold of what should

have been an abundant and

satisfying life. Their dreams

and the dreams of those

who loved them have been

shattered on the hard anvil of war.

They know no more weariness or

pain, nor exulting joy, nor tears of

sadness, nor the torments of anger and

despair. They are sleeping. They have

known not the soft caress of a woman's

love, nor the love of a child in their

arms. So much has been denied them.

They awake not to bright dawns nor

hear the thunder and see the flash of

summer's storms. The leaves of autumn

scattered not to their tread, nor the

joys of spring greet them in all its glory.

They are sleeping. Though the world

has trembled again and again to the

loud and frightful sounds of war, they

feared not, for their peace is forever.

They have fought the good fight, have

laid down their arms, and are resting,

a sleep that knows no waking, no

tomorrow. We who have walked safely

out of the shadows of the valley of

death will always remember them. Yes,

we will remember them until that time

when we are to climb the long stairway

to eternity.

"They were only in the morning of

their lives when the golden trumpets

called them to eternity."

P A G E

10

Popular Slogans... Red Cross – The greatest tragedy is indifference.
---
That was the day Ben Johnson won Olympic gold (& lost it 3 days later)

Welcome to ...

Dattolo's Baked Goods

THE Club

"I love getting

my Tel-Check calls

and medication

reminders!"

Keto meals, pasta

and bread now

available at your

Foodland Corunna,

Brights Grove, Forest,

Watford & Wyoming

1030 Confederation St, 519-336-1991

Sometimes I feel lonely

Sometimes I forget to take my medication

Sometimes I just like to talk about how

I'm feeling or what's going on in the world

All Inclusive Suites & Apartments with kitchenettes.

You can receive daily or weekly Tel-Check calls to:

• Lessen feelings of isolation by having a friendly

chat with our volunteers

• Make medication/nutrition/hydration reminders

• Provide you with safety reminders such as ensuring

doors are locked and appliances are turned off

or

You can call our Distress Line Volunteers (519-336-3000)

if you are struggling and need to talk (7am–Midnight)

or

You can call the Care Pathways Program if you are

looking for information and referrals about services

for older adults and caregivers

1-888-DISTRES(347-8737)

519-336-3000 (7am-Midnight)

CUSTOM MENU OPTIONS • ACTIVITIES • 24HR CARE

Call for a personal tour.

WALLACEBURG • 519-627-9292

"Ring it Up" WORD SEARCH

To find out more about these programs

or refer a patient/client/loved one,

please contact our office at 519-336-0120

To learn about all of our programs and services,

visit us online at

www.familycounsellingctr.com

Find these words hidden vertically, horizontally, diagonally and backwards.

FALL 2021 Popular Slogans... Disneyland – The happiest place on Earth.

P A G E 11
---
Welcome to ...

Seniors

SAVE 20%

Every Thursday!*

*Discount applies to

regular priced merchandise

THE Club

Available with a PC Optimum card at

the following Shoppers Drug Mart stores:

510 Exmouth Street, Sarnia

123 Mitton Street South, Sarnia

420 Lyndoch Street, Corunna

Tales of Lambton County Roads

Do you remember the last time you spent

a pleasant day travelling on the back

roads of Lambton County, marveling

at the scenery and reminiscing of

the events these old roads have seen

over the years? They've witnessed the

days of the early settlers travelling by

horse, oxen and foot to the modern

speeding traffic whistling by with barely

a sideward glance. The dusty old roads

of the pioneers are now mostly paved

to accommodate the speed of modern

day life. But one of our true pleasures is

to meander down an old country road,

drinking in the natural wonders of the

countryside and remembering the days

of yore. Strange that people will travel

so far to see the wonders of the world

when there is so much beauty and

mystery right here in our own backyards.

We have the rivers, lakes, (Huron and

Chipican) the historic sites and buildings

but even our roads offer so much if we

are ready for the experience.

There are many famous roads here

in Lambton County with interesting

tales of when, why and how they

were built. Some of the early pioneer

roads were useful for only a short time

before disappearing, while others have

remained to become busy thoroughfares

to this day.

The Egremont Road was built by early

governments in the 1830's hoping to

encourage more settlers in the west of

the province, as well as provide a military

road from London to their proposed

harbour at Errol.

There is the still busy London Line,

built by Sarnia's early citizens during

the 1840's, to divert traffic from the

government planned harbour at Errol to

their own proposed Port Sarnia.

The famous Plank Road was built to

Oil Springs by these same citizens in the

1860's to divert the oil traffic to Sarnia.

This busy road now handles most of the

traffic between Sarnia and Petrolia but

has a historic past unknown to many of

its travellers. The tales this road could

tell!

The Nauvoo Road was chopped through

the wilderness by Archibald Gardener

and his followers on their way to join the

Mormons in Nauvoo, Illinois.

The histories of these famous roads are

fairly well known, but many don't realize

that the construction of the London Line

was organized to purposely strangle

the settlement at Errol. By building a

Thank you, to all the advertisers you see throughout the magazine.

Call to

book a

tour!

by Dave Hodgson, Sarnia

planked road to Warwick

Village they diverted

traffic to Sarnia which

became the most direct

road to the harbour to

the west of London. This

road, though plagued

with swamps, established

Sarnia as the centre for

both land and water

traffic at the head of the

St. Clair River. History

proved Sarnians such as Cameron, Vidal

and Durand to be right, and shipping

at the port grew even more when the

railroads later arrived.

However, there are many more historic

old roads in Lambton County whose

histories have long been forgotten. Many

are still in use, dotted with picturesque

farms, schools, churches and community

halls that arouse our imaginations. But

though many of the old sites and tales

are gone one can still enjoy the nostalgia

of the past while travelling along these

quiet thoroughfares. If we only knew

the stories of their history there would

be even more enjoyment during such

leisurely drives.

Some of these forgotten roads scattered

70 Duke Street, Wallaceburg

WallaceburgRetirementResidence.com

519-627-0719 I emma.king@wallaceburgretirementresidence.com

from Daytripping Sept-Oct 2009

across the county are the winding

Fansher Road down in Euphemia, which

provides an idyllic, shaded trip during a

warm summer day. Euphemia also has

the Smith's Falls Road, the Florence,

the Aughrim and Dobbyn Roads. Dawn

has the famous Tramway Road and

Aberfeldy Line. The former Bosanquet

Township has the Ridge Road; and

a maze around Thedford. Sarnia has

several of the old "Given Roads" such as

Blackwell, Errol and the Old Lakeshore.

There is Enniskillen's Gum Bed Line,

while down in the former Sombra

Township we have East River Road,

Black Creek Road and the once famous

Blue Water Highway. The list goes on and

on and they all have their own tales if

only they were better known.

Welcome to ...

FALL 2021

"IT'S NOT JUST ABOUT THE MONEY,

IT'S ABOUT WHAT IT MEANS TO YOU"

Jodi diD

Dark C.F.P. FP R

Financial Advisor

Providing solutions for all your investment needs.

Financial By Design

1315 Michigan Avenue,

Suite B102, Sarnia

519-332-5050

jodi@financialbydesign.com

f nc

ialb

ign.

com

Scan the

QR Code to go

to our website

Mutual funds and/or approved pr

exempt e market products are offered fered

e

through h Investia Financial n

i

a

Services e

es

Inc.

P A G E

12

Popular Slogans... Wendy's - Where's the beef?
---
As you may have guessed by now, it's for people 55+

CASH IN ON CLEAN UP!

Recycle your scrap metal for CASH!

ELECTRONIC WASTE RECYCLING

Copper • Brass • Aluminum • Lead • Stainless Steel

Batteries • Scrap Appliances • Aluminum Pop Cans

WE BUY & RECYCLE

ALL SCRAP METAL

Container rental and C&D garbage disposal also available

SUPERIOR SERVICE, SUPERIOR VALUE! OPEN TO BUSINESSES & PUBLIC

MON-FRI 7:30-4:30

1279 Plank Rd, Sarnia • 519-337-3779 • www.trijan.ca SATURDAY 7:30-12

563 Front St. N., Sarnia

519-337-9998

GlassAndPillarSpa.com

Welcome to ...

THE Club

Essential Fall Facials

FRESH

NOURISHING

EXFOLIATING

We have the

highest safety

protocols in place!

No appointment needed to shop the boutique

The Hint is ...

This is a just a portion

of a mural by Todd

Charlton.

If you're looking at

this, you just might be

going places.

"Somewhere in Sarnia-Lambton"

Find the answer in our

Winter 2022 issue

From our Fall 2021 issue:

The Hint was ...

These metal men, and there are

many more, were created by

Murray Watson to celebrate the

150th Anniversary of something

in Sarnia-Lambton.

The Answer is...

The back roads in Oil Springs

have many sculptures, like this

one near the Oil Museum.

TOP 10

1971

Country Songs

1 When You're Hot You're Hot

Jerry Reed

ed

2 Kiss an n Angel Goodo Morning Charley Pride

3 Help Me Make it Through the Night h

Sammi Smith

4 Easy Loving Freddie Hart

5 I Won't Mention M ItAgain Ray R Pricei

6 The Year That Clayton Delaney Died Tom T. Hall

7 You're My Man Lynn Anderson

8 Empty Arms Sonny James

Billboard Hits

9 How Can I Unlove You Lynn Anderson

10 I'm Just Me Charley Pride

Source:

billboard.com

1 Joy to the World Three Dog Night

2 Maggie May/Reason to Believe Rod Stewart

3 It's Too Late/I Feel the Earth Move

Carole King

4 One Bad Apple The Osmonds

5 How Can You Mend a Broken Heart Bee Gees

6 Indian Reservation Paul Revere & the Raiders

7 Go Away Little Girl Donny Osmond

8 Take Me Home, Country Roads John Denver

9 Just My Imagination The Temptations

10 Knock Three Times Tony Orlando and Dawn

Source:

playback.fm

Movies

The French Connection

(Oscar for Best Picture)

Billy Jack

Fiddler on the Roof

Diamonds are Forever

Summer of '42

Carnal Knowledge

Dirty Harry

A Clockwork Orange

The Last Picture Show

Bedknobs & Broomsticks

Source: the-numbers.com

From

BABY BOOMER

to Empty Nester

Maybe it's time to downsize

We can help

Text DOWNSIZE to 85377

not intended to solicit

clients under contract

EXIT REALTY TWIN BRIDGES

Brokerage - Independently Owned and Operated

519-542-1000

FALL 2021 Popular Slogans... Ajax – Stronger than dirt.

P A G E 13
---
Welcome to ...

THE Club

For Your Fall & Winter Reno Projects!

Do you remember being 19? Neither do we!

Driving

Welcome to ... FALL 2021

TRIVIA

Selected

After Hours

questions from

Annual Trivia Night

"The Daytripper" has a team entered every year, but we have yet to win.

• Natural & Cultured Thin Veneer Stone and Veneer

Screw-On Stone Siding for fireplaces, feature walls,

backsplashes, bars & kitchen islands

• Insulation • Ceiling Tiles

• Drywall & Accessories

1189 Confederation Street, Sarnia • 519-337-2334 • www.patene.com

The Old Kitchen Rocker

from Daytripping

Nov-Dec 2014

There's an old rocking chair in the kitchen

That srs fond memories in me

Scenes from the days of my childhood

Rocked on a dear mother's knee.

Grandmother sat with her kning

In this same old rocking chair,

And I curiously watched her fingers

Working such wonders there.

You can't buy

By

Anna Marrio Evans,

Forest

This old rocking chair was a comfort

When at mes I was weary or sad

It somehow dispelled countless worries

That o' mes I needlessly had.

It has rocked a fih generaon

And through the years had many a blow

But disguised are its scars of usage

With a colorful hand knied throw.

Sll as a faithful friend it waits,

With open arms and cushioned seat

For all who love its simple charm

Or gently rock themself to sleep.

I treasure this old kitchen rocker

As others before me cared for it such

Though yet with its me worn frame,

It sll has that myscal, magic touch.

Happiness

but you can

BUY LOCAL!

Answers Below

1. Which winged archer is represented in Piccadilly Circus, London?

a] Anteros b] Eros c] Cupid d] Amor

2. This grammatical symbol represents a pause, then a thought. As an

element in Christian tattoos, the symbol represents a commitment to

life. Name the grammatical symbol.

3. In what year did Bill Gates and Paul Allen create Microsoft?

4. This player is known to have scored the first run in the history of the

Major League Baseball.

5. Name the three largest main world religions.

6. What species of fish does caviar come from?

7. What kind of phobia is pogonophobia?

a] Fear of bouncing b] Fear of heights

c] Fear of beards d] Fear of feet

8. What essential piece of office equipment did Johnann Vaaler invent

in 1900?

9. Who is Thurston Howell III?

10. Name four actors who have played the character "007" James Bond.

11. Who has been the only bachelor President of the United States?

12. What is the name of the tallest structure ever built?

a] Burj Khalifa b] CN Tower

c] Grollo Tower d] Taipei 101

13. In Nunavut, Inuktitut and Inuinnaqtun are offical languages

alongside English and French. How many different languages are

there in the Northwest Territories?

14. What is the most common element in the Earth's atmosphere?

a] Oxygen b] Nitrogen c] Carbon d] Potassium

15. Where would a boxer most commonly have a "mouse?"

ANSWERS:

1. Anteros; 2. Semicolon; 3. 1975; 4. Wes Fisler; 5. Christianity, Islam, Hunduism;

6. Sturgeon (including Ossetra, Sevruga, and Beluga); 7. Fear of beards; 8. The paper

ciip; 9. Thurston Howell III, known as "The Millionaire," is a character on the sitcom

Gilligan's Island; 10. Sean Connery, David Niven, George Lazenby, Roger Moore,

Timothy Dalton, Pierce Brosnan, Daniel Craig; 11. James Buchanan Jr.; 12. Burj

Khalifa; 13. There are 11. Chipewyn, Cree, English, French, Gwich'in, Inuinnaqtun,

Unuvialuktun, North Slavey, South Slavey, and Thons; 14. Nitrogen; 15. His eye.

P A G E

14

Popular Slogans... Yellow Pages – Let your fingers do the walking.
---
Putting the "old" back in "Damn, you're old!"

Welcome to ...

THE Club

Affordable Rates • All Work Guaranteed • 25 Years Experience

GENERATION PAINT COMPANY

Interior & Exterior Painting and Makeovers

All types of

painting,

feature walls,

wallpaper

15% Seniors

DISCOUNT

If spring is the budding season, summer

the season of sunshine and roses, and

winter, except for snow-bunnies, the

season that drives us southward, or

indoors, then autumn, dazzling in its

cloak of blazing colours, is a season for

all reasons.

I got to thinking about autumn things

after seeing the movie: "Autumn in

New York," and on leaving the show,

overhearing members of the audience

rave about how beautiful New York City

must be in the fall. I have visited New

York City in October, and it certainly is

as lovely as the movie shows it to be at

that time of the year. However, I would

challenge anyone to name a place that

tops Ontario when it comes to fabulous

fall foliage.

Being a Fall-Guy, the very words

that autumn and fall conjure up in my

mind: russet pears, cranberry sauce,

Fall Guy

apple strudel, pumpkin pies and

Niagara peaches, fall on my ear like

the soothing sound of raindrops

plopping on lily pads. When the

humidity, the smog and the bugs of

summer have all been blown away by

September's cool breezes, and the slush

and sniffles of winter are still forming

ranks before attacking us in force, fall,

exploding in a blaze of maples and sumac,

turns Ontario into a red, yellow and orange

wonderland indeed.

Fall is: Halloween ghost stories told

around a wood fire, and bobbing for apples

in a big tub of water. It's little goblins trickor-treating

in the October gloaming, their

innocent faces hidden behind devilish

masks. Autumn is: Fishing in the misty

PLUS HANDYMAN SERVICES:

• Repairs • Waterproofing (caulking)

• Maintenance • Renovations

Call Mark 519-330-4424 or email 1863989ontarioinc@gmail.com

by William Bedford, Toronto

from Daytripping Sept-Oct 2002

chill of a lake that's

been deserted by

its fair-weather

friends. It's listening to

the eerie call of the loon

while roasting wieners over a campfire.

It's the World Series, and football games,

Labour Day and Thanksgiving. This

golden season that falls between sunburn

and frostbite, means homemade plum

jam and blueberry pie, cotton candy

and all the midway bells and smells at

the county fair. It's a time for shopping

at roadside stands that are flush with

the fresh produce of tree and field. It's

families going on Sunday afternoon trips

to the orchard for tractor rides and the

tang of fresh apple cider.

I know a few people who find the fall

of the year a depressing season. They

tell me that it reminds them of the

death of summer, and the coming of

the snows. Being a Fall Guy, I, of course,

see it differently. With falling leaves

swirling around my feet, the pungent

smell of wood-smoke in the air, and the

bush ablaze in the autumn sun, death is

the last thing on my mind as I wander

through the magical season of a hundred

hues that separates the green of summer

from winter's white. In fact, I think it

would be wonderful if everyone looked

this beautiful as they "slipped the surly

bonds of earth."

There are summer places and there are

winter places, but when the fall queen

dons her gorgeous gown of myriad colours

and struts her stuff across Ontario, I know

one thing for sure: There is no place more

beautiful than this place, anyplace.

FALL 2021 Popular Slogans... KFC – Finger lickin' good.

P A G E 15
---
Welcome to ...

THE Club

Laughter is the best medicine - here's to your health.

Welcome to ...

FALL 2021

BOB BAILEY

MPP – Sarnia-Lambton

Building A Better Sarnia-Lambton

With the Minister of Labour and

representatives of LiUNA Local

1089 announcing a provincial

investment of almost $350,000

to provide free construction

training for up to 60 people.

At the opening of the

Clearwater Arena High-Output

COVID-19 Immunization Clinic

with Lambton County's

Medical Officer of Health.

It's a pleasure to welcome you back to The Club, where the

fall edition is sure to provide you with lots of light-hearted,

entertaining reading! With the arrival of fall, we say goodbye

to a wonderful summer where we were able to gather with

families and friends for some of our favourite activities.

Everywhere I travelled in the riding over the past few months,

I talked to people who were more positive about the future,

which was very gratifying to hear.

There is no doubt that these have been challenging times

over the past year-and-a-half. However, it's great to see that

people all across Sarnia-Lambton are finally getting a sense

that life may be returning to something more normal. We

have gotten through so much by working together, following

health guidelines and getting vaccinated. I want to personally

thank all Lambtonians, especially those who are 55+, for

doing their part and helping to keep us all safe and healthy.

Thanking legendary

Canadian golfer Mike Weir

for supporting the Access

Open Minds Centre, which will

provide help for youth who are

struggling in the community.

Thanking local pharmacists

Richard Kelch and

Samantha Roman on

Independent Pharmacy Day

for being healthcare heroes.

CONSTITUENCY OFFICE

805 Christina St. North, Suite 102

Point Edward, ON N7V 1X6

With the Minister of Colleges and

Universities at Lambton College

where the Ontario government

announced it is providing up to

$591,942 to help increase

enrollment in nursing programs.

Congratulating St. Joseph's

Hospice on receiving an $87,400

grant from the Ontario Trillium

Foundation Resilient

Communities Fund to support the

amazing work they do.

Contact Bob Bailey

Tel.: 519-337-0051

Fax: 519-337-3246

I am now back at Queen's Park for the fall session of the

Legislature. We have a full schedule ahead of us as all parties

work together to pass important legislation for seniors and

for all Ontarians. Over the past several months, the

government has made a large number of funding

announcements targeted to helping seniors across

Sarnia-Lambton.

With the cost of living on the rise and all the stresses of

everyday living during COVID, the province appreciates the

unique challenges faced by those 55+, many of whom are

living on fixed incomes. If you have concerns related to any

provincial matters, my Constituency Office staff is always

available to help. Check out my contact information at the

bottom of this page and please feel free to stop by my office,

call or email any time.

Have a safe and happy autumn! It's a beautiful time of year,

so be sure to enjoy this most glorious of seasons - and check

out everything that Sarnia-Lambton has to offer. Happy trails

to you – until we meet again!

E-mail: bob.baileyco@pc.ola.org

Website: bobbaileympp.com

P A G E

16

Popular Slogans... Wheaties - The breakfast of champions.
---
It's the advertising that makes this magazine possible, and free!

Welcome to ...

THE Club

"Big or Small, JohnnyRemax

Sells T hem All"

John A. McCharles, Broker

Re/Max Sarnia Realty Inc. Brokerage

519-383-4812

johnnyremax@bellnet.ca

Jack-O'-Lantern

Loneliness

By Billy Yurchuk, General Manager, Wellings of Corunna

Believe it or not, in Ireland, where Hallowe'en began, the first

jack-o'-lanterns weren't made of pumpkins. They were made out of

rutabagas, potatoes, turnips, or even beets!

There is an old Irish legend about a man named Stingy Jack who

was too mean to get into heaven and had played too many

tricks on the devil to go to hell. When he died, he

had to walk the earth, carrying a lantern made

out of a turnip with a burning coal inside.

Stingy Jack became known as "Jack of

the Lantern," or "Jack-o'-lantern".

From this legend came the Irish

tradition of placing jack-o'-lanterns

made of turnips and other vegetables

in windows or by doors on Hallowe'en. The jack-o'-lanterns are meant to

scare away Stingy Jack and all the other spirits that are said to walk

the earth on that night.

It wasn't until the tradition was brought to North America by

immigrants that pumpkins were used for jack-o'-lanterns.

Loneliness and social isolation are a

common and serious, health risk, but

it isn't always recognized as one. Some

people think that becoming lonely and

depressed is simply just part of growing

older. This is simply not true. The

capacity and need for friendship does

not decrease with age, and seniors with

healthy social networks can continue

living rich, full lives.

Loneliness isn't just a feeling—it's

a physical stressor that can adversely

affect one's health. That's the conclusion

that more and more researchers are

coming to as they study the effects of

chronic loneliness and isolation.

People who go through life without

much support and companionship from

friends and family are more likely to

suffer a variety of health effects, both

physically and mentally.

Lonely people are less resilient

than individuals with healthy social

lives. They're more likely to become

ill, and they're less able to cope with

mentally and emotionally stressful

situations. Someone who suffers from

chronic loneliness is at risk for lowered

cognitive function, mood problems like

depression, and addiction to alcohol or

drugs.

Loneliness can strike anyone at any

age. However, seniors are at especially

high risk for chronic loneliness and all

the complications that go with it. That's

why preventing loneliness in seniors

should be an especially high priority

for caregivers and people with senior

family members.

Seniors are often unprepared to deal

with the boredom and isolation of postretirement

life. After retiring, many

seniors find themselves feeling idle and

unfulfilled unless they try to find new

productive things to do with their time.

Over time, these feelings of boredom

and isolation turn into full-blown

chronic loneliness. Chronic loneliness

is stigmatized, and many people don't

want to admit that they're feeling

isolated. Loneliness does not get better

on its own–fixing it requires a person to

change their attitudes and

habits, which is usually

difficult to do alone.

Asking for help, especially

emotional help, is a good

first step to combatting

loneliness and isolation.

I encourage you to

find social groups, group

activities, even move

to a place where it is

not lonely. Life is tough

enough. Just love and take

care of each other.

FALL 2021 Popular Slogans... M&Ms – Melts in your mouth, not in your hands. P A G E 17
---
Welcome to ...

THE Club

HOME HANDYMAN!

Reasonable Prices

FREE ESTIMATES

Decks, Sheds, Repairs...

(Excludes plumbing/electrical)

YOU NAME IT,

I'll get it done for you.

10% OFF with mention of this ad

Do you want copies of...

Welcome to ...

THE

CLUB

This magazine comes with a free, built-in, old fashioned fly swatter!

30 YEARS

EXPERIENCE

Call Don at

226-343-2265

Puzzle

Solution

MOBILITY WORKS

phy s i o

y oga

MOVE. FEEL. LIVE.

WANTING PRIVATE IN-HOME PHYSIOTHERAPY?

Mobility Works Physio Yoga will come to you!

Balance Training, Funconal Strength. Falls Prevenon,

and more! Covered under most Extended Health Benefits.

Book IN-HOME Physiotherapy or Private Yoga

at: www.mwphysioyoga.com

Kelly-Lynn Musico

Registered Physiotherapist | Registered Yoga Teacher

Quesons? Call 519.312.6122 • mwphysioyoga@outlook.com

Welcome to ...

FALL 2021

For a group,

apartment

building,

or meeting?

They're FREE

for people 55 + !

Call 519-491-1676

or email...

info@welcometotheclub.ca

For The Club Fall 2021

CROSSWORD on page 23

The

Wisdom of...

Louisa May Alcott

I am not afraid of storms for I am learning how to sail my ship.

Good books, like good friends, are few and chosen; the more

select, the more enjoyable.

We all have our own life to pursue, our own kind of dream to

be weaving, and we all have the power to make wishes come

true, as long as we keep believing.

A faithful friend is a strong defense; And he that hath found

him hath found a treasure.

Money is the root of all evil, and yet it is such a useful root

that we cannot get on without it any more than we can

without potatoes.

It takes people a long time to learn the difference between

talent and genius, especially ambitious young men and

women.

Far away there in the sunshine are my highest aspirations. I

may not reach them, but I can look up and see their beauty,

believe in them, and try to follow where they lead.

Do the things you know, and you shall learn the truth you

need to know.

P A G E

18

Popular Slogans... Red Lobster – Seafood Differently.
---
Many of the articles are from the archives of Daytripping Magazine.

Kern

water

1804 London Line, Sarnia

519-542-4211

kernwater.com

Mon–Fri 9 am–6 pm • Sat 8 am–2 pm

U-Fill

Water

Delivery

Service

Reverse

Osmosis

and Alkaline

A Small Miracle

from Daytripping November-December 2004 issue

by Jean Leedale Hobson,

West Vancouver, BC

Welcome to ...

THE Club

NORTH END APPLIANCE

Serving Sarnia-Lambton for 33 Years

519-336-7676

635 Cathcart Blvd., Sarnia

northendappliance.ca

There wasn't much Christmas

spirit in my heart the year that

I had started kindergarten. I

was covered in red spots, my

tummy hurt, my head was

hot and achy and I had to

stay in bed instead of being

at the class party with all

the other children. Well - not

quite 'all' - three others, my

mother told me after talking

to the teacher, where also in

the thick of measles. Not the nicest of

Christmas gifts to have been exchanged

in a classroom of five-year-olds.

One event did brighten the scene,

though - my beloved Gran's arrival

on the earliest train she could catch.

Mother must have had her hands full

with a miserable little girl in bed, and a

two-year-old boy determined to sneak

into the sickroom and play with his

sister. She probably welcomed Gran

as fervently as I did as I relished in the

personal pampering, the lavender water

dabbed on my forehead, and all the TLC.

Snakes and Ladders, Parcheesi, Old

Maid and Snap kept Gran busy in her

role of amusing me, intended to make

up for missing the party on the last day

of school. Hardly a prima donna, the

dear lady entertained me with off-key

renditions of carols old and modern,

although joining in the choruses made

my own scratchy throat sore.

She told me all the familiar stories

over and over, but I don't suppose I was

as caught up in the birth of the Baby

Jesus as I was in the dismal thought

that Santa Claus might not stop at

our house. Would he dare to come

down our chimney? Would I have an

empty stocking at the foot of my bed

on Christmas morning? And, oh dear,

would my little brother miss out too, all

because of me? Gran tried to assure me

that the venerable old gent was immune

to children's germs on his important

mission around the world, and anyway,

the cold air around his sleigh would

freeze any little nasties flying around.

She was right, of course. On the big

morning I woke to find my stocking

overflowing with bounty from his bag,

and a note was attached. In a hasty

scrawl was printed: "Get well soon.

Love, Santa. XXX."

After some porridge and juice, Mother

took the tray away, replacing it with a

stack of gifts on the bed. She

and Gran rolled their eyes and

threw up their hands as my little

brother came in and clambered

up on the patchwork quilt to

join in the fun.

Gran's present was a doll,

the kind that today would be

a collector's item, an antique

of considerable value if only

it had not, in time, gone to

its well-deserved rest in dolly

heaven. The face was fine porcelain, the

features painted to perfection, with skyblue

eyes that really opened, thick lashes

feathering her cheeks when her eyelids

closed. Long golden ringlets were tied

with blue ribbon bows. The clothes she

wore were the height of fashion at the

time, and Gran had knitted and sewn

others. She was beautiful! I instantly

named her 'Sylvia' after my current

best friend.

Naturally I wanted her in bed with me

that night, even though Mother and Gran

gently advised against it in case Sylvia

caught measles too. My pleas won out,

and her golden head lay beside mine

on the pillow, the need to keep my new

friend close to me selfishly overriding

the risk of contagion.

Next morning, though, when I woke

up, the china face was covered with

red spots! Mother, Dad and Gran raced

in at my initial shout, but instead of

saying "We told you so," they burst

out laughing. Gran took a wet cloth

and wiped the spots away, and Dad

grinned as he showed me the smeared

red palette and wet brush he'd used

from the new paintbox Santa had left

me. Sylvia's remarkable recovery was a

make-believe medical miracle. My little

brother, though, when unfortunately his

turn came, was most upset that his red

spots couldn't be erased as quickly as

the dolly's.

Sylvia eventually succumbed, as

dollies do, to too many years of

undressing, dressing and hair-brushing,

but I like to think that the story of

her remarkable recovery has brought

smiles to many a measle-marred

little face over the generations since

it happened. It's a tale this grandma

dusts off and brings out of her store of

memories whenever she gets the call

to go and help the latest victim of the

childhood malady.

• Fashionable designer frames

at compeve prices

• Durable, high quality brands

• Personal aenon to your vision needs

• Honest opinion on your frame fit & style

• Value brands available to fit your budget

• Offer direct billing to most vision plans

... A Frankly Optical Experience!

Great Selection

of Fashionable

Everyday

Eyewear!

Stop In & See

The Difference

An Independent,

Locally Owned Business

Can Offer!

Beth Kolthoff

With Beth's 30 years of

experience she is dedicated

to helping you find

just the right pair

from her great selecon

of eyewear including

sunglasses & contact lenses!

Walk in or book a one on one appointment time!

147 N. Mion St., Sarnia • 519-337-4060 • TheEyeGuySarnia.com

FALL 2021 Popular Slogans... Mazda – Zoom Zoom.

P A G E 19
---
Welcome to ...

THE Club

We're living life to the fullest (until about 9 pm).

Welcome to ...

FALL 2021

Welcoming

New Patients

SARNIA PHARMACY

Corunna Pharmasave

• Pharmacist available 24/7 for our paents

• FREE Delivery • FREE Compliance Packs

• $2.00 Co-Pay waived on elegible ODB Prescripons

• 10% discount on otc items every Tuesday & Friday

Open Monday-Friday 9-6, Saturday 9-2, Sunday Closed SARNIA: 206 Maxwell Street • 519-337-3215

MEDICATION MANAGEMENT • AWARENESS • COMPLIANCE CORUNNA: 409 Lyndoch Street • 519-862-2020

At Grandma's House

I like the taste of turkey,

Any time throughout the year.

But it never seems to taste as good,

As when Thanksgiving's here.

Could be all the trimmings,

That are cooked with it to eat,

But I think it's eating at Grandma's house,

That makes it such a treat!

Author Unknown

Owen R. Wyrzykowski

WYRZYKOWSKI & ROBB

Barristers and Solicitors

Whether you are buying or selling real estate, or need to

update your estate planning, we provide personal service

to help you through the legal process.

Owen R.Wyrzykowsk

Wyrzykowski

y

ki

519-336-6118

6118

orw@wrlawoffice.ca

722 Lite Street, Point Edward

• Real Estate Purchases & Sales

• Mortgages & Credit Lines

• Wills & Powers of Aorney

• Estate Planning & Administraon

30 Years Experience

COMMUNITY RESOURCES FOR AGES 55+

(From mThe Booklet "A Seniors' Guide ToSarnia-lambton")

a ambton Resource booklet available through Age-Friendly Sarnia-Lambton

by calling 519-332-0527 or visiting www.agefriendlysarnialambton.ca

RESOURCE NAME SERVICES OFFERED PHONE WEB/EMAIL

211 Mental Health Support, Food Services, Financial Assistance 211 211oncovid19.ca

Age-Friendly Sarnia Lambton List of Supports & Services 519-332-0527 agefriendlysarnialambton.ca

Bayshore Home Care Solutions Assistance with Housekeeping, Errands & Meal Prep 519-383-6979 bayshore.ca

Canadian Red Cross Grocery Pickup & Transportation Services 519-332-6380 redcross.ca

Care-A-Van Door-to-Door Public Transportation - lift equipped vehicles 519-336-3789

Habitat for Humanity Low-Cost Home Reno Services 519-339-7957 habitatsarnia.org

Heart to Home Meals Pre-Made Frozen Meal Delivery to 60+ 877-404-4246 hearttohomemeals.ca

Instacart Delivery from several local stores 888-246-7822 instacart.ca

Lambton Elderly Outreach Home & Yard Maintenance, Meals, Various Resources 800-265-0203 lambtonelderlyoutreach.org

Lambton Public Health Individual, Agency and Cargiver help 226-254-8222 lambtonpublichealth.ca

Neighbourlink Household Chores, Transportation, Shopping, Companionship 519-336-5465 neighbourlinksarnia.org

Sarnia Blessings Free Meals for Seniors & Vulnerable People 519-402-9093 sarniablessings@outlook.com

Shine at Home Transportation, 24 hr Housekeeping, Shopping, Meal Prep 519-336-9898 shineathome.com

Strangway Community Centre Recreational, Social & Educational Programs & Activities 519-332-0656 strangway@sarnia.ca

Victorian Order of Nurses (VON) Dementia Programs, Home Nursing, Respite, Much More 519-542-2310 von.ca/en/site/sarnia

P A G E

20

Popular Slogans... Coca Cola – You can't beat the real thing.
---
You're welcome to send in articles to help build this new magazine.

Welcome to ...

THE Club

Toys That Almost Killed Us

Part 2

In the summer issue of "Welcome To

The Club" we heard how firecrackers,

pocket knives, and empty spray cans

were common playthings in the "good old

days." Tired of "explosive" and "cutting

edge" experiences, in this edition,

Lee explains how she decided to ditch

playing with the boys, and opt for less

dangerous activities with the girls.

Enjoy. (Read Part 1 by visiting

welcometotheclub.ca, Summer

issue, page 34)

First up: Chinese skipping.

The girls had long pieces of

one inch thick elastic used in

waistbands from their mom's

sewing baskets. They'd knot it

together and then two girls would stand

about four feet apart, elastic around

their ankles. The "jumper" would start

at "ankles" and there was a pattern to it.

First you'd jump on the elastic on one

side, then the other, then in between,

inside and outside. Then you'd do a

crossover, hooking the elastic at the

front of your ankles and jumping over

the other side and repeat. Every move

had a name: hornet, Yankees, wildcat,

etc. Once you'd finished the first cycle

at ankles, you'd move up to calfsies,

kneesies, thighsies, waisties. If you

messed up, it was the next girl's turn

and you'd switch places. Well, being

a competitor, I thought, "this will be

easy because I can jump like a boy."

Sure enough, I advanced to thighsies,

but when I went to do the crossover, I

stumbled, tripped over the elastic, and

ended up sprawled, red-faced, knees,

hands and chin scraped bloody.

While the girls played with "Indian

Rubber" balls, I and most of the boys

preferred Wham-O SuperBall. The

black, synthetic rubber ball, when

thrown to the pavement with all one's

strength, could bounce higher than a

three-story house. In a tie-in to my

current home of Sarnia, Ontario,

it was made with polybutadiene,

hydrated silica, zinc oxide,

stearic acid and other goodies,

most of which continue to

be produced right here.

Dale's older brother, Jack,

the de facto leader of the

boys because of his size

and strength, wound up and

almost left his feet hurling the rock

hard ball onto the pavement. Up...

up….up it sailed, all of us craning our

necks skyward, trying to spot it in the

sun. Dale yelled out that it had sailed

to Heaven. Jack briefly turned his head

sideways to call him stupid and the

falling sphere caught him square on his

forehead, careening off his noggin' way

up in the air again. Jack was felled by

the blow and developed a goose egg the

exact size of the ball right between his

eyes. I read in Wikipedia that in the late

By Lee Michaels, Sarnia

1960's Wham-O made a SuperBall the

size of a bowling ball as a promotional

stunt. It fell from the 23rd story of a

hotel in Australia and destroyed a

parked convertible on the second

bounce. All I know is that a SuperBall

fell onto the roof or Mr. Smith's cruiser

and put a huge dent in it and we all

ran like the wind because he was

a constable at the local RCMP

detachment. (He also made

a kick-butt outdoor rink,

complete with boards and

lights in his backyard every

winter where we almost killed

each other with slapshots with a

frozen solid puck).

By far, the toy that caused me the most

pain was the set of "clackers" that were

all the rage. Two heavy tempered glass

spheres (later changed to hard acrylic

plastic), each attached to a separate

string. You'd put the tab attached to the

strings between your fingers, and start

swinging them, your wrist moving up

and down, trying to get them to "clack"

together both on top of and below your

hand. Doing so, though, took a lot of

practise, which in turn led to black

and blue arm forearms on most of

the kids in the neighbourhood. And if

that wasn't dangerous enough, they'd

shatter, sending shards flying in every

direction. They were eventually pulled

from the market in both the United

States and Canada after being classified

as a "mechanical hazard."

I haven't even scratched the surface

of toys that no parent of today would

allow their kids to play with: electric

Easy-Bake Ovens that could

shock or burn you, BB guns

that left red, welted miniorbs

on your skin, and lawn

darts that impaled many a

foot.

But after playing with

knives for years, it was the most

benign toy that I remember

piercing the skin. I was playing

pick-up sticks (a "girl's game")

on the wooden front porch of the

three Ruf sisters' house when Jack

and Dale sauntered over. "That looks

easy," they said. "We want to play,

too." So after explaining the game, we

began. Mind you, these weren't the

flimsy little twigs kids play with today.

These were thick, heavy duty, very

pointy pick-up sticks. Jack's pudgy,

clumsy fingers were no match for his

little brother's slim digits. When Dale

handily won the game, Jack picked up

the last stick and furiously slammed it

pointy end down on the deck, impaling

the webbing between Dale's index

finger and thumb to the deck. The girls

shrieked, Dale cried, Jack ran away and

I pulled the stick out. Give me a safe old

ivory jack knife anyday.

Kern

water

Home Water

Treatment

Mon–Fri 9 am–6 pm • Sat 8 am–2 pm

1804 London Line, Sarnia

519-542-4211

kernwater.com

Come In

& Eat

With Us!

Better Water

for Better

Health

Water softeners,

whole house filters

and drinking

water units

Benefits

Water Treatment:

• Improved taste and clarity

• Removes contaminents

• Environmentally friendly

• Cost-effective

Water Softener:

• Healthier hair, skin

and nails

• Preserve appliance life

• Cleaner/shinier silverware

and glassware

• Softer clothes that last

longer

For over 20 years,

we have had the

pleasure of serving you,

our family & friends.

Here at Big Fish,

you are a part of

our family & we can't

wait to share a drink,

our love of food

od

& laughs with you.

See you soon,

on,

Alex, Stacey & Gus

For Lunch, Dinner or a Special Occasion

Make Reservaons at Sarnia's Finest

1717 LONDON LINE, SARNIA I 519-542-5553

BIGFISHLOUNGE.COM

FALL 2021 Popular Slogans... Apple – Think different.

P A G E 21
---
Welcome to ... THE Club

I'd write something better here, but I forgot to!

REAL SANDWICH!

If You're

Gonna

Have

No Fancy, Schmancy

One...

Just An Honest, Wholesome,

REAL BIG, REAL GOOD

Gotta

be a

REAL SANDWICH!

Global

LONDON LINE (DRIVE THRU) • 519-542-6121

Donut!

You've wanted Protecting Our Vulnerable Seniors from Scams

one of these for

By Chris Treftlin, Shine at Home, Sarnia

Let me introduce you to Sergeant John go back to all his customers and collect

50 YEARS! Keating (ret). After 31 years of policing the tax that should have been collected.

in a major urban area of our country This is the second sting on the same

he decided to turn his considerable law scam."

enforcement training, experience, and Computer financial scams are

skill to assisting seniors and their families. infamous for their sophistication. John

Church Ladies

Specifically, assisting them in overcoming states, "They look like something right

the deluge of scams and frauds that is from the bank." Here they ask for all

With Typewriters!

coming at them on an almost daily basis. of your personal, banking, and credit

At the evening service

Before the pandemic hit, John was called information in order to avert some

tonight, the sermon topic

on as a leading speaker across Canada, horrible outcome. Delete it immediately.

will be 'What Is Hell?'.

the U.S., and internationally. Further, with The bank never does its business like this.

Come early and listen

Why his extensive investigative background, These are three, there are many, many

to our choir practice.

he was called upon to investigate cases more. I have included a link to you to

of senior abuse. I will write about senior review a detailed list of scams to be on

Eight new choir robes

Wait? abuse in the next edition of The Club. the lookout for.

are currently needed

"In Canada it is estimated that at least https://www.antifraudcentrecentreantifraude.ca/index-eng.htm

due to the addition of

10% of all seniors have been victims of

several new members

some form of fraud," states John Keating. In the examples, we have seen calls,

and to the deterioration

"Similar stats exist for our neighbour to door-to-door, and email scams. These

of some older ones.

the south. U.S. seniors are not safe from are the ways the fraudster gets to his/her

Please place your donation

Gibson the fraudster. Tracking from the F.B.I. victim. So, the easiest way to avoid the

in the envelope along

Les Paul shows that the average dollar value of fraudster is not to answer the phone, door,

with the deceased person

Tribute fraud is $9,175. That is the average. Some or email unless you know who is calling,

you want remembered.

are less, and some are much more." knocking, or emailing. "It may feel like you

John further explained, the financial are a bit of a prisoner in your own home,"

Potluck supper Sunday

loss for an individual senior is a crime. said John. "It is more about keeping

at 5:00 PM - prayer and

The other, more profound outcome of yourself safe." Get Call Display on your

medication to follow.

fraud for a senior comes in the form of phone and do not answer the call unless

The ladies of the Church

deep psychological damage. "I have seen you know who it is. Get a "No Solicitation"

have cast off clothing of

clients so harmed by this crime that sign for your front door. Lastly, when it

every kind. They may be

they stop functioning socially. Outgoing comes to email, John says, "Be careful if

seen in the basement on

and active people become isolated and you click because it might be a trick."

Friday afternoon.

afraid. It is really sad."

JOHN KEATING can be reached at

There are too many scams to count, keatingseniorsafetyconsulting@gmail.com

This evening at 7 PM there

or list in this article, but John did point

will be a hymn singing in 430 Exmouth Street, Sarnia

out a few that are particularly pointed at

the park across from the

5 Ways to Prevent Elderly Fraud

519-344-7740

seniors. There is the Grandparent Scam.

Church. Bring a blanket

"In this scam" he said, "a call comes in

and come prepared to sin. pickersalley.com

First and foremost, you can help

to the unsuspecting senior and the caller

protect your senior and reduce

claims to be a grandchild in trouble. The

their risk of financial abuse by

confused senior is not sure what is going

making him or her aware of the

on and gets so concerned about the socalled

grandchild they end up sending

risk of elder financial abuse.

• Avoiding isolation by staying

money to the fraudster in the form of a

involved with friends, family, and

wire transfer. This is untraceable," states

community activities.

John, "and as long as they keep sending

• Seniors should include

the money the fraudster keeps asking."

safeguards in their durable

Another scam comes in the form of a

powers of attorney to help secure

door-to-door solicitation. John describes

his or her assets.

it like this: "Here a couple, man and

• Refuse to engage with anyone

woman, have done their homework

who calls or comes to the door

and know the person living in the home

selling anything or looking for

is a single elderly woman. They tell the

donations.

lady of the house they are in the area

• Using direct deposit for cheques

and fixing eaves, cleaning windows,

ensures that they go right into

whatever. The senior develops trust with

their accounts and are protected.

the fraudster and overpays for poor work

• Never give credit card, banking,

or no work. In some cases, the fraudster

or other personal information

tells the senior that they have a special

out over the phone unless your

"No Tax Deal" only to come by later and

senior loved one initiates the call.

tell the senior that the Canadian Revenue

Service audited the books, and he must

P A G E

Popular Slogans... Canadian Tire - Give like Santa, save like Scrooge.

FALL 2021

Home

of the

22

Fruit

Smoothies,

Ice Caps

& More

Chills!

NOW AVAILABLE
---
We are really hoping to include some great events in future issues!

THE CLUB Fall 2021

CROSSWORD

Welcome to ...

THE Club

BIG BOX PRICES. SMALL STORE SERVICE.

110 S. Mitton • 519-344-7557 • alsvacandsew.ca

Grandkids are F UNNY

A grandmother was telling her little granddaughter

what her own childhood was like: "We used to skate

outside on a pond. I had a swing made from a tire; it

hung from a tree in our front yard. We rode our

pony. We picked wild raspberries in the woods."

The little girl was wide-eyed, taking this in. At last

she said, "I sure wish I'd gotten to know you sooner!"

ACROSS

940 MURPHY ROAD

Sarnia • 519-542-1491

Here at Napoli Pizza

we're not just a food

business, we're a

family business. Our

specialty is homemade

pizza, pasta and so

much more.

We are dedicated to

providing you with

only the highest

quality ingredients. We make our food the old

fashioned way. With classic Italian dishes, we

offer our customers a warm atmosphere filled

with the same friendly faces and aromas of

freshly made dough, sizzling pizza and delicious

fresh pasta. Whether you're dining in or

ordering out, we've made your food with the

same quality & care we would make for our own

family, so that you can enjoy it with yours!

DOWN

PUZZLE SOLUTION ON PAGE 18

Choose a Certified Collision Repair Center

& get the peace of mind you deserve!

Family owned & operated.

Proudly serving Sarnia-Lambton

& surrounding areas for over 60 years.

Certified

Collision ion Care

Provider

for ...

• FORD

• CHRYSLER

• DODGE

• JEEP

• RAM

• FIAT

• NISSAN

• KIA

• GM

• HYUNDAI

• GENESIS

856 Confederation St., Sarnia • 519-337-3842

FALL 2021 Popular Slogans... Starbucks - Coffee that inspires.

P A G E 23
---
Welcome to ...

Personal

Training

in a Private

& Safe

Environment!

THE Club

Lorrie Williams

Personal

Trainer

Specialist

We'd like to hear your honest opinions on how you like this magazine.

Recipes

Send Us

Your Recipes!

e c es

Welcome to ...

FALL 2021

519-541-1005 lwilliams11@cogec .ca

by Lorrie

Russell Street

We'll be bringing you recipes from Club contributors & from local

fundraising cookbooks we've collected over the last quarter of a century.

You're welcome to send your own recipes, or on behalf of an organizaon

that has a new cookbook, & we can help promote those cookbooks for free.

Twice Baked Butternut Squash

Buernut squash (appox. 9 lb in total)

1 1/2 tsp. salt

1/2 tsp. pepper

1/2 cup plus 1 Tbsp. sour cream

By: Cheryl McGuire

(from Brigden Fall

Fair Cookbook)

ook)

2 tsp. paprika

6 fresh chives, cut into 1/8" pieces

3 Tbsp. fresh bread crumbs,

lightly toasted

Heat oven to 450˚F. Half squash lengthwise. Remove seeds and fibers.

Sprinkle squash with 1/2 tsp. salt and 1/4 tsp. pepper. Fill a roasng pan

with 1/4 inch of water. Place squash in pan. Cover with foil and bake unl

squash is tender when pierced with a knife. approx. 35 to 45 minutes. Cool,

then scoop out squash leaving 1/4 inch border on skin. In bowl, mix squash

pulp, sour cream, paprika, chives, remaining salt and pepper. Mix or mash

unl well blended. Fill squash shells. Top with toasted crumbs. Bake at

425˚F unl heated through, 20 to 30 minutes.

Family Owned

and Operated

Since 1989.

120 Russell Street North, Sarnia • 519-383-0688

PRIVATE BRANCH

Support is just a phone call away.

226-216-2485

eriestclairprivate@bayshore.ca

Let Us

Help You

With

Your Day!

Our caregiver can arrive bright and early to help your loved one start their day.

We can assist with getting out of bed, personal grooming and getting dressed.

Need help making breakfast? Leave that to us. And we can help with feeding, if

required. After morning care and breakfast, we'll offer physical and mental

stimulation programs – let us know what your loved one enjoys – crosswords,

puzzles, scrap booking, flower arranging, chair yoga, or playing cards or bingo. We

can make and serve a nutritious lunch and then offer virtual programming during

the afternoon. Before our caregiver leaves for the evening, they'll assist with dinner

and get your loved one ready for bed. Overnight care is also available if needed.

Services that support continued care at home include:

Transportation

Housekeeping

Grocery/Prescription Pickup

Personal Support

Medication Reminders

Meal Preparation

Nursing

Dementia Support

Palliative/End of Life Care

24/7 Services

Terri Snell

Care Manager

www.bayshore.ca

Slow Cooker BBQ Short Ribs

(from Point Edward

Ex-Servicemen's

Associaon Cookbook)

4 lb beef short ribs

1 cup BBQ sauce

1 large onion, coarsely chopped 1/4 cup honey

1/4 cup flour

1 Tbsp. yellow mustard

Place ribs in slow cooker, top with onions, then combine remaining

ingredients. Cover with lid. Cook on low 6 to 8 hours (or on high 3 to 4

hours). Remove ribs from slow cooker; cover to keep warm. Skim excess fat

from sauce; return ribs to sauce. Sr gently unl evenly coated.

Pumpkin Cookies

By: Emily Sanders (from Holy Rosary

School, Wyoming 50th Anniv. Cookbook)

1 1/2 cups buer or margarine, soened 4 cups flour

2 cups brown sugar

2 cups quick cooking oats

1 cup sugar

2 tsp. baking soda

14 oz can pumpkin

2 tsp. cinnamon

1 egg

1 tsp. salt

1 tsp. vanilla

2 cups chocolate chips

Cream together buer and sugars. Add egg, pumpkin and vanilla. Mix together

dry ingredients, flour, oats, baking soda, cinnamon and salt. Add to buer

mixture, then add chocolate chips. Drop by tablespoon onto greased cookie

sheets. Bake at 35O˚F for 10 to 12 minutes. Makes 9 to 10 dozen cookies.

Apple Streusel Muffins

1 1/3 cups whole wheat flour

1/2 cup oat bran

1/3 cup granulated sugar

1 Tbsp. baking powder

1 Tbsp. cinnamon

1/4 tsp. salt

1 1/4 cup chopped, peeled, apple

By: Carol Gardiner (from

Wyoming Lioness Club 30th

Anniversary nive

Cookbook)

okbo

ok) k

1 egg, lightly beaten

1 cup milk

1/4 cup vegetable oil

2 Tbsp. packed brown sugar

1/4 tsp. cinnamon

1/4 tsp. nutmeg

In a large bowl, mix together flour, oat bran, sugar, baking powder,

cinnamon and salt. Sr in chopped apple. In seperate bowl, combine egg,

milk and oil; sr into flour mixture just unl moistened. Do not over mix.

Spoon into non-sck or paper-lined muffin ns, filling 3/4 full.

FOR TOPPING: Combine brown sugar, cinnamon and nutmeg; sprinkle

over muffins. Bake at 400˚F for 15 to 20 minutes or unl golden and firm to

the touch. Makes 12 muffins.

P A G E

24

Send Your Recipes to info@welcometotheclub.ca

ca

Popular Slogans... Alka Seltzer - I can't believe I ate the whole thing.
---
Contact us any time by email - info@welcometotheclub.ca

AMAZING BREAKFAST DAILY

8am to 1pm p ~ Sitara a Point Edward

d

• BUTTER CHICKEN • NAAN BREAD

• CHICKEN TIKKA MASALA • KORMA

A

•

BIRYANI • SAMOSA • SEEKH KABABA

• PANEER TIKKA • VINDALOOO

• CHICKEN TIKKA SIZZLER

• TANDOORI CHICKEN • LAMB CURRIES

DINE IN • TAKE OUT • DELIVERY

Party Room, On-site Cooking & Catering with Sitara Food Truck

#1 RATED

RESTAURANT

on TRIPADVISOR IS R

for

the last 9 YEARS!

Rated among the

TOP 10% WORLD WIDE

YEAR 2020 & 2021

21

on TRIPADVISOR!

IS

721 LITE ST., POINT EDWARD I 519-491-5606 WWW.SITARASARNIA.COM

Sarnia chef says he's blessed

to provide free meals to hundreds

1308 LONDON RD., SARNIA I 519-491-5650 WWW.SITARASARNIA.COM

Story and photo by Cathy Dobson, Point Edward

Welcome to ...

Bayview

Chrysler • Dodge • Jeep • Ram

www.bayviewchrysler.com

State of the Art Collision Center

that deals with all insurance

companies as well as a

Full Detailing Department

for cleaning vehicles.

THE Club

Bayview Chrysler Dodge Ltd.

255 Indian Rd. South, Sarnia

$10.00 OFF

(or more)

Redeem this coupon

for 10% OFF

ANY SERVICE, PARTS

and/or DETAILING JOB

of over $100.00

before tax.

Sales, Service & Parts:

519-337-7561

FREE SHUTTLE SERVICE in Greater Sarnia Area!

Sarnia's Kevin Allen doesn't want to

see good food go to waste.

He also likes to see seniors eat

nutritious, affordable meals.

Driven by those two principles,

Allen has prepared a whopping 50,000

free meals in the past 18 months,

often spending 70 hours a week in

the kitchen and organizing dozens of

volunteers to deliver meals to those

who need them.

He calls his project Sarnia Blessings

and is hoping to establish it as a

registered charity that can be sustained

in the longterm.

It all began in March 2020 when

Allen cooked for a function at his

church and had a few meals left over.

"I knew some seniors who might

appreciate them and offered to

deliver," he said.

Then he found a spare roast in his

freezer and cooked that up too, after

learning older residents were having

difficulty getting groceries during the

first pandemic lockdown. Many were

afraid to go outside.

"I found older couples, where the

wife was sick and he didn't know

how to cook anything. I realized

there were so many people who need

good, nutritious food," said Allen, 55,

a professional chef who has cooked

many years for a large summer camp

in Algonquin Park.

With those first meals delivered,

Allen was surprised by more requests.

Most were from family members

worried about elderly relatives

struggling through the pandemic.

Volunteers began chipping in to help

organize and the number jumped to

90 meals a week. Demand continued

to surge after the group started a

Facebook page.

"I always said this was all

backwards," said Allen, who is

described by friends as a very humble

fellow.

"Most organizations see a need

and try to meet it. With this, I started

cooking and then uncovered a need.

"You wouldn't believe the number

of people waiting to get into nursing

homes who shouldn't be using a

stove."

It was only a matter of time before

Sarnia Blessings began taking referrals

from Bluewater Health for people

going home post-surgery, and from

community organizations like the

Alzheimer's Society.

At their busiest, Allen and his

volunteers delivered 795 free meals a

week to about 160 people. That's five

meals per person per week.

"We were going to cut it off at 100

but just kept going when the need was

there," he said.

Allen, his wife Jan and their team

worked tirelessly to organize it all and

started a screening process. From the

beginning, he didn't let the food bills

worry him even though it was costing

thousands of dollars.

"I always said I'd keep cooking

as long as donations came in, and

they rolled in week after week from

churches, individuals, businesses… so

many contributed," he said.

"I think God primed me for

something worthwhile. If I can cook

for 500 rich kids a day at summer

camp, I can do it for this."

His church, Lighthouse Community

Church, was a big support, as were

other churches and service clubs. One

local woman made bread. Another

baked 600 muffins a week. A Canadian

Red Cross grant secured by the French

Community Centre covered food costs

for 12 weeks.

It was truly a community

effort and a labor of love for

Allen, who was recognized

by the City of Sarnia for

going "above and beyond in

response to COVID-19."

The Sarnia Sting and

Imperial Oil honoured him

and Sarnia Blessings with an

"Extra Mile" award in the fight

against the pandemic.

But eventually the 70-hour

weeks proved to be too much.

Seven months into the

project, a case of shingles

slowed Allen. In February,

tired and short on donations,

he put the full Sarnia Blessings

program "on hold."

Yet he didn't stop cooking

free meals entirely. Allen and Jan have

never stopped preparing 150 meals a

week for the oldest demographic on

their roster, mostly those aged 85 and

older.

And work continues behind the

scenes to bring back the meal plan at

full capacity.

In the last few months, Sarnia

Blessings has incorporated and struck

a board of directors .

The group is working with the

new owners of Sarnia's Central

United Church to firm up a deal for

permanent use of the commercial

kitchen there. London-based Xoana

Corporation intends to redevelop the

historic church into residential units

but Allen says Xoana representatives

are enthusiastic about donating the

building's kitchen space.

"We're working through a rezoning

at city hall that's taking a while,"

Allen said.

Other community organizations

like The Inn of the Good Shepherd are

providing some of the food he needs.

"If the Inn has extra produce, for

instance, they'll send it to me and

that's wonderful. It ensures no food

is thrown out and that seniors who

really need it, those without family

to help them, or those who can't

physically prepare their meals, eat

good food.

"And, trust me, I'm not doing this

alone. This is not a one man show.

It's a team effort and 100 per cent

volunteer.

"It's just amazing that God is

making this work."

"I always said I'd keep

cooking as long as donations

came in, and they rolled in

week after week from churches,

individuals, businesses… so

many contributed."

FALL 2021 Popular Slogans... Bounty - The quicker picker upper.

P A G E 25
---
Welcome to ...

THE Club

HARBOUR BAY CLOTHING

& GIFTS

Fashion & Home Décor

TAX FREE ON YOUR PURCHASE

OF REGULAR FULL PRICE ITEMS

One coupon per customer

Valid until Nov. 30, 2021

MUST PRESENT COUPON

186 Front Street North, Sarnia • 519-344-4442

141 Mitton St. South, Sarnia • info@tywc.ca

There is Nothing "Wrong" with You

We Change The Shape Of Your Stress

Call us Today 519-339-8999 Ext. 2

JUST UNLEARN

OLD PATTERNS

& HEAL YOURSELF

WE KNOW HOW

IT'S DONE - MAKE

THE COMMITMENT!

PRODUCE

INC.

Order Right To Your Door www.SarniaProduce.ca

Order Curbside Pickup 519-336-3757

Visit Our New Store at 709 Lite Street, Point Edward

Celebrang

50 years

1971-2021!

A new magazine for people who aren't (new that is!)

Shop with us!

We are here e to make your feet happy!

•Orthotic Friendly • Fashion Forward

• Men, Women & Children

Open Monday-Friday 10-5 • Saturday 10-3

565 Murphy Road, Sarnia •519 519-383-0588

8

Mr. Morkin

My wife has been a grade one or

two teacher for 30 years now and will

retire sometime soon. That's one of

the reasons why I had to start this

magazine now… I couldn't very well

tell her I was going to start a new

major project weeks after she

finally has the time to relax. It's

not uncommon to meet up with

her former students, many of

whom are parents themselves

now, and hear them say how she

was their favourite teacher ever.

I don't imagine anything warms a

teacher's heart more than that.

I've had a few favourite teachers over

the years as I'm sure we all have, but the

one I think back to now was not a teacher

at all but the principal at Sacred Heart in

Port Lambton sometime around 1978.

His name is Bill Morkin. Apparently I was

a kindergarten dropout, but I learned to

love elementary school after that. The

next eight years were spent with the same

classmates. My own grade was never split

up, and while new kids came in from time

to time, I only remember one ever leaving.

In a school this size you blend in pretty

seamlessly after a while, or at least I think

you do—I never lived their experience.

I don't remember who the principal

was before Mr. Morkin came along and

no one could compare to him afterward.

He had a kind, wise face that was fatherly

but also very confident, and very much in

charge. This was a time when patriarchs on

television would've been Michael Landon

on the "Little House on the Prairie," Mr.

Cunningham on "Happy Days" or Pa

Walton on "The Waltons," and maybe that

played a role in seeing a friendly father

figure as a leader that you could really

trust and look up to. Or maybe it was that

Robin Williams was all the craze as "Mork

from Ork" and their names were similar

in a kid-friendly way. Who knows?

The strangest thing that I ever did in

school (though there is a vast collection to

choose from) happened one day when Mr.

Morkin passed by me in the hallway and

winked at me. I was a kid and didn't know

what that meant, so I spit on him. I have

no idea what possessed me. He calmly

called me into his office and set me back

on the right path, while I'm sure many

others would have been much harsher.

The most amazing thing about Mr.

Morkin, however, was the annual school

play. He worked tirelessly and engaged the

entire school to put on large productions

in the neighbouring parish hall including

lights, sound, set designs, singing and

plenty of amateur acting. Some of the

Lambton County's oldest

& only independent

family shoe store.

By Mark Moran, Welcome to The Club

most unlikely kids in that school took part,

and played critical roles, in productions

like "A Christmas Carol," "Oliver Twist"

and "Jesus Christ Superstar." I was in all of

them and I loved to sing. In Oliver Twist I

won the part of the Artful Dodger and sang

the parts for Oliver as well, in an English

accent to boot, because Kenny Johnson

didn't want to sing. I brought the accent

back out for the role of Tiny Tim, and those

first opportunities to entertain people

have never left me. I am a professional

musician and play in a band to this day. I

can't imagine the hours that must've gone

into those productions, that like so many

other teachers passions, fit under the title

of extracurricular activities. Eventually Mr.

Morkin was moved to another school and

brought his leadership and his productions

to a new set of deserving students.

Many years later when my sons Ben

and Dylan were attending Holy Rosary in

Wyoming, their principal was Bill Nelson.

He brought similar productions to their

school gym and now, much older and

more experienced, I was able to help

him with some of the lighting and sound.

While working on one of the productions,

I mentioned that I had taken part in plays

like this as a child and expressed to him just

how much it meant to me and how much

I thought of my old principal Mr. Morkin.

He smiled and said he knew Bill very well,

that Bill Morkin was his mentor and the

reason he was bringing these productions

to a new generation of students. As much

as I play music for crowds, I've been far too

busy for far too long to find myself back on

the stage acting. Maybe one of these days

I'll wind things down enough to rediscover

a love that was instilled in me by one of

the finest educators I've ever met. To the

best of my knowledge, Bill Morkin and his

wife Maureen, also an educator, are still

Lambton County residents. If you happen

to see them, please say hello, and thank

you.

Welcome to ... FALL 2021

P A G E

26

Popular Slogans... Campbell's Soup - Mmm, mmm good!
---
Our next issue will come out around the beginning of January 2022.

Welcome to ...

THE Club

Get It Done Right The First Time

JOBS BIG OR SMALL:

• Faucet Installation • Leak Repairs

• Clogged Drains • Camera Inspection

• Toilet Replacement & Installation

• Sump Pump • Frozen Pipes

• Sewer & Waterline Replacement

Welcome to ...

The DISCOUNT LIST

Acomprehensive c m p e h

e s

i list of discountsoroffers s u

t

s or

o offers that h

t

benefit efi t

people plep e over a

certain age in Sarnia-Lambton. n a-

b

t n.

Please let us know of any that are e missing!

in

g

Ask For Your Seniors Discount

Professional sion

onal

a 24/7 4 7 Emergency Service

345 Ontario Street, et Unit B

SARNIA I • 519-337-1545

37-1

-154

545

CustomPlumbingSarnia.com

t

P umbi

ia Family Owned & Operated and Proudly

Serving Lambton County Since 1991

Back to School

means more

time to Knit!

TOWN

BUSINESS

SPECIAL OFFER

AGE+

CONTACT

BRIGHTS GROVE Shoppers Drug Mart 20% OFF Thursdays 65+ 519-869-4224

CORUNNA Corunna Pharmasave 10% OFF Tuesdays & Fridays 65+ 519-862-2020

Shoppers Drug Mart 20% OFF Thursdays 60+ 519-862-1451

Corunna Foodland 2% OFF Wednesdays 60+ 519-862-5213

SARNIA Bayview Chrysler $10 OFF See Coupon in The Club all ages 519-337-7561

Bulk Barn 10% OFF Wednesdays 65+ 519-542-6668

Custom Plumbing 10% OFF always 65+ 519-337-1545

Generation Paint Company 15% OFF always 65+ 519-330-4424

Giant Tiger 10% OFF Ist Monday of month 65+ 519-336-0831

Goodwill 25% OFF 2nd Monday of month 55+ 519-541-9273

London Road Pharmacy 20% OFF Thursdays 60+ 519-491-6778

M&M Meats 10% OFF Tuesdays 60+ 519-542-8398

Michaels 10% OFF Every Day 60+ 519-542-3200

Don's Home Renovations 10% OFF See ad in The Club all ages 226-343-2265

Petsmart 10% OFF Grooming on Tuesdays 65+ 519-542-2822

Pet Valu 10% OFF Last Thursday of month 65+ 519-541-0468

Russell Street Home Hardware 20% OFF See ad in The Club all ages 519-383-0688

Salvation Army Thrift Store 25% OFF 1st Wednesday of month 60+ 519-344-3781

Sarnia Pharmacy 10% OFF Tuesdays and Fridays 65+ 519-337-3215

Shoppers Drug Mart 20% OFF Thursdays 65+ 519-337-3727

Value Village 30% OFF Tuesdays 60+ 519-541-0153

FOREST Forest Naturals & Home Health 15% OFF Wednesdays 65+ 226-520-0054

Forest Pharmasave 15% OFF Wednesdays 65+ 519-786-5161

Williamson Farms Country Store Various Wednesdays 55+ 226-520-0144

PETROLIA Country Yarns 15% OFF See Coupon in The Club all ages 519-882-8740

Gramma's Candy Store 5% OFF Tuesdays 60+ 519-882-1212

Heidi's Your Independent Grocer 10% OFF Tuesdays 60+ 519-882-2211

Hogan Pharmacy 20% OFF Wednesdays 60+ 519-882-1840

M&M Meats 10% OFF Tuesdays 60+ 519-882-4316

PT EDWARD Twin Bridge Lighting 15% OFF Mondays 55+ 519-344-3535

STRATHROY M&M Meats 10% OFF Tuesdays 60+ 519-245-6355

Please let us know of any discounts for Seniors in Lambton County!

Call 519-491-1676 or email info@welcometotheclub.ca @

to add one!

Please remember: e

r: These discounts are for your reference renc

e as a service. They might

change and they may not apply ply to sale l

items, or to things like lottery, tery

tobacco, o,

etc.

and the stores are not obligated to adhere to what we've printed. You may also

need ed

to ask in order to get the discount. t

Thank you for understanding.

ndin

Heaven is

Handmade

"A Yarn Boutique"

ue"

Everything you

need ed

for

Knitting ting

& Crochet!

250 North Christina Street

Sarnia • 519-491-9276

www.HeavenIsHandmade.ca

The

"How Canadian, Eh"

Two tourists were driving

through Nova Scotia. As

they were approaching

Shubenacadie, they started

arguing about the

pronunciation of the town's

name. They argued back

and forth until they stopped

for lunch. As they stood at

the counter, one tourist

asked the employee,

"Before we order, could you

please settle an argument

for us? Would you please

pronounce where we are...

very slowly?" The waitress

leaned over the counter

and: "Tiiimmmmm

Hoorrrrttooonnnsss."

FALL 2021 Popular Slogans... McDonalds – I'm loving it.

P A G E 27
---
Welcome to ...

THE Club

Growing old is inevitable, but growing up is optional!

Welcome to ...

FALL 2021

1098 London Rd.

SARNIA, Ontario

519-542-0079

Nov. 5th 10-5 • Nov 6th 10-3

EVERYTHING ON SALE!

AYear Round Garden Centre, Gi Shop & Bouque!

Extraordinary

selecon of

Plants & Unique

Decoraons

& Poery for

enhancing your

indoor & outdoor

living spaces.

THINKING ABOUT

MOVING?

GET HELP FROM A

TRANSITIONAL SPECIALIST

Having a Transitional Specialist is about getting all

the information you need from one source to help

you transition into your NEW forever home.

This process is about you and helping

you move into that next stage of your

life, whatever that may be ...

Downsizing - Condo - Apartment -

Vacation Home - Income Property -

Or maybe an active or assisted living

community for yourself or a parent?

You can enjoy a lifestyle that can be as

busy or relaxed as you'd like it to be!

I am a Realtor &

Transitional Specialist.

Let's find the place that is

just right for you!

OPEN Monday to Saturday

Just tE East of fS Sarnia on Cty Rd 22

Take Exit 15 off Hwy 402

Sarnia

www.sipkensnurseries.comww.sipkensnurseries.com

w

i

k

s snurseries se ries.c

m

Carla MacGregor

Real Estate Agent

519-464-3230

Carla.MacGregor@EXPRealty.com

Visit My Website www.CarlaMacGregor.ca

Bright's

Grove

From

26

London

401

From

Wallaceburg

SIPKENS

NURSERIES

Proud Member of...

*not intended to solicit buyers or sellers under contract with another real estate brokerage

USA

3261 London Line (Rd. 22)

East of SARNIA

519-542-8353

22

N

Family owned and

operated in Sarnia!

We take great pride in

our workmanship

and customer service!

- SHOWROOM HOURS -

Monday to Friday, 10 am to 4:30pm

I had spent some time in the bank

with my dad, as he had to transfer

some money. I couldn't resist, and

asked... "Dad, why don't we activate

your internet banking?"

"Why would I do that?" he asked.

"Well, then you wont have to spend

the time here for things like a transfer.

You can even do your shopping online.

Everything will be so easy!" I was

so excited about initiating him into

the world of internet banking and

shopping.

He asked "If I do that, I won't have

to step out of the house?"

"Yes, yes," I said. I told him how

even groceries can be delivered to his

door now and how Amazon delivers

everything! His answer left me tonguetied.

Thrilled with our new windows!

The workmanship was excellent,

installaon was mely, efficient and the

windows look great! We would highly

recommend Beehive! ~ Dara

1781 London Line • Sarnia

519.491.8888

beehivewindowsanddoors.com

E-Mail

The E-Mail

IN-BOX

Send the good stuff to info@daytripping.ca

Technology? No thanks.

He said, ''Since I entered this bank

today, I have met four of my friends, I

have chatted a while with the staff who

know me very well now. You know I

am retired... this is the company that

I need. I like to get ready and come

to the bank. I have enough time, it is

the physical contact that I crave. Two

years back when I got sick, the store

owner from where I buy fruit came to

see me and sat by my bedside. When

your mom fell down a while back while

on her morning walk, our local grocer

saw her and immediately got his car to

rush her home as he knows where we

live. And your brother worked at that

store to make his way through college.

Would I have that 'human' touch if

everything became online? Why would

I want everything delivered to me and

force me to interact with

just my computer? I like

to know the person that

I'm dealing with and not

just any 'seller.' It creates

bonds of relationships.

Does Amazon deliver all

this as well?"

Needless to say, his words

helped me realize that

technology isn't life. It's

better to spend time with

people than devices.

P A G E

28

Popular Slogans... Frosted Flakes - They're grrrrrrreat!
---
If your business offers anything to people 55+, you can advertise too!

POSTCARDS

of

SARNIA-

LAMBTON

Welcome to ...

THE Club

Sponsored p

o

dBy:

A Better Place For You®

F. Filia & Associates Ltd.

2-565 Murphy Road, Sarnia Franco Filia

519-332-5400 I franco_filia@cooperators.ca Advisor/Owner

Camlachie

See the Dave Burwell

Postcard Collecon at

sarniahistoricalsociety.com

"Early in the Morning Down on the Farm"

by arst Wm. David, Jr.

at the Brigden Fair Grounds

Forest 1990, The Staon Library Complex

Lambton Twilight Haven, Petrolia

The Library was opened in 1985 and is a replica

of the former Forest CNR Staon located nearby. The Caboose contains

arfacts related to the railway which served the Town from 1859. The

Courtyard is the same dimensions as the Sarnia-Port Huron Tunnel.

Main Street, Brigden

Courtright Hotel

Kenwick-on-the-Lake, Brights Grove

Make this magazine Your Own!

Welcome to ...

THE

CLUB

The Club • P.O. Box 430,

Bright's Grove, ON N0N 1C0

info@welcometotheclub.ca

WELCOME TO THE CLUB is written by you, OUR READERS.

Send in articles to be published here and possibly in Daytripping Magazine.

Keeping our 55+ audience in mind, you may want to write about:

• Long gone hangouts i.e. Kenwick on the Lake, Tab's Drive-In, the Campbell St. Staon

• Local things that will never be the same - Local things that will never change

• A local champion from the past or present that deserves recognion

• A great local concert. Elton John? Johnny Cash? Alice Cooper? Bayfest?

• Hidden gems in Sarnia-Lambton, whatever they may be

• An in depth look at a local charity, event or movement

• Growing up in this area in the 40's, 50's, 60's, 70's, 80's

• A first hand account of a trail/route in Lambton County

• A personal story that you're willing to share

Send us

your stories,

ideas & photos!

(and tell us how we're doing)

FALL 2021 Popular Slogans... John Deere - Nothing runs like a Deere.

P A G E 29
---
Welcome to ...

THE Club

Don't put this down! You'll have to bend over to pick it back up!

Welcome to ...

FALL 2021

Seniors

Save

FLU SEASON

If you are over 65 or have an underlying

medical condition, call to get more

information on this season's FLU SHOT.

20%

OFF

Regular Priced

Items In-Store

Every Thursday of every month!

LONDON ROAD PHARMACY

Locally Owned and Operated

www.londonroadpharmacy.com

* Every surface & product is disinfected daily for your safety!

Tammy Maure

1249 London Rd

519-491-6778

In Praise of the Cookie

By Corrina Austin, St. Thomas

from Daytriipping March-April 2013

My mother used to make sugar

cookies. If she could get them out of the

oven on time, they were these melty,

sweet, buttery things. Most often, they

were as black as hockey pucks on the

bottom. The oven wasn't very good,

and she would often get busy doing

other things and forget to take them

out. My brother and sister and I would

pinch large clumps of dough out of the

bowl when she was mixing them up.

Cookie dough… why is it always better

than the actual cookie? My mother lost

the recipe for her sugar cookies and I've

tried many recipes over the years, trying

to duplicate it. But, as of right now, the

search is still on.

Mom did not like to cook or bake.

It wasn't her thing. She'd rather empty

the china cabinet and clean it all out, or

dig a garden. I loved to bake. It was my

desperate childhood wish to get an Easy

Bake Oven. Instead, my mother bought

me cake mixes and let me use the real

one. Every Saturday morning, I got out

of bed, went straight to the kitchen, and

made a cake.

I baked my own fruit cake for my

wedding. In older days (older than

mine), this was a common custom, to

give out fruit cake slices as wedding

favours. When it was "cured," I cut

the cake into slices and wrapped them

in shiny red and green paper (I was

married four days before Christmas) and

trimmed each piece like a Christmas

gift, complete with a thank you tag. I

procured my husband's grandmother's

Rain on the roof with a sound like singing,

And here in the kitchen is something nice,

Patterned with flour and nuts and raisins,

Sprinkled with sugar, fragrant with spice.

Little boy's round eyes stare at the oven,

Little dog's tail goes thump on the floor,

Little boy's hand goes tug at your apron,

It's hours till lunch–please, just one more?

Crisp and warm with a fragrance of cinnamon,

One like a heart and one like a star…

Rain on the roof with a sound like singing,

Mother is filling the cookie jar.

Says it all, doesn't it?

much-guarded recipe for light fruit cake

for the occasion. We still make it every

Christmas, almost 28 years later.

I'm certainly not a fancy baker–

fondant scares the heck out of me, and

my pastry is a nightmare. I bake simply:

coffee cakes, brownies, and cookies.

Lots of cookies. My recipes for Toll

House and peanut butter cookies are

etched on my brain–I haven't used a

recipe for them in years.

I have a friend who keeps a beautiful

glass cookie jar on her kitchen counter,

always stocked with homemade

cookies. A few weekends ago, I went

and bought one for my house, and it's

been kept full ever since. I love this

idea. It seems old-fashioned, but I like

the idea of people coming home after a

long day and smelling cookies baking.

I know it's very 1950's, but it seems

like a nice way to be welcomed home.

"Hi! I made cookies today." Now, there's

a way to get a tired, grumpy person to

smile.

Several years ago, someone gave

me an old brown cookbook from 1948

that they'd found in the back of a

drawer somewhere, published by a local

"Friendship Group." The cover is so

faded I can hardly make out the letters

any more. It has recipes for everything

under the sun: "Steamed Ginger

Pudding," "Under the Sea Salad," "Ice-

Box Rolls," "Husband Cake," "Bachelor

Buttons," "Apple Pan Dowdy," "Jellied

Tongue," "Nobility Sauce"–even "Cold

Saccharin Pickles." There is even a

section for household concoctions, like

"How to Fill Floor Cracks" and "Mustard

Plaster." While I've never attempted

to fix things around the house or

create home remedies 1948 style, I

have tried several recipes from this

book, and they've all been delicious.

The "Apple Pudding" and "Seven Day

Sweet Pickles" (made in my husband's

grandfather's old sauerkraut crock) have

been especially successful.

My favourite part of the old brown

recipe book is near the front, before

the recipes: a quaint, reminiscent poem

called "Kitchen Chant." I've googled it

many times, and I've never come up

with an author.

P A G E

30

Popular Slogans... Lay's Potato Chips - Betcha can't eat just one.
---
Please tell our advertisers that you saw their ad in this magazine!

FUNNY

SQUARES Answers

Peter Marshall: Which one of your senses tends to diminish as you get older?

Charley Weaver: My sense of decency.

x x

Peter Marshall: In Hawaiian, does it take more than three words to say "I love you?"

Vincent Price: No, you can say it with a pineapple and a twenty.

Peter Marshall: Can you get an elephant drunk?

Paul Lynde: Yes, but it still won't go up to your apartment.

Peter Marshall: According to Cosmo, if you meet a stranger at a party and he's really

attractive, is it okay oto come out directly and ask him if he's married?

Rose Marie: No, wait until morning.

Peter Marshall: As you grow older, do you tend to gesture more or less with your

hands while you are talking?

Rose Marie: You ask me one more growing older question, Peter... and I'll give you

a gesture you'll never forget.

Peter Marshall: What are "Do it", "I can help" and "Can't Get Enough"?

George Gobel: I don't know but it's coming from the next apartment.

x

Peter Marshall: According to Zsa Zsa, does black look sexy on a woman?

Redd Foxx: I wouldn't have it any other way.

Welcome to ...

• CPAP Supplies & Sleep Accessories

• Home Sleep Apnea Tesng

- In your home, no wait list, professionally

analyzed & sent to your doctor in 1-2 weeks

• Ambulatory Blood Pressure Monitoring

THE Club

SLEEP HEALTH

SERVICES &

CPAP SUPPLIES

481 London Rd

Sarnia, ON

226-776-8891

RestwellSarnia.ca

Joel Clarke

RPSGT, RCT

Execuve

Director

Please contact us for more informaon - We are always happy to help!

Welcome to ...

THE

CLUB

Send Us Your Photos!

We want your GREAT

photos for 3 categories:

1) The Club COVER

Seasonal local photos, showcasing 55+

2) The Club MEMORIES

Nostalgic local photos

3) The Club GALLERY

Current local photos, seasonal or generic

Send them to info@welcometotheclub.ca

Keep in mind 4 issues per year - Winter, Spring, Summer & Fall

WE MAKE

Beautiful Smiles

~ Are you unhappy with the way

your Dentures make you look or feel?

~ Are your Dentures loose?

~ Sore spots?

~ Not eating the foods you love?

~ Are they over five years old?

Digital

(photographic)

impressions now

available

WE ARE HERE TO HELP YOU!

Call to book your FREE CONSULTATION

now to have beautiful new teeth for

the Christmas holidays!

Since 1972, our family has made thousands of dentures for our patients.

Ask your dentist to refer you to us or call yourself for your free consultation.

We are adhering to strict Covid guidelines to keep you safe.

519-336-6580

1200 Lambton Mall Road, Sarnia

www.feigedentureclinics.com

FALL 2021 Popular Slogans... Maxwell House - Good to the last drop.

P A G E 31
---
Welcome to ...

THE Club

Please submit a photo of your loved one for this feature page! It's Free!

Welcome to ...

FALL 2021

IT'S FREE TO HAVE PHOTOS PUBLISHED!

Just tsend e d usaphoto a p ofsomeone e who has a celebrated ebrated any birthday or

anniversary, a rerement, rerement, an award or if they just deserve v

recognion.

recognion.

The main i

person must be 55 or over and the photo must be e

of good o d

quality.

Photos are not guaranteed to run.

info@welcometotheclub.ca • Box 430, Bright's Grove, ON N0N 1C0

Dorothy ot

Perkins

Hank Hoeksema

celebrated 65 years on September 2nd.

Happy Birthday, Hank... love, Jo!

was honoured with a birthday parade

at North Lambton Rest Home when she

turned 95 on June 25th.

Joanne & Bill Randall

celebrated ed their 65th wedding anniversary on June 9, 2021.

Thank-you to everyone who made it possible!

Nora Gibson

G

turned 80 on May 18, 2021.

Happy birthday, Nora!

Mark Moran

our publisher

turned 56 in August.

Happy birthday from

The Club Staff!

Marie Pelleer

turned 95 on August

7th 2021.

Todd Kern

just turned 60

on September 10th

Marie Jeanne Pelleer was born in Oawa, Ontario. During WWII,

she helped make parachutes. She married Léo Pelleer who was a

Pey Officer in the Navy. She had 5 children, 13 grand-children,

and great-grand-children.

Marie worked and rered as a public servant. She moved to Sarnia

July 2020 in the 55+ Community and joined the shuffleboard team.

When she is not playing shuffleboard she enjoys fishing.

P A G E

32

Popular Slogans... Burger King – Have it your way.
---
Sometimes, no news really is good news.

Welcome to ...

THE Club

Do you want to reach

our age 55+ readers?

advertise

in the club

Call 519-491-1676

info@welcometotheclub.ca

GIFTWARE & UNIQUE HOME DÉCOR

SHOWCASING MANY LOCAL ARTISANS

TUESDAY-FRIDAY 10-5 • SATURDAY 10-3

Home of Just-A-Nuff Antiques

850 Colborne Street @ Exmouth Street

Northgate Plaza, Sarnia • 519-336-3838

Join us by the Lake!

• Authentic Hickory Smoked Ribs

• Genuine Broasted Chicken

• Seafood, Sandwiches, Wraps

PRIME RIB

TUESDAY

NIGHTLY

H

Y

SPECIALS

P L

S

Reserve er e for panoramic a views

of Lake Huron from our patio!

• Take Out •Lakeside parks p &benches nearby

2713 Old Lakeshore Road • Brights Grove

519-869-2794 • www.skeeterbarlows.com

Fall in the Garden

is Fabulous & Fresh

Courtesy of

Sipkens Nurseries

My favorite time of year is

enjoying the transition in the

garden from fall to winter.

Watching the plants and

wildlife in the cooler

seasons can bring

much entertainment.

Taking the cue from

nature, slowing down and

preparing for cooler seasons is a

great lesson for each of us.

You might find that the fall is less

flowery than spring and summer, but

if you slow down to observe, the subtle

changing of colours will lead into

a one last flare up before becoming

dormant for winter.

Listening to the birds as they

gather to make their journeys south,

cleaning out the last of summer's

bounty from the vegetable garden,

relocating falling leaves to the garden

or compost from the yard, can be

enjoyed if you take the time to slow

down instead of feeling rushed to get

things done.

The things I like to do in the fall to

winter slow down are:

1) Remove all vegetation from the

veggie garden and add compost and

manure so the gardens are ready for

spring.

2) Plant seed garlic (use straw or

leaves to mulch for the winter).

3) Instead of bagging all your leaves,

mulch with your lawn mower as much

as possible to return the energy to the

lawn or gardens.

4) Put out feed for the birds

migrating and the ones moving here

for the winter - sunflower heads or

corn cobs hanging in the garden are

sure to delight the birds (or squirrels).

If you provide a reliable source of feed

and seeds, many birds will call your

garden home for the winter months.

5) Leave a 'wild' area in your garden

for overwintering beneficial insects to

call home and leave stems of spent

flowers and grasses to shelter these

until spring.

6) There is still time to add a few

winter interest plants to your outdoor

gardens such as red stem dogwoods

and evergreen plants.

7) As your fall flowering mums

finish out October, transition your

planters to winter cut greenery and

stems to keep your home looking

welcoming to your friends and family.

FALL 2021 Popular Slogans... UPS - What can brown do for you?

P A G E 33
---
Welcome to ...

THE Club

ill and the project was

Puddle Duck

put on hold.

By Tammy With Kenneth took the

project to his home in

from Daytripping Sept-Oct 2021 issue Toronto, but despite his

desires, he never got

around to finishing the

project. As an adult,

Ritchie took the pieces

with the hope to someday

finish the project with his

son Gregory. The pieces

moved several times

across Southwestern

During the early months of the Covid

19 pandemic, my father in law and I

enjoyed the sun and sounds of children

playing in our backyard. During one of

our afternoon tea dates, my father in

law, Ritchie, mentioned a project he and

his father had started back in 1945 when

he was 10 years old. It was a 6 foot long

rowboat to act as a tender to his family's

boat, the "Black Duck." They used the

boat each summer to get to their cabin on

Georgian Bay. Kenneth, Ritchie's father,

felt they would benefit from having a

smaller boat to act as a tender, so he

purchased a pattern from a boat building

catalogue and enlisted the help of his son

to build it. The duo took the project as far

as cutting out the pieces and creating the

frame before Kenneth's youngest child fell

Ontario before they settled in Wyoming,

Ontario with Kenneth, his son Gregory

and his young family.

When Ritchie told me the story I knew

this was something that needed to be

completed. Ritchie was now 84 years old,

so I asked if I could lead this project to

completion. He was delighted to hear of

my interest and encouraged me to enlist

my husband and four young children as

helpers in the project.

That afternoon I had my husband

retrieve the pieces from our garage attic

and the next afternoon the seven of us

took to the back yard to make Kenneth's

vision come to life.

As we worked our way through the

pattern we realized that we were missing

several pieces of the frame as well as all of

60 might be the new 40, but 9 pm is the new midnight.

the written directions needed to complete

the build. All we had was a couple of

diagrams and the original catalogue to

guide us. We decided that rather than

scrap the project that we would use a

more modern method of boat building

to construct it, as building another form

was something we found very daunting.

We settled on using the stitch and glue

method.

For the first few days my children

enjoyed working on the project, but as

happens with children, they became

uninterested in the project. From then on

I chose to work on the project each day

when my younger children were having

their afternoon nap. It was a slow process,

but steadily throughout the summer, I

managed to put the boat together.

Once the plywood was stitched

together, I enlisted the help of my father, a

professional fiberglasser to teach me how

to fiberglass the outside of the boat. My

father and I spent two weekends adding

layers of fiberglass and sanding the boat.

Working on this project with my father is

something that I will remember as one

of the most special moments he and I

have spent together. Once the sanding

was complete I painted the boat bright

yellow, added white gunnels with oar

locks and painted the interior white. All

that remained was the addition of a name

on the stern. Kenneth had named the

boat "Puddle Duck" when he started the

project, a name that suited her perfectly

with her bright yellow paint.

After 74 years and several trips on land,

Puddle Duck took her first voyage afloat

at the end of the summer. We gathered as

a family at A.W. Campbell Conservation

Area in Alvinston to watch her maiden

voyage. Richie said a few words in honour

of his father and christened Puddle Duck

with a splash of sparkling cider. My

husband and our son Sawyer were the

first to take a ride around the pond. I could

see the sheer delight in Ritchie's face as

he watched his son paddle along.

I like to think Kenneth was looking

down on us that day as we paddled

along. He would have loved to see the joy

we all took in the tiny little boat he had

started as a young father. Puddle Duck

will be passed along to our children when

they become parents in the hope of her

becoming a family heirloom.

The summer of isolation was hard,

but having a project like this made it a

little more manageable. Had we not been

in lockdown, I likely would have found

distraction in other things, and maybe

Puddle Duck would have spent another

generation in pieces. It was a great

honour to be part of such an important

family legacy.

Welcome to ... FALL 2021

P A G E

34

Popular Slogans... Skittles - Taste the Rainbow.
---
You're not getting older, you're just becoming a classic!

FOOT ORTHOTICS

SLIPPERS, SHOES, BOOTS, SANDALS

Julie Munday, Certified Pedorthist

www.soledecisions.com

30+ YEARS

EXPERIENCE!

For comfort,

support, circulation,

balance & fatigue

ASK ABOUT IN-HOME SERVICE

303 Davis St, Sarnia • 888-971-6345 Essential Business - Onsite Lab

Welcome to ...

Professional Bra Fitting I Mastectomy Fittings & Products

Stylish Sleep & Loungewear I Swim i & Cruiseweari

NEW LOCATION:

THE Club

Because all women

deserve to feel

beautiful...Every day!

(E through H)

Eclipse: What an English barber does for a living.

Egotist: Someone who is always me-deep in conversation.

Elbonics: Two people maneuvering for one armrest in a movie theater.

Eyedropper: Clumsy opthamologist.

Fashion: Something that goes in one year and out the other.

Flopcorn: The unpopped kernels at the bottom of the cooker.

Foodwinking: Giving exotic names to mundane food products.

Garmites: Clothing that fits well in the store & shrinks on the way home.

Genderplex: Trying to choose from cute pictures which restroom to use.

Genetics: Why you look like your father, or if you don't, why you should.

Hangover: The wrath of grapes.

Health: The slowest possible rate of dying.

Heroes: What a man in a boat does.

Honesty: Pregnant woman buying two bus tickets.

Hospitality: Making guests feel at home, when

you wish they were.

Hardware:

The parts of

a computer

system that

can be kicked.

Call Mark or Carla

to promote your

business in ...

Welcome to ...

THE

CLUB

SARNIA

Auto Centre

GET YOUR

VEHICLE

WINTER

ROAD

READY!

Be prepared with

Winter Tires and

winterize your vehicle.

and more reputable brands.

THANK YOU to all the wonderful, local businesses

that have made this free magazine possible!

Mark Moran

519-491-1676

info@welcometotheclub.ca

Carla MacGregor

519-464-3230

carla@welcometotheclub.ca

24 HOUR EMERGENCY TIRE SERVICE

519-383-1000

1341 4 Plank a k

Road, a ,

Sarnia

a a

500 Exmouth St., Unit 9 • Sarnia

519-491-5256 91-5

52

56

• www.lilithboutiquesarnia.ca

w.

lith

iq

uesa

ia .ca

Wallaceburg ac b

g

Location: c

i

on:

JACK'S J

A S TIRE

T

I E

7966 6

McCleary c

e

y Line • 519-627-3335

9

-333

335

35

SARNIA

Auto Centre

www.tirecraft.comw.ti i

c f

FALL 2021 Popular Slogans... Pepsi - The choice of a new generation.

P A G E 35
---
Welcome to ...

THE Club

If this brings back good memories, send us some of your own.

Going Above & Beyond for Our Clients!

STEPHANIE MURRAY

Sales Representave

Cell: 519-383-5185

Office: 519-542-9999

movewithsteph@gmail.com

sarnia realty Inc., Brokerage*

*Indepentently owned and operated

1319 Exmouth Street, Sarnia

LAURIE LAURIN

Sales Representave

Cell: 519-328-7251

Office: 519-542-9999

laurie.l@bell.net

#laurieloveslambton

Welcome to ... FALL 2021

A little girl unkindly spread,

bad rumours of a friend.

But thought about it later and

thought she should make amend.

She went to Mom and asked for help.

Some Motherly advice.

Mother listened close then said,

"That really wasn't nice."

"If you want to make things right again,

then take this tiny sack.

Place the seeds along the sidewalk,

to your friends house and back."

A Lesson In Life

By Joanne vanDam, Lucknow

From Daytripping Sept-Oct 2016

"Seeds representing 'Friendship' that

you wanted to see grow,

until you spread those rumours.

Now, let's see how this will go."

The little girl walked down the street

with the tiny little sack.

Placed friendship seed along the walk

to her friends door and back.

Ran back and told her Mother,

of the work that she had done.

Then Mother said, "Now, go on back

and pick up every one."

So, out she went, with sack in hand,

to pick up every seed and

to get her friend's forgiveness for,

her nasty little deed.

But, her seed & friendship, all were gone.

Of them there was no trace.

And any seeds the birds had missed?

A weed grew in it's place.

Welcome to ...

THE

CLUB

We donate $25 for each article we reprint

from the archives of Daytripping Magazine.

$1200 has been donated since Jan. 2021

The recipient for this issue is

Sarnia Blessings

v1.1 LEO

v1.2 Forest Kineto Theatre

v1.3 Heritage St. Clair

v1.4 Sarnia Blessings

E-mail your arcles to info@welcometotheclub.ca

Or mail to The Club • P.O. Box 430, Bright's Grove, ON N0N 1C0

Weekly Deliveries

on Sundays

Easy Order by Phone

519-491-5797

Fresh Meals to Your Door

All Homemade & Prepared Just For You!

Shepherds Pie • Quiche

Roast Beef with Mashed & Veggies

Beef Stew • Lasagna

Pork Chop with Baked & Veggies

Roast Chicken with Mashed & Veggies

Penne with Meat Sauce

Meatloaf with Mashed & Veggies

Salisbury Steak with Baked & Veggies

Turkey with Mashed, Veggies, Stuffing, Gravy

Full Pound Portions - $9.95

SOUPS: Chicken Rice, Vegetable,

Beef Vegetable & Texas Style Chili

500 ml - $5.55 • 1 litre $7.99

www.phillycheesejakes.com

P A G E

36

Popular Slogans... Timex - Takes a licking and keeps on ticking.
---
Never throw this away (like that old Superman comic book you owned).

Old Memories, New Beginnings

One last look, one last walk, I was

leaving my beloved home behind. The

last few months had been heartbreaking

and hectic. The unexpected death of my

husband of 54 years, a home invasion,

the disemboweling of sheds, the heartwrenching

disbursement of household

items, all culminating in this moment.

Goodbye cherished gardens, a home

swollen with treasured memories, a

woodland housing ten acres of native

trees, flowers and songbirds. I was in

despair, I was moving to a senior's

community in the City of Sarnia.

One first look, one first walk, I was

strolling through my new home, all

one thousand and eighty square feet.

Everything was sterile, no memories

lingered here. Hello little yard, barren

except for the newly laid sod. Well,

helloooo huge deck. Absorbing the

sound of cars whizzing by, planes flying

overhead and the blaring of the train

whistle down the road, I closed my eyes

and longed for the peace and tranquility,

now gone, but never to be forgotten.

However, I did have one consolation

and companion —my Jack Russell terrier,

Jackson. He would also have to adapt to

By Betty Popelier, Sarnia

our new surroundings. No longer having

free reign over a vast territory, now a

leash would limit his every movement.

I must say he adjusted admirably and

seemed to enjoy peering out the living

room window every time a movement

was sensed.

The first few months were difficult

as the move was made in July, and

the hard clay ground refused to yield

to my shovel. Sadly, the little gardens

I envisioned would be postponed until

the following spring. It was going to be

a long summer.

A gazebo that my wonderful daughter

and son in law erected on the huge

deck, and a kindly neighbour, was my

salvation that first distressing year.

Many a warm, hazy afternoon was

spent basking, drink and book in hand,

under the awning of my cozy outdoor

living area. On one of those afternoons I

looked up to see a woman approaching.

She introduced herself as Maggie, a

nearby neighbour. After a friendly chat

she handed me a brochure, and this was

an introduction into a world I thought I

knew, but would be proven wrong.

Lambton Wildlife Inc., an organization

Welcome to ...

dedicated to bringing those with a love of

nature together by means of excursions,

presentations and preservation. That

was me, I loved nature... after all, I had

spent the last 45 years living in the

country, surrounded by 10 acres of bush.

I gave great consideration to becoming

a member, and looked forward to my

first excursion.

The initial outing was viewing the

garden of a landowner within the city

limits. There, wildflowers and shrubs,

native to our environment abounded,

defying the urban setting surrounding

them. I was momentarily transported

back to my treasured, former home.

I was also, for the very first time, to

become more attune and aware of

Mother Nature's natural beauty.

Since joining this dedicated

organization I have grown to appreciate

and value our environment, gone on a

fungi foray where, in one small forest,

a multitude of these fungi thrive. I have

learned how to identify a leafless tree,

just by examining its bark, but also

appreciating the life and beauty emitting

from the leaves on its branches. I look

at birds in a whole new light, listen for

THE Club

their chorus of song, and seek them out

constantly.

Last summer I actually nurtured a

caterpillar and watched it transform into

a magnificent black swallow butterfly.

My little gardens have become a reality

and there is an area dedicated to native

flowers.

Although now living in a city, nature's

beauty surrounds me and I am excited

to continue my exploration. There

are approximately 31 trails, open to

walkers, hikers and cyclists of all ages,

encompassing 100 kilometers within

Lambton County alone. They are

brimming with natural wonders and

treasures waiting to be discovered. The

rewards are priceless.

For more information on Lambton

Wildlife Inc, visit www.lambtonwildlife.com

If you need access to additional funds,

using the equity in your home

can be a lower cost way to borrow

the money than taking out a traditional loan.

For example, you can use your home equity to:

RENOVATE YOUR HOME,

AN ADDITION, POOL

BUY AN

ADDITIONAL

PROPERTY

INVEST

IN STOCKS

BARRY

PORTER

Mobile Mortgage

Specialist

BUY A CAR

OR BOAT

Cell: 519-466-3833

E-mail:

barry.porter@rbc.com

FALL 2021 Popular Slogans... Gilette - The best a man can get.

P A G E 37
---
Welcome to ...

THE Club

Our Christmas Wish

For You

May your stuffing be tasty,

May your turkey be plump.

May your potatoes 'n gravy

Have barely a lump.

Getting Older

Our Readers

Are

Our

Writers!

WRITERS

WANTED

Send us your stories,

recipes & photos!

The Club • P.O. Box 430,

Bright's Grove, ON N0N 1C0

info@welcometotheclub.ca

May your yams be delicious,

May your pies take the prize

May your Christmas dinner

Stay off of your thighs.

Author unknown,

sent in by Ruth Sharon

Life is Better

When

You're Home

Seniors live at home -

independently,

comfortably & happily.

Putting the Grey in Great!

Mom!

You can get meals,

housekeeping, and

door-to-door

transportation!*

Love Jen -

P.S. for much less than

a retirement home!

It doesn't matter how old you are, life is always better

when you're home. There's a deep comfort that comes

from being in familiar surroundings, sleeping in your own

bed, and living under a roof that belongs to you.

Welcome to ... FALL 2021

The other day a young person asked

me how I felt about being old. I was taken

aback, for I do not think of myself as old.

Upon seeing my reaction, she was

immediately embarrassed, but I explained

that it was an interesting question, and I

would ponder it, and let her know.

Old age, I decided, is a gift.

I am now, probably for the first time

in my life, the person I have always

wanted to be. Oh, not my body! I

sometime despair over my body -

the wrinkles, the baggy eyes and the

sagging butt. And often I am taken

aback by that old person that lives in

my mirror, but I don't agonize over

those things for long.

I would never trade my amazing

friends, my wonderful life, my

loving family for less gray hair or

a flatter belly. As I've aged, I've

become more kind to myself and

less critical of myself. I've become

my own friend. I don't chide myself

for eating that extra cookie, or for

not making my bed, or for buying

that silly cement gecko that I didn't

need, but looks so avante garde on

my patio. I am entitled to overeat,

to be messy, to be extravagant. I have seen

too many dear friends leave this world too

soon; before they understood the great

freedom that comes with aging.

Whose business is it if I choose to read

until 4:00 am and sleep until noon? I will

dance with myself to those wonderful

tunes of the 50's & 60's, and if I, at the

same time, wish to weep over a lost love,

I will. I will walk the beach in a swim suit

that is stretched over a bulging body and

will dive into the waves with abandon if I

choose to, despite the pitying glances from

the bikini set. They, too, will get old.

I know I am sometimes forgetful. But

there again, some of life is just as well

forgotten and I eventually remember the

important things. Sure, over the years my

heart has been broken. How can your

heart not break when you lose a loved

one, or when a child suffers, or even

when a beloved pet gets hit by a car?

But broken hearts are what give us

strength and understanding and

compassion. A heart never broken is

pristine and sterile and will never know

the joy of being imperfect.

I am so blessed to have lived long

enough to have my hair turn gray and

to have my youthful laughs be forever

etched into deep grooves on my

face. So many have never laughed

and so many have died before their

hair could turn silver. I can say "no"

and mean it. I can say "yes" and mean

it. As you get older, it is easier to be

positive. You care less about what other

people think. I don't question myself

anymore. I've even earned the right

to be wrong.

So, to answer your question, I like being

old. It has set me free. I like the person I

have become. I am not going to live forever,

but while I am still here, I will not waste

time lamenting what could have been, or

worrying about what will be. And I shall

eat dessert every single day.

Publishers note: I read a suitable quote in

an article by Eileen Cade-Edwards to sum

this all up. It went "May your life bring just

enough clouds, to produce a perfect sunset."

Established in 2010, Shine at Home serves seniors who

wish to live in full independence. Since our earliest

beginnings we have learned that with just a little help,

people can remain in their homes for many years safe

and free in the knowledge that a dedicated team is

there for them.

Housekeeping

Transportation

Companionship

and Care

"All the staff go out of their

way to make life easier for our

Mom when we aren't able to

be there everyday! We

definitely recommend Shine at

Home to others looking for

excellent care for their elderly

parents"

Heather – Daughter of Client

"The lady who does my

housekeeping is so nice and

efficient and always fits in

special requests"

Ruth Ann - Client

Call today and find out how

Shine at Home can help you:

519-336-9898

shineathome.com

P A G E

38

Popular Slogans... Covergirl - Easy, breezy, beautiful.
---
Thanks again - keep this copy of pass it on to a friend please.

Shoreline

Chic

Garden

Party

Neutral

Ground

PALE BLUE SAGE GREEN LIGHT TAUPE

BUTTONS

&

Bows

Argo is a breath

of fresh air

116 Michigan Ave

POINT EDWARD

(519) 344-3535

Mon-Fri 9am-5pm

www.twinbridgelighng.com

Ladies Clothing

& Accessories!

From size 6t 18!

Monday to Friday 10 to 5

Casual

al

Elegance

e n

Saturday ay 10 to 3

at its finest!

www.buttons-and-bows.ca

bows.ca

131 Michigan Ave., Point Edward • 519-491-1412

Two Kinds of Families

by Gordon Lane, London - from Daytripping, May-June 2000

Welcome to ...

LIFE WOULD BE INFINITELY

HAPPIER IF WE COULD ONLY

BE BORN AT THE AGE

OF 80 & GRADUALLY

APPROACH 18.

~Mark Twain

THE Club

"Your Feet Will Be In Good Hands"

Contact Julie Today!

TAKE HOME!

Fresh Made Comfort Food

A tradition since 1992!

105 MICHIGAN AVENUE

PT. EDWARD • 519-344-2855

Are your feet f sore r

and a n

d

keeping i

you o

from

r m

doing i the things that t you u love?

Cerfied Cerfied Master t

Pedicurist ist - Julie Coulombe

ombe

will give you the best experience and the

professional aenon your feet need!

ADVANCED FOOTCARE

Diabecs, Ingrowns, Corns, Warts,

Fungus & other common foot problems

I hated those rotten kids. Looking back,

maybe I was being a little heavy on them,

but at the time I felt quite within my rights.

You see, there were just two kinds of families

and they were part of the other kind.

I grew up in the east end of London,

Ontario, in the Ealing School area, and it

wasn't exactly what you could call a hothouse

raising. Our summer feet never knew

the meaning of the word shoes and our

favourite playground was the Egerton Street

city dump. No, not a sanitary landfill site,

just a plain old city dump. Needless to say,

our boyhood ways produced a fair number

of war wounds and this brings us to the

remedy.

Mv father, who referred to himself as the

Old Man and was affectionately referred

to by the same term, was tough. During

his life, he knew only two kinds of work,

- steel and construction. On my birth

certificate, dated just after the First World

War, his occupation was listed as "rougher,"

a person who, with hand tongs, fed red hot

steel through the rolls at the London Rolling

Mills. During the last half of the Twenties, he

worked construction - bricklayer, plasterer,

and carpenter. In his book, there was only

one remedy for cuts and scratches and if it

didn't hurt, it wasn't any good. We were an

"iodine" family.

Even the look of the iodine bottle

presented quite a spectacle. The bottle was

brown, matching the colour of its contents.

It always had a rubber cork (any other type

would dissolve) with a glass dip stick to

apply the remedy. The Old Man could never

be bothered with the dip stick. He held the

cut open with one hand, with the other he

poured a dollop from the bottle right into

the cut uttering the consoling words, "There,

kid, that ought to fix it."

Even the label was one to remember. It

was usually well stained and pictured the

Jolly Roger above the plainly printed word

POISON. As I recall, it came in several

strengths and the Old Man always bought

the best, the large economy size that

improved with age and as it neared the

bottom of the bottle, there was no doubt

about it.

As a kid, I would have enjoyed a little

sympathy on some of those occasions, but

the summer tan mixed with a little dirt was

a matched colour for iodine and besides,

the Old Man wasn't one to waste things.

He poured the remedy into the cut. There

was no free advertising. Sympathizers never

knew we were wounded, but we did, when

the Old Man applied the cure.

Then there were the other families. Their

kids came to school with their whole knees

painted vermillion red. They might as well

have carried signs reading "I hurt myself."

These kids were from "mercurochrome"

families. They were usually rich kids. They

wore shoes and dressed like the kids in the

Eatons catalogue. Their families must have

been doctors or lawyers or owned a corner

grocery store. They probably owned cars

too, and had a radio at home with a loud

speaker and I hated them. I didn't know too

much about mercurochrome. It sure looked

good and you could see it a block away.

Then it happened.

I was running down a street in a section

of better homes than ours, when I stubbed

my big toe. It was a dandy. I peeled off

most of the tread and some of the meat.

The blood started dripping and I started

to hobble home on my heel when lady

luck came to my rescue. Two nice little old

ladies from the verandah of a two-storey red

brick house took me in tow. They took me

into their kitchen and washed my foot in

warm water they got right out of the tap.

Then came the mercurochrome. I gritted

my teeth and took a firm grip on the chair.

Nothing. Absolutely nothing. There was no

pain and they put plenty on, even on the

outside of the bandage. I liked that. They

gave me milk and fancy cookies. We never

had either at home. The milk at home was

just for tea.

As I limped home I knew there were just

two kinds of families - "iodine" families and

"mercurochrome" families, and ours was an

"iodine" family. And the "mercurochrome"

families? I hated them, yes I hated those

kids; imagine all that sympathy and no pain.

But as I look back, I have no regrets.

You see, we had something else. We had

love and we had the Old Man, and he was

something else. He was terrific.

Ryan Cross

Hons. BA (Kin),

MScPT, FCAMPT

Jamie Easter

BScH, MScPT

Jayme Davies

BSc, MPT

519-344-1071 • Julie@athomespa.ca

At Home Spa @ Mara Surgical Clinic

704 Mara St. Point Edward, Unit 106

Do You Have Arthritis

in Your Knees or Hips?

GLA:D CANADA IS

MADE UP OF 3 PARTS:

• 2-3 Education Sessions

• 12 Neuromuscular Exercise Sessions

• Data Collection for Quality Monitoring

519-491-7273

611 St. Clair Street, Point Edward

Serving

Sarnia

Since 2006

GLA:D Canada is an 8-week

education and exercise program for those with stiff and/or painful knees

and/or hips, or those with knee and/or hip osteoarthritis. Research from

GLA:D® in Denmark shows participants report less

pain, reduced use of painkillers, fewer

indiviudals on sick leave, and being more

physically active.

Cross Works Physiotherapy is proud to

present the GLA:D program

at Ironworks Fitness.

For more information

contact 519-491-7273

Covered Under Extended Health Care

Jenny Lindsay

BSc, MPT

Reves Henderson

BScPT, CGTTDN

Jenna Veens

BHSc, MPT

www.crossworksphysio.ca

FALL 2021 Popular Slogans... Taco Bell - Think outside the bun.

P A G E 39