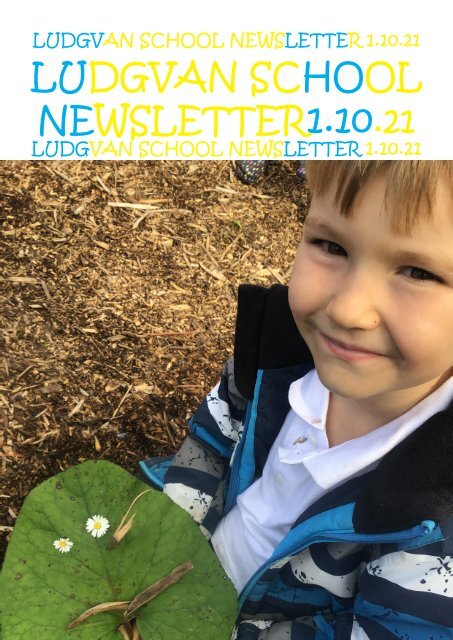 Create successful ePaper yourself
Turn your PDF publications into a flip-book with our unique Google optimized e-Paper software.
LUDGVAN SCHOOL NEWSLETTER 1.10.21

LUDGVAN SCHOOL

NEWSLETTER1.10.21

LUDGVAN SCHOOL NEWSLETTER 1.10.21
---
A word from the Principal...

Welcome,

What a busy two weeks it has been.

Firstly, I would like to thank you for your continued cooperation since the start of term. We are

constantly treading the fine line between returning to full provision as quickly as possible whilst still

ensuring that everyone is as safe as possible. This remains a huge challenge in the current climate

of ever changing infection rates, positive cases and official guidance, but through the measures we

have in place, we have been able to restart a full programme of clubs which have been superbly attended

in their first week and form one of the key areas of provision that we are so proud of.

Today, we returned to Ludgvan Church for the first time in almost two years! It was lovely to be part

of a Harvest Festival service with Canon Nigel again and whilst we could only take out Y3/4 bubble,

it was another step on our road to normality returning. Thank you so much for your donations, they

will be helping our community through the local foodbank and Cheshire Homes.

Please take some time to look at the important dates section overleaf as we have provisionally

booked in some of our exciting whole school events such as FLS discos and Christmas Christingles at

the Church. Obviously these events are subject to continued improvements in our local area so keep

your eyes peeled for further updates and announcements.

Kind regards,

Mr Adam Anderson

Principal
---
Useful information...

Music Lessons

Thank you to all who watched the online string demonstration last Thursday, we

have received several lovely comments.

The recording is available to watch on demand at https://www.youtube.com/

watch?v=ZVHNqc_Ii38

If you have interest from parents on these or any instruments, they can sign up for

lessons at https://www.cornwallmusicservicetrust.org/signup

Details on fees can be found at https://www.cornwallmusicservicetrust.org/fees

Many thanks.

Yours sincerely

Cornwall Music Service Trust Administration

Class Dojo

We will be using Class Dojo as our main means of communication this year. If you

have not set up your account and linked to your child's class, please contact their

class teacher who will help you.

Important Dates

Christingles at Ludgvan Church

- 15th December @ 6pm EYFS and KS1

- 16th December @ 6pm KS2

FLS Disco

21st October

KS1 3pm - 3:45pm

Y3/4 4pm - 5pm

Y5/6 5:15pm - 6:30pm

£3 including a drink and snack

Term Dates 21-22

Autumn Term 6 Sep - 17 Dec (Half term 25-29 Oct)

Spring Term 4 Jan - 8 Apr (Half term 21-25 Feb)

Summer Term 25 April - 26 July (Half term 30 May - 3 June)

A Former Student is an Author!

Tal Macey, a former student has written his first book which is now available to buy

on Amazon https://www.amazon.co.uk/Beacon-Farm-Tal-Macey/dp/B09GCWZ2P6/

ref=sr_1_1?dchild=1&keywords=tal+macey&qid=1632904418&sr=8-1
---
Useful information...

Child Health Programme

This year Public Health are trying to help reduce the impact we are having on climate

change. This means that this year we will be sending out digital booklets

which will include the opt out form.

Please take a look at the video below from Shelley Jamieson NCMP Lead who explains

the process for this year.

https://vimeo.com/606545830

Below are the official links to our new digital Health Information booklets for families.

These digital booklets will replace the paper version sent out in previous

years, and contains many useful links including how to 'opt out' of school health

screening.

• Reception Year - https://mailchi.mp/18026a07be64/child-health-programme-health-information-reception-year

• Year 6 - https://mailchi.mp/cc99221a9df0/child-health-programme-health-information-year6

Please get in touch if you have any questions regarding school health screening this

year.

Breakfast Club

Please see below for times and charges for breakfast club. Places at breakfast club

must be booked in advance via the schoolmoney portal.

0730 - 0845 £5

0800 - 0845 £3.50

All include breakfast and a drink.

Discounts available for siblings and those eligible for FSM.

Contacting Teachers

Please be respectful of our teachers workloads and try to contact class teachers

during their usual working hours. Electronic communication does mean we are able

to send messages 24 hours a day, but I do not expect staff to be replying to questions,

queries or messages in the evenings or weekends. In an emergency, please

send your communications to me. Thank you, Mr Anderson.
---
Would you like to be a Governor?

Would you like to help ensure the continued success of Ludgvan School by becoming

a Governor?

We would like all families to be aware of an opportunity to be involved in shaping

the strategic direction of our school. Our Local Academy Committee (LAC)

is looking for new members. In more traditional terms, this is the Board of

Governors.

Would you be interested in becoming a member of the LAC? It involves six

meetings per year with some keeping in touch work in between. We are looking

for members of our community with a range of skills and abilities who can

have an overview of School policy and strategic direction. Previous experience

in an educational setting is not required for this role and we would welcome

applications from all sectors of our community.

If you would like to help us make a difference to children's lives we would love

to hear from you. For an informal conversation about what the role entails and

how you can help move Ludgvan School on to even greater success, please get

in touch with our Chairperson, Michael Payne by email: m.payne@ludgvan.

cornwall.sch.uk
---
Uniform...

This year, we have made some slight changes to our uniform expectations. Because

children wearing their PE kit to school has resulted in much less PE time being lost

to changing, lost PE kit etc, we will be continuing with this next year. We will also be

increasing the profile of our farm learning and forest school provision, both of which

will be led by Mr Richards. We appreciate that for days that your children will be doing

much of their learning outside, with a greater likelihood of getting muddy etc, our traditional

uniform may not be the best option. Therefore, our uniform expectations from

September, will be as follows:

Normal School Days

PE Days

Forest School/ Farm

Days

Ludgvan School sweatshirt/cardigan

White Polo shirt (with or without logo)

Grey trousers/shorts/skirt/dress

Blue/White gingham dress

Black shoes

Ludgvan School sweatshirt/cardigan or hoodie

Ludgvan School PE t-shirt (in team colour)

Black shorts/jogging bottoms (with or without school logo)

Trainers (not plimsolls)

Ludgvan School sweatshirt/cardigan or hoodie

Ludgvan School PE t-shirt (in team colour)

Black shorts/jogging bottoms (with or without school logo)

Sensible shoes

All uniform is available from our supplier https://www.exhibit1clothing.com/ludgvan-school.html
---
Learning Outdoors...

The past two weeks have seen lots of action happening in our forest school area.

In KS1, the children have explored the story of Blow Your Nose Big Bad Wolf, where

the wolf has accidentally sneezed and knocked down the houses of the little pigs.

The children discovered that the wolf had actually met lots of other animals and also

sneezed their houses down too so they had to use natural resources to create mini

dens to keep the animals warm and dry. Year 2 had the extra challenge of having to

create tripod shelters.

Years 3, 4 and 5 been learning how to make small fires, working out what works and

what not to do in the process. Of course this was followed by toasting marshmallows

and making smores. We have been really impressed with their determination and persistence,

especially as the fire steels can be very tricky to get used to using.

Year 6 have been learning to use a range of tools including bow saws, mallets, splitters

and whittling knives. Some children chose to whittle their own butter knives using

the whittling knives - there were some impressive first attempts. Others chose to

put their skills to the test by using all of the tools to make their very own mallet.
---
Exciting and Engaging...

EYFS

What a busy few weeks it has been in the early years class!

Last week a surprise fairy visited the class and left some sunflower heads and

lots of glitter! We read a story and a non-fiction book about growing sunflowers,

learnt about the life cycle of a sunflower and picked the seeds out of the

sunflower head to take home and plant next spring. The children wrote notes

for the fairy, made her a bed and looked for clues to find her hiding place. They

can't wait for her to come back soon!

This week, the children have had lots of fun creating pictures of themselves

in different ways such as: making pictures of their faces using natural objects

in the forest school area; using the iPads to take funny photos of their faces;

drawing a self portrait using a video from 'Draw with Rob'. We have enjoyed

looking at all of their creations! The children enjoyed listening to the story 'Paper

Dolls', lots of them then went on to make their own paper dolls and take

them on adventures around the classroom. We have also been learning all

about the number 1; the children have been busy searching for the number 1

around the classroom, they also were great at finding lots of 1 sided shapes. In

phonics, we have been lucky enough to have Fred the frog helping the children

to learn their sounds! He has taught them the sounds 'm' and 'a' so far and has

challenged them to see what other sounds they already know. Well done for

another brilliant two weeks everyone!
---
Exciting and Engaging...

Y1

The children have been learning all about Medieval round-houses and Tudor

houses. We even had a go at making our own but we soon discovered that this

was not as easy as we thought!!

In science the children found lots of different materials and sorted them into

different categories. They have enjoyed learning about a Christian wedding ceremony

this week.

Our art focus for this half term is sketching and the children have produced

some beautiful pictures of Autumn leaves and flowers.
---
Exciting and Engaging...

Y2

Year 2 have begun their learning all about The Great Fire of London. The children

have loved learning about all of the events that took place and the people

that were involved. During English, they wrote some fantastic sentences about

the fire including very powerful verbs and adverbs. In Science, they have also

started learning about the properties of different materials. This week, we also

read On Sudden Hill by Benji Davies and discussed possible issues in friendships

and how we might overcome these issues. Finally, they have been very

excited to start incubating some duck eggs with the hope of raising ducklings.

Each day they have been carefully turning the eggs and observing for any

changes. We will keep you updated on any progress!
---
Exciting and Engaging...

Y3

Year 3 have continued to work very hard in all areas of the curriculum. They have

been enjoying learning about African animals and have been researching and writing

some facts about an animal of their choice to create an African animal fact file. Next

week we will be publishing these into a class book. In RE with Mrs Peters the class

have been learning about the creation of the world and have had some great discussions

about this. The children are now making their own 3D worlds!
---
Exciting and Engaging...

Y4

Year 4 really are enjoying a broad and balanced curriculum with many fun activities.

All the pupils in our class can now proudly say they are able to light a fire using steel

and flint (or steel and steel to be completely accurate). It took some perseverance

and help from their classmates but they all achieved it in time for toasted marshmallows

and s'mores! Our topic is in full swing as children are discovering the myths and

legends of the Ancient Greek Gods and Goddesses. Last week, they created some

lovely drawings of Zeus and this week we have debated whether Hera was right to

behave in such a way to Zeus' other wives and children. Tennis is also being enjoyed

every Thursday with many keen competitors!
---
Exciting and Engaging...

Y5

This week, Class 5 have been creating non-chronological reports based on their

chosen planets. They have been responsible for their own research and content

for their work and have been really proud of their final pieces.

In art, the class have been busy making view finders to help focus their sketching

to create more detailed images of the moon. They have also been exploring

tints and shading skills, as well as primary, secondary and tertiary colours.

In PE, Class 5 have been developing their dribbling and passing skills, building

up to a game of basketball.

Well done Class 5
---
Exciting and Engaging...

Y6

The past 2 weeks has seen a hive of activity in year 6 with a mixture of in

school and remote learning. We have been focusing on our WW1 topic, exploring

what life was like for soldiers in the trenches. We particularly focused on

the young soldiers of the war and how so many lied about their age to join the

war effort. Art has seen the children exploring perspective drawing, combining

the skills they have learnt over the past few weeks. In PE, we have started

a unit of Hockey, and already skills are improving. There are some promising

hockey players in the class! Well done Year 6!