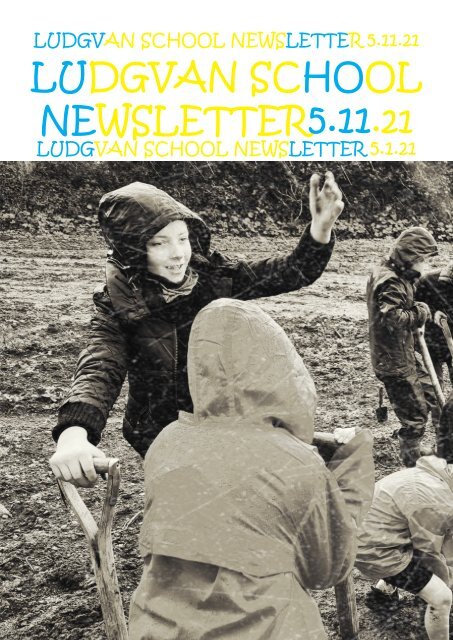 Create successful ePaper yourself
Turn your PDF publications into a flip-book with our unique Google optimized e-Paper software.
LUDGVAN SCHOOL NEWSLETTER 5.11.21

LUDGVAN SCHOOL

NEWSLETTER5.11.21

LUDGVAN SCHOOL NEWSLETTER 5.1.21
---
A word from the Principal...

Welcome,

And just like that, half term is over and we are back into school! This part of the school year is often

the busiest, in terms of additional experiences, events and visitors, so please keep up to date with

Class Dojo and we will do our very best to communicate any changes or upcoming activities with

as much notice as possible. On this note, I'd like to thank the FLS who recently ran the hugely successful

Halloween discos and will be organising our Christmas Fair towards the end of term. At their

recent AGM, they voted to provide funding to support a range of new initiatives including creating

a seonsory room, purchasing headphones to allow more effective Chromebook use and supporting

Forest School provision and many more! The support from the FLS is key to allowing us to offer such

broad provision and I'd urge you to you consider joining them to help ensure Ludgvan remains the

special place it is!

Following today's assembly, your children should be able to talk to you about our new School Values

and 'Reading Karate'. We have condensed our previous 6 Es into 3 values, which will form the cornerstones

of so much of our character and behavioural learning. The 3 values are Excellence, Equity

and Evolution and children will be striving to demonstrate these values throughout their time with

us to earn our much admired value tokens. Reading Karate is a reading incentive scheme designed

to promote daily reading at home. Children will need to record their reading in their reading records

and a running total will be kept in the classroom. Once children hit certain landmarks e.g. 35 reads,

50 reads etc, they are awarded Reading Karate Bands, progressing until they become a reading

master with the black band! Children were really excited about both of these areas in our assemblies

today, so please encourage them to be discussed further at home.

More details about our new school values and Reading Karate' can be found on following pages.

Kind regards,

Mr Adam Anderson

Principal
---
Useful information...

Class Dojo

We will be using Class Dojo as our main means of communication this year. If you

have not set up your account and linked to your child's class, please contact their

class teacher who will help you.

Important Dates

Christingles at Ludgvan Church

- 15th December @ 6pm EYFS and KS1

- 16th December @ 6pm KS2

FLS Christmas Fair

Friday 10th December @1430

Front Gate In The Morning

You will be aware that our front gate is closed in the morning between

0830-0900 for the safety of our pupils. During this time, please do not

queue in the driveway as, not only is it dangerous for those walking to

school, but it also creates a significant hazard in the case of emergency.

Term Dates 21-22

Autumn Term 6 Sep - 17 Dec (Half term 25-29 Oct)

Spring Term 4 Jan - 8 Apr (Half term 21-25 Feb)

Summer Term 25 April - 26 July (Half term 30 May - 3 June)

A Former Student is an Author!

Tal Macey, a former student has written his first book which is now available to buy

on Amazon https://www.amazon.co.uk/Beacon-Farm-Tal-Macey/dp/B09GCWZ2P6/

ref=sr_1_1?dchild=1&keywords=tal+macey&qid=1632904418&sr=8-1
---
Learning Outdoors...

What a busy period of Autumn outdoor learning!

Early Years have been having fun on the fun spending time with our animals and

creating bird feeders to keep a supply of food for the wild birds that live around our

school site.

Year 1 and 2 have been exploring Autumn and Bonfire Night by creating our own Autumn

fireworks.

Year 3 has been exploring our school grounds to identify different trees that we have

and having a natural scavenger hunt.

Years 4 and 5 have been on a visit to Mr Richards' allotment and have chosen a section

that will now be their class' to grow things on for their remaining years at Ludgvan

School. We then headed to the woods to identify types of trees that live there.
---
Exciting and Engaging...

EYFS

This week, we have enjoyed welcoming the children back from half term and

hearing about all the things they have been doing in their week off. On Monday,

we had a surprise when we came in from break time, some fireworks had

exploded in the classroom and left behind lots of glitter, streamers and sparkly

sheets that we had lots of fun with. Since then, we have been learning all

about Guy Fawkes and Bonfire Night which ended in our own Bonfire display.
---
Exciting and Engaging...

Y1

This week in English our focus has been storytelling, the children had to retell

the story of The Three Billy Goats Gruff. They made puppets and story maps

and were able to retell the story with lots of expression and detail. The children

were given the challenge to build a bridge. They worked really hard constructing

some amazing bridges.

We have been learning all about algorithms in ICT and the children enjoyed

creating their own. They also used Google Earth to find Ludgvan school and

their homes.

In art we explored using paint in different ways and looked at the artist Jackson

Pollock. It was a little messy but great fun flicking and splashing the paint!!
---
Exciting and Engaging...

Y2

What an exciting couple of weeks Year 2 have had! Just before half term, we

discovered a mysterious suitcase buried in one of the school's flowerbeds. On

closer inspection, we realised that it contained some of Samuel Pepys' belongings

and we were tasked to solve the crime and find the criminal by the police.

Since then, Year 2 have been learning all about how to write a newspaper

report and will be completing these next week. We have also uncovered Mr

Anderson as an eye witness and two suspects, Mr Richards and Mary. We are

looking forward to interviewing them all next week. In other news, we tested

out paper boats in science to see if they would float forever. We made predictions

and evaluated whether we were correct or not. Well done on being so

busy and productive Year 2!
---
Exciting and Engaging...

Y3

Year 3 have started this half term by learning about instructions. They have had fun

playing games to learn about imperative verbs (bossy verbs!) and have followed instructions

to make paper areoplanes. Those that followed the instructions well had a

successful flight! In PSHE the children have explored and discussed the differences

between people. They learnt how they were similar to each other and how they are

different to others. They then discussed how to be respectful of each others differences

and had some great conversations around this. The children also enjoyed a Cricket

session from Cornwall Cricket. They practised some bowling, catching, batting and

fielding skills.
---
Exciting and Engaging...

Y4

What a busy week for year 4! In music we have exploring the Romans and using this

to inspire our singing. We have learnt a song about how the Romans built roads and

were able to learn it all and perform it really well. In geography we have been learning

about lines of latitude and longitude on the world and using this to find coordinates

of UK landmarks. A complicated thing to learn about but year 4 did so well! In

science we have started our topic of electricity and have begun exploring electricity in

our homes and recognising the dangers that they carry. Great work Year 4!
---
Exciting and Engaging...

Y5

Class 5 have had a great first week back at school after a well-deserved break. Earlier

in the week, we walked to the allotment to choose our own vegetable patch, which we

will be working on throughout the year. The children are excited to start planning how

we are going to use the area and what we will grow. We also walked to the woods to

identify lots of different species of trees and were surprised to find such a variety!

During art, the children have been applying their skills of drawing 3D shapes to design

their Mars rovers. They have researched Mars and then used information about

the weather and terrain to decide what needs to be on their rovers and the best design

for them.

Class 5 have also enjoyed their first rugby session with the Cornish Pirates as well as

a cricket session with Cornwall Cricket. We were really impressed with the children's

lovely manners towards the guest coaches and enthusiasm in trying new sports. In

science, we have been planning and conducting fair tests to investigate air and water

resistance.

Well done for a great week, Class 5!
---
Exciting and Engaging...

Y6

Year 6 have had an interesting week of bringing WW1 trenches to life. We have

explored the labelling of trenches from a cross-section image and also experienced

digging our own trenches. Unfortunately, the weather conditions were

not ideal for the job at hand, but they were a lot better than some of the conditions

that the Sappers had to endure. We managed to work as a team in order

to dig 2 parallel trenches, around 15ft in length. The earth around our feet became

very boggy and many of us got stuck in the mud and slipped over. However,

we persevered and got stuck-in (literally). Following our amazing efforts,

we celebrated with a trench warfare, where members of the Triple Entente had

to retrieve rations from no-man's-land and successfully bring them back to the

trench. Unfortunately, they were bombarded with nerf gun darts from the Central

Powers that lay in wait.

We have also begun our PSHE unit based on our health and well-being. We

have started to look at qualities that we see in ourselves and also explored

goals that we would like to achieve.

Great work this week, year 6.
---
Staff profiles...

ART

CLUB
---
ART

A word from the Principal...

CLUB

THE STUDIO, NEWLYN ART GALLERY,

WEDNESDAYS 15:45-16:45

A weekly after school club, for key stages 1&2, giving kids

the opportunity to explore and express themselves through a

range of exciting, creative projects. Discovering new materials

and techniques, with the freedom to develop new skills in a

safe and nurturing environment.

Spaces are limited. Sessions are £5 each, paid in half term blocks.

This is a drop-off session, parents are welcome to wait in the Garden Café.

Enquiries to: newlynlittleartists@yahoo.com | Telephone: Annie 07891 862670

Tutor, Annie Vigar, has had 5 years' experience running tailored art classes

for babies, pre-schoolers and KS1&2

Afterschool Art Club KS1&2 (Yr1-6 not reception)
---
A word from the Principal...

Clerk to Governors

St Buryan Local Academy Committee

St Buryan Academy is seeking a Clerk to the Governing Body.

We are looking for an experienced freelance clerk or company secretary to work closely with the Chair of the

Local Academy Committee (LAC). The clerk will contribute towards the efficient functioning of the committee

by:

• Providing advice and guidance to the LAC on governance, constitutional and procedural matters by

ensuring compliance with the Trust's Scheme of Delegation, other relevant polices and structures.

• Proactive management of governance activity to ensure that the work of the Governing Body is efficient,

effective and compliant.

• Providing full administrative support at LAC meetings (usually 4 per annum). There will be a requirement

for additional ad hoc meetings. (Meetings will usually be in person at the Academy but may be held on

line).

• Facilitating effective and efficient meetings, advising and guiding on procedural matters relating to

compliance to ensure that the LAC works within the appropriate legal and regulatory framework.

• Managing information effectively in accordance with legal requirements observing confidentiality where

necessary.

• Working in a team with the Governance Professional and Academy Clerks to ensure consistently excellent

practice and communication between the Trust Board and the Local Academy Committees.

Our clerk:

• Highly organised, reliable, flexible and self-motivated

• A good communicator

• Impartial

All Leading Edge schools form a wider family with a vision of developing young people and adults who are

confident, curious, creative and collaborative; providing adventurous educational programmes that transform

teaching, learning and assessment; create happy students with a zest for life and learning.

Leading Edge is a community of forward-thinking educationalists and governors who believe that an

innovative curriculum and a philosophy of learning without limits offers the chance of the highest quality

teaching and learning experience to all learners in the Trust; a values-driven MAT where all decisions and

aspects of organisational life are driven by our three values or 'Es': Excellence, Evolution and Equity.

Leading Edge

Academies Partnership

is committed to

safeguarding and

promoting the welfare

of students and expects

all staff and volunteers

to share this

commitment

For further information, please contact:

Laura Sadler, Governance Professional

( 01736 352397 or email: lsadler@leadingedgeacademies.org

Closing date: noon, Monday 1 November 2021

Start: ASAP

Please register your interest with Laura Sadler at Leading Edge Academies

Partnership, Unit H Pattern Shop, Trevoarn, Hayle, TR27 4EZ.

Appointments will be subject to satisfactory reference checks and an enhanced DBS

disclosure check.