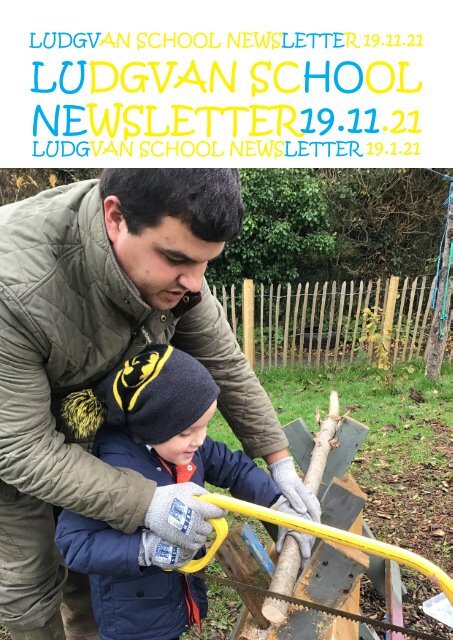 Create successful ePaper yourself
Turn your PDF publications into a flip-book with our unique Google optimized e-Paper software.
LUDGVAN SCHOOL NEWSLETTER 19.11.21

LUDGVAN SCHOOL

NEWSLETTER19.11.21

LUDGVAN SCHOOL NEWSLETTER 19.1.21
---
A word from the Principal...

Welcome,

Having just walked around the school, it has been lovely to see so many smiling children engaged

with their learning all dressed in a range of spots, stripes and bright colours, it really does feel like

we are returning to normal school life.

This week, we have completed a survey on attendance at after school clubs (Y1-6). It has been wonderful

to return to a full range of clubs this term and this is clearly a feeling shared by our children as

over 80% attend at least one club a week and almost 50% attend more than one! These figures are

fantastic and show that children are really enjoying our extra-curricular provision. Research suggests

that children who attend extra-curricular provision also achieve better in school, so if your child

hasn't signed up to a club yet, see if you can encourage them.

We will be holding Parents' Evenings over the coming weeks so please look out for a letter coming

home with your child where you can state your preferences for days and times. We are running

these a little later this year, so we are able to provide you with a fuller picture of how your child has

settled in to their new year group and it will be a great opportunity for you to ask any questions

you may have. As last time, we are aware that for some families, remote appointments are more

convenient whilst others prefer face-to-face meetings so we are offering you the choice. The more

flexible you can be with your available times, the more likely we are to be able to meet everyone's

preferences. As always, we will do what we can to ensure siblings' appointments are close together

for your convenience.

Kind regards,

Mr Adam Anderson

Principal
---
Useful information...

Important Dates

Christingles at Ludgvan Church

- 15th December @ 6pm EYFS and KS1

- 16th December @ 6pm KS2

FLS Christmas Fair

Friday 10th December @1430

Term Dates 21-22

Autumn Term 6 Sep - 17 Dec (Half term 25-29 Oct)

Spring Term 4 Jan - 8 Apr (Half term 21-25 Feb)

Summer Term 25 April - 26 July (Half term 30 May - 3 June)

Inset Days: 4th January, 25th July, 26th July.

Replacement Platinum Jubilee Bank Holiday: 6th June

Naming Uniform

We currently have lots of unnamed

uniform being handed in

on a daily basis. This site provide

cost effective and simple ways

of adding name tags to uniform:

https://www.easy2name.com/
---
Useful information...

FLS Non Uniform Day

On Friday 26th November, school will be having a non uniform day. This is

so we can collect donations to make up hampers for the Christmas fayre on

the 10th December. Each team colour has a different theme. We have given

you a few ideas to help but feel free to add anything else not on the list.

Red Team

Party

Party hats

Party poppers

Wine

Nibbles

Crisps

Cakes

Sparkly apple juice

Green Team

Savoury

Chutneys

Crackers

Mince pies

Popcorn

Tortilla chips

Christmas pudding

breadsticks

Blue Team

Chocolate & sweet treats

Truffles

Quality street

Bars of chocolate

Candy canes

Biscuits

Selection boxes

Gingerbread house

Yellow Team

Pamper / Spa nights

Champagne bubbles

Soaps

Bubble bath

Gift sets

Fluffy socks

Eye/face masks

Nail varnish
---
Learning Outdoors...

Last week outdoor learning was full on autumn mode! EYFS, years 1, 2 and 3 were

exploring the signs of autumn, with a particular focus on autumn leaves. We have

been using them to make lots of wonderful crafts, including leaf animals, leaf masks

and giant leaf letters! It's been 'leaftacular!'

To enable greater farm school provision for our children, we have decided that our

school raised beds will be used for EYFS-Year 3, with 4-6 having been given a section

of Mr Richard's allotment. This allows our older children greater hands on experience

with gardening. Their plot stays with them from years 4-6 so they get a long time to

develop the space and are able to learn more about the cultivation of crops, including

aspects such as soil health and crop rotation etc… Last week year 4 and 5 headed up

to the allotment to decide which section they wanted to use. They then worked as a

class to plan where their vegetables would be and have covered them over ready to

get planting in the spring. They are looking forward to having lots of produce to share

later in the year.

Year 6 were continuing with their WW1 topic, this time creating a meal as the soldiers

would have. Their task was to cook a stew on the campfire. They spent the first part

of the morning preparing the vegetables ready to cook. We prepared two batches,

one being cooked on the campfire and another cooked in a slow cooker back in the

classroom to compare cooking methods. Unfortunately, just before went to get started

on the cooking, the stock cubes managed to disappear so we had to make do with

just the water and veg. We used this as a learning opportunity as the brave soldiers

of WW1 never had luxuries when it came to food and would have to settle with just

boiled veg at times. Despite our little mishap, the children were in high spirits. Interestingly,

for the comparison, the children much preferred the veg cooked on the

campfire over that cooked in the slow cooker.

This week all year groups have been using the skills they have learnt in forest school

over the past term to begin crafts to sell at the Christmas Fair. It's been great to see

everyone applying themselves to the task at hand and exploring different ways to

create their final product.
---
Eco Committee...

Eco Warrior Goals

What are our goals?

We have been discussing over the past term about what we need to do to make this

school much better for the environment. We have recently conducted an ecological

review of the school and we have identified the the areas we need to work on. Our

main focuses to develop are litter, waste and energy.

To help our school be litter free we have been litter picking around the playgrounds

most weeks and making sure everyone uses bins which are provided in each playground.

For waste we have been separating the waste bins and paper bins so that

we can shred all the paper for the animals in our farm outside and collect them every

week from each class. Finally, for energy we have been turning off the lights in most

classes and turning off all chromebooks and devices when not in use.

We are thinking of lots of ideas so that we can advertise around the school to make

sure all the children are making an effort to help the environment.

Written by Ena (Chair of the Eco Warriors Committee)

Please take a look at the wonderful work our Eco Committee are doing through their

padlet which can be accessed here: https://padlet.com/trichards49/zswcv5i3kauvcwnh
---
Exciting and Engaging...

EYFS

This week we have been learning all about Diwali. We learnt what it is like to

celebrate Diwali. We loved seeing how some Hindus decorate their homes,

the food they eat, the songs they sing and how they celebrate at their temples.

We then had a go at making our own decorations and patterns using rice

and coloured sand. We have also been busy dressing up in traditional Hindu

clothes, making Rangoli patterns and acting out the story of Rama and Sita

with puppets.
---
Exciting and Engaging...

Y1

Year 1 have been very busy over the last two weeks. They are continuing to

learn all about different houses, our focus for this half term is homes around

the world. The children enjoyed finding out about the Inuit community that live

in Greenland. They explored how their houses have changed over time. They

were able to talk about the climate in the Arctic circle and had lots of fun exploring

the ice!

In art the class are exploring painting and using different tools to produce art

work. This week the children were really creative and produced some amazing

Aboriginal art using dots and earthy colours.

In science the children are learning all about the Seasons. They have been

looking at the changes that occur in Autumn. They created some beautiful Autumnal

pictures.
---
Exciting and Engaging...

Y2

Over the past two weeks, Year 2 have worked hard to solve the mystery of the

suspicious suitcase! They wrote very hard hitting questions and posed these

to the suspects and eye witness during an interview. As well as this, fingerprints

were taken of all of those who were interviewed. A few days later, they

watched some CCTV footage, which revealed that Mary was the criminal all

along. The class have been very shocked by this news and have since reported

on it, writing extremely thorough and detailed newspaper reports. All of these

will be sent to the police along with the evidence that we gathered. Well done

to Year 2 for solving such a difficult case and writing fantastic newspaper reports!
---
Exciting and Engaging...

Y3

Year 3 have had a busy few weeks with lots of learning through fun activities.

The children have been learning about the past and have focused on the Egyptians.

Last week they learnt about Tutanhkamun's tomb of treasures and the children explored

a floor plan of the tomb and noted where his treasures were hidden. They then

used the beebots, in this case, also known as Howard Carter, to give clear instructions

to get the treasures out. The children then wrote instructions for 'How to mummify a

Pharaoh' and became embalmers themselves!

This then led them on to making Tutankhamun face masks, which are almost finished.

This week the children had a surprise 'Ancient Egyptian' visitor to answer questions

about what life was like back then. The children will now be writing diary recounts

over the next week using this information. The children have also done some fantastic

multiplication and division this week. Well done Year 3, you've been busy bees!
---
Exciting and Engaging...

Y4

Class 4 have been progressing well with their French lessons this week. We have been

in the hall playing lots of active games, matching the French words for various items

of clothing with their size and colour - while remembering of course, that the masculine

and feminine adjectives must also match! In geography, we have been exploring

global warming and COP26. We all made our leaf pledges and have created a tree in

the classroom to display them. There were some great suggestions from the children

and it sounds as if many of them are quite green fingered! We sadly said goodbye to

Caden, our class teaching assistant, and Saayah this week. We decided a trip to the

park with some delicious treats would be a perfect way to say goodbye and wish them

well in their next adventures.
---
Exciting and Engaging...

Y5

Class 5 have had a busy couple of weeks, taking part in cricket, rugby and beginning

their tennis lessons in P.E! For their Mars Rover projects they have been working really

hard to develop their 3D drawing skills and are now using Tinkercad to create 3D

designs on the Chromebooks. They have also been learning about their own health

and wellbeing in PSHE, discussing sleep, diet and tools we can use to help us stay

calm and relaxed. All the children enjoyed some Friday afternoon yoga!
---
Exciting and Engaging...

Y6

Last week, the year 6's researched food that soldiers from WW1 would eat

during their time in the trenches. We particularly focused on stew and the root

vegetables that were found in fields. We brought in our own root vegetables,

peeled and cooked them in both a slow cooker and on an open fire. This allowed

us to contrast and compare both methods.

On Tuesday, year 6 visited Bodmin Keep to help consolidate our WWI topic

question - What are the benefits and disadvantages of war? After a long journey,

we arrived to be greeted by the friendly and welcoming staff and shown

around their museum of history. We saw weaponry, swords, uniforms, medals

and much more. Fortunately, we got to explore some artefacts that were authentic

war memorabilia and also got to try on some clothes/equipment. We

finished the morning by entering their recreation of a trench - it wasn't quite as

good as our own, still not a bad attempt.

In maths, we are currently learning about fractions and how to find their simplest

form by finding their HCF. This is quite a challenging area of maths but all

of the children are doing great with this work.
---
Staff profiles...

MUSEUM OF GLOBAL COMMUNICATIONS

STEAM EXPLORERS

Build a Wildlife

Watcher Den

Bring your wellies and

waterproofs to

help us build a wildlife

watching den in the grounds at

PK. *

Take photos of the birds flying

over the woods across the

Valley.

Make some leaf bunting to

decorate the area outside our

café.

Visit our bunker to find out

what the wild animals around

PK get up to at night!

Saturday 20 November 2021

10:30 - 12:00

Meet at the Clore Learning Space, PK

Build a wildlife watching den!

STEAM Explorer workshops are FREE and designed for 7- 12 year olds

No need to book, just turn up!

(*Extreme wet weather alternative activity will be available indoors)

To visit the museum please book tickets online – PKPorthcurno.com

PKPorthcurno.com PKPorthcurno PKPorthcurno PKPorthcurno