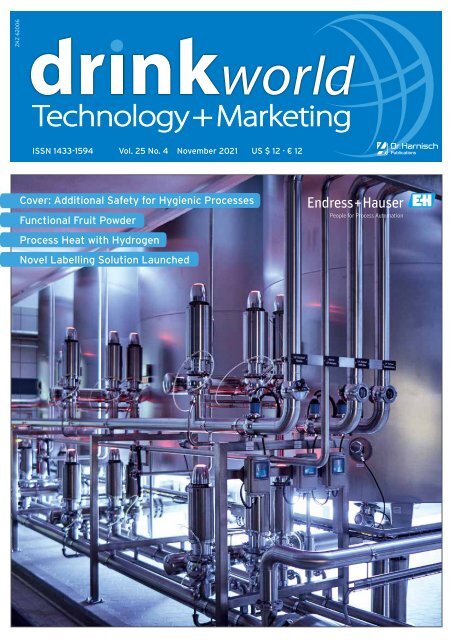 drinkworld Technology + Marketing 4/2021
Create successful ePaper yourself
Turn your PDF publications into a flip-book with our unique Google optimized e-Paper software.
ZKZ 62006

ISSN 1433-1594 Vol. 25 No. 4 November 2021 US $ 12 · € 12

Cover: Additional Safety for Hygienic Processes

Functional Fruit Powder

Process Heat with Hydrogen

Novel Labelling Solution Launched
---
The leading in-person and online

event in the F&B ingredients industry,

evolved to offer you MORE

JOIN US

www.fi-europe.eu
---
Editorial

Coffee as it should be

We have a new coffee machine in the

office. It's pretty good, because it is

rather simple. It quietly offers coffee,

large or small, strong or not. No extra

options, no questions, no decisions early

in the day. I'm enjoying the benefits.

Coffee is always a hot topic, the world

over. Coffee is often seen as a boost

when you are tiring, a reward when you

meet with people, a regular part of a

regular day, whether at work or home,

in meetings or at your desk.

Surveys have shown that coffee is

(probably) the most wide-spread beverage

in the world. Almost everyone

has an opinion. Chains are established

on most street corners in all major

cities and do their best to tempt with

their particular bean.

Recently Starbucks announced a

new Rewards Programm in Germany

where customers are given stars and

points per purchase, which can then

be traded for more coffee or snacks

or other merchandise. Of course there

are smartphone APPs for the younger

consumers and cards for the older

and more easily satisfied. See above.

Other coffee houses are no doubt also

developing similar programmes to

entice and reward loyalty.

There have been a lot of studies about

coffee, its physical benefits and even

medical properties. Many of them are

unproven, due to a lack of clinical testing,

but coffee does bring a 'feel good

effect' through warmth, enjoyment and

refreshment, which supports the body

in a psychological way and undeniably

boosts us in general. Often the mere

thought that a cup of coffee will

stimulate us is stimulation enough.

One shared opinion is that coffee should

always be fresh. This is why machines

which grind the beans as you wait

and provide that perfect aroma, are

so popular. Cold coffee is less popular,

Ian D. Healey

Editor-in-Chief

although cold brewed coffee is often

considered a different drink and has its

own circle of friends.

Whatever else the benefits, it's always

a great feeling when a coffee machine

responds in the morning by grinding,

then lighting up and generally giving

the impression of being pleased to see

you. That is a good start to the day!

Photo: BB

Cheers

www.drink-tm.com

If you like it – subscribe!

drinkworld Technology + Marketing · November 2021 3
---
Contents

ZKZ 62006

ISSN 1433-1594 Vol. 25 No. 4 November 2021 US $ 12 · € 12

Cover: Additional Safety for Hygienic Processes

Functional Fruit Powder

Process Heat with Hydrogen

Novel Labelling Solution Launched

Issue 4 · November 2021

The Liquitrend QMW43 was developed for the food and beverage industry. It

can be used to measure liquid or pasty media. It is irrelevant whether the

media are electrically conductive or not. Due to the unique use of both

conductive and capacitive measuring cycles, the device automatically

detects the most accurate measuring mode and uses it automatically. The

sensor fulfils the guidelines applicable in the food and beverage industry

and has been constructed with food safe and FDA compliant materials.

Our cover story starts on page 6.

Cover: Endress+Hauser

Ingredients

12 The First Nutraceutical Fruit Drink is Unveiled

14 Maltodextrin-Free, High-in-Fiber

Fruit Powder with Cherries

15 Novel Low-Dose Ashwagandha Extract Helps

Improve Immunity

Processing

6 Additional Safety for Hygienic Processes

19 Oat Milk, a Plant-Based Alternative

22 Absolut Vodka Bottle Design Refresh Pays

Homage to Swedish Heritage

24 Process Heat with Hydrogen in the Drinks

Industry

28 Enhanced Radar Technology Meets Challenges of

Food and Beverage Production

Two industry experts have joined forces to create a

new functional fruit powder with appealing nutritional

properties. Based on cherry, the fruit powder can be pressed

into effervescent tablets or offered as chewable tablets,

capsules or gummies. As a functional thirst-quencher that

does not contain any additional sugar, the perfectly soluble

agglomerates can be used in instant drinks and fruit teas,

even for children. See the full article on page 14

How can decarbonization be implemented in the process

heat system? That is a question which many companies,

including those from the drinks sector, are currently tackling.

Process heat in the form of steam or hot water is considered

to be an indispensable medium for many production steps,

for example for pasteurization, distillation, sterilization

and cleaning. The use of green hydrogen in boiler systems

represents a significant opportunity. See page 24

4
---
Contents

Marketing

8 The Future of Personalized Beverages

Departments

3 Editorial

42 Supplier's Guide

Events

16 FiEurope

40 Calendar of Events

Packaging

32 Emphasize your Commitment to Sustainability with

the ESL Combox

34 Euromilk Switches from PET to SIG Carton Packs

with SIGNATURE Packaging Material

36 New MODULAR CM: a Star is Born

A new labeling solution has been launched which has

all the features to be loved by many sectors that need a

small to medium-sized labeling machine, super flexible

thanks its complete modularity, with a layout that can be

reconfigured easily and quickly. It features labeling stations

with pressure sensitive technology and cold glue, reciprocally

interchangeable; they are replaceable in a few steps according

to any production needs. Full details on page 36

drinkworld Technology + Marketing · November 2021 5
---
Cover Story

Additional Safety for Hygienic

Processes

The first device for continuous measurement of buildup thickness enters the market

For several years Endress+Hauser has been offering a level device that uses both

conductive and capacitive measuring signals for level switching. The idea of using these

signals to develop a continuous evaluation to optimize cleaning processes has now been

put into practice. As world debut in the food and beverage industry, the Liquitrend QMW43

reliably measures the product buildup thickness when it occurs in tanks and pipelines. It

helps customers to optimize processes, increase plant safety and provides reliable criteria

to verify the product quality.

Process optimization and

increase of plant safety by

means of buildup thickness and

conductivity measurement

Part of the production time is spent

on cleaning the plant. This is of

great importance in the food and

beverage industry, as it guarantees

the production of high-quality and

hygienic products for the end user.

Many of the production processes

in the food sector take place in

closed systems. When pipelines or

tanks are opened, there is a risk of

contamination of the system through

the penetration of bacteria. For this

reason, Cleaning-In-Place (CIP) is

used, an automated cleaning in a

closed process. To ensure that tanks

and pipelines are sufficiently cleaned,

conductivity and turbidity values of

the CIP return flow, for example, are

evaluated and documented. In many

cases, processes and the duration of

The flush-mounted stainless steel sensor ensures perfect insight into tank condition.

cleaning are determined based on

empirical data. To prevent insufficient

cleaning, the cleaning time is often

increased in practice.

How can this unproductive time be

minimized without risking product

safety and lacking documentation?

The Liquitrend QMW43 provides the

answer. By evaluating the measurement

signals, the plant operator knows

whether buildup still adheres in tanks

or pipelines and how strong it is.The

additional conductivity measurement

also provides information about the

cause of the buildup, i.e. whether it is

caused by product residues or cleaning

agents. The Liquitrend thus supports

the plant operator in determining the

cause of the contamination. Due to

the direct connection of the device to

the control system, the measurement

data is available in real time and is

automatically documented.

6
---
Cover Story

If the sensor shows no more buildup

and conductivity, it can be concluded

that the critical points have been

successfully cleaned. Thereby, the

Liquitrend QMW43 provides insights

into the process which allow the

cleaning time to be optimized. Valuable

production time can be gained without

losing the certainty of bringing flawless

products to market.

Constant product quality by

measuring product-specific

parameters

End consumers expect consistent

product quality. This requires

comprehensive quality control in the

manufacturing companies with regards

to appearance, smell, taste, consistency

and shelf life of the products. For this

purpose, numerous laboratory samples

are taken in practice and the parameters

mentioned are tested. This procedure

costs time and, due to the necessary

sampling, does not provide continuous

measurement data. By means of

the highly repeatable continuous

measurement of conductivity value

(conductive) or dielectric constant

(capacitive) by the Liquitrend QMW43,

the electrical properties of the products

can be continuously determined and

monitored.

In the control system, limits can thus be

set to immediately identify and reject

qualitatively differing products. This

makes it possible to reduce laboratory

measurements without compromising

process reliability and product quality.

Liquitrend QMW43 – our innovation for process efficiency, safety and product quality.

in the food and beverage industry and has

been constructed with food safe and FDA

compliant materials.

Summary – The advantages of

Liquitrend QMW43 at a glance

• Reliable and accurate measurement

of buildup thickness and conductivity

regardless of media type

• Hygienic safety by Design: 3-A,

FDA, EHEDG and EC 1935/2004

conformity, as well as a verifiable

surface roughness of Ra < 0.76µm and

traceability of the materials used in

accordance with EN10204- 3.1 are a

matter of course

• Conductive as well as capacitive

measuring cycles in one compact

measuring device

• Flush-mounted stainless-steel sensor

for the perfect insight into the

conditions of pipelines or tanks

• Plug and Play - simple commissioning

without pre-settings

• Easy reading of the measuring signals

in the control system

• Integrated digital communication

option via IO-Link

Field of application

The Liquitrend QMW43 was developed

for the food and beverage industry. It

can be used to measure liquid or pasty

media. It is irrelevant whether the media

are electrically conductive or not. Due

to the unique use of both conductive

and capacitive measuring cycles, the

device automatically detects the most

accurate measuring mode and uses

it automatically. This means that the

device can be used without any prior

knowledge of the type or strength of the

contamination or the medium and without

any pre-settings. Application and location

in the respective plants are varied. The

Liquitrend fulfils the guidelines applicable

drinkworld Technology + Marketing · November 2021

7
---
Marketing

The Future of Personalized Beverages

by DONNA BERRY

"Personalized nutrition is expected to

be the next disrupter after plant-based

meat," said Michael Gusko, Global Director

of Innovation, GoodMills Group, at the

NEWTRITION X. Innovation Summit 2021

held in conjunction with Anuga in Cologne,

Germany, on October 12, 2021. "It's all

about consumers taking control of their

health."

Mariëtte Abrahams, moderator of the

event, personalized nutrition business

consultant and founder of Qina, said,

"Personalized nutrition has experienced

unprecedented growth over the last

year."

This is expected to continue. In fact, Nestle

Research estimates the market will be

worth $1.3 billion in 2025 and $64 billion

by 2040. This growth is being fueled by

researchers such as Gusko and Abrahams

who are enthusiastic about focusing on

disease prevention and helping individuals

to improve their health through data and

knowledge.

"The current nutrition paradigm is

based on one-size-fits-all nutrition

recommendations: eat more wholegrain,

fruits and vegetables; eat less processed

foods, fat, salt, sugars and red meat,"

said Gusko. "But based on new science,

we move much closer to finding the true

answer. Our food in the future will be

much more personalized. Personalized

food is an answer to global health issues

such as obesity, diabetes and even cancer,

and others tremendous opportunities for

businesses."

He explained that there are four

requirements to make the future of

personalized food a reality. First, we need

a deep understanding of the different

factors that influence a person's dietary

needs.

"A growing body of scientific work is

finally starting to open the black box

between diet and health," said Gusko.

"Research reveals large variations in blood

sugar responses between people when

participants ate the same test meals. The

results explain why some people struggle

to lose weight, even on calorie-controlled

diets, and highlight the importance of

understanding personal metabolism when

it comes to diet and health."

Understanding is one thing, but putting

that knowledge to work is another. That's

where technology comes in. And as of

right now, we are not as sophisticated as

we need to be but we are on the right path.

"We need technology to collect data,

combine it with personal diet requirements

and turn this into advice for a personalized

diet," said Gusko. "The increased

availability of technology such as fitness

trackers, continuous glucose monitoring

sensors and the emergence of low-barrier

blood, DNA and gut microbiome testing

solutions, enable the assembly of the

necessary personal data, while digital

technology helps to create user-friendly

apps to support food decisions."

Third is functional foods. We are there, but

many of us are using intuition to choose

what foods are best for our body. The

technology needs to catch up.

"We need differentiated food offerings

that take advantage of the new nutritional

insights into the individual metabolism to

create foods that influence metabolism

much more than mainstream foods can,"

said Gusko. "If we want to fully exploit the

true potential of our food in a targeted

manner, we must use the incredibly

versatile biodiversity of nature, which can

provide us with truly functional ingredients

that push nutritional boundaries and have

an eye-opening effect on personal health."

The fourth and final requirement is the

most important. It's consumer acceptance.

"Consumers need to be ready for the

future of food," said Gusko. "There is

8
---
Marketing

10,000 PURITY TESTER

...the fast, safe

and accurate way

to measure gas purity

available in 5 purity ranges from 50 to 100% and 5 increments from .01% to 1%

MADE IN THE USA SINCE1908

...the Zahm CO2 Gas Purity Tester operates in

3 easy steps by first flooding the unit with test

gas then pouring in a measured amount of

caustic and when the gas is abosrbed, then tilt the

deivce 90° and the remaining impurities can be

measured visually by the calibrated bulb.

SIMPLE • FAST • SAFE • CLEAN...Zahm & Nagel

a trusted name in the industry built on quality

and service for over 100 years.

drinkworld Technology + Marketing · November 2021

WWW.ZAHMNAGEL.COM

e-mail: sales@zahmnagel.com / phone: 716.537.2110

9
---
Marketing

mounting evidence of consumer interest

in products that are 'tailored for me.'"

A major global study undertaken by

Leatherhead Food Research indicated

that globally, more than three in 10 (32%)

consumers said they wanted products

to match their personal dietary and

nutritional needs. This was as high as

44% in the Brazil sample and 46% in the

China sample. UK consumers were the

least positive at 17%.

"This variability in demand demonstrates

the need for companies to take a countryspecific

approach to address consumer

needs," said Gusko. "Choice fatigue is

the flipside of the personalization trend.

Brands need to consider that consumers

may be both overwhelmed by the

sheer number of possibilities as well as

underwhelmed by the end results of their

experimentations. For this reason, limiting

choices within safe parameters, which

still give consumers the feeling of control

over their food and beverage choices

while, at the same time, minimizing

disappointment, is a commendable

strategy."

In the beverage sector, personalized

nutrition is being embraced with the

inclusion of natural ingredients with

known benefits, such as botanicals, many

of which are described as adaptogens, as

well as nootropics. The latter is a term

with the Greek translation of "towards

the mind" and refers to compounds

that directly or indirectly influence

cognitive brain function. Examples include

ashwagandha, citicoline and green tea

extract.

Adaptogens, on the other hand, are a

class of non-toxic herbs, mushrooms and

minerals known to boost the immune

system and help the body fight off the

effects of stress. These plant-based

compounds have been used for centuries

in Chinese and Ayurvedic healing

traditions. Ginseng, for example, is said to

regulate the body's response to physical

or mental stress.

Proper dosing is necessary for the

consumer to reap any purported benefits.

This makes single-serve beverages an

attractive delivery vehicle. One serving

can promise a specified amount of the

compound. The challenge with beverages,

however, is that the ingredient must

dissolve and stay in solution. Sediment,

grittiness and physical particles are

typically undesirable. When clear is not

possible, such beverages will often come

in cans or opaque bottles with instructions

to shake well before drinking.

Elements is a new brand of adaptogenic

canned drinks from Lokai based in New

York City. The non-carbonated beverages

contain only 20 to 25 calories and 4 grams

of sugar per 11.5-ounce slim can and come

in four formulations to support the highs

and lows encountered through the day.

"Adaptogens are really starting to gain

popularity as people realize how effective

they are," said Steven Izen, founder and

CEO. "But in powder or tablet form, it's

tough to incorporate them into your daily

routine. Elements makes it convenient

and delicious to drink adaptogens daily."

Calm is a vanilla apple cider designed to

help soothe nerves and ease stress with

holy basil, wild green oat and lavender,

while Vitality is a zesty ginger orange that

helps jumpstart the day or provide a preworkout

boost with ginseng, rhodiola and

vitamin B6. Sleep is a soothing cherry

vanilla almond flavored beverage with

ashwagandha to promote sleep and health,

passionflower to address restlessness and

10
---
Marketing

L-theanine to support quality sleep. Focus

is a bright blueberry lemon beverage

enhanced with schisandra, lion's mane

and citicoline, making it both a brain and

mood food. The citicoline is recognized for

warding off distractions, supporting brain

power and boosting concentration.

The Naked Collective, an Irish startup

healthy drinks company, launched

its Mude range of vegan beverages in

the Irish market in 2020, and is now

expanding in the UK, US and Italy. The

five varieties of Mude are made from

all-natural, plant-based ingredients and

contain no added sugar. Chill has a hint of

mixed berry and is packed with a relaxing

blend of ashwagandha and chamomile.

Play is flavored with melon and raspberry

and contains an energizing blend of

green tea and branch chain amino acids.

Mango and grapefruit combine in Mude

Protect, which is fueled by deep ocean

mineral salts and beta glucan, while Mude

Work has a hint of apple and includes

ashwagandha, branch chain amino acids

and deep ocean mineral salts. These four

varieties have a guarantee that you will

feel the effects in 5 to 20 minutes after

consumption or your money back. With

Mude Sleep, consumers are directed to

drink it 15 minutes before bedtime. This

elderflower-flavored drink is packed with

a dreamy blend of chamomile and valerian

root to promote a good night's rest.

Waterdrop Microdrink GmbH, Austria,

makes a line of namesake water enhancers.

These individually wrapped dissolvable

cubes are packed with flavor and functional

plant extracts and designed to get people

to drink more water. Now all you need is

your own refillable bottle of water and

add a cube. Cold concepts include Boost

with blackcurrant, elderflower and acai;

Focus with lime, baobab and acerola; and

Relax with hibiscus, aronia and acerola.

There's also varieties for hot tea, including

Oriental Spice (ginger, turmeric and chili)

and White Blossom (white tea, blueberry

and linden blossom).

Divas Drink International was founded in

2010 in the Slovak Republic and was one

of the first functional beverage pioneers.

The company introduced a coenzyme Q10

drink back in 2013 and a collagen sparkling

elixir in 2016, long before most consumers

heard of these ingredients. The company's

most recent innovation is the Care Shot

line.

"The functional drinks provide a complex

solution for your health, not only physical,

but mental health as well," said Simona

Gabrisova, marketing manager, at Anuga.

"They are made with fruit puree, spices

and herbs and packed with scientifically

and clinically proven ingredients."

There are four formulations—Calm, Energy,

Immunity and Skin—with two flavors in

each category. The Calm formulation, for

example, is designed for skin nutrition

and renewal. It contains collagen, elastin,

hyaluronic acid and vitamin C. Flavors are

apricot, passionfruit, elderflower blossom

and sweet cherry, pink guava, cherry

blossom.

Sway, which was introduced in April by

Los Angeles-based Elegance Brands,

claims to be the first drink to combine the

power of immunity, energy and nootropic

ingredients to optimize overall well-being

for an enhanced mental and physical

performance. Every can of this vitaminenriched

beverage contains 160mg of

organic green tea caffeine.

The Lifeaid Beverage Co., Santa Cruz,

Calif., markets Focusaid in regular and

sugar-free formats. The beverage has a

melon-maté flavor and contains a blend

of nootropics to help enhance cognitive

function and provide clean energy from

the addition of 100 milligrams of natural

caffeine from yerba maté and green tea.

One key differentiating ingredients is

L-Alpha glycerylphosphorylcholine, which

is a natural choline compound found in the

brain. It is also a parasympathomimetic

acetylcholine precursor that has been

investigated for its potential for the

treatment of Alzheimer's disease and

other dementias. The beverage includes

GABA (gamma aminobutyric acid), a

naturally occurring neurotransmitter in

the brain that has been shown to support

anxiety relief and elevate mood. The drink

also includes vitamin B-complex to create

sustainable energy, as well as functional

ingredients like ginseng, L-carnitine,

rhodiola rosea and vitamins C and D.

"Demand for personalization is poised

to be a major disruptor of the food and

beverage sector," concluded Gusko. "But

it isn't going to happen overnight. It will

be an ongoing journey of innovation,

education and assimilation. Companies

that start now will be best placed to meet

the heightened personalization demands

of the future. What seems implausible

today, will be tomorrow's reality."

The Author

Donna Berry is a food and beverage industry consultant

and editor with over 25 years experience

in tracking trends and advancements in product

development.

drinkworld Technology + Marketing · November 2021

11
---
Ingredients

The First Nutraceutical Fruit Drink is

Unveiled

• Barry Callebaut leverages its deep scientific knowledge of the cacaofruit and the fruit's

supportive health effect by introducing a nutraceutical fruit drink

• The new cacaofruit elixir 'Elix' has a zesty fruity taste. Promoting circulatory health.

• The health claim related to the cacaofruit flavanols present in 'Elix' is approved under

the EU Nutrition and Health Claims regulation and pending FDA approval in spring 2022

Barry Callebaut, the world's leading

manufacturer of high-quality chocolate

and cocoa products, leverages its deep

scientific knowledge of the cacaofruit

and the fruit's supportive health effect,

by presenting the first nutraceutical fruit

drink. The new cacaofruit elixir – made

from 100% pure cacaofruit – has a zesty

fruity taste. By unlocking the power of

science, the elixir is uniquely crafted to

preserve the nutrients of the cacaofruit.

The cacaofruit naturally contains the

required amount of flavanols to optimize

the blood flow across the entire body.

It is a good source of iron, magnesium

and potassium. Besides the 100% pure

cacaofruit elixir, combinations with

herbs and other fruits can be explored

to enrich the range with beautiful taste

combinations and additional nutrients.

The nutraceutical fruit drink contributes

to personal as well environmental health.

Since it upcycles the whole cacaofruit,

'Elix' positively impacts nature and

communities.

Gen X believe they need to

nurture their nature

Covid accelerated consumers' interest

in the beauty of food and the beneficial

health effects of eating and living well.

Generation X –born between the mid-

1960s and the early-1980s – believe

they need to nurture their nature.

To keep their body and mind strong,

they look out for whole foods that are

scientifically proven to actively support

their health. They are well informed

about which, and what amount, of

macro- and micro nutrients to consume.

The cacaofruit elixir has been tested and

validated through consumer research

by independent global research agency

MMR in the UK and the US. As part of

these studies Elix's consumer appeal

and purchase intent have been tested,

indicating a high interest in the new

nutraceutical fruit drink category.

Peter Boone, CEO of Barry Callebaut

Group, said: "The COVID-19 pandemic

accelerated consumers' interest in their

own health as well as in the health of

their environment. The introduction of

this new category of nutraceutical fruit

drinks is another proof point of how

Barry Callebaut, through its innovation

capabilities and its profound knowledge

of the cacaofruit, is able to cater to

evolving consumer trends."

Promoting circulatory health

The health effects of cacaofruit flavanols

have been studied by experts across the

globe for decades and they have found

sound scientific proof of their benefits

on human health and wellness 1 . Barry

Callebaut's deep scientific knowledge

of the cacaofruit and the effect of the

fruit's flavanols on circulatory health

are recognized by the European Food

Safety Authority (EFSA), which resulted

in the approval of the related health

claim under the EU Nutrition and Health

Claims regulation. Approval by the US

Food and Drug Administration (FDA)

is pending in spring 2022. Cacaofruit

flavanols help maintain the elasticity of

blood vessels which benefits the blood

flow to, for example, organs such as the

heart, muscles, brain, and skin.

The science of cacaofruit

Composed of almost 20,000 different

types of molecules, the seed of the

cacaofruit is one of the most complex

food substances on earth. The R&D

behind the cacaofruit elixir 'Elix' took

Barry Callebaut more than 15 years. In

addition, there is data available from

more than 100 human clinical studies

which provide sound scientific proof

of the health effects of the cacaofruit

flavanols 2 .

1 More information on the health benefits of cacaofruit

flavanols can be found here.

12
---
ZKZ 62006

ISSN 1433-1594 Vol. 25 No. 4 November 2021 US $ 12 · € 12

Cover: Additional Safety for Hygienic Processes

Functional Fruit Powder

Process Heat with Hydrogen

Novel Labelling Solution Launched

Fax-Inquiry

+49 (0) 911 2018 - 100

Events

or E-mail: drink@harnisch.com

Issue 4/21

Our service: If you would like to have more information on articles and/or

advertisements please fax this form and quote page number and title.

1. Additional questions

1.1. Business Classification:

1.2. Number of employees at this location:

1.3. How do you rate this publication? excellent good fair poor

1.4. I wish to receive future issues of drinkworld: Yes No

2. I would like to obtain more information

2.1. Regarding following articles/editorials (please quote each page number):

2.2. Regarding following advertisements (please quote each page number):

3. Please enter my subscription to drinkworld for one year (4 issues)

The subscription shall start immediately beginning of

It is prolonged automatically for one year unless it is cancelled 6 weeks before expiry.

Surface Mail (US $ 90,–/Euro 69,–) Air Mail (US $ 110,–/Euro 85,–)

Check enclosed

Bill me

Charge my credit card: Euro-Card Visa AMEX

valid until:

4. Address

Company:

Name:

Address:

Address:

Country:

Position:

Phone:

Email:

Date:

Signature:

drinkworld Technology + Marketing · November 2021

13
---
Ingredients

Maltodextrin-Free, High-in-Fiber Fruit

Powder with Cherries

Taiyo's dietary fiber Sunfiber ® combined with the nutritional benefits of Stevnsbaer

Functional ingredient expert Taiyo GmbH and Danish manufacturer Asiros Nordic A/S

have joined forces to create a new fruit powder with appealing nutritional properties:

CherryShield is part of a range of premium and organic fruit powders for use as a food

supplement or in functional beverage applications that aid well-being and digestion. The

added health benefits of CherryShield Premium and Organic powders are based on the

ingredients of an exceptional Danish sour cherry variety and Taiyo's 100% natural dietary

fiber Sunfiber ® .

Since ancient times, cherries and their

juice have been used to relieve various

ailments. The fruit used for the new

powder is the so-called Stevnsbaer cherry,

which is cultivated exclusively in Denmark.

To ensure consistently high quality, the

harvest for CherryShield powder comes

exclusively from contract farming on the

Danish islands of Lolland and Zealand,

where the ocean climate provides optimal

growing conditions. Compared to other

varieties, this sour cherry weighs just 2g

and has the highest sugar content and

dry matter. Stevnsbaer cherries have

twice as much vitamin C as oranges and

three times the antioxidant content of

blueberries. The polyphenol content of

the Stevnsbaer cherry is also significantly

higher compared to other sour cherries,

with 2.6g per 100g. According to

studies, the plant pigments help prevent

cardiovascular and neurodegenerative

diseases associated with oxidative stress.

Other attributed health benefits relate

to modulation of the gut microbiota. The

secondary plant compounds have an

antibacterial effect, which makes them

useful for immune system support. A

sleep-improving effect has also been

demonstrated.

The prebiotic effect of CherryShield

Premium and Organic powders is

boosted by the ISO-certified dietary

fiber Sunfiber ® , which is derived

from guar beans (PHGG) via partial

hydrolysis. The positive influence on

digestion and the feeling of satiety, as

well as the low glycaemic index, have

been scientifically proven in more than

150 studies. According to the Australian

Monash University, Sunfiber® is

certified suitable for patients with

irritable bowel syndrome and other

functional gastrointestinal disorders as

part of a low-FODMAP diet.

CherryShield Premium and Organic fruit

powders do not contain maltodextrin,

which is why they can state "no added

sugar" on the label. The claim "high in

fiber" is also permitted. The colorless,

odorless and tasteless, non-viscous

dietary fiber Sunfiber ® performs the

technological functions of an additive,

while the solubility of the fruit powders

in water is also convincing. The decisive

factor here is the agglomerate structure

that is created when the fruit juice is dried

with the dietary fiber. Additionally, the

dietary fiber can be coated with additional

active ingredients, such as coenzyme

Q10, magnesium or zinc. CherryShield is

gluten-free, certified GMO-free and vegan.

To ensure the highest possible purity,

the products are tested for polyphenols

and DNA as part of the Canadian TRU-ID

certification programme.

CherryShield is a registered trademark

of Asiros Nordic A/S. With this product

innovation, development partners Taiyo

and Asiros are addressing manufacturers

with very different target groups but all of

whom have similar needs: immune health

is driving category growth. The fruit

powders can be pressed into effervescent

tablets or offered as chewable tablets,

capsules or gummies. As a functional

thirst-quencher that does not contain

any additional sugar, the perfectly soluble

agglomerates can be used in instant

drinks and fruit teas, even for children. For

direct consumption, they can also be filled

in sachets of 5-6g. Other prebiotic juice

powders available include Elderberry,

Lingonberry, Aronia, Cranberry and

Blueberry, as well as Red and Black

Currant.

14
---
Ingredients

Novel Low-Dose Ashwagandha Extract

Helps Improve Immunity

Popular in Ayurvedic medicine, ashwagandha's multiple benefits now have solid scientific

support.

Results from a new human study

provide support for the immune

health capacity attributed to Arjuna

Natural Ltd.'s branded high-potency

ashwagandha (Withania somnifera)

extract, Shoden ® . While recent studies

demonstrated strong support for

ashwagandha's traditional use in

mitigating symptoms of anxiety and

stress, and helping to support natural

energy, this latest research focused

on immunomodulatory effects of the

plant.

The randomized, placebocontrolled,

double-blinded study,

conducted by Ajit Tharakan, MD,

Himanshu Shukla, MD, et alia,

was published in the August,

2021 issue of the Journal of

Clinical Medicine. Volunteers

were given either 60 mg of the

Shoden ashwagandha extract or

a placebo for 30 days before

the crossover to only

Shoden for 30 more

days.

Following the

30-day blinded

study period,

the ashwagandha

group

demonstrated

a significant

increase (p <

0.05) in

immunoglobulin (Ig), cytokines, as well

as in the T cells, B cells, and Natural

Killer cells, collectively known as TBNK,

the body uses to attack and destroy

invading organisms. In the 30-day

test period the placebo group actually

exhibited a significant decrease (p <

0.05) in TBNK cells with Ig cells and

cytokines showing no change.

Subjects who continued taking the

ashwagandha extract showed a further

significant improvement (p < 0.05) in

these immune cell markers and no

adverse events were reported.

Based on these results, the

researchers concluded that

the ashwagandha extract

"significantly improved the

immune profile of healthy

subjects by modulating

the innate and adaptive

immune systems." They

further suggested that

ashwagandha

extract can help

contribute to

"boosting

the immune

system of

people

at risk

of infection and during widespread

infections."

"Arjuna developed a proprietary,

modern, clean production methods

based on ancient Indian processes

that standardize the most bioactive

components of ashwagandha—with

anolide glycosides—to at least 35%

concentration, creating a uniquely

potent extract," says Benny Antony,

PhD, the company's Joint Managing

Director. "Shoden is offered at a

very low recommended dose. This

opens immense opportunities for

formulators who can utilize this

potency in their formulations and

product variants for better customer

relief."

Ashwagandha has been increasing in

popularity, especially as more food and

beverage companies incorporate it into

products beyond supplements, such

as soft drinks, botanical beverages,

and energy shots. "Arjuna controls

the cultivation and timely harvesting

of ashwagandha, with complete transparency

and traceability, on farms

selected and controlled under its

supervision, allowing for a consistent,

potent ingredient," adds Antony. "This

farm-to-shelf oversight guarantees a

stable, safe supply."

All of Arjuna's production processes

and products meet market-specific

regulations, worldwide. A GMPcertified,

SAP-driven company,

Arjuna has achieved international

certifications including ISO22000,

Kosher and Halal. Arjuna

continues to engage in

extensive research and development,

including advanced

clinical studies, as it produces

continuing scientific validation of

its proprietary product line.

drinkworld Technology + Marketing · November 2021

15
---
Fi Europe

Fi Global Launches year-round Sample

Store Concept with 1-2-Taste

Fi Global is enabling ingredients suppliers to join the online sourcing revolution with a

year-round Sample Store platform in partnership with 1-2-Taste, in addition to a dedicated

Sample Store for exhibitors at Fi Europe Online.

1-2-Taste is an online B2B food ingredients

platform based in the Netherlands that

has made its name as a disruptor of

traditional ingredient sales methods.

The platform allows R&D experts to

identify ingredients and obtain samples

to try out, and buyers to place orders,

without leaving their desks. It is

especially helpful to small and medium

enterprises (SMEs) because they can

order ingredients in small quantities that

are not commercially viable through

traditional sales channels.

Through its partnership with 1-2-Taste,

Food Ingredients Global is integrating

two Sample Stores into the heart of

its portfolio of exhibitions, information

services, and digital solutions, which

have a global audience of industry

professions established over more than

30 years.

• The Sample Store on the Fi Europe

Online platform gives exhibitors

maximum expose to more than 12,000

online attendees over the duration of

the online event, which runs from 22

November to 2 December 2021.

• The year-round Sample Store

concept allows subscribers to have

their Sample Store featured on the

Ingredients Network directory and

news portal, which attracts more than

40,000 unique buyers a month.

"The Sample Store on Ingredients

Network brings real added value to

suppliers of food ingredients, as it allows

them to interact with customers in the

very place that they go to for industry

insights and information throughout the

year," says Angelique Cachia, Content

and Digital Director Food, Informa

Markets.

How Sample Stores work

Suppliers receive support to set up their

branded Sample Store on 1-2-Taste, which

can feature up to 10 samples. Customers

who visit the Sample Store can browse

through information on the samples

– including technical documents,

videos, quality certifications, and other

materials – at their convenience, then

order samples with a click. There is also

an option for suppliers to sell directly

through the Sample Store, with order

fulfilment in Europe and India.

"The Sample Store concept is really userfriendly.

It helps suppliers both to gather

new sales leads and to demonstrate new

products to existing customers," says

Cachia.

For 1-2-Taste, the partnership with Food

ingredients Global will allow it to gain

insights into emerging industry trends,

so that it can extend its services in the

future.

"With this partnership we are filling a

void, customers today expect online

channels for commercial ingredients

transactions and quick turnarounds,

together with Fi Global we are enabling

suppliers and meeting customer

expectations," says 1-2-Taste CEO and

co-founder Jasper Schouten.

1-2-Taste was born out of Schouten's

observation of commercial challenges

faced by SMEs in the food and beverage

sector, during the 17 years that he

worked for major flavors and specialty

ingredients companies.

"SMEs would knock on our door and ask

to buy, perhaps, 20kg of flavors a year,

and we would have to say sorry, because

this was not economically viable. This

got me thinking about how we could

better reach this sort of customers," he

said.

After launching first in India, 1-2-Taste

made its European debut in September

2020 with a portal that allows purchasing

managers both to buy ingredients in

the quantities they need and to receive

technical support from freelance service

providers.

The company has already been

recognised for its originality and business

Suppliers can register for a Sample

Store via the Fi Global website.

16
---
Fi Europe

potential, winning the prize for Best

Starter in Ecommerce in the Netherlands

at the Shopping Awards 2021.

According to research from McKinsey,

Covid-19 drove a global shift towards

digital B2B sales in many industries,

but the trend is set to stay. Over

70% of B2B decision-makers who

responded to a survey in 2020 said

they prefer remote human interactions

or digital self-service, due to ease of

scheduling, travel expense savings, and

safety. Among respondents who sell

B2B products online, 75% expressed

confidence in the effectiveness of new

sales models in reaching and serving

target customers.

Fi Europe Combined with Hi Europe

2021: Spotlight on Innovative

Ingredients

The pandemic has strengthened the trend towards sustainable consumption in the food

industry – a shift that is also reflected in the world's leading ingredients show Fi Europe

combined with Hi Europe, as the organic and natural ingredients zones are both on a growth

trajectory. The Fi Global team is currently expecting a total of 17,000 visitors in-person

and/or virtually, with a strong focus on relevant audience for business and networking and

the quality of attendance: 72 per cent of the pre-registered attendees have purchasing

power. The trade fair will be held online from 22 November, and in person in Frankfurt from

30 November to 2 December.

In terms of floor space, compared to

the total show, the organic zone has

grown by 49 per cent with exhibitors

this year including Mainfrucht, Meurens

Natural and La Sanfermese Agro &

Food. The natural ingredients zone,

meanwhile, has grown by 46 per cent

and will be welcoming exhibitors such

as Herbstreith & Fox KG Pektin-Fabriken

and Plantex SAS.

a more sustainable future', in which

Siska Pottie, Secretary General of the

European Alliance for Plant-based Foods,

will be reviewing the European plantbased

market. Also speaking is Paula

Schmidsfelden, of The Carbon Trust,

who will be discussing 'Product carbon

footprinting & labelling: How to drive

decarbonisation in the food industry'.

Roquette, meanwhile, will be presenting

a company case study on 'Adapting to

rising consumer expectations with a

plant-based approach'.

Consumers want sustainability

With a total of 800+ exhibitors

expected on the show floor, more

than 150 companies have already

"This trend has been present for a

number of years but now has become

even more apparent as a result of

the pandemic. Furthermore, the

combination of Food ingredients and

Health ingredients Europe highlights

the importance of naturalness in

ingredients with health benefits",

says Julien Bonvallet, Fi Global Brand

Director.

The agenda for the show, with

Fi Conference, Innovation Hub, various

theaters and the competitions Startup

Innovation Challenge and Innovation

Awards, will also address topics such as

upcycling, alternative sourcing solutions

and more efficient manufacturing

processes. Sessions include 'Creating

drinkworld Technology + Marketing · November 2021

17
---
Fi Europe

signed up for the natural or organic

zone. One of them is HoneyGreen+, a

supplier of beehive products, natural

sweeteners and functional ingredients.

Vanessa Morice, Commercial Director

at HoneyGreen+, comments: "The

world demands natural responses

to a global need for health, wellbeing

and beauty. We have already

observed how changes triggered by

the pandemic have accelerated some

of the trends predicted to occur over

the next five years. And consumers

are looking for transparent brands, as

they want to know how their actions

can help protect their community and

environment."

These views are confirmed by Fi

Europe's business analyst partner,

Innova Markets: One-third of consumers

worldwide expect companies in the

industry to commit to sustainability,

while 20 per cent are also willing to

spend more money on such products.

In the Innova Lifestyle & Attitudes

Survey 2020, respondents indicated

that COVID-19 has increased their

focus on sustainability, for example, by

buying regional products, recycling/

upcycling and avoiding food waste. A

study commissioned by The Nature

Conservancy found a shift among

consumers and businesses from

wanting food that does not harm to

actively seeking out products that do

good.

Trade shows can make a

difference

As the world's leading ingredients

trade show, Fi Europe combined with Hi

Europe has set itself the goal of paying

ever-closer attention to ecological

aspects when designing the event. These

include energy-saving LED lighting in

the exhibition halls, renewable energy

sources and waste reduction, for example

through the use of recyclable exhibition

carpets. There will also be partial

replacement of printed material, with a

comprehensive mobile app and QR codes

guiding attendees to digital publications

instead.

About Informa AllSecure:

Informa has collaborated with association

partners including UFI, AEO and SISO,

industry peers, venues, suppliers and

relevant authorities to develop industrywide

AllSecure standards that raise the

bar on safe, hygienic, productive and

high-quality organised event experiences.

Informa AllSecure is how these standards

are being adopted in our business.

All Informa events will be run according

to official government and local authority

guidance in the first instance, as well as

any venue or location-specific regulations.

In addition, all Informa events will follow

the ten Informa AllSecure priority

commitments. Wherever applicable and

possible, our events will also apply the

fuller range of standards and guidelines

described in the Informa AllSecure

guidebook.

18
---
Oat Milk, a Plant-Based Alternative

Processing

Struggling for resources, their exploitation and sustainment, food producers and processors

have dedicated themselves to the question of how to offer plant-based alternatives that

deliver the good of the milk. Soy, coconut and almond-based products have been on the

market for some time, but mainly the use of oats has established a "mass-compatible

product". But how to use and transform it into an appealing product with the help of smart

measurement technology? The special properties of the raw products in oat milk production

require sensors that are flexible, robust and resistant to adhesion. But what to consider in

each step of oat milk production?

The first step is separating the husks.

This is done quite conventionally

by peeling, sometimes the oats are

immediately milled into flour or

processed to flakes in the same step.

If not directly processed further, the

peeled oat grains must undergo a

drying process to prevent any growth

of the seedling inside. So far, treatment

and processing is similar to standard

processes in bakery or brewery.

Here, pressure sensors as PP20H and

temperature sensors as PT20H are

deployed. CleverLevel is the optimum

solution to protect machinery against

jamming or blocking. Available in

either compact or field housing, the

sensor will detect dry products, flour

and spillage goods.

Sensor requirements increase while

the process continues. After milling,

the oat flour is dissolved in water and

the actual production work begins.

The mix of liquid, solid particles and

the ingredients of table 1 is difficult to

detect because adhesion quickly builds

up and consistency varies. The point

level sensor CleverLevel operating

on the frequency sweep technology

is the ideal product by ensuring safe

Ingredients oats g/100g

switching operations. This technology

allows for monitoring every container

upon overfill and empty level. The

sensors further protect pumps and

tubes against damage by running dry.

Magnetic inductive flow sensors

control enzyme dosage for

carbohydrate breakdown. Here,

precise CombiFlow PF75H flow sensor

is the product to choose. The oat pulp

is then temporarily stored in tanks to

allow enzymes becoming active. Both

when dissolve the grains in water and

in tank fermentation, efficient enzyme

work requires optimal temperatures.

To reduce viscosity and to obtain the

desired sweetness and mouthfeel,

starch is being split up into glucose

and isomaltose.

Consistent hygienic design is

indispensable when it comes to tank

cleaning. Front-flush temperature

sensor TER8 is here the optimal choice.

CleverLevel level switch featuring

a very small contact surface also

provides optimal capabilities for quick

and efficient cleaning. Particularly

when installed at the tank together

with a Baumer Hygienic Connection

(BHC). Integrated pressure sensors

with flush membrane, either PFMH or

PBMH, not only deliver high-precision

signals but thanks to the BHC adapter

are very easy to clean.

Once the enzymes have done

their work, the situation becomes

different. In the heat exchanger,

prior to filtration, temperature

control for appropriate energy intake

requires quick measuring operations.

Temperature sensor PT20H plays to

its strength by featuring a T90 time of

less than 1.1 seconds.

Enzyme activity is ended and the

oat pulp is heated up to about 60°C

for upcoming separation. As in

conventional dairy industry, also here

PT20H or TE2 temperature sensors are

deployed for pasteurization temperate

control at the heat exchanger, while

pressure sensors PP020H measure

differential pressure and flow sensor

CombiFlowPF75H monitors flow

rate and heat holding time. In both

processes, hygienic sensor design

plays a vital role.

Using a decanter any solid parts,

mainly husks, are separated. This

process step calls for the CleverLevel

sensor being particularly insensitive

against adherence. Temperature and

inlet pressure are crucial for proper

decanter operation. For this reason,

sensors with large DFON display like

PFMH and TRFH from the CombiSeries

are ideal products. Besides showing

the measured values, the display will

change color as soon the values are

outside the limits.

The product is finished in the

mixing tank adding liquid and solid

drinkworld Technology + Marketing · November 2021

19
---
Processing

ingredients. These are oils, lecithins,

flavor carriers/fruit, vitamins,

minerals and salt. Temperature and

pressure are key here as well. The

measuring operations are performed

by TE2 temperature sensor and

PFMH pressure with utmost precision.

Particularly product variants with

different fruit additions require a high

level of flexibility in sensory analysis.

Mixing tank full and empty signals are

safe with the CleverLevel point level

sensor. Potentiometric level sensor

LSP is deployed for level measurement

in tanks without mixers. The sensor

measurements are not only extremely

fast and precise which is particularly

helpful in small dosing containers, but

on top the sensor is very insensitive to

buildup of deposits.

A homogenizing pump in the mixing

tank is mixing up the ingredients. A

high-pressure homogenizer is used

to permanently bond them together

and to ensure stable homogenization.

In doing so, all individual product

ingredients are brought into the

same size. Like in a milk homogenizer,

feeding temperature and pressure

are being monitored. For mechanical

pressure monitoring at homogenizing

valves Baumer offers products of its

Bourdon brand.

Baumer CombiSeries: safe and convenient process monitoring with touch display

Now it's all about the future of the

nearly finished product. Permanent

cooling required, or extended shelf life

at room temperature? This question

is answered by the related heating

process. Both cold sterile filling

with UHT treatment and standard

pasteurization at 72°C are feasible.

The Baumer portfolio offers the right

process sensor delivering all the

signals required for heat exchanger

control. In plate heat exchangers,

further to fast temperature

measurement with PT20H, particularly

Baumer Hygienic Connection (BHC): hygienic process adapter for optimal cleaning processes

the magnetic inductive flow meter

CombiFlow PF75H comes into play to

define holding times, and also highprecision

pressure sensors PBMH

or PFMH detecting the differential

pressure to identify any cleaning

requirements. Residual starch in the

product tends to gelatinize, reason

why now it turns out how effective

previous enzymatic pre-dissolution

was. Sometimes it is necessary to add

another enzyme mixture in a second

step. Fully converted to glucose, only

"usual" burning along with fat and

protein components will remain, which

over time will impair heat transfer and

call for cleaning.

The product now is ready to be filled

in sterile tanks. It goes without saying

that from now on hygiene and a clean

environment are crucial. This requires

efficient cleaning cycles at both

ends. Now, absolutely tight sensors

in hygienic design with stainless steel

housings and IP 69 protection or even

protTect+ will pay off.

Manufacturers of oat milk products

have an interest in saving water and

energy, because they want to live

their claim of sustainable alternatives.

Fully automated CIP system are

always the first option. Whereas

they allow for a flexible number of

tanks, they require reliable parameter

monitoring according to Sinner's

circle. PF20H calorimetric flow sensor

20
---
Processing

measuring flow velocity together

with CombiLyz AFI inductive

conductivity sensor suffice for easy

solutions. They ensure safe cleaning

cycles at fast changing phases.

Faster temperature measurements

of PT20H and more accurate flow

measurement with PF75H magnetic

inductive flow meter improve such

installations and further reduce

water and energy consumption

while saving time in parallel.

Sustainable manufacture of highquality

products at high safety level

always implicates a successfully

implemented hygienic plant design.

The Baumer Hygienic Connection

(BHC) with hygienic process adapters

allows for top-level integration by

front-flush sensor installation. The

exchangeable O-ring seal directly

within the process and protected

by its fix center position, together

with the clamp connection for

steady pressure form the perfect

process connection. Easy to weld

in the tank, this process connection

allows for fast cleaning free from

any residues. Installed in pipelines,

the process connection is capable

of fast changing phases and helps

minimize product loss, the use

of detergents as well as water

consumption.

Smart sensor solutions for fully automated CIP systems

drink world Technology & Marketing, 139,5 x 194 mm, Line comp. F,

CC-en91-AZ034 10/21

Many of the components used in

oat milk production are also used

in other F&B processes. Oat milk

is reputed to be a highly nutritious

product, reason why it calls for

stringent hygiene concepts as

protection against microbiological

impairments. The different phases

of solid, pulpy and liquid texture

require flexible measurement

technology, particularly in filling

and limit level monitoring. These

processes operate on very precise

parameters and depend on tight

control. So, it is not a coincidence

that Baumer has been a reliable

partner ever since the beginning

of successful production and

international marketing of oat milk

products thanks to smart solutions

for safe production - even when

being that demanding.

drinkworld Technology + Marketing ·

21
---
Processing

Absolut Vodka Bottle Design Refresh

Pays Homage to Swedish Heritage

In the iconic bottle's first major design

refresh since its creation in 1979,

Ardagh Glass Packaging – Europe

worked closely with Absolut and design

agencies, Brand Union and Destrito, to

develop an upgraded design that nods

to the progressive vodka's Swedish

craftmanship and heritage.

Among changes to the medallion, the

quality seal and a new illustration of the

original distillery, the words 'Country

of Sweden' are now embossed within

the glass, which links back to the longstanding

tradition and knowledge of

vodka making in the country.

Maria Persson, NPD Project Manager,

Ardagh Glass Packaging - Europe,

explained that the introduction of the

embossed text presented the biggest

design challenge in terms of the glass

bottle production:

"The embossed wording 'Country of

Sweden' stands proud from the surface

of the bottle, so we had to consider how

to design it in a way that would protect

it from contact with other bottles on the

production line.

"After several different designs, the

agreed way forward was to create a 'dip'

around the embossed wording, which

allows it to sit flush with the side of the

bottle, thus preventing it from being a

contact point and ensuring a smooth

production run."

The updated bottle retains its iconic

shape, inspired by an 18th-century

apothecary bottle, but now enjoys a

modernised design.

Elin Furelid, Global Head of Product

Portfolio & Design, Absolut adds: "We

were keen to capture our rich, quality

story and make that clearer on the

bottle, signposting to what makes our

vodka unique. We have of course kept

the most important design elements

that makes Absolut, Absolut."

22
---
We understand how you strive for constant

product quality and optimized costs.

Marketing

CONSISTENT

+ CONFIDENT

You are poised to meet your safety and quality

requirements while optimizing resources and

securing process repeatability.

Endress+Hauser helps you to improve your processes:

• With a hygienic, robust product portfolio that meets

international standards

• With access to traceable, reliable and real-time data

• With a network of industry application experts that help

you ensure greater plant availability throughout the

product life cycle

Do you want to learn more?

www.endress.com/food-beverage

drinkworld Technology + Marketing · November 2021

23
---
Processing

Process Heat with Hydrogen in the

Drinks Industry

by DIPL.-ING. (FH) DANIEL GOSSE MBA

How can decarbonization be

implemented in the process heat

system? That is a question which many

industrial companies, including those

from the drinks sector, are currently

tackling. Process heat in the form of

steam or hot water is considered to

be an indispensable medium for many

production steps in these companies, for

example for pasteurization, distillation,

sterilization and cleaning. The use

of green hydrogen in boiler systems

represents a significant opportunity.

Instead of carbon dioxide, the

combustion process only produces water

vapor. The following technical report

describes solutions using hydrogen

boilers and technical measures for the

safe and clean combustion of the energy

source.

Decentralized stand-alone

solutions with hydrogen

Experts and gas network operators

have been discussing proportionally

mixing green hydrogen into the natural

gas network for some time. Current

opinion states that 10-15% hydrogen can

be mixed into existing networks safely

and with little effort or expenditure.

However, it must be noted that by

volume, hydrogen offers only one third

of the net calorific value of natural gas.

In the short- and medium-term, decentralized

solutions with 100% green

hydrogen represent a more attractive

alternative for achieving CO 2

-neutrality

quickly. A number of pilot projects are

currently under way on industrial areas

and in regions with a high energy density

The use of hydrogen in the drinks industry can contribute to the decarbonization of processes.

in different locations around the world.

In Wunsiedel in Germany, for example,

an electrolyzer with an electrical power

intake of 6 MW in the initial development

phase is currently being built. Surplus

hydrogen is made available to the

surrounding industrial enterprises and

is used in a 5 MW Bosch boiler to provide

heat, among other uses.

In combination with electrolysis and

renewable energy, hybrid process

heating concepts will also likely become

an ever more attractive option. Boilers

with multi-fuel burner units and electric

heaters, for example, are excellent for

this application. If the weather is sunny

or windy, the companies can directly use

the electricity in systems and production

with a degree of efficiency over 99%. If

24
---
Processing

the availability of green electricity

is fluctuating due to the weather or

time of day, hydrogen can be used as

a carbon-neutral energy source for

compensation. The majority of these

systems are currently operated

using green electricity and natural

gas due to a lack of readily available

hydrogen.

Technological requirements

for hydrogen-powered steam

and hot water boilers

The use of hydrogen in boiler systems,

and the corresponding technology,

is commonplace in sectors in which

hydrogen is created as a waste

product of chemical processes.

As a result, there are a range of

known technological requirements

for safe, efficient handling. The

following solutions, among others,

are suitable for making use of this

environmentally friendly gas:

The prerequisites include comprehensive

technical measures

and components that enable triple

the fuel volume to be provided

and make it possible to control the

higher combustion temperatures

and faster combustion behaviour.

This concerns lines, nozzles, hightemperature-resistant

components

that come into contact with flames,

burner fans and the combustion

chamber, in particular. The hydrogen

burner is usually designed as a

complex multi-fuel firing unit with a

correspondingly demanding control

system, in order to enable full

flexibility and supply reliability. To

prevent re-ignition of the hydrogen

firing unit in the fuel supply line, the

combustion system features a flame

arrestor upstream.

Example of an implemented fuel concept with hydrogen, natural gas and light fuel oil for a Bosch

boiler system.

Hydrogen flames can reach

extremely high temperatures of

around 2000 °C, resulting in thermal

NOx formation. Flue gas recirculation

is generally employed to comply with

the strict NOx limits. In this process,

the flue gas generated by the boiler,

which is low in oxygen, is mixed with

the combustion air and used. This

significantly reduces the average

flame temperature and therefore the

thermal NOx formation.

drinkworld Technology + Marketing

Your KHS system for maximum

efficiency: Innofill filling systems.

Hops, malt, and water – and filling systems from KHS. That's all you need to always ensure the best

product quality. Take our innovative filler with extremely low oxygen pickup, or our quality control

inspector that checks every single container, for instance – just two more intelligent systems from

KHS, which go a long way to making our filling equipment even better. khs.com/beer

25
---
Processing

Ready for the future: Process heat solutions from Bosch for the use of hydrogen, biofuels or green electricity – both for new systems and for retrofitting

existing systems.

In the flue gas technology sector,

established design rules and technologies

can be used like in natural gas

firing units. Due to the high specific

heat capacity or enthalpy of the water

vapor in the flue gas, the so-called

calorific value technology can be used

in equal measure for the combustion of

hydrogen.

During the phase change from water

vapor in the flue gas to liquid water,

Simplified illustration of green hydrogen production with process heat integration.

significantly more energy is released

than during the pure temperature

reduction in waste heat usage. The flue

gas temperature can be reduced from

130 °C to 60 °C using condensing heat

exchanges, resulting in fuel savings of

26
---
Processing

up to 7%. However, this requires

a heat sink, for instance to preheat

the brewing water or to heat

the brewery house and offices in

a brewery. In practice, the overall

efficiency of systems of this kind

is up to 103% relative to the net

calorific value, or 98% from a

primary energy perspective.

Why not use green

electricity directly?

Using purely electrical steam and

hot water generators is rarely

an attractive option in many

countries such as Germany due

to the high electricity costs.

Nevertheless, electrical steam

generators do have their strengths

– e.g. in smaller drinks companies

or breweries with relatively few

production hours each week.

Similarly, some businesses own

photovoltaic systems and can

use electric boilers or hybrid

boilers with electrical heater

rods and burners to increase the

proportion of green electricity

they use by a significant amount.

Decisive factors for "powerto-heat"

include energy prices

and the underlying policies in

the corresponding country. In

regions with low energy prices and

correspondingly well-established

network infrastructures for large

consumers, the use of electric

boilers is already on the rise.

Establishing a sustainable

energy supply

It is not currently possible to

predict whether hydrogen will

become the energy source of the

future. The same goes for the

timescale in which businesses

will be offered the opportunity

to completely eliminate CO 2

emissions through the use of fossil

fuels. While green energy sources

with annual CO 2

fixing (biogas,

bio-oil) are only available to a

limited extent, green electricity

and hydrogen represent a chance

to comprehensively replace this

avoidable CO 2

load. In some cases,

it is possible to modernize existing

boiler systems for an acceptable

cost. Currently, the limiting factors

are still availability and economic

feasibility – the technology itself, in

contrast, is fully developed and ready

for the use of hydrogen. It is therefore

a good idea to already provide new

systems with interfaces for later

conversion, e.g. designing them to

be "hydrogen-ready" or as a hybrid

version with an electric heater. In

any case, checking existing systems

to assess their future suitability is a

practical step. This process frequently

uncovers many potentials to save

CO 2

, which can be used, for example,

through heat recovery equipment –

resulting in not just a decrease in fuel

costs, but a sustainable reduction in

the company's CO 2

footprint.

The Author

Dipl.-Ing. (FH) Daniel Gosse MBA is Head of Marketing

at Bosch Thermotechnology Commercial &

Industrial

drinkworld Technology + Marketing

27
---
Processing

Enhanced Radar Technology Meets

Challenges of Food and Beverage

Production

Felix Johansson, solutions engineer for Emerson's radar level business, explains how the

latest non-contacting radar transmitters have been designed to comply with the industry's

demanding requirements and provide manufacturers with a compact, cost-effective and

highly accurate level measurement solution.

For food and beverage manufacturers,

the ability to accurately and reliably

measure the level of materials in

storage tanks and process vessels is

essential, as it helps to reduce product

loss and maximize production capability

by optimizing tank utilization and

inventory management. But when

deciding on which level measurement

technology to select for a specific

application, manufacturers need to

consider certain vital criteria. Level

measurement devices must of course

comply with the industry's stringent

hygiene and food safety standards. To

minimize complexity, they should be

very easy to install and integrate into an

existing or new automation system, and

they also need to be compatible with the

process conditions and tank layout for

the application in question.

Technology choices

Depending on the process conditions

and tank contents, a number of different

technologies can be used to provide

either continuous level measurement

or point-level detection in food and

beverage plants. These include guided

wave radar transmitters, differential

pressure transmitters, ultrasonic transmitters,

load cells, capacitance switches

and vibrating fork switches. However,

it is non-contacting radar transmitters

that best meet the industry's need

for measurement accuracy, whilst

also providing users with many other

advantages.

First and foremost, these devices are

top-mounted, which reduces the risk

of product loss through leakage, and

28
---
Processing

they are extremely accurate, with

measurement unaffected by process

conditions such as density, viscosity,

conductivity, coating, corrosiveness,

vapors, and changing pressure and

temperature. Also, the fact that they are

not in contact with the material being

measured eliminates the possibility

of contamination and helps to reduce

maintenance and maintain long-term

reliability.

Despite these significant advantages,

non-contacting radar transmitters have

often been considered too large and

expensive for use in food and beverage

production, while some also lack a full

range of hygienic approvals and process

connections. Instead, they have typically

been applied within the oil, gas and

petrochemical industry, where reliability

and precise level measurement in safetycritical

applications is essential.

However, the latest non-contacting

radar transmitter from Emerson has

been designed specifically to provide

highly accurate continuous level

measurement in food and beverage

applications. This device matches the

industry's strict hygienic requirements

and offers manufacturers a compact

and cost-effective solution that provides

a range of significant benefits.

Food safety

Reducing the risk of contamination in

food and beverage production processes

is vital. The new non-contacting radar

transmitter has been designed so that its

performance is unaffected during tank

clean-in-place (CIP) and steam-in-place

(SIP) processes. A hygienic antenna is

flush with the process connection and

its design features a drip-off sealing that

ensures the removal of process residue

during CIP and SIP, and is insensitive

to condensation and build-up. The

transmitters also have a broad range

of hygienic process connections that

fit most common tank connections and

sizes.

In addition to their tank cleaning

processes, many manufacturers maintain

high sanitary standards by washing

down the outside of their tanks with

foaming chemicals and/or high pressure

and high temperature water. The

design of the new non-contacting radar

transmitter enables it to withstand

high pressure and high temperature

washdowns, and it has a full range of

hygienic approvals, enabling it to meet

the food safety standards of any facility.

It features an IP69-rated sealed polished

stainless steel housing that has minimal

crevices. This enables water and

sediments to drain from its body, which

reduces the risk of bacteria growth.

More accurate measurements

Radar transmitters use reflected signals,

also known as echoes, to perform

level measurements. The latest noncontacting

radar transmitter uses

fast sweep technology to provide a

continuous echo against the material

surface, allowing it to collect up to 40

times more information compared to

legacy devices. This makes it the fastest

level measurement technology available,

delivering an accurate and reliable

measurement that enables users to

reduce product loss and increase their

production capacity.

Optimized tank usage

A crucial challenge for food and

beverage manufacturers is to maximise

tank utilization, so they can keep up

with customer demand and increase

revenue. The latest non-contacting

radar transmitter has been designed to

perform accurate level measurements

right to the top of the tank, with no dead

zone, thereby enabling optimized tank

usage whilst also ensuring the vessel is

not overfilled.

Compact design

A reduced footprint was an important

consideration in the design of the

latest non-contacting radar transmitter.

Whereas oil and gas applications are

drinkworld Technology + Marketing · November 2021

29
---
ZKZ 62006

Processing

unlikely to place demands on level

measurement technology in terms of

the space it takes up, the same does not

apply in the food and beverage industry.

Here, skids typically have very tight

piping arrangements, which makes it

difficult for large or bulky devices to be

installed. The new transmitter is able to

meet this challenge because it uses 80

GHz frequency modulated continuous

wave technology on a single electronic

chip with embedded smart algorithms,

rather than having a separate circuit

board. This enables the device to be

much more compact, which not only

provides an ideal solution for the small

tanks often used in food and beverage

production, but also has a positive

effect on the environment, with fewer

electronics being used. In addition,

the single chip technology enables

exceptional radar beam focusing, which

together with smart algorithms enables

greater measurement accuracy to be

achieved even when tanks contain

objects such as agitators.

Ease of integration

Reducing design complexity is an

important aim for food and beverage

manufacturers, and instrumentation

needs to be easy to integrate with any

automation system. To achieve this, the

latest device is the first non-contacting

radar transmitter with IO-Link

connectivity. In addition to the digital

high-speed IO-Link communication,

the transmitter also provides both

conventional 4-20 milliamperes and

switch outputs. To further reduce

complexity and ensure trouble-free

operation, software configuration tools

allow the device to be connected and

configured online or offline, with easyto-use

graphic interfaces decreasing

commissioning time, optimizing device

replacement processes, and digitally

recording parameter settings.

Conclusion

By combining the high performance

and reliability of a non-contacting radar

device, typically deployed in the oil and

gas industry, with a compact hygienic

design and simple connectivity using

IO-Link communications, food and

beverage manufacturers now have the

ideal solution for their demanding level

measurement applications. Implementing

these transmitters is easy and can

result in a range of significant benefits.

These include increased food safety and

product quality, minimized product loss,

and increased production capability

through optimized tank utilization and

inventory management.

ISSN 1433-1594 Vol. 25 No. 4 November 2021 US $ 12 · € 12

Cover: Additional Safety for Hygienic Processes

Functional Fruit Powder

Process Heat with Hydrogen

Novel Labelling Solution Launched

Come and see for yourself:

www.harnisch.com

Perfectly positioned.

The international specialist magazines from Dr. Harnisch Publications

You can now explore our newly designed website, with a

clear focus on responsive design and easily usable applications.

Alongside the free-to-use digital magazine editions, you will

find bonus news coverage, events, subscription and

general information on all our magazines. Take a look at

www.harnisch.com for all relevant content.

Our publications include:

30

- Technology & Marketing -
---
Packaging

Extended Power Range

New Universal Inverter

The new NORDAC PRO SK 500P control cabinet

generation from NORD DRIVESYSTEMS will be

extended to include five power levels, covering

the power range from 0.25 to 22 kW.

Photo: NORD DRIVESYSTEMS

Optimum performance in the control

cabinet: NORDAC PRO SK 500P

series frequency inverters from

NORD DRIVESYSTEMS are based on the

latest technology and are perfect for all

drive applications. The power extension

up to 22 kW for this new NORD flagship

will be launched soon. The central innovations

for the inverter family, which

will then comprise five sizes, are the

integrated multi-protocol Ethernet interface,

the multi-encoder interface for

multiple axis operation, a USB interface

for voltage-free parameterization and

improved motor control.

NORDAC PRO SK 500P, the latest

generation control cabinet inverter

has only been on the market for

around one and a half years. For NORD

DRIVESYSTEMS, the new device family

is already an extraordinary success.

The inverter series is particularly

characterized by its variety of interfaces

and functions that come as standard.

Various inverter versions can be

optimally allocated to various application

requirements. Plug-in control, safety

and option modules ensure maximum

flexibility and the compact book-size

design format enables space-saving

installation in control cabinets. With the

NORDAC PRO SK 500P family, NORD

customers benefit from a universal

inverter whose basic version already

provides high quality connection and

functional features such as a CANopen

interface, brake chopper, four parameter

sets, PLC function and POSICON

positioning control.

Higher functionality and

power with fewer variants

NORD DRIVESYSTEMS extends the power

range upwards with power levels 7.5 and

11 kW in four configuration versions.

Even the basic version provides a large

number of possible applications. The

power levels for 15, 18.5 and 22 kW will

be launched only as advanced versions

with optional modules for interface

extension. Compared to control cabinet

inverters of the previous generation,

there is a significant reduction of device

versions while the range of functions is

larger and of higher quality.

The latest sizes of the NORDAC PRO

SK 500P will be available from spring

2022. The further-expanding inverter

family covers the power range from 0.25

to 22 kW. The new inverter generation

will use the proven NORDAC parameter

structure and will be physically and

functionally downward compatible with

other models.

drinkworld Technology + Marketing · November 2021

31
---
Packaging

Emphasize your Commitment to

Sustainability with the

ESL Combox

Dairy packaging specialist combines PET bottle blowing and pulsed light decontamination in

a single machine: the ESL Combox.

This machine has already won over several local dairies by enabling them to emphasize their

commitment to sustainability while offering consumers a longer shelf life.

A reduction up to 3-logs

without chemicals

By combining the blowing of bottles in

a controlled environment just before

filling and pulsed light treatment of

necks and caps, it is possible to achieve

a 3-log decontamination on containers.

This level of decontamination can be

enough for several applications to

significantly extend the shelf life. For

example, Serac's ESL Combox is used

for fresh white milk with a 30 days

shelf life, or for drinking yoghurts with

a 60 days shelf life in Asia.

Pulsed light is a fast and efficient

decontamination method. It destroys

the cell membrane of micro-organisms

and degrades their DNA in less than a

millisecond. Using neither water nor

chemicals, pulsed light allows dairies

to guarantee the absence of treatment

residues in the packaging and to

better manage water resources, both

in terms of consumption and effluents.

A lighter carbon footprint

Short supply chains are increasingly

appealing to consumers who are

sensitive to the carbon footprint

of the products they buy. And from

this point of view, PET bottles have

arguments to put forward, especially

in comparison with glass.

Their manufacturing requires much

less energy and their lightness has a

direct impact on the transportation

part of GHG emissions. This impact is

reinforced when bottles are blown just

before filling, since the preforms are 5

times smaller.

Moreover, with the development of

the rPET value stream, these bottles

can be recycled in a circular system.

At this last stage, the PET bottle will

still make the difference with glass in

terms of energy consumed.

All this in a compact and very

flexible machine

The ESL Combox combines the

blowing, filling and capping functions

in a single unit with a footprint

up to 25% smaller than that of a

conventional filling line.

Preform treatment by pulsed light in ESL Combox

Cap treatment by pulsed light in ESL Combox

32
---
Packaging

It is capable of blowing round, rectangular,

oval or complex shaped bottles, ranging

from 250 ml to 2 liters. And its patented

positive neck transfer system allows

different shapes and sizes of bottles to

be filled on the same machine, with very

short changeover times.

Designed for low to medium output,

it is ideal for local production units.

With this new version of its Combox,

Serac provides a packaging solution

adapted to the changes in consumer

behavior, more attracted by ethical

and sustainable products.

drinkworld Technology + Marketing · November 2021

33
---
Packaging

Euromilk Switches from PET to Carton

Packs with SIGNATURE Packaging

Material

Responding to strong consumer

demand for more sustainable products,

Euromilk, located in Southern

Slovakia, has worked closely with SIG

to be the first in Eastern Europe to

launch products in carton packs with

pioneering SIGNATURE packaging

material, where the polymers used to

laminate the paperboard are 100%

linked to renewable, forest-based raw

materials.

Euromilk decided to switch from PET

bottles to carton packs for its Kukkonia

UHT milk brand, to appeal to a younger,

eco-conscious consumer. The launch is

a key milestone for Eastern Europe, as

Euromilk 'breaks the ice' with SIGNATURE

packaging material in the region - a pivotal

move for the dairy industry. It is also an

important strategic project in the close

relationship between SIG and Euromilk,

which spans more than 20 years.

SIG's standard carton packs, made

with around 70-80% renewable paper

board from FSC TM -certified sustainable

sources, already offer a significantly

better environmental performance

than alternative types of packaging.

The carbon footprint of a carton pack

is up to 70% lower than other types

of packaging. SIGNATURE packaging

material from SIG goes another step

further.

Up to 95% of the packaging material

components of SIGNATURE Full Barrier

are linked to forest-based renewable

material and 100% are responsibly

sourced. Next to the FSC-certified

paperboard, the polymers are also

certified by an independent organisation

ISCC Plus. Via a mass balancing system,

the polymers used are 100% linked to

tall oil, a residue extracted from wood in

the paper making process.

Tibor Balogh, Managing Director,

Euromilk: "As part of our new

positioning for Kukkonia brand,

which also includes a new identity,

we have decided to switch from PET

to carton packs to meet the growing

needs and sustainability demands of

young conscious consumers. 2021 has

34
---
Packaging

certainly been a year of change and

innovation at Euromilk as we strive

to make important changes that will

make life better for our consumers

and the planet. Being the first in

Eastern Europe to launch products

in SIG carton packs with SIGNATURE

packaging material is a big first for

our region."

Kukkonia standard UHT milk in 500ml

and 1,000ml and flavored milk (chocolate

and vanilla) in 500ml combiblocSlimline

carton packs from SIG, are now available

on shelf in Slovakia

Sarka Kaplanova, Head of Sales

CZ-SK at SIG: "Our latest strategic

partnership with Euromilk clearly

demonstrates how we've been able to

address latest consumer trends with

sustainable and convenient packaging

solutions. Working together we can

deliver a truly positive impact on

our partners, with an innovative and

focused approach."

Innovative partnerships leverage the

potential of SIG's Product Innovation

and Differentiation platform – a

drive to deliver innovative product

and packaging solutions that enable

businesses to satisfy the everchanging

needs of consumers.

Growing demand for SIGNATURE

packaging material is also an

important milestone in SIG's journey

to go Way Beyond Good by putting

more into society and the environment

than it takes out.

www.anugafoodtec.com

International

supplier fair for the

food and beverage industry

COLOGNE, GERMANY

26.–29.04.2022

ONE FOR ALL.

ALL IN ONE.

Food Processing | Food Packaging | Safety & Analytics | Intralogistics

Digitalisation | Automation | Environment & Energy | Science & Pioneering

Special Edition!

Be part of it -

find out more here!

Koelnmesse GmbH

Messeplatz 1

50679 Köln, Germany

Tel. +49 1806 578 866

Fax +49 221 821 99-1020

anugafoodtec@visitor.koelnmesse.de

drinkworld Technology + Marketing · November 2021

35
---
Packaging

New Novelty in Labelling: A Star is Born

The latest novelty by P.E. Labellers has been officially presented at Vinitaly | Enolitech

Special Edition 2021

Official launch for the new labeling

solution produced by P.E. Labellers. It

is called MODULAR CM and has all the

features to be loved by many sectors

that need a small to medium-sized

labeling machine, super flexible thanks

its complete modularity, with a layout

that can be reconfigured easily and

quickly.

Vinitaly | Enolitech Special Edition

2021 in Verona was the was the ideal

showcase to officially present the new

labeling solution, as it meets the needs

of many producers and bottlers in the

Wine & Spirits sector.

Modular CM is a compact and solid

machine available in 4 sizes from

small to medium, up to 6 labeling

stations, perfect for glass and plastic

bottles, cylindrical and shaped

formats, and for partial labels – front

/ back, neck labels, plastic I/L/U

shape tax stamps.

In addition to Wine&Spirits, Modular CM

also satisfies the production needs of

the Oil, Beer, Food & Dairy industries.

Headquarters P.E. LABELLERS – Mantua, Italy

Modular CM 480

It features labeling stations with

pressure sensitive technology and cold

glue, reciprocally interchangeable; they

are replaceable in a few steps according

to any production needs.

The Modular CM is a machine that

provides the highest standards of

safety for the operators: it has up/down

protections that, when raised, instantly

stop the machine's operation.

The 2021 editions of FachPack in

Nuremberg, Pack Expo in Las Vegas and

Gulfood Manufacturing in Dubai have

just finished. P.E. Labellers played a

36
---
Packaging

Modular SL 1730

leading role thanks to the launch of new

models and international awards won.

What news was on show at Pack Expo

2021?

Pack Expo was held in Las Vegas

from September 28 to 30 and was the

showcase for the official launch of

SIMPL-CUT, the revolutionary labeling

solution that changes the rules of Roll-

Fed technology. This solution represents

a true innovation: it overcomes the limits

of traditional Roll-Fed labelers thanks to

its cutting system, the extreme ease in

replacing the blades and many other

additional, unprecedented features.

These additional features didn't go

unnoticed: In fact, Simpl-Cut won

PMMI's coveted Technology Excellence

Award at Pack Expo in Las Vegas,

receiving the first prize for the most

innovative solution in the General

Packaging category.

A very important goal achieved by P.E.

Labellers.

showcased MODULAR SL, the fully

flexible multi-configuration and multitechnology

machine.

This labeling solution can perform

multiple configurations and application

technologies: completely interchangeable

labeling stations are installed, which can

be replaced in a few steps.

Simpl-Cut 2021

The labeling stations can be either fixed

or on independent carts, therefore

modularity is expressed both in the

technologies available and in the configurations

that can be obtained.

Modular SL is a machine with a vocation for

safety, which makes the protection of the

operator another of its strong points.

What news was on show at FachPack

2021?

For the Nuremberg trade fair, held from

September 27 to 29, P.E. Labellers

drinkworld Technology + Marketing · November 2021

37
---
Packaging

PROCESS TECHNOLOGY&COMPONENTS

...

© NETZSCH

The cross-sectoral media platform

for suppliers and users in two languages:

German and English

Exclusive information around the pump

and compressor industry as well as

systems and components

Developments and trends

First-hand future technology

Targeted at international trade

shows for 2021

Special issue for the Russian market

in October

Dr. Harnisch Verlags GmbH · Eschenstr. 25 · 90441 Nuremberg · Tel.: +49 (0) 911 - 2018 0 · info@harnisch.com · www.harnisch.com
---
Suppliers' Guide Events

Success for PPMA as the

Show Restarts

The UK's largest processing and packaging

machinery event returned to the

NEC, Birmingham in September following

the postponement of the 2020 Show.

Hailed as a great success by exhibitors

and visitors, over 250 exhibitors and

1,250 brands showcased the latest

innovations in smart manufacturing,

processing equipment and packaging

solutions.

Richard Little, Show Director said, "Notwithstanding

the impact of the pandemic

on all live events, the PPMA Show has

once again proved to be a successful

event for both visitors and exhibitors.

We're thrilled to have delivered our first

live show since 2019 and evidence is that

buyers have visited our event with active

projects in mind.

Improving line speeds, efficiency and

automation of lines has been of primary

interest with manufacturing companies

having the joint challenge of labor

restrictions and increased demand for

packaged goods from retailers. It's great

that the PPMA Show will help make a

contribution to building back business."

Building back business

For the exhibitors at PPMA 2021, the

caliber of visitor and quality of leads

were significant positives: "Our stand

attracted a good number of visitors; most

importantly, the quality was excellent

too, with key decision makers such as

Heads of Engineering and Engineering

Managers all coming by to speak to us.

We have come away from the event with

some strong leads that we are looking

forward to following up on." said Steve

Bradley, Sales Director, AVE UK.

"The show was livelier than expected,"

commented Stuart Coulton, Market

Development Manager at Omron UK.

"Our stand was consistently busy from

the moment the doors opened, with labor

proving a major issue for manufacturers.

Overall, it was a very successful show

for us, attracting senior representatives

from both SMEs and large corporations

alike."

Phil Brown, Managing Director, Fortress

Technology Europe, also felt PPMA

Show 2021 proved a big success. "We

were extremely happy with the turnout

at this year's event. Our stand was

constantly busy, with visitors spending

longer than usual talking to our team.

Most were looking to fulfil live projects

taking place in the next 3-6 months, so

they were ready to talk details. We met

with a number of decision makers from

key food manufacturers across the

confectionery and dairy sectors, among

others. I can honestly say it was one of

the most successful PPMA Shows that

we've ever exhibited at."

Akeel Ahmed, Business Development

Manager for Kemtile says: "We were

really happy to be back in front of

prospective customers and get a taste of

pre-pandemic life."

"We picked up some promising leads,

mostly in the fresh produce and ready

meals sectors" adds David John, MD at

Brillopak." I was pleased to note that

the quality of visitors seemed higher

than usual, with more Project Managers,

Directors and company owners."

Meanwhile, Craig Burgess, Managing

Director of Lechler, said: "Another well

organized show - the quality of people

attending has been excellent. Visitors

really know what they wanted, and

this has led to some very interesting

conversations."

Sustainability was, unsurprisingly, at the

top of the agenda, "We were delighted

with the turnout at this year's show, with

a constant stream of high-quality visitors

spending time on our stand," said Tony

McDonald, Sales and Marketing Director,

IMA Ilapak. "Sustainability was a key

driver for many of the people we spoke

to. The impending Plastic Packaging

Tax is prompting manufacturers to look

towards recyclable films. Nothing beats

being able to engage with customers

and prospects face to face. It was great

to sit down and grab a coffee with our

customers who we had been previously

unable to visit due to the pandemic. It

was a pleasure to be able to showcase

solutions to visitors in person again."

In response to all the positive feedback

received, David Harrison, Chief Operating

Officer of PPMA Group of Associations

concluded: "There is evidence that,

despite the challenges posed post

COVID and the unforeseen fuel crisis,

the packaging and processing industry

continues to thrive. The footfall has

been fantastic and quality of visitors

exceptionally high. It's just what all our

members deserve after pulling together

as an industry over the last 18 months."

The PPMA Show is the UK's leading

production line event for processing and

packaging machinery. The exhibition

showcases the latest innovations in

processing and packaging machinery and

is attended by manufacturers of food,

pharmaceuticals, toiletries and FMCG,

contract packers and more.

drinkworld Technology + Marketing · November 2021

39
---
Events

30 November-2 December

Frankfurt, Germany

Food ingredients Europe

Informa Markets

PO Box 12740, de Entree 73,

Toren A, 1100 AS Amsterdam Zuid Oost,

The Netherlands

Tel.: +31-20-409 9544

Fax: +31-20-363 2616

www.figlobal.com

26 - 29 April 2022

Cologne, Germany

Anuga FoodTec

Koelnmesse GmbH

Messeplatz 1, 50679 Köln

Tel: +49-221-821-0

Fax.: +49-221-821-2574

info@koelnmesse.de

www.anugafoodtec.com

May 2022

Geneva, Switzerland

Vitafoods Europe

Informa Exhibitions, 5 Howick Place,

London SW1P 1WG, Great Britain

Tel.: +44 20 337 73111

www.vitafoods.eu.com

10 - 13 July 2022

Chicago, IL, USA

IFT Food Expo

Institute of Food Technologists

252 W. Van Buren, Suite 1000,

Chicago, IL 60607

Tel.: +1-312-782-8424

Fax: +1-312-782-8348

www.ift.org

Let's meet here

8 - 12 September 2022

Munich, Germany

drinktec

Messegelände, 81823 München,

Germany

Tel.: +49 89 949 11318

Fax: +49 89 949 11319

www.drinktec.com

info@drinktec.com

November 2022

Dubai, UAE

Gulfood Manufacturing

Dubai World Trade Centre,

P.O. Box 9292, Dubai, UAE

Tel: (+971) 4 308 6124

info@dwtc.com

www.gulfood.com

29 November – 1 December 2022

Paris, France

Food ingredients Europe

Informa Markets

PO Box 12740, de Entree 73, Toren A

1100 AS Amsterdam Zuid Oost,

The Netherlands

Tel.: +31-20-409 9544

Fax: +31-20-363 2616

www.ubm.com

Your newsletter registration at:

www.harnisch.com

Digital as usual.

The newsletter of Dr. Harnisch Publications

Always know the latest news? In addition to our

print magazines, we will keep you up to date with

our newsletter free of charge. Receive current

information and exclusive content from various

industries. You can register for the newsletter at:

www.harnisch.com

40
---
Come and see for yourself:

www.harnisch.com

Perfectly

positioned.

The international specialist magazines from Dr. Harnisch Publications

You can now explore our newly designed

website, with a clear focus on responsive design

and easily usable applications. Alongside the

free-to-use digital magazine editions, you will

fi nd bonus news coverage, events, subscription

and general information on all our magazines.

Take a look at www.harnisch.com for all

relevant content.

Our publications include:

- Technology & Marketing -

drinkworld Technology
---
Suppliers' Guide

Air Conveyors & Silos

POSIMAT

P.O. Box 306, Av. Arraona, 23

08210 Barberà del Vallès/

Barcelona,Spain

Tel: +34-93-729-7616

E-Mail: sales@posimat.com

www.posimat.com

Aseptic Valve Technology

Equipment

E-Mail:

machinery@drink-gmbh.com

www.drink-gmbh.com

CO 2 Testing,

Pilot Plant

CO 2 Testing & Pilot Plant

Individual extraordinary SERVICE for you

Focus is: Equipment to produce and mostly bottling / packaging

of beverages second hand + new

We have access to almost all used machines available on the

market.

WE ARE ABLE TO RATE IT for you

• consulting / planning

• organization / documentation

• relocation / modification

If you have already Krones / KHS / Sidel machines older than 5

years, or you are looking for second hand

WE WILL BE DEFINITELY YOUR PARTNER

Detergents & Disinfectants

GEA Aseptomag AG

Industrie Neuhof 28

3422 Kirchberg, Switzerland

Tel: +41-34-42629-29

Fax: +41-34-42629-28

info@aseptomag.ch

www.aseptomag.ch

beta-Glucan Analysis

Zahm & Nagel Company Inc.

210 Vermont Zahm & Street Nagel Company Inc.

PO Box 210400

Vermont Street

Holland, PO New Box 400 York 14080 USA

Tel: +1-716-537-2110

Holland, New York 14080 USA

Fax: +1-716-537-2106

www.zahmnagel.com

Tel: +1-716-537-2110

Fax: +1-716-537-2106

www.zahmnagel.com

Consultancy

Murphy & Son Ltd.

Alpine Street

Old Basford, Nottingham, NG6 0HQ

Sales: +44-115-978-0111

Technical enquiries: +44-115-978-2728

sales@murphyandson.co.uk

Exhibitions & Tradefairs

NovaBiotec® Dr. Fechter GmbH

Goerzallee 305 a

14167 Berlin, Germany

Tel: +49-30-84718-410

Fax: +49-30-84718-450

glucantest@novabiotec.de

www.novabiotec.de

Beverage and Packaging Experts

CAPE DECISION sprl

avenue de la Métairie, 9

Sept Fontaines

B-1420 Braine l'Alleud, Belgium

Tel/Fax : +32 (0)2 354 86 38

www.capedecision.com

Messe München GmbH

Messegelände

81823 München, Germany

Tel: +49-89-949-11318

Fax: +49-89-949-11319

www.drinktec.com

Fibers

ZKZ 62006

ISSN 1433-1594 Vol. 25 No. 4 November 2021 US $ 12 · € 12

Cover: Additional Safety for Hygienic Processes

Functional Fruit Powder

Process Heat with Hydrogen

Novel Labelling Solution Launched

drinkworld is the leading magazine for the

entire drinks industry worldwide. Feature

articles and short communications cover the

whole spectrum of :

• processing

• bottling

• ingredients

• logistics

• packaging

• marketing

We establish a longtime advertising effect for

your company or for your services by been

ever-present on the market.

Feel free to contact us for more information:

drink@harnisch.com

Gable Top & Aseptic Packaging

Evergreen Packaging Inc.

2400 6th St. SW

Cedar Rapids

IA 52404, USA

Tel: +1-319-399-3200

Fax: +1-319-399-3543

evergreen.packaging@everpack.com

www.evergreenpackaging.com

42
---
Gase

Recycling

Suppliers' Guide

3300_ANZ_Logo_Adresse_Drink_RZ.qxd:Layout

Water Treatment

Freshline UK

Air Products PLC

2 Millennium Gate

Westmere Drive

Crewe

CW1 6AP

Phone: +44-800-389-0202

Fax: +44-1932-258502

freshli@airproducts.com

Pectins

Steam Boilers

Grünbeck Wasseraufbereitung GmbH

Industriestr.1· 89420 Hoechstaedt ·GERMANY

Phone +49 9074 41-0 · Fax +49 9074 41-100

www.gruenbeck.de · info@gruenbeck.de

Clear Water = Clean Environment!

Experience of over 20 years in water management.

Clean. Safe. Sustainable!

AQUA TECHNOLOGIE NÖRPEL

ATN Aqua Technologie Nörpel

Langer Graben 34

D-71297 Mönsheim

Fon +49 7044 91584-0

Fax +49 7044 91584-99

wasser@atn-wasseraufbereitung.de

www.atn-wasseraufbereitung.de

Treatment

Conservation

Disinfection

Depolluting

Bezugsquellen_45x58_RZ_schatten.indd 1

01.03.2012 11:53:23 Uhr

Printing and Labelling

Processing equipment, modular

process skid systems and stainless

steel tanks

Wort/Malt Quality

Labelling systems • Labelling software • Barcode

and Industrial printers for the beverage industry

Logopak Systeme GmbH & Co. KG

Dorfstraße 40 I 24628 Hartenholm

Telephone +49 (0) 41 95 99 75-0

po@Logopak.de I www.Logopak.com

I fabrication I assembly I delivery I Processing

and storage tanks, Pasteurisation systems,

Evaporators, Conveying system

Company: B&P Engineering Sp. z o.o. s k

Country: Poland

www.engineering-bp.com/en

NovaBiotec® Dr. Fechter GmbH

Goerzallee 305 a

14167 Berlin, Germany

Phone: +49-30-84718-410

Fax: +49-30-84718-450

glucantest@novabiotec.de

www.novabiotec.de

20190503_RZ_Anzeige_Getraenke_Technologie&Marketing_60x40mm.indd 03.05.2019 09:29:58 1

ISSN 1433-1594

Publishing Company:

Dr. Harnisch Publications

Eschenstr. 25

D-90441 Nuremberg, Germany

Phone: +49 (0) 911 2018 - 0

Fax: +49 (0) 911 2018 - 100

drink@harnisch.com

www.drink-tm.com

Editor-in-Chief: Ian D. Healey

Phone: +49 (0) 911 2018 - 215

ihealey@harnisch.com

Publisher: Benno Keller

keller@harnisch.com

International Communications:

Gabriele Fahlbusch

fahlbusch@harnisch.com

Editorial team: Donna Berry, Axinja Peine

Sebastian Martinek, Brigitte Haulena

Copy Editing: Nicholas Somers

Art Director:

Bruno Bozic

bozic@harnisch.com

Technical Manager: Armin König

Subscription: Marta Bletek-Gonzalez

Reader Service: Sabrina Maasberg

Media planning:

Bill Kaprelian (North America)

kaprep@harnisch.com

Thomas Mlynarik (Germany)

mlynarik@harnisch.com

Carola Weise (Western Europe)

weise.harnisch@web.de

Digital:

Britta Steinberg

steinberg@harnisch.com

Subscription Information: Qualified Readers,

executives in the drinks industry, are put on

the mailing list free of charge.

Regular delivery by subscription only.

Annual subscription (4 issues):

(for customers from Germany)

€ 57.– incl. p+h+VAT

(for customers from abroad)

surface mail: € 69.–/US $ 90.– incl. p+h

airmail: € 85.–/US $ 110.– incl. p+h

printed by Schleunungdruck GmbH

Eltertstraße 27, 97828 Marktheidenfeld

Copyright© 2021

Dr. Harnisch Verlags GmbH,

Nuremberg, Germany

43
---
Fully ergonomic and modular

rotary labeling machine,

with a quick and easy

reconfigurable layout.

Compact and robust labeling solution,

available in four sizes from small to medium,

up to six labeling stations.

The new solution to meet the needs

of the Wine, Spirits, Oil, Beer,

Food & Dairy sectors.

Solution with pressure sensitive and

cold glue labeling stations,

reciprocally interchangeable

and replaceable in a few steps.

Modular CM is a machine

that provides the highest standards

of safety for the operators.

It has up/down protections that,

when raised, instantly stop the machine.