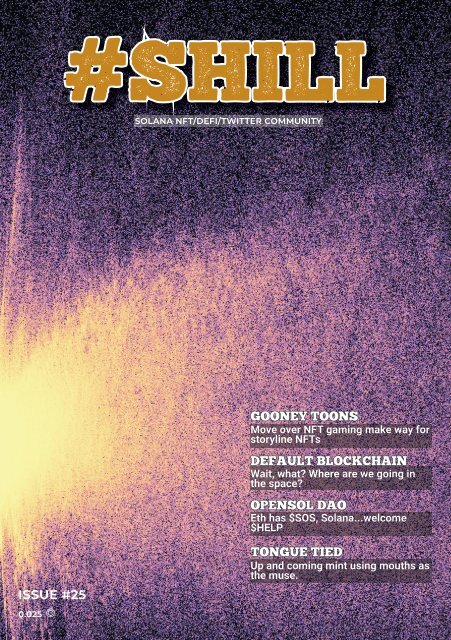 SHILL Issue 25
Solana ecosystem zine
Solana ecosystem zine
SHOW MORE
SHOW LESS
You also want an ePaper? Increase the reach of your titles
YUMPU automatically turns print PDFs into web optimized ePapers that Google loves.
#SHILL

SOLANA NFT/DEFI/TWITTER COMMUNITY

GOONEY TOONS

Move over NFT gaming make way for

storyline NFTs

DEFAULT BLOCKCHAIN

Wait, what? Where are we going in

the space?

OPENSOL DAO

Eth has $SOS, Solana...welcome

$HELP

ISSUE #25

0.025 ◎

TONGUE TIED

Up and coming mint using mouths as

the muse.
---
McNatt

THIS

In

ISSUE

25
---
4

From

6

the Editor

FINAL issue for 2021. Wise

words or ramblings?

Gooney TOONS

What better way to

launch your NFT than

with a backstory!

18 GAMING & DEFI Is this the future of 42

38

Beginner Investor

17

@RabeehK tells it as it

is as a newcomer to the

crypto space.

40

23 hoping

24

27

blockchain? Which chain

can achieve this?

PROBABLY NOTHING

Dropping, holding and

OPENSOL DAO

Ethereum has $SOS and

now a Solana project is

developing $HELP

SHILL the Mint

Dropping, holding and

hoping

46

48

60

64

78

SOLANALYSIS

7D Volume rankings

MOVERS

SolsWatch analysis of

current NFTs on market.

TONGUE TIED

Interview with an up and

coming NFT project worth

keeping your eye on.

ALPHA Mints

Keep an eye out for this artist!

URS ARTISTS ROYAL GANG

The one-of-one mints you

wish you had ALPHA about!

NOT FINANCIAL ADVICE

Sam Bankman-Fried reflects in

crypto as a broader market.

DESK DUDES

Insight into the birth of an

NFT.

CRYPTOLIZERS

Interview with fully doxxed

Gage about his 'living' project.
---
the

from

EDITOR

@Pixeltoy

Here we are. The final issue if #Shill zine. For. The. Year. 2021!

2022 here we come! Markets are about to pick up through January,

onboarding new, unsuspecting traders ready to turn their hard earned $

into $$$. Come February - REKT! Never invest more than you are willing

to lose. Golden rule.

Issue 25, and what better way to see the year out than with a SUPER

BUMPER issue. Over 70 pages! You don't want to know the hours that I

put into this issue! Hopefully, you - reader think that it is worthwhile. Over

1900 weekly readers you would think that this zine IS doing something

right?

HUGE issue with too much to mention. I will mention one artist though

that, although I don't own a piece (gold class NFTs) I have the utmost

respect for this person. As an artist, As an entity. As a sage. @Dat_a_

bstract who recently I had the pleasure of listening to on Twitter Spaces.

Databstract is not about keeping the knowledge in one place, they are

about sharing it with the broader community. A true sage. It was during

this Spaces that he spoke some true wisdom. Wisdom that, I am sure

if I asked them to repeat it would be hard to recall but it was captured.

Recorded. Typeset. To you Databstract goes the final cover for 2021!

Would love to chill and drink a Hibiki one day in your company.

I had a quick glance over at https://www.solanalysis.com/upcoming

while researching content for this issue. All I can say is 'OMG'. The only

way these mints can be supported is if the Solana ecosystem grows.

Exponentially. Hold on to your Sol, people are going to get REKT!

#Shill zine is looking for artists/projects that would like to support this

zine with giveaways for our readers. If you would be willing I would love

to hear from you: pixeltoy.sol@gmail.com #Shill zine also appreciates

4

SHILL Issue #25
---
every RETWEET of the pinned Tweet on @Pixeltoy profile. No joining

Discord. No tagging your friends. Just RETWEET. Roadmap for 2022

is to have 5k readership by end of year. 5k readers weekly. Shill

readership is at 1900+ right now. Why not 5k?

Ok, now go read! Enjoy. And remember, there is no COMMNITY

without U!

Pixeltoy

SHILL Issue #25 5
---
https://gooneytoons.studio/comic
---
Continued in the next

issue of

#Shill
---
A BEGINNING CRYPTO INVESTOR:

THE HIGHS AND THE LOWS.

@RabeehK

Lesson: HODL!

Where do I begin… I guess I'll start from the beginning. A few years back, enjoying a

cigarette outside of my workplace during lunchbreak, I'd often hear from @Pixeltoy

about the rise of cryptocurrencies. The benefits and the infinite opportunities to make

money by trading said currencies. At first I was apprehensive, sceptical, and often

questioned my friend trying to unearth any rational reason not to invest my hard-earned

money. That is of course, until he showed me his earnings and his well-established

portfolio.

You see, I like to take good care of my money. I began by investing 30 dollars across

three of the major cryptocurrencies: Bitcoin, Ethereum and of course, Solana. Not bad

for someone who once thought "hodl" was a misspelt word of hold. I purchased an

incredibly small portion of all three currencies. My returns were paltry, disheartening

and filled my head with dejection and despondency. I pressed on and continued to

invest money.

A couple months have passed since and I now own a total of 8 coins. Riding a roller

coaster of emotions each day that passes. Waking up to gains upwards of 30 percent,

only to lose 25 in a matter of hours. Often enraged, I'd message @Pixeltoy complaining,

infuriated at the prospect of losing my hard-earned money. To which he constantly

refers me to his charts. This would ease my frustration, if only a little. My journey

continues…2 months in and I feel as though I am beginning to make some incredible

gains. My advice #frens is rather simple. HODL! And no, this is not a spelling error!

Lesson: Patience

It's safe to say that patience has never been one of my stronger attributes. Nothing

has changed there. Cryptos are like that ex-partner who you keep going back to. The

sex is great but every so often she treats you poorly. Doesn't cook, doesn't clean, just

lays in the bed until you have your way with him/her. The constant shift between the

highs and lows wearing heavy on your mental state. Waking up in the morning after

a substandard purchase the night before, leaving me with agonising feelings of guilt

and buyers' remorse.

Two hours pass and that guilt slowly changing to feelings of glee and content. These

feelings of course, are very short lived. Watching the charts spike only to plummet a

mere hour later. Feeling like Mike Tyson in his prime, I'd love nothing more than to bite

the ears off all my coins. Teach them a lesson, you know… either rise or get out of my

life.

Once again, I found myself seeking advice from my friend better known as the "pixeltoy"

at my workplace. The author of this magazine. I sought out his expertise in ways to

remain calm during a strong dip. He reassured me, as usual, that it is all a part of the

process and again showed me his charts and his very successful portfolio. Feeling a

little better, and admittedly jealous, the upwards trajectory of my earliest coins began

to show. My patience starting to pay off. Literally. As I write this now, a strong dip is

among us. Time to buy. Remain patient. Reap the benefits. Repeat!

SHILL Issue #25 17
---
DEFAULT

blockchain

GAMING

DEFI

cryptogamingexperts

Let's start off with a disclaimer: the future will be multichain and

crosschain with many winners, losers, and strange participants who

just stick around.

Today we'll be making the case that Solana, an emerging Layer 1

blockchain, is quickly being chosen as the "default" blockchain when

it comes to multichain and large-scale cryptocurrency projects.

Let's Be Brave with DeFi

The first example of Solana being chosen as a default came at their

recent Breakpoint conference in Portugal, where javascript creator

and Brave browser CEO Brendan Eich announced that Brave would be

using Solana as the "default" for DeFi in the Brave Wallet.

You can read more about their relationship on the Brave partners with

Solana article on Brave.com. Our important takeaway from that article

includes the following: "Brave will integrate the Solana blockchain

into the Brave browser, providing default Solana ecosystem support

to Brave's 42 million monthly active users and 1.3 million verified

Creators. Brave will soon default to Solana for cross-chain and

Solana native DApps."

Let's Be Social Globally

for

If the news about Brave isn't enough to sell you on Solana's

upcoming default status, let's have a chat about another upcoming

market sector, web3 social media. This user-first, decentralized and

permissionless dream social platform is being built out by many

small and large development teams. What those teams need to scale

include funding and a platform to scale on. Solana can be a perfect

platform for web3 social, especially compared to other blockchains

with smart contracts, due to very affordable transaction fees (under 1

18

SHILL Issue #25
---
penny USD), and a goal to make

them cheaper over time. No one

would want to pay a even $1

transaction fee when tipping a

friend $0.50 in crypto for a good

social post, or perhaps paying

to share, or any other social

mechanic at scale with crypto

pretty much falls apart when you

look at high transaction fees.

This is likely one of the main

reasons Reddit cofounder Alexis

Alohan has picked Solana for his

web3 Social media $50 million

investment. That investment

was matched by Raj Gokal,

cofounder of Solana, via the

Solana Ventures fund, bringing

the investment in social web3

on Solana to an impressive

$100 million.

"Solana fees are $0.00025 per

transaction, but they fluctuate

over time. The fees are set by

the competition for block-space,

which increases when the traffic

on the blockchain increases.

Compared to Ethereum, Solana

has 60 thousand times lower

fees. This is because of the

SHILL Is1ue #25 19
---
high scalability of Solana compared to Ethereum. As Solana keeps

scaling better, the fees will decrease even more in the future." –

Solberg Invest

We have even already seen Solana based web3 social apps being

tested in the wild, such as sosol – https://sosol.app/ (pictured

below) It will be a very exciting space to watch and you can't help

but imagine what reddit would have been like it karma points had

a cryptocurrency behind them at the birth of the platform. Lots of

interesting questions and propositions develop when intertwining

incentive-based content creation or moderation, or voting/sorting

in reddit's case.

Let Us Game

Our last point resides in a market and venue we know well, gaming!

I love video games of all types, from my first Atari, to the NES, to

the Playstation, Dreamcast, Gamecube, then Xbox, PS3, and PC

gaming throughout many of those console eras. Now we have the

new VR and AR gaming, as well as our favorite, blockchain gaming.

One of the misconceptions gamers have about blockchain gaming

is that it is simply a way for game companies to milk more money

out of them via crypto. While we can't promise this won't happen,

and likely it will at times, we want to stress that will only be a small

portion of the capability of blockchain and cryptocurrency gaming.

As an example, play to earn games like Axie Infinity have shown to

be profitable for many thousands of players, especially at a global

level of economic incentive and return. Axie Infinity had scaling

issues though, and had to quickly (and likely at high cost) develop

and migrate users to a Ronin sidechain L2 off their native Ethereum.

With Solana, games that integrate NFTs, or pay out in cryptocurrency

tokens can perform at acceptable speeds, at an acceptable network

cost (fees called "gas" or "rent" in blockchains) First we look at the

speed of transaction from blockchain to user wallet, and we can

see that Solana has some serious advantages compared to other

leading blockchain technology. With under 1 second transaction

time, an average of about .4 second transaction latency, as well as

20

SHILL Issue #25
---
transactions per second (TPS)

of over 65k, Solana can deliver

in-game rewards without waiting

up to 5 minutes for confirmation

(Ethereum) or even up to 2 min

for layer 2 solutions (Polkadot),

or up 10 minutes (Cardano,

Bitcoin) Anything over a few

seconds from transaction start

to confirmation finality will be

a horrible user experience and

interrupt the engagement and

focus of the game. Why with

web3 and new technology would

we want to reintroduce loading

screens and waiting times?

Seems backwards and we think

the user will demand more, and

gravitate towards those games

with better user experiences.

Next let's look at network fees,

referred too as "gas fees" on

Ethereum and other blockchains,

and called "rent" on Solana.

Network fees on blockchains

range from $0.0015 (Solana) to

$0.01 (Binance Smart Chain) to

$0.25 (Cardano) to $1 (Polkadot)

to $15 (Ethereum) Obviously

fees over $1 make many

transactions of micropayments

and microrewards unfeasable.

I would even arge that even

pennies per transaction, such

as Cardano, Polkadot, and

Avalanche, are limiting to global

adoption of any ingame economy.

If you're getting paid pennies or

$0.25 for an in-game action, how

would it make sense to pay $.25

or $1 fees? Or even $0.01 could

be a limiting factor if the payment

is only $0.05, which could be

the case in some economies

of scale. These factors explain

why Solana Ventures, Forte,

Griffin are investing $150

million in blockchain gaming.

In addition, we're seeing games

like Aurory and Star Atlas, using

SPL tokens (cryptocurrencies

on Solana blockchain) gaining

huge amounts of community

funding via NFT projects as well

as outside investors. Some may

say they have chosen Solana

as the future default blockchain

for cryptocurrency integrated

gaming.

https://www.youtube.com/watch?v=QcXcqIYflv8

SHILL Is1ue #25 21
---
andon

22

SHILL Issue #25
---
PROBABLY

NOTHING

TOP TVL GROWTH ON #SOLANA

@solana_daily

Last 7D, @Aldrin_Exchange has taken the

lead with 28% growth in terms of TVL of

the Solana ecosystem. This phenomenon is

contributed by the stable pool on Aldrin which

provides up to 25% APR! What a reward for a

stable pool!

SHILL Issue #25 23
---
@OpenSolDAO

OpenSol

DAO

We got the $SOS and $HELP is on the way! Inspired by @The_

OpenDAO

OpenSol will be a 100% community driven DAO with a fair distribution.

We have a developer team donating their time and resources to build

a claim site that will distribute tokens based on trading volume on all

major Solana NFT exchanges including, @MagicEden_NFT,

@SolanartNFT, @AlphaArtMarket @DigitalEyesNFT and @holaplex.

The team will have zero stake in the $HELP token. The primary

goal will be to launch fairly and then set-up initial DAO governance

elections in 1-2 weeks post launch. The goals of the OpenSol DAO

will be determined by the DAO, but the original focus will be on safety

in cryptocurrency and NFTs as well as supporting emerging artists.

We will seek council from the biggest names and organizations in

the Solana NFT space to help craft a group that's primary focus

is improving the quality and safety of the Solana ecosystem. To

start, the OpenSol DAO will function with a group of volunteers until

elections will be held.

The tokenomics are listed in the discord listed below.

$HELP Tokenomics

100 Trillion Total supply

HELP Token Distribution

• Airdrop based on volume traded on all major Solana NFT exchanges

50%.

• Liquidity 10%

• Staking rewards 15%

• OpenSolDAO initial funding 25%

OpenSol DAO

-DAO will vote on all major initiatives which promote safety and

24

SHILL Issue #25
---
support for the Solana NFT community.

-Support verified victims of scams and rugs

-Promote education for safety in cryptocurrency and NFTs

-Support for emerging 1/1 artists

-Collaboration with NFT communities

-Grants for developers that integrate the $HELP token into their

ecosystem

-General charity drives

-A multi-signature wallet will be used to manage the DAO funds

The initial group that is creating OpenSol and $HELP have no financial

interest in the $HELP tokenomics. SolNet is donating the developer

time and resources and SockDAO is helping to manage the discord,

twitter, and rally support through the Solana community to ensure a

smooth launch and see the community through to a DAO vote on a

council to manage the project after token launch. A temporary DAO

Council of 11 trusted members will be formed to see the DAO to the

formal election. Formal DAO Council votes will be set for 1-2 weeks

after token launch.

SHILL Issue #25 25
---
AUDIUS PLAYLISTS

Send your playlist to:

pixeltoy.sol@gmail.com

to be included in the next issue. LIVE LINKS - CLICK IMAGE

26

SHILL Issue #25
---
SHILL the MINT

TongueSociety

SHILL Issue #25 27
---
SHILL th

28

SHILL Issue #25
---
e MINT

AliSaei31507218

SHILL Is1ue #25 29
---
CHA1NS_

30

SHILL Issue #25
---
SHILL the MINT

Newborn Iguanas

SHILL Issue #25 31
---
lowbrownative
---
SHILL the MINT

McNatt
---
Baby Ape Club
---
SHILL the MINT

AbstergoAI
---
36

SHILL Issue #25
---
SOLANALYSIS 7D volume

38

SHILL Issue #25
---
WALLETS / Sol OVERVIEW

The Astronaut @thexastronaut

SHILL Is1ue #25 39
---
MOVERS UNDER & OVER 2Sol

SolsWatch

40

SHILL Issue #25
---
@TaiyoRobotics

SHILL Issue #25 41
---
TONGUE

tied

SOCIETY

I am really excited for this issues interview. A new project launching soon

with fantastic artwork! I won't take @AllyGrounds thunder away so…

welcome @tonguetiedsociety. Let's start with a little about you as an artist

and nft creator.

Thank you so much for having us! I am based in NYC and have been a painter

for about 7 years. I'm 23, and really started my painting career when I was

in high school. I've never really taken the traditional art path, as I started so

young that most of the time, I haven't really known what I was doing while

doing it. When I discovered NFTs and the opportunity it provides artists, I

was immediately drawn to them.

What bothers me about the traditional art world is that artists don't get

properly compensated for their talent and work. In splitting 50% of their

profits with galleries, it becomes incredibly difficult for artists to make

a living. NFTs give artists agency back, allowing them to take control of

their own careers. They are not only able to keep all the profits for their

work, they're also able to make a royalty on secondary sales. I also think

it's incredible that artists can now connect directly with their collectors and

people interested in their work, eliminating any sort of middleman.

I'm interested in how you came up with the concept. Tongue Tied Society.

Have you created lore for this project?

I have painted

mouths for quite a

while. It does seem a

bit strange, but really

mouths are the most

powerful part of

one's body. Mouths

are where human

expression comes

from, and how we

communicate. It's

how we express

love, and for me it

represents what it

means to be alive.

Our society is a

place for creatives,

42

SHILL Issue #25
---
innovators, and people who break boundaries - it's a place where one goes

to feel truly alive. The Tongue Tied Society and the artwork on the cards

represent all that makes us human, and in being human, we sometimes get

tongue tied. This also ties into the legend we created behind the artwork.

What do you see as your biggest accomplishment so far? Considering the

project's presence began in November on Twitter.

I think that our biggest accomplishment is just being able to grow to this

size and have the opportunity to connect with such incredible people. Our

Discord is full of insanely talented members who choose to come and

share their story with our community. It's a daily occurrence that you'll see

someone sharing their career goals and accomplishments and asking for

advice in our chat.

We feel super lucky to be in a place where our members feel supported,

safe, and open with us. While we aren't a project that has tens of thousands

of members on Discord and Twitter, we make up for it in the strength of our

community ties. We do plan to keep growing and building our community

as we get closer to launch but are keenly focused on maintaining a healthy

and happy community.

Now that we have the foundation of our community, we are looking forward

to launching our website and announcing our official mint date soon!

The Lit Jesus project has a team of artists working on their artwork that is

then scanned to create NFT. You are working on a project of 5200. How are

you able to hand paint this volume?

In this collection, there are actually 100 unique, hand painted layers. It's a

generative project so the artwork is algorithmically layered to make 5,200

one-of-a-kind cards.

The developer on our team

has created a program to build

these unique cards based on

the rarities of each layer that

I assigned. Each of the layers

were painted over the course

of my career, along with many

painted in the last few months,

so a ton of time went in to paint it

all. Many of the layers come from

my large-scale oil paintings, so

their original size can be around

5ft (1.5m) tall, and other layers

come from smaller paintings

that I created specifically for this

project.

SHILL Issue #25 43
---
This project is incredible to me because it creates so much variety on pieces

that I have painted and loved over the course of my painting career so far.

Seeing two pieces layered together that I never imagined would be together

really changes your perspective on the amount of creative freedom you can

have!

BTW, we are inspired by the Lit Jesus team and have actually gotten to be

friends since we announced the Tongue Tied Society!

What's your long-term vision for the community on Discord which currently

stands at 6000 members?

Our long-term vision for our Discord community is to become one of the

foremost places for art enthusiasts and collectors in the digital world to

congregate and meet one another. The ultimate goal of our community is

to become like a Web3 Soho House, where our members feel at home and

inspired within our digital Discord home and at our in-person events.

We also plan to

highlight other female

NFT artists within our

platforms and hope

to source new artists

from our community

members. This means

that we'll be creating

channels for new

artists to share their

work, their process,

their vision and ask for

advice and feedback.

As I've broken into the

NFT space, especially

as a female artist on

Solana, I haven't been

able to easily find a

place like this. Where

I would be able to

learn, ask questions,

and find collectors

for my art. I want our

community to be this

space for new artists

in the future who want

to learn about NFTs!

Do the Tongue Tied

Society NFT's allow for

future expansion? Can

44

SHILL Issue #25
---
you let us in on where the roadmap may be heading?

We'd love to do another collection after we launch the TTS collection in the

future! Our team's current priority, though, is ensuring that the launch of this

first collection goes smoothly. Once we launch, we'll be able to plan more

accurately what's next ;)

Roadmap wise, we're planning to make prints of the NFTs available for

holders post mint. We're also working on planning some awesome events

for our holders to meet in person!

Apart from this, will there be 'utility' for the TTS NFT range? What could this

look like?

The utility of the Tongue Tied Society project lies in community. Here are

some of the major benefits that we are building out for holders and our

community:

- Physical artworks: We will be making physical prints of your

unique NFT available to order

- Exclusive Tongue Tied Society Events: We will be hosting

exclusive members-only events in major cities where Tongue

Tied Society members will be able to meet one another in

person! Your NFT will be your key to access these events

- The Tongue Tied Society Female Fund: We will be using a

portion of our mint to support other female founded projects

on Solana and sourcing leads from our community

- Exclusive Partnerships: We are working to partner with other

projects to offer our members special access to collaborations

and more. We are also working to collaborate on special 1/1s

with other popular projects

Thanks for your time. I am sure SHILL readers are going to love your

project. Is there something I may have missed that you would like to add?

Any concluding thoughts regarding the NFT space at large?

Our founding team is overall excited to be able to participate in this space

in any small way. We are highly encouraged by some of the recent interest

in Solana from investors across the space and are looking forward to the

future growth of this market. We hope that this project can encourage other

types of traditional artists to branch out into NFTs and generative works.

We also are working to bring traditional art collectors into the NFT space

with this crossover collection. Thank you so much for taking the time to

interview us!

SHILL Issue #25 45
---
a l p h a
---
m i n t s

ZeeWhyEl
---
dcodednft

48

SHILL Issue #25
---
dato_art

SHILL Issue #25 49
---
monsterdefiner2_

50

SHILL Issue #25
---
McNatt

SHILL Issue #25 51
---
@celstialbody
---
@FLG_Art
---
original is an animated gif

@Official_JamesJ
---
@digitize_ai
---
@0xlxxr
---
@DOMOSOL_NFT
---
@xxalfsyr
---
@fingacode
---
NOT

investment

ADVICE

SBF @SBF_FTX

I've written a bunch about FTX's roadmap. But I haven't written

much about crypto's. So, here goes.

So: what do I think crypto _should_ do, as an industry? Well,

let's look at where we are, and at where we want to be.

What crypto already has:

a) A solid userbase. There are probably ~200m crypto users

worldwide.

b) Smart contracts. I think it's hard to overstate how important

this was for the space: it's what brought crypto from digital

gold, to web3/metaverse/defi/etc.

c) potential use cases: remittances, payments, store of value,

NFTs in the metaverse, information transfer, social media,

tokenized assets, disintermediated finance, etc. d) the start to

scaling solutions: new L1s, L2s, lightning, rollups, etc.; tx/sec

is now ~50k

e) An enormous amount of attention. Seriously, crypto

punches _way_ above its weight on this one. Crypto market

cap is ~2.5T, less than Apple or Microsoft. Which gets more

attention, though?

So, overall things have been going well the last few years.

What's still missing?

Well, let's start with the obvious: regulation. There has been a

lot of tension between industry and regulators, and both sides

have, in many cases, left feeling frustrated.

On the one hand, it's not clear what the process is for

60

SHILL Issue #25
---
token issuance, platform

registration, and stablecoins

in many jurisdictions. This

makes is hard for the industry

to move forward as securely,

and hard for institutional

players to get involved.

On the other hand, many

regulators have found it

very difficult working with

crypto companies: instead of

working collaboratively, we've

seen a ton of examples of

tension boiling over.

What else? Well, blockchains

are starting to scale, but

it's not enough yet. We're at

~50k TPS; industrial scale

applications often require

millions. And, while digital

assets hold huge promise for

payments, in practice very few

are done with them today.

So, how do we get there from

here? As we close down the

most explosive year in crypto's

history and look forward to

2022, what does the industry

need to focus on, and get

right?

Let's start with regulation.

The biggest thing here is to

work collaboratively on ways

to address current regulatory

gaps while allowing liquidity

to move onshore -- to the

US, and to Europe, and other

jurisdictions.

Stablecoins are maybe the

most straightforward: create

a reporting/transparency/

auditing based framework to

ensure they are backed as they

say they are: https://ftxpolicy.

com/stablecoins This would

solve 80% of the problems

while allowing stablecoins to

thrive onshore.

It's important, while doing

so, to make sure that an

open network can grow; if

the network is restricted to

existing banks, it defeats

most of the purpose.

Second, there should be

standard markets oversight,

in a unified regime that

creates similar standards for

spot, futures, etc. And third,

a disclosure, registration,

and anti-fraud-based regime

for token issuances. https://

ftxpolicy.com/areas-forcrypto-regulation…

The goal of all of this is to

come out stronger. To emerge

with customer protection and

regulatory clarity in a way that

consumers and institutions

alike feel comfortable

interfacing with the digital

asset ecosystem.

SHILL Is1ue #25 61
---
And I'm optimistic that we might get there in the next few

years; that there is a light at the end of the tunnel. How about

use cases? Well, the biggest blockers are network effects: for

crypto payments to work well, both the buyer and seller need

to support it.

This means slow, hard work; building out the network until it

approaches transition points where enough merchants and

consumers use crypto that payments and remittances start

flowing. And, similarly for blockchain based social media and

information flow.

Tapping into the existing userbase of video games could be

huge--billions of users and hundreds of billions of dollars each

year. But this only makes sense if it makes the virtual worlds

more engaging, not less.

The real goal, here, is to take a great game, and integrate NFTs

in a way that makes the game better. And, meanwhile, networks

need to keep scaling. I always laugh when a blockchain says

they're already fast. None are! Fast means millions of TPS. No

one is there yet.

What matters the most is having a concrete roadmap to scale

to millions of TPS and executing well on it. So, there are some

concrete things that the crypto ecosystem needs to manage

well over the next year. But more generally, everything matters.

I may write more on this later, but one of the core theses I've

come to believe over the last few years is: Everything is the

same; everything is commensurable. If you want to grow trust

in the industry, regulation matters. But so does UI/UX; and each

scam detracts.

Every time we can do something great and beautiful and useful

as an industry, we move everyone forward. Every time we fuck

up, we all take a step back.

Let's keep putting one foot in front of the other.

62

SHILL Issue #25
---
Sam Bankman-Fried: Stablecoin Regulation

Profit from Crash! (FTX CEO) | Sam Bankman-Fried

SHILL Is1ue #25 63
---
@DeskDudesNFT

64

SHILL Issue #25
---
SHILL @DeskDudesNFT

Issue #25 65
---
@DeskDudesNFT

66

SHILL Issue #25
---
STILL SHILLING

@DownUnderSOL

SHILL Issue #25 67
---
cryptovulture
---
STILL SHILLING

@00RR0R
---
@fathertitojones
---
STILL SHILLING

@HappyHappiess
---
@KrattStudio
---
@lassalle_nico
---
74

SHILL Issue #25
---
@Pixeltoy

SHILL Issue #25 75
---
@Pixeltoy

76

SHILL Issue #25
---
SHILL Issue #25 77
---
CRYPTOLIZERS

Welcome to #Shill zine. To begin with,

let's find out a little about you Gage. How

did you come to the blockchain space

and the Solana ecosystem?

One of my close friends is a slack

channel with a few people who were

hardcore lovers of solana. At the time

I was primarily on eth and polygon

networks. My friend convinced me to

try solana for the ignition hackathon

they hosted and honestly, I never looked

back. It felt stupid of me to be paying

200$ a transaction on eth when it's a

franction of a cent on solana. Even the

5$+ fees on polygon seem like a joke in

comparison, and anyone into NFTs tends

to understand the possibilities once they

get cheap instant transactions for the

first time.

Your concept for your NFT offering is a

novel one. NFTs that can have any audio

from your computer and make them

come alive. Can you tell us a little about

this idea and how it works?

Of course! Once I saw solana rolling out

nft support for html based nfts I realized

nfts had just hit their 2.0 moment. If an

nft can be a standalone html file it means

it no longer has to be an un-interactive

piece of art! Meaning instead of just

looking at a photo I could actually PLAY

with an nft and have it be interactive.

Like an nft that's a full blown video

game for example. Because gamedev is

seriously hard, I decided to have a toneddown

version of interactivity for my first

collection. Audio visualizers seemed to

be the obvious choice when I considered

my own passions.

Once you buy a cryptolizer(as the mint

is already over). You can play any sound

THROUGH it. The nft itself processes

that audio into visualizations. This is all

done via html, css, javascript. That code

is baked together into one standalone

html file and minted onchain.

Gage, you have taken a bold step

with doxing yourself early on. Is this

a personal belief you have given the

current trends across NFT projects?

(lots of rugs, soft rugs, NFT projects that

fail to deliver etc)

Honestly the crypto space can be

dangerous at times. I used to be a full

time streamer on twitch under the alias

abrownbag (now gagebachik there too).

It basically came down to two things.

The fact I was already doxxed from my

time playing video games professionally

and the fact I always planned on making

cool ass shit.

I figured people would appreciate

projects made by someone they could

talk to and interact with. Someone they

could potentially meet up irl with and

not just see behind an anime profile pic

(which I also have nothing against btw).

78

SHILL Issue #25
---
Your Youtube video, the latest one,

guides the minter through creating

their #Cryptolizer. Have you found that

the Cryptolizer community are picking

the concept up and running with it?

What are some of the 'wow' moments

you had during the first creations

made by minters?

cryptopunks. They now sell for millions

of dollars but when they launched,

they were completely free. Since I

feel I'm doing something similar with

cryptolizers (first ever dynamic nft set

or nft2.0s) I decided to follow suite and

make the entire first mint free.

I found that my project was extremely

hard to explain to people since there's

never been anything like it in the nft

space on ANY blockchain really. It took

lots of education for people to have

their… OH SHIT moment. I'd highly

recommend taking 6mins of your day

to watch this video: #Cryptolizers NFT

Tutorial

I recorded that video live on stream and

that's when most of my community

started to realize just how cool these

NFTs are.

Let's talk about roadmap. Where do

you see Cryptolizers going? What

are some future developments the

community can look forward to?

Right now, cryptolizers are pretty

exclusive. There's only been 100 ever

minted! I'd like to future of the project

to be collabs with musicians and

artists to bring even cooler versions

of these visualizations. I would also

like to do a public mint. All of this will

depend on the hype we can generate

as a community. I hope as people start

to take note of these, I'll be able to get

them in the hands of more people.

I'd like to touch on a statement you

published on the Cryptolizers website

"I'm going to take a play out of the

original nft and make them all free."

Can you elaborate on the reasoning

behind this?

One of the biggest and original

nft collections was obviously

Because honestly, just as I imagine

cryptopunks back in the day, I wanted

people to have them! I figured once

they could use and see how awesome

they are they'd become believers. Then

more people would follow suite for

a public mint. (so far everyone who's

minted is quite excited for the future of

cryptolizers. I've never seen my discord

more active lmao)

Thanks for your interview today with

#Shill zine. I look forward to where

Cryptolizers takes us.

Thanks for having me
---
@dat_a_bstract