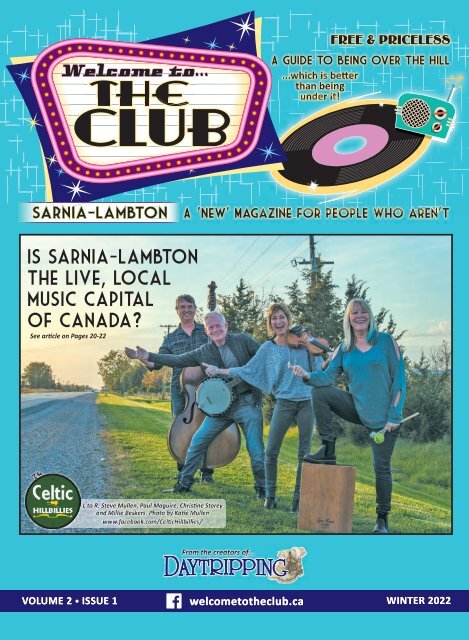 Welcome to the Club - Winter 2022
A Magazine for 55+ Like No Other! Welcome to The Club features timeless articles and anecdotes including many from the archives of Daytripping Magazine. It's online at www.welcometotheclub.ca and is also distributed free in Sarnia-Lambton, Ontario.
A Magazine for 55+ Like No Other!
Welcome to The Club features timeless articles and anecdotes including many from the archives of Daytripping Magazine. It's online at www.welcometotheclub.ca and is also distributed free in Sarnia-Lambton, Ontario.
SHOW MORE
SHOW LESS
You also want an ePaper? Increase the reach of your titles
YUMPU automatically turns print PDFs into web optimized ePapers that Google loves.
Welcome to ...

THE

FREE E & PRICELESS

S

A GUIDE U E

TO BEING E

I

G OVER E THE E HILLI

L

...which.w isbeer

e

under it!

CLUB

Sarnia-Lambton

A ''New' '

Magazine a azine for PEOPLE E

P L

E

who o

aren't

r

e

t

Is Sarnia-Lambton

the Live, local

music capital

of canada?

See arcle on Pages 20-22

L to R: Steve Mullen, e , Paul u Maguire, Chrisne Chrisne Storey

www.facebook.com/CelcHillbillies/

From the creators of...

welcometotheclub.ca

VOLUME 2 • ISSUE 1 WINTER 2022
---
Welcome to ...

THE Club

Welcome to our Winter 2022 issue!

Welcome to ...

Winter 2022

P A G E

2

Our bottom borders contain Sarnia residents' responses to a post on the
---
This FREE magazine is distributed in most of Sarnia-Lambton.

It's only Rock & Roll...

By Mark Moran, Publisher

What's bugged me about every other

"seniors" magazine I've ever seen is that

they try to be two things at once — with

articles about challenges as we age on

the inside pages, but with a flashy photo

of Lady Gaga in a meat dress on the front

cover. Yes, she actually wore a meat dress

once... who could make that up?

So here's your latest issue of Welcome

to The Club and our cover story is about

the local, live music scene. I'm going to

defend this decision (and it's a bit too

late to change it now anyway) but you

are always welcome to let us know how

we're doing, and what you'd like to see

in 'your' magazine. I'm very serious...

please feel free to call or write anytime.

Playing music locally is something

I know about very well, having done it

almost all my life. There is a newsworthy

momentum building in our local music

industry and my first instinct was to

send the story to the Sarnia Journal. It's

a fantastic paper and, while I suppose

we're all in competition, the Journal's

excellent local coverage is the kind of

competition I greatly admire. But then

the article kept growing and growing and

I realized that I just happen to publish

Advertisement Bloopers

Every newspaper or magazine makes mistakes from time to time (except for

Daytripping of course.) But sometimes the customer does! These are excerpts

from actual classified ads people placed in various papers, showing obvious (and

not so obvious) mistakes made. As you'll notice, many were unintentional.

2 female Boston

Terrier puppies,

7 wks old, perfect

markings, 555-1234.

Leave mess.

Vacation Special:

have your home

exterminated.

Now is your

chance to have

your ears

pierced and get

an extra pair to

take home, too.

Used Cars:

Why go

elsewhere to

be cheated?

Come here

first!

Lost: Small apricot

poodle. Reward.

Neutered.

Like one of the family.

Wanted:

Unmarried girls to

pick fresh fruit and

produce at night.

Dog For Sale:

Eats anything

and is fond of

children.

Get rid of aunts: Zap

does the job in 24 hours.

For Sale:

an antique desk

suitable for lady

with thick legs

and large

drawers.

a magazine and, while it may not be a

perfect fit, you'll probably forgive me. I

also reasoned that I'm over 55 and more

and more of my fellow musicians are my

age, older or getting close.

It also occurred to me that someone

who turns 80 this year was 16 when

Johnny B Goode went #1 and 24 when

the Beatles crossed the ocean in 1964.

You had a choice to love or hate disco

and may have completely avoided Devo

and Milli Vanilli. You may have lived the

greatest rock and roll life of anyone! If you

didn't, well... don't shoot the messenger.

There's also an excellent article by

Cathy Dobson about the stunning

changes and lottery success that has put

Sarnia's Imperial Theatre a decade ahead

of where supporters hoped it could be.

And of course we also have a number of

timeless articles from the archives of our

sister publication, Daytripping.

So please look it over and let us

know what you think. I'm writing this

in December and fear that we will all

have more free time than we'd like in the

coming weeks, so I hope this magazine,

'your' magazine, is a welcome escape.

Thanks for reading!

For Rent:

6 room

hated

apartment

.

For Sale:

Eight puppies

from

a German

Shepperd

and an

Alaskan Hussy.

Man, honest.

Will take anything.

Dinner Special:

Turkey $2.35;

Chicken or Beef $2.25,

Children $2.00.

Great

Dames

for sale.

Tired of

cleaning

yourself?

Let me

do it?

We do not tear your

clothing with

machinery. We do it

carefully by hand.

Mt. Kilimanjaro,

the breathtaking

backdrop for the

Serena Lodge.

Swim in the

lovely pool

while you drink

it all in.

Welcome to The Club is published four times annually by Moran Advertising, Brights Grove, Ontario. The publisher reserves

the right to reject, discontinue or omit any advertisment without notice or penalty to either party. No portion of this

publication can be reproduced in whole or in part without the permission of Moran Advertising. The content of this

publication does not necessarily represent the opinions of the publisher. The content of this publication has not been deemed

by the publisher to be correct and accurate. The advertiser agrees that the publisher shall not be liable for damages arising

directly or indirectly from errors occuring in this publication beyond the amount paid for the space actually occupied by that

portion of the advertisment in which the error occurred, whether such error is due to the negligence of its servants or

otherwise, and there shall be no liablity for non insertion of any advertisment beyond the amount paid for such advertisment.

Use of Material: submitted articles, letters, and other works or materials may be used, published, distributed and stored by

Moran Advertising, Welcome To The Club, and Daytripping Magazine, in whole or in part, in print or by any other means.

Welcome to ...

Welcome to ...

THE

THE Club

CLUB

VOLUME 2, ISSUE 1 • WINTER 2022

Trivia 4

Discount List 6

Word Search 8

Postcards from the Past 10

Recipes 19

Crossword 27

Milestones & Memories 32

Other Stuff 1-40

Cathy Dobson, on

o , Lee Michaels, s

A.C. Stone, Beryl Beckett, k

ett,

t,

Mike

Keenan, enan

, Lambton b

Archives, A

h

e , John h

Gardiner, n r,

Chris h Treftlin,

n

Mariann M ann Pafford, d Mrs G. Halpin, i , Kelly-Lynn y Musico, i o Estelle

le

Salata, l Glynn y n A. A Leyshon, e

Therese es

e Lecuyer, y r Janet Robinson,

b

i n,

Eileen en

Cade-Edwards, d

e d

s

Agnes g e

Burroughs, roug

ughs

Lyn Tremblay,

Sipkens Nurseries, s,

Megan a

Nichol, i h l Sheila Tiernay, n y Dan Peer,

e r

Doug Nicholson, i on

, Barry B Loxton, on, Mike k

Sexton, n Leo e

Spence p n e and a d

all a l the Recipe i

p

and a d

Milestones i n s & Memories es

submissions.

b

ssio

ions

Mark Moran - Publisher, Ad Sales

Carrie Ann Timm - Associate so

Publisher

Carla MacGregor r - Advertising in

Sales

Rhonda Long - Advertising in

Sales

Angela Lyon - Graphics & Article Formatting

Carla Mejia j - Graphic p Design

g

From the publishers

of Daytripping Magazine

The Club Features

You'll find

current and

nostalgic

articles

throughout

The Club.

YOUR CONTRIBUTORS

CLUB STAFF

P.O. Box 430 • Brights Grove, ON • N0N 1C0

519-491-1676 • info@welcometotheclub.ca@

Articles & Local Photo

Submissions Always Welcome!

www.welcometotheclub.ca

A Magazineg

for 55+

like no other!

winter 2022 Facebook Group "If You Grew Up in Sarnia" asking "What did life teach you?" P A G E 3
---
Welcome to ...

TAKE HOME!

Fresh Made Comfort Food

A tradition since 1992!

105 MICHIGAN AVENUE

PT. EDWARD • 519-344-2855

BUTTONS

&

Bows

Casual Elegance

at its finest!

THE Club

Ladies Clothing

& Accessories

From size 6t 8!

January ar

through March Hours:

Tues-Fri 10 to t

4 • Saturday t

10 to 3

www.buttons-and-bows.ca

nd bows.c

a

131 Michigan Avenue, Point Edward • 519-491-1412

You must be 55 or over to read this magazine (but we won't rat on you).

Do you live in the

BOONIES?

The CLUB is

available at all

Lambton County

libraries

(while they last)!

A Perfectly

Polished Look!

WOODEN

116 Michigan Ave

SPOON

POINT EDWARD

(519) 344-3535

SURVIVOR

Mon-Fri 9am-5pm

www.twinbridgelighng.com

Welcome to ...

Winter 2022

"Your Feet Will Be In Good Hands"

Contact Julie Today!

Are your feet f sore r

and a n

d

keeping i

you o

from

r m

doing i the things that t you u love?

Cerfied Cerfied Master t

Pedicurist ist - Julie Coulombe

ombe

will give you the best experience and the

professional aenon your feet need!

ADVANCED FOOTCARE

Diabecs, Ingrowns, Corns, Warts,

Fungus & other common foot problems

519-344-1071 • Julie@athomespa.ca

At Home Spa @ Mara Surgical Clinic

704 Mara St. Point Edward, Unit 106

Owen R. Wyrzykowski

WYRZYKOWSKI & ROBB

Barristers and Solicitors

Serving

Sarnia

Since 2006

Whether you are buying or selling real estate, or need to

update your estate planning, we provide personal service

to help you through the legal process.

Driving

TRIVIA

Selected

After Hours

questions from

Annual Trivia Night

"The Daytripper" has a team entered every year, but we have yet to win.

Answers Below

1. Which of the following island nations is farthest west?

a] Puerto Rico b] Curacao

c] Aruba d] St. Maarten

2. Which artist is famous for his statue The Thinker?

3. The first World Cup of Soccer (Football) was held in which country

in 1930?

a] Brazil b] Uruguay c] France d] Germany

4. Which province was the last to join Canadian confederation?

5. What is the average distance (in kilometers) that women and

children walk for water in Africa and Asia?

6. What 1960s singer starred in, and sang the theme for, the spring

break film, "Where the Boys Are?"

a] Peggy Lee b] Connie Francis

c] Doris Day d] Patsy Cline

7. Which country has not fought a war since 1814?

8. What is the International Air Transport Association airport code for

Heathrow Airport?

a] HRW b] HTR c] LHR d] LHW

9. Hiragana, Katakana and Kanji are the names for writing systems

used in which country?

10. Which Apollo mission landed the first humans on the Moon?

a] Apollo 7 b] Apollo 9

c] Apollo 11 d] Apollo 13

11. What is the standard distance of a drag race?

12. How much time did Jonah spend in the belly of the whale?

13. What is the commonly held title of a queen's husband?

14. The original lyrics to Little Richard's Tutti Frutti were "Tutti Frutti.

good booty." True or False

15. What did German August Kotter introduce to the world in 1520?

a] The rifle b] The petri dish c] Lederhosen

Owen R. . Wyrzykowski

y

ki

519-336-6118

6118

orw@wrlawoffice.ca

722 Lite Street, Point Edward

• Real Estate Purchases & Sales

• Mortgages & Credit Lines

• Wills & Powers of Aorney

• Estate Planning & Administraon

30 Years Experience

ANSWERS:

1. Aruba; 2. Auguste Rodin; 3. Uruguay; 4. Newfoundland; 5. 6 kilometers;

6. Connie Francis; 7. Sweden; 8. LHR; 9. Japan; 10. Apollo 11;

11. 1,320 feet, 402 metres or 1/4 mile; 12. Three days and three nights;

13. Prince Consort; 14. True; 15. The rifle.

P A G E

4

Life Taught Me... Love yourself as you are.
---
We're all getting older, we may as well laugh about it!

Do more of what you love.

Let us take care of the rest!

Be welcomed by a warm community of

like-minded peers. Enjoy the peace of mind that

comes with knowing help is available at the push

of a buon if you need it. Connue to enjoy your

independence in a supporve environment that

gives you the freedom to pursue your passions

and spend more me with those you love most.

Included in your stay:

• Chef-prepared meals • Fitness classes

• Great recreaonal • Weekly

programs

housekeeping

• 24/7 emergency • Pet Friendly

support

And more!

1218 Michigan Ave. Sarnia, ON

siennaliving.ca

Move-in incenves!*

Find out why people in

Sarnia love living with us.

Please call to learn more.

Suites are limited.

519-542-8814

* Terms and condions apply.

Welcome to

What's New in Business

Manjit Singh and his wife Balwinder

Kaur have spent the last two years

expanding their business and winning

awards.

They've done all that despite being

cautioned to shut their restaurant down

entirely to wait out the pandemic.

"Everyone was scared about what

would happen but I said no, these are

extraordinary times and we're going to

work really hard on takeout and delivery

and keep it all going," said Singh.

Just 10 years ago, he and his wife

Story and photo by Cathy Dobson, Point Edward

Breakfast specialist Adam Lalonde, left, owner Manjit Singh, Indian cuisine cook Jaspal Singh,

and Georgina Dunn at the new Point Edward Sitara location.

opened Sarnia's first Indian restaurant,

Sitara Indian Cuisine on London Road.

The odds may have been against

them since neither had any restaurant

experience—both were healthcare

workers—and they didn't know if

Sarnians would get excited about

Indian food.

But over the years, they proved

Sarnians have an insatiable appetite for

Sitara's Southern and Northern Indian

food. The original London Road location

was expanded, a second downtown

563 Front St. N., Sarnia

519-337-9998

GlassAndPillarSpa.com

Welcome to ...

THE Club

Sweet Winter Treat!

Chocolate olat

Truffle f

fle Coconut Wrap

a

+ Express p Facial

i

al

+ Our r Signature g

t

Manicure

$180.00 +HST

AMAZING AZ

North t

American e a

& IndianI d

BREAKFAST DAILY 8am a

to 1pm

at a t

Sitara a a Point i t Edward

(Reg. $223.00)

We have the highest safety protocols in place!

• BUTTER CHICKEN • NAAN BREAD

• CHICKEN TIKKA MASALA • KORMA

A

•

BIRYANI • SAMOSA • SEEKH KABAB

B

• PANEER TIKKA • VINDALOO

• CHICKEN TIKKA SIZZLER

• TANDOORI CHICKEN • LAMB CURRIES

DINE IN • TAKE OUT • DELIVERY

Party Room, On-site Cooking & Catering with Sitara Food Truck

#1 RATED

RESTAURANT

on TRIPADVISOR IS R

for

the last 9 YEARS!

Rated among the

TOP 10% WORLD WIDE

YEAR 2020 & 2021

21

on TRIPADVISOR!

ISOR

721 LITE ST., POINT EDWARD I 519-491-5606 WWW.SITARASARNIA.COM

restaurant opened, as well as a Petrolia

location.

"In 2020, we were probably one of

the busiest restaurants in the city and

knew we would be okay even with the

pandemic," Singh said. Last May he

took the business to the next level and

bought a building rather than lease.

The plan was to consolidate by

closing the London Road and downtown

locations and moving all operations to

the corner of Lite and Front Street in

Point Edward.

Singh and his business partners

purchased the former Open Grill

building where the kitchen was much

bigger with plenty of room for food

prep and the traditional Indian tandoori

ovens.

Sitara also began operating a food

truck last summer to serve up samosas

in Wallaceburg.

Twenty-seven work for Singh now, a

big increase since he started with three

employees in 2012.

The new location can seat 200 but

Sitara is keeping capacity at 75% to

"play it safe and ensure our customers

are comfortable," Singh said.

Downtown's Sitara closed but the

original Sitara on London Road remains

open to handle the demand for takeout.

In Point Edward, Canadian and Indian

breakfast has been added for the first

time. When Singh learned how popular

the Open Grill's breakfast was, he hired

two long time Open Grill employees,

Adam Lalonde in the kitchen and

Georgina Dunn in the dining room.

"I hired them to do breakfasts

because I knew nothing about Canadian

breakfast, to be honest," he said. "But

it's funny how things work out. I'd never

tried eggs benedict before and when I

did, I asked how that would taste with

butter chicken sauce.

"Now 80% order eggs benedict with

butter chicken sauce."

Singh and his wife have retired from

their healthcare jobs to dedicate all their

time to their fast-growing business.

Their success is based on a

willingness to learn from others and a

sincere dedication to give back to the

community, he said.

"Business isn't just the money part,

it's service to the community. For me,

that's the only way to do it."

That's why Sitara delivered nearly

2,000 free, individually-packaged

meals to local healthcare, grocery and

hospice workers during the pandemic.

"I knew workers at Bluewater Health

were under so much stress that I

convinced the hospital to let us deliver

meals during the first, second and third

wave," he said.

For that, Singh was recognized by the

Rotary Club of Bluewaterland with the

Paul Harris Fellowship for his volunteer

work. He was also named a Local

Business Person of the Year by Alignable,

North America's largest online referral

network for small business.

That's quite a distinction considering

there were 25,000 nominees and 33 in

Sarnia alone.

Singh said he was grateful for the

support of other businesses that voted

for him in the Alignable competition.

"We are totally blessed and receive

amazing support from the community,"

he said.

If you have a great idea for a business

story, send it to cathydobson62@gmail.

com.

winter 2022 Life Taught Me... Life is a bed of roses. Very thorny roses.

P A G E 5
---
Welcome to ...

THE Club

Feel free to send in photos showcasing Sarnia-Lambton.

Welcome to ...

Winter 2022

Get It Done Right The First Time

JOBS BIG OR SMALL:

• Faucet Installation • Leak Repairs

• Clogged Drains • Camera Inspection

• Toilet Replacement & Installation

• Sump Pump • Frozen Pipes

• Sewer & Waterline Replacement

Welcome to ...

The DISCOUNT LIST

Acomprehensive c p h

e s

i list i s of discountsoroffersi

s u

t

s or offers that h

t

benefit efi t

people plep e over a

certain i

age in Sarnia-Lambton. n a-

b

t n.

Please let us know of any that are e missing!

in

g

TOWN

BUSINESS

SPECIAL OFFER

Ask For Your Seniors Discount

Professional sion

onal

a 24/7 4 7 Emergency Service

345 Ontario Street, et Unit B

SARNIA I • 519-337-1545

37-1

-154

545

CustomPlumbingSarnia.com

t

P umbi

ia AGE+

CONTACT

BRIGHTS GROVE Shoppers Drug Mart 20% OFF Thursdays 65+ 519-869-4224

CORUNNA Corunna Pharmasave 10% OFF Tuesdays & Fridays 65+ 519-862-2020

Shoppers Drug Mart 20% OFF Thursdays 65+ 519-862-1451

Corunna Foodland 2% OFF Wednesdays 60+ 519-862-5213

FOREST Forest Naturals & Home Health 15% OFF Wednesdays 65+ 226-520-0054

Forest Pharmasave 15% OFF Wednesdays 65+ 519-786-5161

Williamson Farms Country Store Various Wednesdays 55+ 226-520-0144

PETROLIA Bargain Shop 20-30% 1st Wednesday of month 60+ 519-882-0057

Country Yarns 15% OFF See ad in The Club all ages 519-882-8740

Gramma's Candy Store 5% OFF Tuesdays 60+ 519-882-1212

Heidi's Your Independent Grocer 10% OFF Tuesdays 60+ 519-882-2211

Hogan Pharmacy 20% OFF Wednesdays 60+ 519-882-1840

M&M Meats 10% OFF Tuesdays 60+ 519-882-4316

PT EDWARD Twin Bridge Lighting 15% OFF Mondays 55+ 519-344-3535

SARNIA Bulk Barn 10% OFF Wednesdays 65+ 519-542-6668

Custom Plumbing 10% OFF Every day 65+ 519-337-1545

Generation Paint Company 15% OFF Every day 65+ 519-330-4424

Giant Tiger 10% OFF Ist Monday of month 65+ 519-336-0831

Goodwill 25% OFF 2nd Monday of month 55+ 519-541-9273

London Road Pharmacy 20% OFF Thursdays 60+ 519-491-6778

M&M Meats 10% OFF Tuesdays 60+ 519-542-8398

Michaels 10% OFF Every day 60+ 519-542-3200

Don's Home Renovations 10% OFF See ad in The Club all ages 226-343-2265

Petsmart 10% OFF Grooming on Tuesdays 65+ 519-542-2822

Peavey Mart 20% OFF Last Tuesday of month 55+ 519-542-4091

Pet Valu 10% OFF Last Thursday of month 65+ 519-541-0468

Russell Street Home Hardware 25% OFF See ad in The Club 60+ 519-383-0688

Salvation Army Thrift Store 25% OFF 1st Wednesday of month 60+ 519-344-3781

Sarnia Pharmacy 10% OFF Tuesdays and Fridays 65+ 519-337-3215

Shoppers Drug Mart 20% OFF Thursdays 65+ 519-337-3727

Value Village 30% OFF Tuesdays 60+ 519-541-0153

STRATHROY M&M Meats 10% OFF Tuesdays 60+ 519-245-6355

WYOMING Wyoming Tree Service 10% OFF Every day 65+ 519-845-0847

Call 519-491-1676 or email info@welcometotheclub.ca to add one!

Please remember: e

r: These discounts are for reference. eren

ence

They may change & may not

apply ply to specific c items. Stores are not obligated to adhere to what we've printed.

You may also need to ask in order to get the discount. t Thanks for understanding.

ndin

Family l

Owned w

e

& Operated and Proudly

Serving Lambton County Since 1991

Church Ladies

With Typewriters!

The Fasting & Prayer

Conference includes meals.

Scouts are saving aluminum

cans, bottles, and other

items to be recycled.

Proceeds will be used

to cripple children.

The sermon this morning:

'Jesus Walks on the Water'.

The sermon tonight:

'Searching for Jesus'.

Ladies, don't forget the

rummage sale.

It's a chance to get rid

of those things not worth

keeping around the house.

Bring your husbands.

Don't let worry

kill you off -

let the Church help.

Miss Charlene Mason

sang: 'I will not pass

this way again,'

giving obvious pleasure

to the congregation.

For those of you who have

children and don't know it,

we have a nursery

downstairs.

Next Thursday there will

be try-outs for the choir.

They need all the help

they can get.

Irving Benson and Jessie

Carter were married on

October 24 in the church.

So ends a friendship

that began in their

school days.

A bean supper will be

held on Tuesday evening

in the church hall.

Music will follow.

P A G E

6

Life Taught Me... Everything is not always as it seems.
---
Most articles in here have been written by people like you.

Welcome to ...

THE Club

Providing ing the best quality and style of footwear otwe

for generaons.

er • Orthotic Friendly •

• Styles for Men, Women & Children •

565 Murphy Road, Sarnia • 519-383-0588

A cup of tea was more than just a drink

to my immigrant parents. It was an elixir, a

calm place in a storm, a blessing of nature.

It was almost a religious experience. As

with any process that smacked of ritual,

there were iron clad rules. There were

ways to make a good "cuppa" that I, as a

kid, could not understand. First the water

had to be fresh from the faucet and the

kettle had to be emptied – no mixing of

fresh water with stale water. After the

kettle had reached a boil, the tea pot itself

had to be rinsed with freshly boiled water

after which spoonfuls of loose tea (tea

bags were an invention of the devil) had to

be put into the pot - one spoonful for each

person plus another for the pot. Milk and

sugar were then added to one's cup. During

World War II tea was scarce and sugar was

rationed, so careful consideration had to

be made of the supply of these ingredients.

Sometimes my mother entrusted me

Tea, and ME

to put a kettle on and when I did, if not

watched, I ignored the "fresh water"

dictum and no one was the wiser, although

I never told anyone of my short cut. The

tea tasted the same! That "boil only fresh

water" and the amount of tea to be added

to the pot piqued my curiosity. If they

could not tell I had heated water that was

already in the kettle, would they be able

to detect any difference if I also included

some gently used tea leaves left from the

last brewing should I

manage to be entrusted

with the entire process.

I did it and they could not.

As I suspected, no one

was the wiser. So much

for the quasi-religious

rituals.

Do you want to reach

our age 55+ readers?

advertise

in the club

Call 519-491-1676

info@welcometotheclub.ca

By Glynn A. Leyshon, London

from Daytripping July-Aug 2011

Part of the mystique of tea drinking

was the barbaric idea of serving tea to

someone in bed – as though that were a

kindness. My father who worked shifts

would arise very early and thoughtfully (?)

deliver a cup of tea to the bedside of my

mother, wake her up, then leave for work.

What sadist thought that one up?

Sugar was another conundrum during

the war. My father would drink at minimum

four cups of tea a day and liked to have three

teaspoons of sugar in each cup –

a not insubstantial amount

day in day out. My mother

made copious amounts of

jam each fall using fresh

fruit, which we devoured

completely each year.

BIG BOX PRICES. SMALL STORE SERVICE.

110 S. Mitton • 519-344-7557 • alsvacandsew.ca

Jam, of course, requires a lot of sugar.

Thus came a conflict over the rationed and

scarce sugar. My mother partially solved

this by accident. She was about to throw

out a cup with a flaw in it – the bottom of

the inside of the cup was rough – probably

due to some incompleteness in finishing.

In any event, it was rough enough that my

father, stirring his tea, felt the same gritty

response to his spoon that undissolved

sugar created. Thus, my mother would

put one teaspoonful of sugar into his cup

before serving, and he would stir and sip

contentedly just as though the tea had

been laced with three spoonfuls. We had

sufficient sugar for plenty of jam making.

Yes, there was a lot of mumbo jumbo

about making a good cup of tea. Today

I drink tea made in the microwave oven

and with a, gasp, tea bag. I swear I hear

someone turning over in some distant

place.

WE MAKE

Beautiful Smiles

50

CELEBRATING YEARS

OF MAKING DENTURES!

As a way of giving back to our community this year,

we are donating a portion of every denture we make

to the United Way of Sarnia Lambton.

~ Are you unhappy with the way

your Dentures make you look or feel?

~ Are your Dentures loose? ~ Sore spots?

~ Not eating the foods you love?

~ Are they over five years old?

WE ARE HERE TO HELP YOU!

Digital

(photographic)

impressions now

available

Since 1972, our family has made thousands of dentures for our patients.

Ask your dentist to refer you to us or call yourself for your free consultation.

We are adhering to strict Covid guidelines to keep you safe.

Call to book your free consultation.

519-336-6580

1200 Lambton Mall Road, Sarnia

www.feigedentureclinics.com

winter 2022 Life Taught Me... Take responsibility for your actions.

P A G E 7
---
Welcome to ...

THE Club

"Big or Small, JohnnyRemax

Sells T hem All"

Thank you for continuing to shop locally - it's making a big difference!

Slow Cooking WORD SEARCH

Welcome to ...

Winter 2022

John A. McCharles, Broker

Re/Max Sarnia Realty Inc. Brokerage

519-383-4812

johnnyremax@bellnet.ca

Affordable Rates • All Work Guaranteed • 25 Years Experience

GENERATION PAINT COMPANY

Interior & Exterior Painting and Makeovers

All types of

painting,

feature walls,

wallpaper

15% Seniors

DISCOUNT

Find these words hidden vertically, horizontally, diagonally and backwards.

PLUS HANDYMAN SERVICES:

• Repairs • Waterproofing (caulking)

• Maintenance • Renovations

Call Mark 519-330-4424 or email 1863989ontarioinc@gmail.com

Old age, I decided, is a gift. I am now,

probably for the first time in my life, the

person I have always wanted to be. Oh,

not my body! I sometimes despair over

my body... the wrinkles, the baggy eyes,

and the sagging butt. And often I am taken

aback by that old person that lives in my

mirror, but I don't agonize over those

things for long. I would never trade my

amazing friends, my wonderful life,

my loving family for less gray hair

or a flatter belly. As I've aged, I've

become more kind to myself, and

less critical of myself. I've become

my own friend. I don't chide myself

for eating that extra cookie, or for

not making my bed, or for buying

that silly cement gecko that I didn't

need, but looks so avant-garde on

my patio. I am entitled to over-eat,

to be messy, to be extravagant. I

have seen too many dear friends

leave this world too soon; before they

understood the great freedom that

comes with aging. Whose business

is it if I choose to read or play on

the computer until 4 a.m., and sleep

until noon? I will dance with myself to

those wonderful tunes of the 60's, and

if I, at the same time, wish to weep over

a lost love... I will. I will walk the beach

in a swim suit that is stretched over a

bulging body, and will dive into the waves

with abandon if I choose to, despite the

E-Mail

The E-Mail

IN-BOX

Send the good stuff to info@welcometotheclub.ca

Old Age

pitying glances from the bikini set. They,

too, will get old. I know I am sometimes

forgetful. But there again, some of life

is just as well forgotten and I eventually

remember the important things. Sure,

over the years, my heart has been broken.

How can your heart not break when you

lose a loved one, or when a child suffers,

or even when a beloved pet gets hit by

a car? But broken hearts are what

give us strength and understanding

and compassion. A heart never broken

is pristine and sterile and will never

know the joy of being imperfect. I am

so blessed to have lived long enough

to have my hair turn gray, and to

have my youthful laughs be forever

etched into deep grooves on my

face. So many have never laughed,

and so many have died before their

hair could turn silver. I can say "no,"

and mean it. I can say "yes," and

mean it. As you get older, it is easier to

be positive. You care less about what

other people think. I don't question

myself anymore. I've even earned

the right to be wrong. So, I've decided,

I like being old. It has set me free. I like

the person I have become. I am not going

to live forever, but while I am still here, I

will not waste time lamenting what could

have been, or worrying about what will

be. And I shall eat dessert every single

day!

P A G E

8

Life Taught Me... Always go with your gut.
---
Life is short. Smile while you still have teeth.

Welcome to ...

Kern

water

1804 London Line, Sarnia

519-542-4211

kernwater.com

Mon–Fri 9 am–6 pm • Sat 8 am–2 pm

THE Club

U-Fill

Water

Delivery

Service

Reverse

Osmosis

and Alkaline

Big Box Stores

By Agnes Burroughs, Dorchester • from Daytripping May-June 2008

When I was a little

girl, growing up in a rural

community, the general store

was 'the' place to be. The mixed

scent of kerosene, apples and

wood assaulted your nostrils

as the bell above the door

announced your presence.

Creaky solid wood floors let

everyone know what part of the

store you had ventured into.

You could pick up a pound

of nails for your latest wood

project, a lace hanky with

embroidered flowers for your

sweetheart's birthday, or a pair

of shiny shoes for a wedding on

Saturday.

Everyone was a handy man back then,

and could get plumbing parts to fix the

stopped up sink, oil filters for the tractor,

shingles for the roof and electrical wire

for the lamp. There were wheelbarrows,

tires and belts hanging from the ceiling in

the hardware department, above the kegs

of nails of every size. Right next to those

could be the fabric section with bolts and

bolts of colorful fabric from burlap to

gingham to oilcloth for the kitchen table.

Remember that smell.

"Would you be needing a couple

pounds of flour, or a 50 pound bag this

time? We just got a new supply of white

sugar in, and you should see the patterns

on those bags, going to make real fine tea

towels once you launder them a time or

two. I hear by way of the party line that

Miss Gertha is ailing again with the gout.

Those are mighty nice eating apples, but

not much for making pies, did you see the

new car that the Nichol's family just picked

up over to Ingersoll? That new minister

sure has some high fallutin ideas don't you

think? How is the new baby doing after

that bout with croup?" All this information

was freely given and appreciated when

you came into the general store for your

monthly purchases.

There were shiny mouth organs,

metal toy cars, dolls with real glass eyes,

marbles, kazoos, yo yo's, toy guns and a

whole parcel of other trinkets inside the

glass case that you had to press your face

up to for better viewing.

Christmas time was extra special at

the general store, because they would

bring in wonderful items like oranges,

hard rock candy, wagons, walking dolls,

cowboy hats and extra nice gift items for

the whole family. One year I had earned

$3.00 babysitting a whole pile of kids for

an evening. I was able to buy lace hankies

for my Mom, regular work hankies for

my Dad and candy for all the kids for a

Christmas treat.

For a nickel, you could fill a small brown

paper bag with a real tummy ache's worth

of licorice, gumdrops, jaw breakers, tootsie

rolls and lemon drops.

I don't remember there being a

pharmacy or drug area. Didn't anyone

get sick, or did we just use the good old

recipes like goose grease on your chest for

a cold and lots of fresh air, sunshine and

clean laundry to get ourselves better?

The way I see it, all of the things at my

General Store were necessities. Everything

had a purpose and would be used, reused

and passed on if it had any life left. Each

visit was an adventure to be talked over

and revisited many times over the month.

Do you want copies of...

Welcome to ...

THE

CLUB

For a group,

apartment

building,

or meeting?

They're FREE

for people 55 + !

Call 519-491-1676

or email...

info@welcometotheclub.ca

DELIVERY MONDAY THRU SATURDAY

1018 Murphy Rd, Sarnia • 519-542-7273

winter 2022 Life Taught Me... Cancer doesn't discriminate.

P A G E 9
---
Welcome to ...

THE Club

Don't let old age get you down - it's too hard to get back up!

Welcome to ...

Winter 2022

POSTCARDS

of

SARNIA-

LAMBTON

Sponsored o

o

By:

B

y

F. Filia & Associates Ltd.

Franco Filia

2-565 Murphy Road, Sarnia

519-332-5400 I franco_filia@cooperators.ca

Advisor/Owner

Queen Elizabeth II Public School, Petrolia

See the

Dave Burwell

Postcard Collecon

at

sarniahistoricalsociety.com

Polymer Research Lab

Sarnia-Port Huron

Ferries, Sarnia

Graveyards Along Country Roads Offer Solace

As we travel our country roads, we come

across them in the most unexpected places

- - in the middle of a cornfield, surrounded

by picket fences on the edge of a small town

or even near off-ramps on busy highways.

They are the burial grounds of those

once loved, but now more often than not,

forgotten by generations who have no

memory of their lives.

Many times I have pulled over to the side

of the road and taken a little time to explore

these sacred places. I find their solitude

welcoming and for a few moments I can

lose myself in the past, wandering among

slanting headstones that are for many, the

last remaining evidence they once passed

this way.

I feel compelled to read each name, to

acknowledge that decades and sometimes

more than a century after their death,

someone wonders about their life. A life

that is now reduced to nothing more than

a little dash that separates a birth date from

the year of death.

I have my favourites.

One near my home is graced with a

beautiful old tree, its weeping branches

stretching out as if protecting the aging

tombstones. At another, I sometimes stop

to close the 'witch's gate,' the revolving

gate that is said to keep out bad spirits. On

a recent visit, the stillness was interrupted

by the cackle of black-birds. They rose as

one and blackened the sky as they took

wing over the nearby fields, leaving only the

ghostly whisper of the wind in the branches

of tall pine trees.

On other roads, I pass pioneer graveyards,

where greying moss-covered headstones

are neatly arranged in a row, tallest in the

middle. A stranger happening upon these

consecrated grounds can learn a lot about

the community he is passing through. The

carved names bear the familiarity of their

homelands - perhaps Britain, Ireland or

Germany. Evidence of their hardships are

witnessed by the ages written on those that

mark the final resting place of children. On

many, the winds and rains of time have all

but erased their tiny angel guardians.

There is one more special graveyard that

often haunts my memory and is perhaps

the reason I'm drawn to others. There are

no headstones and very few people left who

even know it exists. Only two bodies are

buried in what we call, 'the little graveyard

field'. The only marker is a stand of small

Lake Cabin Lodges, Brights Grove

by Lyn Tremblay, Simcoe

From Daytripping March-April 2004

trees that are a little taller than the scrub

brush that in recent years has replaced the

plowed field. She was a baby child and he

was a young man. I only remember the

stories, told by relatives whose memories

were already fading. It is said they died from

a common disease of the time.

As children, we gathered apples from

the only other tree in the field. Each spring

brown rows of plowed earth neatly circled

the apple tree and the clump of trees

that marked the graves. The field and the

nearby barn were part of a plot of land

homesteaded by my great-grandparents.

As more seasons and years pass and the

brush in the little field grows thicker, it is

now I who pass on the stories so that those

buried in 'the little graveyard field' will not

be forgotten.

P A G E

10

Life Taught Me... The majority of people on the planet are good people.
---
Maybe we should stop it with the elderly jokes. They're getting old.

Welcome to ...

THE Club

Punchline

"Do you believe in life after

death?" the boss asked one of

his employees. "Yes sir, I do"

said the new employee."Well

then, that makes everything

just fine" said the boss, "After

you left early yesterday to go

to your grandmother's funeral,

she stopped in to see you!"

Join us by the Lake!

Reserve for panoramic

views of Lake Huron

from our patio!

~ Take Out Available ~

~ Lakeside parks & benches ~

• Authentic Hickory Smoked Ribs

• Genuine Broasted Chicken

• Seafood, Sandwiches, Wraps

PRIME RIB WEEKENDS

TUESDAY

WING NIGHT

NIGHTLY

SPECIALS

2713 Old Lakeshore Road

Brights Grove • 519-869-2794

www.skeeterbarlows.com

Senior Support Care

~ PERSONAL CARE - dressing, bathing,

incontinence care, mobility assistance

~ LIGHT HOUSEKEEPING - laundry

~ SOCIALIZING - engaging in activities

~ TRANSPORTATION to appointments

This is the perfect time to surround

yourself in your home with indoor plants

that improve your environment and

bring you peace when you look at them

and enjoyment as you care for them.

Houseplants bring vitality and calming

to your home in the winter with their

bright foliage and air purifying qualities.

For many, houseplants become pets with

their keepers, known as 'plant parents.'

Plus, caring for indoor plants is relaxing,

allowing the gardener to slow down and

get back to basics.

When choosing your indoor house

plants you will need to consider the

positioning in your home for the

recommended light, the watering

frequency and if the plant is pet friendly.

While watering indoor plants or dusting

~ MEAL PREP

~ MEDICATION REMINDERS

~ COMPANIONSHIP

~ GROCERY SHOPPING

~ PALLIATIVE & RESPITE CARE

Contact Us: 519-704-1267 or 519-466-4302

A Year Round Garden Centre, e

Gi Shop p & Bouque!

Extraordinary selecon

of Plants and Unique

Decoraons &

Poery for enhancing

your indoor and

outdoor living spaces.

Just s East of Sarnia i

on Cty Rd 22

Take k Exit 15 off Hwy 402

USA

Lake Huron

Sarnia

N

Bright's

Grove

From

26

London

401

22

From

SIPKENS

Wallaceburg

NURSERIES

Re-imagine Your

Living Spaces

ZZ Plant

East of SARNIA

519-542-8353

OPEN Monday to Saturday

(Rd. R

d 22)

Proud Member of...

Story and Photos

Courtesy of

Sipkens Nurseries

off leaves you will be more aware of the

small moments of joy and beauty each

plant brings.

Easy plants to care for, especially for

new plant parents;

• Satin Pothos; broad range of light

with a lower frequency of watering in

the winter

• Bird of Paradise; lush oversized floor

plants with ample light reaching 10-

12ft

• ZZ Plant; looks like stalks of

asparagus until the leaves peak out, a

range of light for ZZ plants

• Snake plant; natural beauty, bright

indirect light, let the top 2 inches dry

between watering

• Rubber Plant; originally from the

Himalayas, this plant needs bright

indirect light, has glossy large thick

leaves

Moderate plants to care for, perfect

for newer gardeners;

• Hoya Plant, a very pretty blooming

star like flowering plant and pet

friendly.

• Chinese Money Plant; moderate

bright indirect light, pet friendly!

• Swiss Cheese Plant; Moderate to

bright indirect light is best, a lower

frequency of watering in the winter

also known as the Monstera

Ideal for Experienced gardeners, a

plant that needs more love;

• Fiddle Leaf Fig; broad leaves and can

grow 8' range, and they need a lot of

natural light, water thoroughly once

a week.

We want your

photos, stories

& anecdotes

showcasing

Sarnia-Lambton!

Welcome to ...

THE

CLUB

Send them to

info@welcometotheclub.ca

We also welcome your ideas,

comments or questions.

Enjoy being surrounded by your house

plants this winter, spring will be here

before you know it!

Gardeners Winter Checklist:

❏ Plan your indoor house plant

paradise based on your experience,

lighting and your lifestyle

❏ Continue to feed the birds with seed

and suet throughout the winter

❏ Start early to grow seeds indoors:

celery, broccoli, parsley, cauliflower

and summer flowers

❏ Dust houseplant leaves, replace soil

or repot those that have outgrown

their homes

❏ Tidy garden beds in late March: cut

back perennials and grasses, remove

garden debris and cover gardens

with mulch and remove weeds

❏ While relaxing in your cozy home,

think, dream and plan your garden

layout for spring

winter 2022 Life Taught Me... Learn a trade.

P A G E 11

Rubber

Plant
---
Welcome to ...

THE Club

BOUTIQUE MEDICAL SPA

1098 London Road, Sarnia • 519-542-0079

www.aboutfacesarnia.com

BOOKS

TIGHT

SCULPTING

25% OFF

Thank you, to all the advertisers you see throughout the magazine.

FOOT ORTHOTICS

SLIPPERS, SHOES, BOOTS, SANDALS

Curl up with a book on a cold winter day,

Forget where you are, let your cares fade away.

Read about the Sahara, and the Taj Mahal,

Picture the Grand Canyon or the Great China Wall.

It's so easy to travel with a book in your hands,

Read about the people and customs in faraway lands.

You can take a cruise on a luxurious boat,

Just reading about it, your mind seems to float.

Then you're brought back to earth when the doorbell rings,

The bothersome salesman with his loud voice brings.

The children in wanting their afternoon snack,

Oh! well, maybe tomorrow you can go back.

Pick up the book that waits on the shelf,

Curl up in the chair and forget yourself.

Julie Munday, Certified Pedorthist

www.soledecisions.com

30+ YEARS

EXPERIENCE!

For help with comfort,

support, circulation,

ASK ABOUT IN-HOME SERVICE fatigue and balance.

303 Davis St, Sarnia • 888-971-6345 Essential Business - Onsite Lab

By Mrs. G. Halpin, St. Thomas

Puzzle

Solution

For The Club Winter 2022

CROSSWORD on page 27

Welcome to ...

Winter 2022

P A G E

12

Life Taught Me... Life is a beautiful struggle.
---
It's the advertising that makes this magazine possible, and free!

Welcome to ...

Going Above & Beyond for Our Clients!

STEPHANIE MURRAY

Sales Representave

Cell: 519-383-5185

Office: 519-542-9999

movewithsteph@gmail.com

sarnia realty Inc., Brokerage*

*Indepentently owned and operated

1319 Exmouth Street, Sarnia

THE Club

LAURIE LAURIN

Sales Representave

Cell: 519-328-7251

Office: 519-542-9999

laurie.l@bell.net

#laurieloveslambton

Birth Names

of Vintage

Film Stars

1. Jack Benny

2. George Burns

3. Eddie Cantor

4. Joan Crawford

5. Tony Curtis

6. Dale Evans

7. Judy Garland

8. Cary Grant

9. Rita Hayworth

10. William Holden

11. Al Jolson

12. Boris Karloff

13. Jerry Lewis

14. Dean Martin

15. Marilyn Monroe

16. Roy Rogers

17. Barbara Stanwyck

18. Lana Turner

A. Archibald Leach

B. Asa Yoelson

C. Benjamin Kubelsky

D. Bernard Schwartz

E. Dino Crocetti

F. Edward Israel Iskowitz

G. Frances Gumm

H. Frances Smith

I. Joseph Levitch

J. Julia Jean Turner

K. Leonard Slye

L. Lucille Fay LeSueur

M. Margarita Cansino

N. Nathan Birnbaum

O. Norma Jean Baker

P. Ruby Stevens

Q. William Beedle

R. William Henry Pratt

ANSWERS:

1-C, 2-N,

3-F, 4-L,

5-D, 6-H,

7-G, 8-A,

9-M, 10-Q,

11-B, 12-R,

13-I, 14-E,

15-O, 16-K,

17-P, 18-J

January is Alzheimer's Awareness month.

Do you know someone living with dementia?

3 out of 5 people living with

dementia will go missing at some

point, a frightening experience, and

a dangerous one. That's why the

Alzheimer Society of Sarnia-Lambton

is partnering with The Sarnia Police

Services and OPP to provide an

opportunity for individuals living

with dementia to be registered as

someone at risk of going missing.

Critical information shared provides

searchers with quick access to key

information to assist in locating and

returning the individual home safely.

Registration

is easy!

Vulnerable Persons Registry

Let's all do our part to help individuals with

dementia live safely in our community.

Simply call Alzheimer Society Sarnia-Lambton

at 519 332 4444 to learn how.

Established in 2010, Shine at Home serves seniors who wish

to live in full independence. Since our earliest beginnings we

have learned that with just a little help, people can remain

in their homes for many years safe and free in the

knowledge that a dedicated team is there for them.

Seniors' Home Independence Network

Life is Better When

You're Home

Seniors live at home -

independently,

comfortably & happily.

It doesn't matter how old you are, life is always better

when you're home. There's a deep comfort that comes

from being in familiar surroundings, sleeping in your own

bed, and living under a roof that belongs to you.

Housekeeping

Companionship

and Care

Call today and find out

how Shine at Home

can help you:

519-336-9898

"All the staff go out of their

way to make life easier for our

Mom when we aren't able to

be there everyday! We

definitely recommend Shine at

Home to others looking for

excellent care for their elderly

parents"

Heather – Daughter of Client

"The lady who does my

housekeeping is so nice and

efficient and always fits in

special requests"

Ruth Ann - Client

shineathome.com

winter 2022 Life Taught Me... Have patience.

P A G E 13
---
Welcome to ...

THE Club

Do you remember being 19? Neither do we!

Welcome to ...

Winter 2022

Family owned and

operated in Sarnia!

We takegreat pride in

our workmanship

and customer service!

- SHOWROOM HOURS -

Monday to Friday, 10 am to 4:30pm

Cats!

As every

cat owner

knows,

nobody

owns a cat.

(Ellen Perry Berkeley)

Thrilled with our new windows!

The workmanship was excellent,

installaon was mely, efficient and the

windows look great! We would highly

recommend Beehive! ~ Dara

1781 London Line • Sarnia

519.491.8888

beehivewindowsanddoors.com

You can't buy

Happiness

but you can

BUY

LOCAL!

Life Lessons Learned by Adults

1) Raising teenagers is like nailing JELLO to a tree.

2) There is always a lot to be thankful for it you take time to look for it. For

example, I am sitting here thinking how nice it is that wrinkles don't hurt.

3) One reason to smile is that every seven minutes of every day, someone

in an aerobics class pulls a hamstring.

4) The best way to keep kids at home is to make the home a pleasant

atmosphere and let the air out of their tires.

5) Car sickness is the feeling you get when the monthly car payment is due.

6) Families are like fudge... mostly sweet with a few nuts.

7) Laughing helps. It's like jogging on the inside.

8) Middle age is when you start choosing your cereal for the fiber, not the toy.

9) The mind not only wanders, sometimes it leaves completely.

10) If you can remain calm, you just don't have all the facts.

11) You know you're getting old when you stop to tie your shoes and wonder

what else you can do while you're down.

P A G E

14

Life Taught Me... You get what you pay for.
---
Putting the "old" back in "Damn, you're old!"

Curtain Opens on a

New Era for the

Brian Austin Jr. says he sometimes

feels like he's in a completely different

building when he looks around at all

the recently-completed renovations

and upgrades at The Imperial Theatre

in downtown Sarnia.

All new washrooms, new flooring,

new paint, a new roof, new seating

and a new PA system were installed in

the last year.

As general manager, Austin Jr.

readily acknowledges how fortunate

the community theatre has been

during the pandemic.

Public support for monthly 50/50

draws proved a runaway success. And

that money was spent on extensive

renovations that were completed

quickly while COVID-19 shut down the

building.

"When the first lockdown

Story and photos by Cathy Dobson, Point Edward

happened, we had just announced a

five-year capital campaign to raise

$1.5 million," Austin Jr. explained.

"And now we've been able to raise

that money and renovate all our public

spaces in just one year.

"I am just so grateful."

Initially, the pandemic threw all

public venues like The Imperial

Theatre into survival mode.

In March 2020, the first lockdown

forced Austin Jr. to refund more than

$300,000 in ticket sales. With no

live performances, the challenge was

to pay the theatre's three remaining

staff, cover the building's overhead

and try to continue with renovations

that were started.

Early on, the obvious steps were

taken.

He turned down the heat and

Welcome to ...

cut hydro bills in half. A few small

productions were staged outside

on Christina Street. But nothing

generated the cash needed to keep the

organization afloat.

Then inspiration struck.

Austin Jr. was on Facebook and

noticed the Toronto Blue Jays had

huge success with a 50/50 digital raffle

in the pandemic's early days.

"Our in-person raffles during our

intermissions always made a couple

hundred dollars, so I thought, 'Why

not?' and took it to the board."

Once the onerous paper work

involved in a third-party raffle was

sorted out, the Imperial held its first

monthly 50/50 draw in October 2020.

Initially, it generated a respectable

but not spectacular $10,000 or so a

month.

Then suddenly sales exploded and

the take-home prize grew to over

$60,000. As Austin Jr. put it, the raffle

became big enough to actually change

someone's life.

For seven consecutive months, the

prize money exceeded $100,000 and

surpassed $300,000 a couple of times.

"I remember saying my personal

goal was to see the prize reach

$100,000 and we did that in spades,"

he said.

"I am so humbled by the support of

our patrons and the community."

By late 2021, The Imperial had paid

out an impressive $1.7 million

in prize money and pocketed

$1.3 million once various fees

and marketing costs were

factored out.

The monthly 50/50 draw

eclipsed all other fundraising

activities in the theatre's 25-

year history.

In fact, the Imperial's

$1.5-million, five-year capital

plan was realized in just one

year primarily because of

the 50/50's success. Just as

astounding, all the projects in

that five-year plan were more

quickly completed because the

theatre was empty for such an

extended period.

Austin Jr. says he believes The

Imperial's 50/50 is so lucrative

for a number of reasons.

"I think we have a bit of an

edge because we're used to

selling tickets," he said. "We

also have a huge data base so

we can email about 38,000

people every day to promote the

draw."

And a lot of hard work has gone

into promoting it, he added. "We build

a lot of hype around it and do a ton of

marketing."

On top of the 50/50 draw, The

Imperial took on another unique

fundraiser last spring and began selling

pairs of the theatre's 25-year-old seats

to help pay for 618 replacements.

THE Club

That generated $10,000, said

Austin Jr. "We considered it a fantastic

response. A lot more people than

I thought are attached to those old

chairs. They said they associate them

with their first date or a special show."

The new burgundy seats are "really

cushiony" and come with aisle lights

built into the arms and cupholders.

"The cupholders really seem to be a

big deal," Austin Jr. laughed.

As pandemic restrictions are

reduced and live shows are being

staged for the first time in nearly two

years, Imperial Theatre patrons are

being welcomed back to a completely

accessible, more environmentallyfriendly

and more lavish venue.

Austin Jr. describes it as state-of-theart

and anticipates more out-of-town

artists will be attracted to performing

there because of the PA improvements.

And, should anything shut out

audiences again, a new audio suite

has been added to live stream and

record shows.

winter 2022 Life Taught Me... You make your own happiness.

P A G E 15
---
Welcome to ...

THE Club

Laughter is the best medicine - here's to your health.

Welcome to ...

Winter 2022

Music Lessons & Books for All Ages

Store & Studio 115 Mitton St. S. 519-344-2319

SARNIA

519-337-3713

LONDON ROAD PHARMACY

Locally Owned and Operated

Make Ideal Protein Your

New Year's Resolution

Medically Supervised

Weight Loss Program

Diet • Personal Coaching

Weekly Weigh-ins

Call Tammy for Details!

Weekly Blister Packs Available!

www.londonroadpharmacy.com

A meaningful life will

not be found in the

next job or the next car.

The way you get

meaning in your life

is to devote yourself

to helping others and

creating something that

gives you purpose.

Mitch Albom

~

SENIOR'S

DAY

Every Thursday

20% OFF!

Tammy Maure

1249 London Rd

519-491-6778

* Every surface & product is sprayed with disinfectant fog daily for your safety!

IN SARNIA-LAMBTON

OIL SPRINGS

519-834-2833

• AUTO • HOME • FARM

• TENANTS • COMMERCIAL

1-800-265-7506 • www.cam-ron.ca

"I love getting

my Tel-Check calls

and medication

reminders!"

Sometimes I feel lonely

Sometimes I forget to take my medication

Sometimes I just like to talk about how

I'm feeling or what's going on in the world

You can receive daily or weekly Tel-Check calls to:

• Lessen feelings of isolation by having a friendly

chat with our volunteers

• Make medication/nutrition/hydration reminders

• Provide you with safety reminders such as ensuring

doors are locked and appliances are turned off

or

You can call our Distress Line Volunteers (519-336-3000)

if you are struggling and need to talk (7am–Midnight)

or

You can call the Care Pathways Program if you are

looking for information and referrals about services

for older adults and caregivers

1-888-DISTRES(347-8737)

519-336-3000 (7am-Midnight)

To find out more about these programs

or refer a patient/client/loved one,

please contact our office at 519-336-0120

The Hint is ...

At which type of building might you

find a carving such as this?

If you can guess that part, you just

have to pick the right town.

Find dthe answer in our

Spring 2022 issue

From our Fall 2021 issue:

The Hint was ...

This is a just a portion of a mural

by Todd Charlton. If you're

looking at this, you just might be

going places.

The Answer is...

You'll find this mural on a

building on Telfer Road near

Sarnia's Chris Hadfield Airport.

VOLUNTEER - If you enjoy talking to seniors and

are looking for a fulfilling volunteer opportunity,

visit us online at www.familycounsellingctr.com and

complete a volunteer application under the heading

'Get Involved.' We'll be in touch!

To learn about all of our programs and services,

visit us online at www.familycounsellingctr.com

P A G E

16

Life Taught Me... Be the best you can be.
---
v1.1 LEO

v1.2 Forest Kineto

v1.3 Heritage St.

v1.4 Sarnia Blessi

v2.1 Canatara Log

You can't help getting older, but you don't have to get old. George Burns

Welcome to ...

THE Club

Grandma's Quilt

Suffering from middle-aged insomnia,

the ad caught my eye.

"Dragon's Den Fight Over This

Canadian Sleep Start Up."

Intrigued, I read on.

"This weighted 'Hush Blanket' induces

sleep and is a revolutionary fix for

sleeplessness."

Revolutionary? Ha! My Grandma

made the first "Hush Blanket" 70 years

ago. It was a quilt that had to weigh at

least 30 pounds.

My bedroom on the prairies was so

cold in the winter that I could carve my

initials on the frost that had formed on

the INSIDE window pane. You didn't

need curtains because the ice was so

thick it blocked out the light, the first

"frosted window," so to speak.

My Mom used to slide one of those

heavy rubber red hot water bottles

wrapped in a towel between the sheets

at the foot of the bed, but it did nothing

to warm up the rest of the mattress.

Hopping around on one foot, trying

to put on your flannelette pajamas

or nightgown (usually made from old

sheets) and then crawling in was a frigid

eye opener. But then it was Grandma's

quilt to the rescue.

You snuggled in under the flannelette

sheet, topped by a wool blanket with

satin trim, the bedspread, and then

Grandma's quilt. It was a patchwork

creation, made from dribs and drabs

of material, some as old as Grandma

herself. Some were backed with denim,

others with thick cotton or linen. Some

had tufts of wool sticking out of each

patch. Some had been carted over

from the "old country." But they all had

one thing in common: they

weighed a ton and once

under them you literally

could not move and

slept in the same

position all night.

The quilts were great

for curing a fever. You

could sweat one out

in a single night.

You'd be soaking wet

By Lee Michaels,

Sarnia

but it was so cold outside the sheets you

didn't dare try to throw it off, instead

trying to inch your way around to find a

cooler spot on the bed.

But the best thing was the "tickle

blanket" otherwise known as the

universal pacifier. That satin edge was

so soothing. As a pre-schooler, I used to

suck my thumb and rub it along the side

of my face as I was going to sleep. As

I grew older the thumb-sucking stopped

but the tickling did not. Over the years,

the corners became frayed, and at times

a little ratty looking. The tickle blanket

didn't get washed much because it was

too difficult to put through the ringer

washing machine. Mom would wash

the satin edges and hang it out on the

clothesline to dry, carefully re-sewing the

corners to get the perfect crisp "tickle"

edge. Grandma's quilt had to be laid out

on bales of hay or the ground to air out

in the summer because it was so heavy

it likely would have pulled the clothesline

pole right out of the ground.

I would love to have Grandma's quilt

right now, although it would be murder

for a menopausal woman. I never knew

what happened to it or when it simply

disappeared.

I still do have my own "tickle blanket."

The corners are less grubby, but when

the sandman is missing, its corners take

me back to simpler times and I'm soon

sawing logs, although I no longer suck

my thumb.

How many of you remember

Grandma's quilt and the tickle blanket?

Editor's Note: There are still several

of these patchwork, weighty blankets

in my family, passed down from my

grandmother and even my great

grandmother. They may be

tattered in spots and some

patches worn right out, but

are still loved and used

regularly. I particularly

love the patches of

Grandpa's pants and

Grandma's dresses that I

remember them wearing

when I was young.

Welcome to ...

THE Club

We donate $25 for each reprinted

Daytripping Magazine article.

$1475 donated since Jan. 2021

This issue's recipient is

Canatara Log Cabin Restoration

Great Selection of Fashionable

SODA

Everyday Eyewear!

... A Frankly Optical Experience!

Visit Beth and her daughter Amanda for the perfect pair

of glasses, sunglasses or contact lenses.

Walk in

or book

a one on one

appointment

time!

Ideas...

Women's Interval

Neighbourlink

River City Vineyar

Try not to take Victim Services

anything personally. CCMF

No one thinks about Habitat you

as much as you Hospice do.

• Fashionable designer frames

at compeve prices

• Durable, high quality brands

• Personal aenon to your vision needs

• Honest opinion on your frame fit & style

• Value brands available to fit your budget

• Offer direct billing to most vision plans

Stop In & See

The Difference

An Independent,

Locally Owned

Business

Can Offer!

Humane Society

Inn of the Good S

Lawrence House

Kiwanis Animal Fa

Pathways

Noelle's Gift

Mike Weir Founda

Gallery in the Gro

VPP

Theatre Sarnia

Lambton Young T

Bluewater Trails

Strangway Centre

various city optio

various trails

147 N. Mion St., Sarnia • 519-337-4060 • TheEyeGuySarnia.com

winter 2022 Life Taught Me... Good times don't last, but neither do bad.

P A G E 17
---
Welcome to ...

THE Club

missed a lot of morning classes when

I was at university. What does seem to

The

work well now is the smell of freshly

brewed coffee.

Retirement Anyway, in class we concentrate

Coach © on one of the sayings of Zen masters

by Mike Keenan

of the past. They liked to test the

http://theretirementcoach.libsyn.com/ enlightenment of their students

through statements and dialogue that

was deliberately paradoxical. The first

collection of subjects or koans was

Meditation

made public way back in the 11th

and Zen Koans century.

From China, koan practice immigrated

For Seniors to Japan in the 13th century. A famous

Listen to Mike's podcasts (humour, travel and poetry) at: The Retirement Coach:

koan is: "What is the sound of one hand

http://theretirementcoach.libsyn.com/ His book, 'Don't Ever Quit - a Journal of Coping

with It's Crisis vital & for Nourishing retired Spirit,' people is available to remain

print & electronic clapping?" format I spent at Amazon: hours trying to figure

nimble https://amzn.to/2KBdPWQ in both body and mind. that one out. Finally, I remembered

Otherwise, we get too set in our ways, once listening to a politician speak at

too fixed in our thinking. It's important a public gathering. When he finished,

to be open to new learning. Thus, I'm I tried to clap my two hands together

back in yoga class. The eldest in our but only one hand moved. Aha, I was

group is Joan who is 82. She is the star on to something. It was only a matter

of the class.

of time before the eureka would occur

Our teacher is keen on meditation, just like Archimedes in the bathtub

so I suggested that we study Zen koans when the water overflowed or was

to add a new dimension to our regular that Pythagoras? No matter. It's just an

program of asanas, breathing exercises analogy.

and relaxed meditation. A koan is a I will provide you with an example of

puzzling statement or a story, used in a brilliant modern-day koan. Historically

Zen to aid meditation and promote the Dalai Lama holds political and

spiritual awakening. My spouse has religious leadership over Tibet from

often stated that I need awakening of Lhasa, a city in the People's Republic

one kind or another. In fact, not even of China. Lhasa literally translates to

the alarm clock in the bedroom seems "place of gods" in the Tibetan language.

effective in that regard. I confess that I The 5th Dalai Lama ruled in 1642 and

This magazine comes with a free, built-in, old fashioned fly swatter!

religious successors lasted until the

1950s.

Okay, the Dalai Lama walks up to a

hotdog vendor at a Toronto Blue Jays

baseball game. The vendor admires the

monk's yellow robes and asks, "What'll

ya have?"

The Dalai Lama ponders for a

second and responds, "Make me one

with everything." Get it? One with

everything! Neat, eh? I suppose it would

work just as well with "a hamburger

with the works." I thought that the Dalai

Lama was a vegetarian. I suppose that's

the truly puzzling part of the koan.

Another good baseball koan is "Who's

on first?" This koan can get tricky. Before

you know it, you are totally confused. I

watched two guys named Abbott and

Costello try to figure it out for over

seven minutes, but "who's on first" led

to "what's on second," "I don't know"

on third, "why" in left field, "tomorrow

pitching," "today catching" and "I don't

give a darn" the shortstop. Actually, it

was quite amusing.

Tony, one of my retired pals, came

over to see me the other day, and I

thought that I would try out a Zen koan

on him. I told him the one about the

sound of one hand clapping, but he

didn't get it. He was puzzled. "Explain

it to me," he said. "Okay," I replied but

first I suggested, "Would you like a cup

of tea."

"Sure," he replied.

I boiled water, threw a couple of tea

bags into the pot, poured in the hot

water, steeped it, and then started to

slowly pour the tea into Tony's cup, and

when the cup was full, I kept pouring.

Tony shouted, "Hey, it's full; you're

spilling tea all over me and the floor; no

more can go in."

"Aha," I said. "You see, just like this

ordinary cup, Tony, you are simply too

full, over-flowing with yourself. How

can I explain Zen koans to you unless

you first empty your cup?"

By this time, Tony had tea stains all

over his pants, and he was not amused,

so he left. Of course, I thought that I

had been brilliant, but obviously, my

wife was correct when she predicted

that some people are never ready for

spiritual awakening.

I was in the local public library the

other day when a lady walked in and

asked the librarian, "Do you have

children's books?"

The librarian replied, "Do you have

the mind of a child?" Wow, I was

impressed. That was almost as good

as "the sound of one hand clapping,"

which I'm still working on.

Listen to Mike's podcasts (humour,

travel and poetry) at: The Retirement

Coach: http://theretirementcoach.libsyn.

com/ His book, 'Don't Ever Quit - a Journal

of Coping with Crisis & Nourishing Spirit,'

is available in print & electronic format at

Amazon: https://amzn.to/2KBdPWQ

Welcome to ...

Winter 2022

P A G E

18

Life Taught Me... Fill each day with love and gratitude.
---
Many of the articles are from the archives of Daytripping Magazine.

Recipes

Send Us

Your u

Recipes!

e c es

We'll be bringing you recipes from Club contributors & from local

fundraising cookbooks we've collected over the last quarter of a century.

You're welcome to send your own recipes, or on behalf of an organizaon

that has a new cookbook, & we can help promote those cookbooks for free.

Maple Mashed Sweet Potatoes

Cauliflower Cheese Soup

1 medium cauliflower

2 cups chicken stock

1/4 cup buer or margarine

1/4 cup chopped onion

1 cup grated medium cheddar cheese*

Buered bread crumbs for garnish

(from Point Edward

Ex-Servicemen's

Assoc. Cookbook)

4 lb sweet potatoes, peeled, cut into 1 1/2 inch chunks, 5 to 6 sweet potatoes

6 slices bacon

1/2 cup half and half

3/4 tsp ground cumin

1/3 cup maple syrup

1/4 tsp pepper

1/3 cup buer or margarine, at room temp. 1/3 cup chopped fresh chives

1 1/4 tsp salt

In a pot, combine sweet potatoes with enough salted water to cover. Over

high heat, bring to boil. Cook unl tender, 10 minutes. Drain; return to pot.

Meanwhile, in nonsck skillet over medium-high heat, cook bacon unl

crisp, 6 to 8 minutes; drain on paper towels. Crumble. In microwave-safe

bowl, combine half and half and maple syrup; microwave on High unl

warm, 1 to 2 minutes. Mash sweet potatoes with buer unl smooth.

Gradually mash in maple mixture. Sr in salt, cumin and pepper. Reserve

1/4 cup bacon and 1 teaspoon chives. Sr remaining bacon and chives into

potatoes. Transfer to dish; top with bacon and chives. Serves 8.

By: Eva Howard (from

Wyoming Lioness Club 30th

Anniversary nive

Cookbook)

okbo

ok)

1/4 cup all purpose flour

1/2 tsp salt

1/8 tsp pepper

2 cups milk

parsley

Cook cauliflower in chicken stock unl tender. Do not drain. Cool a bit. Run

through blender to desired texture. Set aside. (I don't put it in the blender).

Melt buer in saucepan. Add onion and sauté unl limp. Do not brown. Mix

in flour, salt and pepper. Add milk; heat and sr unl it boils and thickens.

Add cheese and cauliflower mixture. Sr to heat and melt cheese. Garnish

with buered bread crumbs. Add parsley as an ingredient or as a garnish.

NOTE: For cream of cauliflower soup, omit cheese. Makes about 5 cups.

Welcome to ...

Kids' Letters to God

Dear God,

If you watch me in

church Sunday, I'll

show you my new

shoes.

- Mickey

Looking for

PRIVATE IN-HOME

PHYSIOTHERAPY?

Mobility Works Physio Yoga

will come to you!

Balance Training,

Funconal Strength.

Falls Prevenon, and more!

THE Club

The heart

smiles through

the eyes no

mask can cover.

• Sleek, Stylish

Masks in

20 Styles

• Home Decor

• Gis • Plants

• Fresh Flowers

• Jewellery

1362 Lambton Mall Rd., Sarnia

519-542-3301

Closed Sundays

www.mysecretgarden.ca

Maple Glazed Pork Roast

1/2 cup barbecue sauce

1/4 cup maple syrup

2 tsp slivered orange rind

Apple Crisp

1/2 cup buer, melted slightly

3/4 cup oatmeal

3/4 cup packed brown sugar

By: Jenn MacRae

(from Brigden Fall

Fair Cookbook)

ook)

1 tsp ground ginger

1/2 tsp salt

3 lb boneless pork loin roast

Preheat oven to 325 degrees F.

Sauce: In a small bowl,, combine barbecue sauce, maple syrup and orange

rind, set aside.

In another small bowl, combine ginger and salt; rub over meat. Place meat,

fat side up on a rack in roasng pan. Roast uncovered at 325 degrees F for

1 3/4 to 2 hours or unl done. Allow 35 to 40 minutes per pound. Brush

oen with sauce during the last hour. Serves 10 people.

By: Vicky Coulbeck (from Holy Rosary

School, Wyoming 50th Anniv. Cookbook)

1/2 cup flour

1 1/2 tsp cinnamon

6 cups peeled and sliced apples

Mix all ingredients except apples in a bowl. Put sliced apples in the boom of

a casserole dish. Sprinkle mixed topping over apples. Bake at 350 degrees F

for 20 minutes. Cover with aluminum and bake 10 to 15 minutes more. This

will make the apple crisp juicy. Serve with ice cream, whip topping or as it is.

Send Your Recipes to info@welcometotheclub.ca

ca

MOBILITY WORKS

phy s i o

y oga

MOVE. FEEL. LIVE.

Book IN-HOME

Physiotherapy or Private Yoga

at: www.mwphysioyoga.com

Covered under most

Extended Health Benefits.

Kelly-Lynn

Musico

REGISTERED

PHYSIOTHERAPIST

REGISTERED

YOGA TEACHER

Contact Kelly-Lynn at 519.312.6122

or mwphysioyoga@outlook.com

winter 2022 Life Taught Me... Always keep a positive attitude.

P A G E 19
---
Welcome to ... THE Club

Here's to living life to the fullest (until about 9 pm).

Publisher's note: This is a long

article but I hope you'll enjoy it, even

if it's a bit off topic for some readers

of a 55+ magazine. As I write this on

Dec. 29th, new restrictions have been

introduced with 50% capacity at clubs

and restaurants and much of what I write

here might not be as relevant when you

read it, but if that's the case I hope it

will ring true sooner than later. It's safe

to say that all of the establishments I

mention here will (once again) need our

continued patronage to get back on their

feet. I also want to pay respects to George

Webber who was a legend in our industry

and recently passed away. Thank you for

supporting local business and live music.

London Ontario was recently

named a UNESCO City of Music by the

United Nations educational, scientific

and cultural organization, becoming

the first city in Canada to receive the

designation. I had no idea that

Jeff Black & Nicole Morley outside Night Life - photo by Megan Nichol

this prestigious title existed but

they've earned it. Budweiser

Gardens is pulling in some of Is Sarnia-Lambton the

the best acts on the planet,

Aeolian Hall is an acoustic

Live, Local Music

treasure and the Forest City has

earned national praise as hosts

of the Canadian Country Music

Awards and even the JUNOs.

Kudos to the city, to Tourism

London and in particular

to Chris Campbell, who through his

work with Tourism London, Budweiser Capital of Canada?

Gardens and his own company (Music

City & Music Tourism Consultancy) had venues and countless other musicians. time. The Corunna branch of the Royal

this vision and has pushed for years Jeff, by the way, is a singer, guitarist, Canadian Legion also has an afternoon

with unrelenting tenacity to make it and bassist who plays as a solo act quite jam, usually the last Saturday of the

happen. That said, I've stayed countless often but is a part of several bands and month.

nights in London both recently and over also performs in a magnificent duet As he drives a bit further into Sarnia

the years, am always looking for a band, with Nicole Morley.

he sees lights shining up in the sky,

solo or duo act to go see, and usually So as Jeff is driving north he may maybe the lights of a local Broadway,

have difficulty finding one. I've long go through Port Lambton, Sombra, but no, it's just the petrochemical plants.

believed that larger cities are plagued Courtright and Mooretown and think Go a little further Jeff and you'll find

by bands that will play for free and that there's no place to play or hear a few downtown Sarnia and a whole host of

you get what you pay for. If the music live tunes, but lo and behold he reaches places, most of which you've played. I'll

is not good people won't come, your Corunna where Two Water Brewing mention Up N' Downs on Front Street

regulars will stop coming, the venues Company has regular entertainment first, out of respect for the number of

will suffer and the industry as a whole including most, if not all, Thursday years and days each week that they've

is weakened.

nights. Just one or two musicians supported local, live music, but there

Then I look at Sarnia-Lambton where usually, but there's nothing wrong with are many more. Night Life on Christina

I've been a professional musician since that. Antonio's Pizza across the road Street may be newer to the scene but

1985, and I think we might have more also has entertainment from time to Jeff has been playing there quite a bit

venues to play in per

on Thursdays, and lately on

capita than anywhere

Sundays with drummer and

in Canada, maybe with

singer Brian Cox. Drums and

the exception of Saint

guitar are not a common

Johns, Newfoundland.

mix, but they make it work.

That might sound like

Other venues in or near

hyperbole, and maybe it

the downtown include Wild

is, so how about we take a

Wings, Collide, The Insignia

stroll and check them out.

Hotel, the original Refined

Let's Go On Tour!

Fool Brewing Co., Tin Fiddler

Jeff Black is a very well

Brewpub, Maud's Variety, the

known local musician

Moose Lodge and a whole

who lives in Wallaceburg

host of other venues that go

but drives north to our

live on each First Friday. This

neck of the woods quite

list quite often includes the

often for gigs. One

Sarnia Legion, Blackwater

heckuva nice guy, too. I'd

Coffee, Downtown Market,

like to take a tour of our

the Lawrence House, Grind

county through his eyes,

Cafe and others.

since he's a "real" pro—

Venture a bit north along

one that plays music

Borderlite trio on the outdoor stage at Ipperwash Beach Club

Sarnia Bay and you'll hear

for a living, knows most (l-r) Ed Roane, Pete Meharg, John Tiernay - photo by Sheila Tiernay live music year round at

Winter 2022

Paddy Flaherty's and next door at Big

Family Brewing Co., then also across

the road at Alternate Grounds Cafe

& Dockside at the Sarnia Bay Marina

in the warmer weather. Yes, we'll be

including summer venues in this list as

well, hoping that they'll all be back in

2022. Venturing into Point Edward for a

spell you'll discover Stevie D's, and Jeff

Black knows this place all too well. He's

one of many very talented musicians

who go there on Wednesday evenings

to jam. I finally had the opportunity to

take part recently and it was a pleasure

to play with a number of top-notch

players I'd never met before. Owner

Steve Dumont has turned the restaurant

(formerly Bottoms Up) into a prominent

entertainment venue and agrees that

there is an incredible local music scene,

particularly because of the large number

of single and duo acts there are. We

discussed if the pandemic has perhaps

given people the time to hone their

talents and the courage to step

onto the stage. A local Facebook

page called The Quarantine

Sessions - Connecting Through

Music has seen countless

musicians, many of whom

had never played in front

of people, broadcast one or

many songs for all to see.

Kevin Churchill founded that

group along with James Miller

and says, "I really believe we are in a

renaissance period for live music and

the arts. I've never seen so many venues

offering live music and bands and solo

acts and duos doing their thing. Is it a

local thing? I don't know but I do think

it is pretty special!" Dumont added that

tipping musicians has become more

commonplace and it has made a big

difference in allowing venues to bring

in entertainment at an affordable rate.

Stevie D's has live music on other days/

nights as well.

Still in Point Edward, Los Puntos

Cantina was hosting small acts last

summer and the Match Eatery &

Public House at the Starlight Casino

has been known to as well. Back into

Sarnia proper you'll be able to down

a pint while listening to live music at

Two Amigos, Twisted Arm Bar & Grill,

the newer Refined Fool Brewing Co. on

London Road and Imperial City Brewing

Co. Out in Brights Grove you'll find

summer patio entertainment at The

Oaks and also on Wednesdays at the

Brights Grove Summer Market.

So by the time he's driven around

Sarnia and Point Edward Jeff is just

amazed at the number of places he can

play, but he has lots of time, and gas is

cheap these days, so he heads back out

in the county to see what else he might

find and winds up at Rüstr. What's a

Rüstr you might ask? This is on London

Line near Mandaumin Road where three

musicians Bil Eldridge, Mike Beggs and

Steve Kiernan have transformed the

former Bluewater Optimist Hall into a

live music hall, indoors and out. The

indoor venue seats about 100 people

and has hosted many local acts but is

also geared to ticketed events featuring

P A G E

20

Life Taught Me... Dogs are kinder than people.
---
You're welcome to send in articles to help build this new magazine.

mid-sized or up and coming recording

acts that are travelling close enough to

the area to make Sarnia a stop on their

tour.

The addition of Rüstr to the local

music venue has made a significant

difference from what I see. For example,

they have a Sunday brunch with live

entertainment (and great food) from

10am to 2pm. I wondered how far in

Canada someone would have to travel

to find that offered anywhere else, and

then discovered that it's also offered at

Refined Fool downtown and at Greens

(oops, that one is downtown on Christina

St. and I missed it). One key thing here

is the time at which entertainment is

offered. Most bands in London still

start at 10 p.m. and play until 2 a.m. on

weekdays and I'm in bed by then. Since

this article is in a magazine for 55+ I'll

assume that I'm preaching to the choir

on this one.

So Why All this Music? Why Now?

For starters it can be attributed to the

pandemic. The number of patios that

can now be licensed has gone through

the roof (hopefully to stay that way) at

a time when craft breweries and local

wineries are coming of age and farm

markets are more popular than ever. The

"Shop Local" philosophy has married

all three of those things together. This

Joan Spalding - photo by Dan Peer Photography

"Golden Age" is taking place in other

areas of Ontario and Canada, but I'll

continue to argue that Sarnia-Lambton

is doing it best, but could do it even

better.

The pandemic also brought about the

aforementioned Quarantine Sessions

and a new pool of talented musicians

that are now brave enough and have

built up the repertoire needed to take

their places on stage.

The timing is also making live music

more popular. In Sarnia we're finding

live music at numerous places starting

at 2 or 4 in the afternoon, or from 7 to 10

p.m. It's long overdue! The generations

that grew up on live music still love and

will support live music, and our venues

have realized that this is the audience

they need to attract. The younger

generations didn't grow up with The

Campbell St. Stations or the Courtright

Hotels or the Kenwick-on-the-Lakes—

it's a shame that this new, golden age of

live music may have a shelf life, but we

may be just beginning to

see the best years of it.

The musicians are

older as well, and

this is another key

component. There are

certainly many talented

younger musicians–

Chris Molyneaux, Demi

Krall and Rodney James

Medwid to name just a

few, but there are far too

many seasoned artists to

mention that are leading

the way and will be for

years to come. I've often

joked that after 35 years

I'm basically playing

the same songs for the

same people. That's not

completely accurate but

it isn't far off.

Whether or not this is sustainable is a

good question. Will supply and demand

dictate that not all these establishments

can support live music? Will there be

fewer patrons if COVID goes away and

locals can leave for the US or

other destinations? If COVID

gets worse and we're all locked

down again, will the music

industry bounce right back

when the time is right? Your

guess is as good as mine.

Speaking of the lockdowns,

even the darkest days of the

quarantine couldn't stop some

of us. Scott Manery started

broadcasting three hour

concerts on Facebook live from

his basement on Saturday

nights (Scott also has a great

radio show called Nine Hours

North of Nashville, Sunday

mornings on CHOK). I followed

Scott's lead and started a live

show on Tuesday nights and

can't tell you what a rewarding

experience it's been. To top

that though, as of December

26th, 2021, local country

music legend Joan Spalding

had been live streaming a

3:00 afternoon show for an absolutely

incredible 634 days straight.

Hey Jeff... What About the County?

So... imagine that Jeff hasn't been to

Petrolia since the Squire Hotel closed

down and has been longing to see

what's up in Canada's Victorian Oil

Town.

What the heck is with all these craft

breweries, he might exclaim. There's

one here too. Black Gold Brewery

opened last year and has regular

entertainment inside or on the patio.

Helen's Hideaway Family Restaurant/

Haywood's is right next door and has

entertainment most weekends, and

Crabby Joe's had a fabulous outdoor

stage a couple of summers ago which

we hope comes back. Even the Petrolia

Welcome to ...

Farmers Market has entertainment on

Saturday mornings and Tuesday nights

when the air is warm enough to play.

A bit further south in Oil City Jeff finds

that there's absolutely no place to play,

but Alvinston has Armor's Ale House.

Painkiller Jane warming up for the Trews in a parking lot on Front St. in 2013

(l-r) Jamie Dufour, Mark Moran, Heather Wellington, Pete Michieli

Then he turns tail and heads back north

to Wyoming where the Legion has had

entertainment on some Saturday nights

for years. Covid put a stop to that for a

while but they're back up and running

to some extent. A new restaurant called

LOCA also opened and my good friend

Adam Miller was their first of hopefully

many entertainers. Wyoming is where I

started my own music career years ago

with bands like Trax, Damn Straight,

Done Deal. I'm currently with Painkiller

Jane and also have a duo with Colleen

Beauregard in addition to a solo act I

bring out from time to time.

From there Jeff continues north

and finds Alton Farms Estate Winery

on Aberarder Line south of Forest and

it's on one of the sunny afternoons

when they have—you guessed it—live

entertainment on the patio. Around a

country corner still just south of Forest

he's going to drive up the laneway

to Stonepicker Brewing Co. which

routinely has acts outside on warm

days and inside year round. The Forest

location of Skeeter Barlows also has live

acts and a bit further up the road in

Port Franks he might just find his old

pal Mark Blayney playing at Grogs

Restaurant. They'll spend some

time talking about the amazing new

outdoor stages at Widder Station

in Thedford and at the Ipperwash

Beach Club. There are also a number

of campgrounds in this area that

hire bands during the summer, not

to mention all the fairs and festivals

in every corner of Lambton County.

Oh, we're not done yet though. Jeff

ventures up Highway 21 where Brian

Dale might be doing his regular gig

at the Pinery Flea Market, which

will be hopefully open again this

summer after a two-year hiatus.

Brian is a staple in the Grand

Bend music scene, often seen at

numerous venues including playing

with friends at the Lake Hound

Restaurant. As you can imagine, the

THE Club

number of venues in The Bend can be

plentiful but often changes. The Rotary

Club has also built a fabulous stage on

the beach and feature weekly Summer

Sounds concerts, often on Sunday

nights with the hopes of keeping people

in town a bit longer.

Grand Bend sits right

on the county line so

we could dip our toes

a bit north and try to

claim the Oakwood

Inn or White Squirrel

Golf Club. There's

also Huron Country

Playhouse but we can't

mention that without

celebrating two more

stellar theatres.

They may not often

feature local bands

but you'll never hear

better music than you

do at Sarnia's Imperial

Theatre and Victoria

Playhouse Petrolia.

Brian Austin has done

an incredible job at

the Imperial of bringing in an array of

talent, including numerous household

names. My personal favourite is the

Classic Albums Live series where a

group of selected musicians come in to

play an album so perfectly that you can

close your eyes and barely be able to

tell that it's not the recording. Fans of

the Beatles, Rolling Stones, Pink Floyd,

Queen, etc would fall in love with this

production, but get your tickets fast

for those shows! And in Petrolia, David

Hogan and David Rogers as artistic

directors have established Victoria Hall

as one of the best and most reliable

performance centres in the land. Music

Director Mark Payne and an all star

cast of superbly talented artists never

disappoint and crowds relish in the

opportunity to see many of the cast

members return in different roles.

I think that's it. I think we're done,

Jeff. Good thing you don't drink brother.

You can drive home safely after your

tour through Sarnia-Lambton's awesome

collection of music venues. We came up

with well over 30 places to play with

Continued on

next page...

Jim Chevalier with Canada's Voyageur guitar

- photo by Doug Nicholson (we believe)

winter 2022 Life Taught Me... Don't eat yellow snow.

P A G E 21
---
Welcome to ...

Continued from

previous page...

Mark Blayney - photo by Barry Loxton

regularity, not including the theatres,

one-time events or fairs and festivals

like Ribfest, Bluewater Borderfest, etc.

Oh wait, what's that, we missed one?

How could we possibly forget about the

Duc D'Orleans II which cruises up and

down the St. Clair River in the summer

with live bands a few days or nights

each week, and is also one of the most

enjoyable places for musicians to play.

It's always an adventure with Ken and

Sherry and their fabulous crew.

So How Do We Get Even Better??

If there's more opportunity for live

music to flourish it would be in Sarnia's

city-owned facilities. We hope to see

music come back to life at the Agora

Stage in Centennial Park, in Canatara

Park and especially at the Progressive

Auto Sales Arena which has the ability

to host large shows that would attract

tourists, but is barely ever used to its

full potential. In the last show I saw

THE Club

HOME HANDYMAN!

Reasonable Prices

FREE ESTIMATES

Decks, Sheds, Repairs...

(Excludes plumbing/electrical)

YOU NAME IT,

I'll get it done for you.

10% OFF with mention of this ad

there, Elton John played for three hours

straight, by himself. There were no

other musicians, just Elton John. I have

no idea how Sarnia got that lucky, but

we did. We also had 14 years of Bayfest

which grew to become a world class

concert series and tourism bonanza,

but it ended 10 years ago. It would also

be nice to see Sarnia and other towns

block off their streets on occasion for

more live music festivals.

Tourism is important and I for one

believe that having this many live, local

music venues can attract music lovers.

As I write this in December 2021,

Monday is the only day without live

entertainment in our area. On many

days of the week you can see two, three

or more performances starting as early

as 10 a.m. and almost all are free (but

Scott Manery & the Barnburners at Ribfest

2015 - photo by Mike Sexton

30 YEARS

EXPERIENCE

Call Don at

226-343-2265

I'd write something better here, but I forgot to!

please tip musicians). I would love to

travel to another part of the province

and stay one or more nights just to enjoy

live, local music but, if there are other

places with this much entertainment,

none of them are letting us know about

it. But.. are we telling others?

That's my point and the goal of this

article. I've heard countless people

complain over the years that there's

nothing to do in Sarnia-Lambton and

that we don't have much of a music

scene. They're completely wrong and

always were, but our music scene is

better than ever right now and we may

in fact be the Live, Local Music Capital

of Canada. We should be promoting

it as a tourism product and may have

aces up our sleeve in this department

as well. Tourism Sarnia Lambton's

Executive Director Mark Perrin has loads

of experience as an event coordinator,

and Digital Marketing Coordinator Adam

Veen plays in two bands, Rumblefish

and Aces High. I believe a key to this

is to have one place where locals and

visitors can find a calendar of all events,

large or small, in one place. Music, craft

shows, fairs, beef dinners, everything.

Doing this is extremely difficult in these

uncertain times and organized event

calendars were much more common

before the advent of social media.

However, if you have a complete and

up-to-date list of attractions, in this case

music, then you can promote it as a

unique tourism product and put "heads

in beds" which is the primary goal of all

tourism marketing. In this case we could

also keep people from leaving our area

since they would know just how much is

happening in their own backyard. I hope

TSL and their community partners will

work on this because it's something that

is not being done in any other market

that I've ever seen, and it would give us

a strategic advantage to attract visitors.

In the meantime you can find

valuable information on who's playing

where at www.sarniarocks.com and the

Supporting Sarnia Lambton and Live

Music Sarnia Facebook pages.

Bil Eldridge at Grind - photo by Leo Spence

If you've made it this far, thank you

for reading and my apologies if there

are any venues that I've somehow

missed. Please support live music

everywhere and remember to tip

musicians if you like what you hear. I

pray that no businesses will have to shut

down in 2022 but, if that's the case, I'm

confident that they can all rebound if

we do our part to help them.

Enjoy the show!

Welcome to ... Winter 2022

141 Mitton St. South, Sarnia • info@tywc.ca • www.tywc.ca

WE ARE HERE

FOR YOU

~ SUPPORT ~

~ RENEW ~

~ BALANCE ~

All Inclusive Suites & Apartments with kitchenettes.

CUSTOM MENU OPTIONS • ACTIVITIES • 24HR CARE

Call for a personal tour.

WALLACEBURG • 519-627-9292

WE CHANGE THE SHAPE OF YOUR STRESS

Call us Today 519-339-8999 Ext. 2

P A G E

22

Life Taught Me... Pick your battles.
---
We are really hoping to include some great events in future issues!

"Big or Small, JohnnyRemax

Sells T hem All"

John A. McCharles, Broker

Re/Max Sarnia Realty Inc. Brokerage

519-383-4812

johnnyremax@bellnet.ca

Come In

& Eat

With Us!

(I through L)

Ignorance: When you don't 'tknow something and someone finds out.

Ingrate: Bites the hand that feeds him, then complains of indigestion.

Irony: Millie Vanilli on a karaoke machine.

I.R.S.: Income Reduction Service.

Junk: Something you need the day after you throw it away.

Jury: 12 men & women trying to decide which side has the best lawyer.

Justice: A decision in your favour.

Kiss: Putting your honey where your mouth is.

Lamb Stew: Much ado about mutton.

Laziness: A remote control to locate your other remote controls.

Left Bank: What the bank robbers did when their money bag was full.

Lefties: The only people in their right minds.

Love: Two vowels, two consonants, two fools.

Light Year:

Love: The feeling you get towards someone

A regular

who meets your neurotic needs.

year with

less calories.

LSD: Virtual reality without the expensive hardware.

For over 20 years,

we have had the

pleasure of serving you,

our family & friends.

Here at Big Fish,

you are a part of

our family & we can't

wait to share a drink,

our love of food

od

& laughs with you.

See you soon,

on,

Alex, Stacey & Gus

For Lunch, Dinner or a Special Occasion

Make Reservaons at Sarnia's Finest

1717 LONDON LINE, SARNIA I 519-542-5553

BIGFISHLOUNGE.COM

Welcome to ...

THE Club

Choose a Certified Collision Repair Center

& get the peace of mind you deserve!

Family owned & operated.

Proudly serving Sarnia-Lambton

& surrounding areas for over 60 years.

Certified

Collision ion Care

Provider

for ...

• FORD

• CHRYSLER

• DODGE

• JEEP

• RAM

• FIAT

• NISSAN

• KIA

• GM

• HYUNDAI

• GENESIS

856 Confederation St., Sarnia • 519-337-3842

Canada's Farmerettes

By Beryl Beckett • from Daytripping Nov-Dec 2021

The Land Girls are pretty well known.

The British issued a postage stamp in

their honour. and the BBC made a movie

about them. The Canadian Farmerettes?

Not so well known… even 'hardly

known.' It's about time we change that.

Farmerettes in Canada worked the

fields left empty of labour at a time

when most males were in the Armed

Forces during World War II. How do I

know? I was a Farmerette! Four teenaged

girls from Petrolia, Ontario became

Farmerettes. Maybe some of you knew

us: Lois and Jean Duncan, Mona Dougall

and me, Beryl Anderson. I'd love to say

we were patriotic but truth be known

we got out of school early, didn't have

to write final exams AND we got paid! A

whole 25 cents an hour… though we had

to pay room and board at the camps out

of our pay. We wanted adventure and we

figured it would be like camp. Not quite.

So off we went…Jean and Mona were

sent to St. Davids, Vineland while Lois

and I went to Goodwins Farm Camp,

all in the Niagara region. We cut fields

and fields of asparagus, usually in the

morning, and worked fields and fields

of strawberries in the afternoon. Not

walking and bending but stooping

continually. I'm surprised I'm still not

stooped over.

Anyway, one vegetable I didn't like was

asparagus. Come dinner time, we were

starving. First off: cream of asparagus

soup—couldn't even try it. So I waited for

the main meal: creamed asparagus on

toast. Believe me, I polished it off. By the

end of the meal I really liked asparagus.

Dessert? You guessed it. Strawberries.

At Goodwins we had a Japanese

family interned there… a lovely family,

the Mitsuis. Mr. Mitsui had been Mr.

Goodwin's sergeant in the Canadian

army during World War I. In World War II

he was considered an enemy of Canada.

Different wars, different worlds. I can

only imagine the hurt of Mr. Mitsui.

We worked hard but we also had

fun travelling around the Niagara area

via thumb. We hitchhiked all over,

even to Buffalo, NY (where we almost

got arrested). We'd hitch rides into St.

Catherines where we'd spend evenings

drinking chocolate cokes (don't knock it

'til you try it) at the Dianne Sweet Shoppe

and meeting boys. Almost every weekend

we'd hitch rides to Niagara Falls.

Then Lois and I got transferred to

Vineland Camp where we thinned

peaches, picked peaches and packed

peaches for the rest of the summer. We

began to feel we lived on ladders leaning

against peach trees.

So why tell you about Farm Camp and

Farmerettes? A small but dedicated group

of people are trying to get the Canadian

Postal Service to issue a commemorative

stamp honouring the Farmerettes, but to

do this they need to know there would

be an interest in the history of the

Farmerettes of Canada. They suggest

anyone reading about us on Facebook

click "Like" and make sure you "Share"

with your friends. Also, if you have

contact with anyone in radio, TV, blogs

or any print (newspapers, newsletters,

etc.) please ask them to spread the word

about The Canadian Farmerettes.

Thank you for taking time to read this

and thank you in advance for spreading

the word.

winter 2022 Life Taught Me... You never know what lays ahead.

P A G E 23
---
Welcome to ...

GIFTWARE & UNIQUE HOME DÉCOR

SHOWCASING MANY LOCAL ARTISANS

Home of Just-A-Nuff Antiques

TUESDAY-FRIDAY 10-5 • SATURDAY 10-3

850 Colborne Street @ Exmouth Street

Northgate Plaza, Sarnia • 519-336-3838

Online Subscripons are FREE

welcometotheclub.ca

THE Club

SARNIA

It's a New Year &

time to UNWIND.

We can help!

TIME

to

UNWIND

Heaven is

Handmade

"A Yarn Boutique"

Everything you

need for

Knitting & Crochet!

250 North Christina Street

Sarnia • 519-491-9276

www.HeavenIsHandmade.ca

We'd like to hear your honest opinions on how you like this magazine.

Because all women

deserve to feel

beautiful...Every day!

Professional Bra Fitting I Mastectomy Fittings & Products

Stylish Sleep & Loungewear I Swim i & Cruiseweari

NEW LOCATION:

Looking

for trails?

The Lambton

Shores Nature

Trails website

LSNTBlazers.com

is a great place to

explore your hiking,

snowshoeing and

cross-country skiing

opons in

Lambton Shores.

Wallaceburg ac b

g

Location: c

i

on:

JACK'S J

A S TIRE

T

I E

7966 6

M

McCleary c

a

y Line • 519-627-3335

9

-333

335

35

500 Exmouth St., Unit 9 • Sarnia

519-491-5256 91-5

52

56

• www.lilithboutiquesarnia.ca

w.

lith

iq

uesa

ia .ca

There Are Many Ways to Say "I Love You."

Welcome to ...

Winter 2022

Auto Centre

and more reputable brands.

Be prepared with

Winter Tires and

winterize your vehicle.

24 HOUR EMERGENCY TIRE SERVICE

519-383-1000

1341 4 Plank a k

Road, a ,

Sarnia

a a

GET YOUR

VEHICLE

WINTER

ROAD

READY!

SARNIA

Auto Centre

www.tirecraft.comw.ti i

c f

by Eileen Cade-Edwards, London • from Daytripping May-June 2002

As the bus in which I was a passenger

passed our local hospital, the little

boy on the seat in front of me leaned

against his mother's arm. Up to then

he had remained very quiet and still.

"Daddy doesn't love me, does he?"

he said suddenly.

"How can you say such a thing!"

exclaimed his mother in surprise.

"He doesn't!" insisted the little boy.

"Don't ever say that again," scolded

the mother. "You know he loves you

very much."

"He never said so when I came out

of hospital like you did."

"Of course he did," the mother

answered without hesitation.

"When?" insisted the boy. "I

never heard him."

"Well, don't you remember when

Daddy spent the whole evening

fixing your train? That's when

he told you he loved you."

The little boy wrinkled his

nose and glanced suspiciously

at his mother. "Is that when Daddy

said it? I didn't hear him."

Of course the little boy didn't

understand but I felt sure his mother

would somehow explain in a way that

would be clear to him. Unfortunately,

I had to leave them for I had already

arrived at my destination.

I thought about that brief conversation

between the boy and his mother for

quite a long time afterwards.

Not everyone can express their love

in words. To some people "I love you"

is one of the hardest things to say.

But there are many ways of "saying"

I love you.

The mother who sits for long hours

mending her son's favourite jacket

or alters a dress for her daughter so

that it fits to perfection. The young

wife who spends hours making the

dessert she knows her husband loves,

or the husband who brings home little

unexpected gifts of flowers or candies.

Then there is the humorous

proclamation.

A friend of mine has a wonderful

husband. On her club nights he

will wash the dishes, feed the

children, put them to bed and

do anything else that needs to

be done, without so much as

a sigh. But when it comes

to those three little words

she longs to hear, all he can

manage is: "I think I'll trade you

in for a new car."

"I used to be quite upset about

it," Mary told me, "but now I

understand. He is telling me he

loves me - but in his own funny way."

So when we long to hear those

three little words - I love you - let us

remember there are other ways to

"say" this that are just as significant

and meaningful if we will only train our

hearts and minds as well as our ears to

recognize them.

The little boy whose father spent

the evening mending his toy train will

one day understand this, even if his

mother is unsuccessful in explaining

it to him now.

P A G E

24

Life Taught Me... Acquire as much knowledge as you can.
---
Our contact info is on page 3 - email us or call (we actually answer)

Welcome to ...

THE Club

Welcoming

New Patients

SARNIA PHARMACY

Corunna Pharmasave

• Pharmacist available 24/7 for our paents

• FREE Delivery • FREE Compliance Packs

• $2.00 Co-Pay waived on elegible ODB Prescripons

• 10% discount on otc items every Tuesday & Friday

Open Monday-Friday 9-6, Saturday 9-2, Sunday Closed SARNIA: 206 Maxwell Street • 519-337-3215

MEDICATION MANAGEMENT • AWARENESS • COMPLIANCE CORUNNA: 409 Lyndoch Street • 519-862-2020

Sign, Sign, Everywhere a Sign

In a

Non

Smoking

Area...

Roland FP-10 Digital Piano

88 Keys Touch Sensitive $799.99

Add the Stand for $169.00

"If we see smoke, we will

assume you're on fire and

take appropriate action."

430 Exmouth St.

Sarnia

519-344-7740

You so

deserve

this!

pickersalley.com

Granny's

Jewels

By Therese Lecuyer, Essex

from Daytripping May-June 2016

It was made with patience. Every bead

was chosen with care. Was it the right

colour? Was it the right shape? Did he use

just the right amount?

Painstakingly, he strung the beads on

the pipe cleaner. In my mind's eye, I can

see his little tongue hanging out of his

mouth as he threaded the pipe cleaner

through the circle of the bead, like he was

threading a needle.

One minute in a child's time is like

five minutes for an adult. It must have

seemed like forever. One bead, two

beads... twenty beads. Choosing just the

right beautiful colours and just the best

shapes.

Although he is only four years old,

he puts so much thought into his

masterpiece for Granny. He knows her

favourite colour and attempts to create

a masterpiece meant especially for his

granny's eyes.

Getting it just the right size to fit her

wrist and tying it off so as to never lose

any of the "precious" stones to the floor,

is a feat of future engineering skills. Dad

has taught him well... one day he might

follow in his footsteps.

After sitting back and admiring it, and

making sure it is just right, he packs it

away for his 2000 mile plane trip out east

to Granny and Grandpa's house.

At just the right moment, he digs it out

of his suitcase and presents it to me—

Granny.

With a look in his eyes of pride and

much love he hands his handiwork to me.

At first I question why? It's not a special

occasion like my birthday or Mother's

Day or Christmas. Ben has made this just

because he loves me, which means so

much more!

I admire his handiwork and eye to

detail. He's put many of my favourite

coloured beads in there and a cluster of

many shapes and sizes combine to make

a work of art. Ben's work of love for his

granny.

Granny's eyes fill with tears knowing

the time, energy and love that was put

into it.

It goes with everything! I wear it

often...and although we are so far apart I

feel that he is with me. After all, included

in the many things like beads, and pipe

cleaners that were assembled to make

this treasure...was Ben's love.

COMMUNITY RESOURCES FOR AGES 55+

(From mThe Booklet "A Seniors' Guide ToSarnia-lambton")

a ambton Resource booklet available through Age-Friendly Sarnia-Lambton

by calling 519-332-0527 or visiting www.agefriendlysarnialambton.ca

RESOURCE NAME SERVICES OFFERED PHONE WEB/EMAIL

211 Mental Health Support, Food Services, Financial Assistance 211 211oncovid19.ca

Age-Friendly Sarnia Lambton List of Supports & Services 519-332-0527 agefriendlysarnialambton.ca

Bayshore Home Care Solutions Assistance with Housekeeping, Errands & Meal Prep 519-383-6979 bayshore.ca

Canadian Red Cross Grocery Pickup & Transportation Services 519-332-6380 redcross.ca

Care-A-Van Door-to-Door Public Transportation - lift equipped vehicles 519-336-3789

Habitat for Humanity Low-Cost Home Reno Services 519-339-7957 habitatsarnia.org

Heart to Home Meals Pre-Made Frozen Meal Delivery to 60+ 877-404-4246 hearttohomemeals.ca

Instacart Delivery from several local stores 888-246-7822 instacart.ca

Lambton Elderly Outreach Home & Yard Maintenance, Meals, Various Resources 800-265-0203 lambtonelderlyoutreach.org

Lambton Public Health Individual, Agency and Cargiver help 226-254-8222 lambtonpublichealth.ca

Neighbourlink Household Chores, Transportation, Shopping, Companionship 519-336-5465 neighbourlinksarnia.org

Sarnia Blessings Free Meals for Seniors & Vulnerable People 519-402-9093 sarniablessings@outlook.com

Shine at Home Transportation, 24 hr Housekeeping, Shopping, Meal Prep 519-336-9898 shineathome.com

Strangway Community Centre Recreational, Social & Educational Programs & Activities 519-332-0656 strangway@sarnia.ca

Victorian Order of Nurses (VON) Dementia Programs, Home Nursing, Respite, Much More 519-542-2310 von.ca/en/site/sarnia

winter 2022 Life Taught Me... Spend as much time with family as you can.

P A G E 25
---
Welcome to ...

940 MURPHY ROAD

Sarnia • 519-542-1491

THE Club

NORTH END APPLIANCE

Serving Sarnia-Lambton for 33 Years

519-336-7676

635 Cathcart Blvd., Sarnia

northendappliance.ca

Here at Napoli Pizza

we're not just a food

business, we're a

family business. Our

specialty is homemade

pizza, pasta and so

much more.

We are dedicated to

providing you with

only the highest

quality ingredients. We make our food the old

fashioned way. With classic Italian dishes, we

offer our customers a warm atmosphere filled

with the same friendly faces and aromas of

freshly made dough, sizzling pizza and delicious

fresh pasta. Whether you're dining in or

ordering out, we've made your food with the

same quality & care we would make for our own

family, so that you can enjoy it with yours!

A new magazine for people who aren't (new that is!)

CASH IN ON CLEAN UP!

Recycle your scrap metal for CASH!

ELECTRONIC WASTE RECYCLING

Copper • Brass • Aluminum • Lead • Stainless Steel

Batteries • Scrap Appliances • Aluminum Pop Cans

Container rental and C&D garbage disposal also available

SUPERIOR SERVICE, SUPERIOR VALUE! OPEN TO BUSINESSES & PUBLIC

MON-FRI 7:30-4:30

1279 Plank Rd, Sarnia • 519-337-3779 • www.trijan.ca SATURDAY 7:30-12

Russell Street

Family Owned

and Operated

Since 1989.

WE BUY & RECYCLE

ALL SCRAP METAL

25% OF F

any regular priced

giftware or home

decor item.

(For Seniors 60+)

120 Russell Street North, Sarnia • 519-383-0688

Welcome to ...

Winter 2022

Polypharmacy: What is it and why should I care?

By Chris Treftlin, Shine at Home, Sarnia

Here is a true story. We will call her

Frances. Frances is in her mid 80s

and she has three doctors. A general

practitioner, a heart specialist, and a

doctor looking after her arthritis—a

rheumatologist. She sees them all

regularly. Periodically, as her condition

changes, she gets new prescriptions.

Her GP is monitoring her Type 2

diabetes and the doctor has her on two

medications to control that condition.

From her heart specialist she has

a medication to thin her blood, a

medication to help control her blood

pressure, and a medication to help

control her cholesterol. From her

rheumatologist she gets a medication

to control inflammation and one to

control joint pain.

That is how it started. Now as

time passed each of these doctors

changed and added to Frances'

list of medications. Frances was

complaining of poor sleep, so her GP

gave her a sleeping pill. The pain in

her joints was getting more intense,

so her rheumatologist increased her

pain medication. Frances herself was

watching an infomercial and decided to

order an over-the-counter med to also

help with her sleeping.

These doctors, all well intentioned

are fixing the issue in front of them.

They are unaware of what the other

doctors are prescribing. The pharmacist

is filling the script and not checking

to see if there could be bad drug

interactions. Perhaps there are multiple

pharmacies involved.

At this point we count 17 medications.

This is Polypharmacy, and it is a big,

big, challenge for seniors and healthcare

in general. The overprescribing and

overuse of medications in our senior

population is called the second

pharmacological epidemic, the first

being the opioid crisis.

You see doctors know how to

diagnose and treat, while pharmacists

understand best medications, and drug

interactions. The chart shown illustrates

the differences in the training of doctors

and pharmacists.

Let's get back to Frances. She has been

dealing with a great deal of dizziness and

confusion in recent weeks. So intense

are these bouts of dizziness that she

remains in her armchair for most of the

day. Frances was attributing the brain

fog and dizziness to her old age—she

just sucked it up. She should not have.

Constant, persistent dizziness is not

a condition of aging. It is, for Frances

and similar cases, being caused by the

17 drugs in her system.

Getting up from her armchair one

day the dizziness became so intense

she lost her balance and had a bad

fall. Hospitalized for a time, she was

moved a Long-Term-Care (LTC) facility

to recuperate. Once there, a multidisciplinary

health team came around

her and coordinated all aspects of her

care including her medications. The

LTC doctor and pharmacist took over

her medications and reduced the 17

to…wait for it…five. Yes, five. Frances

recovered from her fall-induced injury,

and the chemical cocktail that had

been coursing through her veins.

Paradoxically, her son reported that the

fall was the best thing that could have

happened to his mom. "I got my mom

back!" he told the leaders and staff at

the LTC community.

This true story was shared with me

by Andy Donald, owner and CEO of The

Health Depot, and a Certified Geriatric

Pharmacist. Andy is on a mission to

improve the health care system for

seniors by reducing and eliminating the

scenario I just described. "We need to

get rid of healthcare silos. We are not

talking to each other in a way that puts

the patient first. No one is to blame. It

is just that the way we have been doing

things is baked into the system."

Andy says the solution will come from

two different sources. First, technology

has advanced to a degree that doctor's

prescriptions will be matched up

against all current patient medications

and will flag potential issues. Also

known as eHealth. Pharmacist access

to all patient medication records will go

a long way to reducing polypharmacy.

Secondly, and perhaps more

importantly, a change in attitude in

healthcare is required to ensure true,

patient-centred care: the doctor asking

the pharmacist, the pharmacist putting

the patient first, asking, inquiring, and

yes, saying there is a better way.

Check out www.thehealthdepot.ca,

or contact Andy Donald CGP via email

andy@thehealthdepot.ca

P A G E

26

Life Taught Me... Get a helmet and enjoy the ride.
---
Our next issue will come out around the beginning of April 2022.

THE CLUB Winter 2022

CROSSWORD

Call to

book a

tour!

Welcome to ...

THE Club

70 Duke Street, Wallaceburg

WallaceburgRetirementResidence.com

519-627-0719 I emma.king@wallaceburgretirementresidence.com

This FREE Magazine is made possible by the

companies you see adversing in these pages.

Please consider them when making your

purchasing decisions, and please let them

know that you saw their ad in...

Welcome to...

THE

THECLUB

ACROSS

Kern

water

Better Water

for Better

Health

DOWN

PUZZLE SOLUTION ON PAGE 12

Home Water

Treatment

Mon–Fri 9 am–6 pm • Sat 8 am–2 pm

1804 London Line, Sarnia

519-542-4211

kernwater.com

Water softeners,

whole house filters

and drinking

water units

Benefits

Water Treatment:

• Improved taste and clarity

• Removes contaminents

• Environmentally friendly

• Cost-effective

Water Softener:

• Healthier hair, skin

and nails

• Preserve appliance life

• Cleaner/shinier silverware

and glassware

• Softer clothes that last

longer

winter 2022 Life Taught Me... Treat others how you want them to treat you. P A G E 27
---
Welcome to ...

Seniors

SAVE 20%

Every Thursday!*

*Discount applies to

regular priced merchandise

&Church

One particular four-year-old

prayed, "And forgive us our trash

baskets as we forgive those

who put trash in our baskets."

THE Club

Available with a PC Optimum card at

the following Shoppers Drug Mart stores:

510 Exmouth Street, Sarnia

123 Mitton Street South, Sarnia

420 Lyndoch Street, Corunna

FOLLOW US!

To find (and post) current events

& community information, please

follow our Facebook page.

Welcome to ...

THE Club

Growing old is inevitable, but growing up is optional!

Our Wonderful Language

It all began when I went

to Barrie because they were

going to bury Barry who had

died from eating a poison

berry, not from beriberi as

first reported. As executor,

I'd been asked to write a

report on the funeral rite

and I wanted to make sure I

got it right. First I talked to

his fiancé Mary who, not surprisingly,

was less than merry now that she was

no longer going to marry Barry. Also,

so I wouldn't err, I had to resolve

the question hanging in the air…

who was Barry's heir? The situation

was confused because Barry's cousin

Claude, had clawed his way into the

equation, the clod. It also looked like

Claude's mother Bea would also be a

problem because she seemed to have

a bee in her bonnet. If Bea, who was

Barry's aunty, was anti my report, it

would certainly up the ante.

Another problem I had to check was

a missing cheque Barry was supposed to

have received from a mysterious Czech.

I also had to talk to Barry's brother

Harry who, ironically, was no longer

hairy now that he had joined the Hari

Krishnas.

Mary said, "He'll be a problem,

the heel, because he had an ongoing

argument with Barry that just wouldn't

heal.

It would be a tough knot to untangle,

but there was naught I could do;

I'm not one to give up easily. So, to

pique their interest, at the peak of my

investigation, I let them have a peek at

By A. C. Stone, Windsor

From Daytripping

March-April 2007

my preliminary report.

To throw them off the

scent, I sent the message

that Barry didn't have a

cent to his name.

When I was a tot, I

was taught that, after

you hook a fish you

should keep your line

taut so, to get to the meat

of the matter, I asked them to meet me

in Barry's office where, I promised, I

would mete out the answers. I entered

the room with my report wrapped in

plastic as protection against the rain,

rapped firmly on the table and waited

until I had their rapt attention. Pushing

back my chair I rose and announced,

"I'm sorry folks, but you're no richer

than your forebears were in days of

yore. Barry left all of his money to his

children from a previous marriage."

Those children were Gord, who had

been gored by a bull after he threw a

gourd at the animal; Hugh, whose eyes

were the same hue as Gord's, and who I

felt would hew to the party line plus the

twins Lou and Lew who were so close

they even went to the loo together in

lieu of leaving each other, even for a

few minutes.

There was a moment of stunned

silence before their lawyer asked,

"You mean they're not going to inherit

anything?"

I told them I was sorry and with that

they tried to rein in their emotions and,

as they trudged slowly out into the rain

they realized that Barry could still reign,

even from the grave.

Welcome to ... Winter 2022

P A G E

28

Life Taught Me... You are stronger than you think.
---
If your business offers anything to people 55+, you can advertise too!

Punography

• Velcro - what a rip off!

Welcome to ...

THE Club

Weekly Deliveries

on Sundays

Easy Order by Phone

519-491-5797

• I used to be a banker, but then I lost interest.

• Venison for dinner? Oh deer!

• Be kind to your dentist. He has fillings, too.

• I got a job at a bakery because I kneaded d dough.

• Haunted French pancakes give me the crepes.

• Cartoonist found dead in home. Details are sketchy.

• Earthquake in Washington obviously government's fault.

• I used to think I was indecisive, but now I'm not so sure.

• England has no kidney bank, but it does have a Liverpool.

• I dropped out of communism class because of lousy Marx.

• All the toilets in New York's police stations have been stolen.

Police have nothing to go on.

• Did you hear about the cross eyed teacher who lost her job

because she couldn't control her pupils?

Fresh Meals to Your Door

All Homemade & Prepared Just For You!

Shepherds Pie • Quiche

Roast Beef with Mashed & Veggies

Beef Stew • Lasagna

Pork Chop with Baked & Veggies

Roast Chicken with Mashed & Veggies

Penne with Meat Sauce

Meatloaf with Mashed & Veggies

Salisbury Steak with Baked & Veggies

Turkey with Mashed, Veggies, Stuffing, Gravy

Full Pound Portions - $9.95

SOUPS: Chicken Rice, Vegetable,

Beef Vegetable & Texas Style Chili

500 ml - $5.55 • 1 litre $7.99

www.phillycheesejakes.com

If you need access to additional funds,

using the equity in your home

can be a lower cost way to borrow

the money than taking out a traditional loan.

For example, you can use your home equity to:

RENOVATE YOUR HOME,

AN ADDITION, POOL

BUY AN

ADDITIONAL

PROPERTY

INVEST

IN STOCKS

BARRY

PORTER

Mobile Mortgage

Specialist

BUY A CAR

OR BOAT

Cell: 519-466-3833

E-mail:

barry.porter@rbc.com

winter 2022 Life Taught Me... Take care of your financial future.

P A G E 29
---
Welcome to ...

THE Club

Don't put this down! You'll have to bend over to pick it back up!

CAROLYN R L N MOSIER

BscP.T. MCPA

Registered

ered

ed

Physiotherapist

ist

Forest Physiotherapy

and Rehabilitation

10 Watt Street, et

Forest • 519-786-3336

36

Available frozen

as whole, quartered

or by individual cuts.

By appointment please.

• Farm Raised • Free Range • Non-Medicated

7078 Wisbeach Road, Arkona

519-494-1139 • wisbeachchickens@gmail.com

Welcome to ... Winter 2022

foresttravelservice.com 519-786-2319

We're here to help you

make travelling easier.

18 King Street West, Forest

ESTABLISHED

IN 1977

7143 Forest Road,

Plympton-Wyoming

(4 km S. of Forest)

Come

to our

on farm

Brewery!

stonepickerbrewing.com

Follow us for live band announcements.

Tea With Daddy

One day my mother was out and my dad was in

charge. I was maybe 1 1/2 years old.

Open the door to your

financial well-being.

Pat Smits

Financial Advisor

12 Mac Donald Street

Forest, ON N0N 1J0

519-786-4924

www.edwardjones.ca

Someone had given me a little tea set as a gift, and

it was one of my favourite toys. Daddy was in the living room engrossed in

the evening news and my brother was playing nearby in the living room

when I brought Daddy a little cup of 'tea', which was just water, of course.

After several cups of tea and lots of praise for such yummy tea, my Mom

came home. My Dad had her wait in the living room to watch me bring him

a cup of tea, because it was, "just the cutest thing!"

My Mom waited, and sure enough, here I come down the hall with a cup

of tea for Daddy! She watches him drink it up, then says, "Did it ever occur

to you that the only place that baby can reach to get water to make 'tea' is

the toilet?"

Stay Independent, Prevent Falls

In my work as a registered

physiotherapist, I regularly meet clients

who are at risk of falls. It's quite common

to have falls as we age. Falls occur when

we lose our balance and end up either

on the ground or lower than where we

started. Approximately 30% of people

over the age of 65 fall each year. One

in five may require medical attention

which can affect their ability to perform

daily tasks such as getting into a car,

rising from a chair, or carrying groceries.

Preventing falls is important to stay

independent!

There are several things that may

contribute to falls: poor balance, poor

By Kelly-Lynn Musico, Brights Grove • Registered Physiotherapist, Registered Yoga Teacher

vision, and dementia to name a few. The

good news? Many falls can be prevented!

That's were my physiotherapy work

comes into play. I get the privilege of

educating clients with simple steps to

help keep them safe of falls.

Here's what you can do to lower your

risk:

EXERCISE:

Taking part in regular exercise reduces

the risk of falls. Ensuring your exercise

program include both strength and

balance exercises. Walking, gardening,

swimming are a few great ways to stay

active. A registered physiotherapist can

assist in setting up your exercise program

that is specific for you.

HOME SAFETY MODIFICATIONS:

Making sure the floor is free of clutter

and tripping hazards. Remove

scatter rugs. Arrange furniture

for ease of movement. Keep

commonly used items

within reach, so you are

not bending too low. Ask

someone to your home

to help make sure it is set

up as safely as possible.

OTHER HEALTH

INTERVENTIONS:

Your vision and

footwear and general health

can all have an impact—check them out!

Review all medications with your doctor

or pharmacist. Even some over-thecounter

medications can increase your

risk of falling.

Keeping yourself safe from falls can

keep you independent! Stay Active!

An Old Fashioned Country Store with a Modern Twist!

• Collecbles & Giware • Kids secon

• Fudge • Maple Buer Tarts & Baking

• Williamson Farms Beef & Local Pork, Cider,

Cheese & Maple Syrup • Gi Baskets

Wednesday is

SENIORS DAY!

Numerous Savings for 55 & over

Shop Online www.williamsonfarmsmarket.com

Curbside Pickup is always available • Ask us about delivery!

14 King St. W., FOREST • 226-520-0144

January through March - Open Tuesday to Friday 10am-6pm • Saturday 10-5

P A G E

30

Life Taught Me... Always get more than one quote.
---
Please let us know about places we should be dropping off free copies.

Welcome to ...

THE Club

Stop & shop in Forest, Ontario!

Check out our downtown - browse our shops,

enoy a meal at one of our fantastic restaurants or

take in a movie at the historic Kineto Theatre!

Make a day of it in Forest!

Keep up to date with event & shopping information

on our website, Facebook & Instagram!

Forest Pharmacy

Unique Gifts & Greeting Cards

Herbal Products & Supplements

Compression Stockings • Mobility Aids

Purses, Scarves & Jewellery

*Free Delivery in Lambton Shores

* Some restrictions apply

Seniors Save *15% Wednesdays

View our flyer and services at

forestpharmacy.ca

Mon-Fri 9-6, Sat 9-5, Sun & Holidays 10-2

19 King Street West, Forest, ON

519-786-5161

info@forestpharmasave.ca

SIGNS FROM GOD

These were found on signs outside of churches.

WHOEVER IS PRAYING FOR SNOW

PLEASE STOP

FRENCH

A bad compromise is better

than a good lawsuit.

A bad workman never

finds a good tool.

A big nose never spoiled

a handsome face.

A clear conscience is a good pillow.

A crooked log makes a good fire.

A door must either be open or shut.

A drowning man clings to a blade of grass.

A fool's speech is a bubble of air.

A good tale is none the worse for being twice told.

A great fortune in the hands

of a fool is a great misfortune.

A handsome shoe often pinches the feet.

A lame man won't walk with one who is lamer.

A man travels as far in a day as

a snail in a hundred years.

A muffled cat never caught a mouse.

winter 2022 Life Taught Me... Home is where your heart is.

P A G E 31
---
Welcome to ...

THE Club

Please submit a photo of your loved one for this feature page! It's Free!

Welcome to ...

Winter 2022

Just u s

send s n

us s a photo h o o of f someone m n e who w o

h has s celebrated ebrated ed any ybirthday y

oranniversary anniversary, r

ary ,

a

rerement, rerement, an award or if they just deserve e recognion. recognion. The main m

person p

must s be 55

5

or over v and the photo must be of good quality. Photos are not guaranteed to o run.

.

info@welcometotheclub.ca

Box 430, Bright's Grove, ON N0N 1C0

IT'S FREE TO HAVE PHOTOS PUBLISHED!

Helen Vandevenne

celebrated her 98th birthday with family and

friends on Oct 13th. She lives at Thompson

Gardens in Corunna, previously from Wilkesport.

Helen and her sister Dorothy Pet who is 96 have

hand quilted over 100 quilts since moving into this

Seniors Home. Helen is an inspiraon to all.

Leah Cullinan

Happy rerement

to my wonderful

wife, Leah!

Love Rob

Ken Henry

Leona Allen

Rered from Tourism Sarnia Lambton

aer many years of hard work and

dedicaon to the community. Leona

was a key part of TSL and is

reknowned for knowing everything

that was happening for people

travelling in Sarnia-Lambton.

Firefighter Ken Henry, and his wife, Nancy, were

recently honoured for 50 years of service by the

Petrolia/North Enniskillen Fire Department.

During a recent ceremony at the Petrolia Legion, Ken

was presented with a plaque from the office of the

Ontario Fire Marshal, both his 45 and 50 year bars

to go on his service medal presented by Nelly Green.

He was also gied a wood carving of a PNEFD

Maltese cross and an engraved watch presented by

PNEFD Chief Jay Arns. Greengs were brought by

dignitaries at all levels of government. Speaking in

thanks, Firefighter Henry spoke about some of the

changes, challenges and champions of his 50 years

of volunteer service.

Ron Vanderburgt

with some of the 60 plus birthday

cards he received for his 60th

birthday on October 8th. Ron's

four children organized this

unique surprise.

Bob Topliffe

Bob, of Wyoming and a member of

Petrolia Toastmasters, was recently

awarded a MEMBERS MAKING A

DIFFERENCE award from District 86

Toastmasters. This award recognizes

that Bob has volunteered with RAYJON

for more than 20 years and has been a

part of more than 40 eyeglass clinics in

Hai, Mexico, Dominican Republic and

other third world countries.

P A G E

32

Life Taught Me... Never piss off the bartender.
---
Sometimes, no news really is good news.

3G CUSTOM APPAREL & MORE

T-shirt & Sweater Pressing

FUNDRAISERS WELCOME

Photo credit:

Phil Collins

(for real)

4110 Petrolia Line

Petrolia

519-882-1212

~ OPEN 6 Days a Week ~

Tues. to Sat. 11am to 8pm

Sunday 11am to 6pm

My Lefthanded, Backwards,

Upsidedown Life & Assorted Short Stories

Well, back in the old days, I was

pretty much terrified of girls. I knew

I liked what they had to offer, but was

pretty uninterested in actually seeking

them out. Didn't like to put them in

the awkward position of having to

crush my dreams and didn't like to

be put in the position of having my

dreams crushed. Problem was that

I'd made new friends in high school,

and these guys were obsessed with

chasing girls – it was pretty much all

they thought about – except possibly

how to get hold of some liquor and

get drunk – because that was starting

to happen as well – but that's another

story. Anyway, if you were intent on

chasing girls, it meant that you were

likely going to end up going to dances

– and, if you remember, dances were

not my favourite activity.

However, in order to be one of

the crowd, I knew I'd have to attend

dances. So, I bucked it up and went

to the first few dances of the school

year. Everything was going okay

because I would sort of hide off to

the side of the event and let my

buddies have their way with the girls.

In those days, most dances featured

a live band, so it was always good

to watch the band – mainly because

things were happening in that area

of my life as well – but that's another

story, too. And, so, I ended up in my

Sunday best at the annual Valentine's

Dance. Not really too worried, but

knowing I'd need to keep my guard

up nonetheless……

And the dance was going okay, and

I was doing my usual hiding, when

something unfortunate happened.

One of my newfound buddies wanted

to dance with this certain girl in the

worst way – but she had a friend she

was with…and none of the other guys

seemed to be around. So, he asked the

By John Gardiner

The following is an excerpt from "My Lefthanded,

Backwards, Upsidedown Life & Assorted Short Stories"

by Wallaceburg writer John Gardiner, who grew up and

came of age in Hanover, Ontario during the 1950's and

1960's. In this memoir, Gardiner tells the story of his

growing-up years with a series of colourful anecdotes

about the way life used to be. More of the writer's work is

available at www.johngardinerstories.com or by contacting

the author at gardiner@kent.net.

I Attend the Valentine's Dance

inevitable question in a circumstance

like this. Would I go with him and ask

the friend to dance. I said, "No, man,

I don't actually dance." He responded

that it was a dance I was attending

and he'd buy me a "ten-to-go" bag of

French Fries after if I'd do it. So, off

we headed across the dance floor. And

before I knew it, I was dancing. It was

a slow tune and for my generation of

dancers what that meant was that all

you had to do was grapple with your

partner – there were no real steps but

it was good if you kept your feet to

yourself. I made it through the song,

whereupon the girl I had asked said

her thanks and headed off. I don't

remember how my friend made out,

but I had done my duty….and I'd

danced with a real live girl and lived

to tell about it.

Now the thing was that at the

annual Valentine's Dance, they had

a tradition at old HDHS and that was

that near the end of the night, they

crowned the "Queen of Hearts." And

the way they did this was by putting

all the girls' names in a big empty

thing, then drawing out one of them.

And, of course, they pulled the name

of the girl I'd danced with. So, she

headed off up to the stage to receive

her honours. And when she got there,

something truly horrible happened.

They asked her who she had last

danced with – and, you guessed it, it

was me. And, suddenly, I was on stage

and I was the "King of Hearts"…….

Wow…..They slapped a cardboard

crown on my head and shoved a

sceptre into my hands and I was all

set. Truly one of the most traumatic

things that has ever happened to me.

I did survive, but it was a close call. It

taught me that I'd need to do a better

job of hiding as I journeyed through

life. Hide well, my friends, because

there are bad things in life and they're

just waiting out there to get you.

Welcome to ...

Established in 1978,

Lambton Pharmacy continues to

provide caring, professional pharmacy

services to residents of the beautiful

town of Petrolia and Lambton County.

4130 Glenview Rd, Unit 2, Petrolia

519-882-0650

Danielle Edgar, B.Sc., PharmD

Pharmacist

Monday–Friday 9–6

Saturday 9–12

HOGAN

P•H•A•R•M•A•C•Y

Beautiful Gift Shop

• Wedding • Birthday

• Baby • Home Decor

THE Club

Everything for

your Kning,

Crocheng,

Cross Stch &

Needlepoint

Country Yarns Needs!

- Menon this ad for a 15% discount -

2776 LaSalle Line, PETROLIA • 519-882-8740

(BETWEEN MANDAUMIN & WATERWORKS)

Wed.10-5 • Thurs.10-6 • Fri.10-5 • Sat. 10-3

www.country-yarns.com

395 Fletcher St

Petrolia, Ontario

4177 Petrolia Line, Petrolia • (519) 882-1840

THE WALK

OF DOWNTOWN PETROLIA

Petrolia's Alternative Fuel

226-738-0665

blackgold.beer

Full Service Pharmacy

Full Service Cosmetic Department

Full Service Home Health Care Dept.

Mon-Fri 9-6, Sat 9-6, Sun10-5

Petrolia's

Luxury

Downtown

Development

The Walk is Petrolia's only luxury

apartment project in the downtown

core. Within walking distance to the

grocery store, hospital, pharmacies and

more, the location is ideal for adopting

Petrolia's trendy downtown lifestyle. 519-882-3157

www.albanyretirementvillage.com/the-walk

winter 2022 Life Taught Me... Never assume everyone has the same heart as you do. P A G E 33
---
Welcome to ...

VAST SELECTION OF TEAS

Exquisite Giftware

Home & Garden Decor

Jewellery • Gourmet Foods

4192 Petrolia Line • Petrolia • 519-882-0238

• Fresh Produce

• Fresh Meat

• Party Trays

• Bakery

• Deli

THE Club

FULL SERVICE FLORIST • LOCAL ART

4194 Petrolia Line, Petrolia • 519- 882-1330

My Daily Work Out

Here I am at eighty, I need more exercise,

Doctor says its good for you, keeps you fit and wise.

So I got up this morning and "dragged my heels" a bit,

Now that's a great beginning, should really keep me fit.

Then "jumping to conclusions" and "climbing walls" I know,

Will help build up my muscles and help my spirits grow.

I push my luck and get to work, "and 'round in circles run,"

While "bending over backwards" that's really not much fun.

Making "mountains out of molehills" & "swallowing my pride,"

I feel I've had my exercise, at least I think I tried.

So now I think I should relax and things are done and said,

I'll "put off until tomorrow" and go crawl into bed.

Every Tuesday is SENIORS DISCOUNT DAY

10% OFF for age 60 and over (must tell cashier)

Doesn't apply to tobacco, lottery or gift cards

By Mariann

Pafford,

London

• Bulk Food

• Seasonal

Merchandise

• Flower

Market

60 might be the new 40, but 9 pm is the new midnight.

www.albanyretirementvillage.com

Retirement

Village

Downtown Retirement Living

in a Quaint Victorian Town

Call to Book a Tour:

423 Albany Street

Petrolia, ON

519-882-3157

Enjoy Friends | Enjoy Independence | Enjoy Life

TOP 10

1962

Country Songs

1 Ned Miller From a Jack to a King

2 Claude King Wolverton Mountain

3 Marty Robbins Devil Woman

4 Patsy Cline She's Got You

5 Marty Robbins Ruby Ann

6 Patsy Cline Crazy

7 Carl Butler Don't Let Me Cross Over

8 Walter Brennan Old Rivers

9 Jim Reeves Losing Your Love

Source:

10 Jim Reeves Adios Amigo playback.fm

Billboard Hits

1 Pat Boone Speedy Gonzales

2 Ray Charles I Can't Stop Loving You

3 The Tornados Telstar

4 Elvis Presley Return to Sender

5 Elvis Presley Good Luck Charm

6 Chris Montez Let's Dance

7 Elvis Presley Can't Help Falling in Love

8 Little Eva The Loco-Motion

9 Bobby Vinton Roses Are Red

10 Elvis Presley She's Not You

Source:

playback.fm

Movies

Lawrence of Arabia

(Oscar for Best Picture)

The Longest Day

In Search of Castaways

That Touch of Mink

The Music Man

Mutiny on The Bounty

To Kill A Mockingbird

Hatari!

Gypsy

Lolita

Source: the-numbers.com

Welcome to ...

Winter 2022

Use our easy

ONLINE

SHOPPING

SERVICE

www.yourindependentgrocer.ca

We'll bring your groceries to your car!

P A G E

34

4136 Petrolia Line,

Petrolia • 519-882-2211

www.yourindependentgrocer.ca

Life Taught Me... Have a sense of humour.
---
You're not getting older, you're just becoming a classic!

Welcome to ...

THE Club

BOB BAILEY

MPP – Sarnia-Lambton

Building A Better Sarnia-Lambton

Presenting petitions at Queen's

Park on behalf of seniors living

in Ontario land lease

communities, including

Bluewater Country in Sarnia.

Proudly attending a Righteous

Among the Nations ceremony

hosted by Israel in Toronto, which

recognized the heroism of late

Lambton County residents Jan and

Elsje Snippe for saving a Jewish

boy in the Netherlands during The

Holocaust.

Recognizing the 100th anniversary

of the Sarnia Cenotaph and the

restoration of the 100-year-old

"Tommy" statue after it was

damaged.

Visiting local industry with the

Minister of Energy (centre) and Rob

Thompson, NOVA Chemicals VP

Manufacturing East.

Welcome to 2022 – and congratulations to The Club on a very

successful first year. As the sophomore year of this unique

publication kicks off, I know we're all excited to see what

informative, entertaining and humourous features The Club team

will deliver in the next 12 months to its thousands of 55+ readers!

Although 2021 continued to provide many challenges, almost

everyone I've spoken with in recent months has been more

positive and upbeat as life in Ontario returns to normal. Even if

we're not completely out of the pandemic woods yet, I think all of

us are feeling more optimistic about the future.

With the end of Ontario's 42nd Parliament coming this spring,

there is still plenty of work to be done at Queen's Park, including

a new budget that will set the stage for the province's future. As

your Member of Provincial Parliament since 2007, I have always

advocated strongly for everyone in Sarnia-Lambton, ensuring

that our local issues are front and centre. Additionally, over the

past several months, I've been honoured to make numerous

funding announcements in support of programs that are directed

specifically to the needs of those 55+, many of whom are living

on fixed incomes.

Just a reminder that if you have concerns related to any

provincial matters, my Constituency Office staff is always

available to help. Please check out my contact information at the

bottom of this page and feel free to stop by my office, call or

email any time.

I'd like to extend my best wishes to all The Club's readers for a

healthy and prosperous 2022. Stay safe and be well!

Talking with workers at the

former Lambton Generating

Station prior to the proposed

demolition in early 2022.

CONSTITUENCY OFFICE

805 Christina St. North, Suite 102

Point Edward, ON N7V 1X6

Celebrating the 150th

anniversary of First Baptist

Church in Petrolia with Pastor

Alex Craig.

Contact Bob Bailey

Tel.: 519-337-0051

Fax: 519-337-3246

Participating in the Ontario

Trillium Foundation event in

Petrolia to celebrate Lambton

County Developmental Service's

$53,000 grant for a new

accessible mini-van.

Discussing local economic issues

with the Associate Minister of

Small Business and Red Tape

Reduction (left) and Terri O'Brien,

owner of local business Feather

Your Nest

E-mail: bob.baileyco@pc.ola.org

Website: bobbaileympp.com

winter 2022 Life Taught Me... Be thankful you live in Canada.

P A G E 35
---
Welcome to ...

WYOMING

ROOFING

THE Club

• Residential

i

t

ial

• Re-Roofs

• New Work

Mike Daamen

n

519-845-0182 5-

82

• 519-899-2422

99-2

-242

2

JEN'S

SALON

571 ERIE ST, WYOMING

519-845-3596

If this brings back good memories, send us some of your own.

You've got a lot riding on those tires!

You can trust

Wyoming Tirecraft

for personal

small town service.

Welcome to ...

Winter 2022

T he Winsomeness of Winter

By Janet Robinson, Burlington • from Daytripping Nov-Dec 2021

I have to admit, I am not a fan of

winter. I tend to hibernate during the

cold months, awaiting the warmth of

spring, and the emergence of the beauty

of flowers and greenery once again.

I gather my books together for good

reads, peruse new recipes to try, and

live the indoor life with the satisfaction

that I am warm and comfortable.

Yet, winter does have a certain charm

to it. Everyone loves to see a landscape

with newly fallen snow like feathery

pillows tenderly placed on each branch

and surrounding foliage. It's peaceful

and calming to view.

I would often look out the window

during an evening snowfall and marvel

at the diamond-like sparks of colour,

flashing from tiny snowflakes as the

outdoor lights lit up those flakes,

displaying all the colours of the rainbow.

Reds, greens, blues, oranges, all shouting

with unheard voices, "Behold!"

And there is such elegance in the

ice-laden branches of trees and other

structures after an episode of freezing

rain. The following day's sun glistens

on every part of the landscape and it is

a treat to drive around for a few hours

before it melts away to behold what

nature has given as a fleeting covering

of what appears to be crystal and glass

everywhere.

Some folk are very brave and layer

up in warm clothing venturing out for

walks and sometimes escapades into

the wooded areas or fields to view the

birds and other animals. There is an

abundance of life in the perceived dead

landscape, with the antics of squirrels

scurrying about, nuthatches eagerly

eating up the suet a benevolent home

owner has put out, and deer silently

walking through the ubiquitous down

which has blanketed the fields. Yes,

there is life in the frozen land.

Winter has inspired photographers

and painters who give recognition to the

often overlooked tranquility of this silent

world. The pristine white is the perfect

backdrop for the scarlets of cardinals

and berries, the greens of the pine and

spruce trees, the blues of the jays, and

the blacks and browns and rust colours

of other creatures. The artists of the

world have always appreciated the visual

gifts that this frigid season has given us.

Children have consistently embraced

the season, building snowmen and

forts, making snow angels, sliding on

the ice. This is not a strange world to

them, but another opportunity to play

in a different and creative way and

their rosy cheeks and gleeful smiles

attest to the joy the season has brought

them. Likewise, most dogs are thrilled

to have the chance to plough through

the fresh snow and roll in it with great

exuberance, and it lightens the heart to

watch them.

So rather than sigh with discouragement

and impatience as we await the warmer

seasons, we should see winter through

new eyes and a heart of gratitude for the

beauty which continues through the next

few months. It's there if we look for it.

Wyoming

Auto Centre

ALL MAJOR BRANDS

Cars, Trucks, Performance

Specializing in Farm

AUTO SERVICE

We can also do repairs,

oil changes, brakes, batteries,

seasonal maintenance

and much more

It's worth

the trip

to Wyoming!

547 Ontario Street, Wyoming • 519-845-0813 • tirecraft.com

Phrase Origins Pull Out All the Stops

Refers to using every possible effort to achieve something.

Pipe organs have many sets of pipes, with knobs called

stops, to control the air flow. Usually they are

strategically pulled out to achieve a specific sound, but

when they are ALL pulled out, it results in a very full

sound, with maximum volume.

Green County Ebikes

and

Mobility Scooters

New • Used

Parts • Sales • Service

Financing Available

Ebike &

Mobility Scooter

Batteries

638 Broadway Street, Wyoming • 519.333.8313 • www.greencountyebikes.com

TUES. TO SAT.

9AM - 5PM

P A G E

36

Life Taught Me... Nothing is ever as it seems.
---
Let's grow old together. You go first.

Welcome to ...

THE Club

Wyoming's First and Only

Health Food Store & Refillery

Growing

A Greener

Community,

One Tree

At A Time

647 Broadway Street, Wyoming

226-307-0694 • suncoastnaturalhealth.ca

FARM FRESH ARTISAN GOAT CHEESE

GLUTEN FREE • LOW LACTOSE

SPECIALTY FOODS AS WELL

569 BROADWAY ST, WYOMING • 519-845-1613

SENIORS 10% OFF (65+)

Contact Us: 519-845-0847

info@wyomingtreeservice.ca

Confessions of a Stoker

I am in love with central heating.

Each time I saunter into the hall and

turn the thermostat up or down, a

smug smile lights my face. For life

wasn't always so simple.

Soon after our marriage, my husband

and I moved into his parents' home on

their one hundred acre farm. We had

our own private living quarters in half

of the one-storey home and my in-laws

shared the other half. Unfortunately,

we also had our own coal stove. To a

girl raised in an apartment building

who had never set eyes on a furnace

much less an ancient cook stove, the

results proved to be a near disaster.

My mother-in-law was a wellintentioned

woman with 40 years stove

tending experience behind her. She

was given to daily periodic inspections

into our half of the house to peer

beneath the grates. And not without

good reason.

A gingerly lift of the lid and

wild, grasping flames would leap

uncontrollably out of the innards,

licking savagely at her arms and face.

Then, with the patience of Job and nary

By Estelle Salata, Dundas • www.estellesalata.ca • From Daytripping Nov-Dec 2016

an accusation in my direction, she

would bank the fire with just the right

amount of coal or wood. No more, no

less. I soon began to regard her as a

sort of genius whose great talent for

tending fires was being wasted on

incidentals. She would have excelled

as a forest ranger in the northern

hinterland.

On one of her daily rounds she

found me huddled in the ashes like

Cinderella. She caught me bundled up

to my eyeballs in scarves, parka, wool

socks and boots. A near empty box of

burnt matches gave mute testimony to

my ineffective attempts at becoming

an efficient farm wife.

With a sympathetic cluck of her

tongue, she stoically took one match

and built a crackling fire in a matter

of minutes. Even after a year, I still

required a week's supply of newspapers

and a full box of matches.

One cold, blustery mid-winter

afternoon, she popped in and caught

me garbed in beach wear with the

windows wide open. I dropped the fan

I had been waving, and passed it off

663 Broadway Street

Wyoming, ON N0N 1T0

519-845-3212

beth@bethhackettins.ca

623 Broadway St., Wyoming • 519-845-9915 • VillageFireplaceShop.com

with a weak, sickly grin.

It was in the chill days of mid winter

that the Stove War, as I was prone to

call it, got completely out of hand. One

evening around midnight my husband

and I awakened suddenly. I had dreamt

of getting lost in the Sahara desert. It

felt as if the hot sun still blazed down

on us.

"Why is the ceiling pink?" I asked

my husband.

A check on the stove showed that

it had scored another triumph. The

entire surface area was red hot. The

walls and furniture felt uncomfortably

warm. We threw open the windows

and door, praying that stray animals

wouldn't wander inside. We dragged

the furniture closer to the door just in

case we had to make a quick getaway.

We tip-toed quietly through the silent

house. I prayed that my mother-in-law

would continue to sleep through the

entire disgraceful episode.

We were forced to wear coats,

go outside and stand on the back

stoop until the heating cooled down.

Some two hours later, when the stove

had finally spent itself,

we crept back into the

house, bleary-eyed with

lack of sleep. Congratulating

ourselves on a job well done,

we heard a slight click of the

adjoining door. We looked up

to see a ghost-like figure clad in

a white, flannelette nightgown

carrying a water bucket.

"Why is all the furniture

piled up over by the window?"

my mother-in-law asked in an

innocent voice.

I stammered back the first

words that came to my head.

"We didn't want to burn

the house down?"

Just for a moment, I

thought of moving back

to the city first thing

in the morning.

Can anyone blame

me for being in

love with automatic

heating?

Great Local Service

AUTO • HOME • FARM • INSURANCE

winter 2022 Life Taught Me... Always dance in the rain.

P A G E 37
---
Welcome to ...

THE Club

Putting the Grey in Great!

Welcome to ...

Winter 2022

• Manicures • Pedicures • Waxing

• Cosmetic Injections (Botox & Fillers)

• Electrolysis • Independent Hair Stylists

a getaway from the everyday

635 Broadway Street

WYOMING

226-307-0772

WHEN YOU REACH

OLD AGE, YOU

CAN GO TO ANTIQUE

SHOPS AND VISIT

YOUR OLD FURNITURE.

PICK YOUR OWN • Strawberries

• Apples • Pears • Pumpkins (in season)

PRODUCE FRESH FROM OUR FIELDS

RETAIL STORE on the Farm with lots of

fresh produce, baking & local preserves.

www.zekveldgardenmarket.ca

4622 London Line, Reeces Corners • 519-845-3482

OPEN MON-SAT

Children Welcome

MARLEY PHARMACY

59 9Y Years of fS Service i to oWyo

Wyoming o &Th The Surrounding S o un

i Community!

C i

!

"Where Good Friends Meet!"

Physician Consults

available through our

VIRTUAL

WALK-IN CLINIC

Call us for details

• Compounding Service

• Rapid COVID Tesng

Bandmasters in Lambton County

Courtesy of Lambton Archives, County of Lambton

607 Broadway Street, Wyoming 519-845-3341

Lambton County has a vibrant musical

history. Every community in Lambton

County has been inspired to put some

sort of music group together and it was

the presence of the military in Lambton

County that helped music flourish. The

military wore handsome

uniforms and they needed

music to accompany their

assemblies, marches and

and growth of our musical history in

Lambton County.

William Brush

A man devoted to the stirring music

of military and concert bands and

school orchestra's in Sarnia was William

E. Brush. Bandmaster Brush

was born in Watford in the

year 1880. He moved to

Forest where as a young man

special events. With a

he became a cornetist with

variety of instruments,

the local band. Interested in

concert bands have

pursuing a career in music,

emerged to the delight of

community residents and

the pride of community

he moved to Toronto where

he studied under Capt. John

Slatter of the Toronto's 48th

leaders.

Highlanders Band. Brush

The bandmaster or

was a featured euphoniumist

conductor led the bands William Brush in that city for several years.

while choosing the music, motivating,

and directing the musicians. Without

the bandmaster, the band would often

disintegrate. Here we feature two

striking band masters who had a large

musical impact on the development

Mr. Brush moved to Sarnia in 1909

and joined the 27th Regimental Band

as cornetist and Bandmaster. When the

27th Regiment was removed from the

Sarnia Militia List, the band became

known as the Sarnia Citizens Band.

When the Sarnia Board

of Education decided to

establish an orchestra

at Sarnia Collegiate

Institute, he was brought

in to train, teach, and

direct the school band.

For a number of years

he was also organist and

choirmaster at Devine

Street Methodist and

later he became the first

President of the Lambton

County Music Festival.

A Bandmasters Funeral: William Brush

To many in Sarnia,

William Brush was

known as the quietspoken

Bandmaster

of the Sarnia Citizens

Band for 46 years. He

never missed a parade,

concert, or practice.

His death in December

of 1954 shocked and

saddened the Sarnia

Community. His efforts

with countless musically

Percy Cox leading the White Roase Band

minded students in local schools and

able leadership of the city band was

unsurpassed. He earned the respect

and admiration of bandmasters and

bandsmen across the

province with his counsel

highly regarded, especially

for his knack of turning

amateur musical groups

into finely tuned musical

organizations.

Percie Cox

Percie Cox began

his musical career at

the age of 17 when he

became a member of the Percy Cox

Leytonston Salvation Army Band and

the Headquarters singers located on

Fortress Road, London England. It is

with the band that he studied the cornet

and at sometime early in life the piano,

becoming proficient in both.

On March 16th, 1911, Percie set

sale for Canada, leaving the harbor in

Liverpool at 4:50pm. By March 27th he

made it to Port Arthur where he met his

future wide Eva MacArthur.

To Percie, music was the love of his

life which he pursued with vigor and

with much success. He immediately

joined local concert bands while

working, raising a family, and teaching

piano and other musical

instruments. By 1939 his

music career flourished and

Percie took a job with the

Canadian Oil Company in

Petrolia, being offered the

position of Bandmaster of

its newly acquired Petrolia

Citizens Band, later known

as the Petrolia White Rose

Band. Immediately he took

to preparing the band for

the Canadian National Exhibition in

Toronto, and to everyone's delight, led

the band to take the first prize at the

C.N.E in 1927, 1928, and 1929.

Teaching was an important part of

his life in Petrolia. In his small studio

in the Town Hall, he gave instruction to

hundreds of young men and women in

wind, reed, and tympanic instruments.

He continued his love for music and

the band until his peaceful passing in

August 1969.

P A G E

38

Life Taught Me... Have no expectations.
---
Thanks again - keep this copy or pass it on to a friend please.

Welcome to ...

THE Club

winter 2022 Life Taught Me... Learn to enjoy your own company.

P A G E 39
---
Check out our Facebook page and

watch how LEO, The Sarnia Sting,

and the Strangway Centre,

City of Sarnia are connecting

across generations!

Volunteers needed for:

Meals on Wheels

• Deliver to: Port Franks, Forest,

Wallaceburg, Corunna & Petrolia

• Monday, Wednesday & Friday

for approximately two hours

• Use personal vehicle (mileage

provided) or agency vehicle

• Proof of Covid-19 Vaccination required

Friendly Visiting

• Weekly face-to-face or

over-the-phone meetings to foster

meaningful connections and help

decrease feelings of isolation!

The Peer Program:

For You, By You!

The Peer Program at Lambton Elderly

Outreach is a peer-to-peer social group

from those who want to participate in

various social activities planned for and by

participants! All content is generated by

the members who have an interest in a

particular area then we make it happen!

Past events include coffee and chat,

painting in the park, and bingo! To be a

part of this group, please call or email the

Community Engagement Specialist at

519-845-1353 ext 310.

aweiler@lambtonelderlyoutreach.org.

How We Can

Help You Live

at Home

Transportation

Non-Urgent Stretcher Van

Meals on Wheels

Home Maintenance

Personal Care

Home Help

Care Giver Respite Support

Crisis Intervention

Housing Support

The Peer Program

Friendly Visiting

Diners Club

LEO Scored 98% Exemplary Standing

for providing Quality Services

Funded in part by the United Way of Sarnia-Lambton

and Jackpot City, Sarnia

Lambton Elderly Outreach • 1-800-265-0203 • www.lambtonelderlyoutreach.orgb ld l h