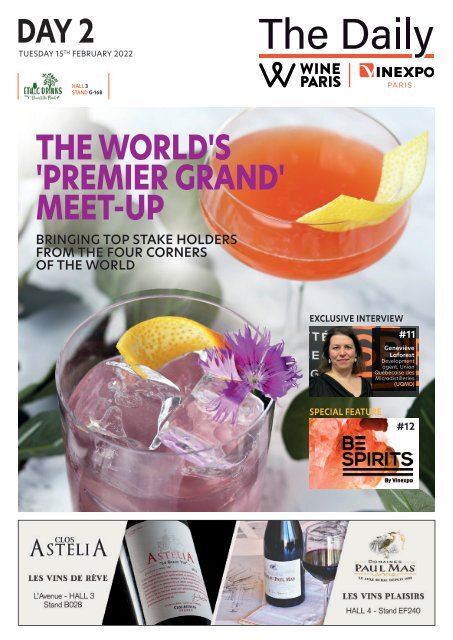 The Daily Wine Paris & Vinexpo Paris - Day 2
You also want an ePaper? Increase the reach of your titles
YUMPU automatically turns print PDFs into web optimized ePapers that Google loves.
DAY 2

TUESDAY 15 TH FEBRUARY 2022

HALL 3

STAND G-168

THE WORLD'S

'PREMIER GRAND'

MEET-UP

BRINGING TOP STAKE HOLDERS

FROM THE FOUR CORNERS

OF THE WORLD

EXCLUSIVE INTERVIEW

#11

Geneviève

Laforest

Development

agent, Union

Québécoise des

Microdistilleries

(UQMD)

SPECIAL FEATURE

#12
---
PRACTICAL GUIDE

Hall 6 / Stand HJ-110

Hall 6 / Stand B-152

Hall 4 / Stand C-020

Hall 4 / Stand FG-086

Hall 4 / Stand A-125

Hall 3 / Stand KL-124

Hall 4 / Stand EF-240

Hall 3 / Stand B-252

Hall 5-2 / Stand DE-024
---
I MORNING BRIEFING I

Morning

Briefing

PROGRAMME

DAY 2

TUESDAY 15 FEBRUARY

By Rodolphe Lameyse,

Vinexposium, CEO

© Philippe Labeguerie & Joanna Margan

CANS, WINE SELTZERS, NO-LOW... WHAT

DOES THE FUTURE HOLD FOR NEW-

GENERATION WINES?

9:30 am - 10:30 am

Location: HALL 3 - Room 3 On! Be Spirits

Free entrance

Full-steam ahead

GRENACHISTAS OF THE WORLD UNITE!

09:30 am - 10:30 am

Location: HALL 3 - Room 1 On! Les

Masterclasses

Free entrance

Good morning everybody, and welcome

to those of you who are joining us on

day 2 of Wine Paris & Vinexpo Paris.

Yesterday was a special moment, when

for the first time in two years, we finally

came face-to-face once again. And the

good news is, yesterday was just the

beginning.

Today, we've got a wide range of

Masterclasses lined up for you in Halls

3 and 5, starting with the Roussillon

wine marketing board (CIVR) focusing

on Grenache at 9:30am and finishing

with The Battle of The Sommeliers,

which is guaranteed to be entertaining.

Yesterday's Wine Talks were firing on

all cylinders, so be sure to make your

way over to Hall 6 and get involved in

our round-table discussions, with topics

ranging from the UK's new tax regime

to making wine in an era of climate

change. La WineTech Perspectives

at Hall 4 Stand AC026 is a must visit

for anyone looking to innovate. This

morning's session, starting at 10:30am,

explores new digital solutions and this

afternoon's will focus on e-commerce

and new virtual experiences. Our

expanded Be Spirits section in Hall 3 was

buzzing yesterday, so better get there

early. It will be kicking off at 9:30am

with cans and hard seltzers, followed

by the French federation of wine and

spirits exporters press conference and

a deep-dive into the world of tomorrow.

When you want a change of scenery,

simply walk over to Hall 5 and browse

the long list of international winemakers

who have joined us from 31 countries.

And if ever you need to rest your legs, pull

up a stool at the Infinite Bar and order

a cocktail. Like last night, we've enlisted

the help of bars and restaurants across

Paris to keep the show going after dark.

So check out some of our top picks on

page 15 and see you there.

THE BEST OF THE BEST, SPECIAL AWARDED

WINES IN VINI D'ITALIA WINE GUIDE 2022

BY GAMBERO ROSSO

09:30 am - 10:30 am

Location: HALL 3 - Room 2 On! Les

Masterclasses

By registration

ANNUAL FEVS PRESS CONFERENCE

09:30 am - 11:00 am

Location: HALL 6 - On! Les Wine Talks

By registration

SALINITY IN WINE

10 am to 11 am

Location: HALL 6 - On! Le Village RVF B260

By registration

THE NEW DIGITAL TOOLS PROMOTING A

BETTER UNDERSTANDING OF WINE

10:30 am - 11:30 am

Location: HALL 4 - On! La Wine Tech

Perspectives stand 4AC026

Free entrance

TRE BICCHIERI EXPERIENCE-PARIS

11:30 am to 5:30 pm

Location: HALL 5 - On! Les Grandes

Dégustations

Free entrance

The Daily is a CLEVERDIS Publication. 439 route de la Seds

13127 Vitrolles, France - Tel: + 33 442 77 46 00

SARL capitalised at €155,750 - VAT FR 95413604471 - RCS Marseille 413 604 471

info@cleverdis.com - www.cleverdis.com - www.vinexpodaily.com

• Publisher: Jean-François Pieri • Senior Account Manager: Benjamin Klene • Head of Editorial Team: Emiliana Van Der Eng

• Editorial team: Daniel Bardsley, Thomas Campbell, Luc Citrinot, Laura Sharman, Reuben Tasker • Art Director: Hélène Beunat

• Webmaster: Guillaume Vinrich. With the participation of: Bettina Badon, Zineb Elhabiri, Veronika Verzhak.

A GEO-SENSORY TASTING OF STILL

CHAMPAGNE WINES: LIVE THE

EXPERIENCE!

11:30 am - 12:30 pm

Location: HALL 3 - Room 1 On! Les

Masterclasses

By registration

>>>> To contact them: first name.last name@vinexpodaily.com

Photo Cover: © Cody Chan - Unspash.

© CLEVERDIS 2022 - Registration of Copyright February 2022. Information presented in this publication is purely indicative in order to illustrate

subjects contained therein. No guarantee can be given as to the accuracy of data or content at time of printing and thus the latter should not

be used for professional or commercial ends. While all efforts have been made as to accuracy and pertinence of content and data contained

in this publication, CLEVERDIS may in no case be held responsible for the consequences, whatever their nature may be, that may result from

the interpretation of this data or content, or any eventual errors therein. Any reproduction of the content of this publication, even partial, by

any means whatsoever, is strictly prohibited without the prior autorisation of the publisher. Any copy, whether by photography, photography

film, magnetic tape, disc or other means constitutes a forgery, liable to punishment under French law according to the legislation of 11 th March

1957 covering copyright. All brands cited in this publication are registered trade marks and/or belong to companies which are their respective

proprietors. The publishers and editorial staff decline all responsibility as to opinions formulated in this publication by those interviewed or cited

therein. Their opinions are entirely their own, and are included with the understanding that they contain, to our knowledge, no malicious intent.

The inclusion of all texts, photographs and other documents supplied by those included in this publication imply the acceptance by their authors

of their free publication therein. Documents and photographs will not be returned. It should be understood that this publication contains forwardlooking

statements that involve risks, uncertainties and assumptions. All statements other than statements of historical fact are statements that

could be deemed forward-looking statements. Risks, uncertainties and assumptions include assumptions relating to the timing of the recorded

date. If any of these risks or uncertainties materialises or any of these assumptions proves incorrect, actual results could differ materially from

the expectations outlined in these statements. Cleverdis assumes no obligation and does not intend to update these forward-looking statements

during the period of publication. Photo Credits and Copyright: All Rights Reserved.

ALL SESSIONS

PRACTICAL

INFORMATION

THE DAILY • TUESDAY 15 TH FEBRUARY 2022 • 5
---
I NEWS I

Maison A. De Luze,

a modern story for more than

200 years of savoir-faire

Directeur général, Xavier Migeot, talks about the brand's modern

approach to storytelling

The négociant's new

image, being presented

at Wine Paris & Vinexpo

Paris, is designed to

reflects Bordeaux's organic

transition.

You recently announced your new

strategy and image. Tell us more…

It's not a new strategy, but simply a

different way of telling the story of a

pioneering company which has been

at the heart of the wine industry since

1820. Keeping with the values of our

founder the Baron Alfred de Luze,

we aim to reach the greatest number

of people, so they can discover

the riches of our terroir. We are a

'négociant généraliste', guaranteeing

the distribution of Grands Crus

Classés, famous wines, Petit

Châteaux distributions, both still and

sparkling. We offer our clients a range

of traditional products from France

and Europe, production services in

both bottles and boxes, storage in

our chais, GCC or Tiré bouché, as well

as supporting them with preparing

orders and logistics.

What are the main highlights you are

showcasing at Wine Paris & Vinexpo

Paris 2022?

We are launching our new corporate

identity, which is more modern,

while drawing on our long history of

working in the wine trade. A surety

signature - Maison A. De Luze, will

be standardised across distribution

networks, both small and large, with

exclusive ranges for each one. We will

also be presenting the 'new look' of

our major Bordeaux brands, including

the Baron De Luze for the Horeca and

Heritage De Luze for the European GD.

How do you see the Bordeaux wines

positioning on the global market?

Thanks to its reputation, Bordeaux

is one of the strongest 'collective

brands' in the beverage industry

today. Because of this unique position,

people around the world want to

see these wines distributed through

Bordeaux's very own merchant

network. Bordeaux and all those

involved have started questioning

their corporate social responsibility

(CSR) and environmental footprint,

starting with the organoleptic style

of their products' production and

blending. It is the first 'vignoble'

to receive level 3 Haute Valeur

Environnementale (HVE) certification

and planning on converting to organic

in the next few years. The Maison A.

De Luze revamp reflects this dynamic

and crucial transition, which the whole

wine industry is experiencing. It offers

the right wine, at the right place, at the

right time.

How important is an international

trade show like Wine Paris & Vinexpo

Paris?

It was the last trade show before the

global pandemic and is now the first

to return in 2022. The beauty of our

product - wine, must be seen and

tasted to fully appreciate its story,

terroir and the efforts of its merchants.

The digital world, no matter how

effective, has not been able to fully

replace face-to-face contact between

producers, merchants and distributors.

That's why we've specifically chosen

this moment to reinvent ourselves, tell

our story and express our steadfast

desire to develop durable partnerships

with our clients

Hall 3 / Stand BC-92

6 • THE DAILY • TUESDAY 15 TH FEBRUARY 2022

www.vinexpodaily.com
---
I NEWS I

ADVERTORIAL

Cuvée Hortense from

Château De La Gaude is a mix

of natural winemaking and

spring water

This red wine, in Coteaux d'Aix-en-Provence AOP,

named after the owner's second granddaughter,

combines three grape varieties, including 60%

Grenache Noir, 15% Cabernet Sauvignon and 25%

Syrah.

Wine Paris &

Vinexpo Paris 2022

opens stronger than

ever

This year's edition of Wine Paris & Vinexpo Paris

kicked-off yesterday morning with a strong joint

message about the wine and spirits industry's

courage and solidarity.

These are harvested by hand in

the early hours of the morning,

before being sorted, not once but

twice, and carried to the château's

recently completed cellar,

designed by renowned architect

Olivier Chadebost.

The grapes from the old vines,

Grenache and Cabernet, are

seeded, while the ones from Syrah

are preserved. The juices are then

aged for 12 months in the cellar's

original concrete vats and barrels.

Hortense's round taste, with

refined hints of red and black fruits,

compliments creamy cheeses and

chocolate desserts perfectly, and

goes down a treat with meats

like duck breast. Beyond the

carefully rehearsed winemaking

process, part of Hortense's unique

flavour comes from Château De

La Gaude's rocky terroir, which

benefits from a hidden gem - a

natural spring. The spring, which

has given its name to one of the

domain's three restaurants - La

Source, flows deep below its

Grenache plots, giving the cuvée a

distinctive freshness.

Another contributing factor is the

domain's environmentally friendly

approach to winemaking which

has been practiced and fine tuned

for the last 20 years, through an

organic viticulture. The luxury

vineyard, located on the heights of

Aix en Provence in the department

of the Bouches du Rhône will also

receive its biodynamic certification

in 2022 after taking many steps

to ensure a 100% natural process.

Buyers have the choice between

keeping the cuvée for between 5

and 8 years or drinking it with their

next meal. Regardless, it's sure to

leave a lasting impression

Hall 4 / Stand C-020

The official opening ceremony,

presented by Vinexposium's

CEO Rodolphe Lameyse and

attended by the French Minister

of Agriculture and Food Julien

Denormandie, brought organisers

and key players from across the

industry together. Mr Lameyse

welcomed everyone warmly,

saying: "Opening this event on

Valentine's Day is no coincidence.

It's an opportunity for us to

celebrate our love of wine and

spirits - a sentiment made stronger

after going two years without a

major event."

He applauded this year's 2,864

exhibitors for being here and

creating a dynamic atmosphere,

adding: "Now the stage is yours,

I hope you have good meetings,

make good business and that

you live the next three days to the

fullest."

Addressing a large crowd at

the heart of the event, Minister

Denormandie praised the wine

industry's great courage in

overcoming what he described

as a 'black year' in 2021, with US

taxes and freezing temperatures

making matters worse. He praised

everyone in attendance, saying:

"Thank you all for coming because

it wasn't always evident that we

would be able to hold this trade

show. The reunion of the wine

industry is a special moment to

celebrate. Rest assured that we

are here by your side for support

and the love of wine, which I

share."

Special thanks was also given to

the organisers of Wine Paris &

Vinexpo Paris 2022 before both

the minister and Mr Lameyse took

to the floor to meet with industry

representatives

Hall 6 / Stand GH-068-15

THE DAILY • TUESDAY 15 TH FEBRUARY 2022 • 7
---
I NEWS I

ADVERTORIAL

The taste

of Peyrassol

Where strong vines and homegrown organic

produce meet

La Commanderie de Peyrassol, located on the slopes

of the Massif des Maures, stretches across 850

hectares, of which 92 are vines dedicated to making

'Provence wines' in all three colours.

Since taking over the reins in 2001,

Phillipe Austruy has rejuvenated

the domain, tapping into its clay

and limestone terroir, restoring

kilometres of terraced walls

and building a fully-equipped

cellar. This year marks the end of

the estate's transition towards

becoming environmentally

sustainable, with the final stages

coming to fruition during the 2022

millésime harvest. Building on

Peyrassol's wine offering seemed

natural for Mr Austruy, who has

added two restaurants, the

© C-Goussard

Bistrot de Lou and Chez Jeanette,

which serve a wide range of local

'terroir products'. To replenish their

kitchens' stockroom, an organic

farm has been opened halfway

between the Commanderie and

La Rouvière, above the parcelle

du Clos. A market garden covering

5,000 square metres offers an

abundance of seasonal fruit and

vegetables throughout the year,

while the vegetable patch is home

to long rows of tomatoes, beans,

salads and other vegetables, as

well as aromatic herbs. Another

30 hectares have been dedicated

for the rearing of animals, with

wooden pens and shelters

allowing each species to roam

freely. Organic feed and strict

sanitary conditions have also

been implemented to guarantee

the meat's quality and taste.

The combination between vines,

farm and kitchen is what makes

Peyrassol such a unique and

interesting place to visit. Many

guests chose to spend more than

a day exploring the domain,

which also exhibits an impressive

collection of contemporary art

Hall 4 / Stand FG-058

THE

'MIRACLE'

MILLÉSIME

2021

Delivering the vintage 2021 was

by no means a simple task, but

Peyrassol managed to navigate the

elements without any real bruises.

Because the vines' vegetative

cycle was late, no severe losses

were sustained when a historic

frost gripped the region and

temperatures dropped to -9°C at

the end of April.

There was not a drop of rain in

the sky all summer, yet Peyrassol's

deeply rooted plants did not go

thirsty and resisted the baking heat.

A violent forest fire tore through

la Plaine du Luc mid-August, but

was blown back in the opposite

direction by the Mistral before it

could reach the domain.

In early September, a hail storm

destroyed the village of Pignan's

entire harvest, just a few kilometres

away, but the surrounding hills

sheltered Peyrassol from the clouds.

Finally, while the surrounding areas

experienced severe flooding during

the year, the water stopped at the

gates of Flassans, which meant the

estate was kept dry.

© C-Goussard

Some might say the story of

Peyrassol's millésime 2021 is nothing

short of a miracle. Regardless, it has

certainly made for some fine wines

THE DAILY • TUESDAY 15 TH FEBRUARY 2022 • 9
---
PRESS CORNER

How the industry adapts

to the new world will be key

Richard Siddle

Journalist, co-founder of

www.the-buyer.net

Journalist Richard

Siddle, co-founder

of www.The-Buyer.net,

has 15 years' experience

of covering the wine and

spirits sectors. He has told us

about the goals of his visit to

Wine Paris & Vinexpo Paris

2022 and what he sees as

the issues facing the wine

industry during a time of

profound change.

What are you looking for at Wine

Paris & Vinexpo Paris 2022?

The opportunity to get back to seeing

key players in the industry face to

face, and the chance as a journalist

to talk to producers and buyers from

around the world to get their take on

the key issues facing them. This allows

to really assess the major trends that

are influencing and driving the global

wine industry, and it is really great to

see key contacts again.

What are the key wine/spirits trends

you are following?

The global supply chain issues

continue to dominate and dictate how

the industry operates, coupled with

the major sourcing issues following

short and poor harvests in key wineproducing

countries in 2021. From

a trading point of view, how the

traditional on and off-trades compete

against the huge rise in online is

going to be fascinating, particularly

the emergence of on-demand grocery

apps that can supply wine to our

doors in less than 10 minutes. Digital

marketing and how the wine industry

adapts and takes advantage of new

smart technologies, voice search, and

the rise of the metaverse will all be key.

What are the industry's biggest

challenges and opportunities?

The biggest challenges and

opportunities are linked to the

industry's ability to move fast and to

be flexible enough to cope with supply

chain, trading and tariff issues on

the one hand, and the huge growth

opportunities that digital and online

now offer. How it faces up to the

climate change emergency will dictate

the agenda for years to come

10 • THE DAILY • TUESDAY 15 TH FEBRUARY 2022

www.vinexpodaily.com
---
I EXCLUSIVE INTERVIEW I

QUEBEC'S MICRODISTILLERIES

Capturing the distinctive

flavours of an outstanding terroir

Canada's French-speaking province has seen explosive

growth in microdistilleries over the past five years as

gins, vodkas, brandies and other spirits spark interest.

We spoke to Geneviève Laforest, development agent

for the Union Québécoise des Microdistilleries (UQMD),

who is giving a masterclass today.

What is the history of Quebec's

microdistilleries?

It's really a very young industry.

The first microdistillery in Quebec

launched in 1998. Then there was

this huge gap until 2016. Since 2016,

60 distilleries have opened. There's

enthusiasm for local products,

motivated mostly by the beer

industry, which has, I would say, 10

years advance on the distilleries.

There's been an interest in making

our own alcohol.

How do the spirits produced by

Quebec's microdistilleries reflect

the province?

With flavours coming from everything

from local herbs to potatoes to

seaweed, the spirits represent a

way to bottle the terroir or natural

environment of Quebec. There's gin

and vodka. Whiskies are coming out.

I think we're striving to make the best

whiskey in the world.

Can you give us a sense of the

scale on which the microdistilleries

operate?

In terms of volume, it's not industrial.

It's really more craft.

We're taking more and more share of

the spirits market in Quebec with our

microdistilleries. The big brands see

their share go down a bit.

What new products are being

showcased at Wine Paris & Vinexpo

Paris 2022?

There's a new category of spirit

called Acerum. Acer means maple

in Latin. We use maple water that

we ferment and put in casks. It

tastes a bit like rum. It's the same as

fermenting sugarcane, but we start

with maple water. It's brand new and

you can taste it here. It has very high

potential for export. We have also

submitted our candidacy for the next

Vinexpo Explorer in 2023.

How much of the production

of Quebec's microdistilleries is

exported?

Export becomes very important to

develop the distilleries and their

markets, as well as developing local

agrotourism around the distilleries,

so people can come and buy local

products on site, exclusive batches.

Exports are very small for the

moment. It doesn't represent 10%

of the market. It's so young. There's

Japan, Singapore, Germany, France

and the United States.

Now we're conquering the world. If

we can double exports in the next

five years we will be very happy. We

see potential in American markets

and European markets. There's

a natural camaraderie between

Quebec and France, so we're really

hoping to open the market here in

France.

How many people work in the

sector and what is your role?

There are about 300 to 350 direct

jobs and about 200 indirect jobs.

I'm the developing agent for the

industry, so I help with exports. I

help with unifiying all the numbers.

I am working on marketing and

promoting the industry in Quebec

but also in the rest of Canada

DISCOVER THE SPIRIT AND VARIETY

OF AN OUTSTANDING TERROIR, BOTTLED

BY THE MICRO-DISTILLERS OF QUEBEC

HALL 3

ROOM 3 ON! > M-195 - BE SPIRITS

Today, Tuesday, 15 February,

3:30 pm - 4:30 pm

THE DAILY • TUESDAY 15 TH FEBRUARY 2022 • 11
---
I SPECIAL FEATURE I

Eyland Spirits

brings Iceland's

unique

character to

France

Ólafsson Gin uses Iceland's botanicals to create its

distinctive flavour. But this is just the start, with more

products set to launch as Eyland Spirits expands

sales across the globe.

Just two years after it was

launched, Ólafsson Gin from

Iceland's Eyland Spirits has

already firmly established itself

as a favourite in its home country

and is fast attracting admirers

overseas.

Named after Eggert Ólafsson,

a celebrated 18th-century

Icelandic explorer, the

superpremium gin captures the

distinctive flavours of the Land

of Fire and Ice.

In particular, Arnar Jón

Agnarsson, the co-founder

of Eyland Spirits, said the

botanicals used in the gin are

very strong thanks to Iceland's

short summer. Iceland's water

also plays a big part in shaping

the gin's character.

"Icelandic water is low in

minerals," Arnar told The Daily.

"It's a completely different kind

of water than in most places

in the world. It blends with the

alcohol and becomes very easy

to drink. It's very smooth. All

Icelandic alcohol should be very

smooth."

While Iceland is the biggest

market, Ólafsson Gin is available

in the United States as well

as Denmark, Germany and

Switzerland. Eyland Spirits is

now keen to increase its range

of export markets.

"We're starting to emphasise

exports a lot," said Arnar. "It's a

very exciting time for us, the next

couple of years. The goal is to

be the first Icelandic gin that hits

the whole global scene. We're

competing with fantastic gins

from all around the world. We

feel the uniqueness of Iceland

is something people want to

explore."

Eyland Spirits is keen to grow

its direct-to-consumer and

e-commerce sales, with Arnar

saying online can open up the

market to millions of potential

customers.

Ólafsson Gin is Eyland Spirits

only product so far, but the plan

is to expand into other spirits,

with vodka first on the list early

next year

Hall 3 / Stand N-131

Distillery Krauss showcases its spirits

at Wine Paris & Vinexpo Paris 2022 as it

aims to supercharge sales in France

Hall 3 / Stand L-161

The renowned Austrian distillery has won countless

awards for its wide range of spirits, which are available

in multiple flavours.

Distillery Krauss has come a very

long way since it was launched in a

garage in Austria, having become a

multiple award-winning company of

global renown.

A full range of Distillery Krauss's

beautifully presented gins, vodkas,

rums, brandies and whiskies are

on show at Wine Paris & Vinexpo

Paris 2022 as the company looks to

expand sales in France.

The company was set up by Werner

Krauss, a master distiller, and his

wife, Carmen, back in 2007 and

remains family owned and run.

"They started with gin , then step

by step they started to produce

the different spirits," said Jean-Luc

Dautriat, an associate director with

the company.

The range has grown to include

Anise and Vermouth, and many of

the spirits are available in a wide

range of flavours.

Among those on show this week

is Organic London Dry Gin, Black

Currant Organic Flavoured Vodka,

Mandarin Thyme London Dry Gin,

Lavendar Violet Root London Dry

Gin, Rum and Rye Whisky.

Pure and smooth water from the Kor

Alps is used in the company's spirits,

along with fruits, grains, herbs and

other ingredients sourced from

local farmers in the attractive

mountainous south-eastern

Austrian region of Styria.

Wine Paris & Vinexpo Paris 2022

offers the company the perfect

opportunity to showcase its wares,

as last year it signed an important

distribution deal covering France

with Vintage & Cie.

Until now, France has been one of

the company's smaller markets, but

the aim and hope is that sales in the

country will increase significantly

thanks to the new agreement

12 • THE DAILY • TUESDAY 15 TH FEBRUARY 2022

www.vinexpodaily.com
---
I REGION I FRANCE I VALLÉE DU RHÔNE I

ADVERTORIAL

Six generations

in a bottle

ABK6 launches limited

supply of cognac

exclusively at Wine Paris

& Vinexpo Paris 2022

Domaine Du Gros Pata, a family

domaine with 30 hectares of vines,

is putting forward its cuvée Lucas,

named after the 6 th generation

of wine makers, which as owner

Sabine Garagnon says, is currently

in training.

Lucas, her 15-year-old son, came

up with the idea of putting the

Syrah - Grenache cuvée into

French oak barrels for at least six

months. Sabine, who took over the

reins in 2000, explains: "Normally

the Côtes du Rhône are very soft

and really easy-drinking, but this

one is more complex in terms of

aroma. It's composed of a majority

of Syrah - 95%, so it has the taste

of black fruits and dark chocolate,

which I think goes really well with

meats and desserts."

The 15,000 bottles are made

on one of the vineyard's oldest

parcelles, with 30-year-old vines

growing on a classic clay and

limestone terroir at the foot of

Mont Ventoux

Hall 4 / Stand AB-172

Domaines Francis Abécassis is releasing 10,000

bottles of its new limited edition ABK6 Reserve Artist

Collection n°3 for the international market exclusively

at Paris Wine and Vinexpo Paris 2022.

Unveiled at a private event on

the estate last October, the

bottle's label and gift box have

been specially designed by local

artist Sylvain Piget, using a

palette of bright and

harmonious colours.

Domaines Francis

Abécassis is one of the

largest independent

producers of

the Cognac

appellation, with

380 hectares of

vines spread

across three

of its best

Crus, Grande

Champagne,

P e t i t e

Champagne and

Fins Bois. It

distributes its

signature Single

Estate Cognac in more than 45

markets worldwide and launched

a second bottling line in Q4 of

2021 to meet growing demand.

All of the domaines' vineyards

have obtained the highest level of

Environmental Value Certification

(3) since 2019. The estate has

also won many awards for its

high quality Cognacs since it

was founded at the turn of the

20 th century. As Francis Abécassis

explains: "I have always been

convinced that blending eauxde-vie

from a

single estate

gives the cognac

its inimitable

character.

"Each step of

the production

process is

entirely carried

by our highly

qualified team

who strive every

day to maintain

a unique knowhow,

bringing

care and love to

each step, from

the vine to the

glass."

Last year, its

ABK6 VSOP won the Best VSOP

in the World for the fourth time

and second consecutive year. Its

XO Renaissance has also won the

Best XO in the World category in

2017 and 2019, and was voted

Best Cognac in the World in

2019

Hall 6 / Stand HJ-110

A vintage label to attract

new wine drinkers overseas

Domaine De Cabasse, located

in the picturesque village of

Seguret, is putting forward

two of its cuvées, Marguerite

and Jucunditas - Latin for the

joy of life. Winemaker and

owner Benoit Baudry says:

"It's fantastic to be able to see

people face-to-face once again.

Wine without people makes no

sense, so we're really happy to

be here."

Marguerite, made mostly of

black Grenache, is made for

the export market, with a

vintage-looking label designed

to seduce people who do not

regularly drink wine. In contrast,

Jucunditas is more complex and

is better suited to 'connaisseurs',

with more tannins and a

stronger fruity taste.

The domaine is expanding

to 37 hectares of vines in the

hope of reaching a bigger

market with an IGP (Indication

Géographique Protégée)

Hall 4 / Stand AB-124

THE DAILY • TUESDAY 15 TH FEBRUARY 2022 • 13
---
I REGION I ITALY I

Prosecco is out

in force after

popping sales

Prosecco has recently been enjoying bumper sales, with exports

to several countries - including France - having grown rapidly.

The Consorzio di Tutela del Conegliano

Valdobbiadene Prosecco Superiore

DOCG is presenting sparkling wines

from the celebrated production zone

of Prosecco at this year's Wine Paris &

Vinexpo Paris.

It is particularly appropriate that the

consortium is exhibiting at Wine Paris

& Vinexpo Paris, because the region's

sparkling wines are increasingly popular

in France.

Last year, 586,260 bottles valued at

€3.1 million were sold in France, with

both figures having more than doubled

compared to 2019.

World Heritage Site. The decision,

announced in July, made the well-known

hills where Prosecco is produced the 55th

World Heritage Site in Italy.

In addition to experiencing significant

sales growth in France, Prosecco has

also become increasingly popular in

the United States, United Kingdom and

Germany, all of which have recorded

significant sales increases.

Yesterday at Wine Paris & Vinexpo

Paris, the consortium held a masterclass

presented by the well-known French

Master of Wine Edouard Baijot and the

consortium's director, Diego Tomasi.

"Taking Conegliano Valdobbiadene

Prosecco Superiore DOCG to France and

having the opportunity to talk about it

to an audience that is used to dealing

with top level wines is a very significant

step for our denomination" said Elvira

Bortolomiol, the consortium's president.

In 2019, the historic production zone of

Prosecco, which lies in north-eastern Italy,

was granted the status of a UNESCO

Many wineries are present at the

consortium's stand, namely Andreola,

Bellussi, Cantine Vedova, Colesel,

Frassinelli, La Farra, Merotto, Serena

Wines 1881, Trevisiol, and Valdo

Hall 5.3 / Stand DE-174

14 • THE DAILY • TUESDAY 15 TH FEBRUARY 2022

www.vinexpodaily.com
---
© Emilio Del Prado

The Off - getting into

the right mood in the

French Capital

The Off by Wine Paris & Vinexpo Paris is THE definitive

list of partner bars across the city of lights. Take the time

to drop by one or two – and get into the right mood for

the show!

© Mieux - Restaurant

Mieux

Mieux's cuisine comes straight from the

market, with products carefully selected

by chef Giulian Mairu from the western

regions of France. Its cave, curated by

Jean-Baptiste Bayle, is filled with wines

that respect the soil and are chemical free

in the vast majority of cases.

WHERE

TO GO IN

PARIS

Fulgurances l'Entrepôt

Fulgurances l'Entrepôt, an incubator for chefs, welcomes

the rising stars of 'cuisine'. Chef Sophie Le Prado, the former

sous-chef at the Michelin star restaurant Quinsou, is in

residence until the spring. Its glasses are filled with organic

wines from independent producers.

7 Rue Francis de Pressensé

75014 Paris

TEL: +33 1 45 40 07 50

21, rue Saint-Lazare

75009 Paris

Tel: +33 1 71 32 46 73

Jaja

This chic and rural modern bistro,

hidden at the back of a courtyard,

presents itself like an urban garden

or piece of countryside in the

heart of Paris. With more than 80

references and a dozen crus by the

glass, the venue - Le JAJA, meaning

wine, carries its name well. As for

the cooking, its generous portions

are signed Eduardo Gonzalez.

3, rue Sainte-Croix de

la Bretonnerie

75004 Paris

TEL: +33 1 42 74 71 52

Le Garance

The owner of this "farm-to-table"

restaurant, Guillaume Muller, has put

down roots for his project - "la Ferme

de Garance", in a nook of the 7ème

arrondissement. The cuisine, managed by

chef Bertrand Chauvau, combines simplicity

with ingredients of the highest quality. Its

eclectic cave has more than 800 vintages,

with 17 wines being put forward every

month and made available by the glass.

34, rue Saint-Dominique

75007 Paris

TEL: +33 1 45 55 27 56
---
16 • THE DAILY • TUESDAY 15 TH FEBRUARY 2022

www.vinexpodaily.com