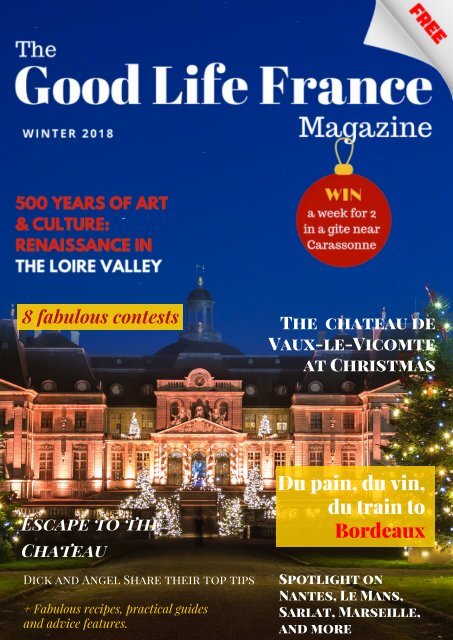 Issue No. 21
This issue is bursting with fabulous features. The Loire Valley celebrates 500 years of French Renaissance, discover Marseille, Le Mans, Bordeaux, Nantes, the exquisite Chateau Vaux-le-Vicomte at Paris, an art deco swimming pool turned museum, fantastic recipes and much much more…
This issue is bursting with fabulous features. The Loire Valley celebrates 500 years of French Renaissance, discover Marseille, Le Mans, Bordeaux, Nantes, the exquisite Chateau Vaux-le-Vicomte at Paris, an art deco swimming pool turned museum, fantastic recipes and much much more…
SHOW MORE
SHOW LESS
Do you know the secret to free website traffic?
Use this trick to increase the number of new potential customers.
8 fabulous contests

The chateau de

Vaux-le-Vicomte

at Christmas

Escape to the

Chateau

Dick and Angel Share their top tips

+ Fabulous recipes, practical guides

and advice features.

Du pain, du vin,

du train to

Bordeaux

Spotlight on

Nantes, Le Mans,

Sarlat, Marseille,

and more
---
Welcome to the winter issue of The Good Life France Magazine.

It's a bumper issue and will definitely satisfy your French fix through the winter months!

There are loads of fabulous features about some of the best places to visit in France

including marvellous Marseille, home of Pastis and brilliant Bordeaux which you can

reach by train from Paris in just 2 hours! Our guides are written by some of the top travel

writers in the business with a brief to tell it like it is and seek out the secrets.

If you thought Le Mans was a place where a famous race took place and nothing else,

you're in for a surprise, there is a gorgeous medieval town and plenty to see and do.

We've checked out the best tours of France 2019; spent the weekend in Nantes, a truly

quirky and arty city and ski'd at Meribel. We totally fell in love with the wonderful art deco

swimming pool museum of La Piscine in the north of France where we caught up with

the architect (who also converted the Gare d'Orsay into the world's favourite museum)

We talk to TV stars Dick and Angel of Escape to the Chateau to get their top tips for

those who dream of their own escape.

2019 is a key year in the Loire Valley as 500 years of the French Renaissance will be

celebrated with more than 500 events. It's one place you really ought to pop on your

bucket list - you'll have a ball, literally if you choose, as the Chateau d'Amboise is holding

two fabulous balls in its grand hall and they're open to everyone.

There are wonderful recipes, useful guides, inspirational guides and some fabulous

competitions including the chance to win a week in Carcassonne, ferry tickets, a row of

vines in Provence and great books...

This issue has been put together with passion - it's totally free to read and download and

if you enjoy it, please do share it with your friends, thank you so much,

Bisous from France,

Janine

Editor
---
contents

Features

8 500 years of Renaissance in

the Loire Valley...

Discover the heritage of the Loire Valley's

French Renaissance.

18 escape to the chateau

Janine Marsh talks to TV stars Dick & Angel

about life at the chateau...

28 brilliant bordeaux

Just 2 hours by train from Paris, the sunny

city couldn't be more different.

38 la piscine - the stunning

museum gets an update

The stunningly beautiful museum adds to

its fabulous collection with new space.

46 Chateau vaux-le-vicomte

at christmas

Decked up for the Christmas season, this

incredible castle is truly captivating.

52 best tours of france 2019

If you want special, authentic and original

tours - then don't miss our round up.

56 le mans, motoring & more

If you thought Le Mans is just a place where

a race takes place - think again!

62 marvellous and tasty

marseille

Peter Jones heads to Marseille to sample its

charms - and pastis!
---
Features continued

68 le weekend in nantes

Amy McPherson visits the quirky, creative

city & discovers her inner child!

74 in the tracks of the tour

de france

Michael Cranmer pedals in the tracks of

the Tour de France - sort of...

82 truffle hunting in

dordogne

Hunting for black diamonds and a truffle

festival in Sarlat, an aromatic visit.

86 Meribel

Justine Halifax finds "Little England" in the

French Alps is "the best skiing. Ever."

90 Bonjour Paris

Video diary of a trip to Paris...

Regular

92 I spy with my expat eye

Keith van Sickle is bemused by French

politics "it wouldn't happen in the US"...

98 Your Photos

The most popular photos on our Facebook

page shared here.

94 Give Aways

A very special issue with loads of give

aways including a week in Carcarssonne,

ferry tickets, vines and books...

110 Expat good life in

Hautes-Pyrenees

An Australian family find their dream house

in unspoiled France...

122 My Good Life in France

Winter comes to the Seven Valleys
---
Expert Advice

100 guide to mortgages

The experts explain how French mortgages

work.

104 French tax charge

update

Experts update on the French tax charge

updates for 2019.

106 Property guide to cote

d'azur

Where to find more affordable property in

the popular south.

Gastronomy

114 turkey parcels with

noily prat

116 pain d'epices with

candied orange

118 chestnut cream

meringues

120 duck confit & p rovencal

potatoes
---
Chateau de Chambord © D-Darrault CRTCentreVdL

Celebrate 500 yea

Renaissance in th

2019 sees a major celebration of the French Renaissance heritage in the Loire Va

French Renaissance and how the key date of 1519 marks the 500

What is the French Renaissance?

The finale of the 15th century saw the end

of the Hundred Years' War between France

and England. It was a period during which

Joan of Arc had travelled to the heart of the

Loire Valley to persuade the Dauphin to

give her an army and persuade him to take

his place as King of France and become

Charles VII. With constant attacks by the

English on French soil, the homes of the

royals and nobility were more like

fortresses, designed to fend off invaders

and keep people, animals and belongings

safe.

In 1494, Charles VII waged war in Italy and

though unsuccessful, he gained a love of

Renaissance art and culture and returned to

France taking with him Italian craftsmen

and artisans. Thus began the French love

affair with all things Renaissance. It was a

time of economic and social change, when

the arts, literature and culture flourished.

And we can see the legacy of the French

Renaissance to this day, forever recorded in

the architecture of many chateaux and

towns in the Loire Valley where the French

Renaissance began...
---
s of the French

e Loire Valley

lley and the Centre-Val de Loire region. Janine Marsh looks at what sparked the

th anniversary with a rich programme of events and celebration...

1519 was a key year

Leonardo da Vinci the, the very definition

of a Renaissance man, died in the Loire

Valley on 2 May, 1519 at the Chateau du

Clos Lucé.

Catherine de Medici was born in Florence

that year and grew up to be a major figure

of the Renaissance, a patron of the arts, her

legacy lives on in the Loire Valley.

And, the first stone of the magnificent

Chateau of Chambord was laid,

commissioned by King Francis I, known as

the father of the French Renaissance. The

chateau is a perfect example of all that the

Renaissance came to be.

In 2019, the Centre-Val de Loire region

celebrates 500 years of Renaissance since

this key date, with more than 500 events

taking place throughout the area.

Exhibitions, workshops, concerts and much

more will take place, in what is surely an

ongoing French love affair with the arts and

culture…
---
The double helix staircase mirrors the

same structure as DNA! Although no

one can say for sure that the

staircase is the work of Leonardo da

Vinci, he left behind drawings of this

style of staircase and even one for a

quadruple staircase

Francis 1494-1547

The Chateau de Chambord

The flamboyant King Francis I loved to put

on a show and at Chambord, his

imagination ran wild. A grand castle in true

Renaissance style, built to shout to the

world that this was the home of the

greatest King that ever lived.

426 rooms (60 of which are open to the

public), 83 staircases including a double

helix staircase said to have been at the

very least inspired by (if not designed by)

Leonardo da Vinci, 282 fireplaces (never

enough to keep it warm) tall towers and

turrets.

Straight out of a fairy tale, Chambord is an

absolute dream of a castle bought to life.

It's been called an "example of

architectural megalomania", Victor Hugo

said it was "admirably bizarre". It was

outrageously expensive to build with up to

2000 workmen employed on its creation.

In fact the King ran out of money before it

was completed despite raiding the

treasuries of churches and grabbing silver

from his subjects. When he was captured in

battle in Italy in 1525, just 6 years after the

first stone of Chambord was laid, he gave

up his sons to take his place and then

couldn't ransom them due to lack of funds.

Work went on in in fits and starts but by the

time he died aged 52 in 1547, the King had

only spent 50 days t there in total.

Today it is a UNESCO world heritage site

and much loved monument to the

Renaissance in the Loire Valley, an

amazing example of the style of the day.

The castle grounds cover around 13,500

hectares, roughly the size of inner Paris,

and is the largest enclosed park in Europe,

with boundary walls covering 20 miles. You

can discover it on foot, by bike, horse, 4x4

or horse and carriage and there are 20km

of trails to explore in the forest.
---
Inside there are 4,500 works of art,

tapestries, paintings and furnishings. On

cold days some of the fires are lit giving it a

homely feeling so that you can imagine

how it must have been when the court

were in residence. In some of the rooms

there are actors dressed in the costumes of

the day, regaling visitors with stories and

anecdotes.

A new formal garden was inaugurated in

2017 with thousands of trees, plants and

roses and the terrace overlooking it, with

its central great lantern tower is

magnificent. In the grounds, actors on

horse back roam the park evoking a spirit

of the past and its grand heyday.

There's even a small village of shops,

café's, a fabulous biscuiterie where you

can taste the local liqueur Chambord, wine

tasting store, a 4* hotel Relais de

Chambord and fabulous restaurant which

overlooks the Chateau. It has to be one of

the most extraordinary views to enjoy lunch

or dinner anywhere in the world.

From the medieval chateaux that were the

norm just decades before, the Chateau of

Chambord ushered in a new style of

building and a new art of living, and things

in France would never be the same again.

Read more about Chambord here.

Just 3 years before that first stone was laid,

63 year old Leonardo da Vinci arrived in

nearby Amboise, invited to stay in the grace

and favour Chateau du Clos Lucé by his

new royal patron, Francis I of France...

WHATS ON 2019: Exhibition: May to

September, International architecture

competition: one aspect focused on the

history of the château, and one on its future,

aiming to virtually transform it into a 21stcentury

utopian ideal. www.chambord.org
---
Leonardo da Vinci

1452-1519

What's on 2019:

The Last Supper

tapestry based on

Leonardo da

Vinci's fresco will

be presented, the

first time it has

been shown

outside of Italy

together with

artworks from

international

museums. Woven

for Louise of Savoy

mother of Francis

before 1514. In 1533,

Francis gave it to

Pope Clement VII

on the occasion of

the marriage of his

son Henri II and

the Pope's niece,

Catherine de'

Medici.

www.vinci-closluce.com

Chateau du Clos Lucé

When Francis I issued an invite to Leonardo

da Vinci he travelled to France by donkey –

carrying the Mona Lisa painting - and

headed over the alps to the Loire Valley. He

spent the rest of his life at the Chateau du

Clos Lucé working on engineering and

architectural projects, completing the Mona

Lisa, scribbling his notes and inspiring the

King. The chateau du Clos Lucé was joined

by a secret underground passage to the

nearby Chateau d'Amboise where Francis 1

lived and Leonardo would scuttle along it to

meet with his patron. Francis was very fond

of the Italian architect, painter, philosopher,

engineer, botanist, poet, musician, writer

and more.

Leonardo died at the chateau on May 2,

1519 – his work having changed the world.

Visit the castle today and discover an

atmospheric museum, restored and

furnished in Renaissance style. It's very

easy to imagine the great man living and

working there. In what was his bedroom

Minette the cat sleeps on the bed, in his

workshop and study, notes, paintings, an

easel, the tools of his trade are laid out.

There is a fabulous 3D film and models of

some of his most incredible projects.

Read more about the Chateau du Clos Lucé

The 15 acre park contains more amazing

models of the great man's inventions. The

trees are hung with huge translucent

representations of his paintings and

sayings, they seem to float. It's romantic,

ethereal and beautifully done.

Read more about the gardens of Clos Luce

here.

As well as a charming creperie and snack

style restaurant the Auberge du Prieuré

restaurant in a former 16th century house

serves typical French Renaissance dishes.
---
Chateau Royale Amboise, credit: L De Serres

Chateau d' Amboise

Leonardo da Vinci was laid to rest in the

flamboyant St Hubert's chapel at the

Chateau d'Amboise, a fitting place as it's

here that the French Renaissance began.

When Charles VII returned to France from

the Italian military campaigns of the late

15th century, he bought Italian architects

and artists back with him to teach the

French. He set his workmen to upgrade the

Medieval fortress (in which up to 4000

people had lived) of Amboise into a

chateau fit for a King. They worked day and

night by torchlight. However he never got

to see it finished. Inspecting their work one

day, he hit his head on the stone lintel of a

door. Though he said he was okay, he

collapsed and died within hours.

His successor Louis XI continued the

renovation but it was Francis I who bought

In May and July you can have a ball at Amboise

- literally, join in the Renaissance dancing, dress

up and feel the history

it to full Renaissance glory. Born in Cognac,

he moved to Amboise aged 6 and was

educated there, making it his court when

he was crowned King in 1515, the year he

invited Leonardo da Vinci to France.

Under his direction the Chateau d'Amboise,

perched on a hill dominating the town,

became a pleasure palace of immense

beauty. He kept lions, tigers, leopards and

bears in a dry part of the moat. He staged

huge, ostentatious parties, with Leonardo

da Vinci designing costumes and

automatons, including a clockwork lion. It

walked and urinated and its body opened

up and was filled with lilies. For a play, he

recreated the night sky over the stage

complete with constell-ations and planets.
---
Go there today and you won't find the

castle that Leonardo knew, much of it was

demolished in the 19th century when the

owner couldn't afford to maintain it. But

what does remain is glorious and and the

views over the Loire Valley from its terraces

are stunning.

In the great hall inside, a bust of Francis I

looks down on visitors as they explore the

grand architecture of this historic chateau.

In May and July 2019 you can catch the

King's eye by joining in at a grand ball in

that very room.

Book your tickets as soon as possible to

hire a Renaissance costume at the castle

and join in the dancing. It's an extraordinary

experience, I've done it myself

(above) and for one night, felt like a

Princess as I danced to Renaissance music

until the sun went down, a truly magical

way to feel the history of Amboise.

What's on 2019 Chateau d'Amboise:

Exhibition on the death of Leonardo da

Vinci, including, from 2 May 2019, François-

Guillaume Ménageot's 1781 painting "The

Death of Leonardo da Vinci". Renaissance

balls and workshops, music festivals,

fireworks and more throughout the year.

www.chateau-amboise.com

The Chateau de Blois

Whilst working on Amboise, Francis I also

embarked on a refurbishment programme

at the nearby Chateau of Blois. It had been

the childhood home of his wife Claude and

was where a young Anne Boleyn was lady

in waiting to the Queen.

It's said that Anne acquired a taste for the

Renaissance style here and at other Royal

Chateaux. It influenced her style and when

she returned to England and married Henry

VIII.
---
Catherine

1

Chateau de Blois

A range of styles from the 13th to 17th

centuries can be seen at the Chateau de

Blois, and the Renaissance part is evident.

The wing that Francis built is sumptuous

and the cage staircase is magnificent.

Read more about Blois here

Whats on 2019: Children of the

Renaissance - May to September 2019

Exhibition on the theme of childhood from

the late 15th century to the early 17th

century; May to October 2019 Sculptures

by artist Laurence Dréano in the rooms of

the château.

Catherine de Medici

Born in 1519 in Florence, Catherine de

Medici was married in 1533, aged 14, to the

son of Francis I who became Henri II of

France in 1547. It wasn't the happiest of

marriages, Henri was in love with his

mistress Diane de Poitiers, Catherine's

cousin. Their pass-ionate affair lasted until

his death in 1559.

It was Diane who wielded political influence

when her lover the King was alive, she who

was showered with jewels and gifted

castles including the stunning Chateau of

Chenonceau, a Renaissance jewel.

Read more about Chenonceau here.

In 1559, Henri was fatally injured at a

jousting tournament at which he was

wearing the colours of Diane. His sons were

too young to rule, so it was Catherine de

Medici who became effective ruler of

France, making Blois her key royal base.

Diane de Poitiers was ordered to return the

crown and Catherine took Chenonceau

from her but gave her the pretty Chateau de

Chaumont to soften the blow.

Read more about Chaumont here.

Diane also had her beautiful chateau d'Anet

to retire to. Probably the most
---
de Medici

519-1589

beautiful chateau you never heard of it, it is

an incredible jewel of the Renaissance and

contains Diane's bed and several

belongings, including a love letter from the

King, her hand mirror and all sorts of

fabulous objects.

Read more about Chateau d'Anet here.

Catherine de Medici's 30 year rule through

her sons was at a time of turbulence,

tarnished by the bloody turmoil of religious

wars. It's claimed that she would despatch

teams of beautiful young women to calm

down aggressive noblemen and to find out

their secrets. The 1572 St Bartholomew

massacre of thousands of Protestants

happened on her watch. The infamous

assassination of the Duke de Guise, leader

of the Catholic League took place at the

Chateau de Blois in 1588 while she lie sick

in bed. She died a year later, aged 69, and

was buried first at Blois before being reinterred

at the Basilica of Saint-Denis with

the husband she had loved.

During her time she became an influential

patron of the arts, making a significant

contribution to the French Renaissance for

three decades. She spent vast amounts of

money on monuments and chateaux,

employed Italian artists and architects,

patronised French artists and became a

renowned collector. She was famous for her

lavish parties, known as "magnificences" as

well as championing the theatrical arts,

ballet and opera.

VIVA LEONARDO DA VINCI

Viva Leonardo da Vinci, celebrating 500

years of the French Renaissance in the

Loire Valley, sees around 500 events

taking place all over the region. In this rich

programme of arts and culture, the French

Renaissance lives on…

For further inspiration visit:

www.loirevalley-france.co.uk; www.france.fr
---
Escape to the
---
Chateau...

Dick Strawbridge and wife Angel Adoree

relocated from the UK in 2015 to do up a

run-down 5-storey chateau with 45

rooms in Mayenne, Pays de la Loire,

France. "It was cheaper than a onebedroom

flat in East London" says Dick –

but it needed a lot of work to transform it

into the home and good life they wanted,

and to create an income earning

business.

Janine Marsh talks to Dick and Angel

about life at the Chateau and their top

tips for those who dream of escaping to

the chateau…
---
A legion of fans

Millions have watched the intrepid couple,

the stars of TV Series "Escape to the

Chateau" as they've painstakingly restored

the Chateau-de-La-Motte Husson with its

tall towers and pretty orangerie where they

now host weddings.

No strangers to TV, Dick with his distinctive

moustache, has appeared in shows like

Scrapheap Challenge, It's Not Easy Being

Green and Celebrity Masterchef. Red-head

Angel has a passion for 1940s clothes and

all things vintage, she's an author and

founder of The Vintage Patisserie which

she presented on TV show Dragons Den in

2010, winning over the panel and public

with her pluck and passion.

With Escape to the Chateau, they've

inspired a huge audience with the

dedication and hard work they've put into

transforming their chateau into a gorgeous

new home and business. Bringing up two

young children, 5-year-old Arthur and 4-

Angel and Dick share a taste of the

chateau...

year-old Dorothy, renovating a huge home,

creating a business which will earn them an

income and pay for the work needed on the

chateau hasn't been easy. But it's made for

riveting viewing and has led to a spin off

series "Escape to the Chateau DIY" in which

we've seen more plucky Brits take on

chateaux and get some advice and

sometimes practical help from Dick and

Angel.

Dick, 59, and Angel, 40, have also inspired a

legion of fans to consider a move to France

to start a new life. Leggett Immobillier, top

estate agents in France say that each time

an episode of the Escape to the Chateau

DIY is shown, they see a massive jump in

chateau search numbers on their website!

They've not just seen viewings increase but

sales too.

It seems that many of us dream of escaping

to our very own chateau in France – but just

how realistic is it?
---
"It's a marathon not a sprint"

What has been the worst job you've had to

take on at the chateau and – knowing

what you know now, would you have done

it differently?

Probably clearing the bird droppings from

the attic – it wasn't the smell it was the

very fine dust. And of course, we did it in

the summer when it was extremely hot!

Reckon we'd make it a winter job if we did

it again.

Clearly renovating a chateau and starting

a new business from scratch isn't all a bed

of roses – what motivates you to keep

going?

We love that we've brought the chateau

back to life! Yes, there are challenges and a

project like this is a marathon not a sprint,

but we are doing it for the family and that

is more than enough motivation.

"If it's meant for you, it won't go

by you"

Millions watch you on the telly and dream

about following in your footsteps – what

three key pieces of advice would you give

them when starting out?

Do it for the right reasons – know what you

want and then go for it. That way problems

will always be overcome rather than putting

an end to your dream.

Have a plan. Planning ahead must include

how you are going to live and earn money.

This will also help you when you're

prioritising renovations.

Be patient, the search is all part of the

journey so don't settle for something that

isn't absolutely right for you. We know a

wise lady who always says 'if it's meant for

you, it won't go by you.'
---
What would be your top tips for starting

any business in France that involves the

hospitality service – gites, B&B, cafés,

weddings etc.

Do the sums – a quaint tea room will not

pay for a chateau. Know your target

customers – if you are interested in the

British market think about their travel.

There's a lot of competition so what makes

you stand out? Invest in good photography,

a website and social media – this

will be the most cost-effective way to

promote your business.

One of the things people love when

watching the show is that you seem very

"real", we can tell when Dick is exasperated

with one of Angel's ideas, and when

Angel is peeved that Dick doesn't get her

vision! How do you manage to still make it

seem such fun!

We have the same goal and although

sometimes we may have different ideas

about how things can/should be done, we

trust each other's instincts. There are

always going to be challenges but we're

both equally focused and in love with this

project and creating the life we want for

ourselves and Arthur and Dorothy.

What are you most proud of in your new

life in France?

Not sure pride is the right term, but we

know we have made the decision and we

are bloody minded enough to succeed in

all aspects of our venture.
---
"Eat an elephant a bite at a time!"

Where do you find your best bargains?

Emmaus [charity shops where you'll find a

great range of furniture and more [read how

to find an Emmaus store here], flea markets,

brocantes and eBay!

Would you do it all again?

In a heartbeat. We really are living our dream

and we wouldn't change it for the world.

Were you ever afraid of taking on such a huge

project or did you just believe that you could

succeed?

We have always been sure we can do this, but

it's not just good luck, you have to plan -
---
and it's worth remembering - you eat an

elephant a bite at a time!

Can you tell us a bit about the events

you're running?

We currently host Weddings, Fun &

Festivities and Gardening Work Days, as

well as a few Food Lovers Weekends. We

also have a new unique glamping

experience 'Chateau under the Stars'. All

our events capitalise on the local produce

that is so impressive in the Pays de le Loire.

The Food Lovers Weekend at the Chateau

means sampling plenty of amazing food

and drink. The weekend starts with us

hosting all the guests for a meal of many

courses, then after a trip to the local market

at Laval [more on Laval market here], we all

cook together - it's seasonal produce and

dishes that many have not been brave

enough to attempt.

What plans do you have for the future?

It's fair to say there's a lot left to do at the

chateau. We haven't really started some of

the very big jobs, like re-doing our windows

and replacing the roof, and if you add

converting the outbuildings to the 'to do

list', there's no shortage of things to keep

us occupied.

There are also a couple of other very

exciting projects in the pipeline for next

year, but at the moment our lips are sealed!
---
Dick and Angel's Top

Tips for Chateau

owners and seekers

Do's

Location is key: France is a big country,

about three times the size of the UK.

There are many remote, rural areas and

while for lots of us that's part of the

appeal, but when you're running a

business like this, being close to an

airport or port for transport options is

seriously important.

Be realistic. Chateaux are old, it's

inevitable that they will need work,

whether that's full-blown renovation or

just maintenance. And, they generally

cost a lot of money to run (heating

especially).

Plan ahead: It's really important to

consider how you're going to earn an

income. If your chateau is going to be run

as a business, do some research and plan

what you will offer guests, how it will work

to suit you and your guests and, critically,

how you'll market it. This will also help

you when you're planning renovations.

Set deadlines and try as much as you can

to work to a timeline. Keeping focussed

will motivate you to keep going, you're

going to need that. Reaching milestones

does wonders for your morale!

Join in: Don't forget you have to live there,

it's not just about the bricks and mortar.

Integrate with the locals and join in with

community events as much as you can.

Be patient. The French love bureaucracy,

there will be a ton of paperwork. It's life. In

France.
---
Don'ts

Don't buy pigs and chicken straight away! It's

easy to get carried away, to want to live the good

life straight away, but concentrate on the basics

first, you need to make your home weatherproof

etc – then you get the pigs and chickens!

Reuse: Make the

most of what your

chateau has to offer.

Recycle furniture,

mend things, re-love

the bits and pieces

that the chateau

yields. It's cheaper

and greener.

Don't rely on getting everything you need in

France. Some things are cheaper in the UK, such

as paint, tools and even radiators. Some things

are cheaper in France or essential to buy here,

electrics and plumbing for instance. Shop around!

Don't get carried away – prioritise fundamental

basics such as heating (if you have a wood fire,

don't leave ordering the wood until its cold, it may

be more expensive), electricity and plumbing.

Don't be surprised by the fact that in France long

lunches are still common - even for French

artisans who are working on your home! Always

get a quote based on the job, rather than time.

Don't rely totally on the expat community. By

learning French, you'll be able to communicate

better and importantly, get the best person for the

job you want done.

Don't worry if you're not an experienced builder,

you can learn lots from books, YouTube and the

internet. The ability to plan well is really important,

start with this.

Don't forget that much of France closes down for

August holidays. You're likely to find that there

are fewer shops and services are available, and it

feels like all artisans take an extended holiday

then!

Website for Chateau-de-la-Motte Husson for

details of events and news from Dick and Angel

Follow Escape to the Chateau on Facebook and

Twitter

If you need more room for guests, why

not put up a posh tent, and offer a

glamping experience
---
Brilliant

Bordeaux

Janine Marsh disovers the secrets, flavours and

architectural wonders of sunny Bordeaux, AKA the

Pearl of Aquitaine...
---
Getting to know Bordeaux

I took the fast train from Paris to Bordeaux

and arrived in just over 2 hours. Watching

the speed monitor on a screen in the

carriage hovering around the 320km/hour

mark for much of the journey was pretty

impressive. We slowed down on the

outskirts of Bordeaux which gave me time

to admire the voluptuous outline of the

city's new emblematic Museum of wine,

the sun bouncing of its snake-like outline.

Some people say Bordeaux is a bit like a

smaller Paris but apart from the fact that

it's a city, I think Bordeaux is completely

unlike it - in a good way.

Don't get me wrong I love Paris but

Bordeaux is very different. It's smaller,

sunnier, the architecture is mellow,

neoclassical masterpieces span three

centuries (18th -20th) which gives a

coherence and consistency to the overall

look - as well as a UNESCO listing. It's

home to the most wonderful wine bars,

surrounded by the most amazing vineyards

and has its own specialities which you

simply won't find elsewhere. There are far

less cars, thanks to a tram system and

Mayor Alain Juppé's support for promoting

cycling. It's cosmopolitan and has a happy

and relaxed place.

Finding your way round

Bordeaux's tram service is terrific. It's easy

to use, cheap and efficient. And, if you

arrive by train, you can hop on a tram right

outside the station (either use the ticket

machines or buy a carnet, a book of tickets,

in the Relay shop in the station).

In the centre of Bordeaux is Quinconces, a

huge square, served by several tram lines.

It's a good starting point for getting to

know the city. And the best way to do it is

on foot.
---
The Roman legacy

The Romans called the city Burdigala and

there are remains of their presence, from

the ruins of an amphitheatre known locally

as 'Le Palais Gallien' to towers hidden

inside buildings. They started off importing

wine from Italy and Spain but in 1AD began

planting a grape species called Biturica, the

ancestor of Cabernet Franc.

You can't walk more than a few steps in

the city without reminders of that

monumental decision the Romans took -

there are wine bars everywhere.

"Can you tell me what's the best wine bar

in Bordeaux?" I ask a local outside the

tourist office where I stopped to pick up a

map. He ponders and points across the

road "Maison Gobineau is magnifique" he

enthuses "every kind of Bordeaux wine

there and not expensive at all".

I head off to find this wine paradise. It looks

very chic and sleek from outside and I

wonder about the not expensive comment.

Inside there are stained glass windows, an

Aubusson tapestry behind the bar, rack

upon rack of bottles and a very long wine

list menu which I pick up cautiously. "2

Euros a glass?" I can't help exclaiming out

loud. The bar man smiles at me and

explains that it's about making the wines of

Bordeaux accessible and known to all. I feel

it would be churlish to resist and indulge in

what the barman says is a "cheeky, spicy

red".

After this I'm ready to continue my tour

having been given a potted history of

Bordeaux wines - did you know that there

are about 9000 wine makers in the region

and each make an average of 2-3 varieties...

astonishing! If you only go to one wine bar

(which would be tough on you I must say)

go to this one, it's terrific.
---
From here it's a stone's throw to the

famous Opera National de Bordeaux, a

veritable landmark in a city of landmarks. It

isn't like other opera houses. It's traditional

to be boisterous and noisy I'm told, a

throwback to the good old days when it

first opened and it was a place where the

rich went to let their hair down. More a club

than an opera house in those days, it

would open at 5 pm and cost an average of

several days wages for the average

working man – it was meant to keep the

poor out.

By the 18th century, when the Opera was

built, Bordeaux was the second wealthiest

city in France, after Paris. It already had a

reputation for some of the best wines and

its harbour was one of the most important

in the world with an an immense flow of

goods coming into the city. When Louis

XIV visited in the mid-17th century,

Bordeaux was very medieval looking

despite its growing wealth, and the king

commanded that it be modernised. After all

this was where many visitors to France first

came, he wanted to make a good

impression.

The rich merchants built new areas and

erected fabulous buildings in the

neoclassical style. Today they are part of

that give Bordeaux the status of a UNESCO

world heritage centre. All around you, the

magnificent architecture is truly impressive.

Opposite the Opera is L'Intendant wine

store, an institution for the locals, with wine

from 6 euros to 6000 euros. "There isn't

" says local Alex Palerologue "a single bad

bottle in here. They are all outstanding even

the cheapest, and the people that work

here give excellent advice".
---
Bordeaux used to have a reputation for

being a bit grubby which is hard to believe

as you wander its streets of honeycoloured

buildings. But, if you head to the

17th century Church of Notre Dame

(modelled after the Church of Gesú in

Rome), stand facing it and look to your left,

you'll see a tea room and in between the

church and the tea room is a narrow alley.

Look at the walls there, you'll see what

colour Bordeaux was before the big clean

up began in 1995 and left it the mellow,

gleaming blonde stone beauty it is today.

Locals recall the dark days when the

buildings were blackened by years of

pollution so that you couldn't see the

lovely carvings and sculptures and the

walkways by the river were blocked by ugly

warehouses.

The project to beautify Bordeaux is

ongoing and seems to have a moving goal

post, currently it extends to 2050, with the

introduction of a new tram line, the

continued regeneration of the docklands

and more museums opening. The ugly

warehouses are no more, instead there are

swanky shops and loads of bars and

restaurants, pleasant walkways and

fabulous views. Now the quaysides are

busy with runners, cyclists and people

enjoying themselves. The Miroir d'Eau, a

water sculpture in front of the impressive

Place de la Bourse draws people day and

night to marvel at and enjoy it, kids splash

in the water and cool down in the misty

spray.

Don't miss in Bordeaux

There were 350 churches in Bordeaux

before the French Revolution, many of

them are now deconsecrated and have

been transformed into restaurants, art

galleries even a cinema.
---
The great door or the Cathedral of Notre

Dame in Paris was modelled on the doors

of the 11th century Cathedral of Bordeaux.

Here Eleanor of Aquitaine married Louis VII

in 1137. In the 14th century, Bordeaux's

Archbishop became Pope Clement V and

moved the seat of Papal rule from Rome to

Avignon.

You'll see little brass floor plates as you

walk through the city indicating that you're

on the Way of St James (Camino de

Santiago). There are 3 UNESCO listed

churches on the route.

Not far from the Cathedral, the current town

hall of Bordeaux was intended to be the

palatial residence of Archbishop

Monseigneur the prince of Rohan

Ferdinand-Maximilian de Mériadeck in the

18th century. He spent 2 million livres on it,

a phenomenal sum of money in those days,

he could have built three enormous

chateaux with 500 hectares of land for the

same money. He never spent a night there

as he was sent to a new job. Napoleon did

though, and whilst there he commissioned

the building of the Pont de Pierre, the first

bridge across the Garonne River in

Bordeaux.

As you wander you might notice that some

streets have more than one name. Streets

often changed names over centuries, and

this was particularly so in France following

the French Revolution. In Bordeaux though,

they kept the old names too, for instance

Marché Royale became Marché Liberté– but

both names are shown (above left).

Don't miss the magnificent Cité du Vin

about which there is so much to write but

not enough room here (read about my visit

on The Good Life website here). It is a

superb museum, the history of wine

throughout the ages and around the world

though of course with an emphasis on

Bordeaux.
---
Innovative displays, high tech marvels, a

most fabulous wine tasting area with

panoramic views over the city. A superb

wine store and gift shop are also terrific.

There are several markets in Bordeaux

including Le Marché des Grands Hommes

in the posh Triangle d'Or district and the

Marche des Quais on a Sunday morning,

not far from the Cite du Vin. And if flea

markets are your thing, the weekly Puces

de St Michel will thrill with its vintage,

antiques, books and more (Sunday

morning).

When your legs are weary from walking the

streets of this wonderful city, just hop on a

boat and take a tour to admire Bordeaux

from it's river, said to be one of the cleanest

in Europe.

All this walking is bound to make you

hungry…

Treats and eats in Bordeaux

Is Bordeaux the new gastronomic capital of

France I found myself wondering. With more

than 3000 restaurants it's not easy to

decide which is the best but when the same

names crop up from local recommendations

time and time again you have to

figure they're worth checking out.

Wine and Dine: Restaurant le Chapon Fin

had 3 Michelin Stars but they changed

chefs so the stars went and now they're

working to get them back. As a result the

menu is cheaper than before but the food,

say the locals, is just as good. For a touch of

real Belle Époque style, this restaurant

which opened in 1825 is unbeatable. To

know that Sarah Bernhardt, Toulouse

Lautrec and the rich and famous who visited

Bordeaux always chose this place and sat

here enjoying the splendid architecture and

sculptures makes the food taste even

better! (5 Montesquieu Street)
---
Locals lunch: Le Petit Commerce,

traditional, friendly, great menu and full of

French people enjoying a great value meal

that tastes like heaven. 22 Rue Parlement

Saint-Pierre

Locals love: Braderie Bordelaise "a taste of

Bordeaux" is how the locals described it.

There's always a queue to get in and that

says it all. It's worth the wait though – if

you're a steak frites fan, you will never

taste better than here.

Locals new love: Seven at Cité du Vin. The

7th floor restaurant at the wine museum is

divine in every way. Fabulous menu,

brilliant wine list and absolutely stunning

view over the city. It's open for lunch,

dinner, afternoon tea and any time for a

glass of wine!

Bake my day: Canéles are delicious little

rum and vanilla cakes, a speciality of

Bordeaux where they've been making them

for at least 300 years.

There are two famous places to go for one

of these sweet treats: Ballardin and La

Toque-Cuivrée (theirs are slightly crispier).

Personally I prefer the new cake in town –

Dunes Blanches. A speciality of Patisserie

Pascal in Cap Ferret, the seaside town

that's just an hour from Bordeaux. The

sweet Dunes Blanches were so good that

people started to go to Cap Ferret just to

buy them, so Pascal opened a shop in the

city. They do a different flavour each week

but 'natural', the originals, are best - soft,

crunchy and wonderfully sweet, filled with

cream and dusted with icing sugar – I

would go back to Bordeaux for those alone.

If you want to make like a local and

impress them, ask for a chocolatine not

pain au chocolat for your breakfast treat!
---
The beasts of Bordeaux: Gordon Ramsay is

at the Hotel Intercontinental – everyone I

spoke to loves Ramsay in Bordeaux and

his reputation is sky high. His rival chef

Philippe Etchebest, who is a star on French

TV appearing in Cooking Nightmares, the

French-language version of Ramsay's

Kitchen Nightmares, can be found

opposite at the Opera 'LA' Tables d'Hotes.

Here there's a hosted gastronomic table

for 12 people only. It's pricey but Etchebest

is held in the highest esteem in Bordeaux,

and there's a long waiting list. He also has

La Brasserie which offers a very reasonably

priced lunch.

Practical information

Bordeaux Tourist Office:

www.bordeaux-tourisme.com

Stop here first for a map, to book tours and

find out what's on.

Where to stay: I highly recommend www.

yourbordeauxhome.com - I stayed in the

Chateau Giscours apartment in the city but

in a quiet residential street and it was

perfect.
---
La Pi

Roub
---
scine Museum,

aix
---
Roubaix is in the suburbs of Lille, capital of

Hauts-de-France (Nord, Pas de Calais,

Picardy). It was once famous for its textile

production, an industry which had been

active in the area since the 14th century. In

the 19th century Roubaix was known as the

"French Manchester", one of the world

capitals of textiles. It was also called the

"city of a thousand chimneys" and its

factories proliferated well into the 20th

century. It's from those times that La

Piscine comes.

The municipal swimming pool was built in

1932, commissioned by the Mayor and

designed by architect Albert Baert. In its

day it was cutting edge – a stunning art

deco monument, not just a pool but it also

had bathrooms for men and women at a

time when most poor people didn't have

access to such things. It was much loved

and stayed in use until 1985 when it closed

needing complete renovation after chlorine

in the water caused damage to the

structure, especially the roof.

By then, the textile industry had also

declined and Roubaix found itself

undergoing a dramatic change. The city

councillors decided to ensure that the

heritage of Roubaix was preserved and

were awarded a label of "City of Art and

History. They needed somewhere to house

their expanding art collection and Bruno

Gaudichon, now director of La Piscine,

admits choosing the former swimming pool

area as the location, was "a gamble, as by

now, Roubaix had a lot of industrial empty

industrial buildings".
---
Left, the atelier of Henri Bouchard, recreated from

his original studio in Paris; above left La Piscine

in the 1930s, above right, La Piscine today

La Piscine had been left neglected for

several years and a public contest was

held for architects to come up with a

design for the space. In 1994 the winner

was chosen - Jean-Paul Phlippon, already

famous for his conversion of the former

Gare d'Orsay in Paris into the stunning

Musée d'Orsay in 1979 (voted world's top

museum by Trip Advisor Traveller Choice

Awards 2018) and the Musée des Beaux

Arts, Quimper, Brittany in 1993.

Philippon's plans for La Piscine centred

around keeping the integrity and

authenticity of the much-loved swimming

pool. "I wanted to keep the basin of water"

he says - and it is now the heart of the

museum. "But I narrowed it to make room

for the artworks. I created pontoons

alongside with ceramic lining created from

the original elaborate mosaics. Thousands

and thousands of tiny pieces were all

carefully preserved. Some of the original

changing rooms were kept, others were

dismantled. It was like a giant Lego game

putting all the pieces together and

reconstructing it".

In 2001 the council allocated a former

textile factory building to be part of the

museum as well, one of the original walls

still stands as a memorial to the old

building after part of it was demolished to

let light in. It is, says Philippon, one of his

favourite aspects. "In my design, I wanted

people to be able to circulate easily and to

see the collection as it should be seen, it

was an important aspect of the museum".
---
"Roubaix had a small collection of 17th century paintings, Lille Musée des Beaux Arts had

a lot, so we decided to focus on 18th and 19th century paintings" says Gaudichon. "We

distributed our 17th century paintings to museums in the north. In 1924 a local textile

magnate donated a large collection of paintings and furniture. Since then we've built up

a superb collection of 18th and 19th century works. Now with the Henri Bouchard atelier,

and some wonderful sculptures including by Camille Claudel (bought by public

subscription), we have a truly spectacular museum offering".
---
La Piscine was an immediate and

tremendous success with an astounding

200,000 visitors in its first year. The art

deco beauty of the museum proved the

perfect backdrop for the growing collection

of painting, sculptures and textiles. The

museum won accolades, being voted the

best museum outside of Paris, attracting

more visitors each year. It was so

successful that another contest had to be

held to create an extension.

Jean-Paul Philippon was again the winner

(2011). "I didn't expect to win" he says

modestly "I would have been happy for

whoever won. Architecture is about

evolution". His winning design featured lots

of light and ceilings that mirror the curve of

that over the original pool. It is as beautiful

as the prototype.

There were several key requirements in the

contest brief including creating a home for

an enormous painting that was found

rolled up in the attic of the town hall

opposite La Piscine. It was being used to fill

holes in the roof to stop water leaking

through. The painting depicted the

opening of Roubaix's town hall in 1911 and,

restored, it is superb. Another requirement

was to recreate the Paris atelier of Henri

Bouchard (1875-1960) a sculptor whose

works can be seen in several locations in

Paris including the Trocadero Gardens, and

in museums around the world.

The new extension of more than 2000m

opened in October 2018 after two years of

major work. It is light and airy, there are

rooms dedicated to temporary exhibitions,

permanent exhibitions, plinths to display

specific pieces – this is innovative, bespoke

and magnificent museum design.

The painting of Roubaix town hall, the

Cinderella in the attic, is now a show

stopper in its dedicated space. The Henri

Bouchard atelier is breath-taking, filled with

his sculptures, looking as if the great artist

just popped out and is coming back any

time. Next door, a room encourages visitors

to touch art, feel it as a sculptor would, the

lines and flaws, the coldness of marble or

bronze. "We recreated the ambiance, colour,

light of Paris, the same set up of the studio"

says Gaudichon.
---
Interview with Jean-Paul Philippon

What has influenced your style?

When I started in architecture in the 1970s,

the excesses of the post-modern

movement of the beginning of the 20th

century, the 'mouvement moderne' were

being challenged. The Gare d'Orsay was

considered too ornate at that time, I

remember sitting in my office nearby, in the

summer with the window open, you could

hear the bateau-mouches boat guides

giving their speeches. Inevitably one would

say "on your left is Paris's ugliest

building" – they meant Orsay. I disagreed.

Did you know as soon as you walked into

La Piscine Roubaix that you wanted to

keep the pool?

"Non. Your first impression as an architect

is based partly on intuition and feeling,

partly on analysis as well as knowledge of

what needs to be done. Architecture can't

be purely rational, but it has to work so it

can't be just emotional. You use logic, what

has been done in the past, choices based

of the personality of the building. As an

architect I think, what references can I draw

on, not just of my own projects but those of

others. Influence is based not just in the

moment, the now, but of centuries ago.

With this project I had to consider how it

would relate to the existing building, to

create the Bouchard studio but also toilets

accessibility, galleries for sculpture etc.

For me, architecture is like writing a novel,

laying out the different scenes, like The

Bonfire of the Vanities! Then scenes are

cut together, like a film director.

The building had been earmarked for

renovation, the Louvre had run out of space

to showcase their huge 19th century art

collection so a contest was held to redesign

Orsay. I had been heavily influenced by the

destruction of Les Halles, I didn't think it

was right to destroy all things. Le Corbusier

competed for the project you know, he

wanted to knock the station down and

create a giant suitcase… he wanted to

transform Paris into a huge, modern grid

system...

Would you say that any one part of this

museum reflects your signature?

I'm not like someone who says 'I always do

red walls', I make ethical choices. As to my

signature, that's for others to say! For me

architectural design must relate to the

needs of the users. When you update

existing architecture, you need to give it a

new life, I think of a project as being like a

town or a city, every aspect of its use must

be considered. Every project has a 'town

centre', at the Musée d'Orsay this is the

heat of the station, at La Piscine, it's the

pool.

Do you have a favourite part of La Piscine

Roubaix?

Non – though, I do really love the brick wall

of the old factory in the front, it pleases me

to see it there.
---
Christmas at the Castle....

The Chateau of Vaux-le-Vicomte

Janine Marsh falls under the spell of a captivating

Chateau with a festive vibe.....
---
In 1661, the famous French writer and poet

Jean de la Fontaine wrote of Vaux-le-

Vicomte:

The stage was set with green so lush,

and by a hundred torches lit;

Once curtain raised, all Vaux was

hushed,

All strove to please this King of ours:

Music, cascades, lanterns and stars…

More than 350 years later, de la Fontaine

would certainly recognise the castle and

his description would be unchanged other

than that it is not a King who will thrill to

the sight but visitors who will relish the

music, cascades, lanterns and stars on

show at Vaux at Christmas.

Just 35 minutes by train from Gare de l'Est

in the centre of Paris brings you to Maincy

where a shuttle bus whisks you to the

historic 17th century Chateau of Vaux-le-

Vicomte. At Christmas it takes on an extra

layer of glitter and air of enchantment

when rooms are decorated with thousands

of lights, garlands and baubles and this

captivating castle presents a unique festive

show.

"Sparkles, twinkles... the smell

of Christmas spices..."

Sparkles, twinkles, the smell of Christmas

spices and chocolate, traditional carol

songs and glowing lights. But this is no

Disney castle, Vaux-le-Vicomtes Christmas

coat is traditional, classic and just a little

kitsch as the best Christmas's should be.

Rooms are adorned with lights, Christmas

trees and vintage toys, scented with

cinnamon and chocolate, spices and sweet

smells. It's a unique presentation of

Christmas in an incredible setting.

As you walk up the path to the chateau, it's

a wow moment. Glittering Christmas trees

line the route, the castle is festooned with

giant festive bows and two huge toy

soldiers stand either side of the door that

leads into the largest private domaine in

France.

50 years of visitors

Incredibly the chateau was a wedding

present to the current resident, 90 year old

Count Patrice de Voguë in 1967. He has

made it his life's work to protect the castle

for future generations. A chateau of this

size isn't easy or cheap to maintain, so he

opened the doors to the public in 1968,

inspired by the British National Trust (which

is entrusted with opening buildings of

major interest to the public), and in

particular by Highgrove house, home to

Prince Charles.

The Count's son Alexandre, who together

with his brothers Ascanio and Jean-Charles

now runs the estate, says that his father

began the Christmas at the Chateau event

12 years ago, again inspired by Highgrove

House. The event has become more and

more popular over the years, and in 2017

more than 67,000 visitors headed to Vaux-

Le-Vicomte to enjoy the Christmas fun.

What began as just a weekend event

attracts so many visitors that the castle is

now open from Wednesday to Sunday (until

23 December) and daily until 6 January

(excluding Christmas day and New Year's

Day).

Click to read about the etraordinary history of Vaux-le-Vicomte
---
The castle has been decorated in style by

interior designer Eric Naudin, assisted by

everyone at the Chateau, from the ladies

who work in the gorgeous gift shop to the

family.

This year's theme is bright, bold and

beautiful and includes a life-size hot air

balloon in the grand salon, piloted by a

waving teddy bear. Vintage toys have been

borrowed from a specialist museum in

Colmar, Alsace. There are 150 Christmas

trees, more than a mile of garlands and

around 15,000 decorations and lights

In the carriage museum Christmas carols

play and there are tableaux of yesteryear's

Christmases with train sets, lights and

Santa seated in an ancient carriage.

In the castle itself the rooms are decorated

in bright blues, soft whites and shades of

pastel. The trees are hung with the most

beautiful baubles, soft teddies and snow

white owls (by the way, if you like them pop

to the gift shop where they have some for

sale plus fabulous souvenirs that you'll

want to bring out for Christmas for years to

come). Tables are laid for a festive feast

with trees and ornaments, sparkling crystal

and colourful macarons and a band made

up of giant moles, extraordinary

automatons. In the kitchen there's a

sugarplum fairy vibe with huge gingerbread

cakes, giant rabbit footmen, dolls and

fairies.

And as dusk falls, the magic continues in

the garden where you can take a carriage

ride and enjoy thousands of twinkling

lights. Take a walk in the enchanted wood

and admire the gorgeous landscape that

has wowed visitors for 350 years, designed

by Louis XIV's favourite gardener Le Nôtre.

It's not Disney but it is magical, Vaux-le-

Vicomte at Christmas is where you'll find a

bucket load of festive charm.

Details: www.vaux-le-vicomte.com
---
The

Best

tours of

France

2019

Travel like a local!

We've picked 14 fabulous tours in France where the

experience is built around the things YOU want to see

and do.

Small Group tours

Each and every private tour is different and they are

all typically for less than ten people.

Enjoy the trip of a lifetime...

Tour at your own pace

Unlike most tours that rush you around like vast herds

of sheep without time to relish the sights and

wonderful food and wines for which France is famous

and you've travelled so far to experience - these tours

are designed to ensure you fully savour your time in

France. Whether you're a lover of chateaux, culture,

gourmet cuisine, wonderful wines, gorgeous

countryside, the prettiest villages – these tours are full

of thrills and wonder.

Champagne tasting tours

Discover the pleasures of the Champagne

region and enjoy an effervescent

experience. Champagne tasting without all

the tedious, time consuming searching

online. Vineyard tours, sabrage,

workshops, picnics and more - discover

the real Champagne.

www.champagne-booking.com

Glamour and gourmet welllness

stay in France

Enjoy a truly glamorous, gastronomic stay in

a historic mansion with top Australian stylist

Joh Bailey. You'll be well & truly pampered

with spa sessions, sensational wines and

gastronomy. Re-energise & recharge your

batteries in one of the most beautiful parts of

France and have the holiday of a life time.

www.lebelvedere.net
---
private provence tours

Customized traveling to give you memories

to last a lifetime. Lavender tours, truffle,

grape harvest, bespoke tours as well as

chauffeur services for day trips or a lot

longer. Emily Durand's Private Provence

tours are designed to make you feel like a

local – not a tourist.

yourprivateprovence.com

Culinary holiday with a Master

Chef in France

If you love food, and all things French –

you're going to love Master Chef at the

Maison. A unique week-long break in the

gorgeous Haute-Pyrenees at the luxury

mansion Le Belvedere, where you'll learn to

cook with fabulous, internationally

renowned Master Chef Alain Fabrégues.

www.lebelvedere.net

TANDEMS & TURRETS BIKE TOURS

Discover gastronomic, gorgeous south

west France on a bicycle made for two…

For 2019, there's a new way to see some

of the best of France – by electric assist

tandem. You'll enjoy luxury chateau

accommodation with lovely hosts, plus

truly superb cuisine. Take a great new

luxury bike holiday tour in the Lot et

Garonne department, south west France

with Tandems and Turrets.

Cottages & Classics Experience

Cottages and Classics offer a diverse range

of options for holidays from self-catering,

B&B mini breaks or B&B. The Cottages and

Classics Experience includes the use of a

4-seater Morgan, perfect for touring the

small roads of Charente-Maritime and

boulevards of towns like Cognac,

Angoulême and La Rochelle.

cottagesand classics.com
---
Culture & cookery in Provence

Cooking classes with chefs in their homes

where you'll cook "authentic French dishes,

no frou frou" says tour guide Martine Bertin-

Peterson. You'll shop at the enchanting

street markets with chefs and dine at the

most scrumptious restaurants in beautiful

towns of Provence on this fully escorted trip

of a life time. There's also a total immersion

tour version for 2019!

www.goutetvoyage.com

Gorgeous Gascony Tours

Nourish your soul and unleash your spirit

of adventure in Gascony. With tour guide

Sue Aran, you'll experience the famous

food, wine and Amagnac of the region.

You'll discover where to find the best

antique shops and flea markets, the most

beautiful villages and magnificent

chateaux. From one day to week long

tours that are customised for you.

www.frenchcountryadventures.com

Wine & Gastronomy Tours

On these tours you're accompanied by

your very own private in-house chef,

gourmet dining catered to your personal

taste. There are visits to the most stunning

areas of France including the Loire Valley,

Paris, Normandy & Alsace. Enjoy the finest

wines too plus cookery lessons. Luxury &

the best of France with your charming

hosts Kimberley and Walter Eagleton.

www.artisticgourmetadventures.com

Food Lovers tour of Dordogne

Chateaux, gateaux and gorgeous villages –

a week long foodie tour of the Dordogne.

An edible expedition where you'll explore

some of the hidden gastronomic and

historic icons of the region making this

September tour a deliciously mouthwatering

experience. Explore fabulously

photogenic medieval villages, chateaux

and riverside hamlets.

www.dordogne-country-house.com
---
The real south of France Tours

Discover real southern France from

captivating Carcassonne to magical

Montpellier and the best of Provence.

Tours lasting 7 days or 9 days in which

you'll get to be a temporary local and

indulge in the best Occitanie and

Provence has to offer from gastronomy to

culture and then some. This is a tour for

those who love the authentic.

www.tripusafrance.com

Cycling tours in the Tarn

Tours du Tarn are specialists in leisure and

road cycling holidays and they've

discovered the ideal location for the perfect

cycling holiday. Bordering the most

beautiful areas of the Tarn, the Aveyron

and the Tarn et Garonne regions the centrebased

cycling enterprise plan to put this

'un-pedalled' area of south-west France on

the cycling map.

www.tarncyclingholidays.com

Luxury Tours of France

Guided tours of Bordeaux, Loire Valley,

Paris, Normandy, Brittany, Provence and

the south where you stay in the finest

hotels and experience the best food &

wines. There's also a very special Porsche

tour - 5* hotels, Michelin starred dining &

the chance to drive a Porsche on

Autohbahn in Stuttgart, just over the

border from Alsace. Customised tours also

available. www.froggytravel.com

French immersion course

A French immersion course is all about

learning the language but it is also about

getting to experience the culture,

gastronomy, the wonderful sites and

scenery that make learning so much more

fun, interesting and memorable. Stay in a

17th century chateau in Burgundy while you

learn & experience the best of French food,

wine and culture.

www.lapont.com
---
Le Mans

More than Motoring

Janine Marsh discovers the secrets and charms of Le

Mans, it's a town you shouldn't race through....
---
More than a quarter of a million people

head to the small city of Le Mans in the

department of Sarthe, Pays de La Loire

each June for the epic Le Mans 24 Hours –

one of the most famous car races in the

world. The majority of them watch the race,

enjoy the local cuisine and the friendly bars

and leave.

Amazingly most of them never even realise

that there is a most beautiful old town just

a few steps away from that legendary race

course which runs through the streets of

the newer parts of Le Mans. They don't spot

the Roman ruins, they miss the cobblestoned

alleyways lined with half-timbered

houses. And, they haven't a clue about the

fabulous medieval architecture.

They don't know that on the outskirts of the

town there is an astounding historic abbey

where a queen is buried, as well as a

fabulous nature reserve with a spectacular

restaurant. There's a famous saying, don't

be a tourist, be a traveller, and Le Mans is

the perfect town to illustrate just why you

shouldn't race through - but take your time

to discover its charms.

What to see in Le Mans

You're walking in the footsteps of the

greats – the Romans, the Plantagenets and

Robert Doisneau, the famous photographer!

Roman legacy

The presence of the Latin conquerors can

be easily spotted at the Roman Wall, a

500m section of it is wonderfully preserved

on the River Sarthe side of town. With its

distinctive pink mortar and ochre sandstone

blocks, this wall once encircled the city of

Le Mans, which takes its name from an

ancient tribe: Cenomani. Hidden away in

some of the medieval houses in the town,

there are even more Roman remains. I was

lucky enough to get a peek inside one

when I visited at the end of September for

the fabulous open garden event known as:

www.entrecoursetjardins.com. Locals

opened their doors to the public to show off

their gorgeous courtyard gardens, and in

one of them, the lovely French family

offered a glimpse of their Roman cellar,

complete with a Roman charcoal burner.

This is a town that's full of surprises.
---
Plantagenet city

Le Mans is known as the Plantagenet City

and the Vielle Quartier, the old district

within the Roman wall, overlooked by the

monumental Cathedral of Saint-Julian was

built between the 11th and 15th centuries.

More than 100 timber-framed houses

survive, making this part of town a bit of a

honey pot for film makers looking to

recreate scenes of ancient history -

providing a perfect backdrop for Cyrano de

Bergerac for instance.

Henry II, the first Plantagenet King of

England was born in Le Mans in 1133. He

married Eleanor of Aquitaine and spawned

a family of Kings including Richard the

Lionheart.

The old town of Le Mans…

Exploring the old town will once and for all

push out of your mind that Le Mans is a

one trick pony – or rather race venue.

Robert Doisneau knew it when he visited,

the famous photographer captured its

vintage beauty in an iconic image of an

ancient house with a child in front holding a

teddy bear (above top right). That was in 1962

but little has changed. Go there today and

you'll spot a teddy waving from the window

of that house, an homage to the photographer!

Successive owners have kept the

spirit of Doisneau alive, each one placing a

teddy in the window, making this what has

to be one of the best selfie spots in town!

Wander the winding, narrow cobble stoned

alleys and explore quirky shops and

boutiques, wine bars and restaurants – a

great place to while away the day.

Culture vulture

There are several museums in Le Mans

including a bike museum, arts, history and

archaeology. Without a doubt, the most

visited by tourists is the fabulous 24 hours

Circuit de la Sarthe Museum. You don't

need to be a petrolhead to appreciate its

incredible collection of more than 100

exceptional cars and a great portrayal of the

history of the renowned race through film,

photo and artefacts.
---
Gastronomy of Le Mans

Don't miss the chance to taste Jasnières

wine while you're in Le Mans, it's rarely seen

outside the local area and is absolutely

delicious. It's not made in huge quantities

and the locals keep most of it to themselves,

so stock up at the 15th century Cave de

Pedro – a feast for the senses in the Pont-

Lieu district of the old town. Wine master

Pedro has a brilliantly stocked shop, not just

wine but local specialities too. Book in

advance for a wine tasting - he speaks

English.

Indulge your sweet tooth at biscuit shop La

Sablésienne, perfect for a souvenir, if they

make it home in one piece!

When it comes to cakes – Takayanagi has

the locals queuing up. Japanese Chef

Takayanagi says: "Cakes are simple, but

complex; I create French cakes but with

Japanese influences". For instance in this

shop you can get a Paris-Tokyo, rather than

a Paris-Brest. They serve a traditional Japanese

lunch here so, head to the little shop in

rue du Tertre for your Japanese-French fix.

If you're a market fan you won't be

disappointed by Le Mans' lovely Sunday

morning market in front of the huge

Cathedral. Don't miss the mushroom man,

his champignons are a legend here.

Fabulous vegetables, fruit, bread, cheese,

fish, Plantagenet honey – a vibrant

atmosphere and a picturesque setting.

Wine and Dine: Auberge de Bagatelle. This

Michelin starred restaurant serves food that

looks amazing and tastes even better. Chef

Jean-Sébastien Monné creates dishes that

you don't forget in a hurry, the lunch menu is

incredibly good value at just 32 Euros for 2

courses, 38 Euros for 3 courses. Push the

boat out with the 6 course tasting menu –

utterly delectable.

Locals love: Café du Jet d'Eau, next to the

Cathedral it's the perfect pit stop for market

shoppers and watching the world go by. A

plate of oysters, tangy cheeses, crunchy

baguette and classic French dishes in a

really busy and welcoming atmosphere.
---
What the locals know and

tourists rarely discover

Le Mans is surrounded by glorious

countryside and it only takes a few

minutes on the excellent tram service to

discover some of its secrets.

5 minutes by car or about 15 minutes by

tram from the city centre is the Domaine de

l'Épau and the Abbaye Royale de l'Épau.

The Domaine is an area of outstanding

natural beauty which covers 600 hectares

and hosts two restaurants and a bar, ideal

for a taste of the countryside.

Next door is the little known but beautiful

Abbey, commissioned by the Plantagenet

Queen, Eleanor of Aquitaine, mother of

Richard the Lionheart - though she never

saw it in person. This monumental building

has witnessed drama and centuries of

history. It was burned by locals during the

15th century to stop English looters using it

as a military base, it was home to Cistercian

monks who wrote books here in the

freezing rooms, keeping their ink warm in

the only heated cell. It's where Berengaria,

wife of Richard the Lionheart. AKA the

good widow was laid to rest. There is a

wonderful tomb sculpture at the Abbey.

When Queen Elizabeth II visited the Abbey

some 25 years ago, it's said she suggested

the statue be moved to lie with that of

Berengaria's royal family at the Abbey of

Fontevraud.
---
It hasn't happened so far and it's probably

fitting that this neglected wife, who likely

only spent a matter of weeks with her

crusading husband during their entire eight

years of marriage, remains where she

chose to be.

Don't miss the café where Sylvie makes

cakes using products grown at the abbey or

locally. The gardens are undergoing

restoration with the aim to grow vegetables

popular in medieval times. Stop off for

quiche, salad, risotto – the menu changes

with the season and Sylvie makes

exceedingly fine cakes!

Now a cultural centre, there are some lovely

frescoes, interesting exhibitions both inside

and out, plus concerts. You can take a tour

in English if you book in advance.

Practical info for Le Mans

How to get about

The tram system is efficient and cheap 1,50

€ single ticket (valid for 1 hour); 4,20 € day

pass (valid for 24 hours) - both are also valid

on the bus network.

How to get there

With trains taking around an hour from

Paris It's an easy day trip to Le Mans

Where to stay

Hotel Concordia which is very reasonably

priced.

Le Doyenné: in what has to be one of the

best locations right next to the Cathedral in

an ancient house.

Tourist office Le Mans, 16 Rue de l'Étoile

www.lemans-tourisme.com
---
Marseille, on the edge of the Mediterranean in the far south of France,

is a city that's steeped in history with a reputation for being a bit gritty.

Peter Jones discovers that it's thrilling, friendly, fun and fabulous…

Marseille is not like other

cities…

Now before you dive into Marseille, here's a

tip: even though it's a grand metropolis, the

pace of life is very different to other cities.

Folk here are seriously laid back, their

attitude is that life is for enjoying, there is

nothing good to be gained by rushing. So, if

it takes a while to get served in a bar or

restaurant – it's no big deal, it's just the way

Marseille is.

Marseille people are very friendly, they love

to chat, and you'll find it easy to make

friends here.

Meander in Marseille

Make your first port of call the tourist office

at 11 Canebière, the historic high street in the

city, where you can buy a city pass from

24-72 hours. As well as entry to many

attractions, discounts and free tastings and

samples, it gives you use of the city

transport system including the excellent

metro.

Make sure you pick up a free map and

guide, then go exploring and lose yourself in

the city, keeping the map for when you are

well and truly lost!
---
There's not much more fun than

wandering round the 'Vieux Port', a vast

horse shoe shaped harbour where, every

morning a bustling fish market takes

place. The boats dock alongside, and the

fish is sold direct by the fishermen and

their families. An early morning start at

the street markets with their fantastic

colourful displays of fruit and vegetables

is always fun. Marseille is amazing - one

minute you are looking in the windows of

some of the great French fashion houses,

the next you feel as if you're in a street in

North Africa.

Take the metro to the Noailles district and

you'll find yourself in yet another world. A

rabbit warren of streets and lanes, cafés and

cheap restaurants, flatbreads being cooked

on the pavement, it really is exotically

fabulous.
---
Must-sees in Marseille

There are cafés shops, restaurants and

clubs galore and if you're there to relax,

watch the world go by and just enjoy

yourself, Marseille is perfect.

"Discover the French Fjord"

Take a trip from the Vieux Port around the

coast to the Calanques to discover what's

known as the French Fjord. Actually, it's a

National Park where the white limestone

cliffs rise dramatically above the sea.

The port is also the departure point for

boat trips to the Friou Islands, where you

can visit Chateau d'If, home of Alexander

Dumas's Count of Monte Cristo. It's not as

big a trip as the Calanques but well worth

doing.

If you're a Netflix fan and watched the

series 'Marseille' starring French superstar

Gerard Depardieu as a fictional Mayor,

you'll recognise many of the scenes

including the magnificent Hotel de Ville.

The harbour comes alive at night with

musicians and jugglers, plenty of street

food choice and a great party atmosphere

as the sun sets, it's definitely the place to

be.

Food of the gods

Locals love: When it comes to dining out,

follow the locals! In Marseille you'll find

them in Rue Sainte near the port in the café

Pastis et Olives.
---
Don't miss: Chez Madie on the Quai Du

Port. www.maidielesgalinettes.com is

always bustling with mainly French

customers and has a reputation for the

best bouillabaisse in town. Just a few

doors down is La Maison du Pastis, www.

lamaisondupastis.com. Owned and run by

Belgian Frederick Bernard, you'll find more

than 95 brands of Pastis and Absinths with

tastings and information freely available.

Try a local speciality: The city has a

cosmpolitan ambiance. I popped into a

Tunisian café and enjoyed a 'Brik', a cross

between a giant samosa and a Cornish

pasty, with a surprising twist, inside is a

boiled egg!

of L'Aromat, just a few yards from the Vieux

Port, where he presents his contemporary

take on Mediterranean cooking. His

number one dish, a firm favourite with

Marseillans is a truly surprising, utterly

mouth-watering bouillabaisse burger.

Served with a shot glass of fish soup made

from fish freshly bought at the Vieux port,

and a saffron infused fougasse bun it is

sensational. Served with chips made from

chickpea flour, another local speciality, it's

a dish you'll remember. 49 Rue Sainte,

Marseille

If you only have one meal in Marseille,

make it here.

Must-eat: Sylvain Robert is the chef patron
---
Pass the Pastis

Marseilles is the home of Pastis, an aniseed-based drink which is popular

across the whole of France. These days there is only one factory in the city

still producing it, Cristal Liminana. Founded in 1884, today it's run by

Maristella Vasserot, a direct descendant of the founder. Take a tour, tasting

and visit the shop to discover the city's favourite drink.

It's the perfect aperitif as you sit at a terraced café in the sunny city. Locals

ask for a "jaune" even though this strong liqueur is clear in the bottle. Add

water and ice to it though and it goes cloudy and a milky soft yellow.

Traditionally it's about four parts water to one part Pastis, ice goes in last.
---
Marseilles is easy to get to from within

France or other parts of Europe. Trains

including the TGV are regular and frequent

into the Gare St Charles, which is also the

pickup/drop off point for the Navette bus

which serves the airport.

There is a huge choice of accommodation

from 5-star hotels through Airbnb, but I can

highly recommend the 3* Hotel Maison

Montgrand right by the Vieux Port. A 17th

Century property with the bonus of a

courtyard sheltered by chestnut trees

where you could sit with a drink and

recharge your batteries. Frankly, it's hard to

beat.

Magnificent Marseille, so much to see, so

much to do, three hundred days of

sunshine a year, 95 different Pastis and #1

for a city break!

5 MARSEILLE MUST SEES

Le Panier

The oldest part of the city

nestled between MuCEM,

the Museum of European

and Mediterranean

Civilisations in a stunning

waterside setting, and the

Vieux Port. You'll find a

warren of hilly narrow

streets, boho bars,

boutiques, art galleries and

charming squares (left)

La Grand Savonnerie

Marseille soap makers are

world famous. To qualify for

the genuine Marseille

Savon label, it must be

made to strict guidelines

including 72% olive oil, a

centuries old recipe. Stock

up on the real thing while

you're in town. Read more

about it here

Notre-Dame de la Garde

Basilica of Notre-Dame de la

Garde is perched high over

the Vieux Port. Topped by a

golden angel this icon of the

city can be seen for miles

around. Take the Petit Train

to reach this ancient

emblem and enjoy the views

inside and out (right)

La Friche la Belle de Mai

Art and culture heaven – exhibition spaces,

cinema, rooftop bar, skate park, community

gardens and artists studios and more.

Much loved by the locals, often missed by

visitors and definitely worth seeking out.

Vallon des Auffes

A small but utterly charming working

harbour with fishing cabins and boats

bobbing about on the Med – a taste of

authentic Marseille (centre).
---
Nantes is a vibrant city, a place of reinvention in more

ways than one as Amy Macpherson discovers…
---
in

NANTES

Situated in southwest France, in the

department of Loire-Atlantique, region Pays

de la Loire, Nantes was once the capital of

Brittany. It was independent from France

and home to one of the country's largest

ports.

Although not directly accessed by the sea,

the city's strategic historic location on the

confluence of the Loire and Erdre rivers

gained the city its historical nickname of

Venice of the West' (La Venise de l'Ouest).

The rivers are what made Nantes a thriving

city with a solid base for ship building and

traders arriving from far away.

Today, parts of the river system have been

reclaimed for modern roads and tramways.

Large steel cranes and the dry docks are

the only remains of its former industrial

glory. And, Nantes continues to evolve,

transforming spaces where factories and

warehouses once stood into creative and

leisure facilities, implementing innovative

ways to enhance the joie de vivre of the city.

There's a great balance of preserving the

past whilst introducing the future and

ensuring residents have a good quality of

life.

It is no wonder that Nantes has consistently

been voted one of the top three best places

to live in France, and its why Nantes makes

a great weekend getaway.
---
The Machines de L'Île

Ready to channel your inner child? Cross

the river to Île de Nantes and enjoy a ride

on the Grand Elephant or play with the sea

creatures on The Carrousel des Mondes

Marins. You can't help but smile at the

mechanical fairy-tales of The Machines de

L'Île.

Born from the imagination of Francois

Delaroziere and Pierre Orefice, The

Machines de L'Île brings to life the

fantastical stories of French novelist Jules

Verne, whilst also paying homage to the

industrial heritage of the city. At the

Gallery, mechanical caterpillars and cranes

wow visitors. And, don't miss out on a visit

to the workshop where the magic happens.

It is guaranteed fun for the young, and the

young at heart. lesmachines-nantes.fr/en

Follow the green line

Every year during summer months, there's

a trail of creative discoveries so that

visitors and locals can explore the city and

find surprises en route. Indicated by a lime

green paint line running along the streets,

The Voyage à Nantes is a 12 km trail that

zigzags in and out of elegant squares,

taking in major sites as well as backstreets.

You'll uncover unexpected works of

art dotted around the city, which might

include a stackable chair roller-coaster, tree

climbing bears or random sculptures.

Look out for the Micro'Home by Myrtille

Drouet on Rue Du Puits-d'Argent. The

quirky house is 5m above ground, at 2m

wide it contains a living room/kitchen,

bathroom and bedroom. It's an imaginative

way of life in the city and you can actually

stay in it too. Book with www.nantestourisme.com

Artists have reinvented shop signs as

imaginative interpretations, injecting fun

into shopping. Whenever there is a painted

eye along the green line, you're sure to find

a surprise above. Most art installations are

temporary, but some are so loved by locals

they have become permanent fixtures.
---
Château des ducs de Bretagne

Dominating the historic Bouffay quarter is

the former residence and fortress of the

last Duke of Brittany, François II and his

daughter Anne of Brittany. She is famous

for being twice Queen of France, having

married Charles VIII and Louis XII. After the

integration of Brittany into French rule in

the 1532, the château became a residence

for the kings of France.

Today, the château, a monumental

landmark, is home to the Musee d'Histoire

de Nantes (Nantes History Museum).

The museum divides its exhibitions into

themes. From the Roman conquerors

through its Brittany connections, the World

Wars to the city's industrial heritage, as well

as the dark history of the slave trade:

chateaunantes

It is a part of the city's past that it has found

hard to come to terms with, much of the

population are descendants of both traders

and slaves. The museum aims to educate

locals and visitors. There is also a memorial,

a walkway dug into the shores of the river

Loire featuring historical and geographical

information, statistics, maps and timelines,

as well as testimonials etched into its glass

walls.

The memorial is open to public for free and

makes a solemn follow up after learning

about the slave trade at the history

museum. memorial.nantes.fr
---
Trentemoult

neighbourhood

Cross the Loire on the Navibus ferry and

alight in the colourful Trentemoult

neighbourhood, an old fishing village. It's a

brilliantly artistic and gastronomic detour.

Locals love to come here to dine and

socialise, to enjoy the vintage atmosphere

and watch the sun set over the Loire. The

narrow streets are bright, the buildings

appear haphazardly piled together giving it

a quirky charm, and it's home to around 20

professional artists.

Le Lieu Unique

This is the only remaining tower of what

was once the Lu biscuit factory, today, Le

Lieu Unique is a space for individual

expression. Have a drink at the bar, enjoy a

night out at the theatre, browse for a book

at the library or relax with a spa treatment

at the hammam: www.lelieuunique.com

Gastronomic Delights

Locals Love: Creperie Heb-Ken: A friendly,

no-fuss popular creperie in the centre of the

Graslin Quarter with an extensive menu of

crepes for all tastes from savoury to sweet,

it is always busy! Get there early or risk a

long wait. The patio is especially pleasant in

the summer. www.heb-ken.fr

La Civellet: On the waterfront of the

Trentemoult neighbourhood, excellent

seasonal French dishes in a lively

atmosphere. Worth crossing the river for.

www.la-civelle.com
---
Practical Information

How to get there

EasyJet has a base in Nantes with flights to

the UK and European destinations: www.

easyjet.com

Wine and Dine - Brasserie la Cigale. It is

impossible to walk past this brasserie

without stopping to peek. Brasserie la

Cigale on the Gralin Square was once the

headquarters of the city's Surrealists and

is today a popular gastronomic

destination. The seafood platter is

seriously impressive as is the elegant

interior: www.lacigale.com

Indulge your sweet tooth: Maison

Georges Larnicol – MOF: A famous

Biscuiterie Chocolaterie in the Pommeraye

Passage shopping mall. The sweet scent

of their pastries fill the air. Don't miss the

'gâteau nantais', an almond based cake

with rum - a Nantes speciality and their

Kouign Amann cakes are the best!

larnicol.com

Eurostar has regular services to Paris from

London/Ebbfleet International. From Paris

it's just 2 hours by TGV to Nantes. Check

out the new interactive robot at the

departure lounge in St Pancras station. Not

only does it answer your questions, it can

read facial expressions and even pose for

photographs if you ask nicely!

www.eurostar.com

How to get about

A Nantes Pass gives you access to public

transport and 28 tourist sites. Available for

24, 48 and 36 hours from Nantes Tourist

office. For active travellers, Bicloo offers

self-service bike hires with 123 stations in

the city: bicloo.nantesmetropole.fr

Where to stay

There are hotels for all budgets, but for

those who enjoy comfort with history the

18th century former townhouse now Hotel

de France on Place Graslin is wonderful.
---
In the tyre tracks

of the

Tour de France

Michael Cranmer takes to two wheels to discover the Pays-de-le-Loire as the Tour

de France did just before him...
---
A trip must have a purpose, a focus, a

raison d'être. So, when I read that the 2018

Grand Depart of the Tour de France was

from Noirmoutier-en-l'Île, I had an idea...

I would stage my own Great Departure

(doesn't sounds quite so dramatic in

translation, does it?) and explore the bits of

the Vendée in the Pays de la Loire playing

host to two stages.

When the planners were considering how

best to get the 176 riders, their teams, the

press and TV, plus thousands of spectators

on and off the island, they had two options.

1) The Passage du Gois, a natural 4.3km

causeway flooded twice a day by up to 4m,

where the foolhardy die if they jumble up

their tide-times. Or 2) the road bridge.

Mmm… you guessed right, they opted for

the latter.

You can't cycle without a bike, and as I

couldn't afford to fork out £12,000 for a

Pinarello Dogma F10 X-Light (same price as

a medium sized car) I hired the latest

electric bike from Bike n' Tour, quite legally I

might add. 'Motor-doping' is hot news in the

pro-cycling world, but, despite rumours only

one case has ever been identified. Time to

explore.

At 20km end-to-end, therefore manageable

in a day, Noirmouitier is a delightful

backwater with beaches straight from

childhood memory; buckets-and-spades,

rock-pools to investigate, golden sand and

sun. At my hotel, the utterly lovely Le

Général d'Elbée, I compared the stats on my

personal motor-doped two-wheeler with the

stage winner that day. Me: 10km. 4 hours

(give or take…I did stop for a beer along the

way). Fernando Gaviria, Team Quick Step

Floors: 201km. 4h 23' 32". Oh well.

Nutrition for tour riders is paramount. They

burn around 5,000 calories per stage and

must eat and drink constantly to top up. I

have no problem topping-up constantly but I

don't seem to burn it off quite the same.

Post-stage they'll consume recovery drinks

with carbohydrate and protein whilst cooling

down, then sandwiches, rich cakes and

cereal bars. I had a couple of beers and a

plate of chips…or crisps if you're thinking in

English.

Their evening meals start with salad, soup or

juice for a nutrient boost, followed by meat

or fish and carbohydrate-rich foods, with

homemade cakes, yoghurt, fruit and flans for

dessert.
---
For my evening nutrition I strolled to Le p'tit

Noirmout, hard to find but worh it, with an

unassuming front hiding its treasures within.

As the restaurant was but an oyster-shell's

throw from the harbour, my choice wasn't

hard to decide upon. Oysters, then Fruits de

Mer. And a glass or two of wine.

The racers tucked up in their cheap hotels,

two to a room, would have gorged on latenight

carbohydrate-rich snacks: small cakes,

fruit, nuts and cereal to ensure glycogen

levels are constantly being topped up.

Let's hope they didn't get crumbs in their

beds. Nothing worse than crumbs to keep

you awake after 200 shattering kilometres on

a saddle skinnier than Victoria Beckham's

wrist.

My stage 2 was part of the TDF's stage 1

and Vincent, my directeur and mécanicien

rolled into one met me with the bike at Saint-

Jean-de-Monts down the coast. I came by

taxi. After all I had a notebook and cameras

to tote, plus overnight bag, something the

riders needn't lug around. Saint-Jean is

holiday-central for French, Brits, Dutch,

Germans, you name it. 8 kms of golden

beach and a 400m pier.

There is a vast network of cycle paths,

known as the Sentiers Cyclables de la

Vendée.

Over a pre-stage nutrient boost of hot

chocolate and croissant, Vincent suggested

that my performance needed upping if I was

to achieve pro standard and that he was

going to introduce me to Rosalie. I perked up

no end at this. Hmm, Rosalie. Personal

trainer perhaps? Soigneur? (therapist).
---
She was round a corner, parked. An orange

quadricycle, with a stripey awning and

smiley face on the front. She had seven

seats, one reserved for me. It should have

been fun but she was soooo heavy, like a

Mini with a boot-load of bricks. A TDF bike

weighs in around 6.8 kg, Rosalie felt like 6.8

tons. She was a big girl and the lactic acid

built up in my quads as my legs pumped up

and down. Vincent was training me the hard

way.

Staggering like a still-drunk-the-morningafter,

I dismounted Rosalie to be told a

'treat' was waiting. What could it possibly

be! The Rack, Iron Maiden, Thumbscrew?

No. Treatments. "No tricks this time,

Vincent…please" I said. True his word he

took me to Thalasso Valdys for a Pause

Cocoon which involved some 'Zen

Modeling' (a body massage) with seaweed

kelp cream; Hydromassage bath with

seaweed jelly (better than it sounds)

finishing off with 'marine rain' (a seawater

shower).

By now I'd lost all track of where the Tour

had been. Bye-bye to Vincent and my

doped-motor, and into my taxi for the one

hour transfer to Les Sables-d'Olonne which

the riders passed through during stage 1.

My new steed was black with white spots

and came fully equipped with a seat squishy

enough to sooth the sorest undercarriage,

and, casting aside all pretence at weightsaving,

a sturdy metal shopping basket into

which I stowed my camera bag. For the first

time I joined a peloton (tour-speak for a pack

of riders who save energy by riding behind

other riders). The dynamic of the peloton is

more complex than a John Le Carré spy

novel. Teams sacrifice lesser members to

get their Wiggins, Froome, or Evans on to

the podium. Bitter rivals work together until

push literally comes to shove in the race to

the finish.
---
This was my longest day, a mere 35 kms.

with a rest day scheduled for the morrow.

Pros get two rest days throughout the 21

stages, but it's questionable how rest is

defined. Interviews, updating social media,

sleeping, eating, massage, patching up any

injuries and, let's not forget… a bike ride just

in case they hadn't done enough.

I was now in the Hotel Côte Ouest Thalasso

and Spa, my welcome pack scheduling me

for Enveloppement d'Algues Essentielles at

9.30. This turned out to be a generous

slapping all over with hot seaweed cream, a

most agreeable sensation offset only slightly

by the disagreeable ritual of donning paper

pants. When my body was judged to be

'remineralised with iodine and trace

elements' I was ceremoniously hosed down

and sent packing back to my suite where I

fell into a deep sleep.

Lunch was a revelation. Tables decked with

each and every type of seafood imaginable;

lobster; spider crabs, crabs, oysters, clams,

mussels, cockles, bigorneau (sounds better

than winkles, doesn't it), langoustine,

prawns, shrimps, I've probably left some out.

The small mountains of discarded shells and

carapaces were cleared as fast as they piled

up until even I reached a point when I had to

admit I'd had enough. It was 'epic'.
---
The last day was spent catching up with

stage 4 of the Tour de France in La Baule

where savvy Parisians escape the

unbearable heat and tourist-hassle of the

capital in August.

The epicentre is Hotèl L'Hermitage, oldmoney,

solid 5-star traditional luxury, it's

been attracting the rich since 1926.

Churchill, the Agha Khan, Aristotle Onassis,

and Maurice Chevalier have all stayed.

The 9 km beach is big enough to land the

world's largest passenger airliner, the Airbus

A380, on with bags of room left for beach

volleyball, and stripy changing huts. It might

sink into the soft sand though.

Early each day only horse riders and

pisteurs are about. Pisteurs? We're not in

the Alps. Correct, but this beach is pisted

each day not by a Ratrack, but a tractor

dragging a harrow. Result? Perfect corduroy

sand good enough to ski on if it was snow,

and if it was halfway up a mountain.

Up the north coast is an uber-exclusive

enclave of villas, each with its high wall,

entry-phone access only, cool pines, and

private, very private sea front access.

These are the holiday homes of the

privileged, government ministers, financiers,

and the famous. A certain Sir M Jagger

brings his family here. Well some of them

anyway. He has eight children with five

women, five grandchildren, and a greatgrand-daughter.

Must be a decent-sized

villa.

The riders would have taken in none of this

as they sped past at 40 kmph. Only another

2,930 to go. Me? Please don't ask.

Michael Cranmer was the guest of Pays de

la Loire tourist board www.paysdelaloire.co.

uk and the Vendée tourist board www.

vendee-tourism.co.uk

La Baule by Goodcityfordreamers/Wikipedia
---
Truffle hunting in Dordogne...

Janine Marsh wraps up warm for winter and heads off to the beautiful hills and

dales of Dordogne to hunt for the earth's black diamonds - truffles!

Truffles are one of those foods that

you either love or hate. They're not a take it

or leave it type of thing – they're too

pungent for that. In Dordogne, everyone

loves them, they're one of the region's

prized treasures...

Truffles are a form of mushroom, an edible

fungus that some people swear makes your

food taste like paradise. Growing at the

base of trees, in damp conditions, they give

off a scent that can be sniffed out by trained

goats, female pigs and these days mostly

by dogs. The pigs have largely been retired

from the job of truffle hunting on account of

the fact that the aroma drives them wild –

and they scoff the prize if they can. The

scent is apparently almost identical to a sex

pheromone found in male pig's saliva.

They're supposed to be an aphrodisiac and

in fact in the middle ages, monks were

forbidden from eating truffles in case the

taste led them astray!

France is the largest producer of truffles,

with more than 30 tonnes a year being

sniffed out and in the Dordogne, they're

revered. Each year a special truffle market

takes place in the uber gorgeous medieval

town of Sarlat and the hunt is on to fill

baskets for keen customers.

"It's a shame that they have such a

reputation for being expensive because

really they're not" says Eduard Aynour at La

Tuffière de la Pechalifour, a truffle

plantation deep in the countryside of Saint-

Cyprien near Sarlat. "15 Euros can get you

a decent sized truffle – and there's a lot you

can do with it" he adds.

On a chilly January morning I follow him

round his sodden truffle farm in the rain

accompanied by Leno, his faithful sheep

dog who is keen as mustard to start looking

for the "black diamonds". Edouard assures

me we'll be successful despite the rain.

"Cherche, cherche, cherche" he suddenly

shouts out making me jump, Leno darts into

action, slinking about under the trees,

sniffing at the ground. She stops, sits and

stares at us. Edouard pulls a small pick out

of his pocket and prods gently at the soil

until about a foot down he thrusts his hand

in and "voila!" he says, holding aloft a small

black lump. "Smell it" he urges, handing the

lump to me. There's a scent of earth, decay,

musky and strong. "It takes five years to

train a dog to be able to do this" he says

proudly as he pats Leno in appreciation for

a job well done.

We head into the little shop on the site and

Eduoard gently brushes the dirt off the

truffle and weighs it and then pops it into a

box to keep in the fridge to ensure it stays

fresh. It's a fascinating little place and

Edouard is happy to talk truffles til the cows

come home.

"Beware fakes" he urges "there are a lot of

them about. They have no scent, no taste.

When you can buy a real truffle for as little

as 5 Euros here, why would you ever even

think about buying a phony?" he asks.

At the Tuffière de la Pechalifour you can buy

your truffle fresh from the ground, truffle

products and local wines and do a truffle

tour with Leno. It takes around 2 hours in

total and is a fun way to get to know more

about the famous "fairy apple".
---
Sarlat Truffle Market

Back in Sarlat I head to the truffle festival, I'm

beginning to warm to these little smelly fungi

and there are plenty on offer at the Saturday

market when they're in season from

December to February. But I'm here for a

dedicated truffle market which is held on the

3rd weekend of January each year.

Thousands flock to this festival in honour of

the truffle. There are numerous stalls with

local people who bring in their horde,

secretive about where they found them, as

well as dealers who sell to top chefs from

around the world. You really can buy truffles

from 5 euros though of course you can spend

many hundreds more on these strange

smelling lumps.

There are steaming pots of truffle infused

scrambled egg, lightly perfumed, very runny –

the French way. Happy punters are scoffing

the eggs, ladled onto paper plates and

washed down with a glass of wine. It's raining

still but it doesn't matter, truffles seem to

bring out the best in people, and medieval

time warp town Sarlat is an absolute gem to

look at whatever the weather.

Trophee Jean Rougié

If you want to keep warm and to get a grip

with the French love of "la gastronomie", pop

into the Trophée Jean Rougié competition

which is always held when the Sarlat Truffle

market is on in January. Organised by the

Culinary Academy of Foie Gras and Truffles,

it's a cooking contest featuring young chefs

from around France and further afield. They

cook on a stage in front of the public, entry is

free, and judging is carried out by some of the

most famous names in the culinary world of

France including many Michelin starred chefs.

They parade in their big toques, those famous

white, tall chef hats, they make speeches and

add a lot of pizzazz to the event. The young

chefs meanwhile fill the venue with amazing

smells as they cook at a frantic rate - it's a

hugely popular event in this town and all adds

to the truffle razzmatazz weekend...

Sarlat Tourist office: www.sarlat-tourisme.

com

How to make scrambled egg with truffle

If you're doing it the French way, you'll only cook

the egg until it has an almost soupy texture…

Ingredients per person

2 eggs

Generous knob of unsalted butter, melted

Table spoon of milk

Shavings of black truffle, around 15 grams or half a

small truffle. (you can use truffle paste

or oil if you can't get the real thing)

Pinch of salt

Crack the eggs into a bowl, add all the ingredients

and gently whisk with a fork to blend it all together.

Pour into a saucepan on a low heat and stir

constantly with a wooden spoon until you get the

consistency that suits you.

Eat straight away!
---
Meribel: Little England on the Alps....

If you crave beautiful Alpine runs, dramatic mountain backdrops, sun, fantastic ski

conditions and lovely wide pistes - then you'll certainly be in your element if you

follow in my snowy footsteps to Meribel says Justine Halifax…

As a seasoned skier, and regular visitor to

the Alps over the last decade, I'm no

stranger to the vast beauty of this

stunning, snow-capped mountain range.

But what I wasn't expecting, on my family's

latest winter visit here, was to be so taken

with the ski resort of Meribel.

Located in the middle of the largest ski

area in the world, The Three Valleys boasts

a ski area four times greater than the

surface area of Paris. We enjoyed the best

week of ski-ing we've ever had in the

French Alps at this picturesque resort. It

ticked so many boxes for my family-offour

– both on, and off-piste.

Boasting a global reputation for being one

of safest places in the world to ski, the

resort's been such a hit with Brits – a third

of its visitors are British - it's even earned

the nickname of "Little England on the

Alps".

Ski conditions here are so great because

85% of the resort is based at 1800 metres

above sea level, with its 150k of pistes,

accessible on a local area pass, reaching its

highest peak at 2952m. But, if you plump

for a Three Valleys pass, then you'll be able

to reach runs at an even higher 3230m

peak and explore an impressive 600km of

beautiful pistes across 335 runs.

This includes runs on the other side of

Meribel, within easy reach at Courchevel,

and if you have got time to venture slightly

further afield, you can also ski at Val

Thoren and Les Menuires.
---
It's easy to see why Meribel is such a hit

with families and intermediate skiers. The

bulk of its 68 runs are either blue or red –

6 green, 30 blue, 25 red and 7 black. And,

it's extremely easy to traverse the slopes

by tackling just green and blue runs if

you're ski-ing with young children, or

beginners, in tow. There are even "Family

Cool" signs indicating safe and easy pistes

for families with a mix of abilities.

Meribel also has dedicated sledging

experiences, fun snowparks, secured

freeride areas, reserved racing areas and

dedicated ski touring slopes.

When it comes to sledging there's a rather

exhilarating run called Mission Black

Forest (you pay per run here, including

sledge hire, so it can be a pricey option). Or

there's a weekly evening sledge ride, (rent a

sledge and get a ticket at Coombes lift)

which is great value for money, and more to

the point, fabulous fun. To make life even

easier, the sledge run, which was also a

green ski run in the day, even ran past the

hotel where we were staying - which was

virtually ski in ski out (a one minute walk

from the ski room to the piste's edge).

If you're a foodie, you'll be in your element

here. There are some great options for

lunch on the piste, including the fantastic

Le Plan des Mains at Les Allues. We

enjoyed fabulous homemade delights here

including homemade breads and cakes,

and mains included succulent steaks to

power us on for an afternoon of ski-ing.
---
There's a choice of a host of activities to

indulge in such as igloo building. At the

resort leisure centre, Parc Olympic, you

could enjoy a range of activities from a

relaxing massage to sooth those achy legs

to swimming and skating on its Olympicsize

ice rink. A completely new experience

for us was ski-joring. It's basically ski-ing

while you are being pulled by a horse (or it

could be by dogs) that you have to steer (or

try to!). It was fast, exhilarating, and I'd

definitely do it again as would my 13-yearold

son and husband, who were fans of this

newfound activity. While we enjoyed an

introductory lesson in the safety of a

penned in snowy paddock with Le Coeur

Equestre Des 3 Vallees, once you've honed

your skills you can even venture onto

selected pistes, for extended fun.

Getting to and from Meribel, was straight

forward. We enjoyed a smooth sailing with

DFDS from Dover to Calais with priority

boarding and very comfortable priority

lounge access, which included free drinks,

snacks, and day beds to put your feet up

on. And, while there are airports nearer to

the resort of Meribel, travelling by ferry and

car, even adding on the tolls you'll need to

pay en route, driving is still, more often than

not, the cheaper option.

But facing a near nine-hour car journey is a

daunting one, so I would recommend

breaking the journey up with an overnight

stay somewhere near the half way mark,

which is exactly what we did. I can highly

recommend a stay in the beautiful city of

Dijon, and a meal at Maison Milliere

restaurant based in one of Dijon's oldest

houses.

Situated behind the Cathedral of Notre

Dame – make sure you follow the lucky

carved owl trail around it – the food here is

fantastic, the service was excellent and the

historic building intriguing too. On the way

back we stopped off at Hotel Les Remparts

in Rue de Verdun, Chaumont, Haut-Marne,

Champagne, which was full of character.

All in all, Meribel is now our favourite

French ski resort!
---
Practical information

Justine and family stayed for a week with

Ski France at Hotel Le Mottaret. Ski

France's flagship hotel in the Alps, it had a

three star-rating, but they say they would

rank it higher than that. It had a hot tub,

out door bar, free parking, ski and boot

rooms at piste level...

Hotel Le Mottaret; www.skifrance.co.uk

Ski hire: Sport 2000 Mottaret Ski Evasion.

For more information on Meribel visit:

www.les3vallees.com/en/ski-resort/

meribel/

Ski season 2019 opens 8 December at

Meribel.

,
---
Australian videographers Gai Reid and Neil McLean journeyed to Europe for 120

days of authentic travel 'living like locals'. Their goal was to pet and house sit their

way across four countries to experience what life is like in other cultures videoing

their journey as they went. Gai tells how the couple started their journey in Paris...

France is the most visited country on the

planet with roughly 80 million tourists per

year.

15 million of those visitors have a Paris stop

over.

Everywhere you walk in Paris there is

something to catch your eye. It's busy. It's

frenetic. It's exotic. It's mesmerizing and

nourishing all at the same time. The energy

and beauty of Paris is always intoxicating.

People often ask me "When is the best time

to visit Paris?". My automatic reply is "As

soon as possible". And I'm only half joking.

Paris is perfect any time of the year, but you

will have different experiences and

memories depending on when you go.

My hands down favourite time to be in this

luscious city is autumn. If you arrive in

September, you will miss the heat and the

crowds of summer. The sun will still be

shining and evenings extremely pleasant for

dinner outdoors. By October the parks

gather a carpet of russet leaves, mornings

are crisp and the days perfect for long walks

in parks and those ancient streets. We

arrived at the end of winter and the trees

were mostly bare, giving us a clear view of

the exquisite detail on the architecture.
---
I'd booked us into a comfortable but

unremarkable hotel on rue de Rivoli. From

there, we could walk in just about any

direction and find gems.

Being smack bang in the middle of Marais

district gave us a slice of history, colourful

characters, small intriguing shops, street

music, culture galore and a clutch of

museums.

One of my favourite chill out areas is a short

walk away. Place des Vosges has style. It's the

oldest planned square in Paris built in 1605,

commissioned by King Henri IV – and it really

IS square!

Underneath the elegant archways are highend

retail and galleries. Nothing has changed

- it was a very fashionable and expensive

square to live in during the 17th and 18th

centuries. And, you'd need a wad of Euros to

buy a townhouse there today – but it's free to

enjoy the park as is the Victor Hugo museum

in the square.

Disover more of Gai and Neil's visit to Paris in

the video above...

The broadcast series of Village to Villa - Living

Like Locals is on Amazon Prime and The Good

Life France website.

Website: www.villagetovilla.com
---
Keith van Sickle muses on life in France

I live part of the year in Provence and one

day I was reading Le Monde and a headline

about a "sexy politician" caught my eye.

"Well, those are two words you don't see

together very often," I thought. So I read the

article and found out that there had been a

poll asking French women, "What politician

would you like to have a summer fling

with?"

"Wow," I said to myself, "they would never

have a poll like that back home in the US—

it's way too sexist." And if they did conduct

such a poll, American women would take

one look at our politicians, imagine a fling

with them and immediately flee the

country.

I showed the article to my wife Val.

"Honey," I asked sweetly, "if I was a

politician and they did this poll, would you

vote for me?"

She looked me up and down and said,

"Don't quit your day job."

Another time there was an election for the

European Parliament. In France, it doesn't

take much to field a slate of candidates, so

there were 48 (yes, 48) different parties

running. And some had very interesting

names.

New Anti-Capitalist Party

Union of Struggle Against the Banks

For a Royal France at the Heart of Europe

Cannabis Without Borders

Esperanto, a Fair Common Language for All

Libertarian Program for a Europe Setting an

Example Against Sexism and

Precariousness

Each of these parties got equal airtime to

run TV ads and they were one of the

highlights of the day.

The various Green parties seemed to run

the same kinds of ads, all rainbows and

lollipops "We believe in a clean

environment, good jobs for everyone, and

puppies."
---
The Regionalism Party was the opposite.

Their ad was an angry guy who kept shaking

his fist and railing against the Jacobins in

Paris.

"Do you know who the Jacobins are?" I

asked Val. "A bunch of guys named Jacob?"

She didn't know so I looked it up. It turns out

that they were a group that existed way back

during the French Revolution, so getting

upset about Jacobins was kind of like

complaining that you just can't find a good

snuffbox these days.

Then there was the New Deal Party ad that,

trust me, would never be allowed in the US.

It started with a naked young couple lying in

bed and energetically doing, um, what naked

young couples do. Suddenly a lady comes

into the room and sits on the bed.

"You're trying to make a baby, aren't you?"

she demands.

"Uh, yes."

"Well, have you thought about what kind of

future that baby is going to have? Have you

thought about whether that baby will have

political leaders who will make sure there

are good jobs, fair wages, and a clean

environment?"

"No," says the guy, looking miffed, "I

definitely was not thinking about that just

now!"

"Why yes," says the gal, "I was!"

"So vote New Deal in the European

elections!" says the lady.

I can't wait for the next election...

Keith Van Sickle is the author of One Sip at

a Time. His new book Keith & Vals's

Adventures in Provence is out 8 Dec, 2018.

Find him at: keithvansickle.com
---
Win a row of Vines in the Rhone Valley,

with award winning 3D Wines

Win a row of vines from the fabulous

Montirius estate, a family-run,

biodynamic vineyard in the Rhône

Valley. You'll receive a certificate of

"ownership" for 12 months and

3DWines will send you a bottle of wine

made from your grapes*. You will also

receive information about your vines

and wine as well as exclusive

partnership benefits. (Value £83).

3DWines Vineyard partnerships are

popular with wine lovers around the

world, offering partnerships with some

of the best vineyards in France. It's a

fabulous way to get to know more

about wine and to taste some of the

best wines in the world, knowing that

they always taste better when they're

"yours". (*UK only)

Find out more about 3D Wines here:

www.my3dvines.com

DRAW IS CLOSED

CLICK ON THE PICTURES OR THE

TEXT LINK TO ENTER THE DRAWS FOR

THESE FABULOUS CONTESTS

Win a return ticket from Dover to Calais/Dunkirk

with DFDS

We've got a set of return tickets for use on DFDS'

Ferries Dover/Calais (1 hour 30 minutes) or

Dover/Dunkirk (2 hours) route for a car and up to

9 passengers. *

DRAW Is closed

A li

are

but

of c
---
Win a copy of Lavender & Lovage: A Culinary Notebook of

Memories & Recipes From Home & Abroad

Part travel diary, part memoir, part history, and all cookbook,

Lavender & Lovage is an invitation from Karen Burns-Booth

to join her on a personal culinary journey through the

memories of the places she has lived and visited.

Draw is closed

Win a copy of Paris

Postcards

by Guy Hibbert

The unique sights, smells

and sounds of the famous

city are the luminous

backdrop to eleven tales

whose colourful characters

are lured to the City of Light

and Love, like moths to a

flame. Within each story is

a simple postcard which

may have consequences...

DRAW IS CLOSED

Win a copy of Finding

Gilbert

by Diane Covington-Carter

A true story about the

power of love and

kindness, Covington-

Carter weaves a tale that

spans seven decades,

beginning and ending on

the shores of Normandy.

In it, she discovers the role

that forgotten dreams play

in guiding us towards our

Win a copy of Le Mot Juste destinies. DRAW IS

by Imogen Fortes

CLOSED

st of fabulous French words that

used in every day conversation

which are classic and have oodles

harm. DRAW is Closed...
---
We've teamed up with holiday rental company French Connec

bring you a fabulous chance to win a week in a gorg

La Petite Maison Devine, once a farmer's cottage, built in 1790 - before the French

Revolution, has been renovated by an architect to keep its authentic charm whilst

offering a comfortable stay in a stunning location.

This pretty town house has three floors of spacious rooms in the medieval village of

Laurac le Grand. UNESCO listed Carcassonne is to one side, and historic Castelnaudary,

famous for its cassoulet is to the other side.

Surrounded by glorious countryside, La Petite Maison Devine makes for a superb base

from which to explore the area. This is an ideal get away from it all space in one of the

most beautiful parts of France.
---
tions who have oodles of fabulous holiday homes in France, to

eous gite near Carcassonne for a week in June 2019

There's a spa pool, lovely terraced area, perfect for aperitifs under the stars, beautiful

bedroom suite with glorious views, a lovely salon with a balcony overlooking the terrace.

Hosts Linda and Bernard Devine have many years of experience in the hospitality market

and aim to make your stay exceed your expectations.

We're giving away a week at La Petite Maison Devine - June 1 to June 7, 2019

*Transport is not included.

Just click here to enter the competition
---
YOUR PHOTOS

Every weekend, we invite you to

share your photos on Facebook -

it's a great way for everyone to

see "real" France and be inspired

by real travellers snapping pics as

they go. Every week there are

utterly gorgeous photos being

shared and here we showcase the

most popular of each month.

Share your favourite photos with

us on Facebook - the most "liked"

will appear in the next issue of

The Good Life France Magazine...

October: La Roque

Gageac, Dordogne...

by Szilvási Éva

NOVEMBER: When a door is a

Created in 1901 by Jules Lavirot

Photo: Susan Whitbread
---
DECEMBER: Bayeux Normandy, kissed

by Autumn's colours... Photo: Linda J

Brennan

work of art... 29 Avenue Rapp, Paris.

te, it's an art nouveau masterpiece

Join us on Facebook and like

and share your favourite photos

of France...
---
The Experts guide to

french mortgages

CA Britline specialises in Banking and

Insurance in France. Mortgages are also

available to residents in France, UK and

Ireland. As with the Banking and Insurance

side of things, when you talk Mortgages

with CA Britline it will be in English.

Buying a property in France whether to use

for holidays, longer periods or to rent out

whilst still residing in the UK is possible

with CA Britline.

As with applying and opening an account

at Britline the mortgage application online

and there's no language barrier - our staff

speak English and many of them are British

expats.

Applying for a mortgage

We advise that before applying for your

mortgage with us, you open an account.

You can apply for your account at www.

britline.com online.

In order to apply for a mortgage you need to

be over 18 and hold no county court

judgements. We will need to understand

your financial position and will require

documents confirming your employment,

general assets, project and bank details

amongst other items. A copy of the

'compromis de vente' for the property you

are purchasing will also be required
---
Self-employed applicants will be asked for

additional documentation such as bank

statements concerning the company's

bank accounts, statements of accounts (i.e.

profit and loss accounts) and SA302 tax

calculation forms.

Once your mortgage application has been

studied, if you're successful, a 'decision in

principle' (DIP) will be issued.

Choosing the right

mortgage for you

There is a choice of mortagages - either

fixed or variable rate. The duration may run

from two - 25 years.

Fixed rate mortgages over a longer

duration tend to be the popular choice in

France compared with the UK where

variable rate and interest only mortgages

are often the first choice.

At CA Britline, a fixed rate means fixed for

the whole term of the mortgage.

Redemption fees may be applied if you

decide to pay it off before the end of its

term. Generally the fees will be the

equivalent to 3% of the capital reimbursed

or 6 months' worth of interest. The lower of

the two amounts will be applied.

Variable rates can be capped at different

levels and some mortgages, depending on

the characteristics of your project, can have

a 0% rate of interest. Eco loans are also

available.

Life insurance

Life insurance called ADE (Assurance

Décès Emprunteur) is recommended when

taking out a mortgage. In the event of

death during the term of the policy, it

covers the outstanding debt. There is no

fixed cost for this type of policy as it

depends entirely on individual

circumstances.

The Mortgage offer

Once you have accepted your Decision in

Principle offer, the official mortage offer will

be issued and you then have have a

cooling off period. After this, if you want to

go ahead, the offer should be signed and

returned by post.

Once the paperwork is complete your

Notaire is updated with the information.

The Notaire will later send a request for the

mortgage to be released based on the date

of the Compromis de Vente signing - the

day you take ownership of your French

property.

For further information visit britline.com

Email contact@britline.com

*Mortgages via CA Britline for the purchase

of properties in France only.

In the next edition of The Good Life France

we will be talking about Savings Accounts

and what is available in France.

All CA Britline mortgages are Capital

Repayment only and include options to

allow monthly repayments to be as flexible

as possible.

Increasing or decreasing your monthly

payments or taking a break is possible

(subject to terms and conditions).
---
Changes to French tax from Jan 2019

Paul Flintham, International Financial Advisor at Beacon Global Wealth Management,

financial advisors for expats in France, explains the main changes to tax in France in 2019.

PAYE in France: The big change in France for 2019 will be the full introduction of

PAYE (pay as you earn). Tax payment at source has been an option for some time in

France but effective January 2019, a full roll out will be implemented. The tax authorities

will inform employers and pension payers of the nominal income tax to apply, and payable

tax will need be deducted at source. PAYE will not be deducted by French authorities on

overseas incomes – but it is declarable on your tax return.

Tax stage payments: Tax stage payments are to change from twice a year to

monthly. The last page of this year's tax advice (for 2017 incomes) shows the calculation

and the amount of monthly tax to pay from January 2019. It will still be necessary to

submit a 2018 "Declaration de Revenus" in 2019. This registration of the tax return will

regularise the tax due and takes into consideration tax paid by stage-payments or

deducted at source on French based incomes.

Register your bank account: The tax authorities are asking people to

register their bank account details, so that monthly stage payments can be deducted by

direct debit.

French Property Income: Tax will not be deducted at source for French

property income. This needs to be declared on the 2018 Declaration de Revenus.

Savings Tax: From January 2019, income from savings such as interest and

dividends will be taxed at a flat rate of 30% (consisting of 12.8% income tax and 17.2%

social tax). French banks will deduct this at source. However in certain circumstances it is

possible to opt out of the Income Tax deduction (but not out of the Social Tax). Your bank

will be able to confirm if you are eligible, contact them if you haven't received notification

yet.

Interest received from overseas bank accounts and savings (such as a UK ISA) have to be

declared on your French tax return.

Tax free savings: There are tax free savings accounts available in French banks

such as the Livret A. Tax-efficient investment vehicles such as the Assurance Vie may

also help reduce your tax.

www.beaconglobalwealth.com; enquiries@bgwealthmanagement.net

The financial advisers trading under Beacon Wealth Management are members of Nexus Global (IFA Network).

Nexus Global is a division within Blacktower Financial Management (International) Limited (BFMI). All

approved individual members of Nexus Global are Appointed Representatives of BFMI. BFMI is licensed and

regulated by the Gibraltar Financial Services Commission and bound by their rules under licence number

FSC00805B.

And the information on these pages is intended as an introduction only and is not designed to offer solutions

or advice. Beacon Global Wealth Management can accept no responsibility whatsoever for losses incurred by

acting on the information on these pages.
---
Expert Property Guide

The French Riviera, AKA Cote d'Azur, has

been the summer playground of choice for

the rich and famous for over a century now.

With the best climate in France and some

of the most stunning coastal scenery, it has

attracted artists and writers such as F Scott

Fitzgerald and Picasso as well as

celebrities like Bridget Bardot who brought

glamour to the fishing village of St. Tropez.

Today Cannes is famous for its film festival,

Nice as the Riviera's buzzy metropolis and

the Caps of Antibes and Ferrat for offering

many of the most expensive seaside

homes in France. Easy access to the Italian

Riviera at its eastern end, and the beautiful

hinterland of Provence and the foothills of

the Alps is another plus point, but there are

also superb international schools serving a

very large cosmopolitan expat community,

golf courses, fantastic restaurants and

vibrant village markets.

The legacy of its long history as a holiday

destination is a slew of beautiful Belle-

Epoque mansions and trophy homes at

eye-watering prices, but the good news is

that if you head back from the coast a little,

it's surprisingly affordable - you can get

properties within little more than an hour

from the coast from €100,000.
---
The key is to head up into the hills above

the seaside resorts behind the trafficclogged

coastal strip for peace and

authentic charm.

In the Arrière-Pays, the stylish hill-top

towns of Vence, St-Paul-de-Vence and

Grasse, the perfume capital of France,

international buyers have been attracted to

the Provençal style villas, rustic mas or

pretty sky-blue shuttered village houses.

In Vence, about an hour from the sea, for

example, it's possible to buy a threebedroom

character house in the centre of

town for less than €250,000.

In recent years the hilltop town of Mougins,

just 15 minutes from Cannes, has become

popular for its high-class restaurants and

its renowned international school.

Lorgues is a beautiful historic town famed

for its market and worth a look. Even in this

fashionable area you can get a twobedroom

apartment in an 18th century

building right in the heart of the lovely old

town at a good price.
---
Or how about Tourtour? A charming village

in the Var, which true to its name, has

ancient towers dating back to the 11th

century. There is a pretty central square,

welcoming cafés, restaurants and shops,

and it's no surprise it is classed as one of

the most beautiful villages in France. For

€245,000 you can get a three-bedroom

villa in a private wooded estate with pool

and tennis courts.

Head back behind Aix-en-Provence

towards the Luberon in the heart of

Provence, and for even greater value, look

east past the Verdon area into the Alpes-

Maritime national park. "For just over

€100,000 you can get a small onebedroom

home that is close to ski resorts,

and just over an hour from the coast," says

Sascha Jenner, local estate agent based in

the popular hub of Saint-Vallierde-Thiey.

For €250,000 it's easy to find a threebedroom

house with a garden.

In the ski resort of Greolières-les-Neiges

you can get a 3-bedroom timber chalet with

pool and stunning views in the mountains

of the French Riviera, 48km to the sandy

beaches of Cannes.

Last but no means least, the lovely

picturesque ancient village of Cipières is

also worth a look. Perched on a rocky ridge

high above the Loup river valley, with a view

north and east across to the Montagne du

Cheiron, it offers village properties for under

€250,000.

www.frenchestateagents.com for expert

advice and to browse a huge range of

properties for sale in the Cote d'Azur and all

over France.
---
www.ofx.com
---
The Good Life in ...

The Hautes-Pyrénées

Robynne McTaggart loves to spend time in

France, whether skiing in the alps or

enjoying the summer in the picturesque

villages and glorious countryside. With a

business doing well in Perth, Australia

where she and husband Garry live,

Robynne decided to find a home of her

own in 2006. She set herself a goal – to

visit as much of the unspoiled, uncrowded

and authentic far south west France as she

could in just two weeks - and find her

dream property.

"Arriving at the Vallées du Gaves in the

Hautes-Pyrénées, close to Lourdes, the

French capital of miracles, I immediately

and instinctively felt it was where I wanted

to be, and that I would find 'the one'" says

Robynne. She rented a hotel room in Pau

and got to know the area. Finding herself

more and more inspired by what she found

she became more determined than ever

that this was where she wanted to be. She

already knew that her dream home was a

maison de maitre, a mansion house, but it

seemed an impossible task to find just one,

let alone 'the one'. By luck, as she spoke to

a bar owner about her quest, some local

people told her of a rumour that a family

with just the type of house she was

interested were thinking of selling. It was

called Le Belvedere, and it was a large

mountain style mansion house.

Robynne went to see the property and

meet the family who, it turned out, were

indeed selling their home in the village of

Salles, on the outskirts of Argelès-Gazost.

The 300 year old local stone property

nestles at the base of the Regional Nature

Reserve of the Pibeste-Aoulhet. Robynne

says "the minute I went through the door, I

knew I'd found my home. It blew my budget

out of the water but, it was love at first sight

and I just felt I had to do everything I could

to make this mine".
---
The house needed little structural

renovation, the authentic chestnut wood

floors, plasterwork, fixtures and fireplaces

are beautiful. It meant that Robynne could

concentrate on getting the house

decorated and furnished. She was

fascinated by the history of her home but

found it hard to find out details since most

of the documents were lost almost a

century ago, though in its location next to

the Chateau Arzaas, it was likely built by

nobility.

Local artisans have transformed the house

into a gorgeous, comfortable and stylish

home, though it took a lot longer than

estimated. "It takes time to understand a

property" she says, "and I wanted to make

sure that the restoration was authentic and

the best it could be". In fact what she

thought would take a year or two, took 12

years in total. There was a lot to consider,

for instance the 300-year-old wooden

staircase which is heritage listed for its

unique construction as it is entirely free

standing without vertical support beams

and needed to be completely preserved.

During this time she made friends with her

neighbours and the families of the French

mountain guides and got to know the area

well. It's a village with a rich natural

heritage, and thanks to its mountain

environment it has preserved its authentic

pastoral character.

Perfect for nature lovers, the beautiful

landscape is stunning, wild and totally

unspoiled. "It's a place where foraging for

mushrooms such as girolles and cèpes,

and wild berries is the norm" she says, "it is

an absolutely joy to experience a way of life

that most of us think simply doesn't exist

anymore".
---
The nearby UNESCO listed Cirque de

Gavarnie, described by famous French

writer Victor Hugo as a "colosseum of

nature" was created by glacial erosion over

millions of years. "The mountains and

rivers, the gentle pace of life, the richness

of the heritage here and the relationship

between man and terroir are just some of

the reasons that this place is so very

special" says Robynne.

From the 12th century, the village of Salles

was located within the Noble Fiefdom of

Arzaas and was linked to the 10 villages in

the valley by a series of footpaths, still in

existence to this day. The town has held a

farmers market for 800 years and it

remains one of the most important markets

in the area with more than 100 merchants.

Robynne now rents out the gorgeous 4-

bedroom mansion house with its stunning

grand salon, magnificent views and luxury

furnishings. She also hosts some very

special events there. In 2019 Master chef

Alain Fabrégues of the Loose Box and

Bistro des Artistes, Perth will become chef

and tutor at Le Belvedere for an 8 day event,

sharing his know-how, techniques and

cooking with guests. (LINK) And Joh Bailey,

Australia's leading hair stylist and stylist to

the stars will hold a spectacular glamour

and gourmet week, sharing tips and

personally styling guests. (LINK) These are

small group events perfect for friends,

couples and singles, quite unique and

utterly fabulous.

Robynne says of Le Belvedere, "it is really

special, it's somewhere to recharge,

reenergise and to completely relax in the

most beautiful house in the most amazing

surroundings, whether you're here for a

week or more – it's home".

Discover more about the exclusive,

fabulous events and about renting Le

Belvedere at: www.lebelvedere.net
---
Turkey is traditional in France at Christmas and this delicious take

on turkey with French vermouth Noilly Prat is delicious and easy to

make…

INGREDIENTS: Serves 4

115g (40z) of vine leaves, drain them from the tin

4 turkey escalopes (roughly 120g each)

300 ml (1/2 pint) of chicken stock

For the stuffing

30 ml Olive oil

3 Shallots, chopped finely

75 g (3oz) cooked wild rice

4 Tomatoes peeled and chopped (tinned or fresh)

3 tablespoons Noilly Prat

25 g (1 oz) pine nuts chopped finely

salt and pepper

1. Rinse the vine leaves in cold water

and leave to drain.

2. Make the stuffing. Heat the oil in a

pan add the shallots, frying them gently

until they soften.

3. Take the pan off the heat and stir in

the rice, tomatoes, pine nuts and the

Noily Prat, season with salt and pepper

and mix.

4. Flatten the turkey escalopes, cover

them with cling film and whack with a

rolling pin or meat mallet.

5. When they're flat, split the stuffing

mix between them, and roll or fold the

meat to hold the stuffing in.

6. Lay out the vine leaves, put the

turkey on top and fold the vine leaves

over so they overlap on the top to keep

everything in and covered. Then tie with

cooking twine or similar.

7. Put them in a dish that holds them

tight together and pour the hot chicken

stock over. Bake in the oven for 40

minutes.

Serve with vegetables and/or potatoes.

Tip: You can make a sauce with the

stock that's left (skim any fat off the top

first). Add ½ pint chicken stock, 60 ml

port mixed and heated, add a little

cornflower to thicken If necessary, at

the end add a teaspoon of butter,

whisked in gently on a high heat.
---
Looking for festive inspiration? Sign up to The French

Life Cookalong via Paola's Facebook page and receive a

free mini-cookbook featuring a selection of holidayinspired

recipes and enter a fab competition to win a box

of French goodies...

"
---
Pain

d'épices with

candied

orange

Makes 1 loaf

Whenever I visit the small town of Buxy

in France's Côte Chalonnaise, you will

likely find me at the tiny market held in

the centre ville on Thursday mornings.

Though there aren't many stalls, everything

on offer is absolutely delicious. In

the winter, they sometimes sell fresh

choucroute garnie. And what an aroma it

spreads through the cold air!

I especially look forward to stopping by

the stand selling honey and French

gingerbread, or pain d'épices. The dense,

fragrant loaves come in different

flavours such as blueberry or chocolate

chip. But I prefer mine with a touch of

candied orange, and a good pat of butter.

This is my recipe for a really moist pain

d'épices. Eat it for breakfast with a

bowl of black coffee or as an afternoon

snack with a cup of tea.....

"

Paola Westbeek is a food, wine and travel

journalist. For more of her recipes, visit

ladoucevie.eu, thefrenchlife.org and her

YouTube channel, LaDouceVieFood

Ingredients:

250g spelt or rye flour

1 ½ tsp baking powder

½ tsp baking soda

2 ½ tsps pain d'épices spices

(French gingerbread spices)

75g light brown sugar

70g candied orange peel, chopped

120ml honey

80ml water

2 eggs

Instructions:

Preheat oven to 180°C and line a

28cm rectangular baking pan with

parchment paper. Put the flour,

baking powder and baking soda into a

large bowl. Add in spices and the

brown sugar and mix well. Stir in the

candied orange. Whisk the honey,

water and eggs in a small bowl. Make

a well in the centre of the dry

ingredients. Pour in the wet

ingredients and fold until you have a

smooth batter. Pour the batter into the

baking pan and bake for 40-45

minutes. Check the cake after about

20 minutes and cover with foil if the

top is getting too dark. Allow the cake

to cool on a rack before serving.
---
Chestnut cream-filled

meringues with

chocolate sauce

Serves 6 Preparation time: 10 minutes

1.5 cups (200g) thick crème fraiche

1 heaped tablespoon marscapone

2 teaspoons sweet chestnut purée (crème de marrons)

50z (150g) bittersweet chocolate

5 tablespoons (70g) lightly salted butter

1 tablespoon demerara sugar

12 small meringue shells

1. STIR the crème fraiche and mascarpone together until evenly combined. Fold in the

chestnut purée but do this gently or the mixture will become too thick.

2. MELT the chocolate and butter together in a microwave or bain-marie, add the sugar,

and stir until smooth

3. SPREAD a little of the chestnut cream over the flat base of one of the meringues and

press another meringue on top to make a small sandwich. Repeat with the remaining

chestnut cream and meringues.

4. SERVE immediately with the chocolate sauce.

Recipe from C'est Bon, Recipes inspired by La

Grande Epicerie, Paris by Trish Deseine,

published by Flammarion.
---
Duck Confit

and

Provencal

potatoes

Ingredients

6 duck legs

2 Tablespoons salt/1 tablespoon pepper corns

9 cloves garlic, peeled

6 large bay leaves

2-3 tubs duck fat

Prepare in advance

Sprinkle duck legs with 2 tablespoons of salt.

Sprinkle the bottom of a glass pan with 1 TBS

cracked pepper corns. Lay 3 duck legs skin

side down. Place 3 garlic cloves and 2 bay

leaves on each duck leg. Lay the other 3 duck

legs on top of the first three, sandwich style.

Tightly wrap the pan with plastic wrap and

refrigerate for 24 hours.

How to make

Pre-heat oven to 225 degrees.

Rinse each duck leg under cool water to

remove most of the salt.

just large enough to hold the duck legs in one

layer. Lay the duck legs skin-side up on top of

the herbs and spices.

In a glass bowl, heat the duck fat in the

microwave for 1-2 minutes until the fat has

melted. Be sure to cover the bowl to avoid

splatters! Pour the melted duck fat over the

duck legs, submerging the duck legs

completely, and place in the pre-heated oven.

Cook the duck legs for 8-10 hours.

To serve immediately, carefully remove the

duck legs from the fat and place on a broiler or

under a grill for 3-5 minutes until skin is crisp.

The duck legs may be kept refrigerated, in the

fat, for up 5 days. To serve, re-heat the duck

legs for 1 hour in a 225 oven and proceed as

above to crisp skin.

Note: Strain the duck fat into a clean plastic

tub or glass jar. The duck fat keeps

refrigerated or frozen for 3 months.

Place the garlic, bay leaves and 1 tablespoon

cracked pepper corns on the bottom of a pan
---
Duck confit is such a

wonderful dinner party

entree. It can (and should!)

be prepared 2-3 days in

advance. The key to

successful duck confit are

good quality duck legs

and completely

submerging the legs in

duck fat for their long,

slow bake in the oven.

Even a novice home chef

can experience mouthwatering

results. Duck

legs (drumstick and thigh)

are not always easy to find

outside of France so you

may want to order them in

advance from your usual

butcher.

Ingredients

8-10 medium Yukon Gold potatoes, peeled

and thinly sliced

1/2 cup chopped Italian parsley

3 garlics cloves, minced

1 lemon, zested

1/2 cup Parmesan cheese

4 TBS good quality olive oil

1 tsp salt

Freshly ground pepper, to taste

Preheat oven to 400 degrees. Grease a 12

cup muffin tin generously with oli or

nonstick cooking spray. Combine parsley,

garlic, lemon zest, Parmesan cheese, olive

oil, salt and pepper in a bowl. Add sliced

potato to the parsley mixture and toss to

coat each slice thoroughly.

Overlap the potato slices, pressing firmly

as you go and filling each muffin cup 3/4

full.

Bake potatoes in oven 40-45 minutes until

edges are browned and centers can be

easily pierced with the sharp point of a

knife.

Cut around each potato stack with a knife

or spatula to serve.

Recipes by Martine Bertin-Peterson of Gout et Voyage travel and taste company who run

gastrocnomic, cultural and French language tours to Provence...
---
I love winter in my part of rural France. It's damp for sure, cold at times,

sometimes bitterly so. It snows and there are storms, the wind can blast through

the trees in the fields that surround the Seven Valleys making the huge balls of

mistletoe that grow throughout the area swing wildly.

Inside the village houses, log fires are lit and often the only signs of life are the

wisps of smoke that escape from chimneys, sometimes hanging in the still cold

air, sometimes painting patterns in the wind.

Walking the dogs this time of the year, I'm pretty much alone save for deer

bounding across the hedges, their tufty white tails bobbing up and down, and

pheasants disturbed by the crazy lady who comes by every day whatever the

weather.

In the village, of which people say "140 people and 1000 cows", there are none of

the latter to be seen, they're safely tucked up in warm barns. My cats lie in front

of the fire all day, I have to push them out the door to do what is necessary and

ten minutes later they're back, screeching to be let in to join the dogs and shuffle

about until everyone finds their nook.

My chickens, ducks and geese are hardy, but at times even they retreat to the

shed, they don't always get on but when it's cold, they find a way to survive

together, huddled in the straw.

The shutters we fitted in the summer have changed life for us this winter. Even

with a gale blowing, inside we have no idea, buffered from reality, it's warm and

cosy, we're snug as bugs (it's taken 14 years!).

This is what winter is all about for me here... my dream come true.

Janine Marsh