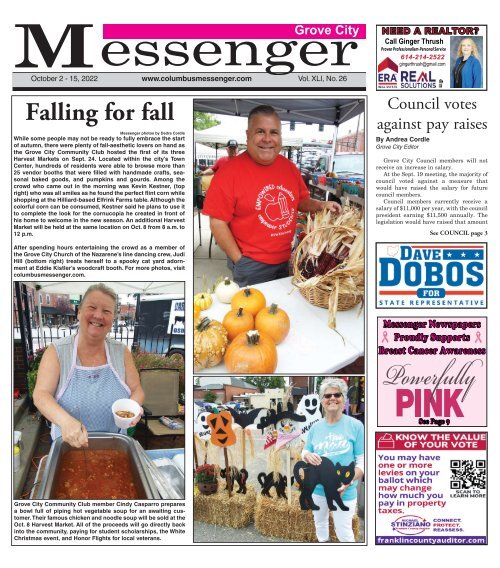 Grove City Messenger - October 2nd, 2022
Create successful ePaper yourself
Turn your PDF publications into a flip-book with our unique Google optimized e-Paper software.
Messenger

Grove City

October 2 - 15, 2022 www.columbusmessenger.com Vol. XLI, No. 26

NEED A REALTOR?

Call REALTOR? Ginger Thrush

Proven Professionalism-Personal Service

Call Ginger Thrush

614-214-2522

614-214-2522

gingerthrush@gmail.com

Falling for fall

Messenger photos by Dedra Cordle

While some people may not be ready to fully embrace the start

of autumn, there were plenty of fall-aesthetic lovers on hand as

the Grove City Community Club hosted the first of its three

Harvest Markets on Sept. 24. Located within the city's Town

Center, hundreds of residents were able to browse more than

25 vendor booths that were filled with handmade crafts, seasonal

baked goods, and pumpkins and gourds. Among the

crowd who came out in the morning was Kevin Kestner, (top

right) who was all smiles as he found the perfect flint corn while

shopping at the Hilliard-based Elfrink Farms table. Although the

colorful corn can be consumed, Kestner said he plans to use it

to complete the look for the cornucopia he created in front of

his home to welcome in the new season. An additional Harvest

Market will be held at the same location on Oct. 8 from 8 a.m. to

12 p.m.

Council votes

against pay raises

By Andrea Cordle

Grove City Editor

Grove City Council members will not

receive an increase in salary.

At the Sept. 19 meeting, the majority of

council voted against a measure that

would have raised the salary for future

council members.

Council members currently receive a

salary of $11,000 per year, with the council

president earning $11,500 annually. The

legislation would have raised that amount

See COUNCIL page 3

After spending hours entertaining the crowd as a member of

the Grove City Church of the Nazarene's line dancing crew, Judi

Hill (bottom right) treats herself to a spooky cat yard adornment

at Eddie Kistler's woodcraft booth. For more photos, visit

columbusmessenger.com.

Messenger Newspapers

Proudly Supports

Breast Cancer Awareness

See Page 9

Grove City Community Club member Cindy Casparro prepares

a bowl full of piping hot vegetable soup for an awaiting customer.

Their famous chicken and noodle soup will be sold at the

Oct. 8 Harvest Market. All of the proceeds will go directly back

into the community, paying for student scholarships, the White

Christmas event, and Honor Flights for local veterans.
---
PAGE 2 - GROVE CITY MESSENGER - October 2, 2022

community events

Food Truck Festival and Shop Hop

The Heart of Grove City is hosting the Food Truck Festival and

Shop Hop from 4 to 9 p.m. Oct. 14 in the Town Center. Visit the

Heart of Grove City website for additional information.

www.columbusmessenger.com

Kicking off Arts in the Alley in style

Call today and receive a

FREE SHOWER PACKAGE

PLUS $1600 OFF

SPECIAL OFFER

1-855-517-1892

With purchase of a new Safe Step Walk-In Tub. Not applicable with any previous

walk-in tub purchase. Offer available while supplies last. No cash value. Must present

offer at time of purchase. CSLB 1082165 NSCB 0082999 0083445

Messenger photos by Dedra Cordle

Although the 43rd annual Arts in the Alley Music and Arts

Festival may have kicked off on Sept. 16, the community

parade held the following day announced its official opening in

grand style. For more than an hour, over 50 civic associations,

community groups, marching bands, and floats paraded

through the heart of downtown Grove City, filling the air with

music and laughter, and bringing delight and tons of candy to

the children and adults who lined the streets. Shown here

members of the Grove City High School marching band showcase

their skills at the event.

Members of the Grove City Library encourage people to get "All

Aboard for Reading."

Supporters of Pride in Grove City, a nonprofit

organization that promotes and

supports inclusiveness in the community,

march in the parade.

The Central Crossing High School Color Guard entertains the crowd.
---
www.columbusmessenger.com

Diversity Task Force

to host listening session

The Grove City Community Diversity

Advisory Task Force will host a listening

session from 6 to 7:30 p.m., Monday, Oct.

10 in City Hall, Council Chambers, 4035

Broadway.

Guided by the vision statement

"Creating a community that thrives by

enhancing a welcoming and inclusive environment

and celebrates the fact that we

are not all the same," the members of the

task force are seeking public input.

Each attendee wishing to address the

task force must sign and fully complete a

speaker's sheet to be recognized. Each

speaker will be allotted a maximum of two

minutes to answer the question, "What do

you see as opportunities for diversity, equity

and inclusion in Grove City to make our

community the best it can be?"

Community input will also be solicited

through an online single-question survey.

Visit bit.ly/GCDTFsurvey to complete the

survey.

Blood drives in Grove City

The American Red Cross will host a

blood drive from noon to 6 p.m. Oct. 7 in

COUNCIL

Continued from page 1

to $16,000 for council members and

$16,500 for the council president.

The increases would not have taken

place until 2024.

"This council is not allowed to give

themselves a raise," said Stephen Smith,

law director for the city of Grove City. "You

cannot give a pay raise in the middle of a

term. This would not take effect until the

next council seat opens."

Former councilman Aaron Schlabach

spoke against the measure, saying pay

raises should be determined by those who

hire elected officials.

"It is incumbent on council, for good

faith, to vote this down and have it put on

the ballot," he said.

Schlabach said even though the salary

increase would not go into effect until the

next term, those currently serving are likely

to be re-elected.

Councilwoman Christine Houk voted

against the increase in salary, along with

Mark Sigrist and Randy Holt. Houk said

she believes council members are already

competitively compensated.

According to Houk, Grove City council

members are paid a higher rate than those

in Gahanna, Groveport, Pickerington,

Reynoldsburg, Upper Arlington, and

Westerville. The salary is comparable to

council members in Dublin and New

Albany, but less than those in Columbus

and Hilliard.

Council president Ted Berry and councilman

Roby Schottke voted in favor of the

pay increase.

Schottke said they were following procedures

of the city charter, which was

community events

The City Beat

the Kingston Center, 3226 Kingston Ave.

in Grove City. It will also host a blood drive

from 9 a.m. to 2 p.m. Oct. 8 at the Grove

City Church of the Nazarene, 4750 Hoover

Road. To schedule an appointment, call 1-

800-448-3543 or visit

www.redcrossblood.org.

S.A.L.T. at Evans Center

The Grove City Division of Police host

Seniors and Law Enforcement Together

(S.A.L.T.) meetings at 1 p.m. the second

Tuesday of each month at the Evans

Center, 4330 Dudley Ave. Adults of all ages

are welcome to attend. If you would like

additional information on other crime prevention

programs visit police.grovecityohio.gov

or call 614-277-1765.

Century Village open house

The Southwest Franklin County

Historical Society welcomes groups and

individuals to Century Village, 4185

Orders Road. Tour the historic log house

and school from 2 to 4 p.m. the fourth

Saturday of each month, May through

September. For more information or to

schedule a visit to Century Village, contact

Steve Jackson at 614-871-0081.

approved by voters.

"We're doing this for future council

members," he said.

In November of 2017, Grove City voters

amended the number of council members

to seven, which will begin in January 2024.

In other news, council approved an ordinance

to expand the tuition reimbursement

program for employees.

Grove City has offered tuition reimbursement

to its full-time employees, but

city leaders want to include part-time

employees as well.

"We have to pay more attention to our

part-time people," said Grove City Mayor

Richard "Ike" Stage.

Under this program, all full-time and

part-time employees are eligible for a maximum

of $5,000 in reimbursement per calendar

year for tuition and books. Only

coursework provided by a recognized institution

(university, college, community college,

post-secondary technical school) are

eligible for reimbursement under the program.

According to Chuck Boso, city administrator,

there are between 100 and 120 parttime

employees in the city.

"They do various tasks for us and provide

a service at a reasonable cost," he said.

The ordinance was unanimously

approved by council.

"I love this investment in our workforce,"

said Houk.

Berry called it a "step in the right direction,"

but said he would like to see the city

provide healthcare for the part-time

employees as well.

On September 20, 2022, Grove City

Police were dispatched to a business in

the 2100 block of Stringtown Rd. Upon

arrival, the officer was told that the

business was short close to $13,000 on

several deposits. Upon investigation

the business was able to identify an employee

taking the money.

In other police news:

On September 8, 2022, Grove City

Police were dispatched to the 3700 block

of Broadway on a report of a person with

a gun wanting to harm themselves. Officers

located the individual and were

able to talk that person into putting the

weapon down. The individual was

taken to the hospital for care.

Our Savings Rates

1.75 %

1

APY

2. 25 %

2

APY

October 2, 2022 - GROVE CITY MESSENGER - PAGE 3

Grove City Police News

On September 20, 2022, Grove City

Police were dispatched to the 3700 block

of Bantry Way on a report of a theft in

progress. The caller advised the police

that the victim was chasing the three

suspects. Officers arrived on scene, but

the victim had lost sight of where the

suspects went. A check of the area did

not locate the suspects but did recover

an unreported stolen vehicle. The original

victim stated he had a firearm

stolen from his unlocked vehicle.

On September 20, 2022, Grove City

Police were dispatched to the Sterling

Park Circle area on a report 4-5 suspects

breaking into several cars. One

suspect was armed and acting like a

lookout. One victim confronted the suspects

who then fled the area prior to police

arrival. Several cars were damaged

as well as items stolen.

On September 14, 2022, Grove City

Police were contacted by a resident in

the 3400 block of Stephen St. about

identity theft. The victim told police

that he had been working with eBay on

an incorrect order when the victim discovered

$8,000 taken from their Coinbase

account. Upon the victim checking

other bank accounts, it was discovered

that Chase had a pending $7,500 transaction

that was not the victims. The victim

was able to freeze the Chase

transaction with the bank.

s ar

e on the rise!

Contact me today for details!

Josh McKee

Br anch Manager, Grove City Office

(614) 875-1884

Josh.McKee@Heartland.Bank

1

Annual Percentage Yield (APY). Minimum opening deposit is $1,000. Minimum balance to earn interest is $0.01. Minimum balance to earn promotional APY

is $50,000.00. This is a tiered rate account. The promotional APY of 1.75% is av ailable for the following tiers: $50,000 - $99,999 and $100,000 - $499,999.99. The

promotional AP Y for the tier of $25,000 - $49,999.99 is 1.25% APY. Regular rates apply to the following tiers: $0.01 - $9,999.99 is 0.01% APY; $10,000.00 - $24,999.99

is 0.02% APY; and $500,000 + is 0.05% APY. The promotional rate to applicable tiers is guaranteed for 180 days from the day of account opening. After 180 days, the

rate may change at any time as the Heartland Bank Money Market Savings Account is a variable rate account. To qualify for the promotional rate, the opening deposit

must be from funds not currently on deposit with Heartland Bank. Limit one (1) promotional Money Market Savings Account special per household per six (6) months.

APY accurate as of 08/01/2022. Fees may reduce earnings. Accounts closed less than 180 days from date opened will be charged an early close fee of $25.00. Personal

accounts only.

2

Annual Percentage Yield (APY). Minimum balance to open and maintain the advertised 12 month APY of 2.25% is $5,000. APY is accurate as of August 29, 2022.

Maximum deposit is $250,000. Please see your local branch office for disclosure information regarding terms and conditions. Penalty may be imposed for

early

withdrawal. Rates are subject to change at any time. No brokers please. Limit ed time offer. Limited to one per household. Not valid with money currently on

deposit at Heartland Bank. Personal accounts only.
---
PAGE 4 - GROVE CITY MESSENGER - October 2, 2022

www.columbusmessenger.com

Community celebrates 43 years of Arts in the Alley

Messenger photos by Dedra Cordle

The Grove City Area Chamber of Commerce presented the 43rd

annual Arts in the Alley Music and Arts Festival from Sept. 16 –

Sept. 18. Thousands of people from across the region attended

the event that was held at Town Center Park. In addition to hosting

live music from local musicians and area school show

choirs, the festival also featured a children's play station to

nourish their creative spirit (a.k.a. to keep them entertained and

busy) and had more than 30 artisan booths set up for the adults

to peruse and purchase handcrafted wares from artists near

and far.

Mary Williams is a cake decorated by trade, but in her free time she creates working clocks made out of

spools and pallets. Several of her creations, which often take several weeks to finish, were sold at the event.

Stephanie Bennink, of Senses Taker's Boutique, has a bit of fun

with her mantis hat as she talks to customers at her booth. She

said the mantis headgear was the only surviving part of a

Halloween costume. "It sadly disintegrated, but I was able to

preserve this cool headgear," she quipped.

D. Lyons, of G-code Print 614, showcases some of the 3-D creations

he is working on. The golden toilet in his hand is actually

a holder for cigarette butts and ashes.

Budding chalk artist David Kamper works on his geometric shapes at the Kids' Fun Street. The 8-year-old

Grove City resident, who was covered with chalk after creating this piece of street art, said he had a great

time working on his skills.

See more photos from Arts in the Alley on page 5 and at columbusmessenger.com.
---
www.columbusmessenger.com

Arts in the Alley

Photos continued from page 4

October 2, 2022 - GROVE CITY MESSENGER - PAGE 5

Columbus resident Andy Fagan checks out this colorful quilt by Amy Swanson at the

Quilt Showcase. He said that although he is not a quilter himself, he can appreciate a

beautiful piece of work like the ones that were on display.

James Klinger, a resident of Yellow Springs, highlights a piece in his expansive collection

of Raku pottery. Klinger said he has been creating pieces using the popular

Japanese style for more than three decades because it gives him a sense of "serendipity"

when he is at work.

Now in Grove

City

At Zangmeiste er Cancer Center we coll laborate with our

colleagues in radiation therapy, surgery, genetics, pathology

and

clinical researc ch to ensure each patien nt has a comprehensive

,

multidisciplinar ry plan of care. Support from our pharmacists,

social workers , nurse navigators, dietiti ians and financial

counselors min nimize the impact of cancer cer on daily life.

A DIVISION OF

AMERICAN ONCOLOGY PAR TNERS, P.A.

We del liver the most adv vanced and innova ative treatments fo ocused on each patient for

the best possible expe erience — becaus e each patient' 's cancer journey is unique.

5500 North Meado ows Dr., Suite 230, Grove City, OH 43123 | ZangCenter.

com
---
PAGE 6 - GROVE CITY MESSENGER - October 2, 2022

By Dedra Cordle

Staff Writer

Village of Urbancrest councilman Lacy

Wallace Jr. experienced a wide range of

emotions when he discovered his wife's

vehicle had been stolen from their property.

Initially, he says he was upset by the

act, furious that someone would have so little

respect as to steal from another human

being. Then that feeling transitioned into

Looking for a small,

friendly church experience? Try

First Presbyterian Church

of Grove City

4227 Broadway, Grove City

Worship Service 10:00 a.m.

In-Person and live Facebook

www.fpcgc.org

sadness not only for his wife, but also for

his fellow neighbors who might also be

waking to the realization that their modes

of transportation had been taken or vandalized

in the night.

Wallace sat with those emotions for a

while, alternating back and forth between

the two extremes. And then he was hit with

a sense of disappointment that was primarily

aimed at himself, feeling as if he could

have done more to protect his wife and his

Website:Expert-hvac.com

Phone:614-946-8461

Experthvacllc@gmail.com

FREE ESTIMATES

on system installs

Expert service - affordable prices - Locally owned from Groveport

Mention this ad and get $20 off a $110 service call.

Please visit the

Southwest Church

of your choice.

List your Worship

Services here.

For info. call 614-272-5422

Be a Part of Our Local Worship Guide

Our Worship Guide is geared toward celebrating faith and helping reader connect with religious

resources in our community. Make sure these readers know how you can help with a presence in

this very special section distributed to more than 22,000 households in the Southwest area.

Contact us today to secure your spot in our Worship Guide.

614.272.5422 • kathy@columbusmessenger.com

constituents in the village from becoming a

victim of a crime.

"I joined the council because I wanted to

be proactive (on health and safety matters)

and not reactive (on the issues)," he said.

He said that he felt as if he had failed in

that regard.

"I didn't stay on top of some of the safety

issues I wanted to," he said.

Determined that he would not allow

important safety matters to be put on the

back burner again, Wallace addressed his

fellow council members at their regular

meeting in September with a request that

they all do more to keep criminal activity

from spreading throughout the community.

"We need to be more hands on," he said.

"With the village getting a little bigger, a

little larger and expanding, I think it is

essential that we work on safety issues a

little more."

The council agreed.

One of the primary measures the village

officials want to take is to have the county

sheriff's office become more active in their

patrolling efforts, particularly after dusk.

"We don't really need them as much in

the daytime because there are thousands of

eyes out here," said Wallace. "We need

them out in the evening when there is a

very limited number of eyes out here."

The council said they would reach out to

the department to make that request as

soon as possible.

Council members also said they would

like to see more efficient street lighting

within the village, particularly near the

highway. Councilwoman Shawn Moore

said she would like to see if the light fixtures

can be lowered on the pole so they

cast a wider reflection across the street.

"The lighting we do have is too high for

it to really have an effect on the lighting on

the streets," she said.

Council said they would work with the

street maintenance crew to see what could

be done in that regard.

Members of the health and safety committee

said they would also bring up the

topic at their upcoming meeting and discuss

additional measures that could be

taken to keep the community safer.

The increase in vehicular thefts and

break-ins is not limited to the village of

Urbancrest — just about every town, city,

county and state is experiencing a rise in

www.columbusmessenger.com

Safety Focus

Village leaders want to keep Urbancrest residents safe

$100 Preventative Maintenance (tune up)

The city of Grove City's Division of

Police in cooperation with Jackson

Township established two Internet

Purchase Exchange Zones in response to

safety concerns during person-to-person

exchanges of sales arranged online. The

zones are located at City Hall, 4035

Broadway, and the Jackson Township

Administration Building, 3756 Hoover

Road.

vehicular crime. There are some steps

motorists can take, however, to make their

property less attractive to would-be criminals.

According to Lt. Jason Stern, with the

Grove City Division of Police, the simplest

step a person can take to reduce vehicular

crime is to remove items from your car,

even if you do not believe they have monetary

value.

"I always say it doesn't matter whether

you think something is of value," he said.

"You could have a gym bag in your car and

know that all that is in there is some clothing.

But to the person who is looking in

your car, that bag could have something

valuable in it like a laptop or jewelry. And

if something appears to be valuable,

chances are they are going to try to get in

there and take it."

He said another simple step that can be

applied to safeguard their property is to

make sure their doors are locked.

"A majority of the vehicular thefts that

we have responded to were from vehicles

whose doors were unlocked," said Stern.

He added that people should get in the

habit of making sure they are locked

because someone is already in the habit of

checking to see whether they can get it into

a car quickly just by moving the handle.

If homeowners do not park their vehicles

in the garage at night, or if there is no

garage to park a vehicle in, Stern suggests

they be kept in a well-lit location. He said

well-lit locations can be a good deterrent

for criminals, as are motion detector lights

and security cameras.

If using a security camera, Stern suggested

that they be placed near eye-level so

that faces or any other identifying features

can be seen. He said the eye-level placement

is especially valuable for locations

near the front door of a house as it could

also deter those who are looking to steal

packages.

Stern said the division often holds safety

and self-defense classes for the community.

Although the division does not currently

have an official date set for an

upcoming event, they do intend to host a

class before the end of the year. Stern

encouraged the community to follow their

social media pages as it will be posted there

when the announcement is made.

Internet purchase exchange zones

Exchange zones are identified by signage

next to designated parking spaces at

each location with video surveillance 24

hours a day, seven days a week. Residents

can conduct transactions knowing their

interactions are recorded. In cases of emergency,

site users should dial 911 for assistance.

For more information, contact the Grove

City Division of Police at 614-277-1710.
---
www.columbusmessenger.com

In Education

South-Western projections right on target

By Dedra Cordle

Staff Writer

South-Western City School officials

make a number of projections related to

student enrollment before the start of a

new school year. Not only do they estimate

what they believe the overall population of

the district will be, but they also have to

determine how many students they believe

will attend each level.

Should the district be inaccurate with

their projections, particularly if the actual

numbers fall well below their assumptions,

it could mean a loss in state and federal

funding as well as the relocation of dozens

of students to fill spacing gaps.

"That is why it is so incredibly important

that we get these figures right," said

Deputy Superintendent Dr. Jamie Lusher.

When the actual enrollment numbers

came in at the start of the 2022-23 school

year, district officials gave a sigh of relief at

how accurate their projections were.

"We have a 99 percent accuracy rate,"

Lusher told the board of education at its

meeting in early September.

According to the numbers presented, the

district's overall enrollment numbers surpassed

the initial projections.

There are currently 20,925 students

enrolled in the district: officials had projected

there would be 20,887.

Where the district saw an increase in

the student population was at the middle

and high school level. The middle level saw

an overall increase of seven students,

whereas the high school level saw an

increase of 111 students. There are currently

3,363 students enrolled at the district's

five middle schools, and 6,712 students

enrolled at the district's four high

schools.

Where the district saw a decrease in the

student population was at the elementary

and intermediate level. The elementary

level saw a decrease of 60 students, whereas

the intermediate level saw a decrease of

15 students. There are currently 7,602 students

enrolled at the district's 16 elementary

schools, and 3,183 students enrolled at

the five intermediate schools.

Lusher said there were some notable

exceptions to those numbers.

Buckeye Woods Elementary and

Jackson Middle School each saw an

increase in their student population of 61

students and 39 students, respectively.

Prairie Lincoln Elementary and Galloway

Ridge Intermediate each saw a decrease in

their student population of 50 students and

39 students, respectively.

Lusher said that although their overall

numbers are stable, the district will be

monitoring the number of students exiting

the schools on the westside. She added that

those numbers could likely be attributed to

the development growth within the Grove

City area.

"That is something that we will be monitoring

but at this time those numbers are

pretty stable and that is a good thing," she

said.

Because of the growth of the overall student

body population, the district has

expanded its student support services by

adding three counselors, seven social workers,

and nine student support liaisons at

the K-8 level.

In other district news, the board

approved a modification to the 2022-23

master calendar that will change a planned

in-session, out-of-session day. On Oct. 21,

school will now be out-of-session to allow

for a professional development day whereas

Oct. 14 will now be in-session. Oct. 21

has been designated as OSAPSE (the Ohio

Association of Public School Employees)

Day.

October 2, 2022 - GROVE CITY MESSENGER - PAGE 7

Messenger photo by Theresa Garee

Comets compete

in OCC match

Angelica Soto, a junior at Central

Crossing High School, drives on the

Weschester Golf Club course during

the last OCC match of the season on

Sept. 12. This is Soto's first season

playing golf for Central Crossing.

Pick-Up &

Delivery

C.M.T

MOWER REPAIRS

Authorized Dealers for BOBCAT Mowers

6446 HARRISBURG PIKE, ORIENT, OH 43146

614-875-5830

www.cmtmowerrepairs.com

"We have the lowest price in town!"

GENERAL MAINTENANCE SERVICES

Push Mowers $49.95

Riding Tractors $169.95 • Zero Turn Mowers $169.95

Parts are additional on all units

PICK-UP & DELIVERY AVAILABLE

CHECK OUT THESE GREAT DEALS!!

• ZT 2000-42... $ 4,800.00

• ZT 2000-48... $ 4,900.00

• ZT 2000-52... $ 5,100.00

• ZT 3000-61... $ 7,000.00

• ZT 3500-52... $ 8,150.00

ZT 3500-61......... $ 8,450.00

ZT 6000-61....... $ 10,500.00

ZT 7000-72....... $ 13,500.00

0% Interest

Financing up to

48 months (if qualified)

*Prices may vary due to changing times.
---
PAGE 8 - GROVE CITY MESSENGER - October 2, 2022

www.columbusmessenger.com

Township Focus

Increase in truck traffic causing

concerns for Hibbs Road residents

SENIORS — HELP IS HERE!

Your Doorstep to Your Doctor!

We provide:

• Transportation • Personal Coordinated Team Care

• Concierge Service • Convenience of all services under one roof

• Superior Healthcare • We serve to 55+ Medicare-eligible Community

Call for more information:

Trae White, COS - Community Outreach Specialist

614-551-5367

trae.white@dedicated.care

Let's change the world together!

NORTH

2260 Morse Rd

Partnership with

3 LOCATIONS:

WESTSIDE

50 N. Wilson Rd.

WHITEHALL

5156 E. Main St.

By Dedra Cordle

Staff Writer

Hibbs Road residents say a collective

groan could be heard emanating throughout

the neighborhood when the state

department of transportation announced

that a heavily traveled bridge nearby

would be closed for resurfacing repairs.

It was not the inconvenience of having

to find an alternative route around the city

that had them upset, they explained.

Instead, what had them so concerned was

the fact that they knew what would be

coming down their narrow and sharp residential

road.

"We knew we would get a bit more traffic,"

said Noreen Hartmann, "but we didn't

think it would be to this extent."

Under normal circumstances,

Hartmann and her husband, Bill, say they

are not too bothered by additional traffic on

their street.

"I'm fine with the cars," said Hartmann.

"Just as long as they're going the speed

limit — or below," Bill added.

Having lived in the area for more than

two decades, they said they have grown

accustomed to the higher volume of traffic,

especially since there has been so much

development near their stretch of Jackson

Township.

But what they cannot tolerate is semitrailer

trucks traveling down their street —

a sight they say was becoming more frequent

over the months but has now become

commonplace with the bridge closure.

"These tractor trailer trucks are coming

down the street four or five at a time," she

said. "They are not allowed here, they

should not be here, but they keep coming

down here."

She said there are a number of posted

signs that state that no trucks are permitted

down these residential roads. However,

they are disregarding the signs and using

their street as a cut-through to access

State Routes 104 and 665.

Hartmann said semi-trucks in residential

settings are disruptive and downright

dangerous. She added that she has reached

out to multiple government entities to fix

the problem to no avail.

"Something is going to happen (with all

of the trucks using Hibbs Road)," she said,

"and I am so frustrated because no one that

I've talked to wants to say that they're

responsible for the safety on our road."

On Sept. 13, the Hartmann's and several

of their neighbors attended the Jackson

Township board of trustees meeting to

urge them to do something to fix the problem.

The trustees said they were unaware

that semi-trucks were traveling through

Hibbs Road and agreed that measures

needed to be taken to ensure that these

incidents stop taking place.

"We are glad that this was brought to

our attention," said trustee Ron McClure.

"I believe there are some things we can do

(to improve the situation) but there are

some things that are out of our control."

The trustees said the first step they can

take to address the issue is to ask the

Franklin County Sheriff's Office to step up

their patrols during peak hours. They

added that although enforcement is up to

the responding deputy, they will urge them

to cite the violators who are caught.

Another step the trustees said they

could take is relocate the "no truck" permitted

signs so they are more visible on the

state routes. According to the residents,

they are closer to the residential area and

the truck drivers may be seeing them too

late.

The board admitted that these measures

may not solve the problem immediately,

but said they are good first steps

toward getting the trucks off of the residential

roads.

"We will chip away at this dangerous

situation," said trustee Jim Rauck.

While at the meeting, the residents of

Hibbs Road also brought forth another

safety issue that is taking place on their

street involving speeding motorists.

According to Larry Petitti, motorists zip

through their streets, paying little to no

attention to the parked cars, the people

outside, or the three 90-degree turns that

are featured on the roadway.

"They're coming down so fast they're

almost hitting people," he said.

He said he would like to see speed

bumps installed on the road or have the

speed limit lowered to 25 or 30 miles per

hour. It is currently set at 40 miles per

hour.

According to Administrator Shane

Farnsworth, the township has requested

that the county engineer's office conduct a

study to determine whether the speed limit

should be lowered.

Unfortunately, he said, the process can

be lengthy.

"There is no quick fix to that issue, I'm

afraid," he said. "We have to go through a

process and see what their determination

is."

He said the only thing they really can do

in the meantime is request that the sheriff's

office step up their patrols and enforcement.

"We will have them look at both of these

issues and hopefully that can lessen some

of the problems they are having on Hibbs

Road."
---
www.columbusmessenger.com

October 2, 2022 - GROVE CITY MESSENGER - PAGE 9
---
PAGE 10 - GROVE CITY MESSENGER - October 2, 2022

Pet Corner

www.columbusmessenger.com

SEARCHING

for More Qualified Employees?

October 16 th , 2022

Deadline: October 7 th , 2022 At Noon

Special employment Section Featuring:

Job Openings

Job Fairs

Full and Part Time Employment

Seasonal Job Opportunities and more

ALL ADS ARE IN FULL COLOR. Contact us by phone or online to discuss special

advertising rates that are available for this section as well as combination rate

discounts for advertising in multiple coverage areas.

Canal Winchester • Grove City • Groveport • Madison • South • Westside

614-272-5422

Kathy@columbusmessenger.com

Doughenry@columbusmessenger.com

High flying Fido

Messenger photo by Rick Palsgrove

Dogs from Team Zoom Canine Entertainment performed before a delighted crowd

at Groveport's KidsFest 2022 in Groveport Park on Sept. 17. Several dogs from the

troupe performed a variety of stunts and tricks. Pictured here is Icon as he flies

through the air to catch a Frisbee tossed by lead handler Danielle O'Neill. KidsFest

also featured Touch-a-Truck, various demonstrations, kids crafts and activities,

giveaways, and more.

Pets of the week

These furry friends are available

for adoption at local

rescues and shelters

DestinationOutlets.com

800-213-9083

8000 Factory Shops Blvd.

Jeffersonville, OH 43128

DOWNLOAD OUR

MEMBERSHIP APP

Ariel is a beautiful

torti who is 5 years

old. She loves attention

and loves to be

petted. She likes to

explore and she

drinks her water from

the faucet. Her

favorite spot to nap is

in a sunroom, up in

the cat tree where

she can watch the birds. Ariel does well with

other cats, but she has not been around dogs.

She is up for adoption through Friends for Life

Animal Haven.

FYI: www.fflah.org

Birdie is on the hunt

for the family and

couch of her dreams.

At 14 years old, she

may not be winning

any fetch awards, but

she will definitely win

over your heart. If you

are looking for a

sweet and easy

going girl to take

leisurely strolls through the neighborhood

with, the county shelter has the perfect girl for

you.

FYI: franklincountydogs.com

Harlow is one of the

sweetest girls you will

meet. She has been

stressed at the shelter

but recently went

to a home for a sleepover.

Right away,

Harlow became

relaxed and calm.

She is housebroken,

has no troubles

sleeping through the night, and will curl up

next to you on the couch for snuggles. Adopt

her from the county dog shelter.

FYI: franklincountydogs.com

Gillian is a 2-year-old

female orange tabby.

She is ready for fall

and says her coat

matches the fall

foliage purrfectly.

Gillian is eager to find

her forever home. She

is available for adoption

through Colony

Cats and Dogs.

FYI: colonycats.org
---
www.columbusmessenger.com

Grove City

Messenger

We are the

BEST COMMUNITY NEWSPAPER

in Grove City

Pick-Up At

These Locations:

Village Municipal Building

3492 1st Ave. Urbancrest

Sheetz Gas Station - Broadway & Centerpoint

Turkey Hill - Broadway & Centerpoint

Speedway Gas Stateion - Boardway & I-270

Shell Gas Station - Broadway & I-270

United Dairy Farmers - Broadway & Southwest

CVS Pharmacy - Broadway & Southwest

Speedway Gas Station - Broadway & Southwest

Grove City Library - 3959 Broadway

Planks on Broadway - Broadway & Park St.

Mobile Gas Station - Broadway & Paul St.

Ernies Carry-Out - Broadway & Paul St.

BP Gas Station - Stringtown & Hoover

Krogers - Stringtown & Hoover

Walgreen's - Stringtown & McDowell

CVS Pharmacy - Stringtown & McDowell

Drug Mart - Stringtown & McDowell

Speedway Gas Station - Stringtown & I-71

Dollar General - 3065 Broadway

Southwest Community Center

4500 1st Ave. Urbancrest

Kroger - Hoover & Route 665

Meijer - 665 & Hoover

Circle K - 665 & I-71

CVS Pharmacy - 665 & Hoover

Dollar General - 665 & Hoover

READ US ONLINE: www.columbusmessenger.com

Pleasant Twp.

fire department

receives grant

By Hannah Poling

Staff Writer

The Pleasant Township Fire

Department was awarded an assistance to

firefighters grant.

The grant was announced at the recent

township board meeting and the fire

department received $176.882.

The funds will be used for personal protective

equipment, exercise equipment,

and firefighter training. The township

does have to contribute 5 percent, which

would bring the township's portion to

$4,844.

"The grant will certainly save the township

and the residents a good amount of

money," said Fire Chief David Whiting.

In other township news, recently

appointed executive director of Solid

Waste Authority of Central Ohio

(SWACO), Joe Lombardi, attended the

meeting to introduce himself to the community.

Lombardi has held the position of executive

director for three months.

"I'm still getting my feet wet," Lombardi

said. "We want to be a resource for your

community. I want to continue our great

relationship with Pleasant Township."

Chief recognized

for leadership

By Hannah Poling

Staff Writer

The Pleasant Township Fire Chief was

recently recognized for his leadership.

JB Bott with the Ohio Employer

Support of the Guard and Reserve (ESGR)

attended a recent Pleasant Township

board meeting to present the Seven Seals

Award to Fire Chief David Whiting. This is

awarded to individuals for leadership and

initiative in support of men and women

who serve America in the National Guard

and Reserve.

ESGR was started in 1972 and is

intended to promote and foster cooperation

and understanding of the National Guard

and Reserves. It creates a supportive work

environment through outreach, recognition,

and educational opportunities.

"Chief Whiting has shown such a great

understanding," said Bott. "He talks the

talk and walks the walk."

It is the 50th anniversary for ESGR and

they wanted to bestow the honor on someone

with knowledge and exceptional work

ethic.

"You are truly a patriot," said Bott. "It's

is an honor to pay tribute to Chief

Whiting."

October 2, 2022 - GROVE CITY MESSENGER - PAGE 11
---
PAGE 12 - GROVE CITY MESSENGER - October 2, 2022

www.columbusmessenger.com

In Entertainment

"Lou" is a compelling character thriller

More than a decade into her career as an actor, Allison Janney

finally started to receive some recognition within the entertainment

industry when she was cast as C.J. Cregg, the savvy and

quick-witted press secretary in Aaron Sorkin's television series

"The West Wing."

Knowing they had a great actress on their hands but not quite

knowing what exactly to do with her, she was promptly offered

roles in a similar vein as her famed characters from the now iconic

show that had its debut in the late 1990s. Despite the lack of original

offerings that were sent her way, Janney has managed to consistently

deliver great performances across a range of genres

throughout the years, proving that she has the skill and the chops

to overcome whatever box Hollywood tried to fit her into.

In her latest film "Lou", she kicks out that box, throws it over

some heads, and proceeds to strangle people with it. And if you

think I'm taking dramatic license with the description, well, I am

just a bit: Her character much prefers other household items.

Directed by Anna Foerster and written by Maggie Cohn and

Jack Stanley, "Lou" is an action-thriller that manages not to feel

as if it is just another cog in the revenge movie machine. With a

focus on internal pain, this Netflix original is more contemplative

as it prefers to take a deeper look into the consequences of one's

action.

When the film begins, Lou (played by Janney) is somewhat

enjoying her solitary existence on an island in the Pacific

Northwest with her loyal companion Jax, a very good boy who only

gets scolded when he licks the blood of the deer she kills for him.

Even though her devoted pup loves her to pieces, the first few minutes

establish that the humans do not feel the same way, giving

her a wide berth as she makes her way through town. This is not

to say that she immediately gives off dangerous vibes, but more

like "Watch out, here comes that old grump that is likely to push

you down if you make too much noise — or small talk." Essentially,

her inability to be personable makes the townsfolk uneasy, so they

keep it at a respectful distance.

As a way to make a little bit of extra money, Lou rents a trailer

to Hannah Dawson (Jurnee Smollett) who is raising her young

daughter Vee (Ridley Asha Bateman) sans partner. Lou appears

to care very little for the duo, but she does offer a bit of sound,

worldly advice to Hannah after almost hitting her child with a car

— "The world's not a playground. Teach your kid how to take care

of herself."

During the interactions with Lou and a potential paramour, it

is made clear that she is recovering (hiding?) from a dark past.

Naturally, that dark and hidden past springs back into the forefront

when her violent ex Philip (Logan Marshall-Green) kidnaps

their daughter during the most vicious storm the area has seen in

decades.

Since the film is set in the 1980s, Hannah rushes to Lou's place

to use the phone and discovers that not only is her line down too,

but she just interrupted a suicide attempt. Feeling as if there is

way too much going on, Hannah manages to rattle out what happened

and gives an abridged version of the criminality of her exhusband

despite knowing that Lou likely has other things on her

mind. And although she does — and although she states that she

doesn't care too much about the kidnapping that took place — Lou

decides she wants to do everything within her power to get Vee

back safely to her mother.

As someone who presents themselves as the societal version of

an elderly woman — Lou's hair is a deep gray and her hands are

slightly gnarled with arthritis — Hannah is skeptical of her ability

to help. But Lou proves to be quite adept at tracking, even in the

pouring rain, and skillfully using her appearance to get the drop

on men working with Philip. Quickly, Hannah comes to the startling

realization that there is much more to Lou than meets the

eye, and how they are such similar people despite living such dissimilar

lives.

As I stated before, "Lou" is not a revenge thriller in the traditional

sense, instead focusing more on two women with secret

pasts bonding in a highly intense setting. Although

there are a few fight scenes that are exciting and very

well done (it has a particularly epic battle that takes

place toward the end), it largely builds on the growing

relationship between these women who are filled with

secrets and a determination to try to make things right

in the world.

While there were some issues with the plot — it has

a twist that I wasn't particularly fond of — and while

some of the script could have been sent to the revision

workshop for another round of edits, overall "Lou" is a

compelling character thriller that is made extremely

watchable thanks in part to the chemistry of the two

most talented actresses working today. They propel

this movie, making you root for their characters and

CLASSIFIED ADS

Deadlines: Grove City, Groveport & All editions - Mondays at Noon.

West, Canal Winchester, South & Madison editions -Tuesdays at 5 p.m.

INFORMATION

CHICKEN NOODLE

DINNER

October 15, 4-6:30pm

Carryout Only

Adults $14 & Kids $5

Harrisburg UM Church

1160 High St.

FALL INTO A

NEW HAIRSTYLE!

Come See Me At

My New Location!

Call Marilyn Weaver

For An Appt.

For a New Haircut/Color

614-348-6670

Relax Wellness

3663 Broadway,

Grove City

ASSOCIATION ADS

The bathroom of your

dreams for as little as

$149/month! BCI Bath &

Shower. Many options

available. Quality

materials & professional

installation. Senior &

Military Discounts

Available. Limited Time

Offer - FREE virtual inhome

consultation now

and SAVE 15%! Call

Today! 1-877-540-2780

Don't let the stairs limit

your mobility! Discover

the ideal solution for

anyone who struggles on

the stairs, is concerned

about a fall or wants to

regain access to their

entire home. Call

AmeriGlide today! 1-844-

317-5246

REPOSSESSED VEHICLE?

Missed payments after

2015? You may be entitled

to substantial money and

improved credit REPO

ALERT! FREE LEGAL

ADVICE 1-800-601-0808

ASSOCIATION ADS

Replace your roof with the

best lookng and longest

lasting material -- Steel

from Erie Metal Roofs!

Three styles and multiple

colors available.

Guaranteed to last a

lifetime! Limited Time

Offer - $500 Discount +

Additional 10% off install

(for military, health

workers & 1st responders)

Call Erie Metal Roofs: 1-

855-338-4807

Donate Your Car To

Veterans Today! Help and

Support our Veterans.

Fast - FREE pick up.

100% tax deductible. Call

1-800-245-0398

!!OLD GUITARS WANT-

ED!! GIBSON, FENDER,

MARTIN, Etc. 1930's to

1980's. TOP DOLLAR

PAID. CALL TOLL FREE

1-866-433-8277

Put on your TVEars &

hear TV w/unmatched

clarity. TVEars Originaloriginally

$129.95 - now

w/this special offer only

$59.95 w/code MCB59! 1-

888-805-0840

Aloe Care Health medical

alert system. Most

advanced medical alert

product on the market.

Voice-activated! No wi-fi

needed! Special offer

w/code CARE20 for $20

off Mobile Companion. 1-

855-341-5862

DENTAL INSURANCE

from Physicians Mutual

Insurance Company.

Coverage for 350 plus

procedures. Real dental

insurance - NOT just a

discount plan. Do not wait!

Call now! Get your FREE

Dental Information Kit with

all the details! 1-877-553-

1891

www.dental50plus.com/

macnet#6258

ASSOCIATION ADS

Update your home with

beautiful new blinds &

shades. Free in-home

estimates make it

convenient to shop from

home. Professional

installation. Top quality -

Made in the USA. Free

consultation: 877-212-

7578. Ask about our

specials!

Protect your home from

pests safely and

affordablly. Pest, rodent,

termite and mosquito

control. Call for a quote or

inspection today 844-394-

9278

Become a Published

Author. We want to Read

Your Book! Dorrance

Publishing - Trusted by

Authors Since 1920

Book manuscript submissions

currently being reviewed.

Comprehensive Services:

Consultation, Production,

Promotion and Distribution. Call

for Your Free Author's Guide 1-

866-482-1576 or visit

http://dorranceinfo.com/macnet

Become a Published

Author. We want to Read

Your Book! Dorrance

Publishing Trusted Since

1920 Consultation,

Production, Promotion &

Distribution. Call for Free

Author's Guide 1-877-729-

4998 or visit

dorranceinfo.com/ads

Paying top cash for men's

sportwatches! Rolex,

Breitling, Omega, Patek

Pillippe, Heuer, Daytona,

GMT, Submariner and

Speedmaster. Call 833-

603-3236

their budding friendship every

step of the way. It's not your

typical action flick, but it's a

very good one, nonetheless.

Grade: B

The Reel Deal

Dedra Cordle

Dedra Cordle is a Messenger

staff writer and columnist.

xPublic Notice

LEGAL NOTICE

The Grove City Police Department has recovered

numerous bicycles, tools, electronic equipment, clothing

and monies over the course of several months.

The bicycles are of various types and models, as are

the tools and electronic equipment. All properties are

held in a secured police facility at all times. If you

believe you have claim to any of the property and have

proof of ownership for the property, you may call the

Grove City Police Department Property Room at

614-277-1757. A review and release of any and all

property is by appointment only. All items not claimed

will be sold at public auction, turned over to the Law

Enforcement Fund, or destroyed according to Ohio

Law.

CHARITABLE DONATION

Qualified organizations may be eligible to receive

bicycles as charitable donations from the City of

Grove City. Qualified organizations must have a valid

ruling or determination letter recognizing the taxexempt

status of the organization, pursuant to Internal

Revenue Code Section 501(c)(3) or (c)(19).

Representatives may call the Grove City Police

Department Property Room at 614-277-1757 to

inquire about the donation process.

ATTENTION:

Townships, Villages, V

Cities, Etc.

ADVERTISE

Your Public or Legal Notices with us and reach a lot more citizens!

For Display Rates Call The COLUMBUS MESSENGER

614-272-5422

Public Notice
---
www.columbusmessenger.com

October 2, 2022 - GROVE CITY MESSENGER - PAGE 13

CLASSIFIED ADS

Deadlines: Grove City, Groveport & All editions - Mondays at Noon.

West, Canal Winchester, South & Madison editions -Tuesdays at 5 p.m.

xEmployment

REPORTER

WANTED

Part-time Reporter wanted to cover

community meetings in the evenings and

write various feature and news stories.

Photography experience helpful.

Please send a resume and

three writing samples to:

Rick Palsgrove, Managing Editor,

Columbus Messenger Newspapers,

3500 Sullivant Ave.,

Columbus OH 43204 or email

southeast@columbusmessenger.com

No Phone Calls!

ASSOCIATION ADS

Safe Step. North

America's #1 Walk-in Tub.

Compreshensive lifetime

warranty. Top-of-the-line

installation and service.

Now featuring our FREE

shower package & $1600

off for a limited time!

Financing available. Call

Safe Step 1-833-356-1954

Eliminate gutter cleaning

forever! LeafFilter, the

most advancd debrisblocking

gutter protection.

Schedule a FREE

LeafFilter estimate today.

20% off Entire Purchase.

Plus 10% Senior & Military

Discounts. Call 1-855-

791-1626

ASSOCIATION ADS

REPOSSESSED VEHICLE?

Missed payments after

2015? You may be entitled

to substantial money and

improved credit REPO

ALERT! FREE LEGAL

ADVICE 1-800-601-0808

DISH TV $64.99 for 190

Channels + $14.95 high

speed internet. FREE installation,

Smart HD DVR

included. Free Voice Remote.

Some Restrictions

apply. Promo Expires

1/21/23. 1-866-590-5561

ASSOCIATION ADS

BUYING CLASSIC CARS,

TRUCKS, SUVs

**American and Foreign**

Any Condition. Buying

entire car collections.

$$PAYING CA$H$$

Please call 717-577-8206

KRMiller1965@yahoo.com

Dental Insurance -

Physicians Mutual Insurance

Comopany. Covers 350

procedures/ Real insurance -

not a discount plan. Get your

free dental info kit! 1-855-

.526-1060 www/dental50

plus.com/ads #6258

Aloe Care Health, medical

alert system. The most

advanced medical alert

product on the market.

Voice-activated! No wi-fi

needed! Special offer-call

and mention offer code

CARE20 to get $20 off

Mobile Companion. Call

today-1-877-728-4065

WANTED!

MOTORCYCLES!

ANTIQUE AND CLASSIC.

Honda, Kawasaki, Suzuki,

Yamaha, Triumph, BSA

and other foreign models.

$$PAYING CA$H$$

717-577-8206

KRMiller1965@yahoo.com

Vivint Smart Security.

Professionally installed.

One connected system for

total peace of mind. Free

professional installation!

Four free months of

monitoring! Call to

customize your system. 1-

833-841-0737

ASSOCIATION ADS

Directv Stream - Carries

the Most Local MLB

Games! CHOICE

Package, $89.99/mo for

12 months. Stream on 20

devices in your home at

once. HBOMax included

for 3 mos (w/CHOICE

Package or higher.) No

annual contract, no hidden

fees! Some restrictions

apply. Call IVS 1-866-629-

6086

DIAGNOSED WITH

LUNG CANCER? You

may quliafy for a

substantial cash award -

even with smoking history.

NO obligation! We've

recovered millions. Let us

help!! Call 24/7, 1-888-

650-9135

Discount air travel! Call

Flight Services for best

pricing on domestic &

international flights inside

& from the US. Serving

United, Delta, American &

Southwest &many more.

Free quote! Have travel

dates ready! 844-951-

2014

Stroke & Cardiovascular

disease are leading

causes of death according

the American Heart

Association. Screenings

can provide peace of mind

or early detection! Call

Life Line Screening to

schedule your screening.

Special offer - 5

screenings for $149. 1-

866-518-8391

ASSOCIATION ADS

Safe Step. North

America's #1 Walk-in Tub.

Compreshensive lifetime

warranty. Top-of-the-line

installation and service.

Now featuring our FREE

shower package & $1600

off for a limited time!

Financing available. 1-

855-417-1306

BATH & SHOWER UP-

DATES in as little as

ONE DAY! Affordable

prices - No payments for

18 months! Lifetime warranty

& professional installs.

Senior & Military

Discounts available. Call

855-761-1725

Employment

ASSOCIATION ADS

Internet &WIFI Starts at

$49 Call us Today to Get

Started. Find High-Speed

Internet with Fiber Optic

Technology No Credit

Check, No SSN Required.

Call us Today 866-396-

0515

Wesley Financial Group,

LLC Timeshare Cancellation

Experts Over

$50,000,000 in timeshare

debt & fees cancelled in

2019. Get free

informational package &

learn how to get rid of

your timeshare! Free

consultations. Over 450

positive reviews. 888-965-

0363

DO YOU NEED

SEASONAL EMPLOYEES?

Call KATHY to ADVERTISE!

and reach over 20,000 homes in the

West & Grove City Messengers

614-272-5422

kathy@columbusmessenger.com
---
PAGE 14 - GROVE CITY MESSENGER - October 2, 2022

www.columbusmessenger.com

xEmployment

HIRING WAREHOUSE

UP TO

$19/HR +

UP TO

$3K SIGN-ON

NO WEEKENDS • NO MANDATORY OT

OPEN INTERVIEWS

WEDNESDAY 10AM-1PM

1568 Georgesville Rd. Columbus, OH 43228

JOBS.MSCDIRECT.COM

Applicants must sucessfully pass a background check and drug screen.

Equal Opportunity Employer: Minority, female, veteran, individuals with disabilities, sexual orientation/gender identity.

WANTED

SCHOOL BUS DRIVERS

The South-Western City School

District is currently hiring drivers

for the 2022-2023 school year

$18.25/hr Plus Bonuses

WE WILL TRAIN

Available positions are for substitute

drivers that can develop into

"Regular" positions with benefits.

Interested individuals can call

614-801-8550 to set up an interview.

Applicants should have an excellent

driving record and must submit to

drug, alcohol, and background

screening. A high school diploma or

equivalent is required. EOE

ASSOCIATION ADS

Vivint Smart Security.

Professionally installed.

One connected system for

total peace of mind. FREE

professional installation!

Four FREE months of

monitoring! Call to

customize your system. 1-

855-870-2073

ASSOCIATION ADS

TRICKED BY YOUR CAR

BEING REPOSSESSED? You

may be entitled to substantial

money and improved credit if

your vehicle was

repossessed between after

2015. REPO ALERT! FOR

FREE LEGAL ADVICE CALL

1-800-411-1770

ASSOCIATION ADS

HughesNet - Finally, superfast

internet no matter

where you live. 25 Mbps

just $59.99/mo! Unlimited

Data is Here. Stream

Video. Bundle TV &

Internet. Free Installation.

Call 866-499-0141

AT&T Internet. Starting at

$40/month w/12-mo agmt.

1 TB of data/mo. Ask how

to bundle & SAVE! Geo &

svc restrictions apply. 1-

855-364-3948

Thinking about installing

a new shower? American

Standard makes it

easy. FREE design consulation.

Enjoy your

shower again! Call 1-

833-769-0995 today to

see how you can save

$1,000 on installation, or

visit www.newshowerdeal.com/mac

Want Faster & Affordable

Internet? Get internet

service today with

Earthlink. Best internet &

WiFi Plans. Call us Today

to Get Started. Ask

about our specials! 866-

396-0515

NOW HIRING

CDL Drivers and

Diesel Technicians

In Canal Winchester, OH!

$5000 Sign-on Bonuses!

Competitive Pay, Great Benefits!

Requirements:

18+ years of age

2+ Years of Experience

Call or apply online for

immediate consideration!

1-877-220-5627

careers.wm.com

Equal Opportunity Employer Minority/

Female/Disability/Veteran

ASSOCIATION ADS

Prepare for power outages

today with a GENERAC

home standby generator.

$0 Money Down + Low

Monthly Payment Options.

Request a FREEQuote--

Call now before the next

power outage. 1-855-465-

7624

NEED IRS RELIEF

$10K-$125K+ Get Fresh

Start or Forgiveness.

Call 1-844-431-4716

Monday through Friday

7am-5pm PST

Protect your home w/home

security monitored by

ADT. Starting at $27.99/

mo. Get free equipment

bundle including keypad,

motion sensor, wireless

door & windows sensors.

833-719-1073

Eliminate gutter cleaning

forever! LeafFilter, the

most advanced debrisblocking

gutter protection.

Schedule a FREE LeafFilter

estimate today. 15% off

Entire Purchase. 10% Senior

& Military Discounts.

Call 1-855-791-1626

SELL YOUR ANTIQUE

OR CLASSIC CAR.

Advertise with us. You

choose where you want

to advertise. 800-450-

6631 visit macnetonline.

com for details.

The Generac PWRcell

solar plus battery storage

system. Save money,

reduce reliance on

grid, prepare for outages

& power your home. Full

installation services. $0

down financing option.

Request free no obligation

quote. Call 1-877-

539-0299

ASSOCIATION ADS

DISH TV $64.99 FOR 190

Channels + $14.95 High

Speed Internet. Free Installation,

Smart HD DVR

Included, Free Voice Remote.

Some restrictions

apply. Promo expires

1/21/23. 1-866-479-1516

Attention oxygen therapy

users! Inogen One G4 is

capable of full 24/7 oxygen

delivery. Only 2.8

pounds. Free info kit.

Call 877-929-9587

Prepare for power

outages today with a

GENERAC home standby

generator. $0 Down + Low

Monthly Pmt. Request a

free Quote. Call before the

next power outage: 1-855-

948-6176

Looking for auto insurance?

Find great deals

on the right auto insurance

to suit your needs.

Call today for a free

quote! 866-924-2397

VIAGRA and CIALIS

USERS! 50 Generic pills

SPECIAL $99.00. 100%

guaranteed. 24/7 CALL

NOW! 888-445-5928

Hablamos Espanol

Elminate gutter cleaning

forever! LeafFilter, the most

advanced debris-blocking

gutter protection. Schedule

Free LeafFilter Estimate

today. 20% off Entire

Purchase. 10% Senior &

Military Discounts. Call 1-

833-610-1936

Employment

EARN EXTRA

$$ $$

HOLIDAY MONEY

The Advertising Department at the

Columbus Messenger Newspapers

is seeking a

Helper for the Sales Department.

No Experience Necessary

Duties include: Set Appointments,

Make Calls, Run Errands, etc.

Salary plus auto allowance.

Seniors welcome to apply.

Please send your resume to:

Doug Henry, Advertising Manager

Columbus Messenger Newspapers

3500 Sullivant Ave.,Columbus, Ohio 43204

or e-mail to doughenry@columbusmessenger.com

ASSOCIATION ADS

READER

ADVISORY

The National Trade Association

we belong to has

purchased the following

classifieds. Determining

the value of their service

or product is advised by

this publication. In order

to avoid misunderstandings,

some advertisers do

not offer "employment"

but rather supply the

readers with manuals, directories

and other materials

designed to help

their clients establish mail

order selling and other

businesses at home. Under

NO circumstance

should you send any

money in advance or give

the client your checking,

license ID or credit card

numbers. Also beware of

ads that claim to guarantee

loans regardless of

credit and note that if a

credit repair company

does business only over

the phone it's illegal to request

any money before

delivering its service. All

funds are based in US

dollars. Toll Free numbers

may or may not

reach Canada. Please

check with the Better

Business Bureau 614-

486-6336 or the Ohio Attorney

General's Consumer

Protection Section

614-466-4986 for more

information on the company

you are seeking to

do business with.

Attention Viagra users:

Generic 100 mg blue pills

or generic 20 mg yellow

pills. Get 45 plus 5 free

$99 + S/H. Call Today 1-

877-707-5518

ASSOCIATION ADS

READY TO BUY, SELL

OR RENT YOUR

VACATION HOME OR

HUNTING CAMP?

Advertise it here and in

neighboring publications.

We can help you. Contact

MACnet MEDIA @

800-450-6631 or visit our

site at MACnetOnline.

com

IMPORTANT

NOTICE

The following states: CA,

CT, FL, IA, IL, IN, KY,

LA, MD, ME, MI, MN,

NE, NC, NH, OH, OK,

SC, SD, TX, VT and WA

requires seller of certain

business opportunities to

register with each state

before selling. Call to

verify lawful registration

before you buy.

The Generac PWRcell, a

solar plus battery storage

system. SAVE money,

reduce your reliance on

the grid, prepare for power

outages and power

your home. Full installation

services available. $0

Down Financing Option.

Request a FREE, no obligation,

quote today. Call

1-866-783-0292

HELP WANTED

We are now hiring for

Medical Transportation

Drivers. Candidate must

be at least 23 y o with 4 or

less points on license and

able to pass criminal

background check.

Interested parties please

conact Dale Kuhn at 740-

972-0895 for more info.

start 9/18

HELP WANTED

Need someone to sew

kneee pads in pants for

special needs child. Must

be compassionate.

614-556-5441

Kings Kids Daycare

in Grove City is hiring Fun,

Loving Teachers for PT &

FT shifts. Please email

sarragc@outlook.com or

call 614-539-0349

CHILD CARE

OFFERED

Depend. Quality Child care

in loving hm. Exp. Mom, n-

smkr, hot meals, sncks,

playroom, fncd yd. Reas.

rates. Laurie at 853-2472

CRAFT SHOWS

Glenwood UM Church

Fall Festival

2833 Valleyview Dr.

Sat., October 8th, 9a-3p

Come & See Us!

6th Annual

Fall Mission Bazaar

St. John's Lutheran Church

3220 Columbus St.

Grove City, OH 43123

Many items available!

Shop 'til you drop

and have lunch, too!

Sat., Oct. 15, 9-2

in the FLC

Proceeds benefit St. John's

Short-term Missions

Crafters/Vemdors needed

FHHS Fall/Winter Craft

Show, Franklin Heights HS,

Sat. Dec. 3rd. Register

today! email for application

fhhsbazaar@gmail.com
---
www.colulmbusmessenger.com

xCome & Get It!

Octobet 2, 2022 - GROVE CITY MESSENGER - PAGE 15

xClassified Services

COME AND GET IT!

Need to Get Rid of Something Fast - Advertise It Here For FREE!

Deadlines are Mondays by Noon

Call For Publication Schedule 614-272-5422

FREE Garden Straw for gardens or bedding. Call for appointment for pickup.

Circle S Farms, 9015 London-Groveport Road, Grove City, 43123

Grove City - 614-878-7980

FREE - Metal from old camper frame, Need a truck to pickup..

CC - Obetz - 614-632-1013

Baby Grand Piano, Mahogany wood w/bench;

Futon Frame & Mattress w/suede-like cover, full size, gently used.

N/B - Grove City - 614-875-8860

FREE - Children's Wooden Play Set - Good Condition w/Sand Box under it, Step Ladder up

Slide to go down & a rope swing. Also separate Swing Set w/4 swings.

190 Inah Ave., Cols, 43228 near the Fire Dept.

West Columbus - 614-878-1930, ask for Linda

. Come and Get It! is a bi-weekly column that offers readers an opportunity to pass along

surplus building materials, furniture, electronic equipment, crafts, supplies, appliances,

plants or household goods to anybody who will come and get them - as long as they're

FREE. NO PETS! Just send us a brief note describing what you want to get rid of, along

with your name, address and phone number. Nonprofit organizations are welcome to

submit requests for donations of items.

Send information to The Columbus Messenger, Attention: Come and Get It, 3500

Sullivant Ave., Columbus, OH43204. Deadline is Mondays at NOON for following

Sunday's publication. Messenger Newspapers is not responsible for any complications

that may occur. Please contact us when items are gone. 272-5422

Come & Get It!

xFocus on Rentals

WEDGEWOOD

VILLAGE

1, 2 and 3 BR Apts.

Rent Based on Income.

Call 614-272-2800 or visit us

at 777 Wedgewood Dr.

TTY/TDD 711

EQUAL HOUSING OPPORTUNITIES

HAVE TO RENT THAT APARTMENT

BEFORE THE SNOW FLIES?

Advertise It!

CALL Kathy

For Rate Information

Columbus Messenger

272-5422

Rentals

PETS

HOMING PIGEONS

614-662-8655

WANT TO BUY

We Buy Cars & Trucks

$300-$3000.614-308-2626

ANTIQUES

WANTED

Victrolas, Watches,

Clocks, Bookcases

Antiques, Furn.

Jeff 614-262-0676

or 614-783-2629

We Buy Junk Cars &

Trucks. Highest Prices

Paid. 614-395-8775

BUYING OSU & old sports

items, records, postcards,

old photos, jewelry & more

614-477-5590

WE BUY JUNK CARS

Call anytime 614-774-6797

MISCELLANEOUS

FOR SALE

Wood Shop Equipment:

Sanders, Scroll Saw, Buffer

& Stand, & Much More.

Call to see. 614-829-5522

Spring Free R79 Medium

Round Trampoline, 2 yrs

old, like new. $500 OBO -

Cash Only. 614-619-4038

Electric Weelchair,

3 sections to transport.

Only used indoors about 6

times. $500, orig $1700.

614-271-0146

BLACKTOP

AGM OHIO

ROOFING &

SEALCOATING

Free Estimates

Cell 614-599-0262

SANTIAGO'S

Sealcoating & Services LLC

Quality Materials Used

FALL IS HERE!

Driveway Seal & Repair!

Top Seal Cracks!

Residential & Commercial

Mulching, Edging & Clean-ups

"Ask for whatever you need."

BBB Accredited-Fully Insured

Call or text for Free Est.

614-649-1200

CONCRETE

10/9

A/M

BLACKTOP SEALING

Driveways & Parking Lots

614-875-7588

CLEANING

20 y rs Exp. Commerical

& Residential Cleaning.

Call Judy 614-746-0273

INFORMATION

FOR ONLY

$74.00

You Can Reach

Over 42,000 Homes

In Our

West & Grove City

Areas

For Info Call

272-5422

GALLION

CUSTOM CONCRETE LLC

Specializing in Custom Colors &

Custom Designs of Concrete.

Including Remove & Replace

44 yrs exp & Free Est.

Licensed & Insured

Reputation Built

On Quality

Ronnie

614-875-8364

See Us On Facebook

www.gallioncustom

concrete.com

EDDIE MOORE

CONSTRUCTION

Quality Concrete Work

Lt. Hauling & Room Add.,

Block Work & Excavation

Stamp Patios,

Bsmt. Wall Restoration

36 Yrs Exp - Lic & Ins.

Free Ests. 614-871-3834

ALL-CITY CUSTOM

CONCRETE

All Types Concrete Work

New or Tear Out-Replace

40 Yrs. Exp.

(614) 207-5430

Owner is On The Job!

10/23 W/SW

CONCRETE

AJ's Concrete,

Masonry

Good Work - Fair Prices

Block Foundations

Driveways • Sidewalks

Epoxy/Overlay Floors

Bonded-Ins. • Free Ests.

614-419-9932

www.hastingsnsons.com

Driveways & Extensions

Patio & Walkways,

Porches & Steps,

Garage/Basement Floors

Hot Tub/Shed Pads,

Stamped/colored concrete

Sealing of new &

existing concrete.

FREE ESTIMATES

Contact Adam

614-756-1754

hastingsandsons.

columbus@gmail.com

FENCING

EAZY FENCE

Chain Link - Wood

No Job Too Big or Small

All Repairs ~ Free Est.

Insured. 614-670-2292

GUTTERS

Bates & Sons

GUTTER CLEANING

5 ★ Google Reviews

614-586-3417

HAULING

DEAN'S HAULING

614-276-1958

DUMPSTER RENTAL

4 Days - $275 & Up

No Hazardous Materials

Tires - $10.00 each

Call 614-254-1131

HEATING

HEATING

Complete System Clean & Check

$49.95

Free Carbon

Monoxide Testing

Gas-Oil-Electric Heat/Pumps

All Makes • All Models

46 yrs exp. • Sr. Discount

614-351-9025

HOME

IMPROVEMENTS

SLAGLE

HOME REMODELING

Baths, Kitchen,

Plumbing and Electrical.

All your Handyman needs

No Job too Big or Small

Over 30 Yrs. Exp. Lic.-Bond-Ins.

Jerry

10/22

SW/W

614-332-3320

10/23 A

10/23 A

HOME

IMPROVEMENTS

KLAUSMAN HOME

IMPROVEMENT

Siding-Windows-

Doors-Roofing-Soffit-

Fascia-Gutters-Trim

Earn FREE Seamless

Gutters with Siding Over

1000 Sq. Ft.

FREE Shutters with

Soffit & Trim

EPA Certified

Member of BBB

Financing Available

Over 20 yrs exp. • Free Est.

Licensed-Bonded-Insured

Owner & Operator

James 614-419-7500

C&JHandyman

Services LLC

Minor Plumbing & Electric

Install Hot Water Tanks,

Dishwashers & Disposals

All Interior Remodels

Also Fencing &

Interior/Exterior Painting

Free Est. ~ 18 Yrs. Exp.

CDC/EPA Approved Guidelines

614-284-2100

SINCE 1973

Phil Bolon Contr.

Windows & Siding

Decks, Kitchens, Baths

Room Additions,

Flooring, Roofing

Bsmt Waterproofing

Deal With Small Non-Pressure Co.

47 Yrs. Exp. - Refs. Avail.

Lic.-Bond-Ins.

Free Est. - Financing Avail.

Member BBB Of Cent. OH

O.C.I.E.B. ID #24273

614-419-3977

or 614-863-9912

HOME

MAINTENANCE

HOME

REMODELING

A-1 QUALITY

TREE & LANDSCAPE

Family Owned

Serving Central Ohio

Since 2004

Bed & Yard Maint.

Weeding, Mulching, etc.

Hedge/Shrub Trimming

*Stump Removal

614-596-9504

Insured - Free Est.

LAWN CARE

LET US MAINTAIN

YOUR LAWN & GARDEN

FOR YOU

Summer, Spring,

Winter or Fall

WE DO IT ALL!!!!

Lawn Cuts, Edging,

Trees & Shrubs, Garden,

Mulching, Hauling,

Garden Pond &

Home Maint.

Free Ests. Low Rates

$20 & Up

Kevin - 614-905-3117

PAINTING

CHRIS'

PLUMBING

"Plumbing & Drain Professional

That You Can Count On"

24 Hrs., 7 Days/Week

No Overtime Charges

24 Yrs. Exp. in Plumbing &

Drain Cleaning Field

Call For A Free Phone Estimate

$100.00 For Any Small Drain

614-622-4482

30% OFF with AD

Classified Services

10/9 A

10/23

A/M

HANDYMAN SERVICES

614-235-1819

MultiCraft Const.

& Handyman Services

All Types Handyman Services:

Decks, Fences

Kitchen/Baths

Window/doors installed

Interior Painting

Drywall Repairs

All Types of Flooring

Call/Text 614-774-2923

multicraftconstruction@gmail.com

Charlies Handyman

Service

Over 40 yrs. exp.

Hot Water Tanks

Door Locks

Kitchen/Bath Remodels

Roofmg * Siding

Porches & Decks

614-319-6010

blantoncharles894@gmail.com

7/17 A

10/23 A

LANDSCAPING

ONYX

LANDSCAPING

614-407-5214

www.OnyxLandscapingllc.com

Full Service

Lawn Care

Start with Trust!!

Christian's

Landscaping

Full Service Lawn Care

•Tree/Shrub Trimming

•Mulching •Tree Removal

9/25

•Powerwashing

w/gc

614-282-4443

The Lawn Barber

Cut, Trim, Blow away

Hedge Trimming, Edging

614-935-1466

Painter Over 30 Yrs. Exp.

Free Est. Reas. Rates

Daniel - 614-226-4221

PLUMBING

All About Drains & Plumb.

Will snake any small drain

$145. 614-778-2584

MYERS

PLUMBING

Exp. Expert Plumbing

New Const. & Fast Repairs

Lic. - Permit Available

Water • Sewer • Gas

614-633-9694

10/9 W/GC/M

10/23 A&M

10/9 A

PLASTERING

DRYW

YWALL ALL &

PLASTER

10/23

A&M

REPAIR

Textured Ceilings

614-551-6963

Residential/Commercial

BIA

POOL/SPA

MAINTENANCE

K&L Spa Cleaning

Hot Tub Cleaning and

Weekly Maintenance

Keith 614-316-9809

POWER WASHING

Bates & Sons

Soft Wash & Powerwash

5 ★ Google Reviews

614-586-3417

MRS. POWERWASH

Any house wash $149+tax

Single deck $69+tax

2 Tier deck $99+tax

Best Wash in Town

Over 45,000 washes

Ashley 614-771-3892

ROOFING

RETIRED

ROOFER

BBB "A+" Rating

All Types of Roof Repairs

• New Roof Installation

• Flashing

• Chimneys Rebuilt

• Flat Roof Specialist

• Roof Replacement

avail. upon request

All Work Guaranteed

614-352-7057

Free Estimates

SEWING MACHINE

REPAIR

REPAIR all makes 24 hr.

service. Clean, oil, adjust

in your home. $49.95 all

work gtd. 614-890-5296

TREE SERVICES

BURNS TREE SERVICE

Trimming, Removal &

Stump Grinding.

614-584-2164

Warren Brewer Tree Service

• Tree Removal

• Tree Trimming 9/11

A&M

• Stump Grinding

• Bucket Truck Services

Best Prices • Same Day Service

614-878-2568

A-1 QUALITY

TREE & LANDSCAPE

Family Owned

Serving Central Ohio

Since 2004

614-596-9504

Insured - Free Est.

10/235 A&M

10/9 W/SW
---
PAGE 16 - GROVE CITY MESSENGER - October 2, 2022

Messenger photo by Dedra Cordle

Spreading the joy with greenery

Grove City resident Liberty Brigner brings a bit of greenery to the public as her Whimsey Ridge Plant Co.

made its first appearance at the Mt. Sterling Market Crew's sixth annual Street Market on Sept. 24. She said

she founded the company last year because she loves plants and wants others to enjoy them as well, even

with seasonal changes.

Senior Services levy

news and notes

www.columbusmessenger.com

Voters will decide on the proposed Franklin County Senior

Services levy renewal on Nov. 8. The proposed five year tax levy

renewal is for 1.75 mills, $0.175 per $100 of valuation, commencing

in 2022. Officials state it is not a tax increase. The existing

senior services levy will expire at the end of 2022. The senior levy

is the main funding source for Senior Options programs.

PAID ADVERTISING

Be confident in your

Medicare plan

Medicare's Annual Enrollment Period (AEP) for 2023 is Oct.15 to Dec.

7, for a policy effective date of Jan. 1, 2023.

"We do not offer every plan available in your area. Any information we

provide is limited to those plans we do offer in your area. Please contact

Medicare.gov or 1-800-Medicare to get information on all of your options."

My name is Terri Curcio, I live in Franklin County, and have over 16

years' experience in working with Medicare. You are welcome to contact

me directly at 614-460-0601 or email me at

TERRILCURCIO@GMAIL.COM. We can schedule a call, meet face to

face or I'll mail plan information to your attention for review.

I am not an operator in a call center – you are welcome to call anytime

during the year with questions. I work with several insurance carriers in

Central Ohio, not just one or two. Select the plan that benefits you for the

coming year, lowest possible copays for services and medications. Plan

options may include dental, vision and fitness programs. $0 cost for my

consultation and enrollment services.

Call and schedule your appointment now.You need to be confident in the

plan you select for your coverage!

ME DICARE A NNUAL

ELECTION PE

Oct.

15 th

PERIOD (AEP)

Dec 7 th

Call today $0 consultatio

n $0

fee, local

agent!

Over 16 years experience

with Medicare options

Offer

different major

carriers in the area

Year

ear- round

support for my

clients

Call or text me today to

schedule your

appt.

Terri

Curcio

614-460-0601

in your area. Please contact Medicare

.gov or 1-800-MEDICARE to get information on all of