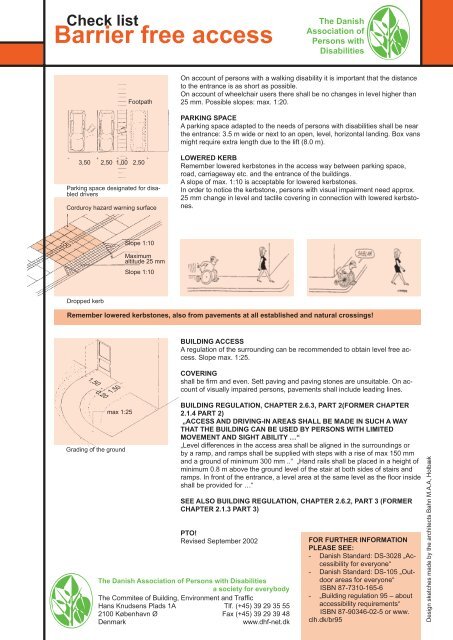 Barrier free access - Dansk Handicap Forbund
Barrier free access - Dansk Handicap Forbund
Barrier free access - Dansk Handicap Forbund
SHOW MORE
SHOW LESS
Create successful ePaper yourself
Turn your PDF publications into a flip-book with our unique Google optimized e-Paper software.
Check list

Barrier free access

The Danish

Association of

Persons with

Disabilities

Footpath

On account of persons with a walking disability it is important that the distance

to the entrance is as short as possible.

On account of wheelchair users there shall be no changes in level higher than

25 mm. Possible slopes: max. 1:20.

PARKING SPACE

A parking space adapted to the needs of persons with disabilities shall be near

the entrance: 3.5 m wide or next to an open, level, horizontal landing. Box vans

might require extra length due to the lift (8.0 m).

3,50 2,50 1,00 2,50

Parking space designated for disabled

drivers

Corduroy hazard warning surface

LOWERED KERB

Remember lowered kerbstones in the access way between parking space,

road, carriageway etc. and the entrance of the buildings.

A slope of max. 1:10 is acceptable for lowered kerbstones.

In order to notice the kerbstone, persons with visual impairment need approx.

25 mm change in level and tactile covering in connection with lowered kerbstones.

150

Slope 1:10

Maximum

altitude 25 mm

Slope 1:10

Dropped kerb

Remember lowered kerbstones, also from pavements at all established and natural crossings!

BUILDING ACCESS

A regulation of the surrounding can be recommended to obtain level free access.

Slope max. 1:25.

1,50

0,20

1,50

COVERING

shall be fi rm and even. Sett paving and paving stones are unsuitable. On account

of visually impaired persons, pavements shall include leading lines.

max 1:25

Grading of the ground

The Danish Association of Persons with Disabilities

a society for everybody

The Commitee of Building, Environment and Traffi c

Hans Knudsens Plads 1A

2100 København Ø

Denmark

BUILDING REGULATION, CHAPTER 2.6.3, PART 2(FORMER CHAPTER

2.1.4 PART 2)

"ACCESS AND DRIVING-IN AREAS SHALL BE MADE IN SUCH A WAY

THAT THE BUILDING CAN BE USED BY PERSONS WITH LIMITED

MOVEMENT AND SIGHT ABILITY …"

"Level differences in the access area shall be aligned in the surroundings or

by a ramp, and ramps shall be supplied with steps with a rise of max 150 mm

and a ground of minimum 300 mm .." "Hand rails shall be placed in a height of

minimum 0.8 m above the ground level of the stair at both sides of stairs and

ramps. In front of the entrance, a level area at the same level as the fl oor inside

shall be provided for …"

SEE ALSO BUILDING REGULATION, CHAPTER 2.6.2, PART 3 (FORMER

CHAPTER 2.1.3 PART 3)

PTO!

Revised September 2002

Tlf. (+45) 39 29 35 55

Fax (+45) 39 29 39 48

www.dhf-net.dk

FOR FURTHER INFORMATION

PLEASE SEE:

- Danish Standard: DS-3028 "Accessibility

for everyone"

- Danish Standard: DS-105 "Outdoor

areas for everyone"

ISBN 87-7310-165-6

- "Building regulation 95 – about

accessibility requirements"

ISBN 87-90346-02-5 or www.

clh.dk/br95

Design sketches made by the architects Bahn M.A.A, Holbæk
---
Check list

Barrier free entrance

The Danish

Association of

Persons with

Disabilities

Besides the access to a building, a correctly designed entrance

without level differences shall be provided for.

1,70

1,50

The basis is here a level, horizontal space at the same level as the

fl oor level inside, see "Landing".

Level landing

min

.0,40

1,50

1,50

1,50 1,50

min.

0,40 min.

0,40

Tactile paving

0,90

0,20

Maximum Slope

1:20 (5%)

LANDING

Outside the entrance door of a building and facility a horizontal

area with a fi rm and level covering shall be provided for at a

level similar to the fl oor level inside the facility. When the door is

opening outwards, it is necessary with a larger horizontal area so

that the door can open without touching the wheelchair. Automatic

doors or a required pull/push force of max. 2.5 kg are required.

RAMP

A possible level difference from the horizontal landing to the surrounding

area can then be aligned in the surroundings (sketch on

the back side of this paper) or by a ramp. Slope max. 1:20. At the

beginning and end of a ramp a marking with tactile covering shall

be provided for. Possible ramps shall be made in harmony with the

surroundings.

Entrance with a stair and a ramp

Maximum altitude 25 mm

1,30

1,30

LOWERED DOORSTEP

To comply with BR requirement of max. (hight) 25 mm doorstep, it

might be necessary to lower the doorstep.

STAIRS

shall have grip-friendly hand rails (dia. = approx. 40 mm). At the

top and bottom of the stairs, a marking with tactile covering must

be provided for. Top and bottom step shall be marked in a contrast

colour. Open risers are not permitted on accessible stairs.

Dropped threshold

At

least one

handrail or

grab bar

Tip-up seat

sited 0,48

m above

the fl oor

space

Lift

min. 1,40

min. 1,10

0,90

min. 77

Landing call buttom

and lift car

controls shall be

sited about 1,0 m

above the fl oor and

at least 0,5 m from

the corner

Area in front

of the lift

min. 1,50

min. 1,50

BUILDING REGULATION 95 CHAPTER 4.2.1. ACCESS IN GENERAL

Point 2. At the entrance door an access without level

differences to the units at the ground fl oor and to possible

lifts shall be provided for. Immediately outside the

entrance door a horizontal, plane landing in the same

level as the fl oor shall be provided for. The landing shall

have a size of minimum 1.5 x 1.5 m measured from the

hinge side of the The door. Danish If the Association door opens outwards, of Persons the with Disabilities

width of the landing shall be increased by further 0.2 a society for everybody

m along the front The of Commitee the building. of Building, Possible Environment changes in and Traffi c

level between the Hans landing Knudsens and the Plads surroundings 1A shall be Tlf. (+45) 39 29 35 55

aligned in the access 2100 København area or by Øa ramp.

Fax (+45) 39 29 39 48

SEE ALSO BUILDING DenmarkREGULATION 95:

www.dhf-net.dk

NOTE!

Tilted scraper mats are illegal. A landing shall be provided for.

Possible mats and gratings shall be lowered to level surface of

surrounding areas. Mats of the rubber ring type are recommended.

Coir mats are not suitable for wheelchair users.

LIFTS

Besides the minimum measurement of 1.10 m (width) x 1.40 m

(depth), the lifts shall have control buttons outside and within the

lift cage. Control buttons shall be placed approx. 1.0 m above the

fl oor and minimum 0.5 m from the corners. Door(s) shall be placed

at the narrow end(s) of the lift. (If the doors are placed at a right

angle to each other, the size of the lift shall be minimum 1.8 x 1.8

m.)

Chapter 4.2.1. part 3, 4 and 7 – chapter 4.2.2. part 1-5 – chapter

4.2.3. part 3 and 4 – chapter 4.2.4. part 2-6 – chapter 4.3.4.

part 1 and chapter 4.3.5. part 1.

In accordance with chapter 4.2.1. part 5 the above also applies

to rebuildings.

PTO!

Revised September 2002

Design sketches made by the architects Bahn M.A.A, Holbæk