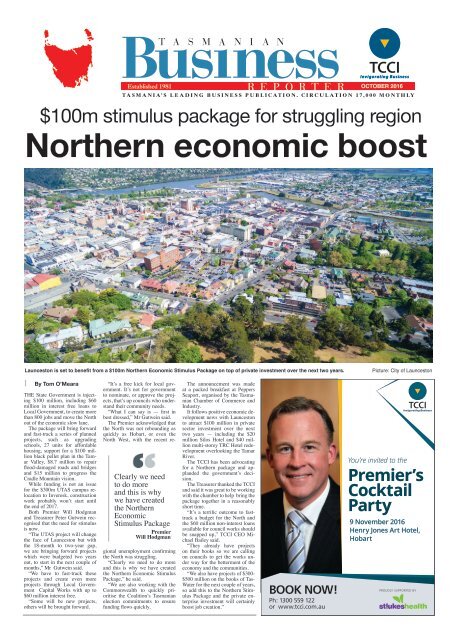 Tasmanian Business Reporter October 2016
Tasmanian Business Reporter October 2016
Tasmanian Business Reporter October 2016
SHOW MORE
SHOW LESS
Create successful ePaper yourself
Turn your PDF publications into a flip-book with our unique Google optimized e-Paper software.
OCTOBER 2016

TASMANIA'S LEADING BUSINESS PUBLICATION. CIRCULATION 17,000 MONTHLY

$100m stimulus package for struggling region

Northern economic boost

Launceston is set to benefit from a $100m Northern Economic Stimulus Package on top of private investment over the next two years.

Picture: City of Launceston

By Tom O'Meara

THE State Government is injecting

$100 million, including $60

million in interest free loans to

Local Government, to create more

than 800 jobs and move the North

out of the economic slow lane.

The package will bring forward

and fast-track a series of planned

projects, such as upgrading

schools, 27 units for affordable

housing, support for a $100 million

black pellet plan in the Tamar

Valley, $8.7 million to repair

flood-damaged roads and bridges

and $15 million to progress the

Cradle Mountain vision.

While funding is not an issue

for the $300m UTAS campus relocation

to Inveresk, construction

work probably won't start until

the end of 2017.

Both Premier Will Hodgman

and Treasurer Peter Gutwein recognised

that the need for stimulus

is now.

"The UTAS project will change

the face of Launceston but with

the 18-month to two-year gap,

we are bringing forward projects

which were budgeted two years

out, to start in the next couple of

months," Mr Gutwein said.

"We have to fast-track these

projects and create even more

projects through Local Government

Capital Works with up to

$60 million interest free.

"Some will be new projects,

others will be brought forward.

Clearly we need

to do more

and this is why

we have created

the Northern

Economic

Stimulus Package

Premier

Will Hodgman

"It's a free kick for local government.

It's not for government

to nominate, or approve the projects,

that's up councils who understand

their community needs.

"What I can say is — first in

best dressed," Mr Gutwein said.

The Premier acknowledged that

the North was not rebounding as

quickly as Hobart, or even the

North West, with the recent regional

unemployment confirming

the North was struggling.

"Clearly we need to do more

and this is why we have created

the Northern Economic Stimulus

Package," he said.

"We are also working with the

Commonwealth to quickly prioritise

the Coalition's Tasmanian

election commitments to ensure

funding flows quickly.

The announcement was made

at a packed breakfast at Peppers

Seaport, organised by the Tasmanian

Chamber of Commerce and

Industry.

It follows positive economic development

news with Launceston

to attract $100 million in private

sector investment over the next

two years — including the $20

million Silos Hotel and $40 million

multi-storey TRC Hotel redevelopment

overlooking the Tamar

River.

The TCCI has been advocating

for a Northern package and applauded

the government's decision.

The Treasurer thanked the TCCI

and said it was great to be working

with the chamber to help bring the

package together in a reasonably

short time.

"It's a terrific outcome to fasttrack

a budget for the North and

the $60 million non-interest loans

available for council works should

be snapped up," TCCI CEO Michael

Bailey said.

"They already have projects

on their books so we are calling

on councils to get the works under

way for the betterment of the

economy and the communities.

"We also have projects of $300-

$500 million on the books of Tas-

Water for the next couple of years,

so add this to the Northern Stimulus

Package and the private enterprise

investment will certainly

boost job creation."

BOOK NOW!

Ph: 1300 559 122

or www.tcci.com.au

You're invited to the

Premier's

Cocktail

Party

9 November 2016

Henry Jones Art Hotel,

Hobart

proudly supported by
---
2 Tasmanian Business Reporter - OCTOBER 2016

NEWS

Tasmania leads nation in red tape reduction efforts

TASMANIA is leading the nation in

red tape reduction, with a new Federal-State

Government agreement to

abolish duplication and save billions

on top of the almost $5 billion already

saved.

The agreement to implement the

legislation was signed off in Launceston

by the Federal Small Business

Minister Michael McCormack

and Tasmanian Parliamentary Secretary

for Small Business and Red

Tape Reduction Roger Jaensch.

Also on hand to support the agreement

was the Australian Chamber of

Commerce and Industry CEO James

Pearson, along with TCCI chair Susan

Parr and CEO Michael Bailey.

It adds to the State Government's

attack on red tape which has seen

114 Acts repealed, 40 statutory Rules

and Regulations rescinded and 77

Proclamations and Order revoked

— with 230 red tape redundancies in

total and a significant contribution to

the national savings of $4.8 billion.

The new red tape reduction agreement

will deliver further savings,

estimated in the billions of dollars,

by ending multiple layers of Federal,

State and Local government compliance

requirements — where paper

work takes huge chunks of business

time to be compliant.

A former small business owner

and editor of the Wagga Wagga local

newspaper, Mr McCormack has

first hand experience of the red tape

syndrome impacting Tasmanian

small business.

"Our plans to cut taxes and red

tape are important confidence boosters

for local small business, which

allow them to expand and grow opportunities

in Tassie's North," Mr

McCormack said .

Mr Jaensch said it built on the

Liberal State Government's major

planning and building reforms,which

have seen more than

70 other areas identified through

consultation.

The government has introduced

several macro red tape reforms including

the development of the

single statewide planning scheme

which is faster, fairer, simpler and

cheaper.

The overhauled Building Act also

streamlines building and plumbing

approvals for lower risk development.

A quirky example of micro

changes was a change to maritime

qualification requirements, which

previously demanded the coxswain

for a lake fishing business — taking

fishermen in a dunghy — to have

qualifications in-line with the captain

of a cruise liner.

TASMANIA'S LEADING BUSINESS PUBLICATION. CIRCULATION 17,000 MONTHLY

e dition

Tasmanian Business Reporter can now be delivered directly to your inbox. With our 12,000-strong monthly print

readership, our new up-to-date digital distribution will keep Tasmanians abreast of the all latest in local business

news. From this month we will distribute electronic editions of the Tasmanian Business Reporter as we go to print.

To confirm your copy sign up to our mailing list via

tbreditorial@fontpr.com.au

Ponting bowls

B School over

TASMANIA'S LEADING BUSINESS PUBLICATION. CIRCULATION 17,000 MONTHLY

Tasmania's business newspaper is published

monthly by the Tasmanian Chamber of Commerce

and Industry. It is distributed to businesses in

Tasmania as well as key decision-makers.

Circulation: 12,000

Managing Editor: Tom O'Meara

Ph: 0418 135 822

Editor: Becher Townshend

Ph: 0418 370 661

Advertising: 0401 252 586

www.tasmanianbusinessreporter.com.au

Editorial email:

TBReditorial@fontpr.com.au

Advertising email:

TBRadvertising@fontpr.com.au

Publisher:

Tasmanian Chamber of Commerce

and Industry

309 Liverpool St, Hobart, TAS 7000

Level 1, 26 Elizabeth St, Launceston TAS 7250

Ph: 6236 3600 Fax: 6231 1278

Production:

aldridge.media

aldridge.media@iinet.net.au

Printer: The Mercury

Level 1, 2 Salamanca Square, Hobart, 7000

THE Australian B

School has launched a

world-class education

program in Tasmania

targeting aspiring business

leaders from across

Australia and the world,

including India.

Ambassador for Tasmania

Ricky Ponting

will be one of the mentors.

The former Australian

cricket captain told

education agents at

the launch in Mumbai,

during Tasmania's recent

trade mission, that

he was passionate about

passing on his leadership

skills.

``B School's quality

leadership development

program will help Australian

and Indian executives

broaden their

experience through

first-hand on-the-ground

mentoring from some of

Australia's most noted

leaders,'' Mr Ponting

said.

``My experience is

unique and I can provide

valuable lessons and insights

through the program.''

B School managing

director Ryan Trainor

said Tasmania presented

the perfect location to

Lincoln Trainor of B School, left, Premier Will Hodgman, Ricky

Ponting and Ryan Trainor of BSchool in Mumbai during the

Tasmanian Asian trade mission.

base the leadership program.

"Tasmania's mix of

focused education and

learning, diverse economy,

growth opportunities

and high quality

facilities made the decision

easy for us,'' Mr

Trainor said.

India was the second

largest source country

for international students

at the University

of Tasmania and numbers

were on the rise.

The government said

the B School had worked

closely with Coordinator-General

John Perry

to establish a footprint

in Tasmania, and complement

Tasmania's educational

offering while

adding another dimension

to the state's dynamic

visitor economy.
---
Tasmanian Business Reporter - OCTOBER 2016 3

Runway boost clear for takeoff

By Masika Morris

WORK is under way on the

runway extension at Hobart

Airport to enable international

flights to land in Hobart

and advance links to Antarctica.

Preliminary traffic diversion

works on Grueber

Avenue will pave the way for

the 500-metre extension of

the Hobart Airport runway,

which is planned to start

during summer.

Approved in April this

year, the Hobart Airport

Runway Major Development

Plan is scheduled to be completed

by March 2018.

The 500-metre extension

has been enabled through

funding assistance of $38

million from the Australian

Government and an additional

$2 million from Hobart

International Airport Pty Ltd.

Liberal Senator Eric Abetz

said the project would show

the world Tasmania was

ready for business, through

facilitating tourism, agricultural

and Antarctic endeavors.

"We need to ensure that we

are ready for the opportunities

as they present themselves"

Senator Abetz said.

"Our Antarctic endeavours,

our agricultural endeavours

and our tourism endeavours

will all be able to leverage

off this venture."

Senator Abetz said the

projects would improve Tasmania's

concerning unemployment

rate.

"These projects are so

important because they lend

themselves to being able to

Hobart

Airport CEO

Rod Parry,

left, and

Liberal

Senator Eric

Abetz

announce

the runway

extension

plans to the

media.

NEWS

Welcome boost at Woolmers Fonterra heads right whey

CONSTRUCTION of a $5.3

million visitor centre at Woolmers

Estate near Longford is

expected to boost the attraction

status as a World Heritage

tourism icon to rival Port Arthur.

Private Melbourne donor

Nigel Peck AM – a descendant

of the estate's original occupants,

the Archer family – has

funded the centre, with the

provide more jobs for our

fellow Tasmanians."

help of a $1.75 million contribution

from the State Government.

The site, famous for its

world-renowned rose garden,

would also become a linchpin

for a proposed heritage circuit,

featuring nearby Brickendon,

the National Trust's Clarendon

property and heritage buildings

at Evandale and Longford.

Commercial Project Delivery

is overseeing the development,

one of the $115

million-worth of construction

projects it is involved with

across the state.

"The team is excited to play

a key role in the development,''

manager Sam Tucker

said.

"This facility will be a great

destination for tourists and locals,''

he said.

FONTERRA Australia will

invest $4.3 million to boost

cheese and whey capacity at

its Wynyard plant.

The investment will increase

the plant's cheese making

capacity by 8000 MT per

annum.

Fonterra Australia Regional

Operations Manager South

Steve Taylor said the Wynyard

factory was a key part of Fon-

Hobart Airport CEO Rod

Parry said the runway extension

was set to transform Tasmania's

busiest gateway and

Fonterra

employee,

Mikhael

Noviks-

Hardy in

the cheese

plant.

terra's global multi-hub strategy.

"Tasmania is an important

region for Fonterra and our

build international interest in

Hobart.

"The runway extension is

an important infrastructure

project for Hobart Airport

and the state of Tasmania,"

Mr Parry said.

"It will enable direct flights

between Hobart and South

East Asia and will greatly

enhance Hobart's role as a

gateway to the East Antarctic

by increasing capacity to take

heavier planes."

Further Hobart Airport redevelopment

projects include

an extensive $25 million

revamp of the airport's passenger

terminal, offering a

range of exciting new retail

and dining spaces.

As part of the terminal redevelopment,

the new arrivals

area is due for completion

in October this year.

multi-hub strategy, and we

continue to invest here for

the long-term. We're a major

regional employer and we're

proud of the work we do and

our involvement in the local

communities.

Braddon Labor MHR Justine

Keay said the announcement

was welcome news for

North West Tasmania's dairy

farmers.
---
4 Tasmanian Business Reporter - OCTOBER 2016

THOUGHT LEADERSHIP

www.tcci.com.au

Time for restoration rescue

THE business sector and a large

number of state political minds

have agreed with the TCCI's view

that the time is right to restore Parliament's

Lower House back to 35

members.

I have made it clear in recent

weeks that the TCCI is a firm believer

in the much-needed reform

and it appears the majority of people

agree that Tasmania's Parliament is

burdened by the House of Assembly's

size of 25.

Our Ministers are struggling

against an ever-growing volume of

work and their influence and power

has been reduced — with unelected

department heads filling the gaps.

It is disappointing that the Liberal

Party hasn't reopened the door to

discuss this important reform, given

they had previously stated they

would when the Budget situation

had improved.

Well, that time is now — before

the next election due in March 2018.

While Premier Will Hodgman

says it is not a priority, feedback I

have received since putting this topic

back on the agenda has been very

positive — from the business com-

Michael

Bailey

TCCI Chief Executive

At the end of the day

it is all about better

democracy

munity, Labor and the Greens —

and, to an extent, from many Liberals

'behind the scenes'.

Actually turning that desire into

a tangible policy the Government

is willing to champion publicly is a

different story.

In 1998, then-Liberal Premier

Tony Rundle led the charge for a

reduction of the Legislative Council

from 19 to 15 members, and the

House of Assembly from 35 to 25

members — the purpose of which

being "antagonism to the Greens''.

Respected political scientist Richard

Herr noted the move had "performed

radical reduction surgery on

an institution that was already at the

limits of sustainability''.

The TCCI has no problem with

the status quo in the Legislative

Council — the 15 member model

works well. In fact, back in 2010,

the Upper House voted against increasing

its size back to 19.

Enough said.

However, the engine room of the

Parliament needs a rapid-fire dose

of new blood — one that can only

come with an increase in representation

from each electorate from five

members to seven.

It would ensure a robust backbench

and give new politicians time

to cut their teeth.

At the end of the day, it's all about

better democracy.

The argument that the move to

35 will further increase the ratio of

elected politicians to electors is one

that can't be avoided but explaining

the rationale for change in a clear

and constructive manner should allay

concerns.

Opening a dialogue on the matter

Picture: TOM WAKEFIELD

will no doubt also lead to discussion

about reducing the number of

local government representatives as

a trade off — something the TCCI

will back.

And for those questioning the

cost, estimated to be around $3 million

recurrent — can a price tag be

attached to a better system of governance,

given we are heading back

into the black as a result of strong

economic management?

The better system would mean

fewer highly paid advisers which

would well and truly offset the cost.

China and US top targets for Oz exporters

THERE are some very

interesting findings in

Australia's International

Business Survey

(AIBS) 2016.

More than 90 per cent

of the respondents were

SMEs.

Seventeen per cent

earned revenue from

one international market,

12 per cent from

two international markets,

11 per cent from

three international markets,

and 10 per cent

from four international

markets.

Twenty eight per cent

earned revenue from ten

or more international

markets.

The top markets for

revenue earned were

China, US, New Zealand,

UK, Japan, Sin-

gapore, Hong Kong, Indonesia,

Malaysia and

India.

The most popular initial

overseas markets

for AIBS 2016 participants

were the US, China,

New Zealand and the

UK.

Participants reported

that building a reputation

for dependability,

reliability, honesty and

trustworthiness are the

most important factors

for ensuring success in

international business.

Respondents said the

factors that helped them

target their current most

important market were:

• the need to understand

market compliance

and risk;

• the role played by export

market development

grants (EMDG) and similar

grant programs; and

• access to general information

on local customs,

border procedures,

business taxes and regulations.

Twenty two per

cent of respondents undertake

export activities

only, 24 per cent export

and import, and six per

cent undertake export,

import and investment

activities.

The top markets for

inward investment into

Australia were China,

US, Singapore and the

UK and the top markets

for outward investment

from Australia to other

countries were China,

the US, UK and Singapore.

About 18 per cent of

respondents have bid

for a foreign government

tender in the past

China was

the top

market for

revenue

earned

according

to the latest

International

Business

Survey.

Picture:

Forbes

two years. In the next

two years the most popular

target market is China,

followed by the US,

India, UK, Indonesia,

South Korea, Singapore,

Japan, Brazil and the

UAE.

Respondents cited

adverse exchange rate

movements, high domestic

costs in Australia,

increased international

competition and

financial or economic

crisis in their top international

markets as the

key risks facing their

organisations over the

next three-to-five years.

Individual survey results

for Tasmania, plus

market and industry

specific information, is

on the Austrade website.

For international

trade and investment

assistance

contact TCCI Trade-

Start adviser, Sally

Chandler, at sally.

chandler@tcci.com.

au or phone 1300

559 122.

Low-down on long service

WE have just completed

Hot Topics sessions on

the Long Service Leave

Act 1976 in Devonport,

Launceston and Hobart.

There was a great

turnout for the sessions

and I hope those who

attended found the sessions

useful.

Some issues covered

were:

• entitlement to long

service leave (8 2 /3 weeks

for 10 years of continuous

employment and 4

1

/3 weeks for each additional

five years of continuous

employment);

• how absences and

interruptions (such as

annual leave or long service

leave, public holidays,

any absence due to

illness or injury, maternity/paternity

leave and

stand down or termination

due to slackness of

trade interact with continuous

employment:

• transfer of employment

or if an employee

works for more than one

employer;

• how long service is

paid (can't be taken in

advance of the entitlement

being accrued but

it can be cashed in);

• what is considered

to be ordinary pay – that

is, what is paid when an

employee takes long service

leave;

• pro-rata long service

leave and when it is paid

(i.e. illness, incapacity,

domestic or other pressing

necessity or termination

by the employer);

and

• the practicalities of

managing long service

leave entitlements.

We always invite

feedback as to any

topics or information

that would benefit

businesses

and if you are

unsure about long

service leave, or any

other employmentrelated

matter,

businesses can

contact the Helpline

on 1300 765 123 or

the TCCI on

1300 59 122 or

workplacerelations@

tcci.com.au
---
Tasmanian Business Reporter - OCTOBER 2016 5

THOUGHT LEADERSHIP

www.tcci.com.au

Drugs testing workplace health Risks in not

By Craig Hortle

CRYSTAL methamphetamine,

"ice", is a stimulant

drug that speeds up

the messages travelling

between the brain and

the body.

It's stronger and more

addictive, and therefore

has more harmful side

effects, than the powder

form of methamphetamine

known as speed.

More than 270,000

people are reportedly on

methamphetamine and

81 per cent, or 220,000

of that group, are employed.

Statistically, in some

states of Australia, more

than 7000 people could

be in a workplace affected

by ice or other drugs.

Employers can manage

the potential of employees

being affected

by drugs in the workplace

with a drug and

alcohol policy, which

would include;

• Your overriding position.

Explicitly stating

that drug use in the

workplace and drug-affected

behaviour have

no place in your business

is an excellent starting

point for your drug and

alcohol policy.

Make it clear this is

not about meeting legislative

requirements but

part of your core business.

• Drug testing. If being

drug tested in any capacity

is a condition of employment,

this should be

made very clear to employees

up front – not

just in the fine print.

• Framework. You

must outline the manner

in which drug and/

Ice is more addictive than speed.

or alcohol testing will be

carried out (eg random,

weekly, monthly).

• Targets. You must

outline the specific drugs

that may be tested for

(eg illicit, prescription,

synthetic)

• Methods. Clearly detail

the type of testing

that will occur (ie oral

fluid, urine or both).

• Your business's impairment

cut-off limits.

• Processes for managing

positive/non-negative

test results.

• Duty of care. Spell

out both your duty of

care as an employer and

also your employees'

duty of care.

• Workplace support.

Incorporating addiction

education into your business's

safety approach

may prove a worthwhile

investment - nceta.

flinders.edu.au has good

information.

• Further treatment.

Society's response to

drug use can't be only

punitive. Many addicts

can recover with support.

The TCCI is running

some hot topic sessions

on this subject in Burnie,

Launceston and Hobart -

please check the website

for times and dates.

For more information

on this topic or

any other safety

concern contact

Craig Hortle or

Janelle Whitehouse

at the TCCI on 1300

559 122 or via

safety@TCCI.com.au

Shipping fees set

to rise this summer

reviewing

insurance

DIRECTOR,

INSURANCE SOLUTIONS

WHEN was the last time you reviewed your

business insurance program in its entirety?

Policies are often spread throughout the year

and although each policy is reviewed individually,

it's important to look at your portfolio as a

whole, to identify gaps or double-ups.

This isn't necessarily a cost cutting exercise –

insurance is a fine example of getting what you

pay for.

Have you had insurance valuations done to

make sure you've insured your property for its

full replacement value?

Most commercial insurance policies penalise

for underinsurance, and with extra costs to

comply with new regulations, your sum insured

could well be too low to rebuild in the event of

a major loss.

What about business interruption insurance –

do you even have it?

Most businesses have fire, theft and liability

insurance, but up to 40 per cent of small enterprises

don't have business interruption insurance.

Could your business survive 12 to 18 months

while you rebuild? How would you pay your

wages, rent or your business loans?

Risk management and insurance is a complex

but vital aspect of running a business.

It can be the difference between surviving a

major claim, or going broke – yet it is often dealt

with summarily.

Touch base with your broker and arrange a review

now. If you don't have a broker, it's well

worth considering. A good broker is one point of

contact for advice and expertise.

They ensure your package covers all your

risks. They can offer you premium funding

options to spread your payments and help your

cash flow.

And most importantly, they can help you manage

your claims.

Sally Bevis is a director at Insurance

Solutions Tasmania Pty Ltd (AFSL

315540) — brokers for the TCCI. Information

is general in nature. For details

contact Sally, sbevis@inssoltas.com.au

The demise of South Korean company Hanjin may inadvertently have an impact on summer

shipping costs in Tasmania.

j

HANJIN Line was the

seventh largest shipping

line in the world until it

went broke a few weeks

ago.

While Hanjin has not

traditionally serviced

Tasmanian companies,

it should be a canary in

the mine for international

traders.

How does the seventh

largest shipping line on

the planet stop being a

viable option?

One of the reasons is

that freight rates are the

lowest they have been

for many years. The volumes

moving around the

world do not equate to

the space that is available

to carry the cargo.

Just about every

month now there is a notice

from shipping lines

announcing a General

Rate Increase.

The rate increase

sticks for about one day

before one of the lines

drops their rates to secure

volume – then the

We are entering the

peak season of imports

and as such less space.

dominos all fall and on

occasion the rates drop

below the starting price.

Ships still have costs –

crew, fuel, charter costs,

port costs, insurance etc.

It is simple mathematics

really.

The canary is that with

t

t

Hanjin leaving, the number

of container slots

ex-popular ports drops

by around 700 container

slots per week.

We are entering the

peak season of imports

and as such less space.

We are already getting

notices from shipping

lines that they want

to increase import rates

around US$500.00 per

TEU.

While they have failed

in the past to achieve

such increases, it may be

that if importers want to

secure space for Christmas

stock then they may

be forced to pay some of

these rate increases.

My prediction is that it

will happen this time.

The Inaugural

WorkSafe Tasmania Conference 2016

Leadership, Culture and Organisational Safety:

Safe and well everyday

27 – 28 October 2016

Hotel Grand Chancellor, Launceston

Don't miss this excellent two day opportunity to hear

from key international, national and local experts on

aspects relating to:

• psychosocial hazards in the workplace

• absenteeism, presenteeism, personality and job design

• emotional intelligence and safety leadership

• performance management and WHS risk

For more information, go to www.worksafe.tas.gov.au
---
6 Tasmanian Business Reporter - OCTOBER 2016

FOCUS ON BUSINESS

Conference centre's record year

Wrest Point Conference and Entertainment Centre, built in 1984, was Australia's first dedicated conference

centre —one of many firsts that Wrest Point can lay claim to

THE original Wrest Point Riviera

Hotel, which opened in 1939, was

the first luxury resort-style hotel

of its kind in Australia. Prior to

that time hotels in Australia were

very much in the English style,

with small rooms and very traditional

furnishings.

Wrest Point is owned by Federal

Group, a family-run company

that has been investing in

Tasmania's tourism industry for

60 years. The purchase of the

Wrest Point Riviera hotel in 1956

marked Federal Group's first

commitment to Tasmania.

The iconic Wrest Point tower,

housing Australia's first casino,

was added to the site in 1973.

The concept of introducing a casino

was unanimously supported by

the then Tasmanian government and also endorsed at

the 1968 referendum by the majority of the Tasmanian

people.

Wrest Point Conference and Entertainment Centre,

adjacent to the tower, is going from strength to

strength with 2015-16 being a record year for the

Conference Centre, hosting more than 500 events

and attracting 6700 delegates.

Wrest Point general manager Dominic Baker attributes

the growth to a significant program of capital

works, undertaken last year.

"My predecessor conducted a review of our conference

facilities and decided on a strategy of completely

revamping the offering,'' Mr Baker said.

"We have given the place a facelift and are now

Wrest Point general manager

Dominic Baker

really focussed on the overall

experience for our event delegates.

Wrest Point is recognised

as a gateway to Tasmania and this

is reflected in the demand for our

conference and event facilities."

With its own jetty and helipad,

and parking for 1000 cars, Wrest

Point is attracting many national

and international business events,

including next year's national

Lions conference with 1600 delegates

expected to attend.

It is set to be the largest conference

event held in Tasmania.

Since its first investment in

Wrest Point, Federal Group has

continued to heavily invest in

Tasmania.

In addition to Wrest Point,

Federal Group also operates the

award-winning properties Saffire Freycinet, The

Henry Jones Art Hotel and Country Club Tasmania.

The latest addition to the group is the 114-room

MACq01 hotel on the Hobart waterfront, which is

due to open mid-next year. The company has also

announced plans for the construction of a luxury

Port Arthur resort, which will be a sister-property to

Saffire.

Having just completed the refurbishment of its

Conference Centre, Wrest Point is now turning its

attention to a major overhaul of its iconic Tower.

Work is scheduled to start in May 2017 on a complete

upgrade to the accommodation, ensuring that it

remains an attractive option for national and international

conferences.

Wrest Point's Conference and Event Centre set up for a function, top,

and, above, the centre's theatre.

CONFERENCE AND EVENT CENTRE

Tasmania's premier

business event venue

• World-class waterfront location

• Major refurbishment completed in 2016

• 15 different event spaces, catering to

groups of 10 up to 1650

• State of the art in-house AV

• 5 restaurants and 4 bars

• 269 accommodation rooms

• Ferry access to Mona and other spots on

the Derwent River

• Free shuttle to CBD/Salamanca Place

www.wrestpoint.com.au/conference

(03) 6221 1712
---
Tasmanian Business Reporter - OCTOBER 2016 7

FOCUS ON BUSINESS

Putting the XS in success

Employers often find themselves frustrated searching for reliable employees who genuinely want to work.

RECRUITMENT and labour hire

company, Workforce XS Launceston,

managing director Jason Reed

hears stories of frustration all the

time from employers across the

region.

"Tasmania has the highest jobless

rate in the country and still employers

are complaining that they can't

find suitable, quality employees

who want to stay in a job," he said.

This is where Jason and his professional

recruitment team can step

in.

Jason is an accredited recruiter

with 10 years' experience and has

found that the secret of finding the

right person is about not settling for

mediocrity. Instead, it is about effectively

communicating the needs

of the business to jobseekers.

Time and again he hears of businesses

promising the world and

under-delivering, leaving employees

disappointed and uninspired in

their job roles.

"A realistic expectation of the

day-to-day tasks required for the job

helps lead to greater job satisfaction

and improved long-term employment

outcomes for jobseekers," he

said.

Jason and his team are passionate

about supporting local small-to-medium

business operators to find

the right temporary or permanent

employee for the role. His firm

operates from Launceston but regularly

services Hobart and the North

West Coast.

In 2015, Jason started his own

recruitment agency backed by a

nationally-operated recruitment

franchisor, WorkforceXS.

Since the business opened in September

2015, Jason has achieved

month-on-month strong growth,

fostered by his commitment to finding

the right person for the job.

To celebrate his first successful

year as a recruitment business

owner, he is offering all Tasmanian

Business Reporter readers a flat-fee

structure for permanent placements

at 5 per cent salary plus GST (non

executive appointments only).

This also includes a replacement

guarantee period of three months

from start date.

No up-front payments are required,

which allows business

owners and HR managers some

peace-of-mind when finding the

right candidate for their workplace.

Jason and his team are also fully

certified for quality control recruitment

processes and occupational

health and safety procedures.

Their 24/7 approach to customer

satisfaction ensures that all employers

see the benefit of outsourcing

HR and recruitment hassles.

Tasmania has the

highest jobless rate

in the country and

still employers are

complaining that

they can't find

suitable, quality

employees who

want to stay

in a job
---
8 Tasmanian Business Reporter - OCTOBER 2016

THOUGHT LEADERSHIP

www.tcci.com.au

State goes on the defensive

IT WAS my pleasure to

work alongside Tasmanian

businesses at the

recent Land Forces 2016

expo in Adelaide.

Land Forces is the nation's

premier land defence

exhibition and forum.

This was the first time

Tasmania had been represented

at Land Forces

and we took the opportunity

to introduce ourselves

by showcasing

the capabilities of a cross

section of our most innovative

manufacturers.

The Tasmanian stand

was fully-funded by the

State Government.

Experienced delegates

were surprised to see the

Tasmanian brand alongside

big defence names

such as Boeing and Lockheed

Martin, but defence

is built on highly-specialised,

high-quality

and high-value components

– the sort of work

that small, focused and

nimble Tasmanian businesses

have always been

good at.

The nine Tasmanian

exhibitors on our stand

were Aquatruck PFG

Group (HDPE watercraft),

Penguin Composites

(fibreglass), Elphinstone

(heavy vehicle

manufacturing), CBG

Systems (IR signature

management), Direct

Edge (sheetmetal), Jayben

Australia (drive

shafts), Forager Foods

(freeze dried rations),

Blundstone Australia

(footwear), and Moonraker

Australia (antennae

systems).

They demonstrate the

diversity of Tasmanian

innovation and the scope

of defence procurement.

All came away with

new contacts and a bet-

ter understanding of their

product may fit within the

world of defence.

Read more at www.

stategrowth.tas.gov.au/

home/sectors/defence.

The Department of Defence

will soon be travelling

the country with a

"roadshow" presenting

defence industry opportunities

to a broader business

audience, and discussing

the importance of

collaborative defence-industry

relationships.

Details of the Tasmanian

leg will be advertised

through the Business

Tasmania Service.

Visit www.business.

tas.gov.au and sign up

for the e-newsletter to receive

details about business

opportunities.

Roger Jaensch, centre, with Kim Evans from the Department of State

Growth, left, and Javier Herbon of Tasmanian company CBG Systems.

Infrastructure investment vital for the future

IT IS becoming increasingly

clear that Tasmania

has some significant

infrastructure challenges

that need to be addressed.

Excerpts from an internal

Hydro engineering

report published in the

media make for concerning

reading.

They outline the huge

task of maintaining Hydro's

energy generation

assets and reveal that

about 30 per cent of

the infrastructure can't

be properly maintained

within the current budget.

The energy crisis

showed how vigilant we

need to be when it comes

to energy security and

the Hydro report should

be a wake-up call when

it comes to investing in

infrastructure.

If we are going to see

substantial growth in

areas like tourism, we

must have the water and

sewerage infrastructure

A failure to properly

manage our energy assets

now could hold us

back in the long-term.

There's no use talking

about a second Bass

Strait interconnector if

we're not prepared to retain

100 per cent of our

energy generating assets.

The same importance

needs to be put on investing

in the state's water

and sewerage infrastructure.

This needs to be a

combined effort of local,

state and federal government

intervention.

TasWater has rightly

set goals to eliminate

the need for boiled-water

alerts across Tasmania.

It is critical that visitors

have access to first-world

services as they travel all

over the state.

To realise TasWater's

target there needs to a

significant increase in investment

and a concerted

effort from all tiers of

government.

If we are going to see

substantial growth in areas

like tourism, we must

have the water and sewerage

infrastructure to back

it up.

Investments now will

pay dividends for future

generations.

The Treasurer has

flagged he will be announcing

plans to try and

stimulate the economy

soon.

Labor argues intervention

is well-overdue

but we are hoping to see

significant long-term investments

that will set

Tasmania up for decades

to come.

Whether it's Hydro's

energy assets,or critical

water and sewerage infrastructure

– tackling

the challenges now could

avoid even bigger headaches

later.

Thinking of selling or

buying a business?

Australia's largest specialist

business broker network is

now in Tasmania.

Call Dean Demeyer on

0419 382 359 for a FREE, no

obligation assessment

of your business.

www.finnbusinesssales.com.au

Brokers help dodge many

pitfalls in selling a business

SELLING a business is

a very complex process

with many pitfalls that

can cause a business

owner to get much less

than they expected for

the business.

The additional stress

of handling the many

buyer enquiries, many

from non-genuine buyers,

and maintaining financial

confidentiality

is a recipe for a neglected

business that ultimately

gets devalued.

A professional business

broker can negotiate

a higher sale price,

and achieve settlement

in the shortest possible

time.

Here are a few benefits.

Maintaining

confidentiality

Screening buyer enquiries

ensures only

genuine, appropriate

buyers are involved in

the process. All buyers

must sign Confidential-

Dean

Demeyer

Demeyer Consulting

ity Agreements before a

broker provides business

information. Shielding

employees, suppliers

and customers from the

sale process requires

professional discretion.

Presentation

A broker will present

the business professionally

to a broad audience

and attract buyer

enquiries. When those

A professional business

broker can negotiate a

higher sale price

enquiries show up, the

business due diligence

documentation must be

complete with everything

disclosed to satisfy

the buyer's accountant

and bankers.

Expertise

Business brokers' experience

allows them to

deal with all the variables,

complications,

and various interested

parties to achieve a

smooth settlement to the

right buyer.

With nearly half of

signed sale contracts incomplete,

a steady hand

to project manage the

whole process is essential.

Appropriate price

In a competitive market,

a business must be

priced correctly. Brokers

understand what

the market wants and

expects and will take the

time to understand your

business to determine an

appropriate price.

Resources

Business brokers have

a number of resources

such as databases of buyers

that business owners

just don't have access to,

allowing them to screen

for those buyers that are

most likely to purchase.

Screening buyers can

often make the process

faster while also achieving

the desired price.
---
Tasmanian Business Reporter - OCTOBER 2016 9

FOCUS ON BUSINESS

Quality assured

at Best Western

Best Western Hobart and Best Western Plus Launceston

joined the Best Western family in August 2013, and have both

undergone a series of refurbishments.

EVERY Best Western hotel provides the same value

and quality associated with the Best Western brand

– a name you can rely on for accommodation and

business meetings, conferences and events.

Both hotels are ideally located in the heart of each

city's CBD precincts and offer a range of function

rooms perfectly suited to every style of function,

effortlessly combined with that well-known warm

welcome.

The team of events professionals pride themselves

on providing the highest standard of service available

in order to ensure that your convention, conference

or event runs smoothly and successfully.

Best Western Hobart is a 140-room hotel, including

six fully refurbished meeting rooms that can be

configured to cater for events of varying sizes.

The hotel spaces can be set to host board room

meetings, cocktail and theatre style events, banquets,

and classroom/lecture style meetings.

Keeping guests well fed is easy with an impressive

range of options, from a build-your-own customised

sandwich bar, scrumptious wood fired pizzas, right

through to a gourmet hot lunch.

With a dedicated events team on site, they ensure

each meeting or event runs seamlessly.

Best Western Plus Launceston has 116 guest rooms

and five fully equipped function rooms.

Featuring natural light, ceiling hung data projectors,

electronic projection screens and sound systems,

the conference rooms at Best Western Plus Launceston

provide an easy choice for business events.

The iconic Great Northern Bar can also be secured

for exclusive use for that all-important networking

event after the business sessions are done.

Both hotels are offering an outstanding special to

Tasmanian Business Reporter readers.

When enquiring about a full-day conference anytime

up to November 30, just mention the ad below

to take advantage of this offer.

Both special packages include tea and coffee

awaiting delegates on arrival, morning and afternoon

tea, a working lunch and private room hire. The

essential data projector and screen plus a whiteboard

and flipchart are all included as well. The facilitator

will be looked after on arrival with complimentary

car parking and an espresso coffee to get the day

underway.

If delegates or presenters are from interstate, ask

about special accommodation rates and this can be

taken care of for you all under one roof.

Considering the central locations, car parking,

complimentary high speed Wi-Fi, and a host dedicated

to your event, the choice of Best Western Hobart

or Best Western Plus Launceston is simple.

At Best Western in Hobart and Launceston a day in the well-equipoed

conference centre, top, starts with an excellent breakfast, below.
---
10 Tasmanian Business Reporter - OCTOBER 2016

NEWS

TasTAFE success at training awards

THREE TasTAFE-trained

students and one

TasTAFE teacher will

represent the state at

the Australian Training

Awards in November

after winning Tasmanian

Training Awards.

TasTAFE outdoor

recreation teacher Nate

Welch was named VET

teacher of the year. Nate

has been the coordinator

of the Outdoor

Recreation program at

TasTAFE for two years

and currently teaches

Certificate IV in Outdoor

Recreation.

Before TasTAFE, he

worked as an outdoor

instructor for schools

across Australia and

has also been a guide,

trainer and operations

manager for businesses

in Australia and Africa.

Nate has re-written

the program for the outdoor

recreation course

and has developed a

student assessment

booklet that is the first

of its kind in the outdoor

recreation training

sector.

Accepting his award

Nate said that while he

had never planned to be

a teacher, he found it

rewarding.

"Until you do it I

don't think you can really

relate to the connection

that you have with

students and the difference

you can make in a

student's life by some

of the stuff that you do.

I think that's been one

of the most rewarding

things of my journey in

this field," Nate said.

Vocational Student of

the Year Carla Wilcox,

completed a Certificate

III in Disability at Tas-

TAFE in 2015.

She was hesitant

to return to study but

thrived in the course and

found paid employment

with Coastal Residential

Services. She is now undertaking

the Certificate

IV course and wants to

Vocational Student of the Year Carla Wilcox and Aboriginal Student of the

Year Jarrod Edwards.

Picture: Tony McKendrick, Photomakers

build her qualifications,

job skills and knowledge

so that she can eventually

move into management

in the sector.

Accepting her award

Carla said she had fallen

into an industry she had

nothing but passion for.

"I really want to

create opportunities to

validate and empower

people with disability,"

Carla said.

Aboriginal Student of

the Year Jarrod Edwards

is employed at the

Tasmanian Aboriginal

Centre as a land management

supervisor and

completed Certificates

III and IV in Conservation

and Land Management

at TasTAFE.

He chose this area

of study because of his

Aboriginal heritage, his

love of nature and his

desire to conserve the

environment.

Nation-leading building reforms target jobs growth

Industry welcomes change

By Guy Barnett

THE State Government's

nation-leading building

legislation will make it

fairer, faster, simpler and

cheaper to build in Tasmania,

the industry says.

Creating an environment

welcoming of

investment is how governments

can work to

encourage jobs growth.

This is particularly

important in our critical

building and construction

industries, which

employ close to 20,000

people.

Overly burdensome or

unnecessary regulation

– red tape – imposed by

governments at all levels

is one of the greatest

complaints of people

wanting to develop property.

Whether the client is a

company planning a new

commercial building or a

family wanting to build

a new home, gaining all

the necessary approvals

can add significant costs

and result in long delays.

The adverse impact of

red tape can be the straw

that breaks the camel's

back, causing development

to be deferred,

scaled back or shelved

altogether.

For companies, it can

see their investment directed

elsewhere, in other

states, while for families

it can make their dream

home more of a nightmare.

But that is all about to

change with the Building

Bill having passed Parliament

and set to come into

effect on January 1, 2017,

leading a package of

legislative reforms. The

legislation will remove

the need for building

and plumbing permits

for many projects, up to

and including a two-storey

house, where they are

undertaken by accredited

practitioners.

The Bill includes appropriate

safeguards for

consumers, practitioners

and the community.

Our reforms are the result

of extensive consultation

with the building

and construction industry,

which is reflected in

their own words.

Housing Industry Association

of Tasmania

executive director Rick

Sassin said it would deliver

a "win-win for all

stakeholders."

Master Builders Association

executive director

Michael Kerschbaum

said the reforms were nation-leading.

Our new building laws

have not been developed

in isolation, but are part

Jarrod's TasTAFE

qualifications complement

his university studies

where he is undertaking

a Bachelor of Arts

with a double major in

History, Geography and

Environmental Studies.

Drew Charlton, who

completed a Certificate

III in Carpentry at

TasTAFE in 2015 was

named Apprentice of the

Year.

Drew did his apprenticeship

at Hobart building

firm Cordwell Lane

where he now mentors

and works closely with

other apprentices and

shows potential to be not

only a leader in his field,

but a great mentor and

trainer for apprentices.

TasTAFE's Manager,

Centre of Vocational

Preparation and English

Language Services, Jon

Grant was also recognised,

receiving the

Trevor Leo medal for

outstanding services to

vocational education and

training (VET).

of the Government's

wider agenda of cutting

red tape and backing

business.

The Liberal Government

created the ministerial

portfolio of Building

and Construction earlier

this year demonstrating

that we recognise the

critical role building and

construction plays and

the opportunities that exist

to grow this sector.

We are also doubling

the First Home Builders

Grant to $20,000 and are

providing 941 new

homes for vulnerable

Tasmanians with the $60

million Affordable Housing

Action Plan.

Forum

nurtures

safety

culture

WORK health and safety

should be a strong part of

every workplace's culture,

no matter how big

or small.

The 2016 Inaugural

WorkSafe Tasmania

Conference at the Hotel

Grand Chancellor in

Launceston on October

27 and 28 can help

achieve that.

The conference theme

"Leadership, culture and

organisational safety"

and the focus of the program

is ensuring every

one is safe and well every

day.

It explores the importance

of intelligent, innovative

leadership for

creating workplaces that

nurture people to be engaged

in safe, productive

and meaningful work.

Local, Australian and

international experts will

deliver topics focussing

on:

• workplace bullying,

complementing the new

workplace guidance on

this psychosocial hazard,

produced by WorkSafe

Tasmania;

• absenteeism, presenteeism,

personality and

job design;

• emotional intelligence

and safety leadership;

and

• performance management

and WHS risk.

The conference closes

with the presentation dinner

for the 2016 Work-

Safe Awards at the hotel.

The awards celebrate

the outstanding achievements

of workplaces and

individuals who lead the

way in raising the standards

of work health and

safety, health and wellbeing,

and return to work.

For more information,

go to www.worksafe.

tas.gov.au/

Small

business

forum

TO HELP small business

operators cope with

hurdles such as compliance

and mandatory

lodgements, the Governance

Institute of Australia

is offering a complimentary

session for

small business owners

on Tuesday, October 18

from 11am, concluding

with a networking lunch,

at Henry Jones Art Hotel.

A half-day Governance

Forum will then cover

issues such as managing

risk, the board's role

in governance when in a

crisis and business continuity

insurance.

Contact 03 9620 2488.
---
APPOINTMENTS

Hogg to lead

Tasmanian Irrigation

SAMANTHA Hogg (pictured) has

been appointed the new chair of Tasmanian

Irrigation.

Ms Hogg has been a Chief Financial

Officer for ASX Top 20 company

Transurban Limited, and has worked

overseas in Canada and China. Ms

Hogg is also a non-executive director

for Hydro Tasmania, Tasrail and MaxiTrans

Industries Limited.

She replaces the inaugural chairman

of Tasmania Irrigation, John Lord,

who is retiring after eight years.

Professional network

DOCTORAL candidate and UTAS

undergraduate business class lecturer

Joey Crawford, pictured, has been

appointed as secretary of the Northern

Young Professionals Network.

Also recently elected as the Tasmanian

University Union Postgraduate

President, Mr Crawford said he was

excited to be part of NYPN because it

enabled like-minded professionals to

network and develop.

AMC Board

changes

New Australian Maritime Colleg

Board members Allan Gray, left,

and Tom Black.

THE Australian Maritime College has

appointed two new board members

with diverse backgrounds.

Captain Allan Gray spent 20 years

trading on international vessels before

moving ashore. On land he managed

marine incidents and systems development

for the Australian Maritime

Safety Authority (AMSA) and Maritime

Safety Queensland before moving

to Marine Management at Perkins

Shipping in Darwin.

Captain Gray is currently the Harbour

Master and General Manager,

Port Operations, at Fremantle Port.

Launceston's Tom Black spent 14

years focused on regional and economic

development issues in Tasmania.

He is also the chair of the Tasmanian

Committee of Regional Development

Australia (RDA).

Tasmanian Business Reporter - OCTOBER 2016 11

State accountants to meet national standards

NEWS

Level playing field

for professionals

CHARTERED Accountants Australia

New Zealand has welcomed

the tabling in the Tasmanian Parliament

of the Professional Standards

Amendment Bill 2016.

This Bill will ensure Tasmania

will now align with the rest of the

nation, by ensuring members of

professional associations will be

on a level playing field with their

interstate counterparts.

Head of leadership and advocacy,

Rob Ward AM, said professional

standards legislation was

introduced nationally in the wake

of the HIH collapse in 2001, which

saw some insurance, such as professional

indemnity cover, become

almost impossible to secure for

professionals.

"The aim of the legislation was

to limit the liability of the professionals

who belong to a professional

association leading to lower indemnity

premiums,'' Mr Ward said.

"In return for this limit on liability,

members of professional associations

would be subject to higher

standards of practice which it was

hoped would in turn reduce cases

of poor practice.

"However, an anomaly saw

the Tasmanian Act out of step

Rob Ward

with the rest of the nation in that

Section 27 (c) required the professional

association to agree to

increase the cap on liability if requested

by a member, whereas

interstate the association had the

right to accept or refuse the cap.

"This anomaly meant that CA

ANZ did not apply for a scheme

in Tasmania.

"A professional standard scheme

means that consumers have protection

and can take comfort that

...consumers

have

protection and

can take

comfort that

high standards

will be upheld.

high standards will be upheld. It

also means better business practices,''

he said.

"The result of this outcome will

mean consumer protection will be

there for Tasmanians. Communities

and professionals will be regulated

and will have to use high

levels of conduct.

"After many years of dialogue

and advocacy it is great to see that

the Tasmanian Government has

recognised the need to reform this

bill,'' Mr Ward said.

AGGRESSIVE

ASSISTANT

This position requires a self-motivated person with

a "cannot-do" attitude. You will treat your workmates

with utter contempt. You will be quick thinking and devious,

with the flexibility to change your story at a moment's

notice. A willingness to create conflict is vital. People

with empathy and compassion need not apply.

Bullying is a workplace hazard. If you're an employer,

it's up to you to prevent it or manage it. If you're a worker

who is experiencing repeated and unreasonable behaviour,

it's up to you to report it.

Get practical information on psychosocial hazards and

workplace bullying from www.worksafe.tas.gov.au/bullying

or call the Helpline on 1300 366 322.

DEJU17318rj
---
TASMANIA'S LEADING BUSINESS PUBLICATION. CIRCULATION 17,000 MONTHLY

12 Tasmanian Business Reporter - OCTOBER 2016

EVENTS

EVENT:

RACT

Insurance

Tasmanian

Portraiture Prize

Opening

LOCATION:

Salamanca Arts

Centre Long

Gallery, Hobart.

DATE:

September 16,

2016.

Lee Cole, left, of Tasmanian Regional Arts and Trent Sayers of

RACT Insurance.

ABOVE: Al Roberts, left, and James MacGyver of Metal Urges. BELOW:

Christina Scott of Henry Jones Art Hotel, left, and Yvette Watt and Svenja

Kratz of UTAS.

ABOVE: Luke

Conroy, left, of

Don College,

Sam Mansfield

of Glenorchy

Primary School

and Michelle

Carswell of

Ghanda Clothing.

Artist Liam James,

left, and Steve

Cox of Arts

Tasmania.

LEFT:

Allison Wilson,

left, of OMD

Tasmania and

Mark Hepburn of

Condense

RIGHT:

Artists Betty

Russ, left, and

Amber Perez-

Wright.

H O T E L

ENJOY THE WATERFRONT

15% off midweek when you mention this offer!

Negotiated corporate rates & group packages available. Conference

and meetings facilities. Wireless/broadband internet. Cafe and catering.

Security parking and lifts. Mini gym & sauna.

6270 1444 / 1300 733 422 15 Hunter Street, Hobart

www.zerodavey.com.au

WANTED

Business

movers and

shakers

• Promotions

• Appointments

• Awards

• Celebrating

success

Share the news

with the

Tasmanian

business

community

Send your news

snippets, with a

high quality photo,

to TBReditorial@

fontpr.com.au

SOLUTIONS

IN PRINT

your print specialist for over 89 years

Contact us for a quote today

6391 8481 sales@paperstat.com.au

www.woolstonprinting.com.au

Full Digital

and Off-Set

capabilities

Fulfilment

Binding

Variable data

printing

Warehousing

and distribution

Inventory

management

solution

business cards | letterheads | envelopes | presentation folders | brochures | catalogues