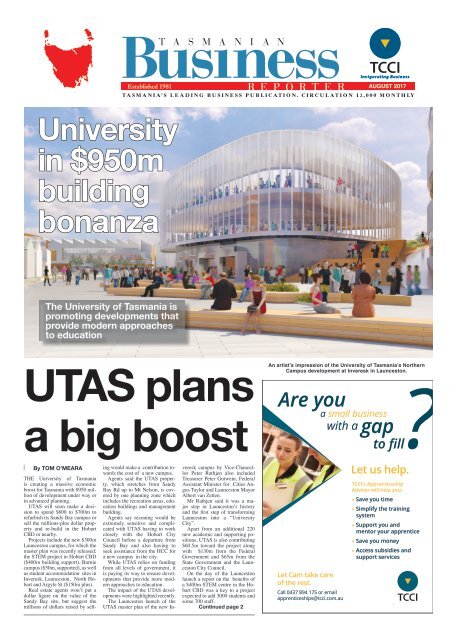 Tasmanian Business Reporter August 2017
With the release of exciting new artist impressions, this month we discuss the $950 million in infrastructure projects currently on the table for the University of Tasmania. You can also read about the real life implications of social media in the workplace from our legal expert Abbey George, as well as news on the Japanese chefs highlighting Tasmania's best produce and the professor putting sensors on bees.
With the release of exciting new artist impressions, this month we discuss the $950 million in infrastructure projects currently on the table for the University of Tasmania.

You can also read about the real life implications of social media in the workplace from our legal expert Abbey George, as well as news on the Japanese chefs highlighting Tasmania's best produce and the professor putting sensors on bees.

SHOW MORE
SHOW LESS
Create successful ePaper yourself
Turn your PDF publications into a flip-book with our unique Google optimized e-Paper software.
AUGUST 2017

T A S M A N I A' S L E A D I N G B U S I N E S S P U B L I C A T I O N . C I R C U L A T I O N 1 2 , 0 0 0 M O N T H LY

University

in $950m

building

bonanza

The University of Tasmania is

promoting developments that

provide modern approaches

to education

UTAS plans

a big boost

An artist's impression of the University of Tasmania's Northern

Campus development at Inveresk in Launceston.

Are you

a small business

with a

gap

to fill

By TOM O'MEARA

THE University of Tasmania

is creating a massive economic

boost for Tasmania with $950 million

of development under way or

in advanced planning.

UTAS will soon make a decision

to spend $600 to $700m to

refurbish its Sandy Bay campus or

sell the millions-plus dollar property

and re-build in the Hobart

CBD or nearby.

Projects include the new $300m

Launceston campus, for which the

master plan was recently released;

the STEM project in Hobart CBD

($400m building support), Burnie

campus ($50m, supported), as well

as student accommodation sites in

Inveresk, Launceston, North Hobart

and Argyle St ($150m plus).

Real estate agents won't put a

dollar figure on the value of the

Sandy Bay site, but suggest the

millions of dollars raised by selling

would make a contribution towards

the cost of a new campus.

Agents said the UTAS property,

which stretches from Sandy

Bay Rd up to Mt Nelson, is covered

by one planning zone which

includes the recreation areas, education

buildings and management

building.

Agents say rezoning would be

extremely sensitive and complicated

with UTAS having to work

closely with the Hobart City

Council before a departure from

Sandy Bay and also having to

seek assistance from the HCC for

a new campus in the city.

While UTAS relies on funding

from all levels of government, it

is paying its way to ensure developments

that provide more modern

approaches to education.

The impact of the UTAS developments

were highlighted recently.

The Launceston launch of the

UTAS master plan of the new Inveresk

campus by Vice-Chancellor

Peter Rathjen also included

Treasurer Peter Gutwein, Federal

Assistant Minister for Cities Angus

Taylor and Launceston Mayor

Albert van Zetten.

Mr Rathjen said it was a major

step in Launceston's history

and the first step of transforming

Launceston into a "University

City".

Apart from an additional 220

new academic and supporting positions,

UTAS is also contributing

$60.5m toward the project along

with $130m from the Federal

Government and $65m from the

State Government and the Launceston

City Council.

On the day of the Launceston

launch a report on the benefits of

a $400m STEM centre in the Hobart

CBD was a key to a project

expected to add 3000 students and

some 700 staff.

Continued page 2

Let Cam take care

of the rest.

Call 0437 894 175 or email

apprenticeships@tcci.com.au

Let us help.

TCCI's Apprenticeship

Adviser will help you:

• Save you time

• Simplify the training

system

• Support you and

mentor your apprentice

• Save you money

• Access subsidies and

support services
---
2 Tasmanian Business Reporter - AUGUST 2017

NEWS

Five days to a

better career

OVER the past 20 years,

close to 40,000 people

have completed the Australian

Institute of Company

Directors' flagship

Company Directors

Course TM .

Dr Katherine Woodthorpe

FAICD knows as

well as anyone the longterm

benefits of continuing

professional education.

After her time at the

helm of the Technology

Industries Exporters

Group in 1997, Dr

Woodthorpe joined the

board of an ASX-listed

company.

She found that despite

her depth of experience

in public affairs, the tech

and superannuation industries

and private equity

– Dr Woodthorpe was

CEO of peak body, AV-

CAL, between 2006 and

2013 – she was in need

of a course that would

bring her up to speed on

governance, corporations

By CATHIE GOSS

Manager,

AICD Tasmania

law and her directors' duties

and responsibilities.

"As a scientist and later

a business person who

had only worked in technology

organisations, I

was sorely lacking in the

broader skills needed on

a board.

"The Company Directors

Course gave me

those skills and an understanding

of my role and

responsibilities," she said.

She said the course

formed the foundation

to her career as a director

and remained as valuable

to her now as it was

when she completed it 18

years ago.

"The course underpins

all my knowledge about

governance on which I

have built my experience

to bring me to the level I

am at today," Dr Woodthorpe

said.

She chairs Australia's

largest start-up community,

Fishburners; the

Antarctic Climate and

Ecosystems Cooperative

Research Centre; and

HEARing CRC, in addition

to her roles as a

non-executive director.

She considers the fiveday

investment in the

course invaluable for

anyone interested in being

a professional director

in the long term.

Find out more at aicd.

companydirectors.

com.au/cdc

e dition

T A S M A N I A' S L E A D I N G B U S I N E S S P U B L I C A T I O N . C I R C U L A T I O N 1 2 , 0 0 0 M O N T H LY

Tasmanian Business Reporter can now be delivered directly to your inbox. With our 30,000-strong monthly print

readership, our new up-to-date digital distribution will keep Tasmanians abreast of the all latest in local business

news. From this month we will distribute electronic editions of the Tasmanian Business Reporter as we go to print.

To confirm your copy sign up to our mailing list via

tbreditorial@fontpr.com.au

Tasmania's business newspaper is published monthly by the

Tasmanian Chamber of Commerce and Industry. It is distributed

to businesses in Tasmania as well as key decision-makers.

Circulation: 12,000

Managing Editor: Tom O'Meara

0418 135 822

Editor: Becher Townshend

0418 370 661

Advertising and Special Projects

Gil Sellars 0448 901 361

gil@thetrustedmediaco.com

Kerri Guardia 0419 750 267

kerri@thetrustedmediaco.com

Editorial & Advertising

TBReditorial@fontpr.com.au

www.tasmanianbusinessreporter.com.au

Publisher:

Tasmanian Chamber of Commerce and Industry

309 Liverpool St, Hobart, TAS 7000

Ph: 6236 3600 Fax: 6231 1278 admin@tcci.com.au

TFGA House, 194-196 Cimitiere St, Launceston TAS 7250

Ph: 6331 1144 laun@tcci.com.au

Production:

aldridge.media

Ph: 0431 241 775

aldridge.media@iinet.net.au

Printer: Mercury

Level 1, 2 Salamanca Square, Hobart, 7000

'Proper' pies cross Strait

Tasmanian Bakeries employee Darren McHenry with a

tray of "proper" National brand party pies.

Uni's $950m building plans

From Page 1

Nodes at the Launceston

and Burnie campuses

will share the benefits of

knowledge throughout

the state.

The report from Nous

Group, engaged by the

UTAS, said the Hobart

precinct would bring together

the IMAS building,

the Medical Science

(Menzies) Centre, the

Creative Exchange Institute

proposed for 2019

and a STEM centre in

Melville St into a centralised

education hub.

However, the project is

in competition for funding

with a $490 million

Bridgewater bridge project

to overcome the bottle

necks on a narrow historic

bridge.

The Federal Government

has said the state

and southern councils

have to make the decision

on which project

they support because

there won't be funding

for both.

HCC and other southern

councils are expected

to support the STEM

project but the State

Government and broader

community are yet to

decide.

Apart from the UTAS

announcements, July

2017 will be remembered

as the infrastructure

month with major

developments throughout

the state including:

• MONA's $300m hotel/casino

development

at Rosetta;

. • a $100 million Table

Cape resort approved

by Waratah-Wynyard

Council; and

• a $280 million Wind

Farm at Granville Harbour

on the West Coast.

TASMANIAN Bakeries' iconic National

pie will be available at supermarket giant

Woolworths' 240 Victorian stores from this

month.

CEO Shaun Hancock said the team was

very proud that it would be satisfying

the craving for "proper" National pies in

Victoria.

"During July, the team was extremely

busy building 150 pallets to fill eight freezer

containers in preparation for the product

launch in Victoria," Mr Hancock said.

Tasmanian Bakeries is a third-generation

Tasmanian family-owned business,

established in 1942 by Alfred Gough, a

local butcher.

The bakery employs 95 people and still

bakes its pies and pastries fresh every day

in Hobart before distributing throughout

Tasmania and interstate.

Mr Hancock said all Tasmanian Bakeries'

products proudly displayed the Tasmanian

Bakeries Quality Guarantee on the

packaging.

"This reinforces our Tasmanian heritage

and our strong commitment to use Tasmanian-sourced

ingredients where possible,"

he said.

"We believe wholeheartedly in Tasmania

and supporting other Tasmanian businesses.

"While we directly employ a team of

local butchers, bakers and pastry makers,

just as importantly, we have always supported

Tasmanian suppliers.

"We look forward to sharing another 75

years with all Tasmanians, our farmers,

suppliers and local businesses," he said.

The striking

$300m hotel/

casino

development

proposed

by Mona at

Rosetta.

Thinking of selling or

buying a business?

Australia's largest specialist

business broker network is

now in Tasmania.

Call Dean Demeyer on

0419 382 359 for a FREE, no

obligation assessment

of your business.

www.finnbusinesssales.com.au
---
TASMANIA'S LEADING BUSINESS PUBLICATION. CIRCULATION 17,000 MONTHLY

Help meeting labour needs

Tasmanian Business Reporter - AUGUST 2017 3

NEWS

World-class dementia village

A DELUXE resort has

been approved to drastically

change the face of

Table Cape and transform

the local economy.

Waratah-Wynyard

Council has unanimously

approved the $90

million development,

proposed by Table Cape

Enterprises, with construction

expected to

start in 2019.

Mayor Robby Walsh

said it was the most exciting

development ever

received by the council.

"This is a real

PLANS have been unveiled

for a ground-breaking

$25m Australian-first

suburban village, designed

to recreate real life

experiences for those living

with dementia.

Tasmania has the fastest

ageing population in

Australia and dementia is

the second leading cause

of death in the nation.

Without a medical

breakthrough, it is expected

by 2056 the number

of people living with

dementia will increase to

about 1.1 million.

Korongee is a partnership

between Glenview,

HESTA and Social Ventures

Australia and is to

be built with the assistance

of the Commonwealth

Government.

The village structure

will be based on a typical

Tasmanian cul de sac

streetscape that allows

residents to feel at home

$90m resort

emerges from

Table Cape

game-changer for the

whole North West region

with enormous

benefits for tourism and

the local economy," Cr

Walsh said.

"Significant employment

opportunities will

be generated throughout

the construction phase,

which is expected to

take up to two years

and create 116 full-time

equivalent jobs.

"Post construction

there will be more than

80 ongoing positions and

it is projected to inject

AS part of the Population

Growth Strategy,

TCCI Employer Connect

facilitates opportunities

for skilled migrants to

engage with Tasmanian

businesses.

The TCCI, through

consultation with members,

understands that

accessing skilled labour

can be challenging in a

small labour market.

In recognition of this,

TCCI is offering the opportunity

for your business

to connect with

skilled migrants through

a structured work experience

with a view to employment.

All individuals are

assessed for their work

readiness and English

language proficiency

before being connected

with an employer.

Employers and individuals

will be supported

through the process,

and wander freely within

a safe and supported environment.

Glenview chairman

Iain Weir said Korongee,

in Glenorchy, would

be the first of its kind in

Australia to offer this

proven and cutting-edge

model of care.

"In essence Korongee

will create an authentic

suburban village environment

for those living

with dementia, with 15

$77.8 million into the

local economy over the

next 20 years."

The resort will include

26 deluxe rooms, 16 premium

suites, eight villa

should any issues arise.

Agreeing to host an individual

does not mean

you have to employ

them, it is an opportunity

to trial the individual to

determine if they will be

suitable for the position

and have the skills and

knowledge your business

requires.

Contact training@tcci.

com.au or call 62 36

3600 for more

information.

Wicking Dementia and Research Centre Co-Director

Professor James Vickers and Glenview

CEO Lucy O'Flaherty at the Glenorchy site.

suites, a 250-seat farmer's

restaurant, a dedicated

function centre with

a capacity of 150 people

and a smaller function

space holding 80 people.

A day spa and public

green will also be incorporated

into the property,

which is situated on land

owned by the Ransley

family.

Project spokeswoman

Narelle Woodhouse said

the development would

be a destination for visitors

to the North West

Coast.

Project to boost vegie yield

A NEW project that aims

to increase crop yields is

being undertaken by the

Tasmanian Institute of

Agriculture.

The $235,000 project

is being led by TIA

Industry Development

Manager Sue Hinton.

Ms Hinton said the aim

was to improve production

practices for Australia's

vegetable processing

industry to help it

remain competitive on a

global scale.

"Simplot has set yield

targets for key frozen

vegetable processing

crops including broccoli,

cauliflower, carrots,

green beans and sweet

corn.

Achievement of these

targets will require average

yield increases

between 17 and 42 per

cent over the next three

demographically tailored

homes set within a small

town context complete

with streets, a supermarket,

cinema, cafe, beauty

salon and gardens," Mr

Weir said.

"The Korongee village

concept draws on a range

of international best- practice

models, particularly

the dementia village of De

Hogeweyk in the Netherlands

while contextualising

this into a uniquely

An artist's impression of the proposed Table Cape resort that has just been approved.

years," Ms Hinton said.

"Tasmania's production

of these crops for the

frozen processing market

had a farm gate value of

$22.6 million in 2014/15.

"These products compete

in a global market,

which makes it vital that

our growers are using

world best practice to

grow and harvest their

crops."

Ms Hinton said the

Tasmanian experience.

"It has been shown

that residents at the De

Hogeweyk dementia village

live longer, eat better

and take fewer medications

and we hope to

see similar transformative

health benefits at

Korongee."

Construction is set

to commence in early

2018, with the site to be

complete by mid-to-late

2019.

The resort has been

designed by Sydney

based architecture and

interior design studio

Silvester Fuller in collaboration

with landscape

architects Aspect

Studios

Jad Silvester said the

project vision was to

create a local and global

destination.

"With this approval

we can now take the

next steps towards realising

this vision," he

said.

He said the design

combined landscape and

building, emerging out

of the landscape.

"The design concept

is sympathetic to its surrounds,

and aims to be

one of the most environmentally

sustainable and

responsive destinations

in Tasmania," he said.

first part of the project

would involve reviewing

current production practices

and identifying new

innovations that could be

implemented to increase

productivity or reduce

input costs.

The second phase of

the project would involve

field trials of key

innovations in a participatory

research and extension

program.

WANTED

Business

movers and

shakers

• Promotions

• Appointments

• Awards

• Celebrating

success

Share the news

with the

Tasmanian

business

community

SOLUTIONS

IN PRINT

your print specialist for over 90 years

Full Off-Set,

Digital and

Wide Format

Capabilities

Binding and

Finishing

Variable Data

and Mailing

Warehousing

and Distribution

Online Ordering

and Inventory

Management

Send your news

snippets, with a

high quality photo,

to TBReditorial@

fontpr.com.au

6391 8481

www.woolstonprinting.com.au

sales@paperstat.com.au

WP - Advert Mar17.indd 2

4/04/2017 1:15:46 PM
---
4 Tasmanian Business Reporter - AUGUST 2017

THOUGHT LEADERSHIP

www.tcci.com.au

Time Tamar River tide was turned

AS sure as the tide comes

in and out, the health and

amenity of Launceston's

Tamar River estuary will

be subject of fierce public

debate.

Is enough being done?

Is the money pumped

into the river being spent

effectively?

The river and it's associated

silt issue has been

the subject of pre-election

political pledges for

decades.

One of the problems

of managing a waterway

like the Tamar is that it

exists in various local

government areas. It also

has a variety of community

and quasi government

organisations with

an interest in managing a

part of the foreshore.

There is no high-level

planning, management

or oversight of the river.

It is hoped that the recently

announced Tamar

Estuary Management

Taskforce, which will be

chaired by Infrastructure

Tasmania chief executive

officer Alan Garcia, will

finally put structured reform

into place.

Mr Garcia will be

joined by representatives

from Launceston

City, Northern Midlands,

George Town, West Tamar

and Meander Valley

Michael

Bailey

TCCI Chief Executive

Councils as well as a

member from each of the

Launceston Flood Authority,

NRM North and

the Environment Protection

Authority.

TEMT has the charter

of developing the most

effective solution to the

problem of raw sewerage

flowing into the Tamar

during high rainfall

events as its first priority.

The taskforce's recommendations

will become

part of the River Health

Action Plan, to finally

improve the estuary.

It all sounds very

promising. But history

suggests it won't be easy.

At the moment we

have a very successful

raking program under

way. This program has

seen millions of tonnes

of silt removed from the

Tamar and North Esk

river intersection.

During winter, timed

to coincide with stronger

winter flows, a modified

scallop trawler agitates

the silt, using a rake,

washing it further downstream.

For the people of

Launceston this is a terrific

achievement as

this important tourism

precinct now looks and

works better.

But the silt does not

flow out of the river and

into Bass Strait. It is deposited

somewhere else

in the system.

Some living in Rosevears

and Legana are

already talking about the

volume of silt that they

believe is building up

in the Tamar in front of

their properties.

Anyone who regularly

travels the East Tamar

Highway will also note

the volume of silt building

up in the Tamar near

the Grammar rowing

sheds.

All we are doing is

moving the issue further

down the river for someone

else to worry about.

TEMT must now start

to manage the river in a

strategic way.

Winter flow down the South Esk to the Tamar River helps wash the silt problem downstream.

This is not a new idea.

In 2009 the Legislative

Council held a review

into the management of

the river. Spearheaded

by local members, Kerry

Finch (Rosevears), Ivan

Dean (Windermere) and

Don Wing (Launceston)

the Select Committee

undertook a review of

the existing management

system and looked at the

approach of other states

with similar waterway

issues.

In the Select Committee

review entitled, Management

of the Tamar

Estuary and Esk River, it

was noted that the "large

number of organisations

which had some role in

the management of the

Tamar" and the "fragmented

management

structure" of the river

were critical contributors

in the ongoing issues that

the Tamar faced.

The key recommendation

from the report

was the need to establish

a statutory authority to

manage the Tamar Estuary

and Esk Rivers.

This recommendation

followed the learnings

from other states including

how waterways are

managed in Southern

Queensland and Victoria.

The report pointed out

that "effective models in

other Australian States

can be used as a basis for

reforming management

structures".

In these models of

waterway management

there is a consultative

approach to developing

strategy and a properly

funded regulatory and

enforcement structure.

I believe that it is time

to follow the recommendation

of this report. We

must have a holistic approach

to an ongoing issue

with a waterway that

is loved and enjoyed by

many.

It's more imperative

than ever before. With

the university development,

plans for Northbank

and residential developments

on both sides

of our river all the way

to Low Head, we have to

become more strategic.

Safe design down to business owners

By CRAIG

HORTLE

THE safe design has

three areas in which duties

for workplace health

and safety may be applied.

Under the WHS Act

the PCBU (person conducting

the business or

undertaking) has to ensure

the safety of work-

ers and other persons.

1. If you are a business

that engages in the

design of structures that

could be used as a workplace

you are required to

ensure that the structure

is without risks to work

and safety.

The businesses that

may be included in this

type of work are:

• architects;

• building designers;

• landscape architect;

• engineering firms;

• building service design

engineers.

The designer needs to

apply this to residential

buildings when they may

become a worksite such

as during construction,

maintenances, and demolition.

2. A PCBU who commissions

construction

work has specific duties

Under workplace health and safety regulations business operators must

ensure the safety of workers and other persons.

that include:

• consulting with designer

to ensure risks

associated with the construction

phase are eliminated

or minimised; and

• provide information

to the designer with information

that the client

has to hazard and risks

where the construction is

to be carried out.

3. The principle contractor

is required to ensure

that construction

work is carried out in a

way that minimises the

risks and hazards associated

with the construction.

In the process of designing

structures it will

not always be possible

to clearly delineate who

has responsibility, and in

which circumstances, for

the elimination or minimisation

of hazards associated

with the structure.

The duties may be concurrent

and overlapping.

Section 16 of the WHS

states:

"Where more than one

person has a duty for the

same matter, each person

retains responsibility for

their duty and must discharge

it to the extent

to which the person has

the capacity to influence

or control the matter or

would have had that capacity

but for an agreement

or arrangement

claiming to limit or remove

that capacity."

It is evident from this

information that all those

engaged in a project need

to ensure consultation

occurs between all parties

that have a duty under

the WHS Act.

Where duties may

be shared it needs to be

clearly defined who is

ensuring that the related

hazard and risks a either

eliminated or reduced to

and acceptable level.

For more information

contact Craig Hortle or

Janelle Whitehouse at

the TCCI on 1300 559

122 or safety@TCCI.

com.au
---
Tasmanian Business Reporter - AUGUST 2017 5

THOUGHT LEADERSHIP

Brett

Charlton

Agility Logistics

MY articles are usually

positive.

I do like to expand

upon the positive nature

of what is happening in

the shipping and logistics

world and by association

– trade.

It is always with a specific

focus on Tasmania

although with a global

perspective whenever

possible.

That said however, I

am afraid from time to

time, reality kicks in and

the rose coloured glasses

need to come off for a

prescription check.

The world's largest

shipping line, A.P.

Moller-Maersk, was hit

by a cyber-attack on June

28, 2017.

About 90 per cent of

world trade is transported

on oceans and Maersk

carry about 18 per cent of

the container trade on the

planet.

Overnight, electric Armageddon

hit the shipping

industry with a total

blackout of all of Maersk

operations that involved

ones and zeros – pretty

much everything.

Huge cost threatens global shipping

Cyber security scare hits

SOCIAL media has become

a big part of our

everyday lives and therefore

also a big part of our

work lives too.

The 2016 Workplace

Info Social Media Index

indicated that 43 per cent

of employers surveyed

monitor their employee's

internet use, 13 per cent

of organisation block social

media sites, 16 per

cent of employers would

do nothing if their employees

were slandering

someone outside the organisation

via Facebook

or Twitter exposing them

to a reputational risk and

38 per cent of bullying

primarily involved employees

making inappropriate,

derogatory and

disparaging comments

about their co-workers.

However it is not all

bad news for employers

with ways that inappropriate

use can be addressed

through:

• performance management

of excessive

use of social media by

employees during work

hours;

• performance management

of inappropriate

No interface with

ships, no ability to receive

emails, no manifests,

no terminal operations,

no bookings, no

rates and no documents

and not even telephones

in some countries – nothing.

At time of writing,

it is now 20 days since

the day the attack happened

and while a lot

of systems are back up

and running, we are still

trying to get documents

printed, equipment released

and rates for various

trade lanes with no

definitive outcomes.

The cost to Maersk

must be enormous – but

the cost to world traders

must also be horrendous.

In addition to the cyber-attack

on Maersk,

TNT was also hit.

This company is one

of a number of international

courier carriers

that send commercial

documentation around

the planet – bills of lading,

health certificates,

certificates of origin for

example all sitting in a

Abbey

George

Workplace Relations

use of social media outside

of work hours provided

there is a link to

work and/or there is a serious

risk of reputational

damage to the business;

and

• management of other

issues such as use of

personal leave where it

has been found via social

media that the employee

was not in fact unfit

for work (for example

through posting photos

of what they were actually

doing during the leave

period).

Generally the Fair

Work Commission has

erred on the side that if

a social media posting is

initially undertaken outside

of working hours,

it does not come down

once work commences.

Therefore, provided

there is a link to work

then it can be acted upon

Shipping line Maresk was hit by a cyber attack, affecting customers

across the globe.

Picture: Seekoffshore

tin can in a warehouse

somewhere not being

able to be scanned to

their final destination.

No Bill of Lading – no

release of goods. Wharf

storage, delayed goods

delivery – not a good

look.

Cadbury's in Tasmania

was hit as well. No one

is immune and it would

appear that the hackers

are getting better at what

they are doing. It is an

interesting, if not somewhat

daunting, time on

the planet at the moment.

That flutter of butterfly

wings can very much impact

us down here at the

bottom of the planet.

One ship being delayed

discharge means

the ship behind is also

delayed.

The late payment of a

trade invoice means less

money in the chain for

development.

I know that insurance

companies are getting

more enquires for cyber-attack

coverage.

I would suspect that at

some point, not that far

away, cyber-security will

be a "tender" chapter just

as important and OH&S

and sustainability.

I suggest you get this

on your radar now.

When online and real life collide

by the employer. What

link will depend on each

specific circumstance but

can include factors such

as:

• Can the employee be

identified?

• Could the employer's

reputation and business

be damaged?

• Were the comments

or materials made publicly?

• Were the comments

seen by (or directed to)

other employees?

• Is there a breach of

the law (discrimination,

harassment, bullying

etc.)?

• Is there a breach of

policy which has been

communicated to the employee?

In a nutshell, there are

a few lessons for employers

to bear in mind

in relation to social media

and their employees:

• having a clear social

media policy is important;

• ensure consultation,

revisiting, training/information

sessions and enforce

it;

• educate your employees;

• there must be a link

to work;

• procedural fairness is

paramount; and

• individual circumstances

of each case are

highly significant.

The TCCI is here

to assist you with all

of you employment related

matters and you

can contact the Helpline

on 1300 765 123

or the TCCI on 1300 59

122 or workplacerelations@tcci.com.au

...there are a few lessons

for employers to bear in

mind in relation to social

media and their

employees

www.tcci.com.au

Eight steps

to sell a

business

Dean

Demeyer

Business Broker

I AM frequently asked what steps are involved

in selling a business. It comes up because not

a lot of business owners have sold a business

before and they haven't had to consider it.

So what's involved?

Step 1

Accumulate business data that summarises

your business operations. Include types of

products or services you sell, an up-to-date

customer list, profit and loss statements, tax returns,

and BASs for the previous three years,

and details of employees.

Step 2

Create a list of business assets. Don't use the

accountant's depreciation schedule as these use

accelerated depreciation rates given to them by

the ATO and show assets at very low values.

These schedules can also list very old assets.

Step 3

Consult a business broker to determine a fair

price for your business. Over-pricing may lead

to fewer offers, under-pricing may lose money.

Step 4

Advertise the sale of your business using online

business-for-sale websites.

Step 5

Thoroughly clean and tidy up your workspace.

Trust me, it matters.

Step 6

Have professional advisors review all contracts.

An accountant will give you the best tax

advice of how to structure the deal. A lawyer

will ensure all areas of the sale are covered.

Step 7

Set a definite closing date to sign all paperwork

and a settlement and handover date to

pass over keys to the business.

Step 8

Have your business broker coordinate the

settlement and handover process. They will organise

to get all involved parties to settlement

and ensure the transaction goes through. They

also handle all settlement proceeds to guarantee

you receive your money quickly.
---
6 Tasmanian Business Reporter - AUGUST 2017

THOUGHT LEADERSHIP

www.tcci.com.au

Top chefs to show Japan our best

Restaurants and hotels across Japan will

again show off their creativity using the

finest Australian produce

AUSTRADE in Japan

will again hold a "Taste

of Australia" menu competition

to strengthen our

position as a partner of

choice in supplying Japan

with premium food

and beverage products

I was in Tokyo in

May for the launch of

the competition by the

Australian Ambassador

to Japan Richard Court,

who is also an honorary

judge of the competition.

Nineteen chefs and

two food journalists visited

Australia in March

as a precursor to the

competition.

The Tasmanian Department

of State

Growth sponsored seven

of the Japanese chefs

to visit Tasmania in a

program that showcased

Tasmania's capability to

produce fine, world-class

food and beverage products

for the food service

and hospitality industry.

The key concept of the

menu competition is for

Japanese chefs to cre-

Sally

Chandler

Tradestart Adviser

atively fuse Australian

premium products with

the Japanese culinary

style and to continue to

strengthen the Australia-Japan

relationship

at all levels through the

enjoyment of innovative

menus and delicious

food and beverages.

Restaurants and hotels

across Japan have been

invited to participate in

the menu competition.

The inaugural competition

in 2016 attracted

47 team participants.

From a team of two or

three members, one team

member is required to be

a working chef aged 35

years or less.

Each team is required

to use premium Australian

produce already

available in Japan as the

centrepiece of each dish

and is required to create

a three-course Australian

menu consisting of an

entree, main and dessert

while embracing the Japanese

"WA" style.

Additionally it is required

that each dish is

paired with an Australian

alcoholic beverage of either

premium wine, spirit

or craft beer.

Each participating

venue is required to offer

the special three-course

Australian menu at their

premises for a minimum

of two weeks between

August 1 and October

31.

At the end of October

Austrade will announce

the top 10 teams who

Tokyo Trade Commissioner Julianne Merriman with Sally Chandler at the launch of the Taste of

Australia menu competition 2017.

will compete in a live

cook-off competition on

November 30 and the final

award ceremony will

be held on December 1 at

the Australian Embassy

in Tokyo.

The overall winner

will be presented with a

team trophy, certificate

and a visit to Australia

for one person in late

January, 2018.

There is a similar prize

for runner-up and category

prizes for Best Clean

and Green, Best Aussie

Beef and Lamb, and,

Best Food and Beverage

Matching.

The celebrity judges

include Japan's original

Iron Chef Hiroyuki

Sakai.

The menus presented

in 2016 were inspirational

and the dishes extremely

artistic, colourful

and full of flavour - I

expect the same this year.

For international

trade and investment

assistance contact the

TCCI's TradeStart Adviser,

Sally Chandler,

at sally.chandler@tcci.

com.au or phone

1300 559 122
---
Tasmanian Business Reporter - AUGUST 2017 7

THOUGHT LEADERSHIP

Forums focus on available services

Getting

down to

business

www.tcci.com.au

International

buzz about

Tassie idea

Bee Backpacks destined to fly around

the world.

LAST week I had the

pleasure of attending

seven small business forums

across the state as

part of Small Business

Week 2017.

The hugely successful

forums were organised

by the Small Business

Team at Department of

State Growth in partnership

with the Tasmanian

Small Business Council.

About 400 owners

and aspiring start-ups attended

forums at St Helens,

Burnie, Devonport,

Launceston, Huonville,

Sorell, and Hobart.

The objective was to

direct small businesses

to a range of service

and program information

available through Business

Tasmania, Enterprise

Centres and their

peak industry bodies

such as the Tasmanian

Small Business Council,

to help them grow and

succeed.

The participants now

know where to go to access

skills, grants, and

mentoring programs.

In conjunction with the

small business forums, I

also officially relaunched

a fresh new Business

Tasmania website, which

puts helpful information

right at business fingertips.

The website will make

it easier for Tasmanian

businesses and aspiring

start-ups to find information

from starting a business,

to employing a first

apprentice, and managing

financial paperwork.

Business Tasmania

provides businesses with

a one-stop-shop providing

access to useful tools

and programs including

personalised business advice,

business mentoring,

and information on available

grants and loans.

With renewed business

and consumer confidence

across the state, Tasmanian

small businesses

are in great shape to take

advantage of these programs

and tools.

This sentiment is reflected

in the preliminary

results from recent

EMRS research, which

points to a bright future

for the Tasmanian small

business sector.

Speaking to a sample

of 800 small businesses

in Tasmania, initial data

suggests more than 40

per cent of Tasmanian

businesses have plans to

increase employee numbers

over the next two

years.

It also pointed to a

large number of new

businesses starting up

in Tasmania, with 10

per cent identifying as a

start-up.

Preliminary data

shows that confidence

among the 36,000 Tasmanian

small businesses

is high, with potential to

build on 100,000 jobs.

Gas deal standoff threatens jobs

LABOR is very concerned

about the gas

contract standoff affecting

Tasmania's biggest

energy users.

Despite negotiations

starting in 2014, Hydro

Tasmania is no closer to

reaching a deal with the

Tasmanian Gas Pipeline.

Major gas users like

Bell Bay Aluminium

have been warned that

without a deal, transpor-

tation prices could increase

by as much as 95

per cent.

One of the well-attended business forums held around the state.

An increase of this

magnitude could not be

absorbed by our major

industrials without having

an impact on employment.

It all means uncertainty

for the businesses that

rely on access to gas at a

competitive rate.

Labor's argument is

the situation should never

have been allowed to

drag out for three years.

We know that in 2014

and 2015 negotiations

were severely hampered

due to the Government's

desire to sell the Tamar

Valley Power Station.

Without the combined

cycle gas turbine, Hydro

would not need the same

type of long-term contract

with TGP.

That meant negotiations

were not being carried

out in good faith as

indicated by the CEO of

the Tasmanian Gas Pipeline

Lindsay Ward at a

Parliamentary Inquiry

into the energy crisis last

year.

Given the Energy

Minister had a primary

role in the decision to

sell the power station,

we argue that he should

take greater responsibility

in resolving the negotiations.

If the standoff is going

to end in arbitration, the

Minister needs to explain

how that will occur and

how long it might take.

The speculation surrounding

the future of

gas contracts in Tasmania

is bad news for our

biggest businesses.

Given their enormous

contribution to Tasmania's

economy, we think

they deserve greater certainty.

And given the contract

situation also affects

smaller businesses and

consumers, it's time for

a deal to be secured.

If the standoff is going

to end in arbitration, the

Minister needs to explain

how that will occur

By OWEN TILBURY

MINUTE sensors labelled "backpacks" for

bees, developed in Tasmania, are now being

used world-wide to try and understand

why the world bee population is in serious

decline.

With honey bees in the US alone declining

25% per year, between US$235 -

US$577 billion worth of annual global food

production is under threat, given its reliance

on pollinators, including 20,000 species

of bees.

Enter Professor Paulo da Souza, science

leader at CSIRO Hobart and winner of the

2015 Innovative Science and Technology

Award in the annual Innovative Tasmania

Awards.

His team developed radio-frequency

identification (RFID) tags that measure how

and when bees deviate from their intensely

predictable behaviour.

The new generation of sensors is now

powered by the vibration of the bees wings.

The project is conducted in partnership

with Vale mining company, Intel, Hitachi

and UTAS.

Prof. da Souza says Tasmania is an

amazingly innovative island, where solutions

to local and international problems

can be created fast and effectively.

He said the Innovative Tasmania Awards

celebrate Tasmania's inspiring innovativeness.

Crowd-voting for the 2017 Awards is open

until September 10 at www.bofa.com.au.
---
5

DAYS

CAN MAKE ALL

THE DIFFERENCE

Our world-class Company Directors Course will help improve

your performance and accelerate your career.

Upcoming dates in Sandy Bay

14 August -18 August 2017

23 October - 1 November 2017

Enrol now t: 03 6242 2200

w: companydirectors.com.au/tas5days

05958-2_17
---
Tasmanian Business Reporter - AUGUST 2017 9

THOUGHT LEADERSHIP

West Coast wind power

www.tcci.com.au

Creative learning

through innovation

By MATTHEW

GROOM,

Minister for

Energy

THE Hodgman Liberal

Government continues

to unveil its vision to establish

Tasmania as the

renewable energy battery

of the nation.

Another significant

step forward has been

taken with Hydro Tasmania

reaching in-principle

agreement with Westcoast

Wind Pty Ltd on a

power purchase agreement

for the $280 million

Granville Harbour Wind

Farm on the West Coast.

This massive development,

which has all of

the required development

approvals, will be 33

turbines providing 112

megaWatts of capacity

and is expected to create

200 jobs during construction

and about 10 on-going

jobs and generate

enough power for more

than 40,000 homes.

It follows the announcement

in June this

year that a similar agreement

had been reached

for a $300 million,

49-turbine wind farm at

PROJECTe managing director Justin Couper, left, Granville Farm owner

Royce Smith, Energy Minister Matthew Groom and West Coast Wind

director Alex Simpson.

Cattle Hill in the Central

Highlands.

The power generating

capacity of both

wind farms will contribute

more than 840,000

megaWatt hours of power

annually.

This is important additional

generation that

can reinforce Tasmania's

energy security and also

help deliver more clean

energy into the national

market.

West Coast Wind director

Alex Simpson said

this was an important

project not only for the

West Coast, but North

West Tasmania and the

state.

"The project will create

about 112 megaWatts

of clean, renewable energy

that will be put into

the Tasmanian electricity

grid.

"It will take about 18

months from now until

completion of construction."

Granville Farm Owner

Royce Smith, is excited

by the project.

"It's been about a 14-

year process since we

were first approached

about a wind farm on

the property" Mr Smith

said.

"It's such a beautiful

place for a wind farm

and we're thankful for

the support of the Gov-

ernment to get us to this

stage.

Justin Couper, Managing

Director of PRO-

JECTe, a company that

specialises in the delivery

of renewable energy

projects, in particular

wind farms, says the

project will have a big

impact on West Coast

communities.

"It's actually more

than just 200 jobs. Our

experience in building

similar projects in Tasmania

is that you'll see

1,200 people touched by

the project."

The Government is

seizing every opportunity

to maximise our

contribution to Australia's

renewable energy

demands while also securing

renewable energy

development jobs, including

in regional Tasmania.

This significant milestone

for the Granville

Harbour wind farm development

is another example

of the Hodgman

Government backing our

competitive strengths in

renewable energy and

our commitment to attracting

new investment

and creating jobs.

By GARY

McDARBY

ADVANCES in neuroscience

are challenging

the very foundations of

the traditional education

system, providing new

insights into how people

learn.

Our ability to monitor

and understand brain

function has grown considerably

over the last

few decades as advances

in real-time imaging

technology have revealed

new insights into

how the brain works.

Our minds are fundamentally

embodied and

relational. Our brains,

bodies and relationships

are integrated and

change in response to our

experiences.

This has profound implications

for the way we

learn, especially in the

early years.

The current education

system is still based

heavily on the Victorian

model, in which everyone

was taught to read

and write the same way

and was measured on the

same skills.

This translates to the

workplace, where in the

past people could use

those same skills in long

careers with one company.

But rapid changes in

technology now require

flexible, adaptable skills.

People now have to

re-define themselves every

couple of years.

The greatest skill is the

skill to learn and to love

learning. We need to create

a framework for outcomes,

not a framework

for measurement.

There is a great opportunity

in Tasmania, because

of its size and the

reach of the University of

Tasmania, to take a different

path with learning

that moves away from

structures and produces

"confident, innovative

people".

Chief Executive of Enterprize

Tasmania, Dr Gary McDarby

is a technology consultant

with a background in

electronic engineering and

neuroscience.

His latest project, Enterprize,

is a pair of innovation hubs

in Hobart and Launceston

designed to support

entrepreneurial endeavour,

specifically focused around

technology.

• From a keynote presentation

to Education Transforms

2017 in Hobart
---
10 Tasmanian Business Reporter - AUGUST 2017

APPOINTMENTS and ANNOUNCEMENTS

Bay views from

new lodge pods

An architect's render of the proposed development at Freycient

Lodge at Coles Bay.

Picture: Liminal Architecture and FloodSlicer.

WORK has started on redevelopment

at the RACT'S award-winning

Freycinet Lodge.

The development will provide six

new rooms and nine new accommodation

pods on the existing Coles

Bay site.

RACT CEO Harvey Lennon said

the pods would create a new dimension

and a new offering.

"The design is something fairly

unique in Australia and perhaps the

world" Mr Lennon said.

IN BRIEF

"The pods will be spacious and

will captivate the beautiful turquoise

waters and granite in the Freycinet

National Park."

RACT was one of the first companies

to take advantage of development

opportunities under the State

Government's wilderness tourism

EOI process.

The company revised its original

development plans after community

opposition to further expansion into

the National Park.

APPOINTMENTS

Massina

on point

INTERIM Macquarie Point Development

Corporation CEO Mary

Massina has been appointed as the

Corporation's new permanent CEO.

Ms Massina's been tasked

with delivering the ambitious plan

for Macquarie Point, which includes

the $2 billion Mona cultural component.

Ms Massina was previously the

Executive Director of the Property

Council in Tasmania and most recently

chaired the Planning Reform

Taskforce, which helped develop

Australia's first

single statewide

planning

scheme.

"The Government

looks

forward to

working with

Ms Massina

and the Macquarie

Point

Development

Corporation

Board to deliver

an outstanding

redevelopment

at the Macquarie

Mary

Massina

Point site that will provide significant

outcomes for the Tasmanian

community," Premier Will Hodgman

said.

Apprentice

advovcate

CAMERON Lawrence has been appointed

as the TCCI's new Apprenticeship

Adviser.

Mr Lawrence will oversee a

project to provide a direct support

service targeted at small business

owners, encouraging them to employ

apprentices and trainees.

The TCCI has identified the

key areas in which small business

requires additional support in order

to engage with the VET system,

particularly in relation to employing

apprentices and trainees.

This project offers a "one stop

shop" service to employers, allowing

employers to select the support

services

they require

in order to

identify opportunities

to

employ apprentices

and

trainees.

Each

employer

and their

apprentice or

trainee will

be provided

with up to

12 months of

mentoring to Cameron

support retention Lawrence

and completion

of qualifications.

Mr Lawrence has worked in

the apprenticeship and traineeship

industry for 12 years starting with

the Australian Technical College in

2005 as the Industry liaison officer.

He has also held roles with TAFE,

Work and Training and Megt doing

similar industry engagement work.

Huon commission

extended

THE Government has extended

Adriana Taylor's appointment

as Commissioner for the Huon Valley

Council for a further 12 months.

Ms Taylor was initially appointed

last October to restore stability and

good governance to the municipality

following a Board of Inquiry

and the subsequent dismissal of

the Huon Valley councillors.

The government said Commissioner

Taylor has worked

diligently and professionally and

has received strong, positive feedback

from the community.

Top loan

administrator

AUSSIE Launceston loan administrator

Alison Campbell has been

named as the top loan administrator

in Victoria

and Tasmania

by the Mortgage

Finance

Association

of Australia

(MFAA).

Alison,

who works at

Aussie Home

Loans' Launceston

office,

is now in the

running for the

national title, to

be announced in

Melbourne.

Alison

Campbell

The MFAA Excellence Award

is awarded to loan administrators

who have achieved ongoing

excellence and effectively supported

the broker or business in

which they operate.

Apart from her administration

duties, Alison has also managed

Aussie Launceston's sponsorship

activities, including the Sundown

Cinema, Junction Art Festival,

BOFA Festival and local soccer

club, Riverside Olympic.

Landcare seeks

Board skills

LANDCARE Tasmania is seeking

Expressions of Interest to be part of

its new Board.

Executive Officer Rod Knight

said the move to a skills-based

board was part of a reform of the

organisation's governance to meet

increasing expectations and regulation

in the not-for-profit sector.

Landcare Tasmania has experienced

strong growth over the last

year, with 40 new Landcare groups

forming in the last 12 months. This

growth has taken total groups in

the state to 200, with a combined

membership and volunteer base of

3300 people carrying out 90,000

hours of voluntary community work

every year.

"The new board will be pivotal

in being able to consolidate and

continue that growth, to address

the opportunities and challenges it

brings, and to introduce new and

innovative approaches to supporting

community Landcare in the state",

Mr Knight said.

The areas of skills and experience

Landcare Tasmania is seeking

include:

• financial planning, management

and accounting;

• governance, risk management

and strategic planning; and

• fundraising, marketing and promotions.

For further information see: www.

landcaretas.org.au/board_eoiCampbell

Small businesses

marketing grants

THE City of Hobart has launched

two new marketing grants for businesses

opening in August.

The Shopfront Improvement

Grant provides matched funding of

up to $5000 for store owners and

tenants to creatively improve their

shopfront.

The grant encourages improved

streetscapes as well as attracting

more customers.

The Local Trader Marketing

Grant of $5000 is an opportunity for

groups of five or more businesses to

attract customers to their local area.

For eligibility and to apply, visit

hobartcity.com.au/marketingrants.

Grants open August 12, 2017 and

close 5pm September 11, 2017.

Rapid Response

Reduced Risk

Our Business

Is People

Right Experience
---
Tasmanian Business Reporter - AUGUST 2017 11

EVENTS NEWS

EVENT:

Australian Institute of Management:

diversity & inclusion in

the contemporary workplace

LOCATION:

Waterfront Pavillion, Hobart

DATE:

Thursday 29, July 2017

ABOVE: Joy Wilson and Helen Kent from Lowrie Kent

Conveyancing, Angela Sonners from Travel Counsellors and

Julia Lane from the Australian Institute of Management.

ABOVE: Kate Garvey of the Department

of Health and Human Services, left, with

daughter Greta and Mikailah Lehmann of

Join the Dots

LEFT:

Dianne Underwood

of Wrest Point, left,

Diane Carroll from

Eastside Lutheran

College, Robin

Banks of Michael

Small Consulting,

Tim Baker from

the Department of

Primary Industries

Parks Water and

Environment and

Susan Ditter from

Working it Out

ABOVE: Damien Arkley of Metro Tasmania and Annette

Rockliff from the Devonport City Council.

RIGHT:

Adrian Pursell of IML

Regional Advisory

Committee, left, and Di

Carter and Janine

Arnold from Carers

Tasmania.

LEFT:

Chantel Crossman of

Creative Partnerships

and Louisa Vanderkruk

from Peoplepie.

BUSINESS

2

BUSINESS

YOUR QUICK GUIDE TO SERVICES AND PRODUCTS FOR YOUR BUSINESS

SPECIALISTS IN OFFICE

FURNITURE SINCE 2001

At Flair Office Furniture, we've specialised in

keeping Tasmania's Businesses well stocked in

office furniture since 2001.

FOR SALE OR FOR HIRE - THROUGHOUT TASMANIA

Phone 6234 1127

260 Argyle Street,

North Hobart

www.flairofficefurniture.com.au

To see your business here, call Kerri on 0419 750 267 or email kerri@thetrustedmediaco.com

Printing Technology

and Tradition.

Here's just some of the things we do regularly...

• Books • Magazines • Newsletters • Catalogues • Annual Reports

• Business Cards • Letterheads • Posters • Flyers • Corporate Branding

• Logo Design • Packaging • Wine Labels • Stickers • Swing Tags

• Mail-Outs • Folders • Forms & Invoices • Variable Data Printing

• Language Translation • Web Design • Proof Reading

• Copywriting • Large Format Signage & Display

Whatever your needs, get in touch.

We're here to help.

more than just fine printers.

p. 03 6332 1400

www.footandplaysted.com.au

99-109 charles street launceston tasmania 7250
---
Tasmanian Business Reporter - AUGUST 2017 12

PROPERTY MATTERS

Valuation focus on interest

Scott Newton

Property Matters with

Knight Frank

This month's article is a valuer's perspective of the

Tasmanian property market from Matthew Page,

Knight Frank Tasmania's Director – Valuations.

RECENT sales across the retail,

commercial and hospitality property

sectors indicate firm competition for

assets leading to yield compression

and increases in property values.

This yield compression has been,

to varying degrees, more pronounced

for prime assets although

secondary markets have recently

shown recent strong yield compression

as well.

Commercial property markets are

now trading on returns below their

long-term averages.

While it is difficult for assets in

a buoyant market to continue trading

below lower term averages, the

trend does indicate general asset

property pricing and cyclical risk

exposure.

Compression of commercial

property returns and the subsequent

increases in property values has correlated

to the accepted trend of interest

rate movement.

Compression of commercial property returns in Hobart and the

subsequent increases in property values has correlated to

the accepted trend of interest rate movement.

Many vendors have been more

than willing to dispose of assets in

the current economic environment,

noting the upturn in the market associated

with a low cost debt environment

for buyers. There have

been higher than average numbers

of investment property sales and at

yields well below 6.0%, even as low

as 3.5% in the last twelve months.

While returns are the benchmark

for commercial property values, valuation

of property takes account of

income perpetuity. The market will

generally be confident in a strong

business location to sustain ongoing

income certainty. The issue in the

current market with strong demand

is the weight of money pursuing a

better return than other asset categories

such as cash and equities. Investors

appear more focused on the

current income.

Investment property will and

should exhibit a higher return to account

for times when issues such as

income uncertainty or building capital

expenditure fall due.

This is the major, and more costly,

characteristic of investment property

and it is at the investors peril if

capital expenditure is not addressed.

Tenants will not accept such situations

and it normally forms part of

the lease covenant anyway. These

are but a few examples of why property

is risk rated higher than other

asset categories.

So now and into the short term,

valuation of commercial property

will focus not just on the property

investment market dynamics such

as the number and type of investors,

the state of the tenancy market and

physical attributes of the property

itself.

There will be further focus on factors

influencing interest rate movements.

For a longer than average time

frame now, investors have been able

to access funds from a historically

low cost debt market. Lenders have

been factoring their own risk into

debt pricing and the costs of prudential

requirements set down by the

Australian Prudential Regulation

Authority (APRA) raising capital

adequacy requirements on banks to

higher levels.

All this is outside the Reserve

Bank settings that might be set for

change if the US Federal Reserve

start increasing rates by the number

of occasions speculated over the

next twelve months.

Further interest rate rises cannot

be discounted and APRA prudential

requirements on lenders have been

one reason the RBA have kept interest

rates at the historic low levels

aside from the main objective as a

consumer price lever.

The Australian Government Budget

2017 announcement of a 0.06%

levy on banks with liabilities above

$100 billion may influence the cost

of lending.

The cost of funds seems set for a

few changes which will continue to

influence commercial property market

returns and values.

PROPERTY VIEW

AUGUST 2017

For sale by Expression of Interest

BARK MILL TAVERN & BAKERY

96 Tasman Highway, Swansea

• Located in the historic and picturesque

township of Swansea

• A business that benefits from a customer

base of local residents and tourists, and the

'Great Eastern Road' touring route

• A very diverse business offering the Tavern,

Bottleshop, Bakery, and Museum

• Consistently growing large turnover

• Modern building preserving the character

and history of the site

• Great return on investment!

Rob Dixon 0408 134 025

John Blacklow 0418 128 735

View at KnightFrank.com.au/3732971

For sale – $800,000+

A HEALTHY INVESTMENT – 9% RETURN

174 Brighton Road, Brighton

• A great opportunity to add a freehold

investment to your portfolio

• Situated in the heart of Brighton, one of

Tasmania's fastest growing suburbs

• Leased to ASX listed Sonic Healthcare,

trading as Hobart Pathology

• Large flexible floor plan previously used as

medical practice provides upside

• Plenty off-street car parking and positioned in

the heart of Brighton's shopping district

Outline indicative only

SOLD

For sale by Expression of Interest

SUPERB DEVELOPMENT OPPORTUNITY

6 Paige Court, Warrane

• Unique infill development site of 4,236sqm

(approx) in a core Eastern Shore location

• Zoned 'General Residential' with possibility

of up to 13 units/villas (STCA); lot size

325sqm minimum

• Excellent accessibility off Paige Court and

nearby Cambridge Road

• Well located site within walking distance to

schools, public transport, sports grounds,

and major shopping centres

• Well priced compared to recent

development sales

Matthew Wright 0458 29 588

Scott Newton 0409 186 261

View at KnightFrank.com.au/3765572

Sold

'ARTHOUSE SALAMANCA'

104 Salamanca Place, Battery Point

• This historic c1880 conjoined townhouse,

constructed of brick and convict hewn

sandstone represents the very best of

Victorian Georgian style.

• A successful renovation showcases

thoughtful, contemporary design that is

seamless and sophisticated

• Substantial, spacious interiors, full of natural

light; exceptionally well-appointed; extends

over two levels including a mezzanine space

• 3 bed; 2 bath; 1 garage

Outline indicative only

Matthew Wright 0458 290 588

View at KnightFrank.com.au/3648803

Lynne Page 0429 948 963

View at KnightFrank.com.au/HBT170248

5 Victoria Street, Hobart 41 York Street, Launceston Shop 6a, 48-54 Oldaker Street, Devonport

P: 03 6220 6999 P: 03 6333 7888 P: 03 6333 7888