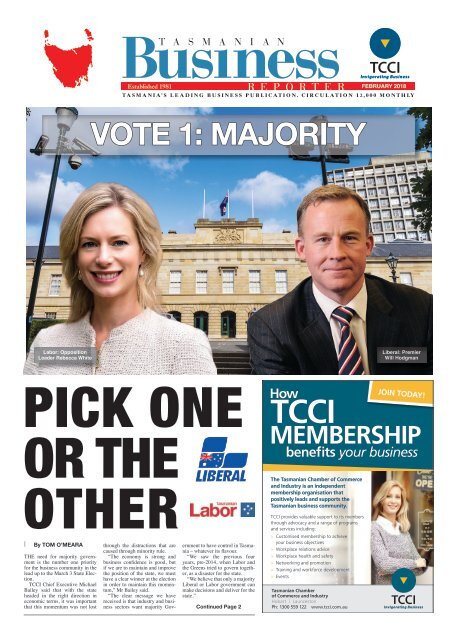 Tasmanian Business Reporter February 2018
This month, in the lead up to the March 3 election, Editor Tom O'Meara stresses how important a majority government is to the Tasmanian business community. As usual, you'll also find the latest in business news from around the state. Please note, the March edition of the TBR will be published early, so any editorial submissions, appointments and announcements need to be sent to TBReditorial@fontpr.com.au by Monday, 12 February.
This month, in the lead up to the March 3 election, Editor Tom O'Meara stresses how important a majority government is to the Tasmanian business community.

As usual, you'll also find the latest in business news from around the state.

Please note, the March edition of the TBR will be published early, so any editorial submissions, appointments and announcements need to be sent to TBReditorial@fontpr.com.au by Monday, 12 February.
SHOW MORE
SHOW LESS
Create successful ePaper yourself
Turn your PDF publications into a flip-book with our unique Google optimized e-Paper software.
FEBRUARY 2018

T A S M A N I A' S L E A D I N G B U S I N E S S P U B L I C A T I O N . C I R C U L A T I O N 1 2 , 0 0 0 M O N T H LY

VOTE 1: MAJORITY

Labor: Opposition

Leader Rebecca White

Liberal: Premier

Will Hodgman

PICK ONE

OR THE

OTHER

By TOM O'MEARA

THE need for majority government

is the number one priority

for the business community in the

lead up to the March 3 State Election.

TCCI Chief Executive Michael

Bailey said that with the state

headed in the right direction in

economic terms, it was important

that this momentum was not lost

through the distractions that are

caused through minority rule.

"The economy is strong and

business confidence is good, but

if we are to maintain and improve

the position of the state, we must

have a clear winner at the election

in order to maintain this momentum,"

Mr Bailey said.

"The clear message we have

received is that industry and business

sectors want majority Government

to have control in Tasmania

– whatever its flavour.

"We saw the previous four

years, pre-2014, when Labor and

the Greens tried to govern together,

as a disaster for the state.

"We believe that only a majority

Liberal or Labor government can

make decisions and deliver for the

state."

Continued Page 2

How

TCCI

MEMBERSHIP

benefits your business

The Tasmanian Chamber of Commerce

and Industry is an independent

membership organisation that

positively leads and supports the

Tasmanian business community.

TCCI provides valuable support to its members

through advocacy and a range of programs

and services including:

> Customised membership to achieve

your business objectives

> Workplace relations advice

> Workplace health and safety

> Networking and promotion

> Training and workforce development

> Events

Tasmanian Chamber

of Commerce and Industry

Hobart | Launceston

Ph: 1300 559 122 www.tcci.com.au

JOIN TODAY!
---
TASMANIA'S LEADING BUSINESS PUBLICATION. CIRCULATION 17,000 MONTHLY

2 Tasmanian Business Reporter - FEBRUARY 2018

STATE ELECTION 2018

Parties focus on health, economy ... and pokies

Hung parliament looming

TASMANIA'S two major

political parties are

taking drastically different

approaches to the

March 3 election as a

hung parliament looms.

Will Hodgman's Liberal

team will focus attention

on the economy

and the improvements

made to the state's finances

and prosperity after

one term of a majority

Liberal Government.

Tasmania's health system

will be the number

one priority for Labor

under new leader Rebecca

White.

Major policy announcements

have started

to roll out.

The Liberals have released

a number of polices

aimed at the business

community.

Treasurer Peter Gutwein

said cutting payroll

tax would encourage Tasmanian

businesses to invest

and create more jobs

for Tasmanians.

"Under our plan, while

all businesses will benefit,

small to medium businesses

with wages bills

between $1.25 million

and $2.0 million will see

savings of up to $15,750

per year – representing

a tax cut of up to 34 per

cent for these businesses,"

Mr Gutwein said.

The Liberal Party also

released a Regional Jobs

and Investment Incentive,

with a package targeting

the creation of 600

new regional jobs by providing

payroll relief for

up to three years for any

business that relocates to

Tasmania and establishes

its operation in a regional

area.

Heath is Labor's big

ticket item.

Ms White said La-

bor would "dedicate the

funding and resources

needed to keep Tasmanians

healthier from

birth to old age, address

the chronic bed block in

each of Tasmania's major

hospitals and provide

staff at the coalface with

the additional doctors

and nurses and resources

they needed to care for

Tasmanians."

e dition

T A S M A N I A' S L E A D I N G B U S I N E S S P U B L I C A T I O N . C I R C U L A T I O N 1 2 , 0 0 0 M O N T H LY

Tasmanian Business Reporter can now be delivered directly to your inbox. With our 30,000-strong monthly print

readership, our new up-to-date digital distribution will keep Tasmanians abreast of the all latest in local business

news. From this month we will distribute electronic editions of the Tasmanian Business Reporter as we go to print.

To confirm your copy sign up to our mailing list via

tbreditorial@fontpr.com.au

Tasmania's business newspaper is published monthly by the

Tasmanian Chamber of Commerce and Industry. It is distributed

to businesses in Tasmania as well as key decision-makers.

Circulation: 12,000

Managing Editor: Tom O'Meara

0418 135 822

Editor: Becher Townshend

0418 370 661

Advertising and Special Projects

Gil Sellars 0448 901 361

gil@thetrustedmediaco.com

Editorial & Advertising

TBReditorial@fontpr.com.au

www.tasmanianbusinessreporter.com.au

Publisher:

Tasmanian Chamber of Commerce and Industry

309 Liverpool St, Hobart, TAS 7000

Ph: 6236 3600 Fax: 6231 1278 admin@tcci.com.au

TFGA House, 194-196 Cimitiere St, Launceston TAS 7250

Ph: 6331 1144 laun@tcci.com.au

Production:

aldridge.media

Ph: 0431 241 775

aldridge.media@iinet.net.au

Printer: Mercury

Level 1, 2 Salamanca Square, Hobart, 7000

Responsibility for election comment in this issue is taken by the editor

Becher Townshend, Suite 24, Fourth Floor, Galleria Building,

33 Salamanca Place Hobart Tas 7000.

A majority Labor government

would invest

$560 million to recruit

up to 500 additional staff

across Tasmania's entire

health and hospital system

over the next six years.

The package includes

offering 100 more graduate

nurse positions, recruiting

to fill nursing

vacancies, 20 hospital

doctors, 25 ambulance

Pick one or the other: TCCI

From Page 1

One of the major frustrations

from Labor

during the previous government

was the consistent

compromise of decisions

resulting in the

"second best" result for

the state.

Recent polling suggests

that a hung parliament

is likely, with a

number of the Liberal's

15 seats at risk which is

a surprise when you recall

the Liberal's gained

51 per cent of the votes,

compared to Labor's 27

per cent at the 2014 election.

While there will be a

shift in the percentage

of votes for both parties,

the Liberal Party says its

privately-commissioned

polling shows it could

hold onto 14 seats.

Thirteen seats are

needed to form government.

The Liberal-commissioned

survey gave Will

Hodgman victory in the

preferred premier status

and also found 41.1 per

cent of the 3,000 respondents

would vote for the

Liberals, 34.2 per cent

for Labor and 12.8 per

cent for the Greens. The

JLN would receive 6.1

per cent.

In contrast, the last

EMRS poll conducted

before Christmas found

the Liberals and Labor

were neck and neck, with

both parties polling at 34

per cent.

Most analysts say Labor

can't win enough

seats from its base of

seven to form majority

government – they

Tasmanian

Hotels

Association

chief

Steve Old,

left, and Love

Your Local

campaign's

Michael Best

campaign for

poker

machines.

paramedics and fund 32

GP internships.

The most contentious

issue of the lead up to

polling day so far has been

Labor's big gamble to distance

itself from the gaming

industry.

Labor's key policy of

removing poker machines

from all pubs and clubs

has been welcomed by

members of the health and

would most likely win

10.

Both party leaders

have ruled out governing

in minority, which

would mean that unless

one of them changes

their stance on that after

polling concludes, the

ELECTION

SPECIAL

The Tasmanian

Business Reporter

will publish a

special

pre-election

edition online on

February 22 and in

print from

February 23 with

details of the

latest party

policies.

ADVERTISING

ENQUIRIES:

Gil Sellars

0448 901 371

gil@thetrusted

mediaco.com

social service sector but

is being targeted by those

most likely to lose their

jobs under the plan, with

pubs and clubs across the

state accusing Labor and

Greens of being elitist.

High-impact banners,

posters and billboards

have been rolled out

throughout Tasmania this

week, with two messages,

"Labor thinks you are

stupid' and "Save our jobs,

vote Liberal".

Forestry is another issue

that will likely come

to the fore. The Liberals

have been criticised for

announcing a $43 million

loan and assistance

package to secure the development

of Australia's

largest plantation-based

hardwood mill and the first

ever hardwood cross-laminated

production plant

during the campaign.

Hermal Group will

state could face the unthinkable

and return to

the polls.

The hung parliament

possibility has led the

TCCI to repeat calls for

the restoration of numbers

in the Lower House

to 35.

ONLY LABOR WILL

PUT PEOPLE FIRST

Rebecca

ADVERTISEMENT

build a new $190 million

hardwood mill plant, creating

221 jobs, at Burnie.

"This will be an absolute

game-changer for

Tasmania's North-West

and North", Premier Will

Hodgman said.

The majority of timber

supply will be sourced

from Forico plantations in

the North-West and North

but it is expected there will

also be opportunities for

smaller Tasmanian private

forest growers and farmers.

The Tasmanian

Business Reporter

will publish a special

pre-election edition –

online from February

22 with the print edition

distributed from

February 23 – featuring

comprehensive

details of the latest

Labor and Liberal

policies.

"One, it's more democratic,

two it will provide

a greater talent pool

for all parties and therefore

greater benefit for

the Tasmanian people,

for whom they are elected

to represent," Mr Bailey

said.

White mp

TASMANIAN LABOR LEADER

6212 2225

rebecca.white@parliament.tas.gov.au

Authorised by R.WHITE, 33 COLE ST, SORELL

ADVERTISEMENT

WORKING HARD

FOR YOU.

Authorised by M. Ogilvie, 331 Main Road, Glenorchy Tas 7010
---
Tasmanian Business Reporter - FEBRUARY 2018 3

NEWS

Boon for small exporters

AUSTRALIAN Small Business

and Family Enterprise

Ombudsman Kate Carnell

predicts 2018 will be a year of

strong growth for small business

exporters.

Ms Carnell said Australia's

International Business Survey

2017 showed there's greater

confidence among businesses

that are already exporting.

In agriculture and wholesaling,

two thirds of businesses

believe the outlook is better

than the previous two years.

China, the US and UK

have been identified as markets

where strong revenue

growth will occur. Commissioned

by the Export Council

of Australia with support

from Austrade, Efic and UTS,

the survey revealed that an increasing

number of firms are

"born global", which means

they're exporting at the very

beginning.

Ms Carnell said the survey

findings matched Efic's exporter

sentiment index from

August, which showed two

thirds of respondents expected

future sales revenue to increase.

"Potential exporters need to

know there is support available

from Austrade and Efic

to research their markets,

make connections and obtain

finance," she said

"Over the past three years,

Efic has worked with more

than 262 small businesses

and provided more than $350

million in financial support.

"Efic is the Australian Government's

export credit agency;

it operates on a commercial

basis and partners with

banks.

"Rapidly growing small

businesses need finance that

doesn't require putting the

family home on the line."

Riders come

to grips

Farm soon to harvest

wild West Coast wind

Premier Will Hodgman, left, congratulates Granville Farm owner Royce

Smith at the start of construction on the new West Coast wind farm.

CONSTRUCTION has

begun at the $280 million

Granville Harbour

Wind Farm.

The 112 megawatt

West Coast plant will

contribute towards plans

to double Tasmania's renewable

energy capacity

and make it the Battery

of the Nation.

The development involves

31 turbines and

will connect to the network

at Reece Power

Station.

Hydro Tasmania acting

CEO Gerard Flack

said the business would

buy about 360 gigawatt

hours (GWh) of energy

and renewable energy

certificates per year from

the new wind farm.

"The birth of Granville

is another sign that

Tasmania's national energy

revolution is really

taking off," Mr Flack

said.

"We're delighted to

be supporting the Granville

Harbour wind

farm, and helping to

make it happen," he

said.

Tasmania has about

300 megawatts of

on-island wind power

capacity, providing almost

10 per cent of Tasmania's

electricity.

The Battery of the

Nation initiative, including

plans for more

interconnection, will

open the door for up to

3000 megawatts of Tasmanian

wind power.

"Tasmania has huge

natural advantages including

an existing

hydro power system,

exceptional wind resources,

elite expertise,

and the head-start

we're already taking,"

Mr Flack said.

"Our work to identify

Tasmania's best possible

pumped hydro sites

under Battery of the

Nation is progressing

well.

"We're pleased that

the Tasmanian and Federal

Governments have

committed to pursuing

the next stage of a business

case for a second

Bass Strait interconnector,"

he said.

Chi (Addy) Ngo, right, worked closely with TIS head cycling coach

Matthew Gilmore, centre, on the customised design used by TIS cyclists

including Zack Gilmore.

A NEW handlebar design that helps

cyclists achieve a more aerodynamic

position could be the key to Tasmanian

Institute of Sport athletes improving

their performance on the track.

Chi (Addy) Ngo, a graduate of the

Australian Maritime College's Co-operative

Engineering Program, worked

closely with TIS Head Cycling Coach

Matthew Gilmore on a customised

design to help cyclists go faster by

eliminating turbulent air-flow between

the handlebar and the forearm.

A prototype has been tested with

very successful results and it's hoped

the new design will be rolled out

across the TIS cycling team to replace

their current L-shaped handlebars.

"We've trialled the handlebars at

training and through what we call

power meters, and we can actually

measure the difference between the old

set of handlebars and the new by doing

trial runs," Mr Gilmore said.

"But more importantly, competition

is our biggest way of testing any new

equipment. We used the handlebars

last year and actually broke the state's

record in the team's pursuit, so it's

something we're particularly proud of

as an institute, but also just being able

to validate the design that the Australian

Maritime College has put together

for us.

"The end product has been absolutely

fantastic and it looks great, it

certainly turns lots of heads, people

are very intrigued by the design."

Mr Ngo undertook the design

project as part of his Bachelor of

Engineering (Co-operative Engineering

Program), in which students

combine their university studies

with periods of industry work placements.

He graduated in 2016.

A model of the best prototype was

created and printed using AMC's

design software and 3-D printer,

with the end result being used as a

mould to build the first set of handlebars

out of carbon fibre.
---
ADVERTISEMENT

We are proud

to represent

the 2100

Tasmanians

who work for

Federal Group

Our stories are

the story of

Federal Group

Our stories are about

communities and families

across the state.

Federal Group has proudly

operated in Tasmania for more

than 60 years.

We believe in the future of

Tasmania, which is why we are

committed to delivering

award-winning products and

services for Tasmanians and

visitors from all over the world.

Hear our stories and learn

the facts

www.federalgroup.com.au

SENSITIVE FREIGHT

AUTHORISED BY D. HANNA

FOR FEDERAL GROUP, 410 SANDY BAY ROAD,

SANDY BAY
---
Tasmanian Business Reporter - FEBRUARY 2018 5

STATE ELECTION 2018 STATE ELECTION 2018

Vote 1 majority government

Michael

Bailey

TCCI Chief Executive

THE TCCI believes the

March 3 poll will be one

of the most important

Tasmanian elections ever

as the state sets itself for

the next 10 to 20 years.

The chamber sees a

range of major opportunities

and challenges

ahead for Tasmania.

Perhaps the most important,

as an apolitical

organisation, representing

members of all political

persuasions, is the

clear message we have

received – that industry

and business sectors

want majority Government

to have control in

Tasmania – whatever its

flavour.

We saw the previous

four years, pre-2014,

when Labor and the

Greens tried to govern

together, as a disaster for

the state.

We believe that only

a majority Liberal or

Labor government can

make decisions and deliver

for the state.

Just in this past week,

we have seen the State

Government sign the

Hobart City Deal with

the Federal Government.

We will wait – both

anxious and excited – to

see what that actually delivers

for the state capital

and Greater Hobart in

general.

We know that the City

Deal in Launceston is already

delivering, which

is important for Northern

Tasmania.

Again, whatever the

flavour of the next Government,

its major opportunity

is the development

and rollout of a

Statewide Infrastructure

Plan, encompassing all

sectors – energy, transport,

tourism, education

and community.

The TCCI is a firm

Projects such as the development of Cradle Mountain are necessary for the future of our state.

supporter of Tourism

Tasmania's T21 goals,

continuing to grow our

visitor numbers, but to

do that we need more authentic

experiences statewide.

The State Government

also recently announced

a $72 million roads package

for Tasmania – aimed

at the tourism sector.

Projects such as: $12

million for stopping bays

and passing lanes on

the Tasman Highway at

Scottsdale and down the

East Coast; $9 million

for road safety at tourism

experience on the Great

Eastern Drive; $8.3 million

for overtaking lanes

on the Tasman Highway

between St Helens and

Diana's Basin; $8 million

for sealing Bruny

Island Main Road; $7

million for upgrades on

the Tasman Peninsula

and $12.5 million to upgrade

the Hastings Caves

Road.

Some of the proposed

major developments will

be challenges for the future

– for example the

cable car in Hobart and

the overall development

of Cradle Mountain – but

both are necessary for

the future of our State.

Tasmania must continue

to invest in renewable

energy projects, such

as the Cattle Hill wind

farm, so that our dam

levels are protected for

Tasmanians.

The TCCI believes

future government must

also consider withdrawing

from the national energy

market from a pricing

perspective.

We could then drop

pricing for all Tasmanians,

but sell power to

the mainland when it's required

and when the price

is high - essentially taking

advantage of our historical

investment in renewables,

the best of any State.

The TCCI has long advocated

the levelling of

land tax to allow the removal

of payroll tax. This

will stimulate business

and employment growth

Statewide.

We must also continue

to grow the State's population,

not just around

Hobart and the South,

but in our Northern and

North-Western cities.

And finally, the TCCI

demands the restoration

of numbers in the Lower

House of the Tasmanian

Parliament to 35.

One, it's more democratic,

two it will provide

a greater talent pool for

all parties and therefore

greater benefit for the Tasmanian

people they are

elected to represent.

Keeping up

momentum

THE Denison electorate

has been my home

for more than 40 years

and throughout the

past four years, I have

seen it transform into

the prosperous and

more confident place it

is today.

As someone who has

grown up in

and around

small businesses,

I

understand

first-hand

the importance

of having

a strong

economy

to create jobs and to

assist businesses, both

big and small, to prosper.

With four consecutive

years of economic

growth under a majority

Liberal Government,

more than 10,600 jobs

have been created in

Tasmania.

Also, there has been

an increase in interstate

and overseas visitors

Our target is

to bring more

visitors to our

state ...

who are spending more

at local and regional

businesses which supports

more jobs.

Our target is to bring

more visitors to our

state to increase their

spend by 50% by 2022.

It is vital our state

economy continues to

thrive under

a majority

Liberal Government,

so we can

afford a

first-class

health system,

provide

excellent

educational

opportunities and to respond

to skills that are

needed, and importantly,

to enable us to assist

those who need it most.

To keep this momentum

going and with the

community's support, I

will continue to actively

deliver for Denison and

for our great state.

- ELISE ARCHER

Liberal Member for

Denison

ADVERTISEMENT

RE-ELECT

Advertisement

VOTE

1

Elise

Archer

Liberal for Denison

Active, Accessible, Authentic

Your No.1 local Liberal Member for Denison

Authorised by Elise Archer, 62 Main Road, Moonah TAS 7009
---
6 Tasmanian Business Reporter - FEBRUARY 2018

NEWS STATE ELECTION 2018

ADVERTISEMENT

MEET THE CANDIDATES

IN less than four years the

Hodgman majority Liberal Government

has delivered more

than 10,000 new jobs, transformed

the economy from recession

to the strongest in the

nation and injected confidence

and pride back into the Tasmanian

community.

With a Budget back in balance

we are investing a record

amount into health and education

and we are seeing the

results with the lowest elective

surgery waiting lists since

records began and better education

outcomes across the

board.

Our economy has grown every

year since 2014 and that means

more people in jobs, more

trainees, more apprentices and

more Tasmanians returning

home because of employment

opportunities and lifestyle.

The Sensis Business Index

CANDIDATE

PROFILE

NAME PETER GUTWEIN - LIBERAL

DOB 21/12/1969

OCCUPATION SITTING MEMBER

ELECTORATE BASS

shows Tasmanian small and

medium business confidence

leads the nation, retail trade

has enjoyed 18 consecutive

months above the $500 million

mark and business investment

in capital jumped 20 per cent in

2017.

Tasmania is enjoying boom

times and a re-elected Hodgman

majority Liberal Government

has a comprehensive plan

to Build Your Future and share

the benefits of this growth

throughout the State and

among all Tasmanians.

Authorised by Dorothy DeHais, 4 Union St, Launceston, Tas 7250

CANDIDATE

PROFILE

NAME SIMON WOOD - LIBERAL

DOB 14/10/1976

OCCUPATION SMALL BUSINESSMAN

ELECTORATE BASS

Authorised by Sam McQuestin, 185 Invermay Rd, Launceston, 7250

IN his role as a Launceston

Alderman, Simon has

worked hard to build regional

prosperity.

Simon is proud to have

initiated funding to bring the

Festival of Voices to Launceston,

helped convinced

the council to

commit funding

to hold the

Australian

National

Rally Car

Championships

in Northern Tasmania

in August and worked hard

to ensure the rebuild of the

significant convict-built

boundary wall at Franklin

House.

Simon is focused on creating

the right conditions for

small businesses to flourish

and opportunities for families

to stay in our state.

With a background in retail,

having worked for 20 years

in a statewide family business,

Simon has a real and

practical understanding

of how the local economy

operates.

Simon is a member of the

Cityprom board, the Franklin

House Committee and

sits on a variety of council

committees including Tender

Review, Northbank and

Australia Day.

He is married to Zoe and

helps to run her allied health

practice in Newstead, while

raising two children Lucy,

10, and Alexander, 5.

I HAVE committed my life to

making a difference and improving

the lives of those around me.

Growing up with both parents

in the workforce, my mum a

cleaner, my dad a tradie painter,

I have always understood the

value of work, the importance

of a fair day's pay, and why we

all must do something to make

people's lives better.

After 20 years of service,

through the union movement,

politics and community organisations,

I chose to step out of

the public eye and return to my

two great loves – my family and

Tasmania.

During this time I worked in

the not for profit sector with the

Beacon Foundation, working

with young people to give them

the best chance to reach their

full potential.

As a former Infrastructure and

CANDIDATE

PROFILE

NAME DAVID O'BYRNE - LABOR

DOB 17/4/1969

OCCUPATION BEACON FOUNDATION

ELECTORATE FRANKLIN

Economic development Minister

I know there is much work to be

done to ensure that not only our

infrastructure needs deliver for

businesses on our island but also

crucially important across Bass

Strait.

I have a strong track record of

working with business to build

and strengthen companies small,

medium and large across a range

of industry sectors.

As an elected member of Parliament

in a Rebecca White Labor

Government I hope to continue

that important

work, it is one

thing to talk about

creating jobs it is

altogether another

thing to roll up your

sleeves and work

with businesses

to create jobs,

build sustainability

and reach

their potential.

Authorised by Julie Collins, 18 Ross Ave, Rosny Park, Tas, 7018
---
Tasmanian Business Reporter - FEBRUARY 2018 7

STATE ELECTION 2018

Parties line up for the spoils

THE Liberal Party stormed to power

four years ago after a disastrous

period for the Labor Party - ending

Will Hodgman's reign as the longest-serving

Opposition Leader.

Tasmanian voters delivered the

Liberals 15 seats, handing them

majority government, with Labor

reduced to just seven seats and

the Greens demoted to three.

After the demise of Labor under

Premier Lara Giddings, she

relinquished the leadership to

Bryan Green, who subsequently

resigned from parliament following

horror polling, paving the

way for Rebecca White to take

the helm.

Ms White will take on Premier

Will Hodgman for the top job after

Mr Hodgman called the election

for March 3.

A hung parliament is being predicted

but both major parties have

ruled out governing in a minority,

leaving it unclear how a government

will be formed and the possibility

of Tasmanians being sent

back to the polls.

The members of parliament

will be significantly different

regardless of the overall result,

with a number of high profile sitting

members retiring.

After a lifetime in politics, Ms

Giddings has retired, recently

giving birth to a baby girl, Natasha.

She had a strong personal vote

BASS

Liberal 3

Labor 1

Greens 1

in Franklin and that is expected to

be transferred to former State MP

David O'Byrne.

High profile Liberal Minister Matthew

Groom has retired from Denison

but is being replaced by Hobart

Lord Mayor Sue Hickey, with former

ABC Radio host Tim Cox also

putting his hand up for the Labor

Party in what will be an interesting

contest.

Labor Lyons stalwart David

BRADDON

Liberal 4

Labor 1

STATE OF THE HOUSE

Llewellyn is retiring with former

AMWU state president Daren Clark

stepping into the fold in the sprawling

regional electorate.

In Braddon, the 2014 personal

votes of Deputy Premier Jeremy

Rockliff and popular businessman

Adam Brooks helped secure four

seats for the Liberals.

Joan Rylah and Roger Jaensch are

tipped to be in trouble with Labor

pushing hard for a second seat for

LYONS

Liberal 3

Labor 2

FRANKLIN

Liberal 3

Labor 1

Greens 1

popular Burnie Mayor Anita Dow.

Bass appears the Liberal Party's

best chance of maintaining three

seats.

Labor hasn't selected anyone with

a very high profile behind its number

1 on the ticket, Michelle O'Byrne,

and the Greens have lost high-profile

vote winner Kim Booth, who

snuck in ahead of Labor's then Attorney-General

Brian Wightman in

2014.

DENISON

Liberal 2

Labor 2

Greens 1

Election Day

Saturday, March 3

You need to apply now

for a Postal Vote if you

are unable to vote on

polling day.

The recovery

must continue

ADVERTISEMENT

WITH more than 30

years' experience as

a businessperson in

Tasmania, I understand

what it's like to mortgage

your house to

create a job for yourself

and a lifestyle for your

family.

I have been there. I

have always

been

determined

...we've had

a remarkable

recovery

to make

things work

and, as

Lord Mayor,

I have

shown that

I get things done.

I recall the grim conditions

prior to 2014.

Unemployment was

at 7.5% and business

confidence was low.

Since then, we've had

a remarkable recovery.

When economic conditions

are good it creates

confidence, more

jobs, more investment,

more innovation, more

money in the economy

and businesses thrive

The Liberal Government

has cleared debt

and improved public

confidence.

Ten thousand more

people are employed

and coffee drinking is

at an all-time high.

This economic boom

must continue.

We must continue to

attract investment

to build

affordable

housing, address

cost of

living issues,

hospitals and

education,

traffic and

individual safety.

My focus also includes

mental health,

homelessness, congestion,

climate change,

and infrastructure but

none of these can be

addressed without

money in the system.

I ask for your vote

because I am a strong,

thinking businesswoman,

a Lord Mayor

with an MBA and I get

things done!

- SUE HICKEY
---
8 Tasmanian Business Reporter - FEBRUARY 2018

THOUGHT LEADERSHIP

www.tcci.com.au

India a multitude of markets

Sally

Chandler

Tradestart Adviser

INDIA is not one market,

it is very fragmented. It is

also very, very price sensitive.

An exporter needs patience

and perseverance

as India is a very different

place to do business.

It is a mistake to assume

India is one market

and exporters must

have a regional, targeted,

niche approach that is

very price aware.

As well as first tier

cities, exporters need to

think of second and third

tier cities as well and

innovate to drive down

price.

Indian companies

won't necessarily buy

Australian.

India has very high

levels of self-sufficiency,

especially in resources

and agriculture. Its

growth is services led.

Online consumer

goods will leapfrog

China particularly in

non-metropolitan cities

because there are limited

shopping malls.

The focus is on customer

service and price

and exporters must collaborate

with offline

partners to go online.

For retail consumer

goods, the number of Indian

middle class is one

fifth the size of China

and half the salary level.

Forty percent of these

are government employees

and the average annual

salary is $A3000

per annum.

Half the population is

vegetarian.

India is the second

largest spirits market in

the world and the largest

milk consumer in the

world.

It is very hard to penetrate

the high-end market

but there are opportunities

for packaged snacks

and spirits, particularly

whisky.

By 2050 the Indian

Government will have

developed 100 cities

across India and by then

Opportunities exist but potential exporters to India need patience and perseverance.

900 million people will

live in cities.

Opportunities exist for

infrastructure consulting

on rail, water, green

cities and hydro developments,

also on desalination,

waste water,

renewable energy and

smart grids.

Intelligent transport

solutions such as ticketing

systems, vehicle

tracking systems and

road safety enhancements

are also required.

Austrade has a large

presence in India with

10 offices in New Delhi,

Mumbai, Chennai, Kolkata,

Chandigarh, Jaipur,

Ahmedabad, Bangalore,

Hyderabad and Kochi.

With Austrade, I can

assist Tasmanian exporters

considering the Indian

market for their products

or services.

For international

trade and investment

assistance

contact the TCCI's

TradeStart Adviser,

Sally Chandler, at

sally.chandler@tcci.

com.au or phone

1300 559 122.

Enter confined spaces with great care

Craig

Hortle

Workplace Health & Safety

IN THE last few months

we have discussed the

issues of entering a confined

space.

The code of practice

for confined spaces gives

practical guidance of

how identify and information

on how to enter a

confined space.

Why is a confined

space particularly dangerous?

The outcome of accidents

in this environment

can easily be catastrophic

and lead to the multiple

deaths in one event.

If you consider the

some of the hazards involved;

• loss of oxygen;

• electrocution;

• engulfment;

• explosion.

All of these hazards

would have high or severe

risk ranking result

in the catastrophic outcome

for those working

in the confined space.

What conditions could

lead to producing the

hazards that are mentioned;

Loss of oxygen

• Welding in the confined

space – producing

gas that replaces oxygen;

• Residual chemicals

that may produce gas

that replaces oxygen;

• Residual product natural

or man-made that

ferments or produces gas

that replaces oxygen in

the atmosphere;

• Escaping gas from

another source that enters

the confined space

and replaces the oxygen

in the atmosphere.

Electrocution

• Not isolating electrical

fittings associated

with the confined space;

• Using tools that have

connection to 240v and

not using a RCD;

• Welding using arc

welding techniques.

Engulfment

• Not isolating product

supply and drain lines;

• Working in confined

spaces that are not completely

empty;

• Working in confined

spaces containing grain,

sand or other viscose

products.

Explosion

• High levels of explosive

gas in confined

space;

• Welding in confined

space;

• Flammable dust in

the confined space

All of these conditions

can occur simply and

without warning - that is

why it is essential to carry

out a high-level risk

assessment before entering

the tank and ensuring

all who involved in the

activity are trained in the

entry to confined spaces.

For more

information

please contact

Craig Hortle or

Janelle Whitehouse

at the

TCCI on

1300 559 122 or

contact safety@

TCCI.com.au
---
THOUGHT LEADERSHIP

Brett

Charlton

Agility Logistics

WELCOME to 2018 –

even numbers are always

better in my OCD world

so I am very much looking

forward to an excellent

year ahead.

The sun is out, the

crops look good, there

are cranes in the skies,

exporters are predicting

growth, North and South

Korea have agreed to

skate on the ice together

– it is a great time to

be fighting gravity on our

blue bubble (perhaps not

for 40 minutes in Hawaii

recently when they accidently

sent out a thermal

nuclear destruction text

by error, but nevertheless….).

From a shipping point

of view, in Tasmania

we are still in the enviable

position of having

a small market serviced

well domestically and internationally.

These are the days of miracle and wonder

By all accounts the

movement of goods to

and from Tasmania has

been well catered with

our capacity over the traditionally

busy period of

Christmas and perishable

season.

The announcement of

TT Line extra capacity

for freight in the future as

well as the new Toll vessels

is welcomed news

that is also met with some

caution – an oversupply

of capacity questions

sustainability and government-run

enterprises

competing in the private

sector has raised some

eyebrows.

Hopefully any questions

of surplus capacity

are countered by investment

and growth in our

trading businesses to fill

any empty spaces.

Internationally we are

still serviced by the ma-

Tasmanian Business Reporter - FEBRUARY 2018 9

www.tcci.com.au

Anticipating excellent year ahead

You've decided to buy a business, now what?

THE summer holidays

are when decisions to

buy a business most often

occur. I suppose its

because you've had some

leave, had time to think

and talk to your partner

and decided that wages

plus super isn't enough

any more.

So what sort of business

should you look for?

My advice to people

looking to buy a business

is simple:

Dean

Demeyer

Business Broker

1. Buy a business that

is profitable; and

2. has identifiable

problem areas you know

how to solve.

This creates a positive

cash flow from day one,

and you are able to apply

Extra capacity across Bass Strait on TT Line vessels is a welcome development.

jor shipping lines with

a healthy competition

evolving on some trade

lanes.

your knowledge and skill

to fix the problems and

improve the business.

It's this improvement

and expanding the cash

flow that gives you gains

now and a bigger gain

when the business is

Importers ex-Asia

however are unfortunately

caught in the capacity

issues ex these regions

eventually sold.

Why? Because businesses

sell on multiples

of cash flow.

Let's say you pay

$200,000 for a business

earning a $100,000 net

profit – the multiple is

and as a result should

expect more pain points

around space and price

until after Chinese New

There are plenty of

profitable businesses

on the market.

obviously two.

If you increase the

cash flow by fixing the

problems you identified

and increase the cash

flow to $150,000, your

selling price is a minimum

$300,000.

Year – it is not expected

that the freight levels

will drop to the low prices

that importers enjoyed

Plus don't forget you

have an extra $50,000 of

profit every year of owning

the business.

This is the safest option

when buying a business.

There are plenty of

profitable businesses on

the market.

But be careful you

don't pay for the skills

and knowledge you bring

to the table.

Otherwise everything

for many years and traders

would be wise to consider

very early planning

for next year's critical

volume periods (September

– February).

I am personally interested

to see how 2018

plays out in the technological

world.

I find myself both excited

and frustrated at the

same time by the advances

and the possibilities –

I often feel that behind

the shiny facade, things

are still held together by

sticky tape and baling

twine (imminent thermal

nuclear destruction

messages being a case in

point).

Last year we had a

cyber-attack that closed

down the largest shipping

line on the planet from

someone opening a link

on an email, but during

that same time I could put

on a headset and instantly

be under water watching

a whale swim by.

"These are the days of

miracle and wonder" said

someone that most people

past Gen X wouldn't

have heard of.

Good luck out there.

I've talked about above

is redundant and you

will work hard just to get

back the price you paid.

Strategic purchasers

who benefit from buying

physical assets, customers

lists, prime locations

or people skills held

within the target business,

are the best buyers

for businesses with small

net cash flow.

But that's a topic for

another day.

BUSINESS

2

BUSINESS

YOUR QUICK GUIDE TO SERVICES AND PRODUCTS FOR YOUR BUSINESS

HOBART'S BEST RANGE OF

QUALITY ERGONOMIC FURNITURE

FOR THE HOME AND OFFICE

We specialise in high quality ergonomic chairs,

alternative seating and electronic sit/stand desks.

Flair Office Furniture has been providing quality, affordable office

furniture to homes and offices throughout the Hobart region

for nearly 15 years. We're a locally-based, family-run business

specialising in all types of products, so why not visit us today to

see our fantastic range?

www.flairofficefurniture.com.au

Phone 6234 1127

260 Argyle Street,

North Hobart

To see your business here, call Kerri on 0419 750 267 or email kerri@thetrustedmediaco.com

Your Partner

in Print.

www.footandplaysted.com.au

Now incorporating

THE CRAFT LIVES ON.
---
TASMANIA'S LEADING BUSINESS PUBLICATION. CIRCULATION 17,000 MONTHLY

10 Tasmanian Business Reporter - FEBRUARY 2018

THOUGHT LEADERSHIP

Seek termination advice

Abbey

George

Workplace Relations

ACCORDING to the

Fair Work Commission's

quarterly reports from

the period of January

2017 to September 2017,

there were 10,480 unfair

dismissal Applications

lodged with the FWC

Australia wide – that's a

staggering 1,165 lodged

per month (about 292 per

week).

As applications are not

merit tested when lodged

with the FWC this means

that the risk of an Unfair

Dismissal Application

following termination is

a real one for employers,

provided that the employee:

• has lodged the application

with 21 days of

the dismissal;

• is covered by the National

Workplace Relations

System;

• has completed the

minimum employment

period of one year for

small business; or six

months for other business;

and/or

• the employee has

not reached the high income

threshold which

is currently $142,000

for 2017-2018 financial

year.

We have certainly seen

some valid unfair dismissal

claims lodged by

employees, but experience

has also shown that

sometimes the reason behind

an employee lodging

an unfair dismissal

claim is not necessarily

that they thought the dismissal

was unfair, but

that they are now without

employment and have

bills to pay.

Accordingly, unfair

dismissals have become

a regular occurrence for

employers and can be an

intimidating, time consuming

and stressful process.

BE PART OF THE

MULTI-BILLION

DOLLAR

LOGISTICS

INDUSTRY

The unfair dismissal

process is generally as

follows:

• the employee lodged

the application with the

FWC;

• the FWC will provide

the application to the employer

with the response

document to be completed,

lodged with the FWC

and served on the applicant

by the employer;

• the FWC will list the

matter for a conciliation

and provide confirmation

of this to all parties;

• a conciliation will

take place with both parties

and a FWC conciliator;

• if the matter is resolved

at the conciliation

Terms of Settlement are

signed and the matter

comes to an end;

• if the matter is not resolved

at the conciliation

it is listed for arbitration

(that is, a hearing where

a binding decision is

made by the FWC).

Whether a termination

is unfair will depend on

each circumstance and

therefore it is crucial

for employers to obtain

specialist advice in this

regard prior to termination.

Employers can do this

through the TCCI by

contacting the Helpline

on 1300 765 123

or the TCCI on 1300

59 122 or workplacerelations@tcci.com.au

WANTED

Business

movers and

shakers

• Promotions

• Appointments

• Awards

• Celebrating

success

Share the news

with the

Tasmanian

business

community

Send your news

snippets, with a

high quality photo,

to TBReditorial@

fontpr.com.au

www.tcci.com.au

Non-traditional

roles in focus

THE excellent work being

done by women in

the resources industry

will be recognised at the

Women in Resources

Tasmania Awards 2018.

Tasmanian Minerals

and Energy Council in

conjunction with the AusIMM

Women in Mining

Network Tasmania will

launch the awards on

February 8.

Karen Ashley (Grange

Resources, Exceptional

Woman in Tasmania

Resources 2017), Rose

Lindner (Exceptional

Young Woman in Tasmania

Resources 2017) and

Alana Phegan (Bell Bay

Aluminium, Outstanding

Tradeswoman, Operator

or Technician in Tasmania

Resources 2017) will

share some of their reflections

and experiences

after their successful

participation in the 2017

Awards.

TMEC Chief Executive

Officer Wayne

Bould said the awards

promoted the great careers

for women in the

resources sector.

Mr Bould said the industry

was striving to

increase female participation

with the goal of at

least 20 per cent women

in non-traditional roles

by 2020.

The six key categories

are:

• Exceptional Woman

in Tasmanian Resources

• Exceptional Young

Woman in Tasmanian

Resources (open to nominees

30 years of age and

under as at 30 June 2018)

• Gender Diversity

Champion in Tasmanian

resources

• Excellence in Diversity

Programs and Performance

• Outstanding Tasmanian

tradeswomen, operator

or technician

• Exceptional Woman

in a Non-Executive

Role in Tasmanian Resources

(This is a new

category this year and is

specific to the Tasmanian

Awards).

Whether you are looking to start your career, or upgrade your

skills for career advancement - the Australian Maritime College

can get you there.

Set yourself up for global career opportunities with our Maritime

Business and International Logistics program, preparing you for

a career in senior management.

Study here, work globally.

Apply now: amc.edu.au

SOLUTIONS

IN PRINT

your print specialist for over 90 years

Full Off-Set,

Digital and

Wide Format

Capabilities

Binding and

Finishing

Variable Data

and Mailing

Warehousing

and Distribution

Online Ordering

and Inventory

Management

6391 8481

sales@paperstat.com.au

www.woolstonprinting.com.au

CRICOS Provider Code: 00586B

WP - Advert Mar17.indd 4

4/04/2017 1:15:54 PM
---
ADVERTISEMENT

Open letter to the Labor Party from Tasmanian gaming pubs and clubs

To the Tasmanian Labor Party,

Why have you completely changed your position on the issue of gaming machines in pubs and clubs? At the

outset of the Joint Select Committee into gaming, your party said it would be guided by its recommendations.

The Shadow Treasurer and Member for Denison sat on that Committee for over 12 months and after hearing all

the evidence, voted:

- Against the motion that machines be removed from hotels and clubs

- For the motion endorsing a venue operator model

Both of these motions were adopted by the Committee.

Since Labor announced it would support the Greens to remove gaming machines from pubs and clubs, a survey

of the undersigned revealed 5,100 jobs would be impacted, with a minimum of 1,000 jobs likely to be lost. Added

to this, some $70 million in future capital investment by pubs and clubs has been put on hold while a further

$150 million will be wiped off their value.

This does not take into account the many thousands of businesses throughout Tasmania that are dependent on

pubs and clubs for their livelihood or the hundreds of thousands of dollars per annum given by pubs and clubs to

local sporting clubs and charities.

Can we trust anything Labor says in the lead up to the State Election or do you think the voters are stupid?

Signed,

Black Stallion

Riverside Hotel

Mowbray Hotel

Gateway Inn

Granada Tavern

Carlyle Hotel

Beach Hotel

Beauty Point Waterfront

Hotel

Bridport Hotel

Central Hotel Hobart

Club Hotel

Brighton Hotel

Risdon Brook Hotel

Cock & Bull British Pub

Regent Hotel

Comfort Inn Burnie –

Townhouse Hotel

Cooleys Hotel

Mornington Inn

Black Buffalo Hotel

Beachfront Bicheno

Kingston Hotel

Kings Meadows Hotel

Beltana Hotel

Deloraine Hotel

Dodges Ferry Café and Bar

Foreshore Tavern

Bayside Inn

Olde Tudor Inn

Elimatta Hotel

Empire Hotel Queenstown

Exeter Hotel

Glenorchy RSL

Grand Hotel

Grays Hotel

Heemskirk Motor Inn

Kendalls Hotel

Lords Hotel

Marquis Hotel

Midway Point Tavern

New Norfolk Hotel

Orford Blue Waters Hotel

Pembroke Hotel

Pier Hotel Motel

Plough Inn

Queens Head Hotel

Queens Head Inn

Queenstown Railway

Hotel

Ravenswood Over 50 Club

Regatta Point Tavern

Shearwater Resort & Tavern

Sheffield RSL and Citizens

Club

Shoreline Hotel

Snug Tavern

St Helens RSL Club

Star and Garter Hotel

Tall Timbers Hotel Motel

Argosy Motor Inn

Alexander Hotel

Formby Hotel

River Arms

Lighthouse Hotel

Somerset Hotel

Bridge Hotel

Seabrook Hotel

Neptune Grand

Top of the Town Hotel Motel

TRC Hotel

Ulverstone RSL

Brooker Inn

Valern Hotel

Elwick Hotel

Derwent Tavern

Waterfront Hotel

Claremont Hotel

Hotel Tasmania

Newstead Hotel

Furners Hotel

Hotel Federal

Molly Malones

Mackeys Hotel

Welcome Stranger Hotel

Wharf Hotel

WRITTEN AND AUTHORISED BY MICHAEL BEST, LOVE YOUR LOCAL, 6-10 STEELE STREET, DEVONPORT, 7310
---
12 Tasmanian Business Reporter - FEBRUARY 2018

FOCUS ON BUSINESS

Is your business

roadworthy?

DIRECTORS who scale up their knowledge

of strategy and disruptive innovation can

better support leadership teams, says outgoing

NRMA chair Kyle Loades (FAICD).

The NRMA, Australia's oldest and largest

member-owned, mutual motoring-services

organisation, has 2.6 million members and a

history stretching back 97 years.

Mr Loades looked to the future and realised

that NRMA's private-ownership roadside

service membership model was under

threat by self-driving vehicles and the rise of

car sharing.

In 2016, the board hired Rohan Lund (formerly

with Foxtel and Seven West Media),

a CEO strong on digital technology, strategy

and innovation. His new leadership team is

executing a rapid, company-wide transformation

strategy.

Meanwhile, Loades decided he needed to

skill up. He recently took a Harvard Business

School HBX online course (US$1500)

in disruptive strategy with innovation expert

Clayton Christensen.

Loades argues that the rapid pace of

change requires boards to quickly come to

grips with new developments.

"The Disruptive Strategy course ran

through some common sense things that are

best practice, like how to identify different

types of innovation and disruption, and

predict when it's going to happen in your

industry," Mr Loades said.

Amazon is a prime example of a 21st

century approach to agile logistics.

"Rather than become a victim of disruption,

you learn to predict it, to get on the

front foot."

Using digital disruption business models,

the course also focused on what causes

consumers to buy products and why — then

identified "pain points" for customers.

"Legacy business have built successful

products without visiting how we can do

more to make people continue to buy from

us," says Mr Loades.

"If you're asking those questions every

year, you should be making changes every

year. You need to break down the whole

service delivery process — and what the

pain points are, where service delivery falls

down — and create a service delivery path

around that knowledge. That's what the

tech titans have done to achieve continuous

growth. Legacy businesses must do that to

keep up."

Mr Loades finishes his NRMA term

in December after 12 years on the

board, including four as chair.

But, for him, the learning doesn't

stop. Next is a 12-month course at

the Australian National University;

the Transformational Leadership

Program is designed to help leaders

of large organisations with legacy

systems, processes and organisational

cultures adapt to a volatile and rapidly

changing macro-economic environment

and technological disruption.

"The focus on disruption is often on

startups and new companies, when

the biggest challenge is transforming

legacy organisations that have

to move from old to new organisational

approaches," he says.

"There's an Amazon equivalent

coming for everyone. The more

you can prepare your organisation

to be more agile, to lower its cost

base, to transform and incorporate brand

values, the better.

NRMA, meanwhile, has rapidly reduced

its cost base and invested in startups such

as Divvy share parking. It has also put $10

million into an electric vehicle fast-charging

network that's free for members.

NRMA chair Kyle Loades

5

DAYS

CAN MAKE

ALL THE

DIFFERENCE

Our world-class Company Directors Course will help improve your performance and accelerate your career.

Upcoming dates:

• Tuesday 27 February to Tuesday 27 March 2018 (five business days over five weeks), Hobart

• Monday 21 to Friday 25 May 2018, Hobart

Enrol now t: 03 6242 2200

w: companydirectors.com.au/tas5days

06385-1_18
---
Tasmanian Business Reporter - FEBRUARY 2018 13

FOCUS ON BUSINESS

Time for workplace health check

Tasmanian businesses are being

urged to take a workplace health

and wellbeing check

HOW does your workplace

health and wellbeing

culture stack up?

Is yours an ageing

workforce? Are your

workers engaged with

the message of health

and wellbeing and what

it means to them not just

at work, but in all areas

of their lives?

Are senior management

messages and activities

consistent with

the expectations and application

on the ground?

For positive and sustainable

change to occur

within your business, all

of these elements need

to be considered and addressed.

Research shows that

businesses that implement

workplace health

and wellbeing programs

can benefit from increased

employee engagement,

productivity

and staff retention, reduced

workplace injuries

and a reduction in sick

leave.

We work with many

businesses across Tasmania

that are truly committed

to improving the

health and wellbeing of

their employees and often

see a common theme

within the key issues that

need to be addressed, including:

• With Tasmania recording

the oldest population

in Australia, it is

important to understand

how ageing may impact

a worker's capability

and to investigate small

adjustments to help offset

these effects, ensuring

your workplace can

be safer, healthier and

more productive for your

entire workforce.

• Employee engagement

is a key factor that

we come across time

and time again in our

dealings with businesses

across the state. Put

simply, for your health

and wellbeing efforts to

be successful you need

engagement from both

the employees who will

benefit, and the managers

who support the program.

Employees who can

see a strong personal

Workplace health programs need to be monitored as much as blood pressure.

benefit in participating

in the program are more

likely to get involved and

support the program.

• Ensure your program

has ownership with senior

management and

that they "are walking

the talk".

• Involve everyone by

being aware of the differing

needs, learning

styles, and health knowledge

of your team members

and ensure you use

a wide range of communication

tools to promote

your health messages

and address these differences.

• Monitor and evaluate

your program. The

old saying that you can't

manage what you can't

measure is certainly true

in workplace health.

Keeping tabs on how

your program is doing

is the only way to know

whether or not it is working.

Evaluating your ac-

tivities might include

surveying employees,

reviewing participation

rates and evaluating

these against your initial

program goals.

Getting on the front

foot and pro-actively

engaging and managing

these issues in workplaces

across Tasmania will

not only help reduce the

overall operating costs

for businesses through

reduced absenteeism,

lost time through injury,

and compensation

claims, but it will also

make Tasmania an even

greater place to live and

work through a positive

health and wellbeing culture

across all areas of

people's lives.

If your workplace

health and wellbeing culture

doesn't stack up and

you're looking for assistance

to get it right, you

might be interested in

the services offered by

the new partnership between

Health Business

Performance Group and

StLukesHealth.

For more information

about the services on

offer simply visit www.

hpbg.com.au.
---
Advertisement

Taking Tasmania

to the next level

A majority Hodgman Liberal Government will:

• Deliver a stronger economy and more

jobs

• Cut payroll tax to encourage businesses

to employ more people

• A plan to support jobs for 4,500 new

apprentices and trainees

• Plan to deliver the lowest power prices in

the country

• A massive investment in new roads,

bridges, tourism, hospital, schools and

other public infrastructure

• Buy two next generation Spirit of

Tasmania vessels

For strong, stable majority Government

Vote 1-5 Liberal

*in your order of preference

Authorised by Will Hodgman, Suite 4C, Level 3/33 Salamanca Place, Hobart TAS 7000
---
Tasmanian Business Reporter - FEBRUARY 2018 15

APPOINTMENTS and ANNOUNCEMENTS

IN BRIEF

APPOINTMENTS

Funds flow to

UTAS relocation

CONSTRUCTION activity will

start at Inveresk very soon with site

preparation under way for the significant

transformation of Launceston's

educational precinct.

Prime Minister Malcolm Turnbull

visited Launceston last month to announce

that $130 million in Commonwealth

funding is now flowing

for the university relocation to Inveresk.

University of Tasmania Acting

Vice-Chancellor Professor Mike

Calford welcomed the announcement,

which represents half of the

Northern Transformation project's

$260 million budget.

"The support we have received

from local, State and Federal Governments

has been enormous and,

for a project as ambitious and important

as the Northern Transformation,

absolutely necessary," Professor

Calford said.

"Together, we will turn Launceston

into a university city, stimulating

economic growth and jobs, strengthening

local communities and lifting

educational attainment."

Crucial land transfers were completed

in October to allow the vision

contained in the master plan to be

fully realised. As we go to print the

expressions of interest process to select

the managing architect was set

to begin.

Education a

key element

EDUCATION is a key element in a

new project to transform Launceston

into one of Australia's leading smart

cities.

The Greater Launceston Transformation

Project will use smart technology

and big data to both connect

the city, and to reveal it in new ways.

The University of Tasmania is a

partner in the project alongside the

State and Federal Governments, the

Launceston, West Tamar, Meander

Valley and George Town councils,

and Telstra.

Pro-Vice Chancellor (Community,

Partnerships and Regional Development)

Professor David Adams said

the project would see collaboration

across four streams: innovation, a

digital city, digital opportunities for

industry, and education and employment

pathways.

Professor Adams said the project

University of Tasmania Acting Vice-Chancellor Professor Mike Calford, left, with Treasurer Peter Gutwein

and Prime Minister Malcolm Turnbull welcoming the funding starting to flow.

would build on earlier work to cover

the city with an Internet of Things

(IoT) network.

"We welcome the launch of this

partnership today because it brings

with it a number of exciting opportunities

for improving educational

outcomes in the region," Professor

Adams said.

"This project will provide us with

invaluable data and analytics about

where our students are coming from,

how they are making their decisions

about where and what to study, and

what the region's skills demands will

be over the next 10 years.

Eddystone export

wine wins

ACCOLADE Wines' Eddystone

Point Tasmania Pinot Noir 2016,

signature wine from producer Bay

of Fires, has been announced as

the winner of the inaugural Export

Wine of Show International Judges

Trophy at the 2018 Tasmanian Wine

Show Awards.

The Eddystone Point label was

praised for its success in opening up

markets in the UK.

This year's Tasmanian Wine Show

Awards brought together the best of

Tasmania's wine industry and the

finest Tasmanian vintages on offer

with 19 trophies chosen from 34

gold medals.

Wine exports from Tasmania are

worth $3.7 million in sales to the

state each year.

Dairy

development

DAIRY giant Fonterra has committed

to investing almost $12 million

in upgrading Tasmanian dairy plants.

The total investment by Fonterra

in North West Tasmania and Victoria

is about $165 million across seven

manufacturing sites.

The Tasmanian commitment consists

of $9.7 million for an expansion

at the Fonterra Wynyard site to increase

cheddar production and $1.8

million to increase the lactose processing

capacity at Spreyton.

Funding for

job seekers

QUEENSTOWN-based community

organisation West Coast Connect

will receive additional funding to

support their work improving the job

readiness of local job seekers.

Braddon MHR Justine Keay said it

had received $6,250 under the Braddon

Stronger Communities Program

to purchase additional machines.

"West Coast Connect works in

partnership with Skills Tasmania and

TAFE to provide small construction

and furniture making skills for local

job seekers in Queenstown," she

said.

Property

Plaudits

A HERITAGE heritage development

in Hobart, student apartments in Launceston

and the Three Capes Track are

up for national recognition at the 2018

Property Council of Australia/Rider

Levett Bucknall Innovation and Excellence

Awards.

Hobart's 40 Molle Street, driven by

Nekon Pty Ltd, is a finalist in four categories

including Best Heritage Development

and Best Project Innovation.

The University of Tasmania's Inveresk

Student Apartments project is a

finalist in the Best Sustainable Development

– New Buildings award while

the Three Capes Track is competing in

the Best Tourism & Leisure Development

category.

Winners will be announced in

Sydney on Friday May 11.

University

College

Appointment

NORTH-West industry leader, education

advocate and innovator Lee

Whiteley will take charge of the

University of Tasmania University

College from March.

Mr Whitely has been appointed

as Chief Executive, a key position

aiming to further drive the college

as a competitive, world-class course

provider.

First graduating from TAFE as an

automotive electrician more than 30

years ago, Mr Whiteley has most recently

held the positions of Executive

General Manager at Elphinstone

Pty Ltd and Managing Director of

Southern Prospect.

He has more than 20 years of

global experience in senior manufacturing

roles.

"His notable experience across industry

and well-established ties both

locally and abroad will play a crucial

role in expanding and developing

new education and training partnerships

offered by the College,"

Acting University Vice-Chancellor

Professor Mike Calford said.

TAFE

update

Lee Whiteley

A NEW senior level change manager

will be appointed at TasTAFE to

oversee implementation of the Tas-

TAFE investigative audits.

Education Minister Jeremy

Rockliff said TasTAFE had recently

received the second quarter update

fon their independent audits,

which includes recommendations

in the areas of procurement and

consultancy services, conflicts of

interest, and personal benefits.

• Master Keying

• Electronic Security

• Lock Hardware

• Alarm Monitoring

www.jacksonssecurity.com.au

ph: 1800 555 700
---
PROPERTY MATTERS

Tasmanian Business Reporter - FEBRUARY 2018 16

Confidence in retail continues

Scott Newton

Property Matters with

Knight Frank

In this month's editorial, Matthew Wright,

our retail sales and leasing specialist,

gives an update on the retail sector of

Hobart's property market.

THE Knight Frank team is

delighted to be back in 2018

with more news and updates

on the Tasmanian real estate

market.

The 2016/17 financial year

proved to be another strong

year for the retail sector in

Tasmania.

Since mid 2013, retail turnover

has shown consistent

levels of growth.

The Australian Bureau of

Statistics (November 2017)

reported that retail sales figures

were strong and reflected

a 1.8% increase in the last

12 months.

The Commonwealth Bank

State of the States October

2017 article outlines Tasmania's

retail spending increased

9.9 per cent on the

decade average spend, which

put Tasmania up two spots to

fourth in Australia.

The Hobart market has

seen further change throughout

the 2017 year with a number

of exciting new national

retailers joining the CBD.

New retailers that opened

in the Hobart CBD in 2017

are: Platypus Shoes, Jack

London and Bailey Nelson.

Hobart's growing reputation

as one of the world's best

produce and restaurant destinations

has been further enhanced

with restaurants such

as Landscape Bar and Grill,

Aloft, Templo, Susie Luk,

Kositan Japanese, Dier Makr,

The Agrarian Kitchen, Fico,

and Etties.

Last year saw the opening

of Mac 1 hotel, Australia's

first story telling hotel which

also features some leading

hospitality and retail offerings

including, Old Wharf

Restaurant, The Story Bar

and the Lounge (Frogmore

Creek's restaurant).

More exciting retail offerings are coming this year.

There are more exciting retail

offerings set to open into

2018.

The long-awaited and anticipated

opening of the

completion of the Myer Icon

Complex is due to take place

in April 2018.

Leading international and

national retailers Mecca Cosmetics,

Scotch & Soda, and

Country Road are all set to

open, plus some leading local

retailers and food operators.

This is a very exciting development

for greater Hobart.

The past 12 months have

seen another large volume of

freehold retail sales transact.

This is on the back of historically

low interest rates,

improved confidence in the

overall Tasmanian economy,

and a larger pool of buyers

driven by interstate and international

purchasers.

This has led to recent

sales showing strengthening

yields, particularly for those

in the inner CBD and other

strong retailing locations, and

having long lease tenure to

strong tenants.

Yields for strip retail premises

in the southern region are

typically in the range of six to

eight per cent with the lowest

yield occurring in the CBD at

five per cent.

Strip retail locations to

have transacted over the past

12 months include 109-113

Liverpool Street, Hobart,

known as Mathers Lane; 93

Elizabeth Street, Hobart; 87

Harrington Street, Hobart; 35

Murray Street, Hobart; 15-19

Elizabeth Street, Hobart, 180-

184 Elizabeth Street, Hobart,

139 Liverpool Street, Hobart,

and 52 Melville Street, Hobart.

PROPERTY VIEW

FEBRUARY 2018

SOLD

For sale or lease by Expression of Interest

HIGH EXPOSURE, POPULAR LOCATION

28 McIntyre Street, Mornington

• Land area: 1,770sqm (approx).

• Clearspan warehouse of 270sqm (approx) with

showroom/offices of 100sqm (approx).

• Amenities and mezzanine floor.

• Three-phase power, data network, alarm system,

pallet racking, customer and staff parking.

• Heavy load rated hardstand of 1,000sqm (approx).

• Opposite new Bunnings Warehouse next

to South Arm Highway. Excellent signage

opportunities to promote your business.

• 10 minutes to Hobart CBD, 15 minutes to

Hobart International Airport.

Ian Reed 0419 670 501

Scott Newton 0409 186 261

View at KnightFrank.com.au/4028733

Sold

LANDMARK CBD OPPORTUNITY

169 Liverpool Street, Hobart

• Landmark 7 level commercial building; NLA

2,886sqm (approx).

• High profile corner position within the CBD,

100m (approx) from the central retail block.

• Fully leased to IOOF, an ASX-listed top 100

company, until 30 June 2019.

• Estimated Net Passing Income of $762,462 pa

+ GST.

• Each level is strata titled with total strata area

of 3,726sqm (approx), plus additional freehold

parcel of 186sqm (approx) used for car parking

for approximately 13 cars.

Richard Steedman 0408 559 046

Scott Newton 0409 186 261

View at KnightFrank.com.au/3909265

LEASED

For sale by Expression of Interest

CBD DEVELOPMENT OPPORTUNITY

153 Macquarie Street, Hobart

• Prominent corner site in a core CBD location,

superb exposure to Macquarie Street, one of

Hobart's main arterial roads.

• Multi-tenanted building with good holding

income, flexibility with existing tenants' terms.

• A good investment opportunity with

development upside (STCA).

• c1910 brick building with attractive facade.

• Land area: 191sqm (approx).

• Building area: 508sqm (approx).

Matthew Wright 0458 290 588

Scott Newton 0409 186 261

View at KnightFrank.com.au/4034976

Leased

STANDOUT MACQUARIE ST POSITION

179 Macquarie Street, Hobart

• Modern retail/bulky goods retail site.

• Includes basement/storage of 643sqm*, ground

floor showroom of 1,301sqm*, and first floor

showroom of 675sqm*.

• Exposure to over 30,000 cars on an average day.

• Over 15 on-site car parks for customers plus

plenty of parking on Macquarie Street.

• Situated in a core position surrounded by a

number of leading hotels and local businesses.

• A 'must consider' for large format retail and

showroom in Hobart.

(*approx)

Matthew Wright 0458 290 588

View at KnightFrank.com.au/3948837

5 Victoria Street, Hobart 41 York Street, Launceston Shop 8, 48-54 Oldaker Street, Devonport

P: 03 6220 6999 P: 03 6333 7888 P: 03 6424 3568