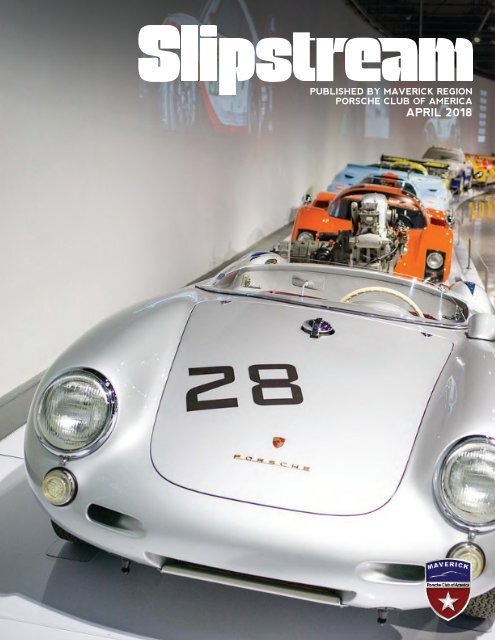 Slipstream - April 2018
The monthly newsletter of the Maverick Region of the Porsche Club of America
The monthly newsletter of the Maverick Region of the Porsche Club of America
SHOW MORE
SHOW LESS
Create successful ePaper yourself
Turn your PDF publications into a flip-book with our unique Google optimized e-Paper software.
PUBLISHED BY MAVERICK REGION

PORSCHE CLUB OF AMERICA

APRIL 2018
---
Your Place for maximum performance

with room for more.

Park Place presents a bold new take on legendary Porsche performance: the

Panamera Sport Turismo. With an athletic body style, versatile five-door design and

increased luggage capacity. Along with a spirited new powertrain and numerous

engine options. Of course, no matter which you choose, a one-of-a-kind ownership

experience comes standard.

That's what makes Park Place feel like Your Place.

Park Place Porsche Dallas

6113 Lemmon Avenue

Dallas, TX 75209

214.525.5400

park-place.porschedealer.com

©2018 Porsche Cars North America, Inc. Porsche recommends seat belt usage and observance of all traffic laws at all times.
---
VOLUME 57

ISSUE 4

APRIL 2018

MAV.PCA.ORG

FEATURES

7 | Autocross Series: The 2018 Season Begins

10 | Mavs & Mochas Recap: Zims Autotechnik

12 | Kruder's Cars & Conversation

14 | PCA Tours Preview: Stop! Smell the Bluebonnets!

18 | The Porsche Effect: A Taste of the Petersen Museum

20 | ABCDE: All British & European Car Show Preview

25 | When 1+1=3: How Tall is Tall Enough For a Garage Lift?

29 | Help Wanted: Introducing the DE Work/Drive Program

32 | Maverick History: This Month in History

UPCOMING EVENTS

6 | May at Mayo's

10 | Mavs & Mochas

14 | Bluebonnet Tour

17 | Board Meetings

17 | Maverick Lunch Series

DEPARTMENTS

2 | Sprockets (President's Column)

2 | Maverick of the Month

4 | List of Officers and Board Chairs

4 | Zone 5 Presidents 21 | Porsche of the Month

9 | New Mavericks and Anniversaries

21 | Porsche Trivia

34 | Unclassifieds

34 | Advertiser Index

36 | Oversteer (Editor's Column)

"The Porsche Effect"

A Taste of the Petersen Museum

by Mike McGrath

Page 18

EVENT DATES

See more details and check for event updates via the QR code

here or our online calendar at http://mav.pca.org/go/calendar

April

Board Meeting.......................................................................... (Wed) 4

May at Mayo's.............................................................................(Thu) 5

Easter Rally..................................................................................(Sat) 7

Autocross #3 - Lonestar Park........................................................(Sun) 8

Lewisville area lunch.................................................................(Tue) 10

Mavs & Mochas: Nordstrom at Northpark Center...................... (Sat) 14

Mav Driving Tour: Stop! Smell the Bluebonnets!.....................(Sun) 15

Monthly Social: Bazille, Nordstom at Northpark Center........... (Thu) 19

Motoring Mavs at Mayo............................................................ (Sat) 21

Southlake area lunch................................................................(Thu) 26

HPDE - MotorSport Ranch............................................(Sat, Sun) 28-29

May

Board Meeting.......................................................................... (Wed) 2

All European Car Day...................................................................(Sun) 6

Lewisville area lunch................................................................... (Tue) 8

Mavs & Mochas: Montgomery Plaza......................................... (Sat) 12

Mav Driving Tour: Aloha Maverick Style.................................... (Sat) 19

Motoring Mavs at Mayo............................................................ (Sat) 19

Autocross #4 - Mineral Wells.................................................... (Sun) 20

Southlake area lunch................................................................(Thu) 24

Twenty seven Porsche 914's Mavs &

Mochas held at Zims Autotechnik to

set a new record for the number of

participants at this monthly event.

Photo by Bob Molyneux

On the Cover

"The Porsche Effect" at the Petersen Automotive Museum

in L.A. included an incredible line up of race cars led by

this 550 Spyder.

Photo by Mike McGrath

Slipstream (USPS 666-650) is published monthly by the Maverick Region, Porsche Club of America, 155 Jellico

Southlake, TX 76092. Subscription price is $24.00 per year. Periodical postage is paid at Fort Worth, TX.

POSTMASTER: Send address changes to Hiram Saunders, Slipstream, 155 Jellico, Southlake, TX 76092.

Opinions expressed herein are not necessarily endorsed by the Club's membership or officers. Contributions will be

printed on a space available basis. Chartered regions of PCA may reproduce items from this issue provided the author/

artist and Slipstream are credited. Slipstream is printed by Ussery Printing Company in Irving, Texas.

1
---
SPROCKETS: Porsche in Pop Culture

By David Robertson, Region President

Porsche: there is no substitute. When I was a kid,

this tagline resonated with me, because that is what

Tom Cruise said in the movie Risky Business as he was,

well, just being really cool driving around in a 928. I

watched that movie over and over again, thinking the

928 was just about the greatest car I had ever seen.

Porsche certainly knew what they were

doing with their product placement because

from the day Risky Business came out in

1983, way before I could drive, I had to have

a Porsche.

Sixteen Candles was another great Porsche

placement movie for youngsters trying to decide which

car brands to obsess over for the rest of their lives.

After watching this movie, I decided that I needed to

have a 944 just like Jake. If you don't remember, Jake

was the tall, handsome jock who all the cheerleaders

wanted to date. Jake actually had a crush on Samantha

(Molly Ringwald) who was the shy nerdy girl whose

sister always got all the attention. Are you with me so

far? Through a series of 1980s teen movie hilarities,

Samantha and Jake keep missing each other, until the

very end of the movie. The crowd clears and there is

Jake leaning on his 944 asking for Samantha to come

over and ride off into forever bliss in a red 944. The guy

gets the girl with the big hair and they drive off into the

sunset in what I would imagine was Jake's second or

third high school Porsche. It was also about this time

that I was introduced to the harsh concept of reality

vs fantasy, and unlike Jake, I would not be driving a

Porsche in high school under any circumstances.

When Sixteen Candles came out, I envisioned my

own version of the last scene in my mind. Just like

Jake I was a really cool high school Porsche guy, but in

this version I am standing next to my 928 from Risky

Business. As I am waiting for the crowd to clear, I catch

the eye of my slightly nerdy high school crush across the

street, as she is reluctantly leaving with her parents to

go to her much more popular sister's wedding reception.

As she is walking over she turns to her parents and very

excitedly mouths "This is the guy!" and of course they

tell her to run off with me instead of going to her sister's

dumb wedding reception. I can see the pride in her

father's eyes as his daughter and I head off for a joyride

on the twisty and mostly un-patrolled back roads of

Rusk County in East Texas, driving one of the fastest

and most powerful production cars of that era. As an

SAUL FRAIRE, Chef-Proprietor

1235 William D. Tate Ave

Grapevine, TX 76051

817-329-6995

adult I can now see that there were a few minor flaws in

my teen fantasy, but at the time it seemed pretty doable

as long as I could just get my hands on a Porsche 928

and a driver's license.

MAV OF THE MONTH: Jim Hirsch

This month, Jim Hirsch officially turns over the Editor

role of Slipstream. When he joined the Mavericks in 2014

he immediately jumped in, and after a short training

period, took over as Editor of our monthly newsletter.

In that time, Jim

has worked more

hours than any

of us will ever

know to create a

publication that

has only gotten

better month

after month. Jim

has also applied

the same care

and meticulous attention to detail in finding a new

Editor and assuring a smooth transition.

Although stepping away from the Slipstream role, Jim

will continue to be a big part of the Maverick Region,

working with Mavs & Mochas as well as jumping in

where needed to make our club better by the day!

2 April
---
Like a Personal Trainer for your Porsche!

• Expert maintenance and repair services • Track day preparation

• Performance and appearance upgrades from GMG, Manthey, FVD and more

• Superior customer service and free loaner cars • PCA discounts

• Show quality detailing services • Comprehensive service from air-cooled to 991

We Buy, Sell and Consign Quality Pre-owned Porsches

PCA Special - Brake Flush $149 00

Plus Sales Tax

With this coupon. Brake Flush with MOTUL Brake Fluid. Offer includes complimentary car wash and vacuum.

3236 Skylane Drive, Dallas, Texas 75006 • 214-269-1570 • www.racperformance.com

3
---
2018 Maverick Region Board - Officers and Chairs

President

David Robertson

617-797-0516

president@mavpca.org

Vice President

Jim Falgout

vp@mavpca.org

Secretary

Carey Spreen

817-422-3480

editor@mavpca.org

Treasurer

Deborah Fike

972-672-4282

treasurer@mavpca.org

Autocross Chair

Mark Schnoerr

ax@mavpca.org

Charity Chair

Chris Hamilton

hope@mavpca.org

Club Race Co-Chair

Pat Heptig

214-649-7907

cr@mavpca.org

Club Race Co-Chair

Joel Nannis

cr@mavpca.org

Coffee Meets Co-Chair

Derrick Tate

972-748-1178

coffeemeets@mavpca.org

Concours Chair

Mike Mahoney

801-230-1482

concours@mavpca.org

DE Chair

Chris Tabor

817-371-4888

de@mavpca.org

DE Chief Driving Instr.

John Sandusky

817-777-0421

cdi@mavpca.org

DE Equipment Mgr.

Hunter Allen

deequip@mavpca.org

DE Hospitality

Rose Gohlke

de@mavpca.org

DE Registrar

Jason Brodigan

deregistrar@mavpca.org

DE Sponsorship

Daren Kirbo

254-396-2973

desponsorship@mavpca.org

Goodie Store

Chris Flaugh

214-288-5300

goodiestore@mavpca.org

Histographer, Tenured

Charlie Davis

historian@mavpca.org

Marketing, Social

Media Chair

Bill Orr

bill@billorr.com

Membership Chair,

Past President

John Hamilton

817-907-7823

membership@mavpca.org

Monthly Social Chair

Position Open

hh@mavpca.org

Online Calendar

Karl Poulsen

calendar@mavpca.org

PCA Tours Co-Chair

Mark Pitarresi

817-715-7156

tours@mavpca.org

PCA Tours Co-Chair

Tom Gomer

tours@mavpca.org

Rally Co-Chair

Don Sebert

214-613-6900

rally@mavpca.org

Rally Co-Chair

George Luxbacher

rally@mavpca.org

Registrar, Club Race

Wendy Shoffit

crreg@mavpca.org

Safety Co-Chair

Wayne Elliott

safety@mavpca.org

ARK-LA-TEX

Ken Chandler

bad968@bellsouth.net,

Safety Co-Chair

Bob Kramer

safety@mavpca.org

Slipstream Event Ad Design

Kurt Scaggs

eventads@mavpca.org

Tech Sessions Chair

Michael Baynton

214-641-2848

techcorner@mavpca.org

Volunteers Chair

Jim Gallegos

214-697-0792

volunteers@mavpca.org

HILL COUNTRY

Tuffy von Briesen

president@hcrpca.org

Slipstream Advertising,

Coffee Meets

Bill Kruder

214-497-0711

ads@mavpca.org

Slipstream Mailing

Andy Mears

214-394-5857

mailing@mavpca.org

Time Trial Chair,

(AX/TT Rules)

Travis Howard

214-616-6152

tt@mavpca.org

Web Site Chair

James Shoffit

972-786-6246

webmaster@mavpca.org

MARDI GRAS

Scott Spradley

swsprad@bellsouth.net

WAR BONNET

Eric Costello

ecostellodo@gmail.com

Slipstream Editor

Kurt Scaggs

469-446-1690

editor@mavpca.org

Slipstream Printing

Fran Ussery

972--438-8344 (W)

817-481-8342 (H)

printing@mavpca.org

TT Registrar, AX/TT

Schools, Swap Meets

Robyn Howard

214-991-0873

drivingschools@mavpca.org

Yahoo List Moderator

Brian Scudder

mrpca-owner@

yahoogroups.com

2018 PCA Zone 5 Presidents and Zone Representative

Slipstream Content Ed.

Carey Spreen

817-422-3480

editor@mavpca.org

Social Chair

Debi Kruder

social@mavpca.org

Trivia Chair

Jerry DeFeo

972-240-5800

trivia@mavpca.org

Yahoo List Moderator

Matt Platts

mrpca-owner@

yahoogroups.com

CIMARRON

Jason Tollison

presidentcmr@gmail.com

COASTAL BEND

Bryan Kerrick

bksailspadre@sbcglobal.net

LONE STAR

Steve Bukoski

president@lsrpca.com

LONGHORN

Mikel Matthews

Mikel.matthews@gmail.com

MAVERICK

David Robertson

president@mavpca.org

OZARK

Jim Woolly

jim.carol_NOSPAM@sbcglobal.net

WHISKEY BAY

Stan Labat

labat@cox.net

WHITE RIVER

Leonard Zechiedrich

whiteriverregionpca@gmail.com

ZONE 5 REP

Jon Jones

zone5rep@pca.org

www.zone5.pca.org

4 April
---
VISIT OUR NEW 8600 SQ FT LOCATION!

MONTHLY SPECIAL

$195

MOTUL OIL

$187

MOBIL 1 OIL

CERTIFIED MASTER TECHNICIANS

GENERAL MAINTENANCE

PERFORMANCE UPGRADES

SUSPENSION MODIFICATIONS

ALIGNMENTS ( TRACK AND STREET )

TRACK PREPARATION

TECH SHEET INSPECTIONS

CUSTOM FABRICATION

CUSTOM BUILT SPEC 996S AND SPB

2520 Tarpley Rd. Suite 700

Carrollton, Texas 75006

(972) 418-1996

innovativeautosports.com

innovativeautosportstx@gmail.com

5
---
Preview: May at Mayo's 2018

By Debi Kruder

It's that time of year, when our Porsches are enjoying

the sunshine and are ready for some outdoor fun with

fellow Mavs! Yes, that's right, it's May at Mayo's on

Saturday, May 5! As in past years, Mayo Performance

is clearing their garage so we can eat, drink, and spend

time driving friendships. While the venue is the same as

in years past, the menu (both food and events) is quite

different and promises to be great fun!

Be sure to arrive on time at 11 am to check in for your

meal tickets and for the new "Porsche Pair-up." What's

that, you say? Well, you'll be paired with new and old

Mavs to form a team. Your team will work together to

find the Porsche in the lot that matches the "Porsche

Pair-Up" trivia questions. Game begins at noon! It's a

great way to meet new folks and their cars. Mavs who

participate in the game and submit their answers will

all receive our cool May at Mayo's car decal. Members

on winning teams will have their names submitted in

a drawing for one of three premium prizes provided

by our partners Nordstrom, Mayo Performance, and

Silver Fox.

What's on the food menu, you ask? Well it's on

wheels too! We are happy to have both The Butcher's

Son and the Texas Burrito Company gourmet food

trucks serving us burritos, tacos, quesadillas, sliders,

and gourmet sandwiches, all paired with chips and a

drink! Want to cool off? Grab

a delicious treat from Steel City

Pops as you walk and admire

both classic and new Porsches.

We are excited to welcome one of our new charitable

organizations: Patriot PAWS!

The mission of Patriot PAWS

is to train and provide

service dogs of the highest quality, at

no cost, to disabled American veterans

and others with mobile disabilities

and PTSD in order to help restore

their physical and emotional independence.

Our goal is for Maverick PCA to raise enough

to provide a service dog in 2018. You can make a

contribution online when registering for May at Mayo's

or at the event.

Registration for May at Mayo's is available online

and is $20 per person. Registration is required. Your

registration fee includes your entrée of choice from the

gourmet food trucks, chips, soft drink or water, and a

gourmet ice pop, not to mention a chance at premium

prizes!

What's happened to the People's Choice Car Show,

historically at May at Mayo's? Well, it's moved to

Sunday, June 24, with location and registration

information coming soon. So mark your calendars for

Saturday, May 5 from 11 am to 1 pm, and go online to

register for May at Mayo's today! With great food,

friends, and Porsches, it's sure to be a great time!

6 April
---
Autocross Series: The 2018 Season is underway

By Mark Schnoerr, Region Autocross Chair

photos by LightSpeed Images

Event #1 of the 10 event series was held

at Lone Star Park, the excellent site for these

events, in Grand Prairie, on February 25th.

110 drivers made at least 6 attempts at quick times

without knocking over any two second penalty

cones. Fifteen Porsche drivers competed in six classes.

Significant others came out to drive again and made up

a third of our entries. The new 991 GT3 RS, co-driven

by Ryan Harris and Marc Nemati, decided to run the

SCCA SSP class and were a lot of fun to watch negotiate

this relatively fast course. The largest Porsche class P-4

had two drivers entered in each of the three cars for

some close competition.

Amir El-Baghdady brought out his beautiful 944

S2 Cabriolet and was really tossing it around for three

runs. Something gave up on his 4th run so he had to

ride a flatbed home that afternoon. Hope he gets that

fixed and comes back soon. Carolle Liu is starting

her second season and had Amir worried. She is signed

up for the autocross school March 17th and all events

this season.

Ronald and Hubert Wong brought out their 997 and

991's, complete with baby seats in the rear. Ronald's

997 Cab was faster this time. It must have been because

he had two baby seats in his car!

Steve and Sherry Farnam brought their beautiful

yellow Cayman GT4 from Southern Texas and chased

each other down in class P3. We hope to keep seeing

them at our events.

Class P4 was the 914 and 924S class at this event.

Sigrid almost successfully "skirted" Mark with her final

fastest time, but clipped a cone to let him win this time.

Ryan Harris / Marc Nemati 991 GT3 RS

Carey Spreen and Sue Crimm brought out their fresh

re-built engine in the 924S and are going to be a threat

in this class when they sort out how quick that car really

is. Ed Mayo and Julia Underwood left the 911s at home

this time and brought the second 914

in this class.

Doug Edney ran alone in class P7

this time. I understand he has some

new suspension parts to put in and

look forward to seeing his low-rider

996 at the next event.

The autocross drivers school

March 17th at Mineral Wells was sold

out and the event that follow on the

18th is a Mirror-Cross. This means a

Christmas Tree Light side by side drag

race start on mirror image courses set

up side by side. After each run, the

cars swap sides and do it again. The

Mineral Wells site is excellent for these

format events and a lot of fun. There are

two more of these scheduled in 2018.

Watch the calendar in Slipstream, on the website

MAV.PCA.ORG or Facebook page for the remaining

events this season.

P1 - 'PCA 1'

Total Entries: 2

Best Time Diff.

1T P1 7 Amir El-Baghdady 944 S2 Maroon 60.648

2 P1 168 Carolle Liu Boxster 987 White 64.556 3.908

P2 - 'PCA 2'

Total Entries: 2

Car Color Best Time Diff.

1T P2 8 Ronald Wong 997 911 57.24

2 P2 1 Hubert Wong 991 911 59.806 2.566

P3 - 'PCA 3'

Total Entries: 2

Car Color Best Time Diff.

1T P3 71 Steve Farnham Cayman GT4 Yellow 53.028

2 P3 17 Sherry Farnham Cayman GT4 Yellow 55.3 2.272

P4 - 'PCA 4'

Total Entries: 6

Car Color Best Time Diff.

1T P4 954 Mark Schnoerr Porsche 914 Lime green 55.076

2T P4 914 Sigrid Schnoerr Porsche 914 Green 55.192 0.116

3T P4 906 Carey Spreen Porsche 924S Red 57.442 2.25

4 P4 5 Edward Mayo Porsche 914 2.0 Silver 58.66 1.218

5 P4 908 Sue Crimm Porsche 924S Red 63.42 4.76

6 P4 9 Julia Underwood Porsche 914 Silver 65.274 1.854

P7 - 'PCA 7'

Total Entries: 1

Car Color Best Time Diff.

1T P7 7 Douglas Edney Porsche 996 Black 57.992

Sigrid Schnoerr 914 2.0

7
---
8 April
---
Welcome Our New Mavericks!

By John Hamilton, Region Membership Chair

Don Actkinson

Colleyville

2012 911 Carrera Cabriolet

Steve Davis

Double Oak

2013 911 Carrera S

Kirk Houser

Dallas

1978 911 SC

If you have any changes that

you would like to make to the

MRPCA membership guide, contact John

Hamilton at membership@mavpca.org

Michael VanSant

Denison

2008 Cayman S

Donald Anderson

Allen

2015 911 Carrera

Lance Bergstrom

Allen

2015 Macan S

Ronald Briley

Dallas

2016 911 Turbo S

John Dewar

Fort Worth

2009 911 Carrera 4S

Cabriolet

David Disiere

Southlake

2018 911 GT3

2008 911 GT2

2017 911 Turbo S Cabriolet

1989 911 Speedster Black,

2015 918 Spyder

Rob Lasken

Dallas

2015 911 Carrera Cabriolet

Mike Matheny

Denton

2004 Boxster

Valden Paes

Carrolton

2018 911 Carrera 4S

Cabriolet

Tom Weeks

Plano

2018 718 Cayman S

Steven Woodward

Mansfield

2017 Cayman Blue

Mike Carroll

Dallas

2003 911 Carrera

Jeff Colomina

Plano

2015 911 GT3

Christopher Compton

Irving

1985 944

Matthew Ford

Dallas

2014 Boxster

Greg Furness

Dallas

2014 911 Carrera

Robert Grosz

Dallas

2012 Panamera

Jeff Patterson

Trophy Club

2014 911 Carrera S

Mark Rexroat

Dallas

2017 911 Turbo S

Jerry Snead II

Dallas

2003 911 Carrera 4S

Maverick

Membership

Members: 1,748

Affiliate Members: 883

Total Membership: 2,631

Lisa Daniels

Oak Point

2008 Cayman S

Darrin Hartman

Irving

2018 Macan GTS

Rafael Teixeira

McKinney

2018 718 Cayman S GT

Anniversaries: April

** 50 Years **

Thomas Clevenger (Linda)

25 Years

Michael Fladmark (Jean Bothe)

Harry Newton

20 Years

Cyril Reif (Marion)

Branton Worrell (Esther Jane)

15 Years

David Parrish (Susan)

Steve Priester (Norma)

Dallas

Tool

Fort Worth

McKinney

McKinney

Fort Worth

Witchita Falls

10 Years

Russell Bonder (Craig)

David Jones (Alexander)

Phillip Reed

5 Years

Brian Cumberledge

Thomas Gomer (Rebecca)

Mitchell Kramer

Rich O'Day

Mike Polosky (Lori)

Linda Sharpe

David Spencer

Lewisville

Tyler

Grapevine

Carrollton

Sachse

Coppell

Southlake

Dallas

Plano

Dallas

9
---
Mavs & Mochas Recap: Zims Autotechnik

By Rich Johnson

photos by Andrew Barber and Kirk Pruitt

Speechless! No words can fully explain this spring

morning at Zims.

If I could wind the clock back to the very first

914 event Diane and I attended, that we call

"the 914 Woodstock," this gathering had the

same Porsche magic.

a few 914s together, but when 27 show up, you are

speechless! Someone mentioned that ten 914s showed

for the Rennsport event. I'm thinking they might want

to visit DFW.

Yes, the 914s were well-represented, but not the

only members of the Porsche family to join us. Over

a hundred and seventy other Porsches made it out for

morning coffee. As you walked the Zims lot, every

turn you made revealed something better than the last.

Pristine 356s from the Tub Club and lots of air-cooled

911s and 996s showed their pride. Turbos, Cabs,

Targas, and several slant-nose 911s, not to mention

the transaxle cars, like Andy Kay's beautiful 928 and

Rob Adams' spectacular 968. Lastly, there was the

incredible 2018 Panamera Sport Turismo from Park

Place Porsche, our official sponsor of Mavs & Mochas.

It was March 1, 1968 when the first 914 was

introduced to the world. Once considered the ugly

duckling of the Porsche family, the 914 has now become

appreciated for its mid-engine design, great handling,

and open-air fun.

Now let's talk

about the people and

coffee. The crowd

was amazing, with

close to two hundred

people, young and

old, walking and

talking cars. Al

Zim, our host, was

out mingling in the

crowd, as was Ed

Mayo, not to mention

Alan Bambina; all

three Mavericks and

club legends. The

coffee -- well let's

just say thanks to

Felix coffee; it flowed

nonstop for nearly

two hours.

above: Jim Hirsch, Kirk Pruitt and Bill Kruder

below: 2018 Porsche Panamera Sport Turismo

On Saturday, March 10 we

celebrated 50 years of the 914,

and celebrate we did, with

nearly 30 914s in attendance.

We had several original 1970

914/6s, many four-cylinder

cars, a few "restomods,"

some six conversions, a V8,

and a couple of "works in

progress." We had planned

for 16 cars, and it's safe to say

most people never see even

As many of you

know, each month at

our Mavs & Mochas

we try to feature a

significant anniversary or milestone in Porsche history.

So if you missed this one, you missed one for the ages,

but mark your calendar and join us next month. We

will be out again at North Park, celebrating the '60s

cars and driving friendships.

Editor's Note: Just to set the record straight: The number of914s that made an

appearance Rennsport Reunion V in 2015 might have been more than 10, but

may still have been less than the 27 that showed up at Mavs & Mochas!

10 April
---
11
---
Kruder's Cars & Conversation

By Bill Kruder

photos courtesy of Bob Molyneux

This month's "conversation"

one could say was 35 plus years in

the making.

When we first met a couple years

ago we learned we both had worked

for J.C. Penney for well over three

decades and had never met. Matter

of fact my lifelong friend and mentor's

wife is best friends with his

wife, yet that never came up. So it

took Porsches, years after we both

retired, to finally meet and strike up

a friendship for the ages.

So here is the next in my series

of "conversations" I would like to

share with you…

Bob Molyneux, member

since 2013, Owner 2009

Carrera (997.2)

Bill Kruder: So are you

originally from here?

Bob Molyneux: No I grew

up in Downey, Ca. and stayed

there till I left for college. It

was a great place to live, I was

thirty minutes to the beach

so I surfed as a teenager and

I was about an hour from the

mountains so I skied too.

BK: And where did you head off

to for college?

BM: Well I stayed close to home

for the first two years attending

Cerritos Junior College. I worked

out my schedule so I could surf

and go to school, some days I did

both (laughing). After two years

there I transferred to the University

of Denver and got my B.S. in

Accounting.

BK: What did you do after

college?

BM: Right after graduating

college in 1973 I started with

J.C.Penney. They hired me as Field

12 April

Auditor out of the Denver office,

which was actually a satellite office

for Dallas. Now this was long

before the company ever thought of

moving its headquarters to Plano.

BK: I understand that you moved

a few times?

BM: I did. I was only in Denver

for three years. They then moved

me to Florida and on to Detroit,

then finally to Dallas. We arrived

here in 1984 and have called this

home ever since, matter of fact we

live in the same original house in

Plano.

BK: So tell me how you and

Anne met?

BM: Now that's kind of interesting.

We met while both at U of D,

I was in a fraternity and she was in

a sorority and we hung in the same

circles. I knew who she was but

that was about it. Then about two

years later I was skiing at Copper

Mountain, CO. and in those days

if you were going up ski lift you

would yell "single" to let someone

know that you needed a lift partner;

to my surprise who joins me is

Anne. So with that after some time

we started to date. Then it was St

Patrick's Day we were at a party

and my roommate said he was sure

going to miss me when I moved to

Florida, well I kind of neglected to

tell Anne that little detail (laughing).

So we did this long distance

romance for a bit then married in

1977.

BK: Ok let's talk cars, what was

your first?

BM: My dad bought me a 1966

VW Beetle for my sixteenth birthday,

think they stickered for like

$2,000.

BK: And what's your memory of

always wanting a Porsche?

BM: I always thought they were

a cool car as a kid and a guy in our

neighborhood had one. But I think

what really did it was when I

lived in Florida and went to

Sebring. I was hanging around

with some car guys and we

attended a race and a Vette

and a 934 were racing down

the track towards the turn we

were in. Well when the two

cars braked coming into the

turn the 934 then just shot

out of it. I just remember the

sound of the engine.

BK: Now I understand you

had a brief brush with history

at Watkins Glen?

BM: Well not sure about history

but we were at the Glen for the F1

race, think it was around 1978 and

Mario Andretti was doing some pre

race laps when suddenly he crashes.

Well I had my 8mm video camera

rolling and caught the whole thing;

the friend I was with said he didn't

think the CBS cameras caught that.

So we go over to the CBS tent and

tell them what happened and that I

caught it on film. Well sure enough

they hadn't captured it and bought

my footage and used on TV for

the opening segment; they paid me

$400 in which we promptly bought

a washer and dryer (laughing).
---
BK: So tell me about your car?

BM: Well it's a 2009 Meteorite

Grey Metallic 997.2 over Black; we

bought it in 2013 from Boardwalk

Porsche and joined the club the

same day.

997 along the Talihena Highway

BK: I understand you and Anne

attend a lot of club events?

BM: We do. We try to get out

to Mavs & Mochas, some of the

tours, socials now and then and we

have been to Palooza twice.

BK: Oh yes let's talk about

Palooza; I also recall you were

awarded the "buck stops here"

award at Founders Day?

BM: Oh geez talk about a day

to remember, or as Anne would

say forget (laughing). It was

the first drive of what was a

three day tour, the morning

was just perfect. We all took

off, think there 20-25 cars in

the group and we head out

on the perfect road. Well,

the group approaches and

about half the cars passed

a garbage truck. We were

next to pass the truck so

we accelerated around the

truck to find the lead cars

well ahead and gone so we

decide to keep the speed down to

about 45 as to let the 10-12 cars

behind us catch up with us. About

this time I had this strange feeling

that someone or thing was watching

us. Well someone was! It was

a deer and I swear our eyes locked

on each other! Not sure who's eyes

got larger (laughing). Next thing I

know the deer leaps and flies into

the left front of the car, hits us and

runs off into the woods. So we stop

to assess the damage and decide we

could continue to drive, but little

did we know we were leaking radiator

fluid badly and only made it

another couple miles. Lucky for us

one of the sponsors of the drive was

Ozark Import Specialist in Fayetteville.

We had the car flat bedded

and they had us back on the road

the next day.

So there you have it! If Bob

and Anne had not decided to join

us for coffee at Pearl Cup for our

then Porsche DFW Cars and Coffee

we might have never met even

after spending over 35 years with

the same company.

Now that's Driving Friendships.

13
---
Maverick Tour Preview: Stop! Smell the Bluebonnets!

By Mark Pitarresi, Region Tours Co-Chair

Welcome to the second annual

Maverick Bluebonnet Tour! This

year's Tour will be just southeast

of Dallas. Ennis is the official Bluebonnet

City of Texas.

Typically the bluebonnets peak

around the third week of

April. However, this can vary

year to year due to weather

conditions and terrain, so we

have chosen Sunday April 15

for this year's tour. This time

we'll witness a sneak preview

one week before Ennis has

their annual Bluebonnet Festival.

That's right -- this attraction is so

popular that the city of Ennis actually

celebrates it with an annual festival!

It has been said that they have

over 100,000 visitors that come to

see their famous Bluebonnet Trails in

the spring for the wildflower show.

The tour will be approximately

1 hour 37 minutes and 68.8 miles

long. Last year we had some construction

and some bumpy roads to

deal with, but this year we crossed

The Ennis Bluebonnet Trails are the oldest

such trails known in the state. Country

scenery, twisty roads, elevation change,

long straights and bluebonnets will be

expected!

out most of the bumpy roads, and

the construction from last year is

all fresh and oh-so-smooth. At the

time this article was written there

was no construction on this route.

While doing a recon drive for this

tour, my daughter and I were having

so much fun that we had to

pull over a few times and take in

the moment. We will be stopping to

view the bluebonnets in a classified

area on this route. I can assure you

that it's probably one of the best

places to take in the bluebonnets!

The tour starts at 10 am at Red

Oak Middle School, located at 154

Louise Ritter Blvd in Red Oak, TX

75154. The tour will end at Bubba's

BBQ and Steak House at 210 S. I-45,

Ennis, TX 75119. Bubba's BBQ is

famous for great food, and can accommodate

about 110 people. Our

tours are generally larger than that,

but there are several other places to

eat in the area.

Our First Timers' Drivers' Briefing

will start at 9:45 am, and our

normal Drivers' Briefing will

start at 10 am. Most of our

tour members arrive early to

socialize and take in the variety

of Porsches. Arriving early

also helps our volunteers in

signing you in on time so the

tour is on schedule.

You can register for this tour at

http://mav.pca.org/Events/Tours.

asp. You will have two classes to

choose from. Select Vintage class if

your car is older, or if you prefer a

more relaxed tour. Select Modern

class if you prefer the same tour

experience we have been providing

in the past. However, it is ultimately

your choice, no matter which model

you drive. After registering we will

send you an email three days before

the tour with all the information

needed to attend.

14 April
---
We Buy, Sell & Tradethe

World's Finest Timepieces

Precise, sleek, distinctive and exceptional. de Boulle is a family-owned business

established in 1983. Along with de Boulle Motorsports, both are a living and moving

illustration of the passion for excellence for jewelry, watches and racing. de Boulle

is an uthorized Dealer for major brands including: Patek Philippe, Rolex, Bell & Ross,

Blancpain, Corum, Girard Perregaux, Greubel Forsey and Tudor. de Boulle also

provides the options of pre-owned timepieces, which includes vintage watches of

notable brands. Visit deBoulle.com to view our extensive collection.

6821 Preston Rd., Dallas, TX 75205214.522.2400

River Oaks District Houston, TX 77027 713.621.2400

deBoulle.com

2017SlipStreamAd.indd 1

15

8/9/2017 1:06:26 PM
---
Upcoming Maverick Region Events

16 April
---
17

Upcoming Maverick Region Events
---
The Porsche Effect: A Taste of the Petersen Museum

By Michael McGrath

images courtesy of Author

Founded on June 11, 1994, by magazine publisher

Robert E. Petersen and his wife Margie, the $40 million

Petersen Automotive Museum, on Wilshire Blvd in Los

Angeles, CA, is owned and operated by the Petersen

Automotive Museum Foundation.

diagrams of the model evolution through the years.

Photographs also adorn the walls illustrating the history

of the Porsche family, the leaders of the organization

over time, and the evolution of the factories and

special projects.

In 2015, the museum underwent an extensive

$125 million renovation. The building's façade was

redesigned by the architectural firm Kohn Peterson

Fox, and features a stainless steel ribbon assembly

made of 100 tons of 14-gauge type 304 steel in 308

sections, 25 supports, and 140,000 custom stainlesssteel

screws.

In February 2018 the museum launched a new

exhibit known as "The Porsche Effect." The exhibit

runs through January of 2019. This is one of the

largest collections of Porsche automobiles and artifacts

in one location outside of Stuttgart, Germany.

It is designed to tell the story of Porsche through the

years and the company's influence on culture, as well

as illustrate the passion that exists for the cars and

the brand.

As soon as you enter the museum you

are surrounded by amazing Porsche history.

I stopped in my tracks to gaze at the 904

Carrera GTS and the 910 racing car. This is followed

by no less than two GT1s. Then as you wander

past the ticket stand you find a deep blue 918 Hybrid,

a 1956 550 RS Spyder, and the one car that I stopped

and stared at for a very long time admiring its beauty: a

1951 Sauter Porsche 356 Roadster.

Once you have your entry ticket, you are free to

enter the main exhibit of 28 vehicles in the Mullin

Family Grand Salon. Upon entry you are greeted by a

sleek 1939 Porsche Type 64 60K10 in gloss black. The

aerodynamic styling of this vehicle must have made it

appear as it was from out of the future in 1939! This

two seat compact coupe was conceived for a planned

race from Berlin to Rome in late 1939. This smooth

aerodynamic styling influenced the next model to come

-- the 356. From the Type 64 you are escorted through

time and the history of Porsche, as you are treated to

original scale models for product development, original

drawings, schematics, and other historic documents.

The walls of the museum are full of interesting information

about the company history, as well as full scale

As you snake past the artifacts and around the perforated

dividers, you are greeted by a pristine example of

the 1955 356 Cabriolet, briefly referred to as the "Continental."

The Continental was conceived by influential

New York importer Max Hoffman, who believed that

the American market would be more likely to embrace

a vehicle with an evocative name, rather than a mere

number designation. Porsche was forced to re-badge the

Continental when Ford informed them that they had

already trademarked that name. As a result, few Continentals

were produced and the name briefly changed to

"European," then back to 356.

18 April
---
The center area of the exhibit is dedicated to The

Porsche Club of America. Large graphic images of

Panorama cover pages adorn the walls, and there is a large

display of historic artifacts from the club. Many years'

worth of historic radiator badges are displayed. The

Also displayed in this area is the very limited 2016

991 GTS Club Coupe. The very existence of this vehicle

demonstrates the close relationship between Porsche

and the Porsche Club of America (PCA). This car was

produced in honor of PCA's 60th anniversary.

The next section was my

personal favorite: a collection

of Porsche racing cars. The first

vehicle in the display is the 1955

550/1500 RS Spyder, Chassis

0073. The mid-engine Spyder

was the first production Porsche

specially developed for racing.

The aluminum body and tubeframe

chassis reduced weight,

while the 110 horsepower fourcam

flat-4 engine gave racewinning

performance. Porsche

also utilized wind tunnel testing

to perfect the shape of the

Spyder and improve the airflow.

The 550 was an overall success

on the track, including this example

which finished second in

points in its SCCA class for the

1956 season.

Other race cars on display

include the 1966 Carrera 6, 2008 RS Spyder, 1983

956, and a 1985 959 "Paris Dakar." Two iconic 24

Hours of Le Mans-winning models are also included:

a Gulf-livery 917K, and the more recent 2015 919 Hybrid

that was part of the team that kicked off the most

recent "Hat Trick" of successive wins at Le Mans in

2015, 2016, and 2017. Power in the 919 comes from

a 500-horsepower four-cylinder turbocharged gasoline

engine and a 400+ horsepower electric motor that derives

power from a combination of reclaimed braking

and exhaust energy. This chassis came in second in

the 2015 Le Mans race and won the 6 hour events at

COTA, the Nürburgring, and Fuji.

Clockwise from oppostite page: 550 Spyder 1500, 2016 991 GTS

Club Coupe, 917 in Gulf Livery, 1955 356 Continental. View the

entire catalog: http://bit.ly/porscheeffect

120,000-member-strong club (over 144 regions) makes

this club unique among fans of automobile marques in

both size and complexity. The "Porsche Parade," an

annual national convention of PCA members, is often

staged in smaller American cities where the dramatic

influx of members and their vehicles creates the

maximum "Porsche Effect."

The exhibit also includes several interesting prototypes,

historic advertising, Porsche Design products,

and company contributions to other pursuits such as

cycling and snow sledding. The Petersen Automotive

Museum exhibition offers visitors the opportunity to

examine a purposefully selected array of Porsche vehicles

whose designs both celebrate and challenge the

firm's engineering tradition. Together

they provide a means to understand

how so small a company has come to

wield so large an influence, an influence

that can only be described as

"The Porsche Effect"

19
---
ABCDE: All British & European Car Day

By Bill Kruder, Coffee Meets Chair

photos by Andrew Barber

The 34th Annual Exposition is

set for Sunday May 6, 2018 at White

Rock Lake Park Dreyfuss Club Point.

The location is Buckner Blvd and Lake

Highlands Drive, and I invite you to

come out! This will be our second year

to motor over and participate as a club.

Last year we had nearly 30 members

attend braving the winds that literally

created white caps on the lake. Despite

the weather, we enjoyed some cool cars

and captured some great photos!

This year, for our second

annual attendance as a club,

we would like our Porsches to

have an even bigger showing.

If you have never attended on your

own, it's one of the best venues in Dallas

for a car show. The lake view is

great, and the exposition sports a wide

range of vintage cars, from pristine

Rolls Royces to classic Triumphs. With

our club joining the event last year,

we certainly were one of the biggest

marquees in attendance! Last year,

Rob Wallace won our class with his

perfectly presented 1973 Phoenix

Red 914/4.

Lastly, ABCDE is supporting

the scholarship fund of the RPM

Foundation to further the careers

of craftsmen and women who desire to

restore, maintain, and preserve vintage

automobiles. Maverick Region generated

$750 in entry fee contributions,

and the club donated another $250 for

a very cool $1000.

So, if you are interested in spending

your Sunday afternoon with some of

the best vintage cars from Europe, at

a spectacular venue, and with some of

your best friends, we would like to see

you there!

Registration for the All British &

European Car Day is $25 per vehicle.

Online registration closes Thursday,

May 3 at 11:59pm. More club details

will follow, but be sure to register your

car at www.allbritishcarday.com and

mark your calendar for what should

prove to be a great day.

DRIVING FRIENDSHIPS.

Treat your portfolio like you would your Porsche

You wouldn't leave your Porsche in the care of anyone but a certified service technician.

Shouldn't your financial portfolio receive similar qualified attention?

Anyone can call themselves a financial planner. Only a select group can

display the CFP ® certification. Call Clark Randall at 214-890-4098 today

for a complimentary financial evaluation.

10,000 North Central Expressway

Suite 400

Dallas, Texas 75231

214-890-4098

Clark.Randall@FinancialEnlightenment.com

www.FinancialEnlightenment.com

Clark Randall, CFP ®

Registered Representative, Securities offered through Cambridge Investment Research, Inc., a Broker/Dealer, member FINRA/SIPC.

Investment Advisor Representative, Cambridge Investment Research Advisors, Inc., a Registered Investment Advisor. Financial Enlightenment and Cambridge are not affiliated. V.CIR.1217

20 April
---
Porsche of the Month

Selected by Bill Orr, Region Marketing Chair

Platinum Silver Metallic 2014 Porsche Cayman S • Photo by Mike O'Hare

You can test your

knowledge (or Google

search ability) of all things

Porsche by participating

in the monthly trivia

contest posted online at

http://mav.pca.org/trivia.

Answers are due by the

last day of each month.

The winner of the

trivia contest receives a

$25 gift certificate from

our sponsor, Zims Autotechnik. In the case of ties, a random

drawing determines the winner.

Scott Gray was our winner for the February 2018 Trivia. We

had lots getting all 5 of 5 correct and used a random drawing

of the 8 Members to choose the winner. We went with a Trivia

that brings attention to the IMS bearing failure problem that has

plagued Porsche for years. Honorable Mention, also getting all 5

of 5 correct, were Tom Martin, Cyril Reif, Jim Hirsch, Tom Gomer,

Carey Spreen, Hunter Bentley, and Andy Hsich. For the record,

we accepted A, C, or D for question 3 as a correct answer, as that

is VERY subjective and depends on your level of expertise to do

it yourself, and the time taken by

a Porsche dealership or Porsche

specialist. The gentleman doing the

video recommends changing the oil

YOURSELF at home so you can

carefully examine for bits of metal.

Answers: 1)c 2)d 3)c 4)d 5)a

For instruction on how to submit your Porsche photos in the

POTM contest go to: http://mav.pca.org/photos/POTM/

Maverick Trivia: Are you a Porschephile?

Jerry DeFeo

sponsored by Zims Autotechnik

1. The IMS bearing has been a nightmare for Porsche, and more

so for all the Porsche owners that have had an IMSB Failure.

But there is hope!!! Who is credited with the IMS Solution?

a. Hans Herrmann b. Kurt Pohl c. Jake Raby d. Jerry

Woods

Source: PCA Spotlight Video on IMS Bearing, Nov 21, 2017

2. However, there is some good news about what to do so as

to extend the life of your original IMS bearing if you have

NOT changed it out as of yet. Which of the following "tasks"

should you NOT do to extend the life of your IMS bearing?

a. Change the oil every 5,000 miles b. Change the oil every

6 months c. Drive above 4000 to 5000 RPM d. Let the car

fully sarm up to operating temp before driving

Source: PCA Spotlight Video on Extending the Life of your IMSB, Jan 5, 2018

3. This is a bit subjective, but according to some experts, where

is the best place to have your Porsche's engine oil changed?

a. Porsche dealership b. Jiffy Lube-type places c. At home

on your own d. Independent shops that specialize in Porsches

Source: PCA Spotlight Video on Extending the Life of your IMSB, Jan 5, 2018

4. There are many contributing factors that tend to make the

IMS bearing fail. Which of the following is NOT one of them?

a. Oil contamination b. IMSB retaining bolt c. Poor cam-tocrankshaft

timing d. Driving and pushing the engine to 6000

RPM and above

Source: Wikipedia, Causes of IMS Bearing Failure

5. Based on the actual failures of the IMS bearing, and the classaction

lawsuit against Porsche, what are the chances of your

1997 - 2005 Porsche flat 6 engine having an IMS Bearing fail?

a. 10% or less b. 11 to 15% c. 16 to 20% d. above 20%

Source: Wikipedia, Porsche IMS Bearing Failure issues

21
---
Engine Restoration

• Restore, Rebuild to OEM Original

or Modified Spec

• Partial or Complete Car

Preservation Restoration

• We Manufacture NLA Parts to

OEM Original Condition

• Specializing in 911 930 928

R A N D A L L K A R A

RKT 817-624-1322

T E C H N I Q U E S

901 TERMINAL ROAD • SUITE 400 • FORT WORTH, TEXAS 76106

35 Years Doing What We Love.

Visit us on Facebook - Randall Kara Techniques

22 April
---
When all HAIL breaks loose...

Roofing Solutions

By Darren Houk

German Car

Service & Maintenance

by Appointment

Specializing in:

Impact Resistant Roofing Options Including:

Metal, Tile, and even COMPOSITION shingles.

SAVE up to 28% on insurance premiums

www.RoofingSolutionsHOUK.com

817.692.8496

817-366-1678

DasZauberwerk@ix.netcom.com

Showroom by Appointment

5500 Meandering Road Fort Worth 76114

23
---
©2017 Porsche Cars North America, Inc. Porsche recommends seat belt usage and observance of all traffic laws at all times.

The heirs to over 60 years of a racing legacy.

Divided equally.

The form varies. But the racing bloodlines, the undying dedication to pure sports car performance, the marriage of power and

efficiency embodied in the Porsche principles, do not. And that truth is revealed in that moment you turn the key. Discover it for

yourself with a test drive. Porsche. There is no substitute.

Experience every form of Porsche performance.

Porsche Plano

5924 W. Plano Parkway

Plano, Texas 75093

Tel. (214)576-1911

www.plano.porschedealer.com

©2017 Porsche Cars North America, Inc. Porsche recommends seat belt usage and observance of all traffic laws at all times.

24 April
---
When 1+1=3: How Tall is Tall Enough For a Garage Lift?

By Jim Hirsch

photos provided by author

How many Mavericks have

more cars than garage space to

park? After many years of living

with three cars and a double

garage, I made a purchase last fall

that required me to re-think how to

properly store all three vehicles.

In the past, I simply jockeyed

the cars around in the driveway as

needed, with one usually relegated

to the outdoor parking space under

a high quality cover. Yes, severe

storms, especially hail, always

created some anxiety as even the

best outdoor cover doesn't provide

enough padding to protect from

large hail. Adding extra layers and

strapping everything down was the

best protection I could give.

That said, back to this fall's

Porsche purchase. A long time

Maverick Region member was

letting go of his 1986 Porsche 944

Turbo after 24 years of enjoyment.

I happened to be in the

right place at the right time

and convinced him I should

be the next caretaker of

this beautiful piece of 80's

Porsche history.

That presented the dilemma –

none of the three cars we currently

owned could afford to sit outside

any longer. I didn't even want to

think of renting or purchasing a

remote parking spot since driving

any of these at a moment's whim is

the point of having more cars than

people in our household.

The solution? A four-post

parking lift. The challenge? A

typical 1993 home with a 20'X20'

garage with a ceiling height of 9' 2".

Most people said "no way" when I

began researching lift options. Long

story short, my

research paid

off with a

solution that fits

both Porsches

in our garage

with room to

spare in a single

spot.

First, your

garage door itself

is a primary

limiting factor.

Standard height

rails keep your

raised door

around 7' 6"

off the ground.

No matter how you park a car on

a lift, you will need more than 8'

of garage door clearance for that

upper car to fit under the door. The

easy solution? Replace the existing

rails with a high-lift option (more

vertical lift before going horizontal)

and add a wall mounted lift opener.

I used a LiftMaster 8500 series.

Next, do your math. With

the right lift, you only need to

accommodate the combined height

of the two cars you plan to park

on the lift plus 8". In my case, my

cars were 50.1" and 50.4" tall, so

I needed a total of 109" and had

110" height in my garage, so I

was good to go. Here are my two

Porsches tucked nicely into their

single garage space.

Of course, not all lifts work

properly within that formula. You

need to purchase one that has

adjustable lock rails, plus needs

only one inch of raise to unlock.

My best advice if you're thinking

of getting a lift for your garage?

Stop by and see one in operation

and take as many measurements

as you can to see how things will

fit in your garage. Like most

recommendations, our members

will have all manners of favorites. I

have Greg and Julia Cleath to thank

for letting me spend time with their

lift, even though they have a much

higher garage height and depth

than I do.

The key to me in addition to a

high quality lift is the installer. Mine

spent the necessary time with me to

park and re-park the Porsches in

both "bunks" and then dialed in

my adjustable locks perfectly.

With a little studying and

planning, that's how I made 1 +1 =

3 in our limited garage space.

25
---
MarvelousHomeMakeovers.com | 972.951.1932 | Botond@MarvelousHomeMakeovers.com

26 April
---
your baby deserves

it's own room.

Introducing Garages of Texas, a community of first-class, affordable, completely customizable garage suites. Here, you don't rent a

space. You buy it. Giving you complete financial control and power to make it your own with unlimited customization options. So, stop fighting

for space in your family garage. Upgrade to a garage suite and move your show cars, motorhome or boat to the showroom they deserve.

Contact our sales team at 888.988.8049 or sales@GaragesOfTexas.com for more information.

ALLEN • CARROLLTON • DALLAS • FRISCO • PLANO • ROANOKE COMING SOON: AUSTIN • HOUSTON • SAN ANTONIO

GaragesOfTexas.com • Facebook.com/GaragesOfTexas

27
---
The Art of Paint Protection

After Installation

A virtually invisible urethane film

professionally applied to high-impact areas

of your vehicle to protect your paint job from

stone chips, sand, road debris and bug acids.

During Installation

Owner Installed

Highest Quality Guaranteed

2530 Tarpley Road, Suite 100

Carrollton, TX 75006

28 April
---
Help Wanted: Introducing the DE Work/Drive Program

By Wayne Elliott, Region Safety Co-Chair

photos by Bill Orr

Have you ever wanted to find out what it feels like to

drive on a race track, but were unwilling to shell out the

$300+ to attend one of the clubs' Drivers' Education

events? Well, here's an opportunity to do it for free!

Part of what the club provides in return for your

entry fee are the people who keep you safe on the track

and keep everything running smoothly throughout the

day. We need a larger pool of workers, so we've begun

a work/drive program that benefits everyone. Work one

weekend and you get a credit to drive a weekend in

the future. You'll be paired with an experienced safety

worker, and get to watch the cars at speed from a

vantage point like no other.

If you've ever participated in DE events in the

past, this will give you a greater appreciation

for what those guys and gals in the white suits

do at the corners. You'll never again miss or ignore

a flag, or have to try to remember what exactly that

flag color means. If you haven't participated in DEs,

this program will give you a great introduction into the

sport, and maybe even turn you into a "track rat."

Lastly, if you don't develop an interest in driving,

you can continue to work future events and get paid

$100 or more per day for your time.

For more information, please contact Wayne Elliott at

817-996-7447 or welliott911@gmail.com.

29
---
Maverick Moments: This month in Maverick History

By Kurt Scaggs, Managing Editor

images courtesy University of North Texas Libraries

Before I began laying out my first issue of

Slipstream, I thought it might be a good idea to

look back. Any club with cars and 55 years of

history must have some pretty good memories. I've

found that to be an understatement.

Looking through the back issues of Slipstream

I have come across some great articles, wonderful

photos and art, but most of all I have found stories

of lasting friendship and a passion for Porsche

throughout the years .

Slipstream through the years: 1977, 1978, 1984, 1987

Beautiful artwork

from 1975

Slipstream, April 1964

In the coming year, I will occasionally dip into

the Slipstream past and share some tidbits that

spark my interest. I hope they do they same for you.

"Expecting a room full of old fogey stuffed shirts that all paid for their little darlings

with cash, Pat stuffed all her courage in her pocket and went to the DFW Hilton for

the March '86 dinner meeting. The March program was the "Talent Show". She saw

the club president plinking on a banjo; the treasurer, co-vice-president, and membership chairman dancing with "Mona"

to the BEST LITTLE WHOREHOUSE, and the best Joe Cocker in the metroplex. And throughout the entire evening was

warned repeatedly to "watch out for Carl". She felt right at home!!! 'It was a relief to see these are normal people.'"

– excerpt of Jan Mayo's Profile of Pat Hildreth, 1987

30 April
---
877 C

200 C

200 C

200 C

200 C

200 C

123 C

307 C

307 C

307 C

307 C

307 C

151 C

354 C

354 C

354 C

354 C

354 C

299 C

108 C

108 C

108 C

108 C

108 C

200 C

Ussery Printing

Printer of SliPStream

Since 1982

3402 Century CirCle irving, texas 75062

972-438-8344 Fax 972-721-1847

www.usseryprinting.com

31
---
Since 1971

Providing personalized service

on all Porsche automobiles.

• Complete servicing and repairs

on all air or water cooled models

• In-house machine shop

• M96/M97 reconditioning

• Performance and track mods

2530 Tarpley Road • Suite 700

Carrollton, Texas 75006

(972) 417-0997

32 April
---
OUR PASSION DRIVES OUR CRAFTSMANSHIP

At APEX, your unique, personalized service program is crafted to meet your

speciic desires. Our passion is delivering a concierge level of service that

goes above expectations to create an unparalleled client experience.

To Ensure that you and your Porsche enjoy an unmatched standard of care,

contact us today for a private consultation.

855.998.APEX (2739) | www.ApexAutoCo.com | info@ApexAutoCo.com

CONCOURS LEVEL RESULTS

Using cutting-edge processes and

state-of-the-art equipment, our

detail techniques consistently

deliver an unsurpassed level

of care for your Porsche.

Expert Paint Correction | Professional

Detailing | Paint Protection Films (Clear Bra)

Ceramic Coatings | Window Films | Vinyl

Vehicle Wraps & Accents

Ceramic Pro Certiied Installer

The World's #1 Ceramic Coating

Member; IDA & Elite

Detialers Alliance

CARS & CANNOLI

Monthly on the 3rd Sat.,

Mar.-Nov., 9AM - 11:30AM

4756 Frank Luke Dr.

Addison, TX 75001

EXPERT ADVICE, OPTIMUM

ENHANCEMENTS

We have the knowledge and experience

required to truly enhance your

Porsche's aesthetics and

performance with

customized and proven upgrades.

Automotive Customization | Performance

Parts Sold & Installed | Intake/Exhaust |

Wheels/Tires | Suspension/Brakes | Custom

Methanol Injection Kits | ECU & TCU Tuning |

Racing Fuels and Methanol Sales | CEL/Code

Clearing & Diagnostics | Light Bodywork,

On-The-Go Hand Car Cleaning,

Reenishing & Respraying | Powder Coating

Automotive Customization &

Services | Integrated Radar/Laser Systems

Automotive Gifts

We indulge the needs of the connoisseur who values unsurpassed expertise

and craftsmanship for their Porsche. APEX; an automotive lifestyle brand.

autoscope.co

3 Dallas Locations:

Porsche Specialists with over

35 years experience in DFW

Park Cities

6134 Denton Dr

Dallas, Tx 75235

214-350-3050

Plano

601 Coit Rd

Plano, Tx 75075

972-867-7467

White Rock

9796 Ferguson Rd

Dallas, Tx 75228

214-320-8280

33
---
Maverick Region Unclassified

For Sale: 2014 Porsche 911 Turbo. Basalt Black Metallic /

Black. 3,900 miles. Leather Interior in black with Red Deviated

Stitching on seats / dashboard / door handles, seatbelts in

guards red, heated / ventilated front seats, Porsche Entry & Drive,

ParkAssist with Rear Camera, Sport Chrono Package, Burmester

Infotainment Package, Bi-Xenon Headlights in black incl. PDLS,

Instrument Panel and Sport Chrono Clock in guards red, Electric

Slide / Tilt Sunroof in Glass. Asking $114900. Contact Scot

Williams at (918) 232-7734 or onehogwild2006@cox.net (04)

For Sale: 2011 Porsche 911 Carrera 4S. Carrera White /

Black. 26000 miles. Unique eye catcher with upgraded Fuchs

and rock guards. Complimented everywhere I go. PDK, Sport

Chrono, heated/ventilated seats, PCM with NAV, Michelin PS2s.

Added Sharkwerks exhaust, H&R Sway bars, Front end XPEL,

and Zunsport grill screens. Up to date Mtnce and records. 2nd

Owner. Driven at a few DE's. Track wheels/tires for sale separately.

Low miles, great deal! Asking $62000. Contact David Miner at

6825609007 or tinmantx@gmail.com (04)

For Sale: 2013 Porsche 911 Carrera. Black / Black. 21500

miles. CPO until 11/17/2018. Original MRSP $ 101,730. Nicely

optioned with PDK, Sports Chrono package, Premium package

plus with 14 way ventilated seats, Glass sunroof, BOSE surround

system and other. Full options list as listed on Certificate of

Authenticity can be provided on request.Additional modifications

include installment of the Shark Werks Sport exhaust, Fabspeed

glossy black chrome quad-style exhaust tips, 20 inch black

painted Porsche OEM rims, colored Porsche emblem tire valve

stem caps, clear OEM tail lights, clear LED side markers and

front sport spoiler lip. Car has been garaged and hand washed/

detailed during ownership, kept on a battery charger when not

driven. I am the second owner. Car has had its entire history in

Texas, no exposure to snow/salt. All service history at Park Place

Dallas. Serviced last in November of 2017, 20,000 mileage

service performed. If interested, come see the car in person,

make a competitive offer and I will consider it. Asking $60500.

Contact Naveed Anwar at 8324514067 or nanwar83@yahoo.com

(04)

For Sale: 2012 Porsche Boxster Spyder. Carrera white/black.

10,400 miles. Carbon fiber bucket seats, sport chrono package,

6-speed manual with sport shifter, sport exhaust, AC, AM/FM/

CD. Asking $58,000 Contact George Wright at 940-297-5229 or

1989Nepenthe@gmail.com

For Sale: 2012 Porsche 911 Carrera Cabriolet. Dark Blue

Metallic/Luxor Beige. 24,700 miles. 7-Speed PDK Transmission.

New OEM Convertible top. Comes with all original books, and two

keys. OPTIONAL FEATURES INCLUDE: Porsche Torque Vectoring

Plus, Auto-Dimming Mirrors, Heated/Cooled Front Seats,Porsche

Active Suspension Management, Bi-Xenon Headlights, Porsche

Dynamic Light System, Keyless Entry/Start, Light Design Package,

Front/Rear Parking Sensors, Sport Chrono, Bose Surround Sound

with Sirius XM Radio, Power Folding Heated Mirrors, Seat/Mirror

Memory, SportDesign PDK Steering Wheel, Center Console

Storage Bin Lid in Leather w/ Model Logo, 14-Way Power Bucket

Seats, Blue Convertible Top. MSRP of $114,670. Asking $57,500.

Contact Andre Champagne at andre-champagne@tx.rr.com or

817-637-9922. (03)

For Sale: 2007 Porsche Cayman S. Atlas Grey Metallic/Black/

Stone Grey. 22,594 miles. Like new. 6-speed manual, 19" Carrera

Classic Wheels. Fully optioned. Garage kept, never been out

in bad weather, senior driven only. MSRP of $77,000. Asking

$28,000. Contact Lloyd Reeves at Lean1710@gmail.com or 972

262 0769. (03)

For Sale: 1996 911 Carrera 4 Cabriolet. Polar Silver Metallic/

Black Leather. 50.5k miles. Six-speed manual with Porsche Sport

Classic wheels. AM/FM cassette player, 6 Disc remote CD changer.

Power seats with lumbar support. All original paint, clean Carfax,

3rd Owner. Fully serviced at Porsche Dealerships with all receipts.

Porsche Certification of Authenticity. $52,500. Contact Phil

Berkebile at philberkebile@gmail.com or 972-898-5689. (02)

For Sale: 2000 Porsche 911 Carrera Cabriolet. Zenith

Blue Metallic with Metropol Blue convertible top, Lapis Blue

removable hardtop, Graphite Grey leather interior. March 2000

production date; originally sold at Park Place Porsche Dallas

on April 26, 2000. Dealer serviced at Park Place and Porsche

Austin from new through 60k miles. 6 speed manual. New

clutch and LN IMS bearing at 67,795 miles. Brake fluid flush at

73,602 miles by Mayo Performance. Water pump replaced at

76,493 miles by Innovative Autosports. Most recent oil change

at 78,147 miles. Option codes: C02 U.S. Std Emissions, 424

CD Compartment, 436 3-Spoke Leather Steering Wheel, 437

8-way electrical seat left, 438 8-way electrical seat right, 476

Porsche Stability Management, 490 HI-FI Sound Pkg, 537 seat

memory left, 551 Porsche Windstop, 692 Remote CD Changer,

696 AM/FM Radio w/CD Player. Original MSRP: $80,770.Very

well maintained, documented, great running car, ready to

drive anywhere. Everything works as it should. Clean CarFax

report with no accident history or other issues. Cosmetically in

average condition, with various stone chips and small scratches

to its original paint from being driven and enjoyed as it should.

Original factory radio/CD changer replaced by previous owner

with Alpine unit w/iPod connector. Tires are very good, less than

1 year old, approx 7k miles. Car cover included. Asking $21,000.

Contact Chris Flaugh at chrisflaugh@hotmail.com or 214-288-

5300. (01)

For Sale: 1978 Porsche 928. Red exterior with Red interior.

First-Year Euro Market Car. Vin # 9288101283. With spoilerfree

rear end, five speed manual transmission, sunroof-delete,

this is certainly a special car. Original 4.5L engine, Lexan front

windshield, Lexan rear window, larger 1986 front disc brakes,

Eibach coil springs which lower the car 1", Koni shocks, Short

Shifter, Weltmeister 28mm front swaybar, Martin Schnider

Headers, 245/45-16 Hoosier tires on BBS rims. Corner Balanced

by Auto Edge and ready for the track. Asking $5999. Contact John

Ballard at Johnballard@frontiernet.net or 469-494-6704. (01)

For Sale: 2014 Porsche Boxster S. Agate Grey exterior with

two-tone Agate Grey/Pebble White interior. Showroom condition

with 4,300 miles. PASM, DCT, sport exhaust, power seats, full

frontal clear bra, 20" wheels and many other extras. Asking

$53,000. Contact Jack Cicerello at jcicerello@sbcglobal.net or

972-235-5543. (12)

For Sale: 1985 Porsche 944. Guards Red with Black interior.

133,000 miles. Excellent condition. Vehicle just had major

restoration of engine, suspension, power steering, brakes, and

interior 3,000 miles ago. Fresh repaint and fresh re-seal of engine

with new belts, adjusters, water pump, thermostat, gaskets, valve

job, and more. Too many new parts to list in this ad, please see

the online ad at http://mav.pca.org/Classifieds/classifieds.asp for

complete infomration. Asking $10,900. Contact Jeff Queen at

jeff_queen@ahm.acura.com or 770-335-2854. (12)

Wanted: 2009 or 2010 Grey or Silver Carerra S Coupe. Manual

transmission, reasonably low miles in pampered condition.

All records appreciated. Contact John Polivka at John.Polivka@

yahoo.com. (12)

Advertiser Index

Advertising rates available upon request. For

more information contact Bill Kruder at ads@

mavpca.org

Apex Automotive........................................ 23

Attic Butlers................................................. 31

Autobahn Motorcar Group........................ B.C.

Autoscope................................................... 33

Bennett Motor Werks.................................. 29

Competition Motorsport............................. 35

Concorso Detailing...................................... 13

deBoulle Diamond & Jewelry...................... 15

DFW Garage Design.................................... 35

Ebby Halliday – Michael Picolo.................... 32

Falgout & Associates, P. C ............................ 32

Fifth Gear Motorsports................................ 36

Financial Enlightenment............................. 20

Growler Motor Labs..................................... 28

Garages of Texas.......................................... 27

Innovative Autosports................................... 5

Invisibra...................................................... 28

Louden Motorcar Services....................... I.B.C.

Marvelous Home Makeovers...................... 26

Mayo Performance...................................... 11

Mullenix Motorsport................................... 32

Mustard Racing........................................... 23

Nine-Eleven Automotive............................. 31

OCD'tailers.................................................. 33

Park Place Porsche................................... I.F.C.

The Phoenix Insurance................................ 11

Porsche Plano............................................. 24

RAC Performance.......................................... 3

RKT Techniques........................................... 22

Roofing Solutions by Darren Houk.............. 23

Silver Fox...................................................... 2

Stuart's Paint and Body................................. 8

Ussery Printing........................................... 31

Zims Autotechnik........................................ 35

These advertisers support our

Maverick Region.

Tell them you saw their ad in

Slipstream!

Unclassifieds are available free to Maverick Region members and are $5 for all others (contact editor@mavpca for payment details). Please limit size to no more than 6 lines (subject to editing).

Ads will run for 3 consecutive issues unless you contact the editor. E-mail your ad to classifieds@mavpca.org by the 10th of the month to have your ad run in the following month's Slipstream.

Be sure to include year, make, model, color, mileage, and asking price, as well as a contact name, phone number and/or email address. Parts are advertised only on our website. Due to space

constraints, photos are not included. No dealers please!

34 April
---
Parts or Service, We Deliver Excellence.

Over 300,000 parts in stock.

Expert service and repair.

Parts and Service for: Porsche, Mercedes-Benz, BMW, Mini, and Smart Car.

817-267-4451

Visit us online at:

1-800-356-2964

www.allzim.com

zimips@allzim.com

1804 Reliance Pkwy. Bedford, TX 76021 M-F 8am to 5:30pm

Zims Autotechnik is not affiliated with Porsche AG or PCNA Registered Trademark of Dr. Ing h.c.F. Porsche A.G.

Top motorsports brands...

...at the lowest prices in the nation!

competitionmotorsport.com

844 . 438 . 7244

35
---
Oversteer: Letter from the Editor

By Kurt Scaggs, Managing Editor

Hello, my name is Kurt Scaggs. I am your newest

editor of Slipstream. You might have noticed some

changes in the newsletter this month. I can assure

you, it's a new look, but the same great taste.

Jim has told me who the trouble makers are, so you can

put your pens down. Actually that's not the case at all.

Jim has had nothing but great things to say about being

editor and has been amazing getting me up to speed.

I hope you like the changes, but if you see something

that can be improved upon I am only a click or two away.

Outside of Slipstream I am a creative director in the

retail packaging business. That's a fancy way of saying

that I'm a designer. That might go a long way towards

explaining my inability to leave well enough alone.

I would like to join the many, many members who

have thanked Jim for his tireless efforts to create this

publication every month. The countless contributions

he's made to the club have made a lasting impact. His

passion has made Slipstream what it is today and with

his help, we will continue on that path.

images courtesy of Debi Kruder

On the subject of past editors, and I'd like to recognize

that past editors like Fran Ussery, Julia Underwood,

Carey Spreen and Wendy Shoffit (I'm missing many, so

please pardon my brevity) are pretty big acts to follow.

These names should be familiar to everyone that enjoys

Slipstream as they are regular contributors to the club.

I could go on about the efforts and contributions of

so many that you see on these pages and many more

that you don't. They make this club run, well, like a

Porsche. If you would like to be a part of the great team

that makes the club run, join us at the next board

meeting at Hackberry Country Club. Enjoy the Drive!

Congratulations to

the Maverick Region's

newest power couple,

Bill and Debi Kruder.

1964 "Hagestad" in

matrimonial livery.

Porsche Specialists - Experienced Enthusiasts

Dealer-Like Service at Independent Prices

fifthgear.biz

Excellent Service Maintenance & Repair Sales

•All Porsches' Serviced

•Fast Turnaround Times

•Same Day Service In Some

Cases

•Serving DFW Area For Over

14 Years

•Family Founded, Owned &

Operated

•100+ Years of Porsche Tech Experience

•11,000 sq. ft. State-Of-The-Art Facility

Equipped with the latest Diagnostic

Tools

•Comfortable Waiting Area with

Free WiFi & Coffee Bar

•Same Services and Capabilities as the

Dealers

•Consignment Sales performed

on a case-by-case basis

1975 Archer Ave • Lewisville • TX 75077 • 972•317•4005

36 April
---
Hiram Saunders, Slipstream

155 Jellico

Southlake, TX 76092

Periodical Postage

Paid at Fort Worth, TX