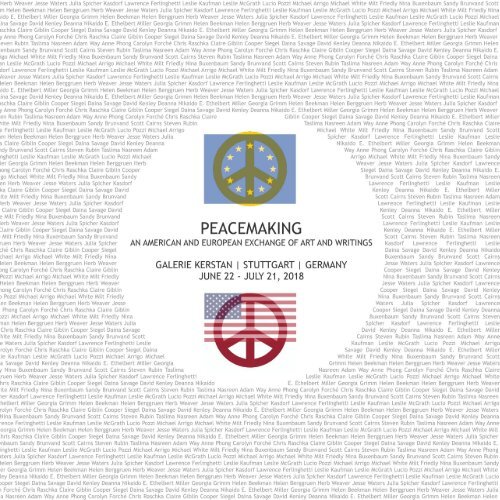 Yumpu_Catalogue_Peacemaking
Create successful ePaper yourself
Turn your PDF publications into a flip-book with our unique Google optimized e-Paper software.
PEACEMAKING

AN AMERICAN AND EUROPEAN EXCHANGE OF ART AND WRITINGS

GALERIE KERSTAN

BREITSCHEIDSTRASSE 48 | 70176 STUTTGART

22. JUNI – 21. JULI 2018 | JUNE 22 - JULY 21, 2018
---
© Copyright: 2018 Andreas Kerstan

Umschlaggestaltung, Illustration: Andreas Kerstan

Lektorat, Korrektorat: Andreas Kerstan

Verlag: Kunst Stuttgart International e.V. | Schmalzstraße 4 | 71229 Leonberg

Druck: Wir machen Druck, Backnang

ISBN: 978-3-947408-09-2

© Copyright Fotos: liegen beim jeweiligen Künstler des abgebildeten Werkes

Das Werk, einschließlich seiner Teile, ist urheberrechtlich geschützt. Jede Verwertung ist ohne Zustimmung

des Verlages und des Autors unzulässig. Dies gilt insbesondere für die elektronische oder sonstige Vervielfältigung,

Übersetzung, Verbreitung und öffentliche Zugänglichmachung.
---
Peacemaking – An American and European Exchange of Art and Writings

We are grateful to Gallery Kerstan for hosting this exhibition of art and writings from the USA, a

two-year venture that is now coming to full fruition. We present 29 American perspectives on Peace

and Peacemaking, thirteen professional artists, thirteen professional writers and three student

artists. Each artist and writer offers their unique perspective on the subject, a passion for each.

Our primary US sponsor, Elizabethtown College was founded by the Church of the Brethren, "one of

the three historic peace churches in the USA." The college houses the Young Center, a leading

research center for Anabaptist and Pietist Studies. The following was compiled and written by

Project Peace participant, Julia Spicher Kasdorf.

This exchange of art and writings between American and German people recalls our particular

histories. Stuttgart became home to American military personnel after World War II, but our

memory reaches to an earlier time. In the seventeenth century, pacifist Täufer (Anabaptist /

Mennonite) fled Swiss persecution and migrated to the Rhineland Palatinate and worked hard to

restore the land destroyed by war. William Penn, familiar with Mennonites after traveling through

the Palatinate in 1677, specifically invited them to join his "Holy Experiment" in America. In

1683, they began to settle in Germantown, north of Philadelphia in Pennsylvania. The Neue Täufer

(Church of the Brethren) began in 1708 in Schwarzenau, North-Rhine-Westphalia, and reorganized

on Christmas Day, 1723, in Germantown. Elizabethtown College was founded by the Church of the

Brethren, one of three historic peace churches in the United States, along with the Mennonites and

Quakers.

A special thanks to all the contributing artists and writers in this project. The artists and writers

give insight into their personal struggle for inner peace, compassion, and a passion for World Peace.

Each expression is filled with the past, the present and a hope for the future. We ask difficult

questions, and perhaps the answers are challenging. We are grateful and thank our sponsors for

Project Peace: Kunst Stuttgart International; the Joseph Robert Foundation; a CISP Grant, Elizabethtown

College; the Center for Global Understanding and Peacemaking, Elizabethtown College;

the Bowers Writers House, Elizabethtown College; the English and Fine and Performing Arts

Departments, Elizabethtown College. Thank you Andreas Kerstan and the City of Stuttgart for

hosting our project. We hope that this gesture on our part, will make a lasting impression on your

city and all who see and read our work. We are grateful for this opportunity.

Elizabethtown | USA | June 2018

Milt Friedly, David Kenley and Jesse Waters

Directors – Project Peace USA | Elizabethtown College
---
Peacemaking – An American and European Exchange of Art and Writings

Direktoren

Co-Direktoren

Kuratoren

Sponsoren

Milt Friedly

Andreas Kerstan

David Kenley

Jesse Waters

Milt Friedly

Andreas Kerstan

Samantha Redles

Jesse Waters

Kunst Stuttgart International e.V., Leonberg, Germany

Elizabethtown College, Elizabethtown, Pennsylvania, USA

Joseph Robert Foundation, Philadelphia, Pennsylvania, USA
---
Projekt Frieden | Peacemaking

Kunst Stuttgart International e.V., kurz [KUN:ST] International, ist ein gemeinnütziger, internationaler

Kunstverein mit Sitz in Leonberg, der am 21. Dezember 2015 gegründet wurde. Per 1.

April 2018 zählt der Verein genau 280 Mitglieder aus 14 Ländern, u.a. aus Australien, Dänemark,

Deutschland, Finnland, Frankreich, Italien, Indien, Luxemburg, Niederlande, Österreich, Polen,

Russland, Schweiz und den Vereinigten Staaten von Amerika.

Eines der wichtigen Ziele des Vereins ist es, seinen Mitgliedern auf nationaler und internationaler

Ebene Ausstellungs- und Präsentationsmöglichkeiten zu verschaffen. Zur Unterstützung dieses Ziels

veranstaltet [KUN:ST] International seit 2017 jährlich einen Kunstwettbewerb. In 2017 ergab sich

das Wettbewerbsthema Projekt Frieden aus dem Kontext einer Austauschausstellung unter dem

gleichnamigen Titel mit dem Elizabethtown College, in Elizabethtown, Pennsylvania.

Im Mai und Juni 2017 wurden in der Galerie Kerstan, Stuttgart, 50 ausgewählte Werke dieses

Wettbewerbs in der Kunstpreisausstellung Projekt Frieden gezeigt und Preisträger in vier Kategorien

gekürt. 37 dieser Werke wurden im Anschluss vom 21. September bis 21. November 2017 auf dem

Elizabethtown College Campus in Elizabethtown, USA, präsentiert.

Dieser Ausstellungszyklus wird nun mit zwei Ausstellungen in der Galerie Kerstan, Stuttgart,

abgeschlossen: mit der Ausstellung der Projekt Frieden Kunstpreisträger aus 2017 und der direkt

danach folgenden Ausstellung Peacemaking – An American and European Exchange of Art and

Writings.

Wir freuen uns außerordentlich, dass wir zum Abschluss dieses großen kulturellen Austauschprojektes

29 Künstlerinnen und Künstler aus den Vereinigten Staaten von Amerika in der Galerie Kerstan,

Stuttgart, willkommen heißen dürfen und wünschen den Künstlern und Besuchern viel Freude mit

dieser Ausstellung. Wir bedanken uns bei den an dem Projekt beteiligten Künstlerinnen und Künstler

für ihre Teilnahme und den Unterstützern dieses Projektes für ihren unermüdlichen Einsatz, ohne

den dieses Projekt nicht möglich gewesen wäre.

Leonberg | im Juni 2018

Andreas Kerstan

Direktor / Kurator – Projekt Frieden

1. Vorsitzender Kunst Stuttgart International e.V.
---
Projekt Frieden

Teilnehmende Künstler in alphabetischer

Reihenfolge

Peacemaking – An American and European

Exchange of Art and Writings

Participating artists in alphabetical order

Teil 1 | Bildende Künstler

Chapter 1 | Contributing Visual Artists

Anne Phong

Chris Raschka

Claire Giblin

Helen Beekman

Helen Berggruen

Herb Weaver

Leslie Kaufman

Lucio Pozzi

Michael Arrigo

Milt Friedly

Nina Buxenbaum

Sandy Brunvand

Steven Rubin

Teil 2 | Autoren

Chapter 2 | Contributing Writers

Carolyn Forché

Daina Savage

David Kenley

Deanna Nikaido

E. Ethelbert Miller

Jesse Waters

Julia Spicher Kasdorf

Lawrence Ferlinghetti

Leslie McGrath

Michael White

Romie Lie

Scott Cairns

Taslima Nasreen

Teil 3 | Teilnehmende Studenten

Chapter 3 | Contributing Students

Adam Way

Cooper Siegel

Georgia Grimm
---
TEIL 1

BILDENDE KUNST

CHAPTER 1

VISUAL ART
---
Ann currently teaches art at California State

University Pomona. She also serves as the

board president of VAALA (Vietnamese

American Arts and Letters Association), a nonprofit

organization to promote Vietnamese

American artists who live outside Vietnam. Ann

has been invited to speak at many high

schools, colleges, universities, galleries and

museums on the subject of her own work and

the work of other Vietnamese American artists.

Ann Phong

Ann Phong was born in Saigon, escaped from

the communist Vietnam and now Ann has

settled in Los Angeles, California.

Ann Phong received her MFA in painting from

California State University, Fullerton in 1995,

and has actively participated in more than 150

solo and group shows in galleries and

museums. Her work has been exhibited in Los

Angeles, to Houston, Vancouver, Bangkok,

Karbi, Seoul, Chengdu, Taichung and Tokyo.

Ann's artwork is collected and displayed in

many public areas such as the UC Riverside

Sweeney Museum, the Queen's Gallery in

Bangkok, Cal Poly Pomona University Student

Center, Cal State University Fullerton Student

Center, and also in many private collections.

"I have lived in many different countries in my

life, from Asia to America. Each nation has

given me unique memories about its culture

and living environment. I like to wander, to

listen to the voices of people, to blend into

the crowd and to watch, as people juggle

their everyday lives. In each one of my art

pieces, I let my feelings flow from my past to

the present, and seek to record most

memorable scenes.

Having seen cities embrace and protect

nature, it is painful to witness some other

places that have such destruction due to

human greed. It seems like the more

convenient we make our lives, the more

pollution we create and the more carelessly

we deplete the earth's resources. Mother

nature has given a home and we should be

treating it as such. To obtain a peaceful life,

one first needs to make peace with mother

earth."

Ann Phong | April 2018

Angel

Mixed media

61 x 22 cm | 2018

www.annphongart.com
---
eceived two Caldecott Medals and one Honor

forThe Hello, Goodbye Window, by Norton

Juster; and for his own A Ball for Daisy; and his

Yo! Yes? Five of his titles have been named

New York Times Best Illustrated Children's

Books, including Mysterious Thelonious and A

Poke in the I.

Chris Raschka

Chris Raschka never meant to be an illustrator.

Certainly he had no thought of becoming a

picture book artist. Though in his school days

he always drew and painted, he studied

science and was ready to enter a career in

medicine. But on the eve of that next step, he

understood that taking it would finally mean

the end of his painting life, which was after all

what he wanted most. So he just didn't go.

Instead he opened the newspaper to find a

part-time job, one which happened to find him

his first steady employment as an illustrator:

illustrating all of the articles each month in a

law journal (his job had been factotum to a

private attorney). For the next three years he

created illustrations for magazines and

newspapers in Ann Arbor and Detroit, Michigan,

before moving to New York City.

This city would be the place he required to

complete his education. Chris Raschka has

created over sixty books for children. He has

He was the US nominee for the Hans Christian

Andersen Award in 2012 and 2016. Chris

Raschka was born in Huntingdon, Pennsylvania,

in the USA, in 1959. He studied biology, music,

and art, in Minnesota, and since 1989, has

lived with his family in New York City.

Chris Raschka's illustrations have been exhibited

throughout the United States, including a

solo exhibition at the Art Institute of Chicago

in 2007 through 2008. In Europe his work has

appeared at Bad Berleburg, Germany, and in

Italy at Bologna, Padua, and Rome.

"We are as close as sienna is to umber and

umber is to ochre, which is to say, very close

indeed. We are made with the same strokes,

of the same materials. Peace is not that

hard."

Chris Raschka | April 2018

It's Not That Hard

Watercolor on colored paper

48 x 48 cm | 2017

www.nccil.org/artists/chris-raschka
---
government funded exhibitions, solo shows,

joint, invitational, national and international

juried exhibits, museum and gallery exhibitions

in the US, Spain, Italy, Japan, New Zealand,

Turkey and Korea, and has served as juror and

panelist for art organizations and the

Pennsylvania Council of the Arts.

Claire Giblin

Claire Giblin was born and educated in New

York City. She majored in fine art in high

school, earning honors in NY State Regents and

Board examinations. Giblin learned studio

techniques under the tutelage of artist and

historian, Vincent Mercaldo, later briefly

attending F.I.T. (life drawing and Fashion

Illustration).

In Pennsylvania, Giblin studied studio art,

Chinese brush painting - calligraphy and

mountain painting - at Franklin & Marshall

College; Lebanon Valley College (Art History,

Philosophy of Religion, Anthropology); Millersville

University (Art History, Photography).

Giblin is the recipient of national and regional

awards in art, and is listed in Who's Who in the

Arts, Who's Who in America, Who's Who of

American Women. Giblin was honored as 2003

"Woman of the Year" by the Women's Center

at Franklin & Marshall College, Lancaster, PA.

She has curated exhibitions, participated in

Her work is in national and international corporate,

museum and private collections. She has

taught in her studio, at workshops, and at

Franklin & Marshall College (adjunct) in

curriculum. Claire is former co-owner and

Director of Pfenninger Gallery in Lancaster

City. She is former Curator of Exhibitions at the

Phillips Museum of Art on the campus of

Franklin & Marshall College in Lancaster,

Pennsylvania where she has taught introductory

painting and workshops in professional

practices, and facilitated a weekly life-drawing

studio. Giblin earned a Certificate in Fine Art

Appraisal at NYU. She is an Associate of

Appraisers Association of America and co

founder of Atlantic Appraisal Services LLC.

"I choose to point to a place where the eye is

able to rest and the mind is able to consider

the power in choosing a course of peace and

non-violence."

Claire Giblin | April 2018

Wounded Dove

Digital Print on Rag Paper

Print No. 1

28 x 36 cm | framed | 2017

www.giblinart.com
---
Literally, they can be touched and a

subliminal understanding within my mind and

heart is transformed into reality. Connecting

these dots is like tracing constellations with a

paintbrush. Look up into the darkness of the

night sky and be awed by the unknown. In the

vastness of the universe, humankind is a speck

in that celestial sky. Our wars and worries,

joys and dreams are inconsequential in the

scope of outer space. Seeking peace amidst

the troubles of the world seems like a mirage.

Helen Beekman

Helen Beekman, sculptor and painter, works

and lives in New York City. She grew up in

Menlo Park and Inverness, California and in

1971 received a B.A. in Fine Art (focusing on

sculpture) from Mills College in Oakland,

California. Helen Beekman was a visiting artist

at The American Academy in Rome. Her work is

in private, corporate and museum collections.

"Peace is as mercurial as the night sky. Trying

to capture peace or holding stars in your hand

is a daydream. I want you to look deeply into

my hay sculptures. The painted hay is

manipulated on neutral surfaces where my

wordless thoughts and visions only imagined

become three dimensional palettes. Stars fall

into the hay like fireflies landing on grass.

Still, I am a believer in peace. I am uplifted

knowing that while our home rock floats in

the infinite darkness of nothingness, twinkling

lights brighten churning chaos. We are made

of stardust, the identical atomic elements

(oxygen, carbon, hydrogen and nitrogen) of

the Milky Way. This is humbling but the very

nature of humans has something intangible,

optimism.

I peer into the night sky and hear John

Lennon's song Imagine. I feel a sense of

possibility and peace. We humans are

stubborn, arrogant yet we try to be good

citizens on earth. We will fight for our blue

planet and peace. We are stardust with a

shared responsibility."

Helen Beekman | April 2018

Shooting Stars

Hay, acrylic on Masonite

104 x 102 cm | 2017

www.helenbeekmanart.com
---
I reaffirm a belief that art has the power to

be a transformative force for good.

The animating sources for Peace Accord: the

Triumph of Music are two-fold. The first is a

visionary series of concerts, "In War & Peace",

launched two years ago by the American

mezzo-soprano Joyce DiDonato.

Helen Berggruen

"I was born in San Francisco in 1945. My artistic

life began, not as a painter, but as an

actress. From the age of twelve, I was

determined to be on stage. In the early 80's I

stepped away from theater life and started

painting. The canvases would be "peopled"

not with figures, but with objects, trees,

houses. Early on I was highly influenced by Van

Gogh and by the early 20th Century European

painters, especially the French Fauves and

German Expressionists. Their emphasis on the

"liberation of color" became guiding

principles. My work has been exhibited in San

Francisco, New York, London and Berlin and is

in the collections of the Springfield Art

Museuam, Missouri, and the Cedar Rapids

Museum of Art, Cedar Rapids, Iowa."

"As artists, as members of society, we find

ourselves faced with the challenge: how to

resist being dragged down into the negative,

fearful despair that surrounds us. In response,

Through the sublime music of Handel, Purcell,

and other Baroque masters, the concerts

explore the darkest conditions of the human

soul, as well as the most exalted. We hear

searing melodies set to words crying out for

revenge, but also, melodies conveying a sense

of hope. The scourge of war is interwoven

with a craving for peace. The second source is

the painting St.Cecilia and the Angel, by the

Seventeenth Century Italian artist Saraceni. In

my narrative composition, St. Cecilia and her

lute have been replaced by a determined

young singer. The angel beckons to the singer;

she has already embarked on a fierce mission.

In one hand she holds a sheet of music; in the

other, she carries a blazing torch. The winged

angel joins the singer, offering to accompany

her on his bass viol. Together their song

vanquishes dark forces. Hostilities cease.

Swords lie broken at their feet."

Helen Berggruen | March 2018

Peace Accord: The Triumph of Music

Oil on linen

71 x 56 cm | 2018

www.helenberggruen.com
---
MFA from James Madison University. For nearly

two decades Herb lived and taught at Bethany

College in West Virginia where he and his wife,

Anita, raised three daughters. While in West

Virginia, Herb's artwork evolved into

statements about life circumstances, both

whimsical and political. His work has been

exhibited in 200 shows throughout the United

States and abroad. Herb retired from teaching

in 2015 to build a house in Virginia and make

art full time.

Herb Weaver

An art educator for over three decades ranging

from middle school to the college level, Herb

Weaver strives to take art off the pedestal and

into the daily lives of the viewer. Initially

trained more as an "art generalist" in a liberal

arts setting, Weaver later focused on the

medium of ceramic sculpture and earned an

"The "arrows through the heart" are actually

rods extracted from a library cabinet's card

catalog, intended to accentuate Trump's 4th

grade reading level. The chains hanging down

from the neck-area are symbolic of "chain

migration" to remind us that the current First

Lady is a recipient of this policy. And the

plastic "umbrella" of "Make America Great

Again" that covers the head represents the

shield of ignorance under which he and his

base mask their true values. On the base are a

series of ten quotes extracted from the

internet. The black text are Trump's words

that are compared to biblical passages in red

text. This oxymoronic juxtaposition of

thoughts are intended to signify the hypocrisy

of the "Christian Right" who blindly deny the

actual teachings of their "Prince of Peace."

Herb Weaver | April 2018

A Great, Great Peace Extinguisher

Ceramic and mixed media

117 x 41 x 41 cm | 2015

weaverworks.yolasite.com
---
She is a founder of Philadelphia Sculptors, the

Philadelphia - based organization of professional

sculptors, and has served as its president

since its inception in 1996. She founded the

Burlington County College Sculpture Garden in

Pemberton, NJ, and directed it for 20 years.

"Ongoing traumas and tragedies are taking

place throughout the world, causing people to

be uprooted, marginalized, expelled, starved

and otherwise treated in the most inhumane

ways.

Leslie Kaufman

Leslie Kaufman lives in Philadelphia and has

been active in the arts for over 40 years. She

has exhibited her sculpture in numerous local,

regional, and international shows including a

one-person show at Shippensburg University

(Shippensburg, PA) and a two-person show at

Highwire Gallery (Philadelphia). Other venues

where she has exhibited her work include

Budapest Gallery (Budapest, Hungary) and

Washington Square (Washington, DC), among

others.

Her work has ranged from carved stone and

wood to ceramic sculpture to mixed-media

constructions. She has participated in numerous

collaborative, alternative, and public art

projects, including the "Artfronts Partnership,"

the Main Line Art Center's "Kites: Art Takes

Flight" and Philadelphia Sculptors' "Cart Art,"

"Chairs in the Air," and "A Case for Art."

I created the Safe Haven series as a response

to this upheaval. I am interested in the

possibilities for escape and new life, even as I

acknowledge the complexities of transitioning

from one place to another. In this series of

sculptures, I chose to repurpose some objects

so that their new identities reflect the

process of bringing to light something that

wasn't visible before.

Understanding those who are different from

us involves changing our focus from what is

different to what is similar. If we are allowed

the freedom to develop our lives in an

environment not bombarded by hostilities,

life and creativity can return to replace

emptiness and despair."

Leslie Kaufman | April 2018

Safe Haven: Root

Wood, cardboard, plaster, fabric, mixed

33 x 48 x 33 cm | 2018

lesliekaufman.artspan.com
---
Sculpture Program, Princeton University,

Maryland Institute of Art, School of Visual Arts.

He currently is an occasional instructor at art

schools in the US and Europe. His work has

been presented at Documenta 6 (1977) and at

the Venice Biennale (American Pavilion) in

1980. His art is represented in many private

and public collections.

Lucio Pozzi

Lucio Pozzi was born in 1935 in Milan, Italy.

After living a few years in Rome, where he

studied architecture, he came to the United

States in 1962, as a guest of the Harvard

International Summer Seminar. He then settled

in New York and took the US citizenship. He

now shares his time between his Hudson (NY)

and Valeggio s/M (VR) studios.

In 1978 the Museum of Modern Art, New York,

exhibited his early videotapes in one of the

first single-artist exhibitions of the Projects:

Video series. He occasionally writes and has

taught at the Cooper Union, Yale Graduate

"The Next 475 Years Of My Art And Life" is

both a lecture and a work of art. I have

delivered it for about thirty years always with

the same title. Even though it contains a fixed

nucleus of images, it changes over the years

according to circumstances. In this event I

move constantly and hop from one idea to the

next not so much to explain but rather to

trace the evolution of a way of thinking about

art. I describe how I have turned upside down

the canons of my generation's Conceptual and

Analytic art so as to make of them a point of

departure instead of a point of arrival. Since

then I live my art at the widest range, in all

its possibilities. I have chosen to seek the

intensity of inspiration by structuring a

practice of continuous shifts from one mode

of art making to the next. I believe that

coherence of style and meaning does not

depend on formula but surfaces uncalculated

in the practice of the artist."

Lucio Pozzi | April 2018

Diaspora

Acrylic on plywood

Size variable - a proxy artwork | 2018

luciopozzi.com
---
He currently is Professor of Art at Bowling

Green State University, and serves as a

National AP Studio Art Reviewer. Arrigo has

taught painting at Studio Arts Center

International in Florence, Italy and served for

two years as the director of Young Artists at

Work, a nationally recognized arts outreach

program for young adults.

Michael Arrigo

Michael Arrigo is a multi-disciplinary artist

based in Toledo, Ohio. He received his M.F.A.

in Painting and Drawing from the Ohio State

University and has been included in many

national juried and invitational exhibitions.

He has received a G.C.A.C. Individual Artists

Fellowship, and awards from The Columbus

Museum of Art, The Maser Museum of Art and

The Toledo Museum of Art.

Recent solo exhibitions include Crumbs Gather

in the Folds at the Mariani Gallery in Greeley

CO; Packing Up at Cascade Gallery in Portland,

OR; and Interface with Jake Rowland at the

Rosemary Duffy Larson Gallery in Miami FL.

"People die, often at the hands of other

people. Death, however, cannot die. This is

perhaps one of the things that make it

troubling and powerful. Death cannot do what

it is and therefor it persists in being.

Similarly, words cannot speak. They cannot

bring themselves into being. Euphemisms are

the words that we humans breathe into

existence because we dare not speak the

words that cannot speak themselves- words

that might actually materialize the world as it

is. Euphemisms are the words we speak to

bring a less troubling more convenient world

into existence, a parallel world of alternative

facts (thank you Kellyanne Conway). Spade, A

Spade is an attempt to lay some of the

euphemisms of drone warfare to rest."

Michael Arrigo | April 2018

Spade, A Spade

Digital imaging on canvas | 183 x 245 cm

2017

www.michaelarrigo.com
---
Printmaking) and the University of Wyoming

(MFA Sculpture and Printmaking). He is

Professor of Art at Elizabethtown College and

directs the Susquehanna Center for the

Creative Arts.

Milt Friedly

Born: 1958, Powell, WY

Resides: Elizabethtown, PA

Milt Friedly has received recognition locally,

regionally, nationally and internationally for his

work in ceramics, printmaking and sculpture.

His work has been included in exhibitions at

the Urban Center for Contemporary Art; the

Brooklyn Waterfront Artists Coalition; the

Yellowstone Art Museum; the Nicolayson Art

Museum; the San Angelo Museum of Fine Arts;

Museum; the Gallery of American Craft; the

Susquehanna Art Museum; the Lancaster

Museum of Art; Lynden Gallery; Denise Bibro

Fine Art; the Demuth Museum; the George

Krevsky Gallery; and the University of the Arts,

Philadelphia and many other art centers and

galleries. His work is included in a number of

public collections and many private

collections. He received Fine Arts Degrees from

Arizona State University (BFA Ceramics and

"The 'free world' vs Kim Jong-un, tensions

rising, an American President compelled to

flex his muscle and mouth, raising the boiling

temperature for what could be a nuclear fallout.

Ballistic - 38th Parallel, a recent work,

defines a dynamic for world peace. Donald

Trump pointing a finger, Kim Jong-un spying on

his own people across the 38th parallel,

spewing hate and distrust; missiles dividing

the two powers - a missile raising Kim's hair.

Mount Rushmore and a Lotus flower look on,

wondering, what have we become?

Gun Control, an American problem, the World

looks on in disbelief - shootings in our schools

and public places. Are we out of control,

teaching our children violence is the answer?

Are video games and television numbing the

minds of our youth and to the point that they

cannot discern make believe from reality?

What are the consequences, no regard for the

sanctity of human life? Broken homes, broken

children who look on and see hypocrisy - what

is life? Our children and citizens become

terrorist, for what cause?"

Milt Friedly | April 2018

miltfriedly.com
---
Gun Control | Defunct gun, rebar, pulley, hook, chain, spring and motorcycle foot peg | app. 315 x 61 x 25 cm | 2016
---
Nina Buxenbaum grew up in the Crown Heights

area of Brooklyn, NY. She received her MFA

degree in Painting from the Maryland Institute

College of Art and her BFA from Washington

University in St. Louis in Drawing and Printmaking.

Her work has been included in several

exhibitions including the Studio Museum of

Harlem (NYC, NY), The Slater Museum (Norwich,

CT), The Painting Center (NYC, NY), the

Ingalls Gallery (Miami, FL), Rush Arts (NYC,

NY), including a solo show at The Stella Jones

Gallery (New Orleans, LA). She is currently

represented by Galerie Myrtis (Baltimore, MD).

Her work has been reviewed in the International

Review of African American Art. She is

a member of the Silvermine Guild of Artists in

New Canaan, CT. She is an Associate Professor

at York College, CUNY, in Jamaica, NY, and

Coordinator of the Fine Arts Discipline in the

Department of Performing and Fine Arts. She

maintains and active studio practice in

Brooklyn, NY and Bethel, CT.

"I began my work as an exploration of images

of African American women in our society. We

judge a culture and a civilization by the

images and art objects that they create. I

have always focused on creating honest and

personal depictions of women, particularly

women of color, as a means to provide an

alternative to the stereotypes prevalent in

our culture.

Nina Buxenbaum

I use the "Topsy-Turvy doll" as a metaphor of

black women and the way we learn to define

ourselves. The doll, whose name is derived

from the character of Topsy in the Harriet

Beecher Stowe novel, Uncle Tom's Cabin, is

designed to look like a southern belle on one

side, but her dress conceals a black girl

underneath. These dueling images deal with

some of the complexities of identity that go

beyond race."

Cousins: Buxenbaum/Engst

Oil on linen | 122 x 91 cm | 2017

Nina I. Buxenbaum | April 2018

www.ninabuxenbaum.com
---
Scotland. Brunvand was recently named one

of Utah's 15 most influential artists, voted on

by Utah's on-line arts magazine, Artists of

Utah-15BYTES.

"This multi-part work is from an ongoing

series, The Positive of Space of Silence. These

works use player piano scrolls as a substrate

and as an integral part of the concept. The

scrolls are encodings of music, but by themselves

are silent.

Sandy Brunvand

Born in Michigan, Sandy Brunvand moved to

Salt Lake City in 1982. Sandy is an Assistant

Professor (Lecturer) in studio art & art education

in the Department of Art and Art History,

University of Utah. After receiving her MFA in

2003, she co-founded Saltgrass Printmakers, a

non-profit printmaking studio and gallery

located in Salt Lake City. Brunvand's artwork

incorporates painting, drawing, printmaking,

and mixed media and has shown throughout

the United States, as well as in Canada,

England, New Zealand, Hong Kong, Bosnia,

China, Colombia, Palestine, Hungary, and

Their negative space encodes the notes, but

the actual scrolls are composed primarily of

positive space. Not only are the scrolls

reminiscent of Asian scrolls in their physical

aspect, I am also emulating the Asian tradition

of grouping scrolls into four seasons of

images, although not as literally as tradition

dictates. There is no season recognition in

war or peace. The titles of the individual

scrolls, when placed in this setting, take on an

entirely different interpretation from their

original intent. Each scroll has images

depicting both a darker turmoil and a hopeful,

peaceful portion rising to the top of the

scroll.

Each of the scrolls is held down at the base

with one or more wishing stones."

Sandy Brunvand | April 2018

Positive Space of Silence, Peace

4 Piano scrolls with ink painting

244 x 152 cm | 2017

www.sandybrunvand.com
---
from The Fund for Environmental Journalism.

As a Community Fellow with the Open Society

Institute (Baltimore), he co-directed the

innovative program Healing Images, providing

digital cameras, instruction and therapy to

survivors of torture. His current projects

investigate the rise of wind energy in the

Midwest, the precarious conditions of Burmese

Chin refugees in India, the upsurge of diabetes

in Sub-Saharan Africa, and the social and

environmental impacts of Marcellus Shale gas

development in Pennsylvania.

Steven Rubin

Steven Rubin is an Associate Professor of Art in

the Photography Department at Penn State

University. Previously, he worked for more than

twenty years as a freelance photojournalist

and documentary photographer, traveling on

assignment around the world and throughout

the United States.

His photographs have been published in The

New York Times Magazine, National Geographic,

Time, Newsweek and The Village Voice,

and internationally in Stern, GEO, Focus,

L'Express and The London Independent Magazine,

among numerous other publications.

His work has been exhibited across the United

States and in Europe, Asia and Central

America. A Fulbright-Nehru Scholar in

northeast India, he is also the recipient of the

Leica Medal of Excellence, a New York

Foundation for the Arts (NYFA) Fellowship, a

Nieman Fellowship at Harvard, an Alicia

Patterson Journalism Fellowship and a grant

"The photographs and poem included in the

exhibition are part of Shale Play, a book of

documentary poems and color photographs

created between 2012 and 2017 with poet

Julia Spicher Kasdorf, in response to the rush

to exploit the Marcellus Shale natural gas

formation in Pennsylvania by means of the

controversial well stimulation method commonly

called fracking.

The photograph here depicts a farm silo and

Chevron gas condensate tanks on the Honsaker

Farm in Masontown, German Township,

Fayette County, Pennsylvania. In many Pennsylvania

communities, farmers no longer find

dairy and crop farming profitable, but they

can gain substantial profit from leasing their

land for natural gas development."

Steven Rubin | April 2018

Silo and Chevron gas condensate tanks

Pigmented inkjet print

41 x 61 cm | 2015

www.stevenrubin.com
---
TEIL 2

POESIE

CHAPTER 2

POETRY
---
Carolyn Forché

Forché was born in Detroit, Michigan. Forché

earned a Bachelor of Arts (B.A) in Creative

Writing at Michigan State University in 1972,

and MFA at Bowling Green State University in

1974. She taught at a number of universities,

including Bowling Green State University,

Michigan State University, the University of

Virginia, Skidmore College, Columbia University,

San Diego State University and in the

Master of Fine Arts program at George Mason

University. She is now Director of the Lannan

Center for Poetry and Poetics and holds the

Lannan Chair in Poetry at Georgetown University

in Washington, D.C.

Forché lives in Maryland with her husband,

Harry Mattison, a photographer, whom she

married in 1984.

Forché's first poetry collection, Gathering the

Tribes (1976), won the Yale Series of Younger

Poets Competition, leading to publication by

Yale University Press.[6] In 1977, she traveled

to Spain to translate the work of Salvadoranexiled

poet Claribel Alegría. She has also

translated the work of Georg Trakl and

Mahmoud Darwish, as well as many others.

Upon her return from Spain, she received a

Guggenheim Fellowship, which enabled her to

travel to El Salvador, where she worked as a

human rights advocate. Her second book, The

Country Between Us (1981), was published

with the help of Margaret Atwood. It received

the Poetry Society of America's Alice Fay di

Castagnola Award, and was also the Lamont

Poetry Selection of the Academy of American

Poets. She won the 2006 Robert Creeley Award.

Although Forché is sometimes described as a

political poet, she considers herself a poet who

is politically engaged. After first acquiring both

fame and notoriety for her second volume of

poems, The Country Between Us, she pointed

out that this reputation rested on a limited

number of poems describing what she

personally had experienced in El Salvador

during the Salvadoran Civil War. Her aesthetic

is more one of rendered experience and at

times of mysticism rather than one of ideology

or agitprop. Forché is particularly interested in

the effect of political trauma on the poet's use

of language.

www.poetryfoundation.org/poets/carolyn-forche

Image Credit: Don J. Usner.

Courtesy of Blue Flower Arts.
---
The Boatman

We were thirty-one souls all, he said, on the gray-sick of sea

in a cold rubber boat, rising and falling in our filth.

By morning this didn't matter, no land was in sight,

all were soaked to the bone, living and dead.

We could still float, we said, from war to war.

What lay behind us but ruins of stone piled on ruins of stone?

City called "mother of the poor" surrounded by fields

of cotton and millet, city of jewelers and cloak-makers,

with the oldest church in Christendom and the Sword of Allah.

If anyone remains there now, he assures, they would be utterly alone.

There is a hotel named for it in Rome two hundred meters

from the Piazza di Spagna, where you can have breakfast under

the portraits of film stars. There the staff cannot do enough for you.

But I am talking nonsense again, as I have since that night

we fetched a child, not ours, from the sea, drifting facedown

in a life vest, its eyes taken by fish or the birds above us.

After that, Aleppo went up in smoke, and Raqqa came under a rain

of leaflets warning everyone to go. Leave, yes, but go where?

We lived through the Americans and Russians, through Americans

again, many nights of death from the clouds, mornings surprised

to be waking from the sleep of death, still unburied and alive

but with no safe place. Leave, yes, we obey the leaflets, but go where?

To the sea to be eaten, to the shores of Europe to be caged?

To camp misery and camp remain here. I ask you then, where?

You tell me you are a poet. If so, our destination is the same.

I find myself now the boatman, driving a taxi at the end of the world.

I will see that you arrive safely, my friend, I will get you there.

Carolyn Forché
---
R.E. Foundation Award for Outstanding Poetry

and her work has been nominated for the 2014

Pushcart Prize. Her debut collection, Traces,

was published by I. Giraffe Press in 2013.

She has been a featured reader in Baltimore,

Philadelphia, Harrisburg, Reading, Gettysburg,

and Lancaster events.

www.dainasavage.com

Daina Savage

Daina Savage, works as a freelance journalist

for magazines and newspapers in the Mid-

Atlantic region, with more than 3,000 published

stories. She is a co-founder and codirector

of the Spoken Word Festival in

Lancaster, Pennsylvania.

As the director of the Lancaster Poetry

Continuum, she organized numerous poetry

reading series in Lancaster museums, bookstores,

and coffee shops. She is the co-founder

of the Lancaster County Young Writers Workshop.

Her poetry has been published in numerous

regional journals and has garnered many

writing awards. She is the 2013 recipient of the
---
How to Live, Riga 1939-2017

Butter the black

bread. Snip sheaves

of dill fold

into sour

cream. Line

up the sprats

like little soldiers,

gold of their scales

winking in the morning

light.

Remember the taste

of hunger. Fry

bacon. Render

onions translucent

as ration-cards

in sweaty

hands.

Fill your plate

with gratitude.

Let there be enough

now.

Be enough

now.

Daina Savage
---
Movement and the Chinese Diaspora, 1919-

1932 (New York: Routledge Press, 2003, 2007,

2013) and Modern China (Association for Asian

Studies, 2012), and Contested Communities:

Identities, Spaces, and Hierarchies of the

Chinese in Havana, 1902-1968 (Brill, 2017). He

has also researched Brethren mission

peacemaking activities in China, and has

published his findings in the Journal of Asian

History.

users.etown.edu/k/kenleyd

David Kenley

Dr. Kenley is Professor of Chinese History and

Director of the Center for Global

Understanding and Peacemaking at

Elizabethtown College. His teaching and

research interests focus on Chinese intellectual

history and overseas migration. Some of his

representative publications include New

Culture in a New World: The May Fourth
---
War Memorials: Picturing Peace or Graphic Reminders

of Violence

They were arranged in neat rows, one on top of the other. Each was a

dingy greyish color, not the bright sun-bleached white you often see in the

movies. Row upon row they were stacked up, reaching to the ceiling at the

top of the pagoda, maybe 20 or 30 feet above my head. It was, in essence, a

sacred cathedral constructed of discolored human skulls.

Should I take a photo of them? Should I stand in

front of the pile and ask someone to take a photo with

me in it? Certainly this wasn't the right time for a

"selfie." That was beyond the question. But what is

the right thing to do at a place such as this? Some of

those around me were crying, but the overwhelming size

of this pile of skulls was quite numbing, leaving me

feeling strangely dumbfounded.

When Cambodia's government authorities decided to

build this Killing Fields Memorial to the victims of

Pol Pot's murderous Khmer Rouge regime, how exactly

did they want me to respond as a first-time visitor?

More importantly what do the souls who formerly

possessed these skulls think about this monument? After being beaten,

tortured, and beheaded, are they happy to contribute to this massive jigsaw

puzzle, or to they feel doubly victimized to be publically displayed for

the purpose of shock and awe? Is this the proper way to memorialize the

dead, and if not, is it justified to use them to educate others, forcing

them never to forget?

As a professional historian, I am fascinated with the ways in which

politicians, journalists, film-makers, and museum curators seek to preserve

the past and teach appropriate lessons for those who will follow. For

better or for worse, I have visited and studied many war memorials around

the world. Some, such as the World War II memorial in Washington, are

celebratory and triumphalist. Others, including its neighboring Vietnam

memorial just a stone's throw away, are serene, somber, and quite literally

reflective. Many, including the memorial in Cambodia, are graphic,

disturbing, and even nauseating. Like the Killing Fields pagoda, the Rape
---
of Nanjing memorial in China also relies on skulls and human bones to shock

its visitors. By contrast, the Hiroshima Peace Park in Japan uses life-size

wax figurines of small children. Portraying the moments after the atomic

flash, the flesh on these children drips from their arms, much like a

melting candle. In the War Remnants museum in Saigon, curators display

actual dead babies, floating in clear glass jars of formaldehyde. Their

tiny deformed bodies are meant to be a warning — and a condemnation —

against the US government's use of the dreaded Agent Orange. Closer to

home, American museum directors have also resorted to such methods when

constructing their exhibits. At the National Holocaust Memorial in

Washington, visitors enter a large room filled with old shoes. A poem on

the wall reads:

We are the shoes, we are the last witnesses.

We are shoes from grandchildren and grandfathers

From Prague, Paris, and Amsterdam,

And because we are only made of fabric and leather

And not of blood and flesh, each one of us avoided the hellfire. 1

The use of such graphically violent symbols has all the subtlety of a

sledge hammer.

For those committed to peace, truth, and reconciliation, how should we

feel about war memorials? Do they promote reconciliation, or are they

counterproductive, producing feelings of disgust and even anger? Like me,

the Vietnamese-American Viet Thanh Nguyen has asked many of these same

questions. Nguyen warns that war memorials are themselves implicated in

power politics. Those with access to power — including politicians, film

producers, and well-funded curators — continually seek to dictate the

parameters of historical narrative and public memory. But power, Nguyen

cautions, "even when carried out with the elevated intention of justice,

incites rebellion from those below and suppression from those above."

Continuing, Nguyen argues, "As fraught as engaging with power may be, one

must confront it and hope that one can manage it, and oneself, ethically.

Our use of power must be done with the full awareness of our own humanity

and inhumanity, our capacity for both good and bad." 2

What should a war memorial look like? How can we picture peace if we

remain committed to graphically portraying past violence? How do we account

for unequal power relations in the construction and maintenance of war
---
memorials? Most importantly, how do we gain an awareness of our own

capacity for both good and bad as we seek humanely to remember the past?

While there are no easy answers to such questions, we must ask them of

ourselves and others.

After visiting the Killing Fields Memorial, I spent the rest of the

afternoon wandering somewhat aimlessly through the streets of Phnom Penh,

contemplating the awful scenes I had witnessed. By the end of the day, I

was hot, exhausted, and emotionally drained. Fortunately I found a

wonderful ice cream parlor overlooking the beautiful confluence of the

Tonlé Sap and Mekong Rivers. As I ate my sundae and reflected on my day, I

came to a banal yet provocative conclusion: the world needs fewer war

memorial and more ice cream parlors. Until then, I will keep visiting these

memorials, asking tough questions that defy simplistic answers.

David Kenley | August 9, 2017

1

This is written by Moses Schulstein and the shoes were from prisoners in

Poland's Majdanek Concentration Camp. See Jenny Edkins, Trauma and the

Memory of Politics (Cambridge: Cambridge University Press, 2003), 152.

2

Viet Thanh Nguyen, Nothing Ever Dies: Vietnam and the Memory of War

(Cambridge: Harvard University Press, 2016), 253.
---
Rand Hess. She was the literacy coach and

design specialist for Book-in-a-day and

worked as regional coordinator in Northern

and Western Maryland for Poetry Out Loud,

a national poetry recitation contest.

She is a Jin Shin Jyutsu (a Japanese healing

art) practitioner in Baltimore, MD, and is

currently working on a children's novel-inverse.

www.deannanikaido.com

Deanna Nikaido

Deanna Nikaido is a graduate from Art

Center College of Design in Pasadena,

California, with a degree in Illustration and

has authored two collection of poetry,

Voice Like Water and Vibrating with Silence

and the children's book, Animal Ark, coauthored

with Kwame Alexander and Mary
---
May It Be

Before I knew skin was separation

or had any sense that the body was boundary,

I was everything you are.

Everything sky is.

Or ocean does.

The way a flock of birds migrate as a single wing.

Or a school of fish fit to water.

The way my grandson sees the world

without words

barefoot and antenna.

Picasso tried

to peel away the strokes

with his first set of eyes.

Lessen the weight of all his looking.

Shed what isn't there—

What would it take

to remember

that we are all strung like stars

in constellation?

Inseparable from.

The center of.

Completement

for each other.

Whatever ingredients you hold,

may they be kind

may they add to the wholeness of

shining itself.

Deanna Nikaido
---
In 1996, Miller delivered the commencement

address at Emory and Henry College and was

awarded an honorary degree of Doctor of

Literature. He has been a Fulbright Senior

Specialist Program Fellow to Israel in 2004 and

2012.

Miller is often heard on National Public Radio.

He is host of the weekly morning radio show

On the Margin which airs on WPFW-FM 89.3.

Miller is host and producer of The Scholars on

UDC-TV, and his E-Notes has been a popular

blog since 2004. On April 19, 2015, Miller was

inducted into the Washington DC Hall of Fame.

In 2016, Miller received the AWP George

Garrett Award for Outstanding Community

Service in Literature and the DC Mayor's Arts

Award for Distinguished Honor.

E. Ethelbert Miller

E. Ethelbert Miller is a writer and literary

activist. He is the author of several collections

of poetry and two memoirs. Miller serves as

the board chair of the Institute for Policy

Studies (IPS), a progressive think tank located

in Washington, D.C. and is a board member for

The Community Foundation for the National

Capital Region. For fourteen years he has been

the editor of Poet Lore, the oldest poetry

magazine published in the United States.

His latest book of poetry, The Collected Poems

of E. Ethelbert Miller, edited by Kirsten Porter

and published in March 2016 by Aquarius

Press, is a comprehensive collection that

represents over 40 years of his career as a

poet.

www.eethelbertmiller.com

Image Credit: Rick Reinhard
---
THE LAST RITUAL

We need to wash our bowls.

Place them in the sun.

Ah - the belly is filled with joy.

No more hunger for Peace.

E. Ethelbert Miller
---
Vermont Studio Center, and is currently

Director of the Bowers Writers House at

Elizabethtown College.

Jesse's fiction, poetry and non-fiction work has

been nominated for multiple Pushcart Prizes,

and has appeared nationally and internationally

in such journals as The Adirondack

Review, Coal Hill Review, The Cortland Review,

Cimarron Review, Iowa Review, River Styx,

Slide, Story Quarterly, Southeast Review,

Sycamore Review and others.

His first collection of poems, HUMAN

RESOURCES, was published by Inkbrush Press in

2011. Jesse's first collection of short fiction,

SO LET ME GET THIS STRAIGHT was published

in March of 2018 by Paycock Press.

www.etown.edu/centers/writershouse/staff.aspx

Jesse Waters

A winner of the River Styx International Poetry

Contest, runner-up for the Iowa Review Fiction

Prize and Finalist in The Starcherone Prize, the

DIAGRAM Innovative Fiction Prize and the Paul

Bowles Fiction Award, Prof. Jesse Waters is a

recipient of a NC Artist's Grant to attend the
---
An Apple from Dachau

It's the eighteenth day of Nissan,

the first month of the Jewish year, April 21st –

Passover's third day. I'm on a backways cobblestone street.

"Liebling" a woman selling apples says to me

but I don't speak German. She smiles, and nods

to the euro coins in my palm.

It's one fine apple, shining up at me

from the center of my hand. And still

I have no idea how to be sacred.

Any fruit, even just the core

or shed skin, is holy when you're lonely.

At dusk, with a cup of rum-laced tea, I watch

out my window to where the vendors stay out at their carts

until the light goes dead, eating whitefish

from wax paper, and one half of an orange.

Something so beautiful as to give up seed

is lonely, and to shed its skin for hunger is holy.

If you plant an apple seed in the far town field

where snow never stays, even in winter,

and that seed lives, it's a holy, holy thing.

Not like Gefilte fish. Right now

thirteen hours east, my mother

is in Brooklyn buying two pounds

of Whitefish, Carp and Pike flesh,

chances are the fishmonger

knows her: You'll never find bones,

it's why my relatives always have

Passover at my parent's house.

Keep the shed skin, my mother will tell the Fishmonger

but she's keeping the head, seed and core. The first

spring I remember smelling those fresh

fish bones, I was five. It was the salt smell

fleshwork of my young hunger. My mother will grind
---
the fish together with seltzer water, nutmeg,

white wine and finely diced celery ribs

while thinking about something sacred.

Anything so beautiful as to give up its hunger

for holiness, and shed its skin for the sacred childheart

is still not enough, won't show me how to love. And there's nothing

edible in this poem. Nothing holy.

Only an apple, which tastes like apple, smells

like an apple. What else can an

apple mean here, in any other holy place it's the same, sweet fruit –

but on this cobblestone street

in Dachau where my grandmother

is said to have been beaten to death

and no one said Kaddish until a few minutes ago, I would eat

six million perfect apples as the one here in my palm and never feel full.

I'd embrace hundreds of loving and hating

Germans, Koreans, Catholics, Laotians, real women

and men, anything to let go of the ancient shadowboxer

in me who snorts nation

with each jab and wide hook – the one

seed who's never known an enemy

besides his own, dark imagination.

I can't start my life over. The landmarks

I know are all in poems, not in people's hearts.

There are no clear landmarks in this poem.

When I cross back over the Atlantic to Troy,

New York – home -- her milling ball quarry machines

and cookie factories burned like figures

my own youth had no time for – inside the American

womb of plenty up above our sacred, holy world

I'll eat this apple, I'll split it with

my mother and sisters over halvah, macaroons.

Jesse Waters
---
Her poems were awarded a 2009 NEA

fellowship and a Pushcart Prize and appear in

numerous anthologies.

She thinks about the relationships that writers

have with the communities and places they

come from and also those places they choose

to inhabit. Past projects along these lines

include a collection of essays, The Body and

the Book: Writing from a Mennonite Life,

winner of the 2002 Book of the Year Award

from the Conference on Christianity and

Literature, and a monograph, Fixing Tradition:

Joseph W. Yoder, Amish American. She has

worked on new editions of Yoder's 1940 local

color classic Rosanna of the Amish, which is

set in Centre and Mifflin Counties and Fred

Lewis Pattee's The House of the Black Ring, set

in Centre County. With Michael Tyrell she coedited

the anthology, Broken Land: Poems of

Brooklyn.

Julia Spicher Kasdorf

Julia Spicher Kasdorf has published three

collections of poetry with the University of

Pittsburgh Press, most recently Poetry in

America.

She is currently working with photographer

Steven Rubin on a poetry project to document

the impacts of natural gas development in

Pennsylvania.

www.poetryfoundation.org/poets/julia-kasdorf

Among the previous collections, Eve's

Striptease was named one of Library Journal's

Top 20 Best Poetry Books of 1998, and Sleeping

Preacher won the Agnes Lynch Starrett Poetry

Prize and the Great Lakes College's Association

Award for New Writing.
---
Among Landowners and Industrial Stakeholders, the

Citizen with Too Much Memory Seeks Standing to

Speak of Recent Events in Penn's Wood

When I drive south on I -78, diagonal highway from New York to Harrisburg,

the Blue Mountain presses my right shoulder for miles, dividing coal

tipples from hex signs on barns, French and Indian territory from the

British colony. At Shartlesville in the parking lot of Roadside America, a

giant Amish couple on a spring wagon marks my ancestors' settlement at

Northkill, the Hochstetler cabin, torched in 1757.

After the fire, Lenape and Shawnee warriors marched Jacob and two of his

sons for 17 days to the French Fort at Erie. Seven months later, Jacob

escaped, walked nine nights and days through forest, eating grass. At the

Susquehanna, he lashed logs with grape vines and floated south for four

days until British soldiers fished him out, nearly dead, at Fort Augusta or

Shamokin, now Sunbury, corporate headquarters of Weis Markets.

Growing up, we knew the Hochstetlers had guns but would not shoot; the

warriors killed Jacob's wife, whose name no one recalls, because she

refused to share fruit with them. When we misbehaved, Dad threatened to

give us back to the Indians. We didn't know that Christian Hochstetler kept

running back to his captors after he was returned to his parents. We didn't

know Barbara Kauffman grabbed an ax and hacked the fingers of braves as

they tried to climb through her cabin window. The men ran screaming into

the forest.

Penn's surveyors carved initials into the trunks of great trees—white oak,

black oak, red oak, hickory, and walnut—sighted a compass from the trunk of

the corner tree and stretched iron measuring chains to make boundaries.

Corner trees they called witness trees. When Shikellemy ruled the refugees

at Shamokin, he implored the Lenape, Seneca, and Tutelo to grow corn,

squash, and beans but to refrain from planting apples and peaches for fear

they would create a plantation.

During the French and Indian War, braves from the Forks of the Ohio, now

Pittsburgh, attacked six European families near a trading post on Penns

Creek, slaying 14 and capturing 28, among them the wife and children of
---
Jacob Beyerly. A woman was found with a chain draped around her neck, a man

with a tomahawk, freshly inscribed with English initials, sunk in his skull

like a log. Bierly is the name of the lawyer who filed papers for my

divorce.

About to swing his ax into a tree, Hannes Miller—three of his children

married Speichers—was shot by an Indian. He was called Wounded Hannes,

Crippled John, or Indian John until his death in Somerset. Some insist they

can hear old trees shriek the instant an ax hits. The Northkill Amish moved

west, seeking more and better land. I live near fields some of them farmed.

By the 1850s, ridges around here were bare, trees baked into charcoal to

fuel the iron furnaces.

In 1955, my father, driving a feed truck for the Belleville Flour Mill,

lost his brakes on Nittany Ridge. He shifted down, laid on the horn, flew

off Centre Hall Mountain, thick with hemlock and rhododendron, and blared

through Pleasant Gap without incident.

In the ten miles I drive to work, I pass three prisons. The oldest opened

in 1915, the year M. G. Brumbaugh became the last ordained pacifist

governor of Pennsylvania. At Rockview, called the Honor Farm, inmates

learned to prune apple trees and tend a Victorian glasshouse. I have seen

guards on horseback beside dark-skinned prisoners swinging scythes in the

ditch along Benner Pike.

In 1939, my great grandfather was killed by a tree that fell the wrong way

when he was logging on Jack's Mountain. Around that time, the Klan in

Pleasant Gap prevented white Catholics from building a high school in

Bellefonte.

Behind Rockview Prison, in a copse of hemlocks at the foot of the Nittany

Ridge, an electric chair sits in a former field hospital. By the year I was

born, the state had electrocuted 350 people there. Since then, three more

died by lethal injection. The Dunkers never forgave Governor Brumbaugh for

calling the National Guard to shoot strikers in Pittsburgh or for calling

the Pennsylvania militia to arms during the First World War.
---
In fifth and sixth grade, on the way to Manor School I climbed a black

wooden overpass that spanned the main line of the Pennsylvania Railroad.

Some mornings I stopped and stood in the wind roaring above hopper cars

heaped with coal and iron pellets bound for mills along the rivers in

Pittsburgh, and imagined flight.

At the end of Peight's lane, not far from where a horse and buggy accident

killed my grandmother in 1948, I spied a Texas Eastern Transmission sign.

This aluminum-sided shed is party to the fourth largest natural gas line in

the nation, which runs from the Gulf of Mexico to New York City. How did

that pipe snake in over Jack's Mountain without my knowledge?

When they clear-cut the right of way to lay pipeline over the Nittany Ridge

in 2009, gas men left good lumber to rot, my handyman says. The Centre

Relay Compressor Station stands on a former cornfield in Pleasant Gap. The

pipe runs past Weis Market, recently built on a razed farm, and ends in gas

storage fields at Leidy, under the Tamarack Swamp. I, who have never eaten

grass out of necessity, drive home and cook my groceries on a gas stove. 1

Julia Spicher Kasdorf

1

Among Landowners and Industrial Stakeholders, the Citizen with Too Much

Memory Seeks Standing to Speak of Recent Events in Penn's Woods" is

factual, to the best of my knowledge, except that my father's feed truck

lost its brakes driving off of Tussey Mountain into Stone Valley, instead

of Mount Nittany into Nittany Valley.
---
included writers such as Kenneth Rexroth, Gary

Snyder, Allen Ginsberg, and Jack Kerouac.

Ferlinghetti is the author of more than thirty

books of poetry, including Time of Useful

Consciousness (New Directions, 2012); Poetry

as Insurgent Art (New Directions, 2007);

Americus, Book I (New Directions, 2004); A Far

Rockaway of the Heart (New Directions, 1997);

and A Coney Island of the Mind (New

Directions, 1958). He has translated the work

of a number of poets including Nicanor Parra,

Jacques Prevert, and Pier Paolo Pasolini.

Ferlinghetti is also the author of more than

eight plays and of the novels Love in the Days

of Rage (Overlook, 1988) and Her (New

Directions, 1966).

Lawrence Ferlinghetti

On March 24, 1919, Lawrence Ferlinghetti was

born in Yonkers, New York. After spending his

early childhood in France, he received his BA

from the University of North Carolina, an MA

from Columbia University, and a PhD from the

Sorbonne. During World War II he served in the

US Naval Reserve and was sent to Nagasaki

shortly after it was bombed. He married in

1951 and has one daughter and one son.

In 1953, Ferlinghetti and Peter Martin began to

publish City Lights magazine. They also opened

the City Lights Books Shop in San Francisco to

help support the magazine. In 1955, they

launched City Light Publishing, a bookpublishing

venture. City Lights became known

as the heart of the "Beat" movement, which

In 1994, San Francisco renamed a street in his

honor. He was also named the first poet

laureate of San Francisco in 1998. His other

awards and honors include the lifetime

achievement award from the National Book

Critics Circle in 2000, the Frost Medal in 2003,

and the Literarian Award in 2005, presented

for "outstanding service to the American

literary community."

Currently, Ferlinghetti writes a weekly column

for the San Francisco Chronicle. He also continues

to operate the City Lights bookstore,

and he travels frequently to participate in

literary conferences and poetry readings.

www.citylights.com/ferlinghetti

Image Credit: Christopher Felver

Ferlinghetti with Hat | 1981 | Gelatin silver print

Courtesy of George Krevsky
---
History of the Airplane

And the Wright brothers said they thought they had invented

something that could make peace on earth

(if the wrong brothers didn't get hold of it)

when their wonderful flying machine took off at Kitty Hawk

into the kingdom of birds but the parliament of birds was freaked out

by this man-made bird and fled to heaven

And then the famous Spirit of Saint Louis took off eastward and

flew across the Big Pond with Lindy at the controls in his leather

helmet and goggles hoping to sight the doves of peace but he did not

Even though he circled Versailles

And then the famous Yankee Clipper took off in the opposite

direction and flew across the terrific Pacific but the pacific doves

were frighted by this strange amphibious bird and hid in the orient sky

And then the famous Flying Fortress took off bristling with guns

and testosterone to make the world safe for peace and capitalism

but the birds of peace were nowhere to be found before or after Hiroshima

And so then clever men built bigger and faster flying machines and

these great man-made birds with jet plumage flew higher than any

real birds and seemed about to fly into the sun and melt their wings

and like Icarus crash to earth

And the Wright brothers were long forgotten in the high-flying

bombers that now began to visit their blessings on various Third

Worlds all the while claiming they were searching for doves of

peace

And they kept flying and flying until they flew right into the 21st

century and then one fine day a Third World struck back and

stormed the great planes and flew them straight into the beating

heart of Skyscraper America where there were no aviaries and no

parliaments of doves and in a blinding flash America became a part

of the scorched earth of the world

And a wind of ashes blows across the land

And for one long moment in eternity

There is chaos and despair

And buried loves and voices

Cries and whispers

Fill the air

Everywhere

Lawrence Ferlinghetti
---
Geschichte des Flugzeugs

Aus dem Amerikanischen von Klaus Berr

Und die gerechten Gebrüder Wright sagten, sie dachten, sie hätten etwas

erfunden, das der Erde Friede bringen könnte

wenn es nicht die falschen Gebrüder in die Hände bekamen)

als ihre wunderbare Flugmaschine abhob bei Kitty Hawk

ins Reich der Vögel doch das Parlament der Vögel fürchtete sich

vor diesem Menschenwerk-Vogel und floh in den Himmel

Und dann hob ab die berühmte Spirit of Saint Louis nach Osten und

flog über den großen Teich mit Lindbergh am Steuer in seinem Lederhelm

und der Brille der hoffte die Friedenstauben zu sehen doch er sah sie nicht

obwohl er über Versailles kreiste

Und dann hob ab der berühmte Yankee Clipper in die entgegengesetzte

Richtung und flog über den prächtigen Pazifik doch die pazifistischen Tauben

hatten Angst vor diesem komischen Wasservogel und versteckten sich den Wolken des

Orients

Und dann hob ab die berühmte Fliegende Festung starrend vor Waffen

und Testosteron um die Welt sicher zu machen für Frieden und Kapitalismus

doch Vögel des Friedens waren nach Hiroshima nirgends zu sehen

Und so bauten dann schlaue Männer größere und schnellere Flugmaschinen und

diese prächtigen Menschenwerk-Vögel mit Düsengefieder flogen höher als jeder

echte Vogel als wollten in die Sonne sie fliegen um ihre Flügel zu schmelzen

und wie Ikarus zur Erde stürzen

Und die Gebrüder Wright waren längst vergessen in den hoch fliegenden

Bombern die jetzt mit ihren Segnungen heimsuchten diverse Dritte

Welten und dabei so taten als sie suchten die Tauben des

Friedens.

Und sie flogen und flogen und flogen direkt ins 21.

Jahrhundert und dann schlug eines Tages eine Dritte Welt zurück und

stürmte die prächtigen Flieger und flog sie direkt ins schlagende

Herz des Wolkenkratzer-Amerika wo es keine Häuser und keine

Parlamente der Tauben gab und in einem grellen Blitz wurde Amerika Teil

der verbrannten Erde der Welt

Und ein Wind bläst Asche über das Land

Und für einen langen Augenblick in der Ewigkeit

Herrscht Chaos und Verzweiflung

Und verschüttete Lieben und Stimmen

Schreien und Flüstern

Erfüllen die Luft

Allüberall
---
Winner of the Pablo Neruda Prize for Poetry

(2004), and the Gretchen Warren Prize from

the New England Poetry Club, she has been

awarded residencies at Hedgebrook and the

Vermont Studio Center, as well as funding from

the CT Commission on the Arts and the

Beatrice Fox Auerbach Foundation.

Her poems and interviews have been published

or are forthcoming in Agni, Poetry magazine,

The Academy of American Poets, The Writer's

Chronicle, and The Yale Review.

Leslie McGrath

Leslie McGrath is the author three collections

of poetry, most recently Feminists Are Passing

from Our Lives (The Word Works, 2018), and

two chapbooks.

McGrath teaches creative writing at Central

Connecticut State University and is series

editor of The Tenth Gate, a poetry imprint of

The Word Works Press.

lesliemcgrath.com
---
Rest in Warning

In the dark before morning lay the living in their beds

and lay we the dead in ours. Each earth-lidded terminus

not a chamber of rest, but a listening ear to the past.

The dead are with you, difficult as this is to believe.

We know how quickly you turn from mourning

back to the distractions you stretch from hour to hour.

You buy green mangoes from the street vendor

and pink tulips from the corner bodega. Finally alone

in your apartment, the bolt slid against strangers

you collapse in exhaustion. No news, you vow

no devices all the long weekend. The cat nuzzles

your tulips and pushes the vase off the kitchen table.

You can't get her off the furniture. Here in the yard

at the edge of the Old Town, there's no keeping

the living out. You are our news, constant and uninvited

opening the iron gate to stroll among our rows.

You place pebbles atop granite markers, whisper our names

as though we can no longer speak. We speak

in the dark before morning when the hooligans come

tagging hate and toppling headstones. They give us voice.

Each thud's a certain warning that the past is never gone.

As long as the beaver slaps her tail on the pond's surface

as long as the rabbit stomps his hind leg, this sound

the only sound we make, is our sound of warning.

Leslie McGrath
---
His memoir, Travels in Vermeer, was longlisted

for the 2015 National Book Award. He has

published poetry and prose in The Paris

Review, The New Republic, The Kenyon

Review, The Gettysburg Review, The Iowa

Review, The Missouri Review, The Best

American Poetry, and many others.

White has taught in the MFA program at The

University of North Carolina at Wilmington

since 1994.

www.michaelwhitepoet.com

Michael White

Michael White was educated at the University

of Missouri and the University of Utah, where

he received his PhD in English and Creative

Writing in 1993.

His poetry books are The Island, Palma

Cathedral (winner of the Colorado Prize), Reentry

(winner of the Vassar Miller Prize), and

Vermeer in Hell (winner of the Lexi Rudnitsky

Editors' Prize).
---
Woman Holding a Balance

If the painting-within-the-painting, hanging on the wall

behind the standing woman—

with its sinners wailing at Christ's feet on Judgment Day—

if that might be one way

of looking at it, then the woman herself, who half

obscures the painting, is

another. All we know of her is what we see:

how—weightless, effortless

as flame—she stands to face the lightfall over the umber,

oilcloth-covered table.

How each of the nails on her right hand, at the center of

the composition, burns

like phosphor. How—what word would one use?—beneficent?

her aspect is: the source

of light from beneath her skin, such sweetly sculptural eyelids

& cheekbones, blessing of

her waistline's fullness. Objects here are neither more

nor less than what they seem

to be: the table, for instance, offering itself—

the ornate carvings of

its vase-shaped legs—to the benediction of her touch,

her left-hand fingertips

alight on its very edge. Or the strand of pearls, with its yellow

satin ribbon, furled

all but unnoticed on the oilcloth there—where three

gold coins, & a silver one,
---
all but unnoticed on the oilcloth there—where three

gold coins, & a silver one,

have casually been placed. The woman focuses

on the equilibrium of

the scales, which contain nothing except sun-glint . . . Now

the shadow-hand—the almost

subliminal shadow caressing the left side of her linen

bonnet—lends support

to her head, as she leans gently back against the hand.

Behind her, on the wall,

the Bosch-like spirits writhe in faceless terror. Christ,

in his golden nimbus, floats

above their heads. But it barely registers—the Judgment

scene, the reckoning—

as relevant, in light of her, her certitude

suspended in the air

from thumb & index finger . . . It won't come again—

this equipoise between

the figure & the room. Vermeer is thirty-two—

the death-carts creaking through

the black smoke of North Europe. Twenty-four thousand dead

in Amsterdam this year.

In June, the war with England will resume. So it

won't come again, I'm thinking,

not with such full-bodied ease. But for the moment,

here she stands. Is realized.

Michael White
---
Romie Lie wurde 1954 in Langnau im Emmental

geboren. Sie wächst in französischer Muttersprache

auf, Deutsch lernt sie in der Schule.

Ausbildung zur Krankenschwester in Biel.

Auslandsaufenthalte in Europa und USA. Seit

1981 freischaffende Schriftstellerin. Romie Lie

leitet seit 1990 Schreibwerkstätten in verschiedenen

Institutionen. Sie lebt in Wohlen bei

Bern.

Sie schreibt Beiträge für das Radio, für Anthologien

und Literaturzeitschriften.

Seit 2002 veröffentlichte sie sieben Lyrikbände.

In 2010 erhält Romie Lie einen Literaturpreis

des Kantons Bern.

Mitarbeit an «Sammlung der Schweizer Poesie

2013, alla chiara fonte editore, Lugano 2013».

Romie Lie

www.romie-lie.ch
---
au printemps jamais je

n'oublie

au printemps jamais je n'oublie

to chant

das apfelgebet

joie joie joie

even my life is shorter

als eine blüte

joie joie joie car

the lifeforce runs through me

noch nach meinem tod

éternellement

godly

in gott

in the spring I never

forget

in the spring I never forget

the chant

the prayer of the apple

joy joy joy

even my life is shorter

as a blossom

joy joy joy because

the lifeforce runs through me

still after my death

eternal

godly

in god

Romie Lie | 2018
---
He received a Guggenheim Fellowship in 2006,

and the Denise Levertov Award in 2014. His

new projects include Descent to the Heart,

verse adaptations of selections from the

writings of Saint Isaak of Syria, and a new

poetry collection, Anaphora.

www.poetryfoundation.org/poets/scott-cairns

Scott Cairns

Librettist, essayist, translator, and author of

eight poetry collections, Scott Cairns is

Curators' Professor of English at University of

Missouri, and Director of the Low-Residency

MFA Program at Seattle Pacific University.

His poems and essays have appeared in Poetry,

Image, Paris Review, The Atlantic Monthly,

The New Republic, Plume, etc., and both have

been anthologized in multiple editions of

Best American Spiritual Writing.

He blogs for the Religion Section of The

Huffington Post. His recent books include Slow

Pilgrim: The Collected Poems (2015), Idiot

Psalms (2014), Short Trip to the Edge

(spiritual memoir, 2016), Endless Life (translations

and adaptations of Christian mystics,

2014), and a book- length essay, The End of

Suffering (2009).

Image Credit: Lancia E. Smith

www.lanciaesmith.com
---
Beyond Knowing

—η ειρήνη του θεού η υπερέχουσα πάντα νουν

The peace I pray to know is that same peace

surpassing knowledge, that deep peace

one finds most often in the sweet descent

that drops the pilgrim to his knees.

Abandoned at the bottom of the well

the dear belovéd son might still

uplift his eyes to witness through his tears

the calm obtaining mid the stars;

In the belly of the beast, the duly

chastened prophet might yet extend

his arms accepting the embrace that serves

to prove a new serenity.

And here, amid the daily tumult, we

might still descend into what calm

lies waiting in the bower of the heart,

a stillness ever beckoning.

Scott Cairns
---
city of Nantes, France, Academy prize from the

Royal Academy of arts, science and literature

from Belgium. She is a Humanist Laureate in

The International Academy for Humanism,USA.

She won Distinguished Humanist Award from

Inter-national Humanist and Ethical Union,

Free-thought Heroine award from Freedom

From Religion foundation, USA., IBKA award,

Ger-many, and Feminist Press Award, USA . She

got the UNESCO Madanjeet Singh prize for

Promo-tion of the Tolerance and Non-violence

in 2005. She received the Medal of honor of

Lyon.

Taslima Nasreen

Taslima Nasreen, an award-winning writer,

physician, secular humanist and human rights

activist, is known for her powerful writings on

women oppression and unflinching criticism of

religion, despite forced exile and multiple

fatwas calling for her death. In India,

Bangladesh and abroad, Nasreen's fiction,

nonfiction, poetry and memoir have topped

the best-seller's list.

Taslima Nasreen was born in Bangladesh. She

started writing when she was 13. Her writings

won the hearts of people across the border and

she landed with the prestigious literary award

Ananda from India in 1992. Taslima won The

Sakharov Prize for Freedom of Thought from

the European Parliament in 1994.

She received the Kurt Tucholsky Award from

Swedish PEN, the Simone de Beauvoir Award

and Human Rights Award from Government of

France, Le Prix de l' Edit de Nantes from the

Bestowed with honorary doctorates from Gent

University and UCL in Belgium, and American

University of Paris and Paris Diderot University

in France, she has addressed gatherings in major

venues of the world like the European Parliament,

National Assembly of France, Universities

of Sorbonne, Oxford, Harvard, Yale, etc.

She got fellowships as a research scholar at

Harvard and New York Universities. She was a

Woodrow Wilson Fellow in the USA in 2009.

Taslima has written 43 books in Bengali, which

includes poetry, essays, novels and

autobiography series. Her works have been

translated in thirty different languages. Some

of her books are banned in Bangladesh.

Because of her thoughts and ideas she has

been banned, blacklisted and banished from

Bengal, both from Bangladesh and West Bengal

part of India. She has been prevented by the

authorities from returning to her country since

1994, and to West Bengal since 2007.

www.taslimanasrin.com
---
You Go Girl!

They said—take it easy…

Said—calm down…

Said—stop talkin'…

Said—shut up….

They said—sit down….

Said—bow your head…

Said—keep on cryin', let the tears roll…

What should you do in response?

You should stand up now

Should stand right up

Hold your back straight

Hold your head high…

You should speak

Speak your mind

Speak it loudly

Scream!

You should scream so loud that they must run for cover.

They will say—'You are shameless!'

When you hear that, just laugh…

They will say— 'You have a loose character!'

When you hear that, just laugh louder…

They will say—'You are rotten!'

So just laugh, laugh even louder…

Hearing you laugh, they will shout,

'You are a whore!'
---
When they say that,

just put your hands on your hips,

stand firm and say,

"Yes, yes, I am a whore!"

They will be shocked.

They will stare in disbelief.

They will wait for you to say more, much more…

The men amongst them will turn red and sweat.

The women amongst them will dream to be a whore like you.

Taslima Nasreen
---
TEIL 3

TEILNEHMENDE STUDENTEN

CHAPTER 3

PARTICIPATING STUDENTS
---
Adam Way

Adam Way, born in Elizabethtown, is studying

fine arts at Elizabethtown college. His main

focus is on improving his 3 dimensional skills

along with improving and discovering other

techniques in different mediums.

"The expressions we feel as people can be

difficult to explain. Only through the artistic

language and creative experimentation can we

become something more than what we are

now. This is what I hope to accomplish in my

work."

Adam Way | April 2018

Human Condition #2

Ceramic and wood

25 x 25 x 25 cm | 2017
---
Cooper Siegel

Cooper Siegel is a sculptor who works primarily

in bronze and clay, exploring emotion and the

human figure. Cooper is currently a student at

Elizabethtown College, majoring in Engineering

and minoring in Studio Art. Cooper has studied

fine art in Rome and aspires to attend

graduate school for a Masters in Fine Art.

"Mans struggle to attain peace has been with

us since the dawn of time. The history books

are filled with accounts of these struggles.

"The Hand That Holds Us" is an attempt to

document the inner struggle to attain our own

individual peace. It is the hope of the artist

that if the viewer can obtain inner peace for

even just a moment then we can collectively

move towards an external peace."

Cooper Siegel

The Hand That Holds Us

Bronze and marble

38 x 23 x 38 cm | 2017
---
Georgia Grimm

Georgia Grimm is an Elizabethtown College

student majoring in Philosophy with minors in

Science, International Studies and Visual Art.

She aims to address the issue of climate

change through writing and art with a

philosophical critique of society and an

understanding of scientific concepts. Aside

from art, she enjoys music, caring for her

animals, cooking, and spending time outside.

"Art has always been an important part of

who I am, growing and changing with me as I

have done the same. I particularly enjoy

painting, mixed media, collages, and drawing,

although I like to consider fashion another

form of art that allows me to be expressive

each day. Color and texture both play an

important role in my artistic process, helping

me to create something reflective of what I

am feeling internally. Nature in all its forms is

my main inspiration, captivating me with its

complexity.

collected many small objects with the

intention of using them in a future piece of

art. This work is assembled out of three

different projects: the girl, the mobile, and

the base.

In the same way that this piece was created

out of both found and original objects, I

believe humanity must come together with old

and new ideas to create an ecocentric ethic

for the purpose of healing both society and

the environment. The girl in this piece stands

upon the ground, surrounded by representations

of life and her passionate and spiritual

adoration of the Earth."

Georgia Grimm | April 2018

Veneration of the Earth

Mixed media

81 x 23 x 23 cm | 2018

The human form in particular is a reoccurring

subject in my works, particularly in my

drawings. Furthermore, my passion for various

philosophical concepts regarding society, the

environment, and metaphysics is another

major theme within my designs, one that I aim

to use to share my own philosophy in addition

to writing.

On "Veneration of the Earth": This piece is a

reflection of my love of nature and my

concerns about society and the current

environmental crisis. Over the years, I have