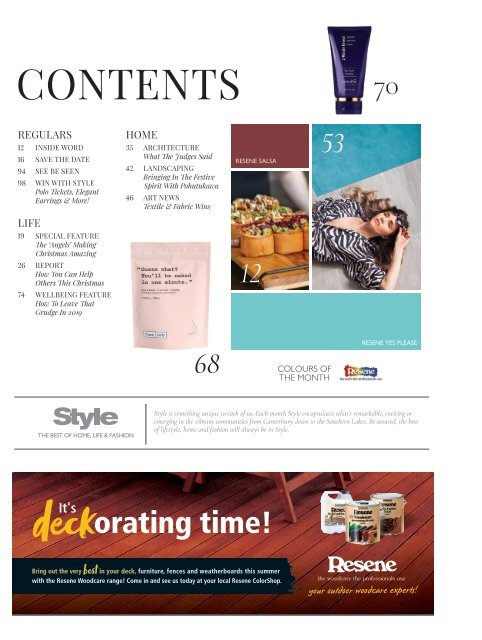 Style: December 02, 2019
70

REGULARS

12 INSIDE WORD

16 SAVE THE DATE

94 SEE BE SEEN

98 WIN WITH STYLE

Polo Tickets, Elegant

Earrings & More!

HOME

35 ARCHITECTURE

What The Judges Said

42 LANDSCAPING

Bringing In The Festive

Spirit With Pohutukawa

46 ART NEWS

Textile & Fabric Wins

RESENE SALSA

53

LIFE

19 SPECIAL FEATURE

The 'Angels' Making

Christmas Amazing

26 REPORT

How You Can Help

Others This Christmas

12

74 WELLBEING FEATURE

How To Leave That

Grudge In 2019

68

COLOURS OF

THE MONTH

RESENE YES PLEASE

THE BEST OF HOME, LIFE & FASHION

Style is something unique to each of us. Each month Style encapsulates what's remarkable, exciting or

emerging in the vibrant communities from Canterbury down to the Southern Lakes. Be assured, the best

of lifestyle, home and fashion will always be in Style.

It's

deckorating time!

Bring out the very best in your deck, furniture, fences and weatherboards this summer

with the Resene Woodcare range! Come in and see us today at your local Resene ColorShop.

your outdoor woodcare experts!
More magazines by this user