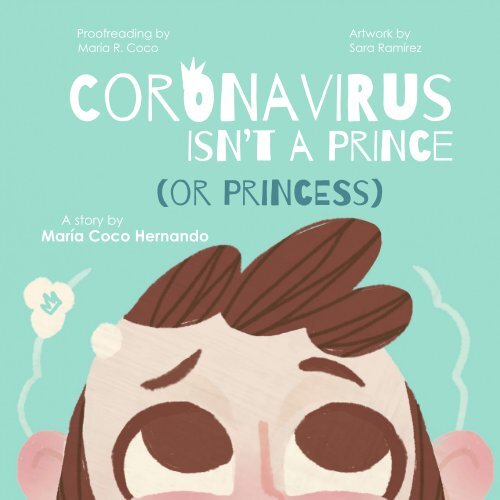 (English) Coronavirus Isn't a Prince (or Princess)
Coronavirus isn't a Prince (or Princess). This children's book dives into the mind of a seven-year-old boy. The story explores the symptoms of Coronavirus and how a child might be interpreting having to stay at home. He talks about new routines and cleaning habits, and even new challenges: how to wash your hands properly while singing your favorite song. Using his imagination (and eyes), the child shares the feeling of giving a round of applause for health-workers through his window. He pictures Coronavirus in a castle, also not having to go to school. For him, Coronavirus is someone new that has come into our lives, someone the grown-ups can't stop talking about. A story by María Coco Artwork by Sara Ramírez Coordination and proofreading by María R. Coco Translation into English by Alejandra Sanz Godoy Edited and proofread by Gwenydd Jones
Coronavirus isn't a Prince (or Princess). This children's book dives into the mind of a seven-year-old boy. The story explores the symptoms of Coronavirus and how a child might be interpreting having to stay at home. He talks about new routines and cleaning habits, and even new challenges: how to wash your hands properly while singing your favorite song. Using his imagination (and eyes), the child shares the feeling of giving a round of applause for health-workers through his window. He pictures Coronavirus in a castle, also not having to go to school. For him, Coronavirus is someone new that has come into our lives, someone the grown-ups can't stop talking about.
A story by María Coco
Artwork by Sara Ramírez
Coordination and proofreading by María R. Coco
Translation into English by Alejandra Sanz Godoy
Edited and proofread by Gwenydd Jones
SHOW MORE
SHOW LESS
Do you know the secret to free website traffic?
Use this trick to increase the number of new potential customers.
Proofreading by

Artwork by

Coronavirus

Isn't a Prince

A story by

(or Princess)
---
All rights reserved.

Any form of reproduction, distribution, public communication

or adaptation of this publication is subject to the authorization

of its owners, with the exceptions established by law.

Title: Coronavirus Isn't a Prince (or Princess)

Autora: María Coco Hernando www.mariacoco.es

Artwork and design by Sara Ramírez Sáez www.shine.es

Proofreading by María Rodríguez Coco www.mariacoco.org

Translation into English by Alejandra Sanz Godoy

Edited and proofread by Gwenydd Jones

Tipografía Barrio: Sergio Jiménez and Pablo Cosgaya
---
To Manu and Tomi.

To Elisa and Julia.

Because, sometimes, explaining these things isn't easy.

Because stories are windows to an escape.

Because not everything works out as planned.

Because, together, we can beat anything.

Because every day at home is a new opportunity

to keep learning from you.
---
2

There's no school today.

These weeks are so different.

For some time now, the grown-ups

have been talking about someone

called Coronavirus.
---
When I hear this word, I always picture

a Prince or Princess in my mind.

Coronavirus is an itsy-bitsy someone,

Who lives in a castle with lots of friends.

I'm sure Coronavirus doesn't

have to go to school, either.

Could I see this person under a microscope?

3
---
4

Dad's cleaning the house. He's anxious.

Mom's always on her computer.

She speaks with doctors and

her face looks, oh, so tired.

Maybe she's getting sick.
---
We call Grandpa and Grandma

and ask them not to leave their house.

I guess it's cold outside,

even though the sun is shining.

5
---
6

I wonder what Coronavirus looks like ...

A rock star or with strange,

glittery clothes?

We love music in this family,

so I like to think of Coronavirus as a rock star.
---
Where does Coronavirus live?

He or she sure must travel a lot.

Mom says we might meet

this person one day.

7
---
8
---
We've been spending all our days at home.

Playing a lot, Mom, Dad, and me.

We do exercise on the game console.

Painting, cutting, and pasting,

and we laugh all the time.

9
---
10

We've never gone so long without going out.

And I love it outside!

But what we do now is open the

windows to chat with the neighbors

who live across the street.

They don't go out either.
---
In the evenings, we give

a round of applause

to the people working hard to

make sure we stay healthy.

Everything's different now.

11
---
12

We also wash our hands a lot

and take long showers.

We clean the house and

help with the cooking.

We do lots of different things.
---
Today, I got a sore throat. I have a fever

too. But we're not going to the doctor.

Mom and Dad say Coronavirus has come,

but I still can't see anyone.

I guess they must be really tiny.

So, I'm using my magnifying

glass to try to find them.

15
---
16

I get two points if I sneeze

into my elbow.

And if I wash my hands a lot,

and between my fingers, I get another point.

Do you know what the prize is? Hot

chocolate for my afternoon snack!
---
17
---
Grandpa and Grandma are also coughing.

They're not going out either and

They call the doctor every day.

We Facetime a lot,

and tell loads of jokes.

18

It makes me laugh!
---
19
---
20
---
They say it's going to be a while

before we can go back to school.

In the mornings, we do homework,

That our teachers are sending to us.

In the afternoons, we play.

We're getting used to it now.

I'm also feeling better.

21
---
They found Coronavirus!

I heard on the news that

it was a woman with a

microscope who did it. Lucky her!

I knew someone would manage it!

Now, she's preparing a shot,

so everyone can be healthy again.

23
---
24
---
I drew a picture of Coronavirus.

Let me show it to you.

Now we know each other,

Let's learn to get on.

25
---
If we all follow the rules,

and stay at home,

we'll go back to school soon enough

to be reunited with our friends.

27
---
We have the superpower

to stay protected

Washing our hands can be fun. Let's play a game!

Think of your favorite song and sing it from start to finish while

you carefully rub your hands with soap.

Don't touch your mouth, nose, or eyes.

If you do, you'll lose a point for your supersnack!

28

When you cough or sneeze, cover your mouth with the

inside of your elbow. Quick question: Can you think of three

other things you can do with the inside of your elbow?

Tough, right?
---
If you feel scared, talk to Mom and Dad about it.

They'll understand and they'll explain what's going on.

It's normal to be scared.

Being at home all day means we can do a whole host of

things. Maybe it's time to help with the cleaning, learn how

to tie your shoes, or even figure out what your favorite pizza

flavor is!

If you get a sore throat or headache, tell Mom and Dad.

They'll always take care of you.

And, if you get bored, dive into your books. Just pick one

and read it. Books are the door to so many different worlds.

AND EVERYTHING

WILL BE ALL RIGHT

29