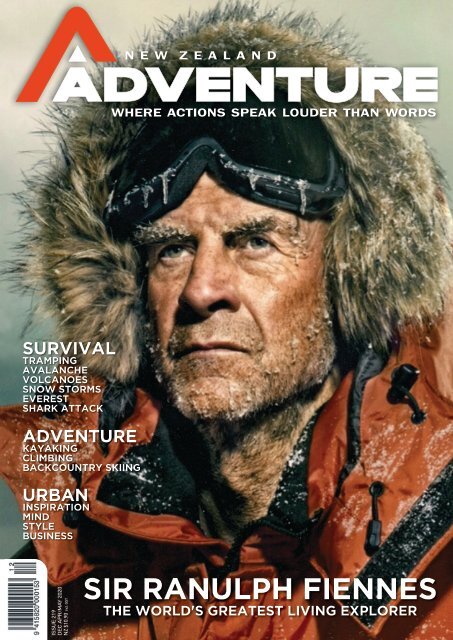 Adventure Magazine April 2020
Issue #219 Survival Issue April is always our survival issue - seems fitting this year. How to survive an eruption, survive Everest, survive a Great White encounter and more.
Issue #219 Survival Issue
April is always our survival issue - seems fitting this year.
How to survive an eruption, survive Everest, survive a Great White encounter and more.
SHOW MORE
SHOW LESS
You also want an ePaper? Increase the reach of your titles
YUMPU automatically turns print PDFs into web optimized ePapers that Google loves.
N E W Z E A L A N D

ADVENTURE

WHERE ACTIONS SPEAK LOUDER THAN WORDS

SURVIVAL

TRAMPING

AVALANCHE

VOLCANOES

SNOW STORMS

EVEREST

SHARK ATTACK

ADVENTURE

KAYAKING

CLIMBING

BACKCOUNTRY SKIING

URBAN

INSPIRATION

MIND

STYLE

BUSINESS

ISSUE 219

DEC APR/MAY 2020

NZ $10.90 incl. GST

SIR RANULPH FIENNES

THE WORLD'S GREATEST LIVING EXPLORER
---
McCashin's Brewery

660 Main Road, Stoke, Nelson, New Zealand

T:+64 3 547 5357

E: orders@mccashins.co.nz #stokedinNZ
---
#219

Reminiscing

on a time

before social

distancing

and isolation.

Take me

back to

Panorama

Sir Ranulf Feinnes

The World's Greatest Living Explorer

Photo supplied

the simple art of travel

Visit Adventure Magazine online

www.adventuremagazine.co.nz

This is day six of the COVID-19 lockdown in New Zealand (I usually would not

mention that we were in New Zealand, but as you can see with this digital issue,

we have expanded free to the world).

The world media seems currently either in team 'this is terrible', or they are 'it's

all fine', stay home and 'enjoy the time off'.

The reality is it is still very early days, and the virus has had an enormous

impact on some people already. Lots of people in the travel and adventure industry

have lost their jobs, and our heart goes out to them. It is scary not knowing what

the future holds. I am not going to rattle on about change, or how bad it will get or

even that it will improve. But what I am going to comment on is the goodness of

people.

I listened to Russell Brand recently in one of his political rants, one thing he

said that I thought was very relevant was how 'surprised' we are how kind and

generous people have been to each other. He went on to say we should not

be surprised because that is how it should be; we should always be kind and

generous of spirit.

Even walking down the beach, you can see families walking together, couples,

people on their own and they all greet each other with a smile. There is collective

angst against those who are breaking the lockdown rules, but a real sense by the

community that we are in this together.

Adventure Magazine, in 50 years, has never missed an issue, and even

though we don't have a printer or a distributor, we were determined to maintain

momentum and so have gone to a digital format, which we will look to continue in

the future. We wanted to make sure that those in isolation, those in lockdown, have

something of quality to read, so we have made this issue free to the world. We

hope people everywhere will enjoy it and feel free to get in touch if you have any

comments at all.

EDITOR & ADVERTISING MANAGER

Steve Dickinson

Mob: 027 577 5014

steve@pacificmedia.co.nz

ART DIRECTOR

Lynne Dickinson

design@pacificmedia.co.nz

SUBSCRIPTION ENQUIRIES

subs@pacificmedia.co.nz

DISTRIBUTION

Ovato, Ph (09) 979 3000

OTHER PUBLICATIONS (HARDCOPY AND ONLINE)

www.adventuremagazine.co.nz

www.adventuretraveller.co.nz

www.adventurejobs.co.nz

www.skiandsnow.co.nz

@adventurevanlifenz

PUBLISHERS

NZ Adventure Magazine is published six times a year by:

Pacific Media Ltd, P.O.Box 562

Whangaparaoa, New Zealand

Ph: 0275775014

Email: steve@pacificmedia.co.nz

adventuremagazine.co.nz

adventurejobs.co.nz | adventuretraveller.co.nz

Contributions of articles and photos are welcome and must be accompanied by a stamped

self-addressed envelope. Photographic material should be on slide, although good quality

prints may be considered. All care is taken but no responsibility accepted for submitted

material. All work published may be used on our website. Material in this publication may

not be reproduced without permission. While the publishers have taken all reasonable

precautions and made all reasonable effort to ensure the accuracy of material in this

publication, it is a condition of purchase of this magazine that the publisher does not assume

any responsibility or liability for loss or damage which may result from any inaccuracy

or omission in this publication, or from the use of information contained herein and the

publishers make no warranties, expressed or implied, with respect to any of the material

contained herein.

Our next issue is issue 200 – stay tuned!

Stay safe, stay healthy and stay connected.

Steve Dickinson - Editor

www.adventuretraveller.co.nz

JOBS

www.adventurejobs.co.nz
---
page 08

Image supplied

page 26

#219

contents

10//Sir Ranulph Fiennes

The World's greatest living explorer.

26//Survival Special

• Whakaare White Island

• Can you survive an eruption

• The Tongariro Crossing

• Trapped in a Snow Storm

• Evacuation from Everest

• Believe it or not

• Shark attack

Image by Michael Schade

Image by Red Bull Image by Eonel Barut

page 32

page 46

46//Taking the drop

Dane Jackson's 134ft decent

52//High Alpine Allure

The humble back country hut

54//adventure van life nz

Check out the latest on Van Life

65//urban adventure

Inspiration, activities and information for the urban

adventurer

92//Diagnosing Backcountry Ski addiction

Are you addicted?

96//A world of hidden gems

Explore Tongariro National Park

100//Andy's memorable marine adventures

Andy Belcher shares his incredible photos

104//Adventure travel

It's still there waiting for you

plus

64. subs

82. gear guides

114. Active adventure

FOLLOW US ON

www.facebook.com/adventuremagnz

adventuremagazine

www.adventuremagazine.co.nz

Nzadventuremag

JOIN THE CONVERSATION #ADVENTUREMAGAZINE

........

02//WHERE ACTIONS SPEAK LOUDER THAN WORDS/#219
---
WOMEN'S COLOUR SHOWN – PEACOCK

Bare Access XTR ECO

Run Recycled

Take care of your planet and feet at the same time.

Our Eco Collection of durable shoes for running or training in leave a small footprint, no matter

your foot size. Built with recycled plastic, an algae midsole and Vibram® EcoDura outsoles which

use post industrial rubber offcuts. They're shoes designed to make an impact : a teeny tiny one.

Available in both Men's and Women's.

Many Paths. One Trail

www.merrell.co.nz

.................................................................................... ................

Available at selected retailers nationwide or following Merrell stores

Takapuna Howick Whangamata Riccarton Queenstown
---
BEHIND THE COVER

Sir Ranulph Fiennes, was due to be visiting our shores in May for

a fascinating evening of tales about his adventurous life, before

Covid-19 put the world in lockdown. We are hoping he will be

able to reschedule but in the meantime find out all about this

incredible man's achievements on page 10 and we'll keep you

updated on any new dates as they come to hand.

THE SHARKBITE

Another great cocktail from our friends from Cocktail on the Rock. This

one has a bit of a story - We'll let Sue tell you the tale...

"That neighbour and good friend of ours (who also happens to be the

editor of Adventure) has been put off kayak fishing for life as he was

nearly eaten alive by a great white about a week ago – just in the distance

from our house (see the full story on page 40). As I'm quite pleased he

is still with us, I dedicated this dirty martini to him. The photo shoot with

my tasting team (hubby) took place at 8.00am on a Sunday morning to

fit in with the tides down at the rock. After shooting it, I left Shark Bite on

his fence as not to wake him. I was also inspired by @mr_cocktail_friday

with his dirty martinis. Here's my reshake with vodka and Kaitaia Fire chili

pepper sauce. Are you ready to give Shark Bite a go?"

TO MAKE:

* 2 jigger vodka

* 1 jigger dry vermouth

* generous helping of Kaitaia Fire

* stir with plenty of ice

and pour into coupe

#glassfromthehospiceshop

* garnish with an olive

Approx 3g carbs per serve

Feedback received was that it

certainly had bite!

Follow Sue @cocktailontherock #cocktailontherock

For her regular newsletter signup at www.cocktailontherock.co.nz
---
SOFT LANDING

TECHNOLOGY

/

D R O P L I N E G T X

SHOCK ABSORPTION

MOTION GUIDANCE

SALEWA.COM

LATERAL STABILITY
---
posure

X
---
RED BULL ILLUME FINALIST

PHOTOGRAPHER: JOHN PRICE

LOCATION: Zapata, Texas

THE SHOT:

This is of Will Gadd who is well

known Canadian ice climber and

paraglider pilot. He formerly held

the paragliding world distance

record, with a flight of 423 km in

Zapata, Texas.

Image courtesy Red Bull content

pool
---
63,600 followers can't be wrong

JOIN THE CONVERSATION

08//WHERE ACTIONS SPEAK LOUDER THAN WORDS/#219
---
@ adventuremagazine

@ adventuretraveller @ adventurevanlifenz
---
+

prof

ile

SIR RANULPH FIENNES

THE WORLD'S GREATEST LIVING EXPLORER

All images supplied

"It is a truism to say that the dog is largely what

his master makes of him: he can be savage and

dangerous, untrustworthy, cringing and fearful;

or he can be faithful and loyal, courageous and

the best of companions and allies."

Sir Ranulph Fiennes

Sir Ranulph Fiennes has spent

his life in pursuit of extreme adventure

in some of the most ambitious private

expeditions ever undertaken. His

achievements are lengthy and in

1984 the Guinness Book of Records

named him the "world's greatest living

explorer."

Sir Ranulph was due to be visiting

our shores to share his tales of epic

adventures and explorations, when

Coronovirus hit and the world as we

know it was put into a spin.

His talk, "An Evening with the

World's Greatest Living Explorer Sir

Ranulph Fiennes" has since been

delayed and we will let you know as

soon as a new date is scheduled, but

it will be a treat for any adventurer

or simply anyone looking for a

motivational and entertaining night

out. So to whet your appetite here's

a bit about the man behind the

accolades.

It seems strange that the person

who Sir Ranulph wished to emulate

was a person he would never meet,

his father. Sir Ranulph was born in

England in 1944, at the end of the

war which claimed the life of his father

just four months before he was born.

However his mother kept his memory

alive with stories of his exploits as

an officer in the British army and that

became Ranulph's goal, to follow in

his father's footsteps.

"My father had been killed in the

war 4 months before I was born. I

was brought up with stories of his

endeavours and I was inspired by

him more than anything else… I

wanted to do what he did, I wanted

to become the commanding officer of

the regiment."

Ranulph spent his early childhood

in South Africa, where his mother

had moved with the family to avoid

the bombing of WWII and they did

not return to England until he was

12 years old. Sir Ranulph, or Ran

to his friends, talks about his school

years with much humour, and also

to highlight where motivation can

develop. His lack of academic

success and the roadblocks he

experienced along the way, meant

he had to find other ways to achieve

his goal, which at the time was to

become an officer in the British army,

just like his father.

"In his days you didn't need A

levels to get a commission. I was

not designed to get A levels. The

only thing I could do was get a short

service commission, 3 years as an

officer and a further 5 years. After

8 years you get chucked out as the

rules do not allow you to stay in any

longer."

He served the first 5 years in the

British army, stationed in Germany

during the cold war, before applying

for the SAS. His stories about those

days in the SAS are fascinating

and funny, including the story of

being thrown out of the SAS for his

part in a "public spirited gesture" of

helping a friend blow up a bridge in

a protest against 20th Century Fox.

He explains how he came to have so

much explosives to do the job.

"I was at an explosive course

in Hereford at the time, and at the

end of each day I had quite a lot of

explosives left over. Rather than hand

it back I thought it would be nice to

keep it."

Fortunately for Ran, this all

happened in 1967, before the rise of

the IRA. If it had been a year later he

would have likely served more than 7

years in jail.

But it was his stint in the army in

the Sultan of Oman in the late 60's

early 70's that his love of travelling to

remote places really developed. After

three years in Oman, Sir Ranulf left

the army and returned to England.

"The only thing I could do was to

do what I had been doing in the cold

war in Germany, teaching Scottish

soldiers to canoe and climb to stop

them getting bored, which they did

cause the Soviet army never bothered

to attack."

10//WHERE ACTIONS SPEAK LOUDER THAN WORDS/#219
---
+

"I had just completed and Army explosives course, where you

learn to blow up as much as possible with as little as possible.

And I was pretty good at it."

Upon his return to England,

Ranulph, with no formal "education" as

such, had to think outside the box.

"I lacked in "exam intelligence"

which meant I had to go into

something that requires looking very

carefully at a problem, working out

where the difficulties of the problem

are, and attacking it from that side with

the right people."

He married his childhood

sweetheart, Virginia Pepper in

1970, who he credits with many of

the expedition ideas. Together they

launched a series of record breaking

expeditions that kept them ahead

of their international rivals for three

decades. For Virginia's support and

involvement in the many expeditions

she became the first woman to

be awarded the Polar Medal for

"outstanding service to British Polar

exploration and research."

Virginia had the same love of

adventure as Sir Ranulf and one of

their first expeditions together was to

find the Lost City of Ubar, which the

Queen of Sheba had built thousands

of years before.

"My greatest achievement, the one

that took the longest, was to find the

Lost City of Incense in the greatest

desert in the world. So for 26 years,

after 8 separate expeditions we found

the Lost City. It is now the biggest

excavation works in Arabia."

A lot can be said there about

perseverance.

Virginia passed away in 2004 from

cancer, aged just 56 years old and

Sir Ranulf met and married Louise

Millington and had a daughter and

step-son from his marriage to Louise.

The expeditions that Sir Ranulf

has led (of which there are numerous)

were varied and diverse but his

interest in the Arctic and Antarctic

regions was inspired by the need to

follow the sponsorship. He explains,

that without media coverage there is

no sponsorship and the media were

interested in the "cold" places.

This led to the expedition to

circumnavigate their way around the

world from top to bottom, a feat they

completed between 1978 and 1982.

This route had never been done

before and has never been achieved

since!

For many expeditions you can

study what the person before you has

done and see where they have gone

wrong, but for many of Sir Ranulph's

expeditions, he went to places where

no one had been before. For this he

explains the need to have the right

people on board.

"Maybe you wake up in the

morning and you look out of the tent

and you see inbetween the two cliffs,

everything is rumbled and full of holes.

You want someone who is an expert at

doing that type of project. So you take

that particular person with you."

Some of his other achievements,

which are extensive and at times

seemingly impossible or equally

foolish. He has been to the top of

the highest mountain, traversed

from the north to the south pole, and

run seven marathons in 7 days in 7

countries. However each year, despite

the challenges, Sir Ranulf has found

another expedition to challenge his

need for adventure.

As you can imagine, a life full of

adventure comes with some great

"work stories". One of the most

extraordinary tales was during an

expedition in 2000, to walk solo and

unsupported to the North Pole. When

his sled fell through weak ice and

he was forced to pull it out by hand,

he suffered extreme frostbite to his

fingers on his left hand forcing him to

abandon the attempt. Upon return to

the UK the doctors wanted him to wait

several months before amputating the

severely frostbitten fingers, however

he became impatient with the pain.

"When I came back to the UK,

they wouldn't amputate my fingers

for 5 months and my wife said I was

getting irritable, so we bought a black

and decker bench and a microsaw and

in the garden shed, she bought me a

cup of tea, and my thumb took me two

days to cut off. The physiotherapist

said I'd done a good job, but the

surgeon was not happy."

In 2007, despite experiencing

ongoing heart issues he decided

to climb the Eiger in an attempt to

overcome his lifelong issues of vertigo.

"So I trained, because I couldn't

climb. It's 6000 feet of sheer rock face

and in the first 300 feet I realised that

I couldn't do it. But by then the charity

cameras were filming it and I couldn't

get out of it. It was horrific. When I got

to the top I realised I hadn't got rid of

the vertigo and I decided I would never

climb another mountain."

However that did not put him off

climbing the highest mountain in the

world, Mt Everest. After two failed

attempts climbing (2005 and 2008), in

2009, at age 65 he reached the top.

"I tried in 2005, not long after I

had my first big heart attack. I did it

from Tibet. On my last night when I

was within 300m from the summit, I

got a heart attack on the rope. I had

glyceryl trinitrate in my pocket and I

was by myself; it was pitch black and

I was alone apart from my sherpa. I

was trying to tell him I was about to

die, you would think you would just

take out the pills, unscrew the top and

put the pills in your mouth but you've

got these big mitts on, you're holding

onto a rope, its sheer, you've got ice,

12//WHERE ACTIONS SPEAK LOUDER THAN WORDS/#219
---
Sir Ranulph during his stint in the Sultan Army

"I go on expeditions for the same reason an estate

agent sells houses – to pay the bills."

Floating on an iceflow hoping to stay afloat during the Arctic melt

ADVENTUREMAGAZINE.CO.NZ 13
---
+

"You must have your "prepared reaction" to

things that go bad. You must have the right

equipment for bad things happening with the

weather, in the same way in a bank you have to

have big reserves."

it's in pitch black, it's a very different

situation. You've got an oxygen mask

on, you've got clothing all over the

place, it was three or four minutes

before I could find the bottle, I'm then

in a panic situation cause it felt like my

stitches where they tie you up after

a double bypass were being pulled

apart. I took the pills and I foamed like

a dog into this mask, but long story

short, I survived."

After visiting the doctor when he

made it to the bottom the doctor asked

where his pills were and he showed

him the empty bottle. He had taken the

whole lot, where he should have taken

only two. He considers himself lucky to

have survived that mistake.

Not deterred from his first effort Sir

Ranulf had another failed attempt in

2008 from the Kathmandu side, before

successfully reaching the summit in

2009. In doing so Sir Ranulf raised

6.3 million dollars for Marie Curie, a

registered charitable organisation in

the United Kingdom which provides

care and support to people with

terminal illnesses and their families,

and became the eldest Brit to summit

Mt Everest.

To say the man's achievements

are extraordinary, goes without saying.

He has allowed his body to be used

as a human experiment during and

after expeditions, and each expedition

has a charity and a science project

attached. But for Sir Ranulf, to achieve

this he needs sponsorship and for that

he explains that "you have to maintain

your lead over your known rivals at all

times." Maybe this is what motivates

him? As he simply says.

"I was inspired by the necessity to

make a living rather than by a previous

explorer."

Sir Ranulph's life journeys have

not been without its health challenges

but he strongly believes age should

not be seen as one of them.

"Just because you are older you

don't have to make that a reason for

not doing the challenges you would

otherwise want to do."

The physical and mental

preparation stays the same, it just

differs slightly.

"Preparation mentally is learning

from other people's mistakes. In terms

of physically you have to find time to

do something everyday. When you are

50 you go for a one hour run, when

you are 60 it's called a jog and when

you are 70 it's called a shuffle. But you

still have to keep doing it."

So how does he deal with fear?

"Fear comes in so many shapes

and sizes that no one strategy would

not, in my honest opinion, be enough.

So we hope first of all that we plan our

expeditions with as less encounter

with risk as possible, because if you

don't encounter risk you are more

likely to break world records and

succeed, where other people have run

into risk and failed.

Firstly we plan it to avoid situations

of fear, but nonetheless every now and

then you do.

I've fallen into a deep crevasse in

a situation where I wasn't tied up to

anything, just stuck by one ski stick

between two ice walls with 200 feet

beneath me. I was very very lucky to

get out of that."

Sir Ranulph believes that a

person's character should overweight

their experience. He believes that

you can't teach character but you can

teach skills.

"On one occassion out of 800

applicants I only took 2. One of them

had never been on an expedition, he

was a beer salesman in London, the

other was a butcher in South Africa.

Out of 800 these two, their characters

were just perfect. When we put them

into bad situations, a bad side of their

characters did not appear, they were

not egocentric, they were not sarcastic

when they were feeling bad."

Despite the best preparation,

things will go wrong. So how does Sir

Ranulph prepare for these situations?

"You must have your "prepared

reaction" to things that go bad. You

must have the right equipment for bad

things happening with the weather,

in the same way in a bank you have

to have big reserves. So crisis that

don't have reserves are the fault of

the people at the top and in my case

as leader of the expedition I am to

blame if I am not ready for very bad

weather at all times, you have to think

pessimistically."

Sir Ranulph has also witnessed

firsthand the effects of global warming.

"In the 1970's I was making

sledges a little bit waterproof in case

there was some water on the way

to the north pole. By the 1990's I'm

designing them like canoes because

there is so much water."

So you may wonder, at the age of

73, if there are any more adventures

left for Sir Ranulph and whether

retiring is an option. We'll let him sign

off in his own words...

"Thinking about stopping is like

thinking about dying."

14//WHERE ACTIONS SPEAK LOUDER THAN WORDS/#219
---
First unsupported crossing of the Antarctic

"There is no bad weather, just

inappropriate clothing."

Some of Sir Ranulph's remarkable achievements

• First to reach both Poles (with

Charles Burton).

• First to cross

Antarctic and Arctic

Ocean (with Charles

Burton).

• First to

circumnavigate the

world along its polar

axis (with Charles

Burton).'This 3 year, 52

000 mile odyssey took intricate

planning, 1900 sponsors, a 52 person

team to handle, complex communications,

meticulous planning and iron determination mixed

with flexibility. The circumnavigation has never

been successfully repeated.

• Led the first hovercraft expedition up the longest

river in the world (the Nile) in 1968/1969.

• Achieved world record for unsupported northerly

polar travel in 1990.

• Led the team that discovered the lost city of Ubar

on the Yemeni border in 1992 (after seven previous

search expeditions over a 26 year period).

• Achieved world first in 1992/1993 by completing

the first unsupported crossing of the Antarctic

Continent (with Mike Stroud). This was the longest

unsupported polar journey in history.

• In 2003, only 3½ months after a massive heart

attack, 3 day coma and double bypass, Ranulph

Fiennes (with Mike Stroud) achieved the first 7x7x7

(Seven marathons in seven consecutive days on

all seven continents).

• March 2005, climbed Everest (Tibet-side) to within

300m of summit raising £2 million for the British

Heart Foundations new research MRI scanner.

• March 2007, Sir Ranulph climbed the North Face

of the Eiger (with Kenton Cool and Ian Parnell) and

raised £1.8 million for Marie Curie Cancer Care's

Delivering Choice Programme

• Winner of ITV Greatest Britons 2007 Sport

Award (beating the 2 other main nominees Lewis

Hamilton and Joe Calzaghe)

• May 2008, climbed Everest (Nepal-side) to within

400m from summit raising £2.5m for Marie Curie

Cancer Care Delivering Choice Programme

• Marie Curie 2008 'Above and Beyond Award'

Winner

• Successfully summited Everest May 2009 with

Thundu Sherpa making a total for Marie Curie of

over £6.2m. The oldest Briton ever to summit.

• Becomes the oldest Briton, at the time, to complete

the Marathon des Sables – the 'toughest footrace

on earth' in aid of Marie Curie.

ADVENTUREMAGAZINE.CO.NZ 15
---
+

volcanoes

FALLING IN LOVE

WITH CHARLOTTE

By Helen Pelham, Lynne Dickinson and Linda

Lennon

WHAKAARI WHITE ISLAND ERUPTION

In the immediate aftermath of the

White Island eruption on December

9th 2019, I was overwhelmed, as was

everyone I am sure, by the level of

support and compassion shown for

those affected by the tragedy that

unfolded. Heroic actions by the tour

guides and other tourists visiting the

island along with the local helicopter

pilots were shared around the world

and once again our country became

united by another tragedy.

It didn't seem to take long

before the naysayers were out in full

force, criticising every aspect of the

devastating event; the way the cruise

ship responded, the way the police

and rescue crews responded, and then

questioning why tourists were even

allowed on the island in the first place.

I know that if I had been on the

cruise ship then I would have been one

of those people who signed up to go

to White Island and walk on the active

volcano. I've always been drawn to

the thing that pushes you outside of

your comfort zone, however, I think in

the back of my mind that although I

have been aware of the inherent risks

in outdoor adventures I've always

believed (obviously wrongly) that as

long as I didn't make a mistake, that all

would be OK.

What we seem to forget, and what

the White Island tragedy reminds us

of, is the fragile and volatile nature

of nature itself. Regardless of the

numerous warning systems in place

and regular monitoring of volcanic

activity, White Island erupted without

warning.

16//WHERE ACTIONS SPEAK LOUDER THAN WORDS/#219
---
This photo was taken by American tourist Michael Schade who left the island just moments before it erupted.

"What we seem to forget,

and what the White Island

tragedy reminds us of,

is the fragile and volatile

nature of nature itself."

ADVENTUREMAGAZINE.CO.NZ 17
---
+

Two White Island Tour guides disembarking the boat in the moments after the eruption - Image by Michael Schade

White Island is not our only active

volcano and not the only one where

tourists visit regularly. Each winter, Mt

Ruapehu hosts close to 10,000 people

each day of each weekend as people

flock to the mountain to ski and board

and simply sight see. Mt Ruapehu is

New Zealand's largest active volcano

and began erupting at least 250,000

years ago. In recent history it has had

major eruptions every 50 years; 1895,

1945, 1995-1996, with smaller eruptions

more frequently, at least 60 have been

recorded since 1945 and even these

have been large enough to cause

damage to the ski fields.

Although no lives were lost in the

initial 1945 eruption, it did cause the

damming of the Crater Lake, which

collapsed in 1953 causing a lahar which

in turn caused the Tangiwai disaster

which claimed 151 lives.

In 1995 a series of eruptions took

place on Mt Ruapehu resulting in a

dramatic eruption in September of that

year, with the eruption plume rising 12km

high, rocks thrown as far away as 1.5km

from the crater and three lahars racing

down river valleys. Eruptions continued

throughout the remainder of the year

and through to June 1996, however the

mountain still opened for the ski season

that year. Fortunately, no lives were lost

in the 1995 eruption, and as a result of

the activity that year new regulations

were put in place to more closely monitor

the volcanic activity levels.

Eruptions have continued on Mt

Ruapehu with young climber, William

Pike, losing his leg through rockfall from

an eruption in September 2007.

The hut that William Pike was in was buried

in the 2007 eruption on Mt Ruapehu

In 2012 volcanologists warned of

building pressure beneath the crater

lake with an eruption likely to occur in

the following months. There have been

numerous warnings since then but the

mountain still remains open for business.

So the question remains, what is

considered a reasonable risk? Some

would argue that any visit to an area

that is active is outside of reasonable

risk, however, were the visitors to White

Island simply unlucky or was that an

avoidable catastrophe?

If we were to avoid all things that

had inherent risk attached we would not

venture on our roads or let our kids walk

to school. Life is full of risks, some that

can be controlled and others that can't.

The secret is to do our best to minimise

those risks without letting them interfere

with that art of living.

So what could the visitors to

Whakaari White Island have done

differently? And how did some of them

survive with minor injuries while others

perished. The answer seems to lie

in simple luck. If you were one of the

people standing on the edge of the

volcano when it erupted, there was not a

lot that you could have done to alter the

course of events. However, those down

at the water's edge had some choices.

Some jumped into the water straight

away which saved them from some of

the worst of the injuries. Others sought

shelter behind large rocks which gave

them some protection from the initial

blast. But when the air is so toxic and

the eruption so sudden, the only way to

survive was to get off the island and into

care as soon as possible.

Those people that risked their lives to

retrieve those stranded on White Island,

went a long way towards giving those

injured a chance of survival. To date

there have been 22 deaths from the 47

reportedly on the island at the time of the

eruption.

18//WHERE ACTIONS SPEAK LOUDER THAN WORDS/#219
---
The two guides returning to the boat with survivors - Image by Michael Schade

With the most recent deaths has once

again come some finger pointing. A relative

of one of the deceased believes that "proper

safety equipment" would have saved his

family, such as appropriate heat resistant

gear/clothing, safety glasses, helmets and

face masks.

The questions have also been asked

about the comprehensive disclosure of

associated risks with such activities, and this

is what was posted on the White Island Tour

website prior to the December 2019 eruption:

"Whakaari/White Island is currently on

Alert Level 2. This level indicates moderate

to heightened volcanic unrest, there is the

potential for eruption hazards to occur. White

Island Tours operates through the varying

alert levels but passengers should be aware

that there is always a risk of eruptive activity

regardless of the alert level. White Island

Tours follows a comprehensive safety plan

which determines our activities on the island

at various levels."

Despite the clear message we often

overlook the "fine print" in our excitement to

take part.

In the aftermath of the disaster, the

blast is currently subject to two inquiries,

a coronial investigation and another by

Worksafe NZ.

Whakaari White Island Reviews from Trip Advisor

"We Went. It was a once in a lifetime adventure - standing

on the crater floor of an active volcano - spewing forth sulfa,

steam and other toxic gases - truly the inspiration for the fire

and brimstone concept of Hell. Three days later, it erupted

killing and burning many. That really shook us up. I doubt

they'll ever let tourists visit again."

"I don't think there were any passengers that were naïve

enough to believe that landing on an active volcano didn't have

inherent risks. That was part of the thrill - doing something that

others are afraid to witness."

"So what happens to White Island now? I doubt that tours

will be permitted in the future even for those brave enough

or curious enough to want to make them with a small but

significant local employment knock on effect. Commercial

considerations including insurance cover will be prohibitively

high, certainly in the foreseeable future. Perhaps it is time

to leave White Island to the sea birds and the occasional

volcanologists doing their assessments which seem on this

occasion to have been so tragically disregarded. When we

visited The killing Fields just outside Pnom Penh we felt

that some places just should not be for tourists. Perhaps,

admittedly in a vastly different context, the same might now be

true for White Island?"

ADVENTUREMAGAZINE.CO.NZ 19
---
+ eruptions "They are unpredictable,

CAN YOU SURVIVE AN ERUPTION?

A volcano is defined simply as "an opening in

the Earth's crust that allows molten rock, gases,

and debris to escape to the surface." A volcanic

eruption does not always involve lava, but will

throw debris, volcanic ash and steam into the air at

speed and this can travel 100's of miles from the

volcano. They are unpredictable, often extremely

violent and can happen without warning.

The violence of an eruption is measured by

the volume of materials discharged and the height

of the column. This is known as the VEI (volcanic

explosive index). The eruption of Whakaari White

Island in December last year threw steam and ash

3.7km into the air and had a VEI of 2.

often extremely violent

and can happen without

warning."

20//WHERE ACTIONS SPEAK LOUDER THAN WORDS/#219
---
Mt. St. Helens

mushroom cloud,

40 miles wide

and 15 miles

high. Camera

location: Toledo,

Washington,

35 miles westnorthwest

of

the mountain.

The picture is

a composite

of about 20

separate images.

Images by Rocky

Kolberg

Mt St Helens, in Washington, USA last erupted in

2008 but is most known for the 1980 eruption that created

the largest landslide ever recorded. Ash was blown over

cities hundreds of miles away and over 57 people were

killed. Despite the destruction and death toll, the mountain

was reopened to climbers 7 years later and remains

open today. (VEI level 5)

Mt Vesuvius

erupting in

1944 with

Naples in the

foreground.

Image US

Navy File No

54410

Mt Vesuvius in Italy is well known for the eruption of 79

A.D. that destroyed the city of Pompeii killing thousands of

people. It has been quiet since 1944 after having produced

several explosive eruptions that have produced fast moving

streams of scalding hot gas and volcanic matter. But more

significant is the fact that 6 million people live within 100km

of the mountain. (approx VEI level 5)

The driver

of a pickup

truck

desperately

tries to

overeun a

cloud of ash

spewing

from the

volcanic

eruption of

Mt Pinatubo

in 1991.

This image

by

Alberto

Garcia went

on to win

numerous

awards.

In 1991, after 500 years

of inactivity, Mt Pinatubo

in the Philippines erupted.

The force of the eruption

blew lava and ash 34km

into the air, killing 847

people. It was the 4th most

violent eruption in history

and the second in the

last two decades. Despite

the recent eruption, more

than 21 million people live

within 100km radius of Mt

Pinatubo. (VEI level 6)

Lava from a

fissure slowly

advanced to

the northeast

on Hoʻokupu

Street in

Leilani Estates

subdivision.

Kilauea Volcano in Hawaii had been erupting almost

continuously between 1983 and 2018. Although no lives

were lost, hundreds lost their homes. (VEI level 4)

ADVENTUREMAGAZINE.CO.NZ 21
---
+ tramping

THE TONGARIRO ALPINE CROSSING

- IS IT A WALK IN THE PARK?

Insights from NZ Mountain Safety Council

With the second death in just over a

month on the Tongariro Alpine Crossing,

it seems prudent to take a moment to

consider the risks in undertaking what is

considered one of the best day walks in

New Zealand. It is a challenging 19.4km

hike taking on average around 7 hours to

complete. It passes through raw volcanic

terrain and reaches an altitude of over

1800 metres.

On average over 150,000 people walk

the track each year (This is the highest

number of walkers of any track in NZ that

takes more than half a day) with 30-40

people requiring rescueing. Many people

are unprepared, unsuitably dressed for

the changeable weather and have no

idea of what to expect, and others simply

underestimate the level of fitness needed

to cross the rugged terrain.

In 2007, after two deaths from

hypothermia in 2006, the name of the

track was changed from the Tongariro

Crossing to the Tongariro Alpine Crossing

to highlight the extreme weather

possibilities on the exposed terrain.

Weather, or the rapid change of alpine

weather has been a factor in people

getting into difficulty on the track. Most

people hike the track in summer and

assume that they will experience the

settled weather we come to expect at

that time of year in the rest of the country.

However, in the mountains, extreme

weather can hit at any time and without

shelter and limited visibility it is easy to get

into trouble.

Meteorologist, Lisa Murray explains.

"As you change elevation from sea level

to the mountains a number of things begin

to happen that will potentially have an

impact on your trip. Using the Tongariro

Alpine Crossing (TAC) as an example,

the difference in elevation between Taupo

and the summit of the track is around

1500 metres. Because of atmospheric

lapse rate, the ambient temperature will

be about 10°C colder at the summit than

at Taupo."

Not only does the changing weather

mean an increase in hypothermia cases,

it also equates for people getting lost on

the track. Poor visibility means people are

likely to make a wrong turn and this can

result in deadly consequences.

In 2019 DOC initiated a public bad

weather advisory that would inform people

that the crossing was "not recommended

today" if the weather was considered

inappropriate for a safe crossing. This

followed the death of a woman whose

body was found by Red Crater after

becoming separated from her group. The

weather was considered less than ideal.

The previous year also saw a death in

similar circumstances. A group of four men

became separated, with three turning back

and one continuing over the crossing,

he never made it. All were unprepared,

wearing only hoodies, sweatpants and

running shoes. The weather was dry when

they started, but began to drizzle as they

got higher, eventually becoming a blizzard

once they reached Blue Lake. This was

forecast to happen, but the forecast was

not checked by the group beforehand.

Local Police involved in rescues have

four key messages for anyone thinking of

doing the crossing.

1. Wear appropriate clothing

2. Keep an eye on the weather

3. Stick together

4. Be prepared to turn back

However, it's not always misfortune

or lack of preparation that is the cause of

death on the crossing.

In 2018, 56 year old Bernhard

Hanssen was found collapsed on the

track by passing hikers. Despite CPR

he was unable to be saved. However,

nothing in his death could be attributed

to his fitness, preparation clothing or

equipment. He carried plenty of food,

a torch, cell phone, battery pack, spare

clothing and emergency gear. He was

considered physically fit but an unknown

heart condition was found to be the cause

of his death.

Earlier this year, 75 year old Gerd

Wilde from Germany decided to attempt

the track with his son. He was in the

middle of a whirlwind bucket list adventure

with his son after spending the previous

six years fighting prostate cancer. New

Zealand and the Tongariro Alpine Crossing

were both on his list. He died as a result of

a heart attack halfway along the track.

So who does the responsibility lie with

to ensure a safe and secure crossing?

Of course it lies firstly with ourselves, but

what responsibility, if any, should tourism

play. The Tongariro Alpine Crossing is

promoted as one of the best day walks

in the world with social media channels

and the like spouting it's praises. Nearly

75% of those who walk the Tongariro

Crossing are overseas visitors, often from

areas without extreme alpine conditions.

Given their often limited time in our

country and their desire to "see all the

best bits" they will jump on board without

truly understanding what they are getting

themselves into. Motivated by pictures on

instagram and "tips" from every so-called

influencer, they often find themselves well

outside their comfort zone and more often

than not, unprepared for the worst.

Tongariro Alpine Crossing Emerald Lakes

Image by Laura Smetsers

22//WHERE ACTIONS SPEAK LOUDER THAN WORDS/#219
---
ADVENTUREMAGAZINE.CO.NZ 23
---
+

Always be aware of the changing weather conditions in any alpine environment. Image by Daniel Chen

IN 2017, 1,539,133 PEOPLE WENT TRAMPING

FOR EVERY 279 TRAMPERS, 1 SOUGHT MEDICAL HELP

FOR EVERY 3,109 TRAMPERS, 1 REQUIRED SEARCH AND RESCUE ASSISTANCE

FOR EVERY 219,876 TRAMPERS, 1 NEVER MADE IT HOME

24//WHERE ACTIONS SPEAK LOUDER THAN WORDS/#219
---
The Tongariro Alpine Crossing has by far

the most incidents, however it also caters for

the highest number of visitors. 150,000 walk the

Tongariro Crossing each year compared to 15,000

on the Milford Track.

In 2018 the NZ Mountain Safety Council

(MSC) produced a report called "A Walk in the

Park? A deep dive into tramping incidents in New

Zealand. It makes for some interesting reading

on the statistics surrounding our most popular

outdoor activity.

In the ten years between 2007 and 2017, 57

people lost their lives in tramping accidents; 31

from falling, 21 from drowning, 6 from hypothermia

and the remainder from avalanches and other

such incidents.

The role of the MSC is in preventing safetyrelated

issues in land-based outdoor recreation.

Fatalities due to natural cause or suicide were not

analysed as they are not deemed to be safetyrelated

issues. E.g. Gerd Wilde (case above)

could have had his heart attack at any other point

of his journey in NZ such as in a spa in Rotorua or

walking along Queen Street.

Of the 57 deaths, 32 were Kiwis and 25 were

international visitors.

The MSC noted that the most prominent

causal factor of a fatality while tramping was

competence, or lack of, attributing to 66% of the

deaths occurring over the decade. Competence

includes relevant experience, level of skill etc.

The second most prominent causal factor

was social and psychological factors; the state

of mind of the tramper, which attributed to 62%

of the fatalities; the desire to get to a destination,

taking a 'short cut', or underestimation of risk were

causes that factored highly.

By comparison, weather and equipment

were seen as the cause of only 32% and 28% of

tramping deaths respectively.

The other interesting information was where

fatalities occurred as a result of ignoring advice,

88% were male. Not surprisingly, where fatalities

occurred as a result of ignoring signs, 100% were

international visitors.

Many people have a strange way of weighing up risk against benefits

and can convince themselves that everything will be alright, despite many

obvious signs that it won't be. This is also known as "confirmation bias" or

underestimating the risk. MSC insights have discovered that this was a factor

in at least 17% of tramping fatalities between 2007 and 2017. The fact that

so many other people have "done the crossing" and do so every year gives

people a false sense of the safety of the experience. Our tourism machine

has done a great job of making people really want to have an experience,

despite the risks involved.

So what can we do with all this information?

Hopefully the research can help us to make better

decisions, be aware of where the risks lie and help

us become better informed. It has also highlighted

some specific solutions for the Tongariro Alpine

Crossing ranging from more targeted advertising

of alternative tracks in the area, improvements in

parts of the track itself, through to the employment

of full time rangers on the track to offer

assistance and assess trampers progress, and

the development of technology that would track

trampers progress.

However, the final buck stops with us. Will

our egos allow us to make sure we take all risk

assessments into consideration? Will our egos

allow us to turn back if the weather is inclement?

Will our egos allow us to admit that the exercise

is outside our ability levels? Or will we make what

could be a fatal error of judgement?

ADVENTUREMAGAZINE.CO.NZ 25
---
posure

X

26//WHERE ACTIONS SPEAK LOUDER THAN WORDS/#219
---
RED BULL ILLUME FINALIST

PHOTOGRAPHER: BEN THOUARD

LOCATION: Teahupoo, Tahiti

THE SHOT: The image by the Tahitian

photographer Ben Thouard. Ben has

made Teahupo'o's famous wave his

backyard and his favourite place to

shoot. The image was called "The Fight"

for obvious reasons. This was entered in

the 2019 Red Bull Illume

Image courtesy Red Bull content pool
---
+

snow

storms

TRAPPED IN A

SNOW STORM

By Geoff Hunt

Before technology had really caught up

with the outdoor industry, Geoff and his friends

found themselves in trouble when their tent

was unable to withstand the weight of a heavy

snow storm. Today, the modern design of tents

would have meant a very different experience,

but we're talking the 1970's when touring tents

were a triangular shape with two poles. Geoff

shared his experience of his night in the snow

on Franz Josef glacier.

Cold and hungry we faced a choice - the

snow had been falling so hard that our tent was

collapsing on us, even with two people outside

at all times clearing snow. Time to decide - we

could not go anywhere with the weather the

way it was but we did need to do something.

We were camped on the Franz Josef névé and

there was nowhere to go. A snow cave was the

only solution . . . . . . but before I get ahead of

myself. Let me set a little background.

The story really begins some months before

with a climb of Mt Tasman. On a visit to Mt

Cook's Unwin Hut, Judy Norman said to me

"get this grumpy bear (husband Shaun) out of

here - he is driving me crazy."

Shaun volunteered that we go and climb

Mt Tasman. I did remind him that I had little

experience at ice climbing but he said - "you

will be fine so away we went"

The following day - equipped to climb steep

snow and ice we were away. Boarding a ski

plane we were quickly dropped at Plateau Hut

where after eating super we retired to our warm

sleeping bags. It was going to be an early start.

Shaun has decided that a little experience with

ice climbing should probably be good for this

'skier' boy - so the training hill was Mt Dixon.

Mount Dixon is the 23rd highest peak in

New Zealand, rising to a height of 3,019 metres

28//WHERE ACTIONS SPEAK LOUDER THAN WORDS/#219
---
The drop off point at the top of Franz Josef Glacier

Image by Belle Hunt

ADVENTUREMAGAZINE.CO.NZ 29
---
+

A successful ascent of Dixon and I am ready for

Mt Tasman ( the second highest mountain in NZ,

rising to a height of 3,497 metres). Well not really

ready, but a little more confident that I will not hold

Shaun up too much. So once again we retire early

to our warm sleeping bags, the last time we would

see them for 40 hrs or so.

An early mountain climbing start of 1.30am and

I was following Shaun on crampons across the

Grand Plateau on the way to the base of the climb

of Tasman. A climb of Silverhorn Ridge to Engineer

Col and on to the summit is the standard route on

Tasman.

We climbed successfully, me on my tip toes on

ice for the first time. My slow ascent and descent

left us a bit late in the day and the call was made to

spend a night in a crevasse rather than keep going

through the dark. Mmmm - sleeping bag where are

you? Oh yes, in the hut! So I crawl into my pack, on

top of the flaked out rope, and finally fell asleep.

A toe in my side wakes me.

"Wake up Geoff"

"Hah - time to go?"

"No, you were asleep and I wasn't."

Thanks Shaun.

At dawn we return to the hut for late breakfast

and a cup of tea or five and then it's on our way

again. From the Grand Plateau we cross Cinerama

Col, onto the Caroline Glacier, skirting left under

the Anzac Peaks to the ridge line above the Boyes

Glacier (Boyes Col) and on down onto the Tasman

and home. Sounds easy but I can assure you it is

not. I survived it easy enough though.

But this story is not about that trip but is really

about being stuck on the top of the Franz Josef

névé near the Tusk, with super guide Shaun, and

ski buddies Hamish Cochrane, Ross Ewington and

Andrew Secombe. All of them totally inexperienced

at glacier and backcountry ski travel.

Planned over a beer or two no doubt; a ski trip

into the high mountains with a guide for some safety.

The plan was to fly into the top of the Fox Glacier,

ski a few lines and climb through Newton Pass

and camp near the Tusk for another couple days

skiing on the Fritz Range with stunning views of the

Tasman below, and then out via Almer Hut.

All sounds great, and it was, except as we

climbed back towards home after another fantastic

day ski touring the clouds started to close in and

gentle snow drifts began to gather. Not a problem

we thought, we have a good expedition tent, we'll be

fine.

We settled in comfortably in the tent for the

overnight storm, or perhaps a day long storm. We

had food, the tent was well located and the company

was good. Note: there were no cell phones then to

check weather with, and in fact there would be no

reception there even if we have had had them.

During this first night the snow intensified and

begun to weigh on the tent. So we would push it up

from the inside and it slid off. By morning, however

it was snowing hard and we took turns at suiting up,

climbing out of the warm sleeping bags and clearing

the tent. We'd get the snow off, dig it out from the

side and increasingly throw it out of the hole that we

are sitting in.

The snow began to build up, as first a foot and

then another foot of snow fell during the day. The

weight was loading the tent and putting strain on

the two poles and slowly pushing the fabric down.

We found that a cup solved that for a while, placed

upside down on the pole with a plate on top of that,

but we were losing the battle. By the next night it

took two people outside at all times working around

the tent, clearing the snow. However there was more

snow falling than our ability to clear it off the tent

even with two people outside at all times.

Of course, it was not only the tent that was

getting weighed down, but we are getting wet

outside as well and dragging that back into the tent.

By now the roof was just above our heads

Cold and hungry we faced a choice. The snow

had been falling so hard that our tent was collapsing

on us, it was time to decide. We could not go

anywhere with the weather the way it was but we

did need to do something. We were camped on the

Franz Josef névé and there was nowhere to go. A

snow cave was the only solution . . .

The Tusk is not far away so Shaun headed out

on a compass setting and using ski poles to mark

his route enabled me to follow him to the Tusk wind

scoop, the only practical place that we can dig a

cave. With Shaun tunnelling and me clearing the

entrance we are soon enough inside and 'out of the

storm' but wet and hot from digging like moles. The

others joined us in due course bringing the sleeping

bags, mats, stove and supplies.

We continued digging and soon had a luxury

cave with sleeping shelves a cooking bench and a

foot hole. Luxury after the cramped living conditions

of the tent. However, after another day of storm

conditions the weight of snow above begins to

compress our space. Where once we had room to sit

comfortably, our roof is getting closer and closer.

My sleeping bag was abandoned in the tent; too

wet to bring over was the call made by the others

as they packed up and so I end up sharing a bag

with Ross - he is 'loving' it. Squashed tight in a bag

with another man was way outside his comfort zone,

and I mean way outside. He mumbles constantly to

himself about this situation.

"Your turn to clear the door tunnel."

That's not much fun either.

"What's it doing outside?"

Hmmm snowing and blowing.

"What's for dinner?"

Hmmm fresh snow and soup.

30//WHERE ACTIONS SPEAK LOUDER THAN WORDS/#219
---
Looking back down towards the Franz Josef Glacier

Image by Makalu

"We were camped onthe Franz Josef névé and there was

nowhere to go. A snow cave was the only solution."

A day and night pass before the storm

passed and we emerged like moles, hungry

from lack of food and with no energy.

We still had to get out of this situation and

we have wet clothing, wet sleeping bags, no

food and no skis. Our skis had been used as

snow stakes to hold up the tent in the storm

and now we have to find first the tent location

and then the skis attached to the guy ropes.

The tent is relatively easy to find, 50

paces west of the Tusk wind scoop we find

a slight depression in the snow and decide it

must be the tent site. A probe or two reveals

indeed it is, but everything is buried beneath

feet of snow. Patiently we dig, first one ski

and then another. Digging 6 feet down we find

the tent and salvage a few things from it. All

the time following guy ropes to one ski after

another. It's a slow day but finally we find all

the skis, bar one.

We can't leave with one person only on

one foot so back to it, patiently working our

way around the deep hole probing, looking for

that last ski. We finally find it and with much

relief we can leave this hole in the glacier.

Almer Hut sits 400 meters lower across

the other side of the glacier, about 4kms

away but we can't go directly but instead

have to skirt slowly through the deep snow till

we reach a position where we can descend

safely down the edge of the glacier and finally

off the edge into a steepish snow gut down to

the hut. We flopped down outside in the sun

while Shaun went in to use the radio.

The operator sounded relieved to hear

from us. Judy had been calling through the

network for any word from our party (there

had been three foot of snow in Mt Cook

village during the storm).

Soon enough a helicopter was on its way

and it's a very weary party that climbed on

board for the short trip down to the green

landing pad in Franz Josef.

High fives and smiles and a story to tell.

ADVENTUREMAGAZINE.CO.NZ 31
---
+

ALTITUDE

SICKNESS on everest

EVACUATION FROM

THE BASE OF

EVEREST

Interview with Robert Bruce

Last issue we talked to Robert Bruce, founder of the adventure group Got to Get

Out, who'd just completed his fourth group trek to Nepal, this time to Everest Base

Camp (EBC). With 30 mostly Kiwis (or people with strong NZ connections) they headed

into the Nepal winter enduring temperatures of -20 to -40, while we enjoyed the NZ

summer.

As leader of this large group, Rob learned the hard way no matter how prepared

you are, at altitude there's always a chance that things can go wrong. He shares what it

was like arranging an emergency evac from the foot of Mt Everest..

32//WHERE ACTIONS SPEAK LOUDER THAN WORDS/#219
---
Everest Base Camp, image by Anaya Bilimale

ADVENTUREMAGAZINE.CO.NZ 33
---
+

Some guests got altitude

sickness, tell us about that? What

happens up high? Altitude sickness

is an unfortunate reality of trekking

at altitude, and despite EBC being

considered relatively 'easy' by some,

it should not be underestimated. I've

done EBC three times now as well

as Annapurna Circuit trek in Nepal,

and I can confirm the risks are real.

Trekkers to EBC are climbing five

hundred or more vertical meters a day

for up to eight hour a day, for fifteen

days (there and back). With reduced

hygiene facilities, extreme cold in

winter, unusual foods and fatigue added

in.. there's certainly a risk of altitude

sickness, as I have now experienced

first-hand.

How had you prepared your

guests for altitude sickness? I must

start this answer by saying that in my

opinion our group of trekkers were

highly prepared for this trip. Some of

our precautions included pre departure

meetings and many emails discussing

gear list, medical needs, likely

temperatures, what to bring and how to

train. I shared links to information like

blogs and videos, and other useful tips

to help get my guests ready for nearly

three weeks in a third world country,

in the middle of winter. In-Nepal when

we were all together for the first time,

we held a huge group briefing with

our expert local guides, recapping the

route, discussing how to pack, and

basically sharing what to expect in their

adventure ahead. During the trek itself

I hosted daily check-ins with the whole

group, providing significant support

to anyone feeling unwell or offering to

lighten loads.

I believe guests knew full-well

the chance of getting ill from altitude

sickness, and what symptoms to look

for (in themselves, and others). I feel

they also knew what would happen if

the guides or I deemed them too unwell

to continue ascending or descending..

Our trained Nepalese guides from a

leading Nepal-based trekking company

have hundreds of EBC (and other

Himalayan) treks under their belts

and knew what to look for in terms of

identifying altitude sickness. Though,

it should be noted a mountain guide

from most trekking company's, as far

as I am aware, is not the same as an

alpine doctor, so they are not mandated

to provide medical care per se, only

to identify sickness and act on this by

arranging help or sending someone

home.

What is altitude sickness? In

simple terms, as a human ascends

higher in altitude, there is less oxygen

in the air so people need to breath

harder, more often, to get the same

amount of oxygen into their blood as

at ground level – it gets increasingly

harder to perform both physically and

mentally the higher up a mountain you

ascend. The effects of less oxygen can

be alleviated with 'acclimatization' days

whereby you 'climb high and sleep low',

though, in general, descending is the

best / only way to improve your health

quickly, if you start getting ill.

Some of the main (early) symptoms

of altitude sickness include;

Loss of appetite

Headache

Nausea

Fatigue

Coughing

High heart rate

Low blood oxygenation.

If left untreated or if a patient

does not descend fast enough,

these early symptoms above can

eventually become quite serious

altitude sicknesses like HACE (high

altitude cerebral edema) or HAPE

(high altitude pulmonary edema. Over

the years many climbers and trekkers

including those to the relatively low

level of EBC (when compared to

climbing a Himalayan summit, let alone

Mt Everest) who continued upwards

instead of heeding the warnings,

have become very ill and some have

sadly even died. So altitude sickness

is a serious matter for trekkers in the

region, and everyone on the Got To

Get Out trek knew of these risks, and

understood they would be sent 'down',

if they got too sick

How did you deal with altitude

sickness of guests? Got To Get Out

had a protocol in place that we actually

rehearsed before leaving New Zealand,

whereby if guests did not improve

quickly from early signs of altitude

sickness, they would either return by

foot to a lower altitude to improve (and

then potentially rejoin the group after

improvement) or if they were unable

to descend under their own steam,

a helicopter evacuation would be

triggered.

It should be noted that heli

evacuation sounds scary, but in Nepal

is extremely common. Each day

several helicopters fly back and forth

through the Khumbu valley (the main

trekking highway) from Kathmandu

to EBC or nearby villages, picking up

sick or injured trekkers. This is not to

say the trek is unsafe, more so that it

is very common for people – even well

prepared and fit – to get ill and need a

helping hand to descend.

It should also be noted that the

policy of both Got To Get Out and

our Nepal trekking partner is to insist

on insurance that will pay in full for a

helicopter medical evac over 5,000m

above sea level. Readers should be

aware that credit-card or cheaper

insurance policies may not cover evac

from this elevation so should not be

relied on alone, at least in the Himalaya.

Make sure you read the fine print.

Tell us about the evacuation on

Jan 4th. On the day prior to our evac,

the group needed to walk Pheriche

(4200m) to Lobuche (approx. 4900m),

and on this day the weather was very

poor, with snow and cold down to an

estimated -20 Celsius.

On arrival to the 'Pyramid' tea

house located slightly above Lobuche

(an ex Italian environmental research

station). Guests were pretty tired and

cold but all seemed fine that night.

We watched a documentary about

Sherpas and their amazing contribution

to mountaineering by taking all the

'risk' when setting the complex 'ladder

crossings' in the Khumbu Ice Fall

ahead of Everest climbing expeditions.

I digress!

The next morning, 7am, I started

getting reports from worried guests that

several of our trekkers were feeling

unwell; some had been up all night

with nausea. I set about finding out

who was ill, with what conditions, and

immediately began making plans with

our trekking guides to determine what

needed to be done.

Throughout that morning, various

guests presented symptoms of nausea,

headaches, fatigue, and upon testing

for the blood oxygenation and heart

34//WHERE ACTIONS SPEAK LOUDER THAN WORDS/#219
---
Images by Eonel Barut

"Throughout that morning, various guests

presented symptoms of nausea, headaches,

fatigue, and upon testing for the blood

oxygenation and heart rate of guests it was

found that some guests were feeling effects of

altitude sickness."

rate of guests it was found that some

guests were experiencing the effects of

altitude sickness.

The good news is that after some

of the ill were administered tea,

electrolytes, mild pain relief and food,

they made a recovery and joined the

other guests on an acclimatization

walk - which helped us 'clear the decks'

to deal with the really sick people. I

was very lucky to have some medical

experts on the trip, including a nurse

and midwife who helped with recording

patient vital signs, and administering

some basic meds.

Unfortunately, three of our

guests, made up of two Kiwis and an

Australian born citizen living in New

Zealand were still displaying worrying

symptoms including low blood oxygen,

high heart rates, fatigue, vomiting and

some diarrhea. In consultation with

the trekking company staff both in the

Himalaya and by phone in Nepal, it

was decided to trigger the medical

evacuation procedure to send these

sick guests to the lower altitude of

Kathmandu with more oxygen-dense

air, and to get treated by medical staff

at the very well equipped travel-specific

hospital in the Nepal capital.

As leader of the group, I then had

the tough task of phoning next of kin

to tell them of the news. My job was

made easier as all the families were

supportive of their loved ones being

taken to Kathmandu for specialist

treatment, even though it meant their

trip was over.

Who pays for the helicopter?

Before the helicopter was booked, the

sick guests were made aware that if the

Kathmandu doctors deemed them 'fit

enough to have walked out' they may

be charged for the evac, a cost all or

part of $5,000USD per ride.

ADVENTUREMAGAZINE.CO.NZ 35
---
+

Apparently, trekkers in Nepal have

exploited the evac system in the past,

getting to EBC then 'requesting' a

helicopter to save walking to lower levels.

This has made insurance companies

more skeptical and sometimes they won't

pay. In all our cases, the doctors agreed

with our assessment that our guests

were ill enough, and the insurers paid

everyone out in full.

Tell us about the helicopter. Once

the decision was made, the next part

was quite remarkable and efficient. The

guests were evacuated within just 2

hours of the first phone call being made.

The helicopter arrived around 12noon

on 4th Jan, onto a snow covered square

'heli pad' outside the Pyramid tea house.

We were lucky to have clear sky and

no snowfall this day, so visibility was

perfect. One day either side, and it may

have been hard to get the helicopter

to our height. Upon landing the rotors

whipped up clouds of snow and ice, so

the onlooking crew and patients had to

cover their faces and look away. Our sick

guests were ushered onto the helicopter

within about 2 minutes of landing, which

our guides later told us was a slow

evacuation! It really happened fast from

my perspective.

After leaving the mountains by

helicopter, our sick guests landed in

Kathmandu and treatment began a

matter of hours. Treatment included rest,

monitoring, IV drip, and antibiotics for

some lung infections.

How did your guests feel about

being evacuated? The guests

themselves were naturally disappointed

not to make it to Mt Everest Base Camp

(the rest of the group visited the very next

day) but they all understood that 'health

comes first' and most have expressed a

desire to 'give it another crack' one day.

The NZ press got hold of all this,

while you were there? When I came into

Images of the trip by Eonel Barut

phone range for the first time in over a

week,after attempting Island Peak 6189m

after EBC, I found every single person in

our expedition, my staff and volunteers

in New Zealand, Nepalese guides and

even the Nepalese hospital had been

contacted by NZ journalists, eager to

find out about the "evac off Everest"!.

To this day I don't know who tipped off

the NZ media, but we had a good laugh

about our apparent "escape from the

tallest mountain on earth" which was

of course, totally wrong. Jokes aside, it

was distressing for everyone involved to

have been so mercilessly hounded for

comment, but I am thrilled that everyone

in our expedition stayed tight-lipped

until I got into range and spoke to the

media and gave them a comment. This

was a valuable learning experience

for sure and illustrated to me the many

misconceptions about climbing Mt

Everest vs. trekking to Mt Everest Base

Camp; they are not the same thing at all.

So then, is it all worth it? Following

in the footsteps of our most famous

mountaineer Sir Edmund Hillary,

and taking the time to learn about

the amazing contribution he and the

Himalayan Trust have made to the region

while experiencing the strong connection

between NZ and Nepal, should be on

the 'bucket list' of all Kiwis in my opinion.

I have grown to feel this trek is a 'rite of

passage', a pilgrimage of sorts to get

immersed in Kiwi heritage, albeit on the

other side of the world.

I do of course acknowledge there is

some risk of getting sick at altitudes like

those on my trip, but as I've explained,

good operators have reliable systems for

the identification of altitude sickness and

can arrange your evac if needed, and

there are excellent helicopter services

and trekker-specific hospitals set up to

deal with this.

I don't personally think readers should

do this trek alone, unless they are vastly

experienced. At the very least, ordering

food, flying to Lukla, and navigating the

military permit checkpoints could be

daunting without a guide, where most

locals speak only broken English at best.

So with all this risk, why do people

trek to EBC, in winter? After the trip

when I asked our group "why did you

choose Nepal in winter for your summer

vacation?" Many guests talked of EBC

being a goal of theirs for many years.

Others were honoring family, proving they

could do it, achieving something out of

their comfort zone, and basically having

an adventure rather than staying home or

going to the beach!

Put simply though, NZ summer

holidays (December/January) seem the

most convenient time of year for full time

workers to take leave.

It's certainly important that Kiwis

attempting this trek in winter (or

indeed any time of year) have the right

information, coaching, support, fitness

and equipment. Despite the risks I

personally say, "don't let the fear hold you

back!" Feedback from my guests is the

trek is 'life changing' and learning about

the work of Sir Edmund Hillary certainly

makes you feel proud to be a Kiwi, even if

there is some risk of altitude sickness and

a few discomforts, especially in the cold

of winter.

What next for GTGO? Once the

world is back up and running following

Covid-19 (not too long we hope!) Got

to Get Out intends to run more trips to

Nepal as there is clearly interest and

demand, plus I love going back! We are

considering a mid-year trip to the region

one year, which will be warmer than our

winter visits.

We also have a big pipeline of both

free or paid-for events to get Kiwis

outdoors around NZ. These will all be

hosted on our website and Facebook

page, when NZ is back on track.

36//WHERE ACTIONS SPEAK LOUDER THAN WORDS/#219
---
The helicopter evacuation took approximately 2 minutes and took the guests to Kathmandu where they all made a full recovery

"You gotta know when to hold em,

know when to fold em,

know when to walk away,

know when to run."

Kenny Rogers

Images of the trip by Eonel Barut

Please see www.facebook.com/gottogetout for updates on their local or Nepal

treks or email robert@gottogetout.com to get put on the list for updates.

ADVENTUREMAGAZINE.CO.NZ 37
---
+

believe

it or not

BELIEVE IT OR NOT?

REAL-LIFE MCGUIVER...

In 2018 Angela Hernandez swerved

her car to avoid hitting an animal and

drove 60 meters down a cliff onto a

deserted rocky beach. She suffered a

brain hemorrhage, broken collar bone,

fractured ribs, collapsed lung and

ruptured blood vessels in both eyes

and when she came to the water was

lapping at her knees.

Using a multitool, she broke her

window, crawled out the car, swam to

the beach and passed out. When she

woke up she began walking the shore

looking for help. Using a hose from her

car to collect dripping water from moss

along the shore she kept herself alive

for days.

Although she could hear and see

cars pass by atop the cliff, they couldn't

hear her screams for help. Eventually, 7

days into her ordeal, a couple of hikers,

Chelsea and Chad Moore, stumbled

across her car and found her sleeping

under some rocks.

Left:Angela and her rescuer, Chelsea

Moore

Above: Her car at the bottom of the cliff

Image by Chad Moore

SURVIVING IN THE WILDERNESS...

Tyson Steele survived three weeks in

the Alaskan wilderness after his cabin was

burnt down in a fire. He woke to his cabin

on fire and ran outside wearing only boots,

long johns and a jumper. He ran back to grab

blankets and his rifle not realising his dog

was still inside. The fire ignited hundreds of

rounds of ammunition and a propane tank in

the cabin. After shovelling snow on the blaze

for hours he was unable to save the shelter,

he made a basic tent out of debris in the subzero

temperatures and lived on canned food

that survived the blaze.

The authorities rescued Tyson Steele by helicopter

Image by Alaskan State Troopers

Alaskan native Ada Blackjack

survived alone for two years on the

remote Wrangel Islands. After being

hired as a seamstress and cook on

the expedition to claim the islands she

was left there in 1921, with 5 others

as a territorial claim. However their

rations soon ran low and three of the

team went in search of help. Ada was

left to take care of an ailing crewmate.

Unfortunately he did not survive,

however, Ada, alone on a polar bear

populated island, learned to hunt the

seals and survived off their meat until

she was rescued two years later.

38//WHERE ACTIONS SPEAK LOUDER THAN WORDS/#219
---
HISTORY OF WHAKAARI WHITE ISLAND

It was assumed that they had taken to their

boats in order to escape the heightened volcanic

activity. However, after closer investigation it

appeared they had all been washed out to sea by

a mudflow caused by the eruption and no trace of

the men were ever found. Ten men perished.

The mine was re-established in 1927 and not

long after another series of violent earthquakes

hit the island. This time workers were able to

escape in their boats where they waited until the

island settled down. Sulphur mining on the island

finally came to an end in the early 1930's.

Working on White Island in the 1920's - Image compliments Alexander

Turnbull Library

Whakaari White Island has always been a volatile environment,

with a history steeped in mystery and intrigue. The island was

named by Captain Cook in 1769 White Island by Captain Cook

due to the thick white steam that emitted from the island.

The first recorded landing on Whakaari White Island was

back in 1826 by missionary brothers, Henry and William Williams.

Around the same time, trading ships began landing, using the hot

volcanic streams to "cook" the pigs by dunking them in the water.

It wasn't until 1848, however, when the world was in need of

sulphur for industrial and agricultural purposes, that the high levels

of crystallised sulphur on the crater floor suggested it's resources

could be useful.

In February, 1914 a fully realised sulphur mining operation was

commissioned on the island. A few months after this an employee

of the mining company died after suffering serious injuries when

a retort exploded and then not long after another employee went

missing with no trace, apart from his boots. Then the island

erupted.

People had noticed an increased level of activity on the island

and on 10 September 1914, thick black smoke could be seen from

the mainland and thoughts immediately went to the men working in

the quarry.

After failing to get hold of them, one of the steamship pilots,

who carried workers and supplies to and from the island, stopped

in to check on the workers. When he arrived he noticed that a

large section of the cliff had collapsed burying the camp and the

wharf and no workers were to be found.

TRAPPED AT THE BOTTOM OF

THE OCEAN...

In 2013, when divers were

exploring the wreckage of a boat that

had capsized and sat 30 meters on

the bottom of the ocean, the last thing

they expected to find was a survivor.

However, they found the ship's cook,

Harrison Okene, trapped with a four

square foot bubble of air with no way

out. After three days he had given up

hope when he heard the divers. He was

brought to a decompression chamber

where he spent two days recovering,

vowing never to go out to sea again.

SURVIVING THE ROUTEBURN IN WINTER...

Czech tramper, Pavlina Pizova,

survived for a month trapped in a hut in

the South Island after getting into trouble

on the Routeburn Track. Despite being

advised not to attempt the track in winter

due to tough weather conditions, they

decided to "give it a go". That decision

proved fatal for Pavlina's partner and left

Pavlina huddled in a wardens hut with

limited supplies hoping for rescue.

Knowing that there was thick snow

outside and avalanches were constantly

falling, she decided the best thing to do

was stay put. This decision proved to

be a life saver as she was discovered

after her friends alerted the police when

they noticed she had not been posting on

facebook for quite some time.

ADVENTUREMAGAZINE.CO.NZ 39
---
+

believe

it or not

ENCOUNTER

WITH A GREAT

WHITE

By Steve Dickinson

Anyone who knows our editor well, knows he has a knack of telling a

great tale. So when he called in a panic to say he'd just been chased by a

Great White, I must admit, I sort of didn't really believe him. But when I saw

him an hour later and he was still shaking, I began to think that this may

have been true. I'll let Steve tell the story and you can decide for yourself...

Yes, I know they are always there. Yes, I know there

has never been an East Coast fatal shark attack in the

North Island.

BUT – while fishing off Stanmore Bay Point (not long

before the lockdown), a popular area just as the tide

turned, I was 'investigated' by a 2.5+ meter great white.

I don't have a fear of sharks, I have dived with them

extensively in Tahiti and Fiji and even photographed Great

Whites in Tasmania, but I do have a deep respect for them

and the role they play.

I have seen bigger sharks but from a boat not in a

kayak. In a kayak you are really exposed, and very close

to their level.

I heard him before I saw him. I saw him approach from

the right-hand side. At which point I slashed at him with

my rod accompanied by a range of expletives – made no

difference. It was like being approached by a couch; his

length was less intimidating than his girth.
---
Image supplied by Alex Steyn...

Not taken by S&%T scared paddler at the time.
---
+

I saw the water swirl off to my

right, the water was crystal clear. He

swam directly towards the kayak and

then turned away and went under

behind me. At that stage he had not

touched the kayak, but I could feel his

movement through the water in the

kayak. He then came to the surface on

my left and his huge dorsal fin broke

the water. He then turned and came

to the front of the kayak and started

pushing it which was odd. He simply

put his nose about a foot from the end

of the kayak and pushed. As I was

anchored at the back of the kayak,

he pushed the nose like the hands

of a clock for about 2 – 3 meters with

enough force for me to start taking

water over the side. More yelling

and rod swiping. It then submerged

and came up again on the right side

its body pressing again the kayak. I

had recently discussed this situation

with my wife, and what I would do if

approached by a big shark. I had no

idea how big. With the sharp knife I

always keep in hands reach I cut off

the burley bag and threw it as far as I

could– which was empty but I presume

was his main interest – the red onion

sack floated the surface for about 5

seconds. A which point his head came

out of the water and he ate it – his

head was at least 2ft across it was like

a scene from Jaws.

Now he is swimming around

the kayak with the burley bag in his

mouth nudging it with the side of his

body and he is pissed. I could not

see his pectoral fins clearly, but his

movements were now faster and

more erratic. I have now put the rods

down - cut all the lines and picked up

the paddle. My overwhelming concern

was that he would choose to chew the

kayak and tip me in which would not

have ended well. Due to the length of

the kayak if he had chosen to chew

behind or in the front, I would not be

able to reach him to deter him. But he

came at the boat about where my thigh

was. At which point I then smashed

on top of his head several times with

the paddle- I could feel the connection

through the paddle - still made no

difference. What was concerning was

his level of interest and he would not

be put off he was just unrelenting.

He was making sudden side to

side movement, the red onion bag

stuck in his teeth and flowing down

the side of his face. His back fin was

massive and repeatedly breaking the

water. He turned away, and as he

turned back towards the kayak, I had

a moment when I was not defending,

I then cut the anchor rope and started

to paddle to the shallow water which

was about 800mm away as quickly as

possible. Surprising and terrifyingly

he swam level with the kayak on the

left-hand side, ploughing through the

water making darting turns towards the

kayak I was constantly in fear he was

going to ram the kayak, this lasted for

the first 20 -30m then submerged. That

was an 'oh f*&k' moment, I had vision

of being like one of the seals who

gets hit from below on the discovery

channel. He seemed to be gone but

then heard him break the surface

behind me, due to its size every time

he broke the surface it made a noise

– not one I will forget, he stayed about

10m away and just kept following.

Finally as I got closer to the shallower

reef, I heard him submerge and I had

no idea where he was or what he was

going to do. I was head down paddling

like Fred Flintstone runs. But he was

gone, I sat in shallows called my wife,

"I have just been attacked by a

Great White"

Her response was, "are you still

out there?"

My response. "Are you F&%king'

kidding me!!!"

Since this ordeal, I put it on our

local Facebook page in a non-dramatic

way and said 'if you are fishing be

aware there is a large Great White

in the area' I have had range of

responses, others have said they

have seen it as well, some 'thanks

for the warning', some went on to

rant about how lucky I was to have

the experience to be up close and

personal with such a magnificent

creature. I understand the sentiment

but that is an experience I never want

again.

I now have a kayak for sale and

will be buying a boat and a lottery

ticket.

42//WHERE ACTIONS SPEAK LOUDER THAN WORDS/#219
---
we ARE tramping

Tramping on Mt Howitt, Hooker Range, high above the Landsborough Valley

Photo: Mark Watson / Highluxphoto

Whether it's a day trip with the family or a multi-day adventure deep into the wilderness, Bivouac has the best gear,

from the top brands, to keep you safe, comfortable, warm and dry. Our friendly staff are happy to provide expert

advice, ensuring you get the right equipment and the right fit. If you need it for tramping, we have it, because at

Bivouac Outdoor we ARE tramping.

OFFICIAL GEAR SUPPLIER

PROUD SUPPORTER OF...

STORES NATIONWIDE

www.bivouac.co.nz
---
posure

X

44//WHERE ACTIONS SPEAK LOUDER THAN WORDS/#219
---
RED BULL ILLUME FINALIST

PHOTOGRAPHER: PETER CIRILLI

LOCATION: BIRLINGTON, VT

THE SHOT: Young skateboarder

Levi Glenney in Burlington, United

States. This images was captured

by Peter Cirilli entered in the 2019

Red Bull Illume.

Image courtesy Red Bull content

pool
---
TAKING

THE DROP

Words and images courtesy Red Bull

American kayaker Dane Jackson has revealed

the story behind his breathtaking 134-foot descent

down the Salto del Maule waterfall in Chile, after his

paddle over the edge became the second highest in

history.

The reigning ICF canoe freestyle world champion

grew up travelling the USA in an RV with his family,

getting homeschooled by his mother and chasing

kayaking competitions with his father, Eric Jackson,

an Olympic paddler and founder of the company

Jackson Kayaks.

The 26-year-old, who has now completed six

waterfalls that are at least 100-feet high, has spent

the last decade travelling the planet in search of

new places to freestyle kayak as well as dominating

the competition scene since he won the Whitewater

Grand Prix in 2011.

Here is what the Tennessee native had to say

after his latest adventure feat shocked the world:

46//WHERE ACTIONS SPEAK LOUDER THAN WORDS/#219
---
Dane Jackson drops the Salto Del Maule

134-foot waterfall, the second greatest kayak

descent, on the Salte Maule river in Chile
---
Dane Jackson walks with his kayak after dropping the Salto Del Maule 134-foot waterfall, the second greatest kayak descent, on

the Salte Maule river in Chile on 5 February, 2020.

48//WHERE ACTIONS SPEAK LOUDER THAN WORDS/#219
---
"Whenever there's a

moment where you get

shown a waterfall that

hasn't been done, or you

come across a photo, it

always sparks something

that makes you have to

answer the question; is it

possible?"

How much research went into identifying

this particular waterfall, and what makes it

so special? Whenever there's a moment where

you get shown a waterfall that hasn't been done,

or you come across a photo, it always sparks

something that makes you have to answer the

question; is it possible? I've been shown drops

before, but when I was shown Salto del Maule

four years ago, it's the most obsessed I've been

with a waterfall - constantly looking at photos and

videos trying to make up my mind on it. It looks so

perfect and the location is breathtaking, but there

were a lot of question marks on the depth which

is what mainly stopped me from committing to go

see it. When I got a message in January showing

a good clip of it, I knew it was time to see it for

myself and make the call.

How do you prepare yourself mentally for

something as scary as the waterfall drop?

The biggest thing is making sure to cover all

the bases from the line itself, to what could go

wrong and where to have safety, and then have

an internal discussion on whether or not I have

100% confidence in hitting the line. By covering

all of that, feeling 100% on the line, as well as

preparing for what could happen and accepting

that, it allows me to make sure I am doing it for

the right reasons. For Maule the line looked

amazing, there was solid safety, and it was a

dream drop of mine, so I knew there was nothing

else I'd rather be doing then.

Can you describe the feeling on the edge,

just as you are about to drop? It's hard to

describe as it happens so fast but, more than

anything, it's the moment where everything kind

of snaps into place for me. It's where it's time

to see if the lip acts like you imagined, or react

properly if not. It also is the most glorious feeling

coming over that blind horizon and then staring

down the beast because most waterfalls you get

water in your face and realistically only have clear

vision as you are coming over the lip. That's the

moment you remember most and Maule was the

greatest I've ever experienced.

ADVENTUREMAGAZINE.CO.NZ 49
---
"If I had measured it

beforehand and realised

it was the tallest drop I

had done, maybe I would

have been more nervous

or hesitant."

Did everything go to plan, or were there things that went

wrong? In the end, everything from the lip, to my line, to the hit at the

bottom went as perfectly as I could have ever imagined. Unfortunately,

after I hit, my skirt came off filling my boat with water. Although I did

stay in my boat as I popped up, I ended up coming out of my boat after

which does take away from it being a perfect descent as I wasn't able

to simply just paddle away from the drop. That being said, with a drop

of that power and height, how things turned out is still a win for me.

Though things could have gone a bit better, with waterfalls of that size,

things could go much worse so I am stoked on how it all turned out.

Is it the most adrenaline spiking kayaking experience that

you have ever undertaken? It definitely was one of my greatest

experiences. I wouldn't necessarily say it was another level of

adrenaline considering I still had to focus on what I had done before.

I also didn't know the height as I wanted to wait until after I ran it to

measure it. I wanted to wait until after because, by looking at it, I

felt it looked a similar height to what I have done before. Everything

made me really confident in doing the line right, which allowed me to

do exactly what I needed to do. If I had measured it beforehand and

realised it was the tallest drop I had done, maybe I would have been

more nervous or hesitant. I would have still had a great line, but I might

not have had the same confidence.

Do you ever want to try and beat Tyler Bradt's 189-foot

Palouse Falls world record? I wouldn't call it a pursuit, although I'm

sure there is one out there somewhere. It's going to be hard to find a

drop as perfect as Palouse. If I find it, and the opportunity presents

itself, maybe I'll take a look but I'm not on the hunt as I have got lots of

other things I want do.

What new kayak places are you looking to explore for the

remainder of this year? I just touched down for a two-month trip in

Indonesia where myself and a few friends plan to try and run a bunch

of new waterfalls and sections. Beyond Indonesia, I'm not very good

at planning ahead. My goal for this year is to try to break my usual

routine, check out new places and find first descents.

How proud are you that you have overcome hearing difficulties

to excel in your sport? I wouldn't say there was much to overcome

as there isn't much auditory stuff I can't pick up or need to pick up.

Beyond maybe not being able to hear what the plan for the next day is

at the campfire, there's not a whole lot of disadvantages. If anything, it's

an advantage as I am able to read lips, which means I can understand

what someone is saying from across the river when describing what's

coming up or what the plan is.

50//WHERE ACTIONS SPEAK LOUDER THAN WORDS/#219
---
A close up look as Dane Jackson drops the Salto Del Maule 134-foot waterfall, the

second greatest kayak descent, on the Salte Maule river in Chile

ADVENTUREMAGAZINE.CO.NZ 51
---
HIGH ALPINE ALLURE

- THE HUMBLE BACK

COUNTRY HUT

By Annabel Anderson

Perched high above the valley floor, nestled into

the curve of the hill away from the chill of the southerly

wind, I gaze out across the horizon through the soft

light of a winter's afternoon. I'm surrounded by peaks,

lakes and valleys as far as the eye can see. From this

altitude you take in the true magnitude of the Southern

Alps. Twinkling lights in the distance draw the attention

of my eye; the lights of Cardrona to the south west,

Treble Cone to the north west and the urban sprawl of

Wanaka and the Upper Clutha start to sparkle in the

fading light.

It feels a world away from civilisation yet I only left

the bustle of Wanaka a couple of hours ago before

driving up to the Snow Farm, strapping on some

cross-country skis and making my way to the Bob Lee

Hut for an overnight mid-week mission.

New Zealand is littered with a plethora of back

country huts scattered the length and breadth of the

country, but the high country of the South Island is

where you'll find them in abundance. Once the shelter

of musterers tending to their flocks on the high alpine

summer pastures, these huts provided a place to take

shelter, boil a billy, and rest a weary head after a big

day in the hills. Rustic and full of charm they were

made from anything surplus to requirement that could

be repurposed and packed into their location and often

remain the same to this day.

One such place that you'll find a collection of huts

restored to their full glory is on Pisa Range. Restored

and brought to life by the Snow Farm, all their original

charm has been kept intact with some additions that

make these huts almost palatial in comparison to

some that I have rested my head in over the years.

Fitted with gas stoves, solar lights, wood burners (and

a wood pile), bunks complete with mattresses, long

drops and water, these high alpine outposts have

taken the niggle out of a night in the back country. As

if it didn't get any better, your bags and supplies get

dropped at your chosen hut and are ready and waiting

for your return at the base lodge of the Snow Farm on

your departure. All of a sudden the finer bits and bobs

that make 'camping' that much more pleasurable are

added to your supplies. Cue a stove top coffee maker,

crackers and cheese, a tipple of wine to accompany

dinner and some obligatory dark chocolate make the

list rather than being cut due to the weight of being

carried in on foot.

With three huts to choose from (Meadow,

Daisy and Bob Lee) ranging from 3.4km to 6km

from the base building at the top of the Snow Farm

road, means they can have you door to door in as

little as 2.5 hours if you are making your way from

Queenstown or Wanaka. How you choose to get there

depends on your choice of season. Winter opens up

the opportunity to ski tour, snow shoe or cross-country

ski to your chosen location while summer is the

perfect chance to make your way by foot or mountain

bike and while making the most of the more than fifty

kilometres of Snow Farm cross-country ski trails on

offer.

Like most adventures in the high country, these

times are best shared with those who have an

appreciation for the simpler things in life; fresh air, big

vistas, good conversation, pot belly stoves and getting

to and from your destination under your own steam.

The best bit about this one is the hard stuff is already

done for you, all you need to do is pick your crew,

secure your dates and gather your supplies.

All huts are able to be booked exclusively or on a

per person/per night basis. A Snow Farm trail pass is

required for winter bookings.

Hut availability is can be found at:

https://snowfarmnz.com/backcountry-huts/

52//WHERE ACTIONS SPEAK LOUDER THAN WORDS/#219
---
Clockwise from top Left: The Bob Lee and Daisy Huts have prime position looking out across the Upper Clutha Valley to Lakes Wanaka, Hawea

and the Southern Alps beyond.

The Snow Farm Huts come equipped with close to everything you may need, including firewood, water, a gas cooker, pots, pans and solar

powered lights.

Nestled beside the Roaring Meg River only 3.5km from the Snow Farm base, the Meadows Hut can sleep up to 20 people.

As you make your way to your hut for the evening, your gear and supplies travel in style.

ADVENTUREMAGAZINE.CO.NZ 53
---
YOU NEVER KNOW WHAT'S

AROUND THE CORNER

One of the best things about vanlife is

the flexibility; you can go where you want,

when you want and stay as long as you

want. This flexibility allows you to discover

new places and with everything you need

inside your van, which is the perfect way to

explore as you never know what is around

the next corner...

54//WHERE ACTIONS SPEAK LOUDER THAN WORDS/#219
---
You never know what's around the next corner.

In this case it was the Grand Tetons
---
"Nothing quite prepares

you for the Grand Tetons...

For me, it is the USA's

most scenic mountain

range."

We found this out first hand on

a recent trip to the States. We were

on our way to Yellowstone National

Park and decided to go via the Grand

Tetons access route. Having very little

idea what to expect we didn't plan on

stopping, but that all changed as soon

as we got there.

The Grand Tetons literally jump out

from nowhere. One moment you are

driving along through a forest and the

next there is a staggering wall of snowcovered

mountains bearing down on

you. There seems to be no landscape

pre-warning that around the next bend

is the most majestic and awe-inspiring

range of mountain in America.

We arrived at the Grand Tetons

from the Eastern Entrance, and it was

one of those places that although I had

heard lots about, I really didn't know

what it was all about. The days before

we arrived the weather had been

scorching hot followed by plummeting

temperatures and a bitter wind. We

woke to fine weather but also warnings

that snow had fallen on the Togwotee

Pass, the pass that provides the most

direct access to the Grand Tetons.

The road was open, but we were

advised to be aware of ice and sliding

conditions. Going from the golden

tundra of Lander to the red rocks of

Dubois, the snowy peaks of Togwotee

Pass were something special. As we

dropped out of the snow cloud layer,

we were greeted by the Grand Tetons

in the distance.

Nothing quite prepares you for the

sight of the Grand Tetons. As someone

once said, "it is the USA's most scenic

mountain range" and they are not

wrong. What makes the Grand Tetons

so impressive is their lack of foothills,

they seem to rise straight from the

golden plains below them.

Up close with the Grand Tetons
---
ADVENTUREMAGAZINE.CO.NZ 57
---
Mt Teton, the highest peak at 13,775 feet, rises 7000 feet

above the valley floor with no immediate foothills in front of it,

which makes climbing the Grand Teton more arduous than many

other peaks of the same height. It is a rite of passage for any

mountaineer and standing at the base of the mountain range you

can only be impressed by anyone who attempts her peaks.

An average of 4,000 people attempt the summit of Grand

Teton each year, yet claims of people's achievements on

the mountain have often been shrouded in controversy. It is

undecided as to who first climbed the mountain, Nathaniel

Langford and James Stevenson claim to have done so in July

1872. Their story is interesting as they claim they were able to

climb an otherwise slick face due to the fact that a cloud of coldnumbed

grasshoppers blew onto the peaks snowfields and their

bodies melted divots into the frozen surface that allowed Langford

and Stevenson to cling to the almost vertical sides.

We left the snow capped hills of the

Togwotee Pass into another world that was

the Grand Tetons

"I made a point to try to

imprint the place in my

memory; the smells, the feel,

the spirit of where I was at,

because there is so much

more to a place that what

any photo can capture."

Then in 1971, when Bill Briggs claimed to have skied down

the east face, the locals were dubious. However a photographer

from the Jackson Hole news snapped an aerial photo of Brigg's

tracks that were still visible on the Grand's face.

58//WHERE ACTIONS SPEAK LOUDER THAN WORDS/#219
---
OUTDOOR ADVENTURES IN THE GRAND TETONS

We spent a day driving the "Teton Circle"

just so we could stop at the many pull out

spots to take photos. It's times like this that

you are thankful for digital cameras, I cannot

imagine the number of rolls of film we would

have got through attempting to capture the

awe of the place.

One of the things that I have learnt about

the National Parks of America, along with

any of the spectacular places that I have

witnessed around the world, is that a photo

can not do it justice. Often places captured

in our Instagram worlds are recreated to look

better than the "real deal", however I have

yet to look at a photo of any scenic place I

have visited and thought that the picture has

captured what it was like to be there.

So despite our constant photo stops, I

made a point to try to imprint the place in

my memory; the smells, the feel, the spirit

of where I was at, because there is so much

more to a place that what any photo can

capture.

The Grand Tetons may be a little less well-known however there are plenty

of adventures to be had in this region.

• Climbing and Mountaineering: One of the things that makes this

such a popular place for climbing and mountaineering is that the tracks

are easily accessible by road. Also there are plenty of climbs that

can be completed in one day and tracks are well marked and clearly

visible. There are also two guide companies in the area that offer

instruction and training escorts if you do not want to climb alone.

• Hiking: The park has 320km of hiking trails ranging from easy to

strenuous so there is something for everyone. The easiest are

located in the valley so you do not have to deal with any major altitude

changes.

• Biking: Although this looks as though it should be a mountain bikers

paradise, biking in the Grand Tetons is limited to the roads and the

paved multi-use pathways throughout the park. Bikes can be hired

easily but it's more of a way to sight see rather than than anything

else.

• Boating: Boats are allowed in the many rivers and lakes but only two

lakes allow low powered motorised boats to restrict the noise.

• Fishing: Trout is the main species fished for in the Grand Tetons. All

rivers and waterways can be fished, you just need a license.

• Skiing: During the winter the hiking trails can be used for cross

country skiing and snowshoeing. At the southern end of the Grand

Tetons you'll find Jackson Hole Mountain Resort, known for its

challenging terrain and exceptional views.
---
SIMLY

SURVI-VAN

By Jessica Middleton

Do you drive to thrive, or simply

survive? There is a difference and

survival is often questioned when

involved in vanlife.

The answer to thriving is simple,

preparation. I cannot express how

important this is for the comfort of your

travels.

Van life has given us our most

treasured memories and experiences

however there have been testing times

for us on the road too. I'm hoping the

following content I share with you can

encourage healthier and happier travels

because van life is more than just

surviving.

PACKING ESSENTIALS

Before you hit the road, you need

to pack your essentials first, make a list

and check it twice because it will feel

like Christmas when you desperately

need that item. Have your travel buddy

check it too, it will cut out the blame

game if something gets left behind or

next your buddy does, just kidding.

Do you drive to thrive or simply survive?

"The answer to thriving is simple, preparation.

I cannot express how important this is for the

comfort of your travels."

The basics would have to include

and not subject to, first aid kit, tent,

portable lamp, jerry can, survival

blanket, spare tyre, adequate water,

and food. Once your van is equipped

with your essentials you can top it up

with all your desired items, well maybe

not all. Jordan is practical and I've

been known to be the dreamer, I once

packed an abundance of clothes the

size of what he called Uluru ( Ayers

Rock ). It was my biggest regret. Every

day the clothes would erupt from my

bag in flying colours and I would end up

going to the old faithful cotton overalls,

I got really fed up with rearranging my

clothes as the space was very limited.

Driving can cause some wear and

tear and we so happened to have a

popped tyre when driving through to

Karijini Gorge, thank goodness we had

our spare and were able to continue

with our adventures as we were a long

way from the nearest service stop.

CLIMATE

Take into consideration the climate

you will be enduring on a day to day

basis. Our first trip on the way to Darwin

was intense, I'm talking we used the last

of our drinking water to pour over us at

night it was that sweltering hot. If Jordan

as so far put a pinky toe on me there was

going to be some cursing. First thing in the

morning, destination anywhere, let's just

get driving so we can have air-conditioning.

You could crack an egg on the road and

call it your new frying pan that's the kind

of temperature we were hacking, we had

no idea it was normal for parts of Australia

to be on fire due to the chronic heat. With

heat, it's difficult to cool down when there

are no streams nearby and if you are not

moving your van becomes somewhat like

an oven. Don't let this deter you from van

life, we would recommend being wise and

plan your destination in accordance with

the seasons. Cover your windows up during

the day and find a place of shade to park,

or be in an area where you know you can

cool off.

Winter is a little different, you can

always dress warm and apply many layers,

thermals are your best friend, a hot cup of

cocoa never goes astray and you love your

travel buddy again.

BUDGET

Planning your trip to your budget, this

is crucial. Van life is about the connection

with nature and people which mostly comes

at no cost however there are still budget

requirements, mainly fuel for yourself and

your sweet ride. Some people just get in

and drive and in theory that sounds like a

dream, and is possible if you have income

whilst travelling or tackling short distances.

Having a rough plan or end destination

helps with how successful your road trip is.

I remember so many people thinking I was

60//WHERE ACTIONS SPEAK LOUDER THAN WORDS/#219
---
Vanlife is mostly about connection with nature and people (and fur friends)

ADVENTUREMAGAZINE.CO.NZ 61
---
Taking time to just enjoy the surrounding. A fishing rod is a great thing to pack and can help keep costs down (if you're lucky!)

"Our advice would be to budget for more than what you expect, make room

for mistakes and take the good with the bad."

taking it too far when I was researching

the distance a full tank of petrol would

get us, the cost to fill, the average fuel

prices across the country and calculated

the kilometers of our projected route.

I then knew from Perth to Gold Coast

our trip was going to cost approximately

$3500 in fuel a price most were shocked

about. There is nothing worse than

planning an amazing van trip to not

be able to get involved in some of the

local attractions because you haven't

budgeted correctly. Plan for that night

you want to swap out the Easy Mac for

a restaurant meal, check into a campsite

(there are not always freedom camps),

a dive trip or simply you want to do that

zipline or helicopter ride.

PUT YOUR FEET UP

Literally, take your feet off the

pedal and park up and take in your

surroundings. There was one stage we

were driving very long distances for

three days straight because there was

nothing that interested us in between

our stops. This can cause fatigue where

one little mistake can cost you. We

so happened to have a twist and pull

hand brake, one of us either forgot to

put it on, didn't put it on properly and it

popped down, causing our van to roll

into a tree while we went to pay for a

powered site. We were told the radiator

had been damaged and it would take

weeks for a part to reach us in the

middle of Australia. Luckily for us, it was

the window washing fluid and no real

damage to the motor only the panels.

From here we were able to drive with

a permit to Cairns and hire a station

wagon while the van was under repair.

The station wagon came with a tent

as sleeping arrangements, did either

of us check it? We drove up the coast

to find the tent poles and pegs were

missing. The car was way too hot and

uncomfortable so we headed down to

the beach and slept on the sand for the

night, that was our survival.

As we had no income on this trip

and after having to pay $2500 for the

van to be repaired you can imagine we

are nearly completely out of pocket. We

would be driving and one of us would

be gurgling like Homer Simpson over

a doughnut. This meant one of us had

spotted McDonald's, it just so happened

to be the time of the year when the

Monopoly game was on where you can

gain instant wins involving free food. We

would collect the tokens and it almost

turned into a game, luckily we were

active every day because we probably

pulled into every McDonalds down the

east coast of Australia. Just another

little survival hack we had going on.

Our advice would be to budget for more

than what you expect, make room for

mistakes and take the good with the bad.

I guess like anything in life you will

always bump into some obstacles along

your route, moving on and tackling

the next destination might just be the

drive you need. After our experience

who would have thought the two of us

couldn't wait to buy our own and do it all

over again.

Folllow Jess and Jordan: @our_van_life_ | @jessmiddletonxo | @jordan_whitcombe

62//WHERE ACTIONS SPEAK LOUDER THAN WORDS/#219
---
Literally, take your feet off the pedal and park up and take in your surroundings.

ADVENTUREMAGAZINE.CO.NZ 63
---
Issue #196//new zealand's premIer adventure magazIne sInce 1981

new zealand

Issue 196

JUN/JUL 16

NZ $9.20 incl. GST

AUST $6.90 incl. GST

USA $9.99

CANADA $9.99

hiking winter

wanaka

ice climbing

first rule

mt aspiring

don't look down

iceland

colder than you think

gear guide

more than just a puffer

Issue #196//new zealand's premIer adventure magazIne sInce 1981

new zealand

Issue 196

JUN/JUL 16

NZ $9.20 incl. GST

AUST $6.90 incl. GST

USA $9.99

CANADA $9.99

hiking winter

wanaka

ice climbing

first rule

mt aspiring

don't look down

iceland

colder than you think

gear guide

more than just a puffer

education

in the outdoors*

SUBSCRIBE

AND GO INTO THE DRAW TO WIN ONE OF FIVE SOLAR

POWERED CAPS BY 2C-LIGHT

AND ONE OF FIVE SUNSAVER POWER BANKS

2c - one

Proven survival light you are wearing

– lightweight and always at the ready

because it charges while you're wearing

it. Includes new Boost mode, S.O.S.

and dimmer. Invented in NZ and selling

worldwide for 10+ years

SunSaver 10K, 10,000mAh

Solar Power Bank

Built tough for the outdoors and

with a built-on solar panel, you

can keep your devices charged

no matter where your adventure

takes you.

RRP: $89.00

WWW.SUNSAVER.CO.NZ

RRP $39.90

WWW.SOLARLIGHTCAP.COM

YES I'D LIKE TO SUBSCRIBE

COUPON ONLY OFFER

free digital subscription

New Zealand Subscriptions:

with every hard copy

One year subscription NZD$48.00 That's six issues (you save $7.20!)

subscription

Two year subscription NZD$90.00 That's twelve issues (you save $20.40!)

Asia/Pacific/Rest of the Universe Get it online at magzter.com or subscribe online at:adventuremagazine.co.nz

Winter

*

*

*

*

*

education

in the outdoors*

Winter

*

*

*

*

*

Name: ............................................................................................

Street: ............................................................................................

..........................................................................................................

Suburb: .........................................................................................

Post Code:.........................Phone:...............................................

Email:...............................................................................................

Clothing Size:................................ Shoe Size:...................................

Card Number: ...................................................................

Name: ...................................................................

Expiry Date: ...................................................................

Signature: ...................................................................

Or send cheque/money order to:

ADVENTURE SUBSCRIPTIONS: Pacific Media Ltd

PO BOX 562, WHANGAPARAOA, 0932

Or Pay online: 389015 0000282 00

Or Email: subs@pacificmedia.co.nz

For all subs enquiries call: Steve @ 0275775014
---
URBAN

THIS ISSUE:

inspiration: running for oscar

mind: surviving our screens

Style: urban wear

business: brian magaw

tech guide: for your safety

Diversion: tales of survival

ADVENTUREMAGAZINE.CO.NZ 65
---
.....

.....

.....

.....

.....

.....

.....

.....

.....

.....

.....

.....

.....

.....

.....

.....

.....

.....

.....

.....

.....

.....

.....

.....

.....

.....

.....

.....

.....

.....

.....

.....

.....

.....

.....

.....

.....

.....

.....

.....

.....

.....

.....

.....

.....

.....

.....

.....

.....

.....

.....

.....

.....

.....

.....

.....

.....

.....

.....

.....

.....

.....

.....

.....

.....

.....

.....

.....

.....

.....

.....

.....

.....

.....

.....

.....

.....

.....

.....

.....

.....

.....

.....

URBAN

INSPIRATION

RUNNING FOR OSCAR

"My name is Oscar Jimmy Edwards Bisman.

I am four years old.

And three quarters!

I have Leukaemia.

Leukaemia is a cancer of the white blood

cells.

The type of Leukaemia I have is called

Acute Myeloid Leukaemia. (AML).

It is a cancer that originates in my bone

marrow & develops quickly.

No-one knows why this has happened, it

just has. There's nothing anyone could

have done to change that. Now we just

have to deal with it.

There's heaps of questions and we're really

lucky that the people at Starship Childrens'

Hospital have lots of the answers.

I'm trying to be brave.

It's scary and unknown and there's lots of

different stuff happening.

But I'm trying to be cool in this strange

new place.

My room at the hospital is now going to

be my new home for about six months the

doctor said. Stink.

Ice blocks for breakfast are kinda ok

though.

Dad says it'll be ok because he's here to

help the Doctors fight the baddies and

make them go away from my blood.

He's told me we won't stop until all the

baddies are gone.

The goodies are going to win!

Mum is giving me so many kisses &

cuddles which I pretend is yucky but I

really like it and need heaps of them at

the moment. Don't tell her though because

I'm tough. I'm a big boy.

My life has changed so much this week.

But this is my life now.

I'm going to keep being cheeky, silly,

awkward, funny & saying inappropriate

things to grown ups while we all laugh

& cry in my room & today we will start

fighting the baddies until they all go away

forever.

Thank you for reading my story.

It's for true life.

Oscar."

@ Auckland Starship Hospital

Lucy in training before the event, would like to thank the wonderful

sponsors who helped make this happen.

By Lucy Olphert

Gavin and Sarah Bisman's lives were turned upside down in

late January when their 4yo son Oscar was diagnosed with a severe

form of Leukaemia. Unaware of their plight, I was catching up with

friends around this time and pondering my next bucket list challenge,

when the crazy idea to enter the 2020 Tarawera Ultramarathon (New

Zealand's biggest trail running festival) came up. An ultra distance

race is typically a race of any distance beyond the standard marathon

length of 42km. The most common ultra races begin at 50K and can

span up to 100 miles (160km) long, lasting throughout the entire day

(sometimes even the night). Usually, they take place on roads, trails,

or tracks and often in beautiful, far-flung locations.

In all honesty, running is not really my jam. So why would I want

to endure such an event? Ultimately, to see if I could! I have long been

inspired by those who push themselves beyond perceived capabilities

and my challenge bucket at the time was looking a little empty... The

Tarawera 50km was a brand new event for 2019 and returned this

year with a new course that explored Rotorua's stunning geothermal

landscapes, lakes and forests. In theory it sounded like an above

average way to spend a Saturday. The only problem was, most people

train for months before events like this. The race was in six days' time.

Unless you've done one, it's impossible to know how your mind

(and body) will react to running such a distance. I decided to seek

out an external motivation to lock me in and throw fuel on the will to

survive!

As fate would have it, the following morning I heard about young

Oscar and knew on the spot I had found the motivation I was looking

for. Through the powers of social media, I got in touch with Dad Gavin

and that afternoon set off on my first training run - an 8km jog down

Mount Maunganui beach! Incredibly, by that evening, Team Oscar had

a band of supportive sponsors thanks to the generosity of several local

businesses.

As D-day grew closer, the reality of what I was about to do kicked

in along with a high dose of imposter syndrome. I knew sweet nothing

about this sport, let alone the baffling language that came with it.

This jargon requires its own dictionary with detailed translations.

66//WHERE ACTIONS SPEAK LOUDER THAN WORDS/#219
---
One of the aid stations. Think a smorgasbord of jet planes, potato chips, peanut butter and jam

sandwiches, energy drinks, flat soda, bananas, oranges, gels, and pizza!

Camelbacks, buffs, bonking and Garmins were certainly

unfamiliar to my sheltered running vocabulary! Once

again, the kickass community of Mount Maunganui and

Papamoa stepped up. Strangers far and wide reached

out offering advice on everything from nutrition and race

day strategies, to clothing suggestions and anti-chafing

measures.

A Givealittle page dubbed Oscar's

Fight Against The Baddies was set up

to support Oscar and his immediate

family. By day three, it was already

at $16,000! My heart rate increased

tenfold. There was absolutely no

turning back now.

All competitors were required to

check in and collect their race number

by 8pm race day eve so I headed

across that afternoon. Along with the

mandatory race gear (a buff and a

seam proof jacket) were my five drop

bags (one for each of the aid stations on

course), filled to the brim like Chrisco

hampers. Inside were carefully selected

goodies from Nothing Naughty protein

and energy bars, to baked kumara,

No-Doz caffeine tablets, extra socks, vaseline, and even a

spare pair of shoes! Silently high fiving myself on this level

of pre-prepared awesomeness, I proudly handed them over

to the Athlete Check-In officials, only to be swiftly informed

that 50km athletes were allowed one drop bag only. The

imposter syndrome returned with a vengeance. Dam rookie!

Sighing, I finished my check in and scurried back to my

car, the four remaining Chrisco hampers in tow, hoping

At the start of the Ultra Marathon - Lucy

Olphert ready to go with Oscar as her

motivation!

my dinner date for one at Burger Fuel that evening would

cheer me up...

Race day dawned with an unexpected drizzle but

cleared by the time I arrived at the start line in Te

Puia. A powerful haka followed by a few choice words of

encouragement by race director Tim Day

set the tone for the gruelling day ahead.

Every nerve, muscle and fibre in my body

felt alive. I was going into battle but this

time for a cause far greater than my own.

The resounding blast of the horn

sounded and we were off through the

winding trails of Te Puia's spectacular

geothermal valley. There was a stickiness

in the air and beads of sweat started

to roll down my face as the course

shifted into single lane tracks and I

maneuvered my way around tree roots

and natural drop banks. Following the

advice from ultrarunning junkies, I took

regular sips from the R-Line electrolyte

mix in my camelback. Fortunately, the

humidity vanished as we entered the

Whakarewarewa State Forest, home to

many of New Zealand's native tree species

and the magnificent Californian Redwoods.

The endorphins had well and truly kicked in and I was

buzzing, but held a conservative pace knowing the shallow

depths of hell may try to grapple with me later in the

course. My phone pinged. It was Oscar. He had just woken

up.

ADVENTUREMAGAZINE.CO.NZ 67
---
.....

.....

.....

.....

.....

.....

.....

.....

.....

.....

.....

.....

.....

.....

.....

.....

.....

.....

.....

.....

.....

.....

.....

.....

.....

.....

.....

.....

.....

.....

.....

.....

.....

.....

.....

.....

.....

.....

.....

.....

.....

.....

.....

.....

.....

.....

.....

.....

.....

.....

.....

.....

.....

.....

.....

.....

.....

.....

.....

.....

.....

.....

.....

.....

.....

.....

.....

.....

.....

.....

.....

.....

.....

.....

.....

.....

.....

.....

.....

.....

.....

.....

.....

URBAN

INSPIRATION

of gin and tonic, my camelback contained some lime

flavoured electrolyte mix. In all seriousness though,

breaking a long distance race into increments through

targets such as the aid stations saved my sanity and,

should you ever attempt one someday, will likely save

yours!

Running alongside the world famous Blue and

Green Lakes was another highlight for me. The track

dips up and down as it winds its way through native

bush, at times high above the waterline and in others,

right on the edge of it. It is a magical place, good for the

soul.

It is also around the 36 kilometre mark where the

second to last aid station on course is situated and

athletes may finally retrieve their drop bag. Boy was I

looking forward to those goodies! My feet had formed

some funky looking blisters (note to self - never break in

a brand new pair of running shoes on race day)! It was a

huge relief to swap back into my old faithful Nikes.

The atmosphere at this station was electric,

made even more awesome by the arrival of piping hot

Domino's Pizza. I could have stayed all day, but as if on

cue Justin Timberlake's 'Can't Stop This Feeling' came

over the speakers.

"I got that sunshine in my pocket

Got that good soul in my feet

I feel that hot blood in my body when it drops (ooh)

I can't take my eyes up off it, movin' so

phenomenally

Room on lock, the way we rock it, so don't stop."

Look closely at this photo, Lucy is running to the finish line, after 8 hours

and 47 minutes, and is Facetiming Oscar as she runs through the chute,

a truly emotional experience for everyone.

"Have fun and don't trip over", he said with a cheeky smile

from his hospital bed. I heeded his solid advice. You encounter far

more unpredictable obstacles running on trails or through forests

than on the treadmill or tarmac. This is part of the fun, providing

you don't find yourself face-planting into forest floor vegetation.

It was time to move on. I was on the home straight

with less than 15 kilometres to go and no sign of the

dreaded "bonking" or "runners wall" as it is also known.

This is the point in a race where essentially your stored

energy is depleted, your legs pump battery acid, your

breathing becomes laboured, your pace slows to a crawl

and the thought of taking another step seems like the

worst idea in the world.

I surged on and shortly after rounded a corner to the sweet

sound of bells ringing, signalling the first aid station on the course!

For those unfamiliar to ultra running, these are just what they

sound like. Aid stations are a runner's lifeline. They are beacons

of hope that turn these long distance races into 8-10 kilometre

increments. Think a smorgasbord of jet planes, potato chips,

peanut butter and jam sandwiches, energy drinks, flat soda,

bananas, oranges, gels, and pizza!

Although a novel sight for an Ultra virgin like myself, running

for long periods of time burns a lot of calories and you need to keep

cramming them in - little amounts and often! The volunteers at

these stations are pretty much the coolest people around and even

provide tape, plasters, bean bags and sunscreen for those a little

worse for wear (I needed all of the above)!

Decked out in themes from island styles to the Mexican Día

de Los Muertos (Day of the Dead), and music blaring through the

treetops, the vibe is out the gate. You can't help but feel you are

on one big pub crawl from station to station. Though sadly instead

Think that's tough? Try six months of chemotherapy.

Oscar's plight and his family's incredible braveness

brought perspective to me like nothing else. Sure there

may be physiological evidence of such a phenomenon,

but in my opinion, Ultrarunning is much more about

the size of your determination.

The last section of the race followed a series of single

tracks and forest roads, joining back up to the main

trail and winding down to the Redwood forest. This gave

way to parkland before shifting onto the apocalyptic

sulphur flats and finally the lakefront reserve where

the finish line lay in wait. Before the race I had talked

with Gavin about Facetiming with Oscar up the chute.

Words cannot describe this incredibly special moment,

the inspiration that led to it and the raw emotions that

followed as a result.

Holocaust survivor and psychologist Viktor Frankl

wrote, "Between stimulus and response there is a

68//WHERE ACTIONS SPEAK LOUDER THAN WORDS/#219
---
Lucy with Oscar and his family at Starship Hospital

space. In that space is our power to choose our response. In our

response lies our growth and our freedom."

This incredible experience is etched in my mind forever.

It taught me the limits of my body and reinforced the power

of the mind. The equation is relatively simple: find something

that challenges you and go there! It makes life a meaningful

and wild experience. For you it may not be an ultramarathon

- and that's ok. Whatever option you choose, a life highlight

awaits!

To donate to Oscar's Givealittle page visit

https://givealittle.co.nz/cause/oscars-fight-against-the-baddies

A special thanks to all the businesses who supported Team

Oscar:

Hopping Auto Electrical Ltd

Kiwi Double Glazing

Recharge Physio

Nothing Naughty

Diffuse Screenprinting

Stirling Sports Bayfair

The Success Group

Theragun by Peak Performance Massage

Kangen water courtesy of LightUp Marketing Agency

Juice Plus courtesy of Bridget Serafimidis

Lucy crossing the finish line after 8 hours, 47 minutes

and 8 seconds!

ADVENTUREMAGAZINE.CO.NZ 69
---
.....

.....

.....

.....

.....

.....

.....

.....

.....

.....

.....

.....

.....

.....

.....

.....

.....

.....

.....

.....

.....

.....

.....

.....

.....

.....

.....

.....

.....

.....

.....

.....

.....

.....

.....

.....

.....

.....

.....

.....

.....

.....

.....

.....

.....

.....

.....

.....

.....

.....

.....

.....

.....

.....

.....

.....

.....

.....

.....

.....

.....

.....

.....

.....

.....

.....

.....

.....

.....

.....

.....

.....

.....

.....

.....

.....

.....

.....

.....

.....

.....

.....

.....

URBAN

MIND

SURVIVING OUR SCREENS

Addictive levels of connection

to our phones used to be something

reserved for millenials, however as

time has progressed it seems that

even the boomers are falling into the

same traps. We rely on our phones

for so many things; they have become

our morning alarm, our way to access

news, bus schedules, road maps, and

even our friends, their capabilities

have become frightening.

But is this a problem?

Unfortunately studies have shown

that excessive reliability on our

phones is causing sleep issues, anxiety,

inability to focus along with the

inability to form lasting relationships.

So how does this happen?

Engagement with social media and

our cell phones releases a chemical

called dopamine. This is the chemical

that makes you feel good and is

the same chemical that is released

when we smoke, drink, and when we

gamble! It's highly addictive.

Sensibly so, age restrictions apply

to those other things, however there is

no age restriction on cell phones and

social media. The issue lies around

the fact that the highly addictive

dopamine received from engaging in

social media and cell phones means we

form superficial relationships and lose

the ability to interact with the world

around us.

It is well documented that people

who spend more time on social media

have higher rates of depression

than those who don't. A lot of this

as a result of social media replacing

actual activity and real life human

interaction.

It's all about balance, alcohol

in itself is not bad, but too much is.

Gambling can be fun, but too much

can be destructive. The same can

be said about social media and cell

phones, it's all about the balance of

time.

70//WHERE ACTIONS SPEAK LOUDER THAN WORDS/#219
---
"Unfortunately studies

have shown that excessive

reliability on our phones

is causing sleep issues,

anxiety, inability to

focus along with the

inability to form lasting

relationships."

a

a

a

How can you tell if you have an

addiction?

• When out with friends do you

feel the need to text someone

who is not there?

• At a meeting or when out

with friends, do you leave

your phone on the table?

• Do you check your phone

in the morning before you

say good morning to your

husband, wife, kids?

If the answer to any of these is

yes, then you have an addiction…

Truth be known, most of us would

reply yes.

So what can we do about it?

This experiment was done with

a group of university students and

I would recommend trying it to see

what your reaction is. No doubt you

will find you are more addicted than

you would think.

Students were asked to spend just

one day without the connectivity of

technology and to keep a journal of

their experience. As you can imagine,

this experiment was met with a

fair amount of resistance: What if

someone needs to get hold of me

urgently? What if someone thinks I

am ignoring them? The students were

given some time to inform friends

and family of the experiment so

they would not worry and were also

given a few days to prepare. Many

students used those days to print off

timetables, bus schedules and inform

their social media channels of their

impending absence.

The findings were quite

interesting. Firstly, most of the

students noted that the day seemed so

much longer. Imagine what we could

all do with that extra time? However,

the problem for a younger generation,

is that they really don't know what to

do with "spare time". They are easily

bored and due to a lifetime of screen

availability, they have not developed

the necessary skills to fill their time

with meaningful activities.

They also noted feeling incredibly

frustrated by things like the bus ride

home where they would usually be on

their phones and without them they

were simply bored and uncomfortable.

Without their phones to become

engrossed with they were also left

feeling vulnerable and exposed.

As the day wore on and they

stopped fixating on what they weren't

able to do without their phones, they

began to notice the things they were

able to do. Many noticed they were

able to hold much more meaningful

conversations with people which made

them feel more connected and closer

to their friends. They also began to

note how "unsociable" phones made

people by noting other's fixations with

them.

During the "unplugged" day, the

most repeated emotion people felt

was sadly one of anxiety; the fear

of missing something important.

They also noted how their phones

provided them with a feeling of safety,

something to hide behind but also

something that connected them with

the rest of the world. Another feeling

experienced was one of "guilt" at not

being able to respond to messages and

chats suggesting that being fast in

responses was essential in order for a

successful social life.

Although all saw the negatives

of being without technology, many

also noted the need to be aware of the

reliance on their screens to enable

them to establish more meaningful

connections.

So I challenge you to do the same

and see if you can save yourself from

your screens, even if it is just for one

day.

ADVENTUREMAGAZINE.CO.NZ 71
---
.......

.......

.......

.......

.......

.......

.......

.......

.......

.......

.......

.......

.......

.......

.......

.......

.......

.......

.......

.......

.......

.......

.......

.......

.......

.......

.......

.......

.......

.......

.......

.......

.......

.......

.......

.......

.......

.......

.......

.......

.......

.......

.......

.......

.......

.......

.......

.......

.......

.......

.......

.......

.......

.......

.......

.......

.......

.......

.......

.......

.......

.......

.......

.......

.......

.......

.......

.......

.......

.......

.......

.......

.......

.......

.......

.......

.......

.......

.......

.......

.......

.......

.......

.......

URBAN

STYLE

Macpac NZAT Arrowsmith HyperDRY

Hooded Down Jacket — Men's $549.99

A longer length alpine down jacket, the

NZAT Arrowsmith combines the insulating

power of 800 loft HyperDRY RDS waterresistant

goose down with a weatherresistant

Pertex® Quantum outer shell.

Designed as the ultimate alpine belay jacket,

the NZAT Arrowsmith has boxed baffles

across your body for improved core warmth,

while the arms and hood feature sewnthrough

baffles to reduce bulk.

macpac.co.nz

Rab Cirrus Flex Jacket $279.95

Worn as either a lightweight outer or warm midlayer, the Women's Cirrus

Flex Hoody is incredibly versatile, offering durability, breathability, and

freedom of movement for any winter adventure.

Filled with synthetic Cirrus Featherless insulation, the Women's Cirrus

Flex Hoody works to balance and regulate temperature. Designed to ensure

you don't overheat when you're moving or get cold when you stop, the

Thermic stretch fleece panels offer excellent flexibility and exceptional

breathability. The Women's Cirrus Flex Hoody is made with durable

Hyperlite rip-stop outer and lining fabric, which sheds water and is quick

drying. The left pocket doubles as integrated stuff sack so it packs away

neatly when you're on the move.

Featuring a low profile, under-helmet hood, fleece lined chin guard, and

front zip with internal storm flap to for that extra comfort and protection.

The hard working Cirrus Flex Hoody is designed for long mountain days

and year round active use as part of a layering system. Weight: 404g

outfitters.net.nz

Marmot Precip ECO $199.00

Meet the environmentally conscious and

high-performing next genera-tion of our bestselling

PreCip Rain Jacket: the lightweight

PreCip Eco. The waterproof/breathable,

PFC-free Marmot NanoPro recycled nylon

face fabric lasts longer than ever, thanks to

the advanced technology of our microporous

coating. Sturdier, more durable than ever,

and with a patented dry-touch finish, this

packable water-repelling jacket that stuffs

into its own pocket will become an everyday

piece that you can feel good in and about.

Available in Mens & Womens. Weight 286.3g

(M) / 246.6g (W)

marmotnz.co.nz

72//WHERE ACTIONS SPEAK LOUDER THAN WORDS/#219
---
Rab Kaon Jacket $399.95

The Kaon Jacket is the lightest, most packable

insulating layer we have ever created. Built to help you

pare back your kit but ramp up its versatility, its an

insulating jacket, a mid-layer and an outer layer – all

in one.

Conceived as the next step in insulated layers, the

Kaon Jacket employs a combination of high-loft

hydrophobic down, quick-drying synthetic fill and

insulation-free underarm sections for the ideal balance

of warmth, protection and movement. Its intelligent

zoning of materials uses 800 fill power European goose

down in the body, quick-drying Stratus insulation

in the cuffs, shoulders and hips and Pertex Quantum

Air panels under the arms, ensuring that warmth and

flexibility are matched by outstanding breathability

when your climb gets intense. Built using Atmos

lightweight ripstop nylon, the Kaon Jacket uses a

half-hem drawcord and elasticated cuffs for a close fit,

alongside a YKK front zip and features a chest pocket

for storing essentials.

With stitch-through construction and a handy stuff sack

for easy packability, you can enjoy the core warmth,

active dryness and multi-application versatility of

the slim-fit Kaon Jacket, wherever your path leads.

Available in mens and womens. Weight: 250g

outfitters.net.nz

Macpac NZAT Summit Aztec® 24L

Pack $199.99

Made for rock or alpine climbing,

the NZAT Summit is a technical

day pack featuring our legendary

Eco AzTec® 8 oz. canvas fabric for

durability and weather resistance.

macpac.co.nz

Marmot Featherless Hybrid Jacket $349.95

(some previous season colours reduced to clear)

Stoke IPA

Stoke IPA is crisp and fruity with honey and citrus

undertones. More English than American in style.

Stoke IPA is tank-conditioned over four weeks to

enhance the smooth, caramel sweetness. It is light

but a step up in hop intensity from their Pilsner.

stokebeer.co.nz

The light-weight Men's Featherless Hybrid

Jacket will keep you warm and dry in chilly,

damp weather without weighing down you

or your pack. 3M Thinsulate Recycled

Featherless Insulation is made with 75%

recycled loose-fill fibres that feel just as warm

as 700 fill power down, but still perform in wet

conditions. DriClime® Bi-Component lining

wicks away moisture to keep you dry. Weight:

255.1g

marmotnz.co.nz

ADVENTUREMAGAZINE.CO.NZ 73
---
.....

.....

.....

.....

.....

.....

.....

.....

.....

.....

.....

.....

.....

.....

.....

.....

.....

.....

.....

.....

.....

.....

.....

.....

.....

.....

.....

.....

.....

.....

.....

.....

.....

.....

.....

.....

.....

.....

.....

.....

.....

.....

.....

.....

.....

.....

.....

.....

.....

.....

.....

.....

.....

.....

.....

.....

.....

.....

.....

.....

.....

.....

.....

.....

.....

.....

.....

.....

.....

.....

.....

.....

.....

.....

.....

.....

.....

.....

.....

.....

.....

.....

.....

URBAN

BUSINESS

WILL EVERYTHING RETURN TO

NORMAL, POST COVID-19?

As I write this, New Zealand is

entering its 4th day of a nationwide

lockdown. This lockdown is part

of the effort to control the spread

of Covid-19, the Corona Virus.

If unchecked, the virus can kill

thousands of people in New Zealand,

and millions worldwide.

While I would think most people

are presently secretly enjoying

the unexpected pleasure of being

at home, at least for a few days,

I imagine the realities of this

unscheduled "holiday" will wear thin

reasonably fast. One can only do so

many jigsaw puzzles, watch so much

Netflix, or indulge in so many house

DIY projects before a desire to simply

"get out of the house" will be almost

overwhelming.

Just how different a place will the

world be once we are allowed out of

the house?

I think this is a huge question, and

one not easily answered. The "talking

heads", whether they be on TV, radio

or some online site have such widely

differing views.

On the one extreme, we have

those who believe the economic

bounce back will be very strong, that

world economies will ramp up activity

very quickly, and within a few months,

we will be at least back to where we

were. They point to how fast China

is reopening for business. They

look to the build-up of unrealised

demand that has often preceded

economic recovery in previous times

of economic crisis.

On the other extreme are those

who think that what we are presently

experiencing will change everything.

They believe that what will come out

of this major disruption are societies

that care more for each other and

the earth. On an environmental level,

they point to the current drops in

pollution levels and CO2 emissions

since the crisis started. On a societal

level, they look to how people are

reaching out to each other, offering

help, support and empathy, even

though they must stay physically

separate.

In the middle are those who

think we are in for a deep economic

recession.

I think human beings have

short memories. Most of the

world's population, especially in

the developed economies have not

experienced significant disruption

in their lifetimes. While we point

to the GFC in 2008 as an "almost"

depression, and no doubt there

have been ongoing economic issues

ever since, the reality is nothing

much really changed. We, that is us,

consumers, have kept buying throw

away junk, we have kept piling up

debt as we built McMansions, went

on multiple house buying sprees, or

annual overseas holidays. We have

tolerated the increasing gap between

those with, even in our society of

plenty here in New Zealand, and

those without. We have even gone

further than that, blanket labelling

people on benefits as being lazy, as

being no-hopers.

There are very few people left

alive, who were any older than

children during the Great Depression

or the war years following. Our

collective real memory of having lived

in, and experienced those times of

great hardship, loss, disruption and

uncertainty are virtually nil. We have

deluded ourselves into thinking that

the good times (at least for some)

cannot end and will go on forever.

What do I think?

I think it is self-evident that we

cannot sustain a civilisation of 7.5

billion now, with a projected 10 billion

by 2050, with an economic model that

is based on endless growth. We live

in a finite world of resources. We are

already taxing our oceans, our rivers,

our wildlife, our land more than they

can sustain. We see the results of

this in dramatic drops in fish stocks,

in waterways degraded from urban

and agricultural runoff, by the loss of

biodiversity, and by the ballooning

mass of extinctions. And this is not

even mentioning the impact that

climate change will have.

I am convinced that our present

economic model is busted, and that

conviction challenges the belief

system that our society is based

upon. In a nutshell, the belief system

that underpins so much, the belief

(not openly spoken), that greed

is good. That for me to get ahead

means that you have to be left

behind. The view that more for me

means less for you (and it is your

fault anyway, because you are lazy,

worthless, or fill in the disparaging

blank).

I think we will come out of this

latest round of disruptions and will

have learned little. We will still be on

this train to nowhere. However, I also

think that the disruptions caused by

Covid-19 are just the beginning. I

think there will be more disruptions

as our present system unravels.

Can we find the will to replace it with

something better?

I hope so.

Brian Megaw

River Valley

www.rivervalley.co.nz

74//WHERE ACTIONS SPEAK LOUDER THAN WORDS/#219
---
.....

.....

.....

.....

.....

.....

.....

.....

.....

.....

.....

.....

.....

.....

.....

.....

.....

.....

.....

.....

.....

.....

.....

.....

.....

.....

.....

.....

.....

.....

.....

.....

.....

.....

.....

.....

.....

.....

.....

.....

.....

.....

.....

.....

.....

.....

.....

.....

.....

.....

.....

.....

.....

.....

.....

.....

.....

.....

.....

.....

.....

.....

.....

.....

.....

.....

.....

.....

.....

.....

.....

.....

.....

.....

.....

.....

.....

.....

.....

.....

.....

.....

.....

URBAN

OPINION

In your opinion

NZSki bought in a summer road toll

for the Remarkables Road. This

road, which is heavily used in

summer to access walking trails,

for camping, paragliding, mountain

biking, rock climbing and more,

will now cost you $10 to use.

What's your opinion on this?

76//WHERE ACTIONS SPEAK LOUDER THAN WORDS/#219
---
Mike Dawson

Professional Kayaker

I personally don't have a problem

as long as it's not prohibitive. At the

end of the day it is a private road,

and I think a $10 fee is reasonable

combined with the fact that it helps

maintain the road and keeps the area

accessible, is great. I'd far rather

spend $10 to drive up than have to

walk or bike.

Hamish Bartlett

Director Summit

Collective

Yep fair enough, for them to charge

over the summer, that is the licence

they signed with the government

many years ago and they have just

spent millions on the road to improve

people's safety none of which was paid

by the government.

It's only $10 for a safer, faster road

ALL paid for by a private company

who have invested the money and

will continue to invest the money on

repairs and maintenance. Great to see

a company investing so heavily in the

community and asking little in return.

This is nothing to what it cost to enter

any National Park in Australia.

Pete Oswald

Pro skier

NZ Ski are in a privileged position

to be able to make profits from public

land, in return I think it is reasonable

they maintain free access to that public

land.

Nic Hides - Bobo Products

I don't see a major issue here. It was not that long ago that all Ski Areas,

Commercial and Club charged a road toll additional to your day ski pass.

NZ Ski have spent huge money to upgrade their access road and to keep it

maintained summer and winter.

There are also commercial enterprises using this road to access the

conservation area for free during summer and winter and they are charging

their clients for the services they offer outside of using the Ski Area facilities.

I pay the NZ Government a toll every time I travel from Whakatane

through Tauranga to points north and If I choose to travel to the Far North,

admittedly there is an alternative on those routes.

The Remarkables Road is an experience in it's own right and a small toll is

acceptable to me, it is by the car not per person so fill your car up with friends.

David Gatward-Ferguson

Managing Director/joint owner Nomad Safaris

I have some clear views on this which I stated on a tv inquiry in to the fuss

being made.

• Lets not forget that the bottom part of the road is private and solely

funded by the Remarkable ski field company.

• We are allowed to drive on this road for a very small fee

• Without that road, the only access is by walking

• It is a privilege, not a right to go on the road

• Honest operators have been paying every year for their use of the road

• Dishonest operators have not been paying for their use of the road

• Anyone who tries to make an argument about paying $10 for the use of

a private road is unworthy of being listened to.

Image by Josh Withers

Ready to eat

Casseroles & Curries

Eat well hiking

"Not your average camping meal

Absolutely delicious! Not going back

to dehydrated cardboard meals ever

again. Butter chicken is my favourite,

generous serving of meat and it has a

real spicy kick. The mash is scrummy

with the chopped chives."

www.gonativeworld.com
---
.....

.....

.....

.....

.....

.....

.....

.....

.....

.....

.....

.....

.....

.....

.....

.....

.....

.....

.....

.....

.....

.....

.....

.....

.....

.....

.....

.....

.....

.....

.....

.....

.....

.....

.....

.....

.....

.....

.....

.....

.....

.....

.....

.....

.....

.....

.....

.....

.....

.....

.....

.....

.....

.....

.....

.....

.....

.....

.....

.....

.....

.....

.....

.....

.....

.....

.....

.....

.....

.....

.....

.....

.....

.....

.....

.....

.....

.....

.....

.....

.....

.....

.....

URBAN

TECH

FOR YOUR SAFETY

AMALEN Waterproof Multifunctional Military Lensatic Compass

High strength engineering metal body, rugged and

capable of working under extreme weather condition.

Special design of fluorescent light, you can use it and

read data on it in dark environment after absorbing enough

sunshine.

High accuracy, built-in a bubble level, which can improve

its accuracy and decrease its errors

First Aid App by American Red Cross

This smartphone app provides

step-by-step instructions (with

videos and animations) for multiple

emergency medical situations:

bleeding, heatstroke, broken bones,

shocks, burns and much more.

It also includes strategic safety

tips for situations ranging from

winter storms to earthquakes and

tornadoes. Most importantly, all the

intel is pre-loaded, so everything's

handy even if you don't have wi-fi.

Gerber Bear Grylls Ultimate Pro Knife, Fine Edge

Full-tang, premium 9CR19MoV stainless steel

construction for durability. Military-grade, mildewresistant

nylon sheath with pull-through carbide

sharpener, for guaranteed sharpness. Built-in fire

starter rod in watertight holder.

gerberger.com

Multi tool 11 in 1

Multifunctioning

outdoor hunting survival

camping pocket military

credit card knife!

duniquetools.com

Garmin GPSMAP 64st, TOPO U.S. 100K

with High-Sensitivity GPS

The new GPSMAP® 64st

handheld navigator features a 2,6"

sunlight-readable screen and a highsensitivity

GPS and GLONASS

receiver with a quad helix antenna for

superior reception. The rugged and

waterproof GPSMAP 64st comes with

barometric altimeter, 3-axis compass

and a preloaded Recreational Map of

Europe. It wirelessly connects to your

smartphone to allow Live Tracking

and Smart Notification.

garmin.com

Exotac titanLight Waterproof Lighter

On top of rain, wind is often a major

culprit in making fires difficult to start.

Exotac's titanLIGHT uses tiny air vents

located just below the flame to reduce wind

interference, along with a strong flame

guard that protects from heavy gusts. The

refillable lighter has an easy-spark flint

wheel and a small screw-off cap that can be

used to add more fluid or service the wick.

This windproof fire starter is a great gadget

to add to your emergency bag, along with a

compact bottle of lighter fluid.

exotac.com

78//WHERE ACTIONS SPEAK LOUDER THAN WORDS/#219
---
KTI PLB personal emergency locator beacon SA2G-NZ 406MHZ

The New Zealand Coded Safety Alret personal

emergency locator beacon SA2G-NZ 406MHz PLB is

compact, fast and reliable, making it the ultimate global

rescue link for peopl ewho want peace of mind in the

outdoors. A free soft pouch and arm band are also included.

Free contitional battery replacement if used in a genuine

emergency.

RRP: $339.00

www.safetybeacons.co.nz

Sony DEV50V Binociulars

Digital binoculars with full

HD 3D recording with 12x optical

zoom, a dual G Lens and Full

HD recording, in a light, durable

body. Splash and dust proof body

for worry-free use. Dual Exmor R

CMOS sensors. Precision Sony G

Lenses with 12x zoom

sony.oc.nz

Sunsaver Super-Flex 14-Watt Solar Charger

Putting out over 2.5-Amps of output

on a sunny day you'll charge your

phone and devices in no time at all,

straight from the sun.

RRP: $199.00

www.sunsaver.co.nz

SAS Survival guide app

SAS Survival guide app

This is the paid SAS Survival Guide app

(Android, iOS) based on the bestselling book by

John "Lofty" Wiseman. It contains the full text

of the book (optimized for mobile formats) and

covers a host of basic and advanced survival

topics. You will get comprehensive information on

first-aid, and photo galleries of edible, medicinal,

and poisonous plants. The survival app also offers

the author's instructional videos and quiz to test

your knowledge..

Sunsaver Classic 16,000mAh Solar Power Bank

Built tough for the outdoors and with a

massive battery capacity you can keep all

your devices charged no matter where your

adventure takes you.

RRP: $119.00

www.sunsaver.co.nz

ADVENTUREMAGAZINE.CO.NZ 79
---
.......

.......

.......

.......

.......

.......

.......

.......

.......

.......

.......

.......

.......

.......

.......

.......

.......

.......

.......

.......

.......

.......

.......

.......

.......

.......

.......

.......

.......

.......

.......

.......

.......

.......

.......

.......

.......

.......

.......

.......

.......

.......

.......

.......

.......

.......

.......

.......

.......

.......

.......

.......

.......

.......

.......

.......

.......

.......

.......

.......

.......

.......

.......

.......

.......

.......

.......

.......

.......

.......

.......

.......

.......

.......

.......

.......

.......

.......

.......

.......

.......

.......

.......

.......

URBAN

DIVERSION

STORIES OF SURVIVAL

When I fell from the Sky

Miracle in the Andes

Touching the Void

Juliane Koepcke, the sole survivor of

the LANSA flight 508, tells the story of

her survival. The plane she was in was

struck by lightning killing 91 passengers.

Somehow 17 year old Juliane survived the

3km fall out of the sky landing into the

Amazon RainForest, still strapped to her

seat. This is an amazing story of survival

in a hostile environment.

No doubt we are all familiar with the

story of the Uruguayan rugby team on

board a plane that crashed into the Andes

Mountains and the survivors being forced

to resort to cannibalism to survive. The

original story was recounted in the 1974

book Alive, if you haven't read that then

I would recommend it. However this

story is told from the lens of the person

most responsible for their rescue, Nando

Parrado. A fresh retelling of an incredible

story of survival.

The amazing true story of climbing

partners Joe Simpson and Simon

Yates and their adventure in the Andes

mountains. In 1985, when Joe shatters

his leg in a fall, Simon is left to help

his partner down the mountain, and

accidentally lowers him over a ledge. To

save himself, Simon has to cut his mate

free and Joe falls into a crevasse. Left for

dead, without food or water, and unable

to walk, Joe spends four days crawling his

way out of the crevasse and back to base

camp much to the surprise of his climbing

partner. The book was made into a movie

in 2003.

Between a Rock and a

Hard Place

No Surrender

That was the last order given to Second

Lieutenant Hiroo Onoda, a Japanese

army intelligence officer fighting at the

end of World War II. He followed those

orders for almost 30 years, hiding in the

jungles of the Philippines under the belief

that the war was still being fought. Hiroo

himself wrote down his experiences soon

after his return to civilization and offers a

rare glimpse of a man's invincible spirit,

resourcefulness and ingenuity.

An incredible story of what we

can endure to survive. When Aron

Ralston gets his arm trapped

in the Utah canyons, he goes to

astounding lengths to keep himself

alive, doing what most of us would

think impossible. The book gives

us an insight into both the joys and

perils of adventuring alone. The

book was later made into a movie

called 127 Hours.

80//WHERE ACTIONS SPEAK LOUDER THAN WORDS/#219
---
Gear guide

Whatever it

is you need

for your next

adventure, we've

got you covered.

Outdoor Research Helium Bivy

A perfect shelter for solo fast-and-light adventures.

It features durable, waterproof, breathable

Pertex® Shield+ fabric and an optional single pole.

459g.

RRP $299.99

BIVOUAC.CO.NZ

kiwi camping Rover Lite Self-Inflating Mat

Compressible foam core inflates/deflates with the

twist of a valve. Tapered mummy design fits in

most sleeping bags. Durable soft stretch fabric for

extra comfort. Weight: 900gm

RRP $99.00

KIWICAMPING.CO.NZ
---
Marmot Catalyst 2 person tent

Designed as a roomy, livable tent that

is still light in weight, the freestanding

Catalyst 2P has all the ideal features for

a casual camping trip, like a seam-taped

catenary cut floor, colour-coded poles for

easy set-up and two D-shaped doors,

along with enough room and pockets to

stash and organize all your necessary

gear.

RRP $399

Special price $259 (while stocks last)

MARMOTNZ.CO.NZ

SOTO AMICUS Stove with

Stealth Igniter

High-end performance,

lightweight, compact and

shock resistant. Igniter

installed inside the burner

post to improve ignition and

prevent breakage. Excellent

performance in windy

conditions. 81g.

RRP $74.99

BIVOUAC.CO.NZ

Helinox Chair One

Award-winning lightweight,

compact, durable chair that

is smaller and lighter than a

bottle of wine! DAC aluminium

pole frame. Weight rating

145kg. 5-year warranty. 960g.

RRP $179.99

BIVOUAC.CO.NZ
---
GO NATIVE READY TO EAT MEALS

Hearty and delicious ready to eat casseroles and

curries. Not freeze dried. This is real food ready to

eat. Food is one of the most important elements of

a successful trip, the ideal meal is a ready to eat

casserole or curry that you would happily eat at

home. Heat the meal pouch in boiling water for 2

minutes, use the hot water for a brew after heating.

Butter Chicken, Spaghetti Bolognese, Chilli Con

Carne, Vegetable Curry, Chicken and Chickpea

Curry, Beef Casserole, Chicken Italiano. 250g. Eat

well hiking.

RRP 250g $12.99

GONATIVEWORLD.COM

Black Diamond Storm375 Headlamp

Rugged, water and dust-proof headlamp

for adventures in the dark plus a

maximum brightness of 375 lumens,

a new, compact body and an updated

interface. 4 x AAA. 120g.

RRP $99.99

BIVOUAC.CO.NZ

Rab Ark Emergency Bivy

The ARK Emergency Bivy is the ideal lightweight bivi

bag for emergency situations. Made with lightweight PE

(Polyethylene), the ARK Emergency Bivy bag is wind and

waterproof and reflects body heat. Super packable, folding

down 12 x 6 cm in its stuff sack, and lightweight at 105g,

the ARK Emergency Bivi bag is an essential emergency

mountain product.

RRP: $19.95

OUTFITTERS.NET.NZ

kiwi camping Illuminator Light

with Power Bank

Light up the campsite with a bright

1000 Lumen LED with 5 lighting

modes. The hanging hook, built-in

stand, and tripod mount provide

versatile positioning options.

Charges most devices.

RRP $89.00

KIWICAMPING.CO.NZ

GASmate micra stove

Compact and lightweight,

ideal for serious backpackers.

Quality stainless steel

and aluminium alloy

construction. Piezo ignition.

Gas consumption: 230g/hr.

Weight: 132g. Output: 10,400

BTU. Plastic storage case

included.

RRP $44.99

KIWICAMPING.CO.NZ

84//WHERE ACTIONS SPEAK LOUDER THAN WORDS/#219
---
kiwi camping Intrepid Lite Single Air Mat

Ideal for tramping and hiking, weighing just

480g. Packed size 230 L x 100 Ø (mm). 40D,

310T nylon ripstop construction. Supplied with

carry bag and repair kit.

RRP $99.00

KIWICAMPING.CO.NZ

kiwi camping tawa

sleeping bag

Keep warm in temperatures

as low as -10° with the hood,

draft strap and thermal

chest collar. The 'mummy'

shape increases insulation

qualities for a more consistent

temperature.

Macpac NZAT HyperDRY Down Quilt 700

Climbing light without compromising your safety is a

constant battle in the mountains. Our NZAT Down Quilt

700 offers a novel solution: designed in collaboration with

the New Zealand Alpine Team (NZAT), this sleeping bag

alternative reduces the need to carry individual bags on

alpine trips.

RRP $799.99

MACPAC.CO.NZ

RRP $149.00

KIWICAMPING.CO.NZ
---
Back Country Cuisine

CHICKEN CARBONARA: A freeze dried

chicken and pasta dish, served in a

creamy italian style sauce.

MUSHROOM BOLOGNAISE - VEGAN:

Mushrooms with tomato in a savory sauce,

served with noodles. Vegan.

Available in one serve 90g or two serve

175g sizes.

RRP $8.99 and $13.49

CHOCOLATE BROWNIE PUDDING: Our

take on chocolate self-saucing pudding,

with chocolate brownie, boysenberries and

chocolate sauce. Gluten Free.

RRP 150g $12.49

BACKCOUNTRYCUISINE.CO.NZ

Back Country Cuisine

ICED MOCHA: Our mocha is made

with chocolate and coffee combined

with soft serve to give you a tasty

drink on the run. Gluten Free. 85g.

RRP $3.99

BACKCOUNTRYCUISINE.CO.NZ

FUELING EPIC

ADVENTURES

FOR 21 YEARS

Wherever your next

adventure is about to

lead you, we've got

the goods to keep you

going.

Est. 1998 Back Country

Cuisine specialises in

a range of freeze-dried

products, from tasty

meals to snacks and

everything in between, to

keep your energy levels up

and your adventures wild.

backcountrycuisine.co.nz

Jetboil Fuel

Jetpower fuel contains a blend of propane and iso-butane. Propane provides

higher vapour pressure to the fuel which means better performance in cold

weather. Fuel efficiency translates to weight, space, and money savings. Since

Jetboil is up to twice as efficient as conventional stoves, you can take half as

much fuel on your trip, thus saving weight. A Jetpower fuel canister, with 100

grams of fuel, boils as much water with Jetboil as competing stoves do with

their big 227g canisters. The other big benefit is space savings since Jetpower

canisters nest conveniently inside the cooking cup. Available in 100g, 230g &

450g recyclable canisters.

RRP $7.99 - $16.99

JETBOILNZ.CO.NZ

Steripen classic

Trusted on mountains and trails

for over 15 years, SteriPEN®

Classic is the best-selling portable

UV purifier of all time. UV light

destroys over 99.9% of waterborne

microorganisms that cause illness.

RRP: $199.95

OUTFITTERS.NET.NZ
---
2c - one

Proven survival light you are wearing

– lightweight and always at the ready

because it charges while you're

wearing it. Includes new Boost mode,

S.O.S. and dimmer. Invented in NZ

and selling worldwide for 10+ years

RRP $39.90

WWW.SOLARLIGHTCAP.COM

Jetboil Flash 2.0

Blistering boil times come standard on our

industry-leading Flash. By modelling the

combustion and selecting materials to optimize

efficiency, we were able to create the fastest

Jetboil ever—cutting a full minute off our best boil

time. Flash is designed to be one of the safest

cooking solutions out there. The cooking cup clips

onto the burner, preventing accidental spills, and

the fuel canister tripod ensures overall stability.

The insulating cozy has a colour-changing heat

indicator that signals when contents are hot.

RRP $239.95

JETBOILNZ.CO.NZ

kiwi camping 1.2L Collapsible Turbo Pot

Flexible, lightweight and durable. Collapses

for easy storage. Durable translucent lid.

Hard-anodised aluminium base heats evenly

and efficiently. Heat resistant silicone is PBAfree

and easy to clean.

RRP $69.99

KIWICAMPING.CO.NZ

FAST

COMPACT

EFFICIENT

Compact, fast and efficient outdoor

stoves and cooking accessories.

Award winning technology in

personal and group cooking

systems, with Flux-Ring technology

for superior fuel efficiency and

reduced boil time.

Burner

Volume

Boil Time

Weight

RRP

ZIP

4,500

BTU/h

0.8 L

2 min 30sec

per 0.5 Litre

340 g

$199.95

FLASH

9,000

BTU/h

1 L

1 min 40sec

per 0.5 Litre

371 g

$239.95

MICROMO

6,000

BTU/h

0.8 L

2 min 15 sec

per 0.5 Litre

340 g

$279.95

MINIMO

6,000

BTU/h

1 L

2 min 15 sec

per 0.5 Litre

415 g

$299.95
---
Dropline

We designed the Dropline for mountain running enthusiasts

who want to move longer, quicker and more comfortably in alpine

terrain. It has a lightweight air mesh construction and a highperformance

EVA midsole that provides lightweight cushioning and

comfort, giving you softer landing comfort and minimizing impact

force on joints and muscles. The newly developed sole pack with

an S-Path design promotes a more natural, smoother roll-off during

rapid, dynamic movement, as well as superb stability. The rounded

Pomoca outsole performs well with positive traction in all types of

terrain. The supportive 3F system, protective wrapping EXA Shell

and anti-rock heel cup lock your foot in place and ensure torsional

stability. Inside, there is a breathable OrthoLite footbed with superior

cushioning and wicking moisture management to keep your feet

cooler and drier.

Featured product

FEATURES:

• 3F System - Connects the

instep area with the sole

and heel; ensuring flexibility,

support and the correct fit

where its needed.

• EXA-SHELL - The grid

structure wraps around your

upper foot, providing you

with a precise fit and perfect

front-foot balance.

• Ortholite® - Long-term

cushioning, high breathability

and moisture management

• Anti-rock heel cup - Stability

and durable protection on

even the toughest trails.

• Stretch gaiter - Designed to

keep out trail debris

• POMOCA® S Path -

Provides high-performance

grip on both dry & wet

surfaces

• Rubber toe cap - Protects

the toes from bumps &

increases the durability of

the shoe

MATERIAL:

• Upper -Stretchable Air Mesh

• Lining-Breathable mesh

lining

• Midsole -Performance EVA

• Outsole -Pomoca Dropline

BOBO.CO.NZ /BRANDS/SALEWA

Hoka One One KAHA GTX (men's & Women's)

The all-conditions, always comfortable backcountry

trekker. Named for the Māori word for strength and

support, the Kaha delivers both. With surprising speed,

it makes the ups easier and the downs quicker. When

hiking over long distances, this trekking shoe will deliver

you to your destination in comfort and safety. Unequaled

in its weight-to-cushion ratio, the Kaha GTX offers the

full HOKA ONE ONE® package — proprietary foams,

patented geometries and exceptional Vibram® Megagrip

traction. Soft and smooth, but inherently supportive, the

Kaha GTX features a GORE-TEX® waterproof bootie

that'll keep your feet comfortable and dry regardless

of the conditions. And an adjusta-ble lacing system

provides a lockdown fit regardless of your foot type. The

world is your oyster.

Available in Mens & Womens.

RRP $499.00

HOKAONEONE.CO.NZ
---
SALEWA ULTRA TRAIN 2 (men's & Women's)

Unmatched durablitly, protection and stablility in a svelt

and springy package. Seamless mesh upper, debris

gaiter, full rand, speed lacing, 3F heel locking system,

and supportive anti-rock heel counter sit atop an eva

midsole with enough cush to let you keep it redlined

thorugh the rockiest routes. Michelin rubber confidently

sticks to both wet and dry surfaces. Added bonus…

vegan!

WEIGHT: 268G (W) 313G (M)

DROP: 8MM (HEEL: 26MM / TOE: 18MM)

RRP $299.00

BOBO.CO.NZ/BRANDS/SALEWA

merrell barefoot access XTR Eco – Men's

The goal was to make a 0 drop trail runner for high intensity

activity that is as durable as possible with as much recycled

content as possible. Weight 224g (half pair)

RRP $229.00

MERRELL.CO.NZ

merrell Mag - 9 – Women's

This trainer with a soft, durable knit upper features highly

responsive foam cushioning for shock absorption during

indoor and outdoor training. Weight 390g (half pair)

RRP $259.00

MERRELL.CO.NZ

GORE-TEX waterproof bootie keeps your feet comfortable and dry.

Vibram® Megagrip hi-traction outsole with 5mm lugs.

Full-grain waterproof leather upper for durability and support.

MORE INFO AT

HOKAONEONE.CO.NZ
---
FEED YOUR ADDICTION

Like a 'perfect storm', we have seen a dramatic growth and

development in online stores over the past 5 years. Now as we are

made to keep our 'distance', online, ecommerce takes on a whole

new meaning and value. We are dedicating these pages to our client's

online stores; some you will be able to buy from, some you will be able

drool over. Buy, compare, research and prepare, these online stores are

a great way to feed your adventure addiction while you are still at home.

Never have a dead phone

again! Because now you can

charge straight from the Sun

with SunSaver. Perfect for

that week-long hike, day at

the beach, or back-up for any

emergency. Check us out at:

www.sunsaver.co.nz

A leading importer and

distributor of snow and

outdoor products in New

Zealand. Stock includes

Salewa, Lange, Dynastar,

Spyder and more.

www.bobo.co.nz

The ultimate sandals

with core concepts like

durability, pull through

strap design and the ability

to re-sole.

www.chaco.com

Full-service outfitter selling hiking

and mountaineering gear and

apparel, plus equipment rentals.

Specialising in ski & snowboard

touring equipment new & used;

skis, boards, bindings, skins,

probs, shovels,transceivers &

avalanche packs.

www.smallplanetsports.com

Developing the pinnacle

of innovative outerwear for

50 years. Shop now and

never stop exploring.

www.thenorthface.co.nz

Gear up in a wide selection of durable, multifunctional

outdoor clothing & gear. Free Returns. Free Shipping.

www.patagonia.co.nz

Making delicious, all natural, slow release energy

snacks and ready to eat casserole and curry pouches

(not freeze-dried) and multiday expedition food packs

multi-day expedition food packs for active people.

www.gonativeworld.com

Specialists in the sale of Outdoor Camping Equipment, RV,

Tramping & Travel Gear. Camping Tents, Adventure Tents,

Packs, Sleeping Bags and more.

www.equipoutdoors.co.nz

MTOUTDOORS

Outdoor equipment store specialising in ski retail, ski

rental, ski touring and climbing.

www.mtoutdoors.co.nz

Safety Beacons specialises in

the production of Emergency

Position Indicating Radio

Beacons (EPIRBs), rescue

beacons and aviation

simulation equipment.

www.safetybeacons.co.nz

90//WHERE ACTIONS SPEAK LOUDER THAN WORDS/#219
---
Ultra lightweight running shoes, made by runners. No

matter where the trail takes you, Hoka One One will

have you covered.

www.hokaoneone.co.nz

Developing and selling innovative technological

products that provide practical solutions to every

day life whilst sustaining the environment and

contributing to reduction of carbon footprint.

www.2clight.com

Bivouac Outdoor stock the latest in quality outdoor

clothing, footwear and equipment from the best

brands across New Zealand & the globe.

www.bivouac.co.nz

Shop for the widest range of Merrell footwear, apparel

& accessories across hiking, trail running, sandals &

casual styles. Free shipping for a limited time.

www.merrell.co.nz

Whether you're climbing mountains, hiking in the hills

or travelling the globe, Macpac gear is made to last

and engineered to perform — proudly designed and

tested in New Zealand since 1973.

www.macpac.co.nz

The ultimate in quality outdoor clothing

and equipment for travel, hiking, camping,

snowsports, and more. Guaranteed for life.

www.marmotnz.co.nz

Offering the widest variety,

best tasting, and most

nutrient rich hydration,

energy, and recovery

products on the market.

www.guenergy.co.nz

Fast nourishing freeze dried food for adventurers.

www.backcountrycuisine.co.nz

Jetboil builds super-dependable

backpacking stoves and camping

systems that pack light,

set up quick, and achieve

rapid boils in minutes.

www.jetboilnz.co.nz

Supplying tents and

camping gear to Kiwis

for over 30 years, Kiwi

Camping are proud to

be recognised as one of

the most trusted outdoor

brands in New Zealand.

www.kiwicamping.co.nz

Scarpa designs and manufactures top

quality ski boots, mountaineering, hunting,

rock climbing, hiking, alpine running, and

mountain footwear.

www.scarpanz.co.nz

The ultimate in quality outdoor

clothing and equipment

for travel, hiking, camping,

snowsports, and more.

Guaranteed for life.

www.adventureoutlet.co.nz

ADVENTUREMAGAZINE.CO.NZ 91
---
DIAGNOSING

BACKCOUNTRY

SKI ADDICTION

Article courtesy of the team at Aspiring Guides

The quest for fresh powder and

the need to carve first lines has always

been an addiction for skiers. What is

different is the fact that more and more

people are choosing to embark on

this quest in the NZ backcountry. With

winter fast approaching, and after being

self-isolated for weeks on end, you too

might be finding yourself dreaming of

that sweet moment of peeling skins off

your skis, a slight sweat on your brow

from the uphill, and dropping in for your

first run of the day. If so, it's time to ask

some serious questions: "Is this more

than a hobby? "Can I stop if I want to?

What can I do about it?"

92//WHERE ACTIONS SPEAK LOUDER THAN WORDS/#219

Image courtesy Malamala Beach Club
---
ADVENTUREMAGAZINE.CO.NZ 93
---
To get you started, here are a few of our top NZ

Southern Alps Backcountry Ski locations (listed from easy to

advanced):

Here is a short questionnaire

to help you with an early selfdiagnosis

of your potential long

term addiction.

1. Have you been

researching the latest backcountry

setup all summer?

2. Do you cringe at the idea

of driving up to the ski field after an

overnight dump only to arrive at the

back of a long lift line with the hill

already tracked out?

3. Do you find yourself

checking the weather every half

hour and the long term forecast

everyday?

4. Have you been pouring

over NZ topo maps and salivating

over the endless terrain?

5. Do you call every person

you know for beta on the best

backcountry locations?

6. Are you unable to sleep

due to anticipation of making fresh

lines?

If you answered yes to two or

more questions, you have a mild

case of Backcountry Addiction.

Obviously this grows in severity

the more questions you answered

positively. We here at Aspiring

Guides know the symptoms well,

and thankfully for the public, we

also know the cure: solid doses of

time in the beautiful New Zealand

backcountry.

● Pisa Range, Wanaka: (easy) Simple avalanche

terrain, easy to stay safe; low commitment level; no road

or control work closures to consider; short runs and climbs;

overnight options include DOC Kirtleburn Hut or private

Robrosa Hut through Aspiring Guides. Note that Cliffburn is

private land and landowners don't permit private groups.

● Remarkables 'Doolans' Zone: (intermediate) Easy

quick access on foot via lake Alta or up the ski lift (Pass),

Subject to Avalanche control on storm days, views of

Queenstown and surrounds, safe access and exit for

hazardous days, reliable forecasting close to the ski hill.

Mix of terrain (hazard management-wise) from simple to

challenging.

● Black Peak, Wanaka - (advanced) Views of Lake

Wanaka; private land requires permission from Branches

Station (or go on a guided trip); overnight hut available

exclusive to Aspiring Guides, heli access or touring from

Treble Cone ski field (note this route is long and crosses

multiple avalanche paths)

● Treble Cone Backcountry (advanced): Committing for

hazardous days; challenging to complex terrain; usually a

more reactive (and better skiing) snow pack; views of Lake

Wanaka; close to heliskiing zones. Subject to opening and

control work on storms means long delays but worth it.

And remember, resist the urge to run willy nilly into the

backcountry:

• Take an avalanche awareness course!

• Gain experience and confidence in variable

conditions on your skis or snowboard.

• Take a touring course to improve your uphill

technique, navigation skills, trip planning, etc.

The more backcountry training you get, the better able

you are to manage your backcountry cravings in a healthy,

constructive way.

So if you're growing more certain that you're hooked

on the backcountry, don't fret. Early diagnosis is key! The

best thing you can do is dream and plan your backcountry

adventures and this is a sure way to alleviate the ailment

(until next season, at least).

94//WHERE ACTIONS SPEAK LOUDER THAN WORDS/#219
---
ADVENTUREMAGAZINE.CO.NZ 95
---
Why wait?

Adventure starts here

www.nationalpark.co.nz

Dual Heritage Tongariro

National Park
---
A WORLD OF

HIDDEN GEMS

Mighty and iconic, the Tongariro Alpine Crossing is without a doubt one of the most

legendary hikes in New Zealand - if not the world. It's no wonder it attracts tens of thousands

of adventurers to the Tongariro National Park each year - all looking to tackle its rugged terrain,

steep slopes and otherworldly landscapes.

But while it is a must-do activity for many, the Crossing is simply not for everyone - it is

after all, an almost 20km trek across a volcano! Most hikers will find completing the Crossing a

challenge, and for some, the sheer distance, sharp inclines and uneven conditions underfoot

make it a near impossible feat.

Fortunately, there is a multitude of other excellent walks in and around the Tongariro National

Park for those who can't or don't want to do the Crossing - offering something for everyone no

matter their fitness level. Some are well trodden, while others are true hidden gems...

Here are just a few of the locals' favourites:

Meads Wall

It might look like just an ordinary

rocky outcrop, but Meads Wall is in

fact a sheet of frozen magma that was

squeezed up within the oldest part of

the volcano that formed Mt Ruapehu.

It was one of the filming locations for

the Lord of the Rings films and offers

magnificent views of the valley below

and to Mt Ngauruhoe. Meads Wall is a

30-minute return walk from Whakapapa

ski area base on Mt Ruapehu.

Grade: Easy

Tawhai Falls

This family friendly 20-minute return

walk through mountain toatoa and

beech forest leads to the impressive

Tawhai falls. The falls tumble over the

edge of an ancient lava flow into a deep

rock pool - a favourite swimming spot

for locals. The walk is accessed off

SH48 - 4km from Whakapapa Village.

Distance: 700m

Grade: Easy

Ridge Track

The Ridge Track offers panoramic

views of Mt Ngauruhoe and the

surrounding landscape. It leads up a

short climb through low beech forest,

before emerging into alpine shrublands.

The track starts 150m above the

Tongariro National Park Visitor Centre.

Allow 30 to 40 minutes.

Distance: 1.2 km return

Grade: Easy

ADVENTUREMAGAZINE.CO.NZ 97
---
Silica Rapids

This highly varied walk travels

through mountain beech forest and

alongside a cascading stream to arrive

at the creamy-white terraces of the

Silica Rapids. A range of vegetation

types, including subalpine plants,

amid a mixture of swamp and tussock

country, feature around the track. On a

clear day, the walk offers spectacular

views of Ruapehu and Ngauruhoe.

The track begins 250 metres above

Whakapapa Village Visitor Centre and

returns along Bruce Road for 2.5km - or

return along the same track.

Distance: 7 km return via Bruce Rd

Grade: Easy

Tupapakurua Falls

One of the lesser discovered hikes

in the area, but also one of the more

challenging, the Tupapakurua Falls

track can be reached from National

Park Village. It starts off Fishers Road

and begins with an easy 20-minute

walk to the Taranaki lookout from

where you can view Mt Taranaki on a

clear day. From there, it becomes a

back-country adventure track suitable

for experienced hikers only. The track

follows a ridge and then descends

steeply to a stream with good stands

of native trees, including tawa, mature

rimu, miro and totara, along the way.

Climbing from the stream, the track

winds its way around bluffs to a good

lookout point with views of the falls.

Allow between 4 to 5 hours for the

return trip.

Distance: 11km

Grade: Moderate to difficult

Mangatepopo Valley

You don't have to hike the fulllength

of the Tongariro Alpine Crossing

to experience some of its splendour.

Hiking the first section of the Crossing

up Mangatepopo Valley - carved out by

glaciers and partially in-filled by lava

flows from Mt Ngauruhoe - to Soda

Springs is well worth a visit in its own

right. The walk sets off through fields

of yellow tussock before climbing at

a gentle gradient alongside a stream

and around the edges of old lava

flows. The valley ends at the foot of

Mt Ngauruhoe, where you're treated

with up close and personal views of

this iconic volcano. From here, a short

side track leads to Soda Springs where

clear, cold water cascades into a small

stream. Allow 3 hours for the return

journey, which makes it a perfectly

timed with the parking time limit at the

Mangatepopo carpark.

Distance: 8km return

Grade: Easy to moderate

Tama Lakes

A very close rival to the Tongariro

Alpine Crossing, the Tama Lakes

track crosses a distinctive undulating

landscape of tussock and alpine

herbfields. With very few ascents, apart

from a steep incline to 1440 metres to

the upper lake viewpoint, it's far less

arduous than the Crossing. Flanked by

Mt Tongariro and Ngauruhoe and Mt

Ruapehu, the views along this walk are

truly exceptional. On a clear day, you

might even be lucky enough to spot

Mt Taranaki on the western horizon.

The Tama Lakes occupy several old

explosion craters so are well worth the

trek to view. The walk starts and ends

in Whakapapa Village.

Distance: 17km return

Grade: Moderate, with a steep

ascent to the Upper Lake.

Taranaki Falls

A firm favourite for locals and

visitors looking for a short, but beautiful,

loop walk, the Taranaki Falls track is

perfect for families and travellers of

all ages and fitness levels. The track

offers an excellent glimpse of the varied

scenery and landscapes the Tongariro

National Park is known for - taking in

tussock, bush and ancient lava flows,

as it leads to a stunning waterfall.

Pack a picnic and enjoy spectacular

views of Mt Ruapehu and Mt Tongariro,

surrounded by native plants and

birdsong. The track also starts and

ends in Whakapapa Village.

Distance: 6km loop

Grade: Easy

98//WHERE ACTIONS SPEAK LOUDER THAN WORDS/#219
---
"Hiking is

undoubtedly the

most popular

activity in and

around Tongariro

National Park.

However, it's by far

not the only thing

to do in the area."

Stay local

You will need at least two to three days to explore the natural and

cultural wonders of New Zealand's oldest national park and Dual World

Heritage Area. Fortunately, accommodation options abound in and around

Tongariro National Park, catering for all budgets.

massive

half price

rafting for

everyone

UNtil the end of

August

Located on the boundary of Tongariro National Park just off State

Highway 4, National Park Village is an ideal base for your adventures in the

area. The village offers a wide range of accommodation from backpackers

to boutique lodging - all just a short stroll from a choice of cafes, bars and

restaurants. There's also a petrol station, supermarket and an outdoor gear

store.

Whakapapa Village boasts a small number of accommodation options

in the heart of the Tongariro National Park, including the historic Chateau

Tongariro Hotel.

For those looking to stay in more rural settings, Raurimu and Erua

villages are excellent options.

Not a hiker? Try these adventures that don't include walking! Hiking

is undoubtedly the most popular activity in and around Tongariro National

Park. However, it's by far not the only thing to do in the area. Here are some

other adventures in the area that don't involve walking:

Ride the hills!

Feel the adrenaline rush of a

quad bike adventure and explore

the untouched beauty of the Erua

Forest with Ruapehu Adventure

Rides.

Take to the skies in a scenic

flight

Witness the volcanoes of the

Tongariro National Park in all their

glory from the air with Mountain Air

Volcanic Flights!

Bike through ancient native

forests

Enjoy two family-friendly

mountain bike tracks directly from

National Park Village – the downhill

Fishers Track or Marton Sash &

Door loop along a historic bush

tramway. Rent bikes and arrange

transfers with My Kiwi Adventure.

Family fun

Enjoy a gentle put on the minigolf

course at Schnapps Bar in

National Park Village or reach for

new heights at the indoor climbing

centre next door at National Park

Backpackers. The Roy Turner

Memorial Playground on Buddo

Street is a treat for kids of all ages

with its state-of-the-art playground

equipment.

Refuel with views of majestic

mountains

Soak in the spiritual

significance & natural splendour of

three volcanic peaks at once while

enjoying one of the many local

eateries with mountain views.

For more information on

planning your Tongariro National

Park adventure, visit:

www.nationalpark.co.nz

you deserve

an escape

to adventure!

USECODE: WIN2020
---
ANDY'S MEMORABLE

MARINE ADVENTURES

Andy Belcher is a talented Bay of Plenty freelance photographer with 82 top photographic awards to his credit.

They include British Wildlife Photographer of the Year, Australasian Underwater Photographer of the Year and Nikon

Photo Contest International. Ask him a question on his photographic career and he'll usually answer you with "Gosh,

where do I start?" And that's the way it's always been for Andy. Utterly self-taught, with no qualifications (and proud

of the fact) Andy believes his open minded approach to learning has enabled him to break photographic boundaries

– simply because he never knew they existed. Andy's business success can be partly attributed to his versatility. He

shoots a wide variety of commercial photographic imagery from tourism to underwater, he runs photo workshops,

offers private tuition, writes and photographs magazine features and has just completed his third children's book.

LEVIATHAN OF THE DEEP!

Three years ago I made my

first trip to Vava'u in northern Tonga

and when I boarded my aircraft

in Auckland I had no idea what

incredible adventures awaited me.

On day one we boarded Beluga

Diving's whale swimming boat

Gladiator and headed out into

pristine blue water. After two hours

on the briny we were floating beside

two humpback whales. To describe

my first encounter with a 40 tonne

humpback as life changing is

probably an understatement. I had

to pinch myself a couple of times to

make sure it was me! I soon realized

that using the camera's viewfinder

at the surface simply showed a lot of

surface water and not enough whale.

So, I threw caution to the wind, held

the camera below me and used the

point and shoot technique which

worked much better. By taking heaps

of images I hoped that one would line

up perfectly on the whale.

Humpback whales are often

called Acrobats of the Sea and

lots of action happened above the

surface too. To capture a breach

required a good position on the

boat, concentration, patience, a fast

focusing lens and a fast motor drive.

The D3 shoots nine frames a second

and I managed to get a few images

of this humpback before it splashed

down.

On day four we struggled to

find a good whale encounter. Moa,

our female skipper, received a call

from another boat and we were

soon alongside it. "Get ready," she

shouted but there was no sign of a

humpback! "Where is the whale?"

I asked. She quickly responded,

"Trust me, swim that way, go, go,

go". I slid gently into the water,

camera in hand. The boat's propeller

had caused aerated water like a

fog and I swam blindly through it.

When I emerged into clear water an

enormous whale shark was only 3

metres away and coming straight at

me! I tried to gather my senses and

back peddled furiously to one side

to avoid a head on collision with this

monster. It slid past me very close

and all I could see was white spots!

Even though the fish appeared to

swim very slowly there was no way

of keeping up with it. We returned to

the boat, moved ahead of it and then

jumped in again. The whale shark

was so big I struggled to get the

whole animal in my photo even with

my super wide Tokina lens.

At 12 to 14 metres the whale

shark is the world's largest fish and

seeing a snorkeler behind it gives

you an appreciation of how big it

really is. We swam beside it for a

whole 90 minutes in water which was

1000 metres deep with visibility of

70 metres plus. It doesn't get much

better than that! I have been diving

since 1973 and this was without

doubt my best encounter ever and

beyond my wildest dreams.

100//WHERE ACTIONS SPEAK LOUDER THAN WORDS/#219
---
Years ago I visited Heron Island, a

natural coral cay, right on Queensland's

Great Barrier Reef. I was invited to

work briefly with the legendary Ron and

Valerie Taylor who were filming with a

mini submarine. After that I focused more

on the wildlife. Heron Island is a nesting

place for approximately 100,000 black

noddy terns and the vulnerable Green

and Loggerhead Turtles.

The viewing of nesting and

hatching turtles starts each year around

November, the very time I was there!

After the evening's high tide I enjoyed

watching several turtles lay their eggs in

the sand. It was now late so I retired for

the night.

Very early next morning I heard a

child screaming excitedly "dad, come and

see the turtles". Still half asleep I grabbed

my camera bag and stumbled my way

towards the beach in my nightwear!

Three turtles were dragging themselves

awkwardly down towards the waters

THIRTEEN PACES

edge. I tried to creep up quietly to the first

one. A German tourist behind me called

out "its against the rules to go closer than

10 meters!" If an animal comes close to

you its okay so rather than being rude to

him I tried to work out a strategy.

I observed that each turtle stopped

and rested with its head on the sand for

about a minute. They then raised their

heads, took two deep breaths and moved

off again. To my amazement I counted

each turtle moving exactly thirteen

paces before stopping again for another

rest. There was now only one turtle left

and at the end of her second effort she

appeared to be about thirteen paces from

the sea. Hoping for a miracle I dashed

down the beach and carefully lay down

in shallow water with camera in hand.

Directly in her path I froze like a rock with

camera to my left eye (I'm a left eyed

viewer). I glanced at the turtle with my

right eye. She was on the move again

and as she got closer I could hear her

heavy breathing. To my utter amazement

she came into the water, stopped right

in front of me and put her head down.

I thought to myself "don't stuff this up

because it's a special moment". The sun

was just peeping over the horizon and as

she lifted her head to breath she created

a slight ripple in the calm water. I pushed

the shutter button and then waited for the

flash to recycle. Its ready light glowed

red, she turned and looked at me and I

took one more photo before she moved

to deeper water. I could not preview

the images because I was shooting film

with a Nikon F4. Oh how things have

changed!

When I got home and saw this

photo I was elated. Its one of my all time

favourites and it won a major place in

the British Wildlife Photographer of the

Year Competition. To photograph wildlife

without hassling it, sometimes you have

to hatch a plan. I got very lucky on this

occasion. My plan worked!

ADVENTUREMAGAZINE.CO.NZ 101
---
Launched in February 1931, the

SS President Coolidge was operated

as a luxury liner. After the Pearl

Harbour attack in 1941 she was

commissioned as a transport ship

to reinforce garrisons in the Pacific.

She set sail from San Francisco for

New Caledonia and Espiritu Santo in

Vanuatu. On her approach to Santo

in October 1942, the SS Coolidge

struck two mines and the captain ran

her aground. 4,998 troops got safely

off the ship before she sank. She

now rests on her port side in warm

tropical waters with her bow at a

depth of 20 meters and her stern at

70 meters.

I was invited to photograph

the infamous Coolidge and as we

descended towards the huge wreck

I was vaguely conscious of a large

fish shape in the distance. My eyes

just about popped out of my head!

It was the biggest grouper I had

ever seen and I became transfixed

with photographing this wonderful

250-kilo monster. Unfortunately

my magazine editor wanted me to

photograph a mural called The Lady

BORIS THE GROUPER

in the ship's dining room and took me

to deeper water. Next day we moved

on to another location. I was gutted.

I knew instinctively that the grouper

was an amazing photo opportunity

and promised myself I would return.

One year later I returned to dive

the Coolidge again. My wonderful

resident Japanese dive guide

Mayumi told me the grouper's

name was Boris and promised to

bring him close to my camera. We

swam down the starboard side of

the Coolidge to see Boris lurking

in the distance. I signalled Mayumi

to wait while I set up my camera.

Then I could concentrate on the

composition of the image in the heat

of the moment. Guessing Boris might

come very close I manually focused

on my knee. I manually metered

the background water and set the

strobes on low power so as not to

over expose the fish. I was ready. We

kneeled on the hull. Mayumi pulled

from her plastic container a fish the

size of a small kahawai and waived

it above her head. In an instant Boris

was right in my face! As he turned

in front of me with his little yellow

followers I took one photo.

Two weeks later I saw the

transparency was pin sharp and

perfectly exposed. I was elated

and it was to become my most

successful image. It won a first

place in the world's prestigious

Wildlife Photographer of the Year

competition. Being flown to London's

Natural History Museum to accept

my award from Richard Attenborough

was the highlight of my photographic

career. The image then toured the

world as part of their exhibition and

its appearance brought me lots of

new work enquiries.

Several years later my 12-yearold

daughter Ocean completed

her PADI open water dive training

and I took her to meet Boris. She

appeared to have absolutely no fear

of this huge fish. What I learned from

this whole Boris experience was this.

Once you recognize a great photo

opportunity don't give up on it. Go

back and do it again and again until

you get it right!

102//WHERE ACTIONS SPEAK LOUDER THAN WORDS/#219
---
CLOSE CALL WITH CROCODILE

I was on a live-aboard dive boat

called Bilikiki in the Solomon Islands.

One evening we anchored next to a

beautiful island in the Russell's group.

Some guests snorkelled in the crystal

clear water and met locals in their

canoes. I relaxed on the main deck with

a cool drink. Jimmy, a crew member,

was lowering the ships inflatable boat

into the water and I wondered why.

As he came alongside the stern dive

platform excited guests were jumping

into the inflatable. They had spotted

a large saltwater crocodile at the top

of the beach. I screamed out rather

arrogantly "don't you dare go without

me. I'll just get my camera". I raced up

to my cabin, grabbed my Nikon camera

body and nearly fell down the steps

while trying to fit my 70-200 mm zoom

lens. I stepped on to the inflatable and

thanked everyone for their patience.

Jimmy took us close to the beach

on the up-current side of the crocodile.

He stopped the outboard and the

current carried us slowly along the

beach edge. I was disappointed that

the animal was tucked away under

the shade of the trees with only its tail

showing. I took several photos as we

drifted past but they certainly weren't

the images I was hoping for. Jimmy

started the outboard and we went

round for another try. As we drifted

by the crocodile was motionless. The

consensus onboard was that we now

give up and go back to the Bilikiki

for dinner. I was not impressed and

pleaded for one more pass. They

agreed.

We moved up again and stopped

the outboard. I stared at the crocodile

and secretly wished it to come down

the beach and stop halfway. To my

utter amazement it did exactly that

just a few seconds later. As we drifted

towards this huge creature my camera

was working overtime. Jimmy could see

I was excited and stuck his paddle in

the sand to stop us drifting any further.

The crocodile was now only four or five

metres away and we were right in its

path! I had plenty of static photos and

secretly wished for a bit of action. But

maybe that was the wrong thing to do.

The crocodile rocketed straight towards

us. The shriek of someone screaming

resonated in my ears and accentuated

my sudden feeling of fear. I was afraid

the animal would launch itself over the

pontoon, into our boat and rip us all

to pieces! After all the crocodile has

the strongest bite of any animal in the

world. At the last split second it veered

to the left and I felt the boat shudder as

it slid past us and into the water.

I gathered my composure, spun

around and took one last photo as the

crocs powerful tail propelled it towards

deeper water. We watched with mouths

open as it swam into the distance and

disappeared. We all looked at each

other and quickly erupted into slightly

nervous laughter. A sense of relief

came over us. I think we were lucky to

be in one piece and would go home

to our friends and family with a very

special story to tell.

All photos are copyright Andy Belcher-Legend Photography. Prints available on request. www.andybelcher.com email photos@andybelcher.com

Phone 021 444 830 Specializing in Aerial, Tourism and Adventure photography. Private photography tuition also available.

ADVENTUREMAGAZINE.CO.NZ 103
---
WORLD

EXPEDITIONS

When reality gets too much, dreams help us to survive

By Natalie Tambolash

Who would have thought that we

would be sitting here today in a world

that changed overnight. Where today,

is an incredibly different today from

yesterday, and where tomorrow still

brings with it many unknowns. Some of

us relish in the adventure, grab it with

both hands, excited for the changes,

adapting to the new reality and ready to

explore. Some of us struggle to adapt,

living with the fear of the unknown,

anxious, uncertain, wondering what

next. No matter where you sit right now

on this current new adventure we are

all in….take a moment. Breathe in. Sit

back and dream for a moment of where

you might want to go to next.

It seems that as kids, we were

better at dreaming than what we are

now. We would go into our own world,

where we would think about who we

would marry, what kind of house we

would live in, would we have a cat or a

dog, what we would do when we grew

up, what kind of cake we would have

for our birthday, and well, what exotic

destinations we would travel to. For

some of us, it was a rocket to the moon.

For others, it was camping during the

holidays along the river. No matter how

big or small, we dreamed and for that

moment, we escaped our reality. The

game of life was ours and we could

make it whatever we wanted.

As I sit and think about where to

next, I think about the amazing trips

of the past. That cycle trip down the

Danube on a beautiful Spring day in

Europe. Blue skies, and bitter ice-cold

days with pelting rain. Cycling along

one of the most well-known rivers in

Europe. Peering over stone walls into

village gardens, trying not to be nosey,

but interested in what lay over that

stone wall. Stopping for coffee and

pastries at one of the many bakeries

and patisseries along the way or my

favourite, discovering the amazing

flavour of poppyseed ice-cream which

for a lover of poppyseed was heaven.

Also discovering a new favourite soup,

Baerlauchcremesuppe, (Wild Garlic

Soup), all of the flavour, none of the

pungency. Peering through stained

glass windows of old churches and

reading the headstones in the historic

and gothic looking graveyards trying

to work out their stories. And well, who

could forget Vienna!

Then there were those trips to

Africa. A real eye opener and honestly,

never really on my bucket list. From the

best of the best on offer in South Africa

including seeing the slum life of Soweto,

delving into the history of humankind,

sampling delectable South African

wines and local produce in Franschoek,

experiencing 5* game lodges and

drives in Kruger, the native fauna of

Grootbosch and much more. To 4WD

game drives in the forests of Tanzania

and the well know Ngorongoro Crater

with wildlife everywhere you could

possibly see. Of course, one of the

main dreams come reality was climbing

Kilimanjaro. Taking each step on that

final night, in the pitch, black darkness,

with not much left in the tank. Crying.

Thinking what on earth are we doing.

Eating gummy bears. But you haven't

seen sunrise, until you are standing on

the roof of Africa, seeing it raise its head

over the continent. Bringing with it the

warmth and the utter joy that you need.

Perhaps the adventure is in the

mystery of the land and its people such

as my trip along the Silk Road. Stories

vaguely that I could recall from history

lessons past, but nothing much known

about the people or the landscape of

these lands. I learnt that trekking in

the Fann Mountains is by far one of

the most scenic in the world. Stunning

vistas. Crystal clear blue lakes. Amazing

mountain surrounds from atop the high

passes and incredibly friendly locals

who pull up to your tent and you're not

entirely sure if they are out to rob you,

or chat. Chat it was in our combined

Russian, Tajik and Croatian dialects.

The people are incredibly friendly.

Melons, cucumbers and tomatoes are

a staple. But you will never have a

peach as tasty as you will in Uzbekistan,

nor see such intricate buildings and

architecture.

Some of us might want the rough

and rugged. The untouched landscapes

that are shaped by ice, wind and

geology on a journey to the Arctic Circle.

Where the weather is unpredictable and

the wildlife even more so. The scenery

changes on a daily basis. The journey

onboard a small ship has a planned

day to day schedule, yet the plan gets

thrown out the window depending on

what the day brings. Where you think

104//WHERE ACTIONS SPEAK LOUDER THAN WORDS/#219
---
you might see a Polar Bear, only to have the

crew describe what you might actually see

is just a cream dot in a 'Where's Wally' type

of photo. But then where all your landings

are aborted due to the abundance of Polar

Bears. Where you experience them on ice

on a perfectly blue-sky day. See them on ice

in full blown blizzard conditions. Or witness

a real take your breathe away moment,

seeing them feeding on a walrus carcass on

land, whilst you sit in utter silence on a small

boat, bobbing up and down, trying to take the

perfect shot, whilst not dropping your camera

or making a peep . Where nature owns the

landscape and the itinerary.

There is still so much on the travel dream

list. The pyramids and ancient cities of

Mexico, (as well as eating proper guacamole).

The flavours and pilgrimage trails of Spain

and Portugal. A trek through the amazing

mountains of the Canadian Rockies. The

wild landscapes and untouched regions of

Patagonia….my list goes on and on.

We have never quite known what life is

going to throw at us, and well, that is both

the beauty and the adventure that is life.

Sometimes we need the fantasy to survive

the reality. Relax now. Take time to read that

book, explore a country online, or learn a

new language so that when I ask you in a few

month's time, you will be able to tell me…..

where to next?

RELAX NOW

Have a BIG ADVENTURE later

Stay safe, but keep dreaming:

worldexpeditions.com

0800 350 354

enquiries@worldexpeditions.co.nz
---
Notchup © Drones.nc / NCTPS

#NewCalPulse

NEWCALEDONIA.TRAVEL
---
NEW

CALEDONIA

The South Pacific's Surprising Hiking Hotspot

If you ask someone to

describe New Caledonia,

they'll likely conjure images

of white sand beaches,

cocktails by the pool and

days spent languishing in

the blue lagoon waters.

And these are all certainly

things you can enjoy in New

Caledonia. But there's so

much more adventure to be

had, which is great news for

the inquisitive travellers out

there.

At less than three

hours from Auckland, New

Caledonia is one of the

most easily accessible

overseas getaways from New

Zealand. A French territory

in the South Pacific, it offers

travellers a unique mix of

French and local cultures,

gourmet dining, striking

landscapes and outdoor

experiences to explore.

One such outdoor

experience is the country's

over 500 km of marked

trails. Labelled by the FFRP

(French Federation of

Hiking), these trails make

New Caledonia a surprising

hotspot for hiking in the

South Pacific. It has two longdistance

hiking trails (GR®

NC1 in the south and GR®

NC2 in the north) and more

than fifty walking and hiking

trails. And this is without

counting other magnificent

unmarked routes, especially

in the north and the Loyalty

Islands.

There's something on

offer for all time frames and

abilities, from short day-hikes

to more-than-100 kilometre,

multi-day options. Here are

five essential hikes to enjoy

in New Caledonia:

1.

<

GR® SUD SENTIER DE GRANDE RANDONNÉE NC1

(SOUTH HIKING TRAIL NC1)

Level: Difficult

Distance: 126 km

Duration: 7 days

Elevation gain: +5,415 m

Starting Point: Prony Village (1 hour drive from Noumea)

Finish Point: Dumbéa Nature Reserve

Passing through the municipalities of Yaté, Mont-Dore and Dumbéa,

the GR® Sud crosses several of New Caledonia's most iconic sites,

namely the Blue River Provincial Park and its drowned forest, the

Dumbéa Natural Park, the Chutes de la Madeleine reserve and the

village of Prony. In addition to its technical stages that will delight

seasoned hikers, the trail showcases the incredible biodiversity of the

Great South – New Caledonia is one of the most biodiverse destinations

in the world with many endemic plant and animal species.

For those that don't have as much time, this trail can be done in

stages. The trail can also be experienced alone or with a guide, and

camping sites are set up along the way. For more information, visit

province-sud.nc.

© S. Duncandas / NCTPS

ADVENTUREMAGAZINE.CO.NZ 107
---
Deva Domain, is a nature reserve located on New Caledonia's stunning west coast. About 2.5 hours drive north of Noumea

© Province Sud / NCTPS

THE DIPODIUM TRAIL

Level: Difficult

Type: Loop

Duration: 4h 30

Starting Point: Blue River Provincial Park (1.5 hours'

drive from Noumea)

For adventurous travellers, The Blue River Provincial

Park is a must visit. An easy drive from Noumea, the

Park's striking red soil landscape and drowned forest

captivates guests and is a change from the blue lagoons

that surround the capital city. The Park is home to

eighteen hiking trails, however the Dipodium Trail offers

perhaps some of the best panoramas of the Park,

allowing visitors to truly take in its size and scenery. For

more information, visit province-sud.nc.

2.

THE GRANDES FOUGÈRES TRAIL

Level: Easy

Type: Loop

Distance: 3.1 km

Duration: 1h 15

Elevation gain: +131 m

Starting point: Grandes Fougères National Park (2 hours'

drive from Noumea)

3.

The Grandes Fougères Park is located in the centre of New

Caledonia, in its mountainous region. It's perhaps one of the

greenest parks in New Caledonia and is a pleasant spot for

hikers of all ages and experiences. It's also an ideal place to

see some of New Caledonia's endemic birds and plant species

– the park is called the 'Great Fern' Park after all! It's home

to seven trails, however the Grandes Fougères Trail is one

of the easiest, so great for any level of experience. For more

information, visit grandes-fougeres.nc.

108//WHERE ACTIONS SPEAK LOUDER THAN WORDS/#219
---
4.

THE BOÉ ARÉRÉDI TRAIL

Level: Easy

Type: Loop

Distance: 4.5 km

Duration: 2 h

Elevation gain: +317 m

Starting point: Deva Domain (2.5 hours' drive from

Noumea)

Situated within the Deva Domain national reserve

on the West Coast, hikers will enjoy juxtaposing views

of the region's rural fauna against the backdrop of

the glittering blue Deva lagoon, which is one of six

parts of New Caledonia's lagoon that are a UNESCO

World Heritage Listed site. Deva Domain is also home

to the beautiful Sheraton Deva New Caledonia Spa

& Golf resort – for those adventurous travellers who

enjoy a little luxury too! The Boé Arérédi Trail is one of

four hikes in the Deva Domain. Visit deva.nc for more

information.

© Massaki Hojo / NCTPS

© Massaki Hojo / NCTPS

© Terres de lumière / NCTPS

5.

ROCHES DE LA OUAIEME

Level: Difficult

Type: Loop

Distance: 10 km

Duration: 7 to 9 h

Elevation gain: +1,100 m

Departure: "Chez Maria" campsite at the Ouenghip

Tribe near Hienghène (5 hours' drive from Noumea)

Located on New Caledonia's East Coast,

Hienghène is home to impressive waterfalls, lush

vegetation and coral forests, and is known for its

striking limestone cliffs that jut up against the crystalclear

blue lagoon. The Roches De La Ouaieme trail

takes hikers through forests and creeks and offers

panoramic views of Mont Panié (New Caledonia's

highest mountain) and the lagoon from the cliffs of

Ouaieme (which sits 744 metres above sea level).

Visit province-nord.nc for more information.

For more information on New Caledonia, hiking, guides and more, visit newcaledonia.travel.

© Ethnotrack / NCTPS

© Terres de Lumière / NCTPS

ADVENTUREMAGAZINE.CO.NZ 109
---
vanuatu.travel
---
VANUATU

9 Exciting Family-Friendly Adventures

BLUE HOLES AND ROPE SWING

Seeing a spectacular sight for yourself

is one thing, but watching your kids'

reaction to a natural wonder is something

else entirely. Vanuatu is packed full of

family-friendly adventures that will have

you talking about your holiday for years to

come.

If you have ever travelled with kids, you

will have heard "I'm bored" more times than

you care to remember. Not in Vanuatu! As

well as the facilities in your resort or hotel,

such as man-made swimming pools and

kids' clubs run by enthusiastic locals, the

tours and natural excursions in Vanuatu

are a chance to experience new things

with your kids. Family holidays here will

have them on the edge of their seats with

excitement and exhausted by the end of

each day. Check out these top nine familyfriendly

adventures in Vanuatu.

2.

These are not your average rope

swings. Even the most seasoned

rope-swing makers will be in awe of

these creations, which are scattered at

waterfalls and blue holes throughout

Vanuatu. Just like something out of

Tarzan, these huge swings will have the

kids (and kids-at-heart) jumping for joy

and queueing up for a few more goes.

The crystal clear swimming holes in

Vanuatu are vibrant shades of blue and

have a great island vibe about them as

villagers and visitors alike relax on the

banks or take a refreshing dip, while the

local kids (pikinini) welcome newcomers

into their games as they splash about in

the water. If you want to try something

more challenging during your family

holiday in Vanuatu, clamber to the top of

the Mele Cascades waterfalls on Efate

island and enjoy swimming in the pools

and taking in the awesome views.

1.

Vanuatu Jungle Zipline in Port Vila on

the island of Efate is suitable for kids aged

four and above, and offers a three-hour

tour packed full of thrill-seeking fun. Take

in the views over the tops of the trees

out over Mele Bay as you speed along

the wires. You'll feel like you are flying

as you take on the different ziplines and

suspension bridges between the tree-top

platforms. This family-friendly activity in

Port Vila is available on its own or as part

of a package with a helicopter ride.

VANUATU'S ZIPLINE

In Vanuatu, helicopters aren't reserved

for action-packed movie scenes. With

several flight options departing from a

floating pontoon in Port Vila harbour, you

and your family can take off in style for an

3.

unforgettable adventure. Whether you want

to meet the local marine life at the turtle

sanctuary or touch down on an extinct

volcano, Vanuatu Helicopters in Port Vila

has family-friendly flights to suit everyone.

HELICOPTER OVER EFATE

ADVENTUREMAGAZINE.CO.NZ 111
---
4.

SNORKELLING IN VANUATU

KAYAKING IN SANTO

A Vanuatu snorkelling trip is the perfect familyfriendly

activity in Vanuatu. As you depart from the

Back to Eden restaurant on Efate, your guide will

show you huge anemones packed full of real-life

Nemos (clownfish), giant clams and, if you're lucky,

a sea turtle, too. After the tour, enjoy a drink at

the restaurant as you watch the sun go down over

the water. Other snorkelling and scuba diving in

Vanuatu can be accessed via boat trips or straight

off the beach. Some of the best snorkelling spots

are the Second World War wrecks — especially

the SS President Coolidge at Million Dollar Point

(off the coast of Espiritu Santo) — and snorkelling

tours to smaller islands from Efate such as

Hideaway Island and Lelepa Island. Top tip: it is

worth packing a snorkel set to explore the blue

holes and beach reefs you'll discover all over

Vanuatu.

5.

Snaking their way around the islands are

kilometres of rivers and streams which connect up to

Vanuatu's famous blue holes. The island of Espiritu

Santo has more blue holes than any of the other

islands, and kayaking up the picturesque waterways

is a great way to discover them while on your family

holiday in Vanuatu. Keep the kids entertained with

bird watching and spotting the fish that dart around

under the boat as you paddle your way along.

6.

MT YASUR VOLCANO DAY TRIP

The active volcano on the island of

Tanna is a truly awe-inspiring natural

wonder. It's one of the world's most

accessible volcanoes, as four-wheel

drive vehicles can drop you off just 150

metres from the edge of the crater. If

you've got a spring in your step, you can

always walk from the bottom. Stare into

the belly of the earth as red-hot lava spits

and dances, and steam rises from the

centre of the 400-metre-wide crater. The

desolate, blackened landscape of the

361-metre-high Mt Yasur Volcano is in

stark contrast to the lush rainforest that

makes up most of Vanuatu's islands. This

is due to the semi-regular eruptions that

deposit volcanic rock and lava onto the

ash plain. Travelling as a family is always

a great way to teach your kids something

new, and this is one experience they

will not forget in a hurry. Book a Tanna

volcano tour or arrange four-wheeldrive

transport and a guide via your

accommodation. Top tip: don't forget to

take a postcard to post in the letterbox on

the volcano for the folks back home.

112//WHERE ACTIONS SPEAK LOUDER THAN WORDS/#219
---
VANUATU ECOTOURS

7.

If your family loves the great

outdoors, an ecotour is a great

way to experience Vanuatu's

magnificent natural beauty, while

supporting conservation efforts.

Whether you have teenagers

or little ones, or kids with lots

of different interests, there is a

Vanuatu Ecotour that the whole

family can enjoy; from mountain

biking to turtle tagging, kayaking

to bird watching.

8.

Some of Vanuatu's best

beaches are on the island of Espiritu

Santo. After exploring inland, an

afternoon on the beach can be

just what the doctor ordered. Port

Olry on the north-east of Santo

is a picturesque bay with islands

and coral reefs just off the beach

which you can kayak to, as well

as beachside huts serving tasty

local seafood dishes. Just south

of Port Olry is Champagne Beach,

where the calm, clear water makes

it perfect for younger kids to swim.

There are also market stalls and

walking trails here if you want to

stretch your legs. Travelling on

Efate? Head to the family-friendly

Eton Beach for an afternoon paddle.

PORT VILA BUGGY ADVENTURES

VANUATU'S BEST BEACHES

9.

Explore the island of Efate by buggy or quad bike

on a Vanuatu tour that is perfect for thrill-seekers. Book

ahead with Off Road Adventures and depart on your Port

Vila tour to explore the beaches, jungles and remote rural

areas of the island. Suitable for kids over five years of age,

this experience is as exhilarating as it is muddy, so dress

appropriately.

ADVENTUREMAGAZINE.CO.NZ 113
---
A C T I V E

a d v e n t u r e

CRASHED! INJURED!

NEED HELP...

Small enough to

fit in your breast

pocket

4hrs from camp then 2 days walk

out – you slip badly – you know

you're in deep trouble

Daily savings

at your fingertips...

WWW.SAFETYBEACONS.CO.NZ 0800 GETPLB

0800 438752

Access 2,000 discounts

across NZ & Australia.

Join now:

yha.co.nz/

membership

The best handmade crocheted hacky sacks

you can buy!

SEAPA NZ

P.O. Box 104, Whangamata, 3643

p: 027 451 8255 e: dave@seapa.co.nz

www.seapa.co.nz

114//WHERE ACTIONS SPEAK LOUDER THAN WORDS/#219
---
Enjoy All Press coffee,

gourmet meals, freshly

squeezed juices, and

home baking from the

tranquil courtyard.

Enjoy a relaxing

atmosphere with some

fish n' chips and tap beers.

Or, if in a rush, grab some

yummy takeaways!

4/4 Buckingham Street, Arrowtown

p: 03 442 0227 e: unwind_cafe@hotmail.com

www.unwindcafe.co.nz

Your Mobile

Power Solution

www.sunsaver.co.nz

Tasman Glacier Heli Skiing

Exclusive heli skiing at the head of NZ's

biggest glacier. Tick off your bucket list

with a four-run Tasman Glacier Heli Ski

day. Ice Canyons, ice caves and four long

runs through spectacular scenery.

Heli hiking also available.

0274 342277 / www.mtcook.com
---
THE TROUT THE TROUT HOUSE HOUSE

JOBS

the website for

adventure professionals,

those looking

for work and those

looking for staff

Te Herekeikei Street, Turangi

p. 027 5775014 e. steve@pacificmedia.co.nz

Excellent location for fishing, hiking,

. . . mountain biking, rafting, skiing and more . . .

Te Herekeikei Street, Turangi

ph:027 577 5014

or email steve@pacificmedia.co.nz

www.adventurejobs.co.nz

U L T I M A T E V O L C A N O E X P E D I T I O N S

www.ultimatevolcanoexpeditions.com

CALL: NZ +64 21 329 248 or Netherlands +31 616687416

OFFERING ENDLESS EXPEDITION OPPORTUNITIES FOR THOSE SEEKING AWE, ADRENALINE, AND EXCITEMENT (AND MAYBE A LITTLE BIT OF CRAZY). UNIQUE EXPERIENCES, FOR EVERYONE.

SUN, SURF, SAMOA

COCONUTS BEACH CLUB RESORT & SPA

WWW.CBCSAMOA.COM
---
Dive and help preserve

the unexplored

Dive Munda is a multi-award winning SSI Instructor Training and Extended Range Centre in the Western

province of Solomon Islands committed to sustainable dive eco-tourism. Discover WWII history and

Kastom culture and scuba dive unexplored reefs, hard and soft coral, cuts, caverns and caves along with

pelagic life and shark action, all in one of the last wild frontiers left on planet ocean.

• Direct weekly flights from Brisbane to Munda with Solomon Airlines

Landline: +677 621 56

Cellphone: +677 789 6869

divemunda@dive-solomon-com

www.divemunda.com

Find us on Facebook, Instagram, Twitter

Agnes Gateway Hotel, Lambeti Station, Munda, New Georgia. Western Province, Solomon Islands
---
For more than 30 years our sleeping bags have set the

standard within climbing and mountaineering communities.

Carefully balancing our heritage with innovation, we've

learnt from the past whilst constantly thinking about

the future. Driven by a pursuit of excellence, quality

sits at the heart of our

manufacturing. We pride

ourselves on designing and

hand-crafting world-class

sleeping bags honed for

the mountains.

AVAILABLE NOW FROM RAB SPECIALIST STORES THROUGHOUT NZ. Auckland: Outfitters, Living Simply, Waikato: Trek & Travel, Equip Outdoors,

BOP: Whakatane Great Outdoors, Outdoorsman HQ, Taupo: Outdoor Attitude, Wellington: Dwights Outdoors, Motueka: Coppins Outdoors,

Kaikoura: Coastal Sports Christchurch: Complete Outdoors, Greymouth: Colls Sportsworld, Hokitika: Hokitika Cycles & Sportsworld, Franz Josef

Glacier: The Glacier Shop, Fox Glacier: The Hobnail Shop, Wanaka: MT Outdoors, Queenstown: Small Planet, Invercargill: Southern Adventure

Hunting and Fishing New Zealand stores nationwide. On-line: outdooraction.co.nz, gearshop.co.nz

Distributed by: Outfitters 0800 021732

www.outfitters.net.nz