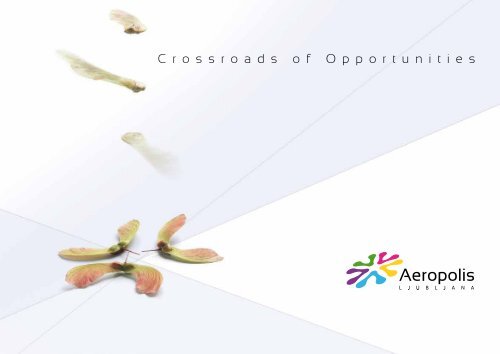 Protim: Aeropolis - ANG
Aeropolis - the Crossroads of Opportunities
Aeropolis - the Crossroads of Opportunities
SHOW MORE
SHOW LESS
Create successful ePaper yourself
Turn your PDF publications into a flip-book with our unique Google optimized e-Paper software.
C r o s s r o a d s o f O p p o r t u n i t i e s
---
Development Partnership

Aeropolis aggregates all the characteristics of a promising real estate development project:

• Strategic Location

Advantageously located at the intersection of two transport corridors which connect central and SE Europe.

• Accessibility

Located next to the A2 motorway, the approach road to the capital city of Ljubljana; the proximity of the Port of Koper;

only a few hours drive away from major business centres in neighbouring countries; and lastly, an air link to European

commercial and industrial hubs, make Aeropolis an excellent starting point for successful international business.

• Profitability

The exceptional location, flexible design concept and the current lack of facilities available at the airport, make Aeropolis

a prime, relatively low risk investment opportunity.

Over the next ten years, Aeropolis Ljubljana, a city in

its own right, will be built on 80 ha next to Slovenia's

central airport. Located at the strategically important

intersection of two European transport corridors, this

is one of the most ambitious development projects of

national importance.

Aeropolis Ljubljana is the key development project of Aerodrom Ljubljana, d.d., the company, which

manages and develops the Ljubljana Jože Pučnik Airport. Its proposal is to develop the airport's

commercial infrastructure and meet the needs for hotel accommodation, office space, commercial

premises and logistics services, not currently available at the airport.

• Contemporary Design

Buildings in Aeropolis will be designed according to the most modern principles of profitability, cost-efficiency and sustainability.

• Adaptability

Planned on the principles of modular architecture, buildings in Aeropolis will allow occupiers to develop and shape

space according to their needs.

Developed in partnership between the property owner, Aerodrom Ljubljana d.d., and the consulting group Ržišnik

Perc, experts in real estate development, Aeropolis the master plan for Aeropolis is at a point, where potential investors

can be invited to join in on the project. If necessary, plans can still be adjusted to suit the interests of prospective

investors. Opened to all forms of business partnership - from granting of building rights to joint ventures,

Aerodrom Ljubljana, d.d., will provide you with all the necessary investment support along with straightforward information

about doing business in Slovenia.

Aerodrom Ljubljana, d.d., is committed to putting Aeropolis Ljubljana on the map of most innovative and vibrant

European airports.

2 More about the project: www.aeropolis.si

3
---
Oslo

SLOVENIA

Slovenia - the European Crossroads

Riga

Copenhagen

Malmö

ITALY

Europe is a vibrant market and Slovenia is

ideally located in its centre, at the crossroads

of 5 th and 10 th Pan-European corridors.

NOVA GORICA

H4

A3

PORT OF KOPER

H5

KOPER

H6

AUSTRIA

JESENICE

A2

Aeropolis Ljubljana

KRANJ

LJUBLJANA

A1

A1

POSTOJNA

A2

CROATIA

A1

CELJE

NOVO

MESTO

A1

MARIBOR

H2

A4

A1

A2

A5

MURSKA

SOBOTA

H7

HUNGARY

The country lies between the eastern Alps and the northern tip of Adriatic sea,

which extends almost into the middle of the continent, thus providing the cheapest

naval route from Far eastern markets to Central Europe. The well developed

traffic infrastructure, Port of Koper and Ljubljana Jože Pučnik Airport form a perfect

logistics gateway for Slovenia-based companies to the key European markets.

Large commercial and industrial hubs like Vienna, Munich, Milan or Budapest are

just a few hours drive away. The distance between Port of Koper and Ljubljana Jože

Pučnik Airport is about 130 kilometres.

Slovenia has the highest GDP and the least corruption 1 among so called "new

EU members" 2 . The country's highly skilled, multilingual labour force and export oriented

economy provide strong growth potential to foreign exporters and investors.

Slovenia Key facts:

Area: 20,273 sq km

Population: 2 million

Capital: Ljubljana (population app. 330,000)

Language: Slovenian, with Italian or Hungarian

in ethnically mixed regions

EU Member State: yes

Currency: Euro (€)

GDP (PPP) per capita 2008 3 : € 22,500

International domain suffix: .si

Country calling code: +386

1

According to a study which was carried out in 2008 by Transparency International, a non-governmental organisation

that studies corruption statistics, Slovenia ranks 26th in the list of least corrupt countries in the world.

2

The twelve countries that joined EU in 2004 or later.

Lisbon

Dublin

La Coruña

Madrid

London

E 70

Paris

Amsterdam

Brussels

Luxembourg

Bern

Vilnius

Minsk

Berlin

Warsaw

E 55

Kiev

Prague

V. corridor

Vienna Bratislava

Salzburg

Budapest

Ljubljana Zagreb

Chisinau

E 70

Venice

Belgrade

Bucharest

250 km

Sarajevo X. corridor

Podgorica

Sofia

Varna

Rome

Skopje

500 km Tirana

Thessaloniki

Athens

Ankara

3

Source: Eurostat 2009

4 More about the project: www.aeropolis.si

5
---
Ljubljana Joźe Pućnik Airport

Oslo

Helsinki

Ljubljana Jože Pučnik Airport offers

a scheduled direct connection to

more than 30 destinations in Europe.

The number of passengers and cargo doubled within the last decade and the airport is

in a process of continuous transformation, becoming an important regional distribution

and logistics centre. Significant numbers of passengers and goods from Western Europe

pass through the airport on their way to the south-east of the continent and onwards to

their destinations in the Far East.

Copenhagen

Stockholm

The first stage of airside expansion comprised a new terminal I, the construction of terminal

II is just about to begin. Once completed, the airport will meet the forecast increase

in passenger demand but not all the expectations in terms of commercial services

the modern airport users expect.

It is essential that beside modern airside operations, airport provides facilities, which

shorten routes, save time, and offer space for different commercial activities. A commercial

centre that would fill this gap is therefore vital for airport's success.

Dublin

Birmingham

Manchester

London

Paris

Amsterdam

Brussels

Prague

Frankfurt

Vienna

Munich

Zurich

Ljubljana

Budapest

Warsaw

Moscow

Kiev

Sarajevo

Belgrade

Bucharest

Barcelona

Podgorica

Tirana

Pristina

Skopje

Ohrid

Istanbul

Athens

6 More about the project: www.aeropolis.si

7
---
Aeropolis - the Crossroads of Opportunities

Welcome to the year 2021.

Aeropolis bustles with

business life, travellers and

freight traffic.

In Aeropolis, all is close at hand: excellent travel connections,

hotel accommodation, conference halls,

offices, a variety of services and a modern logistics

infrastructure.

In the business district Aeropolis pulses under the

entrepreneurship of the next generation. Efficiency,

adaptability, profitability. The flexible office concepts

can be arranged to meet your specific needs. You

rent a meeting room today, an office with a secretary

tomorrow.

After work relaxation is also provided for; awaiting

you is a shopping mall with a street-level services,

interesting restaurants and speciality shops. The surrounding

countryside with beautiful mountains

offers a variety of outdoor activities including golf,

trekking and cycling.

Proximity to the airport, the number of passengers with

substantial purchasing power and its metropolitan atmosphere

will make Aeropolis a premium location for

doing business, especially for:

• hotel and catering services,

• logistics and distribution,

• high-tech companies,

• banks and insurance companies,

• offices and agencies,

• congresses and fairs,

• regional branches of airline companies,

• small businesses and start-ups,

• retail and entertainment,

• leisure, fitness and recreation (golf),

• other street-level services (drugstore, hairdresser, etc.).

Once the number of companies starts to increase, it will

cause a chain reaction by attracting more consumers

which will encourage new tenants to move in... a trend,

which might potentially influence the price of properties

in the years to come.

Master planning and architecture: Protim Ržišnik Perc

8 More about the project: www.aeropolis.si

9
---
Master Plan

N

Legend

Commercial Area

Parking Lot

Bus Station

Parking Garage

Petrol Station

Regional Road

Communications

Centre

Train Station

Conference

Activities

Business

Activities

Hotel

Air Traffic Control

Service

Cargo

Wholesale and

Retail Trade

Passanger

Terminal

Energetics

Logistics and

Storage

■ Hotel

• gross floor area: 25 000 m 2

• parking spaces: 360 (or more)

• floors: 5 above ground

■ Business Center

• gross floor area: 26 000 m 2

• parking spaces: 750 (or more)

• floors: up to 5 above ground

■ Business Park

• gross floor area: 79 000 m 2

• parking spaces: 900 (or more)

• floors: 3 above ground

■ Logistics Park

• gross floor area: 27 000 m 2

• parking spaces: 335 (or more)

• floors: 2 above ground

10 More about the project: www.aeropolis.si

11
---
Traffic

Motorway access, a planned

railway connection, intelligent

land-use and international

airport within walking distance -

Aeropolis will be accessible from

everywhere.

ENTRANCE – PASSANGERS

"A"

ENTRANCE– BUSINESS PARK

"B"

ENTRANCE – LOGISTICS

"C"

CERKLJE

KAMNIK

N

Kranj

Šenčur

Brnik

A2 - Vodice

By relocating the current access road to the north, the Aeropolis

area will gain it's final form. Separate entrances for passenger

traffic (A) and (B) and cargo (C) will ease traffic congestion,

shorten distances and save time. The planned underground railway

access will expand the airport's gravitation area and leverage

its logistics and distribution services. Public transport will

be improved through the new rail and bus communication centre.

It will be directly connected to the airport terminal through

an underground passage.

ŠENČUR

Medvode

The new traffic facilities will increase the passenger and cargo

capacities thus creating conditions for further commercial

development.

MULTIMODAL CENTRE

KRANJ

A2 - Brnik

LJUBLJANA

Ljubljana

12 More about the project: www.aeropolis.si

13
---
Time Plan

The implemintation of the four

key projects in Aeropolis is

about to begin.

Aeropolis will radically change the appearance of the current airport. The

pace of development will follow the market situation, hence the construction

phases may also overlap. The traffic infrastructure will take place alongside

the development of the main sections of the project. The construction of

Terminal II is just about to begin; also forecast is a new access road, a railway

connection, the rail and bus communication centre and several parking lots.

Phase 1

2012

Construction Phase 1 (7 ha)

The first phase of the Aeropolis development incorporates

the buildings that can be linked to the

existing access road. At the moment, what the airport

lacks most is a business-congress centre and

nighttime facilities, which is why construction of

the hotel and congress centre is taking priority. In

addition to constructing buildings that fall within

the framework of airside activities, further enlargement

of the logistics park is anticipated.

Construction Phase 2 (7 ha + 17 ha)

Current Situation

2009

Phase 2

2015

The relocation of the existing access road and the

completion of Terminal II will dictate the pace of the

expansion in this phase. Along with the increased

road traffic capacity a further expansion of the logistics

centre is foreseen. The new bus station and a

parking garage will be built and initial works in the

business park will take off.

14 More about the project: www.aeropolis.si

15
---
Construction Phase 3 (7 ha + 17 ha + 11 ha)

Further development of Aeropolis will take place in accordance with the anticipated

growth of air traffic due to the increase in the volume of transported passengers and

cargo. The need for increased capacities on all levels will also dictate the expansion of

projects which have already been started; a possible upgrading of the Business Centre, the

Business Park will take its final form, and the Logistics Park may also expand significantly.

Construction Phase 4 (7 ha + 17 ha + 11 ha + 7 ha)

A railway connection will round off the new Ljubljana Jože Pučnik Airport. Public transport

will be organised within the framework of the new communications centre, increased

traffic throughput and the accessibility of the airport will be mostly reflected in

a further enlargement of the logistics centre.

Phase 3

2018

Phase 4

2021

16 More about the project: www.aeropolis.si

17
---
More Than a Hotel

Within an architecturally

impressive hotel-conference

complex, you'll find a small

city, complete with a myriad

of attractive services.

project has to offer within the framework of the current development plan. However,

the final shape and content will be defined by the tenant and may completely change.

Accomodation facilities and conference areas are currently lacking the most at the airport

hence construction of the hotel is a top priority. Aerodrom Ljubljana, d.d., is already

preparing the necessary documentation required to start with the construction works.

SHOPS

LOUNGE BAR

Floor Plan

The flexible interior concept allows the tenant to

phase the construction as business grows and to

develop various complementary services. A modularly

conceived three-wing building with five above

ground floors is planned for the 30 000 m 2, plot, covering

more than 25 000 m 2 of gross floor area. Two of

the wings will be realized by 2011, the third to be built

later in accordance with the development and needs

of the airport.

TERRACE

GALLERY

SERVICE ENTRANCE

PARKING

HOTEL GUESTS

48 places

SAUNA

POWER

SYSTEMS

HOTEL

MANAGMENT

CONFERENCE

ROOMS

LOUNGE BAR

TO THE TERMINALS

RECEPTION

TERRACE BAR

RESTAURANT

GUESTS

ENTRANCE

The complex will contain, along with a 168 bed hotel,

a conference centre and an area with a wide range of

short-term ready-to-use office spaces. Do you need

an executive office suite or a meeting room for an appointment

with a business partner who only has a few

hours until departure? At the Aeropolis hotel you'll be

able to rent one.

The above suggestions for the hotel are just to show

prospective investors the myriad of possibilities the

Section

TERRACE

18 More about the project: www.aeropolis.si

19
---
Business Park

N

Are you planning on constructing your

own representative office building? May

we suggest a building plot in a first-class

location in a distinguished neighbourhood

with an international business flavour?

Aeropolis Business Park is for companies who value excellent links to international

traffic. Especially, if they want to build their reputation along with their

representative office.

A 50 000 m 2 of land next to the new access road is designated a low rise area with

60 % green spaces, hence the name Business Park. The construction of threestorey

buildings is anticipated on individual building plots of about 2 500 to

4 000 m 2 , with the parking spaces on the basement floor. The contemporary architecture,

an international atmosphere and excellent traffic links will be of interest

to successful small and middle sized enterprises, and some larger corporations.

Retail and entertainment activities will take place in the eastern part of the Park.

20 More about the project: www.aeropolis.si

21
---
Business Centre

The pulse of modern working life

is mirrored in the glass façades of

the Aeropolis business centre.

Floor Plan

The Business Centre building plot comprises 22 000 m 2 . According

to urban spatial planning requirements up to 26 000 m 2 of

gross floor area can erect in the quarter.

The Business Centre complex will be made up of three buildings.

Each consists of three to five above the ground storeys, arranged

around a central courtyard that may include roof cover.

Since each building stands on its own plot (from 2 500 to 4 000 m 2

in size), construction of separate, individual properties can be

developed in phases. The initial phase anticipates the construction

of two buildings with some 17 700 m 2 gross floor area. Of the

1000 anticipated car parks, the majority are located in the belowthe-ground

storey. The construction of multi-storey basement is

also possible.

The Business Centre is a perfect place for all kinds of business

services, offices and high-tech companies. On the ground floor

you'll find restaurants, speciality shops, bars and other streetlevel

services.

Section

22 More about the project: www.aeropolis.si

23
---
Logistics Park

The demand for comprehensive

logistics services by far surpasses

what is on offer in Slovenia.

There is a lack of a suitable logistics and distribution facilities

from the Port of Koper to the Austrian frontier, which makes

Aeropolis Logistics Park essentially a commercial opportunity.

This was first felt by the company DHL, which is why their distribution

centre already operates at Aeropolis. There is considerable

interest on the part of logistics companies to follow the

example.

N

Moreover, the large area of about 86 000 m 2 enables tenants to

carry out a wide range of logistics concepts. Investors can acquire

individual building plots from 2 500 to 4 000 m 2 to build

their own logistics facilities. The construction of multifunctional,

rentable storage areas for the market is also possible.

In Aeropolis logistics activities are planned over a gross floor

area of 27 000 m 2 in one- to two storey buildings. It is expected

that an additional gross floor area of 80 000 m 2 will be spread

across the rest of the airport.

24 More about the project: www.aeropolis.si

25
---
In Harmony with the Environment

Do You Feel the Opportunity?

Everyone can benefit from the airport development.

At Aerodrom Ljubljana, d.d., we have decided to consistently follow

the principles of sustainable development, considering environmental

problems and the interests of local communities as

being on an equal level as the economic, technical and aesthetic

perspectives of Ljubljana Jože Pučnik Airport.

We will continue our commitment to the local community and

its social and cultural agenda, by supporting different events,

activities and programmes to make people see that living near

an airport can also be of benefit to them.

We strive to protect against noise, handle energy carefully, and

care about keeping the environment clean. We are active in the

field of health; we contribute also to the development of knowledge

and education. We expect that this will be of even more

importance in the coming years as the development of the airport

will inevitably collide with the interests of the local population.

In line with civil initiatives, we will promptly deal with problems

and find the optimal, sustainable solutions.

Buildings in Aeropolis will be constructed on the principles of

passive energy. Even now we carefully monitor the energy consumption

of the heating and air-conditioning systems. The fact

that a large proportion of the parking spaces will be situated on

basement floors will have a positive impact on the total amount

of green areas provided, allowing for the creation of well designed

open spaces.

In cooperation with specialists in the field of energetics, we are

looking into the production and storage of renewable energy to

fulfil the needs of Aeropolis.

The railway connection will reduce the dependence of the airport

on road traffic; it will relieve the pressure on the roads and

consequently, also the environmental impact. The airport will be

better connected with Ljubljana, which will benefit not only the

airport users, but also the local population.

At the moment, about 2000 jobs are supported by airport activities.

The number will slowly increase along with the planned expansion.

We expect at least another 3000 people to work in Aeropolis;

the local population will also benefit from a significant

increase in indirectly connected occupations, mainly in services

and tourism.

26 More about the project: www.aeropolis.si

27
---
Aerodrom Ljubljana, d. d.

Zg. Brnik 130a

SI-4210 Brnik-Aerodrom

Damjan Franetič

Project Manager

damjan.franetic@lju-airport.si

T +386 4 20 61 000

F +386 4 20 21 220

www.creatim.com

w w w . a e r o p o l i s . s i