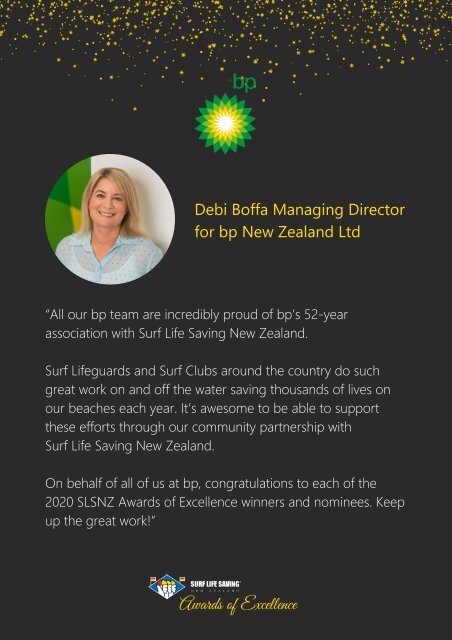 2020 SLSNZ Awards of Excellence Winners Booklet
The Surf Life Saving National Awards of Excellence programme recognises the contribution of our amazing members from the grass roots of Surf Life Saving during the 2019/2020 season. Congratulations to all of our winners and award recipients.
Debi Boffa Managing Director

for bp New Zealand Ltd

"All our bp team are incredibly proud of bp's 52-year

association with Surf Life Saving New Zealand.

Surf Lifeguards and Surf Clubs around the country do such

great work on and off the water saving thousands of lives on

our beaches each year. It's awesome to be able to support

these efforts through our community partnership with

Surf Life Saving New Zealand.

On behalf of all of us at bp, congratulations to each of the

2020 SLSNZ Awards of Excellence winners and nominees. Keep

up the great work!"

Awards of Excellence
More magazines by this user