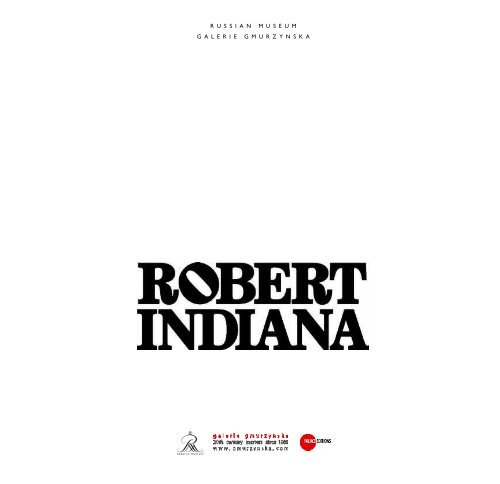 Susan Elizabeth Ryan – Robert Indiana: Insurgent Formalist
Excerpt from the publication "Robert Indiana – From Russia with Love", fully illustrated catalogue published on the occasion of Robert Indiana's first monographic survey in Russia at the State Russian Musuem – The Marble Palace, Saint Petersburg.
Excerpt from the publication "Robert Indiana – From Russia with Love", fully illustrated catalogue published on the occasion of Robert Indiana's first monographic survey in Russia at the State Russian Musuem – The Marble Palace, Saint Petersburg.
SHOW MORE
SHOW LESS
You also want an ePaper? Increase the reach of your titles
YUMPU automatically turns print PDFs into web optimized ePapers that Google loves.
R U S S I A N M U S E U M

G A L E R I E G M U R Z Y N S K A
---
ROBERT INDIANA:

INSURGENT FORMALIST

In 1991, while writing my dissertation on the art of Robert Indiana, I wrote to art critic Clement Greenberg for a comment, since I had

never found, in any of his writings, reference to Indiana's work. The infamous octogenarian replied:

I don't remember writing about Indiana, but I do remember what I felt about his art: that it had more "body" to it than the run of Pop, that

it hit my eye more, was more "plastic," i.e., more "formalist," to use that word of opprobrium. I could see that in his "Love" in the postage

stamp. He filled out more, worked more with the medium as it were, against the schematicism or stunting of a lot of Pop." 1

Although Greenberg mentioned no examples other than the stamp — and he loathed Pop art in general (the movement to which Indiana has

been most tied) — the comments indicate admiration for Indiana's formal force. 2 This is what is best known about the artist's work: its

punch — the optical shimmer and formal mastery. But it is also known for its rhetorical spirit and even its fun. Greenberg's formalism dominated

the New York art world in the late 1950s when Indiana began his career working in derelict lofts on Coenties Slip in Lower Manhattan.

All young artists of Indiana's generation had to grapple, one way or the other, with Greenberg's dictums in favor of flat, nonobjective canvases

— and his directive to purify painting.

But Indiana would be an insurgent formalist. Optical purity is something his work exceeds (via strong, even axial symmetries and highly saturated

colors) but also defies. Born Robert Clark and raised in the State of Indiana, in New York he met Ellsworth Kelly, a mentor and

neighbor and briefly a lover, and Clark studied Kelly's minimalist, hard-edge abstractions inspired by French modernism. But as the younger

artist began to develop precise compositions of abstract Ginkgo leaves and fields of circles he called orbs, he combined them with found

materials like old wood from the Slip (as in Sixth State) and other objects. Soon short words and numbers appeared on constructions that

reflect a new fever for found objects in the late 1950s, led by artists like Rauschenberg and Nevelson. Flying in the face of Kelly's nonobjective

paintings and sculptures, Clark (renaming himself Robert Indiana) rebelled by adding words and numbers, not only to his wood assemblages,

but then also to the orb paintings, initiating a habit of repainting — adjusting meaning and form — that would continue throughout his career.

Unlike any formalist, Indiana was drawn to words and numbers, an attraction rooted in his earlier study of literature at the University of

Edinburgh, where he wrote and typeset his own poetry and prose — and he continued writing poetry for many years afterwards. Indiana

also has maintained a practice of combining words and images in large folio diaries that include sketches, notes about influences, impressions,

and comments on current political events, sometimes attaching newspaper clippings. As Barbara Haskell recently opined, Indiana's work

often carried a social message, commenting "on the politics and ethics of contemporary American life." 3 The artist has called his fusion of

words and images "verbal-visual," but his diaries also bring other terms to bear, like "binocular vision" and "two-faced truth" — the latter

referencing words vs. images, but also ironies of meaning within the works. 4 For example, "EAT," one of Indiana's simple three-letter

words, at once references mother, sex, and overindulgence. Combined with the image of a fork in one of his bi-level, word-image paintings

(Eat with Fork), it suggests not just culinary flatware but, in the hot red and yellow tones "below," a reference to Hell or the devil — a pitchfork.

The little painting utters a moral about consumption.

Coenties Slip, where both Kelly and Indiana lived, was once among the oldest harbors of Manhattan. In those years before massive redevelopment,

it retained an aspect of the scenery described in early American poetry and literature — Herman Melville's Moby Dick and other

stories and historical accounts. They were Indiana's subjects in paintings and upright constructions he called herms. 5 Those almost-anthropomorphic

constructions, with their words, numbers, and (often) pairs of unblinking orbs, "stare" and "speak," evoking the voice of the

poet, an effect made more explicit in word-wheel paintings that were often reminders of injustices. For example, The Rebecca (1962) names

9
---
a slave ship, one of many that sailed into New York harbors in the Civil War era. 6 But — according to the artist — it also represents Daphne

du Maurier's 1938 novel Rebecca and Alfred Hitchcock's film of the same name — both set at a great manor house named Manderley, one

of numerous references to houses in Indiana's oeuvre. His parents, Earl and Carmen Clark, had been casualties of the Great Depression

and Carmen, who was obsessed with great houses, moved the family restlessly from one inadequate bungalow to another. The figure "8"

in the painting references her (born in the eighth month, August).

Complication of content that spans multiple meanings and mingles political messages, literary references, and personal memories marks Indiana's

verbal-visual style. In his first successful painting, The American Dream #1 (1961, in the Museum of Modern Art, NYC), words and

numbers circulate and issue forth from four circles or "orbs," portraying the Dream as a kind of game of chance. In other paintings, layers

of signification circulate in central, floating wheels of words and numbers, often above a "title" below — what I have termed his mandala format.

7 The circle was a fundamental figure for the artist and he once traced it to a Christian Science class he attended as a child. 8 Spinning

words hover high in portrait rectangles, canvases that call forth speech or veiled talking heads, even when the wheels encircle figures, as

with the Marilyns. Parrot is a playful painting referencing an uncle who had such a bird, but also the notion of vision as revelation. The parrot

stares back at us before a wordless mandala, calling out EYPHKA, the artist's rendition of the Greek for "Eureka." The mandala format

even appeared in 1963 as a redesign of the American flag (New Glory Banner). It has remained a touchstone for his art ever since.

Alongside short words like EAT, FOR, ERR, and HUG are the numbers, the earliest expression of which were his countings of circles or

"orbs" in 1959. Indiana's autobiographical narrative incorporates a chronicling voice that counts events or stages of life. For example, Twenty-First

State, begun when he worked on Coenties Slip using salvaged wood from the neighborhood, commemorates his 21 childhood homes

and his mother's incessant search. Six is his father's number (his father's birth month, June, and his employment at Philips 66), and six is an

integer connoting conflict. Both two and four reference love. When Indiana designed numerals as pictorial characters a few years later, he

had come across Gertrude Stein's Alphabets and Birthdays (1957) and the artist shared Stein's portrayal of numbers as concrete things.

Then came the polygon mandalas like Undecagon. Later, isolated cardinal numbers (e.g., Three, Nine) appear as portraits of numbers in

several series of paintings in color and in black and white, and, later, as sculptures — variations on a theme. The numerals are enlarged to

fill their fields, bulging with muscular energy, resonating with signification.

LOVE entered Indiana's pictorial lexicon in the early 1960s though the word had figured in his poetry much earlier. 9 LOVE appeared on

herms and embellished wooden columns, in drawings and greeting cards, and in a 1964 painting that referenced a childhood Sunday school

class. 10 Then came the Museum of Modern Art Christmas Card commissioned in 1965, and, on its heels, the classic LOVE paintings. These

are grid-based, each letter filling a quadrant of a square. This four-square LOVE for which Indiana became world famous is built with Stanley

Morison's 1932 Times Roman font and the exclamatory italic "O" that charges the image with illocutionary force — rendering it like speech,

in line with Indiana's verbal-visual style and his evocation of painting-poems (a single-word poem in this case). Over the years, the artist explored

(he might say "multiplied") LOVE in a range of media and expanded it in multi-panel walls and crosses, even a U.S. postage stamp,

and translated it into several languages including Hebrew, Spanish (AMOR), and Chinese (AI). The more LOVE, the better.

Always the autobiographer, in 1971 Indiana began his Decade: Autoportraits, chronicling each year of the 1960s intermingled with other historical

moments. The paintings share the square format of the LOVEs and, like them, exist in multiple series. Thus related to the LOVEs, the

Autoportraits are nevertheless more complex, incorporating word-wheels and again recalling portraiture, specifically American artist Charles

Demuth's modernist symbolic portraits of the 1920s — and the Autoportraits draw upon the cubism of that period. Thematically they expand

the idea of the American Dream as a complicated concept. The Autoportraits graphically map attachment both to order and consistency

(the use of the star, circle or mandala, and number one throughout), and to fragmentation and change (faceting, the decagon, the interplay

of symbolic words like ERR and longer place names like BOUWERIE). The LOVEs formal simplicity is answered in the Autoportraits by a

wide-ranging, sometimes riotous color palette and kaleidoscopic arrangements of words and numbers: narratives fractured by time and

memory.
---
"Toys by Artists", Betty Parsons Gallery, New York 1964

Includes works by Robert Indiana, Lyonel Feininger, Alexander Calder, Dan Basen,

Andy Warhol and Agnes Martin

In a 1974 interview the artist said, "It's always been a matter of impact, the relationship of color to color and word to shape and word to

complete piece — both the literal and visual aspects. I'm most concerned with the force of its impact." 11 His verbal-visual paintings go beyond

color, flat surface, and precise execution, the aspects of formalist theory at which he excels and writers like Greenberg appreciated. Indiana

also deploys dynamics that the critics of his day missed. He activates our eyes as optical relays engaging the creative and linguistic capabilities

of vision: how impulses volley between the retina and the brain — optics and ideas reverberate — and remind us of how we all construct our

own self-images.

Susan Elizabeth Ryan

1

Postcard to the author, 2 October 1991.

2

The U.S. Postal Service commissioned a stamp in 1972, based on his LOVE paintings.

3

Haskell, "Robert Indiana: The American Dream," in Robert Indiana: Beyond Love (New York: Whitney Museum of American Art, 2014), 99.

4

Indiana called his work "verbal-visual" in 1963: Richard Brown Baker ("Taped Interview with Robert Indiana (October-November 1963)," transcript (Robert Indiana Collection,

Archives of American Art, Smithsonian Institution Washington, D. C.), 30. See also Susan Elizabeth Ryan, Robert Indiana: Figures of Speech (New Haven, Yale Univ. Press),

Chap. 4.

5

After ancient stone columns (hermae) with heads and phalluses that served as road and boundary markers commemorating the Greek god Hermes who was, among other

things, the protector of travelers.

6

Indiana, telephone interview with author 20 February 1992, and Richard Brown Baker "Taped Interview," 28. Indiana says he read about the ship Rebecca in American Heritage

magazine. See further Ryan, Robert Indiana, 142 and 284 n. 50.

7

Ryan, Robert Indiana, 122 and 164ff.

8

See Ryan, Robert Indiana, 199. However Indiana has associated the circle with many things including Indiana Circle in Indianapolis, and Gertrude Stein's word circle, "A rose is a

rose."

9

Ryan, Robert Indiana, 163.

10

Ryan, Robert Indiana, 201. Rather than the Christian Science church's ubiquitous "God is Love" Indiana painted "Love is God."

11

Phyllis Tuchman, "Pop! Interviews with George Segal, Andy Warhol, Roy Lichtenstein, James Rosenquist, and Robert Indiana," Art News 73 (May, 1974), 29.

11