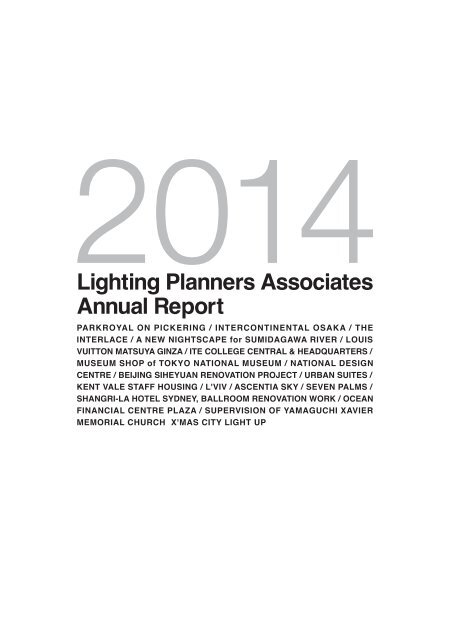 Create successful ePaper yourself
Turn your PDF publications into a flip-book with our unique Google optimized e-Paper software.
2014

Lighting Planners Associates

Annual Report

PARKROYAL ON PICKERING / INTERCONTINENTAL OSAKA / THE

INTERLACE / A NEW NIGHTSCAPE for SUMIDAGAWA RIVER / LOUIS

VUITTON MATSUYA GINZA / ITE COLLEGE CENTRAL & HEADQUARTERS /

MUSEUM SHOP of TOKYO NATIONAL MUSEUM / NATIONAL DESIGN

CENTRE / BEIJING SIHEYUAN RENOVATION PROJECT / URBAN SUITES /

KENT VALE STAFF HOUSING / L'VIV / ASCENTIA SKY / SEVEN PALMS /

SHANGRI-LA HOTEL SYDNEY, BALLROOM RENOVATION WORK / OCEAN

FINANCIAL CENTRE PLAZA / SUPERVISION OF YAMAGUCHI XAVIER

MEMORIAL CHURCH X'MAS CITY LIGHT UP
---
PARKROYAL ON PICKERING

SINGAPORE 2013 UOL Group / Pan Pacific Hotels Group

WOHA / Tierra Design (Singapore)

Designed with an Urban Garden concept, the project

is comprised of Hotel & Office towers and a podium

block. It's 5th storey deck has grand views towards

the heart of Singapore city. The podium block uniquely

designed with an inspiration of natural valleys is

emphasized by light. Garden concept is applied into

the interior space, where each element is carefully lit

to create the harmony of unity throughout the project.
---
インターコンチネンタル 大 阪

INTERCONTINENTAL OSAKA

OSAKA 2013 NTT Urban DevelopmentMitsubishi Estate etc. / Nikken Sekkei / Bilkey Llinas Design /

Hashimoto Yukio Design Studio / Ilya

The Intercontinental Osaka was built in the newly redeveloped north district surrounding Osaka Station.

The hotel concept is "Contemporary Luxury" and from the hotel entrance to the guest rooms, various lighting

seeks to convey this hospitality. Features include a luminous wall simulating a stand of trees at the entrance

and from the 20th floor lobby the nightscape is beautifully framed. Indirect lighting is effectively used in the

complex shell-shaped chapel and louvered ceiling of the foyer.
---
THE INTERLACE

SINGAPORE 2013 Capitaland Residential Singapore / OMA / RSP Architects Planners & Engineers

A unique residential development located in one of Singapore's greenest areas. This project has 31 blocks

each of 6 storeys high stacked to form hexagons and large courtyards within. The main lighting feature is

the soft uplighting of the soffits, so that they are visible during the night while creating a gentle reflected

light. A large landscaping area of 8 hectares has diverse lighting strategies in line with the theme of each

zone. Custom lighting fixtures for outdoor applications were created especially for this project.
---
隅 田 川 の 新 しい 夜 景 の 提 案

PROPOSAL for A NEW NIGHTSCAPE for

SUMIDAGAWA RIVER

TOKYO 2013 Tokyo Metropolitan Goverment

For the beautification along the banks of the

Sumidagawa River to be done in 10 years, a renovation

project spans the 23.5km long river. Three main areas,

"Festive Area", "Historic Area", and "Gate Area", will

each emphasize the surrounding characteristics of the

river. This rendering is an image of the beautiful

nightscape in store for the area. Based on the proposal,

experimental studies carried out along the river.
---
ルイヴィトン 松 屋 銀 座

LOUIS VUITTON MATSUYA GINZA

TOKYO 2013 Louis Vuitton Malletier / Peter Marino Architect / Higo Design Associates

After elaborately detailed mock-up studies, LED spotlights within the gorge are tidily incorporated with

sufficient functionality. The lux levels are set to be comfortable, but with a very classy touch. The lighting

also creates contrast between boutique space and highlighting the products. The stairway with a unique

mirror design creates a center-piece for the boutique.
---
ITE COLLEGE CENTRAL & HEADQUARTERS

SINGAPORE 2013 ITE / RSP Architects Planners & Engineers

The Institute of Technical Education (ITE), Singapore, was established as a post-secondary education

institution in 1992 under the Ministry of Education. ITE is an institute that provides technical education and

skill training to post-secondary students. This new campus in the heart of Singapore has also ITE's

headquarters within the large campus of 10.6 hectares. The lighting scheme is designed around a gradual

hierarchy of lighting levels from the outside towards the study spaces with gentle highlights of the building's

unique architectural form and features.
---
東 京 国 立 博 物 館 本 館 ミュージアム

ショップ

MUSEUM SHOP of TOKYO NATIONAL MUSEUM

TOKYO 2013 Ishida Architects / Association for Tokyo National

Museum

Near the main entrance of the Tokyo National Museum,

is the museum shop. Light poles designed specifically

for the display tables are uniformly positioned

throughout the shop. The softly uplit ceiling and the

mosaic-style luminous wall in the nearby lounge create

an ambiance that depicts the large volume.
---
NATIONAL DESIGN CENTRE

SINGAPORE 2013 Design Singapore Council / SCDA Architects

A dedicated centre promoting design and innovation

and home to the Design Singapore Council, this complex

consists of an office, a design gallery and an academy.

The lighting for the exterior is largely contextual, with

emphasis on the soft illumination of the heritage facade

with indirect illumination. For the interiors, the atrium

is the highlight with Linear LEDs and gentle moonlight

creating a special atmosphere to enjoy. Various scene

settings are proposed depending upon the usage of

the atrium space.
---
北 京 四 合 院 改 修 プロジェクト

BEIJING SIHEYUAN RENOVATION PROJECT

BEIJING 2013 Beijing Tiantong Law Firm / OKAMOTO and

DEGUCHI DESIGN

A traditional Chinese residential complex near

Tiananmen Square was newly renovated into a law

office and tea house. The renovation compliments the

traditional design characteristics of the façade and

interior and the lighting design further enhances each

of these features. Detailed craftsmanship are

illuminated in a calm, but dynamic nature.
---
URBAN SUITES

SINGAPORE 2013 Capitaland Residential Singapore /

Kerry Hill Architects

A luxurious residential development, in the prime

Orchard area of Singapore, the lofty and generous

public spaces are lit up with the intention of keeping

the intensity of lighting concentrated mainly at the

human scale. Lanterns have been added to the seating

areas around the pool to create a sophisticated and

cozy setting for the residents to enjoy. Light and

Darkness are carefully calibrated in varying measures

to create a sequential rhythm.
---
KENT VALE STAFF HOUSING

SINGAPORE 2013 National University of Singapore

MKPL Architects / Sitetectonix

A new residential enclave for the faculty in the National

University of Singapore, the architecture of the towers

is a combination of natural concrete finish and timber

together with a layer of tropical green that is softly

illuminated with discreet light sources. Focal points

like drop-off areas are accentuated and the vertical

green is used as a key orientating element with

appropriate uplighting.
---
L'VIV

SINGAPORE 2013 Wing Tai Holdings /

ARC Studio / Salad Dressing

The monotone façade of this building is alive with

color at night and the lighting design uses different

techniques to present the active lifestyle of the residents.

Each sky terrace and landscaped area is designed

along a different theme. The lighting design addresses

these areas using different colored lighting and other

methods to create an inviting lighting environment for

users.
---
ASCENTIA SKY

SINGAPORE 2013 Wing Tai Holdings / P&T Architects and

Engineers / Cicada

The façade of this residential tower is composed of

several sky terraces for a very airy building. The

courtyard is enclosed by a green wall which is

illuminated to warmly welcome residents inside.

Lighting for artwork also dots the landscape, providing

a refreshing ambiance in response to other wind and

water elements.
---
SEVEN PALMS

SINGAPORE 2013 SC Global / Kerry Hill Architects

This elegant beachfront residential development has

the interiors and exterior views seamlessly blending

into each other, which the lighting tries to enhance also

at night. The central feature, a coconut grove, is lit up

with uplights and moonlighting, to allow the residents

to enjoy a leisurely stroll through the grove. The

swimming pool looks out towards the ocean, and the

lanterns on the pool deck create a resort-like ambience.
---
SHANGRI-LA HOTEL SYDNEY,

BALLROOM RENOVATION WORK

SYDNEY 2013 Shangri-La Hotel Group / AB Concept

With magnificent views of the Sydney Harbor, the

ballroom of the Shangri-La Hotel was drastically

renovated. Even though the ballroom is a below

ground level facility, like the enormously, Sydney's

open sky the design concept reflected this expansive

feeling, as if it was an open-air venue, with a bright

and comfortable lighting environment. The lighting

system is adaptable to fit various situations and meets

tight energy conservation guidelines in Australia.
---
OCEAN FINANCIAL CENTRE

PLAZA

SINGAPORE 2013 Keppel Land / Pelli Clark Pelli Architects /

Architects 61

The Ocean Financial Centre Office Tower was

completed in 2011, the rest of the project followed and

was finally completed in 2013. Detailed lighting

effectively illuminates the structure of the colorful

canopy making it appear light and airy and randomly

flashing LED's gently move over a green wall printed

with a world map.
---
山 口 サビエル 記 念 聖 堂 クリスマスライトアップ 監 修

SUPERVISION OF YAMAGUCHI XAVIER MEMORIAL CHURCH X'MAS CITY LIGHT UP

YAMAGUCHI 2013 Japanese Christmas from Yamaguchi Planning Committee

Francisco de Xavier had a special kinship with the City of Yamaguchi. The Yamaguchi Xavier Memorial

Church stands on a hill and is visible from afar. As part of the Christmas City event, LPA supervised a

Christmas illumination of the church. The large white façade is covered with a gradation of blue and orange

light resembling a sunset and the stained glass windows are also illuminated. On December 1st and 24th

the colors change to red and white. In the fore garden, candles are randomly placed and lit, creating a

fantasy garden.
---
LPA TOPICS

Lighting Design Project for Recovery from Earthquake Disaster / Lecture

Media appearance / Lighting Awards / Internal Workshop and Activities /

LPA 2013 Activities & 2014 Goals / Major Contributions and Interviews
---
LPA 震 災 復 興 照 明 プロジェクト

Lighting Design Project Recovery from Earthquake Disaster

あかりシネマ Sep.28 AKARI CINEMA

2013 marked the second year to be involved in the recovery effort of the Tohoku Earthquake of 2011. The 2013

project, Akari Cinema, was centered in Ishinomaki, Miyagi Prefecture near Sendai, on the site of a local cultural

icon, Okada Theatre, and in the surrounding park, both badly damaged in the disaster. Working with APCAS,

a local NPO, and Prof. Sakata`s Design Studio of Kyoto Institute of Technology, based on a previous design,

we set up an Akari Café along with a light installation for the damaged theatre and other lighting items to facilitate

a fun environment for the outdoor cinema. Even though it was a cool night, about 150 people were in attendance

and the event was also featured in the local newspaper.
---
講 演 活 動 ・メディア 出 演

Lecture / Media Appearance

Enlighten Asia, a lighting designer conference, was held for the first time in Tokyo, March 2013. Mr. Mende and

other LPA staff presented at seminars and talk sessions around the theme of "Asian Sense of Light." Mr. Mende

was not only involved with his seminar class, but also collaborated on a workshop with a Spanish University,

held a lantern workshop in Kameyama City, Mie Prefecture, and other activities.

照 明 賞

Lighting Awards

In 2013 LPA was able to be involved in many superb projects, with

several receiving distinguished lighting awards.

Illuminating Engineering Society of North America (IESNA) Illumination Awards

- Award of Distinction: Gardens by the Bay, Bay South

- Award of Excellence: Ise Shrine Sengu Museum

- Award of Merit: Lighting Design for the Preservation and Restoration of the

Tokyo Station Marunouchi Bldg.

The Star Performing Arts Centre & Star Vista

Reflections at Keppel Bay

LAMP AWARD for Urban and Landscape Lighting

Gardens by the Bay, Bay South

Oct.27

Jun.14
---
社 内 ワークショップ+リフレッシュメント

Internal Workshop and Activities

SKI

At the Singapore office, the staff members gather monthly

to discuss a designated topic at an internal training

workshop called SKI (Skill Knowledge Improvement). The

workshops aim to advance staff skills and provide an

opportunity to share various project experiences and

information with each other.

Jan. When I became interested in Lighting

Design

Feb. IALD Japan review

May. How to handle difficulties during the

commissioning

Jun. Lighting survey in Singapore

Jul. LPA Presentation Materials_how to improve

Aug. Exterior Lighting Detail

Sep. Outdoor Fixture Review vol.1_Spotlight

Oct. LPA Image Library for Presentation

materials

Lighting Survey

Lighting Survey is also a part of the internal training

workshops in Singapore. As of August 2013, each

month, staff conduct a lighting survey.
---
Refreshing Time

In order to escape our everyday, busy work schedule, the Tokyo, Singapore, and Hong Kong office each set aside

leisure time unrelated to our projects. It is an important opportunity for staff to enjoy stimulating activities and

build camaraderie.

Tokyo Office

Family BBQ

Aug.03

Terrace Renewal

Feb.

Sports Day

May.31

LPA Open House

Oct.11

Singapore Office

Office Retreat Singapore Kerala, India

Feb.26-Mar.2

3.5-mile Running J.P. Morgan Corporate Challenge

Apr.18

Afternoon Tea

Mar.13, Apr.3, Jun.4, Aug.29

Hong Kong Office

Bowling

Nov.1

Company Dinner

Nov.1

X'mas Dinner

Dec.23

Year-end Design Review

Dec.24
---
LPA 2013 年 の 概 況 と2014 年 への 展 望
---
LPA 2013 Activities & 2014 Goals

Five projects received international design awards

Five of our projects received lighting awards from the prestigious IESNA, (Illuminating Engineering Society of North

America). Among them, Gardens by the Bay in Singapore was given the Award of Distinction, and Ise Shrine Sengu

Museum in Japan received the Award of Excellence. Three other projects – Tokyo Station Building Restoration, Star

Vista and Reflections at Keppel Bay both in Singapore received Award of Merit. We received the awards at the

ceremony during IESNA Annual Conference held at Los Angeles in the US. Gardens by the Bay also received

LAMP Award in the category of Urban and Landscape Design, and we attended the award ceremony in Barcelona,

Spain. We are very pleased and feel honoured to receive such international recognition for all these projects in Asia.

Over 50 LPA members in three offices

LPA group now has over 50 staff members with three offices in Tokyo, Singapore and Hong Kong. Between the

offices, we make collaborative efforts to fulfill the various phases of our projects – from conceptual design to site

supervisions. It is an important part of LPA's policy to conduct proper site supervision as lighting design is never

complete on the design stage but rather on construction stage.

Contribution to lighting design society continues

Mr.Mende has been re-elected as a Board of Director for International Association of Lighting Designers (IALD)

headquartered in Chicago, USA, for the years 2014 to 2015. IALD is one of the largest professional lighting

design societies in the world with over 900 members, and its Japan chapter now has increased to over 70

members. The chapter has been actively organizing events to promote lighting design as well as to energize the

lighting industry. Mr.Mende attends the Board of Director meetings of the IALD three times a year with the strong

mission to contribute to the lighting design communities in Asia.

Project 2015 – LPA exhibition on lighting from Berlin to Tokyo

We have embarked on our project 2015 – an exhibition on lighting that will travel from Berlin to Singapore, Hong

Kong and lastly Tokyo between later part of 2015 to 2016. The entire LPA staff will be involved in the planning and

preparation of the exhibition, entering into the year 2015 to celebrate the 25th anniversary of LPA.
---
主 な 講 演 ・ 寄 稿 ・インタビュー・ 出 演 など

Major Contributions and Interviews
---
LIGHTING DETECTIVES

Transnational Lighting Detectives / Light Up Ninja @ Fort Canning Park,

Singapore 2013 / Night Watching Tour / City Walking Tours / Regular

Round Table Discussion / Lighting Detectives Survey / Children's

Lighting Workshop / Akari Workshop / Lighting Detectives Activities /

Lighting Detectives Annual Gathering / Lighting Detectives - List of

Sponsors
---
Transnational Lighting Detectives

世 界 照 明 探 偵 団

Vol10 Transnational Lighting Detectives Forum in Taipei

"Nightscape in Taipei" @Xue Xue Institute

Sep.01.20-23

In conjunction with the festivities surrounding the autumn harvest

moon, the Transnational Lighting Detectives gathered in Taipei,

Taiwan for the 10th annual TNT Forum. Based on the theme,

"Nightscape in Taipei", TNT members surveyed the city finding many

"good" and "bad" examples of light and then proposed revisions in

the form of large panels to display at the forum. The panels were on

display for one month after the forum concluded and local Television

stations, also reported on the TNT Forum for wide exposure in Taiwan.

Pre-workshop

Sep.01

Mr. Mende introduced the lighting detectives and how we

conduct a city night survey. We all went to one area of the

city to observe and a exercise night survey.

City Survey

Sep.20

Draped in white or yellow plastic rain ponchos,

members headed out into the rain. Teams

revisited several key nightscape points in the

area, taking pictures, measuring lux levels,

drawing sketches, and recording other information.

Groups stopped to discuss what makes a lighting

hero? or lighting villain? and how do we change

the lighting environment to make it more pleasant?
---
Workshop

Sep. 21

Streams of thought were made clearer, survey results more concrete,

and panels designs smoother. Working through lunch, TNT members

guided speaking presentation preparations, instructing on how to

interest the audience or maybe even make them laugh.

Forum

Sep.21

Even though it was storming outside, 80 attendees gathered in

the auditorium for the TNT Forum. Each team had a short 20

minutes to present all information, including introduction of the

surveyed area, hero and villains of light, and proposals.

Unfortunately, translating from Chinese to English also took up

valuable time need to explain ideas. Although Q&A time was

also limited, the workshop and forum aroused considerable

interest in the lighting environment of the city and we hope

Lighting Detective activities will continue in Taiwan.

Pecha Kucha Night

Sep.21

The TNT Forum collagorated

with the Pecha Kucha Night.

Tainan Excursion Tour

Sep.22-23

TNT members headed south to the City

of Tainan to enjoy a lighting event. In

collaboration with the Moonlight Festival,

temples in the city were illuminated.
---
Sep.01.20-23

Light Up Ninja @ Fort Canning Park took place around

the Fort Gate, a key landmark of Fort Canning, and was

organized as part of Singapore Night Festival 2013. The

site is quiet with low ambient light levels, which makes it

an appropriate venue for the visitors to take part in the 4

activities: Black Light Painting, Glow In The Dark Painting,

Shadow Play and Light Painting. It is estimated that more

than 500 visitors turned up for the event.

On the inside walls of Fort Gate: we put canvas to cover the

walls and line them with black light (UV light) lamps.

Fluorescent pens/paint were provided for participants to

create drawings that glow in the UV light.

This takes place on the lawn and powerful

flashlights were provided again for drawing on

the glow in the dark sheets.
---
Participants were encouraged to create different shadow effects by

walking between the screen panels and the spotlights. They could use

anything they had with them, hence not necessary to make their own

props.

Participants had 30 seconds to draw images in the air with

different coloured lights. A long exposure photograph was

taken and projected on a screen to show them what they

have drawn. These photos were uploaded to our Facebook

page after event.
---
夜 景 ウォッチングツアー

Night Watching Tour

須 賀 川 松 明 あかし

Sukagawa Taimatsu Tribute

Nov.09-10

It has been a long time since the last Night Watching Tour.

19 Lighting Detective members boarded a bus from Tokyo

Station for a 3-hour ride to Sukagawa, Fukushima Prefecture

for the Sukagawa Taimatsu Tribute. This festival, a

tradition reaching back 400 years, is a repose for the

souls of the warriors who died in the battle. This year the

repose also included a tribute to those victims of the 2011

Tohoku Earthquake and a prayer for the continued

recovery of the damaged area.

PM 4:00→→→

PM 5:00→→→

The festival starts with the carrying for large torches down Sukagawa

Ohdori. One torch is 10 meters tall and weighs 3 tons. All together

29 torches are carried by man-power only to top of Mt. Goro to be

erected.

PM 7:00→→→

At exactly 5 o`clock in the evening, young men shroud

in white garments appear Nikaido shrine to receive the

sacred fire. They proceed to the large torches atop Mt.

Goro, parading through the city.

After all 29 large torches are lit, the sight of the mountain almost on fire is

breathtaking.
---
街 歩 き

City Walking Tours

「ディズニーの 光 の5 原 則 を 探 そう」 May.24

Searching for the 5 Lighting Principles of Disneyland

2013 marked the 30th Anniversary of the magical kingdom, Tokyo Disneyland. 26 Lighting Detectives went

searching for the magic and, maybe, secret, lighting principals that decorate the park at night.

「 東 京 スカイバスツアー 車 道 から 一 丸 となって 観 察 する 東 京 夜 景 」 Sep.04

Tokyo Sky Bus Tour "A Unified View of the Tokyo Nightscape from atop a Double-Decker Bus"

A seasonal typhoon had us worried, but 44 members gathered for the Sky Bus Tour. A fresh autumn breeze blew

on the upper level, as the bus toured Tokyo and the extraordinary perspective lead to various discoveries during

the very short 2 hour tour.

研 究 会 サロン

Regular Round Table Discussion

Jun.04, Sep. 09

The topic of the first 2013 salon centered on the Disneyland city walk

and each team reported their discoveries found in the magical

kingdom. At the second salon, each member from the sky bus tour

present what they thought qualified as a "Lighting Hero or Villain" of

Tokyo.
---
照 明 探 偵 団 調 査 Lighting Detectives Survey

東 京 : 豊 洲 ・ 二 子 玉 川 ・ 高 島 平 集 合 住 宅 の 窓 色 模 様

Tokyo Survey: Toyosu / Futakotamagawa / Takashima-daira

Patterns of window color temperature for apartment building complexes

Jun.05, 26

Neat rows of windows line the facade of the apartment buildings in these 3 areas in Tokyo. It is not apparent during the day,

but at night various light streams from the windows. Depending on the window, the light is faint or bright, various colors, and

the on/off timing is mixed, revealing the uniqueness of each residence. All 3 neighborhoods are different, leading to very

different lighting samples of data.

NY・Chicago: 現 代 都 市 に 残 る 慣 習

NYC, Chicago: Convention Remains in the Modern City

Dec03-09

We traveled to two of the USA`s leading mega cities, Chicago and NYC. Previous survey was 8-years ago, and in that time

the use of LED fixtures has become widespread. However, hiding in-between the blocks and blocks of skyscrapers are the

same old, sodium lamps and their orange-tinted cityscape. Also, the use of fluorescent lamps or par lamps is still the standard

inside many office buildings and public facilities. Even though these are two famous US cities where dreams come true,

tradition remains, and the stars of the future shine under the lights of yesterday.
---
こどもあかりワークショップ

Children's Lighting Workshop

夏 休 みこどもワークショップ@ 横 浜 象 の 鼻 パーク Aug.08

Summer Holiday Children`s Workshop

@ Zou-No-Hana Park, Yokohama

17 children and their parents gathered at dusk at Yokohama`s

Zou-No-Hana Park to observe and experience changes in natural

light and then record and draw the Yokohama skyline .

行 灯 つくり& 暗 さ 体 験 ワークショップ

@ 台 北 Sep.01

Lantern Making & Experiencing Dark

Workshop @ Taipei

We had a lantern making and experiencing dark

workshop with 25 children and their parents in

Taipei.

行 灯 つくり& 暗 さ 体 験 ワークショップ

@ 江 戸 東 京 たてもの 園 Nov. 22&23

Lantern Making & Experiencing Dark Workshop

@ Edo Tokyo Open-Air Architectural Museum

As the 3rd children`s workshop to be held at the Edo Tokyo Open-

Air Architectural Museum in Tokyo, the children crafted lanterns in

the shapes of buildings and trees to create a miniature city of light

after a parade through the park.
---
あかりワークショップ

Akari Workshop

高 岡 照 明 実 験 Oct.05

Lighting Experiment in Takaoka

In Takaoka City, Toyama Prefecture the Lighting Detectives held a Lighting Experiment Workshop in Kanayamachi,

an old section of the city preserved as a Nationally Important Architectural District. Many old Japanese architectural

details such as, latticework, copper sheeting, and plastered walls, are visible here. Participants in the workshop

all received a LED flashlight and orange color filter and we used these simple tools to light up buildings and

greenery. Participants learned how color temperature can change the impression of the cityscape.

照 明 探 偵 団 の 活 動 Lighting Detectives Activities

01.30

Web Column Vol. 89 The Evolution of Technology and the Changing Roles of Lighting 2050

02.27

04.03

05.24

06.04

06.20

07.05/26

07.29

08.02

09.01

Web Column Vol. 90 Let's Enjoy Flower Arrangement!

Web Column Vol. 91 Lighting at Lighting Design Office

City Walking Tours No.46@Tokyo Disneyland

Lighting Detective Salon No.40

Web Column Vol. 92 An Encouragement of Morning

Lighting Detective Survey: Toyosu, Futakotamagawa, Takashimadaira, Tokyo

Lighting Detective Newsletter Vol.58

Summer Children Workshop@Zou no Hana Park, Yokohama

Children Workshop@Taipei

09.01/20-22

Transnational Lighting Detective Forum in Taipei

09.04

09.09

09.26

09.26

11.09-10

11.12

11.21

11.22/23

12.03-09

City Walking Tours No. 47 Bus Tour in Tokyo

Lighting Detective Salon No.41

Lighting Detective Newsletter Vol.59

Web Column Vol. 93 Why Does China Prefer Colors?

Night Watching Tour - Sukagawa Taimatsu Akashi

Web Column Vol. 94 Fashion and Lighting, and Lighting and Woman

Lighting Detective Newsletter Vol.60

Children Workshop @Edo-Tokyo Open-Air Architectural Museum

Lighting Detective Survey: Chicago, New York, USA
---
照 明 探 偵 団 年 間 活 動 報 告 会 Lighting Detectives Annual Gathering

Dec.06

Representatives from 18 sponsors and members of

Detectives gathered to listen to the annual yearly review

of activities. The review includes details from activities

that are not included in the concise report posted in the

Tanteidan Tsushin.

照 明 探 偵 団 協 賛 企 業 Lighting Detectives - List of Sponsors

The following 17 Lighting Industry Professionals financially sponsor Lighting Detective Singapore chapter's activities.

Aristo Engineering Pte Ltd

Bizlink Associates Pte Ltd

Endo Lighting (Thailand) PLC

FLOS-Singapore

iGuzzini SEA Pte Ltd

Krislite Pte Ltd

Luci Pte Ltd

Lutron GL Limited

Luxlight Pte Ltd

Martin Professional Pte Ltd

Million Lighting Co Pte Ltd

Modulex Lighting Solutions (S) Pte Ltd

Pacific Technical Products Pte Ltd

Schreder Singapore Pte Ltd

Strongly Lighting Pte Ltd

Targetti Poulsen Asia Pte Ltd

Technolite (S) Pte Ltd

(in alphabetical order)
---
Ai Sohara Anesah Begam

Atsuko Ichikawa Atsushi Itakura Blanche Lam

Genki Watanabe Haruka Sakoda Hiroyuki Miyake

Hu Lin

Jia Fu

Kyoko Takubo

Laya Eduardo Jr.

Domingo

Maki Jung

Mami Ichida

Mao Mao Zhao

Misuzu Nakamura Momoko Muraoka Motoyo Ogawa Neo Kai Xiang

Noriko Higashi

Rosana Choy

Shuk Ying

Sachiko Segawa

Shaohua Chen

Shunichi Ikeda

Simeng Huang

Takafumi Kubo

Tan Angkana Xiao Xu Yaeko Otsuka

Yifan Yan

Yuhang Zhong Yukiko Saito Yumi Honda Yusuke Hattori
---
Catherine Wong

Yin Chun

Chika Makabe Claude Hidber Emiko Nagata

Gaurav Jain

Jun Biao Chang

Junko Nagatomo Kanon Fujimoto Kaoru Mende Kentaro Tanaka

Mari Kubota

Mayumi Banno Mikine Yamamoto Misa Fujii Misako Hirai

Phraporn

Kasemtavornsilpa

Raba'a -Bte -Tainy

Rachel Nakayama

Raymond Lee

Reiko Kasai

Lighting Planners Associates

2014 Annual Report
---
5-28-10, Jingumae, Shibuya-ku, Tokyo 150-0001, Japan Tel : +81 3 5469 1022 Fax : +81 3 5469 1023 E-mail : lpa@lighting.co.jp

51B Neil Road, Singapore 088829 Tel : +65 6734 3086 Fax : +65 6734 2786 E-mail : singapore@lighting.co.jp

17/F Union Park Tower, 168 Electric Road, North Point, Hong Kong Tel : +852 2578 9007 Fax : +852 2578 9116 E-mail : hongkong@lighting.co.jp

www.lighting.co.jp