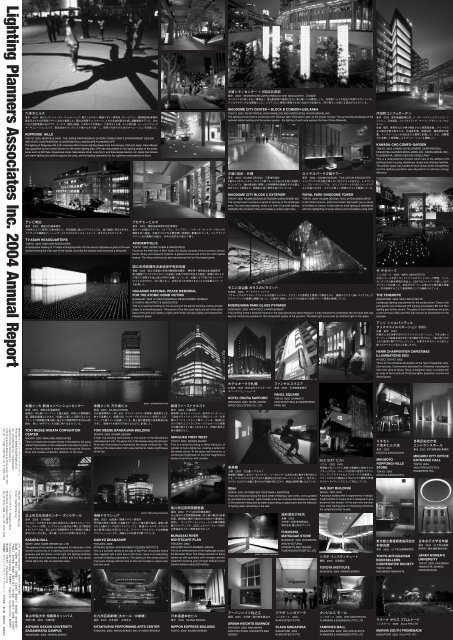 Create successful ePaper yourself
Turn your PDF publications into a flip-book with our unique Google optimized e-Paper software.
六 本 木 ヒルズ

ROPPONGI HILLS

TOKYO 2003 MORI BUILDING, THE JERDE PARTNERSHIP, OHTORI CONSULTANTS ENVIRONMENT DESIGN

INSTITUTE, DAN PEARSON, AI-SHOKUBUTSU LANDSCAPE PLANNING OFF.

The lighting of Roppongi Hills is the collective effort of seven lighting design firms from Europe, USA and Japan. Kaoru Mende

was appointed as the overall director for the entire lighting plan. LPA was responsible for the lighting design of the public

areas such as 66 Plaza, Keyakizaka street, Sakurazaka street, Loop No.3, and Sakurazaka Garden, etc. Glare-free fixtures

and warm lighting are used throughout the area, and the lighting operations for the nighttime were planned in detail.

汐 留 シティセンター + B 街 区 共 用 部

SHIODOME CITY CENTER + BLOCK B COMMON-USE AREA

TOKYO 2003 KEVIN ROCHE JOHN DINKELOO AND ASSOCIATES, NIHON SEKKEI, INC.

The lighting environment is envisioned with "Sensual light/ Informative Light" as the design concept. The surrounding landscape of the

restored station building and the sunken garden - the lighting of each area express the flow of time differently.

汐 留 C 街 区 ・ 外 構

ロイヤルパーク 汐 留 タワー

河 田 町 コンフォガーデン

KAWADA-CHO COMFO-GARDEN

TOKYO 2003 URBAN DEVELOPMENT CORPORATION,

CESAR PELLI & ASSOCIATES JAPAN, INC., NIHON SEKKEI, INC.,

PLACEMEDIA, URBAN DESIGN CONSULTANT

This is a redevelopment project which saw to the addition of 8

building blocks housing residences, shops and childcare facilities.

The exterior space was created to have various levels of brightness

and the lighting operation was adjusted to to achieve energy

efficiency.

SHIODOME CITY BLOCK C EXTERIOR

ROYAL PARK SHIODOME TOWER

TOKYO 2003 KAJIMA DESIGN, MITSUBISHI JISHO SEKKEI INC. TOKYO 2003 KAJIMA DESIGN, FOX LINTON ASSOCIATES

The concept was to achieve a sense of serenity at the landscape In the hotel entrance, softly illuminated 'light walls' give a sense

area. The main base lighting, which is in form of handrail lighting, of invitation to visitors. A new style for hotel lighting is established

highlights the circulation flow and creates a unique night view. with the highlighting of visual artwork and chandeliers using LED.

テレビ 朝 日

TV ASAHI HEADQUARTERS

TOKYO 2003 MAKI AND ASSOCIATES

A headquarter building of TV Asahi at Roppongi Hills. For the atrium, brightness is given to the wall

surface forming the inner part of the facade, such that the delicate truss becomes a silhouette.

アカデミーヒルズ

ACADEMYHILLS

TOKYO 2003 KENGO KUMA & ASSOCIATES

Found on the 49th floor of Mori Tower, this facility consists of four functions: school,

forum, library and research network. A glass luminous wall forms the main spatial

feature. The library shelves are also transformed into an illuminated plane.

国 立 長 崎 原 爆 死 没 者 追 悼 平 和 祈 念 館

NAGASAKI NATIONAL PEACE MEMORIAL

FOR THE ATOMIC BOMB VICTIMS

NAGASAKI 2003 KYUSHU REGIONAL DEVELOPMENT BUREAU,

A. KURYU ARCHITECT & ASSOCIATES

This is a memorial building for the mourning of the atomic bombing victims and the

prayer of everlasting peace. Thousands of tiny fiber optic lights are set in the stone

base of the pool and creates a night scene which conveys dignity and inspires the

praying for peace.

モエレ 沼 公 園 ガラスのピラミッド

MOERENUMA PARK GLASS PYRAMID

HOKKAIDO 2003 ARCHITECT 5 PARTNERSHIP

This building forms a symbolic feature in the park planned by Isamu Noguchi. It was important to emphasize the structure that was

kept as minimal as possible for the transparent quality of the pyramid. The base light is provided by reflected light on the glass.

ザ テネリーフ

THE TENERIFFE

SINGAPORE 2003 MKPL ARCHITECTS

Landscape lighting was planned for the condominium. Trees in the

pool garden are composed with lighting and playful LED and fiber

lighting give further accent. The gates of each residence are given

a soft luminous effect and this also serves as illumination for the

passage.

アンリ シャルパンティエ

クリスマスイルミネーション 2003

HENRI CHARPENTIER CHRISTMAS

ILLUMINATIONS 2003

HYOGO, TOKYO 2003

This is for the Christmas illumination of the Henri Charpentier store.

Like last year, 3 stores were decorated for Christmas including the

new main store at Ginza, Tokyo. A delightful vision is created with

an array of items such as Christmas lights, projection of snow and

Santa figures.

朱 鷺 メッセ 新 潟 コンベンションセンター

TOKI MESSE NIIGATA CONVENTION

CENTER

NIIGATA 2003 MAKI AND ASSOCIATES

This is a mixed-use complex facility in Bandaijima. By using

indirect illumination on the esplanade and external walls, a

sense of horizontality is emphasized along the Shinano

River and creates a beautiful reflection in the river.

北 上 市 文 化 交 流 センター さくらホール

SAKURA HALL

IWATE 2003 KUME SEKKEI CO., LTD

The spaces of this facility are designed for interaction of the

human community in a setting revolving around water,

greenery and art culture. In the night, the lighting condition

is reversed and it becomes a mellow and low-key space

where light only falls on essential areas.

朱 鷺 メッセ 万 代 島 ビル

TOKI MESSE BANDAIJIMA BUILDING

photo : shinkenchiku-sha

NIIGATA 2003 KAJIMA DESIGN

A high-rise building that stands in one corner of the Bandaijima

redevelopment site. The glass fins of the facade along the Shinano

River are illuminated to emphasize the sharp vertical line. The

lighting of the observation room was planned to create a lighthouse

of the city.

photo : Mitsumasa Fujitsuka

海 峡 ドラマシップ

KAIKYO DRAMASHIP

FUKUOKA 2003

MITSURU SENDA + ENVIRONMENT DESIGN INSTITUTE

This is a complex facility at the bay of Moji Port. A futuristic drama

ship, together with a retro box on the shore, result in an interesting

contrast of lighting expressions. The lighting of the drama ship's 5

ring layers change with the flow of time and creates a unique view

from the strait.

新 宿 ファーストウエスト

SHINJUKU FIRST WEST

TOKYO 2003 NIKKEN SEKKEI

This is a tenant building in West Shinjuku. A

cylinder on top is lighted up, creating a lantern for

the street corner. At the glass wall entrance, a

continuous brightness on the floor heightens a

sense of continuity with outside.

紫 川 周 辺 夜 間 景 観 整 備

MURASAKI RIVER

NIGHTSCAPE PLAN

FUKUOKA 2003

ARCHITECTS & PLANNERS LEAGUE

This is an enhancement of the nightscape around

the Murasaki River. The bridge elevation is being

lighted up with automatic color changer and the

waterfront building goes through different color

transformations using LED lighting.

ホテルオークラ 札 幌

HOTEL OKURA SAPPORO

HOKKAIDO 2003 HOTEL OKURA

SPACE SOLUTIONS CO., LTD.

ファンケルスクエア

FANCL SQUARE

TOKYO 2003 ISHIMOTO

ARCHITECTURAL & ENGNEERING

FIRM, INC.

美 美 庵

BBan

OSAKA 2003 KIYOSHI SEY TAKEYAMA + AMORPHE

A bar and restaurant along the back street of Midosuji. Upon entry, one is greeted

by animated and colorful ' Light Cocktail' at the bar. A tranquil atmosphere is created

in the basement restaurant by water drops falling on glass basin and the reflection

of rippling water spreading on the wall.

photo : Satoshi Asakawa

砂 屋 松 が 枝 店

FUKUSAYA

MATSUGAE STORE

NAGASAKI 2003 NAKAMURA

ARCHITECTURAL

CONCEPTS AND DESIGN,

FUJIE KAZUKO ATLIER CO., LTD.

BeS (EAT ビル)

BeS (EAT BUILDING)

SEOUL 2002 RAD

A boutique building that is experimental in design.

A light window of unique form is designed to give

accent to the facade. At the stair and elevator

core, color lighting give an interesting contrast to

the uplighting timber facade.

トヨタ インスティテュート

TOYOTA INSTITUTE

SHIZUOKA 2003 NIKKEN SEKKEI

ミキモト

六 本 木 ヒルズ 店

MIKIMOTO

ROPPONGI HILLS

STORE

TOKYO 2003

DELEU & ASSOCIATE'S

東 京 都 古 書 籍 商 業 協 同 組 合

本 部 会 館

TOKYO ANTIQUARIAN

BOOKSELLERS

COOPERATIVE SOCIETY

TOKYO 2003

KAZUMASA YAMASHITA

目 黒 区 総 合 庁 舎

エントランスホール

MEGURO CITY OFFICE

ENTRANCE HALL

TOKYO 2003

YASUI ARCHITECTS &

ENGINEERS, INC.

日 本 女 子 大 学 百 年 館

JAPAN WOMEN'S

UNIVERSITY

TOKYO 2003 KAZUMASA

YAMASHITA / SHIMIZU

CORPORATION

青 山 学 院 大 学 相 模 原 キャンパス

AOYAMA GAKUIN UNIVERSITY

SAGAMIHARA CAMPUS

KANAGAWA 2003 NIKKEN SEKKEI

北 九 州 芸 術 劇 場 ( 大 ホール・ 中 劇 場 )

KITAKYUSHU PERFORMING ARTS CENTER

FUKUOKA 2003 NIHON SEKKEI, INC. KYUSHU BRANCH

日 本 通 運 本 社 ビル

NIPPON EXPRESS BUILDING

TOKYO 2003 KAJIMA DESIGN

アーバンハイツ 住 之 江

URBAN HEIGHTS SUMINOE

FUKUOKA 2003 NAKAMURA

ARCHITECTURAL CONCEPTS AND

DESIGN

プラザ シンガプーラ

PLAZA SINGAPURA

SINGAPORE 2003

W ARCHITECTS PTE

タンピネス モール

TAMPINES MALL

SINGAPORE 2003 RSP ARCHITECTS

PLANNERS & ENGINEERS (PTE) LTD

マリーナ サウス プロムナード

MARINA SOUTH PROMENADE

SINGAPORE 2003 ACLA PTE LTD
---
●LPA2003 年 の 概 況

■ 数 多 くの 照 明 計 画 ・ 照 明 デザインの 仕 事 が 完 成 しました。

● 照 明 探 偵 団 活 動

Lighting Detectives Activities

■ 海 外 プロジェクトが 増 えてきています。

■シンガポール 事 務 所 がお 洒 落 なところに 引 っ 越 しました。

■I I DA( 国 際 照 明 デザイン 賞 )の 最 優 秀 賞 を 受 賞 しました。

■ 照 明 探 偵 団 が 海 を 渡 って 北 欧 に 広 まりました。

■「World Lighting Journey− 世 界 の 夜 景 展 −」を 開 催 しました。

■ 面 出 が 多 くの 海 外 の 講 演 会 に 招 かれ 交 流 を 深 めました。

●LPA Activities in 2003

■Completion of many Large Scale Lighting Design Works

It had been an exceptional year for LPA. Two of our largest projects - Roppongi Hills and Shiodome

Redevelopment in Tokyo - in which LPA has directed the lighting design and planning over the years, were

completed one after another during the year 2003. With other numerous projects completed under our

management, all our staff members were kept busy shuttling to and from our office and the sites. Meanwhile,

we welcomed a total of 6 new members in our Tokyo and Singapore offices and we now have total staff

strength of 24.

● 国 際 照 明 デザイン 賞

IIDA awards

IIDA awards are organized by IESNA (Illuminating Engineering Society of North America) and it provides an

opportunity for public recognition of professionalism. The award of Distinction is only given to honor

extraordinary achievement in lighting design at discretion of the judges.

●Light Fair International 2003 講 演

●World Lighting Journey − 世 界 の 夜 景 展 −

●Transnational Tanteidan Forum 2003 in Stockholm 開 催 !

Aug. 29 Kulturhuset Haninge, Stockholm

The second Transnational Tanteidan Forum generated increasing interests over the missions of

Lighting Detectives, and we conducted the forum with a great sense of satisfaction. In 2003, it was

held in Stockholm, a city filled with beautiful landscape of green and water, and a wonderful place

for the discussions of "light". The representatives from 6 countries took turns to present their lighting

cultures on the residential environment for an audience of over 200. It was a great opportunity to

compare each environment and we were able to share valuable insights into different cultures and

thoughts. At the end of the forum, we were amazed by how the word "tanteidan" has become

widely known and is being spoken by many people in other countries. It was a great form of

encouragement for us to further expand our group. The third forum has already been scheduled

and it is under preparations. For the most latest information, please visit our tanteidan website at

http://www.tanteidan.org

■Increase in Number of Overseas Projects Every Year

LPA has continued to engage in more projects in Singapore, Bangkok, Beijing and Seoul. The projects vary

from government projects such as airport, transit stations, courthouse and urban masterplan, to private

developments such as hotels, resorts, retail and housing projects. As we collaborate more with project

design teams internationally and with more frequent trips to architecture offices around the world, we have

started to feel the lesser boundaries between countries.

■New Singapore Office

After 3 years since the Singapore office first opened, we relocated the office to the Chinatown area where

many other design firms and architectural offices are gathered. The new office occupies a 2 storey traditional

shophouse, which has been transformed into a comfortable studio space with lofty ceiling and skylight. To

meet the demands of busy project schedules, two new members, including a designer from Japan, were

employed to firm up the team. Reiko Kasai continues to lead the team of 4 staff members under the new roof.

Mr. Mende was invited to give a 1.5-hour lecture addressing the theme The Lighting Detectives". He briefly

talked about the activities of lighting detectives since 1990, as well as showed slides of night scenes around

the world, publications, various events, and the founding process of the Transnational Tanteidan.

The exhibition was held at the gallery 1953 in Matsuya Ginza.The images of nightscapes, which had been captured in the last 12 years, are

of more than 50 countries and cities in the world.They were displayed to fill the whole gallery space, and transported the visitors to a journey

of world lighting.

■LPA Received the Best of International Illumination Design Award

The project, Park+Mall Oasis21in Nagoya, Japan, in which LPA was engaged for the lighting planning and

design in collaboration with Obayashi Group, was selected for the best of IIDA awards. On August 5, 2003,

the designers from LPA and Obayashi Group attended the award ceremony in Chicago to receive the

award and a trophy in person.

■Bringing 'Tanteidan' - Lighting Detectives Overseas

Following the launch of the first international symposium in Tokyo during end of last year, the second

"Transnational Tanteidan Forum" was successfully held in Stockholm in fall 2003. The theme of the Forum

was on residential lighting and various participants contributed valuable insight into their cultures and thoughts.

Our homepage, www.tanteidan.org has increased in contents and we are pleased to have expanded our

activities both domestically and worldwide and facilitated the exchange of culture. We are also expecting

to publish an English-Japanese bilingual book "the Transnational Tanteidan" in 2004.

■The Exhibition 「World Lighting Journey」

In conjunction with research done in many cities all over the world, numerous nightscapes were painstakingly

documented and captured by the Tanteidan members. The exhibition transported the viewer through a

journey of nightscapes in the world with the means of Photo panels, projection images, and interactive

computer screens. Held at Matsuya Department in Ginza, Tokyo, from 5/14/03-6/9/03, the research teams

were also invited on weekly basis to give lectures on their findings.

■Mr. Mende has been Invited to give Many Overseas Lectures

Mr. Mende has been invited to give many lectures within Japan and abroad in 2003. He was invited by the

International Association of Lighting Designers (IALD) to give a 1.5-hour lecture addressing the theme

"What is Transnational Tanteidan…" at the one of the most notable lighting conferences, the Lightfair

International held in NY City in May. In October, he was also invited to a national conference organized by

the Illuminating Engineering Institute of Beijing and gave a lecture on "Lighting for Historical Architecture".

IALD has invited him again as a speaker for another conference in March 2004 and he will be speaking to

professionals in the 6-hour seminar "KAORU MENDE ON DESIGN"

● 照 明 探 偵 団 の 活 動

● 主 な 寄 稿 ・ 講 演 ・インタビュー

●LPA シンガポールオフィス 移 転

Relocation of LPA-S

LPA Singapore office has relocated from the

famous Orchard road area to authentic

Chinatown area. New office, a long narrow

space is decorated simple and sleek with

white-based interior and soft ambient light

and a large skylight gives us a sense of time

during the day.

● 研 究 会 サロン

Regular Round Table Discussions

City walking tours, lighting surveys in many

countries, TN Forum 2003, various lighting

objects were reported at the table discussions.

It was always a valuable opportunity for

members to exchange opinions.

● 照 明 探 偵 団 調 査

Lighting Detectives Survey Trips

イエメン・サナア

Sana'a, Yemen Dec.04 - 08, 2002

This was a survey to investigate life and the sense of

lighting in the tower dwellings in old city of Sana'a. It

was an opportunity to explore a lifestyle which allow the

enjoyment of the change natural light.

中 国 ・ 上 海

Shanghai, China Mar. 08 -12

The rapidly developing city of Shanghai was surveyed,

where co-exist lighting of the old and new.

大 分 県 ・ 竹 田 市

Taketa, Oita Oct.18

At the staging of Japanese Noh drama in Taketa,

blazing bonfires created a subtle and profound scene.

● 街 歩 き

City Walking Tours

汐 留 再 開 発 地 区 Jan. 15

Caretta Shiodome, Tokyo

At this walking tour at the Sio-site, the lighting of Dentsu building and its

surroundings were inspected. An entertaining way of employing the use of

xenon search lighting was also experienced.

●Living Design

A newspaper of Lighting Detectives

六 本 木 ヒルズ May. 16

Roppongi Hills, Tokyo

Lighting Detectives continued to be in the magazine,

"LIVING DESIGN" published by Living Design Center.

The regular articles under " Light & Living - from the

notebooks of Lighting Detectives" introduce photos and

writings from various surveys domestically and abroad. .

The contents cover a wide range of places. such as

Yemen, Shanghai, Dubai and Bali.

イタリア・ローマ、フィレンツェ

Florence / Rome, Italy Oct. 05 -11

?

In first survey on Rome and Florence in Italy, we saw delightful

illuminations those were a feast for the eyes of the visitors.

スウェーデン・ストックホルム、

デンマーク・コペンハーゲン

Stockholm, Sweden / Copenhagen, Denmark Aug.27 - Sep.05

The members surveyed residences in Stockholm and Copenhagen

to investigate the culture of Residential lighting.

京 都 将 軍 塚

Higashiyama, Kyoto Oct.23

Our members visited Higashiyama in Kyoto to document the nightscape of the city.

Touring in Roppongi Hills, members could gain

much knowledge about the variety of lighting

design technics by listening to the lighting designers

themselves.

大 江 戸 温 泉 物 語 Jul. 29

Oedo-Onsen Monogatari, Tokyo

At the spa park "Oedo-Onsen Monogatari", members could experience the contrast between the

warm color lighting there and the cool modern lighting in the surrounding Odaiba area.

● 照 明 探 偵 団 通 信 発 刊

A newspaper of Lighting Detectives

No.09 published on Mar.25

品 川 グランドコモンズ Oct. 17

Shinagawa Central Garden, Tokyo

The lighting at Shinagawa Central Garden was inspected in this walking tour

in Shinagawa. It was notable for the abundant use of fluorescent lighting

and LED indicators.

中 国 ・ 客 家

Hakka, China Mar.10 -11

The monumental "Earth houses" , a form

of traditional Chinese architecture, were

surveyed in Fujian, China.

No.10 published on Jun.25

No.11 published on Oct.25

アラブ 首 長 国 連 邦 ・ドバイ

Dubai, UAE Mar. 10 -16

Two aspects of lighting in Dubai were investigated:

The contrast of light and shadow in the traditional

lighting methods, and the new trends of lighting

inspired by Las Vegas and Europe.

インドネシア・バリ 島 ウブド

Uvudo, Bali, Indonesia Jul. 23 - 27

This is survey on resort hotels in Bali, where

subtle illumination co-exists with nature and

creates a healing atmosphere.

ルートロンアスカ 株 式 会 社 岩 崎 電 気 株 式 会 社 小 糸 工 業 株 式 会 社 株 式 会 社 菱 晃

カラーキネティクスジャパン 松 下 電 工 株 式 会 社 ヤマギワ 株 式 会 社

株 式 会 社 エルコ・トートー 株 式 会 社 ウシオユーテック 日 本 フィリップス 株 式 会 社

株 式 会 社 ウシオスペックス 山 田 照 明 株 式 会 社 マックスレイ 株 式 会 社

ニッポ 電 機 株 式 会 社 トキ・コーポレーション 株 式 会 社 東 芝 ライテック 株 式 会 社

小 泉 産 業 株 式 会 社 大 光 電 機 株 式 会 社 金 門 電 気 株 式 会 社

マーチンプロフェッショナルジャパン 株 式 会 社 湘 南 工 作 販 売 株 式 会 社 株 式 会 社 遠 藤 照 明

Aki

Hayakawa

Akiko

Okunaka

Atsushi

Itakura

Chika

Tanaka

Emiko

Nagata

Hideto

Mori

Hirohito

Totsune

Junko

Inomoto

Junko

Nagatomo

Kaoru

Mende

Ken

Okamoto

Kentaro

Tanaka

Mari

Kubota

Peggy

Tan

Reiko

Kasai

Ryuichi

Sawada

Saiko

Tanuma

Siti Zaleha Bte

Abdul Majid

Swee Hong

Ong

Takeo

Sugamata

Wan Ching

Foo

Yaeko

Hashimoto

Yosuke

Hiraiwa

Yutaka

Inaba