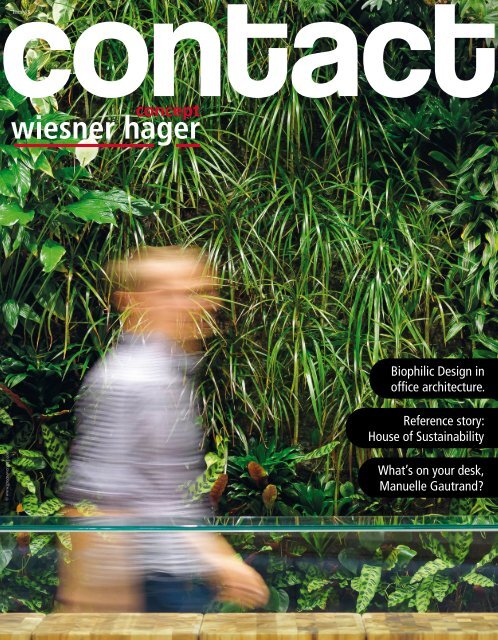 contact_magazine_33_EN
Cool and smooth, that's how our offices should be – shouldn't they? What was until recently the dominant trend in modern office architecture is gradually being supplanted by a new yearning: the rediscovery of green love. Read in our cover story how biophilic design breathes new life into offices. As an example, we shall show you how a 600-year-old building was transformed into a place with a signal concept for the future. Speaking of the future: we asked Horst Steinbacher, CEO of officeMEDIA, how digitization will change the face of the office. We also provide proof that the spatial environment can support the ability to learn and exemplify this in the corporate campus. On top of this, we give you tips on how to cut a good figure in video conferences. Last but not least, we take a look at the desk of Manuelle Gautrand, one of the most famous architects in France, and introduce to you a couple of super-relaxed options for remote work, off the beaten track of the office mainstream. With this in mind: lean back, relax, and enjoy the next few pages.
Cool and smooth, that's how our offices should be – shouldn't they? What was until recently the dominant trend in modern office architecture is gradually being supplanted by a new yearning: the rediscovery of green love. Read in our cover story how biophilic design breathes new life into offices. As an example, we shall show you how a 600-year-old building was transformed into a place with a signal concept for the future. Speaking of the future: we asked Horst Steinbacher, CEO of officeMEDIA, how digitization will change the face of the office. We also provide proof that the spatial environment can support the ability to learn and exemplify this in the corporate campus. On top of this, we give you tips on how to cut a good figure in video conferences. Last but not least, we take a look at the desk of Manuelle Gautrand, one of the most famous architects in France, and introduce to you a couple of super-relaxed options for remote work, off the beaten track of the office mainstream. With this in mind: lean back, relax, and enjoy the next few pages.
SHOW MORE
SHOW LESS
You also want an ePaper? Increase the reach of your titles
YUMPU automatically turns print PDFs into web optimized ePapers that Google loves.
Issue 33

Biophilic Design in

office architecture.

Reference story:

House of Sustainability

© www.greenovergrey.com

What's on your desk,

Manuelle Gautrand?
---
Falling in love

with green again.

Cool and smooth, that's how our offices should be – shouldn't they?

What was until recently the dominant trend in modern office architecture

is gradually being supplanted by a new yearning: the rediscovery of green

love. Read in our cover story how biophilic design breathes new life into

offices. As an example, we shall show you how a 600-year-old building

was transformed into a place with a signal concept for the future.

Speaking of the future: we asked Horst Steinbacher, CEO of

officeMEDIA, how digitization will change the face of the office.

We also provide proof that the spatial environment can support the

ability to learn and exemplify this in the corporate campus. On top of this,

we give you tips on how to cut a good figure in video conferences.

Last but not least, we take a look at the desk of Manuelle Gautrand, one

of the most famous architects in France, and introduce to you a couple

of super-relaxed options for remote work, off the beaten track of the

office mainstream.

With this in mind: lean back, relax, and enjoy the next few pages.

Laura and Markus Wiesner
---
Biophilic Design in office architecture .............................................. .04

Interview with Horst Steinbacher, CEO officeMEDIA ......................... 08

Reference story: House of Sustainability ........................................... 10

Corporate Campus. University flair in the office ................................ 14

How to look good for video conferencing ......................................... 16

Useful tips for everyday office life ..................................................... 18

What does job sharing mean for the office? ..................................... 19

Offices from around the world:

SPERBANK Headquarters in Moscow ................................................ 20

What's on your desk, Manuelle Gautrand? ....................................... 23

Remote work apart from working at home & at the office ............... 24

Showroom ......................................................................................... 26

Publisher: Wiesner-Hager Möbel GmbH, Linzer Strasse 22, A-4950 Altheim, T + 43/ (0)7723/460-0, altheim@wiesner-hager.com, www.wiesner-hager.com,

thinknewwork.com; conception / editing: Wiesner-Hager, mintmind Communication GmbH; layout: mintmind Communication GmbH, guest author:

Wojciech Czaja; subject to typesetting and printing errors; 10/2021.

contact 3
---
Falling in

with green

Interior Design

© www.greenovergrey.com

4 contact
---
love

again.

In the past few years, offices have been growing

cooler and smoother. But this time seems

to be over now. Thanks to recent developments

in longing for digitization and corona

office culture more and more people are looking

for green, natural materials and a stronger

relation to mother nature. A declaration of

love to Biophilic Design.

Steve Mitrione from the University of Minnesota

observed that patients who could view a green hedge

outside were noted for their higher level of alpha

activity. In other words: it makes them feel relaxed. In

contrast, patients who are fated to look at a concrete

wall show an increase in beta activity. They feel stress.

Roger S. Ulrich, professor of architecture at the Centre

for Healthcare Building Research at the Chalmers

University of Technology in Gothenburg, found that

patients with a view of the garden recover faster than

those who have to look at a brick wall. This shortens

their stay in hospital.

And Clare Cooper Marcus, professor emeritus of

landscape architecture at the University of California

in Berkeley, discovered that patients in a green environment

need far less pain medication and on average

leave the hospital a few days earlier than patients

without a natural environment.

Hospital architecture has been showing the impact

of the scientific studies made in the 1990s and 2000s

for some time now. The planning of hospitals would

be inconceivable today without the guidelines of so

called biophilic architecture; otherwise, their operation

would be far more inefficient and therefore more

expensive, because every unnecessarily occupied bed

devours economic assets – in Austria a hospital bed

currently costs 682 euros per day.

The advantages of biophilic interior design can also be

applied to the office environment, because poorly designed

workplaces generate dissatisfaction, an unpleasant

working atmosphere, health complaints, a higher

sick-leave statistic, and ultimately correspondingly low

work efficiency to boot. Or, as Andreas Gnesda, CEO

of teamgnesda, explains: "People have been around

for two million years, we've been living in houses for

12,000 years, and only in the last few decades have

we started to create a relationship to nature for many

people at work. How can we seriously assume that this

will remain without consequences?"

After many years of increasing digitization and virtualization,

says Gnesda, not to mention increasingly cool,

marketing-driven office design dominated by beautiful,

media-reproducible images, the yearning for a

certain naturalness is growing again in the workplace.

"The photogenic amusement of the information society

is over. People at last want to relate more to nature

again. They want to be able to look out into a green

environment, they want tactile contact with natural,

authentic materials, and they want olfactory stimulation

again, not just the smell of paints, adhesives and

plasticisers." Elements playing a major role include

plants, the proximity to water, lighting design, natural

building materials, also asynchronic and dynamic

sensory stimuli that change over the course of the day,

such as light, view and temperature. The foremost elements

were identified by the US consultancy Terrapin

Bright Green and a research group led by Christopher

Alexander, Judith Heerwagen, Stephen Keller and

Roger S. Ulrich (yes, indeed, the man who produced

the hospital studies) and documented in the so-called

"Fourteen Patterns of Biophilic Design". Many companies

already use the fourteen guiding theses as basis for

the design of their office buildings.

"One of the subtlest yet most logical examples of

biophilic design is the furnishing of Apple shops

contact 5
---
Interior Design

© www.greenovergrey.com

around the world," remarks Christian

Prasser, who with his office

CP Architektur has specialised in

the interior design of offices, shops,

hotels, restaurants and so forth.

"The ultra-modern Apple products

are presented surrounded by indoor

plants and warm light choreography

on relatively massive wooden tables.

The natural oak with its strong grain provides the

perfect contrast to the high-tech products. On white,

squeaky-clean, characterless surfaces, the unique aura

of iPhones, iPads and MacBooks would be completely

extinguished." These, says Prasser, are precisely the

reasons why we also have to rethink office design.

While people needed smooth and bright surfaces for

analogue work, this tends to be a hindrance in the

age of digital work processes and of devices boasting

increasingly improved illumination. "Slick office furnishings

and perfect, minimalist lobbies are unthinkable

today, such as we know them from the 2000s when

major corporations became global trendsetters with

their reduced architectural language. With increasing

digitization, constantly improving high-tech products

and the enervating tedium of virtual work forced on

us by the coronavirus, we are now yearning yet again

for the natural, for the imperfect." What might this

look like? "Linoleum instead of Formica, wood veneer

instead of imitation wood, lots of different colours

Plants in the office

spread freshness

and lightness, they

connect us to the

earth and calm us,

and are veritable

symbols of

individuality.

instead of a monochrome CI colour

palette", says Prasser. He especially

underlines the benefits of flora:

"Plants in the office spread freshness

and lightness, they connect us to the

earth and calm us, and they are veritable

symbols of individuality, because

they are the opposites of the serial

and celebrate the imperfect. Nothing

in nature is absolutely perfect. And the human being

as part of a larger organisation is also far from perfect.

This has to be respected in office design and subtly

incorporated into it." But the biophilic design offices

cited and dreamed of by many experts also harbour

dangers. "Not everything that is natural is actually

good for people", says the Viennese architect Ursula

Schneider, CEO at POS Architecture. "Some woods

contain formaldehyde, and we shouldn't underestimate

substances such as glue and chemicals added to

increase longevity. In fact, some synthetic and surface

materials have far lower emissions and are therefore

better suited for indoor use." To be on the safe side,

Schneider advises comprehensive product management

during the planning and construction phase regardless

of whether it involves clay plaster, lime plaster,

natural paints, oil, wax or natural furniture materials

such as wood, linoleum or textiles. Absolute safety is

assured by checking the VOC values. Volatile organic

compounds provide information about the emission

6 contact
---
ehaviour of different products. Schneider: "If the smell of

a just completed building is so new it reminds you of new

cars, you should be suspicious."

For Bernhard Kern, CEO of Roomware Consulting

GmbH, biophilic design, the use of recycled materials

and the self-evidence of the circular economy concept are

still in their infancy. "In theory we've come quite a long

way – both industry and the specialist media see biophilic

design as an indispensable part of today's office culture,

but in practice we're still lagging behind somewhat." So is

everything just a bubble? "No, of course not, but I've actually

observed that many companies back biophilic design

because they need good results and as many climate-active

points as possible. In the end, it's all about acquiring the

right certificate." The first ideas, impulses and initiatives are

already germinating, no question about it. As so often the

case, innovative pioneering companies in the private sector

are forging ahead as a good example. It will be a few years

until biophilic design reaches the masses and is utilised by

companies with the conviction already evident today in

the planning and interior design of hospitals. The relevant

analyses and benefits corresponding to the asset class have

long been on the table. Cary Cooper, professor of organisational

psychology and health at Lancaster University,

found that performance, creativity and cognitive activity

all increase when the workplace is designed with natural

patterns and fabrics. The flooring manufacturer Interface

discovered that employees with a view of trees on average

take fewer days off than employees with a street view or

without any kind of external visual stimulus.

And the study "Creating Positive

Spaces" by Oliver Heath and Well

Building Standard concludes

that the inclusion of vegetation

in the office context leads

to a faster return on investment.

Biophilia: how can you

not love nature when looking

at these figures?

Wojciech Czaja

© Ema Peter

Living walls designed by Gustavson Wylie Architects

(www.gwa.ca) in collaboration with Green over Grey

(www.greenovergrey.com)

contact 7
---
Interview

Digital

offices

as game

changers.

How much technology do offices need? What

is expected of modern workplaces? And will

technology supplant us at work at some point?

Horst Steinbacher is CEO of officeMEDIA

and with his company supplies digital office

concepts. He provides answers relating to the

digital future of the office.

What does a modern digital office concept look like?

At all events, it needs what we call a holistic viewpoint.

This means that all experts specialising in the

themes of human culture, space & technology must

sit down at one table. Today, companies want to adapt

their facilities – work and meeting rooms but also

social and team rooms – to the employees and not the

other way round. We call this human-centred design.

One problem that arises here is that many companies

still think in the extremely hierarchical or exclusively

process-oriented structures of the past. This hinders

things enormously and prevents the unfolding of full

potential. Furthermore, social change accelerates with

future generations. We therefore recommend looking

at the entire organisation from the vantage point of

a user journey map and discussing everything openly

and at eye level. This can be supported by using agile

and creative process and collaboration tools, such

as Miro.com. First comes workspace strategy, then

technology! We at officeMEDIA cannot configure a

perfectly tailor-made digital environment until we find

out the needs of employees, customers and partners.

How does an increase in remote working affect

the office concept?

The pandemic has forced companies to resort to

remote working. But we already foresaw the development

of remote working beforehand, and in the

meantime it has quite obviously become established in

the working world. Overall, we predict that the equipment

of future activity-based zones will be of an even

higher quality. Standard workplaces, namely, one fixed

desk per employee, will be greatly reduced. The zones

in the office will offer more options and flexibility

while reducing the total area. There is a strong trend

towards communication hubs such as team or meeting

rooms, creative rooms, rooms and facilities for social

communication and event zones in the office.

What digital equipment is required for working

at home?

Working from home requires the same technical and

ergonomic conditions as a hybrid office, and also the

support of in-house IT services. Our customers' IT

departments have extended their helpdesk dealing

with questions about communication technology at

the workplace to their employees' office at home. This

means that every employee avails of exactly the same

8 contact
---
service conditions for notebook,

video conference, etc.,

when working from home.

It becomes somewhat more

complicated with regard to

the equipment. We assume

that by 2022 more than

eighty percent of all office

workers will use a notebook

for work and communication.

Things become more

difficult when choosing suitable

tools for video conferencing

or collaboration. The

range is extensive here, but

only few tools are feasible in

the long term. Among those

we recommend is the global

market leader poly.com in

combination with MS Teams

applications. Speaking of

Microsoft Teams: since over

ninety percent of domestic companies use Microsoft

as an office solution, it is obvious that the poly.com

video conference or collaboration tool should also

work closely with MS Teams applications in a tightly

networked and disruption-free handling of media.

Microsoft and poly.com have accordingly merged into

an alliance that perfectly and harmoniously maps the

data exchange. Easy to use.

What digital developments will affect offices

in the future?

Among the factors shaping the rapidly advancing

development of technology at the workplace we must

count artificial intelligence (AI), augmented reality

(AR), and the virtual reality (VR) of all office, conference

and meeting rooms, together with the high

digital experience expectation of a new generation

of employees. Any company that doesn't entertain

the idea of hybrid forms of work in symbiosis with

attractive digital collaborative technologies will in

future find it extremely difficult to arouse the interest

of potential employees. The optimal digital environment

is turning out to be the supreme game changer.

Although robots won't replace us in our work, smart

technologies are already able to assist us and relieve us

of sometimes tedious routine work.

© officeMedia

Horst Steinbacher is CEO of

officeMEDIA in Vienna and

Munich. He is an innovation

driver and scientist especially for

technologies in an increasingly

hybrid working and learning

environment. As a consulting

and planning company,

officeMEDIA is optimally

represented in medium-sized

and ATX companies.

www.officemedia.at

We at officeMEDIA think this

is pretty cool. That is why we

test such 'useful little helpers'

in our own work environments

in Vienna and Munich and so

obtain valuable information for

our customers.

Finally, imagine the following:

Marie from Generation Y

works in a modern office

campus. She is connected to her

colleagues around the world

via her MS Teams app and can

work from anywhere. Today,

she can't make it to the meeting

with her colleagues until later.

So, via MS Teams, she joins

in the meeting while she's still

on her way to work. When

Marie finally reaches the

campus, the software ensures

a seamless transition to the

physical meeting.

Overall, we predict

that the equipment of

future activity-based

zones will be of an

even higher quality.

contact 9
---
Reference Story

House of Sustainability:

a pioneering concept

in a historical shell.

Even on approach, the Hofmann House, a fiftheenth-century building and former pewter

foundry in Ried in Upper Austria already strikes the eye with its period charm. If you

enter the Foundry, as it is still called today, you will encounter a combination of modern

and above all sustainable design, embedded in old walls.

© raumpixel

The Foundry has recently been named "House of

Sustainability and Regionality". Hence their users,

too, are companies that orient their activities on

sustainability. In addition to various shops and service

providers, the facilities also include a coworking space

and scope for events and workshops. Wiesner-Hager

supplied a large part of the furniture. Most particularly

in the café the furnishings chosen included the

creative font wooden chair, also the nooi bar stools and

m.zone tables. Motivator of the overall project is the

TRAFOS association, which has set itself the task of

promoting sustainable lifestyles in the region.

Environmentally conscious refurbishment.

The House of Sustainability is a showcase project

exemplifying successful and environmentally conscious

refurbishment. "Most real estate developers

and construction experts rated the house as ripe

for demolition. Neither the room height nor the

electrical and sanitary fittings came anywhere near

meeting current standards. Despite these facts, after

a long period deliberating the priorities of sustainability

and preservation of the architectural heritage,

it was decided to refurbish the existing building and

to attain a well-balanced combination of traditional

10 contact
---
A special feature

is the merging of

user areas and

concepts such as

gastronomy

and shop.

© raumpixel

© bonpart

building stock and modern extension", explains Karl

Weilhartner, TRAFOS deputy chairman. The interior

design was entrusted to Verena Waidmann and Lukas

Gstöttner from the bonpart design studio. The two

designers explain: "Since the Foundry was planned as a

'House of Sustainability', the facility should ideally be

a future-oriented interpretation of the theme, one that

goes beyond contemporary formations. A forthright

eco-look would have steered the topic into a niche

where it no longer belongs. This is why we've focused

on modernity, high quality and heart-warming comfort

in the design so as to appeal to as many people as

possible and to inspire their enthusiasm for the topic."

Old meets new.

A special highlight is the café on the first floor of the

building. The historical roof beams enhance the room

with a charm all of their own. If you sit at one of the

small round windows, you can let your gaze wander

over the alleys of the inner city. The dark wooden

chairs, round and whimsical in form, welcome you

with a friendly promise of cosiness and comfort. And

there's a refreshing and informal counterpoint in modern

bar stools with high tables. Right next to the café

is a small shop with regional delicacies and sustainable

products. "A special feature is the merging of user

areas and concepts such as gastronomy and shop.

contact 11
---
Reference Story

© raumpixel

In the course of planning, we made sure that the

areas complement each other positively and that the

various requirements don't come into conflict",

emphasises Waidmann.

© raumpixel

If you leave the café area and climb the wooden stairs

made of regional ash, you reach the top floor, planned

for coworking spaces and with an area for events and

conferences. " The coworking area is embedded in

a really impressive setting under the historical roof

timbers. The unique appeal of the design is achieved

by fusing modern, bright Wiesner-Hager workplaces

with the centuries-old beams. Architectural elements

such as the new, waxed concrete floor and the wooden

beams – supported on metal posts as part of the

refurbishment – conjure up an atmosphere that is as

warm and friendly as it is fresh and spacious. A glass

wall with sliding doors divides the room into a

coworking and event area. The other conspicuous

features of this floor are the two atriums with glass

parapets and a floating, organically configured light

sculpture in the roof structure", says Waidmann.

"The Japanese repair technique 'Kintsugi' doesn't try

to cover or hide damaged areas, but cunningly repairs

them with high-quality materials. This might also

12 contact
---
To sum up, you might say one of our

ambitions was go beyond the expected

eco-clichés and demonstrate the core essence

of the theme. Our impressions as product

designers on the international industrial

design scene have made us aware of a distinct

and encouraging trend: in the future, more

and more things will exist whose intrinsic

values and sustainability we shall not be able

to see at first glance. To put it another way, it

will become more normal, a new ecological

standard, if you like. Sustainability is finally

about to shed its image as a niche topic.

be a way of summing up the Foundry agenda. The

spirit and beauty of the centuries-old building were

preserved and complemented as far as possible with

modern, aesthetically pleasing and functional materials.

Weilhartner concludes: "Among other things,

what made this at all possible was that around seventy

association members and shareholders contributed

thousands of hours of work without pay."

© bonpart

© Lothar Prokop

Project data:

Total area: 716.51 m²

Client and operator: TRAFOS

Interior design:

Studio bonpart Design

Furnishing:

Wiesner-Hager

bonpart, Lukas Gstöttner & Verena Waidmann

contact 13
---
Office Concepts

© Studio Perspektiv, Prague

Corporate campus.

University flair in the office.

Management literature abounds with titles addressing the organisation of learning. The pivotal question

here is how organisations should develop so they can be characterised by a capability to learn.

One aspect is frequently neglected here: the spatial environment and its underestimated importance

in supporting the ability to learn. Corporate campus is a new interior design concept that fosters

creative collaboration – and thus shared learning.

14 contact
---
hub – whether informal one-on-one discussion or

fully fledged event location. In design, anything goes –

as long as it pleases: stepped rostrums are particularly

popular, inviting you to linger but also ideal for presentations,

lectures or briefings. Upholstered furniture,

lounge chairs, cafeteria chairs, bistro tables, sofas –

there's a long list of options for taking a relaxed break.

Nonetheless, creative freedom is not an end in itself.

It fosters a change in perspective, liberation from the

desk concept, and stimulates creativity and initiative.

If you need a break from working at your desk, the

campus will give you plenty of scope to work elsewhere

from time to time. Of course, the campus is also

ideal for activities during breaks and social interaction.

Depending on the situation, it can be a random

meeting point as well as a coffee break hangout, etc.

So the characteristic feature of this central hub is its

vitality. In practice, however, employers frequently get

While routine tasks will be automated more

and more in the future, creative processes

will be of much greater significance. The

nucleus of attention will be on the innovative

strength of learning organisations that manifest

agile structures and are constantly in motion.

In addition, this calls for meeting places

that are more unconventional, emancipated

from the classic desk. It involves the activation of areas

and spatial zones in the office building that as yet have

hardly been taken into account: underexposed central

or peripheral zones, staircases, entrance areas, crossways

and so on. One creative way of designing central

zones is the corporate campus. Its design conjures

up associations with a university campus: places that

combine learning, work and the private and public

spheres. Quite in the university style, unused spatial

zones are converted not only into places for creative

collaboration, but also for relaxed communication.

The campus flair mellows the occasionally inhibiting

character of formal meeting and conference rooms.

The campus thus becomes a central meeting point and

nervous about too much easygoing conviviality, spatial

freedom and reduced efficiency. Nevertheless, studies

on activity-based working demonstrate the opposite:

attractively designed encounter zones are beneficial

for everyone. Innovation and creativity levels are

enhanced when employees can avail of multiple and

ideal opportunities for spontaneous encounters and

conversations. Well-designed crossways and hubs

offer more potential for success than a complex

team-building measure. But it's important that the

respective design matches the corporate philosophy.

The corporate campus will thus come to be a core

component of modern offices because it is fertile

ground for New Work to flourish and reach fruition.

© raumpixel

contact 15
---
Office Life

How to look good

for video conferencing.

Organisation consultants have been promoting remote communication via video conferencing for

many years now. The advantages are undisputed – reducing travel saves time and costs and protects

the environment: two flights from Vienna to London produce more CO 2 than the complete equipment

for a conference room throughout its entire life cycle. Nevertheless, a pandemic had to happen before

the idea of remote meetings was kissed awake and immediately hit the limelight. Speaking of the

limelight: not all participants are aware that certain quality criteria apply just as much to their online

presence as to their physical, face-to-face conversations. Below you can find some recommendations

on how to look good during video talks.

© shutterstock

16 contact
---
Modern collaboration technology

as basic requirement.

Oops! The picture's jerky, the sound cuts out, or the

meeting only starts after a 15-minute delay because

the dial-in doesn't work. But this doesn't have to be

the case: technology companies have achieved a great

deal in recent years and months in hard- and software

for conferencing. They now provide sophisticated,

easy-to-use products of high video and audio quality.

The prices – especially in the professional sector – are

significantly lower than they were ten years ago. But

we are still left with the issue of the Internet connection:

stable lines and sufficient bandwidth are basic

requirements for quality online talks. It's not possible

to make a general statement about the transmission

rate since it depends heavily on the type of work and

the applications. To be on the safe side, you can refer

to the provider in order to guarantee the highest – but

admittedly the most expensive – bandwidth.

Positive prevailing mood thanks to

a creatively designed setting.

The first impression counts – also online: and this

first impression starts with you – for more than fifty

percent of communication proceedings are enacted

non-verbally. For example, if you stage your video

meeting from your home office wearing your pyjamas,

it may (or may not) go down well in a team meeting

with your workmates. But for more formal meetings

take care to maintain an appropriate dress code. Your

outfit, like the background design, has a considerable

influence on visual mood and transmission quality.

Strong contrasts – for instance a black top worn

against a white background – should be avoided. Instead,

you should wear appealing colours that are not

too robust and not overly patterned. The setting can

be slightly structured. One or two creative accents –

such as pictures or image visuals – catch attention and

often break the ice in the talk. Altogether, you should

try to establish a relaxed and reassuring atmosphere.

This also applies to furniture in the field of vision, a

table or shelves for instance.

The ideal spatial setting for

hybrid meetings.

Hybrid conferences in meeting rooms with physically

present and virtual participants require the tables

to be arranged in such a way that the configuration

visually supports face-to-face communication between

the participants. To put it simply: all participants

should be clearly visible on screen. This applies to

rooms with both smaller and larger groups. Even

if modern conferencing cameras can be focused on

the speaker source, constant panning of the camera

should be avoided, as it often annoys and can also

impair image quality. For the set-up, this means: avoid

excessively spread-out table arrangements and place

additional microphones for elongated set-ups or larger

rooms. And last but not least: do not point the camera

directly at bright light sources and windows.

A typical but not ideal-typical set-up in a

meeting room for hybrid communication:

there should be a distance of two to three metres

between the first (occupied) chair and the

camera so that the camera doesn't have to pan.

The room camera should be positioned at a

height of approx. 120 to 140 centimetres –

ideally below the display – to enable a talk at

eye level.

contact 17
---
Trend Watching

Useful tips for

everyday office life.

© bose

© Trello

Putting a stop to the mess.

Trello is a straightforward and flexible visual tool you can

use to manage and organise projects. Trello is trusted

by millions of users around the world. It costs between

$ 0.– in the "Free" version, and $ 10.– per user per

month in the "Premium" version.

www.trello.com

The new experience

in wireless headphones.

QuietComfort earbuds fulfil every criterion.

A highly efficient premium driver ensures a superlative

sound experience. Microphones on the inside and

outside of the earbuds pick up all noises, react immediately

and generate a corresponding counter signal

for the most effective noise reduction. QC earbuds are

available in the colours Triple Black, Soapstone and two

limited editions, Sandstone and Stone Blue, and have a

battery life of up to eighteen hours.

Formerly a lorry, now a laptop bag!

Laptop bags by "Freitag" are based on an

ingenious idea. Discarded lorry tarpaulins

are transformed into highly functional

one-off bags. The idea might not

be new (the first prototype was

produced in 1993), but it's still

brilliant. Each bag is unique.

F304 MOSS, specially developed

for mobile equipment.

Available in all FREITAG stores,

from selected retailers and at

freitag.ch.

© Bruno Alder

18 contact
---
Office Life

Job Sharing:

a job shared gets

the work done.

Full time or part time? Today, the options are

more diverse than ever. With new models such

as job sharing, firms can integrate temporary

or permanent constructs for planning working

hours that benefit both employers and

employees.

In job sharing, the content of a full-time position is

divided physically between two people. Usually this

involves a very demanding position with a comprehensive

competence portfolio. In contrast to the classic

part-time position, the tasks are performed jointly in

most cases.

From pairing to splitting.

However, job sharing can take various forms. Job

pairing means that two people are simultaneously

responsible for all the tasks of a full-time position.

Then there's job splitting. Here the position is exactly

divided. Each partner has precisely assigned areas of

responsibility. And top sharing refers to managerial-level

tasks that are performed in a team. The classic

division of a 100-percent position is 50/50 for each

of the two employees. In practice, however, there are

also other ways of splitting the work, such as 40/60.

The exact division must be individually adapted to

each situation. Job sharing is often only used temporarily

to complete an important project or to prepare

the successor for taking on a position. The important

thing here is to set down the exact conditions of the

job-sharing model in the employment contract.

There are wide-ranging advantages for the employer

– double expertise, greater efficiency, and much

more. Employees benefit from flexible time allocation

and experience-sharing with their job partner.

The model is also excellent for reintegrating parents

after their leave. Of course, job sharing not only

has advantages, but also involves increased organisational

investment. Communication between the

partners has to work, so when choosing the team it

is important that there is harmony and sympathy

in the tandem.

Spatial requirements for job sharers.

Besides their tasks, many job sharers share their

workplaces as well, or do their work in the same

office. Job splitters can use a shared desk by allotting

their areas of activity. The requirement here is that

both partners have agreed on attendance times.

Top sharers or job pairers need zones in the office

for communication and collaboration since they

deal collectively with their work and the decisionmaking.

Particularly helpful features in making job

sharing as uncomplicated and as efficient as possible

include intelligently deployed central zones, collaborative

areas in team offices, temporary silent rooms

as a retreat for undisturbed work, and dedicated

creative spaces.

contact 19
---
Offices around the world

From ruin

to diamonds.

© Sergey Melnikoff / Sberbank

For thirteen long years, the office building stood as an unfinished shell in Moscow's financial

district. The Russian Sberbank took over the ruin and in it created a chipper and cheerful

office world. Its heart is a conference hall like a cut diamond suspended on twenty steel

cables in the atrium. Daring!

20 contact
---
© Sergey Melnikoff / Sberbank

Like multicoloured televisions the polygonal projections

protrude into the cold, unembellished inner

courtyard. Expressionistic steel boxes, six in number,

house the intern meeting rooms of the individual

departments. "As a contrast to the otherwise cool

architecture of the atrium, we decided to inject life

and energy into the meeting rooms", says Tanya

Ruegg, creative director at the Zurich planning office

Evolution Design, "and not only the furniture, but

also the floor, wall and ceiling." They are warm, snug

caves conceived at the interface between the intimacy

of concentrated work and a side open to public view.

The Sberbank headquarters, although the largest financial

institution in Russia and Eastern Europe, isn't

located in a new building like their rivals' headquarters,

most of them on the opposite side of the river

in the futuristic skyscraper district of Moscow City,

but in an unspectacular building started in 2007 but

never completed. The unfinished shell on Kutuzovsky

Prospect stood for years on the banks of the Moscow

River until Sberbank decided for reasons of resource

technology to waive the idea of a new building and to

refurbish and extend the ruin with a contemporary

office concept.

"The building structure was therefore self-evident",

says Ruegg. "Our task was to work within this strict

portfolio and create an office environment as open

and inviting as possible for flexible and activity-based

work." Grey carpet and cream-coloured linoleum

predominate on the office floors, moreover, the

planners opted for light, friendly types of wood and

ring-shaped ceiling lights. Various interventions

intermittently relieve this very neutral structure:

colourfully furnished job clusters, amorphous glass

boxes with diverse ornaments on the panes, and an

interplay of open spaces and slightly offset regeneration

areas partitioned off by curved screens.

"Particularly in the banking business we usually find

neutral, soberly designed office environments, but

our idea was to reflect the fluid and flexible corporate

culture in the rooms. So there are hardly any orthogonal

rooms in the entire building, but mainly curved

and triangular or polygonal room flows. We wanted

to inject a certain dynamism into the rooms." This

is reflected in the flexible workstations, also in the

overall office structure, which supports great deployment

versatility. Each floor has in addition its own

© Sergey Melnikoff / Sberbank

contact 21
---
Offices around the world

reception area and can be decoupled from the rest of

the building and operated autonomously, if necessary.

But the undeniable heart of the entire building is the

central meeting room for twelve to fourteen people.

Like a cut and polished diamond made of glass and

stainless steel, the daring construction hovers in

nothingness, buoyed in the air – reminiscent of a giant

spider's web – by twenty traction cables. "You won't

find a suspended room of this size a second time in

Europe", says Polina Voevodina, project manager at

© Sergey Melnikoff / Sberbank

the Moscow partner office T + T Architects, which

was mainly in charge of the official side of the technical

implementation.

Lurking within this apparent lightness is a fair amount

of elaborate monitoring technology: each individual

steel cable is equipped with a tension sensor and monitored

around the clock. In the event of the slightest

irregularity, a signal is immediately transmitted to

the technical centre. A green detail on the side: the

planners from Evolution Design and T + T Architects

maintained the strict criteria of LEED and breeam

in their selection of products and building materials,

however, no certification was obtained for the building.

Tanya Ruegg: "To be honest, we didn't have the

time. We were traveling in the fast lane. It took exactly

twenty months from the draft to the handover of

the keys."

Wojciech Czaja

© Sergey Melnikoff / Sberbank

22 contact
---
What's on your desk?

02

01

10

05

04

03

09

07

06

08

What's on your desk,

Manuelle Gautrand?

Boulevard de la Bastille, located directly on Canal Saint-Martin, a few

steps away from the Opéra Bastille. This is the very spot where for fifteen

years or so one of the most famous architects in France, Manuelle

Gautrand, has had her office. "I love this building", she says, the woman

with the everlasting smile. "This is a simple but absolutely beautiful

industrial building from the 1920s, with a frame structure of industrial

reinforced concrete and brick walls, and a long line of windows. And

just as in those days, some commercial firms still rent premises here

– printing shops, toy manufacturers and small jewellery workshops

that even operate their own smelting furnaces. And so we're here,

too, the creative people – architectural firms, design studios, startups,

coworking spaces and business incubators. It's a great, wild mix."

Manuelle Gautrand's studio is on the fourth floor, 300 square metres

of it. She has remodelled and rebuilt the offices a number of times,

using it herself as an experimental laboratory for her own architectural

language. Her actual workroom she deploys exclusively for confidential

discussions and zoom conferences, and is separated from her employees'

open-plan office by plywood and glass walls. This harmonises with

the industrial charm of the entire building, she says. And it complies

with their company philosophy – uncomplicated, transparent and

egalitarian. We visited the Parisian architect and talked to her about

the design of her workplace.

Wojciech Czaja

© Studio Gaudin Ramet

© Manuelle Gautrand Architecture

01

02

03

04

05

06

07

08

09

10

I like the raw aesthetic and warm tactile quality of plywood. It's a

cheap yet very sensuous material that blends in wonderfully with

the industrial spirit of the reinforced concrete skeleton.

A photo of our refurbishment project in the Gaité Lyrique in Paris,

which we completed in 2011 – a flamboyant pink room with large,

mobile seat sculptures.

I can't work without paper. Nor without a touch of chaos. Sometimes

I check out old concept brochures again years later to see

how the plans and concepts have turned out and how a building

has actually evolved after completion.

We work a lot with models, especially in wood, gypsum and

cardboard. I make some models myself to familiarise myself more

with the project.

I love plants. Most of all cacti! Four years ago, I went on holiday

to Mexico for the first time, and I've had a passion for cactus ever

since. We also have a huge climbing plant in the office; it clings to

reinforced concrete beams, cable ducts and acoustic panels and

grows incessantly from year to year.

My Eero Saarinen table: I love marble in all its forms and types.

And for me the table is the perfect symbiosis of geometry and

sensuousness.

Matching white Panton chairs.

A handbag with Bambi? Why not! As an architect, you spend part

of your time dreaming. This means as well that you're allowed

deep down to remain a child.

We have lots of books and magazines in the office. In my own

workroom I mostly have art catalogues, urban planning books,

writings on architectural theory and publications on nature, landscape

and garden design.

This is a 3D-printed plastic model of a concept store with a radial,

circular construction grid we designed for Cairo. Unfortunately, the

project was not built. Dreaming and not building is part of my job.

contact 23
---
Office Life

Camping,

garden and café.

Remote work apart from working

at home & at the office.

Remote work, i.e., working independently of location, is often

equated with working from home. But the places that lend themselves

to mobile work are legion. We want to present to you a few

options other than the office mainstream.

© shutterstock

24 contact
---
Outdoors: the workplace

in a world of green.

Even as a child you were told: run

outside and get some fresh air! Yet

today we sit in the office for up to

nine hours a day. All remote workers have the option

of temporarily relocating their workplace outdoors.

The bad news: sadly, tanking up on sunlight can't be

reconciled with work at the computer screen. So look

for a quiet place – a park or (restaurant) garden – with

enough shade so you can see what you're tapping into

your notebook and your device doesn't overheat and

leave you high and dry.

The cruise ship: desks

ahoy on the high seas.

Since we're talking about

mobile working, how about

a cruise? A voyage across the sea lasting days doesn't

offer much scenic variety – perfect conditions for

working without distraction and stress. But caution:

the space in your cabin is not what you'd call opulent.

So it's essential to clarify beforehand where to set up

your office on the ship. And the Internet connection

might also present a problem. By the way, do you get

seasick easily?

The café: productivity with

cappuccino and cake.

The café has always been an inspiring

place and a setting for many a writer

to ply his trade. Reason enough to

pack your laptop and get stuck into work accompanied

by coffee and cake. Admittedly, working in this

remote space is not that simple. It requires preparation.

First of all, you have to find the right location for

this gastronomic work experience. Make sure of your

internet connection, outlets, sufficient seating and

a low noise level. If you plan to use your temporary

workplace for an extended period, don't forget to order

a morsel or two every one and a half hours – after

all, the restaurant owner has to stay in pocket, too.

Once you have chosen your place to be, make sure you

pack your notebook charger, headphones and your

work documents, not forgetting your keys and wallet.

The train: The way is the goal.

Do you have to travel a lot for your work

and are irked by unproductive hours in

the car? What about taking the train for

dealing with pressing jobs during the

journey? Most trains are equipped with WiFi and

outlets. A seat reservation guarantees you your

mobile desk. On top of that, you'll earn a medal

as a climate hero.

Camper van: work

and travel.

You think it's a great idea to have

a different view from your office

every day? A trip in the camper van is ideal to bring

a change of scenery into everyday work – mobile

working in the truest sense of the word. But what at

first sounds exciting needs a great deal of planning. In

order to do a good job, at all events you need a stable

internet connection. So don't travel to remote places.

Apart from this, the camper doesn't offer much room,

which restricts your workplace and possibly hinders

you in your work.

Workation: Go South!

You, the laptop, the palm trees… We're all

familiar with these images. Sounds tempting,

doesn't it, but it's only half as romantic

the scene suggests. We've known for a

long time that the screen and the midday sun are not

the best of friends. This means you're shackled inside

during your workation period (also because of the

mainly high temperatures). Although after work and

at the weekend, you can play happy holidaymakers

and enjoy the sea. But don't go too far away because a

possible time shift hinders work with your colleagues.

contact 25
---
Showroom

m.zone –

modules for

New Work.

Open units, central zones and hubs, or

relaxation oases: to meet the demands of

modern working environments, in m.zone

Wiesner-Hager has created flexible modules

for New Work offices.

Future offices will provide employees with sophisticated,

adaptable work environments that generate

a task-supportive atmosphere. This means fade-out

for rigid spatial structures. Requirements are more

closely oriented on activities. "Activity Based Working"

(ABW) is the order of the day. With m.zone,

Wiesner-Hager has developed a completely new

furnishing concept for offices which can be integrated

perfectly into the organisation of agile companies.

m.zone consists of individual elements such as screens,

combination and free-standing furniture. New worlds

of work can be created out of this modular furniture

– tailored in every way to suit the customer's individual

ideas. Deployment areas in office architecture

are wide-ranging: m.zone is ideally compatible with

open-plan offices, central zones and hubs, crossways

and lounges, likewise in reception and waiting areas.

m.zone supports the philosophy of Activity-Based

Working. What's on the agenda at the moment?

How much space does this need? And what does

26 contact
---
the best place for these activities look like? In contrast

to classic desk sharing, ABW focuses on choosing the

workplace most suitable for the respective activity

profile. Modern offices are making more and more

space available in particular to accommodate collaboration.

The office is gradually becoming a place of

encounter. New types of rooms and spaces also enable

work to be done away from the classic desk. Open yet

small-structured coworking units are ideal for team

and project work and the development of creative ideas.

In supplying these work area options, m.zone has

come up with three different module categories for

New Work:

work.

For concentrated, temporary tasks –

inspired by the role of a classic secretary

– the work modules are designed based

on the respective combination to provide

individual and to some extent shielded

workstations for occasional jobs.

meet.

Spatial zones for collaboration and communication:

variably concatenated screens form the basis for

flexible (team) meetings, informal talks, workshops

for brainstorming and so forth. Depending on use,

the furniture can be chosen very individually.

relax.

Quiet zones and islands of retreat:

comfortable seating and screening

partitions create a relaxed atmosphere

during breaks, informal talks and

interpersonal communication.

contact 27
---
Rethink your office.

Seven scenarios for office space

planning after the coronavirus.

On the way to normality in the working world, it is necessary not just to overcome (short-term)

health-policy obstacles, but also to rethink sustainable developments in office design. While we are

currently mainly occupied with measures related to physical distancing in the office, companies will

also face many changes in the long term after the coronavirus. Seven scenarios for the office working

world are of special significance.

You can download

our detailed

whitepaper here.