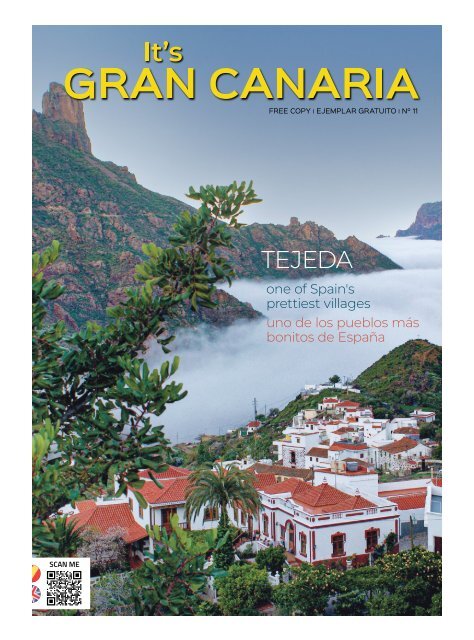 No. 11 - Its Gran Canaria Magazine
Rutas, recomendaciones y noticias de Gran Canaria Routes, tips and news about Gran Canaria
Rutas, recomendaciones y noticias de Gran Canaria

Routes, tips and news about Gran Canaria
SHOW MORE
SHOW LESS
Create successful ePaper yourself
Turn your PDF publications into a flip-book with our unique Google optimized e-Paper software.
FREE COPY I EJEMPLAR GRATUITO I Nº 11

TEJEDA

one of Spain's

prettiest villages

uno de los pueblos más

bonitos de España

SCAN ME
---
2

EDITORIAL Nº 11

POR SERGIO ARÁN

It's Gran Canaria

at Fitur

It's Gran Canaria

en Fitur

The pandemic is still with us. It seems to disappear for a few

months but it is there, stealthily, waiting to impose its rules.

These are tough times for all of us who live in Gran Canaria, because

in one way or another, we are intimately linked to the tourist

business. However, you are reading this magazine right now

and that means that we continue to receive visitors. You are a

privileged person who has managed to cross borders to get to

know our island. So, welcome!

These pages will show you a thousand things to do in Gran Canaria.

The options are indeed very varied: from putting your feet

up in your hotel with the stunning soundtrack of lapping waves

and sunsets, to going up to Tejeda and enjoying the sublime

spectacle of the almond trees in bloom.

Our magazine has strived to be, from day one, a guide for all

those who come to Gran Canaria and want to get to know the

island in depth. We unearth privileged places and accompany

you on your adventure. For this reason, it was very important for

us to be present at the International Tourism Fair, better known

as FITUR, which took place recently from the 19th to the 23rd of

January

The tourism industry is dogged by uncertainty, and any little

thing we can do to contribute to make it more dynamic is welcome.

Our presence at FITUR was not an editorial decision, but

rather we were accompanied by the Tourist Board of the Cabildo

de Gran Canaria, who had the brilliant idea of taking copies of the

magazine to showcase much of the magic of our island. Going

hand in hand with them and having a presence at this fair makes

us proud and makes us just a little bit bigger.

La pandemia sigue con nosotros. Parece que desaparece durante

unos meses pero está ahí, agazapada, esperando para imponer

sus reglas. Para todos los que vivimos en Gran Canaria son tiempos

complicados, porque de algún modo u otro, estamos íntimamente

ligados al negocio turístico. Sin embargo, usted está leyendo estas

líneas y eso significa que seguimos recibiendo visitantes. Usted es

una persona privilegiada que ha conseguido traspasar fronteras

para conocer nuestra isla. Sea pues, bienvenido.

En estas páginas encontrará mil cosas que hacer en Gran Canaria.

Las opciones son muy variadas: desde quedarse en su hotel con el

arrullo de las olas como banda sonora y unos atardeceres de película,

hasta subir a Tejeda y disfrutar del sublime espectáculo de

ver los almendros en flor.

Nuestra revista ha intentado ser, desde el primer día, una guía para

todas aquellas personas que vienen a Gran Canaria y quieren conocer

la isla a fondo. Les descubrimos lugares privilegiados y les

acompañamos en su aventura. Por ese motivo, para nosotros ha

sido muy importante tener presencia en la Feria internacional de

Turismo, más conocida como FITUR, que ha tenido lugar desde el

pasado 19 al 23 de enero de este año.

El escenario turístico está marcado por la incertidumbre y cualquier

granito de arena que podamos aportar para dinamizarlo será

bienvenido. Nuestra presencia en FITUR no ha sido una decisión

editorial sino que hemos ido de la mano de Turismo de Gran Canaria,

que tuvo la brillante idea de llevarse ejemplares de la revista

para mostrar gran parte de la magia de nuestra isla. Ir de la mano

con ellos y tener presencia en esta feria nos enorgullece y nos hace

un poquito más grandes.
---
4

SUMMARY I SUMARIO Nº 11

SUMARIO

12 26

28

34 46

08 . Get to know Gran Canaria · Conoce Gran Canaria

Gran Canaria through its outdoor markets

Gran Canaria a través de sus mercadillos

12 . Get to know Gran Canaria · Conoce Gran Canaria

A journey around culture in Moya

Recorriendo la cultura de Moya

26 . Get to know Gran Canaria · Conoce Gran Canaria

Gran Canaria looks up to the stars

Gran Canaria mira hacia las estrellas

28 . Get to know Gran Canaria · Conoce Gran Canaria

Camels, from the plough to the tourist charter

Camellos, del arado al chárter turístico

34 . Interview · Entrevista

Carlos Álamo Cabrera

Tourism Councillor / Consejero de Área de Turismo

42 . Discover · Descubrir

Las Palmas de Gran Canaria

Las Palmas de Gran Canaria

46 . Getaways · Escapadas

Routes around Gran Canaria

Rutas por Gran Canaria

76 . Shopping · De compras

Gran Canaria, your perfect shopping destination

Gran Canaria, el lugar perfecto para tus compras
---
6

GET TO KNOW GRAN CANARIA I CONOCE GRAN CANARIA Nº 11

Forthcoming events

Carnival

in bloom

Some winters in Gran Canaria have snow covering

the summits. But most years there is no

snow. What is certain is that the landscape of

the highlands will be dressed in white, in this

case with thousands of blossoming almond

trees that invite one and all along to celebrate

their festival and their splendour in a wild landscape

colonised by fruit trees that create an

immense palette of white and purple shades.

Tejeda, one of the most beautiful villages in

Spain, prepares to welcome numerous visitors

who walk along its roads to find, at every turn,

images of nature overflowing in the middle of

winter, not forgetting the delicious and sweet

pastries made with almonds and honey that

the town produces. Indeed, this year they are

celebrating the occasion for the first time following

its recognition as a Festival of National

Tourist Interest, providing another reason to

enjoy a land that is a Biosphere Reserve and

Unesco World Heritage Site.

While the almond trees provide a white carpet

on hillsides, cliffs and ravines, Carnival spreads

its colourful joy through the cities' streets and

squares. It almost constitutes a season, a prespring

that starts in the capital and spreads

across the island, ending with the Maspalomas

International Carnival. Life indeed becomes a

carnival for the island for over a month. Many

people work hard all year round to make these

festivities something original, a spectacle to be

admired, with music, satire, rhythm, inventiveness,

and staging... and to 'give the body what

it yearns for', in the words of the official Carnival

of Las Palmas de Gran Canaria hymn.

This year is bursting with colour and sound, especially

fine music comprising different styles

and trends, such as the Sunbeat LPA 22, which

will wow spectators with fine soul music provided

by four bands who will be offering the

smoothest soulful sounds that have been a

pop music phenomenon now for fifty years.

Another event that is already a thoroughbred

in the long list of great classical music festivals

is the Canary Islands Music Festival, which

this year celebrates its 38th edition with a programme

that starts on 12th January and ends

on 16th February. It is held in the middle of the

high tourist season on the islands, and includes

the celebration of 50 concerts in which more

than 700 musicians from different countries

and continents will participate. This festival will

bring the music of great international soloists

to the island, such as Grigory Sokolov (piano),

Steven Isserlis (cello), Sergej Krylov (violin), Beatrice

Rana (piano), Arabella Steinbacher (violin),

Anastasia Makhamendrikova (piano), Javier

Camarena (tenor), Philippe Jaroussky (countertenor)

and Manuel Gómez Ruiz (tenor). Legendary

violinist Anne-Sophie Mutter will also

be on the island, performing in a trio.

The great symphony orchestras to visit the Canary

Islands in this festival month will be even

more relevant in this 38th edition, as well as

the batons that will accompany them. They

include the London Philharmonic Orchestra,

Gothenburg Symphony, Luxembourg Philharmonic,

Tenerife Symphony, Gran Canaria

Philharmonic, Paris Chamber Orchestra,

Lithuanian Chamber Orchestra and Russian

State Symphony 'Evgeny Svetlanov'. Among

the conductors, Santtu-Matias Rouvali, Jordi

Savall, Vassily Petrenko, Philippe Herreweghe,

Gustavo Gimeno, Antonio Méndez, Michael

Boder and Karel Mark Chichon will be the star

attractions.

The chamber ensembles and the En Paralelo

concerts will complete an edition that returns

to its original winter dates, after the exceptional

2021 edition that had to be held during the

summer due to the Covid-19 pandemic.

Finally, for sports enthusiasts, particularly cyclists,

the month of February kicks off with the

Epic Gran Canaria. And that is exactly what it

will be, an epic race, because the top cyclists

on the planet recognise that this island provides

the toughest mountain pass in Europe. It

offers real luxury for the two-wheeled sportsmen

and women who can take part in this

race in an enviable climate, although the stark

contrast between the coast and the highlands

may come as a shock to a good number of

them.

Tejeda

Próximos eventos

Carnaval

en flor

En Gran Canaria hay inviernos en los que la

nieve puede cubrir sus cumbres. Pero son

mayoría los años sin nieve. De lo que sí hay

certeza es que el paisaje de las zonas altas

se viste de blanco con miles de almendros

en flor que invitan a celebrar su fiesta, su esplendor

en un paisaje agreste colonizado por

frutales que crean una inmensa paleta de tonalidades

de blanco y violáceas.

Tejeda, uno de los pueblos más bonitos de

España, se prepara para recibir a numerosos

visitantes que recorren sus vías para encontrar,

en cada curva, imágenes de una naturaleza

desbordante en pleno invierno, sin

olvidar la deliciosa y golosa repostería desarrollada

en torno a la almendra y la miel. Otro

motivo para disfrutar de un territorio que es

Reserva de la Biosfera y Patrimonio Cultural

de la Humanidad por la Unesco.

Mientras los almendros emblanquecen laderas,

riscos y barrancos, el carnaval extiende

su colorista alegría por calles y plazas. Es casi

una estación, una pre primavera que se origina

en la capital y se extiende por la isla, hasta

finalizar con el Carnaval Internacional de

Maspalomas. Durante más de un mes la vida

es un carnaval para la isla. Muchas personas

trabajan todo el año para convertir las fiestas

en algo original, un espectáculo para ser visto.

Con la música, la sátira, el ritmo, la inventiva,

la puesta en escena... y dar al cuerpo lo

que pida, como establece el himno oficial del

Carnaval de Las Palmas de Gran Canaria.

Y es que este año viene cargado de colorido

y sonido, sobre todo la buena música de

diferentes estilos y tendencias, como es el

Sunbeat LPA 22, que llenará el alma de los espectadores

del mejor soul con cuatro bandas

que ofrecerán lo mejor de este sonido que

desde hace cincuenta años ha sido determinante

en la música pop.

Otro evento que ya es un clásico en la oferta

de grandes festivales de música clásica es el

festival de Música de Canarias, que este año

celebra su 38 edición con una programación

que arranca el 12 de enero y finaliza el 16 de

febrero, en plena temporada alta de turismo

en las islas, y que incluye la celebración de 50

conciertos en los que participarán más de 700

músicos de diferentes países y continentes.

Este festival traerá a la isla la música de grandes

solistas internacionales como Grigory

Sokolov (piano), Steven Isserlis (chelo), Sergej

Krylov (violín), Beatrice Rana (piano), Arabella

Steinbacher (violín), Anastasia Makhamendrikova

(piano), Javier Camarena (tenor), Philippe

Jaroussky (contratenor) o Manuel Gómez

Ruiz (tenor). También estará en nuestra isla

la legendaria violinista Anne-Sophie Mutter,

que actuará en formato trío.

Las grandes orquestas de plantilla sinfónica

que visitarán Canarias en este mes de festival

será aún más relevante en esta 38ª edición,

así como las batutas que las acompañarán:

Philharmonia Orchestra de Londres, Sinfónica

de Gotemburgo, Filarmónica de Luxemburgo,

Sinfónica de Tenerife, Filarmónica de

Gran Canaria, Orquesta de Cámara de París,

Orquesta de Cámara de Lituania y Sinfónica

Estatal Rusa 'Evgeny Svetlanov'. Entre los directores,

Santtu-Matias Rouvali, Jordi Savall,

Vassily Petrenko, Philippe Herreweghe, Gustavo

Gimeno, Antonio Méndez, Michael Boder

y Karel Mark Chichon.

Las formaciones de cámara y los conciertos

de En Paralelo completarán una edición que

vuelve con fuerza a sus fechas originales de

invierno, tras la excepcional edición veraniega

de 2021 a causa de la pandemia de la Covid-19.

Y, para los/as amantes del deporte, el ciclismo

particularmente, el mes de febrero se estrena

con la Epic Gran Canaria. Y así será, una prueba

épica porque los más destacados ciclistas

del planeta reconocen que esta isla ofrece el

puerto de montaña más duro de toda Europa.

Un verdadero lujo para los deportistas de

las dos ruedas que pueden realizar esta carrera

con un clima envidiable, aunque el contraste

entre la costa y la zona alta de la isla

puede sorprender a más de uno.
---
8

GET TO KNOW GRAN CANARIA I CONOCE GRAN CANARIA Nº 11

Gran Canaria through its outdoor markets

Gran Canaria a través de sus mercadillos

Por Miguel Díaz

Gran Canaria offers its visitors and endless array of places to go to all over the

island. However, exceptionally, visitors can find a range of different outdoor

markets that offer an alternative way to discover the island, its people and its

most authentic flavours.

Please note: The information provided in this article is current at the time of

going to press. However, due to the volatile pandemic situation, some of the

data or indications in this guide may be modified by the different organisers

or institutions that regulate them.

Gran Canaria ofrece a sus visitantes infinidad de lugares que recorrer a lo

largo de su geografía. Sin embargo, de forma excepcional, el visitante podrá

encontrar en diferentes puntos de la isla diferentes mercadillos, que le ofrecen

otra forma de descubrir la isla, sus gentes y sus sabores más auténticos.

Nota: La información que se proporciona en este artículo está actualizada

al momento del cierre. Sin embargo, debido a la volátil situación de pandemia,

algunos de los datos o indicaciones de esta guía pueden verse modificados

por los distintos organizadores o instituciones que las regulan.

Foto: sanmateoturistico.com

San Mateo Farmers and Craft Market

Day: Sundays from 9.00 to 14.00.

Location: C. Antonio Perera Rivero, S/N, Vega de San Mateo

Located on the outskirts of the old part of town, this is the most traditional

market on the island. It is advisable to arrive in good time, as traffic jams

are common at the entrance to the village throughout Sunday morning.

If you are looking to go home with something 100% local, this is the place

for you.

Mercado Agrícola y Artesanal de San Mateo

Día: Domingo. De 9 a 14h.

Lugar: C. Antonio Perera Rivero, S/N, Vega de San Mateo

Nuestro recorrido empieza en la capital de la isla. En el extremo sur de

la ciudad, podemos encontrar este conjunto de tres piscinas naturales

que se ha convertido en unos de los atractivos naturales de la ciudad,

especialmente para los vecinos de los barrios cercanos. ¿Te gusta la

natación? ¡Una de las tres piscinas cuenta con medidas olímpicas!

Maspalomas Outdoor Market

Days: Wednesdays and Saturdays from 8.00 to 14.00.

Location: Avenida Alejandro del Castillo

Due to its location, close to the island's tourist centre, the Maspalomas

street market is very popular with tourists visiting Gran Canaria. Dozens of

traders offer visitors a wide range of products at competitive prices, from

clothes to footwear, jewellery to leather goods. Perfect for anyone out to

grab a bargain.

Mercadillo de Maspalomas

Días: Miércoles y sábados. De 8 a 14h.

Lugar: Avenida Alejandro del Castillo

Por su ubicación, cerca del centro neurálgico del turismo de la isla, el Mercadillo

de Maspalomas cuenta con gran popularidad entre los turistas que visitan

Gran Canaria. Decenas de comerciantes ofrecen a sus visitantes infinidad de

productos a buen precio: desde ropa a calzado, pasando por bisutería o marroquinería.

Para los que buscan buenos precios.
---
Nº 11 GET TO KNOW GRAN CANARIA I CONOCE GRAN CANARIA

9

Las Palmas Flea Market

Days: Sundays from 9.00 to 14.00.

Location: Ramblas Alcalde Juan Rodríguez Doreste

This is a typical city street market where you can find practically anything

you are looking for. We're talking about the busiest market in the

capital of Gran Canaria that, due to its central location, is well worth a

visit if you're in the city. Even if you don't intend to shop, you can come

along and feel part of the city's typically sunny Sunday morning pulsating

rhythms.

Rastro de Las Palmas

Días: Domingos. De 9 a 14h.

Lugar: Ramblas Alcalde Juan Rodríguez Doreste

El típico mercadillo de ciudad donde puedes encontrar prácticamente

cualquier cosa que busques. Hablamos del más bullicioso de la capital

grancanaria por su céntrica ubicación y, por lo tanto, rendirle una visita

si estás por la ciudad merecerá la pena. Aunque no tengas intención de

comprar, podrás sentir el palpitar del ritmo de la ciudad en sus habituales

mañanas soleadas de domingos.

Vegueta Crafts and Culture Outdoor Market

Days: Sundays from 10.00 to 14.00.

Location: Plaza del Pilar Nuevo (behind the Cathedral)

The Vegueta Outdoor Market and the Port Flea Market represent the historical

yet perhaps contradictory duality that coexists in the city of Las Palmas

de Gran Canaria. While the Rastro symbolises the more cosmopolitan and

commercial side of the city open to visitors, the Mercadillo de Vegueta brings

together in just a few stalls, located in the old part of the city, at the far end, a

number of craft displays that conceal part of the island's culture and heritage.

El Mercadillo de Artesanía y Cultura de Vegueta

Días: Domingos. De 10 a 14h.

Lugar: Plaza del Pilar Nuevo (trasera de la Catedral)

El Mercadillo de Vegueta y el Rastro del Puerto representan esa dualidad histórica,

acaso contradictoria, que cohabita en la ciudad de Las Palmas de Gran

Canaria. Mientras el Rastro simboliza esa urbe más cosmopolita y comercial

abierta al visitante, el Mercadillo de Vegueta recoge en unos pocos puestos,

situados en el caso viejo de la ciudad, en el otro extremo, apenas unos puestos

de artesanía que esconden parte de la cultura y el acervo isleños.
---
10

GET TO KNOW GRAN CANARIA I CONOCE GRAN CANARIA Nº 11

Teror Outdoor Market

Days: Sundays from 9.00 to 15.00.

Location: Plaza de Síntes

Teror, home to the patron saint of the island, and one of the favourite places to

visit in the tourist guides of inland Gran Canaria, needs no publicity. However,

if you are lucky enough to be able to visit the town centre on a Sunday, you will

see a village totally transformed by the hustle and bustle of the Sunday market,

one of the oldest on the island. About a hundred stalls around the Basilica

give it a quite unusual lively atmosphere.

Mercadillo de Teror

Días: Domingos. De 9 a 15h.

Lugar: Plaza de Síntes

A Teror, hogar de la patrona de la isla y uno de los lugares predilectos de la

Gran Canaria interior para las guías de turismo, no le hace falta publicidad. Sin

embargo, si tienes la suerte de poder visitar su casco un domingo, podrás ver

un pueblo totalmente transformado por la animosidad de su mercadillo dominical,

uno de los más viejos de la isla. Un centenar de puestos alrededor de la

Basílica, le confieren una vida inusitada.

San Lorenzo

Farmers Market

Days: Sundays from 8.00 to 13.30.

Location: Village of San Lorenzo,

opposite the Health Centre.

It may not have the pomp or fame

of other street markets in the city or

on the island, but during its almost

six hours of business, visitors can get

to know an authentic street market,

where dozens of local townsfolk

take advantage of their day of rest to

fill their larders with authentic local

products, as the stalls belong to traders

from the city's food markets.

Mercadillo Agrícola

de San Lorenzo

Días: Domingos. De 8 a 13.30h.

Lugar: Pueblo de San Lorenzo,

frente al Centro de Salud.

Quizás no tiene el boato o la fama de

otros mercadillos de la ciudad o de

la isla, pero a lo largo de sus casi seis

horas de apertura, podrás conocer

un mercadillo auténtico, donde decenas

de ciudadanos locales aprovechan

el día festivo para rellenar sus

alacenas con productos auténticos

de la tierra, ya que los puestos pertenecen

a comerciantes de los mercados

de abastos de la ciudad.
---
Nº 11 GET TO KNOW GRAN CANARIA I CONOCE GRAN CANARIA

11

Santa Brígida Outdoor Market

Days: Sundays from 7.00 to 14.00.

Location: Paseo del Guiniguada (in the town centre)

The Santa Brígida flea market, which straddles the San Lorenzo and San Mateo

markets, is perhaps not as well known as other markets on the island.

That's just the reason why we like it so much. If you decide to take the plunge,

you will enjoy a totally local experience, in a village that transmits the tranquillity

of its inhabitants, despite its close proximity to the capital city. A very good

atmosphere is to be had here.

Mercadillo de Santa Brígida

Días: Domingos. De 7 a 14h.

Lugar: Paseo del Guiniguada (junto al casco del pueblo)

A caballo entre el Mercadillo Agrícola de San Lorenzo y el de San Mateo, el

mercadillo de Santa Brígida quizás no cuenta con la fama que tienen otros

mercadillos de la isla. Por eso, nos gusta mucho. Si te decides a darte un salto,

disfrutarás de una experiencia totalmente local, en un pueblo que transmite

la tranquilidad de sus habitantes a pesar de su cercanía a la ciudad. Muy buen

ambiente.

Playa de Mogán Municipal Market

Day: Fridays from 8.00 to 14.00.

Location: All around Playa de Mogán town centre

Among the wide variety of street markets that are organised in the municipality

of Mogán, this is probably the most popular. It is undoubtedly one of

the largest and offers the most products, from handicrafts to clothes, jewellery

and local products. It is undoubtedly one of the most important markets in the

south of Gran Canaria, and is also one of the few that does not fall on a Sunday.

Mercadillo Municipal de Playa de Mogán

Día: Viernes. De 8 a 14h.

Lugar: Todo el casco de Playa de Mogán

De entre la amplia variedad de mercadillos que se organizan en el municipio

de Mogán, este es probablemente el más popular. Sin duda, uno de los más

grandes y que más productos ofrece: desde piezas de artesanía, a ropa, bisutería

o productos locales. Sin duda, uno de los referentes del sur grancanario.

Además, uno de los pocos que no cae en domingo.
---
12

GET TO KNOW GRAN CANARIA I CONOCE GRAN CANARIA Nº 11

A journey around culture in Moya

Fontanales

Church of Our Lady of Candelaria

This church, located on the edge of an imposing

cliff overlooking the Barranco de Moya ravine,

was built in 1957 on the site of the original hermitage

where the parish church of the town was

founded in 1515. Its medieval-style boasts three

rose windows and stained glass windows depicting

different biblical passages. This church houses

the 15th century carving of the patron saint of

the Villa de Moya, Our Lady of Candelaria, made

of cedar wood and covered with cloth cloaks. The

traditional festivities in honour of the patron saint

of Moya are held during January. Although the

health situation in Gran Canaria does not allow

the celebration of local popular events, Holy Mass

will be held on the feast day of Our Lady of Candelaria,

on 2nd February and also on 6th February,

although the patron saint will not be able to go

out in a procession, to prevent crowds gathering

in the municipality.

Tomás Morales House Museum

2021 commemorated the centenary of the death

of illustrious poet Tomás Morales, who was born in

Moya in 1884 and died prematurely in Las Palmas

de Gran Canaria in 1921, at the tender age of 37.

Last year, the Town Hall of Villa de Moya named

Tomás Morales a Favourite Son of the municipality,

a distinction he had not yet received despite

having carried the name of his hometown all over

the world for more than a century.

Church of San Bartolomé de Fontanales

The current church was built in the 1970s and was

inaugurated on 24th August 1974. It contains the

statue of San Bartolomé, attributed to leading

sculptor Luján Pérez. The parish church of San

Bartolomé was founded in 1915 and the town's

main festivities are held in honour of the saint on

24th August every year. The Fontanales estate in

Mojácar, where the church is located, is a protected

area that is noted for its spectacular scenery

all around.

Heredad de Aguas Waterboard

This stately building was constructed at the end

of the 19th century and beginning of the 20th century.

It stands on two floors, and features a symmetrical

stone façade, porch and six neoclassical

columns supporting a lintelled column topped by

the central bell tower with a clock. This clock used

to be used as a reference to administer the distribution

of rainwater and water from the springs

among the members. The imposing building, now

Heredad de Aguas

in disuse and located in the heart of the town, is

evidence of the importance of irrigation water in

the municipality's historical development, where

the countryside and traditions are still deeply

rooted.

All the cultural information on Moya is now available

on the 'Cultura de Moya' app. Here, local

townsfolk and visitors can access the cultural programme

and check out all the spaces dedicated

to culture in the town.
---
14

GET TO KNOW GRAN CANARIA I CONOCE GRAN CANARIA Nº 11

Recorriendo la cultura de Moya

Casa-Museo Tomás Morales

Iglesia de Nuestra Señora de Candelaria

Este templo, emplazado al borde de un imponente

acantilado sobre el Barranco de Moya, fue construido

en el año 1957 sobre la ermita primigenia

en la que se fundó la Parroquia de la Villa en 1515.

De su estilo medieval destacan los tres rosetones

y las vidrieras que representan diferentes pasajes

bíblicos. Esta iglesia alberga la talla de la patrona

de la Villa de Moya, Nuestra Señora de Candelaria

del siglo XV y realizada en madera de cedro y

revestida con mantos de tela. Este mes de enero,

se llevarían a cabo las tradicionales fiestas en honor

a la patrona moyense. Pese a que la situación

sanitaria en la que se encuentra Gran Canaria no

permite la celebración de los actos populares, se

mantendrán las misas en la onomástica de Nuestra

Señora de Candelaria, el 2 de febrero y también

el día 6, aunque la patrona no podrá salir en

procesión para evitar las aglomeraciones en el

municipio.

Casa-Museo Tomás Morales

En 2021 se conmemoraba el centenario del fallecimiento

del ilustre poeta moyense Tomás Morales,

quien nació en la Villa en 1884 y pereció en Las

Palmas de Gran Canaria en el año 1921, de forma

prematura a sus 37 años. El año pasado, el Ayuntamiento

de la Villa de Moya nombró a Tomás Morales

Hijo Predilecto del municipio, distinción con la

que aún no contaba pese a haber llevado el nombre

de su pueblo natal por todo el mundo desde

hace más de un siglo.

Iglesia de San Bartolomé de Fontanales

El templo actual fue levantado en los años 70 e

inaugurado el 24 de agosto de 1974. Contiene la

imagen de San Bartolomé, atribuida al destacado

escultor imaginero guiense Luján Pérez. La Parroquia

de San Bartolomé fue fundada en 1915 y las

fiestas mayores del pueblo se celebran, en honor

al santo, el 24 de agosto. El pago moyense de Fontanales

en el que se encuentra esta iglesia es un

espacio protegido que resalta por la espectacularidad

del paisaje que lo rodea.

Heredad de Aguas

Nuestra Señora de Candelaria

Edificio señorial construido a finales del siglo XIX y

principios del XX, con dos plantas, fachada simétrica

de cantería, porche y seis columnas de estilo

neoclásico que sostienen una columna adintelada,

sobre la que se alza el campanario central con reloj.

Dicho reloj servía como referencia para administrar

el reparto de agua de lluvia y de los nacientes entre

los socios. El imponente edificio, en la actualidad

en desuso y situado en pleno casco moyense,

evidencia la importancia del agua de regadío en el

desarrollo histórico de este municipio, en el que el

campo y las tradiciones siguen muy arraigadas.

Toda la información cultural de Moya está ahora

disponible en la app 'Cultura de Moya'. En ella, los

ciudadanos y visitantes podrán acceder a la programación

cultural y conocer todos los espacios

dedicados a la cultura en la Villa.
---
16

GET TO KNOW GRAN CANARIA I CONOCE GRAN CANARIA Nº 11

Valsequillo de Gran Canaria,

awash with almond trees in bloom

Sadly, the Almond Trees in Bloom Festival will not

be held this year. The municipal leaders, with good

judgement, have considered that these festivities

would pose a high risk to public health, due to the

large crowds of people, and that in situations such

as the current pandemic, the best option is to avoid

mass gatherings. However, nature still takes its

course and the almond groves, during the months

of January and February, present a bucolic image

that is hard to avoid. A relaxing stroll through Valsequillo

at this time of year is a treat for the senses

and the blossoming of the almond trees is like a

magical dream.

Valsequillo nestles in a fertile valley and is surrounded

by mountains that rise to an altitude of

over 1,600 metres. It is a place where the island's

volcanic surroundings shine through in rock formations

that rise up steeply, as well as the volcanic

basins that sink deep into the ground; the entire

territory of the municipality is dotted with the

sometimes astonishing shapes of rocks that have

adopted over millions of years.

The relatively humid climate and the abundance of

natural springs cover the geography of Valsequillo

with green, and give it a dash of colour in the

flowering season, which, depending on the species,

runs from December to June. There are hundreds

of varieties of plants, many endemic to the

Canary Islands, exclusive to the island and even to

the local area. Among them, the one that most attracts

visitors' attention is the blue tajinaste bush,

whose colour contrasts with the yellow tones of

gorse, laburnum and broom, the brightness of the

white broom and brush, and the flowers of the fruit

plants, especially the white and pink shades of the

almond tree blossom in February.

It is just at this time, at the end of winter and the

prelude to spring, when the almond trees take centre

stage and drape the valley and the slopes in a

dazzling pink and white carpet, offering a stunning

contrast with the volcanic formations such as the

basins and rocks that sculpt Valsequillo's orography.

Valsequillo is a paradise for hikers, providing different

routes for them to enjoy the area's geology, flora

and fauna, all facilitated by fairly straightforward

walks that can be done by anyone who is in decent

physical shape. It is also the perfect time to enjoy

local products such as cheeses, wines and strawberries,

which are also the star attractions along

these routes.

There are ten or so signposted hiking trails of varying

levels of difficulty, which run through the heart

of Valsequillo and feature endemic vegetation, infrastructures

of great ethnographic interest, striking

geological formations and pre-Hispanic archaeological

sites. One of the most popular options for

capturing the essence of the almond groves is the

route that runs from the town centre to the district

of Las Vegas, a distance of some 1,900 metres. Caldera

de Tenteniguada offers a wealth of island flora,

including the blue tajinaste bush or the woody May

flower, together with striking rocks and monoliths

sculpted by wind and water erosion. Other places

well worth a visit include: Roque Saucillo, Los Picachos,

Roque Jincado, Roque del Pino and Roque

Grande; as well as Caldera de Los Marteles; the

thermophilic forest at Barranco de Los Cernícalos,

which is home to one of the best preserved wild

olive groves on the island and a permanent water

spring; the palm groves of Tenteniguada and San

Roque; the Protected Landscape of Lomo Magullo

or the Riscos de Tirajana Natural Monument.

As for the almond trees, they are also a vestige

of a trade that was once extremely important for

many families in this part of the island. They were

dedicated to the harvesting of the fruit, which took

place at the end of the summer and which was almost

like a social event, as it entailed long days of

social gatherings.

So don't miss a landscape that forms part of the

history of Valsequillo, its beauty will leave you lost

for words!
---
Nº 11 GET TO KNOW GRAN CANARIA I CONOCE GRAN CANARIA

17

Valsequillo de Gran Canaria,

el paisaje del almendrero en flor

Desafortunadamente, este año no se va a celebrar

las fiestas del Almendro en Flor. El gobierno municipal,

con buen criterio, han estimado que estos

festejos supondrían un riesgo elevado para la salud

pública, por la alta aglomeración de personas,

y que en situaciones como la pandemia actual, la

mejor opción es evitar los contactos masivos. Pero

la naturaleza sigue su curso y los almendreros, durante

los meses de enero y febrero, presentan una

imagen bucólica difícil de obviar. Un paseo relajado

por Valsequillo en esta época del año es un regalo

para nuestros sentidos y la floración de los almendreros,

un sueño mágico.

Valsequillo se asienta en un fértil valle y se encuentra

rodeado de montañas que superan los 1600 m

de altitud. Un lugar donde la naturaleza volcánica

de la Isla se hace patente en las formaciones rocosas

que surgen abruptamente, así como en el hundimiento

del suelo de las calderas; todo el territorio

del municipio está salpicado con las formas a veces

sorprendentes que la roca ha adoptado a lo largo

de millones de años.

Hay una decena de rutas senderistas señalizadas

y con diferentes niveles de dificultad, que recorren

el corazón de Valsequillo a través de la vegetación

endémica, infraestructuras de gran interés etnográfico,

llamativas formaciones geológicas y yacimientos

arqueológicos prehispánicos. Una de las

opciones más populares para captar la esencia de

los almendros abarca desde el casco hasta el barrio

de Las Vegas, con un recorrido de unos 1.900 metros

de distancia; aunque conviene disfrutar también

de lugares como la Caldera de Tenteniguada,

con una gran riqueza de flora insular como el tajinaste

azul o la flor de mayo leñosa e impresionantes

roques o monolitos esculpidos por la erosión

del viento y el agua: Roque Saucillo, Los Picachos,

Roque Jincado, Roque del Pino o Roque Grande;

además de la Caldera de Los Marteles; el bosque

termófilo del Barranco de Los Cernícalos, que alberga

uno de los acebuchales mejor conservados

de la isla y un manantial de agua permanente; los

palmerales de Tenteniguada y San Roque; el Paisaje

Protegido de Lomo Magullo o el Monumento

Natural Riscos de Tirajana.

En cuanto a los almendreros, son también vestigio

de un comercio que fue importante para muchas

familias de esta zona de la isla que se dedicaban

a la recolección del fruto, que tenía lugar a finales

del verano y suponía casi un evento social, pues se

acompañada de largas jornadas de tertulias.

No se pierdan un paisaje que forma parte de la

historia de Valsequillo. Su belleza le dejará sin palabras.

El clima relativamente húmedo y la abundancia

de manantiales cubren de verde la geografía de

Valsequillo, y la salpican con el estallido de colores

de la floración, que abarca, según las especies, de

diciembre a junio. Cientos de variedades de plantas,

muchas endémicas de Canarias, exclusivas de

la Isla e incluso de la zona. Entre ellas, la que más

llama la atención del visitante es el tajinaste azul,

cuyo color contrasta con el amarillo de los bejeques,

los codesos y las retamas, el blanco de las

retamas blancas y los escobones, y las flores de las

plantas frutales, sobre todo en febrero el blanco y

rosado de los almendreros.

Pero es en esta época, a finales del invierno y preludio

de la primavera, cuando los almendreros ocupan

el protagonismo y tiñen de rosado y blanco

el valle y las laderas; en una floración que resalta

el contraste con las formaciones volcánicas como

las calderas y roques que esculpen la orografía valsequillera.

Valsequillo es un paraíso para el senderismo donde

a través de diferentes rutas se puede disfrutar

de su geología, flora y fauna; todo ello, al alcance

de caminatas asequibles que puede recorrer cualquier

persona en buena forma física. Además, es el

momento perfecto para disfrutar de los productos

de la tierra como quesos, vinos y fresas, que también

son protagonistas de estas rutas.
---
18

GET TO KNOW GRAN CANARIA I CONOCE GRAN CANARIA Nº 11

Valleseco

A hiker's paradise

The location of the municipality of Valleseco, in the

north of Gran Canaria, makes for superb hiking

throughout most of the year. Valleseco is immersed

in two protected natural areas: in the upper part is

the Las Cumbres Protected Landscape, dominated

by Canarian pine forests and an extraordinary vegetation

made up of gorse, broom, laburnum trees

and dotted with copses of chestnut trees, while the

lower part features paths that run through laurel

trees, fruit trees and farmland within the Doramas

Rural Park protected area, on the site of an ancient

laurel forest.

The network of hiking paths in Valleseco, all of

which are perfectly signposted, can be checked

out on the municipality's website at vallesecograncanaria.com.

It is a digital space in which visitors

can consult brochures, routes specially designed

for GPS, and a mobile application that can be

downloaded for free that allows you to follow each

route metre by metre, providing photos and information

along the way.

The path that joins Valleseco with Cruz de Tejeda

(S 10) reveals the impressive landscape of Cortijo

de Calderetas, a plunging hollow formed by the

appearance of three volcanic craters in the ravine

bed. In the centre, visitors are treated to the beautiful

image of a Canarian mansion with a gabled roof,

nestling among chestnut and pine trees; and in the

surrounding area, the Acequia de Crespo, a water

channel which still carries water and whose course

features former clothes washing sites, aqueducts

and watering troughs.

The paths that connect Valleseco and Valsendero

(S9 and SL2) comprise a circular route of approximately

three and a half hours. Along the way, walkers

can enjoy wonderful views at the Cruz del Siglo

Natural Viewpoint or contemplate the splendour of

the vegetation of the Barranco de La Virgen ravine,

which is home to numerous plants belonging to

the laurisilva ecosystem.

An old path (PRGC 06) also runs from Barranco de

La Virgen, along which people used to go on a pilgrimage

to from Moya to Teror coinciding with the

dates of the fiestas of El Pino. The pilgrims would

stop to hear mass at the small chapel of the Virgen

de la Silla, which still exists today, before continuing

their walk alongside the Molinos del Molinete

and de Abajo mills, the clothes washing sites and

the Acequia Honda, which still carries water in the

rainy season. The path also leads to the La Laguna

Recreational Area, a natural area reforested with a

number of laurel trees.

From Valleseco, along the SL 4, hikers can walk to

Las Madres through the Barranco del Rapador ravine,

a concealed spot that until recently was impassable.

There they will find lush vegetation of

heather, laurel and pomegranate trees together

with a rich undergrowth of small plants that are

not very common in other areas. The abundance

of colourful creepers climbing up the walls of this

ravine has led many visitors to rename the area the

Ruta de los Bicácaros (Canary bell flower Route).

All these trails can be walked independently or

on tours organised by the Valleseco Town Hall in

its annual hiking route calendar (vallesecograncanaria.com).

For more details, simply contact the

Valleseco Tourist Office.

Hiking trails organised by the

Town Hall of Valleseco

Senderos organizados por el

Ayuntamiento de Valleseco

29/01: Mesas de Galaz - Risco de las tunas -

Las Rosadas

12/02:

Camino de la Caldera de Tejeda:

Degollada del Aserrador a Casa de La

Umbría (El Aserrador - El Toscón de Arriba-

El Carrizal - El Chorrillo - La Solana -

El Espinillo - Casa de la Umbría)

26/02:

Crespo - Llanos de Constantino - Cuevecillas -

Madrelagua

12/03:

Caldera de Los Marteles - Fuente Los

Cascajales - La Caldereta - Alto de La Gorra-

Pico de Las Nieves - La Agujerada -

El Campanario - Ventana del Nublo -

Deg. de La Coleta -Ayacata

26/03:

Ruta de las cruces

09/04:

Ruta del Camino de la sal, de Santa Lucía a

Sardina del Sur

30/04 - 07/05:

Viaje de senderismo

21/05:

Tenteniguada - Roques Tenteniguada -

Caldera de los Marteles - Los Alfaques -

Tenteniguada. (Ruta Circular)

11/06:

Agüimes - Yacimiento de La Audiencia -

Temisas - Observatorio Astronómico de

Temisas

18/06:

Ruta del agua

Acueducto Cueva Corcho

Calderetas

Molino de Abajo
---
Nº 11 GET TO KNOW GRAN CANARIA I CONOCE GRAN CANARIA

19

La ubicación del municipio de Valleseco, en el norte

de Gran Canaria, permite la práctica del senderismo

buena parte del año. Valleseco se encuentra

inmerso en dos espacios naturales protegidos: en

la parte alta se encuentra el Paisaje Protegido de

Las Cumbres, en el que predomina el pinar canario

y una extraordinaria vegetación formada por retamas,

codesos, escobones y salpicada de bosquetes

de castaños. Y la parte baja, en el que los caminos

discurren entre laureles, frutales y tierras de cultivo

dentro del espacio protegido del Parque Rural de

Doramas, ámbito del antiguo bosque de laurisilva.

La Red de Senderos de Valleseco, todos ellos perfectamente

señalizados, se puede consultar en la

página web del municipio vallesecograncanaria.

com. Un espacio digital en el que se pueden consultar

folletos, rutas especialmente diseñadas para

GPS y una aplicación de móviles que se puede descargar

de forma gratuita que permite seguir cada

recorrido metro a metro, proporcionando fotos e

información de cada rincón.

El sendero que une Valleseco con la Cruz de Tejeda

(S 10) nos descubre el impresionante paisaje del

Cortijo de Calderetas, una caldera que se formó

con la aparición de tres cráteres volcánicos en el

cauce del barranco. En el centro, se aprecia la bella

estampa de una casona canaria de tejado a dos

aguas, rodeada de castaños y pinos; y en las inmediaciones,

la Acequia de Crespo, que aún transporta

el agua y en cuyo curso podemos ver lavaderos,

acueductos y abrevaderos.

Recorriendo los senderos que unen Valleseco y

Valsendero (S9 y SL2) se completa una ruta circular

de aproximadamente 3 horas y media. Durante

el trayecto, el paseante ha podido deleitarse con

unas maravillosas vistas en el Mirador Natural de

la Cruz del Siglo o contemplar el esplendor de la

vegetación del Barranco de La Virgen, que alberga

numerosas plantas pertenecientes al ecosistema

de la laurisilva.

Valleseco

Un paraíso para el senderista

Del Barranco de La Virgen también se puede tomar

el antiguo camino (PRGC 06) por el que antiguamente

se acudía en peregrinación a Teror

desde Moya en las fechas de las fiestas del Pino.

Los peregrinos se paraban para oír misa en la pequeña

ermita de la Virgen de la Silla, que todavía

hoy existe y seguían caminando junto a los Molinos

del Molinete y de Abajo, los lavaderos y la Acequia

Honda, que todavía lleva agua en época de lluvias.

Un camino por el que, además, se llega hasta el

Área Recreativa de La Laguna, un espacio natural

reforestado con distintos árboles de laurisilva.

PRÓXIMA ACTIVIDAD

CULTURAL EN

EL AUDITORIO

La Laguna

Desde Valleseco, por el SL 4, se puede caminar

hasta Las Madres por el Barranco del Rapador, un

lugar oculto que hasta hace poco era intransitable.

Allí nos encontramos con una vegetación exuberante

de brezos, laureles y granadillos y un rico

sotobosque de pequeñas plantas poco habituales

en otras zonas. La abundancia de una vistosa enredadera

en las paredes de este barranco ha hecho

que muchos visitantes hayan rebautizado la zona

como la Ruta de los Bicácaros.

Todos estos senderos se pueden recorrer por libre

o en rutas organizadas por el Ayuntamiento de Valleseco

en su calendario de rutas de senderismo

anual (vallesecograncanaria.com). Para más detalles,

los interesados pueden llamar al teléfono de la

Oficina de Turismo de Valleseco.

La Comedia sexual de una noche de verano, de

Woody Allen, llega al auditorio de Valleseco

El sábado, 29 de enero, podrás disfrutar de la

puesta en escena de esta obra. La representación,

cuya duración es de 90 minutos, tendrá

lugar en el Auditorio del municipio a las 20.30

horas.

Las entradas, al precio de 6 euros, se pueden adquirir

online a través de la web www.entrees.es
---
20

INTERVIEW I ENTREVISTA Nº 11

María Eugenia Suárez Quintana

Fiestas, Women and Equality, Citizens' Participation, Historic Heritage,

Security and Emergency and Culture Councillor at the Town Hall of Tejeda

"Tejeda has become trendy and is attracting tourists who are

looking for peace and quiet and breathtaking landscapes"

Almendro en flor en Tejeda

Parroquia de Nuestra Señora del Socorro

Tejeda is a highly hospitable village, well used to

the comings and goings of tourists. Its people

still preserve traditions linked to livestock farming,

agriculture and cheesemaking as a means of

subsistence. And above all, music is very present

among its inhabitants.

Around this time the Almond Trees in Blossom

Festival, one of the few festivals that takes place

in the middle of winter, coinciding with the flowering

of the almond trees in February, would normally

be taking place. It is an event the locals take

an active part in and which a few years ago was

declared a Festival of Regional Tourist Interest.

Although it is true that Gran Canaria's climate allows

for street parties and events to take place

practically all year round, this year the safety of

its townsfolk has been paramount. The Omicron

variant is on the lurking around every corner and

safety measures put in place have meant that it

would be better to celebrate the Almond Blossom

properly and in full bloom next year.

Everything was in place for Almond Tree in

Bloom celebrations to go ahead...

That's right. We had the village set up with areas

designated for different uses. The restaurants had

placed their tables outside, in the open air, and

we had worked hard on the safety aspects. It is

also true though that the limited capacity greatly

restricted the presence of everyone who wanted

to attend these festivities and therefore, it was reluctantly

decided that the best thing to do was to

celebrate them next year in perfect conditions.

We had worked hard to make it a special year.

What hurts me most is that we were going to give

the Silver Almond Tree Award to the Cabildo de

Gran Canaria, which has supported us so much

and so well during these last few years, and has

been fully committed to the fight for sustainable

and quality tourism for our village.

The municipality of Tejeda is very popular with

tourists...

Yes, it is. It seems that Tejeda is now becoming

trendy and is attracting tourists who are looking

for peace and quiet and breathtaking landscapes.

I like to call it quality tourism, because those who

come up here do not just get here by chance. You

have to travel to come to Tejeda and you have to

bring the car. You have to make the effort, but

visitors are soon rewarded by everything that surrounds

them.

This success has been possible thanks to a series

of factors that have made us known. When I was

a child, there were very few people in our streets,

even though we had the same mountains, the

same village and the same landscapes. The Cabildo

of Gran Canaria and the Town Hall of Tejeda

have worked hard to reach a point at which the

village has been growing, improving aesthetically,

adding a very interesting gastronomic offer. It is

not a theme park by any means, but a lot of people

come between 11:00 and 19:00.

What factors have helped Tejeda to become an

almost mandatory place for tourists to visit?

There are several. Probably one of the most important

of these is the declaration, in 2019, of the

Risco Caído Cultural Landscape and the Sacred

Mountains of Gran Canaria as a World Heritage

Site by Unesco. This discovery meant that specialists,

institutions and society in general began to

sit up and realise that we were dealing with a set

of archaeological manifestations that showed the

existence of a complex, diverse and exceptional

culture from bygone times, the remains of which

have survived to the present day.

On the other hand, there was a real turning point,

from the moment we were considered one of

the most beautiful villages in Spain. Articles were

written and we appeared in the national and international

press as what we are: a beautiful place.

They talked about our streets, about our medicinal

plant museum - which is very interesting and

unique in Spain. The articles featured photos of

our Canary houses, our streets and the views over

a valley of mountains which is a real spectacle and

which also has something spiritual about it.

The Association of the Most Beautiful Villages in

Spain was created with the conviction of making

the wonderful villages that are dotted all over

the country known to the whole world. They are

places of great beauty that exude history and culture,

they are villages where tradition envelops

the traveller, who, by mingling with the locals,

becomes part of this unique setting, even if only

for a few moments. Indeed, Tejeda meets these

requirements perfectly.

Finally, as we mentioned earlier, a political effort

has also been made to promote tourism with values

other than just sun and beach. We are reaping

the rewards of something that began several

political terms of office ago, and which has been

painstakingly cared for, with great attention to detail.
---
Nº 11 INTERVIEW I ENTREVISTA

21

María Eugenia Suárez Quintana

Concejal de Festejos, Igualdad y Mujer, Participación Ciudadana, Patrimonio

Histórico, Seguridad y Emergencia y Cultura del Ilustre Ayuntamiento de Tejeda

"Tejeda está de moda y llama a un turista que

viene buscando paz, tranquilidad y paisajes de película"

El pueblo de Tejeda es un pueblo muy hospitalario con los visitantes,

acostumbrado al ir y venir de lo turistas. Entre sus gentes todavía

se conservan tradiciones vinculadas a la ganadería, la agricultura

y la elaboración de quesos como medios de subsistencia.

Y sobre todo, la música, muy presente entre sus habitantes.

En estos días se deberían estar celebrando las fiestas del Almendro

en flor, una de las pocas fiestas que se celebra en pleno invierno,

coincidiendo con la floración de los almendreros en el mes de

febrero. Un evento en la que participan activamente sus vecinos

y que hace unos años, se declaró Fiesta de Interés Turístico Regional.

Si bien el clima de Gran Canaria permite que durante prácticamente

todo el año se puedan desarrollar fiestas y eventos en las

calles, este año se ha impuesto la seguridad de sus ciudadanos

sobre todas las cosas. La variante Ómicron se encuentra al acecho

y las medidas de seguridad han dejado patente que es mejor

celebrar el Almendro en flor en toda su plenitud el año que viene.

Todo estaba preparado para celebrar las fiestas del Almendro

en flor...

Sí, teníamos el pueblo con zonas designadas a diferentes usos, los

restaurantes abrían sus mesas al exterior, al aire libre, y habíamos

trabajado mucho las condiciones de seguridad. También es cierto

que la limitación de los aforos restringía mucho la presencia

de todos los que querían acudir a estas fiestas y por tanto, se ha

decidido que lo mejor es celebrarlas el año que viene en perfectas

condiciones.

Habíamos trabajado mucho para que fuera un año especial. Lo

que más me duele es que íbamos a darle el Almendro de Plata

al Cabildo de Gran Canaria, que nos ha apoyado tanto y tan bien

durante estos últimos años volcándose en la lucha por el turismo

sostenible y de calidad para nuestro pueblo.

Tejeda es un municipio muy visitado por el turista...

Sí, parece que ahora Tejeda está de moda y llama a un turista que

viene buscando paz, tranquilidad y paisajes de película. Me gusta

decir que es un turismo de calidad, porque el que llega hasta aquí

arriba no llega de casualidad. A Tejeda hay que venir y hay que

coger el coche. Hay que hacer el esfuerzo, pero enseguida los visitantes

se ven compensados por todo lo que les rodea.

Este éxito ha sido posible gracias a una serie de factores que nos

han dado a conocer. Cuando yo era pequeña, había muy poca

gente por nuestras calles y eso que teníamos las mismas montañas,

el mismo pueblo y los mismos paisajes. El Cabildo de Gran

Canaria y el Ayuntamiento de Tejeda han trabajado mucho para

llegar a este punto en donde el pueblo ha ido creciendo, mejorando

estéticamente, añadiendo una oferta gastronómica muy

interesante... No llega a ser un parque temático, pero vienen muchas

personas entre las 11:00 y las 19:00 horas.

¿Qué factores han ayudado a que Tejeda sea un lugar de visita

turística casi obligatoria?

Hay varios. Probablemente, uno de los más importantes sea la

declaración, en el año 2019, del Paisaje Cultural Risco Caído y las

Montañas Sagradas de Gran Canaria como Patrimonio Mundial

por parte de la Unesco. Este hallazgo significó que, tanto los especialistas

como las instituciones y la sociedad en general, comenzaran

a darse cuenta de que nos encontrábamos ante un

conjunto de manifestaciones arqueológicas que evidenciaban la

existencia de una cultura compleja, diversa y excepcional, cuyos

vestigios han llegado hasta nuestros días.

Roque Nublo

Por otra parte, hay un "antes y un después" desde el momento

que nos consideraron uno de los pueblos más bonitos de España.

Se escribieron artículos y salimos en la prensa nacional e internacional

como lo que somos: un lugar precioso. Se hablaba de

nuestras calles, de nuestro museo de plantas medicinales – que

es muy interesante y único en España. En los artículos salían fotos

con nuestras casas canarias, nuestras calles y estas vistas a un valle

de montañas que es un auténtico espectáculo y que además,

tienen algo de espiritual.

La Asociación de Pueblos más bonitos de España nació con la

convicción de poner en conocimiento de todo el mundo los maravillosos

pueblos que salpican la geografía española. Lugares de

gran belleza que destilan historia y cultura, villas donde la tradición

envuelve al viajero, que al mezclarse con los lugareños, pasa

a formar parte de este marco único aunque sea solo por unos

instantes. Y Tejeda cumple perfectamente con esos requisitos.

Finalmente, como comentábamos antes, también se ha hecho

un esfuerzo político en fomentar el turismo con otro tipo de valores

que no sean exclusivamente los de sol y playa. Estamos recogiendo

los frutos de algo que comenzó hace varias legislaturas y

que se ha cuidado, entre todos, con mucho mimo y esmero.

Presa de Las Niñas
---
22

GET TO KNOW GRAN CANARIA I CONOCE GRAN CANARIA Nº 11

The wonder of solstice in Acusa

The aboriginal time pendulum

Acusa. Artenara

Acusa. Artenara

Solsticio en Acusa

By Míchel Jorge Millares

islasbienaventuradas.blogspot.com

Gran Canaria offers a huge variety of extraordinary

landscapes and locations. The island's miniature

natural settings include deserts, jungles and cities

on both sides of the Atlantic. One such extraordinary

place is Acusa, a mystical and harmonious

paradise, a Shangri-la waiting to be discovered in

the depths of Gran Canaria, surrounded by mountains

and crowned by famous natural symbols on

an island where every corner is symbolic, every

landscape unique and time is measured within the

realms of a tropical calm. The sky is crowned by the

Roque and the Bentayga here at this concealed

observatory, like a frieze of a natural sanctuary, declared

a World Heritage Site.

The scenery is indeed impressive, surrounded by

cliffs and gorges, from where Acusa rises to reveal

the great sinking basin, an stunning telluric

implosion, surrounded by more than 500 sheets

of sub-volcanic rock (cone sheets), enabling visitors

to imagine and sense the colossal eruption

and subsequent explosion that created this great

depression, reaching a maximum diameter of 18

kilometres and a height of 1,949 metres, eroded by

rain and wind, at the centre of which is Acusa itself.

We come to a place that moves us to contemplate

the perfect conjunction between the summit and

the stars, a landscape that inspires emotionally

charged songs with the voice of Alfredo Kraus, and

impressive literary descriptions, together with paradisiacal

images that populate social media.

At these decisive moments in the earth's orbit,

the altar of the beloved earth, which is also a petrified

storm and now sacred mountains, takes on

a whole new meaning. A ritual is born, the coexistence

of the scientific and the spiritual realm.

Humans built a ritual observatory at Stonehenge,

while at Caldera de Tejeda, the earth created its

own seasonal clock for the island. And the site became

populated with shrines.

There are barely a couple of days in which to contemplate

the phenomenon from this plateau, surrounded

by vertiginous ravines, as the first rays of

the sun break through between the two rocks. This

is the only place to witness an event that awakens

all the senses, on the shortest and longest days of

the year. This is the site where the two rocks mark

out the dates of the solstices, like a pendulum,

swinging from side to side, from winter to summer.

For a precious few moments the spotlight opens

on Acusa and energy wells up inside us to warm

our bodies. The sun shows itself in all its fullness at

the closest or furthest distance between the Earth

and the Sun, at its maximum perigee or apogee.

The spectacle offered by nature twice a year attracts

and captivates visitors who come to marvel

at a spectacular sunrise set in some amazing

scenery. It is an explosion of light and colour that

crosses the two great basaltic pitons, starting the

sequence of the beam of light that marks out several

of the most surprising archaeological sites

dedicated to invoke their god 'Magec', the king

star of the solar system. Its first rays illuminate the

area of cliffs at Cueva de los Candiles, decorated

with more than 300 pubic triangles. From the top

of Bentayga, an almogarén (place of religious worship)

is the site for sun ceremonies with solemn

representations and the use of goat's milk, gofio

(crushed corn meal) and honey, as the Turinka

guides remind us. Research has shown that this

script, marked by nature, created a culture for a

people linked to their landscape and the occasional

signs of the stars.

A number of possible definitions of this event, in

the ancient people's Amazigh language, succinctly

describe what can be felt with all the senses when

enjoying these fleeting experiences. For them, the

December solstice was the Gate of Winter, and the

June solstice was the Triumph of the Sun. There is

even a description of the sun as "that which possesses

radiance, shining".

The solstice occurs in Acusa in a triumphal gateway,

in a resplendent, brilliant and vibrant manner.

The celestial sphere acquires a unique luminosity

that spreads its warm rays across the cliffs that

awaken in reverential silence. The desire to capture

everything produces a blindness of light intoxication.

And the reminder of what we have lived is

etched in our memory, like a feeling that brings us

closer to the past from an eternal present.
---
24

GET TO KNOW GRAN CANARIA I CONOCE GRAN CANARIA Nº 11

Por Míchel Jorge Millares

islasbienaventuradas.blogspot.com

Gran Canaria ofrece una enorme variedad de

paisajes y localizaciones extraordinarias. En estos

platós naturales en miniatura, visitamos desiertos,

selvas o ciudades de ambos lados del

Atlántico, y también está Acusa, un paraíso místico

y armonioso, una Shangri-la para descubrir

en lo más profundo de Gran Canaria, rodeada de

montañas y coronada por los símbolos naturales

de una isla donde cada rincón es simbólico, cada

paisaje único y el tiempo se mide como una calma

tropical. Pero en este recóndito observatorio

se corona el cielo, con el Roque y el Bentayga

como friso de un santuario natural declarado Patrimonio

de la Humanidad.

El escenario impresiona, rodeado de riscos y

acantilados, Acusa se eleva para mostrar la gran

caldera de hundimiento, un impresionante colapso

telúrico, rodeada de más de 500 láminas

de roca subvolcánica (cone sheet), permiten

imaginar y hasta sentir la colosal erupción y posterior

explosión para crear la gran depresión de

18 kilómetros de diámetro máximo y hasta 1949

metros de altura, erosionada por la lluvia y el

viento, en cuyo centro está Acusa.

El espectáculo del solsticio de Acusa

El péndulo del tiempo aborigen

Acudimos a un lugar que emociona al contemplar

la perfecta conjunción entre la cumbre y

los astros, un paisaje que inspira canciones que

emocionan en la voz de Alfredo Kraus, e impactantes

descripciones literarias, junto a imágenes

paradisíacas que pueblan las redes.

Acusa. Artenara

En esos momentos decisivos de la órbita terrestre,

el altar de la tierra amada, que es también

tempestad petrificada y ahora montañas sagradas,

adquiere un nuevo sentido. Nace el ritual, la

convivencia entre lo científico y lo espiritual. En

Stonehenge, el ser humano construyó un Observatorio

ritual. En la Caldera de Tejeda, la tierra

creó su propio reloj estacional para la isla. Y el lugar

se pobló de santuarios.

Sólo un par de días tiene lugar el fenómeno que

permite contemplar desde esa meseta, rodeada

de vertiginosos barrancos, los primeros rayos del

sol abrirse paso entre los dos roques. Sólo en ese

lugar se puede ser testigo de un acontecimiento

que despierta todos los sentidos. En el día más

corto y el más largo del año. Donde los dos roques

marcan las fechas de los solsticios como

un péndulo, de lado a lado, de invierno a verano.

Durante unos instantes se abre ese foco de

luz sobre Acusa y crece la energía que da calor

a nuestros cuerpos. El sol se exhibe con toda la

plenitud en la cercanía o distancia entre la Tierra

y el Sol, en su máximo perigeo o apogeo.

El espectáculo que ofrece la naturaleza -dos

veces cada año-, atrae y atrapa a personas que

disfrutan de un espectacular amanecer con un

escenario sorprendente. Una explosión de luz y

color que atraviesa los dos grandes pitones basálticos,

dando comienzo la secuencia del haz

de luz que señala varios de los lugares arqueológicos

más sorprendentes dedicados a invocar a

su dios 'Magec', el astro rey del sistema solar. Sus

primeros rayos iluminan la zona de acantilados

donde se encuentra la Cueva de los Candiles,

decorada con más de 300 triángulos púbicos.

Desde lo alto del Bentayga, un almogarén (lugar

de culto religioso) dirige las ceremonias del sol

con solemnes representaciones y el uso de leche

de cabra, gofio, miel, como recuerdan los guías

de Turinka. La investigación permite comprobar

que este guión, marcado por la naturaleza, creó

una cultura para un pueblo ligado a su paisaje y

a las puntuales señales de los astros.

Acusa. Artenara

Algunas posibles definiciones de este acontecimiento

en el idioma Amazigh, de los antiguos

pobladores, son muy descriptivas de lo que se

puede vivir con todos los sentidos en estas efímeras

experiencias. Para ellos, el solsticio de diciembre

era la Puerta del invierno, y el de junio

es el Triunfo del sol. Incluso hay una descripción

del astro rey como "la/lo que posee resplandor,

brillante".

En Acusa, el solsticio se produce en una puerta

triunfal, resplandeciente, brillante y vibrante. La

esfera celeste adquiere una luminosidad única

que extiende sus cálidos rayos por los acantilados

que desperezan en silencio reverencial. El

deseo de captar todo produce una ceguera de

embriaguez de luz. Y el recuerdo de lo vivido

queda grabado en la memoria, como un sentimiento

que nos acerca al pasado desde un presente

eterno.

Solsticio en Acusa
---
26

GET TO KNOW GRAN CANARIA I CONOCE GRAN CANARIA Nº 11

Gran Canaria looks up to the stars

By Mathias Vallés

Gran Canaria always shows its best side to visitors,

overflowing with nature at every turn. Whether it be

paradisiacal beaches, rugged volcanoes, sea beds

teeming with life or forests eternally enveloped by

a spring-like climate, there is no doubt that the island

is blessed with sculptural landscapes, from its

ocean floor all the way up to its summit.

Yet if we look up and pay attention above the horizon

we are dazzled by another unique landscape,

which few people ever take notice of, but which is

becoming increasingly popular internationally as a

top destination for astronomy enthusiasts.

Given their geographical position, very close to the

Equator, together with the prevailing meteorological

characteristics, the eight Canary Islands make

for an exceptional setting for astronomical observation,

something that nobody should miss out

on, above all because it is one of the best spectacles

that nature can offer us. In fact, the quality of

the sky at this corner of the globe is so good that

it is protected by the Law of Astronomical Quality

at the Observatories of the IAC (Institute of Astrophysics

of the Canary Islands)

All firmament enthusiasts should know that the

Canary Islands is the only point in Europe from

where to observe the 26 brightest stars in the sky.

From here you can see all the stars of the northern

hemisphere, and almost 80% of the southern

sky, that is to say, you can see constellations of

the southern hemisphere, such as Centaurus, the

Southern Cross: the most important constellation,

or the famous Alpha and Beta Centauri, stars that

are not visible from the European continent. Similarly,

we have privileged views of the centre of the

Milky Way.

In 2018, the prestigious Starlight Foundation, associated

with UNESCO and the World Tourism Organisation,

declared Gran Canaria a Starlight Destination,

certifying the great merits of its celestial

vault. The main aim of this foundation is to develop

programmes and actions aimed at offering a different

way of looking after and defending the starry

sky. In this way, Starlight Destinations guarantee

places with excellent sky viewing quality, low

light pollution, their integration in night time nature,

and the fact that they have the means to ensure

their protection. For this reason, Gran Canaria

has created a network of astronomical viewpoints

scattered all over the island, offering the perfect

conditions for the most enthusiastic among us

to contemplate this nocturnal spectacle with full

guarantees, as this network of viewpoints has informative

boards about the area, star charts or, in

other words, star maps and directional signs for locating

important stars such as Polaris, the star that

shows us the true north in the firmament. The best

thing of all is that all these viewpoints are totally

free of charge.

The following recommendations for astronomical

viewpoints are noted for their geographical location

or the night landscape they offer, and will

ensure maximum enjoyment. They are not to be

missed!

Presa de los Hornos astronomical viewpoint

This is located at an altitude of almost 1,600 metres,

set in a volcanic environment surrounded by

pine forests within the Biosphere Reserve of Gran

Canaria, all within the stunning surroundings of

the Nublo Rural Park, in the centre of the island.

Sky observation is optimal at least 310 days a year

and the site has an unparalleled scenic beauty all

around it, with views of the Roque Nublo. It is also

very common to observe the impressive cloud

cascades entering through Cruz de Tejeda and Los

Moriscos from this point.

Pico de Los Pozos de Las Nieves

astronomical viewpoint

This is the highest astronomical viewpoint on the

island, located at almost 2,000 metres altitude,

and depending on where you are positioned you

will be treated to almost 360º views. From here

you can also enjoy a clear sky a minimum of 310

days a year. You should bear in mind that in winter

the average temperature is 3ºC and it is common

for some nights to drop to 0ºC, while in summer

the average prevailing temperature is around 15 or

16ºC.

The sunsets from this site are truly spectacular,

affording breathtaking views of the neighbouring

island of Tenerife, where you can perfectly appreciate

the Teide, the highest peak in Spain. This is

one of the most visited viewpoints in Gran Canaria,

thanks to its astronomical and scenic quality.

La Degollada de Las Yeguas astronomical viewpoint

This is another of the most highly frequented astronomical

viewpoints on the island, thanks to its

location and the quality of its sky. It is situated less

than 10 kilometres from one of the main tourist

centres on the island, Maspalomas. This enclave

provides clear views of the sky around 300 nights a

year, while the temperature in winter is usually no

lower than 12ºC. Thanks to its height of 470 metres,

it is situated above the layer of humidity generated

by the ocean, offering a more stable and clearer atmosphere.

It is one of the favourite viewpoints for

observing the different meteor showers that occur

throughout the year.

El Balcón astronomical viewpoint

The municipality of Aldea de San Nicolas is home

to a majestic enclave standing almost 350 metres

above sea level on a cliff that drops vertically to the

immense blue ocean below. It is a very secluded

spot, in the southern part of the Tamadaba Natural

Park, where the force of the wind and the waves

are a constant presence. A recently renovated platform

features openings in the floor and glass roofs,

and invites visitors to appreciate the impact of the

Atlantic on the rocks. From this point, if we direct

our gaze to the southwest, we can perfectly make

out the "dragon's tail", an immense wall of coastal

cliffs in the form of a zigzag, reminiscent of the petrified

tail of this mythological being.

You are advised to get here just before sunset at

the latest, to make most of the tonality of the sky,

the colour of the water and the silhouette of Tenerife

that forms the horizon from this point, as it is

something that will have a lasting impression. This

is probably the most spectacular viewpoint out of

all those that make up Gran Canaria's astronomical

viewpoint network.

La Degollada de Las Yeguas
---
Nº 11 GET TO KNOW GRAN CANARIA I CONOCE GRAN CANARIA

27

Gran Canaria mira hacia las estrellas

Por Mathias Vallés

Gran Canaria siempre muestra su mejor cara al visitante, desbordando naturaleza

por cada rincón, ya sea entre playas paradisiacas, abruptos volcanes, fondos

marinos repletos de vida o bosques arropados siempre por un clima primaveral, a

nadie le cabe duda de que la isla está muy bien dotada por paisajes esculturales

desde su lecho oceánico hasta su cumbre.

Pero sí alzamos la vista y prestamos atención por encima de su horizonte podremos

deslumbrar un paisaje único, al que aún pocas personas toman en cuenta

pero, que cada vez se está popularizando más internacionalmente como un destino

de primer nivel para satisfacer los intereses de los aficionados a la astronomía.

Dada la posición geográfica en la que nos encontramos, muy cerca de la línea

del Ecuador, junto con las características meteorológicas que reinan en las 8 islas

Canarias hacen que nos situemos en un escenario excepcional para la observación

astronómica, algo que nadie se debería perder sobretodo porque es uno

de los mejores espectáculos que nos brinda la naturaleza, de hecho, la calidad

del cielo de este rincón del globo es tal que está protegido por la Ley de Calidad

Astronómica de los Observatorios del IAC (Instituto de Astrofísica de Canarias).

Todo amante del firmamento debe saber que Canarias es el único punto de Europa

desde donde se pueden observar las 26 estrellas más brillantes del cielo,

desde aquí se aprecian todas las estrellas del hemisferio norte y casi el 80% del

cielo austral, es decir, se ven constelaciones del hemisferio sur, como por ejemplo

Centauro, La Cruz del Sur: la constelación más importante, o las famosas Alpha y

Beta Centauri, estrellas invisibles desde el continente europeo, al igual que tenemos

una vista privilegiada del centro de la Vía Láctea.

En 2018, la prestigiosa fundación Starlight asociada a la UNESCO y a la Organización

Mundial del Turismo, ha declarado Destino Starlight a Gran Canaria, certificando

el gran valor de su bóveda celeste, esta fundación tiene como fin principal

desarrollar programas y acciones encaminadas a ofrecer un modo distinto de

cuidar y defender el cielo estrellado. De este modo los Destinos Starlight garantizan

lugares con una excelente calidad del cielo, baja contaminación lumínica,

su integración en la naturaleza nocturna y que cuentan con medios que avalan

su protección. Por esta razón, Gran Canaria ha creado una red de miradores

astronómicos repartidos por la isla contando con las condiciones para que los

más entusiastas puedan contemplar este espectáculo nocturno con todas las

garantías, ya que esta red de miradores poseen carteles informativos sobre el

lugar, cartas estelares o lo que es lo mismo, mapas de las estrellas y señales direccionales

para encontrar estrellas importantes como Polaris, el astro que nos

indica el norte verdadero en el firmamento y lo mejor, todos estos miradores son

de acceso totalmente gratuito.

Presa de los Hornos

Las siguientes recomendaciones sobre miradores astronómicos destacan por su

situación geográfica o el paisaje nocturno que ofrecen, perfecto para disfrutar de

ellos. ¡No debe perdérselos!

Mirador astronómico de la Presa de Los Hornos

Está situado a casi 1600 m de altura en un entorno volcánico y rodeado de pinares

dentro de la Reserva de la Biosfera de Gran Canaria, en el entorno del Parque

Rural del Nublo, en el centro de la isla. La observación del cielo es óptima como

mínimo 310 días al año y cuenta con una belleza paisajística a su alrededor sin

igual, posee vistas al Roque Nublo y es muy habitual observar desde aquí las imponentes

cascadas de nubes entrando por Cruz de Tejeda y Los Moriscos.

Mirador astronómico del Pico de Los Pozos de Las Nieves

Este es el mirador astronómico más alto de la isla, se sitúa a casi 2000 m y según

donde te ubiques puedes conseguir vistas de casi 360º. Desde aquí también

podrás disfrutar de un cielo despejado un mínimo de 310 días al año. Debes tener

en cuenta que invierno la temperatura media es de 3ºC y es frecuente que

algunas noches baje a 0ºC, mientras en verano lo normal es que prevalezca una

temperatura media de entre 15 o 16ºC.

Las puestas de sol desde este sitio son espectaculares con vistas impresionantes

hacia la isla de Tenerife en la que se aprecia perfectamente el Teide, el pico más

alto de España. Este es uno de los miradores más visitados de Gran Canaria debido

a su nivel astronómico y paisajístico

Mirador astronómico de La Degollada de Las Yeguas

Este es otro de los miradores astronómicos que podemos considerar altamente

concurridos debido a su ubicación y por la calidad de su cielo. Se encuentra a

menos de 10 kilómetros de uno de los principales núcleos turísticos de la isla,

Maspalomas. Desde este enclave tienes unas vistas despejadas del cielo alrededor

de 300 noches al año y la temperatura en invierno no suele ser inferior a los

12ºC. Gracias a la altura de 470 m en la que se encuentra le permite situarse por

encima de la capa de humedad generada por el océano ofreciendo una atmósfera

más estable y nítida, es uno de los miradores preferidos para la observación

de las diferentes lluvias de estrellas que hacen acto de presencia durante el año.

Mirador astronómico El Balcón

En el municipio de la Aldea de San Nicolas se halla un enclave majestuoso a casi

350 metros de altura sobre un acantilado que cae en vertical hasta el inmenso

azul del océano, es un lugar muy retirado, en la zona sur del Parque Natural de

Tamadaba, en el que la fuerza del viento y las olas hacen un constante acto de

presencia. Una plataforma recientemente renovada con aberturas en el suelo y

cubiertas de cristal invita a los visitantes a apreciar el impacto del Atlántico en las

rocas, desde este punto si dirigimos nuestra mirada hacia el suroeste podemos

distinguir perfectamente la "cola de dragón", una inmensa pared de acantilados

costeros en forma de zigzag, que recuerda la cola petrificada de este ser mitológico.

Debe aprovechar llegar antes de la puesta de sol, la tonalidad del cielo, el color

del agua y la silueta de Tenerife que se forma el horizonte desde este punto al

atardecer es algo que no le dejará indiferente, probablemente este sea el mirador

más espectacular de todos los que conforman la red de miradores astronómicos

de Gran Canaria.

Perseidas
---
28

GET TO KNOW GRAN CANARIA I CONOCE GRAN CANARIA Nº 11

Camels, from the plough to the tourist charter

By Míchel Jorge Millares

islasbienaventuradas.blogspot.com

In 1934, as part of the 2nd Republic anniversary

celebrations, Minister Rafael Guerra del Río, a

friend of local artist Néstor Martín-Fernández de

la Torre, commissioned him to design and execute

the regional Canary procession that was to take

part in the commemorative parade in Madrid. The

artist took on board the idea of a tourist and tropical

image, an exhibition of typical island life embodied

in costume designs, architecture, handicrafts

and, of course, bananas that were exported

to America, and also the use of camels imported

from the East. This is how the island's retinue

toured Spain's capital city, to the amazement and

applause of the crowd. The exoticism and beauty

of the designs that snaked through the streets

was the calling card for a new tourist model that

would have a great impact on Gran Canaria for

decades to come.

The camel, also known as dromedary, has been

part of the island landscape for over 500 years,

mainly in the eastern Canary Islands. Brought in

from the northwest coast of Africa, camels were of

great help in farming and as a means of transporting

heavy loads. Their use has been transformed,

in keeping with the changing island economy,

with the emphasis shifting from agriculture to

tourism.

The silhouette of the camel standing among dunes

is the tourist image of Gran Canaria that has been

maintained for 60 years, at a setting featuring the

beach and the oasis of Maspalomas with its palm

grove. It represents the ideal mix of exoticism,

beauty and warmth that typifies this leading destination

for sun and sand in the European winter. This

is the site of the Maspalomas Dunes Special Nature

Reserve, with its 400 hectares of landscape, reminiscent

of the Sahara Desert (which itself covers an

area of 9.2 million square kilometres). It is an enduring

image that has remained an idyll between European

tourists and this enclave for more than half

a century. And it all began back in 1961 with a book

that set out the rules of an international competition

to come up with ideas to create Maspalomas

Costa Canaria, when at the time there was nothing

more than the lighthouse, a few huts and a NASA

space station, which had been used in the Mercury,

Gemini and Apollo space programmes.

Both in the book that announced the competition

and in the presence of famous American astronauts,

including the heroes who first set foot on

the moon, there is a very special presence about

these images, namely the camels or dromedaries.

They were load-carrying animals that had already

been included as part of the destination's tourist

picture postcard, as well as an image that coincided

with the world premiere of 'Lawrence of Arabia',

one of the most famous films ever made, in the top

10, and winner of seven Oscars. The iconic image

of the desert landscapes have gone down in history,

with Peter O'Toole surrounded by Arab tribes,

mounted on camels and engaged in battle against

the cannons of the Turkish army.

Other famous tourists to also ride camels included

writer Olivia Stone, in the late 19th century, who refers

in detail to the presence of camels on several

of the islands. However, for the past 60 years, the

survival of this species on the islands has depended

largely on their role as a tourist attraction. This

situation has meant that the specimens on Gran

Canaria are not only the ones that can be exported

to Europe, Brazil and Australia (among other places

on the planet), but they have also been the subject

of studies promoted by the Spanish National

Research Council for medical purposes, improving

on results obtained from samples of other animal

species. Other services they can provide include

cleaning or restoring the dune system, or featuring

in film scenes. For now, they are the oldest form of

transport, strolling leisurely around the dunes.
---
Nº 11 GET TO KNOW GRAN CANARIA I CONOCE GRAN CANARIA

29

Camellos, del arado al chárter turístico

Por Míchel Jorge Millares

islasbienaventuradas.blogspot.com

En 1934, con motivo de la celebración del

aniversario de la II República, el ministro

Rafael Guerra del Río, amigo del artista

Néstor Martín-Fernández de la Torre, le

encarga el diseño y ejecución del cortejo

regional canario que participó en el desfile

conmemorativo, una elección que

aprovecharía nuestro artista para mostrar

su propuesta de imagen turística y tropical,

una exhibición de tipismo plasmado

en sus diseños de trajes, la arquitectura,

la artesanía y, cómo no, el plátano que exportamos

a América y el uso del camello

que importamos de Oriente. Así recorrió

Madrid la comitiva isleña ante el asombro

y aplauso de la multitud. El exotismo y la

belleza de los diseños que paseó por las

calles madrileñas, fue la carta de presentación

de un nuevo modelo turístico que

tendría una gran repercusión en Gran Canaria

durante décadas.

Desde hace más de 500 años, la figura del

dromedario forma parte del paisaje isleño,

principalmente en las Canarias orientales.

Traídos desde la costa noroeste de África,

los camellos fueron de gran ayuda para

las explotaciones agrícolas y como transporte

de carga pesada. Su uso se ha transformado,

como lo ha hecho la economía

de las islas, al trasladar el protagonismo

de la agricultura al sector turístico.

La silueta del camello en las dunas como

imagen turística de Gran Canaria se mantiene

después de 60 años, la playa y el

oasis de Maspalomas con su palmeral. La

mezcla ideal de exotismo, belleza y calidez

que consolida un destino líder de sol

y arena en el invierno europeo. Justo en

la Reserva Natural Especial de las Dunas

de Maspalomas, con sus 400 hectáreas

de un paisaje que recuerda al desierto del

Sahara (que tiene una superficie de 9,2

millones de kilómetros cuadrados). Una

imagen que perdura en un idilio entre los

turistas europeos y este enclave durante

más de medio siglo. Y todo empezó en

1961 con un libro que presentaba las bases

del concurso internacional de ideas para

crear Maspalomas Costa Canaria, cuando

en el lugar no había nada más que el faro,

algunas cabañas ¡y una estación espacial

de la NASA!, que formó parte de los programas

Mercury, Gemini y Apolo.

Tanto en aquel libro que convocaba el

concurso, como durante la presencia de

los famosos astronautas norteamericanos,

incluidos los héroes que pisaron la

luna por primera vez, hay una presencia

muy especial que destaca en las imágenes:

los camellos o dromedarios. Un animal

de carga que ya se incorporaba como

parte de la postal turística del destino,

una imagen que coincidía con el estreno

en todo el mundo de ´Lawrence de Arabia´,

una de las películas más famosas de

la historia del cine, entre los 10 mejores filmes,

y ganadora de 7 estatuillas Oscar, dejando

para la historia la icónica imagen de

los paisajes desérticos, con Peter O'Toole

rodeado de tribus árabes, montados sobre

dromedarios contra los cañones del

ejército turco.

Otros/as turistas famosos también montaron

a lomos de camellos, como la escritora

Olivia Stone, a finales del s XIX,

quien detalla la presencia de estos animales

en varias de las islas. Sin embargo,

desde hace 60 años, la supervivencia de

esta especie en las islas depende de su

papel como atractivo turístico. Una situación

que ha permitido que los ejemplares

existentes en Gran Canaria, no sólo sean

los únicos exportables a Europa, Brasil o

Australia (entre otros puntos del planeta),

sino que también han sido objeto de estudios

promovidos por el Consejo Superior

de Investigaciones Científicas, con fines

médicos, mejorando los resultados que se

obtenían en las muestras de otras especies

animales. Otros servicios que puede

prestar es la limpieza o restauración del

conjunto de dunas, o participando en escenas

cinematográficas. Por ahora, son el

más antiguo transporte que recorre el entorno

de las dunas en un tranquilo paseo.

Mural de Néstor Martín-Fernández de la Torre
---
30

GET TO KNOW GRAN CANARIA I CONOCE GRAN CANARIA Nº 11

Vegueta's Cultural vibe

The true crime of the

city's founding district

Experiencia cultural

en Vegueta

Crónica negra del

barrio fundacional

Las Palmas de Gran Canaria está a punto de cumplir sus

550 años desde que fuera fundada por una tropa de 'pardillos'

(por el color de sus atuendos, un marrón macilento,

desgastado), quienes arribaron con sus naves al abrigo de

Las Isletas y tomaron dirección hacia Telde, una de las dos

grandes poblaciones o reinos de la isla, con el objeto de

tomarla por las armas. Dice la leyenda que una mujer les

indicó que era una misión arriesgada, destinada al fracaso,

que mejor era que se hicieran fuertes en un promontorio

junto al barranco Guiniguada ("Por donde siempre

corre agua"), por lo que apresaron a la mujer y tras instalarse

en aquel palmeral, se percataron de la desaparición

de la mujer, a quien atribuyeron la intervención divina en

la figura de Santa Ana, patrona de la ciudad cuya celebración

tienen lugar el 26 de junio, dos días después del

que sería considerada la fecha fundacional del que sería

reconocido como Real de las Tres Palmas.

Las Palmas de Gran Canaria is about to celebrate

its 550th anniversary since it was founded

by a troop of 'pardillos' troops (so called because

of the colour of their clothes, a dull, worn

brown), who arrived with their ships under the

shelter of Las Isletas before heading towards

Telde, one of the two large towns or kingdoms

of the island, with the aim of taking it by force.

Legend has it that a woman told them that it

was a risky mission, destined to fail, and that

it was better for them to come to ground on a

headland next to the Guiniguada ravine ("where

water always flows"). They seized the woman

and, after mooring there in that palm grove, realised

that she had suddenly disappeared. This

they attributed to divine intervention in the figure

of Saint Anne, patron saint of the city, the

celebration for whom takes place on 26th June,

two days after what would be considered the

founding date of what was to be recognised as

the city, called Real de Las Tres Palmas.

Las Palmas de Gran Canaria was the first Castilian

city to sprout up outside of the continent.

It was where the Spanish expansion into the

world really began, a city that over almost 550

years has treasured stories and legends that

are worthy of being known and experienced in

a dramatic route:

When I die, dearly beloved,

do not sing a sad song,

and do not put a shady cypress or fresh flowers

over my grave.

('Funeral Song', Christina Rosetti).

With these verses, actress Jennifer Artiles

brings to an end a dramatic route that takes

us back in time to the origins of the foundation

of the city of Las Palmas de Gran Canaria,

and back to its beginnings, in 1478, when it

was called Real de Las Tres Palmas. These beginnings

involved murders and power struggles

between the commanders of the invading

troops, a common occurrence in those times of

conquest by force of arms, but no less interesting.

All this has been documented by a tourism

entrepreneur, Bruno Knudsen, creator of the

company Trip Gran Canaria, which offers a diverse

programme of activities to learn about

our most interesting stories in which history

focuses on details of the buildings, concealed

spots and anonymous or virtually unknown

characters, but which have their small chronicles

in this visit to the 'Legends and Mysteries

of the Canary Islands'.

Step by step, we venture through the cobbled

traces of the past, of walls, pirate attacks, looting,

epidemics... and we also see how a city

grew outwardly away from the Court, the defences

it had and a platform for the expansion

of Christianity, as the city/camp construction

model had religious influences that determined

the locations of the congregations and

their temples. Gran Canaria attracted convert

emigrants on the Atlantic route opened up by

Columbus. The island was the first base for Columbus'

expeditions, but it also attracted corsairs,

buccaneers, pirates and armies prepared

to conquer the island but which were always

defeated.

Cover me green grass

with moist rain,

and if you wish, remember,

and if you wish, forget...

…continues Jennifer Artiles

We continue to roam through the streets and

the chronicles of events, including war and

crimes, along with an extremely harsh justice

system and a vigilant inquisition, with some

periods of excess.

Those who are new to the city will wander

around beautiful and labyrinthine narrow

streets and alleys, past aristocratic mansions

with the great contribution they made to

American urban planning: the main square,

with its urban integration of the representation

of the political-administrative, judicial and religious

powers.

The guide will tell us of stories and unveil symbols,

as we discover how this Atlantic capital

came into being. The setting, despite the hustle

and bustle of the streets, has a captivating

and awe-inspiring atmosphere, which gives

rise to several appearances by the actress, who

– dressed in mourning attire - provokes a profound,

solemn and respectful silence, among

the people in the group.

Dreaming in twilight,

neither dawn, nor dusk

I may remember,

I may forget.

… concludes Jennifer Artiles.

Welcome to Las Palmas de Gran Canaria, with

its mysteries and legends that are brought

back to life by our imagination.

La primera ciudad castellana más allá del continente,

donde comenzaría en realidad la expansión española en

el mundo. Una ciudad que en estos casi 550 años ha ido

atesorando historias y leyendas que son dignas de ser conocidas,

vividas, en una ruta dramatizada:

Cuando haya muerto, amado,

triste canción no cantes,

ciprés sombrío ni frescas flores

sobre mi tumba derrames.

('Canción fúnebre', Christina Rosetti).

Con estos versos, la actriz Jennifer Artiles pone punto final

a una ruta dramatizada que nos transporta a través

del tiempo ,a los orígenes de la Fundación de la ciudad de

Las Palmas de Gran Canaria. En sus inicios, allá por 1478,

cuando la llamaron Real de las Tres Palmas. Unos inicios

que también incluyen asesinatos y enfrentamientos por

el poder entre los propios mandos de las tropas invasoras,

algo común en aquellos tiempos de conquista por las armas,

pero no menos interesante. Todo ello diseñado por

un emprendedor turístico, Bruno Knudsen, creador de la

empresa Trip Gran Canaria, que ofrece un programa diverso

de propuestas para conocer nuestras historias más

interesantes en las que la historia se fija en detalles de las

construcciones, los rincones y los personajes anónimos o

casi desconocidos, pero que tienen sus pequeñas crónicas

en esta visita a las 'Leyendas y Misterios de Canarias'.

Paso a paso, recorremos las huellas adoquinadas del pasado,

de murallas, ataques de piratas, saqueos, epidemias...

y también vemos cómo crece una ciudad alejada

de la Corte, con las defensas que disponía y plataforma

de la expansión del cristianismo, por lo que el modelo

de ciudad/campamento tiene influencias religiosas que

determinan las ubicaciones de las congregaciones y sus

templos. Gran Canaria atrajo la emigración de conversos,

en el tránsito de la ruta atlántica abierta por Colón. Fue

la primera base para las expediciones colombinas, pero

también atrajo corsarios, bucaneros, piratas y ejércitos

preparados para conquistar la isla y siempre derrotados.

Cúbreme verde hierba

de lluvia humedecida,

y si quieres, recuerda,

y si quieres, olvida...

Prosigue Jennifer Artiles

Seguimos recorriendo las calles y las crónicas de sucesos,

bélicos o crímenes, junto a una Justicia de pena máxima

y una inquisición vigilante, con algún periodo de excesos.

Quien no conoce la ciudad deambulará por hermosas y

laberínticas callejuelas y callejones, junto a casonas de la

aristocracia y la gran aportación al urbanismo americano:

la plaza mayor, con su integración urbana de la representación

de los poderes político-administrativos, judicial y

religioso.

El guía narra historias y desvela símbolos, mientras descubre

cómo surgió esta capital atlántica. El escenario, a

pesar del ajetreo de gente por las calles, tiene una ambientación

que cautiva y sobrecoge, lo que da pie a varias

apariciones de la actriz que -de riguroso luto- realiza para

provocar un profundo silencio, solemne y respetuoso, entre

las personas del grupo.

Soñando en un crepúsculo,

ni alba, ni atardecer

puede ser que recuerde,

que olvide puede ser.

Finaliza Jennifer Artiles.

Bienvenidos a Las Palmas de Gran Canaria, con sus misterios

y leyendas que reviven en nuestra imaginación.
---
32

GET TO KNOW GRAN CANARIA I CONOCE GRAN CANARIA Nº 11

Farming at the centre of the earth

Caldera de Los Marteles

Caldera de Los Pinos

Caldera de Bandama

Gran Canaria's volcanic origins have created

a landscape dotted with spectacular volcanic

peaks and mountains which, in many cases, have

become watchtowers or beacons offering spectacular

views over the island, where it is common

to find other volcanic peaks spread all around the

island, especially on the northern slopes, the site

where the last eruptions recorded on the island

took place, such as the Bandama eruption, which

occurred some 2,000 years ago.

Many of the mountains contain craters, called

calderas by the islanders, open to the depths like

a great hole or cavity that serve as a reminder

of the passage of the molten rock. These come

in the shape of deep craters, or simply a hollow

next to a mountain peak. Craters also come in

labyrinthine forms, with narrow cavities that run

through the interior of the earth through tubes

and galleries. These are known locally as chasms

and jameos. Their course always follows gravity

and the slopes in search of the lowlands, which

in our islands are found on the coast. Here the

lava is cooled by the sea and spreads out, gaining

ground as it tussles with the water, creating what

is known on the islands as fajanas, in the form of

a lava delta.

The craters are a reality that, despite occupying

a scarce and limited territory, has not prevented

many people from turning these phenomena

or geological accidents into ideal farming terrain.

Occasional rainfall helps to store humidity,

in turn helping them to create a food larder for

generations who have made these ancient fire

hydrants into checkerboard-shaped orchards

and allotments, in which the volcanic soil, the

humidity it preserves and the shelter it obtains

from the wind make this farmland an extraordinary

agricultural refuge. This has been the life

for generations of farmers, such as Agustinito,

who lived at the bottom of the Bandama crater

for 80 years, carrying on an activity that has

never been replaced, with the old constructions

at the bottom of the crater, including an old

wine press, bearing witness to this age-old way

of life.

But Bandama is not the only setting for this unusual

telluric activity, where the visible remains of

the great telluric storms have been anthropised.

Nearby are the craters of Pino Santo and Los

Marteles, with their checkerboard designs perfectly

aligned with the crops. The crater at Los

Pinos de Gáldar was not suitable for agricultural

use, but other areas, such as La Laguna de

Valleseco, reveal the generosity of this land that

requires minimum care and attention.

The island's volcanic soil facilitates agricultural

activity, but the landscape also attracts visitors

who come to take a peek over the edges of the

caldera and see how the bottom has been populated

with native flora or has become a fertile

plain, with its shining crops giving the impression

of a board game in which all the tiny pieces form

an idyllic landscape that is sometimes covered

by a small blanket of clouds that carries us away

to the imaginary legend that is Loch Ness and its

dragon and the beauty of nature in its maximum

expression of contrast between the different layers

of the earth's crust.

It is a unique spectacle, so typical of a volcanic

island territory, where each small patch of fertile

land represents the greatest treasure the

islanders could ever wish for. So why not make

a beeline for the viewpoints, the peaks, and see

first-hand just how the fruits that make Canarian

cuisine one of the most original due to its volcanic

flavours and aromas emerge from the centre

of the earth.
---
Nº 11 GET TO KNOW GRAN CANARIA I CONOCE GRAN CANARIA

33

Cultivar en el centro de la tierra

Caldera de Los Marteles

El origen volcánico de Gran Canaria nos deja un

paisaje salpicado de picos y montañas volcánicas

espectaculares, convertidos en muchos casos en

atalayas o miradores de una isla con espectaculares

vistas, entre cuyas referencias es normal encontrar

otros picos volcánicos repartidos por la geografía

isleña, especialmente en la vertiente norte

de la isla, donde se produjeron las últimas erupciones

registradas en el territorio isleño, como la de

Bandama, producida hace unos 2000 años.

Muchos tienen su cráter, llamado caldera por los isleños,

abiertos hacia las profundidades, como una

gran hoya, la gran cavidad que recuerda el paso de

la roca convertida en fuego. Los hay más profundos

o simplemente una hondonada junto al pico de la

montaña. Y también los hay de formas laberínticas,

con cavidades angostas que recorren el interior de

la tierra a través de tubos y galerías. A estas formas

las llamamos simas y jameos. Siempre guiados por

la gravedad y las pendientes, en busca de las zonas

más bajas que, en nuestras islas se encuentran

en la costa, donde la lava se enfría con el mar y va

extendiéndose, ganando terreno en pugna con el

agua, creando lo que conocemos en las islas como

fajanas, a modo de delta lávico.

Los cráteres son una realidad que, en un territorio

escaso y limitado, no evita que muchas personas

hayan encontrado en estos fenómenos o accidentes

geológicos, el terreno ideal para cultivar, con

una humedad que almacenan en las ocasionales

lluvias, para que se convirtieran en la despensa de

generaciones que convirtieron esas antiguas bocas

de fuego en vergeles con forma de damero, donde

la tierra volcánica, la humedad que conserva y

la protección del viento hacen de las huertas un

extraordinario refugio para la agricultura, convertido

en los más productivos terrenos, no exentos

de las dificultades para poder sacar los productos

de la tierra, así como su limitado espacio, como ha

sido la vida durante generaciones de agricultores,

como Agustinito, quien durante 80 años vivió en

el fondo del cráter de Bandama, manteniendo una

actividad que no encuentra relevo, dejando como

testigo de aquella vida las antiguas construcciones

al fondo del cráter, entre las que figura un antiguo

lagar.

Pero Bandama no es el único escenario de esta inusual

actividad telúrica, donde se ha antropizado

los restos visibles de las grandes tempestades telúricas.

Muy cerca se encuentran las calderas de Pino

Santo, con su damero perfectamente alineado con

los cultivos, o la de Los Marteles. La caldera del los

Pinos de Gáldar no dio facilidades para su aprovechamiento

agrícola, pero otros terrenos muestran

la generosidad de esta tierra con unos mínimos

cuidados y atenciones, como es el caso de La Laguna

de Valleseco.

El suelo volcánico facilita las labores, pero también

el paisaje llama la atención de quienes se asoman

a los bordes de la caldera y comprueban que el

fondo se ha poblado de flora autóctona o se ha

convertido en una vega fértil, con las cosechas que

resplandecen y dan la impresión de un juego en el

Caldera de Bandama

que todas las piezas diminutas muestran un idílico

paisaje que, en ocasiones, queda cubierto por

un pequeño manto de nubes que nos traslada a

la imaginaria leyenda del lago Ness, con su dragón

y belleza de la naturaleza en su máxima expresión

de contraste entre las diferentes capas de la piel de

la tierra.

Un espectáculo único, propio de un territorio volcánico

insular, en el que cada pequeña parcela de

tierra fértil es el mayor tesoro que podía tener la

población isleña. No dude en asomarse a los miradores,

a los picos, y contemplar cómo surgen

desde el centro de la tierra los frutos que hacen de

la cocina canaria una de las más originales por sus

sabores y aromas a volcán.
---
34

INTERVIEW I ENTREVISTA Nº 11

Carlos Álamo Cabrera

Tourism Councillor

"We are an absolutely safe, and

tried and trusted, holiday destination"

We are committed to highly successful tourism

niche segments such as stargazing and gastronomy,

in which we have positioned ourselves as a

benchmark in recent years. We are working hand

in hand with our local town councils because we

believe that some of the improvements that are

underway will soon become evident. Sustainability,

digitisation, diversification of the destination,

promoting the landscape and cultural heritage,

as well as the island's gastronomy, are the fundamental

keys to convincing potential clients that

coming to Gran Canaria is their best option.

Gran Canaria has tourist attractions spread out all

over the island, first class natural and gastronomic

products, and initiatives will be developed to

promote the northern and inland regions, which

are currently the least exploited by tourism. We

are also aligned with the 2030 Sustainable Development

Goals (SDGs) that generate value not

only for tourists but also for the natural and cultural

environment, citizens and businesses. To this

end, we have developed the 'Biosphere, Sustainable

Destination' concept, with seals and recognition

for companies and institutions that meet

sustainable challenges in order to make progress

in these areas and to be a more attractive destination

in line with the tastes and priorities of new

clients.

A letter of commitment to sustainable tourism

was signed at the end of last year and Gran Canaria

joined the international Biosphere programme

belonging to the UNESCO-certified

Responsible Tourism Institute (RTI). What does

this mean for Gran Canaria?

It is important for the future of the island and, in

particular, for its tourism model and industry, because

it adapts to an element that will be a priority

in decision-making aspects made by new

post-covid clients when choosing a destination.

Gran Canaria's commitment is in line with the

three pillars of sustainability: socioeconomic, environmental

and territorial, and is in line with the

17 Sustainable Development Goals and the 2030

Agenda of the United Nations, which involves progress

in environmental matters. Aspects include

knowledge of motivations and promotion and

marketing processes in order to attract new tourists

from different channels; smart destinations

and the keys to tackle change through digitisation,

innovation, as well as new mobility and experience

trends. But sustainability is also present

among clients' main concerns and motivations,

as they seek a complementary experience to the

standard sun and beach model, which itself will

continue to be a priority and our greatest attraction.

What aspects of Gran Canaria's participation at

this year's FITUR would you highlight?

FITUR is a highly relevant event for the tourism

industry and, of course, for the recovery of the industry

given the importance of the domestic market

in Gran Canaria's overall economy. It should be

remembered that in recent years the number of

national clients has increased in volume compared

to other markets, making Spaniards the third or

fourth group in the number of visitors, depending

on the time of the season, and our number one

client last summer. They are also visitors who have

responded very favourably to the pandemic scenario

and have increased spending to 20% of the

total. They are high-spending clients, who place a

high value on gastronomy and local produce. The

time has therefore come to meet with representatives

of this national market, promote our many

and varied virtues and to consolidate agreements.

In short, we need to work to ensure that everyone

who is thinking about their next holiday has Gran

Canaria as their first choice.

The pandemic has marked a turning point for

the tourism industry. Our short term future also

depends on the decisions made in other countries,

but how to do view the short to medium

term?

We are still living through uncertain times, so this

makes us cautious regarding data and forecasts.

The truth is that the advance of the Omicron variant

has forced many countries to once again place

restrictions on the movement of travellers, and

our destination has lost the positive inertia of the

last months of 2021. That is why, at the moment,

we are dependent on the control of this variant, as

the previous trend was very positive. Data point

to a quieter January and February and a recovery

in March. We are hopeful that this recovery might

come sooner. In any case, the forecast we are looking

at for spring is positive and we are confident of

a 10% increase in connectivity with mainland Spain.

It should be pointed out that tourist arrival numbers

when the market has been open and unrestricted

have been good. This is important because

it shows that as soon as they have had the chance

to travel, tourists have bounced back and filled hotels.

We are confident that Omicron numbers will

go down as fast as they went up, as has happened

in other places, and this will enable us to recover

the trend of the last months of 2021.

In what aspects has the destination improved

over the last few years?

The work that has been carried out throughout

the pandemic has been intense, especially when

it comes to ensuring that our potential customers

recognise us as an absolutely safe and trusted destination.

We have doubled our investment efforts,

with a record budget of more than €16 million,

with a special focus on tourism infrastructure and

improvements to the destination, and in which we

have allocated more than €6 million to promotion

and connectivity. We are making a great effort in

these areas and we have the greatest connectivity

in history with respect to mainland Spain. We are

also going to support large-scale events of tourist

interest, as long as they can be held, such as the

Maspalomas Carnival. In addition, among other

things, we have drawn up a strategic plan with the

aim of consolidating Gran Canaria as a quality tourist

destination by 2025, a reference point in Europe

all year round, and growing in a sustainable manner

and being more competitive.

We are looking to involve the whole of Gran Canaria

society and, more specifically, the island's

tourism companies in this commitment to sustainability,

because it is through cooperation and

teamwork that great goals can be achieved.

The Gran Canaria Tourist Board has changed its

name to "Gran Canaria Tourism". What are the

implications of this change?

The activity of this public institution is focused on

upholding the Island as a top level tourist destination,

carrying out all actions and activities aimed

at reinforcing its presence in inbound markets

and boosting its image on a global level. During

the Statute modification process, the opportunity

arose to change the nomenclature of the Board,

and we understood that it was time to make the

change in order to present ourselves to the world

with a name more appropriate to the modernisation

process that we are implementing, and

which is not linked to a specific genre. We believe

that it is more practical and more effective for our

promotional strategy to present ourselves simply

as Gran Canaria Tourism (Turismo de Gran Canaria).

It carries out the tasks of a destination marketing

organisation, as well as playing an important

role in the tourism industry, the backbone of the

island's economy. Its main functions are the external

promotion of Gran Canaria, the continuous

improvement of the destination and the public

management of the island's tourism system. Likewise,

in recent years the promotional institution

has intensified its direct and active collaboration

with the island's business sector, on the understanding

that public-private collaboration is the

way to continue to make progress in the excellence

of the destination and to maintain the high

international profile that Gran Canaria currently

enjoys.
---
Nº 11 INTERVIEW I ENTREVISTA

Carlos Álamo Cabrera

Consejero de Área de Turismo

"Somos un destino absolutamente

seguro y de confianza"

35

FITUR 2022

¿Qué destacaría de la participación de Gran Canaria

en esta nueva edición de la FITUR?

Es un cita importante para el sector y, por supuesto,

de cara a la recuperación del mismo por el valor

que tiene el mercado nacional en la economía de

Gran Canaria. Hay que recordar que en los últimos

años el número de clientes nacionales ha ganado

en volumen frente a otros mercados hasta convertirse

en el tercero o cuarto en el número de visitantes,

dependiendo del momento de la temporada,

y se convirtió en nuestro primer cliente el pasado

verano. Además, es un cliente que ha respondido

de manera muy favorable en el escenario de la

pandemia y ha aumentado el gasto hasta representar

el 20% del total. Es un cliente de gasto elevado,

que le da mucho valor a la gastronomía y al

producto local. Por eso, es el momento de reunirnos

con representantes de este mercado nacional,

promocionar nuestra muchas y variadas virtudes

y consolidar acuerdos. En definitiva, trabajar para

que toda aquel que esté pensando en sus próximas

vacaciones tenga a Gran Canaria como la primera

opción.

La pandemia ha marcado un antes y un después

en el sector turístico. Nuestro futuro próximo

depende también de las decisiones que se toman

en otros países, ¿pero cómo ve la situación

a corto y medio plazo?

Seguimos en un escenario de incertidumbre y

esto hace que tomemos los datos y previsiones

con cautela. Lo cierto es que el avance del omicron

ha hecho que muchos países vuelvan a poner restricciones

en el movimiento de viajeros y nuestro

destino ha perdido la inercia positiva de los últimos

meses de 2021. Por eso, en este momento,

dependemos del control de esta variante, ya que

la tendencia anterior era muy positiva. Los datos

apuntan a un enero y febrero bajo y a una recuperación

en marzo. Nosotros tenemos la esperanza

de que pueda ser antes. En todo caso, la previsión

que manejamos para primavera es positiva y confiamos

en un aumento del 10% de la conectividad

con el territorio nacional. Sí que debemos destacar

que los números de llegada de turistas cuando el

mercado ha estado abierto y sin restricciones han

sido buenos. Es importante porque demuestra

que en cuanto ha existido la posibilidad de viajar

los turistas han vuelto a llenar hoteles. Nosotros

confiamos en que los números de omicron bajen

tan rápido como subieron, como ha pasado en

otros lugares, y esto nos permita recuperar la tendencia

de los últimos meses del 2021.

¿En qué aspectos se ha mejorado el destino en

los últimos años?

El trabajo que se ha realizado durante toda la pandemia

ha sido intenso, especialmente a la hora de

que nuestros potenciales clientes nos reconozcan

como un destino absolutamente seguro y de confianza.

Hemos redoblado el esfuerzo inversor, con

un presupuesto récord de más de 16 millones de

euros, con especial atención a la infraestructura

turística y a la mejora del destino, y en el que destinamos

más de seis millones a promoción y conectividad.

Hacemos un gran esfuerzo en estos temas

y tenemos la mayor conectividad de la historia

respecto al territorio nacional. También vamos a

apoyar eventos multitudinarios con interés turístico,

siempre que se puedan celebrar, como el Carnaval

de Maspalomas. Además, entre otras cosas,

hemos elaborado un plan estratégico con el objetivo

de que Gran Canaria se vea consolidada en el

año 2025 como un destino turístico de calidad, referente

en Europa durante todo el año, creciendo

de manera sostenible y siendo más competitivos.

Hacemos una gran apuesta por segmentos turísticos

de gran éxito como el de la observación de

estrellas o el gastronómico en los que nos hemos

posicionado como referencia en los últimos años.

Trabajamos de la mano de los ayuntamientos porque

consideramos que algunas de las mejoras

están en marcha y se verán próximamente. La

sostenibilidad, la digitalización, la diversificación

del destino, el potenciar el patrimonio paisajístico

y cultural, así como la gastronomía de la isla, son

las claves fundamentales para convencer al cliente

potencial de que venir a Gran Canaria es la mejor

opción.

Gran Canaria posee atractivos turísticos repartidos

por todo el territorio insular, unos productos naturales

y gastronómicos de primer nivel, y se desarrollarán

iniciativas para promover las zonas del norte

e interior, actualmente las menos explotadas turísticamente.

También estamos alineados con los

Objetivos de Desarrollo Sostenible 2030 (ODS) que

genera valor no solo para los turistas sino también

para el entorno natural, cultural, a los ciudadanos

y a las empresas. En este sentido, desarrollamos el

concepto 'Biosphere, Destino Sostenible', con sellos

y reconocimientos a las empresas e instituciones

que cumplan retos sostenibles para avanzar

en estas materias y ser un destino más atractivo

y acorde a los gustos y prioridades de los nuevos

clientes.

A finales del pasado año se firmó una carta de

compromiso con el Turismo Sostenible y su adhesión

al programa internacional Biosphere, del

Instituto de Turismo Responsable (ITR), certificado

por la Unesco. ¿Qué significa este acontecimiento

para Gran Canaria?

Es importante para el futuro de la Isla y, en concreto,

para su modelo y su sector turístico, porque

se adapta a un elemento que va a ser prioritario

dentro de elementos de decisión del nuevo cliente

postcovid a la hora de elegir destino. El compromiso

de Gran Canaria se ajusta a los tres pilares de

la sostenibilidad: la socioeconómica, la medioambiental

y la territorial, y está en línea con los 17 Objetivos

de Desarrollo Sostenible y de la Agenda

2030 de las Naciones Unidas, con lo que supone

un avance en materia medioambiental. Aspectos

como el conocimiento de las motivaciones y los

proceso de promoción y marketing para atraer al

nuevo turista desde distintos canales; los destinos

inteligentes y las claves para afrontar el cambio

desde la digitalización, la innovación, así como las

tendencias de la nueva movilidad y la experiencia.

Pero además aparece la sostenibilidad entre las

principales preocupaciones y motivaciones del

cliente, que busca una experiencia complementaria

a la receta de sol y playa que seguirá siendo

prioritaria y nuestro mayor atractivo.

Queremos hacer partícipes de esta apuesta por

la sostenibilidad a toda la sociedad grancanaria y,

más concretamente a las empresas turísticas de la

Isla, porque es a través de la cooperación y el trabajo

conjunto como se alcanzan las grandes metas.

El Patronato de Turismo de Gran Canaria ha pasado

a denominarse "Turismo de Gran Canaria",

¿qué implica este cambio?

La actividad del ente público se centra en mantener

a la Isla como destino turístico de primer nivel,

realizando todas aquellas acciones y actividades

encaminadas a reforzar su presencia en los mercados

emisores y potenciando su imagen a nivel

global. Con el proceso de modificación de los Estatutos

surgió la oportunidad de cambiar la nomenclatura

del Patronato y entendimos que era el

momento de realizar el cambio para presentarnos

al mundo con un nombre más apropiado al proceso

de modernización que realizamos, y que no esté

ligado a un género determinado. Creemos que es

más práctico y más eficaz para nuestra estrategia

de promoción el presentarnos sencillamente como

Turismo de Gran Canaria. Turismo de Gran Canaria

lleva cabo las tareas propias de una organización

de marketing de destino, además de jugar un importante

papel dentro del sector turístico, base de

la economía de la Isla. Sus principales funciones

son las de la promoción exterior de Gran Canaria,

la mejora continua del destino y la gestión pública

del sistema turístico insular. Asimismo, desde

el órgano de promoción se ha intensificado en los

últimos años la colaboración directa y activa con

el sector empresarial isleño, entendiendo que la

colaboración público-privada es la vía para seguir

avanzando en la excelencia del destino y mantener

el posicionamiento internacional del que goza

Gran Canaria.
---
36

GET TO KNOW GRAN CANARIA I CONOCE GRAN CANARIA Nº 11

Las Palmas de Gran Canaria

Music Capital

Orquesta Filarmónica de Gran Canaria

Anne-Sophie Mutter

By Cayetano Sánchez

Back in 1985, the world of classical music celebrated

with great enthusiasm the tercentenary of three

composers who were essential to the genre's history:

Bach, Handel and Scarlatti. Meanwhile, the old

continent declared that year as the "European Year

of Music". Alongside all this musical conjunction, the

first Canary Islands Music Festival was launched; a

long-standing aspiration that brought an international

touch to the archipelago's musical offerings,

as well as providing a cultural addition to the usual

sun and beach tourism. It was also the only festival

of its kind to be held in the winter season. Gran Canaria

is one of the main venues for this gathering of

classical sounds, which this year celebrates its 38th

edition.

Star Performers

Right from the festival's early days, the island's

audiences, who were great classical music fans,

responded enthusiastically to the concerts programmed

between January and February. Soon

the demands of music-loving tourists who visited

the island on a regular basis began to grow, and

in time they were joined by others who came expressly

to enjoy world celebrities, together with the

island's fine climate. It is impossible to mention all

the stars and orchestras that have played on the

stages of Gran Canaria over the many decades, but

they include almost all the great figures of the musical

firmament from the end of the last century to

the present day. By way of a brief example, some of

them are conductors, such as Carlo Maria Giullini,

Sergiu Celibidache, Georg Solti, Ricardo Muti, Claudio

Abbado, Daniel Barenboim, John Eliot Gardiner,

Esa-Pekka Salonen, John Eliot Gardiner and many

others. The list of soloists is also endless: Alfredo

Kraus, Maria Joâo Pires, Vladimir Ashkenazy, Plácido

Domingo, Yo Ma, Vladimir Ashkenazy and many

others....

This brief selection serves to confirm the quality

and international prestige enjoyed by the Canary

Music Festival, which this year, and in the first two

months of 2022, will once again fill the island with

the beautiful sounds of the classics at the Auditorio

Alfredo Kraus, in Las Palmas de Gran Canaria,

Given the limited space of this article to highlight

the great number of concerts and programmes,

please refer to the Festival website: https://www.

icdcultural.org/fimc

The Greats

As a testament to the 38th Festival that is now

upon us, once again mention goes to some of the

best-known names on this year's programme. The

soloists include: Lang Lang (piano), Grigory Sokolov

(piano), Steven Isserlis (cello), Sergej Krylov (violin),

Javier Camarena (tenor), Philippe Jaroussky (countertenor),

Anne-Sophie Mutter (violin).

The orchestras include the London Philharmonic

Orchestra, Luxembourg Philharmonic, Gran Canaria

Philharmonic, Paris Chamber Orchestra, Lithuanian

Chamber Orchestra and Russian State Symphony

'Evgeny Svetlanov'. Among the conductors,

Santtu-Matias Rouvali, Jordi Savall, Vassily Petrenko,

Philippe Herreweghe, Gustavo Gimeno, Antonio

Méndez, Michael Boder and Karel Mark Chichon.

All these figures will undoubtedly be a great attraction

for a large number of fans, in this unique opportunity

to enjoy the finest music, and at a lower

cost than at other latitudes.

The Creative City

In order to understand just why Las Palmas de

Gran Canaria has become the venue for this Festival,

as well as many others that cater for a wide

range of musical styles, we need to look back in

history. Since the end of the 19th century, when the

remoteness of the island was more palpable due to

the lack of communications, prestigious European

opera companies of the time performed in the city

as part of the stopovers they made on their way to

theatres in Latin America, thus creating a legion of

aficionados. This coincided, in 1845, with the creation

of the Gran Canaria Philharmonic Society, the

oldest in Spain, which still exists today. French musician

Camille Saint-Saëns, a regular visitor to the

island in the early decades of the 20th century, was

one of the Society's illustrious presidents.

These are just some of the arguments that have led

the Las Palmas de Gran Canaria City Council to request

that the city be included - in the music section

- in the Unesco Creative Cities Network; one of

the leading cultural platforms on the planet and a

fundamental tool for international cooperation between

cities that identify creativity as a strategic

factor for sustainable urban development.

For its part, the Spanish National Commission for

Cooperation with Unesco has expressed its official

support for the candidacy of Las Palmas de Gran

Canaria, considering its musical tradition and its capacity

to combine its local and insular heritage with

the influences of its visitors to be decisive factors.

The Unesco Creative Cities Network already includes

other Spanish cities such as Bilbao (in the

Design section), Valladolid and Terrassa (in Cinema),

Dénia and Burgos (in the Gastronomy section),

Barcelona and Granada (in Literature) and Seville

and Liria (in Music). In this latter category, that of

Music, Unesco has so far incorporated some thirty

cities from all over the world.

Cultural Values

Among the arguments for qualifying for this musical

category, it is worth mentioning that the city

hosts other major musical festivals, including WO-

MAD, Canarias Jazz & Más Festival, Festival CERO,

TEMUDAS (International Theatre, Music and Dance

Festival of Las Palmas de Gran Canaria), Naifest, the

Canary Islands International Music Festival, SUM

Festival, Festival Mar Abierto. Mention should also

be made of Musicando, LPA International Jazz Day,

the Big Bang Vintage Festival and the Rutas Sonoras.

The quality of the city's musical venues is also key,

such as the Alfredo Kraus Auditorium, Pérez Galdós

Theatre, Espacio Miller, Guiniguada Theatre, Cuyás

Theatre, José Antonio Ramos Auditorium (in Doramas

Park) and the Plaza de la Música. Also relevant

is its connection with the great classics, such as the

Gran Canaria Philharmonic Orchestra, the Municipal

Symphonic Band and the Opera Season.

A video (https://youtu.be/PXMkO_Kazio) has been

put together to highlight other aspects that promote

the candidacy of Gran Canaria's capital as it

seeks to shortly become one more City of Music in

the UNESCO Creative Cities Network. There is no

lack of merit.

Plácido Domingo

Womad
---
MELONERAS

Tel. 928 148 883

Whatsapp 669 400 374

c/ Mar Mediterráneo, s/nº

San Bartolomé de Tirajana

LAS PALMAS DE G.C.

Tel. 928 272 077

WhatsApp 682 773 207

c/ Olof Palme, 33

Las Palmas de Gran Canaria

The M&M Restaurant Group offers

visitors one of the finest culinary

choices to be found in Gran Canaria.

We are specialists in grilled meats

and many other exquisite foods,

which can all be washed down with

our own exclusive Familia Gil wines.

The El Churrasco restaurants are located

at two equally unique spots

on the island: one at the heart of Las

Palmas de Gran Canaria, on calle Olof

Palme, and the other at the south of

the island, at Paseo de Meloneras,

with their wonderful views over the

Atlantic and the Maspalomas Lighthouse.

Our El Churrasco restaurants and

Café Regina cafeterias keep a close

eye on our basic ingredients from

their point of origin; in the case of

our meats, the Angus breed; and in

coffee, of Columbian origin. We even

produce our own different varieties.

These raw materials follow tight controls

from production of origin, transport

to our facilities, their preparation

and cooking, through to the time

they are put on our meal tables.

So we cordially invite you along to

enjoy a truly unique culinary experience.

Grupo M&M Restauración ofrece

una de las mejores propuestas gastronómicas

para disfrutar en Gran

Canaria. Somos especialistas en

carnes a la brasa y otras exquisiteces,

con la opción de maridarlas

con nuestros exclusivos vinos Familia

Gil.

Los restaurantes El Churrasco están

situados en dos localizaciones

únicas en la Isla: en pleno corazón

de Las Palmas de Gran Canaria, en

la calle Olof Palme, y en la zona sur,

en el Paseo de Meloneras, donde

acompañan las mejores vistas al Atlántico

y al Faro de Maspalomas.

Nuestros restaurantes El Churrasco

y nuestras cafeterías Café Regina tienen

un control de sus materias primas

desde el origen; en carnes, de

la raza Angus; y en cafés, de origen

Colombia, contamos con lotes de

producción propia con diferentes variedades.

Estas materias primas siguen un riguroso

control de producción en

origen, de recepción hasta nuestras

instalaciones, de transformación y de

puesta en escena en nuestras mesas.

Les invitamos a que disfruten de una

experiencia gastronómica única.

@elchurrascorest

@caferegina_es

Las Canteras

Tel. 928 267 046

Paseo las Canteras 21

Las Palmas de G.C.

Triana

Tel. 828 075 894

Calle de Triana, 43

Las Palmas de G.C.

Vecindario

Tel. 928 01 56 42

Avda. de Canarias, 225

Vecindario

C.C. Mogán Mall

Tel. 928 56 08 02

Avda. Tomás Roca Bosch

Puerto Rico

El Corte Inglés

Tel. 928 23 11 58

Avda. Mesa y López, 13

Las Palmas de GC

C.C. Alisios

Tel. 928 272 077

Centro Comercial Alisios

Las Palmas de G.C.

Avda. Mesa y López

Tel. 928 918 812

Avda. Mesa y López, 43

Las Palmas de GC

www.caferegina.es / www.elchurrascorestaurante.com
---
38

GET TO KNOW GRAN CANARIA I CONOCE GRAN CANARIA Nº 11

Las Palmas de Gran Canaria

Capital de

la música

Auditorio Alfredo Kraus y escultura del genial tenor grancanario

Por Cayetano Sánchez

En 1985 el mundo de la música clásica celebraba

con entusiasmo el tricentenario de tres compositores

esenciales en la historia del género: Bach, Händel

y Scarlatti. Por otra parte, en el viejo continente

declaraban ese año como el "Año Europeo de la

Música". A toda esa conjunción musical se suma

que en las islas se inicia el primer Festival de Música

de Canarias; una vieja aspiración que aportaba

un toque internacional a la oferta musical del archipiélago,

al tiempo que un complemento cultural al

habitual del turismo de sol y playa; el único de esas

características que se celebra en la estación de invierno.

Gran Canaria es una de las sedes principales

de este encuentro con los sonidos clásicos que

este año celebra su 38 edición.

Figuras Estelares

Ya en los primeros festivales el público de la isla,

gran aficionado a la música clásica, responde con

entusiasmo a los conciertos programados entre los

meses de enero y febrero. Pronto comienza a crecer

la demanda de los turistas melómanos que la

visitaban habitualmente, a los que al tiempo se sumaron

otros que venían expresamente a disfrutar

de celebridades mundiales y además, disfrutaban

del buen clima de la isla. Resulta imposible citar a

todas las estrellas y orquestas que han pasado por

los escenarios de Gran Canaria en estas décadas;

casi todos las grandes figuras del firmamento musical

de finales del siglo pasado y del presente. A

modo de escueto ejemplo, algunos de ellos: directores

como Carlo Maria Giullini, Sergiu Celibidache,

Georg Solti, Ricardo Muti, Claudio Abbado, Daniel

Barenboim, John Eliot Gardiner. Esa-Pekka Salonen,

Gustavo Dudamel, son solo algunos de ellos.

La nómina de solistas es también interminable: Alfredo

Kraus, Maria Joâo Pires, Vladimir Ashkenazy,

Plácido Domingo, Yo Yo Ma...

Sirvan estos pocos nombres para constatar la calidad

y prestigio internacional del que goza el Festival

de Música de Canarias que este año, y en los

dos primeros meses de este 2022 volverá a llenar la

isla de los bellos sonidos de los clásicos en el Auditorio

Alfredo Kraus, en Las Palmas de Gran Canaria,

Ante la imposibilidad de reflejar en este espacio el

gran número de conciertos y programas, remitimos

a los interesados a la web del Festival: https://

www.icdcultural.org/fimc

Los Más Grandes

Para dejar constancia del 38 Festival que ahora comienza,

recurro de nuevo a apuntar algunas de los

nombres más conocidos que conforman el programa

de la presente edición. Entre los solistas: Lang

Lang (piano), Grigory Sokolov (piano), Steven Isserlis

(chelo), Sergej Krylov (violín), Javier Camarena

(tenor), Philippe Jaroussky (contratenor), Anne-Sophie

Mutter (violín)....

Orquestas como Philharmonia Orchestra de Londres,

Filarmónica de Luxemburgo, Filarmónica de

Gran Canaria, Orquesta de Cámara de París, Orquesta

de Cámara de Lituania y Sinfónica Estatal

Rusa 'Evgeny Svetlanov'. Entre los directores, Santtu-Matias

Rouvali, Jordi Savall, Vassily Petrenko,

Philippe Herreweghe, Gustavo Gimeno, Antonio

Méndez, Michael Boder y Karel Mark Chichon.

Figuras todas que sin duda serán un buen reclamo

para un gran número de seguidores, en esta

oportunidad única de disfrutar de la mejor música,

incluso a precios no tan altos como en otras latitudes.

Ciudad Creativa

Para entender por qué Las Palmas de Gran Canaria

es sede de este Festival, al igual que otros muchos

donde músicas de todos los estilos son protagonistas,

debemos hacer un poco de historia. Ya desde

finales del siglo XIX, cuando la lejanía de la isla

era más palpable por la falta de comunicaciones,

las prestigiosas compañías de ópera europeas actuaban

en la ciudad, mientras hacían escala rumbo

a los teatros de Latinoamérica, creando así una

legión de aficionados. A ello se sumó, en 1845, la

creación de la Sociedad Filarmónica de Gran Canaria,

la más antigua de España, que aún subsiste. El

músico francés Camille Saint-Saëns, visitante habitual

de la isla en las primeras décadas del siglo XX,

fue uno de sus ilustres presidentes.

Estos son solo algunos de los argumentos que ha

llevado al Ayuntamiento de Las Palmas de Gran

Canaria a solicitar que la ciudad sea incluida- en el

apartado musical- en la Red de Ciudades Creativas

de la Unesco (Unesco Creatives Cities Network);

una de las principales plataformas culturales en el

planeta: una herramienta fundamental para la cooperación

internacional entre ciudades que identifican

la creatividad como un factor estratégico para

el desarrollo urbano sostenible

Por su parte, la Comisión Nacional Española de

Cooperación con la Unesco ha manifestado su

apoyo oficial a la candidatura de Las Palmas de

Gran Canaria, considerando factores decisivos su

tradición musical y su capacidad para combinar su

acervo local e insular con las influencias de sus visitantes.

En la Red de Ciudades Creativas de la Unesco ya

hay otras ciudades españolas como Bilbao (en el

apartado de Diseño), Valladolid y Terrassa (en Cine),

Dénia y Burgos (en el apartado de Gastronomía),

Barcelona y Granada (en Literatura) y Sevilla y Liria

(en Música). En esta última categoría, la de Música,

la Unesco ha incorporado hasta la fecha una treintena

de ciudades repartidas por todo el globo.

Valores Culturales

Entre los argumentos para optar a esta categoría

musical se menciona que la ciudad es sede de la

celebración de grandes festivales: WOMAD, Festival

Canarias Jazz & Más, el Festival CERO, el TE-

MUDAS (Festival Internacional de Teatro, Música y

Danza de Las Palmas de Gran Canaria, el Naifest,

el Festival Internacional de Música de Canarias,

el SUM Festival, Festival Mar Abierto. También se

hace mención a Musicando, LPA International Jazz

Day, el Big Bang Vintage Festival y las Rutas Sonoras.

No se olvida el valor de sus recintos musicales,

como el Auditorio Alfredo Kraus, Teatro Pérez Galdós,

Espacio Miller, Teatro Guiniguada, Teatro Cuyás,

Auditorio José Antonio Ramos (en el Parque

Doramas) o la Plaza de la Música. Tampoco su conexión

con los grandes clásicos, como la Orquesta

Filarmónica de Gran Canaria, la Banda Sinfónica

Municipal o la Temporada de Ópera.

En un elaborado vídeo (https://youtu.be/PXMkO_

Kazio) se pueden contemplar otros aspectos que

juegan a favor de que la capital grancanaria pronto

sea una más una Ciudad de la Música en la Red

de Ciudades Creativas de la UNESCO. Méritos no

le faltan.
---
42

DISCOVER GRAN CANARIA I DESCUBRE GRAN CANARIA Nº 11

Las Palmas de Gran Canaria

Las Palmas de Gran Canaria is located to the northwest

of Gran Canaria, and is both the island's capital and the

most densely populated city in the Canary Islands. It is

a privileged enclave, enjoying an average annual temperature

of 21 degrees centigrade, meaning that visitors

can come to its many kilometres of beaches at any

time of the year.

Las Palmas de Gran Canaria is noted for the beauty of

its coastline, its extraordinary environmental conditions

and culture, and for its unique and historical locations.

These characteristics made it the cradle for the

tourist industry in the Canary Islands, and this continues

to be true today, with the city consolidating itself

as a top tourist destination.

From an historic point of view, the Port of La Luz and Las

Palmas played an important role in this process, and

today the capital displays its richest identity through

the port. It is connected to no less than 180 other ports

around the world through 30 maritime routes, and is

a benchmark destination for tourist cruises, attracting

some 800,000 travellers to the city every year, figures

that endorse its great relevance.

Las Palmas de Gran Canaria is a city for everyone, an

enclave whose landscapes and architecture all tell

their own story. It is packed full of leisure and culture

facilities, embraces its people and basks in tourism. So

get ready to wander around its streets with us, get to

know its most emblematic monuments and cool off in

the Atlantic waters that merge seamlessly into its five

unique urban beaches along its coastline.

THE BEACHES

Las Canteras beach is the most important urban tourist

beach in the archipelago and is one of the most

outstanding in Europe. This natural setting comprises

a strip of three kilometres of golden sands that hug

the capital's coastline, with some unique features including

its ecosystem and a reef called La Barra, which

runs parallel to the beach and acts as a wave breaker,

resulting in water lapping gently up to the beach.

The beach is flanked by the Alfredo Kraus Auditorium,

the Plaza de la Música and La Cícer at one end, and

La Puntilla at the other, although visitors can continue

walking as far as the wild and natural setting of El Confital,

an extension of Las Canteras. Its pleasant promenade

joins the two points together and enables us to

walk along the entire bay, stopping off to enjoy a whole

range of services along the way, making it a truly authentic

tourist attraction in the city.

Another of the main attractions are the rest of the

beaches: Las Alcaravaneras, with golden sands and

calm waters, is located beside the sports harbour and

is part of the Port of La Luz. It is bordered by a promenade

and two of the capital's nautical clubs; La Laja is

at the southern entrance to the city and is noted for its

black sand and clean water, although it can be hazardous

due to its currents. There are some natural salt-water

pools which provide a safer place for a swim, as well

as views over the horizon and a long promenade to enjoy

a pleasant stroll.

We finally come to San Cristóbal, overlooked by the

Castillo de San Cristóbal, a small stone and pebble

beach, located in the fishing district of the same name.

It is usually a hive of activity for local residents, and it

oozes marine charm, while visitors can enjoy some of

the island's typical cuisine all along its avenue.

En el nordeste grancanario se encuentra Las Palmas

de Gran Canaria, capital de nuestra tierra y la ciudad

más poblada de Canarias. Un enclave privilegiado

con una temperatura media anual próxima a los 21

grados centígrados, lo que permite visitar sus kilométricas

playas en cualquier época del año.

Las Palmas de Gran Canaria destaca por la belleza

de su costa, sus extraordinarias condiciones ambientales

y la cultura, singularidad e historia de sus rincones.

Unas características que la transformaron en la

cuna de la industria turística en Canarias y que hoy

en día la consolidan como el destino turístico por excelencia.

Desde un punto de vista histórico, el Puerto de La

Luz y Las Palmas jugó un papel muy importante y

hoy día la capital muestra su identidad más rica a través

de él. Está conectado con 180 puertos del mundo

a través de 30 líneas marítimas y es un punto de

referencia de cruceros de turismo con unos 800.000

viajantes cada año, datos que avalan su relevancia.

Las Palmas de Gran Canaria es una ciudad de todos

y para todos, un enclave cuyos paisajes y arquitectura

cuentan su propia historia. Una ciudad de ocio

y cultura, que disfruta de la gente y vive del turismo.

Así que disponte a recorrer con nosotros sus calles,

a conocer sus monumentos más emblemáticos y a

refrescarte en las aguas de un Atlántico que se difumina

en la costa de cinco playas urbanas únicas.

LAS PLAYAS

Las Canteras es la playa urbana más turística e importante

del Archipiélago y una de las más destacadas

de Europa. Tres kilómetros de arena dorada

frente a la capital conforman este paisaje natural en

el que sus singularidades residen en su ecosistema y

en la barra, que recorre la playa en paralelo a la orilla

y actúa de rompeolas, manteniendo así la calma en

sus aguas.

Está flanqueada por el Auditorio Alfredo Kraus, la

Plaza de la Música y La Cícer en uno de sus extremos

y por La Puntilla en el otro, aunque podemos

continuar nuestro paseo hasta llegar al paraje natural

y salvaje de El Confital, una prolongación de Las

Canteras. Su agradable avenida marítima une ambos

puntos y nos permite recorrer la extensa bahía,

brindándonos todo tipo de servicios por el camino y

convirtiéndose en un auténtico reclamo turístico de

la ciudad.

Otro de los principales atractivos lo conforman el

resto de playas: Las Alcaravaneras, de arena dorada

y aguas tranquilas, se sitúa junto al puerto deportivo

y se enmarca en el Puerto de la Luz, siendo bordeada

por un paseo marítimo y dos de los clubes náuticos

capitalinos; la playa de Laja está en la entrada de la

ciudad y se caracteriza por su arena negra y aguas

limpias, aunque con cierto peligro por sus corrientes.

Aquí también encontramos piscinas naturales

para un baño más seguro y con vistas al horizonte,

así como una larga avenida para disfrutar de un bonito

paseo.

Por último, descubrimos en San Cristóbal, vigilada

por el Castillo de San Cristóbal, una pequeña playa

de callaos y piedra, localizada en el pueblo pesquero

de mismo nombre. Suele estar ocupada por los locales,

pero abunda de encanto marinero, y en su avenida

puedes degustar la gastronomía típica de la isla.
---
44

DISCOVER GRAN CANARIA I DESCUBRE GRAN CANARIA Nº 11

Vegueta

VEGUETA AND TRIANA

We now leave behind the beaches and make our

way into the historic districts of Vegueta and Triana,

that carry the footprints of kings, explorers,

illustrious visitors, with their buildings bearing witnesses

to their legacy. A stroll around the streets is

an open invitation to step back in time in a city with

over five centuries of history.

The district of Vegueta, with its cobbled streets

and traditional architecture, is linked to the city's

history and culture, so a walk along its narrow backstreets

provides a fascinating insight into some of

its most important events. We can visit museums

such as Casa de Colón, in which we can learn details

of Christopher Columbus' voyage to America

and his stay in the municipality on the island; the

Canary Museum, which delves into the life of the

ancient islanders, plus the Sacred Art Museum and

the Atlantic Modern Art Centre (CAAM), one of the

most cutting edge galleries in the world of Spanish

art.

Before leaving Vegueta we can go along to the

Guiniguada Theatre and take a stoll around the traditional

market, which dates back to 1854, as well

as marvel at several representative buildings including

the Canary Cathedral, Casa de Colón, Santa

Ana Cathedral and the Canary Museum.

Without moving far from this area, we can stop at

nearby Triana to take in its varied architecture, featuring

one of the most emblematic buildings in the

city, the Pérez Galdós Theatre. We can also recognise

one of the neighbourhood's top meeting places,

Plaza Hurtado de Mendoza and Plaza de Cairasco,

where the Hotel Madrid and the Gabinete Literario

are located. Other constructions of interest include

the Quegles Building and the Pérez Galdós House

Museum.

Lastly, we have an essential date at the pedestrian

street of Mayor de Triana, where we can enjoy a

pleasant stroll through a bustling district, the ideal

place to do our shopping.

VEGUETA Y TRIANA

Abandonando las playas, nos adentramos en los

barrios históricos de Vegueta y Triana, en los que

las huellas del paso de reyes, exploradores, visitantes

ilustres y sus edificios han sido testigos de su

legado. Caminar por ellos nos invita a retroceder al

pasado de una ciudad con más de cinco siglos de

historia.

El barrio de Vegueta, de suelos empedrados y arquitectura

tradicional, está ligado a la historia y la

cultura, por lo que caminar por sus estrechas calles

Plaza de Santa Ana, Vegueta

Vegueta

nos permite conocer algunos de sus acontecimientos

más importantes. Encontramos museos como

la Casa de Colón, donde conoceremos detalladamente

el viaje de Cristóbal Colón a América y su estancia

en el municipio; el Museo Canario, que profundiza

en la vida de los antiguos isleños, además

del Museo de Arte Sacro y el Centro Atlántico de

Arte Moderno, una de las salas más vanguardistas

del panorama artístico español.

Antes de dejar el barrio de Vegueta podemos conocer

el Teatro Guiniguada y dar un paseo por el

tradicional mercado, que data del año 1854, así

como algunas edificaciones representativas como

la catedral de Canarias, la Casa de Colón, la Catedral

de Santa Ana o el Museo Canario.

Sin alejarnos de la zona, hacemos una parada en

Triana para contemplar la variada arquitectura, entre

la que destaca uno de los edificios más emblemáticos

de la ciudad, el Teatro Pérez Galdós. También

reconocemos uno de los lugares de encuentro

en el barrio, la Plaza Hurtado de Mendoza y la Plaza

de Cairasco, en la que se ubican el Hotel Madrid y

el Gabinete Literario. Otras construcciones de interés

son el Edificio Quegles o la Casa-Museo Pérez

Galdós.

Por último, tenemos una cita obligada en la calle

peatonal Mayor de Triana, donde disfrutamos de

un ameno paseo en un enclave que está en continuo

movimiento, el lugar ideal para realizar nuestras

compras.

PORT AREA

As we delve deeper into the city centre, we discover

places such as Doramas Park, which is a sight

for sore eyes with its carefully-tended gardens and

endemic plant species; as well as the legendary

Hotel Santa Catalina, the Néstor Museum and the

Sports Marina, the port with the largest docking

capacity in the Canaries.

Meanwhile, in the port area we glimpse the emblematic

Santa Catalina Park, the hub for the traditional

carnival and the home of the Science Museum

and the Miller Building, and just a few metres

away the stunning Poema del Mar Aquarium and

El Muelle Shopping Centre. In addition, at nearby

Mesa y López we can roam around one of the city's

main shopping areas and top tourist attractions.

Having covered nearly all the capital city, we need

to try out some fine Canary cuisine, ranging from

the famous sancocho to meat dishes ably accompanied

by the famous papas arrugadas salty potatoes

with spicy mojo sauce, as well as some delicious

pastries, represented by bienmesabe from

Tejeda.
---
Nº 11 DISCOVER GRAN CANARIA I DESCUBRE GRAN CANARIA

45

ZONA PUERTO

Profundizando en el centro de la ciudad,

descubrimos lugares como el Parque Doramas,

que acapara las miradas con sus

cuidados jardines y ejemplares autóctonos;

así como el legendario Hotel Santa

Catalina, el Museo Néstor o el Muelle Deportivo,

el de mayor capacidad de atraque

de Canarias.

Mientras, en la zona puerto observamos

el emblemático Parque Santa Catalina,

epicentro del tradicional carnaval y hogar

del Museo de la Ciencia y el Edificio Miller,

y a pocos metros el impresionante Acuario

Poema del Mar y el Centro Comercial el

Muelle. Además, en Mesa y López localizamos

una de las grandes zonas comerciales

y de gran atractivo turístico.

Tras recorrer gran parte de la capital, es necesario

probar la gastronomía canaria, que

va desde el sancocho hasta platos de carne

acompañados por las famosas papas

arrugadas con mojo, así como la deliciosa

repostería representada por el bienmesabe

de Tejeda.

BANDAMA

We now move away from the capital's

best-loved urban surroundings and venture

into the beautiful landscapes up at the

residential area of Tafira, packed full of Canary

architecture and home to the Viera y

Clavijo Botanical Garden, which contains

all the leading Canary endemic botanical

species.

Vegueta

We can visit the breathtaking Caldera de

Bandama, a volcanic depression that plunges

to a depth of about 200 metres and

has a perimeter that exceeds three kilometres.

This great crater stands proud as

one of the island's most spectacular orographic

landmarks. It is highly recommended

for the most adventurous visitors, who

will enjoy a stunning panoramic view over

the city, the crater and a huge part of the

northeast of the island if they go along to

Pico de Bandama.

To round off our fleeting but unforgettable

route around the capital, we should mix in

with the culture and the local people, so a

tapa pub crawl around the municipality is

the perfect plan. Vegueta, Triana, the Port

and Tafira make this activity a reality, boasting

an array of terrace bars for sampling

different dishes washed down by wines

from the island, renowned the world over.

The area of Vegueta comes into its own

every Thursday, as a string of restaurants

situated along calle Mendizábal and La

Pelota hold a weekly tapa route, offering

superb culinary creations, attracting both

islanders and tourists along to a truly unique

environment.

BANDAMA

Auditorio Alfredo Kraus

Nos alejamos de la estampa capitalina

más conocida para admirar la belleza paisajística

de la zona residencial de Tafira,

repleta de arquitectura canaria y lugar del

Jardín Botánico Viera y Clavijo, que recoge

los principales endemismos botánicos canarios.

Visitamos la impactante Caldera de Bandama,

una gran depresión de unos 200

metros de profundidad y con un perímetro

superior a los tres kilómetros, que se alza

como uno de los hitos orográficos isleños

más espectaculares. Una cita recomendada

para los más atrevidos, que disfrutarán

de una sensacional panorámica de la ciudad,

la caldera y gran parte del noreste si

se trasladan hasta el Pico de Bandama.

Para despedir nuestra pequeña pero inolvidable

ruta capitalina debemos mezclarnos

con la cultura y la gente local, por lo

que ir de tapas por el municipio se convierte

en el plan perfecto. Vegueta, Triana,

el Puerto y Tafira hacen posible esta actividad

y presumen de agradables terrazas

para degustar diferentes platos acompañados

de vino isleño, reconocido a nivel

mundial.

Aquí destaca la zona de Vegueta, donde

cada jueves se celebra la ruta del pincho,

en la que restaurantes de las calles Mendizábal

y La Pelota ofrecen sus creaciones,

reuniendo a isleños y turistas en sus alrededores

bajo un ambiente único.

Catedral de Santa Ana, Vegueta
---
46

DISCOVER GRAN CANARIA I DESCUBRE GRAN CANARIA Nº 11

Routes around Gran Canaria

Artenara

Gran Canaria is a land of incredible

contrasts and landscapes, home to

an age-old tradition and culture and

the creator of a culinary world that

crosses many borders. It is a tiny continent

joined together by 21 different

municipalities that lend it a true identity

with highly representative symbols.

We offer you four routes below, so

that you can experience Gran Canaria's

most emblematic locations, as

well as other secluded and curious

spots, for yourself. This is a little guide

that adapts to all kinds of tastes,

the purpose of which is to help you

discover some of the island's most

stunning natural monuments, mysteries

hidden away behind every corner,

enigmas of ancestral traditions,

discovery of new flavours and all the

history contained in each of the municipalities.

So get ready to join us on this journey.

Discover the island's coastline and

mountains, dare to tackle the steepest

natural settings and connect

with the history of a magical land

from north to south and from east to

west. Where shall we start?

NORTH ROUTE

lica of Our Lady of El Pino, a religious

benchmark for the islanders.

EAST ROUTE

The east side of Gran Canaria welcomes

us with a unique coastal landscape

marked by wind, one of the

features of this area, which makes

its beaches ideal places to partake in

aquatic sports such as windsurfing.

Our route runs through five different

municipalities, all with crystal clear

waters and natural spaces, with a rich

archaeological heritage and a craft

culture steeped in Canary tradition.

In this regard, the journey begins in

Las Palmas de Gran Canaria and continues

through Telde, Valsequillo, Ingenio

and Agüimes.

The many outstanding points of interest

include enclaves such as Las

Canteras or the historic district of Vegueta;

the archaeological remains at

Baladero, Tufia and Cuatro Puertas;

and stunning landscapes such as Barranco

de Los Cernícalos and Caldera

de los Marteles. You will also discover

the craft legacy of lace-making and

crotchet in Agüimes, and dive into

the clean, clear waters on Arinaga

beach.

This short journey begins in the municipality

of Arucas and takes us

through Firgas, Moya, Santa María de

Guía and Gáldar, before winding up

in Agaete.

This route will take us to some of the

steepest and most abrupt mountains

along the coastline, an image

that reflects the power of the Atlantic,

together with some delightful

coves, natural salt-water pools and

beaches set in magical locations. You

will also be treated to some other

more rugged landscapes, such as the

mountains of Arucas and Firgas, the

Barranco Oscuro Reserve and Tamadaba.

You will also see some other places of

interest, such as the Arehucas Rum

Factory, The Casa del Queso (cheese

factory) in Montaña Alta and the

Painted Cave Archaeological Park

and Museum in Gáldar. All this while

sampling some typical Canary cuisine,

including the delicious Flower

Cheese from Santa María de Guía,

suspiros and bizcochos spongecakes

from Moya, Arucas rum and home-grown

coffee and traditional dishes

at the fishing village of Agaete.

All in all the perfect plan for finishing

up in the north of the island.

CENTRAL ROUTE

Our itinerary begins in Santa Brígida,

and passes through San Mateo, Tejeda,

Artenara and Valleseco as far as

Villa Mariana de Teror. Some of the

island's most valuable natural jewels

can be found here, together with the

most enchanting villages in Gran

Canaria's interior, in which historical,

cultural and religious factors play a

huge part.

Among the great attractions on

show are Pico de las Nieves, the highest

point of the island, in addition

to pockets of laurel tree forests, large

extensions of pine woodland and

symbolic panoramic views provided

by places such as Roque Nublo over

a sea of clouds. However, along the

way we will catch a glimpse of other

kinds of stunning areas which share

a long historical and religious culture.

This route highlights one of the least

known sides to our land, and focuses

on the legacy left behind by our ancestors

and the reasons behind some

of our sacred sites, such as the Basi-

SOUTHWEST ROUTE

The southwest route of Gran Canaria

takes in the municipalities of Santa

Lucía de Tirajana, San Bartolomé de

Tirajana, Mogán and La Aldea. Here

you will discover the island's most famous

beaches, as well as ample contrasts

all around the interior, including

landscapes that are impossible

to imagine existing in such a warm

territory.

So, we invite you to tackle this route

which covers huge and well known

locations such as the breathtaking

golden Maspalomas desert, natural

reserves comprising inexplicable panoramic

views together with villages

of outstanding beauty, such as Puerto

de Mogán, plus other places that

have remained untouched by tourism,

including Güi-Güi beach, and

archaeological vestiges such as Fortaleza

de Ansite.
---
Nº 11 DISCOVER GRAN CANARIA I DESCUBRE GRAN CANARIA

47

Gran Canaria es una tierra de contrastes y paisajes increíbles, hogar

de una tradición y cultura ancestral y creadora de un mundo

gastronómico que traspasa fronteras. Un pequeño continente

unido por 21 municipios diferentes que dotan de identidad a la

isla con sus símbolos más representativos.

A continuación, te proponemos cuatro rutas para conocer los

parajes más emblemáticos de Gran Canaria, pero también los

más recónditos y curiosos. Una pequeña guía adaptada para

todo tipo de gustos con el fin de descubrir algunos de los monumentos

naturales más impresionantes, los misterios que esconden

algunos de sus rincones, los enigmas de las tradiciones más

ancestrales, el descubrimiento de nuevos sabores y la historia

que aguardan los municipios.

Así que prepárate y acompáñanos en este viaje. Descubre la

costa isleña y sus montañas, atrévete a mezclarte con la naturaleza

más abrupta y conecta con la historia de una tierra marcada

por la magia de norte a sur y de este a oeste. ¿Por dónde

empezamos?

RUTA NORTE

Este pequeño viaje comienza en el municipio de Arucas y sigue

por Firgas, Moya, Santa María de Guía y Gáldar para finalizar en

Agaete.

Rutas por Gran Canaria

En esta ruta descubrirás algunos de los acantilados más abruptos

y marcados de nuestra costa, una imagen con la que sentirás

la fuerza del Atlántico y te deleitarás con la estampa de pequeñas

calas, piscinas naturales y playas situadas en rincones

mágicos. También conocerás parajes más accidentados, como

las montañas de Arucas y Firgas, la Reserva de Barranco Oscuro

o Tamadaba.

Costa de Gáldar

Por otro lado, podrás conocer lugares de interés como la Fábrica

de Ron Arehucas, La Casa del Queso en Montaña Alta o el Museo

y Parque Arqueológico de la Cueva Pintada de Gáldar. Todo

ello, degustando la comida típica canaria como el delicioso queso

de Flor de Santa María de Guía, los suspiros y bizcochos de

Moya, el ron de Arucas o el café y platos tradicionales del pueblo

pesquero de Agaete. Un plan perfecto para acabar el día en el

norte isleño.

RUTA CENTRO

El itinerario empieza en Santa Brígida, pasando por San Mateo,

Tejeda, Artenara y Valleseco hasta llegar a la Villa Mariana de Teror.

Aquí conocerás algunas de las joyas naturales más valiosas y

los pueblos interiores con más encanto de Gran Canaria, en los

que los factores histórico, cultural y religioso cuentan con una

gran peso.

Entre sus grandes atractivos tropezarás con el punto más alto

de la Isla, el Pico de las Nieves, además de pequeños bosques de

laurisilva, grandes pinares o panorámicas tan simbólicas como

las que nos regala el Roque Nublo sobre un mar de nubes. Sin

embargo, por el camino también vislumbrarás otro tipo de espacios

impresionantes que comparten una larga historia y cultura

religiosa.

El trayecto expone una de las caras más desconocidas de nuestra

tierra y se centra en el legado de nuestros ancestros y en

el por qué de algunos de nuestros lugares sagrados, como la

Basílica de Nuestra Señora del Pino, referente religioso de los

isleños.

RUTA ESTE

Playa de Sardina- Gáldar

El Este de Gran Canaria nos recibe con un singular paisaje litoral

marcado por el viento, seña de identidad de la zona, convirtiendo

sus playas en emplazamientos ideales para la práctica de deportes

acuáticos como el windsurf.

Nuestra ruta recorre cinco municipios de playas de aguas cristalinas,

pero también de espacios naturales con un rico patrimonio

arqueológico y una cultura artesana marcada por la tradición

canaria. De esta forma, el viaje comienza en Las Palmas de Gran

Canaria y continúa por Telde, Valsequillo, Ingenio y Agüimes.

Entre los puntos de interés brillan enclaves como Las Canteras

o el barrio histórico de Vegueta; los vestigios arqueológicos de

Baladero, Tufia o Cuatro Puertas; y paisajes asombrosos como

el Barranco de Los Cernícalos y la Caldera de los Marteles. También

descubrirás el legado artesano de los calados en Agüimes

y podrás sumergirte en las limpias aguas de la playa de Arinaga.

RUTA SUROESTE

La ruta suroeste de Gran Canaria contempla los municipios de

Santa Lucía de Tirajana, San Bartolomé de Tirajana, Mogán y La

Aldea. En ellos descubrirás sus afamadas playas, pero también

un amplio mundo de contrastes que se cuece en la zona interior

y te desvelará parajes imposibles de imaginar en territorios

cálidos.

De esta forma, te invitamos a recorrer esta ruta que encierra

grandes y reconocidos paisajes como el imponente desierto dorado

de Maspalomas, reservas naturales de panorámicas inexplicables

y pueblos de extrema belleza como Puerto de Mogán,

pero también lugares que permanecen casi desconocidos ante

la mirada más turística como la playa de Güi-Güi, y vestigios arqueológicos

como la Fortaleza de Ansite.

Cenobio de Valerón
---
48

DISCOVER GRAN CANARIA I DESCUBRE GRAN CANARIA Nº 11

NORTH ROUTE

While Gran Canaria typically conjures up images of stunning sandy beaches and kilometres of dunes,

the northern part of the island reveals a wholly different reality: a coastline dominated by spectacular

plunging cliffs, unpoilt beaches and natural water pools, surrounded by a much steeper orography, the

result of erosion and the island's volcanic activity.

This route will take us through Arucas, Firgas, Moya, Santa María de Guía, Gáldar and Agaete. We will

discover the rugged north coast, plus some of the most interesting archaeological areas in Gran Canaria,

delving into places such as Cenobio de Valerón, the Painted Cave of Gáldar and Maipés Necropolis

as we learn of the history of our ancestors.

This is so much to do on this trip around the north of the island, including strolling around the streets

of the historic town centre of Arucas with its church towering over us, going for a hike around Firgas,

sampling the authentic suspiros and bizcochos spongecakes in Moya, and going for a splash in the most

beautiful natural water pools on the island and being seduced by the fishing environment of Agaete.

1. Arucas ■ 2. Firgas ■ 3. Moya ■ 4. Santa María de Guía ■ 5. Gáldar ■ 6. Agaete

Arucas

1. Arucas

Our first stop is at Arucas, just 12 kilometres

from Las Palmas de Gran

Canaria, a municipality that stretches

from the coast up to the hills. We begin

at the town centre, in front of one

of the north's most iconic settings,

the Church of Arucas, which paints a

picture postcard setting as it towers

over Plaza San Juan. It is a neoclassical

temple carved out of natural stone,

featuring two large towers that

capture the attention of visitors.

Other architectural sites of interest include

the Casas Consistoriales (council

offices), the old Municipal Market

building and the Casa de la Cultura

(cultural centre). These can be visited

together with the Casa y Jardín de la

Marquesa, an enchanting, romantic

and spectacular botanical garden; a

brisk walk up to the Montaña de Arucas,

and a visit to the Arehucas rum

factory, an authentic symbol of the

island, and also Salinas del Bufadero,

a wonderful and splendid spectacle

that nature has provided for us.

We cannot leave the municipality without

going for a splash in its waters,

at Bañaderos-El Puertillo beach or at

the natural water pools of Los Charcones,

and if you wish, followed by an

aperitif in the local restaurants, rounding

off the perfect start to our tour.

2. Firgas

The small town of Firgas is linked to

a natural water source, which is no

coincidence, as it is characterised by

rolling, narrow hills with a dense and

complex ravine network that crisscross

over the landscape. For this reason,

hiking is one of the top tourist

attractions around here.

We start out at the town centre, surrounded

by a good number of cultural

and religious landmarks, the most

emblematic of which include the San

Roque Parish Church, Casa de la Cultura

(cultural centre), the Town Hall

building and the Commemorative

Fountain, which we pass as we head

along to Paseo de Canarias.

At this point we come to a series of

mosaics that portray each island, and

as we continue along the pedestrian

street of Avenida de Gran Canaria, we

cross over the water fountain downstream,

on the back of which are the

coats of arms of each of the 21 municipalities

that make up the island, as

well as the generic coat of arms for

the whole island.

One of the most outstanding landmarks

here is the Firgas gofio cornmeal

mill, which stands over the

Acequia de la Heredad de Aguas de

Arucas y Firgas (the region's water

distribution centre) alongside the

former grain storage warehouse

and the miller's house. Here we are

afforded panoramic views over the

confluence of three majestic ravines

-Las Madres, Guadalupe and Aguaje-,

before moving on to the Las Madres

viewpoint, on the edge of the town

centre. The area spread out before

our eyes is part of the Doramas Natural

Park, which will stay in our memories

for ever.

In addition, part of the municipality of

Firgas sits within the former Doramas

Jungle, featuring ravines and vegetation

of stunning beauty, such as the

Azuaje Special Natural Reserve, the

deepest ravine in the north, which is

home to endemic species and one of

the last remaining bastions of laurel

tree forests on the island. Other striking

natural spaces include Montaña

de Firgas and Pico de Osorio, essential

places to visit which border Firgas

and provide splendid views over

the capital city and the north of the

island.

3. Moya

Villa de Moya perches over ravines

and a series of hills that tumble down

to the coast, giving rise to a rugged

landscape with a rich cultural heritage.

Our route around Moya cannot be

done without a walk around some

of the town's emblematic buildings,

including the Church of Our Lady of

La Candelaria, sitting on a cliff-edge

that perches over Barranco de Moya;

the Tomás Morales House Museum,

containing a wide collection of the

poet's work; the Heredad de Aguas

water distribution centre, a magnificent

piece of basalt rock, and the

Hermitage of San Bartolomé de Fontanales,

built in 1872. Having taken

in the fine architecture, we head for

the Doramas Natural Park to discover

the hiking trails of Los Tilos de Moya,
---
Nº 11 DISCOVER GRAN CANARIA I DESCUBRE GRAN CANARIA

49

another of the island's last bastions of

laurel tree forest and a must see due

to its huge diversity.

We can now build our strength back

with some home made dishes, with

a wide range of local cuisine to choose

from. For this purpose, Fontanales

offers a fine choice of cheese

manufacturing plants, although we

shouldn't leave here without trying

some local pastries. We can also pick

up some suspiros and bizcochos

cakes from Moya and savour some

aniseed and trucha cakes, also very

typical here.

We say farewell to Moya by taking a

stroll along its relaxing coastline, with

La Caleta beach and the crystal clear

natural swimming pools at Charco de

San Lorenzo.

4. Santa María de Guía

A steep and rocky coastline typifies

Santa María de Guía, containing a diverse

range of species that have led

to most of the region being given

Protected Natural Space status.

We start our tour in the town centre,

where we can admire some beautiful

and colourful buildings. We pause

here to contemplate the most

famous of these, the neoclassical

Parish Church, flanked by two towers

that keep a watchful eye over some

highly relevant works of art in its interior.

Other fine buildings include Casa

de Los Quintana, the Néstor Álamo

Museum and the Hermitage of San

Roque, which are part of the town's

historic heritage.

As we leave the town centre, we are

struck by the municipality's outlaying

natural surroundings, with the

Special Natural Reserve of El Brezal,

Doramas Rural Park, Montañón Negro

Natural Monument and the Protected

Summit Landscape, areas of

outstanding beauty shared with neighbouring

towns.

The landmark that captures our attention

above all else, however, is the

Cenobio de Valerón, an architectural

ensemble declared a Site of Cultural

Interest and a grain storage fortress

where the ancient Canarians stored

the grain from crops throughout the

year. Tagoror del Gallego is another

of the archaeological settlements of

great interest. As we reach the municipal

boundary, we can look out over

the rocky coastline so typical of the

north and make out the beaches at

San Felipe, a quiet location ideal for

going for a refreshing dip, and Roque

Prieto, with a natural water pool.

We cannot leave Guía without sampling

its wonderful Flower Cheese,

made from raw cow's and sheep's

milk together with the artichoke

flower of the cardo azul plant, a multiple

award-winner around the world.

We finish off at Montaña Alta, the

hub of the popular Cheese Fiesta.

5. Gáldar

We leave Guía behind, and move on

to Gáldar, the first capital city on the

island. It was of outstanding historical

relevance because the first Kings

of Gran Canaria decided to settle in

this region, formally known as Agáldar,

and is the reason for which the

town preserves most of its ancient

architecture, one of the few Canary

towns that has managed to save part

of its pre-Hispanic heritage.

Evidence of its rich past can be found

at the Painted Cave Archaeological

Park, and is a must see. It contains

one of the largest findings of cave

art in the Atlantic region, portraying

how the pre-Hispanic population

used to live, the development of the

conquest by the Castilian crown, and

how the town of Agáldar became

buried underground until, due to a

stroke of luck it saw the light of day

once more. In addition, we can visit

the necropolis of La Guancha, an

archaeological settlement that explains

how the ancient dwellers carried

out their burials. Among other

pre-Hispanic edifications, it is the largest

currently conserved burial site.

As we go deeper into the historic

town centre, we come to an emblematic

piece of architecture in the

form of the Church of Santiago de

Gáldar, one of the Canaries' most

beautiful temples; the former Town

Hall building, featuring one of the

oldest dragons trees in Gran Canaria

growing inside it; the Municipal

Theatre, the so called "Plaza Grande",

one of the finest 19th century

tree-lined avenues, or Alameda, in

the Canaries, and finally the Antonio

Padrón Museum. On calle Capitán

Quesada, we come to La Recova

Market of Gáldar, perfect for picking

up some local products and trying

out the local cheese.

We know how important it is to admire

panoramic views, and for this

reason we go up to Montaña de Gáldar

and Montaña de Amagro to take

in a landscape of unique beauty, revealing

more and more the further

we go up. We can also go to Pinos

de Gáldar, again with grand panoramic

views and highly interesting surroundings.

The Gáldar coastline is varied, combining

many beaches with natural

swimming pools. However, our choice

is to go to the unrivalled Sardina

beach before making the short trip

to the unmistakeable Faro de Sardina,

a lighthouse which affords one of

the most iconic nightfalls on the island,

with a colourful sky that resembles

a painting. Other relevant coastal

locations are the beaches at Dos

Roques, Punta de Gáldar and the natural

swimming pools at El Agujero.

6. Agaete

Our route winds up at the municipality

of Agaete, one of the island's top

tourist locations. It is a village with

whitewashed buildings, a long-standing

fishing tradition and rugged

beauty, the result of the meeting of

the sea with the mountains.

To get a feel for the place, we should

take a stroll around its historic town

centre, to the Church of La Inmaculada

Concepción and accompanying

square, as well as the Huerto de las

Flores, a botanical garden featuring

many different exotic plant species

and a traditional meeting place for

Canarian poets.

We can also immerse ourselves in

Tamadaba Natural Park, a protected

area containing the largest extension

of Canary pine trees, access to

which is only possible on foot. Once

there we are treated to views over

the Valley of Agaete, a beautiful spot

with tropical and citric fruit estates,

and coffee plantations, the latter being

a key product in the municipality.

Agaete' topography is a steep one,

with El Risco and Guayedra jutting

out, reaching a maximum altitude

of 1,180 metres at the summit area of

Pinar de Tamadaba. It is also home

to one of the most important burial

sites on the island, Maipés, which is

well worth a visit.

Leaving the greenery behind and

coming back into town, we can take

a leisurely walk in the gentle breeze

along the promenade at Puerto de

Las Nieves, with Playa de Las Nieves,

the remains of the Dedo de Dios

(rock formation resembling a hand

and finger) and views of the cliffs in

the shape of a dragon's tail featuring

the stunning Roque Faneque, one

of the highest clifftops in the world.

The walk ends at Plaza de Los Poetas

and the three natural inter-connecting

swimming pools at Las Salinas,

the ideal place for diving into the

calm Atlantic waters, or simply putting

our feet up to admire a stunning

sunset over the neighbouring island

of Tenerife on the horizon.

Firgas

Maipes. Agaete

Vista aérea del Puerto de Agaete

Ruta Agaete-Artenara
---
50

DISCOVER GRAN CANARIA I DESCUBRE GRAN CANARIA Nº 11

RUTA NORTE

Gran Canaria trae a la mente imágenes de impresionantes playas de arena y kilómetros de

dunas, pero su zona norte nos revela otra realidad: una costa dominada por espectaculares

acantilados, playas vírgenes y piscinas naturales rodeadas por una orografía mucho más abrupta,

resultado de la erosión y la condición volcánica de nuestra tierra.

Esta ruta nos conduce por Arucas, Firgas, Moya, Santa María de Guía, Gáldar y Agaete. Conoceremos

la accidentada costa norte, pero también algunas de las zonas arqueológicas más interesantes

de Gran Canaria, adentrándonos en lugares como en el Cenobio de Valerón, la Cueva

Pintada de Gáldar o la necrópolis de Maipés para conocer la historia de nuestros antepasados.

Recorrer las calles del centro histórico de Arucas con su iglesia como protagonista, hacer

senderismo en Firgas, probar los auténticos suspiros y bizcochos de Moya, sumergirnos en las

aguas de las piscinas naturales más bonitas de la isla y fundirnos con el ambiente marinero de

Agaete son solo algunas de las citas ineludibles de esta gran ruta por el norte isleño.

1. Arucas ■ 2. Firgas ■ 3. Moya ■ 4. Santa María de Guía ■ 5. Gáldar ■ 6. Agaete

Agaete

1. Arucas

La primera parada es Arucas, a 12 kilómetros

de Las Palmas de Gran Canaria,

un municipio que se extiende

desde la costa hasta las medianías.

Comenzamos en el centro histórico,

junto a una de las imágenes más icónicas

del norte: la Iglesia de Arucas,

que dibuja una postal única e imponente

de la plaza de San Juan. Se trata

de un templo neoclásico íntegramente

esculpido en piedra con dos

grandes torres que roban la atención

de todas las miradas.

Otros sitios de interés arquitectónico

son las Casas Consistoriales, el edificio

del antiguo Mercado Municipal o

la Casa de la Cultura. Citas a las que

añadimos un paseo por la Casa y Jardín

de la Marquesa, un encantador,

romántico y espectacular jardín botánico;

la caminata hasta la montaña

de Arucas, y la visita a la fábrica de

ron Arehucas, todo un símbolo de

nuestra tierra, y las Salinas del Bufadero,

un espectáculo espléndido en

el que la naturaleza nos hace partícipes

de sus maravillas.

No podemos movernos del municipio

sin refrescarnos en sus aguas, por

lo que un chapuzón en la playa de

Bañaderos-El Puertillo o en las piscinas

naturales de Los Charcones, si lo

prefieres, seguido de un aperitivo en

los restaurantes de la zona, se convertirá

en el plan perfecto para terminar

la estancia en nuestro primer

destino.

2. Firgas

El pequeño pueblo de Firgas está

ligado al agua, lo que no es casualidad,

ya que se caracteriza por presentar

zonas de lomos alargados y

estrechos que son atravesadas por

una densa y compleja red de barrancos.

Por este motivo, el senderismo

es uno de los principales atractivos

turísticos de la zona.

Partiendo del casco urbano, observamos

numerosos rincones culturales y

religiosos. Los más emblemáticos son

la Iglesia Parroquial de San Roque, la

Casa de la Cultura, el Ayuntamiento y

la Fuente Conmemorativa, punto desde

el que salimos hasta llegar al Paseo

de Canarias.

Aquí contemplamos los mosaicos que

representan a cada isla y, siguiendo la

calle peatonal por la avenida de Gran

Canaria, vemos atravesar el agua calle

abajo a través de una fuente a cuyo

costado están los escudos heráldicos

de los 21 municipios que nos conforman

y el escudo insular.

Otro de los enclaves a destacar es el

molino de gofio de Firgas, situado

sobre la Acequia de la Heredad de

Aguas de Arucas y Firgas junto con el

antiguo almacén de grano y la casa

del molinero. Centrándonos en las

vistas y para admirar la confluencia de

tres majestuosos barrancos -Las Madres,

Guadalupe y Aguaje-, debemos

movernos hasta el mirador de Las Madres,

próximo al casco histórico. Una

estampa enmarcada en el Parque Rural

de Doramas, lugar que quedará en

nuestra memoria para siempre.

Además, parte del municipio está enclavado

en la antigua Selva de Doramas,

por lo que descubrimos barrancos

y vegetación de extrema belleza

como la Reserva Natural Especial de

Azuaje, el barranco más profundo del

norte, que engloba endemismos y

uno de los escasos reductos de laurisilva

que existen. Otro de los espacios

naturales más llamativos son la Montaña

de Firgas y el Pico de Osorio, visitas

ineludibles que bordean Firgas

permitiendo unas panorámicas espléndidas

de toda la capital y el norte

de la Isla.

3. Moya

La villa de Moya se erige entre barrancos

y una serie de lomos que descienden

hacia la costa, dando lugar a un

espacio accidentado con un rico patrimonio

cultural.

En nuestra ruta no puede faltar un

paseo para conocer los edificios emblemáticos

de la villa, entre los que

destaca la Iglesia de Nuestra Señora

de la Candelaria, localizada en riscos

que se precipitan sobre el Barranco

de Moya; la Casa Museo Tomás

Morales, con una amplia colección

del poeta; la Heredad de Aguas, una

magnifica pieza de piedra basáltica, o

la Ermita de San Bartolomé de Fontanales,

construida en 1872. Una vez hayamos

contemplado su arquitectura,

Gáldar

tomamos dirección el Parque Natural

de Doramas para descubrir los senderos

de Los Tilos de Moya, otro de

los últimos reductos de laurisilva de

la Isla y punto de visita obligada por

su diversidad.

Después, recargamos energía con un

buen plato casero en la zona y tratamos

de adquirir una buena muestra

de gastronomía local. Para ello, Fontanales

cuenta con un buen número

de queserías, aunque no debemos

alejarnos sin probar su representativa

repostería. Así que no dudes en comprar

suspiros y bizcochos de Moya y

disfruta de los bollos de anís y las truchas,

también muy típicos.

Para despedirnos, pasearemos por

el relajante litoral, que cuenta con la
---
Nº 11 DISCOVER GRAN CANARIA I DESCUBRE GRAN CANARIA

51

Firgas

playa de La Caleta y las piscinas naturales de aguas

transparentes del Charco de San Lorenzo.

4. Santa María de Guía

Una costa abrupta y rocosa identifica a Santa María

de Guía, cuyo entorno recoge una gran diversidad

que presume de que gran parte de sus espacios

naturales estén catalogados como Espacios Naturales

Protegidos.

Comenzamos el viaje en el casco histórico, que

nos permite admirar la belleza de sus edificaciones,

gobernadas por el color. Aquí nos detenemos

a contemplar las más notorias como la neoclásica

Iglesia Parroquial, flanqueada por dos torres que vigilan

obras de arte de gran importancia, la Casa de

Los Quintana, el Museo de Néstor Álamo y la Ermita

de San Roque, que forman parte del Patrimonio

Histórico.

Saliendo del casco urbano, apreciamos el entorno

natural del municipio, en el que resalta la Reserva

Natural Especial del Brezal, el Parque Rural de Doramas,

el Monumento Natural del Montañón Negro

o el Paisaje Protegido de Las Cumbres, espacios

de gran belleza compartidos con localidades

colindantes.

Pero si existe un lugar al que prestar toda nuestra

atención es el Cenobio de Valerón, un conjunto

arqueológico declarado Bien de Interés Cultural y

un granero fortaleza donde los antiguos canarios

almacenaban los granos recolectados durante el

año. El Tagoror del Gallego es otro de los yacimientos

arqueológicos de interés. Aproximándonos al

límite, contemplamos la costa rocosa propia del

norte isleño y distinguimos las playas de San Felipe,

poco transitada e ideal para sumergirnos en

sus aguas, y la de Roque Prieto, con una piscina

natural.

No podemos irnos de Guía sin probar su fabuloso

Queso de Flor, elaborado con leche cruda de vaca

y oveja y utilizando la alcachofa de la flor de cardo

azul, un producto premiado en todo el mundo. Así,

finalizamos nuestra ruta en Montaña Alta, epicentro

de la popular Fiesta del Queso.

5. Gáldar

Tras abandonar Guía, procedemos a conocer Gáldar,

la que fuera primera capital isleña. Un acontecimiento

histórico marcado porque los primeros

reyes de Gran Canaria decidieron asentarse en el

territorio, llamado antiguamente Agáldar, y razón

por la que el pueblo mantiene gran parte de su arquitectura

antigua, siendo de las pocas ciudades

canarias que conservan parte del patrimonio prehispánico.

Reflejo de su pasado lo hallamos en el Parque Arqueológico

de la Cueva Pintada, de visita obligatoria,

uno de los principales hallazgos del arte rupestre

del área atlántica que muestra cómo vivía la población

prehispánica, el desarrollo de la conquista de la

corona castellana y cómo Agáldar quedó sepultada

hasta que un golpe de suerte permitió que viera

la luz. Además, encontramos la necrópolis de La

Guancha, un yacimiento arqueológico que explica

cómo eran los enterramientos de los antiguos pobladores.

Entre otras edificaciones prehispánicas,

el mayor de los Túmulos conservados actualmente.

Profundizando en el casco histórico, reconocemos

una emblemática arquitectura de la mano de la

Iglesia de Santiago de Gáldar, uno de los templos

más bellos de Canarias; el antiguo Ayuntamiento,

custodiado por uno de los ejemplares del drago

más antiguo de Gran Canaria; el Teatro Municipal, la

llamada "Plaza Grande", uno de los mejores ejemplos

de Alameda del siglo XIX en Canarias, y el Museo

de Antonio Padrón. En la calle Capitán Quesada,

encontramos el Mercado La Recova de Gáldar,

perfecto para adquirir productos locales y probar el

queso.

Sabemos que admirar las vistas es importante y

por ello nos trasladamos a las Montañas de Gáldar

y Amagro para ver un paisaje de singular belleza a

medida que vamos ascendiendo. También iremos a

los Pinos de Gáldar, debido a la grandiosidad de la

panorámica y el interés del entorno.

La costa de Gáldar es variada, combina playas con

piscinas naturales. Sin embargo, nos decantamos

por visitar la inigualable playa de Sardina para luego

acercarnos al inconfundible Faro de Sardina, que

nos brinda uno de los atardeceres más icónicos de

la Isla, con unos colores que dibujan el cielo como

si de un cuadro se tratara. Otros destinos costeros

relevantes son las playas de los Dos Roques, Punta

de Gáldar y las piscinas naturales de El Agujero.

6. Agaete

La ruta norte finaliza en el municipio de Agaete,

de los más turísticos de la Isla. Un pueblo caracterizado

por sus típicas casas blancas y marcado por

la tradición pesquera y una abrupta belleza. Para

conocerlo en profundidad, es necesario recorrer su

casco histórico, acercarnos a la Iglesia de La Inmaculada

Concepción y su plaza, así como al Huerto

de las Flores, un jardín botánico con variedad de

especies vegetales exóticas y lugar de reunión de

poetas canarios.

Asimismo, nos adentramos en el Parque Natural

de Tamadaba, un espacio protegido con el mayor

pinar de Gran Canaria y cuyo acceso solo es posible

a pie. En él vislumbramos el Valle de Agaete, precioso

paraje con fincas de frutas tropicales, cítricos

y café, producto clave del municipio.

La topografía de Agaete es abrupta y sobresalen El

Risco y Guayedra, alcanzando una altitud máxima

de 1.180 m en la zona cumbrera del Pinar de Tamadaba.

Volviendo al casco, paseamos disfrutando de la brisa

marina por el Puerto de Las Nieves, con la playa

de Las Nieves, los restos del Dedo Dios de fondo y

vistas a los acantilados con forma de cola de dragón

donde destaca el impresionante Roque Faneque.

Al final del trayecto reconocemos la plaza de

Los Poetas y más tarde tres piscinas naturales conectadas

entre sí, Las Salinas, enclave inmejorable

para sumergirnos en las serenas aguas del Atlántico

o, si lo prefieres, despedir el viaje con un ocaso

extraordinario y el Teide perfilando el horizonte.
---
52

DISCOVER GRAN CANARIA I DESCUBRE GRAN CANARIA Nº 11

CENTRAL ROUTE

If you are looking to discover some of the most valuable natural jewels and the most charming

villages in Gran Canaria, this is the route for you. It will take you to the highest point of the

island, where you will get to see some stunning locations, all with a long history and a deeprooted

religious culture, as well as build your strength back with some typical local cuisine.

We set off from Las Palmas de Gran Canaria on course for our first destination, the picturesque

town of Santa Brígida, followed by San Mateo, Tejeda, Artenara, Valleseco and Teror.

1. Santa Brígida ■ 2. San Mateo ■ 3. Tejeda ■ 4. Artenara ■ 5. Valleseco ■ 6. Teror

Artenara

1. Santa Brígida

As we approach the town centre we

are struck by its architecture, a peculiar

fusion between its agricultural

past and modern-day residential

buildings, with eminently traditional

Canary features. Of special note

is the Parish Church of Santa Brígida,

with its neo-gothic exterior and

a typical island church structure on

the inside.

Another local attraction is Atalaya de

Santa Brígida, an ensemble of cave

houses from the pre-Hispanic period

where traditions such as pottery are

still preserved, using age-old techniques,

the results of which can be admired

in the Casa Panchito Eco-Museum.

At weekends in the town centre, set

in a ravine brimming with beautiful

palm trees, we can stroll around the

market along the high street and

pick up some fine local crafts, before

stopping off at La Casa del Vino, the

perfect haven for sampling a range

of Gran Canaria Designation of Origin

wines, together with some local

cheeses.

Villa de Santa Brígida is known for

its stunning countryside, featuring

the famous Drago de Barranco Alonso

dragon tree, perched on a steep

cliff in the area of the same name,

which is a focal point due to its majestic

appearance and the fact it is

nearly 500 years old. As we follow

along the main road towards Bandama,

we come to Monte Lentiscal,

where we find the Natural Bandama

Monument, a stunning 200-metre

deep volcanic crater with a one-kilometre

diameter. This is one of the island's

most visited attractions, with

a viewing point that provides some

spectacular views over the capital

city and part of the northwest of the

island.

2. San Mateo

We now move on towards Vega de

San Mateo, eight kilometres on from

Santa Brígida. Once we reach the

town centre, we must make our way

to the old part of town and see its

Parish Church, the tree-lined Alameda

de Santa Ana and the Town Hall,

an exquisite neo-Canarian style building.

Another of the places not to

be missed is the farmers and crafts

market, the main economic driving

force of the region, which has become

highly popular and which offers

all kinds of arts and crafts.

The municipality is also home to

some unique views over Gran Canaria's

hillsides and summit, at Pozo de

Las Nieves. Other important landmarks

include Hoya del Gamonal, El

Roque Cruz del Saucillo, which together

make up a protected natural

landscape around the summit area

and are of high value due to the endemic

species growing there.

3. Tejeda

Santa Brígida

As we continue along winding roads,

taking in the colours and scents of the

surrounding vegetation, we come to

Tejeda, officially one of the prettiest

villages in Spain.

Here we are witnesses to a strong

cultural and artistic presence, in the

shape of the Abraham Cárdenes

Sculpture Museum, the Ethnographic

Museum and the Medicinal Plant

Centre, which highlights Tejeda's

wide variety of local plant species. Paying

special attention to the architecture,

we divert our course to the Parish

Church of Our Lady of El Socorro.

A visit to Tejeda is essential for those

who wish to learn about the island's

rich archaeological heritage, as we

come across some archaeological

vestiges including burial caves, etchings,

paintings and houses. A good

example is Roque Bentayga, a sacred

site for the aboriginal dwellers, Andén

de Tabacalete, Cuevas del Rey and El

Roquete- and surrounding area.

We set off towards one of the bestknown

symbols of Gran Canaria, the

Roque Nublo, an enormous basalt

rock standing over 70 metres tall, a

result of volcanic activity. As one of

the most popular picture postcard settings,

it is a beguiling sight which will

linger long in the memory.

We cannot leave Tejeda without sampling

its specialities, so we head to

the market to pick up some marzipan

and the celebrated bienmesabe,

made with its famous local almonds,

the star product which has its own

Almond Trees in Bloom Fiesta, held

every February.

4. Artenara

Artenara is situated at the island's

summit and is noted for its steep orography

which is the setting for a di-
---
Nº 11 DISCOVER GRAN CANARIA I DESCUBRE GRAN CANARIA

53

Teror

6. Teror

The final stage of our route around

the centre of the island takes us to

Teror. It is a municipality with a huge

historical and natural relevance that

is also the centre of pilgrimage in

Gran Canaria and one of the most

important in the Canaries, as for local

Canarians we cannot conceive of the

town's history without its beloved Virgin

of El Pino.

Legend has it that on 8th September

1481 a virgin appeared on the top of

a pine tree, who they called Virgin

of El Pino, the current Patron Saint

of the Diocese of the Canaries in the

province of Las Palmas and a revered

religious figure for the islanders. The

Villa Mariana de Teror has a carving of

the virgin at the Basilica of Our Lady

of El Pino, declared a Historic and Artistic

Site in 1979, the most important

building in the municipality and one

of the leading religious architectural

structures in the archipelago.

verse range of natural spaces, joining

up typical interior landscapes with

other coastal landscapes. Its territory

runs down to the coast, surrounded

by huge extensions of Canary pine

woodland peculiar to the area of Tamadaba,

from where we look down

over Agaete and the stunning Teide

mountain in the neighbouring island

of Tenerife.

Likewise, places such as Tirma, Tamadaba,

Barranco Hondo and Mesa de

Acusa stand out all around. In addition,

Artenara is home to archaeological

settlements which provide an

insight into the lives of the ancient

Canary dwellers and archaeological

tours to decypher them. We should

also not miss going to the Miguel de

Unamuno Viewpoint, which provides

another fine view over the volcanic

crater, the Bentayga and Nublo rocks

emerging from the clouds.

5. Valleseco

Valleseco is a region that was once

a huge laurel forest and which today

preserves a lush vegetation, so

not surprisingly 80% of its territory

is designated as a Protected Natural

Area. It boasts a wide variety of trails

and footpaths and a bastion of laurel

woodland of great botanical value at

Barranco de la Virgen, located in the

Doramas Rural Park, from where we

can look out over La Laguna de Valleseco

and Pico de Osorio.

La Laguna Recreational Area is worth

a visit, as it is home to a wide range

of Canary flora and has a range of facilities

for visitors. Calderetas, another

place not to miss, stands out as one

of the most beautiul volcanic craters

on the island, with its fine blend of

natural colours, creating quite a unique

picture. Continuing towards Cueva

Corcho y Crespo, we discover the

vast pine woodland of the Protected

Tejeda

Valleseco

Summit Area with panoramic views

all the way down to the sea. At the

municipality's border, we are treated

to a landscape of contrasts alongside

Gran Canaria's most recent volcano,

Montañón Negro.

As for cultural heritage, we can see

fountains, pillars, irrigation channels

and mills of high ethnographic value.

We can also visit to the Church of San

Vicente Ferrer, probably the town's

most important building.

Having seen the religious hub of Teror,

we take a stroll around Plaza de

Teror and neighbouring areas such as

La Alameda, the Town Hall, La Fuente

Agria and the Cister Monastery. There

is no doubt you will be enamoured by

its colourful houses, cobbled streets,

typical Canary balconies and the natural

surroundings that wrap around

the old part of town and adorn most

of the region.

On the subject of the natural surroundings,

we should visit its protected

areas at Caldera de Pino Santo, Finca

de Osorio, Doramas Natural Park or

Agujereada. Teror thus stands as an

essential place to visit in Gran Canaria,

and is an ideal location for hiking

enthusiasts.

Finca de Osorio should also not be

missed, because it is the maximum

expression of nature. The estate is

home to trails, mountains and ravines

in an ecosystem featuring chestnut

trees together with laurel forests, making

it a truly magical, relaxing place,

perfect to escape our daily routine

and to admire nature with no distractions.

We cannot finish this route without

trying the famous chorizo from Teror.

The town centre is the place to go to

order a chorizo roll with a strawberry

flavoured Clipper, a local soft drink,

which is one of the most typical combinations

here. If you prefer, you can

purchase some delicious pan de huevo

(bread made with egg) and cheese,

which are sold at market stalls

which are open on Sundays.
---
54

DISCOVER GRAN CANARIA I DESCUBRE GRAN CANARIA Nº 11

RUTA CENTRO

Si quieres descubrir algunas de las joyas naturales más valiosas y los pueblos con más encanto de

Gran Canaria, esta es tu ruta. Aquí alcanzarás el punto más alto de la Isla, pero también conocerás

parajes impresionantes con una larga historia y cultura religiosa, además de reponer fuerzas con

la cocina más típica.

Partimos desde Las Palmas de Gran Canaria para conocer nuestro primer destino, el pintoresco

pueblo de Santa Brígida, al que siguen San Mateo, Tejeda, Artenara, Valleseco y Teror.

1. Santa Brígida ■ 2. San Mateo ■ 3. Tejeda ■ 4. Artenara ■ 5. Valleseco ■ 6. Teror

Tejeda

Valleseco

Teror

1. Santa Brígida

Visitamos el casco urbano y observamos

su arquitectura, una peculiar fusión

entre el pasado agrícola y el presente

residencial en la que sobresalen

elementos de la tradición canaria. En

especial, brilla la Iglesia Parroquial de

Santa Brígida, con un exterior neogótico

pero con la estructura típica de

iglesias isleñas en su interior.

Otro de los atractivos es la Atalaya de

Santa Brígida, un poblado de casas

cueva de la época prehispánica que

aún conserva tradiciones como la alfarería,

que sigue técnicas antiquísimas

y cuyas obras podrás admirar en

el Ecomuseo Casa Panchito.

En el núcleo urbano, establecido en

un barranco repleto de bellos palmerales,

podemos pasear por el mercadillo

de la calle principal durante el

fin de semana y adquirir productos

artesanales y hacer una parada en La

Casa del Vino, el marco perfecto en el

que degustar los caldos de Denominación

de Origen Gran Canaria con

quesos isleños.

La Villa es conocida por su riqueza

paisajística, donde destaca el Drago

de Barranco Alonso, colgado de

un risco en la zona del mismo nombre,

que acapara la atención por su

majestuosidad y una antigüedad

próxima a los 500 años. Siguiendo

la carretera en dirección Bandama,

en Monte Lentiscal, encontraremos

el Monumento Natural de Bandama,

una impactante caldera volcánica

con una profundidad de 200 metros

y un kilómetro de diámetro. Una de

las atracciones isleñas más visitadas,

que brinda una panorámica de la capital

y parte de la zona noroeste desde

su mirador.

2. San Mateo

Seguimos nuestro camino hacia la

Vega de San Mateo, a ocho kilómetros

de Santa Brígida. Ya en el pueblo,

es imprescindible pasear por el casco

antiguo para hallar su Iglesia Parroquial,

la Alameda de Santa Ana y el

Ayuntamiento, un conjunto de exquisito

estilo neocanario. Otra de las citas

ineludibles es el mercado agrícola y

artesanal, el principal motor económico,

que ha ganado gran notoriedad

y ofrece todo tipo de productos artesanales.

El municipio también nos descubre

panorámicas únicas de las medianías

y de la Cumbre de Gran Canaria, donde

se localiza el Pozo de Las Nieves.

Otro de los enclaves más importantes

son la Hoya del Gamonal, el Roque y

la Cruz del Saucillo, que constituyen el

paisaje natural protegido enmarcado

en la zona de cumbres y presentan un

gran valor por sus endemismos.

3. Tejeda

Atravesando sinuosas carreteras y

disfrutando de los colores y olores

que nos regala la vegetación, llegamos

a Tejeda, oficialmente uno de los

pueblos más bonitos de España.

Aquí somos testigos de una fuerte

presencia cultural y artística y tropezamos

con el Museo de Esculturas

Abraham Cárdenes, el Museo Etnográfico

y el Centro de Plantas Medicinales,

que muestra las variedades vegetales

propias de Tejeda. Haciendo

hincapié en la arquitectura, nuestro

recorrido se desvía a la Iglesia Parroquial

de Nuestra Señora del Socorro.

Visitar Tejeda es primordial para quienes

deseen conocer el rico patrimo-
---
Nº 11 DISCOVER GRAN CANARIA I DESCUBRE GRAN CANARIA

55

Artenara

nio arqueológico de la Isla, porque

encontramos vestigios arqueológicos

como cuevas de enterramientos,

grabados, pinturas y casas. Un buen

ejemplo es el Roque Bentayga, lugar

sagrado para los aborígenes, y otros

como el Andén de Tabacalete, Cuevas

del Rey y el Roquete- y de su entorno.

Ponemos rumbo a uno de los símbolos

más reconocidos de Gran Canaria,

el Roque Nublo, una enorme

roca basáltica de más de 70 metros

de altura, producto de la actividad

volcánica. Una de las estampas más

turísticas, atrapa al observador y permanece

en sus recuerdos.

No podemos abandonar Tejeda sin

probar sus especialidades, así que en

el mercadillo conseguimos mazapanes

y el célebre bienmesabe, elaborados

con sus famosas almendras,

producto estrella de su gastronomía

que cuenta con la Fiesta del Almendro

en Flor, celebrada en febrero.

4. Artenara

Artenara se sitúa en la cumbre isleña

y se caracteriza por una abrupta orografía

que facilita la existencia de espacios

naturales diversos, reuniendo

paisajes propios del interior y otros

típicos del litoral. Su territorio llega

hasta una costa rodeada de grandes

extensiones de bosques de pino canario

tan peculiares de las zonas de

Tamadaba, desde donde podemos

vislumbrar Agaete y el imponente

Teide de la isla vecina.

De esta forma, localizaciones como

Tirma, Tamadaba, Barranco Hondo

o Mesa de Acusa destacan entre sus

parajes. Además, en Artenara apreciamos

yacimientos arqueológicos

que muestran cómo vivían los antiguos

pobladores canarios y disponemos

de rutas arqueológicas para

descifrarlos. Tampoco podemos

perdernos el Mirador de Miguel de

Unamuno, que nos regala otra de las

fotografías de la caldera del volcán,

el Roque Bentayga y el Nublo emergiendo

entre las nubes.

5. Valleseco

Valleseco es una villa que formó parte

de un gran bosque de laurisilva y

que conserva una abrigada vegetación

actualmente, y es que el 80% de

su territorio es Espacio Natural Protegido.

Dispone de una gran variedad

de senderos y caminos y un reducto

de laurisilva de gran valor botánico

como el Barranco de la Virgen, en el

Parque Rural de Doramas, donde admiramos

La Laguna de Valleseco y el

Pico de Osorio.

Santa Brígida

San Mateo

Visitamos el Área Recreativa de La Laguna,

que alberga una extensa representación

de flora canaria y cuenta con

servicios adaptados para visitantes.

Calderetas, otra cita ineludible, se alza

como una de las calderas volcánicas

más bellas, en ella se entremezclan los

colores de la naturaleza, creando un

cuadro único. Continuando nuestro

recorrido hacia Cueva Corcho y Crespo,

descubrimos los vastos pinares del

Espacio Protegido de las Cumbres y

unas vistas que se extienden hasta el

mar. En el límite municipal, nos deleita

un paisaje lleno de contrastes junto al

volcán más reciente de Gran Canaria,

el Montañón Negro.

En cuanto al patrimonio cultural, contemplamos

fuentes, pilares, acequias

o molinos de gran valor etnográfico.

También reconocemos la Iglesia de

San Vicente Ferrer, probablemente el

edificio más importante de la localidad.

6. Teror

En la fase final de nuestra ruta por el

centro nos adentramos en Teror. Un

municipio con gran valor histórico y

natural que, además, es el centro de

peregrinación de Gran Canaria y uno

de los más relevantes de Canarias,

pues los canarios no concebimos la

historia del pueblo sin la Virgen del

Pino.

Cuenta la leyenda que el 8 de septiembre

del 1481 apareció una virgen

en lo alto de un pino, a la que llamaron

Virgen del Pino, la actual patrona de

la Diócesis de Canarias de la provincia

de Las Palmas y referente religioso de

los isleños. Así, la Villa Mariana de Teror

la acoge en la Basílica de Nuestra

Señora del Pino, declarado Conjunto

Histórico Artístico en 1979, el edificio

más importante del municipio y uno

de los más destacados de la arquitectura

religiosa del Archipiélago.

Tras conocer el epicentro religioso, paseamos

por la Plaza de Teror y zonas

como La Alameda, el Ayuntamiento,

La Fuente Agria o el Monasterio del

Cister. Sin duda, te enamoras de sus

casas coloridas, las calles adoquinadas,

los balcones típicos canarios y la

naturaleza que rodea el casco antiguo,

que adornan gran parte del territorio.

Respecto al entorno natural, estamos

obligados a visitar sus espacios protegidos

de la Caldera de Pino Santo, la

Finca de Osorio, el Parque Natural de

Doramas o la Agujereada. Así, Teror se

alza como un imprescindible de Gran

Canaria, convirtiéndose en una de las

localizaciones más óptimas para hacer

senderismo.

La Finca de Osorio es una cita obligatoria,

el recurso natural por excelencia.

Aquí hallamos caminos, montañas

y barrancos en un ecosistema

lleno de castañeros junto a bosques

de laurisilva, que la convierten en un

lugar mágico y en calma, perfecto

para desconectar de la rutina y admirar

la naturaleza sin distracciones.

No podemos terminar esta ruta sin

probar el chorizo de Teror. En los alrededores

del casco histórico, pedimos

un bocadillo de chorizo con un

Clipper de fresa, un refresco local, una

de las combinaciones más típicas. Si

lo prefieres, puedes comprar el delicioso

pan de huevo o el queso, que se

venden en los puestos del mercadillo,

abierto los domingos.
---
56

DISCOVER GRAN CANARIA I DESCUBRE GRAN CANARIA Nº 11

EAST ROUTE

The east of Gran Canaria has a unique coastline, where gentle slopes fuse with steep

ravines, lending a certain mystery and identity to the beaches, accentuated by the

area's windy conditions and its crystal clear waters. There are five municipalities, each

with their own enchanting beaches, a rich archaeological heritage and a culture with

deep-rooted Canary tradition that make up this fascinating route, one not to be missed.

Our journey starts in Las Palmas de Gran Canaria, and continues at the island's former

capital, Telde, before moving on to Valsequillo, Ingenio and Agüimes. Don't forget to

bring your swimming gear, and dare to dive in to this adventure with us. You won't

regret it.

1. Las Palmas de Gran Canaria ■ 2. Telde ■ 3. Valsequillo ■ 4. Ingenio ■ 5. Agüimes

Las Palmas de Gran Canaria

1. Las Palmas de Gran Canaria

Our first port of call is around the historical

streets and façades of the district

of Vegueta, featuring buildings

such as the Santa Ana Cathedral, the

Casas Consistoriales council offices,

the Episcopal Palace and the Casa Regental,

which were the first to spring

up in the fledging capital city. Other

emblematic constructions with quite

stunning architecture and of cultural

relevance are: Plaza de Santo Domingo

and Plaza del Espíritu Santo, the

Canary Museum, the Columbus House

Museum and the Atlantic Modern

Art Centre (CAAM).

On the opposite side to Vegueta, separated

by the Guiniguada ravine, is

the district of Triana. This area is home

to the Pérez Galdós Theatre, the Hotel

Madrid, the Gabinete Literario, the

Pérez Galdós House Museum and

the modernist Quegles palace, from

where we can access the long pedestrian

street of Calle Mayor de Triana,

which opens out in San Telmo.

This is the picture postcard area of

the city and is a wonderful place for

a stroll, although there is always a

lot of hustle and bustle going on, as

it constitutes one of the city's main

shopping areas. Leaving behind Triana,

we continue along Paseo de Tomás

Morales as far as the El Obelisco

or Plaza de la Constitución. Here, we

turn down towards the beach where

we come to Plaza de la Feria and admire

its surroundings, where we can

catch a glimpse of the monument in

honour of Benito Pérez Galdós, the island's

most internationally renowned

writer.

At the heart of the capital its the oldest

hotel, the iconic Hotel Santa

Catalina, and the Néstor Museum,

which displays the majority of the

work of artist Néstor Martín-Fernández

de la Torre. This area also features

the gardens at Doramas Park, which

combines the Pueblo Canario with

endemic plant species. Its waterfalls

and extensive vegetation invite us to

sit back and relax following our brief

visit to the capital.

As we move out of this enclave,

we look over to the Sports Marina,

which culminates in Las Alcaravaneras

beach and the shopping area of

Mesa y López. Along the promenade

leading to the Port, we are treated to

stunning views as we cross Santa Catalina

Park, featuring the Elder Science

Museum and the Miller Building.

Our walk finally opens out onto the

immense Las Canteras beach, which

stretches for three kilometres from

the Auditorio Alfredo Kraus to La Isleta,

joined up by a long promenade.

This is an ideal spot to watch the sun

go down, an essential treat for all visitors

to Gran Canaria.

2. Telde

10 kilometres to the south of the capital

is Telde, famous for its many archaeological

remains, reflecting its

important role as one of the orginal

aboriginal kingdoms. The region has

settlements at Baladero, Tufia, Cuatro

Puertas, Tara and Cendro, providing

us with a fascinating insight into the

lives of the islanders' ancestors.

The settlements of Cendro, Tara and

Baladero are made up of sets of cave

houses, with Baladero being one of

the most important sacred sites in

aboriginal culture, while Tufia is the

largest settlement of them all.

Meanwhile, the town centre of Telde

is an essential place to visit, with

its two main neighbourhoods, San

Juan and San Francisco. The former is

home to the church of San Juan Bautista

and the Plaza Mayor, which contains

the main council and religious

buildings. Two other places not to be

missed here are the León y Castillo

House Museum and Rincón Plácido

Fleitas. The narrow and splintered

streets of the district of San Francisco

are characterised by gabled tile roofs

and long whitewashed walls that are

interspersed with cobbled streets.

We can stop here to take a look at the

Church of San Francisco.

We now turn our attention to the

coast, with beautiful cliffs and crushed

lava beaches, which are a delight.

The coastline is packed with family

beaches such as La Garita, Salinetas

and Melenara, as well as other more

mysterious and wild beaches such

as Playa del Cura, Playa del Hombre,

Aguadulce and Tufia. We say farewell

to Telde from any one of these charming

settings, after having sampled

some typical cuisine, with fish and

seafood among its main ingredients.

3. Valsequillo

Valsequillo offers us a tour around

the church of San Miguel, the Benito

Pérez Galdós Municipal Library and El

Colmenar barracks, which constitute

one of the municipality's most important

historic heritage sites, given Site

of Cultural Interest status by the Government

of the Canariy Islands.

However, the real attraction of this

municipality is its landscapes, which

constitute a high ecological value.

We refer to Barranco de Los Cerníca-
---
Nº 11 DISCOVER GRAN CANARIA I DESCUBRE GRAN CANARIA

57

los, the hillsides of which are covered with wild olive groves and an important

willow tree wood along its ravine bed. Its top attraction is Caldera de

los Marteles, a crater considered to be of great geological relevance and

defined as an ecologically sensitive area.

Our visit to Valsequillo is rounded of with a stroll around the town's streets,

where we can pick up some fine pieces of craftwork or some fresh, local

produce.

4. Ingenio

The city of Ingenio emerged from water, agriculture and reedbeds, a legacy

that is conserved today, as the area is recognised for its craft and

agricultural activity. Indeed, it is the foremost craft region in Gran Canaria.

Our tour kicks off around its historical area, made up of an old town centre

at Plaza de la Candelaria, with the Town Hall and the Church of La Candelaria,

and the district of Carrizal, with its Church of Virgin of El Buen

Suceso. We can observe how the streets have preserved their traditional

Canary-style architecture, where we come to Néstor Álamo Park, home

to the tallest palm tree in the Canaries, standing around 30 metres high.

To get to know the soul of this municipality with its craftwork tradition we

should head for the Casa del Reloj (watch house), the Ruta de los Molinos

de Agua (water mills) and the Museo de Piedras y Artesanía Canaria (Canary

craft and stone museum); as well as the Municipal Craft Workshop,

which delves into the local craft industry, represented by many fine examples

of typical crotchet work that has been applied to fashion garments.

Ingenio

The town is well known for its location near to stunning natural monuments,

including Guayadeque Ravine and El Draguillo Ravine, and the

natural reserve at Caldera de los Marteles, El Palomar or Granero Cuevas

Muchas. Likewise, it is the site for rural settlements such as La Pasadilla,

with its recreational area. At El Ratiño and Montaña Las Tierras we can

appreciate a multitude of caves that were used as a necropolis, houses

and funeral sites during the pre-Hispanic period. Make a beeline for them

along their trails and footpaths.

Down at the coast, we come to El Burrero, a small sand and pebble beach

that is ideal for sailing and windsurfing, thanks to the prevailing wind and

the waves in the area. It is the ideal spot to get clear our heads before we

set off for our final destination.

5. Agüimes

A stroll around the historic town centre of Agüimes, its green areas and

natural settings, and gaining an insight into its legacy is highly recommended

here in the east of Gran Canaria. The municipality is home to a

wide range of traditional Canary architecture, the highlight of which is the

Parish Church of San Sebastián, declared a Municipal Historic and Artistic

Monument back in 1981. The Plaza de San Antón is the site for the Agüimes

Visitor Centre, which gives a clear insight into the architectural, artistic

and historical features of the town centre.

Agüimes

The town is also home to two other natural settings that are an essential

visit: Temisas, with its spectacular mountainous landscape, Roque

Aguayro and the most important olive grove in the Archipelago; and Guayadeque,

with the settlement of Cueva Bermeja and the chapel of San

Bartolomé Apóstol.

We should also stop off at Montaña de Agüimes, which preserves archaeological

vestiges of aboriginal cave paintings. The most influential settlement

is at Morro del Cuervo, which has a unique ensemble of petroglyphs.

The Balos petroglyphs, situated in the ravine of the same name, constitute

one of the most important engravings in the Archipelago.

There are a good number of beaches along its coastline, Arinaga beach

being a fine example, while one of the busiest is Vargas beach, considered

one of the finest in the world for windsurfing, and El Cabrón beach, which

boasts one of the richest seabeds in the Canaries.

Vegueta. Las Palmas de Gran Canaria

Telde
---
58

DISCOVER GRAN CANARIA I DESCUBRE GRAN CANARIA Nº 11

RUTA ESTE

El este de Gran Canaria nos muestra un singular paisaje litoral, en el que delicadas pendientes se

fusionan con abruptos barrancos, otorgando cierto misterio e identidad a sus playas, enfatizadas por

el viento característico de la zona y sus aguas cristalinas. Cinco municipios de encantadoras playas,

un rico patrimonio arqueológico y una cultura marcada por la tradición canaria componen esta ruta

que no te puedes perder.

Nuestro viaje comienza en Las Palmas de Gran Canaria y continúa en la antigua capital de la Isla, Telde,

hasta llegar a Valsequillo, Ingenio y Agüimes. No te olvides de tu bañador y atrévete a sumergirte con

nosotros en esta aventura por el este, no te arrepentirás.

1. Las Palmas de Gran Canaria ■ 2. Telde ■ 3. Valsequillo ■ 4. Ingenio ■ 5. Agüimes

Las Salinas de Arinaga

Valsequillo

Ingenio

Telde

1. Las Palmas de Gran Canaria

Nuestro viaje comienza entre las históricas

calles y fachadas del barrio de

Vegueta, donde edificios como la Catedral

de Santa Ana, las Casas Consistoriales,

el Palacio Episcopal o la Casa

Regental encierran las primeras pinceladas

que dieron vida a la capital.

Otras construcciones emblemáticas

de impresionante arquitectura y relevancia

cultural son: la Plaza de Santo

Domingo y la del Espíritu Santo,el

Museo Canario, la Casa de Colón o el

Centro Atlántico de Arte Moderno.

Al margen de Vegueta, separado

por el barranco Guiniguada, reconocemos

el barrio de Triana. Aquí descubrimos

el Teatro Pérez Galdós, el

Hotel Madrid, el Gabinete Literario, la

Casa Museo Pérez Galdós y el palacete

modernista Quegles, enclaves

desde los que podemos acceder a la

Calle Mayor de Triana, que desemboca

en San Telmo.

Se trata de una de las postales por

excelencia de la ciudad y resulta muy

agradable transitar por ella, aunque

siempre mantiene un ritmo frenético,

pues se trata de uno de los núcleos

comerciales de la Isla. Dejando

atrás Triana, seguimos el Paseo de

Tomás Morales para ver el Obelisco o

la Plaza de la Constitución. Aquí, tomamos

rumbo al mar para detenernos

en la Plaza de la Feria y admirar

sus alrededores, donde vislumbramos

el monumento a Benito Pérez

Galdós, nuestro escritor más internacional.

En el centro capitalino nos sorprende

el hotel más antiguo de la ciudad,

el icónico Hotel Santa Catalina, y el

Museo Néstor, que recoge la mayor

parte de la obra del artista Néstor

Martín-Fernández de la Torre. Por la

zona, nos deslumbran los jardines del

Parque Doramas, que reúne el conjunto

del Pueblo Canario y especies

autóctonas. Sus fuentes en cascada

y la extensa vegetación, nos invitan

a relajarnos tras esta breve estancia

en la capital.

Saliendo del enclave, observamos el

Muelle Deportivo, que culmina en la

playa de Las Alcaravaneras y Mesa y

López, otro de los núcleos comerciales.

En el paseo marítimo en dirección

al Puerto, admiramos las vistas

y disfrutamos del trayecto hasta cruzarnos

con el Parque Santa Catalina,

donde se sitúan el Museo Elder de la

Ciencia y el Edificio Miller.

Por último, callejeamos hasta llegar

a la inmensidad de la Playa de Las

Canteras, cuyo recorrido se extiende

en tres kilómetros de paseo marítimo

desde el Auditorio Alfredo Kraus hasta

La Isleta. Podemos ver el atardecer,

un imprescindible de Gran Canaria

para cualquier visitante.

2. Telde

A 10 kilómetros de la capital nos situamos

en Telde, destacada por sus numerosos

vestigios arqueológicos, ya

que fue cabeza de uno de los reinos

aborígenes. La zona cuenta con los

yacimientos de Baladero, Tufia, Cuatro

Puertas, Tara y Cendro, por lo que

nos acercamos para profundizar en la

vida de los antepasados isleños.

Los yacimientos de Cendro, Tara y el

Baladero están formados por conjuntos

de cuevas de habitación, el de

Baladero fue uno de los lugares sagrados

más importantes de la cultura

aborigen, y Tufia se alza como el yacimiento

de más proporciones.

Por otro lado, en el casco histórico es

imprescindible visitar dos de sus barrios,

el de San Juan y el de San Francisco.

En el primero están la Iglesia de

San Juan Bautista y la Plaza Mayor,

en las que se sitúan los principales

edificios civiles y religiosos. Otras dos

visitas esenciales son la Casa Museo

de León y Castillo, y el Rincón Plácido

Fleitas. Calles estrechas y quebradas

caracterizan al barrio de San Francisco,

constituido sobre casas bajas con

tejados a dos aguas y de largas paredes

encaladas que se comunican

entre sí por calles empedradas. Aquí

debemos contemplar el Templo de

San Francisco.

Centrándonos en su costa, acantilados

y playas de lava triturada nos

deleitan con su belleza. Un litoral gobernado

tanto por playas familiares

como La Garita, Salinetas o Melenara

como por otras más misteriosas y salvajes

como Playa del Cura, Playa del

Hombre, Aguadulce y Tufia. En cualquiera

de sus encantadoras playas

despedimos Telde, y degustamos sus

platos típicos, con el pescado y el marisco

como principales ingredientes.

3. Valsequillo

Valsequillo nos lleva hasta la Iglesia

de San Miguel, la Biblioteca Municipal

Benito Pérez Galdós y el Cuartel de El

Colmenar, que constituye uno de los

patrimonios históricos más importantes

del municipio, declarado Bien
---
Nº 11 DISCOVER GRAN CANARIA I DESCUBRE GRAN CANARIA

59

Las Palmas de Gran Canaria

de Interés Cultural por el Gobierno de

Canarias.

Sin embargo, el verdadero interés del

municipio son sus paisajes, que presentan

un alto valor ecológico. Hablamos

del Barranco de Los Cernícalos,

en cuyas laderas habita uno de los

mejores acebuchales y en su cauce

una importante sauceda. Aunque su

principal atractivo es La Caldera de

los Marteles, considerada de interés

geológico y definida como área de

sensibilidad ecológica.

Como última cita,Valsequillo merece

un paseo por las calles más céntricas,

en las que podemos adquirir obras artesanales

o productos frescos locales.

4. Ingenio

La ciudad de Ingenio se fundó entre

aguas, agricultura y cañaverales, un

legado que permanece en la actualidad,

ya que es reconocida por su alto

carácter artesano y agrícola. De hecho,

es el pueblo artesano por excelencia

de Gran Canaria.

Nuestro recorrido empieza en su zona

histórica, compuesta por el casco antiguo

de la plaza de la Candelaria, con

el Ayuntamiento y la Iglesia de la Candelaria,

y el barrio de Carrizal, con la

iglesia de la Virgen del Buen Suceso.

Observamos que las calles conservan

casas de arquitectura tradicional canaria,

entre las que hallamos el parque

Néstor Álamo, hogar de la palmera

más alta de Canarias, de unos

30 metros de longitud.

Para conocer el alma de este municipio

artesanal es necesario conocer la

Casa del Reloj, la Ruta de los Molinos

de Agua y el Museo de Piedras y Artesanía

Canaria; además del Taller Municipal

de Artesanía, que profundiza

en su industria artesana, altamente

representada por los bellos calados

típicos que se han aplicado a la moda.

Agüimes

Por otro lado, la Villa está definida por

su cercanía a imponentes monumentos

naturales: los barrancos de Guayadeque

y del Draguillo, y la reserva

natural de la Caldera de los Marteles,

el Palomar o Granero Cuevas Muchas.

Asimismo, se convierte en el hogar de

asentamientos rurales como La Pasadilla,

con su área recreativa. El Ratiño

y Montaña Las Tierras, donde apreciamos

multitud de cuevas que funcionaban

como necrópolis, viviendas o

funerarias durante la época prehispánica.

No dejes de visitarlas a través de

sus senderos y rutas.

Llegando a la costa, hallamos El Burrero,

una pequeña playa de arena y

callado que es idónea para la práctica

de los deportes de vela y windsurf,

debido a la ventosidad y el oleaje de

la zona. La escapada ideal para desconectar

y partir a nuestro destino final.

5. Agüimes

Transitar por el casco histórico de

Agüimes, sus zonas verdes y parajes

naturales, y profundizar en su legado

se convierte en un imprescindible de

la zona este de Gran Canaria. El municipio

acoge una gran representación

de la arquitectura tradicional canaria

en la que destaca el Templo Parroquial

de San Sebastián, declarado

Monumento Histórico Artístico Municipal

en 1981. Asimismo, en la plaza

de San Antón situamos el Centro de

Interpretación de Agüimes, que permite

interpretar las características

arquitectónicas, artísticas e históricas

del casco.

Por otro lado, la localidad recoge dos

entornos naturales de vital visita: Temisas,

donde se contemplan los paisajes

montañosos, el Roque Aguayro

y el olivar más importante del Archipiélago;

y Guayadeque, con el poblado

de Cueva Bermeja y la capilla de

San Bartolomé Apóstol.

También nos detenemos en la Montaña

de Agüimes, que conserva vestigios

arqueológicos con arte rupestre

y cuevas aborígenes. El yacimiento

más influyente es el Morro del Cuervo,

que cuenta con un singular conjunto

de petroglifos. Los petroglifos

de Balos, situados en el barranco del

mismo nombre, se constituyen como

uno de lo grabados más importantes

del Archipiélago.

En su litoral, observamos numerosas

playas, entre las que brillan las playas

de Arinaga, una de las más transitadas

es Vargas, considerada como una

de las mejores playas del mundo para

la práctica del windsurf, y la playa del

Cabrón, que presume de uno de los

paisajes submarinos más ricos de Canarias.
---
60

DISCOVER GRAN CANARIA I DESCUBRE GRAN CANARIA Nº 11

SOUTHWEST ROUTE

The southwest region offers the most emblematic images of Gran Canaria, offering stark

contrasts between its green hilly areas down to its warm coastline. This area is the favourate

holiday destination for thousands of tourists thanks to its amazing beaches and exquisite

tourist facilities. For this reason, it is necessary we learn about everything that symbolises our

land, which includes the sun and the beach, but by also looking further afield to other locations

that are in no way inferior to the coast.

So we start our route in Santa Lucía de Tirajana before going around the municipalities of San

Bartolomé, Mogán and La Aldea.

1. Santa Lucía de Tirajana ■ 2. San Bartolomé de Tirajana ■ 3. Mogán ■ 4. La Aldea de San Nicolás

Puerto de Mogán

1. Santa Lucía de Tirajana

Santa Lucía de Tirajana is on the way

down to the south. Our starting point

is the Church of Santa Lucía, where

its unique quarry stone façade and

dome attract the attention of all visitors.

Close by is the El Hao Fortress Museum,

of great archaeological interest,

which displays remains found

at the region's settlements and is

surrounded by an attractive garden

with endemic plant species.

As we go down to the coast we come

to the Castillo de la Fortaleza Museum

and the archaeological settlement

of Fortaleza de Ansite, belonging to

Barranco de Tirajana, a ravine containing

house caves and burial caves

plus a huge array of archaeological

material which, according to legend,

was one of the last dwelling areas of

the pre-Hispanic inhabitants. In the

surrounding area we can make out

the Tirajana and Sorrueda reservoirs,

along with a number of palm groves

and beautiful landscapes that we can

admire from one of the strategically

placed viewing points at Guriete, El

Ingenio and La Sorrueda.

From here we can access any of the

municipality's three main towns, namely

Sardina del Sur, El Doctoral and

Vecindario. The latter is a highly developed

shopping and industrial area,

home to the Zafra Museum, which

provides a fascinating insight into the

region's agricultural traditions.

Down at the coast, Pozo Izquierdo

beach comes into view, an internationally

famous beach for windsurfing

enthusiasts and a regular venue for

many world championship events.

This coastal fishing resort is also famous

for its fine local gastronomy.

2. San Bartolomé de Tirajana

Having enjoyed the wonders of Santa

Lucía we move into the largest municipality

on the island in terms of land

surface area, San Bartolomé de Tirajana.

The contrast between its historic

interior and its coastal tourist resort

is highly apparent.

Our route takes us inland which,

thanks to its priviledged position

at the heart of Caldera de Tirajana,

boasts being a top location for sports

and mountain tourism. We come into

the village of Tunte, with its Church

of San Bartolomé de Tirajana and the

Los Yánez House Museum opposite,

where we take a welcome break to

sample the exquisite wines from the

Bodega de las Tirajanas.

The hills and summit area are home

to some breathtaking ravines such

as Tirajana, Arguineguín, Fataga, Los

Vicentes, La Data and Barranco de

Chamoriscan, which open out in Maspalomas.

At Fataga ravine, described

as a place "where Canarians said that

no Christian would ever set foot" according

to the chronicles by Governor

Pedro de Vera and Captain Miguel

Muxica, we can contemplate the Arteara

Necropolis, the largest aboriginal

cemetery in Gran Canaria and one

of the largest in the Archipelago.

On our descent down to the coast,

we stop off at the Vista de Fataga

viewpoint, the small hamlet of the

same name and the viewpoint at Degollada

de las Yeguas, to take in some

superb panoramic views, which allow

for calm reflection.

However, the main tourist resort now

awaits us on its shimmering coast,

which begins at Playa de Tarajalillo

and ends at Pasito Blanco. Strung out

between these two points are Bahía

Feliz Residential Area, Playa del Águila,

San Agustín, Las Burras, Playa del

Inglés, Maspalomas and Meloneras.

The last two constitute what is known

as the Maspalomas Costa Canaria

tourist resort, home to the stunning

sand dunes, the Palmeral palm grove

and the Charca (pond) de Maspalomas,

catalogued as a Special Natural

Reserve. It is a truly unique landscape

and botanical setting in the Canaries,

and one of the favourite spots on the

island for taking that special holiday

snap.

We also come to Faro de Maspalomas,

a lighthouse that rises 60 metres up

from the ground. It is an absolutely

idyllic spot for enjoying a sunset while

we take a stroll along the avenue.

3. Mogán

Following our itinerary we move onto

Mogán, famous for its steep and rugged

terrain, which stretches out

along stunning ravines down to the

sea. The natural spaces not to be missed

are the Soria reservoir, the largest

in Gran Canaria and a haven for cardon

and tabaiba bushes, and the Veneguera

and Mogán ravines, where

we can enjoy green summits topped

with pine trees, an oasis of Canary

palm trees and exotic fruit trees that

create wholly spectacular landscapes.

As for beaches, the ones at Arquineguín,

Patalavaca, Anfi del Mar, Puerto

Rico, Amadores, Tauro, Playa del Cura,

Taurito and Puerto de Mogán are all

quite outstanding. They all feature

promenades for walking along, water

sports facilities and nautical tourism

activities, including cetacean watching.
---
Nº 11 DISCOVER GRAN CANARIA I DESCUBRE GRAN CANARIA

61

Maspalomas. San Bartolomé de Tirajana

The route is rounded off at the fishing neighbourhood

of Puerto de Mogán, renowned for its extraordinary

beauty and nicknamed "Gran Canaria's

Little Venice", with a string of canals that are

reminiscent of the Italian city. Here we can enjoy

the traditional whitewashed houses, the seal of

identity of this little town, decorated with flowers,

especially the best known flower in the Canaries,

the bird of paradise flower.

We are guaranteed an enjoyable ramble around

this little town, including a visit to the Church of

San Antonio de Padua, the walls of Nicolás Quesada

Park and the sports marina, a meeting point

for many international nautical sports enthusiasts.

Another place not to miss is Molino Quemado,

meaning burnt mill, built back in the 19th century,

which supplied the whole region with gofio cornmeal

and flour back in the day. It is the largest windmill

on the island, standing seven metres high.

4. La Aldea de San Nicolás

We now come to our last stop on our route: La Aldea,

an emminently agricultural municipality with

a stunningly beautiful high, rocky coastline and

unique landscapes.

In the town centre we can appreciate popular Canary

architecture in the form of the Balcony Houses,

the Stone and Clay Houses, the Whitewashed

Houses and the Corridor House. Equally popular is

the Live Museum, which offers a live portrayal of

local culture and traditions; Calle Real, Rubén Díaz

Park and the Municipal Cultural Centre.

Santa Lucía de Tirajana

The region's aboriginal legacy weighs heavily in

this municipality and at Los Caserones Archaeological

Complex, where the rich collection of engravings

and stone and clay idols was once exhibited,

before being moved to the Canary Museum in the

capital. We can also visit the burial site at Lomo de

Caserones, the four flour windmills and water mills;

the lime and tar kilns and the former Ron Aldea

rum factory.

La Aldea's natural surroundings offer a wide variety

of hiking trails and footpaths that enable visitors

to admire the sheer beauty of the western side of

Gran Canaria. These include the natural parks of

Roque Nublo and Tamadaba, and the Inagua Integral

Natural Reserve, spread all around the different

municipalities.

It is worth pointing out that 90% of this area is protected

and a large part of its territory opens out

onto unspoilt beaches, such as Playa de La Aldea,

Tasarte and Tasartico beaches, and especially, the

area of Güi-Güi, which is home to stunning landscapes,

endemic plant species and a unique range

of marine birdlife.

Another of the town's attractions is El Charco, a natural

pond that was formed out of sea water and

fresh water running down from the summit area,

constituting a diverse sanctuary for unique bird

species. In this regard, La Aldea stands out as one

of the island's great treasures.

Puerto de Mogán
---
62

DISCOVER GRAN CANARIA I DESCUBRE GRAN CANARIA Nº 11

RUTA SUROESTE

El suroeste recoge las imágenes más emblemáticas de Gran Canaria, caracterizadas por los

marcados contrastes que presenta su orografía desde sus zonas más verdes hasta la costa más

cálida. Esta zona se alza como el destino favorito de miles de turistas gracias a sus impresionantes

playas y la exquisita oferta turística. Por ello, es necesario que conozca todo aquello que simboliza

a nuestra tierra, el sol y la playa, pero abriéndose a un nuevo mundo de parajes que no tienen

nada que envidiar a la costa.

Así, nuestra ruta comienza en Santa Lucía de Tirajana para luego recorrer los municipios de San

Bartolomé, Mogán y La Aldea.

1. Santa Lucía de Tirajana ■ 2. San Bartolomé de Tirajana ■ 3. Mogán ■ 4. La Aldea de San Nicolás

Santa Lucía de Tirajana

1. Santa Lucía de Tirajana

En dirección al sur está Santa Lucía

de Tirajana. Nuestro punto de partida

es la Iglesia de Santa Lucía, donde

su particular fachada empedrada de

canto labrado y su cúpula atraen el

centro de todas las miradas.

Muy cerca se ubica el Museo de la

Fortaleza El Hao, de interés arqueológico,

donde se exhiben restos hallados

en los yacimientos arqueológicos

de la zona y en cuyos alrededores

reconocemos un bonito jardín de flora

autóctona.

Bajando hacia la costa nos cruzamos

con el Museo Castillo de la Fortaleza

y el yacimiento arqueológico de

la Fortaleza de Ansite, perteneciente

al Barranco de Tirajana, en la que

existen cuevas de habitación y enterramiento

con una gran cantidad de

material arqueológico que, según la

leyenda, fue uno de los últimos lugares

de los pobladores prehispánicos.

En sus alrededores vislumbramos

las Presas de Tirajana y Sorrueda,

así como numerosos palmerales y

paisajes de singular belleza que admiramos

desde los estratégicos miradores

del Guriete, el Ingenio y la

Sorrueda.

A través de este lugar accedemos a

los tres núcleos urbanos principales

del municipio: Sardina del Sur, el

Doctoral y Vecindario. Este último,

importante por su desarrollo comercial

e industrial, también acoge el

Museo de la Zafra, permitiéndonos

ahondar en la tradición agrícola del

lugar.

En la costa distinguimos la playa de

Pozo Izquierdo, referente internacional

de amantes del windsurf y sede

de celebraciones de innumerables

campeonatos mundiales. También

cabe destacar la posibilidad de disfrutar

la rica gastronomía pesquera

de este pueblo costero.

2. San Bartolomé de Tirajana

Tras disfrutar de las maravillas de

Santa Lucía nos adentramos en el

municipio isleño con mayor extensión,

San Bartolomé de Tirajana. Haciendo

hincapié en el gran contraste

entre su interior más histórico y su

litoral turístico.

El trayecto nos dirige al interior, que

gracias a su privilegiada posición

en el centro de la Caldera de Tirajana,

presume de ser un referente en

el turismo deportivo y de montaña.

Nos asentamos en el pueblo de

Tunte, con la Iglesia de San Bartolomé

de Tirajana y la Casa Museo de

los Yánez al frente, y realizamos una

parada gastronómica para degustar

el exquisito vino de la Bodega de las

Tirajanas.

La zona de medianías y cumbres

acoge impresionantes barrancos

como los de Tirajana, Arguineguín,

Fataga, Los Vicentes, La Data o el

Barranco de Chamoriscan, que desembocan

en Maspalomas. En el barranco

de Fataga, descrito como un

lugar "donde los canarios decían que

ningún cristiano podía llegar" en las

crónicas del gobernador Pedro de

Vera y el capitán Miguel Muxica, contemplamos

la Necrópolis de Arteara,

el cementerio aborigen de mayor

entidad de Gran Canaria y uno de los

más grandes del Archipiélago.

Siguiendo el descenso hacia la costa,

paramos en el Mirador de la Vista de

Fataga, el Caserío de mismo nombre

y el Mirador de la Degollada de las

Yeguas para admirar sus vistas, que

nos invitan a reflexionar.

Sin embargo, el atractivo turístico

por excelencia se concentra en su

reluciente costa, que empieza en la

Playa de Tarajalillo y finaliza en Pasito

Blanco. Entre ellas se encuentra

el Conjunto Residencial Bahía Feliz,

la Playa del Águila, San Agustín, Las

Burras, Playa del Inglés, Maspalomas

y Meloneras. Las últimas conforman

lo que se conoce como la zona turística

Maspalomas Costa Canaria,

donde se localizan las impresionantes

dunas, el Palmeral y la Charca de

Maspalomas, catalogadas como Reserva

Natural Especial. Un conjunto

paisajístico y botánico único en Canaria,

y una de las estampas favoritas

de la Isla.

Descubrimos también el Faro de

Maspalomas, que se eleva 60 metros

sobre el suelo. Un lugar absolutamente

idílico para disfrutar de la

puesta del sol mientras paseas por la

avenida.

3. Mogán

Siguiendo nuestro itinerario nos

trasladamos hasta Mogán, característico

por su relieve escarpado, que

se extiende hasta el mar dando forma

a espectaculares barrancos. Los

parajes naturales ineludibles son la

presa de Soria, la presa más grande

de Gran Canaria y refugio de cardonales

y tabaibales, y los barrancos de
---
Nº 11 DISCOVER GRAN CANARIA I DESCUBRE GRAN CANARIA

63

Veneguera y Mogán, donde encontramos

verdes cumbres colmadas

de pinares, oasis de palmeras canarias

y árboles de frutas exóticas

que crean paisajes de indescriptible

belleza.

En cuanto a las playas, distinguimos

Arquineguín, Patalavaca, Anfi del

Mar, Puerto Rico, Amadores, Tauro,

Playa del Cura, Taurito y Puerto de

Mogán. En todas ellas se puede disfrutar

de paseos marítimos, deportes

acuáticos y actividades de turismo

náutico, entre las que se incluye

el avistamiento de cetáceos.

El broche final de la ruta lo pone el

barrio marinero de Puerto de Mogán,

ampliamente conocido por su

extraordinaria belleza y llamado "La

pequeña Venecia de Gran Canaria",

ya que sus pequeños canales

recuerdan al destino italiano. Aquí,

reconocemos las casas blancas tradicionales,

sello distintivo de esta

pequeña localidad que son decoradas

con flores, entre las que distinguimos

la más conocida flor de

Canarias, la esterlizia.

Puerto de Mogán

Disfrutar el paseo por el pueblo

está más que garantizado, pudiendo

visitar la Iglesia de San Antonio

de Padua, los murales del parque

Nicolás Quesada y el muelle deportivo,

punto de encuentro de numerosos

entusiastas de la náutica

internacional. Otra cita que no podemos

perdernos es Molino Quemado,

construido en el siglo XIX y

que abasteció de gofio y de harina

a toda la comarca. Se trata del molino

de viento más grande de la Isla,

pues alcanza los siete metros de altura.

4. La Aldea de San Nicolás

Llegamos a nuestra última parada:

La Aldea, un municipio eminentemente

agrícola con un litoral alto

y rocoso de gran belleza y paisajes

únicos.

En su casco histórico apreciamos la

arquitectura popular canaria como

las Casas Balcón, las Casas de Piedra

y Barro, las Casas Blancas y la

Casa del Corredor. También es muy

popular el Museo Vivo, que escenifica

la cultura y la tradición canaria

en vivo; la Calle Real, el Parque de

Rubén Díaz y el Centro Municipal

de Cultura.

La Aldea

Sin duda, el legado aborigen tiene

un fuerte peso en el municipio

y en el Complejo Arqueológico de

Los Caserones, donde se recogió

una rica colección de pintaderas e

ídolos de barro y piedra que ahora

aguarda el Museo Canario. También

nos acercamos al Túmulo Funerario

del Lomo de Caserones, a los cuatro

molinos harineros de viento y de

agua; a los hornos de cal y brea y a

la antigua fábrica del Ron Aldea.

Los espacios naturales del municipio

disponen de una variedad de

rutas y senderos en los que admirar

la belleza paisajística de la zona

oeste de Gran Canaria. Los parques

naturales del Roque Nublo y el de

Tamadaba,y la Reserva Natural Integral

de Inagua, repartidos entre

distintos municipios, son algunos

de los ejemplos.

Cabe destacar que el 90% de estos

parajes está protegido y que gran

parte de su territorio desemboca en

playas casi vírgenes como la Playa

de La Aldea, las playas de Tasarte y

Tasartico, y, en especial, el entorno

de Güi-Güi, que encierra grandes

valores paisajísticos, especies vegetales

endémicas y una avifauna

marina singular.

San Bartolomé de Tirajana

Otro de los atractivos es El Charco,

formado por el encuentro entre el

mar y las aguas dulces procedentes

de las cumbres, un santuario

de aves únicas y una valiosa diversidad.

De esta forma, La Aldea se

erige como uno de los grandes tesoros

de nuestra tierra.
---
66

REPORTAJE I REPORT Nº 11

The Canary Islands make the top 10 world

destinations with the fastest growing number of teleworkers

The communication strategy by the Department of Tourism, Industry and Trade at the Government of the Canary Islands, through its

public company Turismo de Islas Canarias, to attract thousands of workers over the next few years, continues to achieve significant

results among the remote worker community.

Indeed, during the first six months of 2021 the Canary

Islands have increased their popularity as a

favourite destination, with an increase of 67% in

teleworkers, a figure that is reflected in the ranking

data at Nomad List, the benchmark international

platform for teleworkers around the world,

which places the Archipelago among the top positions

as the most recommended places for remote

workers, based on an analysis of a total of

32,487 registrations made by its members.

Tourism councillor, Yaiza Castilla, expressed her

satisfaction at the latest figures for June, as they

highlight a positive performance in this segment.

In this regard, and according to the platform, so

far in 2021 Tenerife has grown by 77% while Las

Palmas de Gran Canaria has grown by 57%.

But even more worthy of a mention is that fact

that, if an analysis is made of the accumulated

figures over the last five years, between 2016 and

2020, this growth is exponential, and furthermore,

if both destinations are taken into account, this increase

is 136%. The only locations to be above the

Canaries in this respect are Mexican cities such as

Cancún, Playa de Carmen and Tulum; and Miami

in the United States.

out of any one of its complexes in Tenerife, Lanzarote

and Fuerteventura, providing an offer that

combines work and free time with a 10% discount

for stays of over 14 days and a 20% discount for

stays of over 21 days.

Another example is of international companies

specialising in digital nomads that are being set

up on the islands, such as the new co-living office

that the company Outsite, a world benchmark in

this type of accommodation, has recently opened

in Fuerteventura. This company now has premises

in such exotic locations as Hawaii, California, Bali

or Nueva York, and has now added a new location

in the Canaries.

Added to all this are other initiatives by local companies

that are allowing the benefits of tourism to

reach other sectors outside the tourism industry.

The positive outlook in this market niche, which

has become stronger following the health crisis,

has awoken the interest of large international organisations

related to the tourism industry. These

include hotel companies, airlines and local private

companies who are getting behind the Tourism

Councillor's strategy and are offering special discounts

to attract teleworkers.

The international campaign launched just over

six months ago by the Tourism Councillor, entitled

"Offices with the best climate in the work are

looking for remote workers", has led to the islands

moving up the ranking for the finest locations in

the world for these travellers and, in addition, as

Yaiza Castilla points out, "it helps us diversify the

tourism model even further and reduces dependence

on other, more fragile, segments".

On the other hand, "it is a clear example of how

collaboration between the public and private sector

is possible, and, of course, necessary. We have

a duty to champion new strategies that provide a

swift recovery, by analysing and identifying new

opportunities. From there, the fact that private

companies join in and support this strategy confirms

that we are aligned with a common purpose".

In this regard, and in the opinion of Nacho

Rodríguez, president of the Canary Association of

Collaborative Spaces and founder of the Repeople

Conference, the international event that has been

held on the islands since 2016, "the reliability of

the data provided by Nomad List is worth mentioning

because it collates all the ratings made by

the platform's professional users, after they have

got to know the destination, through a kind of

check-in at the city or territory in which they have

settled. It is therefore highly reliable data, not only

due to the size of the sample, over 132,000 ratings,

but also because it is perfectly measured. It is organic

data and is real, adjusted to the perceptions

of the teleworkers themselves".

The development of this niche market has also

awoken the interest of large organisations such

as budget airline Iberia Express, which has announced

an exclusive 10% discount for professionals

who wish to work remotely on the Archipelago

as, as its marketing director, Evandro Vianna,

points out: "The Canary Islands are a paradise that

have everything, a fine climate, a unique cuisine

and unrivalled landscapes. It is without doubt a

perfect place to enjoy, live in and work in. For this

reason, at Iberia Express we have launched this initiative

so that digital nomads can make the most

of exclusive discounts and the option to travel

without having to change their way of teleworking".

This promotion is valid for stays of a minimum

of 21 days, and will run until 31st August for

people wishing to fly on any date until then, with

the code REMOTEWORKERS2021.

Similarly, hotel chain Meliá is also offering advantages

for anyone who decides to make an office
---
68

REPORTAJE I REPORT Nº 11

Las Islas Canarias, entre los 10 destinos del

mundo con más crecimiento de teletrabajadores

La estrategia de comunicación de la Consejería de Turismo, Industria y Comercio del Gobierno de Canarias, a través de la empresa

pública Turismo de Islas Canarias, para atraer a miles de trabajadores en los próximos años sigue consiguiendo importantes resultados

entre la comunidad de remote workers.

De hecho, durante los primeros seis meses de

2021 las Islas Canarias han aumentado su notoriedad

como destino favorito, con un incremento del

67% en la presencia de teletrabajadores, algo que

queda reflejado en los datos del ranking de Nomad

List, la plataforma internacional de referencia

para teletrabajadores de todo el mundo, que

sitúa al Archipiélago entre las primeras posiciones

de los lugares más recomendados por los propios

trabajadores en remoto en base a un análisis de

un total de 132.487 registros realizados por sus

miembros.

La consejera de Turismo, Yaiza Castilla, ha mostrado

su satisfacción tras conocer las últimas cifras

recabadas hasta el mes de junio, ya que evidencian

el comportamiento positivo de este segmento.

En este sentido y de acuerdo con la plataforma,

en lo que va de año 2021, Tenerife crece un 77%

mientras que Las Palmas de Gran Canaria lo hace

en un 57%

Pero aún más destacable es que si se analiza el

acumulado de los últimos cinco años, entre 2016

y 2020, este crecimiento es exponencial y vemos

cómo si consideramos ambos destinos, el aumento

llega a ser del 136%. Por delante de Canarias

sólo aparecen algunas ciudades de Méjico como

Cancún, Playa de Carmen y Tulum; y Estados Unidos

con Miami.

Las perspectivas positivas de este nicho de mercado,

consolidado espacialmente tras la crisis

sanitaria, ha despertado el interés de grandes organizaciones

internacionales relacionadas con el

sector turístico, desde compañías hoteleras hasta

aerolíneas y también empresas privadas locales

que respaldan la estrategia de la Consejería de

Turismo y se suman ofreciendo descuentos especiales

para atraer a más teletrabajadores.

La campaña internacional lanzada hace poco

más de seis meses por la Consejería de Turismo,

"La oficina con el mejor clima del mundo busca

remote worker", permite que las Islas ganen posicionamiento

en el ranking entre las mejores ubicaciones

del mundo para este viajero y además,

apunta Yaiza Castilla, "nos ayuda a diversificar aún

más el modelo turístico y reduce la dependencia

de otros segmentos más frágiles".

Por otro lado, "se trata de un claro ejemplo de que

la colaboración público-privada es posible, y por

supuesto necesaria. Nosotros tenemos el deber

de liderar nuevas estrategias que permitan una

pronta recuperación, analizando e identificando

nuevas oportunidades. A partir de ahí, que las

empresas privadas se sumen y respalden dicha

estrategia es la confirmación de que estamos alineados

con un propósito común".

En este sentido, y en opinión de Nacho Rodríguez,

presidente de la Asociación Canaria de Espacios

Colaborativos y fundador de Repeople Conference,

el evento internacional que se viene celebrando

desde 2016 en las Islas, "es destacable la fiabilidad

de los datos de Nomad List ya que recoge las

valoraciones que realizan los profesionales usuarios

de dicha plataforma tras conocer el destino

a través de una especie de check-in de la ciudad

o territorio donde se establecen. Por lo tanto, es

un dato muy fiable, no solo por el tamaño de la

muestra, más de 132.000 evaluaciones, sino porque

está perfectamente medido. Es un dato orgánico

y es real, ajustado a las percepciones de los

propios trabajadores".

El desarrollo de este nicho también ha interesado

a grandes organizaciones como Iberia Express,

que ha anunciado un 10% de descuento exclusivo

para los profesionales que quieran teletrabajar

desde el Archipiélago, ya que, tal y como señala su

director comercial, Evandro Vianna, "Canarias es

el paraíso que lo tiene todo, buen clima, una gastronomía

única y paisajes inigualables. Sin duda,

un lugar perfecto para disfrutar, vivir o trabajar.

Por eso, desde Iberia Express hemos lanzado esta

iniciativa para que los nómadas digitales disfruten

de descuentos exclusivos y facilidades para poder

viajar sin tener que cambiar la forma de teletrabajar".

La promoción, válida para estancias mínimas

de 21 días, estará activa hasta el próximo 31 de

agosto para volar en cualquier fecha, con el código

REMOTEWORKERS2021.

En la misma línea, la cadena hotelera Meliá, también

ofrece ventajas para aquellos que decidan

situar su oficina en alguno de sus complejos en

Tenerife, Lanzarote y Fuerteventura, acercando

una oferta que combina trabajo y tiempo libre con

un 10% de descuento para estancias de más de 14

días y un 20% para las que superen los 21 días.

Otro ejemplo es el de empresas internacionales

especializadas en nómadas digitales que comienzan

a instalarse en las Islas, como puede ser el

nuevo coliving que la empresa Outsite, referencia

mundial en alojamientos de este tipo, ha abierto

en Fuerteventura. Esta compañía ya cuenta con

espacios en lugares exóticos como Hawai, California,

Bali o Nueva York y ahora suma su nueva ubicación

en Canarias.

A todo ello se le añaden otras iniciativas por parte

de empresas locales que permiten que los beneficios

del turismo lleguen también al resto de sectores

fuera de la industria turística.

CRECIMIENTO DE PAISES MÁS

RÁPIDO DE TELETRABAJADORES

BASADO EN 132.303 EMBARQUES HASTA JUNIO

1.

2.

3.

4.

5.

6.

7.

8.

MÉXICO

ISLAS CANARIAS

DUBAI

MIAMI

MEDELLÍN

DENVER

HAWAII

ESTAMBUL
---
70

NEWS I NOTICIAS Nº 11

It is rare for anyone who has been to the

Canary Islands not to go home with a

smile etched on their face. This is probably

due to the fact they were fascinated

by the landscapes, they loved the cuisine,

they spent some quality leisure time,

they were happy with the kind welcome

they received from their Canary hosts…

So any visit becomes an unforgettable

experience. But there is one thing that

cannot go unnoticed and is not invisible.

The climate is the greatest attraction

when it comes to choosing the islands for

a holiday. It represents 90% of the decision

to come here, out of all aspects taken

into consideration, and the Canaries

can boast having the best climate in the

world.

Stable and pleasant temperatures all

year round

Do the Canary Islands have the

best climate in the world?

However, what exactly to we mean when

we refer to «the best climate in the

world»? It is the fact that temperatures

are stable and pleasant all year round,

with both mild winters and summers, an

average 22 and 26 degrees centigrade

respectively, a far cry from extreme temperatures

that prevail on the continent.

It could almost be called eternal spring,

with long, cloudless days and around

3,000 sunshine hours a year, making the

Canaries the sunniest location in Europe.

Guayadeque

Open air activities

This climate ultimately influences the

landscapes, is reflected in the cuisine, enables

people to get outside and do different

activities and has a positive effect on

the mood of residents and visitors. The

climate is always there even though it

doesn't seem to play a part, it enhances

every moment and is decisive in everyone's

quality of life. Scientific studies have

shown that climate has a direct impact on

our physical and emotional well-being.

Scientific study

Talking of scientific studies, there is solid

evidence to suggest that the Canary Islands

have the best climate in the world.

Thomas Whitmore, climatic research director

at the University of Syracusa in the

USA, published a study in Consumer Travel

Publications in 1996 entitled «Índices

of the most pleasant climates», in which

he placed the Canary Islands at the top

of the tree. To reach this conclusion, he

offered comparative meteorological statistics

from over 600 places around the

world: the number of rainy days a year, air

temperature, water temperature, etc.

Maspalomas

Trade winds and the anticyclone from

the Azores

The secret of this privileged meteorological

bonanza is the islands' location, in an

area of transition which leave them exposed

to the effects of trade winds that

cool the atmosphere, as well as the influence

of the cold current of the Canaries

that flows around its coastlines. The anticyclone

of the Azores, meanwhile, prevent

temperatures dropping in winter.

Las Palmas de Gran Canaria, the city

with the best climate in the world

While the Canary Islands are said to have

the best climate in the world, endorsed

by a scientific study, Las Palmas de Gran

Canaria can also boast being the city with

the best climate in the world, according

to Australian website Traveller. In its

article «The best climates in the world:

top cities with perfect weather that can

be visited throughout the year», written

by David Whitley in November 2016,

other cities to appear on the list include

San Diego (California, USA), Viña del Mar

(Chile), Adelaide (Australia), Yuma (Arizona,

USA) and Swakopmund (Namibia).

It is therefore clear that the Canary Islands

do not only play in the Premier League of

climatology, they are the champions.

Puerto de Mogán
---
Nº 11 NEWS I NOTICIAS

71

¿Tiene Canarias el mejor clima del mundo?

Raro es el caso en que alguien que ha estado en las Islas Canarias haya regresado

sin una sonrisa dibujada en la cara. Probablemente explicará que le fascinaron

los paisajes, que le encantó la gastronomía, que disfrutó de las actividades de

ocio, que agradeció el trato afable de los canarios… De ahí que cualquier visita se

convierta siempre en una experiencia inolvidable. Pero, sin duda, es imposible

no caer en la cuenta y tampoco es invisible. El clima es el mayor atractivo a

la hora de elegir las Islas como destino. Entre los aspectos que influyen en la

elección, el clima representa el 90%. Porque las Islas Canarias pueden presumir

de tener el mejor clima del mundo.

Temperaturas estables y agradables todo el año

Pero, ¿de qué hablamos cuando nos referimos a «el mejor clima del mundo»?

Pues a unas temperaturas estables y agradables durante todo el año, inviernos

y veranos suaves, con 22 y 26 grados centígrados de media respectivamente,

muy lejos de las temperaturas extremas que dominan en el continente. Casi

podría catalogarse de primavera eterna, con días largos y despejados y unas

3.000 horas de sol al año, lo que convierte a las Islas Canarias en el lugar más

soleado de Europa.

Actividades al aire libre

Playa de Las Canteras

Ese clima es el que, en definitiva, influye en los paisajes, se refleja en la

gastronomía, permite practicar todo tipo de actividades al aire libre e influye

positivamente en el buen humor de las personas que viven en Canarias. Es

el que, estando ahí aunque parezca que no está, realza cualquier momento

y resulta decisivo en la calidad de vida de habitantes y turistas. Porque los

estudios científicos demuestran que el clima tiene un impacto directo en

nuestro bienestar físico y emocional.

Estudio científico

Hablando de estudios científicos, hay base para afirmar que las Islas Canarias

tienen el mejor clima del mundo. Thomas Whitmore, director de investigación

climatológica de la Universidad de Syracusa (EEUU), publicó uno en Consumer

Travel Publications en 1996 titulado «Índices de los climas más agradables», en

el que situó al archipiélago canario en lo más alto. Para llegar a esta conclusión,

ofreció estadísticas meteorológicas comparativas de más de 600 lugares del

mundo: días de lluvia al año, la temperatura del aire, la temperatura del agua…

Vientos alisios y anticiclón de las Azores

Parque Rural del Nublo

El secreto de esta privilegiada bonanza meteorológica es la ubicación de las

Islas Canarias, en un área de transición que las deja expuestas al efecto de los

vientos alisios que refrescan la atmósfera, así como a la influencia de la corriente

fría de Canarias que baña sus costas. Por su parte, el anticiclón de las Azores

impide el descenso de las temperaturas en invierno.

Las Palmas de Gran Canaria, la ciudad con el mejor clima del mundo

Y si las Islas Canarias tienen el mejor clima del mundo, refrendado por un estudio

científico, Las Palmas de Gran Canaria puede presumir de ser la ciudad con

el mejor clima del mundo, según el portal australiano Traveller. En el artículo

«Los mejores climas del mundo: ciudades top con un tiempo perfecto que se

pueden visitar durante todo el año», firmado por David Whitley en noviembre de

2016, aparecen otras ciudades como San Diego (California, EEUU), Viña del Mar

(Chile), Adelaida (Sudáfrica), Yuma (Arizona, EEUU) y Swakopmund (Namibia).

Queda claro que las Islas Canarias no solo juegan en la Primera División de la

climatología, sino que la ganan.
---
72

NEWS I NOTICIAS Nº 11

2021, a year of success for Loro Parque Foundation

2021 was a successful year for Loro Parque Fundación,

which maintained its commitment to nature

despite the economic impact of COVID-19.

Now, having confirmed that it will allocate 1.45

million dollars in 2022 to 61 conservation projects

around the world, it is taking stock of the successes

of the past year.

Lear's Macaws in Brazil

In 2021, the Foundation has sent two more Lear's

Macaws born in Tenerife to Brazil to continue with

the project of management and reintroduction of

the species. One of them will be integrated into the

ex situ breeding programme and the other will join

the group that has already been reintroduced into

the wild.

At present, eight birds are flying in the caatinga and

at least one pair is showing signs of reproduction,

one of the important steps in the repopulation of

this region where the Lear's macaw was practically

extinct.

Atlantic humpback dolphin in Senegal

In Senegal, and thanks to the Loro Parque Fundación,

the project for the conservation of the Atlantic

humpback dolphin, one of the most endangered

species in the world according to the red list

of the International Union for Conservation of Nature

(IUCN), was launched in 2021.

The Foundation's support has made it possible to

organise a research group in the Saloum Delta and

to start collecting data essential to the survival of

this unknown species.

Red-crowned Parakeets in Ecuador

In Ecuador, 20 more red-crowned parakeets were

reintroduced into the wild, with 59 birds reintroduced

as part of this project carried out in collaboration

with the Jocotoco Foundation.

Its impact on populations has been such that police

and environmental agents have stopped finding

the species in markets, despite it being a type of

parrot that used to be commonly smuggled.

Cetacean welfare in Gran Canaria

The cetacean welfare project developed for more

than 10 years by the Foundation together with the

University Institute of Animal Health of the University

of Las Palmas de Gran Canaria, directed by

Professor Antonio Fernández, has just published an

extraordinary breakthrough.

They have made it possible to take virus samples

using a small brush and avoiding the need for biopsies,

a new technique published in the scientific

journal Animals, which opens up enormous possibilities

for evaluating other biological parameters

in wild dolphins and whales without disturbing the

animals.

Longevity of parrots

In Tenerife, an important breakthrough has been

made this year in the study of the longevity of parrots.

Thanks to researchers from the University of

La Laguna, it has been possible to determine that

there is a relationship between the size of the telomeres

of the chromosomes in parrots according

to the species to which they belong.

Thus, some species have a longer life expectancy

than others and there is a relationship with their

vital reproduction strategy. This study has very

important implications for science and is possible

thanks to the largest living genetic reserve of parrots

in existence and maintained by Loro Parque

Fundación.

Hyacinth Macaw in Brazil

Also in Brazil, Loro Parque Fundación's support to

the Hyacinth Macaw Institute is bearing fruit for

this emblematic species threatened by habitat loss.

Macaw scientist and protector Neiva Guedes and

her team have made progress in their ongoing

work to protect these impressive parrots that face

serious threats such as fires and deforestation.

Strategic support with drinking troughs and recording

of nest locations, both artificial and natural,

is proving key to their protection.

Yellow-eared Parrots in Colombia

By placing natural log nests to help yellow-eared

parrots, the real danger to this species' habitat has

been determined: unfortunately, the days of the

wax palm groves are numbered. But science, while

confirming this horrible news, is also providing

some very important data to react to.

Until now, it was thought that protecting palm

trees from wax was enough. But, in reality, it is the

plants that grow at their base that are most important

for the maintenance of this type of forest and

the parrots that live in it.

If the forest base of the world's tallest palm forests

is missing, there will be no future for this species

that Loro Parque Fundación has saved from extinction.

This project, developed together with the Fundación

Vida Silvestre, has stood out for the study of

the general biome in which the yellow-eared parrots

live.

Publications in journals worldwide

In 2021, Loro Parque Fundación has surpassed 300

magazine publications in the parrot sector worldwide.

With a constant presence in 17 countries in

monthly publications, the Foundation has dispersed

information on parrots ex situ and in situ,

both in written and digital format, in more than 8

languages and on topics such as breeding, management

and conservation.

International parrot census

The scientific publications of the team from the

Centro Superior de Investigaciones Científicas

(CSIC) and the Universidad Pablo de Olavide (UPO),

led by Professor José Tella, have so far completed

98 large-scale parrot census studies, covering more

than 57,241 kilometres in 20 countries and encompassing

the main biomes of the world where this

group of birds is present.

More than 120,000 psittacine parrots of 137 different

species have been recorded.

The Venezuelan red-tailed parrot, only in Loro

Parque

Loro Parque will show a new species to the public

for the first time: the red-tailed parakeet endemic

to Venezuela.

It will be the first accredited zoological conservation

centre in the world where this species can be

observed. A total of 15 births so far represent a great

breeding success for the Loro Parque Foundation

and form part of the safety net for the species in

case their counterparts need help in the wild.
---
74

NEWS I NOTICIAS Nº 11

2021, un año de éxitos para Loro Parque Fundación

son las plantas que crecen en su base las más importantes

para el mantenimiento de este tipo de

bosque y los loros que viven en él.

Si falta la base forestal a los bosques de palmeras

más altos del mundo, no habrá futuro para esta especie

a la que Loro Parque Fundación ha salvado

de la extinción. Este proyecto, desarrollado junto a

la Fundación Vida Silvestre, ha destacado por el estudio

del bioma general en el que habitan los loros

orejiamarillos.

Publicaciones en revistas de todo el mundo

En 2021, Loro Parque Fundación ha superado las

300 publicaciones en revista del sector de los loros

en todo el mundo. Con presencia constante en 17

países en publicaciones mensuales, la Fundación

ha dispersado información sobre loros a nivel ex

situ e in situ, tanto en soporte escrito como digital,

en más de 8 idiomas y sobre temas como su cría,

su manejo y su conservación.

Censo de loros internacional

El 2021 fue un año de éxitos para Loro Parque

Fundación, que mantuvo su compromiso con la

naturaleza a pesar del impacto económico de la

COVID-19. Ahora, y tras haber confirmado que destinará

1,45 millones de dólares en 2022 a 61 proyectos

de conservación en todo el mundo, hace balance

de los éxitos cosechados el año pasado.

Guacamayos de Lear en Brasil

En 2021, la Fundación ha enviado dos ejemplares

más de guacamayo de Lear nacidos en Tenerife a

Brasil para continuar con el proyecto de manejo y

reintroducción de la especie. Uno de ellos se integrará

en el programa de reproducción ex situ y el

otro se incorporará al grupo que ya fue reintroducido

en la naturaleza.

En la actualidad, ocho ejemplares vuelan en la caatinga

y, al menos una pareja, está mostrando signos

de reproducción, uno de los pasos importantes

en la repoblación de esta región en la que el guacamayo

de Lear estaba prácticamente extinto.

Delfín jorobado del Atlántico en Senegal

En Senegal, y gracias a Loro Parque Fundación, se

pudo iniciar en 2021 el proyecto de conservación

del delfín jorobado del Atlántico, una de las especies

más amenazadas del mundo según la lista roja

de la Unión Internacional para la Conservación de

la Naturaleza (UICN).

El apoyo de la Fundación ha permitido organizar

un grupo de investigación en el delta de Saloum

e iniciar la recogida de datos esenciales para la supervivencia

de esta desconocida especie.

Pericos caretirrojos en Ecuador

En Ecuador, se reintrodujeron en la naturaleza 20

ejemplares más de pericos caretirrojos, siendo 59

las aves reinsertadas como parte de este proyecto

llevado a cabo en colaboración con la Fundación

Jocotoco.

Su impacto en las poblaciones ha sido tal que la

policía y los agentes medioambientales han dejado

de encontrar la especie en los mercados a pesar de

ser un tipo de loro cuyo contrabando era habitual.

Bienestar de cetáceos en Gran Canaria

El proyecto de bienestar de cetáceos desarrollado

desde hace más de 10 años por la Fundación junto

al Instituto Universitario de Sanidad Animal de la

Universidad de Las Palmas de Gran Canaria, dirigido

por el profesor Antonio Fernández, acaba de

publicar un extraordinario avance.

Han hecho posible la toma de muestras de virus

utilizando un pequeño cepillo y evitando la realización

de biopsias, una nueva técnica publicada en la

revista científica Animals y que abre enormes posibilidades

para evaluar otros parámetros biológicos

en delfines y ballenas salvajes sin molestias para

los animales.

Longevidad de los loros

En Tenerife, este año se ha hecho un avance importante

en el estudio de la longevidad de los loros.

Gracias a investigadores de la Universidad de

La Laguna, se ha podido determinar que existe

una relación entre el tamaño de los telómeros de

los cromosomas en los loros según la especie a la

que pertenecen.

Así, hay especies con mayor esperanza de vida que

otras y hay una relación con su estrategia vital de

reproducción. Este estudio tiene implicaciones

muy importantes para la ciencia y es posible gracias

a la mayor reserva genética viva de loros que

existe y que mantiene Loro Parque Fundación.

Guacamayo jacinto en Brasil

También en Brasil, el apoyo de Loro Parque Fundación

al Instituto del Guacamayo Jacinto está dando

sus frutos para esta emblemática especie amenazada

por la pérdida de su hábitat.

Neiva Guedes, científica y protectora de guacamayos,

ha avanzado junto a su equipo en su constante

labor de protección de estos impresionantes loros

que se enfrentan a graves amenazas como los incendios

y la deforestación.

El apoyo estratégico con bebederos y registro de

localizaciones de los nidos, tanto artificiales como

naturales, está siendo clave para su protección.

Loros orejiamarillos en Colombia

Con la colocación de nidos de tronco natural para

ayudar a los loros orejiamarillos se determinó el

peligro real del hábitat de esta especie: lamentablemente,

los palmerales de cera tienen los días

contados. Pero la ciencia, aunque confirma esta

horrible noticia, también aporta datos importantísimos

para reaccionar.

Hasta ahora, se creía que, con proteger a las palmeras

de la cera, era suficiente. Pero, en realidad,

Las publicaciones científicas del equipo del Centro

Superior de Investigaciones Científicas (CSIC) y la

Universidad Pablo de Olavide (UPO), liderado por el

profesor José Tella, han logrado culminar hasta el

momento 98 estudios de censo de loros a gran escala,

cubriendo más de 57.241 kilómetros en 20 países

y abarcando los principales biomas del mundo

donde tiene presencia este grupo de aves.

Se han registrado más de 120.000 ejemplares de

psitácidas de 137 especies diferentes.

La cotorra colirroja de Venezuela, solo en Loro

Parque

Loro Parque mostrará por primera vez al público

una nueva especie: la cotorra colirroja endémica de

Venezuela.

Así, será el primer centro de conservación zoológico

acreditado del mundo donde se pueda observar

esta especie. Un total de 15 nacimientos hasta el

momento suponen un gran éxito de reproducción

de Loro Parque Fundación y forman parte de la red

de seguridad para la especie en caso de que sus

iguales necesitaran ayuda en la naturaleza.
---
76

SHOPPING I DE COMPRAS Nº 11

Gran Canaria, your perfect shopping destination

Sabina Beauty & Fashion (Av. de Italia, 6. Maspalomas)

Gran Canaria has 34 shopping centres, making the

island the third Spanish province in terms of number

of shopping centres, trailing only behind Madrid

and Barcelona. This plethora of shopping centres is

fundamentally due to the sheer number of stores

and famous brand names who are keen to set up

business on the island and make their products

more readily available at much more competitive

prices than in the rest of Europe.

Around 15 million tourists visit the Canary Islands every

year. Together with the local population and tax

breaks, the islands constitute a veritable oasis for

shoppers. Make no mistake, alongside the sun and

beach, shopping at great prices has been one of the

keys to the tourist success story in Gran Canaria.

The different local tax system is a great advantage

when it comes to shopping in Gran Canaria. It means

that products are discounted in price compared to

other places throughout the year. While in the rest

of Europe shoppers pay an average of 21.48 % VAT,

in the Canaries they enjoy a fiscal system known as

IGIC which has a standard rate of 7 %, a reduced rate

of 3 % and an IGIC super reduced rate of 0 % for basic

necessities.

This difference in tax rates is applied in the Canary

Islands for two reasons: firstly, as a compensation

formula due to the islands' remoteness from the

European continent and secondly, due to its island

situation, as Gran Canaria has to import the great

majority of products it consumes.

Recommended purchases

You can basically buy anything you wish when you

visit the island, but there are some products that

are undoubtedly far cheaper than your own country,

such as perfumes and cosmetics, tobacco, alcoholic

beverages, sunglasses, sports gear, handbags,

shoes, telephones and electrical goods in general,

textiles and fashion, souvenirs and crafts, and the

island's unique gastronomy range.

Places to come shopping

You are on an island that is packed with stores

and shopping centres. Wherever you venture

out and about, you are likely to come across a

good number of establishments that will be

of great interest. Even so, if you are staying

around the tourist resorts of Playa del Inglés and

Maspalomas, you are recommended to go along

to Paseo Comercial Boulevard Faro in Maspalomas

(next to the beach's famous lighthouse), El

Tablero Shopping Centre and Yumbo Shopping

Centre, the latter being famous the world over

for bringing in a large part of LGTB tourism.

At the tourist resort of Mogán, specifically at Playa

de Puerto Rico, a highly recommended place

to head to is the recently opened and stunning

Mogan Mall, a truly amazing large-size shopping

centre. Just along from there is The Market Puerto

Rico, another shopping area with vertical gardens

where, among other things, the best of the

island's gastronomy is available.

In the city of Las Palmas de Gran Canaria it is

worth making a beeline for Calle Mayor de Triana,

a pedestrian street with shops that have

been around for generations alongside other

businesses and modern day franchise outlets. It

provides a pleasant stroll around the city's most

emblematic buildings, just a few metres from the

district of Vegueta (the oldest and most charming

area of Las Palmas de Gran Canaria). Among

the most important outlets here is the famous

Sabina perfumery, the pioneering perfume store

in the Canaries, together with cafeterias, restaurants,

and the finest fashion stores. At the same

time, in the port area we can go to the famous

Calle de José Mesa y López, lined with the top

fashion outlets and El Corte Inglés department

store.

In the area of Santa Catalina Park and surrounding

streets we can find the best electronics

shops. Our walk around here ends at the important

maritime port of Las Palmas de Gran Canaria.

What can we pack with our luggage?

Yes, prices are unbeatable and there is a great

temptation to pack our cases full of goodies,

but there are limitations in force on transporting

products back to your home country. However,

it is also important to know that these amounts

are on a person by person basis, and so, if you are

travelling with a partner or with the family, these

figures are multiplied by the number of people

travelling together:

■

■

■

Cash: €10,000 or their equivalent in other

currencies.

Perfumes and cosmetics: 1 litre. It should be

remembered that if you are carrying it in your

hand luggage it cannot exceed 100 millilitres

per bottle, although we have a handy tip for

this. You can take 10 units of 100 ml or 20

units of 50 ml or 33 units of 30 ml, always up

to a maximum of 1 litre.

Clothing, fashion, shoes, sunglasses, sports

gear: Limits are set by the airline you are travelling

with. The main problem is weight or

the number of the bags you need to check

in. If you exceed the weight limit, your airline

may charge you extra. You are recommended

to check with your airline first.

■ Tobacco: 200 cigarettes or a carton of 10

packets, 50 cigars or 100 slim cigars or 250

grams of roll-your-own tobacco.

■

Alcoholic beverages: If alcohol content is

greater than 22°, one litre. If it is under 22°, 2 litres.

Wine, 4 litres. Beer, 16 litres. But remember

that these quantities must be checked

in, as hand luggage is limited to small 100 ml

bottles.

VAT COMPARISON CHART BY EUROPEAN COUNTRIES

COUNTRY GENERAL VAT RATE GENERAL IGIC RATE REDUCED IGIC RATE

Canary Islands - 7% 3%

United Kingdom 20%

Germany 19%

Italy 22%

France 20%

Ireland 23%

Holland 21%

Poland 23%

Sweden 25%

Denmark 25%

Belgium 21%

Spain 21%

One last piece of advice: don't wait until the

last minute to grab last-minute bargains. Most

products are much cheaper on the island's shops

than in the airport's Duty Free shops. As you are

well aware, last minute decisions tend not to be

the best decisions.

Zona Calle Mayor de Triana
---
Nº 11 SHOPPING I DE COMPRAS

77

Gran Canaria, el lugar perfecto para tus compras

Centro Comercial Mogan Mall

Gran Canaria cuenta con 34 centros comerciales, lo

que convierte a la isla en la tercera provincia española

con más centros comerciales, solo por detrás

de Madrid y Barcelona. Todo este despliegue de

centros comerciales se debe, fundamentalmente,

a la gran cantidad de tiendas y grandes firmas que

se quieren instalar en la isla para poder hacer más

asequibles sus productos a un precio mucho más

competitivo que en el resto de Europa.

Cada año visitan las Islas Canarias aproximadamente

15 millones de turistas si a esto le sumamos

el público local y las ventajas fiscales, las Islas son

un auténtico oasis para las compras. Y no nos engañemos,

además del sol y la playa, las compras a

bajo precio ha sido una de las claves del éxito turístico

de Gran Canaria.

El diferencial de impuestos es la gran ventaja para

realizar Shopping en Gran Canaria. Un diferencial

que implica que los productos tengan un descuento

sobre su precio en otros sitios durante todo

el año. Mientras que en el resto de Europa se paga

una media del 21;48% de IVA, en Canarias se disfruta

de un régimen fiscal denominado IGIC que es

del 7% en régimen general, del 3% a un tipo reducido

e IGIC super reducido del 0% en artículos de

primera necesidad.

Esta diferencia de impuestos se aplica en Canarias

por dos motivos: como fórmula de compensación

por la lejanía de nuestras islas con el continente

europeo y en segundo lugar, por su condición de

isla, ya que en Gran Canaria debemos importar la

gran mayoría de productos que se consumen.

Compras recomendadas

Usted nos visita y básicamente puede comprar lo

que quiera, pero hay algunos productos que son,

con diferencia, mucho más baratos que en el país

del que usted procede, como pueden ser perfumes

y cosméticos, tabaco, bebidas alcohólicas,

gafas de sol, artículos deportivos, bolsos, zapatos,

telefonía y electrónica en general, textil y moda,

souvenirs y artículos artesanales y gastronómicos

únicos de la Isla.

Lugares para comprar

Usted se encuentra en una isla bien surtida de

tiendas y centros comerciales. Es probable que

con cada paseo que realice, se encuentre unos

cuantos establecimientos que despierten su interés.

Aún así, si se encuentra en la zona turística

de Playa del Inglés y Maspalomas, es recomendable

que se acerque al Paseo Comercial Boulevard

Faro en Maspalomas (al lado del famoso faro de la

playa), al Centro Comercial El Tablero y al Centro

Comercial Yumbo, famoso en el mundo entero por

concentrar a gran parte del turismo LGTB.

En la zona turística de Mogán, concretamente en

la playa de Puerto Rico, es altamente recomendable

ir al nuevo y flamante Mogán Mall, un nuevo

centro comercial de grandes dimensiones absolutamente

impresionante. Y a pocos metros, The

Market Puerto Rico, un centro comercial con jardines

verticales en donde, entre otras cosas, se puede

encontrar lo mejor de la gastronomía de la isla.

En la capital es importante perderse por la Calle

TABLA COMPARATIVA DE IVA POR PAISES EUROPEOS

PAÍS IVA GENERAL IGIC GENERAL IGIC REDUCIDO

Canarias - 7% 3%

Reino Unido 20%

Alemania 19%

Italia 22%

Francia 20%

Irlanda 23%

Holanda 21%

Polonia 23%

Suecia 25%

Dinamarca 25%

Belgica 21%

España 21%

Calle Triana

Mayor de Triana, una calle peatonal en la que se

encuentran comercios de toda la vida mezclados

con negocios y franquicias actuales. Un paseo

agradable rodeado de edificios emblemáticos de

la ciudad y a pocos metros de la zona de Vegueta

(la parte más antigua y encantadora de Las Palmas

de Gran Canaria). Entre los comercios más

importantes se puede encontrar con la famosa

perfumería Sabina, pioneros de los perfumes en

Canarias, cafeterías, restaurantes y las mejores

tiendas de moda. Al mismo tiempo, en la zona del

puerto podemos encontrar la famosa calle de José

Mesa y López, con las mejores tiendas de moda y

los grandes almacenes El Corte Inglés.

En la zona del Parque Santa Catalina y sus calles

aledañas nos encontraremos los mejores bazares

de electrónica. Nuestro paseo termina en el importante

puerto marítimo de Las Palmas de Gran

Canaria.

¿Que nos podemos llevar en nuestro equipaje?

Sí, los precios son inmejorables y la tentación de

llevarnos las maletas llenas va a ser muy alta, pero

existen limitaciones y límites para transportar productos

a su país de origen. Eso sí, es importante

saber que estas medidas son por persona y por

tanto, si viaja en pareja o en familia, estos datos se

multiplican por el número de personas que viajan

juntas:

■

■

■

■

■

Dinero: 10.000 € o equivalente en otras divisas.

Perfumes y cosméticos: 1 litro. Se debe tener

en cuenta que si lo lleva en equipaje de mano

no puede superar los 100 ml por botella, aunque

tiene un pequeño truco. Puede llevar 10

unidades de 100 ml o 20 unidades de 50 ml o

33 unidades de 30 ml siempre hasta un máximo

de 1 litro.

Ropa, moda, zapatos, gafas de sol, artículos

deportivos... : El límite lo pone la aerolínea en

la que viaje. El principal problema es el peso o

los bultos que tenga que facturar. En el caso

de que exceda de peso, su aerolínea puede cobrarle

una tasa extra. Le recomendamos que

consulte con su aerolínea.

Tabaco: 200 cigarrillos o 1 cartón de 10 cajetillas,

50 puros o 100 cigarritos de puros finos o

250 gramos de tabaco de liar.

Bebidas alcohólicas: Si su graduación es superior

a 22°, un litro. Si es inferior a 22°, 2 litros.

Vino, 4 litros; cerveza,16 litros. Pero tenga en

cuenta que estas cantidades deben ir facturadas

ya que en el equipaje de mano se limitan

las medidas a pequeñas botellas de 100 ml.

Un último consejo: no se espere a última hora

para comprar en el último momento. La mayoría

de los productos son muchos más baratos en la

isla que en el Duty Free del aeropuerto. Ya se sabe:

las decisiones de última hora no suelen ser las mejores.
---
78

USEFUL DATA I DATOS ÚTILES Nº 11